Many visitors to Crete take a day trip to Elounda from Heraklion, and it's easy to see why. Elounda was a sleepy fishing village in a former life, but today its charms also run to glamorous resorts and upmarket restaurants.
Excursions to Elounda often include bonus stops like Spinalonga and Agios Nikolaus. It's a long day out, but you'll be rewarded with a taste of both ancient and contemporary Crete.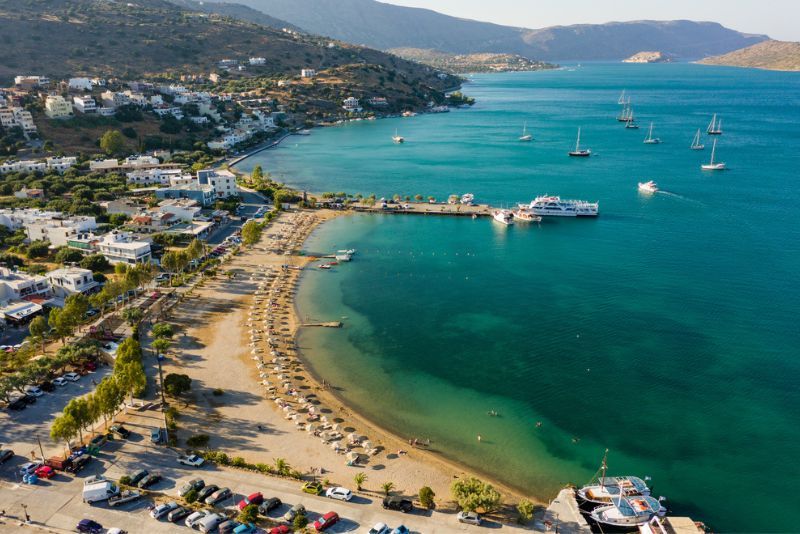 Here's all you need to know about Elounda, one of the most exciting day trips from Heraklion.
How to get to Elounda from Heraklion?
You'll find Elounda on the northeastern coast of Crete, overlooking the beautiful Mirabello Bay. The journey to Elounda from Heraklion is about 70 kilometers long and can be done by car or on a guided tour.
From Heraklion to Elounda by car
If you're on a self-driving vacation, you'll be pleased to hear that the route between Heraklion and Elounda is relatively straightforward. The trip takes about an hour.
Much of the journey is on the E75 coast road until you reach Agios Nikolaos. From there, you'll need to head north on the Agiou Nikolaou - Vrouchas road to Elounda.
Guided tour to Elounda from Heraklion
A guided day tour to Elounda is your best option if you want minimal hassle and maximum fun. Round-trip transfers mean that all transport logistics are taken care of, and you'll have an expert guide on hand to lead the way. Hotel pickups are often provided.
These excursions last between 8 and 10 hours depending on the operator. You will usually get the chance to take in other destinations during the trip to break up the journey.
What is the typical itinerary?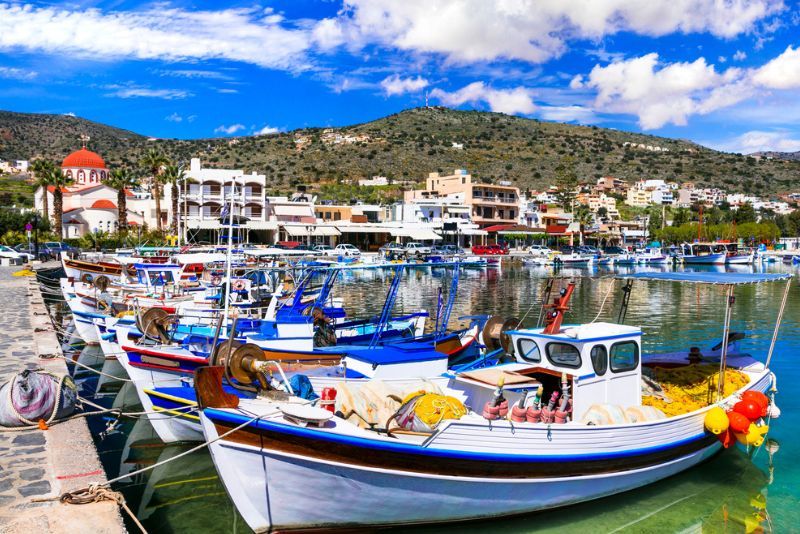 Most day trips to Elounda from Heraklion include some of Crete's other top destinations on the itinerary. This means you'll never spend too long on the road on a single leg of the journey.
You'll set off in the morning, usually at around 8 AM. Many operators will pick you up from your hotel if you're staying in central Heraklion. Enjoy a scenic drive along the northeast coast, passing Saint George's Gorge along the way.
A short time later you will arrive at a farm for olive oil tastings and a tour. Then it's on to Agios Nikolaos and the glittering Mirabello Bay. You'll have leisure time to explore the town and visit the lake, as well as for shopping or indulging in some café refreshments.
On the next leg of the journey, you'll be treated to some of the prettiest views in Crete over the Elounda Lagoon. A visit to Plaka and a boat ride to Spinalonga Island follow. At the latter, you'll have time to wander around the former leper colony on your own.
Saving the best until last, the tour continues to Elounda. This glitzy resort was once a fishing village and may well be the highlight of your day. After checking out the harbor and relaxing in a waterfront café, you'll be driven back to Heraklion in time for dinner.
What kind of tours are available to go to Elounda?
Elounda day trips from Heraklion normally include multiple destinations on the itinerary, so you know you're getting your money's worth. Tours are either in a group setting or with a private vehicle and guide. Here's what you can expect from each:
Guided tour to Elounda plus Spinalonga, Plaka and Agios Nikolaos from Heraklion
This popular Elounda day tour is the cheapest way to explore northeastern Crete, and includes visits to Spinalonga, Plaka and Agios Nikolaos.
You'll be traveling with other passengers, but free time at each location allows you to explore independently.
Air-conditioned coach transfers make for a comfortable journey between the different sites. Hotel pickups are often provided too.
Group excursions to Elounda come with a local guide to ensure the day runs without a hitch. This is a stress-free experience, and one that won't break the bank.
Private day trip to Elounda plus Spinalonga from Heraklion
This day tour to Elounda from Heraklion is a must if you like your freedom and want to have a say in the schedule. You'll have a private vehicle and guide for the duration of the trip, with convenient pickups for seamless transfers.
These excursions are more expensive than group trips, but it's worth it for the exclusivity. You'll feel like a superstar from the moment you leave your hotel!
How much does a day trip to Elounda from Heraklion cost?
For an Elounda day tour from Heraklion that operates on a group basis, you can expect to pay from €30 per person. This covers round-trip bus transport, a guide and the olive oil farm visit with tastings.
A private jaunt to Elounda costs €300 per person for a tour with a driver only and a maximum group of 15 people. If you want to include a personal guide, the price rises to €490 per passenger. The larger your group, the cheaper the price. For example, a party of four will pay €180 each for the driver-only option, and €260 each for the guided tour.
Private day trips to Elounda from Heraklion include hotel pickups and drop-offs as well as bottled water during the journey. An English-speaking driver or guide ensures communication is never an issue.
No matter which Elounda tour you choose, it's likely that you'll have to pay separately for entrance fees during the day. Spinalonga boat tickets cost €10 for adults and €5 for children aged between 4 and 12 years. Admission to the island itself is €8 for adults and free for children under 18 years.
What will you see and do?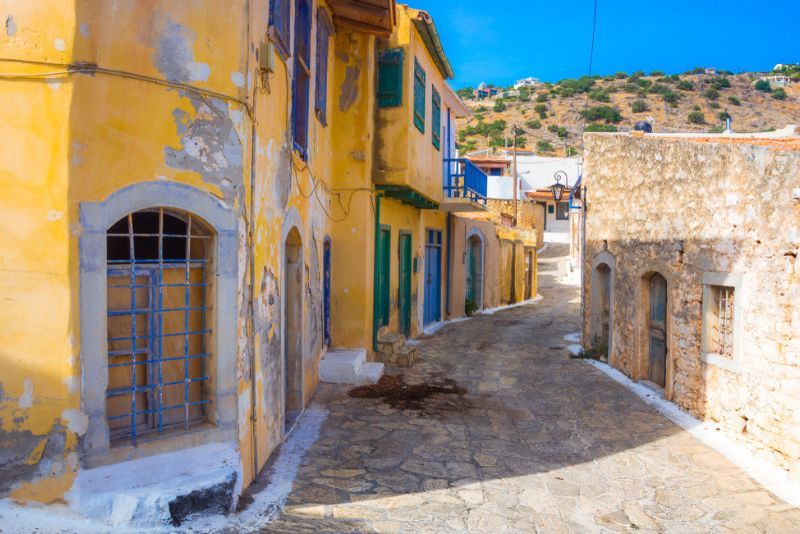 Elounda perfectly blends a traditional seaside setting with the upscale luxury of modern-day resorts. Whether you want to stroll the streets or soak up the sun on the beach, Elounda is one of Crete's most popular destinations to visit.
On your Elounda day trip, you'll have free time to explore it on your own. This means you can pick and choose what you want to see. The good news is that the views of the beautiful bay can be enjoyed from pretty much anywhere in the village.
Don't miss the charming harbor, with its fishing and pleasure boats swaying gently on the water. Beyond the harbor walls lies a natural sea lagoon, flanked by rugged peninsulas that make for beautiful photos. Walking around the waterfront, you'll come across several traditional eateries, so this is a great place for lunch.
One of the main attractions of Elounda is its proximity to the island of Spinalonga. In the 20th century, the island was a leper colony, and today you can explore the ruins of what is now a ghost village.
When is the best time to visit Elounda?
A day trip to Elounda is possible at any time of year. Like many destinations in Greece, the town is at its busiest and hottest during the summer. To beat the crowds and the heat, come in spring or fall when things are quieter and cooler.
What other day tours can you do from Heraklion?
Travel tips
Remember to carry your passport or ID – you will be asked to present this when checking in for the tour.
Pack swimwear and a towel if you'd like to take a dip during the excursion.
Cash is king when paying for local admission fees like boat tickets and the Spinalonga Island entry, so make sure to carry some on you.