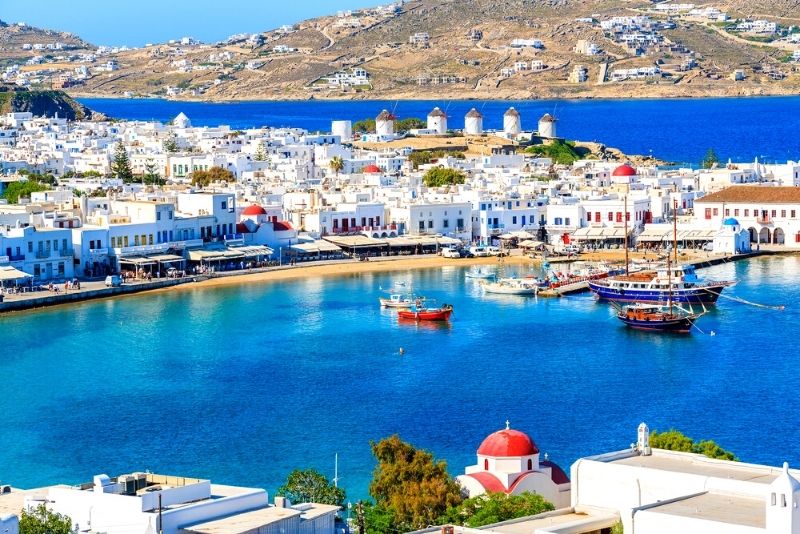 With its charming white houses and hidden sandy bays, Mykonos is one of the dreamiest island destinations in Europe. The vibrant nightlife and high-end restaurants blend effortlessly with hillside chapels and ancient castles, offering something for everyone.
For such a small island there are a lot of activities on offer, which means choosing an itinerary can be tricky. To help you decide, we have put together this handy list of all the top things to do in Mykonos. So, go fill your boots!
1 – Soak up the sun on Paradise Beach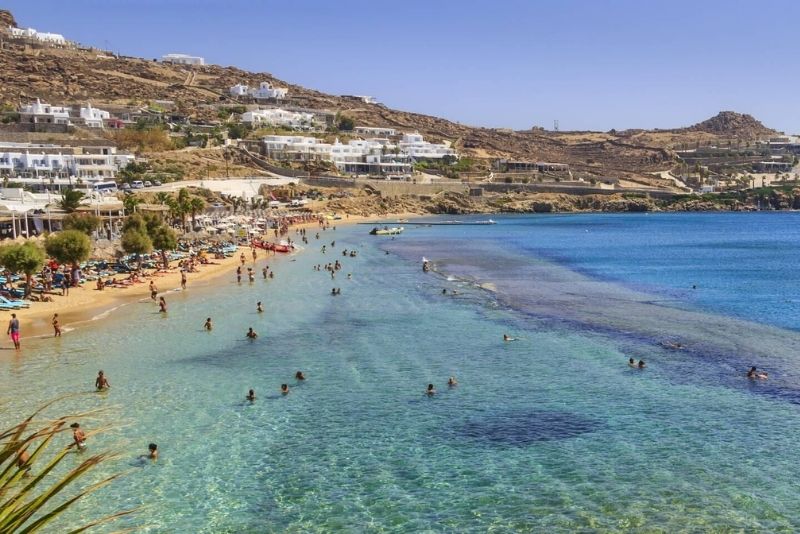 Hailed as the most famous stretch of sand in Mykonos, Paradise Beach truly lives up to its name. Grab a sunbed and order cocktails from the beach bar, and settle in for a day of sun, sea, and sandcastles.
Feeling energetic? Then jump on a jet ski or sail around the lagoon. As the sun sets, dance on the sand, swaying along to sultry nightclub vibes.
2 – Wander through iconic streets in Mykonos Old Town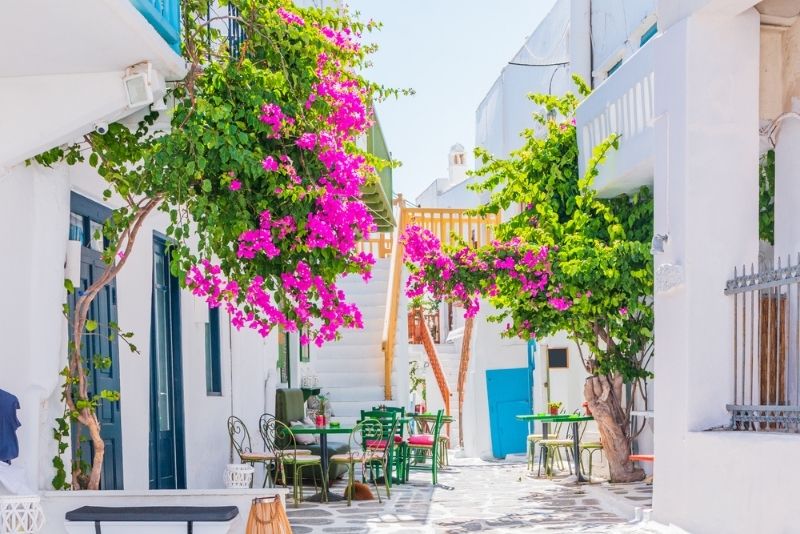 Sign up to a Mykonos Old Town walking tour and immerse yourself in a land of cobbled streets and whitewashed houses. Known locally as Chora, the historic settlement is a favorite with photographers and dreamers alike.
This traditional Cycladic village invites you to explore its secret alleyways, laid-back cafes, and quaint chapels. Swing by the famous windmills for jaw-dropping views over the charming capital.
3 – Take a boat trip to Delos island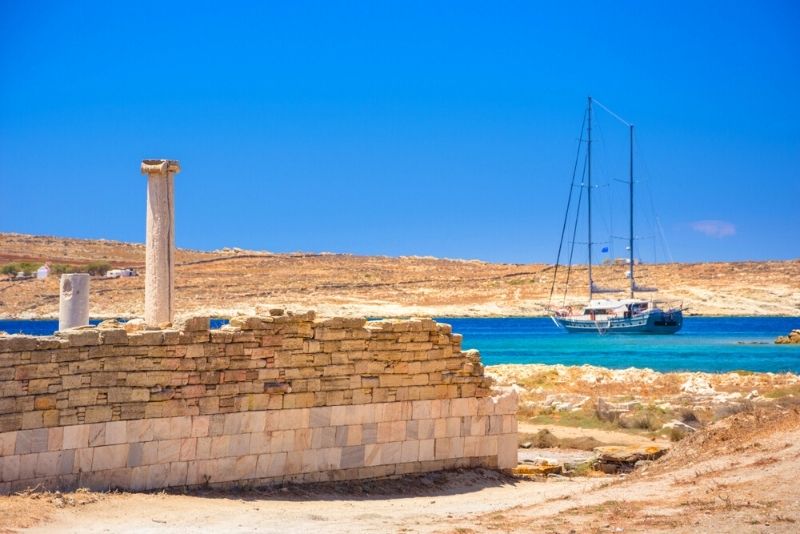 Sail into the heart of the Cyclades on a boat tour to Delos and discover 3000 years of history. This spiritual island has seen centuries of sacred conquest and settlement, and today is one of the most significant archaeological sites in Greece.
Take a guided tour and visit the museum to admire ancient mosaics and sculptures. Finish your trip by snorkeling in a hidden bay.
4 – Photograph the famous Mykonos windmills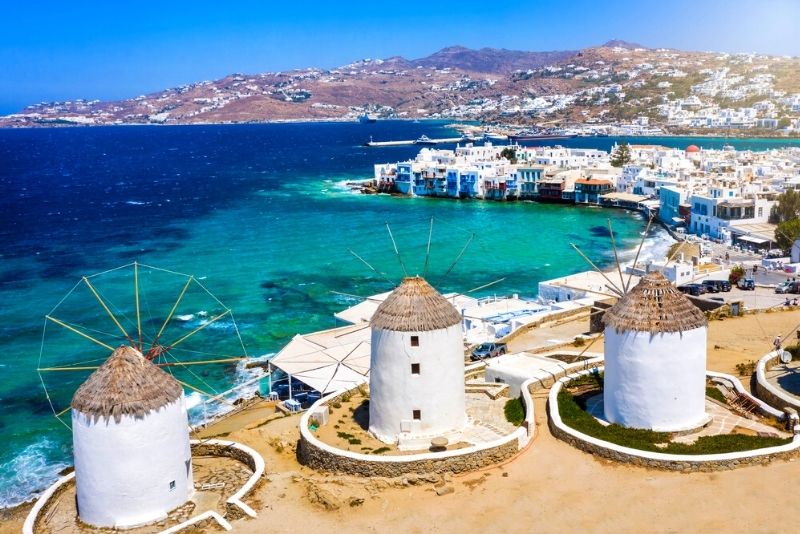 Standing like sentinels watching over Mykonos Old Town, these gleaming white windmills are beloved island icons. Once used for agricultural purposes, nowadays the conical mills are a symbolic nod to the past – a couple have been turned into museums.
Explore the restored 16th-century Bonis Mill and learn about traditional flour production. The views over Little Venice are magical too, so keep your camera handy.
5 – Visit Rhenia Island on a boat tour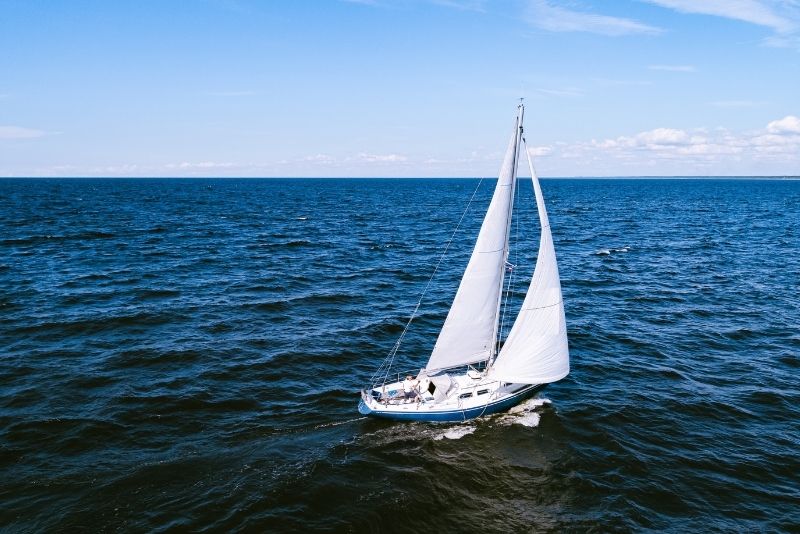 Sitting pretty in the sparking Aegean, this UNESCO World Heritage Site makes a fun day trip from Mykonos. It can easily be combined with a visit to Delios island too.
Walk in the footsteps of warriors as you discover ancient temples, burial grounds, and sandy beaches. Rhenia boat tours usually include swimming and snorkeling in secret coves, so remember to pack your water gear.
6 – Stroll through Little Venice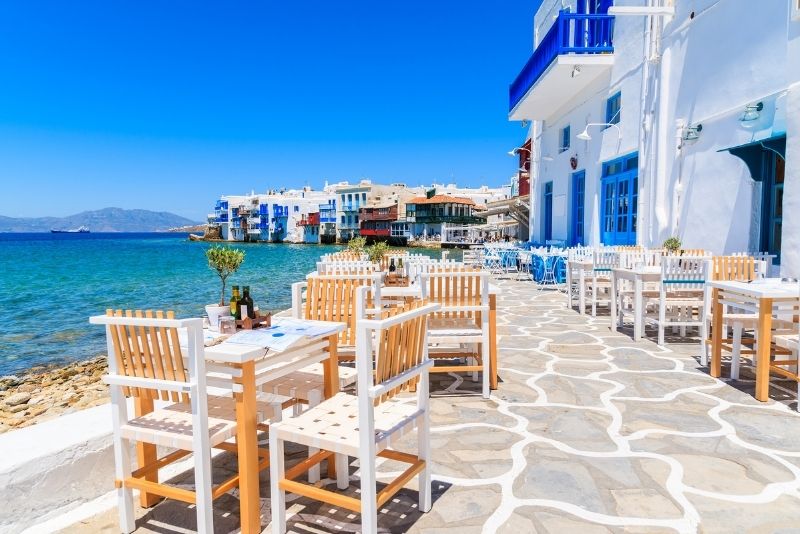 Meandering through the artistic neighborhoods of Little Venice is one of the most romantic things to do in Mykonos. Traditional white houses with colorful wooden balconies line the intersect between land and sea, while trendy bars offer local tipples to quench your thirst.
Browse the boutique galleries and drink in the old-world charm. Then, after a seafood supper overlooking the ocean, watch the sun sink languidly below the horizon.
7 – Enjoy a boat tour to the south beaches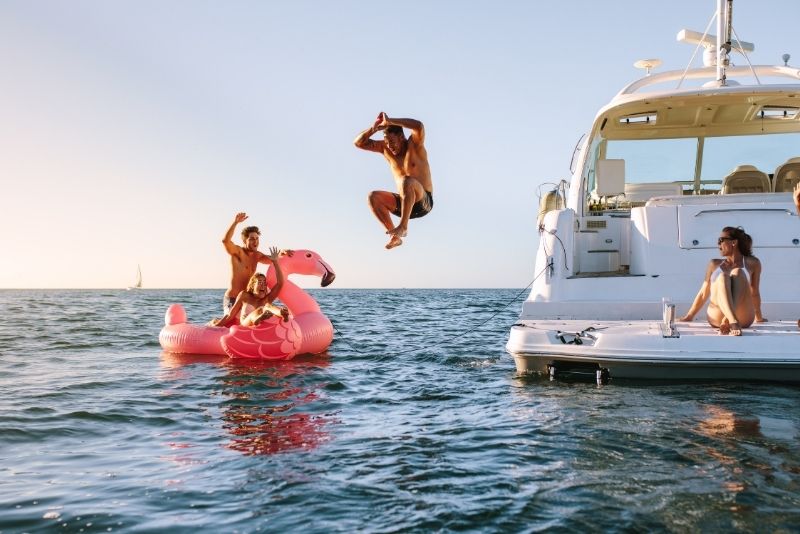 Embrace life on the ocean wave with a relaxing boat tour to the southern beaches of Mykonos. Keep an eye out for secret sea caves and hidden coves as you cruise along the coast.
Your captain will stop at the best bays where you can swim in the crystal-clear waters. Back on deck tuck into Greek specialties as the sea laps gently against the side of the yacht.
8 – Venture inland on a jeep safari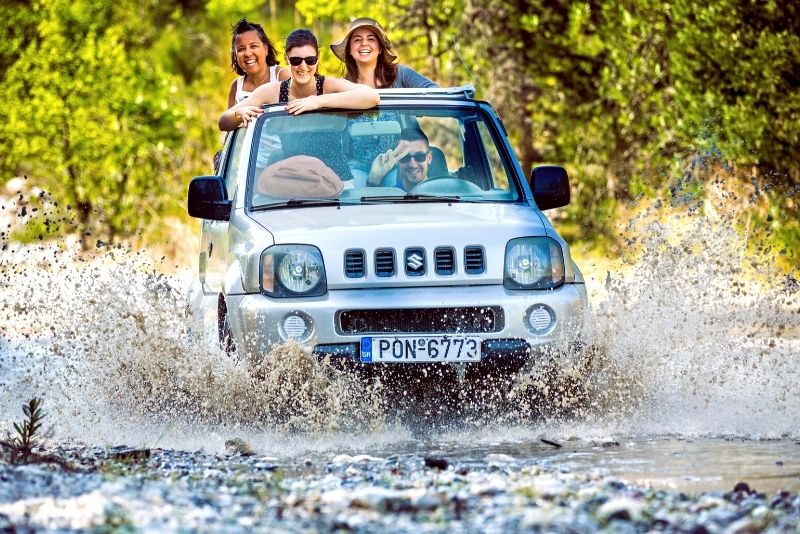 Explore the hidden corners of Mykonos on an adventurous off-road jeep safari. Journey along coastal roads and bounce around on remote tracks as you discover rural villages and dazzling beaches.
Feeling brave? Then take the wheel of your 4×4 and see where the wind takes you. Whether you end up visiting Venetian castle ruins or swimming in tranquil lagoons, the day is yours to savor.
9 – Try delicious local food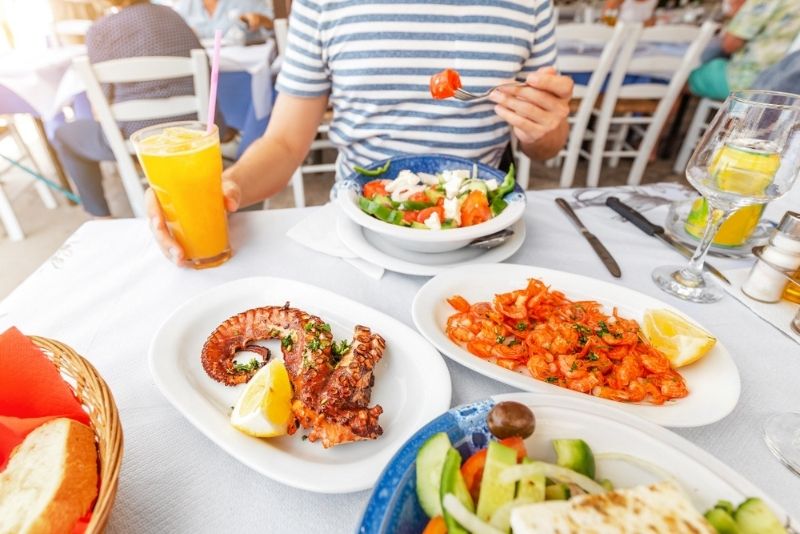 Greece is famed for its culinary scene, and nowhere more so than Mykonos. For laid-back dining head to Fokos Restaurant to sample barbecued octopus beside the sea, or Kounelas Tavern for freshly grilled fish.
Inland, Apostolis is the home of unadulterated traditional food – try the stuffed squid, Greek salad, or tuna steaks. Meanwhile hidden in the backstreets of Mykonos Old Town, To Maereio Restaurant serves up specialties like deep-fried zucchini and lemon chicken.
10 – Sail into the sunset on a cruise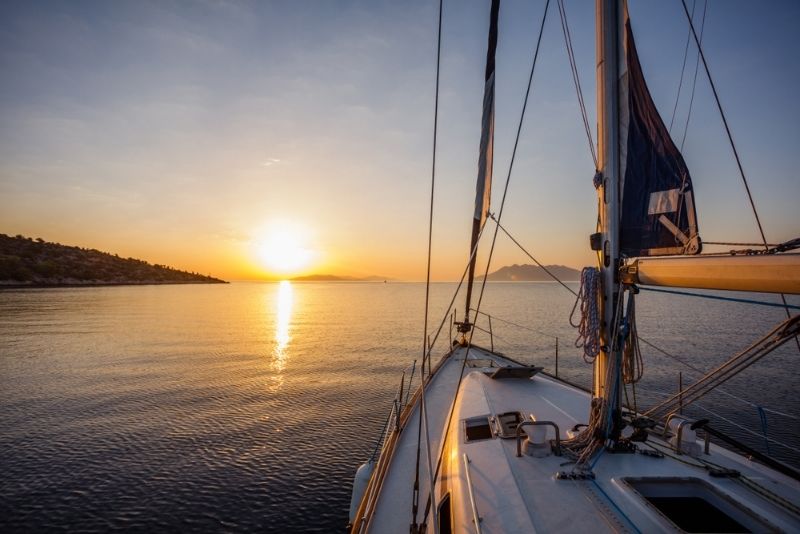 Set sail across the sparkling blue Aegean, breathing in the fresh sea air and admiring the dramatic craggy coastline on a Mykonos sunset cruise. Jump into the warm ocean waters for a refreshing swim and snorkeling sessions in peaceful coves.
Then relax on deck with your favorite cocktail and a tasty Greek picnic as you watch the sun fall slowly into the ocean.
11 – Party the night away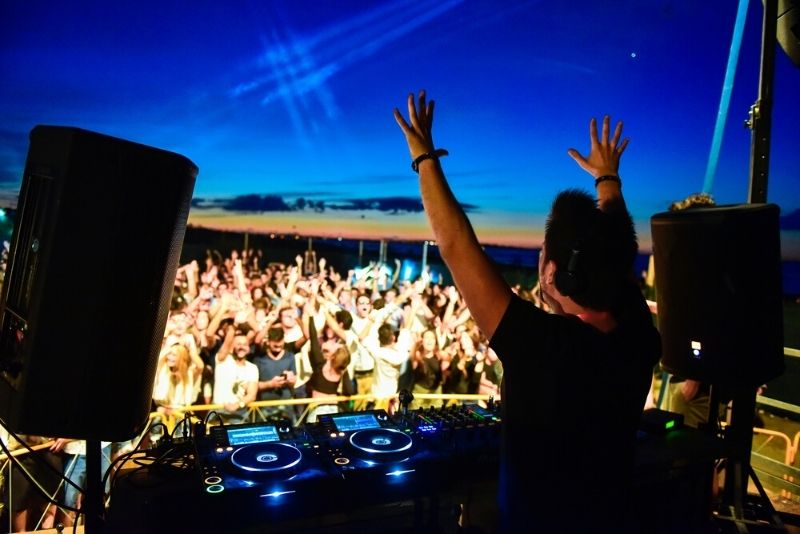 Shake your hips to thumping tunes at the best clubs in Mykonos. Get the party started at Tropicana, or rub shoulders with VIPs at the Paradise Beach Club and boogie on the sand into the small hours.
For out-of-this-world full moon parties with dramatic sea views and added fireworks, opt for the legendary Cavo Paradiso Club. Meanwhile, at Super Paradise, the eclectic vibe makes for memorable nights beside the sea.
12 – Go scuba diving off Lia Beach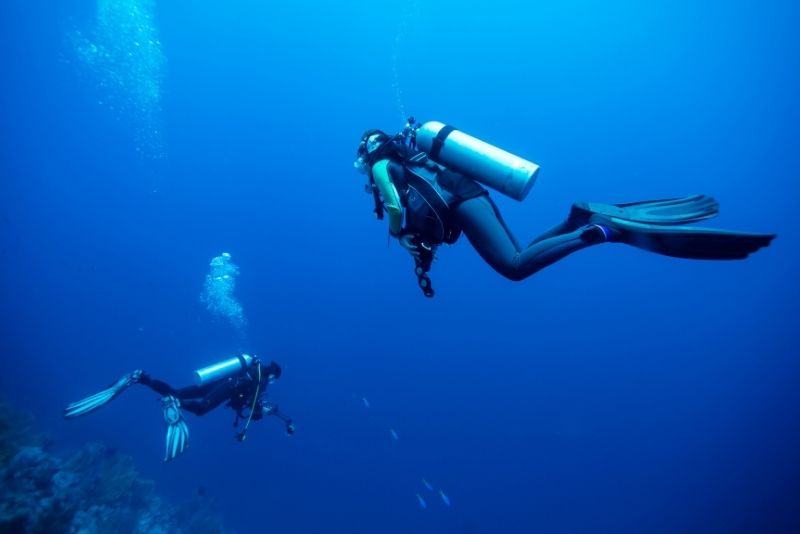 One of the most fun things to do in Mykonos is a scuba diving tour off the beautiful Lia Beach. This peaceful sandy bay on the south-eastern shore of the island is the perfect place for beginners to dip their toes in the water.
Learn essential skills while enjoying thrilling marine encounters, and explore the mysterious underwater world beneath the alluring blue ocean.
13 – Explore vineyards on a wine tour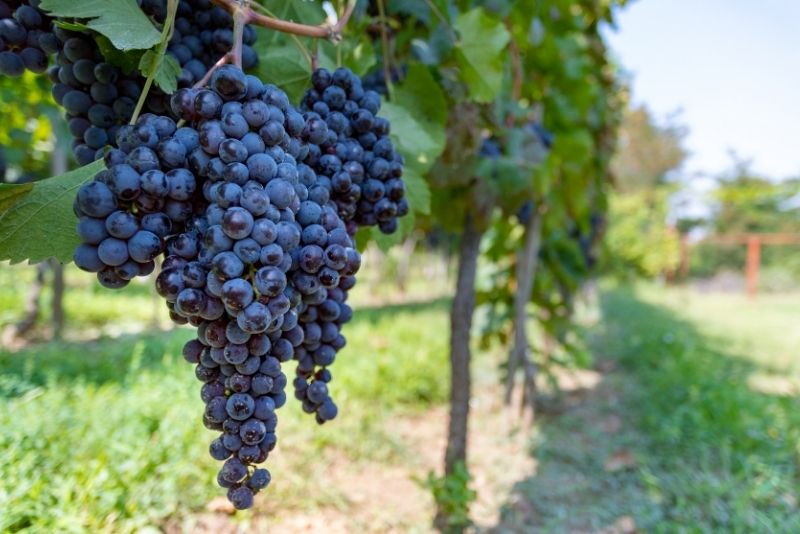 Did you know that Mykonos is one of the oldest wine-producing regions in the world? All the more reason to spend a few hours visiting the best vineyards on a Mykonos wine tour.
Taste distinctive vintages at farmhouses and wineries across the island, and discover what makes these Greek grapes so powerful. Dig into local snacks or even a traditional meal alongside your wine for a delightfully indulgent experience.
14 – Chill out in an infinity pool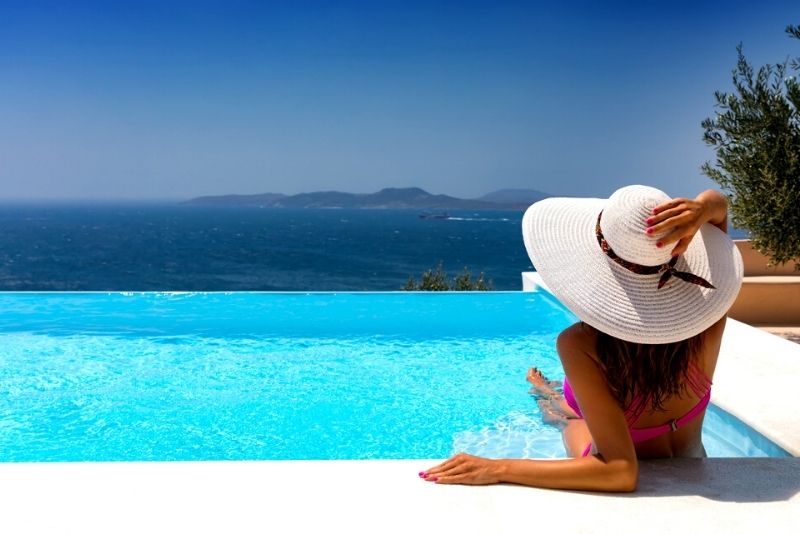 Soak up the views from the comfort of an infinity pool, with a glass of local wine in your hand. For breath-taking pool panoramas just steps from your bed, spend a few nights at Bill & Coo Suites, the Vencia Boutique Hotel, or the luxury Santa Marina resort.
Fancy something a bit different? Then check into Cavo Tagoo which features cave pools as well as perfectly positioned hot tubs surrounded by whitewashed walls.
15 – Enjoy fine dining with a view
Celebrate the scenery and cuisine of Mykonos with evenings out at the island's most exquisite restaurants. Hippie Fish is a refined choice, where dramatic sea views accompany inventive sushi dishes and a chic ambience. Meanwhile, at Karavaki, creative twists on traditional recipes blend perfectly with lofty coastal panoramas.
Over in Little Venice, the traditional street setting of Kastro's is superb for sunset cocktails and hearty moussaka dishes.
16 – Relax on a boat tour to Super Paradise Beach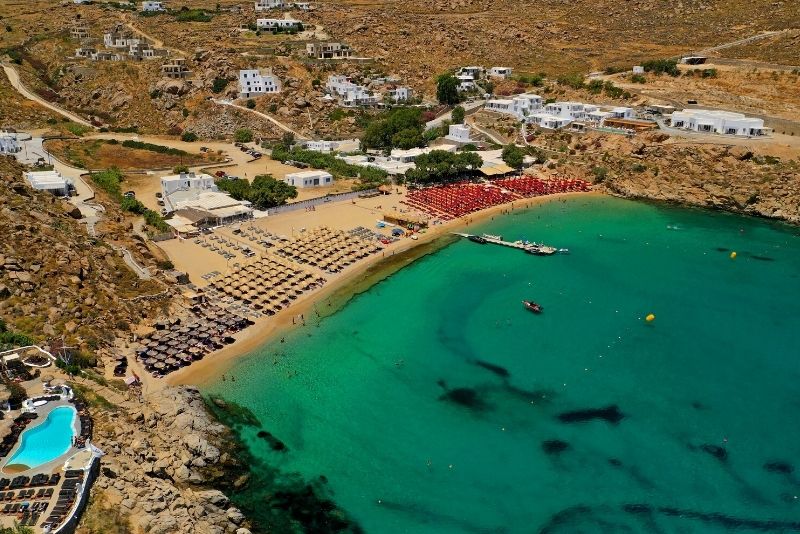 Cruise along the southern coast on a boat tour to Super Paradise Beach. Chill out on deck, feast on barbecue lunches, or jump overboard for sublime snorkeling.
The final destination is Super Paradise Beach, where soft golden sand glints in the sun and azure waters lap gently against the shore. Grab a towel and snooze on a lounger, or frolic in the bay with your friends.
17 – See the sunset from Armenistis Lighthouse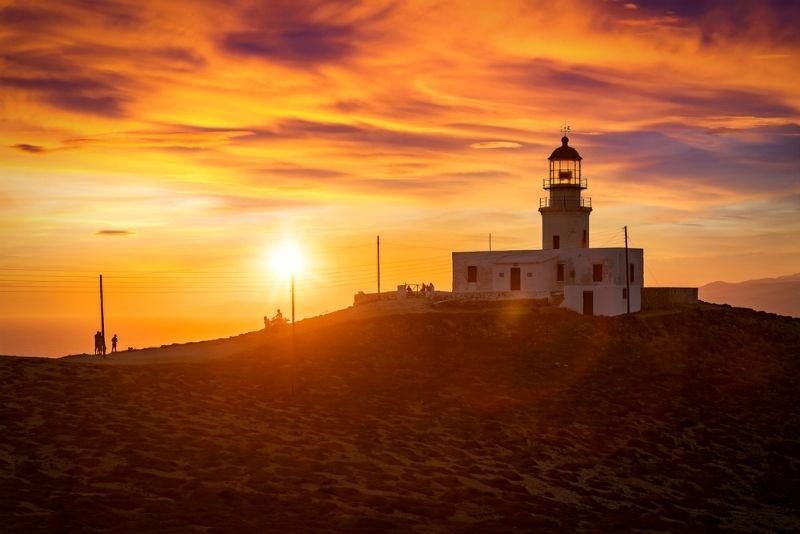 Combine maritime history with some of the best views on the island at Armenistis Lighthouse. Built in 1891, this iconic octagonal beacon holds a strategic position in north-west Mykonos and is still functioning today.
The views get even better as day turns to dusk, so head up with your camera to capture one of the best sunsets you will ever see.
18 – Try windsurfing at Ftelia beach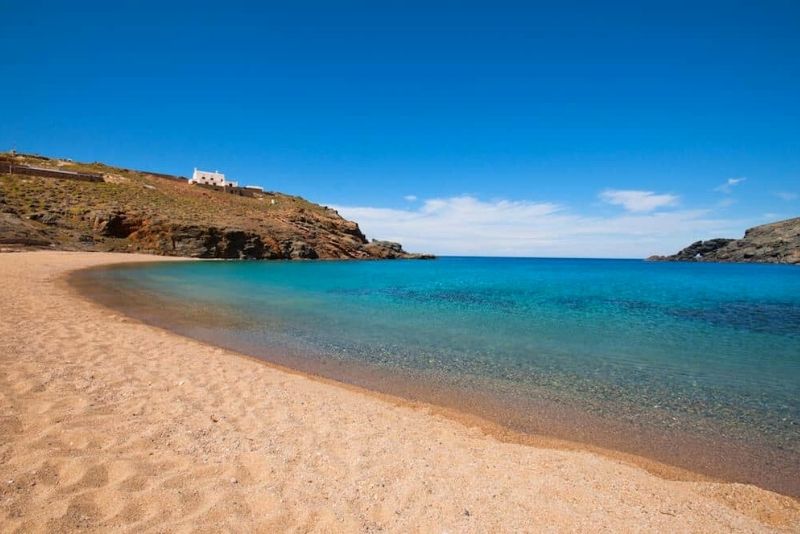 This north-facing beach has wild appeal, with rocky outcrops and fine yellow sand skirting the deep blue water. The Cycladic winds make this a popular spot with windsurfers, who love riding the waves across the wide bay.
Ftelia Beach is surprisingly quiet and far less crowded than the southern beaches, so to blow the cobwebs away in a tranquil setting, this is the place to come.
19 – Go on a snorkeling sea safari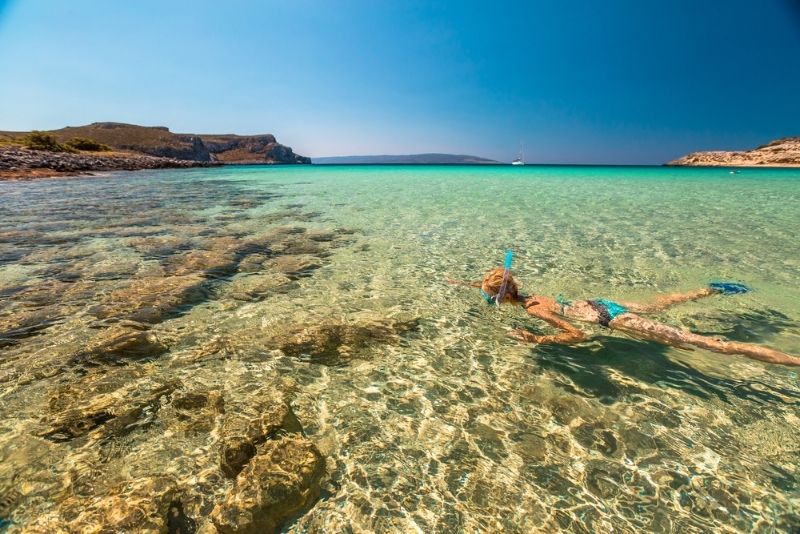 Glide serenely through the deep blue Aegean on a snorkeling tour – undoubtedly one of the most thrilling things to do in Mykonos. Float lazily in tranquil lagoons and discover an enchanting marine world waiting to welcome you beneath the waves.
See if you can spot a seahorse bobbing along in the gentle currents, and watch as cheeky parrotfish dart playfully around the reefs.
20 – Unwind on Agrari Beach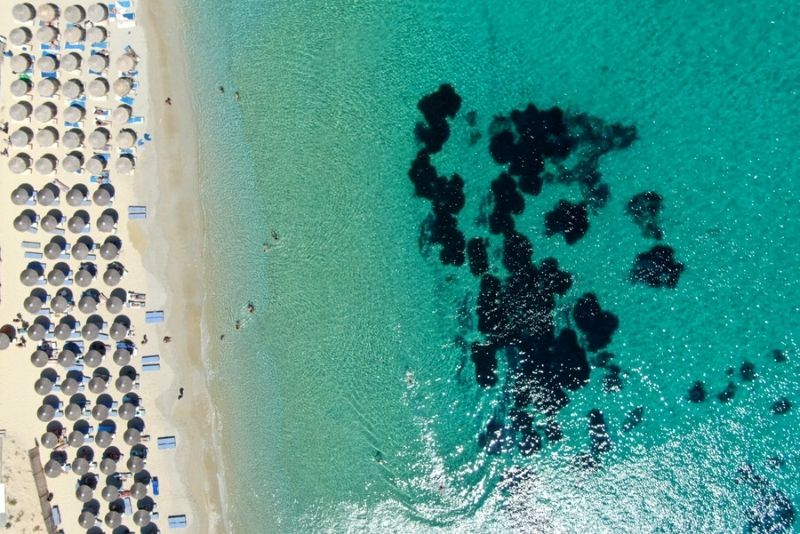 Flanked by gently rolling hills with white cubic houses dotted about the slopes, Agrari is one of the most beautiful beaches on Mykonos. The sand is quiet and the water is calm – perfect for a peaceful day relaxing and swimming.
Arrive in style on a sailing cruise or take a taxi from Mykonos Old Town. Want to explore further? Then scramble over the rocks to Elia beach just around the corner.
21 – Explore the island interior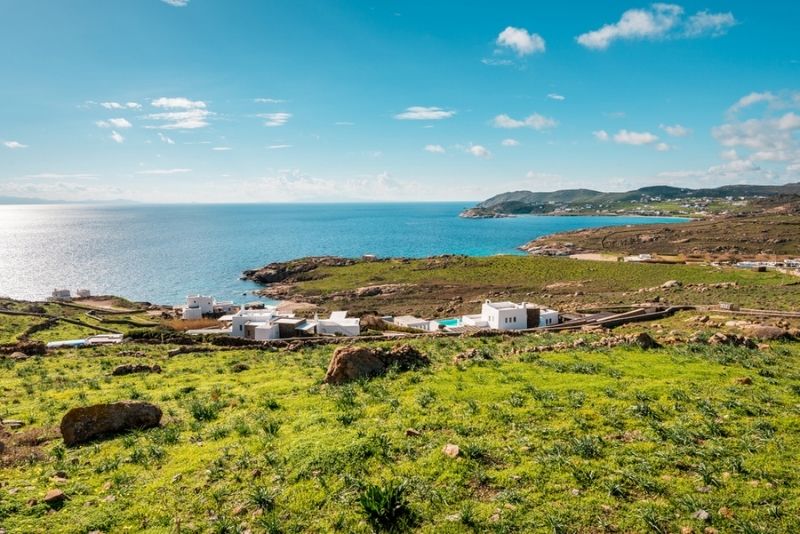 Head inland to explore the interior of Mykonos where undulating hills and picturesque valleys are punctuated with rural farms and tiny chapels. Get back to nature on a guided hiking tour and reward your efforts with views of the surrounding islands.
Alternatively, venture out on two wheels, pedaling along easy trails through idyllic landscapes on a Mykonos bike tour. Wine tasting and picnic lunches are the icing on the cake.
22 – Visit Santorini by helicopter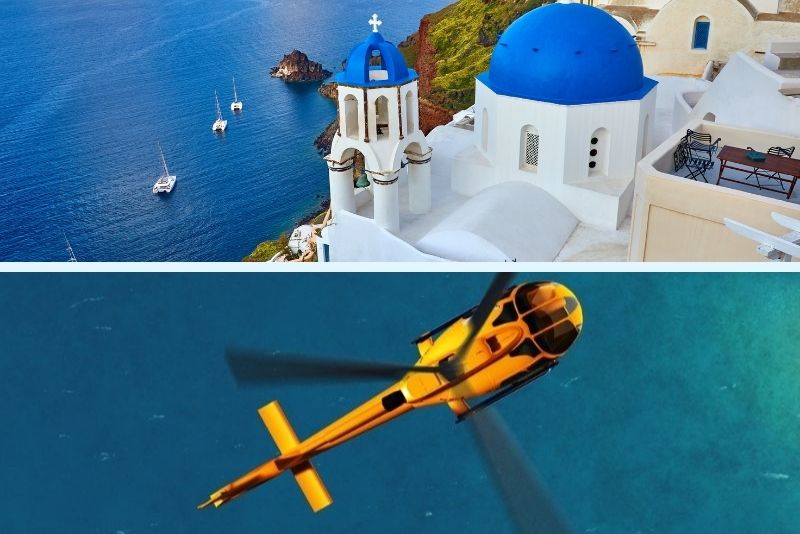 Make your vacation soar to new heights with a private helicopter tour to Santorini. Take to the skies in your very own chopper, and enjoy stunning aerial views over the Aegean Sea and Cyclades Islands.
This 40-minute flight will undoubtedly be the highlight of your trip, so make sure you keep your camera handy for the ride.
23 – Take a Greek food cooking class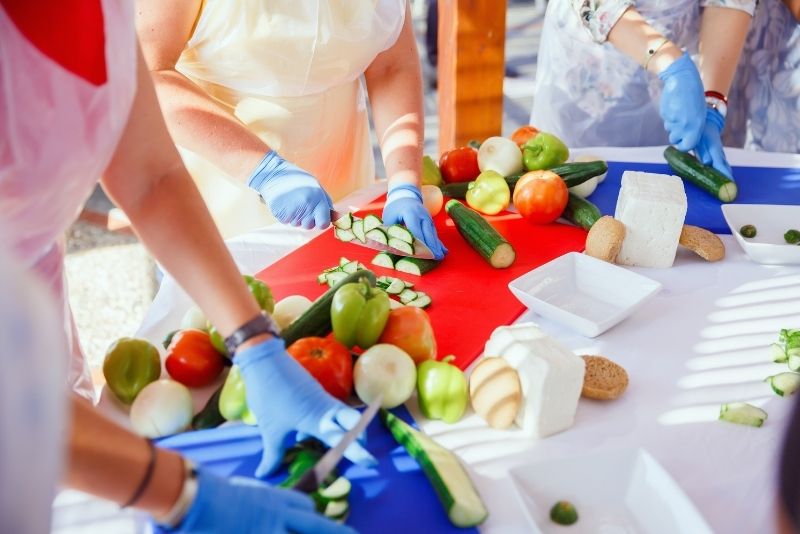 The best way to get to know a culture is through its food. So, book a Greek cooking class and learn how to rustle up moussakas like the pros.
Choose ingredients from the organic gardens before heading to the kitchen for a masterclass from the resident chef. Have a go at making tzatziki, beef with orzo, or other island specialties, and take the recipes away so you can recreate them at home.
24 – Enjoy exhilarating watersports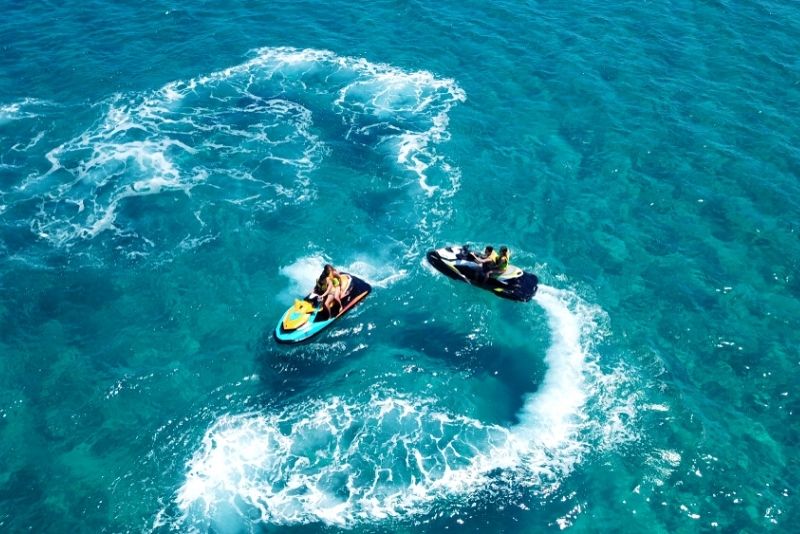 Enjoy a bird's eye view of the island as you soar through the air on a parasailing excursion, and encounter parrotfish while snorkeling in picturesque bays.
Harness your inner superhero for a spot of flyboarding and feel the rush of adrenaline as you bounce through the waves by jet ski. For something more serene, stand-up paddling boarding is a great way to explore hidden coastal nooks and crannies.
25 – Taste the local beer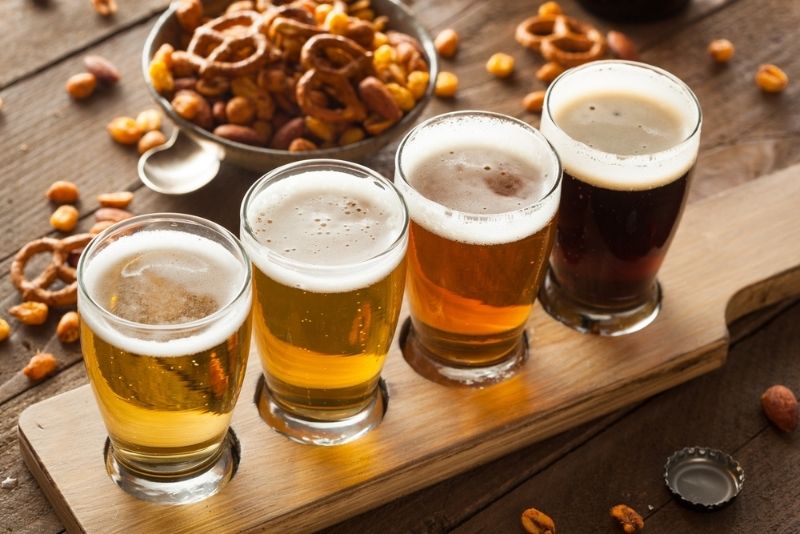 One of the top things to do in Mykonos for foodies is to sample the local island brew on a specially curated beer-tasting excursion. Take a guided cellar tour and discover how natural ingredients are expertly transformed into the amber nectar beloved by locals and visitors alike.
Sip small-batch beer and see if you can identify the unique flavors – remember your favorites so you can purchase some souvenirs for later.
26 – Visit the
Church of Panagia Paraportiani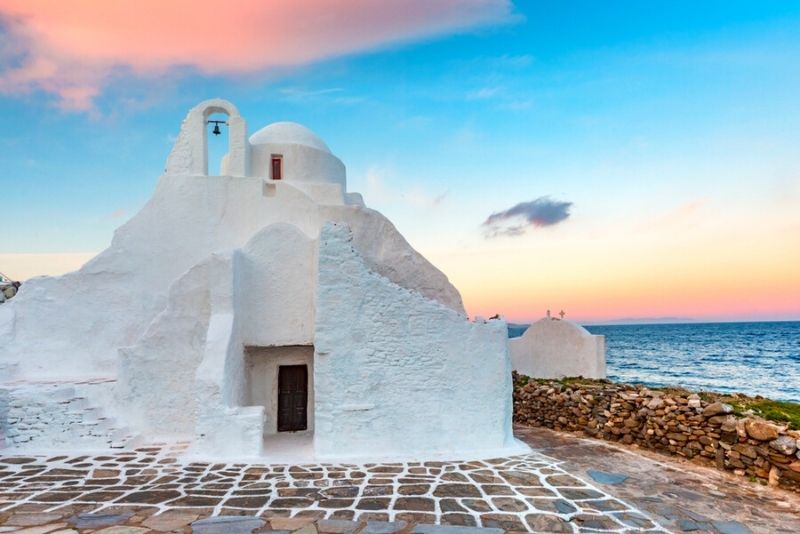 Dating back to the 1400s, Panagia Paraportiani is one of the most photographed churches in all of Greece, thanks to its whitewashed walls and domed roof. The church is made up of five separate chapels, which accounts for its unusual eye-catching structure.
Overlooking the sea at the entrance to Chora, the church will be sure to feature in your favorite vacation snaps so remember to bring your camera.
27 – Relax in style at SantAnna Beach Club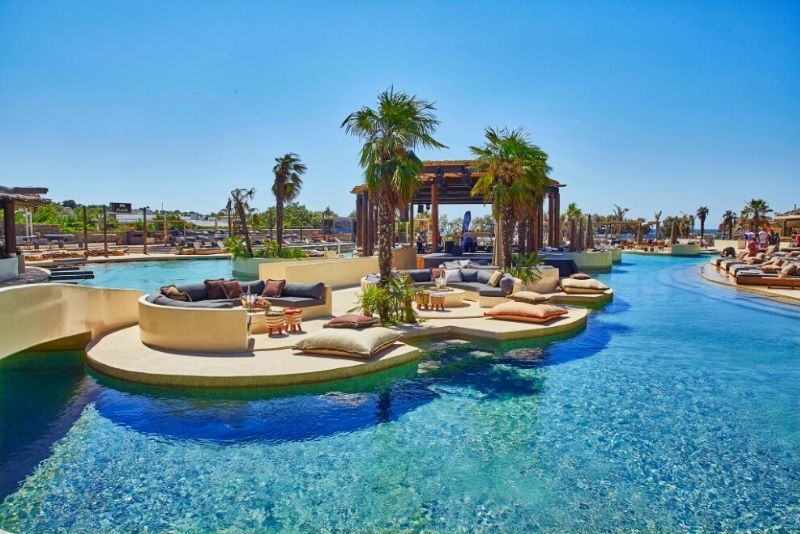 Rejuvenate both body and soul at SantAnna – a classy beach club in one of the hottest postcodes on Mykonos. Bag a beachside cabana and spend the day floating in pools or enjoying indulgent treatments in the world-class spa.
The atmosphere is laid-back and lively, with international DJs playing chilled-out tracks for a mellow vibe. High-end restaurants and sophisticated bars keep you fed and watered.
28 – Explore Ano Mera village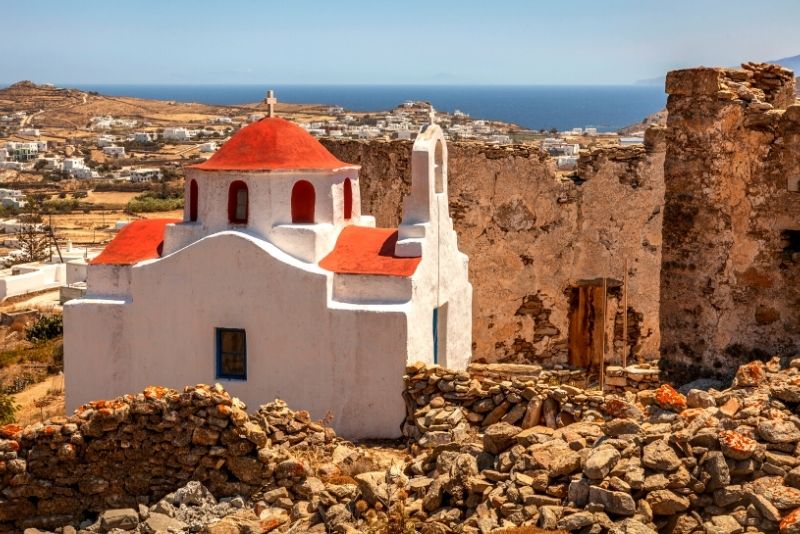 This tranquil village is one of the oldest on Mykonos, where locals go about their daily lives as they have done for centuries. Stroll along cobbled streets and relax at outdoor cafes, absorbing the charm of Ano Mera.
The highlight is the monastery, which is home to an astonishing collection of Byzantine artifacts. Keep an eye out for the bell tower and marble fountain as you explore.
29 – Watch outdoor movies at Cine Manto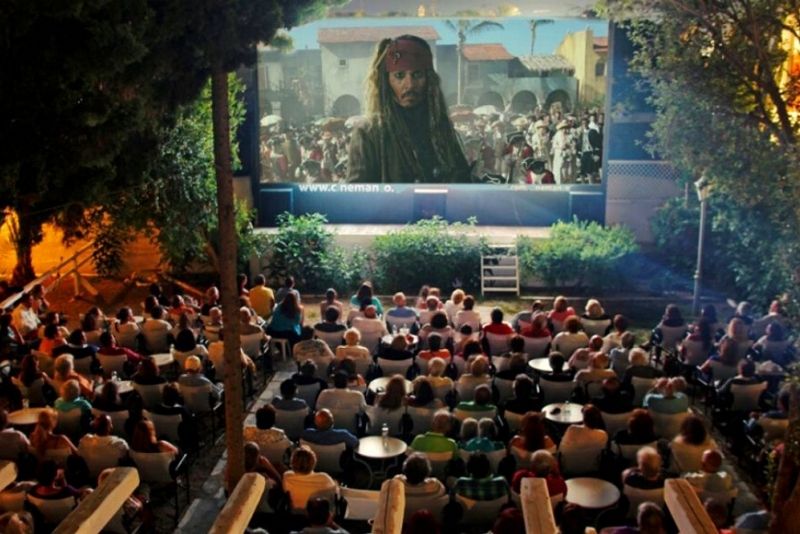 Looking for something different to do? Then treat yourself to dinner and a movie beneath the twinkling night sky at Cine Manto. Embrace the lingering heat of a summer evening as you sit back and relax in the garden of this unique open-air cinema.
Take in a Hollywood blockbuster or an iconic classic, then enjoy traditional dishes at the restaurant for a memorable end to the day.
30 – Unearth history at Mykonos Archaeological Museum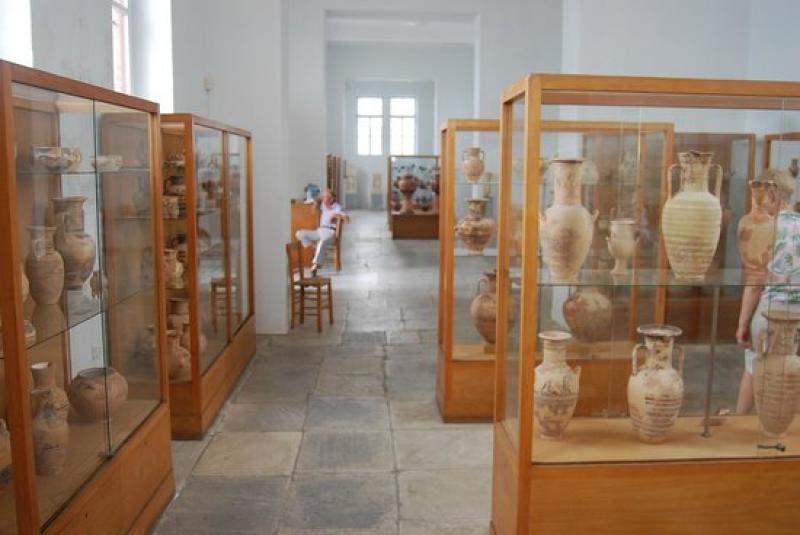 Up for a spot of time travel? Then you will love checking out the displays at the Mykonos Archaeological Museum. Exhibits range from priceless grave statues dating back to the 1st century B.C. to prehistoric pottery and even opulent jewelry.
See if you can spot the ancient storage jar depicting scenes from the capture of Troy with the infamous wooden horse.
31 – Visit the Monastery Of Panagia Tourliani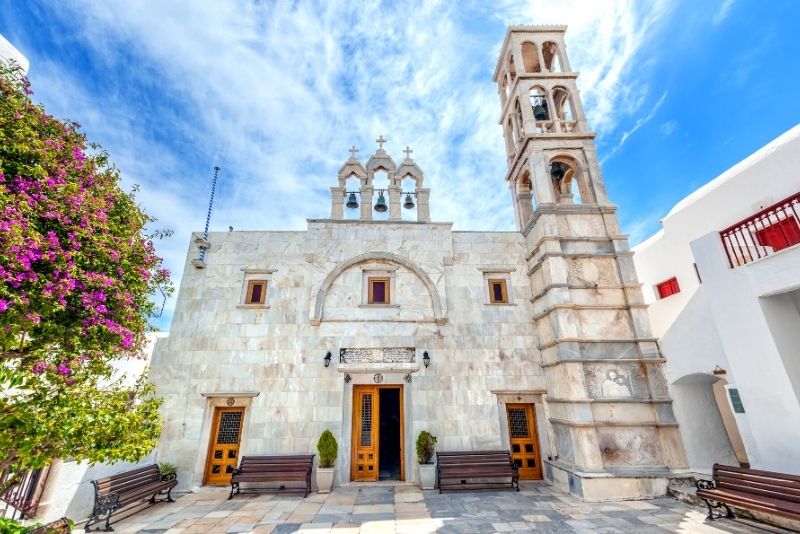 Love a good bell tower? Then head to Ano Mera village just 8 kilometers from Mykonos Old Town, and explore the magnificent 14th-century Monastery of Panagia Tourliani. Photographing this iconic white building with its colorful dome is one of the most popular things to do in Mykonos.
Check out the marble fountain in the courtyard, and admire the intricately carved wooden altar inside the church.
32 – Go treasure hunting at the Folklore Museum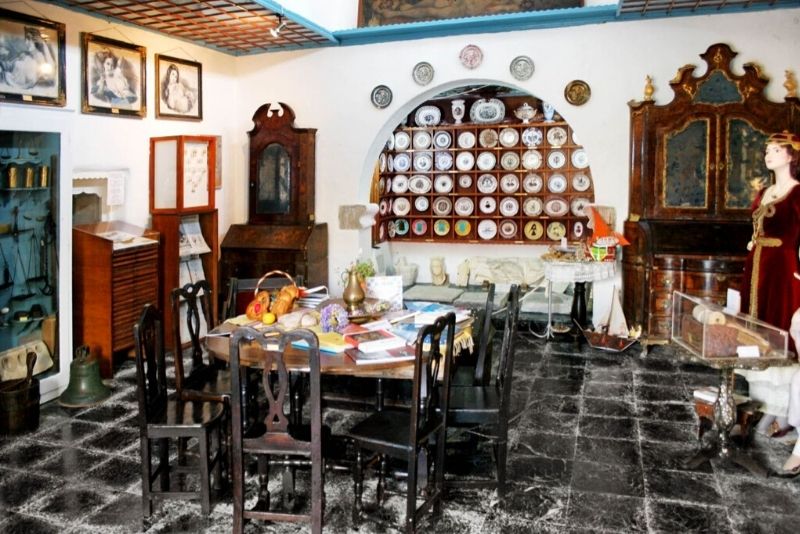 Delve into a treasure trove of antiques and heirlooms at the delightfully quaint Folklore Museum in Mykonos. Marvel at vintage musical instruments, hand-crafted furniture, and rare textiles as you wander through the lovingly curated rooms.
Keep your eyes peeled for the canons used in the 1821 Greek War of Independence, and find out what island life was like back in the 19th-century.
33 – Enjoy a sea kayaking adventure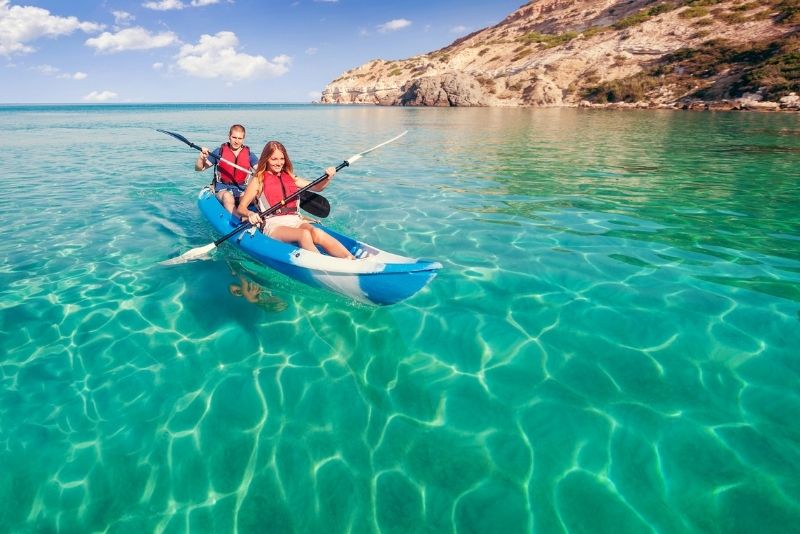 Get a new perspective of Mykonos on a kayak tour around some of the most beautiful parts of the coast. Paddle into enchanting bays for snorkeling or picnics, discovering long sandy beaches and dramatic rock formations along the way.
Sea kayaking is your passport to adventure, and a chance to reconnect with nature during a blissful day out on the sparkling blue ocean.
34 – Admire art at the Dio Horia Gallery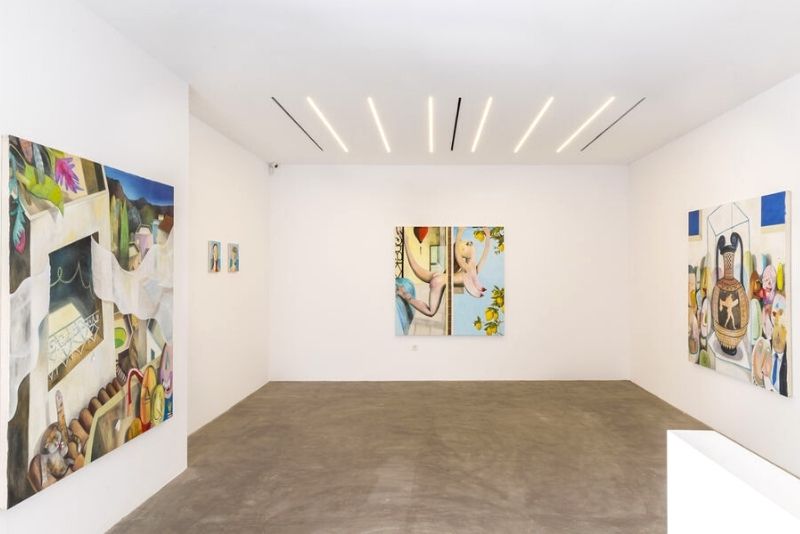 For something a bit more modern, head to the Dio Horia Art Gallery for contemporary exhibitions by international artists. Admire the creativity behind these vibrant pieces and enjoy themed events for both art aficionados and amateur enthusiasts.
Housed in a traditional white dwelling with contrasting blue woodwork, the building is perhaps the star of the show. Pop up to the rooftop bar for panoramic island views.
35 – Discover the Aegean Maritime Museum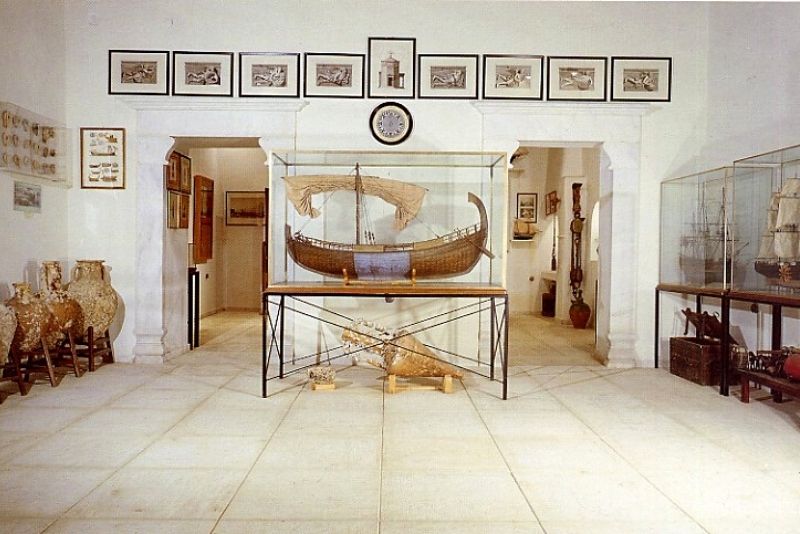 Learn about the fascinating nautical history of Mykonos at the impressive Aegean Maritime Museum in Chora. Admire models of Minoan ships as well as ancient maps and navigational tools, then listen to terrifying tales of shipwrecks and sailors lost at sea.
The building is captivating too, with its traditional 19th-century design boasting plenty of whitewashed walls and ornate doorways. Remember to pack your camera.
36 – Sunbathe on tranquil Kapari Beach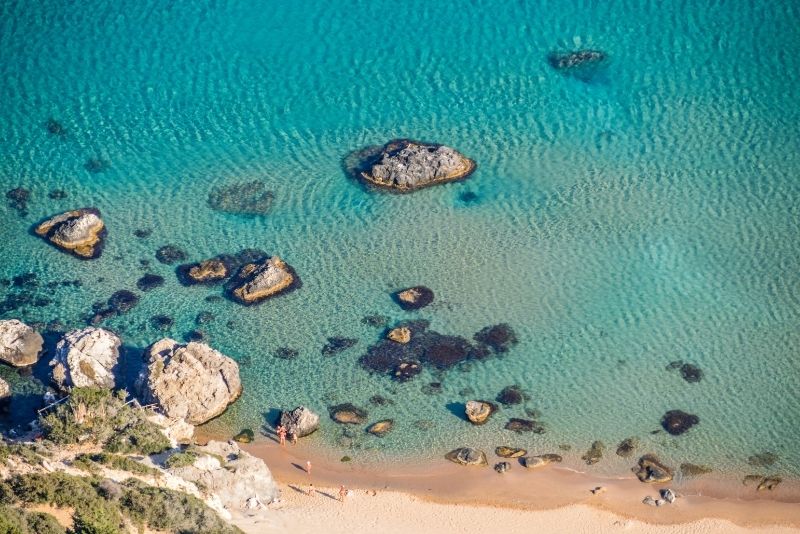 If you fancy spending the day at a quiet beach far from the crowds, then come to Kapari. There are no sun loungers or organized facilities, which is precisely the appeal of this secluded stretch of sand.
The clear waters are idyllic for swimming, and you can walk up to the pretty Agios Ioannis chapel for camera-worthy views. Pack a picnic and settle in for some serious chill time.
37 – Picnic in peace on Fokos and Mersini Beaches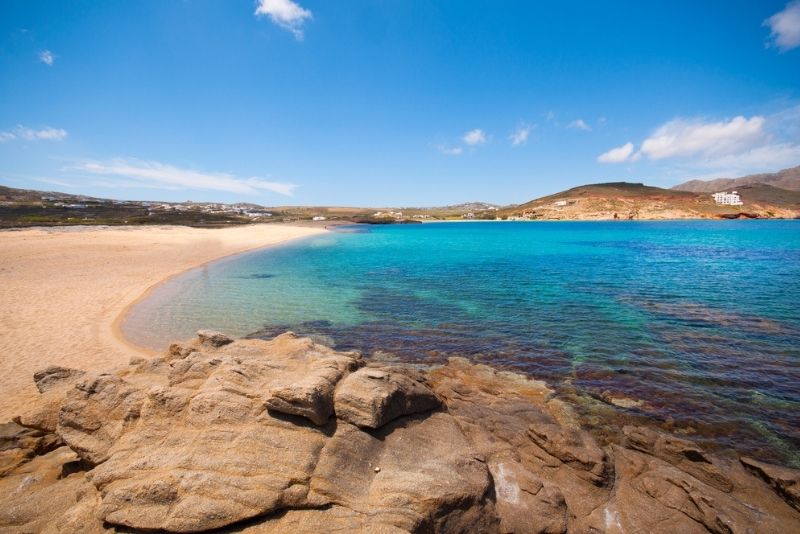 Fokos Beach is one of the least-visited bays in the north of the island, and is the perfect place to escape the bustle. It is so remote that you will need a car or taxi to get there.
Take a picnic and spend the day strolling the pristine sand, and taking a dip in the warm waters. Head over to the neighboring Mersini beach for even more seclusion.
38 – Sail to Tinos Island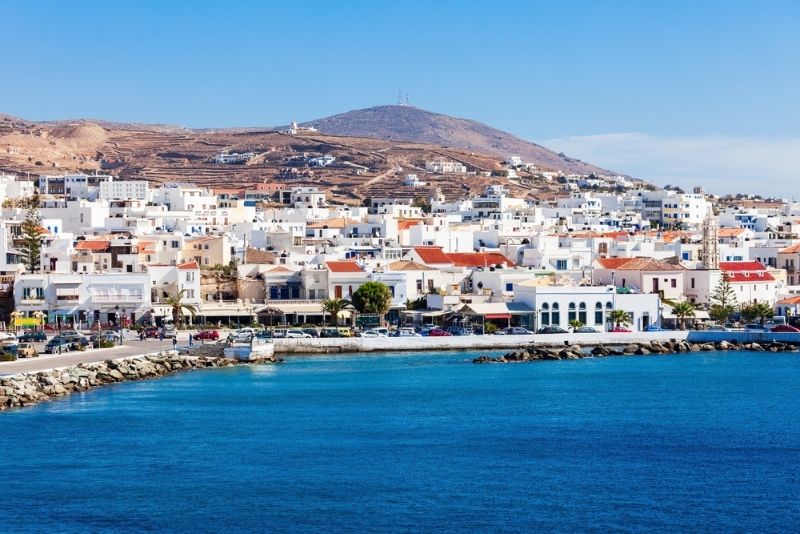 One of the most unforgettable things to do in Mykonos is to take a boat tour to Tinos Island. This picture-postcard gem is just 45 minutes away by ferry, and is an important religious site for Orthodox Christians.
Visit the most important church in Greece – the Evangellistria – and learn about its famous icon. Then head into the mountains to a monastery before puzzling over unusual Venetian pigeon houses down in the valley.
So, there you have it, a hand-picked list of all the top things to do in Mykonos during your Greek vacation.
To make your trip stress-free, check out the best hotels in Mykonos for some truly stunning places to stay on the island.
Arriving by plane? Then you might want to consider booking your airport transfers in advance. Many visitors like to explore independently, and there are several competitive car rental options on the island too.