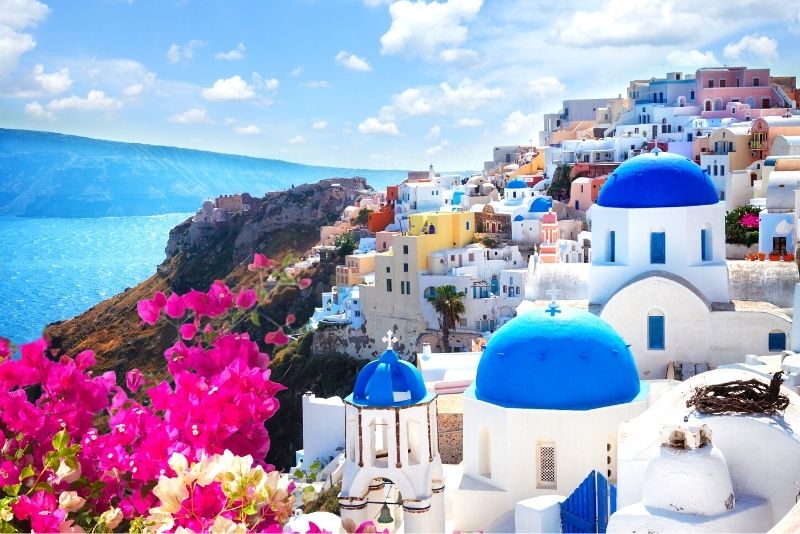 A picture-perfect oasis in the middle of the marvelous Aegean, where whitewashed buildings contrast magnificently with the kaleidoscope of sunset colors, Santorini is one of those idyllic places that everyone dreams of visiting at least once in their lifetime.
And it's not hard to see why – whether you're soaking up the rays on one of the island's many black sandy beaches, exploring its archaeological sites dating back thousands of years, or simply enjoying a glass of wine while watching the sun sink into the shimmering sea, Santorini truly is a postcard-worthy place like no other.
Blue-domed churches cling precariously to steep cliffsides, while the deeper blue waters glimmer below. Centuries-old windmills stand watch over vineyards, and sun-soaked streets are lined with quaint cafes and boutique shops. But beyond its obvious visual allure, Santorini has a treasure trove of diverse activities that are often swept under the radar: from scuba diving and hiking to ancient ruins, wine tastings, and ocean cruises, there's something for everyone on this Greek island paradise.
To help you make the most of your time, we've put together a comprehensive list of 50 of the most fun things to do in Santorini, ranging from adrenaline-pumping activities to more low-key pursuits. So whether you're looking for an action-packed vacation or a relaxing and romantic getaway, we've got you covered.
1 – Admire the sunset from Oia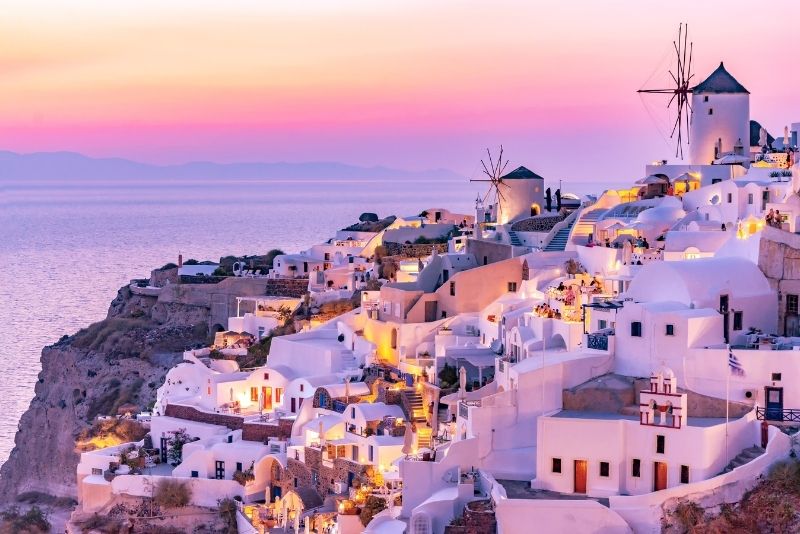 There is nowhere better to see a Santorini sunset than from the traditional hilltop village of Oia. Find the perfect vantage spot amongst a cascade of white walls and blue-domed churches, then watch as fiery oranges and reds flood the horizon before you.
See if you can photograph a windmill silhouetted against the romantic pink sky + arrive early to beat the crowds.
Hot tip: rather than flocking to the areas where all the tourists are, consider a guided tour that takes you to some of Oia's more hidden and lesser-known spots for the best sunset experience – or, better yet, find a nice restaurant terrace to while away the evening with a glass of wine in hand.
2 – Take a hike from Fira to Oia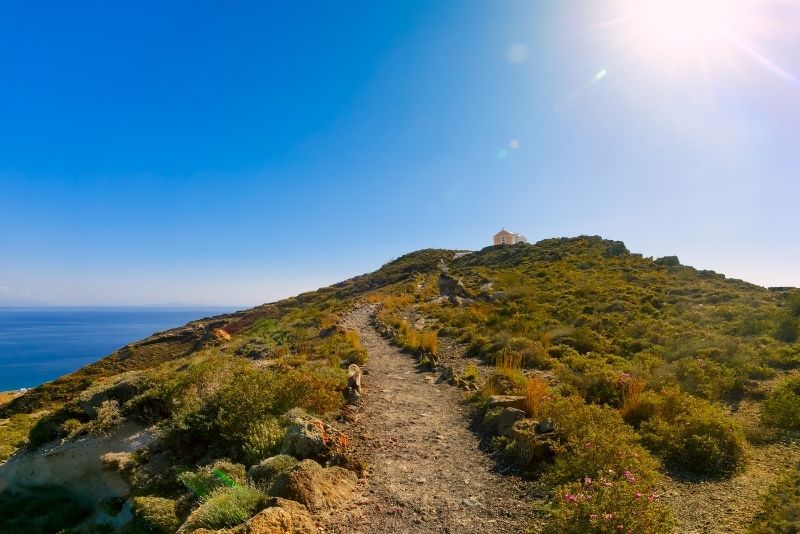 Lace up those hiking boots and stride out along the rugged caldera rim on Santorini's most beautiful walk. The plunging crater views will take your breath away, so make sure your camera batteries are charged.
Explore dramatic cliffside villages and take a small detour to the beautiful Three Bells in Firostefani. This is the most photographed church on the island thanks to its picturesque setting.
All up, the journey takes about four hours and covers close to 10 kilometers – but it's relatively flat, and something the whole family could easily tackle.
3 – Set sail around the stunning Santorini caldera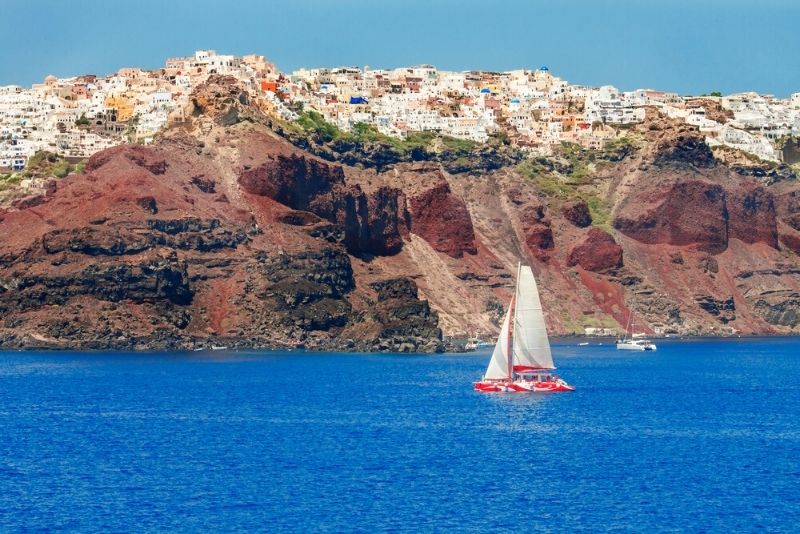 Have you ever taken a boat trip inside a volcano? This is your chance, with plenty of dramatic coastal scenery and iconic Greek landmarks to admire as you soak up the sun while relaxing on deck.
Enjoy stops at sandy beaches for a refreshing swim, and dive into the cool Mediterranean waters for a thrilling snorkel with the resident marine life.
You'll find a plethora of boat tours to choose from, ranging from quick sightseeing tours on sailboats to day-long adventures on catamarans, dinner cruises, all-inclusive party boats (hello, open bar!), and fully private yacht experiences (romantics, take note).
You can also book a jet boat tour to explore even more of the unique traits of this volcanic realm, from striking seaside caverns to relaxing hot springs.
4 – Spend the afternoon sea kayaking around Red Beach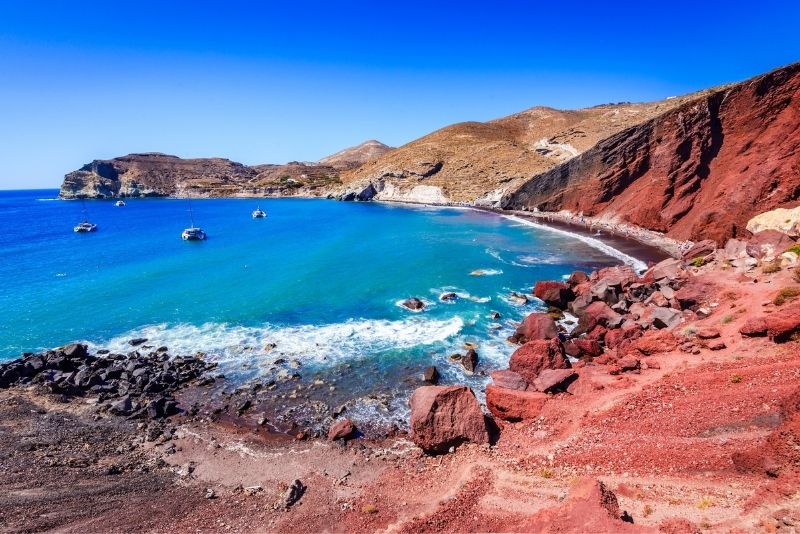 Ask any nature-loving traveler and they'll attest: paddling around the volcanic coastline by kayak is one of the most fun things to do in Santorini. This aquatic mission takes in the photogenic Red Beach, exploring ethereal sea caves and secluded bays along the way.
Feeling brave? Then try the cliff jump at White Beach if you dare, or take a dip and see what you can spot beneath the waves.
With near-perfect visibility and an amazing variety of creatures and geological formations, there's no end to the beauty that you'll encounter while snorkeling.
You'll find a handful of different kayaking options to choose from – both small group and private. For the more complete experience, opt for one which includes a spot of lunch or a hearty (and deliciously authentically Greek) dinner.
5 – Uncover ancient myths at the Lost Atlantis Experience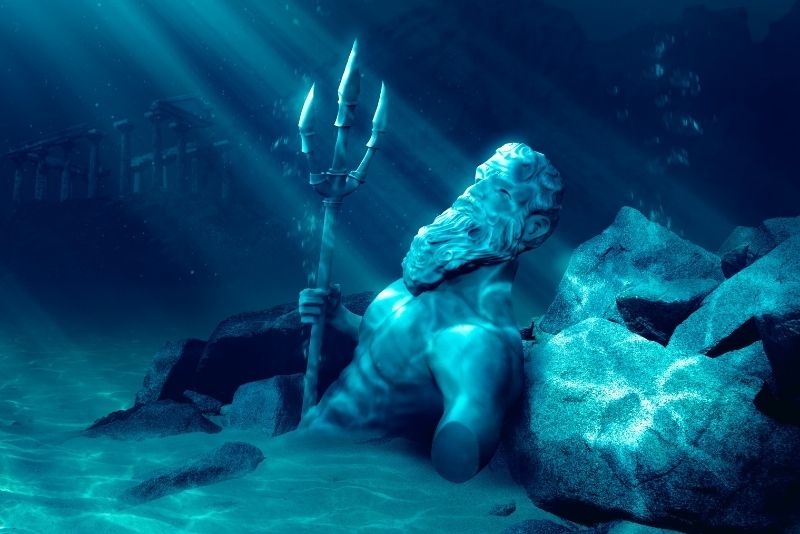 As the world's most famous lost city, Atlantis is a name cemented in folklore, with more intrigue and question marks than any other underwater landmark.
Want to discover the truth about the mythical lost city of Atlantis? Then come and explore the first museum in the world in possession of all the facts. Learn how this ancient utopia was destroyed and admire the 3D holograms and detailed exhibitions.
Far more than just a museum, this Megalochori attraction offers up the chance to get interactive – the best possible way to learn! Become a super sleuth and find out if modern-day Santorini is in fact the location of this mysterious underwater realm. You might be left with answers, or you might leave scratching your head with more questions – either way, make sure to visit the Lost Atlantis Experience – the first museum in the world dedicated to the mystery. Kids of age and kids at heart will love it!
6 – Explore the Castle of Agios Nikolaos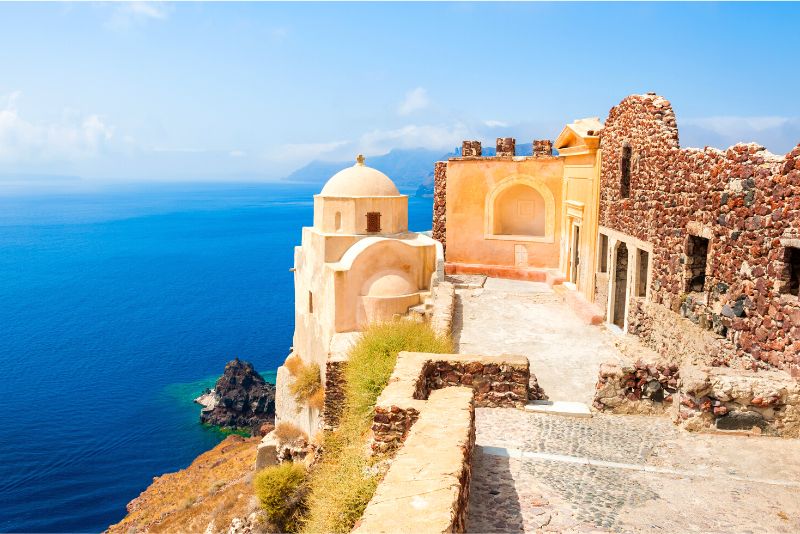 As you stroll around the village of Oia, you may notice a remarkable stone building overlooking the town.
The Castle of Agios Nikolaos is stunning in and of itself, a Venetian-style building that was originally constructed in the 15th century as a home for nobility and a way to watch for enemies at sea.
But it's also a renowned viewpoint for the area's famous sunsets, with jaw-dropping views of volcanic formations and the Aegean Sea.
From fortification against pirates to hot photo spot – not a bad trajectory for a castle!
7 – Snap that perfect vacation photo in an infinity pool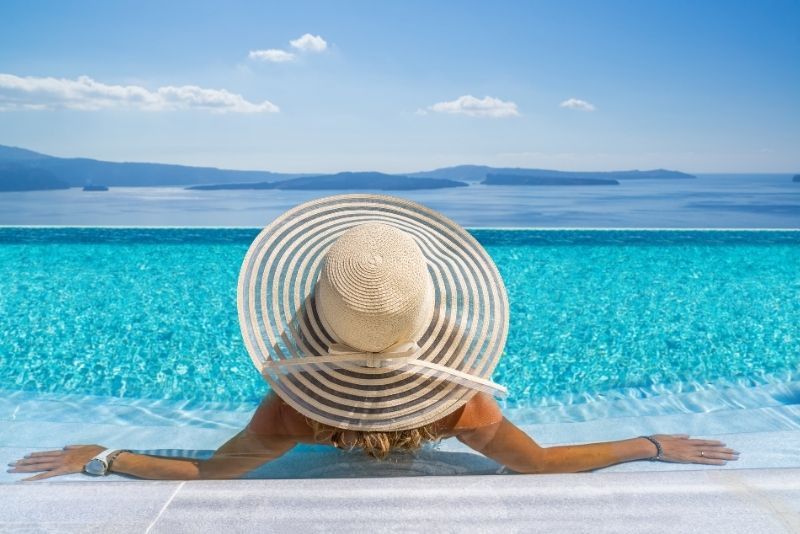 You're on vacation, after all, so why not allocate a couple of hours to pamper yourself?
Turn the romance up a notch and book into a luxurious Santorini cliffside hotel like Grace, Katikies or Cavo Tagoo – all names synonymous with relaxation and luxury. Overlooking the stunning caldera, these postcard-worthy whitewashed havens boast some of the most idyllic infinity pools in the world, perfect for honeymooners as well as families – or anyone looking to work on the tan and snap that jealousy-evoking social media pic, really.
Relax in your private pool with a glass of wine and watch the sun falling off the edge of the world. These spots are made for memories.
8 – Wander around on a tailor-made photo tour
If you don't upload a handful of snaps to the 'gram, did you even go to Santorini? These days, selfies just don't cut it.
Let someone else worry about finding those all-important posing locations as you simply relax, strut your best Blue Steel, and enjoy those stellar views.
Led by a local, your guide doubles as your very own professional photographer, who'll whisk you away to all the best spots on the island during a fully customizable private tour. Rather than cramming yourself into the tourist traps, these private tours venture off the beaten path into the real Santorini – the incredibly photogenic spots that tourists seldom discover.
Besides a few snaps of yourself, you'll also learn how to take enviable holiday photos of sugar-cube houses and plunging caldera cliffs, and come away feeling like an expert behind the lens.
9 – Zoom along the coast on a jet ski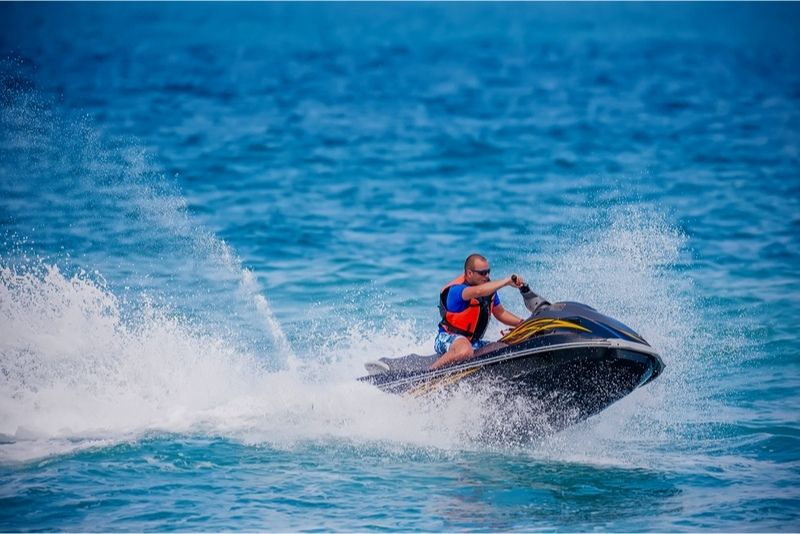 Thrillseekers, this one is for you! With calm, warm waters, and wonderful panoramic views of the island from the surrounding bays and open waters, a jet ski adventure delivers the perfect balance of adreniline and sightseeing.
Enjoy a whirlwind sea safari by jet ski as you power through the waves around the iconic Santorini caldera — ride tandem or go solo, either way, you're in for a seriously envigorating time on the water.
Admire the cliffs that loom high above your head, and when you're ready to turn off the engine, take the snorkeling gear out and plunge beneath the sparkling blue sea to get up close and personal with the vibrant local marine life.
And when you're all tuckered out, the beauty of a jet ski is that you can find yourself a private slice of beach on which to relax and catch your breath afterward.
Take your pick between a casual rental or join a locally-led tour!
10 – Tee off in style at the golf course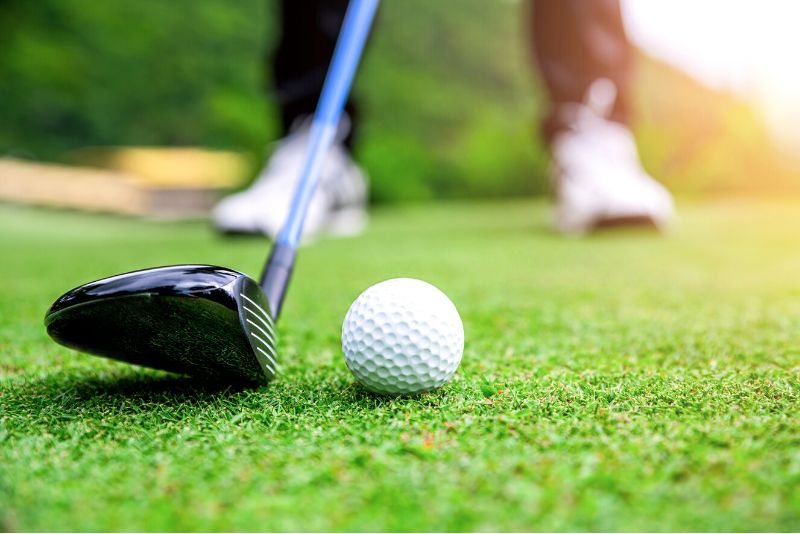 Golfing is synonymous with glamorous vacations, and teeing off at Vedema is one of the classiest things to do in Santorini.
Whether you're a newbie or an expert, you'll have a great time on this gorgeous course, where palms and greenery perfectly frame each hole.
After the game, you can unwind at the resort itself, which boasts a spa, elegant rooms, and a 400-year old winery.
Play some rounds, stay a while, and get a feel for the glitzy life!
11 – Explore the ancient ruins of Akrotiri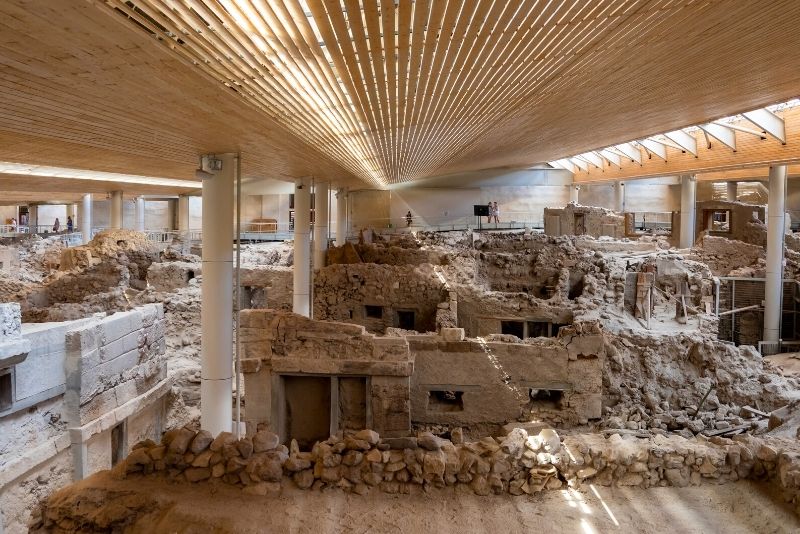 Who says Santorini is nothing but sunsets? Behind the whitewashed walls, this idyllic destination has a rich history. Case in point: Akrotiri.
On tours of this ancient settlement, which you'll find on the southern side of the island— you'll feel as if you've been whisked off to the Bronze Age. With overtones of Pompeii, this city was buried by ash during the volcanic eruption that created the caldera of today.
Wander around the excavated streets and stone houses to see if you can spot the well-preserved murals; keep an eye out for the remains of fine frescoes and Minoan toilets, and be sure to listen closely to the expert historians who'll wax facts about this bygone era and the workings of the ancient civilization that once called this location home.
12 – Get a little buzzed on a wine tour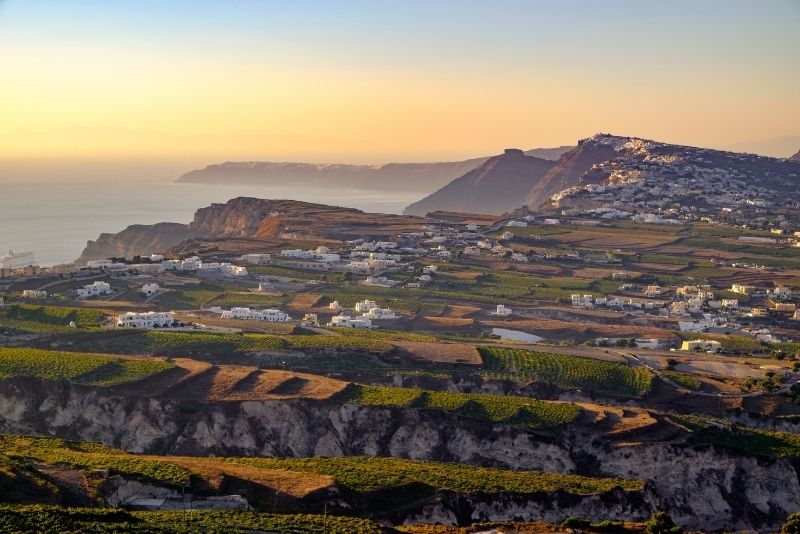 Feeling thirsty? One of the most popular things to do in Santorini for foodies is to take a wine tour and discover the mysteries of volcanic vintages. On dedicated wine tours – designated driver included, of course – you'll have the chance to explore several different wineries scattered around the island, visiting hidden corners of rural Santorini that few travelers ever get to see.
While each tour is different, you can expect to hit up a handful of the crowd favorites: Domaine Sigalas, Gaia Winery, Santo Winery, Venetsanos Winery, and Estate Argyros, to name but a few.
With the opportunity to head down to the cellars and learn some sommelier secrets – while tasting the distinct flavors of Santorini's grapes throughout the day – it's an experience that's both educational and delicious.
13 – Head below the surface with a scuba diving session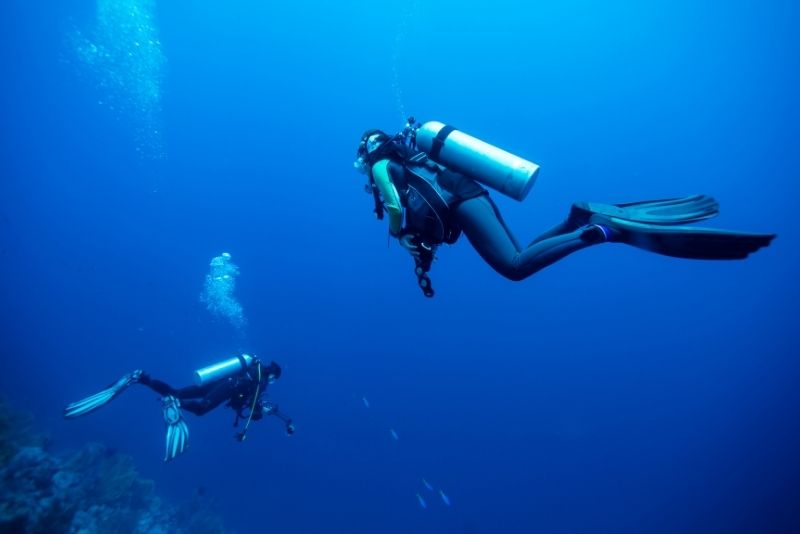 On land, Santorini is a picturesque paradise. But go beneath the surface and you'll discover an entirely new underwater world, full of mystery, beauty, and, of course, myriad vibrant sealife and coral.
After an introductory lesson, you'll be able to glide yourself over rocky reefs and play hide and seek with the marine inhabitants that flit between the hidden crevices.
Experienced divers can venture out into the deep blue caldera waters, but even if you've never slipped on the scuba suit before, beginner options are available too.
Will you be the one to finally spot the submerged lost city of Atlantis?
Besides the actual diving, the excursions also typically include transport to and from your hotel to the dock and some well-earned refreshments on board.
14 – Swim in exotic hot springs AND hike up a volcano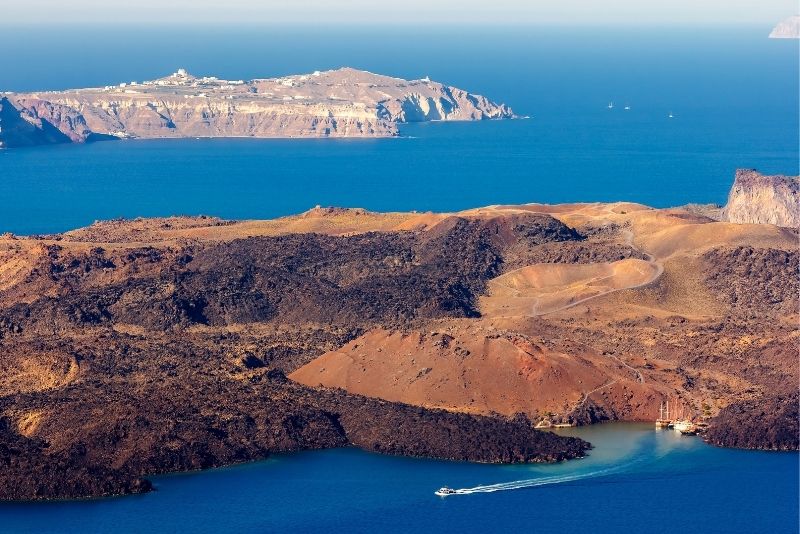 Fancy stretching the legs for a bit of an adventure? A wonderful way to escape the crowded tourist areas, hot springs excursions venture to spots like the tiny, uninhabited islet of Palea Kameni, where Mother Nature's finest work is on display, and where you can take a rejuvenating soak in the healing hot springs.
Led by local outdoor enthusiastic tour guides (unless you venture out on your own, that is), you'll walk up to the rim of Santorini's dramatic volcano for show-stopping views over the island and beyond. Then, hop on board a boat to explore the mysterious black lava islands down in the ominous caldera before jumping in the springs.
And, to cap of a wonderful day of exploring, be sure to allocate some time to meander through wander around  Thirassia island's laidback village of Manolas.
15 – Chill out in picturesque Ammoudi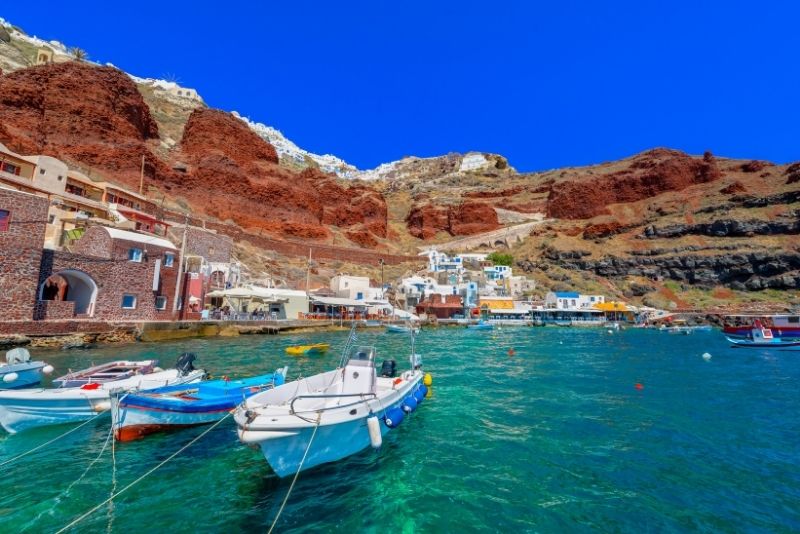 300 steep steps below the town of Oia, the charming port settlement of Ammoudi is a great place for lunch and a seafront stroll. Traditional white houses line the natural bay, with fishing boats bobbing on the sparkling waters and striking red cliffs keeping watch from above. It's simply one of those places that can never be done justice by photos.
On those sizzling summer days, an hour or so snorkeling off the rocky beach makes for a wonderful way to cool off – especially if you've worked up a sweat from the lovely cliff walk (also a fabulous location for sunset viewing),
Once you're ready for an evening feed, find yourself one of the charming waterside tavernas where you can tuck into some of the area's most tantalizing freshly caught seafood.
16 – Sail off into the Santorini sunset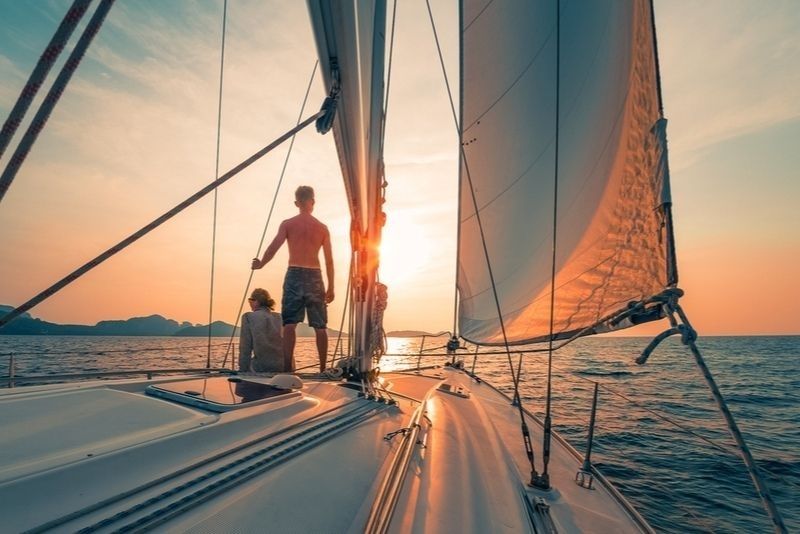 Sunsets on Santorini are among the best in the world – nobody's doubting that. And while the vistas from restaurant terraces and island viewpoints are nothing to shun at, if you venture out by boat in the evening, the romance shoots up to a whole new level. With a lovely and knowledgable captain (and crew) on board to take care of the hassle, you can kick back and relax as you sail past iconic landmarks and imposing cliffs, soaking up the sun while sipping a glass of bubbly on deck.
Then, watch as the magic happens – keep your camera handy to capture the flood of orange light rippling on the horizon.
17 – Soak up the stellar views from the whitewashed Pyrgos village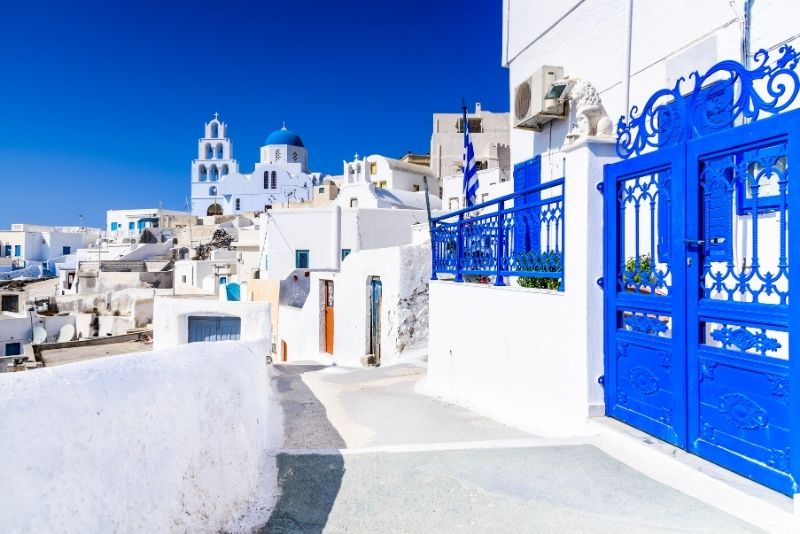 Think you have nailed all the panoramic spots on the island? Think again. While not the most popular of the island's viewpoints, this charming little village delivers entertainment and beauty in spade – well deserving of a pin on your map.
Nestled in the foothills of Mount Profitis Ilias, just south of Fira, Pyrgos is known for its quaint wine bars and traditional eateries, medieval alleyways, and steep streets (so wear comfy shoes) – above all though, it's renowned for its panoramic views of the island and the sparkling Aegean beyond.
While you're there, be sure to save a few minutes to pop into the Santorini of the Past Museum.
18 – Soar above the island with an insightful helicopter tour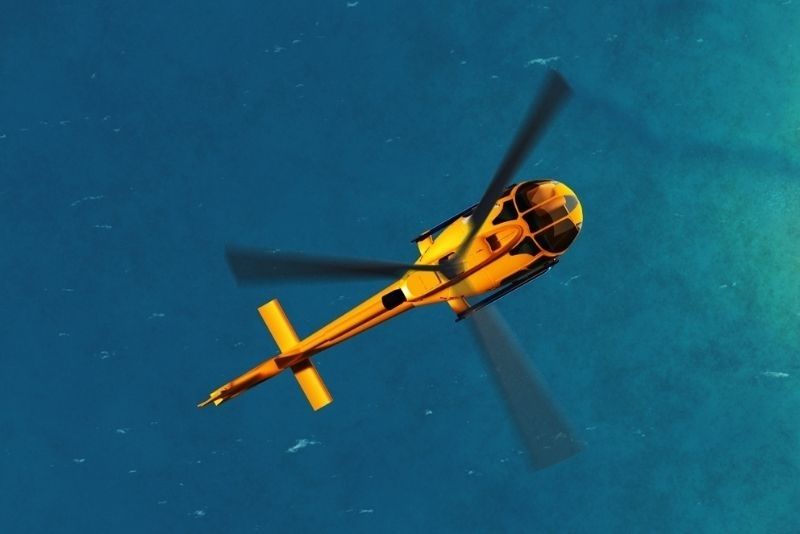 Taking to the skies by helicopter is one of the most thrilling things to do in Santorini. With a friendly pilot sharing all kinds of tidbits about the landscape and attractions below, you'll be blessed with a bird's eye view of the sprawling caldera island as it unfolds beneath you, and be able to admire the tiny, whitewashed villages that pepper the steep slopes from a whole new perspective.
See if you can spot the vineyards and mansions of Megalochora, and be sure to ask your pilot about the other Greek islands spread across the Aegean — who knows, maybe they'll be your next stop.
Choose from private flights, small group flights, or (more expensive) helicopter transfers to places like Mykonos!
19 – Go horse riding on peaceful Eros Beach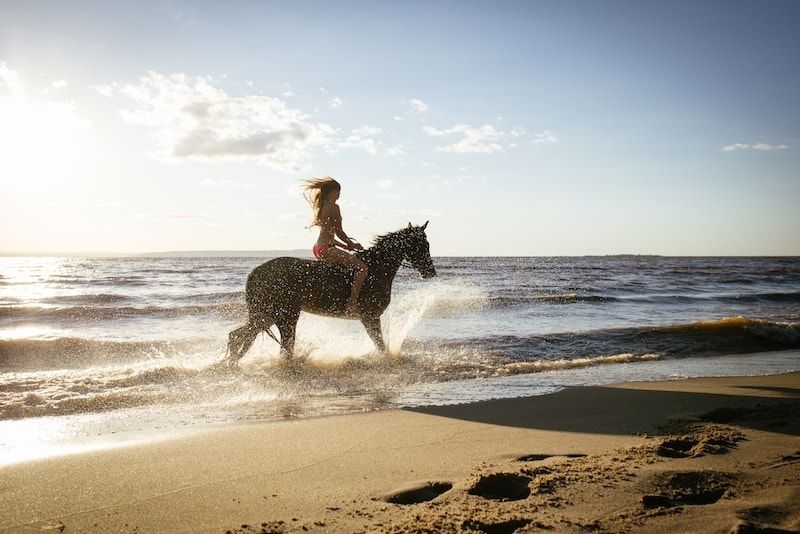 Truly emblematic of being on a stress-free vacation, beachside horse riding activities will have you feeling the wind in your hair as you canter through the surf along one of the most enticing beaches in southern Santorini.
Besides trotting down the breakwater on what's been dubbed Black Sandy Beach (for obvious reasons), some tours also take you off the sand, where you and your trusty steed can negotiate lava trails through rolling vineyards, and admire views of deep ravines in the volcanic rock.
Whether you're a total newbie or a seasoned rider, there's a horse riding adventure suitable for every level of expertise.
Want something a little different? You've also got the choice of half-day tours through the inland region, or sightseeing trots on the outskirts of more built-up areas like Megalochori.
20 – Get the adreniline pumping with water activities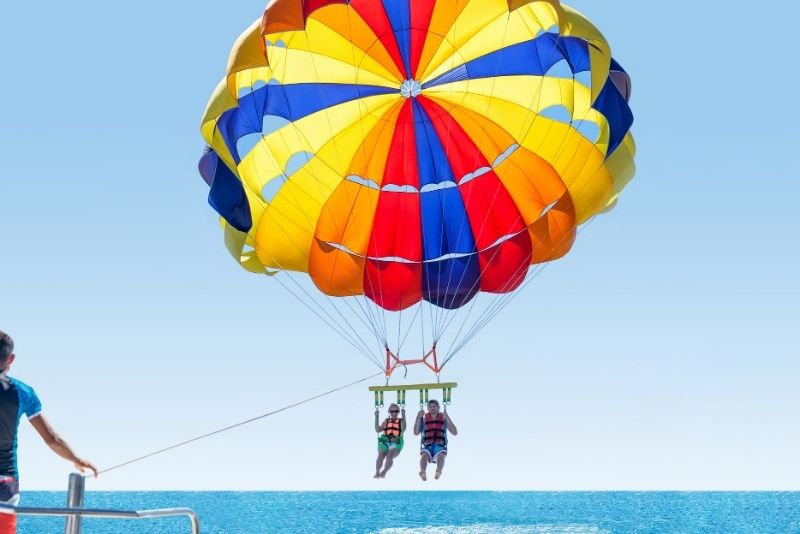 Get the adrenaline working overtime with a spot of jet skiing along the shoreline of this beautiful black sand beach. Or have a go at parasailing and soar over the water, enjoying incredible island views.
For something even more epic, feel the freedom of flyboarding as you practice your superhero moves high above the sea. Reward your efforts with fresh seafood from the shorefront restaurants.
You'll find Perivolos beach on the southeastern side of the island where, once you're done getting your adrenaline fix, a myriad of beachside restaurants and bars await.
Once you've tried all of the awesome adventures, check out some of the other amazing beaches nearby, including Red Beach, Monolithos Beach, and Kamari Beach.
And if you're still craving some excitement, you can head out on the water with some paddleboarding, or soar above it with some windsurfing.
21 – Explore the rugged interior on a 4×4 adventure or quad bike safari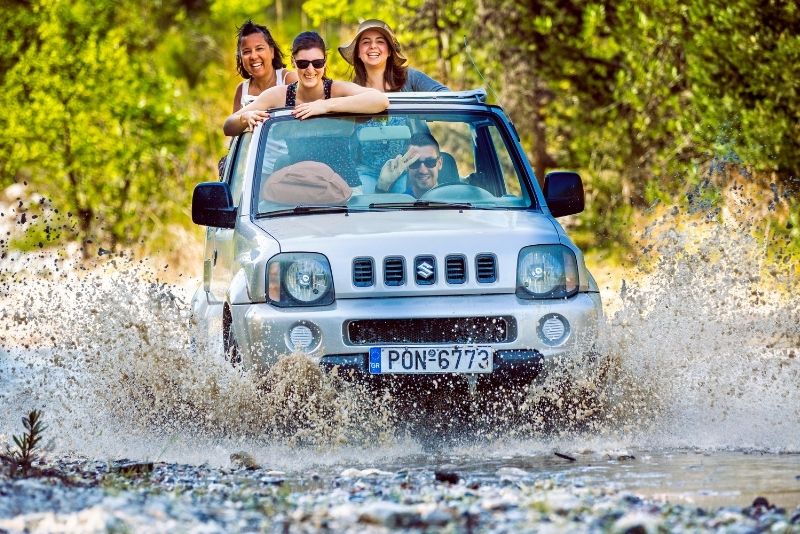 Looking for a change of scenery from the busy tourist towns? Want to see what the real Santorini looks like in all its natural glory? Then head well and truly off the beaten track on a jeep tour or quad biking adventure through the other-worldly island interior. With your own private driver or guide, you'll discover a slew of hidden trails, roll through remote valleys, and witness the most secret corners of Santorini that you won't find on postcards or guidebook covers.
Along the way, make the most of the myriad photo stops – scenic mountain viewpoints in this rugged realm are aplenty – and be sure to chat to the locals in the sleepy countryside villages as you trundle by, to learn all about the locale culture and customs.
22 – Tuck into traditional Greek food with a food tour!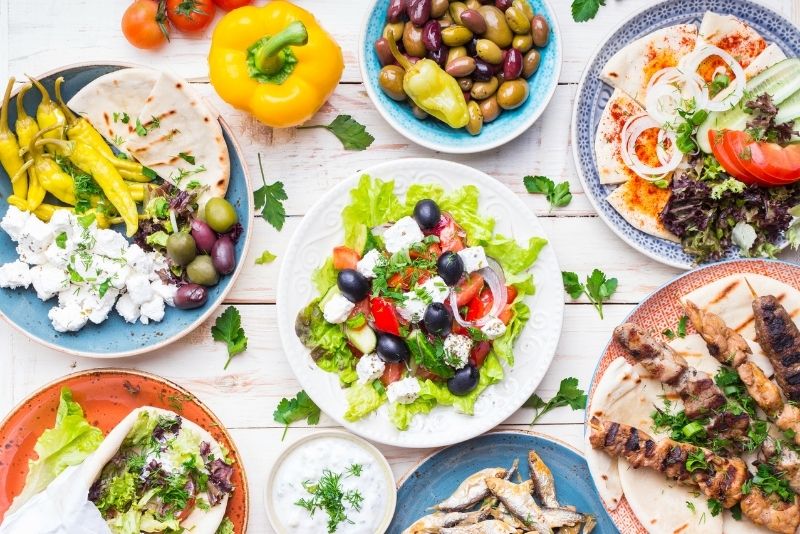 Beyond the sunsets and whitewashed villages, if there's anything Santorini is just as known for, it's the ability to tantalize the tastebuds. While hopping from restaurant to restaurant is a no-brainer, it's certainly worth joining a food tour if you're looking for a next-level foodie experience.
As you meander through the town, led by a local who knows all the hidden gems, you'll have the chance to try meze platters, sample oh-so-sweet Greek honey, and dig into dishes of creamy fava. While each tour is different, you'll no doubt stop at a handful of traditional tavernas and restaurants on this culinary adventure, learning all about Mediterranean culture through its fan-favorite food.
Toast your newfound knowledge with a cold beer or rich Greek coffee, and be sure to save some room for what is arguably the country's most beloved dessert: Loukoumades – Greece's unique take on donuts.
23 – Ride the Santorini cable car up to the top of the mountain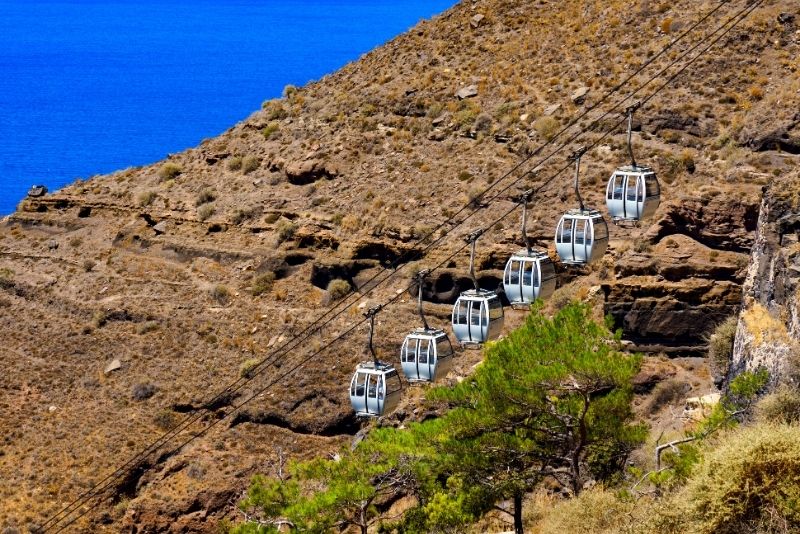 It's basic science: the higher up you go, the better the views become! And on the cable car ride between Fira and the Old Port of Gialos, that statement couldn't be any more true. As you trudge your way up the dramatic caldera mountainside, you'll be greeted with sweeping vistas of the lava rockface – accented by occasional lush greenery – and the sparkling ocean beyond.
If you're a sucker for heights, this 220-meter-high activity sells itself as one of the most fun things to do in Santorini.
And what comes up must come down! So keep your camera handy for photos from an unusual perspective as you descend gently towards the glimmering blue sea.
24 – Grab the popcorn for a movie at the Kamari open-air cinema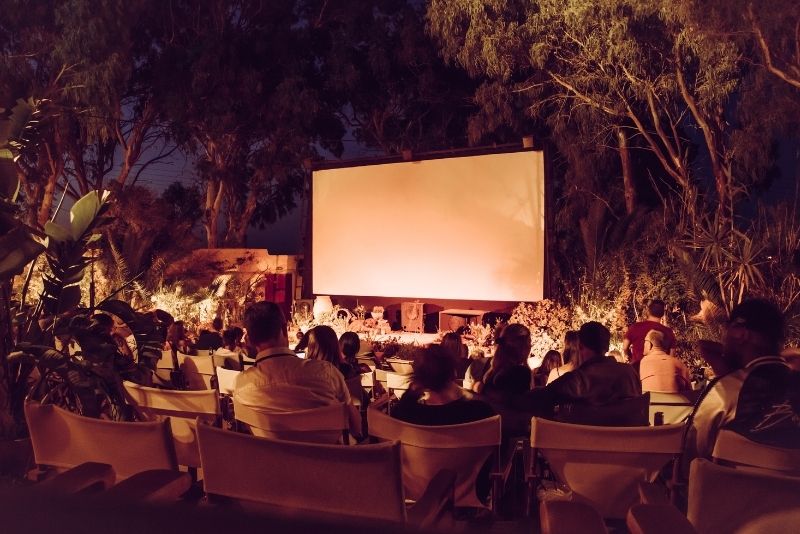 Catch a late-night movie during summer at this unique outdoor cinema in the buzzing beach village of Kamari (on the eastern side of the island). Popular with visitors and locals alike, this tranquil open-air theater offers a relaxing evening out with films available in both Greek and English (typically played in English with Greek subtitles), and encompassing a festive mix of new releases, Hollywood blockbusters, cult classics, and Greek award-winners.
Take your seats under the starry night sky, grab some popcorn, and sit back to enjoy the show! If you're after romance, it's hard to beat.
25 – Work up a sweat; tour the island by electric bike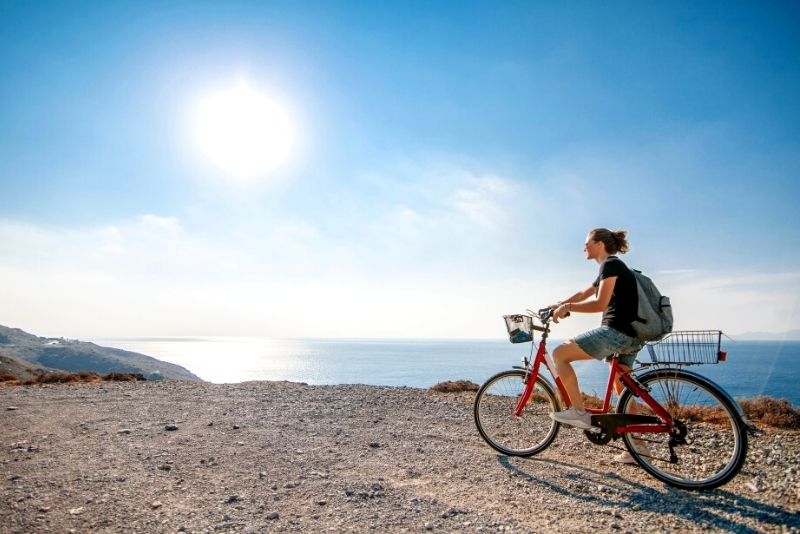 Fed up with walking tours? Don't want to have to stick to the main roads on a tour bus? Then look no further than the two-wheeled solution.
Sure, Santorini has hills all over, but on an electric bike tour of the island, it's full steam ahead with a little extra help on those inclines. Enjoy the cooling breeze as you pedal through typical Greek villages, tasting wine and local foods along the way in different towns, and admiring the caldera views as you go.
Led by an in-the-know local, you'll cycle through ancient cities and medieval castles, venture off the beaten track, and (depending on your tour) hit up quintessential destinations like the black sandy beach of Perivolos and Vlichada Port, the maze village of Emporio, and the picture-perfect town of Megalochori, to name a few.
And once you're done, you'll be dropped back at your hotel for a well-deserved rest.
26 – Take a lovely stroll around the Megalochori village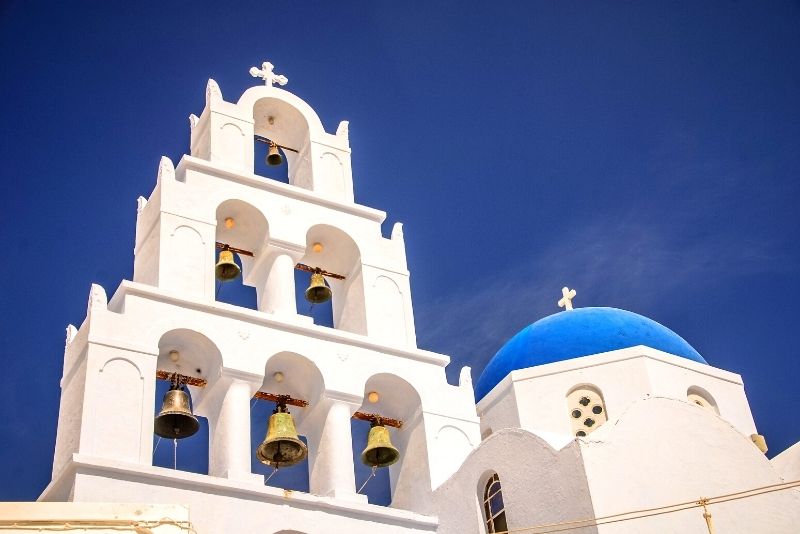 If you want to see a truly traditional village with bags of charm, then head to Megalochori. The labyrinthine streets and steep alleyways are lined with an eclectic mix of Neoclassical mansions and iconic cave houses, so keep your camera handy.
Eat ice cream in the sunny square and admire the rolling vineyard setting; make sure you swing by the iconic, blue-domed churches for the ultimate photo opportunity; soak up the ever-lively atmosphere in the central square; discover the secret underground caves, and, if time's your friend, hop around some of the village most renowned wineries – namely the Boutari Winery, Antoniou Winery, and Gavalas Vineyard.
Looking for a lovely natural backdrop? Embedded in the stone is the Santorini Heart, a surefire way to add a touch of romance to any day of exploring.
27 – Make your way over to Thirassia Island for a change of scenery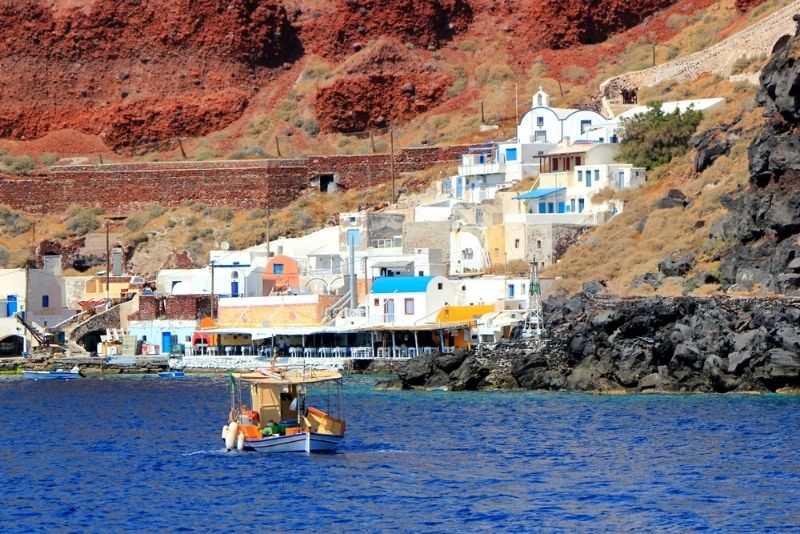 While you'll find the majority of activities on the Santorini mainland, it would be a sin to overlook the diverse beauty of the surrounding islands – particularly Thirassia. Formed back in the 2nd century BC by the same volcanic event, this small (like 300 people population small) island is as charming as they come.
Take a boat trip to this pretty volcanic island across the lagoon and enjoy a scenic stroll past the colorful houses of Manolas village, marvel at the Agios Konstantinos and Agios Dimitrios churches, take a hike up the rocky terrain, and breathe in the scent of blossom from the lovingly manicured gardens along the way.
Feel the sand between your toes on the secluded beaches then trek to the Monastery of the Assumption of the Virgin. And once all's said and done, make sure to reward yourself with a dip in the hot springs.
Hot tip: combine all these activities into one epic day of exploring with a pre-organized tour.
After all of your exploring, go out for a fantastic dinner!
Whether you're enjoying a picnic after kayaking or enjoying traditional music and dance performances while you sample a savory buffet, it's the perfect way to wind down the evening.
28 – Step back in time at the ruins of ancient Thera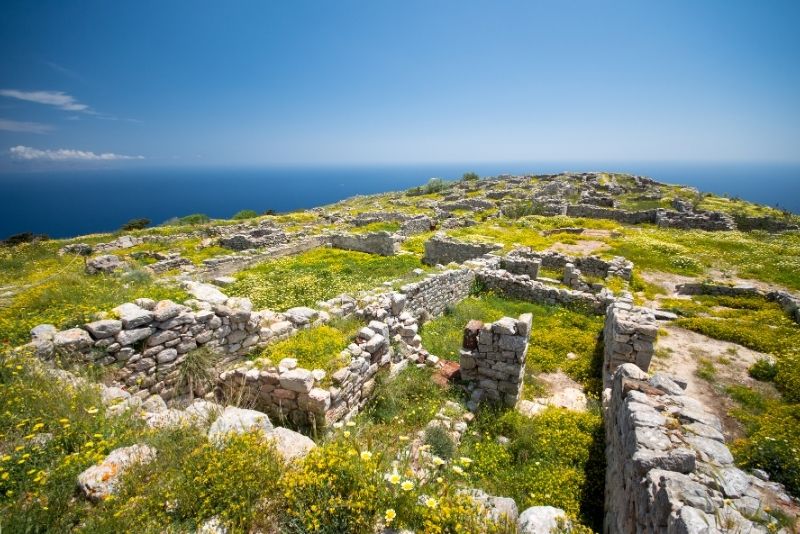 Perched on a rocky promontory between two picturesque beaches, the ancient city of Thera affords adventurous travelers some of the most breathtaking views of the surrounding islands.
Named after the mythical island ruler, Thera was inhabited until 726AD and today remains a popular archaeological site.
Take to the hiking trail for up-close examinations of Roman baths, Hellenistic shops, and Byzantine walls. You'll discover this important historical relic down on the southeastern corner of the island on a rocky mountain called Mesa Vouno –  sandwiched in between the coastal villages of Perissa and Kamari. Frankly even without the ancient attraction, from a height of over 365 meters, the seaside mountain dishes up spellbounding views worthy alone of a visit.
29 – Cast your line on a private fishing trip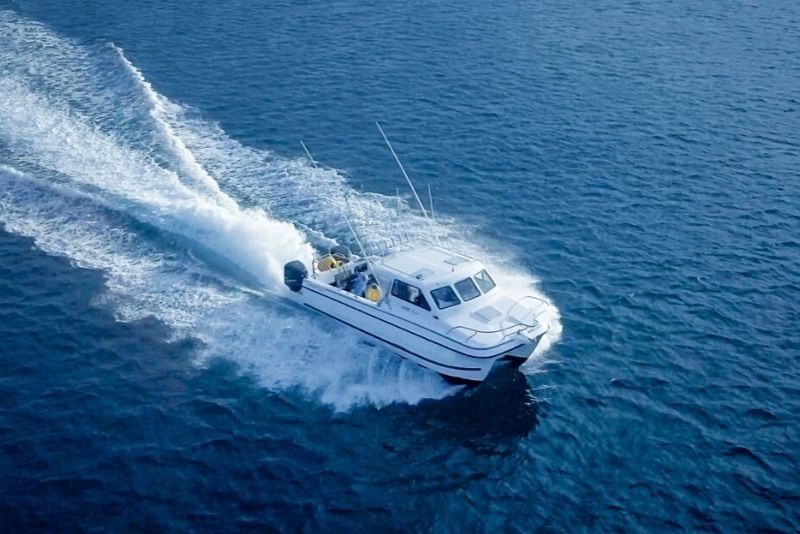 One of the most unusual things to do in Santorini is to take a fishing trip out into the blue waters of the caldera.
Sail around on a traditional wooden vessel and try your luck at catching shrimp or octopus under expert guidance from your skipper. Or dangle a line overboard and see if you can land some fish for lunch!
Whether you opt for a private excursion or a more affordable small group adventure, these relaxing expeditions typically last for about 5 hours, giving you plenty of time to kick back and relax on the deck once you're all reeled out.
Hot tip: consider one of the tours that blend fishing with a little swimming and snorkeling in the hidden bays.
30 – Hone your culinary skills at a Greek cooking class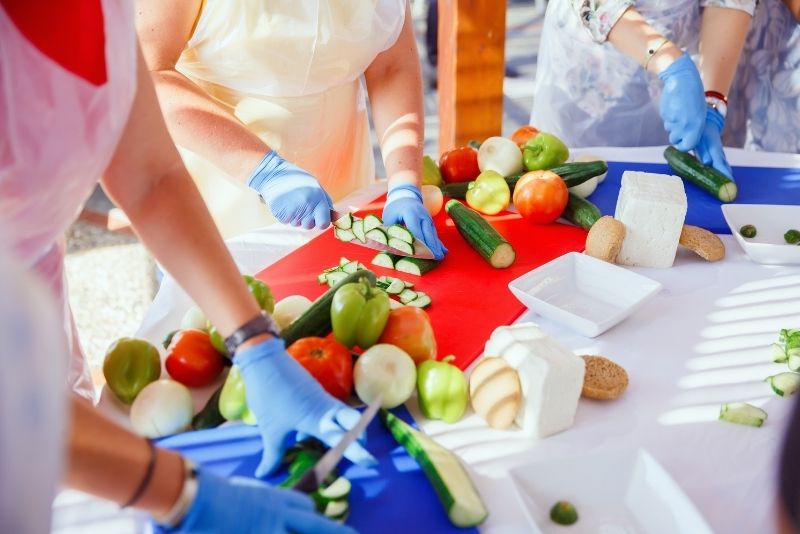 Foodies, take note! If there's one souvenir that your friends back home will seriously appreciate, it's an authentic Greek feast. In one of the island's many cooking classes, you'll be cooking up a storm with professional local chefs, experimenting with the freshest local flavors, and learning all about Greek culture through the language of cuisine.
Among the (typically) 4-course creation, you'll have a go at traditional dishes like keftedes fritters and fava bean puree, with desert included (like Saganaki, a mouth-watering fried cheese in filo pastry). And, being Santorini, visits to wineries and tastings are a dime a dozen.
And the best part? You get to eat the results afterward! Takes some notes so you can recreate those memories back home.
31 – Indulge at a few traditional Greek restaurants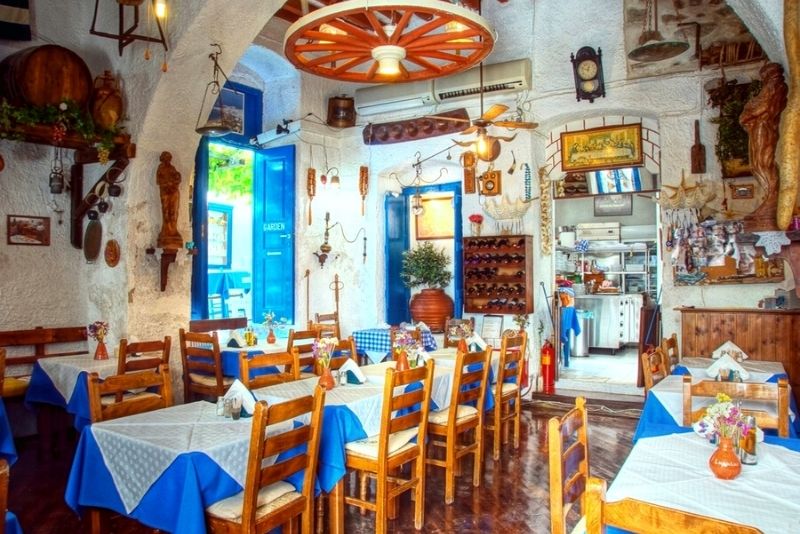 Forget about bland tourist menus and delve into the delicious world of real Greek food at traditional restaurants on Santorini. Your tastebuds will be working overtime as you sample homemade aubergine salads, freshly caught calamari, and organic fava bean dips at the countless restaurants which dot this paradise island.
But with so many choices, where do we begin? If you're a seafood fan, make sure to try the fish at Sunset by Paraskevas, while the traditional moussaka at Ouzeri Restaurant comes highly recommended. Or, for a Mediterranian meal with a twist, admire the sparkling sea views from Roka or Anogi as you tuck into authentic dishes like homemade pasta.
If you find yourself in Thera, the large open-air terrace at Argo combines fresh ocean air with tantalizing dishes.
For another great option that combines scenery with history, pull up a chair at Kapari Taverna. Tucked into a 19th-century structure festooned with vines and flowers, it's a wonderfully relaxing environment for a meal – and what a meal it will be!
All of the dishes here are based on classic Greek recipes, from tzatziki and calamari to savory chicken dishes and ouzo.
It's a fun and delicious way to get a feel for the culture!
32 – Hike up to the incredible Skaros Rock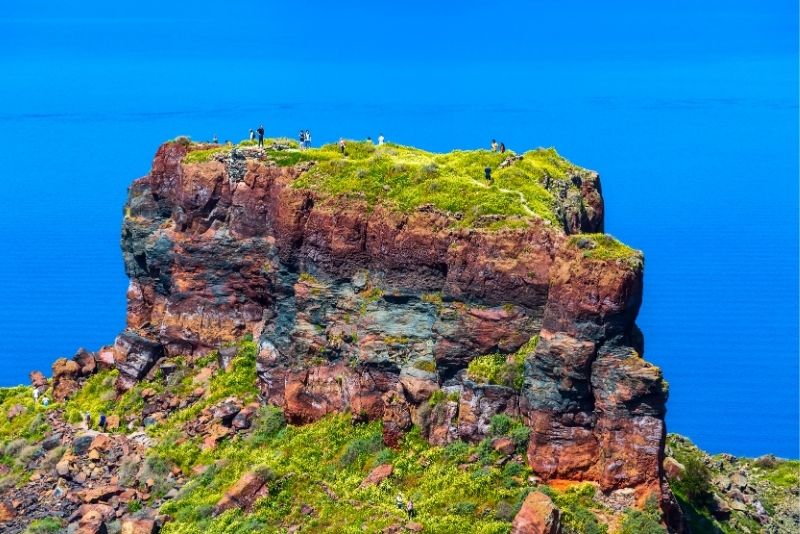 If you're wandering around the charming village of Imerovigli on the island's inner western coast, once you've ticked off the striking white church of Agios Georgios, then do yourself a favor: take the tiny trail out towards the rocky headland of Skaros, where the otherworldly moniker doesn't do this natural end-of-the-Earth outcrop justice.
Formerly the site of an unconquered castle that was destroyed by a 19th-century earthquake, today this imposing rock holds its own as one of Santorini's most spectacular photo ops.
Scramble over the historic fortress ruins and soak up the unsurpassed caldera views – you won't regret it.
33 – Admire ancient artifacts at the Museum of Prehistoric Thira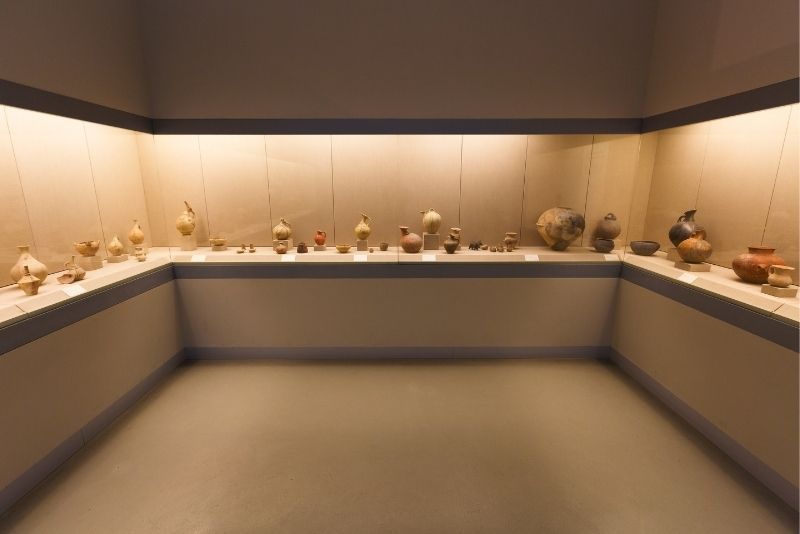 Consider yourself a bit of a history buff? A terrific locale to feel like you've stepped back in time, the Museum of Prehistoric Thira takes us on a journey into a pre-volcanic Santorini, where you can discover ancient artifacts that have been excavated from Akrotiti, Thira, and a slew of other fascinating historic island sites.
Wander around the exhibition halls and be amazed at the sharp colors of earthenware ceramics that have survived the ravages of time. Discover marble statues, weapons, and even Minoan frescoes in the rich collections.
Hot tip: try to visit the museum before venturing to the prehistoric excavations in Akrotiri – that way, you'll quickly be able to identify what you're looking at.
34 – Explore the enchanting Emporio village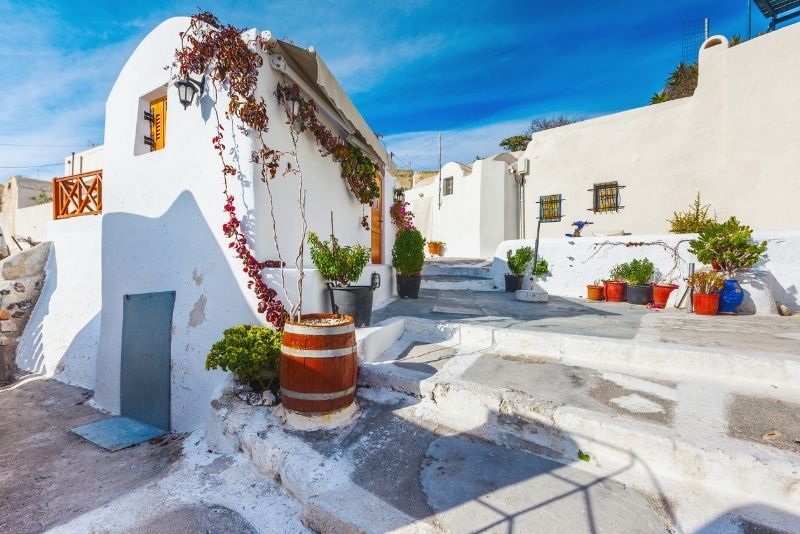 Sprawled out in the foothills of Mount Prophet Elia, and sitting in the shadow of the ancient 15th-century Venetian Castle, the village of Emporio is the largest settlement on the island – and, as any former visitor will tell you, one of the more picturesque. Wandering the characterful medieval streets is one of the most relaxing things to do in Santorini, with charming boutiques, hidden eateries, and whitewashed walls popping up around every corner.
While you're exploring, allocate a few minutes to stop at the 15th-century fortress before strolling around the beloved local market – and don't forget to snap a few enviable photos of the blue-domed churches with their attractive bell towers.
Combine your visit with a trip to nearby Perissa beach, and you've got yourself a marvelous day out.
35 – Get to know your grapes at the Wine Museum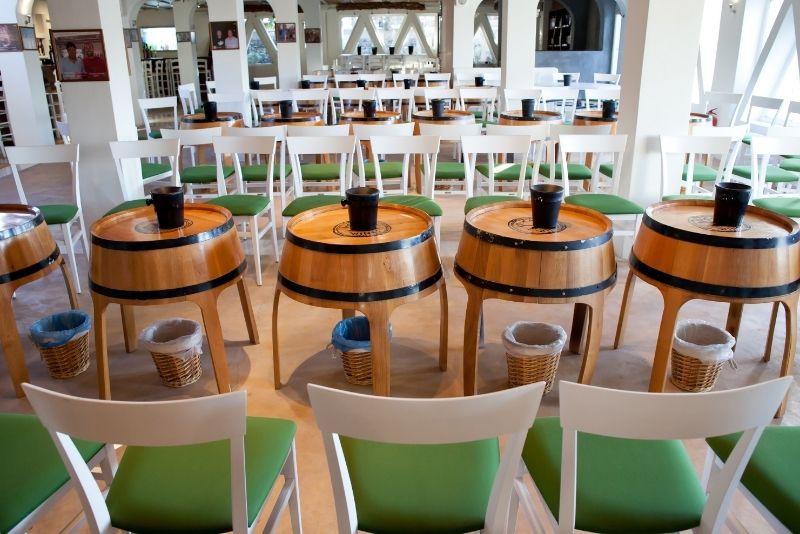 Thirsty travelers, take note! Is there any better museum than one that celebrates wine? Especially when it's housed inside its very own natural cave. A common stop for oenophiles or partygoers (before a night hitting the town, perhaps), this unusual yet fascinating museum charts the history of vine-growers in Santorini since the 1600s.
As you wander around the exhibits and chat to the expert local winemakers, you'll learn all about how wine is made on this rare volcanic island landscape – and how it affects the tastes and textures of the blends – and discover the secrets of winemakers over the centuries. And yes, there is tasting too… a lot of tasting.
Known for its textural mineral smokiness, Assyrtiko is the island's most famous creation – but you can expect to sample at least a half-dozen blends, red and white alike.
36 – Spend a day exploring all that Fira has to offer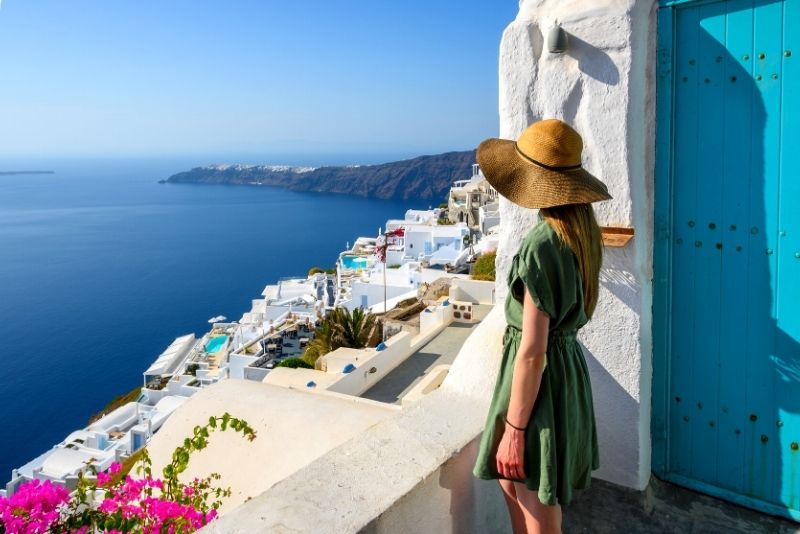 Fira is one of the most dramatic capital cities in the world, where bright white walls hide a maze of steep paths and secret stairways. The city balances a lively vibe with a romantic setting and, as the photos would suggest, is an absolute must-visit on your Santorini getaway.
Many argue that the best caldera views are from Fira, where there are plenty of traditional cafes and hotels with panoramic balconies to soak up the atmosphere.
Start your day at the Fira Old Port before making your way to the iconic Three Bells of Fira  (that's where your Instagram photo awaits) and the historic St. John the Baptist Cathedral. With a wonderful mix of old and new, this vibrant seaside city should sit at the top of the list.
37 – Satisfy your inner bookwork at the Atlantis Bookshop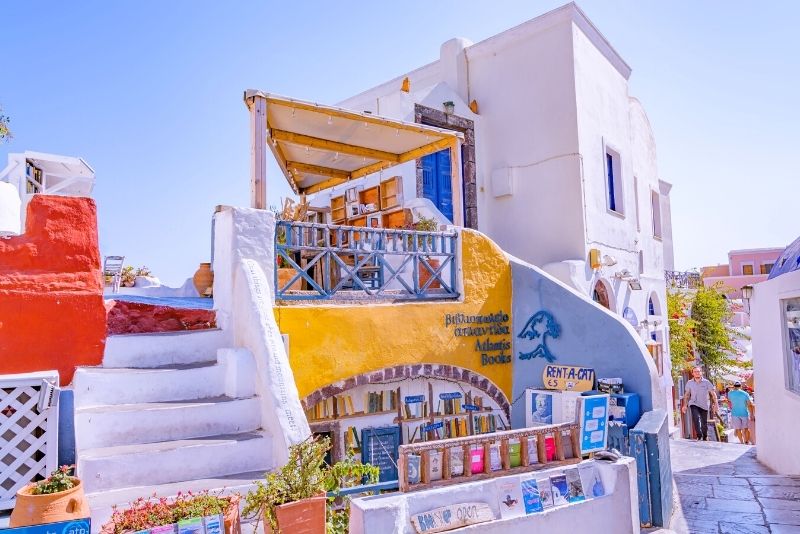 Avid readers, take note. Hide away for a while in this enchanting bookshop, where tones of Greek mythology sit alongside rare first editions and dusty Mediterranean maps. Far from your typical bookstore; tucked away behind the shelves are secret loft spaces where staff bunk down for the night.
Take a moment to sit on the scenic terrace, where the sweeping views and immersive pages will have you escaping into a new world – even if only for a few minutes.
With every genre under the sun – fiction and non-fiction alike – as well as a vintage collection of timeless mysteries and ancient Greece deep-dives, this quant little literary paradise on the main marble street of Oia is beckoning bookworms.
38 – Visit the unique Art Space Gallery and Winery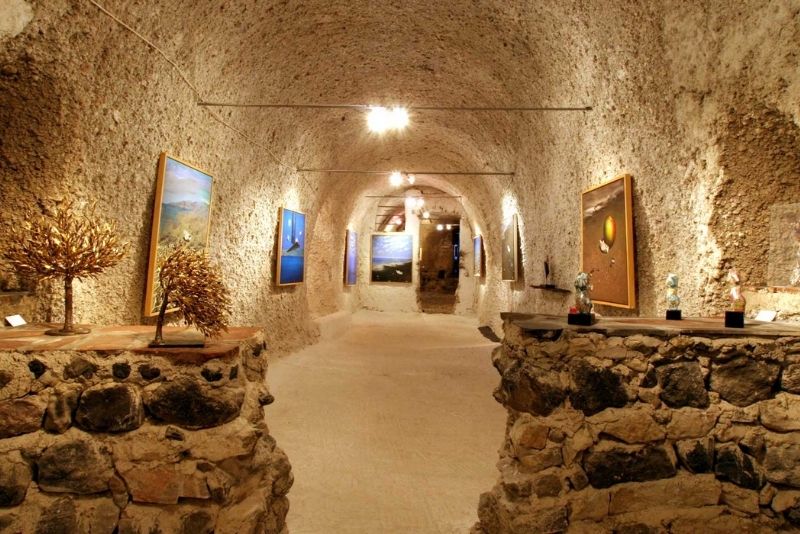 Combine luminous art and rich wine at this fabulous gallery which was once a 19th-century winery and tomato processing center. A place where art and architecture intersect in spectacular fashion, visitors can stroll through the engulfing underground rocky caverns, appreciating the colorful modern art that decorates the textured walls.
Finish your tour with a glass of excellent local Greek wine made right here in the cellars by the owner and his family, before meandering over to Volcanic Slopes Vineyards, Artemis Karamolegos, or Estate Argyros – all coveted wineries, in case you're still thirsty.
39 – Mix wonderful food with even better views at a cliffside restaurant (fine dining)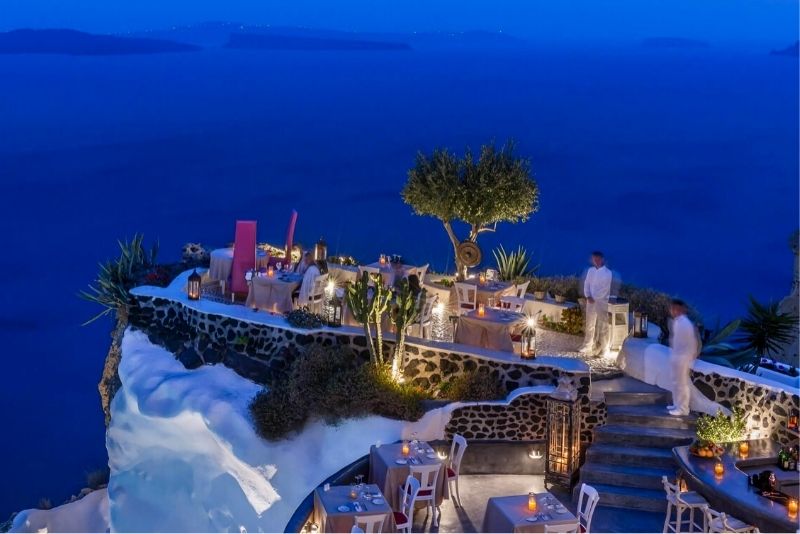 One of the best things to do in Santorini is to enjoy a sumptuous Greek dinner overlooking the caldera. For unadulterated romance, take a seat on the beautiful dining balcony at Lycabettus in Oia, or sit poolside at the Astarte restaurant.
Enjoy sunsets with your meal or dine in a natural lava cave at The Wine Bar for something a little different. Over in Oia, the aptly-named Sunsets lives up to the hype, while Sunset Ammoudi by Paraskevas boasts a baklava and a seafood menu as tantalizing as the view itself.
With so many spectacular eateries to choose from, it's worth staying a couple of nights to experience the island's very best.
40 – Drink in the scenery at the rooftop bars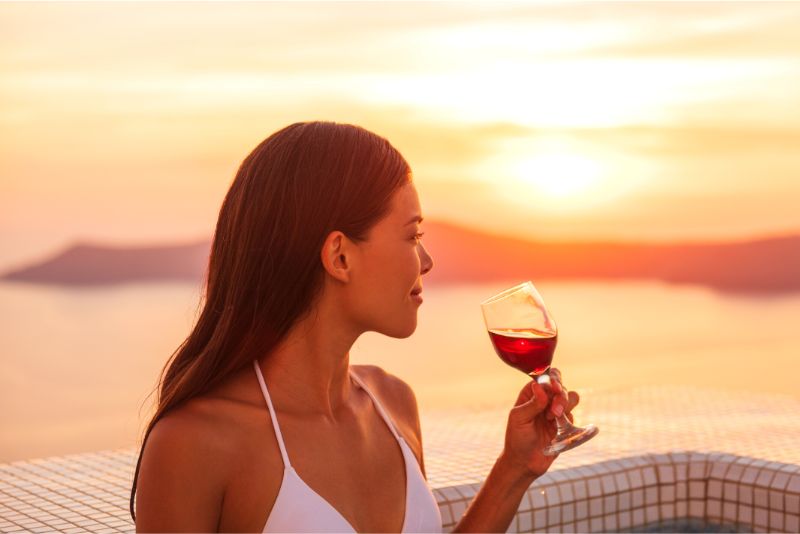 With all of those great views and wonderful beverages, you'll want to make time to enjoy the island's rooftop bars.
Enjoy a candlelit dinner or drinks under the shadow of the windmill at Mylos Cafe, Bar & Restaurant, or spend the night sipping classy cocktails at Character-Cafe Restaurant.
Lounge on the cliffside patio of Idol Cafe-Restaurant, or pair the picturesque scenery with live music at Lava Lounge Cafe & Bar.
Or head to V Lounge Cafe and Cocktail Bar, where you can mix town and volcano views with coffee, desserts, and drinks.
41 – Relax on the black sands of Perissa Beach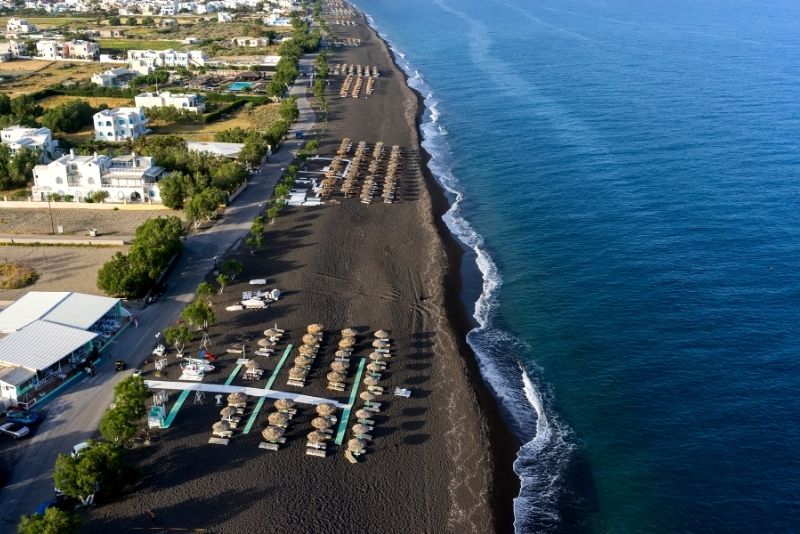 Leave your footprints in the warm black sand as you stroll on the popular Perissa Beach. Not far from the spectacular ruins of Ancient Thira (dating back to the 15th century BC), this black sand slice of coastline has long served as a popular spot for swimmers, snorkelers, and sunbathers alike – the inviting waters are crystal clear, and during the summertime, maintain a warm temperature of up to 25° Celcius (77 Farenheit).
After tucking into a picnic or reading a chapter or two or your favorite book, take a few moments to gaze at the enormous Mesa Vouno rock that rises dramatically from the seabed before working on the tan on a sun lounger for the afternoon.
Located on the southwestern side of Santorini, it's just a short drive away from Fira.
42 – Take a few Insta-worthy photos at the Heart of Santorini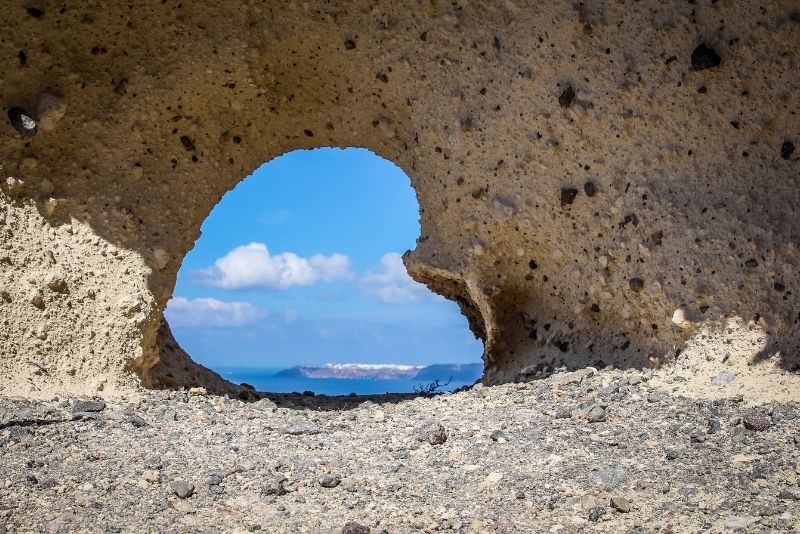 The oh-so-romantic Heart of Santorini is one of the island's best-kept secrets – and, as you might expect, an Instagrammer's delight. High up on the rugged caldera rim, a perfect heart shape has been carved naturally into the ancient rock, making for stunningly framed photos looking out towards the sea.
Not far from Megalochori – where noteworthy attractions like the Agios Nikolaus chapel, Venetsanos Winery, Lost Atlantis Experience, and Gavalas Winery await – the rocky heart is accessible via a short hike along the cliffs, serving up vistas well worth the effort.
Thinking of popping the question? You won't find a natural spot more tailored to romantic proposals, that's for sure.
43 – Find a spot in Imerovigli to appreciate the stellar views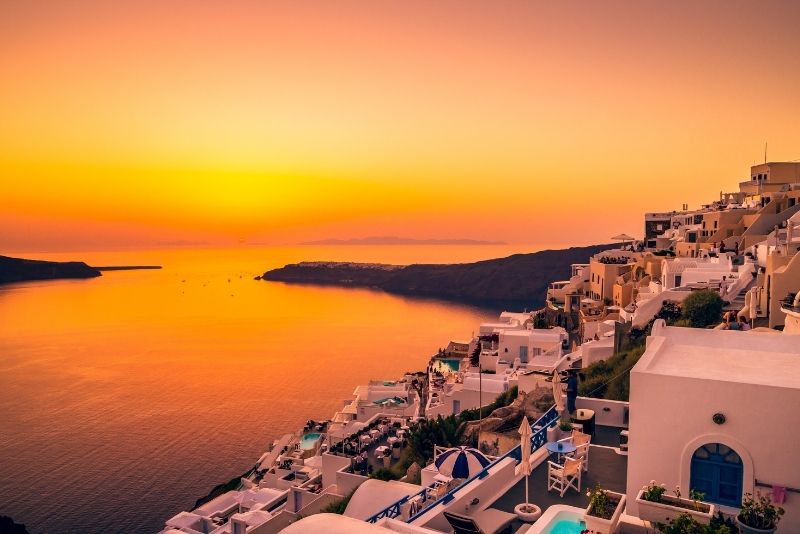 This traditional little village in the north of Santorini just oozes charm. Located higher up the cliff than nearby Fira, Imerovigli is home to whitewashed balconies looking out over the caldera and volcano .
If you want to take photos of quaint chapels and iconic churches, this is your chance. Wet your whistle in the boutique bars and stay for sunset for the full experience.
Don't miss the 13th-century Skaros Venetian Fortress, and if you're feeling energetic, the 1.25-mile cobblestone hike from Fira to Imerovigli is picture-perfect — while it might add an extra 30 minutes or so, the detour to the Rock of Skaros is almost non-negotiable.
44 – Catch a boat out to the Isle of St. Nicholas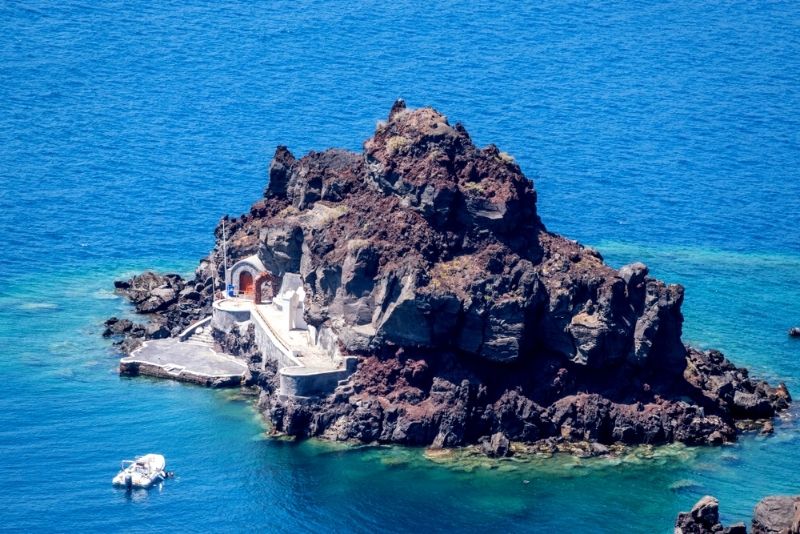 Intrepid travelers should head up to the northern tip of Santorini to discover the tiny island of St. Nicholas. Thanks to its isolated location on a rocky outcrop just off the shore of Ammoudi (see #13), to get to this little-known get is quite the adventure in itself – find a local (or a tour) to whisk you across the bay on a boat and away from the mainland crowds.
With exceptionally deep waters surrounding the volcanic rock, it's a snorkeler's and diver's paradise.
Hot tip: Take water shoes for the rocky scramble.
45 – Tour and taste your way through the Venetsanos Winery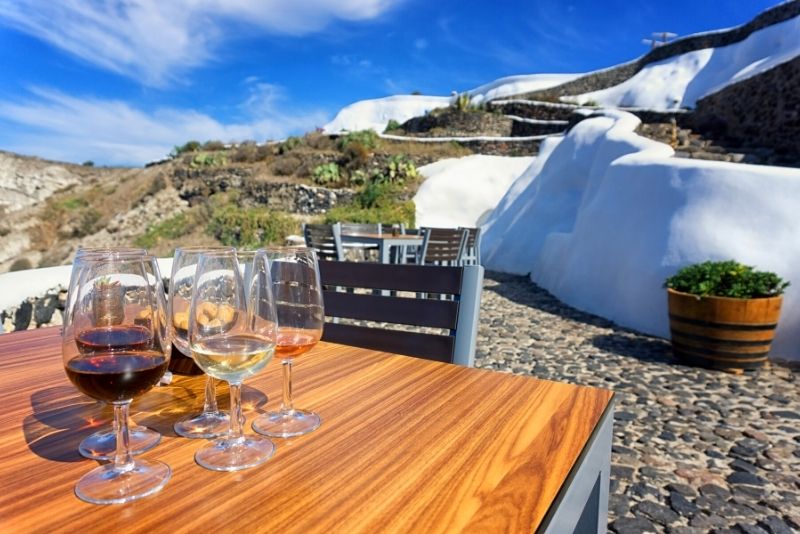 Overlooking the caldera, the locally-loved Venetsanos Winery is one of the more unconventional venues on the island. Built deep into the cliffs in the ancient village of Megalochori back in 1947 (making it the island's first industrial winery), the unusually designed cellars stand out on an island known for its volcanic wine – offering world-class tours and wine tastings, you'll be able to try more than your fair share of the product too.
After learning the secrets behind Santorini's traditional wine production methods, you'll be treated to a hearty and authentically Greek lunch with a view on the panoramic terrace, above the port of Athinios, that's sure to light up the social media feed.
Accompanied by a glass or two (or five…), of course.
Once you've had your fill of wine (like that could ever happen!), you can embark on a beer tasting!
Sample some fantastic local creations, such as Blue Monkey, and enjoy the unique atmosphere and offering of each brewery.
There's even one set up near an archaeological site – an appropriate venue for history-soaked Greece!
46 – Head to White Beach, accessible only by boat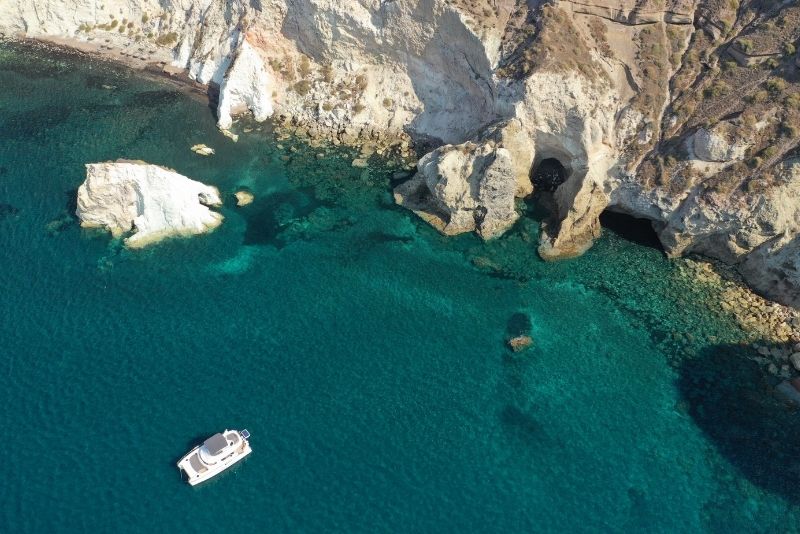 Sitting in the shadows of towering white cliffs, White Beach (Akrotiri) is tucked away on the southern side of Santorini and is certainly worth the journey off the beaten path.
Once you've arrived on a boat tour (or rented your own, or taken the water taxi from Akrotiri Pier – either way, there's no land access unless you're a weapon of a rock climber), gaze upwards at the dazzling cliffs that overlook White Beach as you breathe in the fresh sea air.
Located just around the corner from Red Beach, this cove is secluded and quieter than its more accessible sister – but they're worth combining into one afternoon of exploring.
Keep in mind: you won't find any facilities in the area, so be sure to bring plenty of water and snacks for the day.
47 – Stop into the Tomato Industrial Museum for an afternoon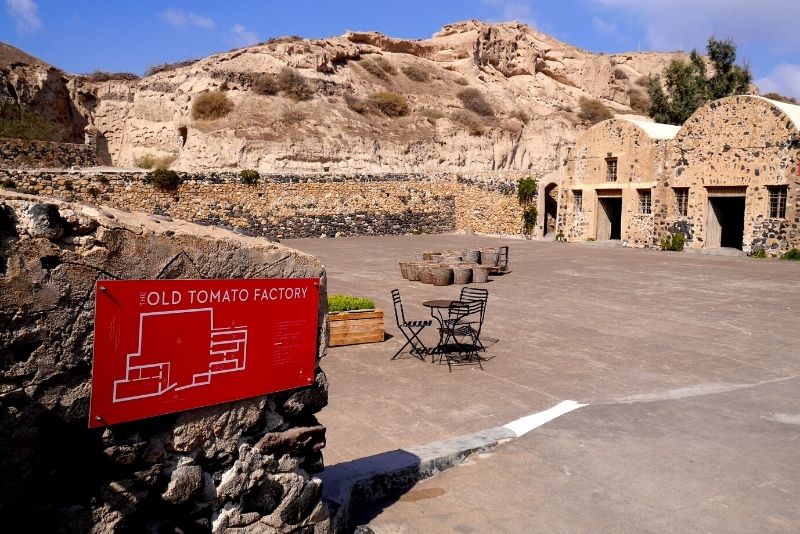 Of all the incredible things to do in Santorini, this is perhaps the most peculiar. Unknown to the majority of visitors – who think Santorini is nothing but sunsets and wine –  tomatoes were once an island industry staple, using the rich volcanic soils to grow top-class produce and sustain the economy for decades.
Today this former tomato paste factory is a coveted museum, bringing the fascinating story of Santorini's lost heritage to life once more.
Of course, any visit to this quirky locale wouldn't be complete without tucking into some tomato-based treats in the café after your insightful tour.
48 – Dine at one of the island's delicious vegan restaurants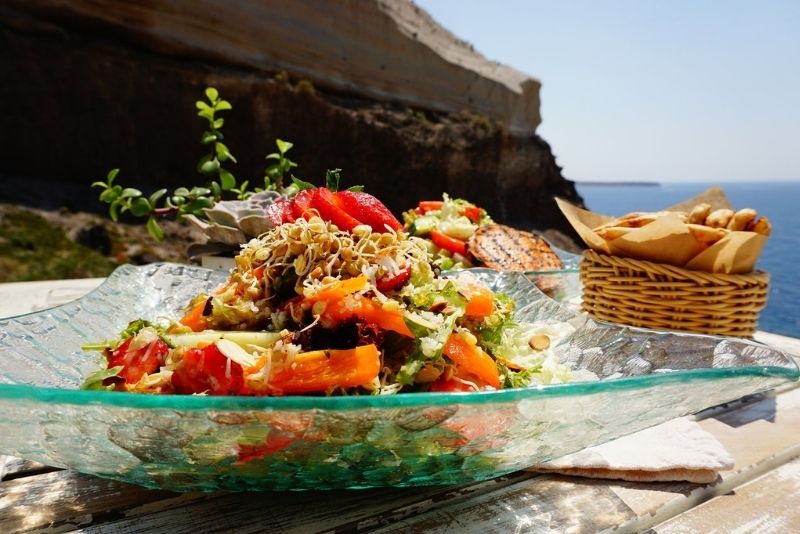 Making the experience all the more memorable, you can enjoy volcanic views and excellent dishes at Onar and Ohh Boy, or grab a bite at MOD Santorini, where everything from the food to the pillowcases is made without animal products.
Far from the only vegan joint on the island, however, earth-conscious foodies can also rejoice with plant-based meals at 5senses in Imerovigli, Veganissimo in Thira (Fira), or Tranquilo on the Perissa black beach, to name but a few.
On this dynamic island, plant-based and delicious go hand in hand!
49 – Get your drink on at the best beach bars in Santorini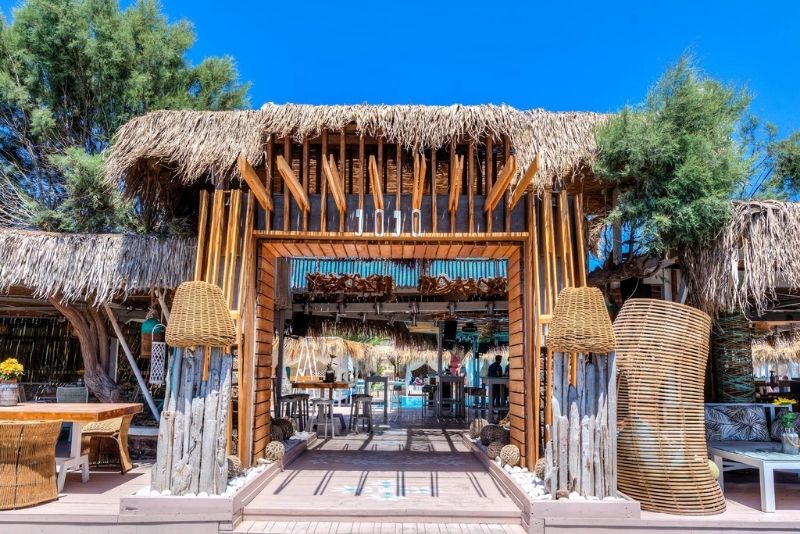 Ready to finally see what vacation is all about? As you'd expect, stunning Santorini has some seriously lively beach-side watering holes, where you can soak up the rays while indulging in some of your favorite tipples.
Relax in a hammock or sun lounger on the sand at Tranquilo Bar, and sway along to local tunes during live music sessions. For romantic poolside dining and a chilled vibe, JOJO is always a fun choice.
Still thirsty? Wet Stories in Perivolos comes highly recommended (especially on its open bar nights), while Yalos in Fira, known for its laidback comfort (and massage therapists) is all about beachside relaxation.
Sip a beverage on the swings at Theros Wave Bar, or enjoy luxurious vibes, movie screenings, and DJ sets at East Breeze Beach Bar Santorini.
And at Nikki Beach Club, you can sip your beverage surrounded by avant-garde designs and a steady stream of live music!
50 – Become part of the show at the beloved White Door Theater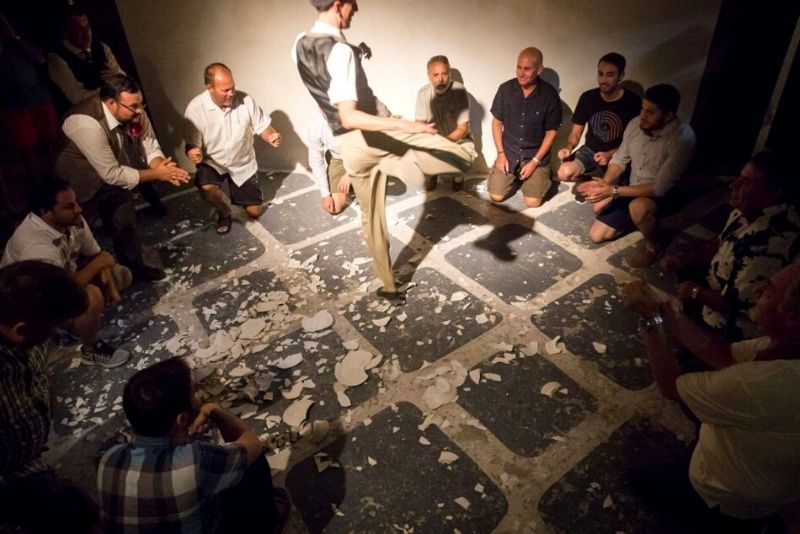 If you're looking for an evening of immersive entertainment and a cheeky injection of local culture, make a beeline for the quaint White Door Theater in central Fira.
A unique musical show that brings all the laughter, love, and cliche conventions of a Greek wedding to life, you'll be laughing out loud as you watch the humorously authentic display of locals singing, dancing, smashing plates, and so much more.
What sets this spectacle apart is that it's not a one-way performance — as a viewer, you become part of the story: you'll meet the characters as they dance, drink and interact with the audience, and to top it all off, you'll be able to try some traditional Greek tapas before the night comes to a close.
51 – Dress to the nines and check out the area's best cocktail lounges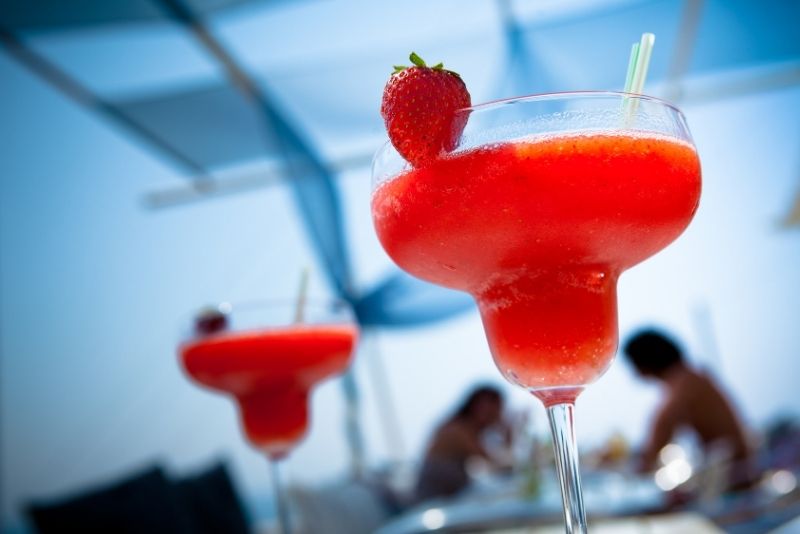 Nothing quite screams "I'm on holiday" like a fancy cocktail – and luckily for thirsty travelers, in Santorini, the drinks are cheap, strong, and almost always come with one heck of a view to boot.
While you'll find dozens of noteworthy watering holes, many travelers love to relax on the panoramic terrace of V Lounge Cocktail Bar, tucking into a plate of nibbles alongside the expertly prepared drinks. If you visit during the day, savor a hearty lunch as you overlook the vivid blue Aegean Sea, or linger a little longer with a front-row seat as the day slowly turns to dusk.
The views from family-owned PK Cocktail Bar are unsurpassed too, with romantic Champagne sunsets being a real highlight.
If you're still thirsty, it's hard to go wrong at any of STOA Santorini or the MoMix Bar Santorini – or, for something a little different, the Kira Thira Jazz Bar is as atmospheric as they come.
Lean into the celebratory spirit at Tango Champagne & Cocktail Bar, where you can dance to live music under the stunning night sky
Or enjoy the quieter trappings of Fino, whose beverages incorporate creative ingredients such as Tabasco, coconut foam, and grapefruit.
52 – Hop around some of Santorini's most buzzing bars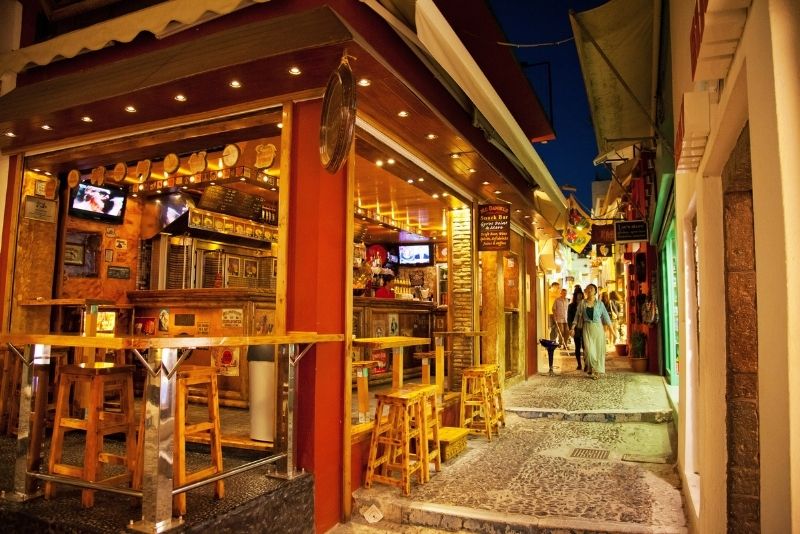 A wonderful way to meet fellow travelers, one of the best things to do in Santorini after a busy day of sightseeing is to watch the spectacular sunset from the laid-back Tropical Bar in Fira, cocktail or local beer in hand.
Alternatively, head to The Highlander for some lively Scottish cheer, or let your hair down at Murphy's Bar or Two Brothers and dance the night away.
Hassapiko Bar is the ideal choice for those who want a bit of everything, from coffee and desserts to savory meals and dancing in the evening.
The diverse offerings have made this bar a hotspot for all kinds of people; the table next to you might hold locals, fellow tourists, or even stray celebrities in town for some fun!
Better yet, why not go for a cheeky pub crawl? With such a diverse range of spots to wet your whistle, it'd be a sin to stop at just one.
53 – Dance into the early morning at some of the top clubs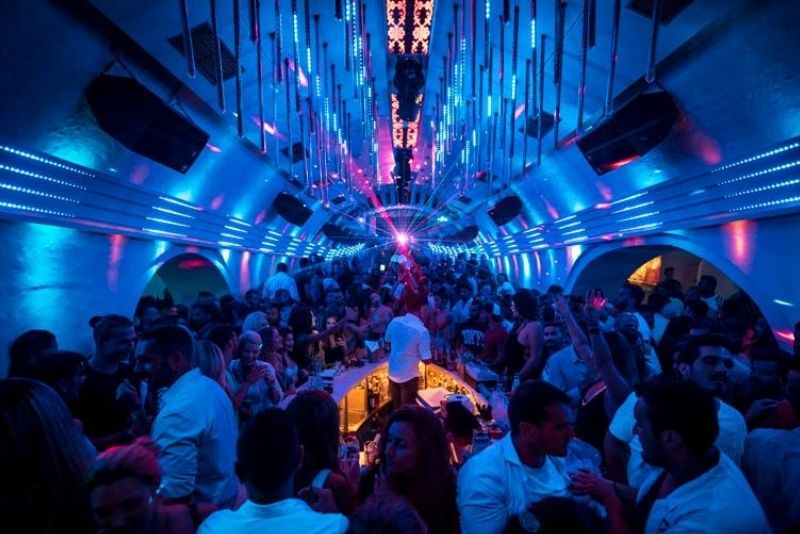 After you've checked off some of Santorini's best cocktail lounges, rooftop terraces, or speakeasy bars, it's time to take the party up a notch.
Want the day to last forever? Then stay up after hours and shake those hips along to Greek and English tunes at Fira's famous Enigma Club. Or head to Koo Club for thumping tunes from the resident DJ.
Head to Mamounia Club Santorini for an awesome selection of Greek music, where you can spend the whole night learning classic moves and partying with the locals.
Or drink and dance at Town Club Santorini, before heading out to the patio to soak up some fresh air.
Whichever you choose, clubbing in Santorini is a great way to celebrate your amazing holiday.
How to get to Santorini?
Santorini is accessible by either air or sea; flights come to and from Santorini Airport, and ferries depart from the port.
With an airport transfer, you can make the arrival and departure process an easy one, and leave you plenty of time for more fun!
Where to stay in Santorini?
At the charming Aroma Suites, where you can easily explore the town of Fira before enjoying your small terrace/yard from which you can see the incredible sunsets of Santorini.
Or gaze out over the water while swimming at the pool at Mythical Blue Luxury Suites, before trying out nearby adventures like windsurfing and horseback riding.
And at the aptly named Hotel Sunshine, you're guaranteed a nice balcony view… because every room has one!
Where to go next?
With its ancient settlements and religious monuments, Athens has a wonderful feel for the past.
But of course, there are tons of other great activities, from snorkeling and art museums to food tours and skydiving.
And of course, the country's other islands are not to be missed!
Check out Paros, Naxos, and Mykonos in the Cyclades Islands, or Rhodes and Kos in the Dodecanese Islands.
You can also head to the Ionian Islands to visit Corfu, or explore the wonders of Crete, the country's largest island.
And if you want to take an extended adventure with Santorini as a home base, book a multi-day trip, and try everything from volcano tours to scuba diving.
Final thoughts
With all of the social media fame over the years, it's easy to overlook some of the amazing things to do in Santorini.
You can unwind on the beaches or in the bars, or get more adventurous on boats, jet skis, and hiking trails.
And you can spend just as much time admiring its historical architecture and vibrant Greek culture.
So start planning – the island is waiting for you!
As always, happy travels!