Greek cuisine is known for its vibrant flavors and influences from both Eastern and Western cultures. It is a veggie-heavy diet that rotates based on the seasons. Greek food also heavily incorporates olive oil, meat and wheat.
Learning to cook Greek food can be a bit challenging if you are unfamiliar with the diet. Have no fear — you can learn the basics from an expert by joining a cooking class in Santorini!
Professional instructors have crafted a variety of cooking classes that teach you how to prepare some of the most popular Greek dishes. They walk you through the recipe step-by-step while sharing useful tips and tricks along the way.
You can learn how to make homemade meals from the comfort of your home, with a large group or in a private class. The choice is yours! Either way, you are sure to have a tasty experience.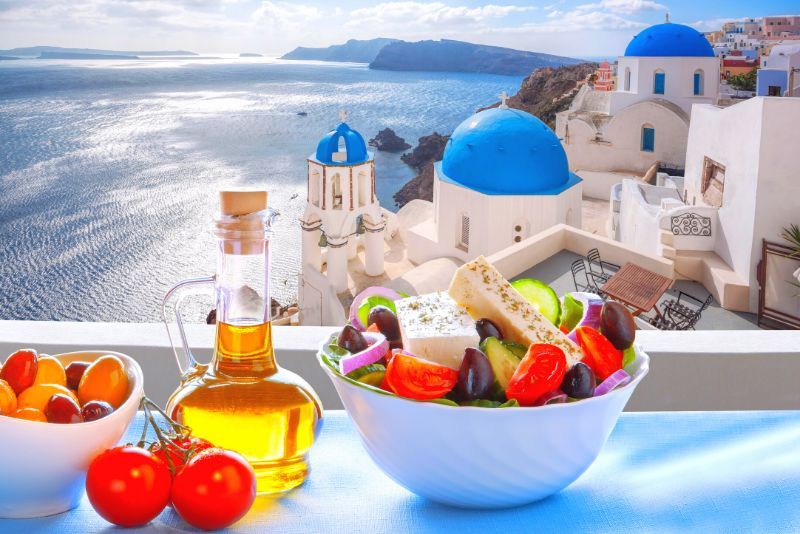 What are the best cooking classes in Santorini?
Each cooking class in Santorini provides you with a unique experience and teaches you how to prepare different dishes — you can't go wrong with any of them.
Cooking and tasting experience
Immerse yourself in Greek culture by learning how to cook authentic dishes from the experts!
In these cooking classes, you will join visitors from all over the world to learn how to prepare a local delicacy. You will learn bits and pieces of Greek culture while preparing dishes like tzatziki, Greek salad, tomato fritters and Greek moussaka.
Your professional guide will lead through the recipes step-by-step. In the end, you get to enjoy the food that you prepared!
Private cooking experience
Private cooking classes in Santorini provide similar experiences as regular classes but in a more intimate setting. You get to choose your fellow cooking mates because the class is limited just to your group. Private classes tend to be more flexible regarding the menu and schedule.
Virtual cooking class
Virtual cooking classes allow you to experience authentic Greek dishes without ever having to leave the country! A handful of instructors offer virtual classes that walk you step-by-step through the recipe. You must provide your own ingredients and cooking utensils.
How much do cooking classes in Santorini cost?
With so many options to choose from, you can find a cooking class in Santorini that suits your budget!
The price of each cooking class varies based on how long the class lasts, who the instructor is, where the class takes place and whether or not it is a private tour. The cost of each cooking class ranges from €20 to €720.
If you don't want to leave your home, you can book a virtual cooking class for €20 to €23. You will still get the opportunity to learn from the experts in Greek cuisine without leaving the comfort of your own home.
You can book an in-person cooking class in Santorini for anywhere from €75 to €485. Each class offers a slightly different experience. Consider your budget, location, duration and the food you learn how to cook when booking.
You can also book a private cooking class at a slightly higher cost. Private tours typically cost anywhere from €155 to €720. You can learn how to cook authentic Greek dishes in a more intimate setting on a private tour.
Instructors in Santorini offer you many different cooking classes to choose from. Determine what factors are the most important for you and book accordingly!
What is included in a cooking class in Santorini?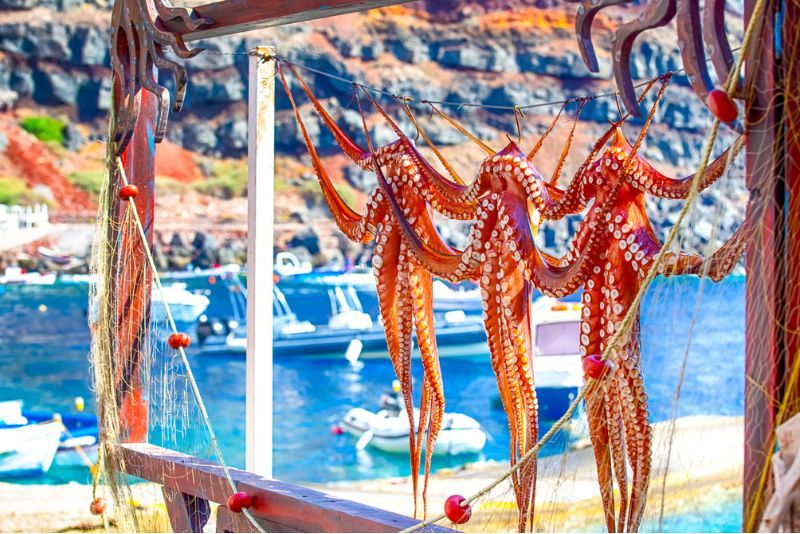 The cost of each cooking class usually includes the ingredients, cooking utensils and tools, a local expert, and the food that you prepare during the class. Gratuities are not included.
Once you finish preparing a dish or a meal set, you get to enjoy the delicious food! Some instructors even prepare additional dishes or beverages to complement whatever you made.
Many instructors offer combination tours that may also include a visit to a winery for a wine tasting or a small group hike. You will also likely receive a recipe sheet at the end of your cooking class, so you can make the dish at your home.
Some cooking classes provide transportation to and from the class for participants while others do not. If your class makes multiple stops to hike or at wineries, they will provide transportation between the destinations.
Confirm with your instructor ahead of time so you can arrange transportation if needed!
Where do cooking classes in Santorini start?
Every cooking class in Santorini has a different starting point. Some provide direct pickups from your accommodation, but others require you to meet at a designated spot before departing as a group.
Your instructor will provide you with specific instructions to help you reach the class once you confirm your booking. When in doubt, ask!
How long do cooking classes in Santorini last?
Consider how much time you want to dedicate to cooking when booking your class in Santorini. Cooking classes in Santorini last anywhere from an hour to eight hours. The duration varies based on what food you cook, whether or not you make additional stops, where the class takes place and which instructor leads the class.
You can choose anything from one-hour virtual classes that walk you through the basics of an authentic Greek dish or a full-day history, wine and cooking tour! There are so many options to choose from, so you are sure to find something that fits perfectly in your schedule.
When is the best time for a cooking class in Santorini?
Many cooking classes in Santorini teach you to prepare foods that are typically served for dinner or lunch. They typically start in the late morning or afternoon so you can enjoy the meal afterward.
Full-day experiences usually start early in the morning and end in the evening. The shorter classes usually start in the late afternoon or evening. You can choose between preparing lunch or dinner. Either way, you can't go wrong!
Is there any combo available with cooking classes in Santorini?
Combination tours provide the most bang for your buck! You can choose from the following two-for-one options.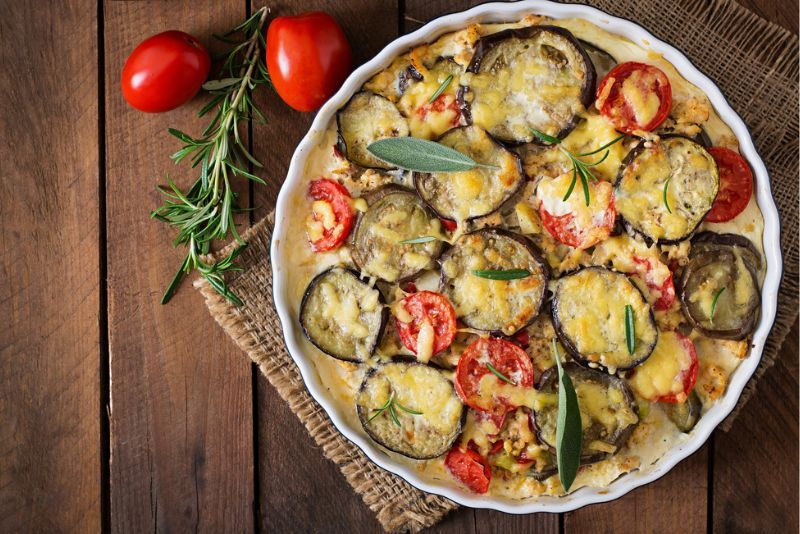 Cooking class and wine tasting
What pairs better with an authentic Greek delicacy than a nice glass of wine? Many instructors offer combination tours that also take you to a local winery to experience a wine tasting.
Cooking class and hiking
The food that you learn how to prepare can be calorie-heavy, so why not burn some calories before cooking with a complementary hiking tour? You can start the day with a short hike that offers you stunning views of the island.
Then you will make your way to the cooking class and enjoy the delectable food that you learn how to prepare.
Are children allowed in cooking classes in Santorini?
Most cooking classes in Santorini do not specify whether or not they allow children to participate. There are no cooking classes targeted specifically toward children.
Keep in mind that some classes provide alcohol tastings and prepare complex recipes that may not be suitable for children. Please contact the class instructor ahead of time to confirm.
Travel tips
Make sure you share any dietary restrictions or food allergies ahead of time!
Talk to the course instructor ahead of time to see whether or not children can participate in the cooking class.
Decide if you want to take the cooking class over lunch or dinner time.