If you want to discover some beautiful places nearby Chania, spend a day trekking Samaria Gorge — believed to have formed over 14 million years ago!
For all hiking enthusiasts, a day trip to Samaria Gorge is a bucket list dream. Cross interesting terrains, spot rare animal species and drink in mountain and ocean views at the same time.
Famous for its diverse wildlife and pathways laden with interesting fauna, it's been recognized as a World UNESCO Heritage Site.
The Samaria Gorge hike is 16 kilometers long in total and the trail can take between four to eight hours, depending on your skill level and personal pace.
Enjoy a day tour to Samaria Gorge from Chania in the Grecian sun surrounded by its limestone White Mountains.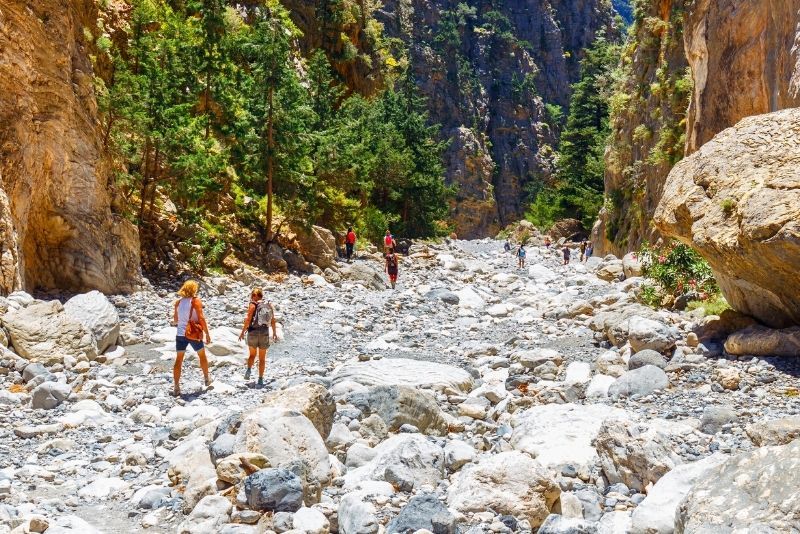 How to get to Samaria Gorge from Chania?
Facing the Mediterranean Sea, the Samaria National Park is on the opposite end of Chania in the southwest of Crete.
To reach the gorge, you can start either from Xyloskalo via Omalos Village, or from the Agia Roumeli village in the south.
You can drive a car for a day trip to Samaria Gorge up to the entrance of the national park. If you want to hike the trail which typically takes at least five hours, you can walk all the way back to your car.
Another option is to take a ferry from Agia Roumeli and then take a bus back to Xyloskalo where your car is parked.
From Chania to Samaria Gorge by bus/public transport
A public bus runs a few times a day from Chania's KTEL Chanion bus station to Omalos.
From Chania to Samaria Gorge by taxi
You can hire a private taxi to drop you at the entrance of Xyloskalo. This is an expensive option.
Guided tour to Samaria Gorge from Chania
This is the most recommended and popular mode of transport for travelers looking for day trips to Samaria Gorge. Forget about organizing all the nitty-gritty details and enjoy an easy pickup and drop-off.
You will be fetched from your hotel in Chania and travel by private minivan to Samaria Gorge. A tour guide is included along the way, as well as ferry costs, and you will be dropped back at your hotel.  
How much does the entrance ticket to Samaria Gorge cost?
Your Samaria Gorge excursion costs €5 per person to enter the gorge. It's free entry for children under 15 years old.
What is the typical itinerary of a day tour to Samaria Gorge from Chania?
Start your Samaria Gorge day trip from Chania bright and early with a morning hotel pickup via a private luxury minivan between 5:30 AM and 6 AM.
Make your way to the Omalos plateau in the White Mountains where you can marvel at the wild terrain and scenery along the journey. You will stop and enjoy a local breakfast here.
With a knowledgeable guide, you'll enter the Samaria Gorge National Park around 7 AM and begin the 16-kilometer descent, which usually takes about six hours in total.  
Apart from the views, mountain goats and freshwater springs to spot along the way, there are other uniquely intriguing features.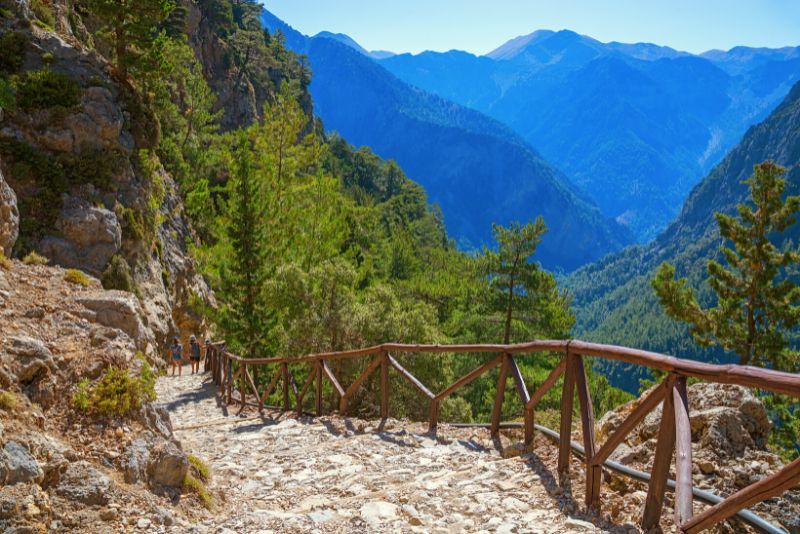 After walking down 600 wooden steps, wander an old church built on temple ruins and explore the derelict Samaria village. If you're lucky, you may also spot the rare Kri-Kri goat.
As the hike comes to an end, be extra cautious trekking the Iron Gates (also referred to locally as Portes) — the smallest and most restricted pass to maneuver.
The day is not done yet and after a long trek in the sunshine, enjoy a much-deserved dip in the ocean at Agia Roumeli beach. Once you've cooled off and refreshed, explore the village, shop for colorful souvenirs or stroll the cobbled streets.
Grab lunch at a traditional taverna or restaurant, or knock back some Ouzo at a bar. Hop on a ferry from Agia Roumeli to Hora Sfakion, and finally, you'll be driven back to your hotel in Chania.
What kinds of tours are available to go to Samaria Gorge?
Guided Tours to Samaria Gorge from Chania
Wake with the sunrise and enjoy a guided tour through one of Europe's most famous gorges. Enjoy a local breakfast at Omalos Village and then begin your descent down Samaria Gorge.
Discover an abandoned village, spot wildlife and cross waterways. There are eight stops in total before ending the afternoon trek at Agia Roumeli village. Visit its beach, swim in the Libyan Sea and hit the town for a round of shopping and a local fresh lunch.
Finally, catch the ferry from Agia Roumeli to Hora Sfakion and a private transfer back to Chania.
Private Jeep Tour from Chania to Samaria Gorge plus the White Mountains
Enjoy views from above with an off-road jeep experience, as you make your way across the Lefka Ori Mountain range, also known as the White Mountains. Take in the sights of the famous limestone hillside peaked in white stone during summer and autumn.
As you cross the valley, you'll pass by Varipetros, Agia, Alikianos and Fournes villages before climbing high altitudes to reach Lakoi village for a short coffee pit stop.
Driving further up, grab the best panoramic views in the house at Kallergi Refuge, 1,680 meters above sea level. Enjoy lunch at a traditional tavern at the Omalos plateau, stop off at the historical Lakkoi village and finally head back to Chania.
4-Day Samaria Gorge to Sfakia Tour trek from Chania
Hiking enthusiasts, take on a professionally guided four-day hiking experience along Crete's southern coastline. Enjoy a mix of mountain and seaside trails, stay overnight in local villages and enjoy feasting at traditional bars and tavernas along the way.
Day 1 starts at Chania and you'll head to Samaria Gorge sleeping at Agia Roumeli. Day 2 explores the White Mountains and St. John mountain village. On Day 3, check out Aradaina Gorge and stay in the south of Crete. On Day 4, you'll leave Loutro Bay and visit Sfakia before finally heading back to Chania.  
How much does a tour to Samaria Gorge from Chania cost?
A day trip from Chania to Samaria Gorge is between €32 euros to €40.
If you book a private round trip, you're looking to pay €70, but this takes care of all expenses such as ferry costs.
Unique private tours like an off-road jeep tour experience will cost around €95, but this is unlike any other of the tours offered.
For extended tours, such as a 4-Day trek, it costs on average around €850. You will visit over seven different towns and locations, and all expenses are taken care of — including all transfers, breakfasts, snacks, entrance fees and transport costs like boat/ferry tickets.
What will you see and do in Samaria Gorge?
As one of the longest gorges in Europe, Samaria Gorge located in the White Mountains has tons of interesting fauna and landscapes. Take advantage of a full day spent out in nature and all the scenery around it.
Try to spot native wildlife roaming around, from the endangered Kri-Kri goat to Cetan wildcats. If you're lucky, you may even see a rare bearded vulture swooping by or a Cretan badger scurrying along the plains.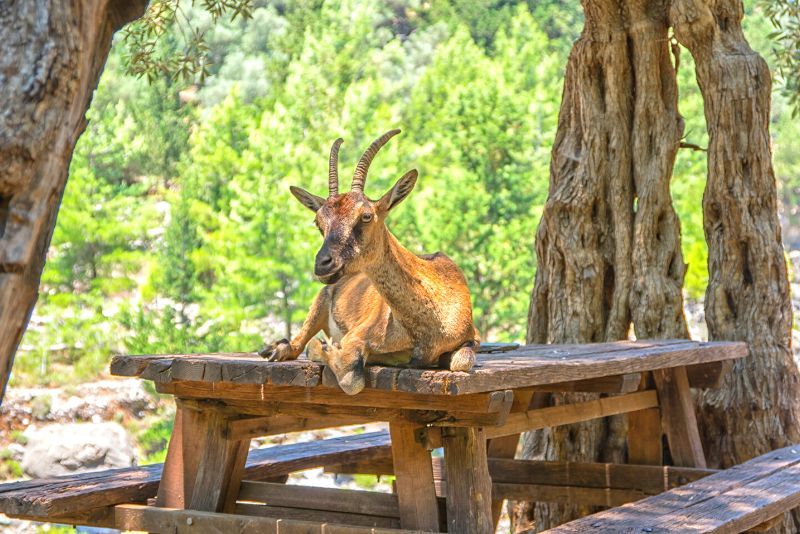 You can choose to begin your hike at Xyloskalo or Agia Roumeli village, but the first option is the most popular.
There are eight key stops along the way, each with slightly differentiating terrains. The first two stops cover 2.8 kilometers and both are resting stops with toilets and drinking water.
Walk past structured "wish stones" (make a wish), pass Agios Nikolaos church and the third resting stop is here.
The next two resting stops are called Vrysi and Prinari, and the sixth stop leads you to the deserted Samaria village. Cover stop seven (Perdika) and eight (Christo) before you end your journey by passing through the famed Iron Gates.  
Visit Agia Roumeli village and hit the town's streetways for some shopping and lunch at local tavernas or restaurants. Don't leave without visiting Agia Roumeli beach as well.  
When is Samaria Gorge open over the year?
You can journey to Samaria Gorge all throughout summer and into mid-autumn. The park officially opens from May 1 to Oct. 15.
Take note, the park is closed when it's raining for safety reasons. It also stays closed when temperatures are extremely high.
What are the opening times?
Samaria Gorge is open seven days a week from 6 AM to 4 PM.
The last admission into the gorge is at 4 PM, however, you will not be allowed to do the full 16-kilometer hike. Instead, you may walk 2 kilometers from the top or bottom of the gorge and back.
No overnight visitors are allowed. You can contact the park for more information on the exact daily opening hours.
When is the best time to visit Samaria Gorge?
The most ideal time to plan a day tour to Samaria Gorge is at the beginning of May and September through October. The weather is cooler than compared to mid-summer like June and July.
September and October are also especially quieter than the bustling summer period.
Travel tips
Wear super comfortable walking shoes, light clothing and sunscreen, as well as sunhat and sunglasses if you prefer.
Bring swimming gear and towel.
You can refill your water bottle from the fresh springs along the hike.
Bring snacks like nuts and fruit.  
You may also bring first aid plasters and mosquito repellant.
The first three kilometers of the hike are most tiresome/difficult. Be careful, travel slow and take short breaks.