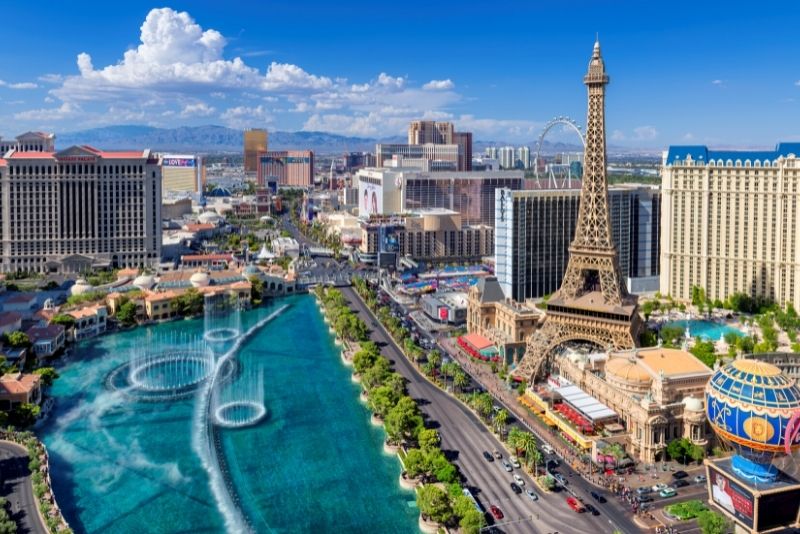 Sin City — a moniker that rings true across all of Las Vegas' debaucherous casino floors, booze-fueled nightclubs, and round-the-clock resort parties.
But, take a step back and you'll realize that there's far more to this Nevada desert oasis than meets the eye. Peek beyond the bright lights, bottomless brunches, and boisterous bars, and you'll find a city brimming with culture and art — a brilliant side of Las Vegas that continues to be swept under the radar (yet purely to the detriment of those who choose to overlook it).
Museums of all shapes and sizes line the streets, each one telling its own story about Vegas' history and present. In the heart of the action lie several immersive and futuristic art museums that make it seem like you've stepped into the heart of a Hollywood sci-fi slick.
Wander off the beaten track and you'll uncover hidden gems aplenty; from the Atomic Testing Museum, a must-visit for anyone interested in nuclear science and the Cold War, to the family-favorite Discovery Children's Museum, and spectacular exhibitions all over town dedicated to pop culture, cinema, superheroes, history, geology, and engineering (specifically the Hoover Dam), there's truly something for everyone to enjoy.
So, if you're looking to experience a different side of Vegas (or simply want to take a break from the slots and tables), be sure to take note of the most educational, most exciting, and most belovedly brilliant museums in Las Vegas!
1 – Neon Museum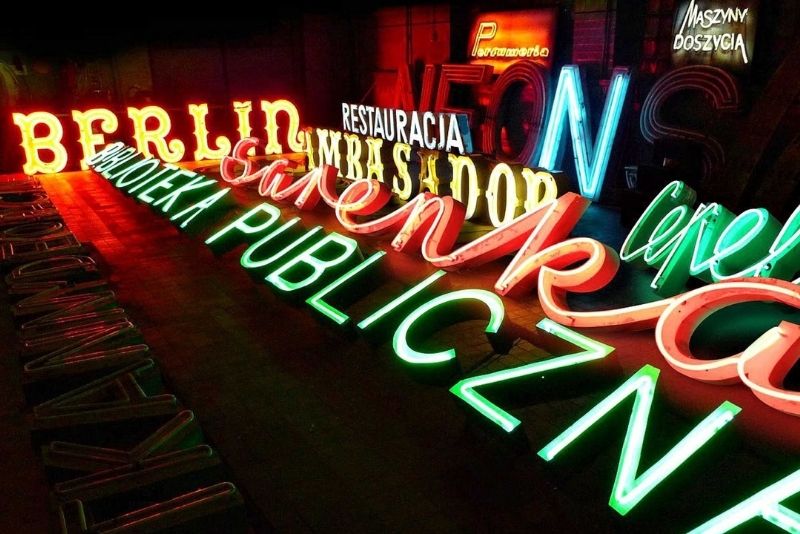 Certainly one of Sin City's more celebrated and well-known outdoor museums, the Neon Museum is a quintessential stop for anyone interested in the history and evolution of Vegas' most iconic feature: bright and eye-catching neon signs.
Split into two equally impressive sections (The Neon Boneyard Main Collection and the Neon Boneyard North Gallery) the museum is located in a small outdoor lot just off of the main tourist track, and features over 200 restored neon signs from some of Las Vegas' most famous casinos and attractions of yesteryear — from the towering Hard Rock Cafe guitar to old-school resorts signs from names like Stardust, the Golden Nuggett and Lady Luck (now called the Downtown Grand).
Best explored at night when everything is lit up, with tours available every day of the week, a stroll through the Neon Museum is a photographer's delight
2 – Mob Museum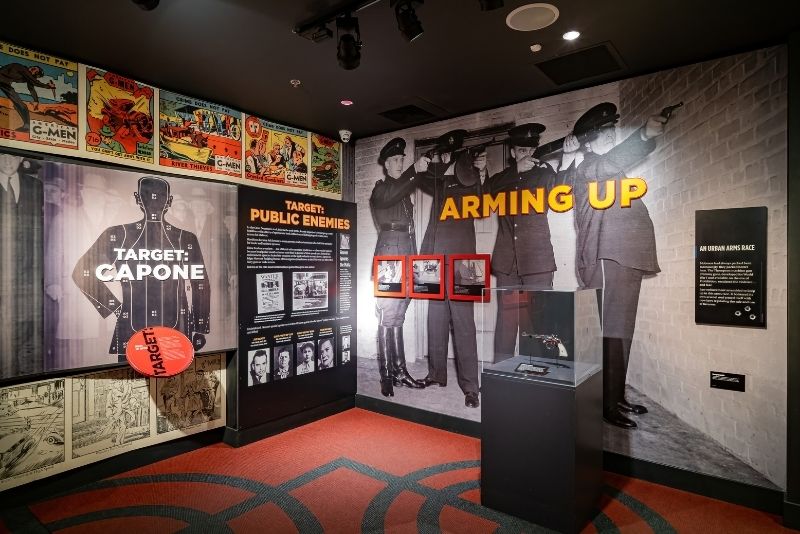 Debauchery and casino floors aside, Vegas' historic roots are deeply entwined with organized crime, and the Mob Museum is the perfect place to explore that fascinating and lesser-known side of Sin City.
Housed in an old speakeasy from the days of Prohibition, this museum takes a comprehensive look at all aspects of mafia life and, on the flip side, law enforcement in America, from how the first mobs were formed to infamous crimes, personas, and sentences.
With interactive exhibits (some of which make for killer photo ops), regular live events like music nights, galas, and guests speakers (check the calendars), and ), hundreds of diverse artifacts and historical pieces plus the occasional special temporary collections (like historic firearms), the Mob Museum is one stop that will give you a 360-degree view of Sin City's underworld.
Read more about things to do in Las Vegas at night
3 – Las Vegas Natural History Museum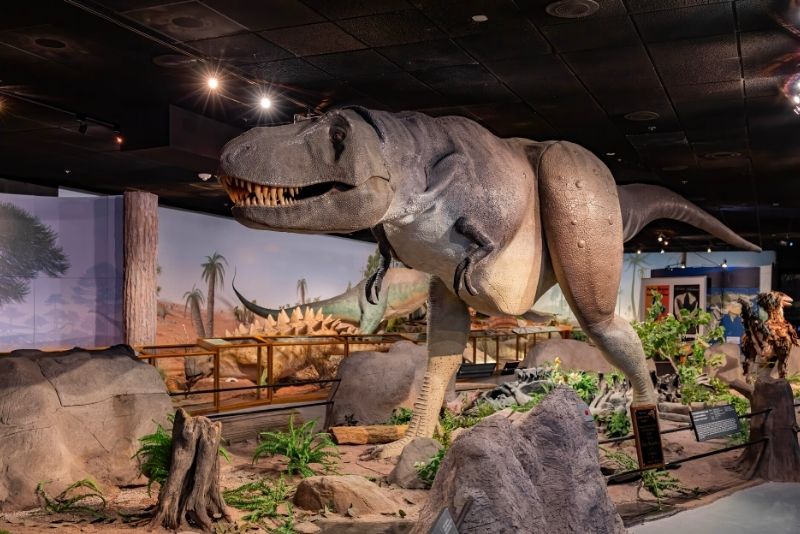 A wonderful family-friendly outing that provides a deep – and fun – insight into the world around us, the Las Vegas Natural History Museum houses close to a dozen dedicated exhibit sections that explore the modern world, the prehistoric era, and all those millions of years of evolution in between.
From dinosaurs and Ice Age mammals to Egyptian mummies and gems and minerals, this museum has something for everyone. While many of the exhibits are for admiring only, a handful of interactive displays away too — plus, there are plenty of educational resources, optional tours, and special events throughout the year (including shark feedings!).
The section on marine life — which features real sharks and stingrays swimming around in giant takes — is a crowd favorite, likewise the extinct animal skeletons and the Sunday storytime sessions!
Throw in a pretty impressive gift shop, you could easily lose half a day or more in this educational attraction.
4 – Discovery Children's Museum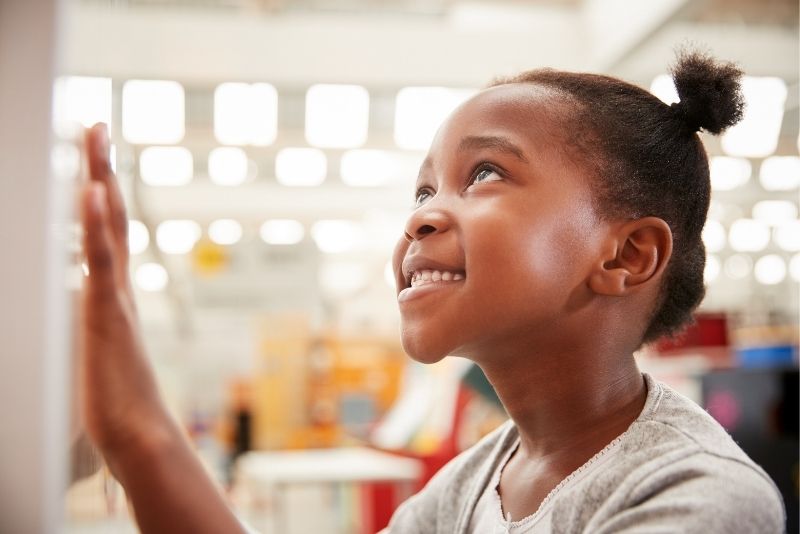 Designed to inspire, educate, and entertain the thought-leaders of tomorrow, the Discovery Children's Museum is a colorful and interactive space that encourages hands-on learning through all kinds of play – one of the best family things to do in Las Vegas.
Spread across 58,000 square feet of exhibits that dive into everything science, art, math, technology, and engineering, the popular museum sits just a 15-minute walk (or a 2-minute drive) from the top of Downtown's Fremont Street. Step inside and you'll discover no less than nine themed and heavily-hands-on exhibition halls that encourage kids to think about the workings of the world around them.
Boasting machines that teach about the magic and science of air pressure, flight, magnets, electricity, and light; fantasy zones where youngsters can play make-believe as cowboys, doctors, and astronauts (and learn a thing or two about the idea of a career too), and colorful arts and crafts areas that spark creativity, rarely does a child (or parent) leave disappointed.
5 – Zak Bagans' The Haunted Museum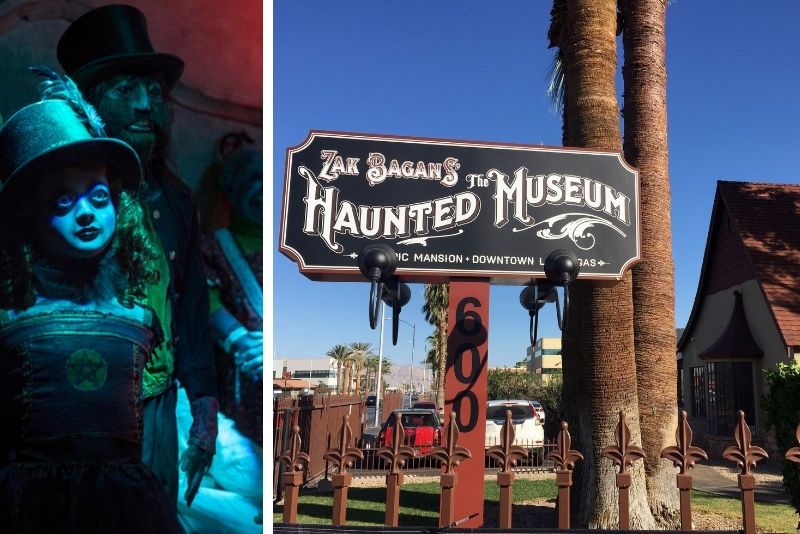 If you're not easily scared and enjoy a good adrenaline rush, Zak Bagans' The Haunted Museum is one attraction in Vegas that you won't want to miss.
A self-proclaimed "extreme" museum of the paranormal, it's home to some of the most haunted objects ever collected, including everything from demonic dolls to cursed paintings and ghostly apparitions caught on camera.
As well as housing what is arguably the world's largest and spookiest collection of haunted items (just to give you a taste, we're talkin' Charles Manson's ashes, Ted Bundy's glasses, Bela Lugosi's mirror,  the original staircase from the Indiana "Demon House", and paintings by serial killer John Wayne Gacy), the museum also offers flashlight ghost tours where you can wander the halls of the haunted mansion after nightfall.
Just be warned: this place is seriously creepy — and for many, that only adds to its allure.
6 – Madame Tussauds Las Vegas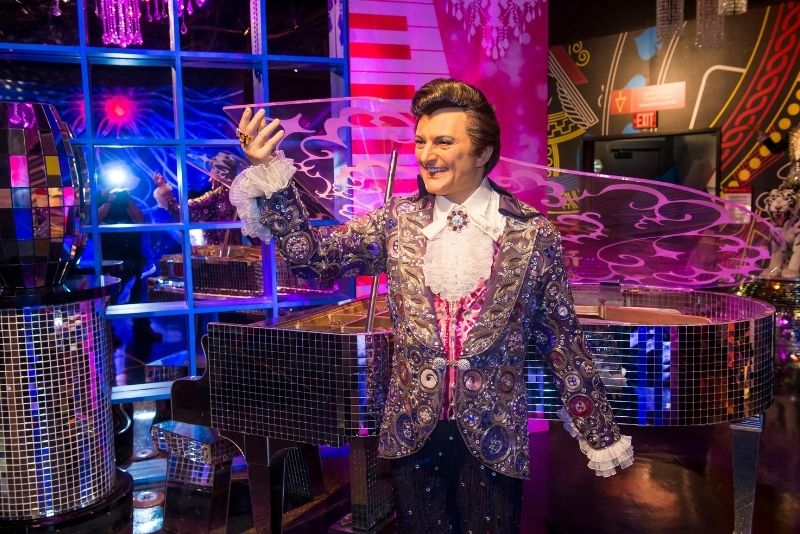 As the first-ever Madame Tussauds attraction to open in the United States, Las Vegas' very own Madame Tussauds wax museum has been a popular spot for visitors and locals alike for decades, regularly adapting to pop culture trends and updating its diverse selection of lookalike statues along the way.
Featuring more than 100 incredibly life-like wax figures of celebrities, athletes, icons, and world leaders (including everyone from Michael Jackson and Marilyn Monroe to Taylor Swift, Beyonce, Liberace, and Barack Obama), Madame Tussauds offers guests the unique opportunity to snap selfies with their favorite stars — or even get up close and personal for a chat!
Aside from the main exhibition hall, there are also themed rooms dedicated to Marvel movies, and a range of interactive sections where you can become part of the art: make a music video with Drake, chill out at Coachella with Queen B, or ride alongside Miley on that infamous and controversial wrecking ball!
7 – National Atomic Testing Museum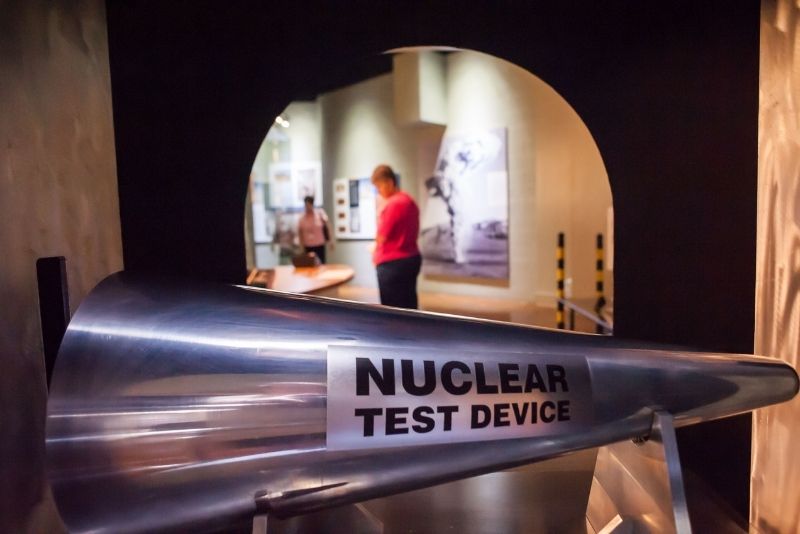 Just because the National Atomic Testing Museum is one of the lesser-known museums in Las Vegas, that doesn't mean it's any less worthy of a visit!
Dedicated to the Nevada Testing Center, the museum tells the story of America's complex and intriguing nuclear warfare program, from its beginnings in the 1940s through the Cold War to the present day.
As you wander through the exhibits, you'll learn about everything from early nuclear bomb tests and their devastating effects on human health and the environment, to more recent developments in civilian nuclear energy production, with stacks of replica bombs, legitimate testing devices, atomic-era pop culture posters (yes, there is such a thing), and once-used machinery like giant drill bits.
The museum's layout is split into the Silo Museum, which shows a short film about the happening and history of the Nevada Test Site, and the multi-sensory 4D Ground Zero Theater, which puts you in the thick of the action as it explains the history and key moments in America's atomic testing — as you can see, this is one museum that definitely doesn't shy away from giving visitors a visceral (and educational) experience.
The gift shop boasts a ton of unique souvenirs at reasonable prices, and, as an official affiliate of the Smithsonian Institution, you can expect the displays to be thought-out and impressive.
8 – Titanic: The Artifact Museum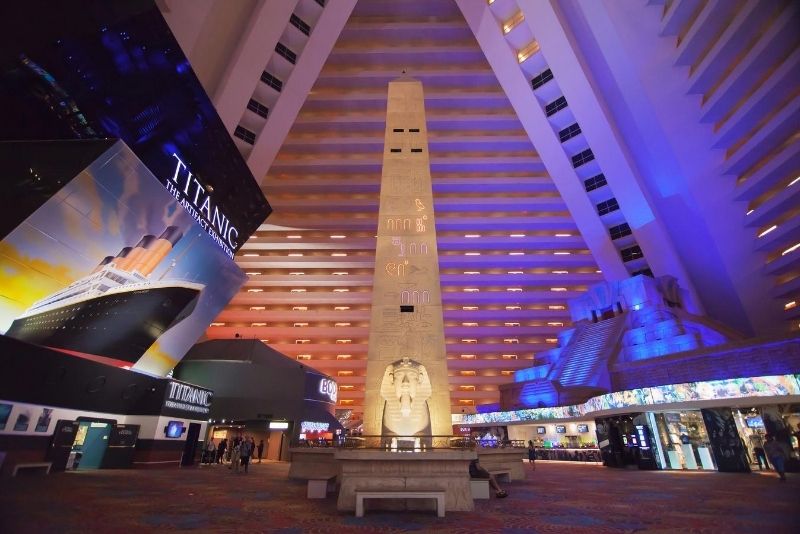 The closest thing you can get to a time machine that takes you onto White Star Line's ill-fated RMS Titanic back in 1912, the Titanic: The Artifact Museum is a fascinating and eerily accurate recreation of the ship's decks, cabins, and passenger areas.
Featuring more than 250 real objects recovered from the wreck (including china, jewelry, clothing, and personal items), as well as interactive exhibits that let you experience what life on the cruiser was really like, the museum offers visitors a unique opportunity to get up close and personal with one of history's most infamous tragedies.
Make sure to stroll along the Promenade Deck where you can physically touch the foreboding iceberg replica, and have a gander at (and snap a few pics in front of) the full-size Grand Staircase replica.
Thanks to its location in the Luxor Hotel & Casino, it sits right next door to Bodies: The Exhibition, an attraction that uses 13 human skeletons and 200+ organs to explore anatomy — together, they make for perfect back-to-back attractions.
9 – Pinball Hall of Fame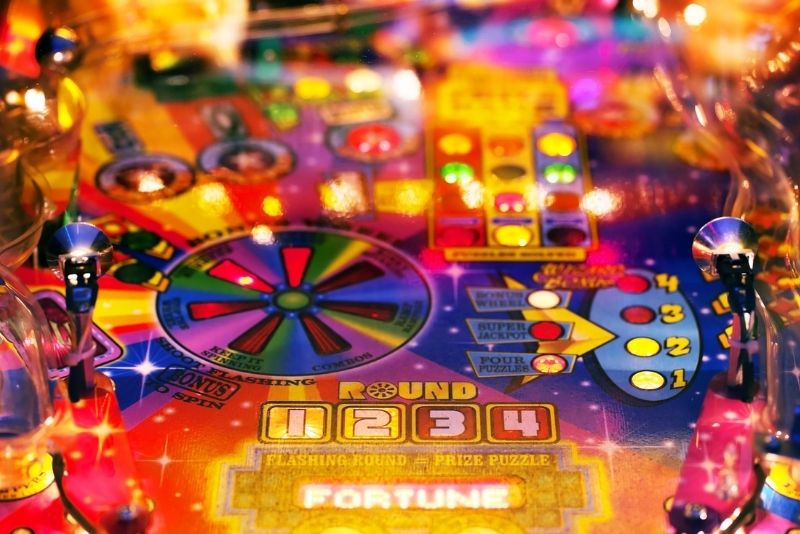 Home to the most comprehensive collection of pinball machines in the world, the Pinball Hall of Fame (located just behind Mandalay Bay) is a veritable heaven for fans of the silver ball. And, taking a step further, gamers in general, with old-school arcade games lined up wall-to-wall!
With more than 200 games on offer (focused primarily on pinball machines built between the 1950s and 1990s), there's something to appeal to everyone, whether you're a fan of classic 1950s Gottlieb pins like Humpty Dumpty or prefer modern(ish) titles like Dr. Who, Pacman, or Donkey Kong.
There are also plenty of rare and one-of-a-kind machines on offer, including several that have been customized by their original designers.
Admission is free seven days a week from 11 am to 9 pm, so it's perfect for a quick stop if you're only in town for a day or so — just make sure to bring a handful of quarters if you plan on button-mashing.
10 – Nevada State Museum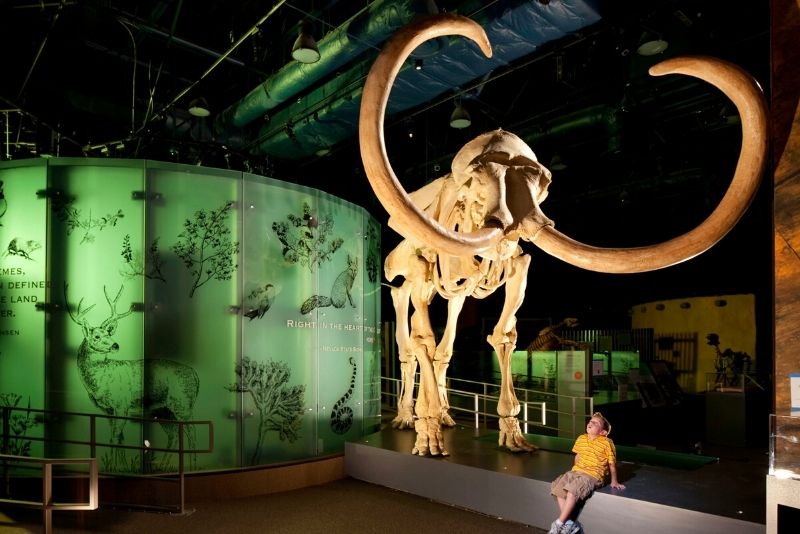 A fantastic stop for history buffs, the Nevada State Museum is packed to the rafters with interesting artifacts and information on the state's natural and cultural history.
Covering millions of years of evolution of land, culture, animals, and human life — everything from the first humans to settle in the area through to more recent events like the construction of Hoover Dam and America's atomic era, there's something for everyone here — including a large collection of Native American art and artifacts, not to mention a 13-foot articulated mammoth skeleton!
You'll find permanent and ever-interesting exhibits on miners, railroaders, ranchers, and entrepreneurs, as well as regularly rotating collections that dive into art, people, maps, motorcycles, and everything in between.
And, as a bonus, entry is free for children 17 and under. Keep in mind, however, that the museum is only open Friday to Monday, from 9am to 4pm, so plan accordingly.
11 – Burlesque Hall of Fame Museum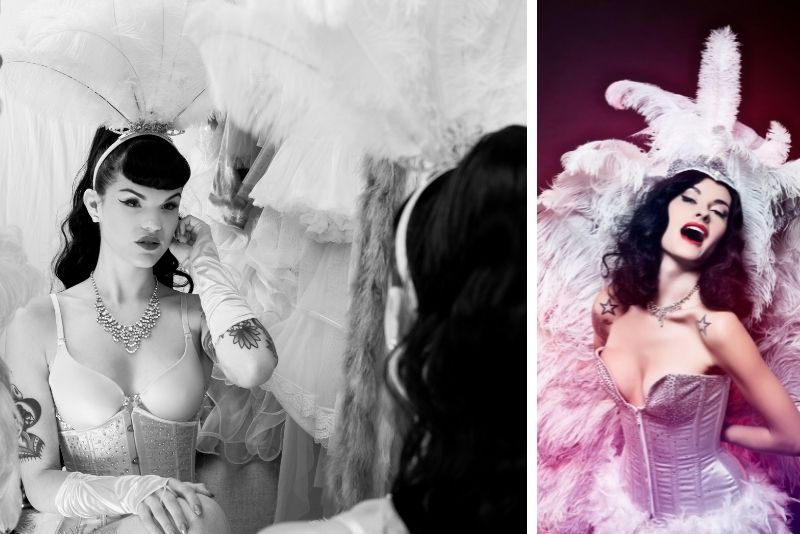 Raunchy and risque, the high-spirited Burlesque Hall of Fame Museum is officially one only museum in the world dedicated entirely to the fascinating history and art of burlesque — and, as such, you can better your bottom dollar that it's a must-visit for anyone with even a remote interest in vaudeville and all things bawdy.
As you wander around the Museum, led by friendly, enthusiastic, and knowledgable guides, expect to uncover historical artifacts such as glitzy costumes and burlesque props, taboo and out-there memorabilia including posters, photographs, and even a few props you can play with, the museum tells the story of burlesque as an art form — from its humble beginnings as a way to poke fun at highbrow theater through to its modern resurgence as a celebration of female empowerment.
Sure, it's a little on the small side compared to some of the other spots on this rundown, but that makes it a great activity if you only have an hour or two and want to avoid casino-related activities.
If you're feeling brave enough (or just plain curious), consider signing up for a dance lesson while you're at it!
12 – Erotic Heritage Museum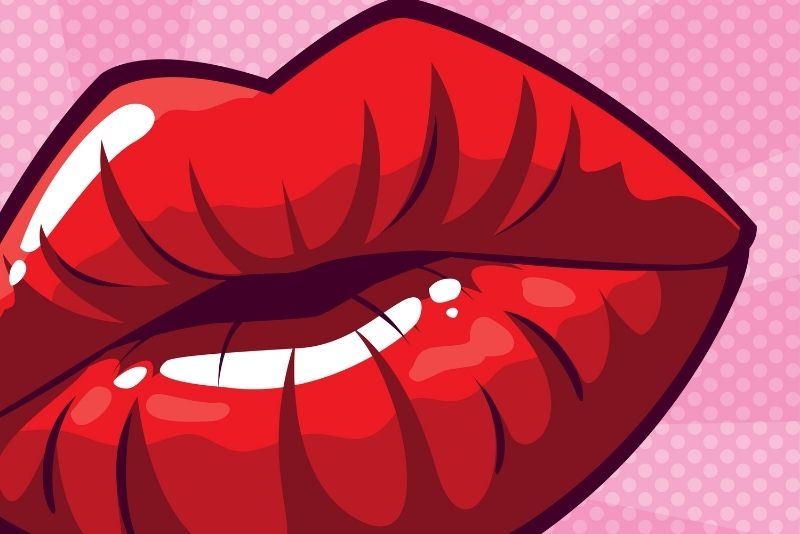 While we're on the topic of things that might make you blush, the Erotic Heritage Museum takes visitors on a lusty journey through the world and evolution of sexuality, erotica, and the age-old tale of the birds and the bees.
Calling itself the world's most provocative museum (and, once you've been there, we're pretty sure you'll agree), this arousing attraction dives into typically-unspoken topics. For history buffs, you can learn all about the evolution of human sexuality, and for sci-fi geeks, there are talks and insights into love and sex in the age of robots — and, of course, everything in between, from 'sex in space' to body molds, toys, art galleries, and a range of educational films and cultural events that focus on positivity.
While you're there, make sure to grab a ticket to the critically-acclaimed Puppetry of the Penis show — side-splitting laughs guaranteed.
13 – Marjorie Barrick Museum of Art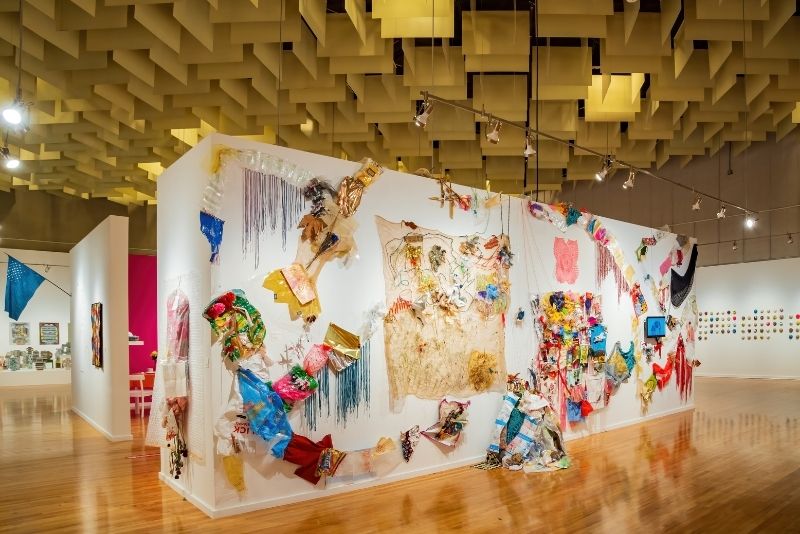 One of the quintessential, yet wildly underrated museums in Las Vegas for art aficionados, the Marjorie Barrick Museum of Art is home to a range of pieces from ancient pottery to more modern, cutting-edge works.
Featuring diverse and thought-provoking installations from traditional Southwestern Native American art and artifacts to contemporary pieces, the museum's collection spans cultures all over the world, with an emphasis on work by living artists.
What's more, as part of UNLV (the University of Nevada Las Vegas), the museum offers free admission for locals and students alike — making it a great place to spend an afternoon if you're on a budget, as well and a great place to explore away from the typical high-speed lifestyle of the Strip.
If you're after some peace and quiet (and a little fresh air), leave a few minutes to stroll through the Xeriscape garden just outside of the museum.
14 – Hollywood Car Museum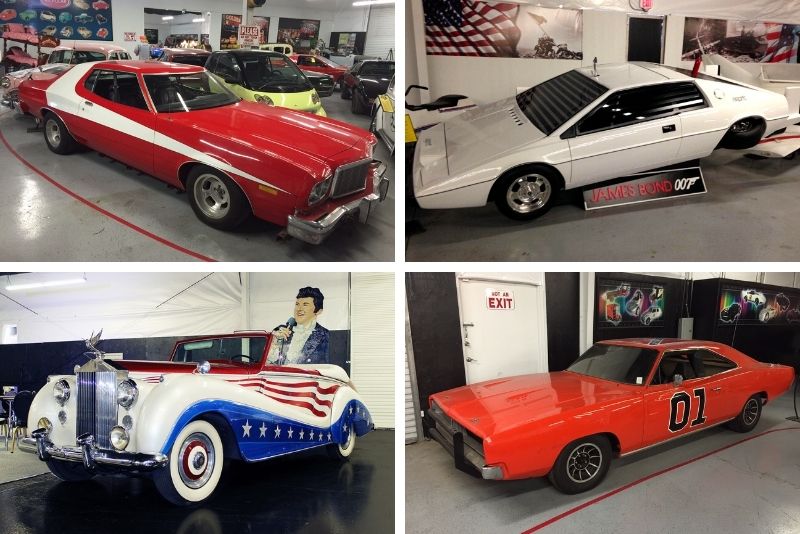 Hidden away across the road from Excalibur, the Hollywood Car Museum is one of those attractions in Las Vegas that you simply can't miss if you have any interest in cars — or Tinseltown's most famous films — whatsoever.
Boasting one of the world's most impressive collections of celebrity vehicles, movie props, and racing memorabilia (including an original Batmobile), this museum is like stepping into your favorite action movie or car chase scene.
All up, 100 different vehicles scatter the museum's floor, including James Bond head-turners, Batman, Fast & Furious hotrods, cars from the A-Team, the infamous Delorean from "Back to the Future", everyone's favorite talking car (Knight Rider), Herbie the Love Bug, and the classic Chitty Chitty Bang Bang — and that's just the tip of the iceberg.
Even still, pride of place goes to a jaw-dropping array of classic and luxury cars (and over-the-top stage outfits) that belonged to legendary entertainer, Liberace — none more flashy than a diamond-studded Rolls Royce.
15 – Arcadia Earth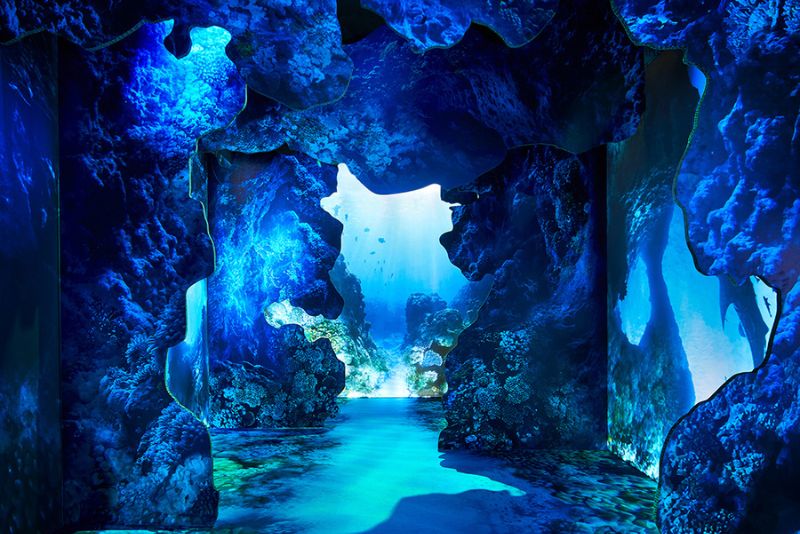 Discover Earth's most extraordinary environments with an immersive multi-sensory experience at Arcadia Earth. Visit colorful underwater worlds and meet marine creatures up close. Pass through different interactive spaces full of imaginative art installations that you can see, smell and touch.
Perceive the space in augmented reality using a mobile app, and learn about how you can save the planet by making small changes in your life.
Step into a simulated world using VR headsets where you can appreciate the possibility of a better world. Using repurposed materials and the latest technology, Arcadia has been promoting climate awareness and education through artistic storytelling.
Don't miss its latest exhibits while you're in Las Vegas and make a difference.
16 – Tom Devlin's Monster Museum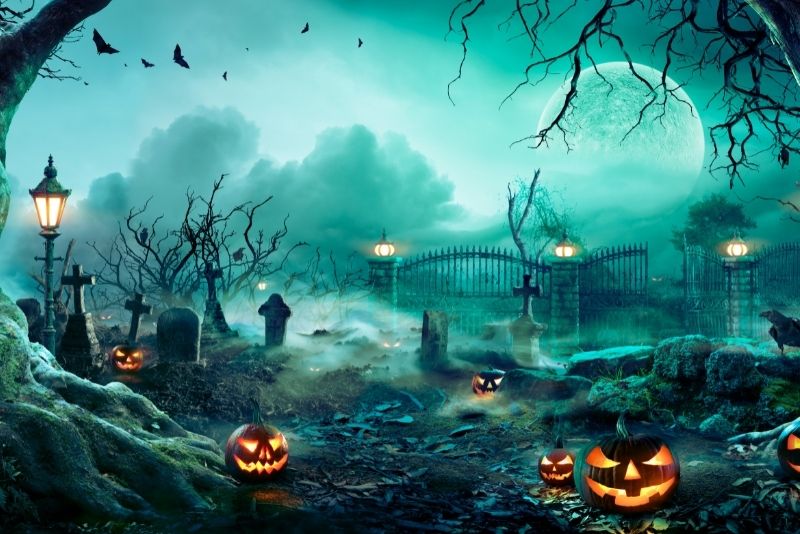 A surefire hit for any horror movie fan, the Tom Devlin's Monster Museum is an off-the-beaten-track museum that will take you on a curious journey through some of the cinematic world's most iconic monsters and ghouls, providing a rare and fascinating glimpse into the special effects and makeup of Hollywood horror flicks.
From models of Chuckie (Child's Play) to Frankenstein, and Dracula to Freddy Kruger, this museum has it all — all up, you'll find hundreds of different props, costumes, and one-of-a-kind masks from over 100 classic and contemporary scary movies and TV shows.
Thanks to its location in the heart of historic downtown Boulder City, it's easily combined with a trip to the Hoover Dam or the Nevada State Railroad Museum.
17 – Boulder City/Hoover Dam Museum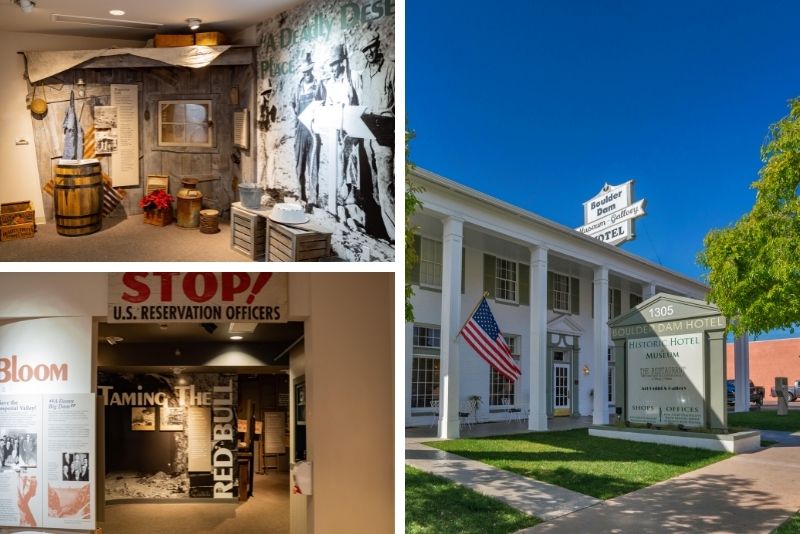 Speaking of Boulder City, it's home to another great little museum that is often overlooked in favor of the more famous attractions on the Las Vegas Strip.
Located inside the Boulder Dam Hotel, the Boulder City/Hoover Dam Museum takes a detailed look at one of the most impressive feats of engineering in human history: the construction of the Hoover Dam.
From interactive exhibits that take you through every stage of building this mammoth project to displays showcasing some of the unique vehicles and tools used during its construction, and insights into the lives and stories of some of the thousands of men who brought the project to life, this museum provides an in-depth overview not just of Hoover Dam itself, but also of life in 1930s America during the Great Depression and how it was transformed by the colossal feat.
If you're interested in learning about Nevada history or Americana, or if you're simply fascinated by large-scale engineering projects, pop this one at the top of your list of museums in Las Vegas (well, technically it's about 30 minutes away by car – still an easily accessible destination).
18 – Meow Wolf Las Vegas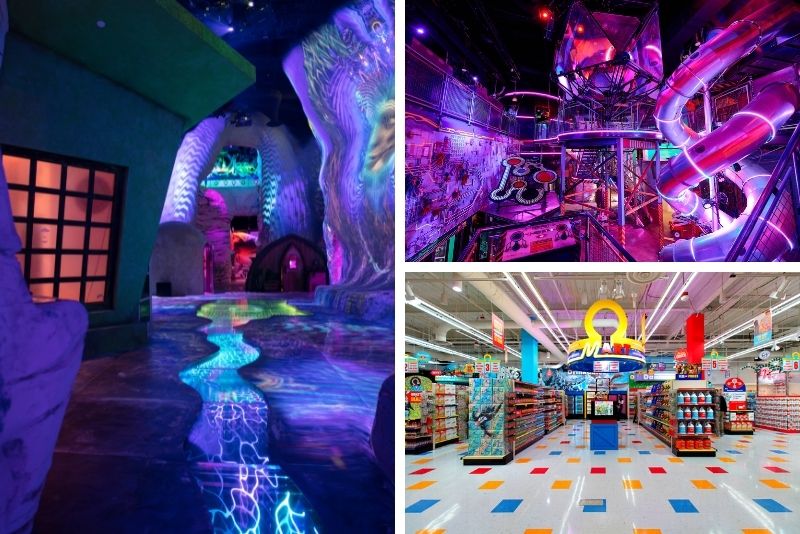 Where bright colors and neon line the walls, and hidden passages and optical illusions are found around every corner, Meow Wolf is more than just a museum: it's an immersive art experience that transports you into a whole other world — housed inside the wackiest, surrealist supermarket you've ever seen (with plenty of in-jokes poking fun at consumerist culture along the way).
Opened in Vegas in 2021, this multimedia artistic playground is the latest installation from the Meow Wolf collective who, since 2008, has been wowing audiences with their creative and mind-bending installations across North America.
Las Vegas' Meow Wolf is by far the largest to date, occupying over 52,000 square feet of space inside AREA15 (and certainly fitting the overall quirky sci-fi theme of the oft-beat space).
From an interactive forest filled with strange creatures to Narnia-like portals, you can easily be entertained by the twisting and trippy labyrinths for a good two hours.
19 – Bellagio Gallery of Fine Art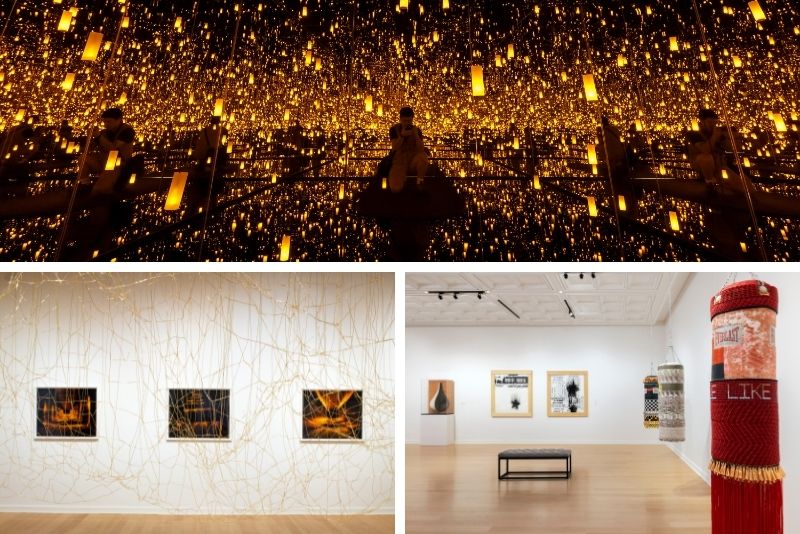 If you're looking for a more traditional art museum experience, the Bellagio Gallery of Fine Art is hard to beat.
Located inside the famous and ultra-luxe Bellagio Resort on the Las Vegas Strip, this gallery is home to rotating exhibitions from some of the world's most renowned artists, some of which occasionally lean into the futuristic, multi-sensory, immersive styles. Most of the time, however, expert simple classics and surefire hits; pieces from masters such as Picasso, Van Gogh, and Monet often make an appearance.
At less than $20, the gallery is also affordable to enter, so it's perfect if you want to get your culture fix without busting your budget. And, while you're there, time your visit to view the dancing Bellagio fountains out the front – a musically choreographed work of art in their own right!
20 – Bodies: The Exhibition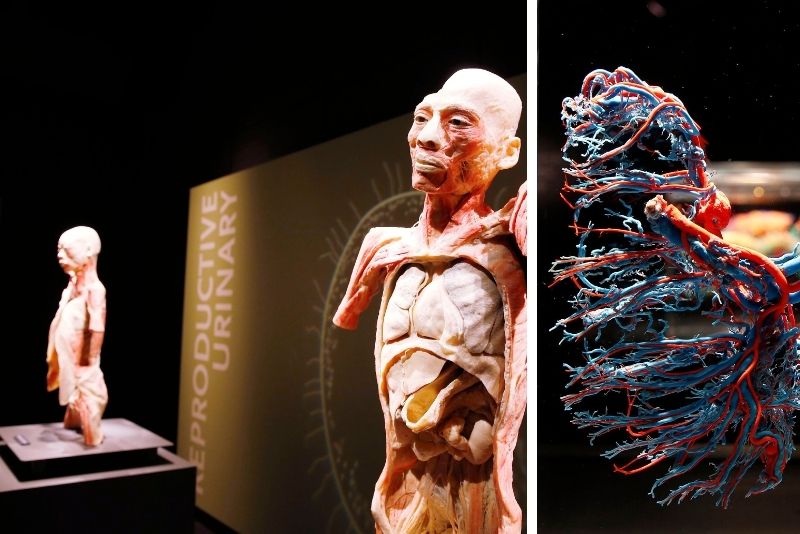 Found inside the Pyramid-shaped Luxor hotel, right next to the Titanic exhibition, Bodies takes visitors on deep dive into the workings, oddities, and history of the human body through more than 260 real human organs and over a dozen preserved (sometimes dissected) bodies!
Welcoming over 15 million guests through its doors, Bodies has been one of the most popular (and controversial) museums in Las Vegas, with people coming from all over the world to see everything from a baby's developing organs to a section of a human brain and lungs scarred by smoking.
The exhibition is definitely not for the faint-hearted, but if you're fascinated by the inner workings of our bodies or just want an interesting and unique experience that doesn't involve slot machines or tequila shots, then it's well worth checking out.
21 – Immersive Van Gogh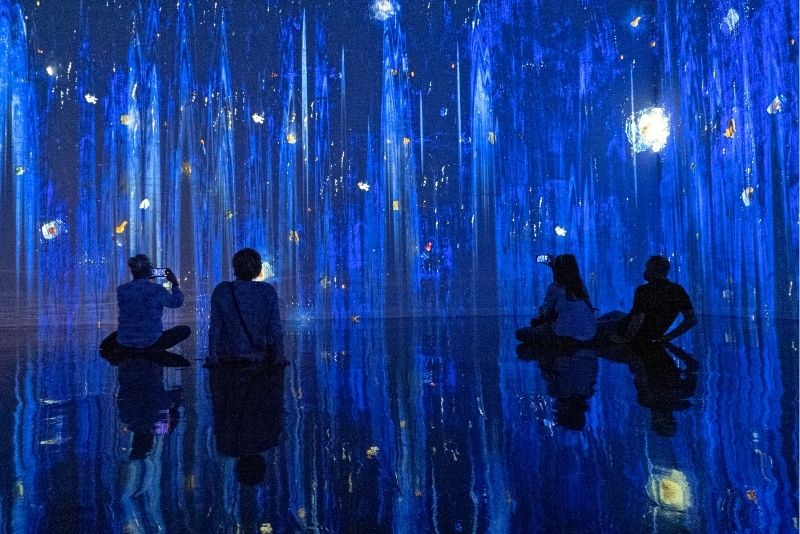 Like stepping into Vincent van Gogh's gallery of the future, this museum is a completely immersive experience that takes you into the life and mind of one of history's most celebrated artists.
Capitalizing on the latest projection technology, the Immersive Van Gogh delves deep into the psyche of the Dutch painter, presenting both his famous and lesser-known works — their brush strokes, detail, and color — through 360-degree entrancing, moving images that use no less than 90 million digital pixels across 500,000 cubic feet of enchanting projections.
Available at two locations around town (The Shops at Crystals and AREA15), this exhibition offers an unparalleled opportunity to become part of the art itself, with wonderful photo opportunities to boot.
For something truly unique, sign up for an immersive Van Gogh yoga class (Gogh with Lifeway Kefir) and then cap off the visit with a stop at the cocktail bar.
22 – Rita Deanin Abbey Art Museum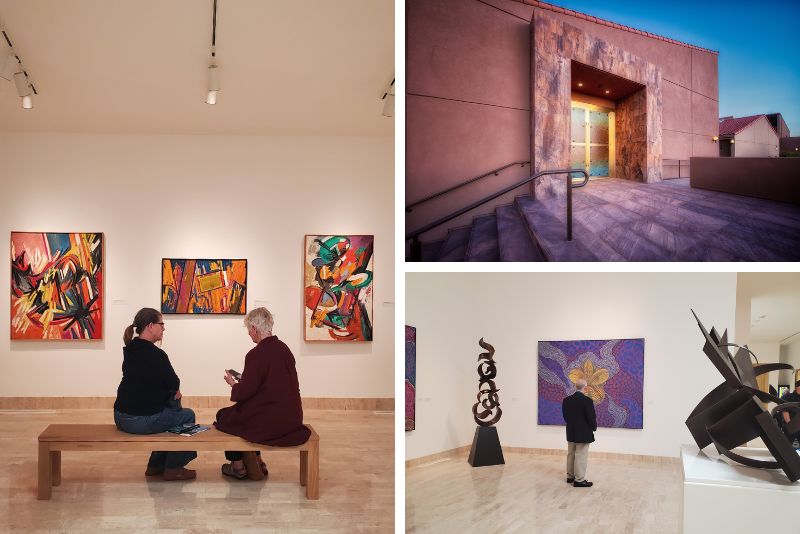 Discover the southwest through the eyes of visionary artist Rita Deanin Abbey. In the 10,500 square foot Rita Deanin Abbey Art Museum, you can find everything from sculptures and figures to murals and abstract expressionist paintings.
A visit here is ideal for connoisseurs and even those who are still to be introduced to Abbey's work. Over her lifetime, Abbey was heavily influenced by nature, and her body of work is an intimate reflection of the environment. She contributed greatly to the artistic scene in Las Vegas, and can be remembered as one of the region's most prominent and prolific creators.
The Rita Deanin Abbey Art Museum is located in northwest Las Vegas, and is open from Thursday to Saturday from 10 AM to 5 PM, and on Sundays from 11 AM to 4 PM. You can visit by appointment only, with tickets available to purchase online. At the museum, you can enjoy an outdoor sculpture garden, desert garden and courtyard. Alternatively, you can take a virtual tour on the official website.
23 – Art of Richard Macdonald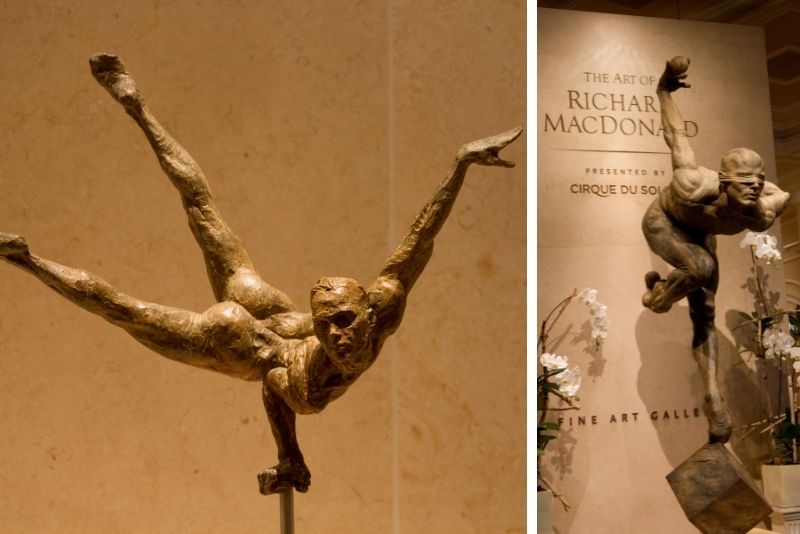 Famous for crafting bronze sculptures that reveal the infinite beauty of the human body, Richard MacDonald takes inspiration for his art from the twisty, bendy, majestic Cirque du Soleil acrobats and their unfathomable poise and balance.
Therefore, fittingly, you can find his collection — more than 50 diverse human-focused bronze sculptures (some of which took eight years to create) — in the Cirque du Soleil gallery by the Bellagio's "O" Theatre.
If you're not planning on seeing the Cirque show, a few more pieces are on display in Gallery Row at ARIA Las Vegas. Either way, they're free to browse and provide a formidable insight into the world of art's little-known neo-figurative movement.
24 – Clark County Museum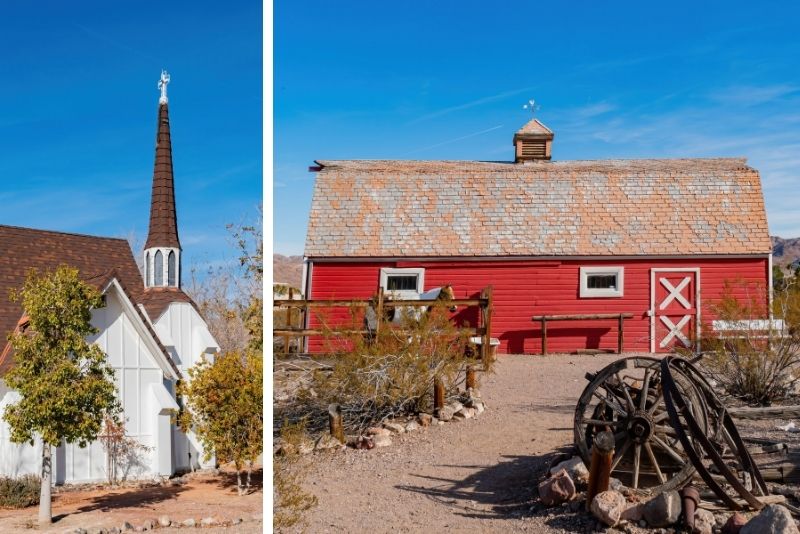 About 20 minutes away by car in the nearby small town of Henderson (en route to Boulder City and the Hoover Dam), the Clark County Museum is a great place to learn about the history and culture of Las Vegas and its surrounding, with exhibits on everything from the area's early Native American inhabitants to railroad construction, the evolution of hotels and casinos, and how the city has developed over time.
Besides a hefty collection of artifacts (like antique butter molds, branding irons, chamber pots, and fossils), hands-on experiences, and plenty of educational stories to tell, you'll also find antique locomotives and vehicles on the grounds outside, and eight century-old building on the museum's tree-lined Heritage Street.
25 – Ethel M Chocolates Factory & Cactus Garden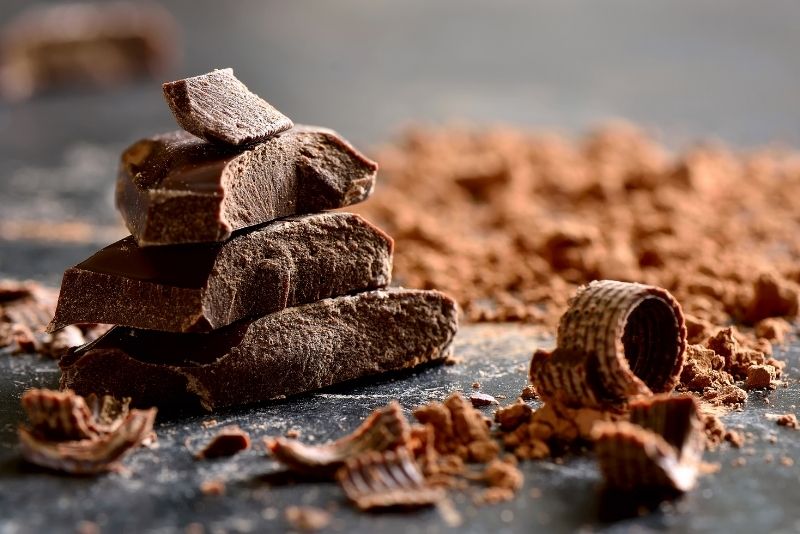 A rare and wonderful blend of sugary sweets and secluded serenity, a visit to the Ethel M Chocolate Factory and Cactus Garden is sure to satisfy sweet-tooths, history-lovers, and vagabonding families alike.
The chocolate factory — which is part of the Mars portfolio — offers self-guided tours that take you through the history of the company, from humble beginnings to becoming one of America's most iconic gourmet chocolatiers, with a stop in the on-site candy kitchen to see how the cocoa-y goodness is created (and sampling opportunities, of course) along the way. Craving even more chocolatey goodness? There are expert-led chocolate tasting classes too!
Just outside lies a 3-acre oasis of desert plants and cacti, home to more than 300 species sourced from the Southwestern United States, Australia, and even South America — making it one of the largest succulent collections in North America.
Hot tip: if you're traveling to Sin City over the holidays, the cactus garden features a breathtaking display of Christmas lights – perfectly accompanied by a cup of freshly-made hot chocolate.
26 – Nevada State Railroad Museum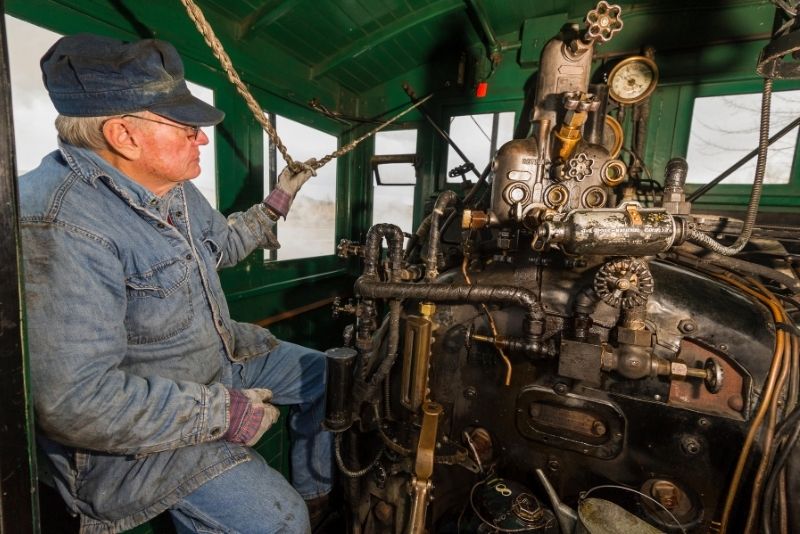 As one of the only museums in the United States dedicated to preserving railroad heritage and presenting it to the public, the Nevada State Railroad Museum in Boulder City — about a 40-minute drive from the Vegas Strip — makes for essential viewing for train enthusiasts and history buffs alike,
From locomotives and passenger cars to cabooses and tools, the museum has an impressive collection of rolling stock dating back to the 1930s, as well as interactive exhibits on everything from railway signaling to coal mining and model railroad displays.
And what would a train museum be without an actual ride or two? Sure to satisfy kids and adults alike, there are regular scheduled scenic excursions aboard historic trains that allow you to experience some of Nevada's stunning natural landscapes!
Book ahead and you can even ride in the front cab with the engineer and the brakeman!
27 – Shelby Heritage Center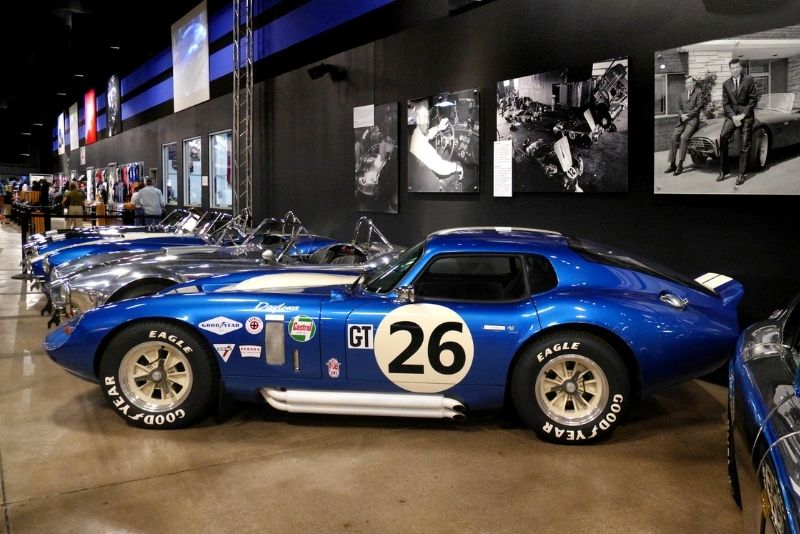 One for the diehard petrolheads, the Shelby Heritage Center in Las Vegas is dedicated to the life and work of one Carroll Shelby — a man who needs little introduction.
Born in Texas, Shelby made his name as a race car driver before becoming an automotive designer and manufacturer, most notably for Ford Motor Company (where he helped create the Mustang and AC Cobra). The accolades continues to roll in afterward when he founded Shelby American, which produced some of the most iconic sports cars in history.
Located in a quieter area just south of downtown (near the Las Vegas Sign), the center houses more than 30 vehicles from Shelby's personal collection, as well as memorabilia spanning his entire career.
On top of the fascinating exhibitions on different aspects of motorsport culture and sports car manufacturing, guests are gifted a behind-the-scenes look at the modification area, and can walk the halls of the actual production floor.
28 – Counts Kustoms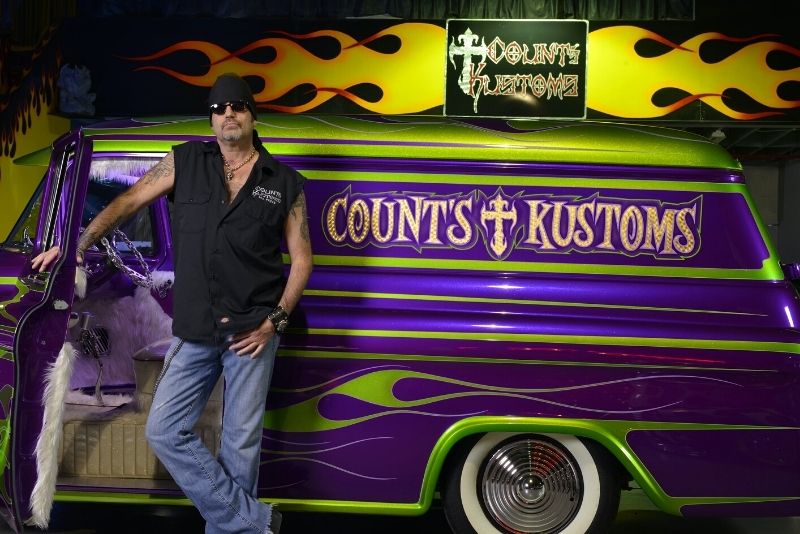 Made famous by the reality TV show "Counting Cars", Counts Kustoms is a Las Vegas institution when it comes to car customization and restoration.
Whether you're looking to get that old clunker of yours spruced up or are in the market for a completely new ride — or, more likely, just want to admire some fresh wheels and killer reconstructions — Counts Kustoms is the place to go.
As anyone who's seen the show will know (it's recommended to check out an episode before visiting), the team of car-loving experts here can work their magic on any make or model, turning it into a one-of-a-kind head turner.
Free tours offer first-hand looks at the Count's personal collection of cool hot rods, and exotic choppers (think Lamborghini Countach, Cadillac Hearse Limo, GT 350 Fastback, 81' Corvette, and cars of that ilk); if you're looking for the ultimate petrolhead tour, Count also provides a VIP tour that takes you to a range of car-enthusiast spots all over town.
29 – Marvel Avengers S.T.A.T.I.O.N.
For the superheroes in the making, the Marvel Avengers S.T.A.T.I.O.N. over at Treasure Island on the Strip has taken the heroes and villains we all love and created a totally interactive experience that lets you become one of them.
Based on the blockbuster films from the Marvel Cinematic Universe, this interactive experience takes you into the world of The Avengers, bringing to life favorite characters like Iron Man (check out the evolution of Tony Stark's suit!), Thor, Spider-Man and Captain America (among others).
Divided into sections that explore different aspects of the movies, guests are given interactive missions and training modules as they enter each area; after completing it, they're free to roam around and take photos with props, costumes, and sets from the films.
For collectors and souvenir-hunters, you'll also find a decked-out gift shop where you can buy all sorts of marvelous merch (including some exclusive items).
30 – REAL BODIES at Bally's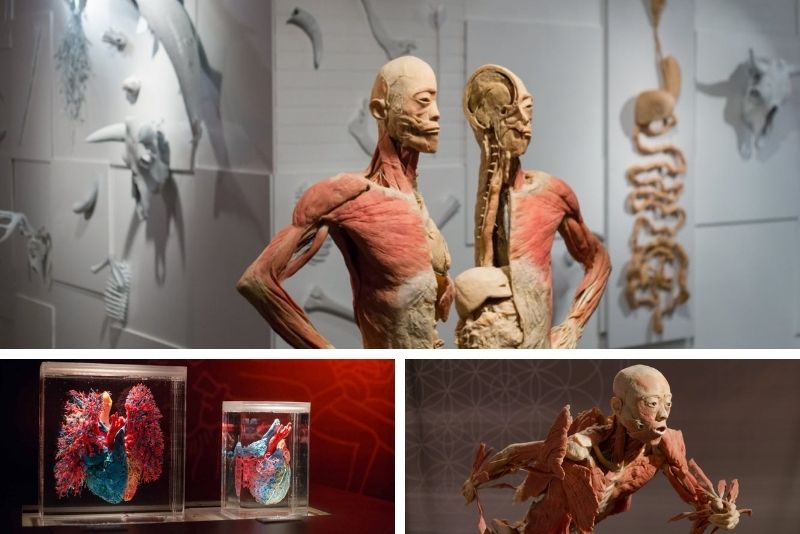 Offering a rare and up-close look at the human body, REAL BODIES is an exhibition of more than 20 anatomical specimens that have been preserved through a fascinating (and, for some, eerie) process called plastination.
Far more than just a collection of bones and (over 200) organs though, the attraction also provides worldly insights into how different cultures deal with life and deal with death, and takes a step back to analyze humanity; the importance of love, the evolution of our bodies, and so much more
And, in an effort to stay relevant, you'll also find a fascinating exhibition that details all of the latest scientific research on COVID-19 and how the virus affects our bodies.
If you're not too squeamish, it's definitely worth checking out; the exhibit has welcomed millions of visitors over the years and is now housed permanently at Bally's hotel on the Strip.
31 – Lost City Museum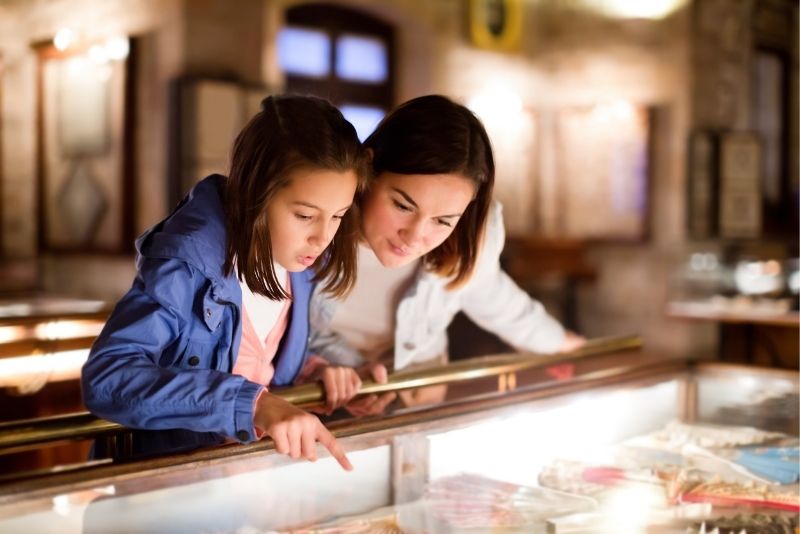 Digging up dirt on everything there is to know about archaeology and found over in Overton (near Boulder City) on the actual prehistoric site of the ancestral Anasazi community, the Lost City Museum is a great place to learn about the ancient cultures of North America, specifically that of Nevada and the Southwest.
Through a combination of three exhibition galleries, a screening room, a research library, and a store, the museum tells the story of these ancient people from their origins to their disappearance; artifacts on display include pottery, tools, and jewelry, all of which have been found at various archaeological sites around the state.
One of the coolest things about Lost City? It's not just a dry history lesson — you can also explore the surrounding area for yourself and see some of the actual local ruins, including a Native American pit house and reconstructed pueblos.
32 – Museum of Selfies Las Vegas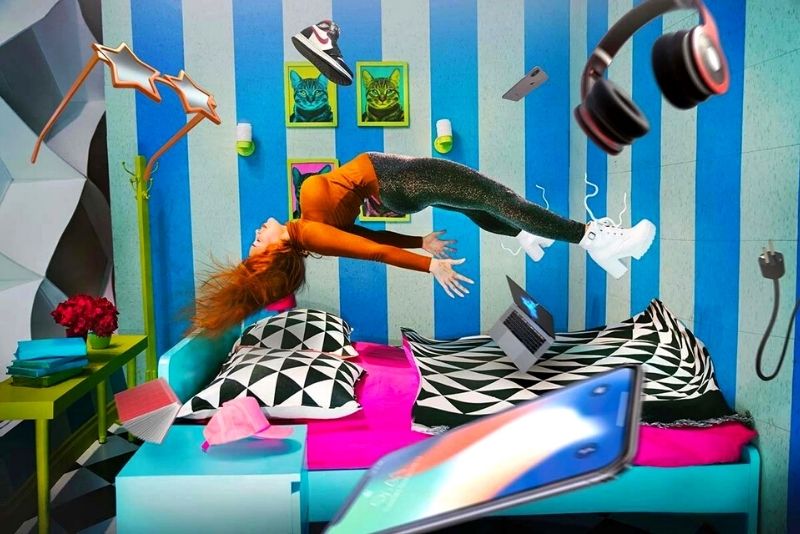 For anyone in dire need of a new profile pic, the Museum of Selfies is exploding with creative backdrops, optical illusions, hilarious scenarios — all centered around one thing: you! After all, what could be more Las Vegas than celebrating (and over-indulging) in glitz, glam, and a little touch of vanity?
Jump in the emoji pool, confuse your social media feed with a few snaps in the Upside-Down Room, and top it all off with a classic ' selfie' in front of the museum's replica of the Mona Lisa (with its own selfie-style twist, of course).
You don't even have to worry about bringing your whole paparazzi crew; the Museum of Selfies has staff on hand who know how to take a snap sure to light up any feed.
33 – Museum Fiasco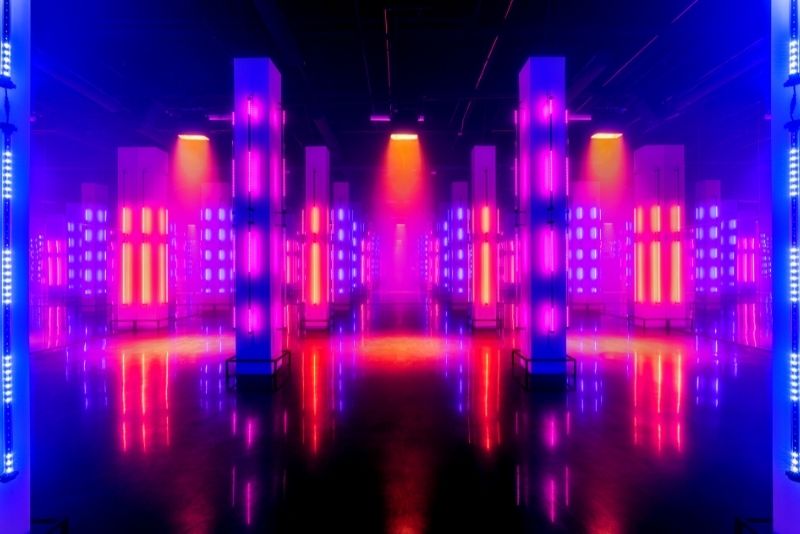 One of the more recent additions to the variety of museums in Las Vegas, Museum Fiasco — found over in the sci-fi space that is AREA15 — is immersive, bizarre, and a whole lot of fun, designed to transports you into what they've coined a 'psychic journey of abstract geometry'.
Combining state-of-the-art projections with dramatic sound music, and light shows that are seriously trippy, Museum Fiasco is a place where you can feel like you're exploring different dimensions and universes, all the while learning about (and being part of) a new wave of digital art.
Bonus: if you're feeling peckish after your journey, AREA15 has got you covered with an eclectic mix of restaurants and bars.
34 – Origen Museum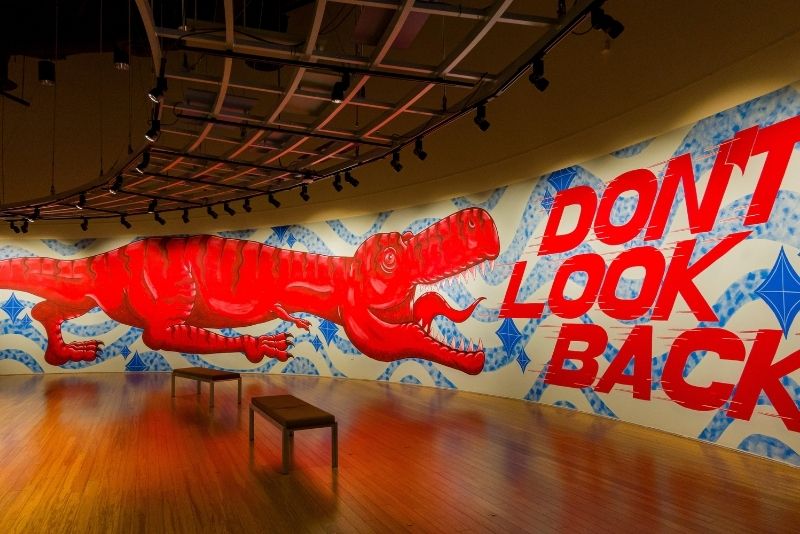 An amalgamation of "origins" and "generations", which gives a little insight into what this educational Springs Preserve attraction is all about, the Origen Museum is a place where you can explore the history of the Las Vegas region — including natural history, settling, and development into the resort capital of the world — in a hands-on way that the whole family will enjoy.
With over 75 different exhibits to check out, the Museum covers topics like the Hoover Dam, generations that have passed through the area, and Nevada's geographical layout, this museum is perfect for families (or anyone with a general interest in science) who want an easily-digestible overview of Vegas behind all the glitz and glam.
Don't miss the outdoor live animal exhibits to meet some of the native Mojave critters, and check out the fan-favorite flash flood exhibit, an immersive experience simulating a flash flood complete with more than 5,000 gallons of recycled water!
35 – The Hunger Games: The Exhibition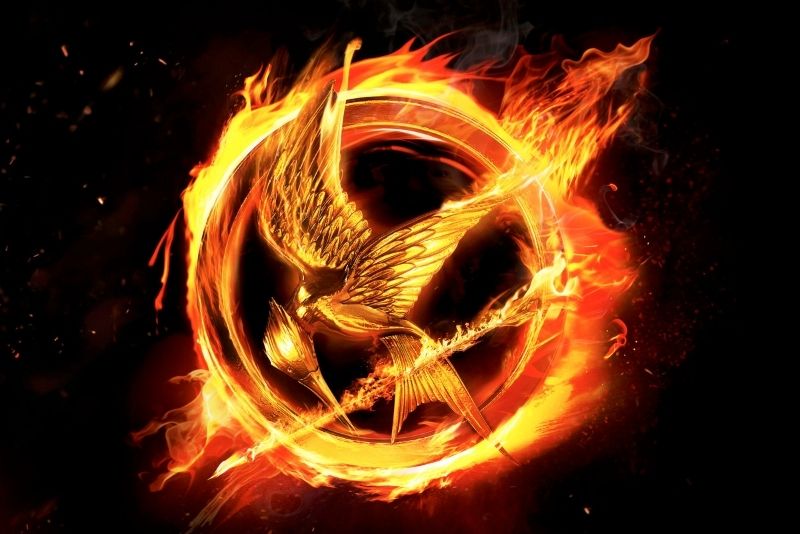 A quintessential stop for fans of the Sue Collins books and blockbuster movie series adaptations, The Hunger Games: The Exhibition is a walk through the life and times of Katniss Everdeen, from her humble beginnings in District 12 to her rise as the influential Mockingjay.
From costumes and props used in the films to interactive games that let you test your archery skills, this exhibition has everything a fan could want (and more), plus no shortage of detailed insights into how the movies were made.
Open from 11am to 5pm daily and located inside MGM Grand (right next to The Wedding Chapel – classic Vegas, right?), this Panem-themed attraction makes for the perfect preamble to a David Copperfield or Jabbawockeez show, or a night of partying at the Hakkasan Nightclub.
Final Thoughts
And there you have it, folks. What a list! As you can see, you can easily spend days, if not weeks ticking off the diverse selection of museums in Las Vegas.
Still, it goes without saying that Las Vegas' museum scene is just a small piece of the puzzle that makes Sin City what it is: a chaotic yet beloved travel destination that has something for everyone.
There are romantic things to do in Las Vegas, hundreds of different things to do on the Las Vegas Strip, and journeys out to nearby landmarks like the Grand Canyon, Antelope Canyon, and Zion National Park, just to name a few.
Visiting Las Vegas for the first time? Make sure to check out our list of the best things to do in Las Vegas for first timers.
If you're looking for a change of scenery, without leaving Nevada, Reno and Lake Tahoe are ideal for quieter weekend trips.
Did we miss anything? Let us know in the comments. As always, happy (and safe) travels!