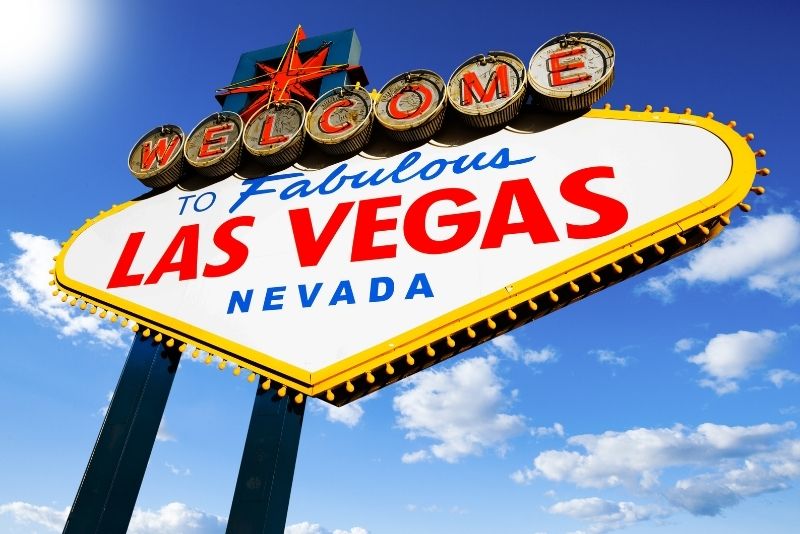 Infamous worldwide for its boisterous casinos, neon-lit Strip, round-the-clock drinks, and What Happens In Vegas Stays In Vegas mantra, Sin City doesn't do things by halves. Full to the brim with thrill rides, dazzling circus and magic shows, themed hotels, world-class restaurants, and a whole lot more, there's definitely no shortage of things to do in Las Vegas.
Whether you're planning on a quick and wild weekend of partying, an entertainment trip full of shows and concerts, or a longer vacation where you get off the beaten track and explore hidden museums and expansive slices of Mother Nature, we've put together a list of the best things to do in Las Vegas for first timers — a combination of exciting activities that deliver all the highlights of this iconic Mojave Desert resort city.
From checking out some of the city's most iconic landmarks (the Bellagio Fountains, Mirage Volcano, and ever-lively Fremont Street Experience, to name but a few) to enjoying the heart-in-mouth action at one of its many sporting venues, there's something for everyone in Sin City. So what are you waiting for? Start planning your trip today!
1 – Journey to mini-Paris with the Eiffel Tower Experience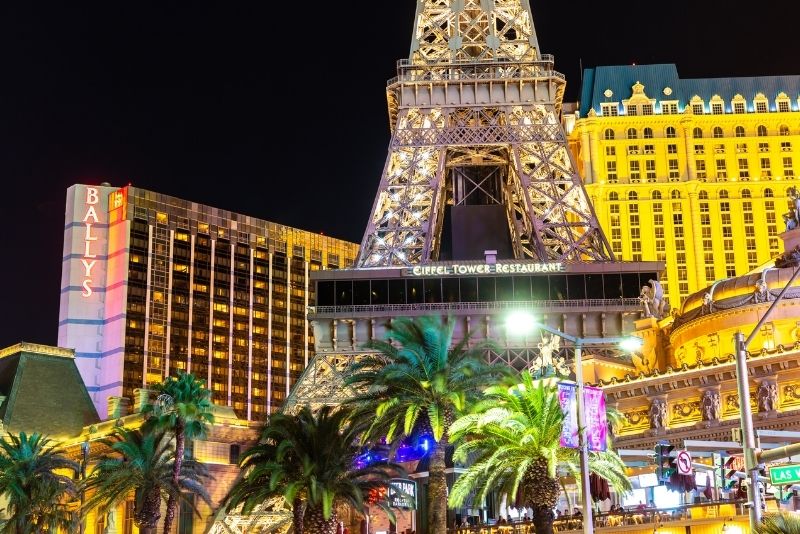 Who says you need to fly across the Atlantic to uncover a little slice of Paris? At exactly half the height (46 stories or 540 feet) of the original — but with all the glitz and glamour of Sin City — the Eiffel Tower Experience at Paris Las Vegas is one of the most iconic things to do on the Las Vegas Strip.
Oozing romance and presenting itself as a must for first-time visitors, this is your chance to see incredible views of the city from high above its chaotic floor. On a clear day, you can see up for miles in each direction, with 360-degree views of the Strip, the Bellagio Fountains, and the nearby opulent casinos! Even the exhilarating glass elevator ride, which takes you up to 460 feet, delivers magical photo opportunities.
If you're feeling extra romantic, book a table at the Eiffel Tower Restaurant for an unforgettable French dinner and sunset champagne toast, or knock back a handcrafted cocktail or two at the swanky bar.
2 – Be dazzled by the range of Cirque du Soleil shows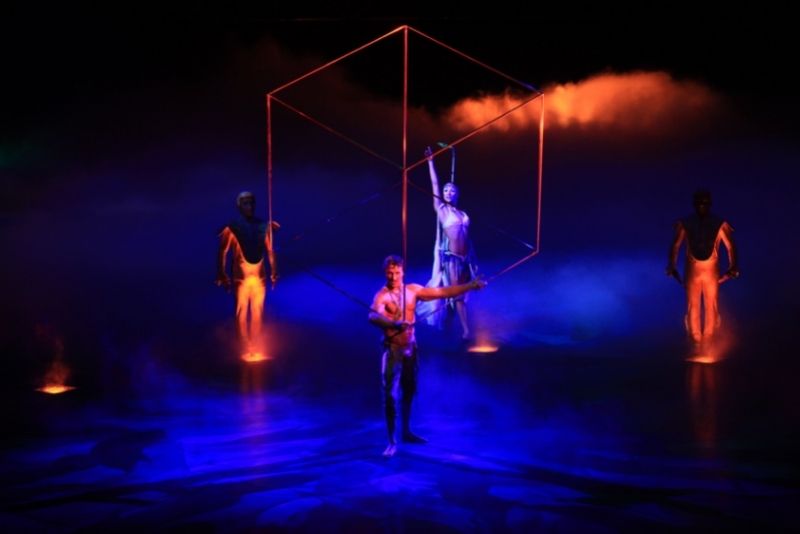 Fusing magic with dance, showmanship, special effects, jaw-dropping acrobatics, don't-try-this-at-home stunts, and thrilling storytelling, Cirque du Soleil sports a reputation that precedes it — one of the utmost highest quality, where visitors seldom walk away from a show without an ear-to-ear grin and a sense of appreciated for the talented international list of performers.
As of 2022, choose from a half-dozen different shows, including the long-running fan favorites "O" and "Mystère," as well as newer productions such as Michael Jackson ONE, The Beatles LOVE, and KÀ.
With a permanent home in multiple casinos on the Las Vegas Strip since the 1990s, Cirque du Soleil has become a beloved Vegas entertainment staple and remains one of the best things to do in Las Vegas for first-time visitors. So if you're after one (or more) of the most mind-blowing, heart-stopping shows in town, look no further!
3 – Uncover Las Vegas' underbelly at the Mob Museum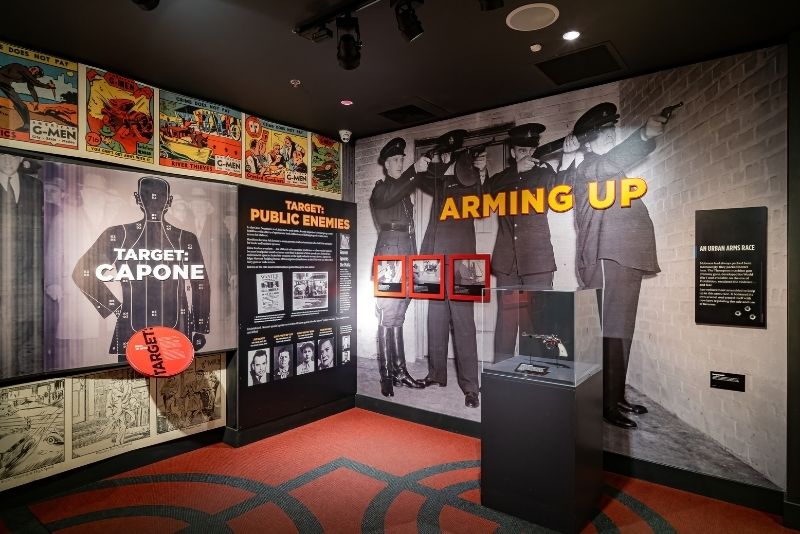 When it comes to museums in Las Vegas, few boast the same reputation as that of this mafia-centric establishment. Long before Vegas was a glittery hubbub of casino floors and neon lights, it was a mob-run town – and as you might expect, the sinful stories are a dime a dozen.
From the moment you step inside, you're transported back in time to as early as the roarin' 1920s, and then it's off to explore a world of interactive exhibits, multimedia displays, and artifacts that detail the history of organized crime — as well as law enforcement — in Vegas and wider America.
You'll learn about famous gangsters such as Al Capone and  John Gotti, get an insight into how they operated, see what life was like for those caught up in their web, and discover the role Las Vegas played (and still plays) in all of it.
It's a fascinating place that provides a great look at another side of Sin City – one that's often overlooked by first-time visitors.
Hot tip: after browsing the museum, be sure to pop into to onsite speakeasy – the password is Flapper.
4 – Try your luck at the famous casinos!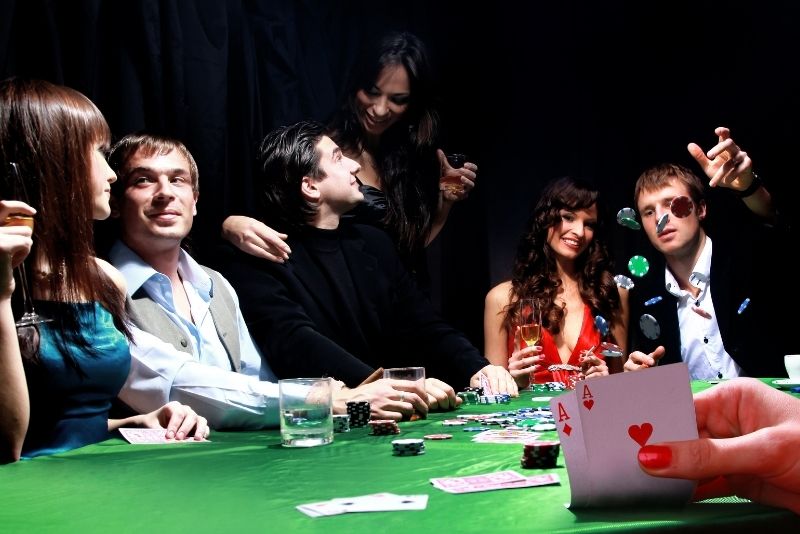 It was only a matter of time, right? No trip to Sin City is complete without at least stepping foot inside one of its world-famous casinos.
And whether you're a high roller or low-stakes player, there's a casino to suit your style and budget, with table games, slots, and more bright lights and free drinks (just tip the wait staff) than you could possibly count. For those after the opulent surroundings and over-the-top displays of excess that Vegas is known for, make a beeline for places like Bellagio, Wynn Las Vegas, Caesars Palace, The Venetian, or MGM Grand.
But if you're looking for something a little more relaxed (and less intimidating), check out smaller casinos such as The D Las Vegas Casino Hotel or Golden Nugget.
Of course, it's not all about gambling – many of these mega complexes also house impressive restaurants and bars, live music and entertainment, luxury shopping, spas, and more. So even if you're not interested in gambling, they're still well worth a visit!
Just remember to bring your ID – casinos in Vegas are very strict about only admitting those 21 years of age or older.
5 – See the city from above view with a helicopter tour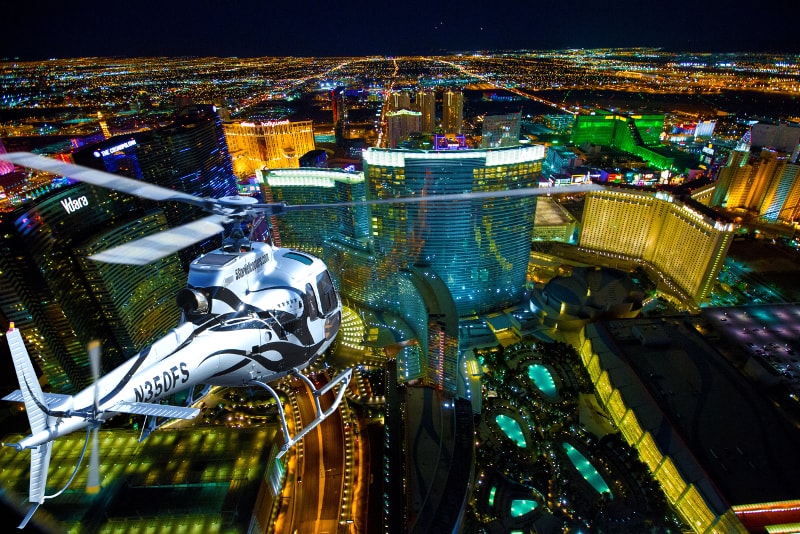 Seeing the hustle and bustle of the Las Vegas Strip from street level is all well and good – but for a truly unique perspective of this neon-lit metropolis, you need to see it from above.
And there's no better way to do that than with a helicopter tour!
You'll soar high above the city in a state-of-the-art aircraft, taking in sweeping views of famous landmarks such as the Bellagio Fountains, Caesars Palace, the New York-New York skyline, the Eiffel Tower, the Venetian canals, The STRAT, and so much more, not to mention the seemingly-endless desert that just out to the horizon.
By day, the vistas are spectacular; at twilight, as the city transitions from sunbakers to nightclubbers, it adopts an entirely new, beautiful persona — the Las Vegas Strip at night is hard to beat. And if that's not enough to get your heart racing, how about adding on a flyover of the nearby Grand Canyon or Hoover Dam for good measure?
Just be sure to book in advance, as these tours are extremely popular (for good reason).
6 – Dine, ride, and enjoy the view at The Strat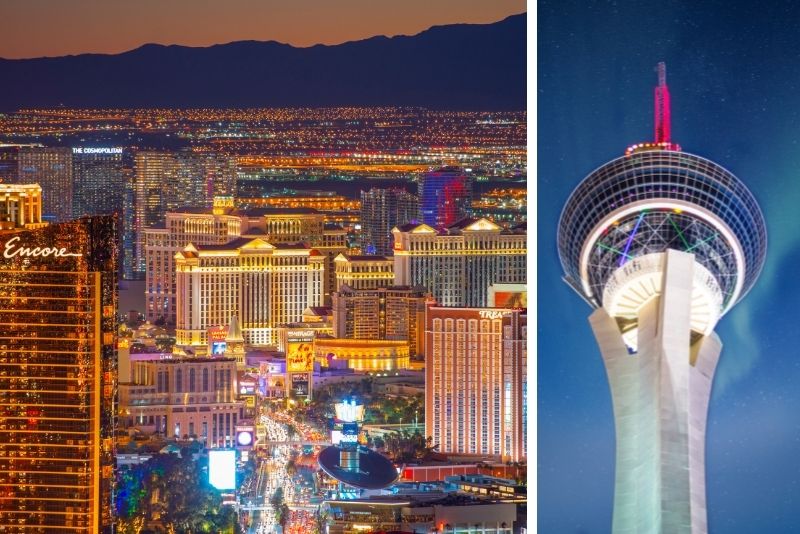 Soaring at 1,149 feet above the tourist-lined streets below, The Strat boasts an undeniable reputation as one of the best tourist attractions in Las Vegas for thrill-seekers and adrenaline junkies.
Wielding the title as the tallest freestanding observation tower in the US (nearly double that of Seattle's famous Space Needle!), this Upper Strip hotel sports some of the world's highest thrill rides. Make no mistake, The Strat is not for the faint of heart.
If you're feeling brave (and have a head for heights), take a ride on SkyJump Las Vegas – a bungee-style and Guinness World Record-holding jump that will see you hurtling off the side of the building at 40mph!
Or if that's not quite your style, there are plenty of other high-altitude activities to keep you entertained, including Big Shot (a seat that launches you 160 feet into the air at 45mph), X Scream (a teeter-totter that hangs over the edge), and Insanity (a 'spinning' ride that will have you dangling over the edge of the building looking down at the Strip below!).
If you're not quite ready to take the plunge just yet, you can always enjoy the stunning views from the observation deck instead or sip on a cocktail at the city's highest bar, 107 SkyLounge – it's one of the prime places to admire the sunset over Sin City.
7 – Take a day trip to the iconic Grand Canyon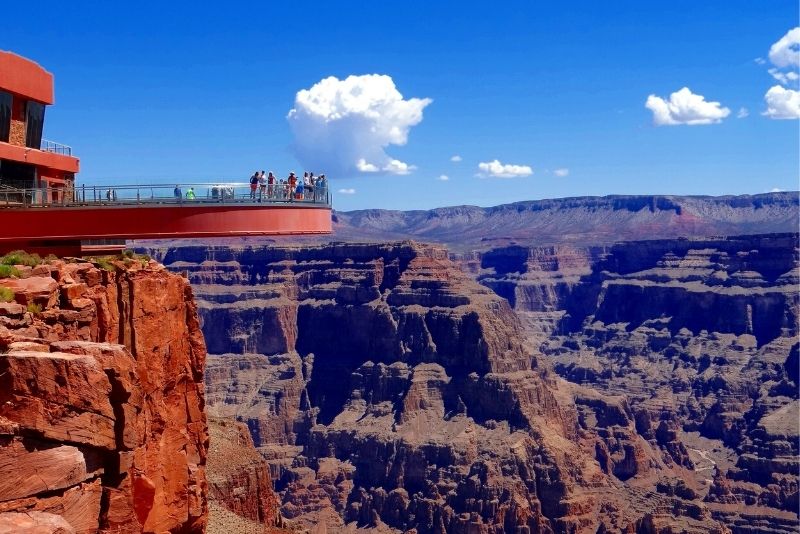 When you think of national parks near Las Vegas, 9 out of 10 people have the Grand Canyon in mind. And fair enough too — at over 18 miles wide and 6,000 feet deep, this is one of the most awe-inspiring natural wonders on the planet.
There are plenty of ways to experience the UNESCO-listed canyon, from the short helicopter or airplane tours that give you a bird's eye view of the vastness below, to more comprehensive excursions that will have you hiking, rafting, and camping overnight in the heart of it. Throw in the Grand Canyon Skywalk, a plethora of trekking routes (don't miss the Bright Angel Trail), Jeep tours, and rare wildlife, and you're in for a treat. No matter how you choose to do it, a trip to the Grand Canyon should definitely be on your list of things to do in Las Vegas for first-time visitors.
Hot tip: consider combining a Grand Canyon visit with any of the best Hoover Dam tours from Las Vegas — located less than an hour from Sin City, the engineering marvel makes for a perfect pitstop between the casino and Canyon floors.
See also: learn how to get from Las Vegas to Grand Canyon, and check out our complete list of fun things to do at the Grand Canyon.
8 – Watch the dancing Bellagio Fountains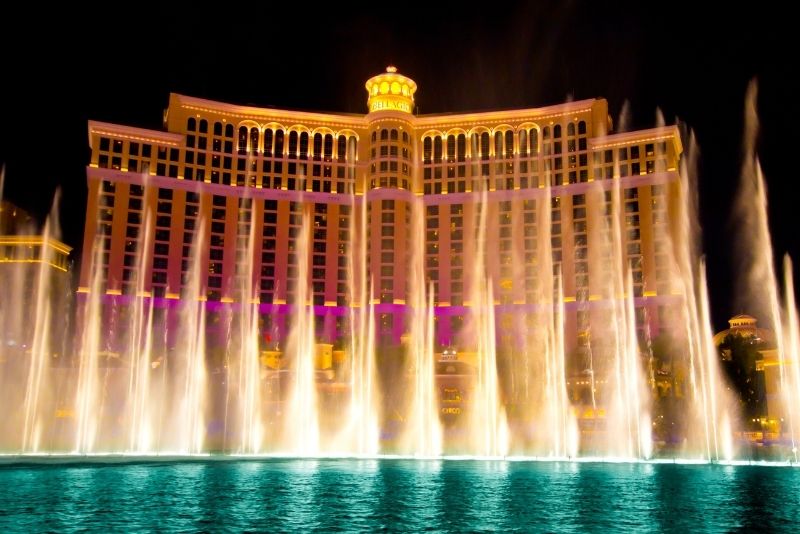 One of the most popular things to do in Las Vegas for first-time visitors is to witness the magnificent Bellagio Fountains. This spectacular water show takes place every half hour (or 15 minutes, depending on the day and season) in front of the iconic Bellagio hotel, and features over a thousand jets and lights that are choreographed to music ranging from classical (from Pavarotti to Sinatra) to modern pop hits.
Either take a simple stroll down the sidewalk to enjoy the show at your own pace, or make a night of it by booking a table at one of the nearby restaurants. Or, better yet, book a room in one of the fountain-facing Bellagio suites which overlook the 200-foot-high jetstreams!
It's an absolute must-see in Las Vegas at night when the fountains are illuminated by colorful lights — definitely one of the best free things to do in Las Vegas!
9 – Rev that engine with an exotic driving experience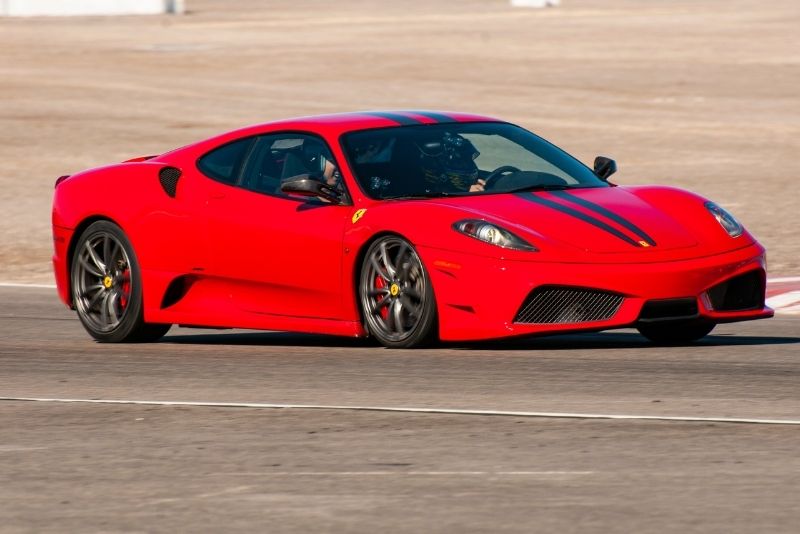 Ever dreamed of getting behind the wheel of a Lambo? How about a suped-up Porsche or Corvette? Or maybe even a Ferrari?
Well, in Las Vegas you can make that dream a reality with a driving experience on the world-famous Las Vegas Motor Speedway — about 15 minutes north of the city. You'll get to choose from a whole host of luxury and high-performance cars (more than 20!) to take for a spin around the track, all under the guidance of an experienced instructor, of course. With no speed limits, you'll be hitting up to 130 miles per hour!
Not only is this one of the coolest things to do in Sin City, but it's also one of the most unique experiences — perfect for petrolheads and first-time visitors alike.
SpeedVegas Motorsports Park, on the other hand, which has more than its fair share of its own hair-raising driving experiences, is about 15 minutes south of the Las Vegas Strip.
10 – Revel in the atmosphere of Fremont Street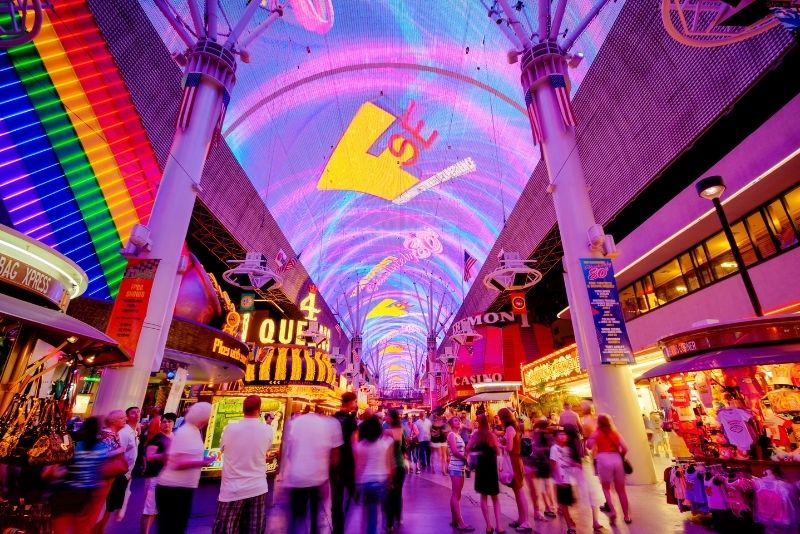 Downtown's hubbub of Fremont Street is a must-visit for first-time visitors to Las Vegas. This pedestrianized, open-air mall is home to some of the most interesting and historic casinos in town (The D and Golden Gate being two prime examples), as well as a plethora of bars, restaurants, and live music venues.
Famed for its overhead Viva Vision light show (which take place every hour from dusk until midnight, synced up to the music of pop stars from around the world), there's also an abundance of street performers to keep you entertained — everything from fire breathers and magicians to Elvis impersonators!
To all you thrillseekers, make the most of your visit by taking a spin on Fremont Street's 12-story-high SlotZilla line — it'll send you hurtling through the skies above the busy crowds below for almost 1,700 feet.
11 – Take the family to one of the city's magic shows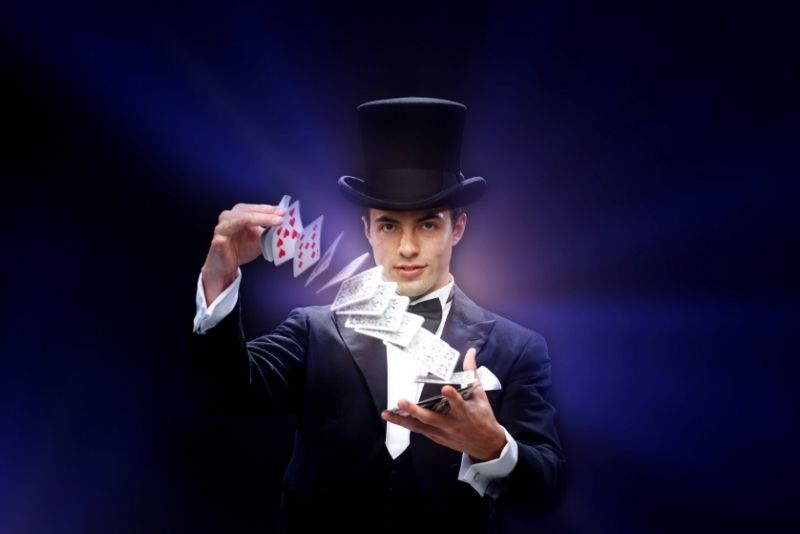 A city as magical as Vegas oozes entertainment at every turn, so it's no surprise that one of the most popular things to do in Las Vegas for first-time visitors is to sit front row for an awe-inspiring, how-the-heck-did-he-do-it magic show!
While you've got a few different shows to choose from, a popular top pick is Criss Angel MINDFREAK — an intense and jaw-dropping demonstration of the impossible by the famous illusionist himself.
From making objects vanish into thin air to floating 20 feet above the ground, this 90-minute show will have you on the edge of your seat (and possibly questioning your own sanity). Then there's David Copperfield, a legend in the world of magic, who has been wowing audiences for decades with his signature style of grand illusion.
Adding another one to the mix, you've got The Mentalist, Gerry McCambridge. This interactive show invites members of the audience on stage to help McCambridge demonstrate his "psychic" abilities — it's both fascinating and hilarious! Throw in family-friendly repertoires from the likes of Mac King, Mat Franco, and Nathan Burton, and you've got a whole host of shows to choose from.
12 – Take a spin on The LINQ High Roller Ferris Wheel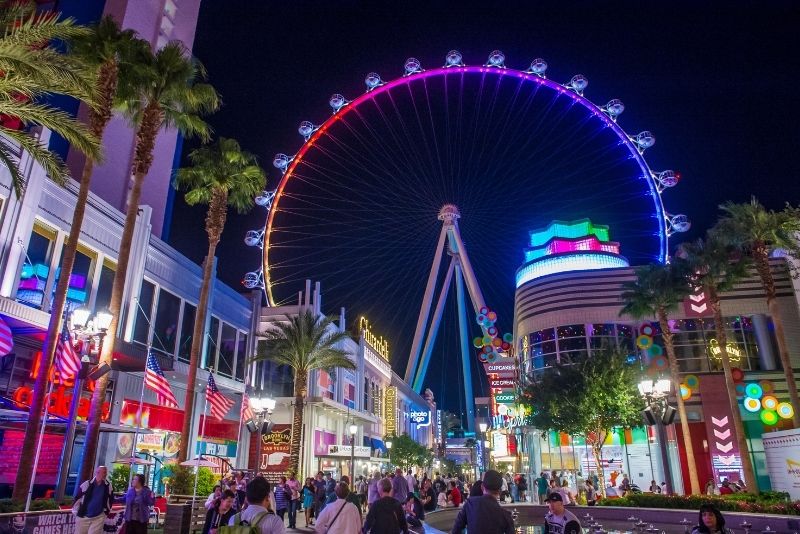 Officially the tallest observation wheel in the country, The Linq High Roller towers over 550 feet above the tourist-lined LINQ shopping promenade. Offering a spellbinding view in every direction from each of its 28 glass pods, a spin on the wheel is one of the most popular things to do in Las Vegas.
For those not so keen on heights, don't worry — your pod will be pretty spacious (and each one comes complete with its own bar, should you need a little liquid courage!). The ride lasts around 30 minutes, giving you plenty of time to enjoy the views and snap some epic photos, with tickets for children 12 free!
Hot tip: consider the Happy Half Hour package, an all-you-can-drink option that takes the sky-high loop all the more memorable (well, depending on how much you drink).
See also: cheap things to do in Las Vegas
13 – Get a little romantic with a gondola ride at The Venetian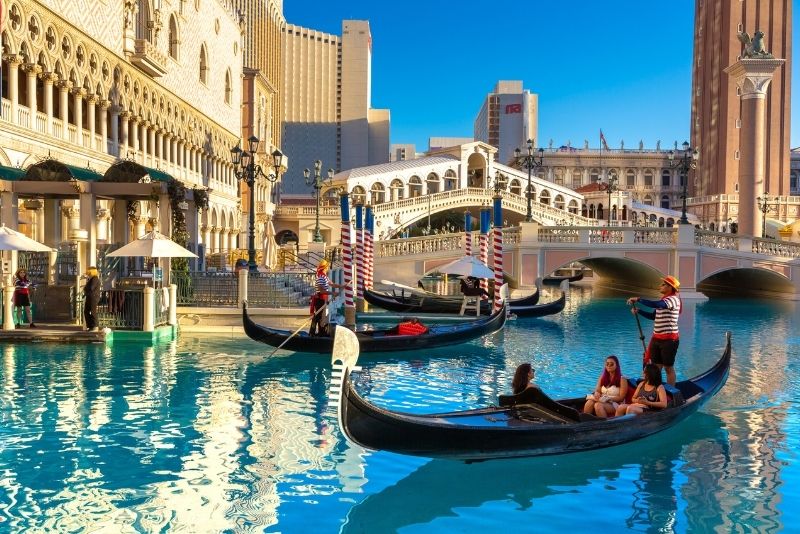 Like being transported to the charming, winding canals of Italy's famed floating city, a gondola ride at The Venetian is one of the most romantic things to do in Las Vegas.
Snuggled up with your partner as you glide down the man-made canal, you'll be serenaded by your gondolier (singing in both English and Italian!) while taking in the opulent sights of The Venetian Resort — think marble floors, ornate ceilings, and bridges adorned with flowering vines. And, of course, spectacular reproductions of some of Venice's most iconic landmarks
The best part? You don't even need to be staying at the hotel to enjoy a ride! And, thanks to its central location in between The LING and The Wynn, it's a convenient stop on any day of Strip walkabout
Pinching pennies? While not the cheapest of Vegas' tourist attractions, you can save a few dollars by grabbing a combination ticket to Madame Tussauds.
14 – Witness human ingenuity at the Hoover Dam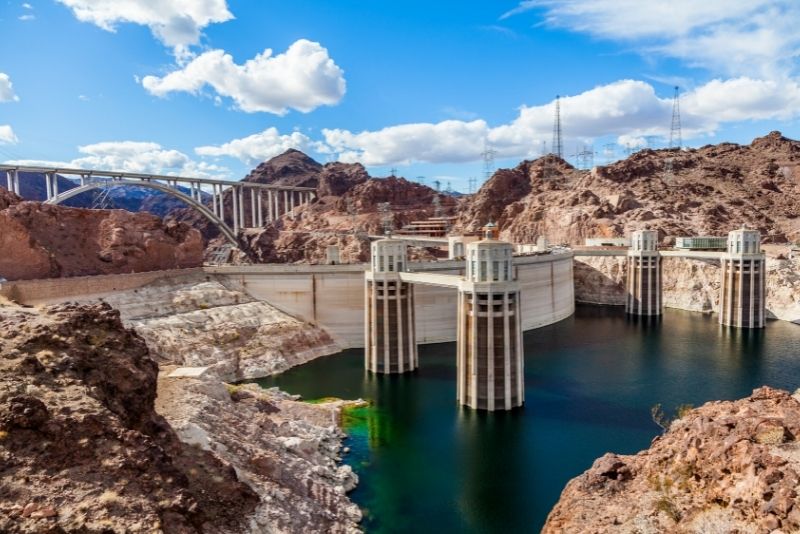 Just 30 miles southeast of the city lies one of America's most iconic engineering feats: the Hoover Dam.
A stop here is one of the best things to do in Las Vegas for first timers, offering a fascinating insight into a very different side of Nevada, and detailing the history and construction of this mighty man-made wonder.
You can explore the dam on a VIP tour that gives you access to areas usually off-limits to the public, like the power plant control room and turbine gallery. Tours typically last about an hour, but you could easily spend half a day here if you really want to geek out on all things Hoover Dam!
And there's no better place to do so than at the museum; full of fascinating stories and artifacts, the museum chronicles the Dam's construction and role in society since the 1930s till today, telling of the people who worked on it, and displaying some of the classic vehicles and tools used during its construction.
15 – Go shopping!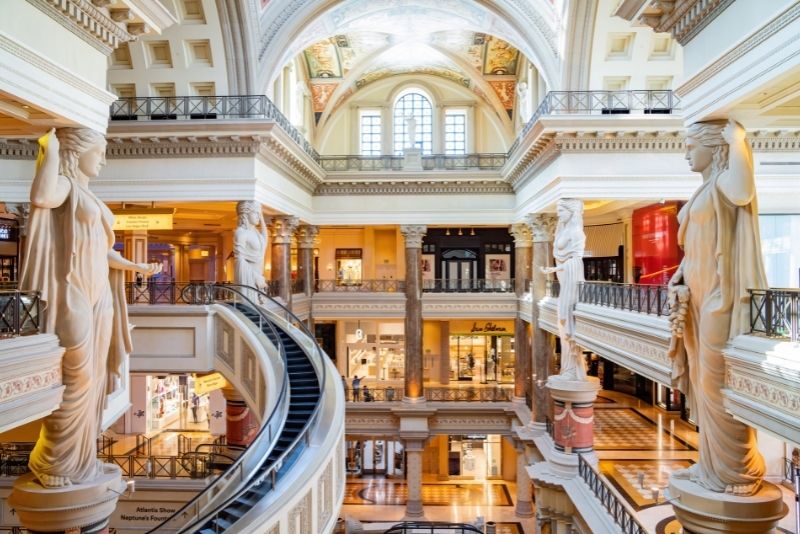 A shopaholic's paradise, there are plenty of places to spend your hard-earned cash in Las Vegas.
From high-end malls like The Forum Shops at Caesars Palace and Crystals at CityCenter to outdoor shopping districts like the LINQ Promenade, there's something for everyone.
And if you're looking for some serious retail therapy, don't miss the Grand Bazaar Shops — an open-air market inspired by Istanbul's iconic spice markets in front of Bally's Las Vegas.
Malls aside, myriad unique shops await too. M&M's World and the Coca-Cola Store are always popular with the kids (and the young at heart), while Hershey's Chocolate World is perfect for, well, chocolate lovers!
For something a little more out there, check out the stores on Fremont Street — where you can find everything from vintage clothing to handmade jewelry and no shortage of quirky Sin City souvenirs!
16 – Explore the natural beauty of Red Rock Canyon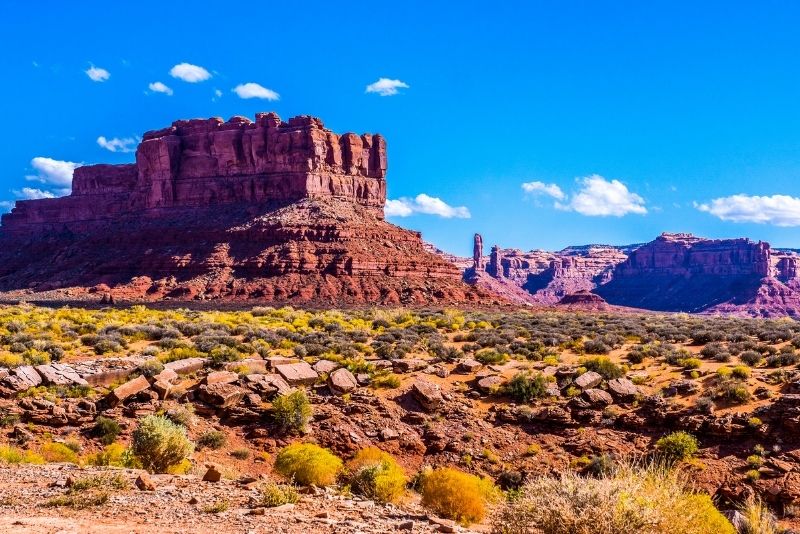 A beautiful slice of Mother Nature just a short drive from the city, Red Rock Canyon is one of the best things to do in Las Vegas for first-time visitors who want to escape the hustle and bustle of The Strip.
Located about 20 miles west of town, this national conservation area is home to towering red rock formations, Joshua trees, and desert wildlife like bighorn sheep, roadrunner (yep, they're real), lizards, and wild burros.
There are plenty of ways to explore the wide and photogenic expanses of Red Rock Canyon too. You could hike or bike one of the many trails (the Calico Tanks Trail is a great choice for families, while the Mustang Trail is popular among mountain bikers), go horseback riding, take an on-road scooter or off-road jeep tour, or even try your hand at rock climbing!
No matter how you choose to spend your time here, you're sure to be blown away by the raw beauty of this place.
Hot tip: don't miss our top 10 Best Red Rock Canyon Tours from Las Vegas.
17 – Step into a psychedelic future at Area 15
Not to be confused with the infamous Area 51 (which is a top-secret military base about 80 miles north of the city), Area 15 is a new complex just off the Strip that's quickly become one of Vegas' most popular indoor destinations for its wacky and wonderful sci-fi themed attractions.
Comprising a collection of bars (check out the Oddwood cocktail bar which is canopies by a shimmering electric forest), restaurants, art galleries, and retail stores, as well as a sleuth of immersive experiences — test your aim at the ax-throwing station, button-mash at the Emporium arcade, unleash your inner Maverick at the flight simulator, and make sure to wander through Meow Wolf, a futuristic and artistic playground designed to captivate, confuse and delight.
But wait, there's more. Scratch your itch for art at Van Gogh the Immersive Experience, or wet your whistle with a tasting at the Lost Spirits Distillery!
Hot tip; Check out the best things to do off the Las Vegas Strip.
18 – Appreciate horticulture at the Bellagio Conservatory and Botanical Garden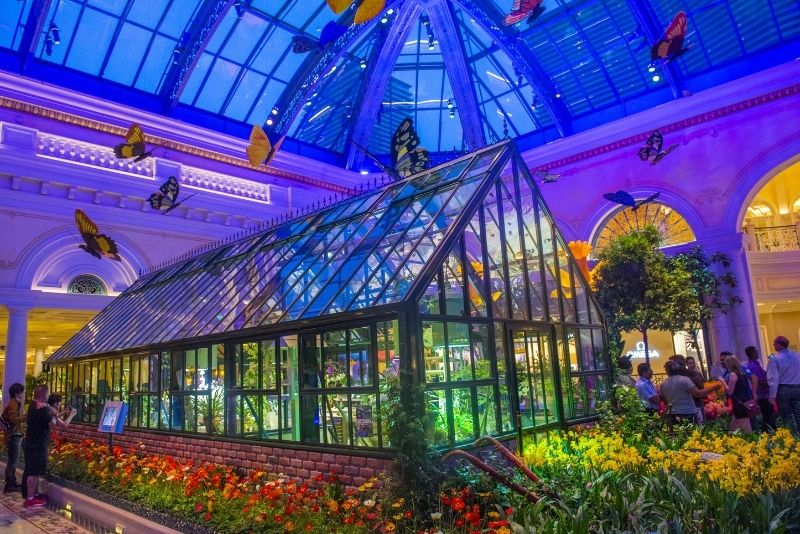 A free and family-friendly activity that's always worth a visit, the Bellagio Conservatory and Botanical Garden is a breathtaking display of horticultural excellence that changes with the seasons.
Located in the lobby of the iconic Bellagio hotel, this indoor garden is home to an ever-changing array of flowers, plants, trees, and topiaries — all expertly arranged by a team of dedicated horticulturists!
No matter when you visit, there's always something new to see at the Bellagio Conservatory — from Chinese New Year displays complete with a massive dragon made out of red carnations to spooky Halloween decorations featuring skeletons made out of white roses.
You'll also find a gift shop displaying whimsical garden-oriented gifts, fountains, and decorative items to take back home, as well as the Spa & Salon Bellagio around the corner, should you want to treat yourself post-visit.
19 – Catch the main highlights with a hop-on-hop-off bus tour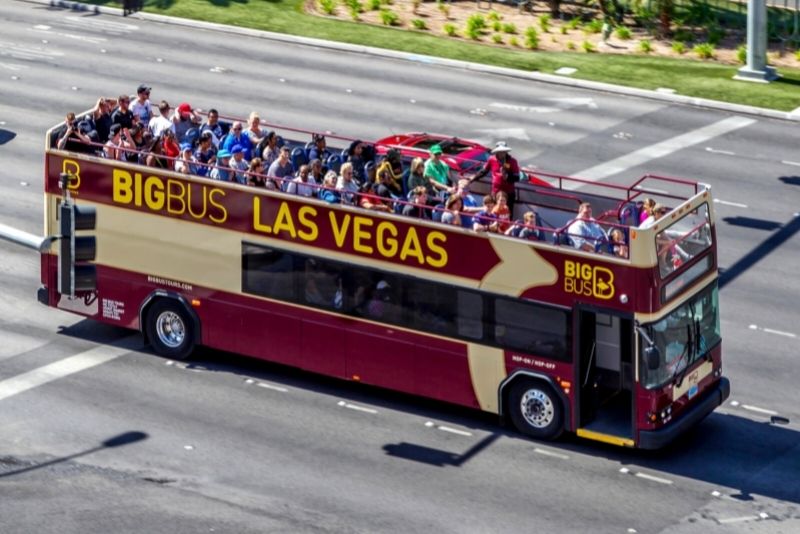 As a city overflowing with tourist attractions, it can be tough to know where to start when visiting Las Vegas for the first time.
One of the best (and most convenient) ways to get your bearings is by taking a hop-on-hop-off bus tour!
These open-top double-decker buses offer panoramic views of The Strip as they make their way up and down its length, stopping at all the major hotels and attractions along the way.
You can hop on and off as many times as you like over the course of a day or two, making it easy to explore everything from the famous fountains of Bellagio to the STRAT's thrill rides and the erupting volcano at The Mirage.
Educational as well, tours also come with an informative audio guide, so you can learn all about the history and behind-the-scenes stories of Las Vegas as you go.
Hot tip: don't miss our 10 Best Las Vegas Bus Tours.
20 – Hold on tight for a ride on the Big Apple Coaster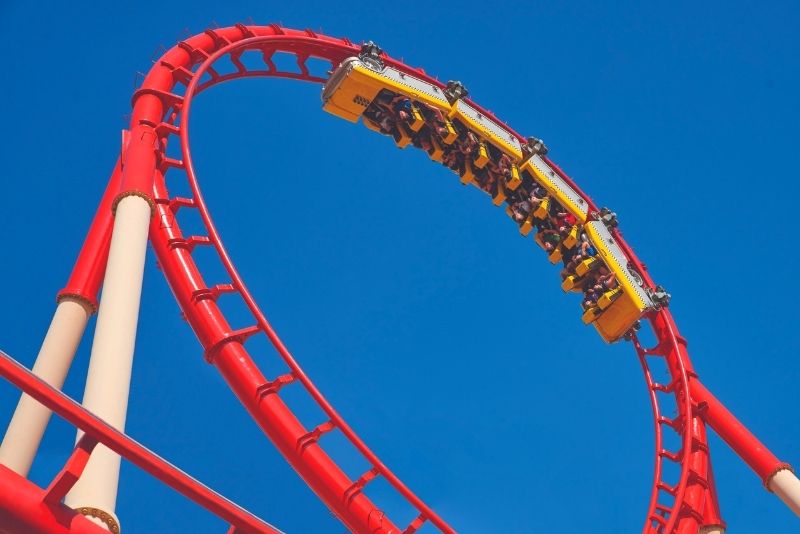 A bucket-list-worthy attraction for adrenaline junkies making the journey out to this Mojave Desert neon playground, the Big Apple Coaster at New York-New York Hotel & Casino is one of The Strip's most thrilling roller coasters.
Riding high above the busy Strip below (at a height of over 200 feet!), and reaching hair-raising max speeds of 67 miles per hour, this high-octane ride will have you zipping around tight turns, banking steep hills, and looping the loop, all while giving you front row seats to some of the best views of The Strip!
Along the way, you'll pass by the hotel's iconic New York replica skyline, including replicas of the Empire State Building, the Chrysler Building, and the Statue of Liberty, making for some truly unique photo ops. And to top it all off, your car is themed like a New York City taxicab!
After catching your breath post-ride, the on-site arcade delivers plenty more low-key activities to whisk away another hour.
21 – Marvel at the raw beauty of Antelope Canyon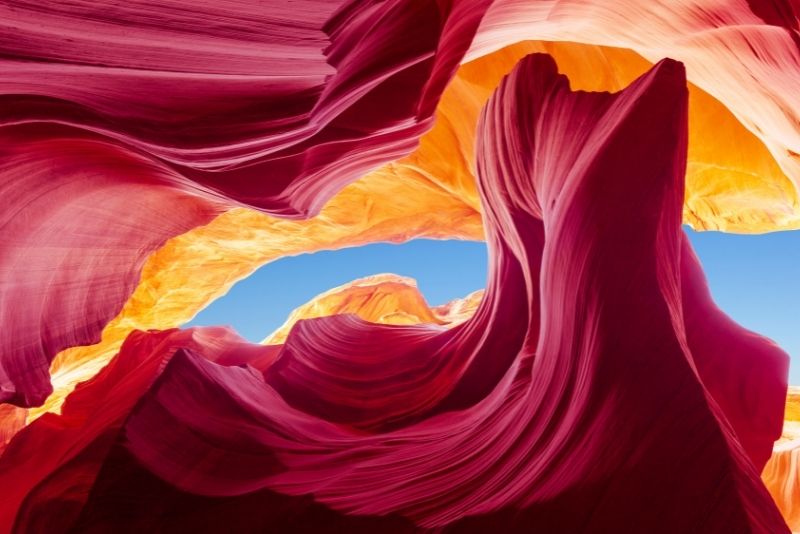 Stunning and otherworldly, Antelope Canyon is one of the most popular day trips from Las Vegas for good reason.
A slot canyon located in Arizona's Glen Canyon National Recreation Area, Antelope Canyon is home to some of the most beautiful and unique rock formations on Earth.
Tours run daily from Las Vegas (as well as other nearby cities like St. George, Utah, and Sedona, Arizona), and include round-trip transportation as well as a guided tour of the canyon itself.
You'll have plenty of opportunities to take photos (trust us, you won't be able to resist!), and your guide will also share stories and legends about the canyon's history and formation.
Keep in mind that many of the best Antelope Canyon tours from Las Vegas include hotel-to-hotel transportation and depart bright and early between 7am and 8am – and often include a stop at the picturesque Horseshoe Bend – so expect a long day of outdoor fun!
22 – Walk beneath apex predators at Shark Reef Aquarium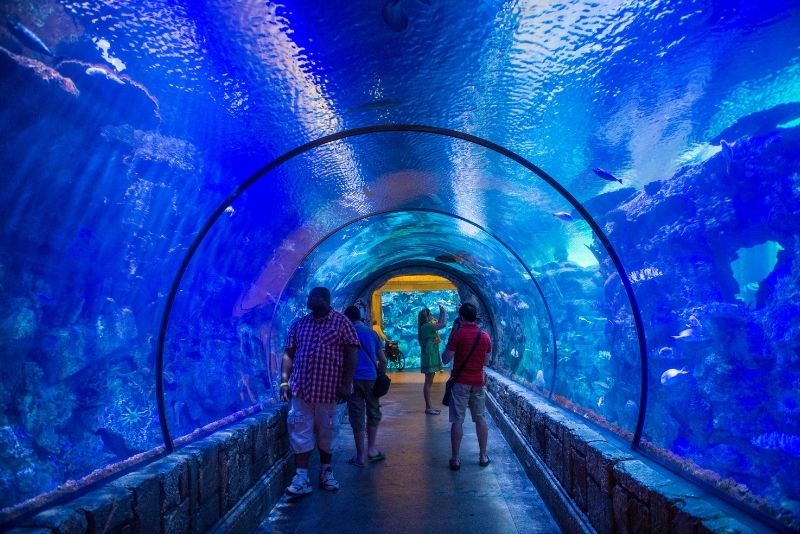 A Mandalay Bay crowd favorite, Shark Reef Aquarium is an underwater adventure like no other.
One of the largest in North America, this impressive aquarium is home to over 2000 animals, including sharks (no less than 15 species, if you don't mind!), rays, sea turtles, piranhas, golden crocodiles, and a Komodo dragon!
You can even feed the sharks (if you're brave enough), or take a behind-the-scenes tour to learn all about these majestic creatures from a fresh perspective.
Other must-see attractions at the tropical island shipwreck-themed aquarium include the illuminated jellyfish display, the immersive walk-through shark tunnel, the 1.3-million-gallon Shipwreck Exhibit (complete with a life-size replica of an 1800s cargo ship!), the world's first VR Polar Journey exhibit, and the Touch Pool where you can get up close and personal with stingrays and starfish.
Plus, thanks to the location at the southernmost end of the Strip, it's easy to access a plethora of shows and restaurants when you're done!
23 – Meet your favorite celebs at Madame Tussauds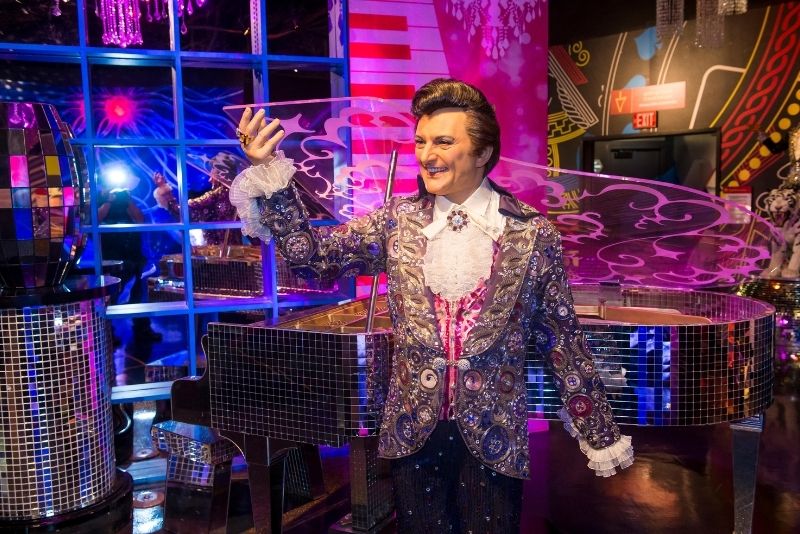 An oldie but a goodie, Madame Tussauds is one of the most beloved things to do in Las Vegas, and a must for any first-time visitor.
A world-renowned wax museum, Madame Tussauds Las Vegas features over 100 incredibly lifelike wax figures of some of the biggest celebrities and icons in Hollywood, including everyone from Lady Gaga and Brad Pitt to Johnny Depp and Jennifer Lopez. Beyond Tinseltown, you'll also find sports icons, political faces, billionaires, and plenty more.
You can pose for photos with your favorite stars, create a music video with Drake, or ride Miley Cyrus' wrecking ball — all guaranteed to light up the social media feed. And when you're done checking out the main attraction, don't forget to check out the on-site Marvel Super Heroes experience.
Located in between The LINQ and the Venetian, this classic family attraction is a justifiable magnet for first-time Vegas visitors.
24 – Spend the morning in the Valley of Fire
Often spoken of as one of the best day trips from Las Vegas, if not for the welcomed breath of fresh air it provides then for the proximity to Sin City compared to the likes of the Grand Canyon, Zion National Park, and Bryce Canyon, the raw and beautiful Valley of Fire is Nevada's oldest and largest state park, renowned for its 46,000 acres of bright red Aztec sandstone that have been shaped over the last 150 million years by water and wind into some of the most unique rock formations on Earth.
Highlights include hiking trails that lead to ancient petroglyphs (4,000-year-old rock carvings) left behind by the Native Americans who once inhabited the area, as well as opportunities to camp, picnic, stargaze, and a whole lot more
While many travelers make the hour-long drive to the park themselves, paying the $5-per-car entry fee, others prefer the guided tour route. Besides presenting a hassle-free alternative (pickup, dropoff, and knowledgable tour guide included), you can also choose from exciting excursions like horseriding, dune buggy rides, guided hikes, and more.
Hot tip: for a jealousy-evoking photo that shows off the incredible landscape, climb the rock off the side of Mouse Tank Road (coordinates 36°26'56.2″N 114°30'56.3″W).
25 – Don the superhero cape at Marvel Avengers S.T.A.T.I.O.N.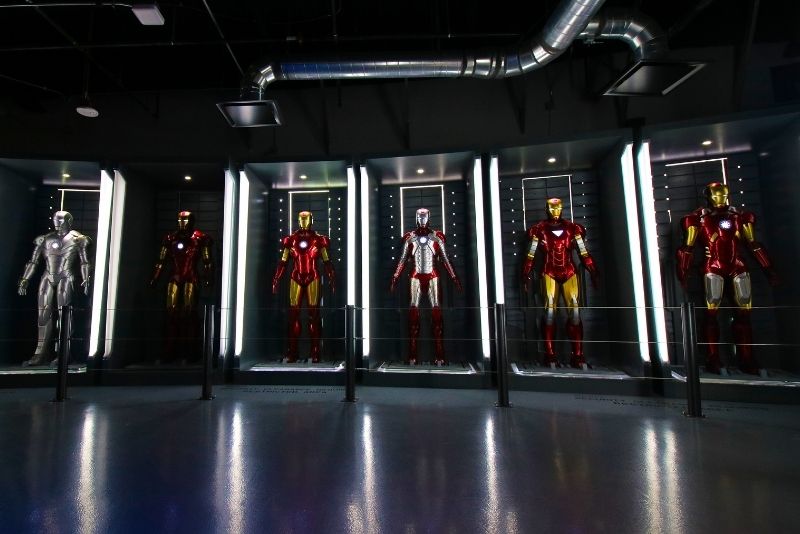 A must for the budding superhero, or even just the Marvel movie fan, the Avengers S.T.A.T.I.O.N is an interactive exhibit that brings you closer to the Avengers universe than you ever thought possible, featuring original film props, costumes, and artifacts alongside high-tech simulations and hands-on activities that will make you feel like one of Earth's Mightiest Heroes.
Tucked away inside Treasure Island and showcasing over 300 items from the film series as well as behind the scenes (including the evolution of Ironman suits, Captain America's uniform and shield, Bruce Banner's laboratory, and Black Widow's uniform and weapons), this attraction is not to be missed for those with even a passing interest in all things Marvel.
After saving the world, browse through the 8,000 square-foot Marvel Avengers S.T.A.T.I.O.N. retail store for a range of collectibles, shirts, hoodies, and souvenirs that you won't find anywhere else.
Open daily from 11am to 5pm, it's a surefire hit for heroes and villains alike.
26 – Browse the quirky collection at Las Vegas: Pawn Stars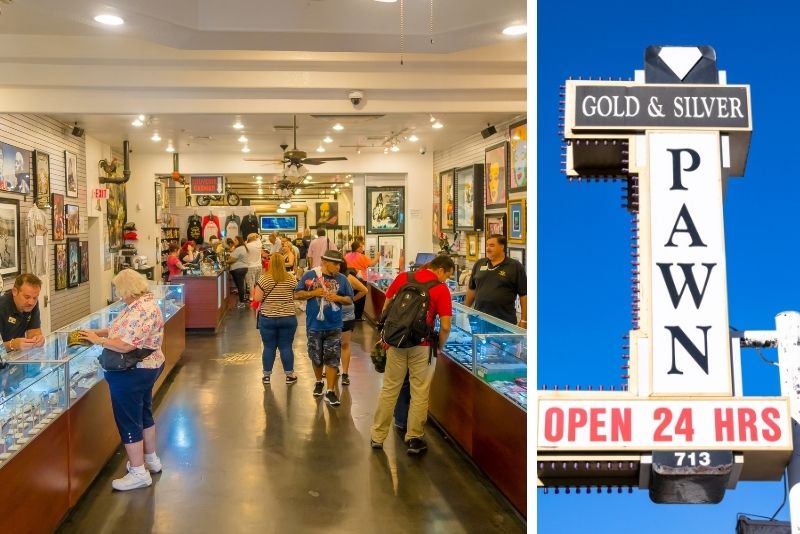 Made famous by the History Channel show of the same name, the Gold & Silver Pawn Shop is one of the more underrated yet enjoyable things to do in Las Vegas for first-time visitors.
Starring father-son duo Richard and Corey Harrison, alongside Corey's childhood friend Austin "Chumlee" Russell, the hour-long show follows the family business as they appraise items brought in by members of the public hoping to make a quick buck.
While you might not be able to appear on the show itself (unless you're lucky), you can still browse through the shop's impressive collection of memorabilia and knickknacks from across the years, including everything from Civil War-era weapons to limited edition baseball cards, Elvis Presley records, and so much more.
For the ultimate trash-to-treasure experience, consider one of the Pawn Stars tours — besides a guided tour of the shop floor, you'll also visit nearby gems (tour-dependant) like automobile restoration and customization company, Count's Kustoms; the Shelby American Collection (home of a handful of pristinely-maintained Shelbys), the new Allegiant Stadium, and Rick Harrison's Roll'n Smoke BBQ & Tavern!
27 – Zoom above the city on a zipline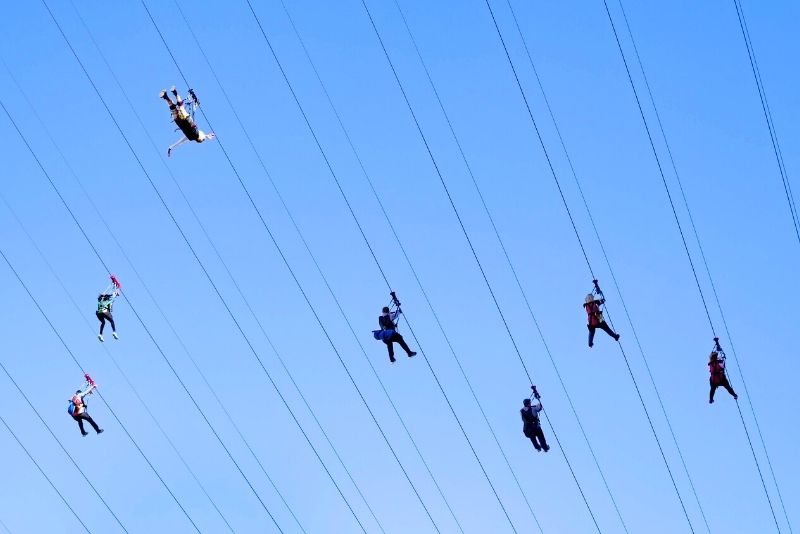 Thrillseekers, rejoice! Sin City doesn't do things by halves, which is why the opportunities to get your adrenaline pumping are practically endless — from rollercoasters and Ferris wheels to skydiving and hot air ballooning, if you're looking for an exhilarating experience, you'll find it in Vegas.
One of the most popular (and definitely one of the most fun) things to do in Las Vegas is zip-lining across the Freemont Street Experience. Stretching for over 800 feet and reaching a height of 115 feet, the lower-level SlotZilla zipline sends you hurling down above the open-air mall; after launching from the world's largest slot machine, you'll be greeted with a bird's eye view of all the action below.
The upper SlotZilla level, on the other hand, tower 114 feet high and sends you down the entire Fremont Street Experience superhero-style! For 1700 feet!
Meanwhile, over on the Strip, the heart-pounding Fly LINQ Zipline experience offers riders a unique way to see all of the action on the Las Vegas Strip. Launching from The LINQ Promenade, you'll reach speeds of up to 35mph as you zip your way down 12 stories, with panoramic views of some of Vegas' most iconic landmarks including the Bellagio fountains, Caesar's Palace, High Roller, and more.
With bright lights, live music, and plenty of people-watching opportunities both Downtown and on the Strip, it's no wonder that zip-lining has become one of the most popular things to do in Las Vegas for first-time visitors.
28 – Unleash the inner cowboy with a horse riding adventure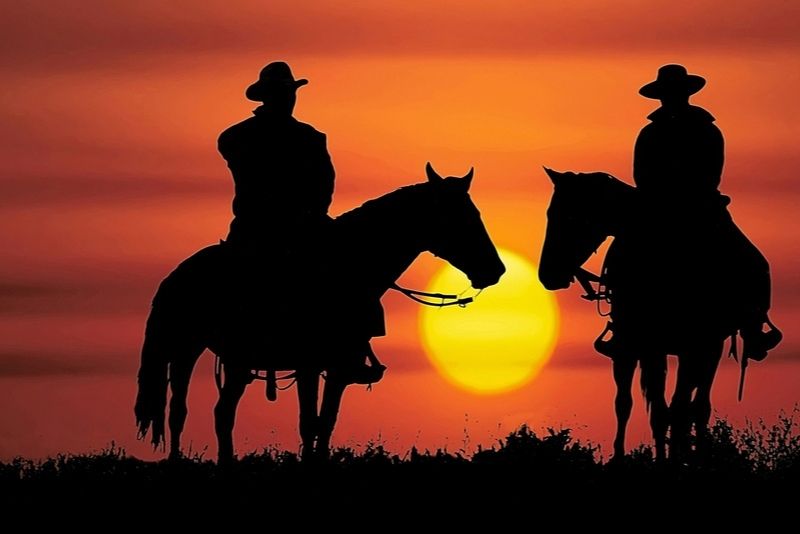 A wonderful chance to realign yourself with nature following a few days of non-stop action in the city, horseback riding through the Wild West — whether that be in the beautiful Red Rock Canyon, Joshua Tree National Park, or just outside of the town of Henderson — is one of the best things to do in Las Vegas for first timers, taking visitors on a journey to the age of cowboys and outlaws.
Take Red Rock Canyon, for example; Just a short drive from The Strip, the canyon boasts several hiking and walking trails as well as opportunities for rock climbing, mountain biking, and picnicking — but it's the chance to explore on horseback that makes this spot so special.
With towering red sandstone mountains providing a stunning backdrop, you can choose from a number of different trail options depending on your ability level, with each offering its own unique insights into the area's history and wildlife (keep an eye out for bighorn sheep), as well as a hearty breakfast and/or lunch to boot.
Whether you're an experienced rider or someone who's never even been on a horse, thanks to the helpful and history-savvy guides, it's a frontrunner for the bucket list.
29 – Join the crowd at a sporting event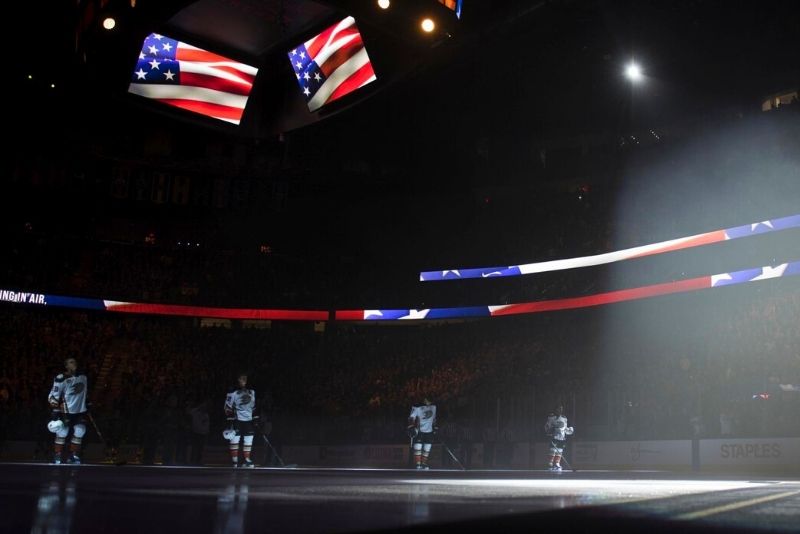 Whether you're a hockey but or a football fanatic, there's no denying that catching a live sporting event promises an exhilarating evening away from the casino floor
For hockey fans, a visit to the T-Mobile Arena to watch the Vegas Golden Knights is an absolute must; as not only will you get to see some top-tier ice hockey action, but you'll witness behind the scenes a backstage tour and also be able to soak up the unique atmosphere that can only be found in Vegas.
Meanwhile, over at the Allegiant Stadium, home of the Las Vegas Raiders NFL team, you can enjoy all the action from one of the stadium's 65,000 seats — and with a retractable field and state-of-the-art facilities, it's one of the most impressive stadiums in the league.
Of course, these are just two examples; depending on when you're visiting, you might also be able to catch a basketball game at the Thomas & Mack Center (home of UNLV Runnin' Rebels) or a soccer game at Cashman Field (home of the Las Vegas Lights FC).
31 – Step back in time at Titanic: The Artifact Exhibition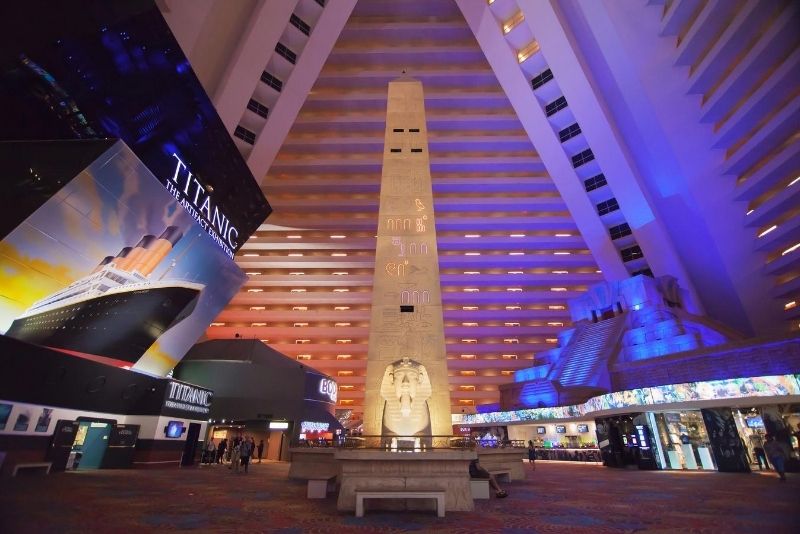 One of the best tourist attractions in Las Vegas for those who appreciate a slice of history, the Titanic: The Artifact Exhibition at the Luxor Hotel and Casino takes visitors on a journey through one of the most infamous maritime disasters in history.
Featuring more than 250 artifacts recovered from the wreckage site, as well as full-scale recreations of some of the ship's most famous rooms (including a section of the Grand Staircase), the exhibition provides an insight into what life was like onboard the ill-fated vessel.
And with personal accounts from survivors, as well as touching tributes to those who lost their lives, not to mention an iceberg you can actually touch, it's a fascinating experience that will stay with you long after you leave.
32 – Wake up early for a hot air balloon ride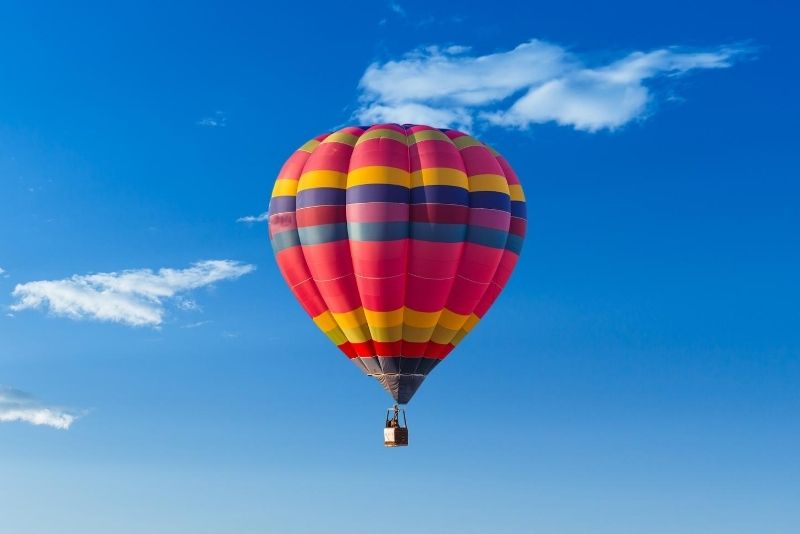 While Vegas delivers a mighty punch from street level, with bright lights and towering buildings, it's only when you see the city from above that you can really appreciate its size and scale.
One of the best ways to do this is by taking to the skies in a hot air balloon, where you'll not only get unparalleled views of the city, but of the surrounding Mojave Desert from 10,000 feet above its dry and rugged floor.
With several different companies offering tours (most of which include a champagne toast to cap off what will be a wonderful morning flight), it's an experience that's well worth checking out, particularly at sunrise when the light is at its most beautiful.
33 – Get married… Vegas style!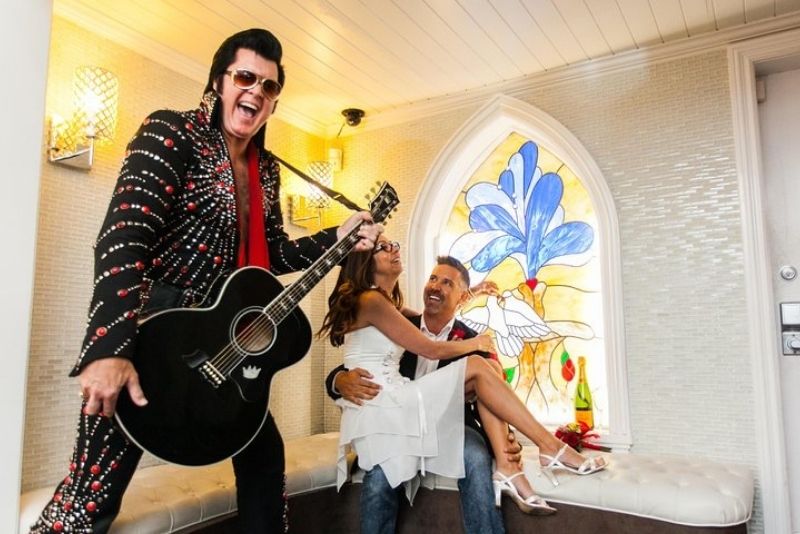 It wouldn't be a cliché trip to Vegas without a trip down the aisle, and whether you're looking for a traditional ceremony or something a little more out-there ( Elvis officiating anyone?), as part of tying the knot or renewing your vows, there's no shortage of options when it comes to getting hitched in Sin City.
One popular spot for tying the knot is at the Neon Museum, where you can exchange your vows beneath some of Vegas' most iconic signs in front of your closest family and friends; or if you're after something a little more low-key, then one of the many chapels dotted around town might be more up your alley. A popular (read: unique) way to tie the knot is at the drive-thru chapel, while the classic Graceland Chapel, made famous by Elvis, draws lovey-dubby music fans like moths to a flame.
No matter which chapel tickles your fancy, a host of packages – including limo transportation, guest services, romantic meals, and plenty more – are on offer to make your special day one to remember.
Save money with a first-timer tourist pass!
While Sin City boasts no shortage of high roller casino floors and lavish hotel rooms, penny-pinching and budget-savvy travelers aren't overlooked. In fact, a sleuth of options awaits for those looking to save a few dollars while ticking off all of the city's quintessential sights.
Crafted to handle all the organizing and make tourists' lives easier, the Go Las Vegas Explorer Pass provided discounted access to over 35 different tours and activities throughout the city. All you need to do is choose your favorites places to visit, choose how many you want to see, and snap a few selfies along the way!
Start your trip the right way: book an airport transfer
You're on vacation, so why should you be concerned about such mundane things as getting to your hotel? Instead, rely on the professionals. Book an airport transfer and arrive at your accommodation in style! Not only will you save time in transit by avoiding the bus or waiting at the taxi rank, but you'll also be treated to a friendly chauffeur who'll happily share some of the in-the-know secrets about Las Vegas' favorite local haunts.
But wait, there's so much more to see!
Looking for more excitement, romance, adrenaline, and beautiful landmarks? Then do yourself a favor and check out our complete list of all the fun things to do in Las Vegas! Or, if traveling with kids in tow, there's a handful of specific family things to do in Las Vegas with kids and teens.
Of course, for all you vagabonding lovers, Vegas dishing up an electric atmosphere like few other cities, where every day can feel like February 14th — and we've compiled a collection of all the top-rated romantic things to do in Las Vegas for couples!
Last but not least, if you don't feel like venturing too far from the center of the action, you're still spoiled for choice thanks to the myriad diverse things to do on the Las Vegas Strip. From restaurants to shopping malls, ziplines, casino floors, pool parties, roller-coasters, and more, the world (read: The Strip) is your oyster.
We hope you've enjoyed our selection of the best things to do in Las Vegas for first timers! If you have any other must-see suggestions, feel free to let us know in the comments! As always, happy travels!