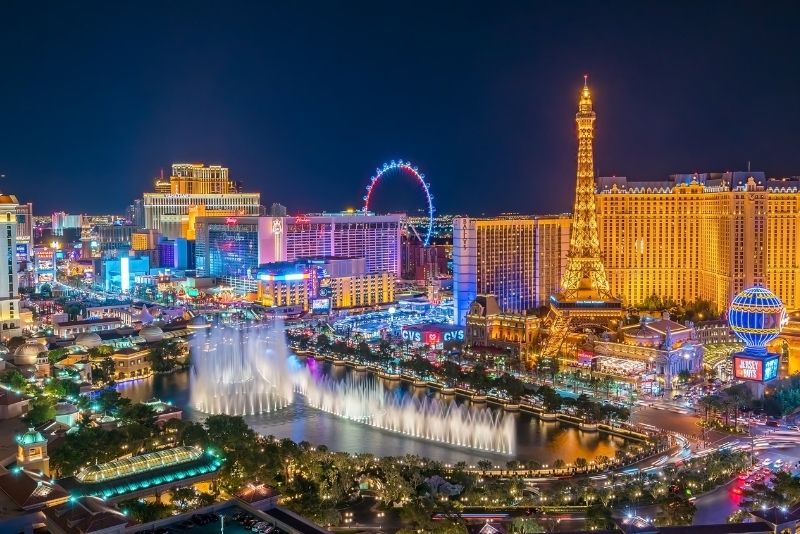 The party of all parties; where the drinks flow round the clock, where world-renowned celebrities grace stages all over town, and where millions and millions of tourists flock without fail, year after year, in search of a much-needed getaway, Las Vegas — or, as this Mojave Desert icon has very appropriate been dubbed, Sin City — is where debauchery, delight, and razzle-dazzle intertwine in spectacular fashion.
Despite its chaotic reputation, there remains far more to the Entertainment Capital of the World than just high-stakes casinos, wild nightclubs, and slot machines around every corner — the list of tourist attractions in Las Vegas is, surprisingly, incredibly diverse: there's something that will satisfy families, nature-lovers, shopaholics, thrill-seekers, and foodies craving nothing less than world-class dining.
On and off the Strip, there are mobster and neon museums, haunted mansions, and resorts that transport you to the highlights of Paris, Venice, New York and Hollywood. Dig a little deeper and you'll discover expansive pool decks (including one aptly named the Garden of the Gods), resident comedy stars, circus performances that inspire and amaze, and romantic activities for couples aplenty.
Oh, and we can't forget the awe-inspiring Grand Canyon just a few hours away from Las Vegas either!
No matter your age, interests, or budget, there's an attraction in this tourist metropolis that will have you grinning ear to ear — so, without further ado, let's dive into 35 of the very best tourist attractions in Las Vegas!
1 – Bellagio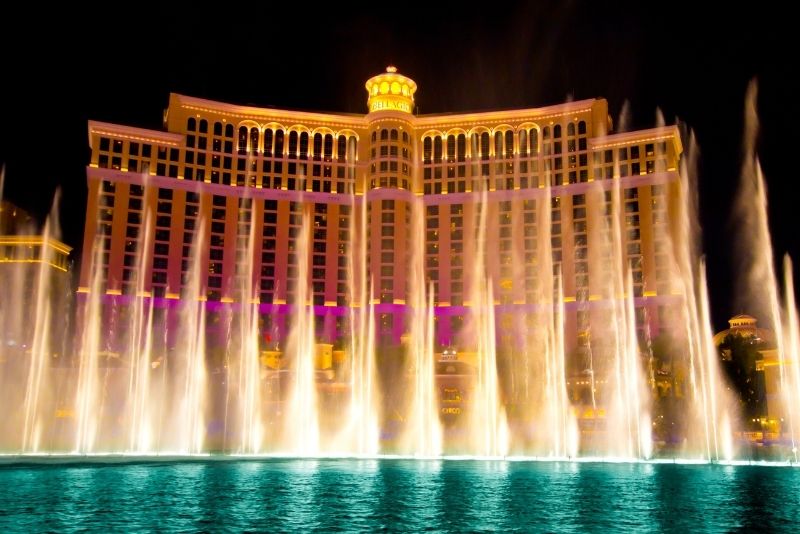 The Bellagio is one of the most well-known (and extravagant) hotels on The Strip, oozing opulence not only in its lavish suites but throughout its entire amenity and attraction-filled complex.
Beyond its AAA Five Diamond Award-winning accommodations, the hotel features a world-renowned art collection (Bellagio Gallery of Fine Art) including pieces from masters like Picasso and Matisse; an enchanting, 14,000-square-foot indoor Conservatory & Botanical Gardens that changes with the seasons; and an array of distinct restaurants helmed by Michelin-starred chefs.
If you're not sure where to start, the Jasmine restaurant has been coined "the most beautiful Chinese restaurant in the world" and seldom disappoints, while Mayfair After Dark, inspired by 1920s New York City, Paris, and Berlin, beckons for a nightcap.
But arguably its most famous attraction — and certainly its most photographed — is the Bellagio Fountains. Water jets choreographed to music dance in front of the hotel tower in an ever-changing show that delights guests day and night.
As for entertainment, the hotel is home to Cirque du Soleil's O, sure to captivate audiences with its spellbinding acrobatics, synchronized swimming, live music daring stunts, and mystifying set design; there's a spa and multiple pools for some much-needed pampering, and the casino floor never sleeps.
2 – Luxor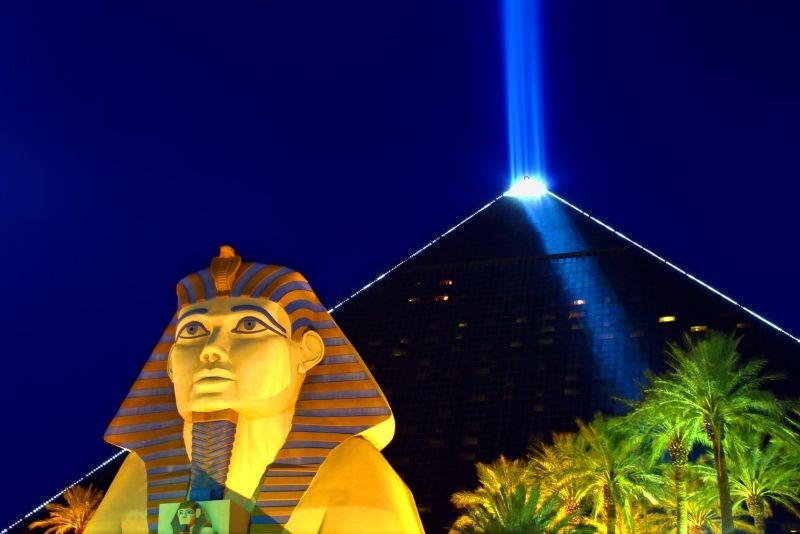 Looking like a piece of Egypt, smack-bang in the middle of The Strip, The Luxor is one of Sin City's most unique hotels, thanks in no small part to its towering pyramid design and Sphinx-adorned facade.
While it may not boast the Bellagio's star power, what the Luxor lacks in elegance it makes up for in sheer size and variety of attractions. From a massive casino floor filled with all your favorite table games and slots machines to its long list of live shows (with names like Blue Man Group, Carrot Top, and the adults-only Fantasy).
For visiting families, Titanic: The Artifact Exhibition takes you on a trip back in time aboard the ill-fated cruise ship in 1912, complete with 250 rare artifacts and room reconstructions, including a full-size replica of the Grand Staircase.
Then there's Bodies: The Exhibition, a quirky insight into the fascinating human body — full of skeletons, you'll find 13 human bodies and over 260 organs on display.
And gamers, take note: The Luxor is also home to the HyperX Esports Arena, where tournaments and freeplay invite button-mashers to test out the latest and greatest games, with a 50-foot LED video wall, bar, and on-site food to boot.
So, as you can see, there's something for everyone here.
3 – Las Vegas Strip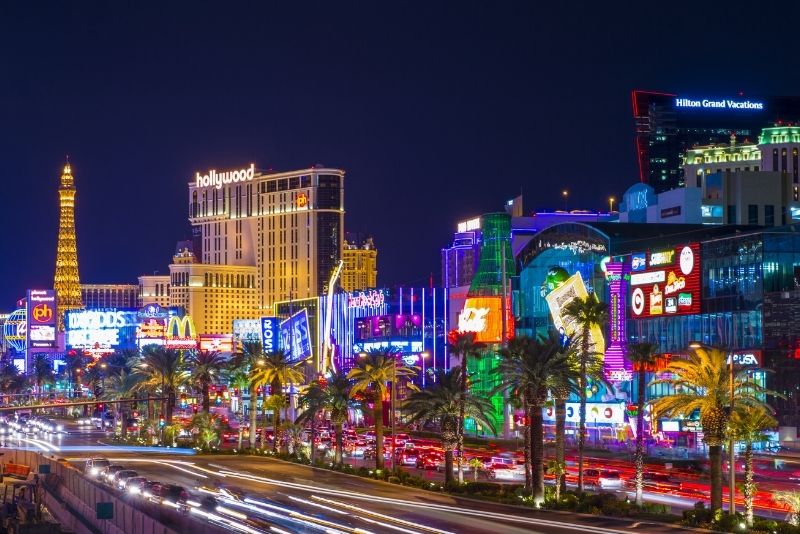 The epicenter of Sin City's chaos, entertainment and debauchery, the Las Vegas Strip is a world-famous stretch of road that's home to some of the most iconic hotels and casinos on the planet.
While it would be impossible to see them all in one go, we recommend at least paying a visit (or two) to some of these glittering giants: The Venetian with its indoor canals and Gondola rides; Caesars Palace with its marble hallways, 50-foot ceilings, and award-winning Colosseum performance venue; or Mandalay Bay Resort & Casino with its Shark Reef aquarium and House of Blues concert venue.
And if you're feeling lucky, why not try your hand at the tables or slots? With names like Wynn, MGM Grand, and The Mirage, the casinos on the Strip are some of the most luxurious and prestigious in the world.
Throw in M&Ms World, the roller coasters at New York-New York, the LINQ's shopping promenade, Madame Tussauds Was Museum, and the around-the-clock street performers (not to mention the restaurants or nightclubs), and the list of things to do on the Las Vegas Strip only lengthens.
4 – The Escape Game Las Vegas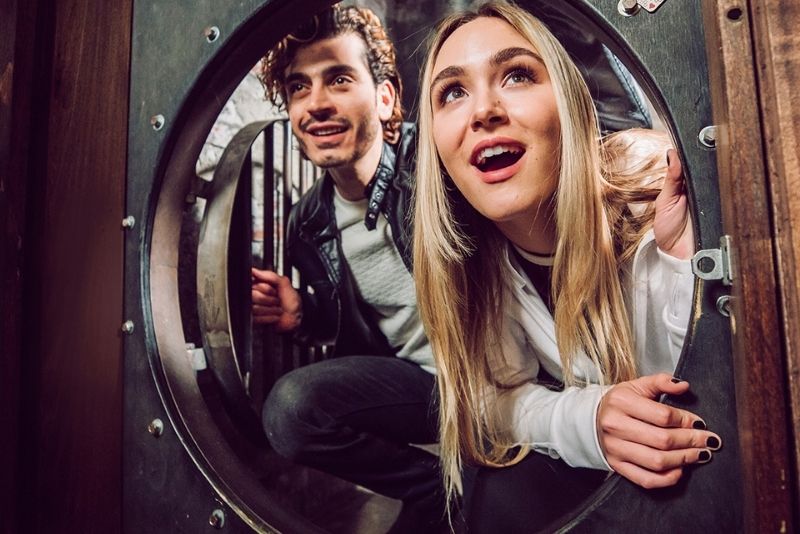 Think you've got what it takes to escape from a locked room? Then put your skills to the test at The Escape Game Las Vegas, one of the best family things to do in Las Vegas with teens. Located inside the Forum Shops at Caesars Palace, this immersive, quick-thinking puzzle invites teams of up to six players to solve a series of riddles and clues in order to make their escape. With just 60 minutes on the clock, the pressure is palpable.
You might have to decode hieroglyphics, decipher secret codes, or even find hidden objects using blacklight — but with a bit of teamwork, a whole lot of wit, and plenty of brainpower, anything is possible.
The rooms are designed for all ages and group sizes (although smaller groups may find it a little trickier), so it's the perfect activity for families, friends, or coworkers looking for some team-building fun. Just be warned: once you've tried it, you'll be hooked!
Thankfully, there is no shortage of escape rooms around the city: from intricate heists to classic prison breaks, a historic gold rush, or even the kid-friendly Rugrats-themed adventure, there's something for everyone.
5 – MGM Grand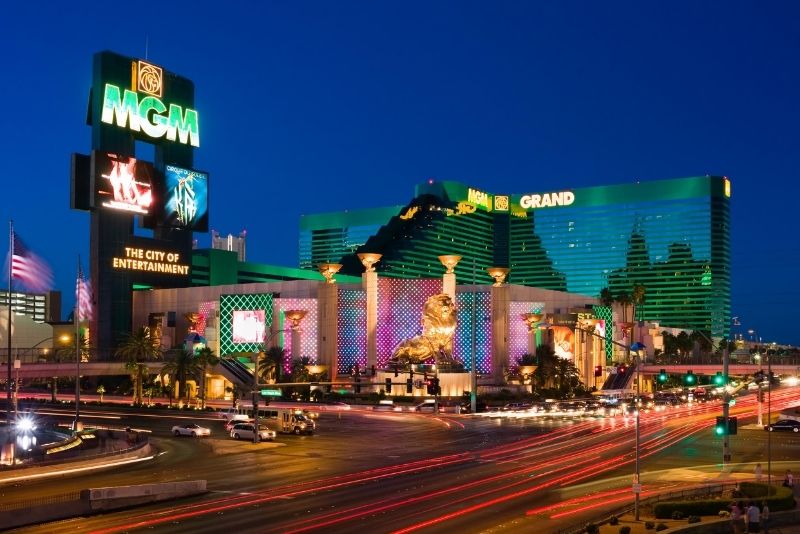 World-famous for its luxurious accommodation, decadent casino, and celebrity-studded events, MGM Grand is one of the most iconic hotels on the Las Vegas Strip.
Step inside and you'll be dazzled by the towering atrium lobby. Check into your room and you'll find yourself spoilt for choice: from standard rooms to deluxe suites fit for royalty, there's something to suit everyone's needs (and budget).
And if that wasn't enough, the hotel also boasts a sprawling 4-pool complex, a special Hunger Games exhibition, and a range of restaurants and bars (if it's fine dining you crave, look no further than Joël Robuchon, Picasso, or NoMad Library).
Looking to party into the early hours of the morning? Welcoming international superstar DJs, Hakkasan is one of Vegas' premier nightclubs; for a more low-key night of entertainment, check out the Jabbawockeez or laugh your socks off at Brad Garrett's Comedy Club!
Of course, no trip to MGM Grand would be complete without a visit to its flagship performance: KÀ™ by Cirque du Soleil — a magical mix of music, special effects, acrobatics, martial arts, and aerial stunts that will leave you spellbound.
6 – Mirage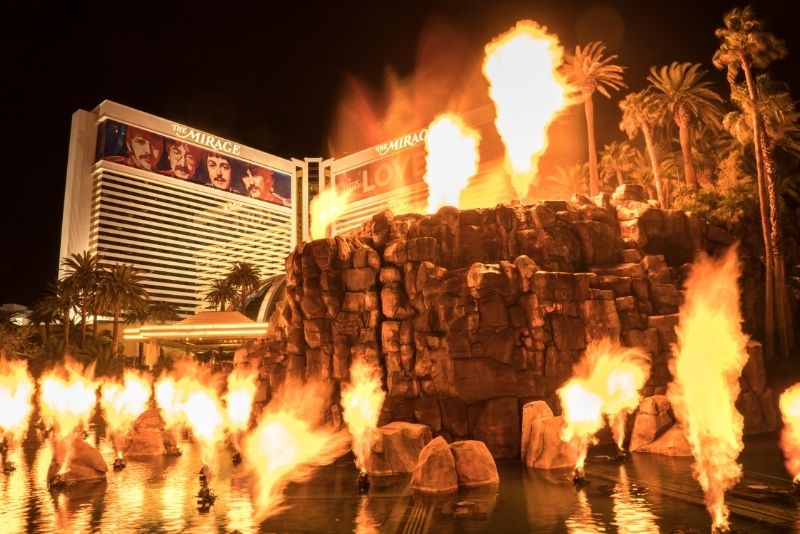 With a longstanding focus on elegance and sophistication (since 1989), the Mirage is commonly seen as one of Sin City's top-tier mega-resorts.
Besides the expansive casino floor that offers luck-stricken travelers everything from high-stakes table games to dollar-or-two roulette (with free drinks to boot if you're playing), the Mirage is perhaps most well-known for its exciting array of captivating nightly entertainment.
For a heavy dose of magic, grab a ticket to Shin Lim's LIMITLESS show — the only person to win "America's Got Talent" twice. Or, to take the immersive enchantment to the next level, you can't go past Cirque du Soleil's 'The Beatles Love' — a marvelous mesh of iconic melodies with daring acrobatics and special effects.
Looking for some laughs? The Mirage is also home to the coveted Aces On Comedy clubs, where side-splitting all-stars like Jim Jeffries and Amy Schumer grace the stage nightly.
A surefire hit for families, the Secret Garden & Dolphin Habitat gives guests the chance to mingle with Mother Nature's finest, while the free volcano show is always worth a watch.
Throw in endless restaurants and bars (be sure to try Tom Colicchio's Heritage Steak) and plenty of poolside space to relax, and it's easy to see why the Mirage is considered one of the best tourist attractions in Las Vegas.
7 – The STRAT Hotel, Casino & SkyPod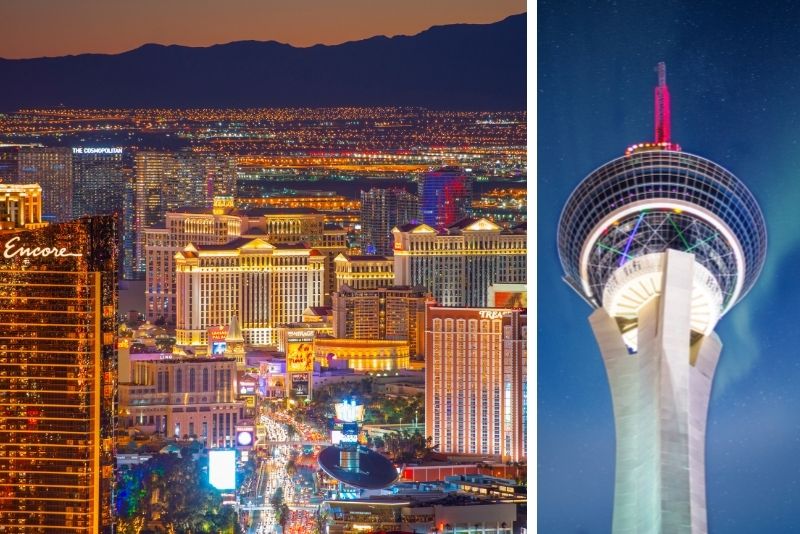 A magnet for adventure lovers and thrill seeks (and anyone who appreciates a good old panoramic view), the STRAT is one of the newest hotels on the Vegas Strip and boasts an impressive 1,149-feet-high SkyPod observation deck.
Besides gaming tables, slots, and all the other trappings of a traditional casino, the STRAT also offers an 8th-floor pool deck that dishes up sweeping views of the northern side of the Strip. Take the elevator to the top, though, and that's where the fun really begins. With unique, heart-racing experiences like Insanity, X-Scream, Big Shot and SkyJump, you can be dangling 1000 feet over the streets of Vegas!
If white-knuckle thrills aren't quite your thing, there's always the chance to catch a show — from stand-up comedy in Vegas' branch of the LA Comedy Club (in the intimate 160-seat Dragon Room) to magic shows and rock performers (usually in the Strat Theater), world-renowned headliners can be seen here every night of the week.
And if you're feeling peckish after all that excitement, no worries! There are close to a dozen eateries on-site, so you'll definitely find something to sate your appetite. For prime luxury with a side of prime rib, the rotating restaurant on the 106th floor is quintessential (followed by a tipple on the 107th-floor Skylounge).
8 – Neon Museum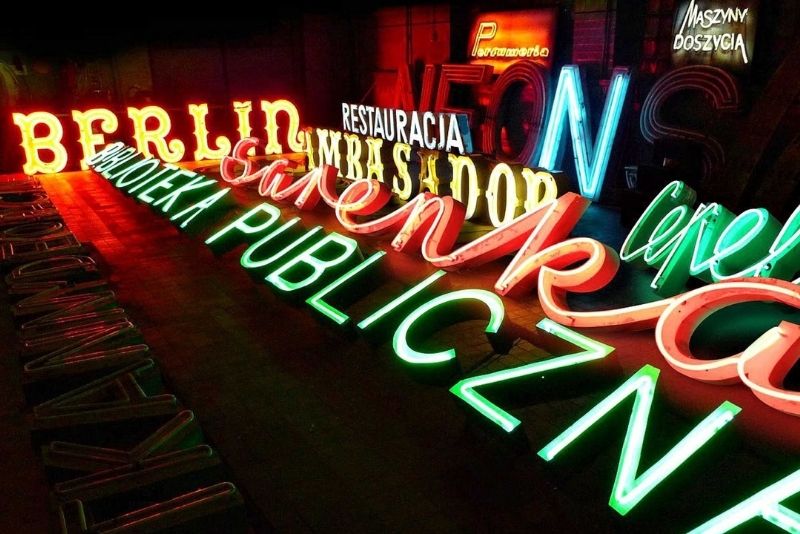 An eclectic (and very electric) attraction tucked away a little bit off the main tourist track, but well worth a visit for anyone interested in all things history, Vegas, and neon (and who isn't?), the Neon Museum is an outdoor museum located in downtown Las Vegas that takes visitors of a journey back in time to when Vegas' reputation was less about slot machines and more about the mob.
Displaying over 200 fascinating restored signs — some of which are instantly recognizable, like the enormous neon Hard Rock guitar, while others date back decades like the Stardust casino sign — they were once proudly hung on Sin City's main attractions, but due to closures, renovations or upgrades, have found themselves a new home in the sandy desert.
A visit to this museum is one of the best things to do in Las Vegas at night, when everything is lit up, with tours available 7 days a week, a stroll through the Neon Museum is a photographer's delight and a surefire way to spark a few memories.
9 – New York-New York Hotel & Casino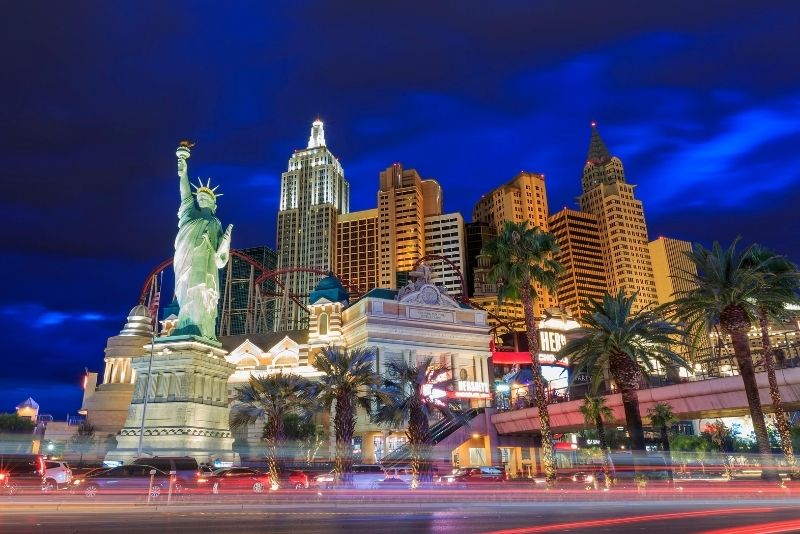 A whimsical and family-friendly slice of Manhattan in the Mojave desert, the New York-New York Hotel & Casino is a towering tribute to the Big Apple. From its facade replicating the Manhattan skyline (complete with Statue of Liberty and Empire State Building) to its replica Brooklyn Bridge, this hotel is oozing with Americana charm.
And it's not just for show — dozens of restaurants (check out Gallagher's Steakhouse), bars, and stores found throughout the resort bring that hometown East Coast feeling to guests from all over. Plus, there are always events happening in the massive casino space (and T-Mobile Arena out the back), so check the website to see what's on during your stay.
Popular for thrillseekers too, this themed, 2000-room hotel also boasts the fastest rollercoaster on the Las Vegas Strip: the Big Apple. At speeds of up to 67 miles per hour, it's not for the faint of heat (but the rooftop views are certainly worthwhile if you can stomach the zero-gravity rolls!).
Before you meander down the Strip, make sure to grab a few free samples from Hershey's Chocolate World out the front, or consider an insightful backstage tour of T-Mobile Arena, where you can walk in the footsteps of iconic musicians and sports stars.
10 – Excalibur Hotel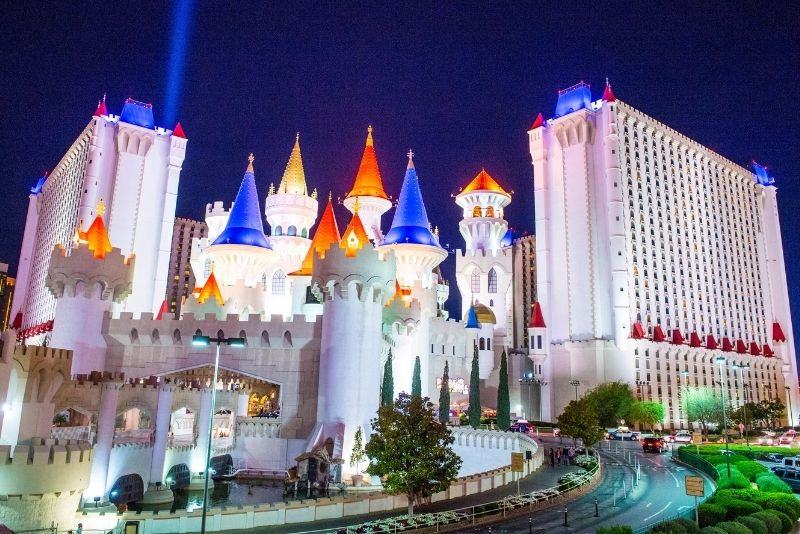 Delightfully themed around Camelot and King Arthur and catering to families and those on a budget, Excalibur is certainly one of the more underrated hotels in Las Vegas.
Inspired by medieval England, this sprawling resort at the south end of the Strip is home to an enormous 30,000 square feet pool deck, eight restaurants, a giant fitness center, nightly shows and, of course, plenty of spots to try your luck.
Adored by anyone with kids in tow, Excalibur's Fun Dungeon offers over 200 different arcade and carnivalesque games, as well as the Ultimate 4D Experience — an immersive simulator ride that takes 15-minute clips of Hollywood blockbuster movies and turns the excitement dial up to eleven.
As for entertainment, the list is diverse: choose from The Australian Bee Gees Show, the Mac King Comedy Magic Show, or the Thunder from Down Under (think Magic Mike and chiseled abs).
The main event, however, is certainly the medieval-themed Tournament of Kings! Adapted from the story of King Arthur, this high-energy, family-oriented show features jousting, horses, wizards and kings, and comes included with a hearty multi-course dinner.
11 – Mob Museum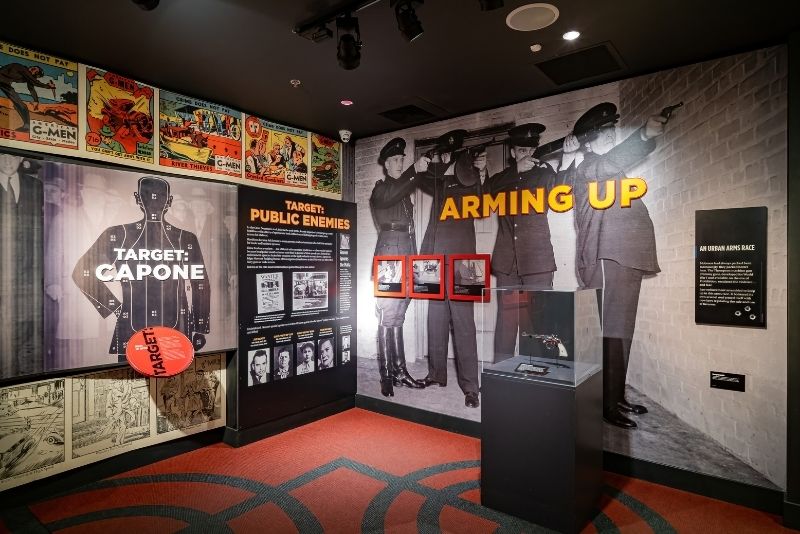 Did you know that before Sin City was Sin City, fueled by booze and bright lights, it was famous for its underground mafia crime? It's true, and the Mob Museum tells that story in all its fascinating detail.
Housed in an old underground Prohibition-era speakeasy, this museum is dedicated to shedding light on the inner workings, crimes, sentences, and history of the mafia in America, as well as the law enforcement who continuously tried to break them down.
From interactive exhibits (try your hand at being a mobster yourself) to hundreds of artifacts and historical pieces on display, there's something here for everyone interested in this dark yet fascinating (and still unfinished) chapter of American History.
Hot tip: check the website to see upcoming events — with regular live music nights, galas, speakers, and special artifact collections (like historic firearms), there's always something new and exciting at the National Museum of Organized Crime and Law Enforcement (that's the official name, in case you were wondering).
12 – SAHARA Las Vegas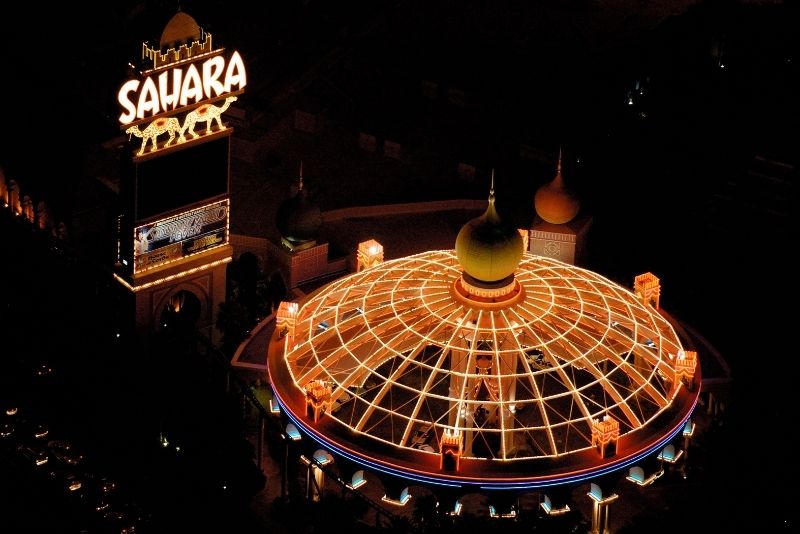 Recently rebranded and renovated, spread across three towers, and located on the North End of The Strip in between the STRAT and Circus Circus, SAHARA is all about style, sophistication, service, and over-the-top opulence.
From live music (including residencies from some of the biggest names in pop) to comedy shows and burlesque, SAHARA has something for everyone — not to mention a roster of world-class restaurants including Bazaar Meat by José Andrés, Chickie's & Pete's (considered ESPN's #1 Sports Bar in North America), Balla Italian Soul (from award-winning Chef, Shawn McClain) and more.
At over 60,000 square feet, the lit-up casino floor is expansive and alluring, while the on-site Amina Spa delivers the ultimate in relaxation and pampering with traditional massages, facials, and unique gingerbread or hot stone massages.
You'll also find a gym if you're looking to burn off a few beers worth of calories, plus several rooftop pools bars, two upbeat nightclubs, and regular live entertainment (think Magic Mike Live, and comedy shows like The Eddie Griffin Experience).
13 – Fremont Street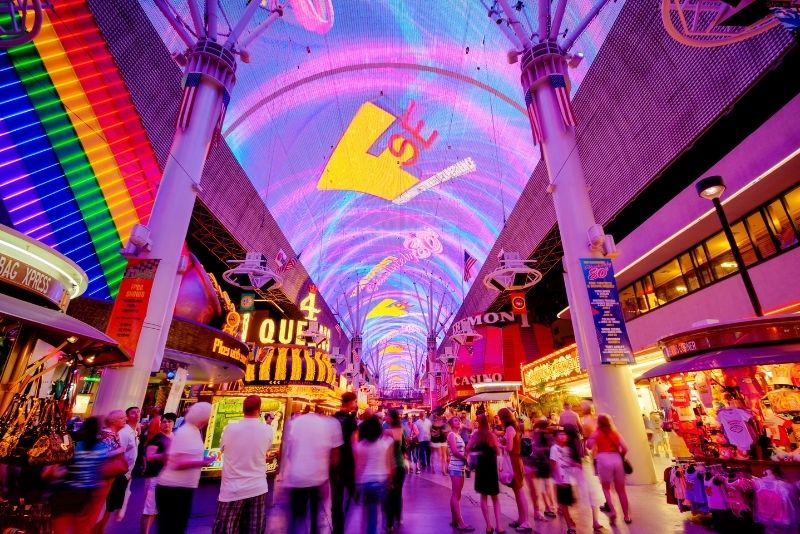 A tourist magnet in the heart of old-school downtown, Fremont Street is a one-of-a-kind experience that should be on everyone's Las Vegas list.
Covered in a canopy of neon lights, this street is home to some of the most iconic (and vintage) casinos and hotels in town, as well as family-friendly attractions like SlotZilla Zipline (with two thrilling lines to choose from, the longer of which zooms for almost 1,700 feet above the pedestrian street below) and the enchanting Viva Vision light show.
With nearly 1400 feet worth of digital canopy lighting up in marvelous colors and designs, accompanied by the tunes of top artists like The Killers or Tiesto, the overhead display sums up Fremont Street's allure to a tee.
With regular live music performances, bars and restaurants lining the street, and unique shopping opportunities (with souvenir shops to boot), there's always something new to explore at Fremont Street.
14 – Mandalay Bay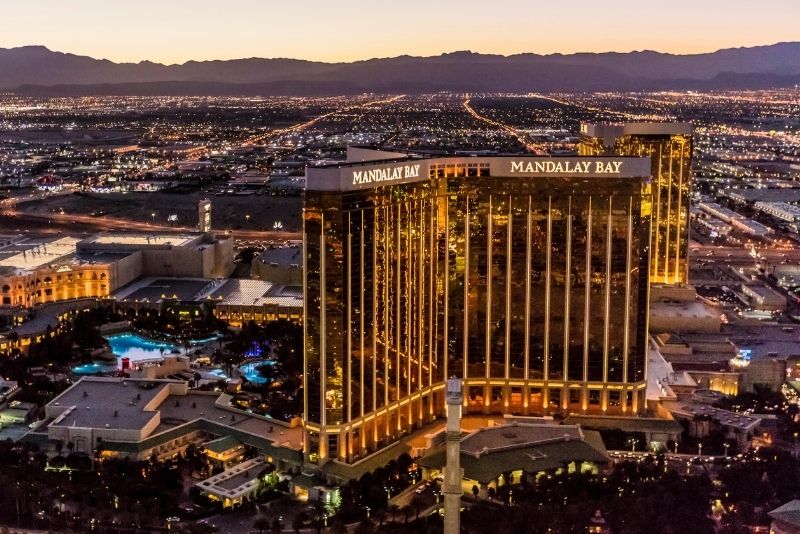 Sure, the southern Strip's Mandalay Bay plays host to one of Sin City's most trafficked casinos, with all the bright lights, table games, and bells and whistles you could imagine, but beyond its glitz and glamour, it's also home to some of the best tourist attractions and restaurants in town.
Fancy a feast? From chef Akira Back's Kumi and Lupo by Wolfgang Puck, to the tantalizing Mexican fare at Diablo's Cantina or the Mediterranean-inspired menu at Rivea Las Vegas, Mandalay Bay has something for everyone when it comes to high-end cuisine.
As for entertainment, you'll be spoiled for choice. Shark Reef Aquarium, a surefire hit for families, houses over 2,000 aquatic animals of 100 different species and offers the chance to come face-to-face with sharks, rays and endangered green sea turtles.
Featuring more than 60 highly talented (even that is an understatement) artists, dancers, acrobats and musicians, Cirque du Soleil's Michael Jackson ONE fuses world-class entertainment and choreography with the King of Pop's greatest hits — it's been considered one of the best tourist attractions in Las Vegas for a long time.
The entertainment doesn't stop there; Mandalay Bay boasts one of the city's premier live music stages too, the 3000-seat House of Blues Music Hall where rock bands, country singers, and stand-up comedians (and your occasional themed dance party) grace the audience nightly; as well as the 12,000-seat Michelob ULTRA Arena, where some of the world's biggest DJs, pop stars, and sporting events take place on the regular.
Hot tip: After all that dice-rolling and headbanging, kick back at lively and tropical Mandalay Bay Beach. Work on the tan in the morning before making your way to one of the two pumping beach clubs (Daylight or Moorea) for a wild afternoon.
15 – Adventuredome Indoor Theme Park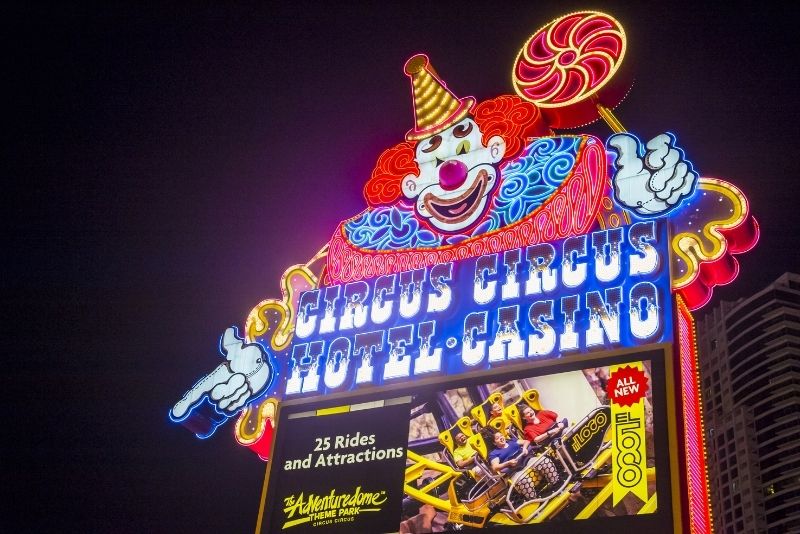 Hidden away inside of Circus Circus — one of the Strip's longstanding, budget-friendly and family-oriented resorts — the 5-acre Adventuredome is a haven for kids (and kid-at-heart adults) of all ages.
Boasting more than 25 rides and attractions, including Canyon Blaster (the world's only indoor double-loop, double-corkscrew roller coaster), bumper cars, mini-golf, log flumes, and classic carnival games, this is one stop you don't want to miss during your visit to Las Vegas (especially if you can pop in during the Friday and Saturday Neon Nights events).
With everything from mild kiddie rides to heart-stopping thrillers, where you're four or forty, there's a handful of attractions tailored to ensuring you leave with a big old ear-to-ear grin
If your schedule lines up, Hot tip: Guaranteed to put a smile on the kids' faces, check out the Friday and Saturday Neon Nights events!
16 – Treasure Island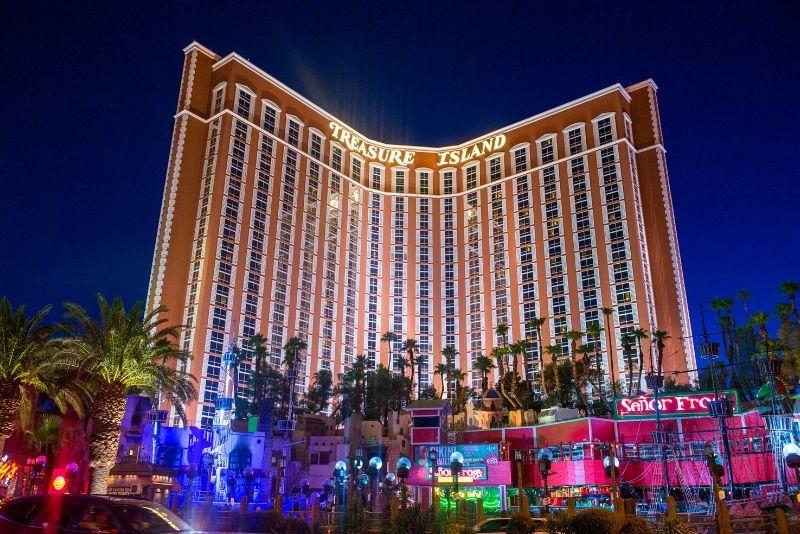 In the heart of the action on the southern end of the Strip, yet still overshadowed by its more well-known neighbors, the world-class Treasure Island hotel and casino delivers fine dining, A-grade entertainment, and luxury lodging in spades!
Besides nearly 3,000 lavish (yet comparably affordable) rooms, some of which feature floor-to-ceiling windows that look out onto the mountains and the Strip, Treasure Island also plays host to two formidable entertainment options: Mystère by Cirque du Soleil and Marvel Avengers S.T.A.T. I. O. N..
Delivering a spectacle of magic and wonder, the former has been wowing audiences since 1993 with its blend of awe-inspiring circus arts and theatrical performance (complete with hilarious giant baby), while the latter is a totally immersive (and interactive) Avengers experience that lets guests step into the shoes of their favorite superheroes and admire over 100 costumes, props and artifacts from the Marvel Cinematic Universe.
Luck-testers will feel right at home here, too; TI has one of the widest arrays of table games on The Strip, as well as massive selections of slot machines.
If you're looking to take in some tunes in between all the gambling and show-going, make sure to check out Gilley's Saloon, which calls itself 'The only real honky-tonk saloon on the Las Vegas Strip', and pop into Señor Frogs for some waterside grub with a thriving party atmosphere.
17 – Discovery Children's Museum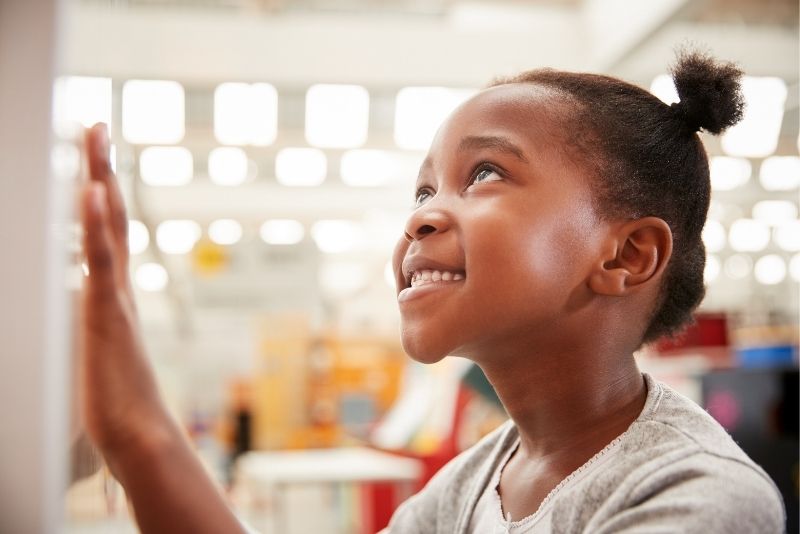 A Vegas family entertainment staple that fuses STEM education (Science, Technology, Engineering and Math) with interactivity and a whole lot of fun, the three-floor, 58,000-square-foot Discovery Children's Museum is a great place to take the kiddlywinks if you're looking to beat the heat and learn a thing or two along the way
The perfect place for pint-sized Picassos and Einsteins-In-Training, Discovery offers climbing towers and arts and crafts, plus Toddler Town, Water World, a mini-city where kids can learn about future careers, and the investigative Solve It exhibition (to name just a few), as well a handful of collections and events that rotate on a regular basis, there's always something new to see at the DCM.
18 – Pinball Hall of Fame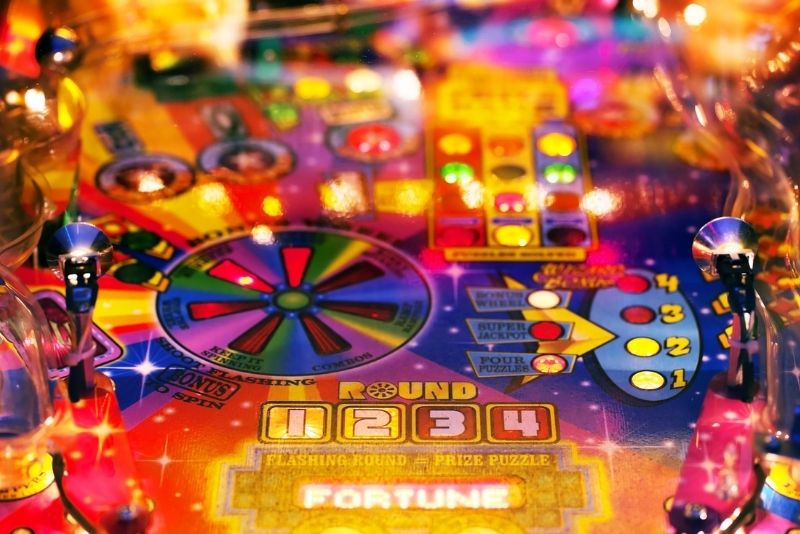 Where the throwbacks are delivered in droves, this iconic southern-Strip museum houses more than 200 classic pinball machines and video games — from Donkey Kong to Dr. Who, Sega Basketball, the Magic Baseball Game, Wheel of Fortune, Pacman, and everything in between — dating from the 1960s through the 1990s and beyond.
This 25,000-square-foot of gaming paradise, where nostalgia runs deep and the neon burns bright, boasts a collection of almost 1,000 pinball machines — with that feat in mind, it's officially the world's largest collection of functioning pinball machines, with cheap eats and hoards of playable games to boot.
Best of all? It's free to check out! Just bring a handful of few quarters (or a few extra bucks if you're after a quirky souvenir or two too).
19 – Lion Habitat Ranch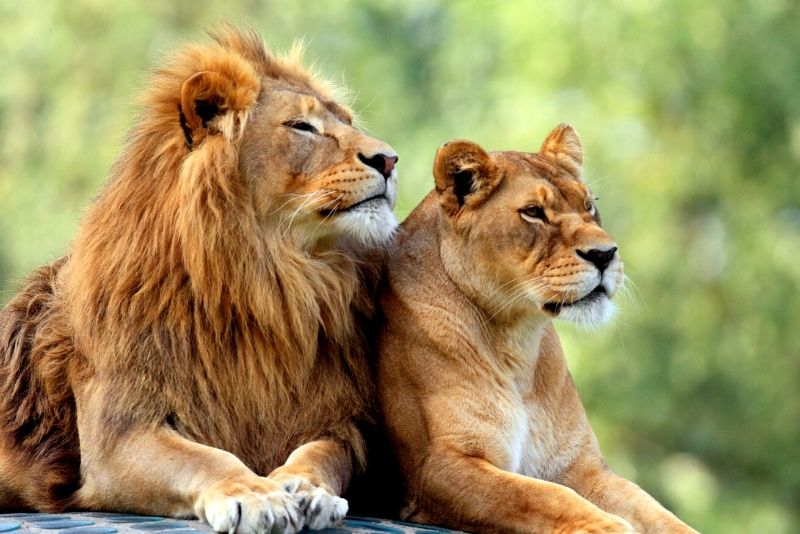 Looking for some fun things to do in Las Vegas during the day?
Home to no less than 40 graceful and powerful kings of the jungle, the non-profit Lion Habitat Ranch is the perfect place to snap a selfie with a lion cub, learn about animal conservation, and see (and sometimes feed) some of the world's most majestic creatures from up close.
Located in Henderson, Nevada, minutes from the Strip, this family-owned and -operated sanctuary offers guided and self-guided tours around its well-manicured grounds as well as an interactive ranch section where you can feed Ozzie the giraffe.
Want to take your experience to the next level? For a few extra bucks you can feed lions ($100 per pound of food), or sign up for 'Feast with the Beasts' where you'll dine in an enclosure safely surrounded by big cats (just be sure to book ahead).
20 – AREA15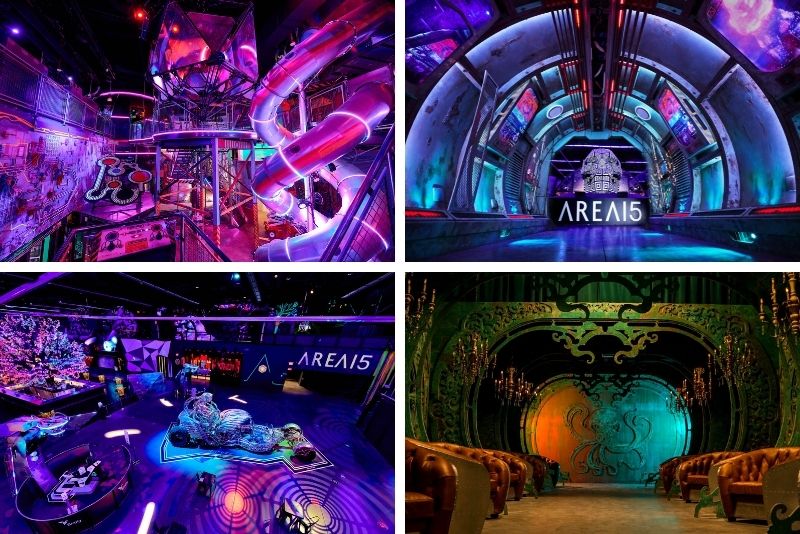 Where art, entertainment and events collide, AREA15 is a multi-dimensional destination that meshes creative events with immersive art installations and cutting-edge technology.
Wild and artistic events aside, the space also offers state-of-the-art VR experiences, the indoor Five Iron Golf attraction (where you can book private or group golf lessons), an ax-throwing station, an Emporium arcade, and a flight simulator.
For a cocktail under a twinkling neon forest, head to Oddwood, and for a hearty and quirky meal, head to The Beast for a food hall found in the belly of a dragon.
Tucked away off the beaten track, this digital oasis is easily one of the most underrated tourist attractions in Las Vegas and one of the best things to do off the Strip.
21 – Zak Bagans' The Haunted Museum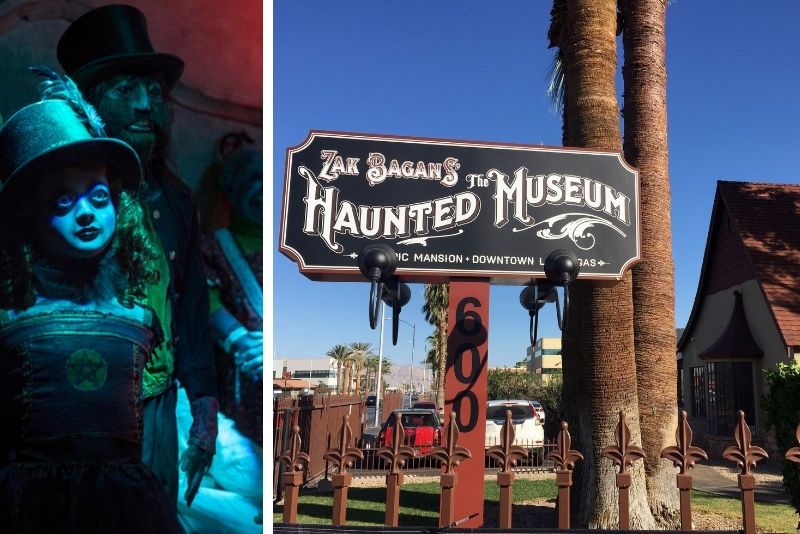 Do you have an inkling for the paranormal? A love for the bizarre and the strange? Well, so does Zak Bagans, the owner and face of Ghost Adventures, one of the Travel Channel's most popular haunted shows.
At the city's most eerie attraction, Zak Bagans' Haunted Museum — a spine-tingling, near-century-old haunted house where who-knows-what is hiding in the shadows, next to dozens of supposedly cursed objects — you can see some of the most haunted and cursed items in the world, including Charles Manson's ashes, Ted Bundy's glasses, Bela Lugosi's Mirror, and Peggy the doll.
With more than 30 rooms that rival scenes from the spookiest Hollywood horror films, this spot is not for the faint of heart.
22 – Hoover Dam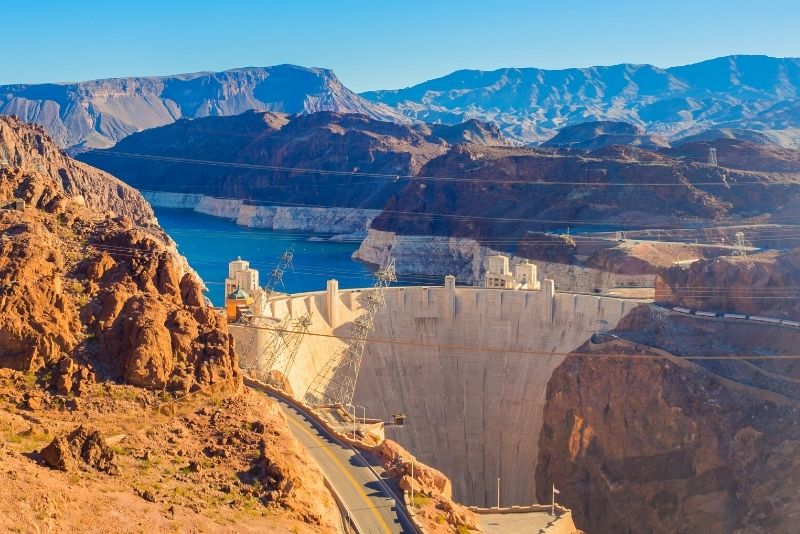 One of America's engineering marvels, the fascinating and truly enormous (at 726 feet tall) Hoover Dam is a sight to behold.
Located just outside of Las Vegas in the town of Boulder City, Nevada, this iconic landmark was completed in 1936 and today welcomes more than 7 million visitors every year!
Accessible both solo and as part of a range of pre-organized excursions that include Vegas pickup and drop-off, the Hoover Dam offers insightful guided tours as well as an opportunity to walk across the top of the dam for some truly epic views (or cycle around the area's trails).
For those looking for a little more adventure, why not add a little extra splash of adventure to your day trip and throw in some white-water rafting down the Colorado River?
23 – Grand Canyon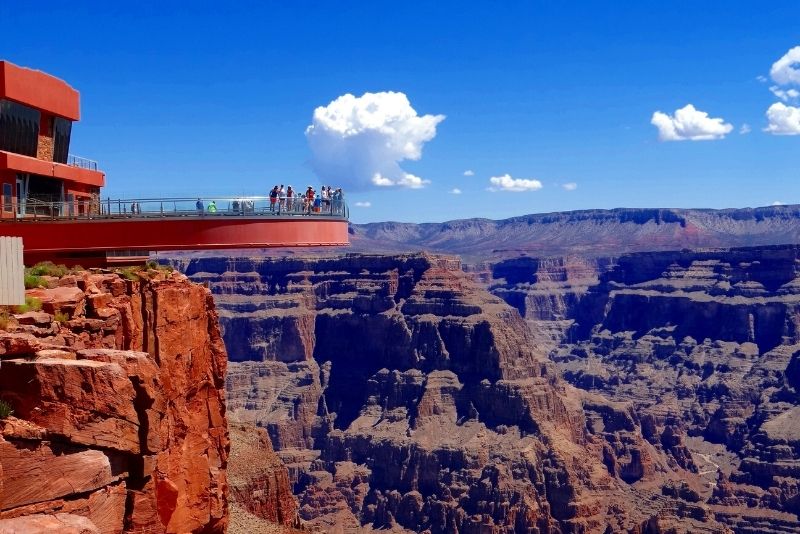 Mother Nature sure knows how to spoil us, right? Just a couple hours drive from Sin City — or a short helicopter ride, if that's more your jam — the Grand Canyon is one of the most majestic and awe-inspiring natural attractions on Earth.
Home to some of the most beautiful and dramatic landscapes (looking at you, Horseshoe Bend), this UNESCO World Heritage Site is a can't-miss for any nature lover visiting Las Vegas — or southwestern USA, period.
Book a helicopter tour or a scenic flight for an unforgettable bird's eye view, snap the quintessential pic from the Skywalk (don't miss our blog post about Grand Canyon Skywalk tickets), or venture down into the canyon on foot or by bike for up to a few hours or days worth of hiking trails that will take your breath away.
No matter how you choose to experience it, the Grand Canyon is sure to leave you feeling small in the best possible way.
For the best bang for your buck, consider a full-day adventure that also includes a visit to the Hoover Dam and Antelope Canyon. Or, for the ultimate experience, sign up for a multi-day National Parks Tour, during which you'll also check off Zion, Bryce Canyon, and Monument Valley!
Hot tip: Learn how to get from Las Vegas to Grand Canyon.
24 – Planet Hollywood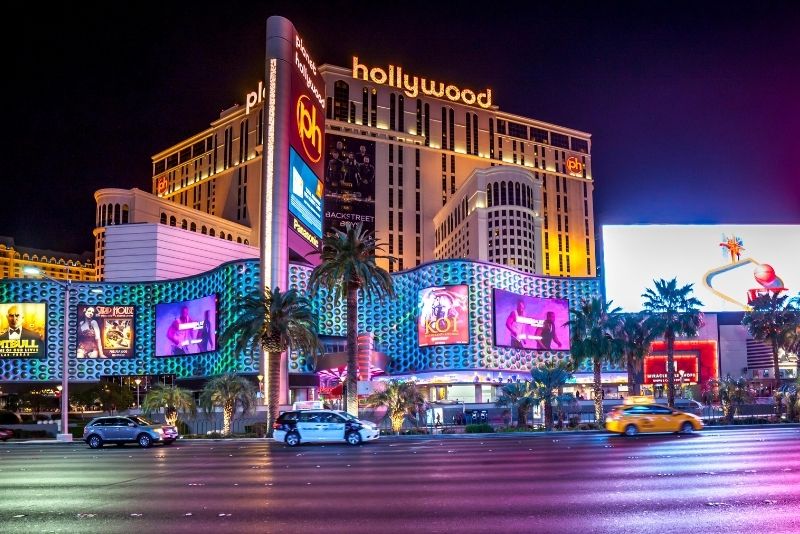 Bringing a touch of Tinseltown in the middle of the Mojave, you'll uncover more than your fair share of glitz, glam, and celebrity-inspired entertainment at the Planet Hollywood Resort & Casino.
Besides the obvious and lively casino floor, where the drinks flow and the games never stop, Planet Hollywood also boasts two pools, five bars, at least 20 eateries (including the highly-praised Gordon Ramsay Burger), and no less than 2500 rooms to suit a vast range of budgets.
Hunting for entertainment? With a direct association to Hollywood, it should come as no surprise that A-listers often take center stage here: artists like Shania Twain and Criss Angel perform on the regular, while all kinds of A-listers rotate through the Zappos Stage (check the schedule in advance!).
Prefer a day of poolside partying? Found on the hotel's 6th floor, the Scene Pool Deck is hip, happening, and never shy of a wild party, with a Flowrider surf simulator and constant DJs livening up the atmosphere.
25 – Paris Las Vegas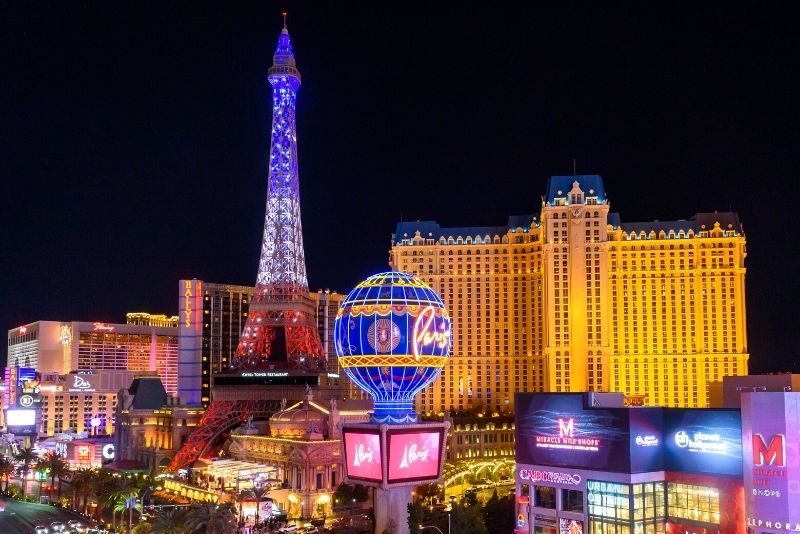 Immediately recognizable thanks to the two-to-one replica of the Eiffel Tower standing tall right in the heart of the Strip, Paris Las Vegas is one of Sin City's most beloved (and picturesque) resorts.
On top of being one of the essential tourist attractions in Las Vegas for grabbing a selfie, the Parisienne icon offers sky-high dinners and sublime views from its observation deck 110 feet above the Las Vegas Strip.
Right at the base of the famous landmark, travelers flock to the Paris Las Vegas pool area, where, thanks to the backdrop as well as the bookable French Premium Villas, it's become an Instagrammer's delight.
Shopaholics, head straight to the indoor Le Boulevard mall; and foodies, buckle up to be whisked away to the wondrous world of French cuisine at Gordon Ramsay Steak, Brioche By Guy Savoy, and Cafe Belle Madeleine.
26 – Bally's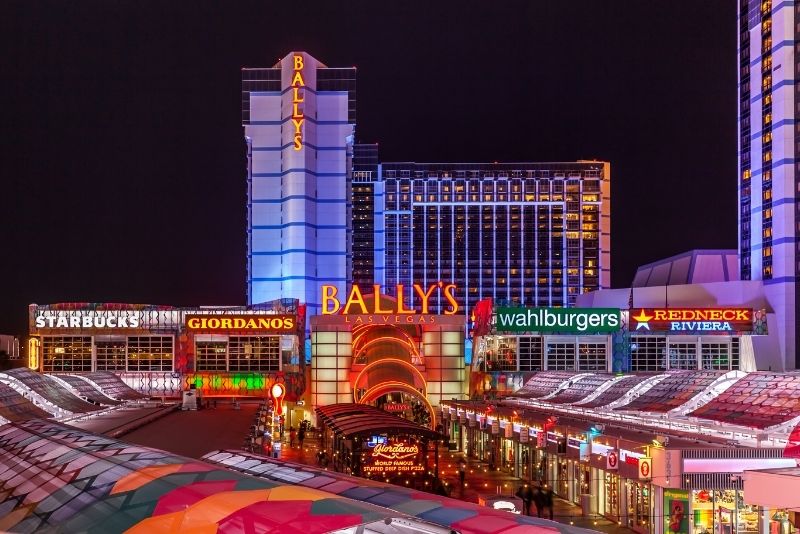 While not the biggest resort on the Strip, Bally's has been around for decades, delighting guests with its classic Vegas appeal since 1973 — don't let that throw you off though, Bally's is newly renovated and comes jam-packed with all the luxe touches, chic décor and modern amenities synonymous with Sin City.
What it may lack in reputation, Bally's more than makes up for in affordability and attractions: the casino floor is a veritable Strip institution, there are several swimming pools, tennis courts and shopping spots to choose from, and both Caesars Palace, the Bellagio, MGM, the LINQ, and Planet Hollywood are just a short walk away should you feel like venturing out.
Across Bally's two entertainment venues (the Magic Attic and the Jubilee Theater), choose from the mind-bending Farrell Dillon Comedy Magician show, Frederic Da Silva's mind-reading magic, and the all-in-one dancing, singing, and acrobatic performance of Extravaganza – The Vegas Spectacular.
On-site, you'll also find one of the more unique tourist attractions in Las Vegas: Real Bodies. Here, you can observe the working of the human body through real skeletons, and organs. Once you're done, head over to the Twilight Zone for 18 alien and monster-themed mini-golf holes!
And, for some of the best shopping on the Strip (think high-end brands at discounted prices), head to The Forum Shops at Caesar's Palace, just across the road
27 – Caesars Palace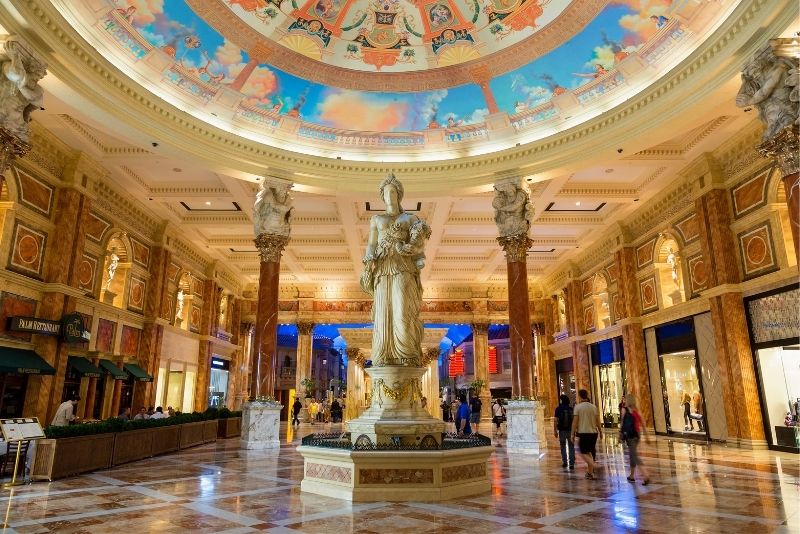 A shining example of Las vegas opulence and spectacularly themed around ancient Rome, Caesars Palace is one of the most famous resorts on the Strip.
From its iconic casino floor to its 4000 luxurious rooms and suites, Caesars Palace has something for every Nevada visitor — and that's before you even get to the 7 pools at the Garden of the Gods, world-famous shows in the $100 million Colosseum (think Celine Dion, Elton John, and Jerry Seinfeld), celebrity chef restaurants and round-the-clock shopping.
Party-goers, look no further than OMNIA Nightclub, where world-renowned DJs play till the sun comes up; shopaholics, make a feeling for The Forum Shops — an indoor mall with over 160 shops and eateries ranging from high-end designers like Gucci and Giorgio Armani, to fan favorites like Lulu Lemon and Apple, to more affordable fashion stores like H&M and Zara.
28 – Red Rock Canyon National Conservation Area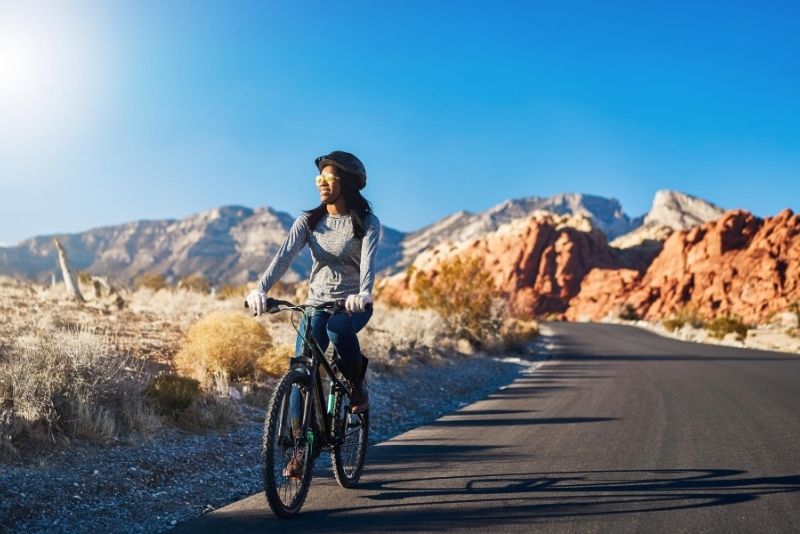 For when nature calls and you need a break from the hustle and bustle of the Strip, Red Rock Canyon National Conservation Area is a beautiful spot just 25 minutes west of Las Vegas.
The area offers a range of outdoor activities including hiking, horseback riding, biking, scooter tours, bird watching and rock climbing, as well as opportunities to learn about the natural and cultural history of the Mojave Desert. And, for the 'grammers, expect several lookouts with stunning views over Red Rock Canyon itself.
While visitors are more than welcome to venture out and explore, most travelers prefer to opt out of the organizing and sign up for a tour that includes transport, pickup and drop-off from Vegas proper (and the option to add a visit to the Valley of Fire).
29 – LINQ High Roller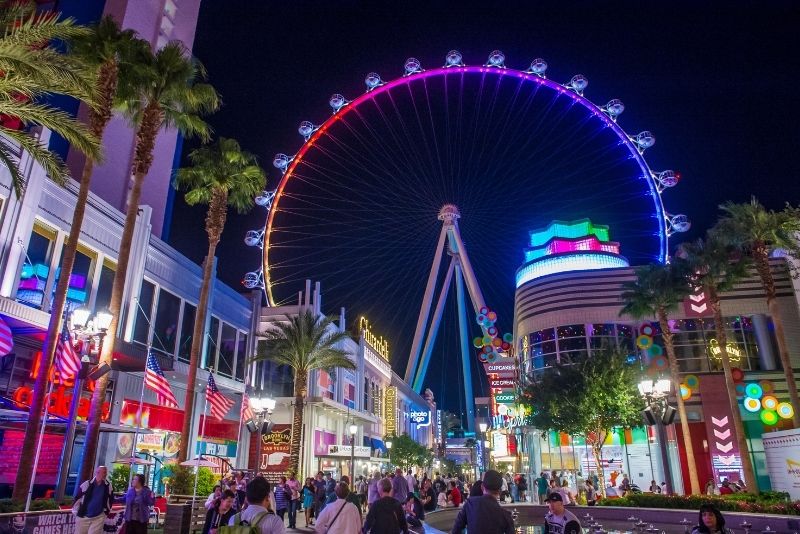 For 30 minutes of killer views and, if you're up for it, unlimited drinks, look no further: the High Roller is not only Las Vegas' tallest observation wheel, but the largest in North America, with 28 glass-enclosed cabins that provide stunning panoramas of the Strip and the suburbs and desert beyond.
After soaring 550 above the bright lights of the LINQ Promenade, spend at least half an hour wandering about the area — with plenty of shops, eateries, bars and casinos to keep you busy.
30 – Madame Tussauds Las Vegas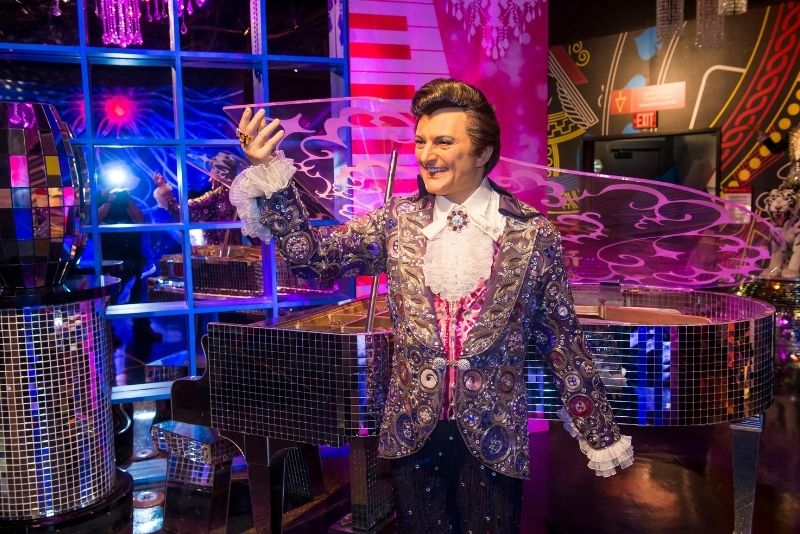 Camera at the ready! No visit to Las Vegas is complete without a selfie (or two, or three) with your favorite celebrities.
Luckily for celeb-crushing visitors, Madame Tussauds has got you covered, with over 100 life-like wax figures of Hollywood icons and music stars (from Liberace to Elvis and Beyonce) from around the world. And if that's not enough, there are also sections dedicated to historical figures and sports legends, as well as awesome themed areas Marvel Superheroes.
Besides being America's inaugural Madame Tussauds location, most of the exhibits are highly interactive —  get on stage with Rock n Roll King Elvis Presley, or star in a music video alongside Drake! Make no mistake, this is far from your typical museum.
31 – The Venetian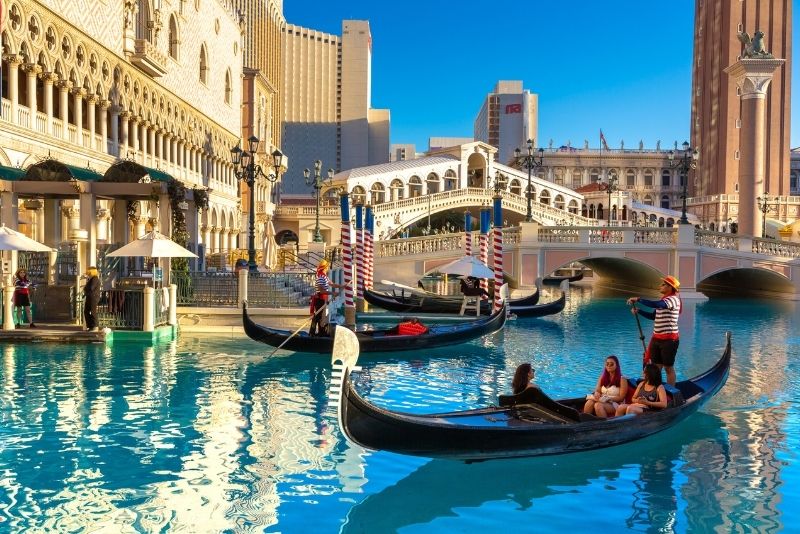 Blending ornate Italian architecture and romance with the debauchery and shenanigans of Las Vegas, The Venetian is one of the Strip's most picturesque and popular resorts — if not for spending a night, at least for an hour or so of exploring.
From its Grand Canal Shoppes, complete with manmade waterways, Venice-style gondolas and singing gondolier tour guides, to its casino floor and luxury suites, The Venetian offers an enchanting and romantic alternative to the traditional gambling and hotel experience.
And if you're looking for a break from the bustle, take in one of the Venetian's awe-inspiring shows — whether you pop into the intimate Summit Showroom, spacious Venetian Theatre, or luxurious Palazzo Theatre world-class names in comedy and music are never too far away.
Wanna let your hair down? Grab a few drinks and hit the dancefloor at Tao, a premier Vegas nightclub.
32 – Resorts World Las Vegas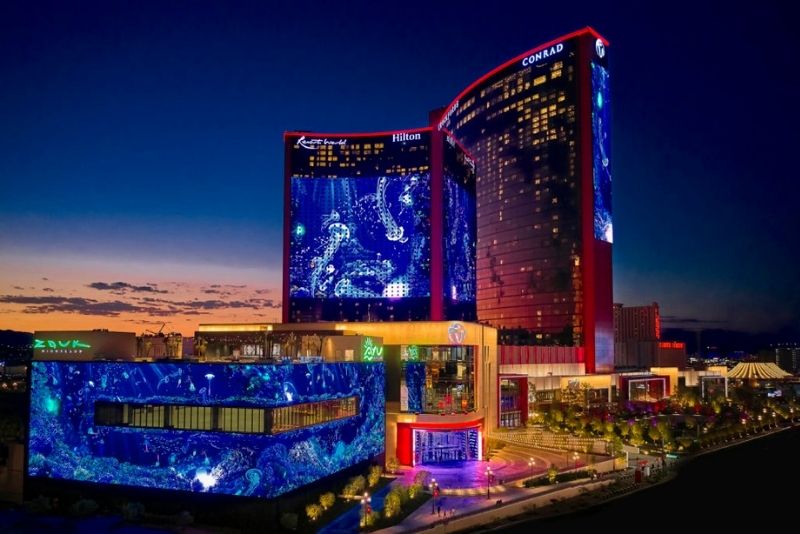 One of the newest additions to Sin City's resorts scene, found at the quieter northern end of the Strip (close to the STRAT), Resorts World Las Vegas is a high-end, Asian-themed, 3500-room complex that's perfect for those who want to get away from the hustle and bustle of the main drag while still having direct access to all the entertainment, food, games, and activities you could ask for on a vacation.
From its giant gold lion entrance to its lush gardens and Koi ponds, Resorts World is all about opulence and excess — think pagodas, marble floors, hand-carved woodwork and intricate metalwork.
And if you're feeling peckish after all that exploring, there are 40+ restaurants on offer (including several Michelin-starred establishments), as well as a casino floor with table games and more than 400 slot machines.
With over 5000 seats and a massive 196-feet-wide center stage, The Theatre at Resorts World has already welcomed superstars like Michael Buble, Carrie Underwood, Katy Perry and Celine Dion.
After catching a show, head straight to the internationally-renowned Zouk Nightclub to catch names like Zedd and Tiësto, and then nurse the hangover the next day at the largest pool complex on the Strip.
33 – Gold & Silver Pawn Shop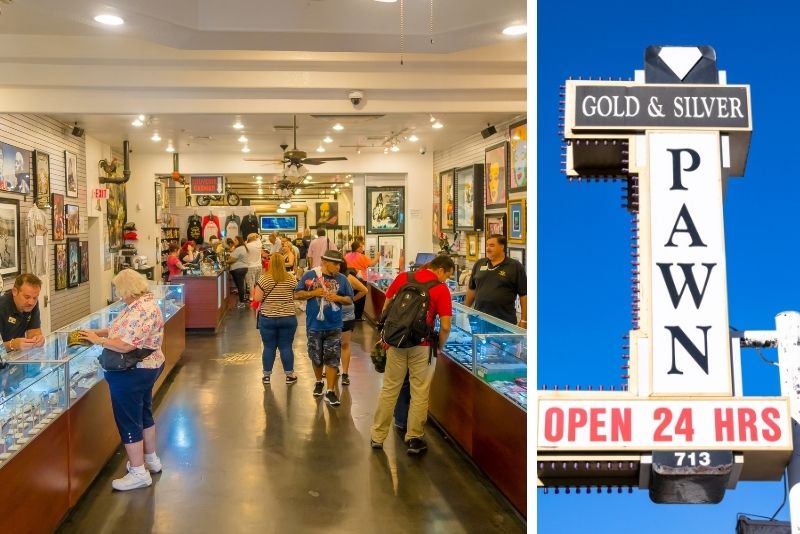 Made famous across the globe because of the History Channel's 'Pawn Stars' series, the Gold & Silver Pawn Shop is a real-life treasure trove waiting to be explored.
Even if you're not in the market for some of the thousands of items on offer (including coins, jewelry, watches, guns and even medieval armor), it's still well worth a visit just to check out the jaw-dropping collection of one-of-a-kind pieces and quirky knickknacks.
And if you are feeling lucky (this is Vegas, after all), maybe take a shot at haggling with owner Rick Harrison or one of the reality TV star hosts-cross-shopkeepers!
Despite the fame, it's free to visit (with free parking) and open 24/7.
34 – Las Vegas Natural History Museum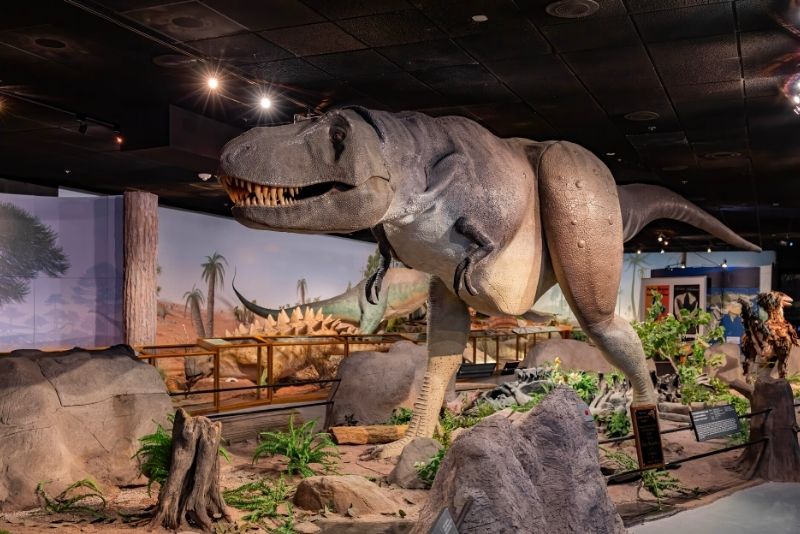 Offering a well-appreciated change of pace from the typical drinking and chaos, the Las Vegas Natural History Museum is a great place to take the kids or spend an afternoon learning about the history and ecology of the area.
Featuring exhibits on fascinating topics like the ocean (with real sharks and stingrays!), international wildlife, ancient Egypt, dinosaurs, and human evolution, as well as giant skeletons of prehistoric mammals, there's plenty to keep visitors entertained for hours on end.
And if you're feeling famished after all that learning, the museum's café offers healthy (and affordable) options like sandwiches, salads and wraps.
Check the calendar before you visit — regular events like public shark feedings happen twice a week, with Storytime on most Sundays to entertain the little ones.
35 – Las Vegas Motor Speedway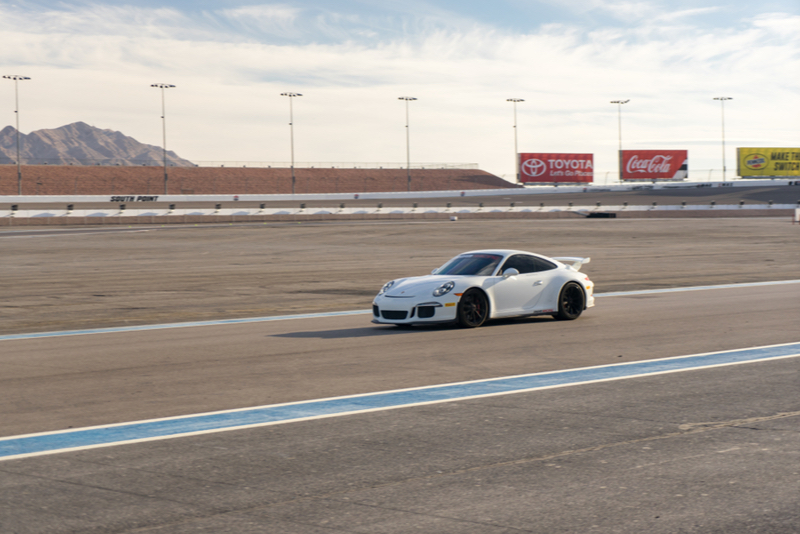 Craving the smell of burning rubber and the sound of revving engines? Then the Las Vegas Motor Speedway is just what the doctor ordered.
Home to NASCAR, IndyCar and NHRA (National Hot Rod Association) races throughout the year, as well as monster truck rallies, car shows and a whole lot more, there's always something exciting happening at this petrolhead paradise.
But why stop at watching? For a truly unforgettable afternoon of motorsport, consider booking a few NASCAR hot laps riding shotgun, or, even more high-octane still, an exotic supercar driving experience! With options to cruise around in over 20 different supercars (Porches, Lambos, Ferraris and more), it's a dream come true for many.
Save money on attractions tickets: consider the Go Las Vegas Explorer Pass
For money- and time-conscious tourists, or any of you who don't feel like organizing too many of your own activities (you're on vacation, after all), the Las Vegas Explorer Pass has been specifically designed to make visitors' lives easier.
Providing access to a wide range of Las Vegas's most popular tours, activities, and sites (including a Grand Canyon tour), the Go Las Vegas Explorer Pass gives discounts to well over 30 must-see actions and quintessential excursions.
Simply choose for favorites, pick how many places you want to see, and control everything from the convenience of one simple app.
Save hassle: book an airport transfer
Why should you care about little details when on vacation? Rather, leave the logistics to the professionals. Instead of worrying about bus connections or hailing a taxi at the airport, you can save time in transit and spend more time seeing and roaming Sin City, discovering all the sights.
Why do visitors book airport transfers in advance? With a pre-organized airport transfer, you can simply step off the plane, grab your bags, and be greeted by a chauffeur holding a sign with your name on it.
No need to worry about currency conversions, getting lost in an unfamiliar city, or trying to haggle with drivers — just sit back, enjoy the ride, and ask your friend driver about their favorite locales!
Final thoughts:
Well, that's all for now, folks! We hope you've enjoyed our look into the best tourist attractions in Las Vegas.
If you have any other must-see suggestions, feel free to let us know in the comments. Viva Las Vegas and, as always, happy and safe travels!