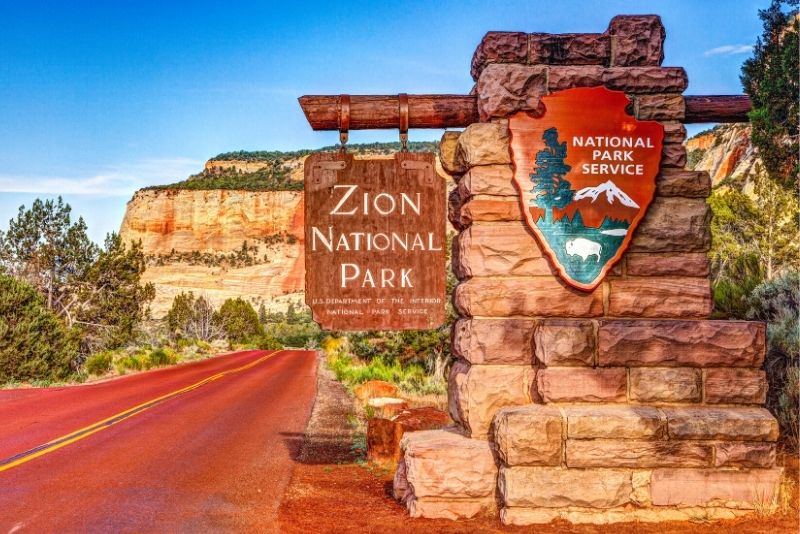 Red-tinted Heaven on Earth, Zion National Park is a stunning slice of nature that's home to some of the most awe-inspiring landscapes in the United States. From dramatic red cliffs and towering waterfalls, to narrow slot canyons and tranquil alpine meadows, there's something for everyone here — making it one of the most popular adventure destinations not just in Utah, but across the entire planet.
With hiking trails galore — some which can be conquered in a couple of hours, others which take days — as well as biking routes, horse riding, rock climbing, and more, not to mention the historic angle of this longstanding geographical landmark, there's no shortage of things to do in Zion National Park.
So, if you're in dire need of a breath of fresh air, raring to escape the hustle and bustle of city life, and want to discover firsthand the unspoiled beauty of inland America, add Utah's postcard-worthy Zion National Park to the bucket list.
1 – Tackle one of the world's best hikes: The Narrows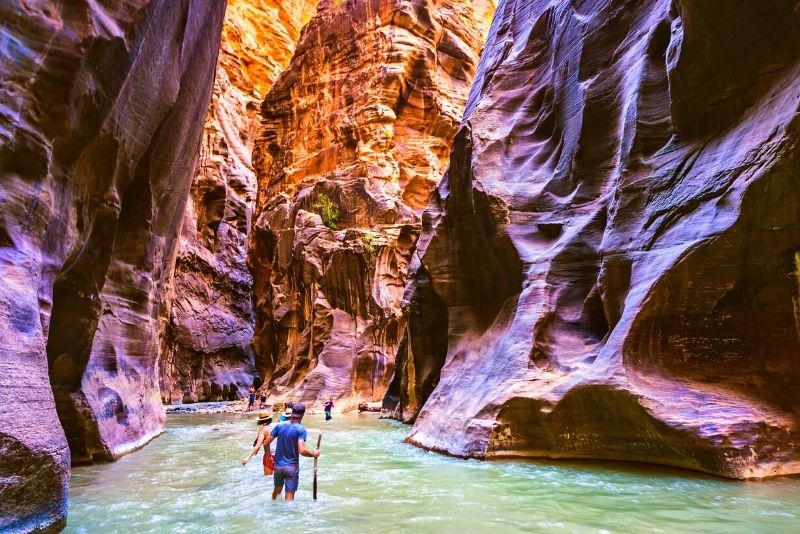 A paradise for hikers and photographers alike, the aptly named Narrows is the most slender part of Zion Canyon. Here, the refreshing waters of the North Fork Virgin River twist and turn their way beneath towering, thousand-foot walls of orange and red-hued Navajo sandstone, connecting the Riverside Walk to the Temple of Sinawava.
Officially ranked as one of the top ten hikes on Earth by Lonely Planet and a host of other in-the-know publications, the moderately strenuous day hike requires wading through knee-high waters, so it's not for the faint of heart. Still, with ample opportunities to dry off under the toasty sun when you're done, there are few more rewarding ways to spend a day than hiking The Narrows.
There are three ways to tackle the hike: Bottom-Up, where you start and end at the Temple of Sinawava, and can walk up to a ten-mile round trip without a permit; Top-Down in one day, which, at 17 miles from Chamberlain's Ranch, is the most difficult and requires a permit; or Top-Down with an overnight camping portion, which also requires a permit but is a much more leisurely way to hike and explore
2 – Cruise along the Zion Canyon Scenic Drive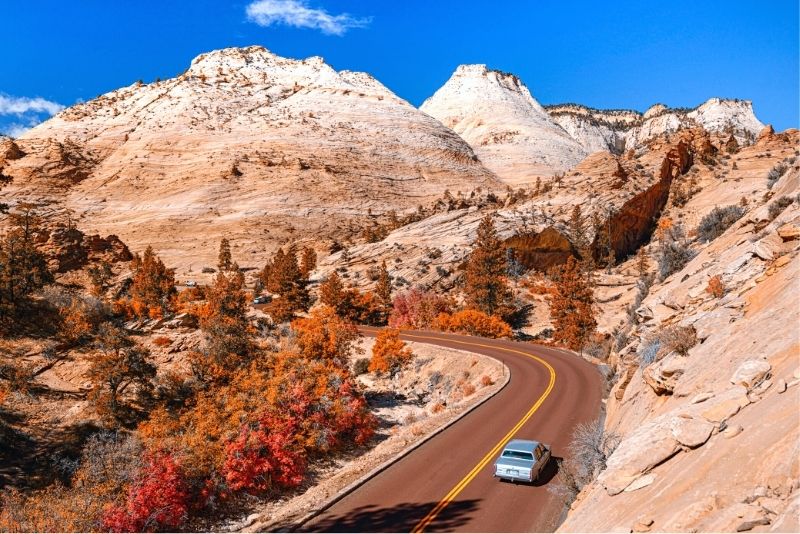 Arguably the most picturesque stretch of road in America, the Zion Canyon Scenic Drive winds its way for 54 glorious miles from Zion's main canyon to Mount Carmel, making its way through Utah's stunning natural landscape; you'll cruise past the Virgin River, be able to marvel at iconic landmarks like Angel's Landing, the Court of the Patriarchs and Twin Brothers mountain along the way.
And, of course, how can you forget about the mile-long tunnel that cuts through the rockface of the park's famous Checkerboard Mesa. Built back in the 1920s, it remains one of Utah's most impressive manmade landmarks to this day.
Keep in mind: when traffic is low, from December to February, you can bring your own wheels (convertible highly recommended) and go at your own pace. During peak season, however, the route is off-limits to the public and only accessible via a free shuttle.
3 – Make your way to Weeping Rock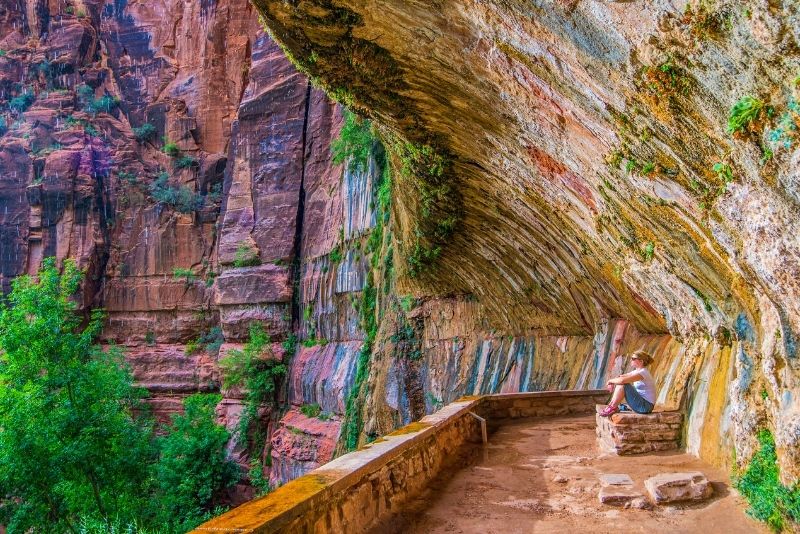 A fascinating example of nature's quirkiness, Weeping Rock gets its name from the water which drips down the edges of the overhanging cliff.
And, as such, Weeping Rock has become is a wildly popular spot for Zion National Park visitors to appreciate the beauty of Mother Nature and dip their feet in the year-round springs (which eventually connect with the Virgin River).
Plus, with its draping layer of water-loving plants hanging over the eroded cliff's edge— it looks mighty good on camera too!
The trail to the Rock is short and sweet; so if you're looking for a longer outing in the area, consider nearby Echo Canyon, Observation Point or Hidden Canyon.
4 – Hike the coveted path of Angels Landing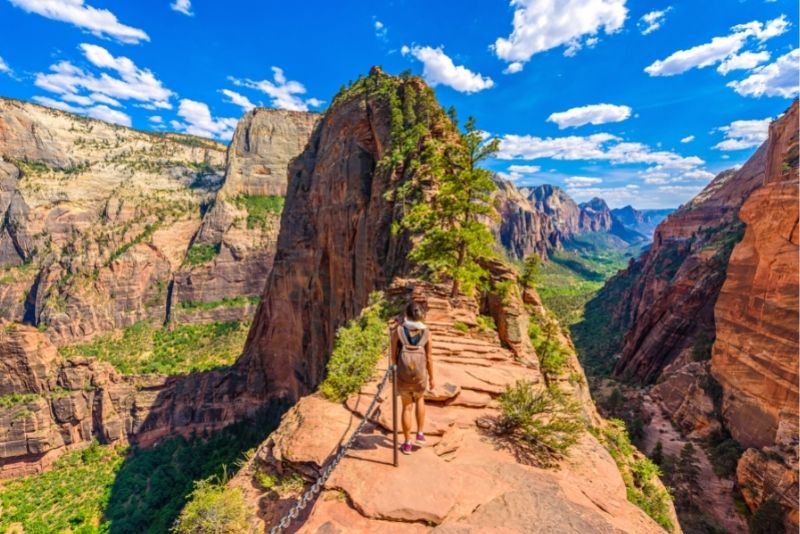 As picturesque and rewarding a hike as any in the area, Angles Landing is considered one of the most famous hikes in Utah, and if you're looking for a way to get some stunning views of the sprawling canyons, this should be at the top of your list!
Make no mistake, though: you'll need to earn the views! All up, the challenging 5.4-mile round-trip hike ascends close to 2,000 feet, with steep stairs, narrow walk walks, (essential) chain rails, and oft-slippery rocks (that, depending on the time of year, might be covered in thin ice).
As many a hiker has attested, you do need spikes at various points, so make sure to pack accordingly before hitting the trail.
5 – Enjoy some bird-watching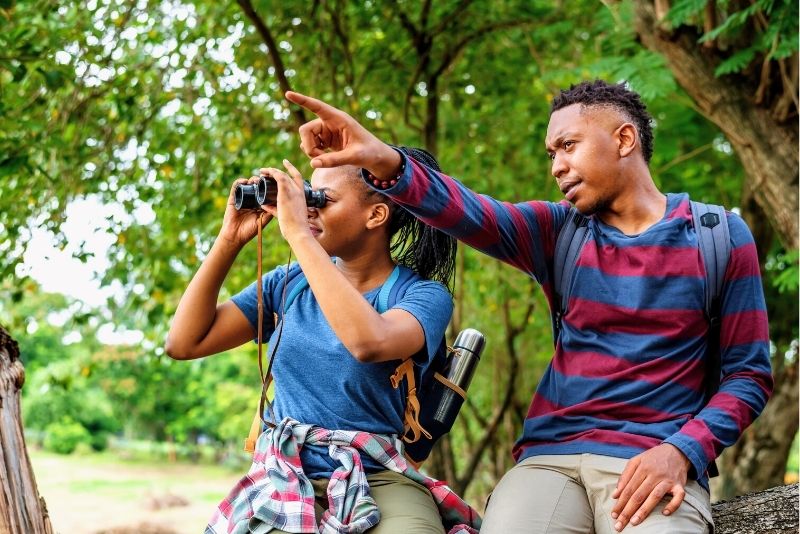 Zion is teeming with diverse wildlife on the ground; take to the skies, and it's another level altogether. No less than 291 bird species call Zion home — and while some come and go throughout the year, the array of species is ever-impressive.
From the California condors and peregrine falcons who soar gracefully overhead to the hummingbirds, woodpeckers, chickadees and owls which often take visitors by surprise.
There's never a poor time to grab the binoculars and cast your eye skyward, however, the sport is most popular from early April through October when the migrating birds arrive and the trees are lush and green.
6 – Admire the Temple of Sinawava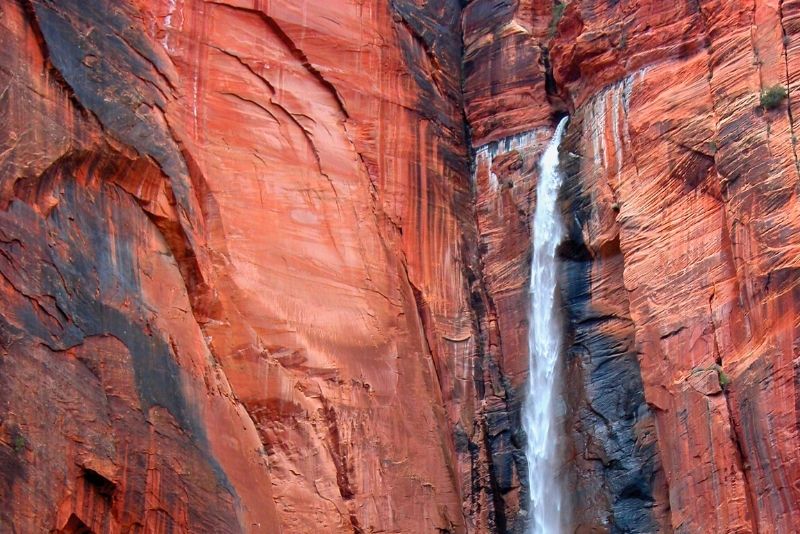 An iconic natural landmark where both the Riverside Walk and Narrows hiking trails begin (or end, depending on which way you go), the Temple of Sinawava is nature's version of an amphitheater… and what a version it is!
Towering nearly 3,000 feet above the canyon floor, the rock walls come alive with wildflowers in the summer, with pleasant waterfalls adding that finishing touch year-round.
While you can access the Temple on the aforementioned hiking routes, it's also the last stop on the Zion Canyon Scenic Drive shuttle, allowing for either a full-day adventure or a quick photo and stroll.
7 – Take a bike tour of the Pa'rus Trail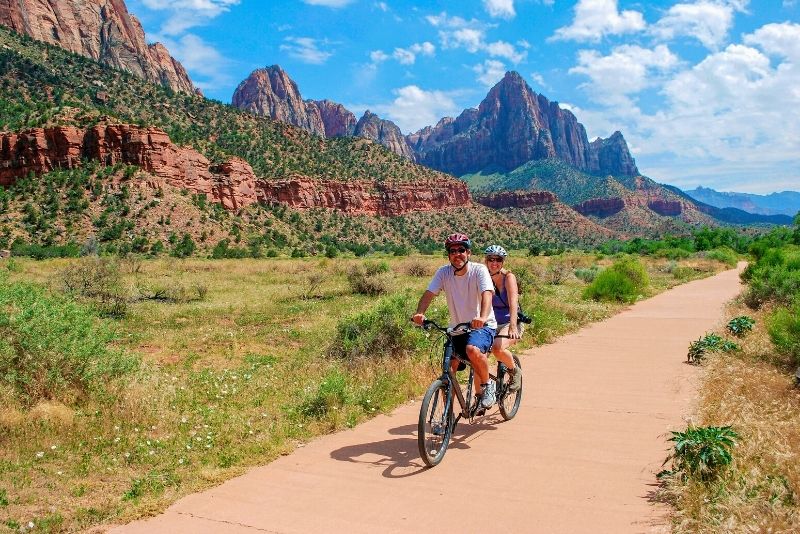 Zion National Park is filled with jaw-dropping hikes, but if you're looking for a more leisurely way to explore the park, consider renting a bicycle instead. The 3.4-mile Pa'rus Trail offers a paved and mostly flat biking (and walking) trail that runs along the Virgin River through the lower part of Zion Canyon, dishing up all sorts of scenic views along the way.
Best used from March until October, the trail is open to hikers, joggers and cyclists alike, and makes for a great opportunity to stop and snap some photos (or just take in the incredible sights) without having to worry about navigating any tricky terrain.
With next to zero manmade interference in the area, it's also a haven for wildlife, so keep your eyes peeled for Bighorn sheep, deer, desert tortoises, and, every once in a while, mountain lions!
8 – Learn about the area at the Zion Human History Museum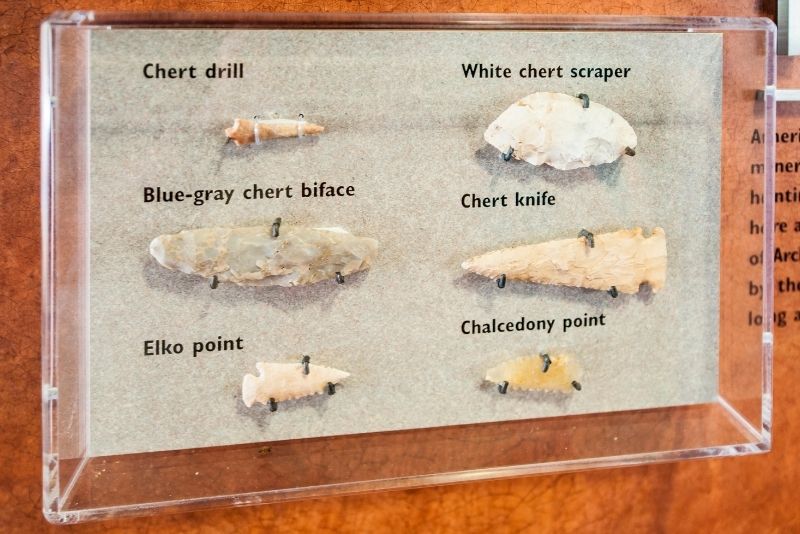 A fascinating and alternative activity suitable for visitors of all ages, ideal for those sizzling summer days to get some indoor reprieve, the Zion Human History Museum is a small but interactive museum located in the park's main visitor center that tells the story of human habitation in and around Zion National Park through the ages.
Featuring exhibits on the geography, history, settlers — specifically American Indians and pioneers — and evolution of the area, as well as a host of rare artifacts like arrowheads and old-time park employee photographs, for anyone remotely interested in the area's backstory, this museum is a must-visit.
For an easy overview of the park's history, grab a seat for the 22-minute educational video, and don't forget to pop into the bookstore before you leave for a unique souvenir or two. And, best of all, it's free to visit.
9 – Hike to the colorful Emerald Pools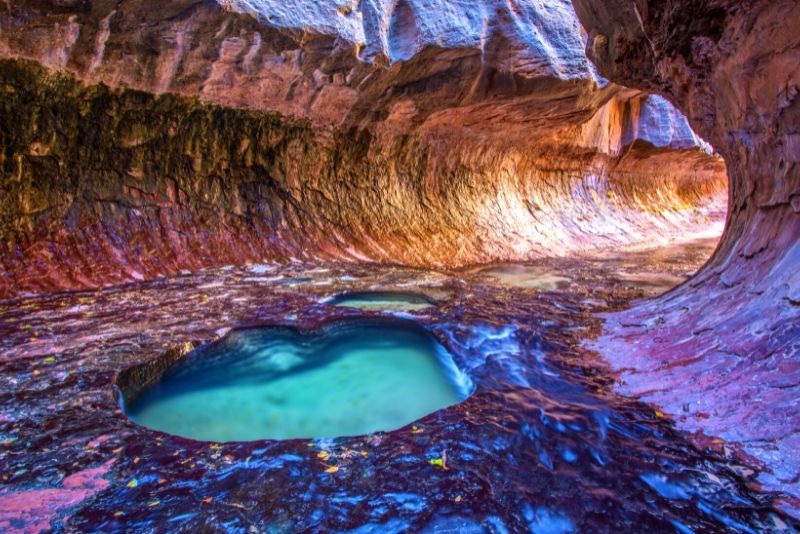 Oozing contrasting colors and unspoiled beauty, the Emerald Pools trail is a popular choice for hikers looking for an easy afternoon stroll, and the area has more than its fair share of Instagrammers — so you know it's worth checking out in person!
Unlike many other well-known hikes in Zion National Park, the Emerald Pools Trail is accessible for all; the pathway to the lower pools is paved, allowing strollers and wheelchairs to access the tranquil setting in about 15 to 20 minutes each way.
After hitting the lower pool, however, the trail becomes a little more challenging. The area actually features three distinct pools in total: starting from the bottom, next to the Zion Lodge, it's 70 vertical feet to the lower pool, 150 vertical feet to the middle, and a more strenuous 350 feet to the upper.
Be mindful, however, that the trail can get is a bit slippery, so wear comfortable and sturdy shoes and take care with your footing. And, if visiting in peak season, arrive early to avoid the bulk of the crowds.
10 – Saddle up for a horse riding excursion!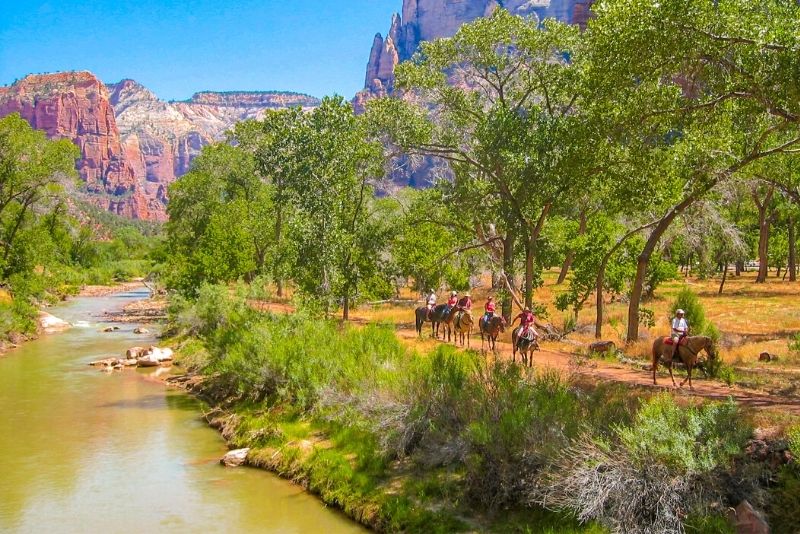 Because shuttles and hiking routes can only take you so far, horseback adventures allow you to venture off the beaten track, into the unspoiled sections of the National Park — just as ancestors have done for generations.
One of the best things to do in Zion National Park that is both affordable and adventurous, these locally-led southern park rides cater for all abilities; including first-timers.
Typically meeting at the Emerald Pool trailhead, after you're all briefed and saddled up, choose from the short and sweet Virgin River Ride, where you'll be greeted with stellar views of the Court of the Patriarchs, or the longer and slightly more challenging Sand Beach Trail — taking around three hours, this trail ascends 500 feet along the way, dishing up a wondrous viewpoint of landmarks like the Three Patriarchs and the Beehives.
Depending on your operator of choice, there are more options of the eastern side of the park too: choose from a Zion sunset ride, a Pine Knoll ride, or the peaceful Pine Grove Trail (to name but a few).
Canyon Trail Rides is ideal for those seeking a comprehensive tour of the southern and western sides of the park, while the aptly named East Zion Adventures offers routes through forested groves and steep mountain paths.
11 – Watch the sunset from Canyon Junction Bridge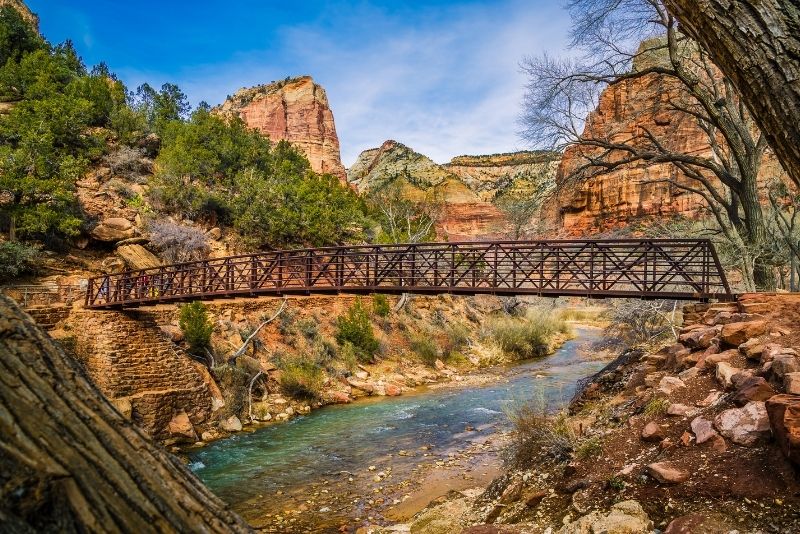 Easily one of the premier sunset-viewing spots in the national park, Canyon Junction Bridge is a quick but quintessential stop on any Zion itinerary.
Hanging over the flowing Virgin River, the Bridge is just around the corner from the nearby South Visitor Center, or accessible on the shuttle bus, making it easily reachable (and explaining why, in peak times, you'll often find a crowd).
From atop the bridge, views of the Watchman — a foreboding 6,545-foot sandstone mountain — are top-class. As the sun sets, the golden tint bounces of the red sandstone, creating a vista nothing short of remarkable.
Hot tip: stick around for a half-hour after the sunset, as the night sky begins to dazzle above.
12 – Appreciate the spectacular view from Zion Observation Point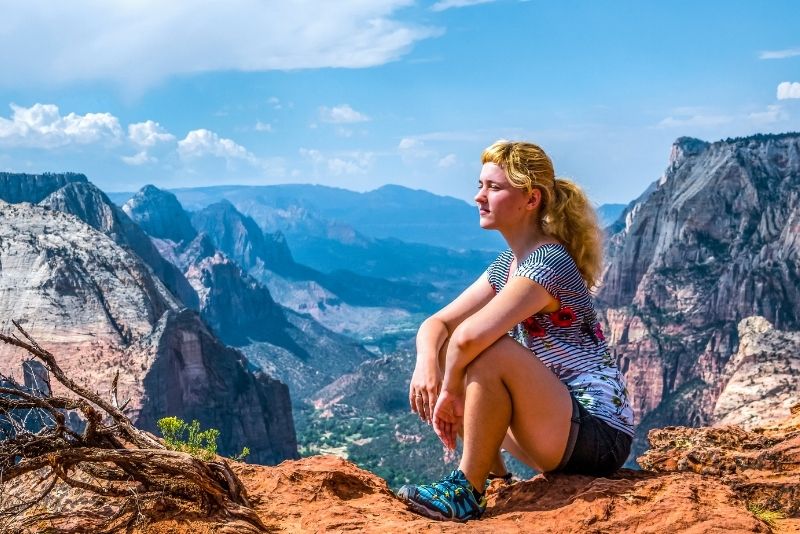 Only reachable on foot and towering above the sparkling, jagged canyons and valleys at an elevation of over 6,500 feet above sea level, and straddling the intimidating edge of a 2,200-foot drop, this is one of the highest easily-accessed spots in Zion National Park from which to take in the full sweep of the area.
From here you can see the broad Zion Caynon (the perfect backdrop for any Insta-worthy photo), Angel's Landing, as well as parts of the North Fork of the Virgin River.
An 4-6 hour steep and challenging hike takes you from the bottom of the canyon, from the Weeping Rock to Observation Point, and along the way, you'll be treated to ever-changing views as you make your way up (or down).
For something a little easier, opt for the 7-mile Observation Point via East Mesa Trail, or for a real test of your endurance, go for the 20-mile full-day trek on the East Rim Trail.
13 – Join a wildlife-watching expedition
Whether you venture around solo or join a ranger-led walk, rest assured that the local furry and scaley residents will be out in droves. The iconic Bighorn sheep, ringtail (a cousin of the raccoon), deer, coyotes, tarantulas (look in the cool, shaded spaces between rocks) and even the occasional mountain lion can be seen by those who keep their eyes peeled (and camera at the ready).
One of the best ways to all but guarantee a sighting is to join an organized tour; not only do they have access to prime spots that members of the public generally don't know about, but they're also knowledgeable about the wildlife, meaning you get to learn a little more than just point-and-click.
Remember, this is Mother Nature, so animal spotting is far from guaranteed, but if you're lucky, the memories of a lifetime are just around the bend.
14 – Hop on board the Zion Shuttle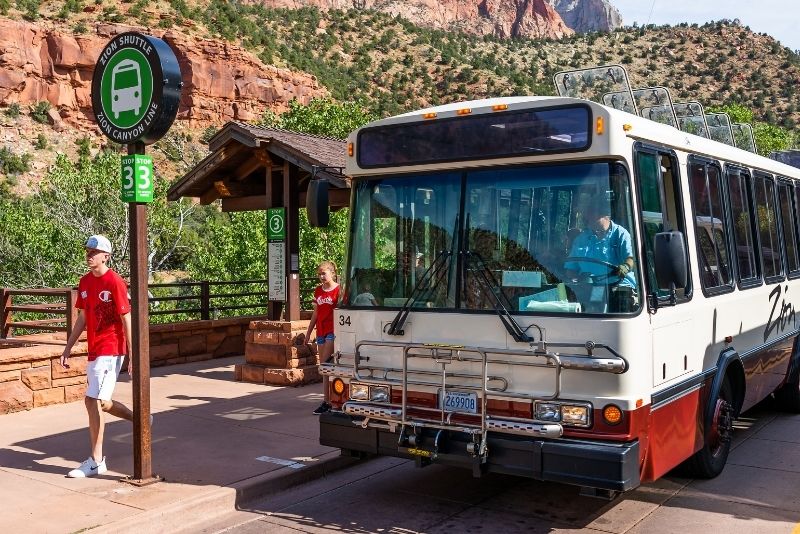 Making exploring this vast natural beauty easy as pie, during the peak months of Zion National Park offers a free shuttle service that connects the Zion Canyon Visitor Center with a handful of locations on the Zion Canyon Scenic Drive, conveniently looping around the park and making 9 stops along the way.
After getting the lay of the land, hop on at the Visitor Center and make your way to one of the many trailheads, or plan your route around notable landmarks like the Emerald Pools, West Rim Trail, and Temple of Sinawava (the starting point for the infamous Narrows hike).
The shuttle operates regularly from March through November, during which it becomes one of the unmissable things to do in Zion National Park, before taking a break over the winter when fewer tourists are floating around.
15 – Drive down the switchbacks on the Zion-Mount Carmel Highway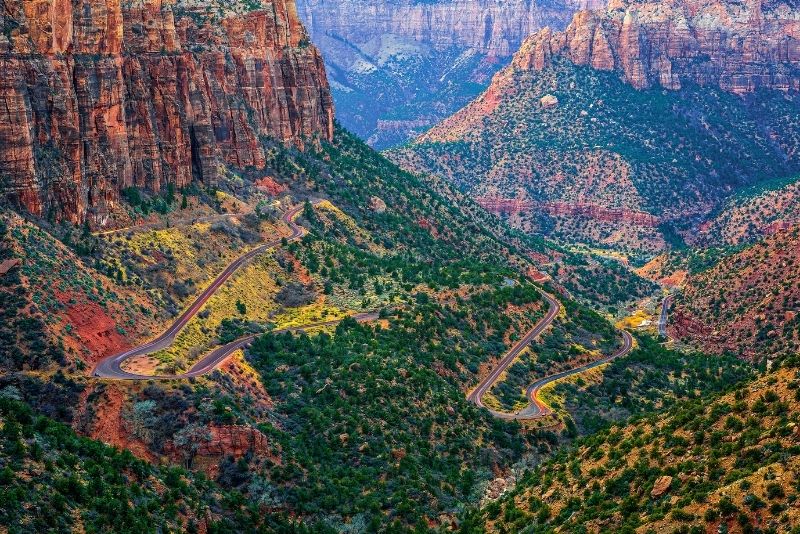 A scenic, picturesque drive that takes you through the colorful heart of Zion National Park, this famous road — full of switchbacks, hills, stunning vistas, and a tunnel through the Checkerboard Mesa — the highway forms part of the official Scenic Drive connects drivers with several different viewpoints, attractions, and trailheads along the way.
Besides hosting the Scenic Drive, it also continues on to connect adventure-seeking visitors to the likes of Bryce Canyon National Park, Cedar Breaks National Monument, and the North Rim of Grand Canyon National Park — so if you're looking to expand your horizons and discover one of the most rewarding things to do in Zion National Park, it's a great place to start.
16 – Embrace the heart-racing thrill of rock climbing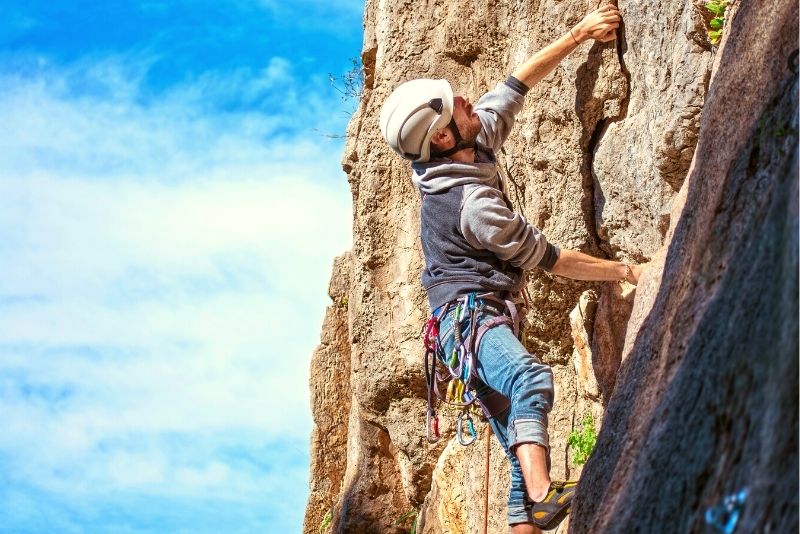 With no shortage of rockfaces in the area, it should come as no surprise that local outdoor sports enthusiasts flock here to hone their craft, tackling some of the most challenging – and beautiful – cliff faces in the western US.
Towering 2,000-foot sandstone cliffs provide a haven for expert climbers — most notably The Great White Throne, Mt. Isaac, and Mountain of the Sun — but because of their difficulty, and the sandstone's slipperiness after any rain, it's typically not a spot for beginners.
Don't let that put you off, though! A number of companies of climbing courses and guided tours that teach you the safety-first basics of rock climbing.
Head over to Rock Odysseys for some expert guidance on canyoneering and climbing through the various fascinating formations, or book an excursion with Amazing Adventures, which specializes in affordable, private trips with qualified instructors – a great way to get started with the sport!
17 – Step back in time at Petroglyph Canyon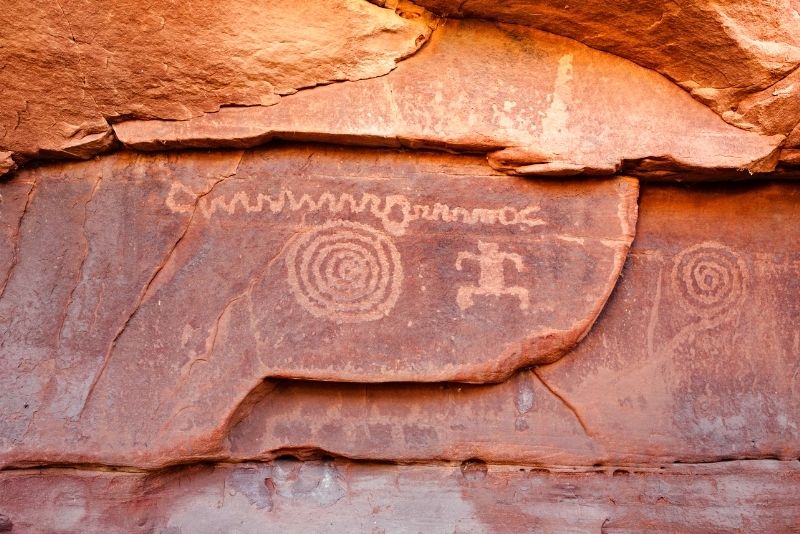 Offering a fascinating insight into the history and culture of bygone centuries, Petroglyph Canyon contains hundreds of Native American petroglyphs (rock carvings) through to have been created by the Paiute or Anasazi roughly a millennia years ago.
The ancient art-lined walls feature over 150 different styles of carvings (animals, symbols, and the like), providing an up-close look at some of the oldest rock art in North America. And, best of all, they're basically roadside: within a few minutes' walk from the car park.
The short walk only takes a few minutes, making it perfect for families or those looking for a quick and off-beat attraction before continuing on.
18 – Take a scenic drive through the Kolob Canyons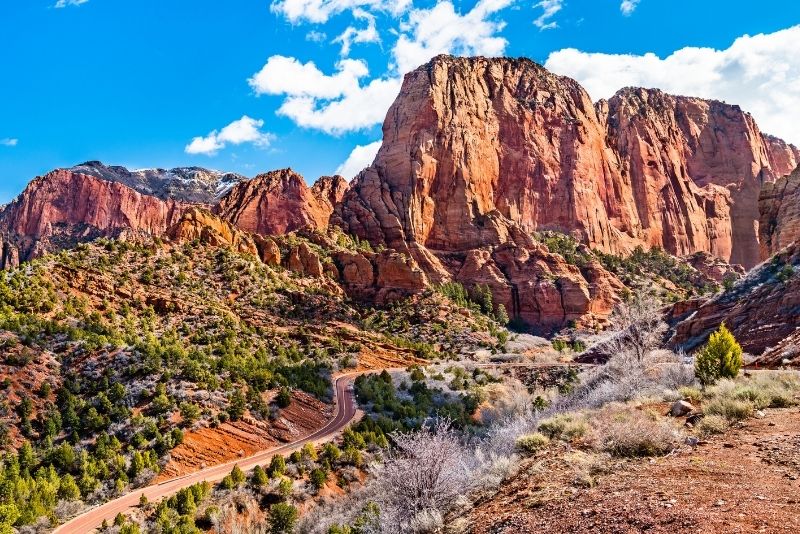 Found at the northwest corner of the park, about 40 miles north of Zion Canyon, the Kolob Canyons are lesser-known yet no less spectacular natural formations; here, majestic red and orange peaks juxtapose 2,000-foot cliff walls that play host to all kinds of hiking trails, wildlife, and viewpoints.
For the highlight reel, drive down the five-mile scenic stretch of Kolob Canyons Road. Or, if you prefer to wander on foot, more than 20 trails whisk their way through the Navajo sandstone: the most simple walk is the 1-mile Timber Creek Overlook Trail from the Visitor Center to the Timber Creek Overlook, while the most challenging is the 14-mile, 8-hour La Verkin Creek Trail, which makes its way to one of the world's largest natural arches.
If tourist shuttles and lines of tourists make you cringe, then skip over the main haunts and make a beeline for this off-the-beaten-track destination where you'll be blessed with unmatched solitude and tranquility in the heart of the red-rock desert.
19 – Kayak, raft or fish on the Virgin River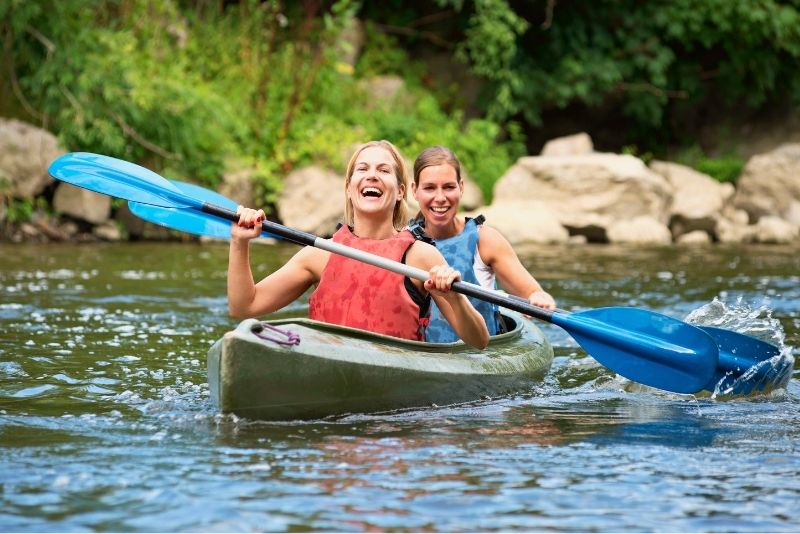 Particularly popular during summer, the Virgin River provides a refreshing, cool and certainly adventurous (depending on your method) way to explore Zion National Park.
Whether you're taking a leisurely float trip down the river on an inner tube (or even take a quick dip in spots like the Pine Creek Waterfall swimming hole), embarking on a more adventurous Class V whitewater rafting journey, joining a guided whitewater trip on the tamer nearby Sevier River, or signing up for a guided fishing excursion for some rainbow trout, don't miss the chance to be truly immersed in the heart Zion Canyon by hitting the water.
Consider yourself an expert paddler? Then add kayaking through The Narrows to the bucket list — but be warned, this is not for beginners.
Keep in mind that any kayaking or whitewater rafting trip needs a permit, so a pre-organized tour with one of the many adventure operators is usually the best (and most social and hassle-free) way to go.
20 – Try your hand at canyoneering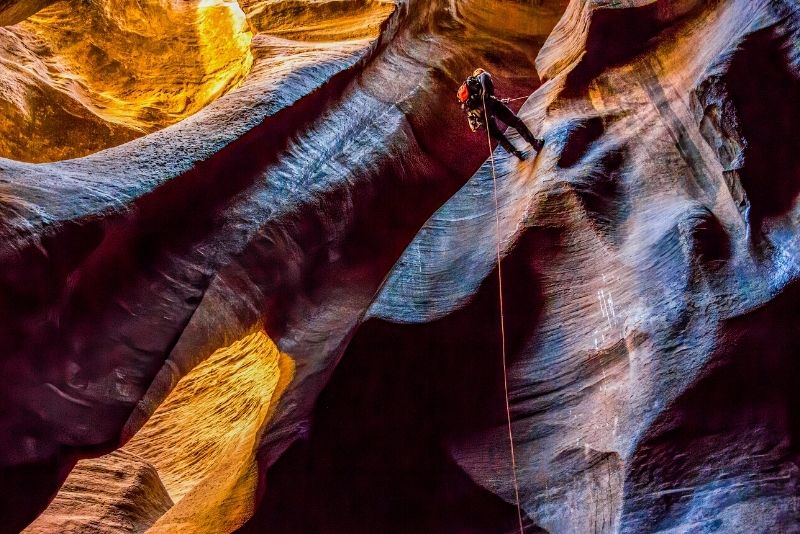 One of the ideal things to do in Zion National Park for thrillseekers and adrenaline junkies alike, canyoneering (which you might also hear as abseiling) allows daring visitors to propel down the sandstone cliffs; often through crevasses, into swimming pools, or as part of more complex hiking routes.
While there are plenty of areas to choose from, both the Pine Creek Gorge Slot Canyon and Left Fork (Subway) are two of the more popular choices. The former is a very technical challenge, offering up to six scenic rappels; while canyoneering on the latter forms different parts of a near-8-mile total hike that dishes up stunning views from start to finish.
21 – Take the family along the Riverside Walk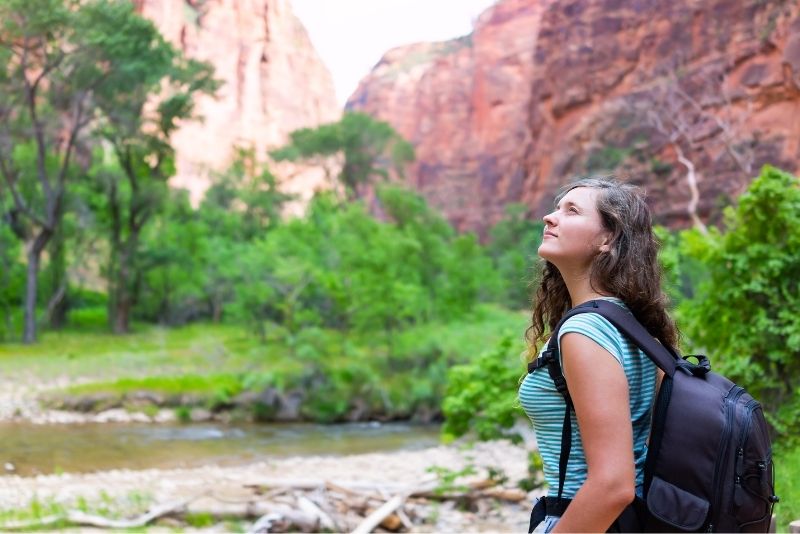 One of the easiest and most popular hikes in Zion National Park, this short, flat stroll takes you from the Temple of Sinawava (the end of the shuttle line) to the banks of the Virgin River, following a paved path full of lush greenery that's great for all ages and abilities.
The 2-mile walk offers views of the river as it snakes its way through the canyon, as well as a handful of opportunities to take a dip in the refreshing waters (just be careful of the currents).
If you're looking for something more strenuous, this is a great place to start before branching out onto one of the park's many other trails.
Hot tip: plan to visit the Riverside Walk just before dusk — as the orange sunset bounces off the canyon walls, not only is the vista incredible, but it's when you're most likely to see wildlife like mule deer come out to play.
22 – Visit the eerie Grafton Ghost Town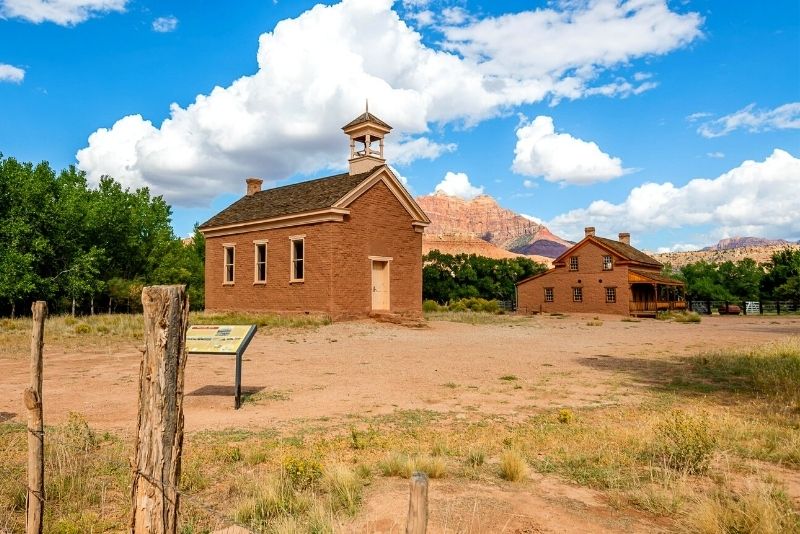 An ancient – and now well and truly abandoned – Mormon settlement located just south of Zion National Park, on the southern side of the Virgin River as it loops through Washington County, a visit to the Grafton ghost town is like taking a step back in time to when things were starkly different.
With buildings and homes dating back to 1859, this historic site is now preserved as an open-air museum.
Once a thriving community of around 150 residents, by the early 1900s Grafton's time in the sun had played out, and the town was after floods and raids.
Today, it's a popular spot for photographers and history buffs alike, with many of the original buildings still standing (albeit in various states of disrepair) as well as interpretive signs providing information on Grafton's past.
Make sure to check out the Grafton Utah cemetery, where dusty graves date back to 1862; the century-old iron lattice-truss bridge, and the 1886 schoolhouse (which also served as a church).
23 – Join a thrilling Zion jeep tour!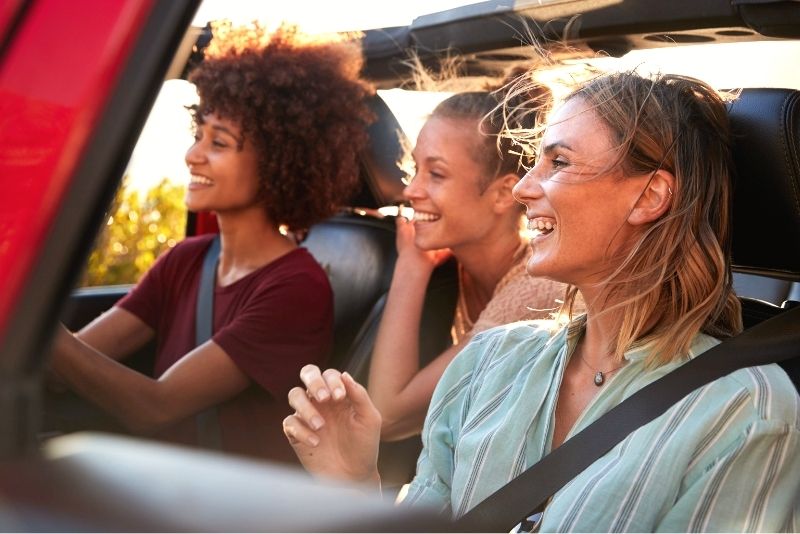 For a different perspective of Zion National Park, take to the open roads with an ATV or Jeep tour.
Operated by experienced guides who know all the best (and less-known) spots in the park, these tours offer up a unique way to explore and learn about Zion's history, geology, and ecology while cruising along on a thrilling off-road adventure.
Some tour companies even offer overnight trips that include camping under the stars (or in luxury tents, if that's more your style). With options for both low-key group safari outings (consider this more of your typical sightseeing) and customizable private off-roading adventures (where you can ask for as much adrenaline and aggressive hill climbing as you see fit), there's a tour for everyone.
24 – Relax and unwind at The Grotto Picnic Area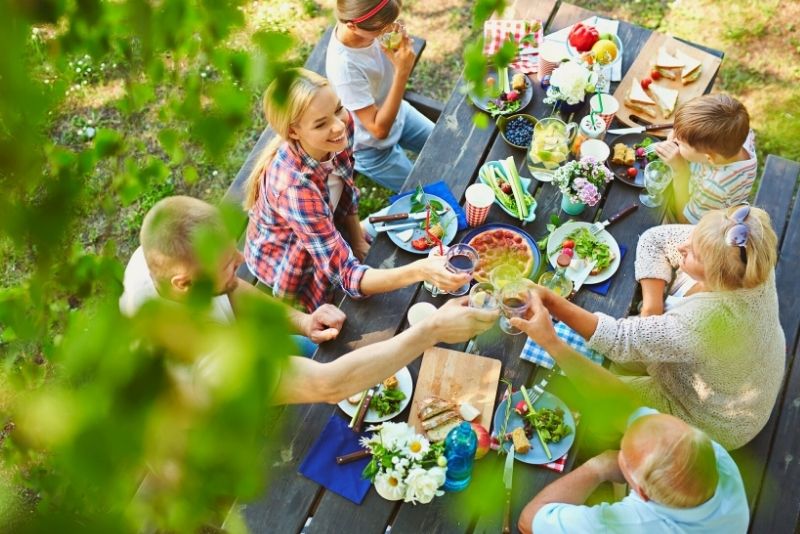 If you're looking for a great place to have a picnic lunch in Zion National Park, look no further than the Grotto Picnic Area.
Welcome visitors with spellbinding views of towering cliffs in every direction, this well-maintained and picturesque spot offers plenty of space to spread out a blanket, sit on a bench, admire the birds, or find a shady spot to relax in — even on the busiest days, it's big enough to find your own peaceful nook.
In addition, as one of only two official picnic areas in the main section of the park, the Grotto is home to restrooms and drinking fountains, not to mention a century-old museum building, making it the perfect place to take a break before hitting the trails. Speaking of trails, consider tackling the Kayenta trail which leads to the Emerald pools and presents a top-notch perspective of the Grotto itself.
To get there is easy: just stroll along the flat 1-mile roundtrip path from the Zion Lodge, which is the 5th stop for the Zion Canyon Shuttle.
25 – Hike the Watchman Trail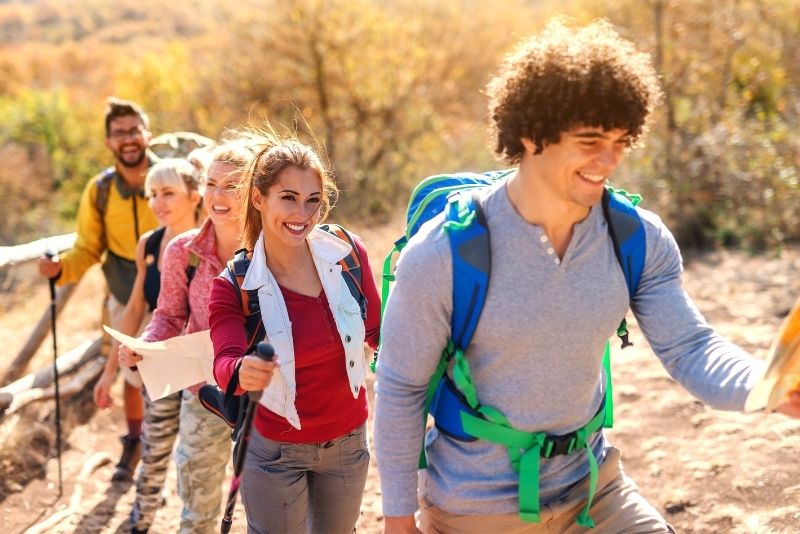 Dishing up splendid views of Springdale and the southern end of the Park, the Watchman trail starts from the Visitor Center — that means there's no need to hop on a shuttle, just lace up the hiking shoes and off you go.
As you jet off, you'll start with a leisurely walk along the banks of the Virgin river with the Watchman Peak looming in the distance. Thereafter, say bye-bye to the river and head up the hills — from this point on, the higher the climb, as expected, the better the vistas!
Taking just 1-2 hours to complete, this short yet rewarding hike sells itself as one of the essential things in Zion National Park. Don't let the length fool you though; the 3.3-mile round trip hike still requires a 300-foot elevation, so bring plenty of water and wear comfortable shoes.
26 – Visit the stunning Court of the Patriarchs Viewpoint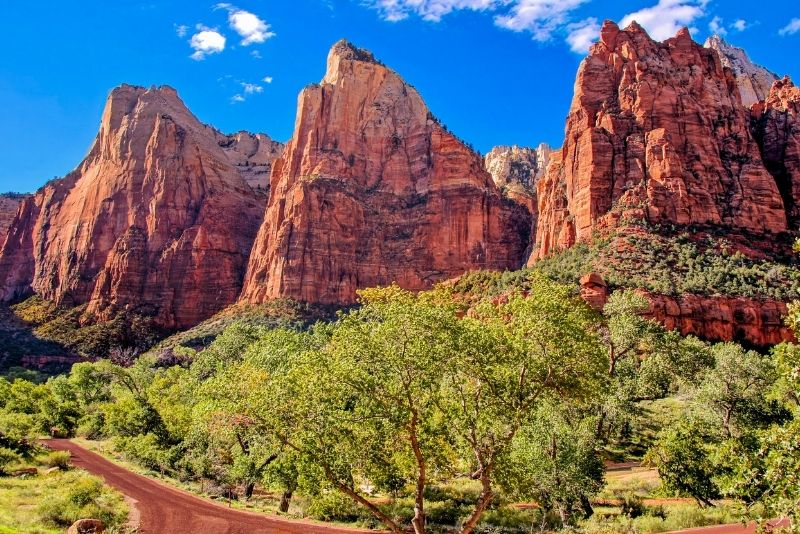 This short, easy hike (some don't even consider it a hike, more a quick two-minute walk) offers one of the most iconic and photographed views in Zion National Park: a panorama of the three tallest peaks in the park that soar almost 2000 feet above Birch Creek Canyon, known as the Court of the Patriarchs.
The 0.2-mile walk is short and sweet, making it perfect for all ages and abilities, and takes you to a viewpoint — best experiences under the glowing golden sunset — that provides unobstructed panoramas of the three adjacent majestic mountains, named after the biblical figures of Abraham, Isaac, and Jacob.
How to get there: To reach the viewpoint, jump on the free Zion shuttle and get off at the 4th stop.
27 – Treat your body and your mind to some soothing Yoga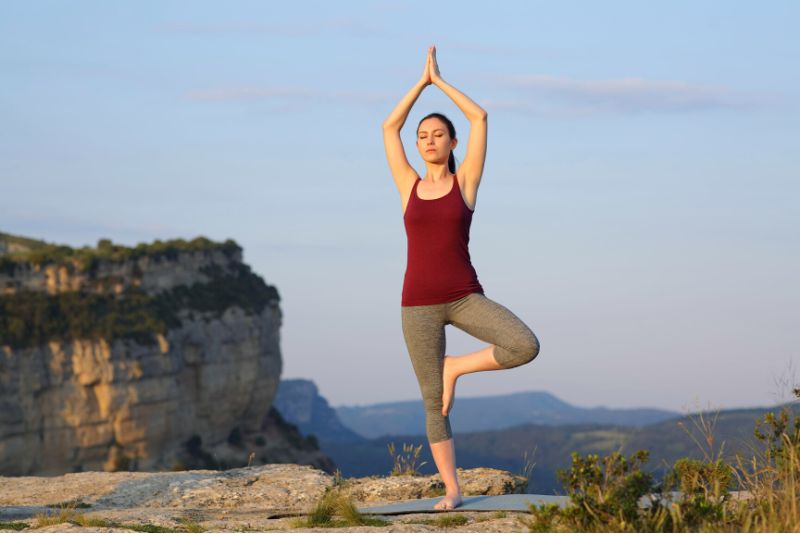 With so many high-octane things to do in Zion, it's important to take some time to relax and check in with yourself. And there are few better ways to do that than with a round of yoga in the desert!
Long touted as a wellness and meditation practice, this ancient art is even better when practiced in beautiful natural surroundings… and there are no shortage of those in and around the park!
While there are some great indoor sessions during the colder months, it's well worth going for an outdoor class, when you'll have unhindered views of rock formations and vast, epic landscapes.
Book a session with Zion Guru, and you'll get two spectacular experiences in one! After an invigorating hike to a viewpoint, you can unroll your mat and enjoy a special guided session, soaking up the desert atmosphere as you progress through different moves.
It's perfect for novices and seasoned yogis alike!
28 – Check out the Checkerboard Mesa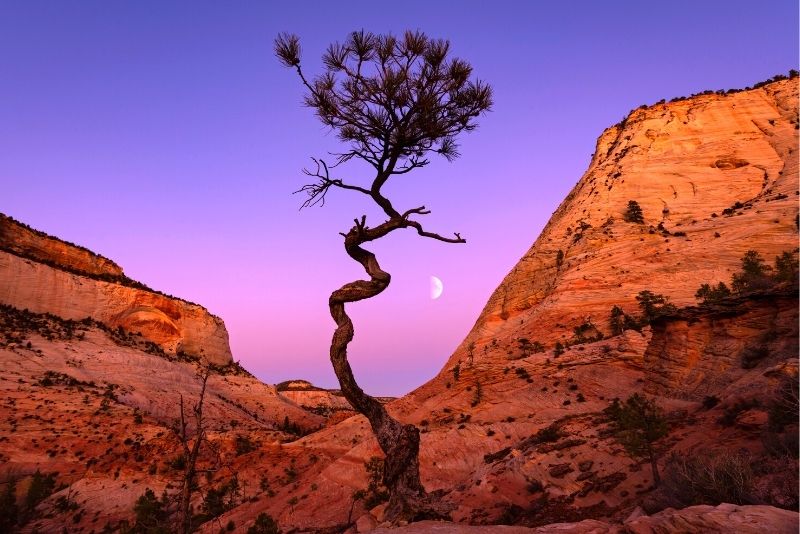 Named after the unusual cracking sandstone pattern that resembles a grid, the cone-shaped Checkerboard Mesa is one of the most popular and photographed landmarks in Zion National Park, and for good reason: perched atop a high ridge overlooking the main canyon, the cross-hatching Jurassic rock towers ominously some 900 feet above the highway (which tunnels through the mountain on the Scenic Drive – see #2) less than a mile from Zion's eastern entrance.
Looking for a hiking route? In the area, the Overlook trail is a short 1-mile round-trip route that serves up a spectacular mountain panorama, but the big kahuna is the 8-mile Checkerboard Mesa Canyon Trail, a challenging route with many obstacles to traverse but many rewarding views to make it all worthwhile.
29 – Get the whole family learning at Zion Nature Center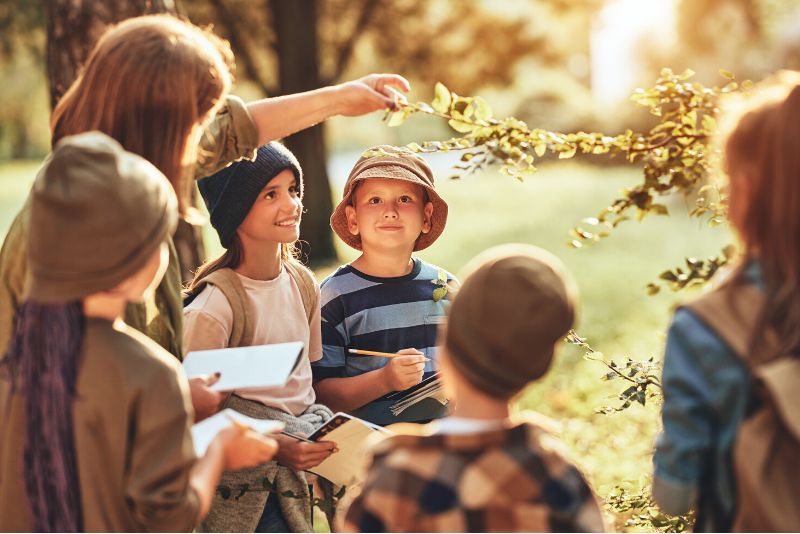 If you're seeking a great family-friendly activity that still offers plenty of opportunities to enjoy the local biosphere, look no further!
At the Zion Nature Center, you can enjoy some fantastic lessons and exhibits that shed new light on the spectacular environment around you, all presented in a format that's accessible to youngsters!
The youth programming here is developed and run by the park rangers, meaning that each session perfectly blends education and entertainment.
View fascinating visuals depicting the area's rich geological history; learn about the unique adaptations of animals that roam the region; and discover some of the hidden sides of this rich and welcoming ecosystem.
Of course, learning is even better with a little bit of play, and these programs deliver!
Make some unique artworks, have a themed costume party, or put together some skits where you can be the star of your own ecologically-themed performance.
While these are great activities to keep little ones engaged, accompanying adults just might find themselves caught up in the action and excitement of it all!
30 – Get a bird's eye view of Zion National Park from a helicopter!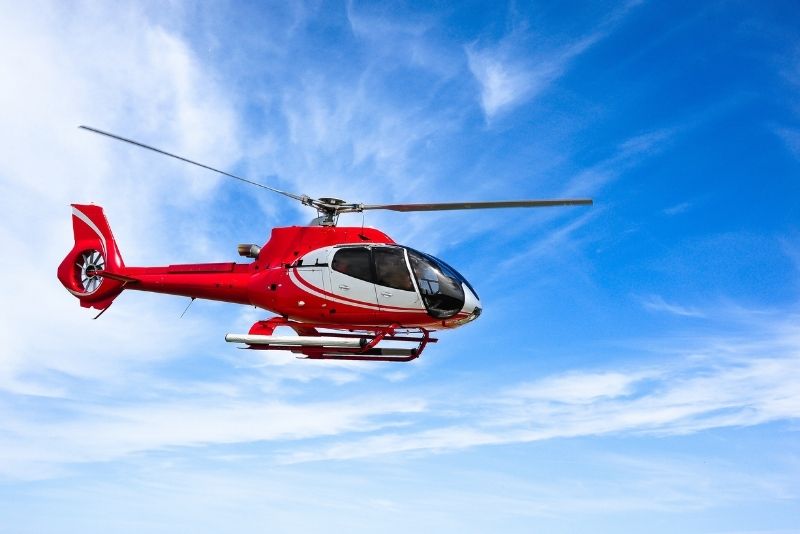 For visitors who want to see as much of the colorful Zion National Park as possible in a short amount of time, there's no better way to do so than by taking to the skies and riding shotgun in a thrilling and informative helicopter tour.
Departing from multiple locations (typically the Gooseberry Mesa or the nearby town of Springdale), these tours offer sweeping aerial views of Zion's towering sandstone cliffs, green valleys, and iconic monoliths, soaring over landmarks like Crater Hill Volcano and Red Butte Mountain, all usually in the space of half an hour or less.
If you're looking to add on a bit of extra excitement, many tour companies also offer options to include a landing on top of a peak or even a quick hike down into the canyon itself.
31 – Stop in for lunch at the Zion Canyon Brew Pub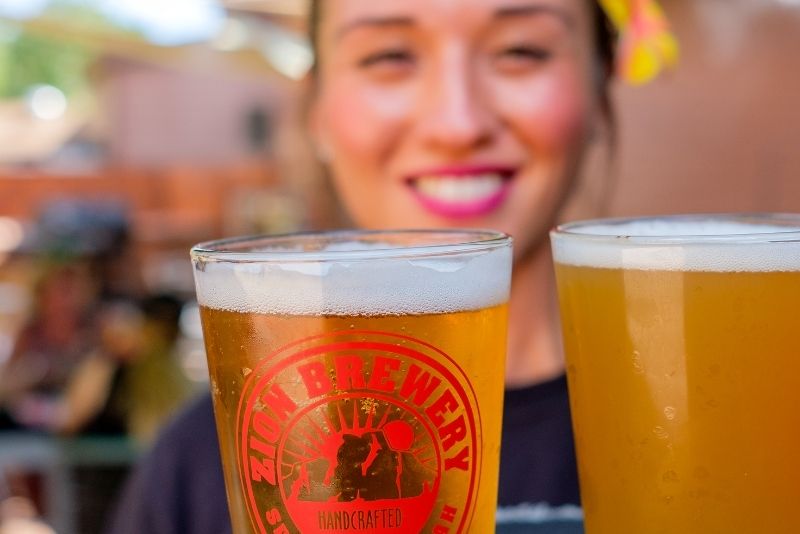 Surely all of that hiking will have worked up a thirst, right? In that case, Southern Utah's first microbrewery — the Zion Canyon Brew Pub — is just the place to go.
Quenching thirsts year after year, this popular spot offers up a range of microbrews and pub fare in a convivial atmosphere where the live music is regular and the drinks are ice-cold — perfect for refueling before or after an afternoon out on the trails.
What's more, the brewpub lies within easy walking distance of both the Cable Mountain Lodge and the Visitor Center at the park's entrance, making it an ideal spot to stop in for a bite or drink no matter how much time you have.
On the menu, the Zion Burger, Buffalo Meatloaf and Blackened Shrimp are crowd favorites; and there's plenty of IPAs, reds and stouts — as well as exclusive seasonal drafts like an Apricot Ale or a North Rim Trail Hefeweizen — to wash it all down.
32 – Wander around Kolob Terrace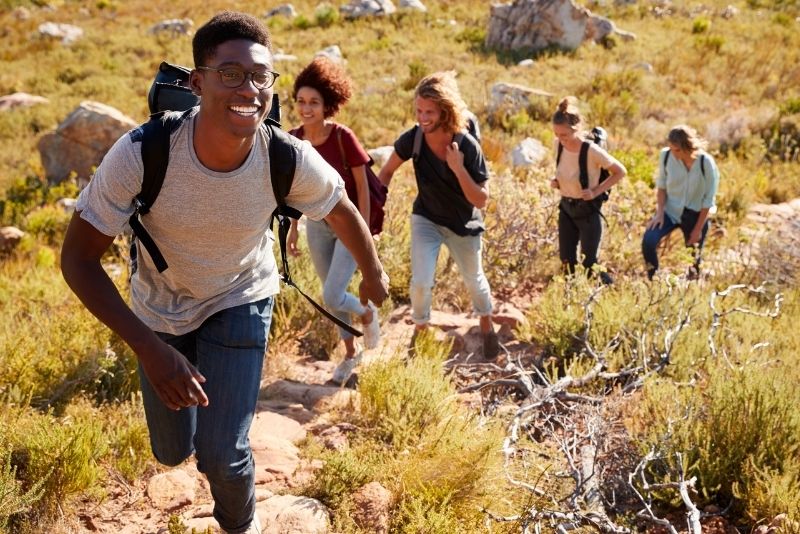 While it may not be as well-known or as popular as the main canyon areas of Zion National Park, Kolob Terrace is still an absolutely beautiful and awe-inspiring place to visit and one of the most underappreciated things to do in Zion National Park.
Spanning about 20 miles of road that heads north from the town of Virgin, twisting up through the northwestern end of the National Park — here, you'll find coveted areas like the Left Fork of North Creek (AKA "the Subway", a half-mile stretch resembling a tunnel), Lava Point (the park's highest point) and the West Rim Trail, a popular route for avid hikers.
While the Kolob Terrace offers a wealth of hiking trails, if you're after something moderate and family appropriate, check out the trail to Northgate Peaks — a 6-mile trek best attempted between March and October, known for its wildflowers and seldom crowded paths.
Thinking about camping in the Kolob Terrace area? While basic, a night under the stars at Lava Point is doable and sure to be memorable.
33 – Savor the meals and the scenery at the Red Rock Grill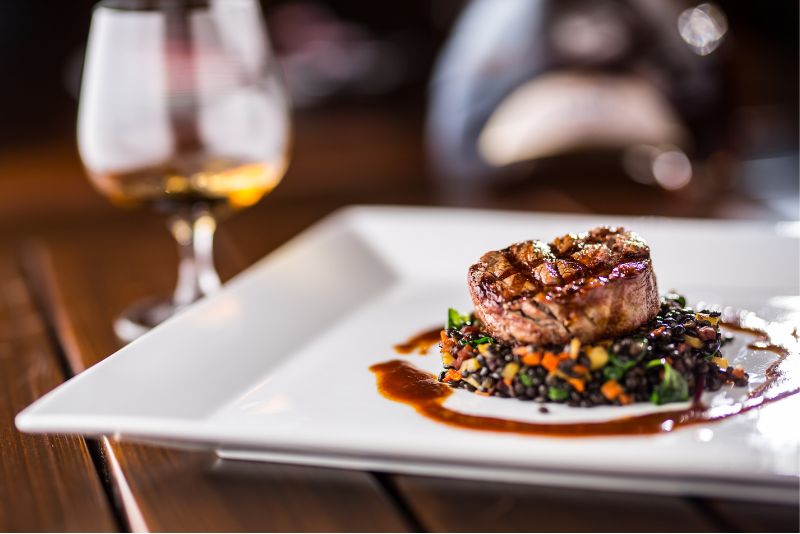 There's nothing quite like a meal with a view, and Red Rock Grill offers the best of both!
Located in the Zion National Park Lodge, this lovely eatery serves up three meals a day, with a variety of plates that will appeal to even the pickiest eaters.
And with gorgeous accents of wood and stone that were influenced by the surrounding landscape, it provides the perfect aesthetic to grab a relaxing bite.
Fuel up for your next big hike at the all-you-can-eat breakfast buffet, or swing by for a lunch of tacos, burgers, or fish and chips.
And if you want a really spectacular experience, wrap up a busy day with a dinner here, where you can chow down on excellent dishes such as steak, trout, and black bean cakes.
If you're feeling particularly decadent, you can skip straight to dessert, and treat yourself to such sweet delights as Moose tracks ice cream or cheesecake with raspberry drizzle.
No matter when you go, you'll be treated to world-class dishes, and equally excellent service… plus some incredible canyon scenery just outside the windows!
34 – Pitch a tent at the Watchman, South, or Lava Point Campground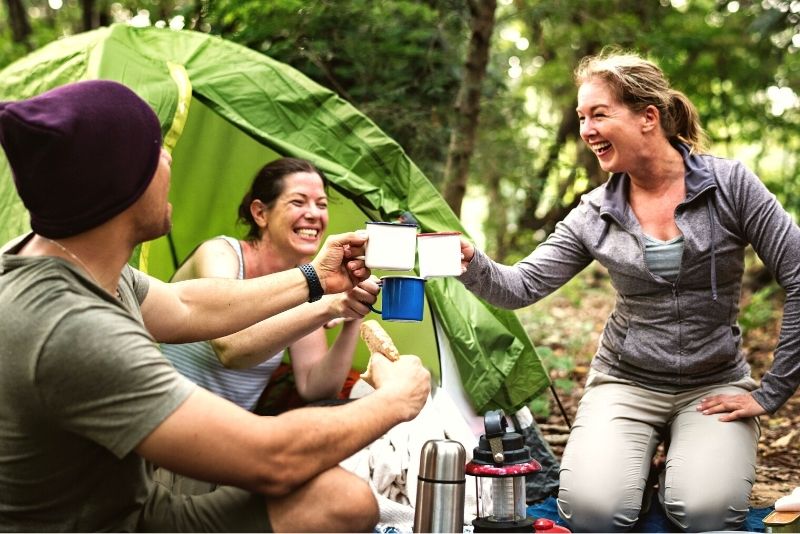 If you're looking for an outdoor experience that takes the adventure to the next level, spending a night at the Watchman Campground is a great option to soak in the serenity of Zion National Park in its starlit glory.
Located just inside the park entrance, open all year round, and within easy walking distance of the Visitor Center, this campground offers 69 spots for tents and 95 for electric vehicles, as well as restrooms and potable water.
Best of all, with towering canyon walls providing natural privacy and dark night skies blanketed in stars, it's one of the most picturesque spots to spend a few nights under the Utah sky.
Just 0.3 miles from Watchman, a close walk to the Visitor Center too, you'll find the 117-plot South Campground — while closed in the winter, it makes for an excellent alternative option along the Virgin River.
Last but not least, for a real rural, off-beat experience, away from the droves of tourists, consider The Lava Point Campground on the Kolob Terrace Road.
A little over an hour's drive from the South Entrance of Zion Park, Lava Point is not only Zion's highest point (with spectacular golden valley views, of course), but you can also camp for free.
Compared to the aforementioned two, the campgrounds are rather primitive, but isn't that what camping's all about?
35 – Spend a night stargazing under the Milky Way
Zero light pollution, the sounds of nothing but nature, and some of the darkest night skies in the country make Zion National Park an ideal spot for stargazing.
On a clear night, visitors can see tens of thousands of stars with the naked eye, making it the perfect place to catch a glimpse of constellations or planets you never knew existed, or (if you're lucky) wish upon a shooting star.
The park offers several ranger and company-led programs throughout the year that provide insights into what's up in the sky, as well as plenty of opportunities for visitors to explore on their own.
Choose between favorite spots like Zion Ponderosa Ranch Resort, the Kolob Canyons Viewpoint, the Pa'rus Trail, or the Museum patio; set the camera to long-exposure, and get ready for some serious cosmic contemplation under one of America's most beautiful nightscapes.
How to get to Zion National Park?
Beautiful Zion National Park is located in southwest Utah, close to both the Arizona and Nevada borders. With so many natural marvels to see in and around the park, it's no surprise that getting there takes a little effort.
If you're flying in, the two closest major cities are Las Vegas and Salt Lake City — from there, you'll continue on to the national park by road. It's about a two-hour drive from Las Vegas to Zion National Park or a four-hour drive from Salt Lake City, with stunning backdrops all the way along Interstate 15.
Some travelers prefer to rent a car (or RV) and make their own way to the park, however, dozens of experienced tour operators can take care of the hassle and transit for your adventure. Best of all, these pre-organized tours often combine Zion with more nearby attractions like the Grand Canyon, Bryce Canyon, and Monument Valley.
Where to stay in Zion National Park?
If you're not too keen on a campground and prefer to stay in a comfy hotel suite, there's no shortage of options.
In the Springdale area, the Zion National Park Lodge is a great option if you want to stay inside the park itself.
Just outside of the gates, Cable Mountain Lodge, Cliffrose Springdale by Hilton, wood-themed Flanigan's Inn, and the homey cottages of the Red Rock Inn are all popular choices for good reason.
Hampton Inn Kanab makes a great home away from home, with a pool, hot tub, and stellar workout area that are perfect for enjoying in between other adventures.
And at Ramada by Wyndham St. George, you can enjoy a terrific breakfast on-site, head out to the nearby national and state parks, then come back for an evening soak in the hot tub – a perfect day all around!
Combine with other parks
With so much raw, untouched beauty in the American southwest, to see only one of the world-famous national parks would be a sin.
Not too far from Zion, Bryce Canyon is famous for the largest collection of hoodoos (thin rock spire) in the world; while Antelope Canyon, with its twisting and engulfing colorful sandstone walls, is a photographer's paradise.
Boasting a reputation that precedes it, the Grand Canyon National Park in Arizona's northwestern quadrant showcases cascading waterfalls, deep canyons (don't miss Horseshoe Canyon!) and bucket-list-worthy hiking trails.
Dry and desolate Monument Valley, which straddles the Utah-Arizona border, is known for its red-sand landscapes, peculiar sandstone buttes, and colossal mesas. Even more desolate still, Death Valley National Park is home to the lowest part of the United States (the Badwater Basin salt flats) as well as ghost towns and unique flora and fauna.
The 1,200 square miles of Yosemite National Park, which you'll find in central California by the Nevada border, is infamous for its towering waterfalls and picturesque cliffs (great for rock climbing and hiking too).
Fortunately, there's no shortage of ranger-led tours that explore two, three, or four different National Parks and canyons, providing an authentic highlight real of everything this geologically spectacular area has to offer.
With transport and permits (and, typically, food) included in the tour, it's the most simple method to explore this incredible natural oasis.
Final thoughts
Well, that's a wrap! We hope you've enjoyed our selection of things to do in Zion National Park, USA!
If you have any other must-see suggestions or handy tips and tricks, feel free to let us know in the comments!
As always, happy travels!