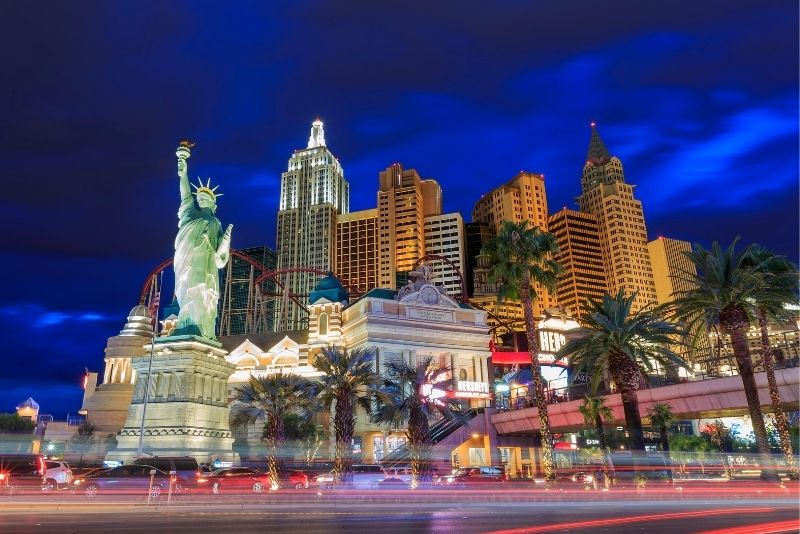 Despite an international reputation for neon-lit casinos, chaotic parties, and a rowdy 24/7 atmosphere fueled by booze, bright lights, boisterous crowds, and blackjack, there's so much more to Las Vegas than most people realize.
Look a little deeper than its Sin City moniker, beyond the well-known casinos, hotels, and nightclubs that have made the city famous, and you'll uncover a whimsical world of family-friendly entertainment – where volcanoes erupt, dolphins leap, acrobats fly, and medieval knights don their armor and joust for the king's honor.
With national parks a stone's throw from the Strip (there's so much more than just the Grand Canyon, mind you); fascinating museums that dive into the Avengers, the old-school Vegas mobsters, the Hunger Games, the Titanic, and everything in between; and wonderfully themed hotels for every taste, budget, and age group imaginable, it's easy to have an action-packed vacation with the kids in the Entertainment Capital of the World.
So, without further ado, for today let's forget about the tequila and DJs and instead focus on 100 family things to do in Las Vegas with kids and teens!
1 – Step back in time at Titanic: The Artifact Exhibition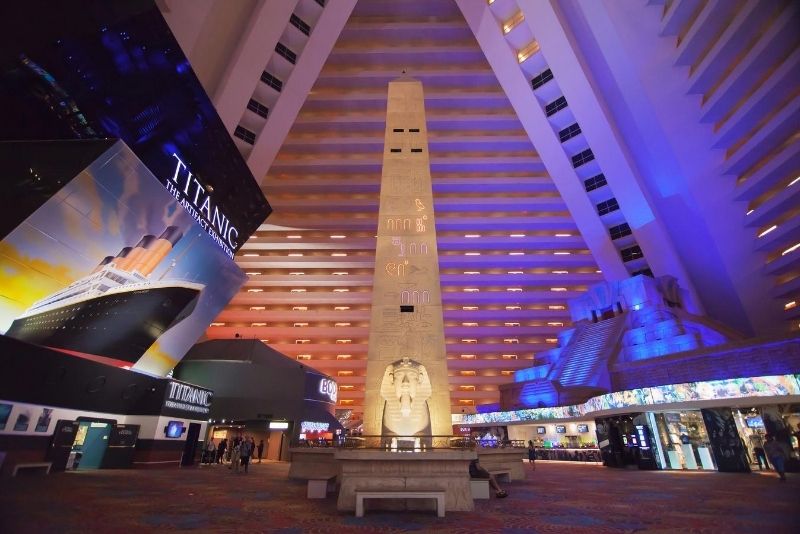 Like stepping back in time to the glamorous (and tragic) world of the Titanic, this popular exhibition at the Luxor casino offers a unique and intimate look at the history of the infamous, ill-fated ship.
Full of fascinating artifacts, 1st-class and 3rd-class bunk replicas (and don't miss the Grand Staircase — the perfect spot to take a few snaps for the 'gram) and personal accounts from survivors of the headline-making vessel, this is one exhibit that's sure to leave a lasting impression for kids, teens and adults alike.
Throw in a 15-ton piece of the actual ship's hull, a climate-controlled Promenade Deck that gives visitors a taste of the frigid and frosty temperatures of that fateful evening, and a sleuth of reading, books, and souvenirs, and you've got yourself a quintessential indoor family=friendly attraction.
With knowledgeable and passionate historians around to share stories of the bygone era, this exhibition is an absorbing journey into not only one of history's most famous disasters but also into early-20th century life and culture.
2 – Meet apex predators at Shark Reef Aquarium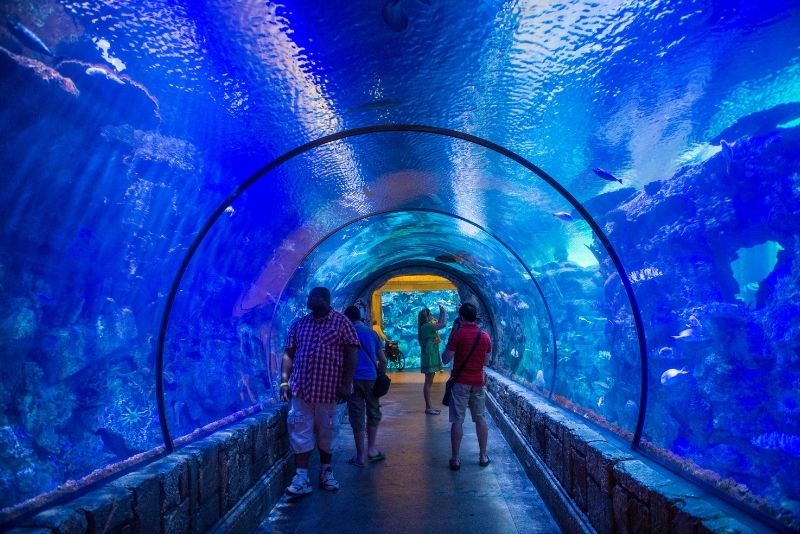 A Mandalay Bay icon that deserves its premier spot on this list of family things to do in Las Vegas, the Shark Reef Aquarium is one of the most popular attractions on the Strip for good reason: it's home to over 2000 animals of all shapes and sizes, including no less than 15 different species of sharp-toothed sharks that the kids are sure to love!
From serene underwater gardens to immersive VR experiences and a walk-through tunnel where you can come face-to-fin with some of the ocean's most impressive creatures, not to mention a handful of land-dwellers as well (Komodo dragons and turtles, to name a couple) this aquarium is perfect for anyone who loves marine life, wants to learn about the critters who call our oceans home, or, if you're lucky, meet and greet the aquatic residents up close!
And, for those looking for a more VIP experience, there are also behind-the-scenes tours available that offer exclusive opportunities to feed stingrays and sharks!
Hot tip: purchase your tickets online before you go and save yourself from waiting in line!
3 – Hold on tight on The Big Apple Roller Coaster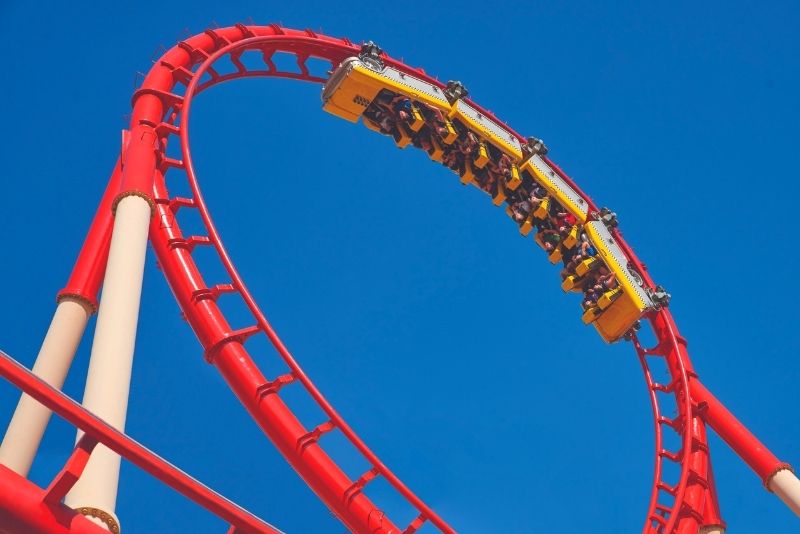 One of the most family-friendly (yet certainly mightily adrenaline-pumping) things to do in Las Vegas with kids is the Big Apple Roller Coaster & Arcade at New York-New York Hotel & Casino — a fun-filled, heart-pounding ride that twists and turns its way around the casino's iconic Manhattan skyline replica, passing the Statue of Liberty and Empire State Building along the way.
Featuring inversions, zero-gravity rolls, and loops thrown in for good measure, the sky-high ride reaches heights of over 200 feet above the Strip below, capping out at a max speed of 67 miles per hour — a feat that makes it officially the fastest roller-coaster on the Las Vegas Strip.
And, when you're done riding, there's an arcade full of classic games like Skee-Ball, Air Hockey, and NBA Fever to enjoy as well as plenty of photo ops with larger-than-life NYC landmarks.
4 – Satisfy the family sweet tooth at M&M'S Las Vegas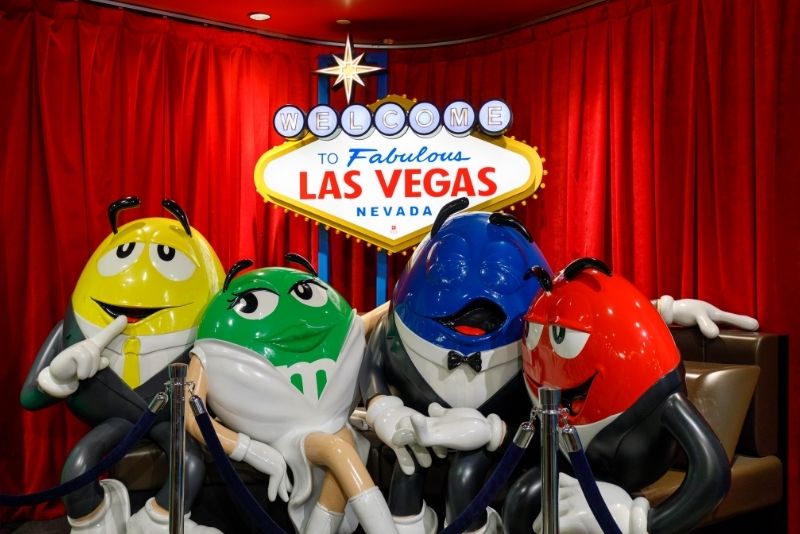 Heaven on Earth for sweet-toothed travelers, chocoholics, and anyone with a serious case of nostalgia, M&M's Las Vegas is an immersive experience that will take you on a journey through the brand's 75-year history with more chocolate and merchandise than you could comprehend.
From learning about how Mars and Murrie got their start in the confectionery business to watching colorful candies being made right before your eyes (you can even personalize your own!) this fun attraction is sure to please kids and adults alike.
And, of course, no visit would be complete without stocking up on some sugar-coated souvenirs from the extensive shop floor (and at 28,000 square feet and multiple stories tall, we really do mean extensive)! From classic flavors by the bag to all of the peculiar and colorful varieties on the chocolate wall (they're measured by weight, so try a bunch!) there's something for everyone at M&M'S Las Vegas.
Insider tip: after sampling all the deliciousness and grabbing a plush toy or two for the folks back home, consider booking a Vegas chocolate tour that hits up a selection of the city's very best candy spots!
5 – Zoom down the Fly LINQ zipline!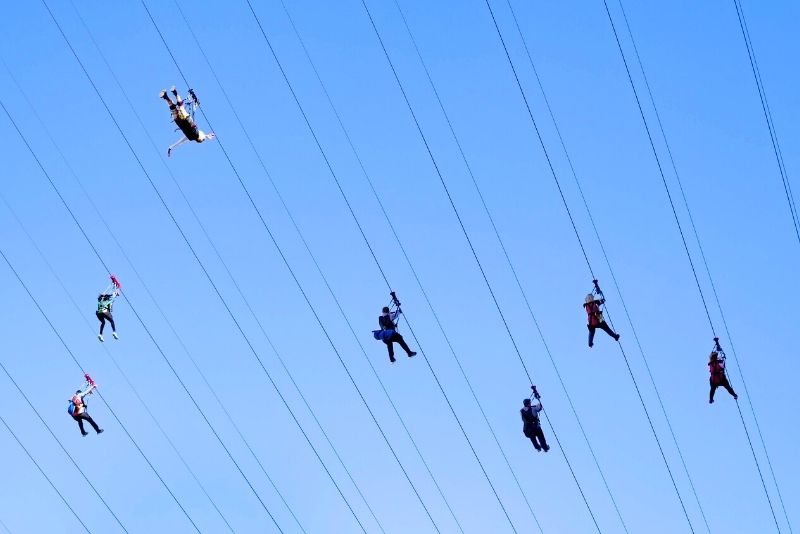 Zoom above the Sin City skyline on the only zipline on the Las Vegas Strip!
Cherished by parents and youngsters alike, the relatively new Fly LINQ Zipline is a one-of-a-kind experience that will take you on a thrilling ride 110 feet above the ground and down almost 1200 feet of track at hair-raising speeds up to 35 miles per hour, soaring over the shops of the LINQ promenade and the hoards of wandering tourists before coming to a soft landing at the foot of the High Roller Ferris wheel (your next activity, perhaps?).
With 10 side-by-side zip lines launching from the top of a 12-story tower, it's also great for groups as you can zip alongside your friends and family, with killer views the whole way through.
And, best of all, no experience is necessary as trained attendants will help you get harnessed up and ready to fly — making it one of the most accessible family things to do in Vegas.
6 – Don the cope at Marvel Avengers S.T.A.T. I. O. N.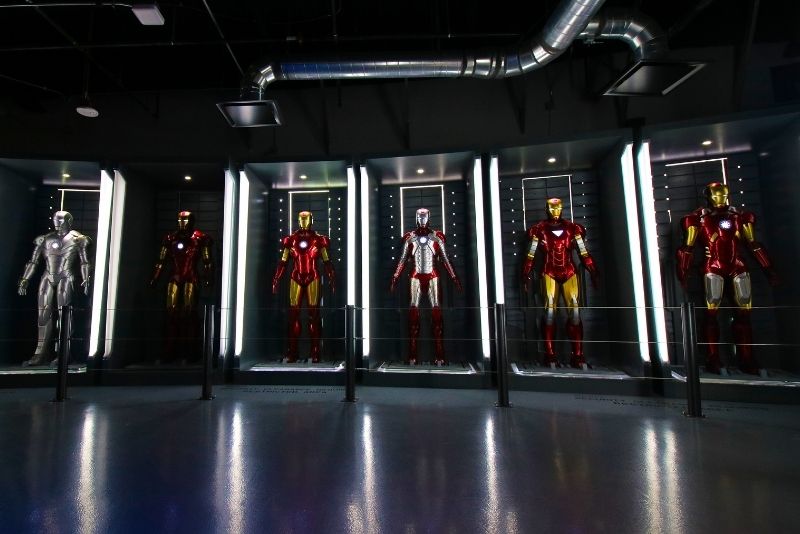 Any superhero fans in the house? Found over at Treasure Island Hotel & Casino, the interactive Marvel Avengers S.T.A.T.I.O.N exhibit is an educational and fun-filled way to spend an afternoon in Vegas with teens, providing the whole family with a crash course in all things Avengers.
With interactive exhibits around every corner and a host of customers, props, and behind-the-scenes gear from the MCU, you can check out replica artifacts (like Thor's hammer and Captain America's shield), participate in training simulations and interactive missions, and get a glimpse into the cinematic and comic worlds far beyond what you'd experience in the cinema.
With over 300 items on display, including a crowd-favorite display of the evolution of Ironman suits, it's one of the most comprehensive collections of Avenger memorabilia in the world — making it a must-visit for any budding superhero out there!
7 – Witness the magic of Cirque du Soleil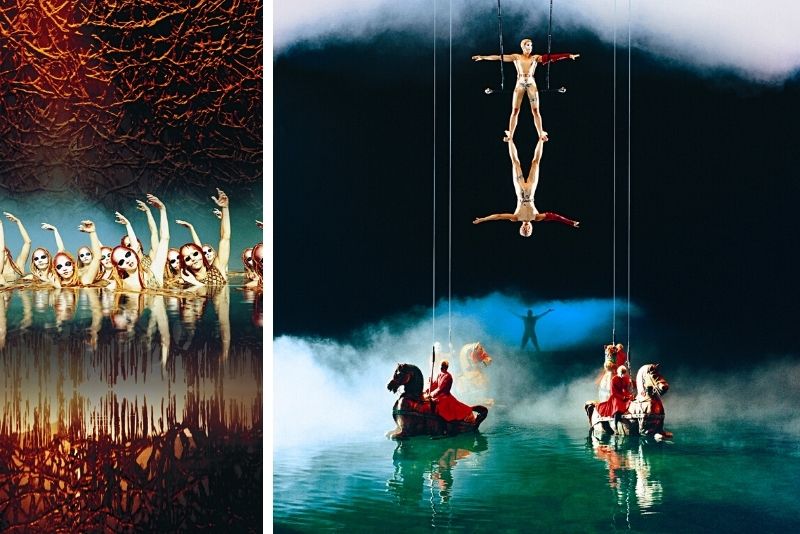 A captivating and utterly magical night of acrobatics, dance, entertainment and more awaits at one of the seven permanent Cirque du Soleil shows currently playing in Vegas.
With a wealth of family-friendly options to choose from, including "The Beatles LOVE", "Ka", "Michael Jackson ONE", and "Mystère" (just to name a few), there's sure to be a show that everyone in your group will enjoy.
While each performance is unique, they all share the same DNA: jaw-dropping acrobatics, stunning artistry, beautiful costumes, and original live music that will leave you wanting more (and, fortunately, more is easy to come by thanks to the range of dazzling shows available).
Read more about the best Las Vegas shows to see right now.
8 – Enjoy the view on the High Roller Las Vegas Ferris Wheel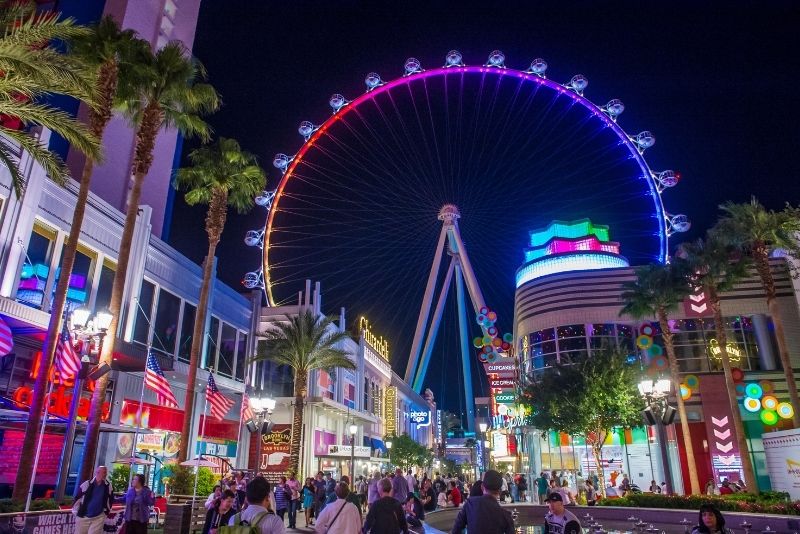 Towering high above the Strip, the High Roller is one of the newer and most iconic attractions in Las Vegas. At 550 feet tall it's also the country's tallest Ferris wheel, offering stunning views of the city from its 28 glass-enclosed pods.
Taking about 30 minutes to complete a full loop, the ride is perfect for families looking for a relaxing and scenic way to spend an afternoon or evening in Vegas. And, with adult tickets starting at less than $25 per person (with discounts for teenagers and children 12 and under being free), it won't break the bank either.
PSA to parents: if you can find a way to keep the kids occupied for an hour or so, consider upgrading to the Happy Half Hour special, where an open bar makes the panoramic views all the more magical!
9 – Take the youngsters to The Adventuredome Indoor Theme Park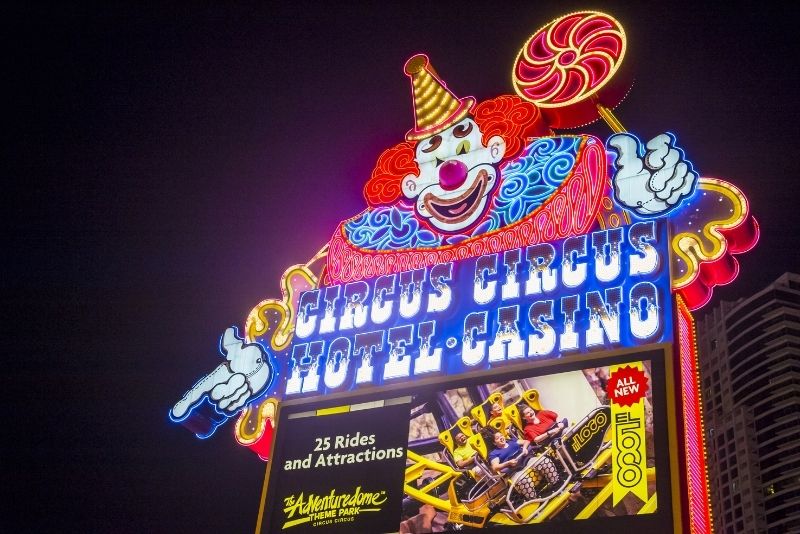 Hidden away at Circus Circus, one of the more family-friendly resorts along the Strip — which sits far enough away from the action but close enough for convenience — the Adventuredome is a five-acre indoor theme park that's perfect for kids (and adults) of all ages.
Boasting more than 25 diverse rides and attractions, including roller coasters, log flumes thrill rides, water slides, pirate-themed mini-golf, the Bank Heist Laser Challenge, and an array of kid-friendly entertainment and delicious carny bites, it's easily the most comprehensive indoor amusement parks in the city. And with temperatures always maintained at a comfortable level year-round, you can visit any time of year!
While it's usually quieter during the week, if you're looking for some weekend activities that the youngsters are sure to love (and, let's be honest, kids at heart too), check out the regular Friday and Saturday Neon Nights events!
10 – Soar above the desert with a hot air balloon ride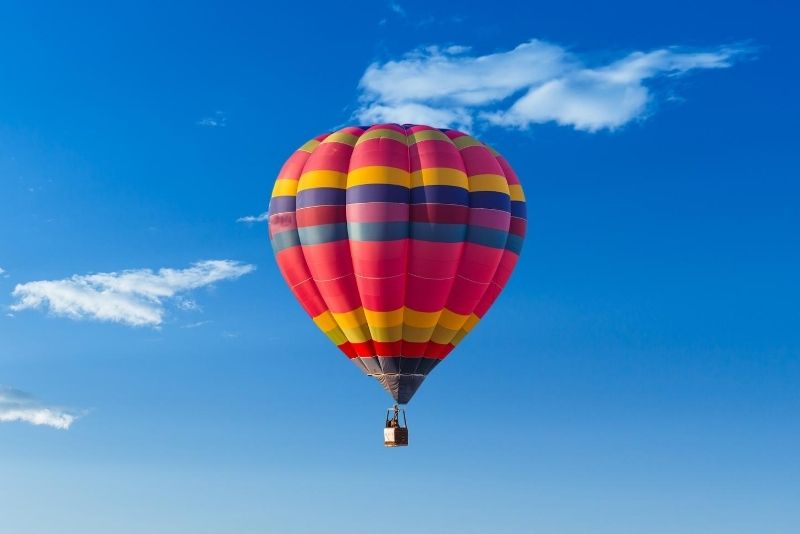 At street level, Las Vegas is energetic, bustling, and rowdy in the best way possible. But, for a completely different perspective on this infamous resort city, take to the skies with a thrilling (yet simultaneously relaxing) hot air balloon ride!
One of the most unique and breathtaking ways to see everything that surrounds Sin City, a hot air balloon ride will give you and your family an unparalleled look at the gorgeous, largely untouched Mojave Desert from 10,000 feet above its hard, desert floor.
Just be sure to book early as these rides fill up fast (especially during peak tourist season) — and remember to dress warmly as it can get a little chilly high up in the sky!
If you can brave the early morning alarm clock, the views, the serenity, and the glass of champagne (for the adults) at the end of the trip are long-lasting memories waiting to happen.
11 – Snap family selfies with celebs at Madame Tussauds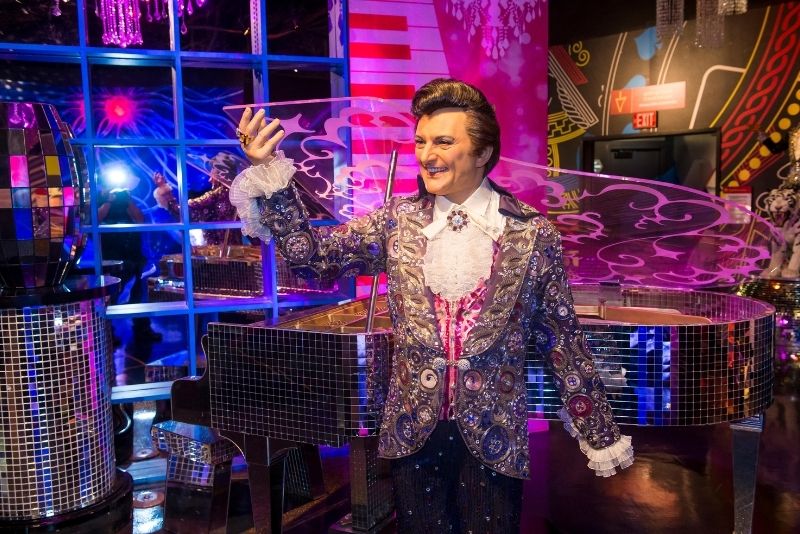 Sure to light up any social media feed, a visit to Madame Tussauds is the perfect spot to snap a few selfies with your favorite A-listers, always adapting to modern pop culture trends in an effort to stay relevant and exciting.
With over 100 lifelike wax figures of celebrities, athletes, historical icons, and movie characters on display at the famed Sin City location (including Elvis Presley, Selena Gomez, Shaquille O'Neal, Morgan Freeman, Taylor Swift, and Beyonce to name but a few), it's one of the most popular tourist attractions in Las Vegas for decades.
Conveniently located in between The LINQ and the Venetian, the wax museum also boasts several interactive exhibits including a Marvel superheroes zone, a space where you can create a music video with Drake, or a photo-op to ride alongside Miley Cyrus on that infamous wrecking ball.
Bonus: if you purchase your tickets online ahead of time and consider combining them with a Gondola Ride or a meal at Hard Rock, you can easily save up to 30% per person!
See also: Brilliant Museums in Las Vegas
12 – Admire the majestic Grand Canyon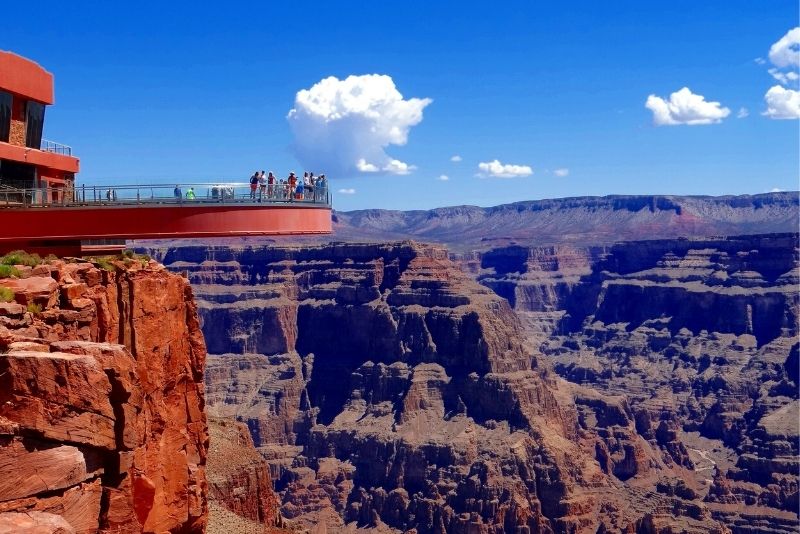 One of Mother Nature's most impressive feats, and a beautiful breath of fresh air from the Strip, the Grand Canyon is always sure to delight families vacationing in Las Vegas.
Looking for things to do off the Vegas Strip? Then join one of the myriad friendly guide-led tours that zoom you from your Vegas hotel to the West Rim of the UNESCO site, where the intimidating Grand Canyon Skywalk, a range of hiking trails, and an educational tourist center await.
A couple of hours of extra driving and you'll end up at the South Rim, home to the iconic Bright Angel and South Kaibab hiking trails, and some of the best views of the Canyon (Ooh Ahh Point doesn't disappoint.
Whether you opt for a single day trip of an overnighter, with options for horseback riding, rock climbing, and even helicopter rides thrown in — not to mention combination excursion which check off the Hoover Dam and/or Antelope Canyon — a visit to the Grand Canyon promises an unforgettable experience for all ages.
Just remember: no matter how you choose to experience this American treasure, be sure to pack plenty of sunscreen, water, snacks, and comfortable shoes!
See also: Best national parks near Las Vegas, Grand Canyon Skywalk tickets price, From Las Vegas to Grand Canyon – All you need to know.
13 – Grab a ticket for V – The Ultimate Variety Show at Planet Hollywood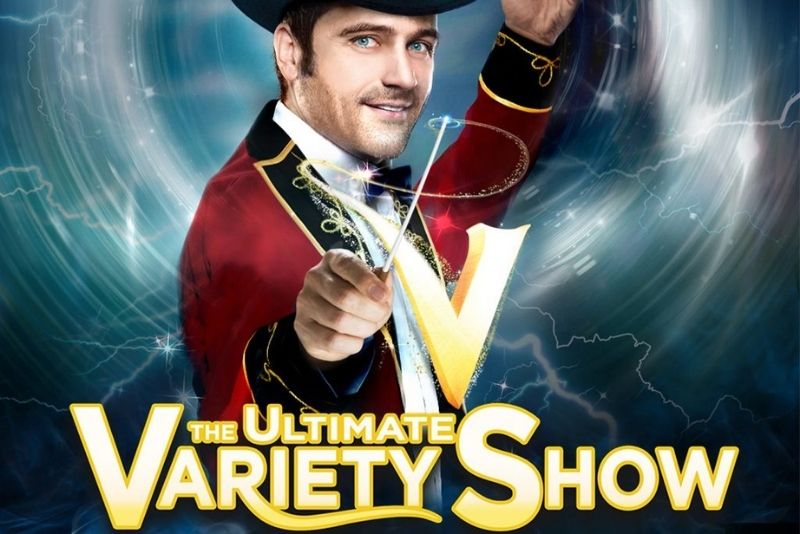 Full of illusions, laughs, acrobats, skaters, and jaw-dropping stunts, V – The Ultimate Variety Show has been dazzling visitors for over 20 consecutive years, regularly voted as one of the best shows on the Strip for families looking for a night out.
Every night at 7pm and 8.30pm, a rotating cast of talented singers, dancers, comedians, and magicians take to the stage in this 90-minute extravaganza that has something for everyone, with plenty of laughs (and a few gasps) along the way.
The acrobats impress with their inhuman strength, coordination, and concentration, while the emcee keeps the crowd on their toes with infectious enthusiasm and plenty of well-timed wit!
14 – Let the kids cool off at Cowabunga Canyon – formerly Wet'n'Wild Las Vegas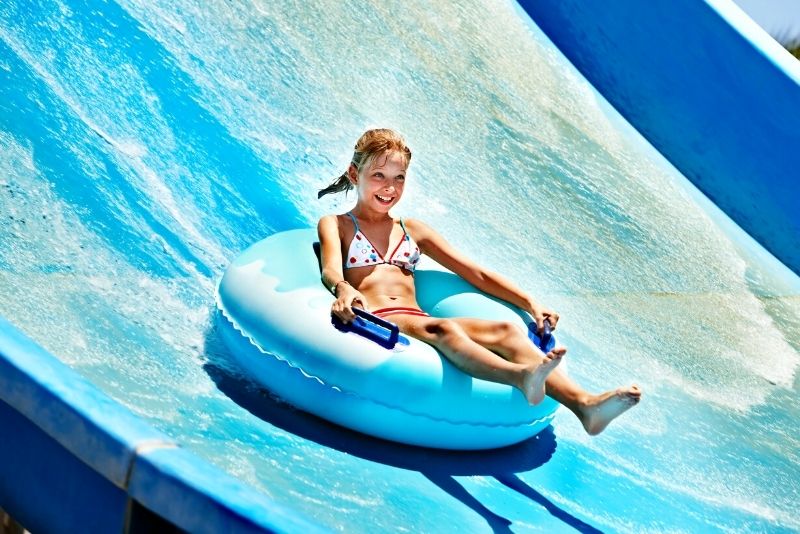 A water park in the Nevada desert? Believe it!
Cowabunga is a great option for families on a budget, with over a dozen splashtastic slides and attractions to enjoy, including the Tornado — a giant funnel that takes you on a twisting, turning journey that lets you experience weightlessness and zero gravity — and the Constrictor, which will have you screaming as you drop four stories through a series of corkscrew turns.
The little ones won't be left out either, with their very own Paradise Falls and Kiddie Cove play areas featuring a host of kid-friendly slides and activities (and snacks are never too far away either).
Keep in mind: in 2022, the part, which is about 20 minutes west of the strip, is rebranding as Cowabunga Canyon. All the same wet and wild fun, just with a new name.
See also: Things to do in Las Vegas during the day
15 – Hit up the city's highest point: The STRAT's SkyPod Observation Deck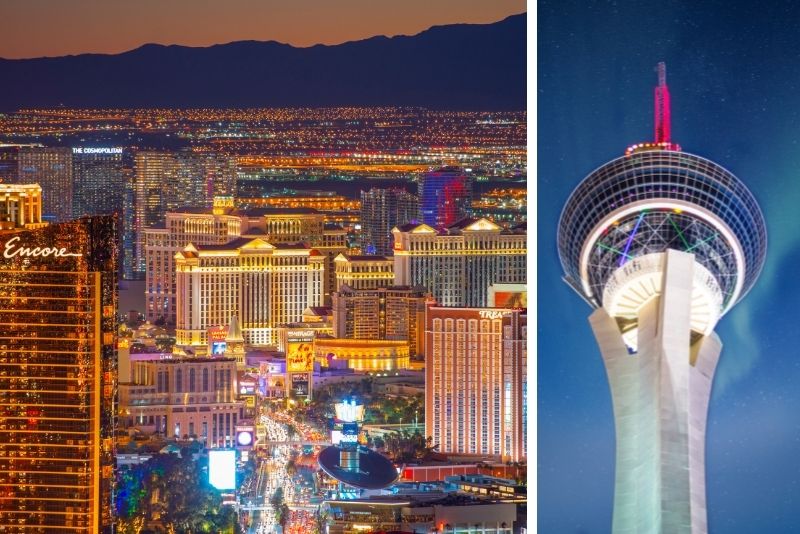 At STRAT's SkyPod Observation Deck, you and your family can take in amazing panoramic views of the cityscape from one of the tallest buildings west of the Mississippi.
Towering a whopping 1,149 feet above the Strip, you'll be able to see for miles on a clear day, taking in the contrasting built-up Strip with the flat suburbs and desolate desert that lies beyond.
If you're feeling peckish, head to the rotating restaurant on the 106th floor for a meal with one heck of a view; and parents, if the kids are occupied, feel free to grab a handcrafted cocktail at the city's highest bar, 107 SkyLounge.
16 – Muster up the courage for thrill rides at The STRAT…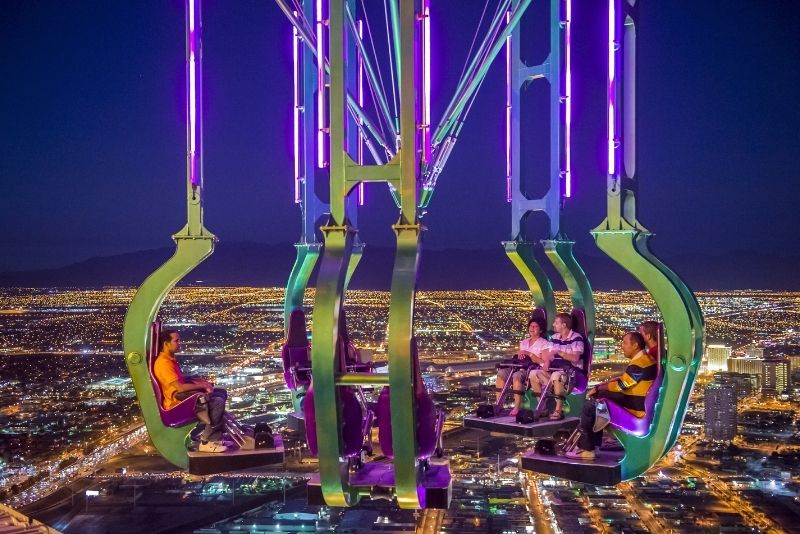 Far more than just a viewing deck, the Stratosphere Tower is also home to some of the most extreme rides on the Strip, perfect for older kids and thrill-seekers who live and breathe adrenaline.
There's the Big Shot, which launches you 160 feet into the air at 45 miles per hour from the very top of the building; Insanity, which dangles you 64 feet over the edge of the deck before spinning you around at up to three Gs; X-Scream, like a giant teeter-totter that will have your stomach in your throat as it flings you 27 feet over the edge of the deck and dangles you 866 feet above the ground; and SkyJump Las Vegas, the most exhilarating of them all…
So, think you're brave enough to give one a go?
17 – … or if you're really brave, Skyjump at The STRAT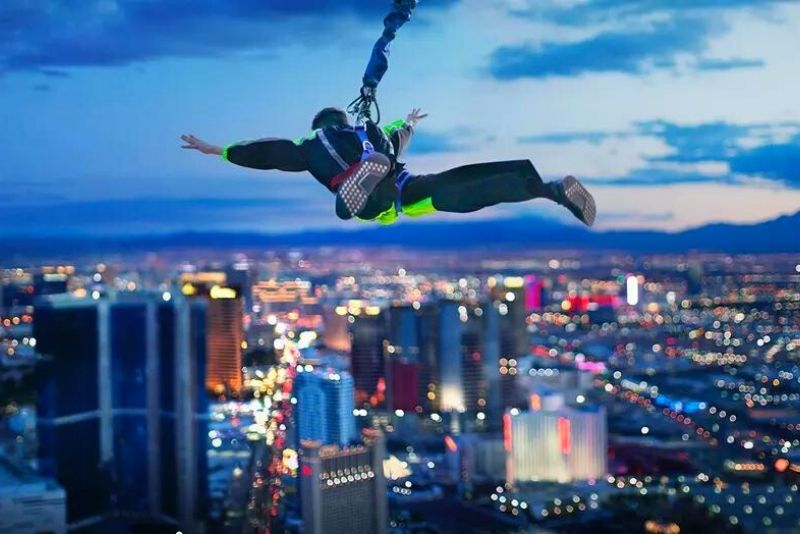 Deserving of its own mention, SkyJump is not for the faint-hearted!
This extreme activity lets you experience a controlled free fall from the 108th floor of the Stratosphere Tower, leaping off in a harness attached to a cable that will catch you just before you hit the ground.
It's an adrenaline junkie's bucket list activity, and it's not hard to see why — it's an incredible rush that'll send you plummeting down at speeds of close to 40 miles per hour, leaving your heart pounding and your palms sweating.
The fear-inducing experience holds a Guinness World Record as the highest commercial decelerator descent — so don't say we didn't warn you!
Consider opting for the photo or video package add-ons too — how else will you convince the folks back home of your courage?
18 – Take the kids or teens to the Discovery Children's Museum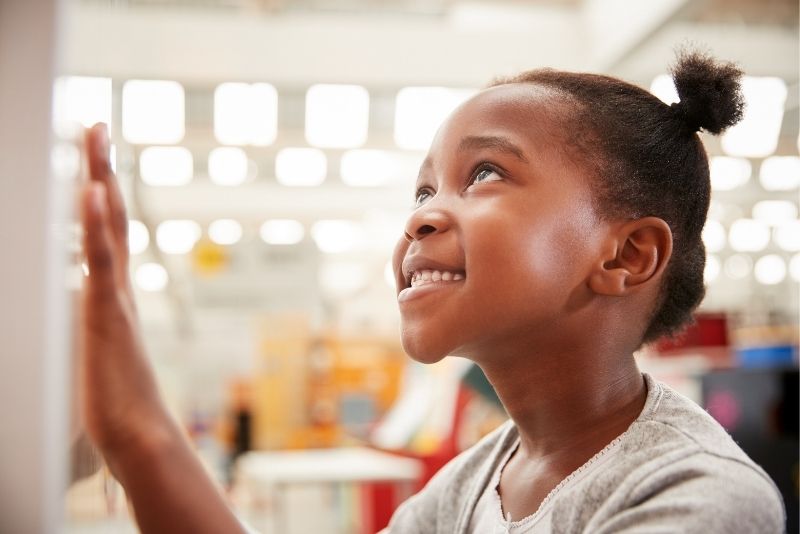 Just a couple minutes drive from the top of the Fremont Street Experience (or a leisurely 15 minutes stroll), the creativity-inspiring, curiosity-sparking, and deliberately interactive Discovery Children's Museum is widely considered one of the quintessential family things to do in Las Vegas with kids.
The enormous three-story museum is packed with hands-on, immersive exhibits that will keep the little ones entertained for hours on end, teaching them plenty about science and nature along the way:
Dig in a mini excavation pit, discover the movement and power of water, get creative in an art studio, or take part in one of the many educational programs offered throughout the week. Designed to make the little ones curious about the world around them, and their futures, there are also areas can dabble with the idea of forming a career — whether that be as a cowboy, doctor, artist, or astronaut!
19 – Saddle up for a horse riding adventure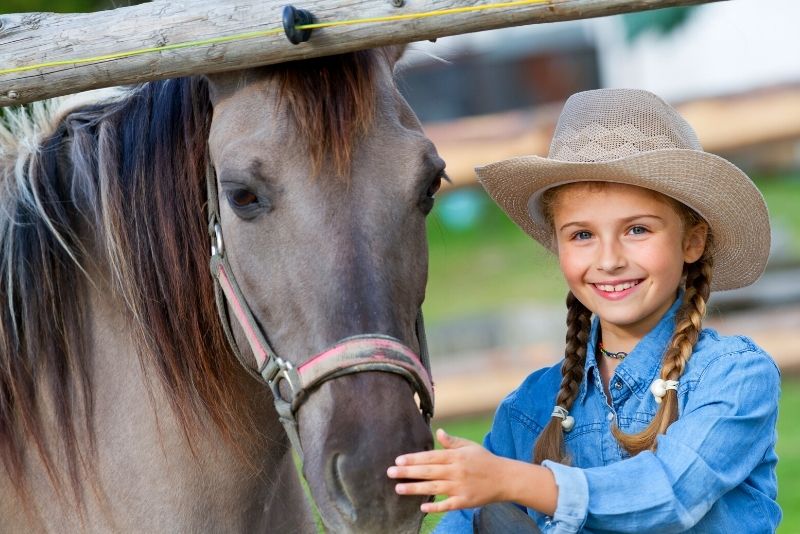 Before Sin City was a neon playground, it was the Wild West. And what would the old west be without some good ole horseback riding?
There are plenty of companies that offer guided desert tours on horseback, where you and your family can trot along dusty trails, taking in the natural beauty of Nevada's expansive and captivating Mojave Desert while getting a taste of the state's history and culture.
Whether you head to Red Rock Canyon for a sunset trot, Maverick Ranch for a hearty breakfast followed by a backcountry adventure, the Rainbow Gardens trail area, parts of Joshua Tree, or a combination of them all, an old-fashioned horseback ride through the rugged and magnificent desert landscape guarantees longlasting memories.
Just remember to dress for the occasion and bring plenty of water — it gets hot out there!
20 – Be amazed by David Copperfield at the MGM Grand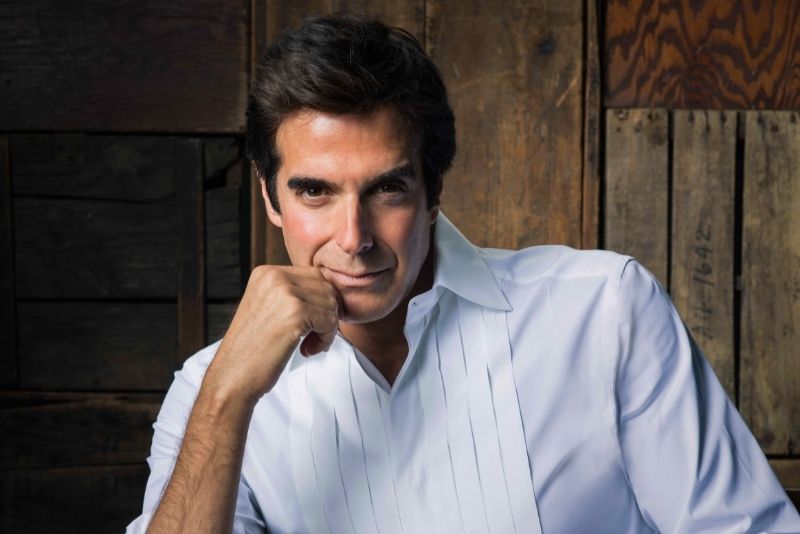 One of the world's most successful and well-known magicians — the man who famously made the Statue of Liberty disappear — David Copperfield has been wowing audiences with his jaw-dropping illusions for decades.
And now you and your family can see him perform live in Las Vegas at the MGM Grand! With non-stop head-scratching illusions, Copperfield's show is packed with death-defying tricks and heart-stopping moments that will leave you spellbound.
With a little bit of audience participation thrown in for good measure, this is one magic show that both kids and adults will enjoy. Just be sure to book your tickets in advance as they tend to sell out fast.
21 – Explore a darker side of Vegas with a ghost tour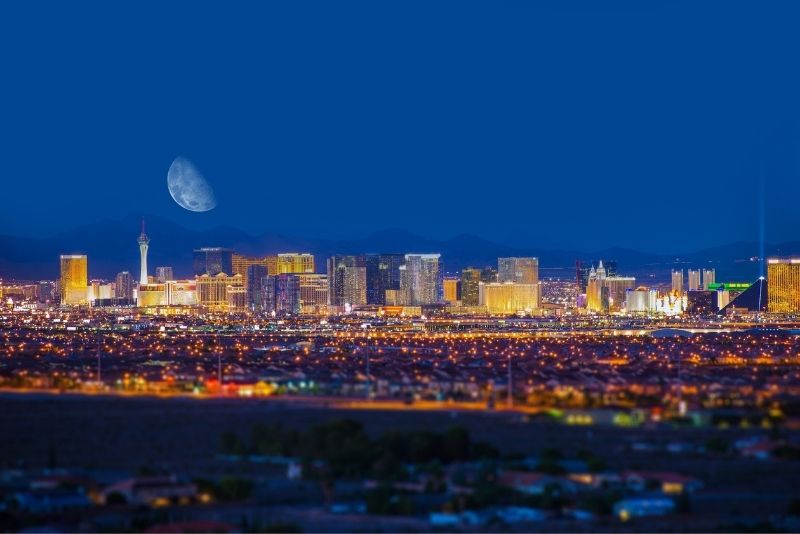 As a city with a past laced in Mob crimes, Wild West shoot-em-ups, and eerie ghostly sightings, beyond the bright lights of the Strip, Las Vegas has become somewhat of a dark tourist Mecca too.
On dedicated paranormal tours, the scene is set by a local guide who will regale you with tales of the city's dark side, leading you and your family through some of Sin City's most haunted locations.
From the Downtown area to Fremont Street, as well as more out-of-the-way places like Fox Ridge Park and the former home of Red Foxx, there is a range of spine-chilling tours to choose from that are sure to get your heart racing. It's not just off-beat locales with a ghostly past though; supposedly haunted hotels remain open to this day — Planet Hollywood, Harrah's, and Palazzo being just a few.
22 – Join a kayak tour at Emerald Cave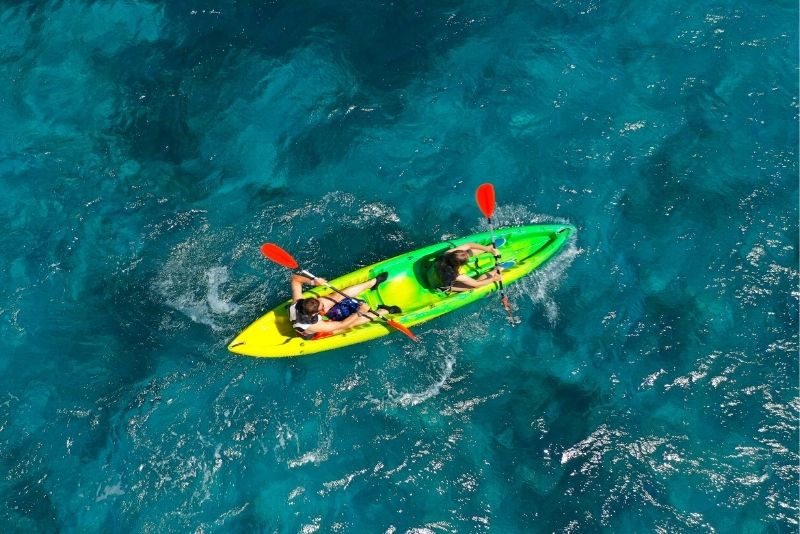 A wonderful way to ditch the chaotic pace of the Strip and explore some of Nevada's natural beauty, a kayaking adventure through Emerald Cave showcases the state's stunning geological landscape.
The half-day tours typically start with a safety briefing and basic kayaking instruction before you're kitted out in all the necessary gear and sent on your way through the Black Canyon. You'll paddle through the beautiful Colorado River surrounded by the majestic cliff faces until you reach the Emerald Cave — so-called because of the sunlight that filters through and hits the green algae, giving the water an otherworldly, glowing hue.
Once inside, there's plenty of time to take a swim or simply float around and take in the tranquility of this hidden gem, far away from all the hustle and bustle. Keep an eye out for amazing desert wildlife along the way, and feel free to ask your guide about the intricacies of the unique landscape as you paddle through it.
23 – Feel the thrill of indoor skydiving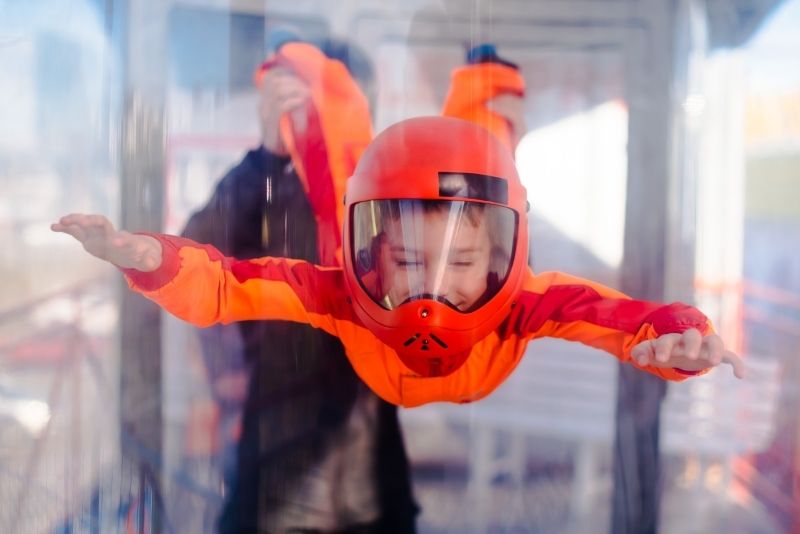 Have you always dreamed of skydiving but don't fancy the idea of jumping out of a plane toward the earth at terminal velocity? Fair enough. Well then, indoor skydiving is the perfect alternative!
Located just minutes from the Strip (around the corner from the famous Peppermill Restaurant), Vegas Indoor Skydiving offers families (and anyone else who's keen) a chance to experience the adrenaline rush of skydiving without having to leave the ground, reaching the equivalent of a 120 miles per hour freefall speed in the safety of a controlled vertical wind tunnel. All you need is some courage and a sense of adventure — the venue takes care of everything else.
After putting on your flight suit and being fitted with a helmet and goggles, it's time to go up in the wind tunnel. You'll be amazed at how closely indoor skydiving replicates the real thing; within minutes you'll be flipping and spinning through the air like a pro!
24 – Pay a visit to the iconic Hoover Dam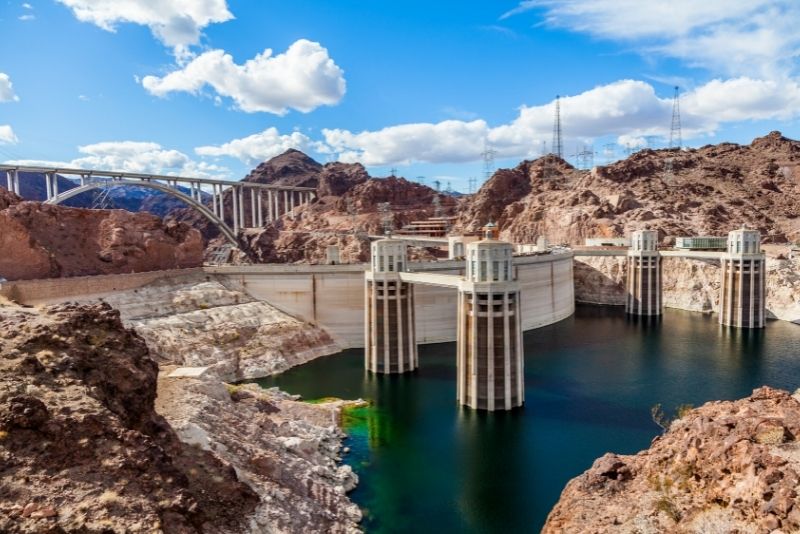 A feat of human ingenuity that's been standing since the 1930s, Hoover Dam is an incredible piece of engineering, thanks to its proximity to Sin City, remains one of the most popular family things to do in Nevada.
Just a 30-minute drive from the slots and neon, visitors can take a tour of the dam, learn about its history and how it was built, and even go inside to see the massive turbines that generate power for the area.
There's also a museum on-site that chronicles the construction of Hoover Dam and the people who worked on it, displaying some of the unique vehicles and tools used during its construction, as well as an observation pathway where you can get unparalleled views of Black Canyon and the Colorado River below.
Hot tip: if you're looking for the best bang for your buck, combine a dam visit en route to the Grand Canyon!
25 – Put 'em up at the Mob Museum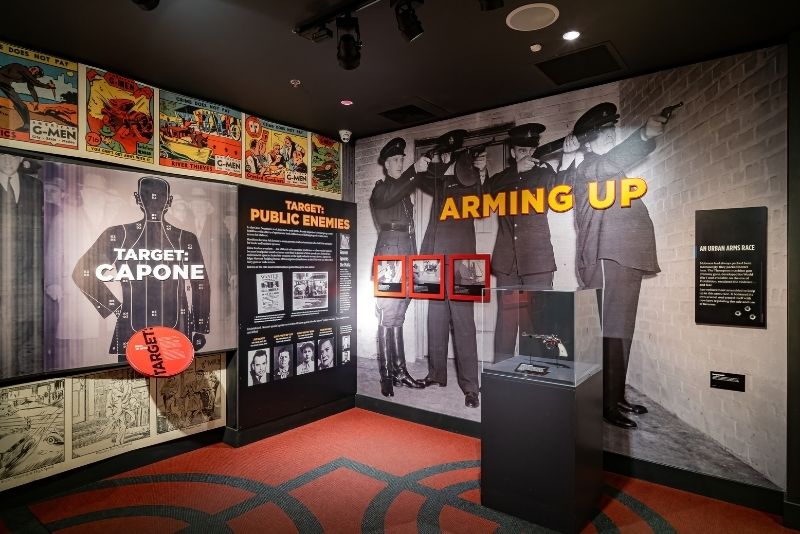 Beyond the glitz and glam, Las Vegas has a fascinating, sometimes dark history that's often overlooked.
The Mob Museum — a brilliantly curated selection fittingly complemented by an old Prohibition-era speakeasy (password is Flapper) — is one of the best places to learn about this side of Sin City, chronicling the rise of organized crime (as well as law enforcement) in America and the casino city's role in it all.
From Al Capone to John Gotti, some of the most famous mobsters have left their mark on Las Vegas, and this museum tells their stories through interactive permanent exhibits, 1920s-era artifacts, occasional temporary collections (like ancient weapons), and a rotating calendar of shows and events.
It might not be everyone's idea of family fun, but older kids and teens will love it.
26 – Practice your backflips at a trampoline park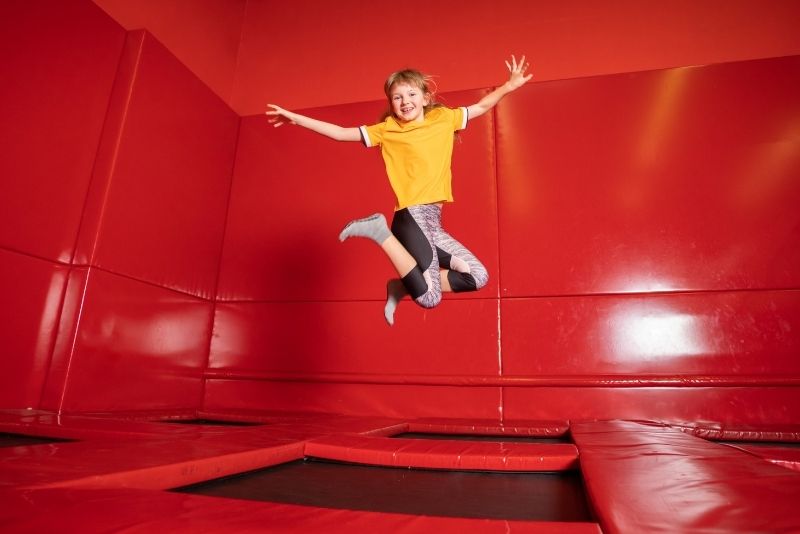 Far more tiring than it looks, trampolining is a great way to get the kids (and yourself) moving and releasing some energy, especially on those hot summer days when an air-conditioned room is all you're asking for.
With multiple trampoline parks scattered over town (Gravady Extreme Air Sports, Uptown Jungle Fun Park, Xplozone Trampoline Park, and DEFY, to name a few), there's sure to be one near you, and they all offer a variety of activities for different ages, from open jump sessions and climbing walls to dodgeball and basketball games.
So whether your kids are looking to practice their Ninja Warrior skills on the dedicated courses, perfect those backflips, or just want to have some good old-fashioned fun, trampoline parks are the perfect place to do it.
27 – Win some prizes at Fun Dungeon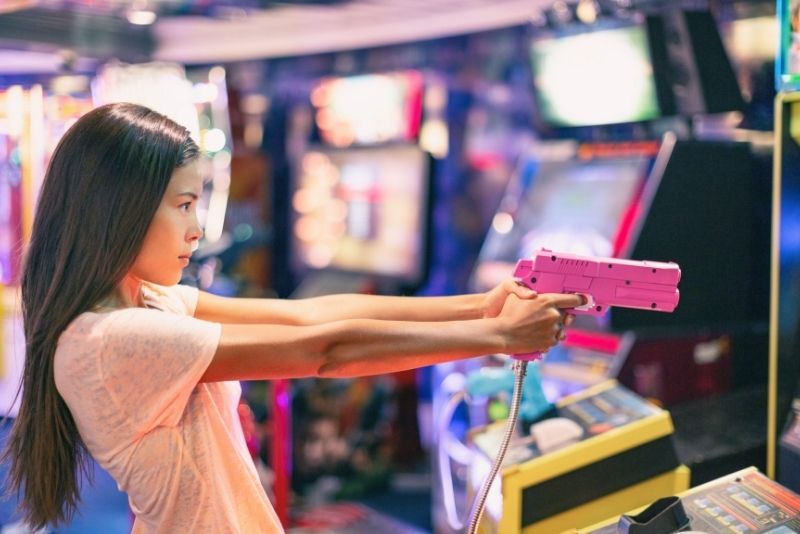 An Excalibur family staple, the Fun Dungeon is a huge, 30,000-square-foot indoor play zone that's great for kids of all ages, with more than 200 different games to try (including the world's biggest Pacman!).
There are carnival games to be played, an arcade to explore, prizes to be won, and a laser maze challenge to attempt — not to mention a mini-bowling alley and a DQ and Orange Julius for when you need an energy boost.
Always free to enter (just pay for the games you want to play – most of which are cheaper than those at the Circus Circus Adventuredome), the Fun Dungeon is a great place to spend an afternoon or evening, and with new games and prizes being added all the time, there's always something new to try.
28 – Embark on a helicopter tour at night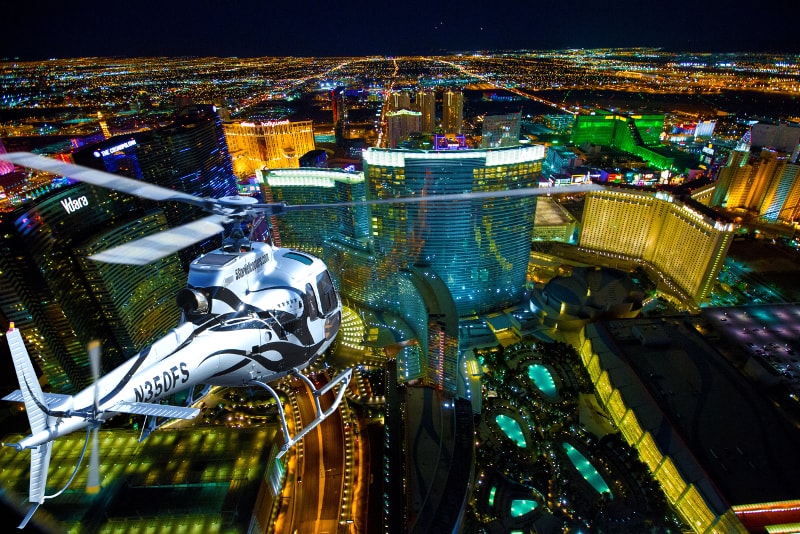 By day, there's always something to grab your attention. Even still, however, Las Vegas at night is perhaps even more dazzling, and there's no better way to take in the neon glitz than from high up in the air.
There are a number of helicopter companies that offer tours of the Strip, often with special packages that include champagne (a perfect date night idea!) or other drinks and snacks.
The flights typically last around 15-30 minutes, but they're definitely long enough to get an amazing view of all the famous landmarks as well as the thousands of lights that make this city so special.
If you want to make your evening even more special, consider booking a tour for sunset instead — it'll give you beautiful views of the city as it starts to twinkle and slowly comes to life.
29 – Watch the dancing Fountains of Bellagio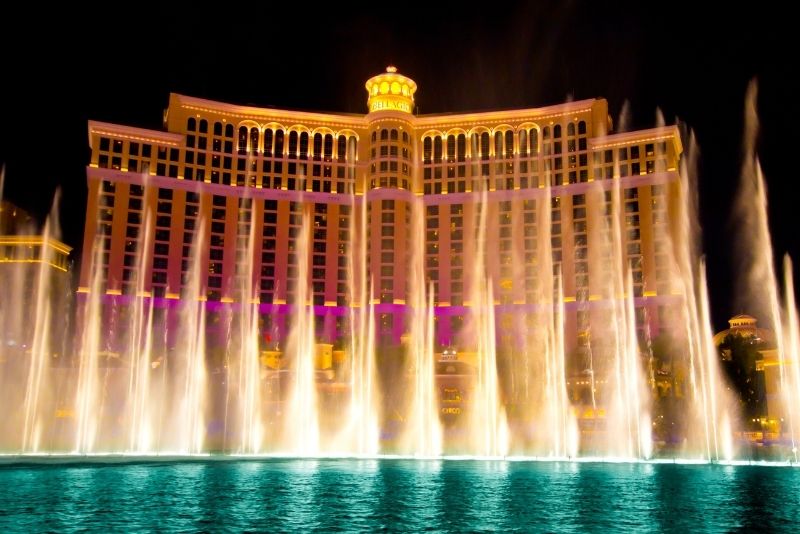 One of the first things people think of when they imagine Las Vegas is its legendary fountains.
Located right in front of the Bellagio Hotel on the Strip, these iconic water displays are choreographed to music and change constantly, with different themes (like holiday shows) and new effects added all the time.
The Fountains of Bellagio are free to watch from the sidewalk, but if you want a closer look or a better view, there are plenty of places to sit down and enjoy them — including at one of the many restaurants that have outdoor seating looking out onto them.
Depending on the day and time, the waters dance every 15 on 30 minutes after 3pm, so your odds of catching a live show, even if just strolling by, are high.
30 – Head to the Valley of Fire for a hiking tour
Just a short drive from the Strip is the Valley of Fire State Park, one of Nevada's many hidden gems. This stunning park is full of incredible red sandstone formations that date back over 150 million years, and it's a great place to hike, picnic, or just take in the views away from the yarda-drinking, selfie-stick-wielding crowds.
There are several different trails to explore, each with its own unique features, like 4,000-year-old petroglyphs left behind by ancient Native Americans. If you want to learn more about the area, there are ranger-led tours available as well, and if you're craving an extra dose of adventure, ATV, dune buggy and horseback riding tours are aplenty.
Hot tip: Rather than organize your own transport, book a tour that includes pick-up and drop-off from your hotel, as well as an experienced guide who can share interesting facts and insider tips about the park.
31 – Spend the afternoon at the Ethel M Chocolate Factory & Botanical Cactus Garden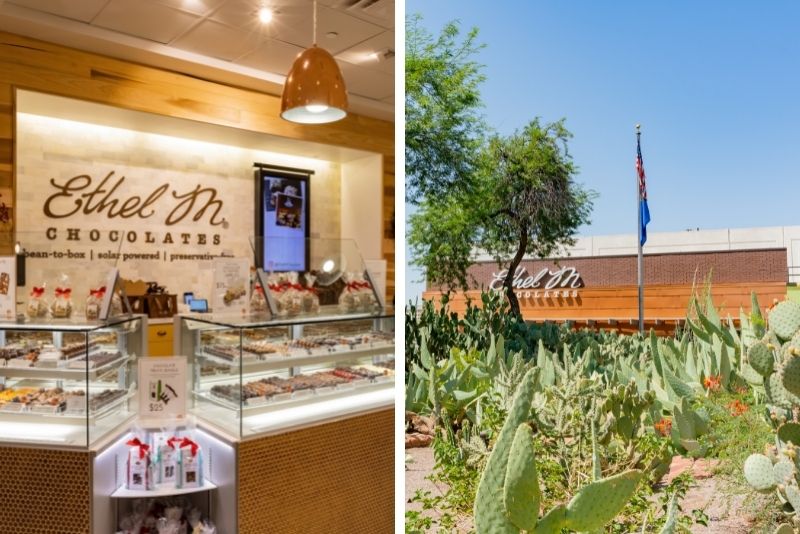 Like stepping into the wonderful world of Willy Wonka, a visit to the Ethel M Chocolate Factory is a must for any chocoholic. The self-guided tour lets you see how some of your favorite sweets are made, and at the end, you get to sample some (read: many) of their delicious creations.
The chocolate factory is located in Henderson, about a 30-minute drive from the Strip, and sits adjacent to the lovely Ethel M Botanical Cactus Garden, a 3-acre desert oasis home to home to more than 300 different hot-weather succulents.
Ideal for nature lovers and sweet-toothed teens alike, this two-for-one attraction is definitely worth the trip, especially if you need to escape the hustle and bustle of Vegas for a little while.
32 – Play detective in an escape room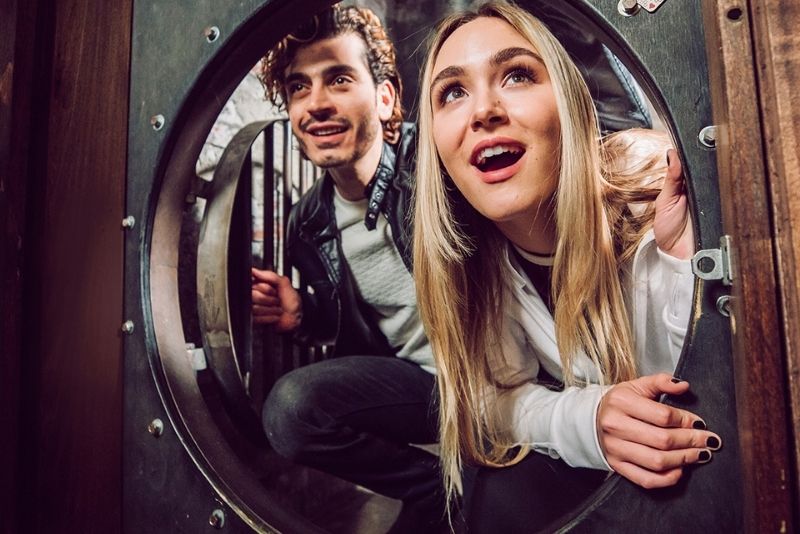 Consider yourself a budding Hercule Poirot, ready to solve the next great mystery? If so, an escape room is the perfect way to test your skills (and have a whole lot of fun in the process). These live-action puzzle rooms have become increasingly popular in recent years, and Las Vegas has no shortage of them.
Teams of up to six people are locked in a themed room and given 60 minutes to find clues, solve puzzles, and complete tasks in order to "escape" — but don't worry, you're not actually stuck inside!
Visit The Escape Game and have fun! There are all sorts of different themes to choose from (murder mystery, espionage, horror, gold rush, zombies, prison break, and more), and most places offer several different rooms with varying levels of difficulty. So whether you're looking for a challenging family activity or just want something new and exciting to try, an escape room is calling.
33 – See what's on at the Zappos Theater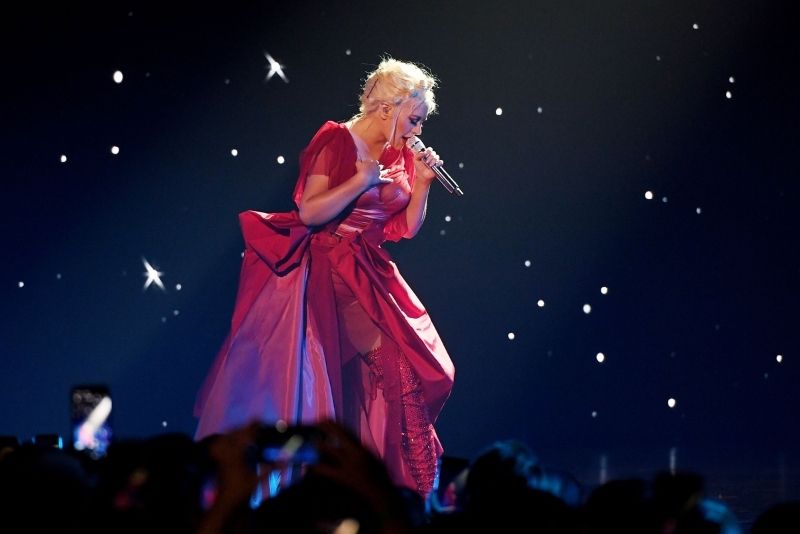 If you're looking for a family-friendly show to see while in Vegas, look no further than the Zappos Theater!
Located in the heart of the Strip at the Planet Hollywood Resort & Casino, this theater offers a variety of performances for all ages, from magic shows and world-famous music stars (like John Legend, Shania Twain, The Doobie Brothers, and Judas Priest) to family-friendly musicals and side-splitting comedians — simply check the website to see who's gracing center stage during your visit.
Capable of hosting up to 7000 spectators, the Zappos Theater is a great place for large groups, and if you're looking to make a night of it, there's always plenty of restaurants and street action nearby to keep you busy.
34 – Mingle with dinosaurs at the Natural History Museum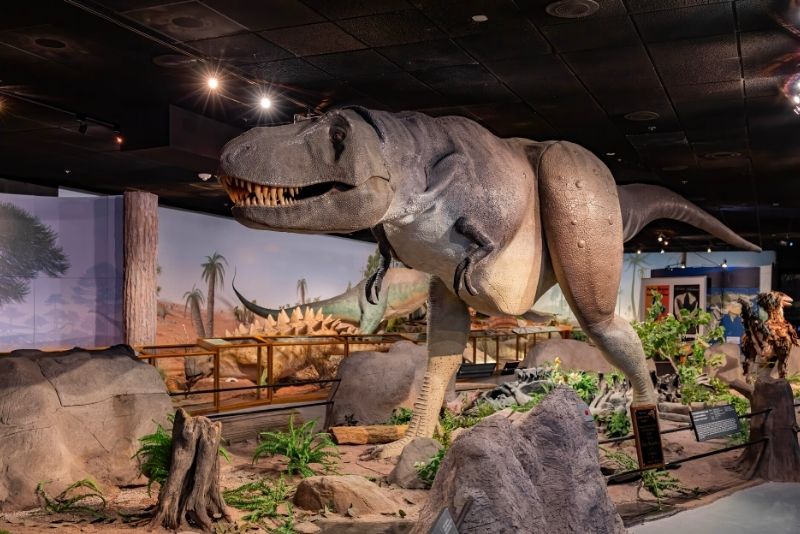 Packed to the brim with dinosaurs, mammals, bugs, and minerals, the Las Vegas Natural History Museum details the fascinating evolution of our planet (and the plants, animals, and humans which call it home) from the prehistoric era to the present day.
Spread across a dozen or so galleries, the museum's informative and interactive exhibits showcase everything from Ice Age mammals to Egyptian mummies, rare meteorite fossils, actual sharks (in the marine exhibit), and everything in between, making it an ideal activity for history buffs and animal lovers of all ages.
You'll find this family-friendly museum tucked away in the Downtown backstreets, between the Neon Museum and Old Las Vegas Mormon Fort State Historic Park — a pair of brilliant things to do in Las Vegas with teens.
35 – Race against your kids in go-karts for all ages!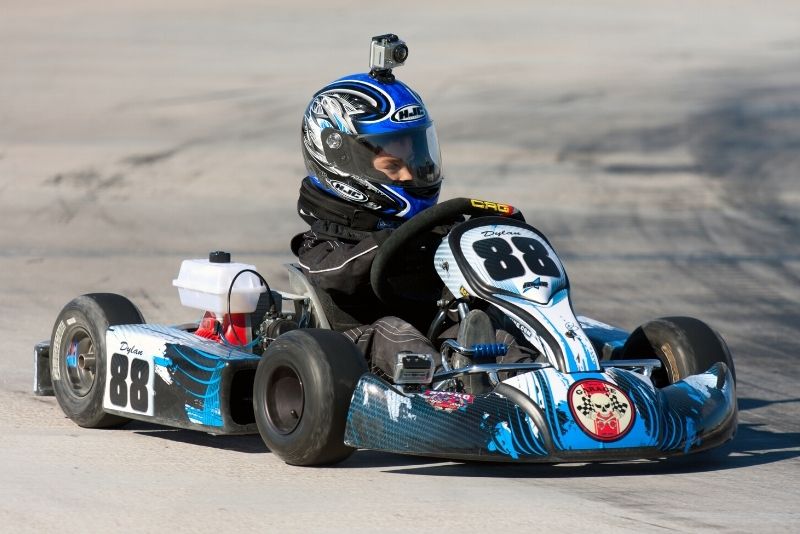 Craving a need for speed? Well, look no further than go-kart racing at one of the many tracks located around Sin City. These small, open-air carts can reach speeds of up to 45 mph, making for an exhilarating (and often competitive) experience as you race around a tight track.
There are tracks to suit all levels of driver, from beginner to expert, and most places offer both single and double karts so that friends and families can race both with and against each other.
You'll find a 2100-foot-long racetrack (with no less than 14 different turns) at the  Las Vegas Motor Speedway, no less than four different tracks to choose from at the Las Vegas Mini Grand Prix Family Fun Center (thrill-seekers, make a beeline for the Euro High-Speed Karts), and more choice (plus the chance to drive an actual supercar) at the SpeedVegas Motorsports Park.
So whether you're looking for something competitive or just want to let off some steam, head on over to your nearest go-kart track for some fast-paced fun.
36 – Mix sport with partying at Topgolf Las Vegas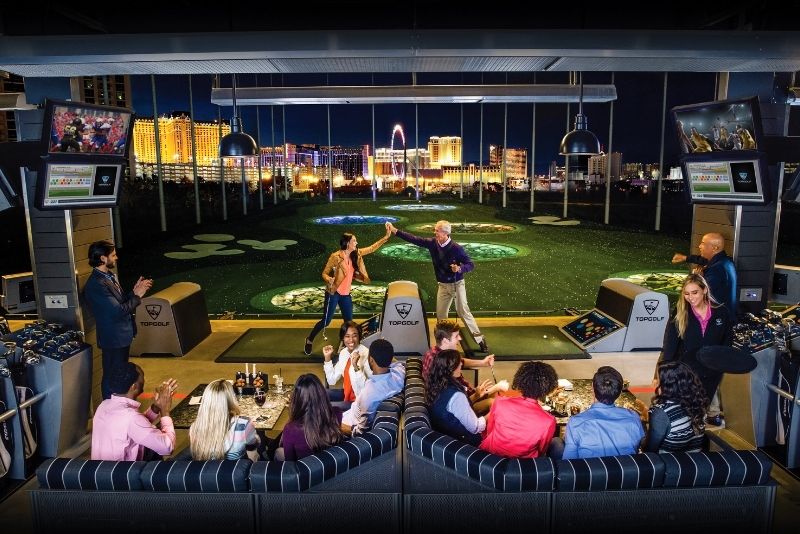 Fusing all the sporting action of a round on the green with the social buzz of a modern Vegas bar and restaurant nightclub, and capped off with state-of-the-art AR technology, Topgolf is one of the most unique things to do in Las Vegas with kids and teens (with the virtual Angry Birds experience always hitting the mark).
This sprawling three-level facility boasts over 100 climate-controlled hitting bays, as well as a full-service restaurant and bar serving up all sorts of delicious eats and bartender-crafted drinks. And if that's not enough, there's also a pool with a swim-up bar, high-def TV screens every which way you look, and a 900-person concert venue that welcomes all kinds of performers.
Whether you're an experienced golfer or have never picked up a club in your life, Topgolf is guaranteed to provide hours of fun!
37 – Wander through the Neon Museum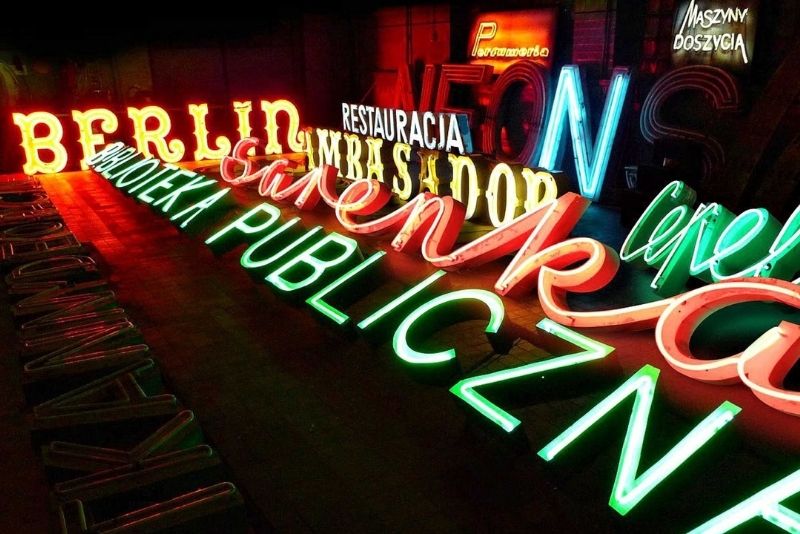 A Vegas time capsule that takes you back to a different era, the Neon Museum is home to more than 200 restored neon signs from classic hotels, casinos, and other businesses that have called Sin City home.
This fascinating museum is spread out over two equally impressive sections (The Neon Boneyard Main Collection and the Neon Boneyard North Gallery) in the heart of Downtown Las Vegas, right around the corner from Fremont Street, with exhibits ranging from the iconic (like the towering Hard Rock light-up guitar and The Stardust hotel sign) to the historic (like the Moulin Rouge sign, and old-school Golden Nuggett and Lady Luck facades).
So much more than just an illuminated garbage pile, you can actually explore these vintage gems on one of the insightful guided tours offered several times throughout the day.
38 – See real skeletons at Bodies: The Exhibition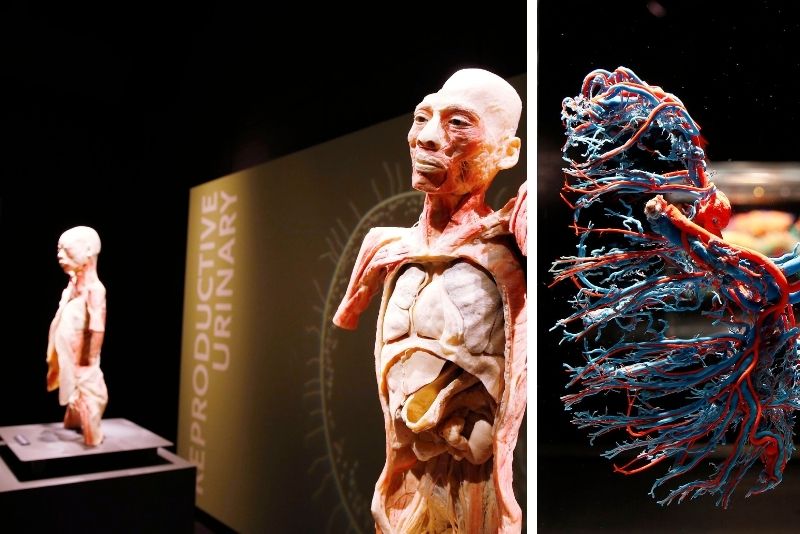 One of the more peculiar yet no less fascinating things to do in Las Vegas with teens (probably not kids, if they're a little squeamish), Bodies: The Exhibition at the  Luxor is a fascinating anatomical display that features more than a dozen real human bodies and over 260 organs and partial body specimens!
This ain't your average science museum experience, folks; the exhibit challenges visitors to consider their own relationship with their bodies, health, the aging process, and mortality in a thought-provoking way.
While some of the displays are not for the faint of heart (no pun intended), others are downright intriguing, like the sections on the muscular and respiratory systems, the latter which provides an eye-opening comparison at a smoker's VS non-smokers lung.
39 – Check out the giant praying mantis at Downtown Container Park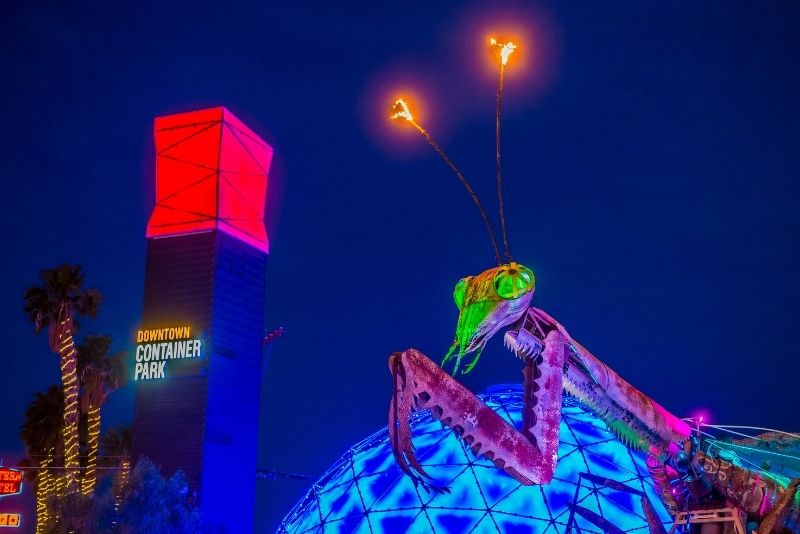 Unmissable thanks to its towering metal praying mantis sculpture (which is one of the largest in the world and boasts fire-spurting antennae, if you don't mind), Downtown Container Park is a fun and funky shopping, dining, and entertainment complex made entirely out of repurposed shipping containers.
This eco-friendly development is just blocks away from Fremont Street and home to more than 40 different shops and restaurants, as well as a small playground with a 30-foot slide and refreshing water area, and a host of family-friendly events throughout the year (e.g. yoga, drum circles, and live music).
Don't miss the award-winning beef jerky at JoJo's Jerky, and be sure to pop into the Dome for a planetarium-style reclining short film or two!
40 – Catch a family show at The Smith Center for the Performing Arts
One of the more recent additions to the list of things to do in Las Vegas with kids, The Smith Center for the Performing Arts is a world-class performing arts venue that hosts everything from touring Broadway musicals and ballets to symphony orchestra performances and stand-up comedy shows.
The center itself is an architectural marvel, boasting three distinct theaters (including an intimate 240-seat cabaret-style space) spread out over two buildings, as well as fine dining restaurants and swanky cocktail bars.
With its convenient downtown location, just steps away from Symphony Park, The Smith Center makes for a great afternoon or evening activity for families visiting Vegas — especially when the resident Las Vegas Philharmonic or Nevada Ballet Theatre are performing.
Want to learn more? Consider registering for one of the center's free, guided walking tours!
41 – Say hello to the turtles at SeaQuest Las Vegas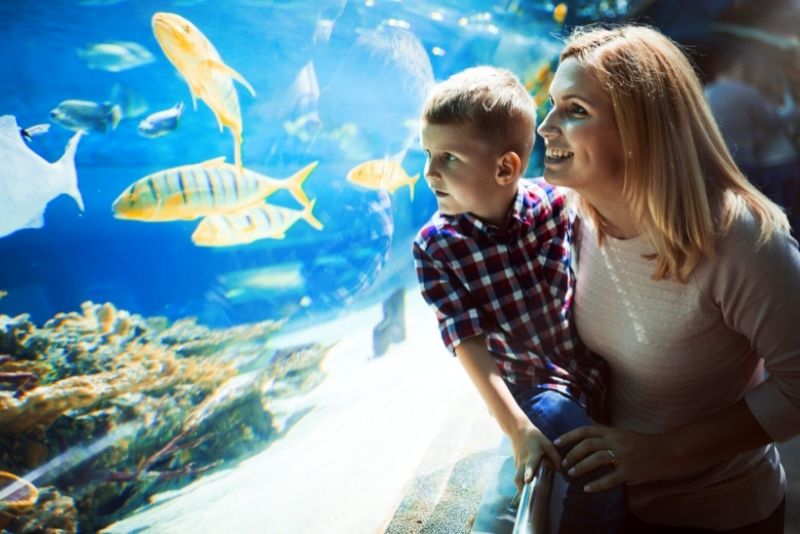 A surefire hit with kids of all ages, SeaQuest Las Vegas is an interactive aquarium and zoo that features both land and sea exhibits (including those of the Amazon Rainforest, a pirate shipwreck, and the Mayan Jungle), as well as a wide variety of aquatic life from all across the seven seas — from sharks and stingrays to sea turtles and tropical fish.
Nested within Boulevard Mall (shopaholics, take note), this little-known attraction houses over 1,200 animals and 300 different species from no less than five continents, not to mention mermaid performers and trainer meet and greets!
Best of all? You can get up close and personal with many of the animals thanks to the property's unique walk-through aviary, underwater viewing tunnels, and touch pools.
42 – Enjoy the fresh air at Springs Preserve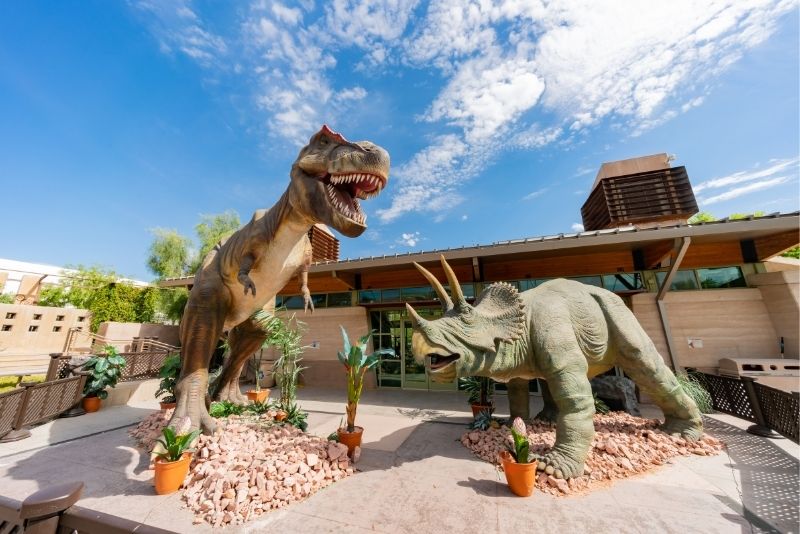 Delivering a welcomed change of pace and breath of fresh air from the hustle and bustle of the Strip, Springs Preserve is a 180-acre nature preserve and botanical garden located a few miles south of downtown Las Vegas.
The preserve is home to a variety of different gardens (including cactus, herb, rose, vegetable, and rose), as well as hiking trails, picnic areas, an enchanting butterfly habitat, dog shows, and a pair of museums (Origen Museum and  Nevada State Museum) with rotating exhibitions that dive into Native American culture, the evolution of Las Vegas, the mining history, and so much more.
Make sure to pop into the Boom Town exhibit, a recreation of a Vegas street from 100+ years ago; likewise WaterWorks, a hands-on look at how water works its way around this desert oasis.
43 – Be amazing by the Shin Lim Limitless magic show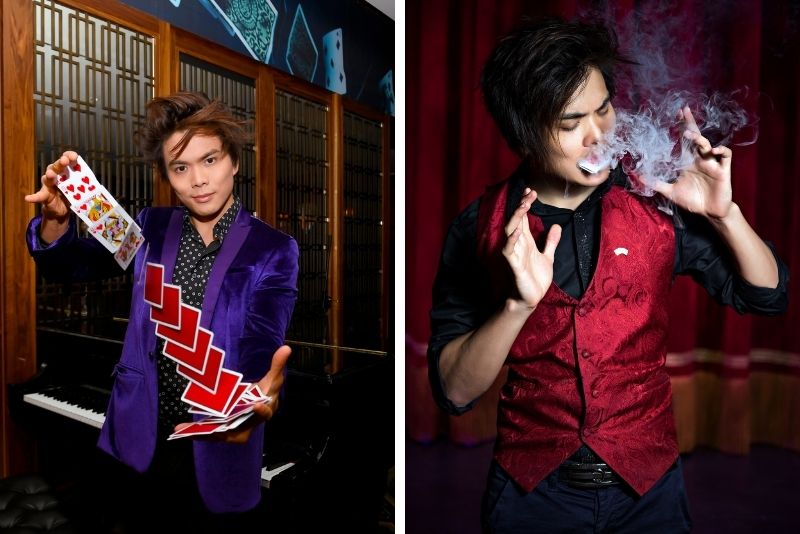 Feast your eyes on one of the most jaw-dropping, mind-boggling magic shows in all of Las Vegas — if not the world — at Shin Lim's Limitless show inside The Mirage.
A self-taught magician who has been honing his craft since he was just 13 years old — and the only person to win America's Got Talent twice — Shin Lim combines sleight of hand card tricks with elements of musical theater and a heavy dash of showmanship to create a truly one-of-a-kind performance that has to be seen to be believed.
Restricted for ages 5 and up, Limitless runs approximately 75 minutes long and performs several times per week at The Mirage.
44 – Step into an alternate world with some virtual reality gaming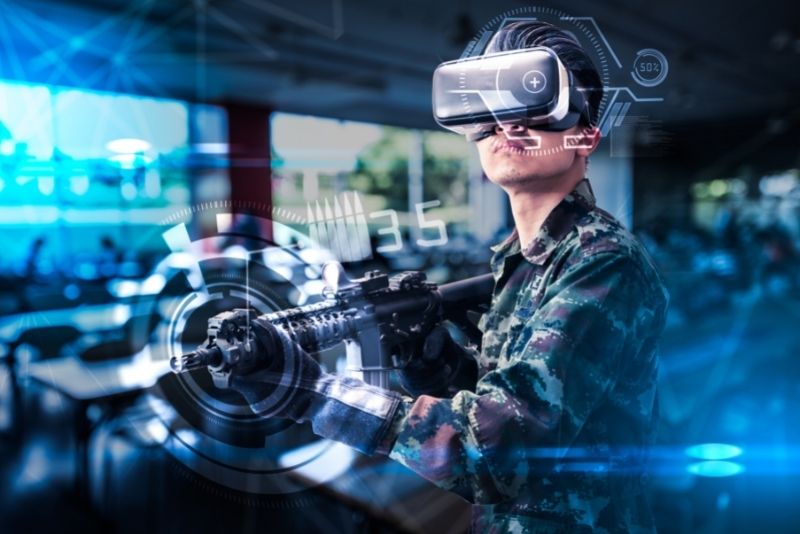 A new addition to the Strip that's captured the attention of Gen Z and millennials alike, virtual reality gaming is all the rage right now and (as you'd expect from the entertainment capital of the world), Las Vegas is home to some of the best (and most immersive) experiences around.
At the Virtual Reality gaming lounge at the MGM Grand, guests can strap on a headset and step into another world, playing games that involve protecting yourself from the zombie apocalypse, battling rogue robots, or protecting yourself amidst a zombie-filled pandemic outbreak.
Since you must be over 13 to play, it's not for the youngsters. However, as a combination of laser tag and virtual reality, it sells itself as one of the best family things to Do in Las Vegas with teens.
45 – Check out the Bellagio Conservatory & Botanical Gardens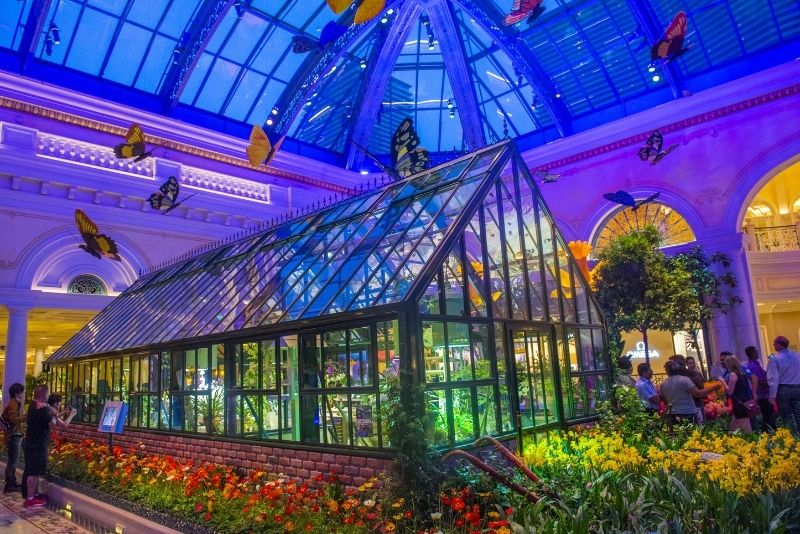 An affordable attraction that's open 365 days a year, the Bellagio Conservatory & Botanical Gardens is a little slice of Mother Nature's beauty right in the heart of the Strip.
A must-see for any nature lover, the colorful 14,000-square-foot space is home to a wide variety of flowers, trees, and plants from all over the world, as well as intricate sculptures and varied artwork.
With five rotating displays throughout the year, themed around different holidays, ecosystems, or concepts, every visit offers a different skylit experience too.
46 – Admire the proud kings of the jungle at Lion Habitat Ranch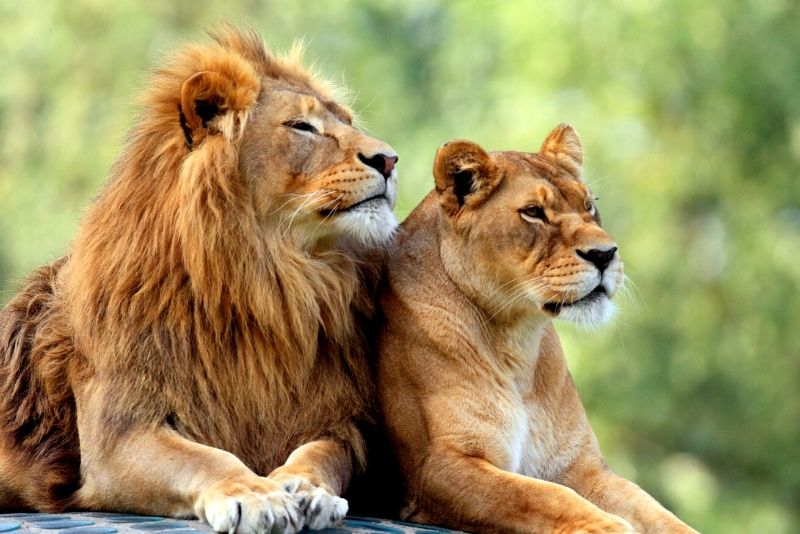 A revered lion sanctuary that's home to more than 30 lions and tigers, the ranch offers opportunities for guests to get up close (and even feed) these majestic animals in a safe environment.
In addition to the big cats, you'll also be greeted by friendly ostriches, emus, exotic birds, and one very talented giraffe named Ozzie — making it feel like your own private safari park.
While the 90-minute Behind the Scene Tour is the crowd favorite, those willing to couch up a few extra bucks can dine with the animals in a special table setting, or feed the jungle kings from a safe distance.
47 – Take a mini family trip to Paris at the Eiffel Tower Experience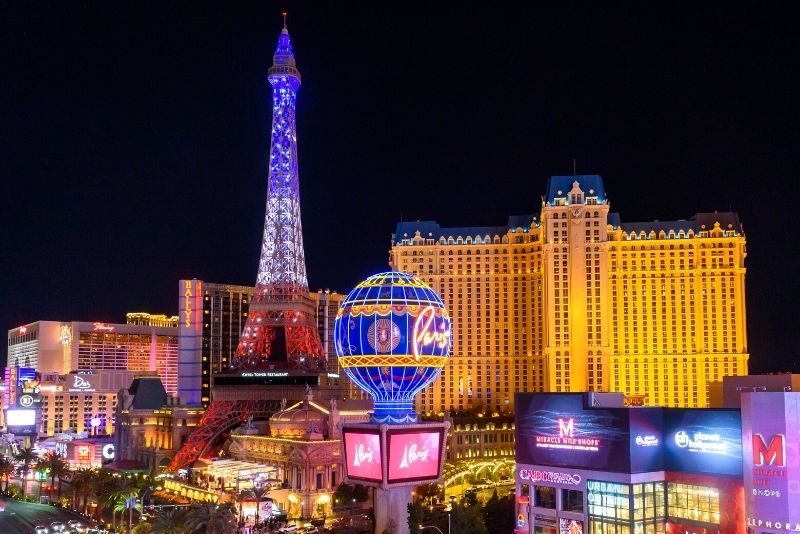 Save yourself the flight across the Atlantic; a slice of Paris can be found right here in Las Vegas.
Rising 46 stories (540 feet) above the ground, exactly half the size of the Parisienne icon, the Eiffel Tower Experience at Paris Las Vegas offers breathtaking panoramic views of the city below — after sunset, when the twinkling lights come on, the romance is taken to the next level.
Atop the tower's observation deck sits a lovely restaurant if you're after a meal with the family and a lavish bar if you've managed to leave the kids at the hotel, with a glass elevator ride up that's sure to delight.
48 – Go down head-first at Cowabunga Bay Water Park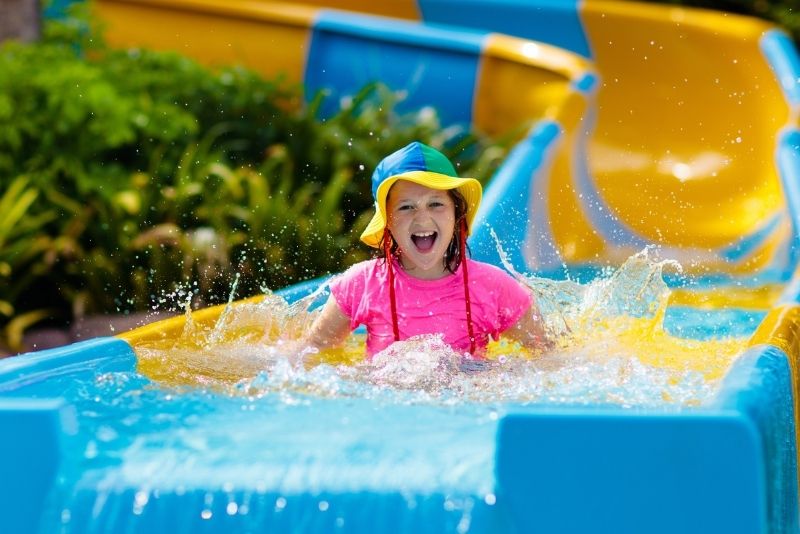 Offering a sublime way to cool down in the Nevada heat, Cowabunga Bay Water Park is a retro-themed water park complete with all the classic slides and pools you could hope for.
Start with the giant Surf-A-Rama Wave Pool (made to look like a 1950's Drive-In theater) then catch some rays on the lazy river before hitting one of the thrilling slides or racing against your friends on the Downhill Doggers — as the largest water park in the city, it'll be hours before you run out of things to do!
With a kids' area full of pint-sized attractions too, it's easy to see why this is such a popular spot for families visiting Vegas.
Hot tip: if you book online, you can usually save $10 off each adult ticket.
49 – Find out how magicians do their tricks at the Penn and Teller show at the Rio Las Vegas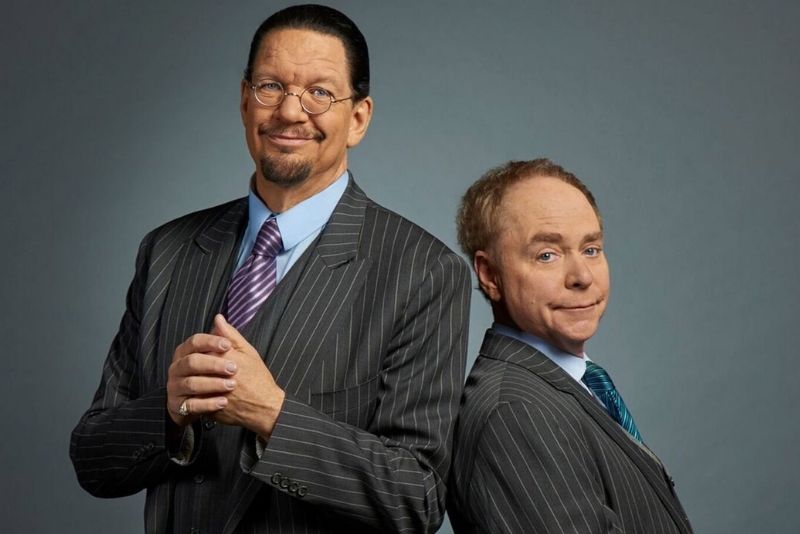 A magic show like no other, the world-famous Penn and Teller bring their own brand of humor and illusions to the Rio Las Vegas.
The long-running show (delighting viewers at the Rio since 2001) is suitable for the whole family, with a mix of classic tricks, audience participation, and good old-fashioned comedic entertainment that's sure to dazzle everyone in the crowd.
With close to 50 years in the magic business and countless awards between them, this duo — considered the "bad boys" of the magic world for revealing how they do their tricks — is not to be missed.
50 – Swim alongside sharks at The Tank at Golden Nugget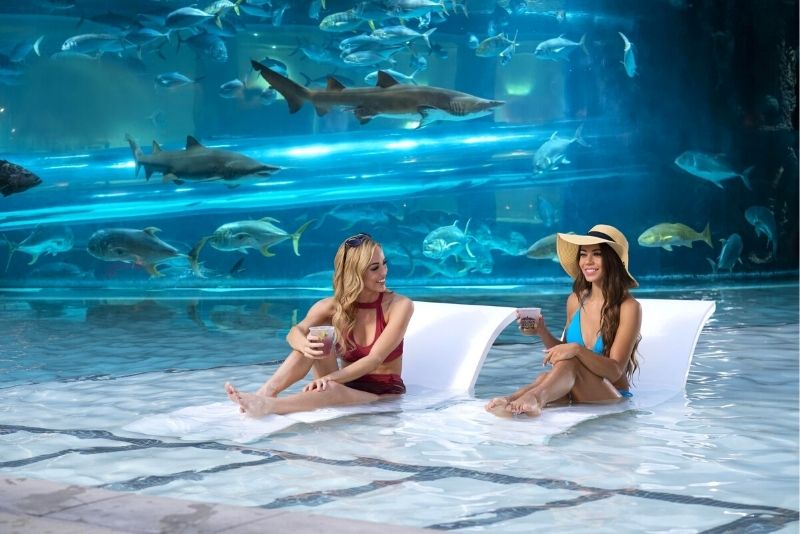 Often overlooked in favor of its Strip counterparts, the Shark Reef Aquarium at Mandalay Bay and the Secret Garden and Dolphin Habitat at the Mirage, the Golden Nugget's aquarium — aptly named The Tank — is actually one of the best in town.
Featuring dozens of species of marine life, including sharks, stingrays, eels, and turtles, kids will be enthralled by the underwater world on display.
However, there's plenty of interactivity on offer here too; you can swim under waterfalls, cannon down the 30-foot waterslide, or take it easy, drink in hand, as you relax in one of the in-pool chairs!
51 – Take the kids to Barbie: A Cultural Icon The Exhibition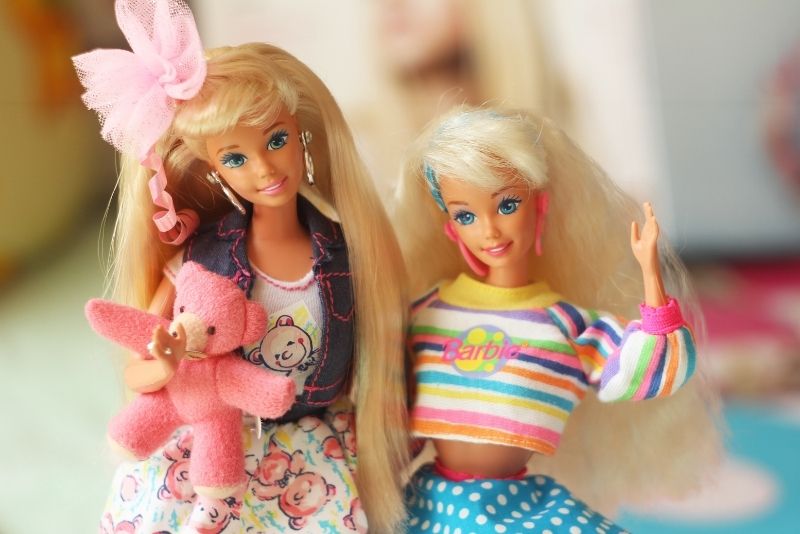 Celebrating one of the most famous and loved dolls in history, Barbie: A Cultural Icon The Exhibition is a must-see for all fans of the iconic toy.
Taking you on a journey through six decades of Barbie's influence on fashion, popular culture, and society as a whole, this traveling exhibit has been wowing audiences around the world, now taking its place at The Shops At Crystals – the 260,000 square foot shopping center that's a tourist attraction in its own right.
From her early days as a teenage fashion model to her current status as an all-around lifestyle icon, no stone is left unturned in this fascinating look at one of the biggest names in toys ever made.
Besides displaying the first-ever Barbie doll and over 150 vintage dolls as well, the exposition takes a step back and uses the famed toy and a series of interviews with Barbie designers as a reflection of an ever-changing culture.
52 – See the city and beyond at FlyOver Las Vegas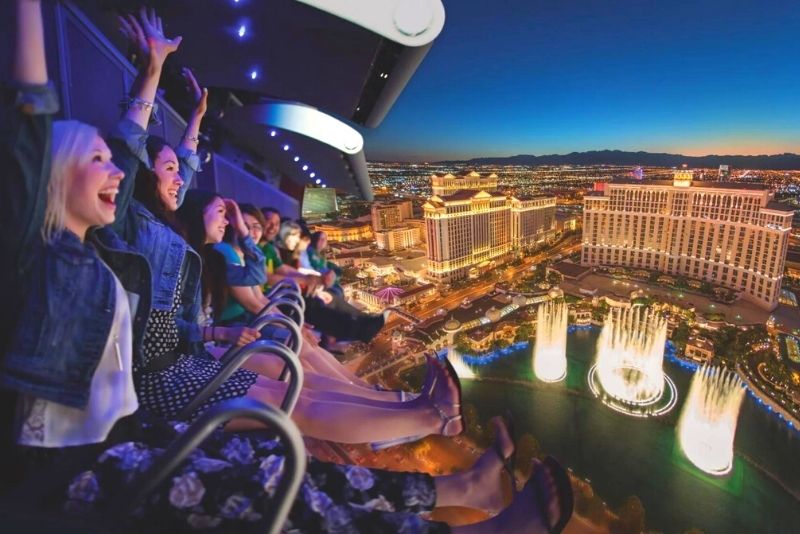 Take to the skies and experience the best of Las Vegas from a whole new perspective with FlyOver Las Vegas!
A state-of-the-art virtual reality ride that gives you a bird's eye view of Sin City, this attraction is perfect for those who want to see everything the city has to offer in one go. From the glitz and glamour of the Strip to the natural beauty of Red Rock Canyon and the Grand Canyon, this ride is perfect for families who want to get the lay of the land without having to leave Las Vegas Boulevard.
The 35-minute journey will take you under waterfalls, through deserts, and past some of the most famous manmade (the Bellagio fountains, the Hoover Dam) and natural (Zion National Park or Moab) landmarks in town, all while suspended 20 feet in the air!
Arrive a little early? No problem, just pop into The Lost Cactus bar for a Wild West tipple.
53 – Sit front row at Criss Angel MINDFREAK at Planet Hollywood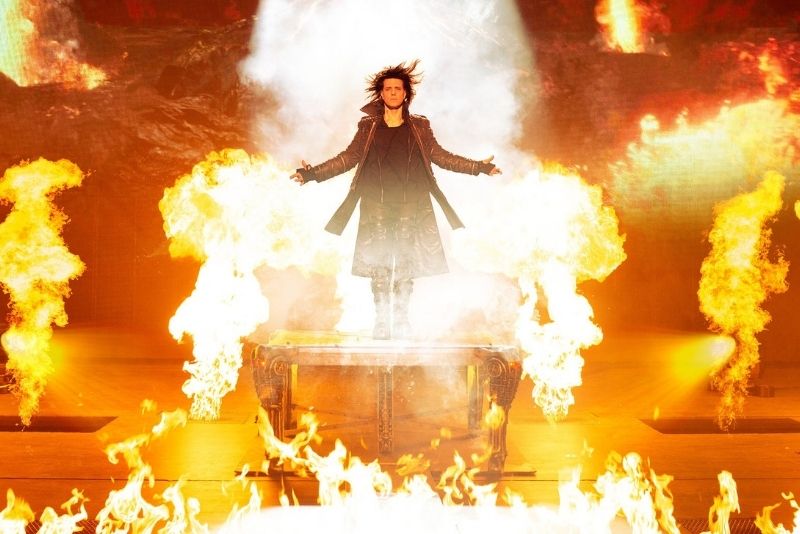 Magic's bad boy, Criss Angel, brings his signature show to the Strip at Planet Hollywood Resort & Casino.
Known for his death-defying stunts and mind-blowing illusions, this is not your typical magic show! Harnessing the power of modern technology, Angel's 90-minute extravaganza features more moving lights, visual effects, and pyrotechnics than any magic show worldwide — a constant delight sure to entertain the whole family.
Charismatic and bewitching Angel is known for his death-defying stunts (he's even set a Guinness World Record or two), so don't be surprised if you see him levitating above the audience or walking sideways down a ladder during the course of the show!
54 – Save a few bucks and watch the free circus acts at Circus Circus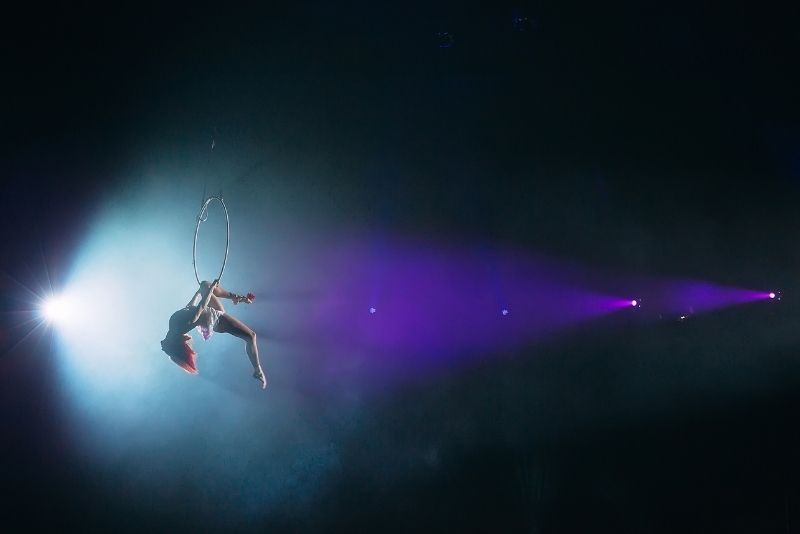 Want a dose of acrobatic action without needing to fork over a stack of cash for a Cirque du Soleil ticket? Then make your way to Circus Circus, where free circus acts take place daily at the Carnival Midway.
Kids will be in awe of the jugglers, unicyclists, silk dancers, and trapeze artists (not to mention the side-splitting Circus Circus clowns) that make their way into the ring throughout the day, with shows starting at 1.30pm during the week and 11.30am on the weekends.
While you're in the area, make sure to hit up The Adventuredome, one of the largest indoor theme parks in America.
55 – Journey through beautiful Red Rock Canyon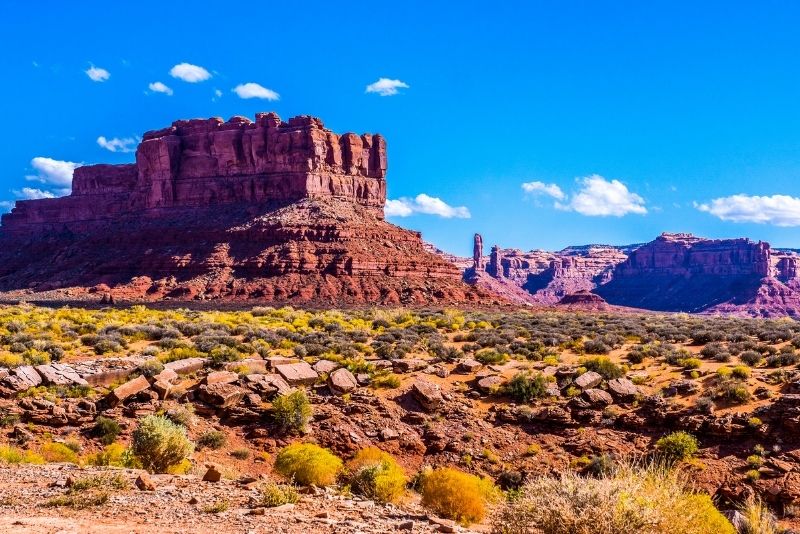 As if Mother Nature took her paintbrush and was blessed with a moment of creative prowess, Red Rock Canyon is a natural wonderland full of vibrant red and orange rock formations, as well as desert wildlife and postcard-worthy cacti — all just a 30-minute drive from the Strip,
Lace up the walking shoes; there are plenty of hiking trails to explore (the Calico Tanks Trail is a great option for families), whether that be solo or as part of a guided tour (and keep an eye out for roadrunners, hawks, and lizards along the way).
Or, if you prefer to stay cool and comfortable in the car, the scenic drive through the 13-mile loop zooms past buttes, cliffs, and Turtlehead Peak, showcasing the very best of the colorful badlands.
See also: 10 Best Red Rock Canyon Tours from Las Vegas
56 – Visit Zak Bagans' Haunted Museum… if you dare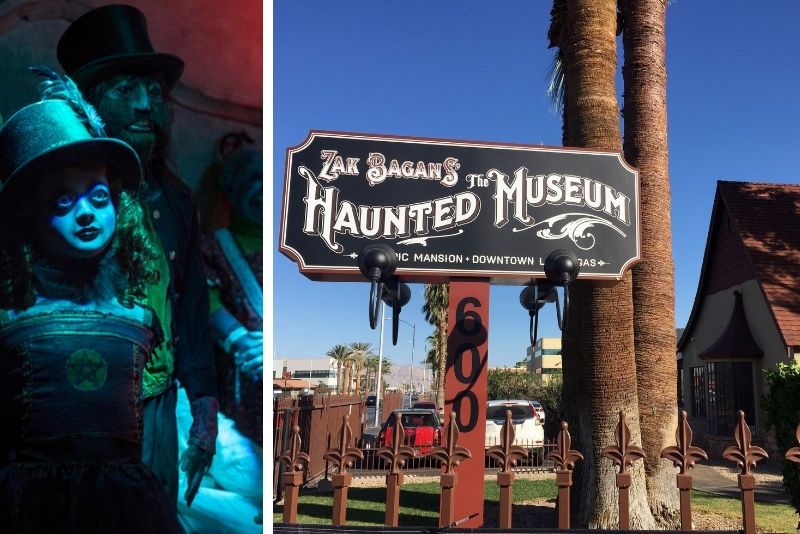 You've seen him on the Travel Channel's Ghost Adventures, now check out Zak Bagans' Haunted Museum in Downtown Las Vegas.
Bagans — self-proclaimed "demonologist," paranormal investigator, and host of the Travel Channel's hit show — has turned a spooky 1938 mansion with 30 spooky rooms into Sin City's most feared and famous haunted museum.
The attraction is not for the faint of heart, as it features real human remains (including Charles Manson's ashes), cursed objects like Ted Bundy's glasses, Bela Lugosi's mirror, and demonic dolls, to name but a few of the eerie items on display.
But if you're looking for a truly spine-tingling experience that will have you sleeping with the lights on, this is the place for you!
Feeling extra brave? Zak's moonlit haunted walking tours aught to test your courage…
57 – Take the whole family to Mat Franco – Magic Reinvented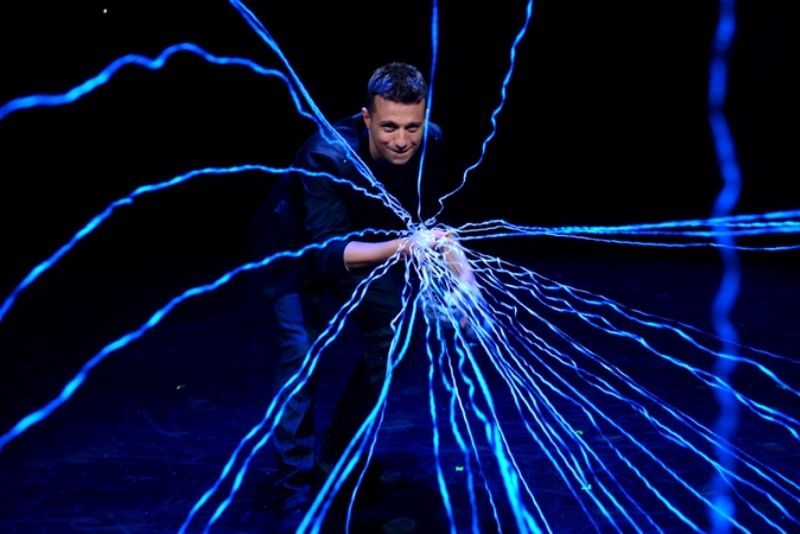 A modern-day magic headliner, Mat Franco delivers an up-close and personal magic show that regularly leaves onlookers bemused and wondering how he does it!
The first magician ever to win NBC's America's Got Talent (back in Season 9), Franco's family-friendly show fuses the old magic classics with modern flair, featuring a mix of impossible illusions, longstanding sleight of hand tricks, and a peppering of humor, with hilarious audience participation a must.
Held nightly (except Wednesdays) at the intimate LINQ theater, a night out with Mat Franco — and his innovative approach to magic-making — is sure to entertain the whole family.
58 – Catch the main highlights with a hop-on-hop-off bus tour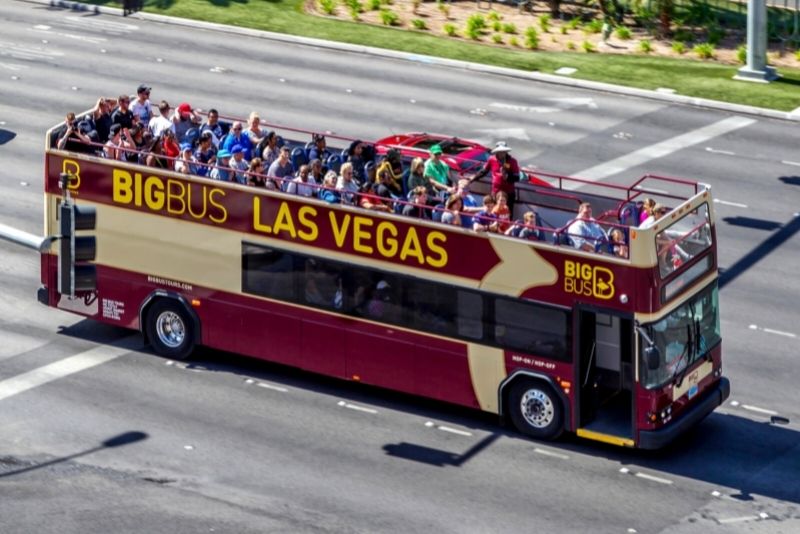 Short on time but want to see as much of Las Vegas as possible? A hop on hop off bus tour is the perfect solution!
Designed specifically with tourists in mind (combining transportation with sightseeing), these double-decker buses let you explore at your own pace, with over a dozen conveniently located stops (including along The Strip and in Downtown Las Vegas and Fremont Street) that give you easy access to all the beloved major attractions.
Plus, with an insightful audio guide included in the price of your ticket, you can learn all about the history and stories behind each stop as you go. When you're craving some sunshine, enjoy the open-aired top deck; otherwise, the air-conditioned lower level is just as good.
Hot tip: check out our Top 10 Best Las Vegas Tours
59 – Enter a hypnotic world at The Mentalist at Planet Hollywood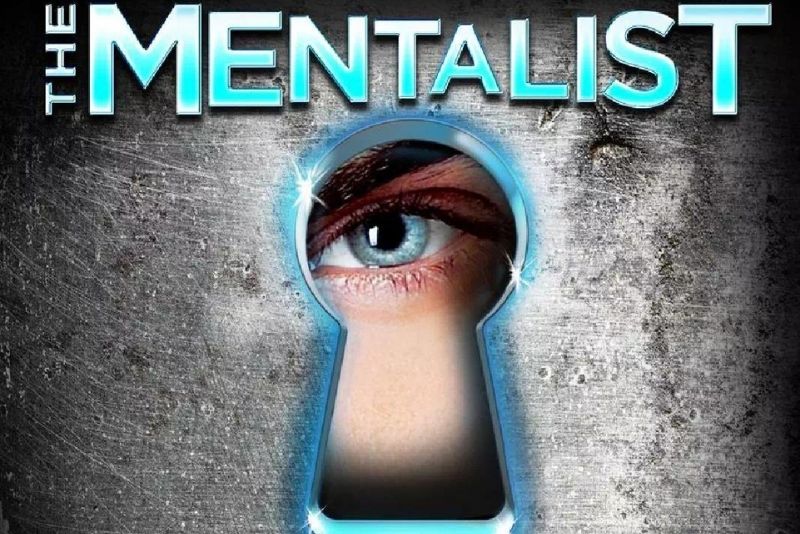 A Planet Hollywood staple that's been running for over 16 years (with over 4000 shows and counting), The Mentalist is a mind-bending magic and hypnosis show that will leave you baffled and amazed in equal measure.
Starring New York mentalist Gerry McCambridge, the show takes place in Sin City's famed V Theater, with McCambridge using his powers of observation and deduction to perform seemingly impossible feats, including reading people's thoughts, predicting the outcome of random situations, and involving the audience the whole way through!
While many of the tricks might leave you wondering how he does it, one thing's for sure: the 90-minute show remains one of the best things to do in Las Vegas with kids and teens.
60 – Take a seat for America's Got Talent Las Vegas LIVE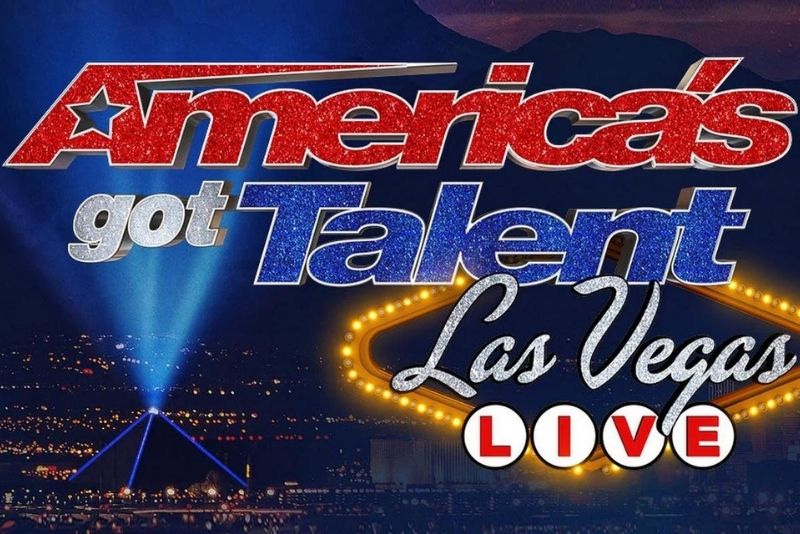 Always full of surprises, the live version of America's Got Talent hits Las Vegas, five nights a week, giving fans the chance to see their favorite performers from the small screen in person!
Featuring performances from a star-studded lineup of past winners and finalists — a variety of talented (and often eccentric) acts including magicians, singers, dance troupes, stunt artists, fire breathers, comedians, and a whole lot more — this is one live show that's sure to keep you entertained from start to finish!
You'll find the exciting variety show at the Luxor Hotel and Casino, with tickets starting at just $59 (often cheaper if you book online!), or a little more if you opt for the VIP experience that includes a red carpet photo opportunity and backstage tour.
61 – See real human organs at Real Bodies at Bally's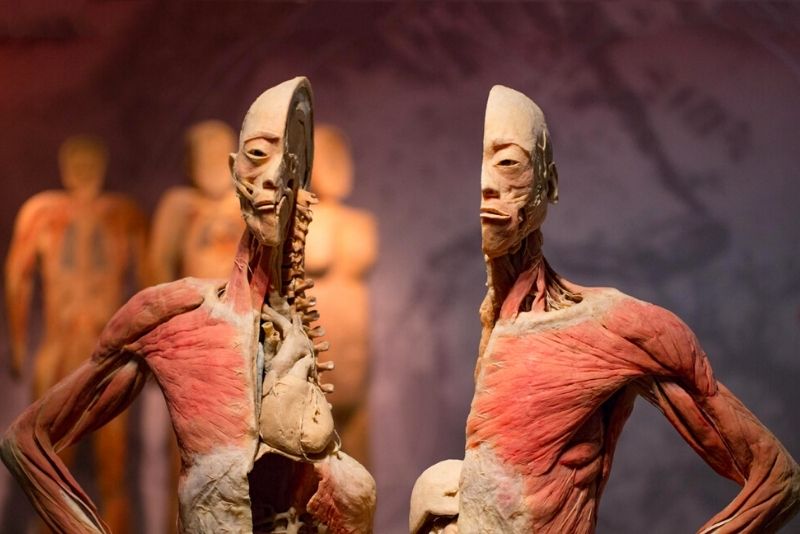 Providing an eye-opening glimpse into the human body, Real Bodies at Bally's is a fascinating exhibition that uses over 20 full-body specimens and 200 organs and partial body parts to explore the inner workings of the human form, as well as how different cultures deal with life and death.
Through a series of captivating displays, visitors will learn about everything from how muscles work to a look at how our internal organs keep us alive. There's also an informative section on pregnancy and childbirth, as well as a display of the harsh effects of smoking.
Staying woke to the modern-day, there's also a science-based section about how the coronavirus affects the human body; just one of several intriguing lessons waiting to be learned.
62 – Laugh your socks off at the Mac King Comedy Magic Show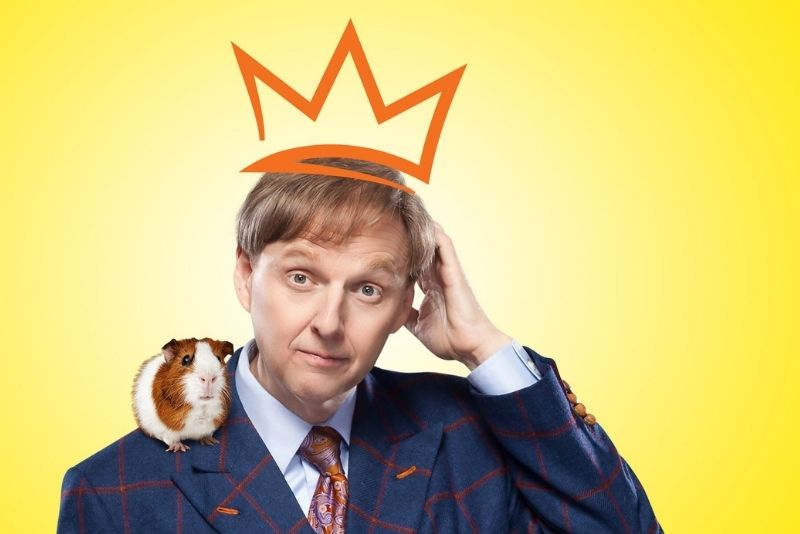 An afternoon jam-packed with laughs and amazement, the Mac King Comedy Magic Show at Harrah's Las Vegas has long sold itself as one of the best Sin City shows for anyone with a sense of humor and kids in tow.
A master of comic timing and audience interaction, Mac King has been wowing Vegas crowds since 2000 with his unique brand of magic that often borders on the absurd. From making rabbits appear from hats to rendering himself invisible, all with his pet guinea pig Colonel Sanders by his side, King's show is full of jaw-dropping stunts that are guaranteed to have you and the youngsters laughing out loud (and maybe even joining a trick or two!).
Plus, with tickets starting at just $44.95, this Excalibur entertainment is more affordable than most evening shows.
63 – Meet a few new flippered friends at Siegfried & Roy's Secret Garden and Dolphin Habitat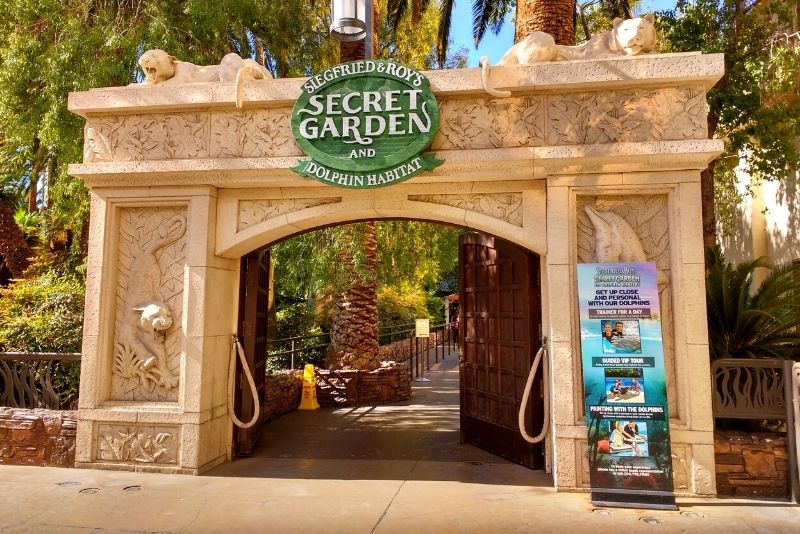 A visit to the Polynesian-themed Mirage Hotel is not complete without a stop at Siegfried & Roy's Secret Garden and Dolphin Habitat, an attraction that offers guests up-close encounters with some of the world's most beautiful animals.
Home to bubbly bottlenose dolphins (don't miss the trainer show) as well as tigers (and white tigers), lions, and leopards (not to mention the friendly staff who are more than happy to teach you about the creatures on show), the habitat is one of the most popular things to do in Vegas with kids, providing a much-needed dose of cuteness and relaxation in the midst of all the glitz and glamour.
The gardens are compact and easy to get around, and the gift shop is reasonably priced too, making this wildlife wonderland a simple addition to any afternoon of exploring.
64 – Be impressed by the Jabbawockeez show!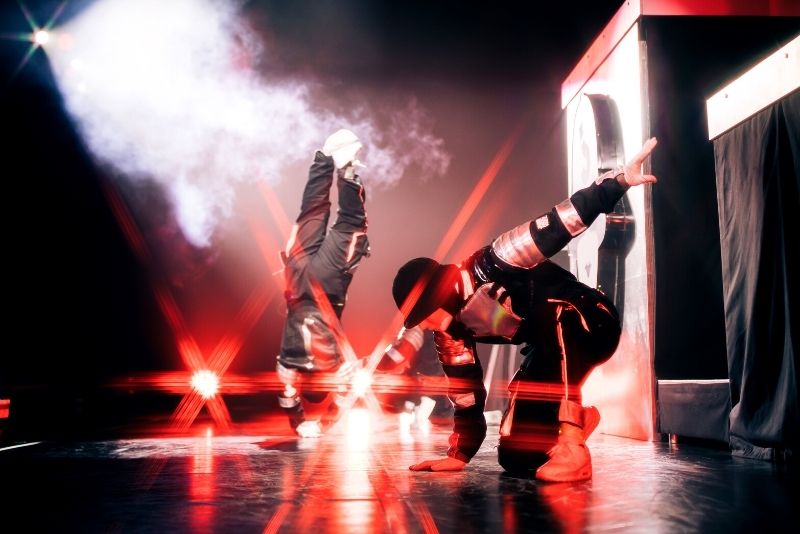 International dance sensations Jabbawockeez have been wowing audiences at the MGM Grand since 2010, and till this day their high-octane, high-tech Timeless production stands as one of the more appropriate and enjoyable family things to do in Las Vegas.
A mix of awe-inspiring dance moves with cutting-edge choreography, plenty of humor, and no shortage of beatboxing, the Jabbawockeez show is a 90-minute-long explosion of energy that's perfect for keeping youngsters entertained.
Having been voted the "Best Family Show" and "Best All Ages Show" for three years in a row, the hip-hop group's reputation precedes them.
65 – Watch a handful of short family films at Excalibur's 4D Ultimate Experience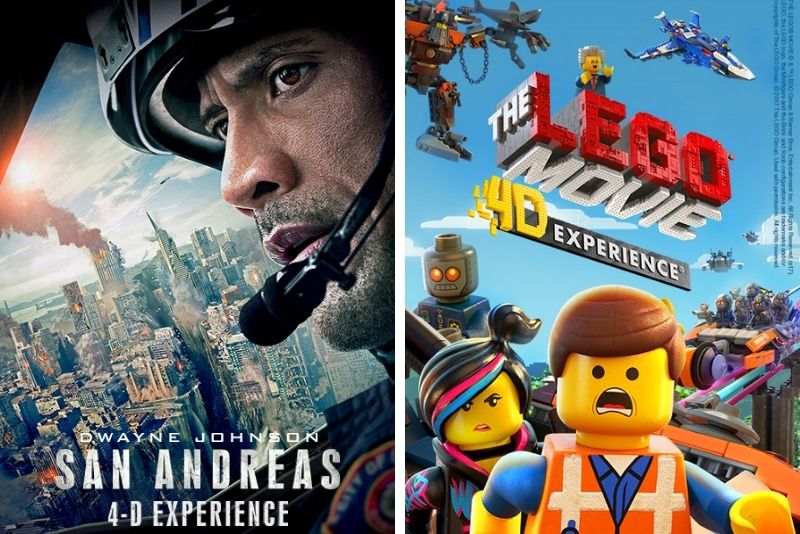 The Excalibur Hotel and Casino is home to a number of family-friendly attractions, but the one that really stands out is the property's very own four-dimensional cinema.
A must for movie buffs of all ages, the theater uses state-of-the-art technology to create an immersive experience that will make you feel like you're right in the middle of the action, taking Hollywood blockbuster movies are leveling up their excitement tenfold with dynamic surround sound, motion chairs, and well-timed effects like wind gusts and water splashes.
From start to finish, the 15-minute shows (the lineup of which includes names like The LEGO Movie, Man of Steel, and San Andreas) are packed with edge-of-your-seat moments
With tickets starting at just $10 per person, and discounted the more clips you decide to watch, this is one Sin City family attraction that offers serious value for money.
66 – Carve up some dust on a dune buggy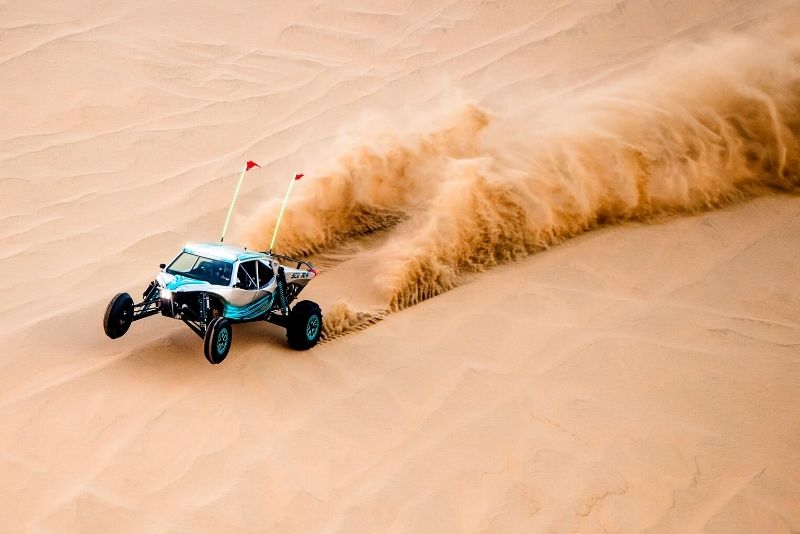 Ditch the casino crowds and honking taxis, and get out into the Nevada desert on a thrilling dune buggy adventure.
This is one of those things to do in Vegas with teens that will create memories to last a lifetime as you explore places like Red Rock Canyon, Hidden Valley, Primm Valley, the Nellis Dunes, or the Valley of Fire – some of the most beautiful places in all of the US – at breakneck speeds, taking in sweeping views of the desolate landscape as you go.
Typically offering hotel pickup and drop-off, as well as a picnic lunch and plenty of photo opportunities, these expeditions are perfect for anyone looking to get off the beaten track and explore what the real Nevada has to offer.
67 – Step into a sci-fi universe at Area 15
Not to be confused with the super-secret military base that is Area 51, Area 15 is a new and rapidly growing entertainment district themed around high-tech gizmos and futuristic sci-fi landscapes, located just south of the Las Vegas Strip.
Boasting an ever-growing list of restaurants, bars (the Oddwood cocktail bar sits beneath a twinkling neon forest), nightclubs, and attractions (including escape rooms, virtual reality experiences, and more), this hip area is perfect for visitors who are looking to get away from the hustle and bustle of the main strip – without having to go too far.
Don't miss Meow Wolf, a multimedia artistic playground; and take your pick from the ax-throwing station, the Emporium arcade, and a flight simulator to top it all off.
With most venues open until late, Area 15 is ideal for both families by day, and those who want to keep the party going well into the night.
68 – Drive a bulldozer at Dig This Las Vegas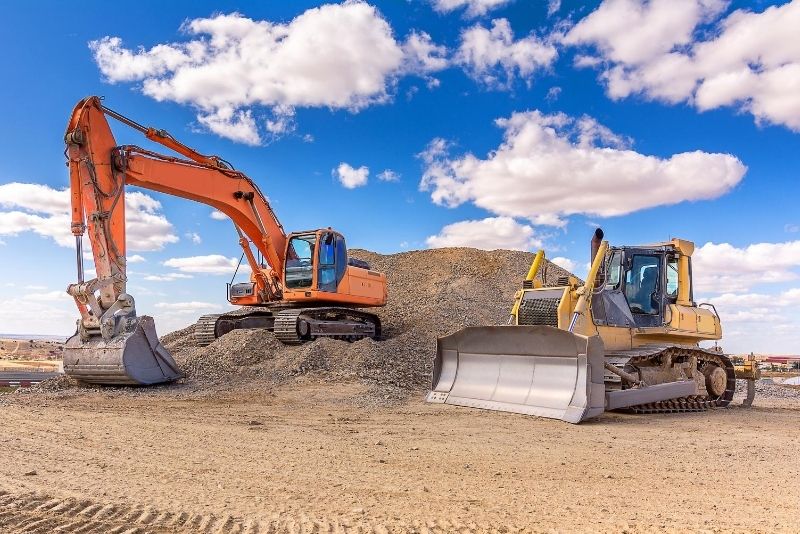 Ever wanted to operate a real bulldozer? Well, now you can – at Dig This Las Vegas, where the tagline is justifiable the 'Heavy Equipment Playground'.
This unique attraction offers would-be construction workers of all ages the chance to get behind the controls of some seriously impressive machinery, including excavators and skid steers, as they dig, trench, and bulldoze their way through a series of challenging obstacles courses.
With a number of different packages available (including the chance to race against your friends or crush cars), as well as special rates for locals, this giant sandbox is one activity that's sure to put a smile on everyone's face (so long as you're 12+).
69 – Putt a hole-in-one at Twilight Zone Mini Golf Arcade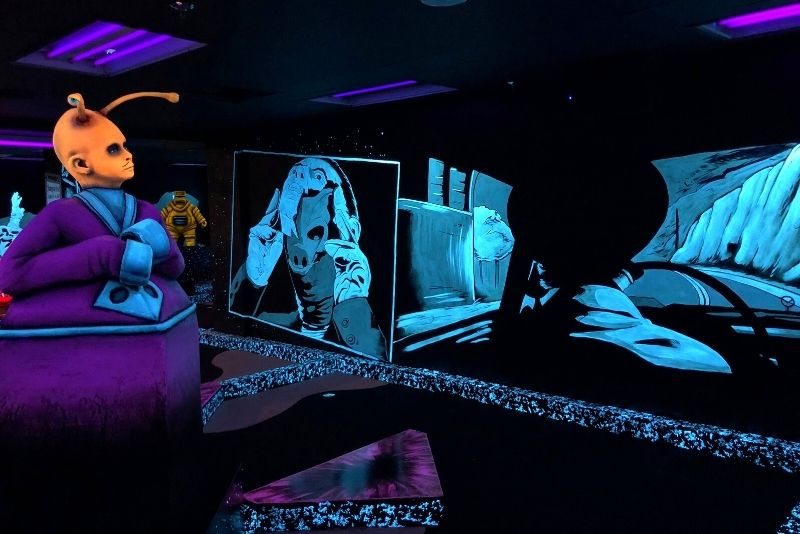 Teeming with aliens and monsters, the 10,000-square-feet Twilight Zone Mini Golf Arcade is a neon-lit mini-golf course to which few can compare.
Designed to take you on an interstellar journey, this 18-hole golf course is full of spooky surprises around every corner, from glowing murals and lifesize characters to a range of nods to the eponymous show itself.
Tucked away in the basement of Bally's, the kid-friendly attraction also offers a selection of addicting arcade games, a handful of bowling lanes, a gift shop with all of your Twilight Zone trinkets, and spaces for birthday parties too.
70 – Conjure up conspiracy theories at Area 51
Iconic around the world for its mystery and allure, top-secret Area 51 has been a place of intrigue and conspiracy theories for generations.
Located about 150 miles northwest of Las Vegas in the heart of the sizzling Nevada desert, this heavily-restricted military base is thought to be home to everything from extraterrestrial lifeforms to crashed UFOs – and visitors are not allowed anywhere near it.
That said, there are plenty of ways to get your 'Area 51 fix' without venturing inside the barbed wire fence itself; tours depart from Vegas on the daily, making their way along the Extraterrestrial Highway before arriving in the town of Rachel — where the majority of Area 51-themed shops, art, and (supposed alien) petroglyphs await.
71 – Soak in the atmosphere of the Fremont Street Light Show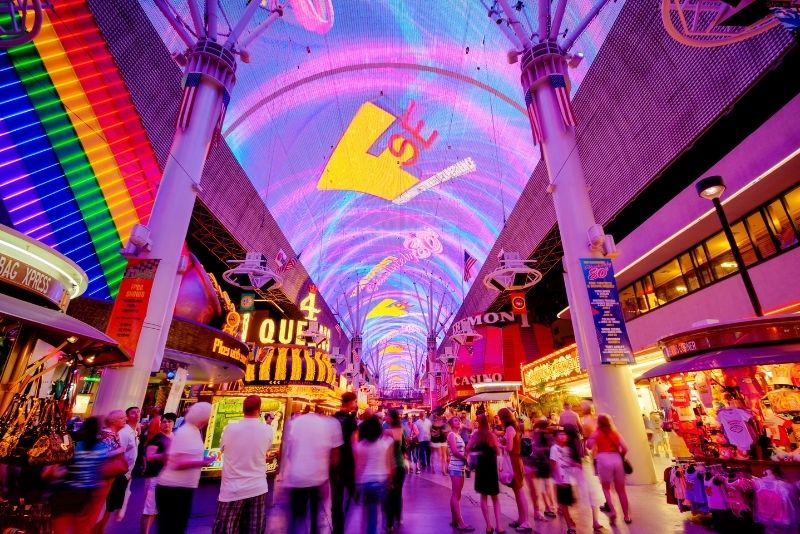 An ever-buzzing mishmash of tourists, street performers, casinos, and bars, Fremont Street is the beating heart of downtown Las Vegas.
Lined with some of the most famous casinos in town – including The Golden Nugget, Binion's Gambling Hall, and The D – as well as several restaurants and bars, this pedestrianized street comes to life each night with a spectacular sound-and-light show that projects images onto a 90-foot high canopy covering the entire length of Fremont Street — a seriously impressive 1,375 feet long and is over 90 feet wide. And, thanks to synchronized music from renowned artists like The Killers, it's more than just a light show, it's an entertainment spectacular.
The free light show runs every hour on the hour from 6pm until 2am, so as long as you spend some time meandering around the area, it'll be hard to miss.
72 – Quench your thirst at the Coca-Cola Store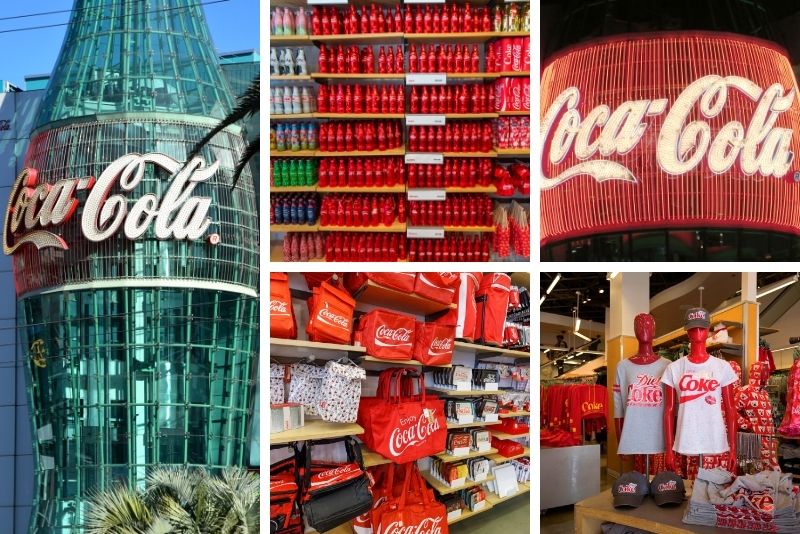 Thirsty for some serious consumerist overload? Look no further than the Las Vegas branch of the Coca-Cola Store.
Packed to the rafters with all things Coke (and Diet Coke, and Sprite, and Fanta… to name a few), from branded clothing and accessories to an interactive zone for kids and a 'tasting room' where you can sample dozens of different types of the drink from around the world, this sugary temple is heaven for anyone with a sweet tooth – or simply a love of branding.
Keep in mind, while the store's open until 10pm every night, the tasting bar is limited to 12pm-6pm.
73 – Check out the inflatable obstacle course at Lake Las Vegas Water Sports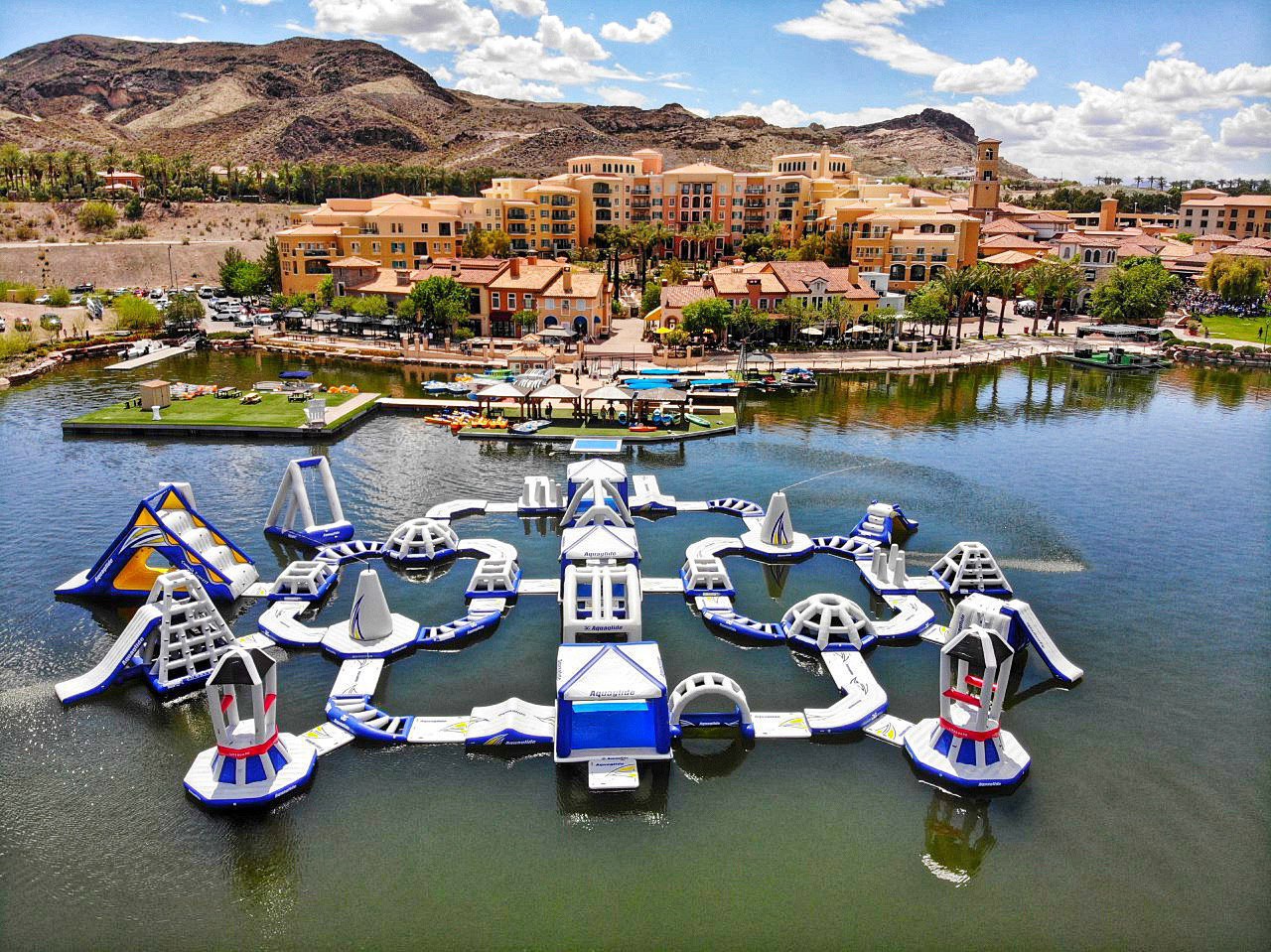 A floating adventure land, Lake Las Vegas is the place to go in Vegas if you're looking to get out on the water.
A man-made reservoir situated about 20 minutes outside of The Strip in nearby Henderson, this 320-acre body of water plays host to all sorts of aquatic adventures, from stand up paddleboarding and kayaking to wakeboarding, flyboarding, tubing, and waterskiing – there's even a Ninja warrior-style inflatable course if you fancy something a little different (read: a great starting point for the kids too).
Even if you're a total watersports newbie, there are plenty of operators offering boat rentals and lessons, so whether you want to explore the lake at your own pace or join a boat party, it couldn't be easier to get involved.
74 – Visit Eldorado Canyon and some ghost towns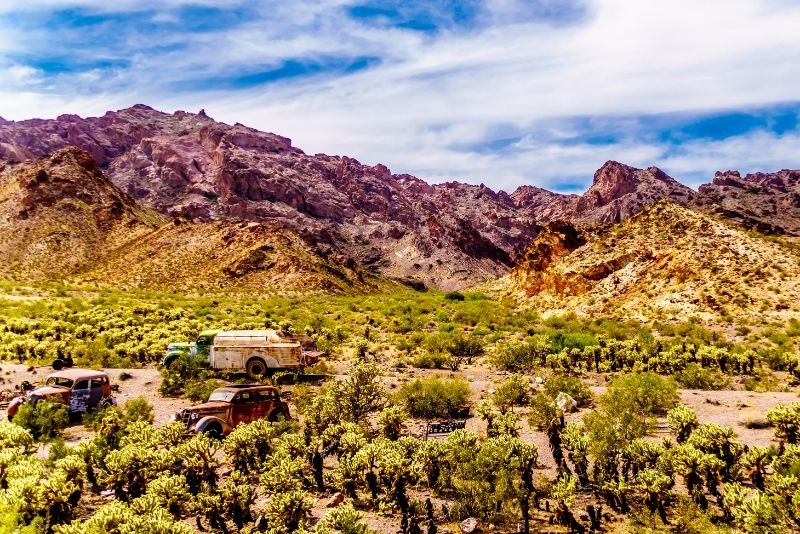 The total inverse of built-up, glitzy Las Vegas, Eldorado Canyon is a rugged and wild area of red rocks, canyons, and desert just 30 minutes outside the city.
A favorite spot for hikers, mountain bikers, ATV riders and rock climbers, this off-the-beaten-path corner of Nevada (which borders Arizona) is also home to the remains of old gold mining towns (namely the Nelson Ghost Town), complete with abandoned mineshafts, ghostly buildings, and rusty old machinery.
While there's not much in the way of facilities out here (apart from the abandoned Techatticup Gold Mine) if you're after some peace and quiet away from The Strip – plus some epic Wild West photo ops – Eldorado Canyon (and the drive down Route 66 which some tours include too) is well worth a spot of the to-do list.
75 – Cheer on the Las Vegas Golden Knights hockey team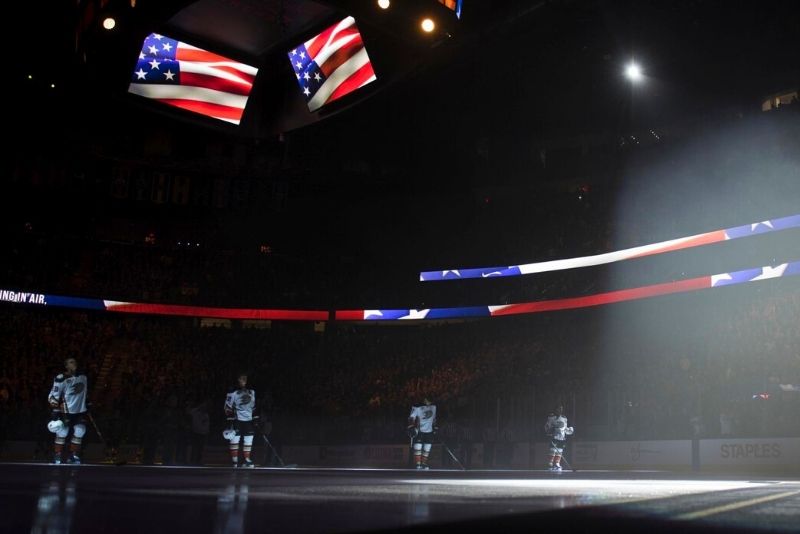 Although they're a relatively new team, the Las Vegas Golden Knights have quickly become one of the most popular sports teams in the city.
If you're in town during hockey season (October to June), catching a game is a must – even if you're not a huge sports fan. Immersed in the roar and electricity of T-Mobile Area, concession snacks in one hand, beer (or soft drink for the kids) in the other, you'll find it hard not to get swept up in the icy excitement.
Check out the team's schedule online and book your tickets in advance if you want to guarantee a spot and, if you're hunting for something extra special then consider a behind-the-scenes arena tour.
76 – Button-mash at the Pinball Hall of Fame and Museum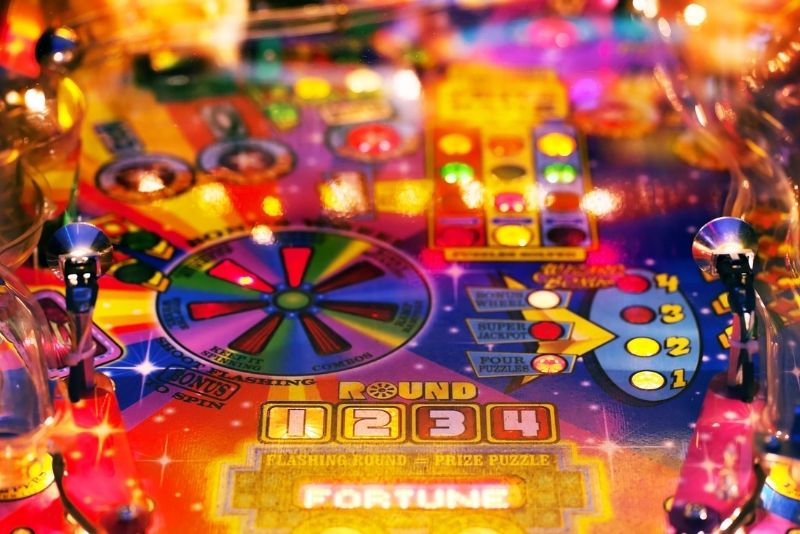 Oozing nostalgia, the Pinball Hall of Fame and Museum is a must-visit spot in Vegas for anyone who's ever pumped a fistful of quarters into an old-school button-mashing arcade machine.
Over 200 vintage pinball machines and classic video games fill the space (most of which date from the 1960s through the 1990s), with everything from Batman to Star Trek, Sega Basketball, and Wheel of Fortune on offer.
Admission to the Pinball Hall of Fame is free (just bring a few quarters if you want to play), and all proceeds from this retro gaming mecca go towards supporting the Salvation Army – so you can feel doubly good about your visit.
77 – Mingle with mermaids at the Silverton Aquarium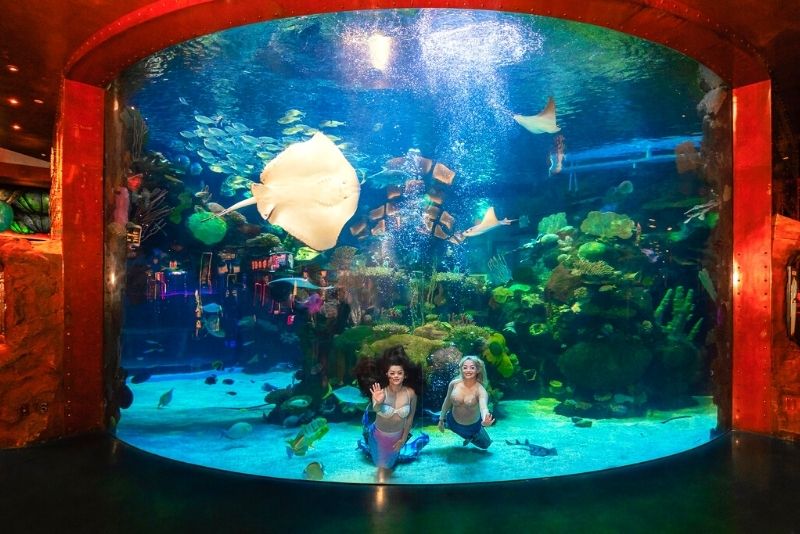 A little-known hotel and casino situated a few miles south of The Strip – and one of the first hotels you'll see if driving from Los Angeles – the Silverton is home to one of Vegas' most enchanting attractions: mermaids!
That's right, at the Silverton Aquarium you can see real-life (well, as real as it gets) mermaids swimming in a 117,000-gallon fish tank alongside hundreds of colorful fish. Magical creatures aside, you'll also find a handful of stingrays and sharks, and two lit-up jellyfish aquariums.
The best part? This mystical display is totally free to visit on Thursdays through Sundays, and you can even catch one of their regular feeding shows too.
78 – Embrace your inner Mockingjay at the MGM Grand's Hunger Games Exhibition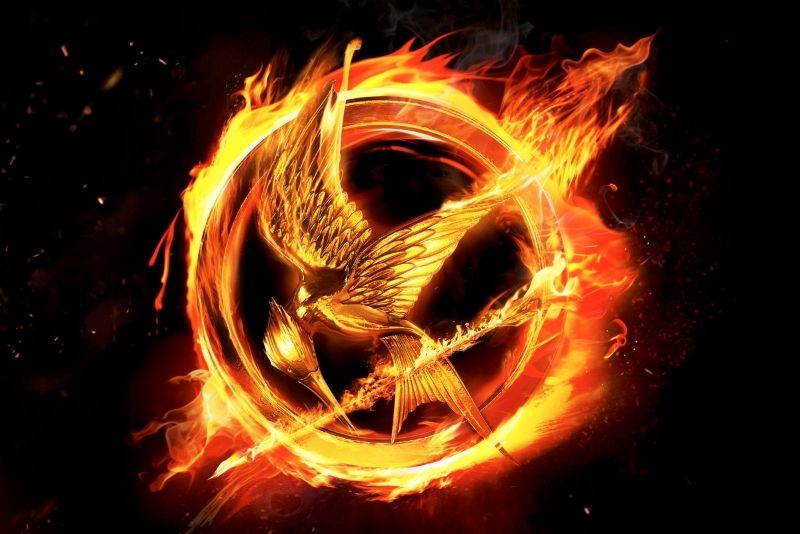 Calling all Mockingays and tributes! If you're a fan of the Hunger Games movies then you'll want to check out this immersive exhibition; an unmatched insight into the props, costumes (including Effie's loud outfits), and set pieces from all four movies in the beloved franchise.
With rare artifacts on show, you'll be taken on a journey through Panem, giving you a behind-the-scenes look at the fascinating world of Katniss Everdeen and the gang.
Heavily interactive, you can find yourself sitting in President Snow's office, taking a spin on the Tribute Train, or honing your bow-and-arrow craft in the 60-foot screen simulator.
79 – Play against your kids or teens at ESPORTS Arena Las Vegas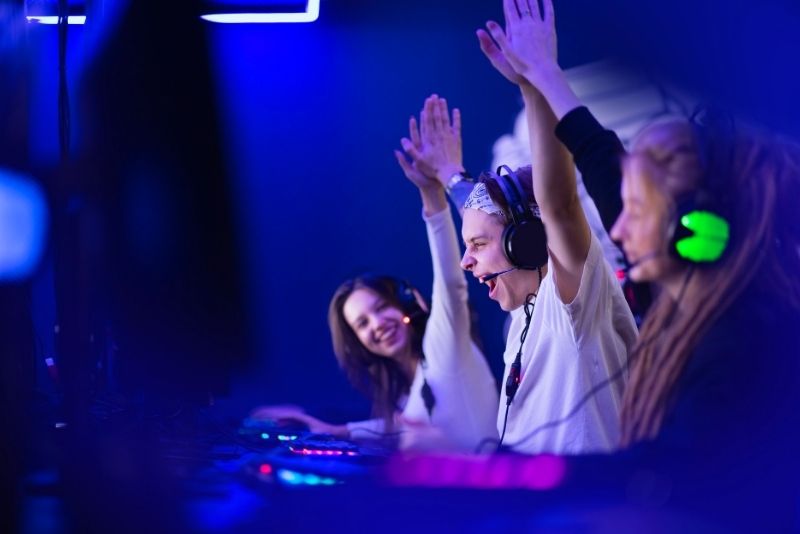 Button-mashers, listen up! HyperX eSports Arena Las Vegas is the first permanent eSports venue in Vegas, and it's located right on The Strip inside the Luxor.
This 30,000 square-foot arena is kitted out with a main stage, dozens of gaming stations, an enormous 50-foot LED wall, and plenty of console and PC games to get your teeth into – making it the perfect place to challenge your friends (or complete strangers in regular tournaments) to a spot of competitive gaming.
Grab a pass for the hour to test your skills, or one for the day if you're up for some serious gaming action; or simply enjoy some snacks and drinks from their in-house bar as you watch others battle it out.
80 – Snap Insta-worthy photos at Arcadia Earth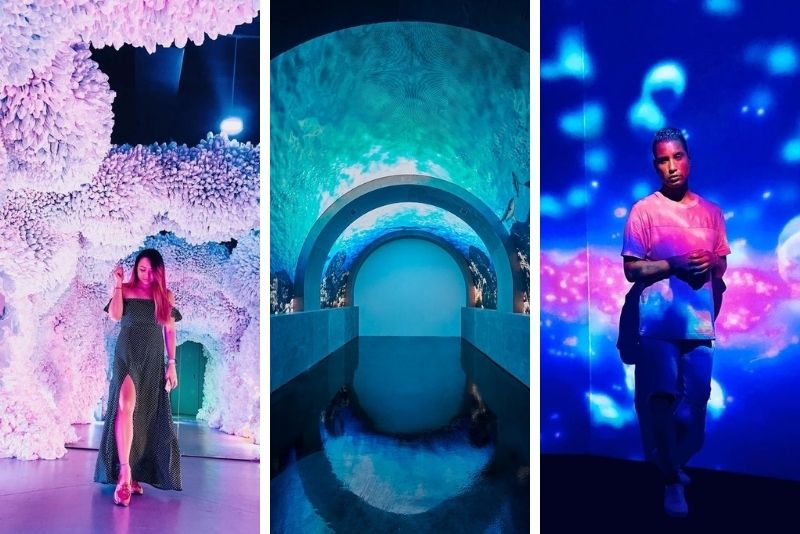 Like taking a step into Narnia-meets-Alice's Wonderland… but 500 years in the future, this massive, cutting-edge exhibit whisks visitors away to an otherworldly experience that's part educational, part art installation.
Futuristic and eco-friendly, Arcadia Earth is a huge, multi-sensory exhibit made up of 15 different installations, all designed to educate visitors about the effects of climate change on our planet – and (thanks to QR codes all around the place) what we can do to help.
But it's not all doom and gloom; with robots, light shows, and a virtual aquarium, as well as literal trash-to-treasure exhibits like a glowing and colorful tunnel of plastic bags, this place is seriously fun too.
81 – Spend the morning at the Flamingo Wildlife Habitat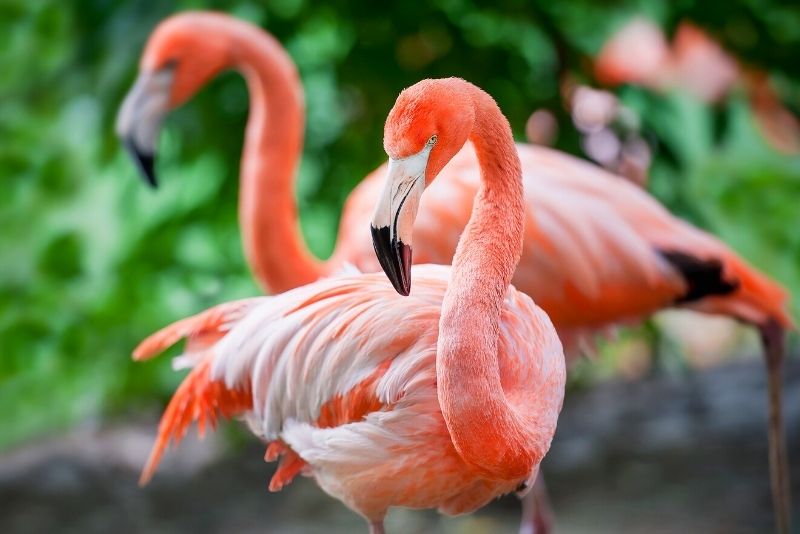 In Vegas, a little bit of nature goes a long way, and the Flamingo Wildlife Habitat is one of the most popular spots to see some local fauna.
Home to a flock of Chilean flamingos (the casino's namesake), as well as ducks, koi fish, swans, turtles, and occasional penguins, this free-to-visit habitat is open every day from dawn until dusk – making it the perfect place for an early morning or evening walk.
The kids will love the chance to feed the pelicans, while the parents can grab a drink at the festive Wildlife Habitat's Patio Bar.
82 – Get a strike (and then party!) at Brooklyn Bowl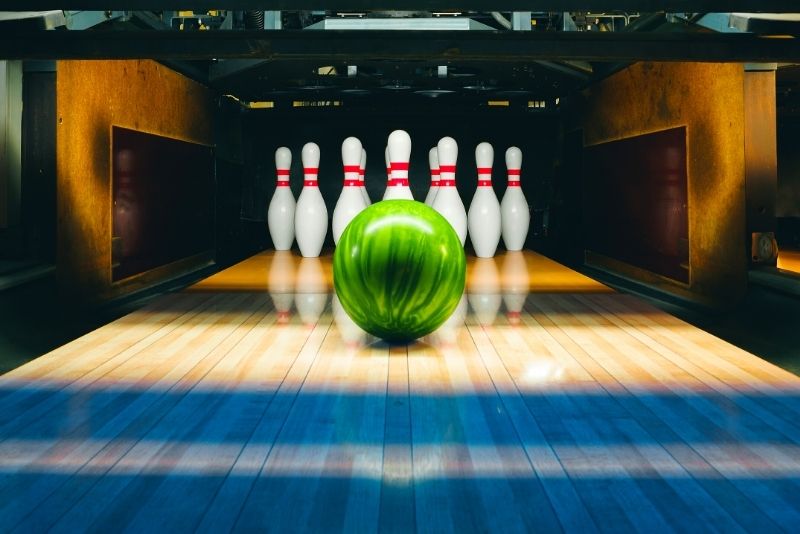 One of the coolest spots in Vegas, Brooklyn Bowl is a massive 30,000 square-foot music venue, bowling alley, cocktail bar, and old-school restaurant (whose menu was crafted by the coveted Blue Ribbon in NYC) all rolled into one.
With live music most nights (and big-name headliners on the weekends) and a massive dancefloor to boot, as well as 32 lanes of bowling, this place – next to the Flamingo and Linq Casinos – knows how to have a good time.
And if you get peckish? No problem – their menu includes everything from Southern comfort food to bourbon-infused milkshakes.
83 – Delight the senses at the Museum of Dream Space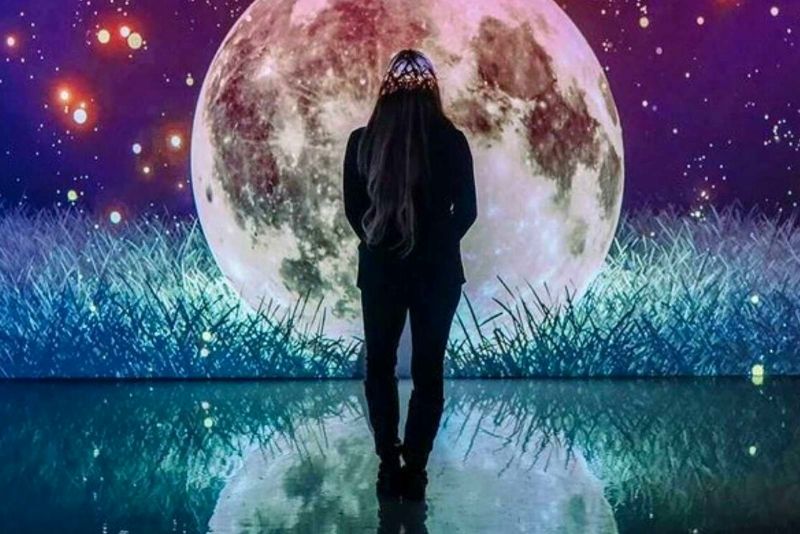 This isn't your average art museum; at the Museum of Dream Space, you can immerse yourself in some of the most jaw-dropping, mind-bending optical illusions and digital installations around.
Focusing solely on digital art (and the first museum of its kind to do so), MODS features a truckload of large-scale immersive installations inspired by the oft-psychedelic works of famous Japanese artist Yayoi Kusama — the striking works line every room of this museum, with each one more through-provoking than the last.
Camera at the ready, folks; with so many vibrant colors and dreamy patterns, this place is a veritable photographer's paradise.
84 – Book a ticket for the Tournament of Kings Dinner and Show at the Excalibur Hotel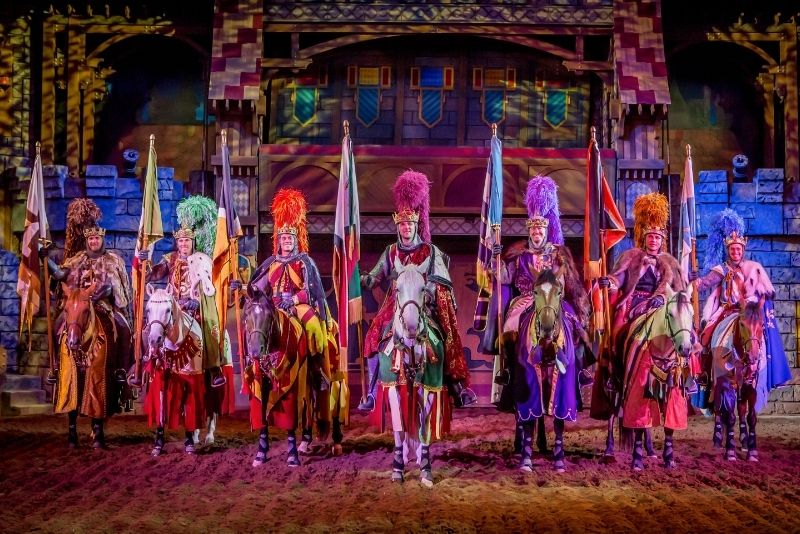 Jousting, horses, sword fights, oh my!
An all-action show that has long been considered one of the best family things to do in Las Vegas, Tournament of Kings is a medieval-style dinner show that delivers an epic portrayal of centuries past; adapted from the story of King Arthur, this Excalibur show will have everyone in your group entertained (and bursting at the seems).
Starting with a hearty feast (think Cornish game hens, potatoes, and gravy) and drinks served right to your seat, the main event sees knights on horseback fighting it out in true medieval style while the bejeweled kings and cunning wizards play their part alongside.
85 – Learn about a different side of Nevada at the National Atomic Testing Museum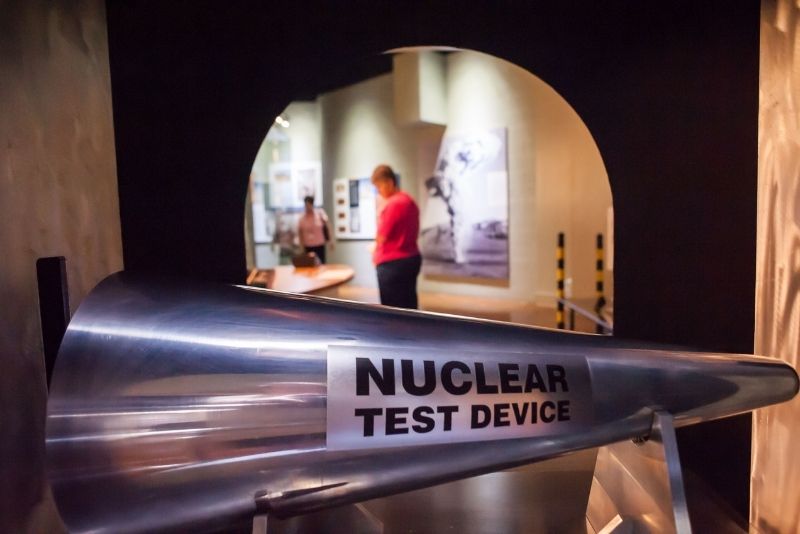 Far from your typical Vegas attraction, the National Atomic Testing Museum is a place that tells the story of America's nuclear testing program – from its early days in 1945 through the Cold War and up to the activities of the 21st century.
A coveted affiliate of the Smithsonian Institution (so you can guarantee an insightful and impressive collection), kids and adults alike will find intrigue in this museum's vast array of artifacts (including giant drill bits, nuclear testing devices, replica bombs, and quirky atomic-era pop culture posters), as well as interactive exhibits and detailed information on each and every stage of the atomic age.
Be sure to pop into the Silo Museum to check out the educational short film about the history of the Nevada Test Site before making your way to the immersive 4D Ground Zero Theater, which puts visits in the thick of the most influential historic nuclear moments.
86 – Sample the fresh produce at Las Vegas Farm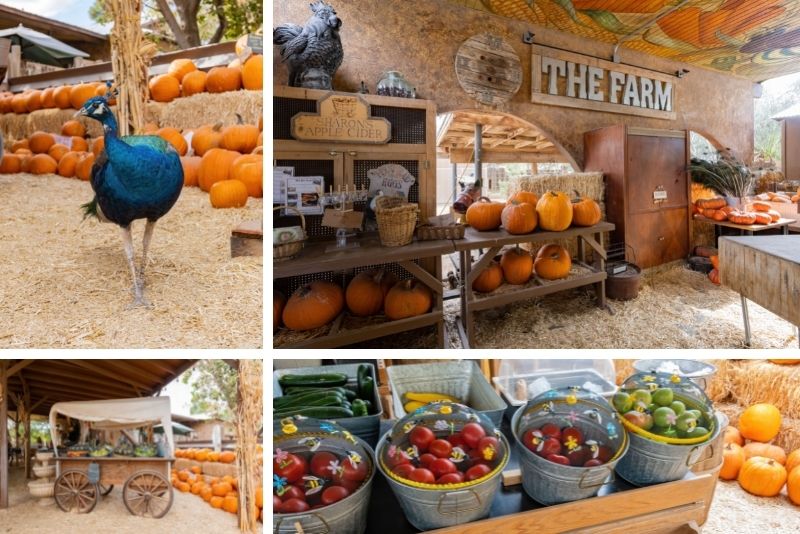 If you're looking for a break from the hustle and bustle of Sin City, Las Vegas Farm is a great place to take the family – not to mention it's free on weekends (donations accepted, however).
Located just 15 minutes drive from Downtown (20-25 from the Strip), this working farm is, in essence, an agricultural time capsule, having been around since the early 1960s. Beloved by youngsters, in particular, the little-known attraction has a wonderful selection of rescued animals — goats, horses, peacocks, cows, pigs, ducks, and sheep, to name a few — making it the perfect day out for kids (and adults) of all ages.
Plus, for a small fee, you can grab some hay to feed the local residents too
After the animals have eaten, if you're feeling pecking yourself, the farmer's market awaits. Embodying the very definition of farm-fresh, the on-site stores sells eggs, fruit, vegetables, and from-the-hive local honey,
87 – Dig into a themed kids meal at the Rainforest Cafe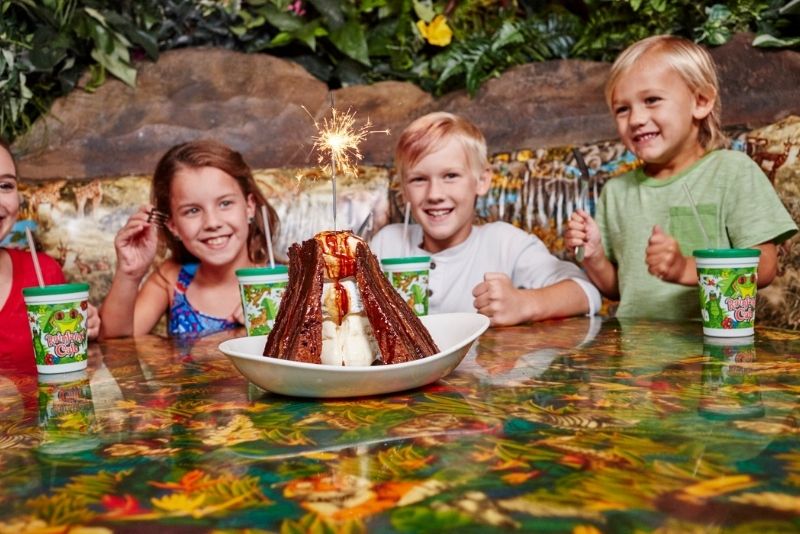 Tucked away inside Planet Hollywood Resort & Casino, the Rainforest Cafe is one of Las Vegas' most family-friendly eateries, with whimsical decorations and animatronic animals who love to roar.
A wild and wonderful jungle-themed restaurant that's perfect for kids (and adults), the cafe is home to a number of impressive waterfalls, and thunderstorms that provide an authentic rainforest experience.
In addition to a menu of American favorites (think burgers, salads, pastas, seafood, and sandwiches) all served up in a casual setting beneath the trees and vines, there are also plenty of fun drinks on offer too (including non-alcoholic jungle-themed slushies).
Hot tip: ask your server for a seat out the terrace where spectacular views overlooking the Strip await!
88 – Learn all about milk at Anderson Dairy!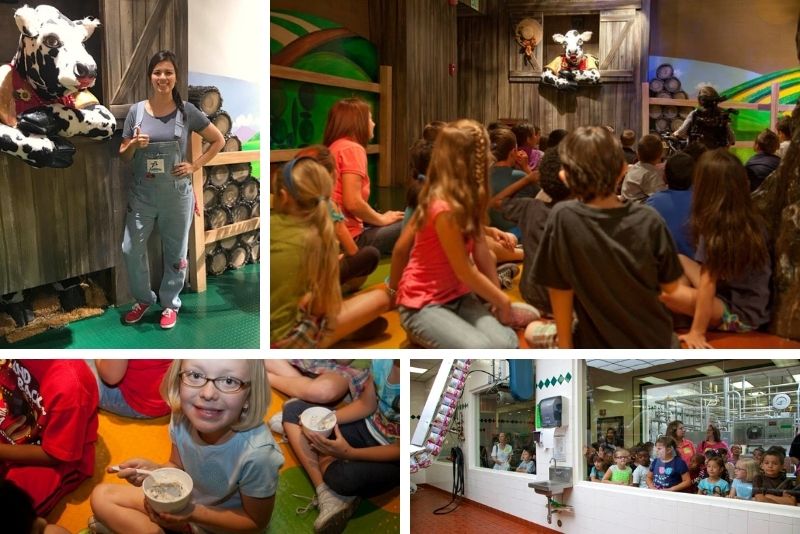 Anderson Dairy is a working dairy farm located in the north of Las Vegas and open to the public for tours — and it's been doing its thing, quenching thirsts and welcoming visitors for well over a century.
The family-owned and operated business has been in operation since 1907, making it one of the longest-running businesses in Nevada. And today, you can take a guided tour around the property to see how milk is made (as well as other products like butter milk, egg nog, cottage cheese, and butter) – from cow to carton.
Kids will love getting up close to the animatronic animals on the Barnyard Buddies tour, as well as learning about traditional farming methods that have changed tenfold over the years. With plenty of opportunity for questions, photos, and, if you ask nicely, free ice cream included, it's always a hit with the kiddliwinks.
89 – Chat to the conductor at the Nevada State Railroad Museum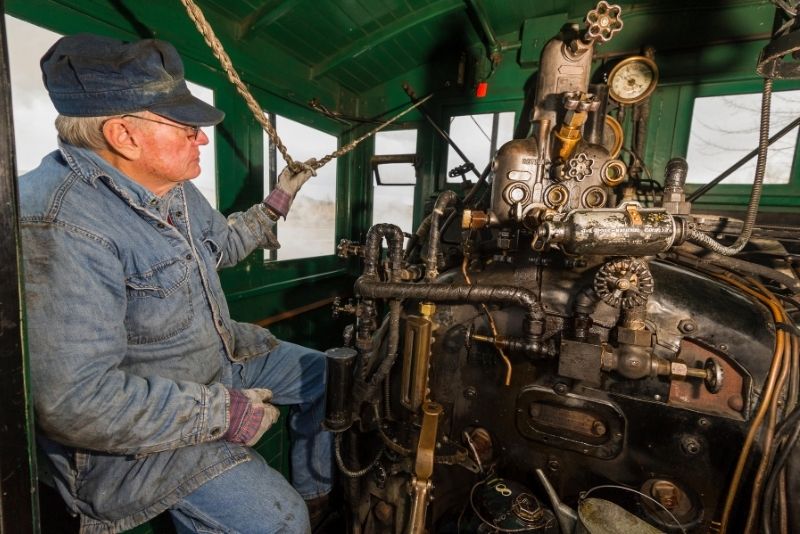 All aboard! The Nevada State Railroad Museum is a locomotive lollapalooza, bringing together all the best bits of American railroad history in one place.
Based in Boulder City – a 30-40 minute drive southeast of the Strip – the museum is home to an impressive collection of trains and carriages (many of which date back to the 1930s), as well as a superb range of interactive exhibits, educational displays, and memorabilia focusing around themes like railway signaling and coal mining.
As one of the only museums in the United States dedicated to preserving railroad heritage and presenting it to the public, the Nevada State Railroad Museum makes for essential viewing for train enthusiasts and history buffs alike.
Of, course, there are plenty of opportunities to ride the old-school trains too; the Nevada Southern Railway takes visitors on scenic round-trip rides through Bootleg Canyon aboard vintage trains.
90 – Stuff your face at the Sugar Factory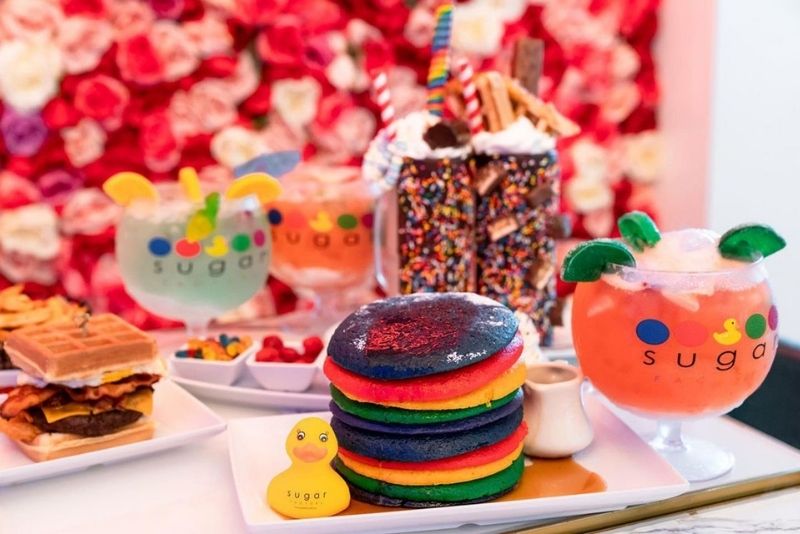 Does someone in your family consider themselves a bit of a candy connoisseur? Then add the sweet-tooth-heaven that is the Sugar Factory to the top of your list of things to Do in Las Vegas with kids and teens.
A global chain of confectionery emporiums, the Sugar Factory has become something of a global phenomenon in recent years, with outposts now open in locations as far-flung as Chicago, London, and Bahrain.
Nestled on the Strip at Harmon Corner, this family favorite is part restaurant, part sugar shack, and part adventure land, offering three stories of indoor and outdoor seating where sugary treats cover the menu, a rock climbing wall, and birthday and wedding fiestas.
Not only does it have an extensive menu of sugary treats (think: crepes, milkshakes, cakes, ice cream sundaes, and cocktails the size of your head), but it also boast a whimsical candy store selling everything from giant gummy bears to souvenir t-shirts.
91 – Practice your aim at Combat Zone Paintball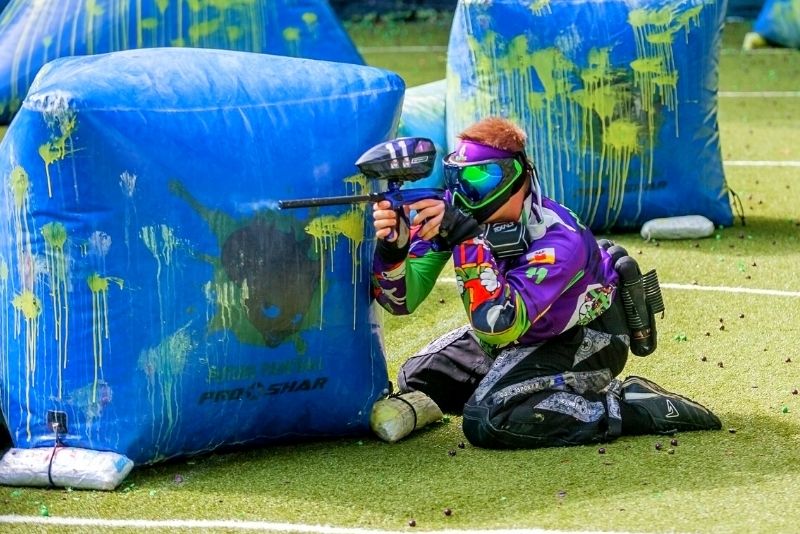 Like stepping into a real-life Call of Duty battlefield, Combat Zone Paintball is high-speed and high-adrenaline – making it the perfect activity for thrill-seeking families.
With both standard impact (best for adults and teens) and medium impact (best for kids) options available, Combat Zone Paintball caters to all levels of experience, and with a handful of different games to choose from (like capture the flag and cops and robbers), there's plenty of variety on offer. To top it all off, there's a special Zombie Apocalypse Experience as well, which will have you defending for your life against consumed actors!
Themed birthday parties are also available, as well as group bookings for corporate events, team-building exercises, and bachelor/bachelorette parties.
Hot tip: wear a hoodie.
92 – Take the kids to Seven Magic Mountains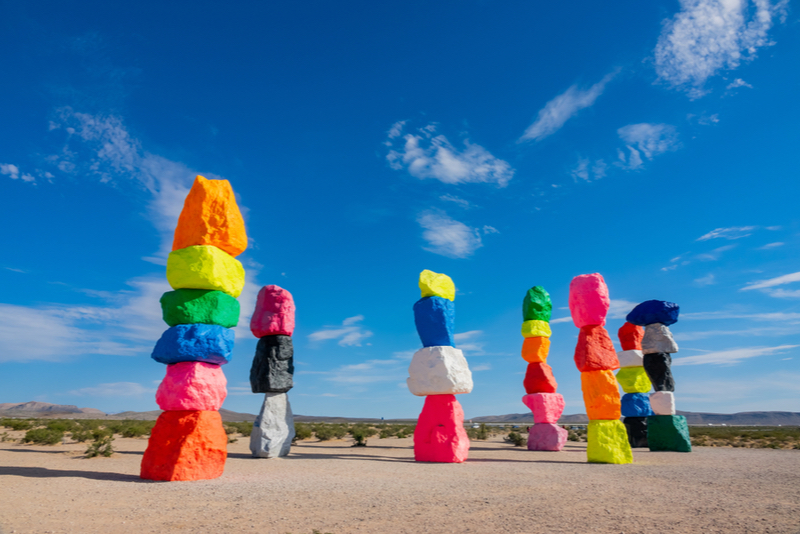 An outdoor art installation located just 30 minutes outside of the city, Seven Magic Mountains makes for a quick and convenient stop as you're driving in between Vegas and California.
Conceived by Swiss artist Ugo Rondinone, the sculpture comprises seven towering pillars of colorful, stacked boulders that rise up to 35 feet high – a feast for the eyes that's best enjoyed at sunset when the light hits it just right.
A fun and family-friendly activity, Seven Magic Mountains is completely free to visit and park at, however, if you prefer someone else do the organizing, guided tours are often combined with the Welcome to Las Vegas sign, the Hoover Dam, or Red Rock Canyon and provide a creat multi-attraction day out.
93 – Watch the Las Vegas Raiders football team in action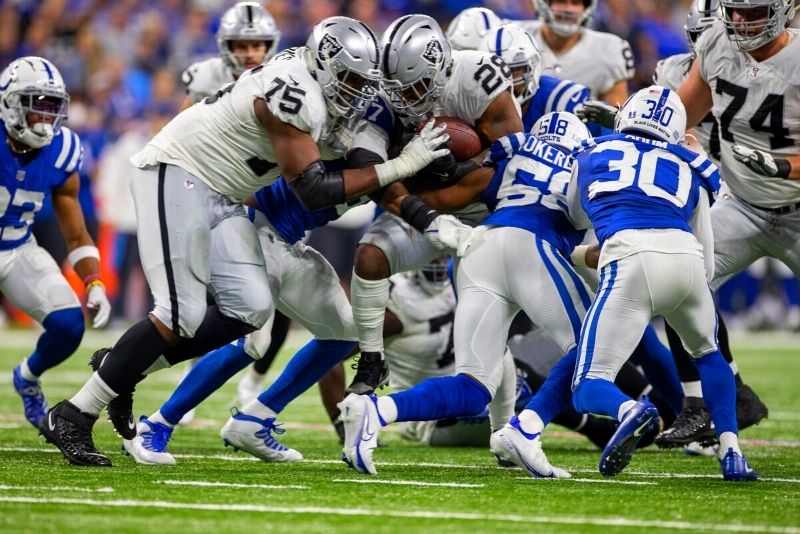 Watching the nation's best run their plays on the Allegiant Stadium field, hearing the roar of the crowd as your team scores a touchdown, noticing the smell of hot dogs and popcorn in the air – there's nothing quite like an NFL game day experience.
And with the Las Vegas Raiders having established themselves after moving from Oakland in 2020, now is the perfect time to get tickets for a quintessentially American pastime.
The Raiders typically play September through January, however, outside of game day, the stadium remains a tourist magnet, welcoming internationally renowned pop stars for weekly concerts and offering behind-the-scenes tours (including the chance to see the locker rooms and press boxes).
94 – Show kids the beauty of art at Immersive Van Gogh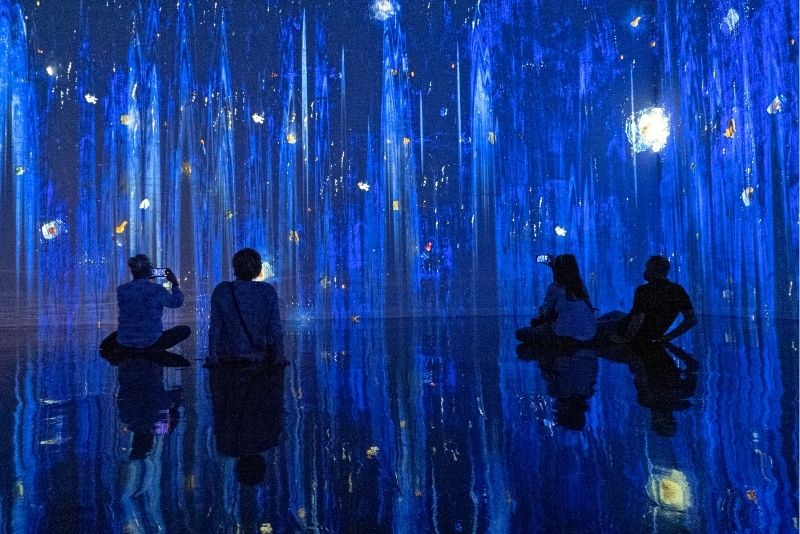 Fusing contemporary van Gogh masterpieces with state-of-the-art projection mapping and sound technology, Immersive Van Gogh is the original interactive exhibit that allows visitors to explore the life and work of one of history's most celebrated artists in true 21st-century fashion.
Located at The Shops at Crystals, the exhibition – which has been showcased in locations such as Amsterdam, Tokyo, Berlin, and New York – takes place in specially designed rooms where you're free to wander among van Gogh's works, taking in his bright colors and unique brushstrokes from up close.
What makes Immersive Van Gogh so special are the people behind it – its brilliant design has come to life thanks to renowned filmmaker Massimiliano Siccardi and set designer of Hamilton, David Korins.
Keep in mind: there is actually another, smaller Van Gogh exhibition over at AREA15, considered the more budget-friendly option.
95 – Ride the famous Fremont Street SLOTZILLA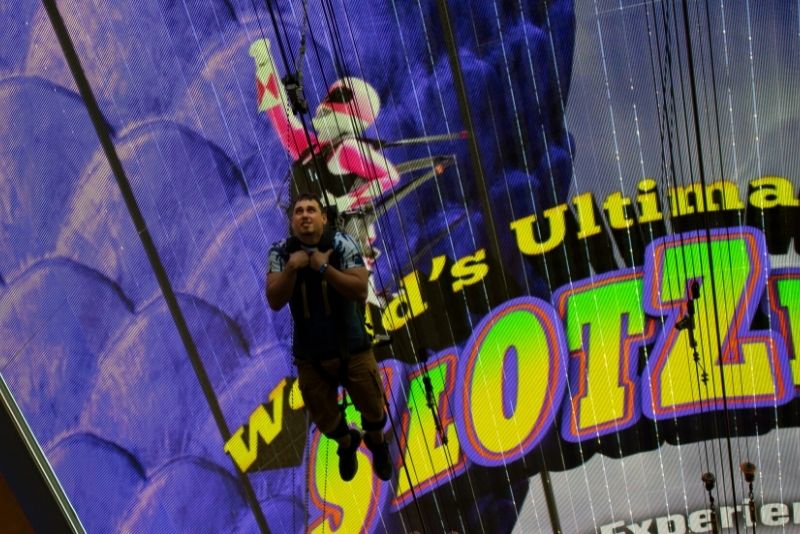 Dishing up a new and exciting perspective (read: bird's-eye) on the ever-busy Fremont Street, Slotzilla is a 12-story high, open-air zipline that whisks passengers from one end of the street to the other, soaring over the neon-lit pedestrian zone, the snap-happy tourists, and the charismatic street performers.
With two thrilling zip lines to choose from, the longer of which stretches almost 1,700 feet, both the timid kids and the fearless teens have something to enjoy.
The 77-feet high option reaches speeds of 35 miles per hour, while the big kahuna, the 114-feet-high Zoomline sends you racing down the street head-first and Superman-style!
96 – Let the teens loose at Hershey's Chocolate World

Craving a little cocoa-y goodness? Hershey's Chocolate World in the New York-New York Resort & Casino is the ultimate destination for all things chocolate, with a massive factory outlet store and a sleuth of free samples and interactive exhibits (including the chance to make design your own candy bar wrapper).
Unlike your typical candy store, Hershey's World offers a bakery full of freshly-made and lip-smacking desserts (try the Reese's cookie!), likewise a decked-out merchandise store and over 800 different chocolates store-wide.
97 – Make a booking for the Blue Man Group at the Luxor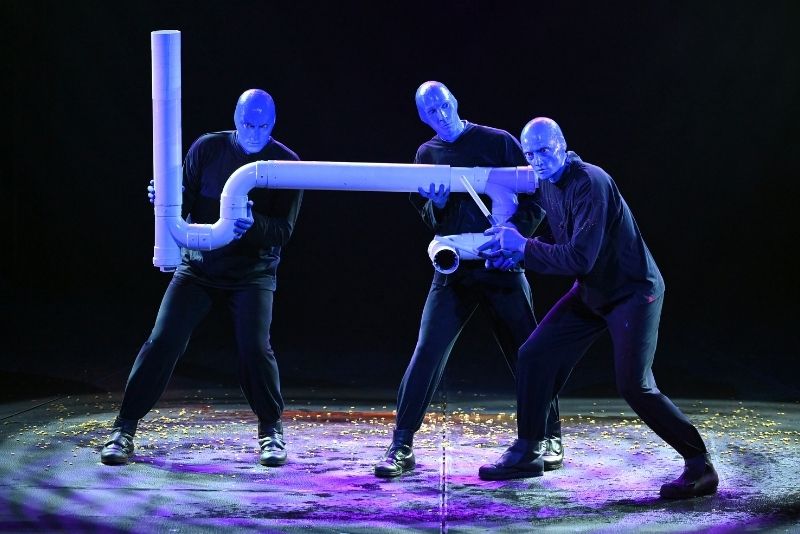 Famously blue, often bald, and always interesting to watch, the Blue Man Group has been a Las Vegas staple for years – and with good reason.
A performance by the group is an assault on the senses, fusing music, comedy, and theater into one unforgettable experience that will have you laughing, cheering, and maybe even dancing along in your seat.
Their show at the Luxor Hotel & Casino is no different – it's high-energy, interactive, and downright fun for people of all ages that embodies a party atmosphere, incorporates one-of-a-kind technology, and quirky musical instruments that you won't see on most stages.
With shows running nightly and for about 90 minutes, it's the perfect post-dinner activity for the whole family.
98 – Marvel at the Mirage Volcano's eruptions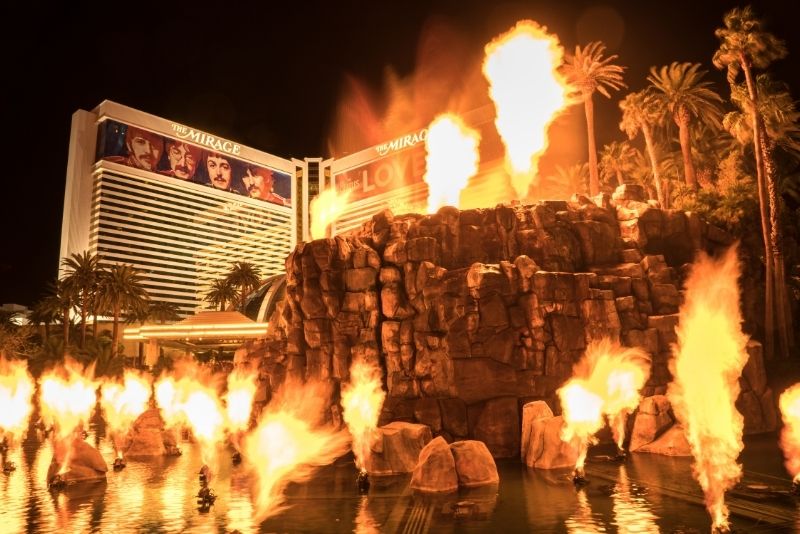 An emblem of the Vegas Strip that has been spurting fire and flames since 1989, a visit to the Mirage Volcano is one of the most popular – and free! – things to do in Las Vegas with kids.
The volcano "erupts" every hour on the hour from 8pm till midnight, shooting fireballs more than 13 feet (4 meters) high feet into the air as a plume of smoke engulfs the lagoon below with accompanying music and special effects to make the experience all the more memorable.
It's quite a sight to behold, and one that's bound to leave an impression on kids and adults alike. Unfortunately, however, there are talks to tear down the volcano as part of a remodeling project, so be sure to check it is while it's still standing!
99 – Chill out with the kids and teens at Mandalay Bay Beach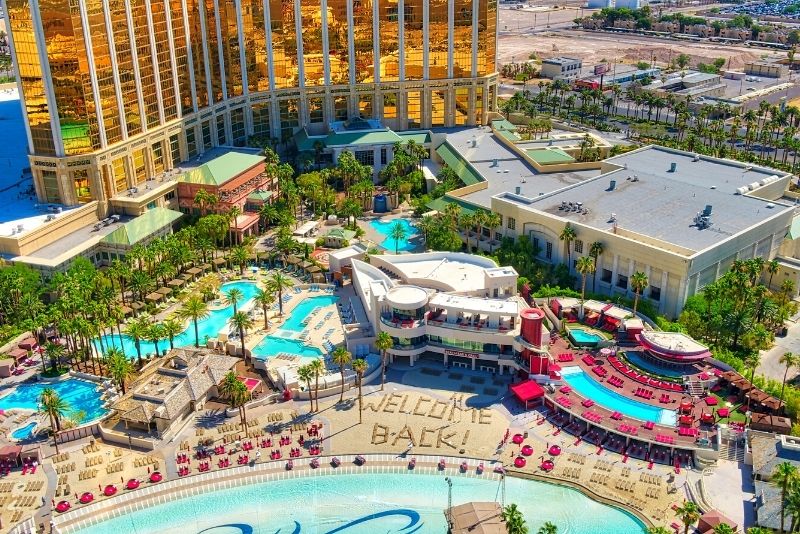 A stark juxtaposition to the bright lights and noise of the Strip, Mandalay Bay Beach is an oasis of calm in the middle of the desert.
The 11-acre tropical pool paradise features a lazy river, a 1.6 million gallon wave pool (with both gentle and large surf options), and sandy beaches that are perfect for basking in the Nevada sun (don't forget the sunscreen, of course).
There's also a number of comfy cabanas and daybeds available for rent, as well as a poolside bar and grill for grabbing a light bite or refreshing drink.
Even if you're not staying at Mandalay Bay, it's worth spending an afternoon (or morning – the beach opens at 9am) here to escape the hustle and bustle of Sin City for a little while.
While we all love some good relaxation, this is, of course, still Sin City, which means that a speaker-blasting party is never too far away; Mandalay Bay is home to two of the most popular pool clubs on the Strip, Daylight Beach Club and Moorea Las Vegas, the former of which hosts world-famous DJs on the regular, while the latter oozes sophistication with fancy cocktails and luxury cabanas.
100 – Go for a gondola ride at The Venetian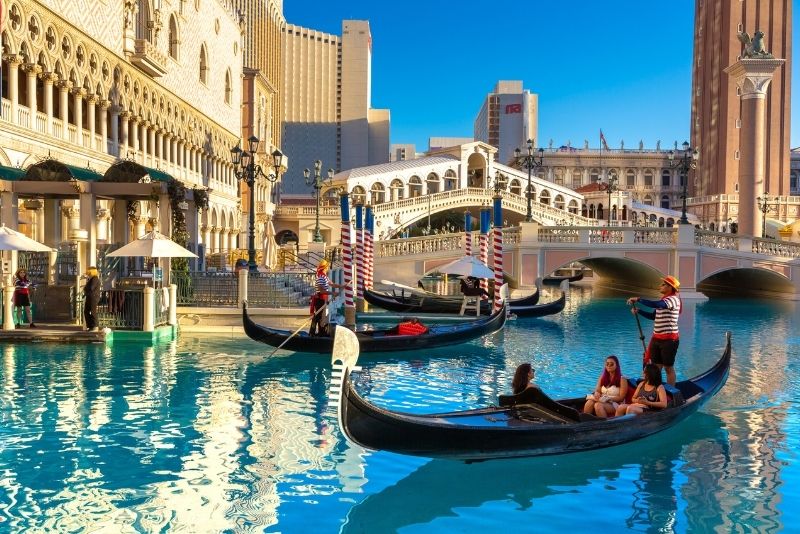 Like gliding down the glistening canals of Venice, a gondola ride through The Venetian's indoor Grand Canal is a must-do for any visitor to Las Vegas with kids.
The experience starts with you and your group being greeted by an Italian gondolier in traditional dress before boarding your very own handcrafted Venetian gondola for a leisurely cruise down the canal.
You'll meander under bridges, past cafes and shops, and even by reproductions of some of Venice's most famous landmarks – all while enjoying the serenity and beauty of this unique corner of the world.
Hot tip: if you're pinching pennies, consider opting for one of the combination tours that include admission to Madame Tussauds Las Vegas — a two-for-one that collectively presents as one of the most popular family things to do in Las Vegas!
Want to save money and hassle?
Designed to make visitors' lives easier – and save a stack of cash along the way – the Go Las Vegas Explorer Pass is a pre-paid attraction pass that allows you to choose your favorite spots from a pool of over 30 different activities and experiences, including some of the best family things to do in Las Vegas.
You can access attractions like the Fly LINQ Zipline, Siegfried & Roy's Secret Garden and Dolphin Habitat, The Big Apple Roller Coaster, and the Excalibur 4D Experience; wander museums like Marvel Avengers S.T.A.T.I.O.N, The Mob Museum, or The Hunger Games Exhibition; take a Hoover Dam highlights tour or jump on the hop-on-hop-off bus for the city overview. Throw in meal and entertainment vouchers to places like Señor Frogs and several magic shows, and you're good to go!
The All-Inclusive Pass allows you to see as many attractions as humanly possible within your chosen timeframe, while the slower-paced Explorer pass lets you get picky with up to 7 destinations available over a 2-month period.
Save money (up to 55% off retail prices!) and save hassle – what's not to love?
Hotels for kids Las Vegas
It's no secret that Sin City is brimming with exceptional accommodation — but when it comes to catering specifically for families, a few names rise to the top.
If you're looking for a place to stay that caters specifically to families with kids, then look no further than Circus Circus Las Vegas.
The hotel is home to the world's largest permanent circus tent, which houses both an amusement park and a midway filled with games of chance and carnival classics like bumper cars, roller coasters, and tilt-a-whirls.
There are also multiple pools on-site – one which features a 50′ waterslide tower – as well as a spa and fitness center, all of which come in handy when you need a break from the non-stop action of the Strip. Circus Circus is also one of the most affordable hotels on the Strip (which is saying something), making it ideal for larger families.
Then there's Mandalay Bay Resort and Casino, which offers its own aquatic playground in the form of an 11-acre pool complex complete with a lazy river, sandy beach, and poolside eateries – not to mention the 1.5-million gallon aquarium
Over at Excalibur, kids love the regular treasure hunts, live events (especially the jousting at the Tournament of Kings dinner show), and the underrated on-site arcade. Down at the other end of the Strip, The STRAT Hotel is perfect for adrenaline-junkie teenagers, with great views from the top sure to delight the whole family.
A little quiet thanks to their location off the Strip, each of the Green Valley Ranch Resort & Spa, the Tahiti Village Resort, and the Orleans Hotel (which features a movie theater and a bowling alley) come highly recommended.
Final thoughts:
There you have it: our rundown of some of the best family things to do in Las Vegas, as well as a few top-rated hotels that cater specifically to kids and teens.
Las Vegas is an incredibly exciting destination for families with children of all ages – so what are you waiting for? Start planning your trip today! If you happen to be leaving the youngsters at home, be sure to check out our most romantic things to do in Vegas for couples if you're looking for a little extra spice!
As always, happy travels… and Viva Las Vegas!