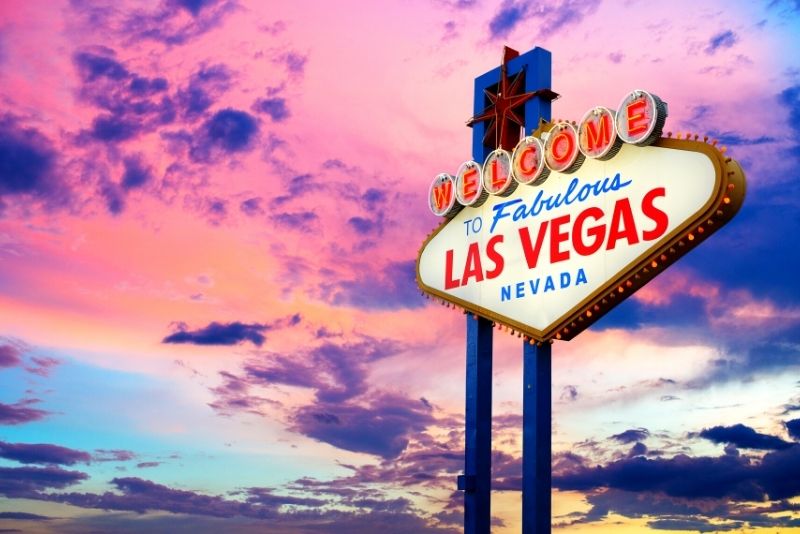 The greatest party on earth sits smack-bang in the middle of the desert.
Nope, not Burning Man; the neon-lit, never-sleeps, gambling, drinking, and debauchery oasis that is the entertainment capital of the world: Las Vegas.
While the Nevadan holiday spot boasts no shortage of activities for solo travelers, if you look under the hood you'll find that Sin City is teeming with romantic, exotic, erotic, and lovey-dubby activities perfect for adventurous couples.
With that said, whether you're surprising your better half or planing a cute couples trip together, there are countless romantic things to do in Las Vegas for couples — from Cirque du Soleil to romantic hotels and pool parties — so let's get planning! Viva Las Vegas!
1 – Ride the Linq High Roller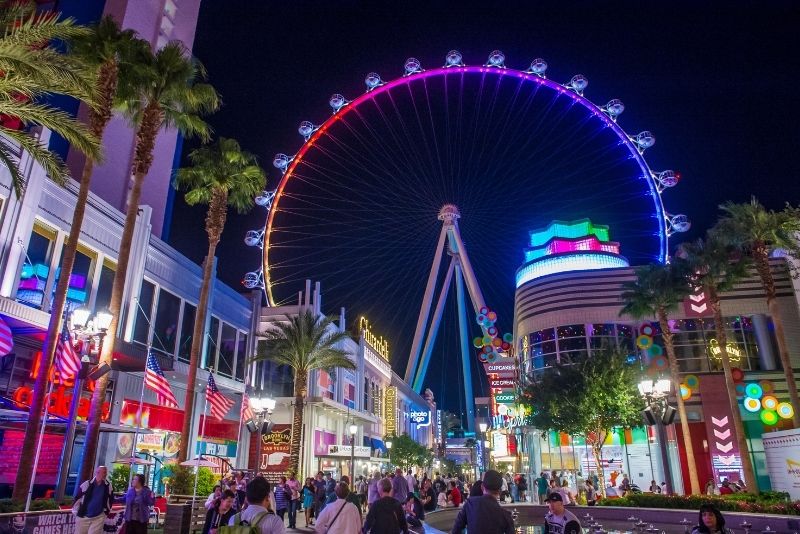 Soaring some 550 feet above the bright lights and chaos of The Strip below, this 30-minute sky wheel just screams romance. With stellar views (it is the tallest observation wheel in the world, after all), an intimate cabin, and the option to include some beers or bubbly, a lap from bottom to lop is the perfect aphrodisiac before hitting the town.
For those scroll-stopping photos that make all those other couples back home cringe with jealousy, be sure to book a ride a sunset.
2 – Propose, get married (Elvis-style) or renew your vows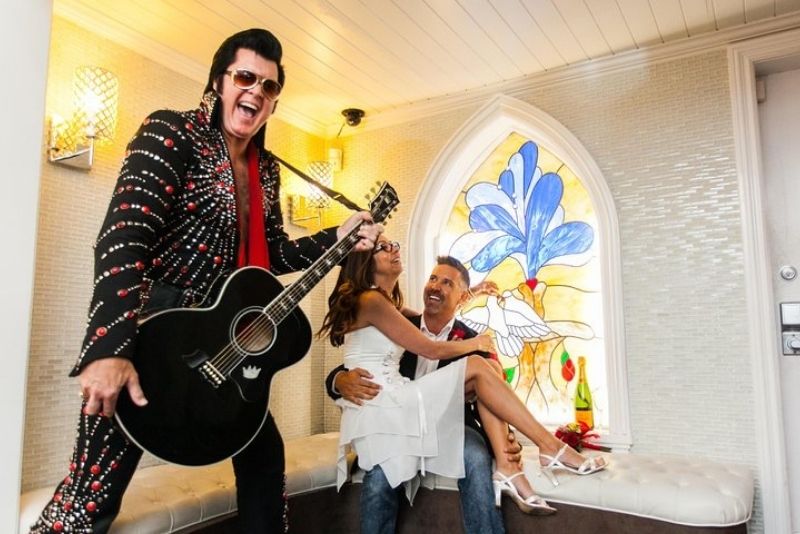 Looking to tie the know with that special someone? Or is it approaching that time to renew your vows? Either way, as a city lined with chapels (from the Elvis-themed Graceland Wedding Chapel to quick and easy drive-up chapels), legally solidifying that love is never too far away in Vegas!
While there's no shortage of quirky and cheesy options, for a truly romantic backdrop, away from the crowds, a Valley of Fire wedding and photoshoot — including private limo and/or helicopter — will foster memories that last a lifetime.
3 – Roll up for a Cirque du Soleil show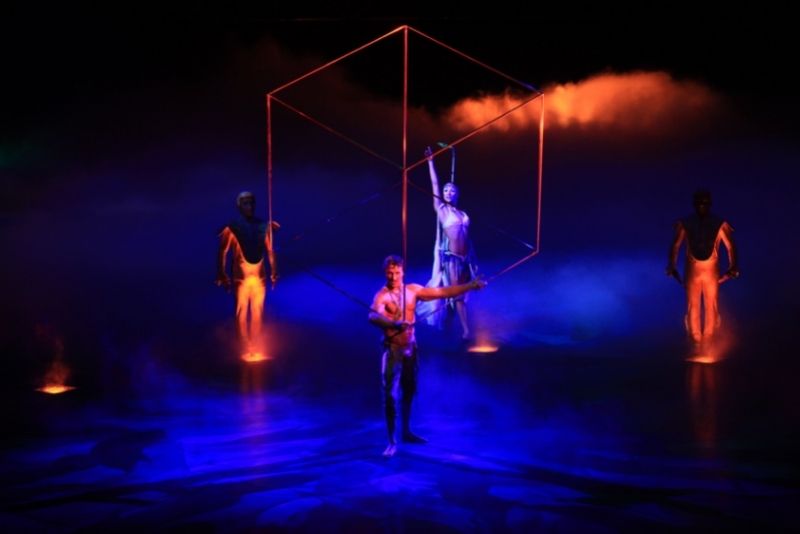 For some of the most visually stunning entertainment in Las Vegas, look no further than an acrobatic display by Cirque du Soleil, one of the best live shows in Las Vegas.
There are four locations around town offering some half-a-dozen shows on any given day, each with its own unique twist and style that will leave you both moved and entertained.
The Beatles LOVE plays at The Mirage; Michael Jackson ONE is at Mandalay Bay; Mystère is held at Treasure Island, and the timeless "O" is at the Bellagio — across all four shows, prices start at around $70, with occasional discounts available online.
4 – Pamper yourselves at a couples spa!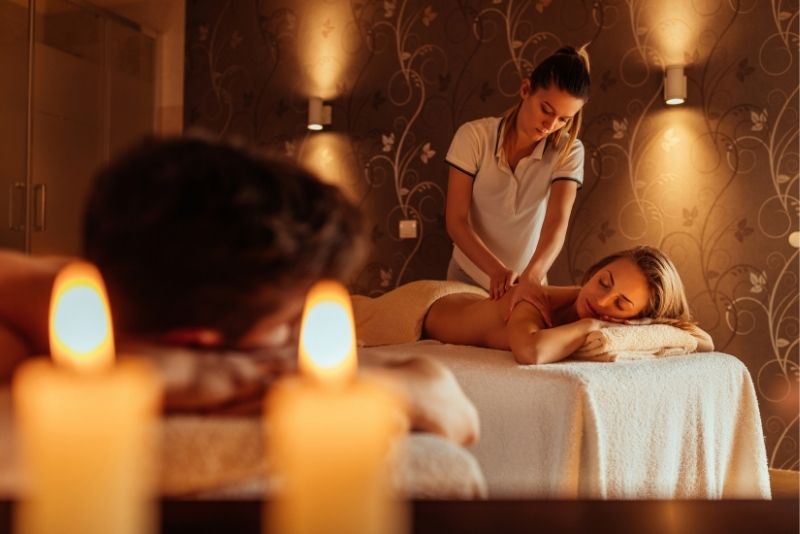 Headache from the night before? Need a break from walking up and down The Strip? Thankfully, Sin City has no shortage of fantastic spas where you can relax, rejuvenate, and be pampered within an inch of your life.
At places like The Spa at Encore, Qua Spa at Caesars, the enormous Canyon Ranch Spa at The Venetian Resort, or The Spa at Vdara, expect to find an array of hot tubs, saunas, steam rooms, and private treatment rooms that are perfect for the ultimate intimate retreat — couples massage, anyone?
Hot tip: rather than walk-in, book your treatments in advance to get the best bang for your buck!
5 – Soar above the Las Vegas Strip in a helicopter… at night!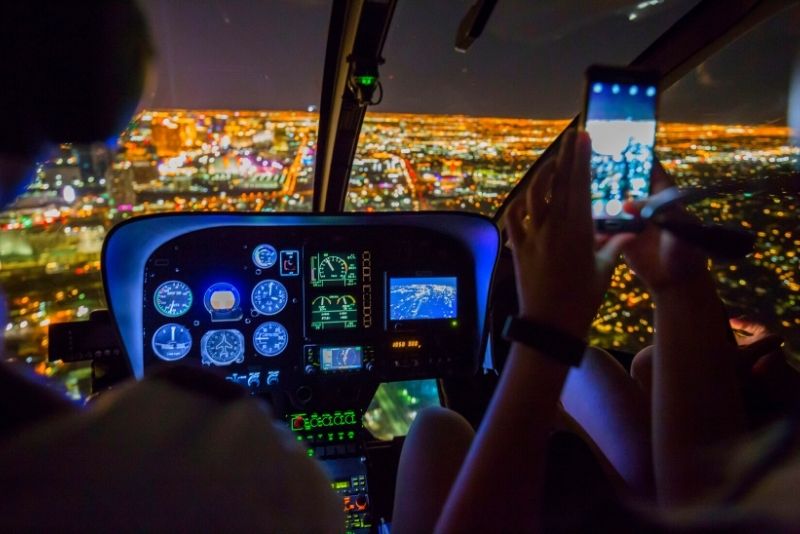 In a city where there's always something else to see, the only way you can fully take in all of Vegas' glory is from high up.
Suspended over The Strip at night time — when Vegas sparkles like a million magic diamonds and beams with neon-lit magnificence — an aerial tour really does have to be top of your list for things to do in Las Vegas.
If you really want to wow your better half, consider combining a scenic flight with a jeep tour or, better yet, an Eiffel Tower dinner!
6 – Sit front row for a candlelight concert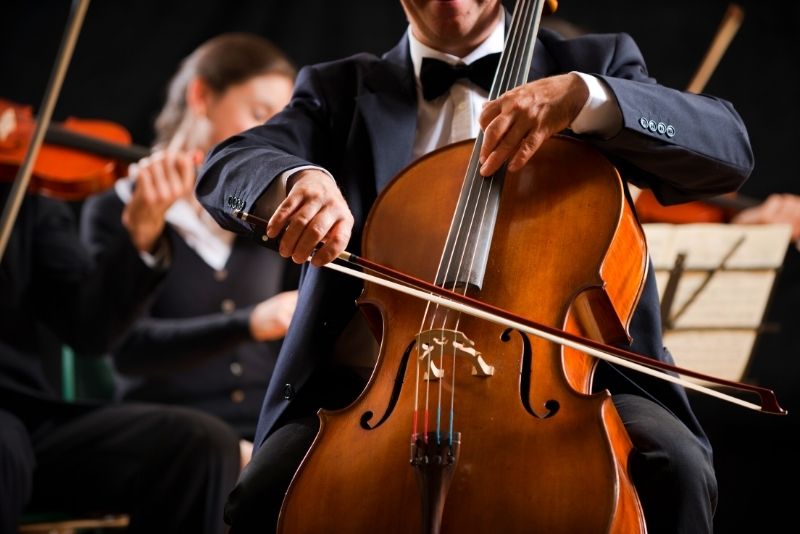 Whether you're sitting front row for a tribute to Queen, some of Chopin's best works, Vivaldi's Four Seasons, or a cluster of famous songs from classic movie and musical soundtracks, a candlelit concert — typically held at The Industrial but with a few other locations occasionally popping up — is a surefire way to score some brownie points.
There's just something about the slow-burning candles and soft melodies that lights a fire in the belly…
7 – Walk down the staircase at Titanic – The Artifact Exhibition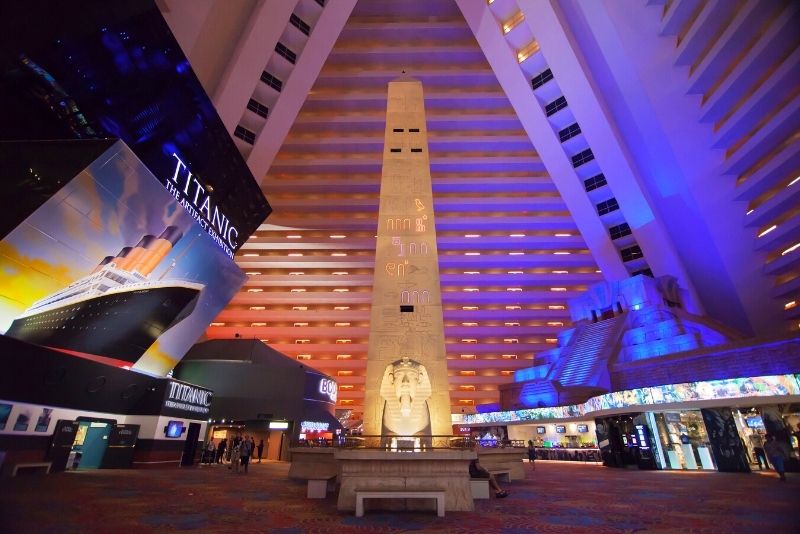 While we all know how the story of Jack and Rose ended, their connection was nothing short of extraordinary — an ill-fated love that brought tears to the eyes of millions on the silver screen. Tragic ending aside, why not bask in the glory, history, and grandiose romance that the famed couple did on their more-famous ship?
Hosting over 250 genuine artifacts, plus replica cabins, and a marvelous grand staircase that provides that perfect couples photo op — especially if you dress the part — a visit to Titanic, The Artifact Exhibition is one of the most romantic things to Do in Las Vegas for couples that love history as much as each other.
8 – Watch the dancing Bellagio Fountain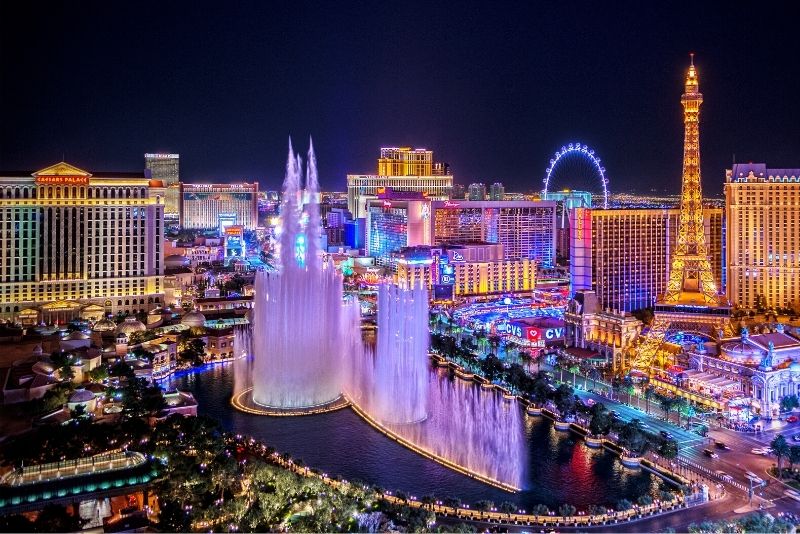 If you want to see your better half's face light up, the first thing you should show them upon walking into Las Vegas is the Bellagio's famous fountain show.
The magically choreographed fountain show is a spectacular display of water, music, and light that's performed every 30 minutes in the afternoon and 15 minutes in the evenings – your best bet is to head there around dusk for some pre-dinner drinks while you watch the fountains dance before dinner…and then dancing yourselves!
9 – Take a hot air balloon ride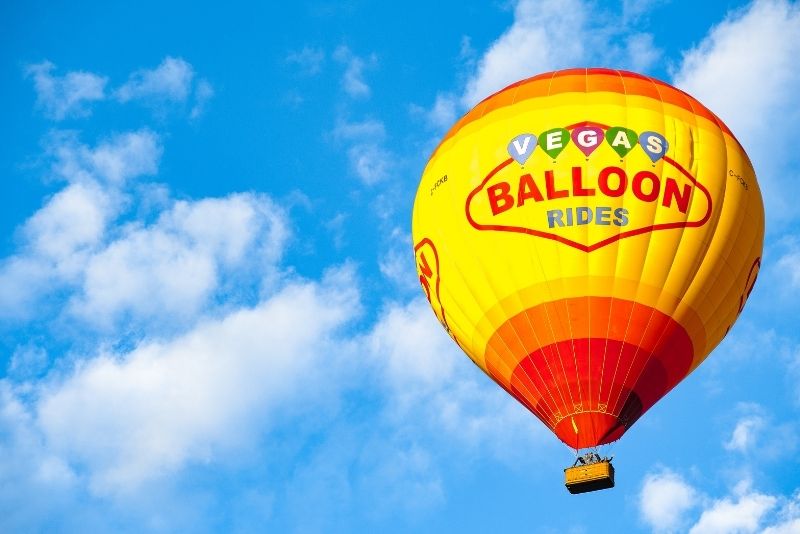 Soaring over the Mojave Desert, with the world-famous Strip in the distance, a hot air balloon ride is one of those rare experiences that you simply must do with your partner.
While it's not cheap — expect to spend around USD$200 upwards per person for a journey up in the skies — the serenity and romance of being suspended in the air with nothing but desert and wilderness as far as the eye can see, as you cheer your glasses of champagne, provides for some truly unforgettable memories.
10 – Saddle up for a horseback riding outing (sunset dinner included)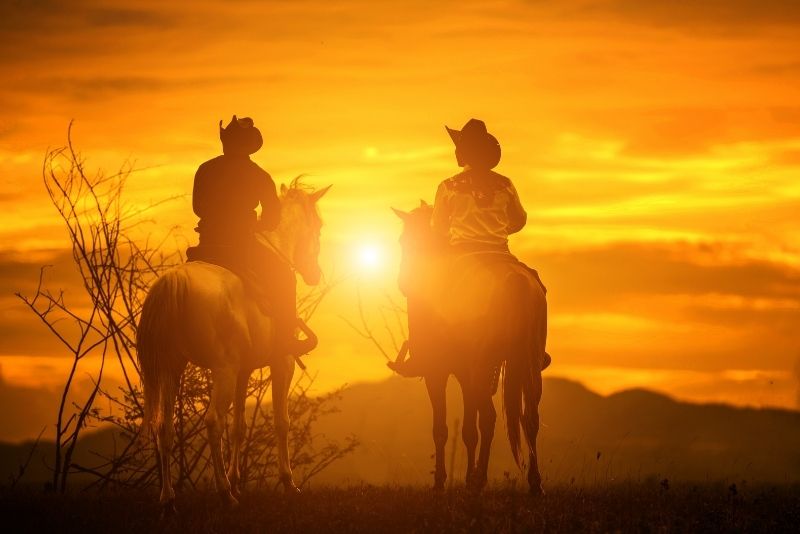 For a change of pace from the neon lights and rowdy streets of Vegas, a sunset ride on horseback through the wild landscapes of the Nevadan desert is one of those romantic things to do in Las Vegas that will make for some truly timeless photos.
At the end of your ride through Red Rock Canyon (or other areas, depending on your preferred tour), you'll be treated to a delicious western-style BBQ dinner by the campfire, with the twinkling stars slowly appearing overhead.
11 – Book a romantic dinner at the Eiffel Tower Experience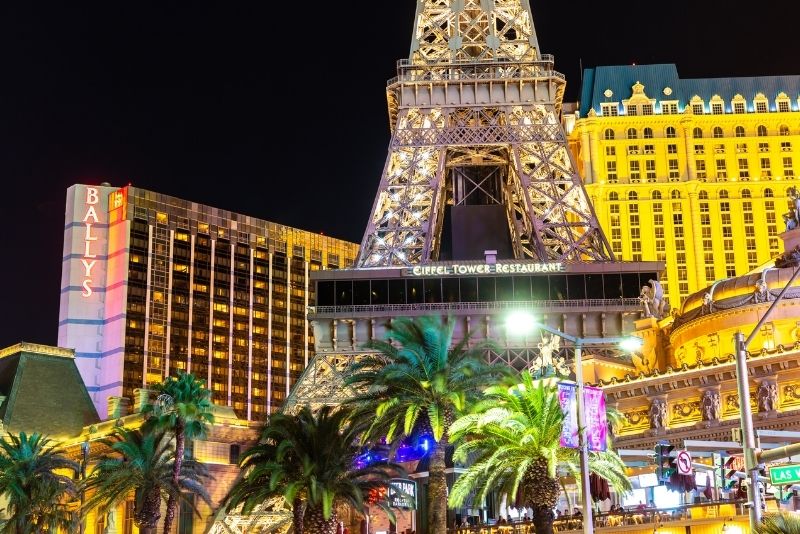 A beautiful replica of the Parisienne icon, Las Vegas' Eiffel Tower is a must-see for any romantic traveler.
Located at the Paris Las Vegas Hotel and Casino, it stands an impressive 50 stories high — equivalent to 560 feet in real life — and offers visitors one of the most spectacular views of The Strip from its open-air observation deck.
With romantic dinners available and no shortage of wines to choose from, it's a perfect way to start or end your stay in Sin City!
12 – Catch a flick at the West Wind Las Vegas Drive-In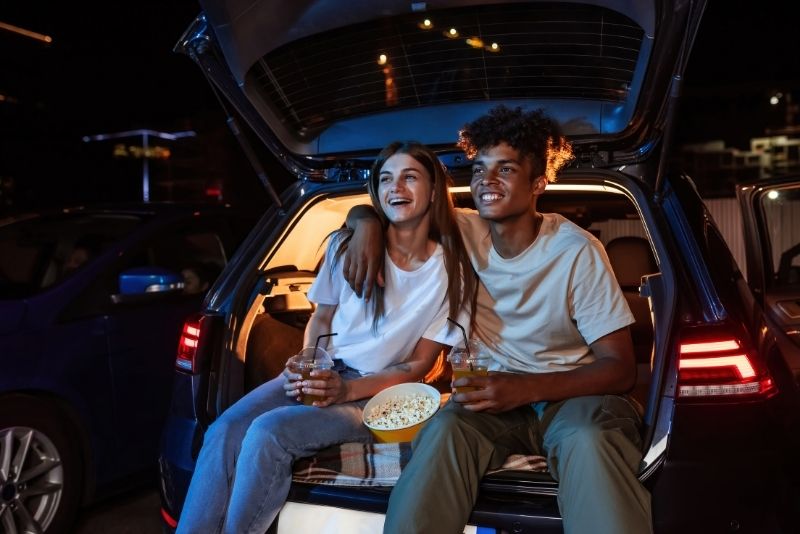 Another classic that's as American as apple pie, the West Wind Las Vegas Drive-In Movie Theatre is a great way to relax and unwind with your partner on an old school date night.
The drive-in theater is located just off the Las Vegas Strip — around 15 minutes drive from most hotels — and features giant screens playing a combination of mainstream and classic movies at extremely reasonable prices.
See also: Fun things to do in Las Vegas at night
13 – Experience the Fremont Street light show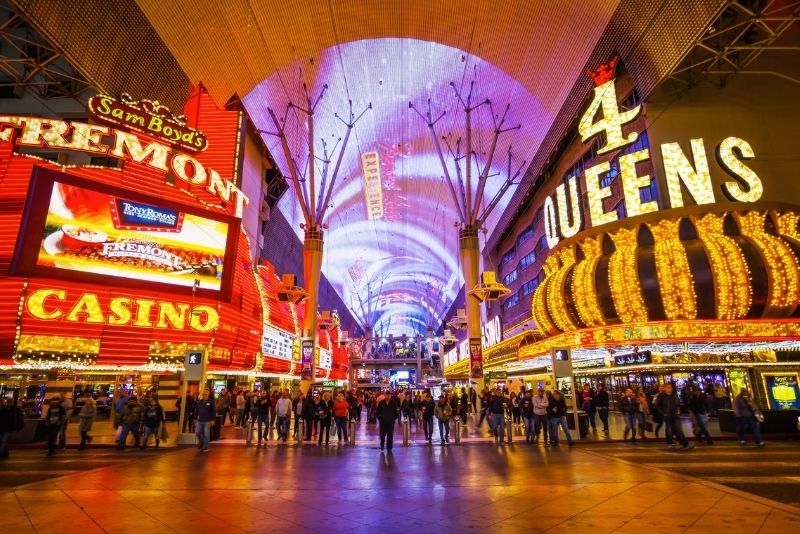 You've seen the Bellagio fountains, now meet their equally impressive cousin, the Fremont Street Experience's Viva Vision light show!
Located in downtown Las Vegas (around 20 minutes drive from most Strip hotels), it features an illuminating collection of 12.5 million LED lamps that hangs over the popular pedestrian-only section of Fremont Street.
The best part? It's completely free to watch!
14 – Take a gondola ride at the Venetian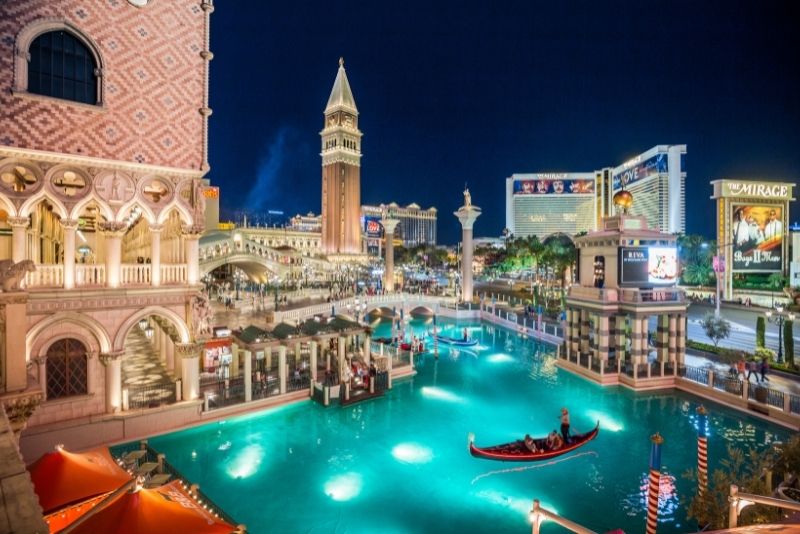 Another classic, the Venetian's Gondola ride is an iconic photo opportunity that'll bring out your inner romantic.
Made famous by the canals in Italy's floating city itself, Vegas' Venetian hotel offers visitors a relaxing journey along its indoor canals complete with singing gondoliers and (painted) sparkling night skies!
If you're looking to get the most out of your visit, consider combining the gondola ride with a Madame Tousaads ticket to save a few dollars.
15 – Wander around the Conservatory Botanical Garden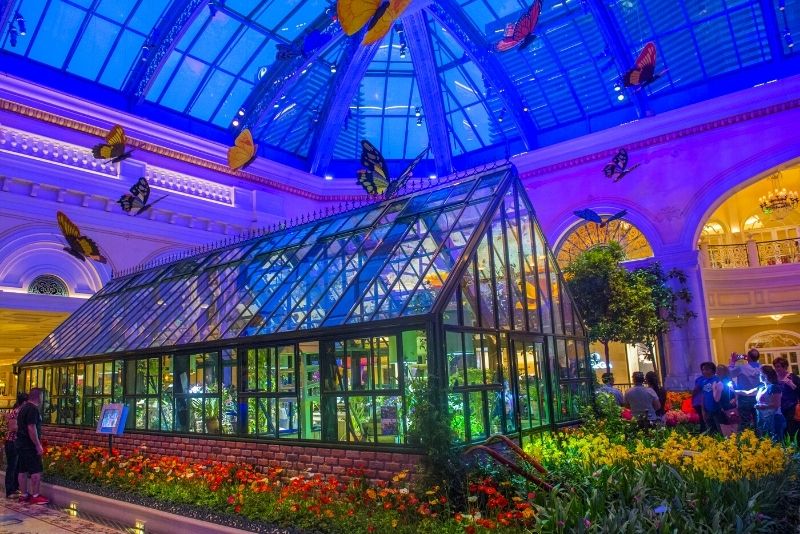 Certainly considered a hidden gem, the Conservatory Botanical Garden at The Bellagio is a beautiful place to spend half an hour with your partner (or hopeful partner-to-be?).
Expertly designed and maintained by dozens of horticulture experts, it features imaginative displays of plants, trees, and human creations, changing with the seasons to ensure that no two visits are the same.
With such vibrant colors, it's a wonderful opportunity for that cheesy couples' selfie.
16 – Soar over the Grand Canyon with a helicopter tour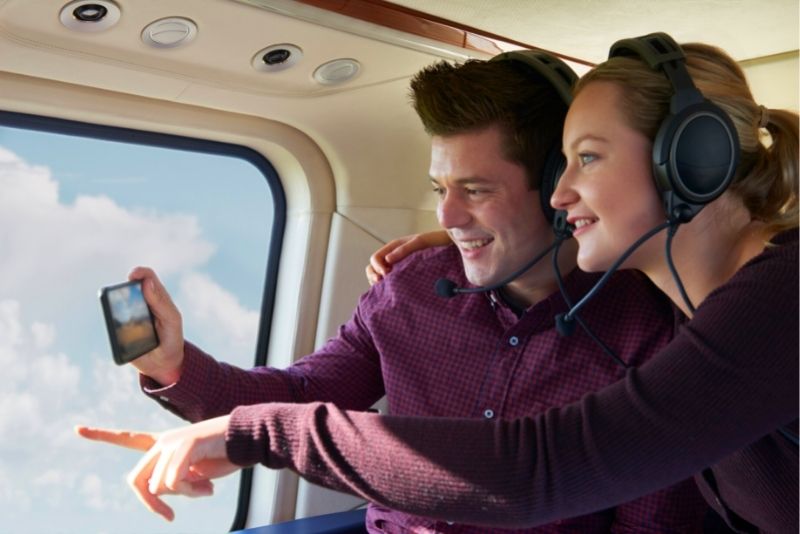 An unforgettable experience, the Grand Canyon's stunning landscape is even more impressive from up in the air.
And with helicopter tours lasting anywhere between 20-90 minutes (depending on where you set down), it provides visitors an excellent opportunity to get a closer look at one of America's most iconic natural landscapes.
Plus, with extra-cutesie add-ons like champagne by the bottle no-hassle picnic set-ups, kayaking, or pontoon rides, what's not to love?
If you prefer a road trip, learn how to reach the Grand Canyon from Las Vegas, or read more about the best Grand Canyon tours from Las Vegas.
17 – Meet the predators at Shark Reef Aquarium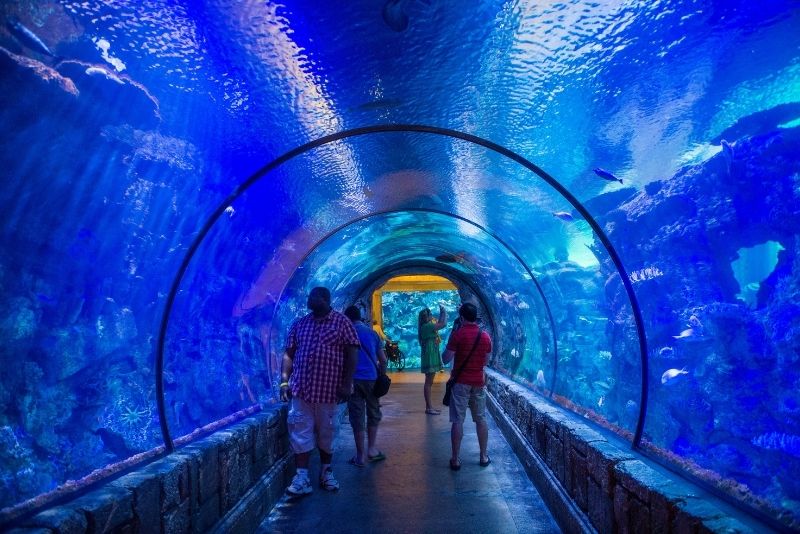 In a city full of sharks, it's only fitting that one of the biggest and best aquariums in America is located right on The Strip.
Located at Mandalay Bay, Shark Reef Aquarium offers visitors an opportunity to get up close and personal with over 100 species and 2,000 animals, including some of the most notorious creatures on the planet like piranhas, Komodo dragons, and, of course, plenty of sharks.
18 – Nibble your way through town on a food tour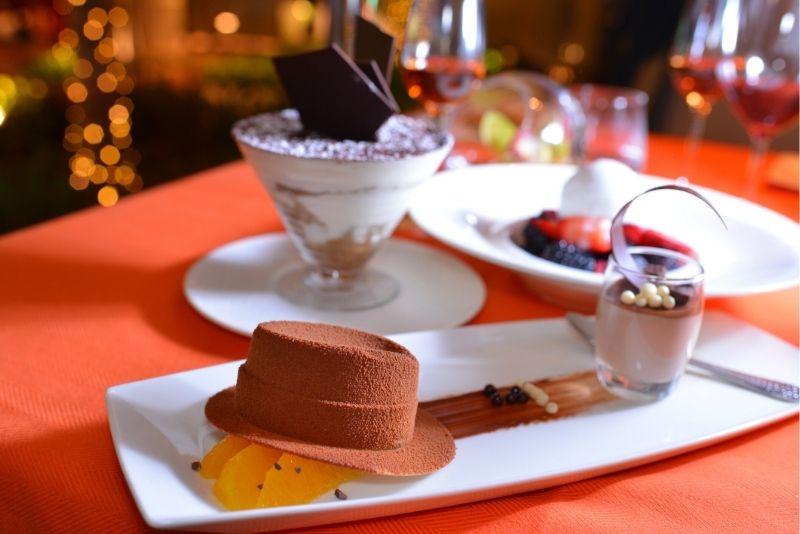 Las Vegas is home to some of the world's finest dining, but it can be hard to navigate through all that glitz and glamour and actually know what's what.
That's where food tours come in! Offering visitors an opportunity for a personalized guided tour around town, led by a friendly local, you'll learn about Las Vegas' history while eating your way across up to a half-dozen different restaurants and eateries.
While the menus changes depending on the tour, expect to try everything from shrimp cocktails to Mexican fusion, burgers the size of your head, and Chinatown specialties.
19 – Get buzzes on a wine tasting or winery tour!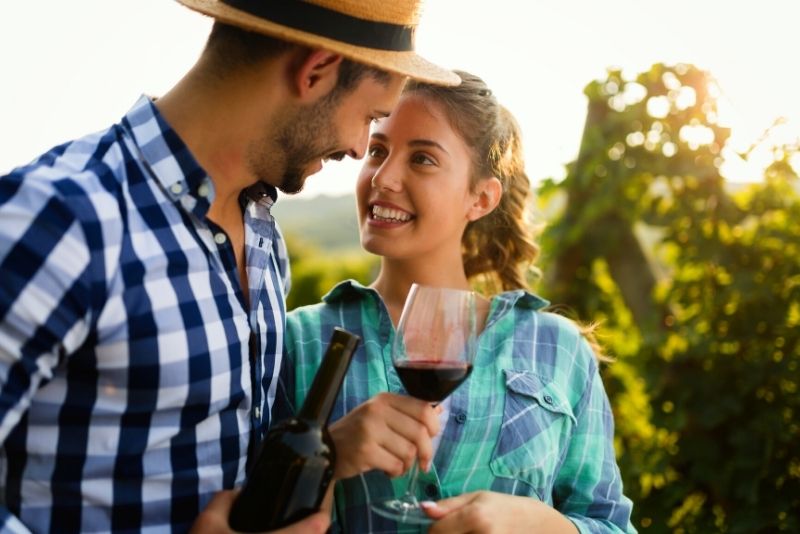 A surefire way to kickstart any night of romance, debauchery, or anything in between, a Vegas wine tasting will take the edge off and ignite that playful mood like few other activities.
If you don't want to travel too far, the Vegas Valley Winery is less than 20 minutes away by car.
Further out of town, and the perfect excuse for a day trip, are the Pahrump Valley Winery and Sanders Family Winery, each dishing up stunning panoramic mountain views and offering tours on a regular schedule.
20 – Go brewery-hopping!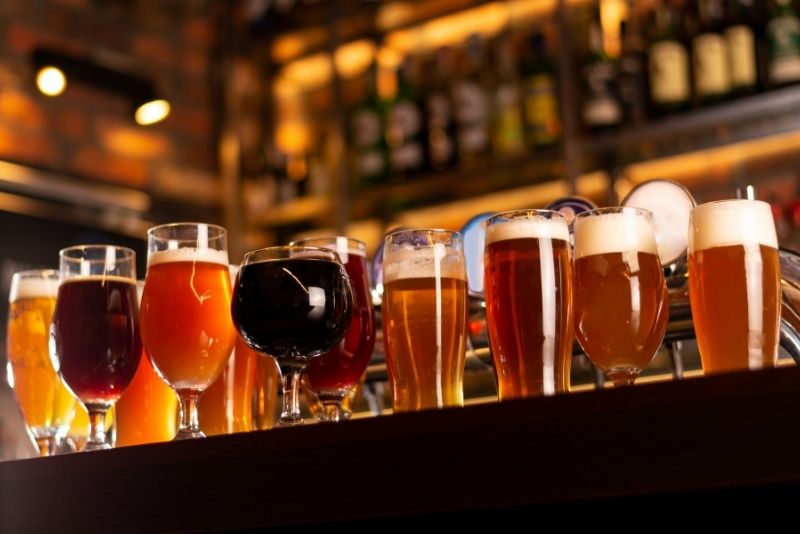 Not much of a wine snob? Fair enough, then why not hop around a few of the best breweries on The Strip instead?
Offering a great opportunity for visitors to try local craft beers and a few big-name brews too, there are several located within walking distance of each other — whether on the Strip or Downtown.
If walking around Dowtown, Banger Brewing on Fremont St holds the claim to fame of being the city's first craft brewery. Not too far away you'll find Tenaya Creek Brewery, extra refreshing in the sense that the venue doesn't allow gaming or smoking — just beer. Within walking distance, you'll also find Hop Nuts Brewing (try the Green Mamba Double IPA) and the great outdoor patio, and 30+ beers at Able Baker Brewing.
While further from the hustle and bustle (read: less crowded), Big Dogs Brewing Company is a must-visit for beer and dog lovers, with most drinks themed after our four-legged friends.
Of course, the list goes on — make things easy for yourself and book a pre-organized brewery tour or pub crawl.
21 – Explore the great outdoors at Red Rock Canyon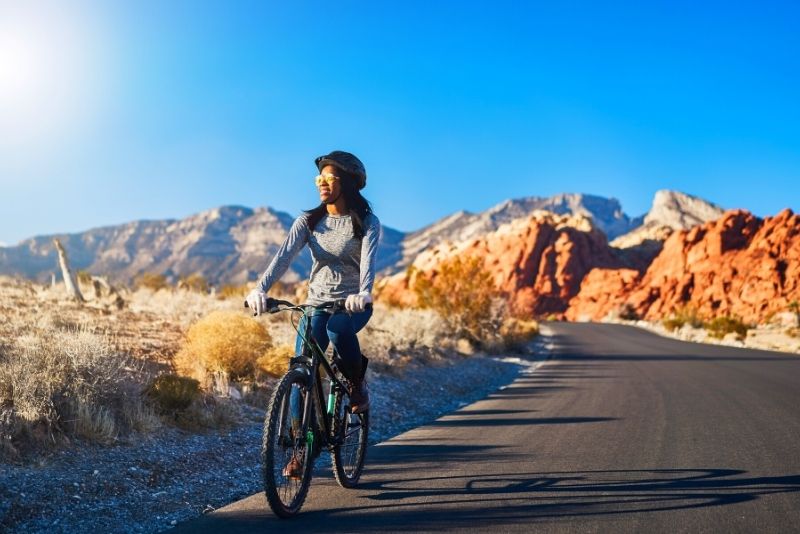 If you want to get out of the city and away from the noise, but still have a little fun in nature, Red Rock Canyon is your spot.
Nestled just west of The Strip along Highway-160 (conveniently close to Summerlin), this scenic desert haven offers plenty of trails for hikers and bikers alike — all with stunning views.
Whether you prefer to pedal on a mountain bike or e-bike, ride a horse, or just hop in a van, there's an option for everyone.
See also: 10 Best Red Rock Canyon Tours from Las Vegas
22 – Join a street art tour and snap some sweet Instagram content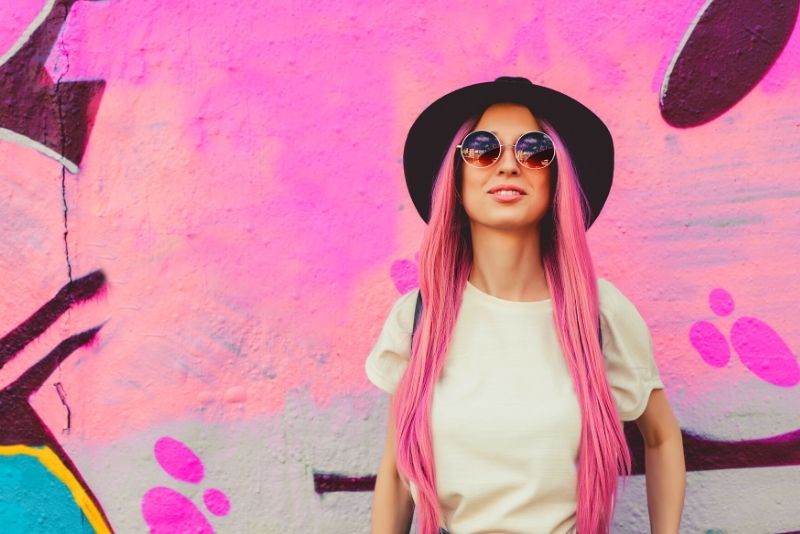 It's not all about the Strip and casinos in Vegas — you'll find plenty of jaw-dropping street art around town, too.
With dozens of murals big and small lining the city, there is no shortage of Instagrammable photos to snap while on your travels. Make sure to stop by downtown (especially along Fremont) if that's what you're after, but if you can't be bothered exploring on your own, a dedicated street-art tour will take out all the hassle!
23 – Kayak through the Emerald Cave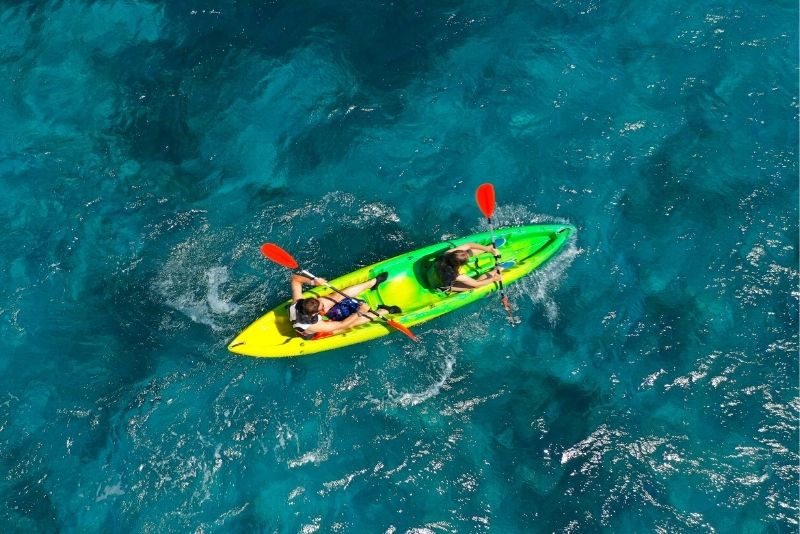 A natural wonder of Nevada, this kayaking excursion dishes up a welcomed change of scenery from the bright city lights. Whether you opt for a trip along the Colorado River or Lake Mead, the fresh air will be highly appreciated.
For the ultimate romantic experience, choose a twilight paddle at the Black Canyon, where the night sky is untarnished from the city lights.
24 – Put on your dancing shoes for a Salsa class!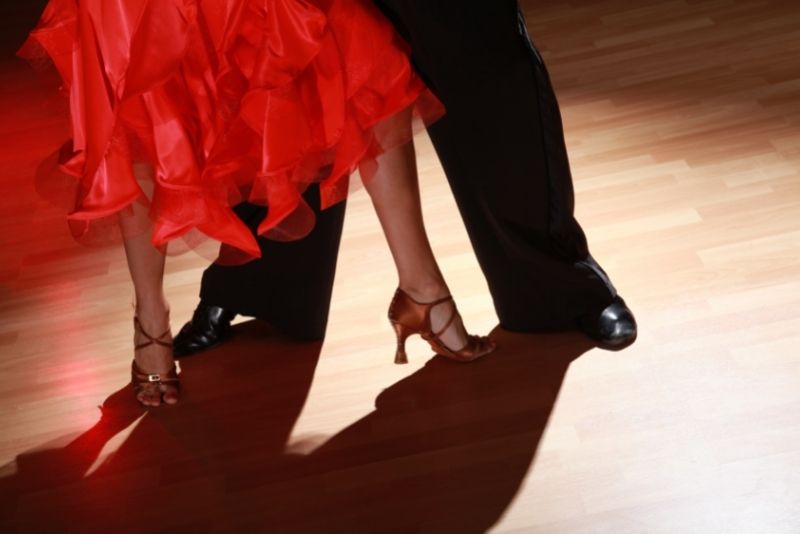 For those looking for something fun and different, you can't beat a dance class — whether intimate, close-range couples routines like salsa or ballroom or something more upbeat like jazz or hip-hop.
Regardless of if you're after a group lesson, private class, or something in between — there's plenty of options to choose from all over Sin City.
25 – Get up close with big cats at Lion Habitat Ranch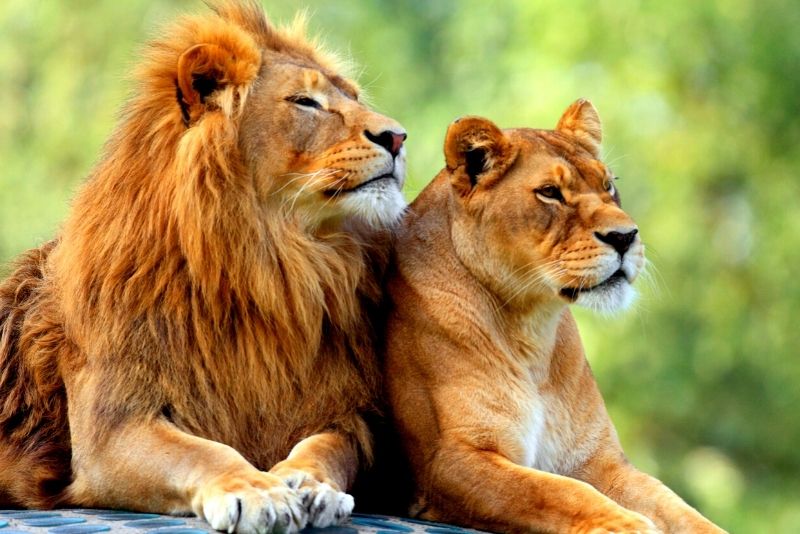 We all know Vegas has a wild side, but it also has a… well… wild side!
Over at Lion Habitat Ranch, you can go on safari and see some 30 lions up close — as in, really close.
With several different tours available (including the option to actually feed the powerful beasts), this is one of those once-in-a-lifetime opportunities that definitely shouldn't be missed.
26 – Check out the Seven Magic Moutain art installation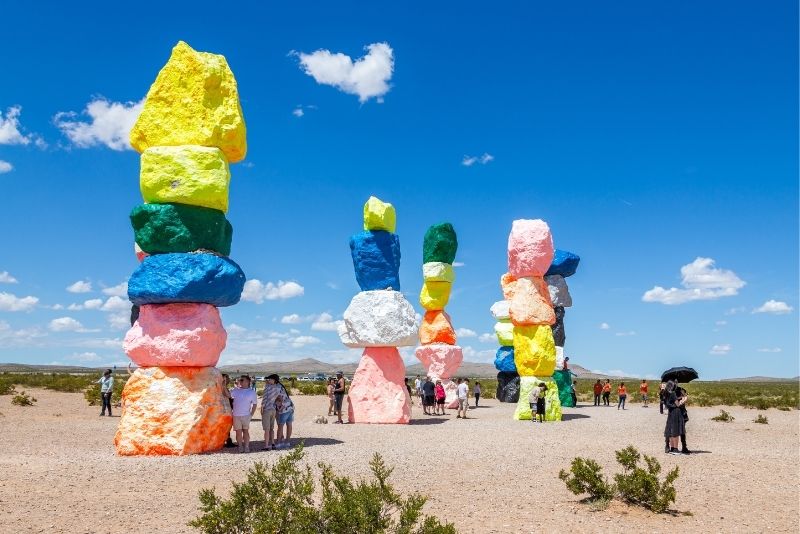 Designed by renowned Swiss artist, Ugo Rondinone, these colorful boulder stacks, towering oddly in the middle of the Mojave Desert, have become a photo-op and Instagram hotspot.
With tours offering hassle-free round-trip transport, as well as optional stops at the Hoover Dam or Red Rock Canyon, it's an easy add-on to any trip.
Venturing on day trips is one of the must-do activities in Las Vegas during the day.
 27 – Get in the mood at the Erotic Heritage Museum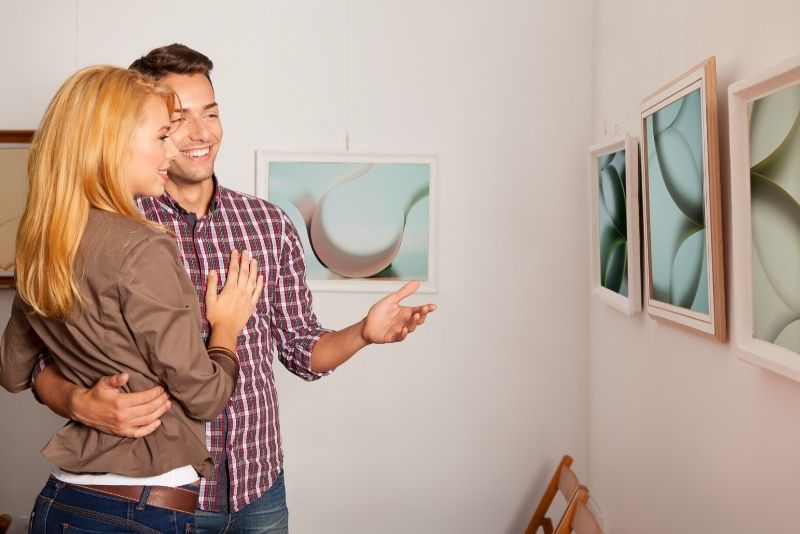 If you're after romantic things to do in Las Vegas for couples, the Erotic Heritage Museum just off the Strip behind Trump Hotel should be number one on the list.
Housing thousands of raunchy, curious, and just plain strange artifacts relating to sexuality; everything from lingerie to celebrity tapes, artwork, unique toys, and an interactive 10-foot vulva, you're sure to find plenty of eyebrow-raising displays.
See also: best museums in Las Vegas
28 – Airplane tour of the Grand Canyon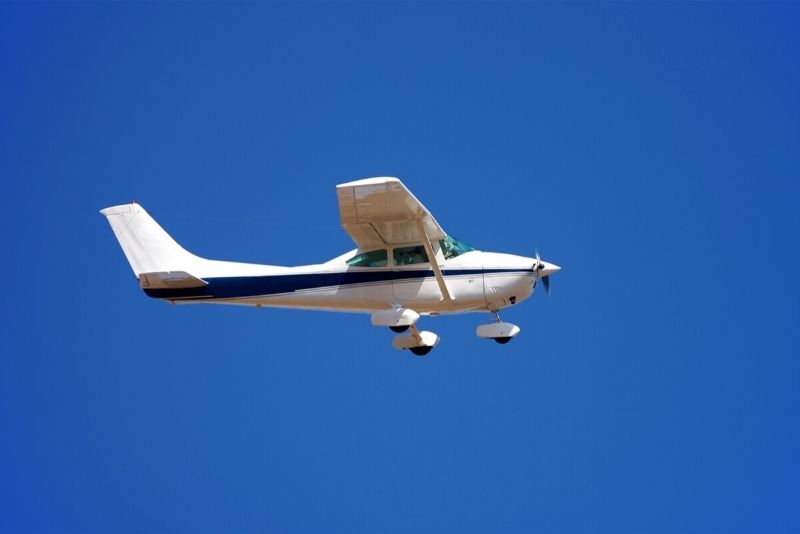 While this option is admittedly on the pricey side, it's one of those things that will make your life MUCH easier.
Rather than having to drive out there yourself and navigate around all the traffic (it can take several hours with no traffic), you'll be able to see everything at once from above — not to mention, you'll get to see it from a better angle than most tourists.
Looking for something even more thrilling? Consider an acrobatic flight and unleash your inner Maverick!
29 – Sip some cocktails at the city's best rooftop bars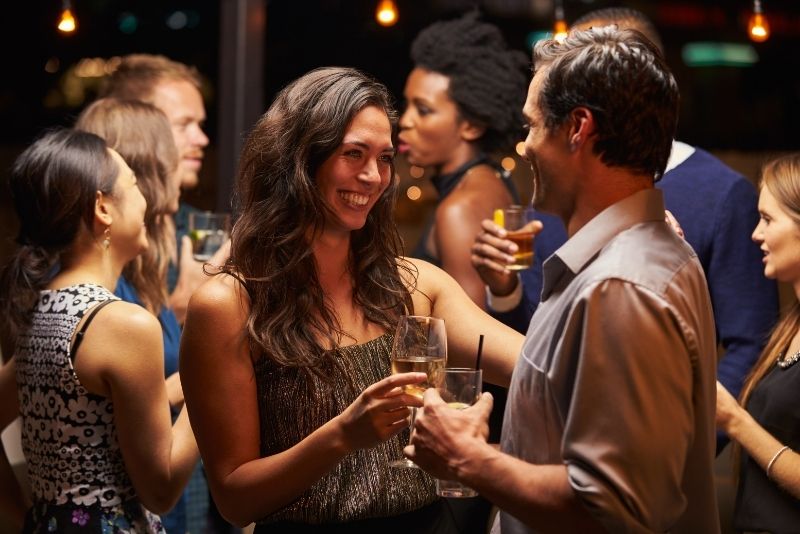 Whether you're after a view to take in all the chaos below, or looking for something intimate and cozy with few distractions and plenty of drinks — there's a rooftop bar with every kind of vibe.
For a handful of the most celebrated, the Apex Social Club at the Palms is 55 stories high with incredible views and personalized bottle service; the Skyfall Lounge is both sophisticated and reasonably priced; the Chateau Nightclub & Rooftop promises a rowdy night out full of dancing and DJs, and the Foundation Room at Mandalay Bay offers 5-star service with vistas of the strip that are hard to match.
30 – Wander through the enchanting Antelope Canyon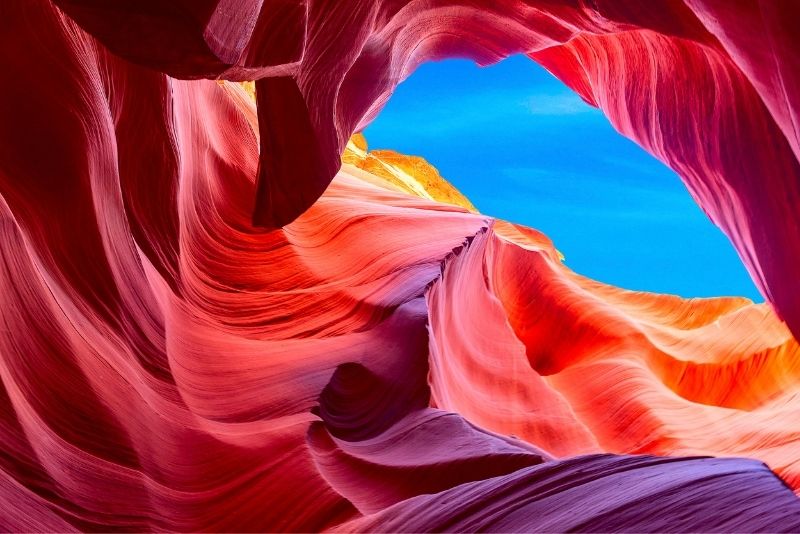 This magical slot canyon is located in the Navajo County of Arizona, and has been a picture-perfect spot for photographers ever since it was first discovered thanks to its natural curves and dramatic orange hues.
While there are several tours to choose from depending on your budget or time restraints — this hidden gem is definitely worth checking out!
If you're thinking of popping the question, you could do much worse than here…
31 – Catch a show at the Excalibur Hotel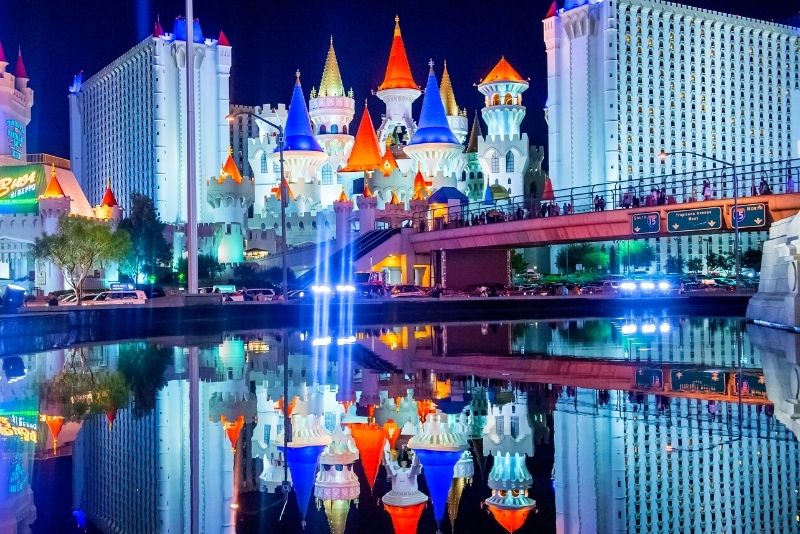 With a medieval theme and plenty of games to test your luck, this hotel-cum-casino has something for everyone.
Besides the casino floor, the venue truly shines in its entertainment department. While the shows often change with the seasons, the list of great performances includes The Australian Bee Gees Show, The Mac King Comedy Magic Show, or Magic Mike-style Thunder from Down Under (this one ought to get the ladies swooning)!
For a unique dinner and show experience, check out Tournament of Kings!
32 – Cheer on the Golden Knights at a hockey game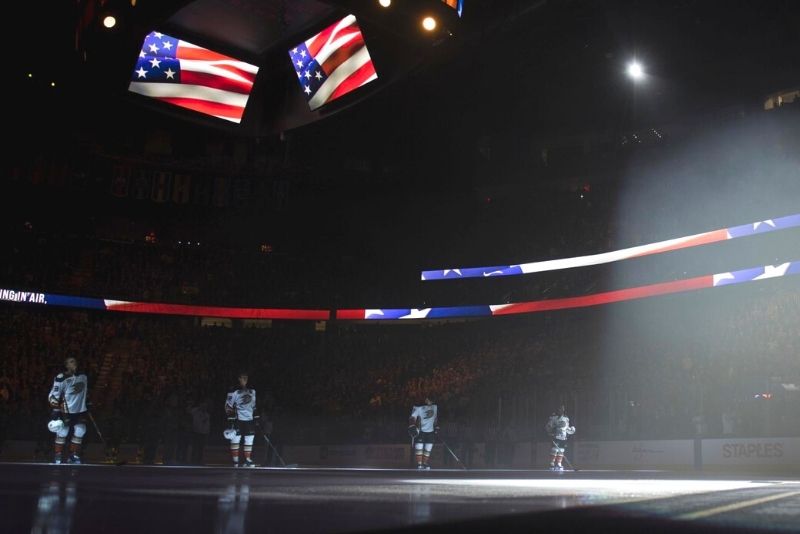 Las Vegas is one of the newest NHL cities, and with the team only in its infancy, the upcoming seasons promise to be exciting!
With home games at T-Mobile Arena (just off Las Vegas Blvd) fans can expect plenty of action and noise on the ice as well as awesome pre-game entertainment.
Besides the hockey matches, the Arena also hosts UFC fights, concerts, and more — check the website to see what's on.
33 – Meet your favorite celebs at Madame Tussauds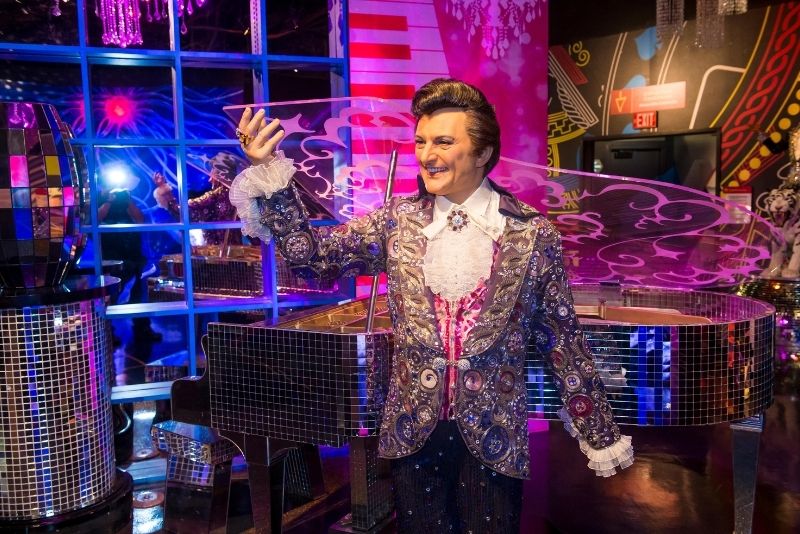 The famous wax museum at The Venetian has been one of the most popular (albeit a little cheesy) tourist attractions in Las Vegas since the turn of the century, and with good reason!
Featuring over 100 lifelike wax figures (including Elvis, Michael Jackson, and Taylor Swift) it's the perfect place to snap some souvenir selfies for your friends back home.
Hot tip: grab your tickets online to skip the line and save a few bucks.
34 – Ride, dine, or drink atop the Stratosphere Tower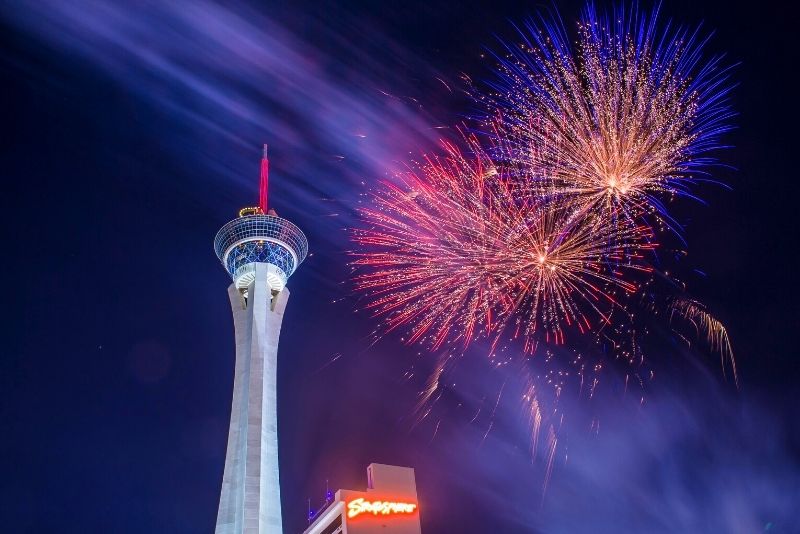 The tallest observation tower in the United States, this 1,149-foot-tall structure is an engineering marvel offering fantastic views of both The Strip and surrounding desert terrain.
Strap on a harness for one of their thrill rides including Insanity or Big Shot!, test your nerves with a SkyJump, or just admire the view from more sedate attractions like the bars on the SkyPod, or the rotating Top of the World restaurants on the 106th floor.
On those toasty summer nights, the adults-only WET24 POOL & BAR is a great party spot.
35 – See what's on at the Luxor hotel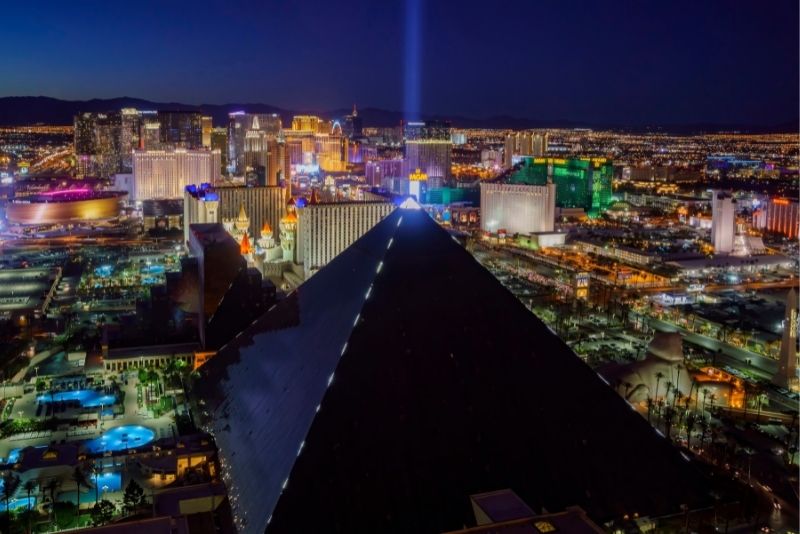 The Luxor is a massive pyramid-shaped hotel and casino located on the southern end of The Strip, with all sorts of fun activities for younger couples.
After dining at Diablo's Cantina or the TENDER Steakhouse, the hotel's entertainment can't be missed; America's Got Talent, Carrot Top, and Blue Man Group headline a long list of options for a great night out.
36 – Go on a shopping & gambling day trip to Laughlin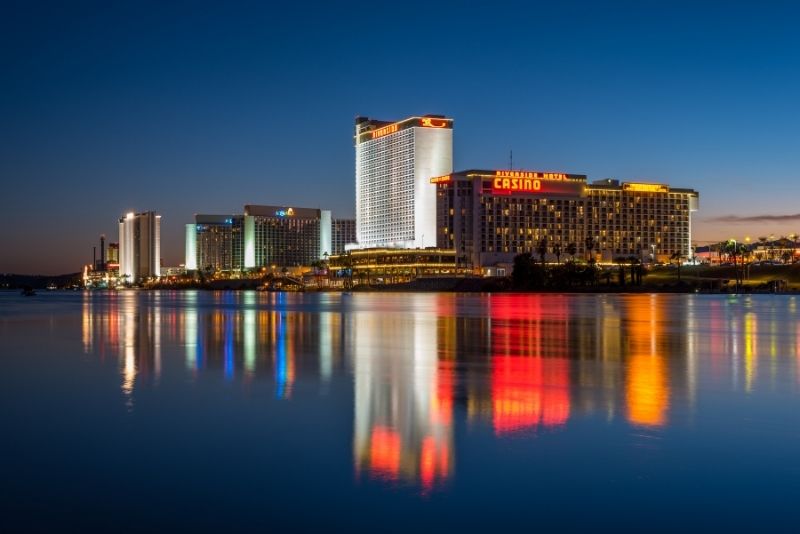 A mini Vegas, of sorts, with nearly a dozen resorts, stacked side by side, the casino-filled town of Laughlin on the Colorado River, about 90 minutes from Sin City, is the perfect day-trip destination to shop till you drop!
With countless upscale boutiques, department stores, and discount outlets (including the enormous Laughlin Outlet Centre), you're sure to find something that tickles your fancy.
37 – Book a limo ride!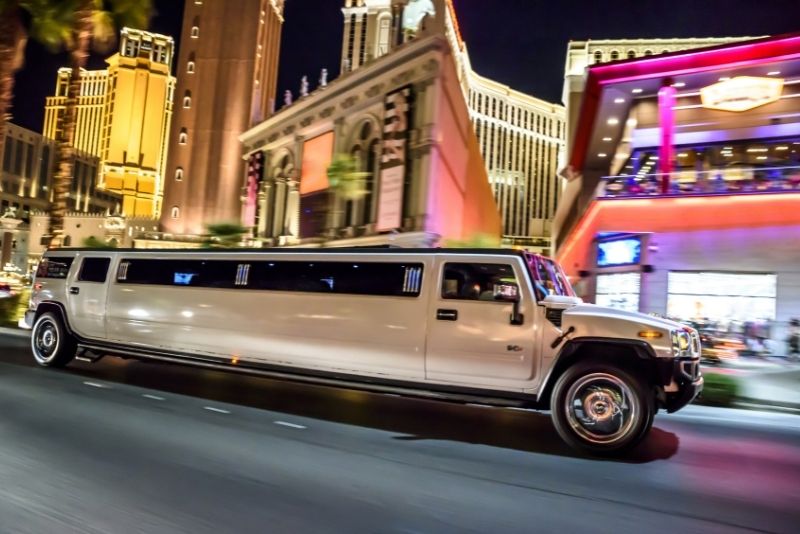 Nothing screams "power couple" like rocking up to your venue in the back of a limo! While renting an entire limo is perhaps a little over the top, there are plenty of companies that offer private or group rides for any budget.
If you're planning on tying the knot (Elvis-themed or otherwise), the list of limo options is exhaustive.
38 – Spend a day or two in Zion National Park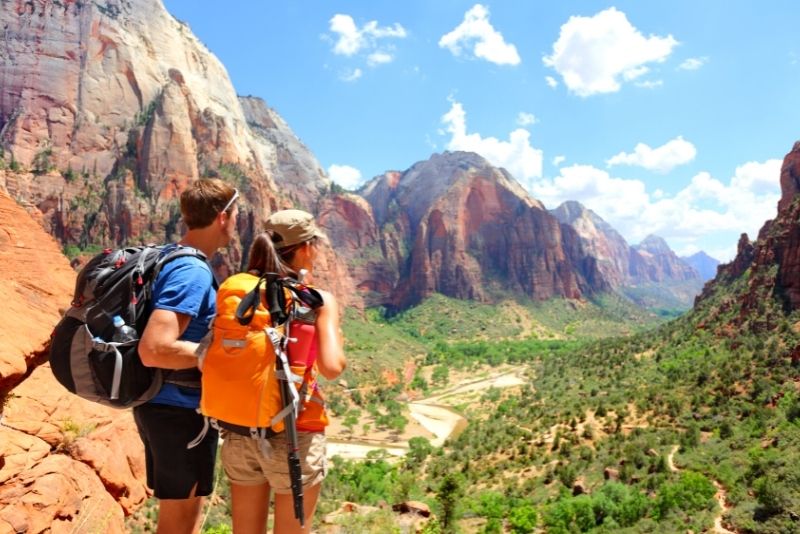 A little further afield, but well worth the trip, Utah's steep red cliffs offer great hiking (and biking) trails as well as stunning scenery; if you're lucky, you'll catch sight of wildlife like bighorn sheep or mule deer!
For serious nature-loving couples, consider a multi-day adventure that ticks off Bryce Canyon and Monument Valley too!
See also: Zion National Park Complete Guide, Fun Things to Do in Zion National Park
39 – Vist the Neon Museum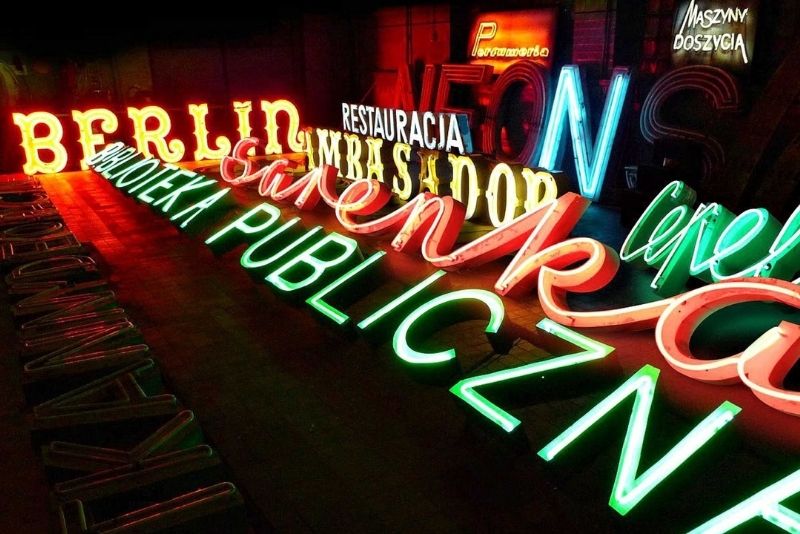 For a slightly more unique experience than slot machines and comically large margaritas, head to the Neon Museum in downtown Las Vegas — a great photo opportunity for those with a sense of history.
An odd contrast to the modern lights of Vegas, this collection houses the forgotten, abandoned, sold, and thrown-out memories of former Sin City; it's now home to hundreds of vintage signs from iconic casinos as well as other storefronts that have been rescued from the wrecking ball!
40 – See a show at Planet Hollywood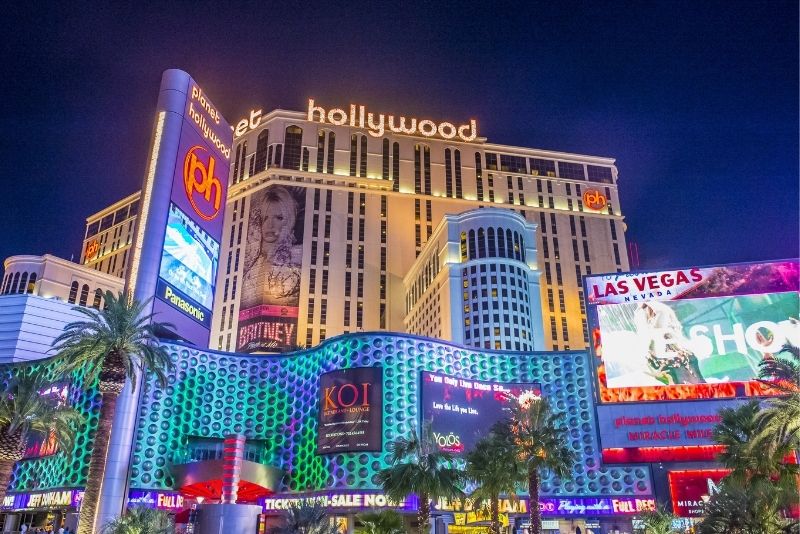 With so many world-class venues to choose from, it's hard to pick just one.
But if you're into celeb-spotting, then the show at Planet Hollywood is a must! With big-name concerts by the likes of Gwen Stefani, KISS, and One Republic at the Zappos Theater or mainstays like Criss Angel Mindfreak, first-class entertainment is never too far away.
41 – Stroll the Ethel M Cactus Garden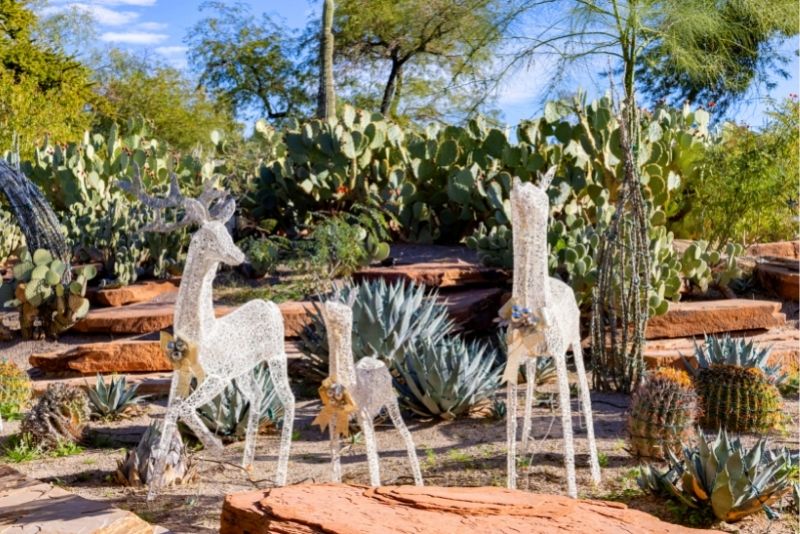 A must-see for any nature lover!
The Ethel M Botanical Cactus Garden is a beautiful slice of nature that boasts over 300 different species of cacti, nestled just behind the equally impressive Ethel M Chocolate Factory.
At four acres in size, it's also the largest botanical garden in Las Vegas — so if you're looking for an escape from the casinos and shows, this is definitely worth a visit!
42 – Satisfy your sweet tooth on a chocolate tour!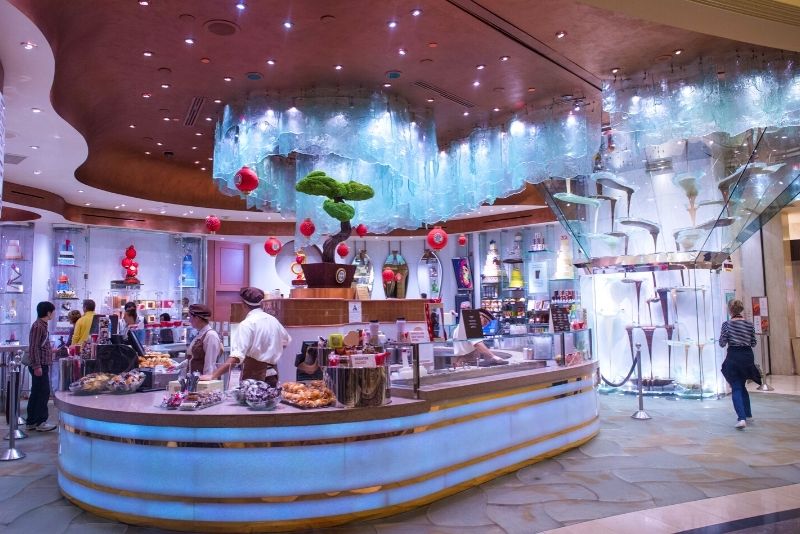 A proven aphrodisiac, nothing light the fire in the belly like a good old block of sweet, dark, milky, chocolatey goodness…
While there's never a bad time to satisfy your sugary cravings, a pre-arranged tour in an air-conditioned bus that zips between the city's most famous (and lesser-known) sweet spots is a popular choice for traveling couples who prefer the convenience.
If you're just after one sweet stop, make it the Ethel M® Chocolate Factory, an underrated gem compared to the likes of the M&M store and Hershey's Chocolate World.
43 – Explore the Valley of Fire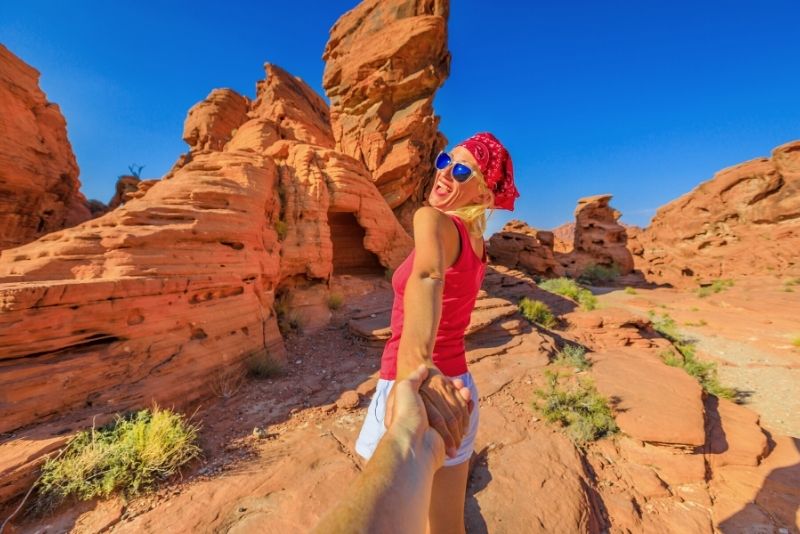 Located about an hour from Sin City, Valley of Fire State Park is an often-forgotten (only to the detriment of those who overlook it) natural gem tucked away in Nevada's high desert landscape.
With stunning rock formations that form smooth golden-red cliffs and arches — as well as sheer drops into gorges with vast caverns waiting to be explored! — this National Historic Landmark offers a look at a truly untouched stretch of the American West.
44 – Check out the Immersive Van Gogh exhibit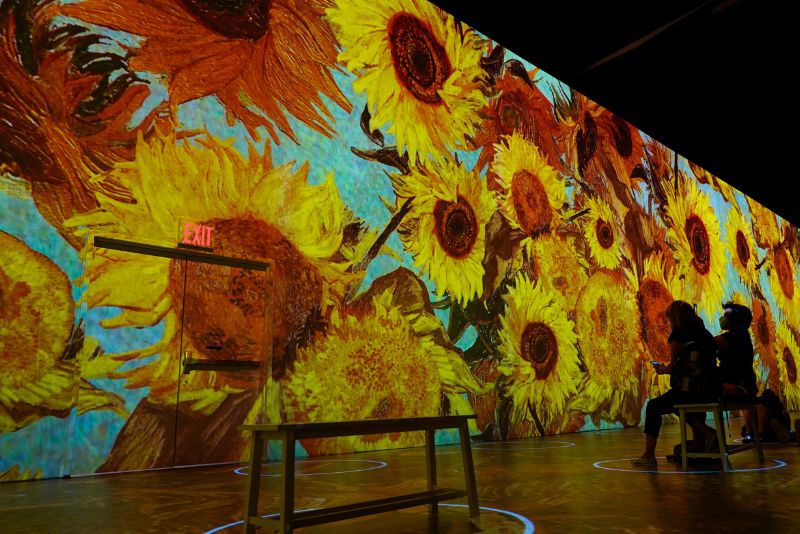 One of the more romantic things to do in Las Vegas for couples excited by art and culture (and technology, for that matter), this exhibition is a rare opportunity to see Vincent van Gogh's paintings in person through a magical 360º digital art exhibition.
Be sure to book your tickets online and in advance, because visiting sessions often sell out.
45 – Sit front row for a show at the MGM Grand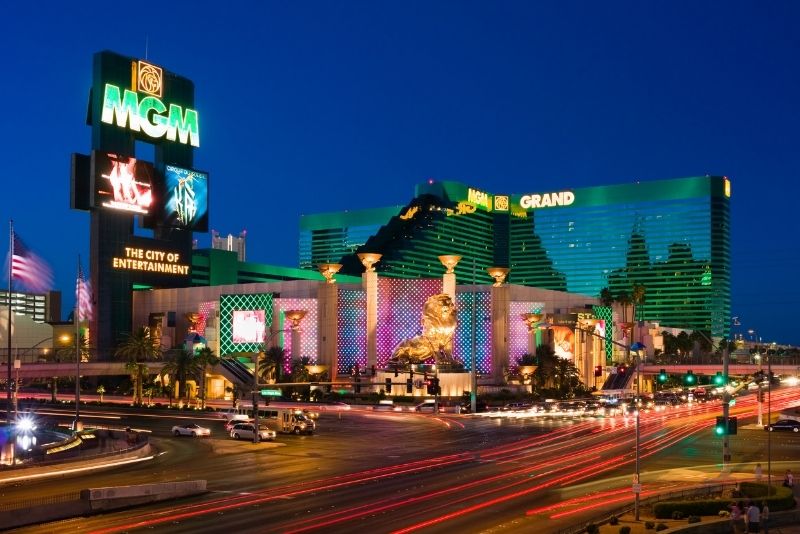 For a seat in front of some of the biggest names in entertainment, there's arguably no better place than an arena show at the 17,000-seat MGM Grand Garden Arena.
With artists like the Jabbawockeez, David Copperfield, Harry Styles, John Mayer, and KÀ by Cirque du Soleil headlining the long list of shows, and similar big-ticket names rounding out the calendar in previous and future years, you can bet that no matter who or what you see, it'll be one unforgettable performance!
46 – Go roller skating!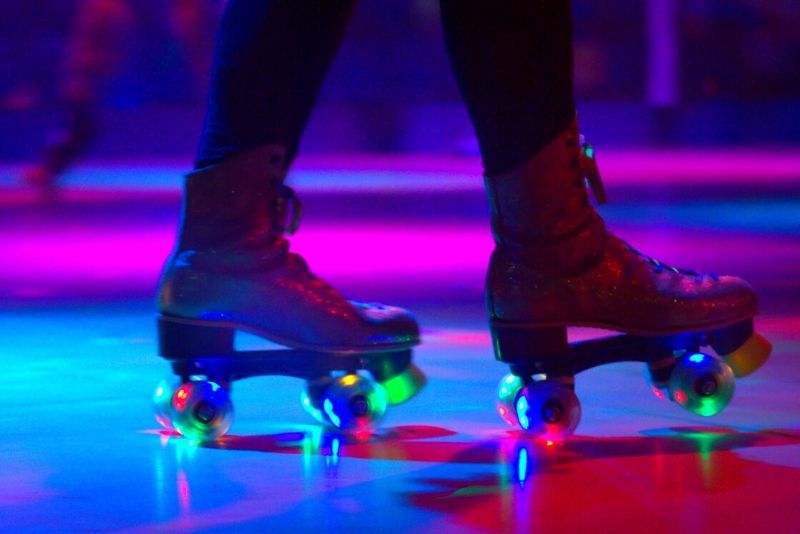 For those who prefer to take a more traditional approach to the romantic vacation, there's nothing quite as fun as taking your date for a spin on the roller rink.
Whether you lace on the skates at the Crystal Palace Skating Center or Skate Rock City (fun fact: owned by Floyd Mayweather), you can't go wrong.
47 – Sign up for a Lake Mead cruise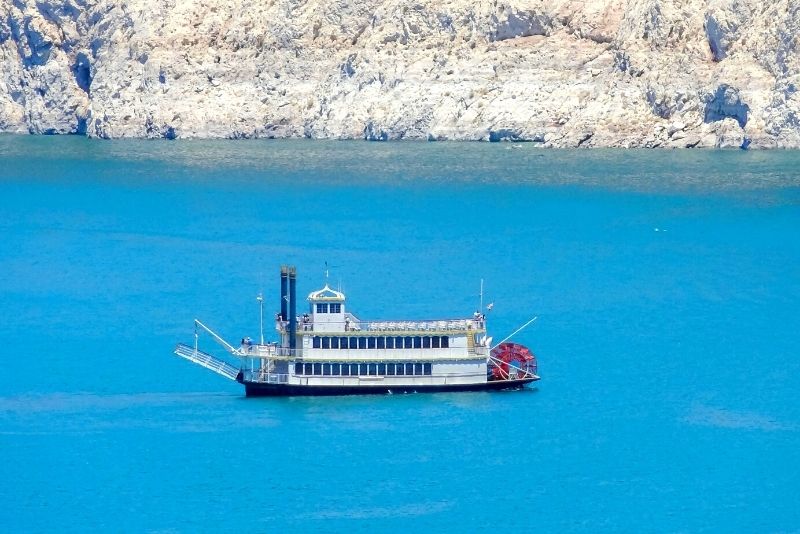 Sitting on the shores of Lake Mead with your significant other — or walking hand in hand along its scenic trails — is a great way to escape from the hustle and bustle of The Strip.
The lake itself has plenty to offer, including birdwatching opportunities (it's home to over 300 different species), kayaking and paddleboarding, as well as the historic Hoover Dam.
However, arguably the most romantic lakeside experience is a cruise — be it at lunch or dinner, with a friendly crew, onboard narration, and occasional live music.
48 – Admire the works at the Bellagio Gallery of Fine Art
For the art lover in your life, there's no finer place to take them on a special evening than at BGOFA.
This stunning gallery features rotating exhibits throughout the year by some of the most famous names in contemporary and modern art; past displays have featured the likes of Andy Warhol, Pablo Picasso, Peter Carl Fabergé (the artist behind the famous eggs), Roy Lichtenstein, and plenty more.
49 – Play retro games at the Pinball Hall of Fame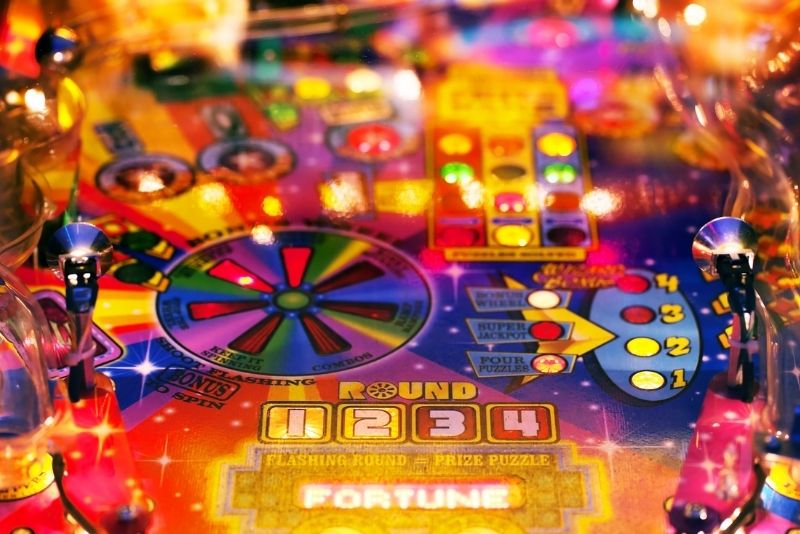 For a nostalgic, interactive date night in Las Vegas that'll have you and your better half laughing all evening long, head to the Pinball Hall of Fame.
With dozens and dozens of vintage pinball games to play as well as stacks of classic arcade games (just like the ones from back-in-the-day), there's something here for those who love pinball, Pac-Man, Donkey Kong, and everything in between.
50 – Go skydiving outdoors, or indoors, or over the Grand Canyon!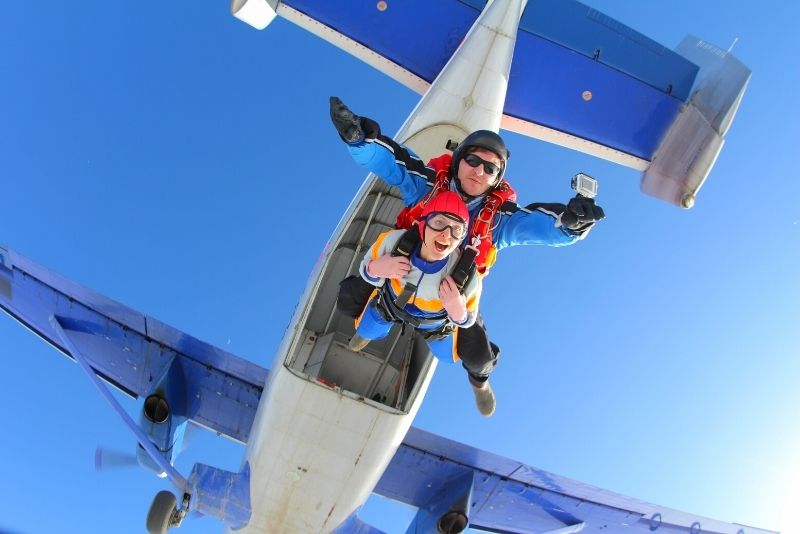 Are you and your partner thrill-seekers? If so, ditch the blackjack for a few hours and take to the skies! With common tandem freefall locations over the Nevada Desert as well as near the Grand Canyon, expect brilliant views and high-octane adrenaline in this once-in-a-lifetime experience!
If time, budget, or fear of flying make are making you a tad hesitant, then there's always the option for indoor skydiving: in a vertical wind tunnel, you'll be mastering your summersaults and nosedives in no time!
51 – Party it up at a day club pool party!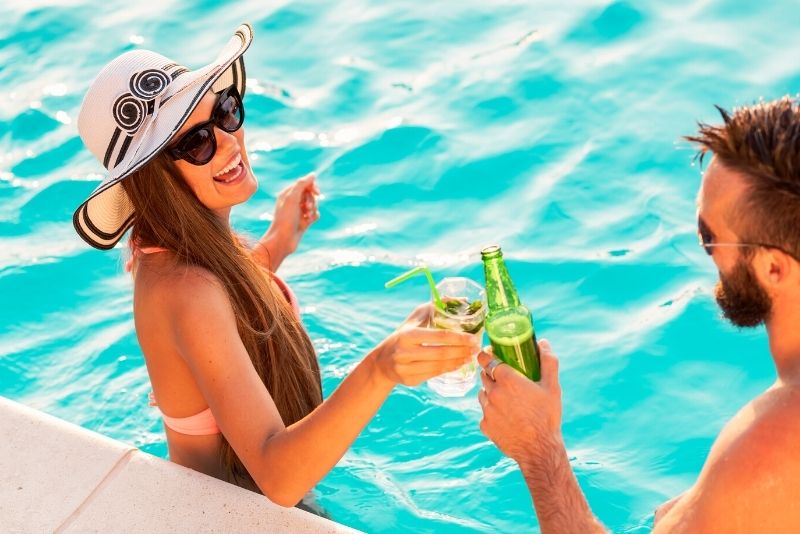 Alright, enough romance for a minute — it's Vegas, after all, so it's time to unleash your wild side, let your hair down, and party like you've never before! Clearly, with hundreds of places across the city, you'll never run out of clubs, bars, or pool parties to hit the dancefloor with your partner and get your drink on; however, to make things a bit easier for you, we've narrowed it down to some of the crowd favorites:
Wet Republic: Undoubtedly one of the hottest party spots in Sin city with music blaring, a non-stop upbeat party atmosphere, a giant pool (and a few smaller ones), and no shortage of cabanas to laze around on, this "Ultra Pool" at the MGM Grand is a must-visit.
Marquee: After downing some shooters for a pre-game, the Marquee nightclub inside The Cosmopolitan is a worthy choice. With a rooftop patio, evocative dancers, colorful drinks, and bottle service, it's a wild night out (and day out, too, given the day club and pool).
Encore Beach Club: With daybeds and private cabanas that you and your better half can book in advance, this day and nightclub at the Wynn is a popular spot for young and social partygoers who want to see big-name DJs. With world-renowned names like David Guetta, and the Chainsmokers making appearances, you can only imagine the electric poolside atmosphere.
Venus Pool Lounge: For the classic Vegas feel mixed with European flair, why not check out Venus Pool Lounge at Caesar's Palace? This pool, found in the so-called Garden of the Gods has been featured in countless films and TV shows including The Hangover, so you'll be sure to have a memorable experience (although probably fuzzy, given the strength of the drinks).
Stadium Swim: If you and your loved one are sports-obsessed, be sure to spend a day frequenting the swim-up bars and relaxing by the pool at Stadium Swim & Beach Club at the Circa Resort & Casino. The 40-foot HD screen regularly plays sports matches, before DJs turn up the atmosphere into party mode.
52 – Go ice skating (in the winter season)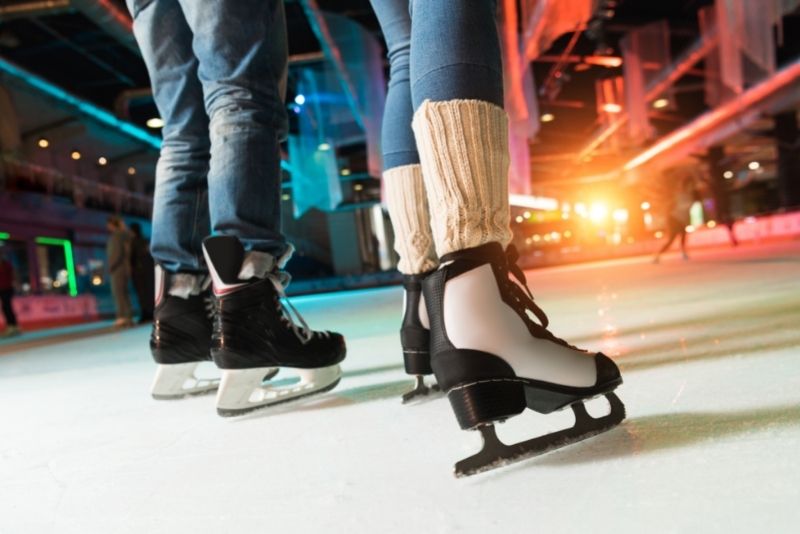 While there's nothing more romantic than lending your coat to your partner on a chilly night — or better yet, exchanging some body heat — a cute ice skating session is the next best thing.
Over at the Cosmopolitan during the winter months, the hotel creates a pop-up winter wonderland complete with fire pits, mulled wine, and, of course, an ice skating rink.
53 – Book a room at a romantic hotel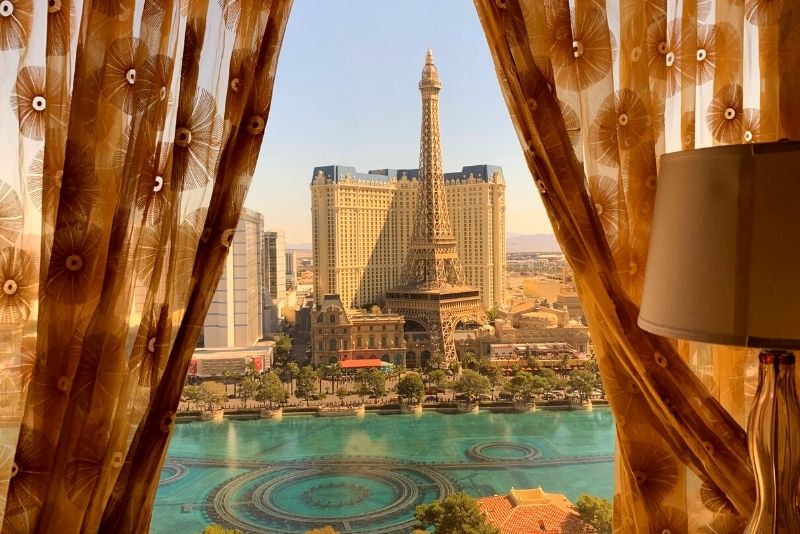 There are many hotels in Las Vegas that are absolute havens for couples, whether you're looking to splurge on a penthouse suite or simply enjoy the views from your room. Forget about family-oriented Circus Circus and budget-savvy Golden Nugget; for the real romantics, you want a hotel full of spa facilities, intimate restaurants, lounges and bars, and great city views.
With those criteria in mind, the Caesars Palace boasts some of the most modern rooms with amazing cityscape vistas; the Bellagio, with its dancing fountains, is sure to liven up the mood; the Venetian will transport you to arguably the most romantic nation on Earth (Italy), and if it doesn't, then Paris Las Vegas will do exactly that (with its Eiffel Tower dinner experience to boot).
Or, if it's pampering you're after, it's hard to go past the Waldorf Astoria.
Must-read: How to see the city on a budget
Who said romance had to be expensive, right? It's important to get the most out of your time in Las Vegas and that starts with getting a pass that will allow you access to all of their tours and attractions.
A popular option for traveling couples is the Go Las Vegas Explorer Pass which gives you discounted access to over 35 different tours and attractions throughout the city (just choose up to your favorite 7, or as many many you want to see).
Save hassle: book an airport transfer
You're on vacation, so why worry about the boring things like getting to your hotel? That doesn't sound romantic at all…
Instead, let the pros do the work: with a pre-arranged airport transfer, you won't have to worry about metro connections, can spend less time in transit and more time getting to know your hotel bed, and save money on last-minute taxis or Ubers!
Well, that's a wrap! We hope you enjoy your trip to Vegas! If you have any other must-see suggestions, feel free to share them in the comments down below.
As always, happy travels!