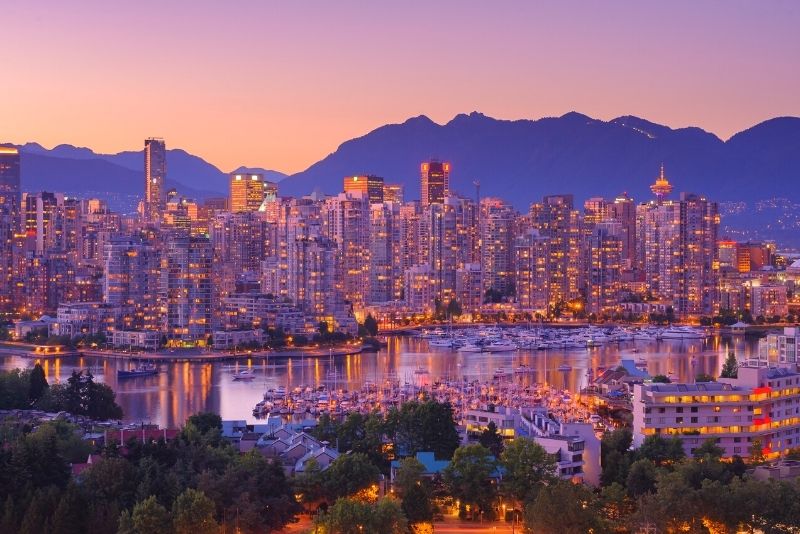 Where the salty ocean meets snow-capped mountains, modern glass skyscrapers meet an influential First Nations culture, and endless natural adventure meets ever-expanding urbanism — Vancouver is a cosmopolitan hotspot unlike any other.
Hike around Squamish or shred some fresh powder on one of the many world-renowned slopes (Whistler, anyone). For those who prefer something more low-key, take in some live music at one of Vancouver's ever-lively watering holes, browse the award-winning museums, or head out for a jog around Stanley Park.
As you'll quickly realize, whatever style of things to do in Vancouver you're looking for, there's plenty to choose from in this bucket list destination!
Explore varying city districts whether it's the old town, Gastown, dripping in history and hidden alleyways filled with secrets, or vibrant Chinatown and its plethora of yummy restaurants and eateries.
As is the rest of the Great White North, this Canadian destination is spoiled with an abundance of greenery to zen out at — and appreciate the native flora and fauna. Attempt the Capilano Suspension Bridge above the Capilano River, take a boat tour inside a rainforest to Granite Falls or enjoy a sunset dinner cruise around the harbor.
Couples, spend the afternoon at a local winery, or traveling family troupes indulge in a mouth-watering chocolate tour.
So, what are you waiting for?
1 – Take a walk on the wild side at the Capilano Suspension Bridge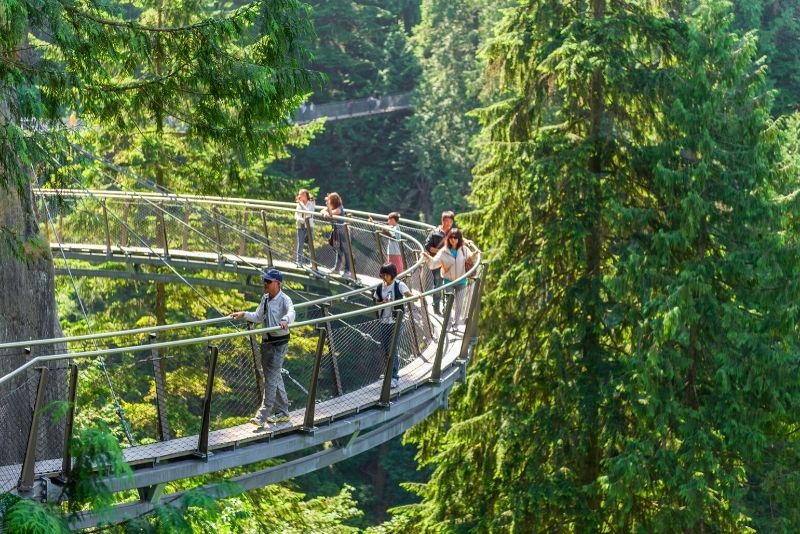 If you're looking for a thrill, then don't miss this iconic Vancouver sightseeing landmark. The Capilano Suspension Bridge spans 140 meters and reaches a height of 70 meters above the Capilano River — that's plenty to make your heart drop!
The experience doesn't stop there, though. Once you're across the bridge, head to the Cliffwalk for spectacular views of coastal rainforest and bird-watching, or take a guided tour inside the treetops.
Hot tip: Check out the Cleveland Dam while you're there, just around the corner!
2 – Head out on the waters of the Indian Arm Park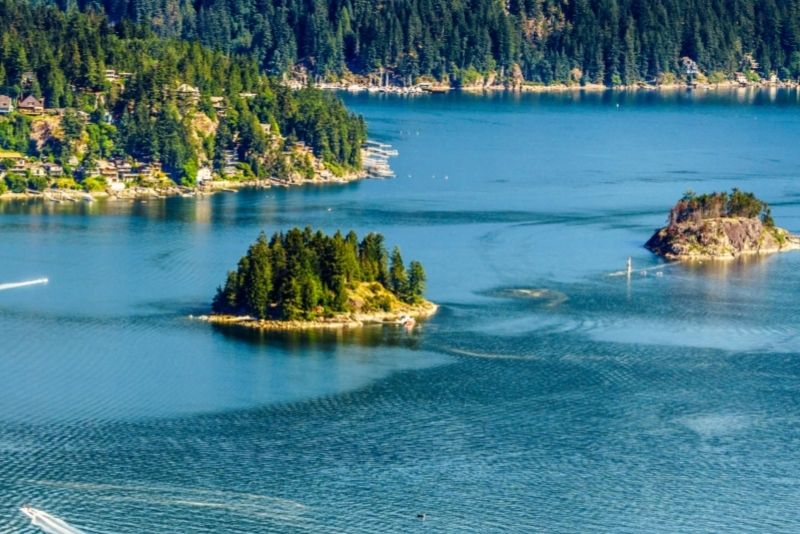 The Indian Arm, a breathtaking narrow inset starting on the northern end of Vancouver, is worth exploring for its gorgeous views alone. But throw in some kayaking or fishing, cascading waterfalls, and friendly wildlife, and you've got yourself an unforgettable day trip!
Depending on which tour you choose, you can try your hand at scuba diving, relax on a sunset cruise or dig into a buffet lunch before reveling at the printing Silver Falls.
3 – Ride the hop-on-hop-off Vancouver bus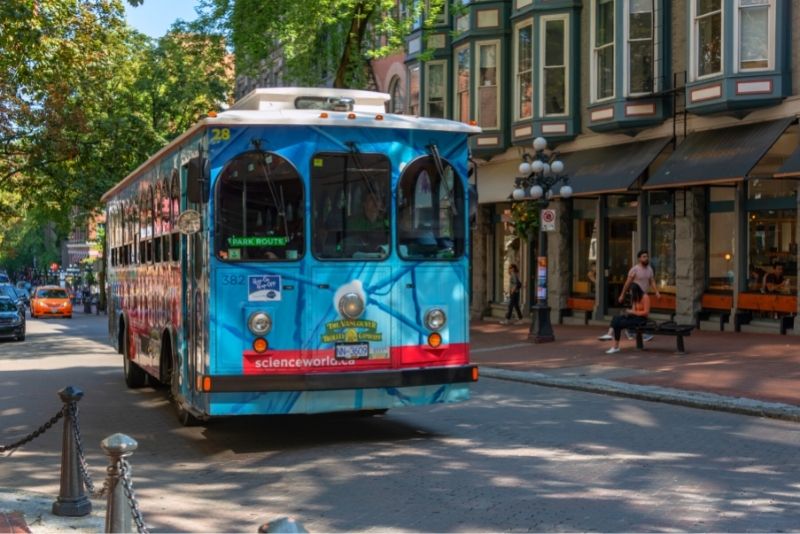 A convenient way to navigate this beautiful coastal city, Vancouver's hop-on hop-off busses take tourists on routes designed to check off all of the city's top attractions — from Stanley Park to Gastown, Fisherman's Wharf, and Beacon Hill Park.
Bargain tip: Multi-day passes are cheaper than consecutive individual tickets (and if you're staying in the city for a while, chances are that you'll ride more than one route!)
4 – Head to UBC's Beaty Biodiversity Museum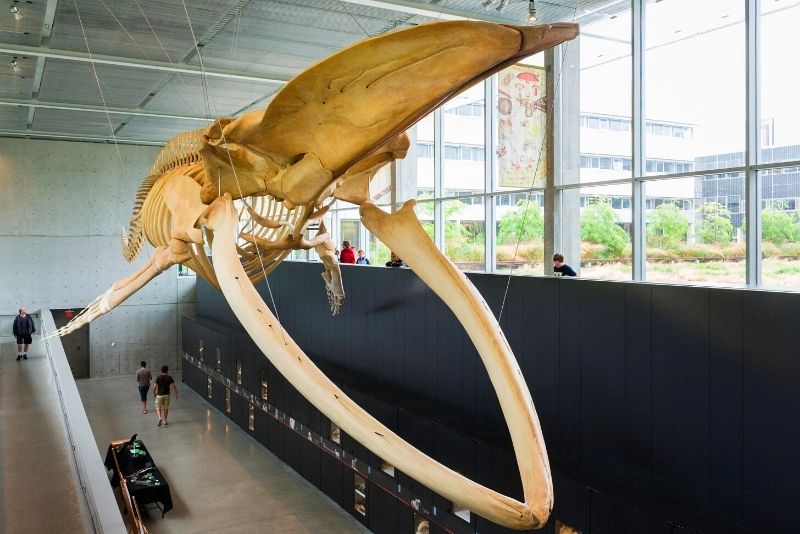 One of Vancouver's newest (and most exciting) museums, the Beaty Biodiversity Museum aims to inspire people about the importance of biodiversity and natural history preservation through interactive exhibits.
In addition to helping visitors learn more about BC's diverse ecosystems via animal displays like a walk-in avian habitat, this new attraction also houses one of the world's largest collections of preserved insects (at the Spencer Entomological Collection), with an emphasis on the rare and unusual.
5 – Stroll through the VanDusen Botanical Garden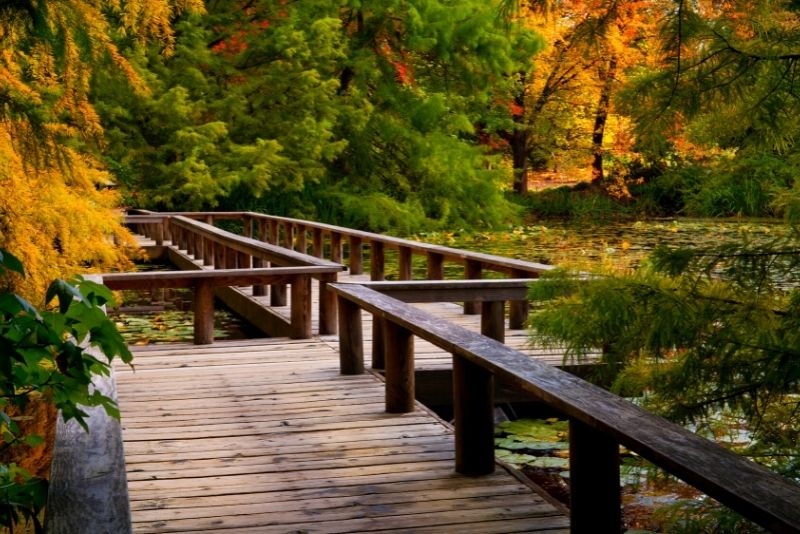 This internationally important garden, which has been Vancouver's only public botanical garden for over 50 years, is recognized as a living museum and one of the world's premier plant collections.
Covering more than 55 acres in all, VanDusen is situated in the quaint Shaughnessy neighborhood. Besides the 8,000 enchantingly colorful plant species, it also plays host to an impressive variety of mature trees, including a spectacular stand of Giant Redwoods.
6 – Spend the day in Victoria on Vancouver Island…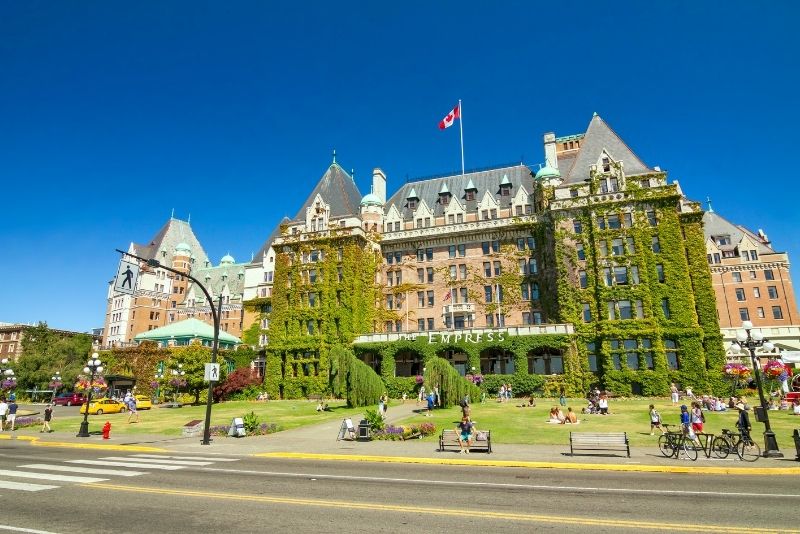 Just a short ferry ride or scenic flight from Vancouver, Victoria on Vancouver Island is well worth the day trip for history buffs and nature lovers alike.
A visit to James Bay would be incomplete without the obligatory stroll through downtown's historic Bastion Square and Chinatown. It's also important to set time aside for some of this city's less-traveled sights — the Royal BC Museum (formerly the Provincial Museum), Emily Carr House, and one of Victoria's many iconic lighthouses.
For the best experience, combine a Victoria visit with a whale-watching boat tour and a ticket to the Butchart Gardens.
Read more: Fun things to do in Victoria, British Columbia
7 – … and check out Butchart Gardens while you're there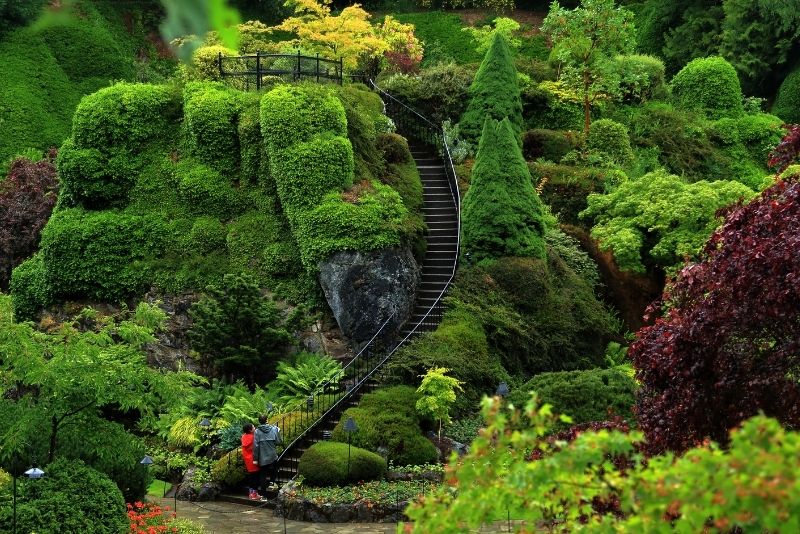 Butchart Gardens is one of Canada's most popular tourist attractions and a worthwhile day trip destination for visitors to Vancouver Island (especially those keen on ferns).
A must-see for garden lovers, the 55-acre Butchart Gardens — famous for their blooms year-round — is located just outside Victoria, offering a near-limitless array of floral wonders to explore.
The sprawling gardens are divided into different sections that focus on certain themes — from lush perennials to colorful roses, peonies to azaleas.
Keep your eyes peel for peacocks while you're there too!
8 – Embark on a 'Forbidden' walking tour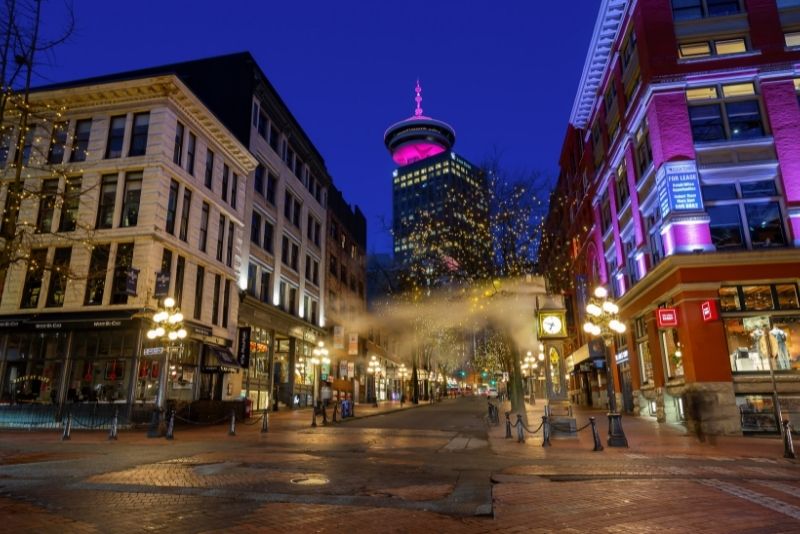 Trekking through neighborhoods like lively Gastown (home of plenty of bars and restaurants) and Downtown, walking tours and city tours are a wonderful (and affordable) way to see this eclectic city.
However, for historically curious travelers, a "forbidden walking tour" is a must. Led by locals, these themed experiences focus on Vancouver's dark side, diving into nail-biting stories of Prohibition, gangsters, and showgirls.
9 – Stare up at the treetops at Queen Elizabeth Park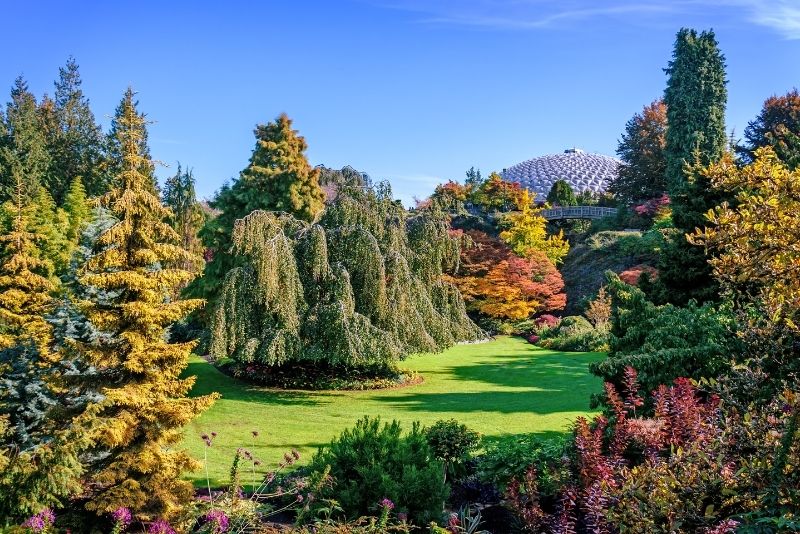 Peaceful, sprawling gardens and a beautiful pond make up this local treasure — which also boasts one of the largest collections of mature Douglas Fir trees in North America.
The park is located northeast of downtown Vancouver and can easily be accessed by car or public transit. A lot of travelers tend to opt for the guided-tour option, which also stops at Granville Island and Prospect Point Lighthouse and includes hotel pickup.
Sponsored placement
Discover true crime history at the Vancouver Police Museum
True crime fanatics, this one's for you! Visit the Vancouver Police Museum & Archives to learn about the history of policing in the city, as well as how some of the most infamous crimes were solved.
You can see original evidence, and even walk around the former city morgue and autopsy room.
10 – Get cultured at the Vancouver Art Gallery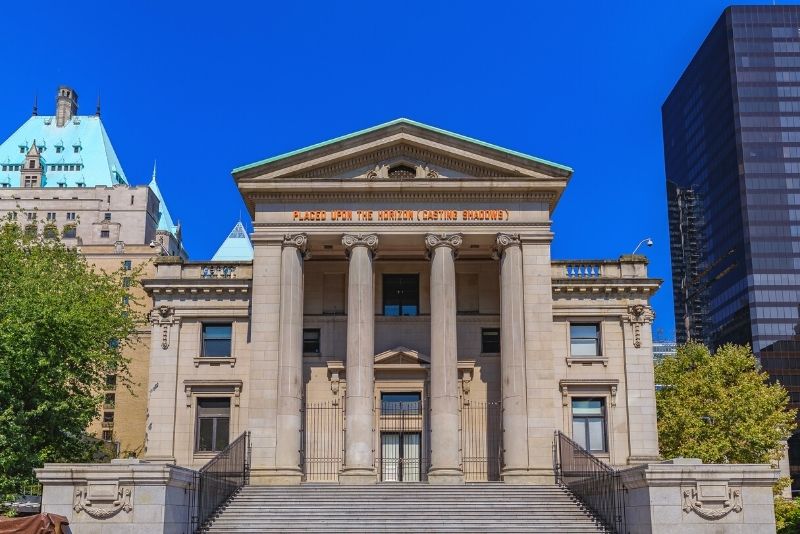 Located just off on Robson Street, one of Vancouver's main shopping areas, this impressive building is officially the largest art gallery in Western Canada.
It offers visitors a world-class exhibition program — including works by both Canadian and international artists, spanning centuries of art history from ancient to contemporary.
Complementing its traditional exhibitions, the VAG also hosts community events like free family days and hands-on workshops for kids, with guided tours available too!
11 – Soar over the province in a seaplane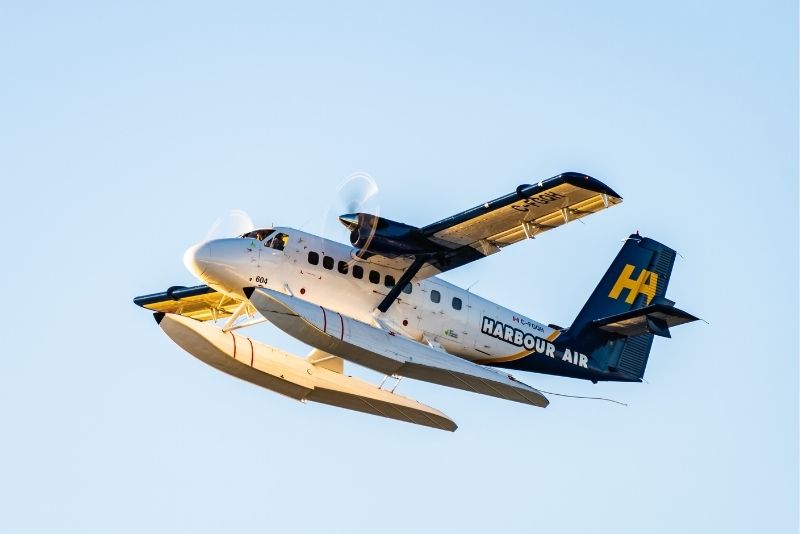 If you're looking for a new perspective of Vancouver and its brilliant mountainous surroundings, then this is the option for you!
A private flight in a seaplane offers an aerial view of all things West Coast — plus, feel free to ask your friendly pilots anything about the sights below and they'll be happy to answer.
There are a multitude of these scenic flights to choose from, ranging in time and differentiating in air routes. Shorter versions last between 20 to 30 minutes, taking off from the Vancouver Harbour Flight Centre (by Coal Harbour) and landing in front of the Vancouver Convention Center.
12 – Witness special Candlelight Concerts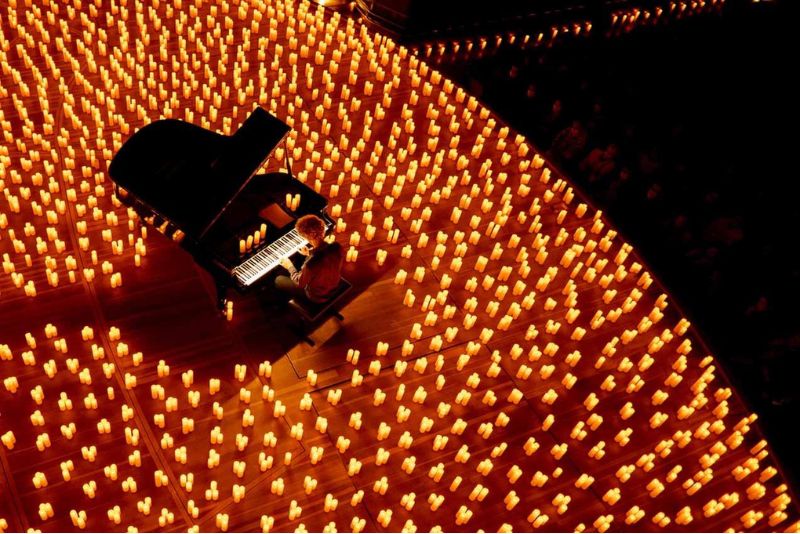 One for couples, romantics at heart and music lovers; if you've never heard of the ever-dreamy Candlelight Concerts; perk your ears up for this one!
Walking into a specially chosen, unique location set up as the concert venue, hundreds of candles illuminate the space in warm, flickering candlelight. All that's left to do is sit back, relax and enjoy the mesmerizing show.
Options plentiful in Vancouver; have your pick between a variety of these spectacular performances.
The two main locations utilized in the city at present include the Kerrisdale Presbyterian Church and the Christ Church Cathedral.
13 – Go whale watching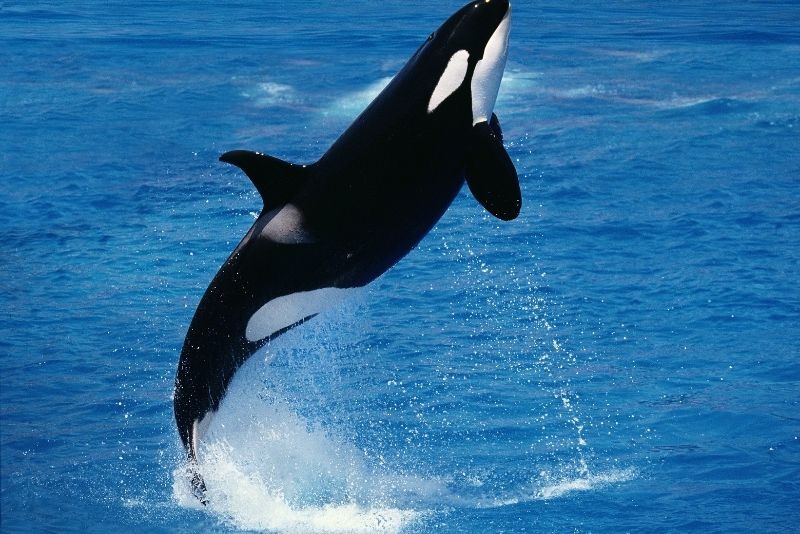 Whale watching is one of the things to do in Vancouver that you simply can't find anywhere else in Canada.
Take your pick from tours where you get to see these graceful animals up close (humpbacks, killers, porpoises and plenty more), or go for something more adventurous with a seaplane-whale-watching combo tour.
Whichever option you choose, there's no doubt it'll be a memorable experience!
Check out Whale Watching cruise prices.
14 – Catch a sports match at the Pacific Coliseum, or concert!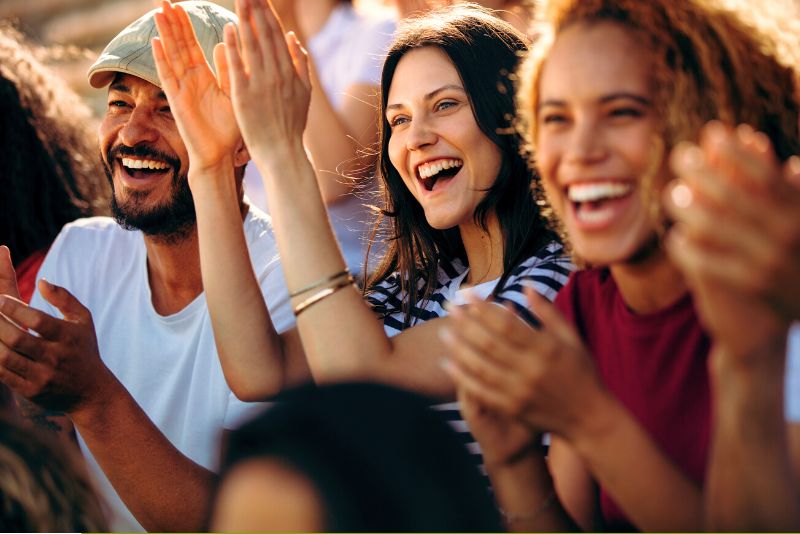 As the largest of the venues here, the Pacific Coliseum. is particularly favored for hosting sporting events from basketball to boxing matches, hockey games and ice shows!
Affectionately known as "The Coliseum" by locals, it has a whopping capacity of up to 17,500 visitors at any given time. Thanks to this factor, it's also utilized for trade and consumer shows, and large event gatherings and expos.
Make sure to investigate its monthly lineup so you don't miss your best bands (like Artic Monkeys), favorite sports team on game day, or up-and-coming theatrical world tours!
15 – Play with parrots at the Bloedel Conservatory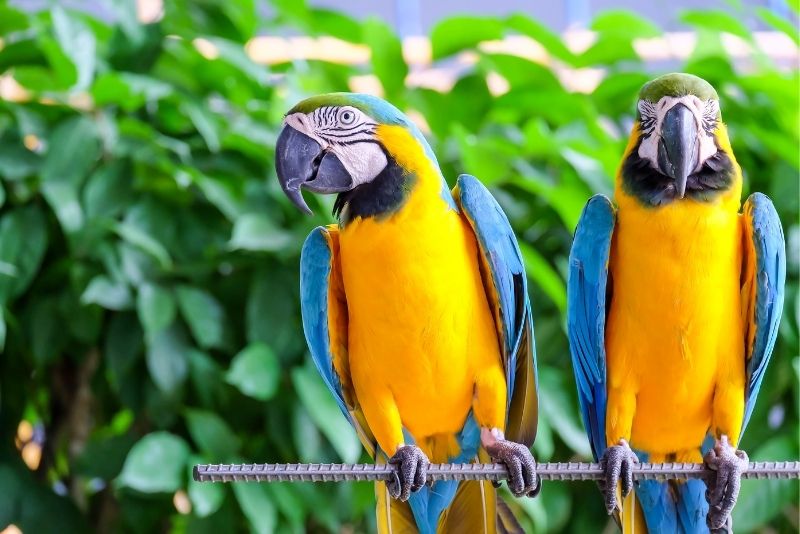 Housed in Queen Elizabeth Park's famous glass-domed garden lies the esteemed Bloedel Conservatory — a natural oasis of flora, fauna and more than 100 colorful birds set across a range of distinct indoor climate zones (tropical, sub-tropical, etc).
Green-fingered travelers, find yourself in true heaven meandering through the indoor greenhouse filled with over 500 exotic flowers and plants like orchids, Arabian coffee plants, Banyan trees and fig branches … so don't leave your camera far behind!
Hot tip: Don't just tick off the Bloedel Conservatory — save time to explore the other parts of Queen Elizabeth Park, most of its other areas are free!
16 – Get giggly at the A-maze-ing Laughter sculptures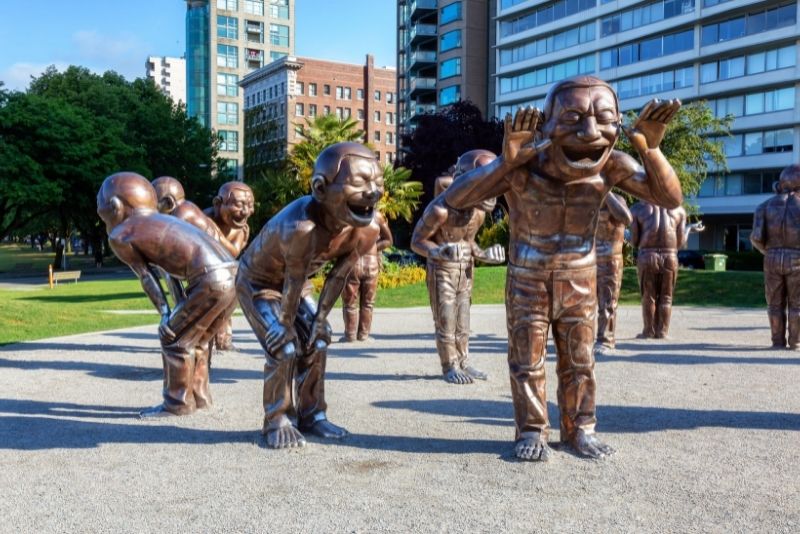 Not too far from English Bay Beach, the quirky A-maze-ing Laughter sculptures were built to inspire endless playful interaction in 2009, quickly developing into a quintessential Vancouver landmark.
Created by Yue Minjun, these 14 bizarre structures resemble faces that are twisted in joyous laughter. Because we all need a laugh once in a while!
17 – Spend the entire day in Stanley Park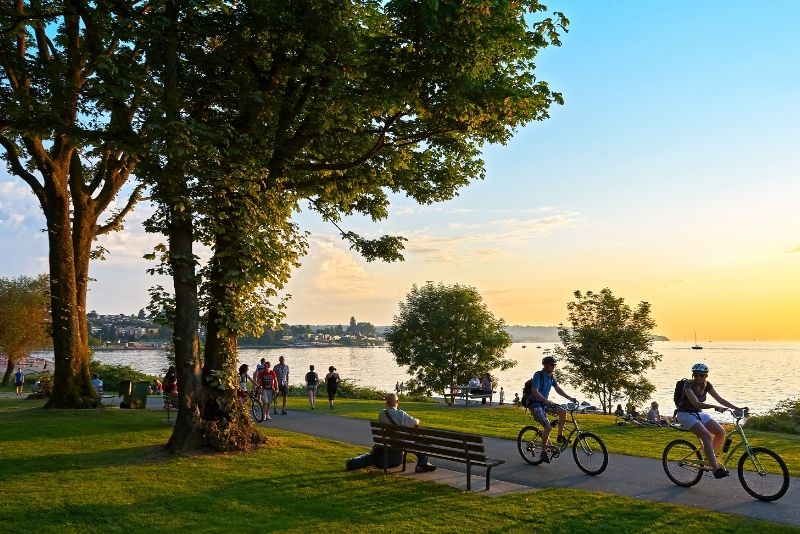 An ideal destination for nature lovers and outdoor adventurers; Stanley Park is not just the most beautiful urban setting in Vancouver, but it's the city's biggest and first park grounds of its kind.
There are plenty of opportunities to walk or jog through the forested area, or thanks to the sheer size of the grounds, bike tours are extremely popular.
Hot tip: Consider a guided horse riding tour through the grounds for a fantastic learning experience. Trot the various gardens such as the stunning Rose Garden, snapping photographs of the surreal surroundings, spotting native wildlife and appreciating Mother Nature.
18 – Make the trip to beautiful Whistler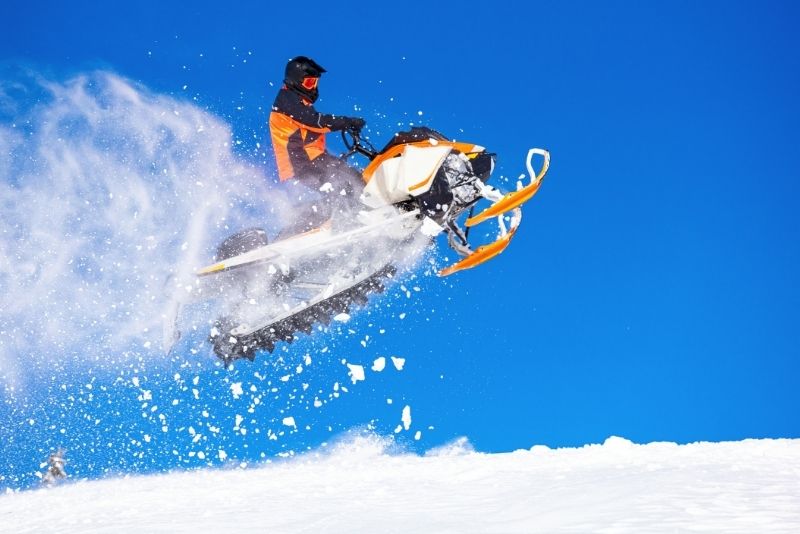 The ski resort town of Whistler is a world-famous destination for all sorts of winter sports enthusiasts (and for good reason), dishing up incredible heli-skiing, snowmobiling, skijoring, and even dog sledding. There's no shortage of ways to show off those downhill skills.
Visitors who want to keep their feet on the ground can still enjoy plenty of winter activities. These include ice skating at one of Whistler's many outdoor rinks to the tourist-favorite après-ski or sleigh rides through the snow-dusted forest.
Outside of ski season, the Sky Gondola and hiking routes deliver absolutely impeccable views — a must-visit at any time of the year.
If you are looking for more ideas, make sure to check out our selection of fun things to do in Whistler.
19 – Stuff your face on a food tour!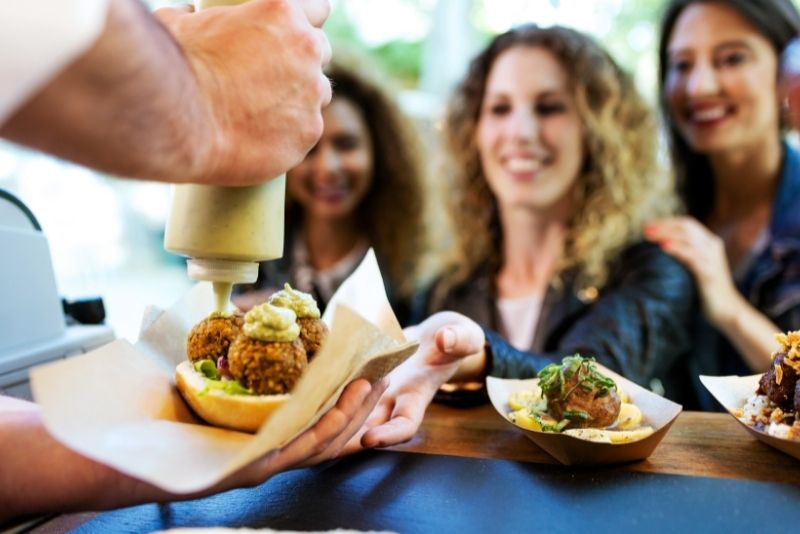 A delicious way to sample the best of Vancouver's culinary delights, guided tastings walk groups around East Van, Little Italy, Granville Market, or Gastown — lasting about two and a half hours, and stopping at up to four eateries (plus beer tasting) along the way.
While varied depending on the guide and neighborhood, stops can include authentic Italian pizzerias, Vietnamese sandwich shops, several Gastown pubs, and plenty more!
20 – Wander around the Museum of Anthropology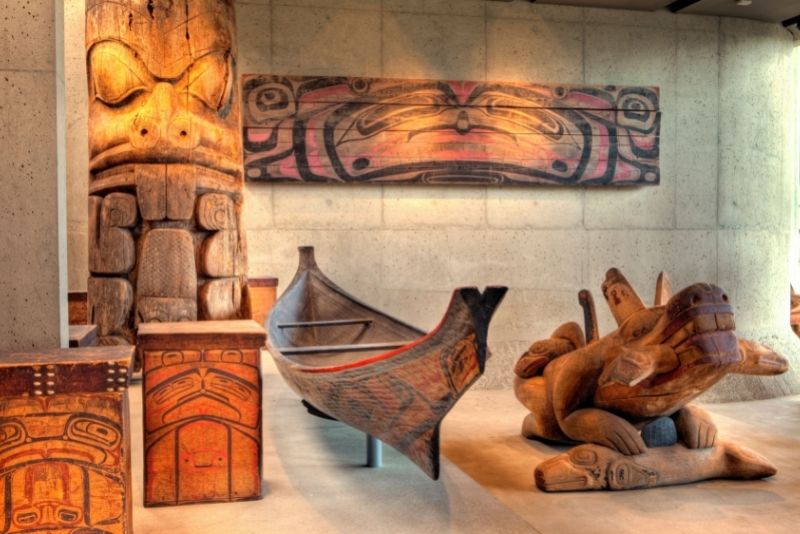 Since opening its doors in the mid-1900s, the MOA has become one of the world's most prominent cultural institutions with its splendid, unique collections and presentations. It's devoted exclusively to the study, display, and public understanding of humankind's cultural diversity from an anthropological perspective.
Guided tours are a great option for those wanting more in-depth insight into what makes this museum so special — including art history discussion groups, photography workshops, and Aboriginal language lessons there is something for everyone.
21 – Work on the tan at English Bay Beach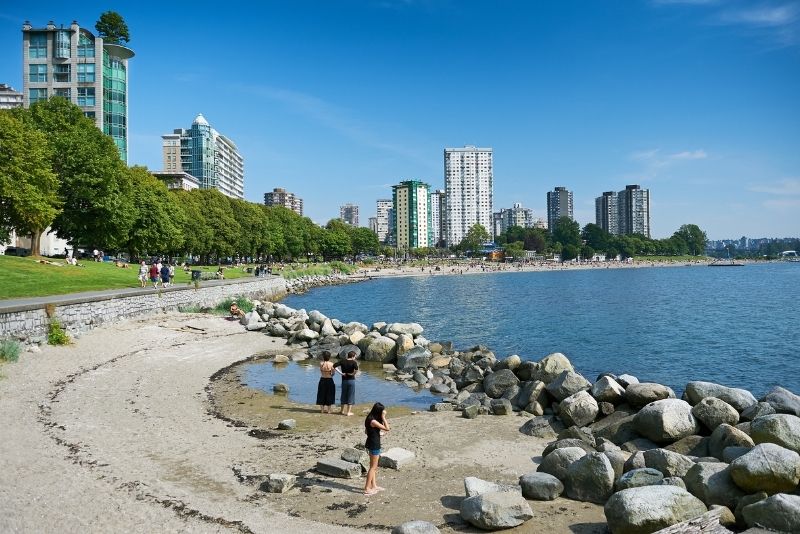 Named after the historic English Bay neighborhood, this beach is located in the heart of downtown Vancouver and has a reputation for being one of the best urban beaches in North America.
Aside from a scenic view, the beach also offers plenty to do — including bike rentals and water sports facilities (like kayaking), as well as the A-maze-ing Laughter statues and plenty of restaurants nearby.
22 – Catch the Vancouver Canucks in action at Rogers Arena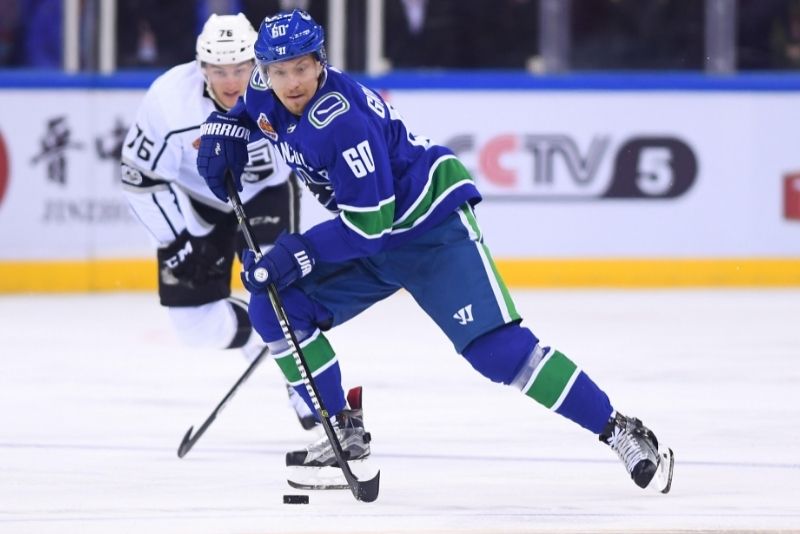 Hockey fanatics, take note! Located at Pacific Central Station on Rogers Arena Way, this world-class arena has been the home of Canuck's games since 1995.
Besides being the staple hockey venue, the arena also hosts a range of concerts with world-class headliners and offers behind-the-scenes tours!
Hot tip: If you want to catch a game while visiting Vancouver, be sure to reserve your tickets ahead of time — they often sell out.
23 – See the starfish at Vancouver Aquarium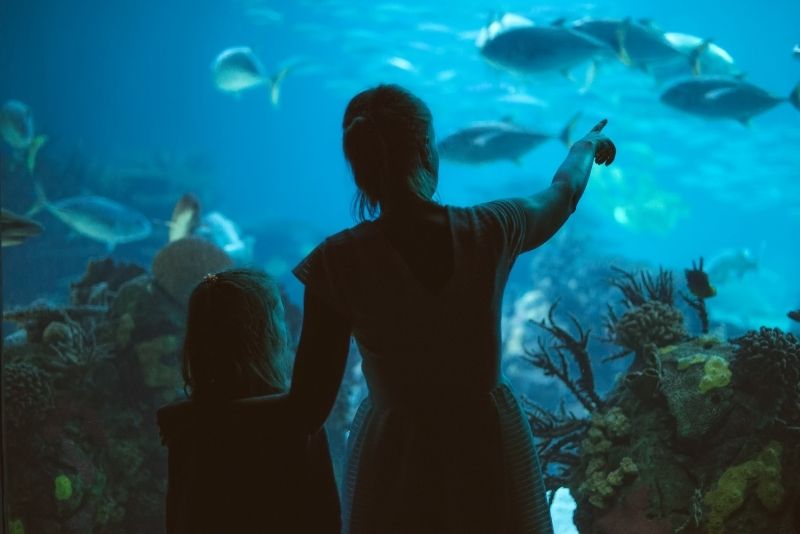 With more than 70,000 animals and over 30 unique exhibits, including insights into beluga whales and dolphins — the Vancouver Aquarium is easily British Columbia's most revered aquatic tourist attraction!
Besides being home to a variety of aquatic life (including fish, invertebrates, amphibians and reptiles), this fascinating facility also offers daily feeding demonstrations for visitors keen on getting up close and personal with their favorite aquatic animals
24 – Hike or ski on Grouse Mountain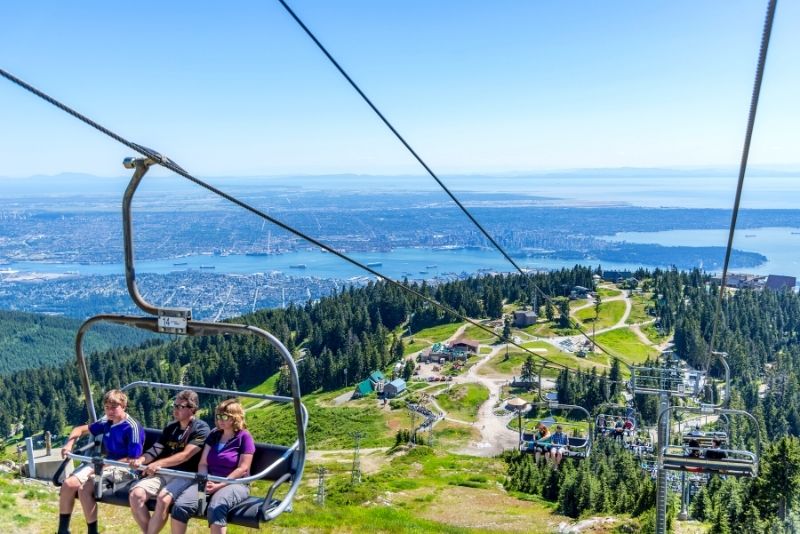 Not too far from the Capilano Suspension Bridge and the hustle of Vancouver itself, Grouse Mountain dishes up tourist-worthy activities in all seasons. From skiing in winter to enjoying hikes in summer, the family-friendly mountain has something for everyone.
Avid hikers, do yourself a favor and try out the Grouse Grind — a tough but rewarding hike that'll escort you to an incredible viewpoint. The trail is steep (and can be tricky in spots), so make sure you're up for it before setting off!
25 – Step back in time at the Burnaby Village Museum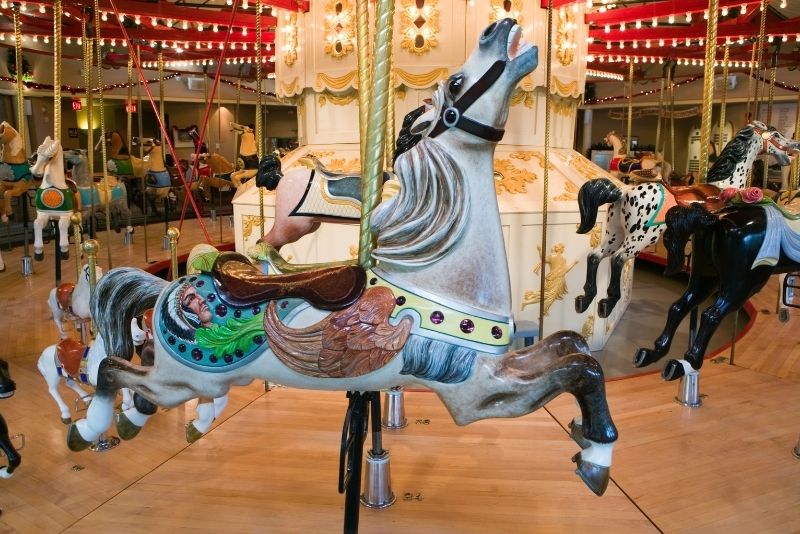 If you're looking for some family-friendly things to do in Vancouver, the Burnaby Village Museum, an outdoor historical attraction, is an excellent choice.
Exhibits include a replica of old town Westminster and pioneer buildings from communities past, while paying tribute to First Nations culture with its own village exhibit.
With new exhibits being added all the time, there's always something new to enjoy.
26 – Get a taste of the Great White North with FlyOver Canada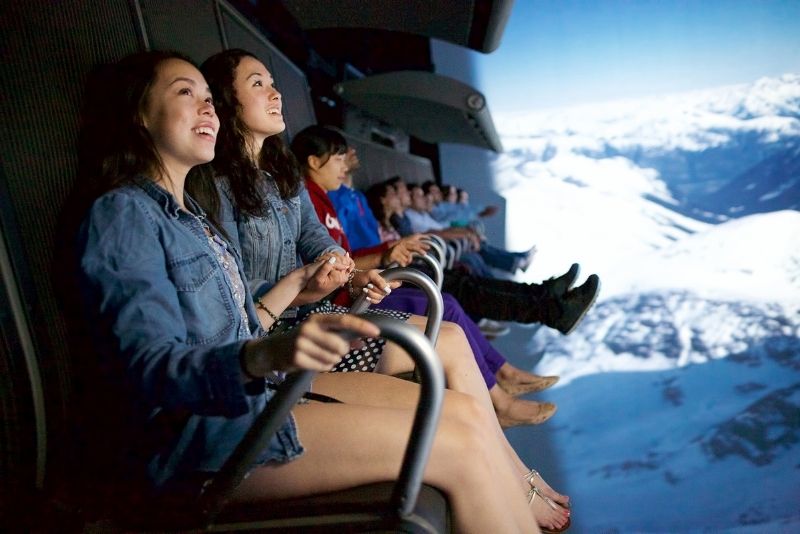 Whether you're soaring over the snow-capped Rockies, the shimmering pacific, expansive prairies or buzzing cities, Canada's aerial views are nothing short of majestic.
Unfortunately, we can't see them all at once, right? Wrong! With FlyOver Canada, a 4D simulator experience, you will discover some of the best places to visit in Canada.
Soar over Jasper National Park, cruise past Toronto and Vancouver's skyline, and so much more on a breathtaking VR adventure (without paying bucketloads for a real helicopter flight!).
27 – Turn the page at the Vancouver Public Library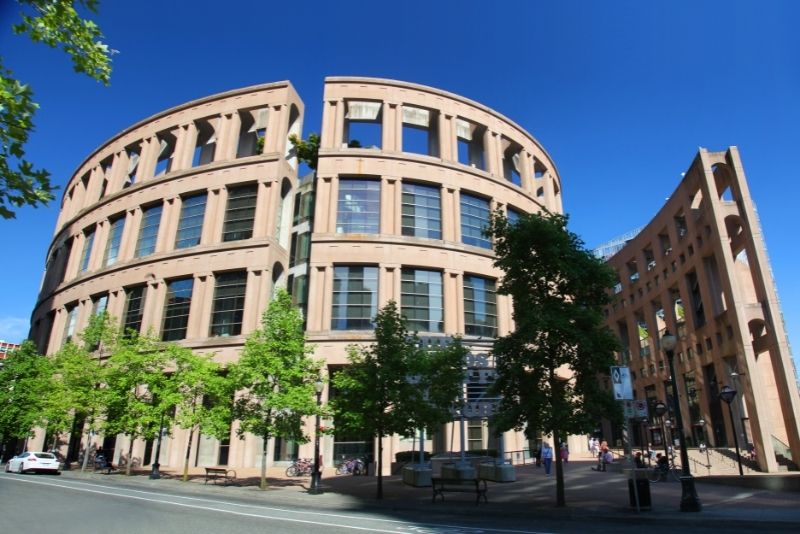 If you're looking for a quiet place to work or study (or simply dive into a thrilling novel), with 20 locations scattered around the city, the Vancouver Public Library is your best bet.
This impressive main building (Central Library on West Georgia Street) houses millions of books (most in English), plus hundreds of thousands of more e-books and other items available on-demand through its catalogue — including DVDs, CDs, magazines and newspapers!
28 – Ride the Sea to Sky Gondola Squamish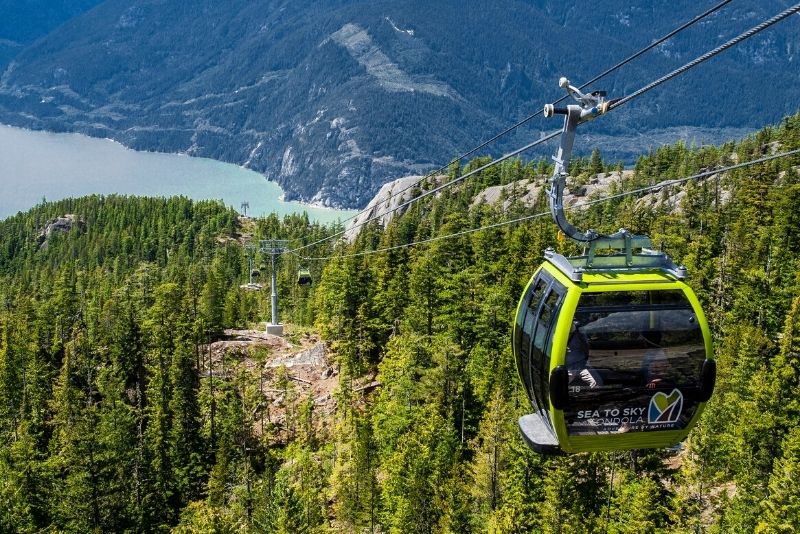 For a bird's-eye view of Squamish, take the Sea to Sky Gondola — an aerial cable car ride that soars over the Howe Sound and travels through some of British Columbia's most picturesque mountain ranges.
Often combined with a stop at Whistler, a Squamish day trip is a wonderful change of pace from the high speeds of Vancouver.
Sports fanatics, this area marks the road to the 2010 Winter Olympics, with plenty of memorabilia in the area worth checking out.
29 – Spend the afternoon at the Britannia Mine Museum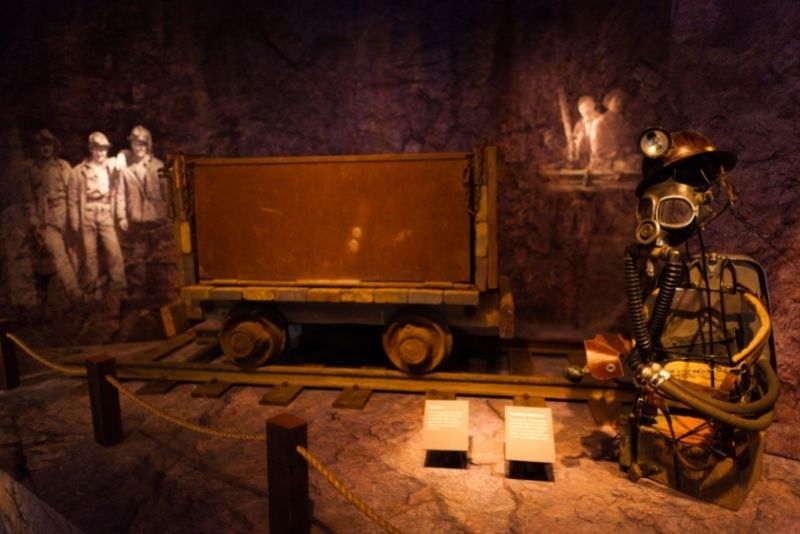 Established in 1880, Britannia Beach was once the largest copper mine on Canada's West Coast. These days, the town (Britannia Beach, about 55 kilometers north of Vancouver) is home to a museum and historic tours — showcasing how life operated during those heady mining days.
Other activities include an interactive gold panning experience, an underground mine tour (which includes long stretches of tunnels), and a jam-packed souvenir shop.
30 – Grab drinks at the best rooftop patios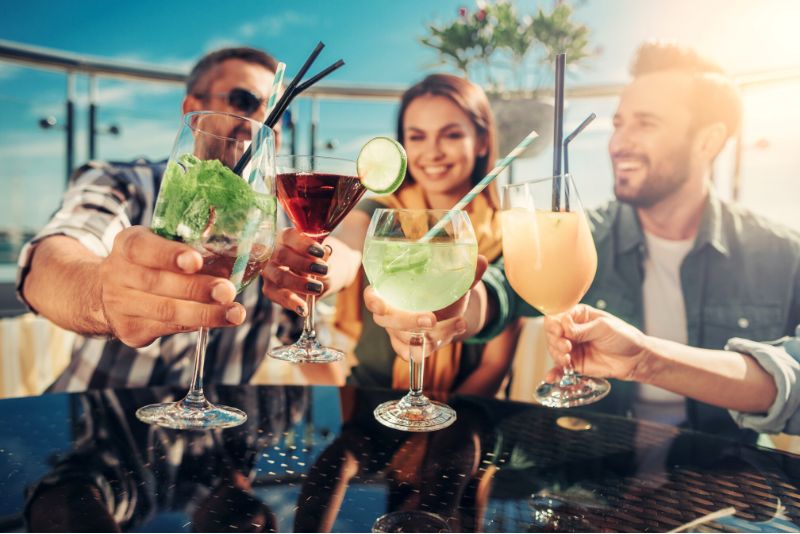 The Roof (at Black+Blue) is one of the top choices for couples or a group of friends. Situated on the third floor, the outdoor patio sweeps the cityscapes, with fires blazing in the background to keep you warm and cozy.
The open patio at LIFT Bar Grill View becomes covered when it's extra chilly, with outdoor heating provided. With its vistas of the mountains, harbor and Stanley Park, and perched right on the waterfront, it's extra ambient.
A sophisticated setup is what to expect from award-winning Reflections Garden Terrace (open seasonally).
Head to the roof garden Joe Fortes covered in greens, grab a seat near the outdoor fireplace and sip on drinks from the horseshoe bar.
31 – Take a boat tour to Granite Falls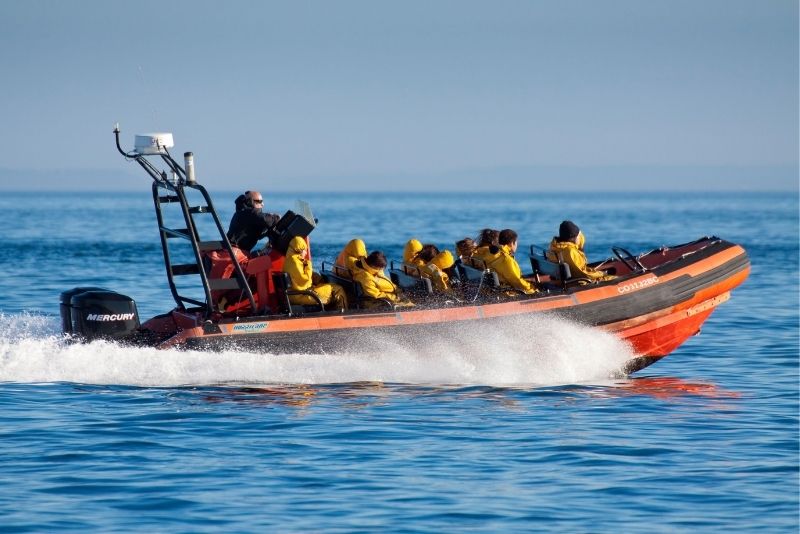 In the heart of North Van's rainforest, this stunning natural wonder is a favorite spot for Vancouverites and visitors alike.
Explore the falls via a guided boat tour (no traffic!), and learn all about it from local experts, from its geological history to its importance in First Nations culture.
For visitors who want an even closer look, consider taking one of the hiking trails that lead right up to the falls.
32 – Check out the Brockton Point Lighthouse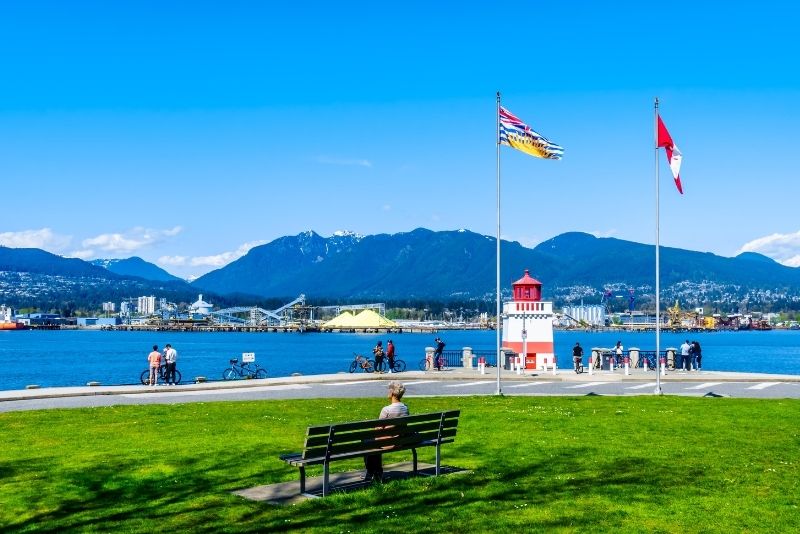 After admiring the totem poles, stroll a little further to the Brockton Point Lighthouse — a National Historic Site that earns its title as one of BC's oldest functioning lighthouses.
Constructed in 1878, this signature attraction stands as an important reminder of Vancouver's early history, a quick and easy stop for history buffs.
33 – Check out the Granville Island market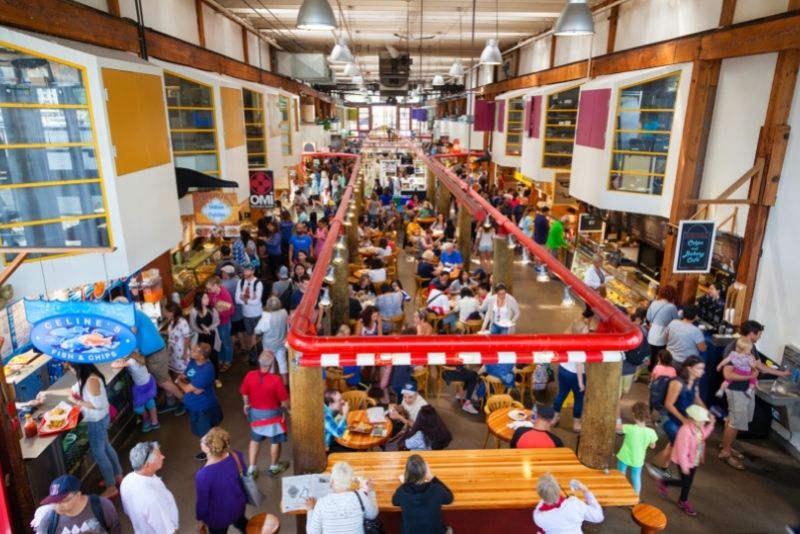 Slinging goodies since 1979, Vancouver's iconic public market is the place to go for fresh produce, crafts, and artisan foods. It has everything from freshly-ground coffee beans and sourdough bread to organic salmon, seasonal vegetables, and the famous Granville Island Brewing.
Located on a manmade island in False Creek (near downtown), Granville Island is accessible by all. However, the most rewarding experience tends to be when a local is pointing out all of the area's hidden gems.
34 – Find some peace at the Dr. Sun Yat-Sen Classical Chinese Garden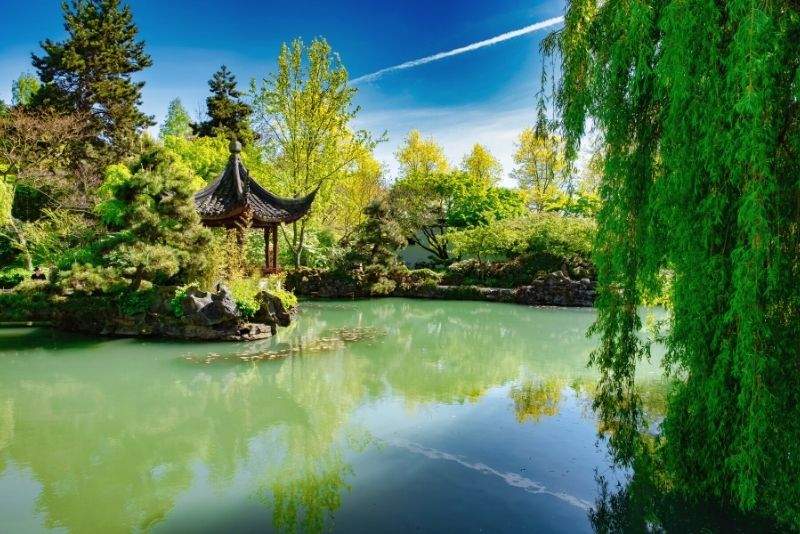 With the coveted claim to fame of being named the World's Top City Garden by National Geographic, the classical Chinese garden welcomes thousands of visitors with its calm beauty and ornate structures. It was created to imitate private gardens from the Chinese city of Suzhou and honoring the design principles of the Ming dynasty.
Located in the heart of Chinatown, this traditional garden is a tranquil oasis from the bustling pace of daily life.
35 – Admire the iconic Gastown Steam Clock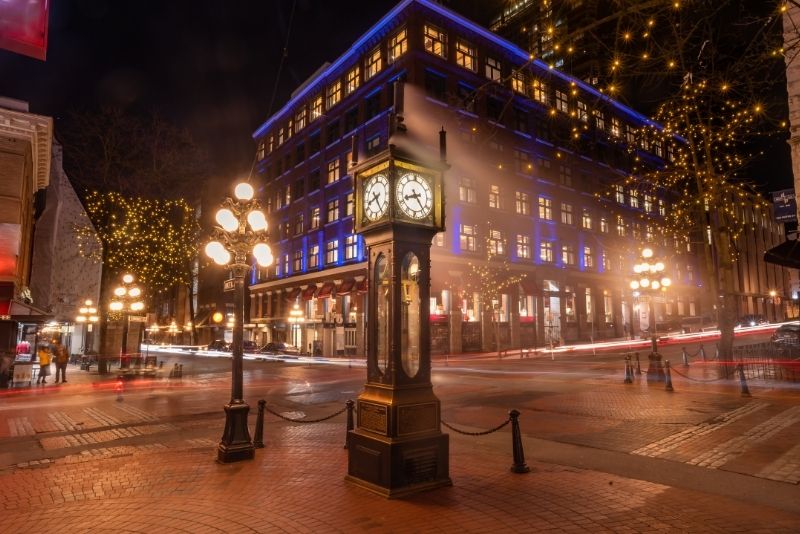 Not only is it a popular spot for tourists and locals, but this iconic clock (in the heart of Vancouver's oldest neighborhood) also holds the distinction of being Canada's first steam-powered timepiece.
Constructed by Swiss company Lincrusta Clock in 1977, this funky landmark has become renowned as one of British Columbia's most distinctive icons.
Keep in mind: Most walking tours will stroll past this clock.
36 – Check out the Vancouver Seal Colony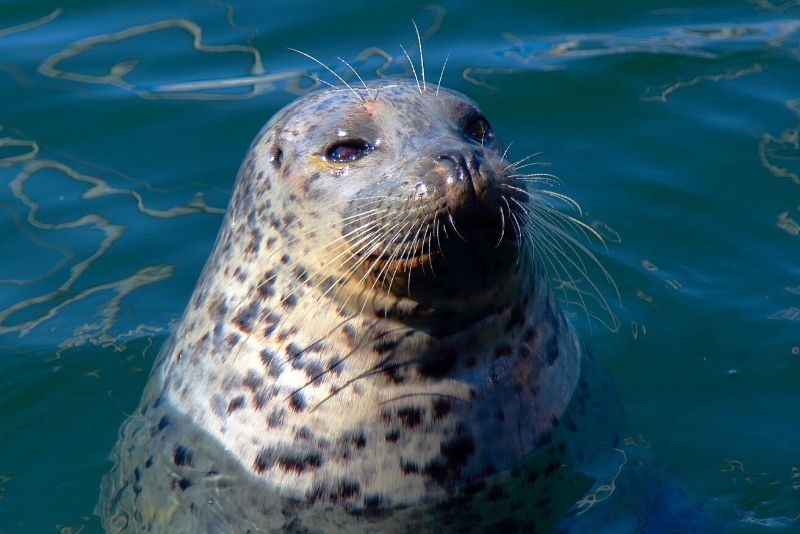 A sublime thing to do in Vancouver for animal lovers, dedicated seal-spotting tours give visitors the chance to see nature's most blubbery, adorable creatures up close — right in Vancouver's backyard on the Palm Rocks in West Vancouver.
Besides all the friendly critters, these 90-minute boat tours also include some time at Lighthouse Park and False Creek.
Mermaids and mermen; if you're itching to see what the underwater world in Vancouver holds, it's best you try snorkeling for that one.
Not only get to see fish swimming beneath you but get a personal view of the mega cute seals!
37 – Immerse yourself in the culture of Chinatown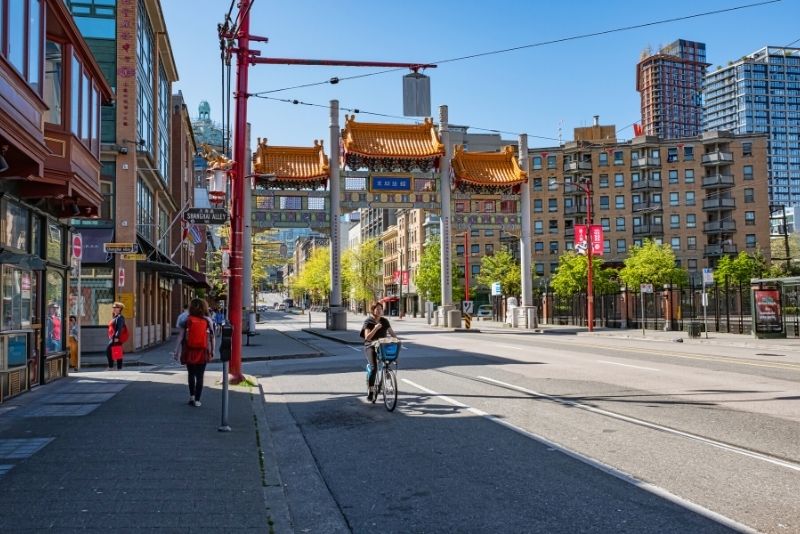 This vibrant neighborhood is worth visiting for its restaurants alone — but there's much more to Chinatown than just good eats. For an authentic experience, take a guided walking tour of the area and learn all about it from friendly locals who know these streets well.
For visitors with children in tow needing some zen, don't miss the Dr. Sun Yat-Sen Classical Chinese Garden — an enchanting space where you can stroll through elaborate gardens designed to reflect.
38 – Spend the day in the Pacific Spirit Regional Park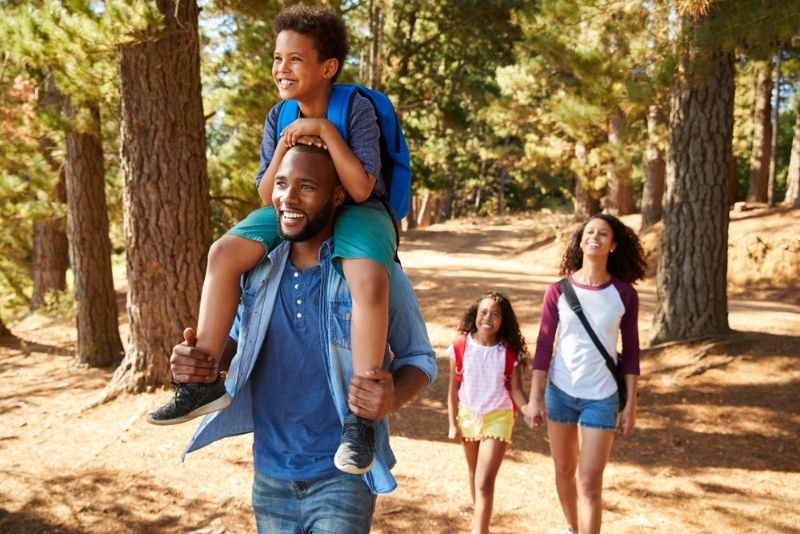 A short drive from downtown on the University Endowment Lands, this popular park showcases some of the most picturesque views in Vancouver.
Hiking trails and beaches abound, it is best known for its forested areas that represent a cross-section of coastal rainforest ecosystems found on Canada's Pacific coast.
Refresh down at the beaches, where swimming is allowed but there are no lifeguards, so play cautiously. Arcadia Beach and Wreck Beach are well-favored, and, FYI, clothing is optional down on the cobbled shores. There is also a picnic area at Arcadia Beach.
39 – Enjoy the view from the Vancouver Lookout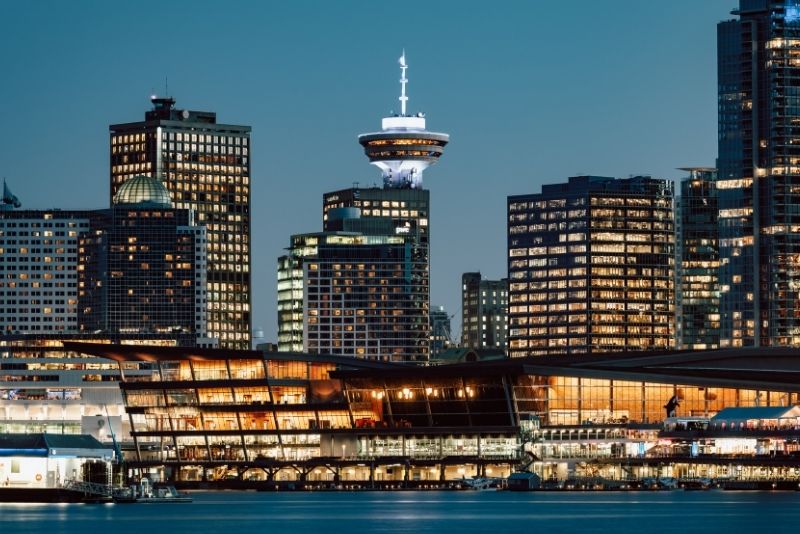 For a city flanked on one side by the Coal Harbour and the other by jagged Olympic and North Shore mountain range, a panoramic view is essential to appreciate Vancouver in all its grandeur.
And where better than the Vancouver Lookout? With a height of 168 meters in a downtown high-rise area, this iconic lookout offers 360 degrees views of 'the Coove' in all its glory. It's the perfect spot for photo ops and to get your bearings before exploring the city on foot!
40 – Admire the art deco Marine Building!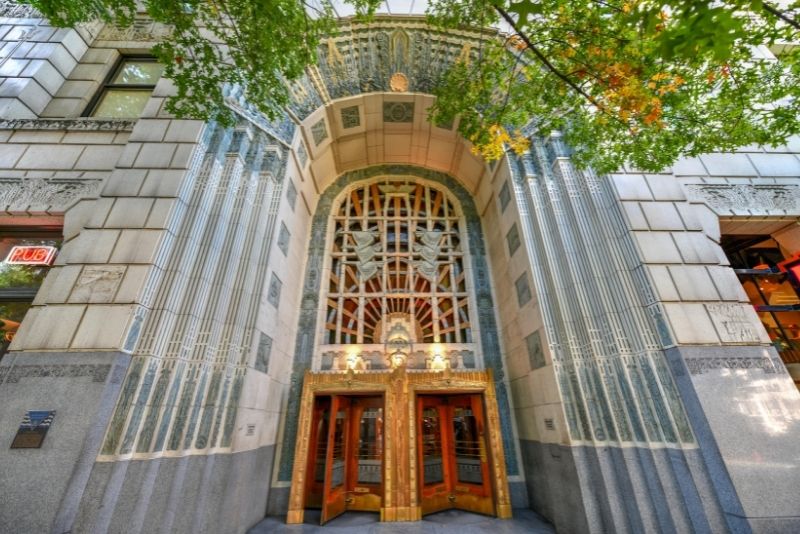 The Marine Building skyscraper, situated at the south end of Canada Place and originally built as a bank in 1930, remains one of Vancouver's most notable landmarks to this day.
This Art Deco beauty was designed by Francis Rattenbury after he won an architectural competition.
Today, it's a mix of retail shops and offices, but you can also get a look at its grand lobby by visiting the Marine Building's Visitor Centre on Burrard Street.
41 – Take a tour of Vancouver Harbour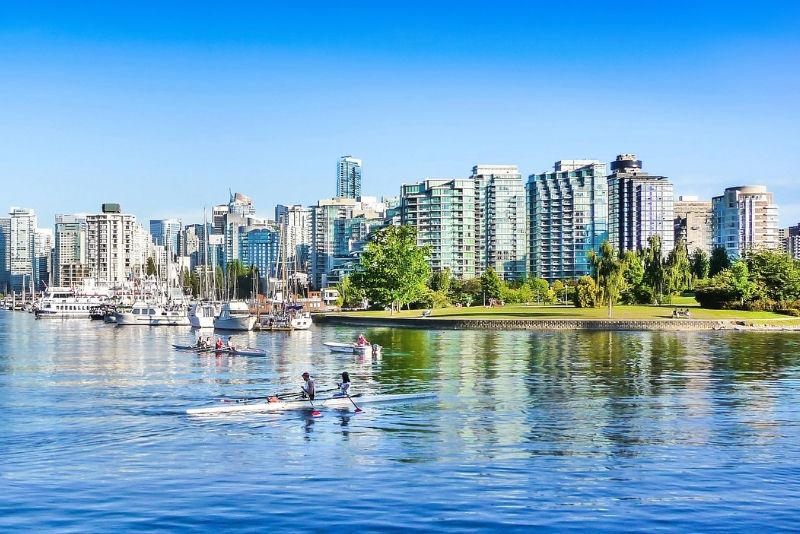 Whether by charming ferry or thrilling seaplane, the Vancouver Harbor connects Stanley Park with Downtown and North Van, as well as acting as a departure ground for trips to the natural oasis that is Vancouver Island.
The views of the skyline from the water are sublime. If you're lucky enough to visit during peak season (June-August), keep your eyes peeled for migrating humpback whales!
42 – Snap a selfie in front of Canada Place
A hub for events and tourist attractions, the famous sail-shaped building houses the Vancouver Convention Centre (check the website to see what's on during your trip), the fancy Pan Pacific Vancouver Hotel, Vancouver's World Trade Centre, and FlyOver Canada.
Canada Place is also a major cruise ship terminal, and, as such, sees thousands of passengers arrive in Vancouver every day!
43 – Go wine tasting in Fraser Valley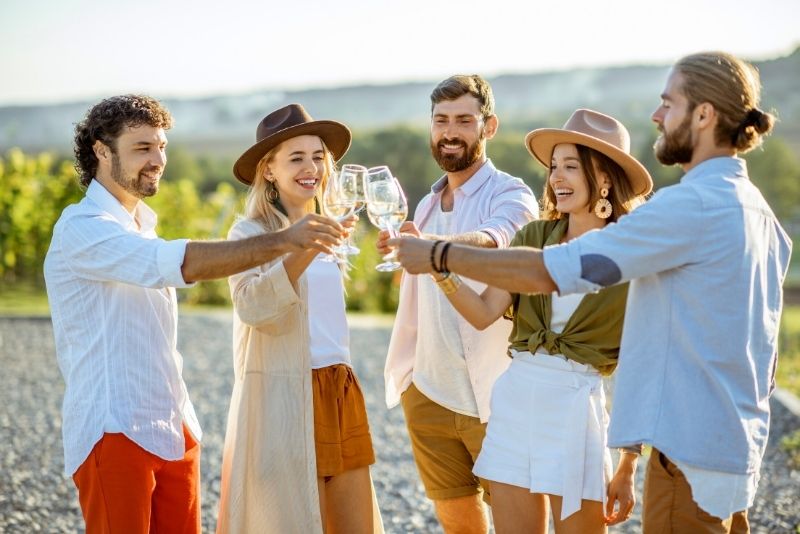 Known for its beautiful natural landscape and abundance of wineries, the Fraser Valley is an ideal destination for outdoor enthusiasts.
That said, there are plenty of other reasons to visit this diverse region — from a scenic drive through the wine country and farmland to sampling delicious locally-made cheeses. All best experienced on a pre-arranged tour, of course, allows you to drink till your heart's content.
44 – Check out the Vancouver Symphony Orchestra at The Orpheum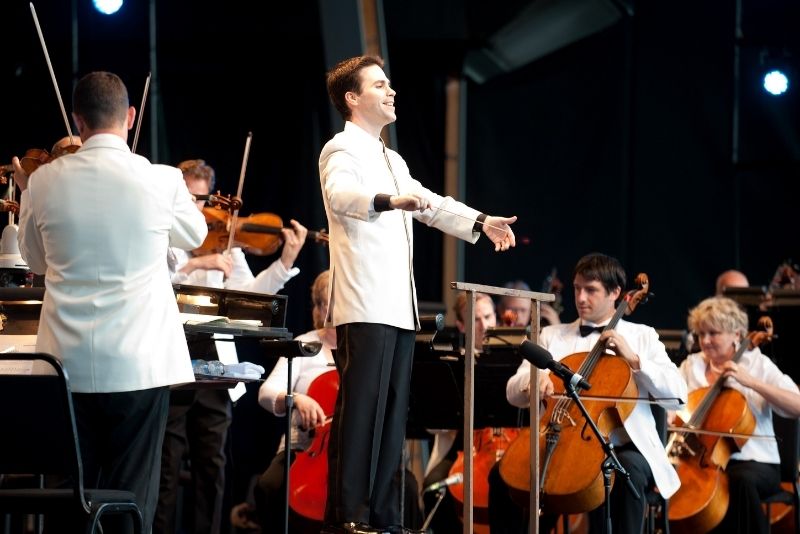 One of the most prestigious cultural organizations in all of Canada, this ensemble is dedicated to performing symphonies by some of history's greatest composers.
The VSO has often been recognized for its innovative programming choices and collaborations with contemporary artists — as well as a world-class acoustics hall and an internationally renowned conductor.
The group regularly performs at the Orpheum Theatre and offers many concert series, including its wildly popular family concerts during which kids can get up close to the musicians on stage!
45 – Make a stop at Hill's Native Art Gallery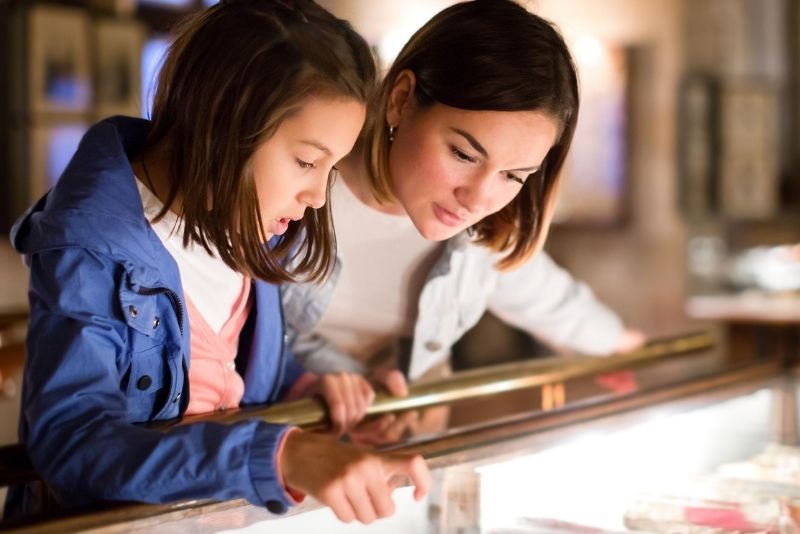 In the heart of downtown, Hill's Native Art Gallery offers visitors a glimpse into the lives of Canada's First Nations people through contemporary artwork.
The gallery also carries an impressive selection of traditional carvings and masks, as well as jewelry, beadwork, paintings, prints, pottery, and rugs — all perfect for those looking to bring a piece of Vancouver back with them (well, figuratively speaking).
46 – Experience digital art exhibitions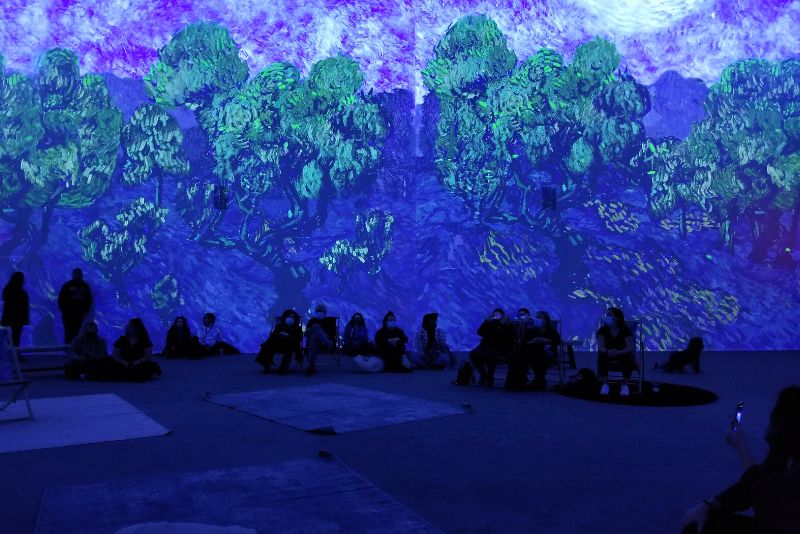 While some of the greatest artists to ever live are no longer around, you can enter into their imaginative world through these captivating digital art exhibitions.
Feel as if you're stepping inside the canvas with the help of these special, 360-degree created digitized spaces, where works of art cover the walls, ceilings and even the floor.
It's all thanks to VR technologies, top-tier sound effects and special lighting, as well as projection mapping.
There are two different digital exhibitions which you can choose from. Delve into the works of the masters including Vincent van Gogh and Claude Monet.
47 – Take a trip to the Rocky Mountains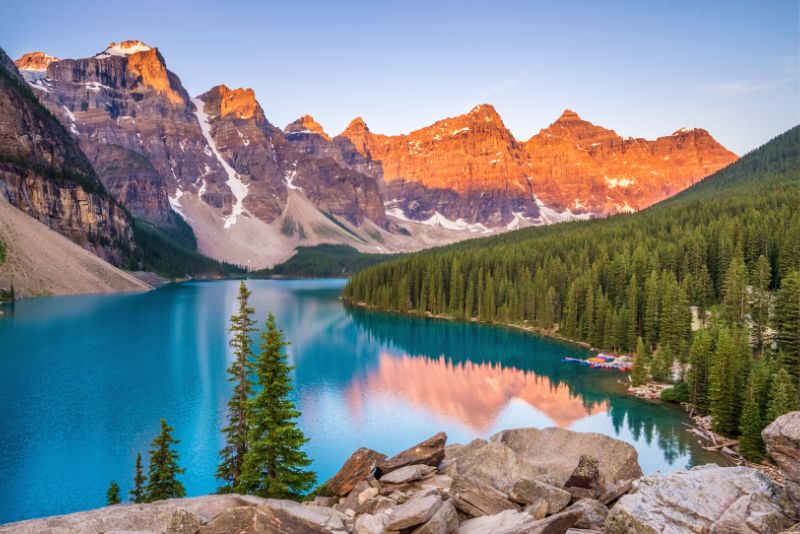 Extending from the northern part of Western Canada and through to the southwestern parts of New Mexico, USA, the Rocky Mountains are one the country's quintessential natural landmarks.
Locally known as the Canadian Rockies; although the iconic mountain ranges — most times boasting snow-capped peaks — are not in Vancouver, don't pass up the opportunity to adventure the Rockies whilst you're already in the Great White North.
To reach the Rocky Mountains from Vancouver, it's under a 10-hour straight drive, however, there are multiple-day tours from the city to the Rocky Mountains that start and end back in Vancouver.
Pass by towns sitting within its foothills like Banff and Jasper. Explore lakes, valleys, farms, waterfalls and canyons, even glaciers!
48 – Conquer the hike to Shannon Falls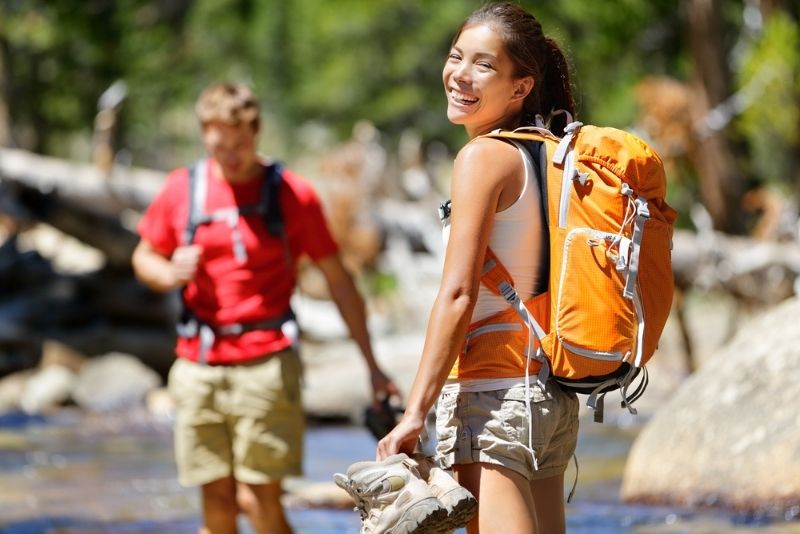 A short drive from Squamish, the moderately difficult Shannon Falls hike is a magical stop for anyone looking to escape city life.
The trail to the cascading falls and back takes about four hours (give or take), with its surrounding forests offering an idyllic spot to picnic in the summer or cross-country ski in winter.
Often combined with a stop at Whistler, organized day trips are best for those without cars.
49 – Chill out at the Capilano Salmon Hatchery (and feed some adorable little fish)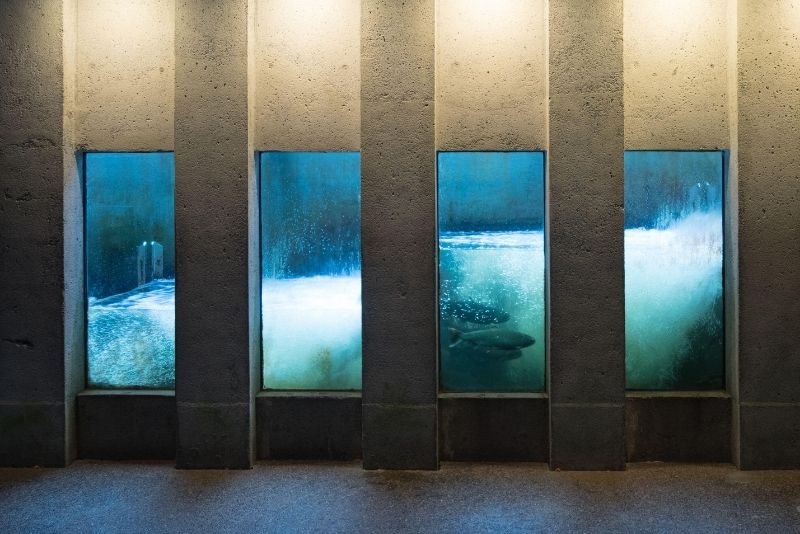 Originally built to bolster the region's declining Capilano salmon stocks, the hatchery has evolved into a quintessential tourist attraction, welcoming over 400,000 visitors year after year.
Before exploring the wider Capilano area, visitors can view the various stages of the fish life cycle, from hatchery to spawning stream.
Best of all, admission to this popular attraction is free.
50 – Upgrade your photography skills at Garibaldi Lake
A short drive from Whistler, Garibaldi Lake is one of the best hiking and photography spots you'll find in Vancouver.
The crystal-clear waters that surround this idyllic mountain lake make it an easy place to capture those Canadian Rockies moments; with plenty of trails around the area too —perfect for all levels of hikers.
The best time to visit is during the summer months when the wildflowers carpet the landscape, so you'll have plenty to capture!
51 – Watch a show or catch an event happening at PNE Forum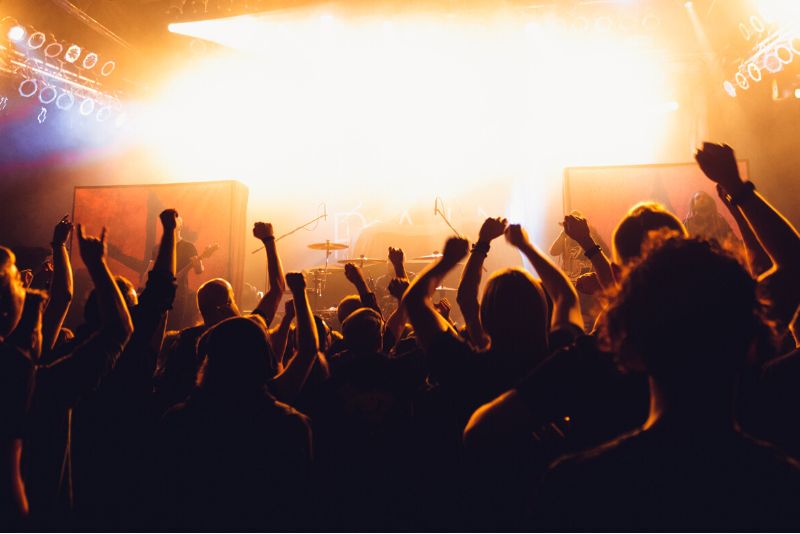 The Pacific National Exhibition has seen the biggest stars and celebrities grace its hallways over the last 100-something years, from the Beatles to The Beach Boys.
Originally starting out as a national exhibition fair in 1910, the building is situated inside Hastings Park where you will find the PNE Forum.
This large 45,000-square-foot venue has been utilized for events, fairs, expos, music concerts and trade shows — and is still to this day.
Seeing as you're already at Hastings Park, take advantage and meander around the park to the Momiji Gardens, the Sanctuary and the Il Giardino Italiano (Italian Gardens).
52 – Shop till you drop on Robson Street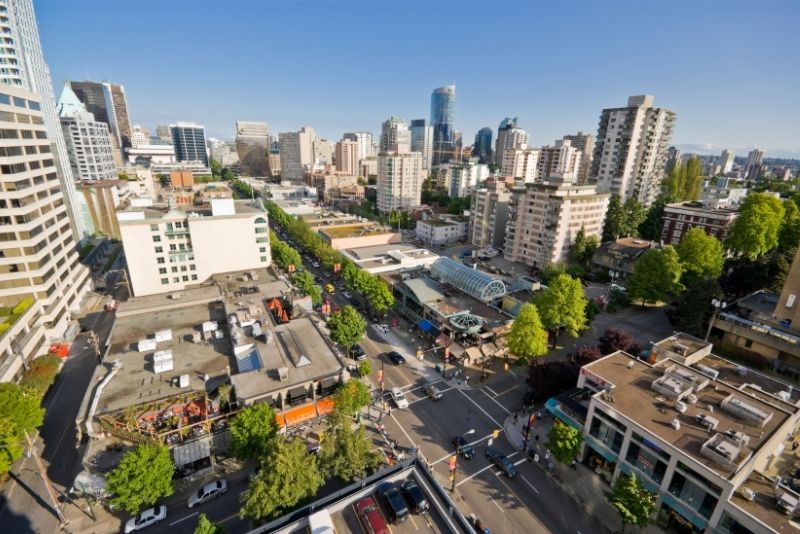 Shopaholics (and foodies) take note!
With more than 450 stores and services (ranging from designer boutiques to galleries, restaurants, and cafés), Robson Street is Vancouver's premier attraction for retail therapy.
After maxing out the credit card at Steve Madden or Dutch Love Cannabis, grab a table at Black + Blue or Lupo Restaurant for a well-deserved meal.
53 – Cross the Lions Gate Bridge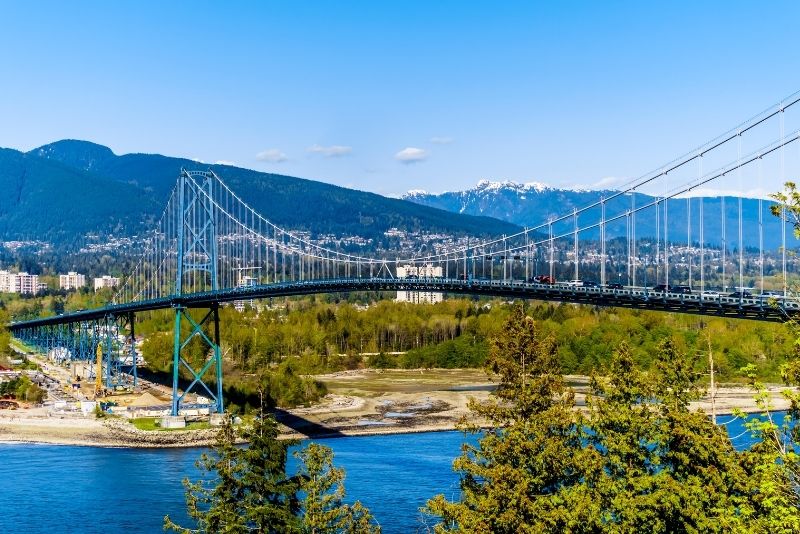 Constructed in the 1930s, Lions Gate Bridge is a National Historic Site that spans Burrard Inlet to connect Vancouver with North Shore communities.
Standing as an iconic symbol of the city's past and present, this striking structure — designed by Gustav Lindenthal for the Panama-Pacific International Exhibition (1915) — still functions today as one of the city's key transportation links.
Make sure to cross it at some point on your trip!
54 – Learn a thing or two at Science World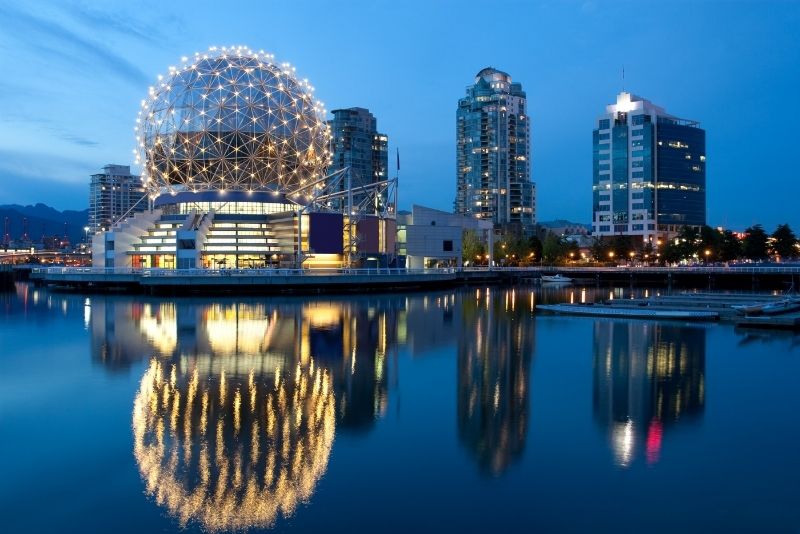 Explore exhibits relating to some of today's most intriguing topics including sustainable cities, health care innovation, space exploration, and more at Science World!
Its shining star is the OMNIMAX Theatre — a world-famous 400-seat IMAX Dome theatre that's as brilliant inside as it is out.
Stumble upon rotating exhibitions, and play, learn and become enthralled by the permanent galleries, whether young or old.
Scout the art displays on the walls; feel like you're flying at Birdly Virtual Reality; dive into the BodyWorks Gallery; enjoy problem-solving inside the Tinkering Space: The WorkSafeBC Gallery; and challenge your mind inside the Puzzles and Illusions space.
55 – Satisfy your sweet tooth — join a chocolate tour!
After smashing down a few beers, it's time for a snack, right? Enter everyone's favorite sneaky treat — chocolate!
Choccy-themed walking tours lead visitors around town not only to sample two local award-winning chocolatiers, but also to learn about the city's fascinating art deco history and architecture.
56 – Tackle the Trans Canada Trail (or part of it)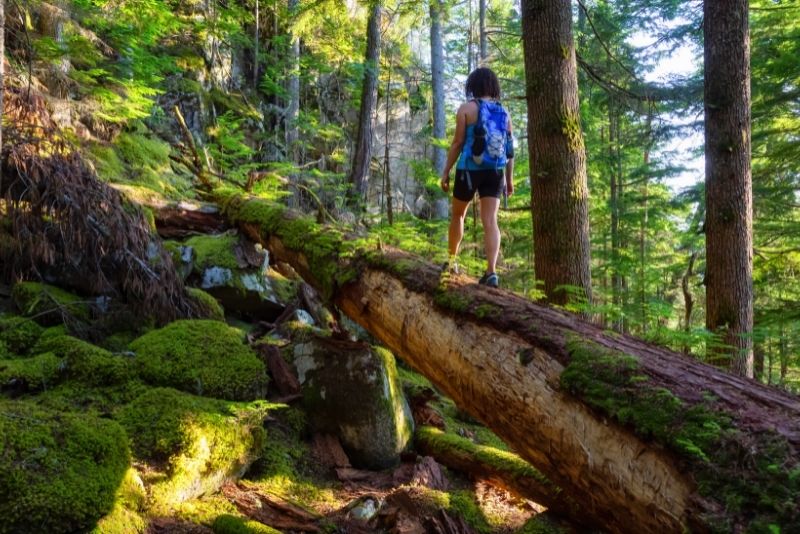 Arguably the premier hiking destination in Canada (due to its proximity to the Rockies AND the coast), Vancouver's trekking scene delivers a multitude of options — the Joffre Lakes, Bowen Island, North Van, and nearby Squamish each with their own selling points.
The ultimate regional hike, however, is the Trans Canada Trail — a cross-country route that stretches from St John, Newfoundland, to Victoria on Vancouver Island. It's a might feat that would take two years and two months to complete!
In Vancouver itself, you can get a taste of the cross-country hike with a 43-kilometer stroll from Canada Place (downtown) to Burnaby.
57 – Soak in the sun at Spanish Banks Beach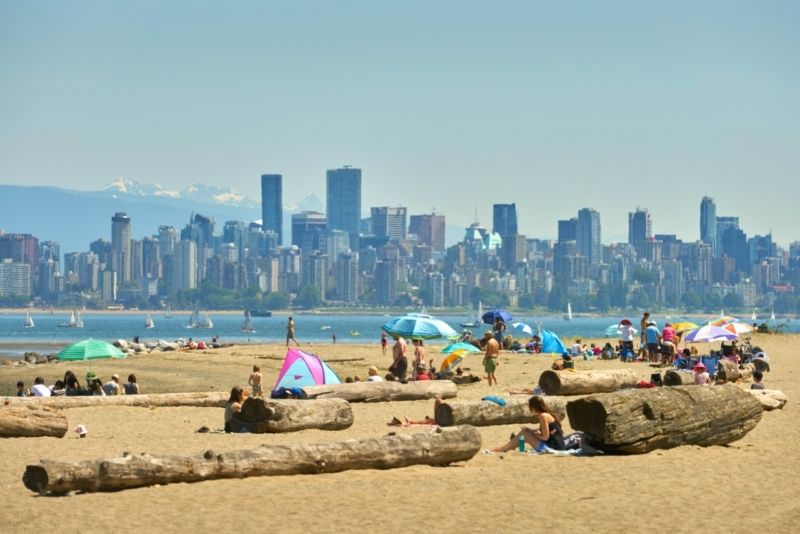 A popular spot for sun-seeking tourists and locals, Spanish Banks is a long stretch of sandy shoreline that provides the perfect place to take in amazing surf views.
Each of its three main sections — East, West and extension — has its own selling points (volleyball courts, picnic tables and off-leash areas), but no matter where you choose to perfect the tan, you'll appreciate the view of the City of Glass from afar.
58 – Cross the bridges in Lynn Canyon Park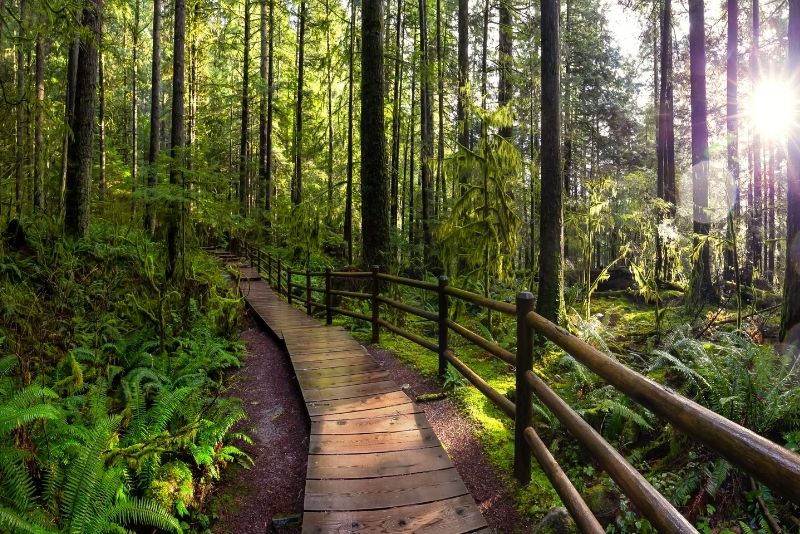 A short drive from the downtown core, this popular North Vancouver park is situated on a lushly forested hillside.
Besides boasting a range of impressive hiking trail that takes you to Seymour Falls, Twin Falls Bridge and the Lynn Canyon Suspension Bridge, the area also features many beautiful picnic spots and a popular swimming hole.
Popular hiking and walking trails include the 1.5-hour Baden Powell Trail, the Twin Falls Trail, the walk to Lynn Headwaters and Rice Lake, and the 30 Foot Pool pathway.
59 – Hire a jet ski (AKA Sea-Doo)!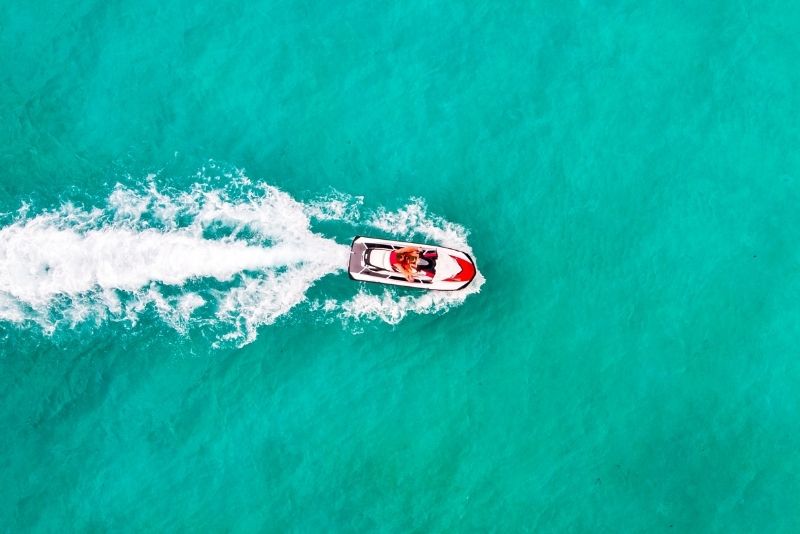 Suitable for solo or tandem thrill-seekers, jet ski rides in Vancouver Harbor or English Bay offer the chance to explore the stunning waterways of the City of Glass at speeds of up to 60 kilometers per hour!
The exhilarating excursions include a water safety briefing and complimentary life jackets and — depending on whether you book a tour or a standalone rental — may include dinner on Bowen Island.
60 – Admire the totem poles at Brockton Point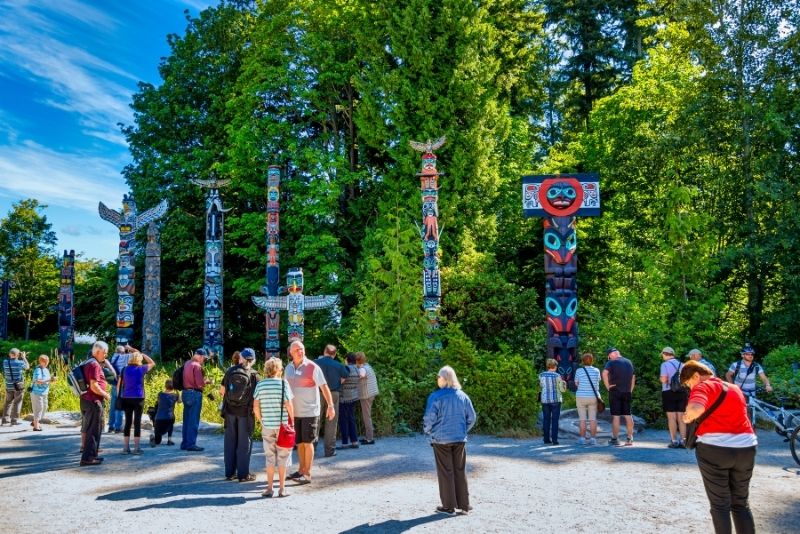 Believe it or not, the nine intricately decorated totem poles at Brockton Point that pay homage to the First Nations are BC's most visited tourist attraction.
With a history that stretches back hundreds of years, these ancient symbols of British Columbia's rich and varied culture are more than worthy of your time — especially considering their blissful location in Stanley Park.
61 – Have a blast at PNE's Playland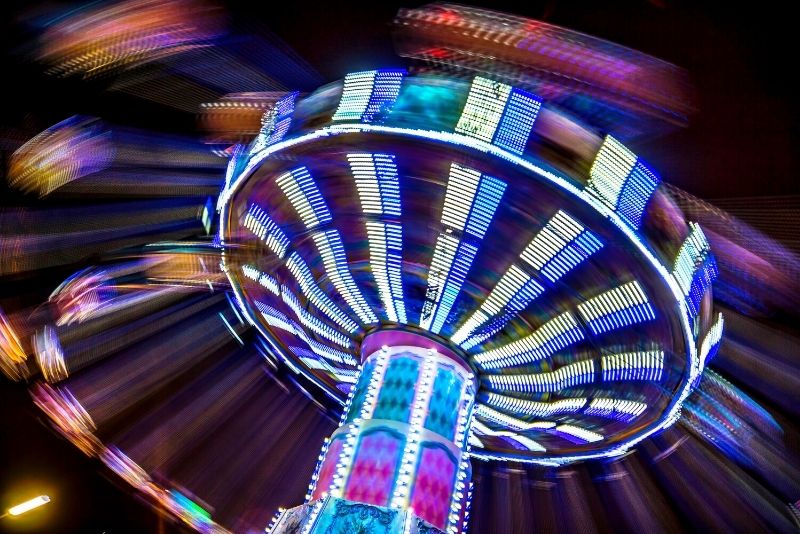 Putting the FUN in fundamental Vancouver activity, Playland at Hastings Park is an interactive amusement park filled with nostalgic rides and attractions.
The kids will enjoy the mini donuts, on-site animals, Space Shuttle Simulator or Logger's Run, while more mature attendees can take a spin on the scenic Sky Rider Roller Coaster!
DON'T MISS the annual PNE fair, typically held in August and September (check the website because the dates change every year.)
62 – Take a tour of Howe Sound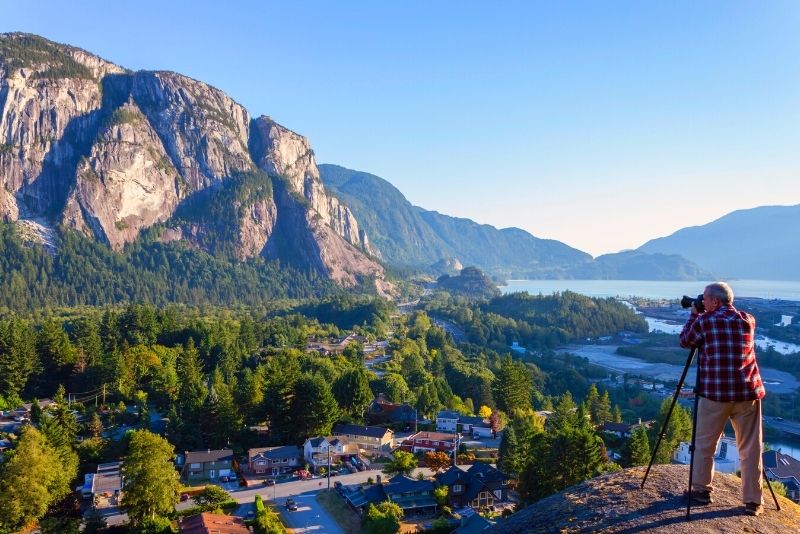 The Howe Sound is the body of water that runs between Vancouver and Squamish, which is a spectacular place to spend an entire day.
If you're driving, the route takes you on winding roads through thick forest, past towering snow-covered mountains, and next to cliffside lookouts with panoramic views. If joining a boat (or gondola) adventure, you'll see the Sound from a whole new perspective.
The watery wonderland is home to an abundance of wildlife, such as otters, seals and eagles — with plenty more surprises along the way!
63 – Take advantage and check out the other theaters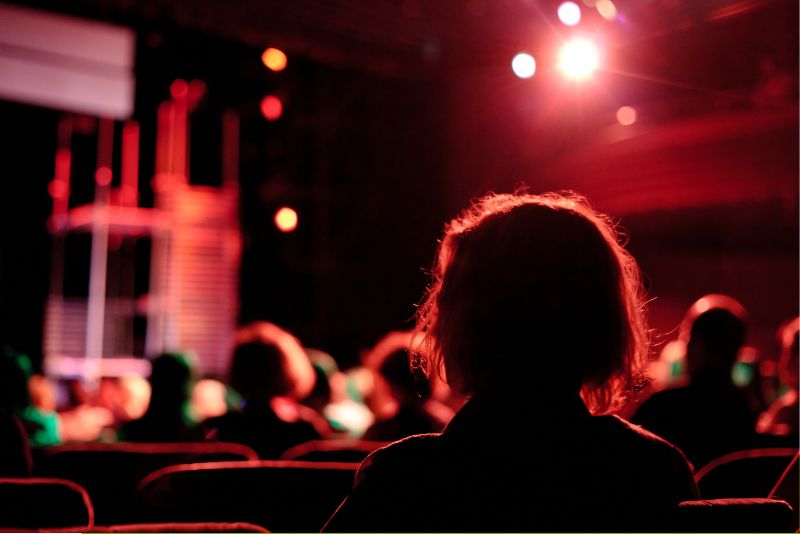 Get your absolute full share of cultural experiences in Vancouver at some of the other great theaters in the cultured city.
The doors to the Vogue Theatre opened in 1941, first serving the public as a movie house. Today, catch some of the funniest comedians in showbiz or your favorite musical talent, both local and international.
From your favorite Drag Race superstars to alternative bands to acclaimed musicians to comedians, the Rickshaw Theater is one of the city's top music venues.
Forming part of the Arts Club Theatre Company (founded in 1958), the Stanley Industrial Alliance Stage is home to classic plays and musicals.
64 – Hop in a kayak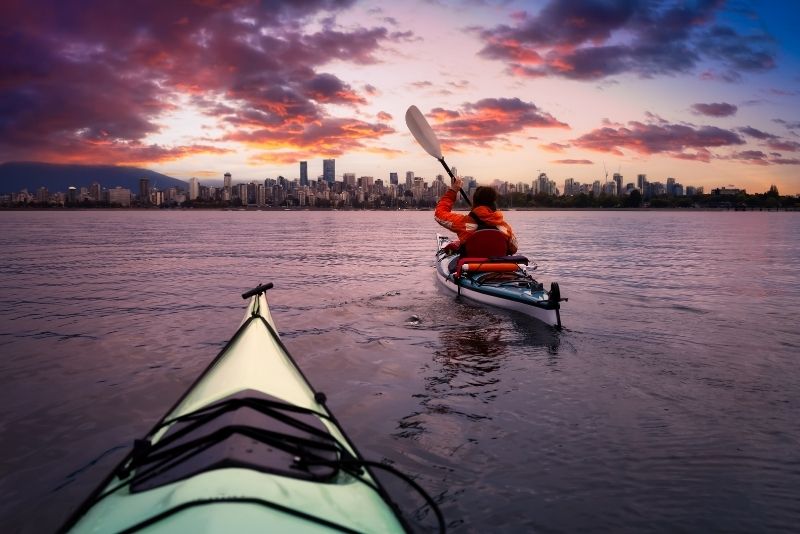 One of the things to do in Vancouver that demands minimal athleticism and offers maximum serenity, kayaking is an experience not to be missed.
The city's bountiful waterways offer a plethora of options for any skill level, with the Gulf Islands, in particular, dishing up postcard-worthy views.
For something different, why not try the neon-lit night kayak, sunset paddle, or snorkeling with seals!
65 – Book a table at the Blue Water Cafe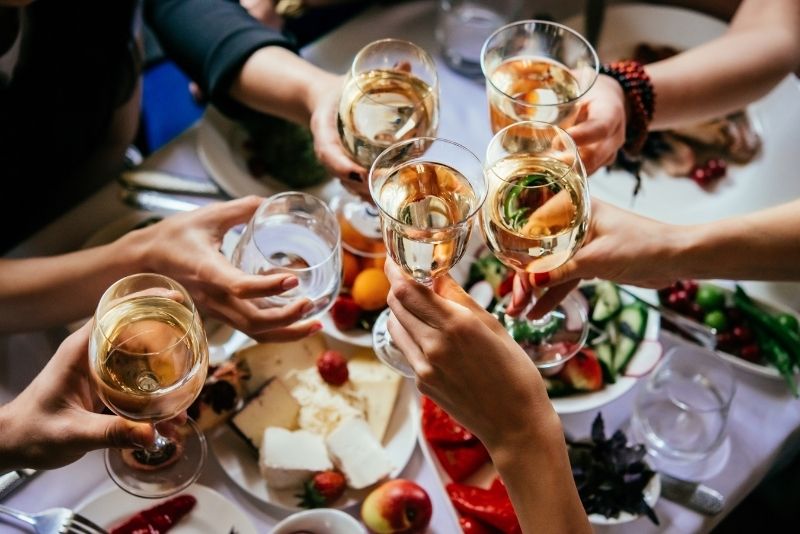 In the heart of Vancouver's Yaletown neighborhood, Blue Water is considered the city's premier seafood restaurant, dishing up (pun intended) an intimate dining experience that simply can't be beat.
While people come for their famous seafood dishes like scallops or arctic char, they often stay for the exquisite service and award-winning wine list.
66 – Tackle the trails on Mount Mamquam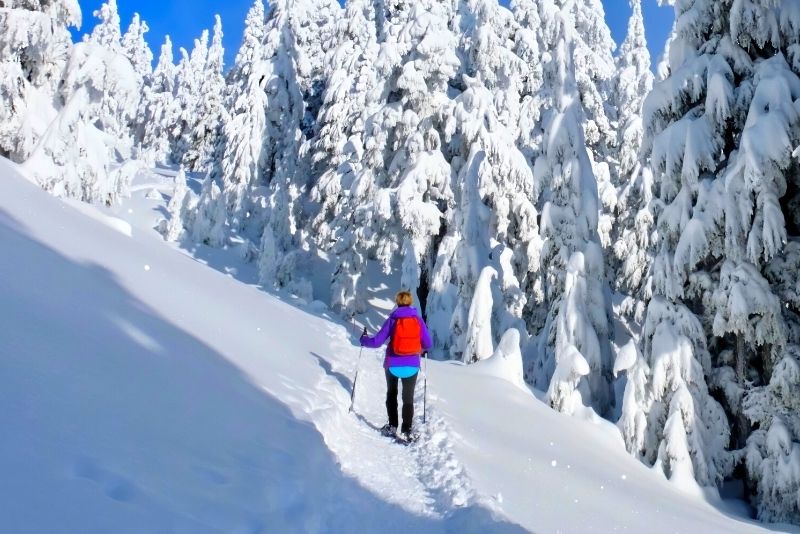 Often included as a stop of alpine lakes seaplane tours, Mount Mamquam is a postcard-worthy snow-capped mountain that towers above the surrounding terrain.
The hike up is steep but rewarding, with magnificent views of Howe Sound and amazing sunsets to be had on clear days.
Bring snowshoes or cross-country skis if it's wintertime for an even better experience!
67 – Visit the BC Sports Hall of Fame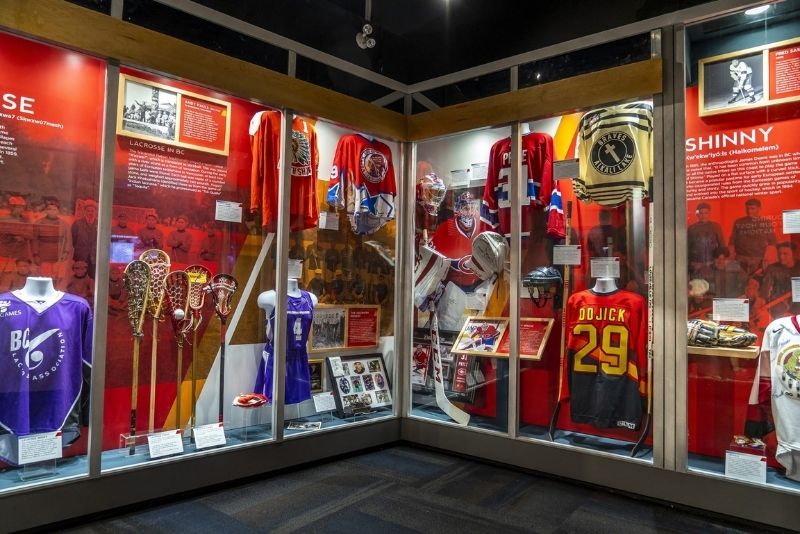 Located in the UBC Endowment Lands of Vancouver, this interactive museum pays tribute to some of BC's most prized athletics legends through a selection of impressive, and most importantly, INTERACTIVE exhibits.
From hockey stars and world champions (including Gino Odjick) to Olympic medalists — the BC Sports Hall of Fame has something for everyone!
Don't miss the impressive collection of memorabilia from Vancouver's 2010 Olympic Games!
68 – Spend the day around False Creek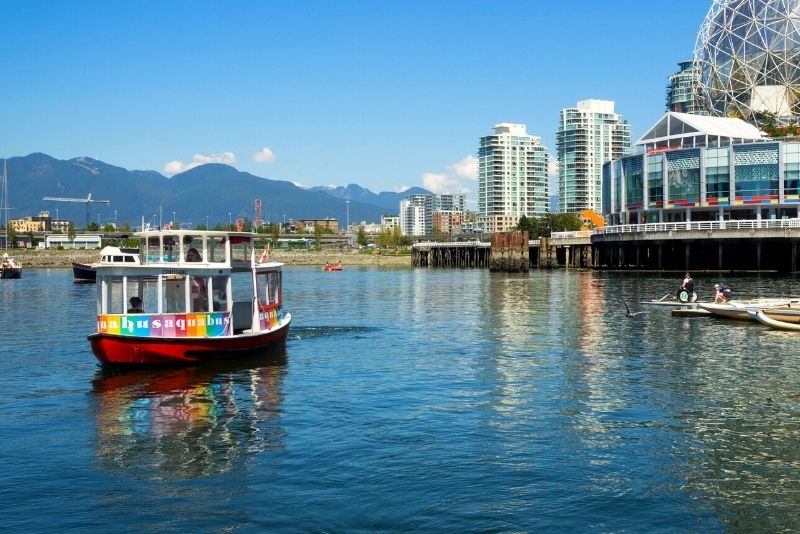 It's easy to understand why this urban waterway has become a favorite for both locals and tourists alike.
Besides being home to Canada's only floating post office, False Creek also offers an excellent vantage point for admiring the beautiful North Shore Mountains — especially in the morning when they are bathed in silvery light (and usually without the crowds).
False Creek is also a major site for public events, including the annual Dragon Boat Festival and Celebration of Light.
Hot tip: Grab a ticket for the Aquabus for the best of both worlds (land and water).
69 – Cheer on the Lions at BC Place Stadium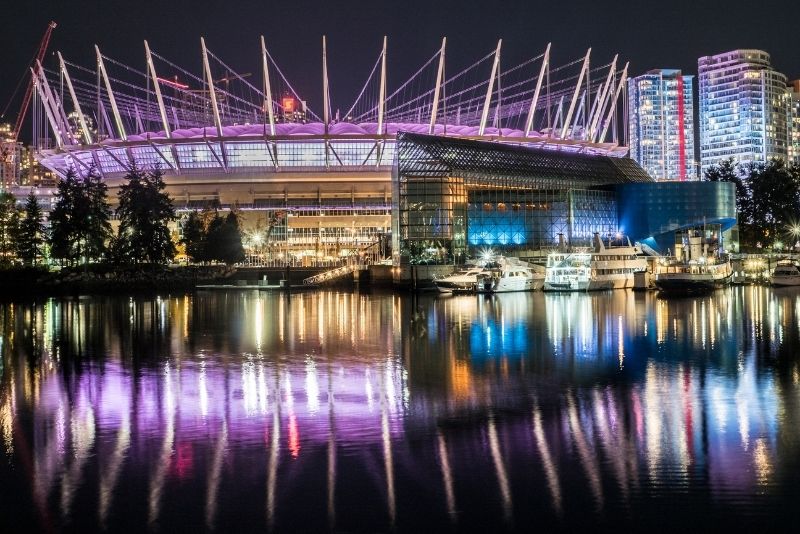 An icon of the Vancouver skyline and well-known venue for BC Lions football games, this multi-purpose stadium also hosts other major events like concerts and the 2010 Winter Olympics.
With a retractable roof that can be opened or closed to adjust the temperature as needed, BC Place is an awesome attraction for both diehard CFL fans and visitors alike!
70 – Go rafting on the Elaho River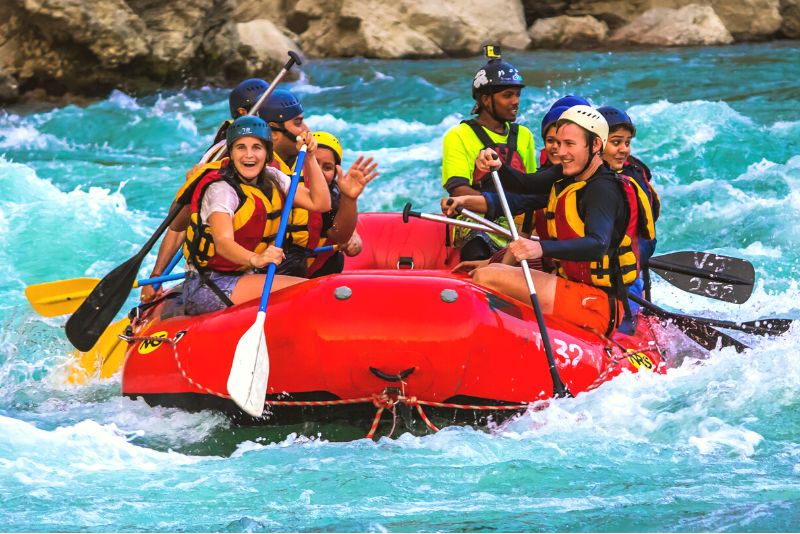 Aptly nicknamed Fear Canyon, white water rafting down the Elaho River is one of the most adrenaline-inducing things to do in Vancouver, providing all those heart-thumping moments!
Located in British Columbia, it's under an hour's drive from Vancouver. Rafting tours are an easy way to get to and from the destination, are safe and you don't need to worry about bringing your own kayak/canoe along.
Reaching Squamish, the Elaho River is a tributary flowing from the Squamish River, boasting Class III to Class IV rapids. Most of the 19-kilometer stretch is easygoing, but there are parts where the canyons become tricky to maneuver, and others that are only suitable for experienced rafters.
71 – Fly over the city in a helicopter
For a bird's-eye view of Vancouver, the best option is to hop in an open-door helicopter and fly through the skies for anywhere from 30 minutes to a whole-day adventure.
Typically, after taking off from the Downtown helipad, you'll whizz over Stanley Park, Granville Island and the Gulf Islands.
Some tours soar over the Georgia Straight to Vancouver Island, where you're free to roam the city and lush Butchart Gardens during the day before flying back.
72 – Wander around Yaletown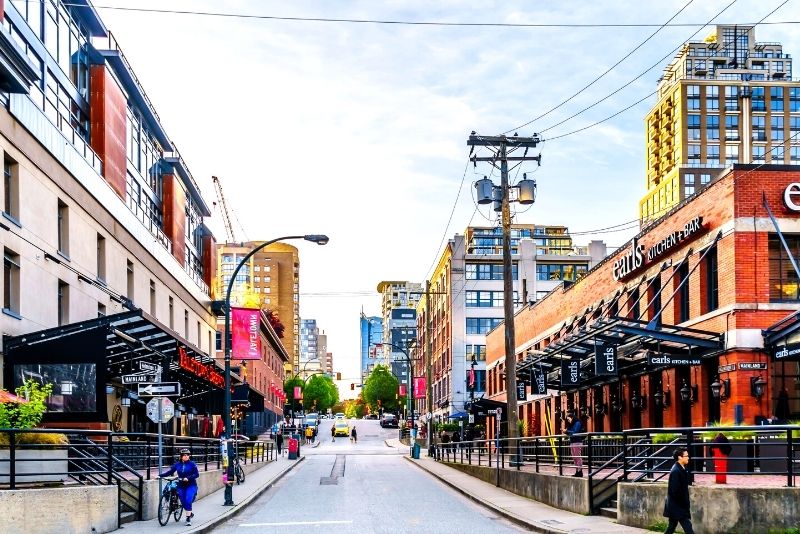 A former industrial district, Yaletown is now an eclectic neighborhood of commercial buildings with a hipster vibe.
Backed by saltwater and dotted with graffiti murals, the area has become home to some of Vancouver's most celebrated restaurants like Cioppino's Mediterranean Grill or Blue Water Cafe.
Don't miss the many breweries that have popped up in recent years — it's a great way to experience this hipster hotspot!
73 – Whet your appetite at Joe Fortes Seafood & Chop House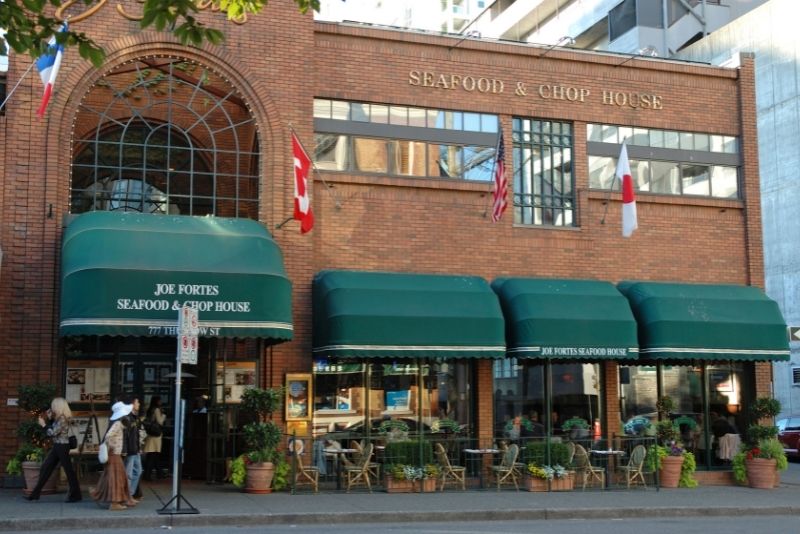 Who's hungry?!
Located near Vancouver's scenic waterfront, this upscale restaurant offers a menu that is tailored for all tastes — from Halibut and Chips and Wild Sockeye Salmon Ceviche (the perfect appetizer) to delicious steaks and home-style dishes like Bacon Wrapped Meat. This high-rated restaurant typically offers traditional dishes with a twist.
Incorporating the finest locally sourced ingredients, this Vancouver establishment also has an impressive wine list, rooftop patio and impeccable service — perfect for any occasion!
74 – Explore the city with a scavenger game!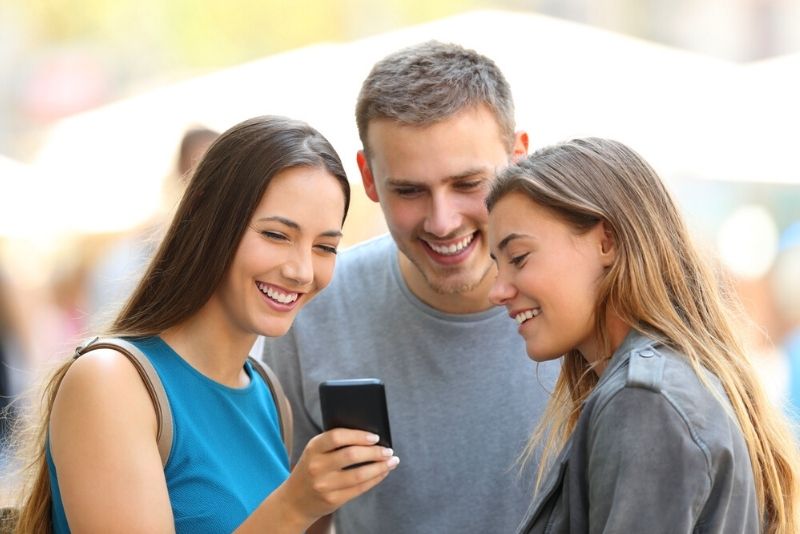 For when walking tours become a little too mainstream, why not skirt around the city Amazing Race-style?
Conveniently operated from an app, visitors will be forced to solve riddles, uncover clues and think outside the box. Race around town, checking off a handful of quintessential landmarks along the way!
With plenty of hidden gems included in the hunts, it's a wonderful way to escape the main tourist trawls.
75 – See what's on at the Vancouver Convention Center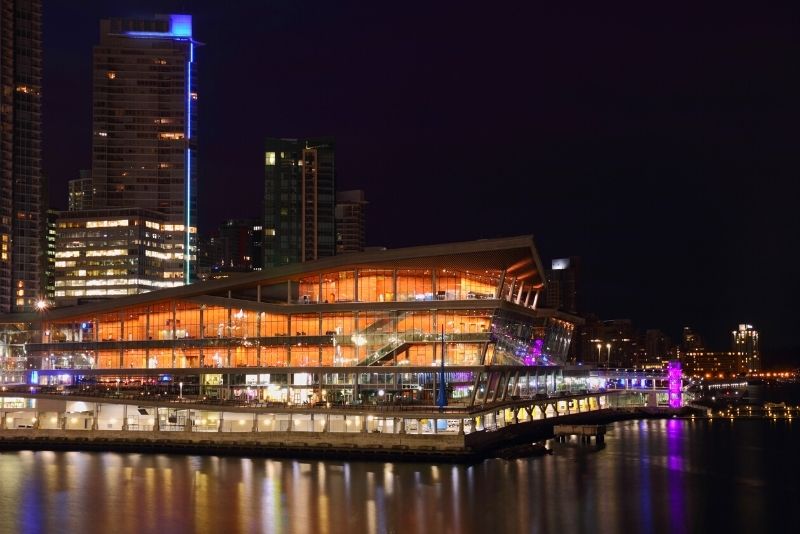 Featuring nearly half a million square feet of exhibition space, the Vancouver Convention Center is one of North America's largest and busiest exhibition venues.
Focusing on sustainability and an impressive roster of annual events (such as "Van Gogh: The Immersive Exhibition"), this waterfront venue hosts a wide array of conventions, shows, and conferences that might tickle your fancy. Just check the website to see what's coming up during your visit.
76 – Satisfy your cravings at Richmond Night Market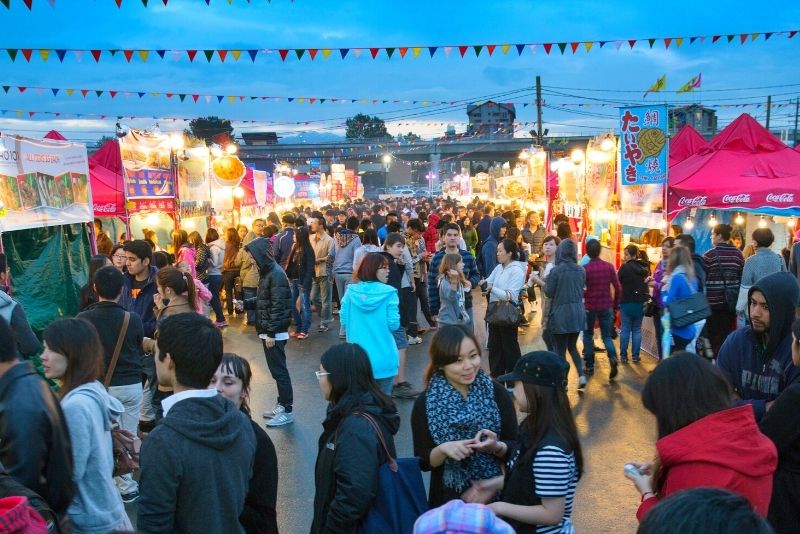 Heaven on earth for foodies, the annual Richmond Night Market (held in the summer) offers a smorgasbord of international food vendors, live entertainment and more — focusing on Asian flavors and Instagram-worthy dishes.
With over 300 booths selling the best in authentic Asian dishes from Japanese Kit Kats to Vietnamese banh mi sandwiches, no matter what you're craving, it's all here for your indulgence!
77 – Conquer the Stawamus Chief Hike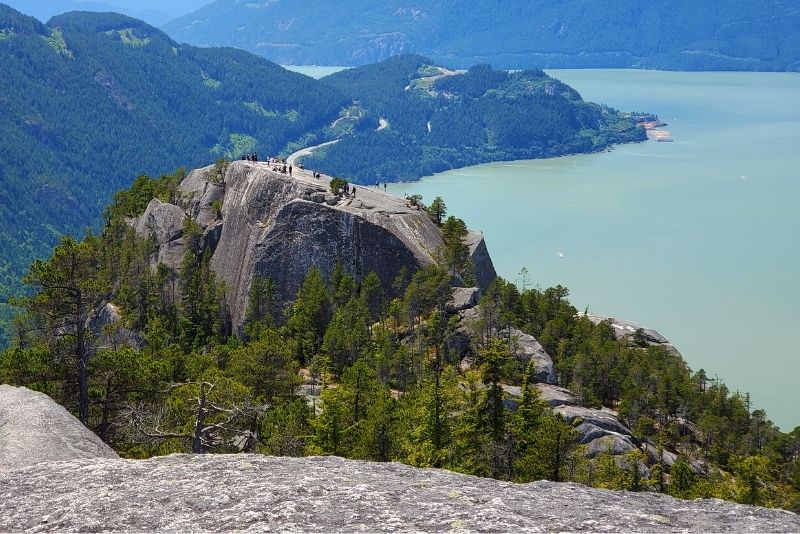 Located about an hour's drive north of Vancouver (near Squamish), Stawamus Chief is a towering granite monolith that towers 700 meters above the sparkling Howe Sound.
The steep but short hike up (about 90 minutes to the summit) rewards you with astonishing views and rock-climbing opportunities in the summertime.
Hot tip: For all of you thirsty travelers, consider excursions that also feature a tasting session at a local brewery.
78 – Fly over the alpine lakes in a seaplane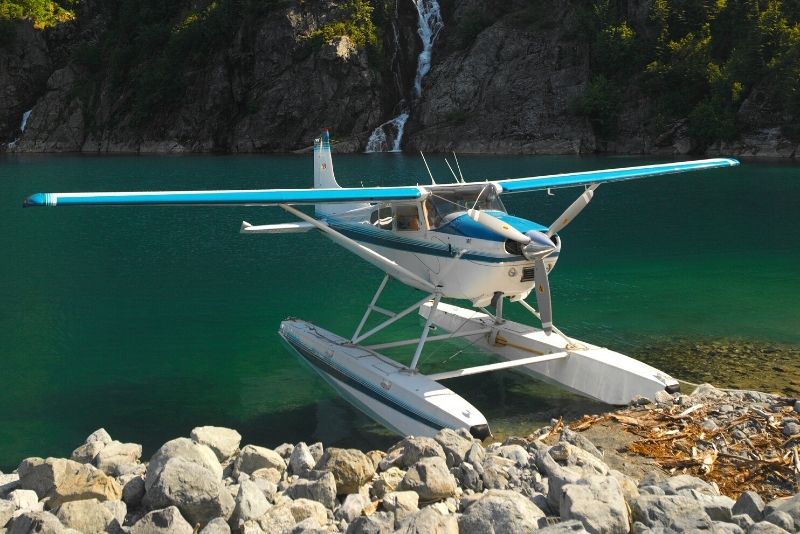 Drive (or fly) a little bit out of Vancouver, and you'll find yourself in the high country with crystal-clear alpine lakes. These hidden gems — of which there are plenty to choose from (like Sam Lake and Mount Mamquam) — are home to stunning crystalline and turquoise waters that make for an absolutely stunning backdrop.
Most flights include a stop at a "secret" alpine lake, so you'll have to wait and see where you end up!
79 – Join a moshpit at the Commodore Ballroom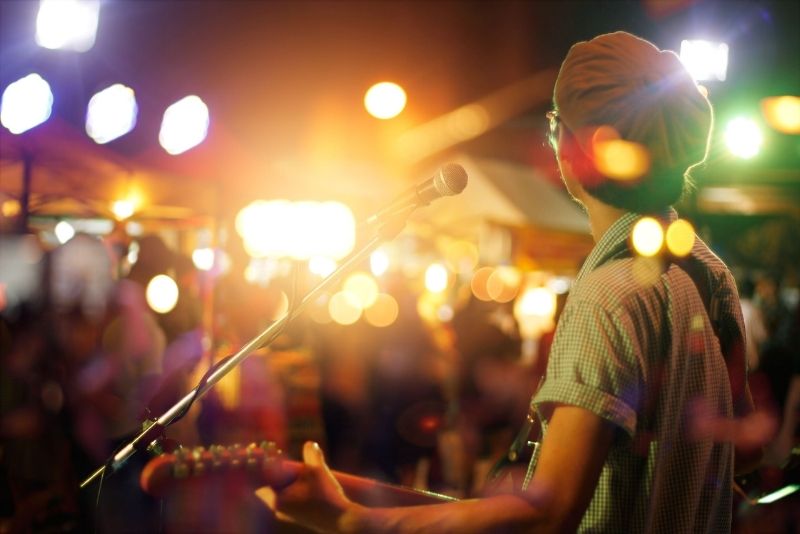 This iconic concert venue has been entertaining Vancouverites for over a century, providing the stage to legendary acts like The Rolling Stones and Led Zeppelin.
Once considered "Canada's Home of Rock & Roll," this historic facility attracts world-class performers in genres ranging from jazz to folk, as well as comedy shows (formerly welcoming Jerry Seinfeld).
No matter the lineup, it's an awesome evening.
80 – Grab a burger with a side of mountain views at Cardero's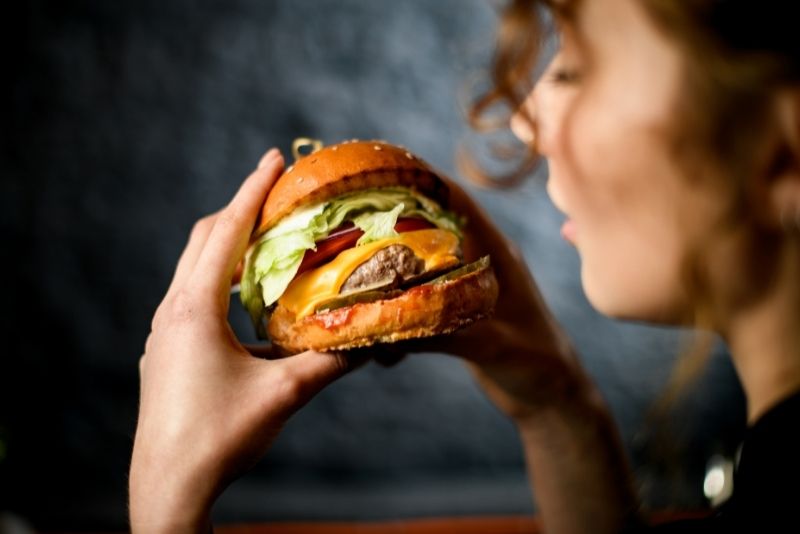 On the waterfront at the Coal Harbour Marine, this local eaterie is a favorite for seafood and burger enthusiasts.
Whether you're looking for an intimate dinner date or to catch up with friends over cocktails, Cardero's Restaurant has something for everyone. It offers awesome views of Stanley Park from its patio, regular live entertainment Sunday through Thursday from 9 p.m., and an extensive wine and cocktail list.
81 – Take a dinner cruise on Vancouver Harbour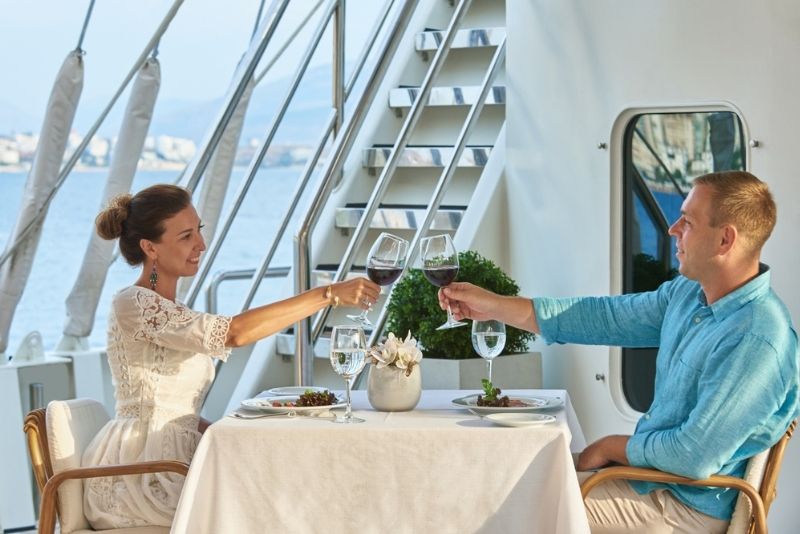 One for the romantics (or the extra hungry), a buffet dinner cruise on the picturesque Coal Harbour is the perfect way to spend an evening with your other half.
It will give you the chance to enjoy some of the most astounding views in North America, while you sip on luxurious cocktails and have a multi-course meal — with live music and onboard commentary the whole way through.
For the next 2.5 hours, sail past city landmarks onboard a double-decker paddle wheeler,
and take advantage of the unique angles as seen from out on the water, like Canada Place and Lions Gate Bridge, with backdrops such as the North Shore Mountains.
82 – Go paddleboarding … at night!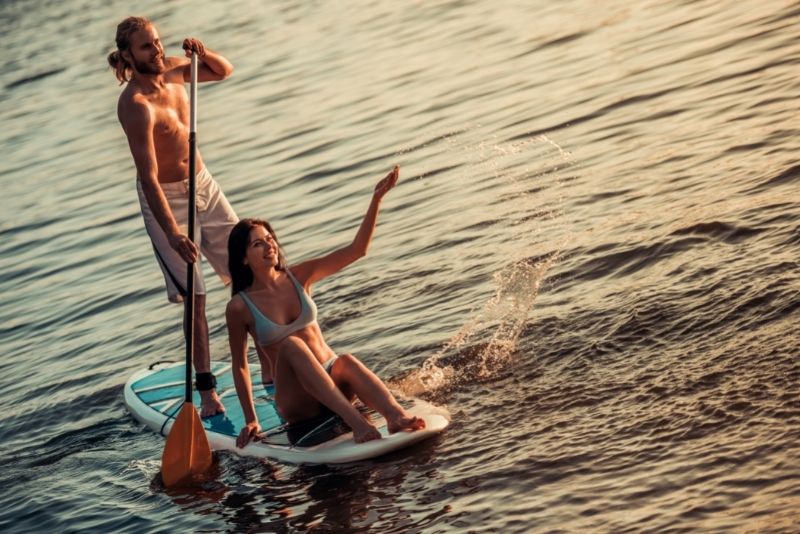 Surfing-meets-kayaking meets yoga as part of this standup paddleboarding session!
While rentals are available during the day (obviously), there's nothing more magical than a dusk paddle — when the calm water reflects every color of the city's skyline.
An easy skill to master, paddleboarding is also suitable for kids as young as 8 years old.
83 – Jog around the Vancouver Seawall (the world's longest uninterrupted waterfront path)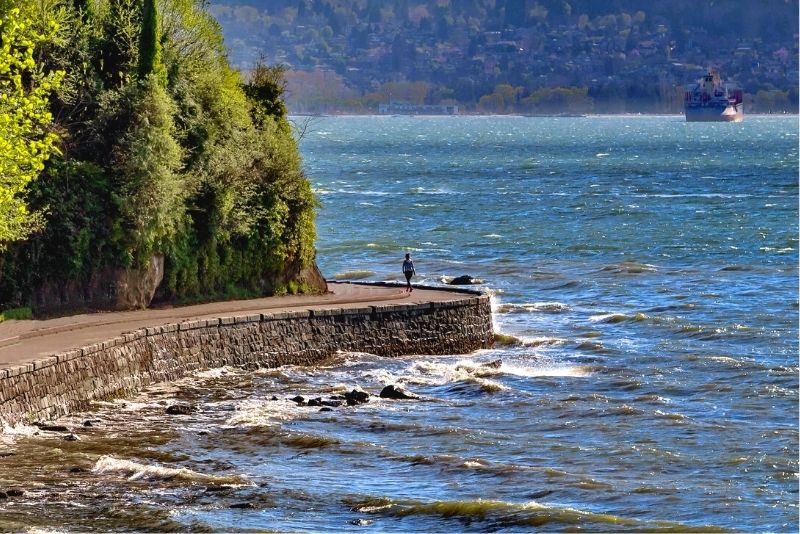 Whether on two feet or two wheels, doing a lap or two of the charming Vancouver Seawall is considered one of the quintessential things to do in Vancouver.
The scenic route stretches along the coast for just a whopping 28 miles, covering downtown, Spanish Banks Park, and the Stanley Park Seawall.
And while it's a lovely walk in any season, locals will tell you that fall is one of the best times to take advantage of the cooler temperatures and vibrant changing colors of the leaves.
84 – Wet your whistle with a beer tasting tour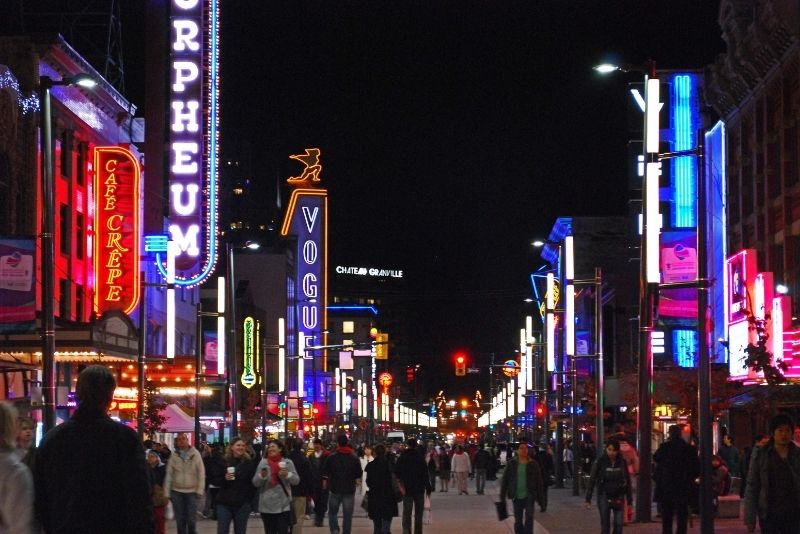 It's no secret that the Canucks love their cold beers, so why not do as the locals do and sample some of the city's best craft brews?
Organized beer tastings lead thirsty travelers around different areas of the city, stopping into beloved watering holes, including Parallel 49, Bomber, Granville Island Brewing, and Off The Rail — all unique and thirst-quenching in their own.
85 – Play a round of golf!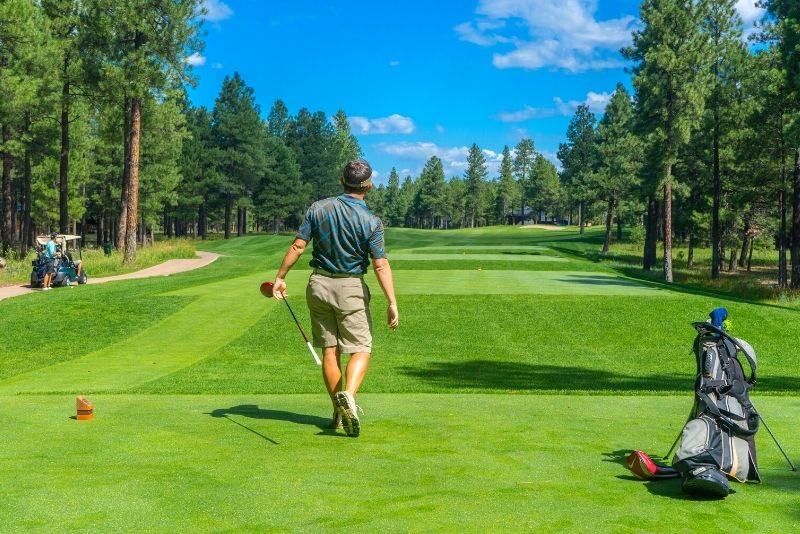 Despite being renowned for its coastal scenery and mountains, the Couv's golf scene is nothing to scoff at with many accessible golf courses.
While the Fraserview Golf Course, University Golf Club and Shaughnessy Golf & Country Club are local and exception, the debatable frontrunner is Capilano Golf & Country Club — sitting in North Van framed by the snow-capped mountains, the setting is simply sublime.
86 – Dine in style at Black + Blue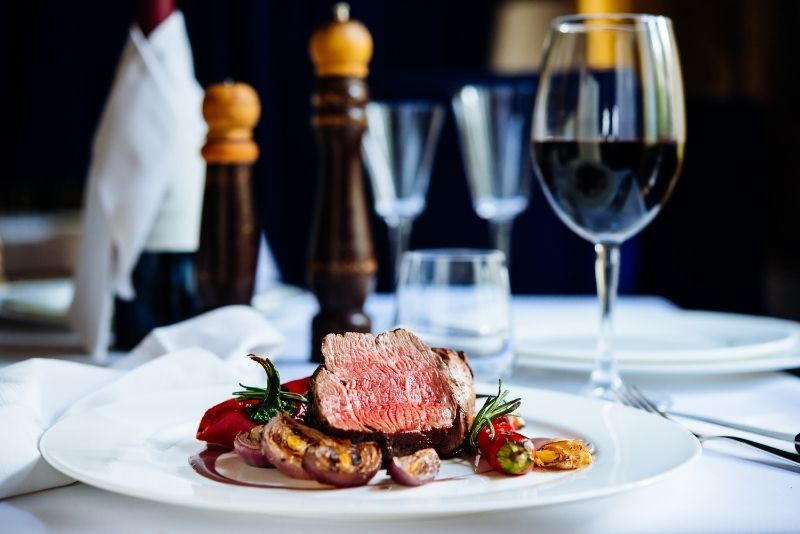 Embodying luxury and a hefty amount of swank, Black+Blue regularly tops 'best restaurant' and 'best steaks' lists, with good reason.
With its creative menu featuring an enormous selection of prime cuts, you'll quickly see why this upscale establishment is considered the city's premier steakhouse by many locals.
87 – See cabaret shows and more at these fab venues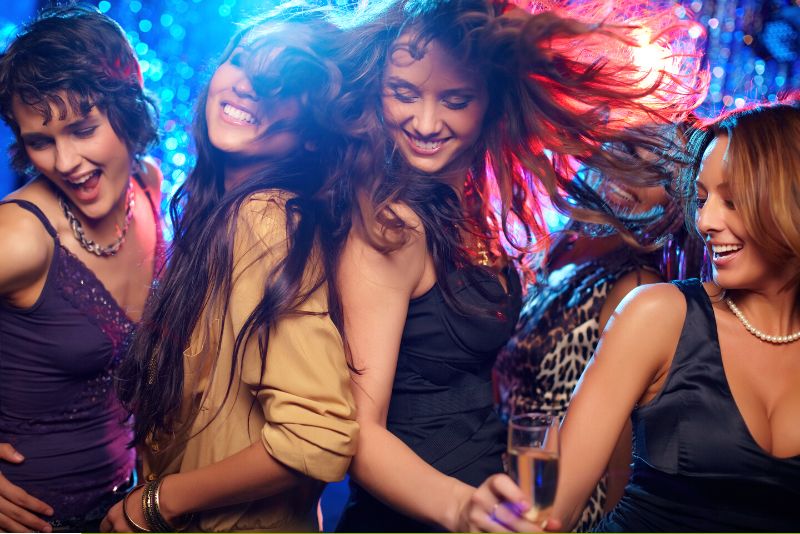 If a cabaret show is more to your liking, you're in for a treat in Vancouver! Typically performed in an intimate, ambient venue, these performances combine dance, music, song, drama and acting – in a sultry kind of way!
Presenting live entertainment, music and dancing, The Fox Cabaret pays an authentic ode to the classic cabaret setting, with a small stage in front, rich red fabrics decorating the walls and spaces, and tables and chairs to sit around and enjoy the show!
Biltmore Cabaret is another spot in Vancouver with history backing it. Since its earliest days, it's been home to musical productions and concerts. Not just limited to live gigs, catch a comedy show here or an artsy production.
How to get to Vancouver?
Booking an airport transfer in Vancouver will save you time and the hassle of trying to find your way from the airport. This is especially great for BC first-timers who do not know the area, as well as those who've just hopped off a plane and could think of nothing worse than a cramped SkyTrain carriage.
Where to stay in Vancouver?
If you're looking for a place to stay in Vancouver, the options are endless! There are so many different types of accommodation that come at different prices for every budget. You can find everything from a bed & breakfast to luxury hotels.
Need some ideas? The Shangri-La Hotel and the Fairmont both exude opulence and sophistication. On the other hand, if you're looking for a more affordable stay there's always the Blue Horizon Hotel, or the Hotel Belmont Vancouver.
Paradox Hotel is ultra sleek and stylish, with all the extras like heated bathroom floors, with an excellent location. Also a lavish, plush and very classy affair is the upmarket Wedgewood Hotel & Spa.
For travelers fussed by extreme comforts, both the L'Hermitage Hotel and Carmana Hotel & Suites are loved for their spacious rooms, extra soft beds (hey, it makes all the difference) and locale.
Or, if world-class customer service is your drawcard, find yourselves mightily impressed when checking into the five-star Rosewood Hotel Georgia.
Where to go next?
If you've traveled across continents to get to the Great White North, do add another city or town to your travel bucket list. Here are some of the best places to visit in Canada!
For a taste of the Canadian Rockies, head straight on over to ski resort towns like Banff (9.5-hours driving or a short 1.5-hour flight into nearby Calgary), or Jasper (8.5-hours away from Vancouver by car) where the outdoor adventures are seemingly endless, whether it's snowboarding or hiking to glaciers!
Speaking of Calgary, this is the closest major city to both towns, and to reach either, you first need to fly to Calgary. Learn about local history, immerse yourself in nature and enjoy the epic farmer's markets.
Leaving behind Canada for the good ol' USA, Seattle (in Washington) is reachable in under three hours from Vancouver. Bursting with activities for everyone, you need at least a weekend to fully uncover all that Emerald City has to offer.
Portland, Oregon is just under six hours away from Vancouver, home of the hipster culture and all things zany! From wineries to ghost tours, the list of things to do and see is truly unique!
Travelers with limited time, consider multi-day trips offering a convenient way to tour around Vancouver and to other must-see destinations close by.
Final thoughts
Really, how exciting does this city sound? A fusion of mountainous landscapes and coastal settings, there are things to do in Vancouver for everyone!
What are some of your favorite memories of Vancouver if you've been here before, or is there an alternative Canadian city that has captured your heart? Share with us in the comments, we love to hear from our readers.
As always, happy and safe travels.