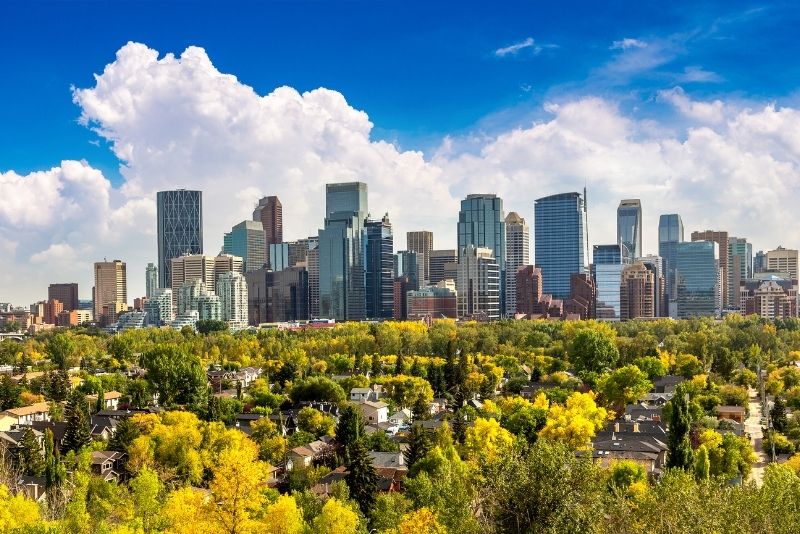 Whether you visit it during the summer or during the winter, there's always something happening in Alberta's most populous city. From skiing and snowboarding to wandering around the city's parks, there are plenty of things to do in Calgary!
Among the great variety of fun events that are hosted there, the 10-day cultural festival Calgary Stampede is a must for every visitor. Calgary is also a paradise for nature lovers, with some of the most attractive scenery and unspoiled nature in the whole world. Within a little time, you can be in the Banff National Park and explore the rugged natural landscape of the Kananaskis Country.
And the city itself won't disappoint you. With a diverse range of museums and great activities, like seeing the views from the Calgary Tower or traveling back in time to the old west at Heritage Park Historical Village, plus a lively nightlife, you're granted to have a lot of fun in Calgary. What are you waiting for?
1 – Meet the penguins at Calgary Zoo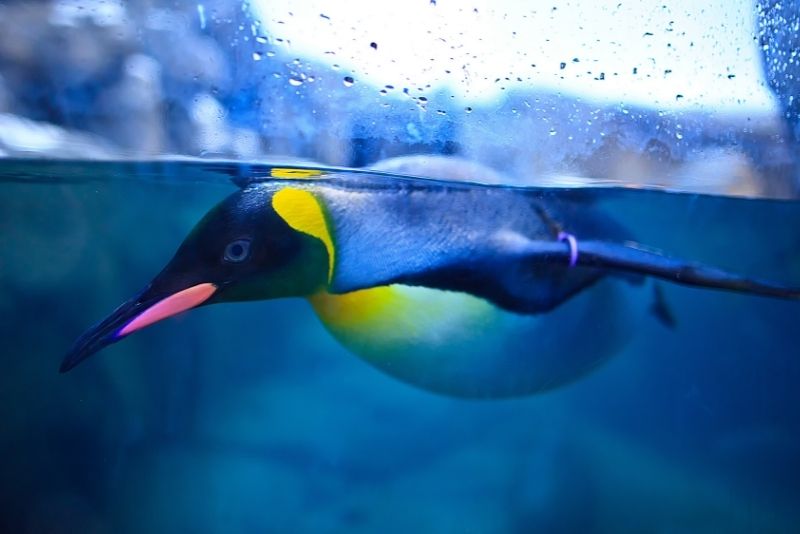 One of the leading conservation centers in the country, Calgary Zoo has been a family favorite attraction for over 90 years.
This huge city center zoo has hundreds of amazing native and exotic creatures to see.
Visit the Destination Africa habitat to see lions, giraffes and hippos. See tigers, snow leopards and playful monkeys in Exploration Asia.
Don't forget to stop by the Candian Wilds to see bears, wolves, cougars and bison up close, as you've never seen them before.
2 – Visit the Old West at Heritage Park Historical Village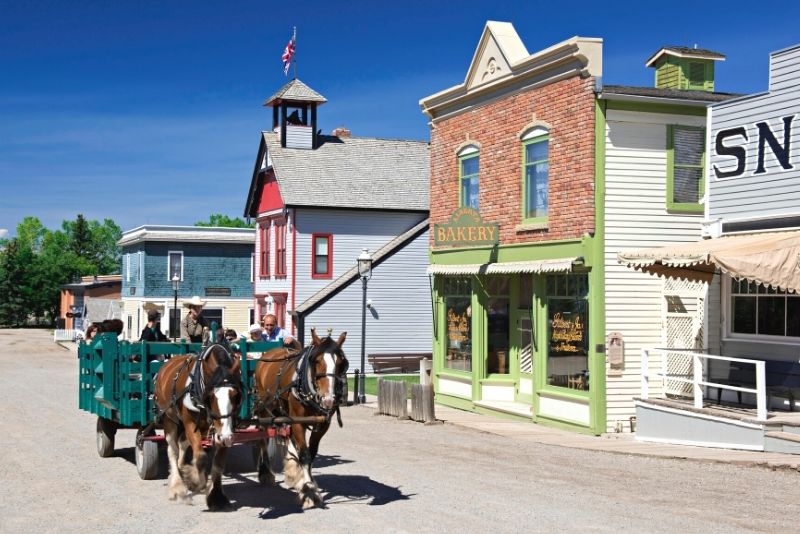 A fun day out awaits all those who visit Heritage Park Historical Village.
This living museum has life-size replicas of an old-West village from the mid-1800s to the 1950s. Discover the life of a prospector and the natural resources that helped Calgary to prosper.
Visit the cabins and fur trading post in a prairie settlement and see how the railway was the lifeblood of these villages.
Heritage Park Historical Village is one of the city's most popular attractions and is definitely one of the most fun things to do in Calgary.
3 – Picnic in Prince's Island Park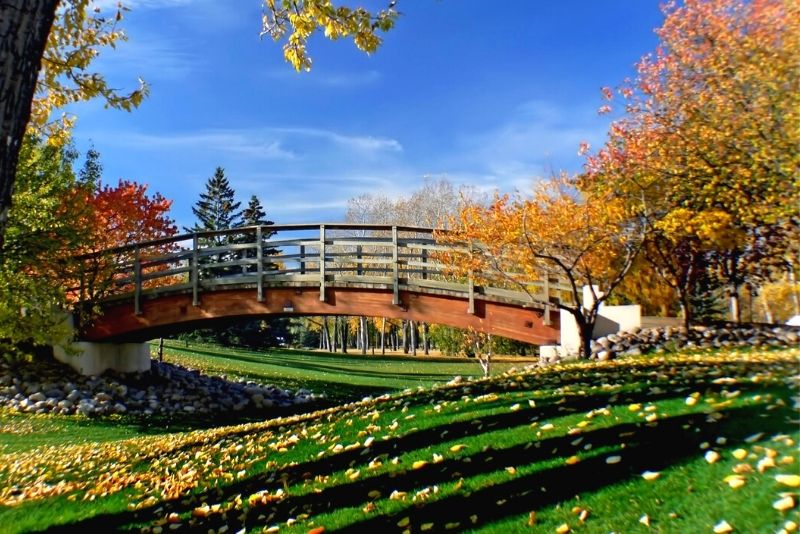 Prince's Island is one of Calgary's most popular parks.
The setting for the city's Canada Day celebrations as well as the Calgary Folk Festival, Prince's Island Park also features the Chevron Learning Pathway wetland area and environmental education walkway.
The park offers an oasis of greenery and fresh air in the middle of the city. It's a perfect spot to walk, jog or take a picnic in the warmer summer months.
There are usually some fun events or activities going on in this beloved city center park.
4 – Immerse yourself in the TELUS Spark Science Centre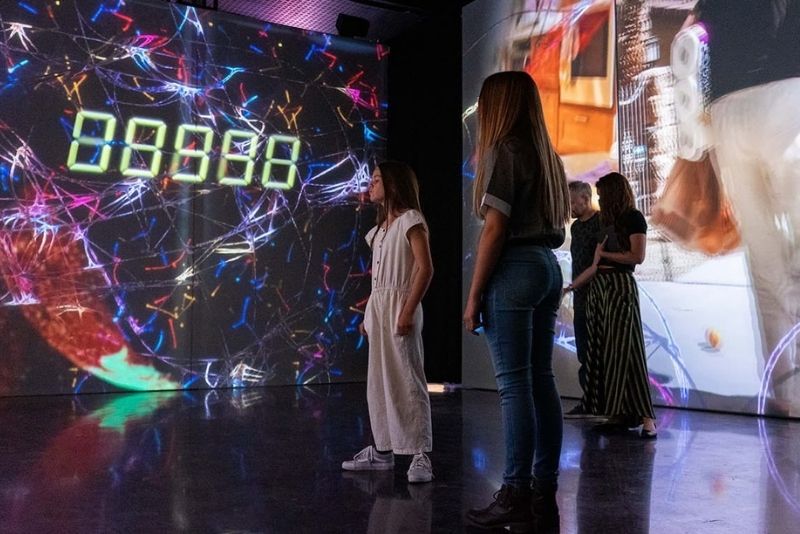 Go on a fascinating voyage of discovery at one of Canada's leading Science Centers.
With the largest dome theater in the region, TELUS Spark Science Center is as entertaining as it is educational. Travel to the far side of the moon or deep beneath the oceans in the 360-degree Infinity Dome Theatre.
Step into a unique immersive movie in the center's Digital Immersion Gallery or expand your mind in the outdoor Brainasium.
You could spend the whole day at TELUS Spark and still not see it all.
5 – Relax at Bowness Park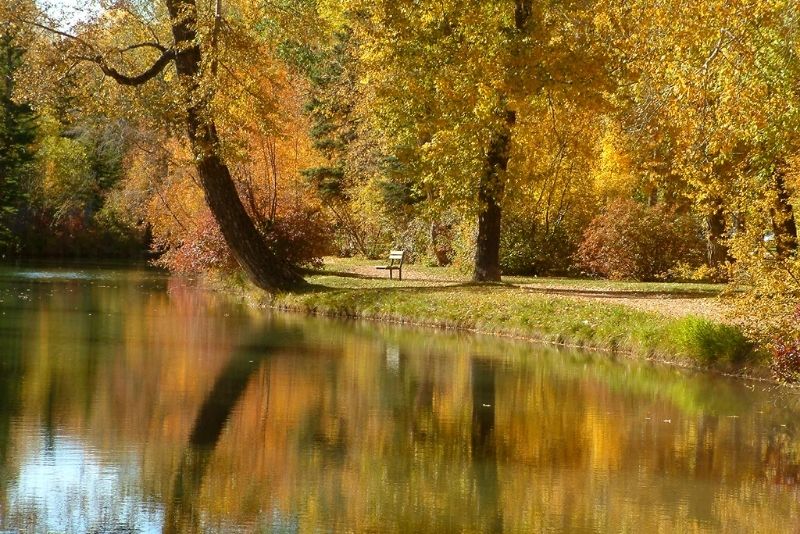 You'll find lots to do at Bowness Park all year round.
In summer the park's lagoon is a popular spot for boating and the surrounding park has lots of spots to picnic and barbecue as well as a paddling pool and playgrounds for the kids.
In winter also the park has a ton of fun activities to try. The frozen lagoon turns into a free ice skating rink where visitors can hire ice skates and even ice bikes.
Try some cross country skiing or play some ice shinny before you warm up with a hot drink in the park's tea house.
6 – Uncover the history of Fort Calgary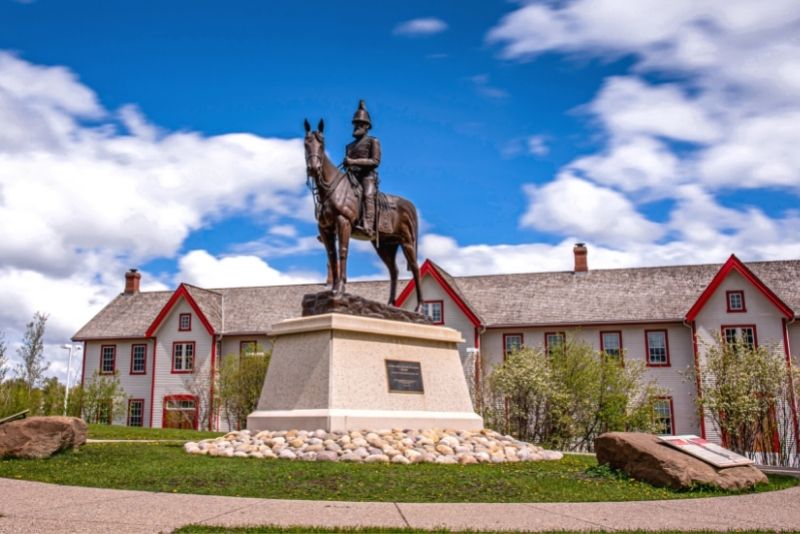 Built during the latter half of the 1800s, Fort Calgary was constructed as a station for the North West Mounted Police.
Built on a site of great significance, at the confluence of Elbow and Bow rivers, the Fort has also been used as a hospital, police station and education center.
Discover the story behind this historic fort and the complex relationships of the people who occupied this region.
Visit traditional cabins and some of the city's oldest buildings and see historic items and vehicles related to the site. Fort Calgary is a must-visit for history lovers.
7 – Cycle through Fish Creek Provincial Park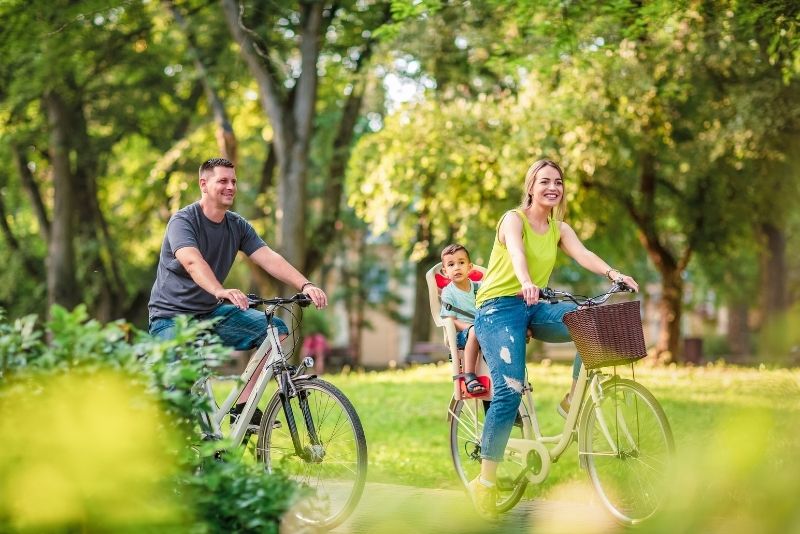 Positioned at the very south of the city in an area of spectacular natural beauty, Fish Creek Provincial Park has something for everybody.
With miles of cycling and hiking trails running throughout the park this place is a paradise for lovers of the outdoors.
Its rural location also means there's an abundance of wildlife to spot in the area. Keep your eyes peeled for Great Blue Herons among the hundreds of other bird species that can be seen along the water's edge.
8 – Take a vintage sidecar motorcycle tour of the city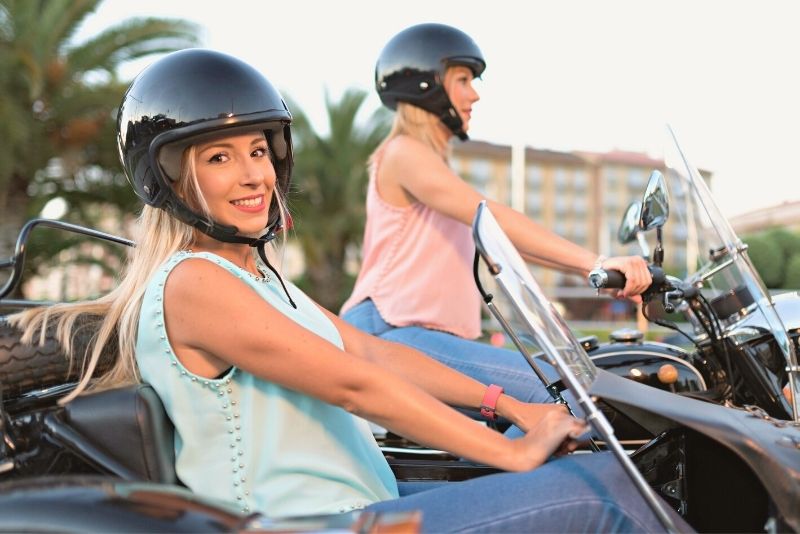 Want to try something new in Calgary? Explore the city in style on an exciting sidecar tour. Strap on your helmet for a unique one-on-one tour with a professional local guide.
Visit major landmarks in and around the city including the Eau Claire, Kensignton and Inglewood districts.
Sit back and enjoy the ride as you take in the sights, sounds and smells of the city. If you're looking for fun things to do in Calgary, definitely consider these thrilling sidecar tours.
9 – Get inspired at Glenbow Museum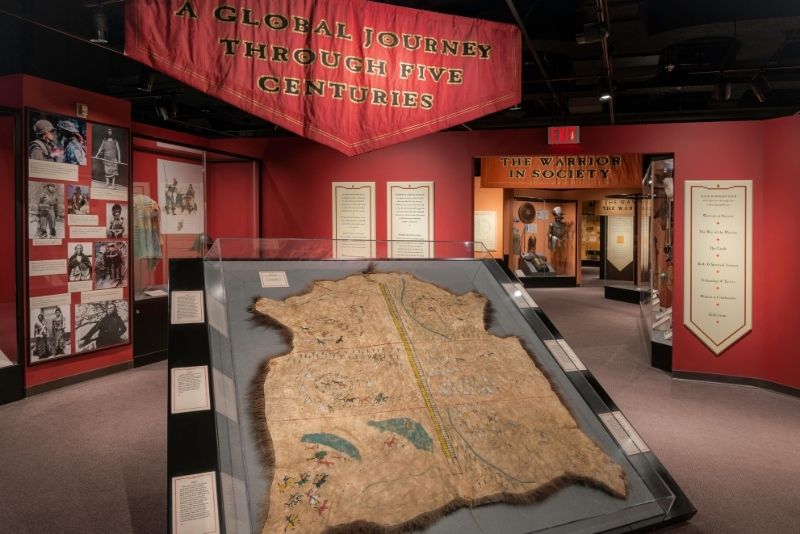 Housing the largest public art collection in the country, Glenbow is the perfect place to rejuvenate your creative energy.
Get inspiration from the thousands of artworks on display encompassing modern and contemporary art as well as sculptures, prints and drawings.
Discover the extensive collection of works by Canadian artists including pieces by indigenous people of the northwest plains.
Uncover the history of the region and its people at this fascinating museum. Glenbow is definitely worth a visit during your time in Calgary.
10 – Stroll across the Peace Bridge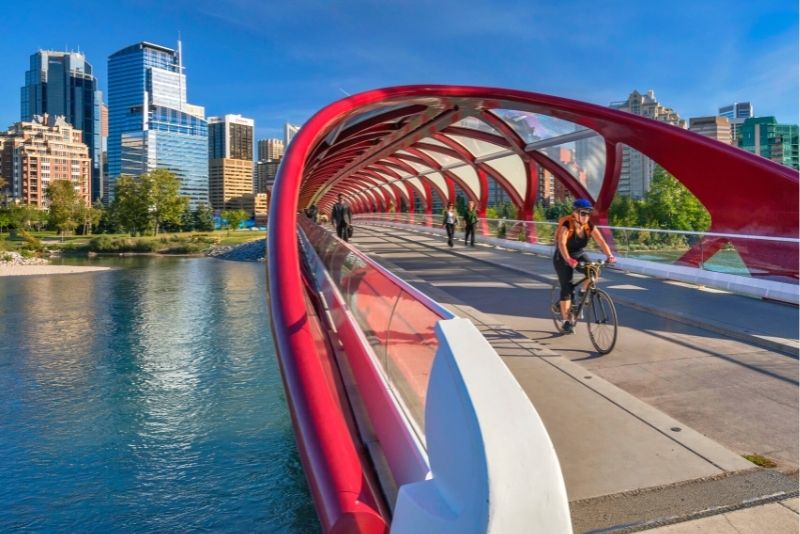 The iconic Peace Bridge is a must-visit when in Calgary. The bridge was built in 2012 to accommodate the increasing amount of cyclists and pedestrians commuting across the Bow River.
Its modern design is entirely self-supporting and uses no pillars or cables.
Though the bridge drew criticism at the time of construction, there is no doubt it is an eye-catching landmark on the Calgary skyline with its contrasting red and white structure.
11 – Explore the many farmer's markets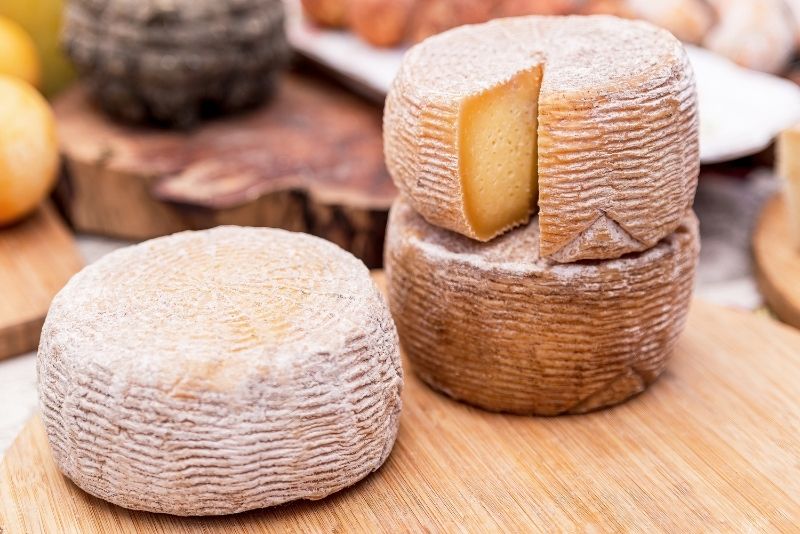 With three excellent farmer's markets to choose from, you'll be spoiled for choice where to shop and eat in the city.
Where to begin? Hit up the Granary Road Market for some fresh cider and traditional Ukrainian dumplings.
Pick up some hand-crafted jewelry and a selection of spices from Calgary Farmer's Market South and buy amazing breads and cheeses from Crossroads Market.
Definitely check out these fantastic local markets for an authentic Calgary shopping experience.
12 –  Discover the living wall at Devonian Gardens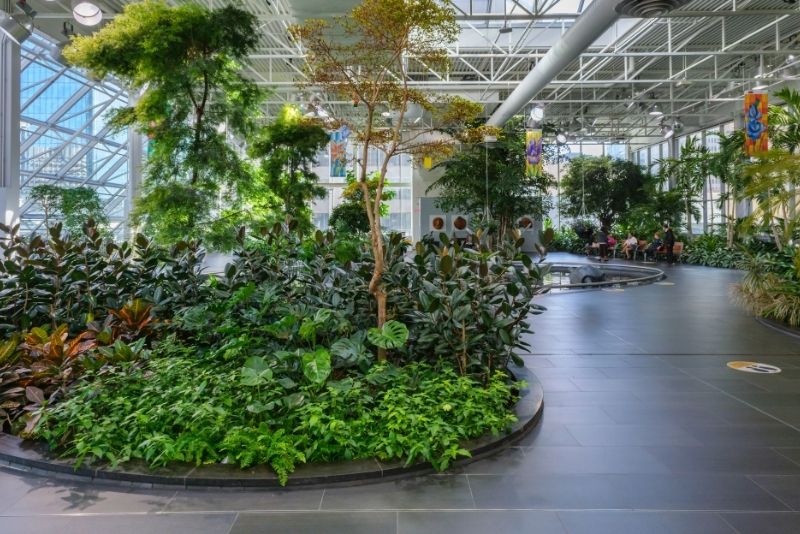 Calgary does amazing indoor spaces very well! The gorgeous Devonian Gardens covers two acres of the Core Shopping Center's top floor and houses over 550 trees and 50 types of plants.
This indoor oasis also features two fish ponds and a 900 square foot living wall which helps to naturally filter the air.
There are also some great facilities for kids including a small climbing wall and play area. Even on the coldest Calgary day, you can hang out in a tropical garden, right in the heart of the city.
13 – Enjoy the rides at Calaway Park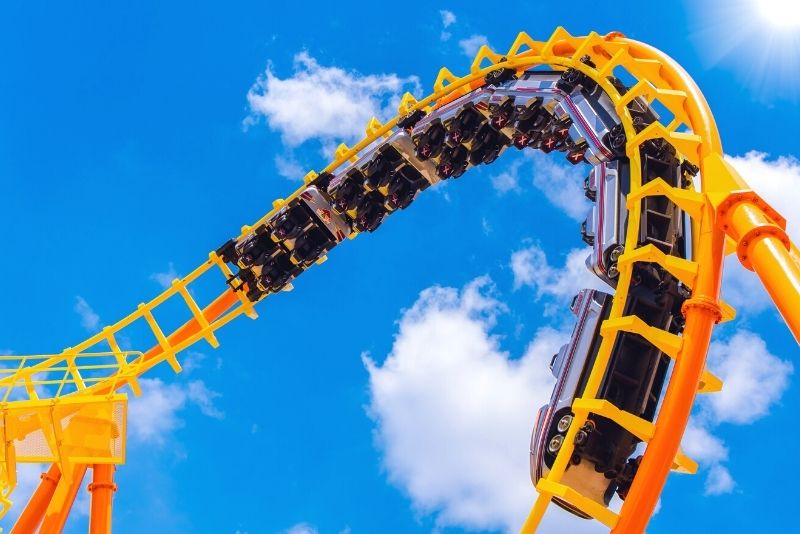 If you're looking for fun things to do with younger kids in Calgary, Calaway Park could very well be it.
One of the largest amusement parks in Western Canada, Calaway Park has over 30 exciting rides, 20 fun games, a 3D theatre and a waterpark.
You won't find monster roller coasters and white knuckle rides here but there's plenty of family-friendly fun to be had. Check it out during your time in the city.
14 – See the view from Calgary Tower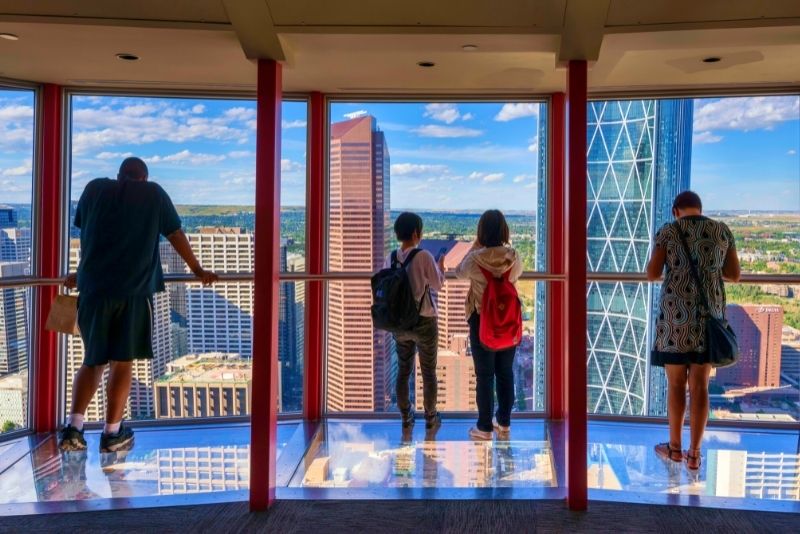 For unparalleled views of the city, you should definitely take the time to visit Calgary Tower. The tower was built in 1967 to celebrate Canada's Centennial and rises over 190 meters above the city.
The observation deck offers 360-degree panoramic views of the city and a glass floor for the more daring visitors to walk on.
The tower also has a revolving restaurant and a theatre room which shows a short feature film about the tower's history.
15 – Hiking at Nose Hill Park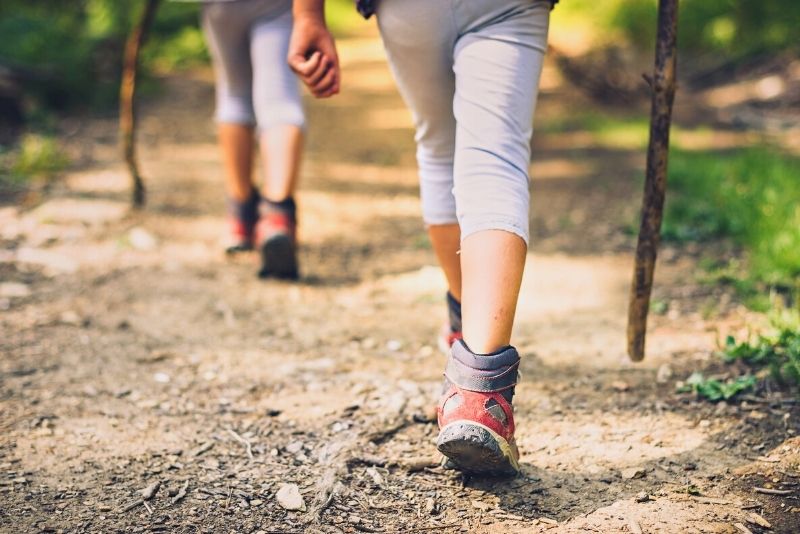 One of the best spots in the city to escape into nature, Nose Hill Park is a wilder place than the cities other parks.
It is predominantly unmanicured grassland and prairie but has strings of hiking trails throughout.
The landscape is a habitat for local wildlife and it-s possible to spot deer and coyotes as well as porcupines and species of gopher.
From the park's highest points it is possible to see as far as the Rocky Mountains on a clear day.
16 – Visit Yamnuska Wolfdog Sanctuary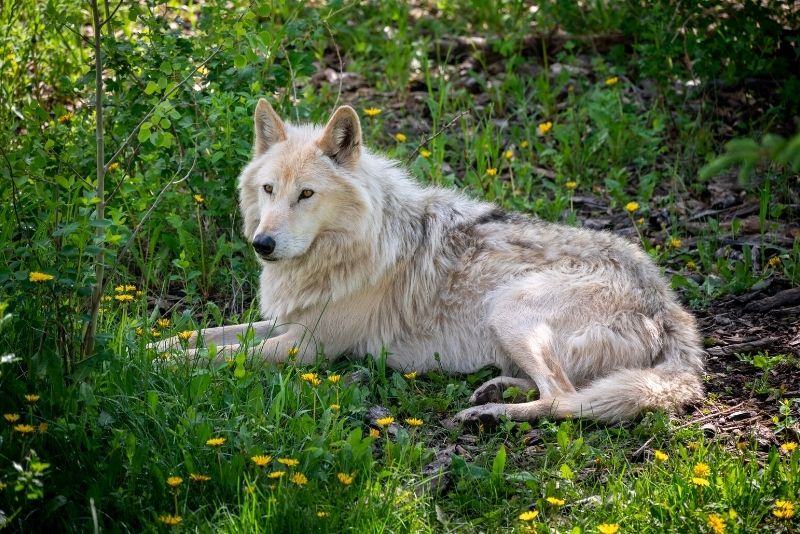 One of the most fun things to do during your time in Calgary has to be to visit the adorable wolves and wolfdogs at the Yamnuska Sanctuary.
Wolfdogs are the result of cross-breeding wild wolves and domestic dogs, often by backyard breeders. They are naturally energetic and can prove too much for some owners.
The Sanctuary rescues animals that are in need of rehoming and currently has 34 wolfdogs. Visit Yamnuska and seize the opportunity to see these noble creatures up close.
17 – Attend a Flames game at Scotiabank Saddledome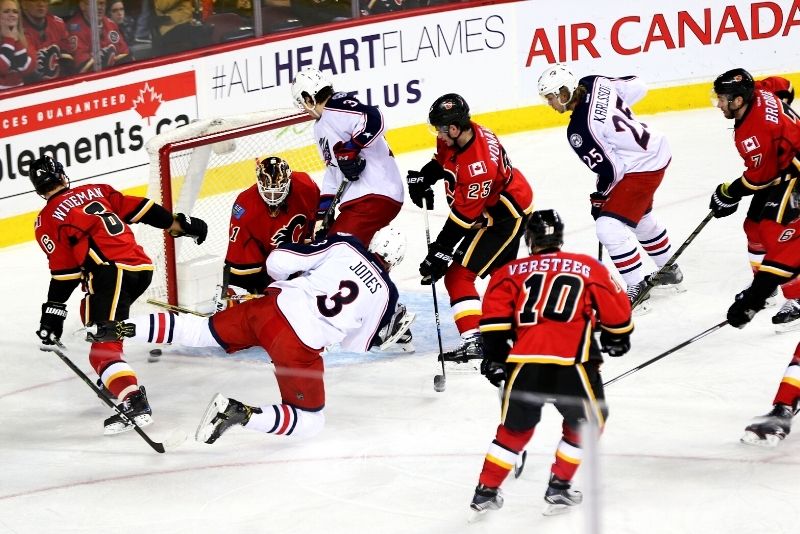 Home to some of the city's biggest sporting events, the Scotiabank Saddledome was originally built to host the 1988 Winter Olympics. It is the home of the Calgary Flames NHL hockey team.
It also hosts games by the Calgary Hitmen WHL hockey team and the Roughnecks NLL lacrosse team.
Why not check out a hockey game while you're in the city?
18 – See the tanks at The Military Museums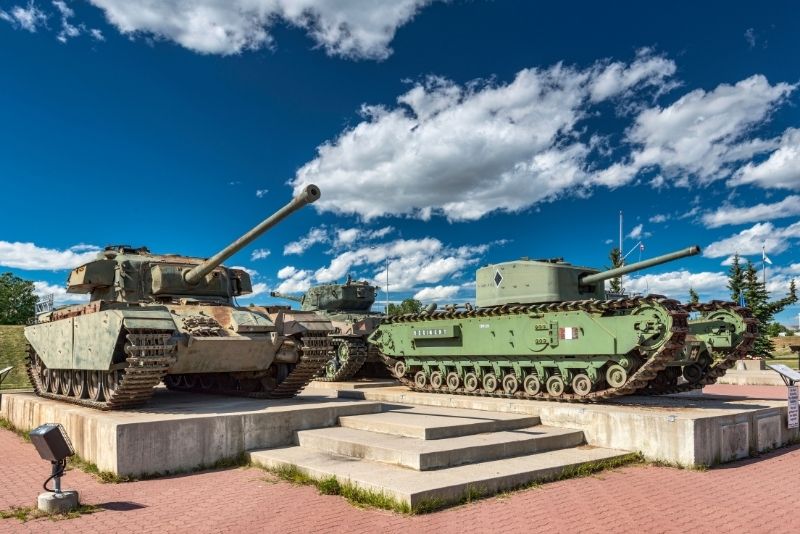 In the 1960s, Alberta's Cold Lake Royal Canadian Air Force base was the training ground for a sleek new kind of fighter jet, the CF-104 Starfighter. Visitors to the Military Museums can see an actual CF-104 plane and learn the Cold War history of these amazing rocket ships.
The Museums are also home to a number of other amazing military machines such as a CF-5 Fighter jet, a Taurus Armored Recovery Vehicle and a Leopard 1C2 Tank.
Visitors can also check out a code-cracking Enigma Machine. There's plenty to see on a trip to the Military Museums.
19 – Explore sound at Studio Bell – National Music Centre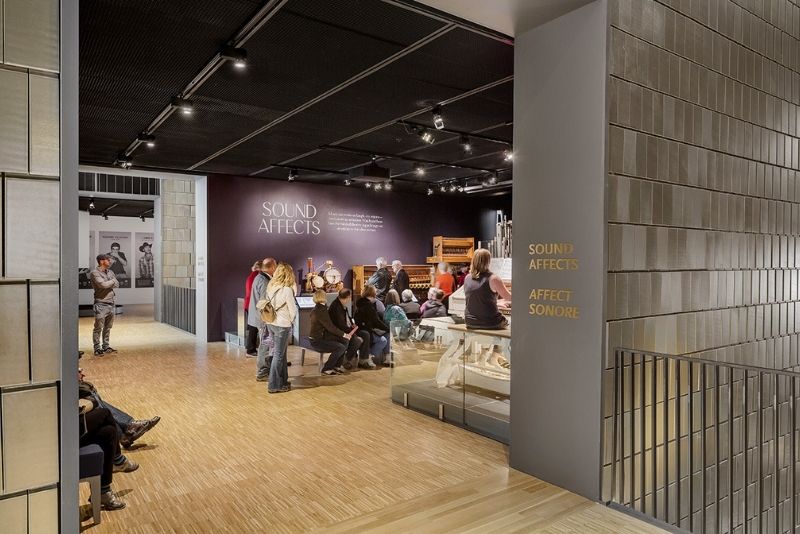 Immerse yourself in Canada's musical history at Studio Bell. Discover over 2,000 artifacts from the center's collection including, historic instruments like the infamous Mellotron, classic Moog synthesizers and an antique harpsichord.
See exhibitions covering the best of Canadian music and pick up an instrument to channel your inner rock star.
Studio Bell has some innovative exhibitions covering the future of music.
Whether young or old, a trip to Studio Bell will be one of the most fun things to do in Calgary.
20 – Snap a selfie with the Wonderland Sculpture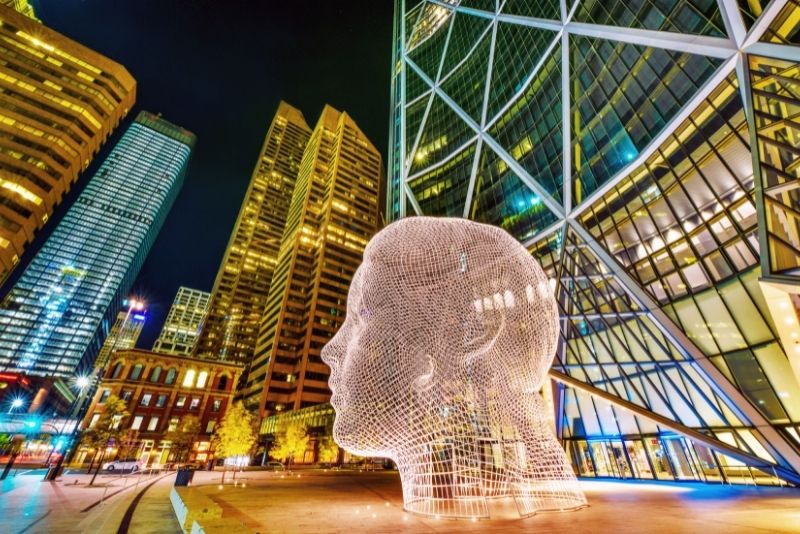 You can't miss the giant Wonderland Sculpture down by the Bow Building. This huge wire head draws looks from everyone who passes by.
Created by Spanish artist Jaume Plensa, the sculpture represents the youthful energy and hopes and dreams of local residents.
Because of its wire construction, the sculpture can almost disappear from certain angles.
Visitors can walk right up to the sculpture and even go inside through a doorway in the neck. Visit in the daytime to grab a selfie with this cool Calgary artwork.
21 – Go Downhill Karting by Skyline Luge Calgary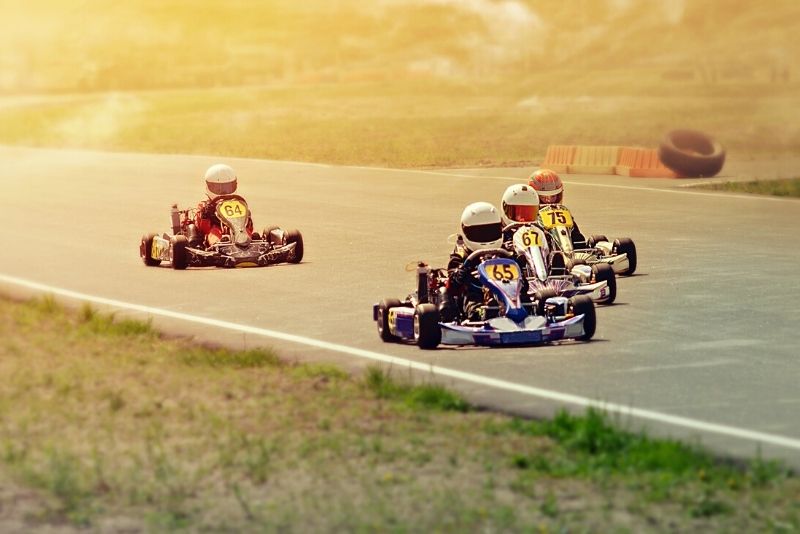 If you're on the hunt for some good clean fun in Calgary, you definitely have to try downhill karting.
Located near to the luge track used in the Winter Olympics and employing specially constructed karts, the route descends over 100 meters with more than 50 twists and turns to navigate.
The karts have no motors, you just pull on the handlebars to slow down and release to go. Downhill Karting is suitable for ages 6+.
You have to give this a go during your time in Calgary!
22 – Spot wildlife at Inglewood Bird Sanctuary & Nature Centre
Founded over 80 years ago, Inglewood Bird Sanctuary is a peaceful haven for birds and people alike.
Many migratory birds call into the park to rest on their yearly journeys and 270 different species of bird have been recorded here.
Inglewood has picnic facilities, a bunch of walking trails and an outdoor classroom and learning center.
Visitors can join in Summer day camps during the warmer months and learn more about the amazing wildlife that lives and visits this essential area.
23 – Discover Classic Canadian cars at Gasoline Alley Museum
Heritage Park's Gasoline Alley Museum is sure to delight lovers of vintage automobiles and classic memorabilia.
Packed to the rafters with pre-1950s cars, trucks and brightly colored automobile artifacts, Gasoline Alley takes us back to the exciting early days of Canadian motoring.
See the collection of old-timey fuel pumps, signage and vintage cars in this informative and fun Calgary museum.
24 – Cool off in Olympic Plaza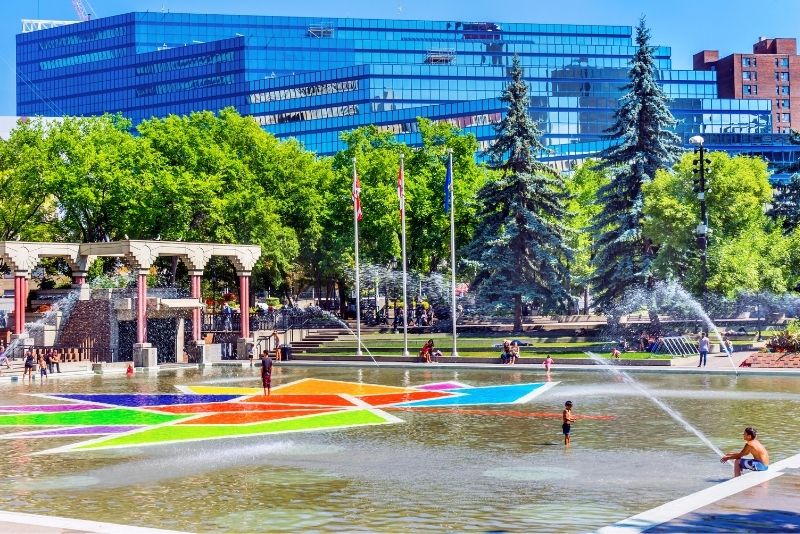 The Olympic Plaza is one of Calgary's most colorful and popular meeting places.
The plaza was built in 1988 to commemorate the Winter Olympics and was the location for the medal award ceremony.
Through the winter months, the plaza has a free skating rink to enjoy. In the summer there's a reflecting pool with fountains to cool off in.
The park still has some Olympic memorials, including the medals podium, as well as statues of famous Calgarians.
25 – See WWII airplanes at The Hangar Flight Museum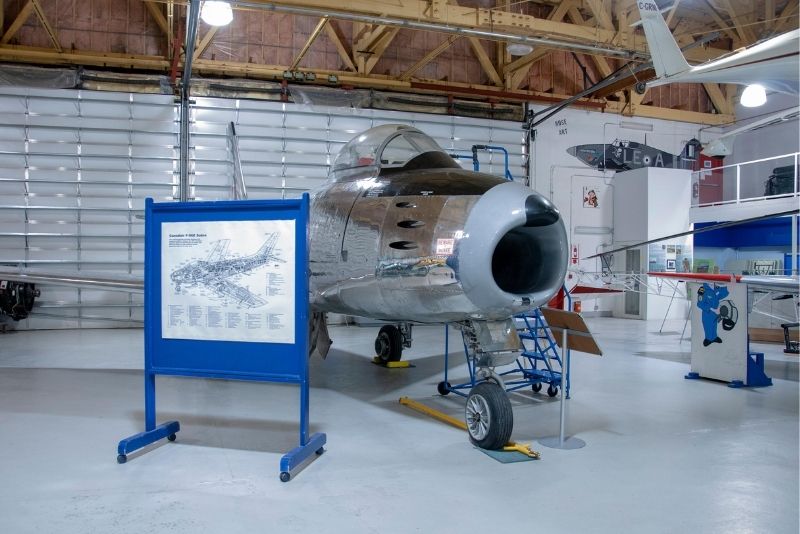 This is one for retro airplane enthusiasts especially those interested in Canadian planes.
The Hangar Flight Museum can be found at the Southern end of Calgary International Airport.
The Museum has a huge collection of vintage planes, including a Hawker Hurricane and Lancaster bomber both from World War II.
You can also find some very retro-looking helicopters, like the Bell 47G with a goldfish bowl-style cab and S-51 Dragonfly both from the 1940s.
26 – Try river rafting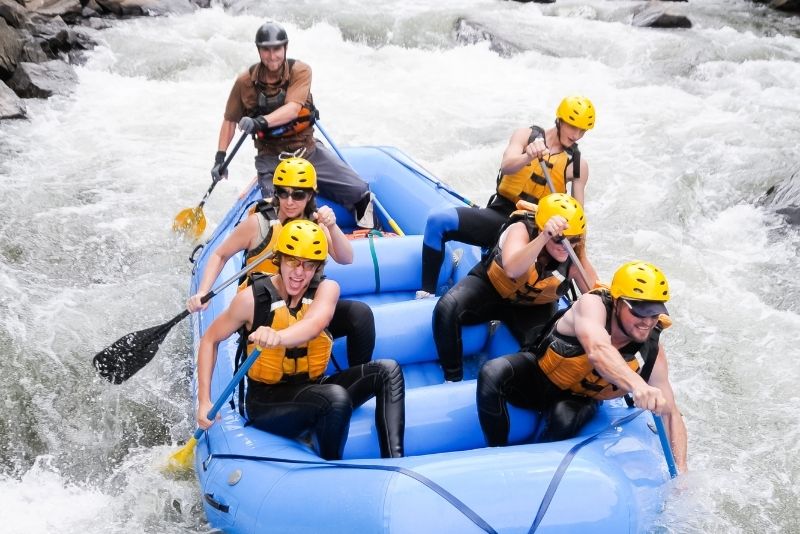 Rafting is the perfect activity for adventurous nature lovers.
The turquoise waters of Kananaskis are some of the most pristine in the country and the surrounding landscape is jaw-droppingly beautiful.
You won't want to miss this fun pursuit during your time in Calgary.
The Kananaskis and Bow River both offer some excellent rafting opportunities with both guided trips with trained professionals and self-guided excursions.
Why not take the plunge and take your first rafting trip?
27 – Pet baby kangaroo's at Cobb's Adventure Park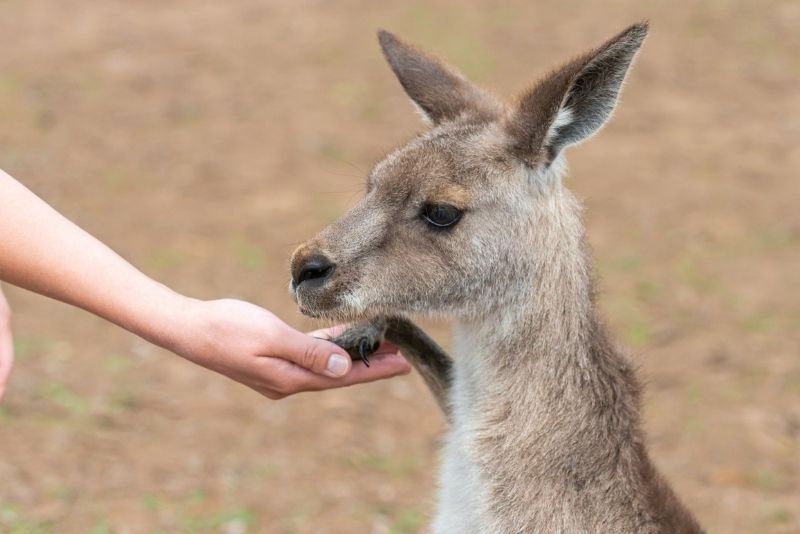 Most adventure parks don't have a kangaroo petting zoo but Cobb's does.
They also have a bunch of fun rides and games to try, including Glow in the dark Minigolf, tractor rides and giant slides.
The park's petting zoos are home to lots of cuddly farm animals and more unusual creatures too.
Meet exotic sugar gliders, snakes and iguanas as well as bunnies, ducks and fainting goats. Cobb's Adventure Park is fun for the whole family.
28 – Skate with legends at the Olympic Oval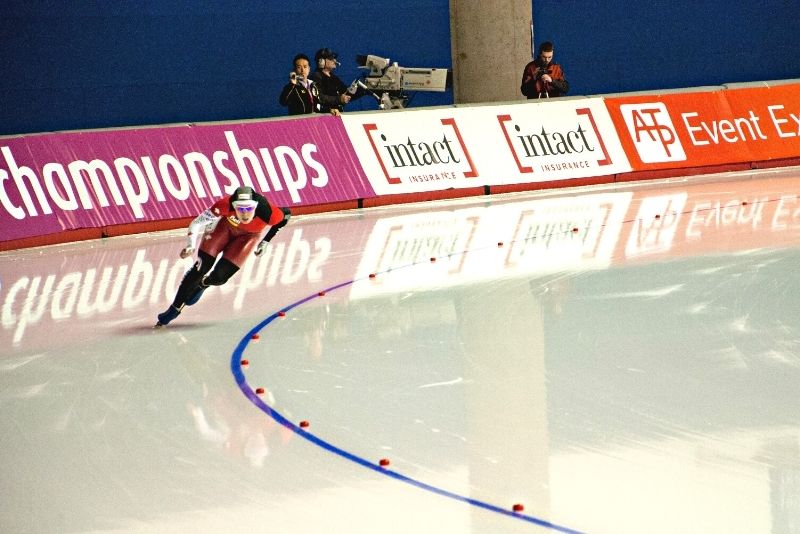 Built for the 1988 Winter Olympics, the Olympic Oval has the "fastest ice " in the world and has more world speed records than any other venue.
It has also produced more than 32 Olympic medallists during its 30+ year history.
The Oval is located on the grounds of the University of Calgary and is open to the public for skating, and also running through the Summer months.
Definitely take the time to skate this historic rink while in Calgary. You never know you could set a new world record!
29 – See the awesome scenery of Banff on a day trip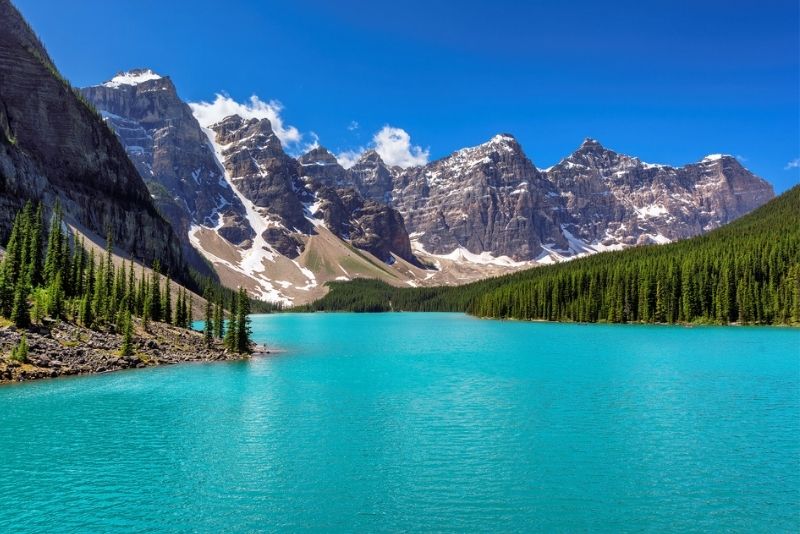 For some of the most awe-inspiring scenery in the country and probably even the world, Banff definitely delivers.
This popular town in the Alberta Rockies is a paradise for outdoors enthusiasts and adventure lovers.
Take a guided day trip from Calgary and see all the local highlights. Visit important landmarks like Sulphur Mountain, the beautiful Bow Falls and Johnston Canyon Walk.
Explore the shops of Banff town and wrap up your day with a cozy dinner in a local restaurant.
A trip to Banff is a must while in nearby Calgary.
30 – Spot the Northern Flicker at Pearce Estate Park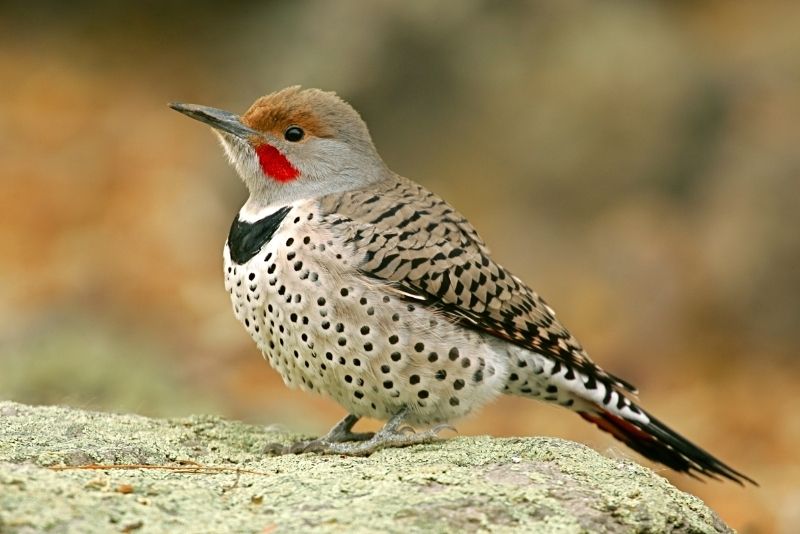 On a bend of the Bow River sits Pearce Estate Park. A large part of the park is a reconstructed wetland with many walking trails running through it.
You can also find the Bow Habitat Visitor Center there which features exhibitions and information on local fish and wildlife.
The park contains a large number of Balsam poplar trees which are popular nesting sites for a type of large red-winged woodpecker, known as the Northern Flicker.
Keep an eye out for these brightly colored birds while exploring the park.
31 – Explore Lougheed House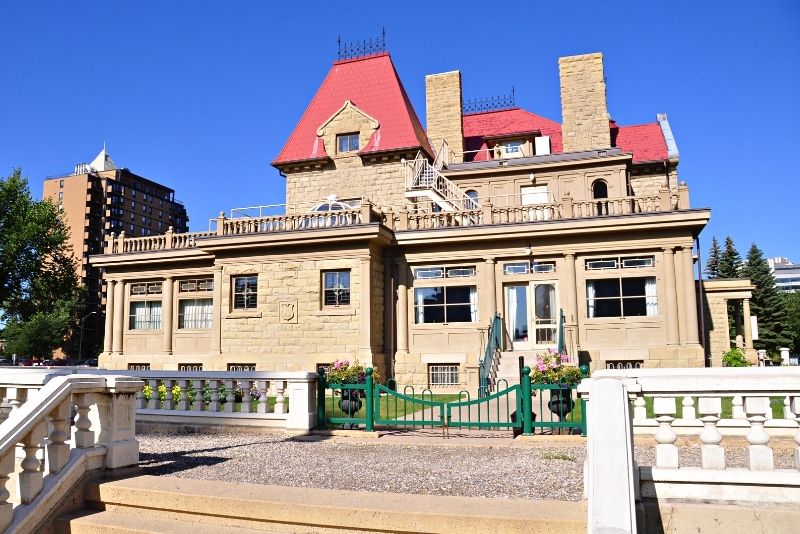 When it was first constructed in 1891, Lougheed House was one of the most remarkable prairie mansions in the northwest.
The house was built in an eclectic style with up-to-date features only the very wealthy could afford such as central heating and electric lights.
Visitors can tour this restored home and gardens and learn about the influential Lougheed family that called it home.
Learn about its later life as a center for The Red Cross and Canadian Women's Army Corps.
32 – Visit the Christmas Market at Spruce Meadows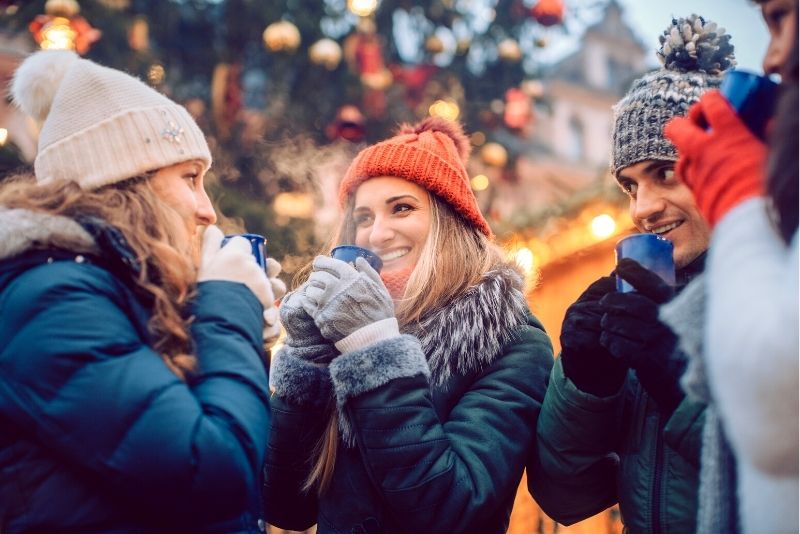 Calgary's famous Spruce Meadows is one of the premier show jumping grounds in Canada.
The equestrian center and sporting arena hosts 14 tournaments each year drawing contestants from around the world.
It has also been home to the Canadian Premier League soccer team Cavalry FC since 2019.
If you're in the area in late November and early December you should definitely check out the International Christmas Market for an unforgettable festive experience.
33 – Ride the slides at Southland Leisure Centre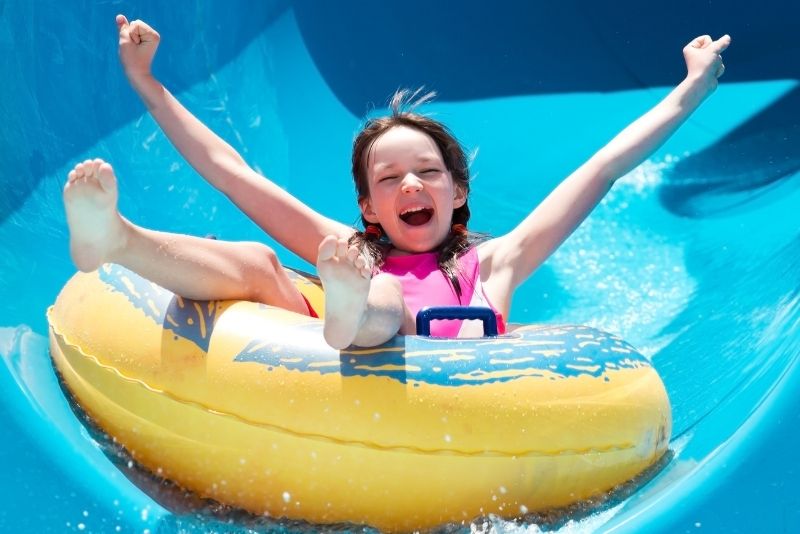 If you're looking for fun things to do in Calgary, Southland Leisure Center is a great option.
The center has a jam-packed pool with water slides, a wave machine, hot tub, water fountains and a dive tank so whatever your swim style you are sure to be catered for.
Southlands has plenty of other facilities too including weight rooms, instructor-led gym classes, two indoor arenas and a sports gym for climbing, gymnastics or shooting some hoops.
Check out the website for activity schedules.
34 – See ancient glaciers at the Columbia Icefield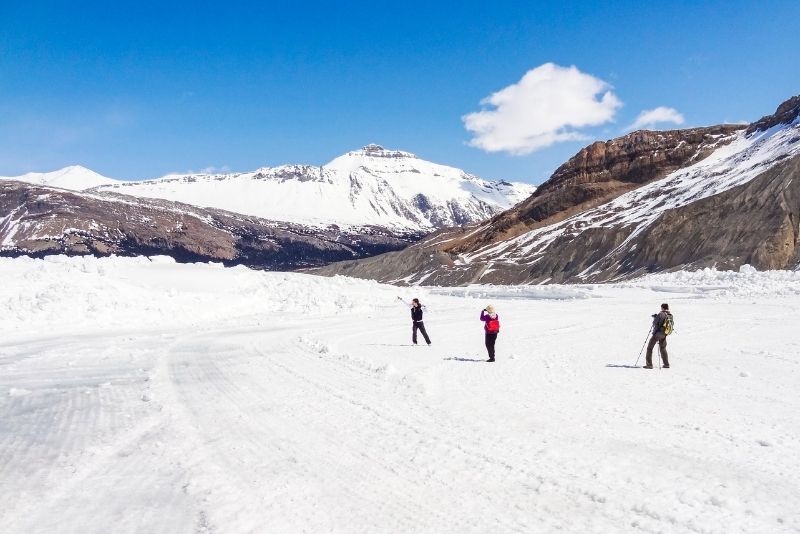 The countryside around Calgary is a place where nature can be wild and untamed.
This is most obvious when you visit spots like the Columbia Icefield which contains six glaciers and covers an area of 325 square kilometers.
The icefield formed hundreds of thousands of years ago and In some places, the ice is over 300 meters deep.
Visitors can take a guided tour to learn how these truly ancient glaciers have shaped the land around them.
See the Waputik mountain range and the Crowfoot Glacier and enjoy the most magnificent pieces of Canada's natural landscape.
35 – Explore Weaselhead Flats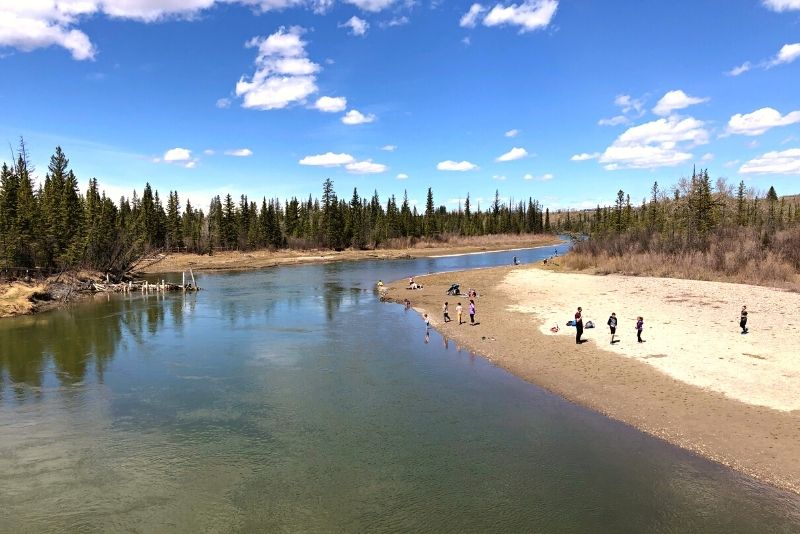 The city of Calgary is just brimming with awesome parks and Weaselhead Flats in the city's southwest is a great example.
The ideal place to enjoy a hike and get the best of nature, this huge park is home to a large amount of coniferous forest as well as pockets of Balsam Poplar and Trembling Aspen trees.
Hiking routes through the park are fairly gentle, perfect for a leisurely afternoon.
Keep a lookout for the tiny Calliope Hummingbird which lives in the forested areas.
36 – Snub gravity at Flying Squirrel Trampoline Park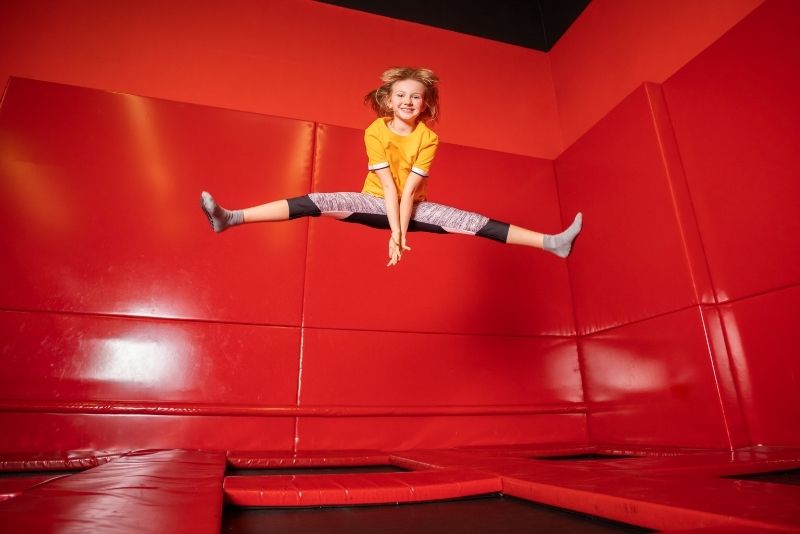 Kids love them, adults love them!
Trampoline parks are the new biggest thing and it's easy to see why.
Race with friends on an insane obstacle course or take part in a guided aerobics class, staying in shape has never been so much fun.
Undertake daredevil acrobatics as you navigate through the different zones or slam dunk like a pro in this spring-loaded urban playground.
A trip to Flying Squirrel might be the most fun thing to do in Calgary.
37 – Go to the horse racing at Century Downs Racetrack and Casino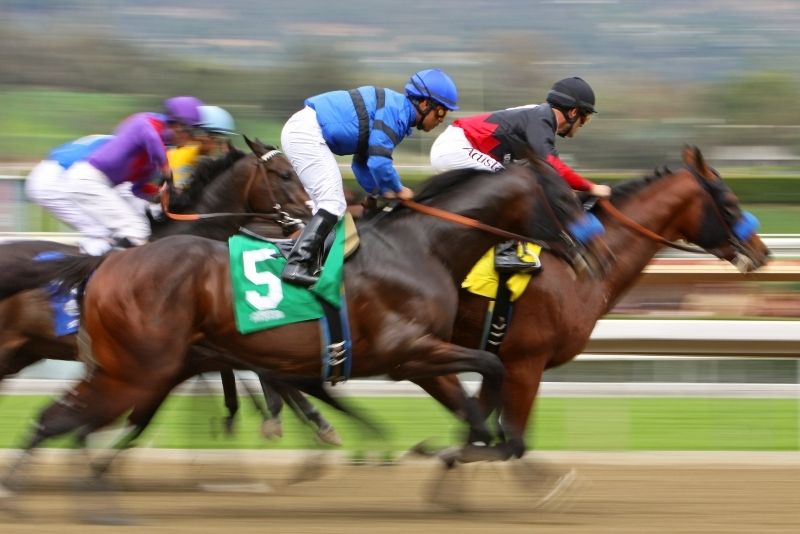 Place your bets! Century Downs is Calgary's premier horse racing track.
It hosts over 100 events a year including thoroughbred and standardbred racing as well as quarterhorse and chuckwagon racing.
The Century Downs Casino has off-track betting and a games floor with over 600 slot machines, classic games and VLTs as well as 4D immersive gaming machines.
There's only one place you need to go in Calgary if you're feeling lucky.
38 – Snowshoe hike on a Kananaskis day trip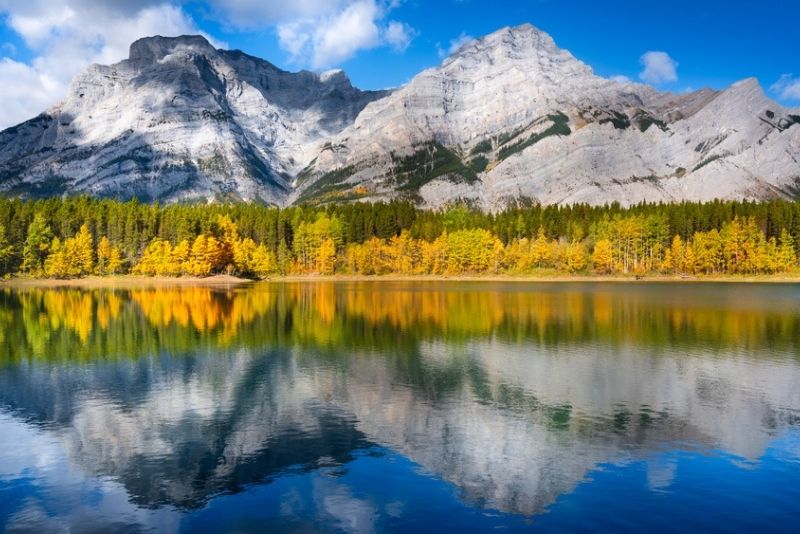 No matter what season, Kananaskis Country is a beautiful place to visit.
Through the summer months, there are splendid hiking trails to explore in this unspoiled area of the Rocky Mountains.
For the more adventurous traveler, the area is a popular spot for river rafting, offering thrilling but beginner-friendly rapids.
Through the colder months, why not try a snowshoe expedition? Explore the area in the traditional way people have been for thousands of years.
A trip to Kananaskis Country is definitely one of the most fun things to do in Calgary.
39 – Watch the sunset from the Edworthy Park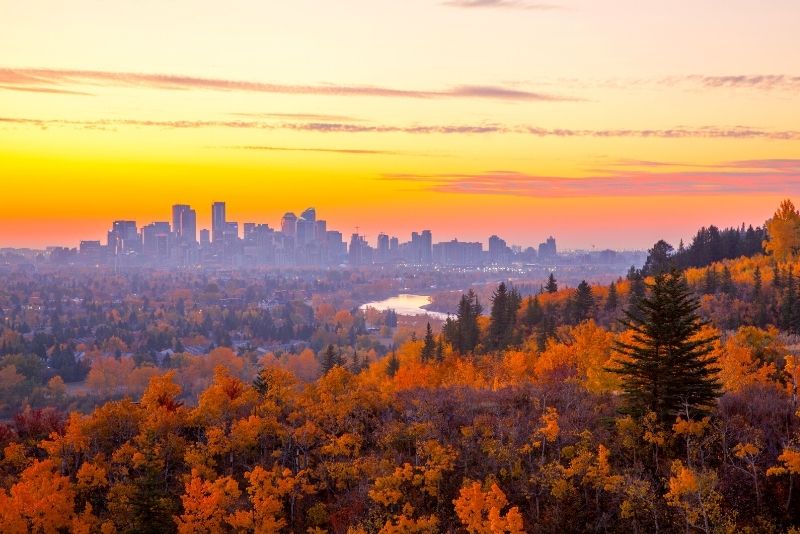 Known as the "Drunken Forest" for the slanting direction of the trees, Edworthy Park's Douglas Fir Trail runs for about 2.5 kilometers through a very old forest.
Some of the park's Douglas firs are over 500 years old and are rarely found this far inland being more common in mountainous and coastal areas.
The trail is closed through the winter months but the rest of Edworthy Park is still worth a visit, especially to see Calgary's skyline at sunset.
The park sits in a beautiful location next to the Bow River and includes the historic Lawrey Gardens.
40 – Check out the views from McHugh Bluff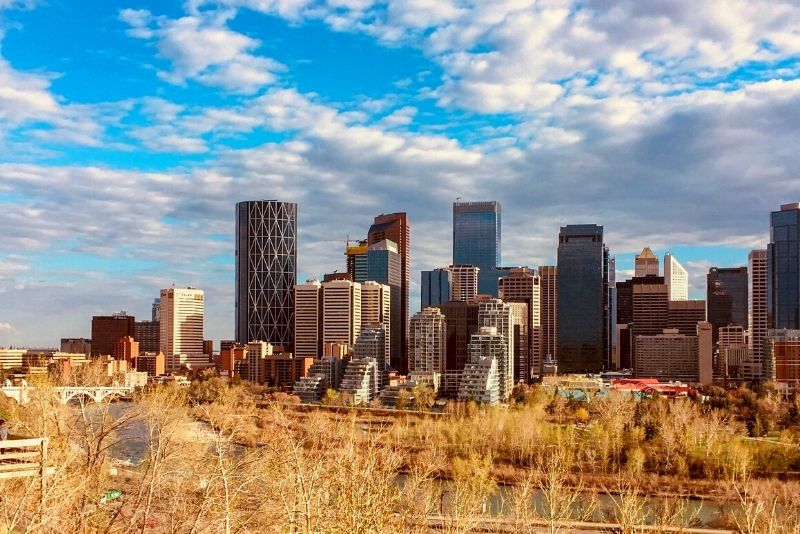 For some of the best views of the city skyline, you have to check out McHugh Bluff.
This natural park within the city has a number of walkways and trails running throughout and is a popular spot for joggers and cyclists.
The park is largely grassland and naturally sloped so from halfway up the bluff you can look down onto Calgary's Downtown district.
The view is especially impressive at night.
41 – See the rodeo at Calgary Stampede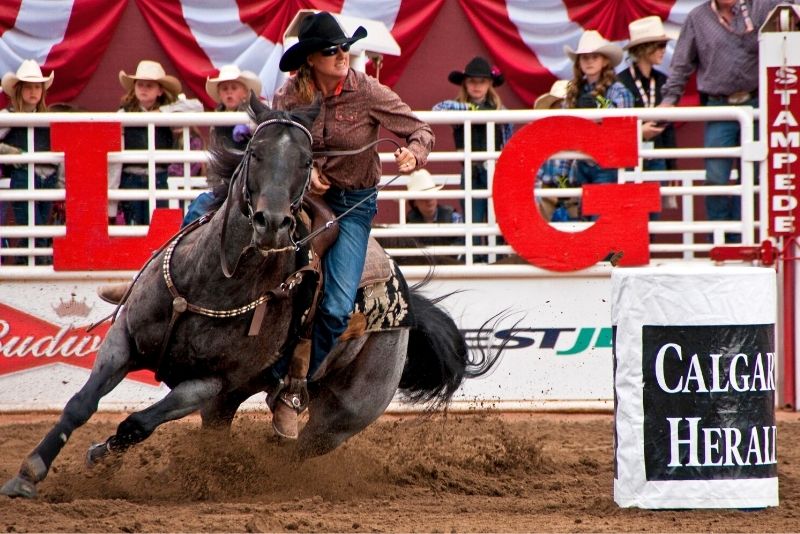 Calgary Stampede is a yearly festival that takes place over two weeks in July.
The Stampede celebrates the best of the west with the world's largest outdoor rodeo, country music and a whole load of fun.
The festival has many diverse events and shows and there's bound to be something for everyone.
The Stampede promises a whole program of live music across five stages as well as motocross events, dog shows, marketplaces and much more.
If you're lucky enough to be in Calgary in July you have to check out the Stampede.
42 – Visit The BOW Skygarden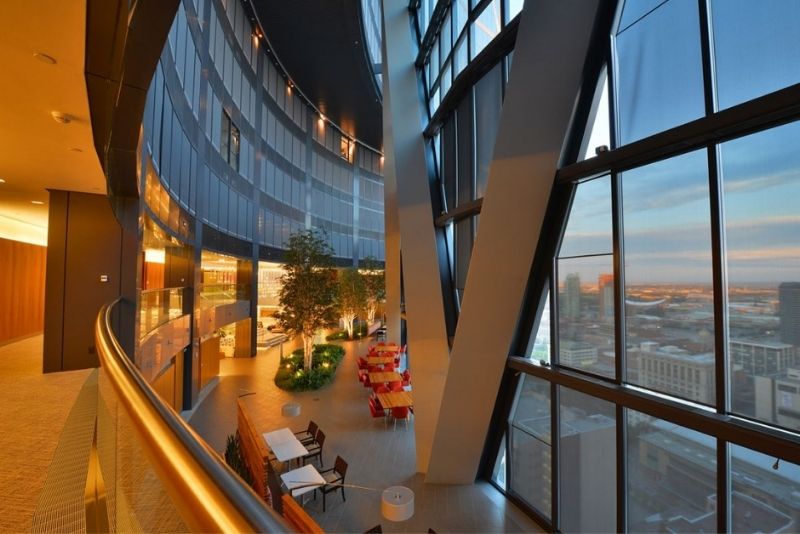 One of the city's most captivating spaces has to be the BOW Skygarden.
Located on the 54th floor of the impressive BOW Building, the largest skyscraper in Canada outside of Toronto, The Skygarden is an office space and workplace that can be hired for functions.
Though not open for tours, the Skygarden has a 250 seat auditorium, mature trees and greenery and picturesque views of the Rocky mountains. Pretty impressive!
43 – Snowboard at WinSport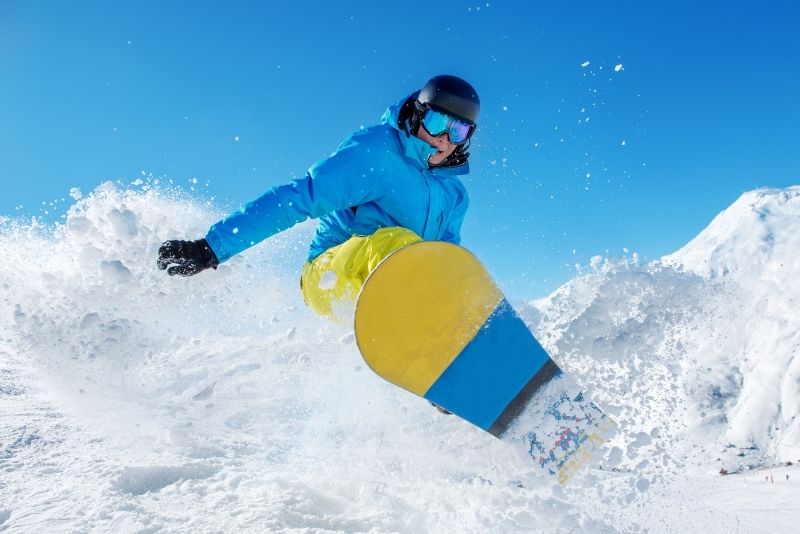 If you want to check out some of the best winter sporting facilities in Canada, WinSport is the place to be.
The park was built for the 1988 Olympics and remains a world-class sporting and training facility to this day. WinSport is popular with Calgarians who want to ski or snowboard without leaving the city.
If you're looking for thrills but don't know how to ski, try tubing on the snowy slopes.
In the summer months, which are considered the off-season for this park, visitors can try downhill go-karting, zip-lining, bobsledding and mountain biking here.
44 – Take a Canmore caving adventure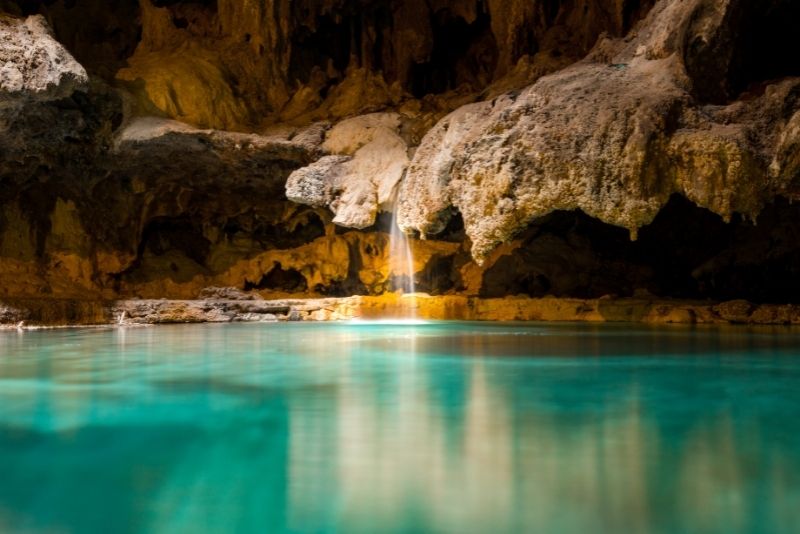 Containing one of the longest caves in Canada, Canmore Caves is a must-visit on a trip to Calgary.
These caves must be explored with a professional guide and require a fair amount of climbing, wriggling and squeezing through narrow gaps.
Explore Rat's Nest Cave which extends for four kilometers and contains pictographs and 7,000-year-old bones.
Learn about the natural rock formations in these ancient caves and have a unique and amazing underground adventure.
45 – Enjoy the Reader Rock Garden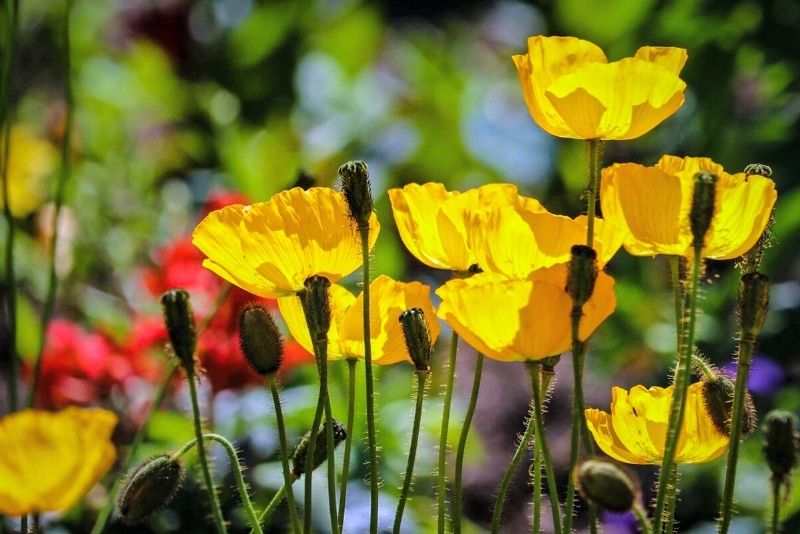 One of Calgary's most beloved attractions and a visitor favorite among the city's parks, Reader Rock Garden is one of the country's most significant gardens.
In the early 1900s, the park and its cottage were inhabited by William R. Reader, superintendent of the city's parks.
Reader used the garden as a test center for over 4,000 different plants developing the unique and culturally important garden that exists today.
The superintendent's cottage now functions as a cafe and educational space.
46 – See The Sentinels at Ralph Klein Park & Environmental Education Centre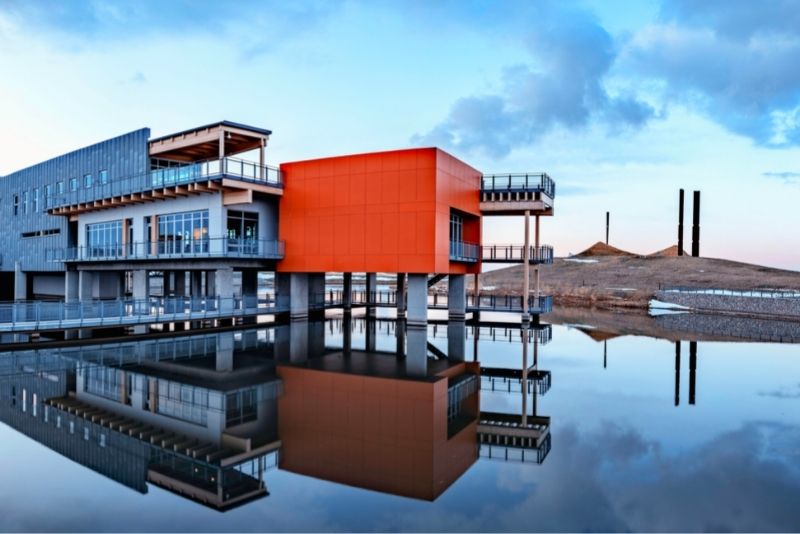 Calgary has so many great parks you could visit a different one every day of the week.
Ralph Klein Park has a large man-made wetland that naturally filters stormwater before it heads into the Bow River.
The park is home to several imposing sculptures by American artist Beverly Pepper known as The Sentinels.
The park also boasts an environmental education center that teaches about the importance of water management as well as a playground, picnic area and orchard garden.
47 – Milk the goats at Butterfield Acres Petting Farm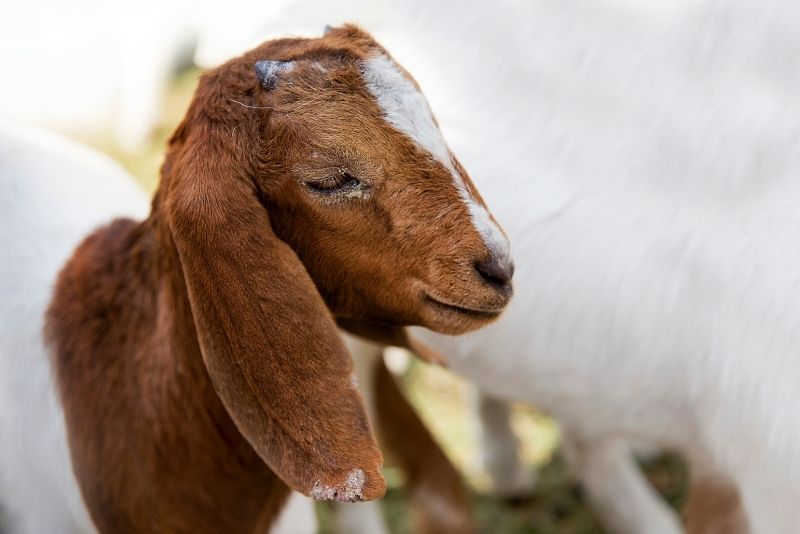 For the most farmyard fun in Calgary, Butterfield Acres has it all. Bring the children to meet all kinds of barnyard creatures including bunnies, donkeys, piglets, and goats.
The farm hosts different events throughout the year and no two days are the same on this working farm.
Also for adults only, Butterfield Acres opens for Date Night visits.
Take a romantic stroll through the farmyard, pick a prize pumpkin then cuddle up by a roaring fire. What better way to spend a chilly fall evening.
48 – Canoe at Carburn Park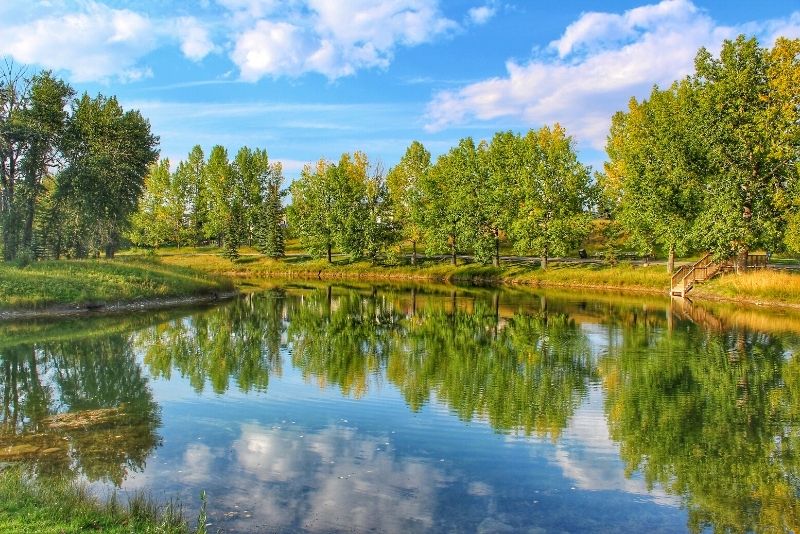 Carburn Park is easy to overlook due to the many great parks in the city but it has a lot to offer.
Centered around Carburn lake and a tranquil lagoon, Carburn Park is a peaceful place to get away from it all through the summer and fall months.
Visitors can hire paddle boards and canoes on-site to explore the ponds or have a picnic by the water's edge.
The park is next to the Bow River and attracts Great Blue Herons and Belted Kingfishers to its ponds.
49 – Smell the flowers at Botanical Gardens of Silver Springs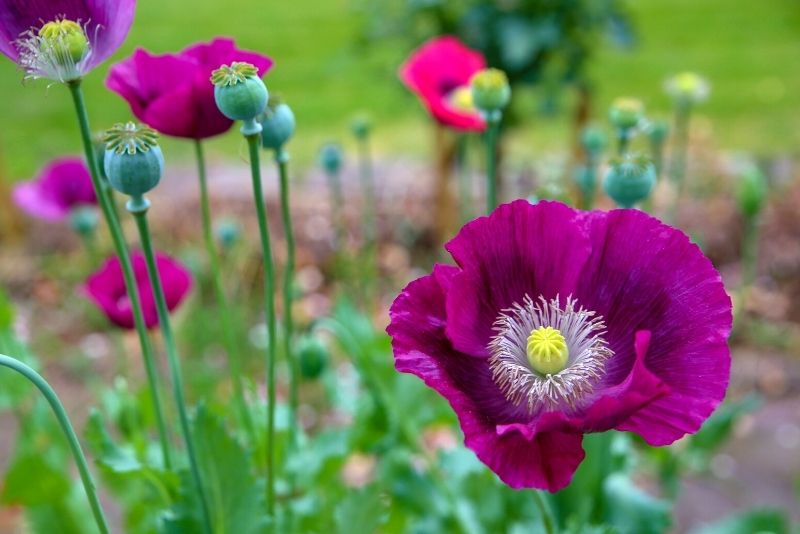 Containing 14 unique gardens, Silver Springs Botanical Garden is a hidden treasure in the city.
Though only founded in 2006, the gardens have rapidly become one of the finest in Calgary and are maintained mostly by a team of passionate volunteers.
The gardens Labyrinth, which blooms spectacularly in spring, is the largest outdoor labyrinth in the whole country and features over 700 wild thyme plants.
The gardens are located within an area of Birthplace Forest, where a tree was planted for each of the city's newborn babies.
50 – Shop at Stephen Avenue Walk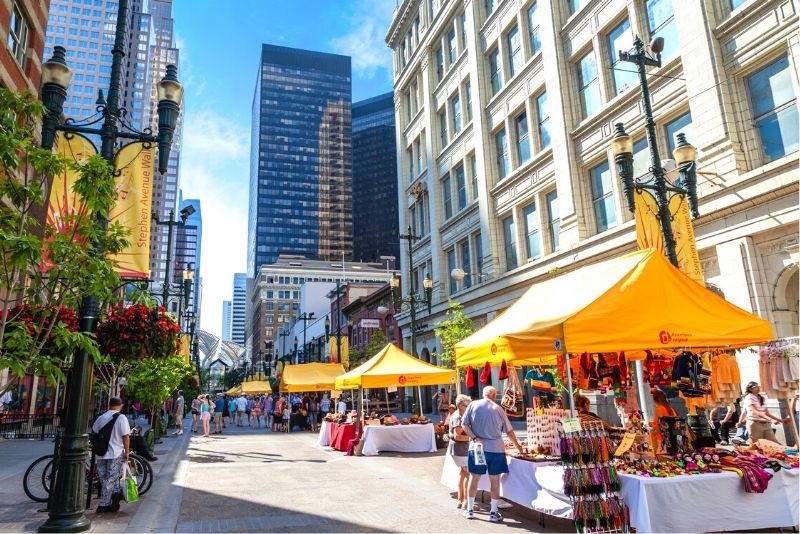 If you're in search of the lively center of the city, look no further.
Stephen Avenue is the bustling heart of Calgary with plenty of excellent bars and restaurants, attractions and shopping centers.
This pedestrian mall is closed to cars throughout the day which gives the street a more relaxed feel.
The many restaurants that line the walk have outdoor dining in the summer months making this one of the best streets in the city to sit and people watch while you enjoy your meal.
51 – Ride on the S.S. Moyie Historical Paddlewheeler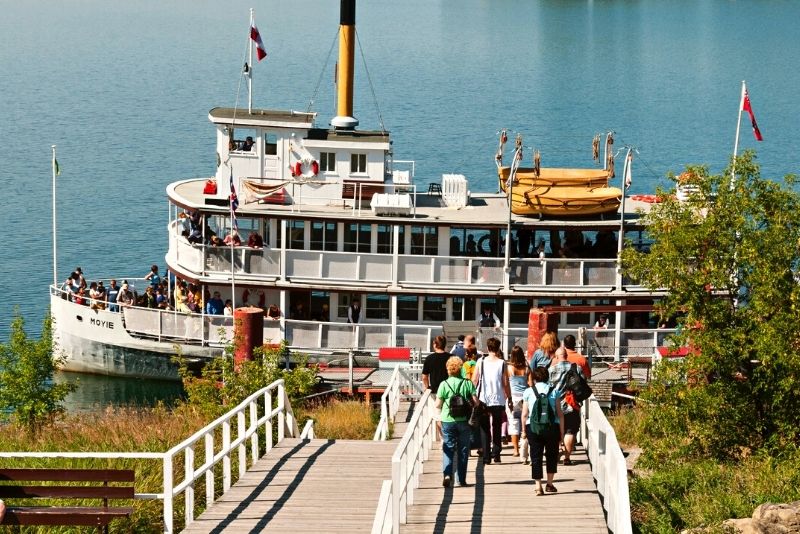 Once a necessity in much of Canada, paddlewheel boats were one of the only ways to travel in the days before rail and road.
The S.S. Moyie was built in 1898 and stayed in active service until 1957 when paddlewheel boats became more or less obsolete.
The boat on display at Heritage Park is actually a half-size replica of the S.S. Moyie.
Visitors can take a ride on this amazing old-timey boat and experience how it feels to travel on these iconic riverboats.
52 – See the skyline from Scotsman's Hill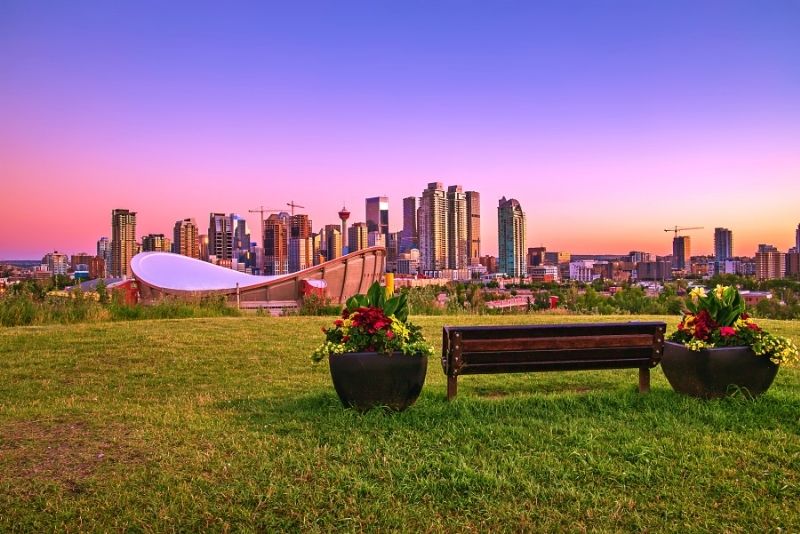 Located in the Ramsay neighborhood of Calgary, Scotsman's Hill offers amazing views of the city skyline.
Visitors can take the 159 stairs, which start down by the Saddledome, to see the sights of Victoria Park and the Downtown district.
The views are especially beautiful around sunset when the lights from the city begin to show.
It is also a good place to watch the fireworks which mark the end of Canada Day as well as The Calgary Stampede.
53 – Escape the Corn Maze at Calgary Farmyard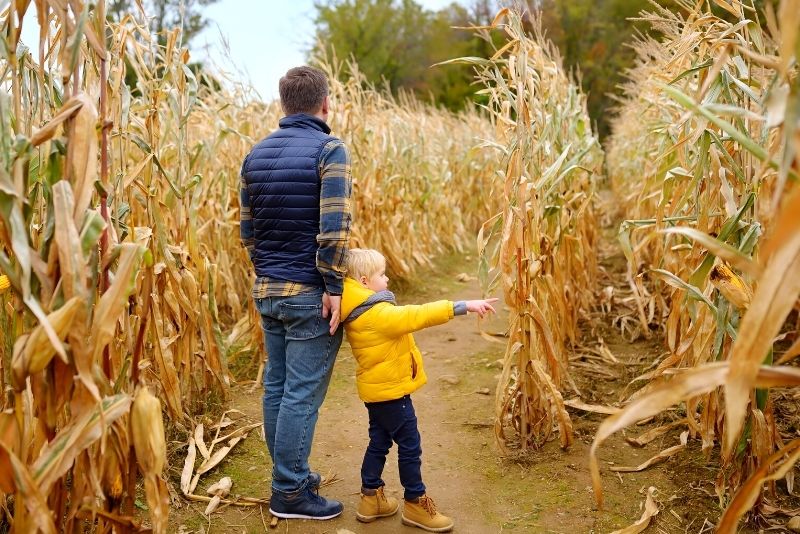 Cute lambs, piglets and ducklings are always a crowd-pleaser. Visitors to Calgary Farmyard can see and pet a whole bunch of adorable farm animals at this popular city attraction.
Meet llamas, horses, donkeys and goats and try to escape the giant corn maze.
Play classic games like skeeball and mini-golf or take a train ride around the farm.
With over 35 attractions and seasonal festivals happening throughout the year, the whole family will enjoy a trip to Calgary Farmyard.
54 – See sporting legends at Canada's Sports Hall of Fame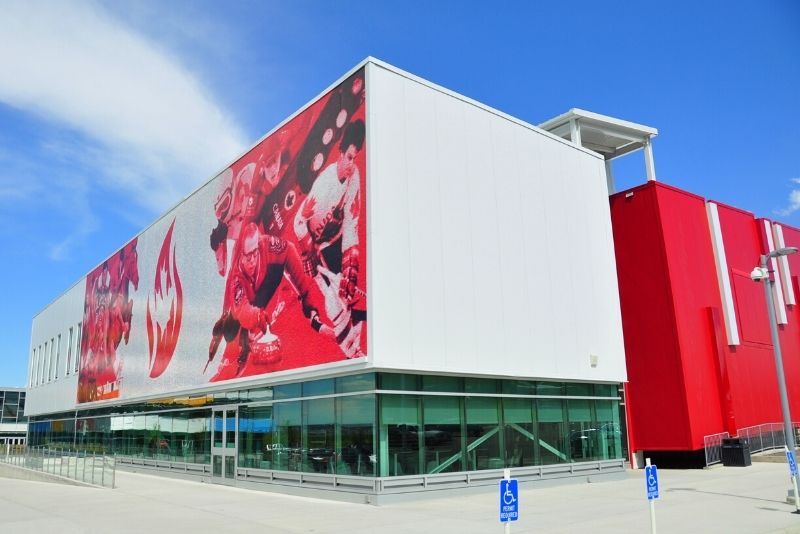 The only national museum of sport in the country, Canada's Sports Hall of Fame commemorates the most elite athletes and sports personalities in the country's history.
This state-of-the-art museum features 12 galleries with interactive exhibits and a theatre.
The contents of the museum cover 150 years of the country's sporting history and include thousands of artifacts and photographs as well as video footage.
This is an absolute must for sports fans when visiting Calgary.
55 – Leave the city behind for some stargazing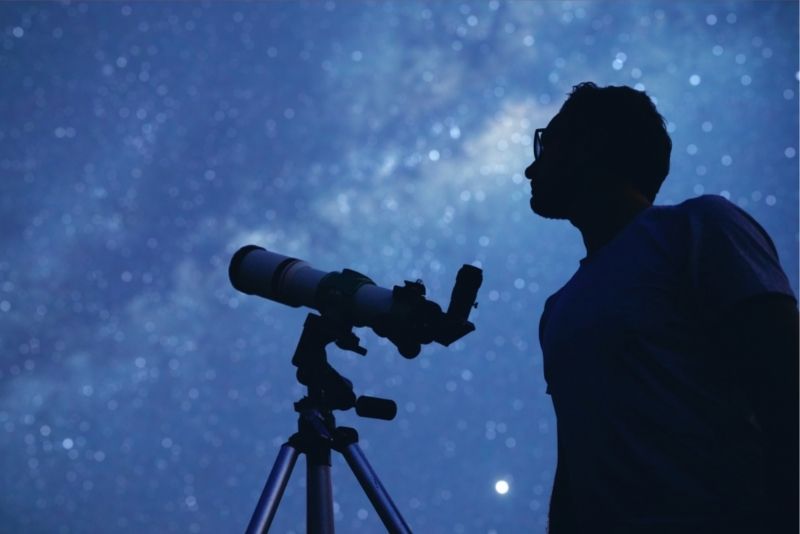 Although Calgary is especially beautiful at night, to see the stars clearly you really need to leave the city.
For a truly unforgettable trip, Why not take a guided moonlit hike through the Banff National Park. Strap on your snowshoes and trek through the forests of Kananaskis to get the clearest views of the night sky.
Pause for a while and learn about the many stars that are visible as you enjoy a warm drink in this spectacular location.
If you're searching for fun and adventurous things to do in Calgary, a stargazing trip could be top of that list.
56 – Play arcade games at The Rec Room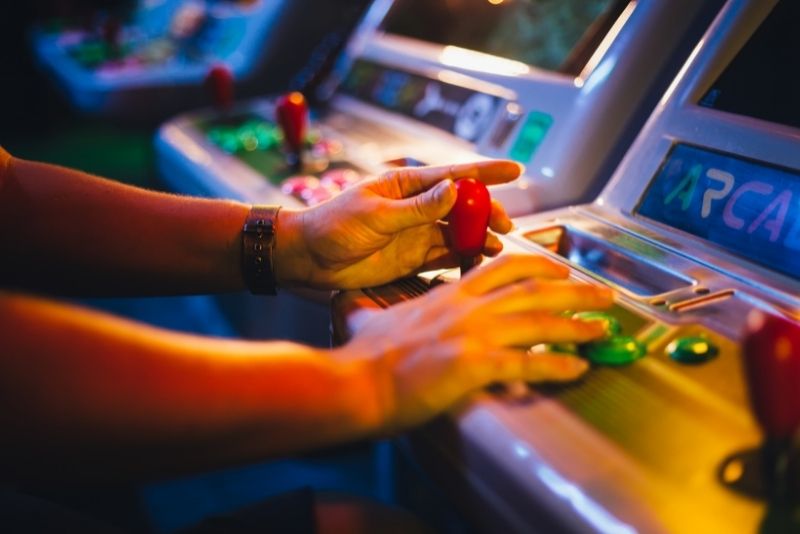 The Rec Room in Deerfoot is really a one-stop shop for a night out. Want to eat and grab a pint? they have a restaurant and snack bar.
Want to hear awesome live music, dance the night away, or see a comedy show? You can do all this and more under one roof.
Play classic video games or the latest virtual reality shoot-em-ups. have a good old-fashioned game of pool or improve your golf game in the swing suite simulator.
Analog and digital fun meet head to head at this Calgary entertainment complex.
57 – Shop till you drop at Deerfoot City shopping mall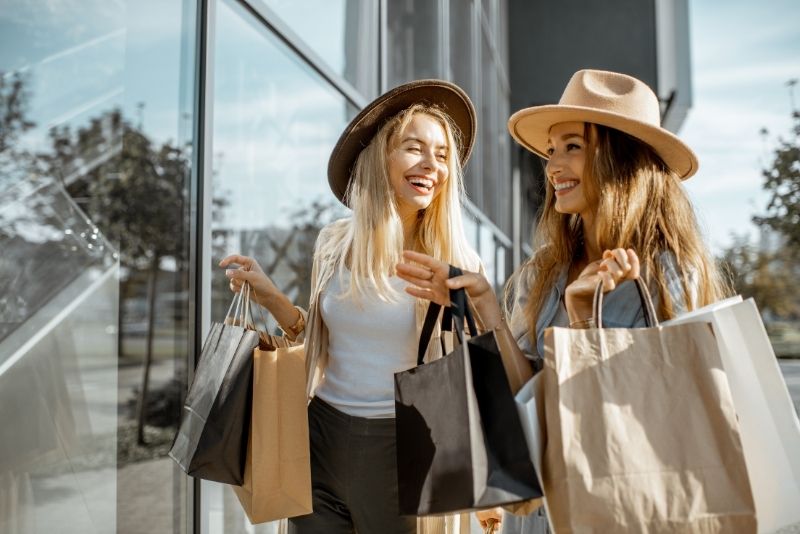 No matter what you are looking for, you can probably find it at Deerfoot City Mall. The biggest names on the high street are all here including H&M, Walmart and Winners as well as Ardene and Ashley Homestore.
With over 20 restaurants and snack bars to choose from you'll be sure to find something to suit your taste.
Those looking for excitement and adventure can always try indoor skydiving at the IFly center.
58 – Try the Poutine at Last Best Brewing & Distilling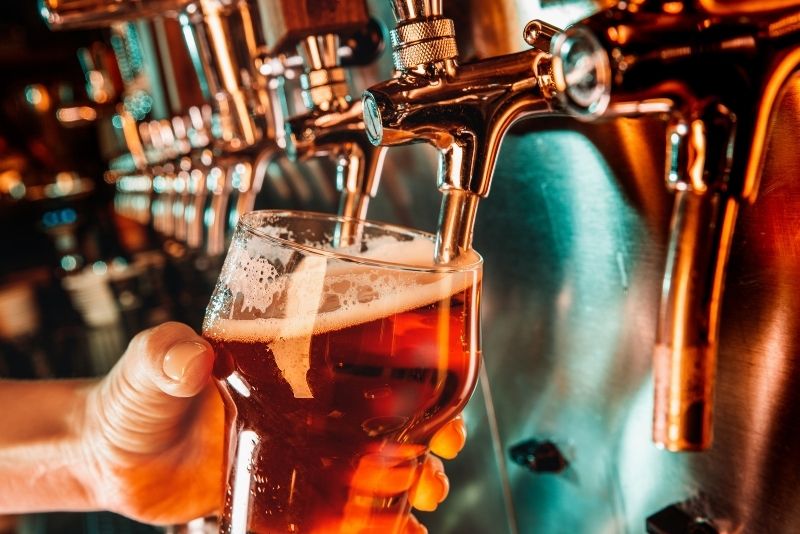 To experience the best of the city's craft brews go straight to the source. The Last Best Brewing has been creating locally inspired beers, spirits and dishes since 2015.
The brewery produces a range of pale ales, gins and cocktails which unique and surprising flavors.
They also serve hearty food with a good choice of meat as well as veggie/vegan dishes.
If you're visiting from out of town, eat like a local and try the Last Best Poutine which is french fries, cheese curds, gravy and onions.
59 – Take a booze cruise on the Pedal Pub Calgary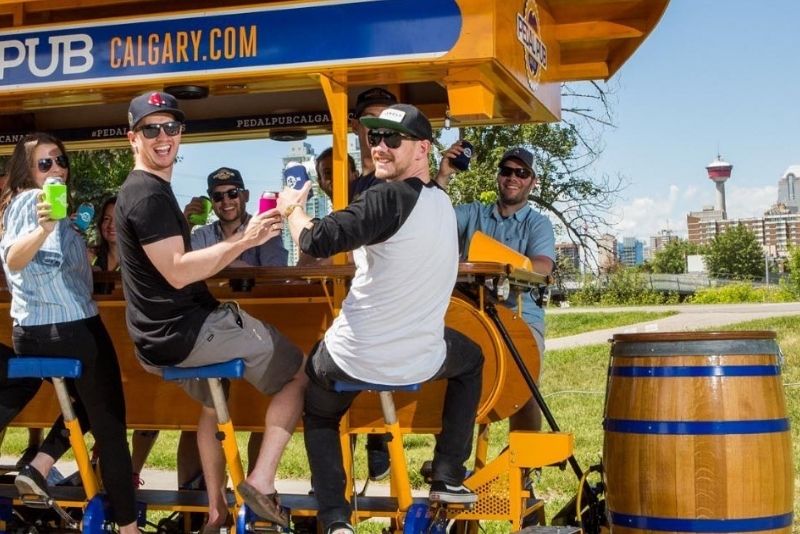 Do you wanna tour the city on a bike? Do you also want a beer while you do it? Pedal Pub has you covered.
These party bikes are easily the most fun way to get around the city. Gather up your crew and hit the streets for an afternoon booze cruise.
You will be joined by a Pedal Pub pilot who will steer, offer suggestions, let you in on local secrets and keep the party on track. Tours last about two hours, which is plenty of time to get up to no good.
We hope you enjoyed our list of fun things to do in Calgary, Canada. If you have other fun things to recommend don't hesitate to leave us a comment.
If you have not booked your accommodation yet, check out the best hotels in Calgary.
For simple and stress-free travel consider booking your airport transfers in advance.
If you're looking for other great places to visit in the area, Banff and Canmore in the Rocky Mountains are both popular and scenic destinations.
Happy travels!