Situated on the southern tip of Vancouver Island, Victoria is a remarkable city with a unique blend of British and Canadian influences. The city also boasts a thriving arts scene, and visitors can enjoy everything from museums and art galleries to theater and live music.
Alongside its reputation as a cultural hub, Victoria is also known for its historic landmarks and natural beauty.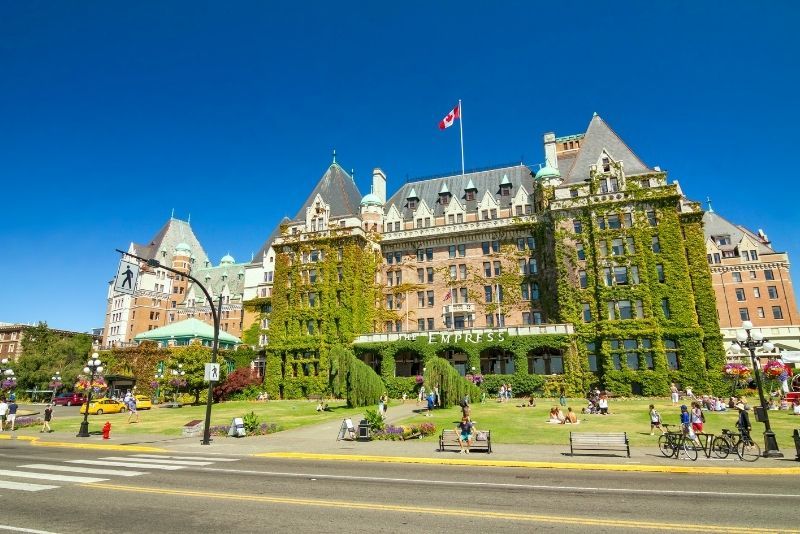 You will find below all you need to know about Victoria, one of the most spectacular vibrant city for day trips from Vancouver.
How to get to Victoria from Vancouver?
Victoria is the capital city of British Columbia (BC) and is located on Vancouver Island, approximately 120 kilometers from Vancouver.
From Vancouver to Victoria by car
It takes just under 3 hours to make the jaunt to Victoria by car. You'll drive south out of the city and follow the BC-17 to the Tsawwassen, BC ferry port. From there, you can take a vehicle and passenger ferry over to Vancouver Island, and then follow Route 17 to Victoria.
From Vancouver to Victoria by public transport
The journey to Victoria by public transport involves a little planning but is possible. You can take the Canada Line from downtown Vancouver to Bridgeport station. Take the Line 620 bus from Bay 12 outside the station to the Tsawwassen ferry port, where you can board a ferry to Vancouver Island.
When you reach the isle, take the Line 70 Downtown Express bus to reach the city. It will take you roughly 4 hours to travel to Victoria.
Guided tour to Victoria from Vancouver
The easiest way to visit the city on Vancouver Island is to book a guided excursion to Victoria. Most tours offer hotel pickup between 8 AM and 9 AM, and last 12 to 13 hours.
What is the typical itinerary of a day tour to Victoria from Vancouver?
The itinerary of Victoria day trips varies. You'll usually be picked up from your hotel in the morning. However, you may meet at a central location in downtown Vancouver instead.
Once you've met your group, you'll make your way to Victoria, either by ferry or seaplane. Both methods of transport allow you to gain remarkable views of the Gulf Islands.
When you reach dry land, many day tours will whisk you away to marvel at the brilliant blooms of Butchart Gardens. With over 900 varieties of plants from across the world, the gardens have plenty to keep you occupied.
You'll then travel into the heart of the city to explore Victoria at your leisure. During this free time, you can visit the city's most renowned landmarks, including the Royal BC Museum and the Inner Harbour. Alternatively, you could spend your time enjoying a local meal and watching the city swarm around you.
As your Victoria day tour comes to a close, you'll reassemble with your group to make the journey back to Vancouver.
What kinds of tours are available to go to Victoria?
There are several different Victoria day tours available, which differ depending on your interests.
Guided tours to Victoria from Vancouver
This tour kicks off with a 35-minute seaplane flight over the picturesque Gulf Islands to Victoria.
Once you land in the city, you'll have an entire day to spend at your leisure, wandering the streets or visiting some of Victoria's impressive landmarks. These may include the Royal BC Museum, Beacon Hill Park or Craigdarroch Castle.
When your Victoria day trip comes to an end, you'll travel back to Vancouver by coach and boat.
Whale watching tour to Victoria from Vancouver
The waters surrounding Victoria are known for their thriving population of killer whales, which call the area home from May to October each year.
You'll travel by seaplane to Vancouver Island, gaining an aerial view of the Gulf Islands, before embarking on your whale-watching expedition. Along the way, there is the opportunity to see other fascinating creatures, such as seals and birds.
It is estimated that there are over 200 southern resident killer whales in this stretch of sea, and your guide will help you spot at least one.
Day trip to Victoria plus Butchart Gardens from Vancouver
After sailing across the strait from Vancouver, you'll dock on Vancouver Island and head straight to the renowned Butchart Gardens. You'll have 2 hours to explore the garden's fragrant blooms and perfectly-manicured topiary before traveling to Victoria.
Once in the city, you'll have free time to discover its rich history and flourishing arts scene, before returning to the mainland.
How much does a tour to Victoria from Vancouver cost?
Day trips to Victoria and Butchart Gardens start at US$180 per person. The price includes your entrance to the gardens.
It costs approximately US$250 per adult for a day tour of Victoria, which includes a seaplane flight from Vancouver. Children between 2 and 11 years old usually pay half price.
If you wish to take part in a whale-watching excursion, you'll pay between US$420 and US$440 per person.
What will you see and do on a Victoria day trip from Vancouver?
Butchart Gardens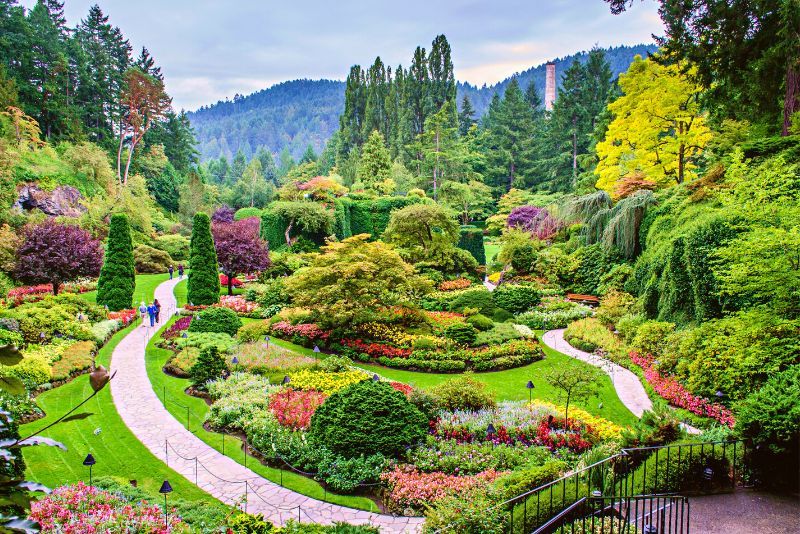 Butchart Gardens has been an oasis of tranquility just outside the hustle and bustle of Victoria for over 100 years. The gardens cover 55 acres of land and feature displays from around the world, including the Mediterranean Garden, Japanese Garden, and the Italian Garden.
With over 900 varieties of plants, there is always something to see, regardless of the time of year you visit. During the springtime, peonies, magnolias and tulips come to life, while crocuses, and primroses thrive in the chilly conditions of winter.
Throughout December, you can see the gardens twinkling like a Christmas tree, with illuminations that depict the twelve days of Christmas and carols to get you in the festive spirit.
Royal BC Museum
Founded in 1886, the Royal BC Museum is home to a vast collection of artifacts and specimens that tell the story of British Columbia's natural, and human history. There are over 7 million objects that are showcased in the museum, which range in topics, from botany to paleontology.
Visitors can explore exhibits on everything from the region's canning history to traditional 20th-century Nlaka'pamux clothing. The museum also houses temporary exhibitions, which cover a wide variety of subjects, including the Titanic, Leonardo da Vinci, the Vikings and Genghis Khan.
Seaplane flight
Seaplanes were originally invented in the early 20th century and used in naval air missions throughout World War I. Today, you can take a 35-minute seaplane flight from Vancouver to Victoria, which enables you to see some of the region's most striking sights.
The highlight of any seaplane adventure is the Gulf Islands, which are located in the Strait of Georgia. There are 200 islands to see as you travel across the stretch of water, 12 of which are inhabited. You'll also gain aerial views of the city of Vancouver, including its iconic Lions Gate Bridge.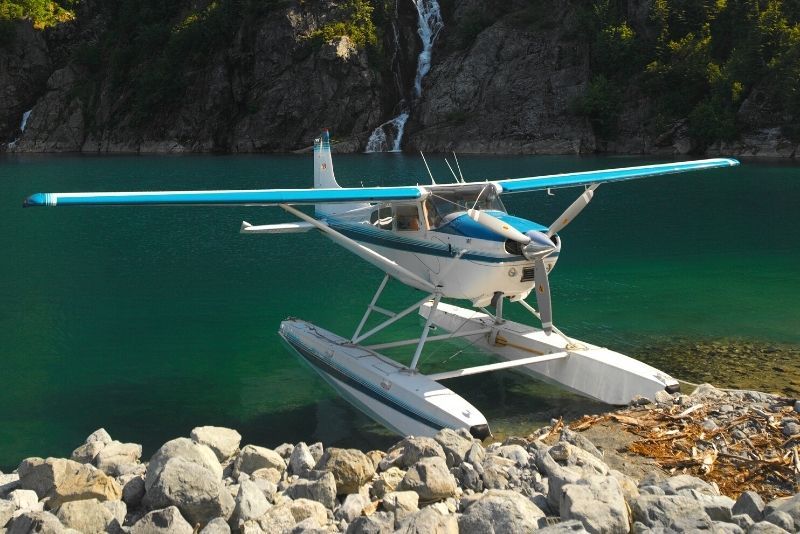 When is the best time to visit Victoria?
The best time to take a day tour to Victoria depends on what you're seeking. Undoubtedly, you'll experience the most pleasant weather during the summer months when temperatures reach 20 degrees Celsius.
Alternatively, if you wish to see Victoria covered in a haze of pink, visit during the spring when the cherry blossoms are in bloom.
Travel tips
If you're feeling brave enough, book a Victoria day trip that includes a seaplane ride from Vancouver.
Look out for killer whales on ferry trips across the Strait of Georgia, between May and October.
If you wish to explore Butchart Gardens on your excursion, consider booking a tour over the festive period when the site turns into a winter wonderland.