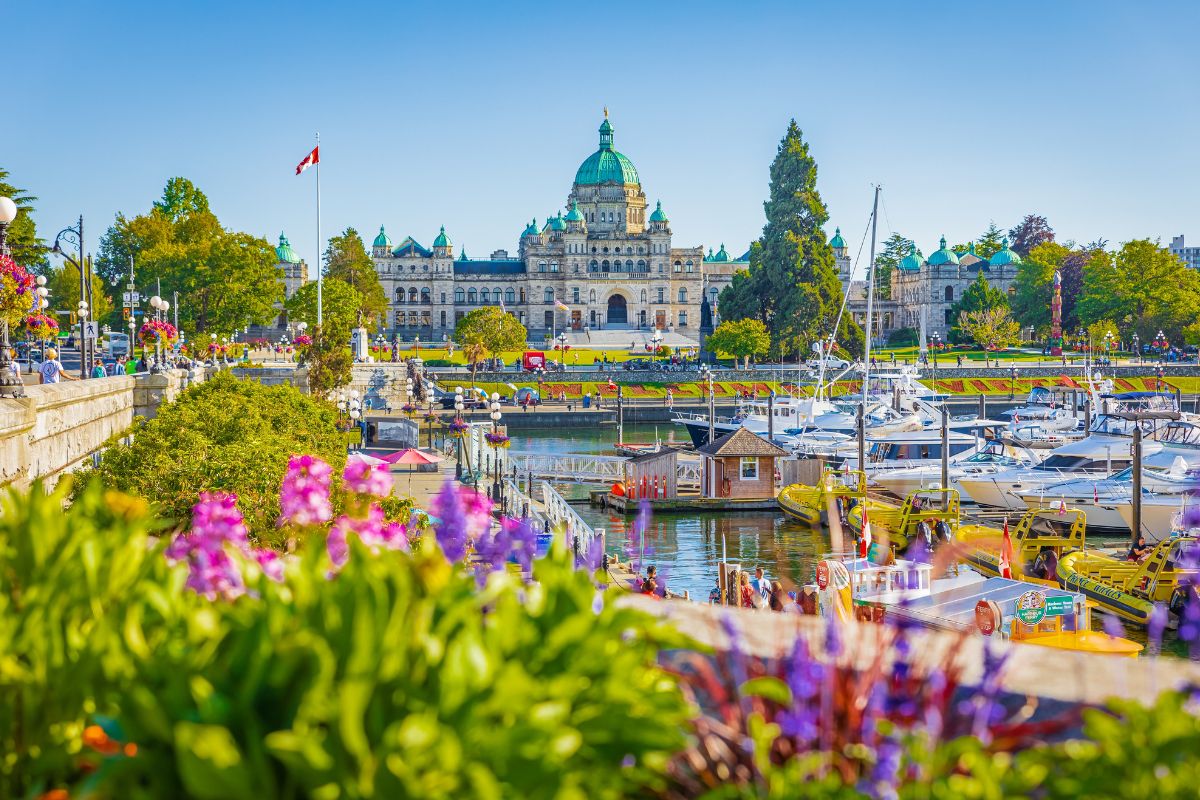 Prepare yourselves, travelers… Victoria will charm you senseless!
It feels, at any given moment, like a fragment of the past and a world-class peek into the present; a slice of staggering beauty where colorful gardens and vibrant hotels combine with the intense green of the rainforest and the rolling blue of the sea… whales sometimes included!
And as the capital of British Columbia, it's brimming with a well-earned energy, with active political buildings and lovingly preserved artifacts that reflect everything from British influences to the long-held traditions of local First Nations tribes.
But if you're searching for more offbeat activities, Victoria is also a place packed with unique stories and quirky offerings, from ghost hunts to coach rides.
So get ready for outdoorsy views, indoorsy adventures, and a healthy dose of history around every corner, as we try all of the exciting things to do in Victoria, British Columbia!
1 – Saunter around Inner Harbor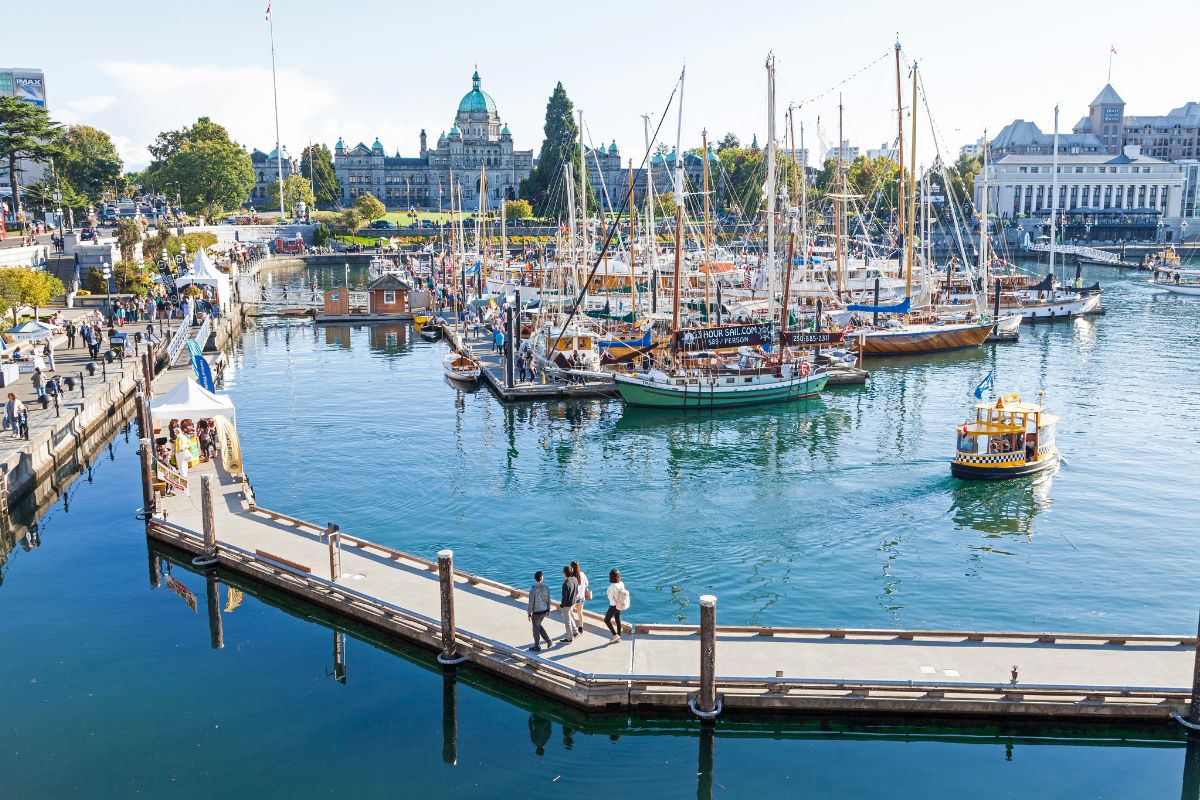 While it has adopted a thousand different identities over the years, this area first came to prominence as a shipping port, and no walking tour would be complete without a stop by the bustling harbor where it all started.
In fact, it's a story that dates back to long before the city was even founded!
Originally, the bay was used by the First Nations tribes that lived in the area, who traded their various goods and services along the waterways.
By the mid-1800s, it was front and center in the city's booming trade scene, with European immigrants setting up bustling trades for everything from furs to gold.
And now, it's a thriving hub for tourists and locals, with the Victoria Pier anchoring the scene with its humming shops and street artists – and of course, there are still plenty of boats bobbing in the water!
2 – Search the sea for a few fins during a round of whale watching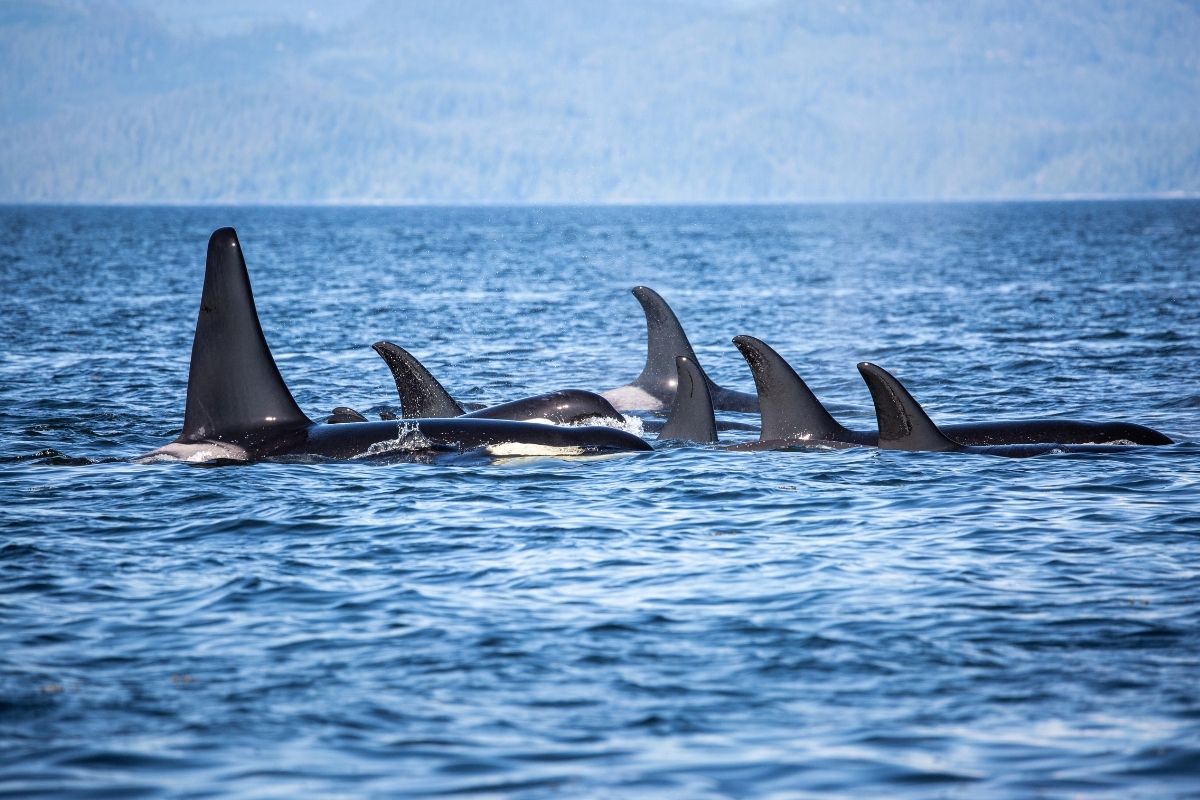 Time to head a little further out into the water, to meet some very different locals… some rather massive ones…with fins!
Humpbacks, orcas, and minkes are just some of the amazing creatures that you might encounter on whale watching tours – and part of the fun in these trips is the element of surprise!
After all, each of these species have their own unique behaviors and migration patterns, meaning that you'll get the chance to see something new and spectacular even if it's your hundredth voyage!
Along the way, you'll get to learn even more about these remarkable creatures thanks to the enthusiastic naturalists on board, who will offer a fascinating crash course in the history, culture, and biology of some of the region's most dynamic residents.
As an added bonus, you may even spot some of their neighbors, such as otters, seals, and porpoises; it's an unforgettable setting for an aquatic safari!
3- Enjoy the urban wilderness of Beacon Hill Park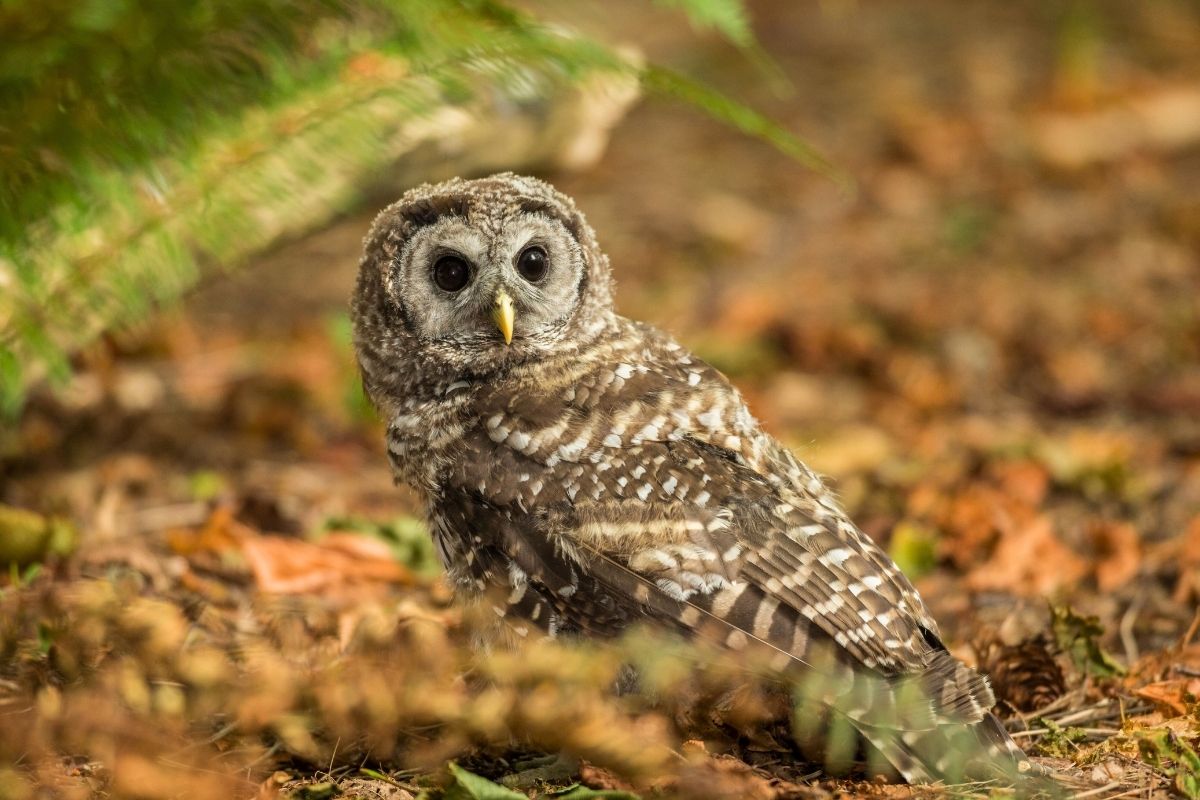 This is one place where the city's natural and civic wonders come together flawlessly…. and the result is an endlessly rewarding place to explore!
It may be smack dab in the middle of downtown, but this 200 acre piece of paradise feels like another world; and it's packed with so many activities and scenic spots that it could practically be its own vacation!
The Mile Zero Monument is a fitting place to start exploring; located right next to the park, it marks one of the origin points of the massive Trans-Canada Highway that runs all the way across the nation.
And thanks to the Mile Zero scenic drive, you can get a taste of this lovely thoroughfare… even if you don't have time for a full-fledged road trip!
You can also check out nearby Dallas Road, which leads to an utterly stunning beach, and Clover Point Park, which offers some spectacular long-distance views… sometimes even into the United States!
And for more of a cultural excursion, there's Ross Bay Cemetery, where hundreds of the town's early politicians and merchants rest eternally between the trees.
Of course, you've got to leave time to enjoy the main park itself, where you'll find everything from scenic trails and flower beds to playgrounds and little chunks of wilderness still wonderfully intact.
4 – Be your own tour guide with a hop-on hop-off bus tour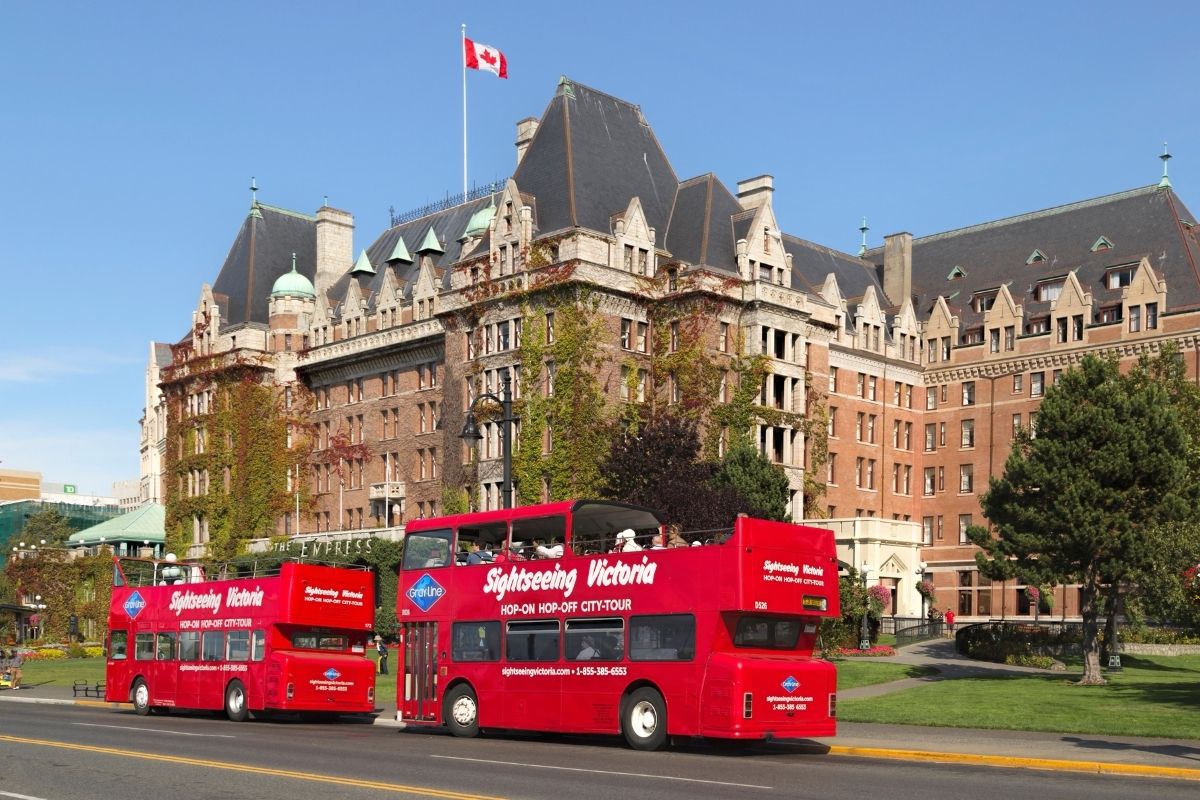 With so many incredible things to do in Victoria, British Columbia, you'll want to make sure not to miss a second of adventure; and luckily, the local hop-on hop-off bus tours have got you covered!
The basic premise is pretty simple: you "hop on" the bus at one of the many convenient stops, then "hop off" at various points of interest; then, when you're ready to see more, you can "hop on" the next bus that comes by, and start the whole fun process over again!
Best of all, there are several different routes to choose from, so you can focus on the angles that interest you – everything from parks and ports to churches and castles.
And with commentary on-board, you'll still get the full tour bus experience all the way through!
5 – Saisfy your curiosity at the Royal BC Museum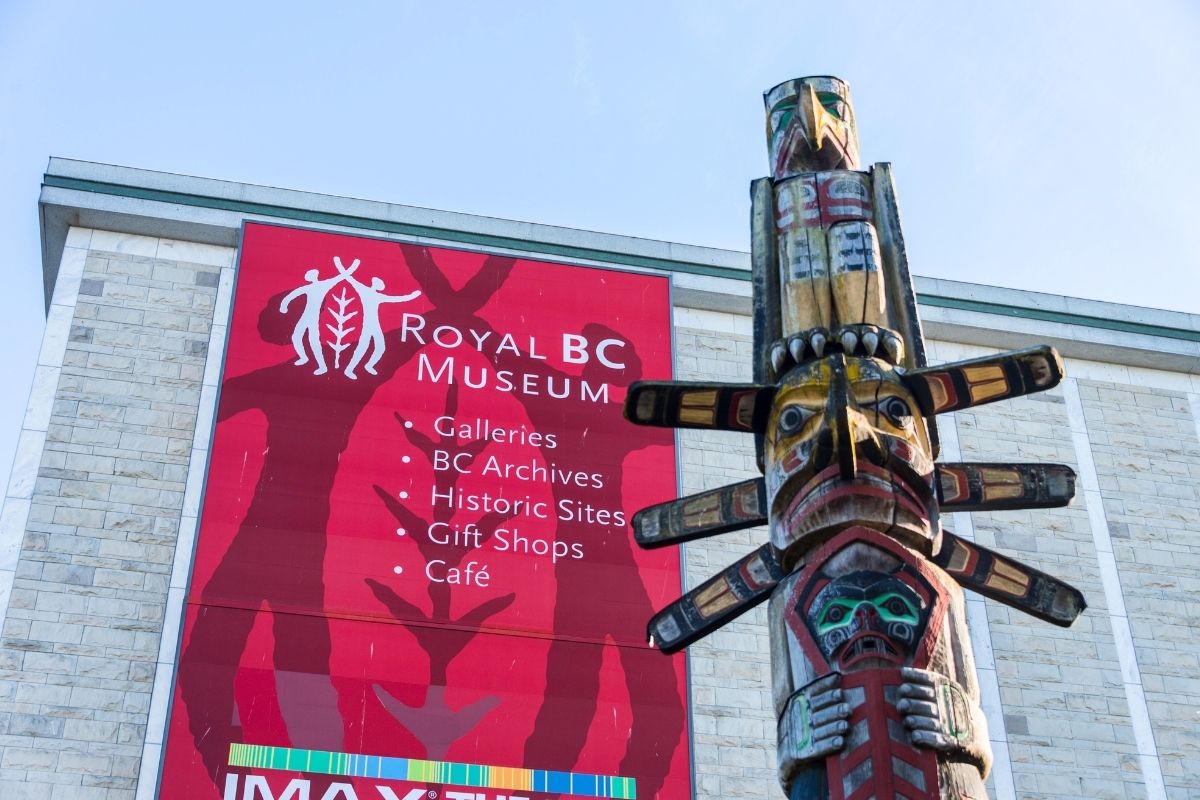 Dinosaurs, works of art, cultural artifacts, and quirky tales from days gone by…. oh, and an unforgettable day at the movies, of course!
The Royal BC Museum is truly a curiosity cabinet for the masses, with something from every angle to explore. NOPE
Ever since it opened in 1886, the massive space has celebrated learning in all its forms, focusing both on the fascinating story of the region and the wider world… going back several million years!
Start with the remarkable fossils of the Natural History gallery, where you just might encounter a wooly mammoth hanging around.
Then follow the story up through the eons, as different plants and animals gradually evolved into what we might recognize today – with hundreds of specimens to admire along the way!
Of course, we can't forget about the equally impressive collection on human civilizations; religious relics and artistic pieces from the prehistoric days move seamlessly into the amazing customs and stories of the many different Indigenous tribes in the area, all the way up through the many different cultures that immigrated here over the centuries.
And don't forget to catch a show at IMAX Victoria In the Royal BC Museum; as the largest theater of its kind in British Columbia, it boasts an endless lineup of documentaries and epic films on a massive screen that will make you feel caught up in the action!
It's the perfect way to wrap up one of the richest cultural experiences in town!
6 – Set out on a boat tour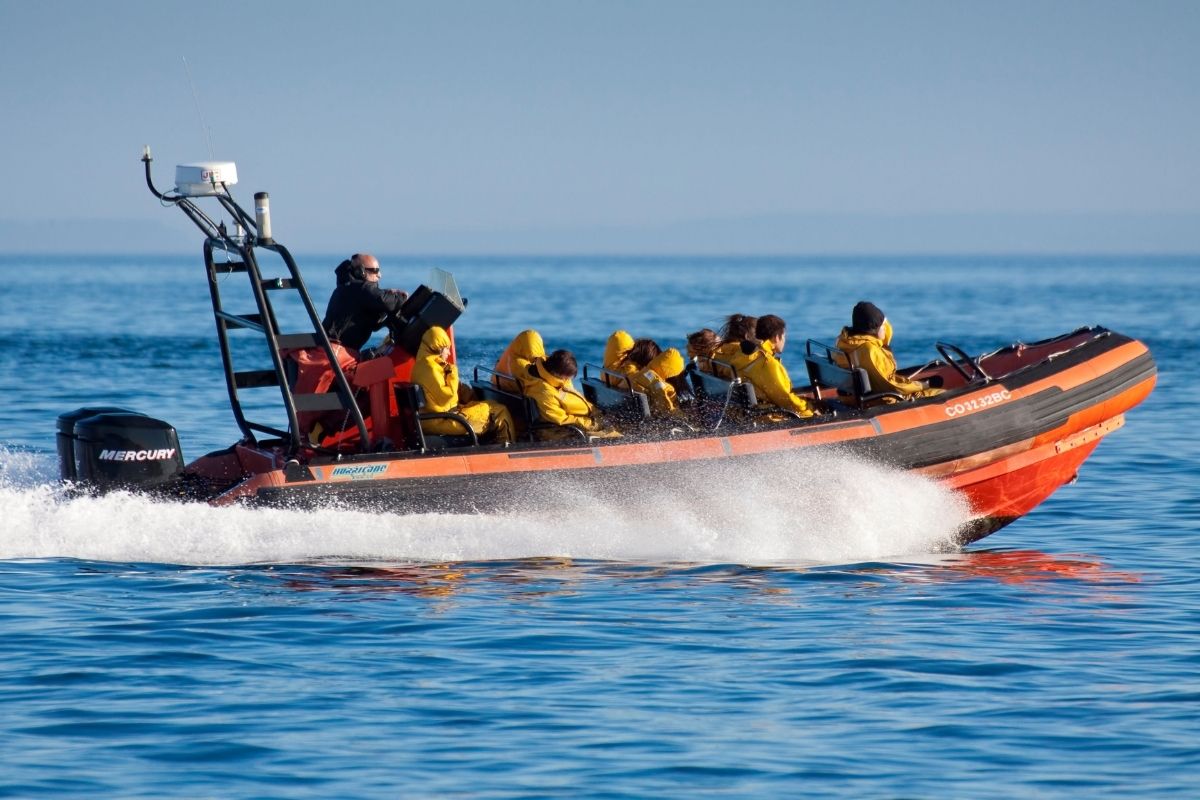 Set sail for adventure, because there are so many boat tours around here that you won't know where to start!
You can sail out into the Strait of Juan de Fuca, one of the busiest thoroughfares in the area for marine life; along with whales, you'll likely catch sight of an endless parade of marine life moving through the water.
Along with its diverse residents, the area is perfect for admiring some spectacular views; with Canada on one side and the U.S. on the other, it has an unbeatable vista of mountains and sea laid out on either side, with each day bringing a new and exciting scene.
Let's face it: you can't get to know this area until you've explored the briny blue!
7 – Learn about the original "Lifestyles Of The Rich and Famous" at Craigdarroch Castle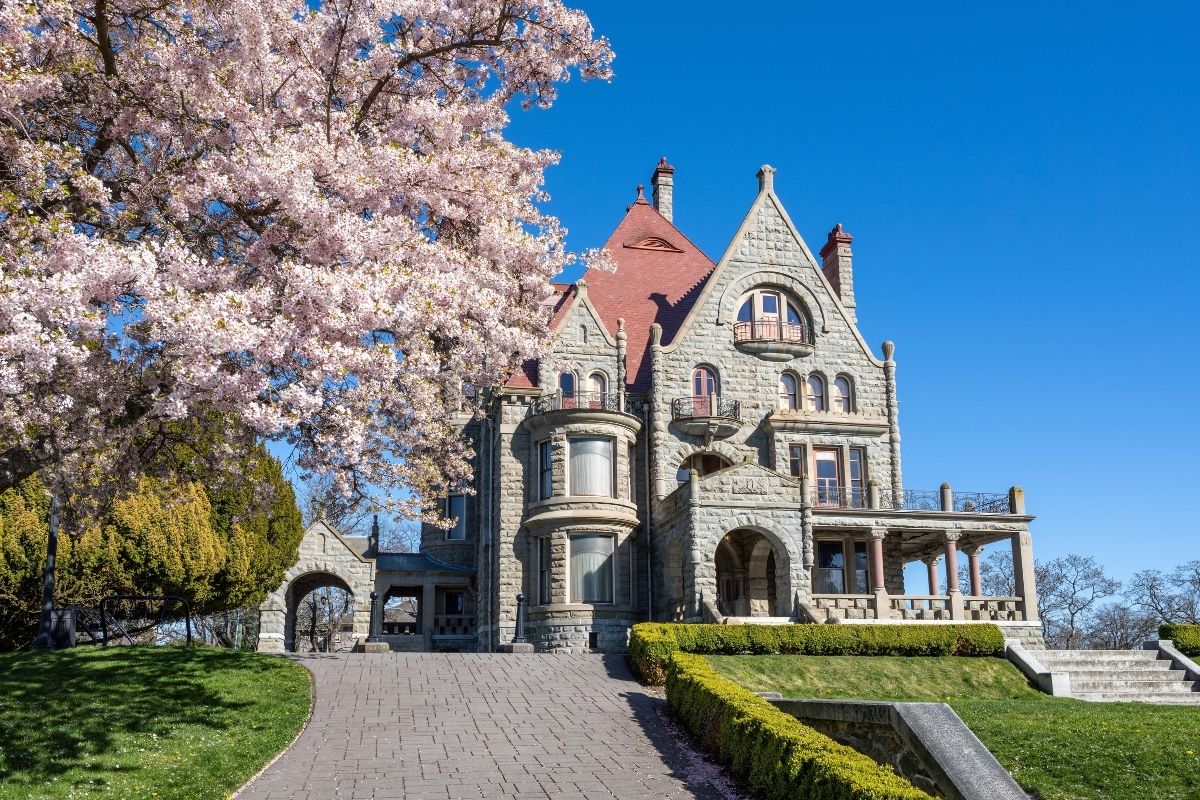 You'd probably expect these sorts of lavish structures in Europe… but this beautiful place is pure Victoria, inside and out!
A monument to lavish spending and the dedicated excess of Victorian architecture, Craigdarroch Castle has become one of the city's most iconic spots; and while the design of this registered National Historic Site is certainly impressive, it's the tale of its founders that really makes it a memorable part of the city's architecture.
It was created as a home for Robert Dunsmuir, a local coal baron who wanted a nice home for his family – and one with just the right amount of ostentatiousness, of course.
Although construction started in 1887, it wasn't until 1890 – after the patriarch's death – that the family moved in and started making the place their own.
And from the minute you step inside, you'll get a real sense of the family's focus on glamor!
Elegant furniture, colorful stained glass windows, and unique rooms filled with carefully carved architectural details show off a truly regal residence, and offer a peek into the unusual lives of the family members that lived there over the years.
This time capsule of elite life is sure to leave you dazzled!
8- Peruse the plants of Butchart Gardens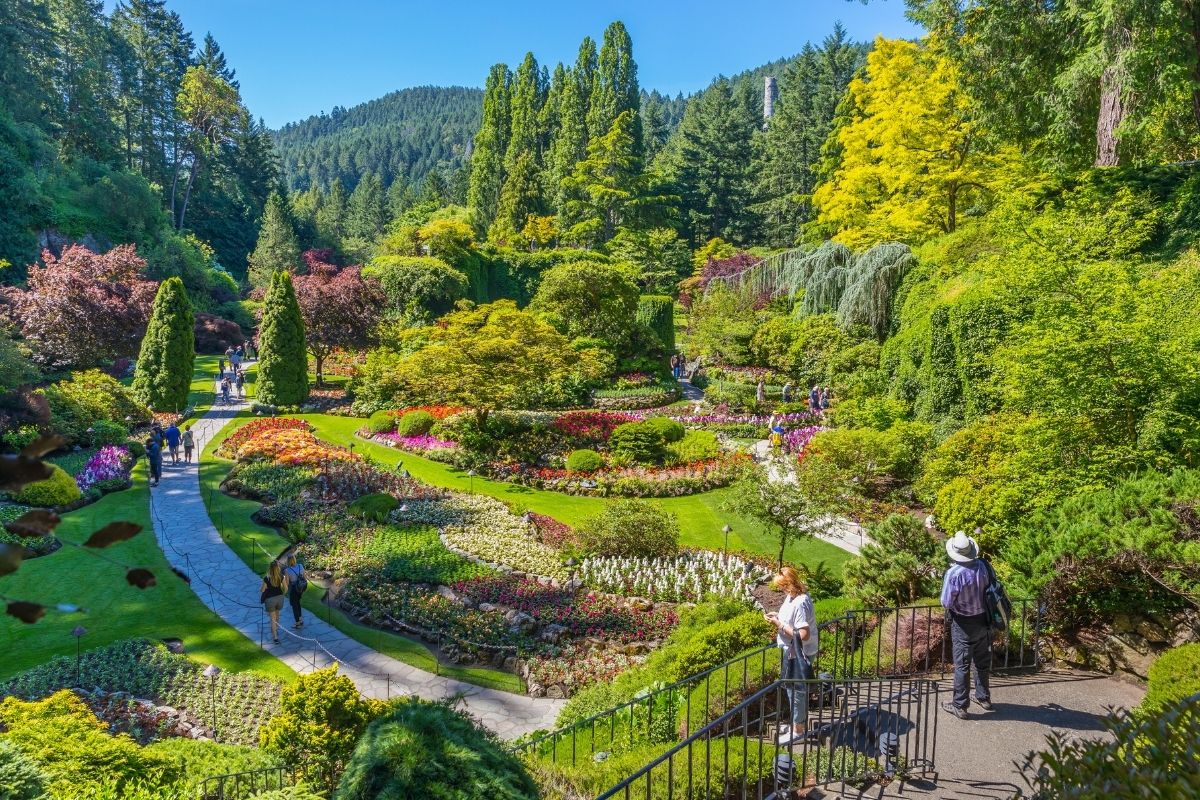 If you know anything about the amazing things to do in Victoria, British Columbia, you've probably come across seemingly surreal images of eye-poppingly colorful flowers, creating row after row of natural tapestries.
And those botanical beauties happen to be part of Butchart Gardens, a stunning display of horticulture that also makes for a wonderful day trip from the city!
Every step here feels like you've entered a different type of fairytale; from rainbow-hued flowerbeds and whimsically crafted topiaries to blooming trees, gently bubbling water features, and fascinating specimens from all over the world.
You can admire the vibrant designs of the Japanese, Mediterranean, and Italian Gardens, each proudly showcasing not just the beautiful plants themselves, but also the unique designs that each culture brings to their own botanical displays.
And no trip would be complete without paying a visit to the Sunken Garden; tucked into a former quarry, this was the first part of the complex to be developed by the Butcharts in the early 1900s, and its vivid blooms are still just as eye-catching today!
With so much to see, guided tours can often be a great way to really take in this pastoral scene; but you can also enjoy your time simply strolling around and savoring it all.
9 – Peek at some policies in the Legislative Assembly of British Columbia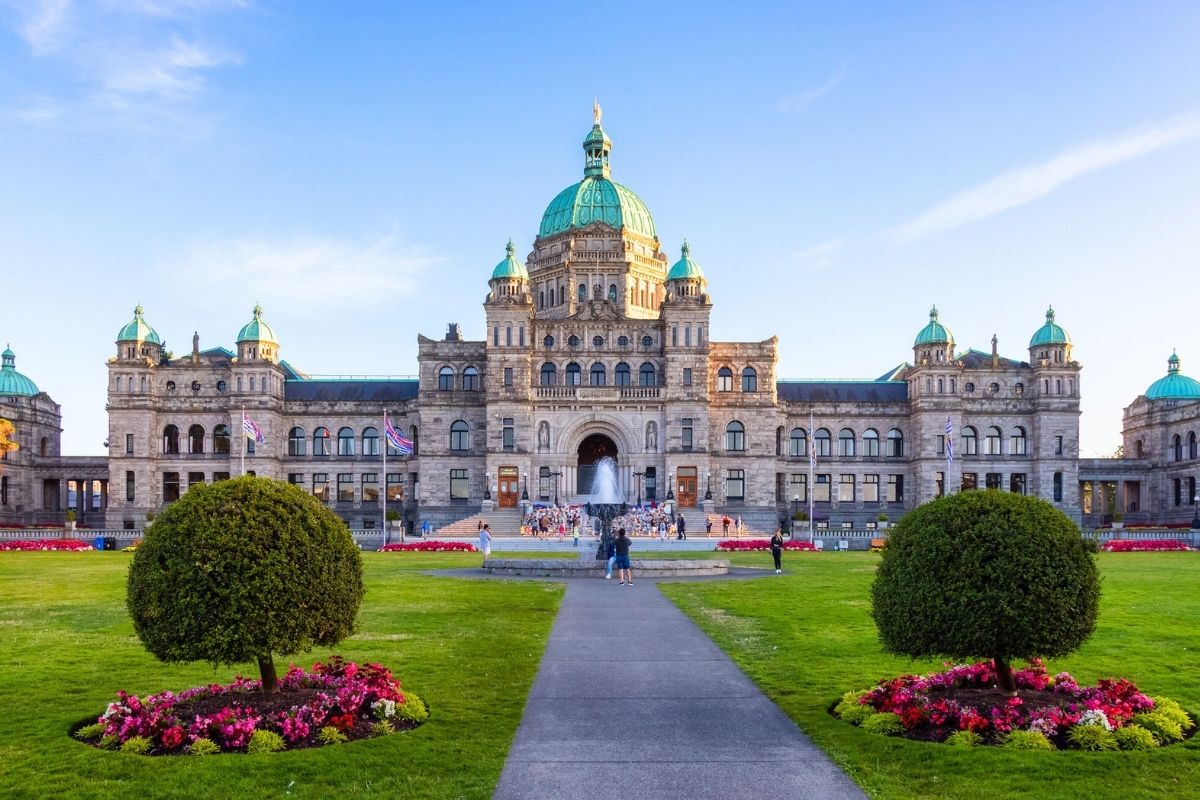 With so many exciting things to do in Victoria, British Columbia, it's easy to forget that this is also an active political hub – but of course, that offers its own interesting sites as well!
And one of the crowning glories – both in terms of architecture and purpose – is the Legislative Assembly of British Columbia, where policymakers hash out the province's latest laws.
The palatial building is constantly humming with action from Parliament sessions… some of which you can witness in real time!
After roaming around the extravagant main building, you can head over to the public galleries to watch some lively debates taking place – it's like a civics lesson come to life!
And there are even fancier options if you really want to get to know the space, including a "Tea & Tour" session that starts out with breakfast in the official Parliamentary Dining Room, and even includes some living history presentations with a costumed character!
10 – Relax and enjoy a candlelight concert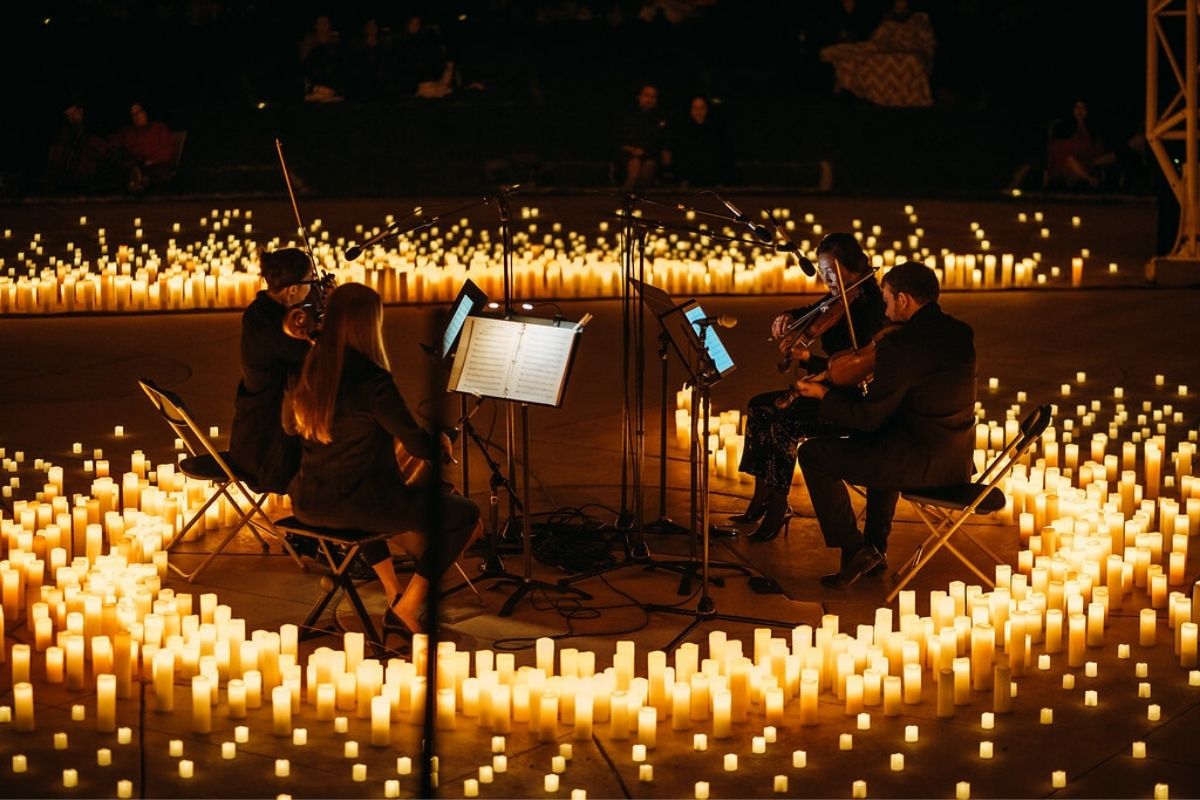 Whether you want a romantic night out or just an unforgettable musical experience, candlelight concerts will stir your soul in more ways than one!
As the name suggests, these recitals take place with the enchanting backdrop of flickering candles, which make each venue sparkle with its own unique beauty.
And that's before you even get to the concerts themselves!
The elegant visuals bring out the talent of the world-class performers before you, who bring a whole range of musical genres to life with unforgettable flair.
You'll find plenty of traditional symphonies performed here, but also renditions of newer favorites like Taylor Swift and ABBA.
And during the holidays, you might even get a nice dose of Halloween spookiness or Christmas cheer, all played to perfection!
11 – Get a taste of local luxury at the Empress Hotel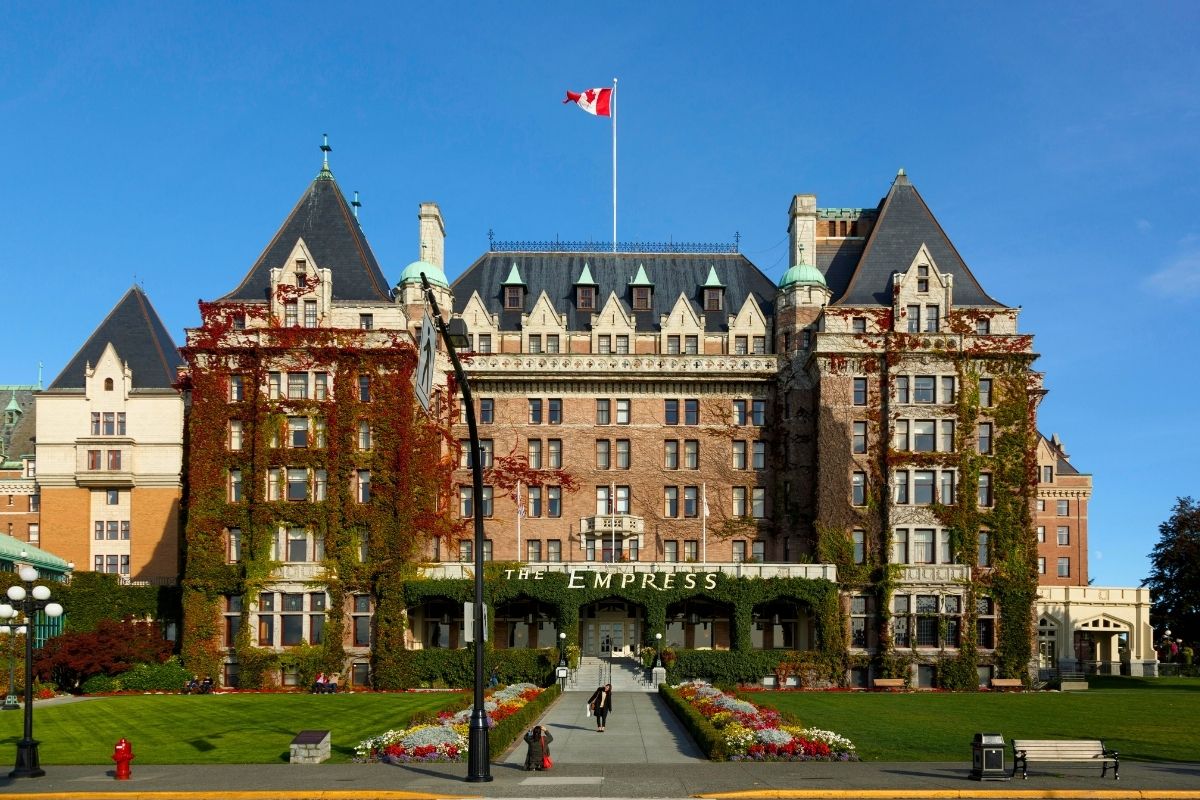 Sometimes, the hotel itself is part of the experience…. and that's certainly the case with the magnificent Fairmont Empress Hotel!
After all, when a spot has been designated a National Historic Site of Canada, you know that it's more than just a place to rest your head at night… or spend a day exploring!
It first graced the city in 1908, as part of a larger project to create elegant hotels all across the country for train travelers to enjoy.
And along with being a beloved destination in its own right, it was also one of the first big tourist attractions in the city, a place where out-of-towners could bask in the beauty of the surrounding area, and where locals could celebrate any number of special events.
Even today, it has maintained the same air of glamor and charm that originally drew celebrities, politicians, and upper-crust guests to enjoy its endless amenities.
Best of all, you can enjoy some of its finest options even if you're not booking a room!
If you have a passion for food and drink, you can enjoy the vibrant, seasonally-influenced menus of Q Restaurant, or snag a cocktail at the neighboring Q Bar – perhaps one featuring hometown favorite Empress Gin, with its vivid shade of purple!
And of course, no trip to the hotel would be complete without indulging in its classic afternoon tea service, where course after course of delicious baked goods and flavorful cups will make you feel like you've been sent straight back to the Victorian era… complete with antiques and lavish decor!
If you really want to take things to the next level, you can also pamper yourself 1,000 different ways at the Willow Stream Spa At The Fairmont Empress, where mineral pools, massages, and saunas ADD MORE provide a getaway that will have you totally relaxed!
12 – Hang out around Market Square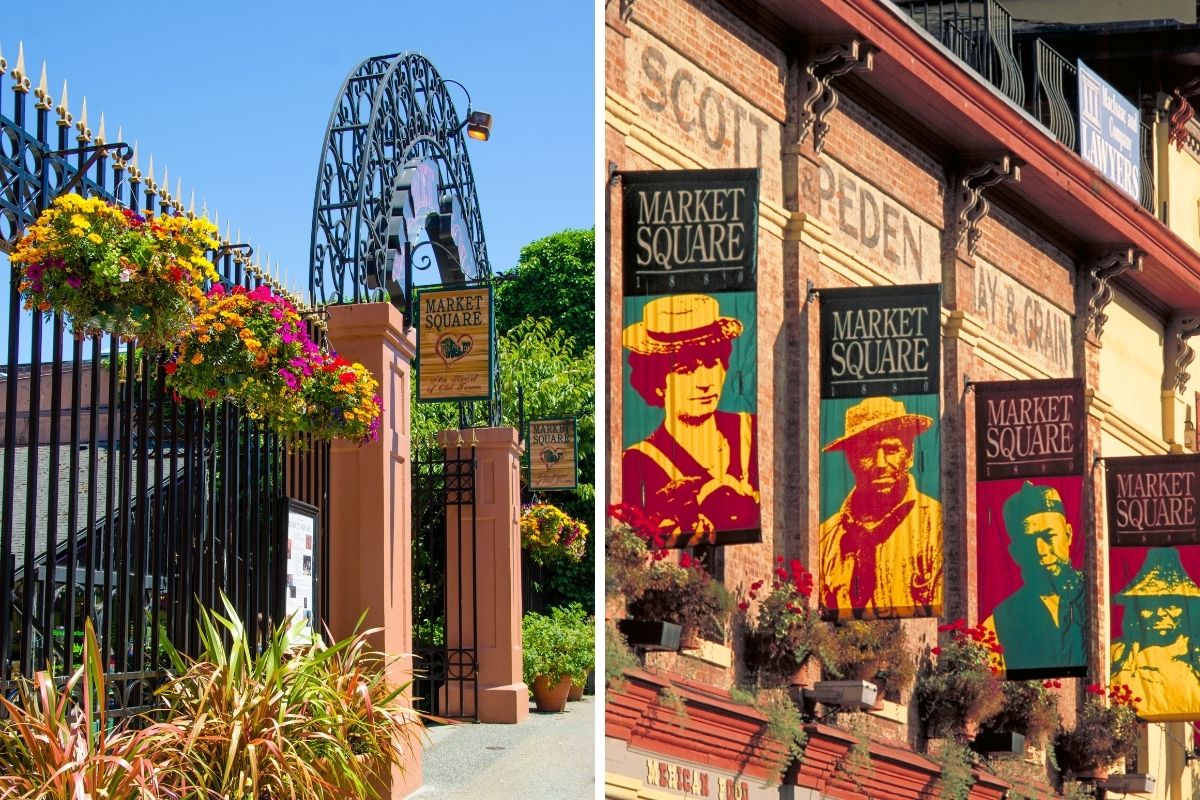 Shopping takes on a whole new meaning in this bustling venue, where clothes, jewels, and some authentic Canadian oddities are available for browsing – and that's before you get to the food and entertainment!
The lovely old building that anchors the space is a throwback to the bustling trading scene of the city's early days, when lumberjacks and seafaring types would stop in to spend their hard-earned cash.
And you can indulge in that very same tradition today, albeit with some slightly more boutique offerings!
The main mall is packed with dozens of shops that cater to the upscale, the low-key, and everyone in between – including plenty of funky trinkets to bring back home!
And you can fuel up between rounds of buying with a whole range of meals such as pizza, burritos, and Belgian waffles, plus coffees and craft beers.
As one of the city's best social hubs, it will certainly keep you occupied!
13 – Visit some awe-inspiring carnivores on a Grizzly bear expedition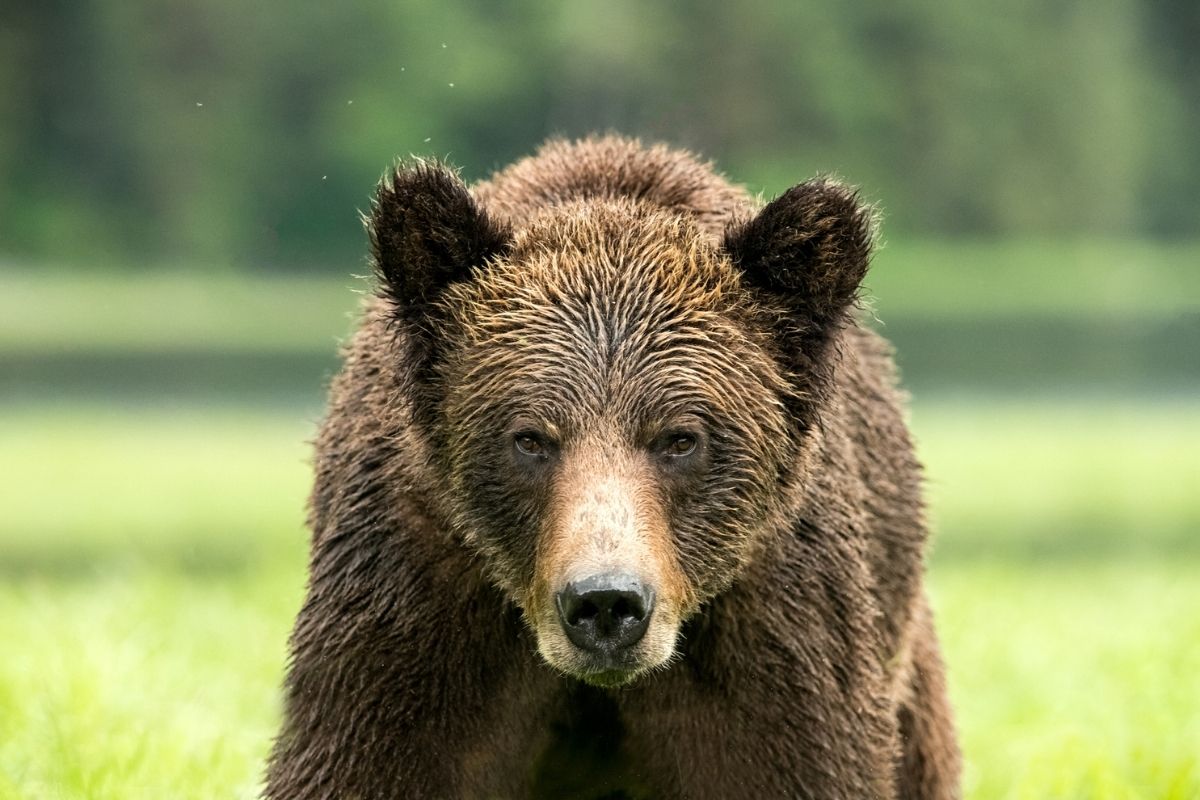 What's a trip to Canada without meeting a few of its most impressive inland residents?
As iconic as the moose and the maple leaf, grizzlies make a powerful impression; with their massive size, incredible strength, and deep intelligence, they rule over their ecosystem with impressive skill.
And while it may seem daunting to see these big bruins up close, grizzly bear expeditions are utterly invigorating, with the rare chance to watch some remarkable predators in their native habitat!
In the wild woods of nearby Vancouver island, you'll get to see the massive animals wading through the Orford River in search of tasty fish – and maybe even catching a few treats along the way!
You'll also get to meet with members of the local Homalco tribe, whose rich cultural traditions are intricately tied to this beautiful area.
There's nothing quite like getting first-hand insights into generations of traditions… including unique connections to local wildlife!
14 – Plot your way out of an escape room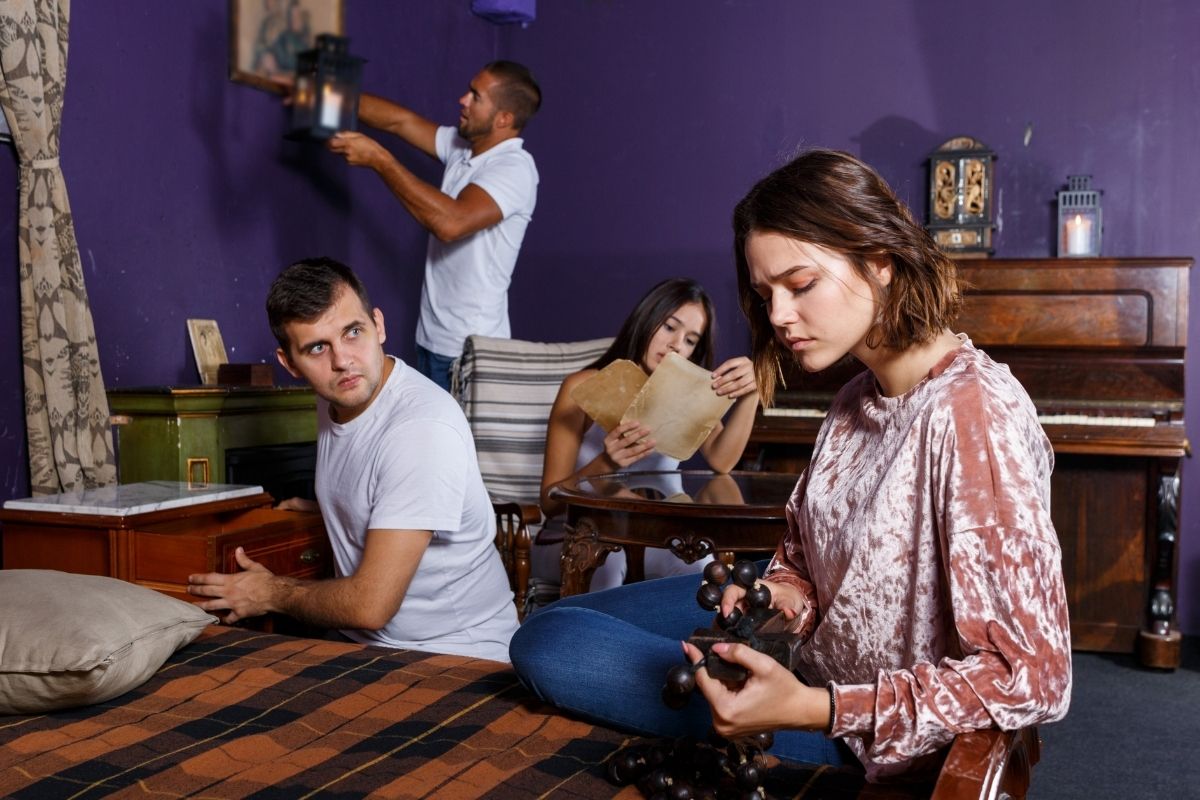 Zombies, pharaohs, aliens, interdimensional spy work – you might come up against just about anything at the local escape rooms.
And best of all, you get to be part of the action!
You and your teammates will end up in all manner of immersive situations, and you'll have one hour to break out… but you'll have lots of fun along the way!
From the spooky scenarios of Horror Escape, which change throughout the year, to the space-based and Egyptology-focused antics of Reality Quest Games, you'll be able to pick any sort of imaginative space you can desire.
And don't miss out on the unique obstacles of Victoria Escape Games, which specializes in both outdoor and indoor adventures that problem-solvers of every age can enjoy!
15 – Pay a visit to the historic Chinatown neighborhood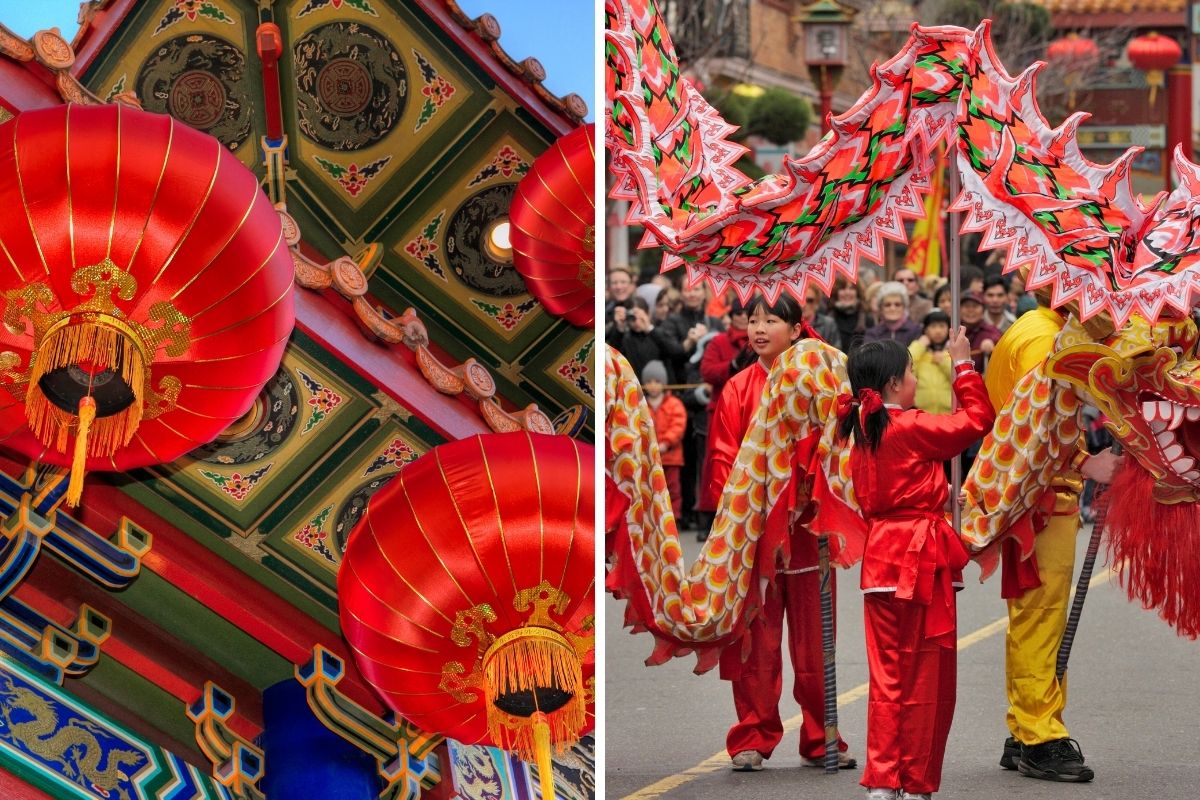 Bursting with color and charm, this dynamic neighborhood tells a larger story of immigration in Canada – and the celebration of a society that has remained intact since the 1850s!
In fact, it's the oldest community of its kind in Canada, dating all the way back to the wild days of the gold rush.
Adventurers from all over the globe came to seek their fortunes, many of them settling in the city permanently; and it was the large group of immigrants from China that got this dynamic neighborhood started.
It grew more and more over the decades with waves of newcomers, briefly becoming the biggest Chinatown in the whole country; and while populations have shifted over the years (ironically, it's now the smallest of these settlements), it still retains a powerful presence.
Pass through the stunning Gate Of Harmonious Interest and enter winding alleyways full of distinctive shops and restaurants, plus plenty of little side streets that are ideal for discovering new treasures.
Fan Tan Alley, a former gambling hub that's now packed with residential areas, art galleries, and great places to grab a bite, is a great place to get a feel for it all; and as the narrowest commercial street in North America, it's also got plenty of character!
16 – Take a look into the many little lives of Miniature World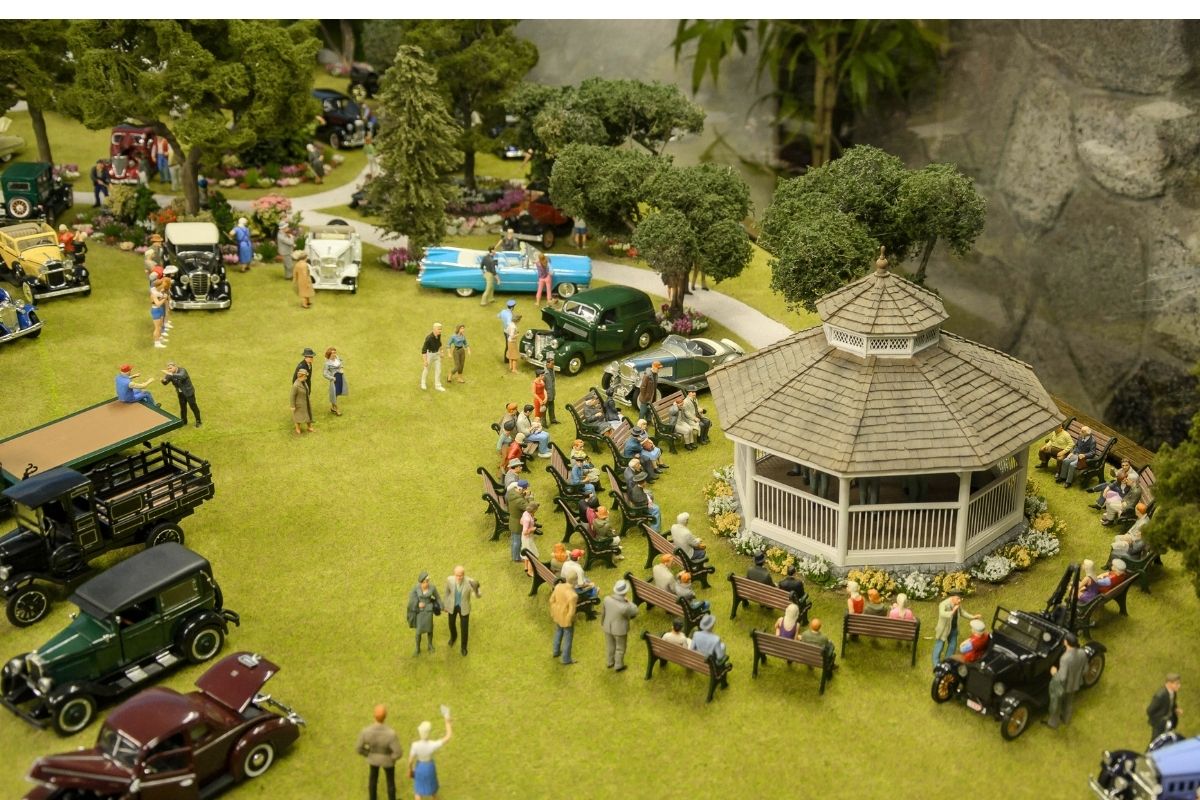 Sawmills, spaceships, tiny country towns and the streets of London, all right next door to each other.
No, you haven't stumbled through an inter-dimensional portal… you're just in the middle of an adventure at Miniature World!
Tucked inside the Empress Hotel (see #11), this charming universe unto itself features room after room of carefully constructed scenes, representing everything from literature and Canadian history to the wider world… and even the vast reaches of the cosmos!
Enjoy the elegant little residences of the Valley of Castles; step back into the country's industrial roots at the Great Canadian Railway and Little Mill's lumber Company; or take a trip to London that ranges from the 1600s to the present day.
And if the worlds of make-believe are more your speed, you'll find plenty of other delights as well!
Navigate the interstellar traffic of Space 2201, peek into the fairytale worlds of Fantasyland, or admire the perfectly built worlds of literary classics like Swiss Family Robinson.
These neighborhoods may be a little quieter than some of the other ones in town, but they're every bit as fascinating!
17 – Take on the city in a whole new way with a scavenger game (remove)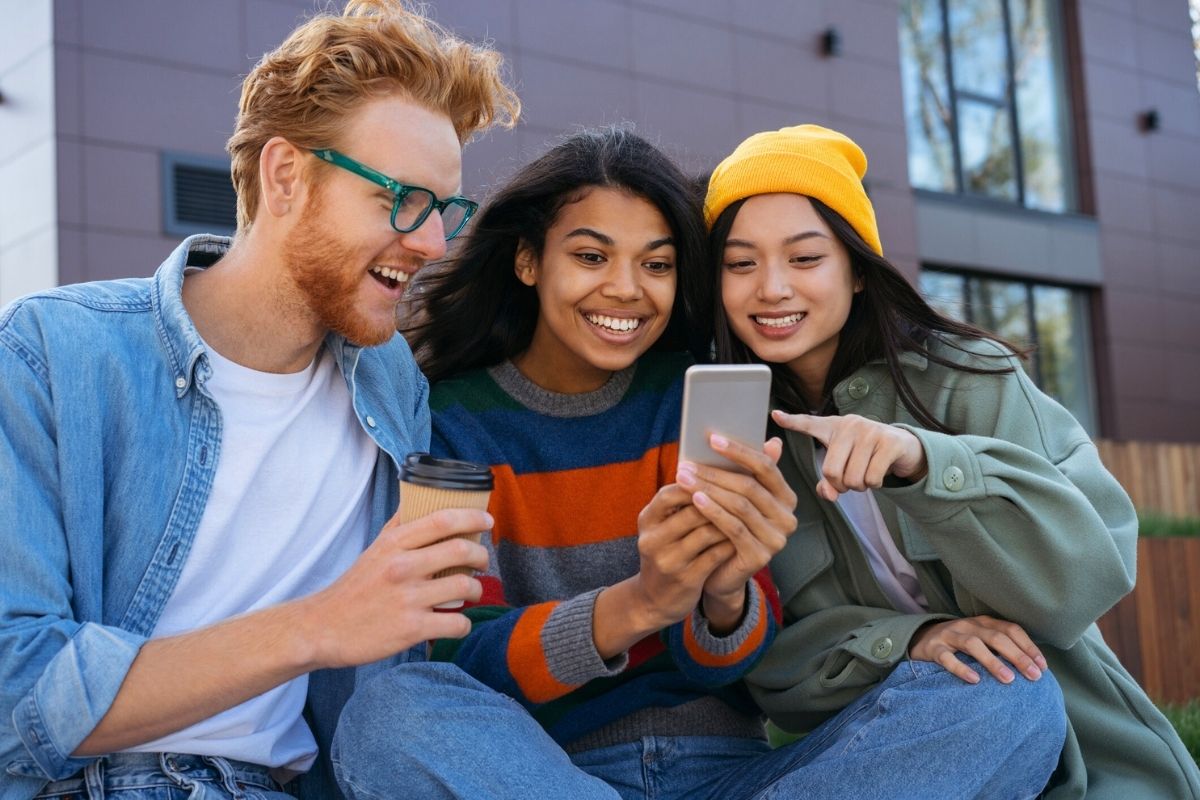 Part self-guided tour, part expedition, the scavenger games in Victoria, BC will have you feeling like a city expert in no time… and they're pretty fun, too!
All you have to do is download the app to your phone, and set off on an exciting journey all over town, as the streets transform into exciting avenues full of mysteries and intrigue.
You'll get lots of chances to learn about the big tourist attractions – some of which are even clues themselves! -, and enjoy a little bit of a game along the way… the perfect option for families and groups of friends.
Use your wits and your sense of adventure, and let the city unfold before you like the world's coolest treasure hunt!
18 – Get some culture in at the Art Gallery of Greater Victoria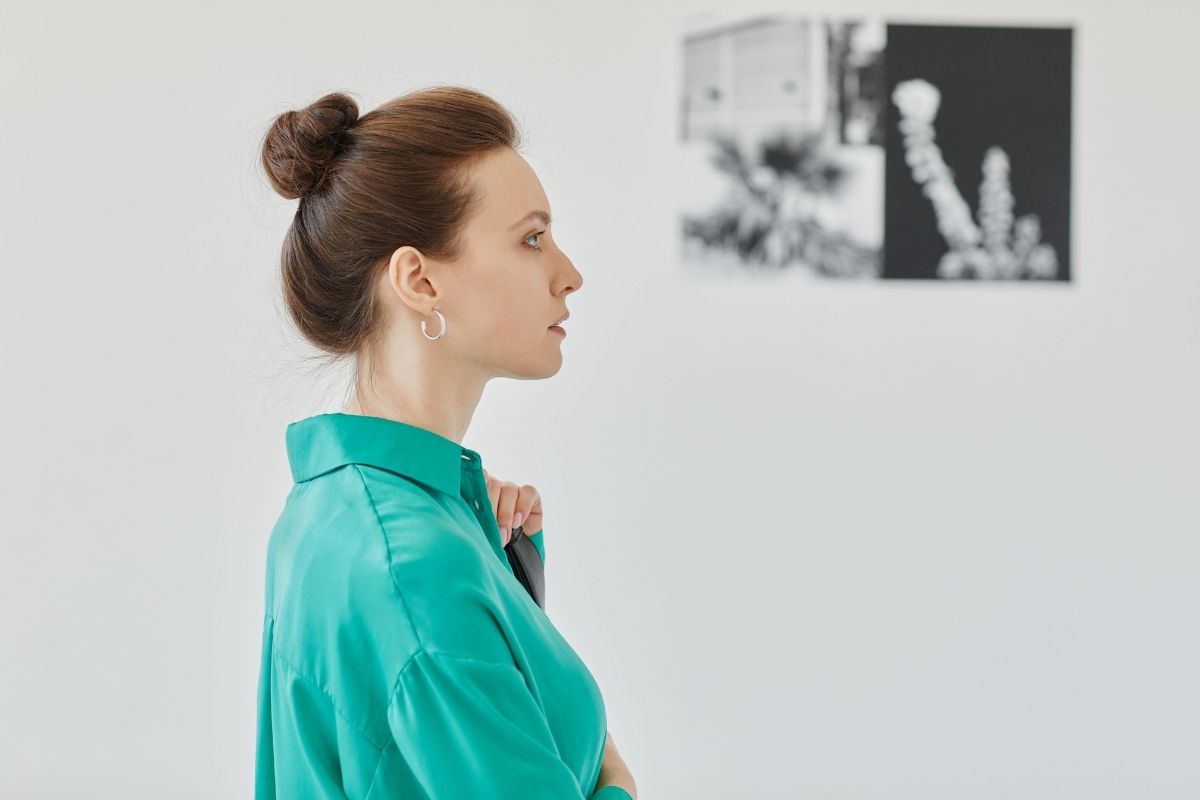 For more than 70 years, the Art Gallery of Greater Victoria has been the go-to place for people in British Columbia to soak up some masterpieces.
In fact, with 20,000 different works in the collection, it's the largest public art holding in the whole province!
Housed in a former mansion, the pieces show off both the talent of the nation's creative scene and ones around the world.
In fact, it's acclaimed for its fantastic collections from Asian and Pacific Rim countries, including some phenomenal carved amber pieces and an actual Shinto shrine from Japan.
This is also a great place to experience some historic pieces that celebrate Canada's many eras; the masterpieces of Emily Carr, famed for her spectacular paintings of the region's people and places, are an unmissable highlight.
And with so many public programs and presentations, you'll always be able to find a way to connect more deeply with the art!
19 – Admire the scenery along Ogden Point Terminal & Breakwater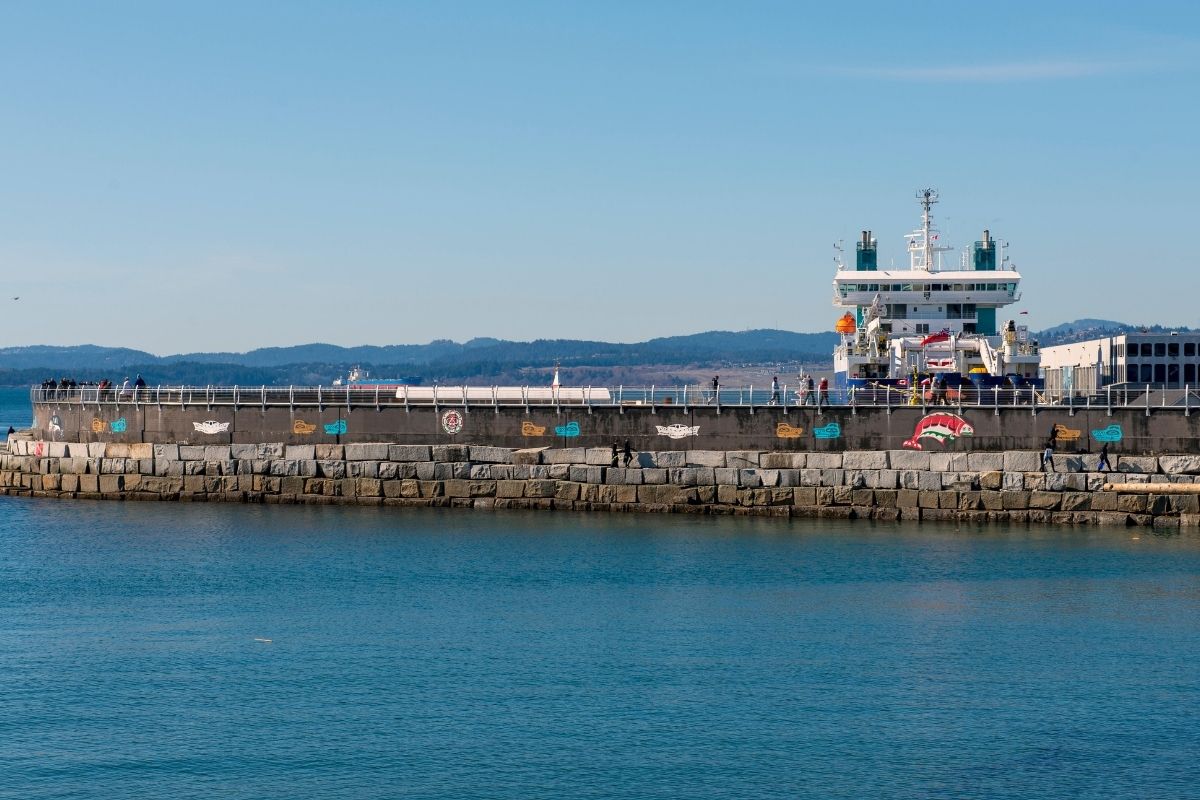 While it's right near downtown, this scenic stroll will have you feeling like you're out to sea!
This is another scenic spot with an equally intriguing past; the harbor originally sprang up in the early 1900s during a boom in shipping, and later became a bustling home for ferries and cruise ships.
As you stroll out along the Strait of Juan de Fuca, you'll see all the action of a thriving harbor – not just the big boats, but the wide range of smaller sailboats headed out on their next adventure.
At the end, you'll be greeted with views of the lovely lighthouse that has helped guide all of this traffic safely… and some amazing natural scenery in the water and mountains, of course.
And if you want to get a different – and more adventurous – experience of the waters, strap on some gear and a drysuit, because this is a renowned site for scuba diving!
20 – Walk or paddle around Fisherman's Wharf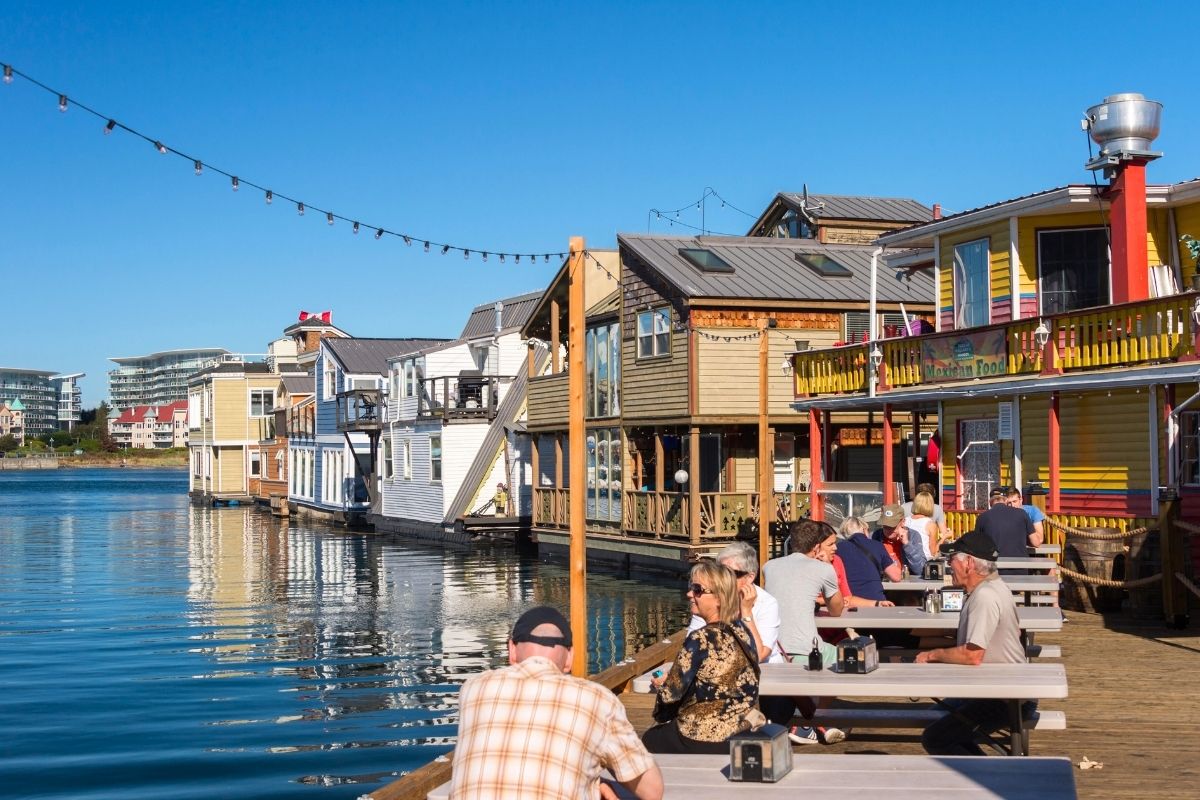 As the name suggests, this is a popular place for people to bring in their freshest catches – and more importantly, plenty of spots to sample the fruits of their labor!
Stop in at the many different little dining areas and try some amazing seafood with views of the water to match, then wander around and browse for some neat little tchotchkes.
And if you want to spice things up a little, this is also a great launch point for all sorts of eco-adventures!
There's nothing quite like a round of kayaking to celebrate the vibrant beauty of the water; as you follow your guide along the gentle waves, you'll see little islands, wildlife, and gorgeous views of the harbor… and maybe even some baby seals!
It's the perfect way to get some exercise and get up close and personal with some of the coolest creatures (and the best views) around!
21 – Enjoy a bike tour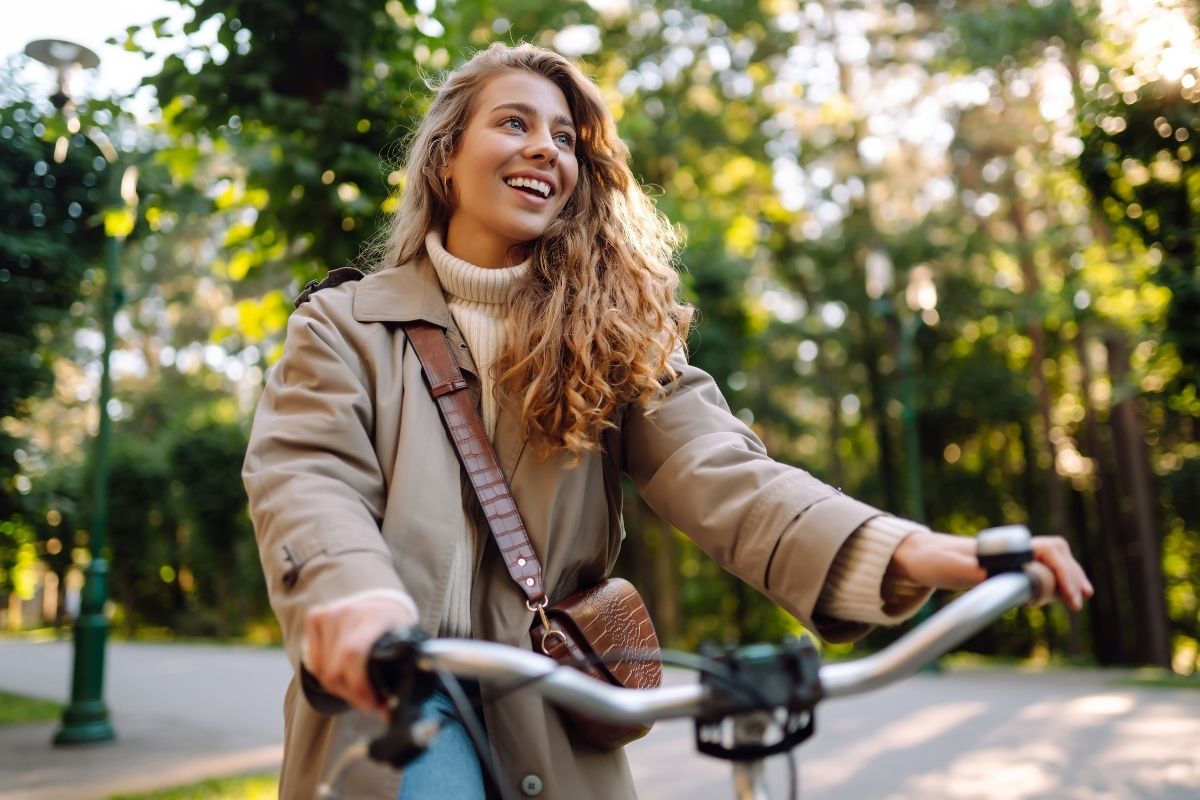 Back on land, you can get a taste of history, mystery, and pastoral splendor – plus some fresh air – with a few bike tours!
There's no need to be an expert cyclist to undertake these journeys; with helpful guides and options for all different age levels, you just need some basic riding knowledge and a helmet to get going.
And of course, you'll feel plenty motivated to keep pedaling once all of the wonders of the city start unfolding before you!
Explore political intrigue and famous scoundrels, quirky communities and towering totem poles, coastal paths and lush trails through the city's many public parks.
Learn about the many tribes and groups of immigrants that have called land home over the years, and the unique connections each of them forged with the area – and sometimes with each other.
And we can't overlook the architecture; a spectacular array of buildings old and new, each with their own distinct stylistic details, from mansions to political offices.
No doubt about it: the two-wheeled life is the way to go!
22 – Check out the fabulous, famous grounds of Hatley Park National Historic Site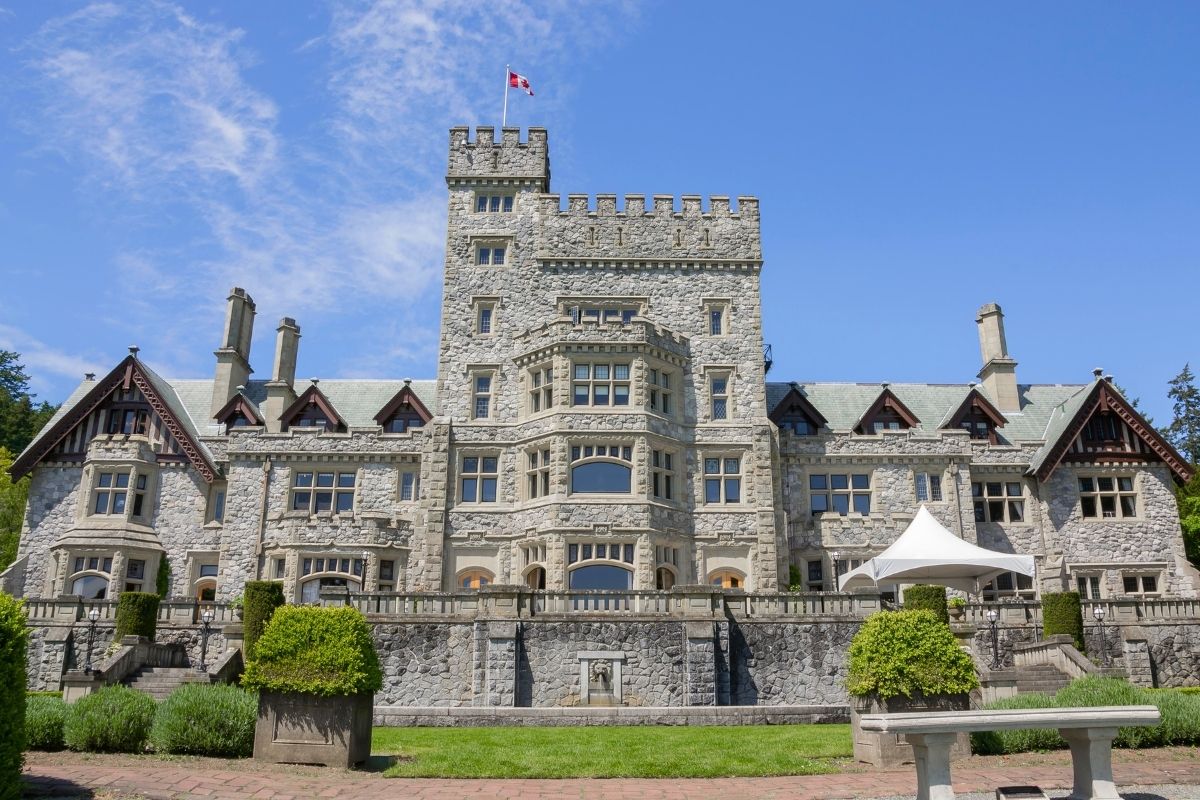 Let's mosey over to another castle – this time with a bit of a scholastic twist!
Like Craigdarroch Castle (see #7), Hatley Castle was an ambitious work tied to the Dunsmuir family, but this one is more medieval in stature… and it's seen quite a few more residents!
Crowned with a fabulous turret, this dazzling mansion – and the property that surrounds it, which now makes up Hatley Park National Historic Site – has an endless array of treasures to enjoy.
Inside the main building, you'll find 40 elegant rooms, all sporting the Scottish Baronial design that pays tribute to the Dunsmuir's European heritage.
There's also a lovely museum that traces the whole fascinating history of the home, including some pretty distinguished roles that it's held over the last few decades!
After serving as a family residence, it was used as a military training school, then transitioned into an academic building for Royal Roads University, a role which it still proudly upholds.
And as if all of that weren't impressive enough, the mansion has also gotten plenty of screen time; you may have caught sight of its distinctive facade in Deadpool, MacGyver, Poltergeist: The Legacy, and as a very different sort of academic institute in the X-Men films!
Be sure to leave time for all of the elegant gardens as well, which spread out across 650 lush acres; you'll find everything from Japanese gardens and old trees to vibrant beds of roses.
23 – Hang around Bastion Square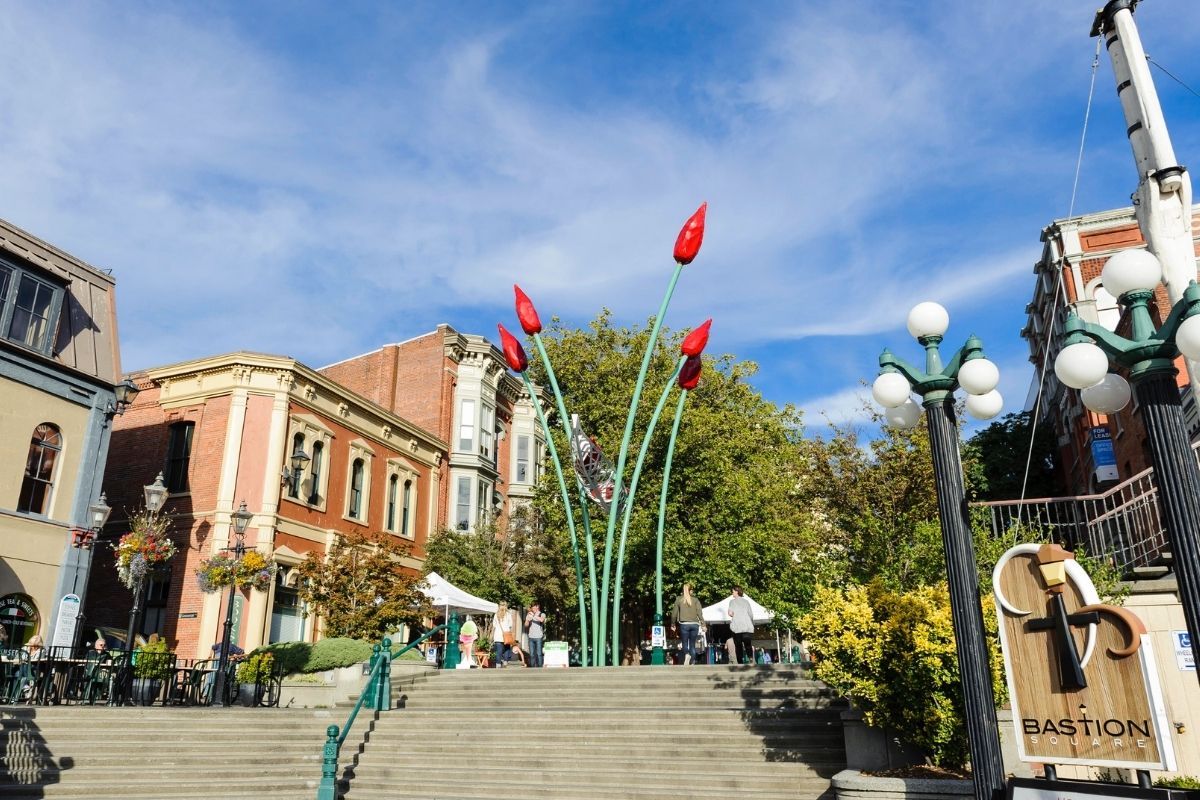 Step through the ceremonial arch that crowns this space, and take a little trip back in time!
True, this area may not look quite like it did when it was the home of Fort Victoria; but its current version is certainly exciting to explore!
In its original form, the square was still popular, but perhaps a little rowdier; along with the busy fort itself, there was a prison, a brothel, and even a set of gallows in case things got really out of hand.
But while many of those original stone buildings are still intact, the atmosphere is a little different today, packed with little shops and galleries perfect for a leisurely bit of browsing.
Eat, drink, and be merry at the many spots around the square, or amble around the many lively markets that pop up here throughout the year.
And don't forget about those harbor views – the perfect way to cap off a long round of exploring and retail therapy!
24 – Get deeper into the wonderful world of Vancouver Island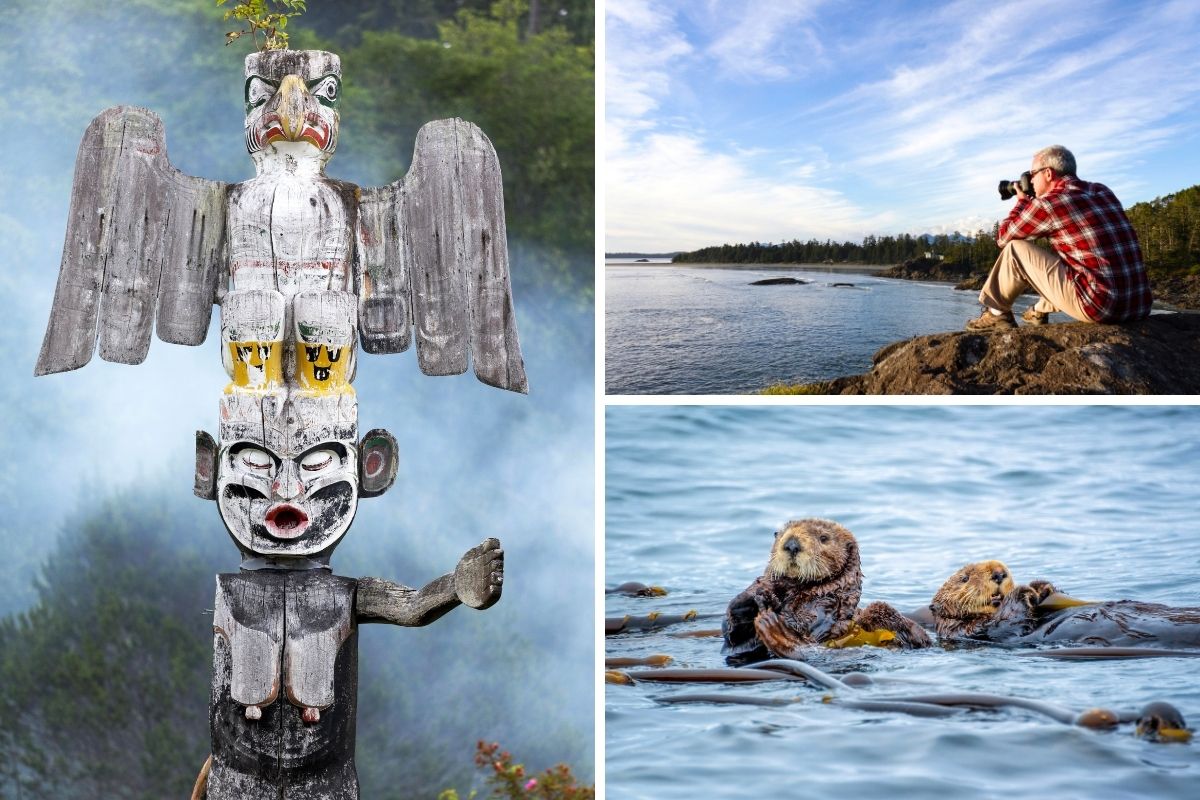 Ancient traditions, rainforests, and wineries… from the minute you set foot on Vancouver Island, you'll find yourself utterly charmed!
While the city is technically on the island itself, there are plenty of great spots further out in the wilderness that are well worth delving into, making it the perfect option for a day trip.
And the fun of this dynamic destination starts with getting there; if you're interested in an international jaunt, you can hop aboard a boat on the historic Black Ball Ferry Line, which also runs clear to Port Angeles in neighboring Washington State.
And once you get there, you can choose your own adventure every step of the way!
Learn about the traditions of the First Nations cultures that have long made their homes here, sample some quality beverages in the vineyards of Cowichan Valley, or trek into the rainforest and surround yourself with a stunning canopy of plants – plus plenty of wildlife sightings!
It's an unforgettable slice of life in the province, but it's also a breathtaking spot in its own right!
25 – Visit the city's most popular churches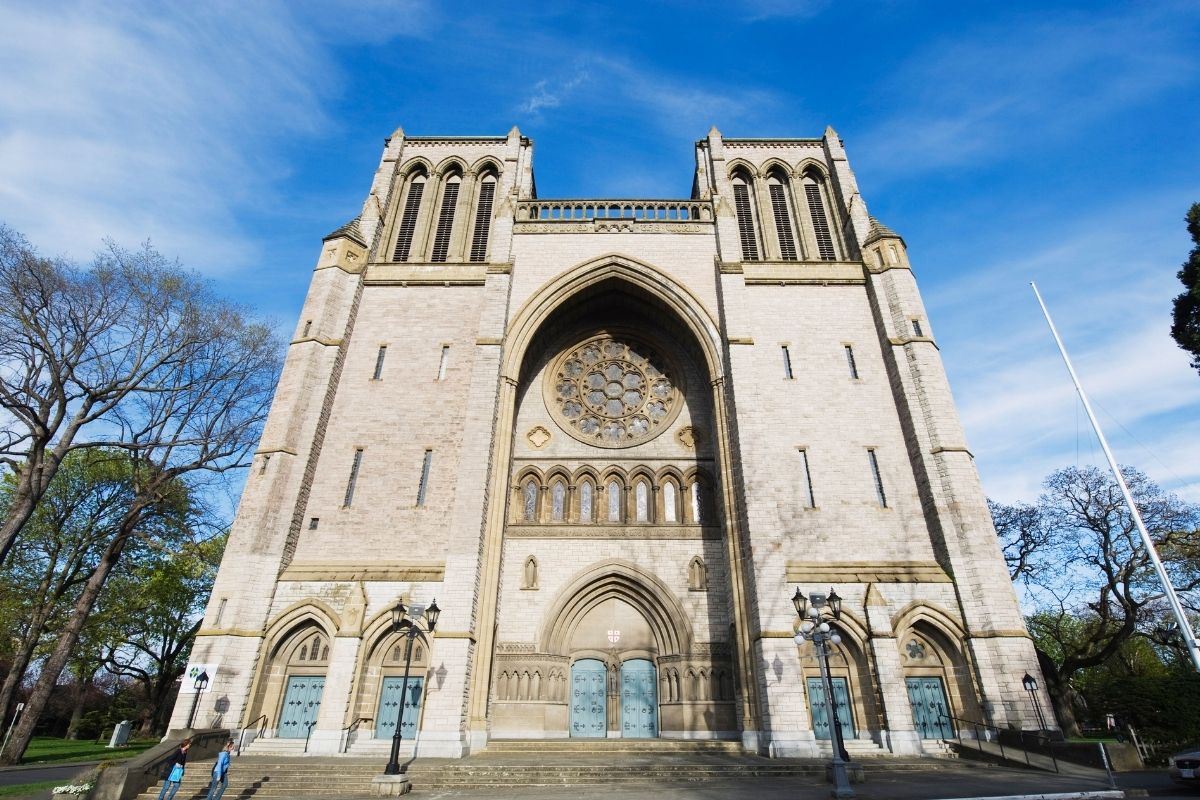 Architecture and society come together in the city's dazzling churches, which started as religious institutions, and quickly grew into icons!
St. Andrew's Cathedral, built in 1892, shows off the finest styles of the era, with its intricately carved altar and colorful stained glass.
As a stronghold of Catholic life in the Victorian era, it still maintains that same air of beauty and prestige, boasting a pipe organ with famously powerful acoustics, and gorgeous artwork that pays equal tribute to Christian icons and figures from Indigenous mythology.
And then there's Christ Church Cathedral, which sprang up in its first form during the gold rush era, and has bloomed and expanded since then into an Anglican haven filled with lavish details and lively services.
Done up in full Gothic splendor, it's another great place to experience art and music with a religious twist; in fact, the organ here has an astounding 4,000 pipes!
It's even hosted its fair share of historic visitors; keep an eye out for a stone in the exterior wall that was placed by none other than Winston Churchill!
Whether you're seeking something spiritual or just an aesthetic and cultural gem, these places of worship will certainly leave you a little awestruck!
26 – Get to know the colorful residents of Victoria Butterfly Gardens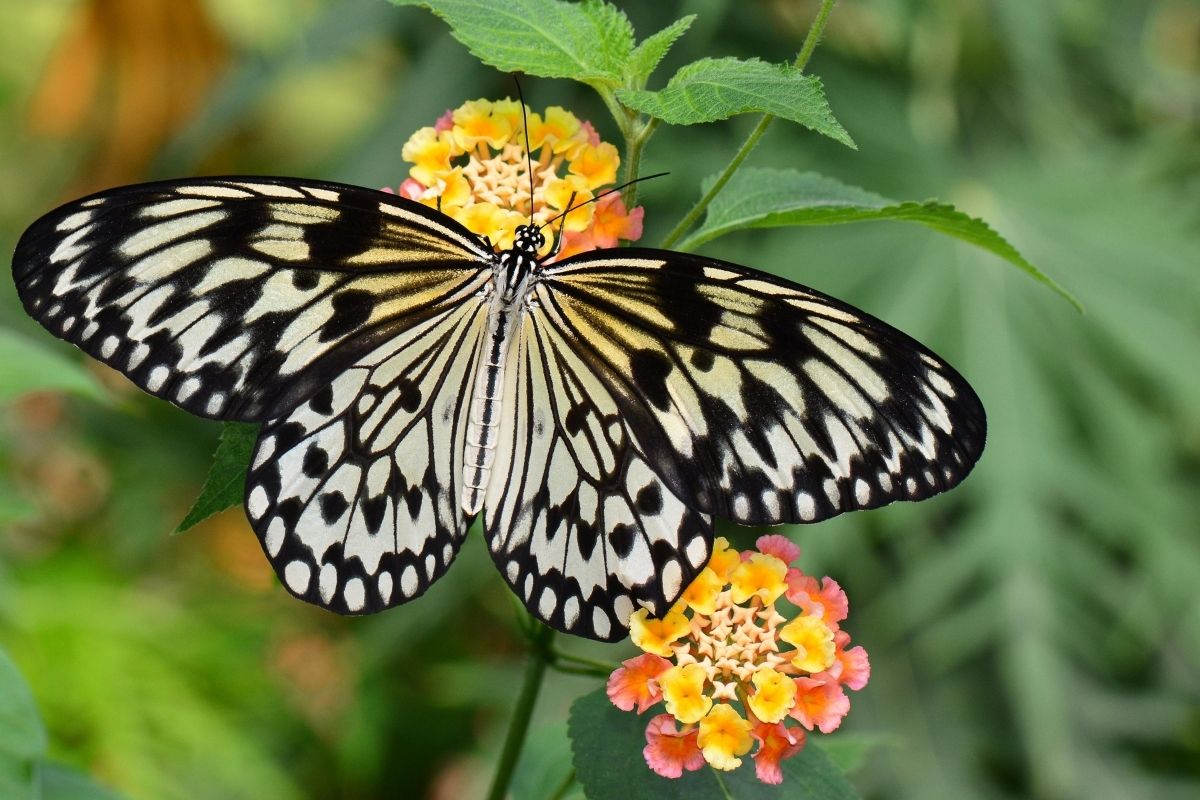 Swapping designed beauty for nature's finest offerings, you'll find patterns and colors worthy of any art gallery – only this time, they're flying around your head!
This jaw-dropping display comes courtesy of the Victoria Butterfly Gardens, home to more than 70 different species hailing from tropical locales all over the world.
The massive ecosystem contained here gives you a chance to see these fabulous fliers in all of their glory, along with plenty of their natural neighbors!
Take a little side trip to the Amazon, where you'll get to see oodles of amphibians and reptiles hanging out in their jungle homes, from iguanas and tortoises to beautiful poison dart frogs.
Or dive deeper into the world of bugs at the Insectarium, where you can come face-to-antenna with all sorts of amazing bugs, including an industrious leafcutter ant colony going about their days.
You can admire another airshow as you watch flocks of birds gliding overhead, or gaze down at the equally vivid fish puttering around in the pond.
And if botany is more your speed, you'll have plenty of flowers and fruits to sniff… and even some plants that catch and eat their own meals!
27 – Sharpen your skills (literally) with some axe throwing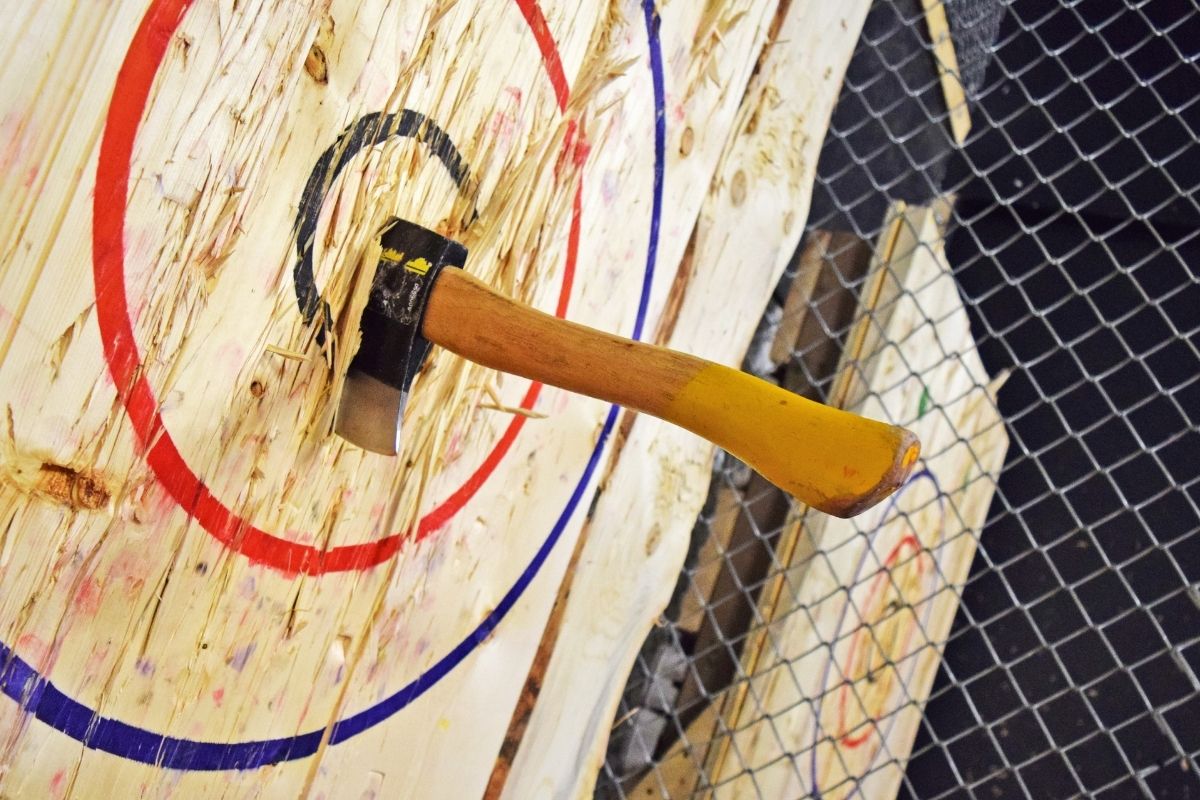 Sure, you may not be able to try out the lumberjack life… but you can still indulge in a classic Canadian stereotype with a couple of sessions at Axe and Grind!
If you've never tried ax-throwing before, you're in for a treat; wall after wall of targets await your keen aim (or at least, your valiant attempts).
All you need is a bit of quick instruction, and you'll be hucking hatchets in no time – talk about a lively bit of competition with your travel mates!
And if you want to expand your repertoire, they also offer knife-throwing!
28 – Enjoy the gentle magic of a carriage ride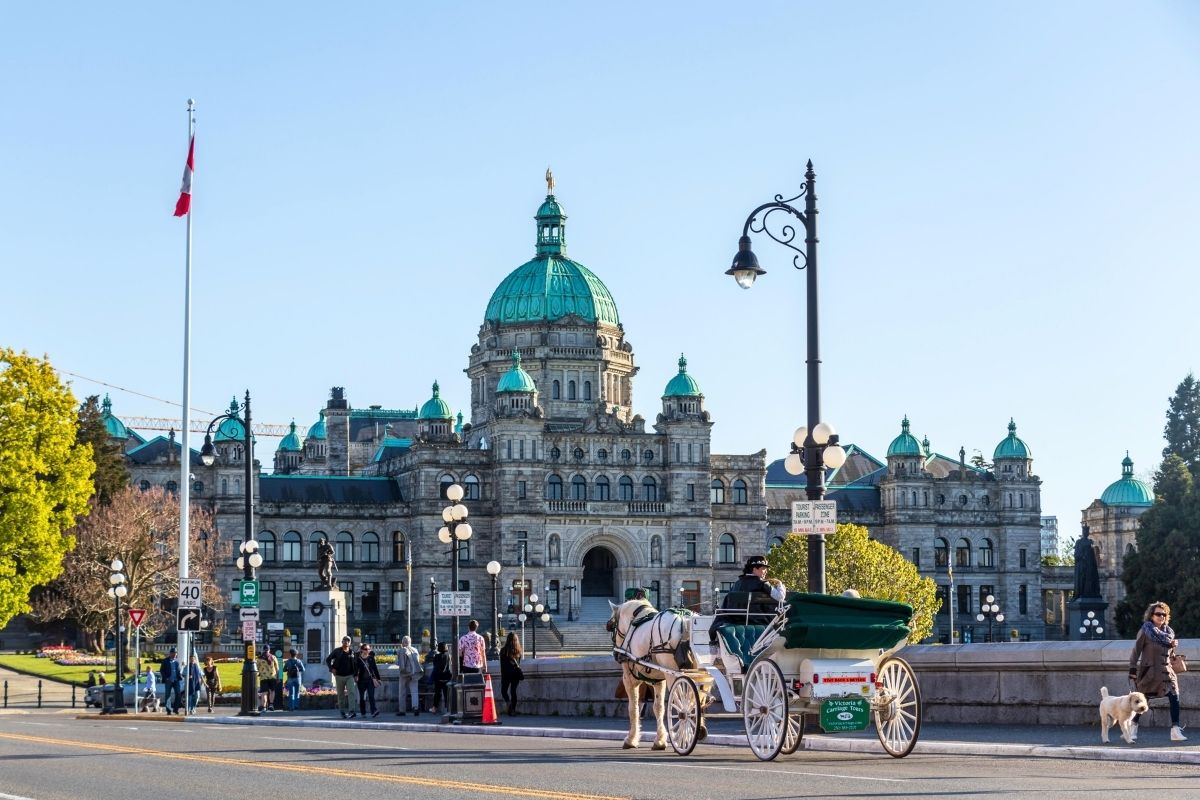 There are still plenty of things to do in Victoria, British Columbia that hearken back to the city's early days in the 1800s…. and one of the most charming is also one of the best ways to get around!
The gentle clip-clop of hooves, the slow creak of wheels, and the lively chatter of your guide provide a charming soundtrack for your carriage ride; but of course, it's not just about what you'll hear, but what you'll see!
Step back into the glamor and charm of the Victorian era as you roll along the city streets, learning all about how these different landmarks came to mark a very particular piece of the past.
The splendid scenery of James Bay is a particularly popular option; as one of the oldest residential areas on the west coast, it's the perfect spot for a leisurely trip through history.
But no matter where your noble steed takes you, the views and the history will be equally impressive!
Enjoy the seaside views along Dallas Road, then head up into Beacon Hill Park (see #3) for some truly pastoral sights.
Sit back, relax, and enjoy a wonderfully charming form of time travel!
29 – See ships of every size at The Maritime Museum of British Columbia
And speaking of the illustrious past…
There's certainly a hearty history of boating around these parts, and at the The Maritime Museum of British Columbia, you can see a great sample of these fabulous vessels!
Of course, the stars here are the actual ships that once plied the sea, including the Dorothy, a sleek former racing yacht that starred in plenty of globetrotting adventures before settling here.
And thanks to all of the walkthrough exhibits, models, and interactive spaces, you'll be able to see even more of the ins and outs of shipping life here, from recreational boats to massive ships and everything in between.
See the transition from sails to steam, explore the legacy of naval fleets and salmon fishers, and find out how the rich nautical culture of the area has continued to evolve in a thousand different directions.
There are even some artistic workshops if you want to produce a nautically-influenced masterpiece to take home, including rope wreaths and fine jewelry made from sea glass!
30 – Enjoy the goods and the lively spirit of Moss Street Market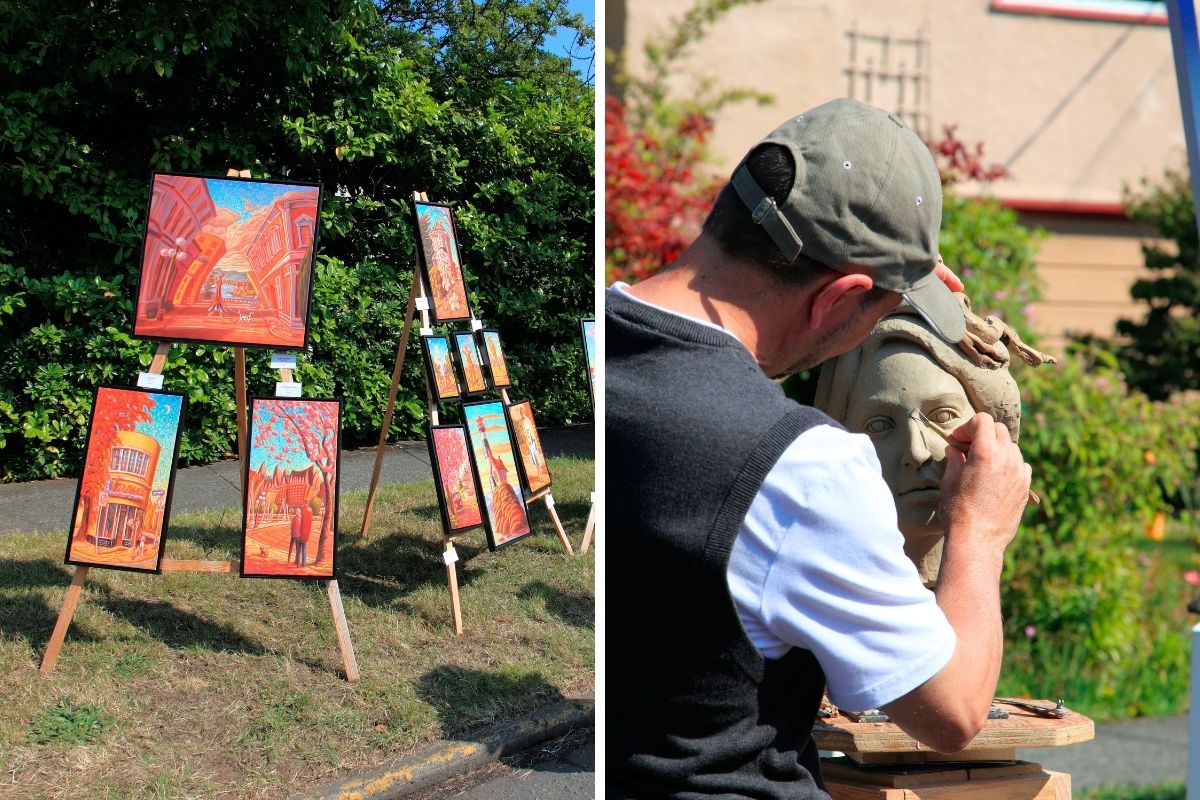 Taking the farmers market model to the next level, this vibrant center of commerce is always packed with produce – and let's face it, nothing tastes better than chowing down on fruits and veggies that were grown practically next door!
And that's not just an idea here, but an active way of life; weave through the stalls, and you'll find yourself face to face with irresistibly delicious produce, all lovingly grown on nearby farms!
Of course, you'll also have plenty of time to browse through the ample craft vendor stalls, where the art is as compelling as the food.
Add in an ever-rotating soundtrack of live music, and you have a perfect little slice of community that will have you feeling right at home in no time!
And if you're looking for even more wonderful and locally-focused things to do in Victoria, British Columbia, be sure to leave some time for the nearby Government House, a charming spot that serves as the official residence of the province's Lieutenant Governor.
It's also designed to be a welcoming space for all of the province's citizens, and visitors of all sorts are welcome to explore its gorgeous grounds at length.
31 – Make the trek up Mount Tolmie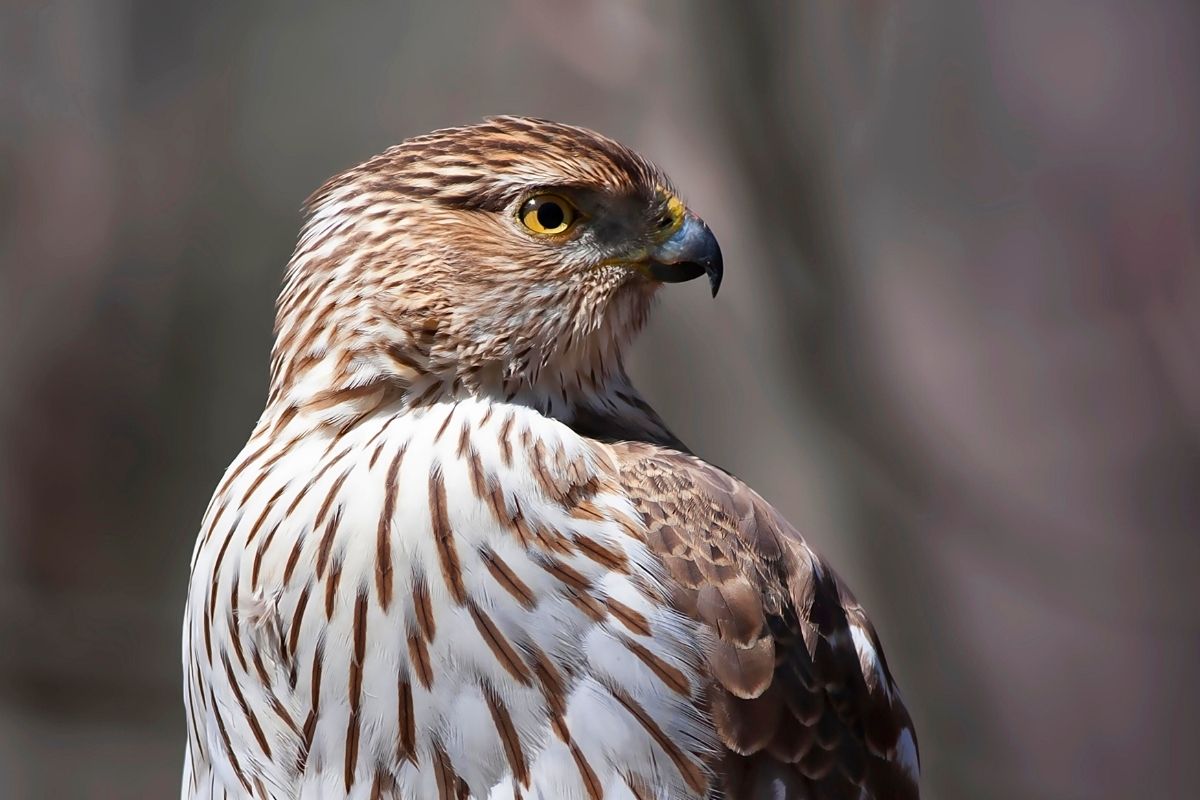 A little bit of urban hiking and a lot of amazing scenery awaits from the minute you set foot in Mount Tolmie Park, which provides some of the best panoramas around!
Of course, the hikes themselves are pretty impressive, a network of trails criss-crossing the slopes and offering glimpses into serene meadows, birdwatching areas, and changing terrain.
And once you get to the top, prepare to be wowed – no matter which direction you look!
On a clear day, you can see Mount Douglas and Race Rocks Light, a lighthouse that has been going strong since 1860, and has an equally resilient structure made of sandstone and granite.
You might even be able to see into the neighboring Washington State, where the silhouettes of the San Juan Islands and the Olympic Mountains are perfectly outlined.
And of course, you'll be surrounded by some of the finest parts of the local ecosystem, from the undulating patterns etched by glaciers onto rocks to the soaring figures of the Garry Oak tree, the only native oak species in the province.
And nearby, you can trade the mountains for the beach with a trip to Cadboro-Gyro Park,where you just might spot migratory birds nesting in the nearby refuge… or a wily sea serpent statue perched beside the bay!
32 – Change your point of view on a seaplane tour
Up in the air, you'll see just about everything… and if you take a seaplane tour, you'll also get a little bit of time on the sea!
These vehicles offer the best of both worlds with every excursion; while you'll get plenty of time to soar through the skies, you'll also get some closer views of the scenery as you take off and land straight on the water!
And of course, while you're up high, you can admire everything going on below you!
Watch islands, harbors, and mountains unfold below you, with the lovely skyline of the city nestled in between it all; it'll certainly give you some context for all the cool things you'll see on the ground!
33- Wander around Government Street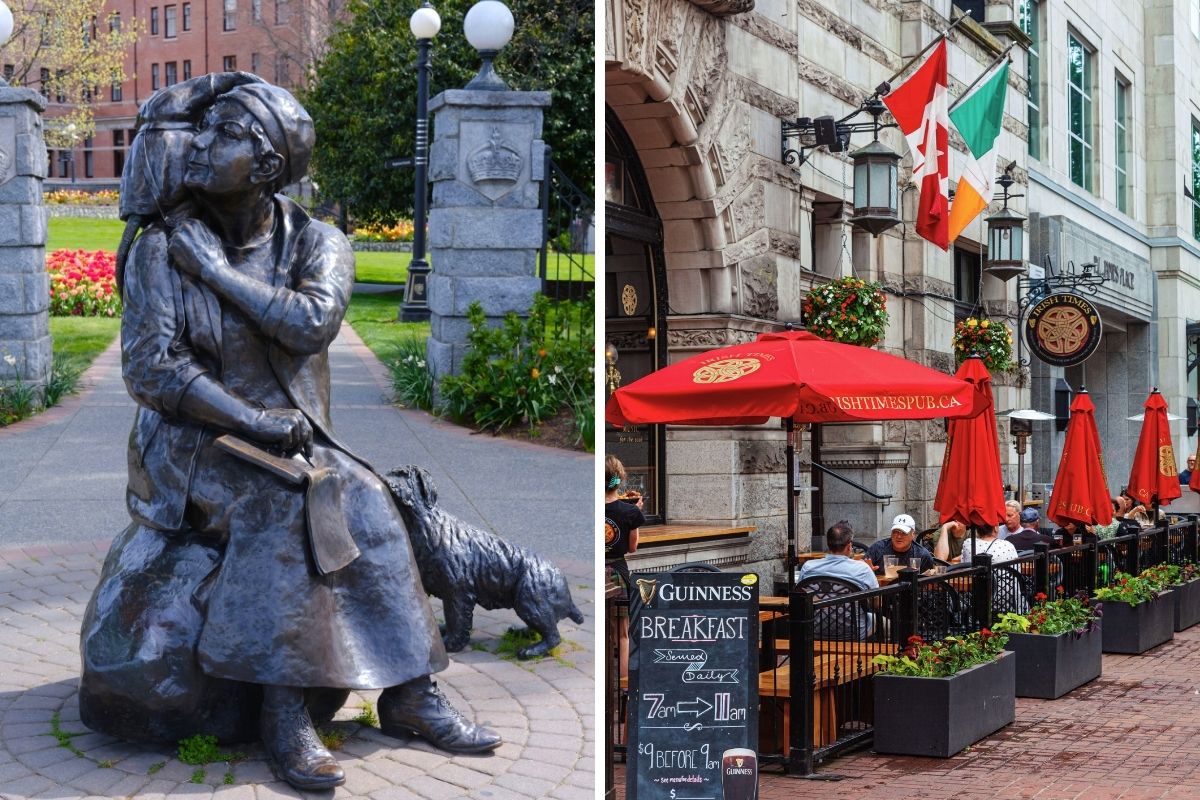 Statues, sweet treats, little shops … every step on this avenue offers a new set of ways to treat yourself!
If you want to really lean into the tourist experience, this is the perfect place to go, with rows of souvenir stands selling all sorts of fun keepsakes.
You'll also be able to find just about anything imaginable to eat, including plenty of great sit-down places where you can enjoy some quality people-watching with each bite.
Then polish things off with the guilty pleasure of your choice at Rogers' Chocolates, which has been bringing a dash of sweetness to the city since 1885 – including the ever-popular Victoria Cream!
Then spend some time strolling past such beloved landmarks as Chinatown (see #15), the Royal BC Museum (see #5), and several parliamentary buildings.
34 – Relax in the fragrant diversity of Abkhazi Garden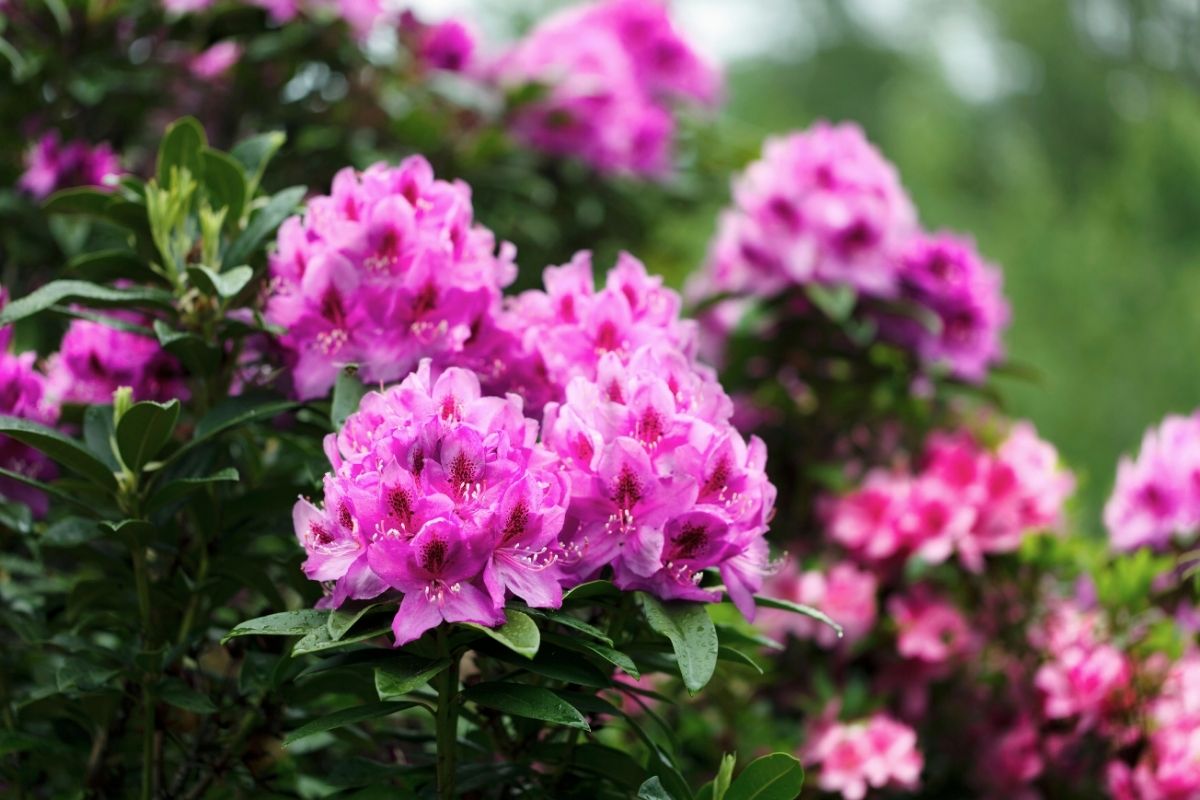 A powerful love story, a traditional tea party, and a stunning assortment of nature's finest bouquets…..this place has it all!
It all started after World War II, when Prince and Princess Abkhazi arrived in the city after years of separation due to war and travel.
They quickly set to work building a spectacular estate, with grounds that still sparkle with color and charm some 75 years later.
Once you've finished exploring the unique layout of the flowers and shrubs – inspired by the design choices of the princess herself -, it's time for a cup of something delicious in The TeaHouse at Abkhazi Garden, a charming little space where you can enjoy several courses of traditional tea service, with a menu that highlights the best tastes of each season.
35- Get out and do some hiking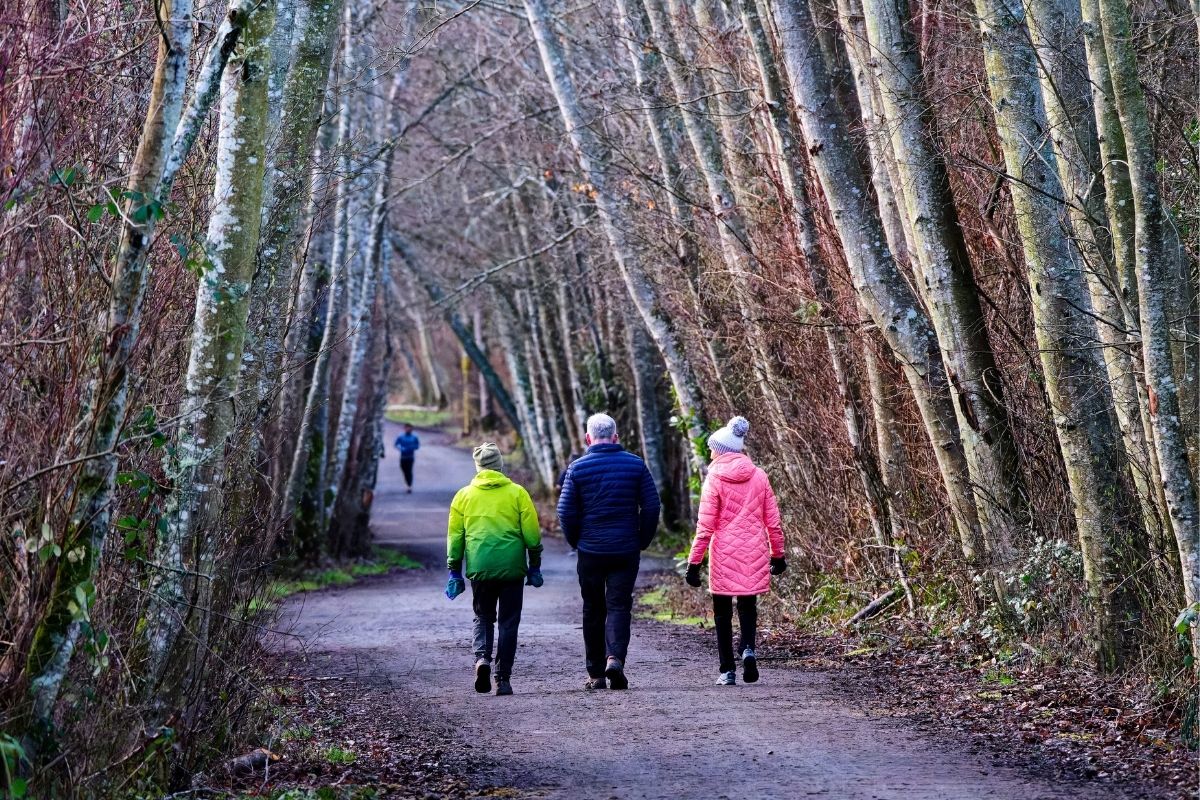 There are few better urban spots than here to enjoy a bit of hiking… and each trail has its own special magic!
Whether you're a diehard fan of the outdoors or totally new to nature, you'll be able to find the perfect trek, with guides that can effortlessly cater to your comfort level while still making sure that you see the very best that the city's backyard has to offer.
This is a great chance to get out and enjoy the stunningly lush wilderness that lies just a short jaunt from town, where rainforests and picturesque coastlines seamlessly flow into fields of wildflowers and groves of massive trees that will help you feel insignificant in the best possible way.
Waterfalls and ancient stretches of woodland surround you; the sea opens up before you; the rainforest surrounds and embraces; and all the while, the pathways guide you to more and more exciting views.
These are more than just great nature walks – they're a feast for the senses!
36 – Make some tiny new friends at the Victoria Bug Zoo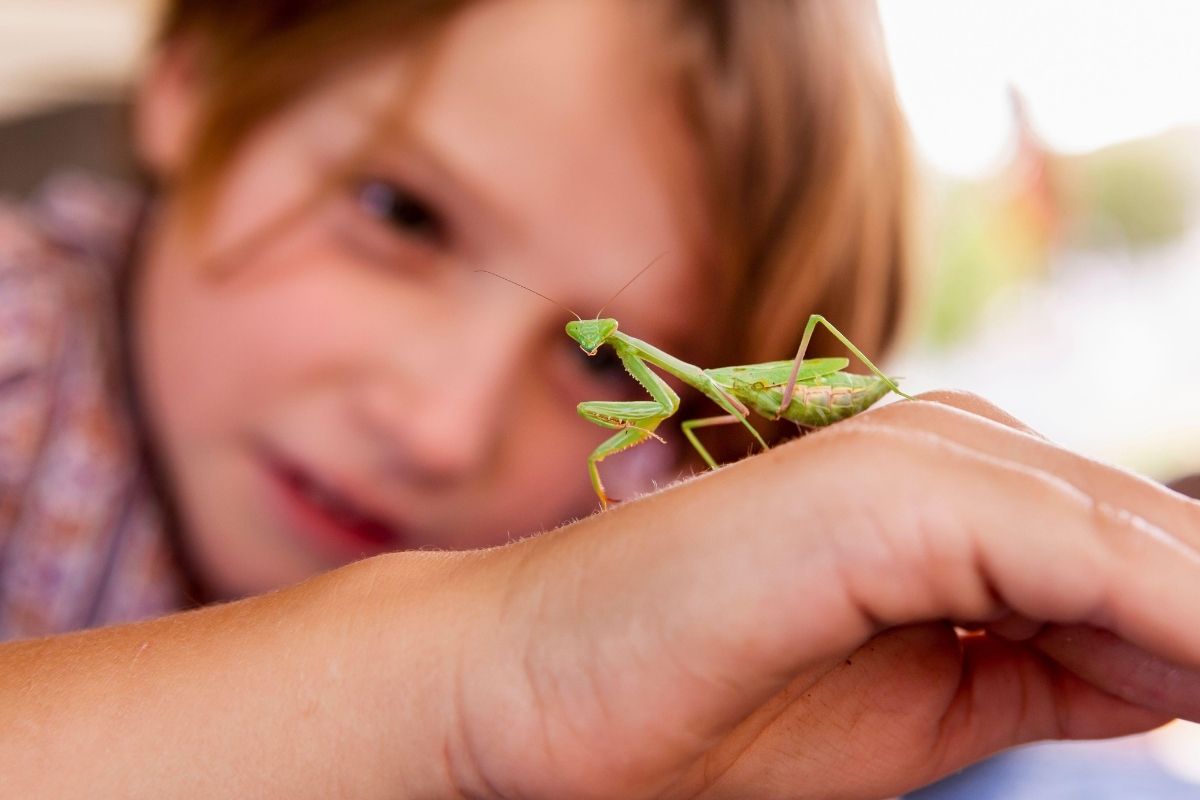 Ready to meet some more cool locals? Perhaps some small and misunderstood ones?
The creepy-crawlies at the Victoria Bug Zoo are so fascinating and charming that you may start shedding your preconceived notions right away… and there are more and more cool creatures to meet around every corner!
This small, sweet space celebrates the wonderful variety of the insect and arachnid world, while also offering guests plenty of opportunities to get to know – and maybe even love – these seemingly scary creatures.
There are more than 50 species around here, from spiders and beetles to scorpions and cockroaches, plus the country's biggest ant farm.
And of course, you can't leave out the slightly bizarre, totally compelling praying mantis; for an especially memorable souvenir, you can even buy some of their egg sacs and raise your own little pals!
37 – Lose yourself in a virtual reality experience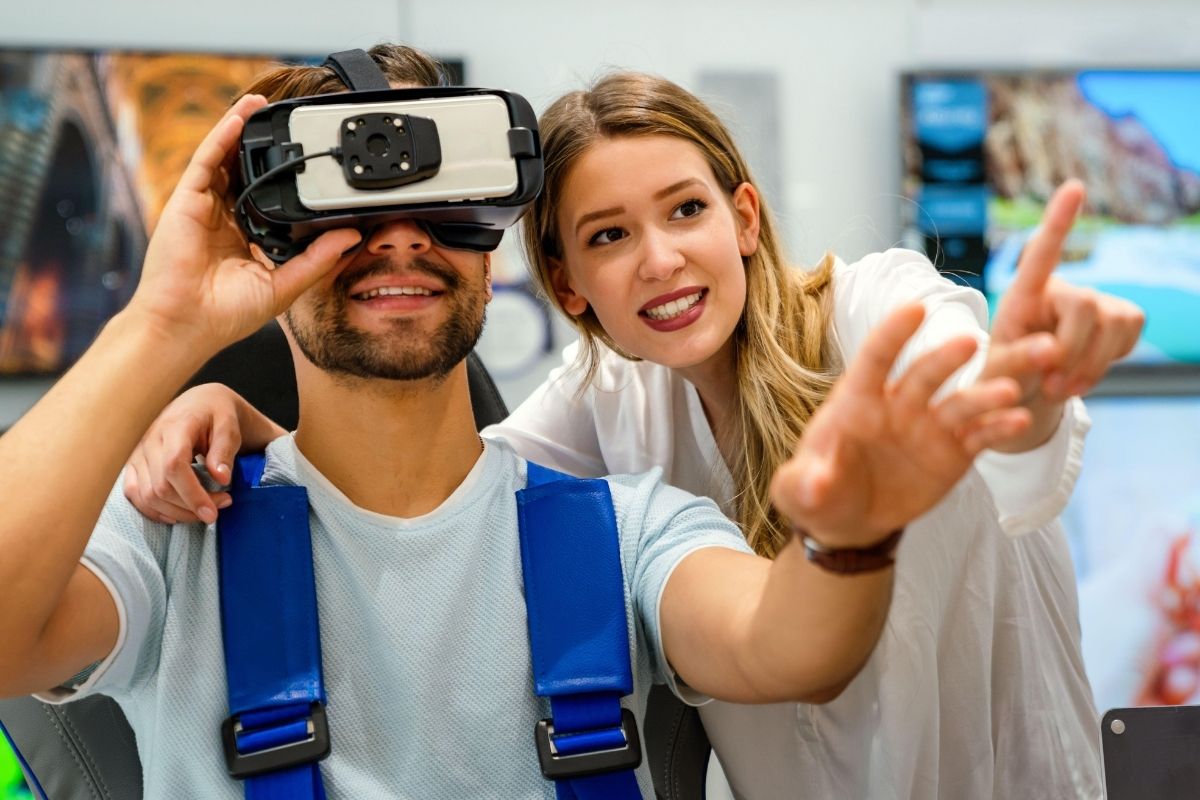 Vacations are all about exploring new worlds, and at Infusion VR Arcade, you can take this idea to the next level!
With top-notch technology and deeply imaginative games and immersive scenarios, you'll be able to dive into some new frontiers – over 200 of them, in fact!
Sporting events and shooter games, zombie apocalypses and prehistoric adventures, detours to the furthest reaches of space and the depths of the sea… you can indulge any and every fantasy here, several times over!
Choose between games and rides (or both!), and lose yourself in the pure thrill of exploration beyond your wildest dreams!
38 – Get in touch with nature and yourself on a mystical rainforest tour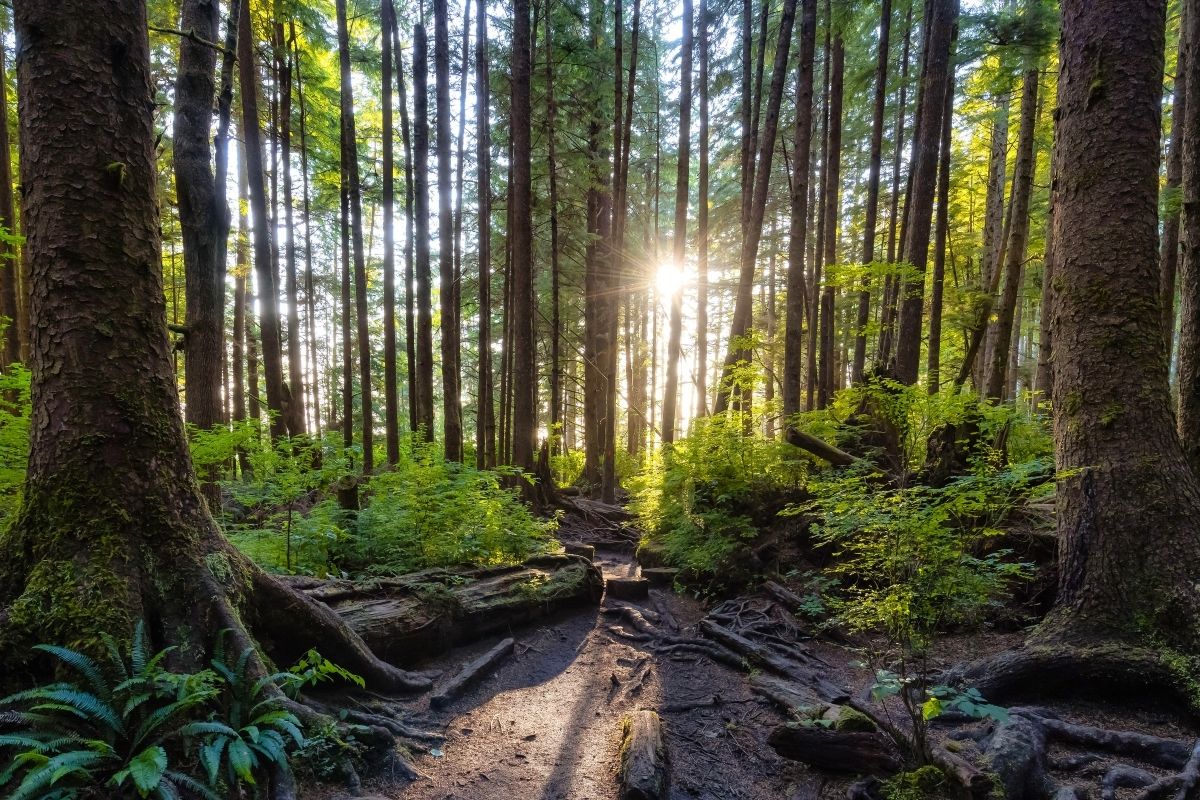 While the rainforest is pretty spectacular no matter which way you explore it, there are some excursions that really focus on the spiritual component!
These mystical rainforest tours focus on the concept of "forest bathing," where tranquility and mental wellbeing can be achieved through spending time immersed in nature.
And once you're out there, you won't have any agenda or set of rules to follow; just soak up the beauty of this ecosystem and connect yourself to all of its magnificent elements!
39 – Find a new favorite diversion at Interactivity Board Game Cafe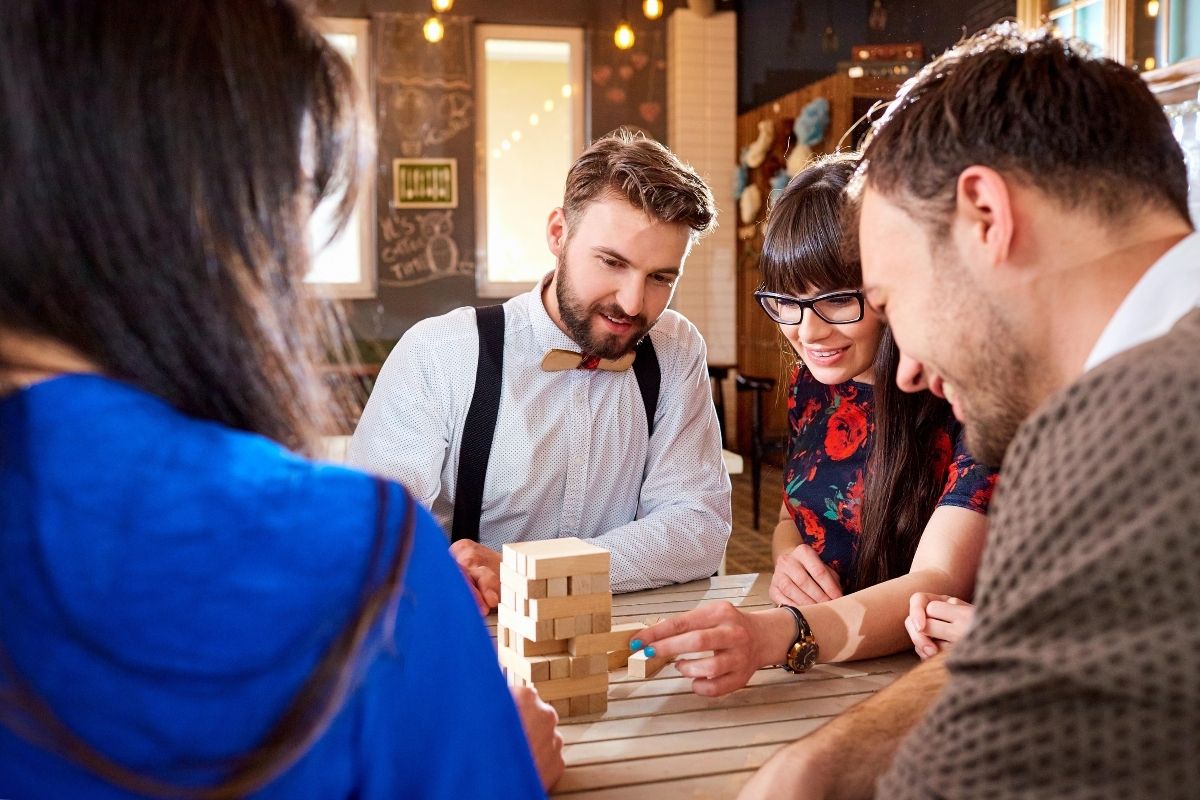 Why wait until you get home to have your next game night, when you can play the day away at one of the city's coolest social spots?
A massive library, wonderful menu, and cozy atmosphere all await you at Interactivity Board Game Cafe, where the entire objective is to hang out, catch up, and try something fun and new along the way!
Start by picking your evening's entertainment from the largest board game library in town, then settle in for hours of friendly competition, with awesome sandwiches and milkshakes to help keep your stamina up.
And if you like what you've played, you can even purchase some new games to take home!
Whether you're looking for an evening out with friends or a great all-ages place to bring the kids, this is the place to go for boisterous party games, epic rounds of strategy, and unique brain-teasers… and if you don't know how to play, the staff can help you learn!
40 – Hang out at Oak Bay Marina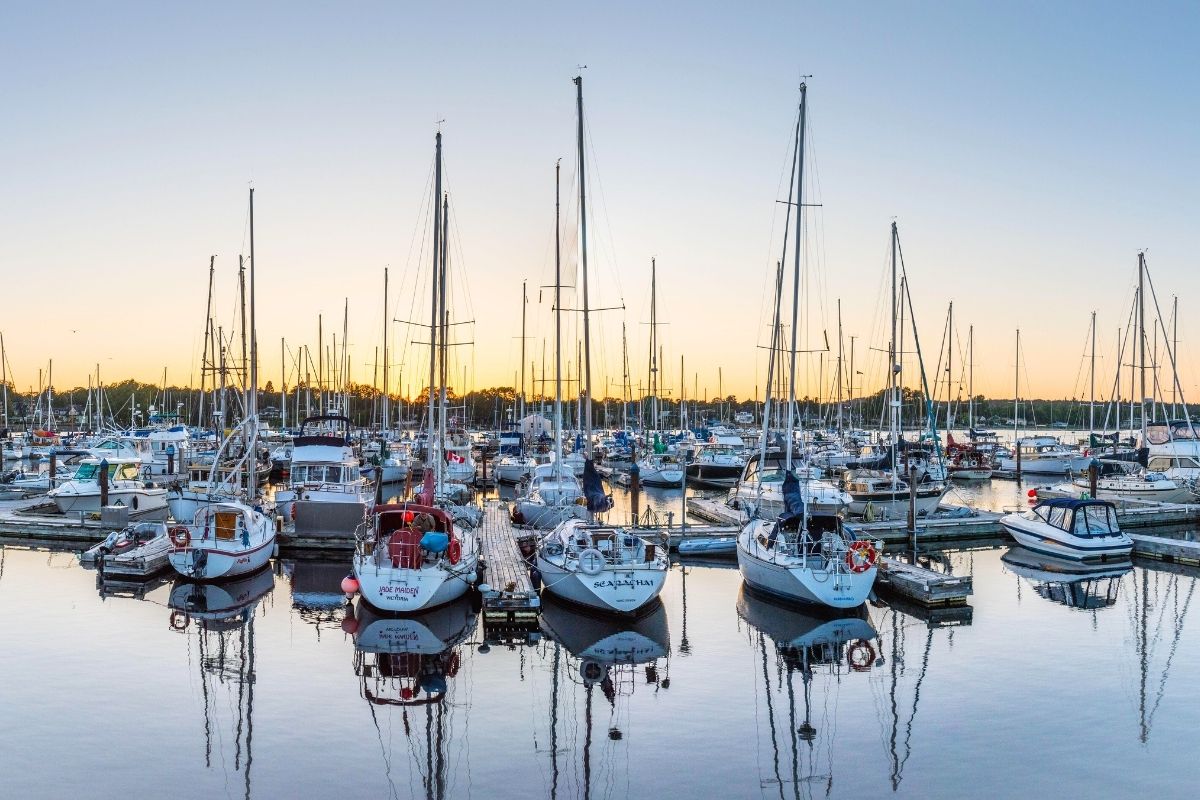 Maybe you want to do a little bit of your own sailing while you're visiting town, and Oak Bay Marina is the perfect place to start!
Ten minutes from the main part of the city, this busy dock is where you can go if you want to head out on an eco-tour and enjoy the watery world all around, or charter a fishing boat and try catching your next meal from beneath the waves!
It's an especially popular option during the summer, when the late sunlight and near-perfect weather are ideal for taking off on a scenic cruise.
You can also unwind by ambling through Finnerty Gardens in Oak Bay, where thousands of plants and trees line the paths and bring a splash of color to the scene.
Don't miss the vivid rhododendrons – there are about 200 species of them to admire!
41 – Watch something impressive at Save-On-Foods Memorial Center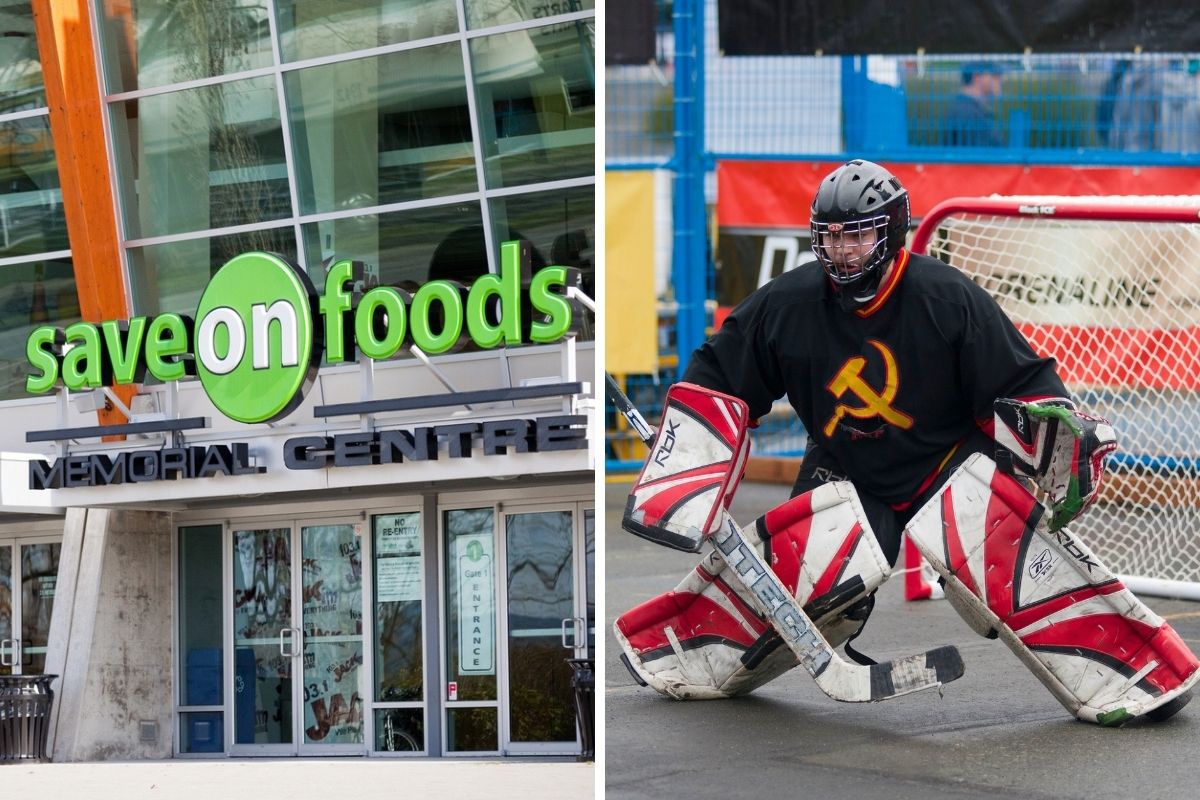 Concerts, sporting events, and even a circus or two… there's no telling what sort of epic show you'll see at Save-On-Foods Memorial Center!
As the largest arena in British Columbia outside of Vancouver, it provides an incredible big-time stadium experience, where you and 7,000 of your closest friends can take in every sort of exciting moment the city has to offer.
It's an especially popular option for sporting endeavors; as the home base of the Victoria Royals hockey team, it's one of the busiest venues in the Western Hockey League.
And you can also catch plenty of other athletic events, from dazzling displays of ice skating talent to the classic Canadian sport of curling.
But arts fans will find plenty to enjoy here too!
Plays, big-name musical performances, and the ever-popular Cirque Du Soleil are just some of the productions that grace the stage here, offering some of the most spectacular things to do in Victoria, British Columbia.
When you're ready for a truly unforgettable moment – or several -, grab your tickets and head on down!
42 – Embark on a food tour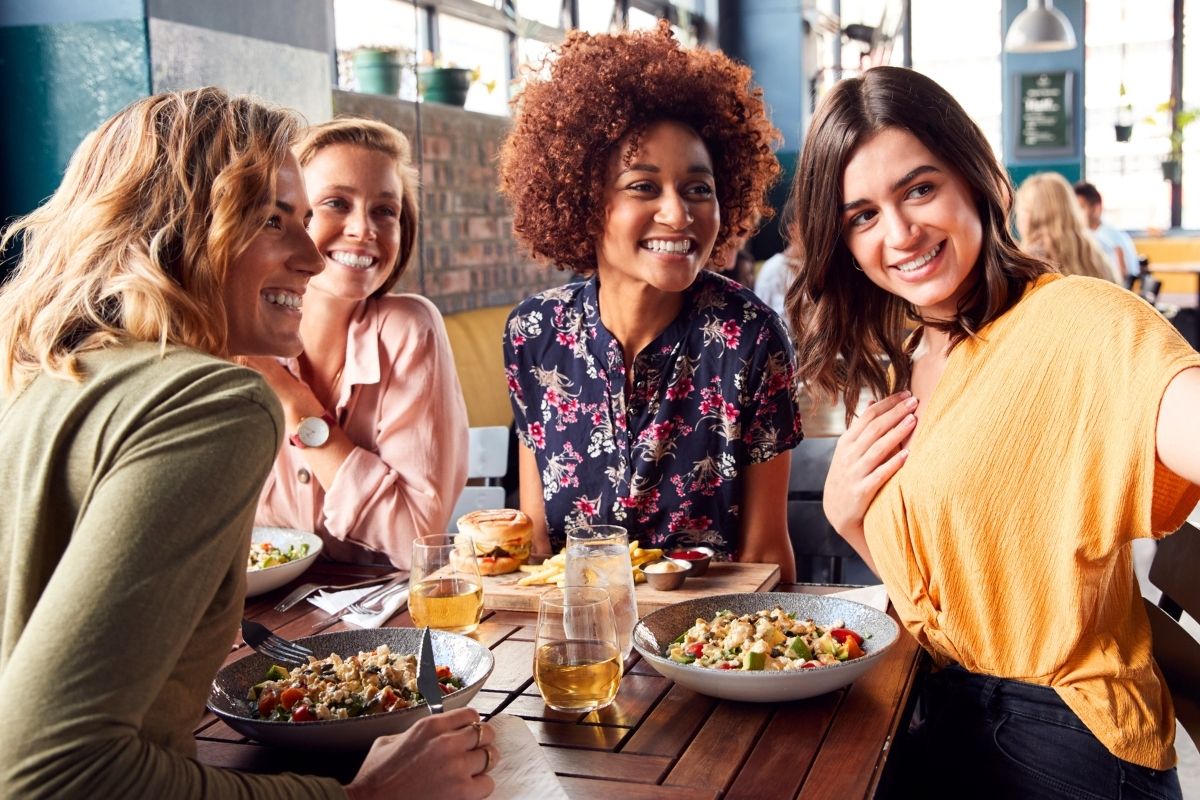 Diverse and deeply hip, the city's culinary scene is as rewarding as the rest of its culture; and food tours are a perfect way to try it all!
Stroll through the different communities and try all of the sweet and savory delicacies the town's artisans have to offer, including cheese, chocolates, pastries, and a wonderful assortment of beers and wines.
Enjoy the classic-modern fusion of dishes in Chinatown, or try the imports that have quickly become a beloved part of the city's dining scene, from tapas to tacos.
And if you want to really indulge your sweet tooth, feast your way through a donut tour!
This is one of the most popular desserts in town, and the shops here are just as delightful as the fresh-baked goods inside.
From cozy little family shops to the Filipino dishes at Friend and Family Bake and the retro outer space aesthetic at Empire Donuts, each stop has its own twist on design and dessert alike, and you'll get a great sugar rush with some fascinating local insights thrown in!
43 – Shop the day away at The Bay Center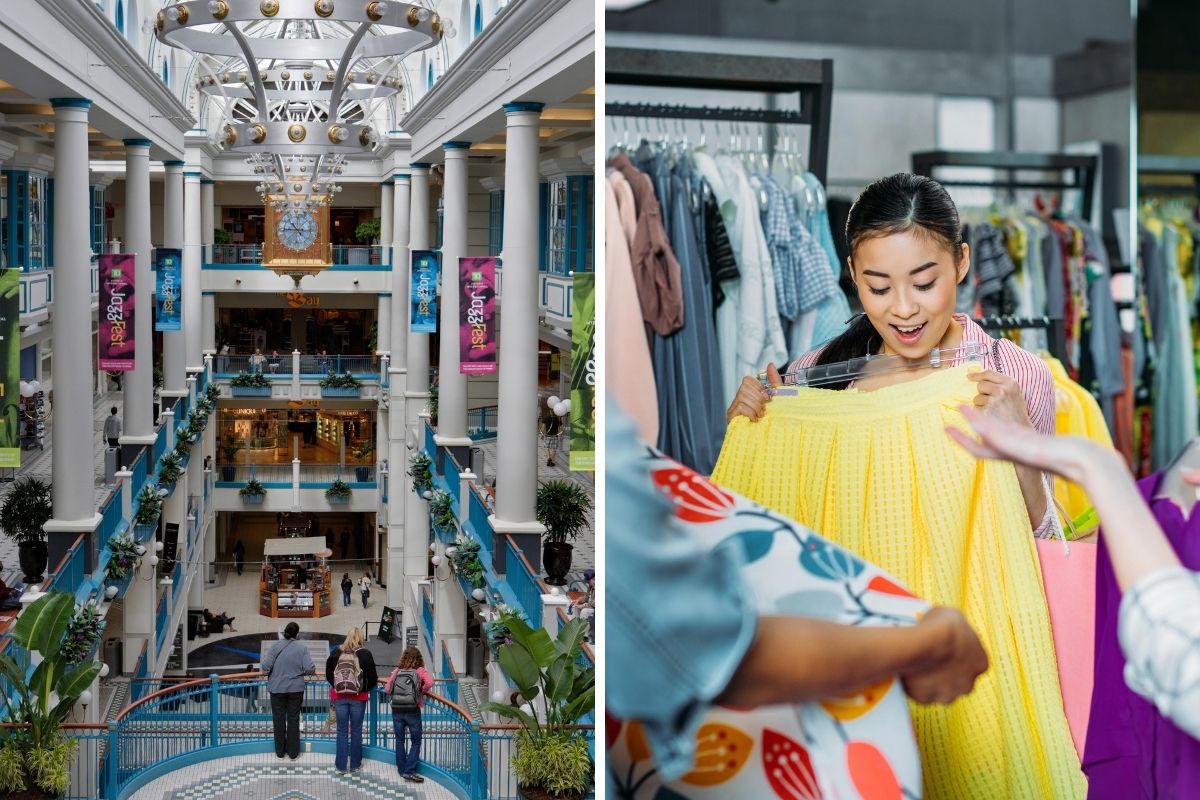 Maybe you'd like a wider range of keepsakes to explore, or perhaps you're just craving an epic buying experience.
Either way, you'll certainly get your greatest retail wishes granted at The Bay Center, a trendy, massive commercial area right in the heart of downtown.
More than 80 different stores have taken up lodging here, packed with all the beauty products, fashion, jewels, and fancy gifts that your heart could possibly desire.
Of course, that's not even counting the many different restaurants tucked along the same block, where you can enjoy even more of the city's fabulous meals and soak up the ambience of this luxurious block.
Bring some extra bags and get ready to score a treasure or two!
44 – Peruse the pages at Russell Books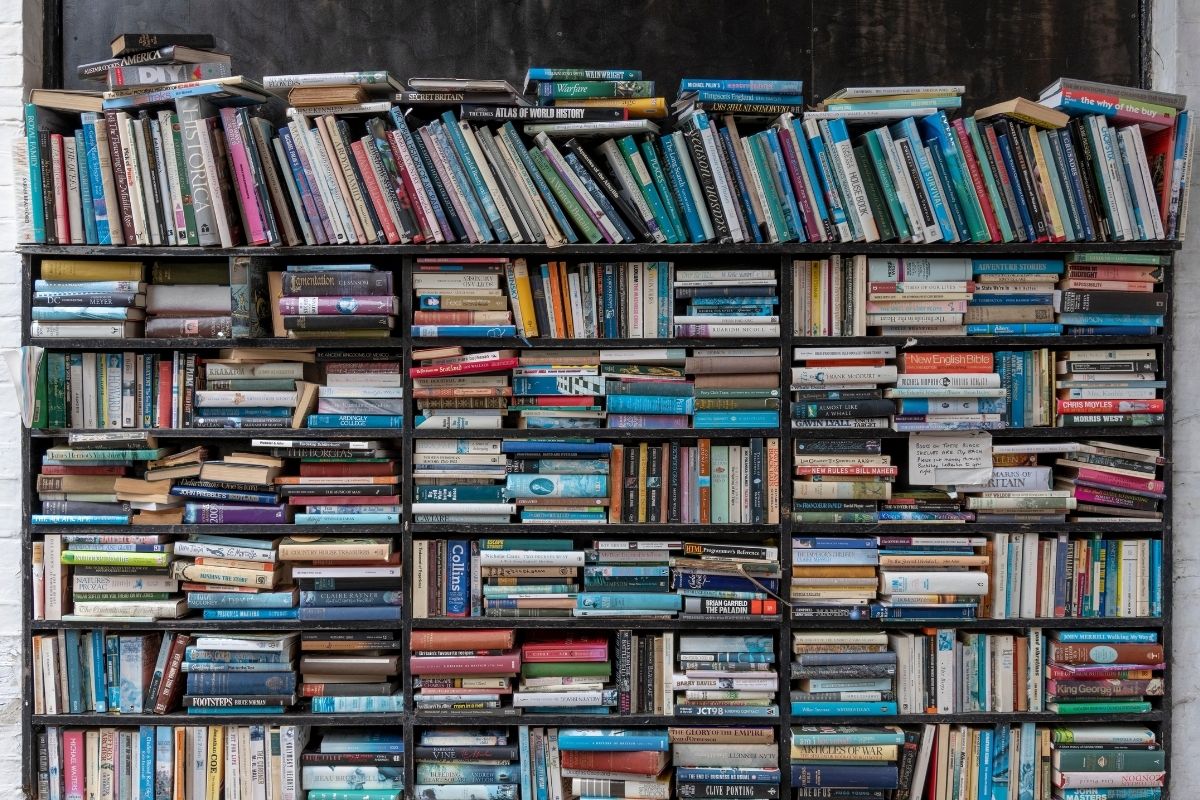 Bookworms will find plenty of reasons to fill their luggage too – after all, it isn't every day that you get to explore Canada's largest selection of used books!
This bonanza of words comes courtesy of Russell Books, a massive space that still manages to feel welcoming and cozy.
Since this branch opened in 1991, it has quickly become a temple of knowledge and community, where you can score amazing bargains, discover hidden gems, and browse through an incredible assortment of older offerings.
And like any good bookstore, the sense of community here is just as prized as the volumes on the shelves; with a steady lineup of public events and acclaimed authors reading their latest works, this place really puts its money where its mouth is when it comes to supporting the written word!
And when you've pilfered all the pages you can manage, you can head out to explore more of Fort Street, which is packed with other antique shops and temples of oddities.
Then go deeper into architectural history with a stop at nearby Wharf Street, famed for its collection of historic buildings and vibrant waterfront area.
45 – Do a bit of wine tasting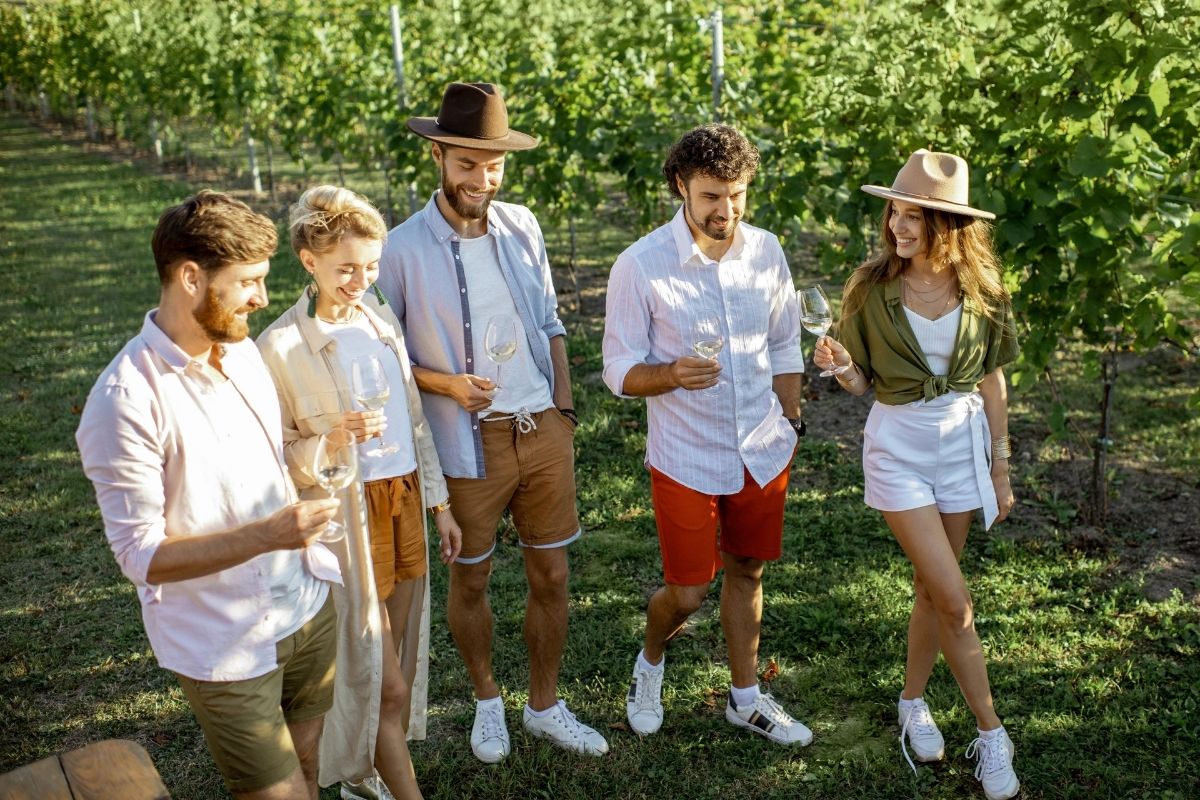 Row after row of grapes tucked into the picturesque terrain of the Cowichan Valley await your inspection; but luckily, you won't just be looking… you'll be sampling!
There's nothing quite like a wine tasting to help you loosen up and get to know the region you're visiting; the combination of beautiful scenery, unique history, and delicious beverages.
Enjoy little treats with each glass, and learn how all of the different businesses cultivate their own distinct strains.
And that's not the only great beverage scene around here!
With craft breweries and traditional strongholds making an impressive collection, the suds scene in town is just as impressive as the vino; and the local beer tastings are just as impressive!
Get a heaping helping of hops, and enjoy the fun flavors of each pint and flight!
46 – Try a whole new type of spooky sport at Haunted Manor Victoria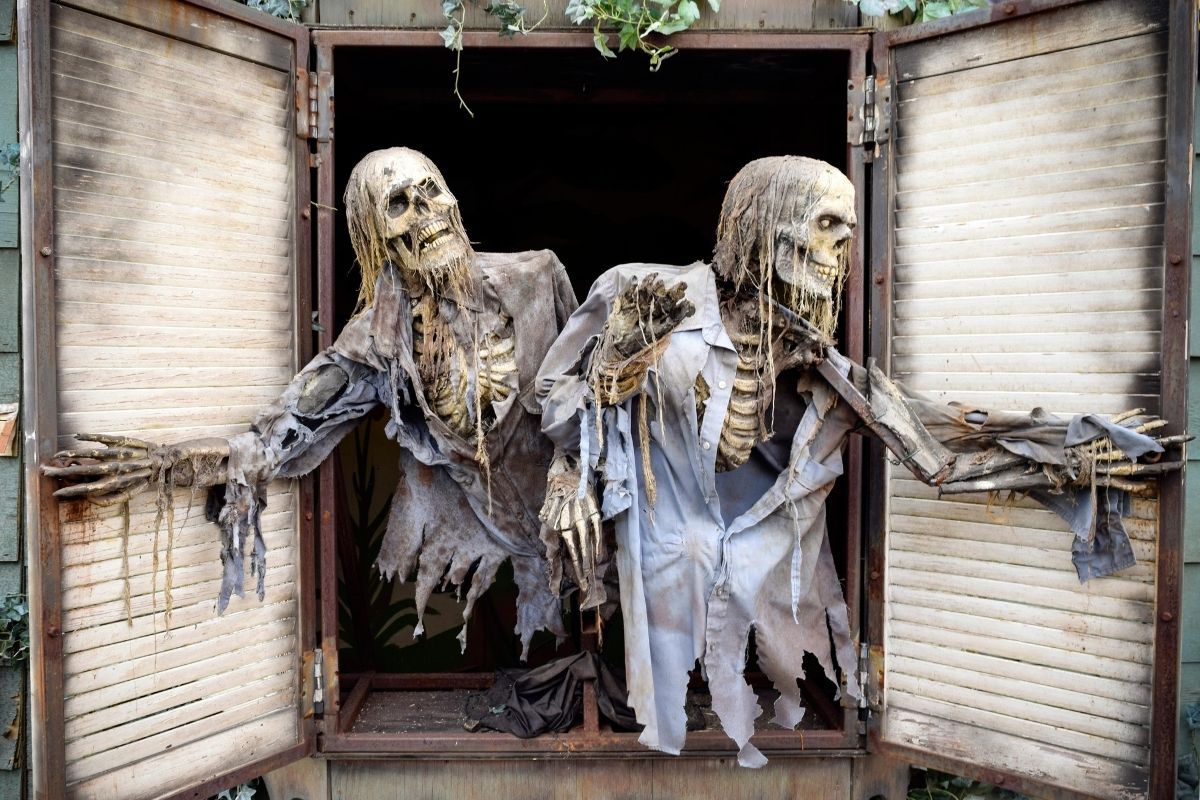 You don't have to visit during Halloween to find some wonderfully creepy things to do in Victoria, British Columbia…. just step into the perpetually eerie halls of Haunted Manor: Mini-Golf & Ping Pong Lounge!
Bringing a delightfully creepy twist to the family fun center model, this spot lets you play 18 holes through a twisting maze of spooky rooms filled with secrets and strange happenings…. maybe even a supernatural figure or two!
Then keep the party going in the ping-pong lounges, where you and your travel buddies cna go round after round and crown a true champion!
Don't miss the most delightfully frightful time in town!
47 – Savor the shows at the best theaters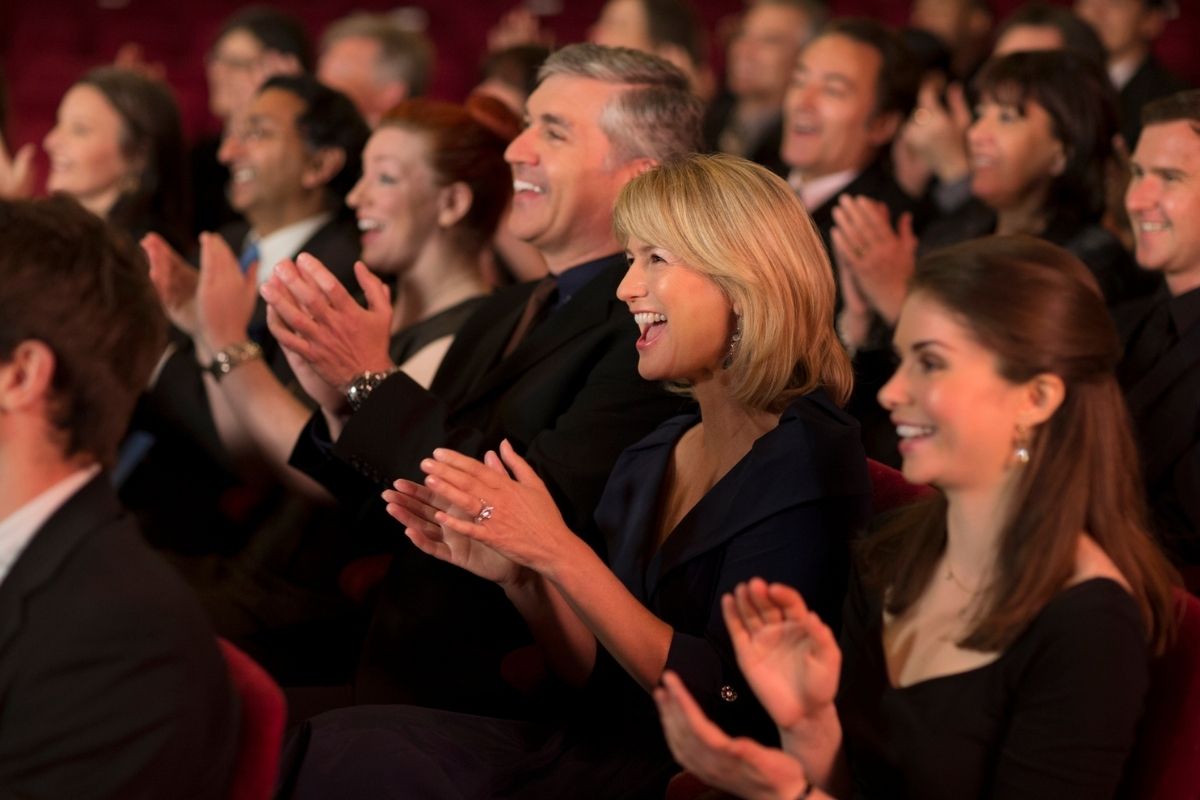 Catch a show or two in some venues that are every bit as impressive as the productions they host!
The arts have always been embraced here, and when you get to these ornate spots, you'll promptly get swept up in the action!
As stunning and elegant as a wedding cake, Royal Theater more than lives up to its name; ever since it opened in 1913, it has been a stalwart place for plays and symphonies – plus dance recitals, drag shows, and everything in between.
And as the largest space of its kind on Vancouver Island, its elegant halls are always ready to be filled with appreciative audiences!
Then there's Belfry Theater, which claims a charming 19th-century mansion as its home, and has been at the forefront of the performing arts scene since 1976.
Always focused on supporting and promoting the shows of Victoria and Canada at large, it's the perfect place to see a new and exciting show; sometimes, you might even catch the next big production before it goes out to grace stages across the world!
48 – Sample some homegrown beverages at the local breweries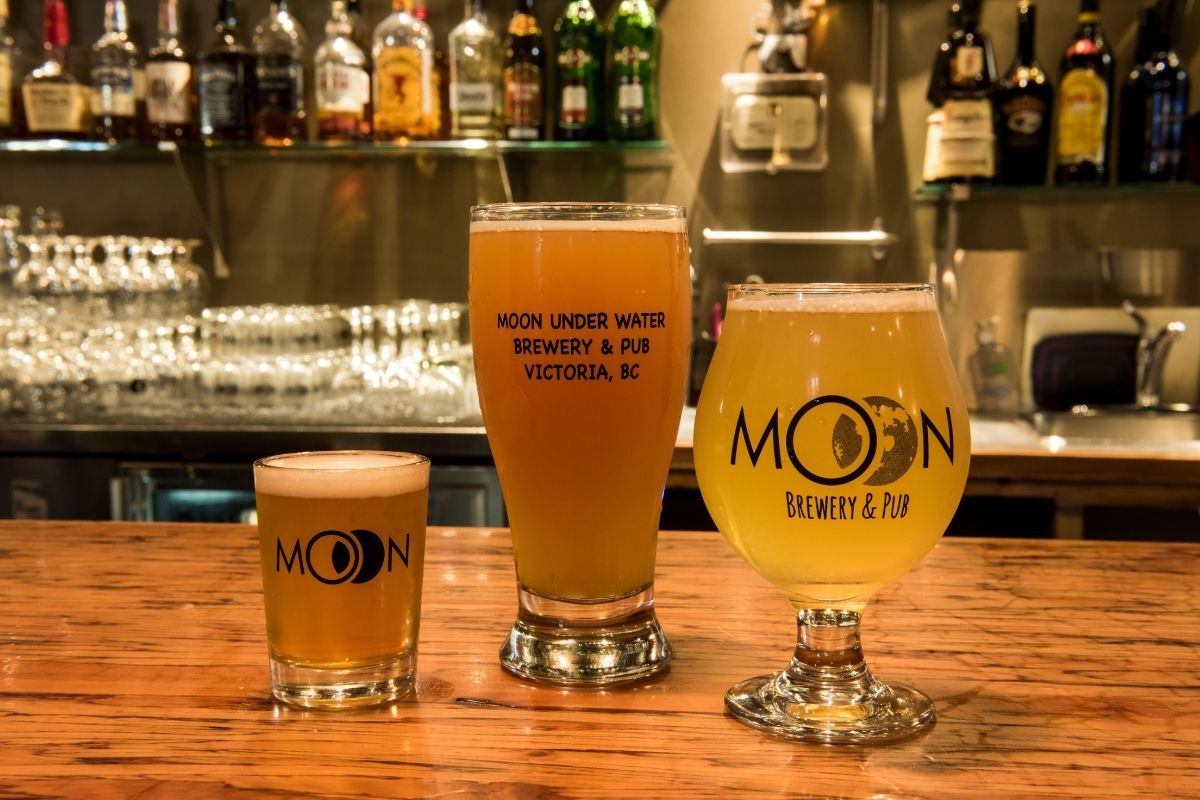 Time to head back to the bar – but of course, there's more to this experience than just the excellent drinks!
With an ever-evolving craft brewery scene, these spots offer up an unbeatable set of flavors and styles that will convert even the biggest beer snob… oh, and the friendly atmosphere certainly helps!
At Moon Brewery & Pub, you'll find all sorts of great beers and whiskeys carefully cultivated right on-site, plus a kid-friendly and dog-friendly setting!
And at Vancouver Island Brewing, you can sip your way through nearly 40 years' worth of delights in the taproom, from dark lagers to pale ales and everything in between.
Phillips Brewing will charm you with its farm-grown malt grains and environmental focus, plus the occasional festival or two.
Meanwhile, Hoyne Brewing specializes in ales and lagers, mixing European styles with Canadian flavors.
And at Driftwood Brewing Company, the offerings include seasonal beverages, plenty of different flavors, and some excellent tours so you can learn the story behind the suds!
49 – Give your taste buds an upper-crust treat with some fine dining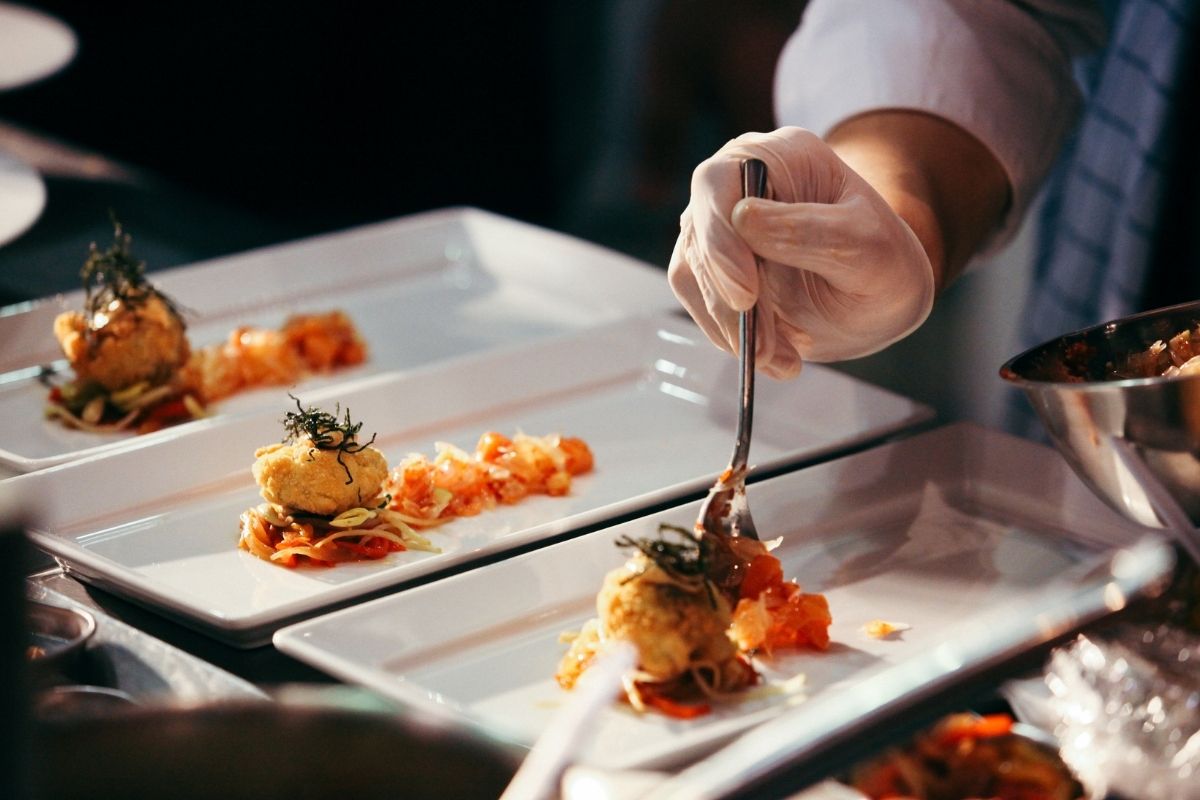 And while you need to soak up all of this great wine and beer, why not head to some of the best restaurants in town?
This is another chance for the local cuisine to shine in a more upscale setting, but exactly what appears on your plate is a constant surprise; you'll have meals from all over the world (and Canada, of course) to sample, and aesthetics to match!
Indulge in some Italian at Il Terrazzo Ristorante, where a candlelight dinner might include lamb chops or spaghetti.
Or get a taste of France at Brasserie L'ecole, home to duck confit, chicken liver, and all sorts of other delicacies.
Sample seafood, tapas, and farm-to-table meals at Aura Waterfront Restaurant + Patio, which also offers perfect views of the Inner Harbor to enjoy.
And when you're ready to try a spot with a great atmosphere and tastes to match, head to Little Jumbo for fine meals such as flat iron steak and pork belly, plus a famously excellent cocktail menu.
50- Make the rounds (and buy some) as you indulge in the city's nightlife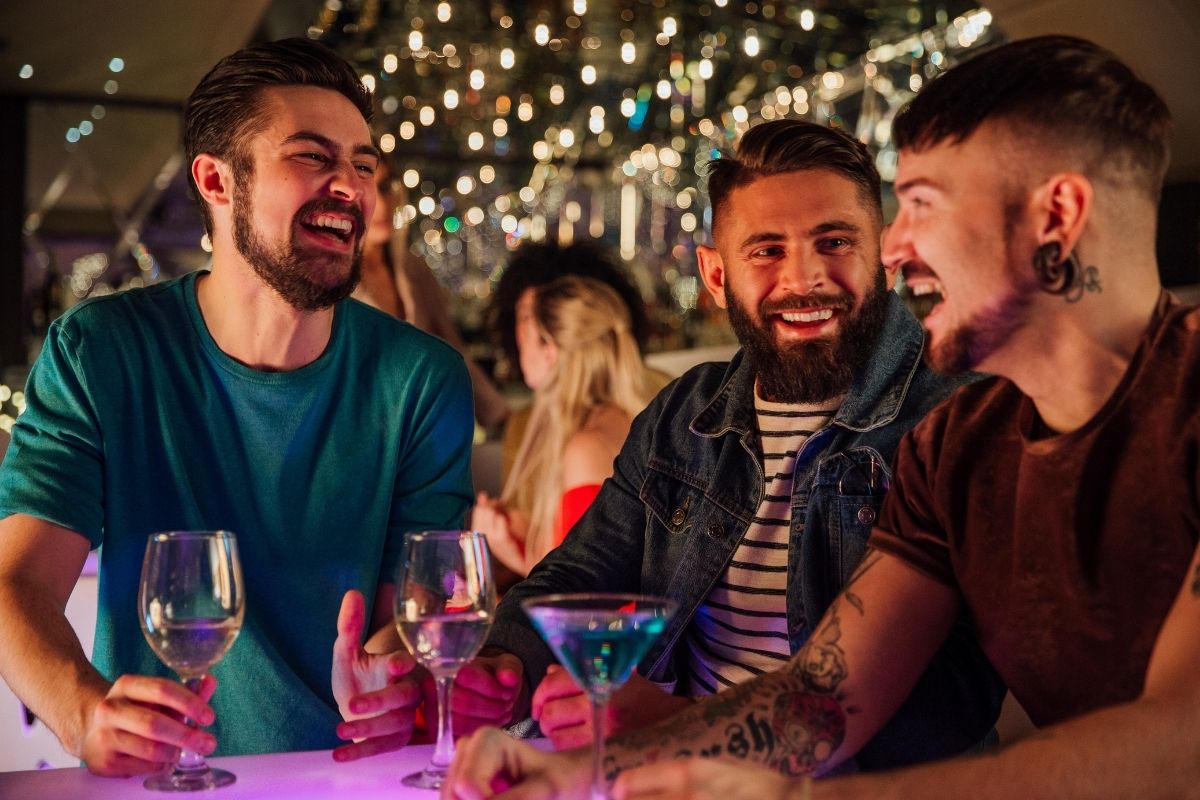 And finally, you can cap off all of that exploring, gaming, eating, and drinking with a wild night out to remember!
Just like the other parts of the city's cultural scene, the offerings here are so varied that you can tailor your own adventure; just be prepared to stay up late and get a little decadent!
While The Mint is technically a restaurant, its lively cocktails (with several of them featuring creative uses of its namesake herb) and fabulous DJ sets also make it a great party spot as well.
And for LGBTQ-friendly hotspots, head to Paparazzi Nightclub, which offers up a nice social club feel with its pool tables and karaoke sessions.
Irish Times Pub is perfect if you want a classic watering hole experience, with beers flowing on tap and live music encouraging all sorts of impromptu singalongs.
A similar vibe – this time in Scottish form – can be found at Bard & Banker, complete with 320 varieties of whiskey and beer… and as an added bonus, your servers just might serve up your selection while wearing traditional kilts!
Finally, at the Garrick's Head Pub, you can enjoy a laid-back and deeply pleasant experience full of good food, good drinks, and great friends, plus a long and storied history that's worth the trip in its own right; according to legend, your drinking buddies might just include a few ghosts!
Where to stay in Victoria, British Columbia?
The Empress has some pretty good company when it comes to awesome places to stay!
If you're looking for a quiet kid-free getaway, Abigail's Hotel will provide you with a cozy hideaway, complete with a fabulous lounge area perfect for reading, catching a film, or playing a couple of games with some newfound friends.
Or head to Oswego Hotel to get pampered in cosmopolitan style, with the harbor and the downtown area right outside, and a great restaurant and stylish designs to welcome you home later in the day.
Hotel Rialto is another centralized masterpiece, perfectly nestled next to the Victoria Conference Center, and offering its own tour guide desk to help you plan your amazing trip to the city.
And at Strathcona Hotel, you can enjoy a stay that feels more like a summer camp, complete with darts, billiards, and even a sand volleyball court on the roof!
The Embassy Inn will give you another taste of the finer things, especially if you're a political junkie or a history nerd; after all, the Royal BC Museum is just a short walk away, and the Parliamentary complex is right next door!
Where to go next?
As phenomenal as this town is, there are so many other fun things to do in British Columbia that you'll want to keep exploring!
Famed for its natural beauty interspersed with some truly delightful cities, this is a province that rewards the daring sightseer and the cerebral traveler in equal measure… although there are plenty of relaxing options as well!
If you're into winter sports, you'll find heaps of things to do in Whistler, BC, which has long been one of the most coveted skiing spots on Earth; but it's also a lovely little spot to enjoy some mountain sports, hip galleries, and even a spa or two.
And if you prefer the big-city angle, there are also lots of things to do in Vancouver, the biggest city in the province, where fantastic museums and neighborhoods bursting with charm rub elbows with vast public parks, sporting events, and views for days.
But there's also lots to see as you move through the rest of the country!
In Alberta, you can try all the things to do in Jasper and things to do in Banff, two sparkling little towns with welcoming outdoorsy vibes and gorgeous resorts, plus some jaw-droppingly beautiful national parks as their backyards.
You will also find many fun things to do in Calgary, a town that has plenty of top-notch sporting events, works of art, and shopping areas, yet never forgets its country roots… after all, this is the home of the famous Calgary Stampede!
That's just the tip of the iceberg (sometimes literally) in terms of the best places to visit in Canada, where fossil beds, seasides, quirky towns, and Arctic-adjacent hamlets offer a great incentive to keep on traveling and learning, coast to coast, north to south, and everywhere in between!
But why stop at Canada? Just a short ferry ride or drive away lies the buzzing metropolis of Seattle in the United States. This gem will perfectly complement your Pacific Northwest journey. Famous for its iconic Space Needle, vibrant arts scene, and aromatic coffee houses, there's a myriad of fun things to do in Seattle.
Final Thoughts
A little bit of elegance, a lot of scenery, and an unforgettable charm that's been cultivated through years of preservation and revitalization… this is the legacy that unfolds on the streets and in the woods here, and it's one well worth exploring at length.
And now that you know what some of the coolest things to do in Victoria, British Columbia are, it's time to check out the whole beautiful, welcoming smorgasbord for yourself!