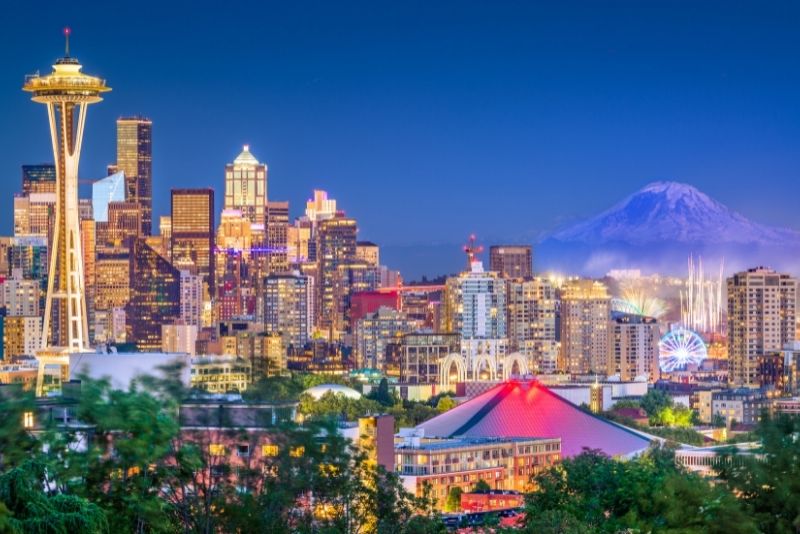 With the shimmering Puget Sound to its west and the calm shores of Lake Washington to its east, a blissful day in nature is never too far away when you're visiting the Emerald City.
However, there's so much more to Seattle than just its neighboring waters; the innovative, hipster, rapidly expanding city is flush with activities for history buffs, film enthusiasts, foodies, party-goers, and everyone in between.
From the fresh aromas of the locally grown fruits and vegetables sold at the Ballard Farmer's Market to the culinary gems inside Pike Place Market, and also witnessing the famous salmon tossing spectacle – your senses will always be entertained, in more ways than one.
With numerous adventurous things to do, from skydiving to getting close to Mt. St. Helen on a helicopter tour, or taking on a paddleboarding adventure – the list goes on and on.
Starting with the Space Needle and ending with the Gum Wall, you could visit 100 times and still never run out of things to do in Seattle. But if you're looking for places to begin, look no further!
1 – Get the best views of the city at the Sky View Observatory
The Sky View Observatory offers panoramic views of the Seattle skyline that you won't find anywhere else.
Not only will visitors get to see the sparkling high rises and the iconic Space Needle (which, of course, you can't see from the Space Needle itself) but also the surrounding snow-capped mountains and the glistening Puget Sound.
If you have a fear of heights, this might not be for you as the Space Needle towers a whopping 73 floors above the ground!
2 – Tour the famous Seattle Underground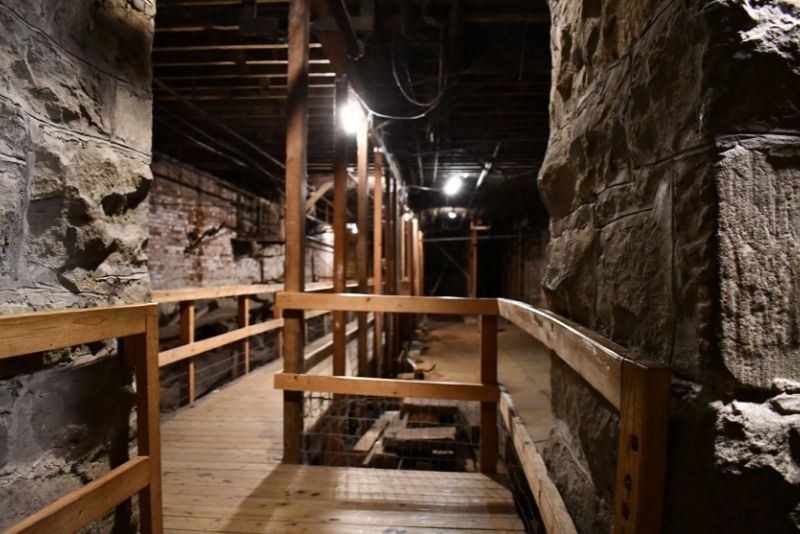 These underground passages have been around since 1890 and are a must-see for tourists!
The underground covers four blocks underneath the historic Pioneer Square and takes about 1 hour to tour.
Tour guides go into depth on the history of Seattle, the underground, and the Great Seattle Fire of 1889 that left the city in ruins.
3 – Meet the ocean's gentle giants on a whale-watching trip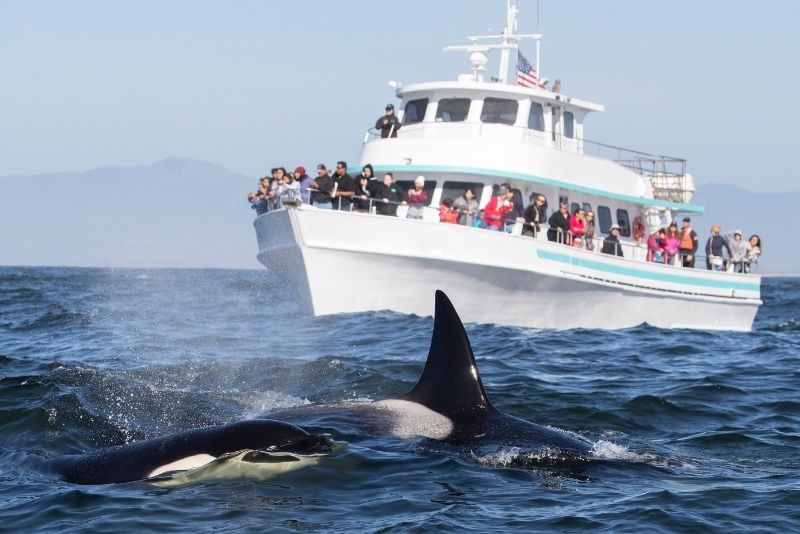 Did you know that Seattle's waters are home to five different types of whales?
Onboard a dedicated whale-watching tour, expert captains will transport you to the most common sighting points, where these enormous mammals often pop their heads up to say hello.
With an expert crew at your disposal, they'll be happy to answer any questions that you might have about whales (or Seattle, in general).
4 – See Seattle's main attractions on a hop-on hop-off bus tour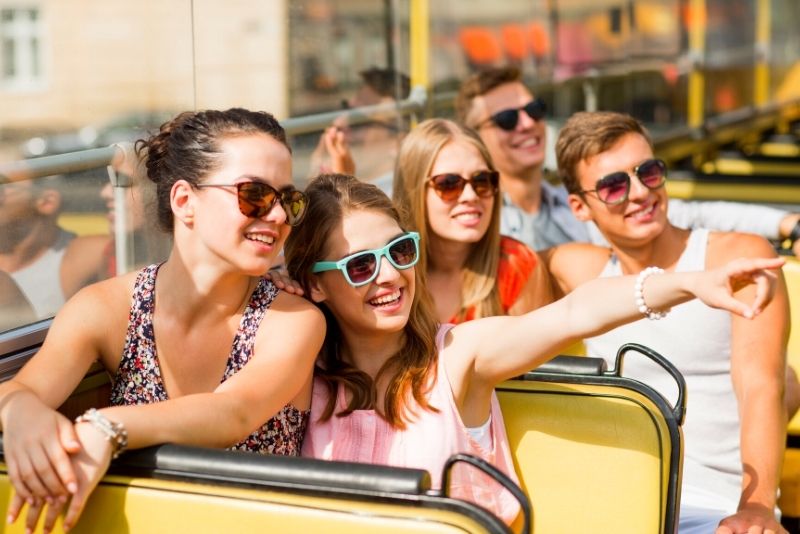 A hop-on-hop-off bus tour is ideal for visitors who don't have a lot of time to waste.
Choose your seat on either the lower level or open-air deck, and let the audio guide share insights into all of the main Seattle attractions as you zoom past.
Everything from Chinatown to the Seattle Art Museum and Pike Place Market is on the route, with guests able to disembark whenever and wherever they choose.
5 – Unleash your inner art critic at a digital art exhibition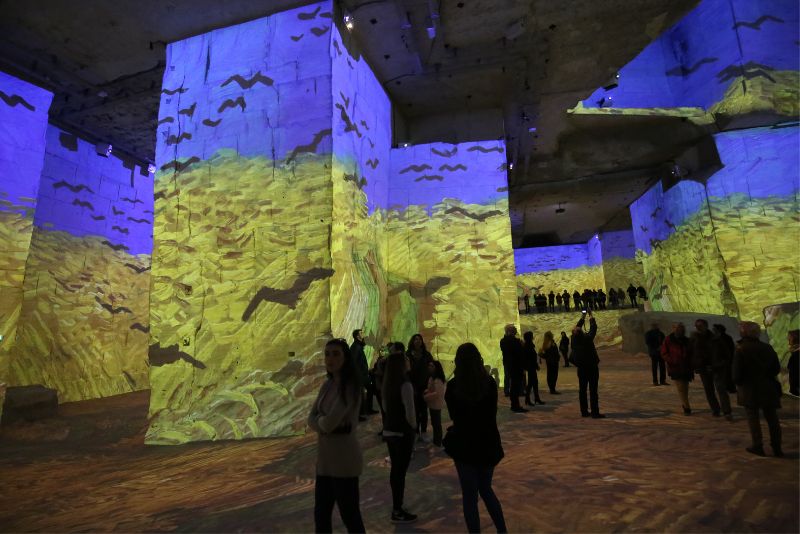 Explore like never before some of the most magnificent pieces of artwork, in an immersive and captivating way from Surrealism to Impressionism, and more.
Visit a few of the digital art exhibitions taking place throughout Seattle, like Van Gogh and Monet.
Shift your eyes around, making out the details that often aren't noticed in a typical museum, as you enter the paintings yourself, accompanied by beautiful music.
6 – Marvel at modern travel on a Boeing Factory tour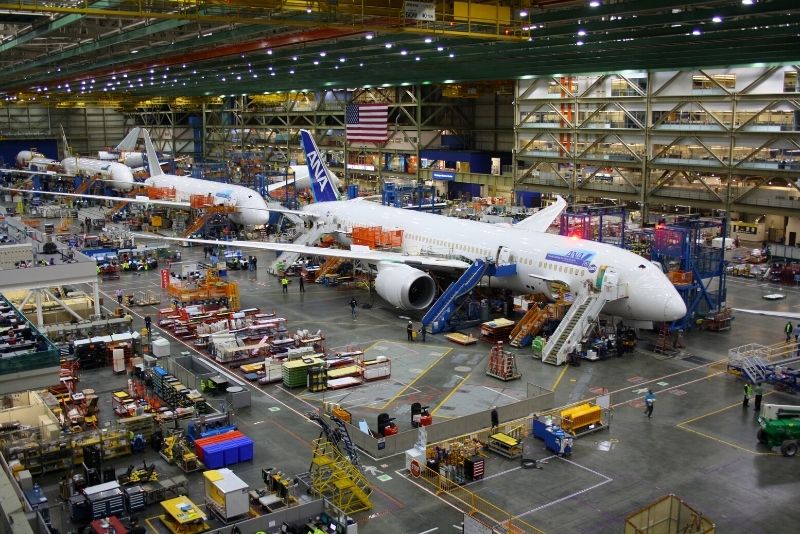 Do you fancy yourself a young Maverick? Have you always wanted to learn how flying actually works? Then a tour of the Boeing factory is one of the best things to do in Seattle!
With all sorts of different models of airplanes being made (including 777, 787, and Dreamliner models), plus interactive exhibits and a unique gift shop, it's a great day out.
Fun fact: The Boeing Factory boasts the official title of being the largest indoor facility in the world!
Read more about the Boeing Factory Tour.
7 – Awe at glistening lights at the T-Mobile Park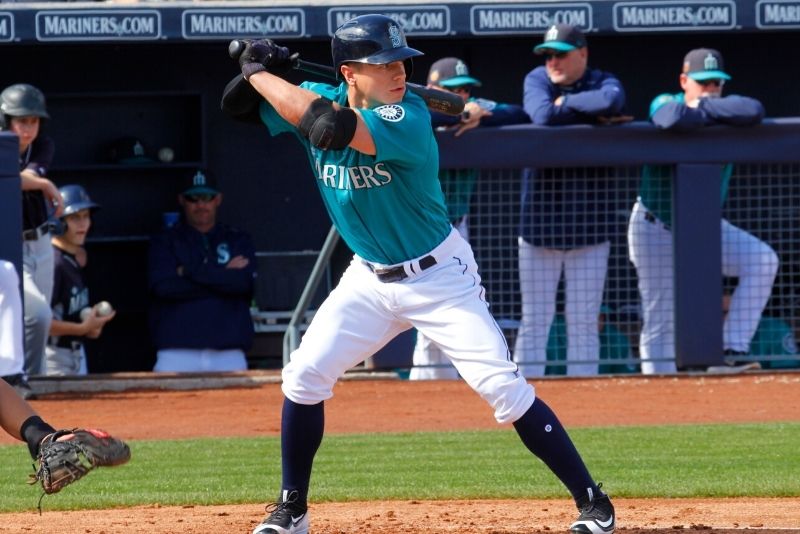 Nestled in the SoDo district of Downtown Seattle, T-Mobile Park is the coveted home of the city's beloved baseball team, the Seattle Mariners.
While the MLB season typically runs from March through to September, the 47,943-seat venue also hosts festivals and big-name concerts throughout the year.
8 – Gaze at the stunning Snoqualmie Falls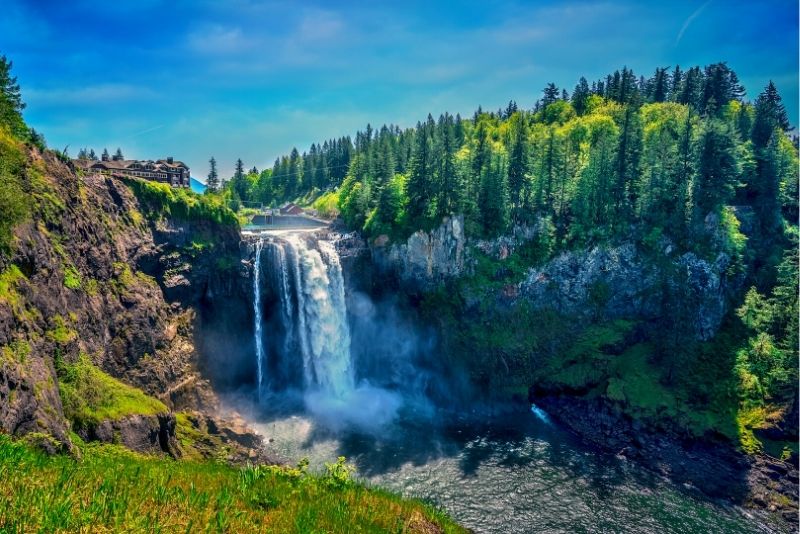 Nature-lovers, take note: Seattle is home to the stunning 268-foot Snoqualmie Falls, the focal point of a 1.6-mile heavily-trafficked hiking route just a 30-minute drive inland.
While you can venture here yourself, there are also many different types of organized trips that include a stop at the falls, including city explorer tours and winery tours!
Hot tip: Snoqualmie Falls Tour – everything you should know
9 – Glide over Lake Washington on a sightseeing boat tour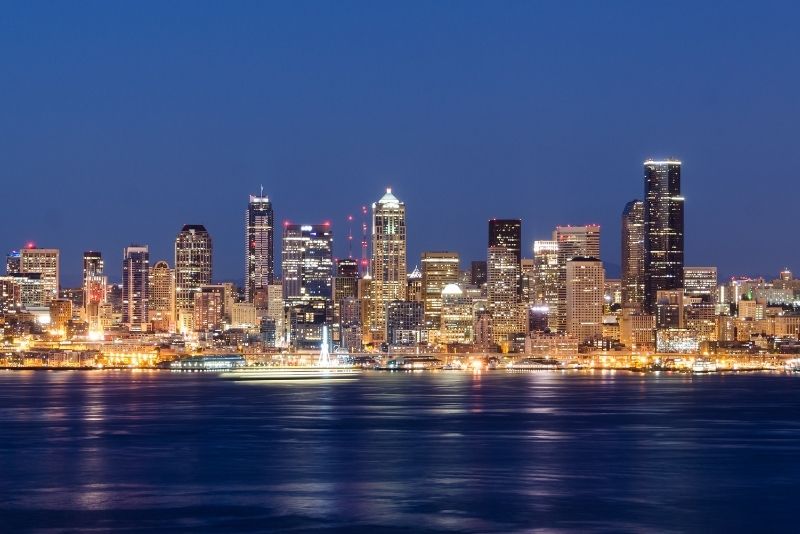 If you've already soaked in the view from the Space Needle, a sightseeing boat tour is the next best way to take in the stretching city skyline.
There are tours that run almost every time of day or night, many of which include a mouth-watering buffet dinner.
Not only will guests get to cruise over Lake Washington, but also Lake Union, with a thoughtful crew pointing out all the historic sights along the way.
10 – Process the contemporary art inside the Frye Art Museum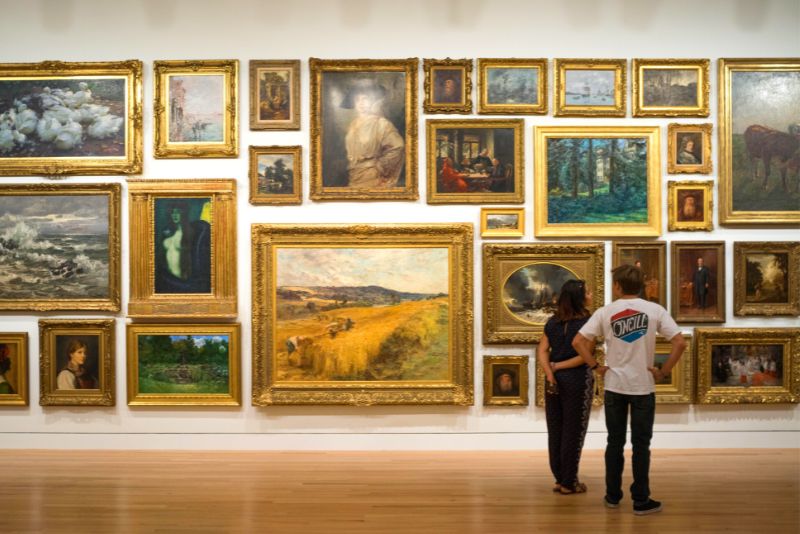 It's no secret that Seattle loves its art spaces, and another one to add to your list is the Frye Art Museum.
Exhibiting a display and mix of German-American art pieces, with contemporary art arrangements of mixed media, technology, and visual art, the Frye Art Museum will hold you for a bit as you explore the meaning behind some of the pieces.
Check out the days when free tours are available, as well as concerts and discussions, making for an extra interesting time.
11 – Visit the iconic Lumen Field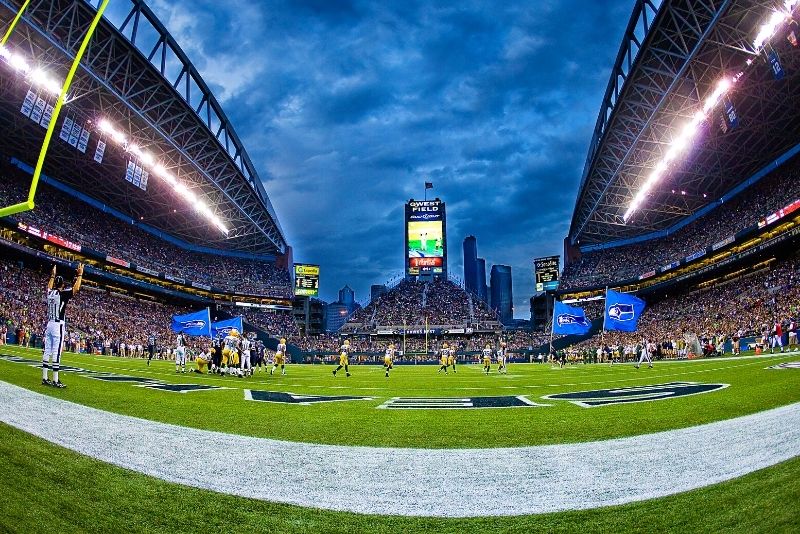 Sports enthusiasts will know that Lumen Field is the iconic home field for the Seattle Seahawks (National Football League), and the Seattle Sounders (Major League Soccer).
So grab a team scarf, cheer on your favorite players, and let the roar of the crowd overwhelm you.
If the electric atmosphere of a live match isn't enough, you can also easily book a tour to explore the grounds.
12 – Bring your partner to a romantic Candlelight Concert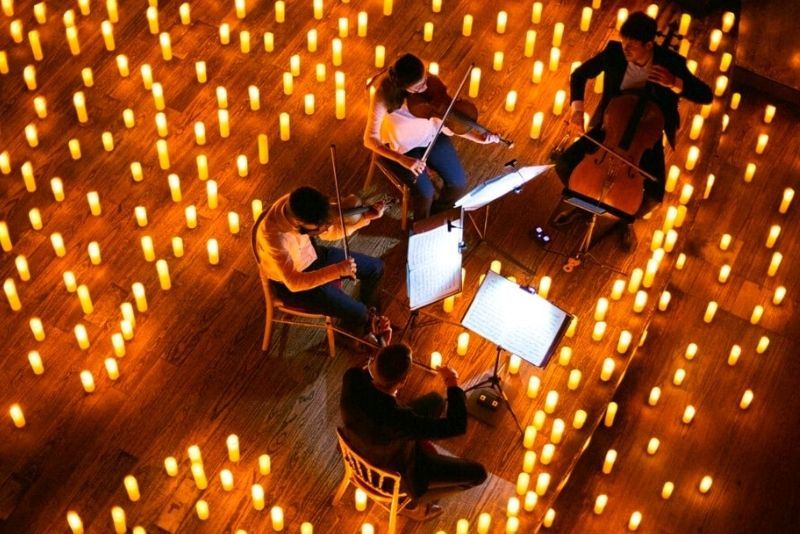 Enjoy the soft-glowing lights illuminating the bright talent on stage at a Candelight Concert, featuring musical concerts from The Nutcracker to Sci-Fi movie scores, and contemporary artist tributes to Coldplay and Taylor Swift.
A concert experience unlike anything out there, you're sure to have a memorable experience enjoying your artist's favorite music with the flicker of a few thousand candles, with your partner, or with your best group of friends.
Tickets start as low as $30 USD, so don't miss out!
13 – Brighten up your day at the Skagit Valley Tulip Festival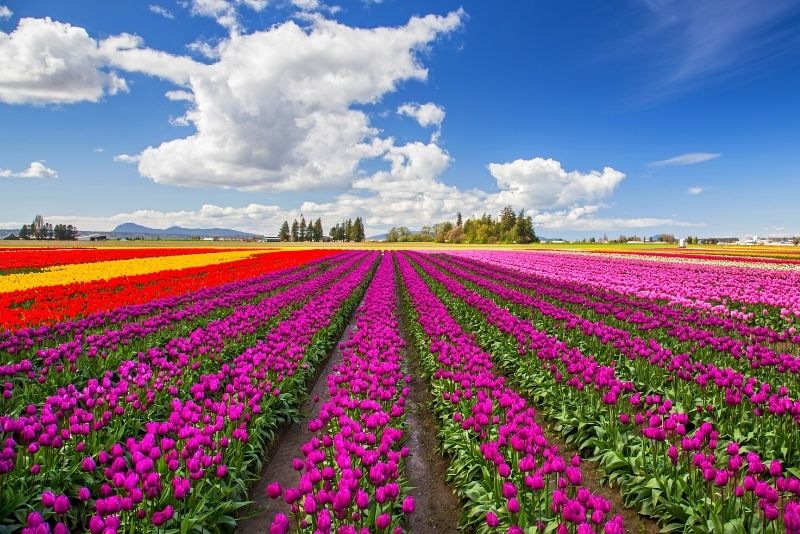 The annual Skagit Valley Tulip Festival in April allows guests to stroll through 1000 acres of colorful tulip fields/
After snapping a few photos to make all of your friends at home jealous, check out the nearby village of La Conner, which offers plenty of places to stop to eat as well.
14 – Venture into the great outdoors at Olympic National Park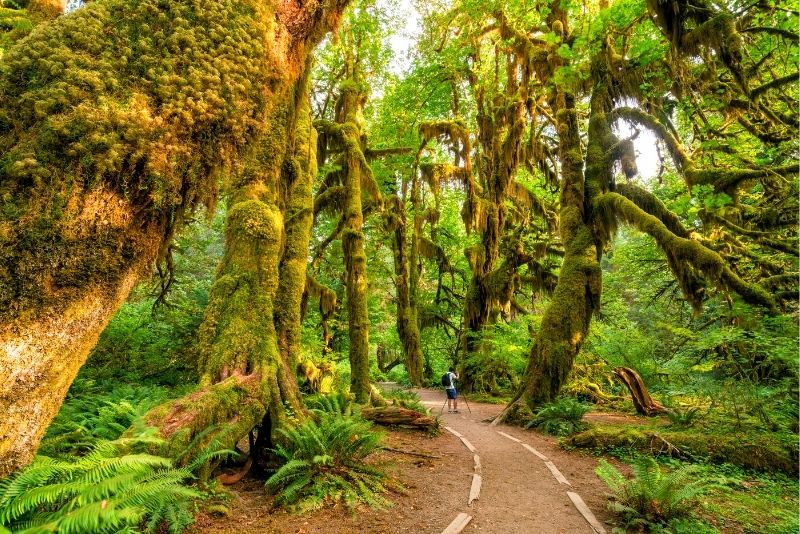 Home to lush green forests, sparkling lakes, and glacial mountains that are just across the water from Seattle, the Olympic National Park is a welcomed breath of fresh air.
Most tours offer pick-up and drop-off from hotels, scenic hikes, luxury vans to travel in, and picnic-style lunches for guests to enjoy.
In the warmer months, it's a great way for families to get out of the city and enjoy a slice of nature.
Sponsored placement
Become a witch or wizard at Harry Potter: Magic at Play
Step into Hogwarts to learn about your house, test your Quidditch skills and take classes on Potions and Charms. Magic makers of all ages are welcome to explore multiple rooms of active play areas to see if they have what it takes to be a good witch or wizard.
15 – Soar above the city on a helicopter tour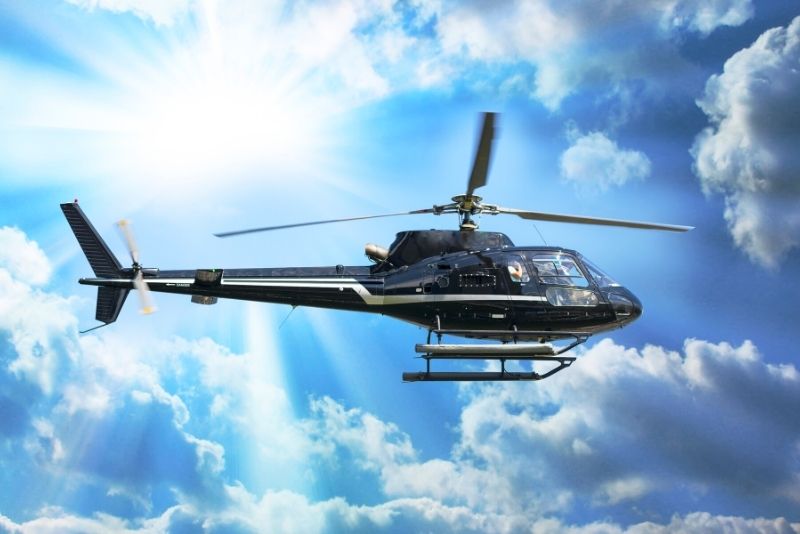 A helicopter tour over the Emerald City promises views unmatched anywhere on the ground. The friendly expert pilots talk to passengers over the headset, sharing all kinds of interesting facts about the city below.
Choose your adventure at Seattle Heli Tours offering 3 different routes with sights of the Cascade Mountains, the Space Needle, or Snoqualmie Falls.
Soar high into the sky with Helicopters Northwest, without breaking the bank with some of the most budget-friendly helicopter tours. Customize your experience, from private excursions to tours with the welcoming staff at Atomic Helicopter.
Most tours take up to 3 people and last around 20 minutes.
16 – Race against time in an escape room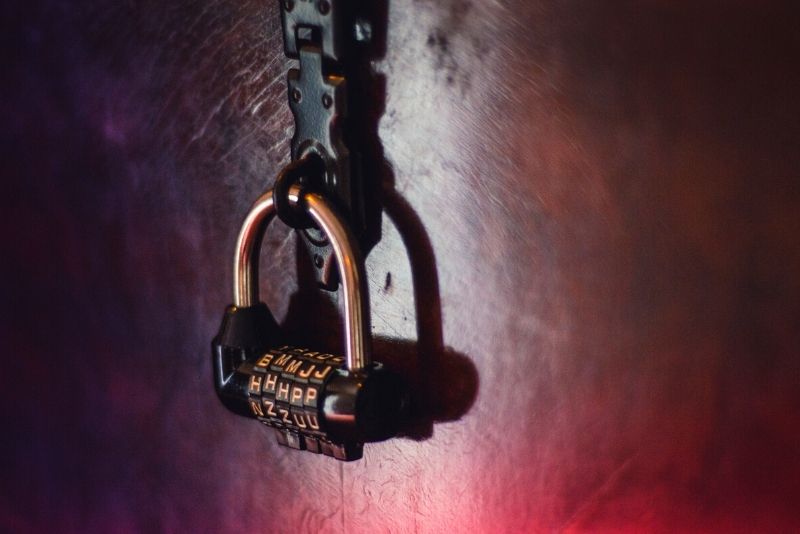 Do you fancy yourself to be a modern-day Sherlock Holmes? Well, an escape room full of riddles, puzzles, and clues is the perfect way for you to test your skills!
Escape rooms in the Seattle area accommodate up to 6 people — grab your friends and see who's the best detective, once and for all!
17 – Visit the Museum of Pop Culture (MoPOP)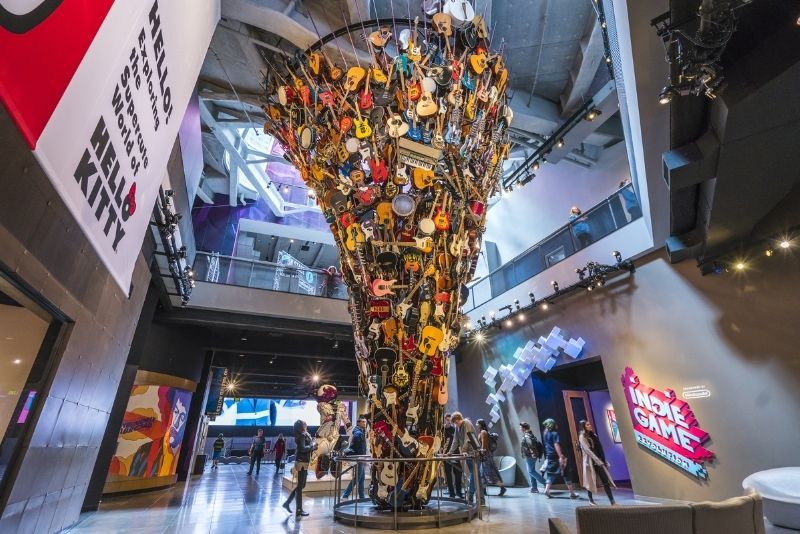 Boasting a range of permanent and rotating exhibits spanning everything from film to art, science fiction, and gaming, the Museum of Pop Culture is undeniably one of the most exciting indoor things to see in Seattle.
Complementing its selection, the center also offers an incredible insight into pop music, paying homage to some of the greatest musical acts in history.
18 – Check out the Mt St. Helens National Volcanic Monument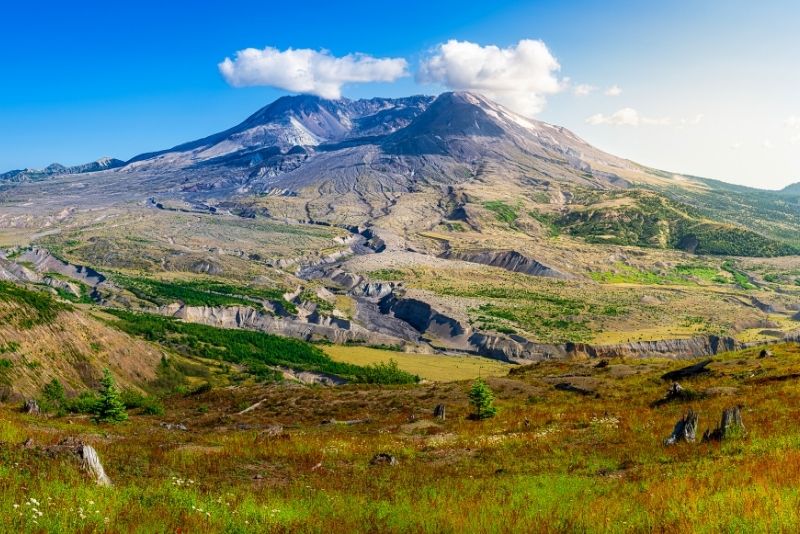 Mt St. Helens has been remembered — and feared — by locals ever since it violently erupted back in 1980.
Visitors brave enough are allowed to get within a few miles of the crater, where they can watch the lava stream for themselves and see first-hand both the destruction and recovery of nature's flora.
It is an insight that will make you understand just how powerful nature can be, and one best experienced with an all-inclusive tour from Seattle.
19 – Test your balance on a stand-up paddleboard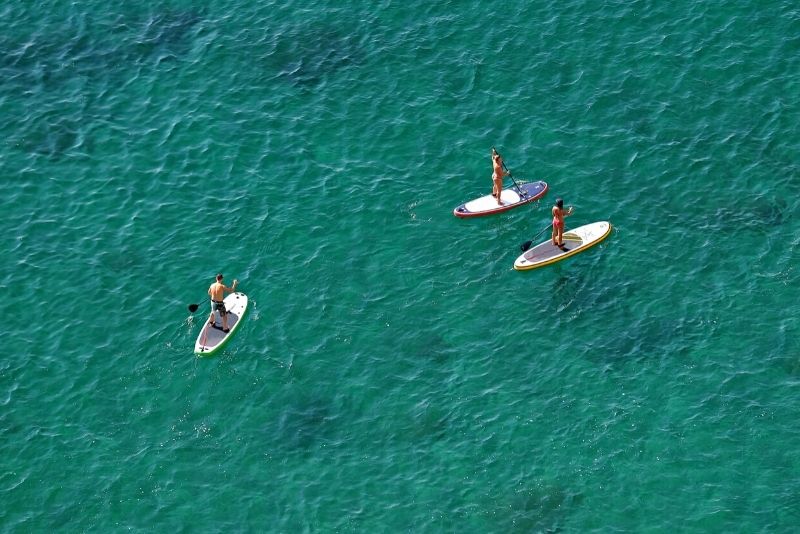 Spend a day out on Lake Washington learning how to stand up paddle and explore the surrounding waters!
Stand-up paddleboarding does take some time to master, but after a friendly instructor demonstrates the correct techniques, you'll be gliding along the Puget Sound in no time!
Check out some of the best paddleboard companies to make your bookings with such as Ballard Kayak & Paddleboard, Agua Verde Paddle Club, Moss Bay, and Northwest Outdoor Center.
On those toasty summer days, it's the perfect family-friendly outdoor activity.
Sponsored placement
A magical night walk with Astra Lumina in Seattle!
Step into an enchanting night under the Seattle sky with Astra Lumina! Explore the mysterious garden, revealing a trail of lights, transcendent cosmic images and heavenly music. An extraordinary adventure for stargazers of all ages, this fascinating event promises a symphony of projections and astronomical melodies that transform the garden into a dazzling painting of the universe.
20 – Explore the connection between culture and nature at the Burke Museum of Natural History and Culture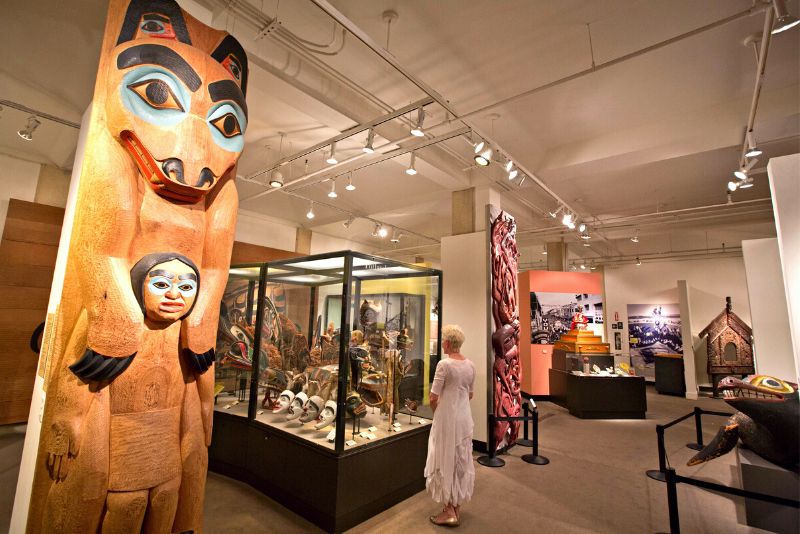 Learn about the bridge between culture and nature at the Burke Museum of Natural History and Culture, located in the University District of Seattle.
Working alongside local communities, institutions, and individuals the museum helps bring awareness to the public about what happens when we don't work together to save these 2 very things that we have as humans.
Divided into heritage, biology, and geology, find yourself learning about the presence of culture and nature in your everyday life.
21 – Cross skydiving off your bucket list…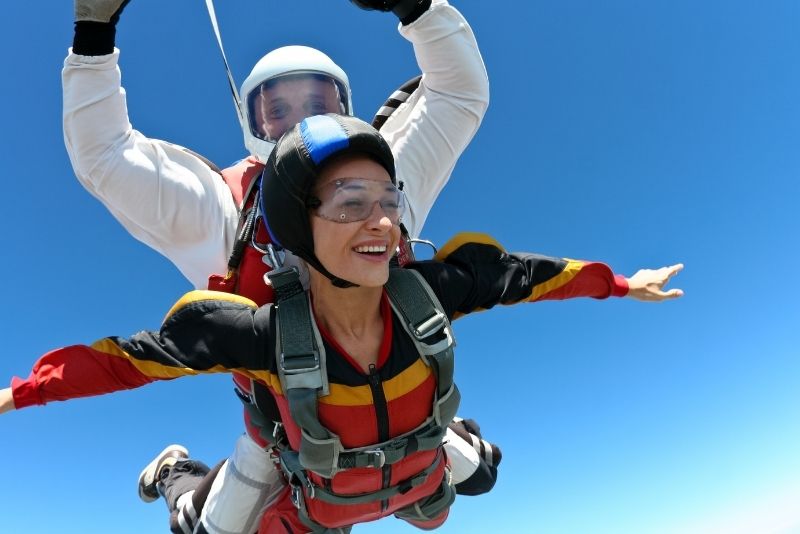 Have you always wanted to freefall out of a plane? Then why not cross it off the bucket list while you're in Seattle, home to some of the most incredible landscapes in the country?
With a selection of skydiving and parachuting tours available, you'll be hitting terminal velocity from 13,000 feet high in no time!
Make you're booking with Skydive Snohomish, offering 20 years of expertise as the number 1 skydiving company in Seattle, or Skydive Kapowsin, who makes sure to prepare first-timers with rounds of practice jumps.
For a few extra bucks, you can take home a video souvenir of your adventure too.
22 – … or try indoor skydiving instead!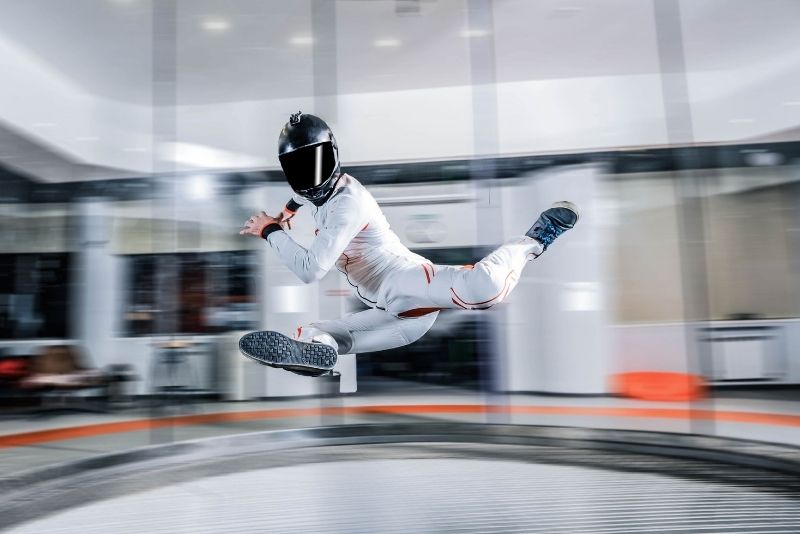 If jumping out of a plane seems a little too terrifying then indoor skydiving might be the perfect substitute.
Indoor skydiving centers like iFly simulate the feeling of free-falling out of a plane without actually having to leave the comfort of the ground!
Guests will receive in-depth training, flight gear, and also a flight certificate.
23 – Peddle around town on a bike tour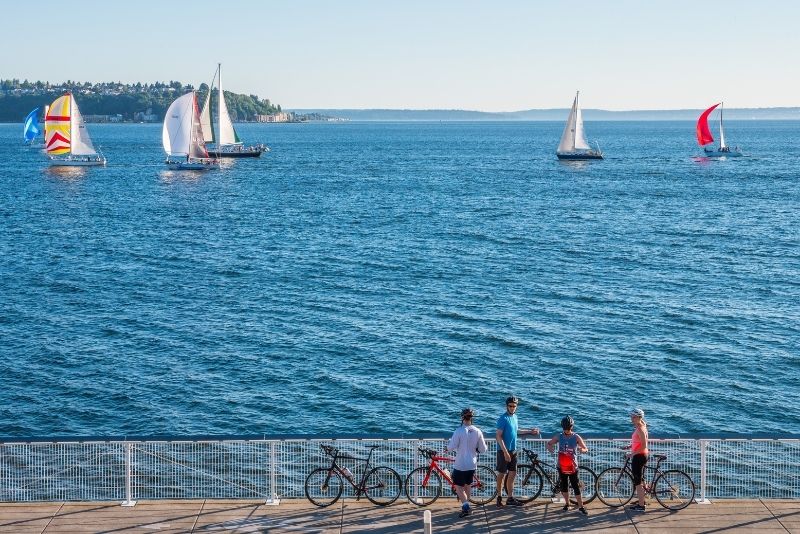 If you've eaten a few too many donuts on your trip, a bike tour is a fun way to burn a few calories while exploring all the different sights, sounds, and smells that Seattle has to offer — all while getting off the beaten track and away from the heavy traffic.
Hot tip: Seattle's weather is temperamental, so be sure to check the forecast, slap on some SPF, and bring a raincoat.
24 – Discover the historic Gas Works Park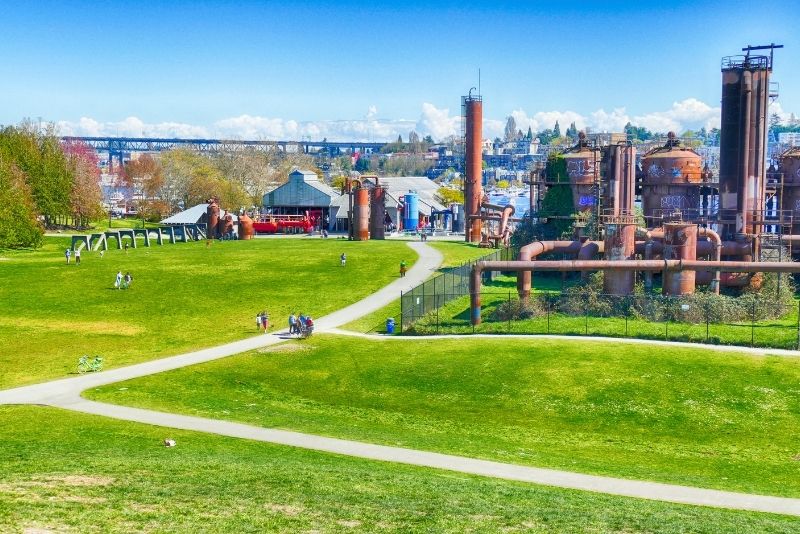 Gas Works Park gets its name because it is home to an old gasification plant. However, instead of tearing it down, the city decided to preserve this piece of history by building a park around it.
Besides this unique juxtaposition of aesthetics, thanks to its kiddie play zone and picnic area, it's a wonderful option for families who are looking for things to do in Seattle.
25 – Respectfully visit Bruce Lee and Brandon Lee's Grave Sites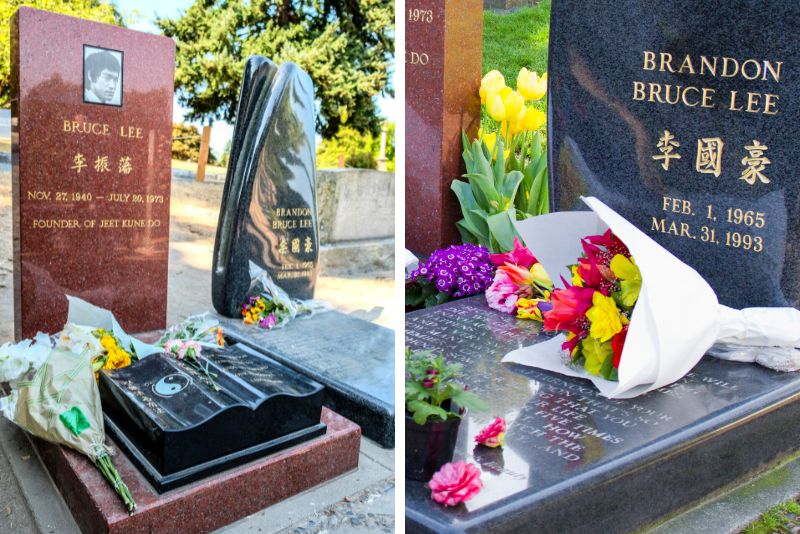 Receiving up to 10,000 visits per year from the movie and martial arts fans, are the grave sites belonging to Bruce Lee and Brandon Lee, most known for their martial art skills and action-packed movies.
Located inside Lake View Cemetery in the Capitol Hill neighborhood, fans are able to honor the late movie star and his son by bringing flowers, as you listen to stories from other fans explaining their reasons to visit.
When visiting, please be mindful of the rules posted.
26 – Snack on local treats at Pike Place Market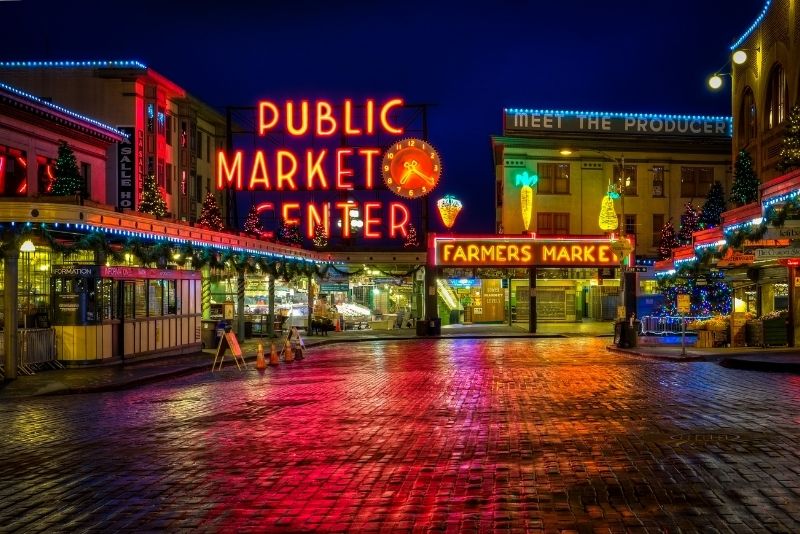 Known nationwide for its fresh produce and lively atmosphere, Pike Place Market is easily one of the quintessential things to do in Seattle.
Tourists can choose to venture into the market alone or go on a food tour, headed by some of the best culinary chefs in the city.
While you're there, check out Seattle Gum Wall and the location of the inaugural Starbucks!
27 – Relax at a spa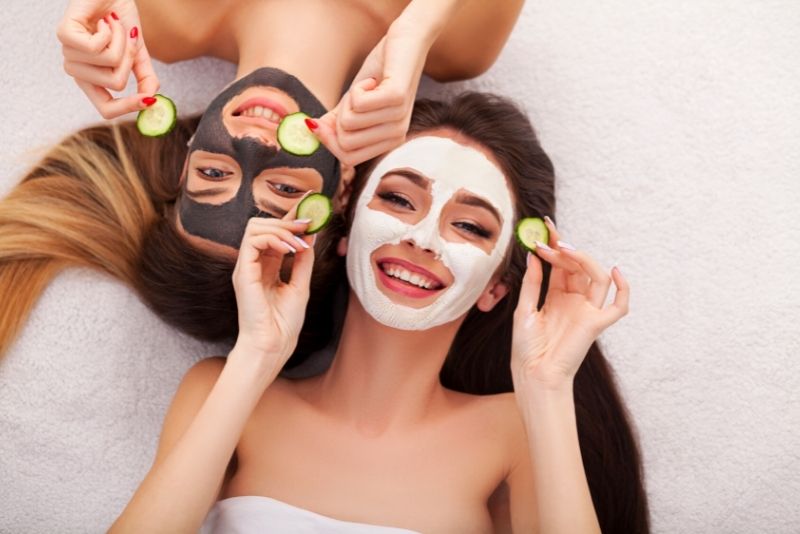 Wash away any stresses when you book a spa at Banya 5, a local favorite spa spot that offers massages and scrubs in a relaxing environment.
Get all the beauty treatments at Penelope and The Beaty Bar, featuring facials to target specific goals and wonderful-smelling products you'll want to get your hands on after your treatment.
Feel like a new you at the Spa at the Four Seasons, welcoming you with the utmost attention, and quality services sure to revitalize both your body and spirits.
28 – Get your adrenaline pumping while rafting!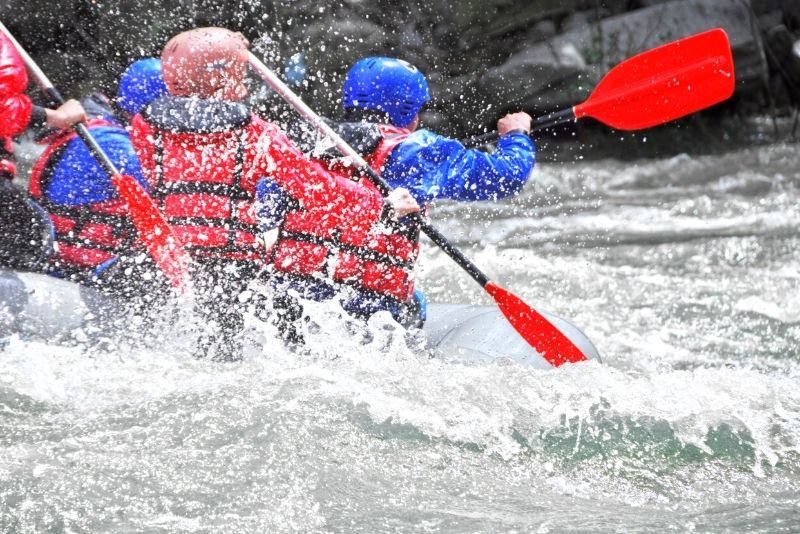 Adventure enthusiasts, get excited — Washington State is home to some of the most challenging whitewater runs in the country!
For something relaxing, check out The Middle Fork Snoqualmie River; on the other hand, for something hair-raising, the Class 4-5 rapids on the Skykomish River ought to do the trick.
29 – Touch the clouds at the famous Space Needle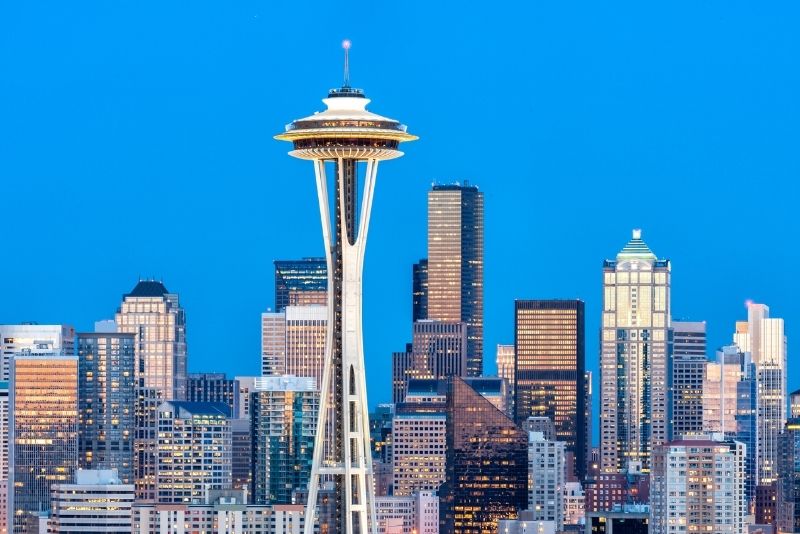 Originally built for the 1962 World's Fair, the Space Needle is without a doubt the most recognizable feature of the city's skyline, making it one of the essential things to see in Seattle.
It offers some of the best views of the city and has plenty of interactive displays to keep guests entertained.
Make sure that you take plenty of photos while you're up there!
30 – See what's up at the Seattle Center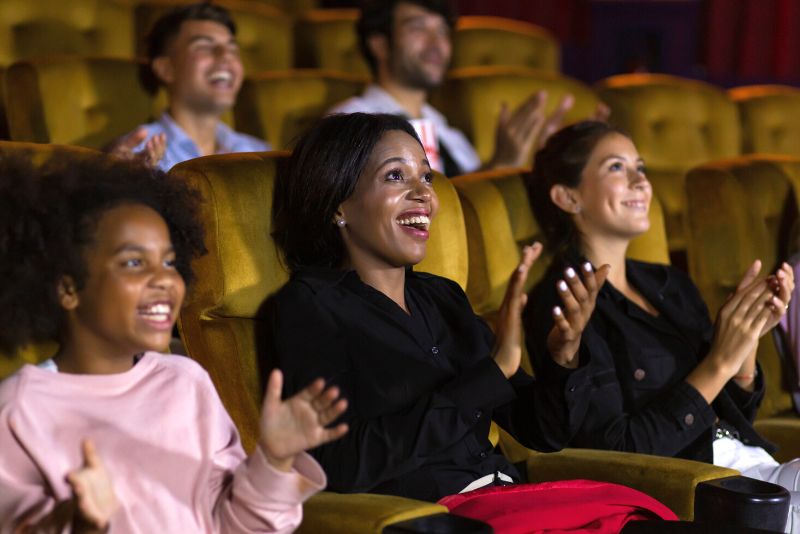 Hosting a variety of different spectacles, events, and attractions, the Seattle Center is a place to bring the whole family, and have fun.
From events geared towards kids like the Seattle Kid's Marathon taking place in November, to holiday theater performances, and not to mention, visiting the Space Needle for privileged views of the city, Mount Rainier, and Puget Sound.
Check out the International Fountain, a piece of the 1962 World's Fair, where children splish splash, and enjoy when the clouds dissipate.
31 – Get up close to wild animals at Woodland Park Zoo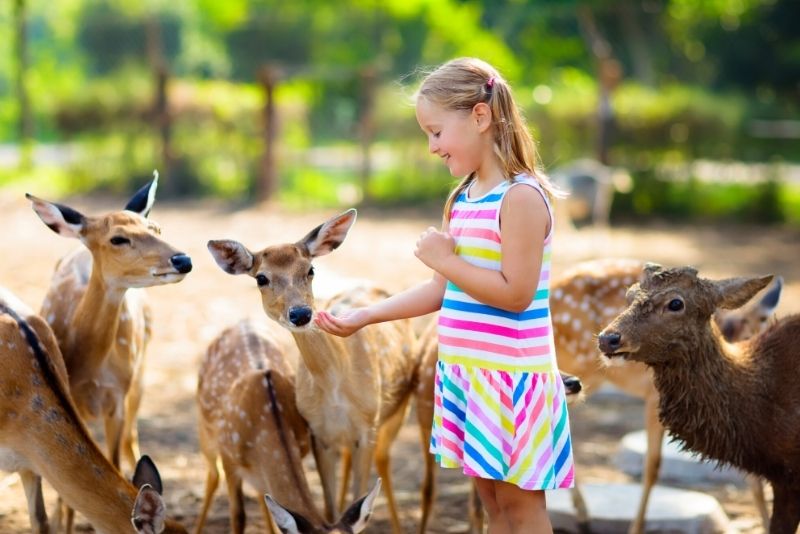 The Woodland Park Zoo has a huge selection of animals including lions, tigers, penguins, bears, and many more — hailing from diverse climates all over the world.
With live feedings, educational encounters, and a convenient inner-city location, it's a place where the whole family can have a wonderful afternoon.
Did we mention that they also have an enormous butterfly garden?
32 – Throw a line on a fishing trip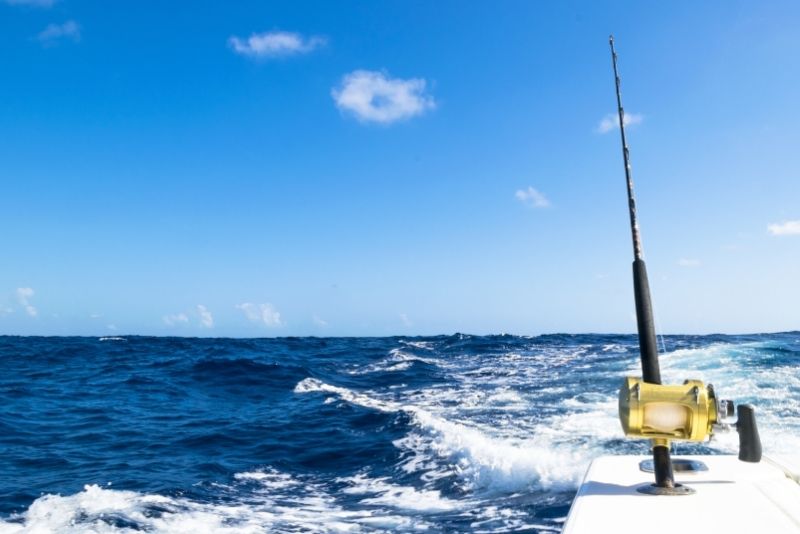 For all the avid fishermen out there, you'll be hard-pressed to find a more lucrative setting than the Puget Sound.
Private tours are available where experienced captains can take you out to spots flush with salmon, bottomfish, and squid. Alternatively, of course, you can simply charter your own boat.
On those sunny summer days, there's no better place to be than out on the water.
33 – Exercise in Green Lake Park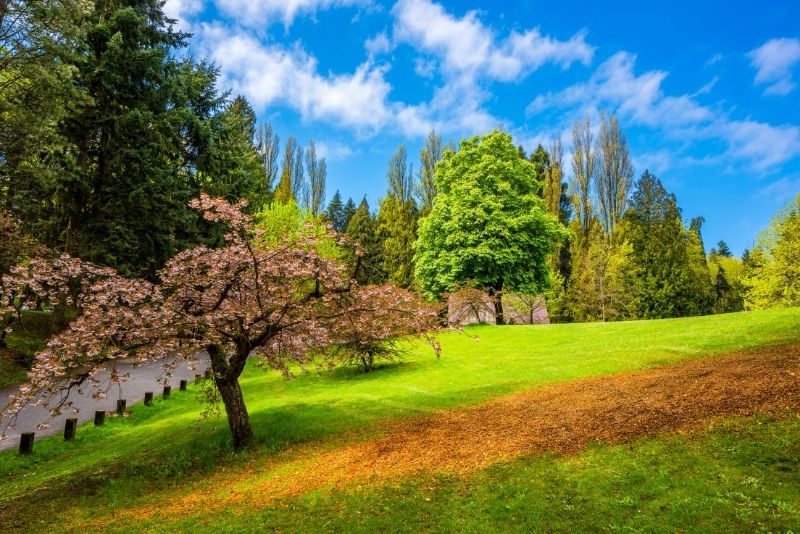 Green Lake Park is a favorite among Seally locals, many of whom choose to run, bike, skate, and walk through the park daily.
Tourists can stroll through, breathe in some fresh air without leaving the city, and admire the hundreds of different species of plants and trees.
34 – Discover the beauty of Seattle on a sailing trip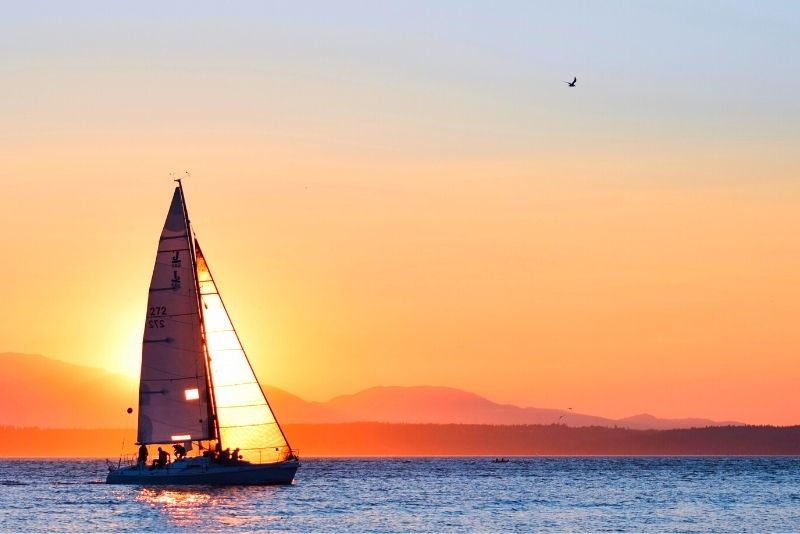 Who's ready to sail the seas on a private sailing trip around Seattle?
With a professional captain eager to take guests out on the water, no experience is necessary.
If you're lucky, you might even get the chance to spot some local marine life including seals, porpoises, and eagles!
35 – Learn about marine life at the Seattle Aquarium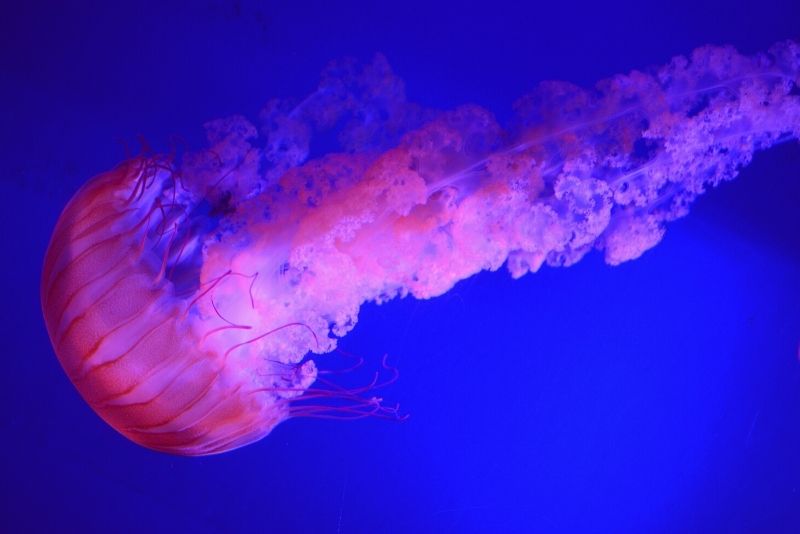 Ask any former tourist and they'll all agree — one of the best things to do in Seattle is to visit the Seattle Aquarium.
Boasting many interactive exhibits, plus a selection of penguins, otters, seals, seahorses, a large variety of tropical fish, and more, it's a great spot to spend an afternoon on a rainy day.
36 – Kick the feet up at Lake Washington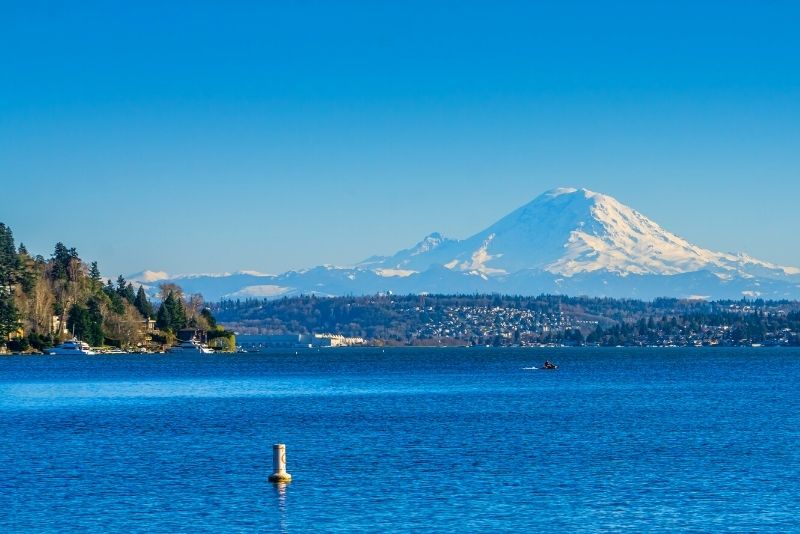 Take a break from the hustle and bustle of the city and spend the day relaxing by the shores of the freshwater Lake Washington!
It's only a short drive from the city and is a great way to breathe in some fresh air. After working on the tan, plenty of cafes and restaurants await on the banks.
37 – Try a craft beer (or four) on a brewery tour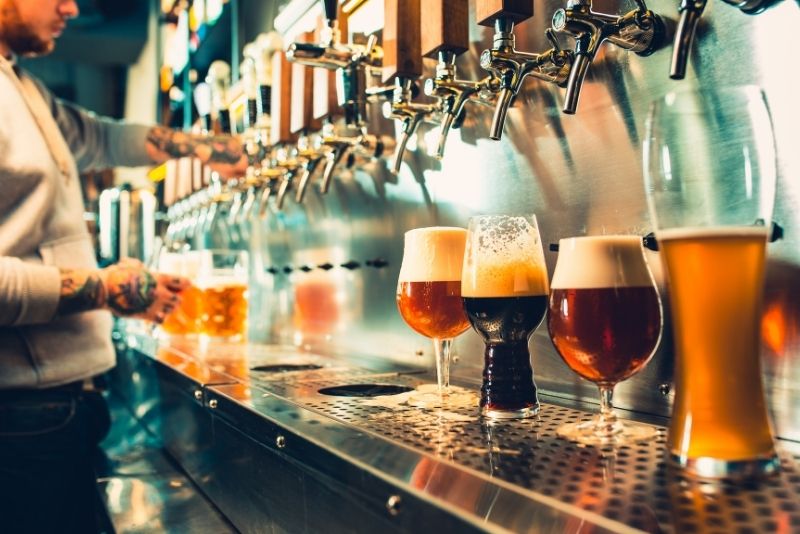 Calling all beer enthusiasts! A brewery tour is the perfect way to taste and sample all the different kinds of artisan beer that Seattle has to offer.
While you can always venture to microbreweries on a whim, joining a tour with an expert guide gives unfamiliar guests the chance to uncover the city's hidden gems (some of which even the locals don't know about).
Famous names like Pike Brewing, Reuben's Brews, and the Holy Mountain Brewing Company are just a sliver of the Seattle craft brewery scene.
38 – Order a latte at the Starbucks Reserve Roastery!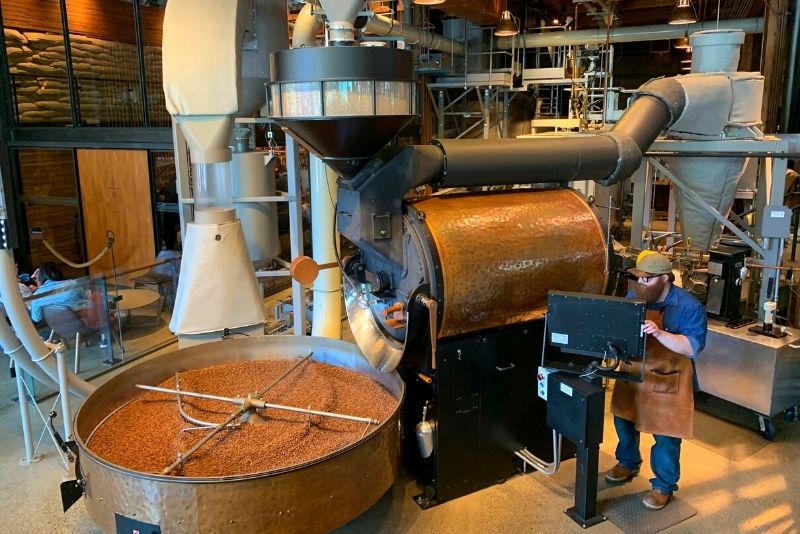 If you are looking for things to see in Seattle then the Starbucks Reserve Roastery is an absolute must!
It's Starbucks, but not like we've ever seen before — imagine Willy's Wonka's chocolate factory with a coffee twist, and then you've got the right idea.
Spread across 15,000 square feet, this joint roasts all its beans in-house, offers a huge selection of rare blends, and serves alcoholic beverages too.
39 – Ride shotgun on a seaplane tour
It's safe to say that most people have been on an airplane, but seldom have travelers ever taken a trip on a seaplane!
A surefire way to make your Seattle trip a memorable one, there are quite a few seaplane tours available — including trips out to the beautiful San Juan Islands.
40 – Explore the historic Pioneer Square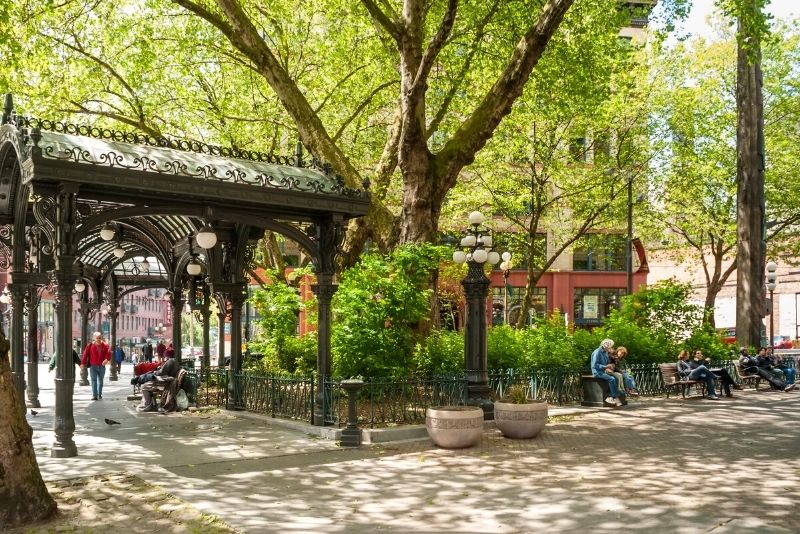 Pioneer Square is filled with different activities that suit almost anyone's taste.
Explore Seattle's oldest settlement, grab a bite to eat at a local cafe, play giant outdoor chess or a game of ping pong, ride a merry-go-round, or shop at local boutiques.
There are plenty of walking tours that explore the area, many of which are free (just leave a tip).
41 – Be mesmerized by the Cascade Mountains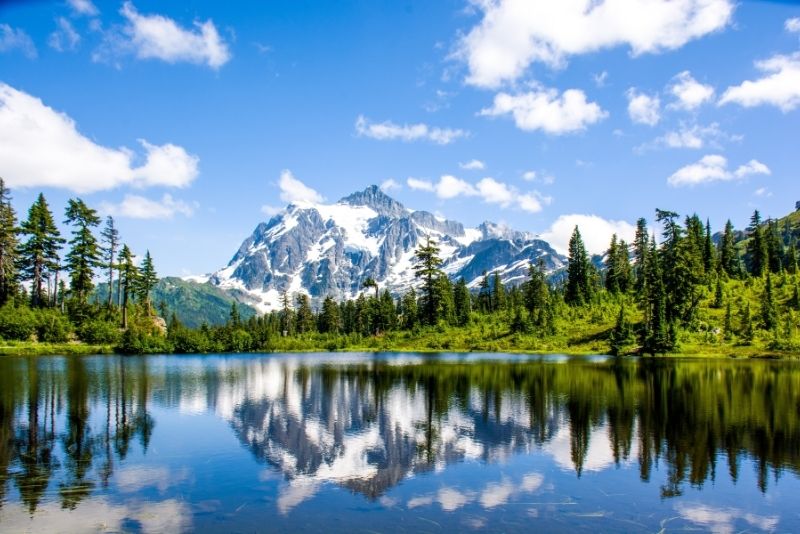 At the Cascade Mountains, delighted travelers will get to explore the thick forest, dance under waterfalls, and ascend rocky peaks — all without venturing too far from the big smoke!
In the winter months, the area is home to some of the best alpine scenery; during summer, tackle the hiking trail that starts from Stevens Pass for incredible views.
42 – Explore the Seattle Waterfront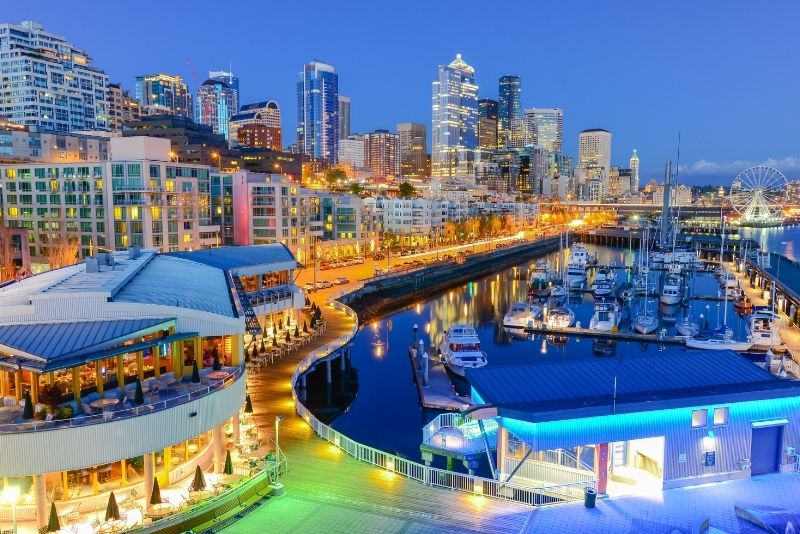 Home to a wide selection of piers, food, and attractions suitable for all ages, the Seattle Waterfront has been a central community meeting point for decades.
With a range of popular great cafes, bars, restaurants, it's a surefire hit for foodies; and with no shortage of street performers, there's always something to see.
43 – Splash in the water at Lake Union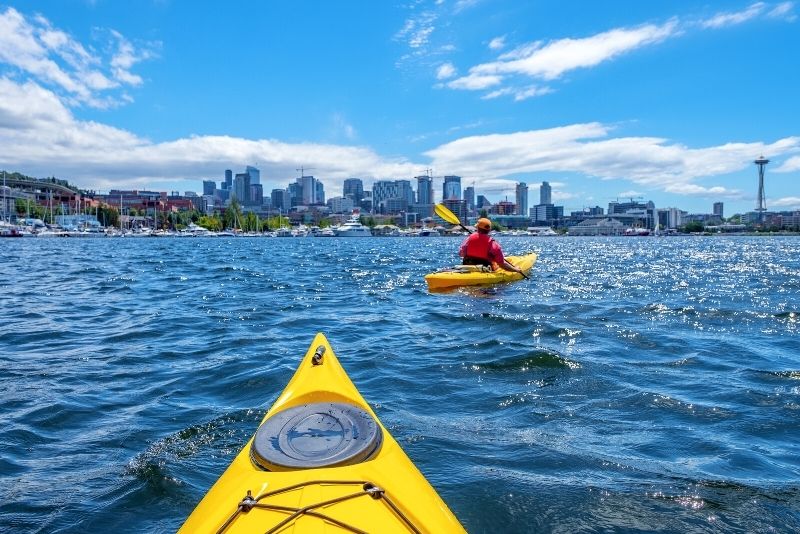 At Lake Union, an adored locale that offers a great variety of recreational water sports, tourists can easily rent an electric boat, go kayaking, join a cocktail cruise, or simply admire the iconic skyline.
Meanwhile, on the mainland, there are also plenty of places suitable for throwing down a picnic blanket!
44 – Wander through Chihuly Garden and Glass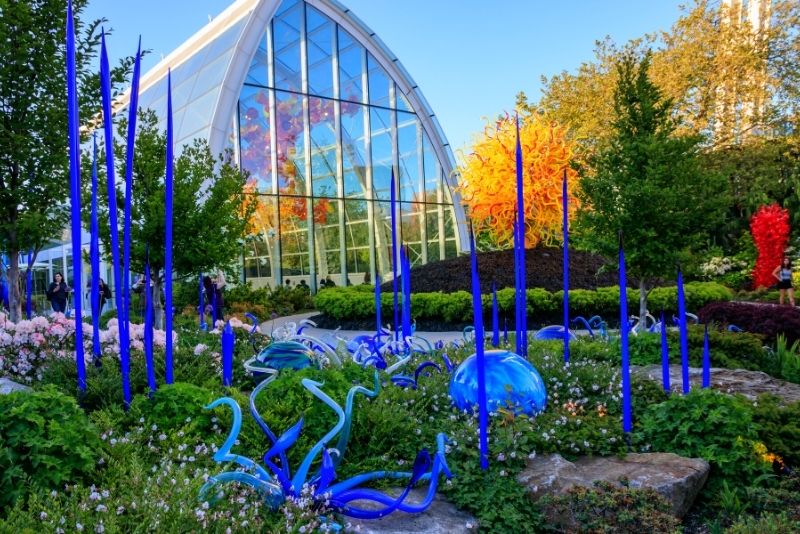 Mark our words, Chihuly Garden and Glass offers a totally unique experience that you won't find anywhere else in Seattle.
Created by artist and glassblower Dale Chihuly, this permanent installation is a delight on the eyes and a must-see for tourists.
Hot tip: Combine it with a visit to the next-door Space Needle.
45 – Satisfy your inner aviation nerd at The Museum of Flight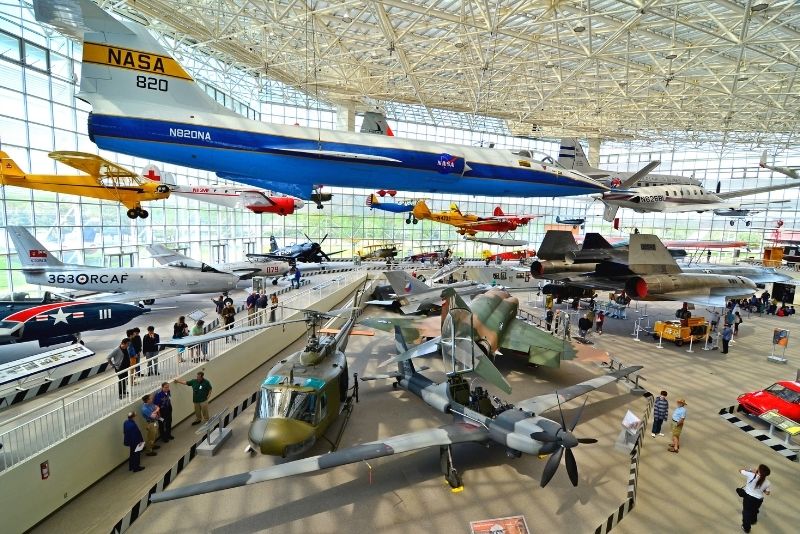 As the largest air and space museum in the whole world, visitors can admire up to 175 different types of aircraft, spacecraft, artifacts, photographs, and more.
Whether you're six or sixty, it's a great way to learn about the history of aviation, the mechanics behind flight, and the way that it's all changed over the years.
46 – Stroll through Kerry Park
Kerry Park is one of many parks in the Seattle area, but thanks to its position on Queen Anne Hill overlooking Downtown Seattle, it holds a special place in locals' hearts.
Here, visitors can enjoy stunning views of Elliot Bay, the central city area, and Mount Rainier — all at once.
47 – Immerse yourself in nature at Mount Rainier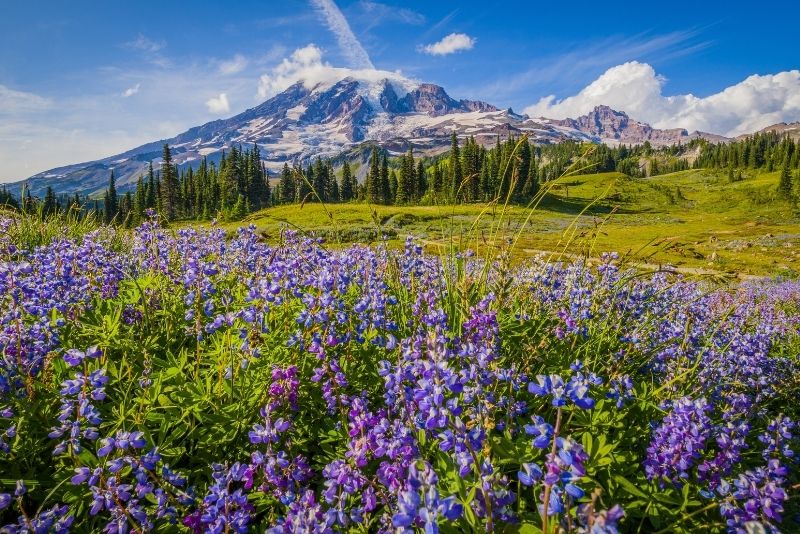 While downtown Seattle is a bustling metropolis, there is still plenty of beautiful greenery available in the area if you know where to go.
Tourists should take a day to explore Mount Rainier National Park where they can enjoy the beautiful scenery of the mountain and abundant wildflower meadows.
Christine Falls and Narada Falls are also located in this area — both essential destinations for outdoor enthusiasts.
48 – Take in breathtaking views at the Smith Tower Observatory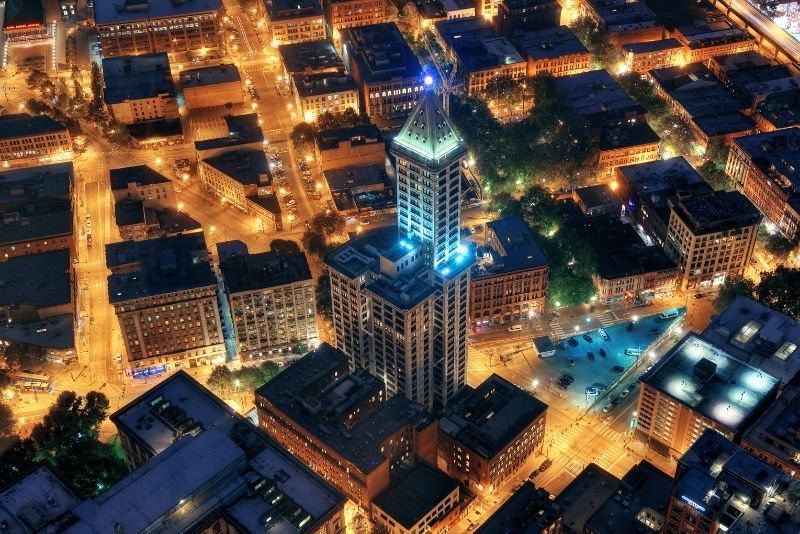 Built all the way back in 1914, the Smith Tower was the first skyscraper in Seattle and, to this day, is considered a cultural icon of the city.
To make those panoramic observatory views all the more special, guests can sit back, sip on a cocktail or two, and grab a bite to eat at the speakeasy-style bar.
49 – Take a stroll through Discovery Park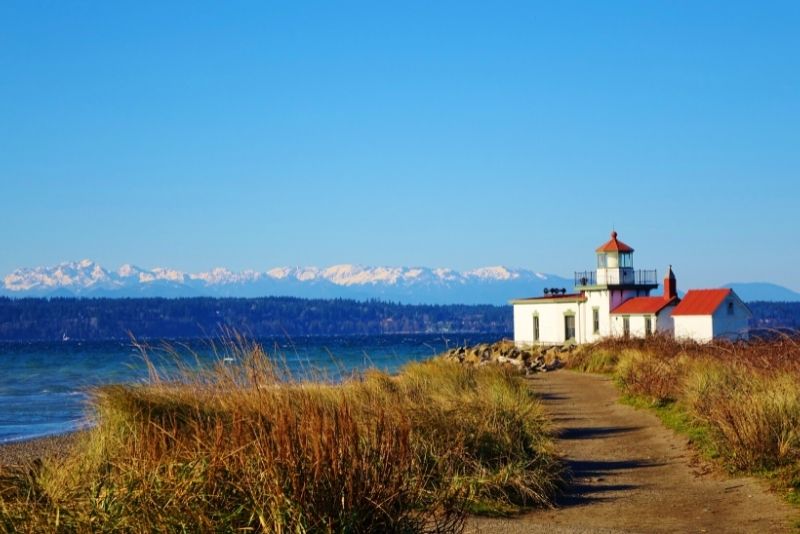 Craving a slice of nature? Then Discovery Park — the largest and most diverse park in Seattle, stretching over 543 acres — is waiting for you!
No matter which path you take, hidden gems await; tourists can find tidal beaches, meadows, sea cliffs, sand dunes, forest groves, and streams.
50 – Sunbake at the famous Alki Beach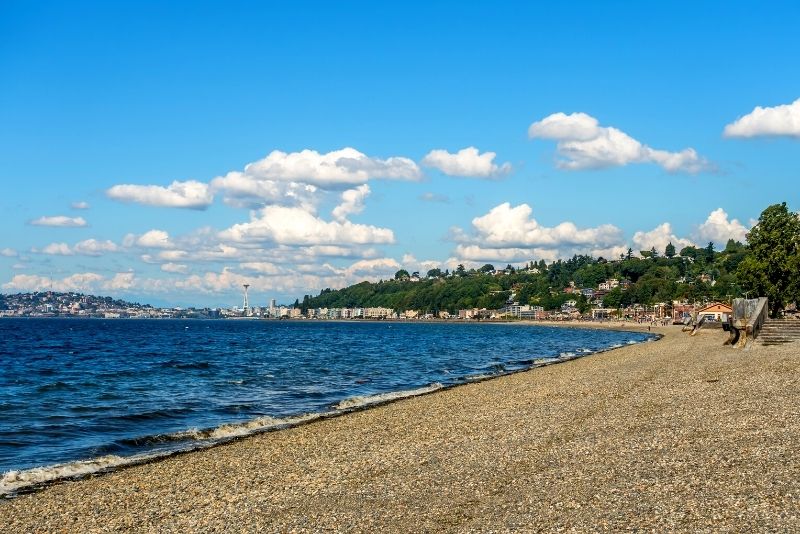 When the sun's shining, there's no better plan than spending the day watching the waves roll in on the famous Alki Beach.
For those who don't know, Alki Beach was featured in the classic movie "Sleepless in Seattle", which makes it a great spot to take a few happy snaps too.
51 – Float above Seattle's unmatched natural scenery on a hot air balloon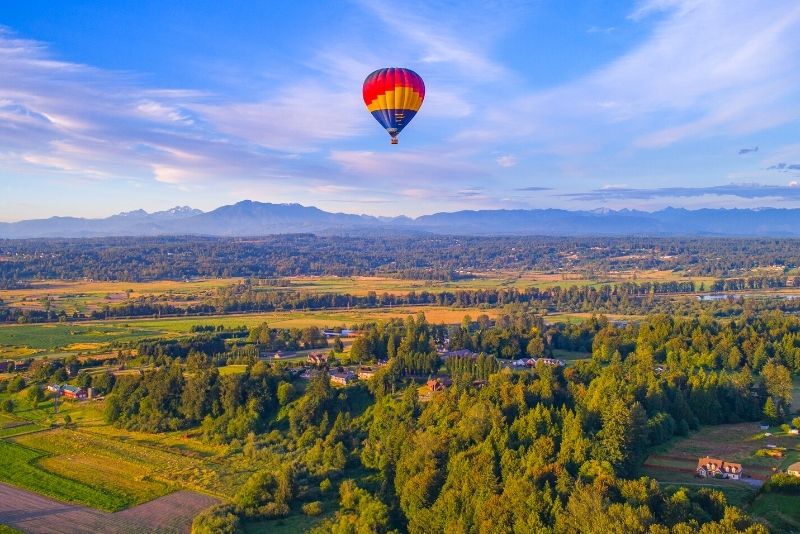 Greet Seattle from the skies on a hot air balloon ride!
Seattle Ballooning offers plenty of 5-star hot air balloon experiences, one of which is a journey the flies in front of Mt. Rainier.
Choose between a sunrise, sunset, or a customized hot air balloon journey with Over the Rainbow Hot Air Baloon Rides, with over 30 years of experience.
Help inflate your balloon at Balloon Depot, plus have peace of mind with their 40 years of accident-free success and ravings reviews.
52 – Wander through the Bill & Melinda Gates Foundation Discovery Center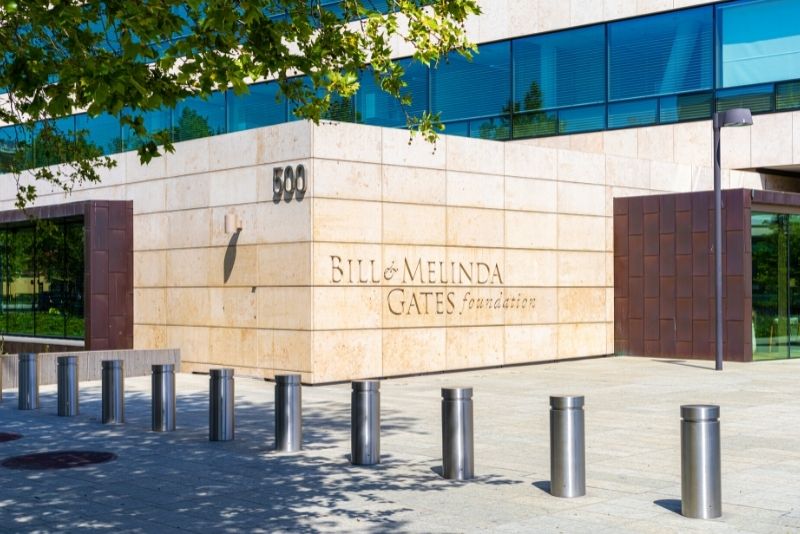 The Bill & Melinda Gates Foundation has had a mission from day one to reduce issues related to poverty, health, and education — issues that affect people all over the world, and issues that the Discovery Center showcases exceptionally.
Their exhibits (both permanent and rotating) reflect this perfectly, illustrating all of the positive impact the foundation has achieved in recent years.
53 – Take skyline pictures on a Seattle Locks cruise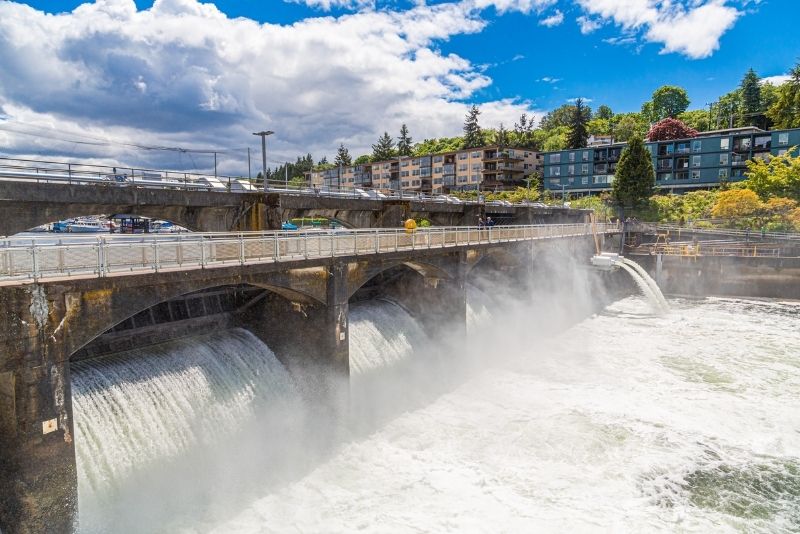 A Seattle Locks cruise will take guests through the famous Ballard Locks (otherwise known as the Hiram M. Chittenden Locks) — a unique waterway system where freshwater and saltwater meet.
Many locals also use these cruises as a way to avoid traffic in the city, so why not do the same?
Have your camera at the ready; these affordable cruises give tourists a wonderful chance to capture the Seattle skyline from afar.
54 – Ignite curiosity at the Pacific Science Center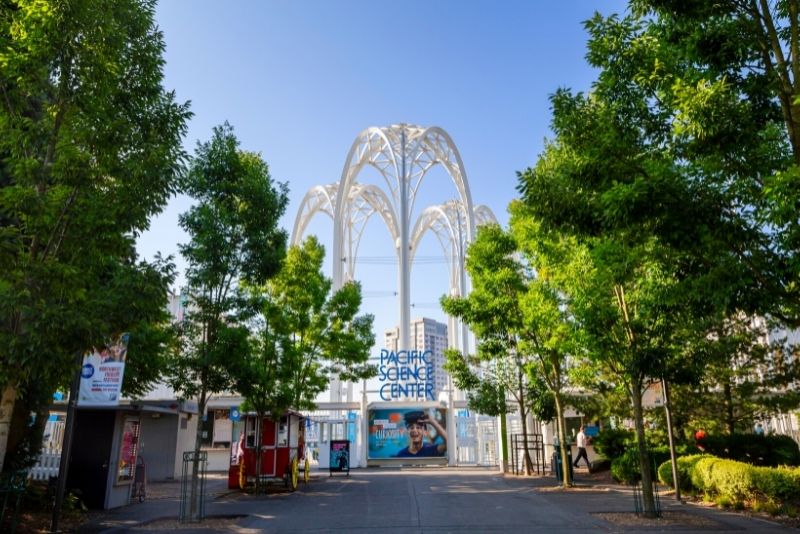 Learn about physics, chemistry, history, the human body, evolution, space and so much more in a fun and exciting way at the Pacific Science Center!
As the home of countless interactive exhibits (be sure to check out the interactive Innovation section), this place is guaranteed to keep both adults and children entertained for hours.
55 – Get the best of Washington-made products and produce at Ballard Farmers Market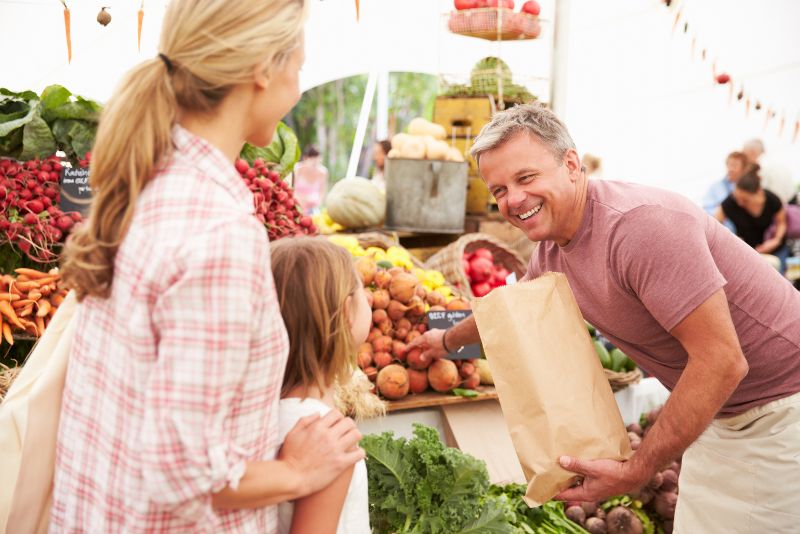 Add Ballard Farmers Market to your list of authentic experiences to have in Seattle, as it's one of the only markets to exclusively sell products either produced from Washington soil or by locals.
Walk through the picture-perfect cobblestone street where the market is located on Ballard Avenue, and find everything from a variety of seasonal fruits and vegetables, to organic skincare, and homemade salsas.
The market takes place every Sunday, 9:00 AM – 2:00 PM, rain or shine.
56 – Go sightseeing by playing a scavenger game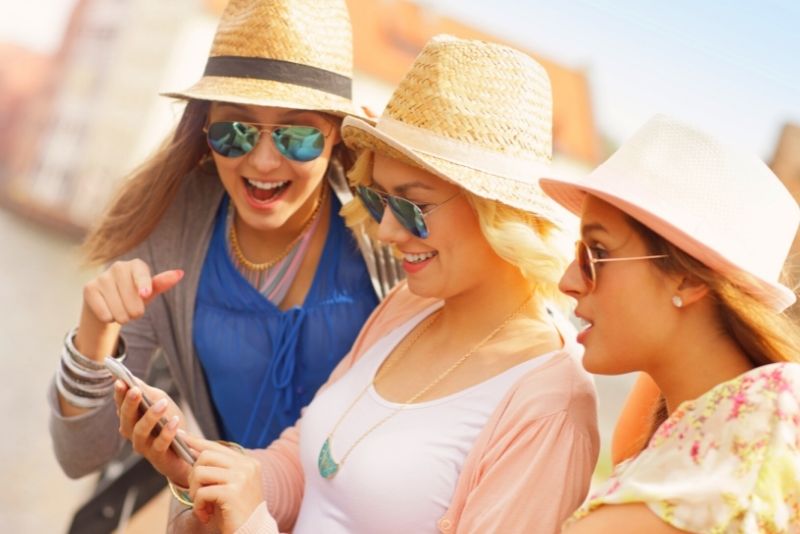 Sick of run-of-the-mill, slow-paced tours? Then we've got the perfect alternative in store for you!
Going on a scavenger hunt is a fun and exciting way to see all the best tourist attractions without waiting for tour guides or sticking to a pre-determined route.
In the Emerald City, travelers can find a wide variety of scavenger hunts available — some include hosts, some are self-guided, and some can cater for up to 6 people.
57 – Bring your imagination to life at the Seattle Children's Museum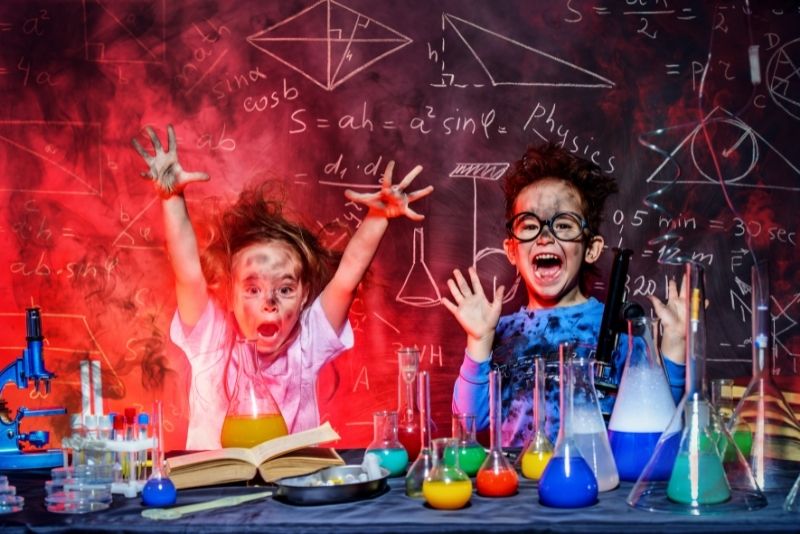 Designed for youngsters aged anywhere from 6 months to 8 years old, the 18,000 square-foot Seattle Children's Museum promises hours of hands-on fun.
With interactive exhibits dedicated to learning about different jobs in the workforce (such as construction and public transportation), and insights into the world around them, it's a wonderful way for kids to get excited about the future.
58 – Read a novel at the Seattle Public Library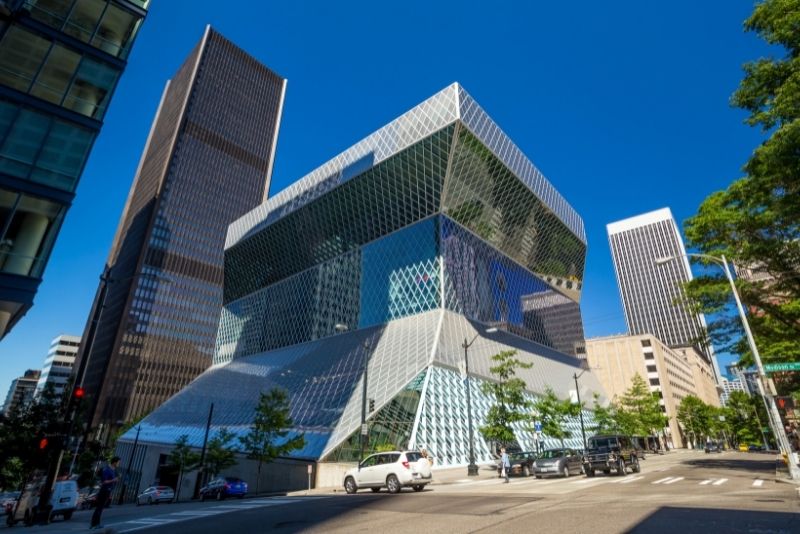 Literary fans and book worms, take note.
The Seattle Public Library was founded all the way back in 1890 and is an excellent choice for all book lovers visiting the Emerald City.
With 27 branches of the Seattle Public Library across Seattle; fiction and non-fiction books, public computers, and online resources are never too far away.
59 – Get buzzed on a wine tour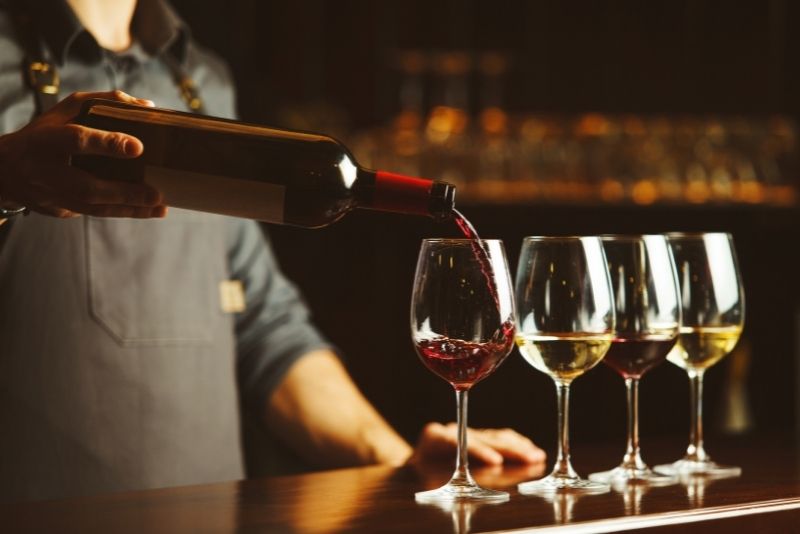 Get a taste of the local wine by going on a wine tasting adventure! Depending on your time and budget, options are available for both convenient inner-city wineries and breathtaking vineyards in the Snoqualmie area.
It's a great way for tourists and locals to mingle, all while enjoying some of the region's most esteemed blends. Consider taking your wine-tasting adventures to Woodinville Wine Country, on a tour complete with transportation, and beautiful nature stops along the way.
Keep in mind that most wine tours require guests to book ahead as there are limited spots on each tour.
60 – Explore the Washington Park Arboretum UW Botanic Gardens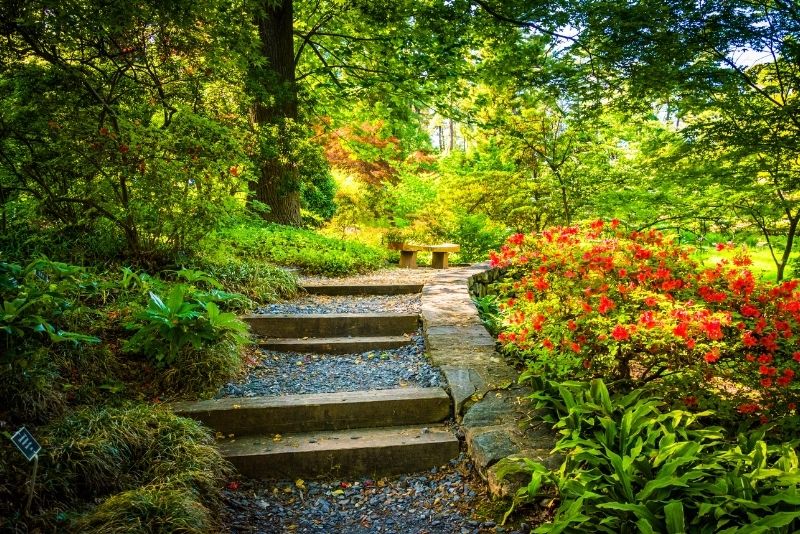 Located right on the shore of Lake Washington, the arboretum is home to a wide variety of stunning plant life.
Besides the regular display, the center also offers night hikes, guided tours, and a wonderful Japanese garden (perfect for some meditation).
Best of all, entry is free of charge!
61 – Visit not 1 but 2 of Seattle's quaint Japanese Gardens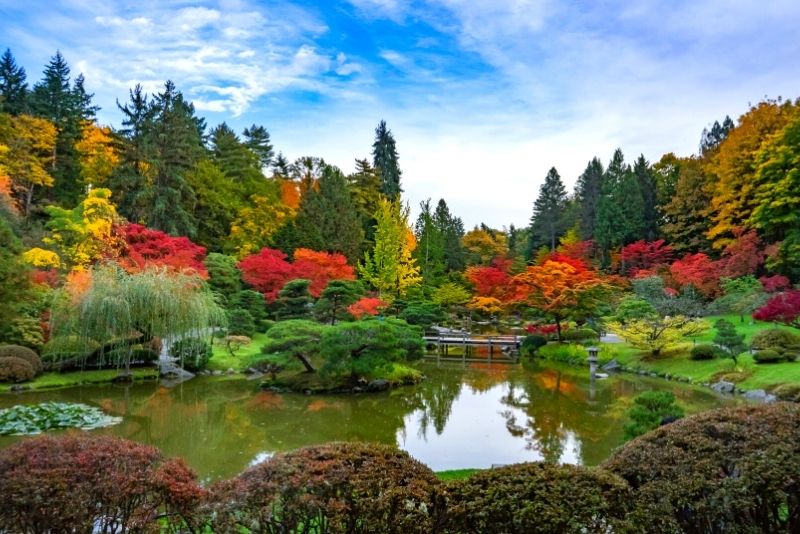 Explore the connection and influence of Japan in Seattle at the Seattle Japenese Garden, perfect for a calming stroll through its 3.2 acres of colorful and texturized natural beauty. Contemplate the sound of the fountains, as you walk across one of the many bridges.
In search of more botanic beauty? Check out Kubota Garden, another splendid Japanese garden in Seattle, boasting a bountiful garden of various local flowers, bushes, and trees, that even on a foggy day, only adds a moody charm.
62 – Get artsy at the Seattle Art Museum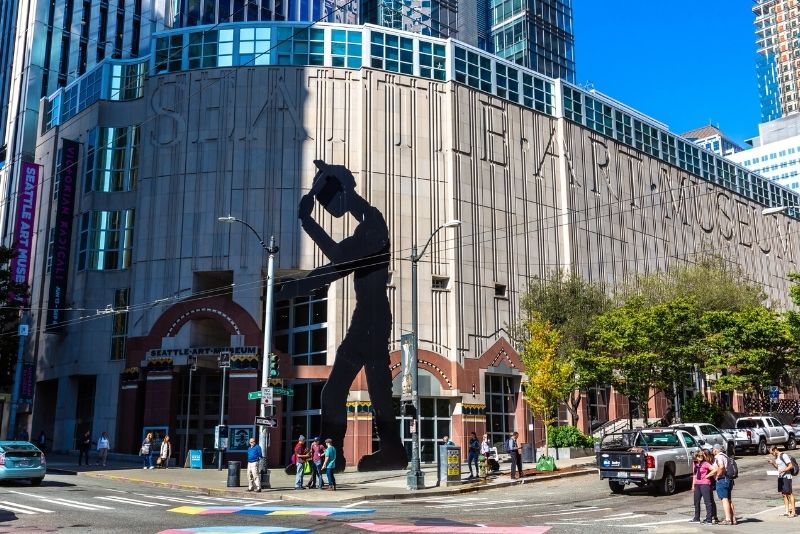 While looking for things to do in Seattle, you simply can't go past visiting the Seattle Art Museum — they opened their doors in 1933 and have been a staple to the Seattle art scene ever since.
With a range of exhibits, installations, and collections from local, national, and international artists, it's the perfect destination for art lovers.
Located only 1-mile north of the Seattle Art Museum is the Olympic Sculpture Park, featuring sculptures, busts, and figures right beside quaint views of Puget Sound.
The Seattle Asian Art Museum located in Volunteer Park is another art space, focusing on and showcasing Asian Art housed inside a 1933 Art Deco house.
63 – Attend a performance at Benaroya Hall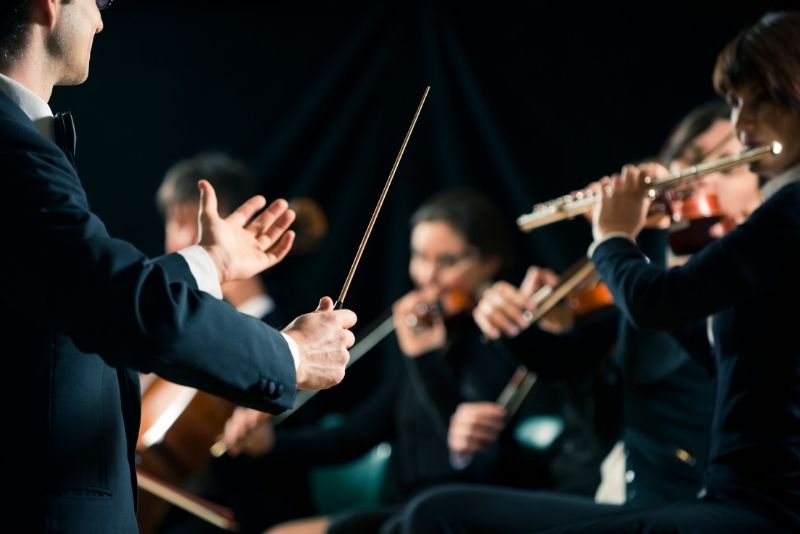 Sitting smack-band in the heart of the city and taking up a whole block (seriously, this place is massive), Benaroya Hall plays host to symphonies, opera companies, and ballet productions.
This famous institution puts on a range of events all year round, so be sure to check what productions are playing at the time of your visit.
64 – Immerse yourself in history at the Klondike Gold Rush National Historical Park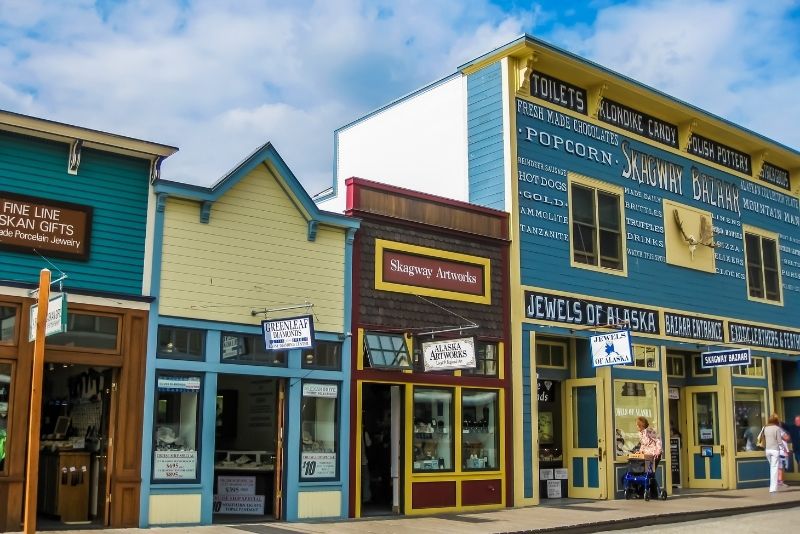 The Klondike Gold Rush is an important part of Seattle's history — many say that it is the period of time when Seattle really started to flourish.
These days, the park (which is more of a visitor center and free museum) pays homage to this bygone era, welcoming many guided tours led by knowledgeable guides.
65 – Check out the Museum of History & Industry (MOHAI)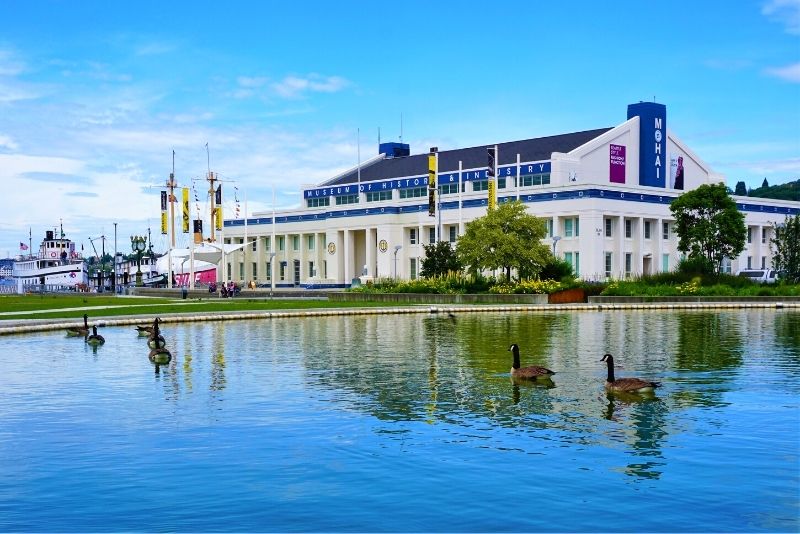 History buffs, this one's for you!
MOHAI is the perfect place for tourists to learn about how the city of Seattle transformed from a fire-ridden city to the global technology hub that it is today.
The museum showcases exhibits dedicated to Seattle during WWI and WWII, the gold rush, and plenty more.
66 – Enjoy a show-stopping performance at the best theaters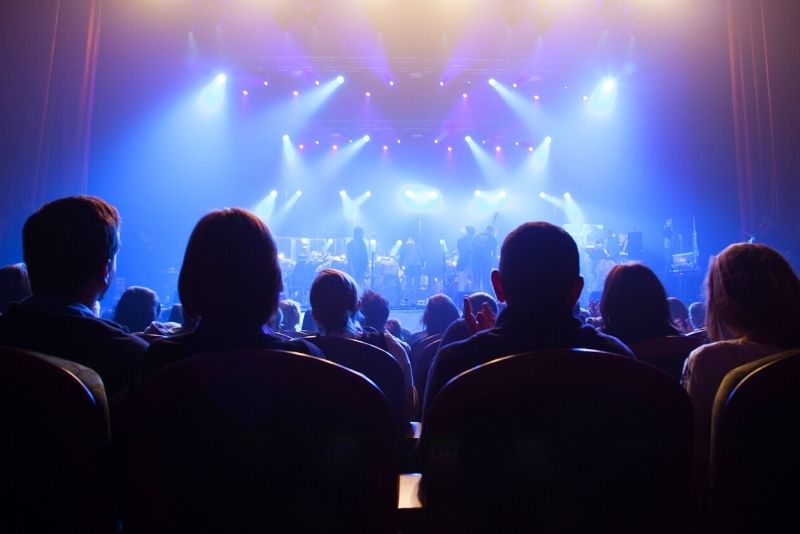 The 5th Avenue Theatre is one of America's leading musical theatre companies, having welcomed countless legendary Broadway productions (from Come From Away to Mamma Mia! and everything in between).
Productions are played year-round here but the roster constantly changes, so check what's playing online before visiting.
The Paramount Theatre, part of the Seattle Theatre Group, also has an impressive list of upcoming shows from hosting one of America's most beloved games, Wheel of Fortune, to featuring silent movies.
67 – See the quirky Gum Wall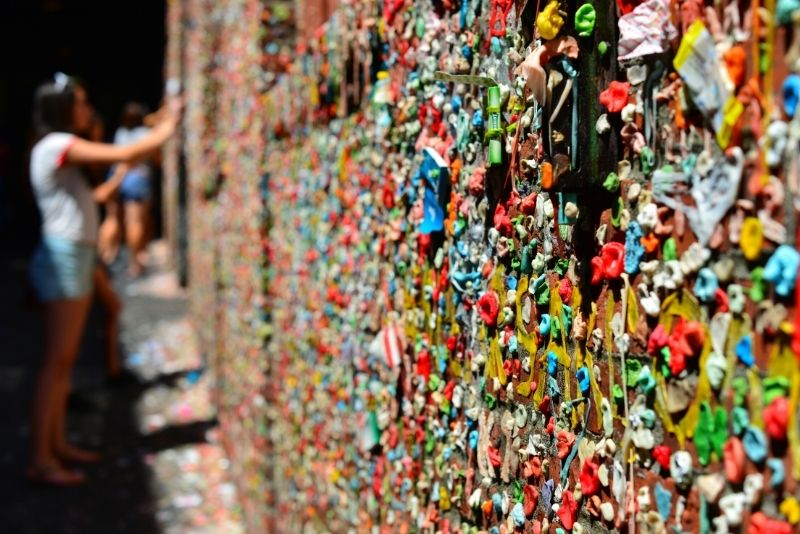 As far as art goes, this wall has to be the strangest piece of art in the country.
It is estimated that there are over 250,000 pieces of gum attached to the wall, with hundreds more being added every day by tourists.
Just a stone's throw from Pike Place Market, it's one of the essential things to see in Seattle.
68 – Relive history at the USS Turner Joy Historic Museum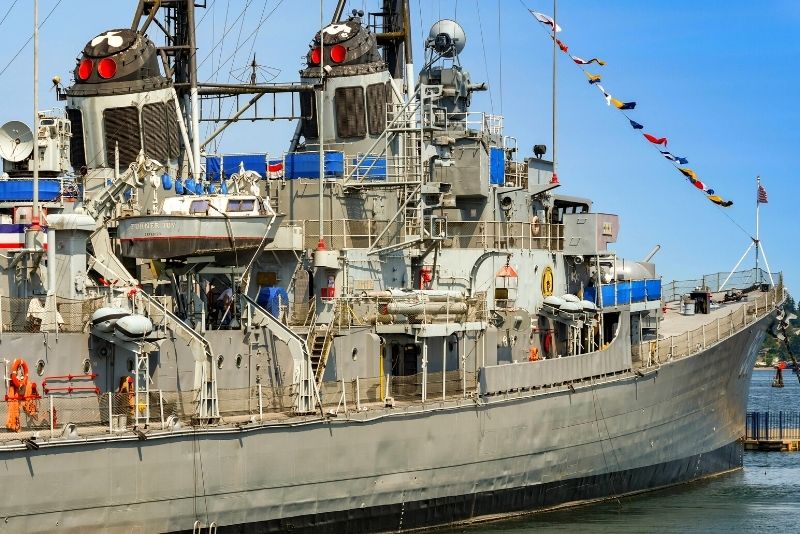 At the USS Turner Joy, excited visitors can step on board and learn about how this ship operated throughout the Vietnam War.
If you're someone who relishes maritime history and are looking for a more in-depth experience, private tours are available that cater to 2-4 people.
69 – Take perfect pictures at the Fremont Troll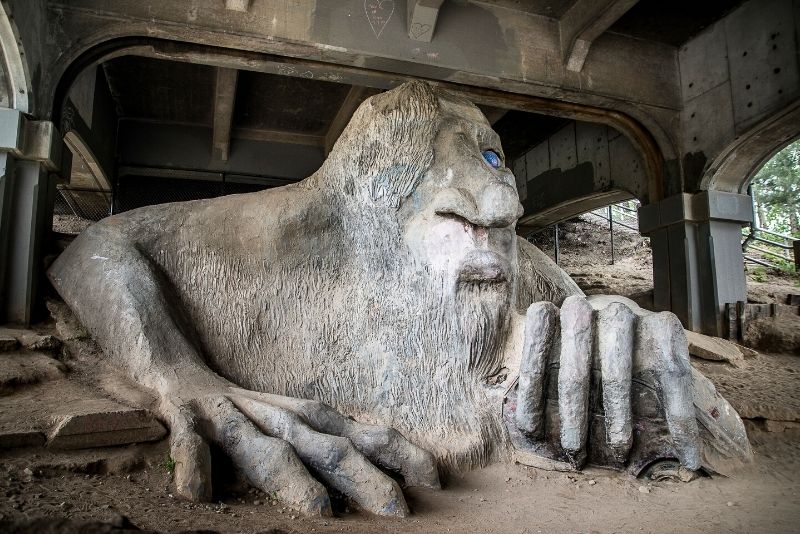 Yes, there really is a troll under the bridge!
The Fremont Troll is an iconic piece of art located underneath the Aurora Avenue Bridge, with piercing silver eyes and a firm grasp of a Volkswagen Beetle.
Every year, tourists and locals swarm to this place in hopes of capturing the perfect photo.
70 – Reminisce at the Seattle Pinball Museum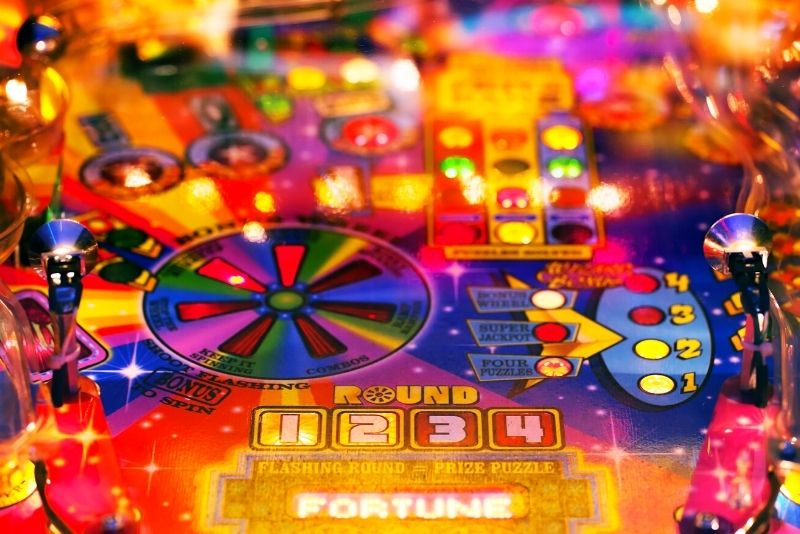 The Seattle Pinball Museum is home to pinball and game machines that date all the way back to 1934!
While pinball machines were all the rage when they first came out, they can be hard to find these days — unless, of course, you visit this place.
Luckily, the Seattle Pinball Museum has a great collection of over 50 classics, all of which are open to the public to play.
71 – Get spooked on a ghost tour
Seattle Terrors is US Ghost Adventures' one and only Seattle ghost tour, based on real-world portrayals of hauntings and well-documented history.
Guests will unlock the ghostly secrets of Seattle's past and embark on the most haunted locations in Seattle, including the Post-Alley Gum Wall, Butterworth Building, and Moore Theatre.
US Ghost Adventures founder Lance Zaal is an authority on haunted sites in the US and is frequently consulted as an expert on unexplained phenomena.
Whether you're just visiting Seattle or looking to learn more about your hometown's haunted past, US Ghost Adventures offers an experience you won't forget.
72 – Bop your head listening to some Live music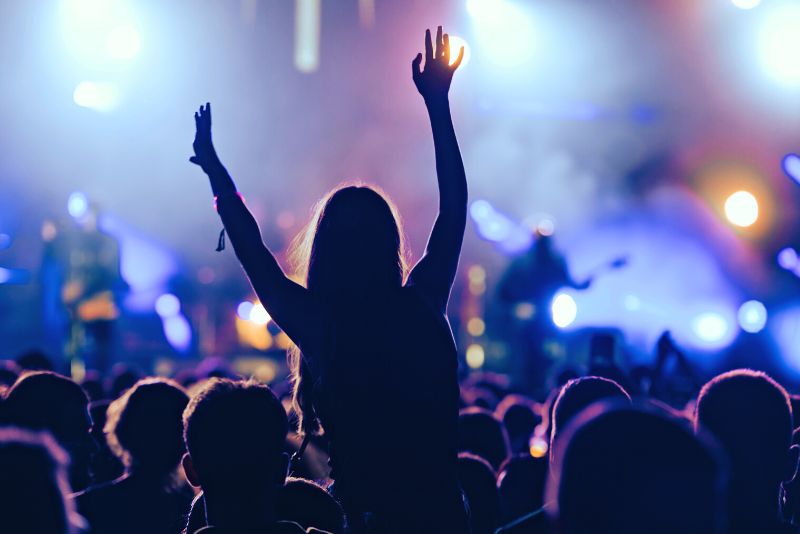 Check out the music scene at The Triple Door, and grab some drinks and dinner created with and inspired by Pacific Northwest ingredients. Admire all different types of musical acts taking center stage, from national and international musicians.
Stop by the Showbox, near Pike Place Market, a music venue located near the iconic gum wall, in the heart of downtown Seattle. After a day of sightseeing, there's nothing quite like heading to a live show to check out local talent, which Seattle is known for.
73 –  Grab a table for two at The Pink Door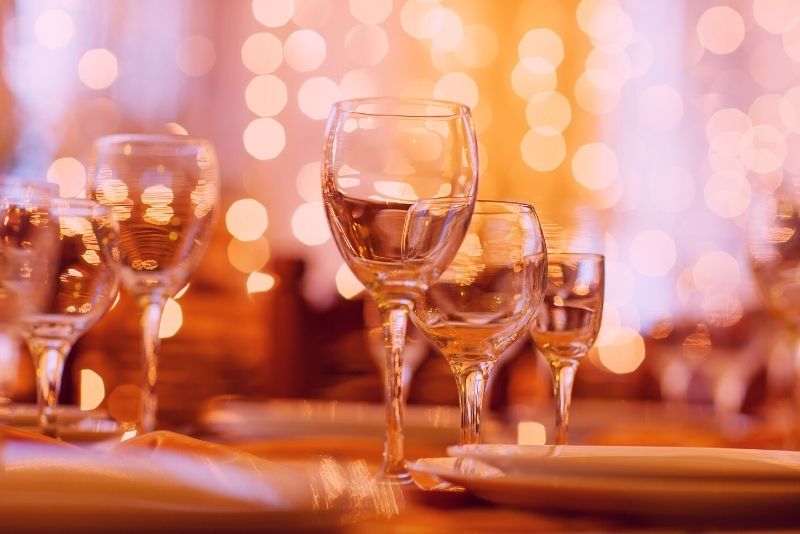 Named as one of the 100 'most scenic restaurants in the US' by Business Insider, The Pink Door restaurant is a hit with both locals and tourists alike.
The classy joint is well known for its fresh, local Italian food, however, is quite popular, so be sure to make a reservation ahead of time.
Located in Seattle's Pike Place Market, it's an easy addition to any day out.
74 – See the greatest artists at the Climate Pledge Arena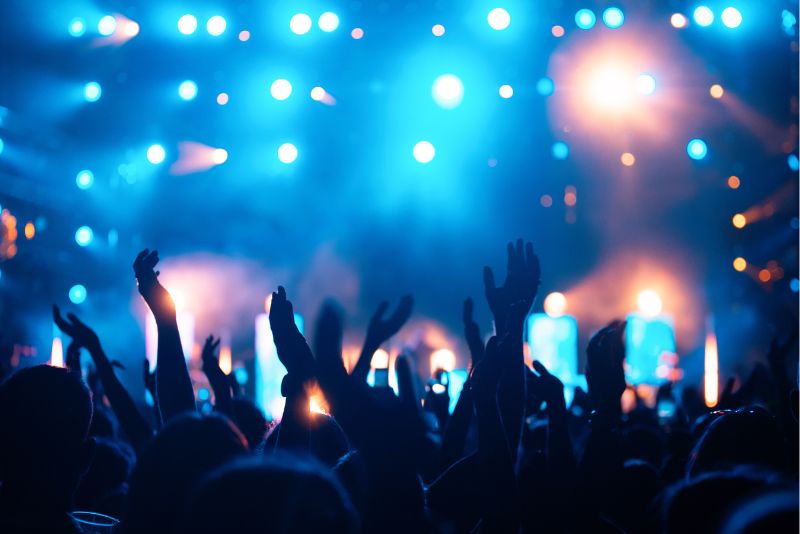 Looking to spice up your visit to Seattle with some live music, sports, comedy or something in between?
Then make sure you check out the Climate Pledge Arena during your visit for a night of entertainment to remember.
Retaining the iconic Seattle Center Coliseum roof, the renovated arena has incredible acoustics that attracts talent from across the world.
Aside from hosting the finest world-class acts, the Arena makes an effort to address climate change.
75 – Try Bavarian specialties at Rhein Haus Seattle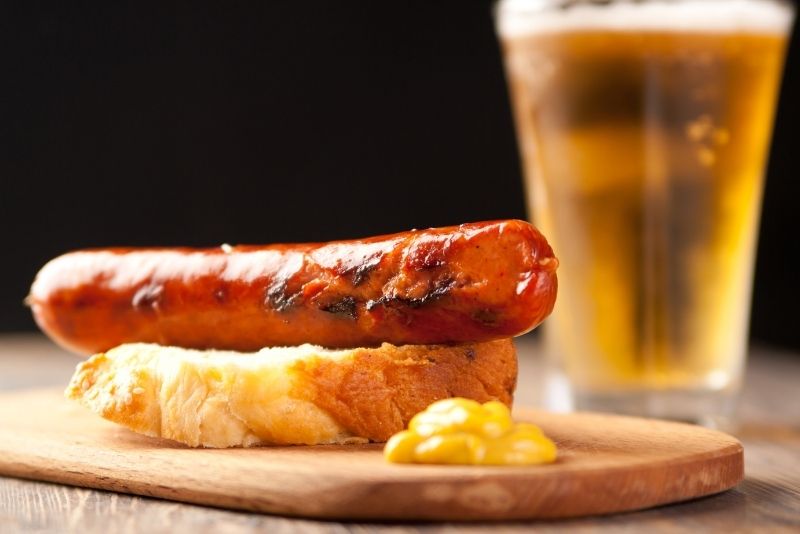 The beloved Rhein Haus is a hidden slice of Bavaria right in the middle of Seattle!
Their specialties include house-made sausages, pretzels, and 24 different types of draft beer, all imported from Europe.
With both an indoor and outdoor dining area, a fire den, a fire pit, and a bocce court, there's never a dull moment at this watering hole.
76 – Travel by ferry to Bainbridge Island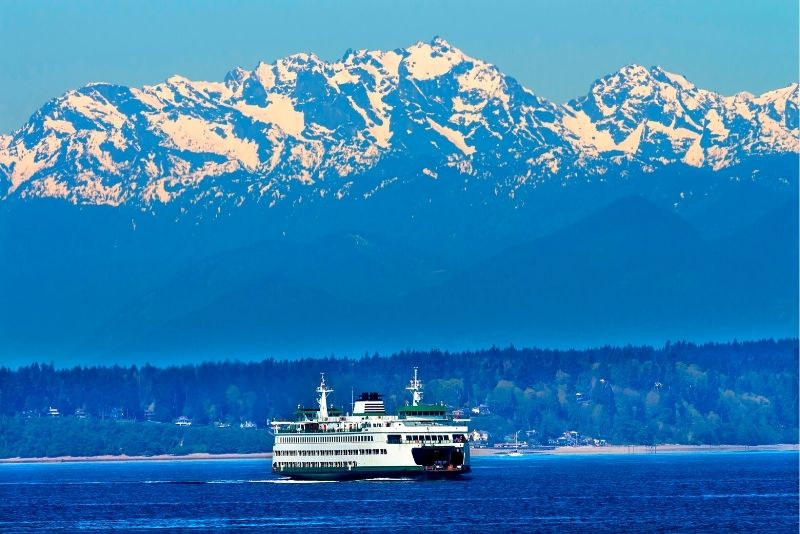 For a chance to get off the mainland, why not take a short ferry ride and spend the day at Bainbridge Island?
As you'll quickly realize, the island has a wide variety of things to eat, see, and do; There are plenty of local cafes and restaurants, as well as art studios, movie theatres, shopping malls, beaches, parks, and hiking trails.
77 – Visit the National Nordic Museum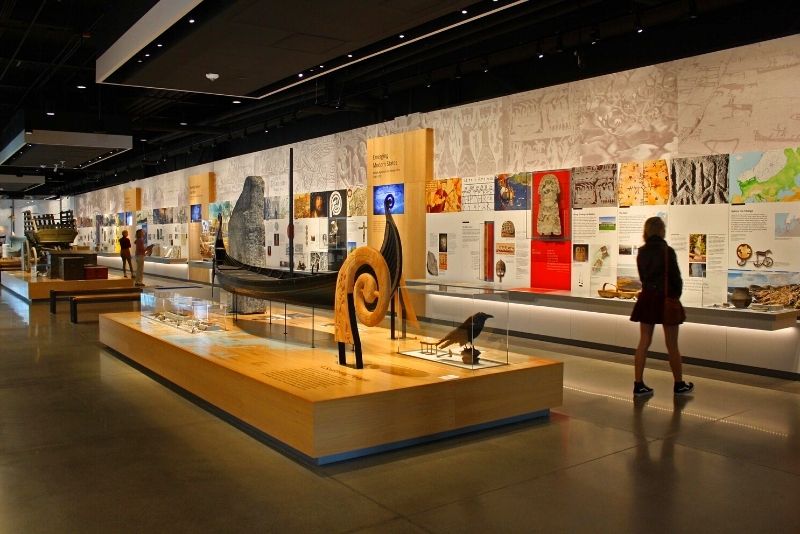 Showcasing a range of exhibitions, programs, and collections on Nordic culture, values, traditions, and ideas, this museum dishes up one of the more unexpected educational experiences in Seattle.
While little-known to most, the Pacific Northwest welcomed a significant number of Nordic immigrants — this museum tells their fascinating stories.
78 – Ride the Seattle Great Wheel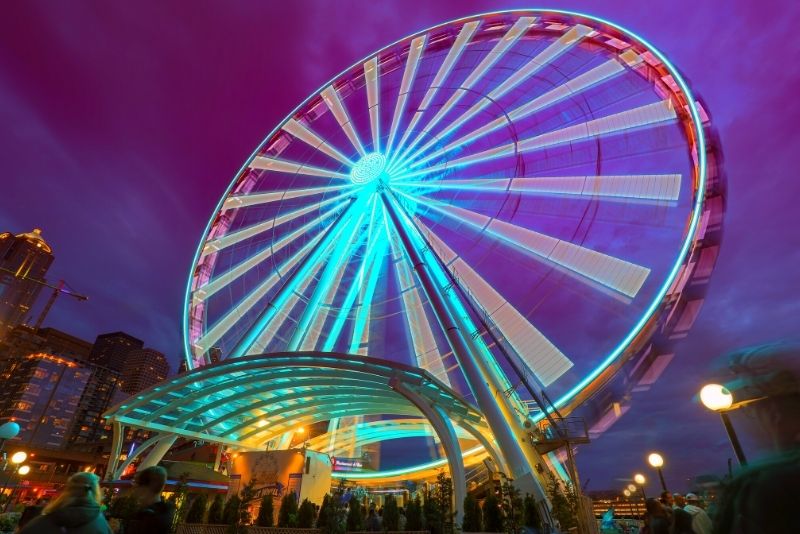 A Ferris wheel that is covered in over 500,000 LED lights (which make it quite the sight to behold), the Seattle Great Wheel is a hit for adults and kids alike.
After conquering the Ferris wheel, there is also a restaurant available on the pier below where guests can enjoy a tantalizing 4-course, chef-prepared dinner.
79 – Broaden your horizons at the Wing Luke Museum of the Asian Pacific American Experience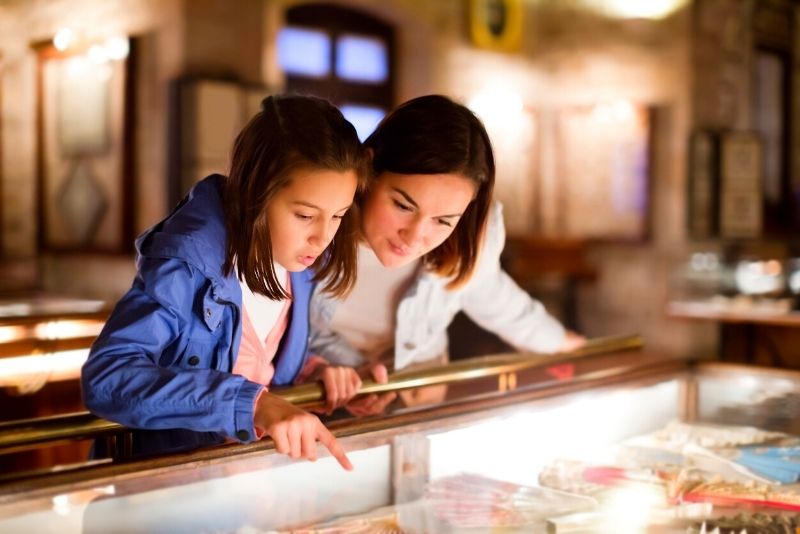 History buffs, take note! The unique Wing Luke Museum offers a wonderful insight into American and Asian history.
The museum is always adding new exhibits (dedicated to things like history, modern history, war, art, music, and plenty more), promising a new and interesting experience, every single time.
80 – Sip a fancy cocktail at a rooftop bar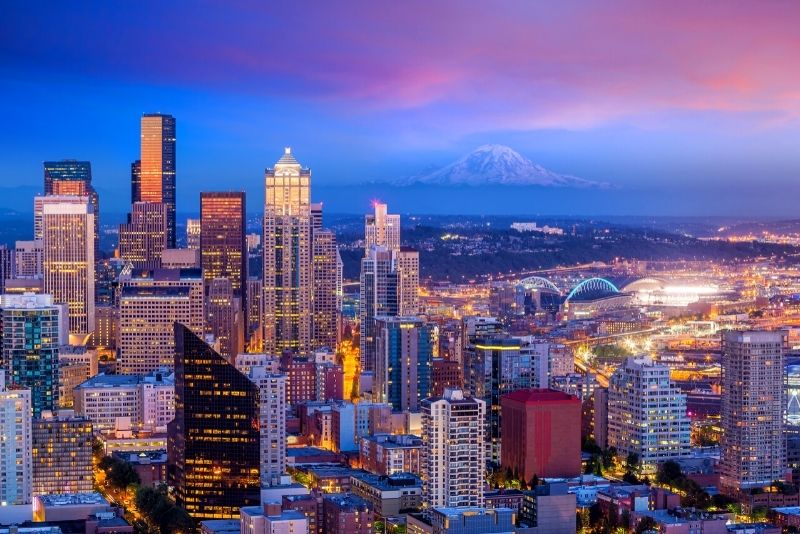 The Seattle skyline is famous all around the world, so why not enjoy it while sipping on a cocktail?
There are plenty of rooftop bars in the Seattle area, with highlights including the likes of Mbar, Fog Room, Mountaineering Club, Frolik Kitchen, and The Nest.
Each, of course, has its own unique atmosphere and specialties.
81 – Grab a drink or two at the best bars in Seattle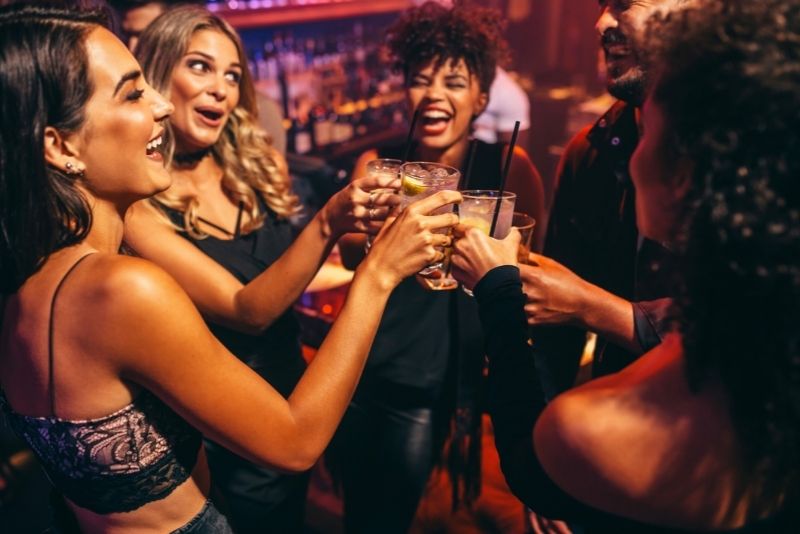 A lavish basement bar, with speakeasy vibes, is what you'll find at Bathtub Gin & Co. offering some of the best gin cocktails, adored for years by locals.
Enjoy the mixologist's creations behind the bar at Percy's & Co., mixing herb-infused alcohols to create the perfect, and unique drinks like the Morticia or the Awakened One.
Looking for some music with your beverage? Visit Sunset Tavern, welcoming guests with a live band on a few nights throughout the week, and a drink from their extensive drinks menu.
From local's recommendation, Hattie's Hat is a great restaurant and bar that has entertained ages of Seattleites since 1904. Enjoy the homey vibes, and visit this local favorite watering hole.
Bring your own vinyl or listen to other people's favorite music at Revolver Bar, offering cool vibes, with funky drinks at low prices – a win-win!
How to get to Seattle?
The best way to get to Seattle is to fly into its main airport, Seattle/Tacoma International Airport, locally known as SeaTac (SEA).
In order to avoid any possible upcharges from getting a taxi when you arrive in Seattle, consider booking an airport transfer, ensuring that someone will be waiting for you upon your arrival, and can swiftly drop you off at your hotel.
Where to stay in Seattle?
Enjoy all the time period furnishings inside the historic 1918 MarQueen Hotel, located within walking distance from the Space Needle. Guests will also enjoy discounted rates for the hotel's restaurant, Tin Lizzie Restaurant. Allow the fragrant smell of espresso and freshly baked pastries to meet you as you walk downstairs to the lobby and coffee shop.
Choose your ideal pillow at the Pillow Bar at Hotel Theodore, located right in the heart of Seattle. With sites such as the Frye Art Museum, Space Needle, and Pike Place Market all within reach on foot, you'll enjoy being in the center of all that the city has to offer.
Looking for a hotel room with a fully-stocked kitchen? Look no further than staying at Belltown Inn, offering 24-hour reception, laundry service, and close proximity to the Olympic Sculpture Park. Enjoy sunset views of Puget Sound right from the hotel's rooftop terrace.
Visiting Seattle on a budget?
Consider purchasing a City Pass when visiting Seattle, which will help stretch your budget as you get to see more of the city's sights.
With one payment, you will be able to access 5 major Seattle attractions, that you can choose to spread out within the span of 9 days.
Instead of buying multiple entrances, your City Pass will be your one-stop shop!
Where to go next?
While you're checking out the Pacific Northwest, don't forget to check out Vancouver, Portland, and the enchanting city of Victoria.
From taking a scenic boat ride to Granite Rock, to enjoying the culinary delights at Granville Market, you'll find an endless supply of things to do in Vancouver, that's for sure.
If you're looking for equal parts adventures in the skies and on water, you'll enjoy the ample amount of sea planes and helicopter rides, as much as riding the ferry rides taking you throughout the many islands near Vancouver.
There's no shortage of fun and adventurous things to do in Portland with its pristine natural beauty in full display at the many gardens like the Portland Japanese Garden, Rose Test Garden, to the Lan Su Chinese Gardens, while also appealing to the hops and malts lovers at the microbreweries.
For nature lovers, check out Mount Hood for epic natural sights.
And just a ferry ride away from Seattle, Victoria boasts a unique blend of old-world charm and new world experiences. Dive into the rich history at the Royal BC Museum, or meander through the enchanting Butchart Gardens.
Whether it's the beautiful Inner Harbour or the historic architecture, there are numerous things to do in Victoria that will leave you captivated.
Final thoughts
With incredible sights between Mount Rainier, the Space Needle, and Puget Sound, along with the alluring aromas of some of the best coffee shops in the country, in one city – Seattle draws in the traveler with the soul of adventure and a taste for quality, and then some.
We hope you enjoyed our list of things to do in Seattle.
Happy travels!