Sitting on the Columbia and Willamette Rivers under the watchful gaze of Mount Hood, Portland is Oregon's most famous city. Renowned for its micro-breweries, botanical gardens, and thriving arts scene, Portland attracts visitors from near and far to sample its treasures.
We have put together this comprehensive list of all the top things to do in Portland to help you get your vacation off to a cracking start.
1 – Tuck into the best donuts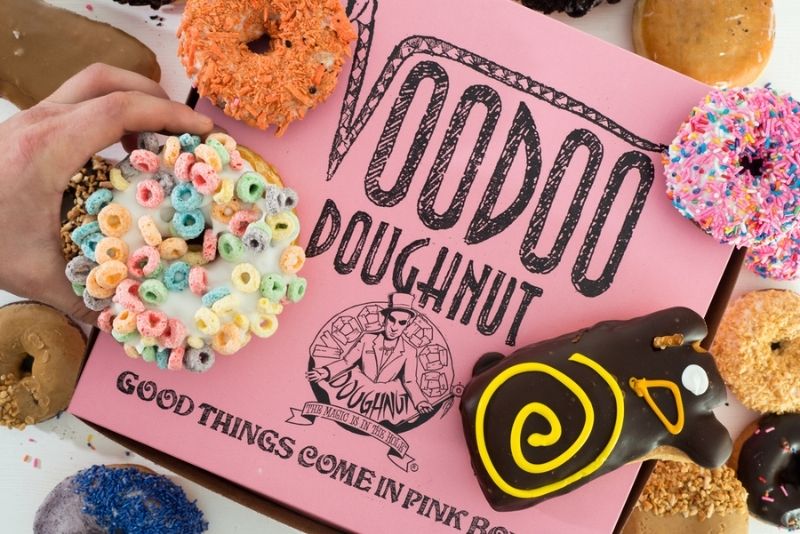 Donuts are a bit of an institution in Portland. There are even tours dedicated to tantalizing your taste buds with these sweet, sticky dough balls.
Stop at different specialist shops around the city and see if you can demolish maple bacon and lavender donuts without licking your lips. Challenge accepted? Then up the game with a blueberry bourbon or Mexican hot chocolate donut.
2 – Explore Columbia River Gorge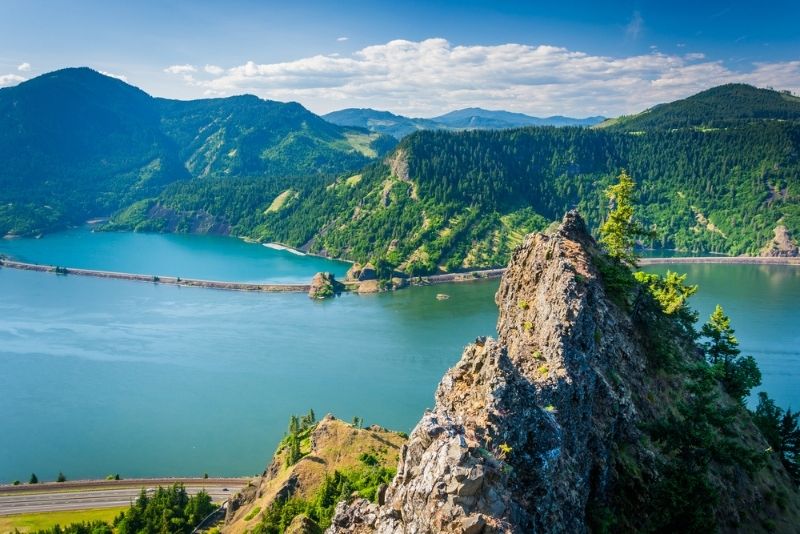 Feel the spray on your face as you stand beneath majestic waterfalls in the heart of Columbia River Gorge. This dramatic canyon is one of the most photographed scenic reserves in the US, with towering basalt cliffs and endemic wildlife to spot.
Wind your way along the legendary Columbia River Highway, stopping at stunning viewpoints to drink in unrivaled panoramas. Remember to pack the camera!
3 – Shop till you drop in the Pearl District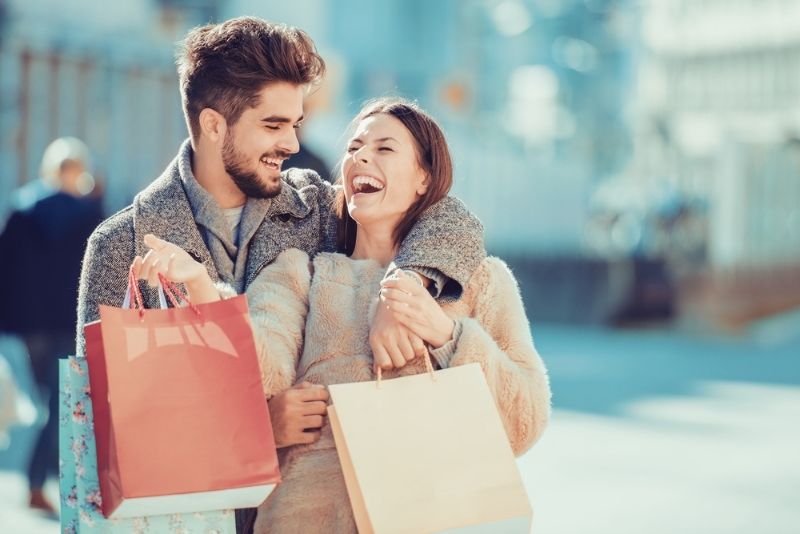 No visit to Portland is complete without an afternoon checking out the famous Pearl District. This hip and happening shopping destination is crammed with independent boutiques, art galleries, and the famous Powell's City of Books.
Want to rest your weary feet? Then refresh yourself in the bars, craft breweries, and restaurants that are housed in reclaimed historical warehouses.
4 – Take a tour around Downtown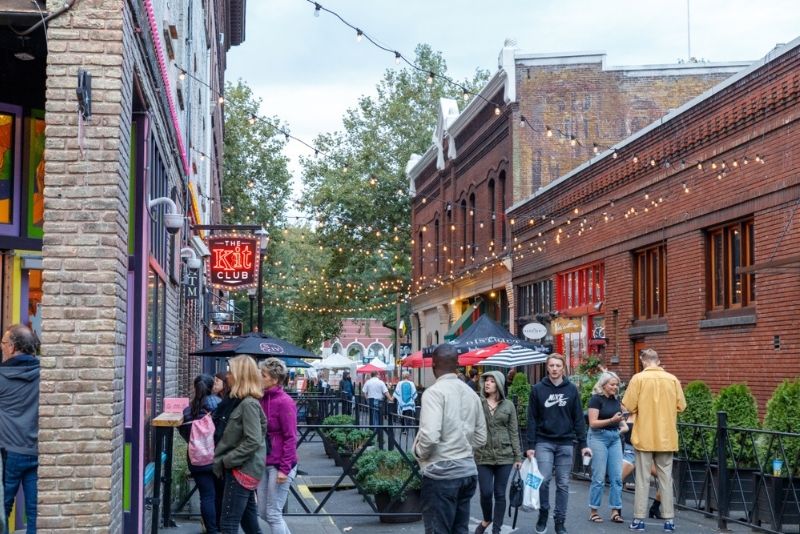 Take a guided city tour of Downtown Portland and discover a world of indie boutiques and eclectic food cart dining. There are plenty of green spaces here too, with a highlight being the Waterfront Park with its cooling fountains and riverside paths.
Continue your explorations at the Portland Art Museum, or visit the farmers' market for a real taste of Oregon.
5 – Smell the flowers in the International Rose Test Garden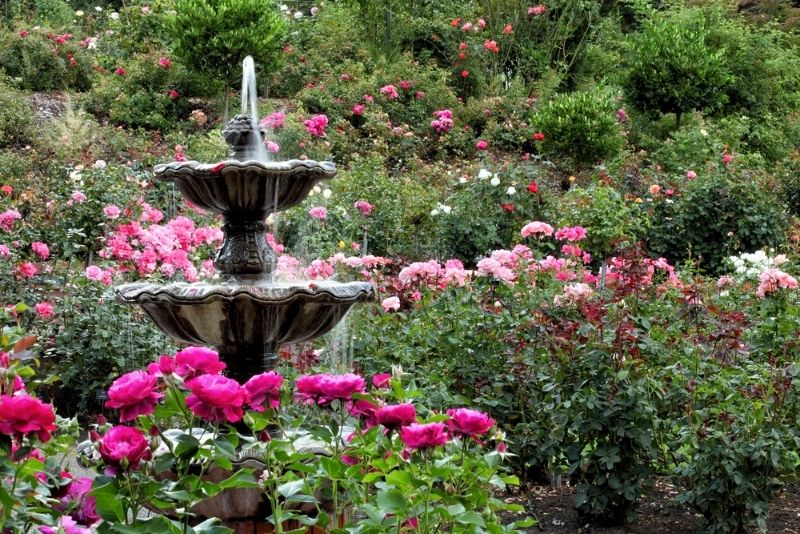 There are over 10,000 rose bushes in this Washington Park garden, so prepare for a sensory overload as you wander around the manicured flower beds. The International Rose Test Garden often trials new rose varieties, so keep an eye out for unusual blooms.
The best time to visit is between April and October when the roses are at their finest.
6 – Visit the Lan Su Chinese Garden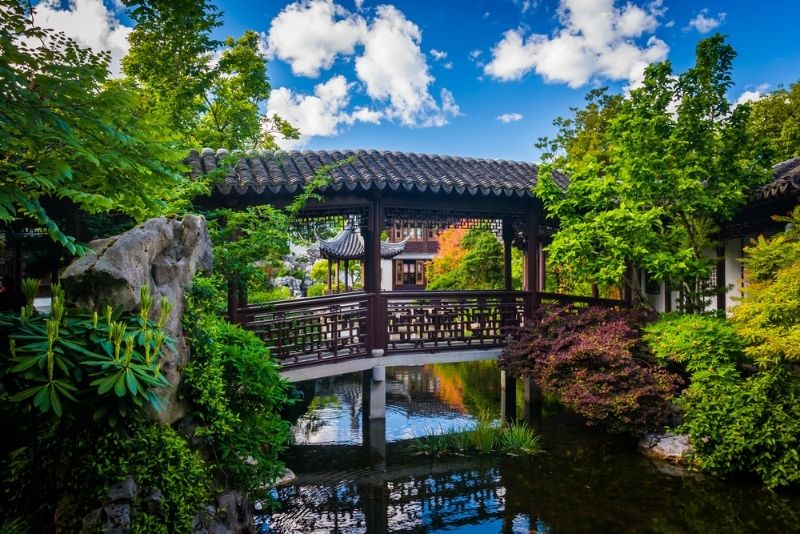 Sitting pride of place in Portland's Chinatown district, this Ming Dynasty-style garden takes horticulture to a whole new level. Stroll over bridges and through pavilions as you explore this serene urban oasis.
You can even indulge in a bit of meditation and take tea in the traditional way at the café. Visit during winter to see the spectacular Chinese New Year festivities.
7 – Go wine tasting in Willamette Valley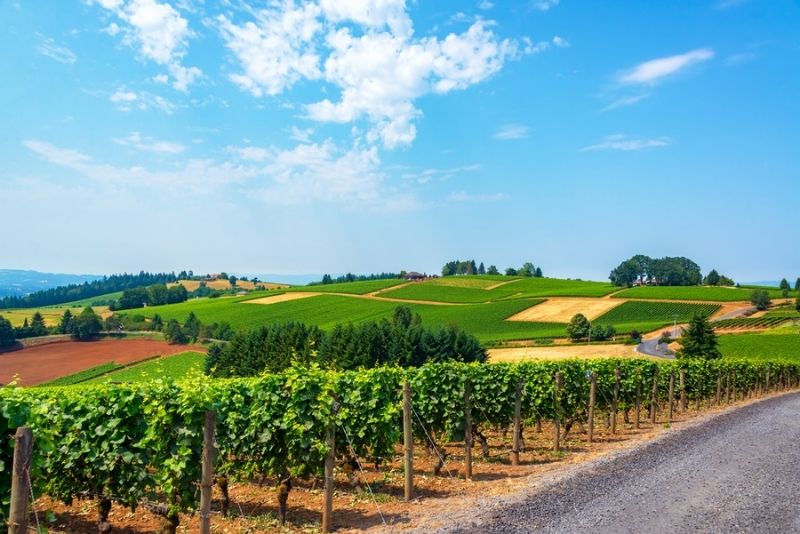 Portland's premier wine region is awash with traditional farmsteads and forested backcountry drives. Hiking trails meander past waterfalls and take in epic vistas of the Cascade Mountains, but the real highlights are the sprawling vineyards.
Go behind the scenes at local wineries in the Willamette Valley, with tastings of rich cabernets and crisp chardonnays included. Buy a bottle to enjoy back home.
8 – Discover Portland by bike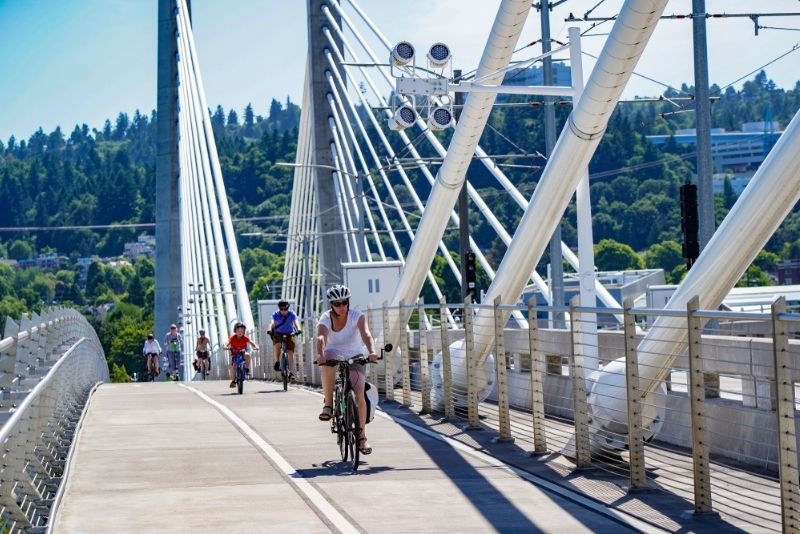 Embrace the power of the pedal as you wheel through the streets of Portland. You will be cycling around the historic west side, cruising through Chinatown, and checking out the trendy Pearl District.
Stop to refuel at one of the city's food carts or visit the farmers' market for some local grub. The bike tour will swing by Waterfront Park too for superb river views.
9 – Take photos of Mount Hood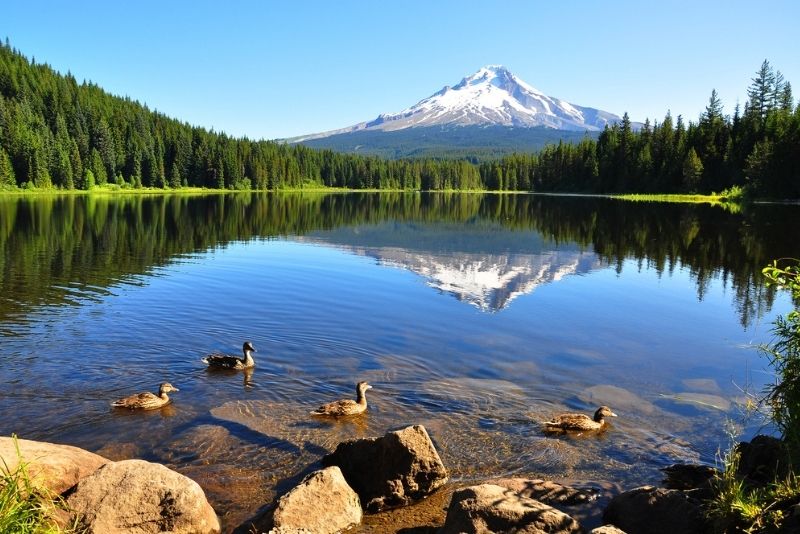 Mount Hood is actually a dormant volcano, with plunging slopes and a snow-capped peak making it the most photogenic mountain near Portland. Surrounded by a thick national forest, this is the great outdoors at its most impressive.
Overlooking the Columbia River Gorge, Oregon's highest peak has several walking trails to enjoy. Or admire it from afar at scenic viewpoints along the majestic highway.
10 – Fly over the Columbia River Gorge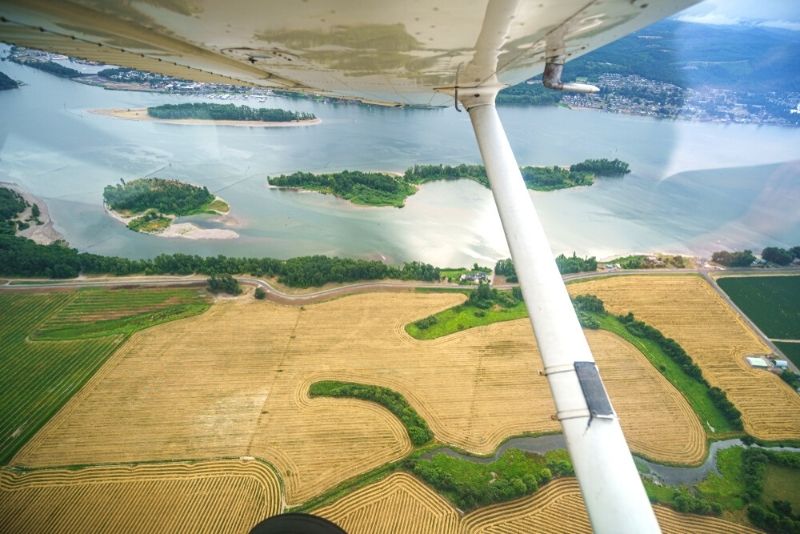 Strap in for a wild ride over the breathtaking Columbia River Gorge and see the canyon from a new angle. You will soar over popular landmarks and see the glinting river as it snakes through the Cascade Mountains.
This is one of the most exhilarating things to do in Portland, with moments of low flying so you can get those close-up shots.
11 – Solve puzzles on a scavenger hunt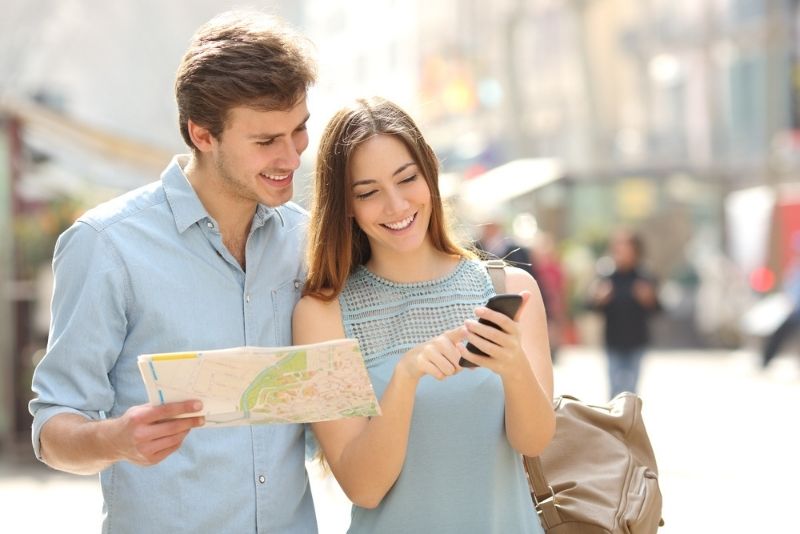 Pull on your thinking caps for a self-guided mission around Portland, figuring out clues as you go. The handy app will reveal secrets of the Bohemian arts district, with stops at the Pioneer Courthouse Square and Powell's Books along the way.
This is a fun way to discover the city's top sights at your own pace, at a time of your choosing.
12 – Taste craft beers at Portland breweries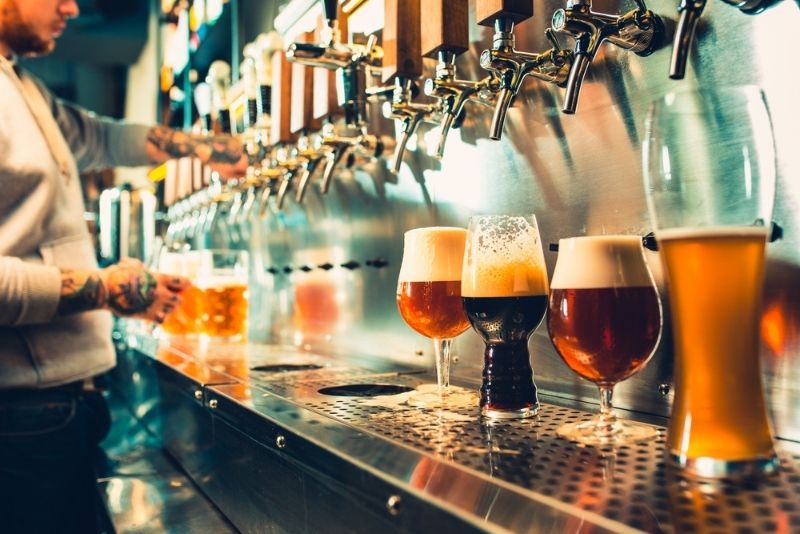 Portland is home to several specialist breweries, where you can learn the secrets behind the colorful local craft beer. Tours and tastings are some of the most fun things to do in Portland, with the Eastside industrial neighborhood providing a charming backdrop.
Guided walking tours and bike excursions are the best way to visit the breweries, and some stops include snacks!
13 – Go hiking in Forest Park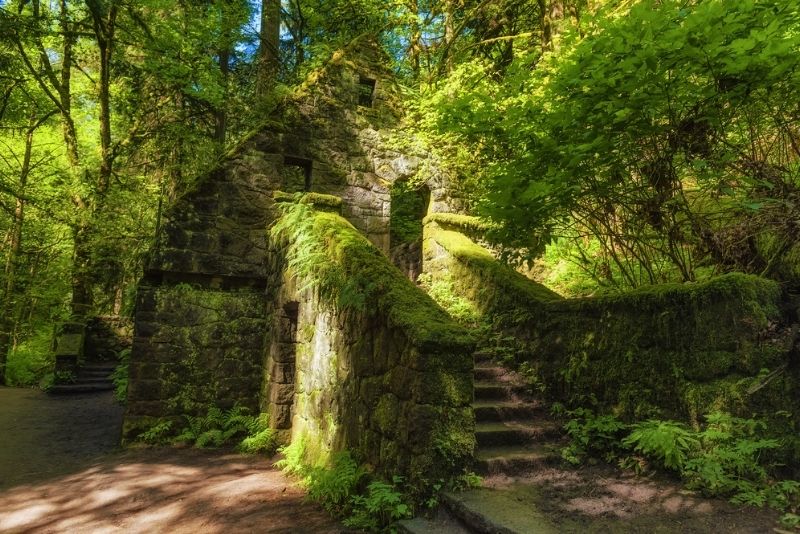 The rolling green pastures of Forest Park are a welcome respite from the city heat. This is one of the largest urban forests in the US, with over 80 miles of trails to explore.
Venture deep into the woods to find the legendary Witch's Castle – old stone ruins that are enshrouded in tales of murder and mystery. Will you dare to visit?
14 – Visit Portland Japanese Garden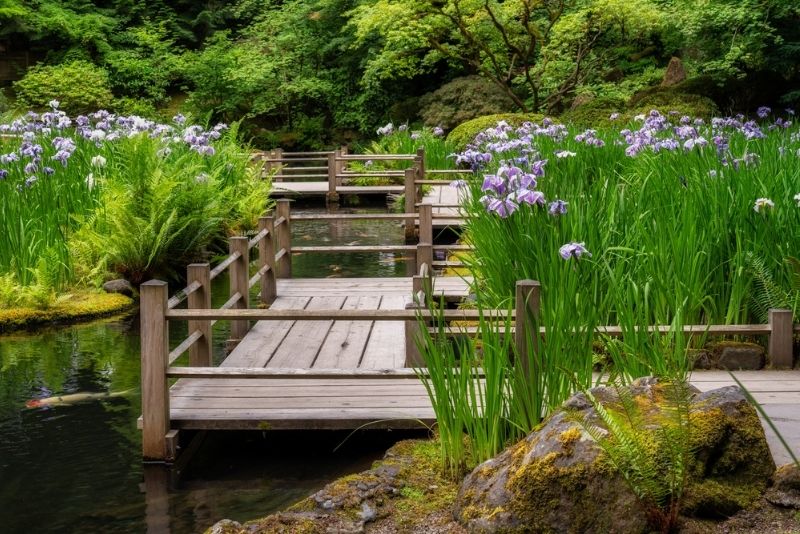 Heralded as one of the most authentic Japanese gardens outside of Asia, this tranquil park is a haven of waterfalls and pavilions. There are five areas to explore, including the Tea Garden and the Strolling Pond Garden, each with their own serene vibe.
Stop by the traditional teahouse to try some sake and enjoy prime views of Mount Hood from the raised walkways.
15 – Admire St. Johns Bridge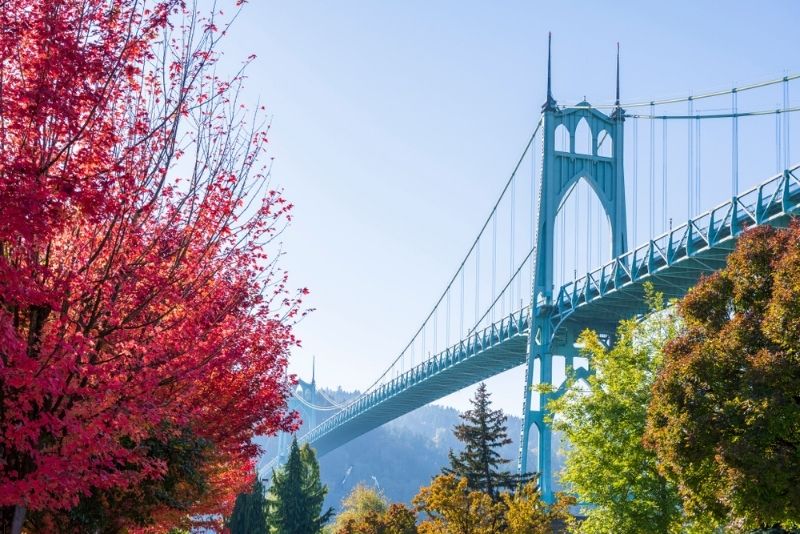 This historic steel suspension bridge is a real whopper, spanning the Willamette River and connecting two of Portland's major neighborhoods. Just as striking as the Golden Gate Bridge in San Francisco, St. John's is a beloved city landmark.
You can drive over the bridge during a tour of Portland, or head to Cathedral Park to snap up some iconic vacation photos.
16 – Go wild at Oregon Zoo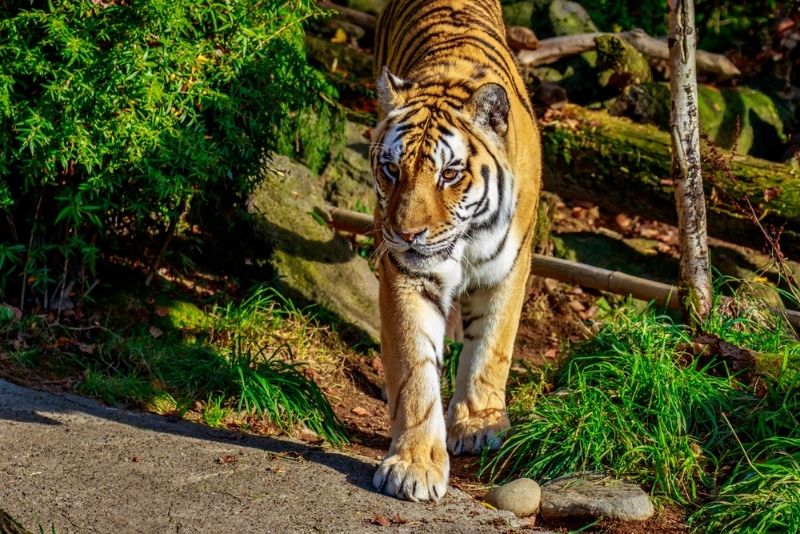 Come face to face with painted dogs and black rhinos at the oldest zoo in the West. The cheeky lemurs will keep you on your toes and the warty pigs never fail to amuse younger explorers.
There are several different habitats to discover, with talks and feeding events giving you closer encounters with the wild inhabitants. Will the elephants or orangutans be your favorites?
17 – Hike in Mount Tabor Park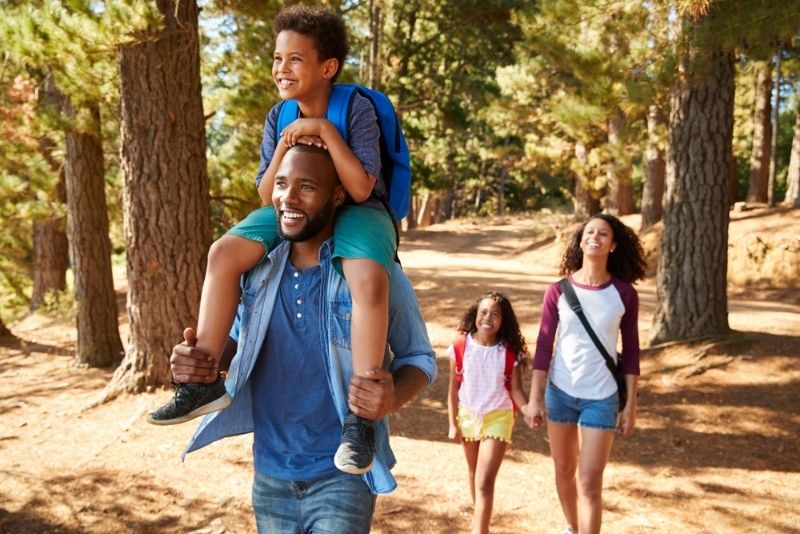 This vast forested park carpets an extinct volcano, with tranquil reservoirs and hiking trails giving you your fresh air fix. Intrepid walkers can conquer Mount Tabor using well-marked paths, rewarding efforts with spectacular views across Portland.
Children love having fun in the play areas, while sports enthusiasts can shoot some hoops on the basketball court. Take a picnic and make a day of it.
18 – Take a Food tour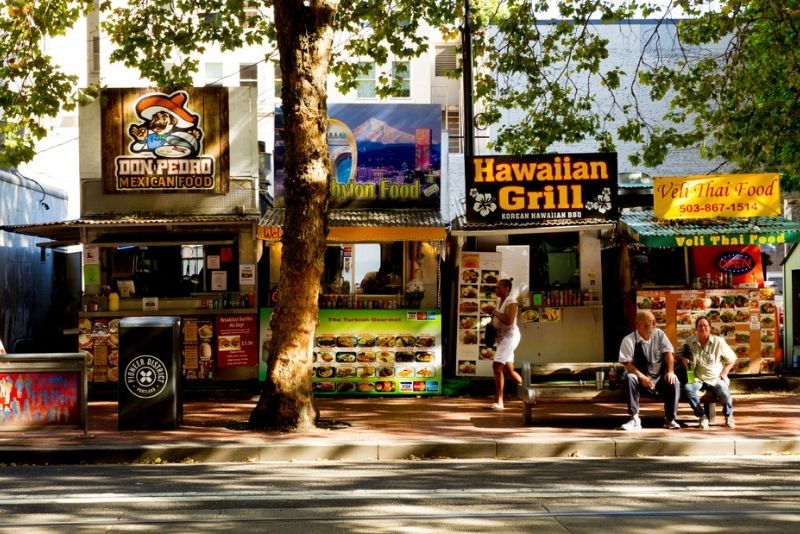 The best way to discover a city is through its belly, so join a food tour to reveal what really makes Portland tick. Savor fresh seafood and local wine in upmarket eateries, before heading to the market for seasonal farm treats.
Stop at food carts for street eats like tacos and rice bowls, then chow down on pizza and ice-cream sandwiches if you have room.
19 – Enjoy a relaxing dinner cruise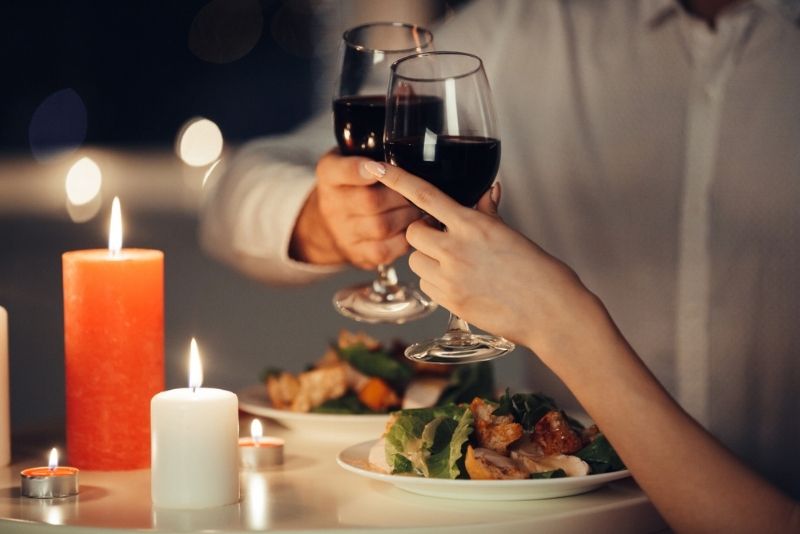 Ramp up the romance with a dinner cruise through Downtown Portland and along the Columbia River Gorge. This is just the ticket after a long day of sightseeing, so sit back and relax as the sun goes down.
Tuck into a hearty feast of local cuisine as you journey down the Willamette River, enjoying live entertainment for an evening to remember.
20 – Go horseback riding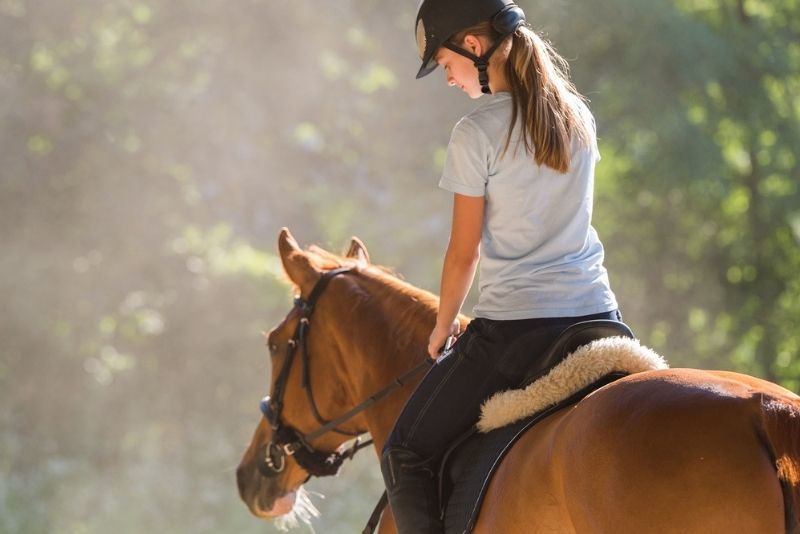 See the city in a new light with a horseback riding tour through the local woodlands or even along the beach. Lessons are available for beginners and those who want to learn new tricks, while trail rides will give you a taste of life in the saddle.
Your trusty steed will take you through scenic landscapes and along rivers, making you feel at one with nature.
21 – Try Indoor skydiving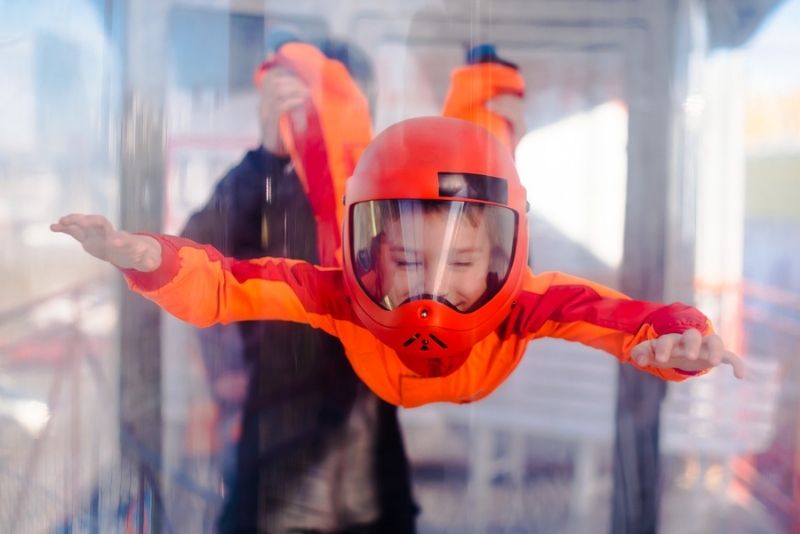 Ever wanted to experience the thrill of skydiving without having to jump out of a plane? Then you will love indoor skydiving – it is one of the most thrilling things to do in Portland.
Feel the adrenaline rush as you float in an 800-horsepower vertical wind tunnel alongside your instructor. Will you be able to keep your balance when the 175 miles-an-hour winds hit?
22 – Bounce around at Sky Zone Trampoline Park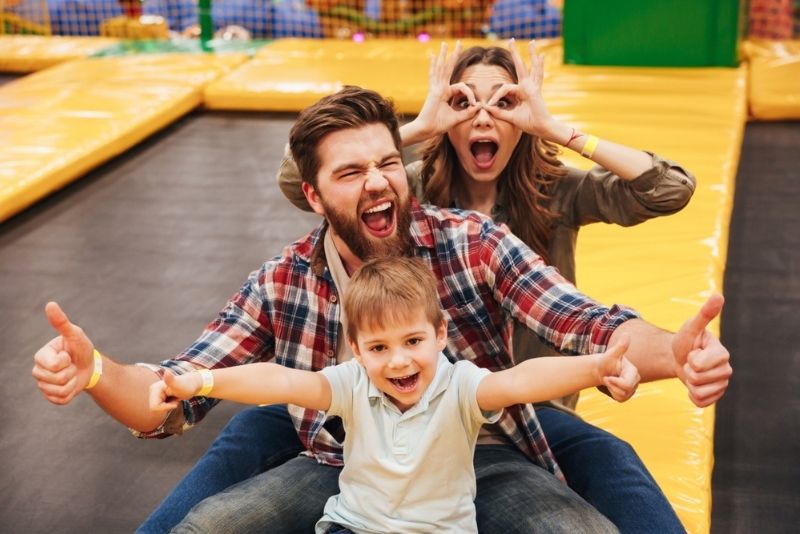 Want to burn off some energy? Then practice your ninja-warrior moves as you jump around Portland's indoor trampoline park. See if you can balance on the Battle Beam and tackle the Warped Wall if you dare.
The parkour-inspired obstacle course is one of the most thrilling activities to enjoy in Portland, while extreme dodgeball will keep you on your toes.
23 – Take a day trip to the Oregon coast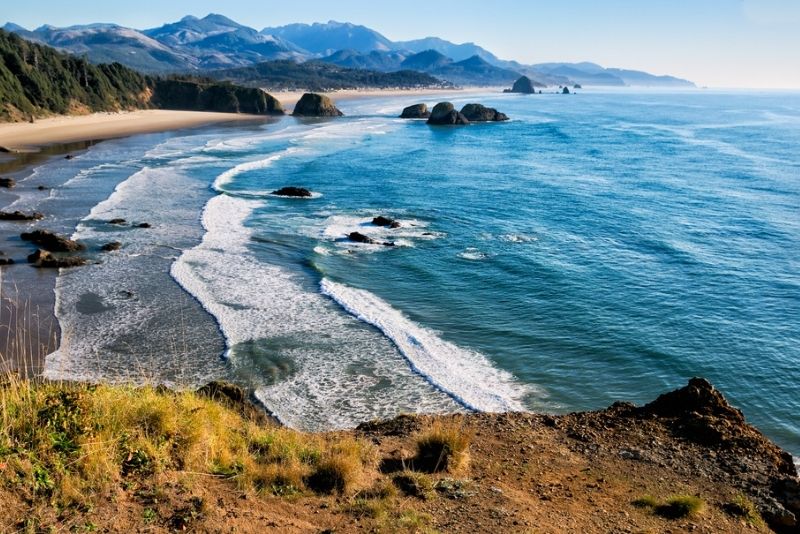 Leave the city behind and head out to the rocky coastline for fresh sea air and beautiful scenery. You will be cruising along the dramatic Highway 101, passing through charming beach towns and stopping at picturesque viewpoints.
Leave your footprints in the sand in secluded bays and visit Ecola and Oswald West State Parks to exercise the legs and the camera.
24 – Visit Multnomah Falls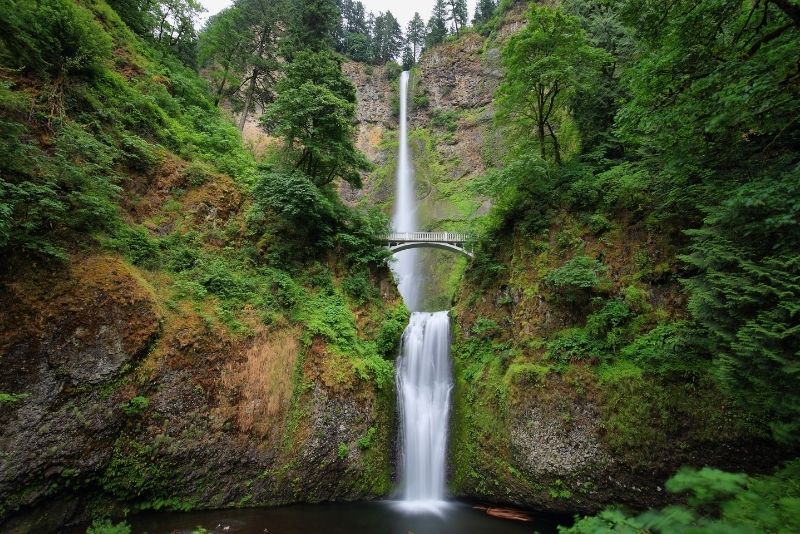 Multnomah Falls is the most popular natural recreation site in the Pacific Northwest, thanks to its beautiful hiking routes and plunging waterfalls. Situated in the Columbia River Gorge, the falls themselves are nothing short of spectacular.
Feel the sheer power of nature as you stand at the foot of this roaring cascade, or walk up the trail to the bridge which spans the falls.
25 – Enjoy a sailing adventure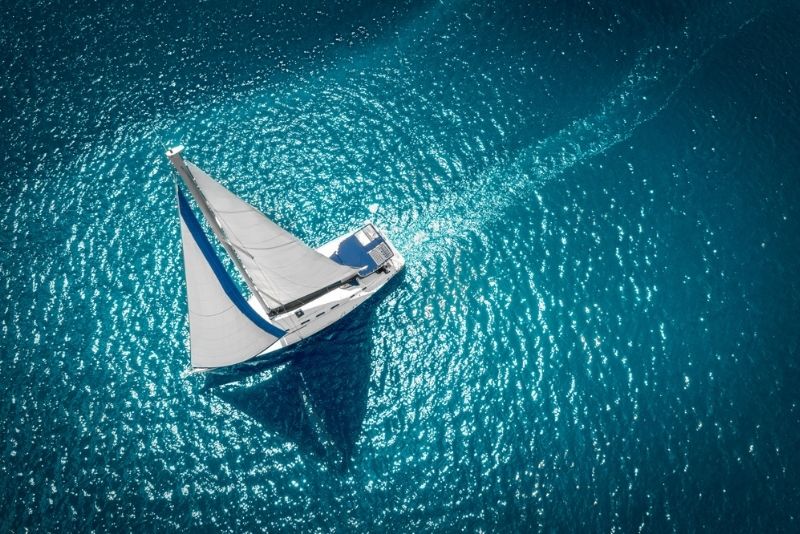 Take to the water and see Portland in a new light on a waterfront sailing excursion. Relax on deck as the city skyline passes you by – keep your camera handy for the iconic views.
Want to head out of town? Then harness the wind and glide down Columbia River Gorge, and get hands-on as an honorary crew member. Small-group and private tours are available.
26 – Relax those muscles with a massage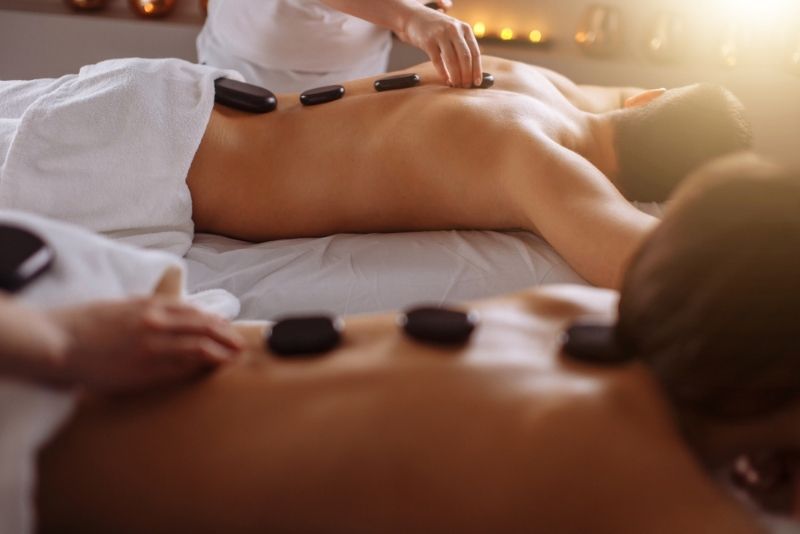 Weary after all that sightseeing? Then reward your exertions with a thoroughly indulgent massage which will have you feeling relaxed and invigorated in no time.
Start with a foot soak, then relieve tension with a Swedish or Deep Tissue massage. For extra pampering opt for the hot rocks and a heated neck wrap. Go on, you know you deserve it!
27 – Play games at King Pins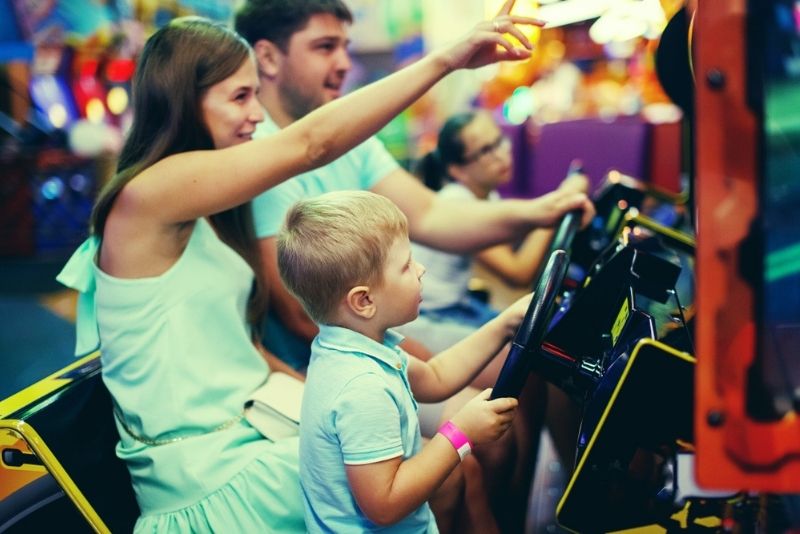 Let your hair down and have fun with all the family at the King Pins entertainment center. Whether you fancy a bit of competitive bowling or like your chances of winning in the arcade, there is something here to keep everyone amused.
Be transported back to your childhood with vintage games, or venture into a new world with virtual reality headsets and laser tag.
28 – Travel back in time at Pittock Mansion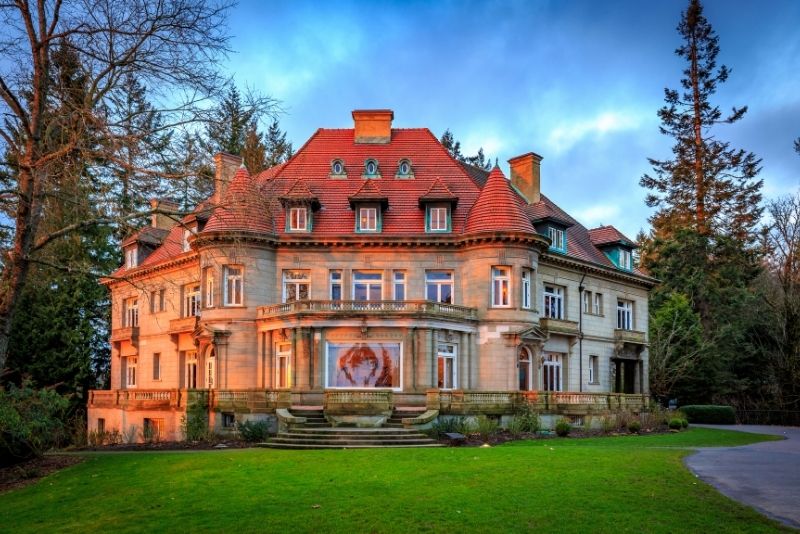 This French Renaissance-style mansion was once a private home built like a castle for publisher Henry Pittock. Located in the hills outside Portland, Pittock Mansion boasts some of the best views of the city so remember to pack your camera.
Check out the historical exhibits about 20th-century life in Portland, and admire the flamboyant architecture as you stroll through the rooms.
29 – Be brave on a ghost tour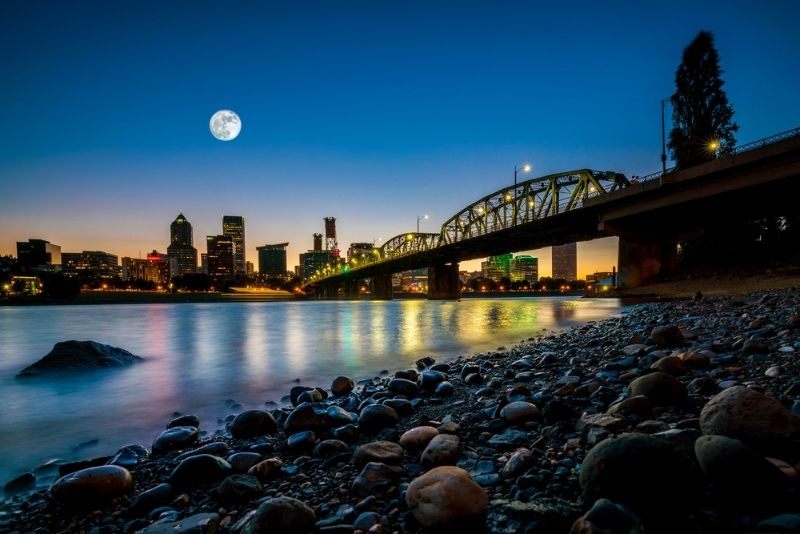 Looking for spooky things to do in Portland? Then join a ghost tour and discover the chilling secrets and haunting legends behind the city's most visited sights.
Your guide will regale you with tales of gruesome murders and audacious kidnappings as you wander through the dark streets. Keep your wits about you as paranormal activity is an everyday event here in Downtown Portland.
30 – Embrace nature at Washington Park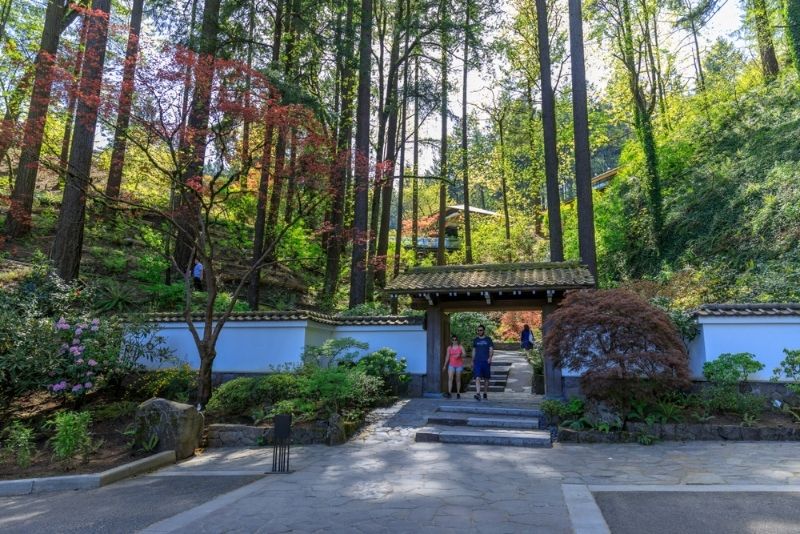 Portland's headline nature park is packed with gardens, museums, and plenty of wild space so you can escape the crowds of the city. Kids love visiting the Washington Park Zoo, where sea lions and elephants are the stars of the show.
For something more serene, stroll around the manicured Japanese gardens, or travel to forests around the world at the unusual Discovery Museum.
31 – Discover Portland Art Museum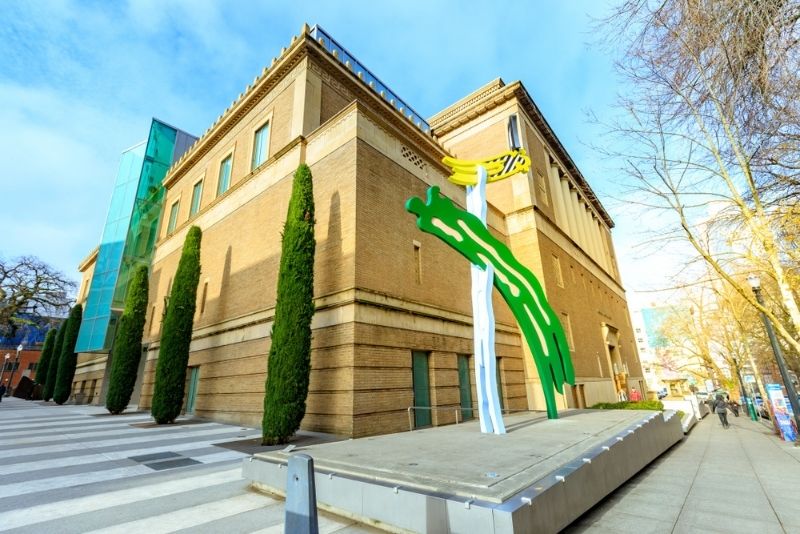 The Portland Art Museum is one of the oldest in the US, with galleries dedicated to Native American and Northwest collections.
Here you will find everything from 19th-century European art to thought-provoking modernist pieces, with changing exhibitions throughout the year.
The museum is housed in historically significant buildings, including an old Masonic temple which has retained many of its original features.
32 – Hike and kayak in Oxbow Regional Park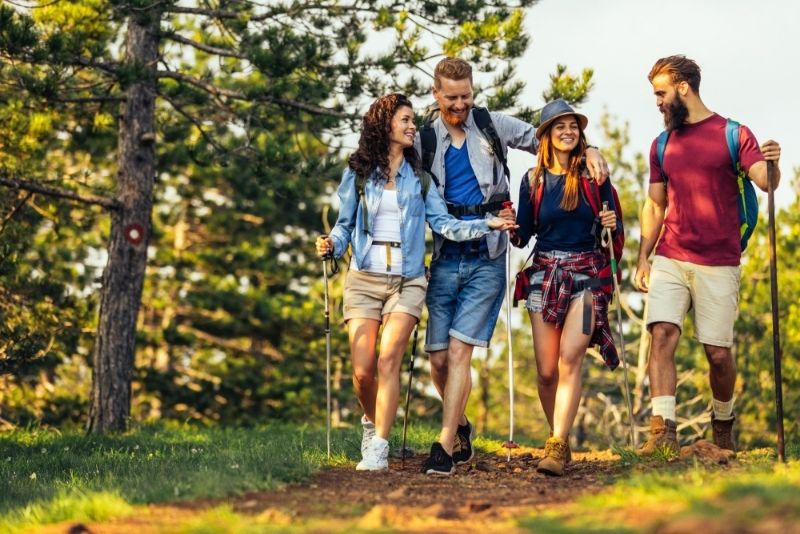 Immerse yourself in the wilderness of Oxbow Regional Park and enjoy the scenic Sandy River with its cliffs and beaches. If you fancy hiking, there are several trails meandering beside the water and traversing steep ridges.
Alternatively, paddle down the river by kayak and watch out for mink and beavers along the banks. You can even camp overnight if you feel adventurous!
33 – Reflect on life at the Grotto Sanctuary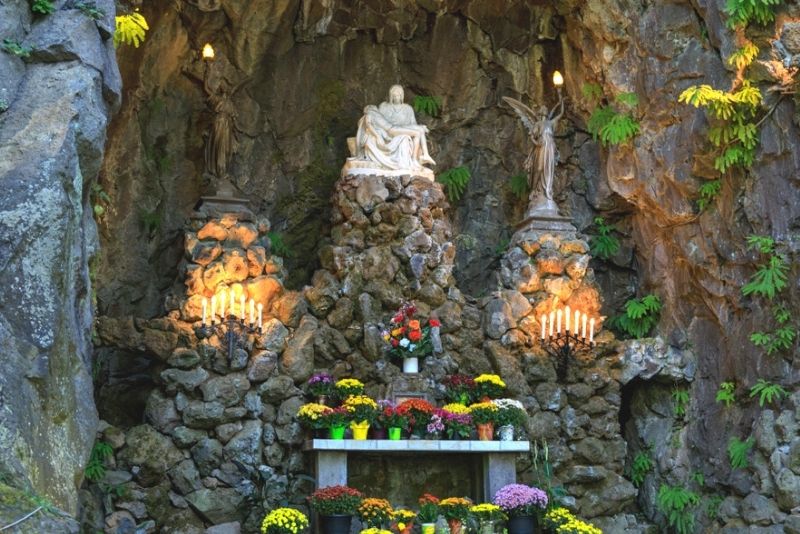 Sitting on top of a cliff in Northeast Portland, the Grotto Sanctuary is a peaceful woodland with 62 acres of botanical gardens to explore.
Pathways lead to hidden Catholic shrines, where the ancient forest surrounds give a meditative vibe. Explore the outdoor cathedral cave, and pop into the Chapel of St. Mary to admire the Cascade Mountains through a glass wall.
34 – Be entertained at the Jack London Revue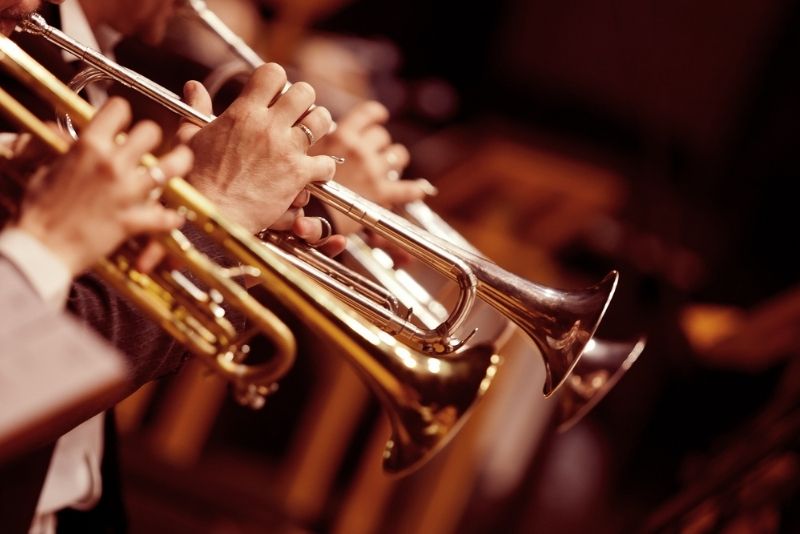 Get your evening off to a swinging start at this speakeasy-style jazz club. Tucked away in a cozy basement, the Jack London Revue hosts acts from near and far on its intimate stage.
Whether you prefer energetic guitar solos or saucy burlesque, there is always something on that will tickle your fancy. Cocktails and snacks seal the deal.
35 – Photograph Portland's White Stag Sign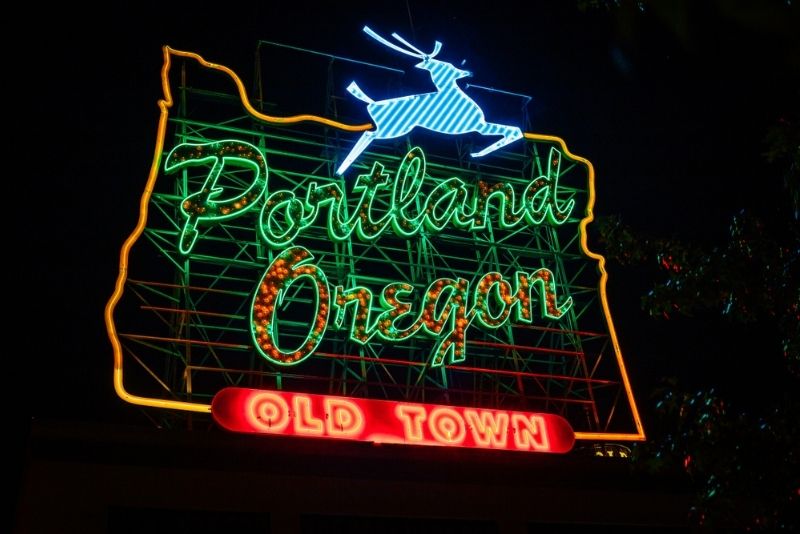 Everybody loves an iconic destination sign to feature in their vacation snaps, and Portland has one of the best. The White Stag Sign can be found near the Burnside Bridge beside the waterfront and was originally made by a sportswear company.
If you visit during winter, see if you can spot the stag's nose which lights up red as a compliment to Rudolf.
36 – Go climbing at Planet Granite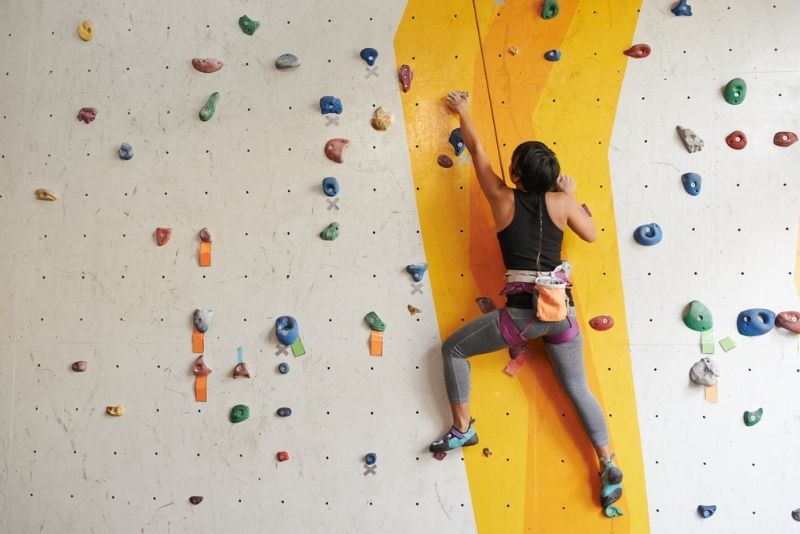 Test your strength on the indoor climbing wall at Planet Granite and see if you can scale the dizzying heights of the 55-foot route. Negotiating overhangs and vertical drops is just all part of the experience.
Back on the ground, there is a bouldering area for you to practice your moves, as well as yoga classes if you fancy a gentler form of exercise.
37 – Spot wildlife in Tryon Creek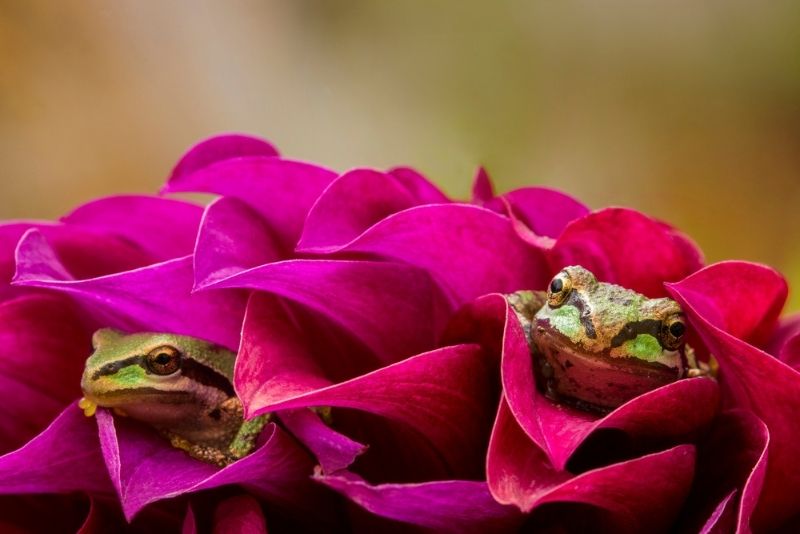 There is no shortage of green spaces to enjoy in Portland, but Tryon Creek State Natural Area is a real favorite with locals. Occupying a forested ravine just south of the city, Tryon Creek was once home to several indigenous Chinook tribes.
Today you can walk beneath the towering Doulas firs, keeping your eyes peeled for foxes, woodpeckers, and Pacific tree frogs.
38 – Encounter alpacas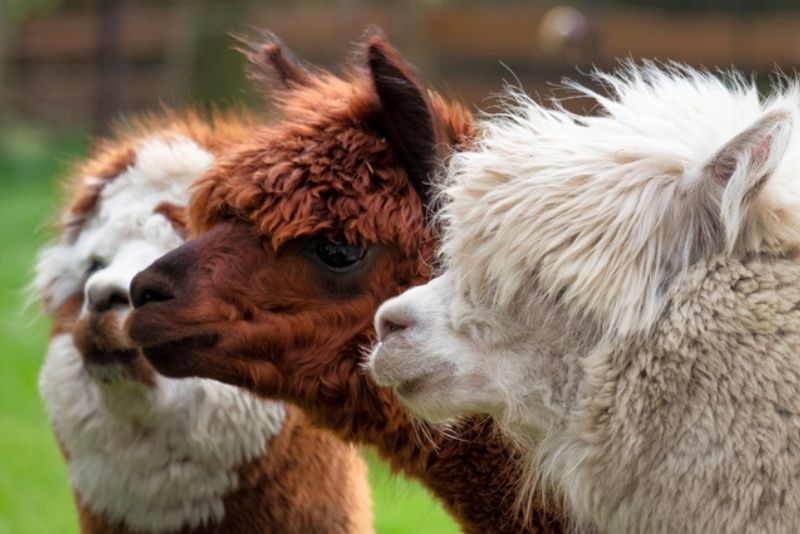 Visiting an alpaca farm is one of the more unusual things to do in Portland. Families love joining in at feeding time and interacting with these strange fluffy animals from South America.
You can take a tour of the hill ranch and discover why alpacas thrive here in the Pacific Northwest. Pop into the shop for some rather unique souvenirs, courtesy of the woolly inhabitants themselves.
39 – Take a Pink Trolley City Tour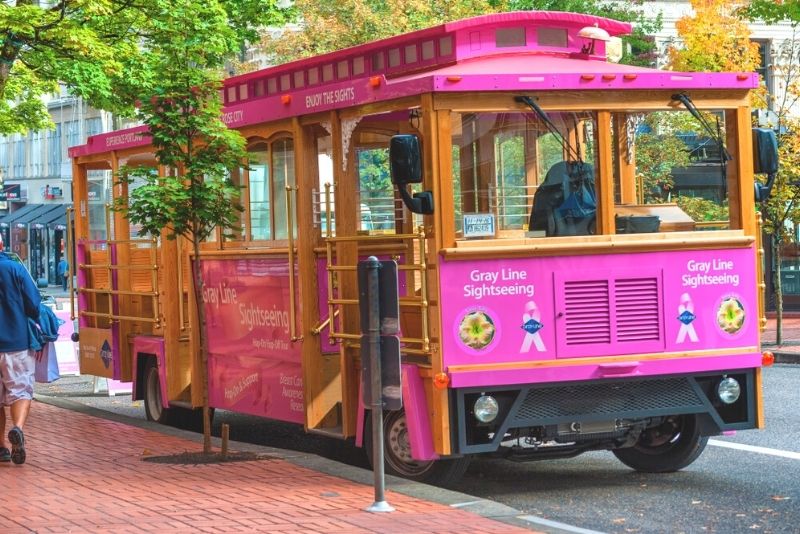 Cruise the streets of Portland on an open-air and open-top trolley bus. This fully narrated excursion takes you past some of the city's top landmarks on a scenic and informative drive.
Highlights include the Old Town and Saturday market, the South Waterfront Park, and the iconic Pearl District. Make a note of places to return to for further exploration.
40 – Be creative at Live Laugh Love Art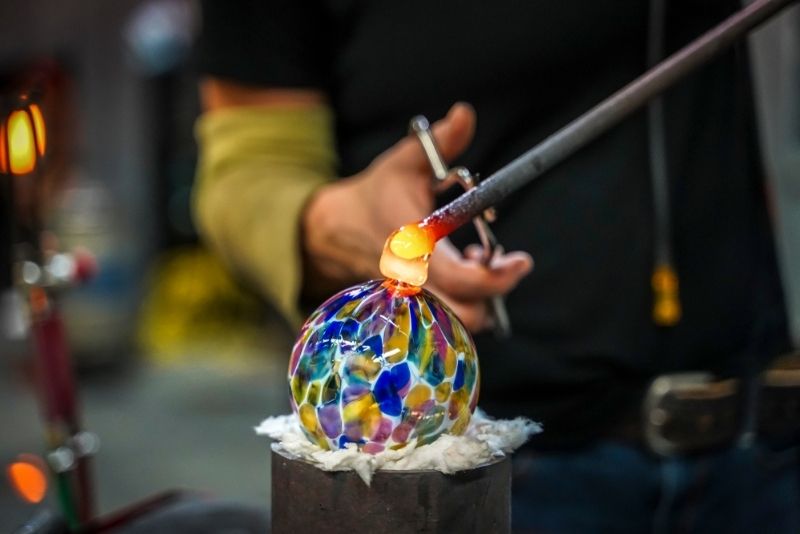 Discover your inner artist at a crafty workshop in the heart of Portland. Try your hand at glassblowing or candle-making for a truly special vacation memory, learning from the experts as you go.
Pottery painting is fun and therapeutic, with everything from bowls to figurines up for grabs. Want something more traditional? Then make like Van Gogh and paint a canvas.
41 – Visit Save the PT Boat Museum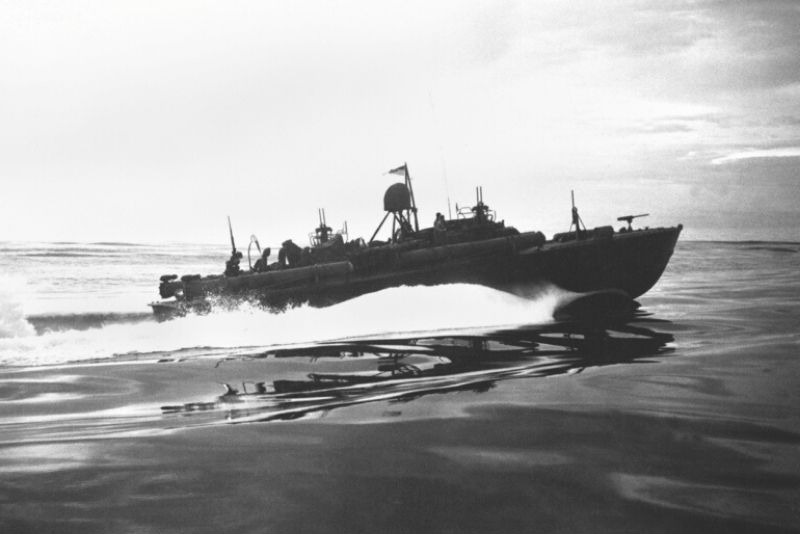 The world's last working PT boat from World War II can be found here in Oregon. This historic torpedo vessel has been restored and can often be seen powering along the Willamette River.
The living memorial has a small museum dedicated to war memorabilia and the restoration journey. Tours and rides are available on selected dates throughout the year.
42 – Explore the Oregon Maritime Museum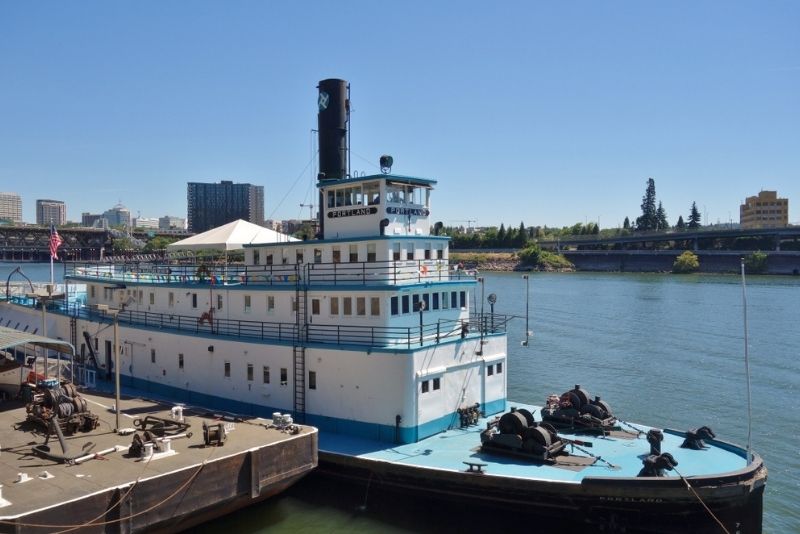 Housed inside a historic sternwheeler boat, the Oregon Maritime Museum gives you a taste of river life in times gone by.
Tour the engine room and discover how the boat was operated, then head to the pilot house for superb river views. There are maritime artifacts and model ships to enjoy, as well as tales of the mariners who once sailed these waters.
43 – Smell the flowers at Crystal Springs Rhododendron Garden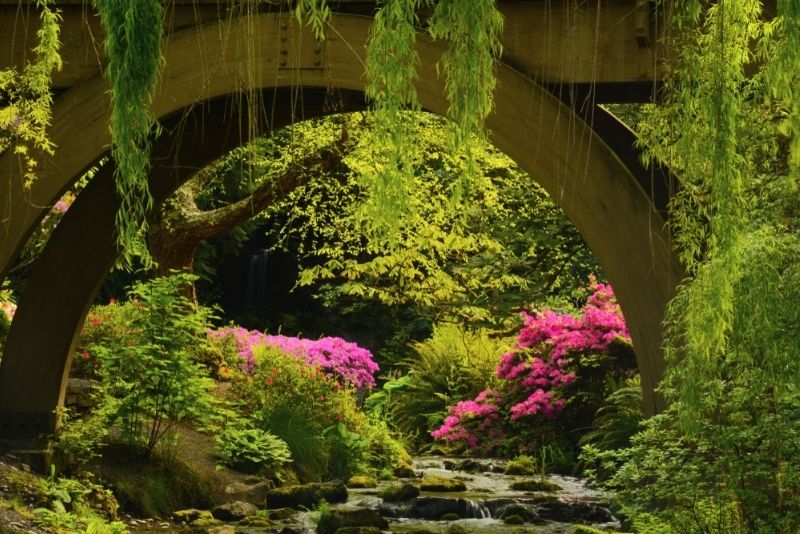 Swathes of colorful blooms and a flurry of wildfowl greet you at the Crystal Springs Rhododendron Garden in southeast Portland. Originally established as a test garden for rhododendrons, today there are over 2,500 plants to admire.
Self-guided tours of the park are a great way to see the highlights, with the best time to visit being between February and July.
44 – Discover the Oregon Museum of Science and Industry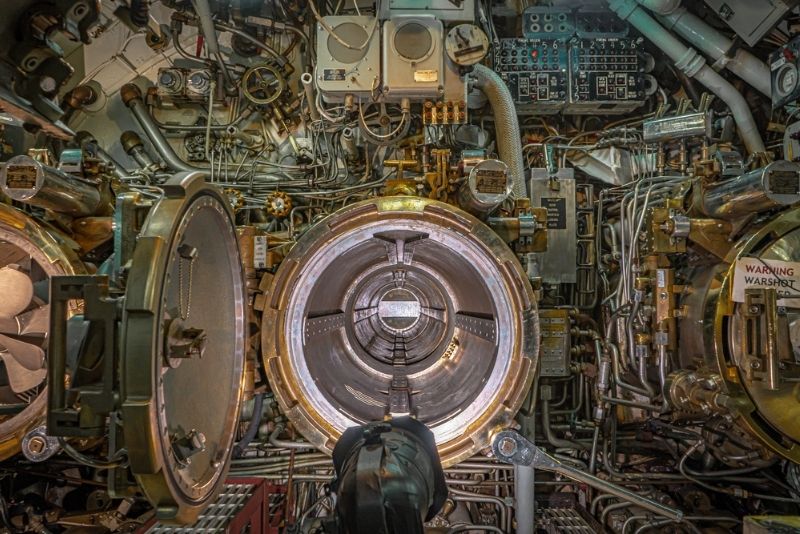 See science brought to life with interactive exhibits and mind-boggling displays in the vast galleries of Oregon's Museum of Science and Industry.
Witness live lab demonstrations, take a stroll on a submarine, and explore distant galaxies in the giant planetarium. Young visitors will enjoy seeing the ancient dinosaur fossils and getting creative in the hands-on science playground.
45 – Sample the best Portland gins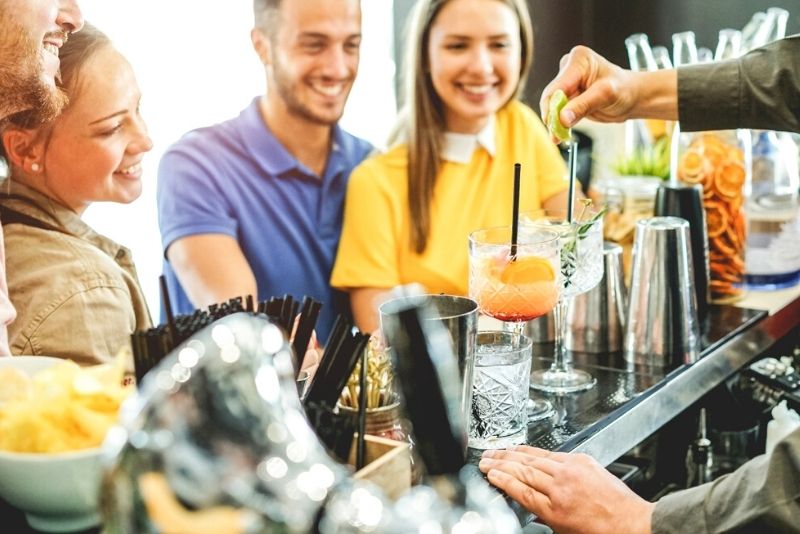 The craft gin scene is roaring in Portland, with several micro-distilleries for curious drinkers to visit. You can tour production facilities on Distillery Row, discovering the secret ingredients and of course tasting the results.
Westward Whisky is the place to go for botanical gins, or head to the New Deal Distillery where spicy flavors like Hot Monkey Vodka will awaken all your senses.
46 – Eat at Portland farmer's market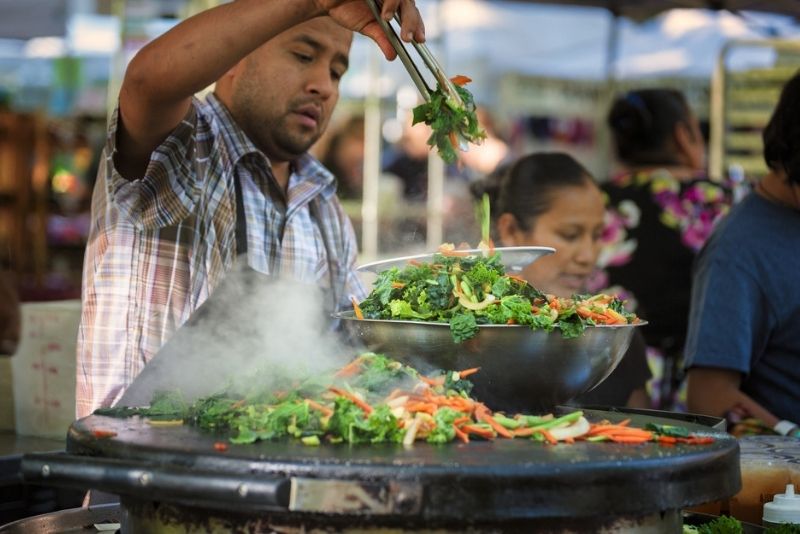 Foodies will love browsing the 140 stalls laden with fresh local produce at the Portland Farmer's Market. You can buy specialist delicacies to take home, and learn about the traditional cuisine of Oregon.
Eating here is one of the most popular things to do in Portland, and you will find everything from hearty tranches of pizza to grilled duck rolls and kimchi dogs.
47 – Marvel at street art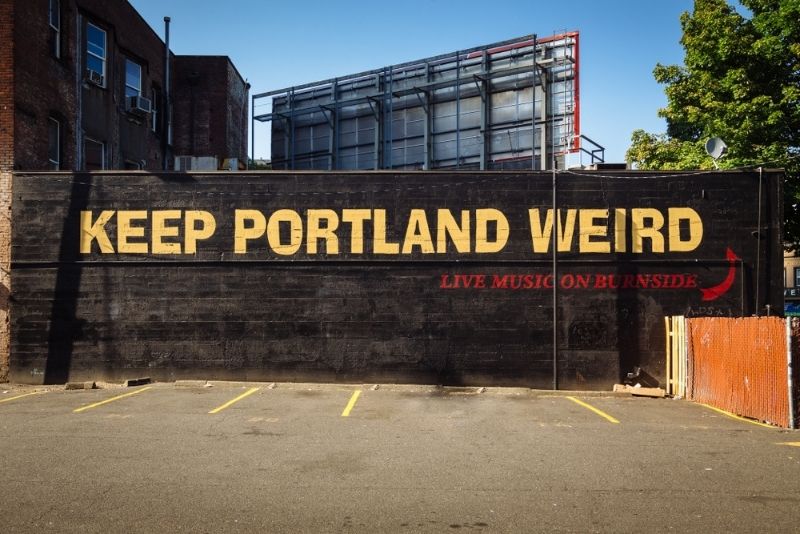 Portland has some of the most imaginative street art in the US, with almost 2,000 pieces of public art and murals adorning the sidewalks. The Alberta Arts District has a mile of walkable street art to enjoy, while Downtown Portland is another popular spot.
Take a self-guided tour and see if you can spot slithering snakes, talking robots, and even a stampeding rhino.
48 – Visit Powell's City of Books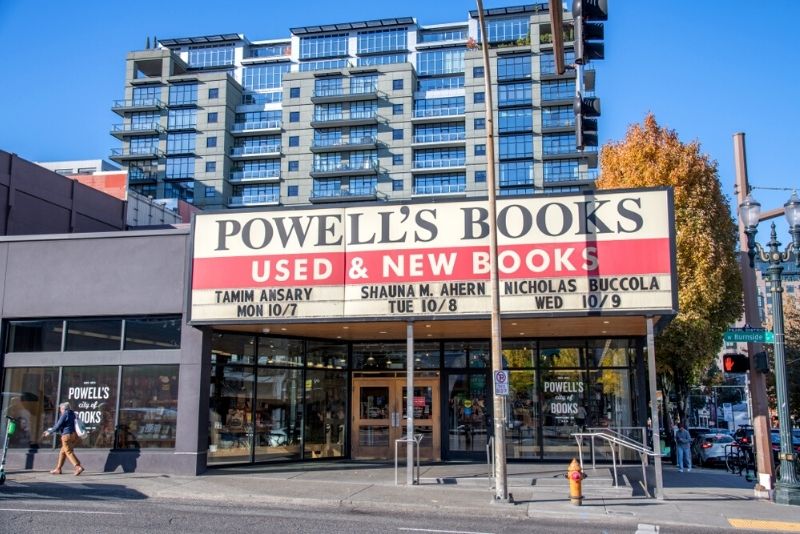 The world's largest new and used bookstore is one of central Portland's most treasured landmarks. Visitors come from far and wide to browse the eclectic offerings on the shelves, where ancient tomes and shiny modern prints sit side by side.
You can wander at will or use the color-coded map to navigate the 3,500 different sections. Then grab a brew in the café to keep your energy levels in check.
49 – Tour the Mississippi neighborhood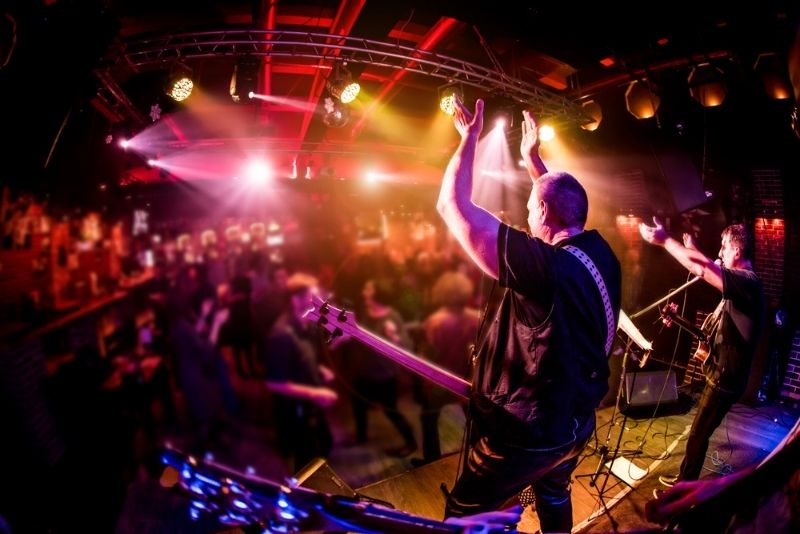 This hip district is one of Portland's top spots for live entertainment and dining out. There are dozens of fashionable bars and music venues, as well as mobile food carts dishing up inventive cuisine.
Shopping is a real treat here, and for creative souls there are living art workshops to try. Come in July for music, beer, and parades at the annual Street Fair.
50 – Have fun on a pub crawl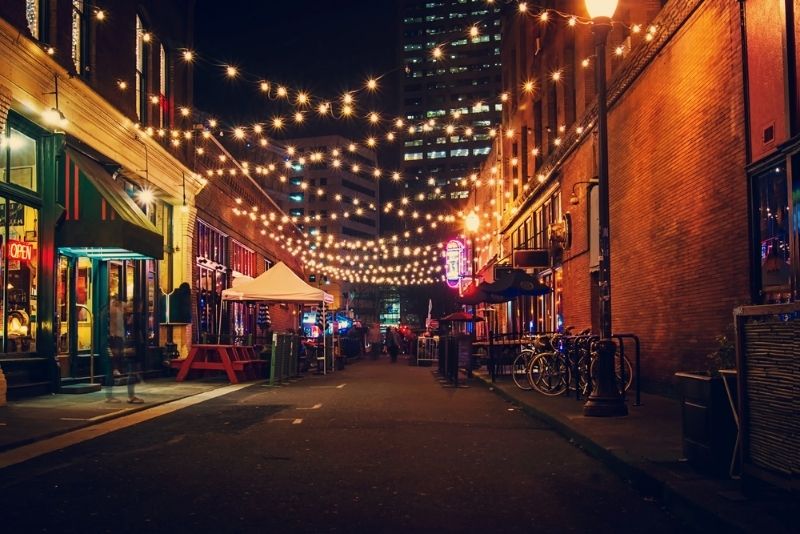 Sample the city's upbeat watering holes as you enjoy a pub crawl with an enthusiastic guide. You will be setting foot in some of the hippest neighborhoods in town, checking out the trendy bars and historic pubs along the way.
This is a unique opportunity to interact with locals in a relaxing environment, as well as tasting some of Portland's most delectable tipples.
There are lots of fun things to do in Portland, and probably too many to fit into one visit. So, we hope this list will help you narrow down your choices and come up with the ultimate vacation itinerary.
Have you booked your accommodation? Check out the best hotels in Portland to secure the cheapest deals ahead of your trip.
If you are arriving by plane, then you might want to think about booking airport transfers for a smooth onward journey. For those heading off on a longer Oregon road trip, car rental is available too.