Would you like to experience a Vancouver whale watching cruise? If the answer is "yes", then you're in luck. We're bringing you the lowdown on whales and how you can see them in Vancouver with the best cruises around.
Read on, and discover everything there is to know about Vancouver whale watching cruises, including cruise price, how to book online, what types of whales you may see, and more.
Don't feel like reading ahead? Book your Vancouver whale watching cruise right now.
How much does a whale-watching cruise from Vancouver cost?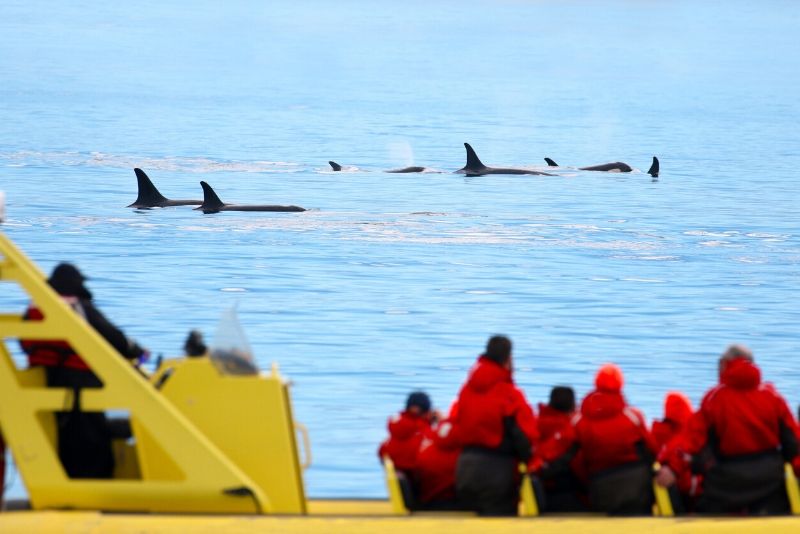 Whale-watching tours in Vancouver are popular excursions, thanks to the many marine mammals roaming the waters in this part of the world.
Expect to pay between 150 US dollars and 380 US Dollars, depending on the type of tour that you take. Lower-priced cruises often feature a boat trip to see the whales, while more expensive trips include a more comprehensive range of features such as combining your cruise with a seaplane for an aerial view of the whales.
How can I book a whale-watching cruise from Vancouver online?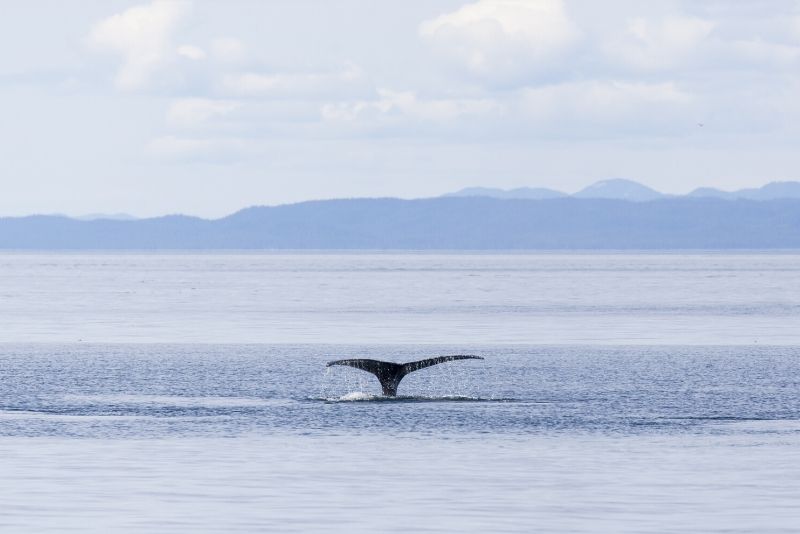 Many whale-watching tours operate from Vancouver, which means you have plenty of options when it comes to choosing a cruise. Some of the most popular online tour operators that run whale-watching cruises include GetYourGuide, Viator and Headout.
Booking your ticket online means you don't need to worry about sorting out the particulars on the day. But with so many companies and operators, finding the best Vancouver whale watching cruise can quickly get complicated and become slightly overwhelming.
Using our search engine means you can find Vancouver whale watching cruises that suit your criteria. We trawl through all the available options – with user reviews included – and compare all the deals available, simplifying the choice for you.
When is the best time of year for whale watching in Vancouver?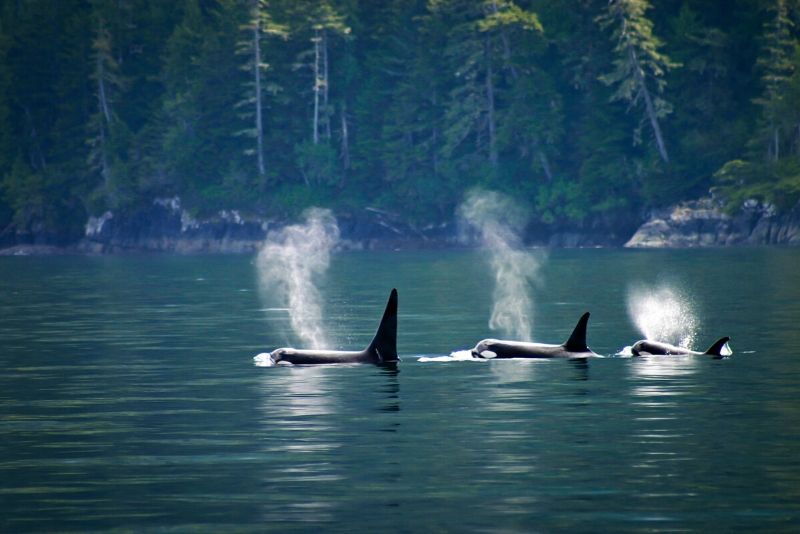 The summer months tend to be the best time of year to go on a whale-watching cruise in Vancouver. The weather is more pleasant, and the ocean is calmer in the hotter months. Not only do calm waters provide a more relaxed cruise; they're also clearer, which makes spotting whales easier.
If you can't make it during the summer, however, don't worry too much. Throughout the months of May and October are generally considered an excellent time to see the Vancouver whales. Many of them migrate north along the west coast of Vancouver Island during March and April.
Are there any tour guides on board?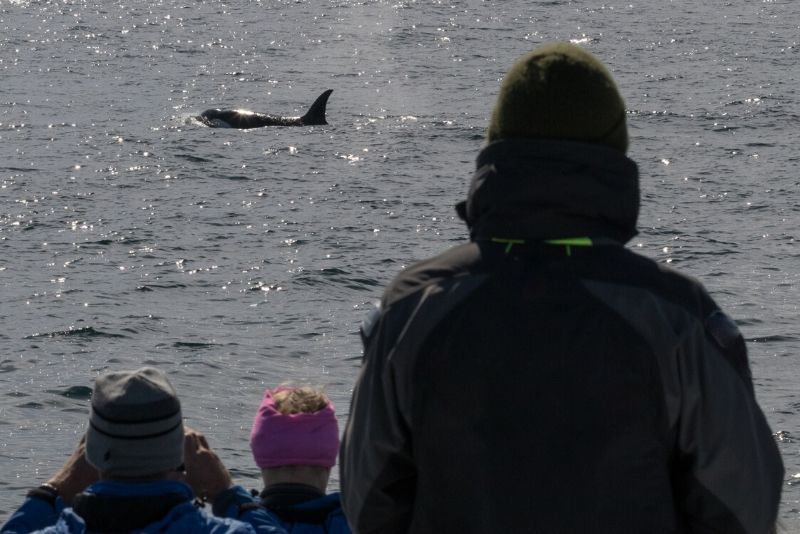 Almost every whale watching tour in Vancouver includes a professional guide, most of whom come in the form of a professional naturalist. They have studied marine life and are experts in their field. That means they know all about the whales roaming the Vancouver waters.
Guides provide expert knowledge on the different types of whales you can expect to see during the cruise. You will have in-depth information, such as the different breeds of whales, where they come from, how they ended up in Vancouver and where they're going next.
Having an expert guide on the trip during this time adds another layer to the entire cruise and compliments the experience of seeing the different whales. A typical Vancouver whale-watching cruise lasts for three to five hours.
Which types of whales can I expect to see during the cruise?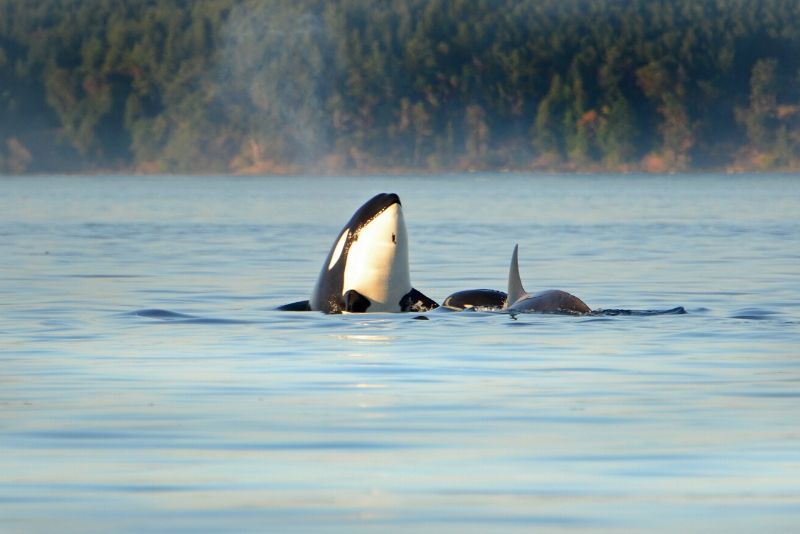 There are a variety of whales waiting to be discovered in the Vancouver waters. Your guide will point out the different breeds, and you'll have the opportunity to snap a few pictures throughout the cruise. Here are some species of whales you can expect to see, plus a few surprises:
Killer Whales
Also known as Orcas, Killer Whales are a toothed whale that feeds off sea lions and other larger marine life, though some of them feed exclusively on fish. They're black and white and are the largest member of the oceanic dolphin family. July and August are the best times of the year to see them in Vancouver.
Giant Humpback
A species of the baleen whale, the Giant Humpbacks got its name from its size (they're between 39 and 52ft) and how it arches its backs when out of the water, preparing for a deep dive. They're pretty hefty too, weighing a formidable 28 to 33 short tons.
Grey Whales
The Grey Whales are one of the most comfortable species with migrating. It's estimated they swim almost 12,500 miles from their home in the Alaskan waters to warmer climates just off the Mexican Coast. The Grey Whale is distinguishable thanks to parasites and other organisms covered over their body, which makes them look like crusty ocean rocks.
Seals
The primary highlight of your Vancouver whale-watching cruise will be, of course, the whales. But there are other animals and sea life that you can expect to see during the tour, including seals. You will mostly find seals along Arctic waters, and you can prepare to see a few during your Vancouver whale watching cruise.
Porpoises
A group of aquatic marine mammals, Porpoises are similar in appearance to dolphins but have a few key differences. For example, their faces differ, as do their fins and figures. Porpoises have smaller mouths and spade-shaped teeth. They are less talkative than dolphins.
Eagles
Most of your Vancouver whale watching tour will see you looking in a downward direction at the whales and other sea life. But there will be a few occasions where you may want to look up into the skies, as one of the most iconic birds takes flight around the Vancouver waters. There is plenty to see, especially Bald Eagles, who can be spotted around Vancouver Island.
Where do whale-watching cruises depart from Vancouver?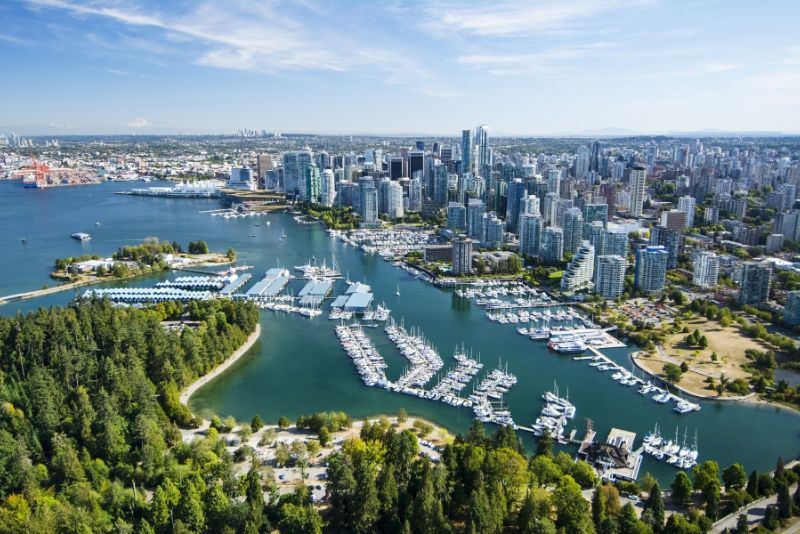 If you're coming from downtown, Granville Island and Coal Harbour are convenient departure points for your whale-watching cruise. Other areas where cruises depart include Horseshoe Bay and Stevenston.
The departure point depends on the tour company you book with, though they will always be clear about where Vancouver whale-watching cruises start and where you should meet the tour operators.
Travel tips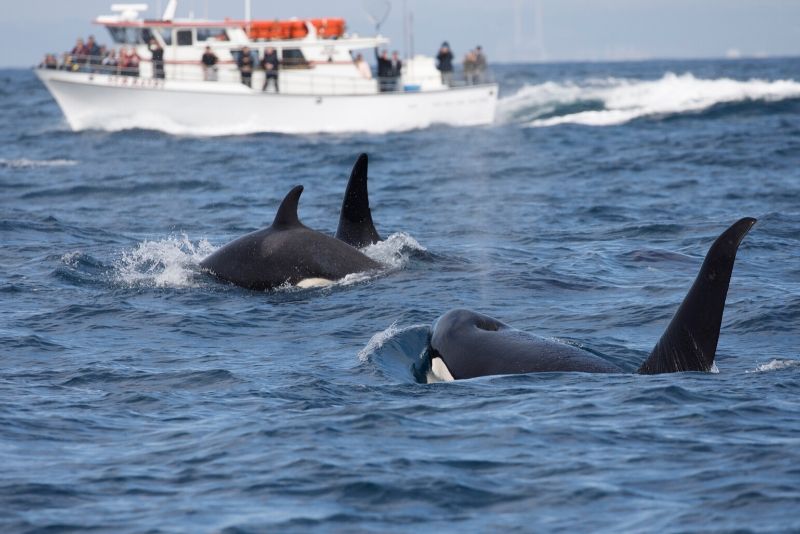 Wear waterproof clothes so that you don't get wet
Wear comfortable shoes so that you don't slip on deck
Bring a jacket and clothes that keep you warm, no matter the season. The waters can be windy during all times of the year
The best place to see whales is on the outer decks of the boat
Trips can last for between 3 and 5 hours
Bring a camera to take plenty of pictures
Take a pair of binoculars so you can spot whales from far away
Bring sunscreen and sunglasses
You can ask the professional researchers questions about the whales
Be patient. Whales might not always appear straight away
There's a 90% chance of seeing whales during a Vancouver tour
The majority of tour operators offer guarantees that you'll see the whales
Boats are not permitted to get within 100 or 200 meters of whales, depending on the species
Whale watching companies can cancel trips at the last minute due to poor weather, though these are few and far between
Take over-the-counter medication before the cruise if you suffer from seasickness