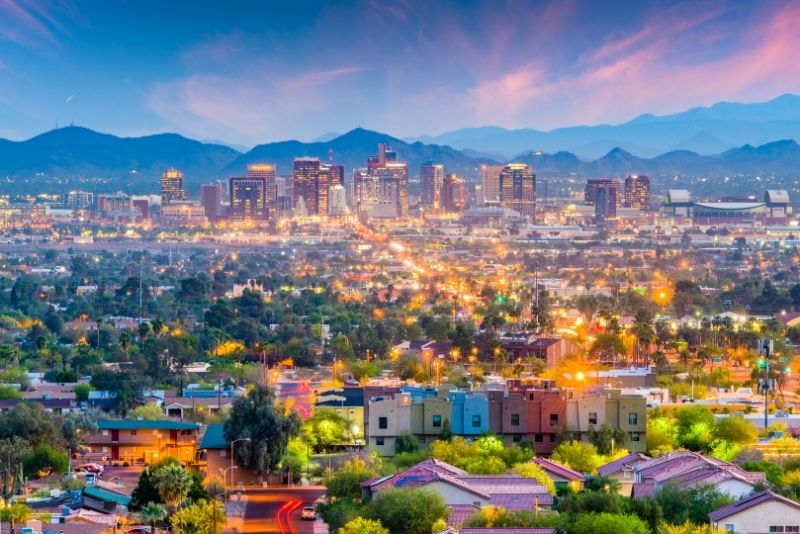 A shining light of nightlife, shopping, adventure and museums nestled smack-bang in the heart of the southwest beautiful Phoenix delivers something for every kind of traveler.
Cruise down Canyon Lake on the iconic Dolly Steamboat or stare into the depths of the foreboding Grand Canyon — choose from these diverse fun things to do in Phoenix.
So, what are you waiting for? Start planning your trip to the Valley of the Sun!
1 – Strum along at the Musical Instrument Museum
A treat for the ears, the world-class Musical Instrument Museum houses the largest and most comprehensive collection of musical instruments (over 15,000) from around the globe.
It's been called one of the "greatest museums in America" by Oprah Winfrey herself and is home to everything from rare guitars to African drums and harpsichords!
With interactive exhibitions, kids can also learn about how music works and (hopefully) inspire them to be the next Beyonce or Eric Clapton.
2 – Soar over the desert in a hot air balloon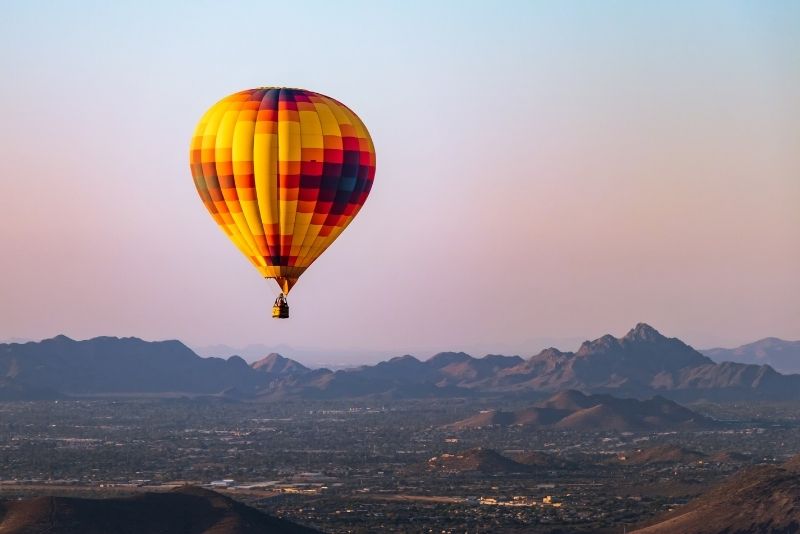 A bird's-eye view over the Grand Canyon? Yes please!
With your head in the clouds, a hot air balloon ride over Phoenix is truly breathtaking. And with an experienced pilot at the helm who'll do all the hard work for you (and will happily take photos and videos of you while you're up there), it's surprisingly easy too!
There are many different companies to choose from and most of them offer sunrise, sunset or even full-moon rides.
3 – Admire the plants at the Desert Botanical Garden
With over 100 acres of lush gardens to explore, the Desert Botanical Garden in Phoenix has become one of Arizona's most popular attractions (besides the fact that it's also an oasis from the desert heat).
The garden offers visitors more than 20 different displays, including cactus and succulents, Australian plant collections with unique saltwater pools, as well as dedicated bird and butterfly rooms.
Can't be bothered driving there? The Metro Light Rail runs right past, so hop off at Central Avenue Station for easy access.
4 – Stare into the depths of the world-famous Grand Canyon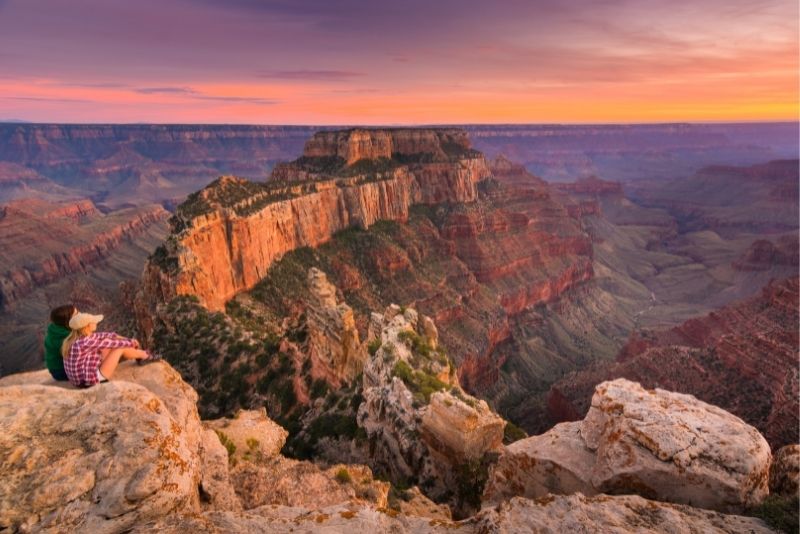 An undisputed (yet unofficial) wonder of the world, the Grand Canyon isn't just one of the essential things to do in Phoenix, it's essential for any American traveler, period.
Choose from hiking tours, helicopter rides, airplane adventures, or multi-stop trips that take you to all of the iconic sites — Horseshoe Bend, the mesmerizing Antelope Canyon, Scenic Hermit Road, and so much more. It's not a matter of "if", but "when" and "how" you'll experience the 277-mile-long natural icon.
In fact, we've got an entire article dedicated to the range of tours, trails, and experiences on offer, outlining everything you'll need to know before you visit.
5 – Watch NASCAR at the Phoenix International Raceway (or drive one yourself!)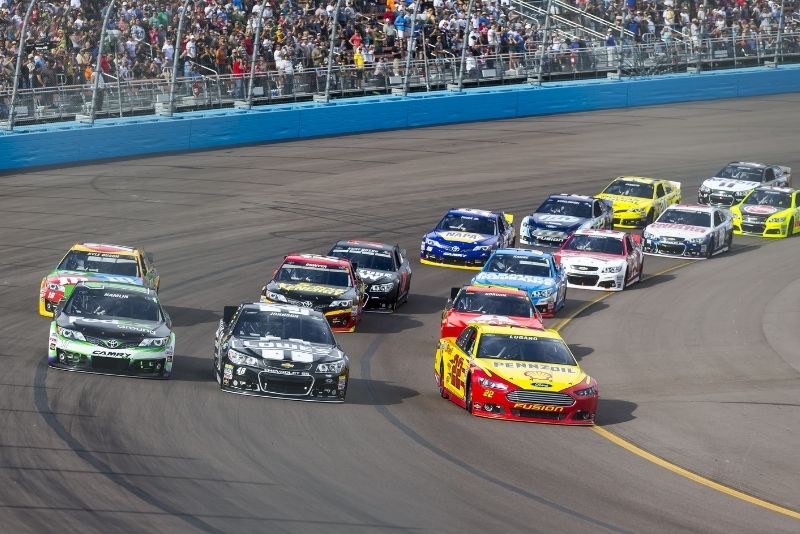 If you're a fan of fast cars and even faster speeds, get your adrenaline pumping at the Phoenix International Raceway! The racetrack is home to NASCAR events all year round.
To really feel like an insider on race day, book in advance for their VIP experience which includes paddock tours, pit lane access, and a gourmet lunch with racing legends like Rusty Wallace and Bobby Labonte.
If that's not enough excitement already, there are also go-karts and hot lap experiences available for those who want to get behind the wheel.
6 – Ride through the desert on an ATV!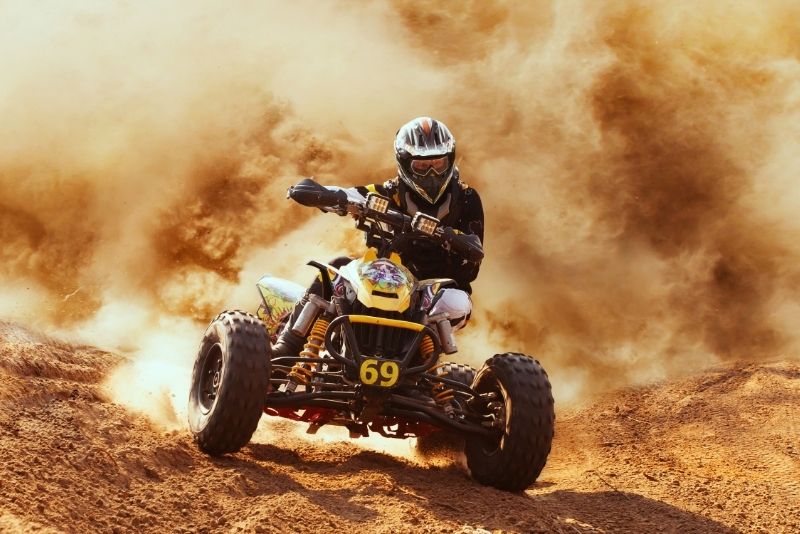 For a completely different perspective of Phoenix, take an ATV tour.
Expert guides who will share plenty of wisdom about the Southwest, its geology and history, while off-roading in the heart of Sonoran Desert (or Box Canyon, depending on which tour you choose). You'll uncover parts of the area that you'd never find on foot or by car.
Trips typically cover 25 to 30 miles and last for two to three hours.
7 – Jump from a plane at 18,000 feet!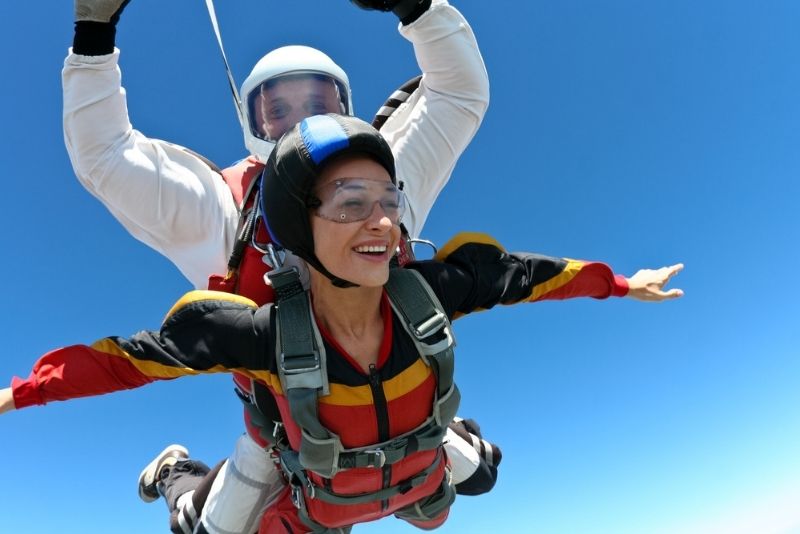 Unless you've experienced it yourself first-hand, you'll never truly be able to appreciate the sheer feeling of freedom that a terminal velocity free fall can provide.
With dozens of different skydiving companies operating in the area, there's a good chance that you'll find one near Phoenix that suits exactly what you're after. It doesn't matter what your experience level is — from tandem jumps to more advanced free fall lessons with an instructor, they offer something for everyone.
Hot tip: Book online to save up to 50%!
8 – Run around Red Rock Canyon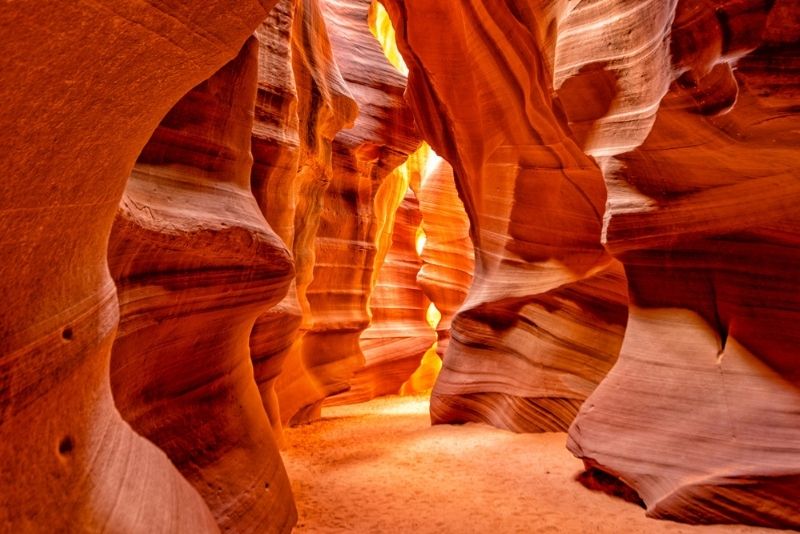 With 286 acres of lush greenery surrounded by stunning orange-tinted sandstone rock, this natural oasis is a crowd favorite.
Whether you want to see ancient ruins up close or relax on a trolley ride, the popular canyon is a great family-friendly day trip option.
Hiking trails can be found throughout the area, but if you don't feel like doing all the research, simply book a guided tour that will pick you up from your hotel in Phoenix!
9 – See the city with a segway tour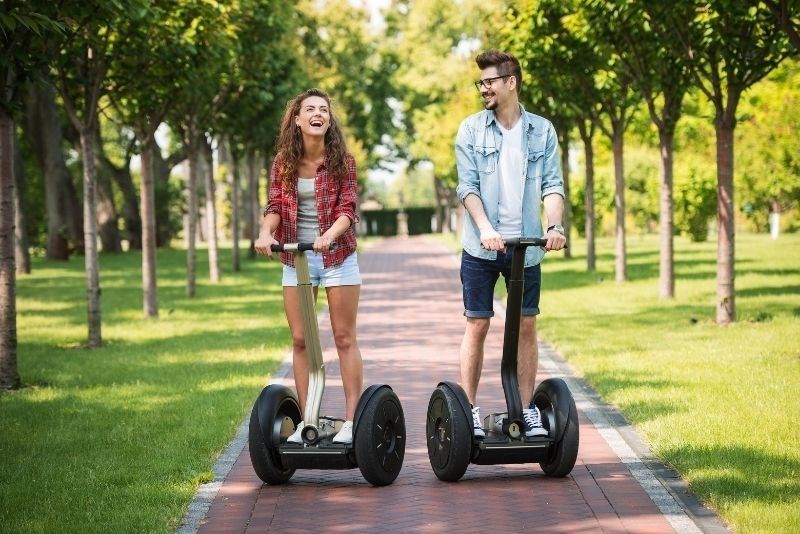 If sightseeing on foot seems like a bit of a nuisance, why not spice things up with a segway tour?
With a range of options that zoom around Phoenix (and Scottsdale, for that matter), including both small group and private options, the two-wheeler is a wonderful way to whiz around the Sonoran Desert or Tempe Town Lake in style!
10 – Challenge your mind in an escape room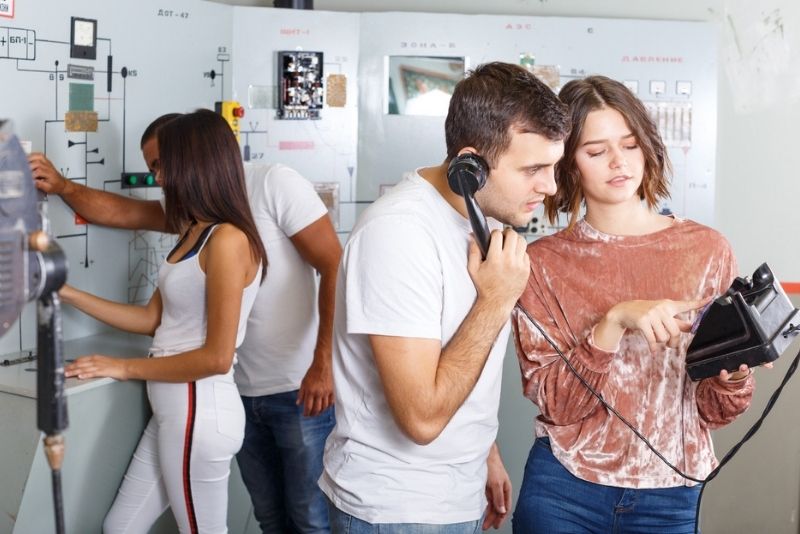 On days where the desert heat is just too strong, there's no better place to be than an indoor, air-conditioned escape room where you can decipher, once and for all, who the smartest in the group really is!
Always a fun game for youngsters and adults alike, the 60-minute games will challenge your teamwork, creative thinking and problem-solving skills
Choose from a couple of different options in the Phoenix area, some of which also house ax-throwing facilities!
11 – Spend a day on the Apache Trail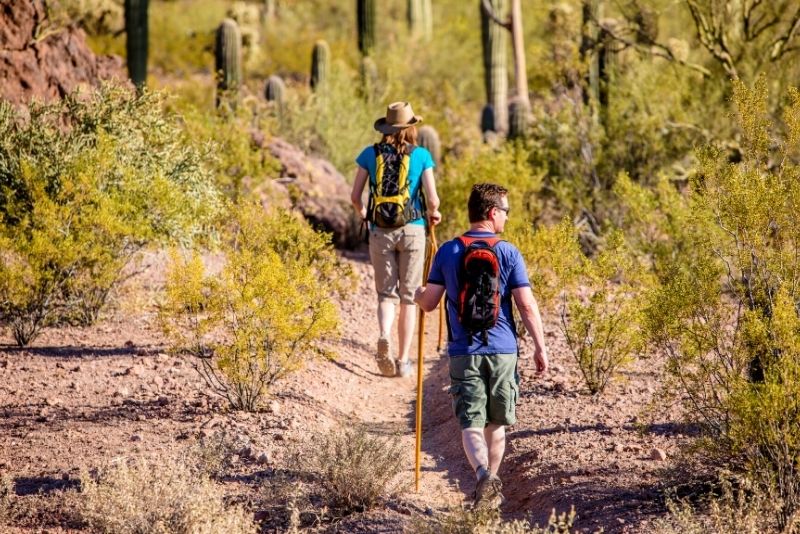 With many historic landmarks along the rugged mountain route, this stunning trail is dubbed as "America's oldest highway," and is a site sure to please!
Land and water tours are available that reach into the heart of the Sonoran, Canyon Lake and the abandoned Goldfields town. There'll be no shortage of photo ops.
12 – Go cruising on the iconic Dolly Steamboat
The Apache Trail is non-negotiable, but why spend hours behind the wheel when you could take to the water instead?
Cruising its way around the sparkling Canyon Lake, the Dolly Steamboat has been chugging along and delighting passengers since 1925.
When looking for things to do in Phoenix, consider a romantic dinner cruise or a scenic daytime adventure with Dolly!
13 – Fly high on a biplane adventure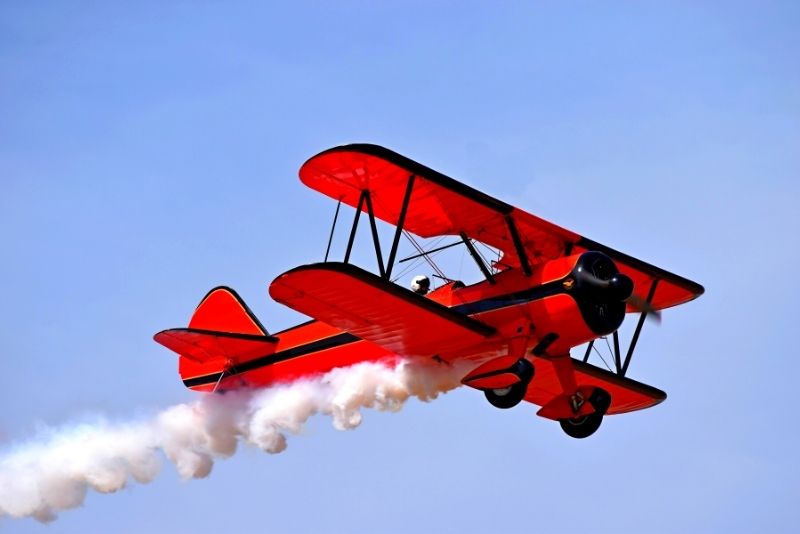 Whether you're an aviation buff or just looking for a solo adventure, a biplane tour promises an exhilarating time!
Depending on your appetite for thrills, the pilots can deliver calm and gentle rides that offer wonderful views below.
They can also shake things up a bit with some low-key aerial aerobatics! Either way, these open-air flights offer something for everyone (except those scared of heights).
14 – Hike through the Sonoran Desert!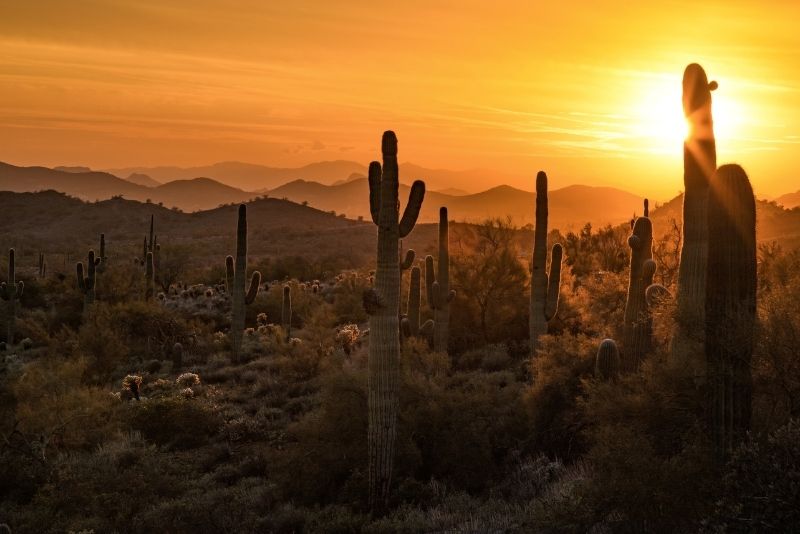 Need a stark change of scenery from typical city living? Then check out the biodiversity of the Sonoran desert.
Due to its unique weather patterns — mostly arid but with the occasional monsoon — this area hosts incredibly rare wildlife.
So keep an eye out for Mexican wolves and bighorn sheep. Get your blood pumping with a testing hike (or ATV ride or hot air balloon ride!). And, if you're joining a pre-organized tour, which is highly recommended, learn stacks about the area along the way!
15 – Stroll around on a street art tour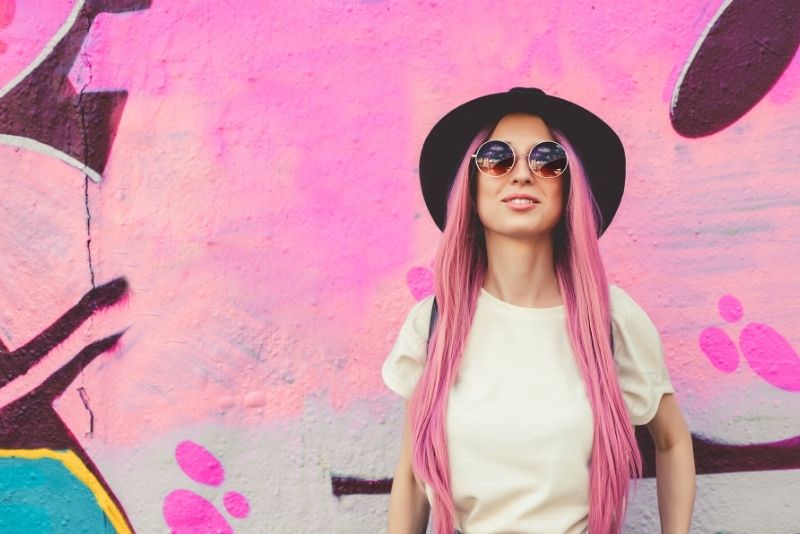 Sometimes finding things to do is as simple as taking a stroll!
Phoenix is an arts hub with artworks dotted every corner — providing a unique look into the local culture that you won't read about in guide books.
On locally-led walking tours, visitors will be treated to vibrant colors and larger-than-life murals throughout downtown Phoenix's many picture-worthy spots.
16 – Spend a day horseback riding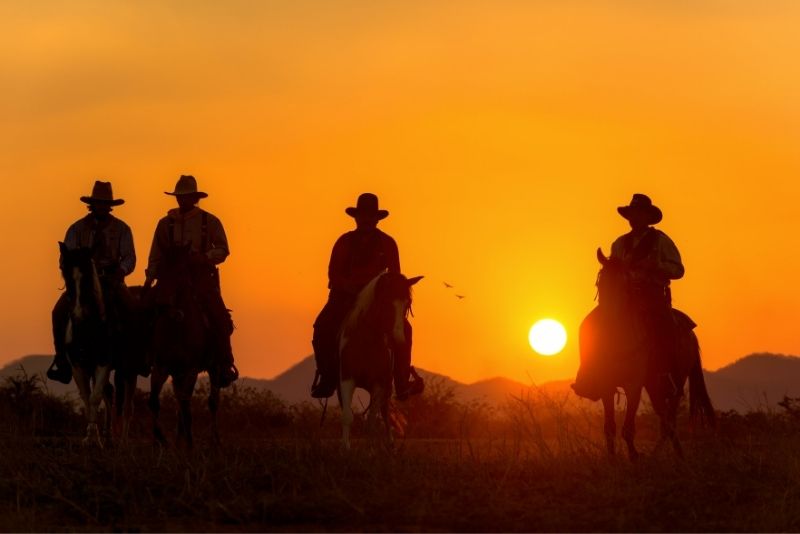 Love animals? Want to feel like you've stepped into an old Western film? Then jump on a trusty steed for a day, explore the cactus-filled desert landscape, and get that real cowboy and cowgirl experience!
As a bonus, if you're feeling a bit saddle sore, some tours provide a hearty post-ride lunch — just remember to give your new friend a snack too!
17 – Explore underwater wonders at SEA LIFE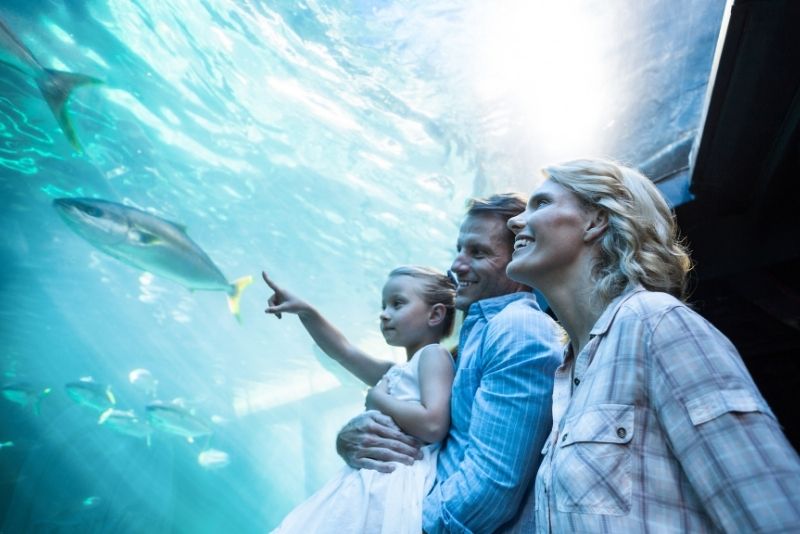 Ready to sea a whole new world? Escape the heat of the desert for a couple of hours and set foot inside the enormous underwater wonderland that is the SEA LIFE Aquarium Arizona.
Spend a day with Mochi, the 7-foot long zebra shark or relax with the pair of chilled-out desert tortoises!
With tickets starting at $16 (often discounted if you buy online), it's a family-friendly activity that's hard to beat!
18 – Relax and recharge at the spa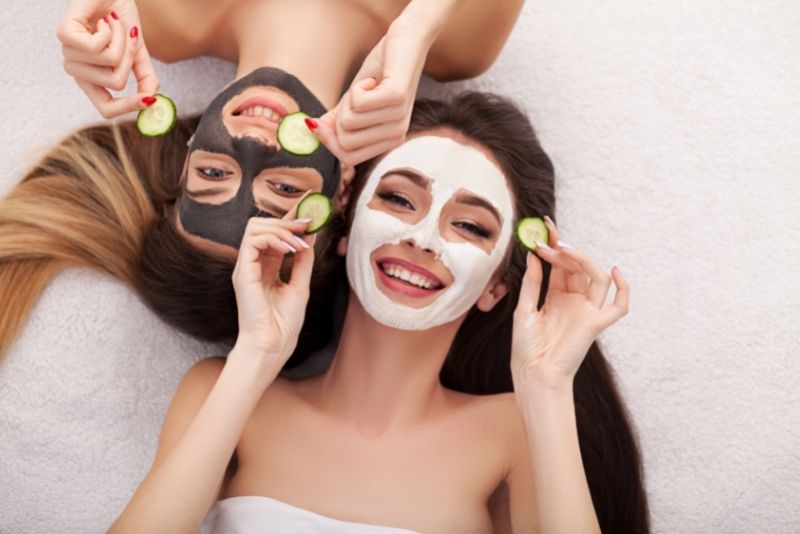 After a long day of walking the street art scene or hiking through the desert, it's time for some well-deserved pampering.
With an array of self-love facilities, from salt caves to infrared saunas, floatation therapy, facials and massages (Swedish, hot stone, Thai or couples), weary travelers are sure to find exactly what their body needs.
19 – Chug along the Verde Canyon Railroad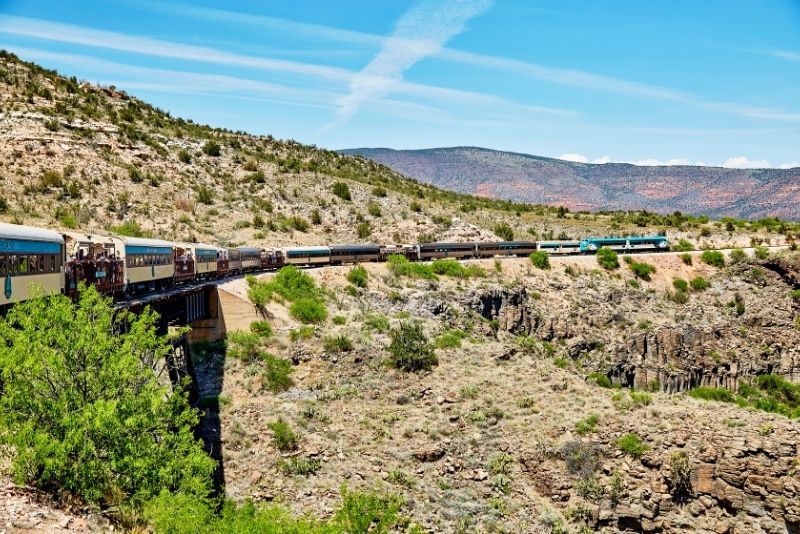 On this unique train tour led by knowledgeable guides who dive deep into the fascinating history of the area, guests are treated to views of some of greater Phoenix's most impressive geology typically inaccessible by car.
Feeling thirsty? Then sign up for a social winery or brewery tour — and if you can't decide which locally-blended drink to try, grab a flight or do a tasting for the full experience!
20 – Start building at Legoland Discovery Center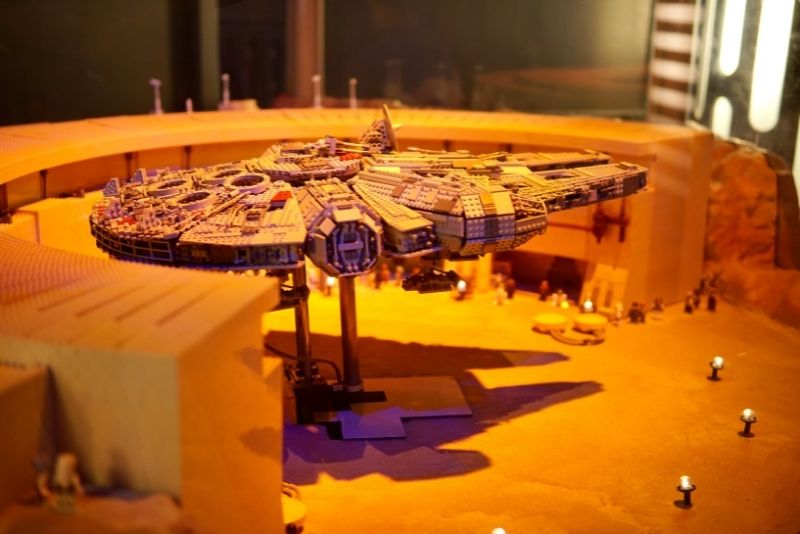 The ideal spot to get those creative juices flowing, this popular attraction gives visitors (young and old) the chance to test their abilities and see if your Lego tower can hold against an earthquake!
Besides the thousands of Lego displays, the center also offers the beloved Kingdom Quest Laser Rider and a gift shop full of all the latest releases.
21 – Step back in time with a Tombstone day trip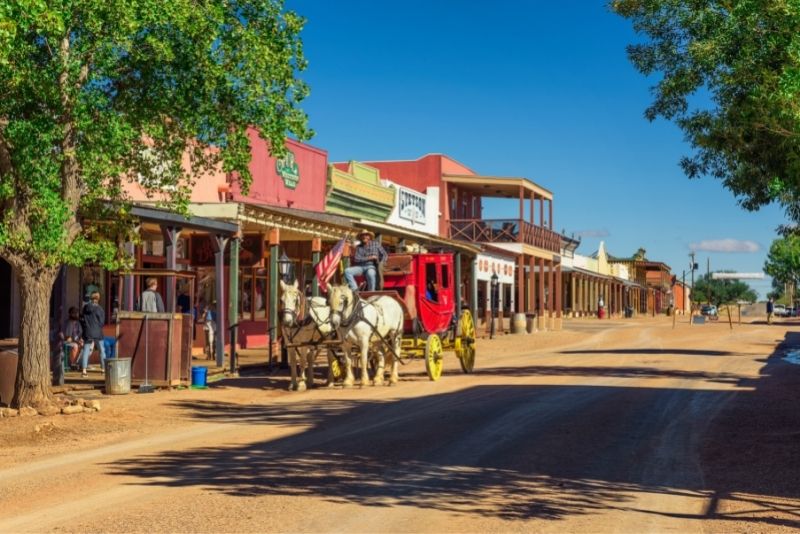 Want to feel like you're living in the Wild West? Then Lace on those cowboy boots and take a day trip to Tombstone, home to old saloons, a rich fugitive-filled history and plenty of stories of gold!
While you can make it to Tombstone from Phoenix by car in less than three hours, the best option is a pre-arranged day trip that includes your own driver, and stops at the historic mining town of Bisbee too.
22 – Clear a building at the Shoot House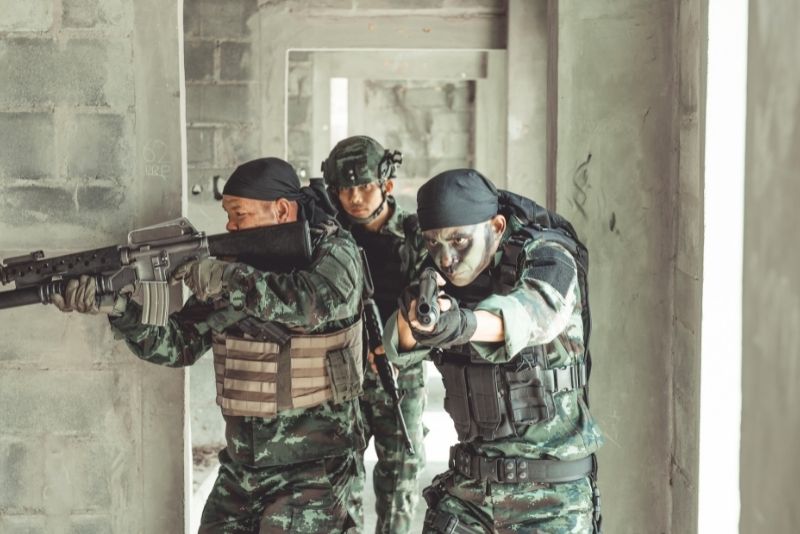 Named after the multiplayer map featured in Call of Duty: Modern Warfare, Shoot House gives guests an insight into tactical military training, working through a range of storming scenarios.
With head-to-toe gear, fake firearms, and 'formal' training (well, the tourist version), it's easily one of the more unique things to do in Phoenix.
23 – Release any frustrations at the Simply Smashing Rage Release Room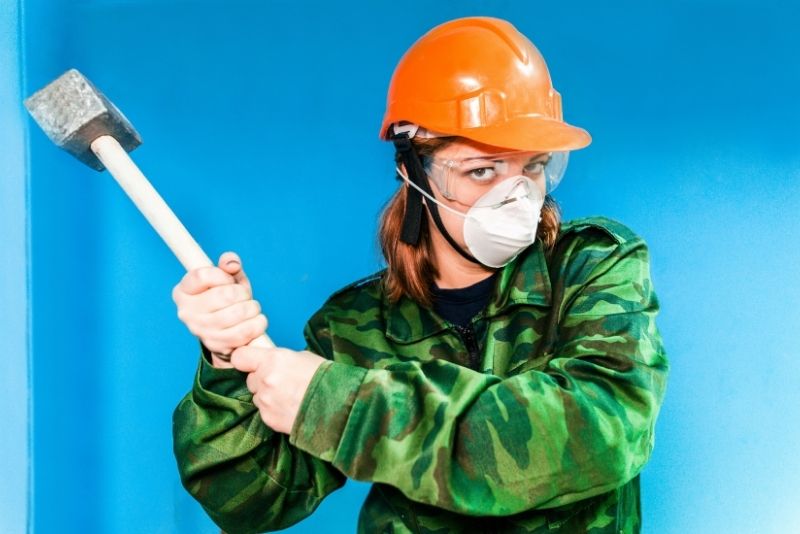 Having a bad day? Ex-girlfriend causing you stress? Take it out in a dedicated destruction room! Even if everything's rosy, it's still just plain fun!
Suitable for adults and kids over 8, the Simply Smashing Rage Release Room is perfect to blow off some steam, with everything from crockery to aquariums (no fish, of course), printers and TVs ready to be whacked with a baseball bat.
24 – Climb up the famous Camelback Mountain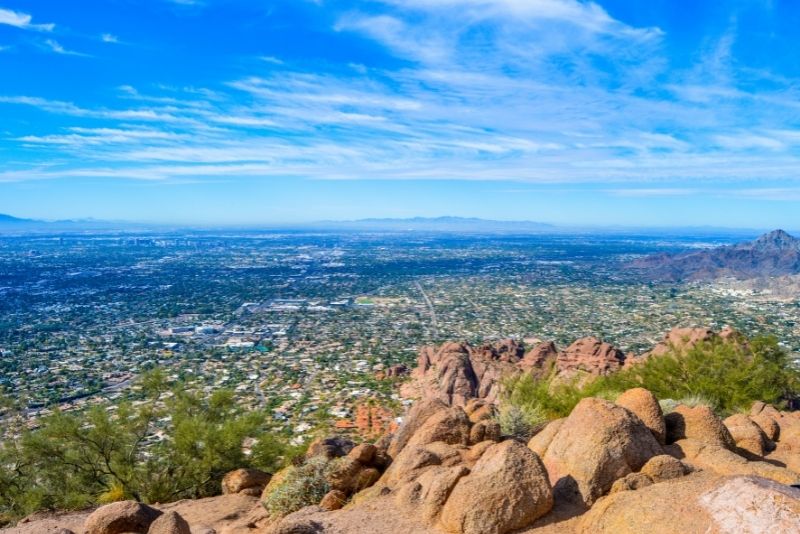 A 20-minute drive from downtown Phoenix, Camelback Mountain (appropriately named for its shape) is as postcard-worthy as any landscape in the area.
Two beautiful (although extremely difficult) trails are available to reach the summit, but the 360-degree views from the top are well worth the tired legs.
If a steep hike isn't your cup of tea, you can still enjoy the wonderful view from the ground at any of the surrounding restaurants or resorts.
25 – Pedal around town with a bike tour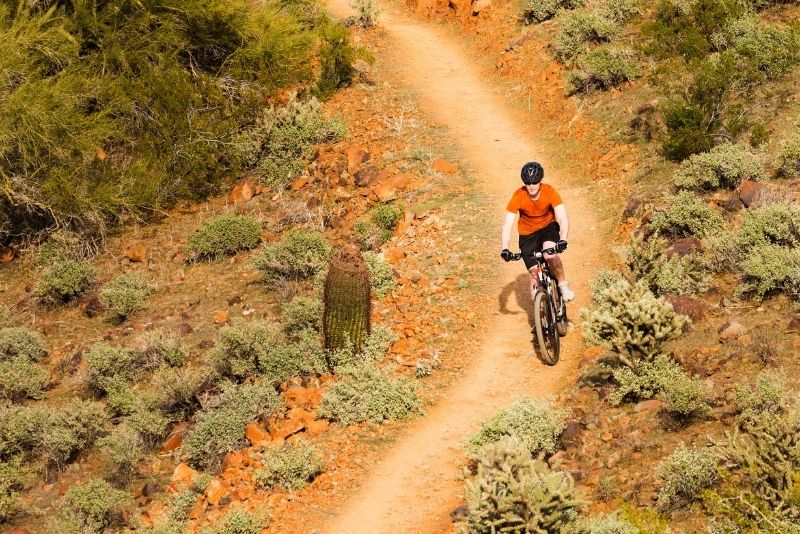 Want to burn a few calories and soak in some different scenery? Then grab the helmet and sign up for a bike tour. It's a perfect way to get off the beaten track and explore everything from historic neighborhoods to alleys full of street art.
If a casual ride around the city doesn't sell itself, a desert adventure on a mountain bike ought to do the trick.
26 – See the sights of Sedona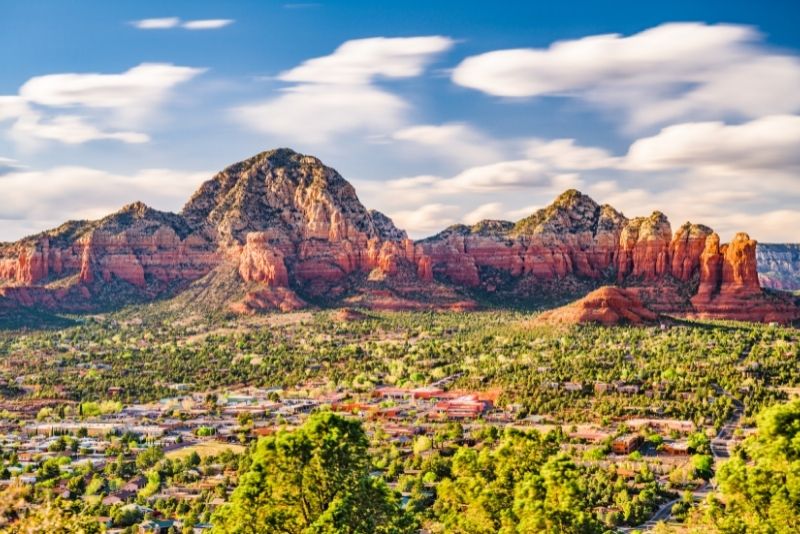 Looking to escape the bustling city life for a day or two? Then drive a couple of hours north to visit Sedona.
Known across the country as a wellness oasis, even dubbed a "spiritual Mecca," there are plenty of fun things to do in Sedona, with hiking trails, pampering resorts and new-age shops, and overflowing with Native American history.
If you want to see more, join a tour that also ticks off the Grand Canyon and Oak Creek.
27 – Spend an afternoon at the Heard Museum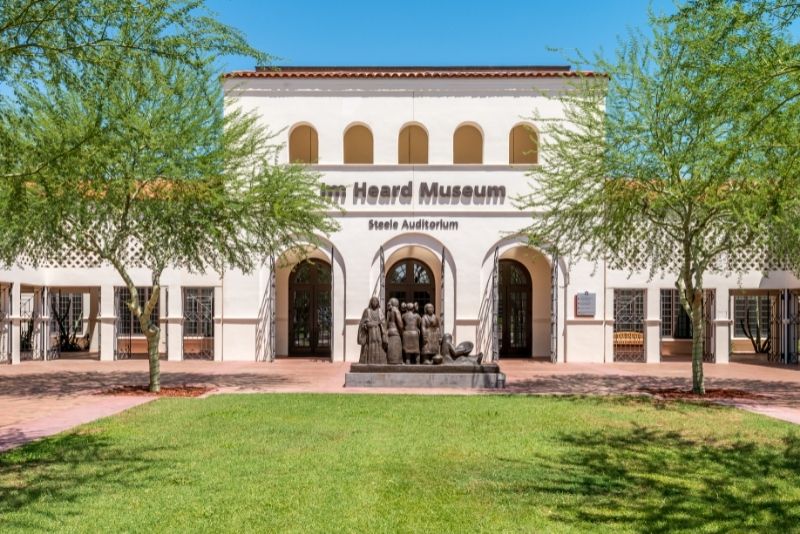 Art lovers, listen up!
After opening its doors in 1929, this beloved establishment has grown to become an internationally recognized celebration of American Indian art and culture.
It hosts many exhibits — like 'Navajo Weaving' and 'Pueblo Embroidery' — educational programs and festivals, there's plenty to see.
Be sure to check its website for upcoming events!
28 – Do yoga … with goats!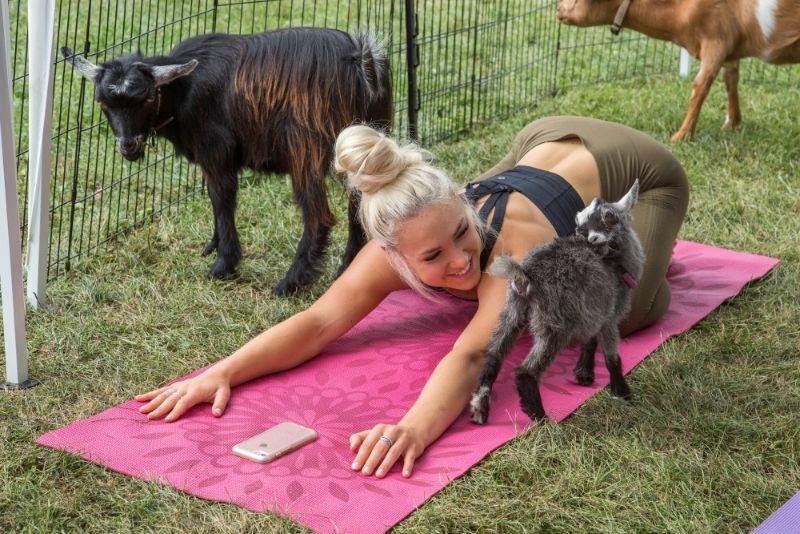 Adorable animals? Check. Great instructors? Check. A feel-good one-hour workout to refresh the legs after a Sonora hike? Check!
Besides the goats, the yoga classes often have a couple of extra special guests: namely Maisy the Cow, Gidget the Hedgehog, giant flemish bunnies and tortoises.
With so many furry creatures roaming around, this experience is sure to put a smile on any traveler's face.
29 – Enjoy the outdoors at South Mountain Park and Preserve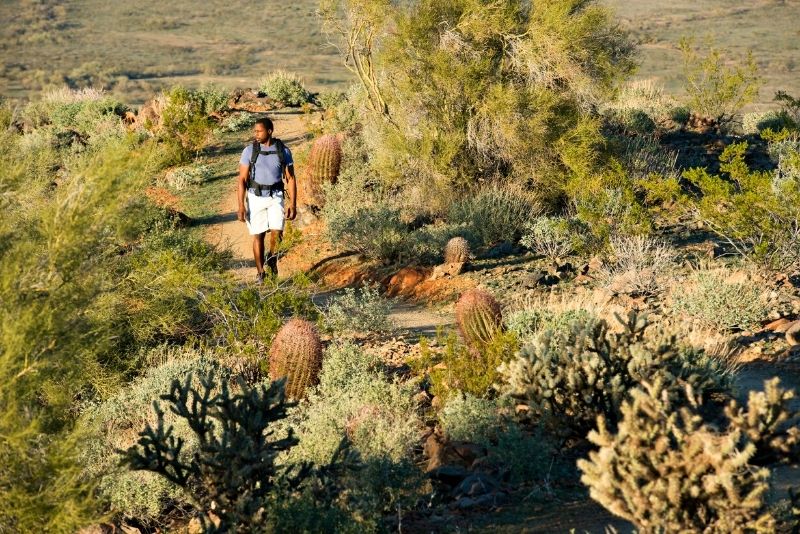 With over 50 miles of hiking, mountain biking and horseback riding trails, South Mountain Park and Preserve is one of the largest managed parks in the country.
Perfect for stretching the legs, throwing down a picnic blanket or just taking a scenic drive, this park also holds an interesting history. It was developed to preserve natural resources during the economic depression in 1933.
30 – Kayak the stunning Salt River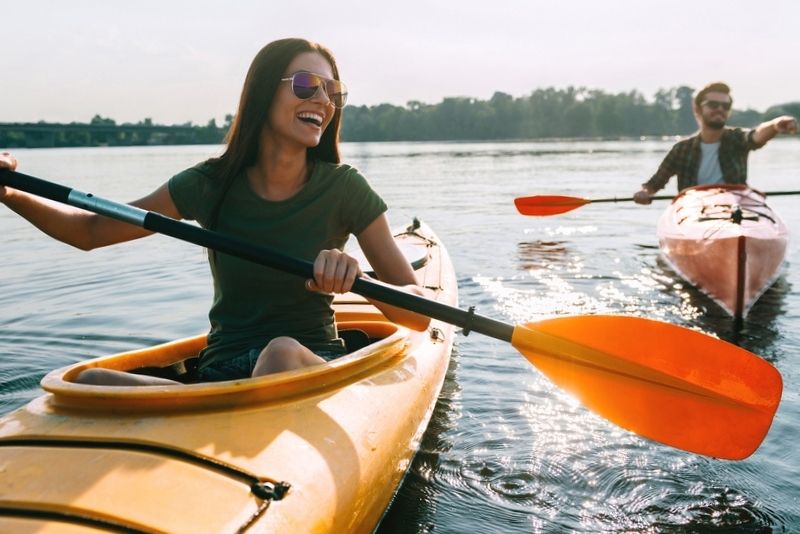 On those sizzling summer days, cool off with a couple of hours on the water and enjoy some of Arizona's most beautiful scenery.
Check out Tonto National Forest from the rapids of the Salt River, often frequented by wild horses grabbing a drink. Try your hand at paddleboarding in the picturesque Saguaro Lake or go tubing for a chilled out adventure!
31 – Feel the thrill of indoor skydiving!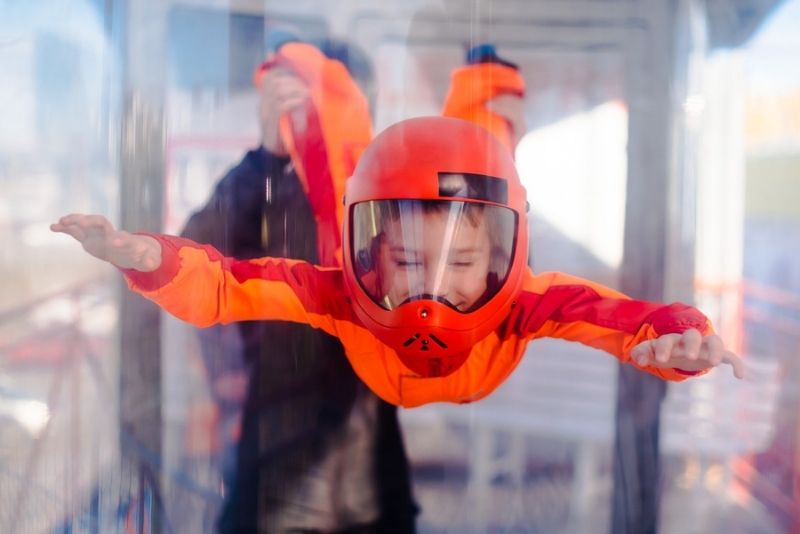 Have you always wanted to try skydiving but aren't quite ready to commit to jumping out of an airplane (it's intimidating, we get it)? That's where iFly Indoor Skydiving comes in.
Open seven days and nights a week, experience the thrill of free falling and somersault through the air without the fear of a faulty parachute. Get your flight suit on and book now!
32 – Take the kids to OdySea Aquarium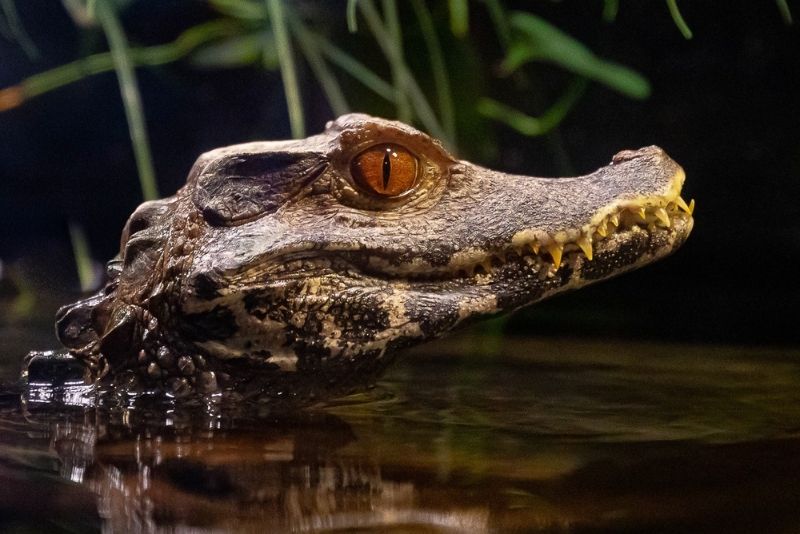 Of all the things to do in the Phoenix area, the OdySea Aquarium may take the cake for the most fascinating — especially if traveling with kids.
This aquarium boasts 2 million gallons of water holding some of the world's most intriguing ocean-based creatures — like the sharks and penguins — can be seen up close with VIP encounters.
33 – Marvel at the view from Hole in the Rock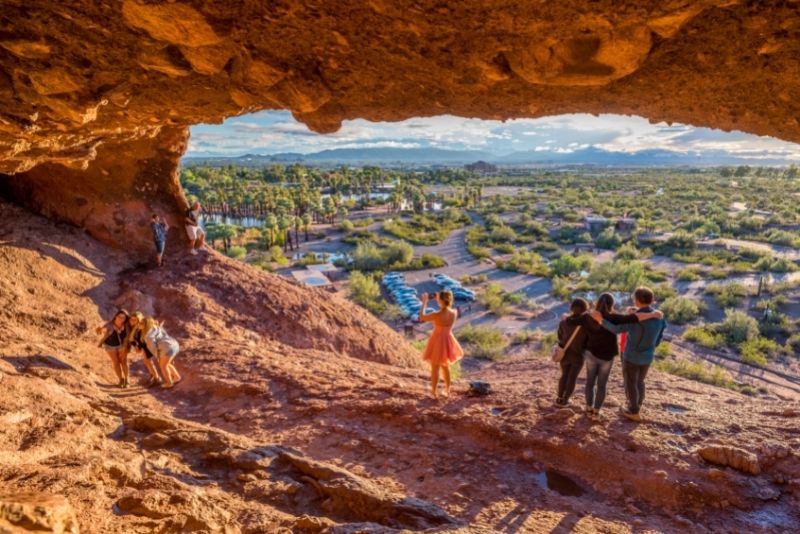 While there is certainly no lack of challenging hikes (or multi-day treks) nearby, the much shorter ​​Hole in the Rock Trail at Papago Park still manages to attract the crowds, thanks to the incredible views of downtown it dishes up.
Once you've soaked in the landscape, there's plenty more to check out nearby — Papago Park which is home to the Phoenix Zoo, Desert Botanical Garden, golf courses, museums and prime picnic spots.
34 – Get splashed at Hurricane Harbor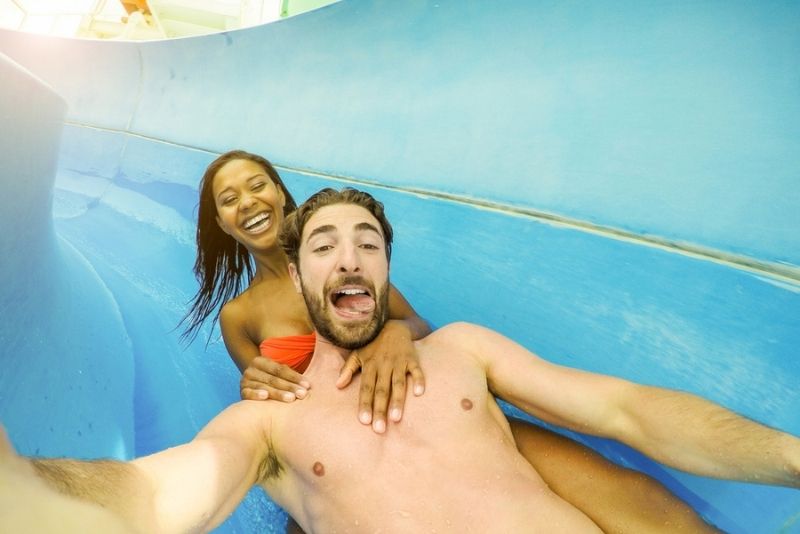 Looking for a kick-ass family-friendly adventure? Look no further than Hurricane Harbor! From thrill rides to relaxing pools, this park is teeming with attractions to keep the whole family entertained for hours.
Thrill seekers often make a beeline for Anaconda, the enclosed flume slide voted as one of Travel Channel's top 5 slides. Meanwhile, parents looking to take it easy can hang out at the go-slow Paradise Island.
35 – Watch a ball game at Chase Field!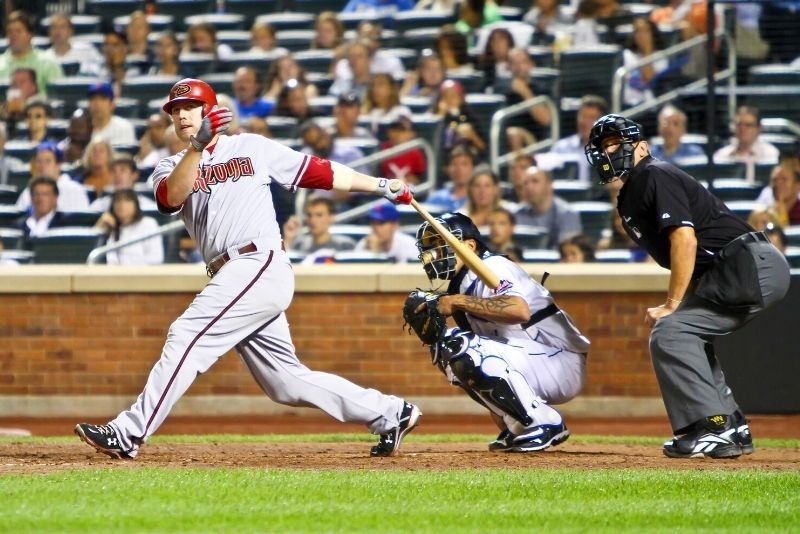 Home of the celebrated Diamondbacks (not the snake, the baseball team), Chase Field is the perfect place to enjoy one of America's favorite pastimes — a good old fashion innings with a hot dog in one hand and an oversized drink in the other.
No matter the weather, with AC and a fully retractable roof, it's always a great day out.
36 – Dine like a king at Wrigley Mansion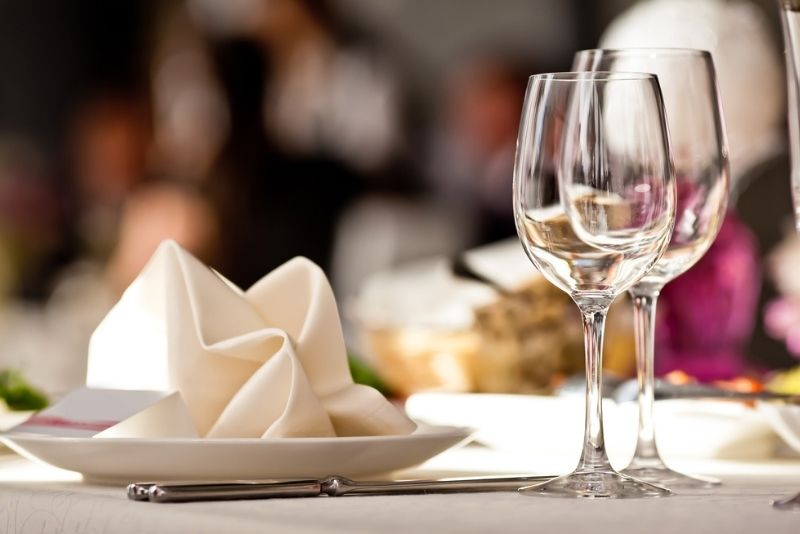 If the Wrigley name rings a bell, grab a stick of gum and it'll start to make sense.
The founder of this company, William Wrigley Jr., built a stunning mansion in 1932 for his wedding anniversary. Currently, it's morphed into a popular fine-dining venue, home to Geordie's Restaurant (led by Chef de Cuisine Ashley Goddard) and Jamie's Wine Bar.
Did someone say date night?
37 – Get Lost in the Phoenix Art Museum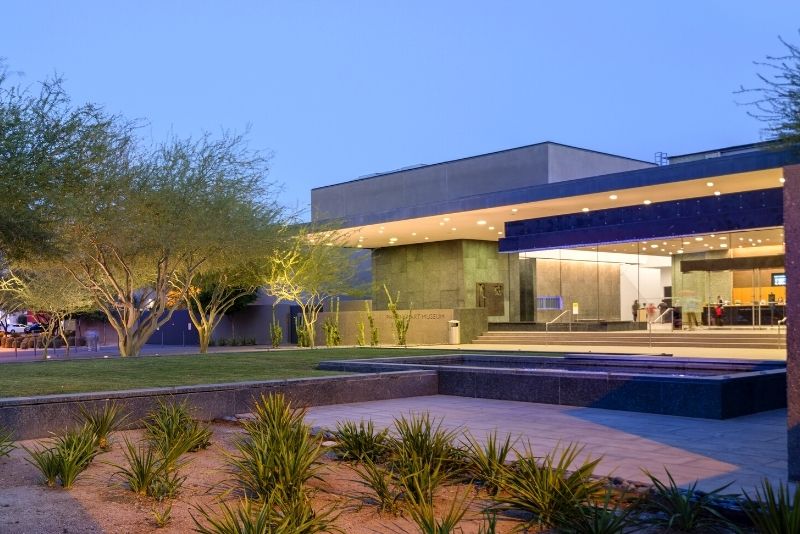 One for the art aficionados, the coveted Phoenix Art Museum wields the crown as the largest art museum in the Southwestern United States. It showcases more than 19,000 works of contemporary, modern and worldly art.
Thanks to a partnership with the University of Arizona's Center for Creative Photography, guests can scratch their photography itch here as well!
38 – Feed the giraffes at the Phoenix Zoo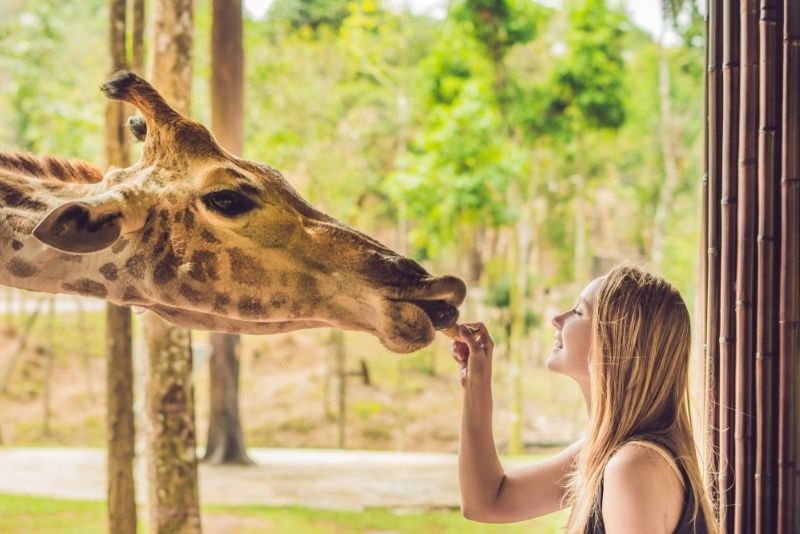 A favorite for kids and adults alike, the Phoenix Zoo has no shortage of captivating exhibits, with crowds typically drawn to the playful elephants, beautiful tigers and sky-high giraffes.
Besides the typical enclosures on offer at most zoos, here, curious visitors can also sit front row to a monkey show or dip their hand in the stingray-filled touch pools.
39 – Take the kids to the Children's Museum of Phoenix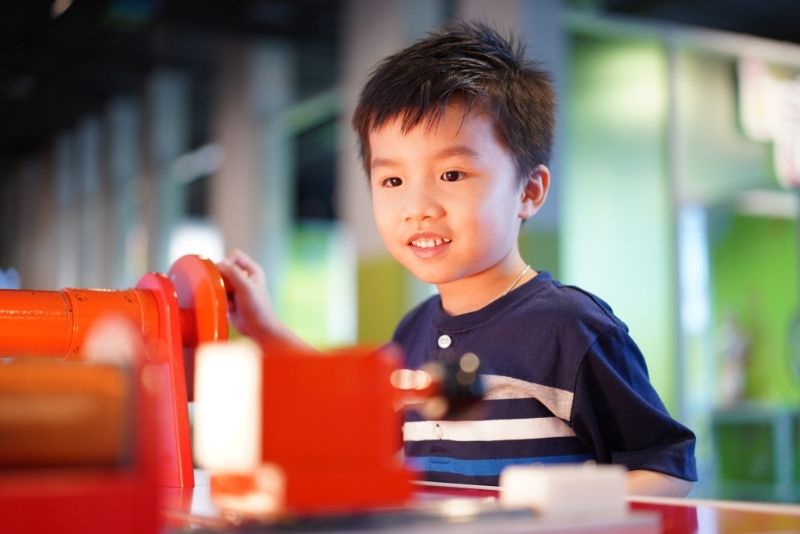 For any kid who wants to grow up to be a Nobel Prize-winning scientist (or perhaps hasn't realized it yet), the Children's Museum of Phoenix is a surefire delight.
Through the long list of interactive exhibits and activities, kids learn all about science while playing with bubbles, experimenting with arts and crafts and climbing through various obstacles.
40 – Witness a castle in the desert!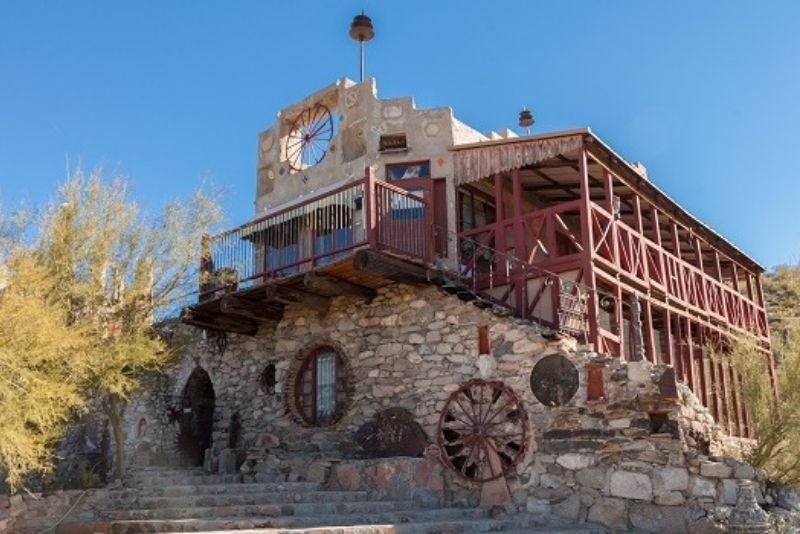 The so-called Mystery Castle in the middle of Phoenix is whimsical and fun, because that's exactly how it was built — a creative father, Boyce Gully, designed the castle for his daughter, Mary Lou, way back in the 30s in the most imaginative way. It still stands today, wowing kids from near and far.
The house, which is still inhabited by the builder's daughter, is constructed from all kinds of odd materials: stone, car parts and goat milk-infused cement, to name a few.
41 – Feel the heat at the Hall of Flame Fire Museum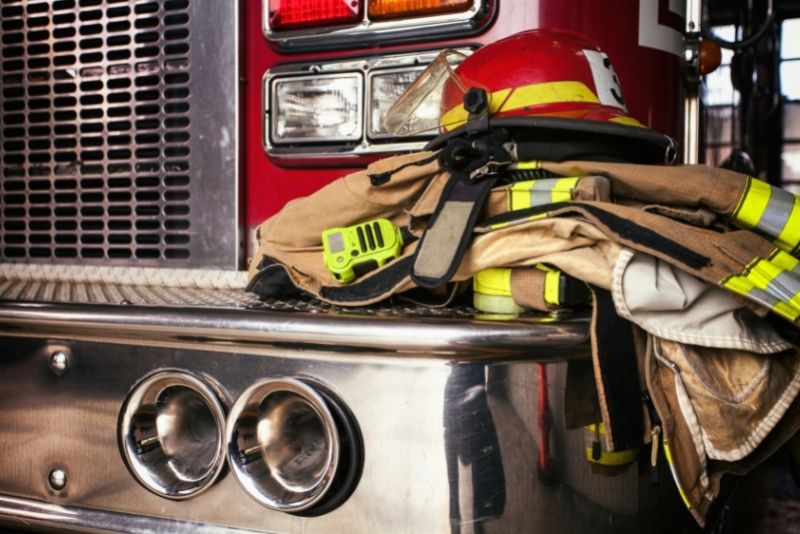 It may be hot outside, but it'll be scorching at the Hall of Flame Fire Museum!
As the largest firefighting museum in the world, this beloved attraction dives into the history of our first responders as well as commemorates those who've fallen in the line of duty.
The main attraction, however, is the collection of unique fire trucks, some of which date back to the 1700s.
42 – Travel back in time at Pueblo Grande Museum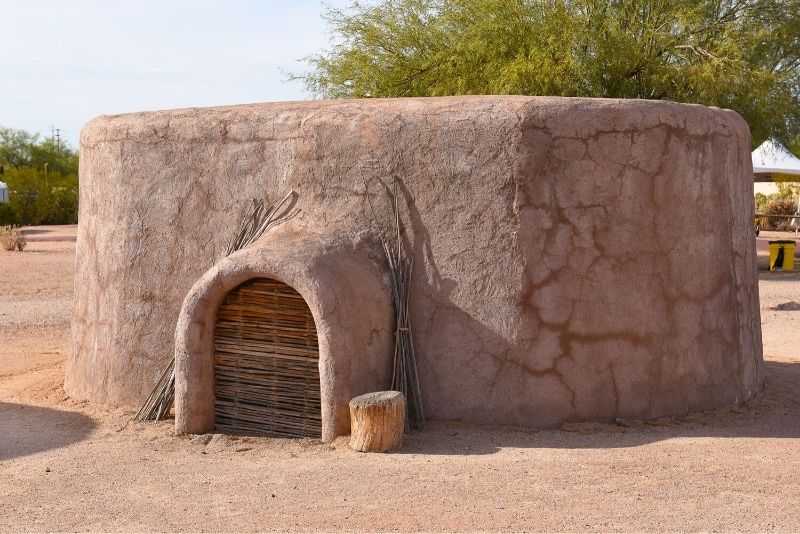 In what is the largest preserved archeological site in Phoenix, visitors can check out a fascinating selection of Hohokam cultural artifacts dating back more than 1,500 years!
Ticket in hand, you'll be able to visit both the museum, the excavated sites and explore the replicated prehistoric houses — a perfect combination.
43 – Take a tour of the Rosson House Museum at Heritage Square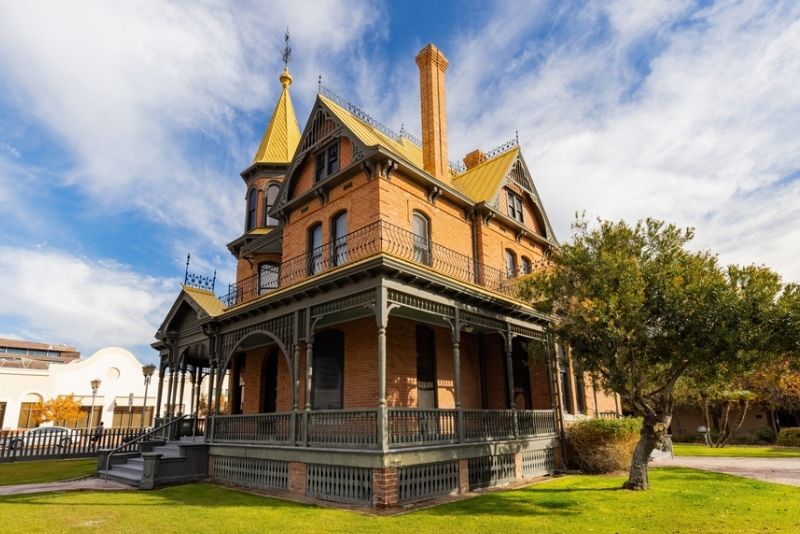 Ever wondered how the heat-drenched Valley of the Sun survived before they invented the air-conditioner?
At the Queen Anne Victorian house (now a museum), guests can learn all about the history of the city and its people while admiring the grandeur of the wonderfully restored 1895 home.
Keep in mind: Visitors are only allowed in when on a guided tour at Rosson House.
44 – Learn a thing or two at the Arizona Science Center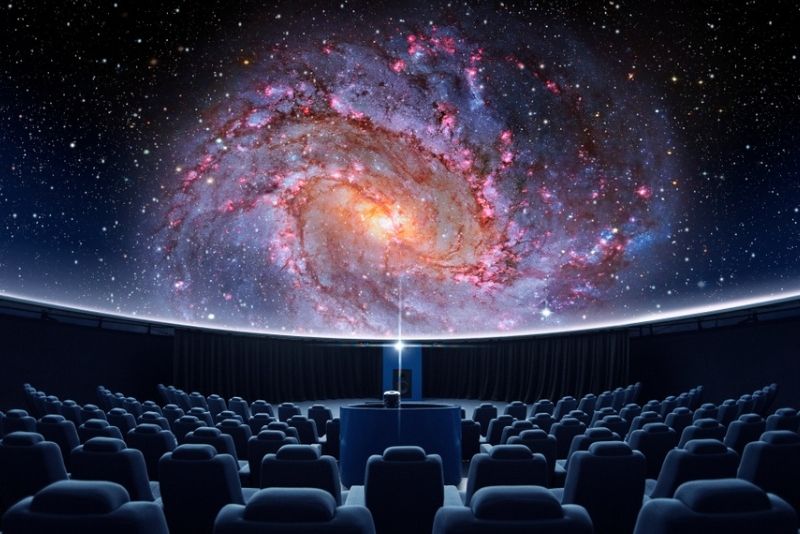 Right in the heart of Downtown, parents and kids alike can enjoy more than 300 hands-on exhibits, watch live science demonstrations, and stare into the stars at the Dorrance Planetarium — all with the one Arizona Science Center ticket.
Hot tip: Be sure to check the event schedule to see when the Phoenix Symphony is playing!
45 – Loop the loop at Castles N' Coasters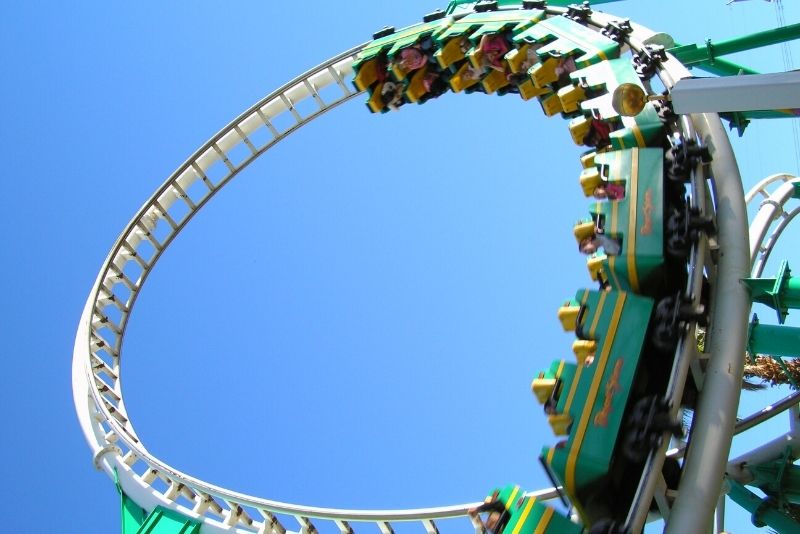 One for the thrill seekers, the 10-acre outdoor Castles N' Coasters amusement park provides fun in the sun for all ages; from hair-raising roller coasters like the Sky Diver to family-friendly classics like the carousel.
After quenching the need for speed, there's an 18-hole mini-golf course and a neon-lit arcade.
Hot tip: Grab the "Elite Pass" for unlimited ride access.
46 – Take your bestie to the Japanese Friendship Garden of Phoenix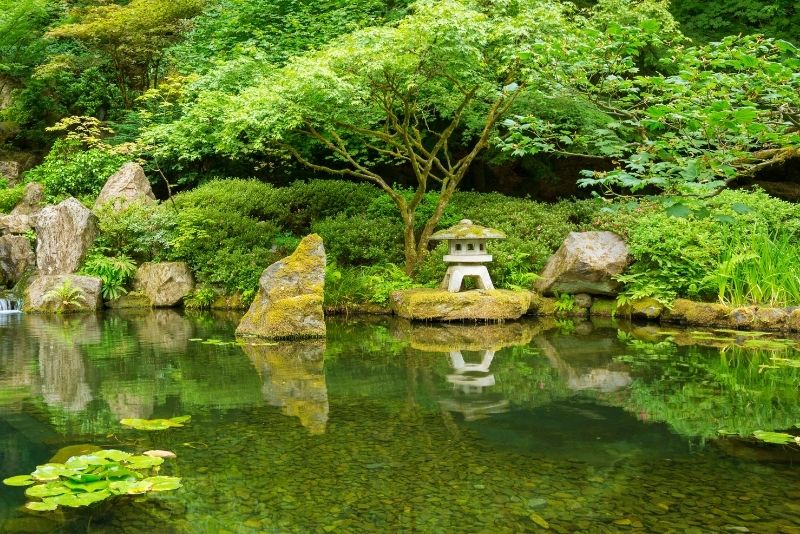 Built with the help of Phoenix's Japanese Sister City Himeji, this delightful garden covers 3.5 acres of unique plant life and plays host to a charming traditional tea house.
Take a stroll through the calming gardens, grab a seat by the trickling water fountains, or sign up for the monthly tea ceremony.
47 – Catch a show at Downtown's Orpheum Theater
A local favorite for everything entertainment, the Orpheum Theater houses modern movies and old-timey silent films, live Broadway musicals and comedy shows — all within its 1,364-seat, near-century-old shell.
With so much to choose from, be sure to glance at the website to see what's showing during your visit.
48 – Step back in time at the Pioneer Arizona Living History Museum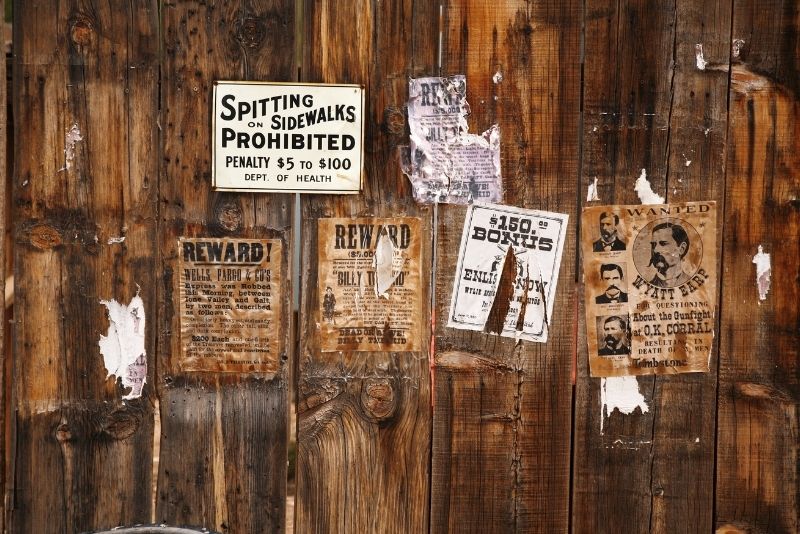 Any history buffs in the house?
This 90-acre, open-air history museum dishes up fascinating insights into how Arizona's first pioneers lived, showcasing close to 30 interactive and encompassing structures that dive into different areas of the residents' former daily life.
Besides the reconstructed houses; the small farm, the stunt shows, and the weekend musical performances manage to successfully entertain visitors of all ages.
Hot tip: the telephone history exhibit is a must-see.
49 – Shoot Hoops with the Phoenix Suns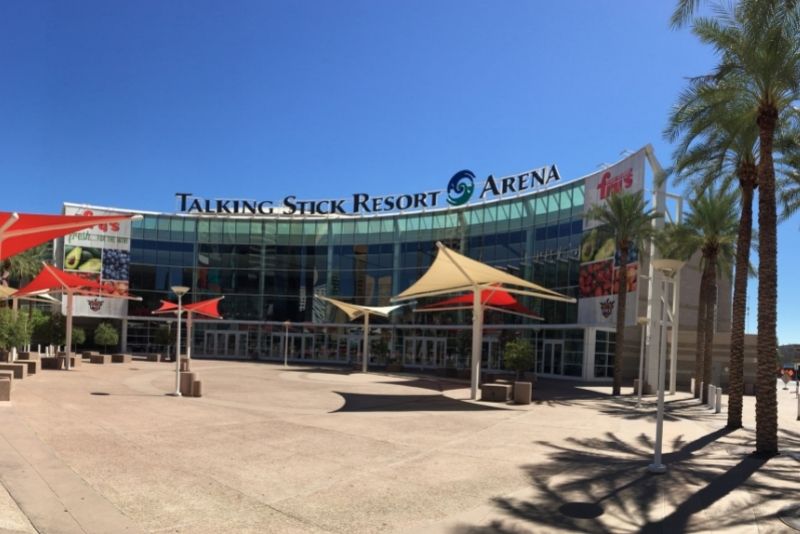 Simply put, no sports fan can say set foot in Phoenix and not head to a Suns game — the atmosphere is unlike anything else.
Even if you're not a massive basketball fan, the newly remodeled Phoenix Suns Arena (now Footprint Center) provides a refreshing outlet to beat the heat (don't forget to grab a cliché concession snack or two).
The main season typically runs from October through to April (plus playoffs), however, the stadium also has a range of concerts and preseason games.
50 – See the stars at Celebrity Theatre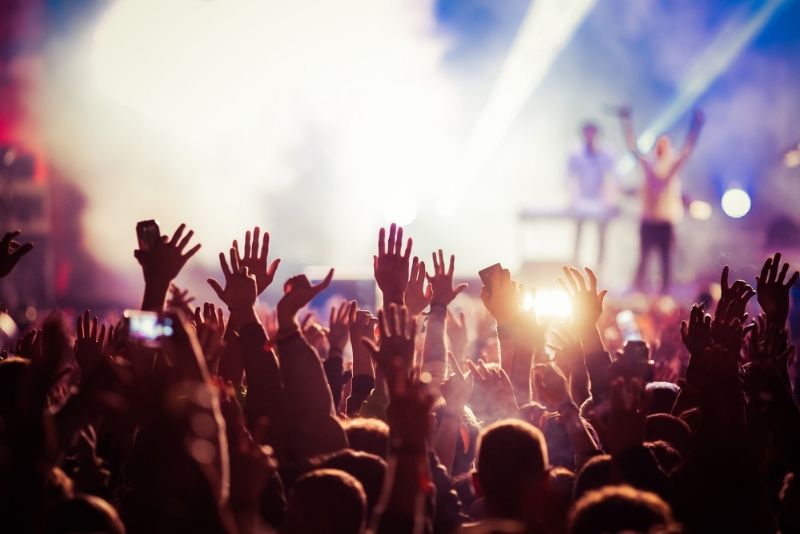 Hosting both side-splitting comedy shows and top-tapping concerts, Celebrity Theater is known across the state for its unmated acoustics and its incredible stage views no matter where you're sitting (since the center stage rotates).
With names like Jim Jeffries and The Monkees making appearances in this small and intimate venue, be sure to grab your tickets online in advance because they sell out in a snap.
51 – Shop all day at the Brass Armadillo Antique Mall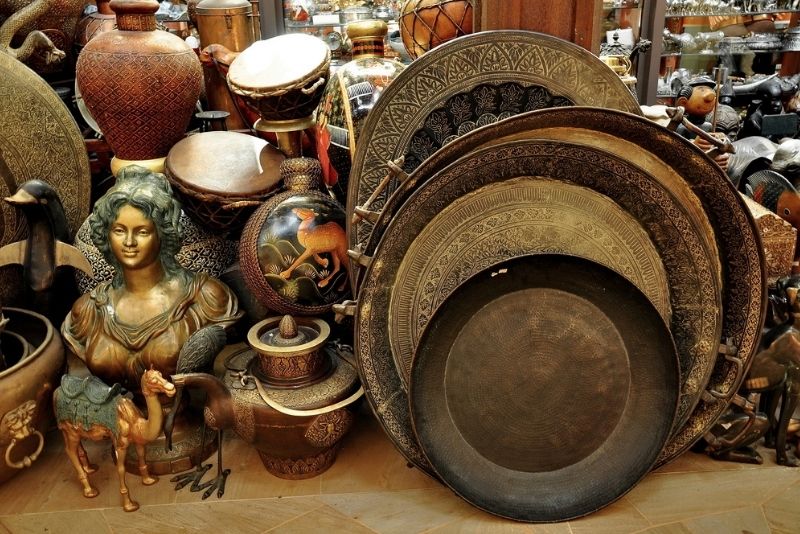 If you've ventured around San Antonio, Denver or Kansas City, you may already be familiar with the Armadillo Antique Malls.
Still, with over 600 unique and friendly antique dealers, the Phoenix franchise is certainly worth a visit.
Across the eclectic range of locally-owned storefronts, curious shoppers can discover rare collectibles, repurposed goods and of course, historic antiques — some of which date back decades.
52 – Sound the siren at the Phoenix Police Museum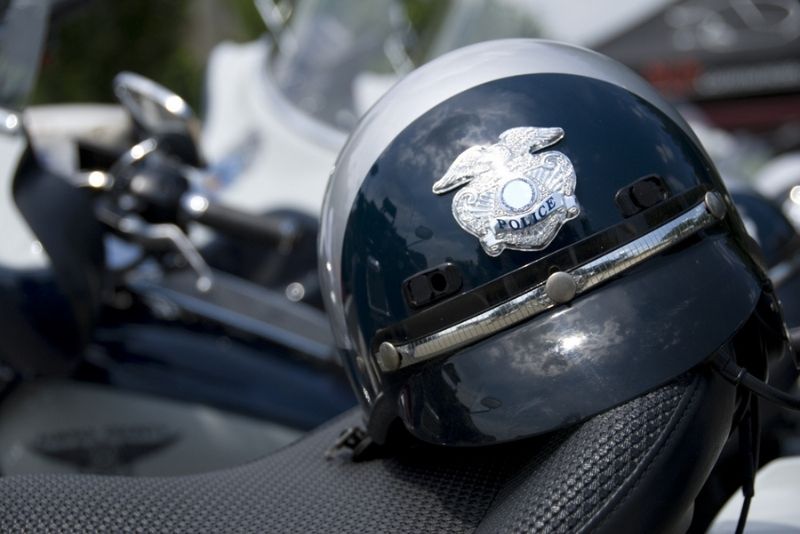 Unlike in regular galleries, you can learn about more than 130 years of law and order at the Phoenix Police Museum — where detectives-to-be can browse through photographs from real investigations and see legitimate equipment up close!
The museum houses a range of vehicles (old and new), a tribute to 9/11, and no shortage of fascinating stories of police officers that have served the city. It's one of the engaging things to do in Phoenix if you're into art and history.
53 – Place Your bets at Turf Paradise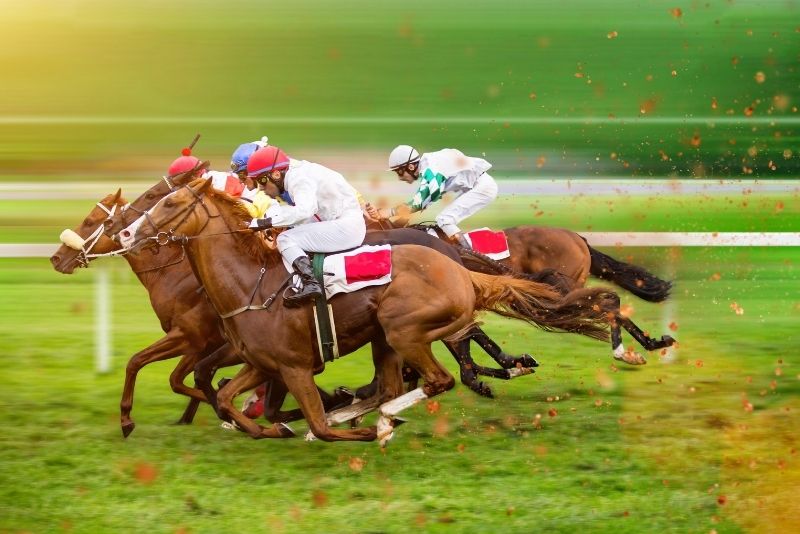 Stop by Turf Paradise, do as the locals do and spend a day cheering on your lucky horse!
Despite being a racing (and therefore betting) arena, this facility has been family-friendly for over 40 years, with a range of activities designed for kids too. The big race days take place every other Saturday, so check the calendar to see what's on.
54 – Start your engines at K1 Speed Phoenix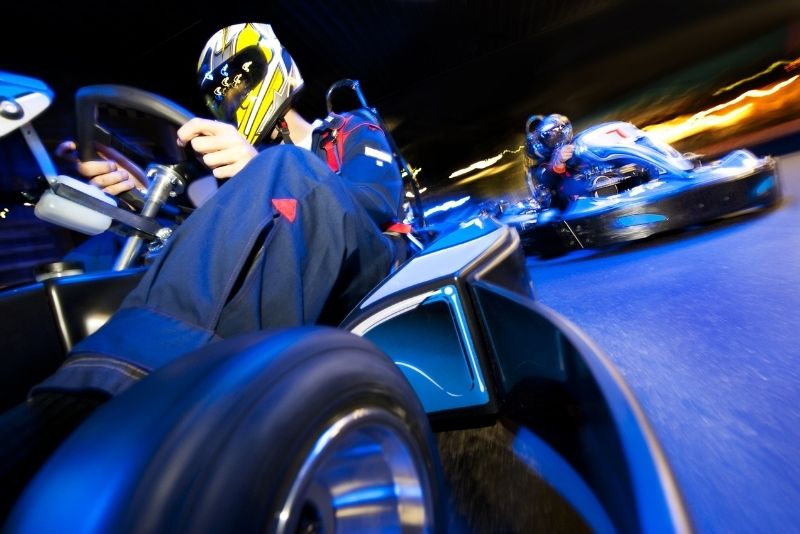 If you've ever dreamt of being behind the wheel without having to worry about speeding tickets or insurance claims, K1 Speed Phoenix is the place to be.
This indoor go-karting center caters to all ages and skill levels in a safe and fun setting, offering some of the fastest indoor electric karts (30 mph!) in North America.
55 – Spend the afternoon at Enchanted Island Amusement Park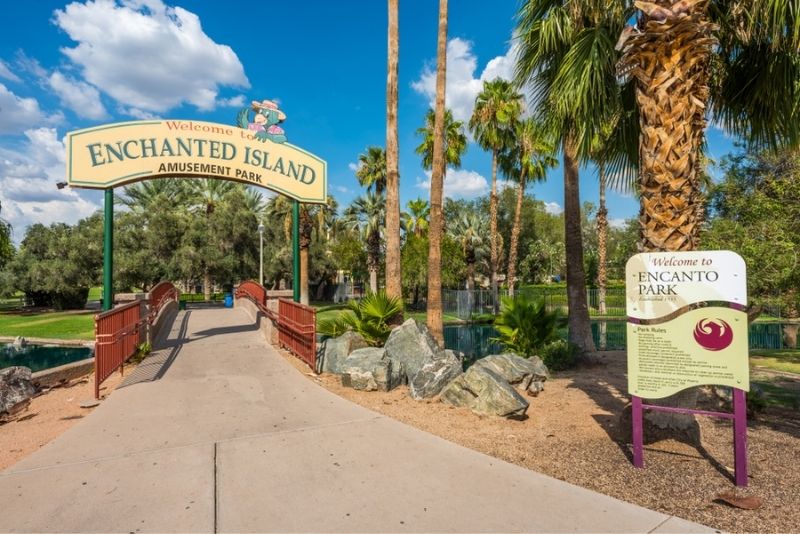 No matter if you're more of a Merry-Go-Round kind of gal or a hair-raising roller coaster lover, Enchanted Island Amusement Park is sure to put a smile on every visitor's face.
Take a seat on the educational train, ride a horse on the 50-year-old carousel or rent a canoe for some quiet time on the lake!
A wonderful family theme park, Enchanted Island is particularly targeted at youngsters and pre-teens.
56 – Tour the Wildlife World Zoo, Aquarium & Safari Park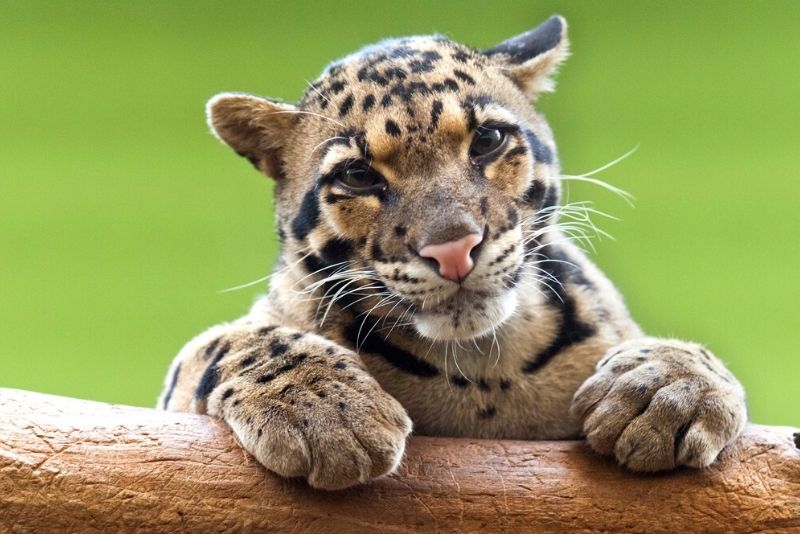 Having been voted as one of the top zoos in America, Wildlife World Zoo, Aquarium & Safari Park is home to over 2,000 animals representing 500 different species. The park's collection includes gorillas, rhinoceroses and sharks, to name a few of the more exotic residents!
What makes this zoo so special is the myriad of hands-on programs that give visitors the chance to get up close and personal with many of the animals — so bring your cameras!
Oh, and don't forget to stop by the nursery to see the newest residents!
57 – Meet a T-rex at Pangaea Land of the Dinosaurs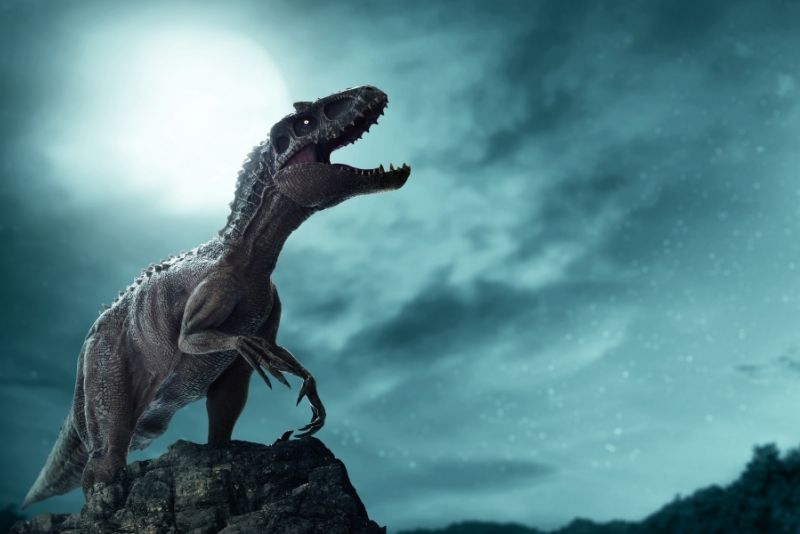 If you're into wildlife, Pangaea Land of the Dinosaurs is a must-see!
This popular attraction allows visitors to get up close and personal with some of the prehistoric era's most fascinating creatures. It's home to a number of different dinosaur skeletons that span from 65 million years ago.
And it's not just about dinosaurs either! Visitors can also meet an array of other wildlife, including alligators, turtles and giant tortoises, or mess around at the dinosaur-themed arcade.
Hint: make sure you enter through the T-rex "mouth" — it's quite an experience!
58 – Cool off at Golfland Sunsplash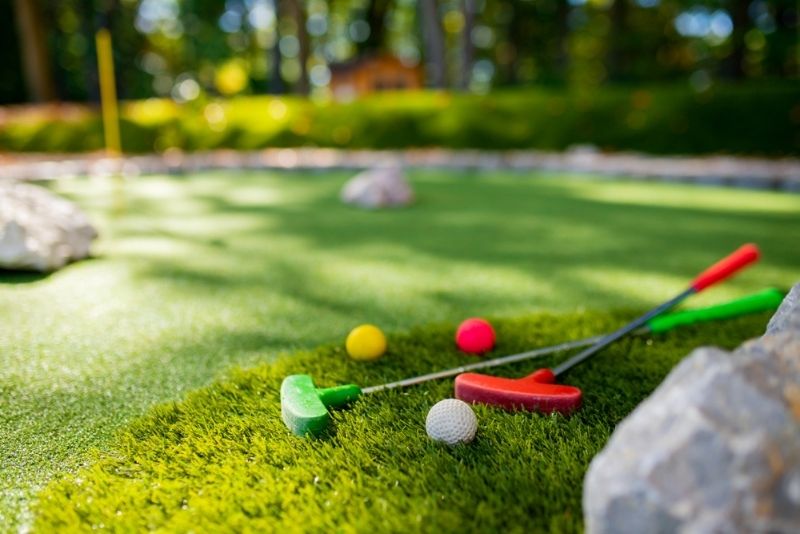 With a list of exciting attractions highlighted by splashtastic water slides and an award-winning mini golf, there's no shortage of enjoyment opportunities at Golfland Sunsplash!
Located in Mesa, about a 25-minute drive away, the water park offers more than 30 rides and attractions — the perfect excuse to beat the heat and play all day.
59 – Explore the city with a scavenger game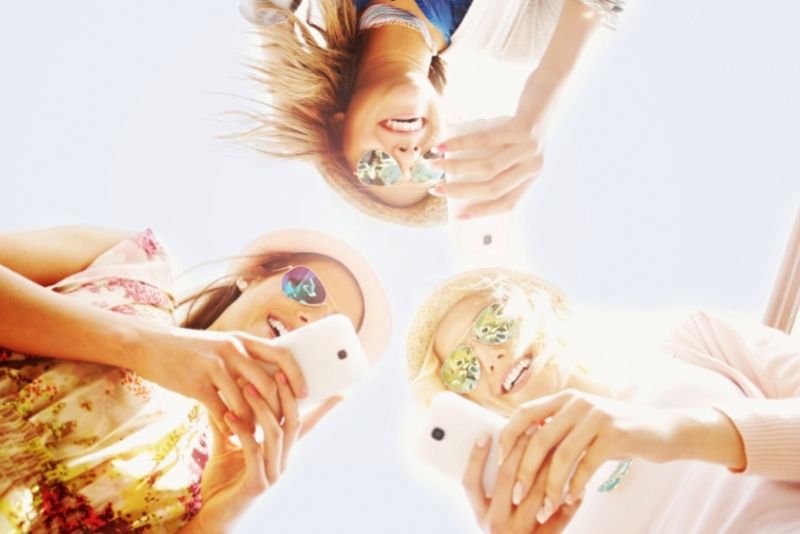 Slow-paced walking tour? Forget about it!
For the adrenaline-pumping, problem-solving, race-against-your-friends action that we all love, a scavenger hunt is a terrific way to tick off some of Phoenix's main attractions.
Conveniently operated from your smartphone, the activities typically last around two to three hours, scampering around town to places like Herberger Theater Center and Heritage Square (not to mention the pubs).
60 – Explore the Arizona Capitol Museum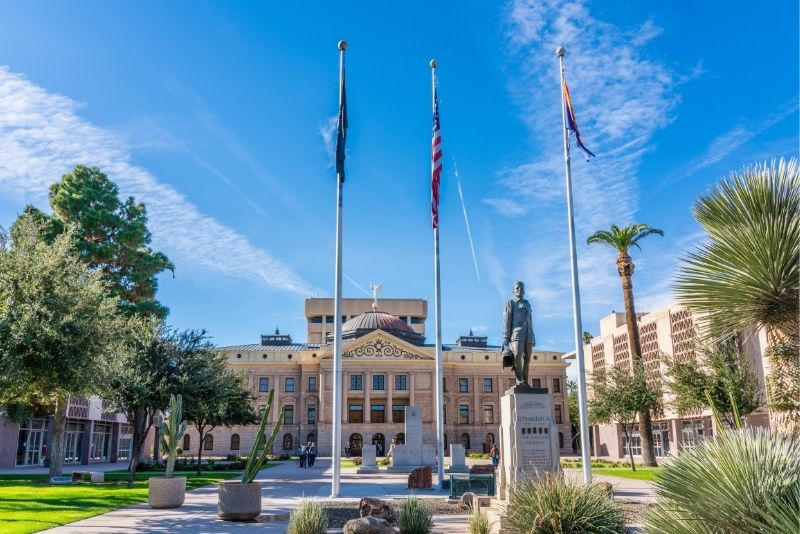 If you're after a way to connect with the area and its people on a deeper level, the Arizona Capitol Museum is an excellent starting point.
The revered museum offers self-guided tours of the State Capitol building, diving into the architecture, local history and first settlers.
A common highlight, the totally-free museum is also home to a permanent exhibit dedicated to the Arizona Canal, featuring its history and impact on state development.
61 – Break out the 9 Iron for a round of golf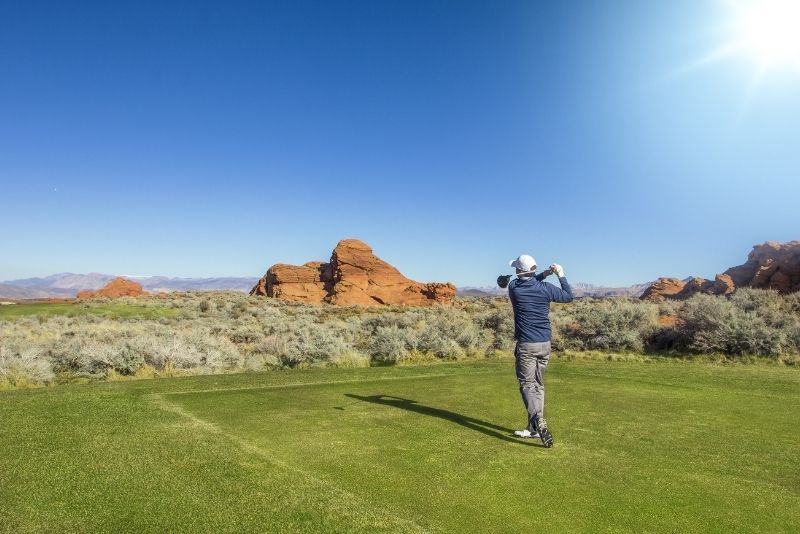 Fancy a swing on the fairways? Well, then you've come to the right city! The greater Phoenix area is internationally known for being a top golf destination. Golf courses can be found across desert canyons in lush resort properties with incredible contrasting landscapes.
If you're struggling to choose, some of the highly-regarded courses are the JW Marriott Phoenix Desert Ridge Resort & Spa, Boulders Resort & Spa, and Kierland Golf Club (complete with air-conditioned golf carts!).
62 – Splash around at the Oasis Water Park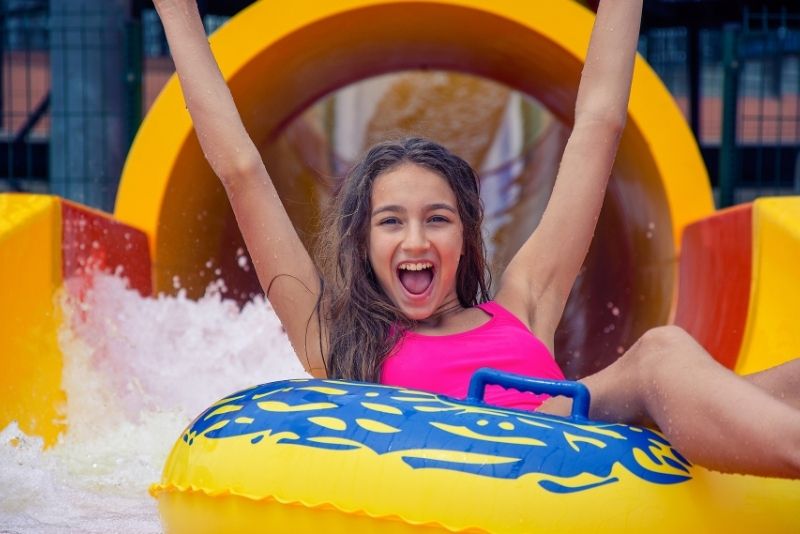 With the mercury going into overdrive, visiting Arizona means that planning for some time in the water — or, in this case, at the water park — is essential.
The Oasis Water Park at the popular Arizona Grand Resort & Spa features a water slide, lazy river and an abundance of 85-degree-heated pools — thankfully, you don't have to be a guest to enjoy the park, just rock up!
63 – Go ice skating at AZ Ice Arcadia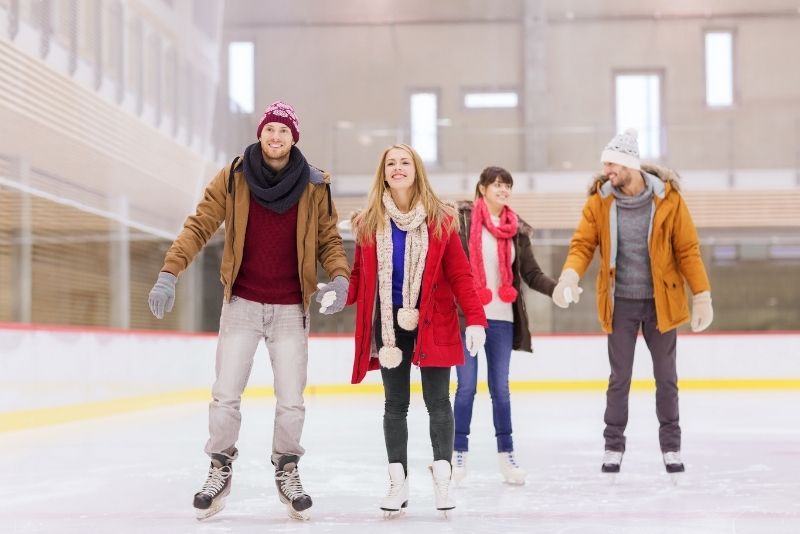 Ice skating … in the desert? Talk about two extremes!
At this family-friendly indoor rink, visitors can rent some skates, jump onto the ice and master turns and tricks in no time.
Besides the typical public skate times, the rink also offers options for private parties, tournaments and special events throughout the year!
This is a great place to take the kids or special someone for a cute date night.
64 – Feel the need for speed at the Penske Racing Museum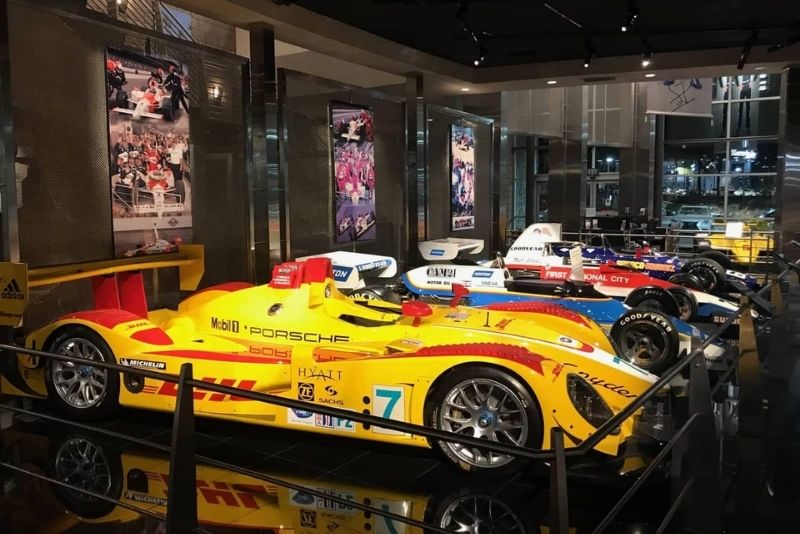 As one of the most famous names in motorsport, Penske cars have earned their stripes with over 400 major race wins, including 17 Indy 500s!
The niche museum showcases all kinds of memorabilia, with trophies, winning cars (including the 1963 Pontiac Catalina), newspaper clippings and informative videos delivering a highly memorable experience.
So, if you're a motorhead, add this to the top of your list of things to do in Phoenix.
65 – See the Cardinals in action at State Farm Stadium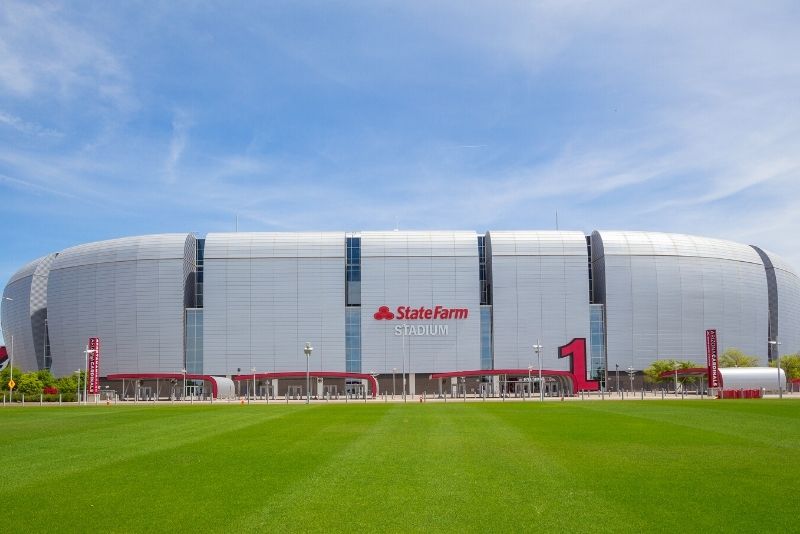 For football fans across the country, there's no better way to spend a Sunday or Monday night than watching a game.
In Phoenix, it's all eyes on the Arizona Cardinals — grab a seat, watch the pros toss a pigskin and cheer on the likes of JJ Watt and Kyler Murray light it up on the field.
Like most stadiums, State Farm also serves plenty of (marked-up) food and beer, so you know the crowd will be nice and rowdy.
66 – Tour the amazing Taliesin West House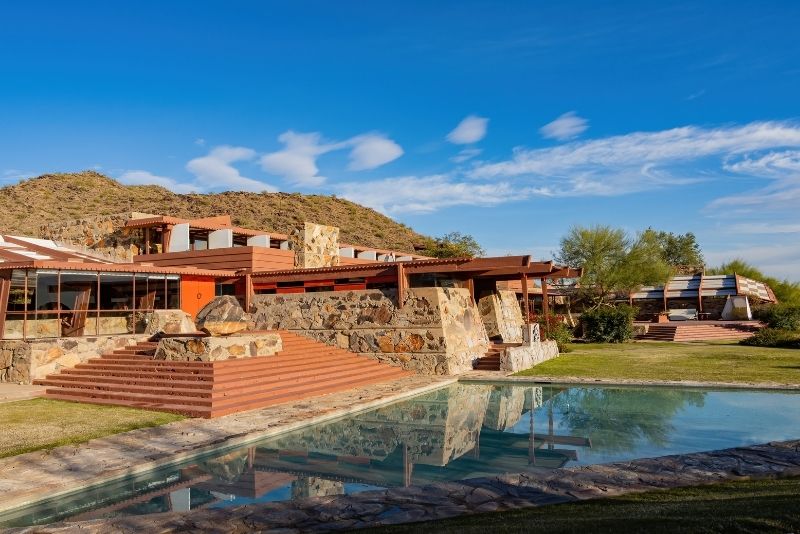 A UNESCO World Heritage site and National Historic Landmark, the stunning Taliesin West in Scottsdale is a must-visit for architecture lovers among us.
It was built by the beloved Frank Lloyd Wright, the man credited with paving the way in helping America define its architectural identity.
The house today operates as the official headquarters of the Frank Lloyd Wright Foundation, offering guided tours and private rentals.
67 – All aboard at McCormick-Stillman Railroad Park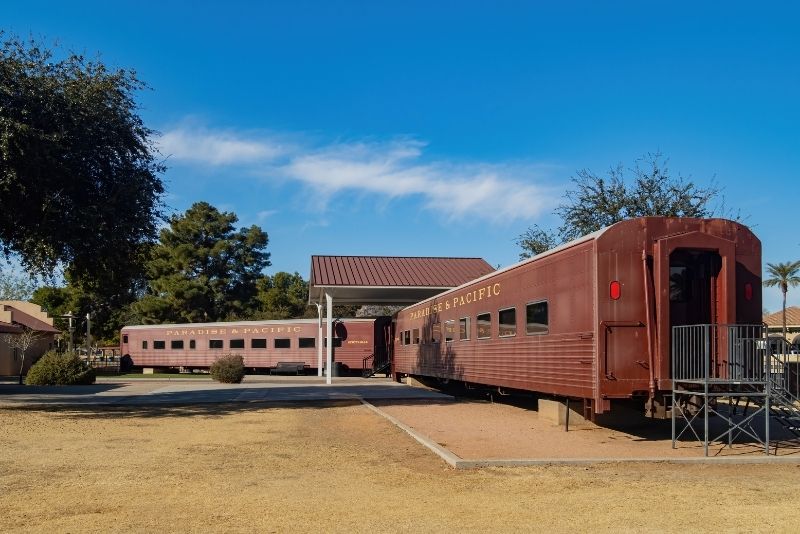 It's all about trains here at McCormick-Stillman. Guests can explore the various railroad cars, watch model trains run and even hop on board a real steam engine from the early 1900s!
For youngsters, the park-wide scavenger hunt game will have them grinning ear to ear. Meanwhile, the adults can sit back at the on-site cafe, book in hand, and enjoy the Southwest sun.
68 – Meander through Old Town Scottsdale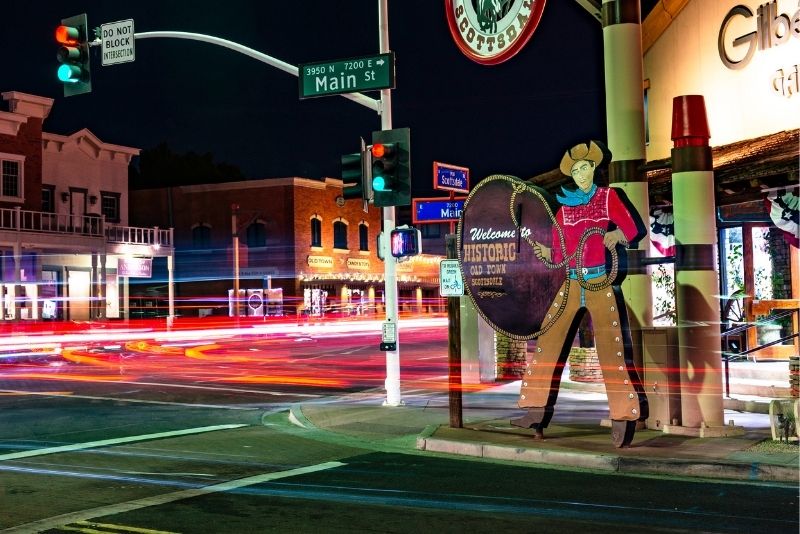 With a rare blend of urban chic and old Western, it's easy to spend a whole day walking around the charming streets of Old Town Scottsdale.
Pop into the world-class museums and historical sites, window-shop or head inside for a taco at ​​Diego Pops or a drink (or three) at the fancy Weft & Warp Art Bar + Kitchen.
69 – Learn about cowboys at the Western Spirit museum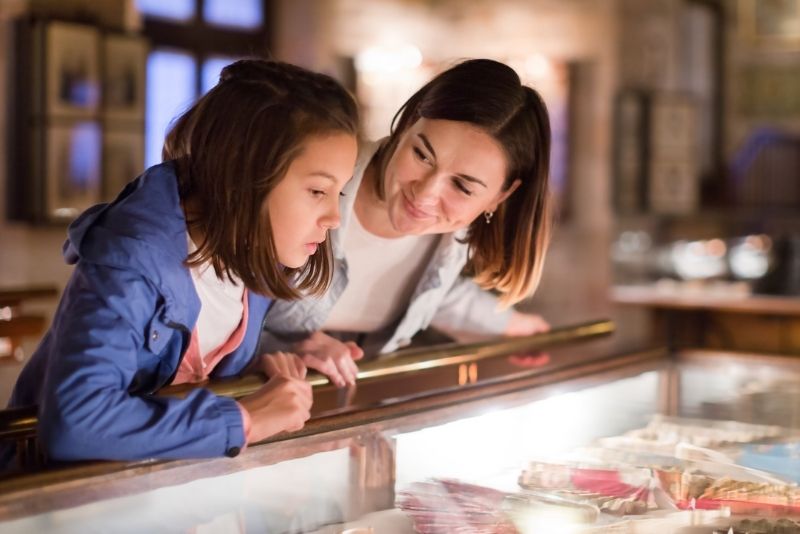 Located in Old Town Scottsdale, Western Spirit: Scottsdale's Museum of the West is a wonderful place to learn about the unique art and history of the region. It tells about Arizona's story through artifacts and exhibits — with a special focus on Native American culture.
But far more than just a spotlight on Arizona, the museum showcases the history of all 19 Western states. It showcases everything from cowboys to rodeo and all — through local Western-created art and a beautiful outdoor sculpture garden.
70 – Catch the Phoenix Coyotes at Gila River Arena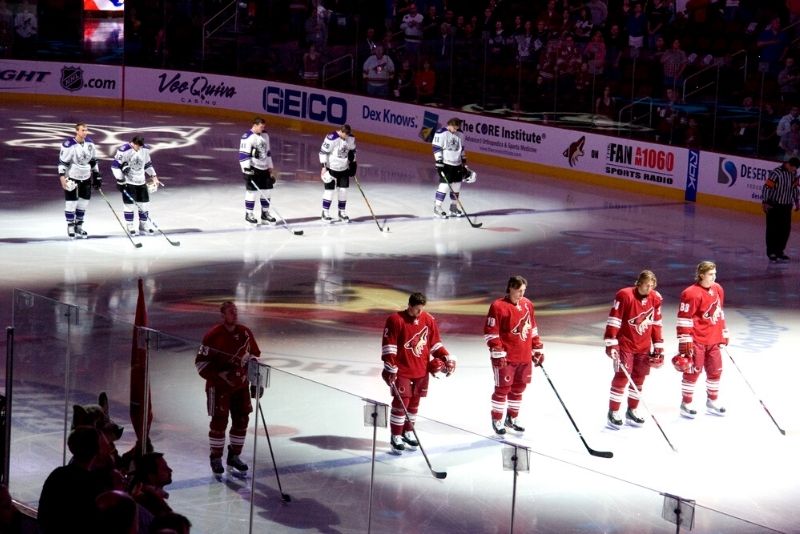 Arizona may be hot, but it's not too hot to enjoy some good old hockey (that's ice hockey, just in case you didn't realize — looking at you, Aussies)!
When Gila River Arena is packed to the rafters, the roar can be deafening. Combine that electric atmosphere with great seats, classic spectator food and the chance for a VIP experience in the BMW Lounge, then it's a clear winner for any sports fanatic.
71 – Feel the magic of Butterfly Wonderland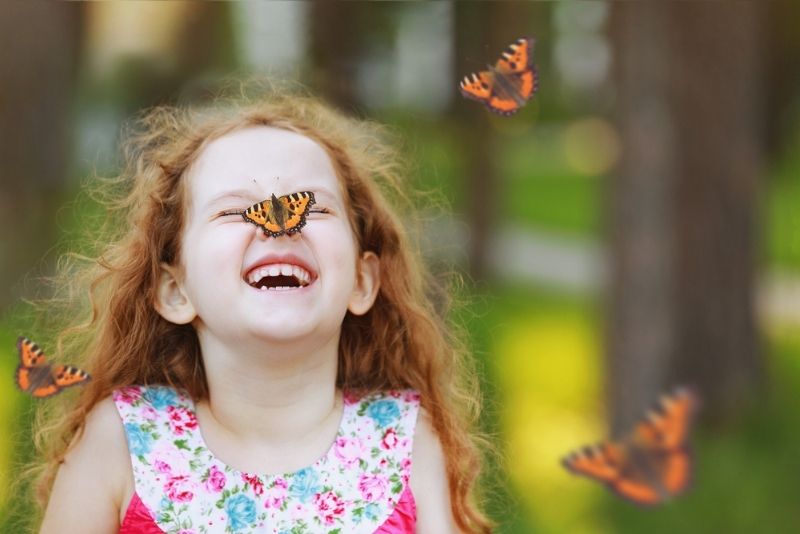 If you ever dreamed of traveling to a tropical paradise, but you're put off by the price tag and long flight times, Butterfly Wonderland in Scottsdale is here for you — a wondrous art gallery and a zoo all rolled into one.
This indoor tropical rainforest environment features more than 1,000 free-flying exotic butterflies fluttering around from all over the world. Visitors can also participate in classes about the art of raising these creatures — how cool!
Before you leave (grinning ear to ear, of course), check out the 3-D theater.
72 – Stop into the Arizona Commemorative Air Force Museum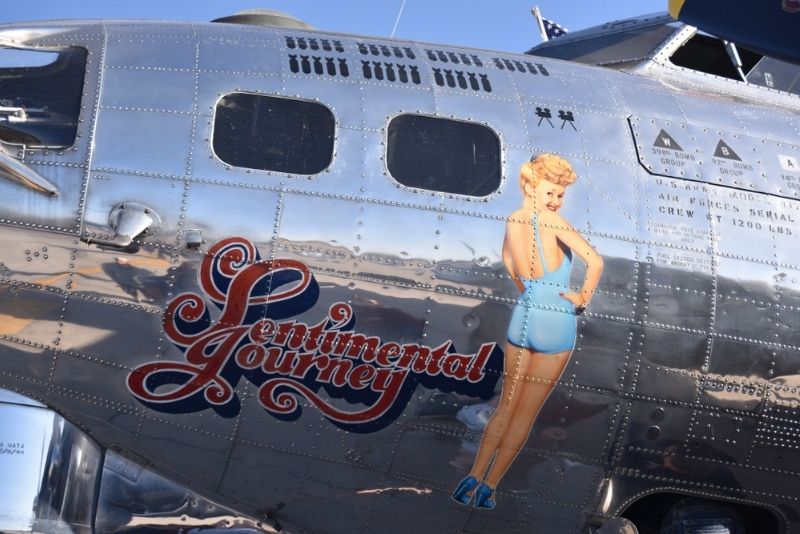 The most highly-rated attraction in Mesa, the Arizona Commemorative Air Force Museum gives young and old alike a look into the planes and jets used by the US Air Force.
Climb aboard a B-17 Bomber or schedule a ride in one of the museum's World War II planes. Learn about the military's aviation pioneers and grab a one-of-a-kind souvenir on the way out.
73 – Pan for nuggets at Goldfield, the ghost town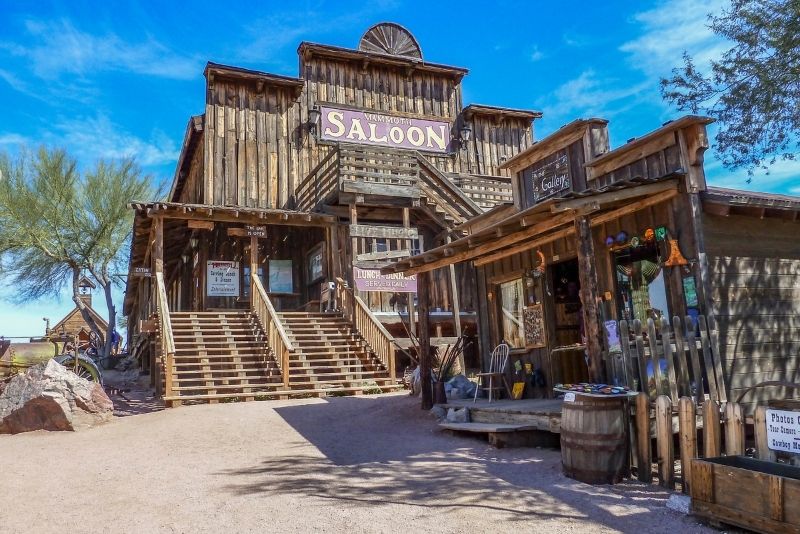 Travel back into the Wild West and experience what an Arizona mining town was really like during the boom of the Gold Rush!
Formerly a thriving town, Goldfield quickly became redundant as the diggers flocked away, leaving behind a well-preserved, eerie insight into the past.
These days, the town, its saloon, church and other attractions have been refurbished with rides, shops and a mine tour to keep the whole family entertained.
74 – Get educated at the Arizona Museum of Natural History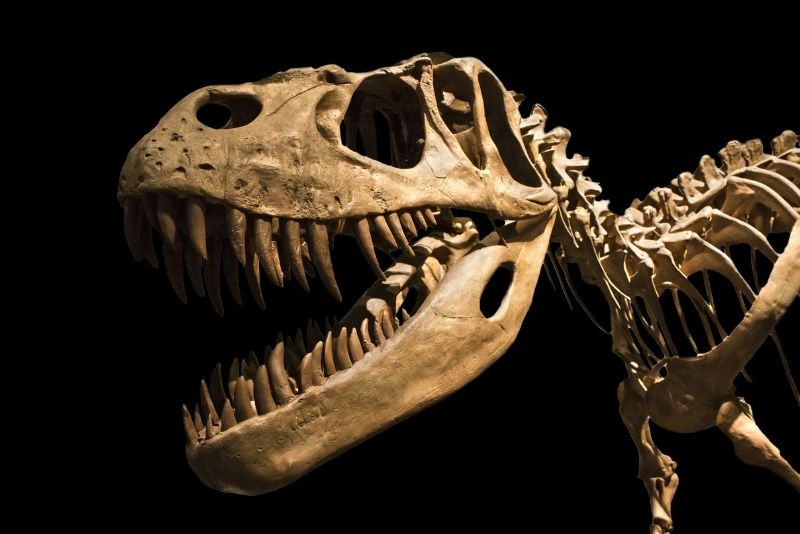 The Arizona Museum of Natural History, located on the grounds of Tempe Town Lake, is highly interactive and enjoyable for kids and adults of all ages!
The landmark museum features a wide variety of exhibits chronicling the wildlife, artifacts and migration patterns found in the Grand Canyon State.
Explore the native cultures of Western North America, learn about Arizona's natural history, dig around like a Paleontologist and more!
75 – Quench your thirst on a pub crawl (by bike!)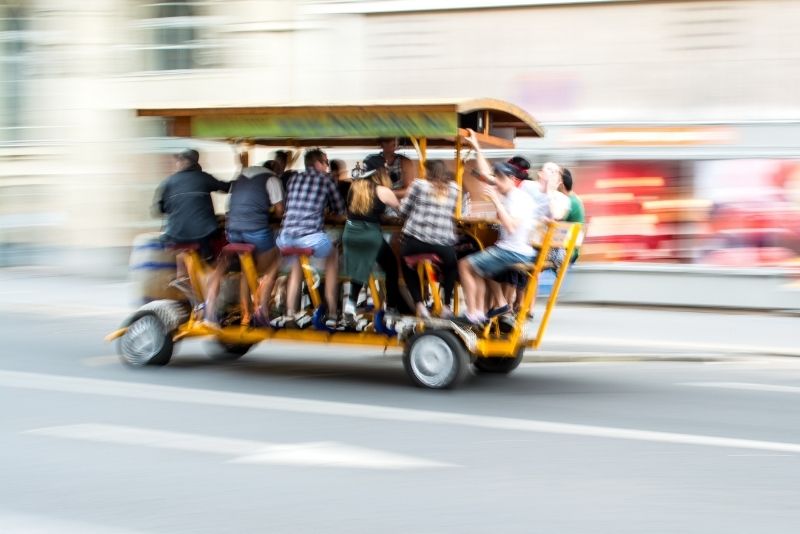 One for the socialites and thirsty travelers, a bike tour that peddles all over nearby Scottsdale to three different bars is a wonderful way to see the town. Make a few friends and let your hair down along the way!
The 14-man bikes (meaning you don't even have to peddle) are BYO, so raise a glass, enjoy the sunshine and get a little loose!
76 – Cool off at a WET Deck Party at the W Scottsdale Hotel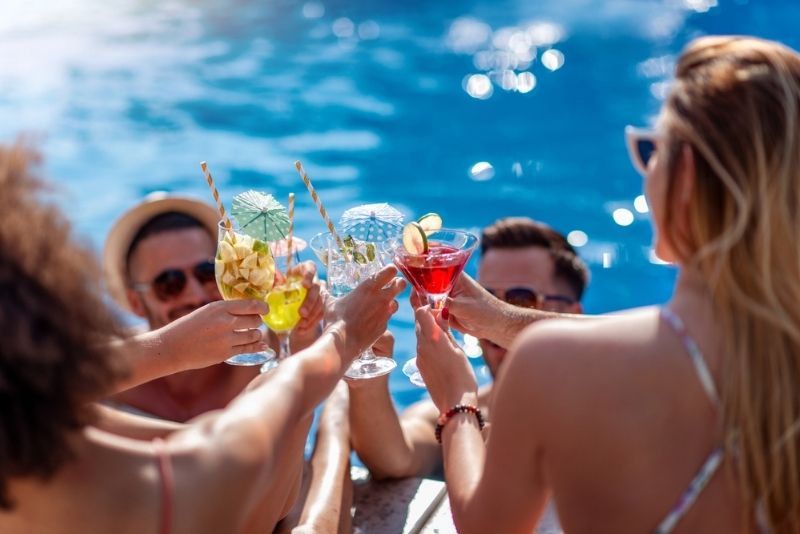 This might come as a shock, but would you believe Arizona only has one chilled pool? Yep, and it's found right here at W Scottsdale Hotel.
This not-to-be-missed summer party is a lot like those in Las Vegas, but on a much smaller scale and with an Arizona twist. The three different pool decks are transformed into one big dance club, complete with live music, signature cocktails, DJs and occasional celebrity appearances.
For partygoers, it's an absolute must.
77 – Joust for your supper at Medieval Times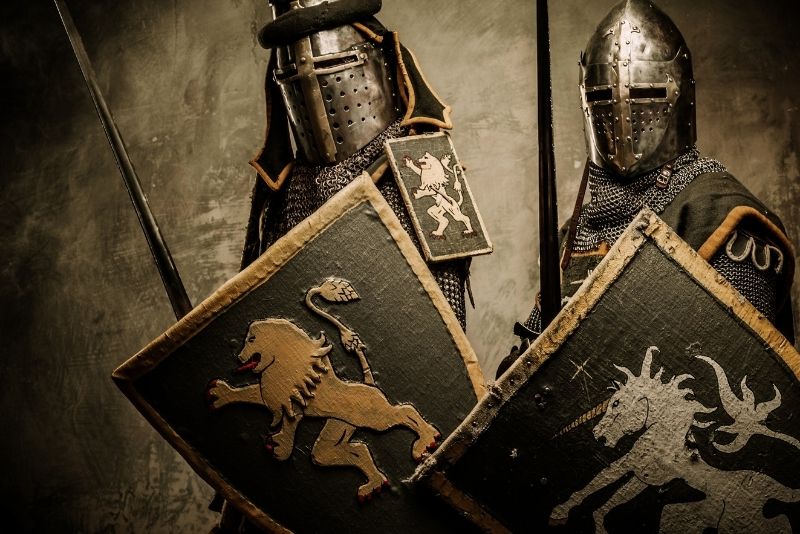 A one-of-a-kind evening out, Medieval Times Dinner & Tournament Phoenix is a live-action show that offers diners the chance to hang out with knights, serfs and royalty over a four-course meal — all while watching jousting tournaments take place right before your eyes!
Perfect for the entire family, this evening show is sure to captivate any young prince or princess.
78 – Watch the sunset at Pinnacle Peak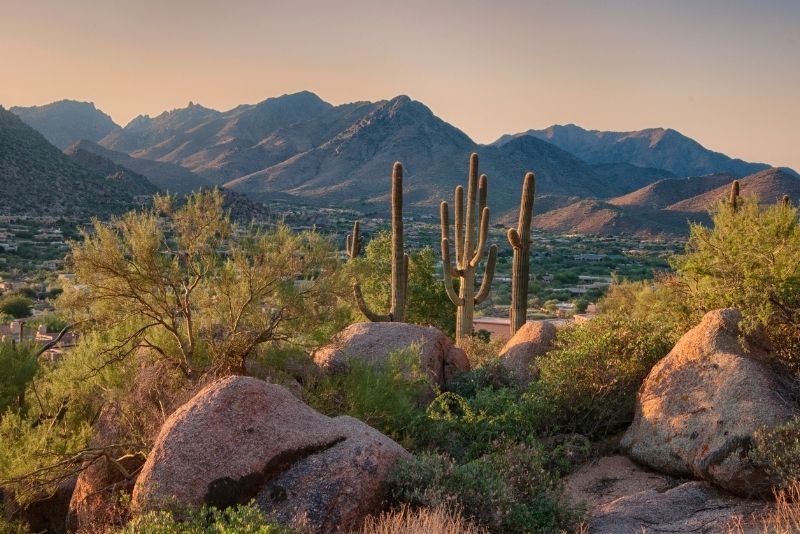 It's pretty difficult to find the perfect place for a sunset in Phoenix, but Pinnacle Peak Park is as close as it gets. Located at 5,600 feet above sea level, this beautiful park offers unparalleled views of the city below and is voted one of Arizona's most scenic places (and there are plenty to choose from).
Take in breathtaking panoramic vistas while sitting on its outdoor deck or enjoy an intimate evening, wine in hand, by the fire pits with friends old and new.
For something more adventurous, it has rock climbing too!
79 – Take a day trip to Kartchner Caverns State Park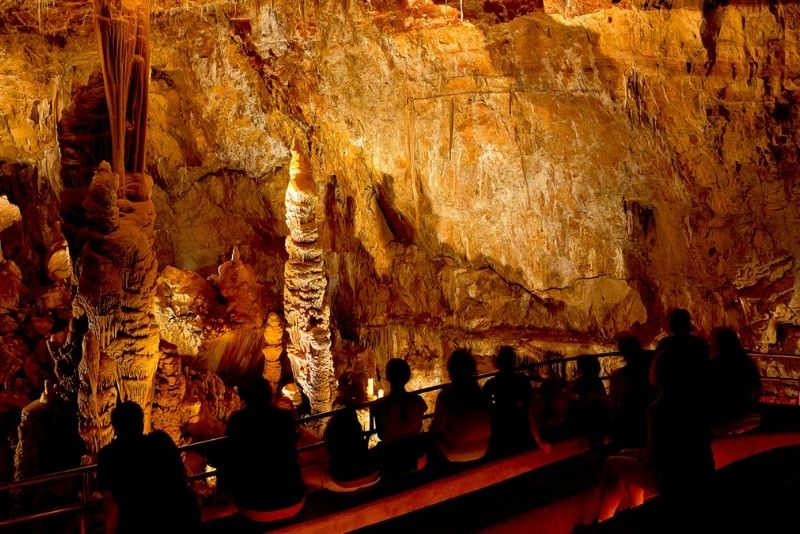 One for the bucket list, a visit to Kartchner Caverns State Park allows guests to see the largest bat-filled cavern in the US!
A guided tour is quite a unusual experience, given all the nocturnal friends hanging from the ceiling. As the park ranger provides insights on the history and geology of this incredible natural creation, there's plenty to be learned.
Even though it's located about 165 miles southeast of Phoenix, Kartchner Caverns State Park is well worth the 2.5-hour drive. As far as day trips go, it's one of the best things to do in Phoenix.
Where to after Phoenix? Looking to extend your trip?
Make sure to check out our list of things to do in Scottsdale. If traveling by car then Tucson is just a 1.5-hour drive down the freeway, otherwise, Sin City itself. Las Vegas is about 4.5 hours northwest — and we all know how wild Vegas can be (check our selection of fun things to do in Las Vegas). If you are a fan a Breaking Bad, make sure to visit Albuquerque, 6 hours away from Phoenix.
If you're flying, then artsy Los Angeles, beach-lined San Diego, vibrant San Francisco and sky-high Denver are all accessible in under two hours.
Check out the best hotels in Phoenix to make sure you get the cheapest deals, as well as airport transfers.
Thanks for checking out our collection of things to do in Phoenix, Arizona! If you have anything you'd like to add to the list, feel free to leave a comment below.
In case you wish to plan a longer trip, check out our list of things to do in Arizona – fun guarantee!
Bon voyage!