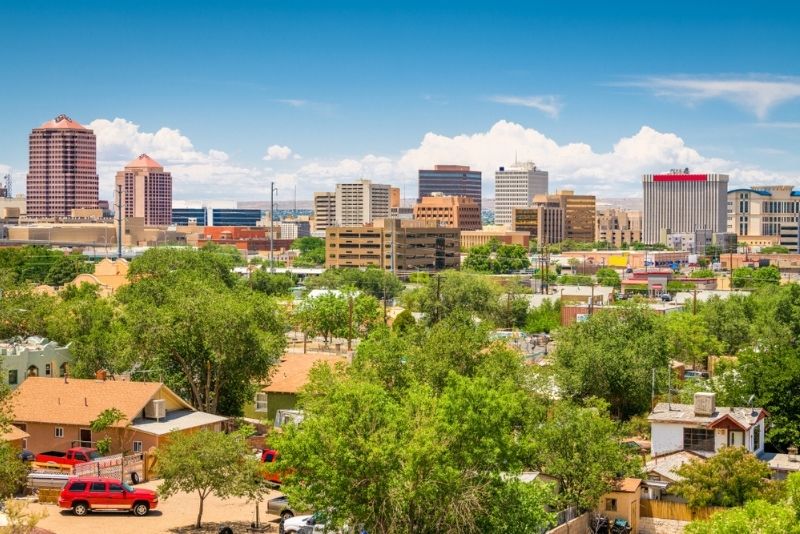 Surrounded by relentless desert, towering mountains and the mighty Rio Grande River, Albuquerque is a green oasis in the New Mexico landscape. The city expertly blends old and new and has a wealth of quirky museums and roadside attractions which you'll want to visit all of.
The mixture of Spanish and Pueblo Indian cultures gives the city its own authentic identity and flavor. First-time visitors to the Southwest will surely find the distinct adobe architecture of its historic buildings unlike anywhere else in the United States.
The famous New Mexican cuisine is sure to wake up your taste buds and is sure to delight those who love their food both smoky and with a little heat. Step out of your comfort zone and see how much the city has to see, taste and experience.
Here are some of the most fun things to do in Albuquerque, New Mexico.
1 – Party in the sky at Albuquerque International Balloon Fiesta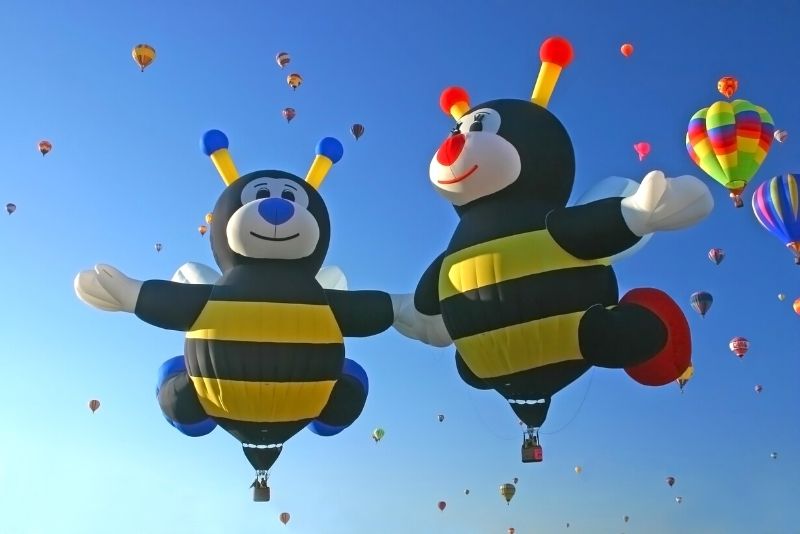 If you are lucky enough to be in Albuquerque during October you have to check out the International Balloon Fiesta. This unique festival has been going on for 50 years and involves over 500 hot air balloons.
The festival takes place over nine days and is something of a paradise for balloonists and photographers offering many opportunities to get that prized shot.
If you can't be there for the fiesta you can still take an air-balloon flight and see what makes Albuquerque such a great place to try this unusual pastime.
2 – Meet weird and wonderful creatures at ABQ Biopark Zoo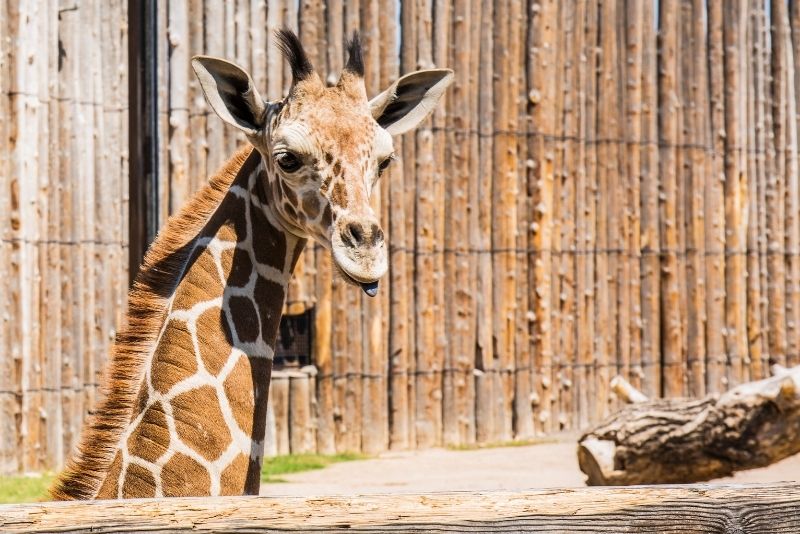 One of the most popular attractions in all of New Mexico, ABQ Biopark has been enchanting visitors since 1927. This huge park has more than 900 resident creatures both native and exotic and includes a zoo, aquarium, botanical gardens and a beach.
See the park's fantastic flamingos or the incredibly rare axolotl. With so many diverse creatures, including uncommon birds, big cats, primates, marsupials and reptiles everyone is sure to have a great time. A trip to the ABQ Biopark is definitely one of the most fun things to do in Albuquerque, for all the family.
3 – See the Japanese gardens at ABQ Biopark Botanic Garden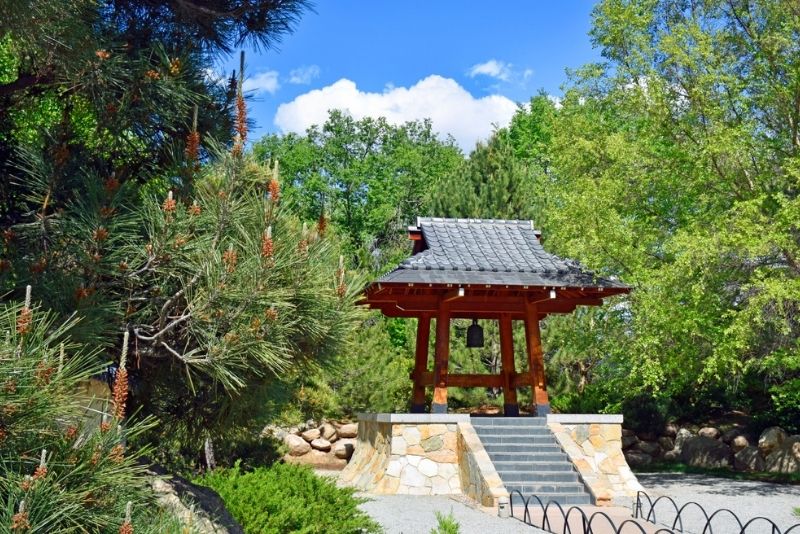 First opened in 1996, ABQ Biopark Botanical Gardens covers 36 acres and is one of the most colorful places in the city. Exploding with nature's beauty, the gardens include special glasshouses which replicate a range of climates. Visit the hardy plants of the desert one moment and the green foliage of the Mediterranean the next.
See the large collection of native plants from the deserts of North America and the beautiful Sasebo Japanese Garden which features dignified waterfalls and even a garden within a garden. The Botanic Garden also has amazing native creatures such as pollinating birds and 40 species of butterflies.
4 – Learn turtle training at ABQ BioPark Aquarium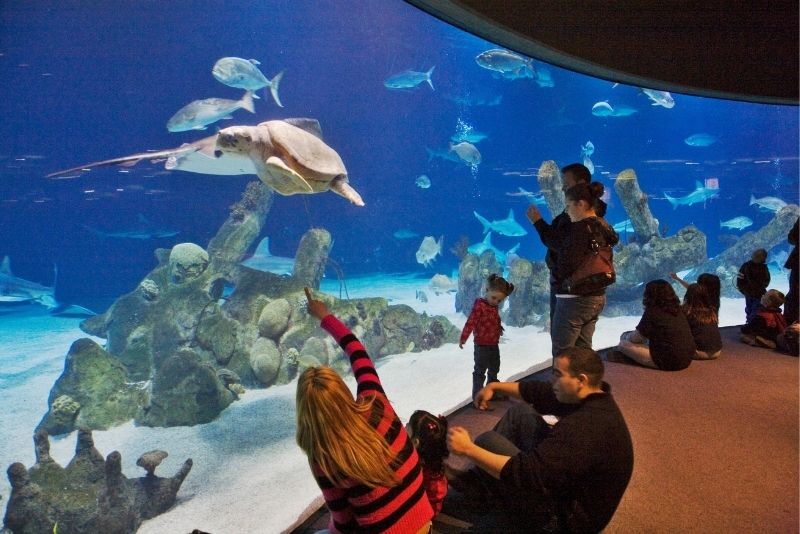 Albuquerque's Biopark Aquarium is home to some of the ocean's most astonishing creatures. Sharks, eels, stingrays and jellyfish can all be observed in this captivating underwater exhibition. The resident turtles love to play games in order to get their favorite squid treats.
The park also houses two rescued two otters, named Chaos and Mayhem, who can often be seen wrestling or cuddling up together in the sun. Biopark Aquarium is a great place to visit for those who are fascinated by the deep sea. Its underwater environments show what sealife lurks in coral reefs, shipwrecks, saltmarshes and rivers. Check it out while you are in Albuquerque.
5 – Visit Breaking Bad filming locations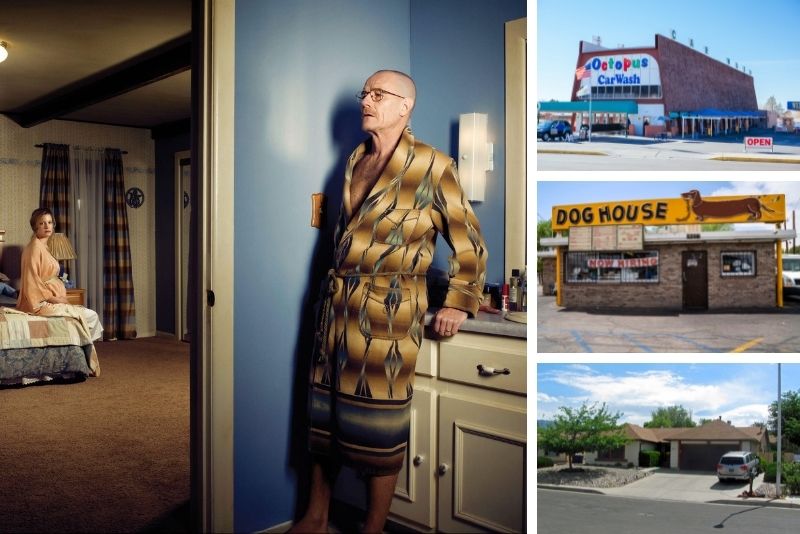 Albuquerque's endless sunny days are great for moviemakers who rarely have to let bad weather postpone a shoot. The city has appeared in many movies and TV series, including Breaking Bad, Stranger Things and The Ballad of Buster Scruggs. Why not take a movie locations tour while in the city?
Relive your favorite moments from Breaking Bad and Better Call Saul with a Breaking Bad RV Tour! Visit the home of Walter White, the RV junkyard, carwash and more all while traveling in an identical RV to the one in the show. This is a must for Breaking Bad fanatics when in Albuquerque
6 – Discover the Historic Old Town on a walking tour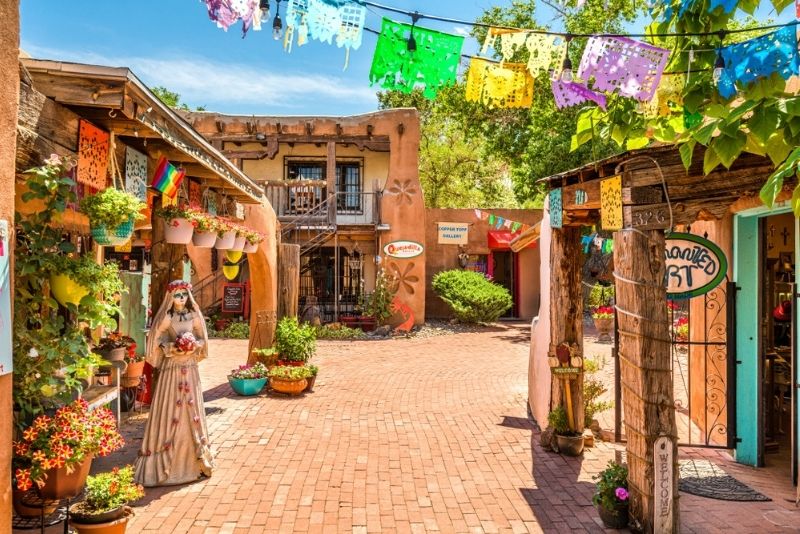 The Old Town of Albuquerque has a very unique feel to it. The district is the historic center of the city, founded in 1706, and its Spanish-Colonial architecture and charming shops and restaurants make it a popular tourist spot.
Old Town Plaza has always been at the center of the historic district. The square itself and the San Felipe de Neri Church date back to the Spanish period but most of the buildings are from the 19th and 20th-centuries. It's home to some of the cities best events throughout the year, including summer concerts on the Old Town Plaza bandstand.
For a deeper dive into the local culture, it's good fun to take a guided walking tour of the city.
7 – Ride the Fire Ball at Cliff's Amusement Park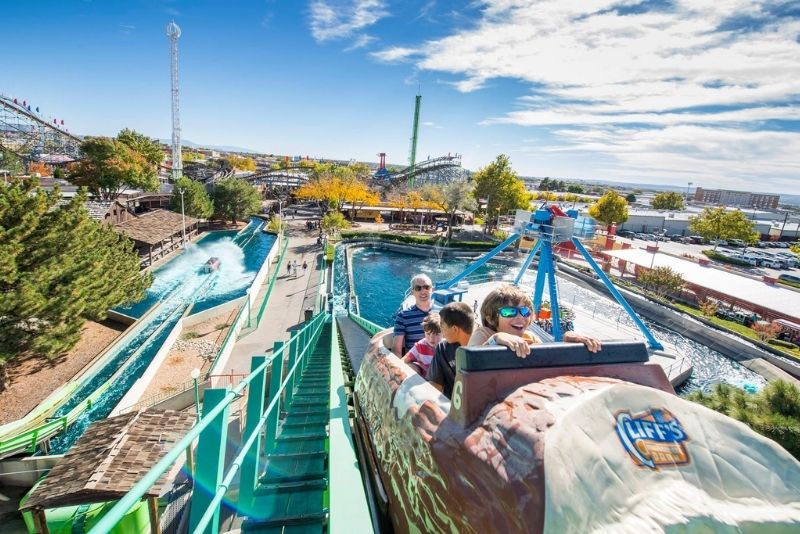 Looking for white knuckle thrills and family entertainment while in Albuquerque? Cliff's Amusement Park has plenty of both. For classic rollercoaster fans, there are dizzying rides to enjoy such as the New Mexico Rattler, an old-school wooden coaster, and the Fire Ball which propels riders through a series of 13 vertical loops, all in under a minute.
There are also rides for younger kids in the park's Kiddyland, and space to cool off in Watermania with its splash-tastic slides and fountains. This place is lots of fun for the whole family.
8 – Learn about the Atomic Age at the National Museum of Nuclear Science & History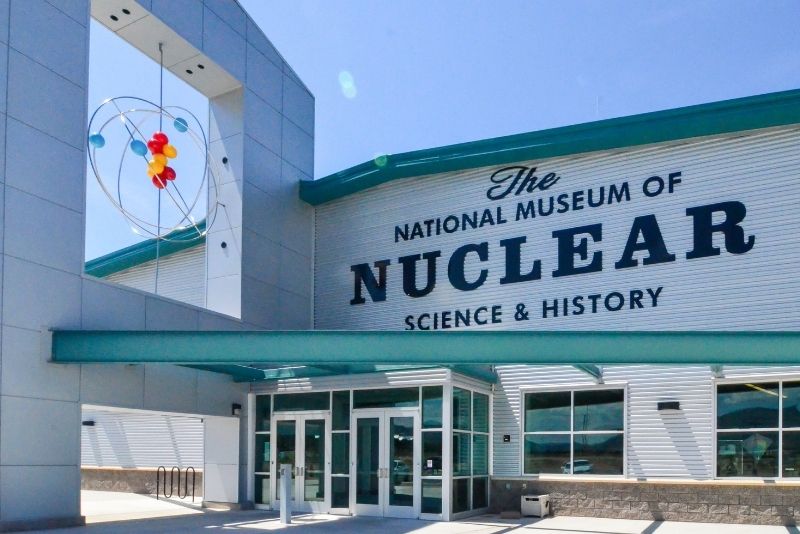 New Mexico is an important part of the story of nuclear science, the state was a development and testing ground for early nuclear weapons. The Museum of Nuclear Science and History focuses on the military use of nuclear as well as modern technological uses.
The site has replicas of infamous bombs from the Second World War and exhibits dealing with the morality and after-effects of using nuclear weapons. It also has some more fun exhibits which showcase the effect that the atomic age had on pop culture.
9 – Visit the Petroglyph National Monument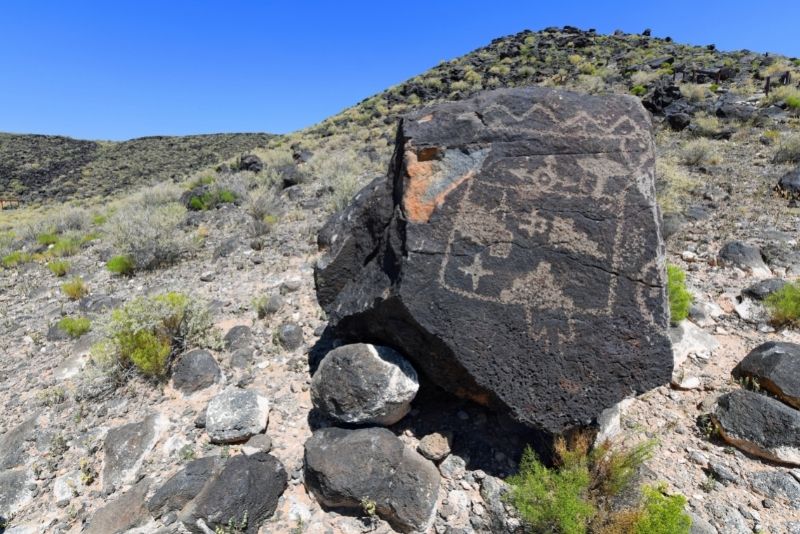 This national monument displays historic rock carvings created by the native Puebloans of the Rio Grande Valley. The carvings, known as petroglyphs, were created with stone hammers and chisels up to 700 years ago. There are approximately 25,000 carvings within this small stretch of land.
The meanings behind many of the petroglyphs are not fully known but they have strong importance to the culture of the tribes who lived here and their modern ancestors. Don't miss the chance to visit this amazing place while in Albuquerque.
10 – See race-winning cars at Unser Racing Museum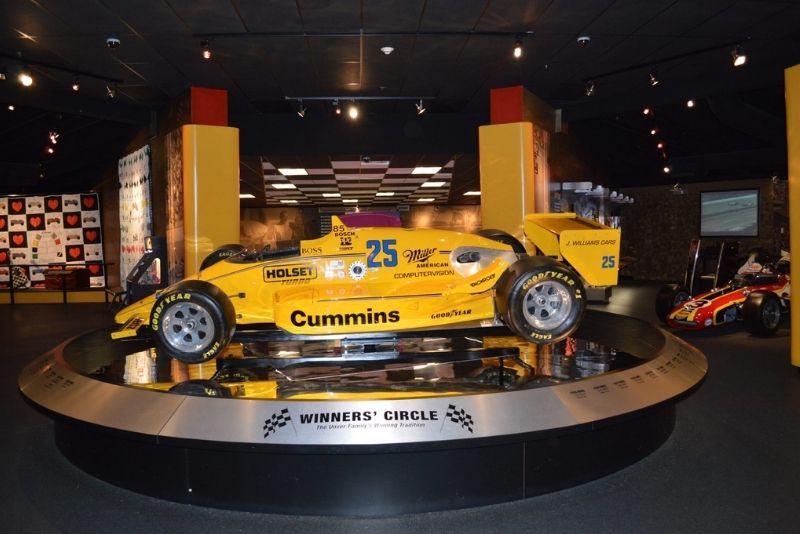 Celebrating the achievements and racing heritage of the Unser family, The Unser Racing Museum is a fun place to visit for motorsports enthusiasts. The museum itself is shaped like a steering wheel and covers four generations of the Unser Families racing pedigree as well as the history of racing in North America.
See cars driven by the family as well as memorabilia and trophies. The museum houses a sizeable collection of restored vintage racecars and Pace cars. Unser Racing Museum is an absolute must for lovers of Indycar racing and motorsports in general.
11 – Explore science at Explora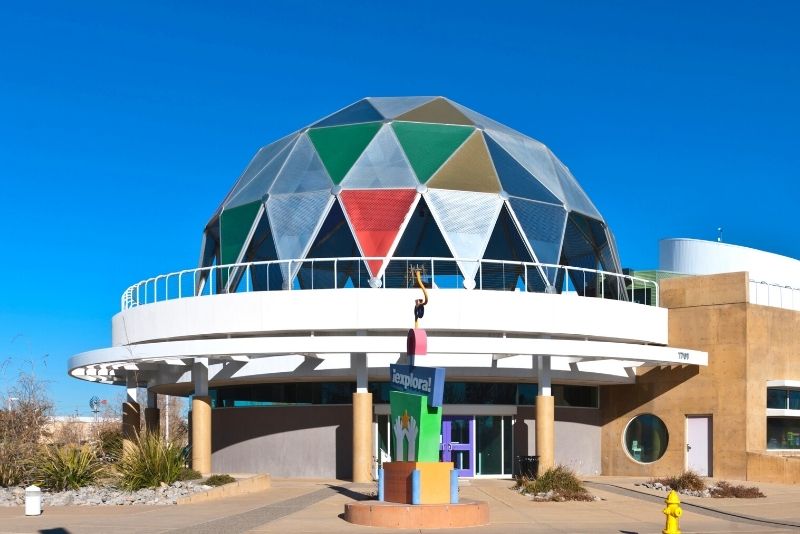 Explora has to be one of the most fun ways to learn about science, math and technology. This innovative science center has a bunch of interactive experiments and exhibits that will really make you want to play, learn and discover all about them.
The center is great for kids of course but is also a wonderful day out for adults. Experiment with gravity, water and air and find out what these natural forces are capable of or harness the energy of electricity and sound to create powerful reactions. Explora is a great way to learn and have fun.
12 – Visit Anderson Abruzzo Albuquerque International Balloon Museum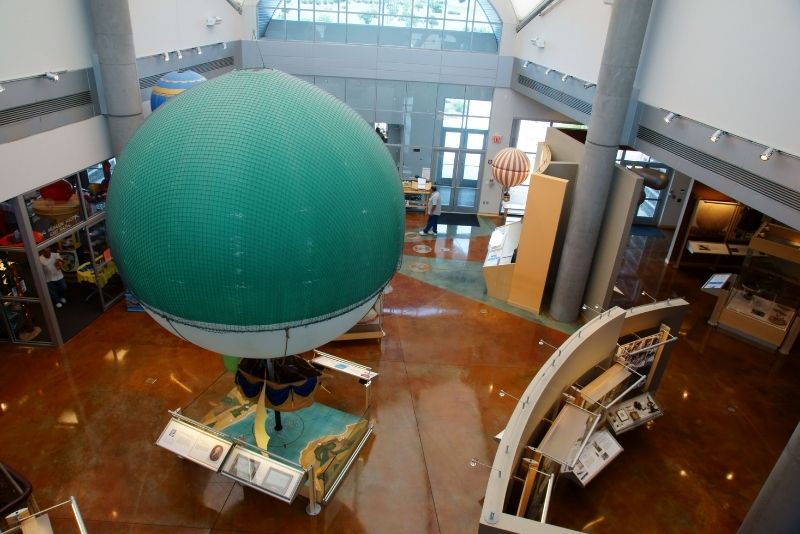 The city of Albuquerque really loves hot air balloons and its ballon museum attests to that. It follows the history of ballooning from its beginnings in 1783 right up to the modern-day. See replicas of historical balloons and learn about the earliest technology that allowed people to fly.
Discover a world of intrepid explorers and exciting balloon-powered adventures. Discover other uses for balloon technology and why they are still in use today.
13 – Walk the Paseo del Bosque at Rio Grande Valley State Park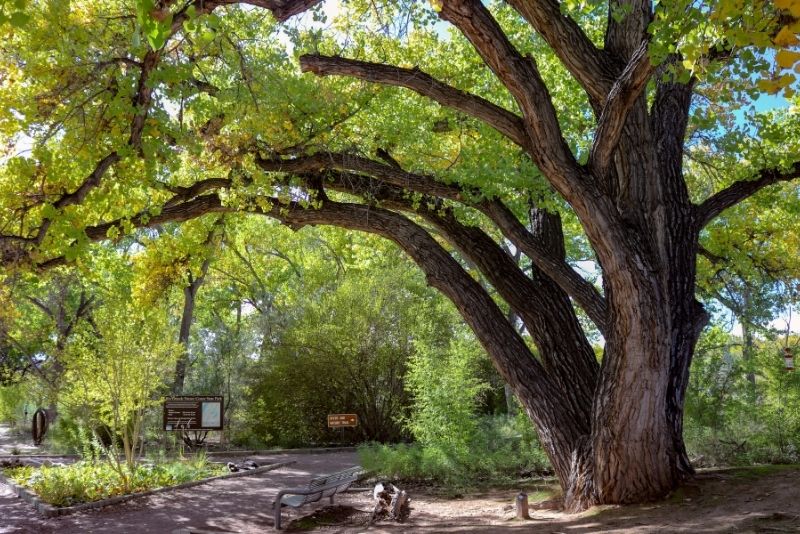 There are some very unique environments to be found in Rio Grande Valley State Park. The Paseo del Bosque Trail runs through an area of dense forest populated by cottonwood, willow and olive trees which is quite unusual in the arid New Mexico climate.
The Rio Grande Nature Center State Park is an educational center and wildlife habitat that attracts lots of wildlife to the area, including Canadian geese and coyotes. It has walking trails that run through a rehabilitated wetland area.
Visitors should also check out the Pueblo Montano Picnic Area and Trailhead which has some impressive chainsaw sculptures.
14 – See the old west at Tinkertown Museum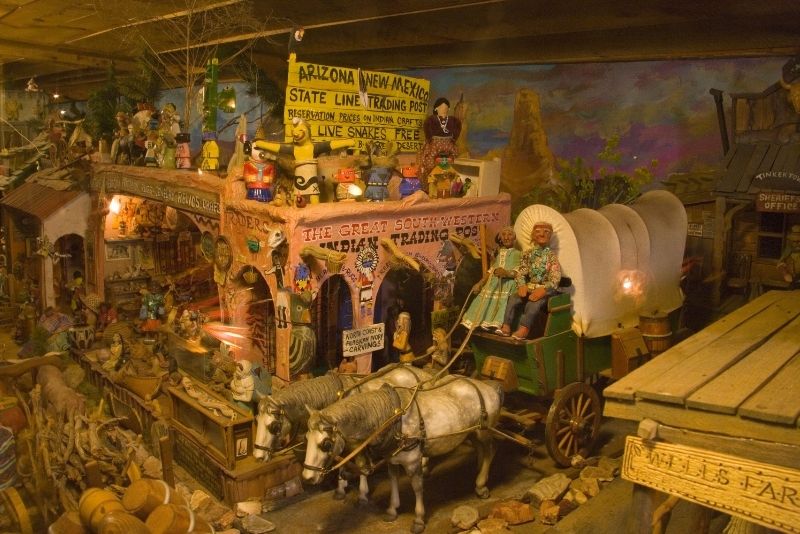 If you're on the lookout for unique attractions in the Albuquerque area, Tinkertown is definitely it. The collection began in the 1960s as a hobby of Ross Ward, who hand-carved figures of old-time American scenes. It extended to encompass his collection of Americana memorabilia and grew to what it is today.
See miniature scenes depicting the usual and unusual scenes of the old west from a blacksmith shop to a traveling circus. Not just a museum to objects, Tinkertown is also a museum to creativity and the inventive spirit that is within us all. Don't miss out on Tinkertown, one of the most fun things to do in Albuquerque.
15 – Shop at Downtown Growers' Market, Robinson Park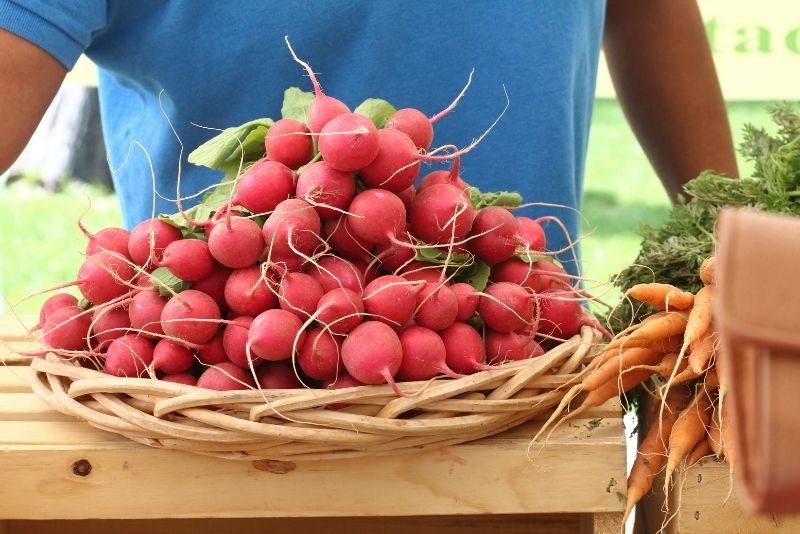 For the best and freshest foods around you have to stop into Robinson Park's Downtown Growers Market. It's the oldest farmers' market in the city and has been operating for 25 years.
Here you can find ready-to-eat local favorites like burritos, tortas and tacos as well as vegetables, meats and cheeses and fresh-baked products. You can also pick up plants, dried herbs and artisan craft products like jewelry, clothing and ceramics. This is one of the best places to go for high-quality local products.
16 – Traverse the city on a bike tour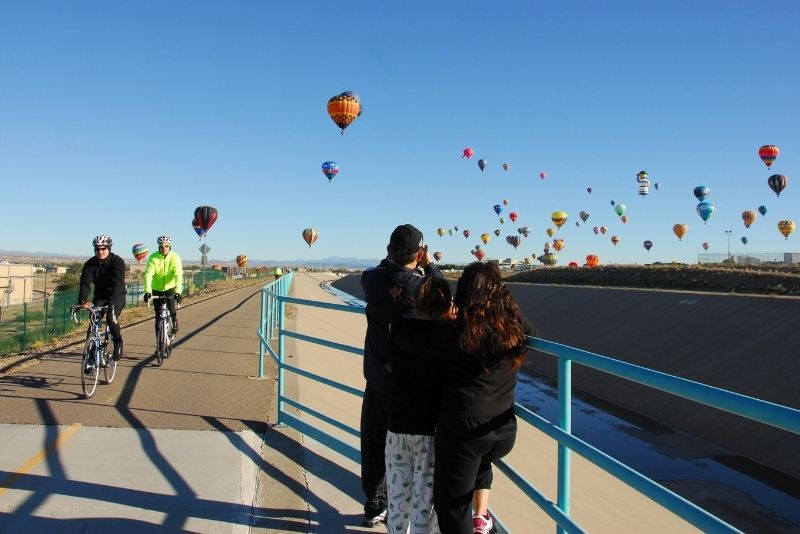 Travel the city in style on a guided bike tour and see the spots that others might miss. Not only is traveling by bike the most environmentally friendly way to get around, but it also helps you visit places that cars can't go.
Hit the cities major sites like the Old Town, Tingley Beach and Los Poblanos Inn. Learn the history of the city and discover the best places to visit, eat and shop from a true local. Cycle the historic streets on these fun and informative tours.
17 – Cure your phobias at Rattlesnake Museum & Gift Shop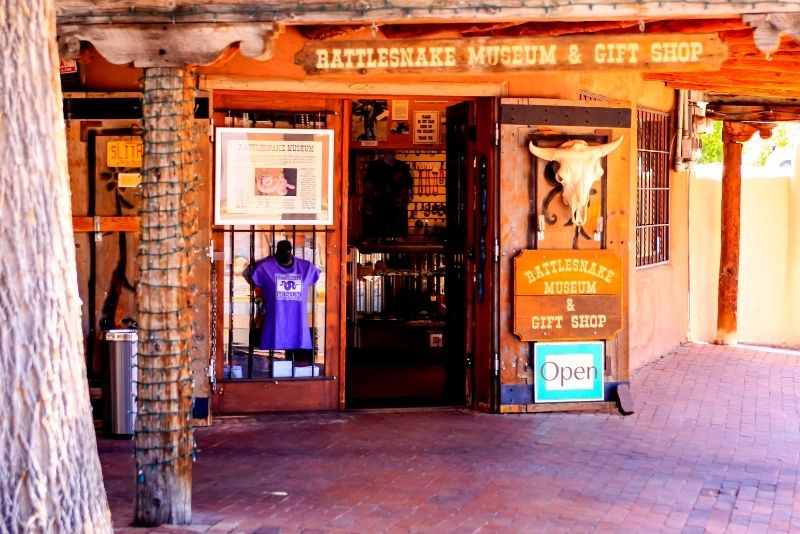 Albuquerque's Rattlesnake Museum is home to the largest collection of live rattlesnakes in the whole world! While this might not be appealing to everyone, the museum is an enthralling place to visit. Not only does it have live snakes to see it also has exhibits that cover myths and the perception of snakes in popular culture.
The museum also has a huge collection of snake-related artwork and artifacts including posters, pottery and even an opium jar. Be sure to call into the gift shop and pick up one of the cool Rattlesnake Museum t-shirts before you leave.
18 – Discover the Turquoise Museum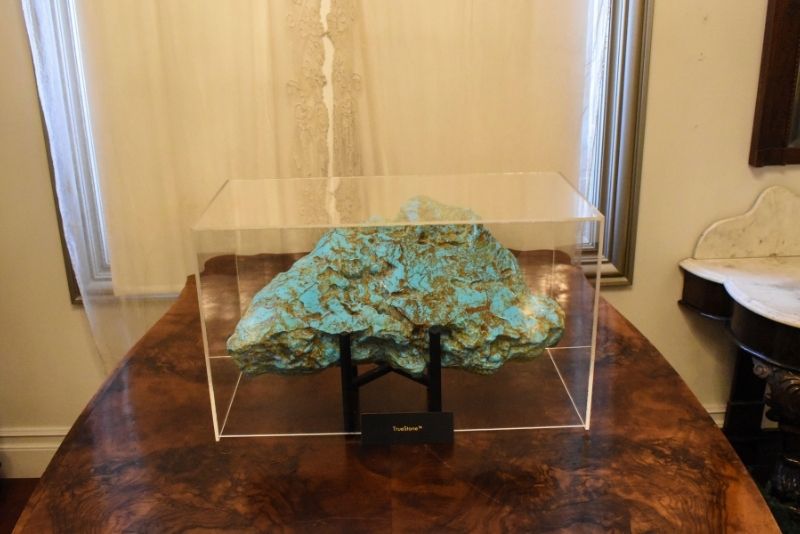 Turquoise has long been prized in the region for its beauty as well as its assumed mystical powers. The Turquoise Museum covers all aspects of these attractive and precious stones. Visitors can learn about the chemical properties of the gemstone or discover its uses for jewelry and ornamental purposes.
The museum also operates a shop that specializes in turquoise products and related items such as books and mugs.
19 – Ascend the Sandia Peak Tramway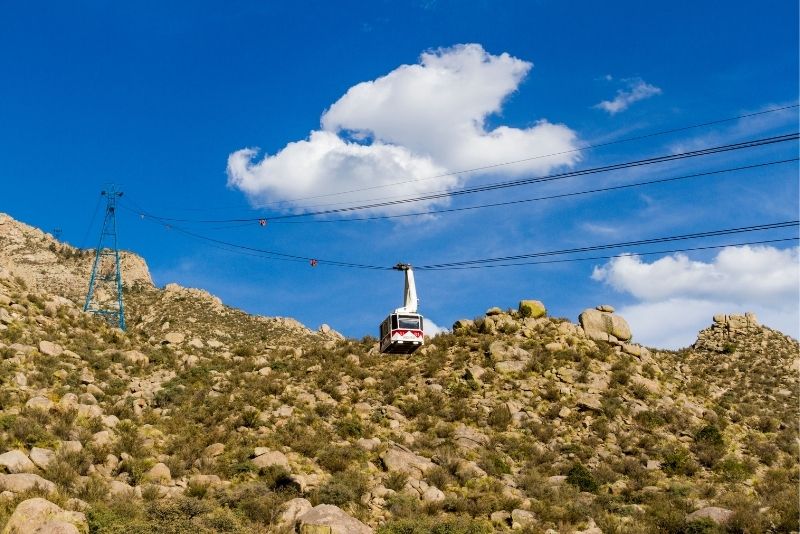 For the best views around Albuquerque, there is only one place to go, Sandia Peak. This is not for those who suffer from vertigo though as the aerial tramway cars are unbelievably high. The highest point of the tramway towers over 4,000 feet from its starting point and offers incredible panoramic views over 11,000 square miles of New Mexico countryside.
At the peak is the TEN 3 restaurant which offers one of North America's most unique dining experiences with incredible views all around. There are also miles of hiking trails that can be explored starting at the tramway station. Sandia Peak is an absolute must-visit while in the region.
20 – Visit the New Mexico Steam Locomotive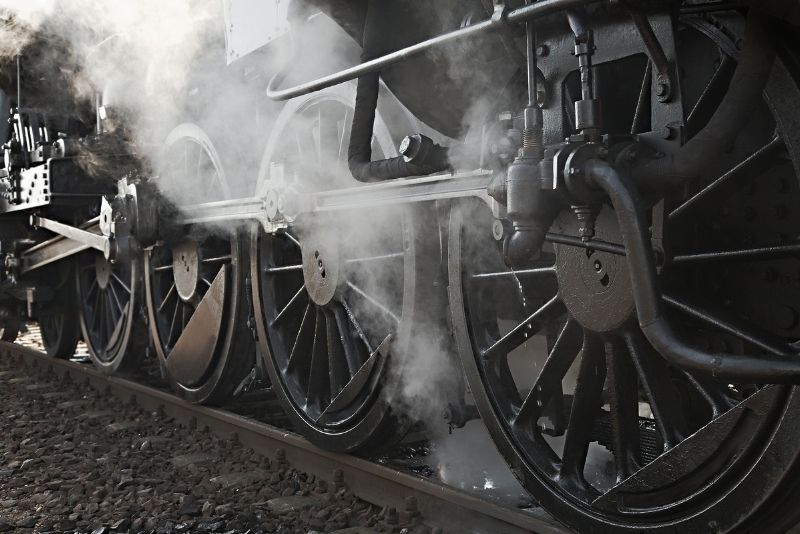 History lovers absolutely have to visit the New Mexico Steam Locomotive, the Sante Fe 2926. This historic engine was built in 1944 just before diesel engine trains took over. It was retired in 1956 and sat in one of the cities parks until a team of volunteers took up the work of restoring it.
The Santa Fe 2926 is now back on the rails and moving under its own steam. Check out this amazing relic of locomotive history and relive the glory days of steam engines.
21 – Uncover hidden highlights on a scavenger hunt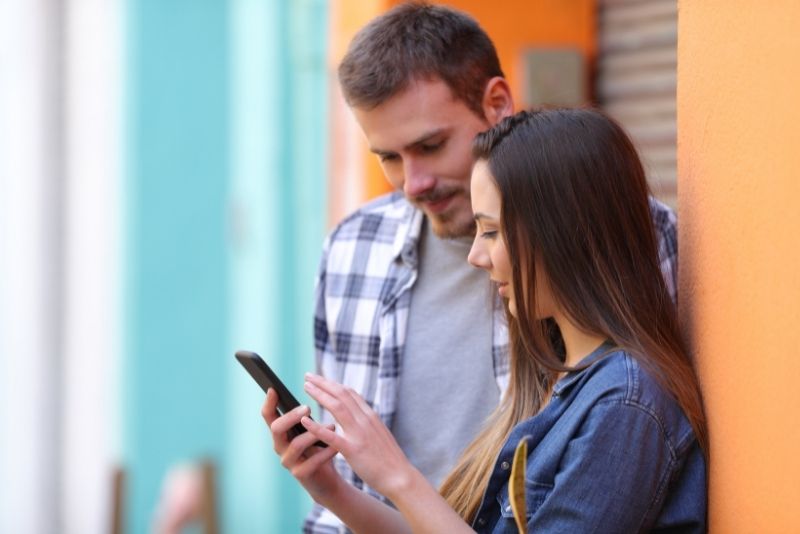 Explore the city in a fun and unique way with a self-guided scavenger hunt. Gather together your team and try one of these fun, themed tours in Albuquerque. Want to evade zombies in an apocalyptic quest through the city? Perhaps you want to explore the cities hidden art scene? Scavenger hunts have all of this and more.
Simply download an app and follow directions through the city. Answer questions and follow clues to discover your next location. These tours are great fun for families and groups.
22 – Watch the sun go down at West Bluff Park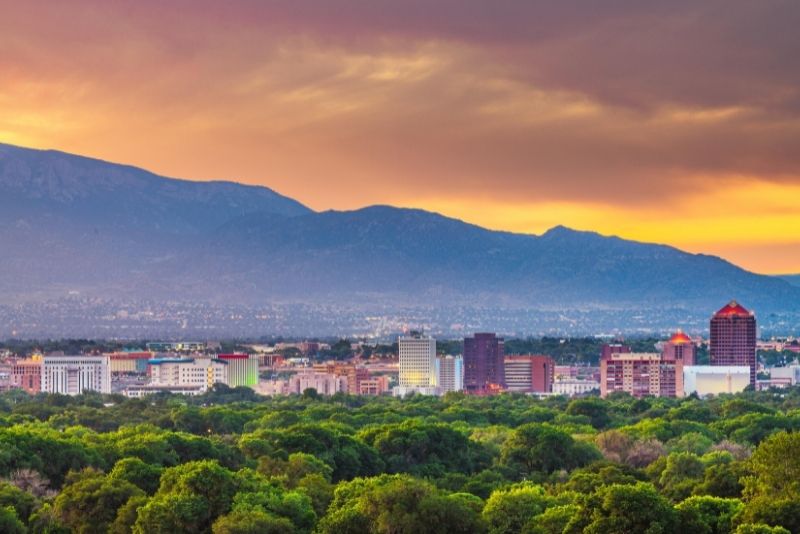 Inside the city, West Bluff Park has some of the best views around. This is a great spot to sit and watch the sunset with unobstructed views of the city's downtown area, as well as the Sandia Mountains and Rio Grande River.
Take time to sit and observe the expansive views in this unique part of the country or snap that perfect photograph just as the sky turns red. This is a beautiful spot to visit in Albuquerque.
23 – Meet Spike the dinosaur at the New Mexico Museum of Natural History and Science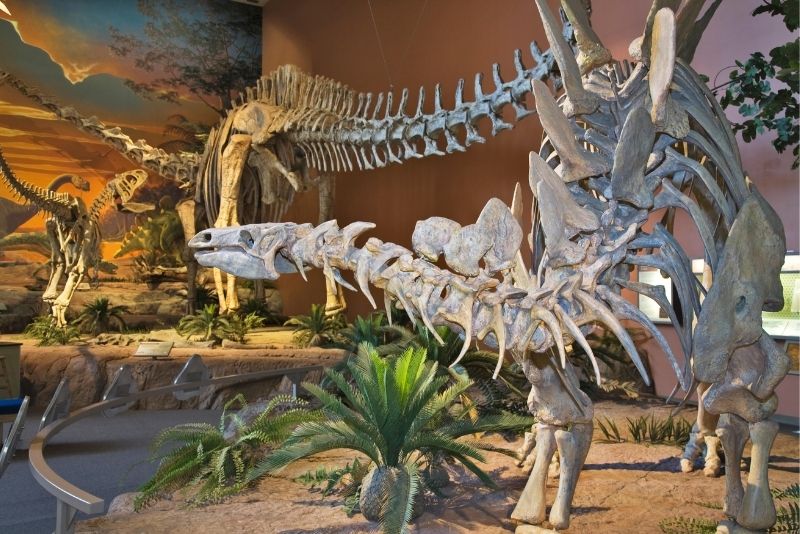 New Mexico's San Juan Valley has been the site of some amazing dinosaur discoveries some of which have found their way to the state's Museum of Natural History in Albuquerque. Visitors can see complete dinosaur skeletons and learn about the lives of these native giants.
A number of other exhibits cover the history of New Mexico and the many changes it has undergone over millions of years. Discover a land of fiery volcanoes, abounding seas and fertile grasslands.
24 – Take a fishing trip to Tingley Beach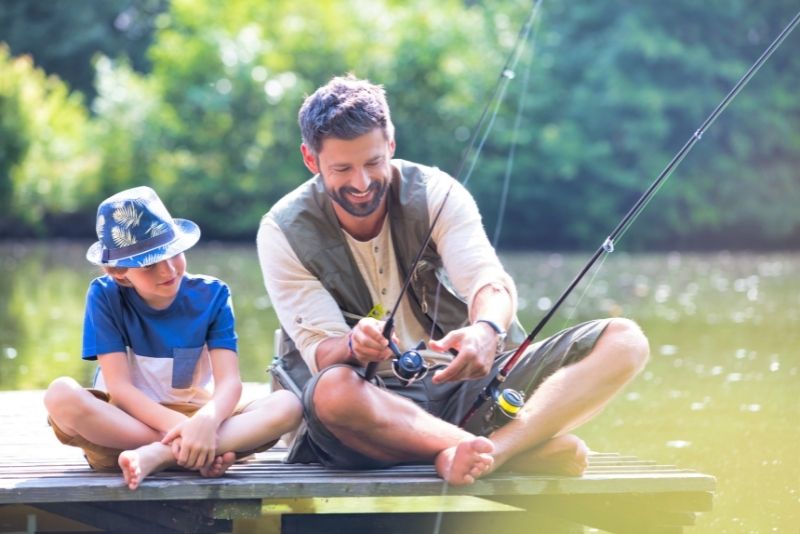 For fishing in the city, Tingley Beach is the ideal spot. Open from sunrise to sunset all year long, the ponds are well stocked with rainbow trout and catfish. There is a children's pond for young anglers a larger central pond and a catch and release pool for fly fishing.
Fishing is not your thing? There are also paddle boats, nature walks, a model boat pond and picnic and bbq areas. There is something here for everyone.
25 – Go hiking in Boca Negra Canyon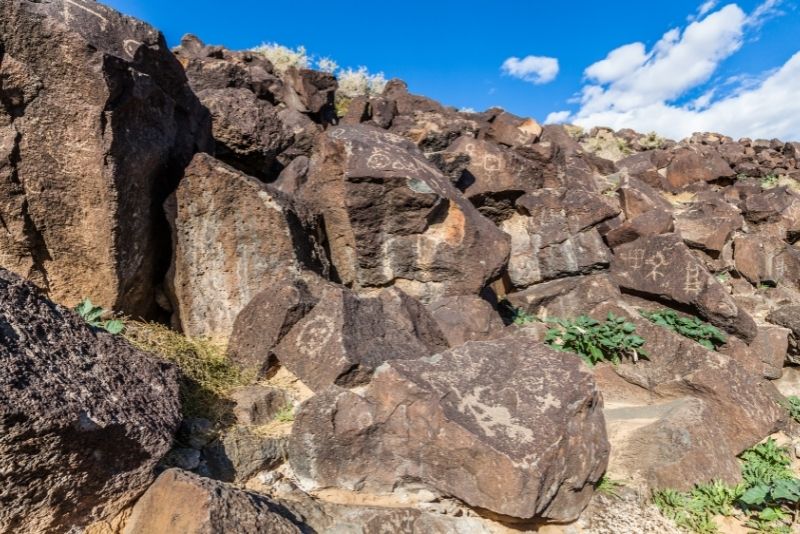 If you would like to escape the city for a while and experience New Mexico's incredible landscape, Boca Negra is a good place to visit. The area has a bunch of gentle hikes that can be completed in an hour.
The trails are within the Petroglyph National Monument and contain about 100 of these markers spread throughout the landscape. This is a great way to see the unspoiled and wild Albuquerque scenery.
26 – Grab your lifejacket for some rafting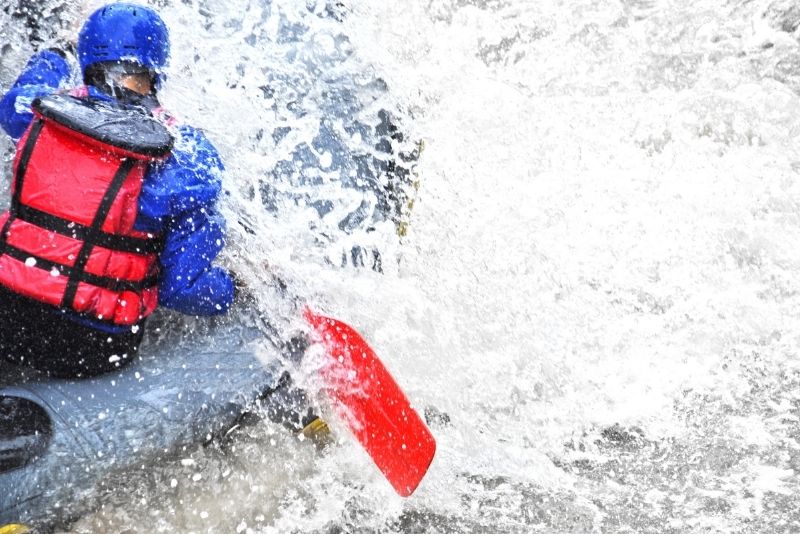 Feeling the need for adventure during your time in Albuquerque? Take a day-long rafting excursion down the Rio Grande and see the spectacular sights of the Rio Grande Corridor. Pass by the Rio Grande Gorge and the steep-sided Taos Box on this river ride experience.
Stop for a picnic lunch before you take to the water on a stand-up paddleboard, kayak or raft. Rafting has to be one of the most fun ways to get out in nature while in Albuquerque.
27 – Take a food tour of the city's best restaurants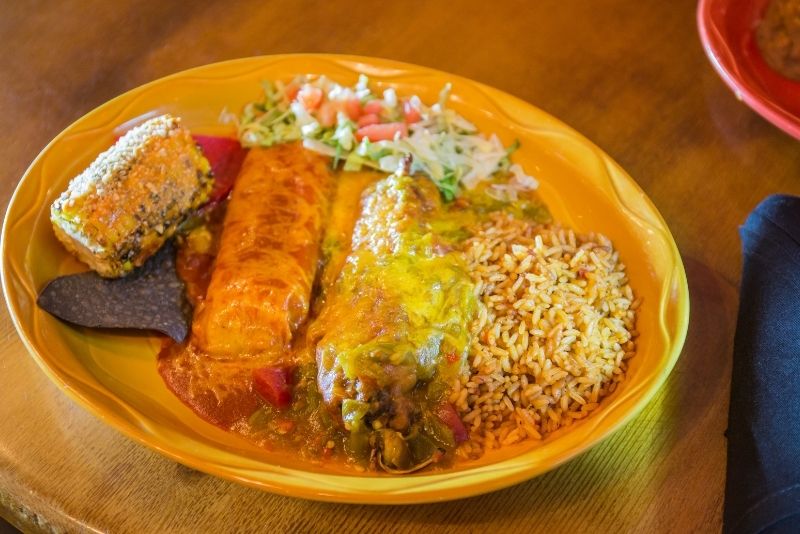 Albuquerque's restaurants are a real treat for anyone who appreciates the unique southwestern characteristics. The blend of Spanish and Native American flavors, especially the region's chiles, make for heavenly dishes that are a little smoky and a little fiery.
The city has an abundance of great restaurants but some of the best are Farm and Table in the North Valley, Antiquity in the Old Town, Artichoke Cafe in the Downtown area and Prairie Star restaurant at Santa Anan Golf Club.
All offer different takes on local favorites. You won't have to go far to find delicious food in Albuquerque. To learn more, why not take a food tour of some of the city's culinary highlights?
28 – Dig a little deeper at Albuquerque Museum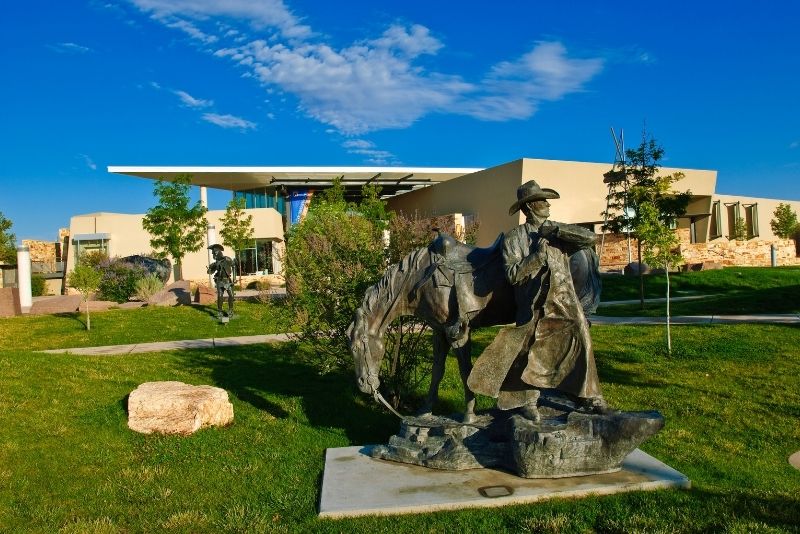 Uncover the city's deeper history with a trip to the Albuquerque Museum. Learn about 400 years of the city roots as you pass through a number of engaging exhibits which focus on the diverse culture of the region.
The museum's collection features thousands of artifacts, artworks and photographs that help to illustrate the Spanish and Native American influences of the city's heritage. As well as the historical exhibitions, the museum also has a sculpture park containing over 50 unique artworks just waiting to be discovered.
29 – Peruse an exhibition at the National Hispanic Cultural Center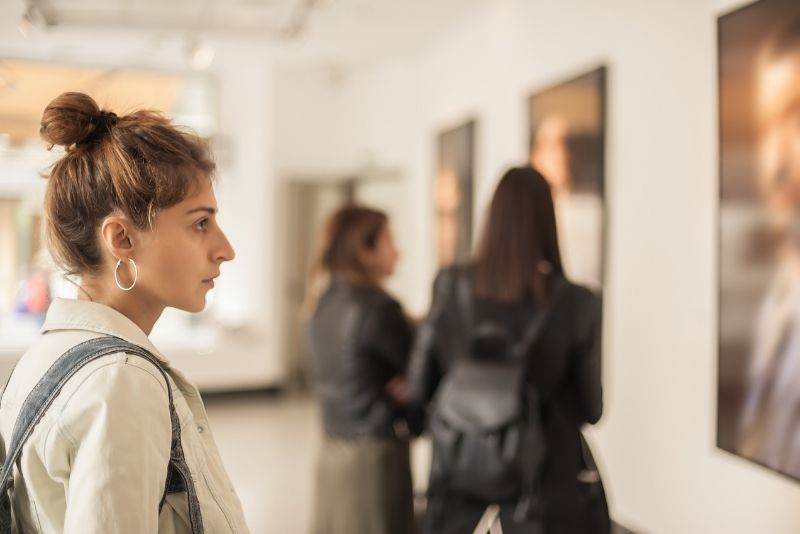 The 20-acre National Hispanic Cultural Center encompasses a plaza, art museum, three theaters, education center, library and more. The facility promotes and preserves the Hispanic culture through performing arts, exhibitions, lectures and programs and also provides a space for artists to display their work.
The Visual Arts Museum has an impressive fresco called the Mundos de Mestizaje which depicts moments from Hispanic history and covers 4,00 square feet. The center also has delicious dining opportunities with an on-campus restaurant and a Mexican-American-style ice cream shop.
30 – See the historic San Felipe de Neri Church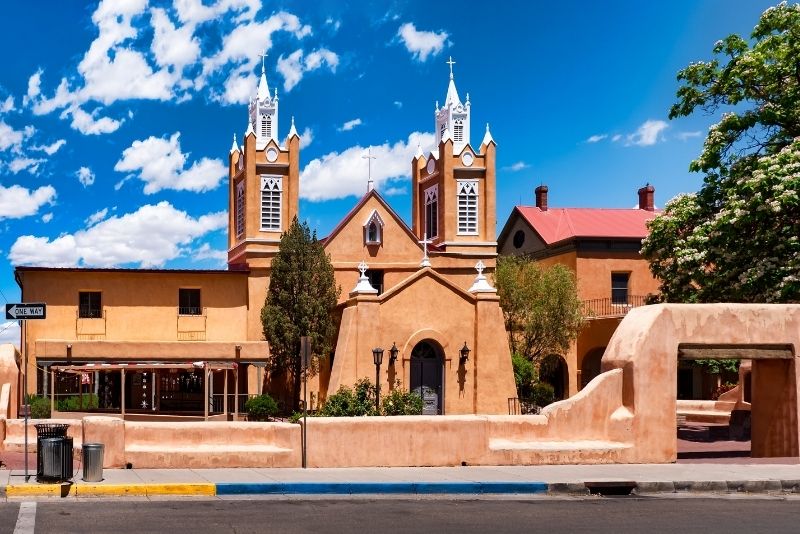 One of the oldest buildings in the city, San Felipe de Neri Church was constructed in 1793 on the site of an older church that had been active since 1706. The building was originally overseen by an order of Franciscan Friars then later Italian Jesuits.
The church is still in use today and includes a museum that contains clothing and items from the church's history as well as a small gift shop. You can't miss this centerpiece of the historic Old Town while in Albuquerque.
31 – Play laser tag at Main Event Albuquerque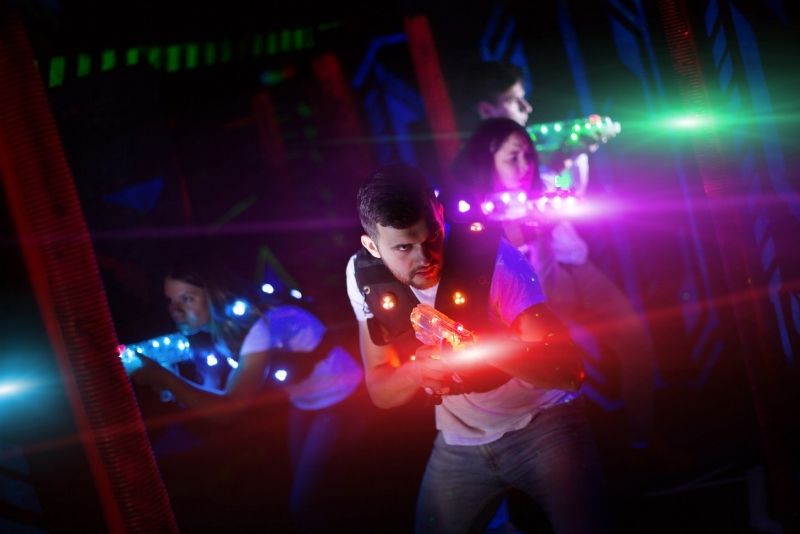 Food, drinks and games, Main Event ticks all the boxes. This restaurant, bar and arcade is a fun place to go in the city if you're looking for family activities or a night out with friends. With pursuits like bowling, laser tag, gravity ropes and glow-in-the-dark golf to choose from you'll be spoiled for choice.
The restaurant serves American-style comfort food and creative desserts that will satisfy even the sweetest tooth.
32 – Tee off for a round of golf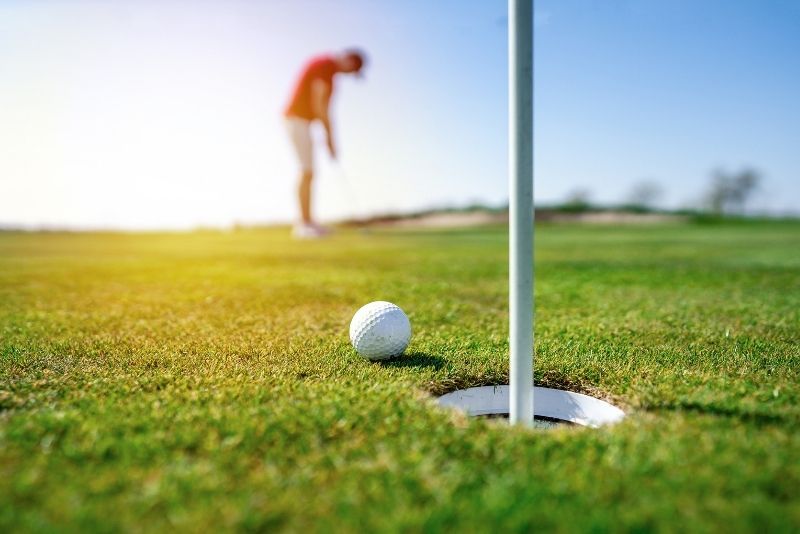 Are you itching to get out your clubs for a round or two? Luckily, Albuquerque has some fantastic private and public golf courses. Albuquerque Country Club has an excellent 18-hole course right near the Downtown district.
Other courses worth checking out are Puerto del Sol, which has a lighted driving range, the challenging municipal course of Arroyo del Oso and the compact Los Altos Golf Course. With such an abundance of courses dotted about the city, you're sure to find one that suits your needs.
33 – Watch flag football at Tingley Field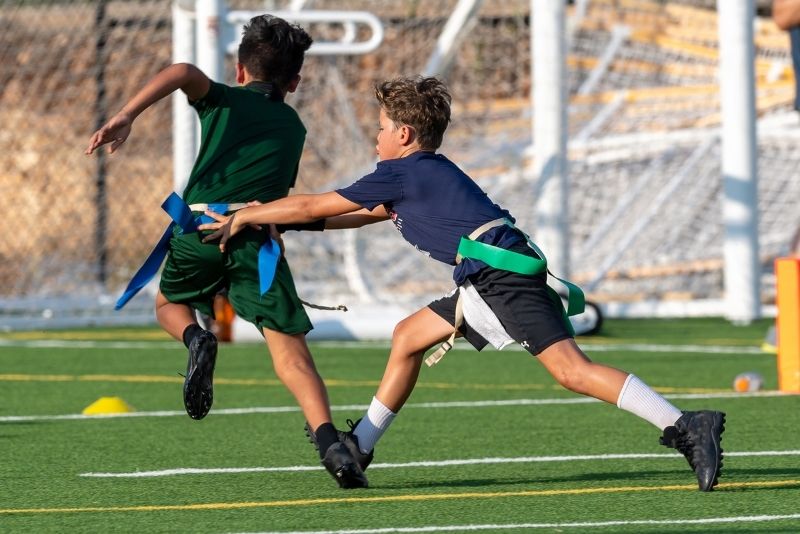 If you're unsure about what flag football is, it's similar to standard football but rather than tackle their opponent's players pull a flag from their waist. This fast-paced and non-contact version of football is popular in Albuquerque and the city runs both male and co-ed adult leagues.
Check out a game while you're in the city and grow to love this exciting offshoot of football.
34 – Visit the Indian Pueblo Cultural Center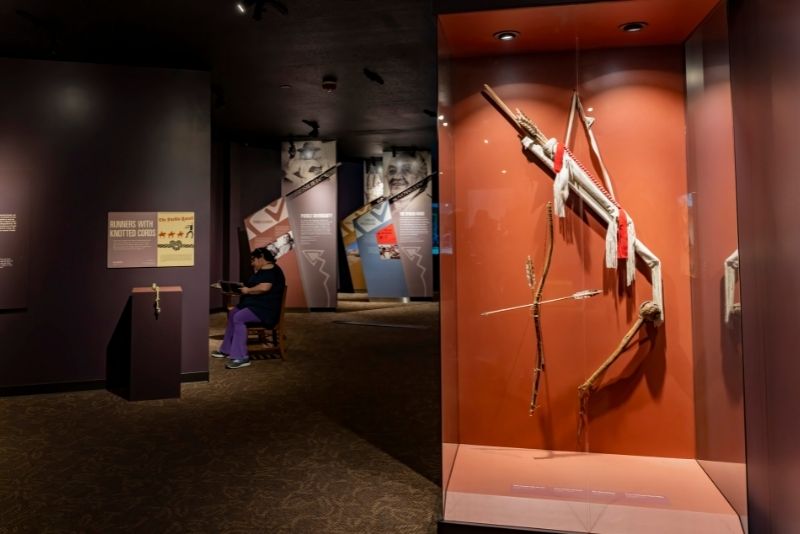 The Indian Pueblo Cultural Center has tons of information on the indigenous Pueblo people and displays a series of related exhibitions and artifacts. Discover artworks and crafts created by the 19 Indian Pueblo tribes that reside throughout New Mexico but once were spread as far as Arizona and Colorado.
Explore the museum and gallery and find some educational reading in the facility's library. Try traditional dishes in the restaurant or buy food products and artworks in the shop.
35 – See a concert at Albuquerque Convention Center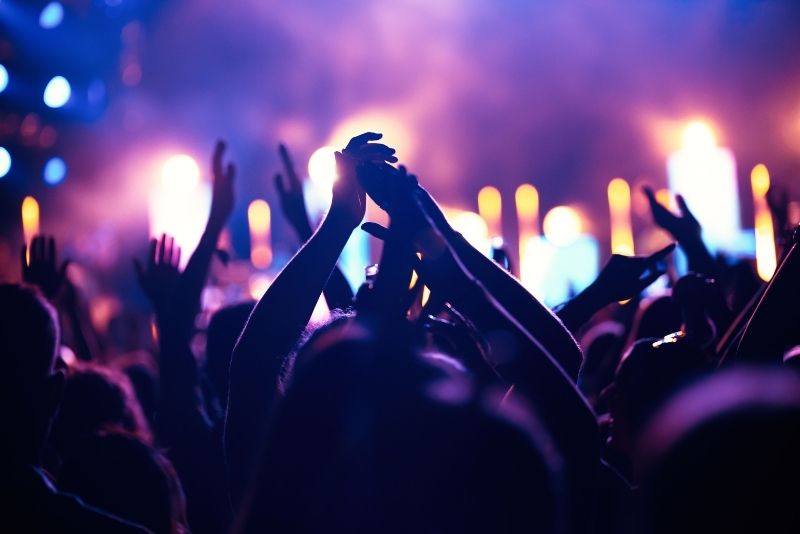 The Albuquerque Convention Center hosts a fun-packed calendar of events all year round. These include comedy gigs, dance shows and live music as well as trade meetings and get-togethers.
It also hosts track and field events and its state-of-the-art track puts on regular national events. You can check out the website for a detailed list of upcoming events.
36 – Battle 3D zombies at Hinkle Family Fun Center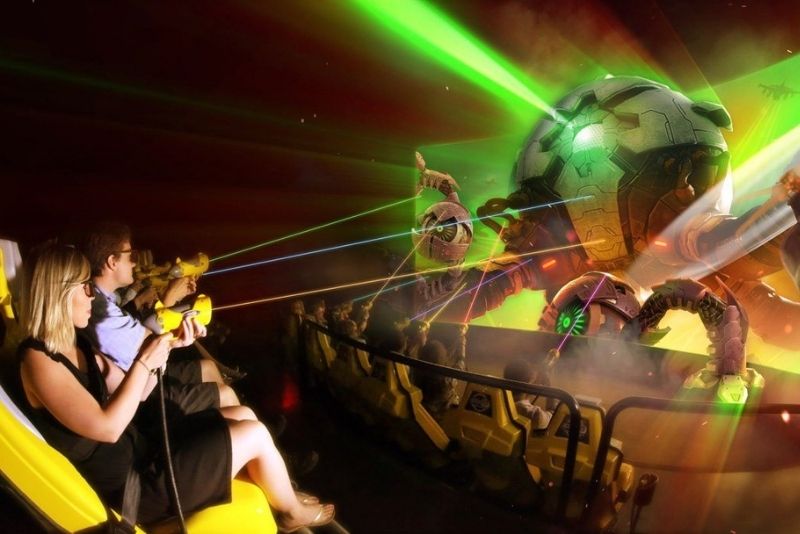 It's all there in the name right! Hinkle Family Fun Center is everything it says it is. With a whole bunch of joyous attractions including bumper cars and boats, laser tag, go-karts and mini-golf, there is so much entertainment to be found here.
Take your first climbing experience on The Rock or encounter the unique and interactive Light Space room. Battle animated zombies on the park's 7D interactive ride, the XD Dark. Hinkle Family Fun Center also has a games room and restaurant, It really is good fun!
37 – Travel back in time at Maxwell Museum of Anthropology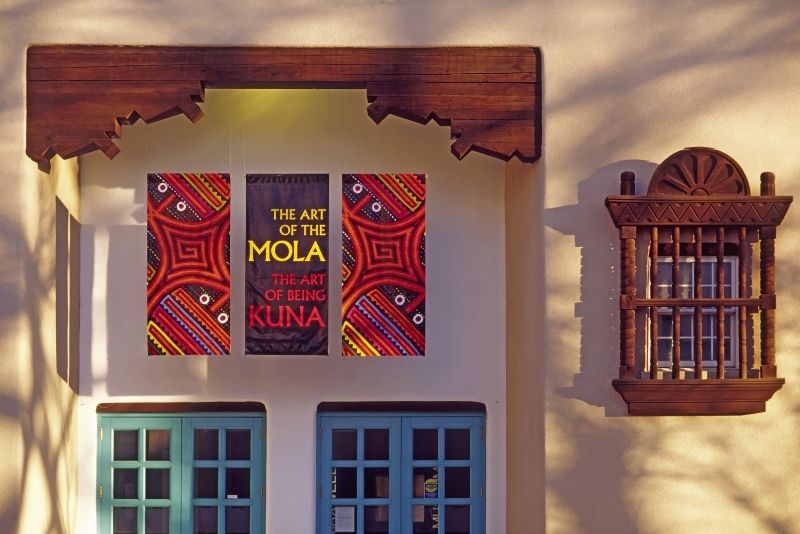 Presenting 2.5 million years of human history is no easy feat. The Maxwell Museum of Anthropology preserves and showcases millions of artifacts in its collection, most of which are from the Southwest United States. Follow the story of our early ancestors and discover what made them unique among Earth's creatures.
Explore exhibits that focus on the Southwest region, its people and the land and see how it feels to be an archeologist by visiting a recreation dig. This is a must-see for history lovers.
38 – Try out the mobile rock climbing wall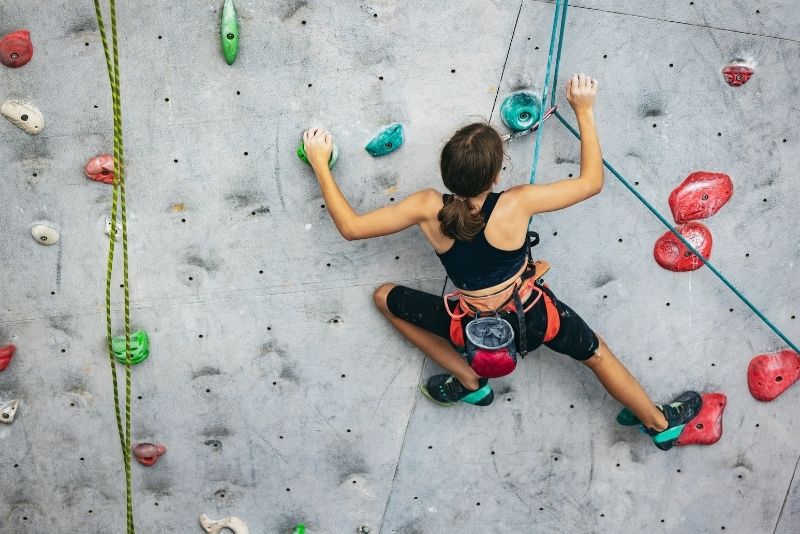 Push your limits on the city's 25-foot climbing wall! The parks and recreation department of Albuquerque operate a mobile climbing wall that is free to use. The wall has beginner, intermediate and challenging routes and can accommodate four climbers at a time.
Keep an eye out when you're in the city and go along to an event. You can check out the website for more details.
39 – Meet bobcats at Wildlife West Nature Park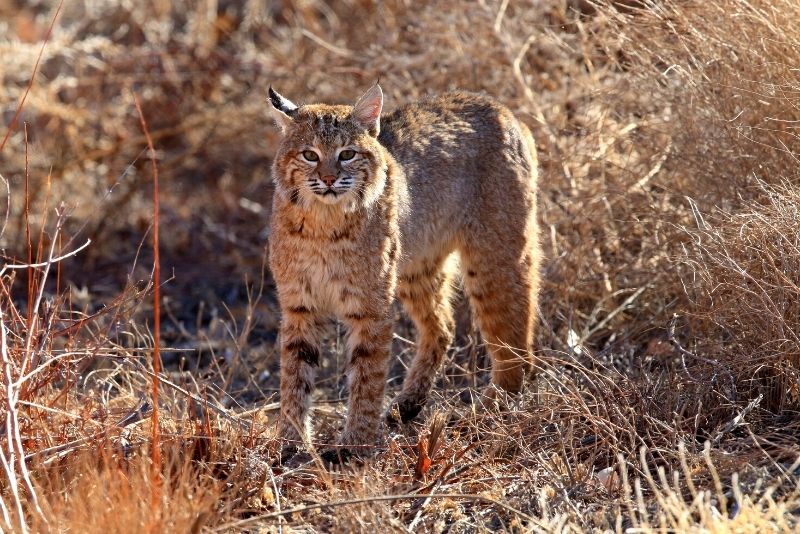 The Wildlife West Nature Park is a sanctuary for rescued animals, taking in native creatures that have been in accidents or mistreated. The park has all kinds of fuzzy and feathered creatures including bobcats, coyotes, black bears and eagles.
This is a great place to get up close to creatures that are elusive or nocturnal and which you would not normally see in the wild. The park also puts on fun days and events. Wildlife West can be found in the town of Edgewood, just a 20-minute drive from Albuquerque.
40 – Take a Santa Fe day trip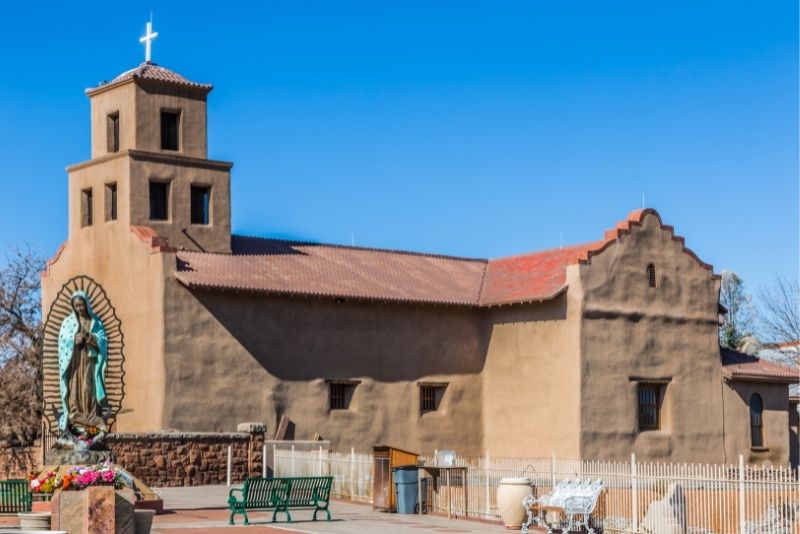 Santa Fe is the state capital of New Mexico and its fourth-largest city. The city is about an hour north of Albuquerque and is jam-packed with traditional southwestern style architecture, interesting museums and great restaurants.
Some of the United States' oldest religious buildings can be found in the city, including the  San Miguel Chapel, the shrine to the Virgin of Guadalupe and Santa Fe Plaza. Hiking and skiing are popular draws to the area, as well as numerous local fiestas and the Folk Art Market which takes place in July.
41 – Get inspired at the University of New Mexico Art Museum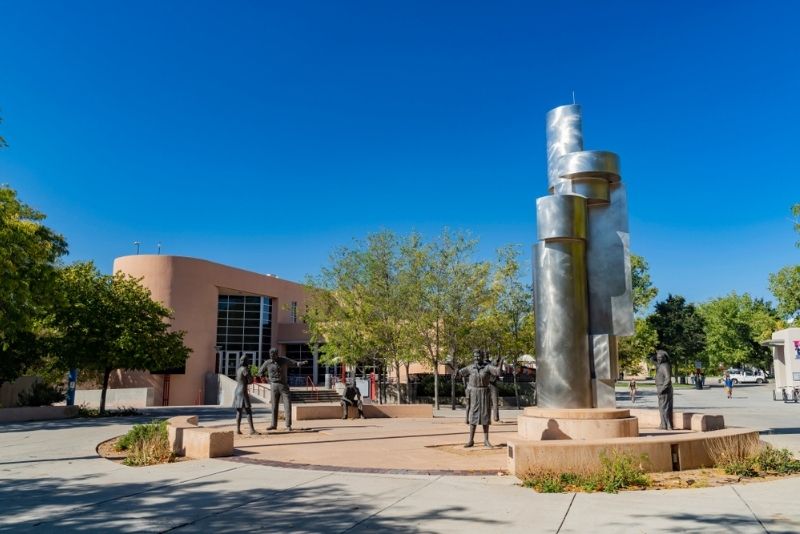 Housing the state's largest collection of art, the University of New Mexico Art Museum is the go-to place for those seeking creative inspiration. The museum has extensive photography, painting and sculpture collections and also houses the Tamarind Institute's lithography archive.
Wander through the galleries and take in the Raymond Johnson collection, including 600 works by the artist himself. The museum is open to the public and admission is free of charge.
42 – Go wildlife spotting at Mariposa Basin Park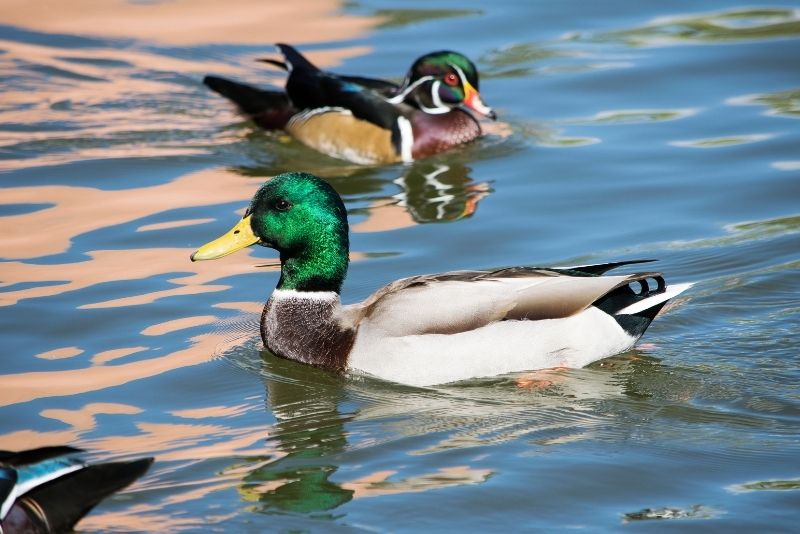 Fancy getting out in the open while in Albuquerque? The small Mariposa Basin Park has some nice walking trails to enjoy, all of which are less than a mile throughout the park.
The park also has a playground for younger children, ponds and sports fields so it's a great place to go and burn off some energy. Birdwatchers can take advantage of the shaded hide that is provided to try and spot the enthralling, local and migratory bird species.
43 – Fly model aircraft and drones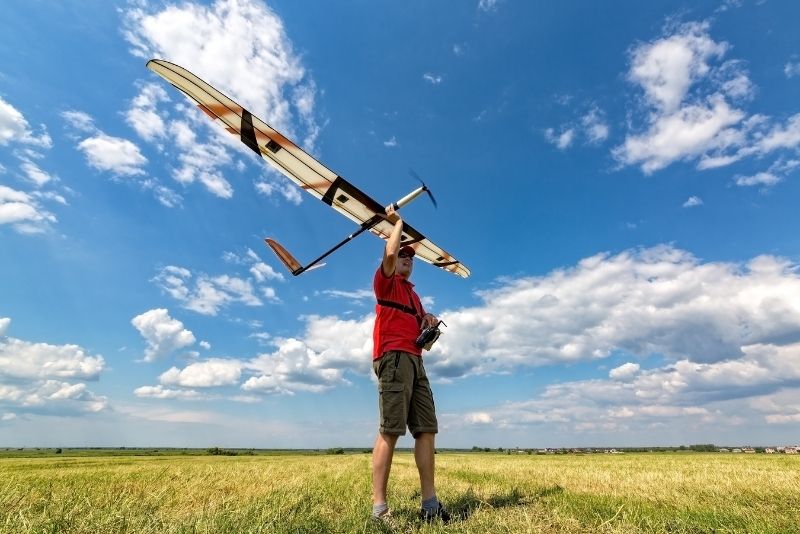 Its clear blue skies and ever-present sunshine make Albuquerque ideal for ballooning but also flying model aircraft. There are a few sites around the city where it is permitted to fly drones and model airplanes throughout the year.
These include the soccer field at Arroyo del Oso Park, Balloon Fiesta Park and Maloof Airpark. Visitors should definitely check these areas out for a fun day of miniature aviation.
44 – Be a stuntman for a day at Urban Air Trampoline and Adventure Park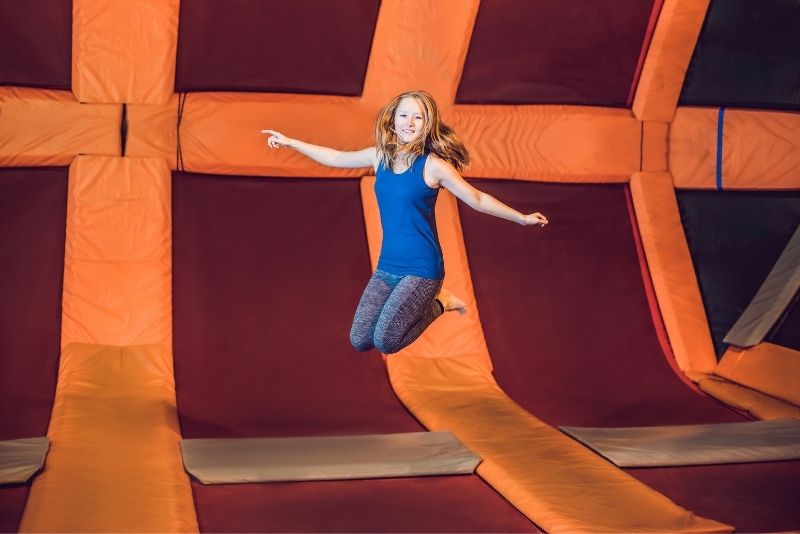 Gravity-defying fun for the whole family, Urban Air Trampoline and Adventure Park has lots of activities to try. More than a trampoline park, Urban Air has climbing areas, rope courses, dueling platforms and ball pits to keep you busy for hours.
Compete in a Ninja-style obstacle course against family members or create your own freestyle tricks in the trampoline park. Urban Air is, without a doubt, one of the most fun places to visit in Albuquerque.
45 – Visit the New Mexico Holocaust Museum and Gellert Center for Education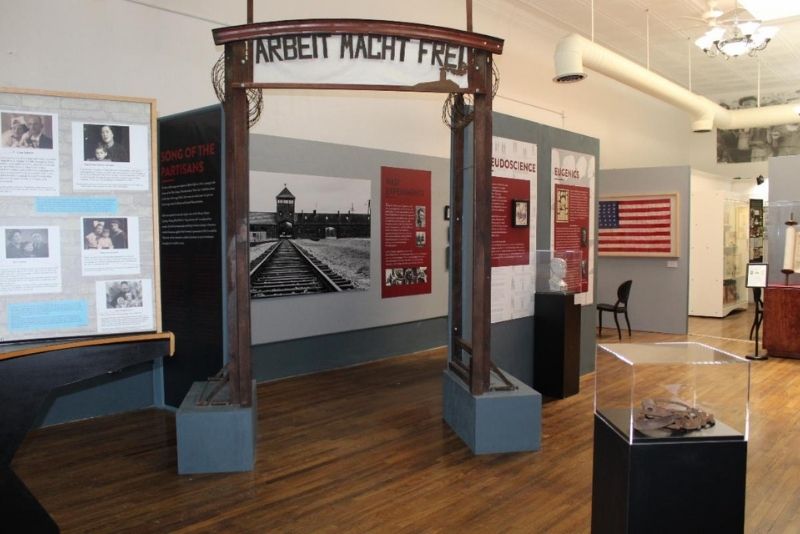 Founded by Holocaust survivors who made their home in New Mexico, this museum aims to educate the public on the problems that prejudice and intolerance can cause.
Though the majority of the museum focuses on the Holocaust in Nazi-occupied Europe, the space also addresses other genocides and human rights issues that have occurred throughout the globe, including the Armenian Genocide and slavery.
46 – Take a historic High Road to Taos day trip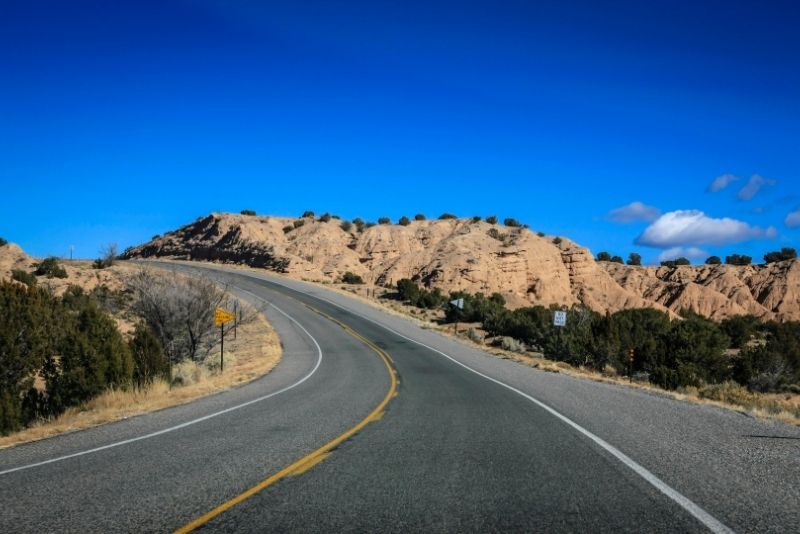 Discover the intermingling of Spanish and Pueblo cultures on a journey along the iconic High Road to Taos route. See the remnants of Spanish traditional architecture in the plazas and churches of Chimayo, Talpa and Ranchos de Taos. Discover beautiful adobe buildings constructed of earth and straw that are still standing today.
Visit the millennia-old settlement of Taos Pueblo and pick up some delicious food. Next hit the sights of Rio Grande Gorge and marvel at its natural beauty.
47 – See antique cars at Wheels Museum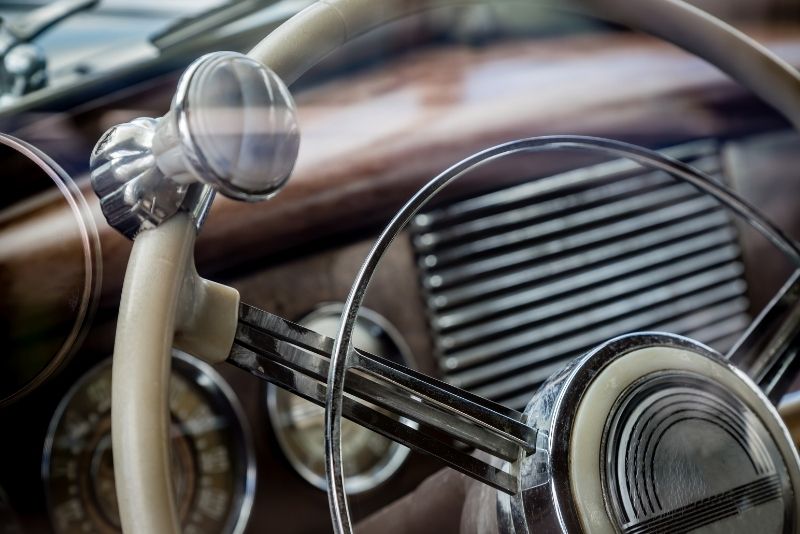 Wheels Museum is apparently an acronym of We Have Everything Everyone Loves Spinning, and by that they mean vehicles. The museum has historic vehicles from all over New Mexico, including vintage firetrucks, aircraft, automobiles and carts.
It specializes in the history of Albuquerque transport and is even located on the famous Albuquerque railroad site where steam locomotives were once repaired. This is a must-visit for fans of antique vehicles and a fun day out for the whole family.
48 – Take a dip at West Mesa Aquatic Center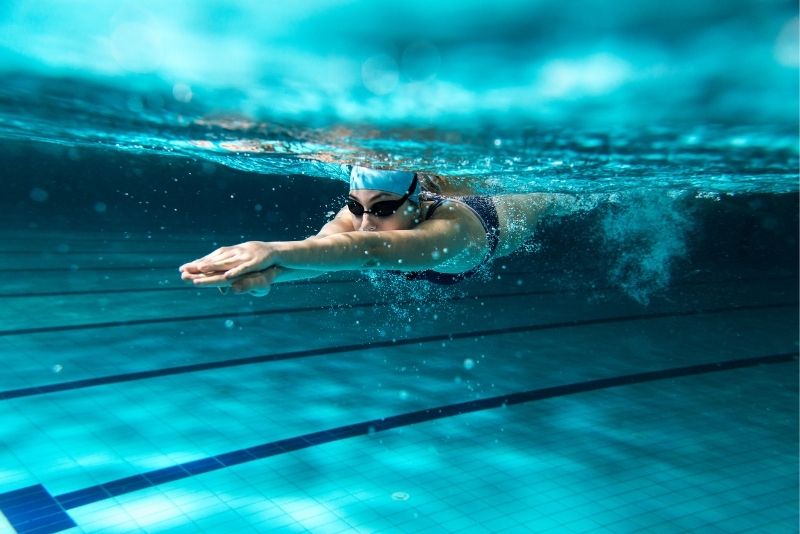 To beat the New Mexico heat, why not take a dip at West Mesa Aquatic Center. The center is great for serious swimmers and casual splashers alike. Its new Olympic-size pool is perfect for those who like a real workout when they take a swim. it has two-dozen lanes so you'll be sure to find space to swim.
For the rest of us, it also has indoor and outdoor recreational pools with a bunch of fun water slides and areas to chill and catch some rays.
49 – See Norton County at the Institute of Meteoritics Meteorite Museum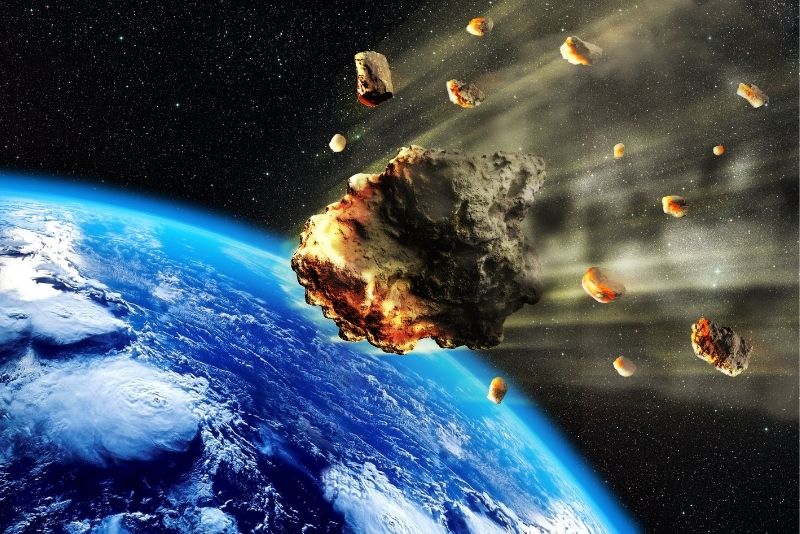 Impactites, moon rocks and Martian meteorites, The Meteorite Museum has a large collection of space rocks. One of the highlights of the museum is a one-ton rock known as Norton County which was discovered in Kansas in 1948. The collection features meteorites found all over the world from Canada to Australia.
Uncover the many different types of meteorites and where they came from. Kids and adults alike will be in awe of these extra-terrestrial entities. Admission is free of charge.
50 – Take a picnic at El Oso Grande Park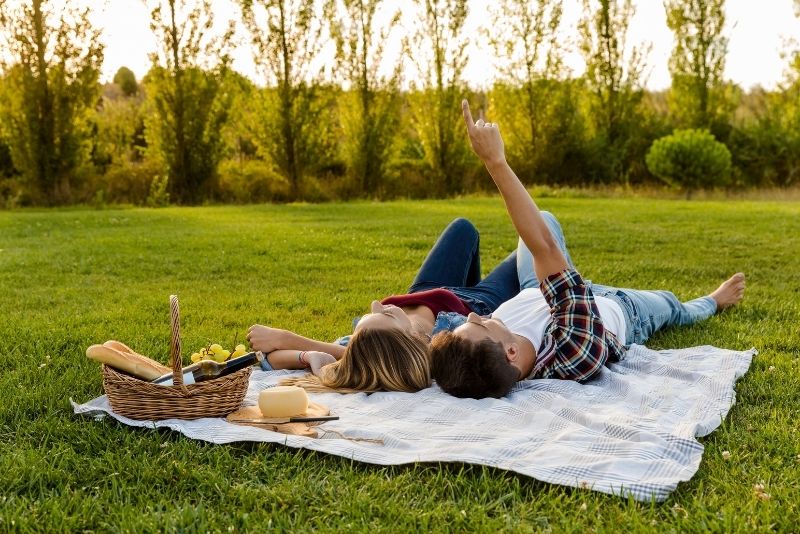 Many people go to El Oso Grande Park just for the spectacular scenery alone. The views here extend across the city and all the way to the Sandia Mountains. The park is a popular local spot to play sports, it has soccer fields, barbecue and stroll as there are a number of gentle trails to enjoy.
It has a small playground too and plenty of grass to run around on, kick a ball and burn off some energy. Check it out if you're in the area.
51 – Play interactive games at Electric Playhouse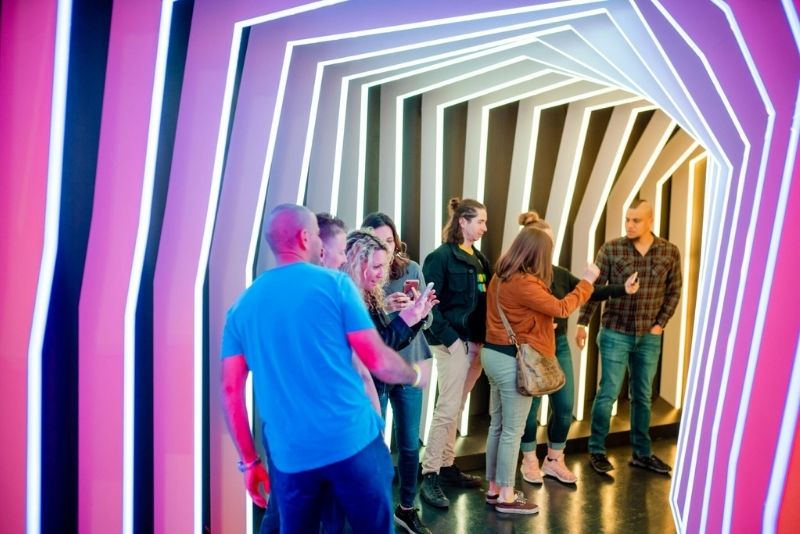 Okay, you've probably never been anywhere quite like the Electric Playhouse before. This huge facility was built with one purpose in mind, fun! It uses digital projections to create unique experiences and activities. Want to try yoga in space or dance on a floor that responds to your movements, done.
This place also hosts unique digital art events, music performances and even has a fantastic cafe. If you're looking for fun things to do in Albuquerque, you need to visit the Electric Playhouse!
52 – Taste local wines on a winery tour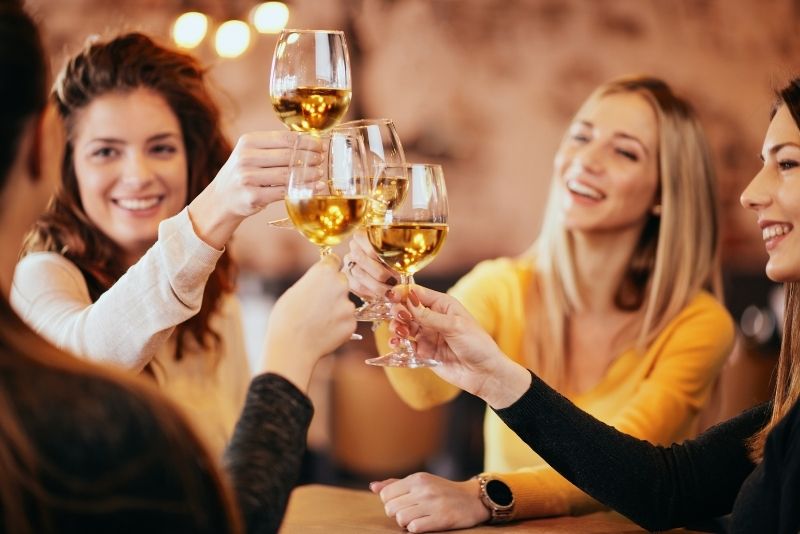 Escape the city for a while for a peaceful afternoon of wine tasting. Try samples of different New Mexico wines and see what makes them stand out among all the other domestic wine varieties. Learn about the wine culture of the region, which dates back to 1629, and its most celebrated varieties.
Some of Albuquerque's best wineries to tour include Casa Rondeña Winery, known for its excellent red wines, and Gruet which specializes in sparkling wines.
53 – Take a Dinner Detective Murder Mystery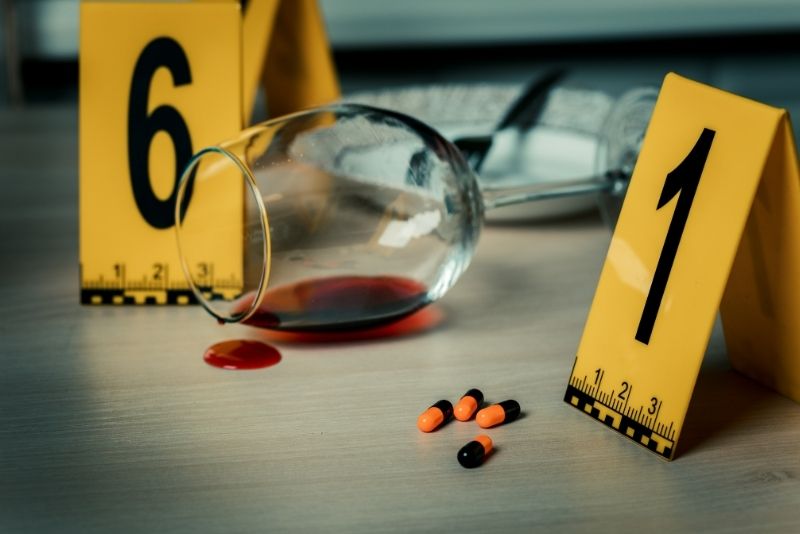 Dinner is good, but a Dinner Detective Murder Mystery is even better!  Join in an evening of immersive entertainment where you get to play detective and enjoy a four-course meal. These comedic and lighthearted shows are set in the present day and everyone is under suspicion, even you.
Solve clues to discover who among you is the perpetrator of the most monstrous of crimes, murder! This is a really fun thing to do in Albuquerque.
54 – Jog around USS Bullhead Memorial Park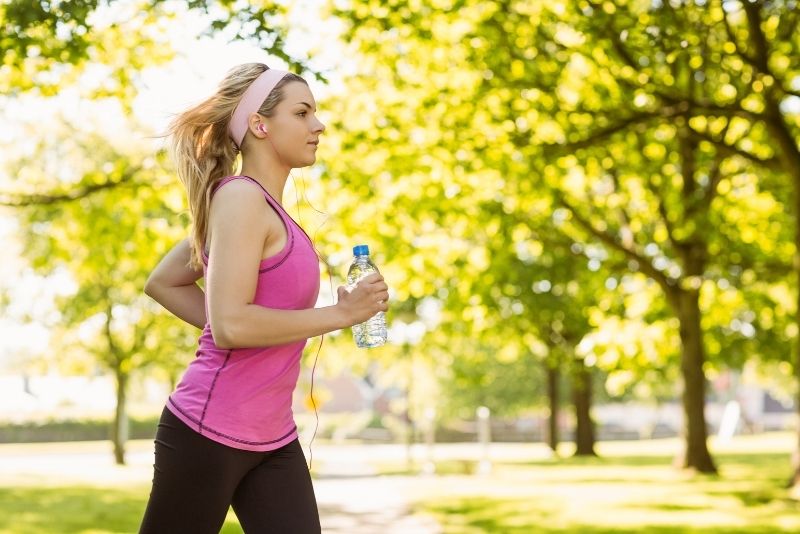 Named after a lost World War II Submarine, USS Bullhead Memorial Park is a great place to go for a picnic in the city. The park has 44-acres of landscaped gardens, sports fields, barbecue grills and picnic tables. It also has plenty of trees that offer much-appreciated shade from the desert sun.
It is also one of the best spots to visit in the city with your dog as it has a fenced-in area and large grassy fields for them to run free.
55 – Discover the Telephone Museum of New Mexico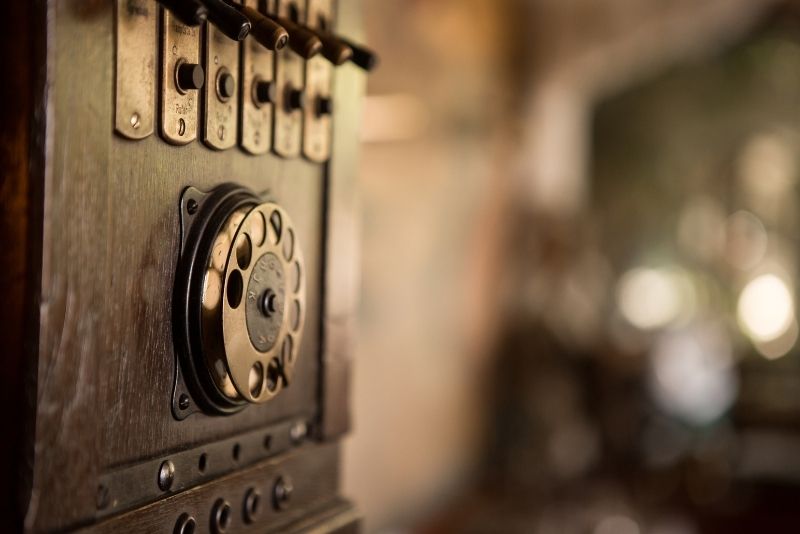 This New Mexico museum is dedicated to a revolutionary invention that may soon be a thing of the past, the humble telephone! Follow the history of the telephone from its invention in 1796 to the present day.
The Museum is housed in the city's original telephone company building, which was constructed in 1906, and contains hundreds of items including telephones, switchboards and communications equipment. The museum offers info-packed guided tours and the admission price is very reasonable.
56 – Watch a movie at Kimo Theatre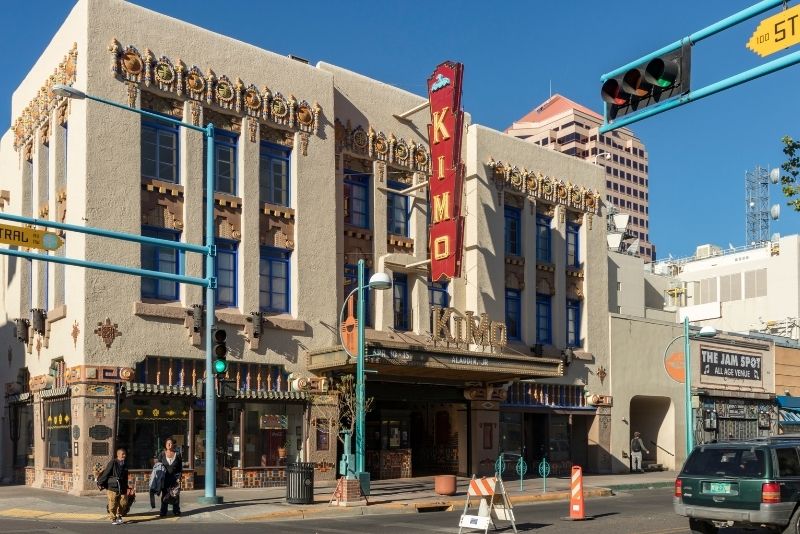 You won't see many buildings quite like the KiMo Theatre. Its design is a unique "Pueblo Deco" style, built in the 1920s when exotic theatres were very much in fashion. With decor features like Native American-styled war drum chandeliers and rows of glowing buffalo skulls.
The KiMo is a popular stop on Route 66 and is still hosts regular touring live music acts, dance productions and movies. Visitors to Albuquerque shouldn't miss this iconic landmark of the city.
57 – Unwind with a spa session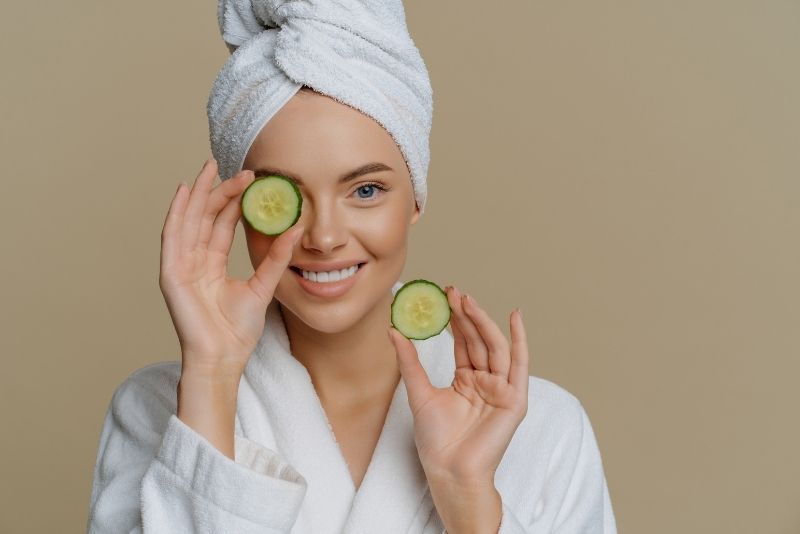 Take some time out from your busy schedule to pamper yourself in Albuquerque. The city has many spas offering revitalizing treatments to get you feeling refreshed and rejuvenated. Try the latest in skincare therapy or relax and unwind in a flotation tank.
Try an infrared body wrap or just ease those muscles with a good old-fashioned massage.  Go on treat yourself, you've earned it!
58 – Watch horse racing at the Downs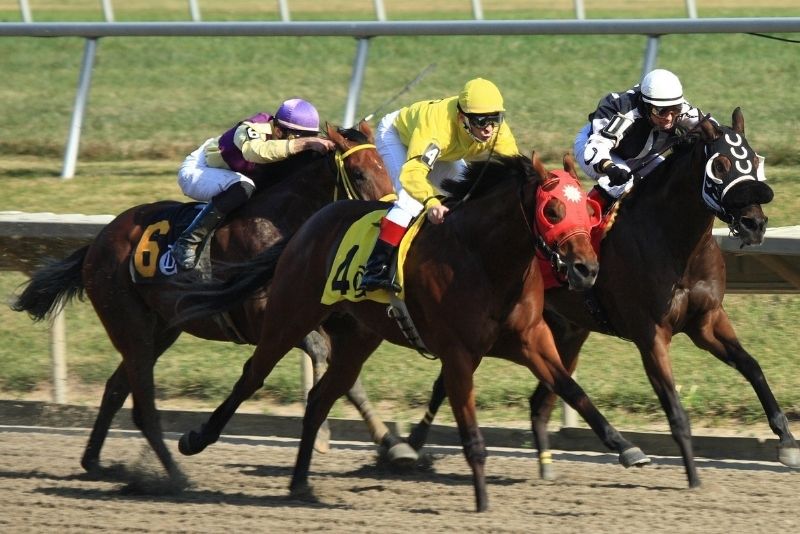 In the mood for a wager or just looking for a fun day out? A trip to The Downs Racetrack and Casino could be just what you're looking for. Place your bets at the historic horseracing track which hosts live on-site racing as well as simulcast events from around the world.
Next, you can visit the casino and try your luck with over 750 slot games for you to sample. The Downs also has three separate dining areas and hosts regular live entertainment and dancing so you'll be well and truly entertained.
abqdowns.com/live-racing
59 – Stay at the Isleta Resort & Casino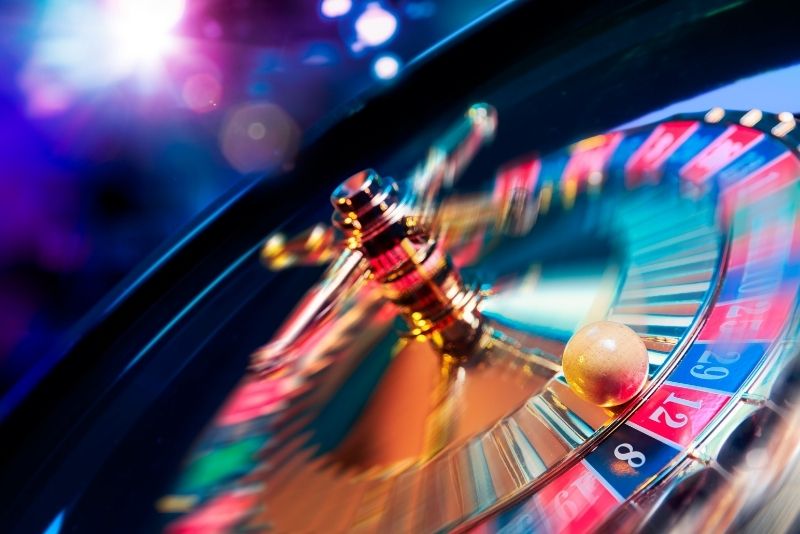 Built on an imposing site overlooking the RioGrande Bosque with impressive desert vistas right outside the door, Isleta Resort is a fantastic place to stay while in Albuquerque. This resort and casino has everything you might need during your stay in the city.
Take some time to relax by one of the pools or hit up the games room for some family fun. For golf lovers, there is the Isleta Golf Club course and a fitness center for those who like to stay in shape. The resort has no less than seven different eateries to sample during you stay.
60 – Cruise Route 66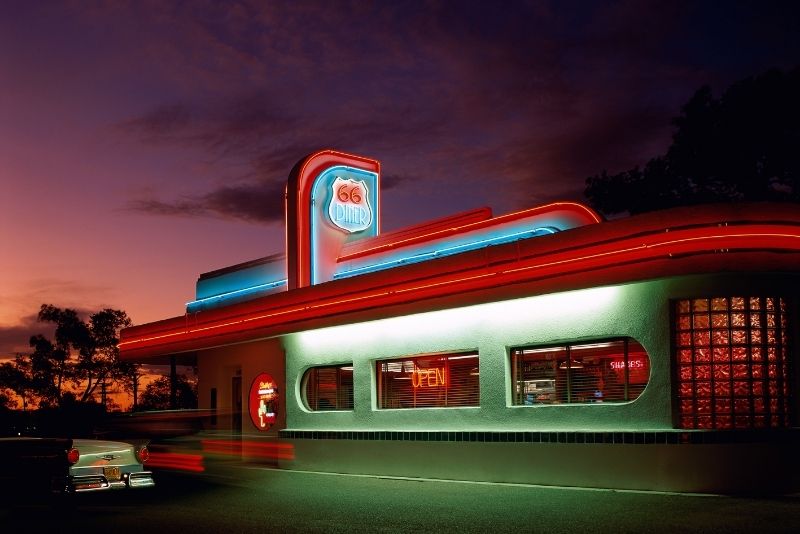 The famous Route 66 runs right through Albuquerque, though it has changed a little over the years. Along the way you can find plenty of roadside curiosities, buzzing neon and unique landmarks. The retro-styled 66 Diner is a fun place to visit en-route for some spiced-up fast food and a selfie.
Pass through Nob Hill and Old Town and call in at the KiMo Theatre before checking out the Route 66 sign on the corner of Central Avenue and Coors Boulevard Southwest. It's kitsch, it's fun, go get your kicks!
61 – Grab a drink at the top bars or take a brewery tour and beer tasting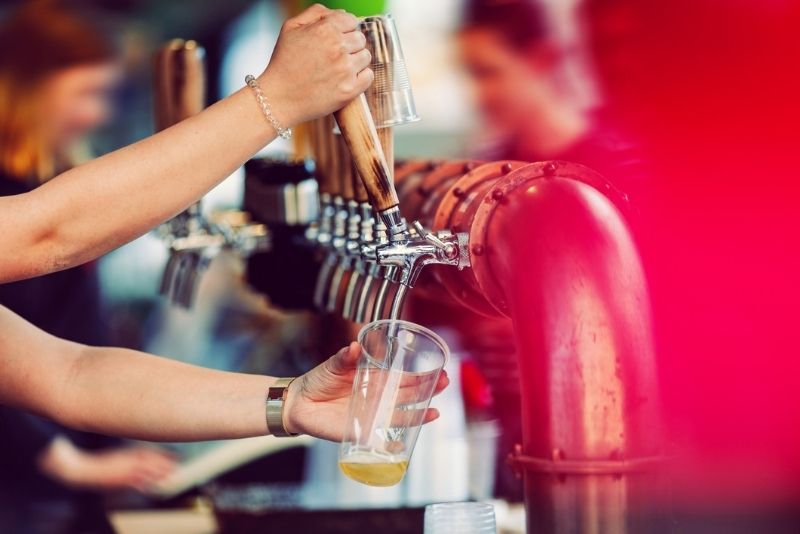 There's probably a bar to suit your mood in Albuquerque. The Q Bar in Old Town is on the fancier side of things and has a piano lounge and a large drinks menu to choose from. If you like it a little rowdier, check out Burt's Tiki Lounge for live bands on the alternative rock & roll spectrum.
For great views of the city and old-school cocktails, The Apothecary Lounge cannot be beaten and for a low-key easy-going vibe Billy's Long Bar is a solid bet. There are also some great breweries that offer beer tastings and tours such as Tumbleroot and the Marble Brewery.
We hope you enjoyed reading our selection of fun things to do in Albuquerque, New Mexico. If you have other fun places to recommend don't hesitate to leave us a message.
If you have not booked your accommodation yet, check out the best hotels in Albuquerque.
Where go next? If you are looking for more fun things to do, travel north and visit Denver or Moab, or head south and discover the outskirts of Phoenix.
Happy travels!