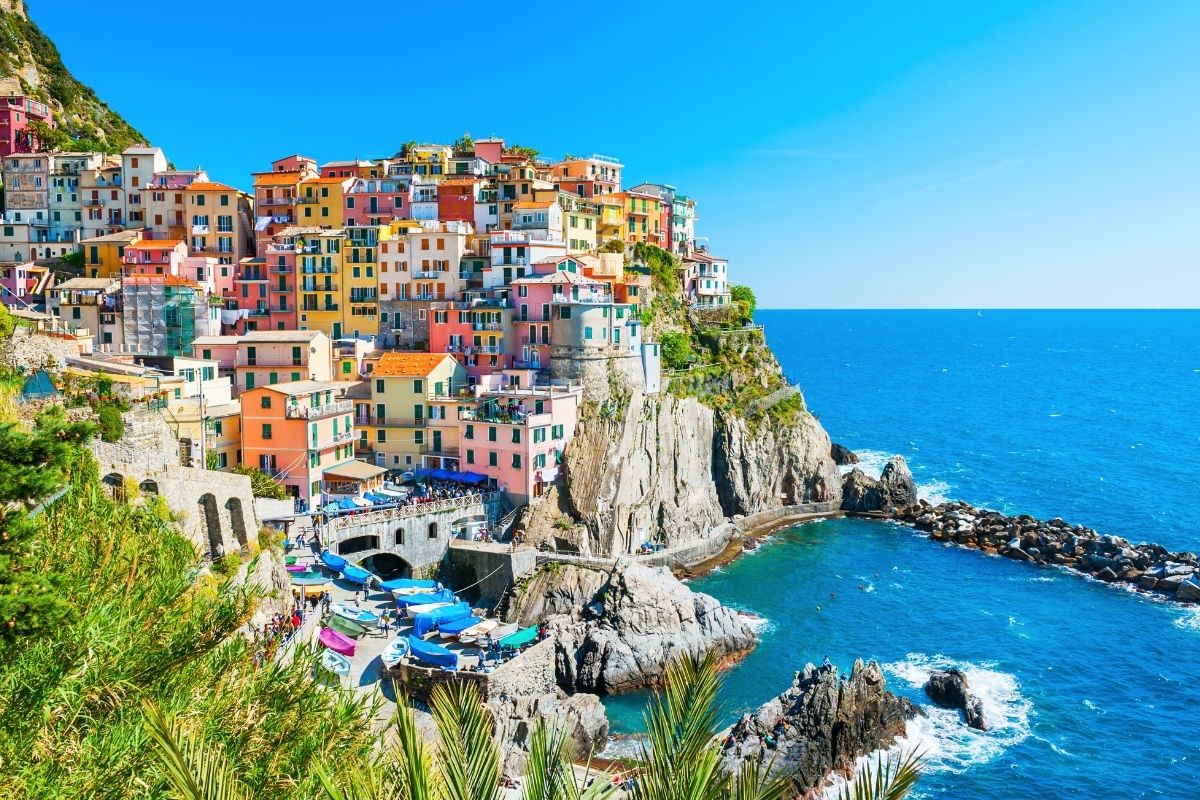 If you're looking for a vacation that's a cross between a fairytale, a history lesson, and a luxury getaway, you've come to the right place!
Tucked snugly along the Italian Riviera, the five fishing villages that make up Cinque Terre (Monterosso, Vernazza, Corniglia, Manarola and Riomaggiore) have long been beloved for their great weather, charming local businesses, and relaxed atmosphere.
The natural beauty alone would be worth the visit; the whole area is designated as a national park.
But its cultural amenities, from cooking classes to ancient, picturesque churches, are well worth exploring as well.
While these themes are common throughout the area, each individual village boasts its own unique charms – so try to see them all for a real taste of the region!
Pack your best pasta fork and some sunscreen, and check out all of the amazing things to do in Cinque Terre.
With its stunning beaches and bustling resorts , this town is generally considered the most touristic of the five; but it still offers its fair share of art and history to enjoy as well.
While it may be a little busier than its neighbors, you can still take lots of time to relax; plus, those amenities can come in handy if you want a trip with a little bit of everything!
Things to do in Monterosso
1 – Explore Fegina, the new Monterosso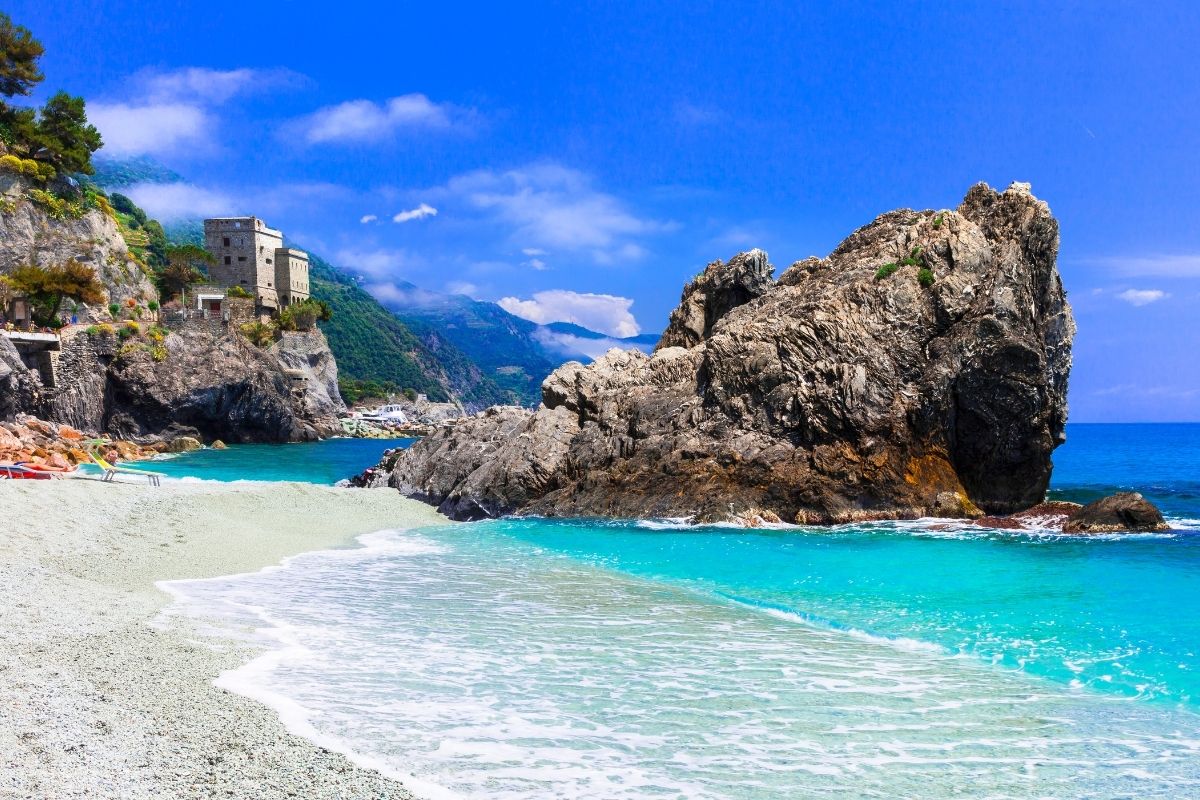 The newer section of town could easily keep you occupied for days on end, with beachcombing, public art, and lots of sightseeing to offer.
Spiaggia di Fegina offers the iconic beach-going experience, where you can sunbathe and enjoy the gentle waves, all just a few feet from town.
And Spiaggia Portiglione provides similarly beautiful stretches of shore with slightly fewer crowds – just take a leisurely ten-minute stroll from the train station, and you're at your own piece of paradise!
If unusual art is more your speed, you can take in the wonder of Statua del Gigante – trust us, it's hard to miss!
This towering concrete likeness of the sea god Neptune, which is carved into a rocky outcrop overlooking the sea, sustained significant damage during World War II, but still remains an icon to this day.
And if you're looking for more beach time, swing by Scoglio di Monterosso, where even a short snorkeling trip feels like a dive into the world's greatest natural aquarium.
2 – Wander along Sentiero Azzuro/The Blue Trail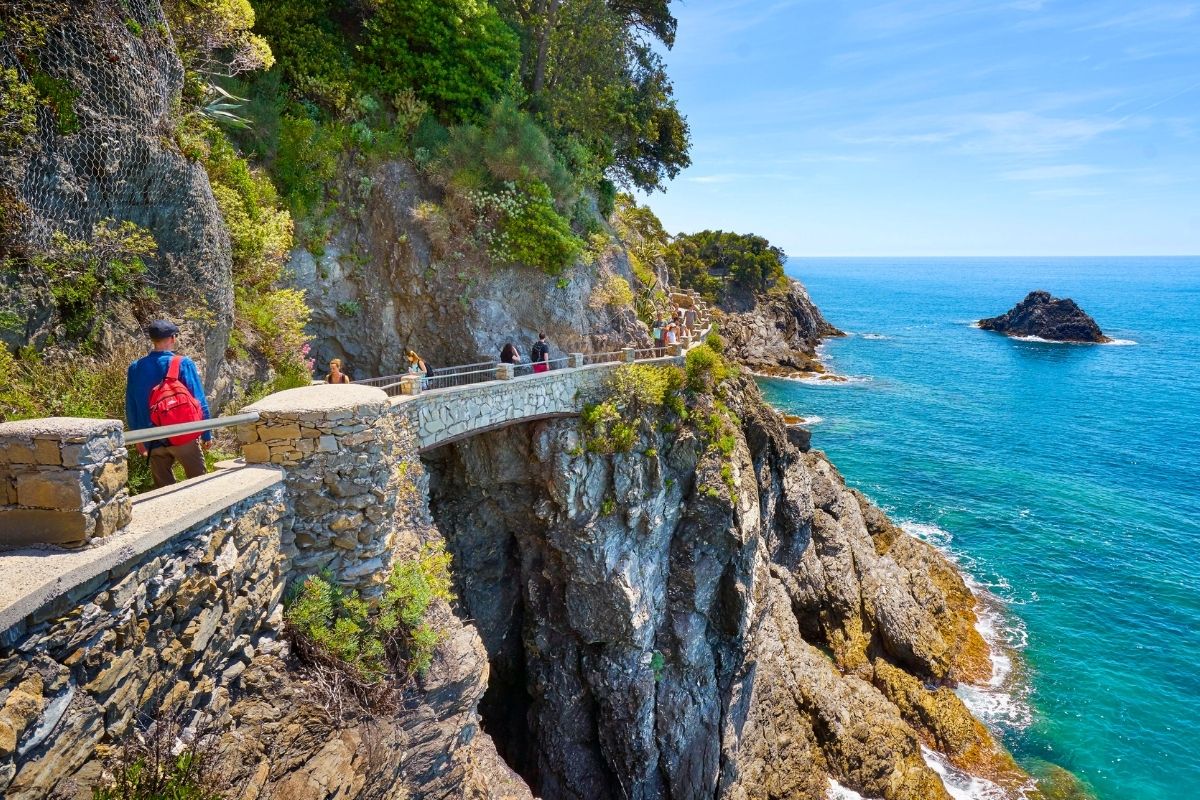 If you're looking to stretch your legs after all of that time at sea, head over to the Blue Trail, which is both scenic and efficient.
This popular route winds through all five of the region's towns, with great views every step of the way.
Monterosso is the starting point of this 7.5 mile route, which was originally developed as a commuter footpath for villagers.
Today, its popularity has exploded, and  while some sections – such as the ones from Monterosso to Corniglia, and onward to Vernazza – can be a bit more strenuous, the experience itself is one of the most iconic things to do in Cinque Terre.
While you can easily do the whole trek, you can also hike small sections of it – take your time and enjoy the walk!
And if you'd like some company, there are also some great guided hikes in the area!
3 – Take a peek into the past in Monterosso's Old town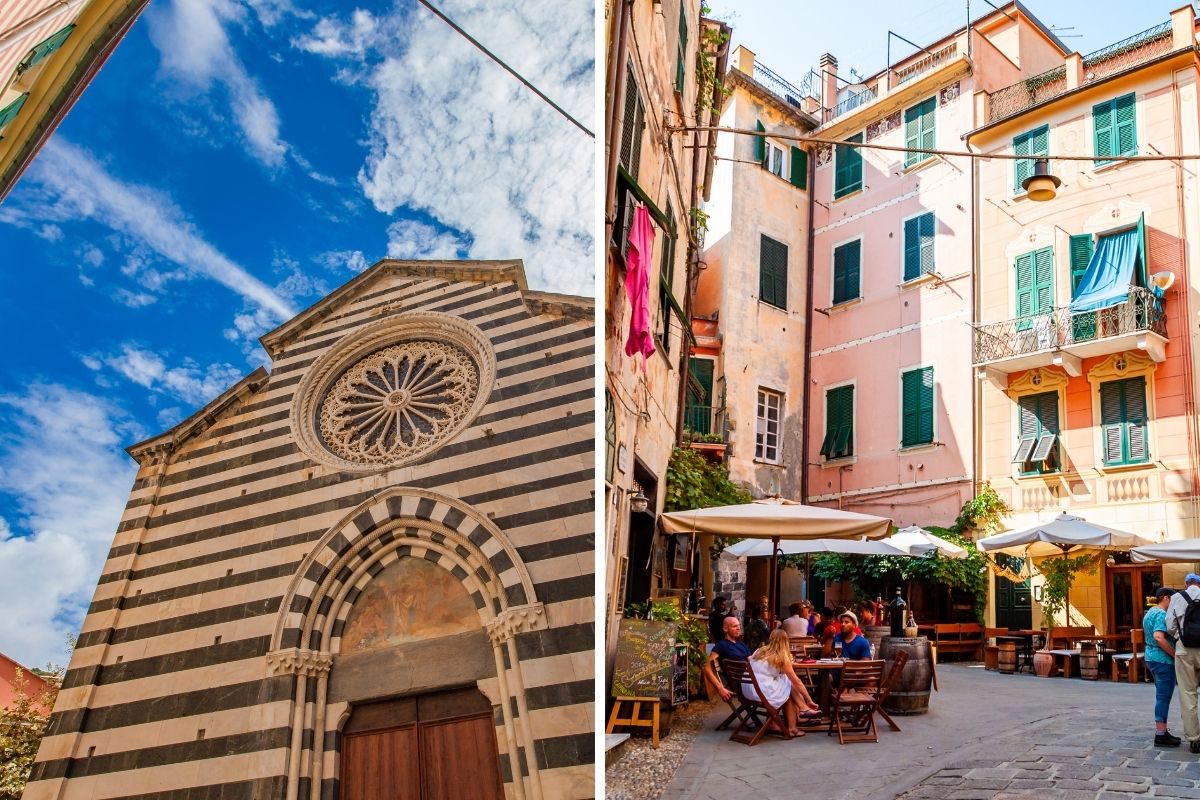 Along with its more contemporary offerings, Monterosso's historic section is packed with charm, and well worth savoring with a long, leisurely stroll.
Drink in the Baroque glamor of Church of San Giovanni Battista, whose striped columns and ornate chandeliers will keep your eyes perpetually occupied.
Afterwards, pop over to the neighboring Oratory of the Confraternity of the Blacks, known for its disciples' historical commitment to serving the poor, and the fascinating, slightly eerie depictions of skeletons and skulls that decorate its interior.
Then it's back to the shore with a trip to Spiaggia Tragagia, a small, secluded space that offers a somewhat calmer beach going experience.
And of course, leave plenty of time to roam around past the brightly hued buildings and lovely streets!
4 – Get a new vantage point at the Aurora Tower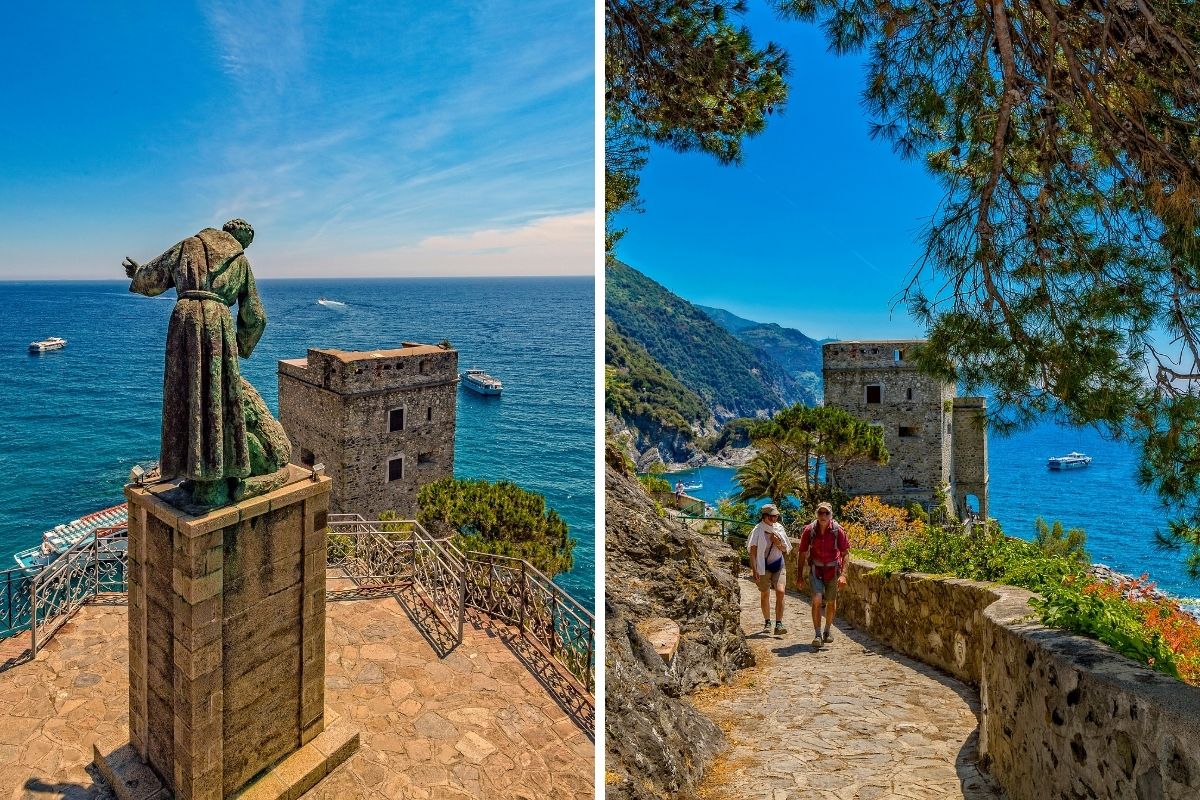 Originally constructed as a fortifying structure in the 1500s, the Aurora Tower still watches over the town… but these days, it serves more as a place of intrigue for visitors.
Along with serving as a somewhat unofficial marker between the village's older and newer sections, it's a fascinating structure in its own right; back in its heyday, locals would use the lofty vantage point to keep an eye out for pirates!
After exploring the tower, take a look at Monumento a San Francesco d'Assisi, which sits high above the town.
In addition to being considered the protector of animals, St.Francis is actually the patron saint of Italy; so it only seems fitting that this massive statue would watch over the sea and the village below… and of course, it includes a depiction of a loyal dog!
5 – Absorb the spirituality of the Convent of the Capuchins & Church of San Francesco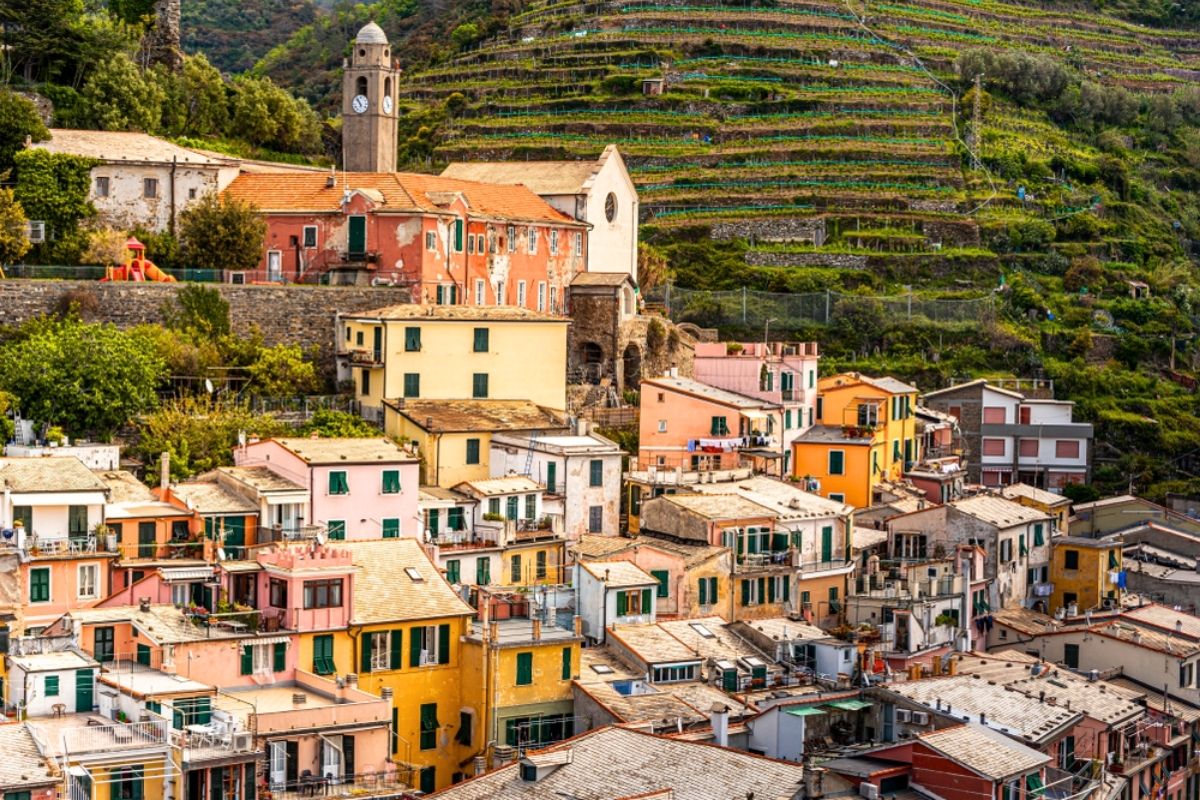 Just up the hill from the town center, this beautiful spot offers great views and fascinating history all rolled into one!
Situated right near Monumento a San Francesco d'Assisi, the 400-year old space has long served as a place of worship, and still houses its own order of Capuchin friars.
Today, it still serves as a place of spiritual refuge, with its picturesque grounds offering plenty of opportunities to slow down and reflect in the midst of your travels.
It's also a great place to gaze out over the Gulf of Cinque Terre, enjoying the lush scenery in all its glory.
6 – Watch the sunset on a boat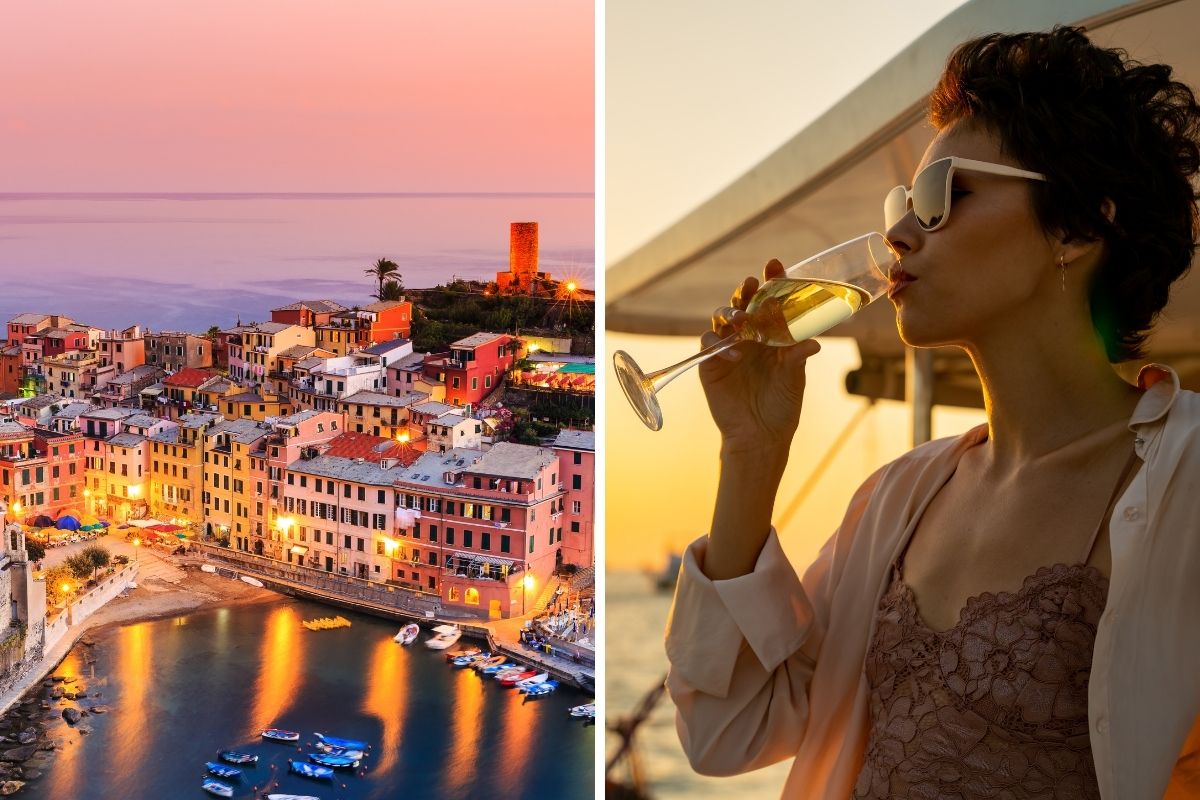 While looking down at the water is a great daytime activity, you'll definitely want to be out there as evening comes!
There are numerous sunset cruises available, all of which offer phenomenal views and a charming atmosphere that will help you wind down for the night in style.
As you sail along, you'll get great views of the various towns as your guide provides some historical context.
Add in delicious snacks and some lively music, and you have all the ingredients of a perfect boating trip… and that's before the sunset even rolls around!
Whether you're looking for a romantic evening, a family-friendly bash, or a mellow trip with friends, these vessels have got you covered – and of course, the sight of the sun meeting the sea is not to be missed!
7 – Try Monterosso's acclaimed anchovies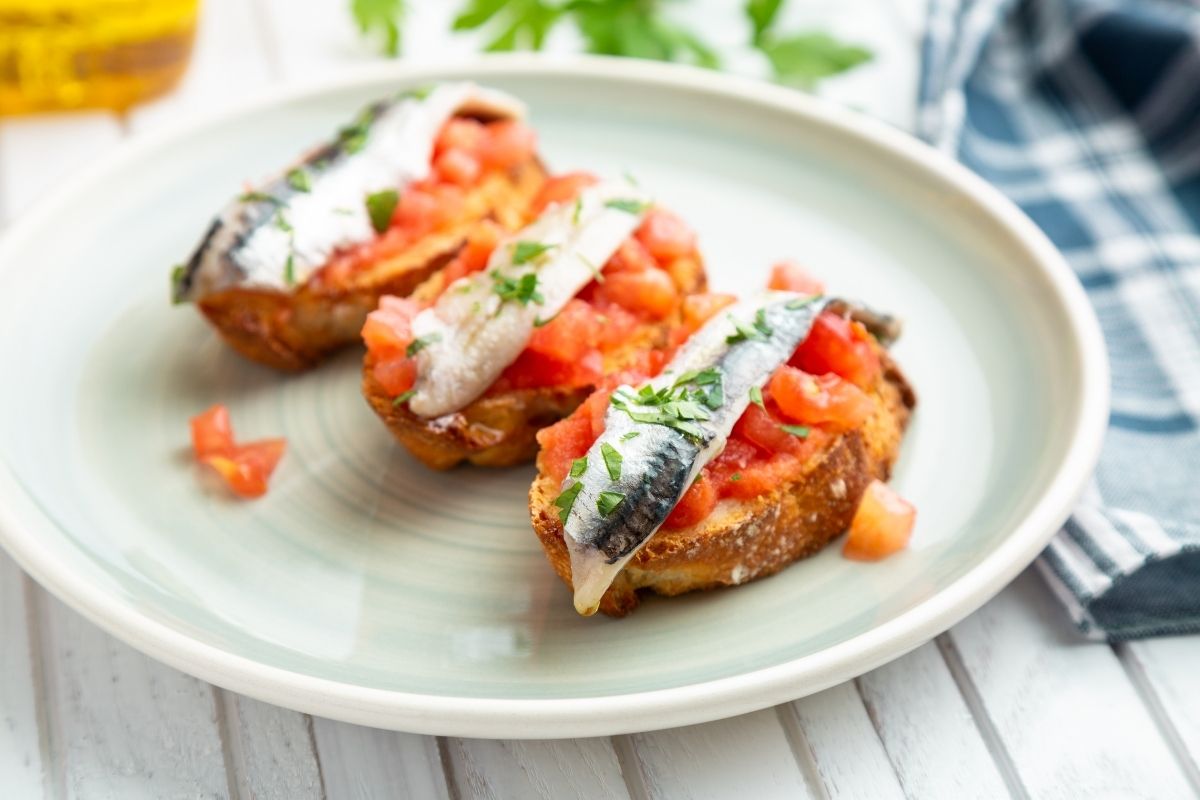 Italy and food go hand-in-hand, and when you're in this coastal town, you'll have some truly excellent fish to try!
While anchovies can be somewhat polarizing, you won't find better specimens than here, one of the world's great hubs for oily fish.
Indeed, these sardines have been one of the main sources of income in the area for centuries… not bad for some little sea creatures!
Whether they're incorporated into local dishes or enjoyed individually as a zesty snack, these tasty, carefully cultivated treats are an essential part of any visit!
8 – Embark on your own seafaring adventure with some Kayaking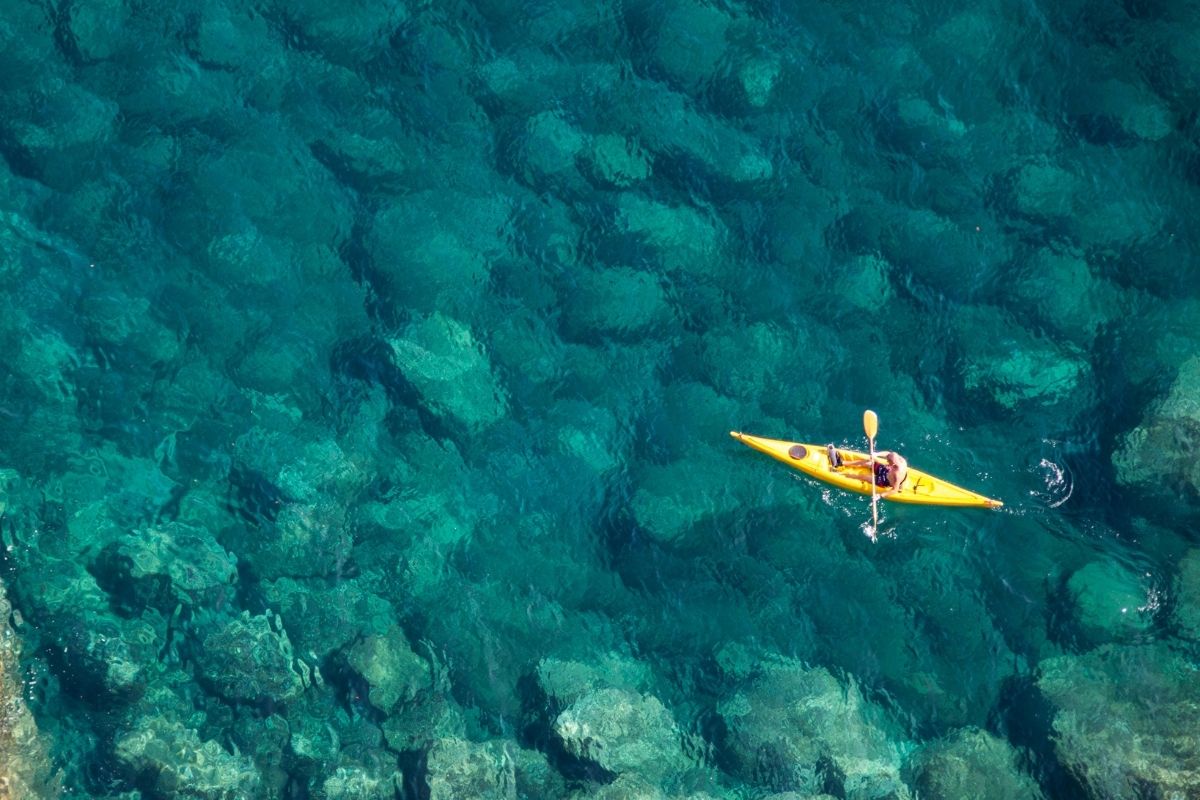 If you want to head out on the water for a longer excursion, grab a paddle and do some kayaking!
The local beaches are a great starting point to visit other scenic areas, from fascinating sea caves to the shores of neighboring villages.
These adventures offer the perfect opportunity to enjoy the crystalline waters and get a new vantage point on this idyllic piece of coastline.
And be sure to pack a swimsuit, because most of the tours also include a snorkeling  component, where you can gaze at the complex ecosystems below you, and maybe even see some awesome wildlife up close!
9 – Pay a visit to the Sanctuary of Soviore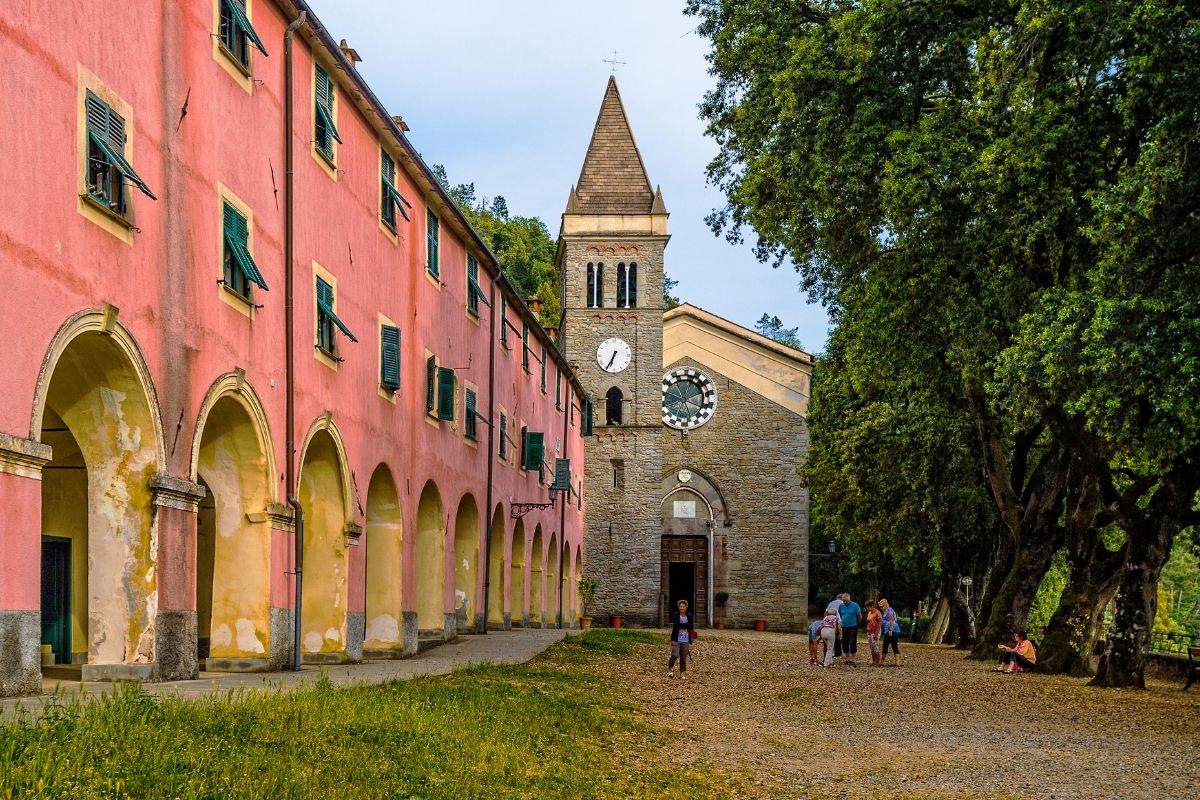 For centuries, this beautiful site has been a place of spirituality and mystery, intimately tied to the religious traditions of the region.
The current church dates back to the early 1300s, but believe it or not, it's one of the newer structures on the site!
According to legend, the Madonna statue that graces the sanctuary dates all the way back in the 600s, when villagers buried it before leaving the area; it was supposedly excavated by a traveling priest nearly a century later.
What's known for sure is that it is one of the oldest sanctuaries in the realm, and still serves as a profoundly peaceful destination today.
You can even book one of the rooms in the guest house, and enjoy a peaceful, contemplative stay that allows you to connect more deeply with this spiritual refuge – not to mention its many visitors!
10 – Soak up the scenery of Punta Mesco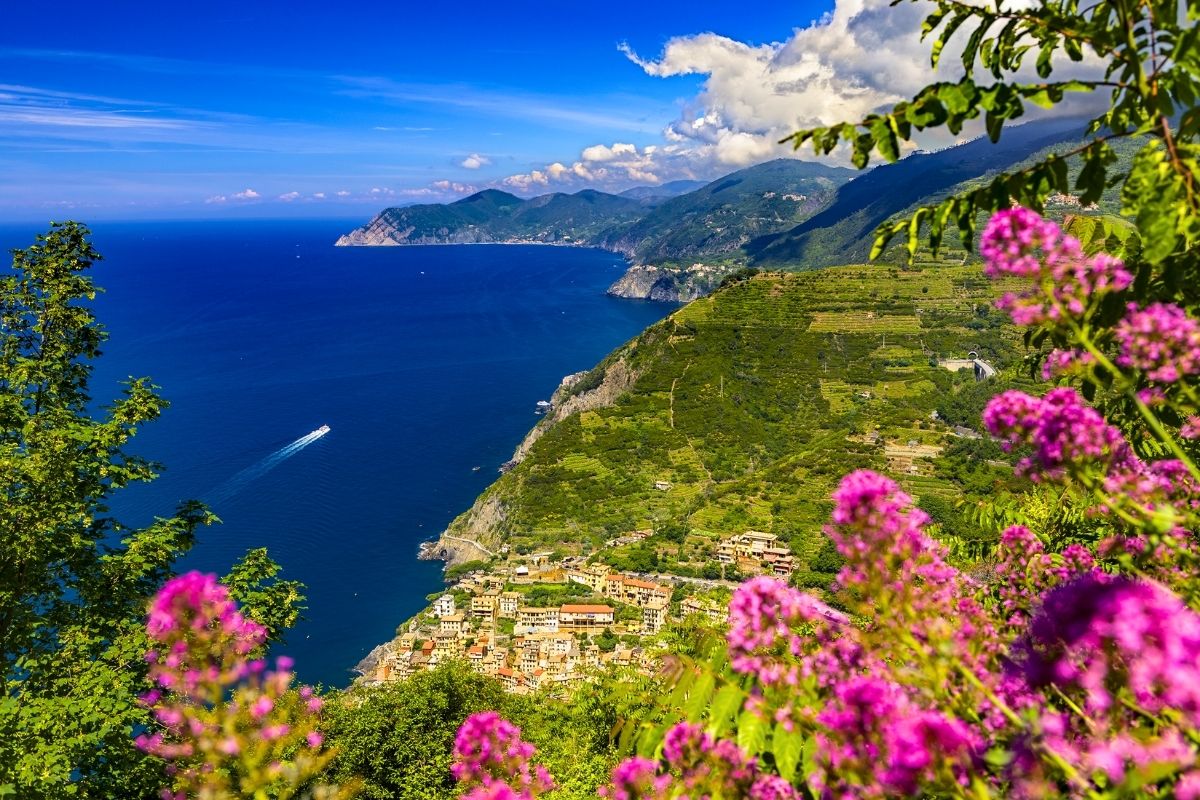 With its sweeping panoramas of the coastline, Punta Mesco is the perfect place to relax and take a picture – or several!
Height is the main advantage here; standing 918 feet above sea level, it's perfect for an elevated, panoramic view of the world below.
But it also offers a bit of exercise along the way, with a challenging but invigorating hiking trail that starts right in town.
On the way, take some time to check out the ruins dotting the area, including the remains of former churches and military observation posts.
11 – Indulge in a wine tasting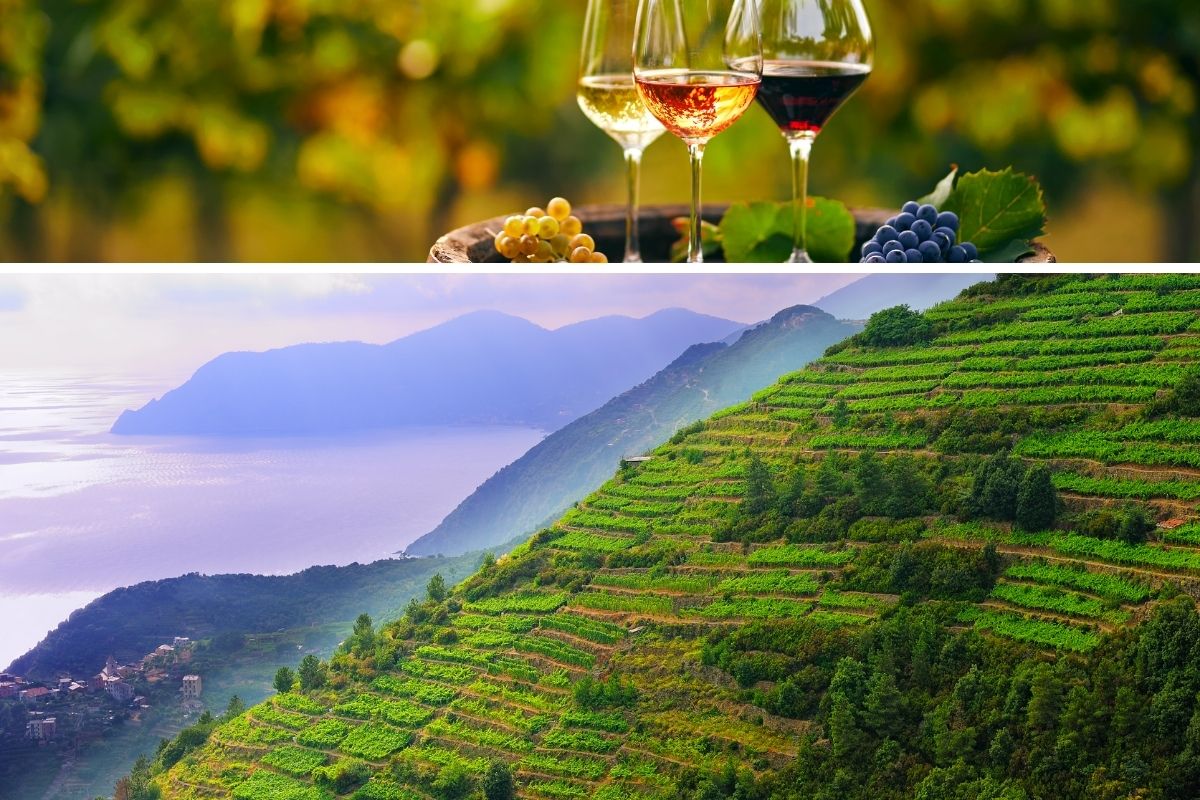 Much like food, a good glass of vino is all part of the experience here, and a wine tasting will give you the opportunity to compare and contrast some of the most delicious varieties.
Wander around to various local vineyards and shops, sipping, swirling, and chatting with the proprietors to learn just what goes into these delicious beverages.
And if you want to extend your experience, there are some excellent wineries right in town!
Enoteca Da Eliseo is tucked into the old town area, and often features soothing music to accompany your beverage.
And history fans will love Enoteca Internazionale, the community's oldest wine store, which also serves up a variety of olive oils.
It's also well worth heading over to Buranco Winery, which offers some stunning pastoral views to go with each delicious glass.
Things to do in Vernazza
On the opposite end of the spectrum, we have this pastoral town, where cars are forbidden – yes, you read that right!
Life is slower paced here, but that doesn't mean that you won't have oodles of fun!
From scrumptious desserts to beautiful ports, mouth-watering desserts to charming old churches, it's very easy to get into the rhythms of life here… and you may not want to leave!
12 – Take your time in Piazza Marconi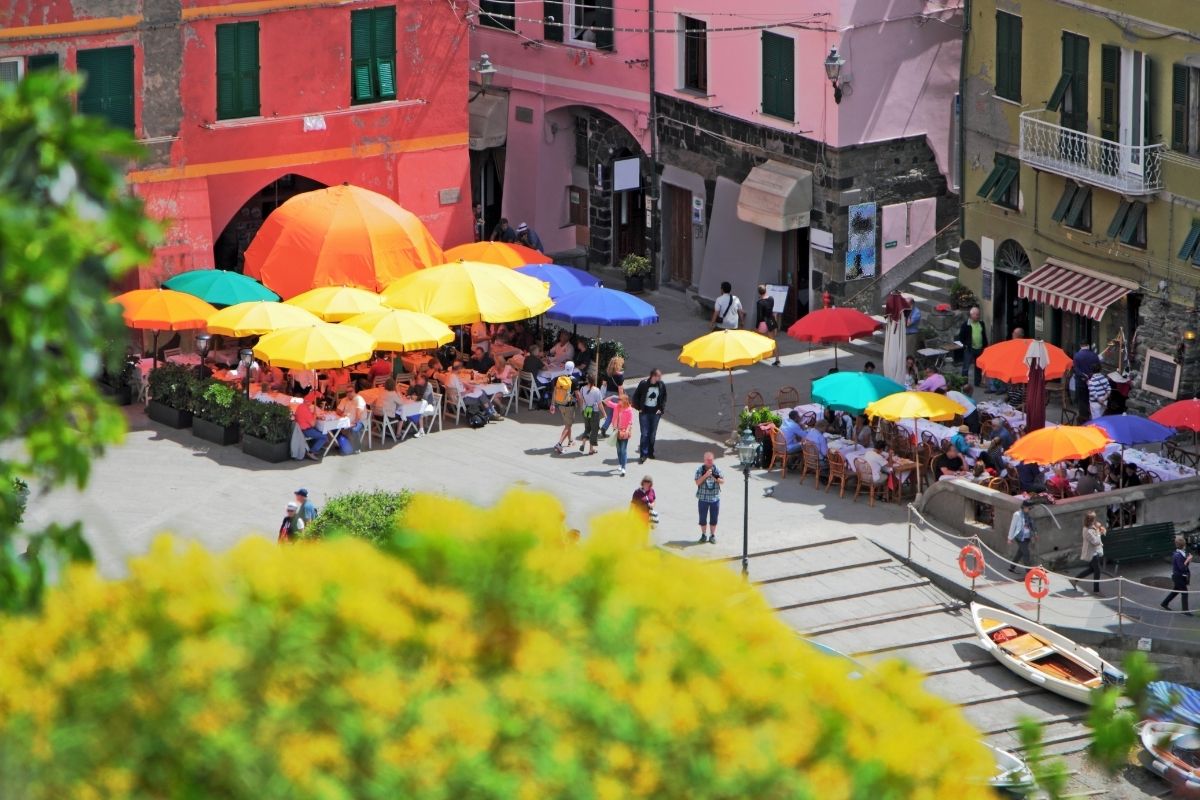 For a real taste of local life, head down to this beloved public square to people-watch, snack, and swim.
As you linger in Piazza Marconi, you'll be able to indulge in one of the most classic things to do in Cinque Terre: wandering around in the sun, taking in the rhythms and routines of a small town as it moves through the day.
But if you want something more specific to do, pull up a seat at one of the many quaint little cafes, or head down to the water for a dip.
And if you're looking for a great place to stay during your time in town, check out Via Roma, a charming apartment right in the midst of the action.
It's the perfect place to unwind after your more strenuous or intellectual adventures!
13 – Grab a gelato in Gelateria Vernazza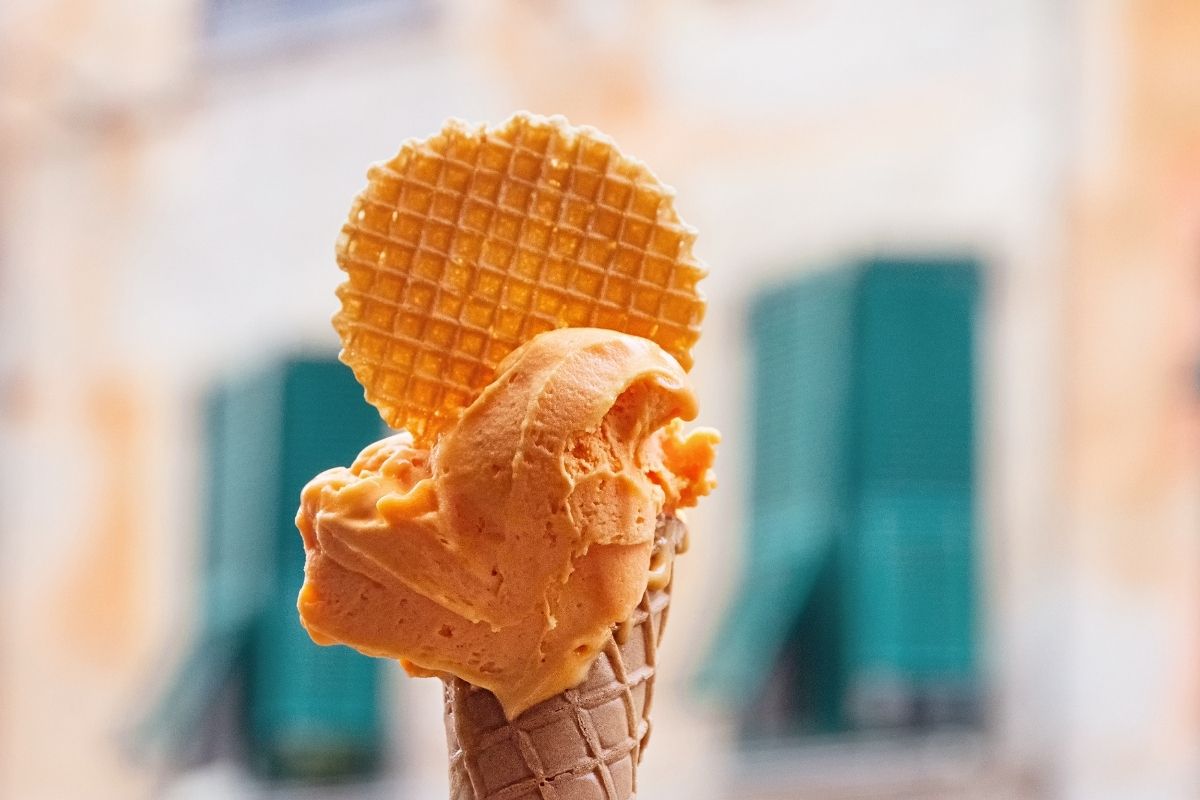 There's nothing quite like working through a cool, decadent dish of gelato in the sunshine; and while there are lots of great places in town to snag a scoop, Gelateria Vernazza is one of the best!
Family-run, organic, and utterly charming, this lovely space has been serving up sweet treats and a communal atmosphere since 1986.
Each flavor is carefully cultivated with artisanal expertise, and served up with flair.
And if you want to do more than just eat, they even offer a gelato-making course, so you can see for yourself what goes on behind the scenes.
Either way, happiness is guaranteed with each and every spoonful!
14 – Hang out at the Port of Vernazza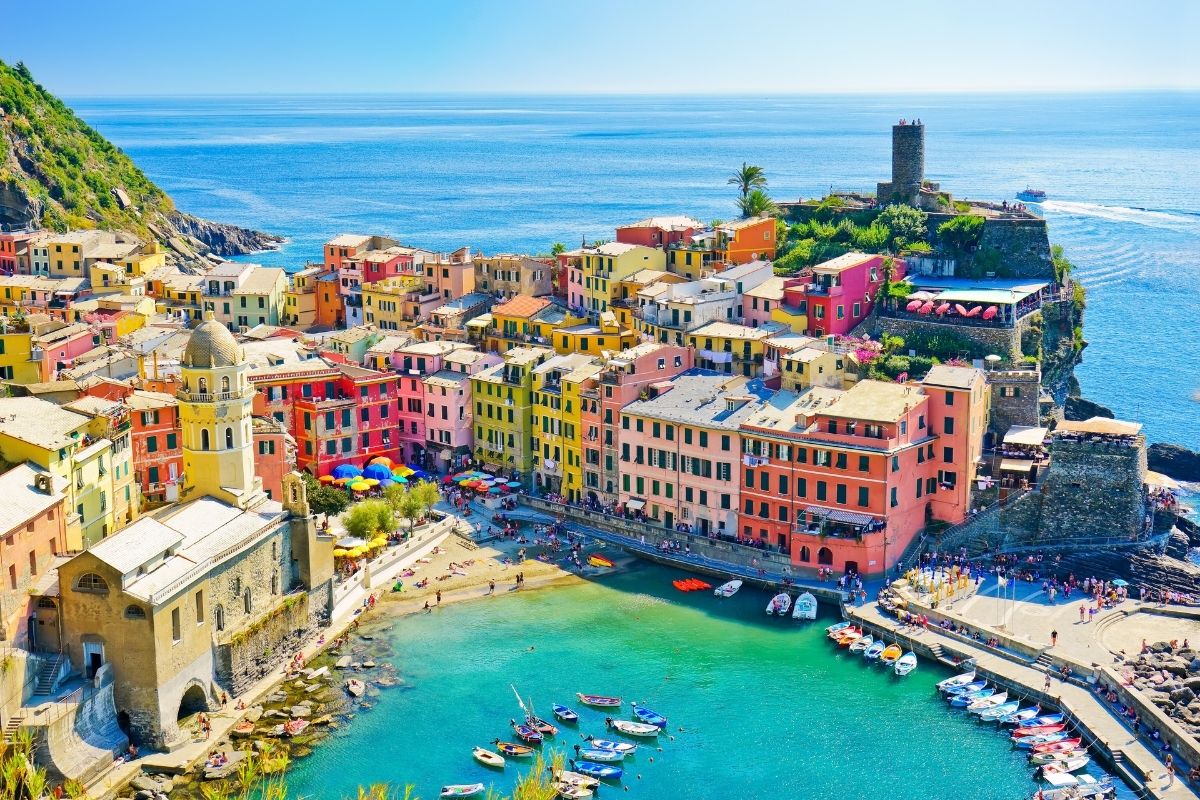 Like all of its comrades, Vernazza boasts its own beautiful port; but fittingly for such an independent town, it has a rural charm that differs greatly from its neighbors.
Framed by several of the area's distinctively colorful buildings, it's more of a local boat operation; you might see some smaller vessels coming and going, but that's about it.
But this certainly doesn't make it boring!
Go for a swim or sunbathe on the shore, and enjoy the lovely views of the bay beyond. And when you're ready to come ashore, there are plenty of nearby spots to eat and drink, while still enjoying the phenomenal seaside sights.
15 – Poke around Doria Castle and the Ruins of Doria Tower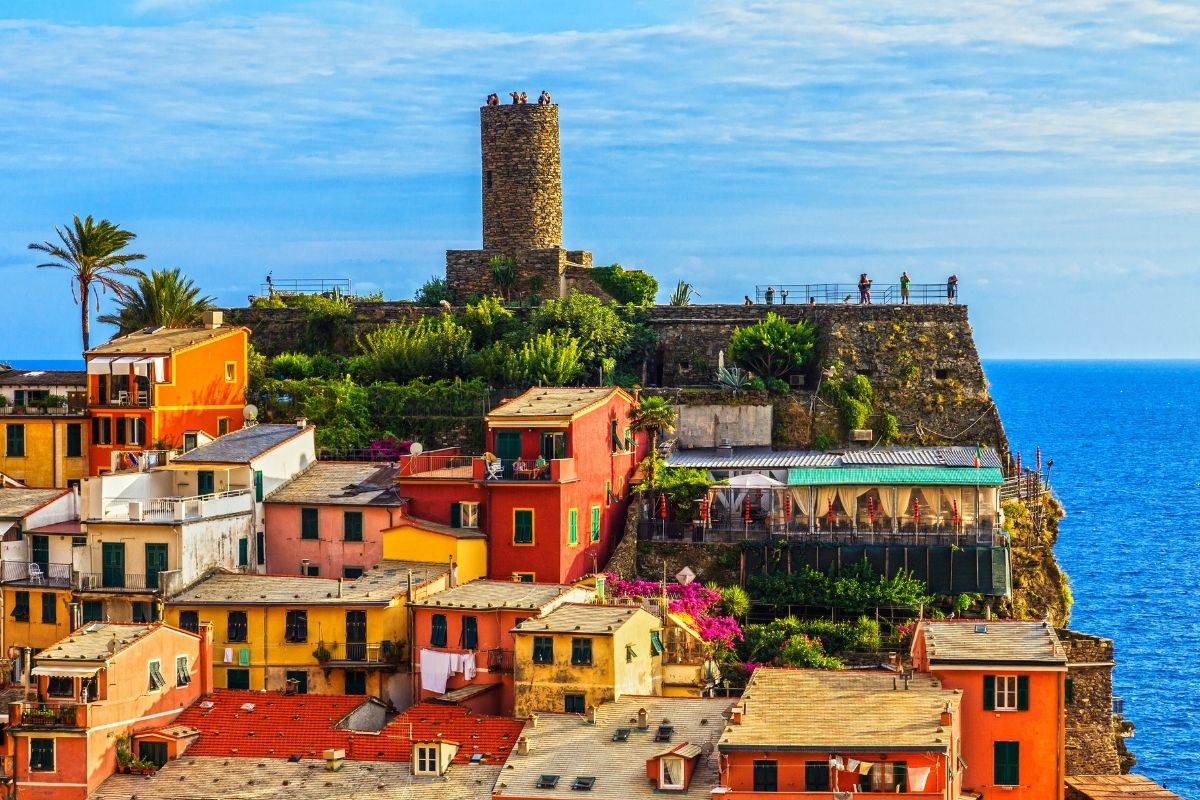 Another defensive building turned architectural gem, Doria Castle and the adjacent CHECK tower are vital parts of the history and landscape.
Deliberately built in a somewhat unusual shape to match the crags of the cliff that hosts it, the castle was developed sometime in the 1200s, and oversaw centuries of political shifts and religious rule.
It even served as a military outpost during World War II!
While both structures have mostly deteriorated today, the remains are worth exploring, with even the most crumpled stones containing their own vibrant legacies.
16 – Make the trek to Nostra Signora di Reggio Sanctuary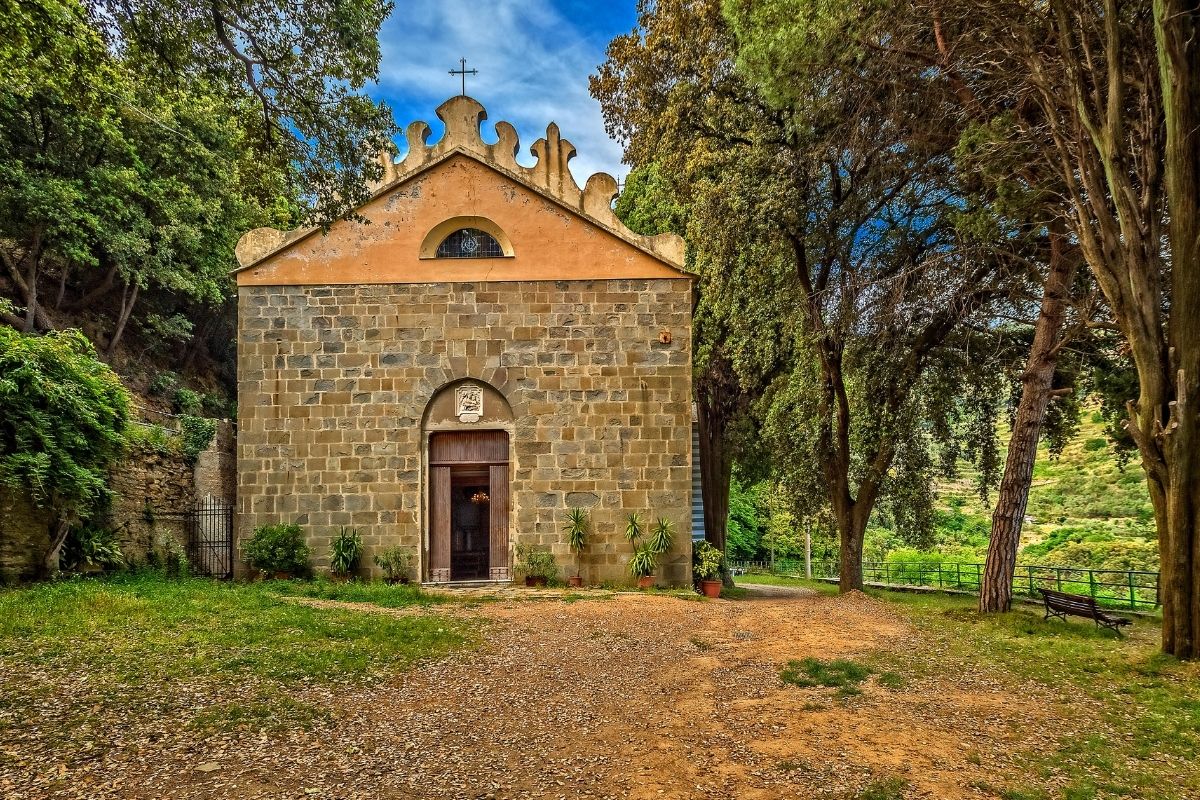 As you make your final ascent up the trail just outside of town, you'll see it: a beautiful old church, beckoning you to come closer, sit in the shade, and learn its secrets.
For almost 800 years, the sanctuary has offered travelers a place to rest and reflect, with impressive groves of cedar and oak trees surrounding the space – not to mention a magnificent cypress tree that's almost as old as the building itself!
Inside, you can admire a gorgeous portrait of the Virgin Mary, created in the 1300s.
And if you happen to be visiting on Sunday, you can even attend Holy Mass, just as centuries of worshippers have done.
While the hike to get there can be a bit steep, it's well worth it for a chance to explore this sacred space!
17 – Learn the legends of the Church of Santa Margherita d'Antiochia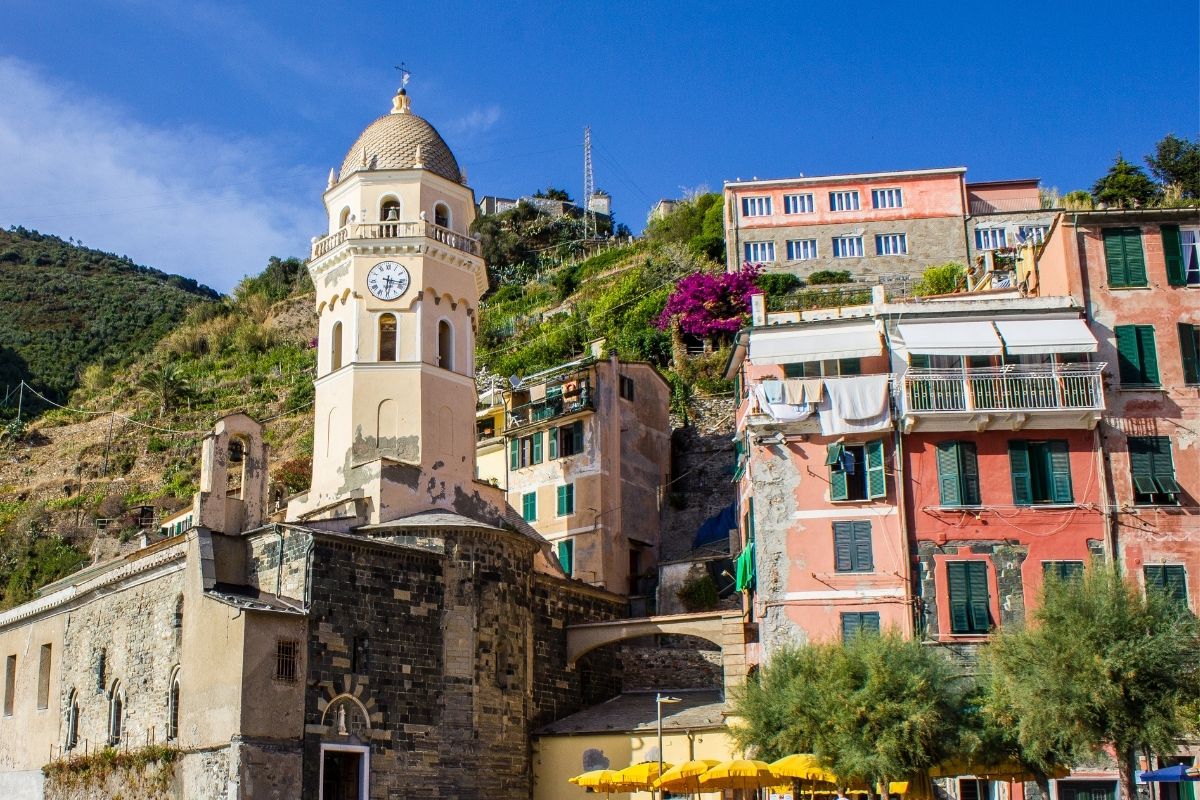 Another gorgeous religious structure with a rich, fascinating backstory, this church  was supposedly built in the spot where locals discovered some of the bones of Saint Margherita herself… not a bad pedigree!
What we do know for sure is that it was up and running by the 1200s, and it contains plenty of bona fide treasures behind its doors, from art and crucifixes to a chest once used in religious processions.
With its distinctive octagonal tower and seaside views, it's a treat for the eyes as well as the mind – and well worth lingering at!
Things to do in Corniglia
Back in the heyday of Ancient Rome, this village was known for its beautiful natural scenery and ample farmland, and little else has changed.
But Corniglia will definitely make you work a little harder for its treasures!
As the smallest and least readily accessible of the towns, it sometimes gets overlooked by travelers; but that same secluded nature makes it irresistible if you want to surround yourself with nature and get to feel like a townsperson… even if it's only for a few days!
18 – Get in touch with nature as you hike Scalinata Lardarina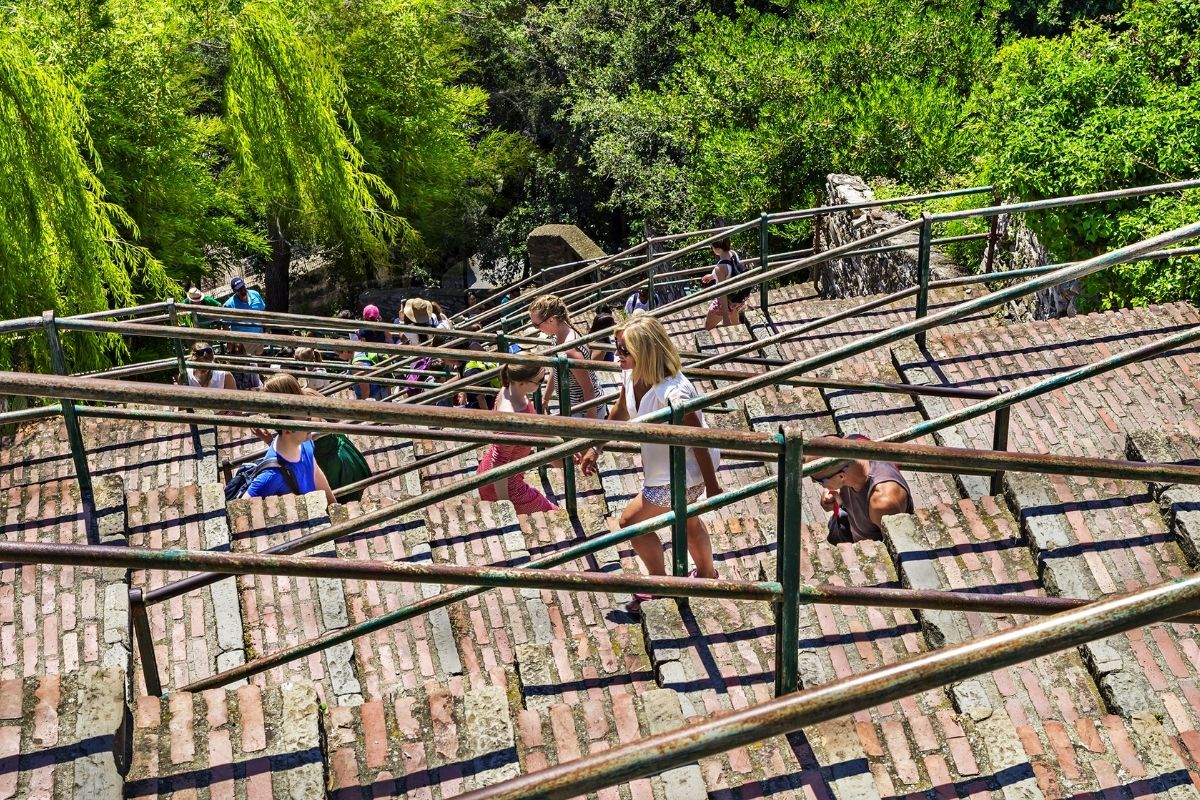 Winding along the hillside, this short, sweet trail is the perfect place to watch for wildlife, stretch your legs, and drink in some more of those picture-perfect views.
Roughly two miles long, it's something of a community fixture, helping locals and visitors alike get active and explore their vibrant natural surroundings.
From glimpses of passing birds to coastal panoramas, the route is packed with hidden gems; and strolling down it is the perfect way to start your day in town!
19 – Peruse the offerings of Largo Taragio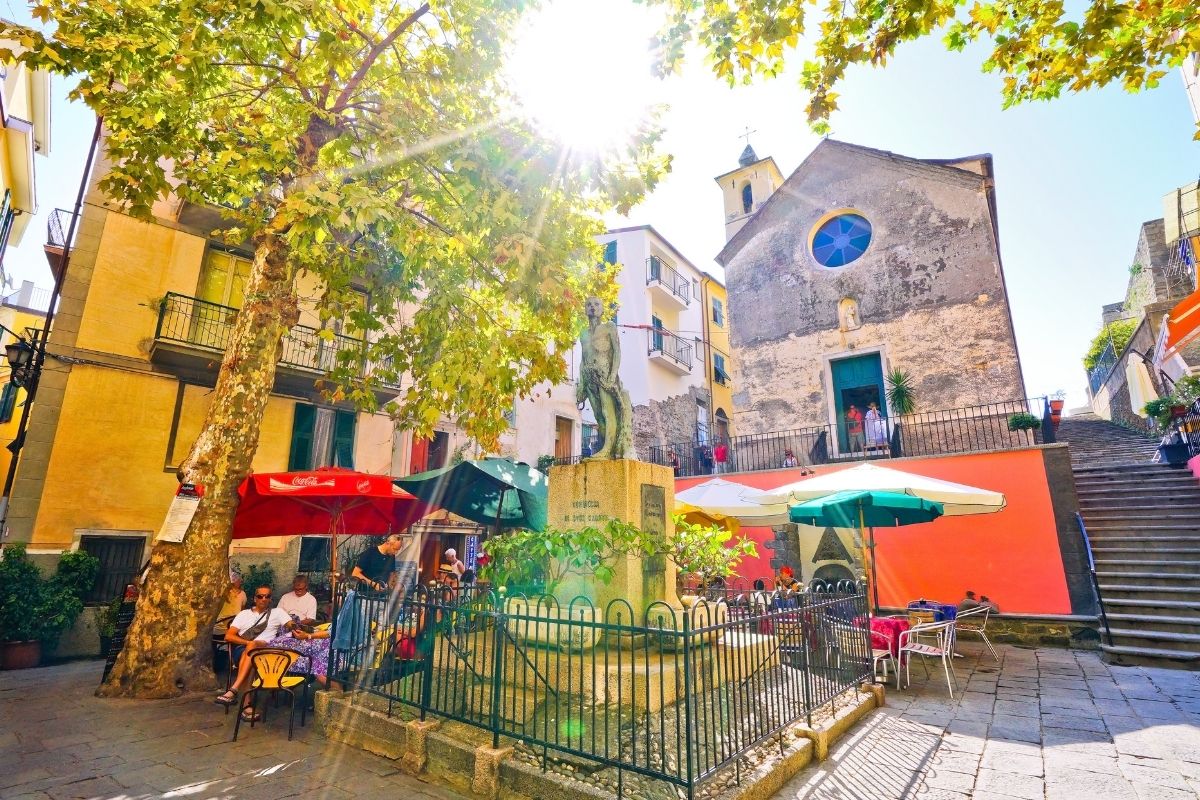 If you really want to get a feel for the vibes of the village, take some time to explore the beautiful main square.
Like the town in general, its small and simple plaza offers history and atmosphere in equal measure.
Along with a beautiful, understated monument to soldiers that perished in World War I, the square also houses Oratorio dei Disciplinati di Santa Caterina, a humble stone structure that dates back to the 1700s.
History buffs will find plenty to love here!
20 – Lose yourself in the art at the Church of San Pietro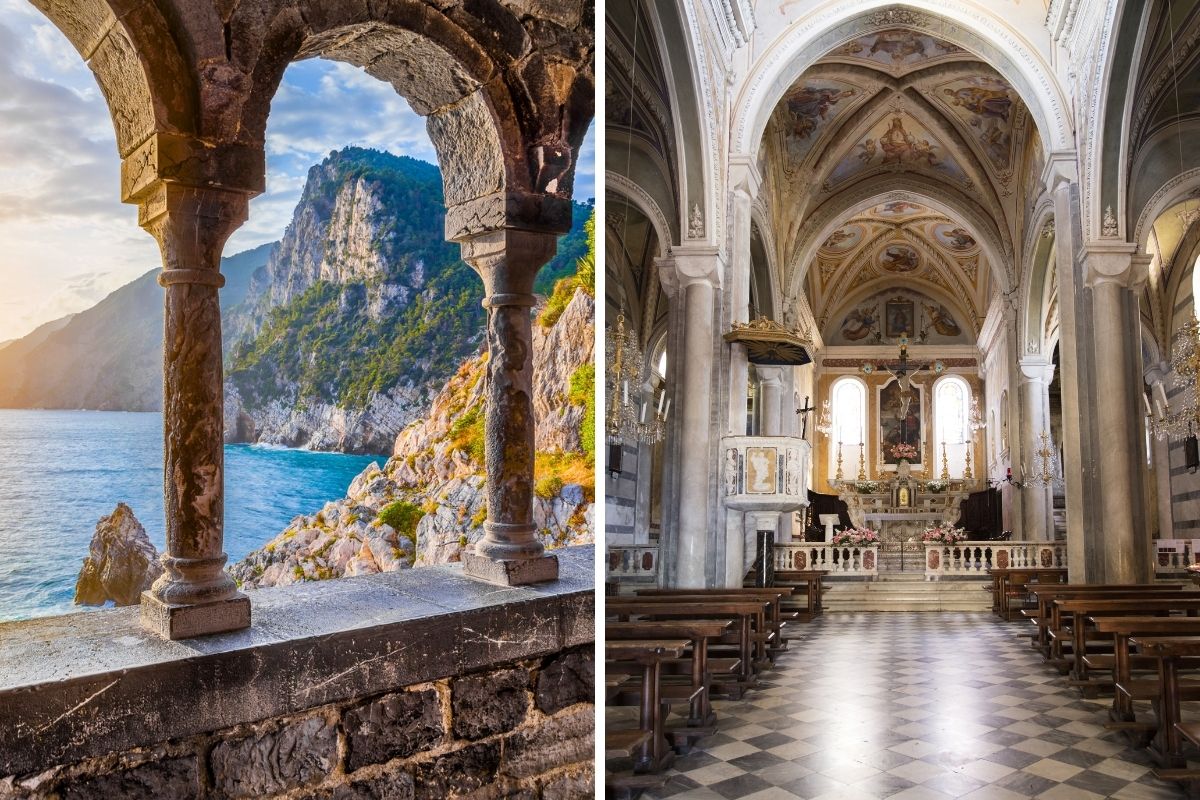 Since the 1300s, this Baroque-accented beauty has been part of the community, and it's truly fabulous inside and out!
The exteriors display some remarkable stonework from the olden days, along with elegant decorative windows created by the renowned Trento Longaretti.
Inside, you can admire gorgeous oil paintings, as well as a wonderfully preserved baptismal font from the 1100s.
It's a relic of religious traditions, and a true feast for the eyes!
21 – Leave your worries (and clothes) behind with a trip to Guvano Beach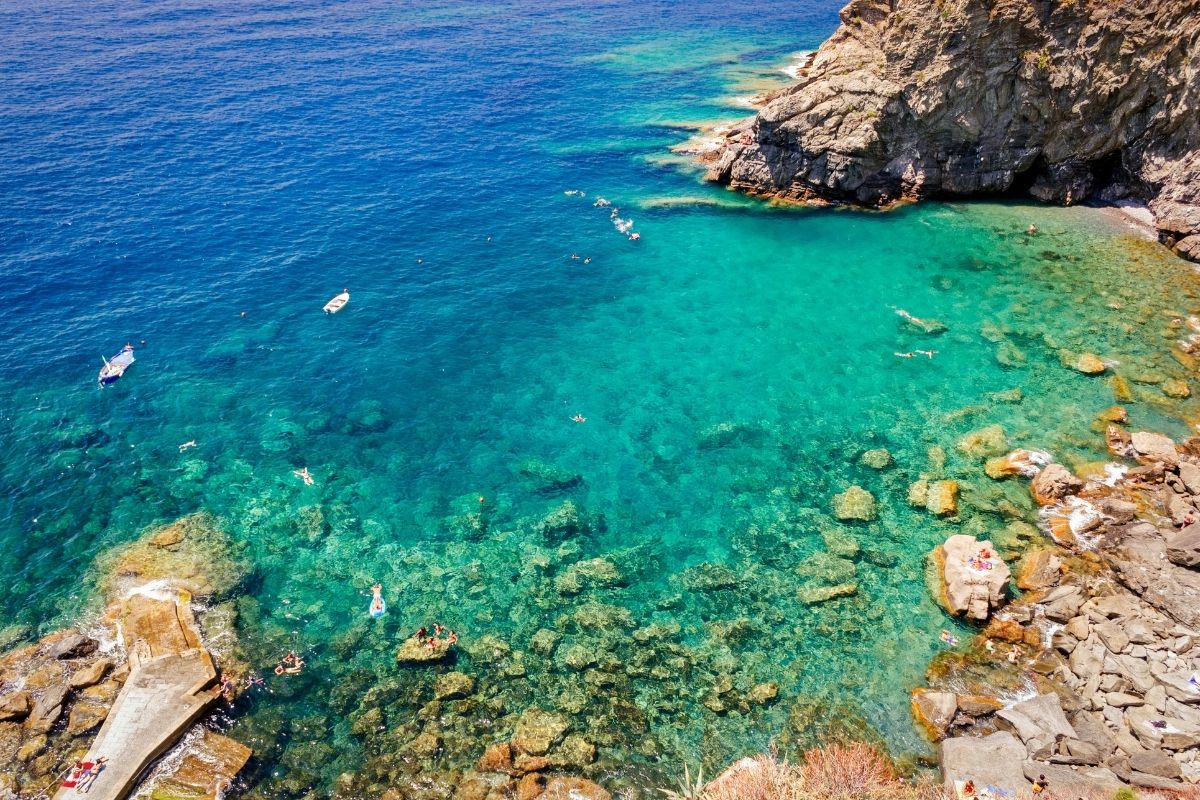 Looking for a beach day with a more… unique vibe?
Then grab your towel and head to Guvano Beach, a longtime haven for countercultural enthusiasts.
For decades, this has been the place where visiting hippies would hang out, as well as a popular spot for nudists.
Whether you're walking or kayaking to these fabled shores, the journey will be well worth it; you'll soon be enjoying an unorthodox slice of paradise, where the gravel is warm, the water is cool, and there's a relaxed feeling in the air that differs from the busier shorelines.
Come and enjoy the tranquil atmosphere – no swimsuit required!
22 – Take it easy at the Marina of Corniglia
If you want a slightly easier swimming option, trot on over to the marina!
Just ten minutes from the middle of town, this lovely spot may not be a beach in the traditional sense, but it still offers all the essentials: sunshine, water, and plenty of places to bask in the sunshine.
It's a wonderful spot to simply kick back, exhale, and hang out… very fitting, for such a mellow town!
23 – Enjoy booze, bites, and beautiful viewpoints at Bar Terza Terra di Cadario Alison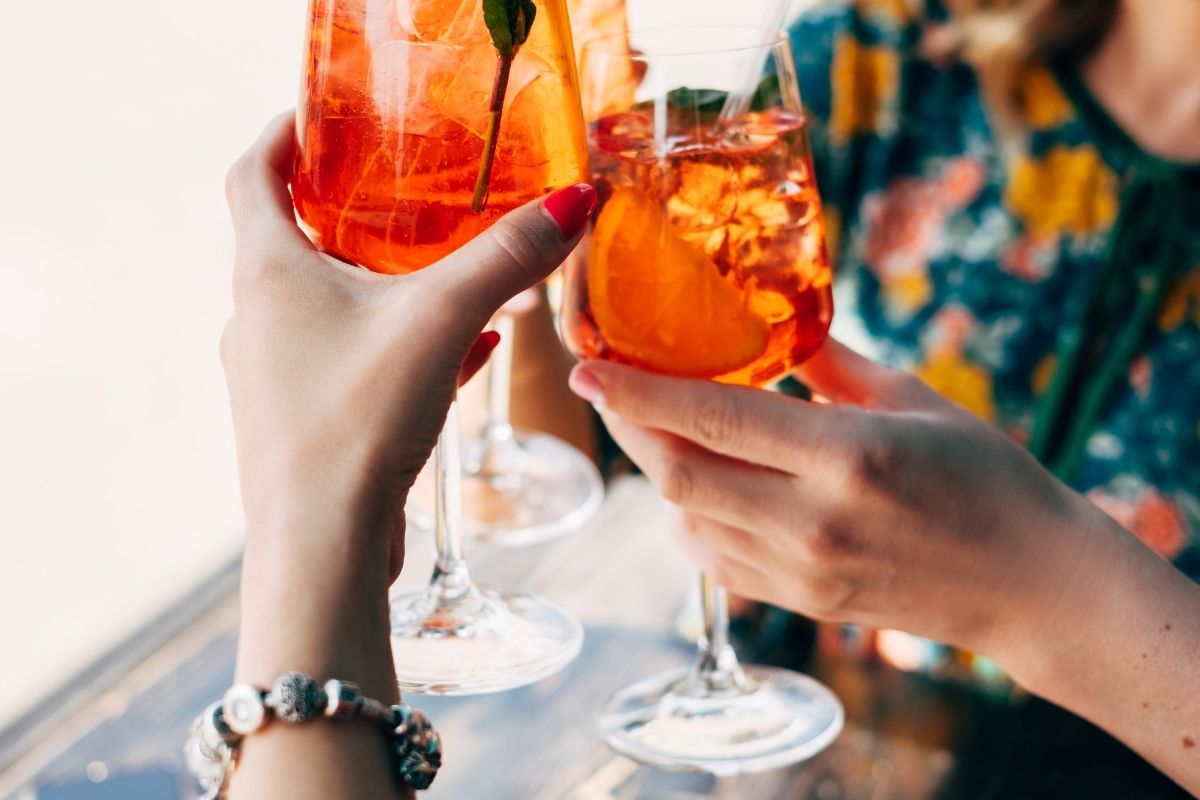 Perched atop a scenic cliff, this charming bar offers one of the ultimate vacation treasures: a drink with a view!
Gaze out over the water as you sip some elegant cocktails and nibble on small bites, with the scenic vistas around you forming a natural picture that rivals any art piece.
You can even enjoy a longer experience with a leisurely lunch featuring regional specialities, accompanied by sangria or a full-bodied glass of the house wine.
This is a place that embodies the concept of la dolce vita!
Things to do in Manarola
Perfect for romantic getaways and mellow hangouts with family and friends, this picture-perfect village is all about the water!
Tucked up on a seaside cliff, it oversees a constant hum of activity from boats, and offers plenty of excellent swimming opportunities.
But it still manages to maintain the same peaceful atmosphere as the other villages, with cafes to linger at and streets that are perfect for a slow, pleasant walk with your travel buddies.
24 – Indulge in some private boat tours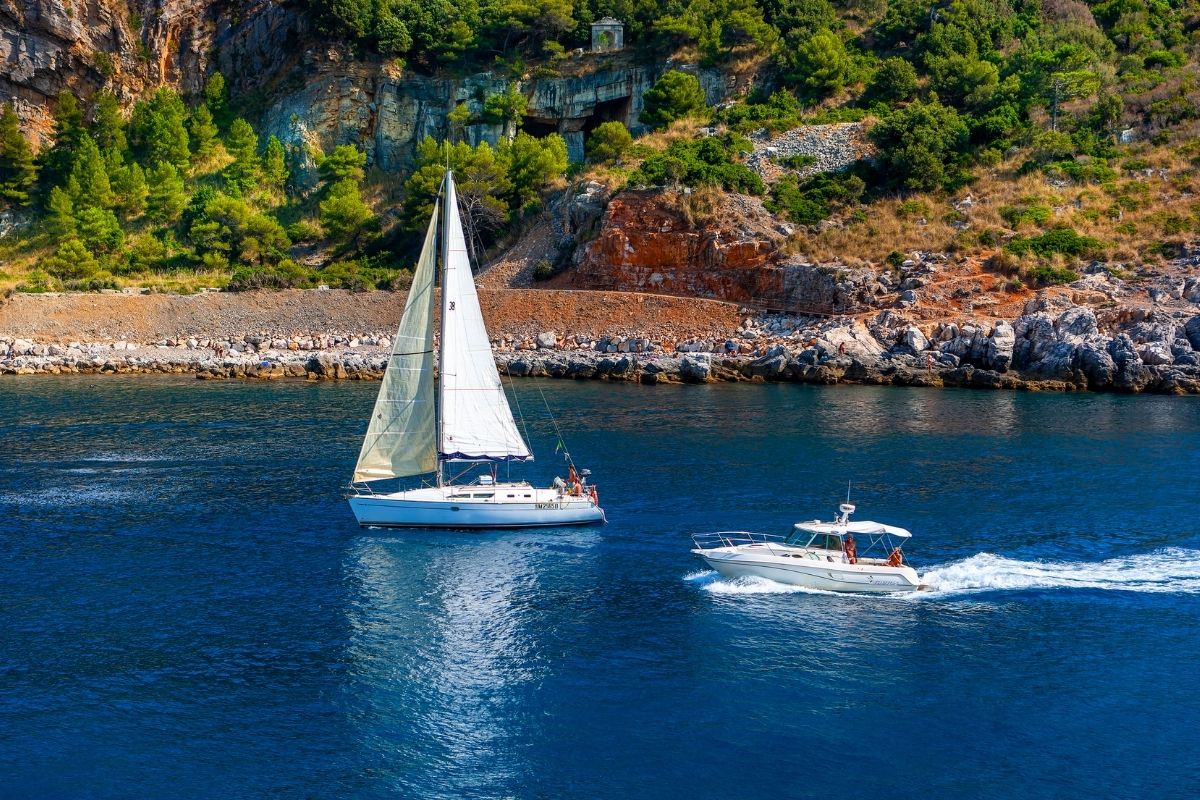 If you want to indulge in some classic nautical adventures without the crowds, you're in luck!
Private boat tours are a phenomenal way to enjoy the scenery and learn more about the culture, with personal attention from your guide and the crew.
And of course, there's more to do on this excursion than just cruise around!
Hop overboard for a swim or snorkel session, explore some of the local villages, and nibble on delicious treats as you float along.
It's truly a special treat – particularly if you're looking for romantic things to do in Cinque Terre!
Hot tip: Read more about the 10 best boat tours in Cinque Terre.
25 – Make a (literal) splash at Manarola Marina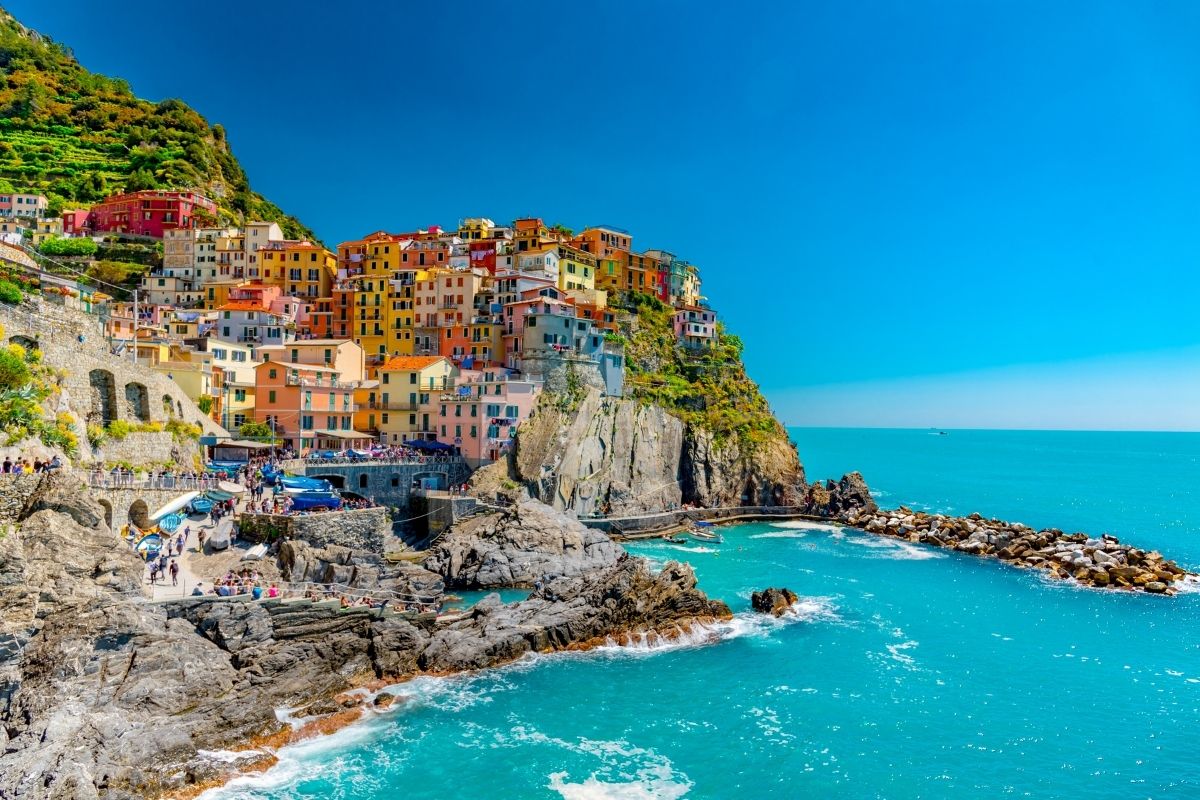 Much like its counterpart at Corniglia, the Manarola Marina is a great entryway to some of the best swimming spots in town, with a great mix of busy areas and quieter spots.
The busy area is easily accessible via a short flight of stairs from the main section of town, with a great stone slab that's perfect for launching yourself into the water!
And if you walk a little further, you'll likely find even more rocks to relax on; there's really no shortage of ways to enjoy the area!
26 – Walk along Via dell'amore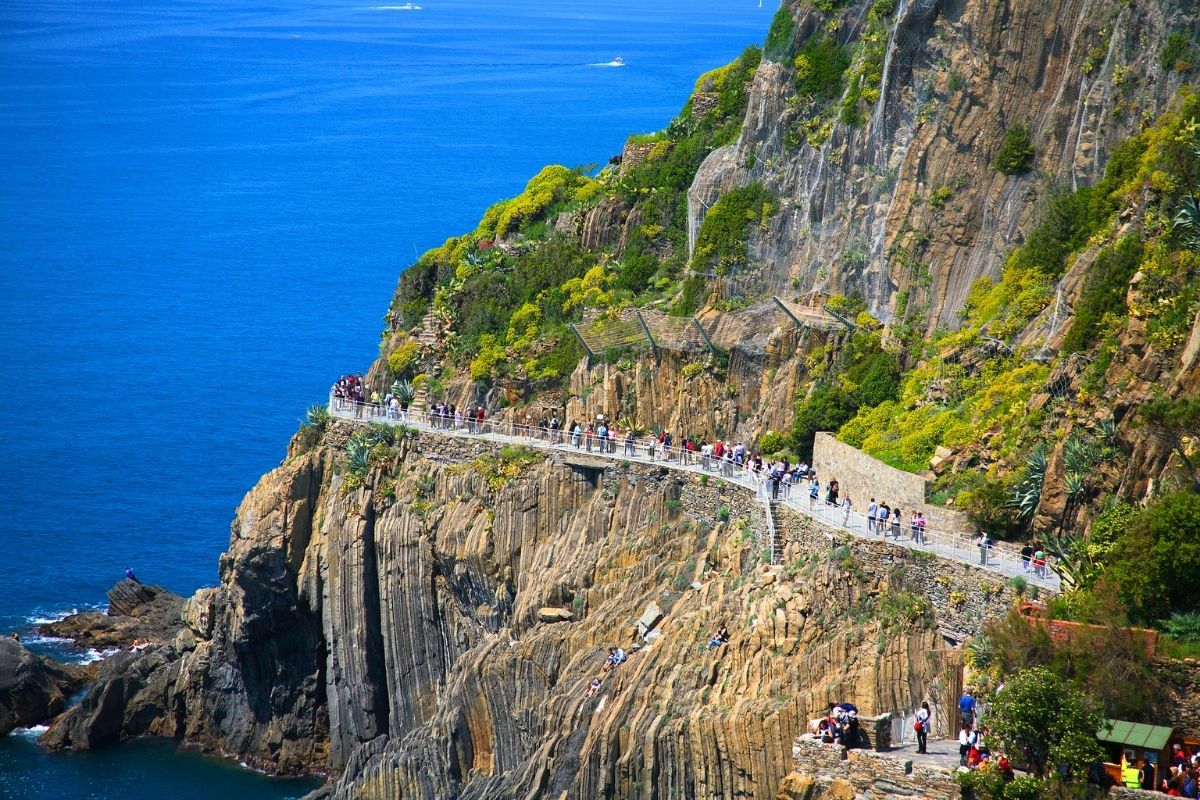 Sometimes, the aesthetic pleasure of a walking path is worth the stroll in and of itself, and that's certainly the case with this road!
As the name suggests, its lovely views and serene route have made it a popular place for a romantic stroll; but the road is also a visual treasure in general.
Indeed, the path, which runs right beside the water, is actually a UNESCO World Heritage Site… not bad for a simple walking trail!
27 – Make pesto (and all kinds of other treats) in a cooking class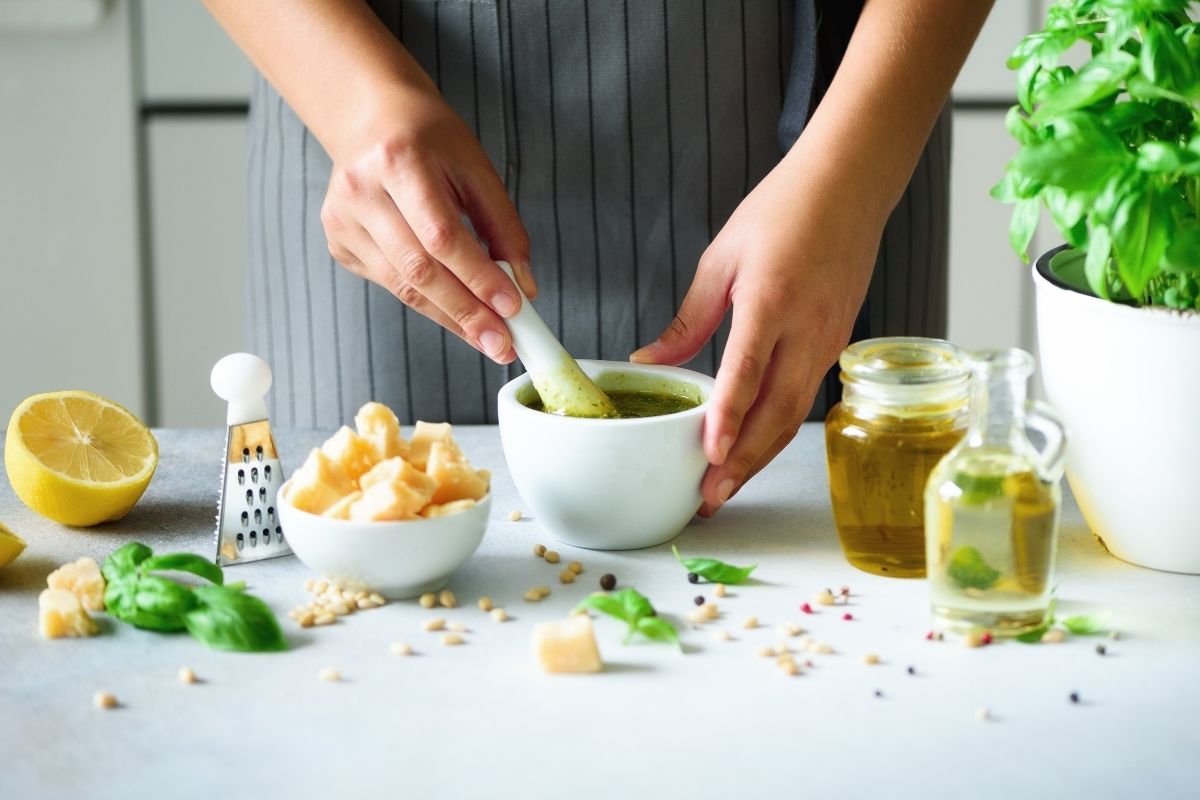 Eating the food here is all well and good, but let's be honest… making it's just as fun!
No matter where you're at in your personal culinary journey, cooking classes are a great way to engage with the culture, while also picking up some skills that you can use at home!
Visit a local's home and dive into some marvelous dishes, from baked goods to  luscious pasta recipes that have been handed down for generations.
And if you're really looking for something unique, try your hand at pesto making!
This classic Italian sauce involves a whole range of delicious ingredients… and mixing them all together is half the fun!
Follow along with your teacher as you prepare each part of the spread, and use a mortar – traditionally made of marble – to crush it all up into one magnificent blend.
28 – Absorb the atmosphere of the Church of San Lorenzo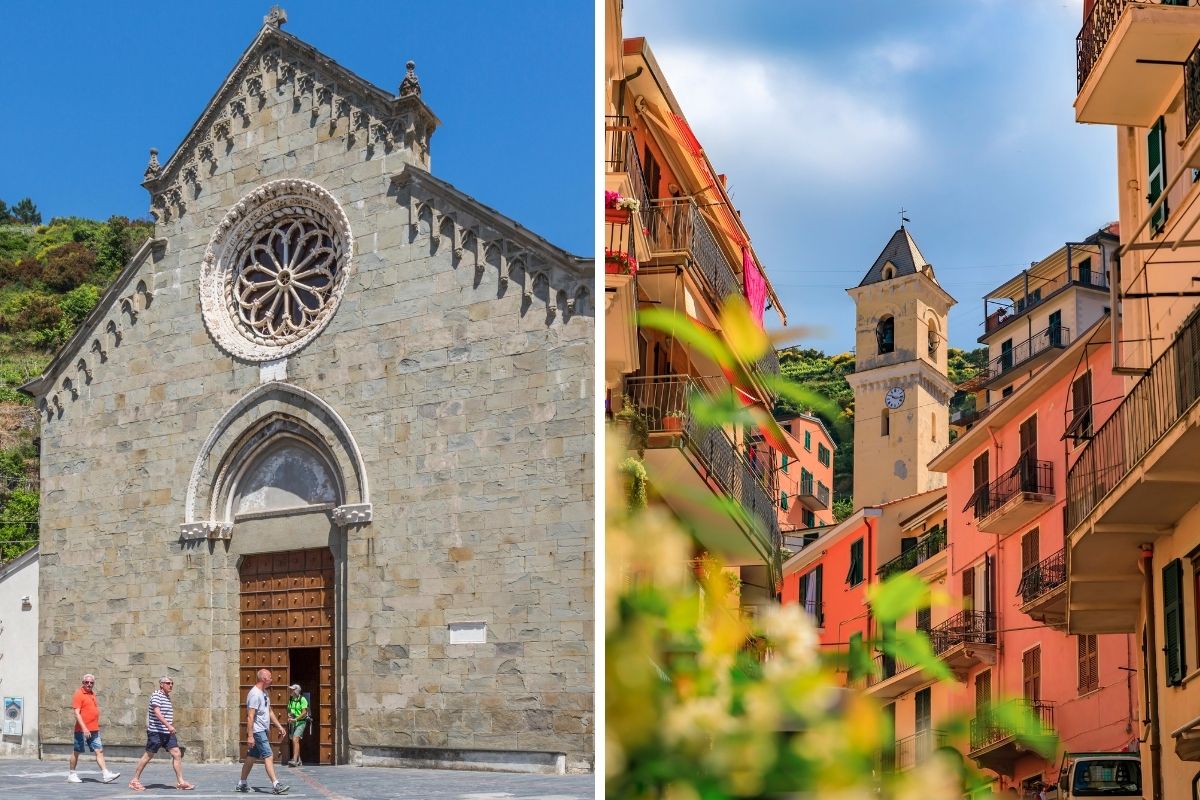 This understated little building, with its weathered and welcoming stonework, has been in use since the medieval era; and when you stop by, you'll see why!
Located right in the thick of the action, the church is devoted to the town's patron saint, and is known for its stunning triptychs and historic bell tower.
Take some time to enjoy the Oratory of the Disciplinati as well; this distinctive yellow building was once home to the famed Disciplinati congregation, which was devoted to protecting the town's weakest and most vulnerable citizens.
Afterwards, take some time to wander along Via Discovolo, one of the busiest streets in town; you'll find no shortage of places to eat a good meal, sip a nice coffee, or grab an unforgettable souvenir!
29 – Watch the Sunset at Nessun Dorma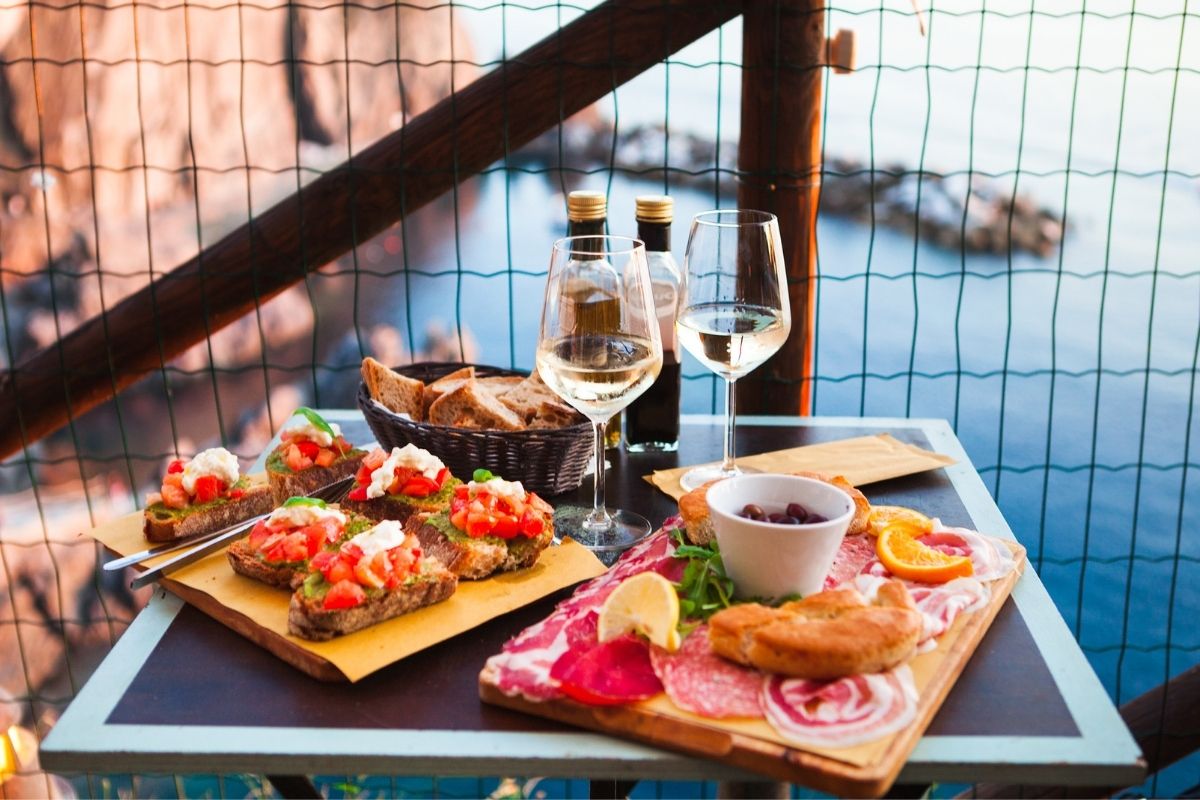 Since 2014, this local hotspot has served up some of the freshest flavors in town, with scenery to die for!
Enjoy crisp salads, scrumptious meat and cheese platters, or some classic bruschetta – all locally sourced, and all washed down with a classic glass of vino.
You can even learn the secrets of the pros by enrolling in a pesto-making class!
But the food's not the only draw here; its high vantage point makes Nessun Dorma a perfect place to catch some of those famous sunsets.
So slow down, sample the wares, and enjoy the view!
30 – Learn a lot (and get a little tipsy) with The Vineyard Walk & wine tasting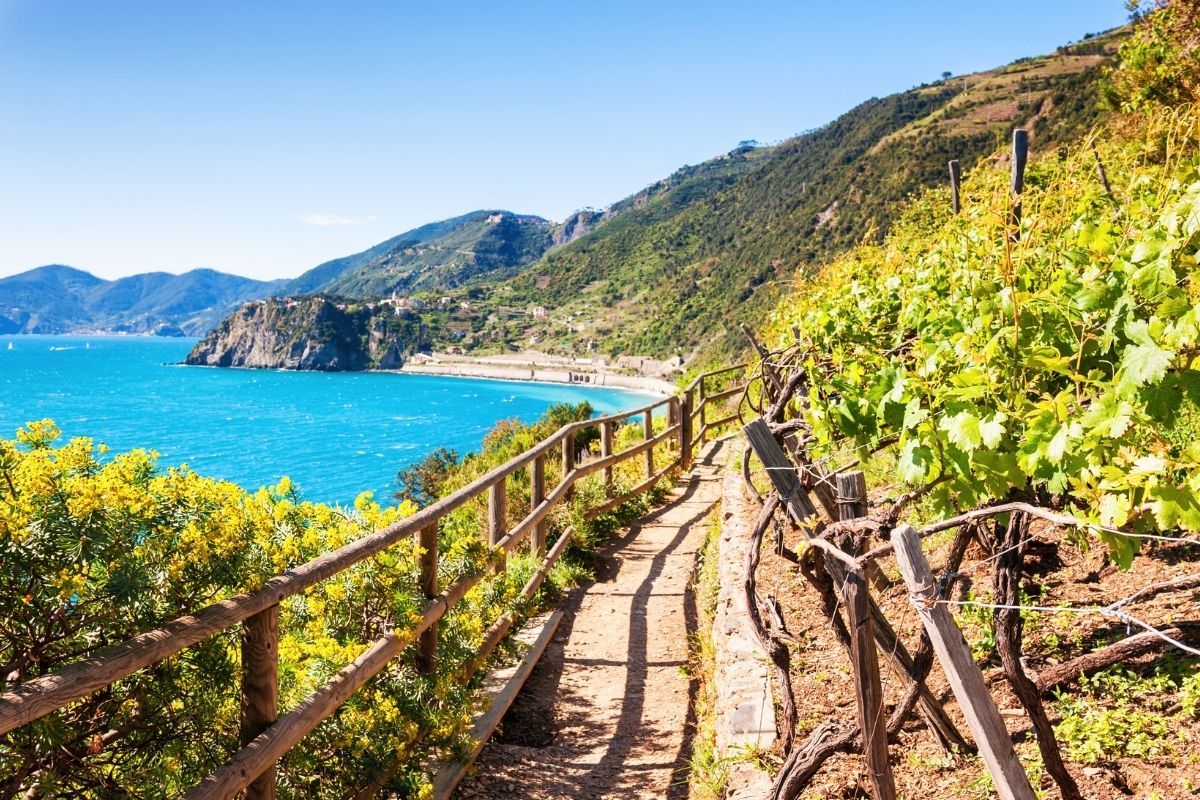 Combining two of the region's specialties, the Vineyard Walk is technically a hike… but it's really more of a luxurious, wine-soaked stroll!
Follow the path of the old wooden railing out of town, and make your way past gorgeous terraces, with the sea providing an added backdrop.
As you ascend into the hills, you'll be surrounded by the lush, looping grapevines that help kickstart the whole winemaking process.
It's a unique opportunity to surround yourself with the source, in its (somewhat) wild form!
And while you're in the region, don't forget to try some more official wine tasting opportunities, where you can learn even more about the local enterprise… and sip the end-products of those gorgeous grapes!
31 – Delve into the cultural nuances of Volastra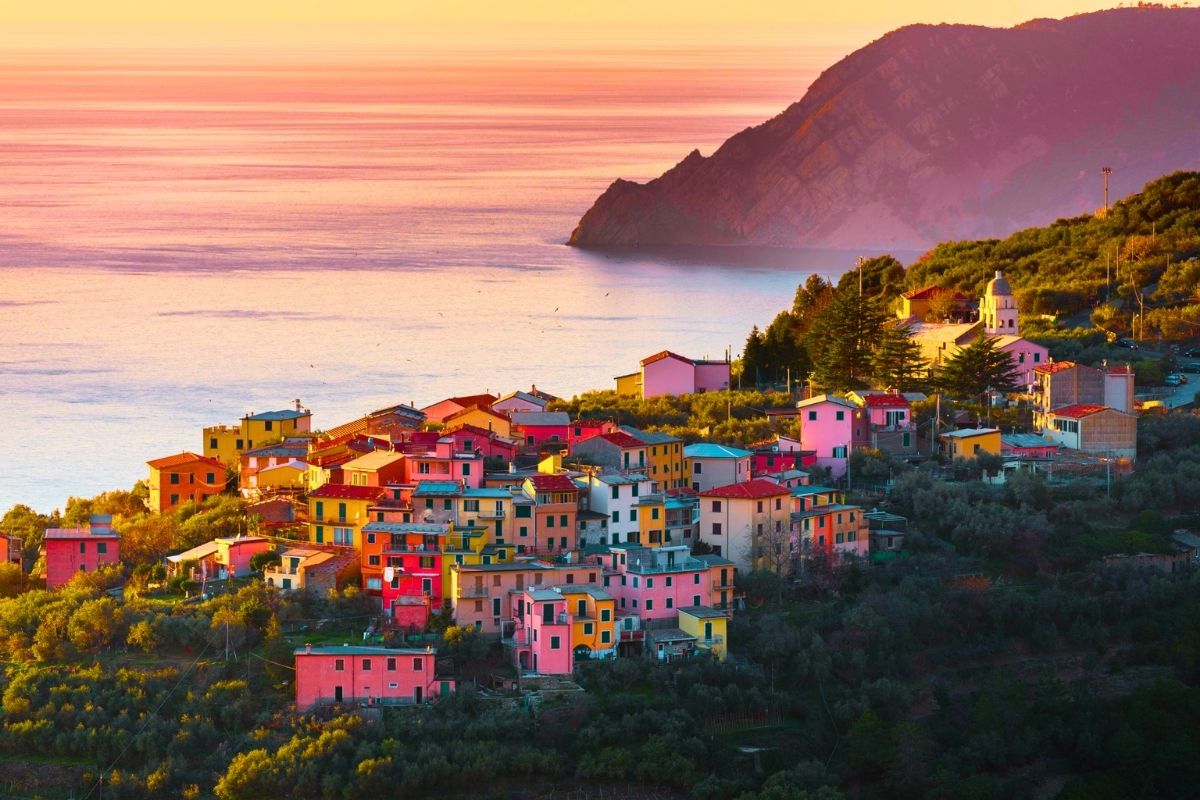 This historic site will catch your eye right away with its distinctive shape, strangely reminiscent of classic amphitheaters; and once you take some time to explore, you'll be enchanted even further!
Just up the hill from the main town, the remains of this village showcase the design strategies of Ancient Rome, with churches, vineyards, and homes all arranged together with neat precision.
You can also explore the neighboring village of Groppo, a charming little spot set up amongst the terraces that is also home to Cantina della Cooperativa Agricoltura Cinque Terre, one of the region's best wineries.
32 – Experience the wonder of Presepe di Manarola
While many of the popular things to do in CInque Terre are more associated with summer, it's well worth visiting during the Christmas season, when one of the region's finest traditions takes place!
Presepe is the local term for Nativity scenes, which pop up all over Italy – and the world – during the Yuletide season; and Manarola has one of the biggest and brightest displays of all, featuring a staggering 15,000 lights!
The project was started in 1976, and has continually grown in scope and scale ever since; in fact, the magnificent assortment of sculptures depicting such famous figures as Mary, Joseph, the angels, and the Three Wise Men has even made it into the Guinness Book of World Records!
Stop by to admire the dazzling display, which illuminates the hillside in a manner that is nothing short of holy.
Things to do in Riomaggiore
You might know it for the wine, or perhaps for the fabulous shopping opportunities; but Riomaggiore is also something of a gateway to the region, especially if you're approaching from the south.
Somewhat bigger and busier than the others, it still boasts the same casual, sunny atmosphere; if you want to have a slightly more developed experience without missing out on that classic village charm, this is the place to go!
33 – Step into history with a visit to Castello di Riomaggiore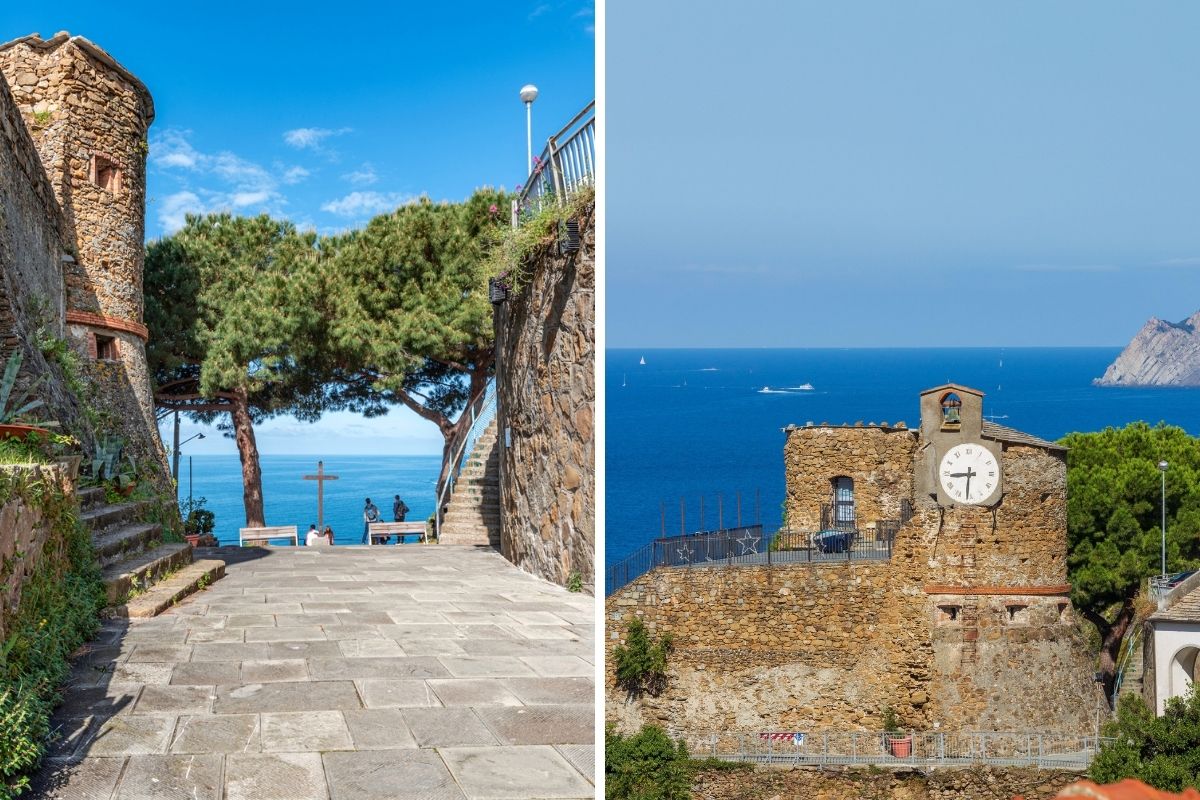 Residing majestically on a hill above town, the ruins of this ancient castle are hard to miss.
And it's all the better when you consider the intriguing history that it contains!
While it may not look quite as fancy now, the structure once served as a political stronghold in the region, dating back to the days of Genoese rule.
Nearby, you can see the lovely Oratory of San Rocco, a little church from the 1400s that is believed to have been built in celebration of the end of a plague outbreak.
34 – Sample inner peace at the Sanctuary of Montenero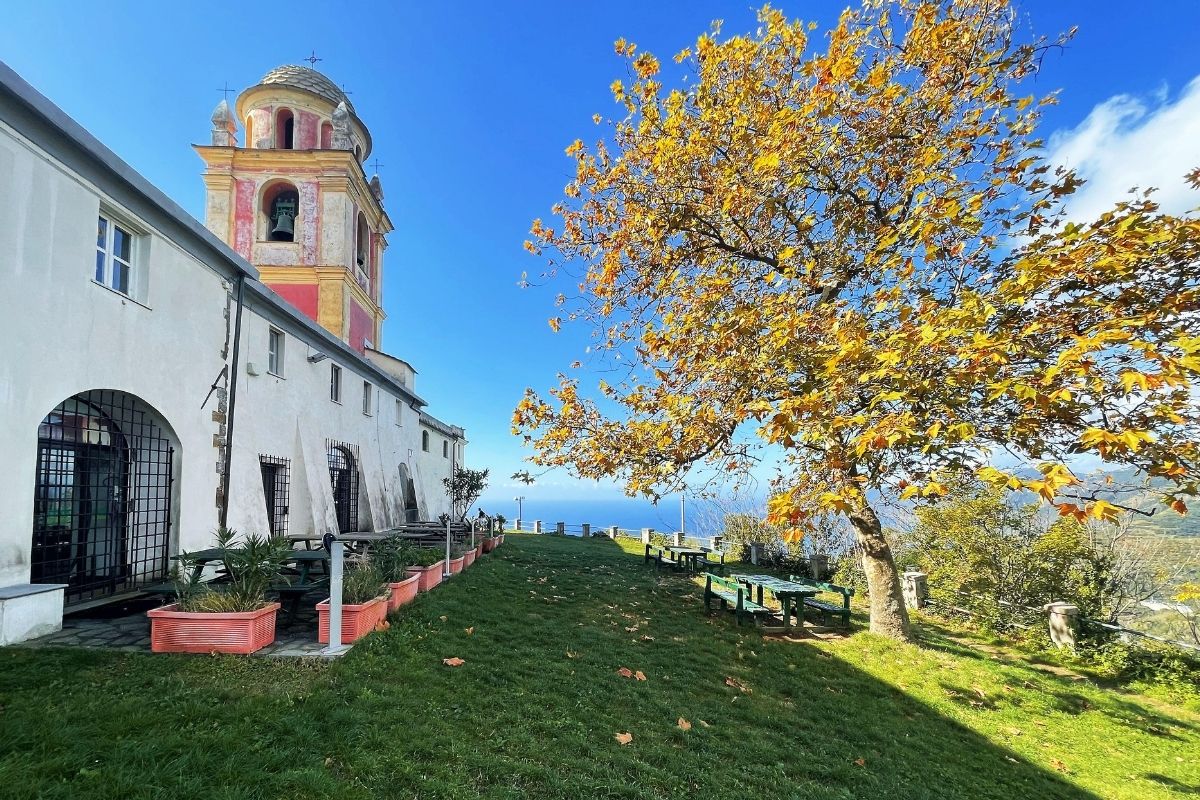 One of the many distinctive features of the villages are their individual sanctuaries – places where townsfolk and travelers can stop by for a bit of a religious experience.
The one in Montenero is unique in that it can be accessed only via walking paths, which makes for a lovely and somewhat adventurous excursion.
Amble through wild brush and along the wild borders of vineyards, following the signage along the strenuous-but-lively trail that leads to the shrine itself.
Drink in spectacular natural scenery as you make your way to the 14th century building, then take some time to explore the space itself.
Just be forewarned: during pilgrimage times, the area can get quite busy!
35 – Try some unusual eats on a food tour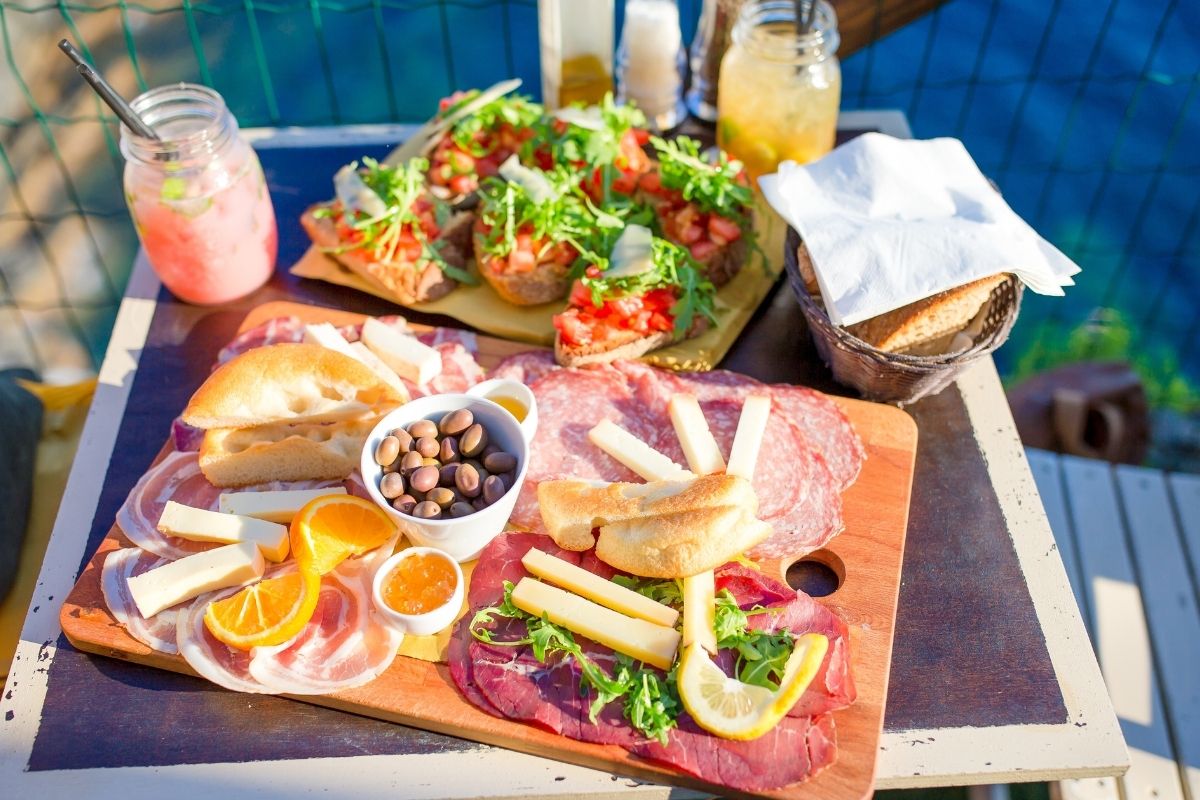 There are some excellent food tours all over the region, and Riomaggiore is no exception.
But as you make your way through the various culinary hotspots, you'll also get the chance to try one of the most unique – and delicious – things to do in Cinque Terre!
Sure, you may have had seafood before… but have you ever eaten it out of a cone?
Believe it or not, enjoying some fresh catches ice cream-style is a beloved local tradition, with calamari being among the most popular options.
It's convenient and tasty, and most importantly, a classic local tradition!
36 – Get away from it all (sort of) at Riomaggiore Beach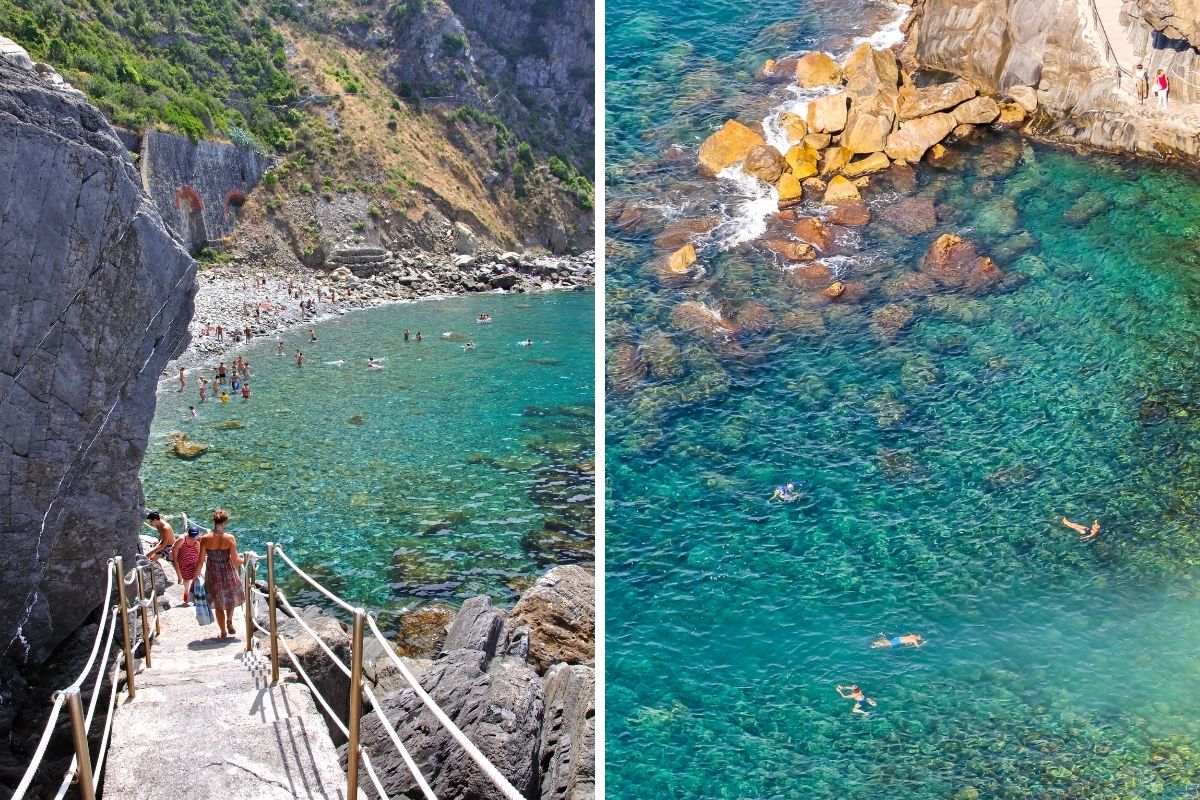 While all of the five town's shorelines have their own unique attributes, this beautiful beach has something of an unusual reputation.
It's not quite as easy to go for a swim, and with its layers of stones and somewhat secluded entrance, you'll definitely have to work for your beach time.
But the sights are spectacular, the atmosphere sublime, and the slight trek will be well worth the effort.
37 – See the eclectic collection at Church of San Giovanni the Battista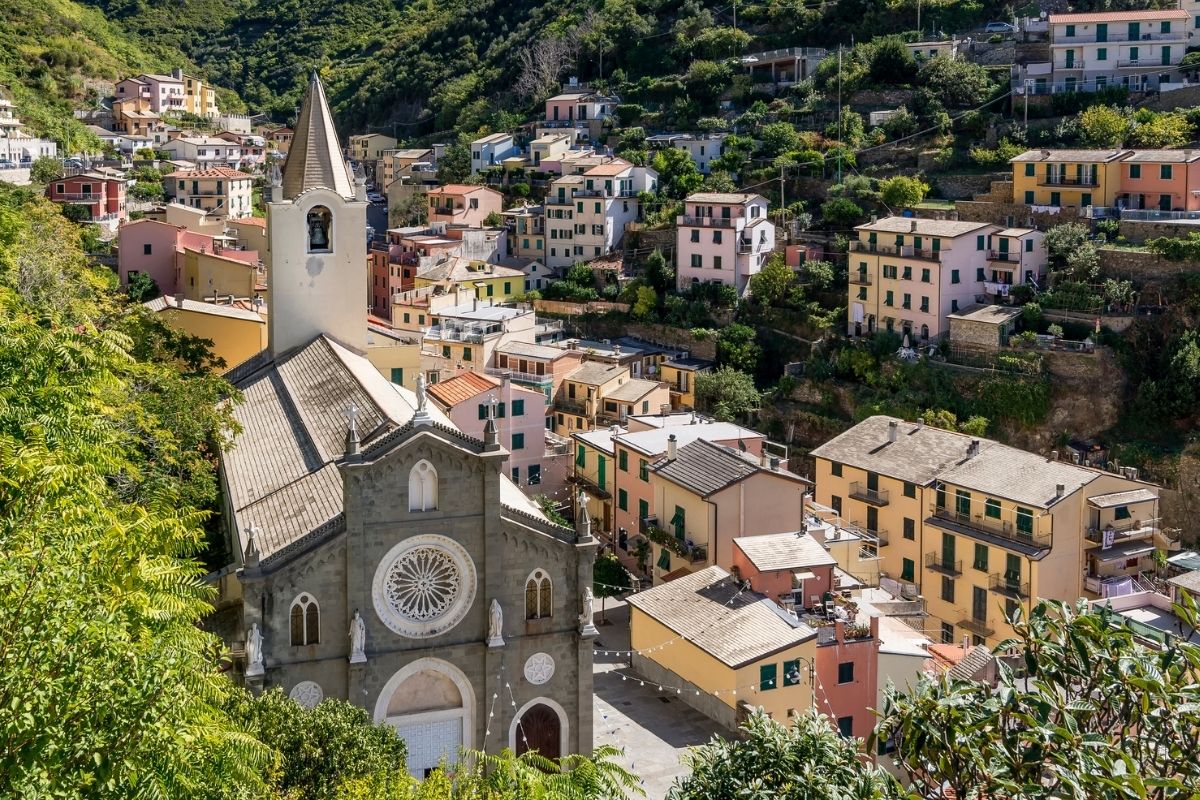 Rounding things out, we have, yes, another church… but like its comrades, it has a rich history and culture that make it well worth dwelling at!
While it was originally founded in 1340, the structure – which is devoted to St. John the Baptist -, it has seen some additions and renovations over the years, including a significant update in 1870.
Along with its mixed architectural styles, the church contains artifacts from various centuries, including a mechanical organ from the 1850s and some remarkable marble pieces from the 1400s.
It's a mishmash of eras, in the best possible way!
How to get to Cinque Terre?
While these quaint little towns may seem like a world unto themselves, they are easily accessible from some of the region's more popular cities!
Check out some of the awesome Cinque Terre tours from Florence, Cinque Terre tours from Livorno, Cinque Terre tours from Milan, and Cinque Terre tours from Lucca; they're perfect options if you just want to indulge in a day trip, but if you want to stay a little longer, they're also great starting points.
Where to stay in Cinque Terre?
In Monterosso al Mare, Hotel Marina provides beach proximity, a beautiful garden, and understated yet elegant rooms, all in the heart of town.
In Vernazza, you can kick back and relax at Hotel Gianni Franzi, with Doria Castle right above you, and the sea right below.
Corniglia offers up Corte Del Gallo, a charming bed and breakfast with a spacious garden perfect for sunbathing, and the train station practically outside the door.
And in Manarola, Ca' D'Andrean offers a bar for relaxing after a day out on the town, and an excellent breakfast to get you amped up in the mornings.
Meanwhile, Riomaggiore features Scorci Di Mare, which provides easy access to both the hiking trails and all of the best amenities of town, as well as cozy, contemporary amenities housed within a magnificent 14th-century building.
Where to go next?
While each of these villages is a gem – and they work even better as a collective! -, there's no shortage of gorgeous spots nearby to check out.
Genoa, the capital city of the Ligurian region, is renowned for its lively atmosphere, stunning architecture, and bustling port, all harkening back to its days as a thriving empire.
The nearby city of La Spezia offers a similarly bustling vibe, as well as some excellent museums and energetic markets; it's also a great starting point for your Cinque Terre adventures, with many day trips departing from its streets.
And just a few hours away, the region of Tuscany is no slouch either, with its historic, jaw-dropping towns.
Check out the many ancient buildings and excellent shopping opportunities in the walled city of Lucca, or the winding streets of Pisa, which offers plenty of great cultural institutions to go with its acclaimed Leaning Tower.
You can also soak up the phenomenal artistic culture and incredible food in Florence, or enjoy the unique architecture and Renaissance history of Siena.
Final thought
As you roam from town to town, you may feel like you're sampling different angles of paradise… and you'll be even more convinced after spending some more time in each one!
There's an endless array of things to do in Cinque Terre for foodies, learning enthusiasts, hikers, and beachcombers; and with distinctive characteristics to each village, you'll forever be finding new reasons to fall in love with the area.
Take your time to explore them all – trust us, it's worth it!