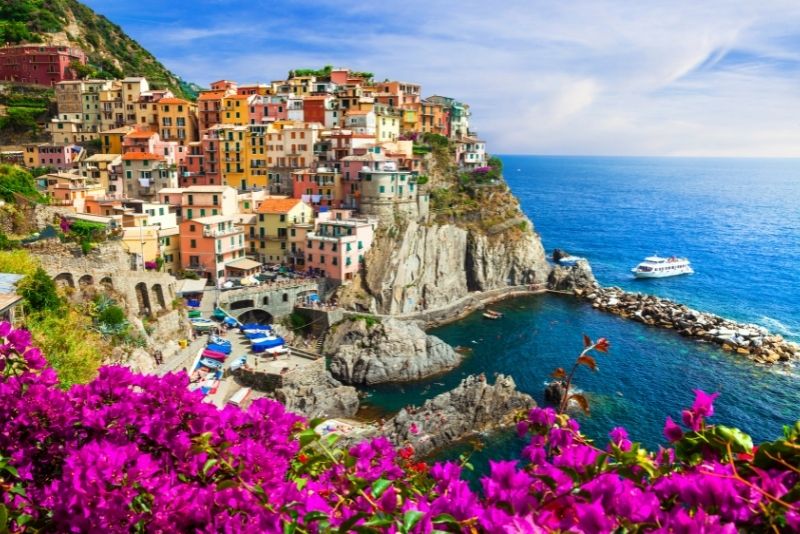 Finding itself on countless vision boards, bucket lists, and covers of travel magazines; the stunning, sun-kissed Italian paradise that is Cinque Terre – translating to Five Lands – is nothing less than a work of art. Straddling the shores of the Ligurian Sea, this rugged coastline is dotted with five rainbow-colored fishing villages (plus ancient Portovenere, the unofficial sixth), each with its own unique identity and flair, and each more beautiful than the last.
On foot, visitors can wander through hidden alleyways, up and over dramatic hills, down the quaint café-lined main streets, and through the authentic and family-run restaurant rows. The views from the cliffside over to the sparkling turquoise waters are postcard-worthy at every turn, and it's easy to spend hours getting lost in the dreamy landscapes. Calling to all hikers, the most rewarding land-based experience is the 11 km Blue Trail that juts along the cliffside connecting Riomaggiore to Monterosso al Mare.
But for those who want to take in the area from a different perspective, and truly appreciate the vibrant palette of colored cliffside houses, then the water beckons.
Designed to show off all the best bits of the beloved coast, there is no shortage of Cinque Terre boat tours departing from spots like Levanto, La Spezia, and Monterosso al Mare; with easy connections from cities like Pisa and Florence.
These seaborne excursions range from leisurely lunch cruises with stops at each village to luxury private sailing adventures that make you feel like royalty. No matter what type of tour you're looking for, this slice of Italian coastline doesn't disappoint.
To save you all the research and get you on the water sooner rather than later, we've got you covered with our list of the ten best Cinque Terre boat trips.
1 – Cinque Terre boat tour from La Spezia Port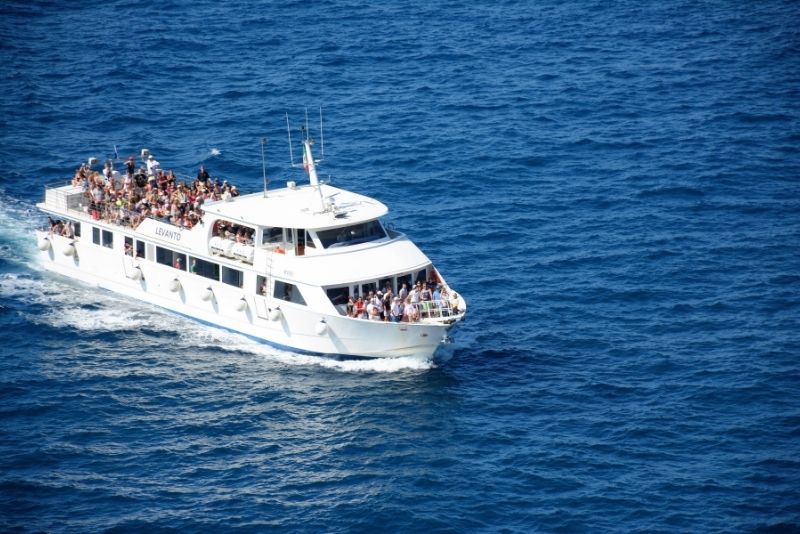 As the closest major urban area to the dramatic cliffside villages, sitting within striking distance of Pisa, Genoa, and Florence, many boat trips depart from La Spezia port to explore the colorfully quaint Cinque Terre.
The tour will take you along the dramatic coastline, past towering cliffs, and crystal-clear waters before either arriving at the southernmost of the five villages, Riomaggiore, on continuing on to one of the more tourist-frequented villages, Vernazza and Manorala.
Wherever you stop, you'll have time to disembark and explore the vibrant towns with their pastel-hued houses, winding streets, and stunning views out to sea before continuing on your journey.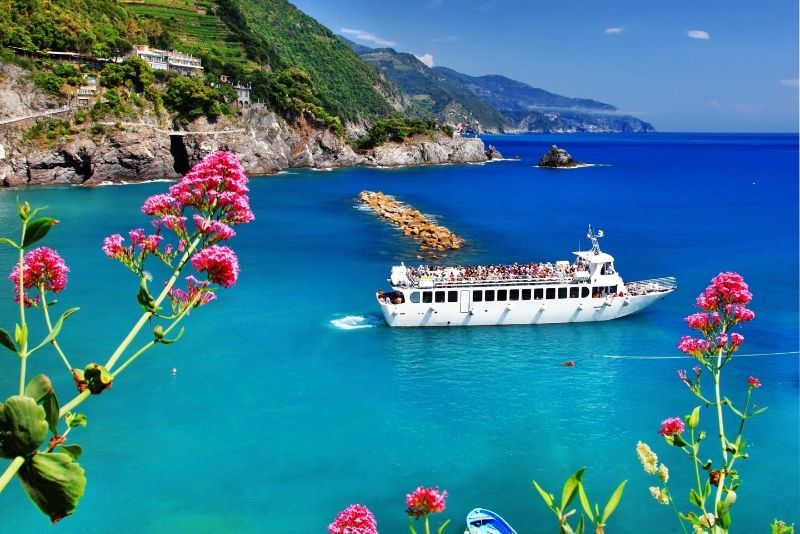 In most instances, the next and major stop is Monterosso al Mare, where you can enjoy a swim in the sparkling Ligurian Sea or simply relax on the beach with a good book before enjoying an authentic Italian lunch (which is typically included, depending on which tour you book).
While the order of stops might change, the enjoyment does not; along the way, a host of boat tours will allocate time for some leisurely swimming in the dreamy bays, and give you plenty of time to explore the villages on foot.
2 – Cinque Terre sunset boat tour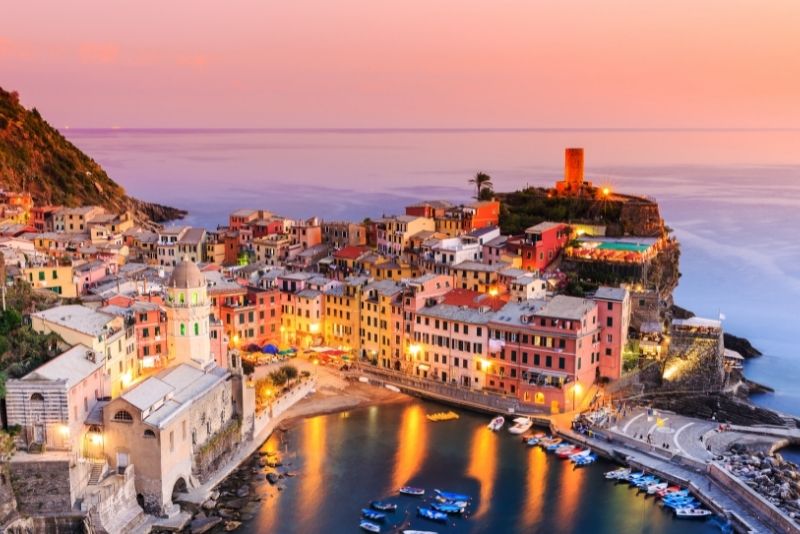 By day, Cinque Terre astonishes with its seemingly impossible architecture, tranquil azure waters, and Mediterranean atmosphere. But as the sun begins to dip below the horizon, a new beauty emerges. The villages light up with a warm glow, the water becomes a deep inky blue, and the air is filled with the sounds of laughter and clinking glasses.
As you cruise along the coastline, you'll have ample opportunity to snap photos of the picturesque villages illuminated against the darkening sky. And as an added bonus, most tours include a delicious dinner of fresh seafood (what Cinque Terre is known for) and an onboard aperitivo to kickstart the adventure.
The routes differ depending on which tour you choose, but most will takes you past all five villages, so you can expect to see Monterosso al Mare, Vernazza, Corniglia, Manarola, and finally Riomaggiore as the day transitions into night. And because the departure is typically an hour or two before sunset proper, you're given time to go swimming, diving, or snorkeling in the warm waters.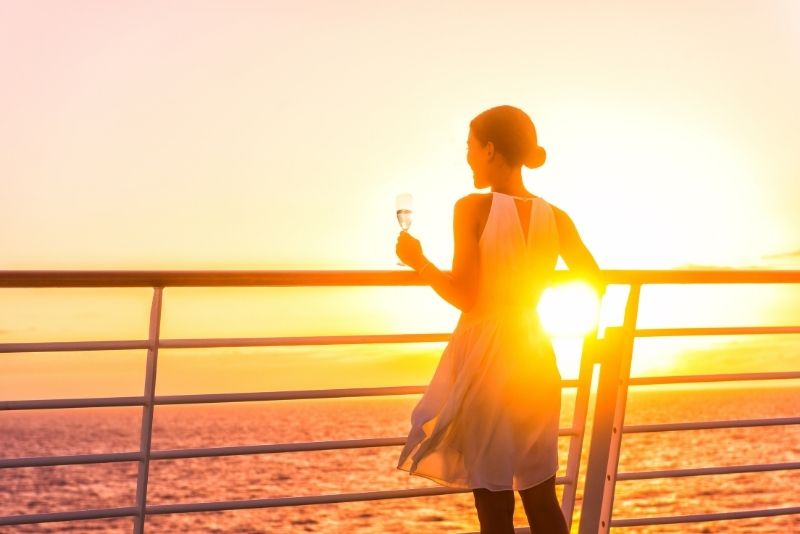 Allowing for plenty of photo ops along the way (the views are especially breathtaking during golden hour), make sure your camera is fully charged and ready to capture some truly stunning shots.
Whether you're looking to relax with a glass of wine in hand or want to get up and dance the night away, or go down a different path altogether with some dusk paddleboarding, a Cinque Terre boat trip at sunset is the perfect way to end your day.
3 – Cinque Terre snorkeling and diving boat tour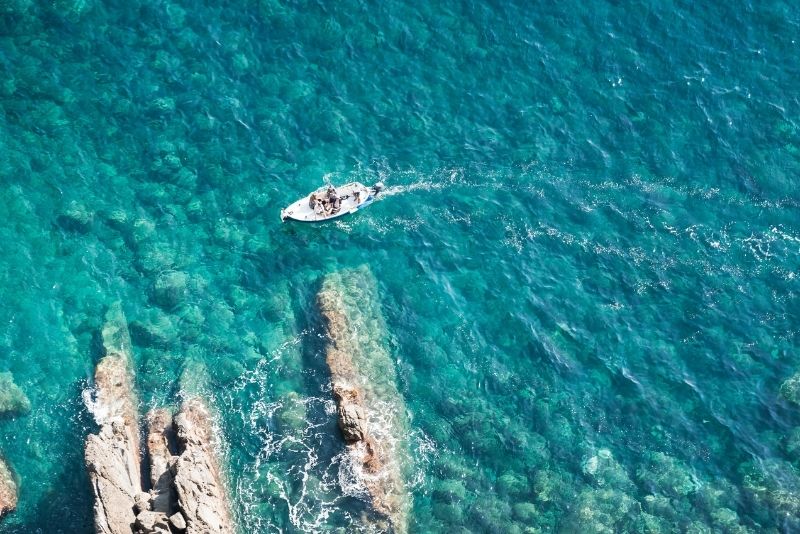 Sure, sightseeing from afar is all well and good. But wouldn't it be so much better to see the Cinque Terre from up close? With a snorkeling or diving boat tour, you can jump right into the azure waters and get an up-close look at the dramatic coastline, colorful fish, and thriving coral reefs.
Most tours will take you past at least three of the five main villages (Corniglia, Vernazza, and Monterosso al Mare are the three northernmost and often combined), however, while the views are stunning, there's more to these tours than just photo-ops.
Your captain will leave the tourist crowds behind and guide you to the more dramatic swimming spots: places where you can explore caves, swim through tunnels, and discover hidden coves. And because these tours are typically led by knowledgeable guides who are passionate about conservation, you can rest assured that your tour is eco-friendly and sustainable.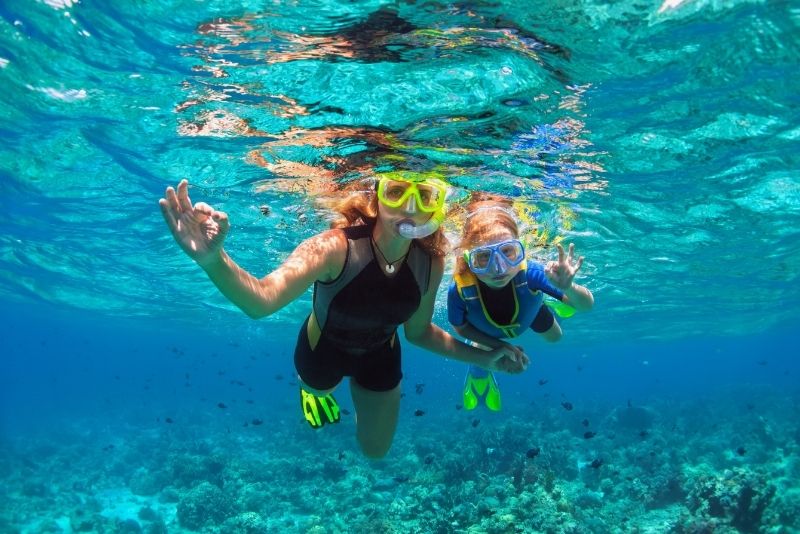 Whether you're a seasoned diver or have never set foot in the water, there's a snorkeling or diving tour to suit your needs. The introductory dive course will show you the ropes and have you exploring a maximum depth of 12 meters by day's end, while the Open Water Diver course is available for those looking to take their skills to the next level. On the other hand, and ideal for families, the snorkeling trips provide a more all-around insight into Cinque Terre life, often combined with town visits or a hearty Italian meal.
Even if you don't opt for a swimming-based tour, during the summer months, make sure to take a dip in the waters – the oh-so-warm waves combined with the vista of the towns is a heavenly combination.
4 – Cinque Terre boat tour from Monterosso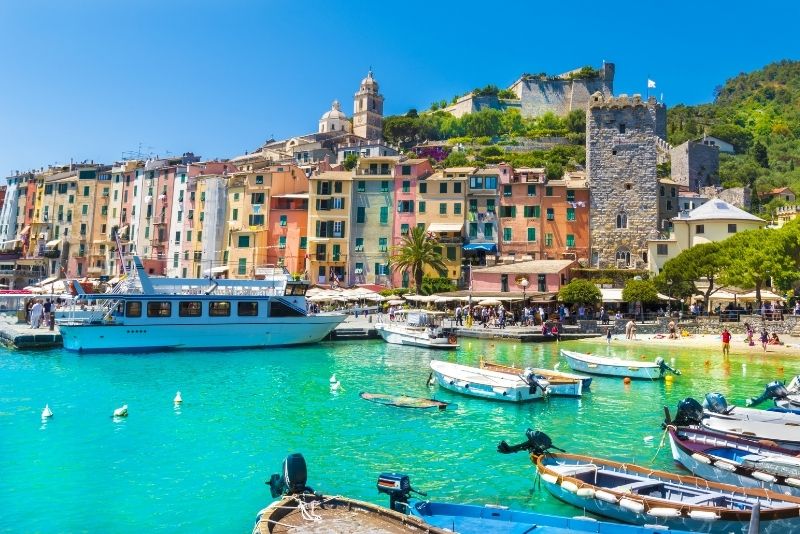 While you're certainly not shy of options when it combines to choosing a Cinque Terre boat tour, one of the most popular choices – for good reason – is to depart from Monterosso al Mare.
As the largest and northernmost village in the Cinque Terre, Monterosso is a great base for exploring not only its namesake village but also Vernazza, Corniglia, and Manarola – all of which are within easy reach by either The Cinque Terre Express trains or the Blue Trail cliffside hike. Riomaggiore is within striking distance as well, although is a little further than the others, as the southernmost of the bunch.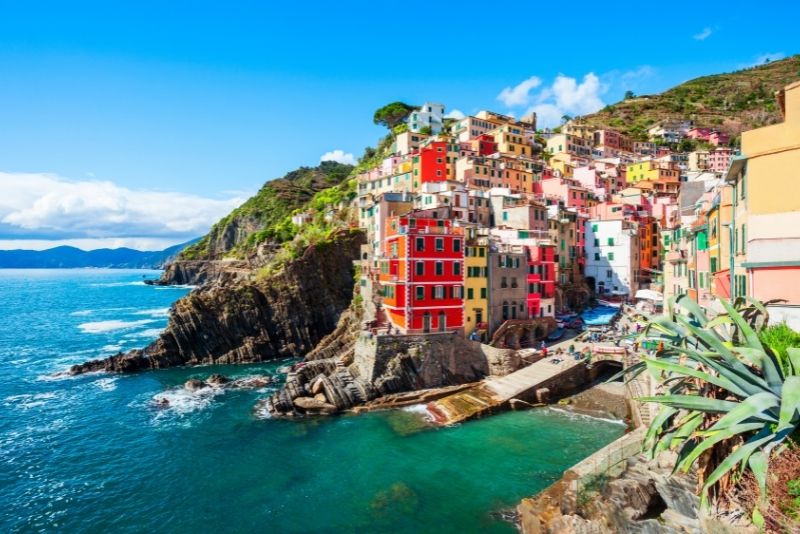 Before jumping on your boat tour from Monterosso, be sure to spend some time wandering its narrow streets and alleys, lined with cute cafes, restaurants, bars, and gelaterias. After soaking up the sun on Spiaggia Fegina – regarded as the best beach in Cinque Terre – make your way to the old town and stroll past the striking 14th century Chiesa di San Giovanni Battista and the Oratorio dei Neri (the Church of the Dead).
If you don't mind a little extra walking, head up to Torre Aurora, the 13th-century tower that once formed part of the village's fortifications, and enjoy the panoramic view from the Capuchin monastery!
Now that you've ticked off the main haunts (and sampled some of the village's best food), your water chariot awaits! All kinds of boat trips are available, from private tours to dinner cruises, sightseeing trips, and sunset sails, so pick your poison, book in advance, and your captain will have you out on the water and back to Monterosso for a nightcap in no time!
5 – Cinque Terre kayaking tour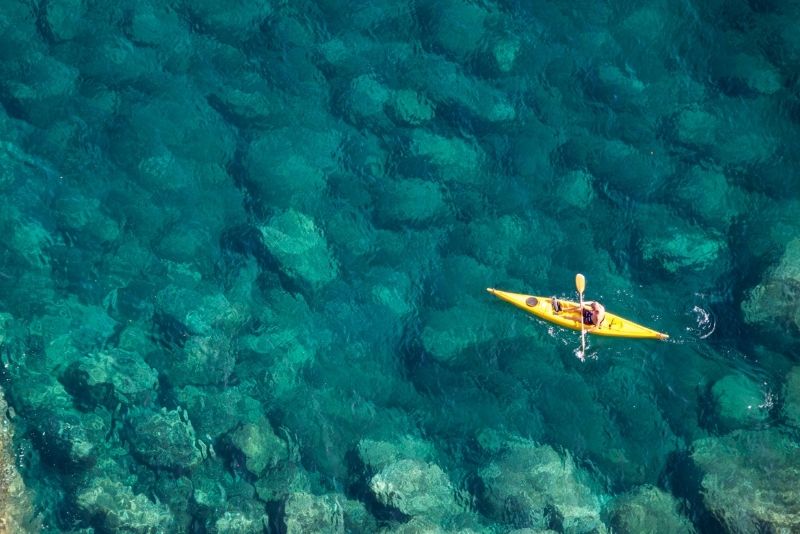 Searching for something with a little more solitude, as well as a little more active than cruising around in a boat and soaking in the sun? Then a Cinque Terre kayaking tour could be just what the doctor ordered.
Typically starting from the village of Monterosso, you'll paddle your way along the Bay of Poets, taking in stunning views of the rugged coastline and crystal-clear waters as you go. You'll visit caves accessible only by the sea, unwind on secluded beaches that most tourists don't even know exist, and cap it all off with an authentic apertivo and – depending on your preferred itinerary – a delicious Italian lunch with fresh focaccia.
As with any good kayaking trip, there will be plenty of opportunities to stop and take a swim, or just float around and enjoy the view. The tour guide will also share some insights into the area's history and culture as you paddle past protected marine areas, old watchtowers, and secluded coves.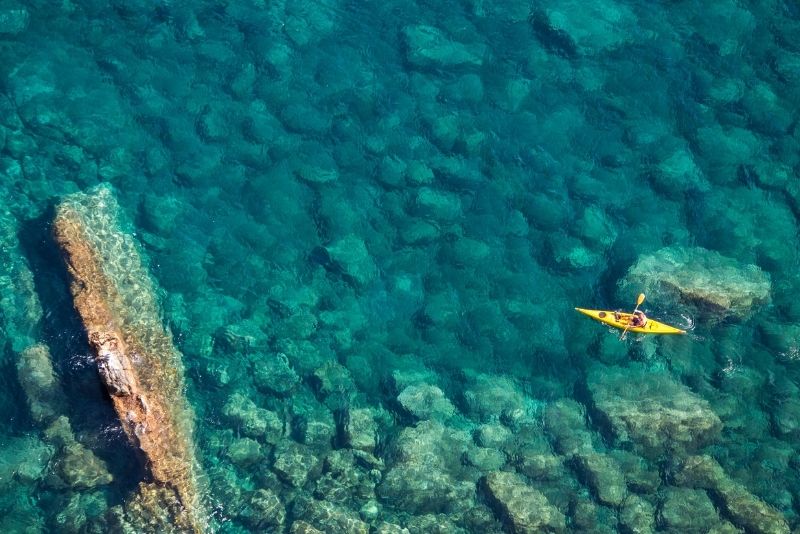 With a bounty of options – combine a kayak trip with a wine tasting, a snorkeling session, sunset excursions, or just rent your own – there's a Cinque Terre kayaking tour to suit everyone. The shortest of the bunch is about two hours, while the longest (including lunch, stops, and swimming) can cover 6-8 hours. Either way, make sure you pack your sunscreen, hats, and plenty of water!
For something a little different, consider one of the kayak trips that depart from Portovenere; it allows you to see a different side of the Cinque Terre, and avoid the crowds at Monterosso.
6 – Full day Five Terre shared boat tour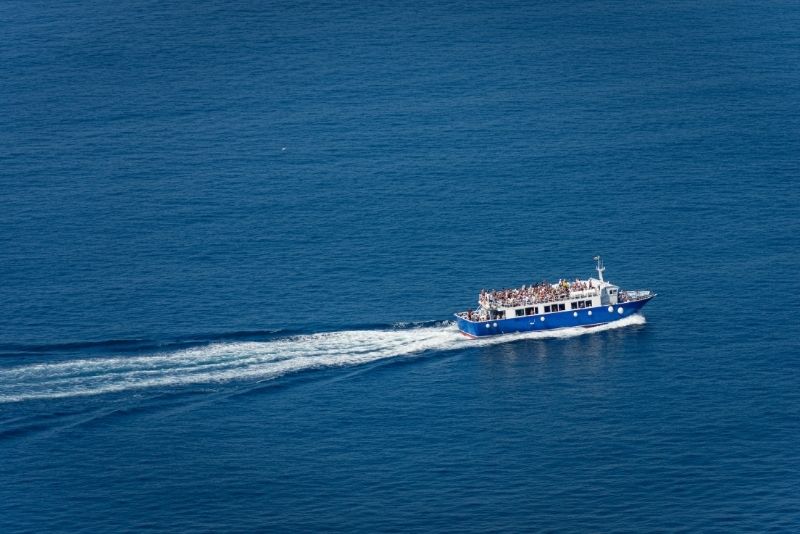 While other tours might stop at one or two of the five charming villages, and cruise past three or for of them for a look from a distance, this full-day shared boat tour will give you an in-depth look at all of them (plus a little surprise; stay tuned)!
Typically starting from the largest of the villages, Monterosso, you'll cruise past Vernazza, taking in the views of its red roofs and medieval castle perched atop a rocky outcrop. Next up is Corniglia, the only village not directly on the water's edge, and the most tranquil of the bunch, surrounded by vineyards and terraces.
As you move on to Manarola, you'll be able to see why it's often considered the most picturesque of all the villages – its colorful houses seem to cascade down the hillside towards the harbor. The tour will then take you on a short cruise around Riomaggiore, past its iconic pastel-colored buildings that cling precariously to the cliff face before – depending on your tour – potentially arriving in Portovenere, a little-known medieval town that earns the unofficial title of the sixth of the Cinque Terre villages.
Here, without the enormous crowds, the UNESCO Heritage Center boasts an imposing clifftop fortress home to the historic Church of St. Peter.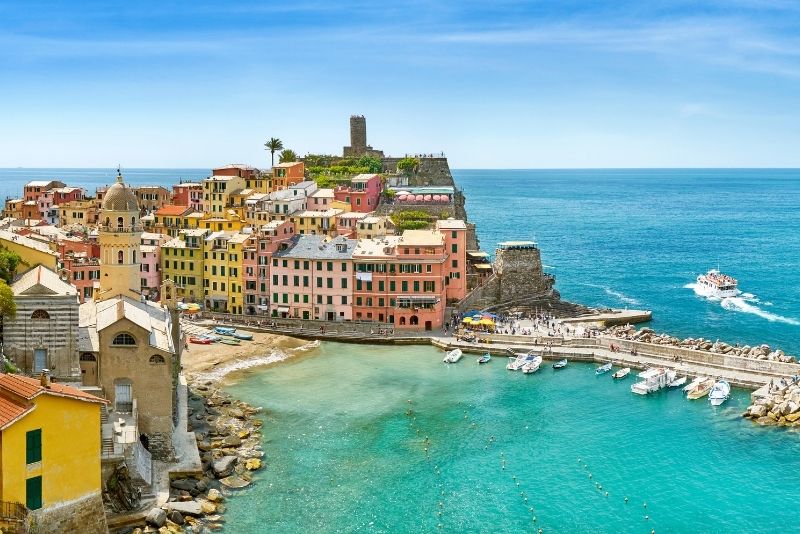 Supplementing the above route, many shared boat tours also start in La Spezia and then do the same itinerary backward, starting with medieval Portovenere before making its way up the coast.
Besides the chance to see all of the different towns up close, the shared boat tour includes a private skipper (driver) who will be more than happy to share insider tips and knowledge about the area as you cruise. And, of course, what would a boat trip be without a swim stop (or two) along the way? You'll have plenty of time to cool off with a dip in the Mediterranean before returning to Monterosso for some final exploration on dry land!
Since the small boat is 'shared', it's a great opportunity to get to know fellow travelers as you share a glass of wine and watch the sunset over the villages.
7 – Cinque Terre sailing boat tour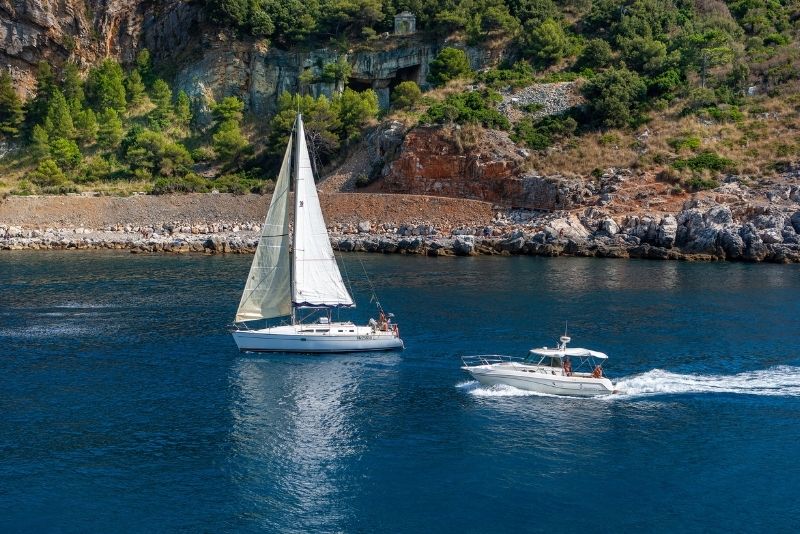 You're on vacation, after all, so why not splurge a little and embrace the feeling of luxury? A Cinque Terre sailing boat tour is the perfect way to do just that.
You've got two options when it comes to sailing in the area: rent a private boat and go about your day however you like. You can anchor in the bay and snorkel, cruise around with a wine in hand, or go off the beaten track and check out the beautiful villages of Portovenere and Lerici and the hidden islands of Palmaria and Tino. On the other hand, you can always pass off all the hassle of organizing to a tour company.
Most rentable boats are docked down at the La Spezia port – this is the biggest port in the area, so there are more boats to choose from. After booking and boarding your comfortable vessel of choice – rentable by the day, and rather affordable when you're traveling in a group – it's time to set sail along the Bay of Poets.
As you cruise along the coast, you'll have ample opportunity to admire the dramatic cliffs, crystal-clear waters, and – of course – the colorful villages that make this area so special.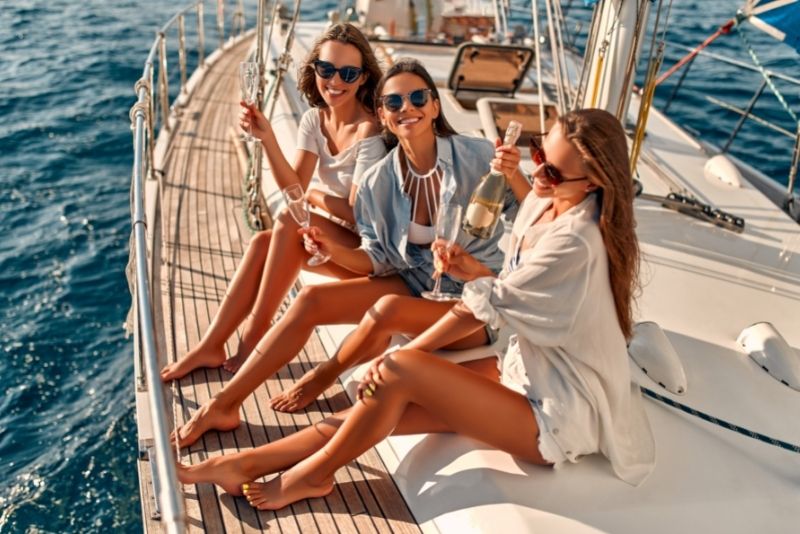 On the other hand, guided sailing tours take care of all the organizing, food, sightseeing, and – most importantly – the sailing for you. Just sit back, relax, and enjoy being pampered as you cruise along the coast. Make sure you bring your camera, as there'll be plenty of photo-worthy moments!
While each company offers something a little different, your itinerary might look a little something like this: board and set off from Monterosso, You'll then anchor in Vernazza's natural harbor for some swimming and relaxing before heading on to Corniglia, where you can enjoy a delicious lunch on board as you take in views of the village's pastel-colored houses perched atop terraced vineyards.
After lunch, it's time to raise the sails and head to Manarola where you can enjoy an aperitivo on deck as you watch the colors of the sky change. Finally, you'll cruise back to Monterosso, where your tour will come to an end.
Hot tip: If you're looking for a romantic getaway, consider booking a sunset sail – it's an unforgettable experience.
If this sounds like your kind of vacation, make sure to book ahead – spots fill up quickly! No matter how you choose to do it, a Cinque Terre sailing boat tour is an excellent way to see the area in style.
8 – Cinque Terre private boat tour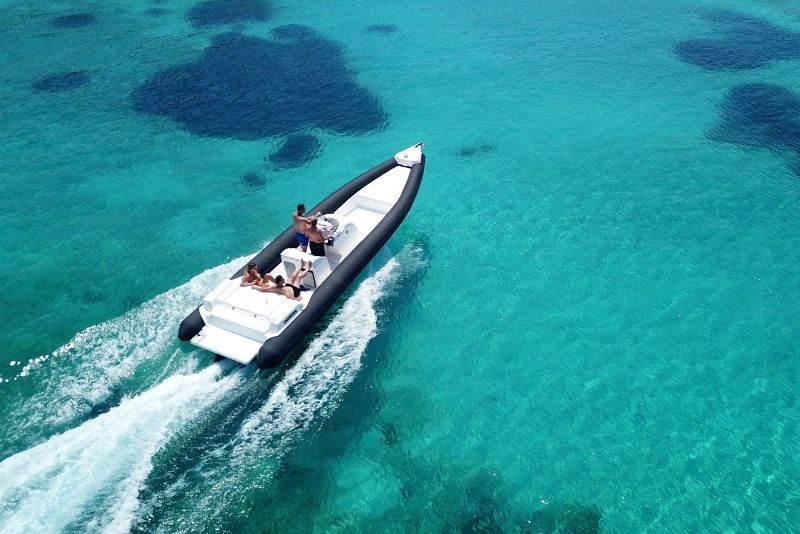 Ditch the crowds; today is all about you and your nearest and dearest. Whether that's your bunch of friends, dear family, or partner in crime, a private Cinque Terre boat tour grants you your very own little slice of Italian paradise, away from the hustle and bustle.
After departing from Monterosso (at Via Bastioni), Riomaggiore, or the La Spezia port, you'll board your comfortable vessel and set sail along the Bay of Poets at your own pace. As you cruise along the coast, you'll have the friendly skipper all to yourself – always happy to chat and share insider tips on what to see and do in the Cinque Terre area, nearby Tuscany, and beyond.
You can anchor in the bay and snorkel, cruise around with a glass of wine in hand, or go off the beaten track and check out the beautiful villages of Portovenere and Lerici and the hidden islands of Palmaria and Tino. It's entirely up to you – this is your day!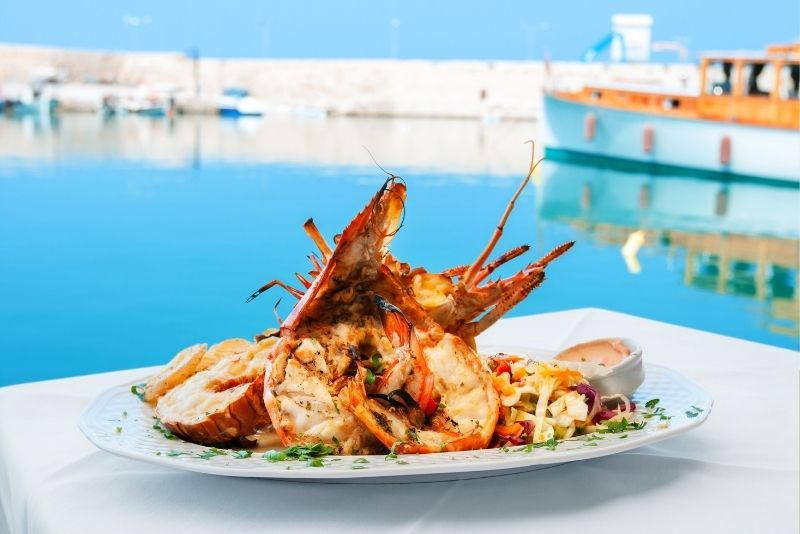 When it comes to lunchtime, most private boat tour companies will be happy to stop for a meal of your choice, whether that's in one of the five villages or anchored in a secluded bay cooking a freshly-caught fish onboard. Alternatively, you can always enjoy a delicious picnic on the deck as you take in views of the dramatic cliffs and crystal-clear waters.
Ending back where you started, a private Cinque Terre boat tour is the perfect way to spend quality time with your loved ones while taking in some of Italy's most breathtaking scenery. Whether you opt for the short and sweet two-hour trip, the day-long 8-hour adventure, or anything in between, you're in for a treat.
9 – Cinque Terre boat rental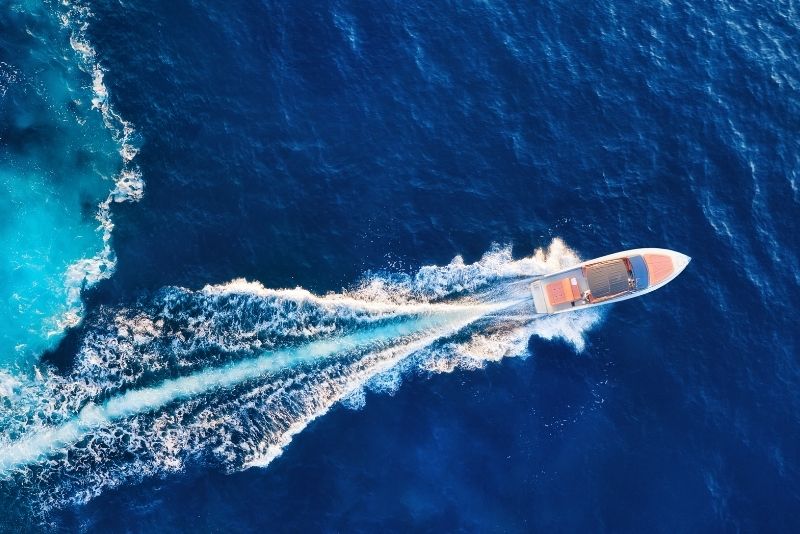 Looking to explore the Cinque Terre area at your own pace? Then a boat rental might be the perfect option for you.
Once you've decided on the size and type of vessel that's right for you (we recommend something comfortable with plenty of space for lounging and storage), it's time to start planning your itinerary. Typically anchored at Porto Lotti or Porto Mirabello in La Spezia, the wide selection of rentable boats includes everything from baby sailboats and simply motorboats great for 4-6 people to impressive yachts where you could fit 20+ and still have plenty of room to move.
With that in mind, there's something for every budget (and, hot tip, the more people you have on the boat, the cheaper it is per person – so make some new friends!).
While most rental companies (or individuals, if going through a site like Clickandboat) will provide you with a map and some suggestions, we recommend doing some research beforehand so you can make the most of your time on the water.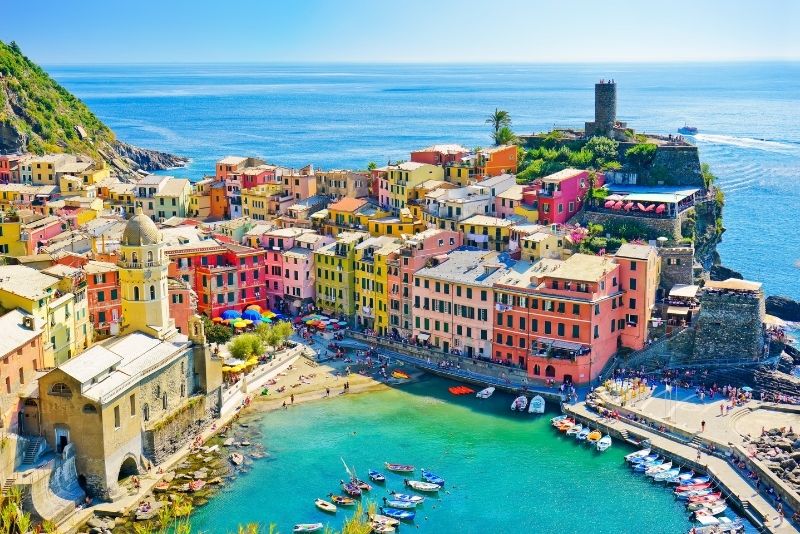 If you're looking for some inspiration, why not cruise along the coast from Monterosso to Vernazza, anchoring in one of the many sheltered coves along the way to take a dip in the crystal-clear waters or enjoy a leisurely lunch? Alternatively, you could head out to one of the nearby islands such as Palmaria or Tino for some snorkeling and sunbathing.
No matter how you choose to spend your time, a boat rental is an excellent way to see the Cinque Terre area from a different perspective. So what are you waiting for? Get planning and set sail on your very own Italian adventure!
10 – Cinque Terre & Pisa combo tour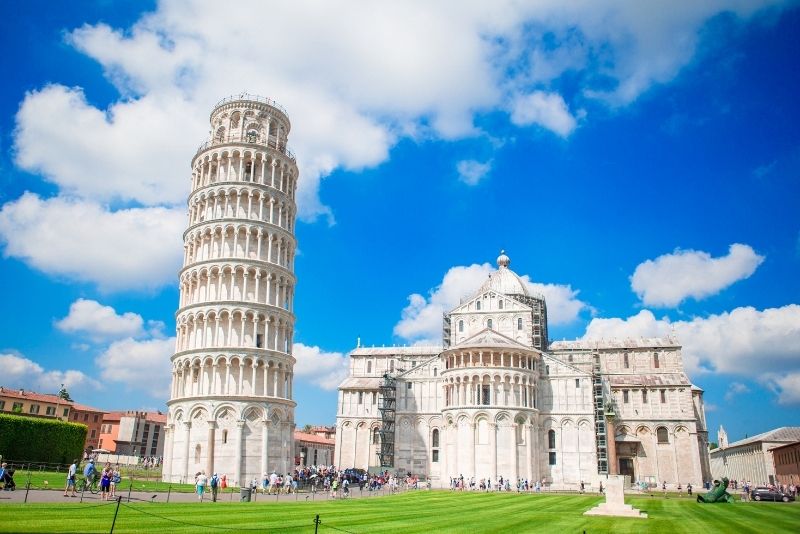 Take your Cinque Terre boat tour to the next level with a combo tour that also includes a visit to the world-famous Leaning Tower of Pisa. Leaning and towering over the eponymous city, about 1 hour and 45 minutes south of Cinque Terre by car (or about 1 hour 20 minutes by train if you do it solo)
With a host of Cinque Terre and Pisa combo tours, starting from different destinations including Pisa, Livorno, and Florence, you're spoiled for choice when it comes to finding the perfect tour for you.
Most tours will start with a pick-up from your hotel or accommodation, before whisking you away on a comfortable coach or minivan bound for Pisa. After arriving in the city and spending some time exploring (and, of course, taking a few silly photos) at the 56m-high Leaning Tower of Pisa and its environs in the Square of Miracles (Piazza dei Miracoli), you'll have the chance to enjoy some of the local delicacies – anything from the region's best wines to local cheeses or fresh plates of pasta, depending on your tour.
Once you've soaked in the atmosphere of the historic, Arno River-straddling city, it's time to jump back on the bus or van and continue your journey north to Cinque Terre. Depending on the tour you've chosen, your mode of transport between Pisa and Cinque Terre may differ – with some opting for a leisurely train ride through the Tuscan countryside while others take the more private route by bus or car.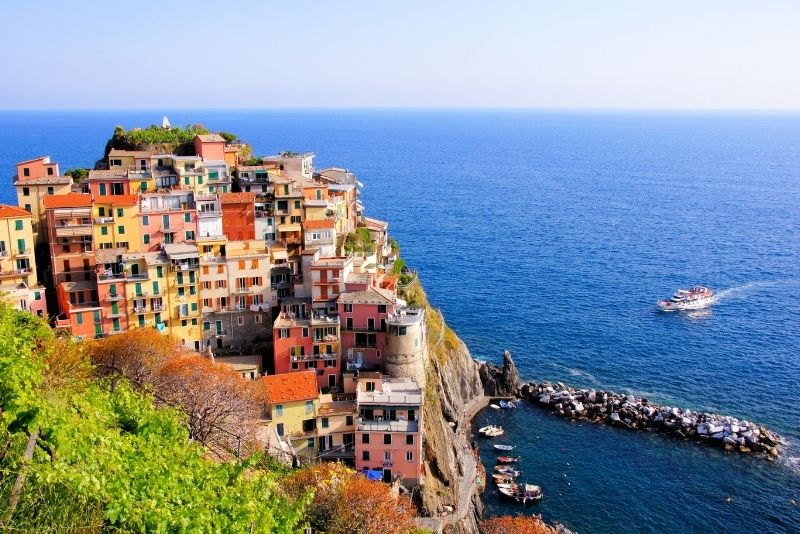 Once you reach your destination, it's time to relax and enjoy all that this picturesque stretch of coastline has to offer. With five idyllic fishing villages (Monterosso al Mare, Vernazza, Corniglia, Manarola, and Riomaggiore) nestled into the rocky cliffs along 19km of pristine coastline, there's plenty to explore. And what better way to do it than from the comfort of your very own boat?
Most Cinque Terre and Pisa combo tours will include a few hours of free time in one of the villages, giving you the chance to explore at your own pace. Stroll the cobbled streets, take a dip in the azure waters or enjoy some lunch (seafood is, of course, a specialty) before heading back to your tour group for the journey home.
Whether you're a first-time visitor to Italy or a seasoned traveler, a Cinque Terre and Pisa combo tour is an excellent way to tick two of the country's most popular tourist destinations off your list while enjoying some stunning scenery along the way.
Pinching pennies? Consider the minibus tour where you'll meet fellow curious travelers and save a few bucks. Prefer a little more VIP treatment? On a private tour, you'll have your own driver who doubles as a tour guide, with a little more freedom to do as you please.
Trips from Milan, Florence, and Lucca
Crystal clear waters, colorful buildings tumbling down cliff sides, and a relaxed Mediterranean atmosphere – what's not to love about Cinque Terre? Seeing it from the water is an experience you won't soon forget.
While you can make your own way to the five villages, or take a tour that includes a stop in Pisa (see #10), you don't need to be staying in the immediate vicinity to enjoy all that this colorful cliffside oasis has to offer.
From bustling Milan, there are plenty of private and small group day trips to Cinque Terre that include hotel pickup, time to explore, and a cruise in the Bay of Poets. Despite the 3-hour drive, cruising through Tuscany en route is magical.
Similarly, myriad boat trips and day trips depart from Lucca, a charming and underrated medieval walled city about 90 minutes south (next to Pisa) of Cinque Terre. Included the driving time, tours typically last 8-10 hours.
Then, of course, is the plethora of Cinque Terre boat tours (and land-based tours if that's more your fancy) departing from Florence. As the capital of Tuscany about a two-and-a-half-hour drive away, Florence is the closest big city to Cinque Terre.
Florence-based companies typically offer longer tours, often up to 12 hours, which include not just a cruise in the Bay of Poets but also plenty of time to explore one or two of the villages on foot. These are ideal if you want to make a day trip from Florence without feeling too rushed. On these longer tours, it's not uncommon for visitors to be wined and dined with a traditional Tuscan lunch included in the price – now that's our kind of tour!
Final thoughts
Cinque Terre is a UNESCO World Heritage site, which means that it's recognized as an area of outstanding natural beauty. And what better way to appreciate this natural beauty than by getting up close and personal with the sparkling waters and dramatic coastline?
Have you been on any of these boat tours? Or visited any of these cities? What did you think? Let us know in the comments below! As always, happy travels!