Known for its dramatic cliffside villages with colorful houses and miniature natural harbors, Cinque Terre is one of the best outdoor playgrounds in Italy.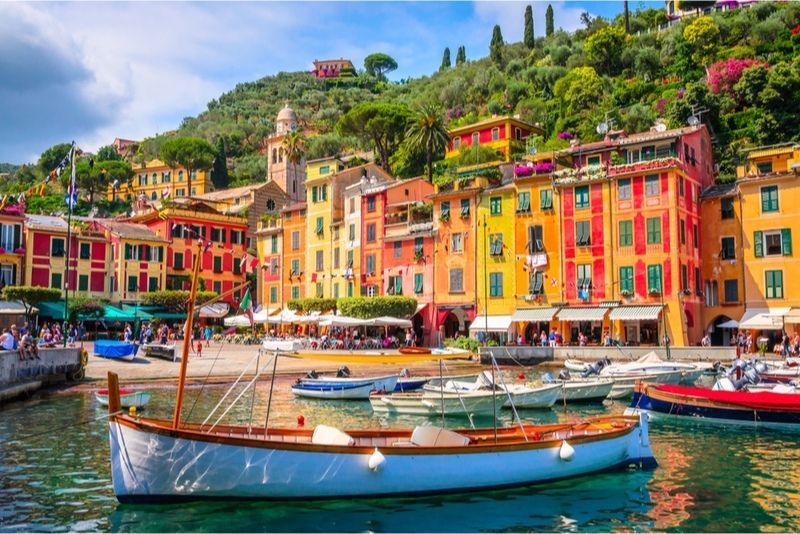 Explore the coastline and its picturesque settlements on a Cinque Terre boat tour, with trips lasting from a couple of hours to a full day. Ramp up the adventure with a spot of snorkeling or swimming along the way.
What are the most popular boat tours in Cinque Terre?
There are several types of Cinque Terre boat tours, ranging from short-but-sweet excursions to full-day tours that take in all the main sights.
Both small-group cruises and private yacht charters are available, with the latter being cost-effective if you are traveling with companions.
Full-day boat tours
Join an 8-hour Cinque Terre cruise and discover unspoiled locations along the coast that are only accessible by water.
Departing from La Spezia, this trip takes in the most beautiful places to see in the national park, including Porto Venere, Riomaggiore, and Vernazza. Dive into dreamy bays for some leisurely swimming, then enjoy lunch in Monterosso with free time to explore the village.
Private yacht charters
Enjoy a 2- or 3-hour intimate boat excursion, taking in some of the best sights including five different villages. This Cinque Terre tour is perfect if you want to see the highlights in style without committing to an entire day.
Relax on the deck, admiring views of vineyards and mountain trails as you sail along the coast. Take a dip in the sea, then sip Prosecco and try some tasty Ligurian focaccia.
Sunset cruises
Hop on board a scenic 2-hour Cinque Terre boat tour and discover fishing villages and hidden coves bathed in the soft evening light. Small-group and private tours are on offer, each taking in popular locations like Monterosso, Vernazza, and Riomaggiore.
Celebrate the going down of the sun with local wines and nibbles, which can be purchased on board.
Snorkeling boat excursions
Discover the Portovenere National Park or Lerici San Terenzo on a fun day out. Sail past the famous Cinque Terre villages and jump overboard to snorkel in the inviting clear waters.
Explore rocky reefs and learn about species identification from your expert guide - will you spot the resident lobsters and pufferfish?
How much do boat tours in Cinque Terre cost?
The cost of Cinque Terre boat trips depends on the duration and type of excursion:
Full-day small-group tours to Cinque Terre, Portovenere, Palmaria, and La Spezia cost €149 per person.
Private full-day Cinque Terre boat tours are €540 for up to 7 passengers, visiting the villages of Riomaggiore, Manarola, Vernazza, and Monterosso.
For a truly exclusive private boat trip with just 4 guests, tours cost €399 for 2 hours, or €600 for 3 hours on the water.
2-hour sunset cruises with onboard aperitifs are priced at €153 per person. There will be a maximum of 12 passengers on this group trip. Private sunset tours for up to 6 guests cost €369 per boat.
Snorkeling boat tours in Cinque Terre are €36 per guest for half a day.
Sunrise or sunset paddle boarding tours last for 1.5 hours, traveling between Monterosso and Punta Mesco. These cost €80 per paddler.
Which places are visited on a boat tour in Cinque Terre?
Vernazza
Vernazza is a remarkable feat of engineering, with elegant homes built high into the cliffs above a small marina. You may recognize the scene from travel brochures – it is one of the most popular destinations in all of Cinque Terre.
Highlights include the dramatically located Doria Castle and a 12th-century church. The town is vehicle-free and has a small beach if you fancy swimming.
Monterosso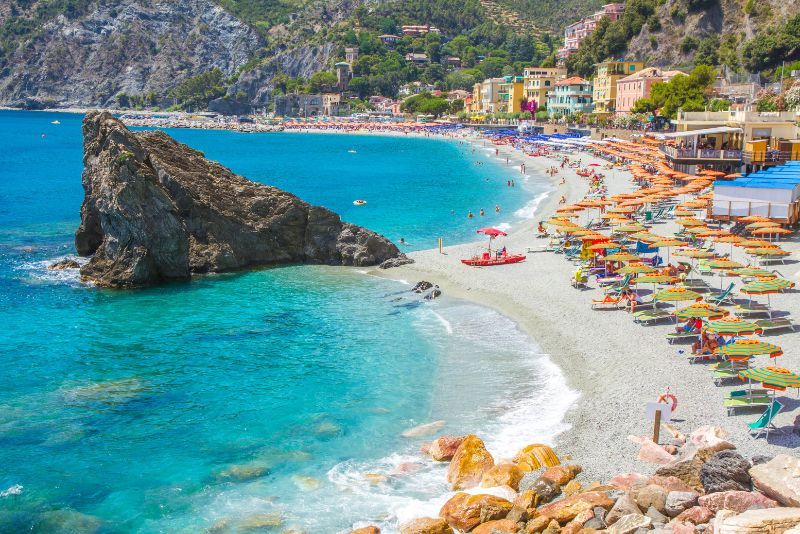 This sheltered bay boasts the best beach of any settlement in the national park. The village is separated by a rocky promontory and linked by an underground tunnel.
In the old town, you can see the ancient fortress walls, Fieschi Castle ruins, and a 17th-century monastery. Breathe in the scent of the local lemon trees and enjoy swimming in the calm waters.
Riomaggiore
One of the most photographed villages in Cinque Terre, Riomaggiore is an explosion of color set inside a steep ravine.
Precariously perched dwellings in an array of pastel hues blend perfectly with lush green hillsides and the blue ocean down below. Fishing boats bob about in the natural harbor, and the sunsets are phenomenal.
Palmaria Island
Palmaria is the largest island in the Gulf of La Spezia, with turquoise seas, lush vegetation, and tranquil bays on offer. The sandy beaches are perfect spots for swimming and snorkeling, as well as picnic lunches.
Try some fresh seafood at the traditional trattorias, or hike across the island for stunning Mediterranean views.
Portovenere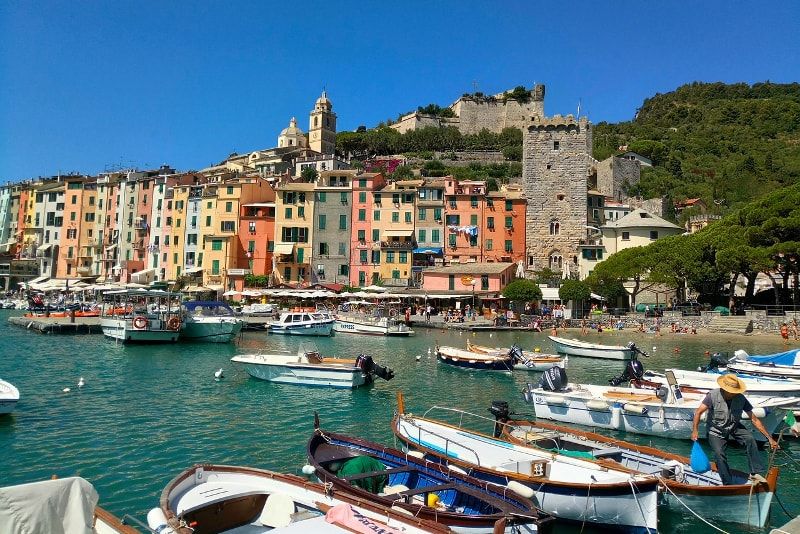 This colorful seaside town offers the same highlights at its sister settlements along the coast, just without the bustle. The coastline here is ruggedly beautiful, with picture-postcard views of yellow, orange, and pink houses lining the shore.
Enjoy scenic hiking trails and tasty local Ligurian cuisine at waterside restaurants, and walk in the footsteps of literary giants and famous celebrities.
How long does a boat trip last?
Cinque Terre boat tours last between 2 – 8 hours. The longer full-day tours take in more destinations than the shorter trips, stopping at places like Portovenere, La Spezia, and Riomaggiore.
Sunset cruises are usually a couple of hours long, and there is an option for a half-day snorkeling tour too.
Where do boat tours leave from?
Hotel pickups are not included on Cinque Terre boat tours, so you will need to make your own way to the embarkation points.
Many of the private tours depart from Via Bastioni in Monterosso. Just head to the San Cristoforo promontory between the two beaches, and you will find it below the Capuchin monastery.
The full-day group tour departs from the boat gas station at Porto Mirabello in La Spezia. Meanwhile, go to Via San Giacomo in Riomaggiore for the private sunset tour, or the Bella Bar at Stella Marina in Monterosso for the small group evening trip.
When is the best time for a boat trip in Cinque Terre?
The best time of year for a Cinque Terre boat tour is during the summer between May and September when days are long, and the weather is warm. The cooling sea breeze offers a welcome respite from the heat.
Spring and Fall are good times to visit as well, with mild temperatures and fewer other tourists making for idyllic boating conditions.
Many boat trips last the whole day, but for something extra special, head out at sunset and enjoy the romantic colors flooding the ocean.
Which other water activities can be done in Cinque Terre?
Snorkeling: explore the sandy seabed and rocky reefs where you can encounter incredible sea life such as jellyfish, lobsters, and pufferfish.
Scuba diving: plunge into the mysterious underwater kingdom and explore vibrant reefs and their curious inhabitants as you discover a different side to Cinque Terre.
Stand-up paddle boarding: enjoy a relaxed and easy paddle along the coast between Monterosso and Punta Mesco, with secret caves and hidden beaches to explore.
Sea kayaking: paddle to the less-visited spots of Cinque Terre, with beach picnics and village explorations along the way.
Paragliding: soar high above the dramatic coastline of Cinque Terre as you take to the skies on a tandem paragliding flight over the Mediterranean.
Travel tips
Book your boat tour in advance to avoid missing out on your preferred time and day.
Make sure you pack your sunscreen, sunglasses, and camera.
Bring your swimming gear if your Cinque Terre boat excursion includes snorkeling or swimming.
Take plenty of water to stay hydrated, and money to purchase lunch at one of the scheduled stops on longer tours.
Wear comfortable footwear so you can move easily about the boat.
Double-check details of the meeting point and be sure to arrive earlier than the departure time.