If we forget about big ol' Alaska up north, we're left with Texas claiming the throne for the biggest state in the US of A.
And while the likes of Dallas and Austin would love to compete, the reality is they don't make 'em any bigger than Houston — as you're about to see, the list of visitor-friendly activities is as big and exciting as the city itself.
With so many riveting things to do in Houston, from the vibrant Theater District to the fascinating Museum District, to nearby theme parks, craft breweries, and a diehard sporting culture, there really is something for everyone in Space City.
And in a city this size, you can be guaranteed plenty of unique attractions as well! Want to see a multimedia museum devoted to citrus fruit, or a house festooned with beer cans? No problem; you can even do both in a day.
What about admiring one-of-a-kind cars on display, or exploring ornate Hindu temples – with plenty of time left over for a good meal. So, what do you say, it's time we started planning our trip, right?
1 – Become an astronaut for a day at the NASA Space Center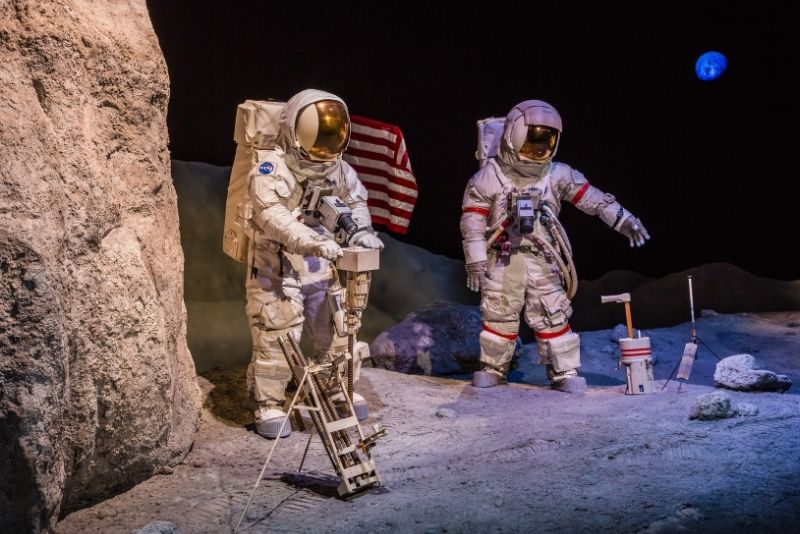 Behold the wonders of outer space travel and feel like an astronaut for a day at the NASA Space Center!
At this iconic Houston attraction, guests can discover all about the possibilities of space travel, see how astronauts prepare for their journeys, and get an up-close look at real spacecraft, astronaut suits, and interstellar equipment.
Make sure to test out the anti-gravity machine in the Living in Space gallery and, if you get hungry, grab some lunch at the NASA cafeteria — the muffins are out of this world.
2 – Explore Houston's web of underground tunnels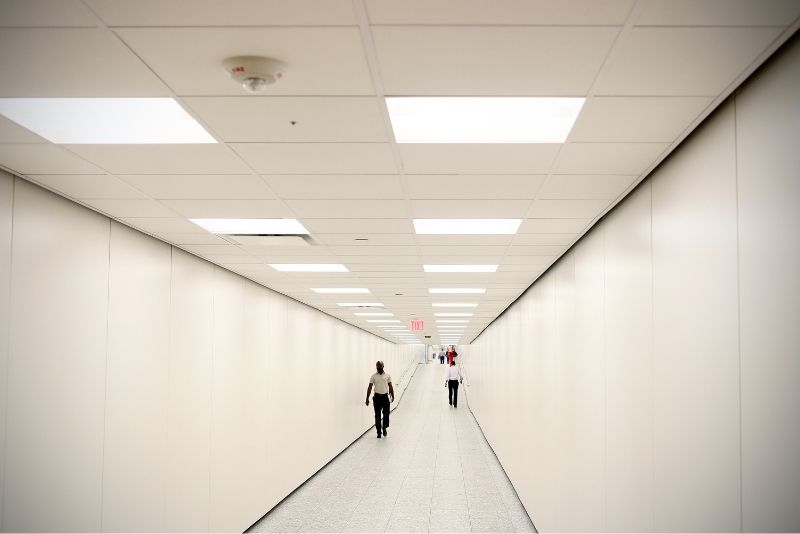 Led by an expert local, there's never a bad day to explore North America's largest underground tunnel system, located right in (or should we say under) the heart of Houston.
The complex map of tunnels stretches for more than 7.5 miles, connecting an array of Houston's bustling corporate buildings.
On walking tours of the area, guests will learn all about Houston's interesting history and see first-hand how these bunkers' purposes have transformed over time.
3 – Race against the clock in an escape room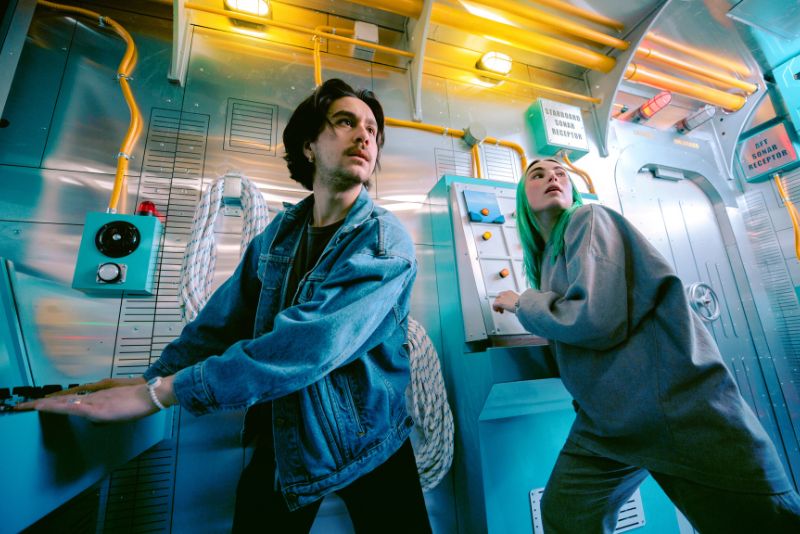 Any budding detectives among us?
Escape rooms have become all the rage these days and Houston is no exception — a fun activity for almost any age, travelers can try to crack clues and find a way out of the room before time runs out.
Depending on your interests, The Escape Game covers a range of immersive themes, including uncovering a mystery at an undersea laboratory at The Depths, escaping from a cell where you've been sentenced to life, recovering a stolen masterpiece, and much more.
4 – Watch an NBA game at the Toyota Center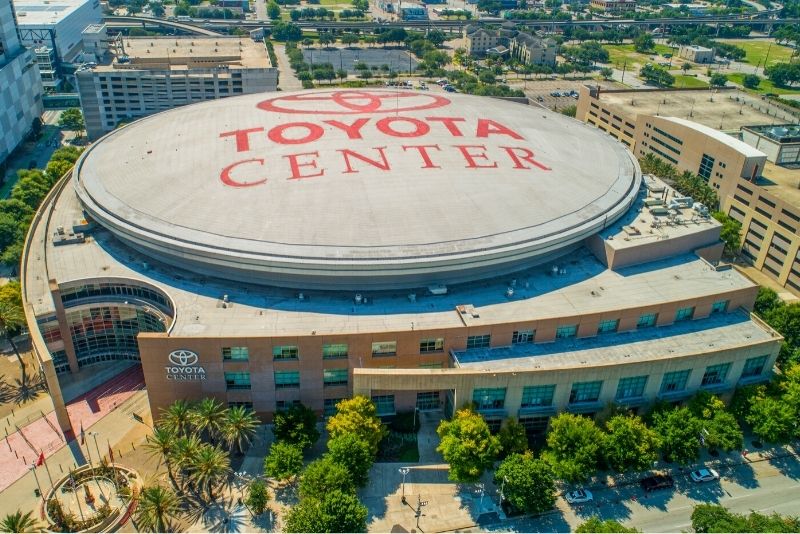 Home to the NBA's very own Rockets, a fully-packed Toyota Center exudes a roar and an energy matched by very few stadiums in the country.
Outside of the basketball season (and even during, for that matter), the center also hosts sellout concerts with names like Harry Styles and Eric Clapton, WWE events, UFC fights, and plenty more.
5 – Admire the creativity on display at the Contemporary Arts Museum Houston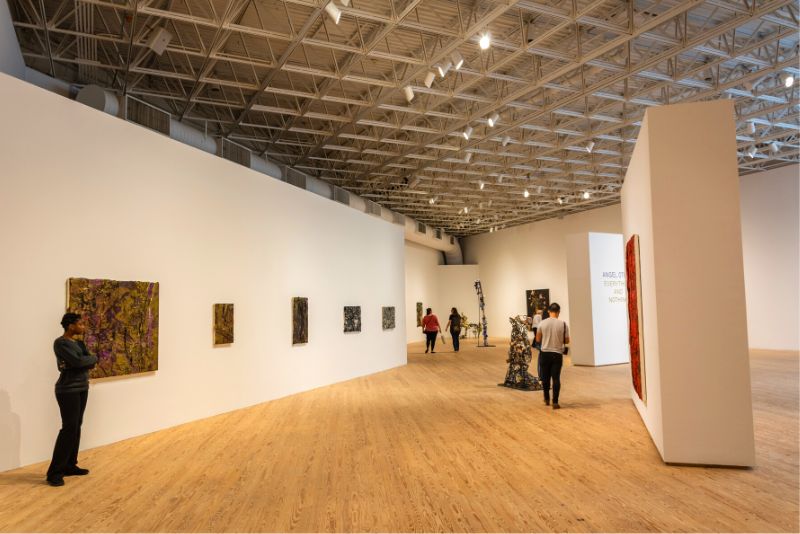 With a wide array of works by some of the most creative artists of recent decades, Contemporary Arts Museum Houston is a must-see stop for any fan of culture!!
Originally established in 1948, this welcoming and innovative space features thousands of pieces, often presented in innovative, rotating exhibitions.
Along with the impressive multimedia exhibits, the museum also offers great programming support for artists, such as CAMHLAB, which focuses on celebrating the work of an artist-in-residence, and connecting them to the public.
It's the perfect place to enjoy innovative works – and you may even feel inspired to make something yourself!
6 – Taste your way around Houston on a Food tour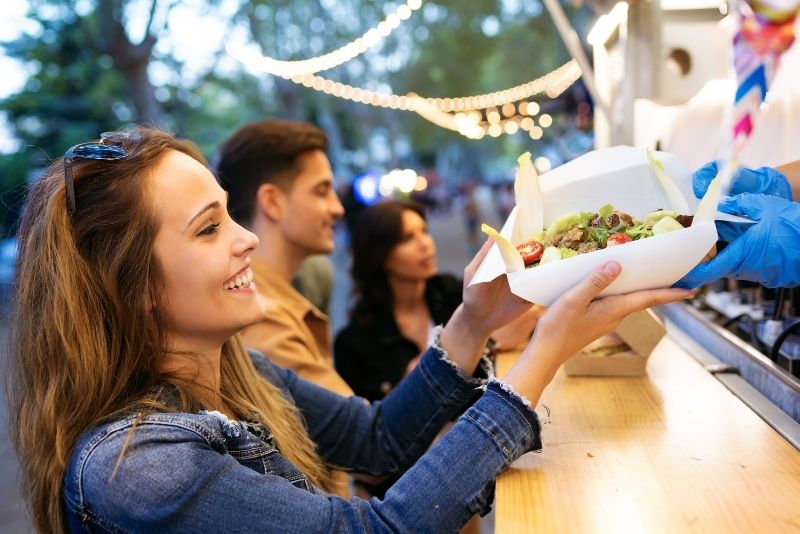 Texas has plenty of stereotypical qualities, some true and some exaggerated. One which is each and every bit as true as it seems is the food scene: in Houston, the portions are enormous, the food is delicious, and the Tex-Mex influence is second to none.
On a dedicated food tour through areas like Astroville, Downtown, or The Heights, hungry travelers can sample up to 10 different food, including Asian novelties, Mexican staples, authentic American BBQ, and so much more.
If the traditional face-stuffing food tour doesn't quite cut it, why not opt for some a little different — book a spine-tingling ghost-themed tasting tour!
7 – Take the kids to Downtown Aquarium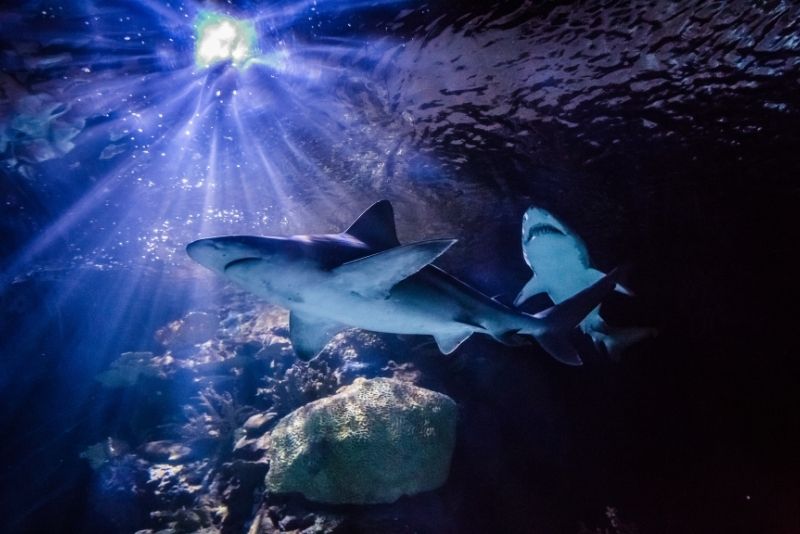 Far more than just a massive (500,000 gallon massive to be exact) aquarium full of fish, sharks, touch pools, and educational displays, the Downtown Aquarium is also a place for adventure.
Guests of all ages adore the on-site Ferris wheel, likewise the aquatic carousel and the Shark Voyage adventure train.
As one of the most popular things to do in Houston for anyone traveling with youngsters, tickets to the Downtown Aquarium are often included in city-wide tours — just check out the different itineraries to see what suits your trip best.
8 – Spend at least a day in Hermann Park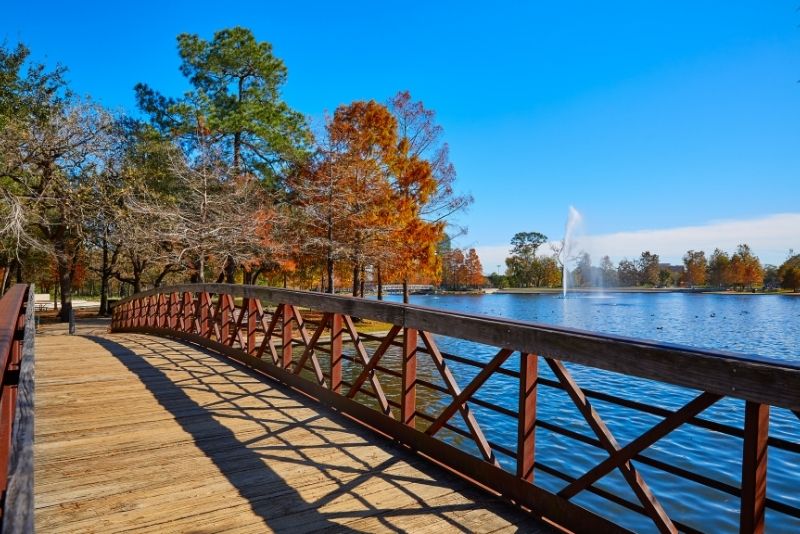 Stretching a whopping 445 acres (or close to 180 hectares), this urban park welcomes more than six million visitors a year, many of whom stroll through the area on free walking tours.
Be sure to check out the dancing Mecom Fountain at night, spend a day wandering through the Houston Zoo, take a stroll down Bob's Fishing Pier at McGovern Lake, or stop into the Butterfly House at the Houston Museum of Natural Science on the park's northern border.
That, folks, is just a taste of what the sprawling park has to offer.
9 – Snap a selfie in front of the Houston Graffiti Building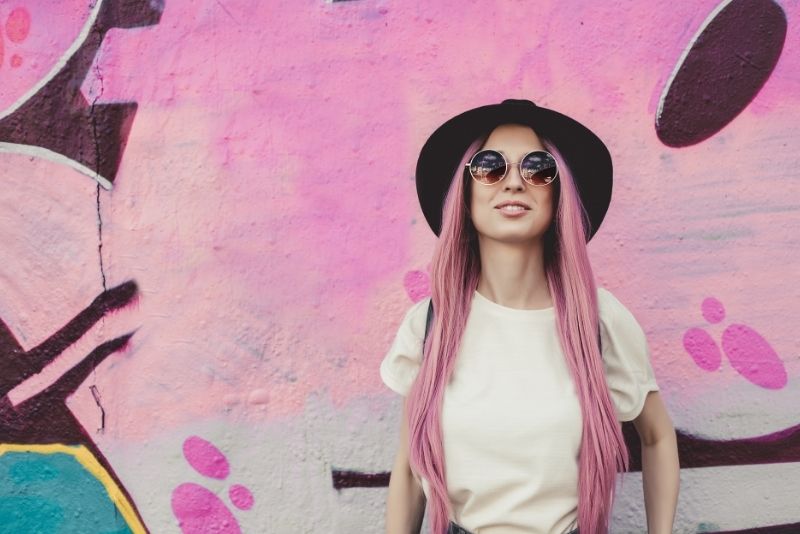 One for the art lovers, the Houston Graffiti Building is the perfect spot to snap that new social media profile picture.
It sits amidst a few blocks of old industrial structures, where nearly every square inch of wall is covered head to toe in colorful street art — murals, slogans, scratchy tags, and a regular giant sign that shows off your trip to "Houston".
It's located a stone's throw from BBVA Compass Stadium in Houston's East End, it's easily workable into most 2 or 3-day trips and definitely worth a visit.
10 – See everything on a hop-on-hop-off bus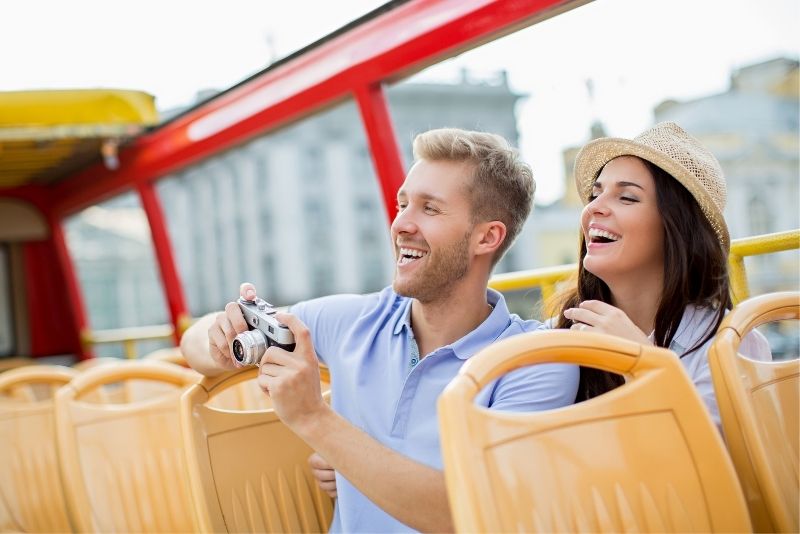 Only visiting Houston for a few days? Can't be bothered renting a car and dealing with all the traffic? Then a Hop-on-hop-off bus tour is the perfect solution.
With stops scattered all over town, the double-decker busses make their way to all of the city's most popular attractions, including Buffalo Bayou, the Museum District, BBVA Stadium and Minute Maid Park, the Theater District, and plenty more.
A pre-recorded audio narration makes it an educational experience, while the open-top is a great chance to work on the tan.
11 – Watch a baseball game at Minute Maid Park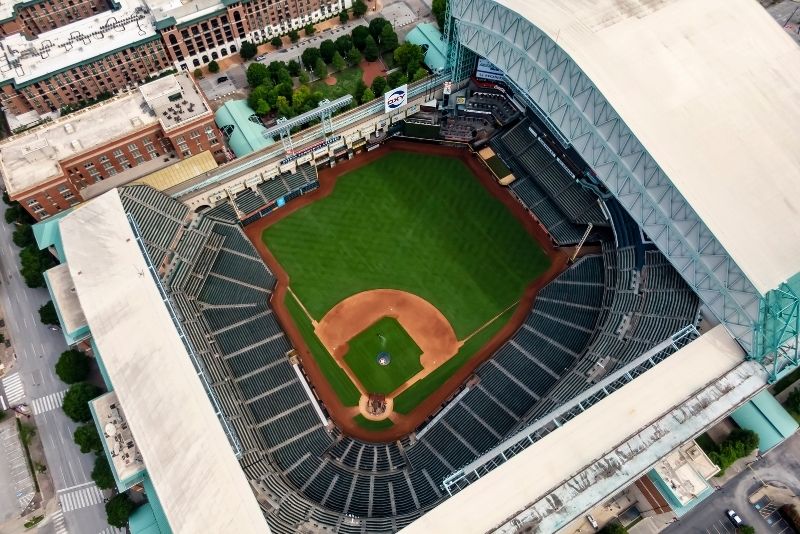 The crown jewel of the jagged downtown Houston skyline, Minute Maid Park plays host to the MLB's very own Houston Astros, housing the city's baseball team during the April-October season.
While there's nothing that can compare to the roar of a 41,000-capacity crowd when a home run is hit, the stadium also offers locker room rooms and hosts off-season concerts and events.
12 – Head out on a Galveston day trip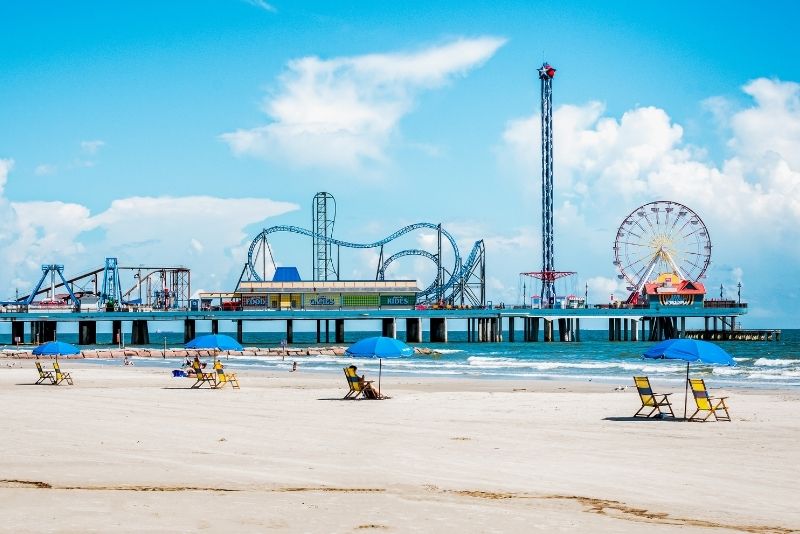 Flanked by the Gulf of Mexico on both sides, nearby Galveston exudes a vibrant beachside atmosphere.
If you're planning your own trip, start off by stretching the legs with a walk down Pleasure Pier, home to plenty of restaurants and a handful of amusement rides. Thereafter, Galveston Island State Park is the ideal spot for hiking and fishing.
The drive from Downtown Houston to Galveston Island should take about an hour, making it an easy day trip option. However, you can avoid the hassle of driving, parking and planning by joining a pre-organized day trip instead (or nighttime ghost-themed trip!).
13 – Get a little elegant at the Candlelight Concerts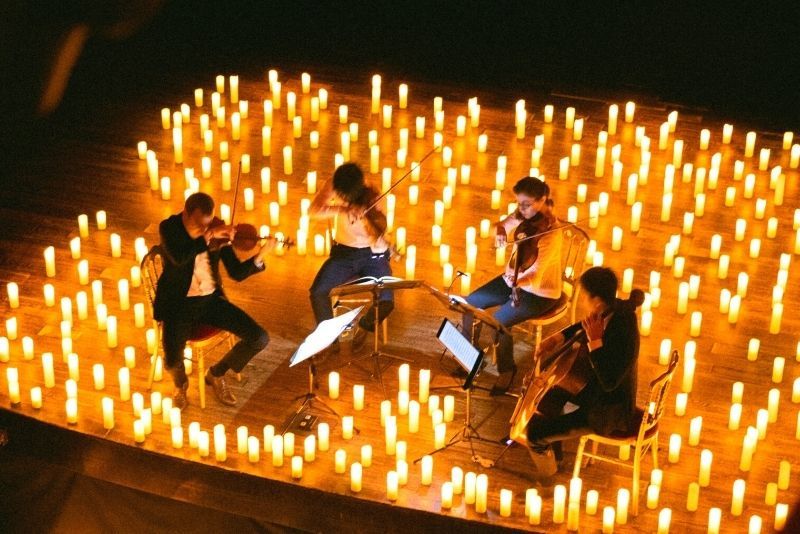 As the music gears up and the flames begin to flicker, you'll see why Candlelight Concerts have become renowned the world over!
The premise alone is worth a look: acclaimed orchestras CHECK pump out modern hits, classical compositions, and more, all while surrounded by beautiful, gently shimmering candles.
Along with a gorgeous atmosphere perfect for music fans and romantics alike, this beloved series takes place in a variety of venues across town, offering you the chance to enjoy some of the best concert halls that Houston has to offer.
It's perfect for an evening out!
14 – Go full Western — learn how to ride a horse!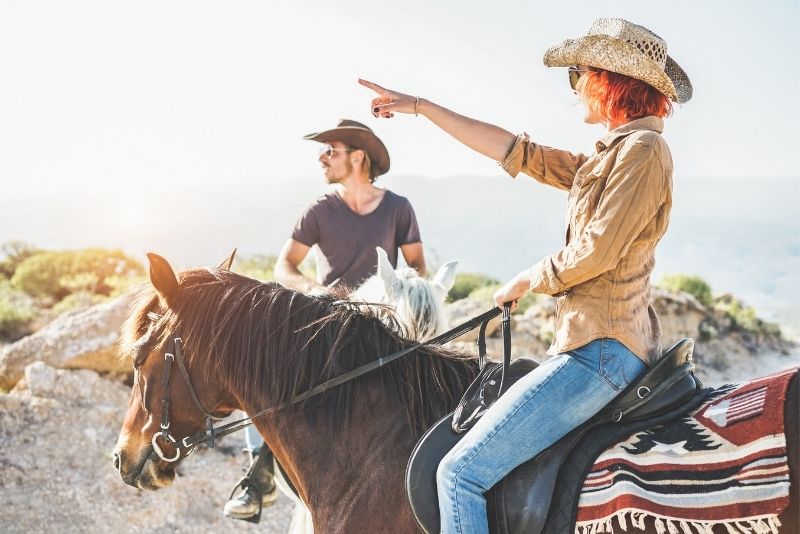 You're in Texas! That means that embracing the cowboy and cowgirl culture is a non-negotiable
Perfect for travelers young and old, horse riding adventures operate at a handful of ranches on the outskirts of the city and teach guests not only how to ride a horse, but how to care for it too.
Even if you've never saddled up before, with an expert instructor running the show, it's suitable for every experience level.
15 – Explore the city on two wheels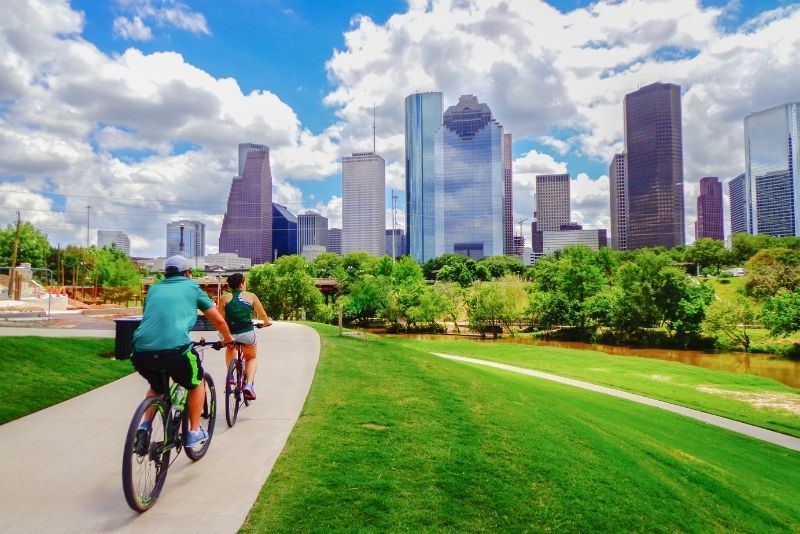 Just like everything else in Texas, Houston is by no means small. So rather than trying to see everything on foot, a bike tour is a much more efficient (and enjoyable) option.
With the opportunity to get off the main roads, locally-led cycling adventures zoom through areas like Buffalo Bayou and historic Downtown, stopping at locations that those driving would often overlook.
For something a little different, the brewery bike tour is always full of rowdy excitement.
16 – Take a stroll at the Houston Arboretum & Nature Center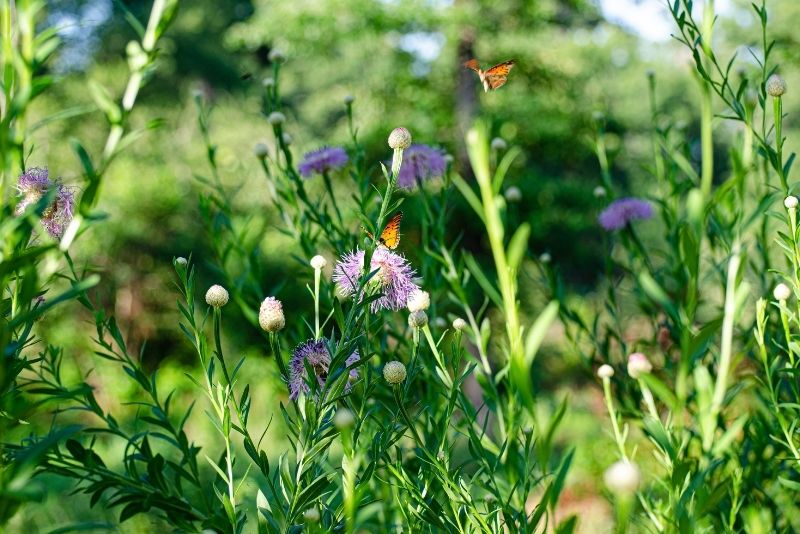 Found in the middle of the refreshing change of scenery that is Houston's Memorial Park, the 155-acre Arboretum & Nature Center transports visitors into the great outdoors, with five miles of walking trails that skirt through forests, meadows, and ponds.
The area is known to house thousands of local critters, including frogs, turtles, and birds, so be sure to bring the camera!
As for the indoor Nature Center, guests are treated to a range of interactive exhibits — be sure to check out the Discovery Room and the Learning Tree.
17 – Treat yourself at a spa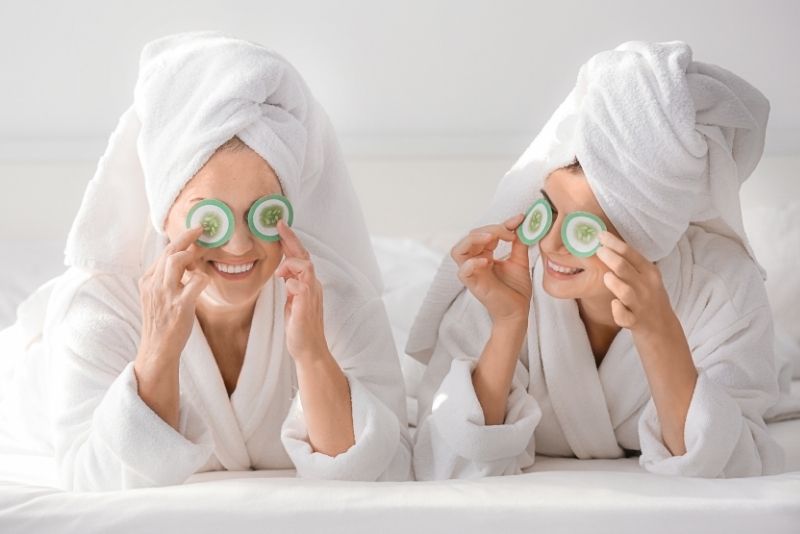 When you're ready for a more relaxing interlude, pop over to one of the city's best spas and spoil yourself rotten – Texas style!
Indulge in a steam room or a sauna at Trellis, or the high-tech skincare treatments at Post Oak Hotel. Luxuriate in the organic products and treatments at Milk and Honey, or the cavernous plunge pool at Fiori Spa.
Try out the aromatherapy and foot baths at The Spa at Four Seasons, or the infrared treatments at ZaSpa. Wherever you go, you can expect cutting-edge treatments, wonderful service, and maximal relaxation!
18 – Shop till you drop at the Tanger Outlets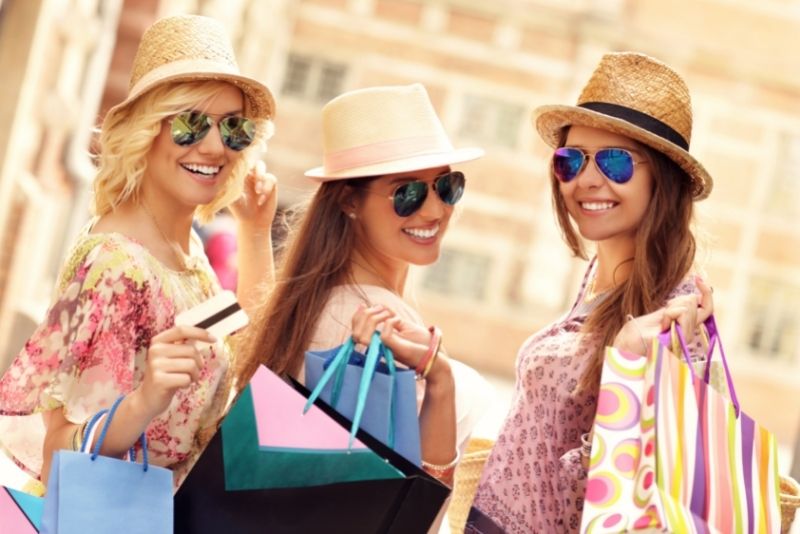 If your idea of a vacation involves copious amounts of retail therapy, look no further than the Tanger Outlets.
Home to more than 80 outlet stores encompassing both luxury designer brands and budget-friendly stores, from Adidas to Kate Spade and everything in between, there's something here for every variant of fashionista.
For a different shopping experience, consider the popular shopping tour option, where shopaholics are chauffeured to all of the revered outlets and boutiques, shown the city's prime landmarks along the way.
19 – Admire the creative works at The Menil Collection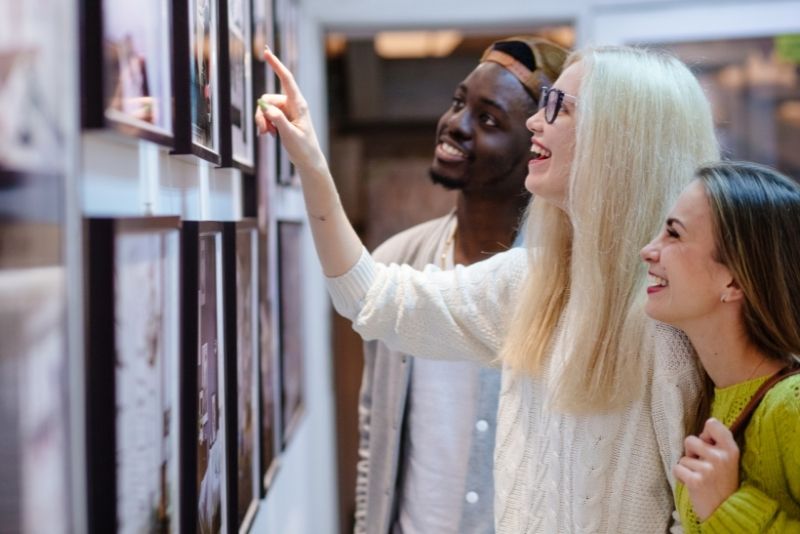 Referring to both the museum itself and the thongs of artifacts under its roof, The Menil Collection is highly regarded within the Houston art community.
With over 17,000 things to admire — wall to wall of paintings, handcrafted sculptures, old-school prints, sketch drawings, creative photographs and rare books — the entertainment can last for hours.
It's steps from the Rothko Chapel (the perfect back-to-back itinerary), but we'll circle back to that later on.
20 – See the totally bizarre Orange Show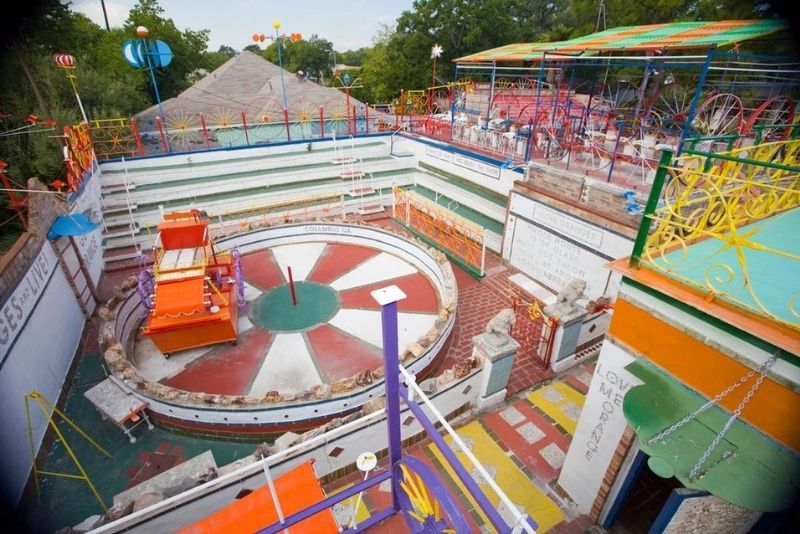 Situated in Houston's east end, The Orange Show is a monumental work of folk art built by one man (Jefferson Davis McKissack) over the course of nearly 25 years.
Using throwaways, old tiles, and random bits and bobs of junk metal, McKissack morphed the area into a mesh of whimsical sculptures, doorways and displays — and the result is part maze, part museum and part stage, all dedicated to his favorite fruit… the orange.
Visiting this peculiar place is clearly one of the most bizarre yet essential things to do in Houston.
21 – Snap a selfie in front of Beer Can House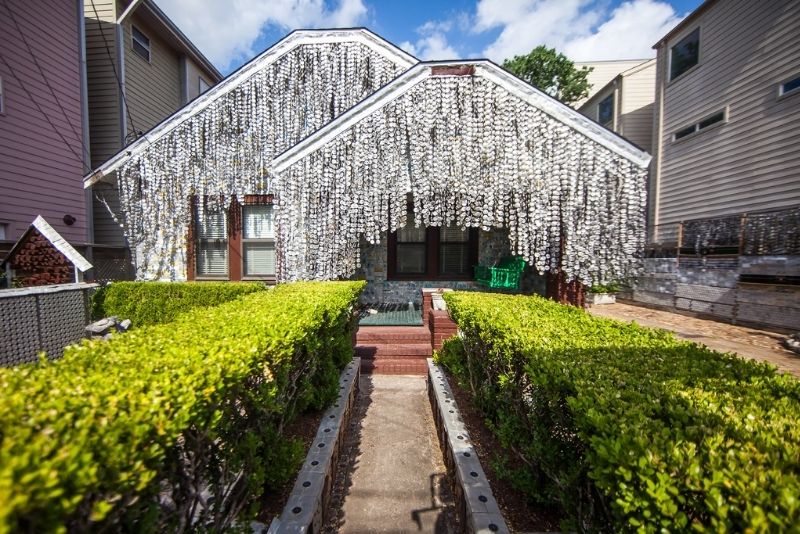 If The Orange Show ticked your fruitful fancy, then take note of Beer Can House.
Found in the residential neighborhood of Rice Military (just by the Bayou Bend), this unique attraction is exactly what you'd infer from its name: a house made entirely of beer cans.
Over 50000 individual cans were used to create this shining residence, which has now become one of the most photographed landmarks in all of Houston.
22 – Go skydiving… if you're brave enough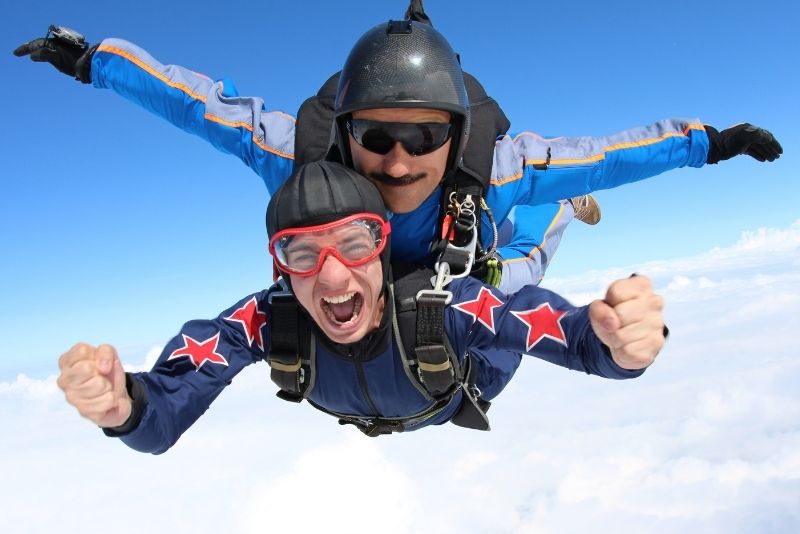 Have you ever wanted to hit terminal velocity? Is jumping out of a plane on your bucket list? Well, now's your chance!
Very few American cities can provide the same stunning aerial view as Houston: with the Gulf of Mexico in one direction, the dramatic skyline in the other, and endless dusty desert plains beyond, it's a visual masterpiece.
Skydive Houston and Skydive Spaceland Houston are both excellent options, with expert guides and some truly remarkable jumps to try.
Hot tip: to save a few bucks, arrange your 14,000-foot jump during the week if possible.
23 – Walk a cheetah at Houston Zoo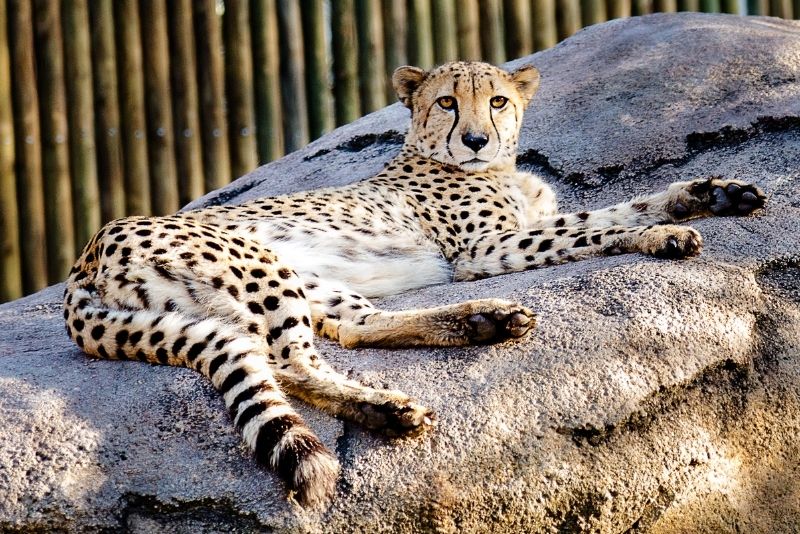 Located within the immense Hermann Park, the acclaimed Houston Zoo welcomes more than two million tourists per annum who flock to see its 900 different species of animals.
Besides the nearly endless list of cute and cuddly (or slimy and scaly) creatures on display, the zoo also offers a range of intimate animal encounters.
For the ultimate experience, sign up for one or all of the sloth meet and greet, the alligator feeding, the cheetah walk, or the sea lion painting session!
24 – Admire art throughout history at The Museum of Fine Arts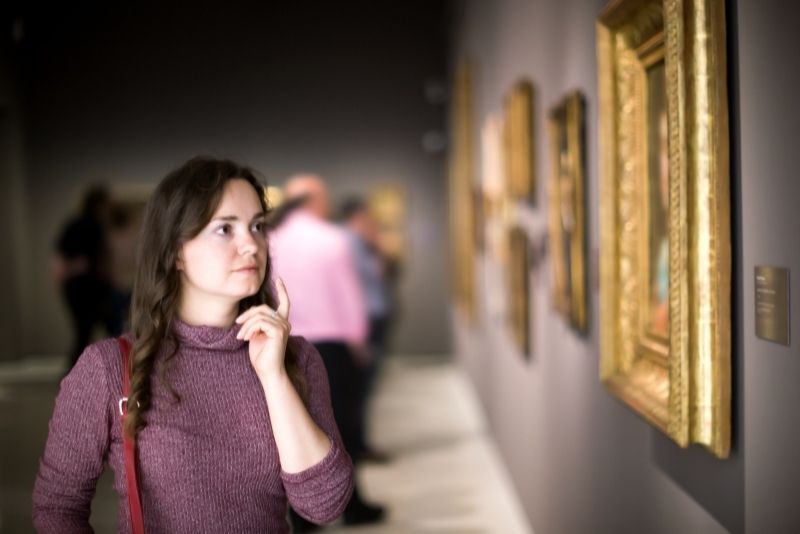 Art lovers, listen up!
Located in the Houston Museum District, The Museum of Fine Arts is somewhere that travelers regularly spend half or even full days fully engaged and entertained.
Why? Because with an enormous collection of more than 65,000 works of art, covering more than 6,000 years of artistic history, it holds the title of being one of the 10 largest art museums in the United States.
25 – See what's happening at Market Square Park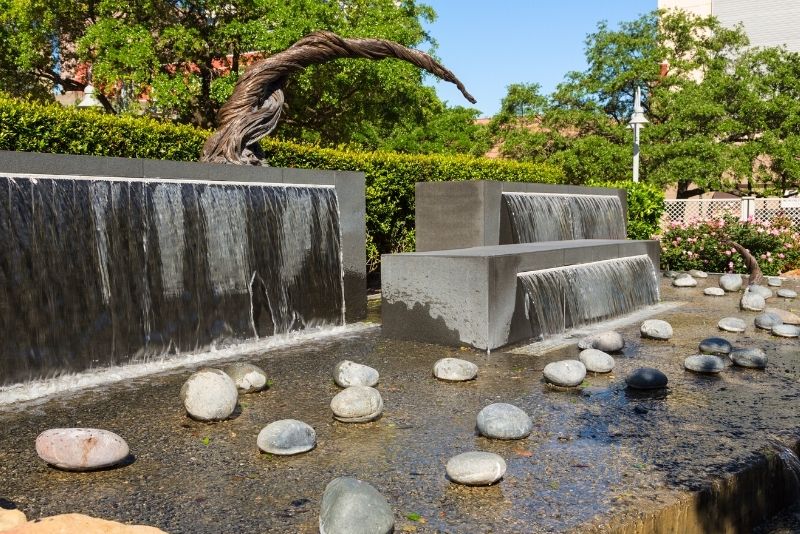 Surrounded by skyscrapers in every direction, Market Square Park is a popular slice of greenery smack-bang in the middle of buzzing downtown.
However, it's much more than just a place to roll out a picnic rug; this art-lined park is overflowing with history and acts as a beacon for community spirit, hosting live music, yoga meetups, events, outdoor movie nights, and much more — check the website to see what's on or simply stroll down and be surprised.
If you're hungry, the adored Greek eatery Niko Niko's has set up a kiosk.
26 – Enjoy the views from an observation deck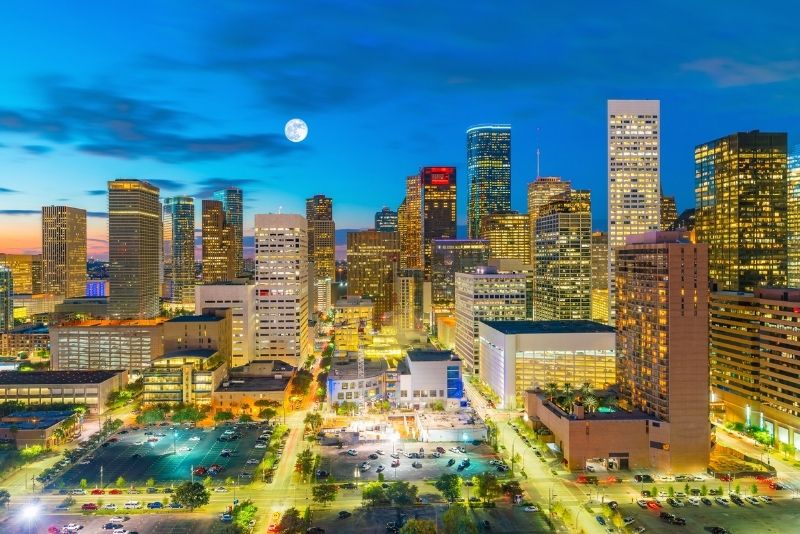 In years gone by, locals would head to the 1,002-foot-tall JPMorgan Chase Tower for panoramic views of the city.
These days, Chase Tower is closed to the public, which means if you're after the best local vantage point, you'll have to look elsewhere.
Spindletop restaurant, on the 34th floor of the Hyatt Regency, combines a revolving rooftop with unobstructed views.
Otherwise, the San Jacinto Monument, with its own observation deck (albeit with limited viewing points) presents a magnificent angle of the Houston Ship Channel below.
27 – Take the kids to the Children's Museum of Houston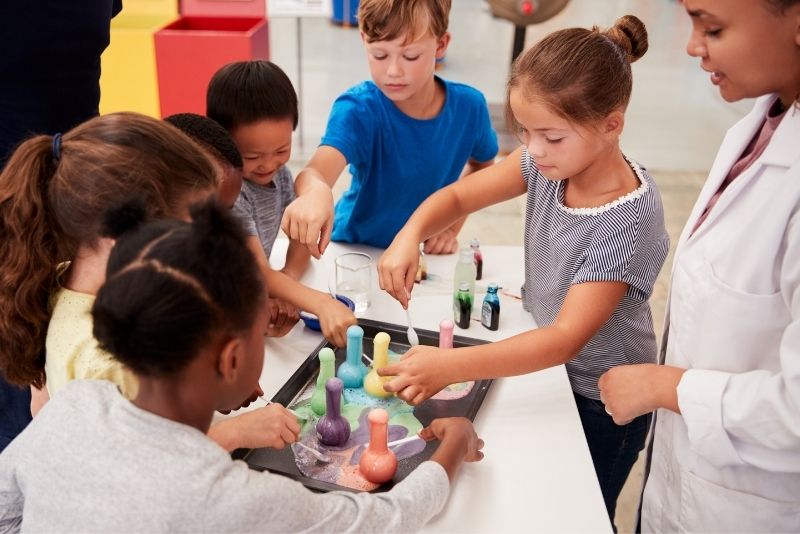 Undoubtedly one of the quintessential things to do in Houston for anyone traveling with kids, the Children's Museum of Houston has recently undergone a massive renovation, now doubling in size to house more than "90000 square feet of action-packed fun".
More often than not kids absolutely love FlowWorks, a state-of-the-art exhibit that educates about water through giant waves; Kidtropolis, where young minds learn how to run a city, and How Does It Work?, an interactive insight into the fascinating inner-workings of everyday life.
28 – Check out the Houston Museum of Natural Science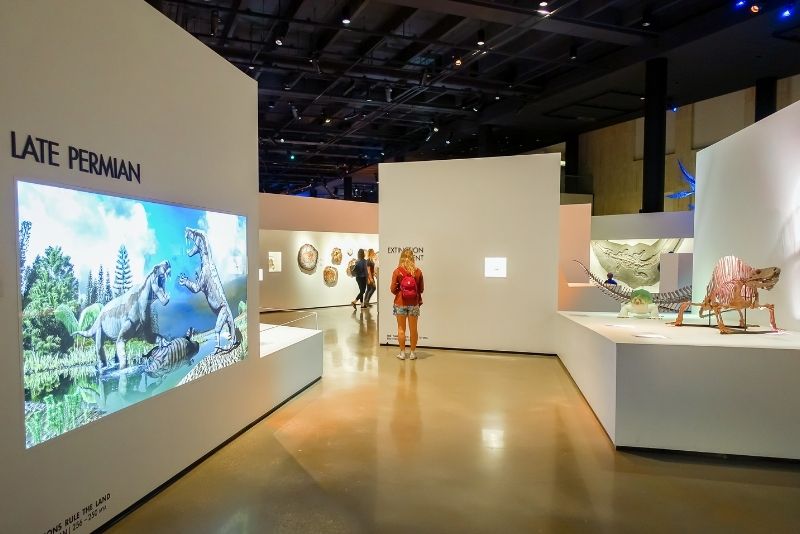 Arguably Houston's most impressive museum, the Museum of Natural Science dishes up four floors worth of permanent exhibits with a range of interactive displays across the entire complex.
Through dedicated areas like the Wiess Energy Hall and Hall of Ancient Egypt, expect to uncover tens of thousands of artifacts spanning everything from Native American culture to paleontology, seashells, and local wildlife.
While you can spend hours on end exploring the above sections, the crowd favorites are undoubtedly the Cockrell Butterfly Center, the George Observatory and the Burke Baker Planetarium.
29 – Say YEE-HAW at the Houston Livestock Show and Rodeo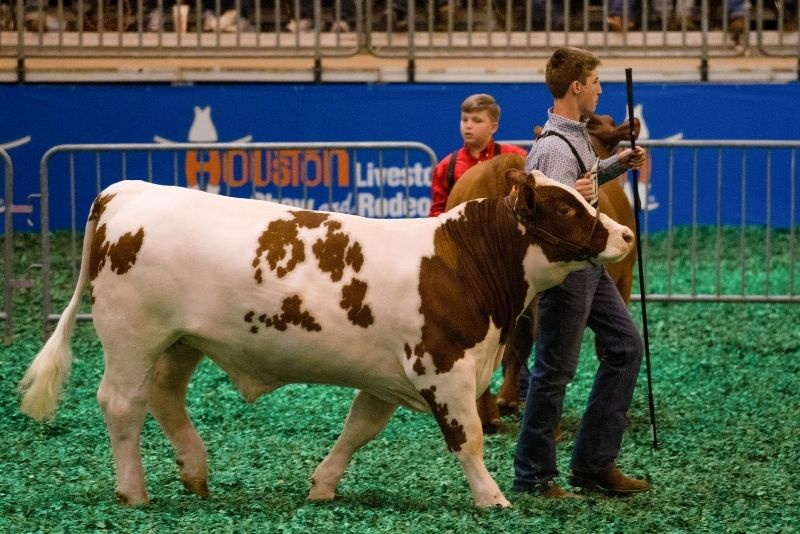 If your plan is to tick off all the stereotypical Texan moments, then you'll find more than your fair dose of yee-hawin', rope-slingin', cowboy-boot-wearin' Lone Star entertainment at the Houston Livestock Show and Rodeo.
At what is officially the world's largest livestock show, this indoor venue puts on extravagant rodeo displays (obviously), concerts, and also features a barn area, home to lambs, calves, and cute-as-a-button piglets.
30 – Cool off at Gerald D. Hines Waterwall Park
Sitting in the heart of the city, this small albeit famous park has become one of Houston's most beloved and iconic landmarks, and it's all thanks to the giant, manmade waterfall.
On those scorching summer days (you're in Texas remember, so there'll be plenty) locals often find themselves sitting under the fountain's spray to cool off. And with 11,000 gallons of water per minute cascading down its facade, there's no shortage of spray to go around.
31 – Soar over the city with an airplane tour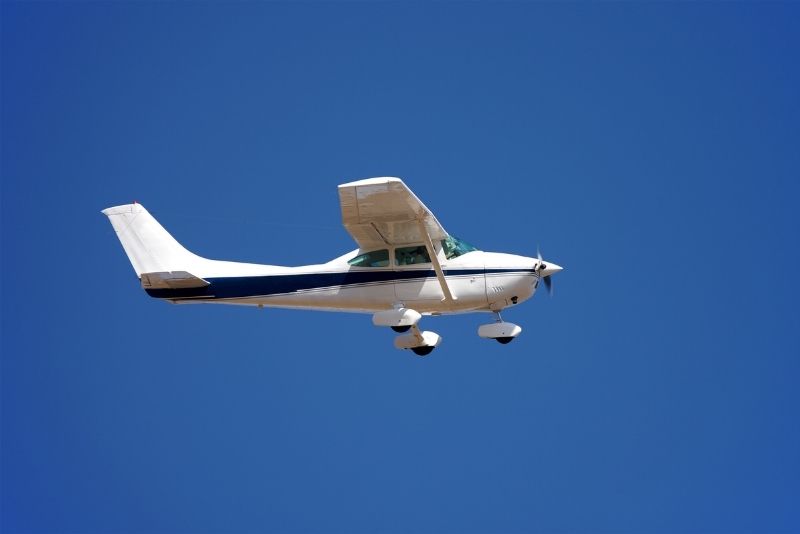 Thanks to its location straddling the sparkling Gulf of Mexico, Houston from a bird's eye view is nothing short of spectacular.
The best way to soak it all in is in your very own passenger plane — but far more than just a joyride, you might even get to take the controls yourself and learn the ropes!
If you're not quite ready to take to the skies (literally), then Space City also offers a number of excellent flight simulator experiences.
32 – Cheer on the home team at NRG Stadium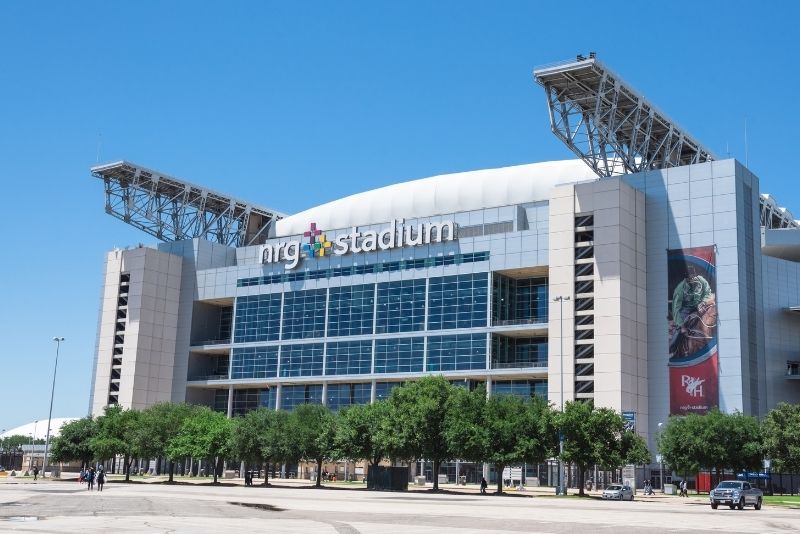 The extremely versatile NRG stadium has a diverse calendar unmatched by many others: at various times throughout the calendar, it will play host to monster trucks, rodeos, conferences, sell-out pop concerts, and family-friendly musicals.
Its main selling point, however, is sport — NRG is home to the Houston Texans NFL team. Come hell or high water, the fans turn out in droves.
33 – Chill out on the Discovery Green grass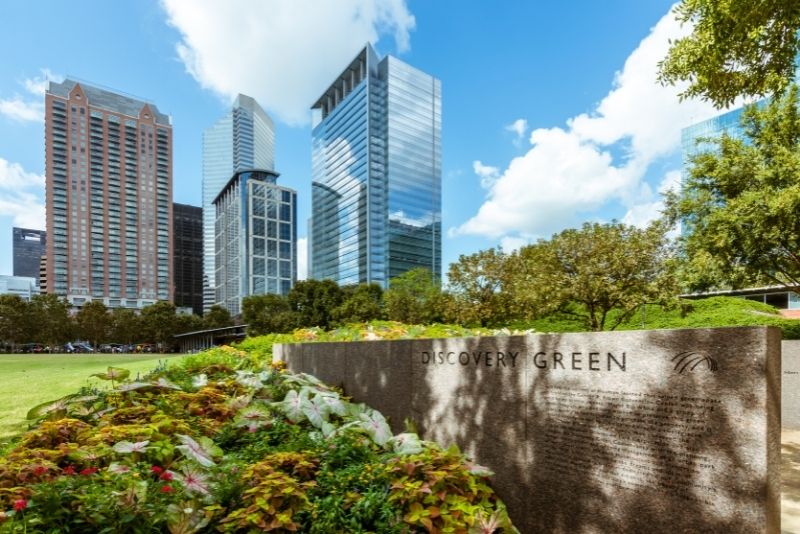 It's fair to say that the non-stop nature of downtown Houston can, at times, be a little too much to handle for the more relaxation-oriented travelers. Thankfully, this 12-acre urban park is the perfect oasis.
Besides boasting dog parks, 2 restaurants, a kids play area, and a man-made lake, Discovery Green, "downtown's new backyard" also schedules Friday night live concerts, fitness sessions on the grass, and festivals.
34 – Shop and skate at The Galleria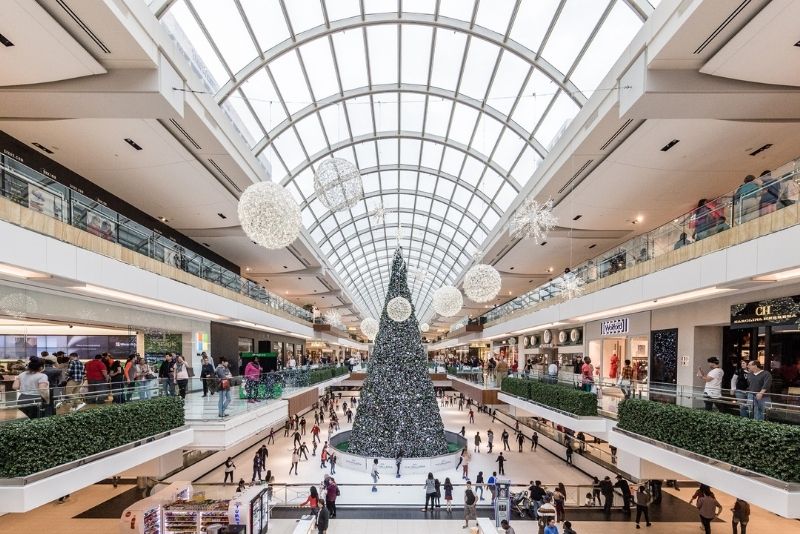 When you hear that this complex is spread across an astounding 3 million square feet, it should come as no surprise to learn that The Galleria is officially the largest and most luxurious shopping destination in the Lone Star State.
Housing 400 air-conditioned stores (many of which are exclusive) and no shortage of dining and entertainment options, it's the perfect place to hang out and refresh the wardrobe on a toasty afternoon.
After grabbing a snack at The Cheesecake Factory, why not do a few laps on the center's indoor ice rink? Open year-round, there's never a bad time to lace on the skates.
35 – Have a picnic at Sam Houston Park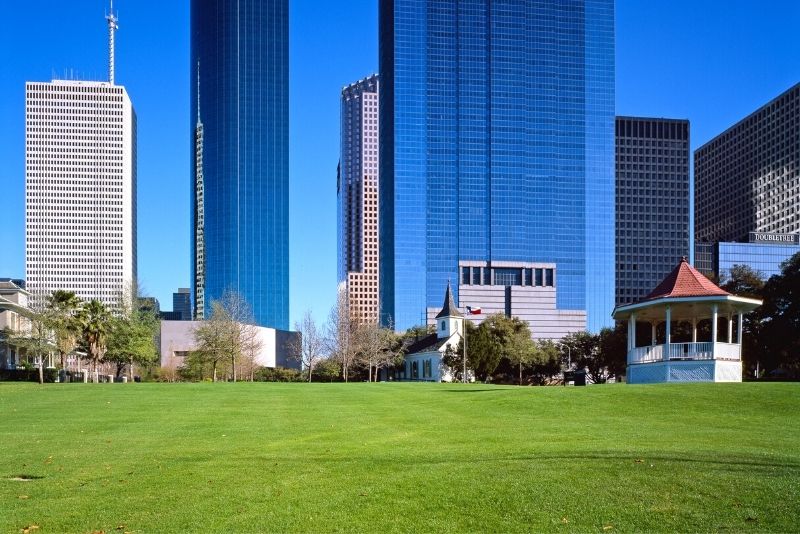 Since being declared an urban park way back in the year 1900, Sam Houston has held the title of being the city's first and oldest designated parkland.
To complement the 19 acres of open greenery perfect for a picnic or a nap, the Sam Houston Park also contains seven historic homes — a surefire point of interest for anyone fascinated by the evolution of architecture.
Hot tip: check the website before you go. You might stumble across a festival!
36 – Feel the thrill of an indoor skydive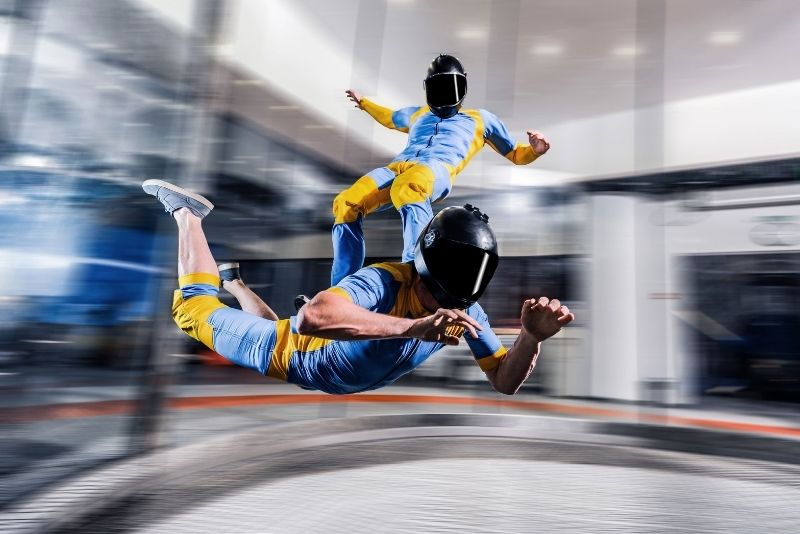 If you're craving the adrenaline of freefall but can't quite muster up the courage to leap out of a moving airplane, iFly Houston is the next best thing.
In a manmade wind tunnel, thrillseekers are treated to a gravity-defying experience, all just a few feet off the ground in a safe and monitored setting.
You'll be somersaulting in mid and in no time.
37 – Wander around the Hogwarts lookalike campus: Rice University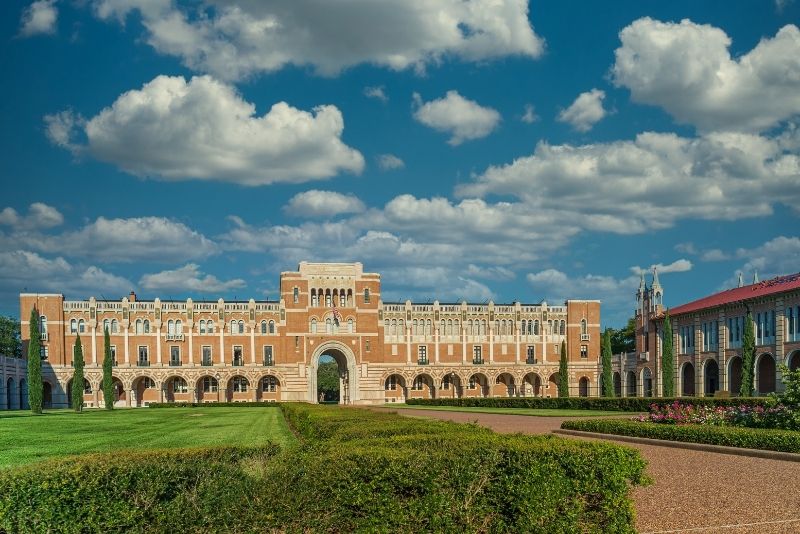 Sure, Rice excels academically as one of the USA's top 20 universities. But that's not why we're here.
For tourists, its the 300 acres worth of tree-lined campus and beautiful buildings that makes this establishment a worthy destination, student or not.
While the campus is full of surprises and quiet spaces, its highlight can be found in the Suzanne Deal Booth Centennial Pavilion — here lies Houston's most iconic piece of urban art, the James Turrell's Twilight Epiphany Skyspace.
38 – See WW2 planes at the Lone Star Flight Museum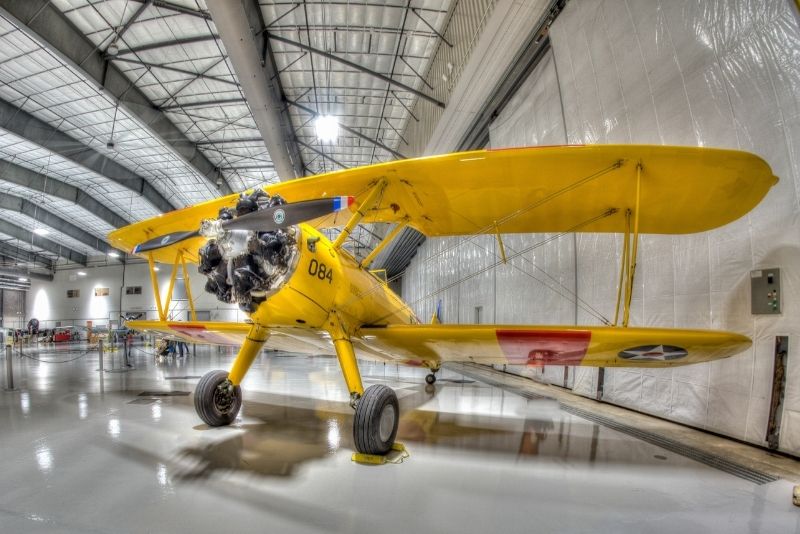 Aviation nerds, trust us. Add this joint to the to-do list.
With models like the B-17 Flying Fortress, P-47 Thunderbolt, and F4U-5 Corsair tucked into the Lone Star's hangers, you'll find more than your fair share of historically significant aircraft here.
On top of the 15-plus well-preserved planes on display, the Museum also does a wonderful job in teaching the fundamentals of flight through an array of interactive exhibits.
39 – Duck into the Houston Center For Photography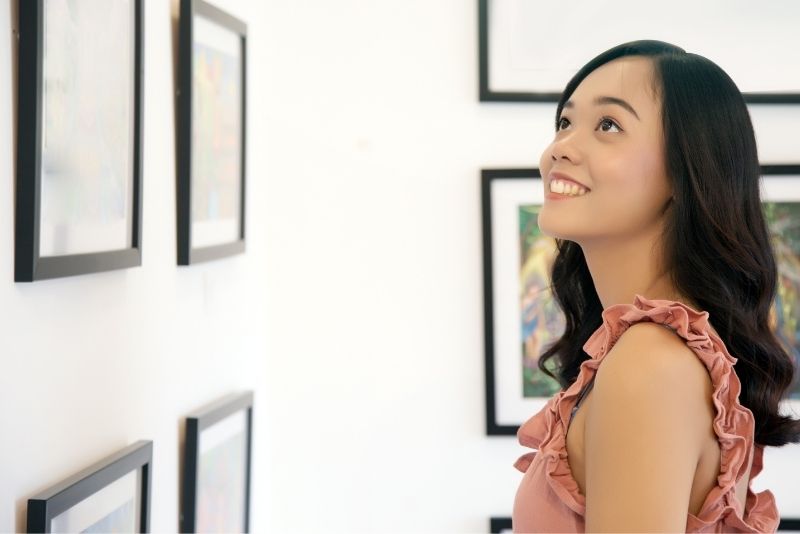 If any budding photographers are on the hunt for things to do in Houston, look no further.
In addition to the wide range of award-winning contemporary photography exhibitions, the Houston Center For Photography also puts on workshops and houses a state-of-the-art digital darkroom.
The best part? It's totally free (which means more cash left over for street tacos, obviously).
40 – Admire manmade and natural art at the Bayou Bend Collection and Gardens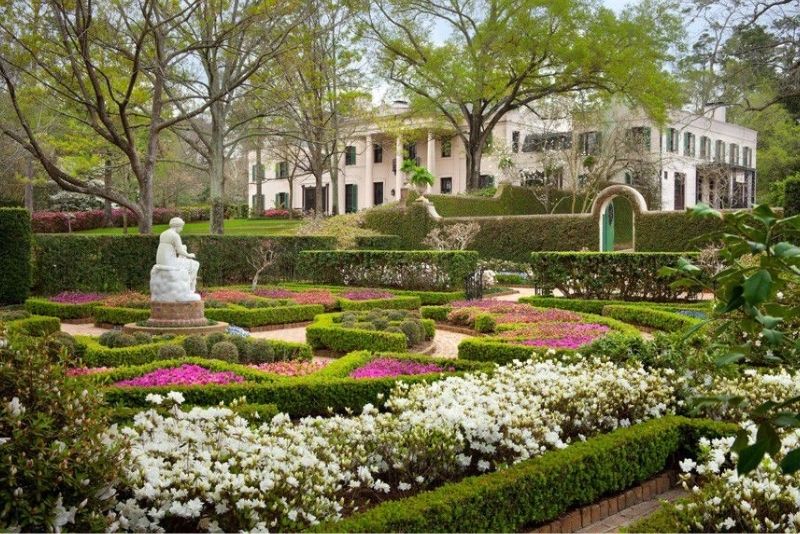 Perched on 14 acres of well-manicured greenery in Houston's historic River Oaks neighborhood, you'll find the Bayou Bend Collection and Gardens — alternatively known as the Museum of Fine Arts.
Here, guests can wander around on several guided or unguided tours, admiring one of the finest showcases of American ceramics, paintings, and furnishing on the planet.
Bring the kids; children under 12 get in for free!
41 – Delve into the afterlife at the National Museum of Funeral History
As far as museums go, it's hard to bypass the National Museum of Funeral History as one of, if not the most unique in the country.
If you hadn't already guessed based on the name, this Museum District establishment is dedicated entirely to the process of sending off our loved ones.
It dives into the history, science, and art of death; showcases JFK's original eternal flame, and proudly houses the largest collection of funeral-related artifacts in America.
42 – Taste, taste, and taste again on a brewery tour!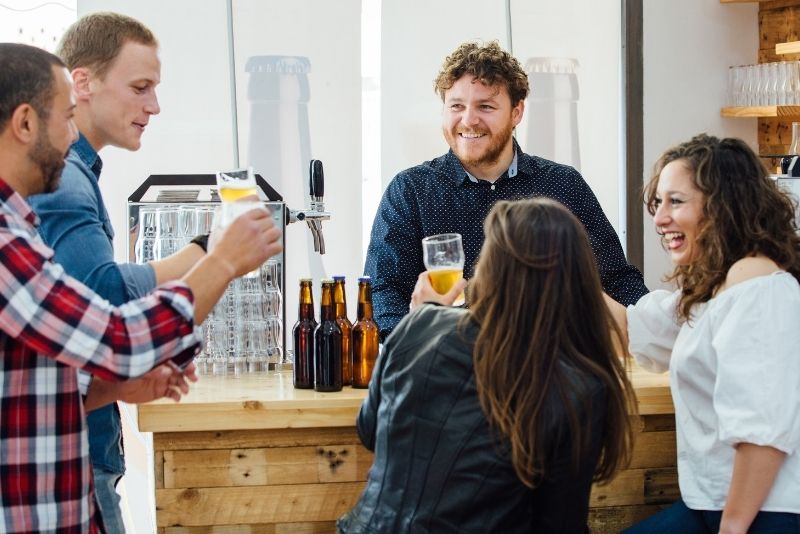 You're on vacation, after all, so why not treat yourself to an ice-cold beer or two?
A city fond of its beverages, Houston has no shortage of medium-scale and craft breweries, many of which offer behind-the-scenes tours into their production processes.
To highlight just a couple: The Saint Arnold Brewing Company is Texas' oldest craft brewery and has won more Great American Beer Festival medals than any other Southern brewery;
Karbach Brewing, on the other hand, is one of the nation's fastest-growing beer brands, using German-inspired techniques to whip together refreshing lagers and ales.
43 – Understand one of civilization's darkest times at the Holocaust Museum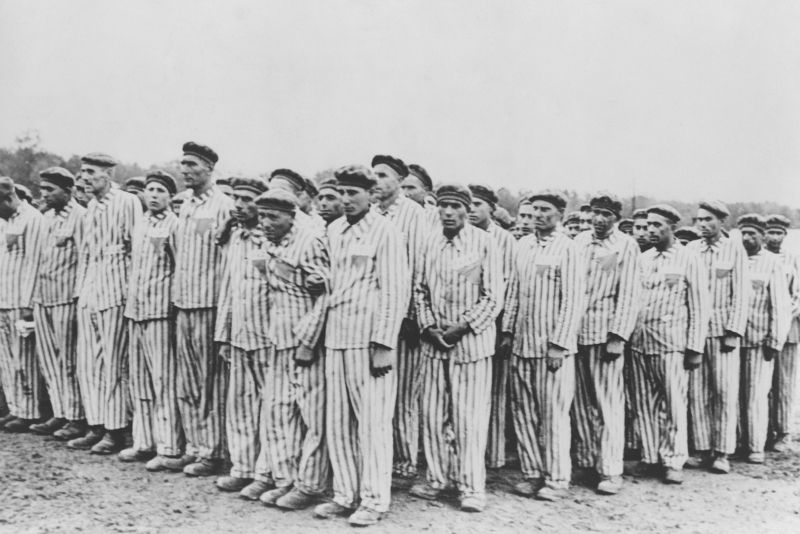 Found in Houston's Museum District, the city's Holocaust Museum provides a sobering, eye-opening insight into the tragedies that rocked Europe (and spread around the world) in World War Two, highlighting how prejudice and hatred can escalate uncontrollably.
As the fourth-largest of its kind in the country; the level of education, amount of artifacts, and collection of emotional stories are immense.
If you're counting pennies, the museum is free to all every Thursday between 2pm and 5pm.
44 – Enjoy the show at the Miller Outdoor Theatre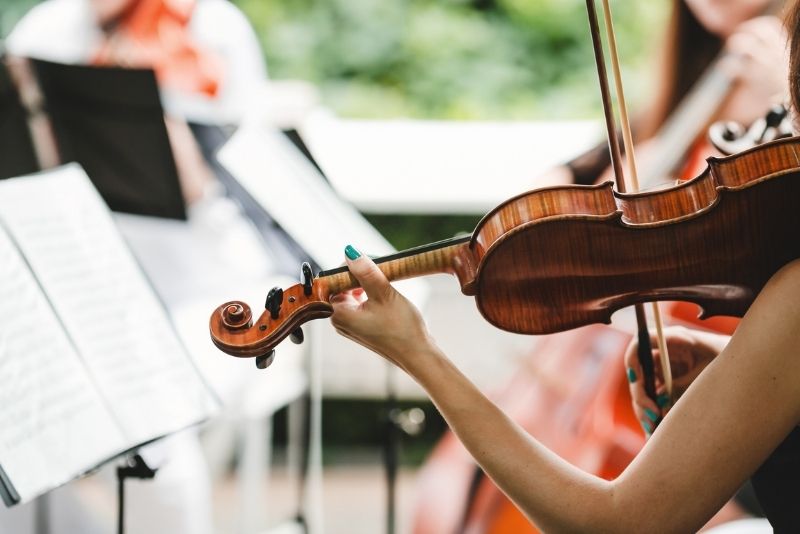 Taking up near to 7.5 acres of land in the enormous Hermann Park, the Miller Outdoor Theatre is proudly the only free open-air theater of its kind — not just in Texas, but the whole United States.
The theater puts on a range of culturally diverse shows, including the Houston Ballet, Houston Symphony, Queen tribute bands, and so much more.
Best of all, no matter what show you check out, the entertainment is always free of charge.
Bring a blanket, some nibbles, and some wine, and gear up for a wonderful evening!
45 – Spend an hour at the Art Car Museum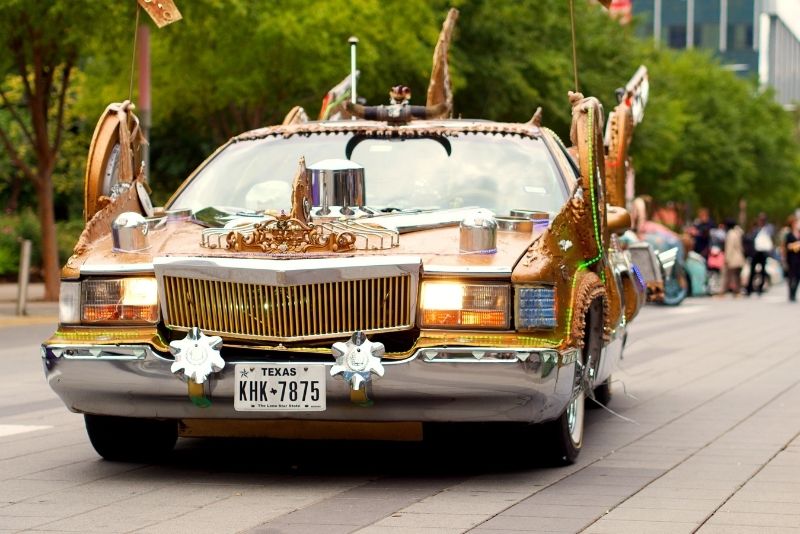 Nicknamed the "Garage Mahal," the Art Car Museum is exactly what you'd expect: art… made out of cars.
The Museum displays colorful sculptures of vintage rides created by a range of local, national, and international artists. However, complementing the eclectic selection of classic cars decked out in lobsters and fake fruit, the museum also houses non-car-related pieces — like two skeletons playing chess.
And it won't break the bank either! Admission is always free.
46 – Catch a play at The Hobby Center for the Performing Arts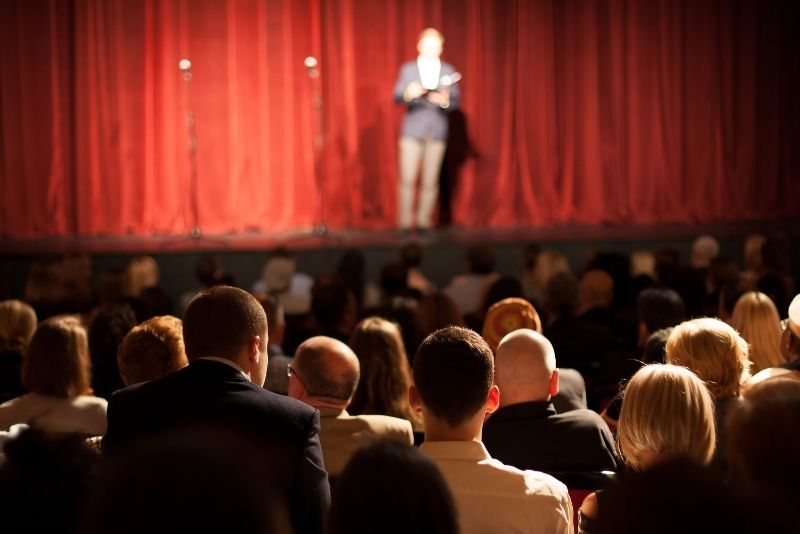 Found smack-bang in the heart of downtown Houston, the well-known Hobby Center wields the unofficial title of being the prime entertainment complex in the Houston Theater District.
The facility houses the stunning 2,650-seat Sarofim Hall, the intimate 500-seat Zilkha Theatre, and the Humphreys School of Musical Theater, if you're looking to learn a thing or two about stage acting while you're there.
With an array of plays, musicals, and concerts on the calendar, you're guaranteed to find something worth checking out (just visit the website).
47 – Cheer on the Dynamo at BBVA Stadium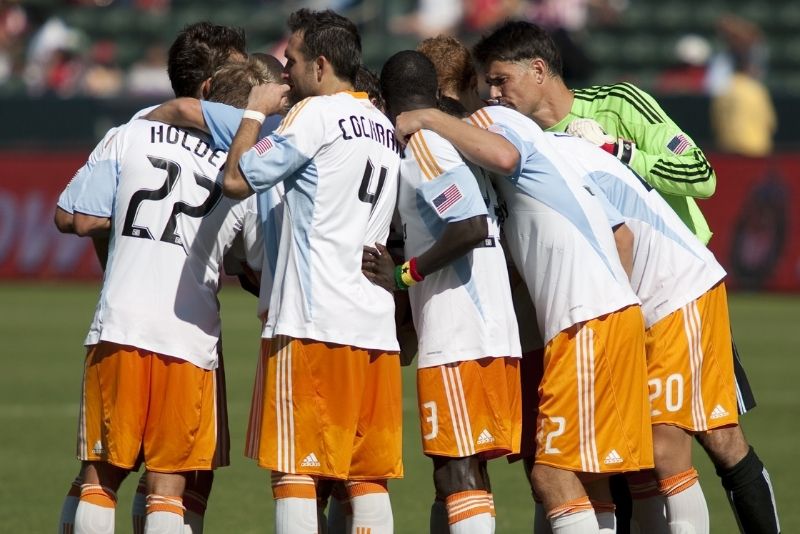 On the eastern side of downtown and just a few minutes walk from the Astro Stadium, the state-of-the-art, open-air BBVA Stadium houses the Houston Dynamo (men's) and Houston Dash (women's) soccer teams.
With 22,000 fans packing the stands from early March through to mid-October, a noisy, heart-in-mouth atmosphere never far away.
But,  if soccer isn't quite your cup of tea, the stadium also acts as the stomping ground for the Texas Southern Tigers college football team — did someone say tailgate party?
48 – Make the journey to the carnivalesque Kemah Boardwalk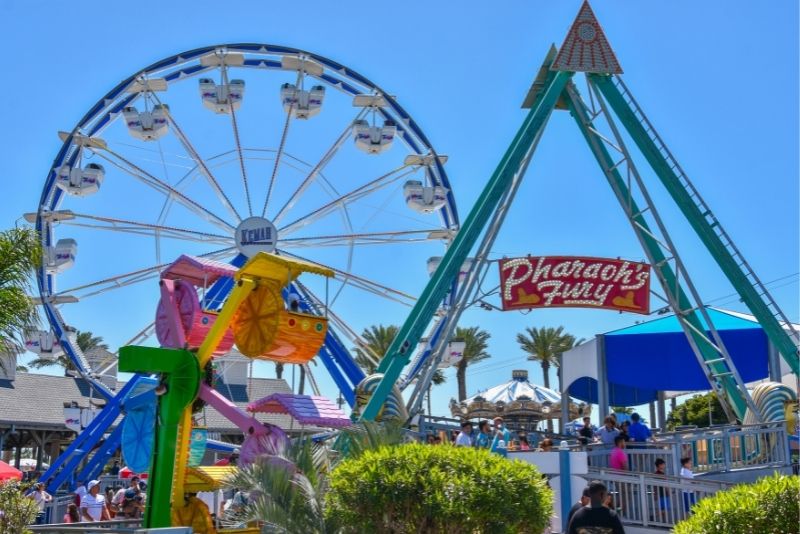 Just 20 miles from downtown Houston, Kemah Boardwalk has evolved at a rapid pace, transitioning from a charming waterfront area to a full-blown 60-acre Gulf Coast theme park!
Thrillseekers, take note: the Boardwalk Beast boat ride zooms passengers four miles into Galveston Bay at hair-raising speeds up to 40 mph.
Besides all of the thrill rides and arcade games, this popular destination is also surrounded by waterfront dining and specialty retail stores.
49 – Get wet at Six Flags Hurricane Harbor Splashtown!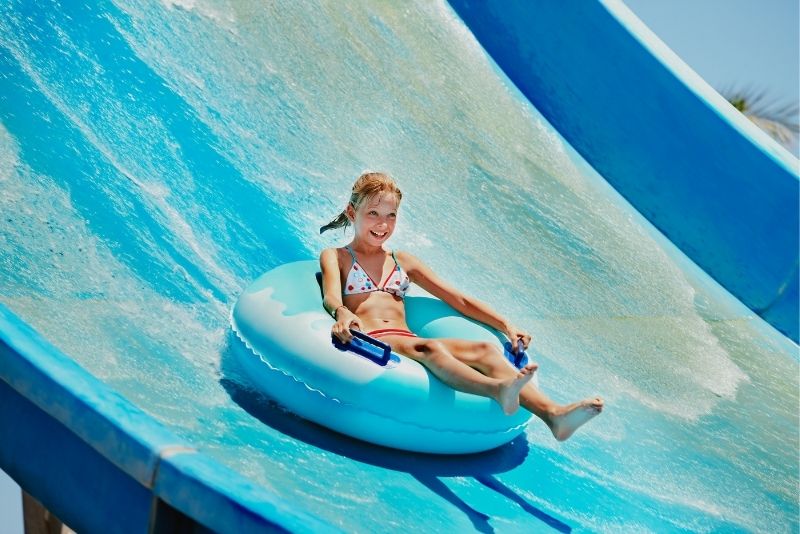 Widely considered Houston's most exciting water park — for kids and adults alike — Hurricane Harbor presents as the perfect place to be on those toasty Texan summer days.
With over 15 attractions ranging from adrenaline-pumping drop slides to a river so lazy you might fall asleep, there's something for everyone at this beloved water park.
50 – Take the kids to Houston Funplex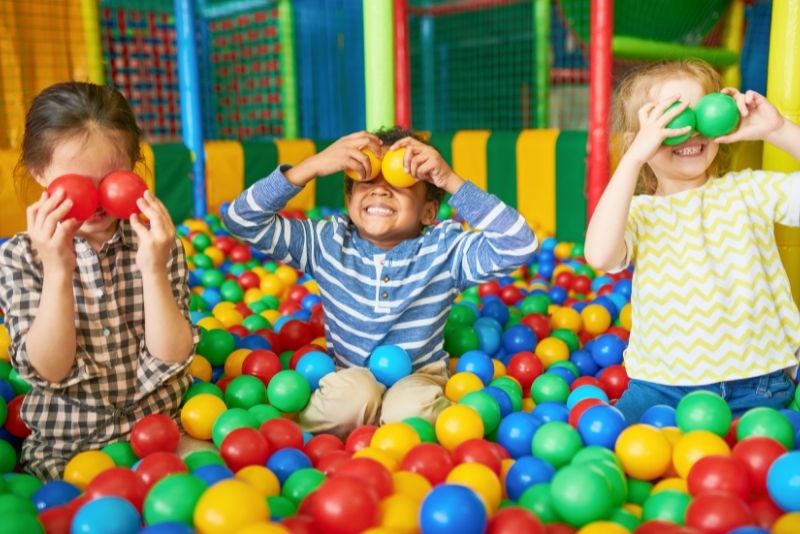 Home to a range of fun-filled activities for all ages conveniently brought together under one roof, Houston Funplex is one of the best options when it comes to family-friendly indoor destinations.
Let the youngsters loose on the bumper cars and trampoline, take a ride on the Ferris wheel, or play a round of bowling.
If the kids are occupied, there's a sports bar on-site to kill some time too.
51 – Delight the senses with a Houston Symphony concert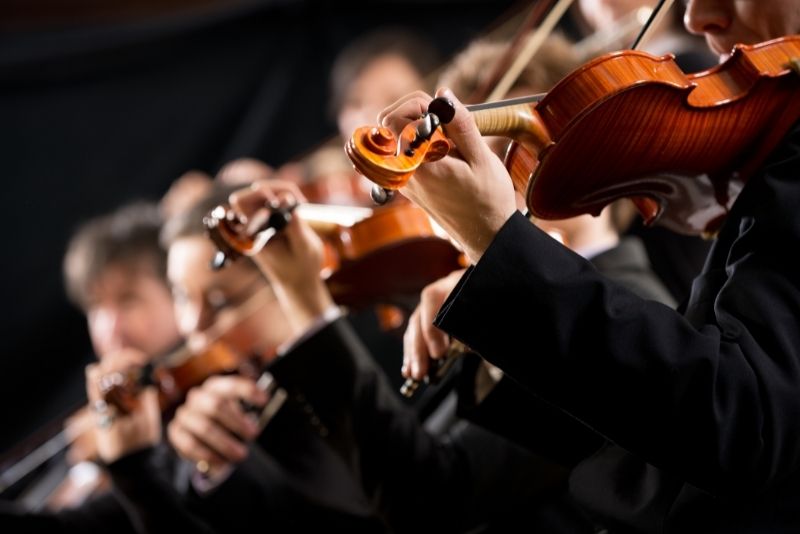 A couple of hours listening to the talented Houston Symphony in action, typically housed at Jones Hall on Louisiana St, is the go-to activity for audiophiles.
On the main stage, talented musicians put on regular live concerts, playing both original melodies and tributes to classics like Beethoven's Fifth.
During the summer, the symphony makes a detour to the open-aired Miller Outdoor Theatre — whether you check them out inside or outside, it makes for a peaceful, impressive evening.
52 – Visit the Buffalo Soldiers National Museum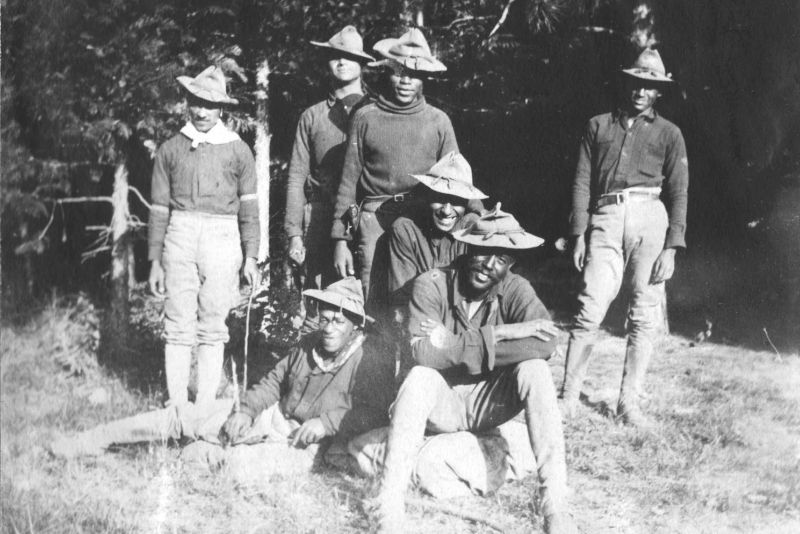 Art museums are a dime a dozen, but this educational museum is truly one of a kind.
The Buffalo Soldiers National Museum, a highly regarded attraction, is officially the only museum in America dedicated solely to preserving the legacy and telling the story of the African-American soldier.
Through a diverse collection of historical artifacts, original documents, explanatory videos, and print media, guests are given a thorough insight into an often overlooked (yet fascinating) part of US history.
53 – Catch a show at Stages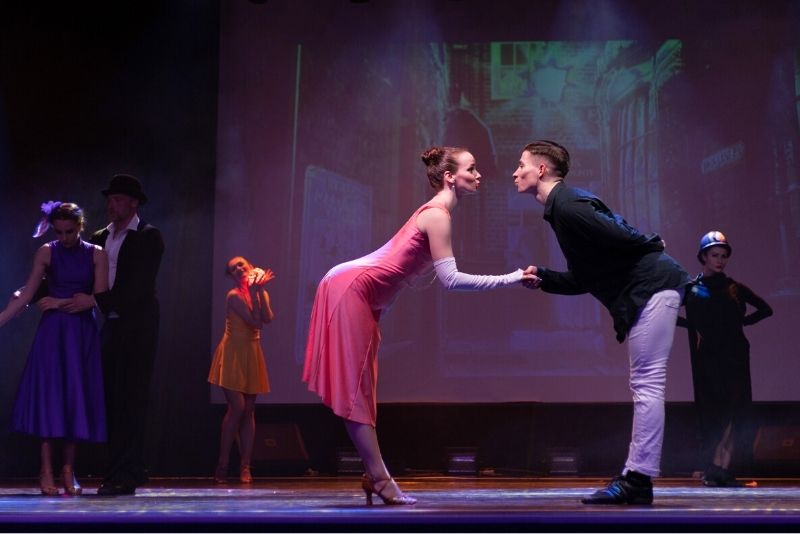 If your idea of an unforgettable trip is all about entertainment, then Stages Houston should be a high priority.
As the largest performing arts venue outside of Houston's downtown theater district, Stages puts on plenty of enjoyable plays and toe-tapping musicals.
With nightly shows often edging toward the more experimental kind of genre, check their website before you visit to see what's on.
54 – Stroll around the Kickerillo-Mischer Preserve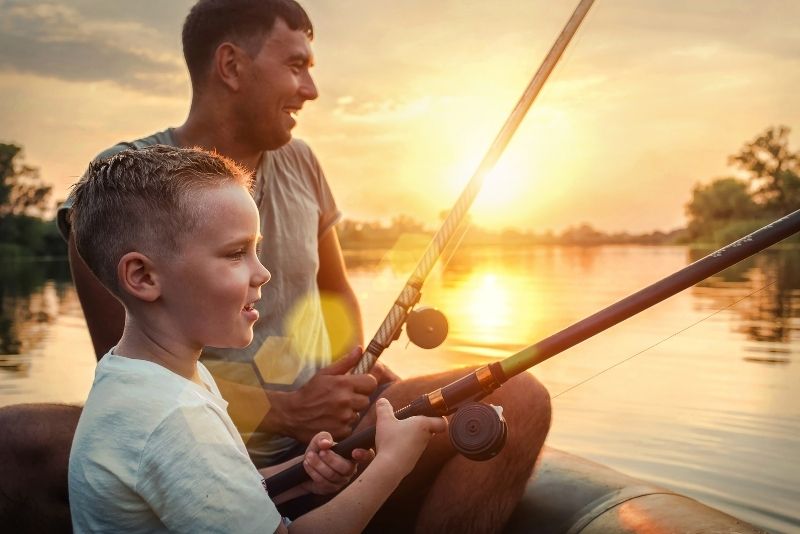 For when the hustle and bustle of downtown Houston gets a little overwhelming, this beautiful 80-acre piece of lush forested surrounding Marshall Lake is just what the doctor ordered.
A favorite among the locals, Kickerillo-Mischer Preserve offers a range of easy and moderate paved trails, picnic spots aplenty, a sand volleyball court, and fishing piers.
55 – Race around town with a scavenger game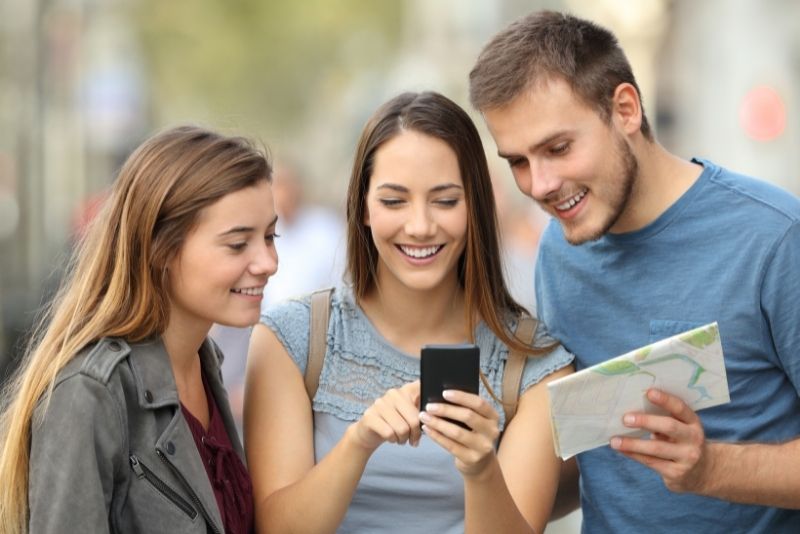 For when free walking tours and segway rides seem a little too mainstream, why not consider a fast-paced, competitive scavenger hunt as a unique way to explore the city?
A number of companies offer Amazing Race-style games, all operated from your smartphone, and all skirting around town to some of the most well-known landmarks as well as most underrated hidden gems.
56 – Play doctor at The Health Museum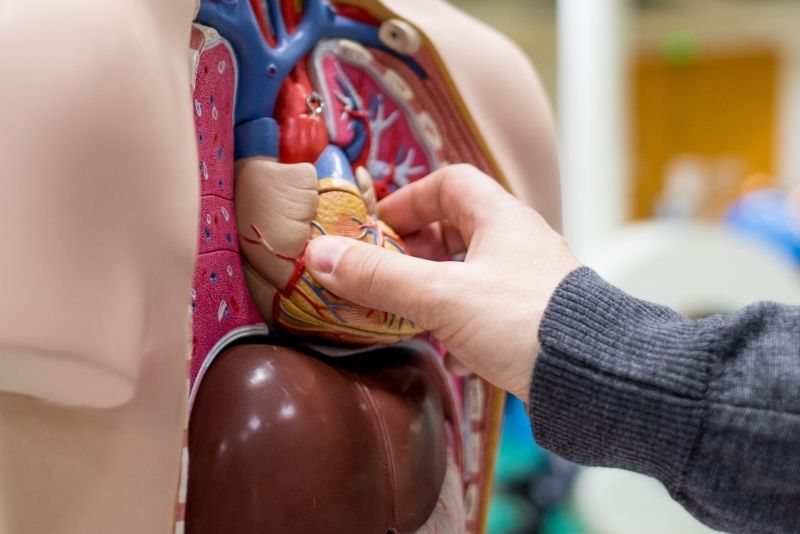 A noteworthy indoor attraction that promises plenty of fun and plenty of learning, The Health Museum (located in the Museum District) is well worth an afternoon.
The Museum's diverse exhibits dive into intriguing themes like the human brain, the human body, diseases and pandemics (how relevant), and biology-based experiment stations — equipped with glasses, lab coat, and all!
57 – Explore the Houston Museum District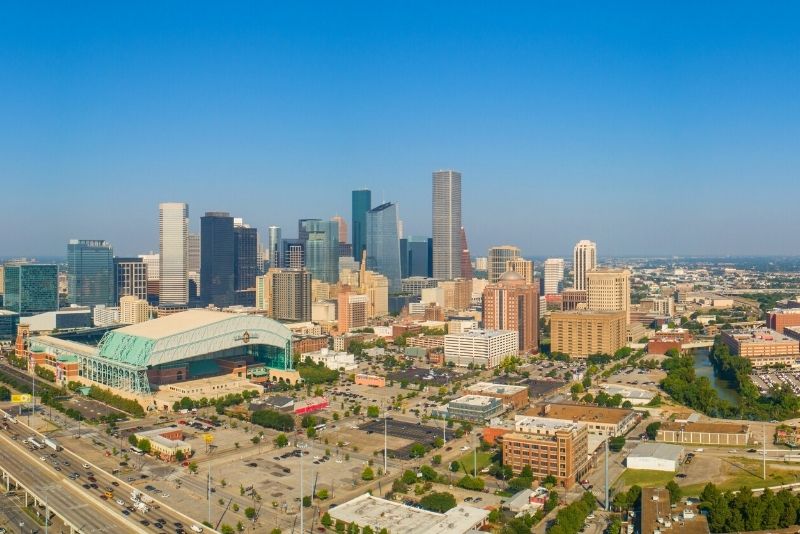 Speaking of museums, if there's one place to see them all (or, at least, the most famous), it's the Museum District, a tourist beacon that welcomes 8.7 million visitors per year.
While the area boasts a whopping 19 attractions — made up of museums, galleries, and cultural centers — its highlights include the Houston Zoo, Space Center Houston, The Children's Museum of Houston, the Art Car Museum, and the rather unique National Museum of Funeral History.
Include some of the popular museums in the area.
58 – Have a picnic at Buffalo Bayou Park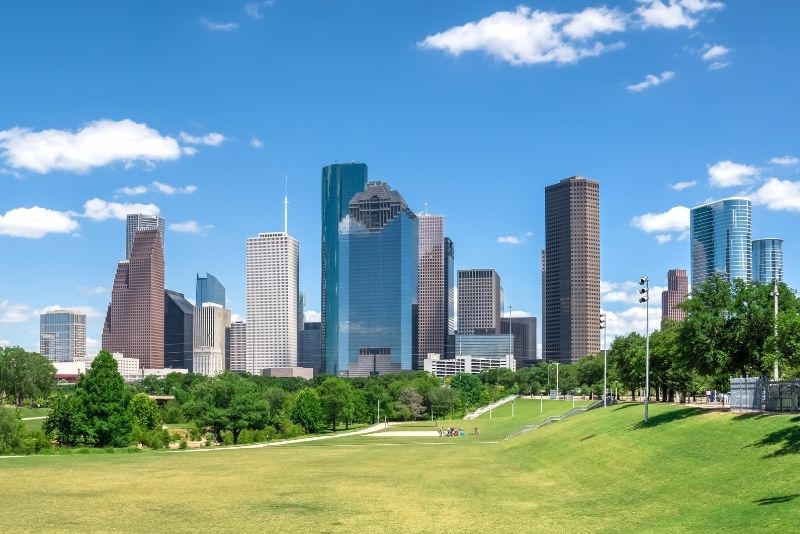 Covering 160 acres of calm and lush green space, the Buffalo Bayou Park provides a much-needed change of pace from downtown, while still offering excellent views of the skyline.
Thanks to its location just west of downtown Houston, straddling along the banks of the Buffalo Bayou, it's a relatively simple addition to any city tour.
59 – Take a wine-tasting (and drinking) class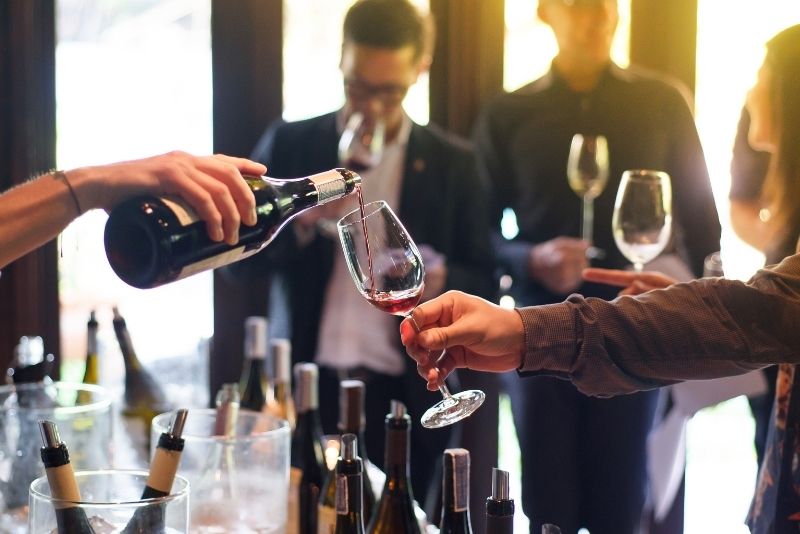 If beer's not really your jam and you prefer an eclectic blend of grapes, then a wine-making and tasting class might be the better option.
At The Cellar Door in Katy — about 30 mins west of Houston — oenophiles are treated to an intimate tasting experience, learning how the pro tasters identify the nuances between flavors like merlot and chardonnay and sampling plenty of glasses along the way.
While you can always rock up at the door, heavy discounts apply when booking online.
60 – Rev that engine at Houston Motorsports Park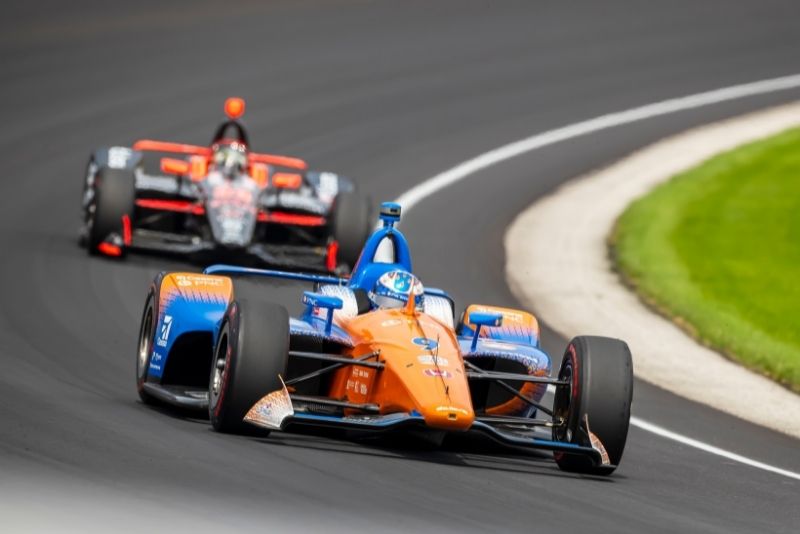 Petrolheads, get excited!
Home to a regular roster of oval races, drag races, and street meet-ups, the asphalt Houston Motorsports Park is heaven on earth for motor enthusiasts.
You'll find the quarter-mile dragstrip just outside Houston in Baytown. Despite the extra few miles of traveling, it's worth it for the roar of the engines alone.
61 – Shop till you drop on 19th Street in The Heights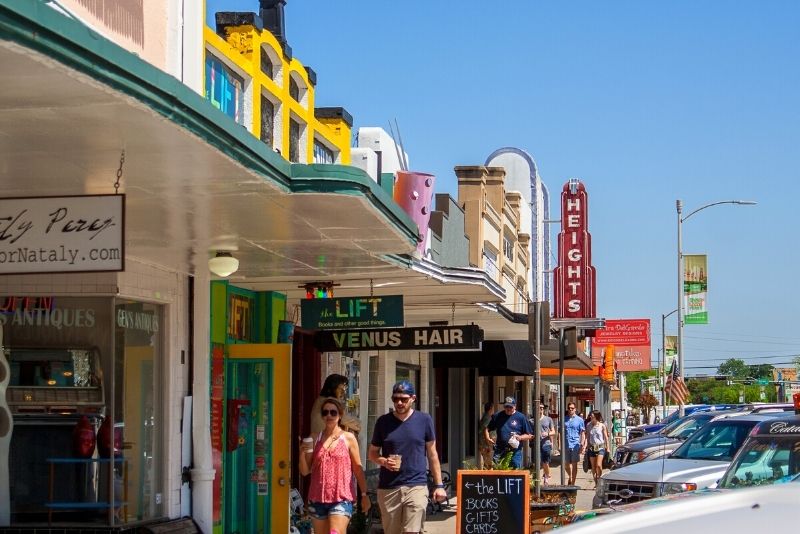 An ever-exciting and constantly thriving Houston jewel, this premier shopping district is made up of a selection of boutiques, gift stores, art galleries, toy stores, and even a live music venue.
After you've maxed out your credit card buying nicknacks, this funky street in the Heights is also littered with charming cafes where you can recharge the batteries with a latte or a pinot grigio.
And if you feel like catching a show, The Heights Theater always has some sort of concert or performance available to keep you in the cultural frame of mind, so make sure to grab some tickets!
62 – Stuff your face with steak at Taste of Texas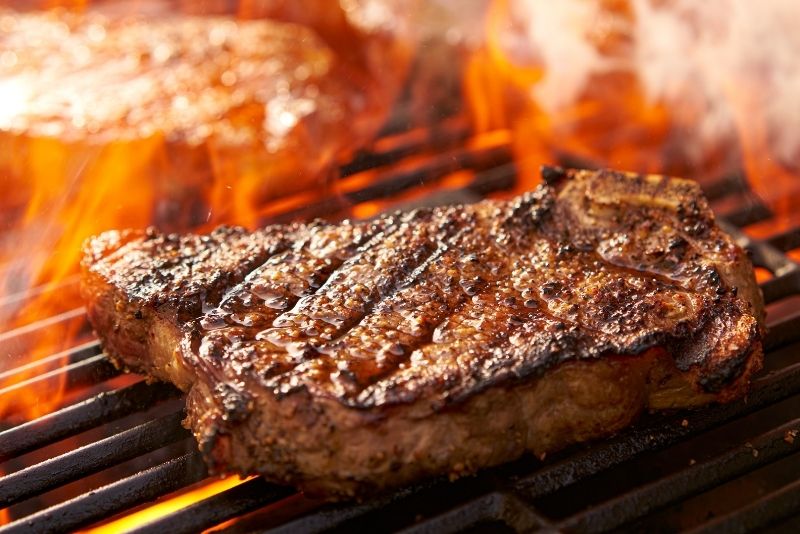 Foodies, listen up, because this joint has been a Houston icon for nearly 50 years, dishing up mouth-watering steaks, hearty fried chicken, and onion rings the size of your head since 1977.
Currently rated as the third-best restaurant in the city (according to TripAdvisor), booking a table at Taste of Texas is undeniably one of the quintessential things to do in Houston.
Hot tip: most visitors fail to realize that this restaurant also runs a handful of one-of-a-kind tours — go to their website and follow the link to "News and Events" section to see what lines up with your travel dates.
63 – Let your hair down on a pub crawl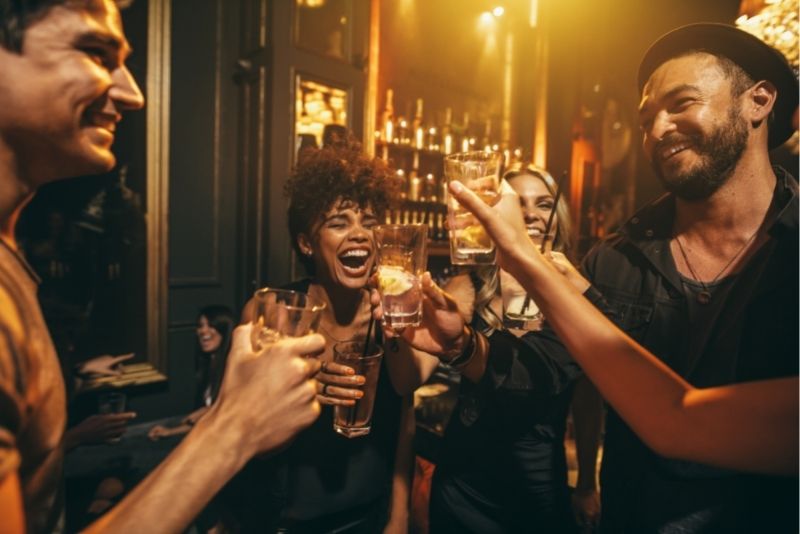 When you're ready for a wild night out, there's no shortage of options in Space City! Monkey's Tail is perfect for a more tropical vibe, with its wacky cocktails and cantina atmosphere.
Meanwhile, Johnny's Gold Brick takes more of a cultivated nostalgia approach, with its reasonably priced cocktails and mid-century aesthetics.
Or get your tiki bar fix at Lei Low, where the creative drinks pair perfectly with the cozy, tropically-influenced surroundings.
And for a little something different, check out The Secret Group, which features a steady lineup of touring and local comics to keep you snickering while you sip!
64 – Grab a taco at the Original Ninfa's on Navigation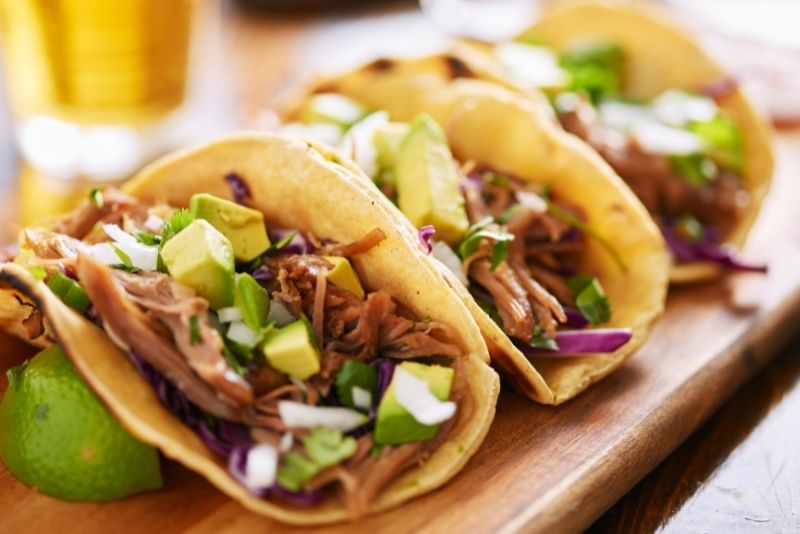 While there are two freestanding Ninfas restaurants around the city (the other being on Post Oak Blvd in Uptown), it's The Original Ninfa's on Navigation that has stolen the limelight for decades.
Now more popular than ever, after more than 50 years of dishing up sizzling fajitas and overflowing tacos, Ninfa's still claims to be home to "The Best Mexican Food in Texas Since Texas was in Mexico!"
There's only one way to know for sure… book a table!
65 – Visit the San Jacinto Museum of History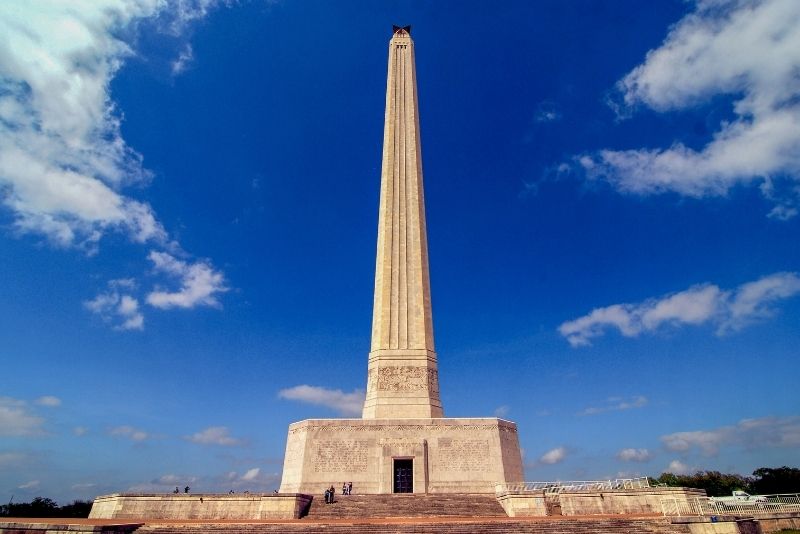 While most travelers might not have heard of the San Jacinto Monument before, it holds an impressive title: Standing 15 feet taller than the Washington monument, it's the world's tallest war memorial.
The memorial is located outside the San Jacinto Museum of History, one of the city's most intriguing collections that honor all those who fought for Texas's independence, as well as outline the region's fascinating chronological history.
66 – Admire that art at Rothko Chapel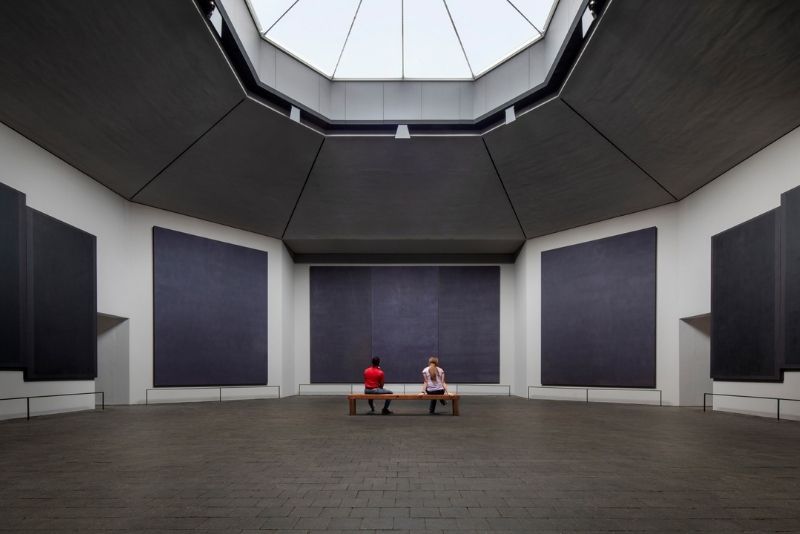 The Rothko Chapel is known across the city as an independent institution — what that means is that it acts as a sacred place open to all people of all religions and walks of life, welcoming hundreds of locals and tourists every day.
However, besides its spiritual significance, the chapel has another claim to fame: its artwork.
Step inside and you'll discover a one-man art museum showcasing 14 enormous paintings by none other than Mark Rothko.
67 – Laugh your socks off at The Music Box Theater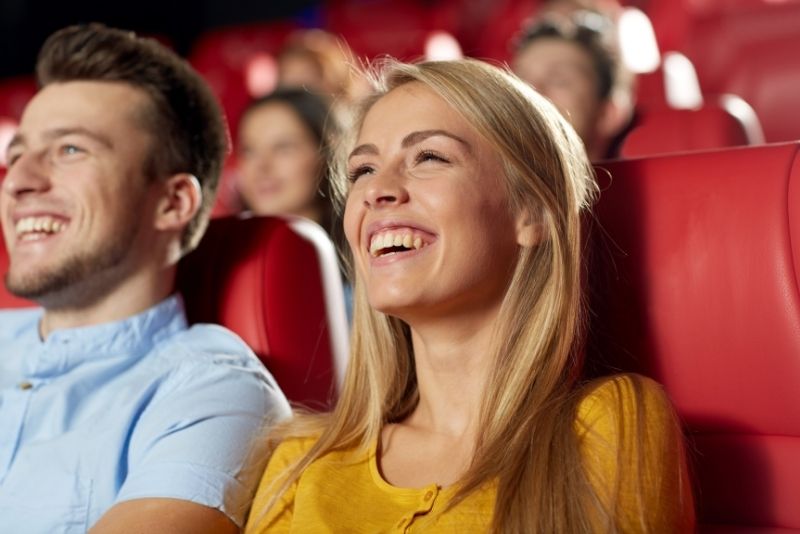 A constant hit among locals and tourists alike, the charming Music Box Theater has been providing audiences with an eclectic blend of live music and hilarious comedy for years, all within the bounds of a relaxed club-like environment.
Since tourists are often spoiled for choice when it comes to picking a theater venue, we'll make it easy for you: if your idea of a great show involved having a drink and enjoying some cabaret-style entertainment, this is the place to go.
68 – Appreciate the sheer beauty of BAPS Shri Swaminarayan Mandir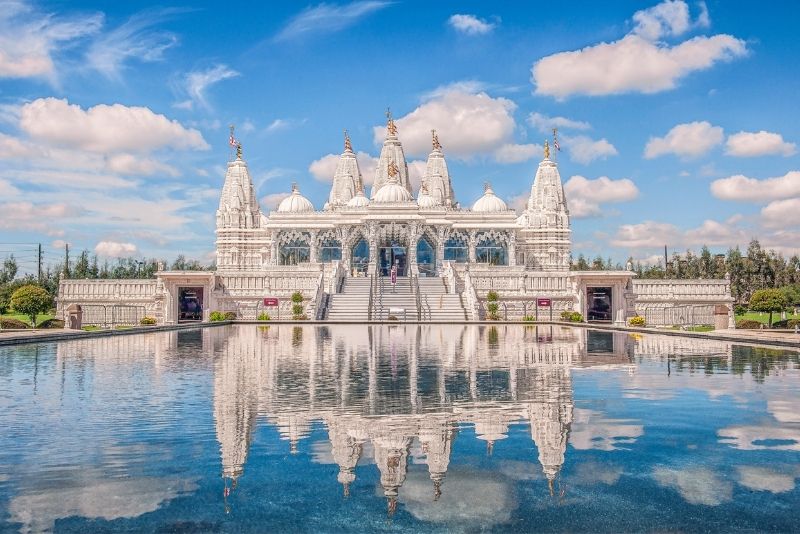 The BAPS Shri Swaminarayan Mandir in southwest Houston is officially the first traditional Hindu Mandir of its kind not just in the city, but in all of North America, offering a place of serenity, peace, worship, and prayer.
Even if you're not into spirituality, the atmosphere of the area, combined with the striking, magnificent facade of the building enough to warrant a visit.
69 – Cool off at Big Rivers Waterpark & Adventures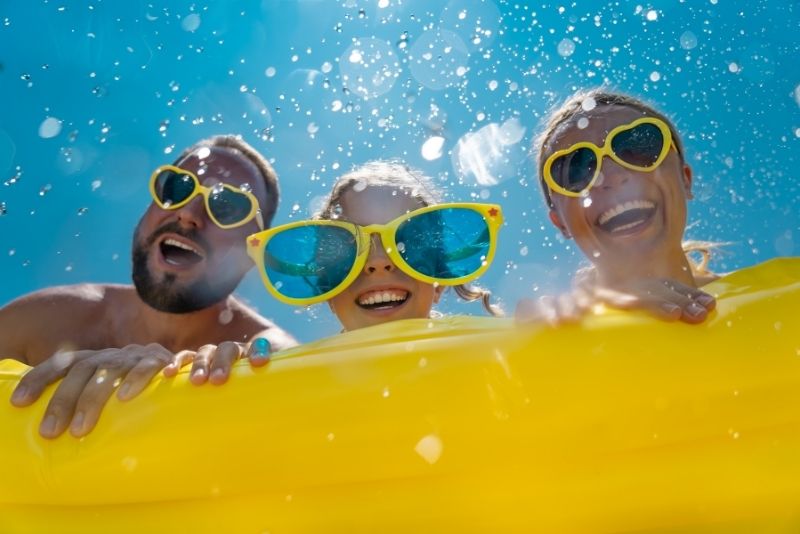 We all know that Houston can get mighty toast in the summer, so why not add Big Rivers Waterpark to the itinerary?
Thanks to its diverse range of water slides, wave pools, play areas, and deck chairs, it's the perfect place to cool off when the mercury starts to tilt into overdrive.
Besides the staple attractions, the park also often sets up an inflatable water adventure course — a surefire hit for kids and adults alike who never run out of energy.
70 – Wet your whistle at Tongue-Cut Sparrow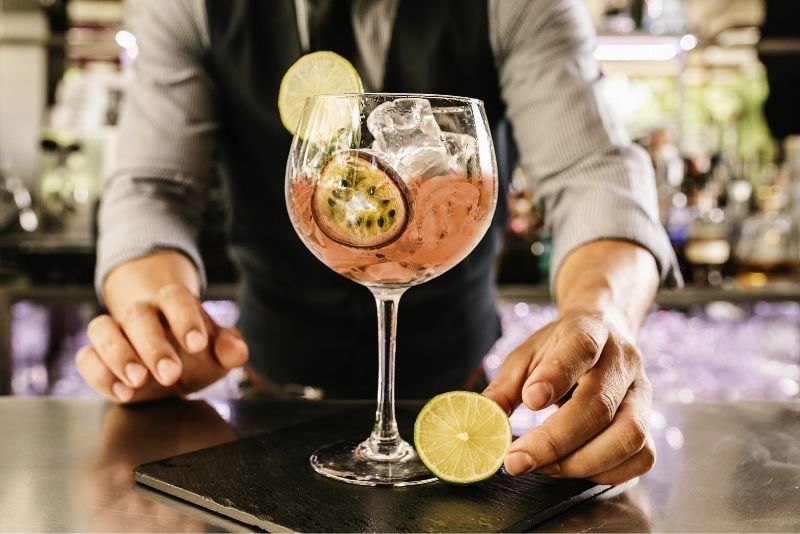 You're on vacation, after all, so why not let your hair down and treat yourself to a fancy cocktail or three?
At the Tongue-Cut Sparrow — a highly-esteemed cocktail bar formerly owned by celebrity barman Bobby Heugel — guests are treated to a fully stocked bar, unrivaled service, and exquisitely crafted classic drinks.
If traveling with your better half, it's one of the best things to do in Houston for date night.
71 – Play a round or two of golf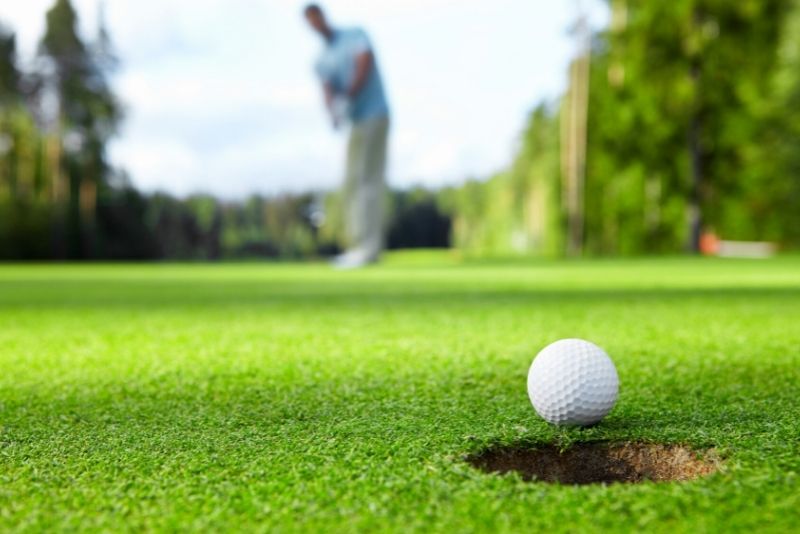 Texas has no shortage of world-class golf courses, and many of them are found right here, within striking distance of Space City itself.
The Memorial Park Golf Course is conveniently located just 10 minutes from the city center; Golf Club of Houston is good enough for the PGA tour; the Cypresswood Golf Club in nearby spring is a wonderful option for those on a budget; and Spring Valley offers both classic and disk golf — just to name a few.
72 – Feel the zen at the McGovern Centennial Gardens
A beautiful section of curated greenery located at the northern end of Hermann Park, the McGovern Centennial Gardens provide the perfect backdrop to your next jealousy-evoking travel selfie.
Make sure to tick off the Japanese Garden and take note of the 50+ species of trees spread across the Arid Garden, Rose Garden, Celebration Garden, and Woodland Garden.
73 – Treat yourself at House of Pies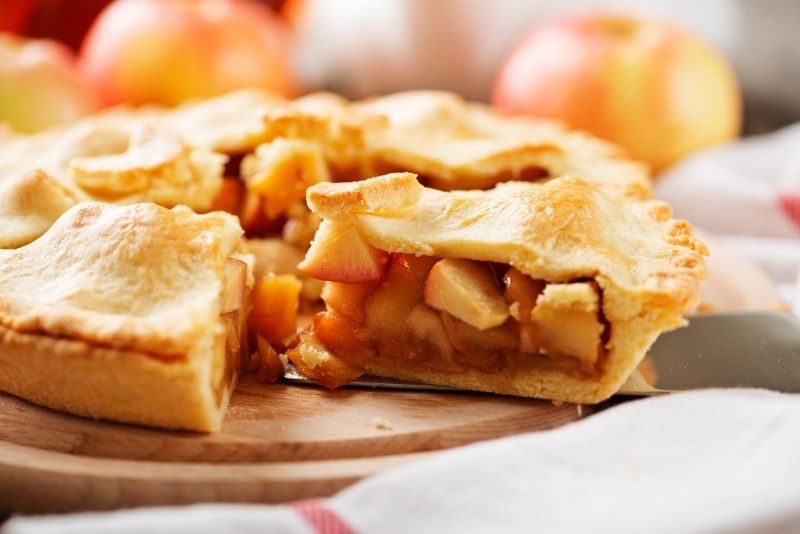 Who doesn't love a freshly-cooked pie, right? With over 45 years of pie-perfecting experience, this local gem (albeit a chain) is considered a Texas icon.
Choose between take-out or a sit-down meal and then dig into one of the classics; locals love the key lime, lemon, sweet potato, and buttermilk options — but honestly, they're all good.
Houston has three House of Pies locations (so you're never too far away), and there's one over in The Woodlands as well.
74 – Satisfy that need for speed at Speedy's Fast Track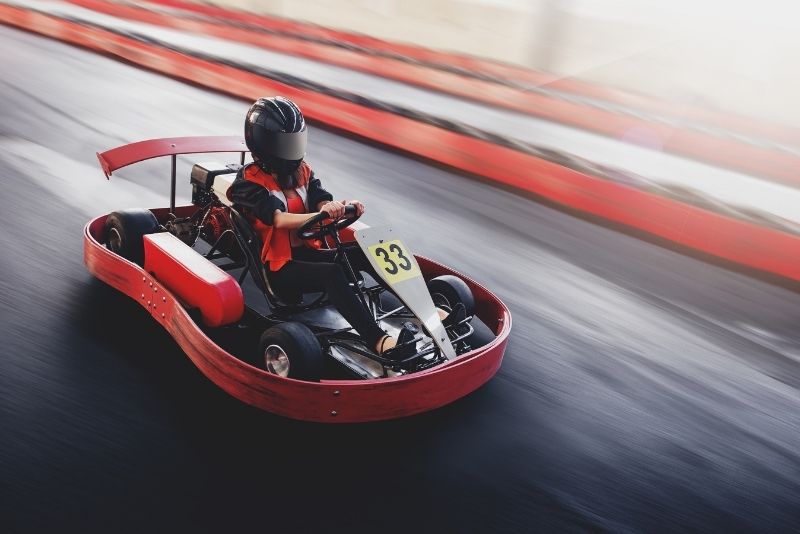 If you're on the hunt for some family-friendly things to do in Houston, Speedy's Fast Track is the perfect place.
The popular facility offers Formula 1-style go-karts on an open-aired track, a range of classic and modern arcade games, and an outdoor, 18-hole mini-golf course. The highlight, however, is the 2,525 square foot laser tag arena!
75 – Go surfing in nearby Galveston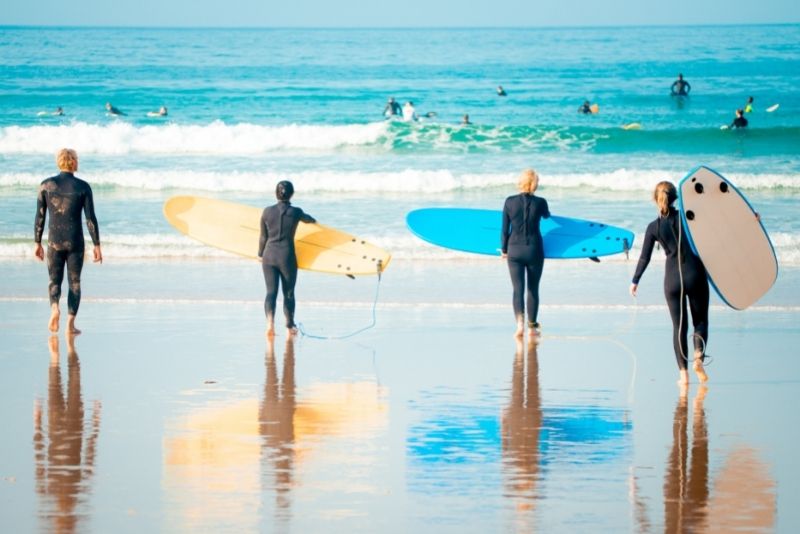 After learning how to ride a horse now it's time to learn how to ride the waves!
Down on the sun-kissed Seawall Blvd in Galveston, visitors can hang ten by renting their own boards, or, on the other hand, take part in an instructed lesson and learn the proper techniques.
Guided sessions typically last for 2 hours, include all the equipment, and are restricted to small groups, ensuring that every soon-to-be Kelly Slater gets one-on-one advice.
76 – Sample the seafood at Caracol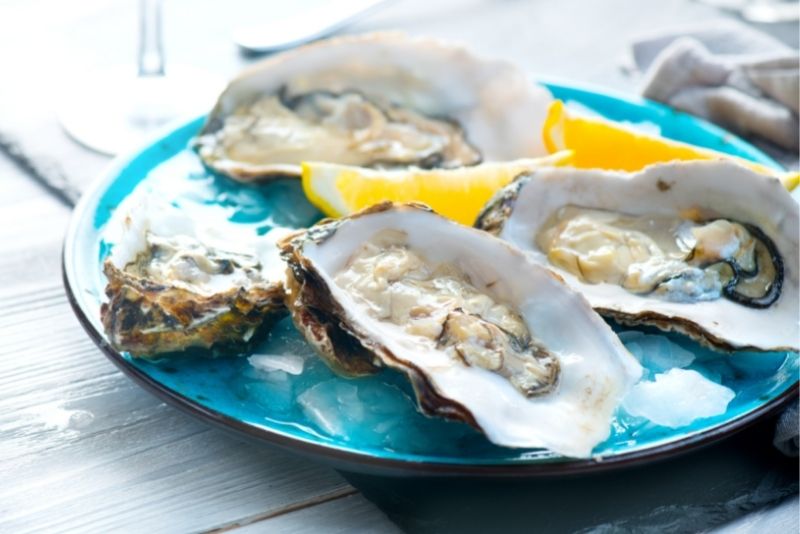 Opened by esteemed chefs Chef Hugo Ortega and Tracy Vaught, the coveted Caracol Restaurant dishes up some of the most mouth-watering Mexican-inspired seafood dishes north of the border.
Located in the heart of the Galleria area, Caracol is known to dish up exquisite octopus molé; and the fresh Gulf oyster bar is a surefire hit.
As for dessert, it's hard to go past the rhubarb and strawberry empanada.
77 – Soak up the local vibes, food and some great entertainment at POST Houston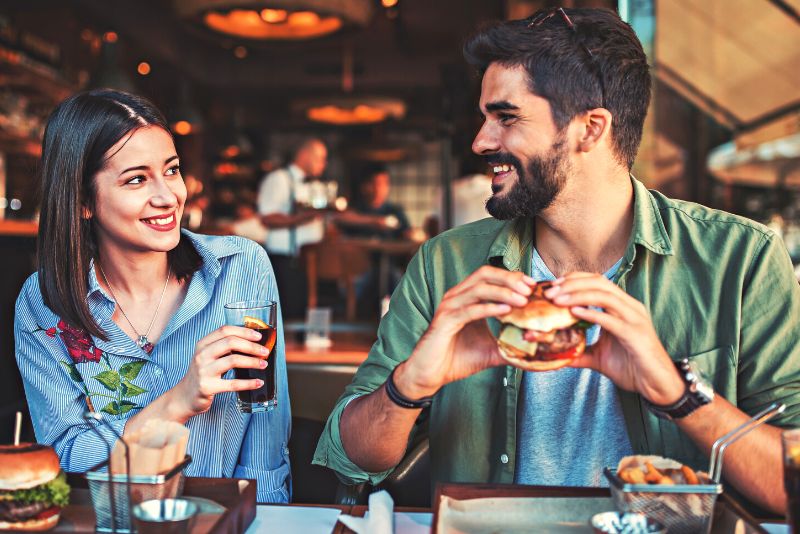 For a little bit of everything, make your way over to POST Houston!
This bustling social forum is packed with delicious eateries, innovative cultural activities, and enough live events (both large and small) to keep the party going every day of the year!
The compound once served as a major hub for the Postal Service (hence the name), and you can still see much of the infrastructure in the area today.
Don't miss Post Market, which is packed with restaurants serving everything from Mediterranean to fried chicken, tacos to crepes… anything and everything that a hungry traveler could want!
78 – Sign up for a supercar driving experience at the Grandsport Speedway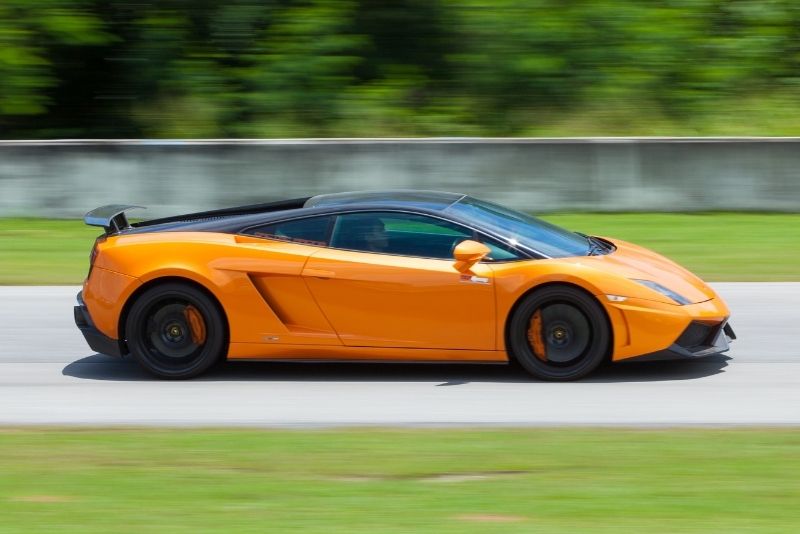 Adrenaline junkies, listen up: if your concept of the things to do in Houston involves high-octane speed and non-stop thrills, the supercar driving experience at the Grandsport Speedway should be a top priority.
Best booked online to avoid disappointment, the hot lap experience gifts guests the chance to get behind the wheel of a head-turning V10 Lamborghini Gallardo, reaching hair-raising speeds along the way.
A professional instructor will be with you every step of the way.
79 – Grab dinner and a show at McGonigel's Mucky Duck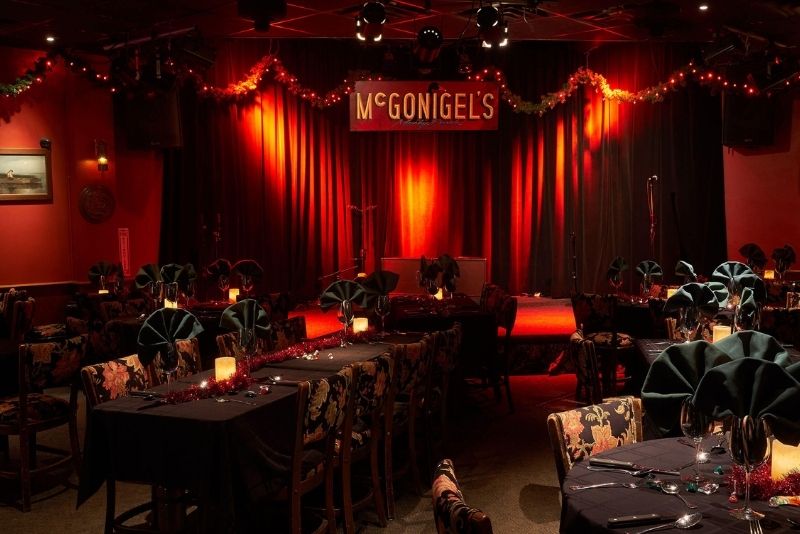 Sure, this Irish-flared pub serves up Instagrammable burgers and ice-cold beer on tap, but McGonigel's is far more than just a noteworthy bar and restaurant.
It has quickly become famous as a must-see nightlife venue, offering a rotating calendar of live music and entertainment six nights a week — just check the website or socials to see what's coming up.
If you're visiting Space City with your better half, it's an excellent date night venue!
80 – Catch a flick at the Rooftop Cinema Club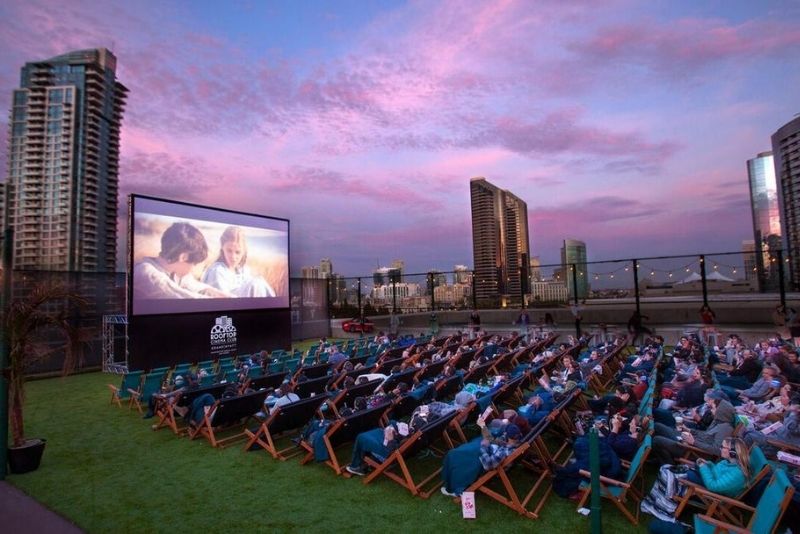 What's better than seeing the latest blockbuster? Doing so in the warm outdoor Houston air; a glass of bubbly in one hand, sweet treats in the other, and a stunning view of the skyline on either side of the screen!
At the locally-adored Rooftop Cinema Club, movie-goers can catch a range of cult classics and new releases — just check the calendar to see what's on.
81 – Enjoy a competitive concert at Pete's Dueling Piano Bar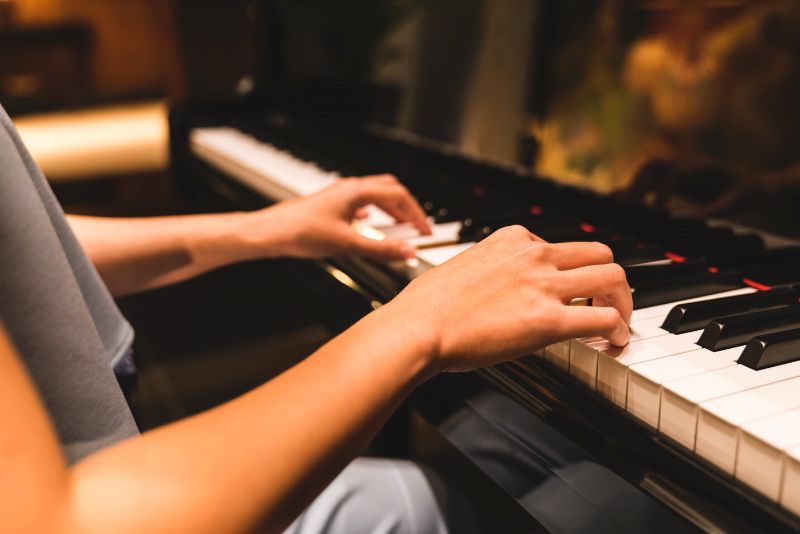 As you settle into your seat and hear the opening chords on the keyboard, your mind may start to wander. But as the second keyboard comes in, you'll snap back into focus – and be drawn into a deeply entertaining evening!
While Pete's Piano Bar offers excellent music in general – including some great dancing -, it's the dueling pianos that have (rightfully) brought it fame.
Jam out to some of the liveliest tunes around, then watch two world-class musicians duke it out, singing and tickling the ivories in a competition for audience approval.
This certainly isn't your ordinary piano recital!
How to get to Houston?
The George Bush Airport is a major transit hub, greeting flights from all over the country – and the world!
Book a transfer from there (or from nearby William P. Hobby Airport) straight to the city, making it easier to settle into your hotel and start exploring.
If you're going even further, never fear; there are services going as far as the coastal city of Galveston.
Where to stay in Houston?
JW Marriott Houston Downtown sits right in the middle of the Theater District, and close to the Downtown Aquarium – and when you're not out taking a look around, you can kick back at the bar, or unwind in the spa.
And at Club Quarters Hotel Downton, you can squeeze in a workout at the gym, then stroll over to Discovery Green Park or hop aboard the monorail for more adventures.
Homewood Suites by Hilton Houston is ideal for shopaholics, with the massive Houston Galleria practically outside the door, and plenty of great food and drink on-site.
La Quinta by Wyndham Houston Bush IAH South is perfect for folks in a rush, with the airport an easy jaunt away; but with its gym, business center, and swimming pool, it offers plenty to keep you entertained between flights!
And at SureStay Plus Hotel by Best Western Houston Medical Center, you can easily pop over to the zoo or roam around Rice University, then whip up a delicious meal in the shared kitchen space.
Visiting Houston on a budget?
The Museum Pass is a must for curious travelers, offering discounted access to such gems as the Space Center, the Houston Natural Science Museum, and the Children's Museum.
Or expand your options with the CityPass, which gives you cheap admission to the Downtown Aquarium, the Houston Zoo, and more!
Where to go next?
We hope you've enjoyed our selection of things to do in the ever-exciting city that is Houston, Texas! If you have any other must-see suggestions, feel free to let us know in the comments!
But hey, who says your trip has to come to an end in Space City? Before you know it you'll be taking a stroll down the famous RiverWalk in San Antonio; enjoying the diverse watersports at Galveston;
Checking out the Insta-worthy murals dotted through Austin; cruising Corpus Christi Bay, or exploring the natural rock formations of the Longhorn Caverns en route to Dallas.
Hot tip: check out our Texas bucket list!
No matter where your next stop is — heck, it might even be New Orleans — with so much within a few hours' drive of Houston, it'd be rude not to extend the holiday and see its neighbors.
Final thoughts
Filled to the brim with art, science, decadent nightlife, and funky tourist attractions, it's little wonder that this booming metropolis has become a hit with travelers!
From the heights of the stars to the depths of human imagination, there's an endless range of activities to explore.
So get started on all of the wonderful things to do in Houston… because there are plenty to try!