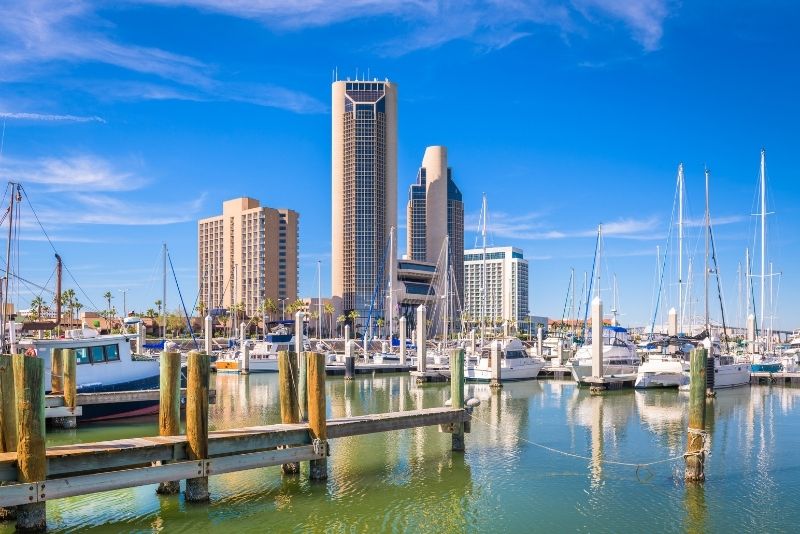 Sheltered bays, rich coastal lagoons, and wild Gulf Coast beaches make Corpus Christi, Texas, a must-visit destination for adventure seekers and nature lovers.
Windsurf on the Laguna Madre and kayak along the Padre Island, the longest barrier island in the world. Catch fish from the Gulf of Mexico in the city's wetland parks, beaches, and piers.
Meet rare creatures such as Kemp's ridley turtle at the Texas State Aquarium and see the world's only flock of whooping cranes at the National Wildlife Refuge. You'll find there are lots of things to see as you hike the trails and discover diverse plant species at the Oso Bay Preserve.
Explore the World War II battleship, the USS Lexington, and pilot a fighter jet in its flight training simulator. Catch a movie outdoors in Cole Park or check out some of the best waterfront bars for a cocktail with a sunset view.
Here's a thorough guide to getting the most out of your trip. With so many fun things to do in Corpus Christi, there really is something for everyone.
Want to dive straight in? Browse our catalog now!
1 – Enjoy a Parrot Party at South Texas Botanical Gardens & Nature Center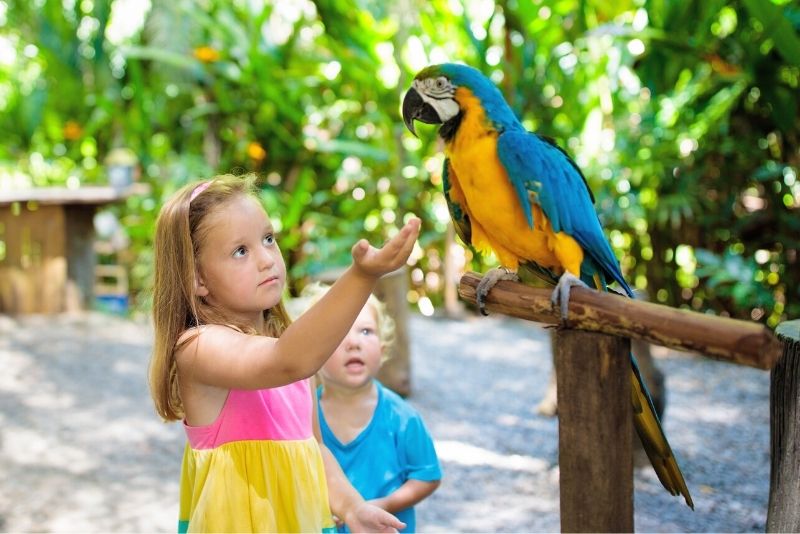 For nature lovers, the South Texas Botanical Garden is a miniature paradise just a stone's throw from the city center.
The gardens opened in 1987 with just one acre and have since expanded to 180 acres of picturesque Texas countryside, which includes landscaped gardens, rare plants, and a Nature Center with a reptile house.
For a really fun and unforgettable time, why not try one of the center's Parrot Party experiences? Feed the park lively parrots and pose for photos with these vibrant and colorful characters.
The gardens are also home to sculpture art, numerous boardwalk trails, and plenty of activities to try. This is sure to be a highlight of your visit for kids and adults alike.
2 – See some amazing creatures up close at the Texas State Aquarium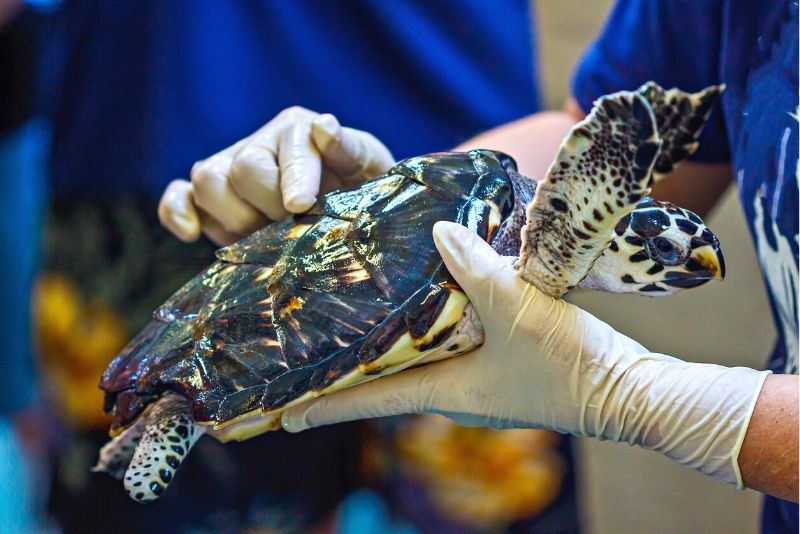 There's so much to see at Texas State Aquarium! Here you can spot sharks, jellyfish, and rays as well as alligators, otters, and turtles on any given day.
As well as rehabilitated sea creatures from the Gulf of Mexico, the Aquarium also has fascinating animals to meet such as beautifully marked ocelots, flamboyant flamingos, and even vampire bats.
The aquarium's touch tanks allow visitors to pet adorable starfish and turtles, which is sure to be lots of fun for younger kids. Its many exhibits replicate a wide variety of habitats allowing visitors to see the life that thrives around a shallow shipwreck, swamp, coral reef, and much more.
For nature lovers young and old, this is sure to be one of the most fun things to do in Corpus Christi. Don't miss out on a trip to the Texas State Aquarium during your time in the city.
3 – Spot some cool new species whilst birdwatching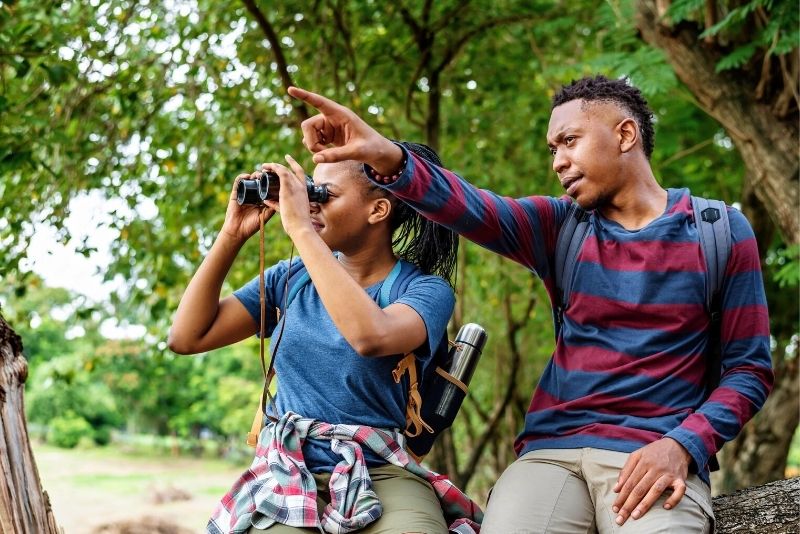 Corpus Christi really is a wonderful place for nature lovers. Its coastal location supports a wide range of habitats, including wetlands, barrier islands, and grasslands that support a diversity of creatures.
It is especially good for bird watching and in the spring migration period is teeming with rare and exotic birds. The relatively small Bulcher Park in the Downtown district is a very popular stopover for migrating species during the spring.  Visitors can spot kiskadee, hummingbirds, and the rare Groove-billed which has occasionally been seen.
The Hans and Pat Suter Wildlife Refuge is located by Oso Bay and is another great local spot for wildlife watching. It has diverse woodland and marsh habitats that support a wide variety of birds, particularly seabirds. Pelicans, herons, egrets, and spoonbills can often be spotted here and the park is easily accessible along its extensive trails and boardwalks.
4 – Try to catch your own meal on a fishing expedition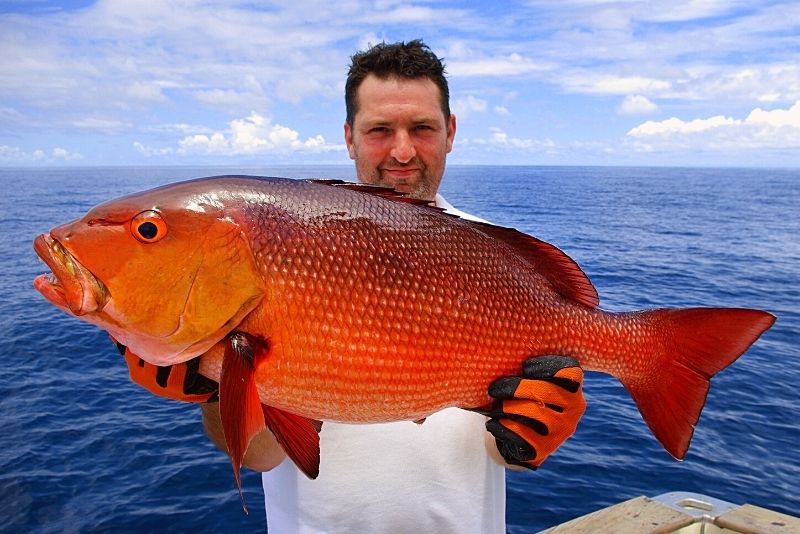 With a huge selection of parks, islands, and lagoons at your disposal, there are tons of great places to fish in Corpus Christi. If you want to get out onto the deep gulf waters to catch those bigger fish, you can do that too.
There are many options for charter fishing out of the city so why not hire a local expert to guide you around the top fishing spots? Join Captain Pierre Petrila aboard Southbound Fishing Charters and explore the gentle lagoons of Corpus Christi Bay, and the lively waters of the reefs and islands, or hunt for monster fish offshore.
It is quite common to catch red snapper, tuna, and mahi-mahi here and your captain will know the best places to go. If you're looking for that next big fishing challenge, Corpus Christi is waiting for you.
5 – Visit the Selena Memorial Statue at Overlook of the Flower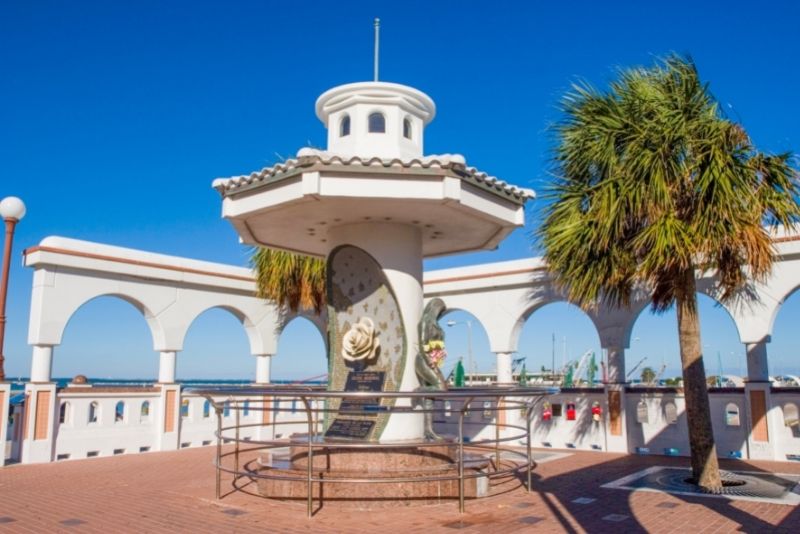 Known as the "Queen of Tejano" music and one of the city's brightest stars, Selena Quintanilla-Perez is immortalized with a statue on the city's seafront.
Selena was a Corpus Christi native, popular singer, and style icon who died tragically young. sometimes referred to as the Tejano Madonna for her extravagant outfits she remains one of the most beloved and influential Latin artists of her generation.
Take time to check out this landmark with its wonderful views over the bay and remember Corpus Christi's La Flor Blanca, or the white rose, of Tejano music.
6 – Look for birds at Oso Bay Wetlands Preserve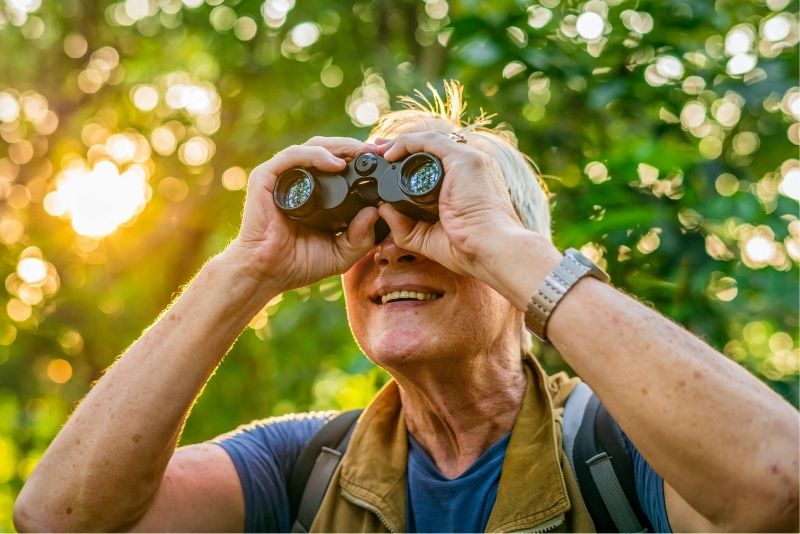 With over 2 miles of nature trails throughout the 162-acre park, Oso Bay Nature Preserve is one of Corpus Christi's hidden gems. Here visitors can hike the trails, see native plants and creatures in their natural habitat, and learn a little about the area's biodiversity en route.
The preserve has a learning center where you can pick up the facts about the wetland environment and is also a great place to spot birds, such as ducks, spoonbills, and waders.
You can often find educational classes and workshops occurring at Oso Bay Wetland Preserve that are ideal for children. Check out its website for a list of upcoming events and a schedule for the free guided nature walks. The preserve is open from dawn till dusk daily.
7 – Take a scenic stroll along the Corpus Christi Bay Trail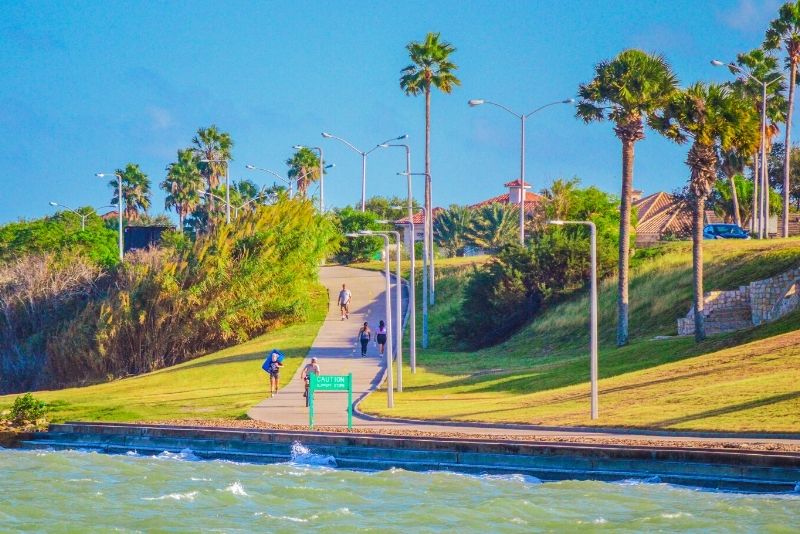 Another of the city's great trails, for those who like to explore by bike or by foot, is the Corpus Christi Bay Trail. The trail runs along the city's waterfront for nearly 9 miles taking in sights and attractions along the way.
It passes by the Art Museum of South Texas, the Museum of Science and History, and the city's attractive marina. The trailhead is located near the American Bank Center and runs through six of the city's major parks.
Pass by the scenic areas of Oso Creek and Oso Bay where you can take the opportunity to spot rare native birds such as the brown pelican.
This city-wide trail will give you a comprehensive tour of Corpus Christi usually reserved for locals. Definitely check this out if you're feeling adventurous.
8 – Indulge your nerdy side at the Corpus Christi Museum of Science and History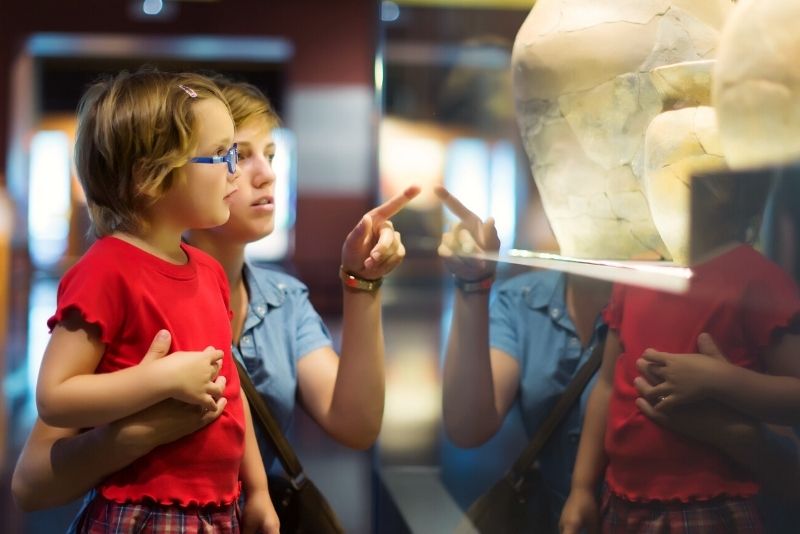 Spanning 500 years of South Texas' turbulent and varied past, the Corpus Christi Museum of Science and History is the ideal place to discover the region in depth. Home to hundreds of thousands of artifacts, the museum tells the story of the region from the Karankawa tribe, the original Texas people, all the way up to the present day.
Discover treasures from a 16th-century shipwreck, wonders from the Industrial era, and a historic photo gallery documenting the history of the city's bustling North Beach.
Take a trip back in time to see prehistoric sea creatures and visit the Hall of Earth Science to see crystals, gems, and meteorites.
Children age 3 and over will love learning in the H-E-B Science Center which has interactive exhibits which they can experiment and play around with. There's also a playground for them to enjoy at this great Corpus Christi museum.
9 – See whooping cranes at Aransas National Wildlife Refuge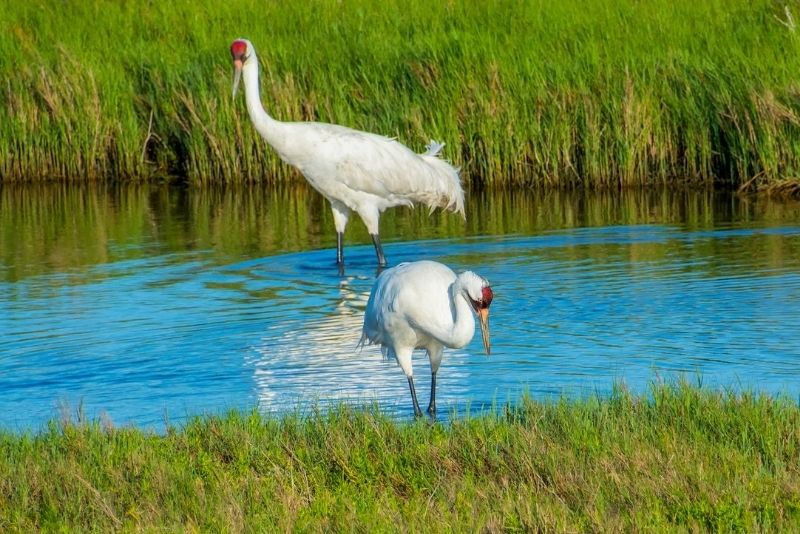 The extensive Aransas National Wildlife Refuge covers over 100,000 acres of coastal land in South Texas. Protected from the gulf waters by the Matagorda Islands, the refuge includes many shallow pools and marshes that support a diverse array of wildlife.
It serves as a habitat for bees and other tiny pollinators who live in and around its wildflower meadows. In the wintertime, Aransas National Wildlife Refuge is a good place to see the only wild whooping crane flock in the world on their yearly migration.
In the 1940s, these cranes were critically endangered with only 14 surviving creatures in the wild. Today their numbers are in excess of 500 due to the extensive conservation efforts of the Aransas National Wildlife Refuge.
You can visit any time of year to see spectacular creatures though as the refuge is a year-round home to a variety of other wildlife. Visitors can spot ducks, roseate spoonbills, and ibis as well as alligators, snakes, and the unusual pig-like collared peccary.
10 – Make the most of the warm weather at Sunset Lake Park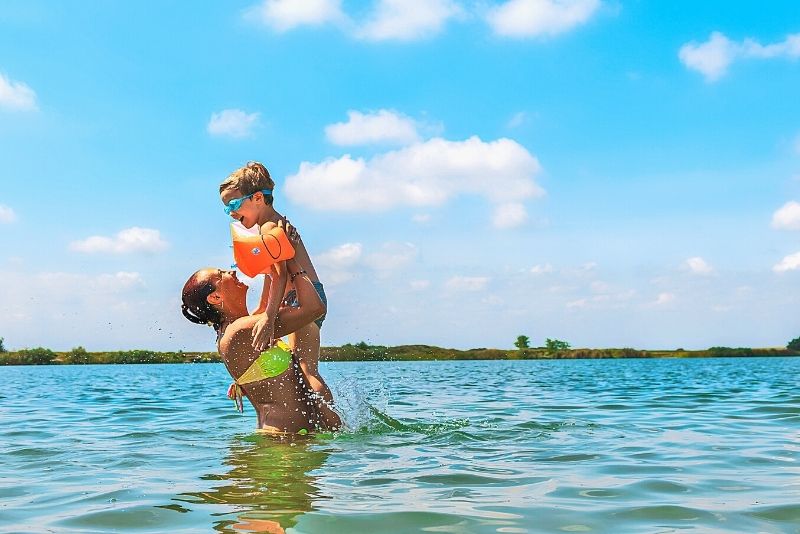 Though only opened in 2000, Sunset Lake Park is one of the most popular Summer places to visit near Corpus Christi. Made up of acres of wetland preserve and country park that divides Sunset Lake from the Gulf of Mexico, the park is a popular spot for fishing, swimming, and boating.
Located on a spit of land between Portland and Corpus Christi out in the Nueces Bay, Sunset Lake Park has a diverse saltwater habitat that is the perfect place to spot wildlife. It is also, as the name suggests the ideal place to sit and watch the sun setting to see the sky turn multiple shades of orange, pink, and purple.
You can find the picturesque Indian Pier Point here as well as the Sunset Park Trail which follows the route of the old San Antonio to Corpus Christi railroad.
11 – Catch a Hooks game at Whataburger Field
There can't be many ballparks in such a fantastic location as Whataburger Field. Located on the Corpus Christi waterfront near the Harbor Bridge and the Texas State Aquarium the views here are just magical.
The park is home to the city's Double-A affiliated Minor League baseball team, the Corpus Christi Hooks. This state-of-the-art stadium is built on the grounds of the former cotton warehouses that once lined the docks in this region.
It features elements from old industrial buildings in its construction, including wood beams, corrugated sidings, and antique machinery.
Why not check out a game in this beautiful waterfront stadium while you're in Corpus Christi? you never know, you might just have a new favorite team.
12 – Explore beautiful landscapes by kayak at Padre Island National Seashore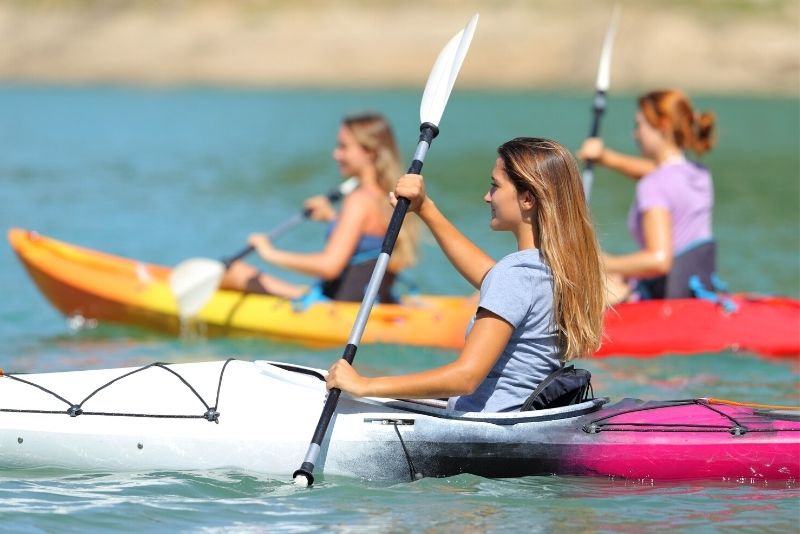 Known to be the longest continuous stretch of barrier islands in the world, Corpus Christi's Padre Island Seashore is a unique and vibrant natural spot. The island separates Laguna Madre from the Gulf of Mexico.
Fact fans will enjoy knowing that the laguna is one of only six hypersaline lagoons in the whole world, meaning its water is saltier than the surrounding seawater. It is a popular spot for windsurfing as well as kayaking and canoeing.
The beaches are a popular nesting spot for five different kinds of sea turtles, including the rare and endangered Kemp's Ridley sea turtle. There are also 14 different types of snakes and 12 kinds of lizards that call the island home, each playing a valuable role in its ecosystem.
Padre Balli Park offers camping spaces that are right by the sea and you can take the time to stroll down the nearby North Padre Sea Wall on those lazy afternoons.
If you enjoy the peacefulness of nature, the Padre Islands are one of the best places in Corpus Christi to get away from it all. Spend the day fishing, birdwatching and swimming immersed in the unspoiled natural charm of the area. This might just be paradise.
13 – Tour the flight deck of the USS Lexington Museum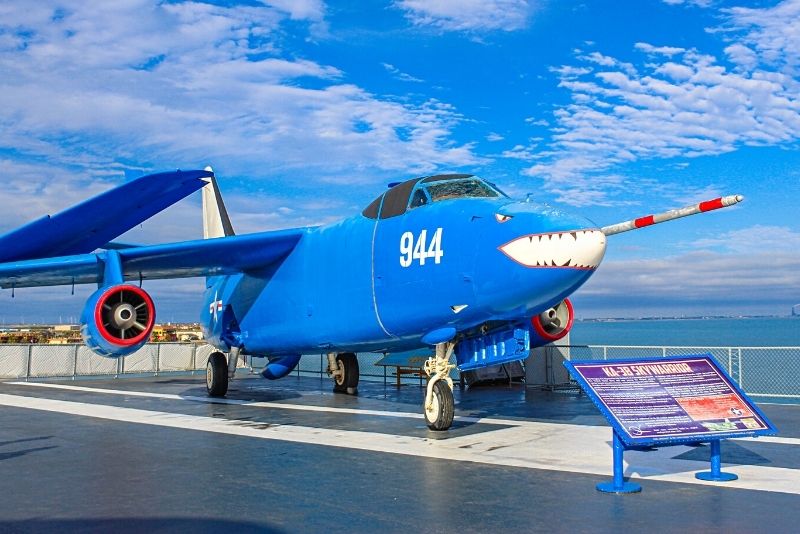 The monumental battleship, USS Lexington was built during World War II and gained the nickname "The Blue Ghost". It fought in many battles and skirmishes and also acted as a training carrier through the 1970s and 1980s.
It was donated by the U.S. Navy to the city of Corpus Christi in 1991 and now serves as a museum ship. Visitors can see a whole range of exciting exhibits including the historic ship itself and all its internal rooms and equipment. Tour the actual flight deck or climb in the cockpit of a flight simulator for an exhilarating jet fighter experience.
Visit the Museum's Pearl Harbor exhibition or try out a unique challenge in its Lockdown on Lex Escape Rooms. Check out the Mega Theater to see a 3D movie about aircraft carriers or man the battle stations in a virtual conflict scenario. The action never stops at the USS Lexington Museum.
14 – Try some family-friendly putting at Treasure Island Golf & Games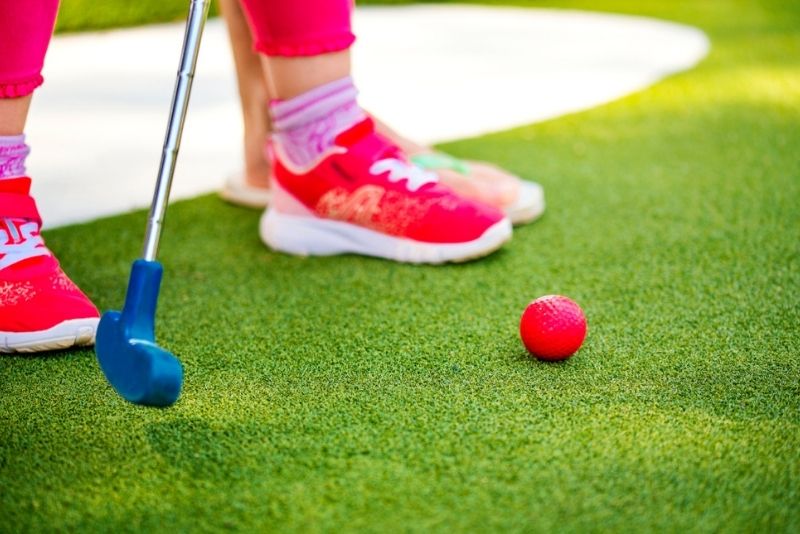 Looking for a fun thing to do as a family in Corpus Christi? Try a game of pirate-themed adventure golf at Treasure Island Golf and Games.
Choose between two 18-hole mini-golf courses and play your way around, over and through obstacles in these fun yet challenging games. There are many trials to overcome including, a pirate jail, numerous water traps, caves, and much more.
This has to be one of the most fun things to do in Corpus Christi and it is sure to bring out your competitive side. Just remember it's only Treasure Island Mini-Golf, not the PGA Tour.
15 – Take a class at The Art Museum of South Texas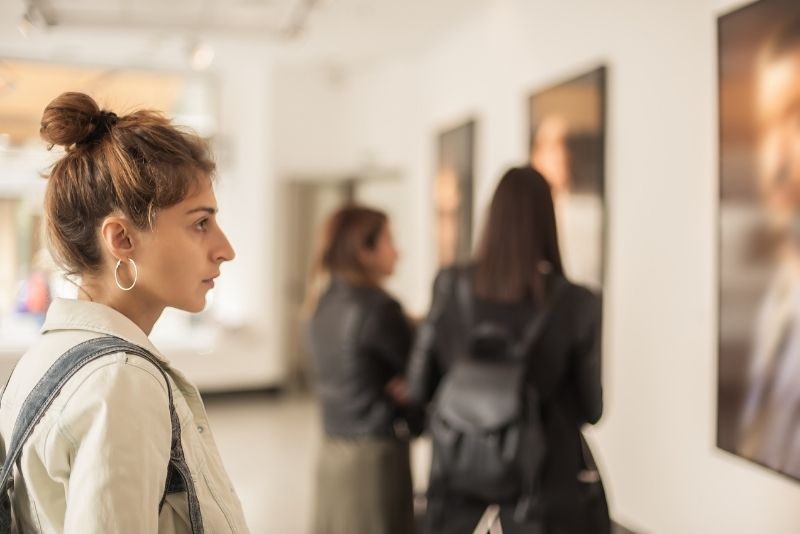 Make time during your trip to the city to check out the Art Museum of South Texas. The museum building itself is quite stunning and sits elegantly on the waterfront at Corpus Christi Bay.
Home to over 1,800 artworks, the museum focuses mainly on American art much of it local from the state of Texas. Visitors can see paintings, prints, sculptures, ceramics, and installation pieces in the museum's varied permanent collection.
It also hosts temporary exhibits, regular events, and educational programs for both adults and children. You can check out the website to see what's on during your stay in Corpus Christi.
Visual arts fans should definitely check out this unique Texas museum while visiting Corpus Christi. If you're in it for the snacks, it also has a cafe serving Mediterranean and Asian-inspired dishes.
16 – Spend a lazy day at McGee Beach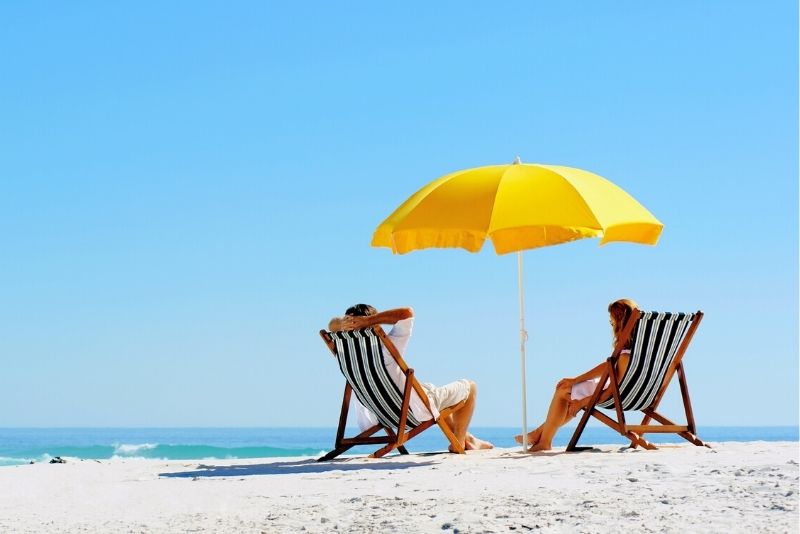 The perfect Downtown destination, McGee Beach is just the place to go when the temperature is up. This city center beach has soft clean sands, jetties that are perfect for fishing from, and calm waters to dip in when the heat on the beach gets too much.
Just a short step from Corpus Christi Marina and the Downtown hotels, at McGee Beach you're right in the heart of the action. Hire a sunbed and umbrella to relax beneath or take out a pedal boat to explore the serene waters of Emerald Cove.
A day at McGee Beach is probably one of the most fun things to do in Corpus Christi for the Whole Family. There's plenty to see and do in the surrounding area including the nearby South Shoreline Boulevard which has a park with good sports facilities for those who just can't sit still. Do not miss this during your time in the city.
17 – See rescued pelicans at Texas Sealife Center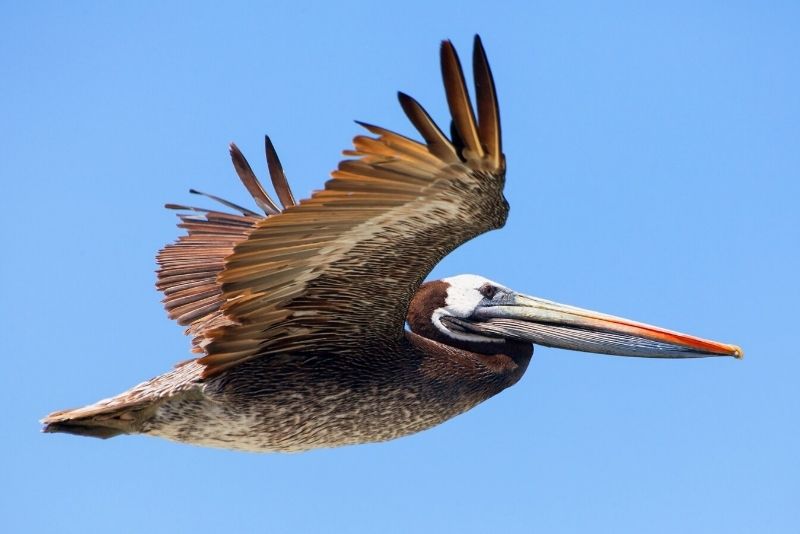 Sometimes creatures need our help, Texas Sealife Center is there to offer it. Founded in 2010 as a small volunteer rehabilitation center, it houses and recuperates injured and sick creatures on the Gulf Coast.
Most of its residents are birds, including pelicans, hawks, and sea turtles which are released back into the wild when they are returned to health.
The Texas Sealife Center offers guided tours from Wednesday to Sunday each week. The tours take you behind the scenes to see turtles that are currently in rehabilitation and also allow you to speak to the center's education ambassadors about the work it does.
Pay them a visit while you're in Corpus Christi and maybe consider making a donation or adopting one of the animals. It's really a great cause.
18 – Release your inner lumberjack while axe throwing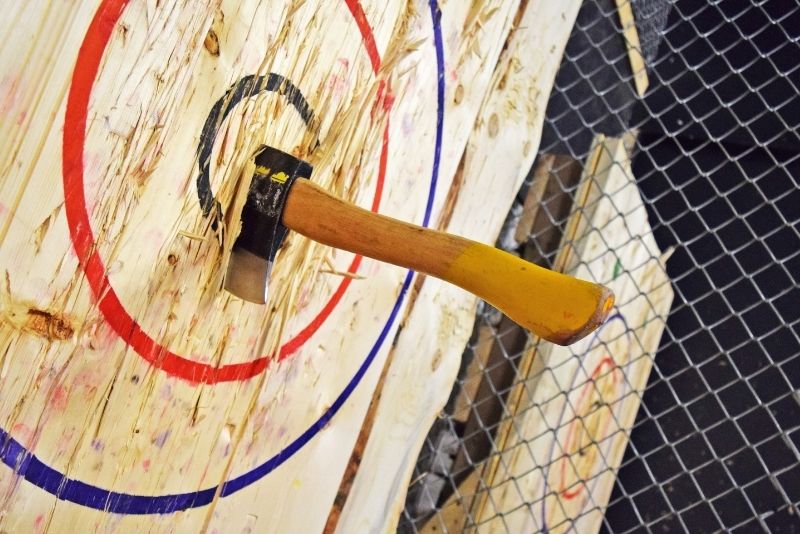 You may not have heard but axe throwing is actually one of the hottest underground sports in the country right now! Why not gather up your friends and check out the ever-popular Axe Haus to see what the fuss is all about?
It really is exactly what it sounds like, take turns to hurl hatchets at a large target and see who can get the most hits. Take a short introductory lesson to learn the safety rules and then unleash your inner mountain man.
This unique night out is sure to arouse the competitive nature of even the most benign of contenders. It's fun, casual and gives you a free license to holler and yee-haw as much as you like. So, yee-haw away!
19 – See the historic Heritage Park neighborhood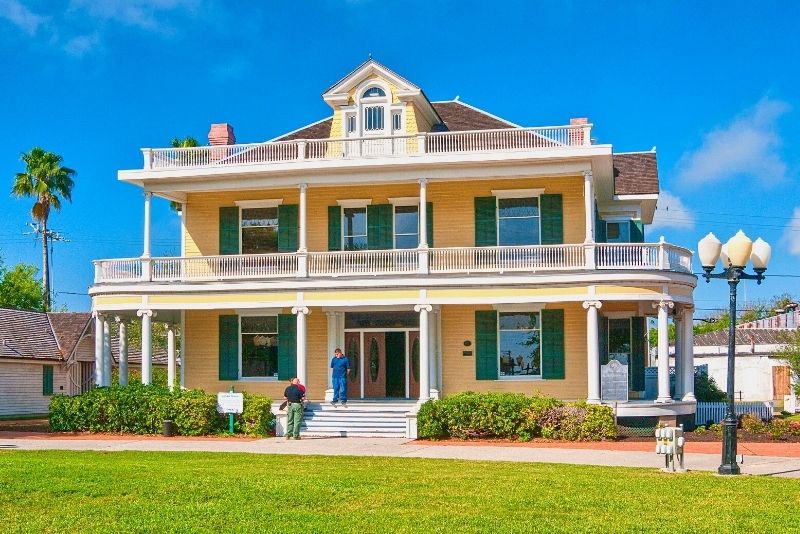 For a deeper look into the city's history, Heritage Park is one of the best places to visit in Corpus Christi. This wealthy neighborhood has been home to many of the city's most noteworthy residents and now functions as a kind of living museum.
Some of the buildings offer guided tours and the neighborhood also doubles as a picturesque space for festivals and events.
The area is home to 12 iconic and historic buildings, some of which date back as far as 1851. Most of the buildings are in one city block fronting North Chapparal Street, except for the Britton-Evans Centennial House which can be found on Upper Broadway Street.
If you're interested in Victorian architecture and the history of Corpus Christi definitely check this out.
20 – Make some memories on a beautiful horse ride down the beach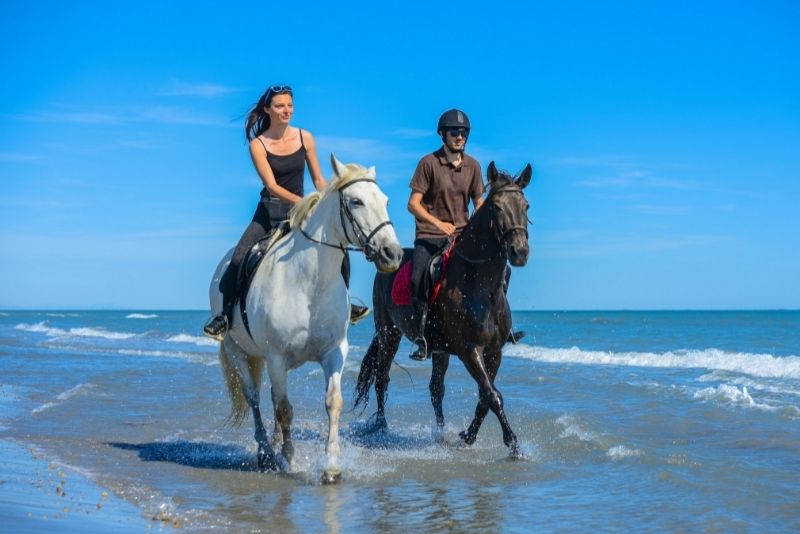 Looking for the ultimate romantic activity or fun things to do in Corpus Christi for couples? A horseback ride along the beach is one of the most awesome activities to try in the city.
As well as being great for couples, these unique adventures are fun for everyone, regardless of fitness level and ability. Whether you've ridden before or not, you'll soon be trotting down the shore with confidence on the back of a majestic steed.
If you like to be outdoors and enjoy the opportunity to explore nature in a gentle yet exhilarating way, horse riding is the ultimate thrill. These tours are suitable for total beginners to advanced riders and ages 8 and over.
21 – Get inspired to paint at The Art Center of Corpus Christi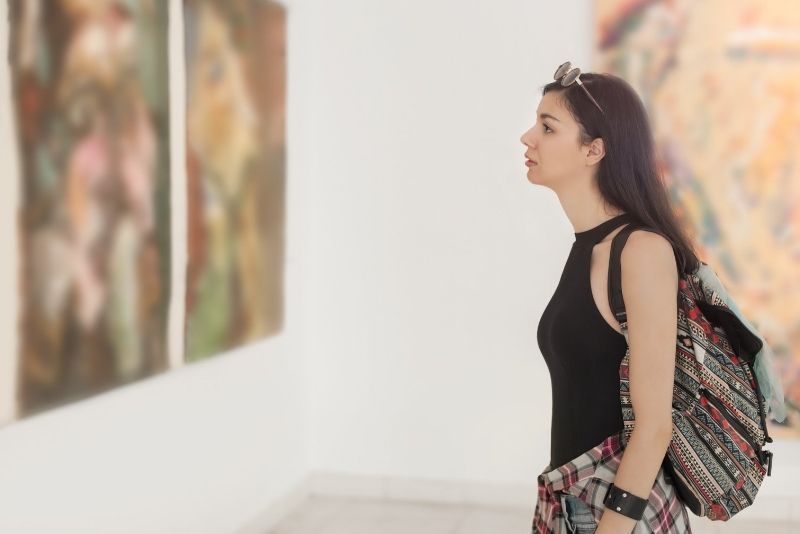 The Art Center of Corpus Christi was founded in the early 1970s to nurture local talent and promote the city's artistic culture. It has been going strong ever since and, for creative types, a visit here is sure to be one of the most fun things to do in Corpus Christi.
The center describes itself as a place to see art, try art, buy art and, of course, learn how to make your own art. It hosts regular classes on painting and decorative arts, including wheel-throwing pottery classes and beginner's clay courses.
For a little inspiration, visitors can check out the gallery of artworks created by the center's members and see some of the best locally-produced art in Corpus Christi.
The Art Center of Corpus Christi also hosts a weekly farmer's market each Wednesday evening which sells fresh produce and artisan crafts.
22 – Ride the perfect wave at Hurricane Alley Waterpark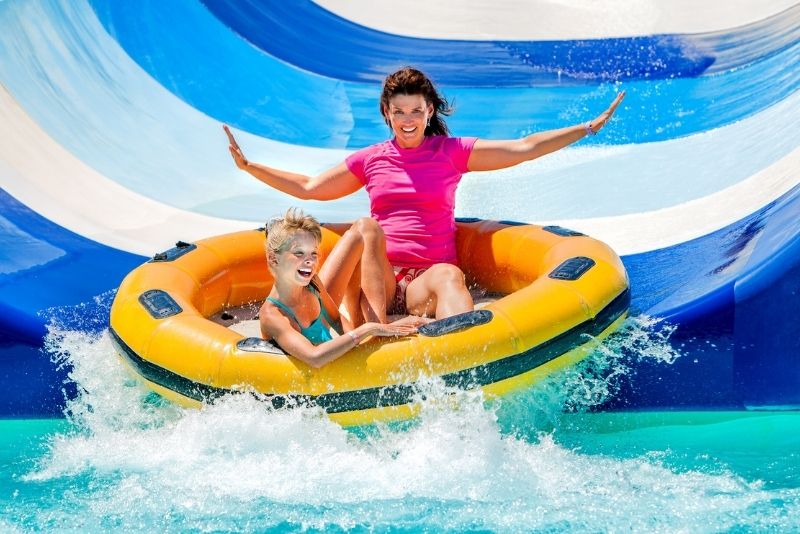 How to beat that Texas heat? Well, one of the most fun things to do in Corpus Christi on those sweltering summer days is to visit Hurricane Alley Waterpark.
Catch the perfect wave on the park's surf simulator or ride one of the exhilarating CAT-5 waterslides which reach heights of up to 65 feet. Race friends and family on the four-lane Storm Chaser or brave the breakers in the Storm Surge wave pool.
Those who like to kick back and relax are also well-catered. Float on gentle river rapids or sneak away for a tasty cocktail at the tiki-style Riptide Hideaway Bar.
There are also small pools and splash zones for younger children so, whatever age, you are bound to have a blast at Hurricane Alley Waterpark.
23 – Go karting at In The Game Funtrackers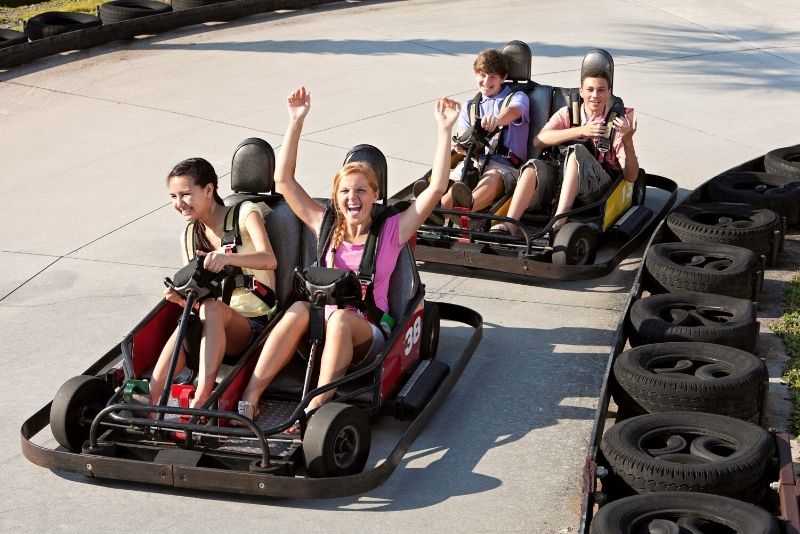 For family fun and adventure in Corpus Christi there are many great options —  In The Game Funtrackers has all you need for a good time in one place. This popular amusement park is bursting with activities and attractions, including fairground rides and games for all ages.
Challenge your friends to a go-kart Grand Prix on one of three thrilling tracks before grabbing a snack in the on-site restaurant.
There are classic rides for younger kids to enjoy too, including bumper boats, a Ferris wheel, and a froghopper. Test your agility in the park's Lazer Maze or enjoy a relaxing round of mini-golf on the 18-hole course.
Finally hit the arcade to shoot some hoops or try the latest virtual reality immersive video games. There's a lot to do at In The Game Funtrackers to keep the whole family entertained.
24 – Visit the historic Britton-Evans House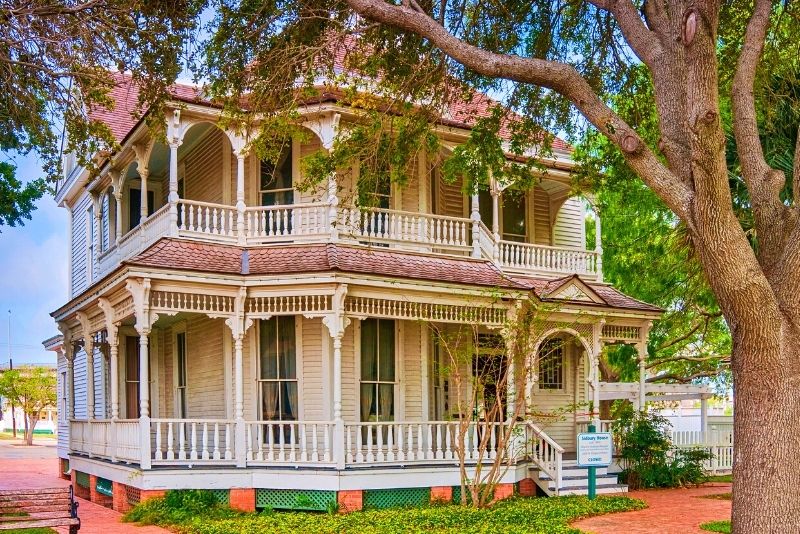 The Heritage Park area of Corpus Christi is home to some beautiful old buildings. One of the most impressive is Brittons-Evans House, which is open to visitors.
Built in the mid-1800s by a prominent local entrepreneur, Britton-Evans House was one of the first houses constructed in the city's residential district. It features Greek revival-style architecture and it is now restored to its original splendor and serves as a museum house.
This grand historic home would later be used as a hospital during an outbreak of yellow fever and also be requisitioned by Confederate troops for use as a mess hall and infirmary.
Check out this historic building while you're in Corpus Christi to learn a little more about the neighborhood.
25 – Tour the city on a scavenger game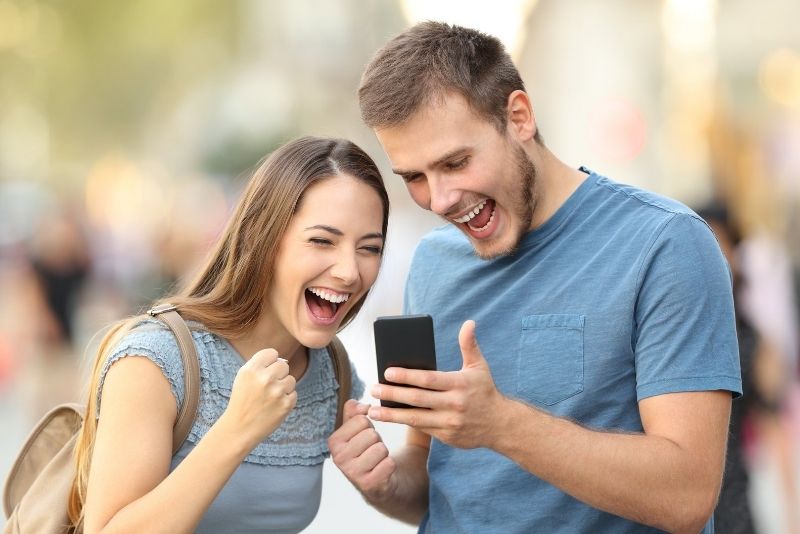 Looking for a fun way to explore Corpus Christi as a group? Why not try a scavenger game so you can see the sights, learn a little history, and challenge yourself all at the same time?
Simply download the app and follow it to locations around the city where you will answer questions and complete challenges to earn points. Photograph objects and landmarks as you discover the city's famous sights and hidden gems.
Check your score on the leaderboard to see how you match up to others. Play as a group or split into teams and go head-to-head. These games are suitable for all ages so bring along your sense of adventure for a fun and engaging tour of the city.
26 – See the famous outfits at the Selena Museum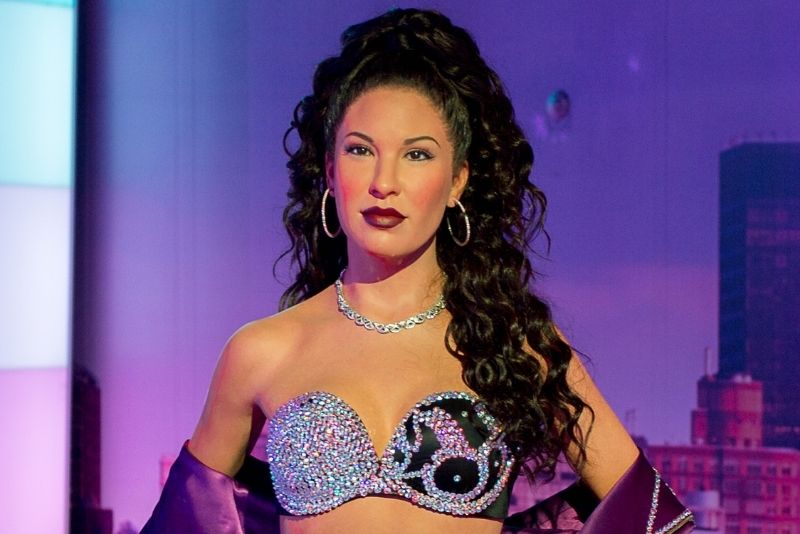 Okay, you've visited the Selena monument at Overlook of the Flower but you need more of the "Queen of Tejano" in your life, no problem. The Selena Museum takes a personal and heartfelt look at the performer's life.
Packed full of Selena memorabilia, including everything from clothing, jewelry, and awards to cars, gold records, and instruments, it's all here.
Fans will enjoy seeing the many cases of outfits worn by the singer as well as the large archive of photographs. The museum documents her rise to stardom and the many accomplishments she made in her all-too-short life.
Don't forget to stop by the Selena Store to pick up a souvenir. This comprehensive shop carries t-shirts and hoodies, posters, tumblers, and all the Selena Quintanilla-Perez merch you could ever want.
27 – Grab a cocktail at Blackbeard's On the Beach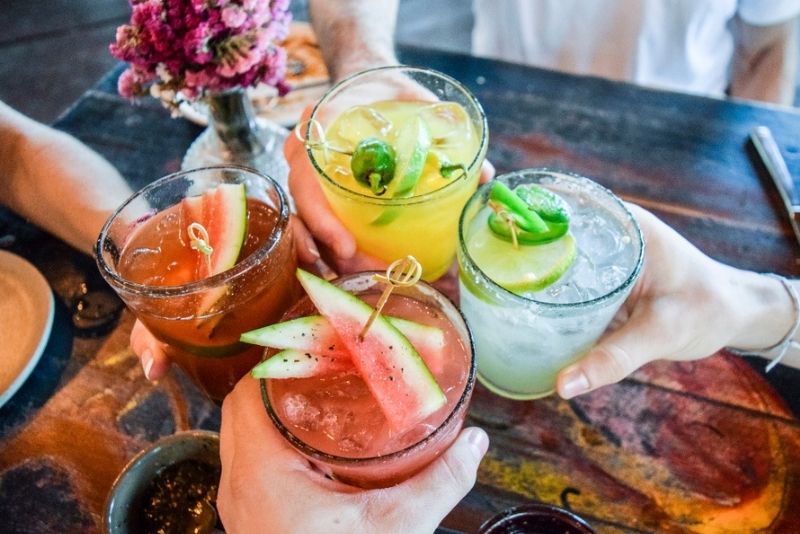 One of the city's most colorful places to eat, drink, and dance the night away has to be Blackbeard's on the Beach. Considered to be a sort of miniature rock'n'roll museum the walls are lined with records, photos, and music memorabilia collected by the late owner.
This self-proclaimed purveyor of "casual coastal cuisine" has a lengthy drinks menu and great fresh seafood dishes to choose from. There is live music to enjoy most nights and a fun and frivolous atmosphere in this fantastic location near the USS Lexington at North Beach.
Don't forget to pick up one of the cool pirate-themed t-shirts so you can let everyone know you ate at Blackbeard's on the Beach!
28 – Catch some rays and amble around North Beach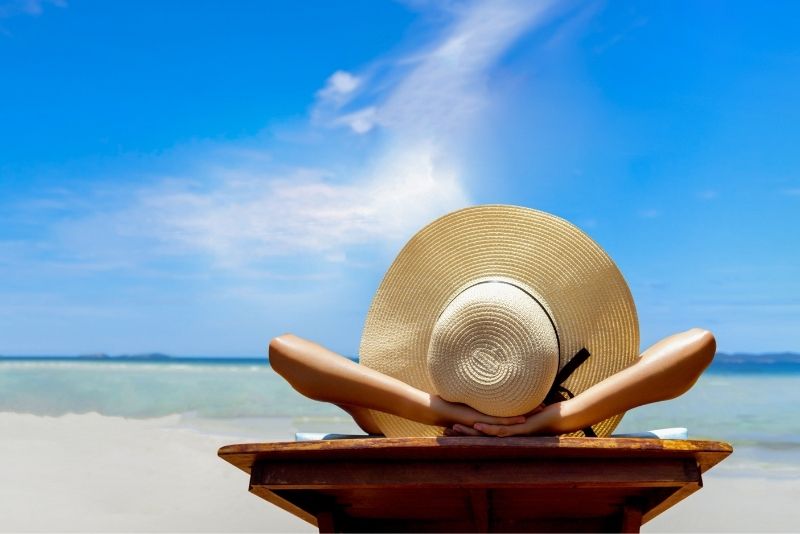 Located on the upper side of Harbor Bridge, North Beach has been a popular destination for over a century. Sitting between Nueces Bay and Corpus Christi Bay, the beach is sheltered by the Padre and Mustang barrier islands so the water is always pretty calm and remains shallow a long way out.
North Beach is a lively place to sunbathe and from the beach, visitors have views of popular landmarks such as the USS Lexington and Texas State Aquarium.
The long seafront walkway is home to a number of parks and attractions and many dining and shopping opportunities, including Fajitaville which has its own Ferris wheel.
Visitors interested in the history of the area can see a selection of photographs of North Beach at the Corpus Christi Museum of Science and History.
29 – Enjoy some famous sealife on a dolphin watching adventure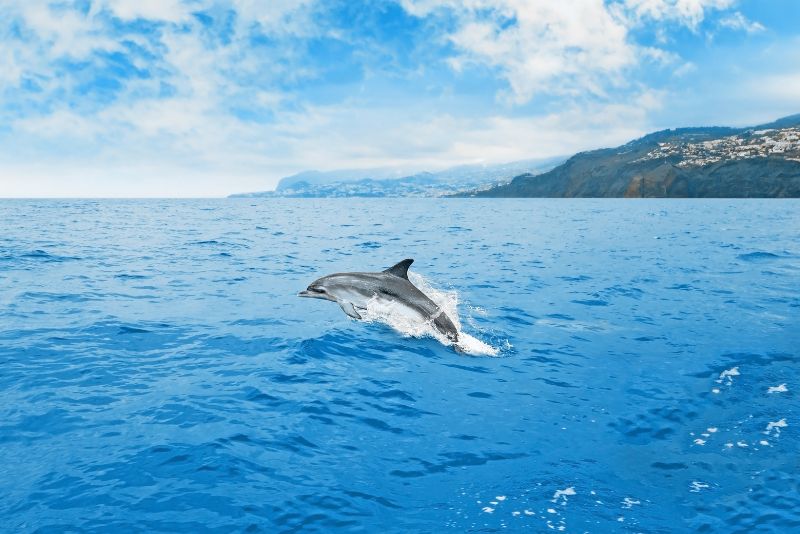 Fish aren't the only thing that you can catch sight of in the water here – in fact, you just might meet some of the most famous marine mammals on Earth!
With the help of the good folks at Dolphin Connection Ingleside, you can embark on a thrilling journey into the Corpus Christi Channel to search for pods of bottlenose dolphins, which live and play in these waters throughout the year.
Your captain will share intriguing facts about the creatures frolicking in the water, and offer amazing viewing opportunities that will have you feeling like the star of your own nature documentary.
30 – Take a scenic drive along Corpus Christi Harbor Bridge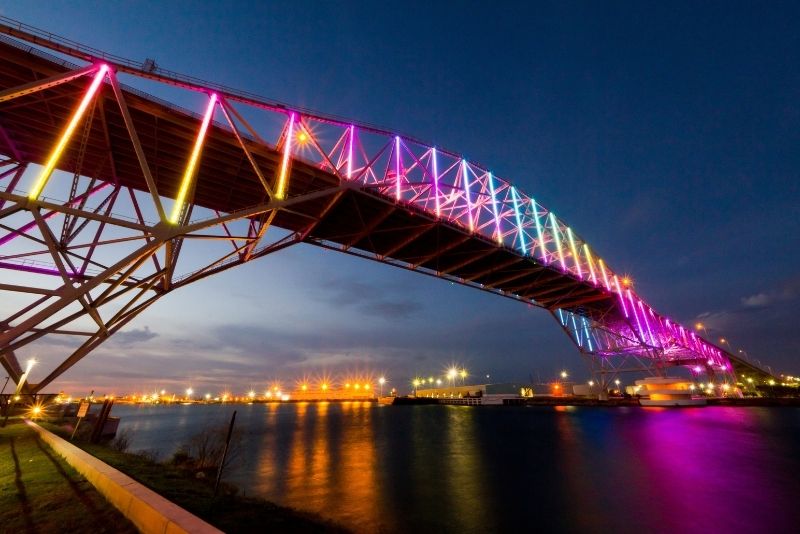 The iconic Corpus Christi Harbor Bridge, which forms part of Route 181, has been a major part of the city's skyline since it first opened to traffic in 1959.
Though already unique in looks, the bridge is currently undergoing a full-scale renovation which will make it the highest point in South Texas as well as the longest cable-stay bridge in the whole of the United States.
The bridge is a picturesque route for locals and tourists alike and hugs the coastline all the way to Nueces Bay Causeway and the city of Portland.
You should definitely drive along this historic bride at least once while you're in Corpus Christi or visit Bayfront Science Park to snap a photo standing in front of it. After all, it is one of the city's most recognizable landmarks.
31 – Go paddleboarding on Laguna Madre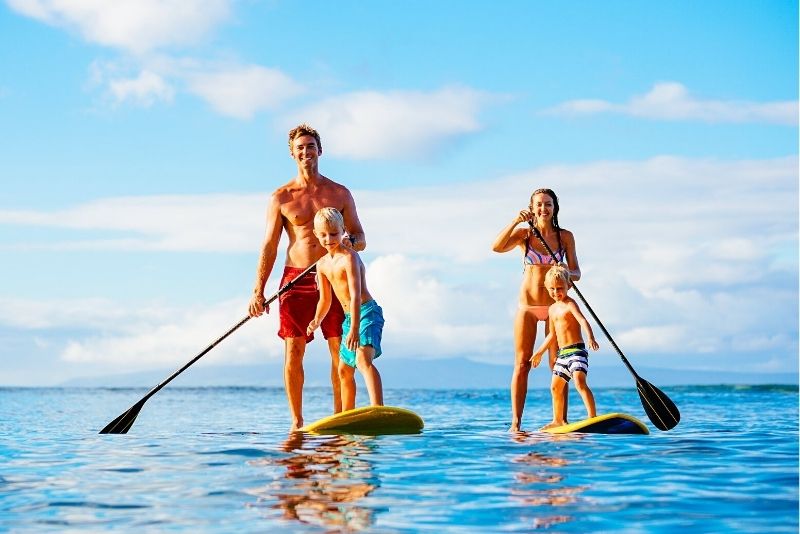 One of just six hypersaline lagoons in the whole world, Laguna Madre is a very rare natural environment. Separated from the Gulf of Mexico by the Padre Islands — the longest border island system in the world, the area has an ecosystem rich in biodiversity.
The lagoon is shallow and extends along the edge of Nueces County as well as four more counties in South Texas and Tamaulipan in Mexico. It is home to 44 varieties of fish as well as protected Kemp Ridley's sea turtles, ocelots, and many other creatures.
Visitors to the area can find plenty of fun activities in and around the lagoon. Fishing is permitted in the area and it is the ideal place to explore by kayak or paddleboard. Nature lovers will be in awe of the diverse plant and wildlife species that can be spotted in the region.
32 – See decorative kimonos at Texas State Museum of Asian Cultures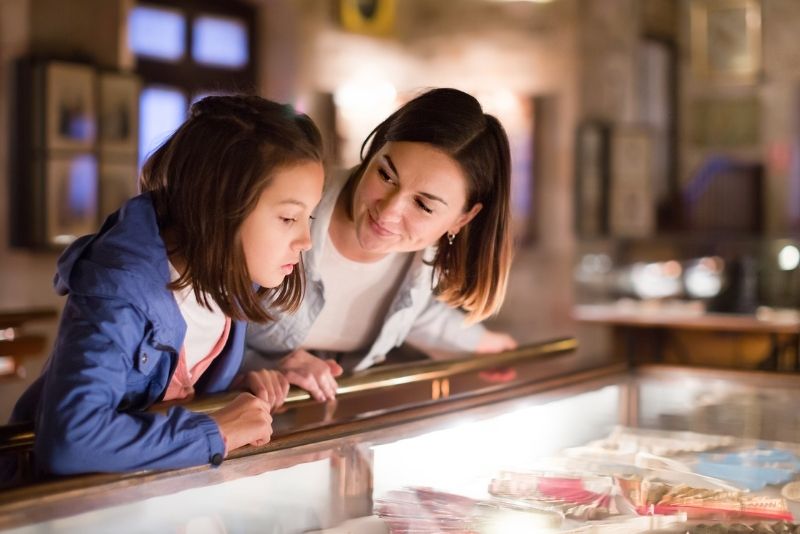 Step outside of Texas for a while and be transported to an exotic world of decorative Asian arts and crafts. The Texas State Museum of Asian Cultures is home to a huge collection of over 500 Hakata dolls, as well as kimonos, prints, and Haniwa figures from Japan.
Visitors can check out a traditional rickshaw and a collection of weapons as well as treasured artifacts from India, China, and Singapore.
The museum hosts demonstrations, language lessons, and much more. Definitely take the time to visit this enchanting museum during your time in the city.
33 – Check out the Corpus Christi IceRays (and everything else) at the American Bank Center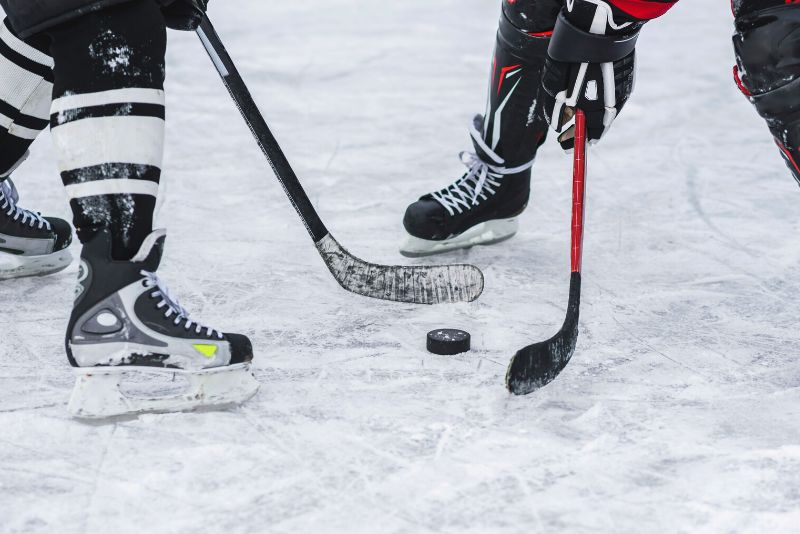 Hockey? In Texas? You'd better believe it! Not only does Corpus Christi boast a pretty stellar team (the IceRays), but they also offer a pretty great venue for them to play in.
Seating a whopping 10,000 people, the American Bank Center is a spectacular space to catch some athletic events – and all kinds of other performances!
If hockey's not your scene, you can check out the net action during basketball season; and if you really want to lean into the Lone Star State aesthetic, they even host rodeos!
If you're looking for the next big concert, this is probably the place to go; and if you're seeking Cirque Du Soleil performances, kid-friendly programming, or stand-up comedians, well, they've got you covered there, too!
34 – Catch a band at House of Rock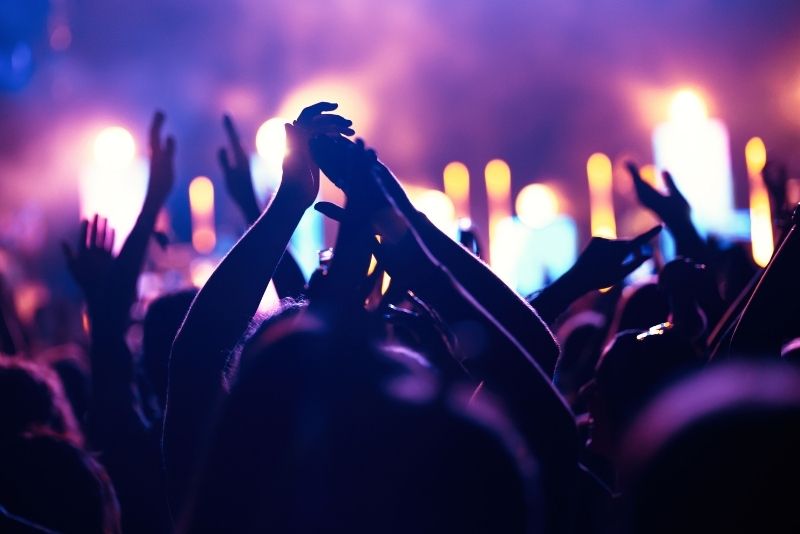 Looking for a city center spot to have a beer and bite and maybe see some live music at the same time? We've got you covered.
House of Rock is just what you need during your visit to Corpus Christi. This casual bar and eatery hosts live music from Wednesday to Sunday each week, including some of the hottest local and touring bands.
Don't forget to check out the restaurant which serves up signature pizzas, appetizers, and sandwiches. They also have a good selection of non-alcoholic drinks for all you designated drivers and classic bar games to enjoy. Don't forget to grab a t-shirt at this great family-friendly joint in the heart of the city.texashouseofrock.com
35 – See unique art at K Space Contemporary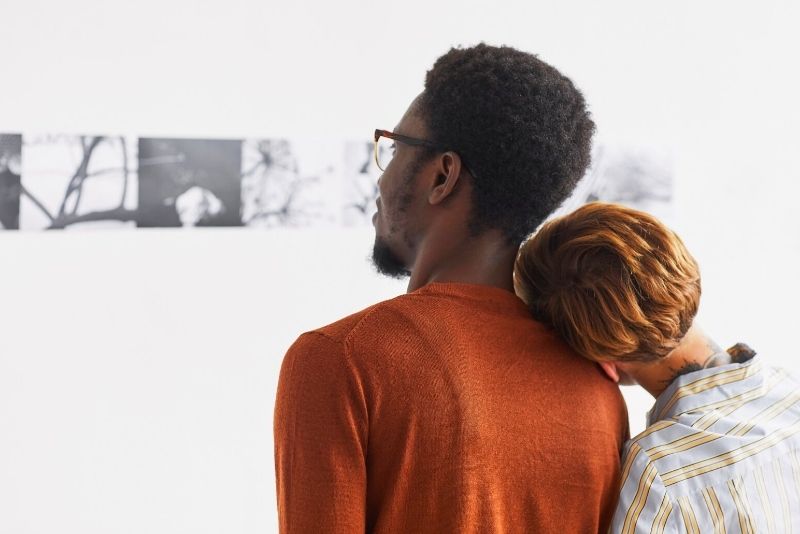 For the freshest new art in the city, K Space Contemporary is the place to be. Named in reference to the Kress Five & Dime store that previously occupied the building, K Space Contemporary opened in 2007 to promote the city's emerging and mid-level artists.
The gallery hosts up to 20 solo and group exhibitions each year and welcomes experimental and unusual artworks as well as unique installations. Those with an interest in visual arts are sure to find something here to pique their interest.
The organization also hosts workshops and lectures on a wide range of art and craft-related topics.
36 – Put your wits to the test in an escape room
The door is locked, the clock is set, and you and your friends have one hour to get out of your latest escape room caper. But with such imaginative settings, you may almost forget about the puzzles!
Half the fun of an adventure at 11th Hour Escape lies in exploring the different scenarios dreamed up by the team.
Search for the ruins of Atlantis in The Lost City, or plunge into a murder investigation with CSI: Coastal Bend. Outwit a band of pirates in Captain's Quarters, or deal with an apocalypse in Fallout Shelter.
Whichever option you choose, teamwork and logic skills are key – and a healthy dose of imagination, of course.
37 – Try the bourbon selection at Rockit's Whiskey Bar & Saloon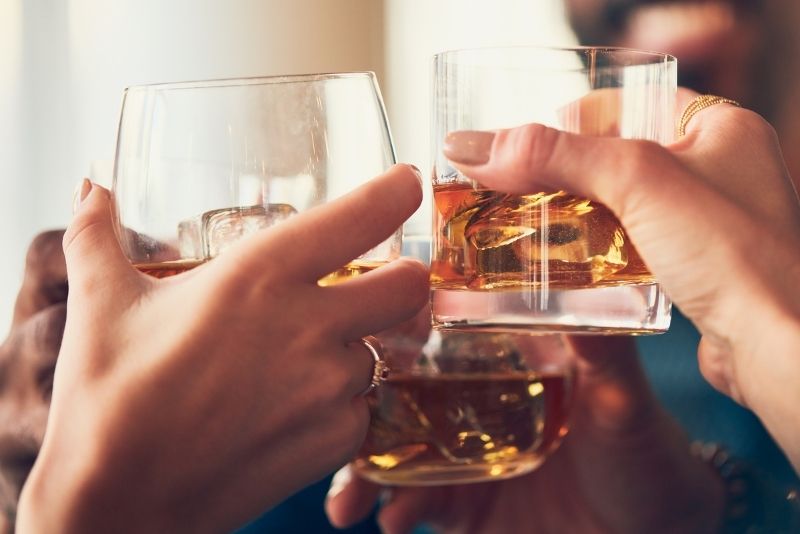 Rockit's, formerly known as Dr. Rockit's has been a popular part of the city's bar scene since it first opened in 1989. As you might expect from the name it serves a large selection of whiskeys, scotches, and bourbons as well as cocktails and a long list of beers.
Rockit's is also one of the city's best venues to see bands playing and has a program of nightly live music. Originally a blues bar it now also features an eclectic mixture of reggae, soul, and rock from original local bands.
Check it out for outdoor live music on the patio and reasonably priced drinks specials every Wednesday and Thursday night.
38 – Go behind the seafaring scenes at the Texas Maritime Museum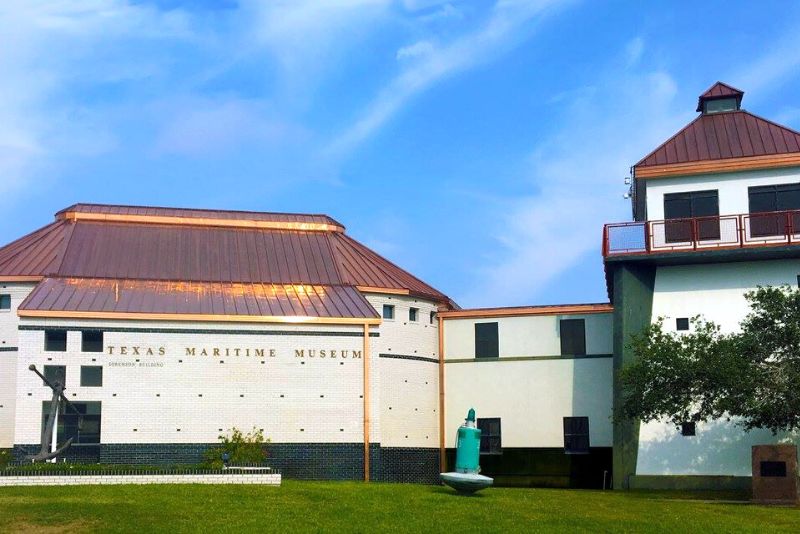 With such a long and distinguished nautical history, it makes sense that the city would have a great showcase of all things boats! What started as an informal display at local festivals in the 1970s has now blossomed into a fascinating permanent collection of personal items and historical artifacts.
Since it opened its doors in 1989, the Texas Maritime Museum has welcomed researchers, enthusiasts, and casual tourists alike to peruse its impressive offerings, which celebrate the broad range of aquatic endeavors in the state.
From old boat motors to a comprehensive library, it's the perfect place to see the seaworthy side of the region… and you'll learn plenty along the way!
39 – Enjoy some angling and sightseeing at Bob Hall Pier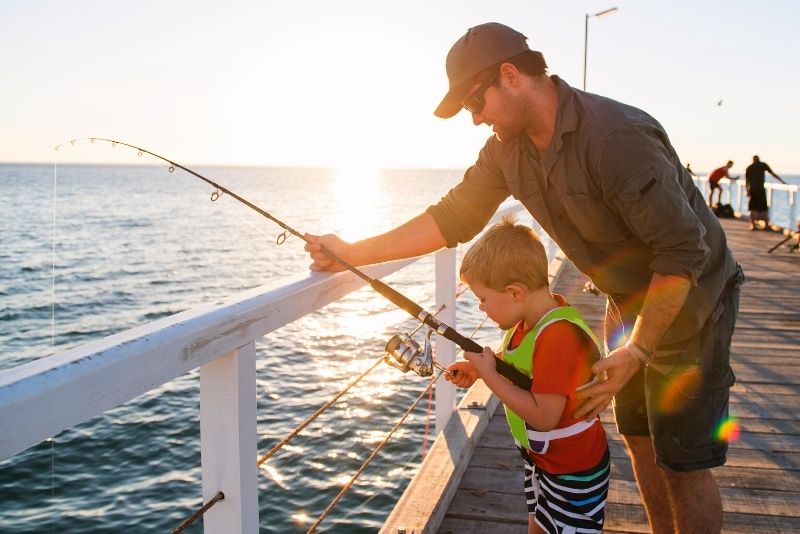 Everywhere on the Gulf Coast claims it has the best fishing spots, Bob Hall Pier might actually be it!
It's the favorite spot of local fishermen for its unique environment. The pier extends 1,200 feet out into the deeper Gulf waters, allowing anglers rare land-based access to a wide range of fish.
It is also a popular place for shore fishing and is frequented by local surfers eager to enjoy the clear turquoise waves. Located in the Padre Balli Park on Padre Island, there are plenty of amenities nearby including a campsite for tents as well as RVs.
Why not hire a golf cart to explore the area? Cruise the seemingly endless coastline in style while you take in the beauty of its golden beaches, perfect waves, and pristine natural habitats.
40 – Hit the best courses for a round of golf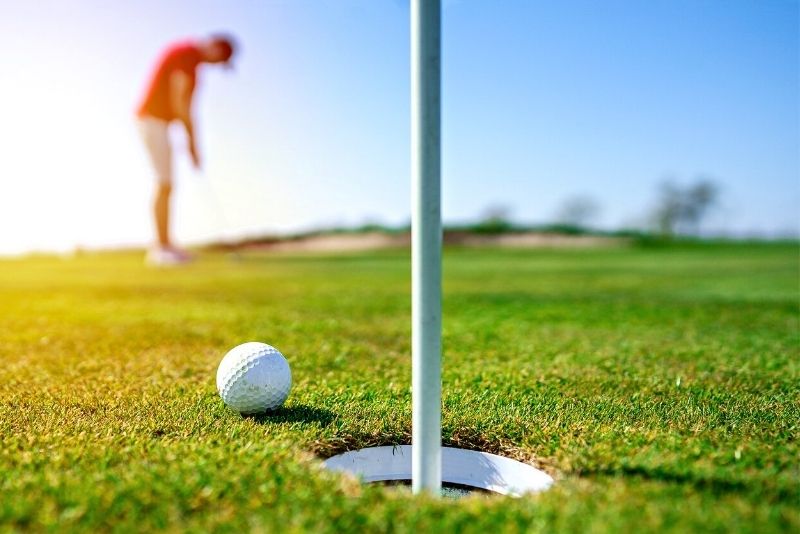 Corpus Christi is not widely known for its great golf courses but there are some fantastic hidden gems to discover here while you're in the city.
Palmilla Beach is a great place to start. One of the most naturally picturesque golf courses in the region, it has unmatched views of the Coastal Bend and is even a certified bird sanctuary. This traditional 18-hole links-style course is a must-visit for golf enthusiasts while in Corpus Christi.
You can check out Oso Beach Municipal Course, which is a beginner-friendly and straightforward green without too many tricky challenges. This reasonably priced course offers great views over Oso Bay and Corpus Christi Bay.
The Lozano Golf Center is a great city center course that offers both 9 and 18-hole rounds. This one is great if you're on a tight schedule. Corpus Christi may just be your new favorite golf destination!
And don't miss the Corpus Christi Country Club, which features plenty of special events to keep you practicing.
Corpus Christi may just be your new favorite golf destination!
41 – Catch a summer concert at Cole Park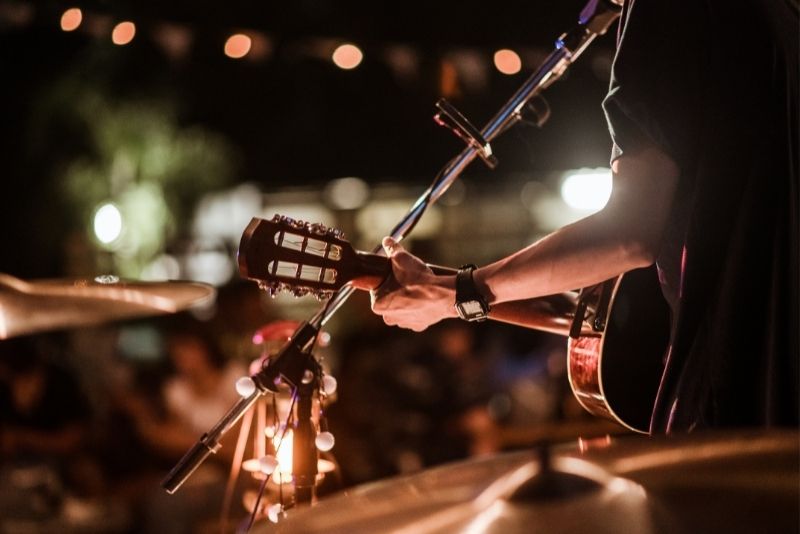 One of the best all-around places for family fun in Corpus Christi has to be Cole Park. This Ocean Drive park is a bustling and lively place that is sure to be tons of fun for all the family.
If you like nothing better than shredding the bowl, you can find the Corpus Christi Skatepark here which offers 10,000 square feet of concrete ramps, ledges, and gaps to please any skating fan.
The park also has plenty of running and walking trails to explore as well as large green spaces if you want to toss a ball or frisbee around. There are a bunch of peaceful places to sit and enjoy a picnic and a number of grills to use throughout the park.
In the Summer months, Cole Park Amphitheater hosts the annual Bay Jammin Concert & Cinema Series which is free for everyone. Bring your chairs and blankets each Thursday and Friday evening to see family-friendly movies and top Texas live music in the park.
42 – Get spooked on a ghost walking tour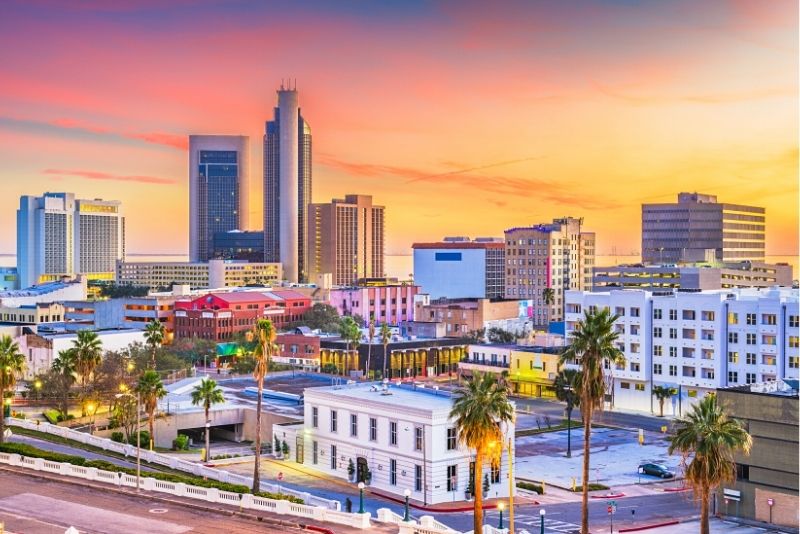 Want to discover the spooky underbelly of Corpus Christi? you're in the right place! Join a ghost tour of the city and visit its most notorious and eerie locations on foot.
Join your spirit guide on a tour into the darkest secrets of the city's past. Learn real-life historical accounts that are sure to chill you to the bone.
Learn the local superstitions and folklore as you pass by haunted houses and ghoulish graveyards — where all may not be as peaceful as it seems.
These fun and spooky tours are sure to kick off your trip to Corpus Christi with style. Those interested in the history of the city are sure to find some macabre facts to tickle their curiosity too. Come along — if you dare!
43 – See a show at Aurora Arts Theatre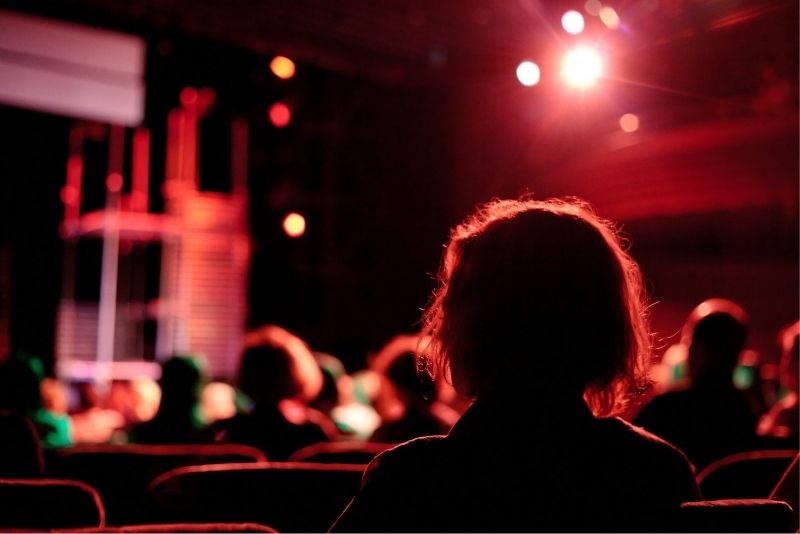 One of the newest additions to the city's performing arts scene, The Aurora Arts Theatre is a small but lively venue in the city. It first opened its doors in 2010, and immediately established itself as a champion of homegrown thespians with every play it stages.
With a capacity for just over 100 people, events here are intimate and community-based. Every production features local actors, musicians, and crew that work together to bring a high-quality theatre experience to the city.
Check out a show while you're in Corpus Christi and discover this excellent little theatre for yourselves, you won't regret it.
44 – Bounce your way around a trampoline park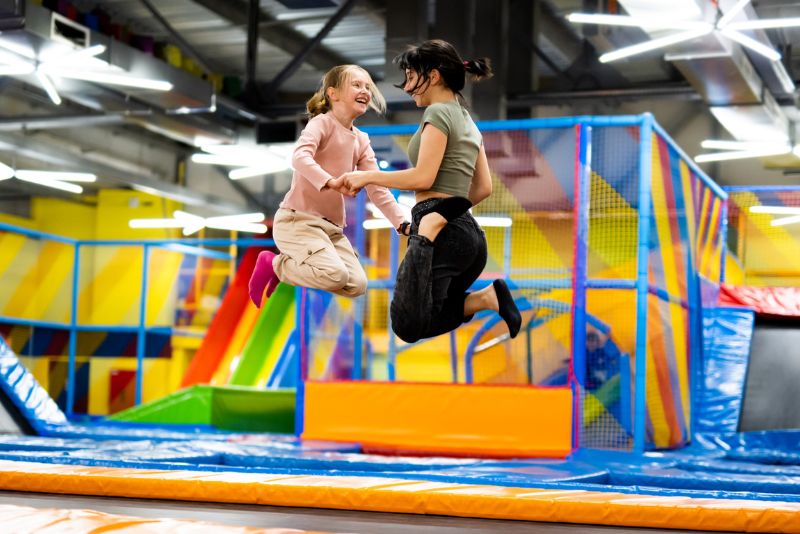 Whether you're helping your youngster let off some steam or seeking an unusual form of cardio, trampoline parks offer hours of gravity-defying fun!
Head over to Jumping World and enjoy row after row of bouncing options, which let you leap effortlessly across the room – or even ricochet off the walls!
You can also practice your gymnastics skills on the tumbling lanes, or play springier versions of dodgeball and basketball.
Don't forget to duke it out with your travel buddies on the Battle Beam, or take a flying leap into the foam pit!
There are even soft play areas built especially for kids, so you can let your pint-sized pals play worry-free!
45 – Work on some new sporty skills with a few windsurfing lessons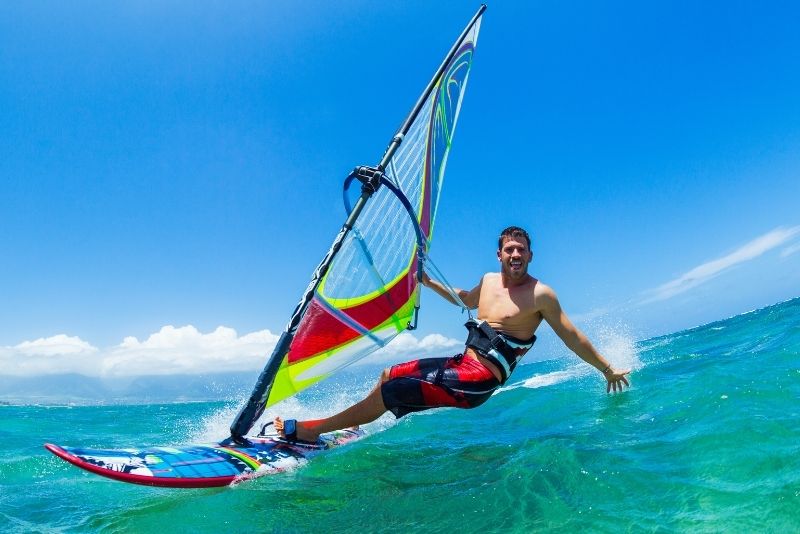 Ever wanted to try your hand at windsurfing, or looking for a fun new watersport to try? Laguna Madre is one of the best windsurfing spots around due to the regular windy conditions and calm waters.
The lagoon is mostly shallow — between two to five feet deep, so it's the perfect place to learn for beginners and also great fun for intermediates and pros alike.
If you're a total beginner to the sport, you can rent equipment and take a lesson or two at Worldwinds Windsurfing near Bird Island Basin.
Feel the fresh sea breeze in your face as you cut through the water propelled only by the wind. You're sure to have a blast trying out this awesome watersport.
46 – Set sail for fun with Red Dragon Pirate Cruises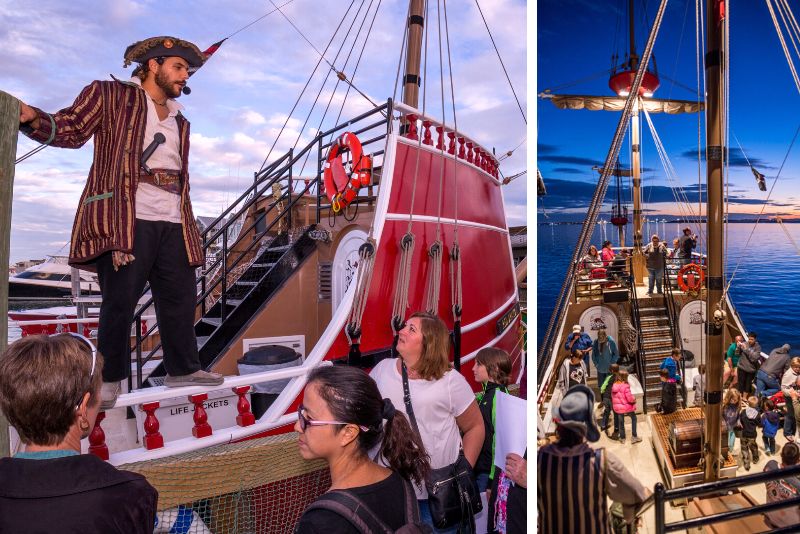 Avast, me hearties! 'Tis time to set sail on the coolest cruise this side of Davy Jones' locker! While there are tons of great scenic cruises in the area, Red Dragon Pirate Cruises is the only one that'll let you feel like a real buccaneer!
This boisterous, family-friendly outing provides entertainment for the whole family, from treasure hunts and sword fights to dolphin-watching and lively encounters with some boisterous privateers – played by actors, of course.
And of course, you get to do it all aboard a recreated pirate vessel, whose leisurely route through the bay will give you plenty of time to enjoy the sea air.
It may only be 20 minutes from town, but this adventure feels a world away!
47 – Enjoy all the best beach bars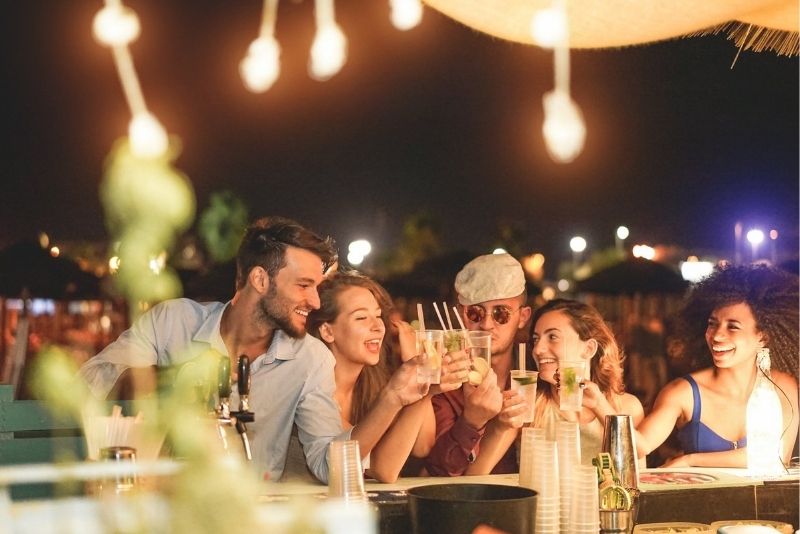 Well, it would be a shame to visit the beautiful beachside city of Corpus Christi and not check out its awesome waterfront bars. If you're looking for relaxing vibes, sunset views, and tasty cocktails you've come to the right place.
Kokomo's bar is part of the Emerald Beach Hotel but is open to non-guests too. This local favorite bar serves up refreshing frozen cocktails right on the beach with a side order of live music and karaoke.
Another great beach bar, Fajitaville, is easy to find as it's right next to the city's Ferris wheel. This popular harbor haunt is in the heart of the action at North Beach and has a wide selection of mouthwatering fruity beverages that you'll never remember the name of. It is also a pretty good restaurant delivering fresh seafood and salad dishes.
There are plenty more great beach bars to check out in the city, some of the best would be Doc's Seafood and Steaks which is blessed with one of the best views around, and Harrison's Landing a complex of restaurants, bars, and shops on the Corpus Christi bayside.
If you want the perfect place for a seaside tipple, you are spoiled for choice in Corpus Christi.
48 – Bowl a perfect game at Bowlero Corpus Christi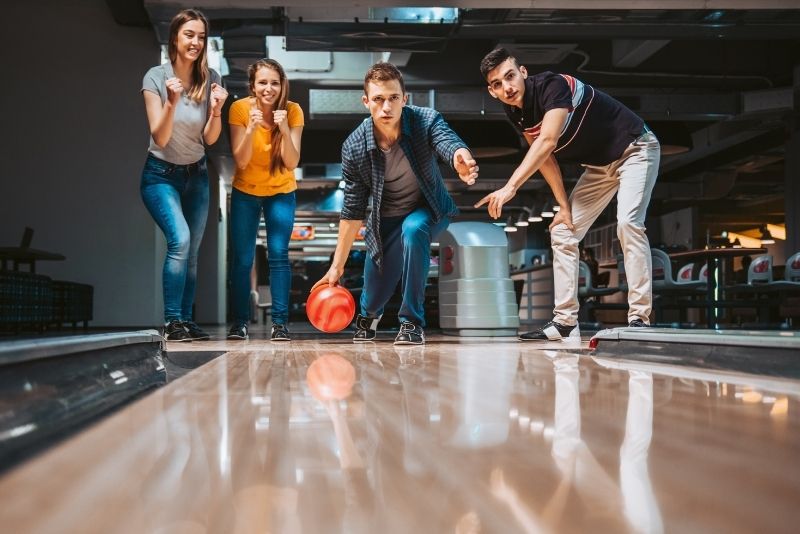 If you're looking for somewhere to eat, drink, and play laser tag in the city, we've got just the place for you. Bowlero is the perfect spot in Corpus Christi to kick back and enjoy yourself.
Celebrate your time in the city with a selection of local and craft beers, fishbowl cocktails, and mouthwatering lakeside foods. All your comfort food favorites are on the menu, including burgers and wings, oven-fired pizzas, and tacos.
Challenge your friends and family to a game of laser tag or some classic bowling action on the colorful and funky lanes. Hit the arcade for some of the best old-school video games around or watch the big game on TV while enjoying a drink.
Bowling, beers, and burgers, let the good times roll at Bowlero!
49 – Dine with a view at Republic of Texas Bar and Grill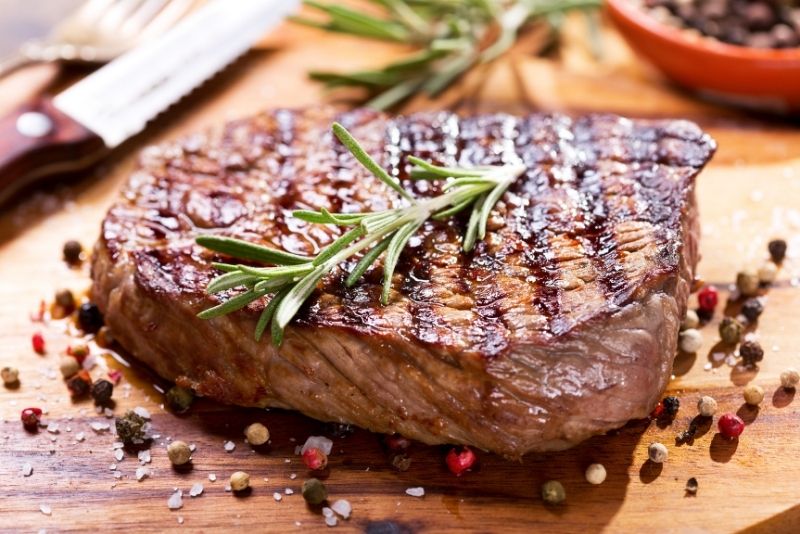 Found on the 20th floor of the Omni Corpus Christi Hotel, the Republic of Texas Bar and Grill is one of the most popular restaurants in town. It offers diners incredible views of Corpus Christi Bay and elegant yet comfortable surroundings.
It has a dedicated wine room that features an award-winning selection of wines from vineyards in the U.S., Europe, South America, and New Zealand. The restaurant serves up high-quality fresh steak and seafood dishes as well as a la carte dining in the wine room.
For great food and stunning views in the city, you really can't go wrong with the Republic of Texas Bar and Grill.
50 – Take a night paddle on a glowing kayak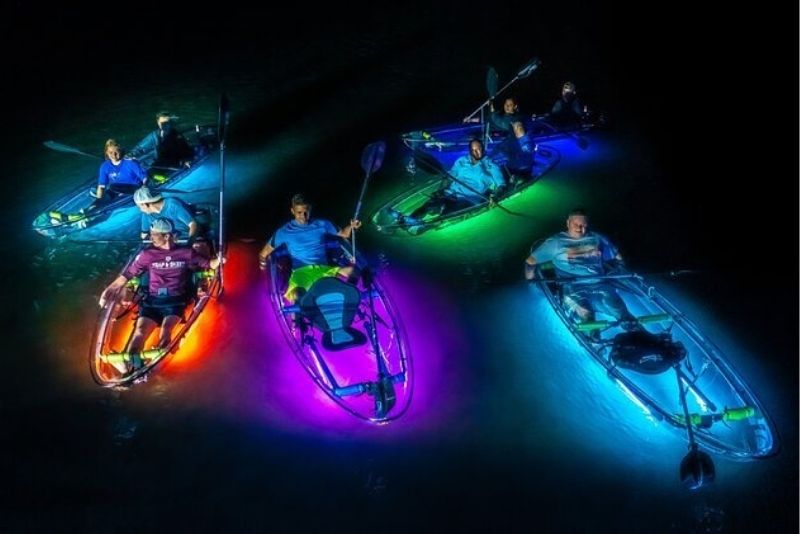 Ever wondered what fish do at night? Then you may want to try a guided glowing kayak tour! Launching out of Sunset Island, these amazing tours give you the chance to experience an underwater world like never before.
From the dry comfort of your clear-bottomed and illuminated kayaks, you will see everything that is going on beneath you.
See fascinating sea life in its natural habitat, including stingrays, crabs, and redfish, and learn some interesting local history from your guide. See the pretty lights of the city while paddling the bay and explore the dark sea in all its fascinating and mysterious beauty.
Adventurous souls only need to apply.
51 – Take a shopping trip to La Palmera Mall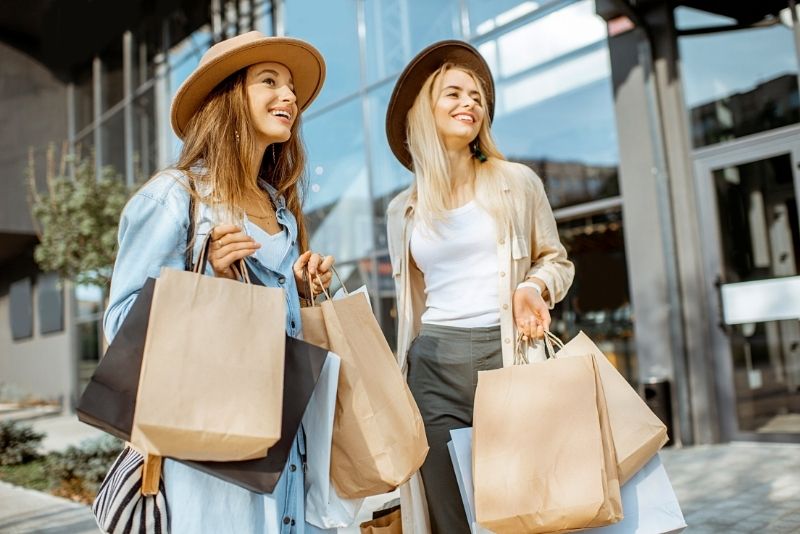 Fancy indulging in some retail therapy while in Corpus Christi? La Palmera is the perfect place to relax, do a little window shopping, and grab a bite to eat. With over 100 stores and restaurants to choose from, this popular Corpus Christi mall combines both indoor and outdoor shopping.
Here you'll find many of the biggest names on the high street, including Foot Locker, H&M, American Eagle Outfitters, and Vans. There are also major department stores such as Dillard's, Macy's, and JCPenney.
Many of America's favorite restaurant chains are here also, including Dave & Busters, LongHorn Steakhouse, and Chili's Grill & Bar. La Palmera Food Court also offers specialty dining and a host of homegrown and international flavors.
52 – Laugh the night away at Mesquite Street Pizza & Comedy Club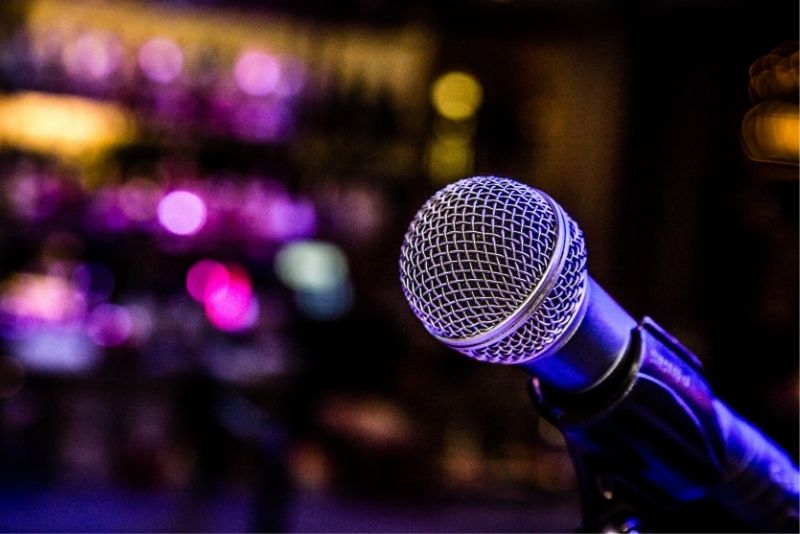 Pizza and comedy! With a combination like this, how can you go wrong? Mesquite Street Pizza and Pasta serves up freshly prepared dishes from its antique Brooklyn pizza oven.
The portions are large and the food is tasty with a medley of appetizers, burgers, and sandwiches alongside its classic Italian American bites. The full bar has plenty of beers to choose from as well as a variety of fruity Margarita cocktail combinations to try.
You can expect to see the freshest live comedy here from Wednesday through to Saturday evenings as well as some big names in the stand-up game.
53 – Try great local beers at Lazy Beach Brewing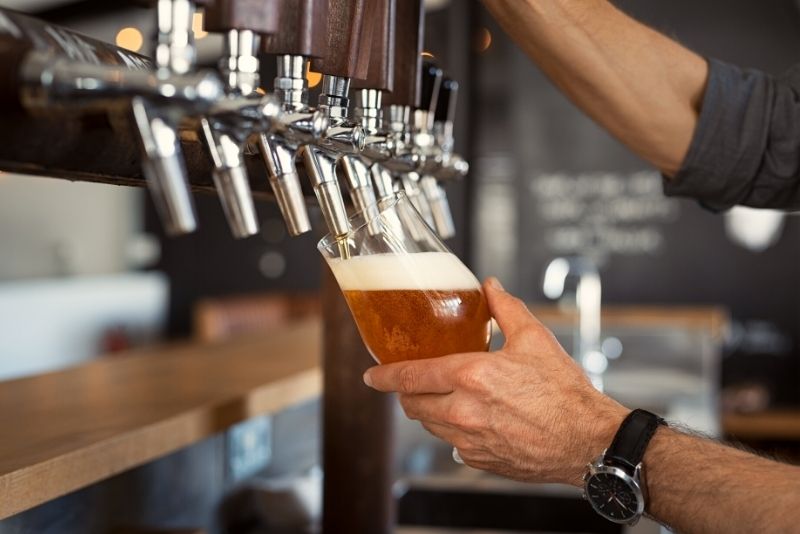 If you think you've tried it all when it comes to innovative craft beers, think again! Lazy Beach Brewing is sure to have some tasty and unusual craft ale combinations that you've never even heard of before.
Lazy Beach has almost 20 home-brewed beers on tap including traditional favorites like stouts, blonde beers, and IPAs as well as some much more unusual characters. Try a hot chocolate milk stout or an alcoholic pineapple kombucha brew to blow away the cobwebs.
They also have a cafe serving a variety of breakfast and brunch favorites, including grilled cheese and avocado toast, as well as hearty lunch dishes such as Cubano and tacos.
54 – See a musical (or any other type of show) at Harbor Playhouse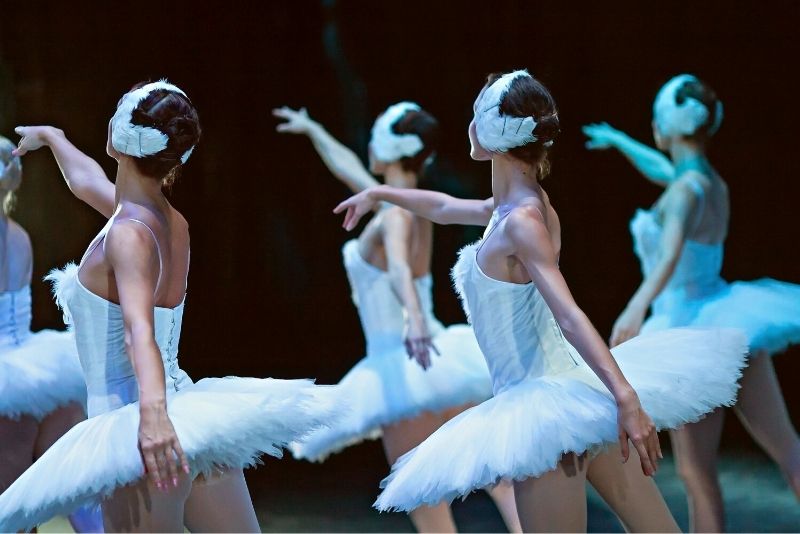 If you're looking for family-friendly things to try, a trip to Harbor Playhouse is one of the best cultural things to do in Corpus Christi.
The theater was first formed in 1925 and is actually the longest-running community theater in all of Texas. It has been in its current home at North Chaparral for the last 40 years and involves over 700 local volunteers actors and crew in its productions yearly, a real community affair!
Enjoy a night out in Corpus Christi and see a production at this historic local theatre. Harbor Playhouse's varied schedule means you can see musicals, both classic and modern, dramas, and plays for both adults and children. It's sure to be a fun night.
55 – Enjoy dinner with a sunset at Snoopy's Pier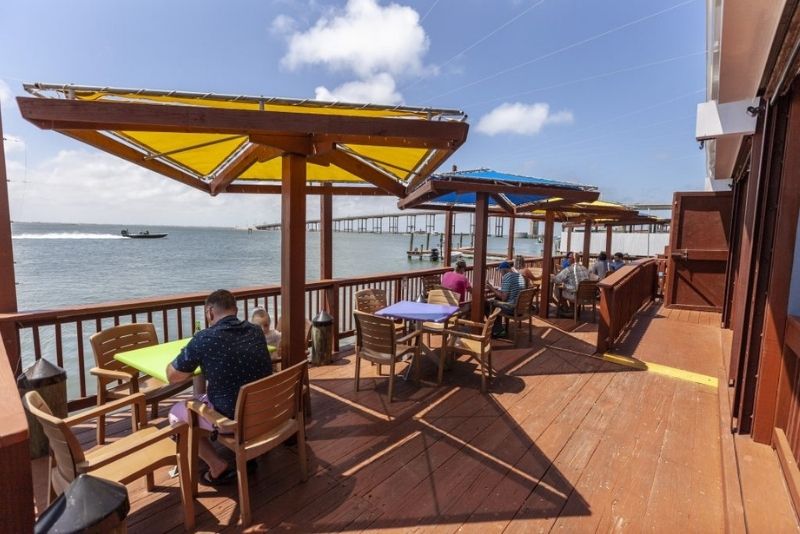 Snoopy's Pier is one of the must-visit places in the city. Jutting out 600 feet into Laguna Madre, It offers a fishing spot as well as great quality traditional seafood at reasonable prices.
The restaurant is owned by a former commercial fisherman, so you can believe he knows his shrimp from his snappers. The seafood is prepared fresh on-site and they also prepare a range of sandwiches, salads, and kid-friendly dishes.
Don't miss out on a frozen dessert from Scoopy's Ice Cream Parlour — right outside on the veranda, as you sit and watch the sunset over the lagoon.
56 – Catch touring bands at Concrete Street Amphitheater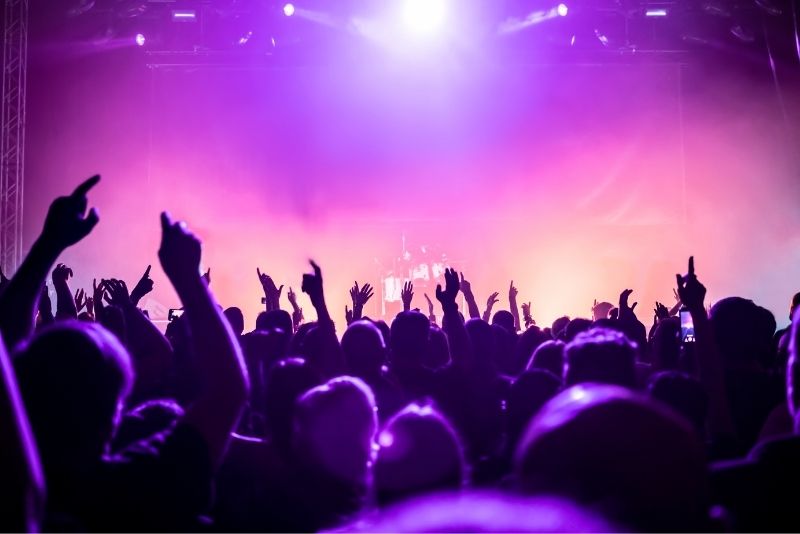 Since it opened in 2001, Concrete Street Amphitheater has been putting on the biggest touring bands passing through Corpus Christi. Anyone who's anyone in the world of rock music has played here, including Joan Jett, Megadeth, B.B King, and Weezer.
The venue has a couple of stages, the main stage and the pavilion stage, and usually puts on a few concerts each month. You can also grab a snack and a beer from the concession stands which serve up fresh pizza, nachos, and burgers.
For rock fans, a night out at Concrete Street Amphitheater is sure to be one of the most fun things to do in Corpus Christi. Check the venue's website to see who's playing when you're in town!
57 – Pamper yourself with a spa break
After you've worked your way through this list of the most fun things to do in Corpus Christi, you're sure to be in need of a little relaxation. Thankfully the city is home to plenty of great spas where you can wind down, refresh, and pamper yourself in absolute luxury.
Enjoy a variety of deep cleansing and hydrating skin treatments that will have you looking and feeling amazing. Try a Vitamin-C facial treatment to revitalize dull and tired-looking skin. Sample the latest in skincare technology which uses high frequencies to smooth and restore your skin while boosting collagen.
At Woodhouse Spa, you can indulge in a full-body refresh offering everything from nail treatments to waxing.
And at June's Day Spa, you'll have some great lash and brow treatments to look forward to – and you can even get tattoos removed!
Meanwhile, Peace of Mind Massage Therapy & Natural Healing puts a novel spin on the tension-easing activity; try the champagne and rose massage or the four-handed massage for some mind-blowing novelty!
Enjoy a hydrating body wrap or destress the classic way with a moisturizing massage and hot oil treatment in calm, relaxing surroundings. Go on you've earned it!
58 – Camp under the stars at Mustang Island State Park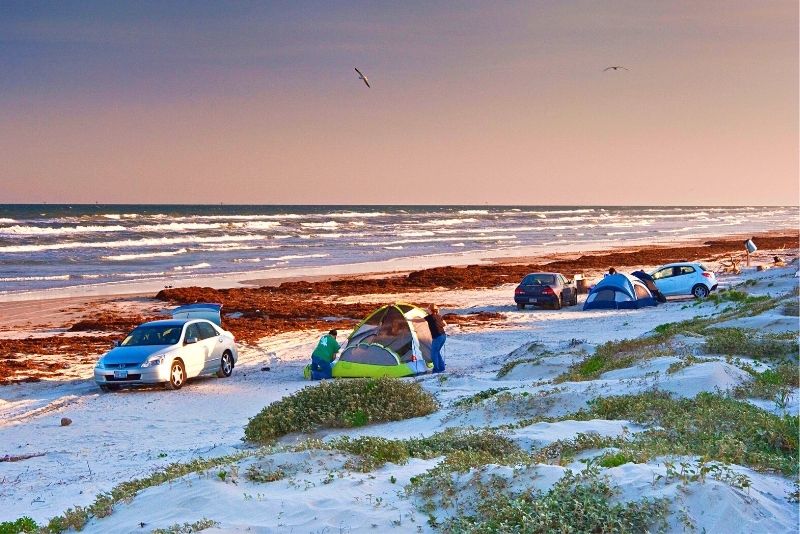 If you're looking for freedom and a place to kick back and relax beachside, Mustang Island State Park is one of the best places around. Located on a barrier island just a few minutes from Corpus Christi, the park is ideal for all you campers, surfers, and anglers who like nothing better than to hit the beach by day and camp out under the stars by night.
Blessed with over five miles of attractive coastline on Corpus Christi Bay, there's a designated paddling trail for kayaks that runs through some of the most fertile shallow-water fishing areas in the state.
The park has nearly 100 campsites, picnic facilities, and a store to pick up those essential items you forgot. Take a trip to Mustang Island State Park and enjoy the best of the Corpus Christi coastline.
59 – Hit the town and see the city's best nightclubs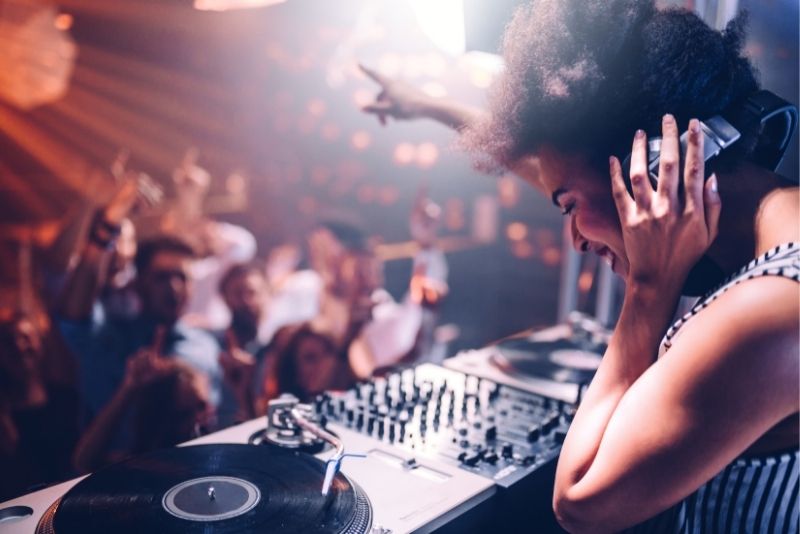 There's plenty on this list to see and do in the daytime, but what about those evenings when you feel like painting the town red? Luckily Copus Christi has plenty of good spots for night owls like yourself.
If you're looking for a lively nightspot with a bit of everything, Club Pure and Rio Nightclub are worth a look. The two clubs share the same space but one focuses on Tejano and country music while the other is geared more towards the hip hop and electronic dance crowd.
Wherever you go in Corpus Christi you can usually count on a solid dose of country music in the mix. Roper's on Everhart Street is one of the most popular clubs in town and features a wide range of music including a bit of country, some Latin rhythms, and a pinch of hip hop. It hosts regular DJs and live acts.
A relative newcomer to the scene, the Nest brings great drinks, hearty bar food, and an upbeat party atmosphere together in one place, with a diverse lineup that includes everything from world-class DJs to screenings of major sporting events.
Where to stay in Corpus Christi?
At the Omni Corpus Christi Hotel, you can enjoy all of the standard luxury benefits – including a pool and a fantastic steakhouse -, plus killer views of the bustling marina and the sea just outside the door.
Or check out the chic, contemporary style of Aloft Corpus Christi, where you can go for a swim, play a round of billiards, or just relax and enjoy the colorful communal spaces.
Emerald Beach Hotel Corpus Christi is perfect if you want to maximize your time on the shore, with the sand and surf just steps away, plenty of games, kid-friendly spaces, and great spots for a bite or a drink.
And at Country Inn & Suites by Radisson, you can work out or get work done at the business center, then head out to the American Bank Center or Mustang Island State Park.
You can also have a splendid stay at La Quinta Inn by Wyndham Corpus Christi North, where there are tons of great amenities to keep you satisfied, including a laundromat!
Where to go next?
They say that everything's bigger in the Lone Star State, and that includes the number of activities!
Whether you prefer your vacations to be wild, mild, educational, or freewheeling, you'll find an endless supply of things to do in Texas.
And better still, there are tons of great spots just a short jaunt from Corpus Christi!
There are plenty of things to do in San Antonio is the place to go if you want to explore amazing cultural sites, sample some fantastic brews, or stroll through some jaw-droppingly beautiful public parks.
Or you can mosey northwards to enjoy all of the things to do in Austin, where vibrant botanical gardens, fascinating museums, and quirky roadside attractions pair perfectly with amazing food and music scenes.
For those that like a big-city feel with a Texas twist, there are an endless variety of things to do in Houston beckons, with sports, theme parks, rockets, and a thriving nightlife scene all coming together in a multicultural metropolitan setting.
And if you'd prefer a quieter spot, head to the shore and enjoy the things to do in Galveston, where the seafood's fresh, the history is fascinating, and the beaches are plentiful!
Final thoughts
From its unique military culture to its lively restaurants and ample wildlife-viewing opportunities, this Texan treasure has it all!
When you start discovering all of the amazing things to do in Corpus Christi, you just might be tempted to move here… or at least extend your vacation!
So grab some good walking shoes and a beach towel, and see what all the fuss is about!