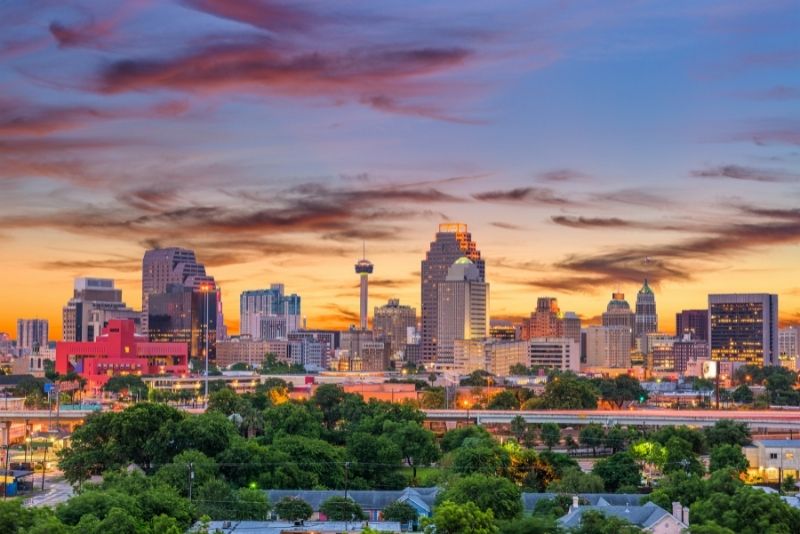 The city of San Antonio shares seven of Texas' Hispanic heritage sites, five Spanish missions — including the famous Alamo — and beholds a world treasure, the River Walk. That's enough reason why it's one of the most visited cities in the country, but there's more than meets the eye.
It's the kind of place where you can wander through lavender fields or loop the loop on some rollercoasters; learn about the Old West or explore unusual trivia; stroll past centuries of architecture or float lazily down a beautiful natural river.
Whether you're looking for a historical road trip or some adventure with Spanish or European twist, San Antonio is brimming with cool activities and attractions to visit. It has vibrant colors, great food, subtropical climate and a whole lot of diversity — and we're here to run down all of the fun things to do where Texas' legacy unfolds.
So, what are you waiting for? If you're looking for fun things to do in San Antonio, look no further. It's time to start planning your San Antonio trip!
1 – Visit the historic Tower of the Americas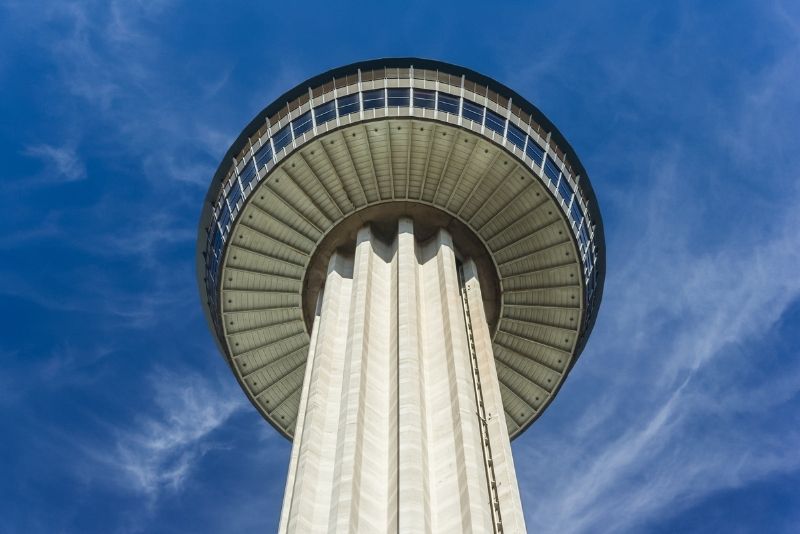 Built for the 1968 World's fair, this 750-foot tower offers commanding views of the entire San Antonio skyline. Take the opportunity to see the city from above before you start a busy day of sightseeing.
The Tower of the Americas has an observation deck, bar, restaurant and even a 4D movie ride. Don't forget to save some quarters for the telescope.
2 – Hop onto a grand bus tour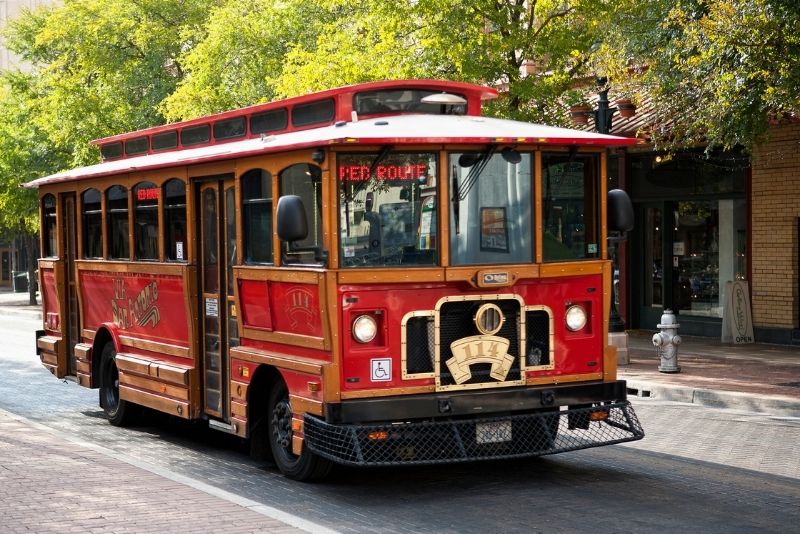 San Antonio has unique old fashioned buses so you can see the city in style! This is one of the best things to do for first-time visitors.
You can jump off at a museum and take in some culture, then venture back onto the bus ready for the next stop.
Have fun and explore the city at your own pace!
3 – See the Spurs at AT&T Center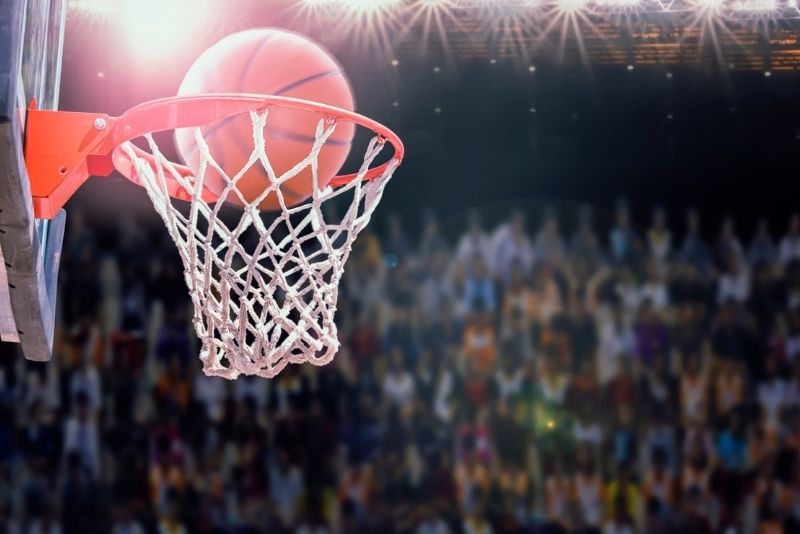 Ladies and gentlemen, please welcome to the court the San Antonio Spurs!
Between the NBA juggernauts that are the Spurs and the many concerts that take place here, the AT&T Center is positively buzzing from January to December every single year.
Whenever you're heading to San Antonio, don't miss out on a trip to the AT&T stadium.
4 – Beat the escape rooms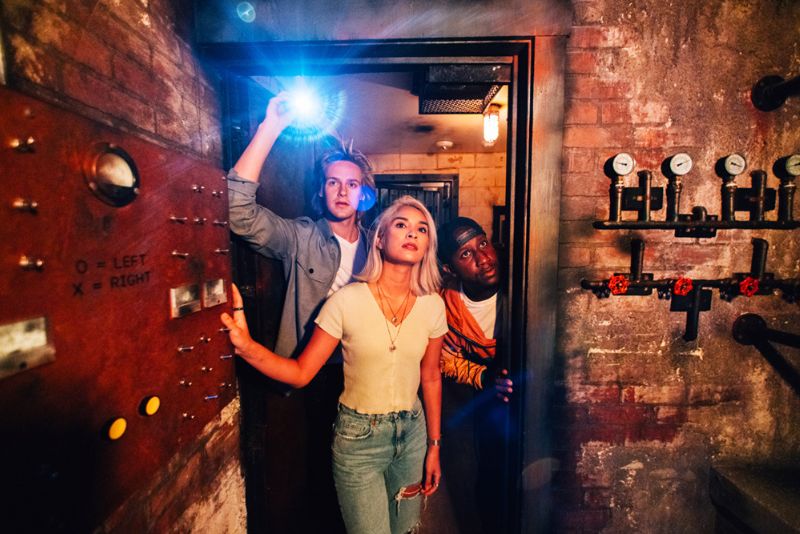 Looking for escape rooms in San Antonio?
Grab your team and visit The Escape Game. You might try to pull off a heist, break out of prison, or even save the world — each game has multiple rooms to explore and you can get unlimited clues without penalty or judgement.
Test your problem-solving abilities and survival instincts in a creative and exciting way. You'll have to work with your team to solve clues and overcome challenges in order to complete your mission.
You have 60 minutes max, so be quick! Can you escape in time?
5 – See the picturesque meadows at Wildseed Farms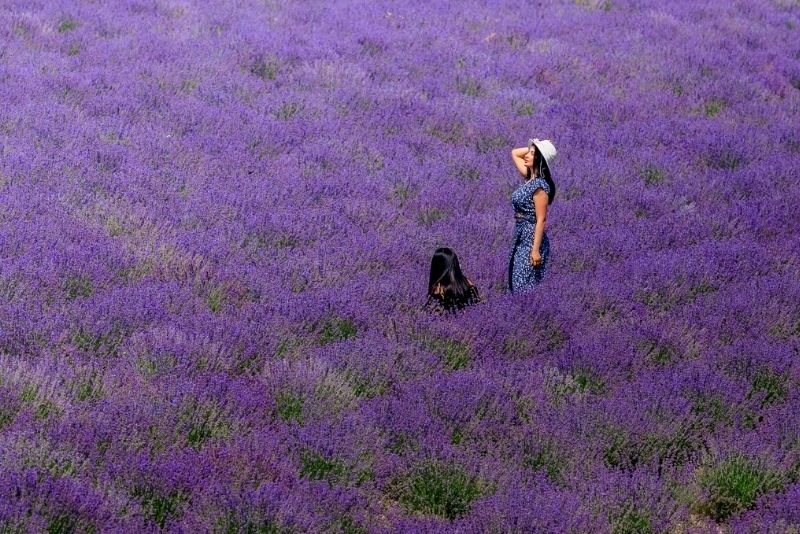 Spending time in the great outdoors is a big part of what it means to really embrace life.
Wildseed Farms has spent over 35 years reintroducing fields of wildflowers to this part of Texas, while also producing world class seeds.
It's the largest wildflower farm in the United States with its Fredericksburg headquarters stretches over 200 acres of colorful and lively Texas Hill Country.
6 – Taste the wine in Fredericksburg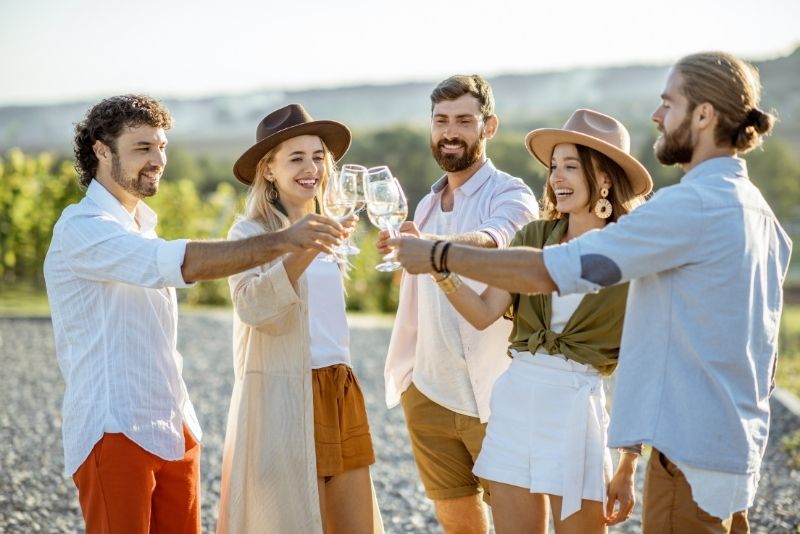 Experience an afternoon of peace, serenity and some casual drinking in the wineries in Fredericksburg. Over an hour's ride from San Antonio, this city with at least 11,000 residents has a German heritage and is known for its wineries.
Go on a tiny road trip to the vineyards, indulge yourself and learn something more about your favorite wine.
7 – Eat, eat, eat on a food tour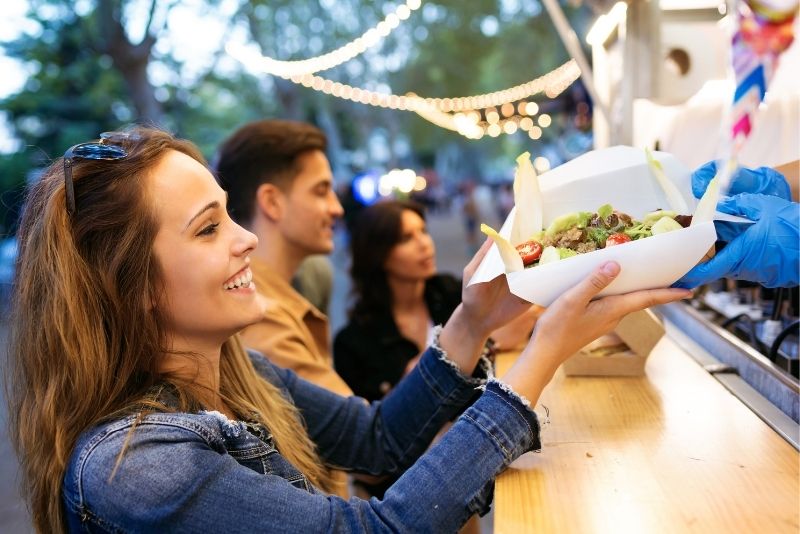 Have you had tacos for breakfast? In San Antonio, traditional street tacos have maintained their reputation, while most restaurants continue to make tortillas by hand.
Explore some downtown Mexican delicacies that are only found in the city. Don't miss out the elote, fideo locos, bean burger and chicken on a stick!
8 – See sporting history at the Alamodome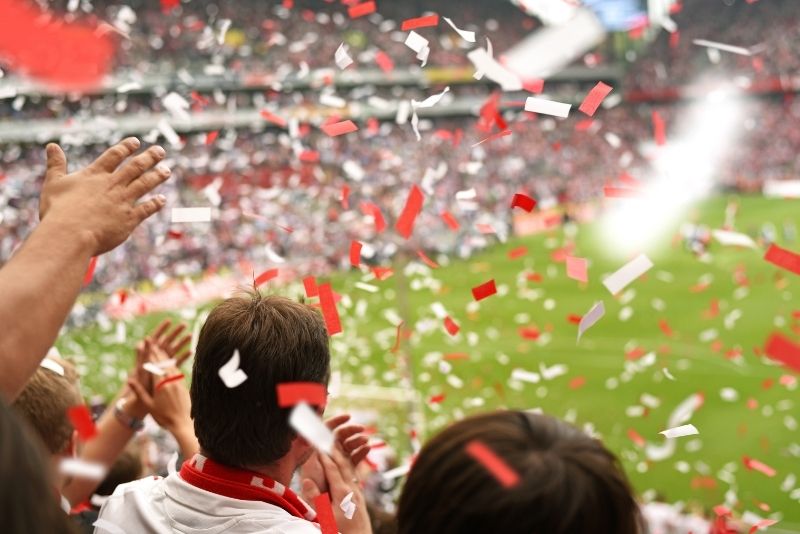 This stadium can hold up to 65,000 people with 64,000 seats is the pinnacle of sporting excellence in San Antonio. It's also been a place for massive trade shows and concerts like Disney on Ice.
Opened in 1993, it has hosted countless sports events, including the annual Alamo Bowl, the NCAA Final Four, NFL games, NBA games, boxing showdowns and — even the WWE Royal Rumble.
9 – Go with the flow at the San Antonio River Walk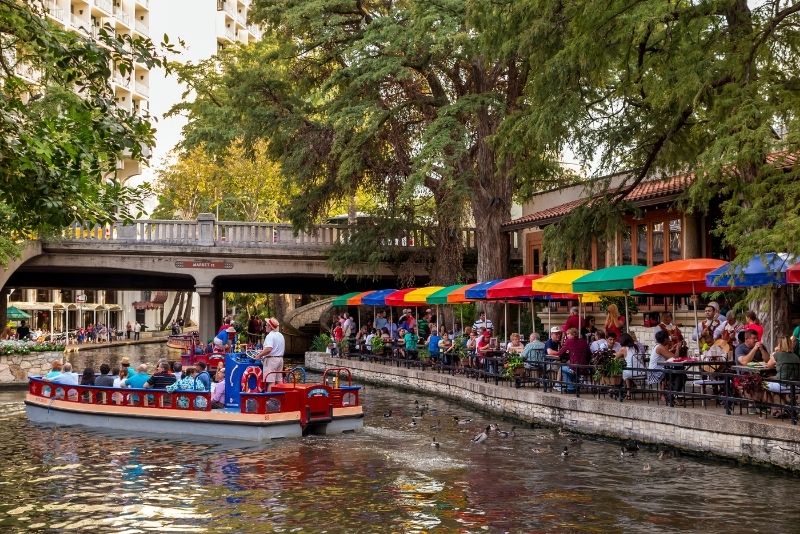 Experience the magic of one of the city's treasures, the River Walk! Ride a glass-bottomed boat or stroll the pathway that stretches 15 miles along the San Antonio River. Open all year round, this public park is home to restaurants and shops, and hosts various events annually.
There are some superb views to be had on the river walk and cruise and this tree lined stretch offers the perfect respite from the hot summer sun, it's obvious to see why it's so popular.
10 – Dive into creativity at some digital art exhibitions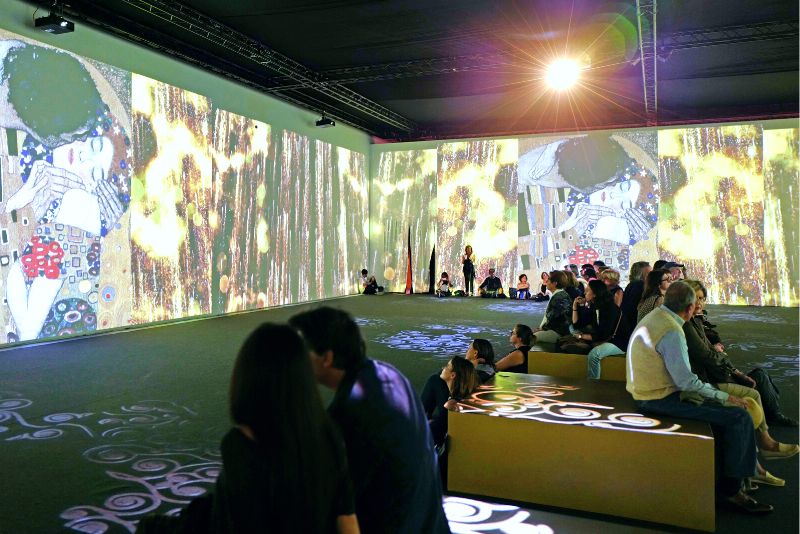 If you've ever gazed at a painting and wished that you could wander around inside the canvas, be sure to check out some of the digital art exhibitions in the city!
Each experience gets you up close and personal with the artwork – because it's projected all around you! You can explore the lily-filled ponds of Monet and delve into the details of some of the world's most famous masterpieces. This is an unparalleled way of viewing art!
11 – Look down on the city on a helicopter tour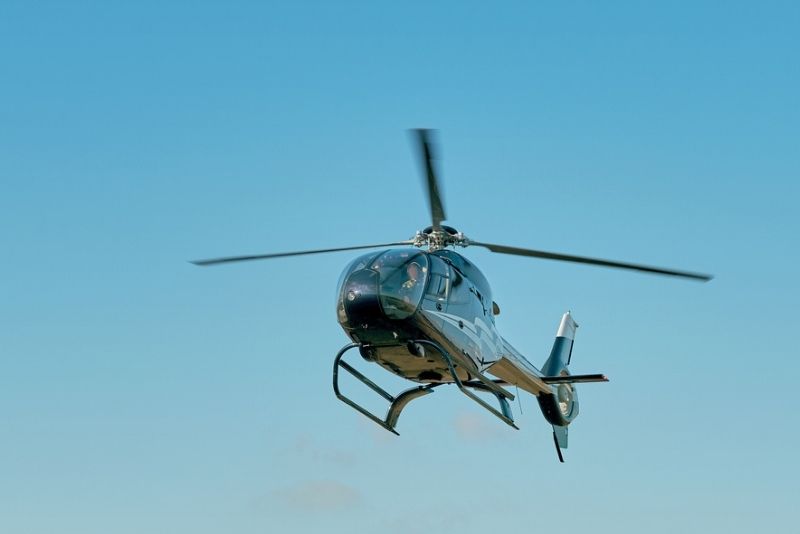 The Alamo, the quarry, downtown — see it all and so much more with the helicopter tour!
With a true Texan guiding the tour from beginning to end, this one is for the thrill seekers who want to get the best views of the entire city.
Take the adventure and see a whole new side of San Antonio.
12 – Enjoy horse riding in Texas Hill Country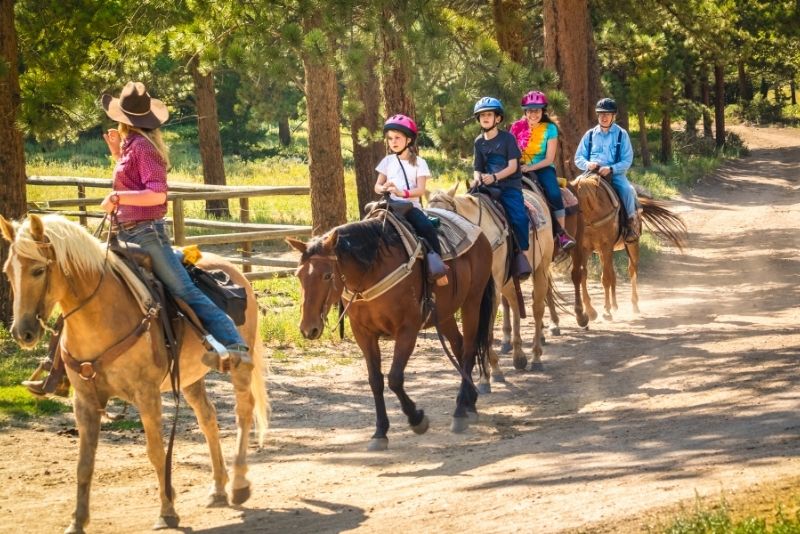 Slap on that cowboy hat and head on out for some horseback riding bliss, undoubtedly one of the unmissable things to do in San Antonio.
Don't miss the opportunity to visit Texas Hill Country and bask in the seemingly endless scenery to delight the senses. From flat open fields to steep rocky canyons, travel by horse like the cowboys of old.
13 – Get your art fix with a Mural Ride Bike Tour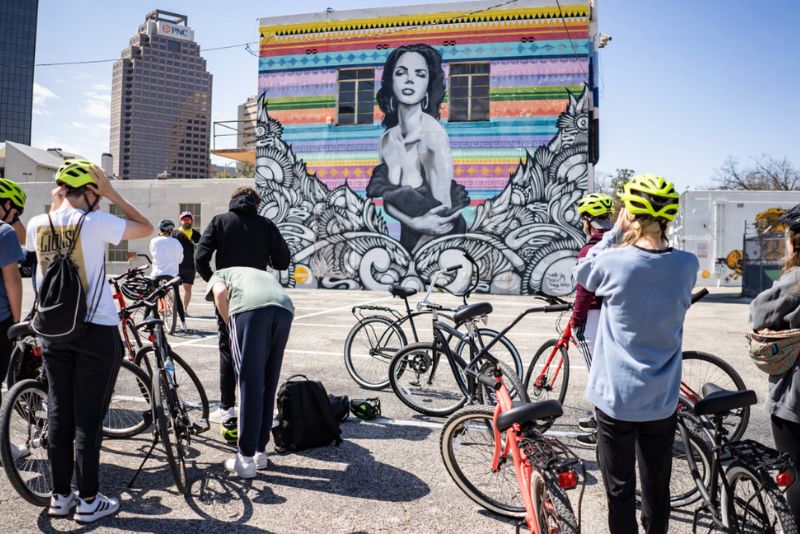 Experience the colorful and vibrant art scene of San Antonio on a Mural Ride Bike Tour. Led by expert guides, you will learn about the city's murals and their creators.
This tour offers numerous photo opportunities to capture the beauty of these works of art.
With a blend of education, adventure, and fun, the tour is a perfect way to explore the city's culture and neighborhoods.
14 – Dig deeper into history at Museum of Art
Want to delve deeper into the history of Texas? Head downtown to visit the San Antonio Museum of Art with exhibitions representing more than 5,000 years of culture. You can also find here the former Lone Star Brewery.
The museum houses a comprehensive collection of artifacts from the ancient Mediteranean world, as well as art of the Americas, Europe and Asia.
15 – Watch a romantic candlelight concert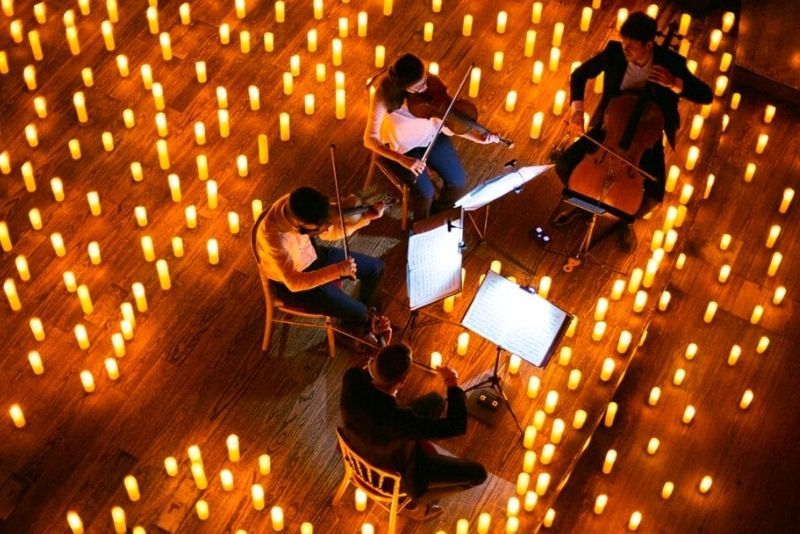 From anime to The Nutcracker, soaring symphonies to lilting flamenco, the music in the Candlelight Concerts series is always a surprise… but always high quality.
And as if the lush scores weren't wonderful enough, the stage is surrounded by gently flickering candles, adding an intimate feel to the whole affair.
Whether you're celebrating the holidays or just in the mood for some music, these are excellent options!
16 – Splash around Schlitterbahn Waterpark New Braunfels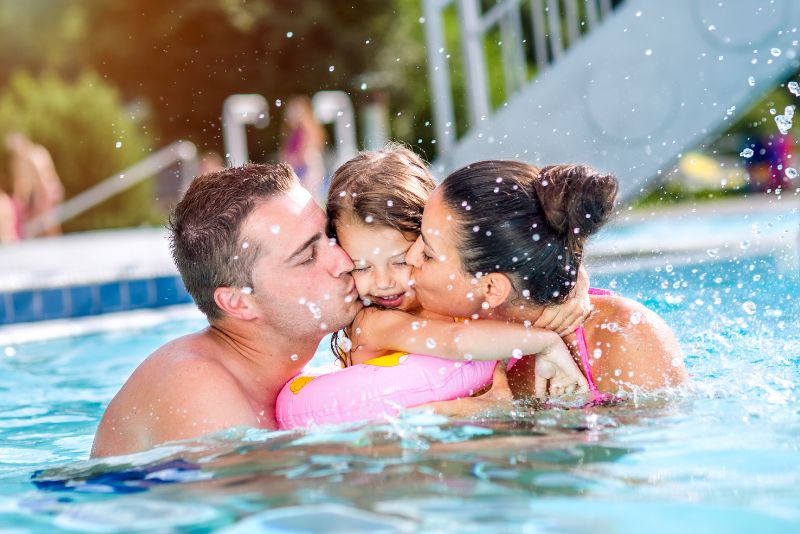 Sure, swimming is great… but what about taking a wild ride on a water coaster?
That's just one of the many high-octane rides you can enjoy at Schlitterbahn Waterpark, one of the largest and most innovative splash zones in the country.
Whether you're bobbing down the lazy river, bodysurfing in the wave pool, or testing your mettle on the thrilling, innovative rides, this is the perfect place for fun-lovers of all ages.
Pack your best bathing suit and get ready for a day of fun!
17 – Journey to Atlantis at SeaWorld San Antonio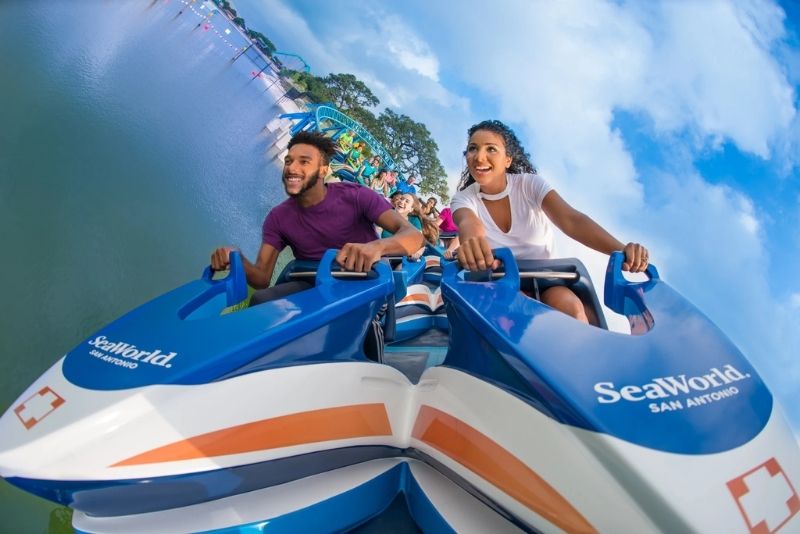 Challenge yourself on gravity defying roller coasters and thrill rides in this 250-acre ocean themed park. You can choose among the Texas Stingray, Sea Swinger, Great White and Steel Eel rides.
It also has an oceanarium with 38,000 marine animals rescued over the last 50 years, including dolphins, whales, penguins, sea lions, stingrays and sharks.
18 – Say hello to the animals at San Antonio Zoo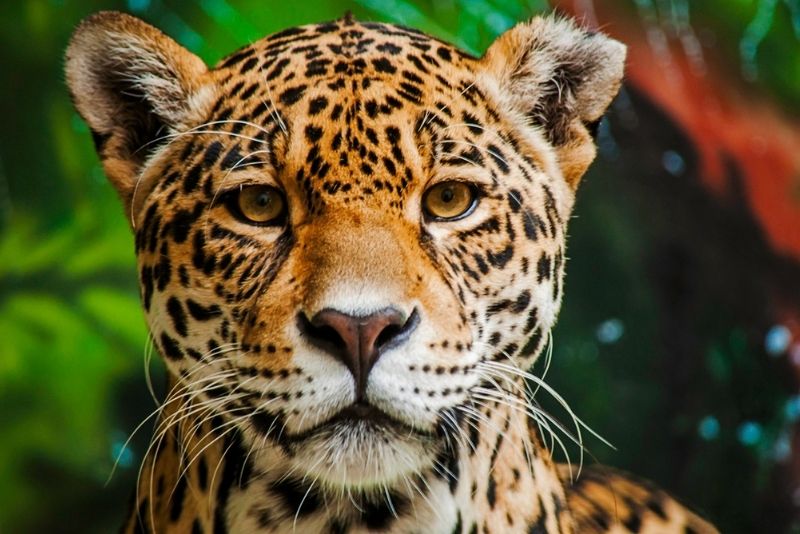 Over one million visitors make their way to the San Antonio Zoo every single year and we think you should be one of them!
The 35-acre zoo is located in the midst of Brackenridge Park and home to 3,500 animals belonging to more than 750 species. Meet the Carribean flamingos, lemurs, bears, giraffes, zebras, cats — big and small, hippos, crocodiles and more.
19 – Push your limits at Six Flags Fiesta Texas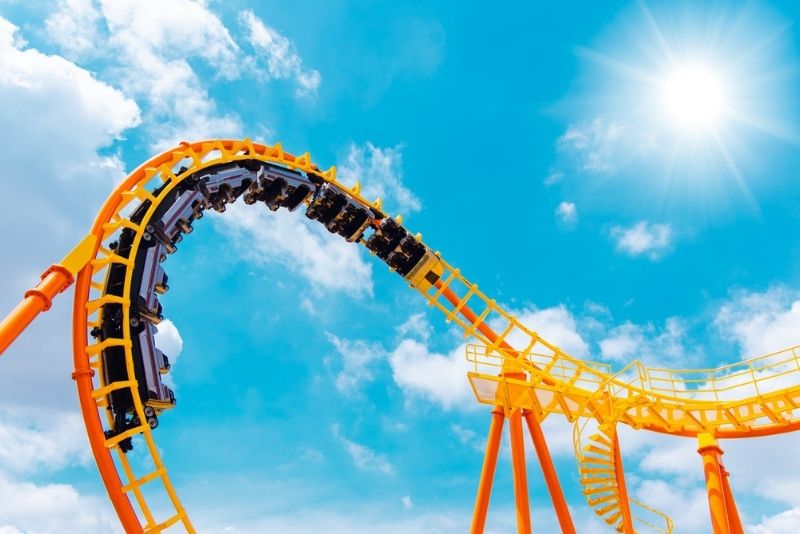 There are few things that create more of a rush than a good old fashioned theme park. Six Flags Fiesta has more than 60 rides, shows and attractions, including family rides, Batman, Boomerang, Goliath and Iron Rattler.
Pack up some courage and take a day to experience the biggest thrills Texas has to offer.
20 – Enjoy the animals of the San Antonio Aquarium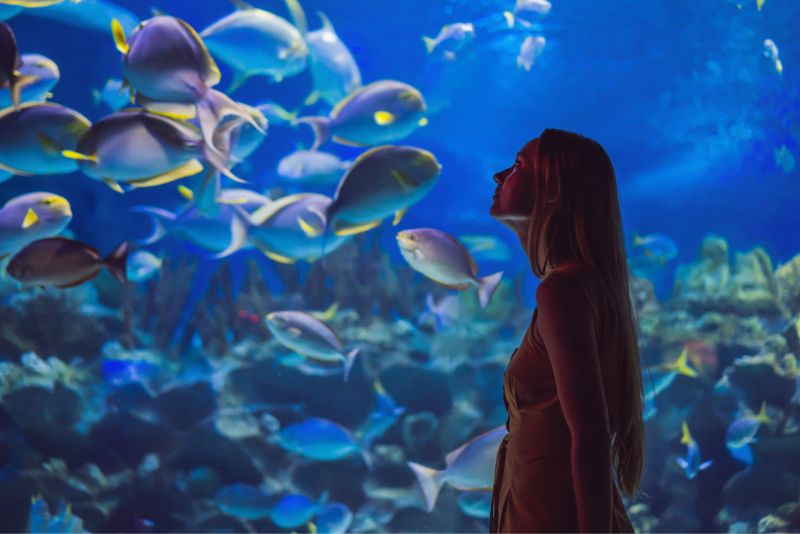 San Antonio may not be known for its sea life, but there is one place in town where you can meet these critters up close: the San Antonio Aquarium!
While fish and other marine creatures are the main feature, there are tons of cool mammals and reptiles as well, such as sloths and iguanas.
And with tons of cool interactive opportunities – from meeting mermaids to snorkeling with stingrays -, you can get in on the action!
21 – Get an alternative view at Briscoe Western Art Museum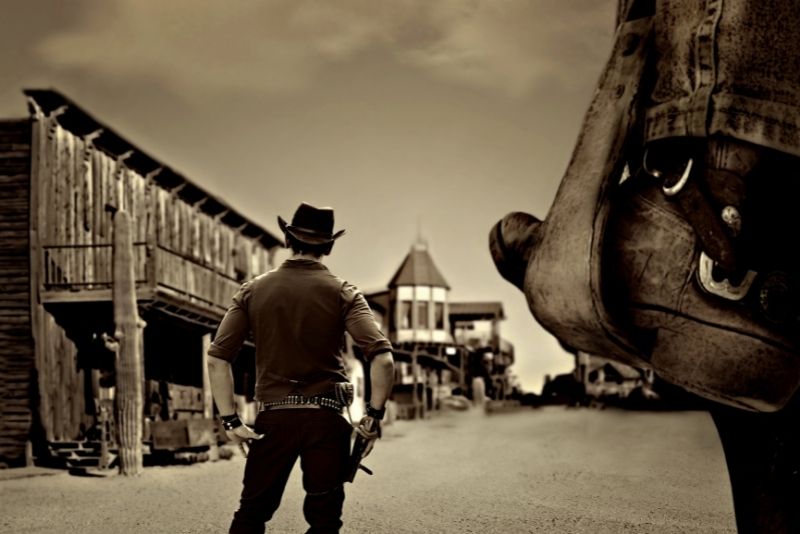 The American West is vast and its history is a diverse melting pot of the many cultures who have called it home. It is full of more nuisances than we could possibly count — which is why it's so important we've got places like the Briscoe Western Art Museum.
The Briscoe Western art Museum houses art and artifacts that properly illustrate the fascinating culture within this part of the world.
22 – Slip & slide to happiness at Aquatica San Antonio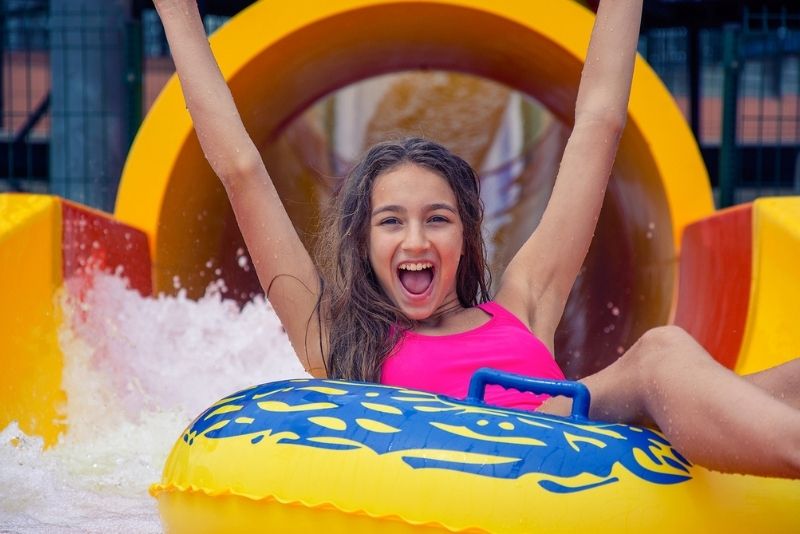 Don't think, just ride.
Great weather and incredible thrills combine to make Aquatica San Antonio the ideal recipe for a fast and furious day out with your family and friends!
The South Seas-inspired water park has beaches, outstanding rides and even an underwater adventure land full of tropical fish.
It's silly, it's loud and it's great fun.
23 – Meet the outlaws & lawmen at Texas Ranger Museum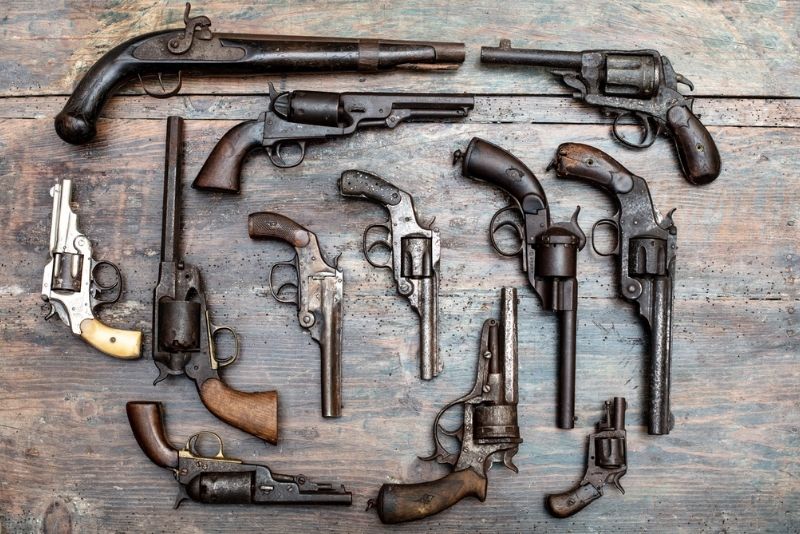 Take a deep breath, and allow that Texas air to fill you with local pride.
The Texas Ranger Museum is the sister attraction to the Buckhorn Saloon and covers more than a century of Ranger History.
It offers up an in-depth and serious look at this section of Texan culture and the legendary figures who wore the badge.
24 – Let the tots run loose at Kiddie Park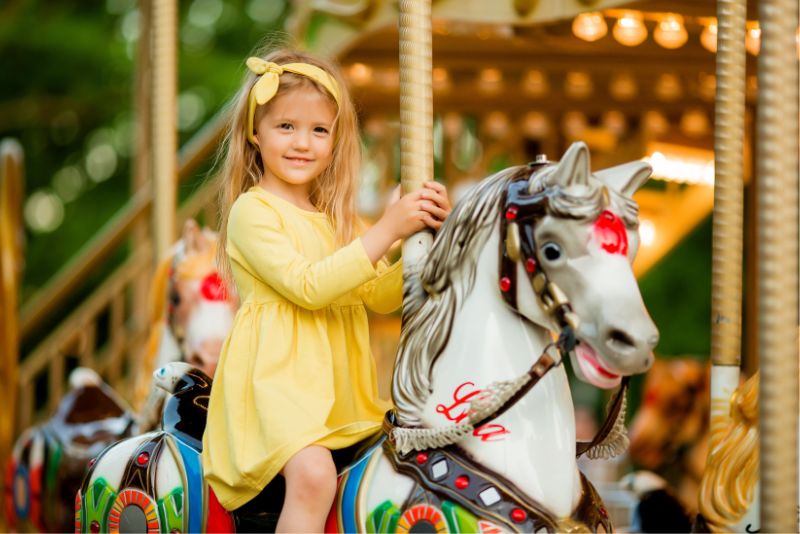 Since 1925, Kiddie Park has been one of the most beloved things to do in San Antonio for youngsters – and their families!
Stop by while you're in town, and enjoy a whole range of delightful rides and carnival-style attractions, several of which date all the way back to the park's opening.
From carousels to Ferris wheels, there's no shortage of treats for your little ones to enjoy!
25 – Trace the roots of San Antonio Missions National Historical Park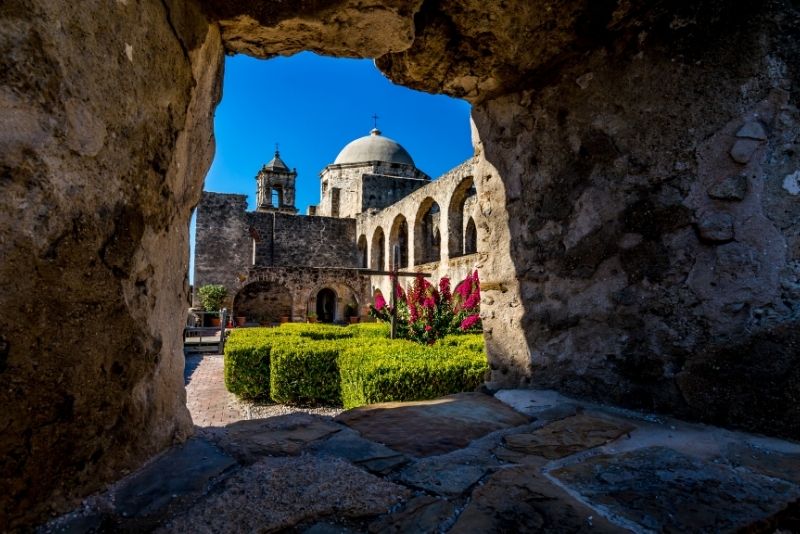 A Texan treasure, the San Antonio Missions National Historical Park is the only UNESCO World Heritage site in the state. It's made up of the famous Alamo and four Spanish colonial missions, that were built in the early 18th century.
Check out Mission San Jose Church, a UNSECO World Heritage Site best known for its gorgeous, Baroque-style Rose Window. Or take in the stunning stone exteriors of Mission Espada, the oldest mission in the state, which was once a hotbed of Native American art.
You can also visit a service FIX at Mission Concepcion, whose unrestored exteriors perfectly showcase the earliest days of church architecture in the area. If you want to learn more about it, head on down and definitely check out the Mission Trail!
26 – Read the names of those who fought at The Alamo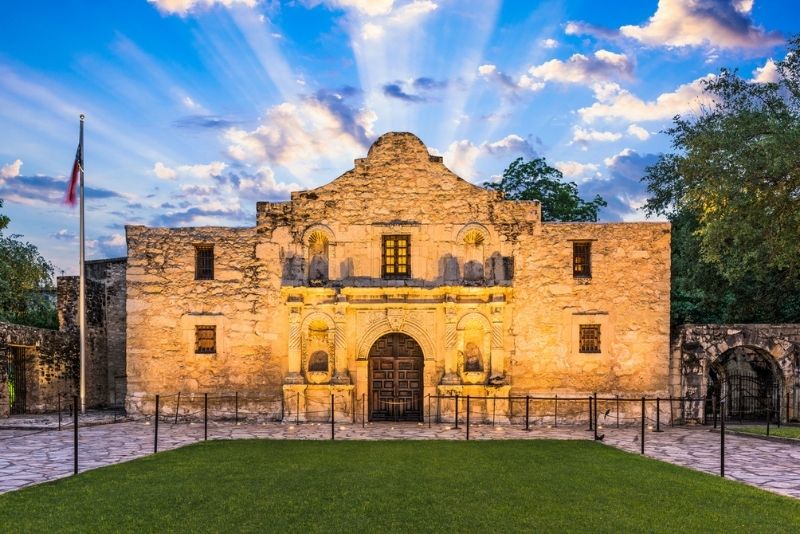 Ah, the Alamo. It's the very heart of San Antonio and a big part of the city's identity.
It was this Spanish mission and fortress compound that marked the site of the Battle of the Alamo way back in 1836. It still stands to this very day and while San Antonio has a number of historic sites but none is as infamous as the Alamo.
It is a must visit for history fans particularly those interested in the early days of the United States.
27 – Get crazy with the sidecar tour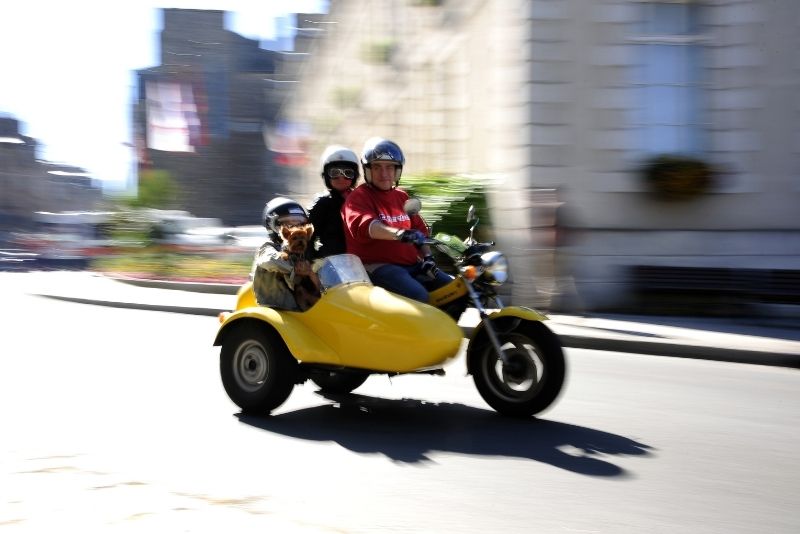 A sidecar tour and tacos to go with it? Sign us up!
These fun sidecar Vespas seat two people, allowing them to jet off around town and see the sights in a fresh, alternative way.
It's faster than a bus, more economical than a car and, best of all, you can get some real laughs out of it.
28 – Feel the vibe at King William Historic District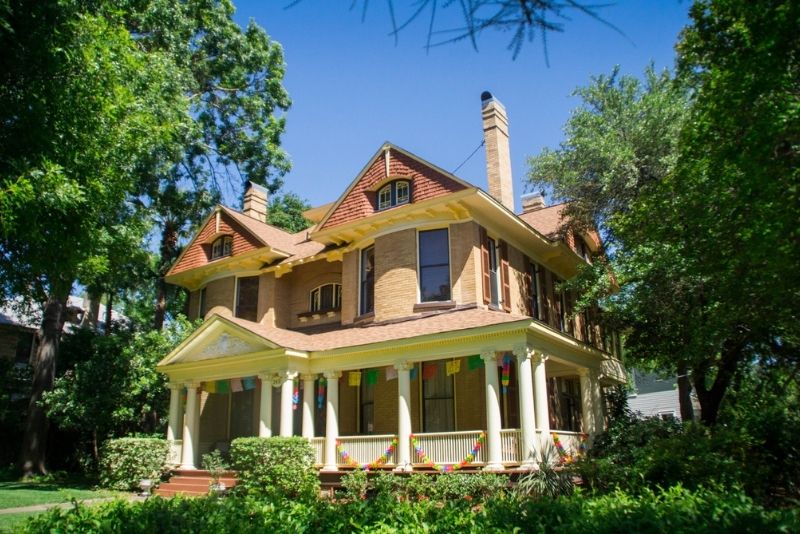 This southside location plays host to some amazing historical houses with walking tours also being available.
Some give off aristocratic vibes whereas others are a little more American Horror Story, both of which feel accurate.
29 – Say 'howdy' at the Saturday Night Rodeo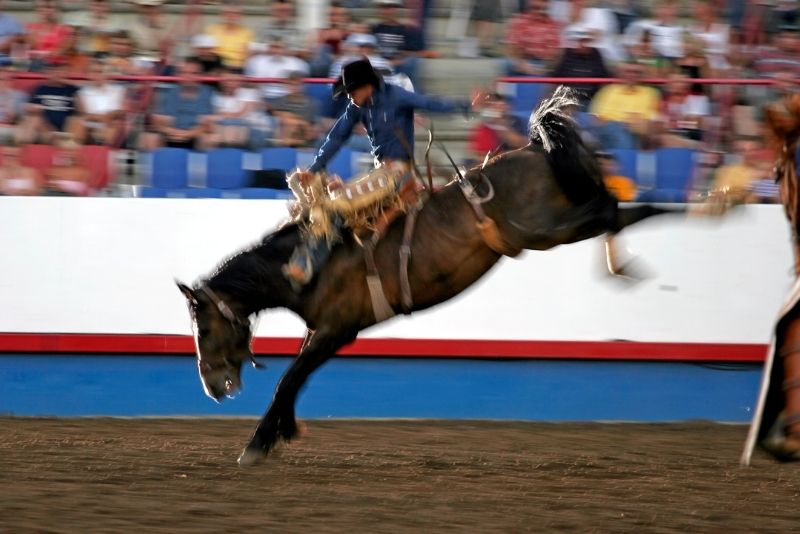 You're in Texas now, folks.
Great value general admission tickets get you in to watch the ride of a lifetime — the Saturday Night Rodeo.
For many locals, this is the highlight of the entire week. For others, it's the personification of what it means to be a true red, white and blue American.
30 – Be thrilled by indoor skydiving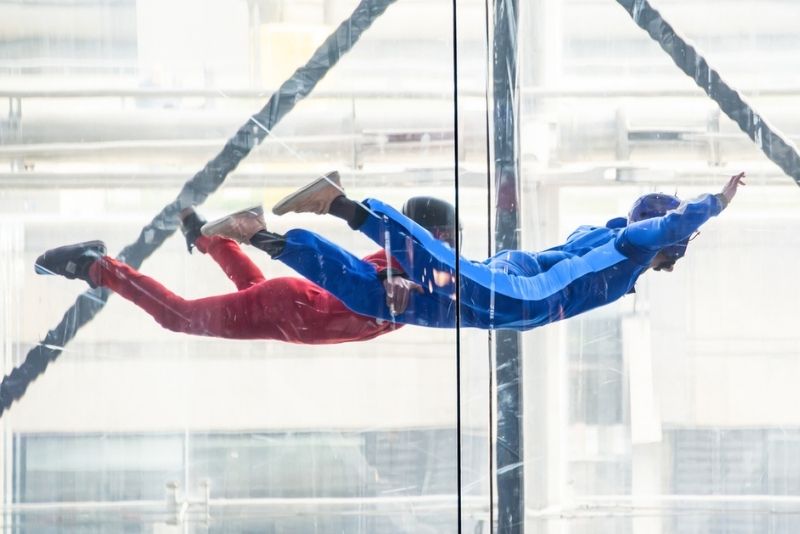 Ever wanted to jump out of a plane but didn't quite know whether you'd have the courage to do so? Try indoor skydiving first and see how it goes.
You'll get the same thrill but not fear because it's safe. This is the best way to test whether you're ready to do the real thing or if it can be your new favorite hobby.
31 – Feel the serenity of the Japanese Tea Garden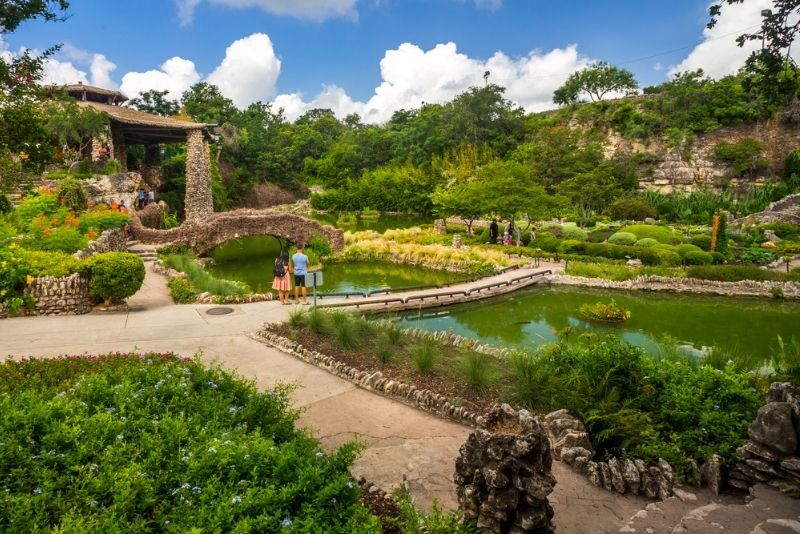 Ever wanted to be in San Antonio one minute and then Tokyo the next?
The San Antonio Japanese Tea Garden is found deep within Brackenridge Park. It was built upon an abandoned limestone rock quarry back in the early 20th century.
It's just as remarkable as it was back then with its stone pavilion, picturesque waterfall and many shaded walkways and bridges.
32 – Connect with the plants at San Antonio Botanical Garden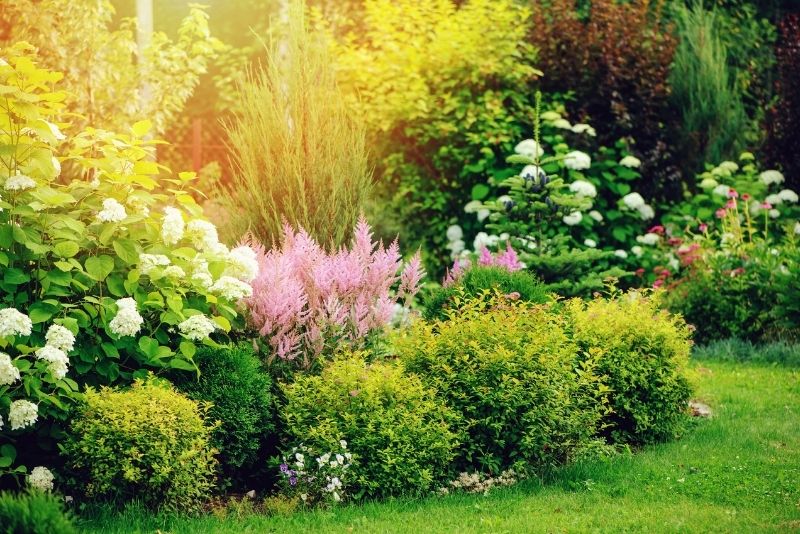 From one garden to the other, you may be starting to understand why San Antonio is committed to environmental conservation.
This 33-acre spot is a non-profit garden and is the official botanical hotspot in the city. There are relaxing escapes, a museum full of plants and even a classroom in which everyone can learn, develop their knowledge and continue to grow.
33 – Dive deep at SEA LIFE San Antonio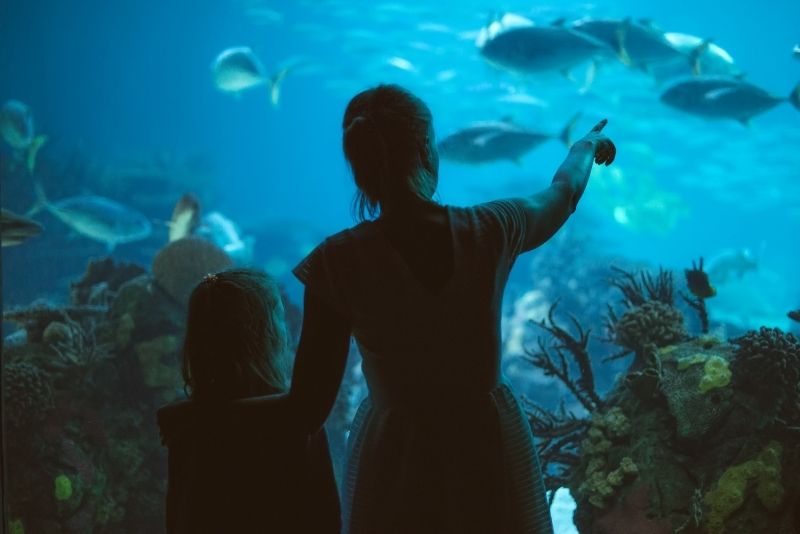 If you are an animal lover, this place should sit high atop any list of things to do in San Antonio.
Whether you are searching for a family-friendly activity or just want to check out the best the city has to offer, SEA LIFE San Antonio is worth the price of admission.
There are exhibits for all the family, including an ocean tunnel, coral reef, stingray tank and play area.
34 – Let off some steam in a rage room with Unchartered Adventures
Do you ever get the urge to just break something? Well, with Unchartered Adventures, you have full permission to go wild in a safe space!
Whether you want to lose yourself in the rage room and smash some objects, splatter paint over every possible surface, including yourself, or even throw an axe or two, this controlled environment empowers you to let off some steam and have fun!
35 – Foresee the future of Texas at Witte Museum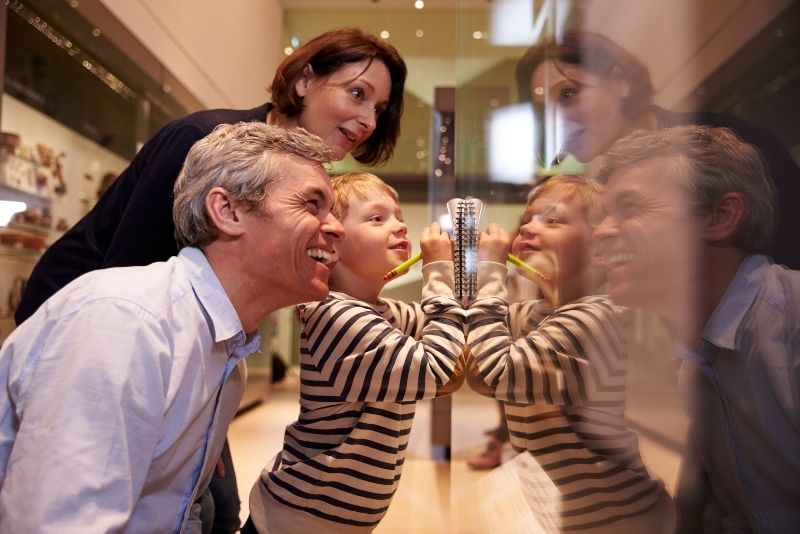 They say it's where science, nature and culture meet, and that sounds like a combination we want to be a part of!
Founded in 1926, the Witte Museum tells the stories of Texas with its vast collections of artifacts, art and heritage. Some exhibitions are prehistoric — as in giant fossils, while others are contemporary reflecting the changing times.
36 – Behold the glory of the San Fernando De Bexar Cathedral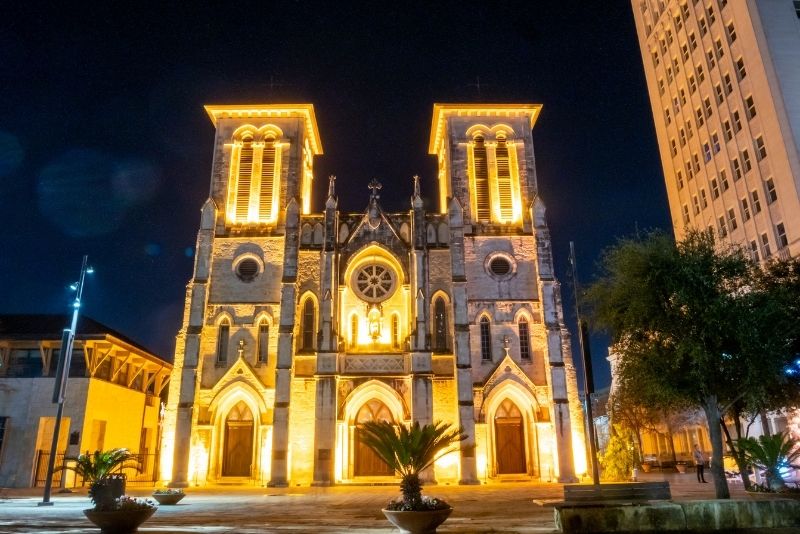 The majestic building known as the Cathedral of Our Lady of Candelaria and Guadalupe is found in downtown San Antonio facing the Main Plaza of the city.
It's a beacon of hope and joy for thousands, it was founded in 1731 and is still being maintained to this day. This is more than a religious community – it's a family.
Oh, and the Sound and Light show is breathtaking.
37 – Consume the past at the Historic Market Square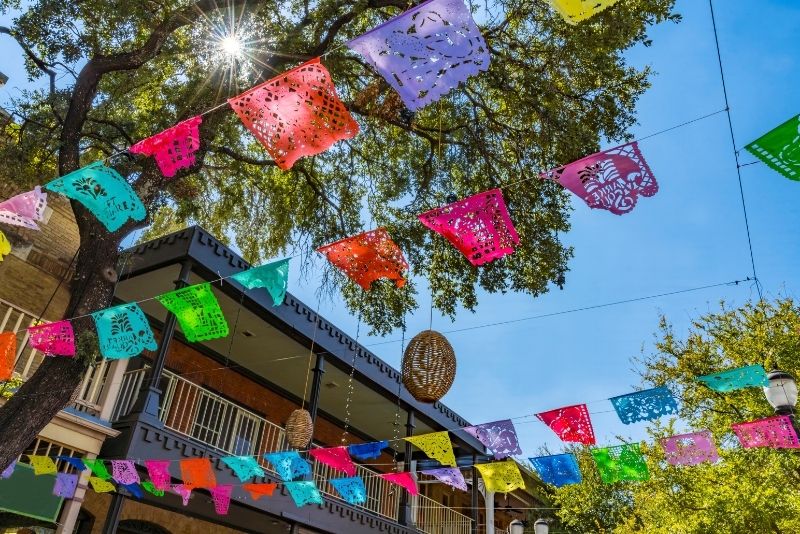 It's time to let loose and let your hair down, guys and girls.
The three-block plaza, known as the Historic Market Square, is the largest Mexican market in the whole of North America. The El Mercado section, in particular, has 32 shops and the Farmer's Market area close to 80.
Pick up the best ingredients and local specialty dishes right here as well as artisan crafts.
38 – Watch in wonder at Magicians Agency Theatre
If you walk a few too many yards in the other direction you'll miss it — but trust us, you shouldn't.
The Magicians Agency Theatre is exactly what you'd expect it to be and so much more. There are award-winning magicians from beginning to end with magical family entertainment that will astound even the most hardened skeptic.
39 – Support a good cause at Natural Bridge Wildlife Ranch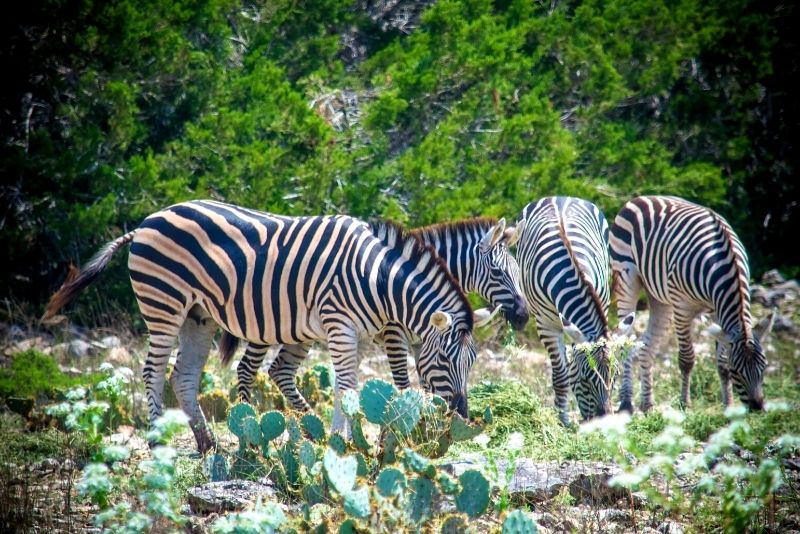 Everyone loves a good family attraction and even more when it's combined with a great wildlife experience.
The Natural Bridge Wildlife Ranch offers an African-style safari experience deep in the heart of Texas. The Ranch is a conservation effort set in 450 acres and is home to over 500 animals from 40 different species, both native and exotic.
It is one of the most fascinating days out to be had in San Antonio.
40 – Get a little lost in The Amazing Mirror Maze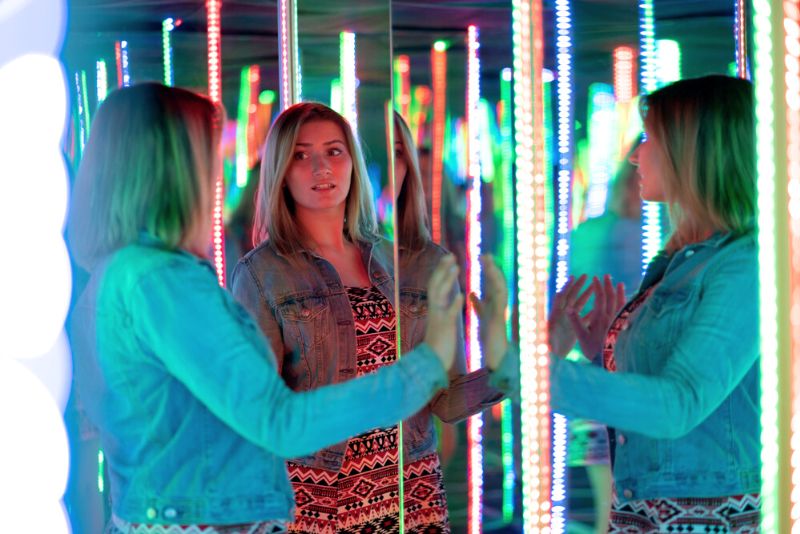 If you suddenly start seeing double – or triple -, don't worry, you haven't had too much to drink… you're in the Amazing Mirror Maze!
Weave your way through labyrinths and unusual rooms, each filled with mirrors that create a series of surreal illusions.
It's a fun and fascinating way to challenge your mind and your senses; every turn offers fresh surprises!
41 – Shop 'til you drop at Pearl Brewery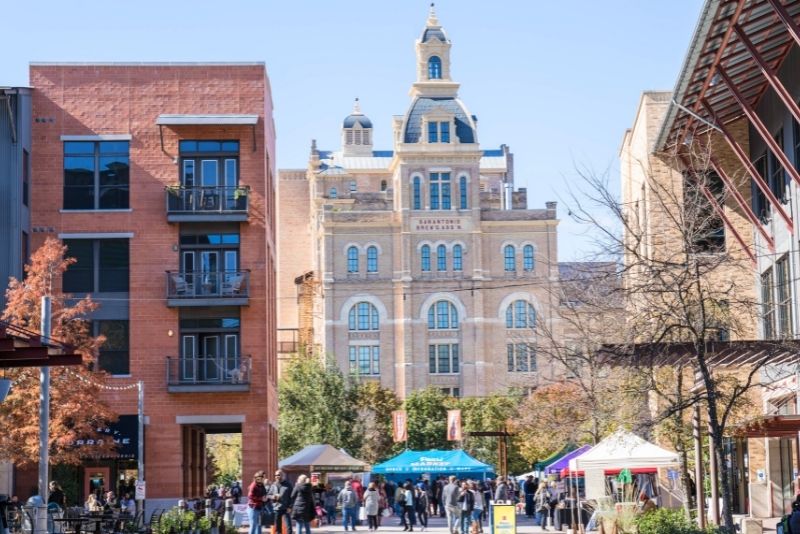 When the going gets tough, just go shopping.
The Pearl Brewery is a unique shopping center that not only gives you the chance to shop until you drop, but also presents an event space, awesome dining options and a farmers' market that will blow your socks off.
Situated in the former Pearl Brewery grounds you will find a diverse range of boutique shops, restaurants and independent bookstores.
42 – Have fun & learn at DoSeum Museum for Kids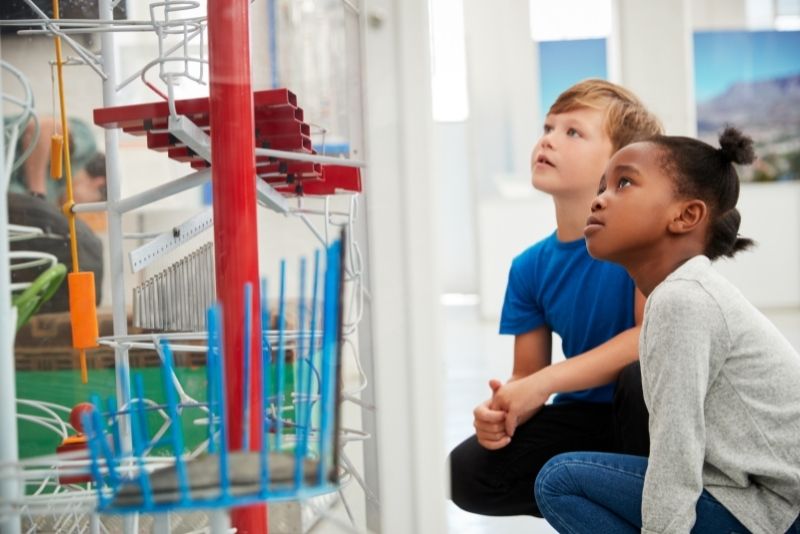 Interactive learning might be the future of education and if there's one place that prides itself on that, it has to be the DoSeum.
This two-story museum promotes and encourages joyful learning through play.
Take your little ones on a journey through a host of multimedia exhibits and programs where they can use all of their senses. Learn, Explore, Create as the museum's motto goes.
43 – Be inspired by the Natural Bridge Caverns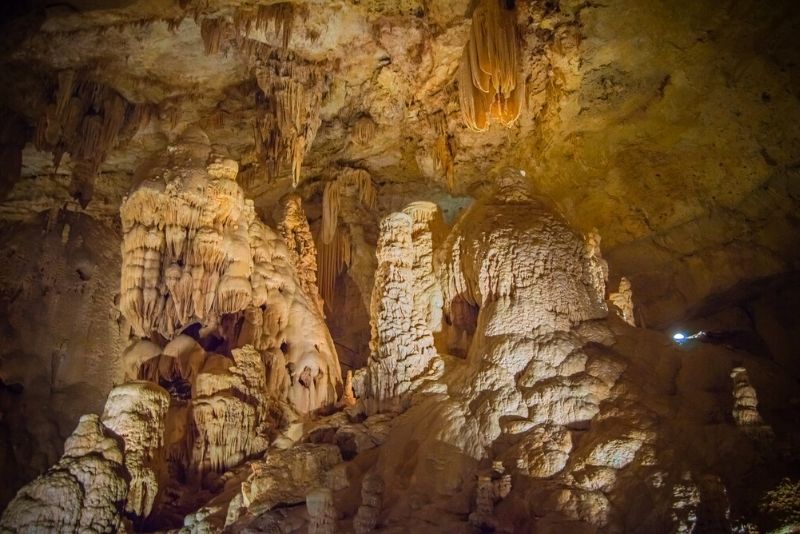 There's something about a cave that really helps you appreciate the glory of nature – and luckily, San Antonio has two!
The Natural Bridge Caverns, which are the largest of their kind in the state, display millions of years of erosion and tectonic shifts, including a remarkable limestone bridge.
And the Cascade Caverns offer a fascinating glimpse into the underground world, with gorgeous rock formations, centuries of regional history, and several distinctive insect and amphibian species.
Grab a headlamp and start exploring!
44 –  Hang out at Morgan's Wonderland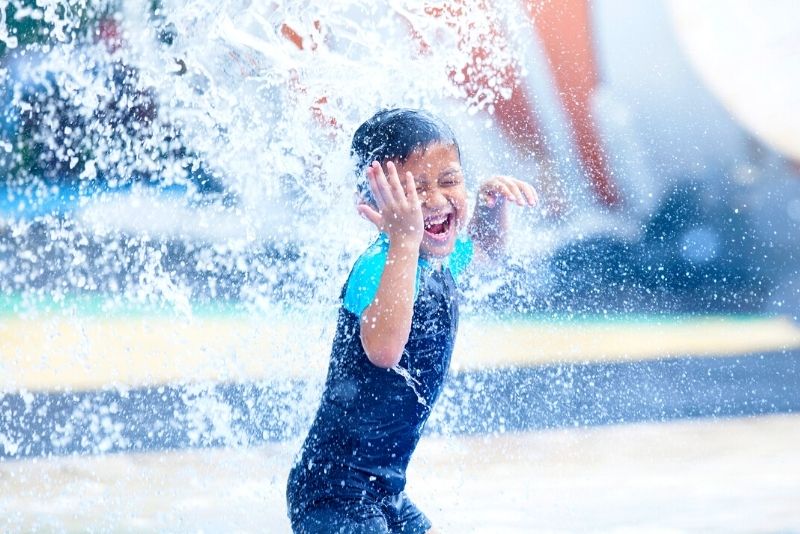 This non-for-profit and totally wheelchair accessible theme park was opened just over a decade ago by a San Antonio homebuilder. His daughter, Morgan, has physical and cognitive challenges and this inspired him to create a park that's inclusive for all.
With more than 25 accessible attractions, puppets and super heroes to hang out with, everyone is sure to have a great day out here.
45 – Compare the great works at McNay Art Museum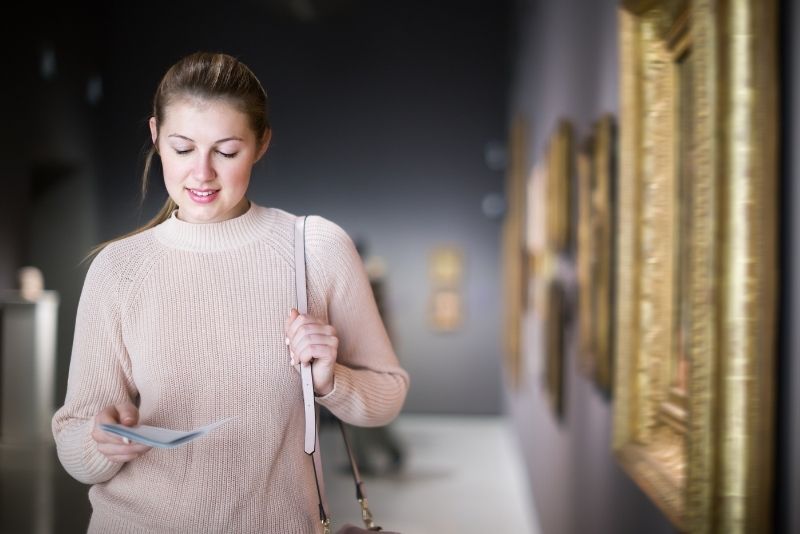 The McNay Art Museum is located in a former mansion which dates back to the 1920s. It is home to 22,000 works of American and European art alike.
The collection includes classical, modern and contemporary art, as well as theatre art and sculpture. See how both worlds can be similar yet different!
46 – Soak in the ambience of a truly Majestic Theatre
We believe everyone should try and stand out amongst the pack — which is precisely why Majestic Theatre is one of our favourite spots in the city.
The Majestic is the oldest and biggest theatre in San Antonio with seating for more than 2,000 people inside its stunning Spanish Mediterranean-style structure. The venue has a year-round program of live theatre, music, comedy and more.
47 – Forget your troubles at Hemisfair Park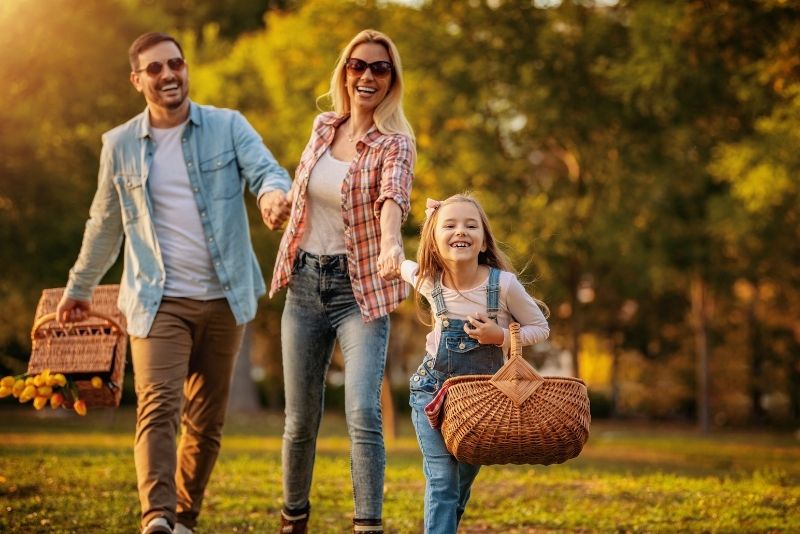 Remember the iconic Tower of the Americas? Well, Hemisfair is where all the magic happens!
Between the Towers, the Institute of Texan Cultures, the playground and the foundations, Hemisfair Park is one of the best places to spend a sunny afternoon within a 50-mile radius.
48 – Search the city in detail with a scavenger hunt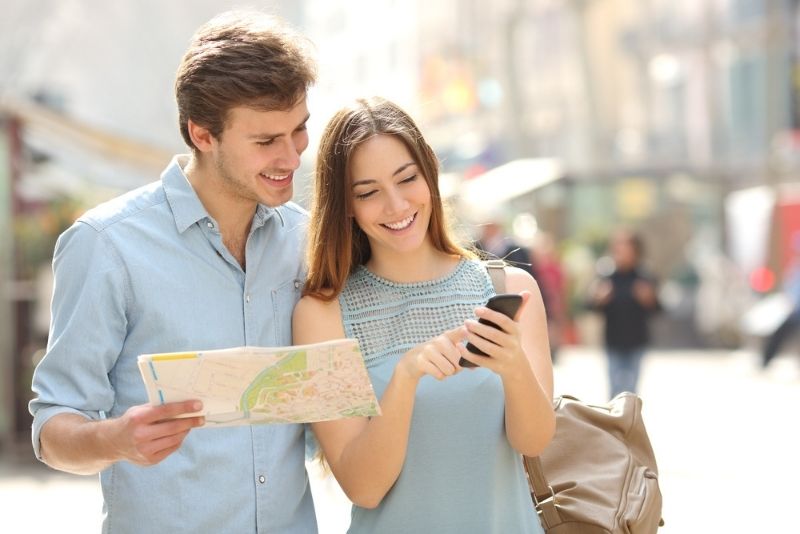 Race against the clock and discover new places and historic spots with a scavenger game.
It's a great way to learn about San Antonio and maybe see things you might usually miss.
Get some exercise and satisfy your competitive streak!
49 – Unwind at Ranger Creek Brewing & Distilling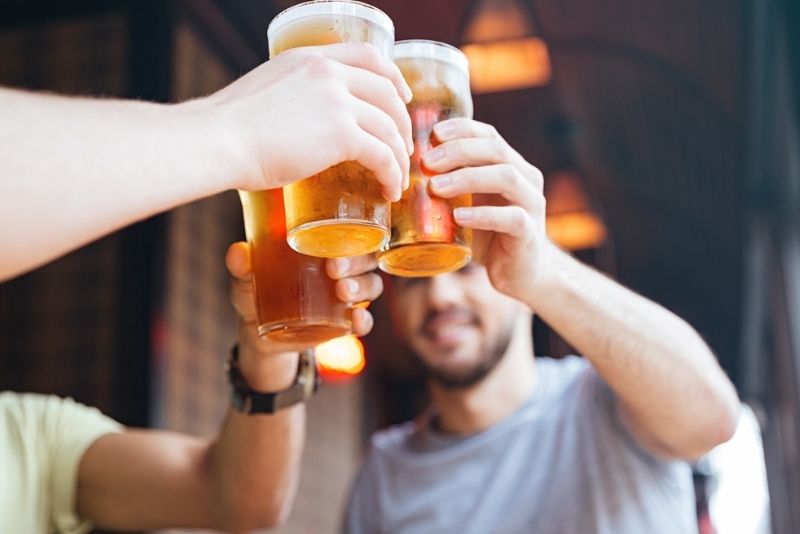 Does anyone fancy a cold one?
The award-winning Ranger Creek Brewing and Distilling building is a fun sight to see even if you're not a big beer drinker. There are tours given over the weekend, craft whiskies and as many microbrews and IPAs as you could hope for.
What's not to love?
50 – Get spooky on the ghost tour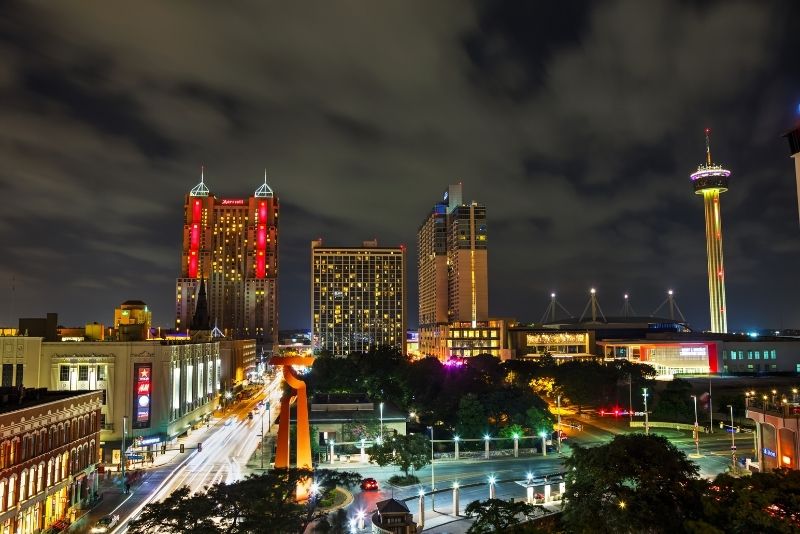 Do you believe in ghosts? The spiritual world remains a mystery to most people, but a ghost tour can be a way to find the answer.
Discover the truth yourself by surveying those old Spanish buildings built in the early 18th century. Experience the paranormal or enjoy scaring yourself even for just a few hours.
51 – Recharge at La Villita Historic Arts Village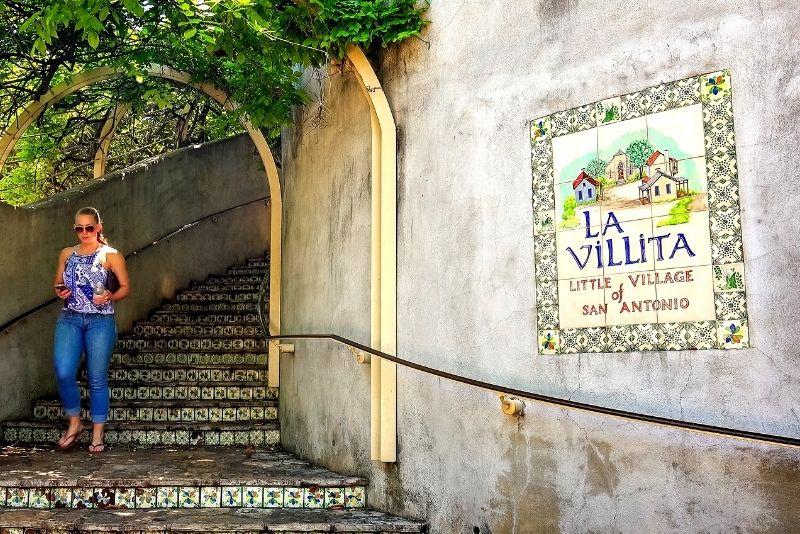 There's so much heritage residing in San Antonio that it's almost impossible to turn a corner without finding something incredible.
That includes La Villita Historic Arts Village, home to a bustling local scene that includes art galleries, shops and like-minded people who aren't afraid to express themselves.
52 – Feed the flames at San Antonio Fire Museum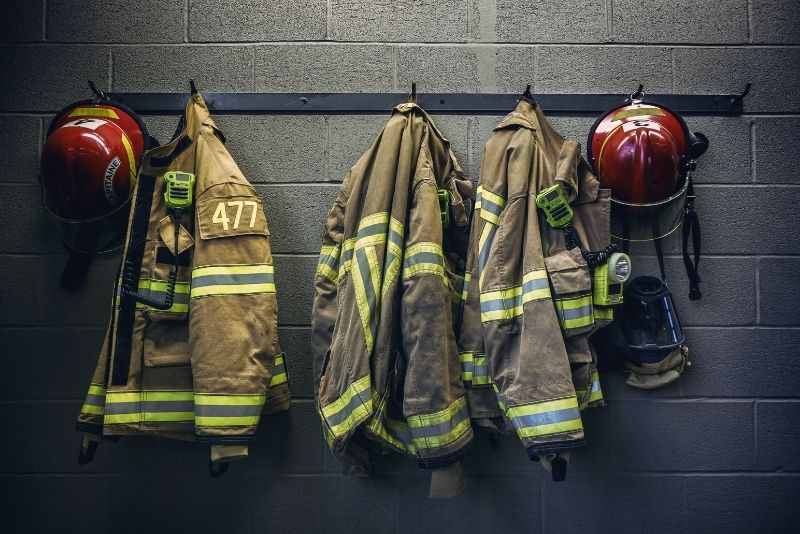 In another "blink and you'll miss it" type of venue, we arrive at the San Antonio Fire Museum.
The museum offers a different perspective on the city's history. It tells the tale of the San Antonio Firefighters from the moment the organisation was conceived right up to the present day.
53 – Be amazed at Ripley's Believe It or Not!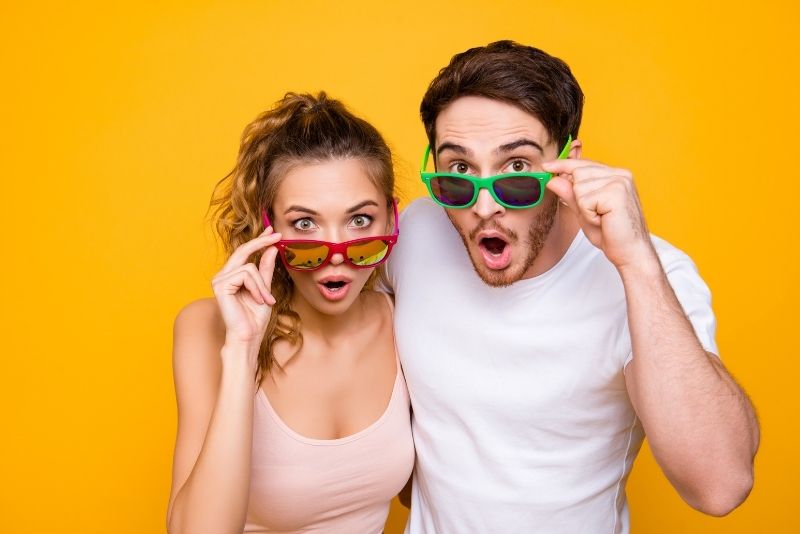 The oddities of this planet are vast and somewhat endless, which is why we need places like Ripley's Believe It or Not!
Located next to the Alamo, this museum of weird-but-real artifacts also has fun interactives. You can also meet personally in life size wax figures of some 200 famous celebrities at Louis Tussaud's Waxworks.
54 – Treat yourself at the Guenther House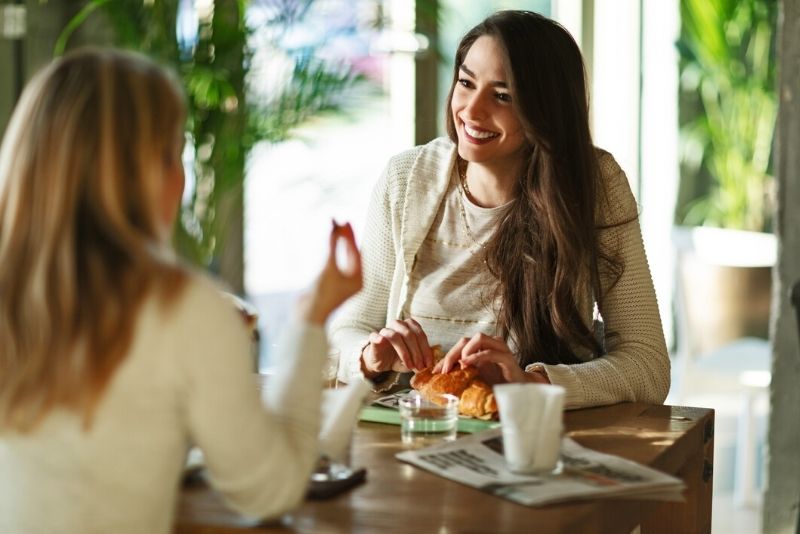 Tex-Mex brunch, outdoor dining, American delights — there isn't much the Guenther House doesn't have.
It was built in the 1800s by Carl Guenther, the owner of the largest mill in San Antonio at the time. Known for its extraordinary woodwork inside, the house is now a museum of milling history and a restaurant.
The family has grown over the years, but it has kept its  traditions, especially the food. Try it when in San Antonio!
55 – Take a peek at a former president's childhood at LBJ Ranch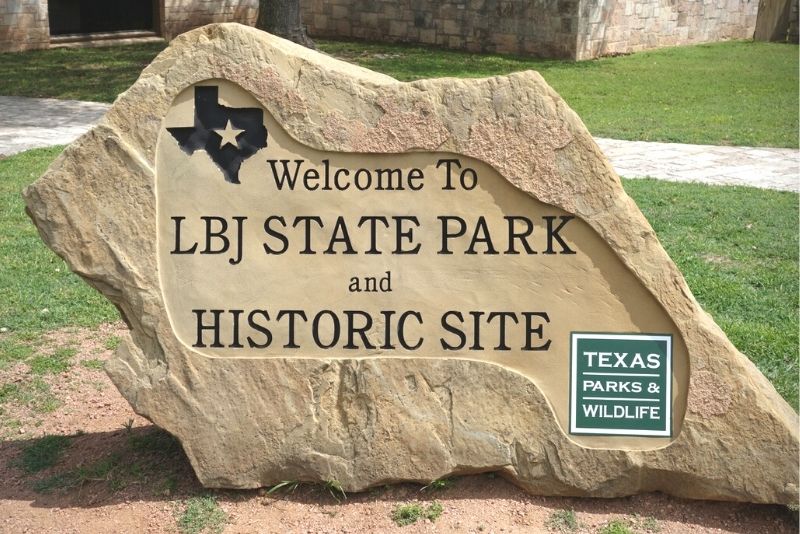 The 36th President of the United States, Lyndon Johnson was the second of the three presidents who were born in Texas. He spent his childhood and most of his time until his final days at the LBJ Ranch.
A short ride from San Antonio, the ranch is worth a visit. Learn how a president's childhood can be not much different from yours. You can also go around the Texas Hill Country and see the landscape of the cowboys.
56 – Warm up at Brackenridge Park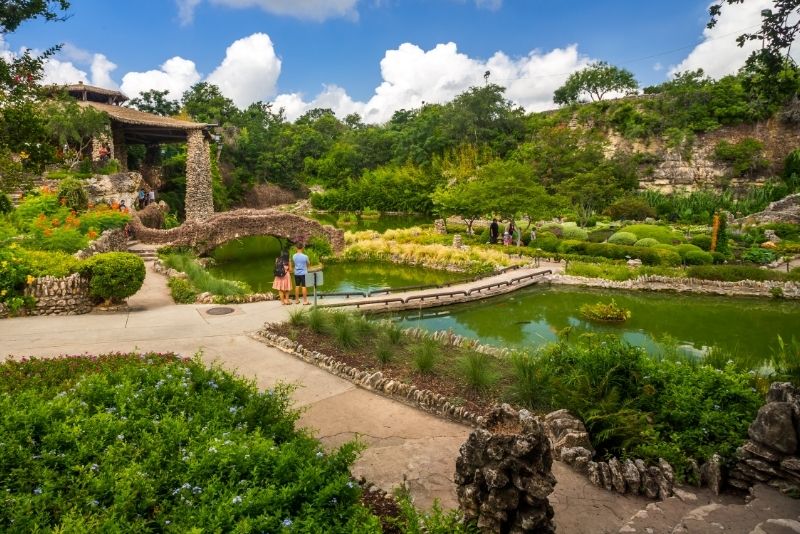 If you want to see many attractions in a day, start at this 343-acre park at the headwaters of the San Antonio River. Known as paradise for birdwatching, it's also a place to spend time outdoors whether by hiking, running, cycling, flying a kite or having a picnic.
Make sure to visit the historical sites and artifacts showing proof of humans living in the area as far back as 11,000 years.
Did we mention it's a Texas State Antiquities Landmark?
57 – Get creative at LEGOLAND® Discovery Center San Antonio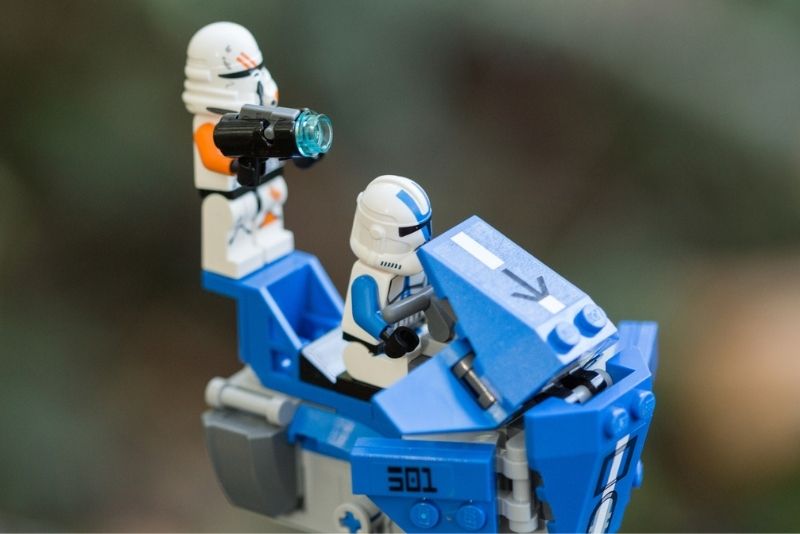 Everyone likes to say that a Legoland attraction of any kind is for the kids, but let's face it — we all love piecing together some Lego from time to time.
The Legoland Discovery Center has play zones, multiple activities and even two rides for those who want to get "extreme."
58 – "Pasa el tiempo" at the Spanish Governor's Palace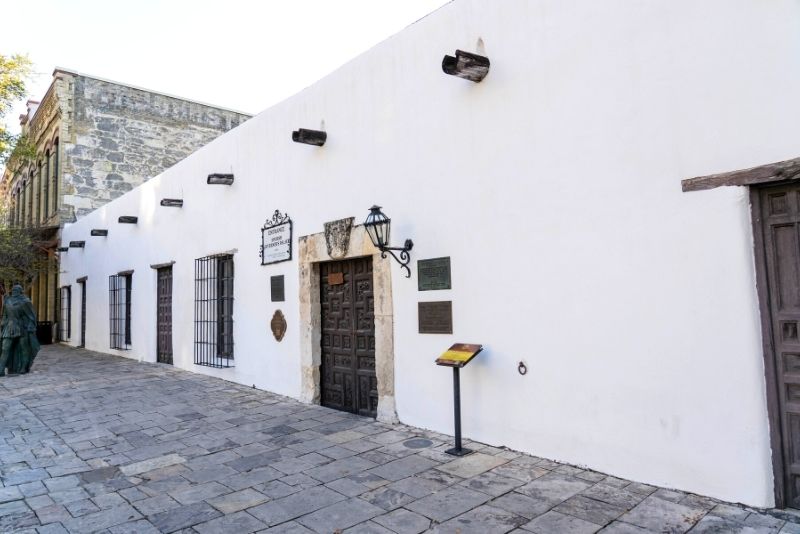 The Spanish Texas period was an important part of San Antonio's early history and its influence is soaked into the identity of the city.
The Spanish Governor's Palace serves as one of the last traces of the 18th century Presidio San Antonio de Bexar complex, from back in the days when Spanish Colonial residences were common here.
59 – Y'all won't wanna miss Bandera: Cowboy Capital of the World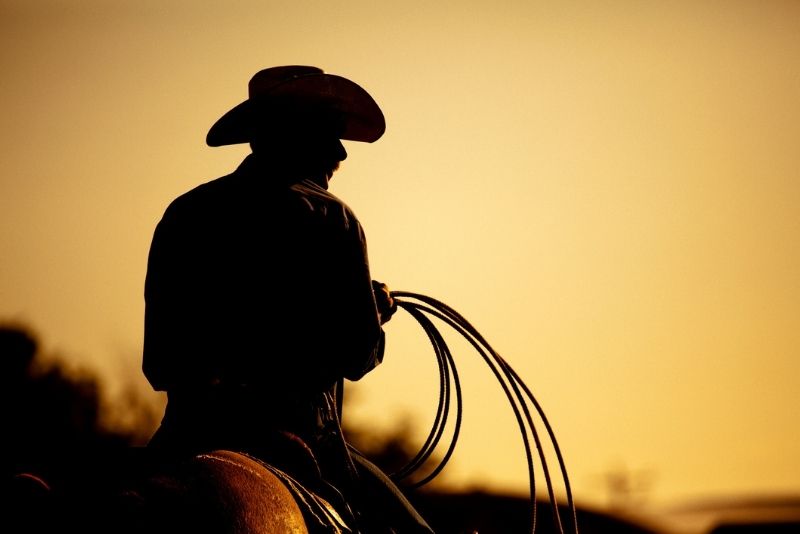 When you think of Texas, it's almost impossible not to think of cowboys.
This is a place where the cowboy way of life is still very much alive — and Bandera is the Cowboy Capital of the World we didn't even know we needed.
There are attractions, events, restaurants and even lodging options. Bandera is a must see for a true slice of authentic cowboy culture.
60 – Drop by the Buckhorn Saloon & Museum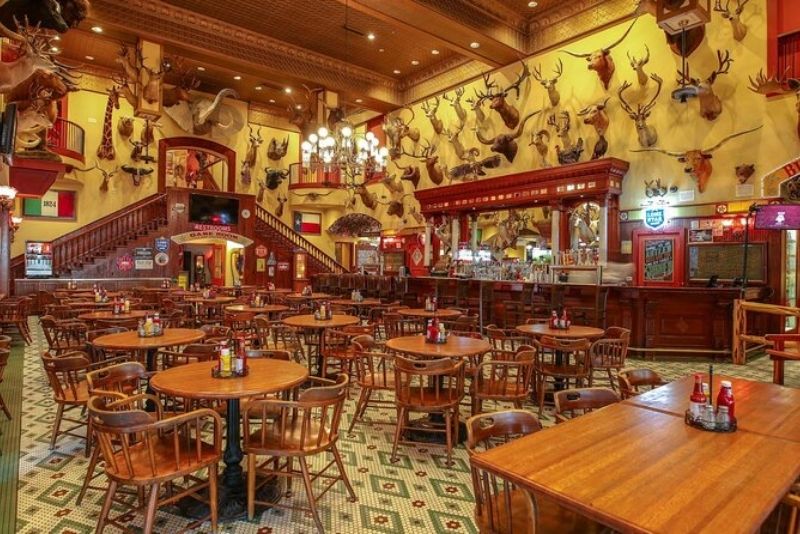 San Antonio's oldest saloon, the Buckhorn first opened its doors to travelers in 1881. Later, it added a museum that showcases one of the world's biggest collections of antlers and horns.
Make sure to drop by the gift shop where you can find cowboy hats, Bowie knives and other old West-themed items you can add to your own collection.
61 – Bring your best clubs for golfing in San Antonio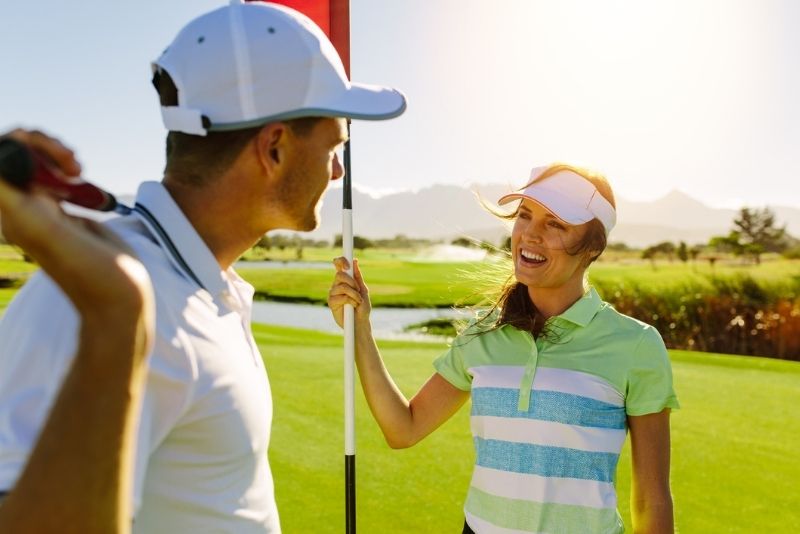 There are few things in life that can't be fixed by a round of golf.
San Antonio is becoming increasingly popular within Texas for its great golf courses. These include Willow Springs, La Cantera Resort, The Quarry, River Crossing, Landa Park, Alsatan and more.
With all of these to choose from, you'll never be far away from a good round.
62 – Pay your respects at Quadrangle Fort Sam Houston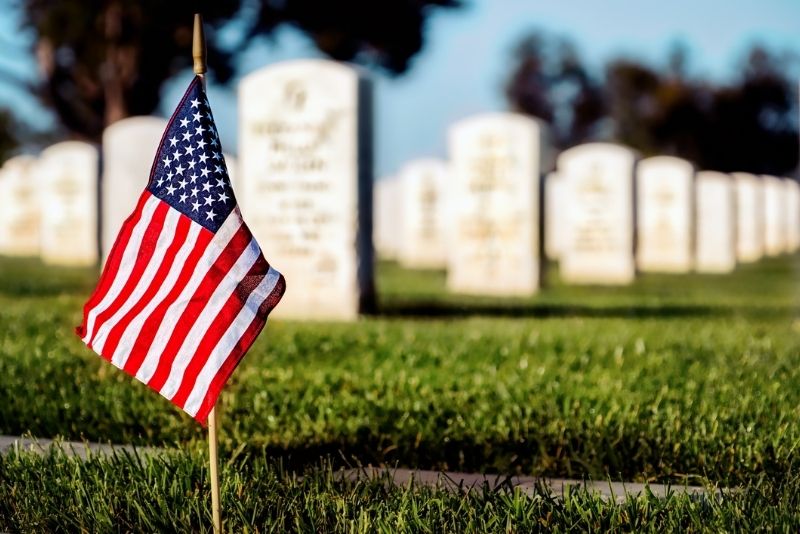 This peaceful park is one of the oldest active army posts in the United States. It has a military museum, a historic clock tower and a war hero memorial, as well as a free roaming deer and peacocks to feed.
This makes it an all-around fantastic location for some special tributes.
63 – Step up your game with a segway tour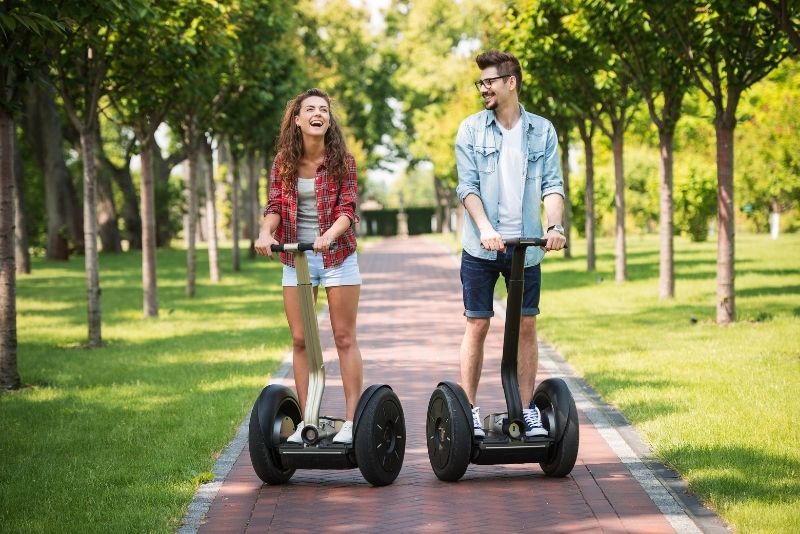 See more of San Antonio by foot — essentially but technically with a bit of upgrade.
Make riding a segway your second nature, as you explore the city with maximized energy. It's not only convenient, but also fun! Don't worry about your balancing skills, just relax and be confident.
64 – Take a deeper look at UTSA Institute of Texan Cultures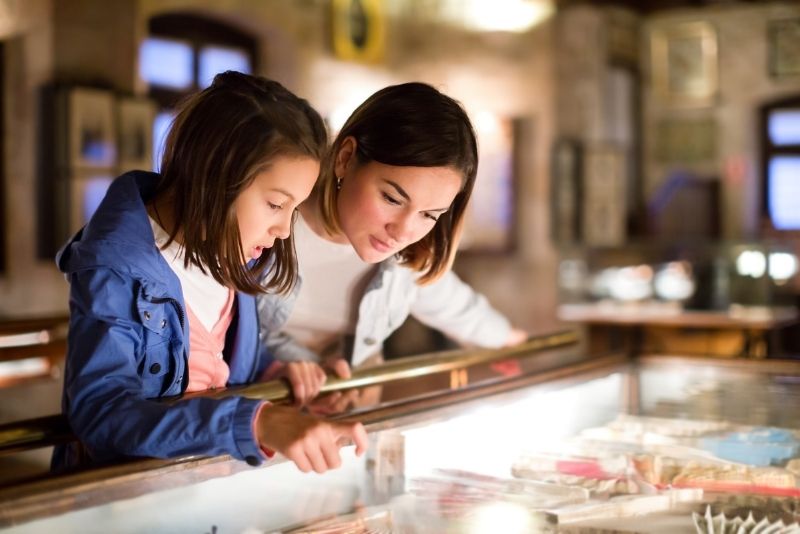 If you fancy diving headfirst into local history during your time in San Antonio, look no further than the UTSA Institute of Texan Cultures. Learn what influences, ideas and cultures have shaped the city and its people, and what makes San Antonio so unique.
As part of the University of Texas at San Antonio, the institute marks a great overlap between the museum and library that makes for quite the downtown experience.
65 – Cycle through Confluence Park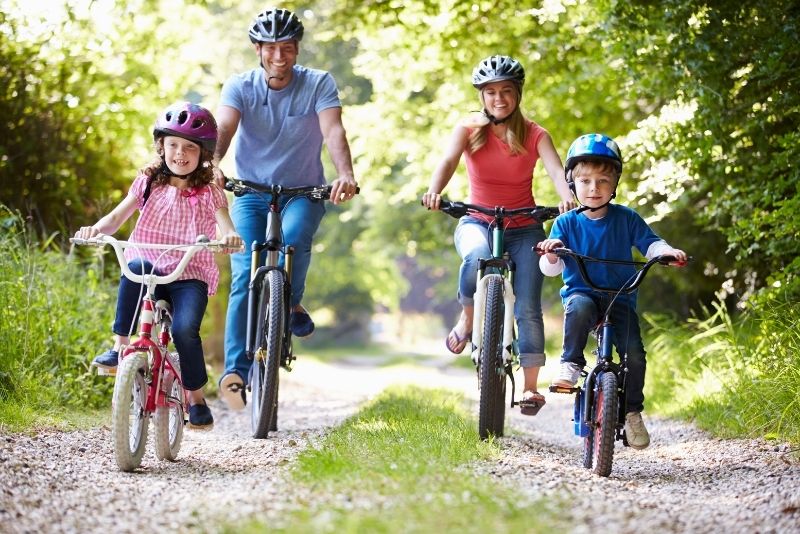 Confluence Park is located near the San Antonio Missions and is a favorite local hangout.
It has intriguing structures, plants native to the dry Texas climate and an innovative ecological design with a water catchment system that spans the entire area of the park. There are bike paths, walking routes, spaces to kayak and a whole lot of space to explore.
The park is a great place to reflect, meet up with friends and get some fresh air — right in the heart of the city.
66 – See the view from the iconic Hays Street Bridge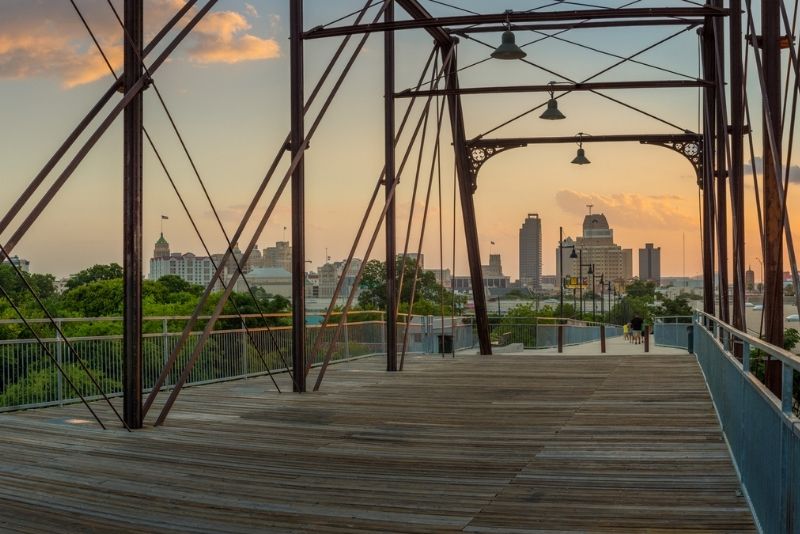 A city view combined with an iconic piece of San Antonio architecture? Sign us up!
Hays Street Bridge was formerly part of the railroad structure in the city. Now, it's open to pedestrian traffic with thousands of locals and tourists alike walking across it every single day.
It's a great place for a stroll and to take in the view of the San Antonio skyline, especially around sunset.
67 – Get some retail therapy at North Star Mall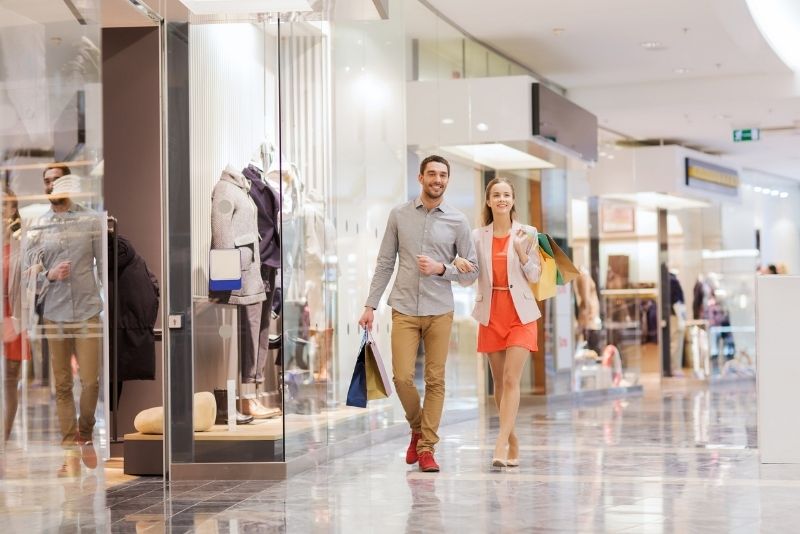 North Star Mall is a few miles outside of downtown San Antonio but it's definitely worth a visit if you're in the mood to shop. It's filled with luxurious and well-known brands, such as Macy's, Saks Fifth Avenue, Forever 21, VANS and Oakley to name a few.
If shopping is not your thing, there are restaurants, snack bars and coffee shops to try.
68 – Watch a show at Aztec Theatre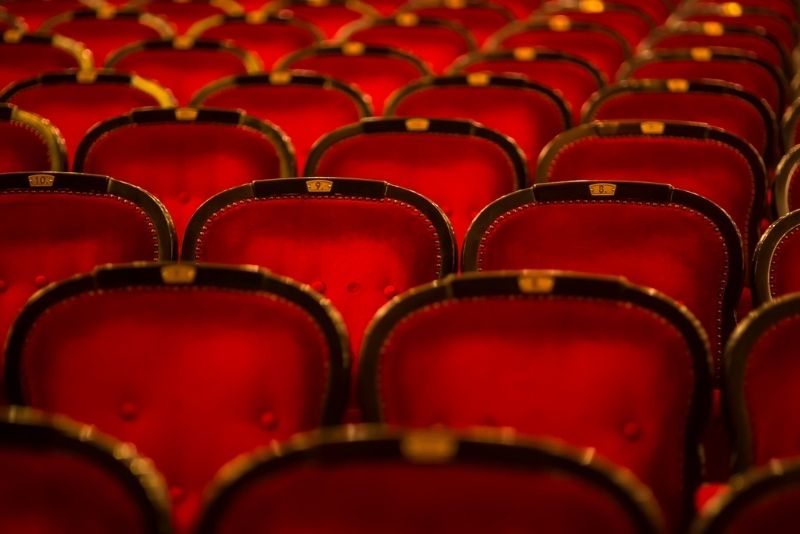 More than just a theater, the Aztec regularly hosts concerts, musical plays and talks with celebrities.
The building itself is an impressive Meso-American architectural design and was built in the 1920s. It's one of the best preserved and most decorative entertainment venues in the country.
It's an absolute must-see on your visit to San Antonio!
69 – Face your fears at Monster Mini Golf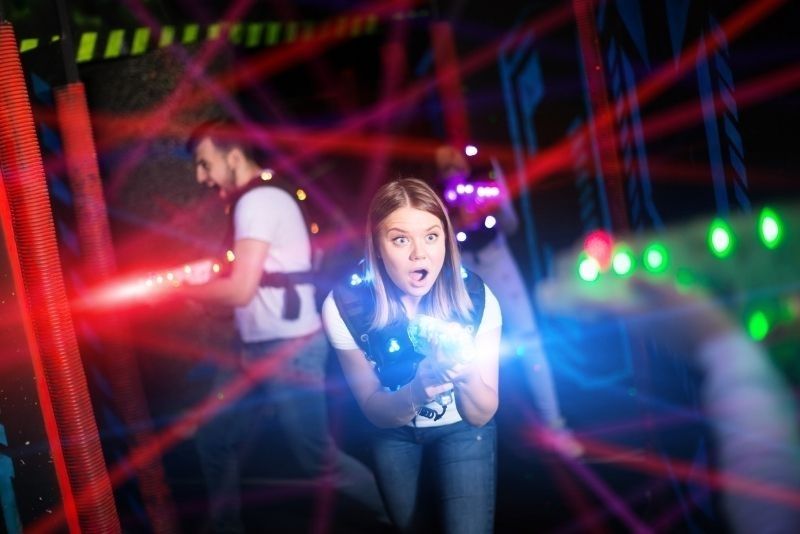 With spooky themed glow-in-the-dark mini golf courses, laser tag, arcade games and mazes, this fun place couldn't be any more entertaining.
Hone your sporting skills while you fend off monsters, ghouls and ghosts. Great eerie fun you should try!
70 – Take pole position at indoor go kart racing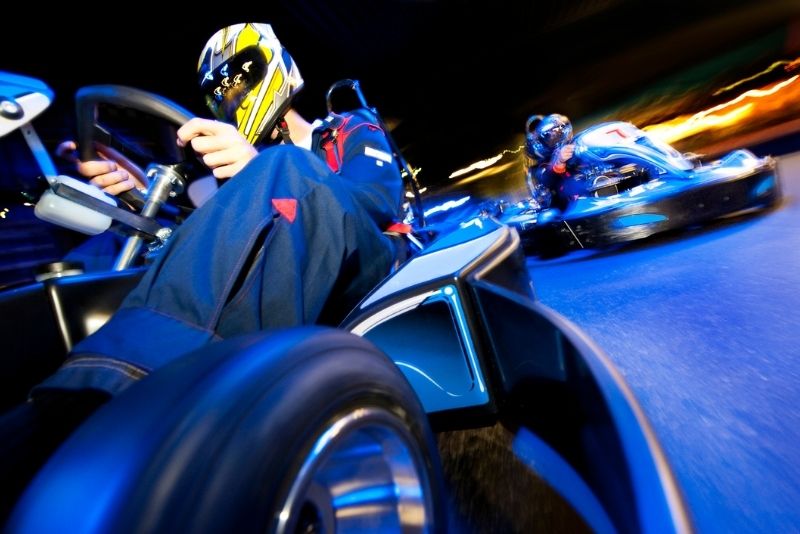 Get an adrenaline rush and race against your friends or family at K1 Speed. Compare your performance with other drivers and try to get the fastest lap.
This indoor race track and arcade center has something for all those who like it fast and loud. It also hosts race events, GPs and night races.
71 – Go fast & furious with supercar driving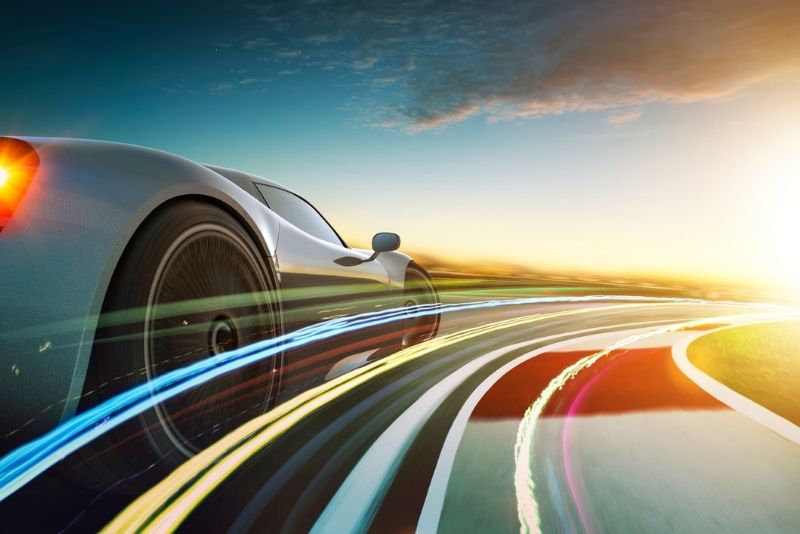 What's that, you ask? Is it possible to drive some of the coolest cars in the world near the streets of San Antonio? Of course, it is!
Xtreme Xperience will take you directly into the soul of what it feels like to be a Nascar driver with its high-speed racetrack experience.
72 – Enjoy tubing in the Guadalupe River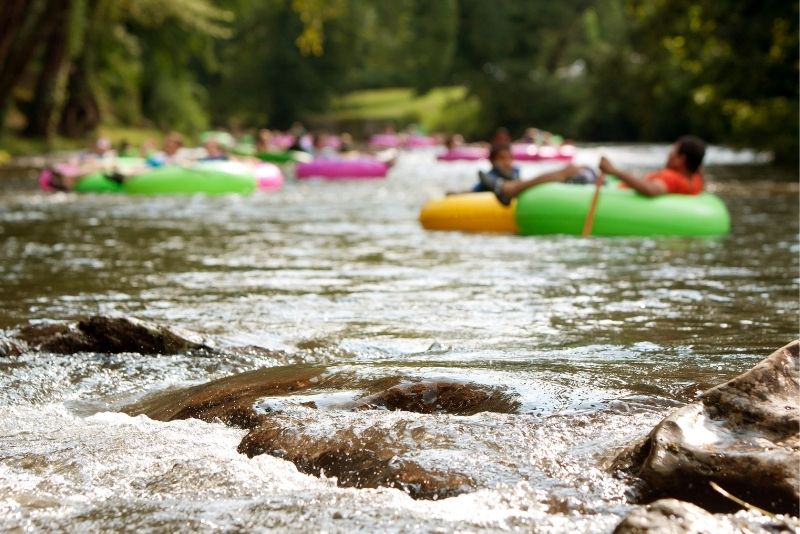 Have fun in the water and go tubing along the Guadalupe River. Marvel at the views of Texas Hill Country while the river carries you.
Water sports have been taking place here since the 1970s and tubing has become particularly popular, as well as canoeing and fishing. Grab a tire and head off on a Guadalupe River adventure!
Rockin R River Rides offers a variety of excellent trips on the water, as well as delicious food and beverages for purchase at the end of the journey.
Or head over to Tube Haus, and launch right into the Horseshoe Loop – one of the most famous float routes in the area!
73 – Knock back a few cold ones at the Liberty Bar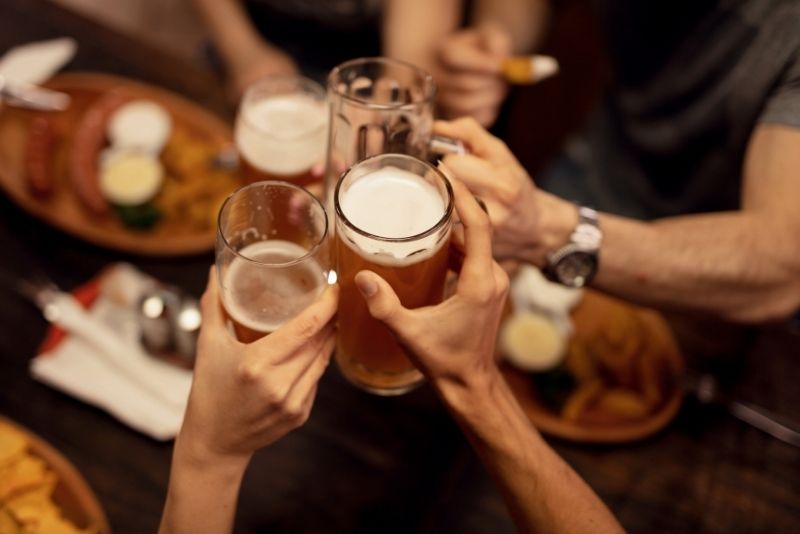 Ladies and gentlemen, welcome to the Liberty Bar.
Smack in the middle of the city, the bar was formerly the historic St. Scholastica Convent built in 1939. It was turned into a theater before becoming the Liberty Bar, a place for homemade meals and drinking.
Are you wondering what it looks like inside this pink building? See with your own eyes and dine and drink — Texas style.
74 – Get your hands dirty at Blue Star Arts Complex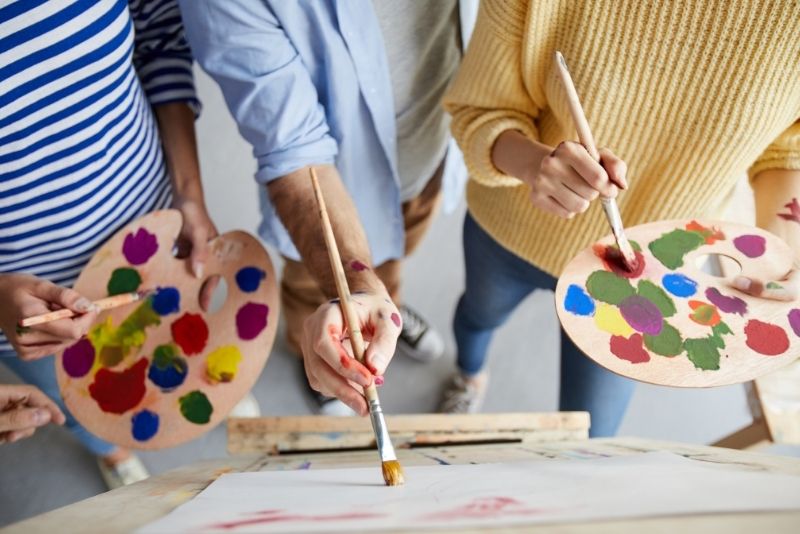 Ignite your creativity in this multi-purpose space which captures the artistic spirit of the city. It houses art studios, galleries, playhouses and shops where you can take home a piece of Texas folk art.
The complex is close to the San Antonio River front where you can stroll, run or bike along while waiting for inspiration.
75 – Get loud at Fiesta San Antonio
Party with the locals as they honor their heroes and celebrate the city's rich history and culture — for days — in their annual festival.
Fiesta San Antonio began with a parade in 1891 organized by women, who called it the Battle of the Flowers to commemorate those who fought for the Alamo and the Battle of San Jacinto.
Ever since, millions of people have joined the parade and other events during the festival. Mark it on your calendar!
The city has something for everyone whether you're looking for thrills and adventure, nature and the great outdoors, or a steadier pace to take in the culture and history.
How to get to San Antonio?
With a transfer from San Antonio Airport, you can ensure that your trip into the city will be safe, easy, and fun – and save your energy for figuring out what wonderful thing to do next!
Whether you choose a shuttle or a private car, you can be sure of professional service and a smooth trip to your hotel; and when you're (sadly) leaving for home, you can even book another transfer back to the airport!
Where to stay in San Antonio?
True to its name, Home2 Suites By Hilton San Antonio at the Rim creates a welcoming atmosphere in every way, from its relaxing lounge to its charming swimming pool.
And Hyatt Regency San Antonio Riverwalk puts you in the thick of the action, with panoramic views of the skyline, and the Alamo just outside the door; but with its excellent restaurant and relaxing bar, there's plenty to offer inside as well.
Hotel Gibbs Downtown Riverwalk is another convenient location, putting you within walking distance of everything from the IMAX Theater to the Rivercenter Mall.
You can also enjoy the full city experience at Menger Hotel, with a perfect pool for doing laps, a business center for taking care of last-minute tasks, and all of the amenities of the Riverwalk neighborhood waiting outside.
And at La Quinta by Wyndham San Antonio Medical Center, you can enjoy a respite from the hustle and bustle while swimming or unwinding in the hot tub – but luckily, the city's best attractions are just a short drive away!
Visiting San Antonio on a budget?
If you want to see it all without spending it all, there are some great combo passes available!
The Super Pass combines transit and sightseeing options for an unforgettable vacation; embark on a river cruise, enjoy the Hop-On, Hop-Off bus, and check out IMAX shows, museums, and more.
Or try the Explorer Pass, which provides access to up to five attractions – from amusement parks to caverns to presidential residences – all combined in one convenient ticket.
Where to go next?
You can explore political sites, great music, and the famously weird shops and atmosphere of Austin, or soak up the food scene, funky folk art exhibits, and awesome space history of Houston.
Corpus Christi offers a classic beach vacation with Texas flair, from its gorgeous islands to its fascinating military past; and Galveston, another beloved seaside spot, offers diverse options ranging from amusement parks and birdwatching to museums and boating.
And of course, Dallas has a character all its own, with fascinating historical spots and high-adrenaline activities like skydiving to avant-garde art exhibits.
Don't know where to start? Check out our bucket list of fun things to do in Texas.
Final thoughts
At first glance, this lovely city may seem like a slice of Europe, with its riverside paths and top-notch cultural options.
But throw in marvelous artworks, ancient caves, and gorgeous Spanish missions, and you've got a pure Texan experience!
So as you try out all of the wonderful things to do in San Antonio, just remember: there's always more to see!