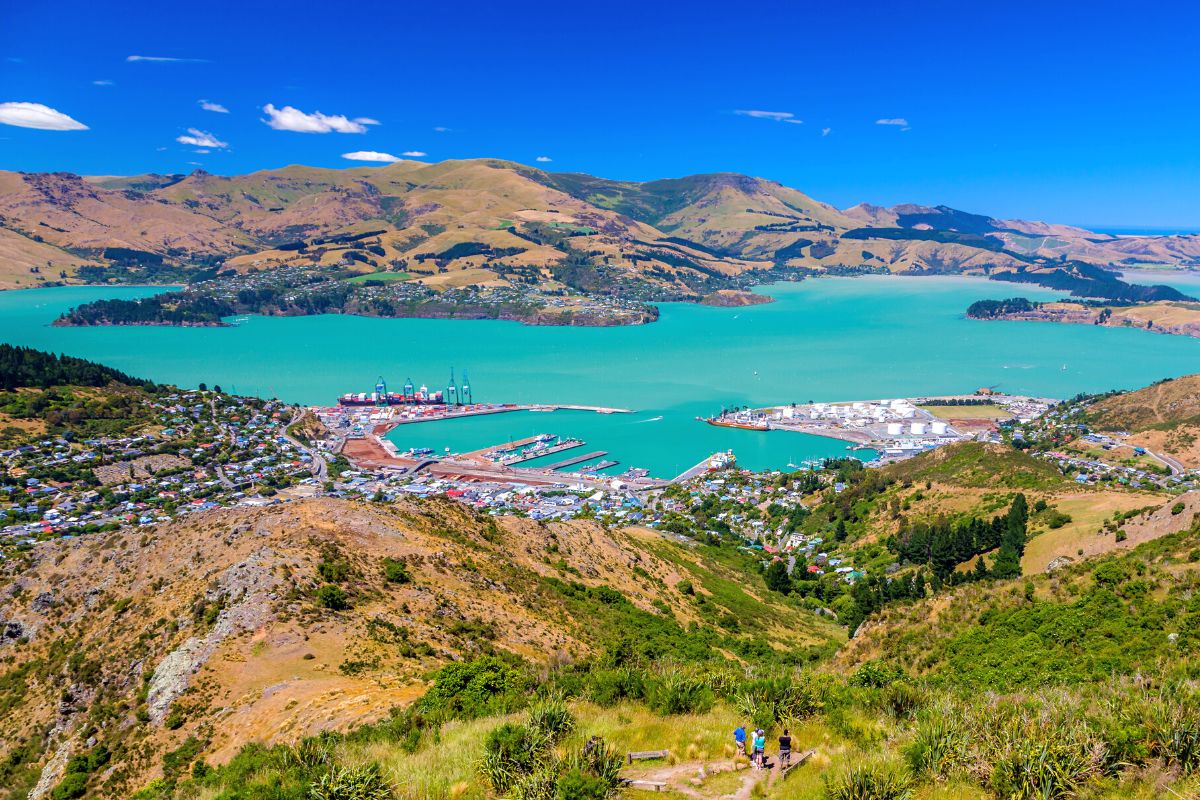 If you think that the South Island's largest city is just a destination for wintertime, when its surrounding Southern Alps' ranges become capped in powder white snow, think again!
Nicknamed the "Garden City" for good reason, there is much more to this New Zealand locale than you could imagine — one day simply isn't enough to see and do all the things in Christchurch!
Don't get things twisted, it's a paradise for any outdoor enthusiast and adventure-loving soul, and Mother Nature has truly blessed this part of the world.
Rejuvenate in hot springs, explore wildlife reserves, hike national parks and hunt down the best waves along its coastlines.
Roam through valleys, mountaineer summits where glaciers greet you, go tramping and camp under twinkling stars, and in season, skiing and snow activities become top priorities for travelers.
The Avon River flows through the heart of Christchurch with landmarks, monuments, memorials, eateries, rooftop bars and gardens on either side of its riverbanks, and the city becomes a fury of color when the flowers come out to play in spring or the rose bushes bud tenfold in November.
Scope heritage buildings dating to the 18th century, marvel at antiqued structures like the town clock, tour galleries and visit museums, and shop for all sorts of treats and goodies at the local markets.
Ringers; lest we forget about outlandish Lord of the Ring tours to Edoras, or if you're not much of a fan, embark on another inspiring day trip instead, for example, the French-influenced town of Akaroa.
Discover all these amazing things to do in Christchurch and soak it all up!
1 – Drink in the vistas from the Christchurch Gondola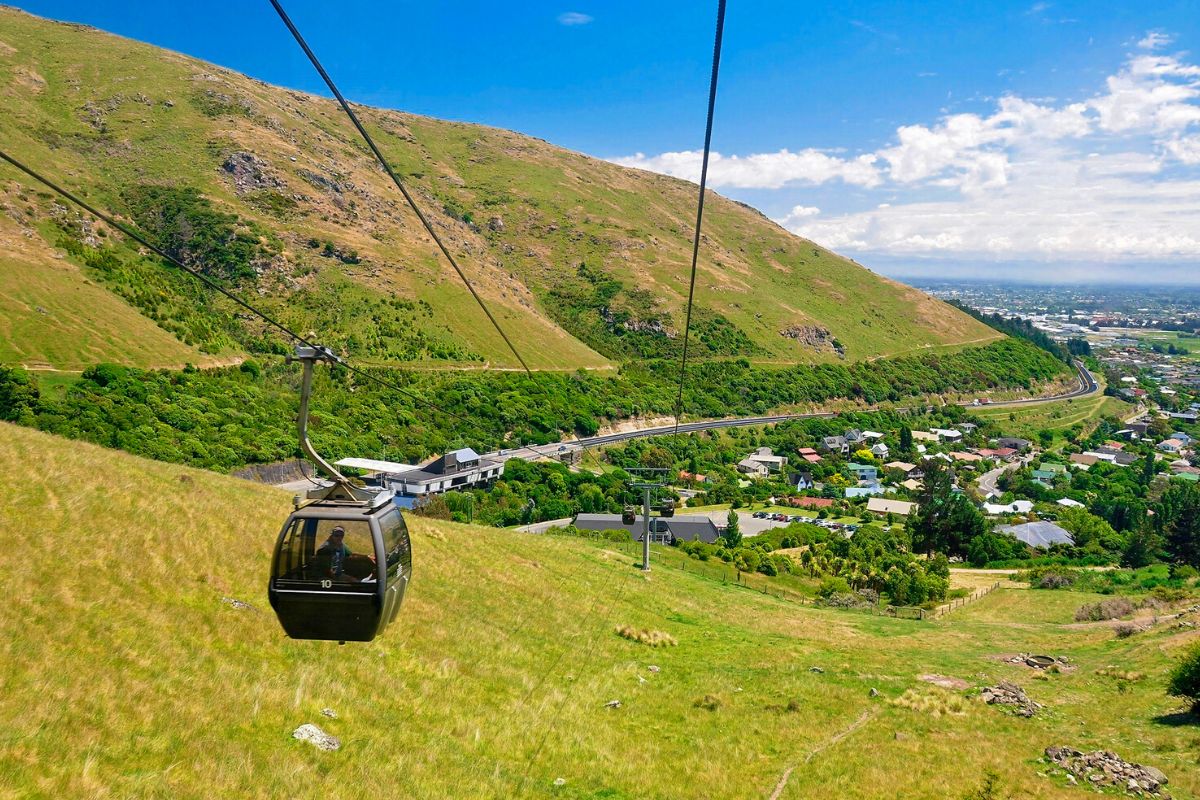 Gliding over wild grassy hills with an ever-backdrop of blue stretching out in front — or behind — the Christchurch Gondola is a fabulous way to kick things off when you arrive in the South Island city, sweeping in your surroundings in one go.
Boasting unending views for visitors along the 862-meter-long cable car ride, the action begins in Heathcote Valley at the Base Station where you'll board your four-seater gondola to the top of Mount Cavendish.
Arriving at the Summit Station, warm up with a coffee or glass of red from the Red Rock Cafe, or there are multiple trails to embark on from the summit to warm your bodies naturally. Some examples include the Cavendish Bluff Lookout trail, Bridal Path and the Crater Rim Trail.
The Christchurch Discovery Ride is also situated at the Summit Station and steps back in time, moving through the city's history via displays and exhibits.
Along your 10-minute journey to the top, snap unique-angled shots of Lyttelton Harbour, Southern Alps, Canterbury Plains and Pegasus Bay.
One to two hours is a good amount of time for this activity, but if you're keen on adding a trek to the mix, a couple more hours would be suitable.
2 – Sightsee on old-school hop on hop off tram tours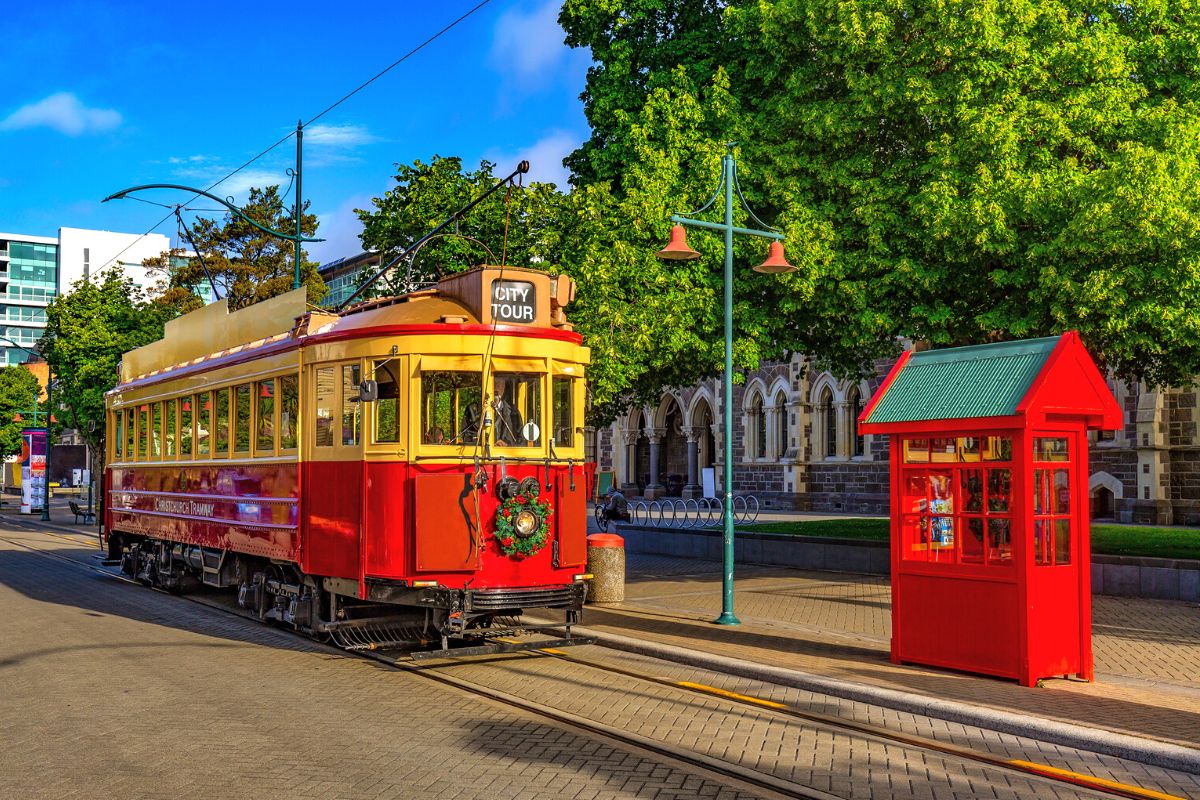 Forget about tour buses, one of the most authentic experiences to enjoy in the city is hop-on hop-off tram tours, running along Christchurch's original tramway in a vintage cart!
Plus, it's a two-in-one convenient deal as you get to a) sightsee the city at your own leisurely pace whilst gaining insider knowledge along the way, and b) you don't need to worry about organizing transport from place to place!
With 17 designated stops around the city center, travel from one point of interest to the next along an outlined tram route, where you have the freedom to hop off of the tram, do your thing and then hop back on at the same stop or another one allocated around the center.
Starting at Cathedral Junction, the journey makes a full loop back where you began, passing the likes of Cashel Street, High Street, Worcester Street, Rolleston Avenue, Armagh Street and New Regent Street.
Points of interest to explore in these parts include Cathedral Square, Christchurch Botanic Gardens, Canterbury Museum, the Avon River, Victoria Square, SALT District, the Arts Centre and plenty more.
Your local tram driver is there to provide quirky yet insightful information about the landmarks that you drive by, and children under 15 years old can board the hop-on hop-off tram for free.
3 – Spend a few hours at the Christchurch Botanic Gardens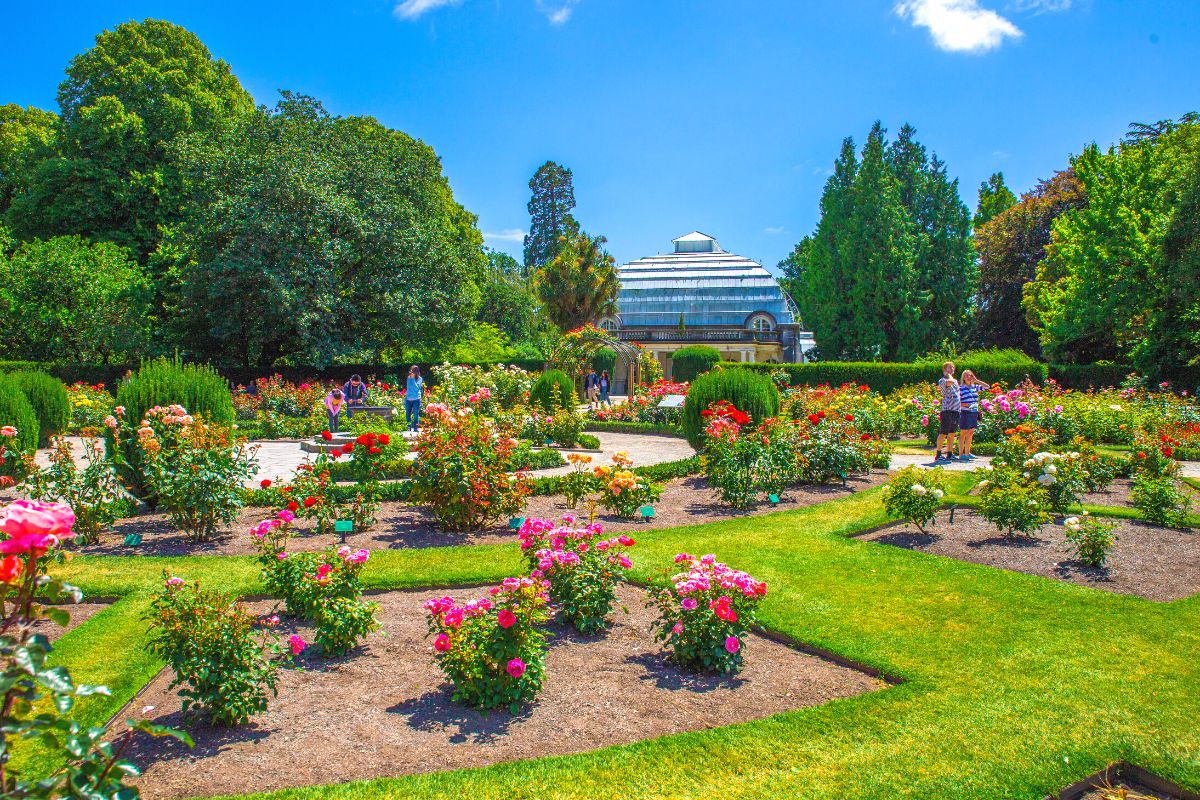 Meander among cherry blossoms in September, stop to smell the roses in November, scope the colorful hydrangeas in March and spot orchids in June at the magnificent Christchurch Botanic Gardens — established in 1863 in a 21-hectare space next to the Avon River.
Ever-changing with the seasons, no matter the month you travel, you'll always discover something new blooming between the themed gardens comprising florals, trees and native species.
With the Azalea and Magnolia Garden, Central Rose Garden, Fragrant Garden, Herb Garden, New Zealand Gardens, Heritage Rose Garden, Water Garden, Curator's Garden, Daffodil Woodland, Harman's Grove, Pinetum and the Woodland Garden; there's plenty to discover.
Apart from the outdoor displays, there are six indoor conservatories within Te Māra Huaota o Waipapa (its official Māori name), including Cuningham House (first opening in 1924), Townend House, Garrick House (filled with succulents and cacti), Gilpin House, Fern House and Foweraker House.
Stop by the Botanic Gardens Visitor Centre to uncover the garden's history, or take a tour around the center with its working nursery, herbarium and permanent exhibition. There are more guided tours to join, operated by the gardens such as Friends of the Botanic Gardens tours, Botanic Garden Caterpillar tours and Group Walking tours.
Or explore at your own leisure along the park pathways, passing artworks and historic monuments like the Bandsmen's Memorial Rotunda.
4 – Day trip to French-influenced Akaroa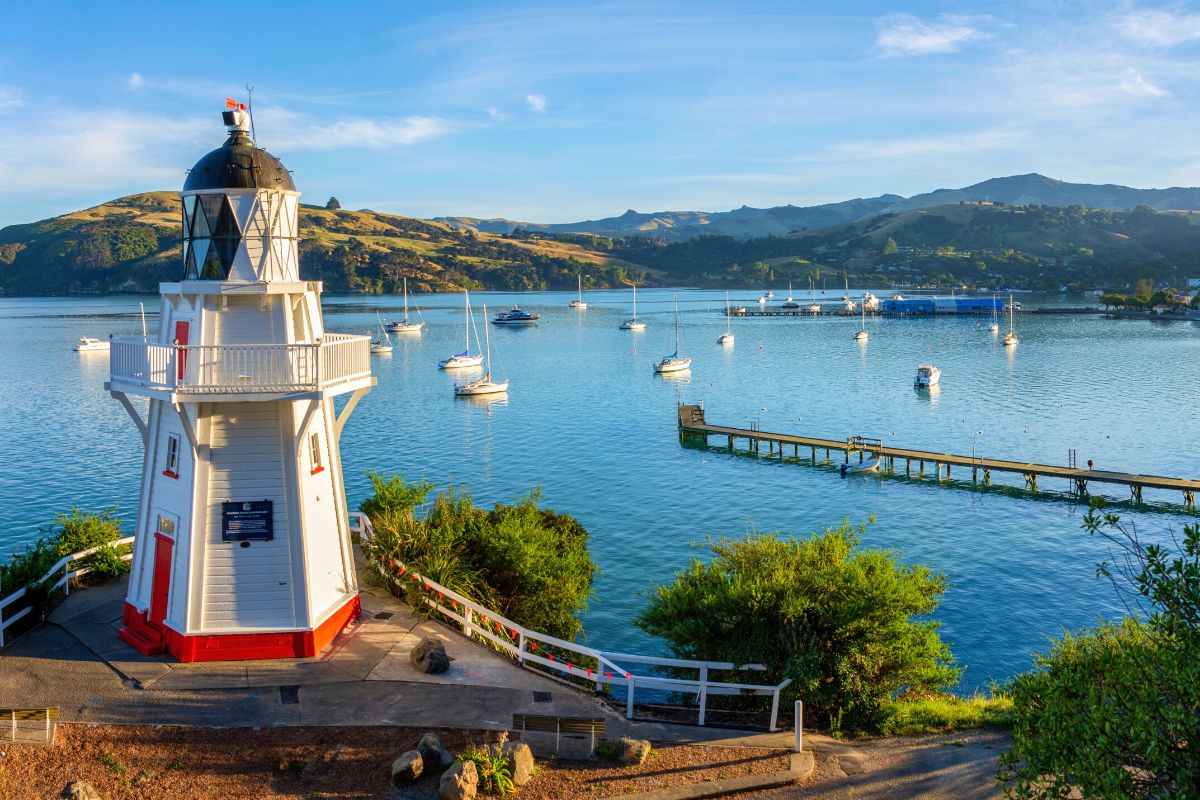 Officially the oldest town in the Canterbury region, it feels as if you're traveling somewhere in the French Alps perhaps … Founded in 1840 by French settlers arriving in New Zealand, it makes sense why once you learn that fact and the hillside town enshrouded by mountains retains its original charm.
Tour vineyards and wineries, enjoy an afternoon of cheese sampling, visit an alpaca farm, spend hours moseying around galleries, drink coffee at cute cafes, fine-dine, understand local history and culture at the Akaroa Museum, and indulge in a round of gin-tasting at a craft distillery.
That's only a touch of the things to do on land … Cycle around the hillsides, embark on a hiking trail, — there are short walks and lengthier multi-day treks around the Banks Peninsula via the Banks Track — go horseriding, tour the Benlea sheep farm and check out the Willowbank Wildlife Reserve.
Water excursions are just as abundant, and many travelers arrive at Akaroa just for this part! Home to the adorable native Little Penguins, drop in at the Pohatu Penguin Colony or go swimming with rare Hector's dolphins (the world's smallest dolphin and native to New Zealand).
Jet ski, SUP, kayak, e-bike safari and snorkel around the southwestern Pacific Ocean in protected zones around Akaroa Harbour. It's a delicious dose of adventure and culture!
5 – Photograph the Christchurch Transitional Cathedral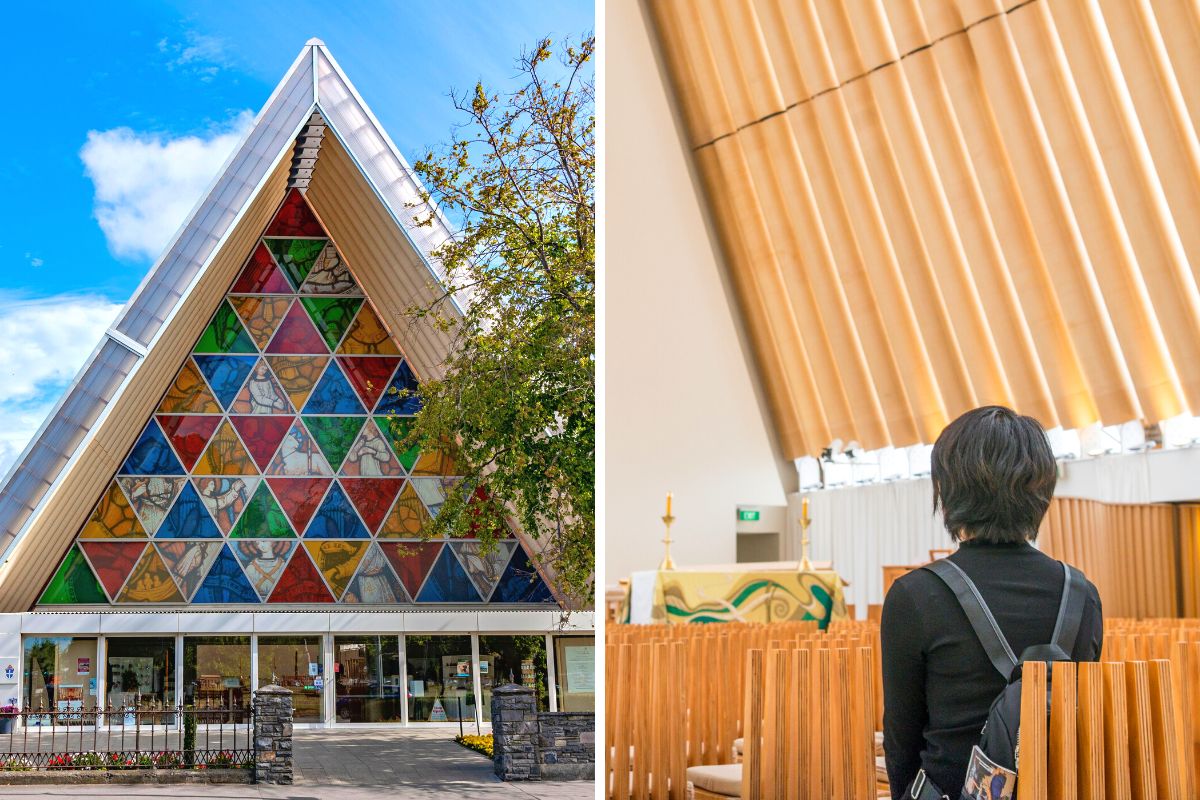 Take everything you know about traditional cathedrals and turn it on its head when visiting the Christchurch Transitional Cathedral — also known as the "cardboard cathedral."
How did a church acquire such an unusual nickname? When the city's main Anglican cathedral was destroyed in the 2011 earthquake, a temporary solution was proposed. Bringing in acclaimed Japanese architect, Shigeru Ban (favored for his innovative and sustainable-friendly design approach), the artist helped to reimagine the provisional space.
The plan was to design a short-term home for the Anglican Cathedral congregation using inexpensive materials and thus, its makeshift cardboard materials were employed. It swiftly became a standout feature of the city, and although its plans never included this one, the prominent building has remained.
Constructed from cardboard, wood, steel and poly-carbonate, one of its standout features is the church facade, decorated in colorful mosaics, known as the Rose Window.
There are short 15-minute guided tours available or join an evening service.
6 – Indulge in wine tours and tastings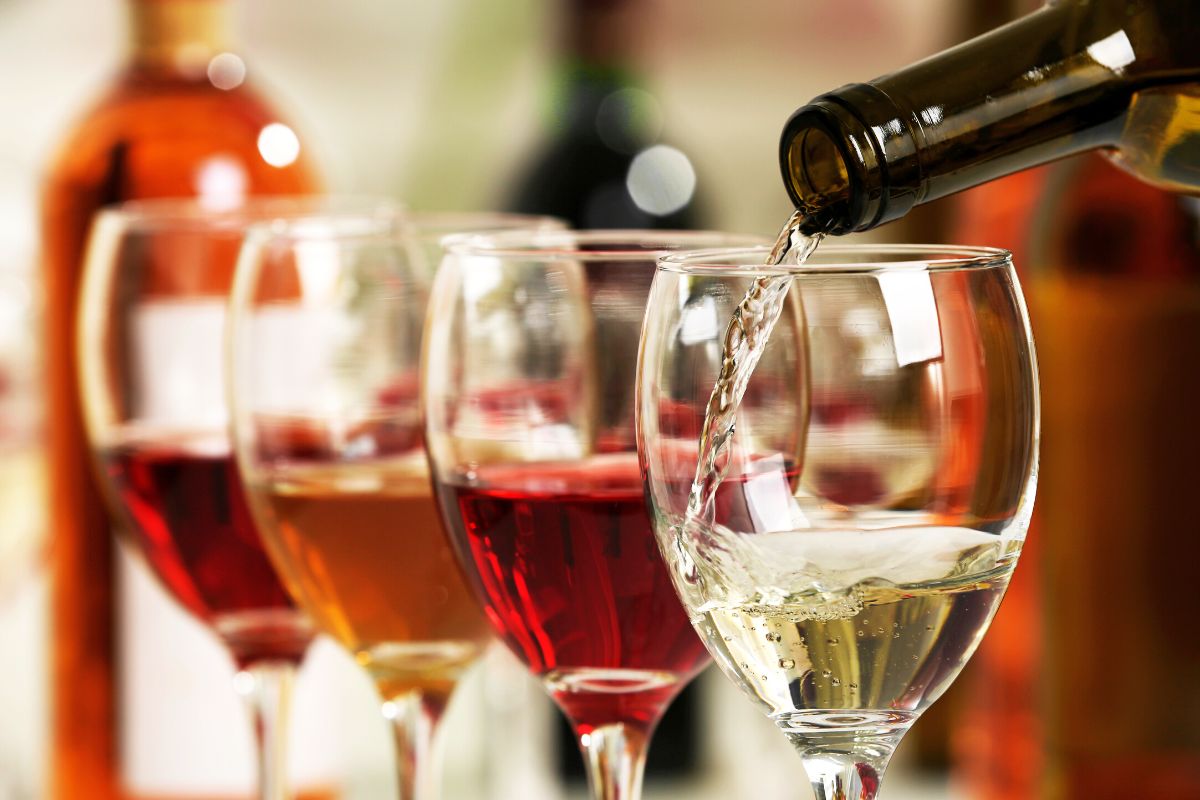 Those that enjoy visiting wineries on the regular would agree … You never end off a day of wine tasting without feeling at least a touch more in a merrier mood — thanks to all the vino sampling.
Traveling with a bunch of mates or your darling heart? There are a few areas near the city that are popular for wine tours and tastings, like Akaroa, but close to Waipara town is one of the tops, dubbed the South Island's "wine region."
In fact, Waipara is one of the best places in the country for manufacturing wine and is just three hours from Marlborough (New Zealand's premier wine-making locale). So, if you're searching for the best vineyards and wineries to visit, this is the place for it.
Discover plenty of different wine experiences in Waipara … Follow the wine trail to boutique wineries for vineyard tours and tastings in the cellar. Traveling by car, this wine region is under an hour's drive from Christchurch and wine tours and tasting are often included in day trips to Waipara.
Established in 2001, sample Waipara Hills' award-winning bottles during wine tastings in a picturesque setting, from Pinot Gris to Riesling to Sauvignon Blanc to Chardonnay. Torlesse Wines is one of the oldest in the region, with tastings happening in the cellar door.
Test family-owned Pegasus Bay Winery's signature 'reserve' wines inside the cellar room (and they have an amazing on-site deli), and Waipara Springs is another family affair, founded in 1981. Greystone Wines also keeps it in the family, specializing in organic reds and whites, and is a gorgeous spot for wine tasting and a delicious lunch.
7 – Explore Christchurch Art Gallery Te Puna o Waiwhetū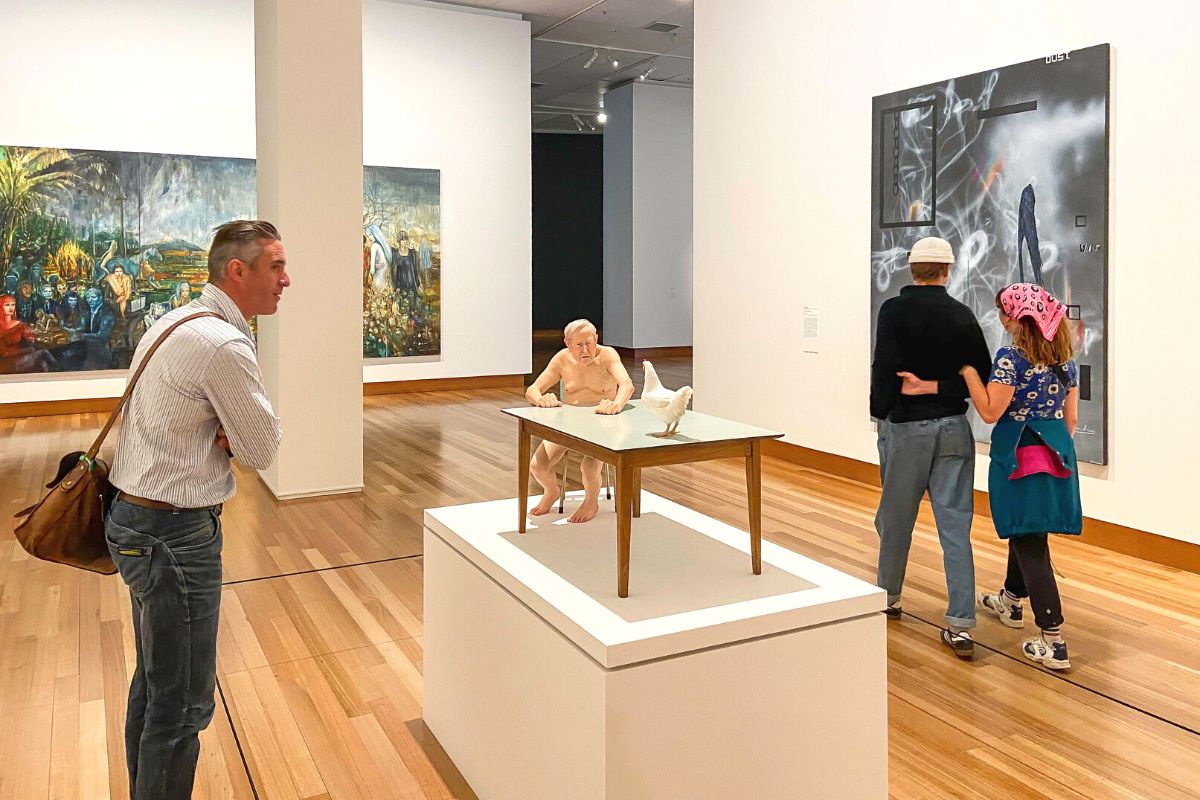 Creativity thrives at the Christchurch Art Gallery Te Puna o Waiwhetū, whispering artists' stories through its walls and expressing important messages with its current visual displays … All relative to Christchurch, its history, as well as the country as a whole, and its peoples.
Rotating exhibitions are presented every month, curating exhibits from local artists across a variety of mediums, from photography to painting to installations to sculpture. Each one is specifically chosen for its message and commentary.
Apart from the ever-changing demonstrations, the gallery holds permanent collections comprising historic and traditional artworks.
Fancy a night at the museum? There are free 45-minute late-night guided tours of exhibition highlights (starting at 7.15 PM and no booking required) or opt for the daytime tour instead.
8 – Take a stroll in North Hagley Park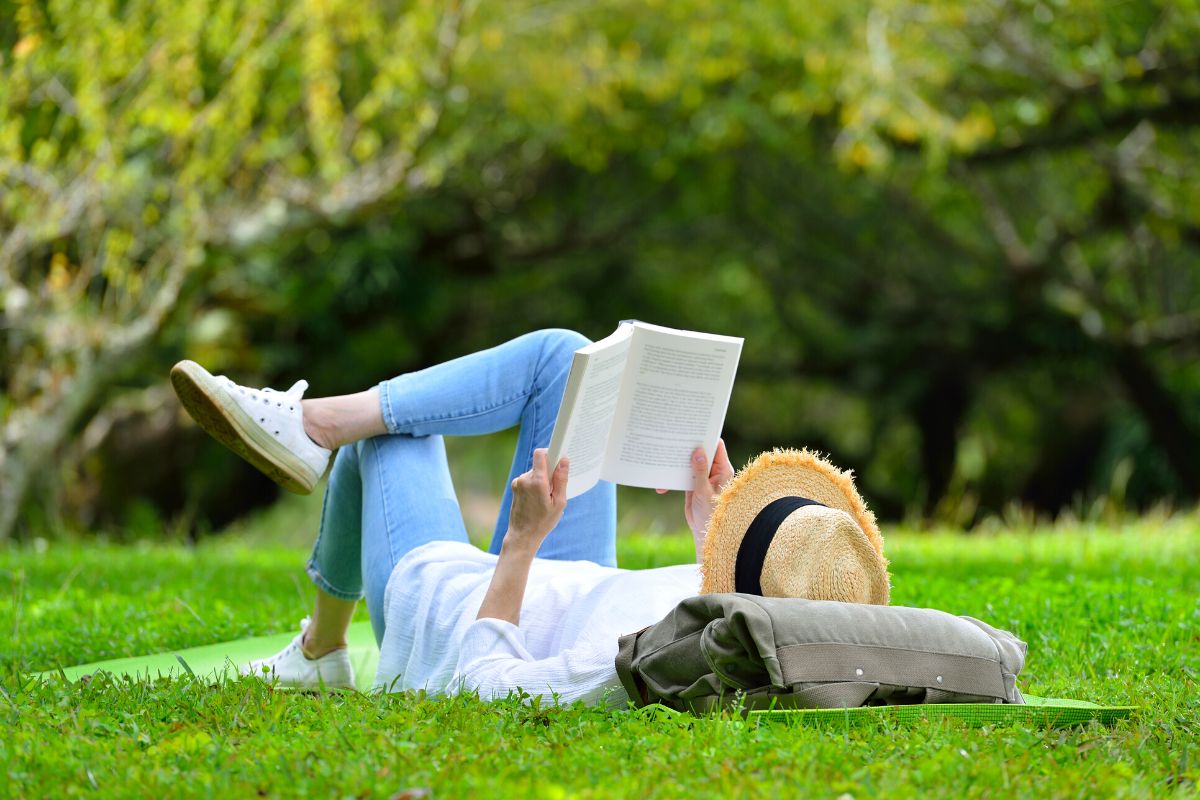 Spanning 165 hectares alongside the Avon River and divided into two parts (north and south), the historic Hagley Park is famed as one of the first places that British settlers arrived when sailing into Canterbury in 1850, and later the grounds were converted into the city's first recreational public gardens.
North Hagley Park was the official site where the first immigrants disembarked, building huts and small dwellings along the riverbanks. Today, this section is known as 'Settlers Corner' and close by is another period monument, Pilgrim's Well.
Strolling around the park provides moments of relaxation in the busy city, and an outlined four-kilometer pathway is favored by joggers, cyclists and lovers taking a stroll.
The North Hagley Park Walk loops around the park, passing the Christchurch Botanic Gardens (which is also located within the central park).
The scenery evolves with the seasons and so there are always new blooms to scope or trees alternating different shades.
9 – Discover, learn and have fun at the International Antarctic Centre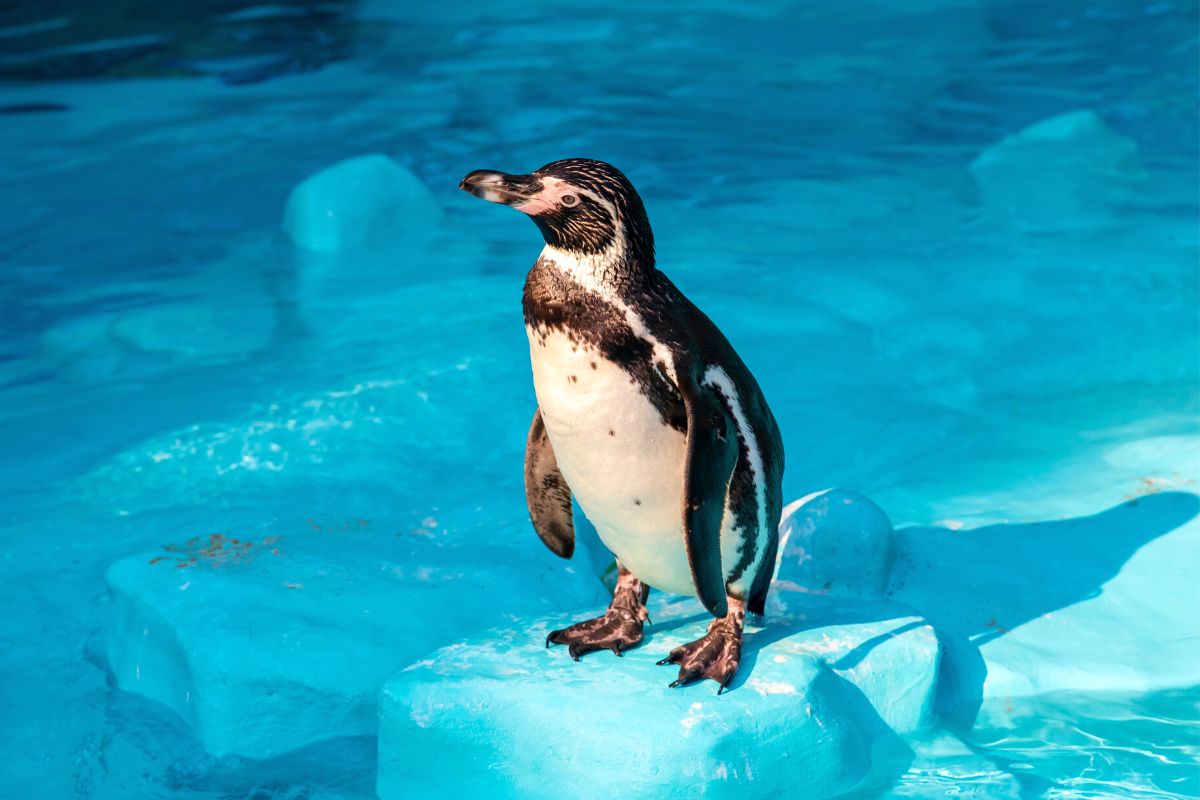 Calling all Vin Hoff worshippers. If you've got some time to kill before flying home, or are holidaying with kids and are looking for fun things to do in Christchurch with the family, the International Antarctic Centre has 10 interactive and immersive icy-themed experiences to play and enjoy (and is five minutes from the airport.)
Storm Dome is epic and a close call to a real Antarctic Storm! (Set to minus eight degrees Celsius, trek through the blowing winds, take shelter in an ice cave and try the 'Polar Plunge Challenge' if you dare!)
Enjoy virtual reality missions; visit the indoor and outdoor Penguin Rescue; sink into the 4D Theatre; or build your own snow base camp from DUPLO legos.
Heading outside, join the Hägglunds Field Trip inside a special amphibious Antarctic vehicle and feel what it's like to soar over icy terrains and waters in the 15-minute ride. Stop by the Antarctic Gallery to educate yourself on the continent's landscapes and wildlife, or deep dive into all things climate change at Generation Antarctica.
Explore the Science Alive exhibits inside the Discovery Room or revel in a Behind the Scenes Tour like breakfast with penguins!
Open since 1992, the center truly allows you to appreciate the beauty and magnificence of the Antarctic.
10 – Eat, shop and repeat at Riverside Market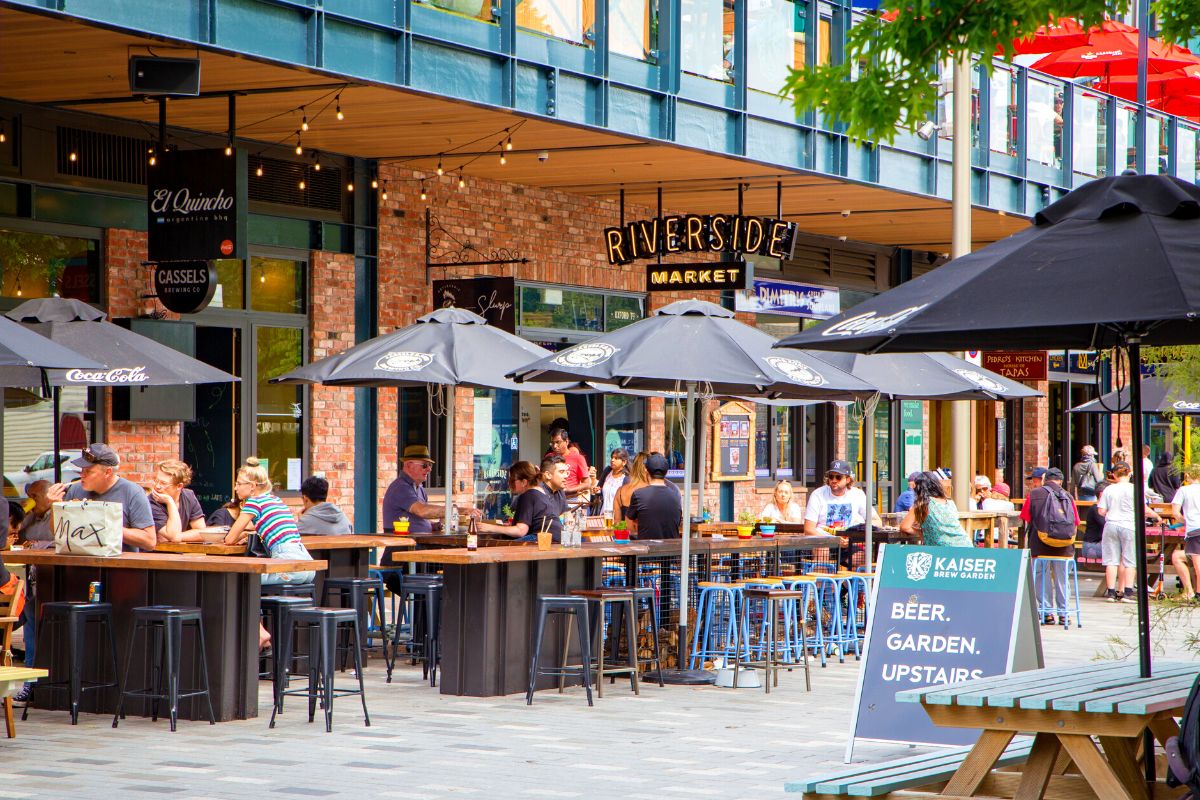 Open seven days a week; stock up on freshly baked goods, organic produce from fruit to meat, seafood, coffee beans and so many other scrumptious delights, all grown and manufactured locally, at the Riverside Market.
What began as a temporary solution for local residents following the 2011 earthquake has transformed into somewhat of a foodie and shopping hotspot where farmers and artisanal crafters convene to offer their goods to the public.
Set up like a typical farmer's market, but in an eye-pleasing indoor setting, it's divided by bakeries, delis, fishmongers and butchers.
From soil to table; buy the freshest goods from Veggie Guy Bobby, find sweet treats from the Great Pastry Shop or She Chocolaterie, refuel at Underground Coffee, get fezzy with Mischief With Wine, and buy delicious meats from Cured or specialty cheeses from Charing Cross Cheesery.
Feeling more than peckish? Pull up a table and chair for a casual sit down or order takeaway from Riverside Cantina, Dimitri's Greek Food, The Crêperie, Herba Gourmet, Seoul Tiger, Aha Wildlife Bakery, Hikari Sushi Train and plenty more!
Connected to the market is Riverside Lanes — a complex of boutique shops and places to eat, and designed with more of a shopping mall feel.
11 – Pay your respects at the Bridge of Remembrance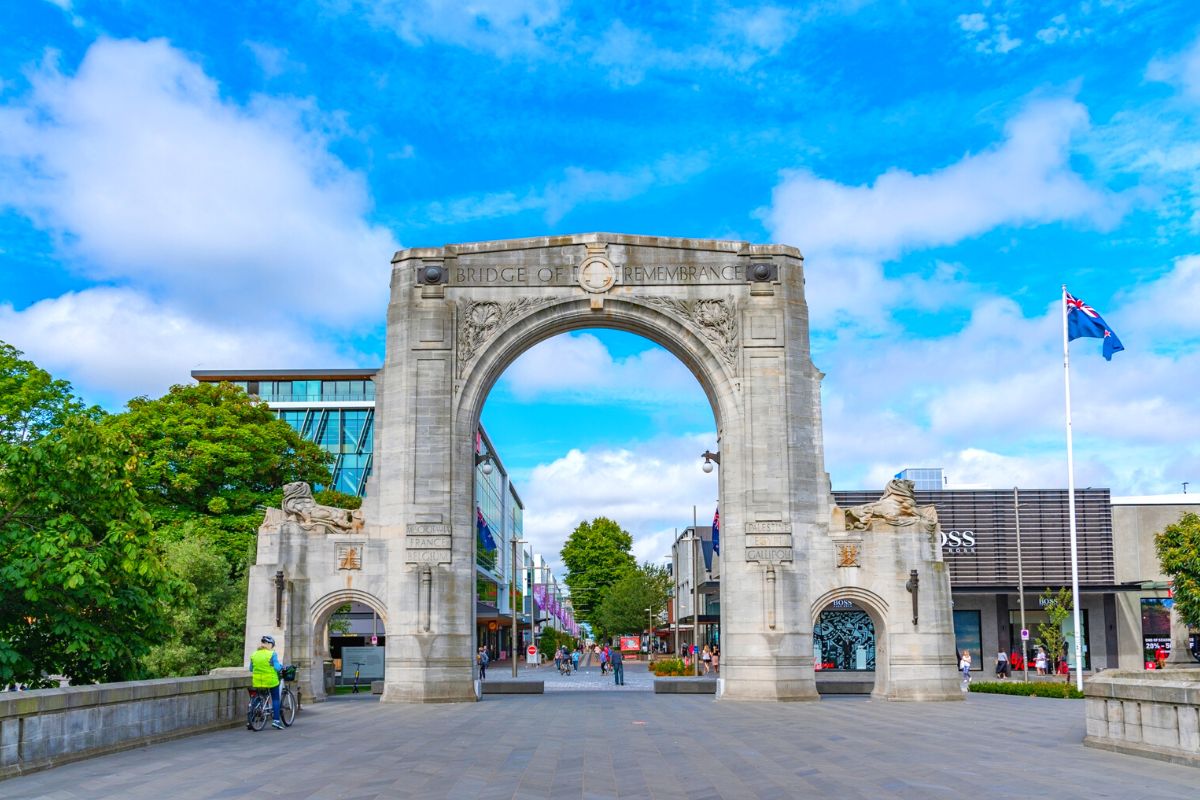 In honor of all those who lost their lives during World War I, the Bridge of Remembrance has stood the tests of time, surviving decades, wars and natural disasters.
First constructed in 1924, the structure was decided upon after the First World War, and built as a memorial. It replaced a former bridge that thousands of soldiers marched across as they left their country and went to fight a war, and so was a fitting choice.
Today, it crosses the Avon River and is located at the east end side of Cashel Street Bridge.
The archway serves as the main memorial mount, and after the Second World War, it was dedicated to the lives of men and women who fought during WWII, as well as those involved in the conflicts in Korea, Malaysia, Borneo, and Vietnam.
After the 2011 earthquake, the Bridge of Remembrance was badly damaged, but categorized as a Heritage New Zealand site, immense efforts went into restoring it, and the arch was replaced with rocks brought in from Tasmania. It reopened to the public in 2016.
12 – Don't miss Māori experiences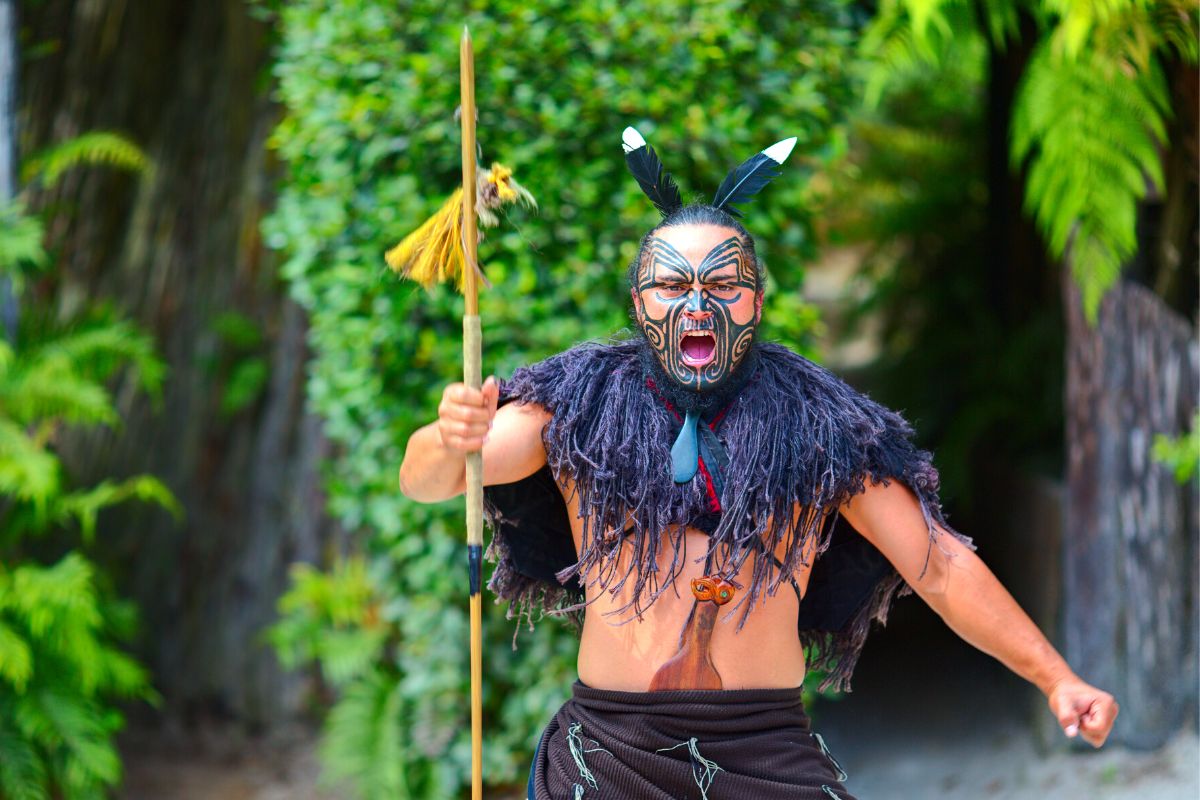 One of the most rewarding gifts that travel can give you, is the opportunity to experience new cultures, customs and traditions, exploring a different part of the world and its people, opening your eyes to something new.
In New Zealand, revel in amazing Māori experiences and get clued up on the country's first people.
Referencing the history books; the Māori arrived in New Zealand from Polynesia between 1200 and 1300 CE as the land's original settlers.
Filling up a late afternoon with traditional dance, song, stories and customs, over the next two hours enjoy a ceremonious performance and investigate an authentic Māori village, Ko Tane marae (although not real, it was specially constructed here for visitors).
Opening up with the blowing of the powhiri (a conch), the presentation is proceeded by the haka (a ceremonial Māori war dance and if you're a rugby fan, the national team performs it at the start of any international match) and waiata-a-ringa (an action song where body movements reflect the meaning).
13 – Trek Mount Cook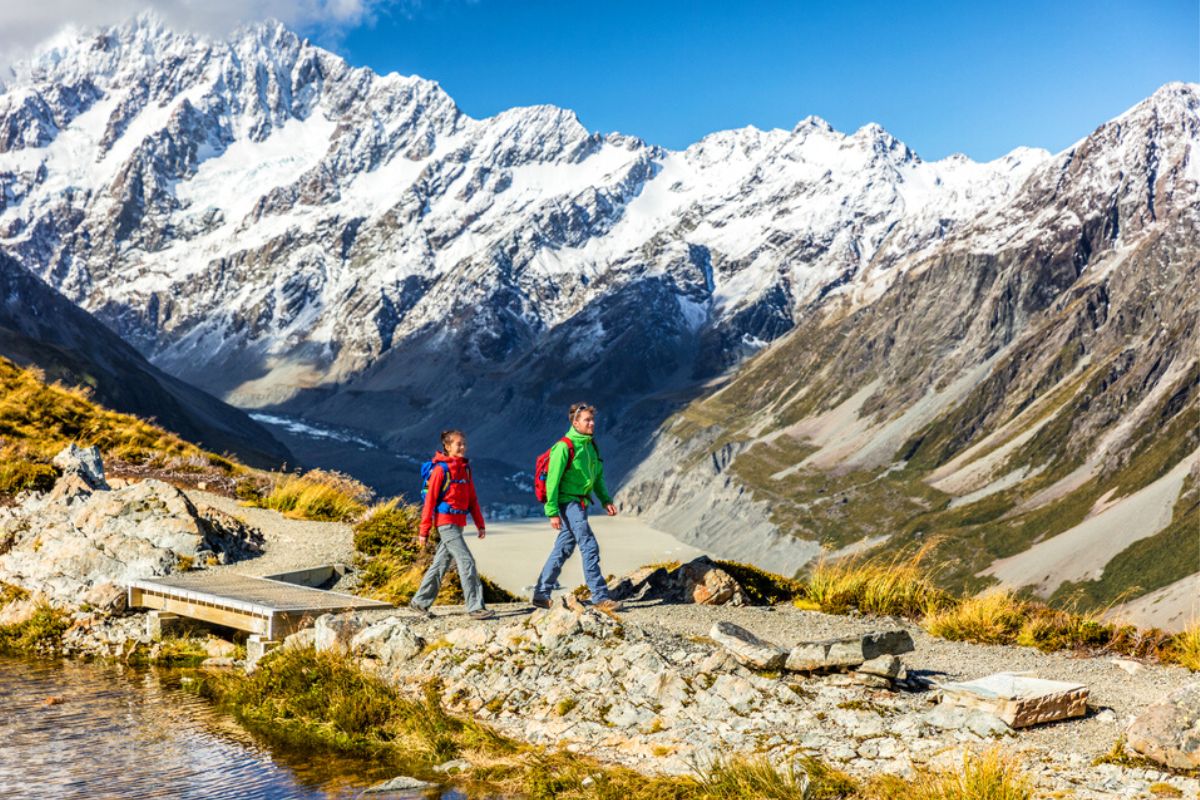 Ladies and gentlemen, introducing the tallest mountain in all of New Zealand, it's Mount Cook (located inside the Aoraki Mount Cook National Park), and a serious delight for all mountaineers!
Welcoming year-round snowfall, the famed peak stands 3,724 meters high, but it's not the only wonder here. Surrounding its locale inside the national park are 20-something other snow-clad ranges protruding into the sky, where glacial sightings and icy terrains are not uncommon either.
For the serious climbers, embrace it all and embark on the summit to the top of Mount Cook, but you will need at least one full day to complete this, and some have even climbed Mt. Cook in preparation for a Mount Everest attempt.
There are three different peaks on the way to the top, which you can choose to hike instead of all the way up. Swoop in the most breathtaking scenery around you, with trees powdered in snow and native wildlife peaking out to say hello — try spotting the rare kea parrot (native to the alpines around the South Island) and the black stilt.
You can still experience the wonder of Mount Cook without mountaineering to the top, and there are plenty of other hikes in the park, like the  Bowen Bush Walk, Hooker Valley Track and the Blue Lakes and Tasman Glacier View Walk.
Speaking of, don't pass up the chance to explore some of the icy formations here either, especially Tasman Glacier … Go skiing around the glacier and explore snow caves! Also called Haupapa, the vistas around it are one in a million.
14 – Stop by the Canterbury Earthquake National Memorial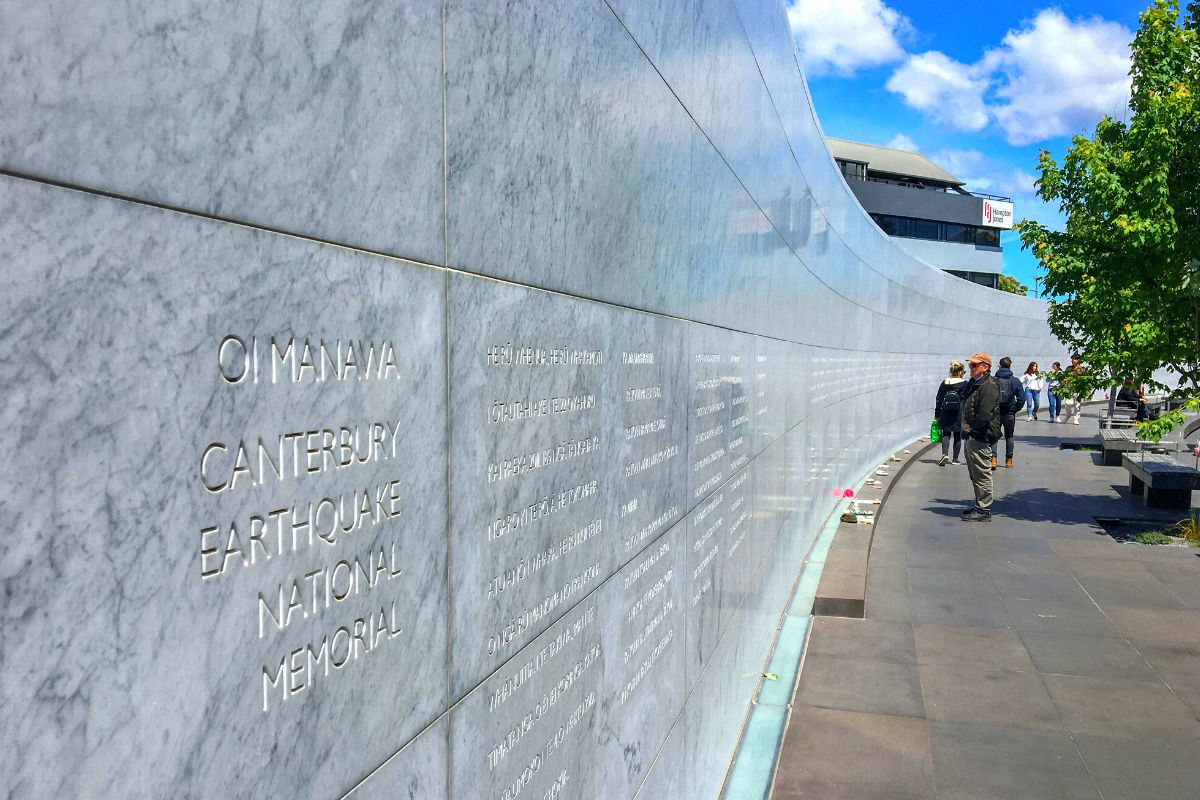 Rewind to 2011 and the life-altering event that took place literally shook the ground to its core. It's difficult for any local to forget the 2011 Christchurch Earthquake in Canterbury just seven kilometers away from the CBD, and Christchurch felt major effects and aftermath, with much of the city damaged in its quake.
Shaking the earth with a magnitude of 6.3, buildings were destroyed, structures damaged, locals were injured and sadly, 185 people lost their lives because of the natural disaster.
Six years after the devastation, the Canterbury Earthquake National Memorial was established, honoring those who passed as well as the survivors. It is a symbol of hope, commemorating the city's will to survive, rebuild and regrow — which it has done in leaps and bounds.
Erected in 2017, the memorial spans two spaces on either side of the Ōtākaro/Avon River by the Montreal Street bridge and is divided by the South bank and North bank area. On the south side is the 11-meter-long, 3.6-meter-high memorial wall, and crossing the bridge leads to the north bank.
A peaceful garden allows visitors to take shade under maple trees and admire the monument across the river.
15 – Snap endless pics around New Regent Street Precinct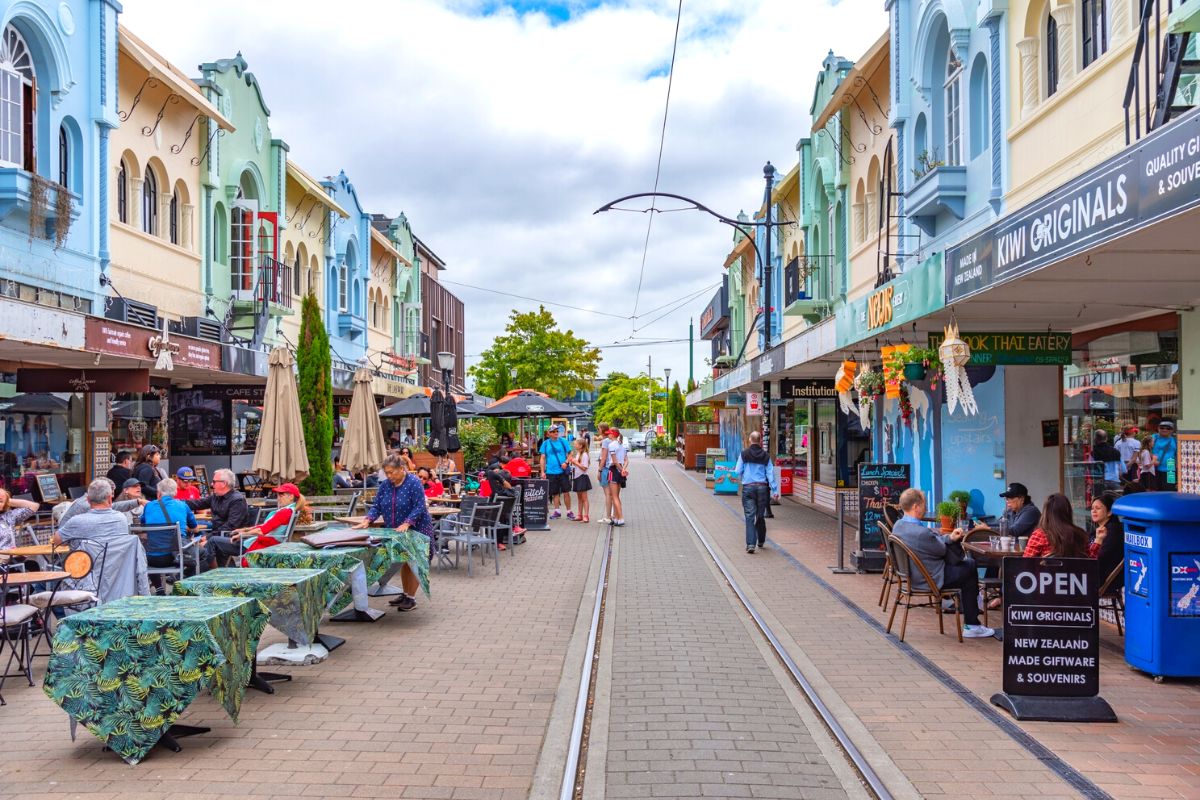 Prepare your cameras, pack your spending money and ensure your tastebuds are ready for a New Regent Street Precinct affair — known as the "Soul of the City."
Zoned off from cars and other vehicles, the only means of transport allowed near the historic street is the city's old-school tram system, running along New Regent Street since 1995.
Dotted with Spanish-influenced pastel-colored buildings, the now-walking street was established in 1932. But, it was only toward the end of the 20th century when locals and tourists began adding more cafes, restaurants, hotels and boutique stores along the road that it garnered popularity. Conversions began in 1986 to revamp the area as a pedestrian space.
The results? Today, it's one of Christchurch's most postcard-perfect walking streets, lined with trendy eateries, bars, entertainment hotspots, accommodation and fabulous shopping!
Wine and dine at Gin Gin, The Nook, Rollickin, Caffeine Laboratory, Francesca's Italian Kitchen and plenty other mouth-watering options, and then catch a show at the Isaac Theatre Royal (a 1908 theater built in the Edwardian style).
Shop Youngs Jewellers, Stage Door and Groovy Glasses, or get a new chop from Over Ink Tattoo. Right near New Regent is the Margaret Mahy Family Playground as well as the East Frame Pump Track skate park.
16 – Appreciate the antiquated Victoria Clock Tower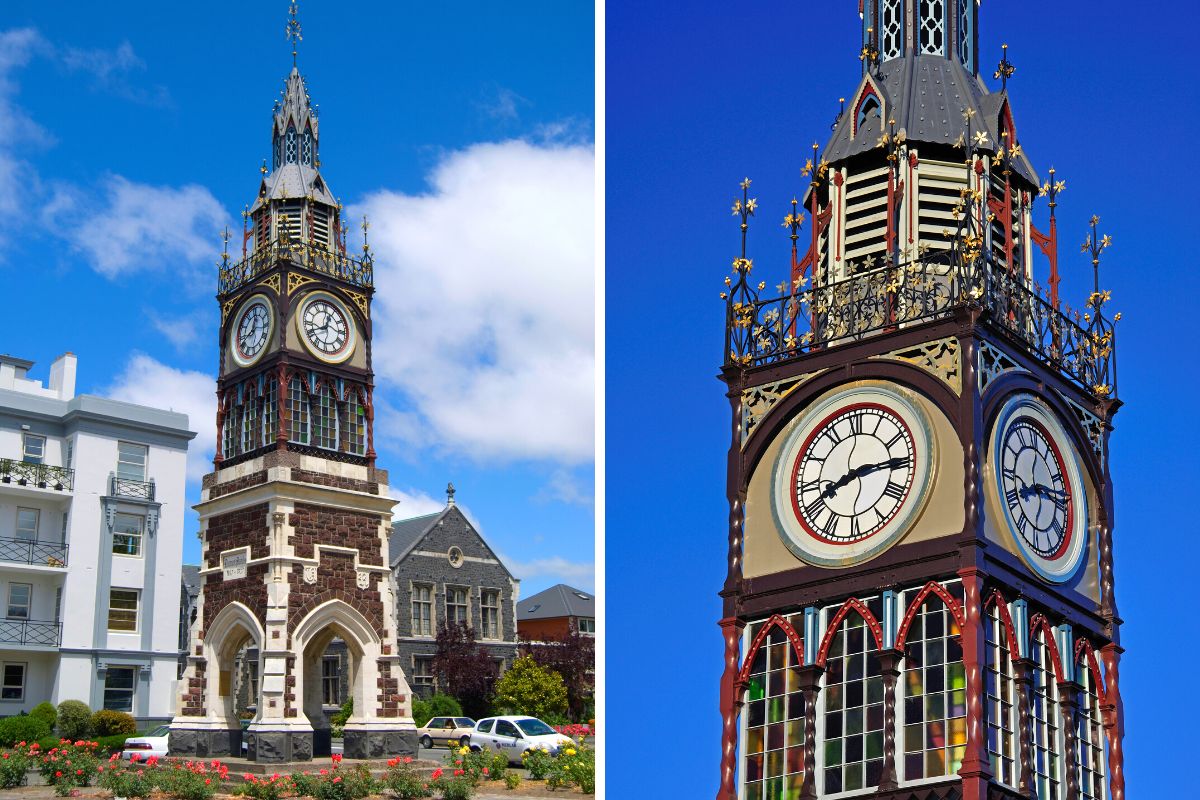 Calling all architecture aficionados, the Victoria Clock Tower is a sight to behold and fascinatingly, it was constructed in different parts and then patched together in years to follow — which was never its original intent.
Let's break it down: Circa 1859 and the upper half of this landmark was shipped over from England. Built for the Canterbury Provincial Council buildings complex, a tower clock was to be added to the structure, but both were too heavy to sit on any of the buildings and both elements were relocated.
In 1897, new plans were made and the clock was added to the tower erected at the intersection of High, Lichfield and Manchester Streets. It was named after Queen Victoria in honor of her 60th Jubilee. 1930 was its final relocation to its permanent home on Victoria Street where it has remained ever since.
Renovations and restorations have been completed over the years and today it stands in its former glory.
Also known as the Diamond Jubilee Clock Tower, the structure is made from volcanic stone, limestone, wrought iron and colorful stained glass, and is a beauty to photograph.
17 – Journey on Lord of the Rings tours
How well do you think you know the Lord of the Rings trilogy? Die-hard fans, one of the most magical LOTR experiences you can embark on is whilst traveling to New Zealand — the country where all three movies (as well as The Hobbit versions) were filmed, but then again, you already knew that didn't you? — is journeying on Lord of the Rings Tours.
Shot all around the country, from Christchurch you can visit Edoras where the Horse-Lords roamed on their powerful steeds between the Misty Mountains as an army ruled by the kingdom of Rohan.
Whilst Edoras is a real place in a Lord of the Rings reality, it was a set created on Mount  Sunday, and like every other filming destination, was specially chosen. During your tour, scope prop replicas like the flag of Rohan, Aragorn's sword and Gimli's ax.
Pose for pictures and trek the lands where the actors once stood themselves. These tours from Christchurch form part of half-day and full-day excursions, or if you feel like being a bit extra, soar above the film sets instead with a special helicopter ride over Edoras.
18 – Safari through Orana Wildlife Park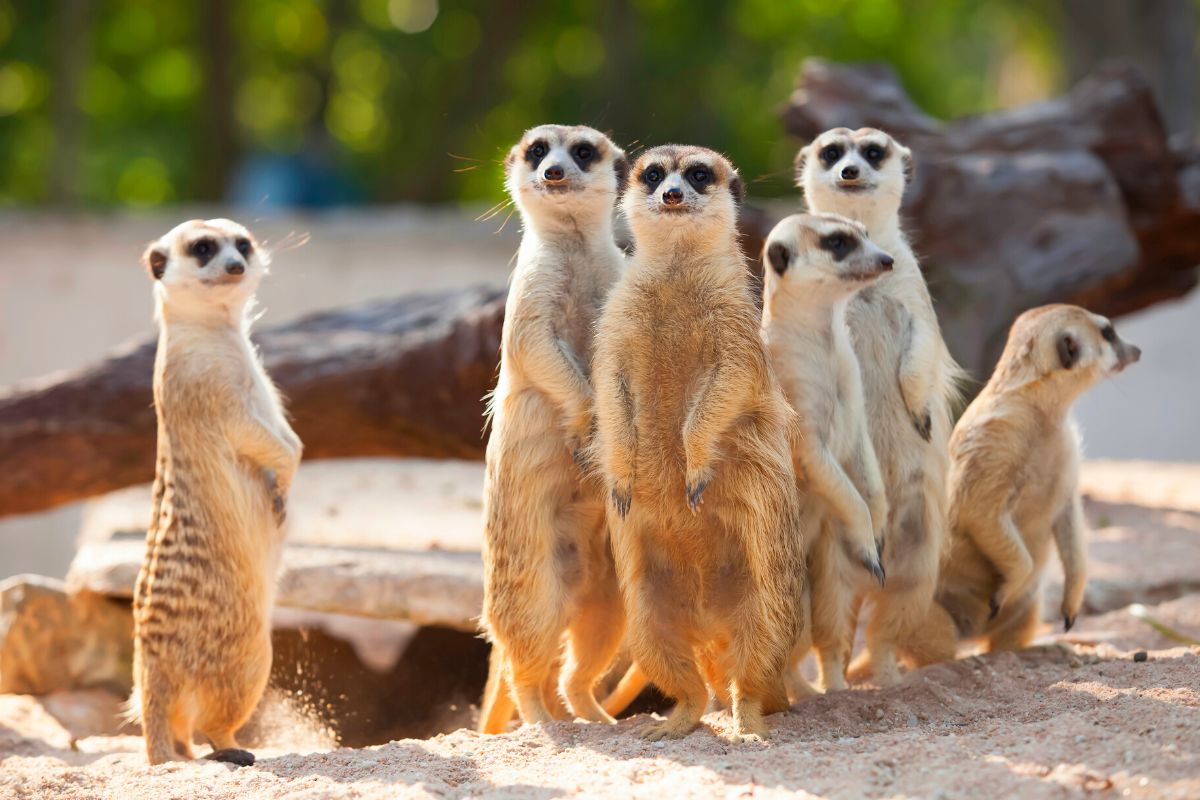 If zoos aren't really your thing, consider the Orana Wildlife Park just 30 minutes outside of Christchurch and home to majestic creatures great and small.
A deemed open-range conservation grounds, the park houses animals from around the world in open environments representing their natural habitats. Divided by countries from which they hail, there are over 1,000 animals to visit.
See tuataras and keas in the park's native habitats, be graced by African giraffes, leopards and zebras, gaze upon Aussie kangaroos and Tasmanian devils, and get to marvel at siamang gibbons and Tibetan yaks from Asia.
Moving around the park, you can encounter lions up close but the only ones trapped inside a cage are you, set out like an open safari within its 80 hectares of land.
There are other amazing experiences and encounters, including 12 daily animal presentations. During a 25-minute guided tour travel around the park in a safari shuttle whilst your wildlife pro supplies commentary about the animals you see. Or, you can join a regular walking tour and witness animal feeding time.
Orana Wildlife Park is involved in special breeding programs for endangered species, helping to continue the lineage of our world's rare species.
19 – Traverse Arthur's Pass National Park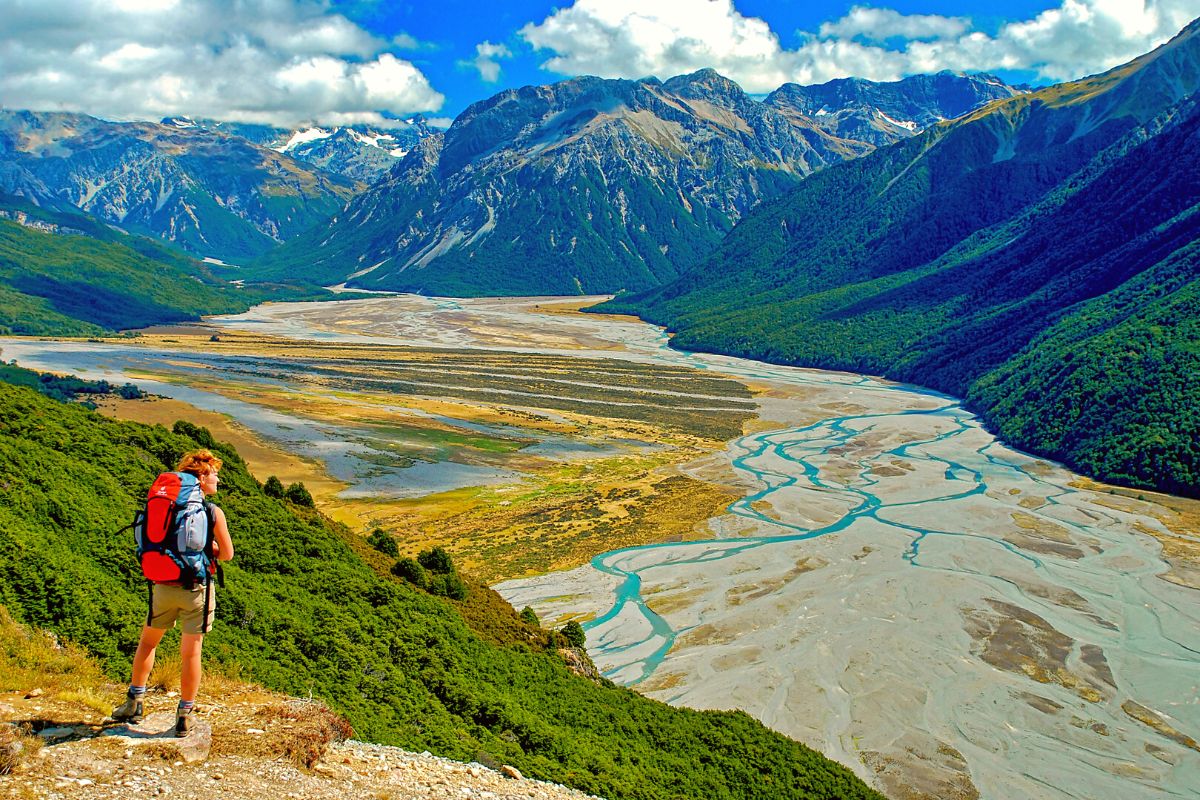 Rivers, hardwood forests and rainforested kinds, waterfalls, glaciers, snowy peaks and wild grassy hillsides; one of Arthur's Pass National Park's most fascinating feats is its amalgamation of typography that comprises this national park.
A fabulous way to snoop out its flurry of landscaping is on foot, and hiking and nature walks is the top activity around these parts. Flashback centuries ago and the local Māori utilized the passes in the park to travel from their settlements to the Westland, the most popular being Harper Pass — later known as Arthur's Pass when a road was excavated and built.
Located in the Southern Alps, day walks are plentiful and mega popular. Trek to 131-meter-high Devil's Punchbowl Falls (a short one-hour round trip) or Avalanche Peak via Scott's Track.
Mountaineering the ranges requires skill and experience, climbing to top peaks laden with snow, and a great one to start with is Mount Rolleston.
Tramping (a common term used in New Zealand for longer walks or hikes) is possible if you're keen on an overnight stay in the alpines. During the winter months, skiing the pass is also possible and there are five designated areas for it (Cheeseman, Broken River, Craigieburn, Mt Olympus and Temple Basin).
To reach the national park travel here by car or bus, or forget the rest and board the magical TranzAlpine Train, chugging through the Southern Alps and journeying into the park. Stop at the Visitor's Center at Arthur's Pass village where there are a handful of accommodation options, souvenir stalls and local shops.
20 – Feel like Tarzan at the Adrenalin Forest Obstacle Course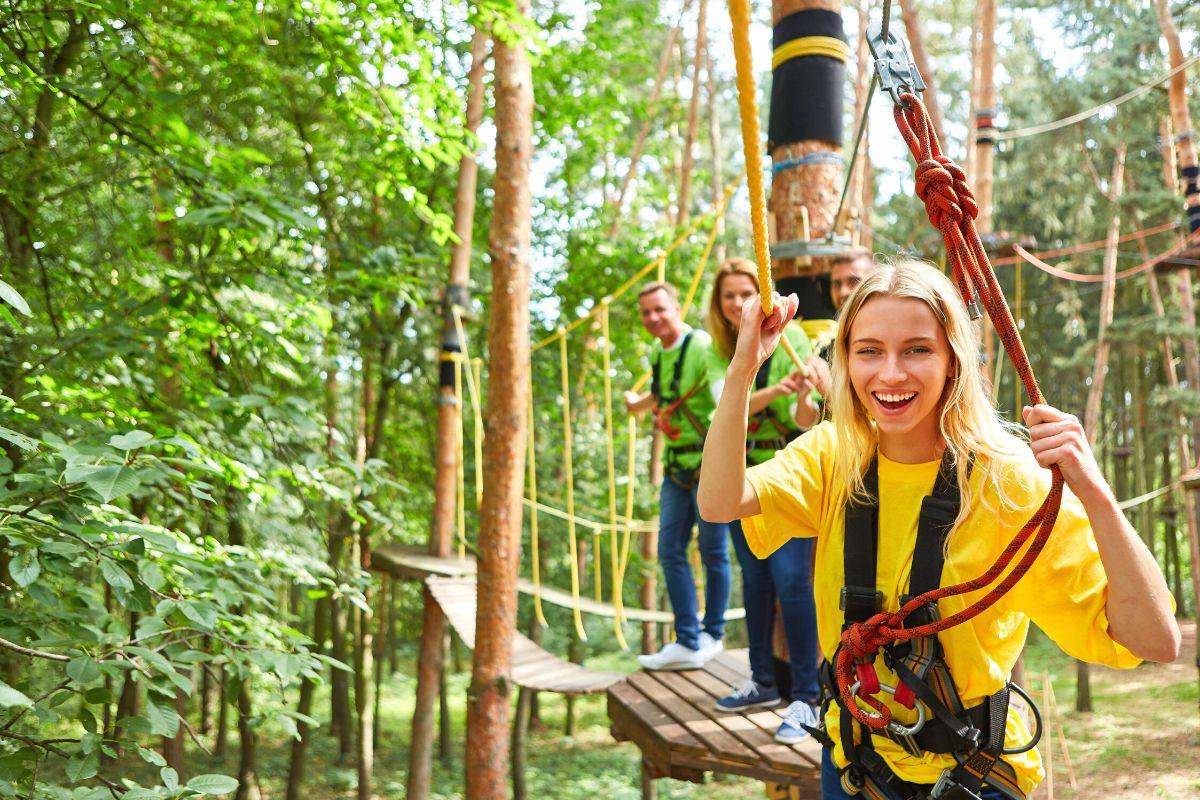 Thrill seekers and adrenaline junkies, if the hikes, surfing and river rafting isn't enough, spend a couple of hours at the Adrenalin Forest Obstacle Course where swinging like a monkey is highly encouraged!
The concept for the aerial adventure park began in France, created by a former army officer. Using his military training, he created an obstacle course requiring strength of both the body and mind.
Brought over to New Zealand in 2006 by Frenchman, Jean Caillabet, the Christchurch operation was the first of its kind in the country.
Spanning three hours, there are multiple pathways that have been built in between the trees, each one offering different challenges and obstacles to get through, from bridges to nets to swings.
The great thing is you don't have to tackle every single one. You decide how far you'd like to advance — but remember, the further you proceed, the more difficult the pathways become, also increasing in height and other fear factors.
Before you play among the trees, you will undergo a short training session and a mandatory safety briefing. It's advisable to wear comfortable clothes and closed shoes for this one.
21 – Refuel at the best coffee shops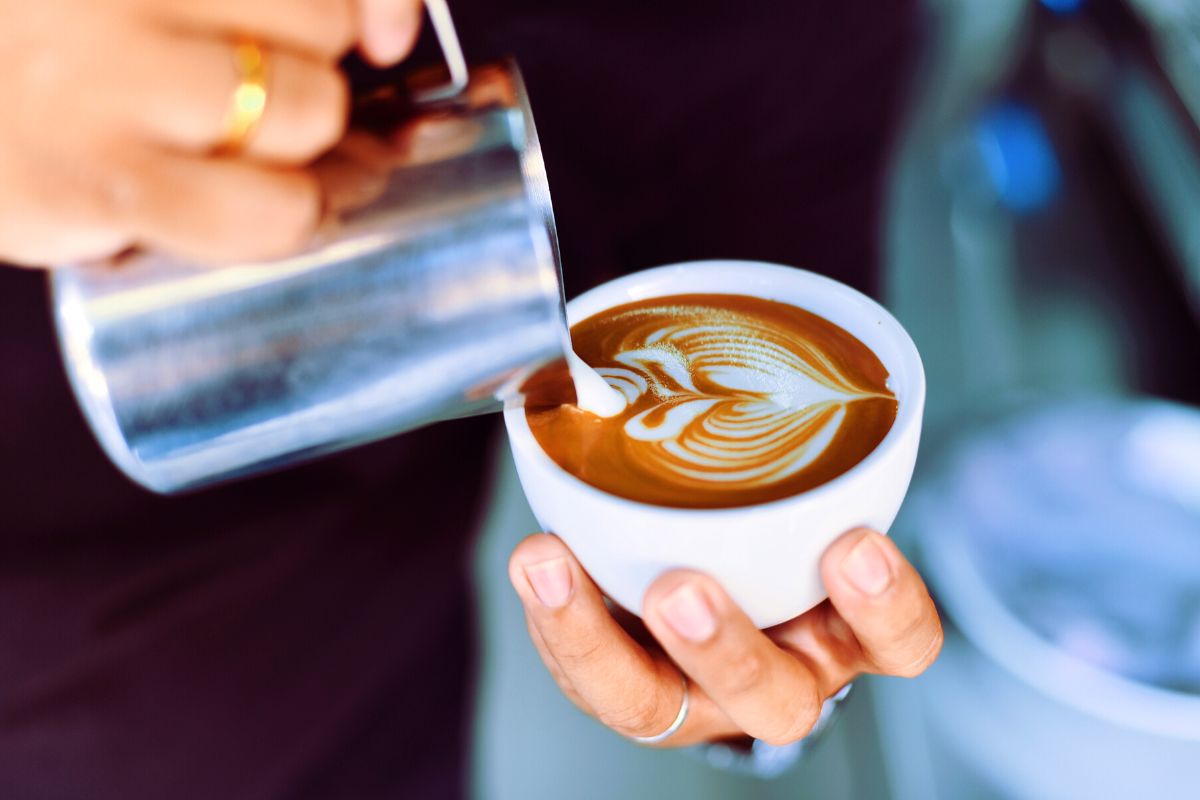 In need of an energy boost? Grab a specialty cuppa from the best coffee shops in town.
As the country's first micro-roasting coffee franchise, Black & White Coffee Cartel has continued to swoon Christchurch coffee drinkers with their on-site micro-roastery set-up. Walking through the doors, the smell of freshly roasted beans and brews wins you over instantly.
Also with an on-site roastery is Unknown Chapter Coffee Roasters. With a passion for experimentation, there's always something new (and delicious) brewing! Apart from the specialty coffee, they serve brunch and homemade baked goods.
Set in a minimalist trendy space, Grain Coffee brews Coffee Supreme beans, favoring the brand's Brazil-based blend with notes of dark chocolate.
Housed inside an 18th-century heritage building, Hello Sunday Cafe is as ambient as ever. A great spot for brekkie, brunch or lunch as well, the menu also serves cocktails and vino.
Set up inside an old mechanic's workshop, Addington Coffee Co-op has a super welcoming atmosphere and is a firm local favorite. The food is yummy (brunch is served until 2 PM) with vegan and gluten-free options available.
22 – Navigate the sea when kayaking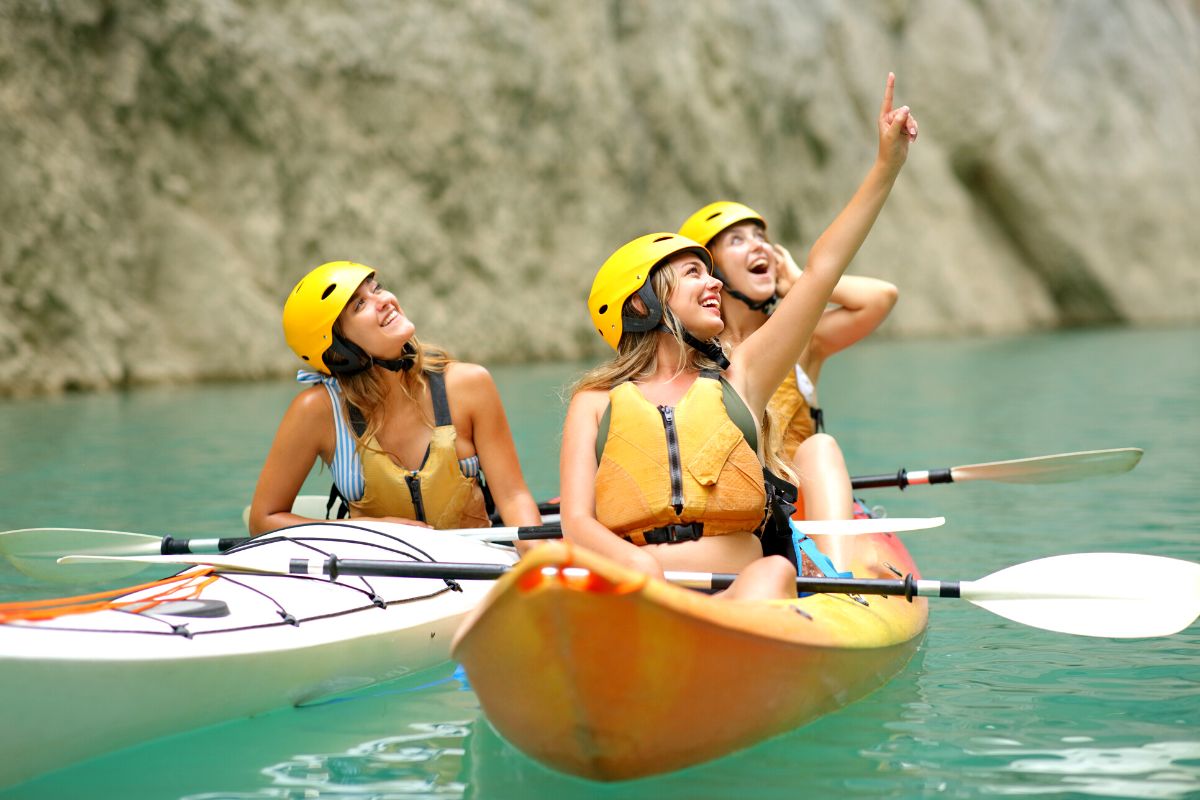 Find your sea legs — not that much standing is required — and explore the depths of the Deep Blue with the open waters around you, the wind blowing in your hair and the natural sights of Mother Nature when you go on a kayaking expedition!
If it's your first time on a kayak, your guide will start things off with a short briefing, explaining exactly how to paddle, steer and balance on the two-seater boat. Then, from Charteris Bay veer out into Lyttelton Harbor and begin the oceanic explorations!
Cruise past enclaves and hidden beaches, stop off at Quail Island and spend time on the shores spotting native birds and other wildlife, paddle toward sea cliffs and even pass by partially submerged shipwrecks.
The ocean surrounding picturesque Akaroa is also loved for kayaking, especially because Little Penguins live in the area, or if you're lucky, a playful miniature dolphin might swim in the waves around you.
23 – Step back in time at Riccarton House and Bush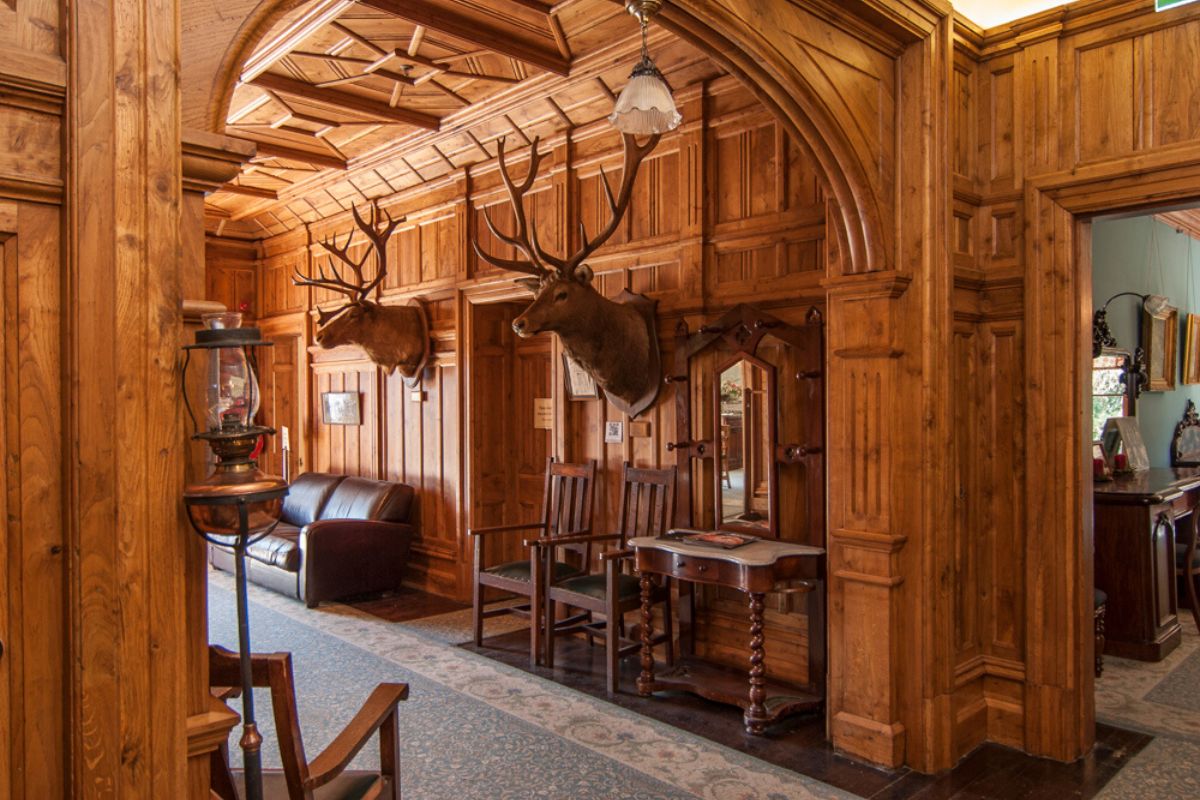 History buffs and lovers of architecture, take a step back in time at Riccarton House and Bush — home to two heritage buildings.
Shrouded in a native forest and decorative gardens, the reserve is located 3.5 kilometers away from the city center, and entering the grounds is like stepping worlds away.
Seemingly untouched by modern society, Riccarton House is a living museum, preserving not only the integrity of the building but its interiors too. Fascinatingly, it is a mixture of two design styles; Victorian and Edwardian, and the house was constructed and added onto in three different periods; 1856, 1874 and 1900. Have a gander over its antiquated finishings and furnishings, all restored and preserved to their original state.
During guided tours investigate the 20 rooms inside, from the Victorian dining room to the coal cellar to the bedrooms.
At Deans Cottage (the former abode of Canterbury pioneers, the Deans brothers), you'll be exposed to an early colonial-style home made entirely from timber wood — an interesting comparison to Riccarton House, which was built some years after Deans Cottage for the family.
Once you're done touring the buildings, walk around the 7.8-hectare Kahikatea Forest surrounding you and hug trees that are over 600 years old!
24 – Meet native species at Willowbank Wildlife Reserve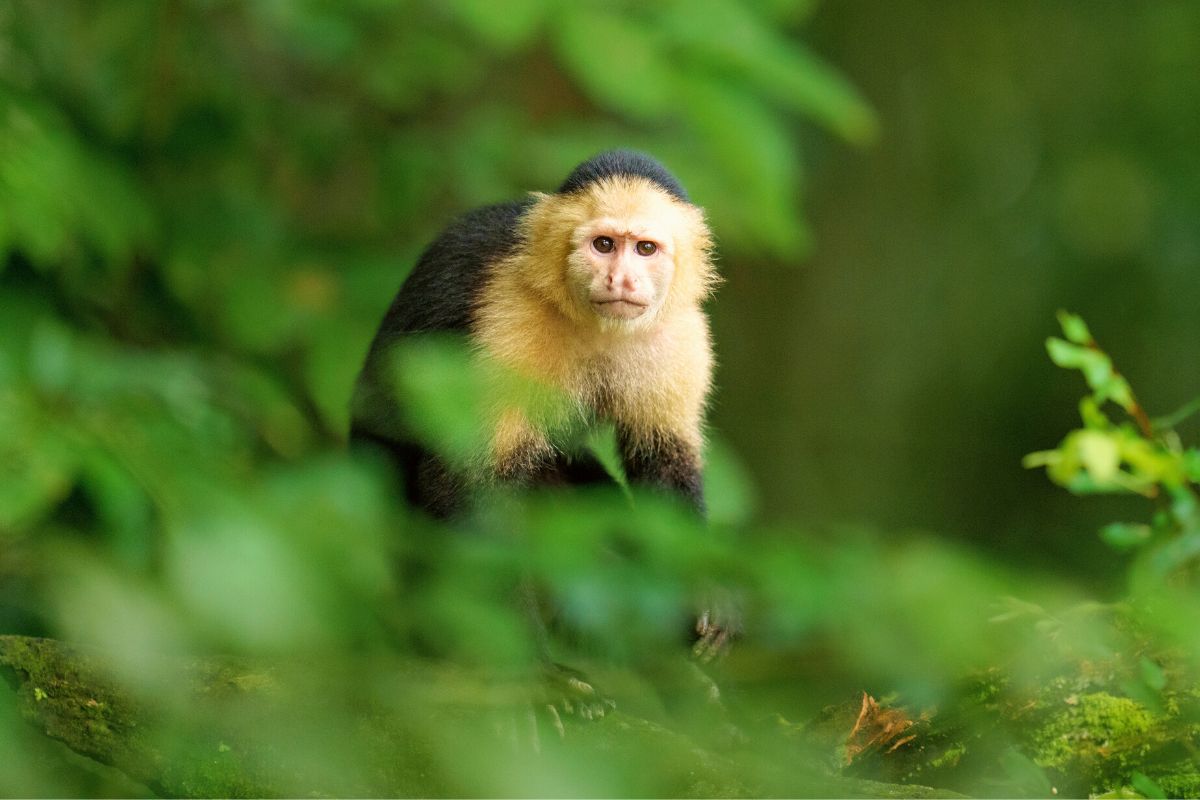 Fun fact: The kiwi is New Zealand's official national bird, however, the flightless creatures have become endangered and are facing extinction! One of the few places in the country that guarantees a chance to see these special birds up close is the Willowbank Wildlife Reserve.
A dedicated sanctuary; kids absolutely love it here, with the chance to meet, greet and feed furry friends! The reserve works closely with other animal organizations set up to protect our wildlife.
Arriving at the New Zealand-themed animal park, the area is divided into three sections for easy navigation. At the Farmyard section; see alpacas, miniature horses, llamas, peacocks, sheep, Kunekune pigs and others! The New Zealand section is home to brushtail possum, kea, North Island brown kiwis, tuatara, falcons, ferrets and more.
At the Zoo/Exotics Section spot capuchins, emu, fallow deer, siamang gibbons, otters, wallabies and so forth. Plus, another standout feature is the special open-air Nocturnal House where the kiwis live.
For those with a passion for animals, you'll love the encounters and guided tours such as Bee Encounters, the Capybara Encounter, the Lemur Encounter or children can join the Junior Keeper Programme.
25 – Become clued up at Quake City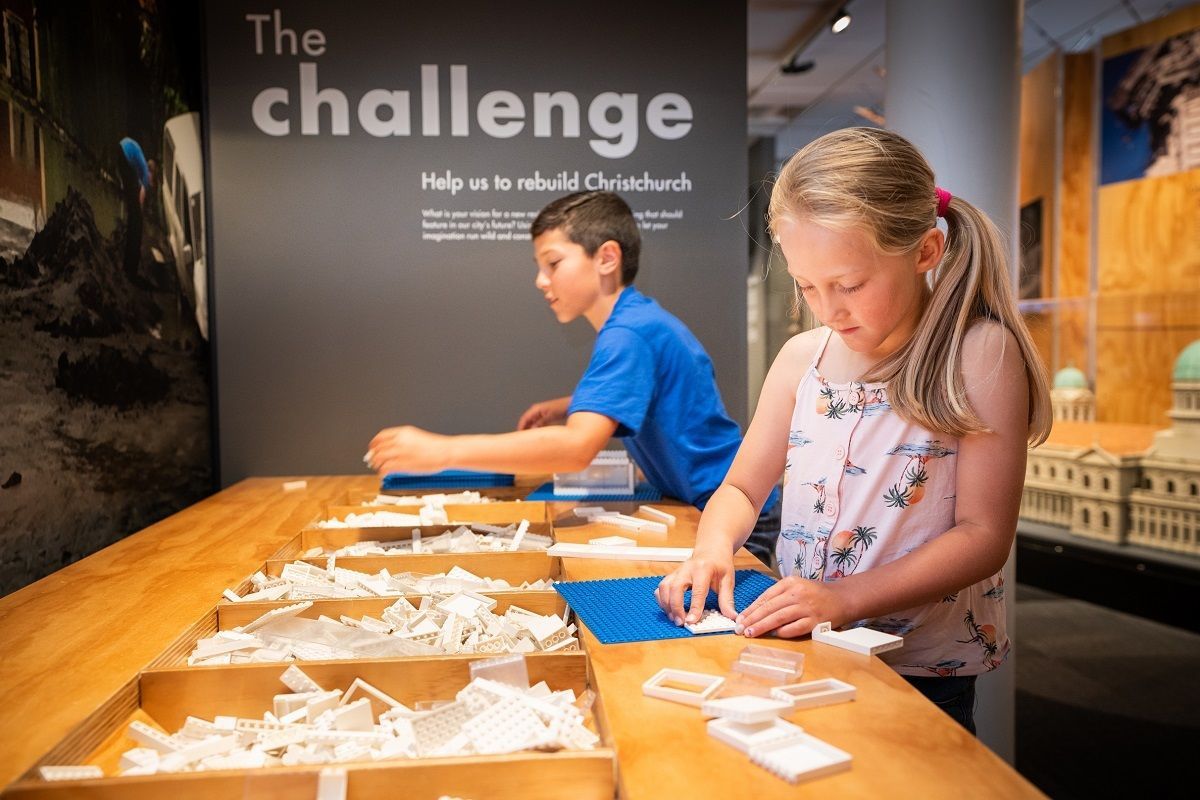 When an event as life-altering as the 2011 Christchurch Earthquake strikes, changing an entire city as you know it, it's surely worth your while learning more about the incident. In less than 10 years the city has risen from the destruction and rebuilt itself and its people.
Did you know though, that the 2011 quake wasn't the first, and in 2010 a separate earthquake with a magnitude of 7.1 hit the outskirts of the city? When the 2011 earthquake struck Christchurch's CBD, its aftereffects were much worse because of the tremors the previous year.
Become knowledgeable on interesting bits of information like this and more at Quake City.
Set up between a multitude of displays; witness in-person treasures, artifacts and even parts of building structures that were destroyed in the quakes, and get involved in the interactive features.
Reimagine your own city structures using LEGO, test out the liquefaction simulator, create your own quake and measure its magnitude at the seismograph or watch an inspiring yet emotional film based on the events.
26 – Go climbing at the YMCA's Clip 'n' Climb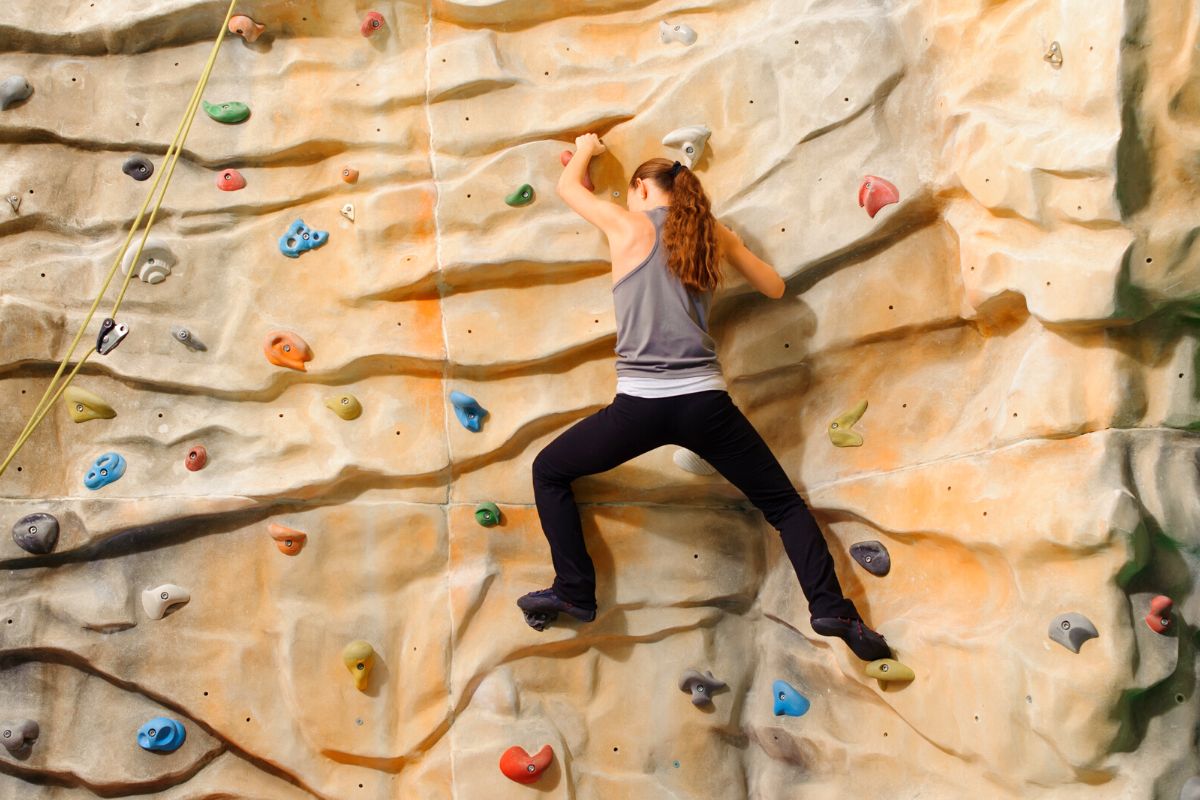 If you've got a budding Alex Honnold or Bear Grylls on your hands, there's no better place than the YMCA's Clip 'n' Climb theme park — boasting 38 insane climbs to get through, each one varying in design, height, difficulty and agility.
How does it work? Just as if you were mountaineering or canyoning, at every climb is a belay device for you to clip your harness into so you can safely and securely move around like a real rockie!
(Before you hit the courses, you will endure a 15-minute safety briefing, and will be strapped into your harness at this stage which must be kept on at all times in the play areas.)
Sessions run for one hour. Little Monkeys is especially for preschoolers, or seven to nine-year-olds can join Tree Frogs climbing course held every Tuesday afternoon.
Don't forget to wear closed shoes for this activity!
P.s. If you're a regular rock climber, visit the Y Climbing Centre designed for older, more experienced visitors at the same center.
27 – Adventure around Lake Tekapo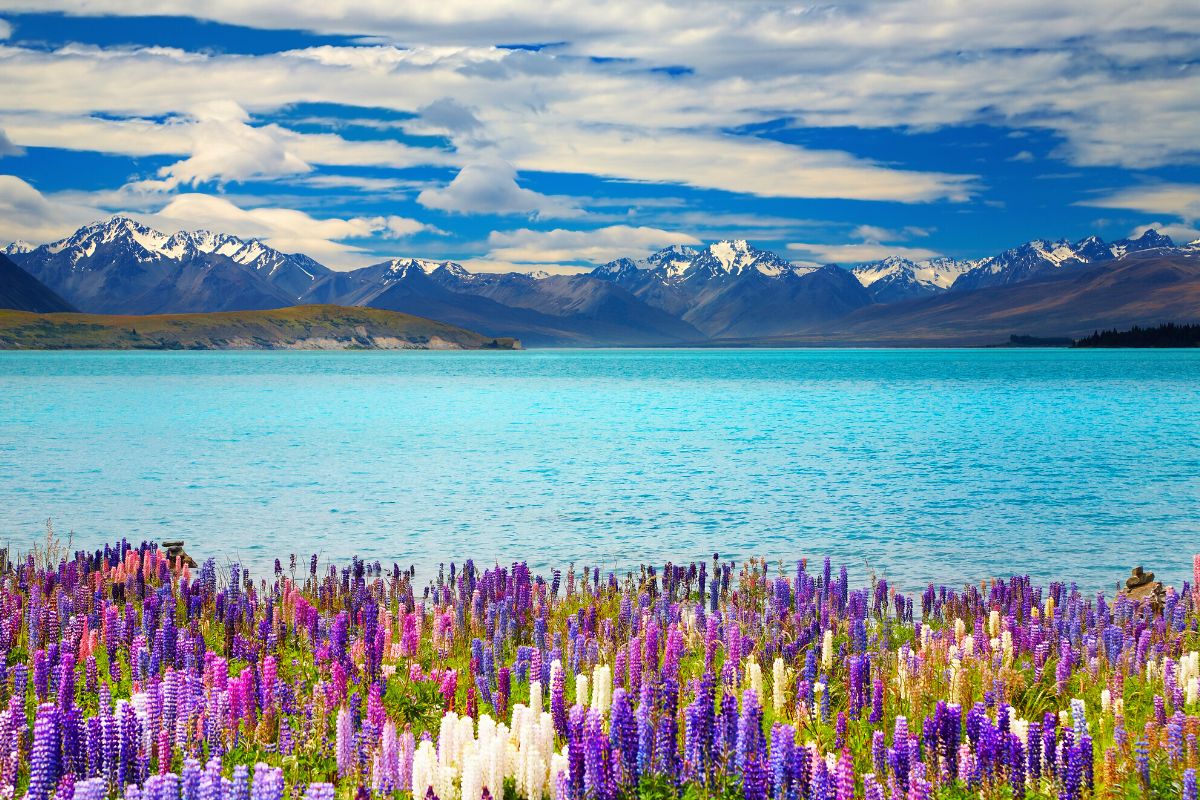 Forget the Northern equivalent whilst you're in New Zealand … did you know that the Canterbury region is home to the magnificent Southern Lights — an awe-inspiring nighttime display streaking the evening sky?
(With not much surrounding it, the nights are void of air, light and noise pollution, deeming it the perfect place to witness this natural phenomenon. The best time to view the Southern Lights is from April to September.)
To marvel at the event, day trip over to Lake Tekapo (roughly a three-hour drive from Christchurch and worth every minute of it), and even arriving in daylight hours you're spoiled with spectacular scenery.
The famed lake is highly sought after by photographers, thanks to its milky blue coloring (created by rock flour from ground-up glaciers). On the shoreline of Takapō (its Māori name) is the early Church of the Good Shepherd, established in 1935 by a pioneer family.
Service still occurs, but most come to snap pictures of the historic structure. Nearby is the bronze "sheepdog monument."
Investigate the area along the Mackenzie Basin walking tracks which begin from the shore, and you can hike to the Mount John Observatory for stargazing.
Don't miss out on visiting Tekapo Springs whilst you're already in the area either. Opening up in 2008, spend the day in the outdoor hot pools; unwind in the steam room, sauna and at Glacial Day Spa; cool off in the icy plunge pools; and go snow tubing or ice skating on the rink during the winter seasonal months.
28 – See wildlife at Travis Wetland Nature Heritage Park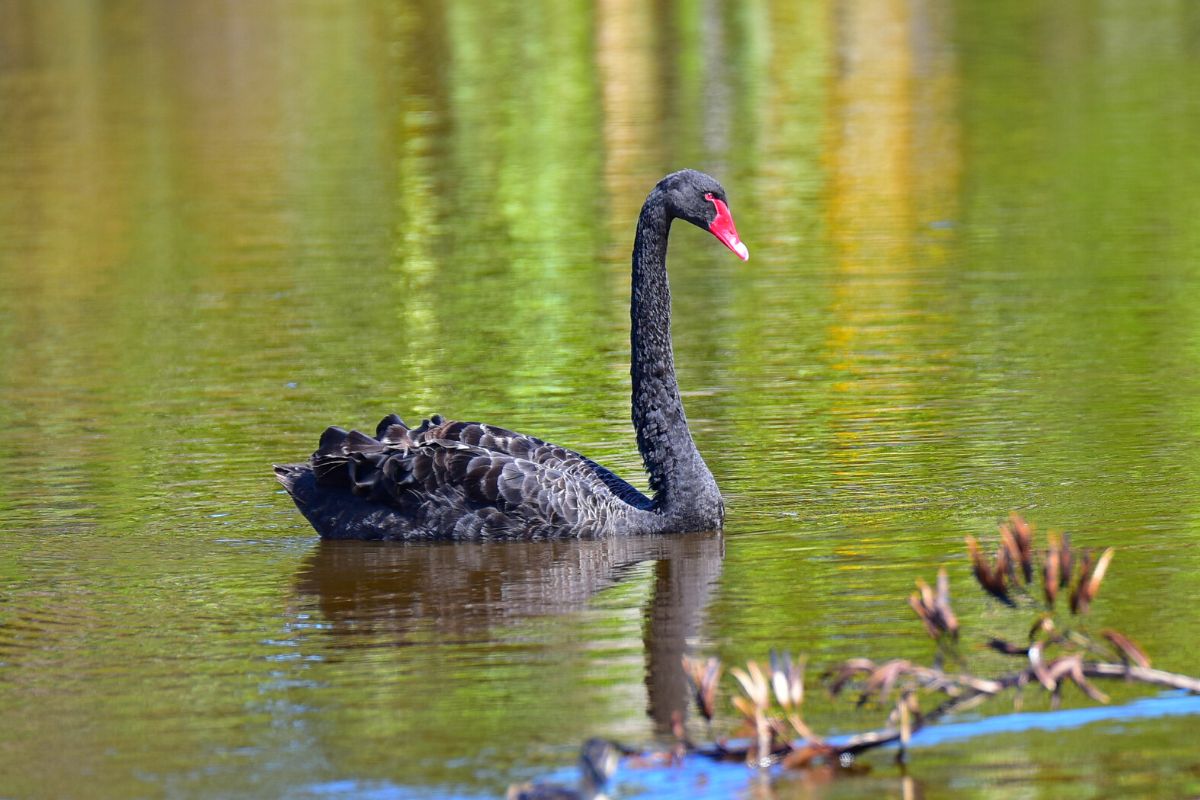 Avid bird watchers, over 70 different bird species have been sighted at Travis Wetland like the teal, kingfisher, black swan, pied stilt, silvereye, Australian Magpie and plenty of other feathery friends — especially the types that prefer this typography.
However, bird sightings aren't the only thing to do at Christchurch's last large freshwater wetlands, and nature walks are the number one priority.
Spanning 116 hectares, a good way to begin is at the information kiosk where you'll also discover the Education Center. Once you're clued up on the area's history and the wildlife and flora to spot, start navigating!
Amble through the Millennium Forest, along Angela Stream, stop by the Peat Wetland and visit the once-used shed and barn at the Farm House.
There are dedicated walks as well. The four-kilometer Travis Wetland Walk is roughly one hour and you'll pass by many of the park's sites. Or, opt for the Travis Bird Hide Walk and the 800-meter track is a 20-minute circuit.
29 – Soar over Christchurch during helicopter tours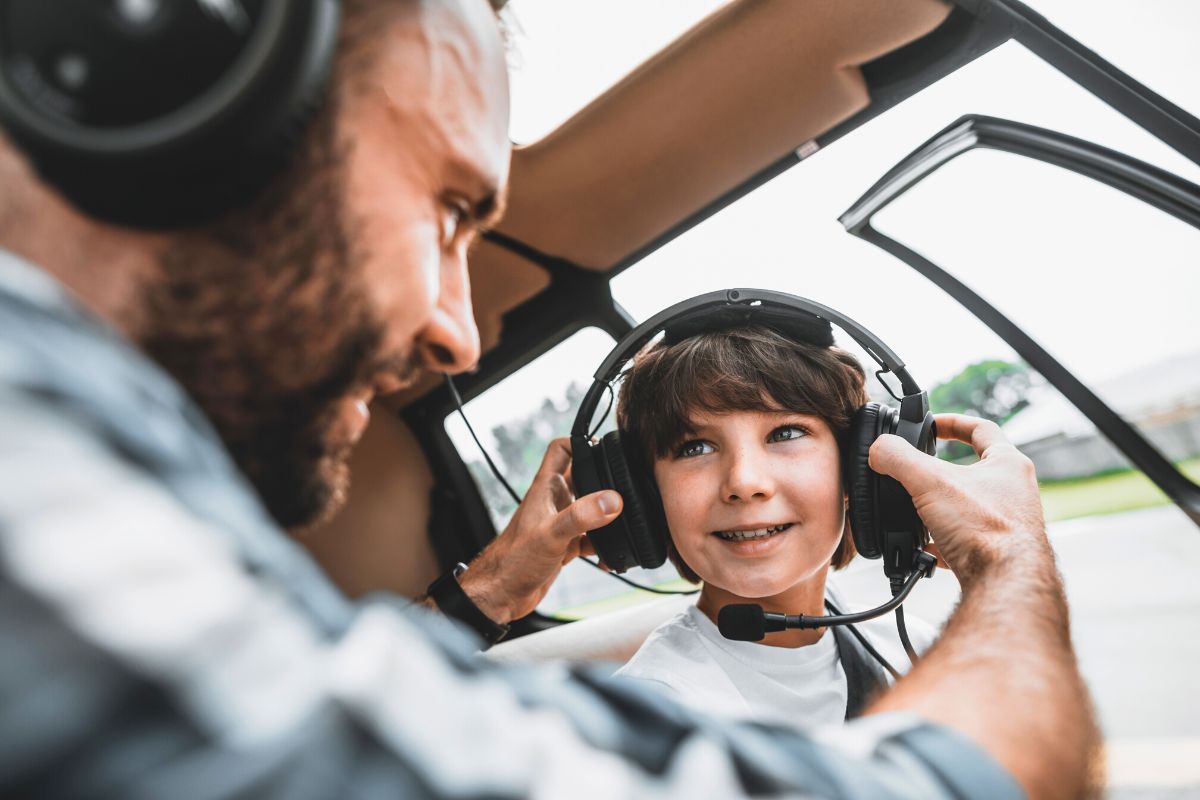 Honeymooners, photographers or budding pilots listen up; far from ordinary, feel extra fancy and swoop in some of the most stunning views in the house during helicopter tours with views that are truly unbeatable!
Lucky travelers, there is a multitude of tours to choose from, varying in destinations as well as time — so pick one that suits you best.
A 20-minute scenic flight is one of the most popular, covering Christchurch city center and the Banks Peninsula, flying over sites and areas like the Christchurch Cathedral, Christchurch Botanic Gardens, the Avon River, Lyttelton Port, Sumner, Redcliffs and more.
Couples, you're in for a treat. Indulge in an exclusive winery tour … by helicopter … around the North Canterbury region where you'll arrive in style and spend half a day visiting vineyards and wine tasting, or there are dedicated love tours to the top of Mount Herbert where you can have a picnic.
Other popular routes are helicopter flights to French-inspired Akaroa or to Middle Rock Farm at the foothills of the Southern Alps.
There's more! If you've always wanted to learn to fly, be the pilot of your own aircraft with a YouFly Trial Flight. Learn the basics 101 and then hit the air where you co-sit in the cockpit with the opportunity to take the (dual) controls!
30 – Shop til you drop at Riccarton Sunday Market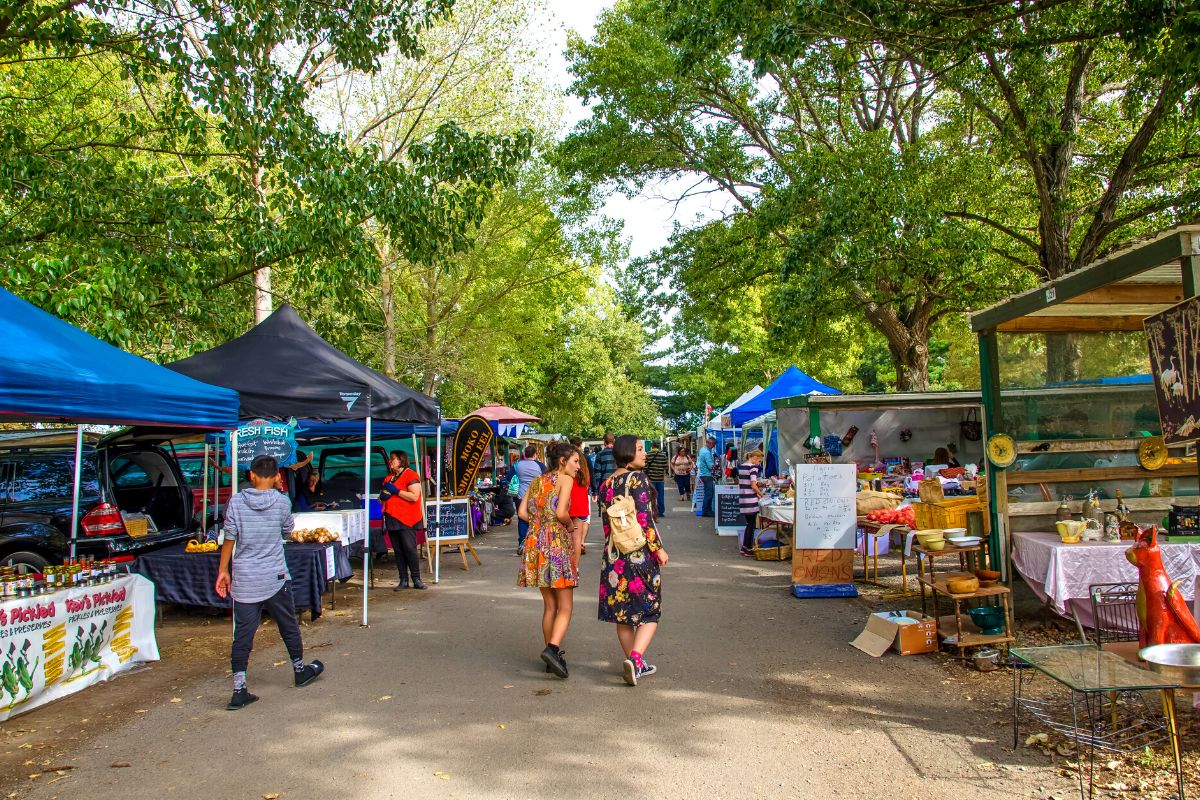 Established in 1989 as a typical car boot flea market, Riccarton Sunday Market has grown over the years into so much more; and with over 200 stalls to browse among, it's officially New Zealand's biggest outdoor market!
Think you've got the best bargaining skills? One of the biggest draws to the weekend Sunday market is not just the treasures to pick up, but the affordability of the goods on offer!
It's one of those shopping locales that sells everything and anything — the time flies by as you scope out the hundreds of stalls selling fresh produce, clothing, art, homeware, handicrafts and second-hand goodies and antiques.
Pick up gemstones, perfume, Balinese products, fresh florals, essential oils, Alpaca crafts, leather belts, ukuleles and so much more!
Shopping certainly works up an appetite, but there's no need to worry about going hungry here with a plethora of vendors selling freshly baked goods, hot meals and delicious snacks from donuts to coffee to hot dogs to chips on a stick.
Buskers add sweet melodies as you mosey around, and kids can have fun on the bouncy castle.
31 – Play outdoors on land and sea around Kaikoura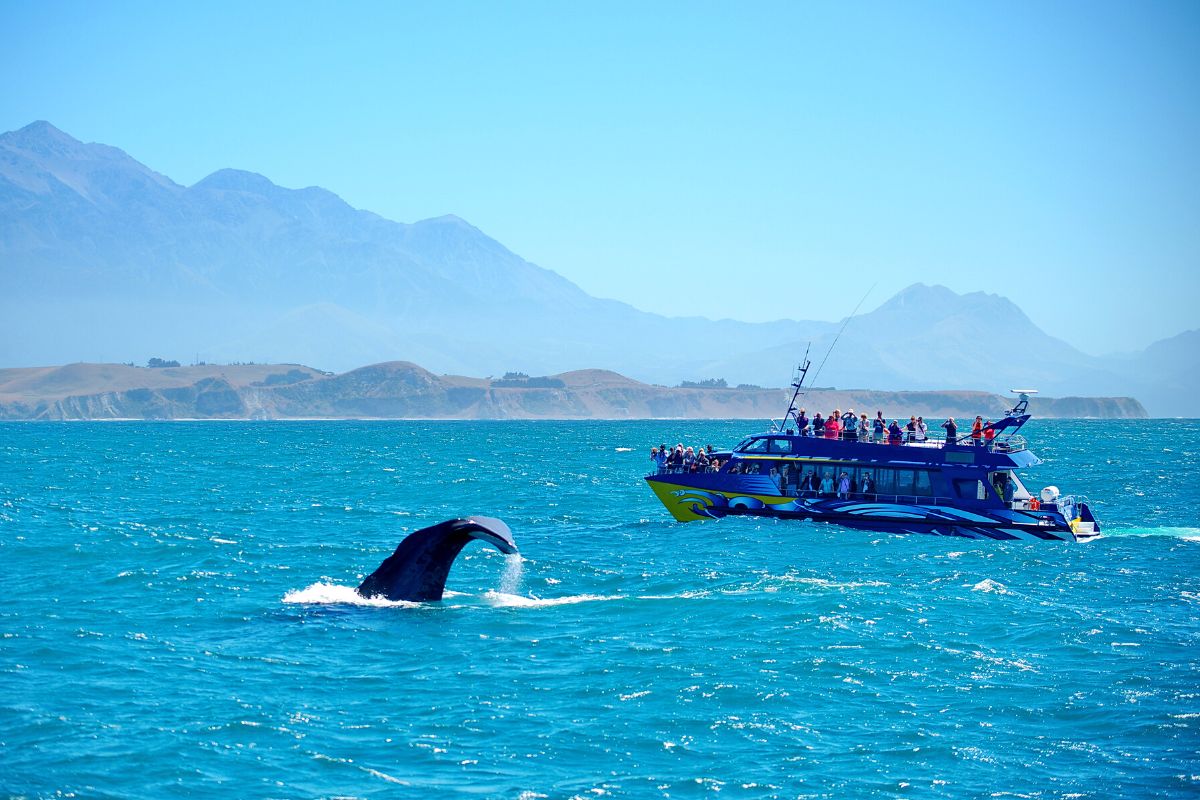 Feel the urge to escape the hustle and bustle and idle away your day close to the ocean instead? With the coastline stretching in front, and the rolling mountains behind you (which get covered in snow in winter), Kaikoura is a true wonder.
Savored for day-tripping, it's one of the best places to scope out the Canterbury region's plethora of wildlife, and especially in these parts on the northernmost end, the marine life is unparalleled!
Sitting between the Kaikōura Ranges and the Pacific Ocean, there is much to do and see from this sleepy coastal town … From land, go mountain biking, skiing, jump on a quad tour, visit a lavender farm, explore via e-bike, hike the coastline and stop by the award-winning Kaikōura Museum for a taste of local culture.
From out at sea, bask in dolphin sightings, or journey on a whale-watching cruise, spot cute furry seal colonies and avid bird-watchers, keep your binoculars close by for the seabirds. Fishing is very popular too, as well as kayaking and scuba diving!
To reach Kaikoura drive just over two hours to get here — or arrive by boat or plane. If traveling by vehicle, en route is Hanmer Springs as well as the Waipara wine region.
P.s. On the way to Kaikoura are some epic surf breaks too, such as Mangamaunu, Kahutara and Okiwi Bay, as well as right near the town (Meatworks, Graveyards and Gooches Beach — a great one for kids and those learning to surf).
32 – Bike, walk or horseback Bottle Lake Forest Park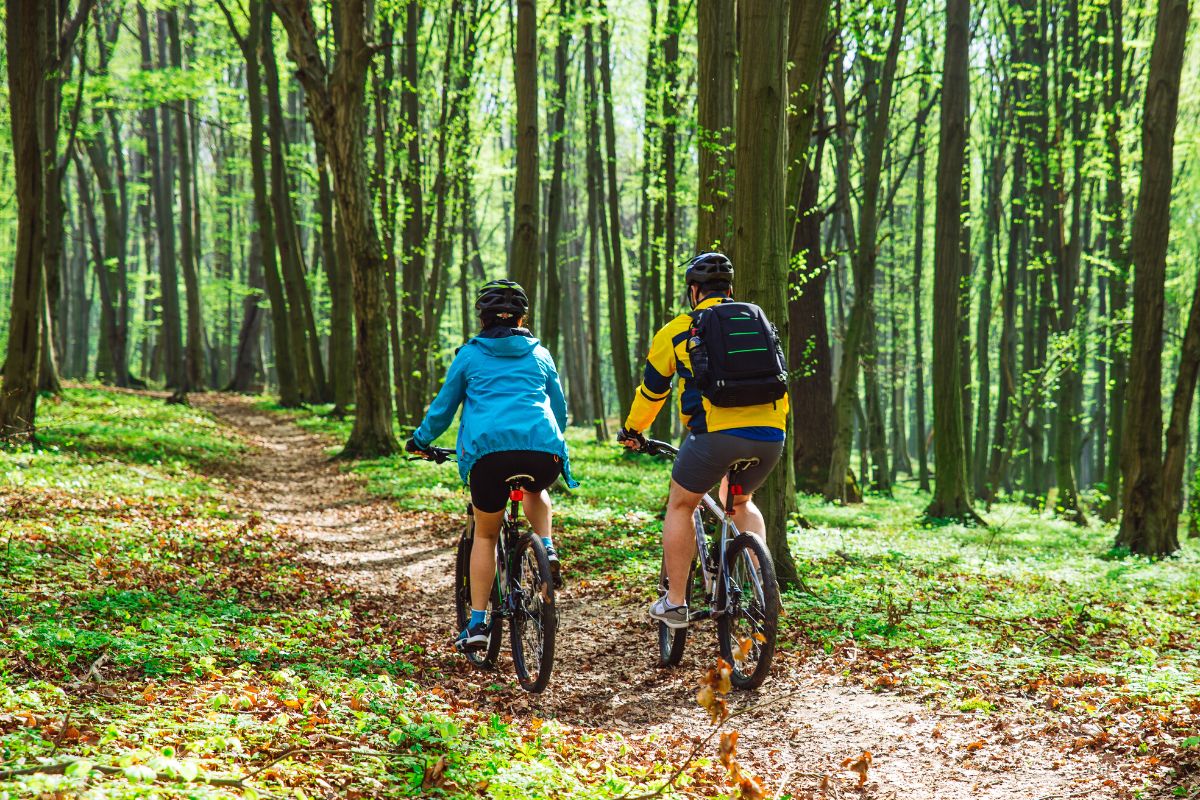 There's a reason why the country is favored for movie set locations with its unbeatable landscapes …With a forestry of pine trees enshrouding you, feel like a fairy as you take a walk or horseback ride through the Bottle Lake Forest Park.
Man-made; the forest was erected next to the Waitākiri wetlands and planting of the first Corsican and Monterey pine trees began in 1883. This helped aid the stopping of sand from flowing into the land's fertile soil from the coastal wetlands.
Today's results are trails and pathways running parallel to the coastline and hikers and cyclists especially love meandering among the tall pine trees. There are two dedicated trails for short walks or the lengthier type. The Bottle Lake Blue Tracks runs for 11.4 kilometers and the Bottle Lake Green Tracks is only three kilometers.
There is a special designated track for horse riding, and if here on bicycle, follow the markers along The Bottle Lake Forest Track.
Meander through mossy grounds, native ferns, and past trees with wild orchids. Be on the lookout for ruru nohinohi (i.e. the little owl), fantails, sparrows and blackbirds.
Do you believe in magic? Don't miss the Fairy Village of Bottle Lake Forest, and if you have built your own abode for the fay, you can find a special spot in the fairy village and leave it here.
33 – Rejuvenate at Hanmer Springs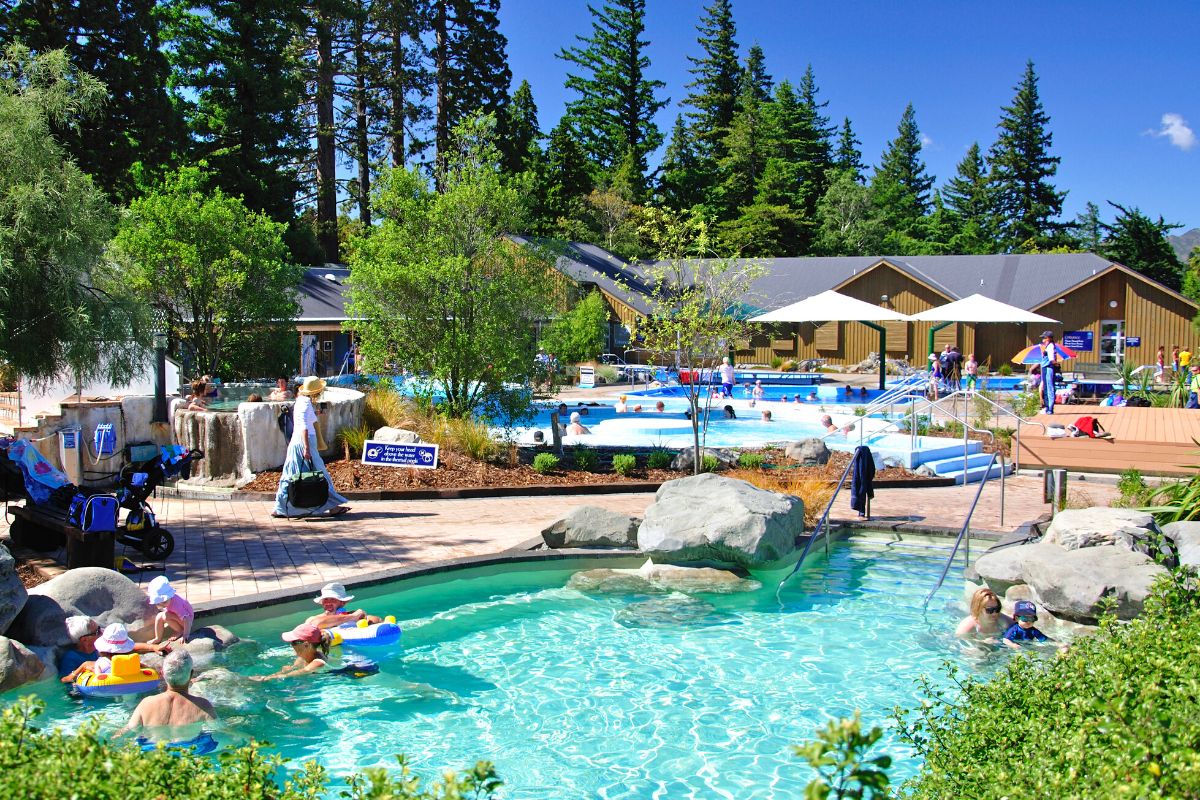 Did you know that natural hot springs contain healing properties and one soak in the thermal waters can help with ailments such as arthritis, muscle aches and skin problems, as well as improve vitality, blood circulation and helps reduce stress levels? Sounds pretty amazing, right?
What are you waiting for? Right here in Christchurch, you're blessed with the Hanmer Springs Thermal Pools — a hot spring complex that's been growing since it was first discovered in 1859.
Basking in water that is over 173 years old, the springs are filled with water that was once snow, converted to rainfall and captured underground in a reservoir, now supplementing the springs. The water is packed with minerals including boron, calcium, chloride, iron, magnesium, potassium, silica, sodium and sulfur.
The park is divided into different pools; the Cascade Pools (average water temperature is between 37 and 42 degrees Celsius), AquaTherapy Pools (32 to 34 degrees Celsius), Hexagonal Pools (38 to 40 degrees Celsius), Rainbow Pools (36 to 38 degrees Celsius), Sulphur Pools (40 to 42 degrees Celsius) and Rock Pools (34 to 36 degrees Celsius).
Or, there are six private thermal pool suites if you prefer. Once you're done soaking, hit the sauna or steam room, or treat yourself to a massage ritual or body therapy at The Spa.
But wait, there's more. If visiting with the whole family, have buckets of fun at the AquaPlay zone, down the Lazy River, riding the slides or swimming in the Children's Activity Pool.
34 – Have a picnic at the other amazing parks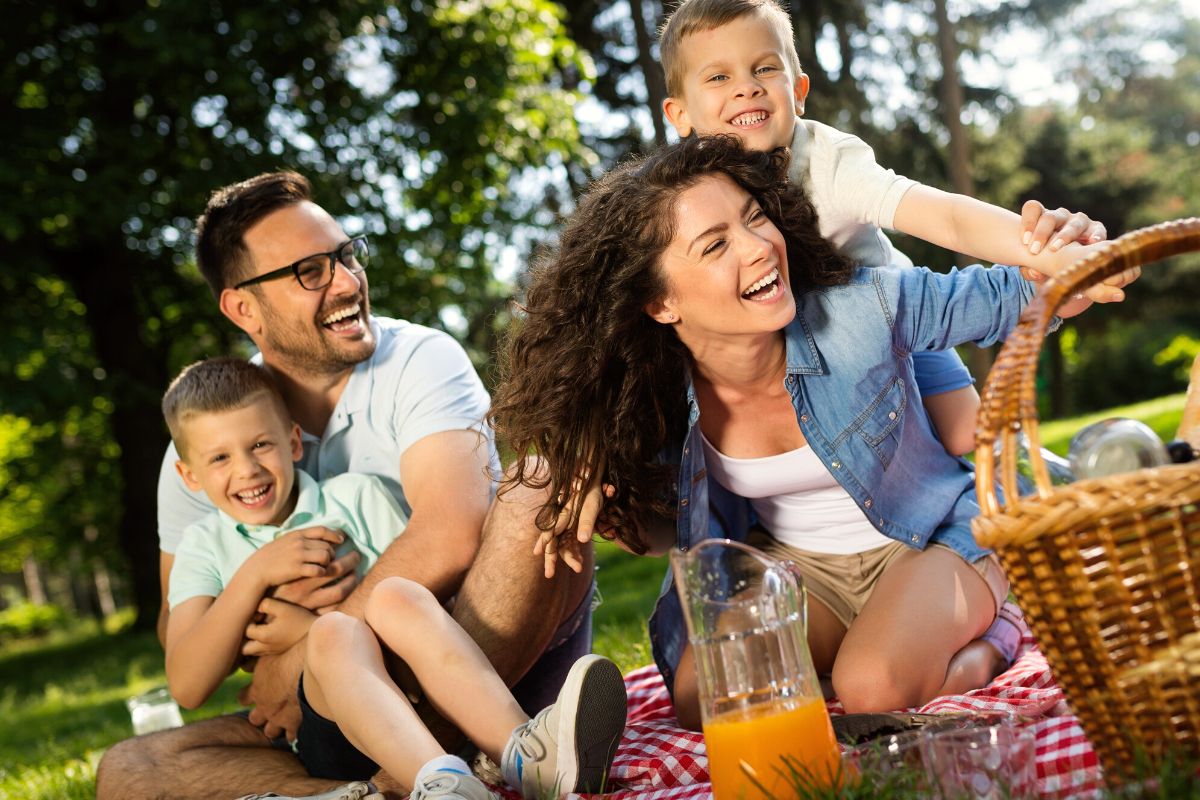 Nicknamed "Garden City", whilst you're ticking off things to do in Christchurch, add one or two more of its other amazing parks to your list.
Mona Vale Garden Park has an old-worldly feel, as if you've entered a botanical garden somewhere in the English countryside. It's so pretty that it's even a popular wedding venue destination, especially around the Lily Pond, Mound Pond and the Mill Stream.
Meander among the rose bushes (planted in 1994), stroll through the iris garden and admire the annual beddings and other manicured flower beds. Following the outlined pathway, you can walk around the entire park in 20 minutes, and guided garden tours are available on request.
The Mona Vale Homestead and pantry is located within Mona Vale, housed inside an original 19th-century building.
Forming part of Hagley Park, South Hagley Park is separated from its north counterpart by Riccarton Avenue. Wandering through oak trees, there is a round loop three-kilometer South Hagley Park Walk.
Sporting addicts and traveling families, the grounds are equipped with netball and tennis courts, golf tees, as well as petanque and croquet clubs.
35 – Crack the sequence at CodeBreakers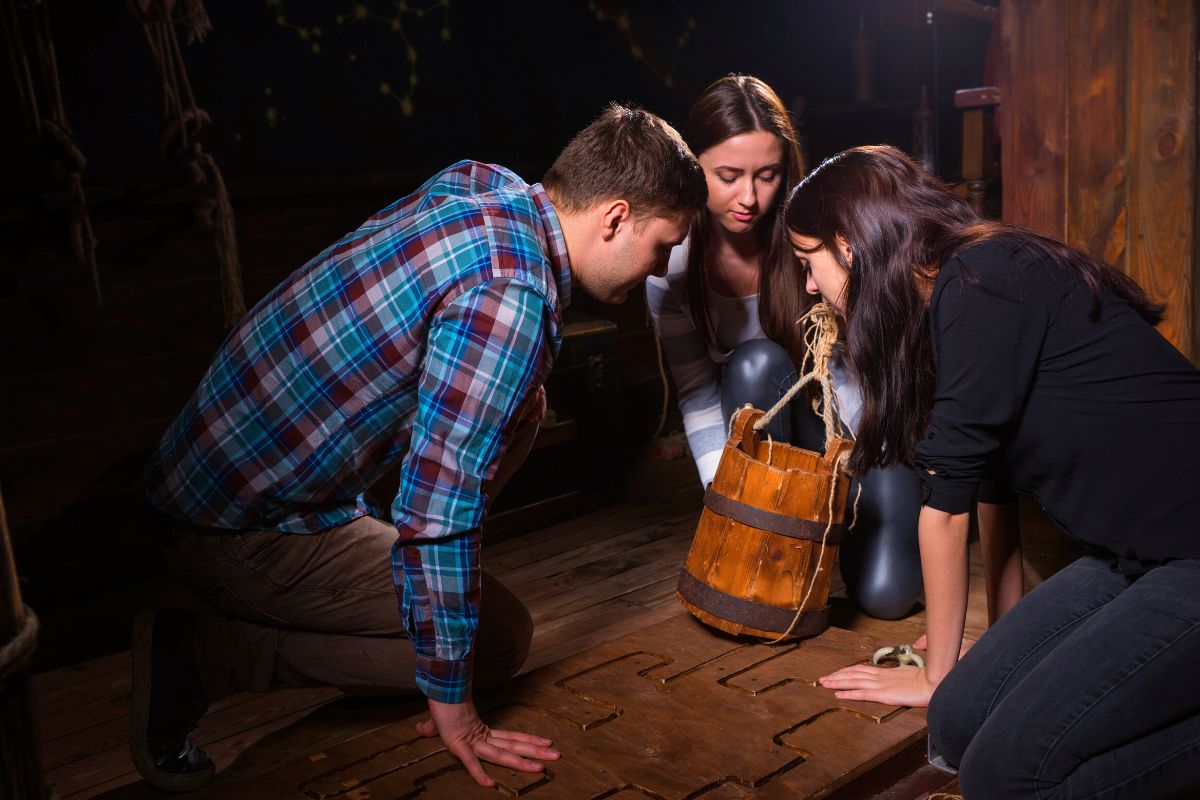 Does your brain favor sequences or perhaps you reckon you'd be an excellent cryptanalyst? Are you obsessed with movies like The Davinci Code? Test your mind (and skills) at the unique CodeBreakers where (unusual) day jobs as a symbologist or cryptographer really come in handy!
If you're fans of an escape room, this Cipher Course takes it one step further. Think you have what it takes? Incorporating facets of the Enigma code, you will have to decode secret messages, and break ciphers whilst unraveling the mystery of cryptology.
For players that aren't the greatest mathematician or if history isn't your strong suit, not to fear. The game is offered as three levels, ranging in difficulty, and there are even crypto prizes to win!
You have the option to play as one person, or in groups of three and more, where you'll be tasked with different codes to break, and learn all about the world of crypto and the history of the Enigma cipher device first pursued by the German Navy during World War II.
36 – Explore nature-filled Queenstown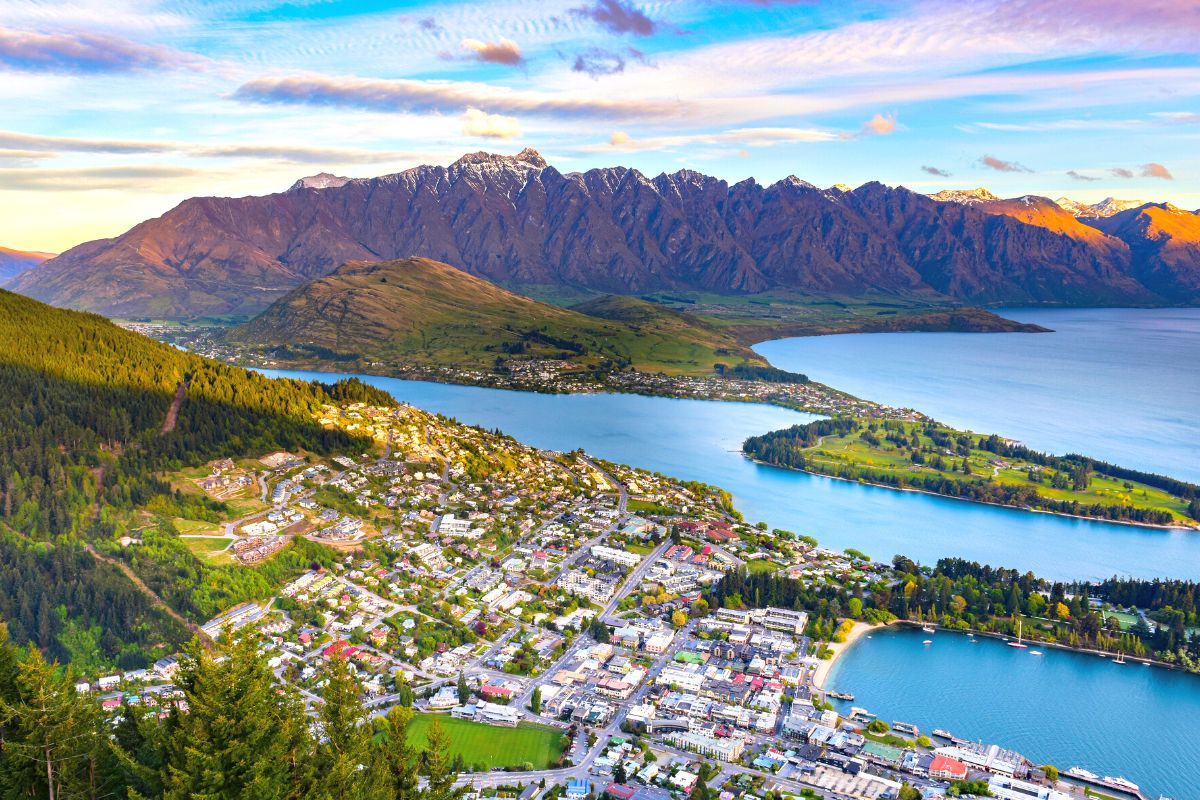 Imagine waking up every day to a town built in between the mountains with the most serene lake at your doorstep … Make it a reality when traveling to Queenstown, a popular road-tripping destination and worth exploring whilst you're already on the South Island. It officially forms part of the Southern Lakes area — need we say more?
Encircled by snow-kissed ranges (including The Remarkables, Queenstown Hill, Cecil Peak, Walter Peak, and Ben Lomond) that transform in winter and summer, and filled with forests and valleys, it's home of Lake Wakatipu where outdoor activities are boundless and the typography is awe-inspiring. Grab a canoe/kayak and a paddle and explore the waters yourself!
Feel the thrills as you try out whitewater rafting, canyoning, and even river surfing; and the lakes in the area provide ample fishing time including fly-fishing opportunities. In winter, grab a board and go snowboarding or skiing, and mountaineering and hikes through the ranges draw in crowds.
Join one of the Movie Location Tours (Queenstown and the surrounding spaces are a hit with international moviemakers and directors), visit the galleries, work on your backswing at the golf range or venture off into the vineyards for an afternoon of wine-tasting.
(The fastest way to get here is by plane, or drive five hours from Christchurch.)
37 – Bring the kids to Margaret Mahy Family Playground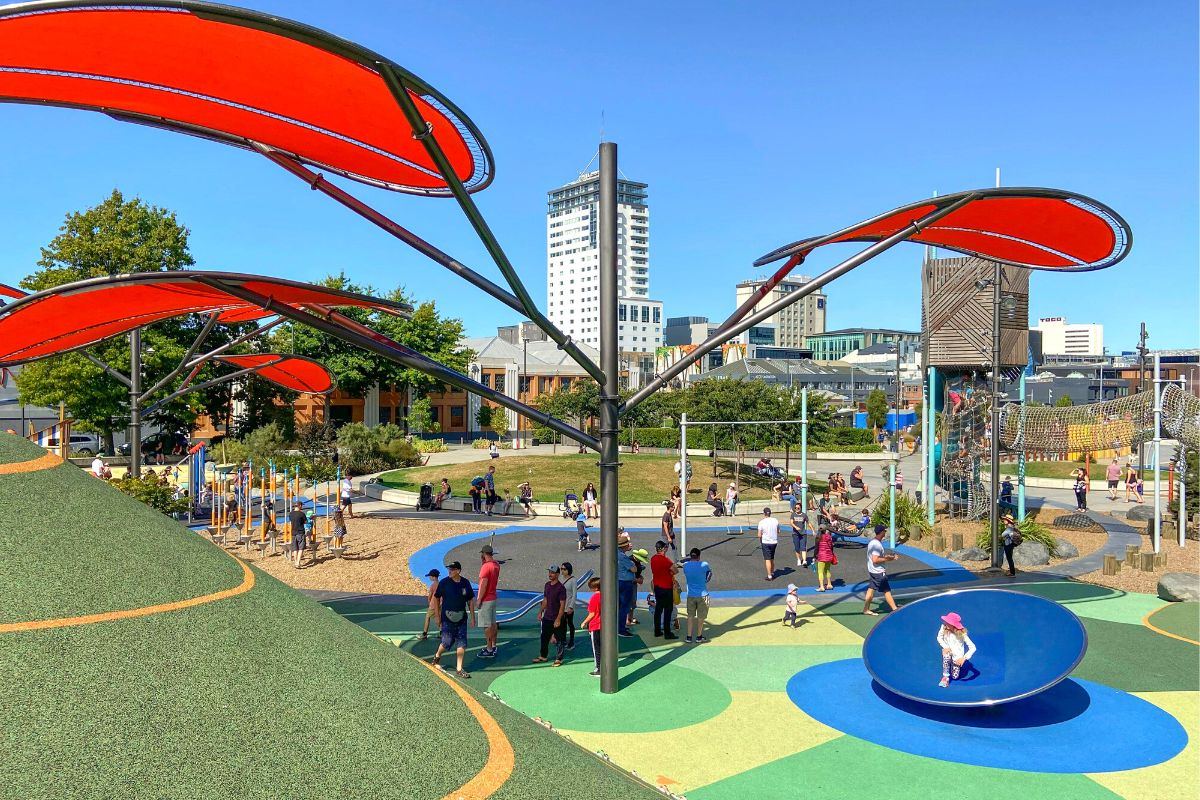 Just as its name suggests, the Margaret Mahy Family Playground is a fantastic space for every family member to enjoy — especially kids and teens!
Designed with plenty of hands-on play areas to keep the little ones occupied for a solid hour or so, moms and dads can indulge in a (much-needed) breather whilst keeping a watchful eye from the sidelines.
Grab a coffee or a bite to eat from one of the food trucks, and there is a shaded picnic site with electrical BBQ facilities that are free to use.
Smack bang in the CBD next to the Avon River, this recreational space is far from your ordinary playground …
Named after New Zealand children's author Margaret Mahy, all of the play equipment has been custom-designed and the spaces are titled after some of the country's most iconic natural elements. Zones include the Forest, Peninsula, Wetlands, Plains, Dunes, Crater Rim and more, set out to represent its namesake in some form.
Climb to the top of the 10-meter tall tower, crawl across netted tunnels, whizz down astro banks with a massive stainless steel slide, bounce around the in-ground trampolines, feel the forces of gravity on the flying foxes and make a splash at the water playground.
38 – Go zip lining across the country's tallest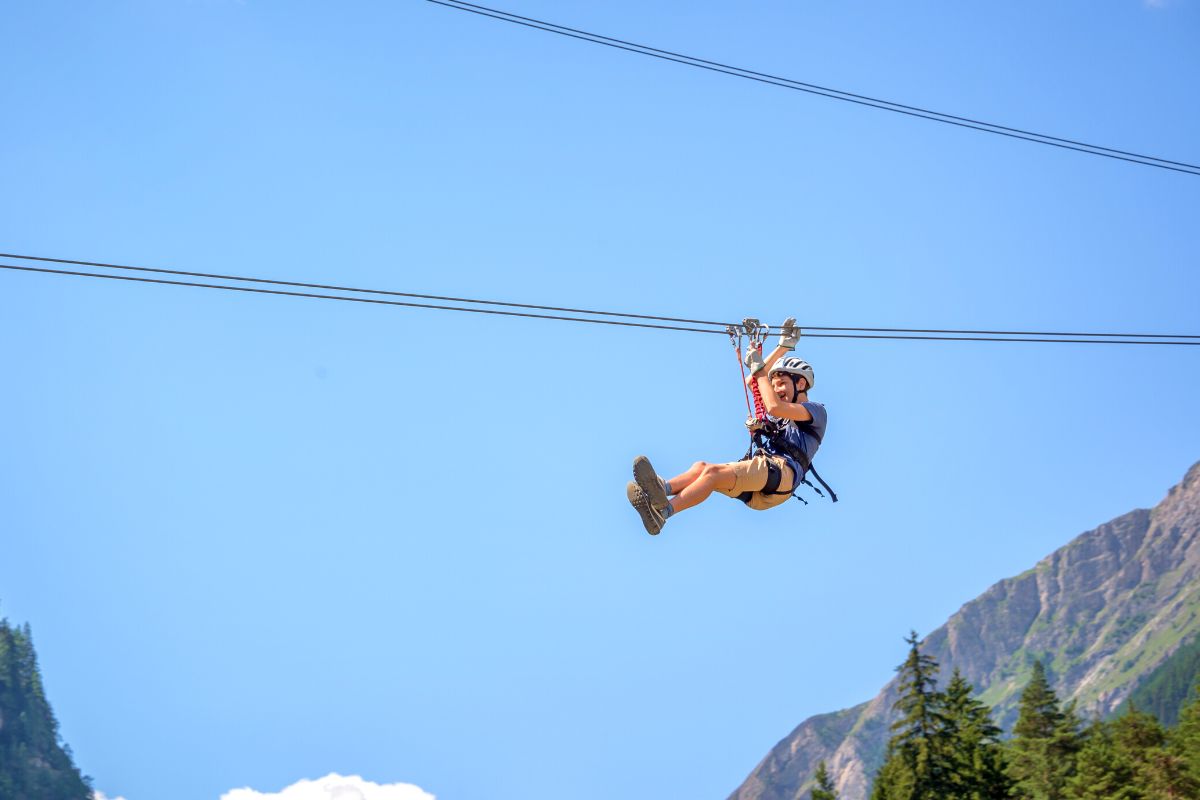 Introducing New Zealand's longest zip line stretching through the treetops for one-kilometer right here in Christchurch.
Situated in Port Hills, prepare for a 2.5-hour adventure, crossing four ziplines at different altitudes, and to reach your first base and zipline, you will have to catch the 1.8-kilometer chair lift to the top — take advantage of the views before the ziplining even begins!
Christchurch Adventure Park has four unreal dual zip lines (ideal for racing your brother, best friend or dad), each differing in length. Zoot across 490 meters on zipline 1, and clock 430 meters when completing zipline 2. The third zipline is the highest in the country where you'll fly 150 meters above the ground.
Zipline 4 is also called The Long Ride, aptly named after the 1.1-kilometer-long trip you'll be taking suspended mid-air.
Unlike most ziplining exploits, this one is considered a tour through the Southern Alps — just from a bird's eye view — and you have the option of simply zipping The Long Ride which is a 1.5-hour endeavor.
39 – Pretend to be a pilot at the Air Force Museum of New Zealand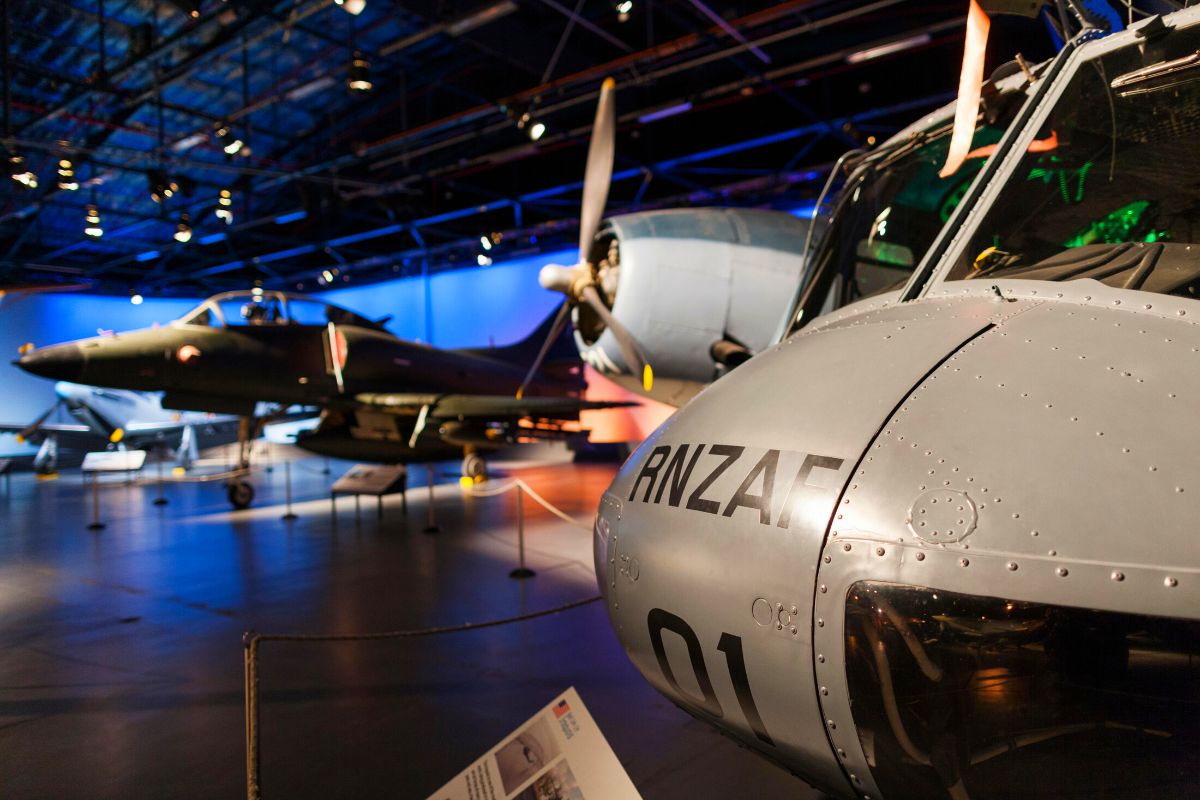 Since 1981, the grounds of a former air base have provided history, facts and visuals to the public involving all things aviation, dedicated to the Royal New Zealand Air Force (RNZAF), including the military side of things.
Arriving at the Air Force Museum of New Zealand, there are six buildings to investigate, filled with exhibitions, galleries, memorials and aircraft displays, some located inside once-used hangars.
Start your visit at the Atrium and then acquaint yourself with New Zealand's military aviation history at the Horizon to Horizon gallery. Learn something new through visual aids like photos, films, artifacts, an illustrated timeline and stories to back it up.
The Aircraft Hall is one that excites visitors the most, storing 13 vintage aircraft flown by the RNZAF, like the Douglas C-47 Dakota and the Avro 626. Scope out a replica Sopwith Pup biplane and medal displays inside the Caldwell Gallery.
At the back of the Thérèse Angelo Wing (used for private events) is the Reserve Collection, storing all of the aircraft currently not on the main displays. Whilst this isn't considered an official exhibition, during a 45-minute guided museum tour you will be shown the ins and outs of the collection here.
Other experiences include the Mosquito Mission Flight Simulator, kiddies' Museum Hunts, self-guided walking tours, special "Walk Wigram" tours, pilot dress-ups, and the chance to get up close and personal in the cabins and cockpits.
40 – Catch a show at the Christchurch Town Hall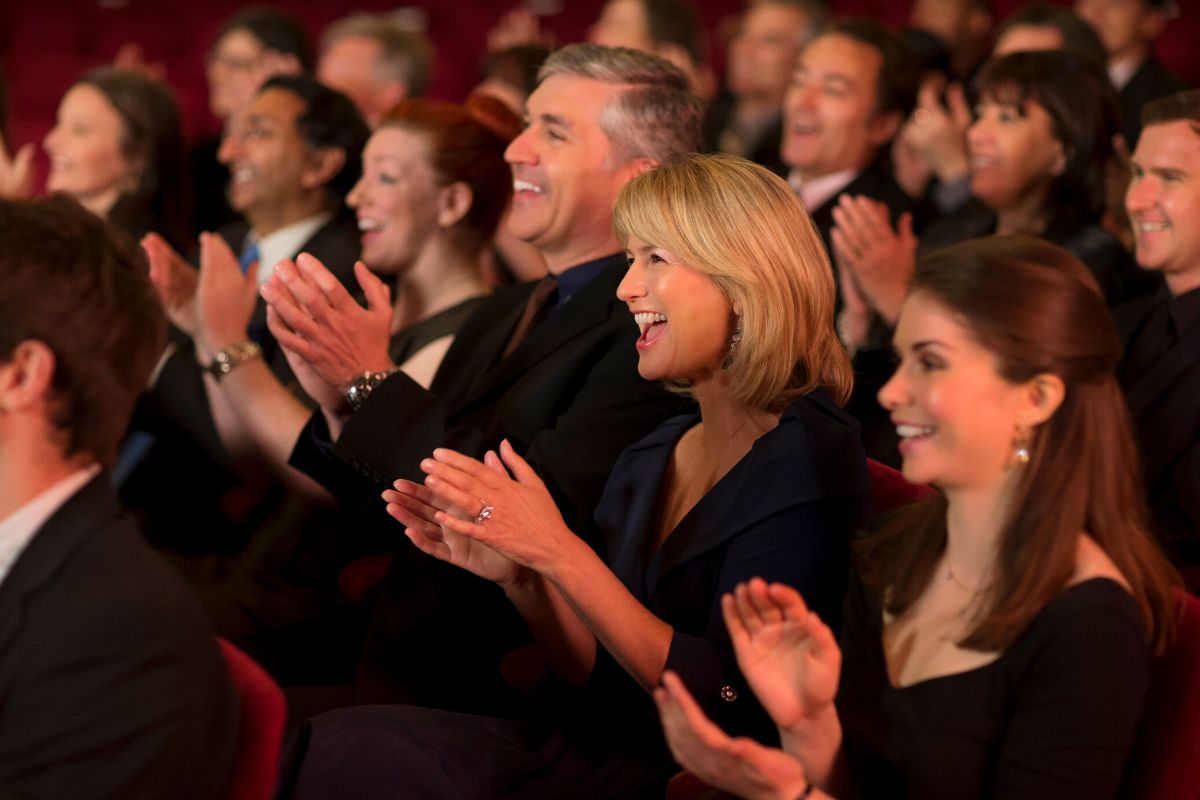 First built in 1972, the Christchurch Town Hall is another one of the city's buildings that underwent a major revamp following the 2011 earthquake and after several years of closing, it reopened its doors in 2019 bigger and better than ever — not to mention, modern!
Sitting on the banks of the Avon River, there are five spaces within its contemporary rendition.
Designed with an orchestra pit and 2,354 seats, the Douglas Lilburn Auditorium was originally a symphony concert hall, but today, it hosts concerts (both local and international), live comedy acts, classical music shows and other events.
The James Hay Theatre can fit 1,006 audience members and was imagined as a classic 20th-century theater. Plays, musicals and even opera and ballet nights are a common occurrence here.
The remaining rooms (Limes Room, Avon Room and Victoria Room) are employed for private events and conferences.
Even older than the town hall is The Arts Centre, with its cultural roots beginning in 1877.  The center houses museums (including Rutherford's Den and the Teece Museum of Classical Antiquities), galleries, boutique shops, cafes, bars, a cinema and a dance school.
Enjoy special screenings of outdoor movie nights or join a craft workshop.
41 – Walk down the New Brighton Pier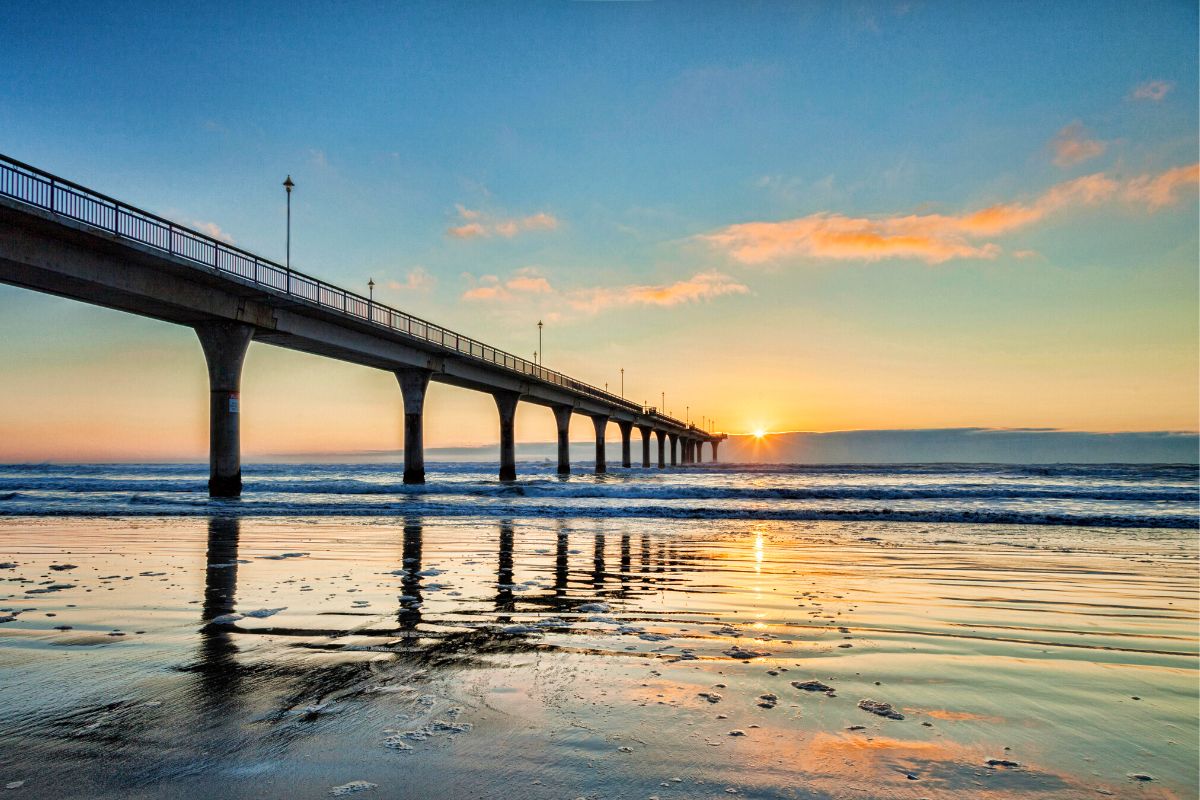 Fun fact: From the 19th century onwards, "pleasure piers" began popping up all over England, and it was the Brits that started the boom of these oceanic piers built with a variety of entertainment and eateries.
With its British settlers arriving in New Zealand during this era too, the first New Brighton Pier was erected right here in Christchurch in 1894, built with a penny arcade on the one end and later a nightclub was added.
The original structure was made from wood, running 210 meters from the shoreline, but it was all demolished in 1965. Fast forward nearly 30 years later and a new concrete structure replaced the first, the second New Brighton pier was constructed at 300 meters long.
Suffering damage from the 2011 quake, it was restored in 2018 and to date is not only an iconic landmark but also a well-loved spot to chill for the afternoon for visitors to New Brighton Beach.
A modernized library is perched at the start of the pier, as well as restaurant and bar, Salt on the Pier.
42 – Have fun at Launch Pad Trampoline Park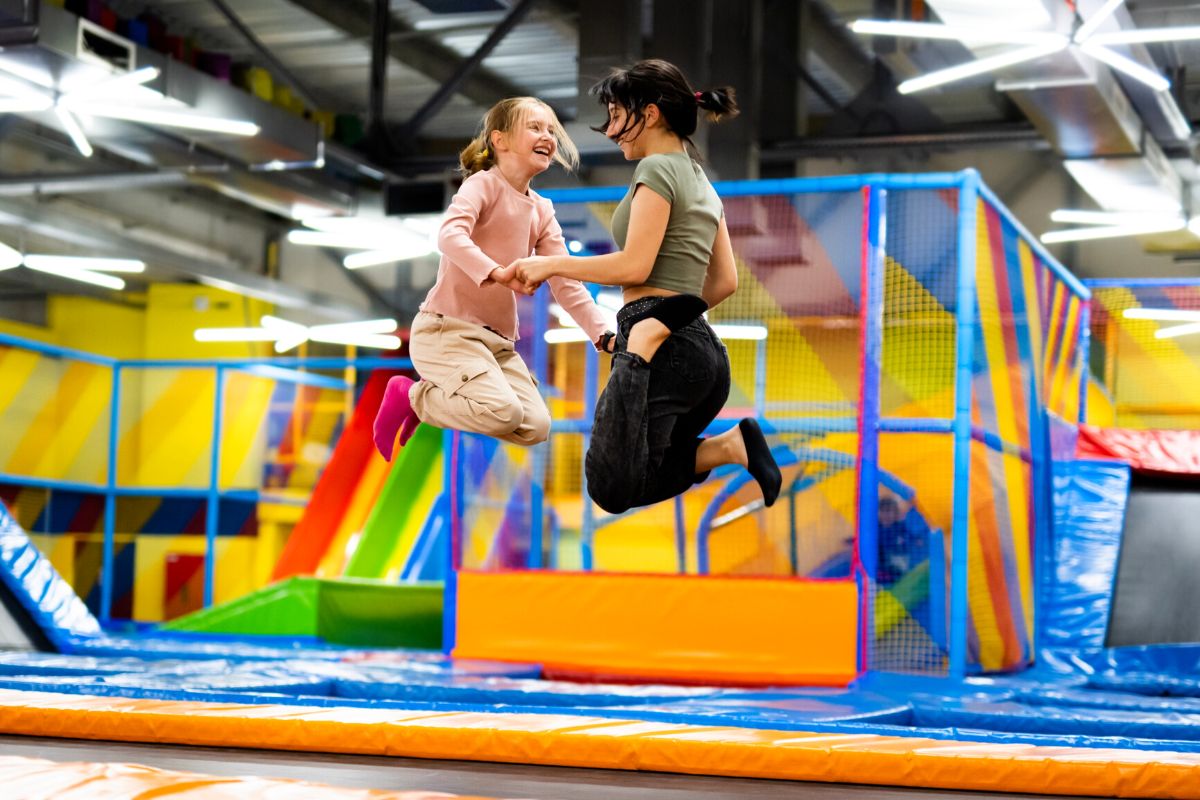 Bounce, jump, somersault and catapult into the air whilst you exert any pent-up energy at Launch Pad Trampoline Park where you can feel like an acrobat or an extreme climber all under one roof.
Equipped with more than 20 features to play among for both young and old, easily spend an hour or two having all of the fun at this indoor adventure park.
The Open Jump arena is where your classic trampolines are set up, flooring a wide space where mats have been built across the floor and up the walls. Defeat the obstacles in front of you when attempting the Ninja Course — but don't worry, there are soft pads to break your fall.
(Little Launchers is the trampoline space just for kids, or arrive in the evening for Glow Night when the arena hums in low neons.)
Forget ball pits, here you can launch into a Foam Pit (made up of small foam blocks), or attempt crossing the Fidget Ladder, also equipped with a foam pit underneath in case you don't make it across.
Get involved in Launch Hoops basketball or Dodgeball, or leave the trampolining and hit up the Arcade Games with prizes to be won.
43 – Hike around Banks Peninsula or go swimming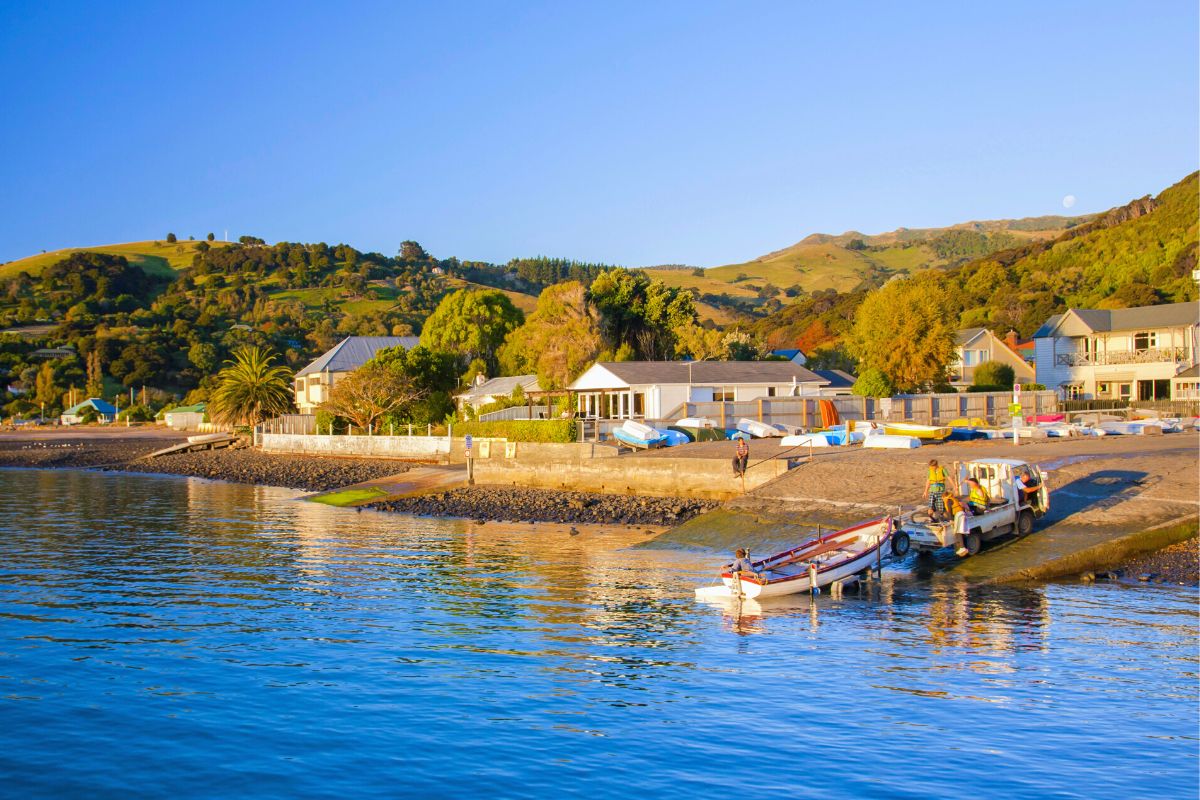 With must-see places like Akaroa under its belt, this slice of paradise is a haven for outdoor enthusiasts, and if one of your pastimes is walks in nature or hiking, you're spoiled for choice at Banks Peninsula.
Forming thousands of years ago after the eruption of two volcanos, an extinct volcanic site now provides visitors to the area with surreal scenery donned with wild bush, deserted beaches, waterfalls, hillsides, swimming holes and panoramas of both the coast and inland.
Sporting five towns to explore (including Akaroa, Little River, Wainui, Duvauchelle and Diamond Harbour) and an overload of parks and reserves that make up Banks Peninsula, easily spend the entire day (or three) discovering the sites by foot.
Green Point Reserve, Akaroa Heritage Park, Misty Peaks Reserve, Robinsons Bay Regional Park, Garden of Tane, Te Oka Reserve and the Ngaio Point Coastal Track are some examples of the surrounding sites ideal for bushwalks and oceanic hikes.
Popular beaches for chilling with the family, swimming and even surfing are Tumbledown Bay, Magnet Bay (best for surfing), Okains Bay (ideal for swimming with kids), Hickory Bay, Le Bons Bay and Little Akaloa Bay.
To reach the peninsula, drive to the east side of the island and most of the roads and paths you can navigate by car (if you're not amped on a hike) but some are only suitable for a 4×4 or even quad bike.
The nearest town is Akaroa and you have the option to camp at Banks Peninsula.
44 – Wine and dine at the best restaurants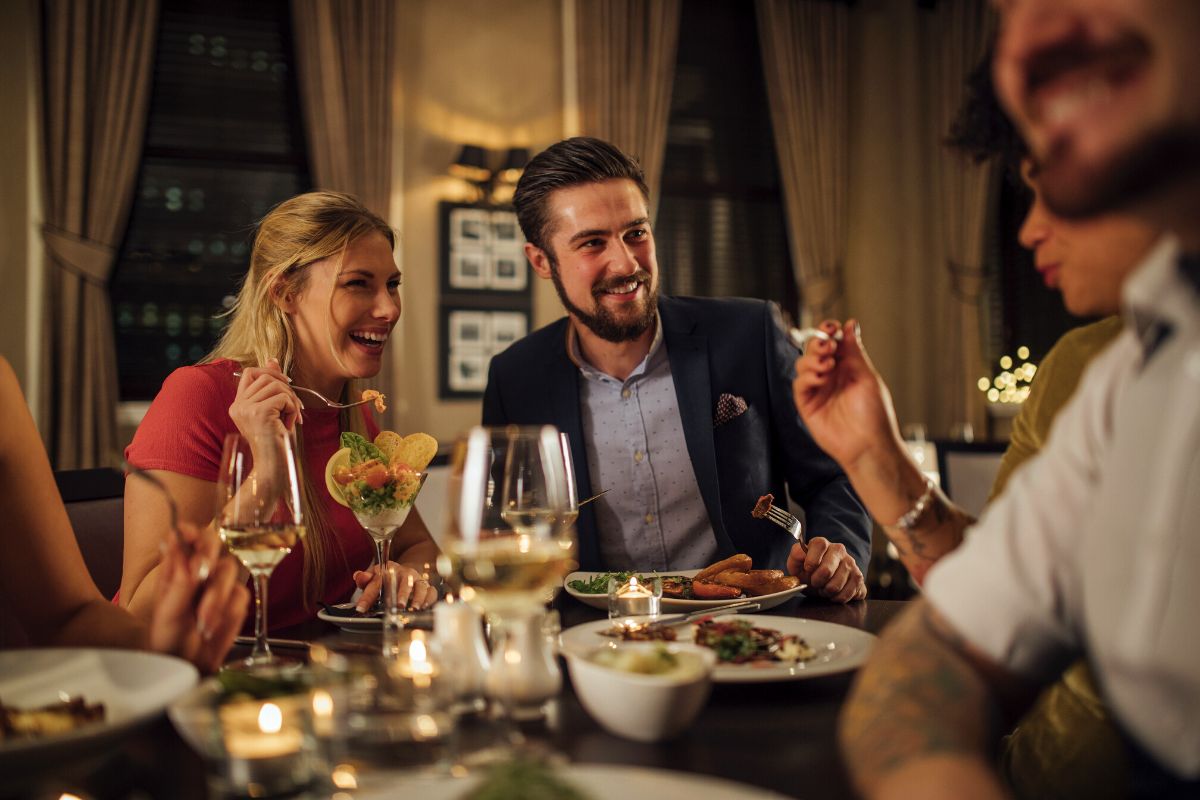 Curious to know what the dining scene is like in Christchurch? Book a table at the best restaurants to tantalize your tastebuds.
Refined and inspiring are two great adjectives to describe the entirety of INATI — from the small tasting sharing plates to the interiors modeled around the chef's table.
Bloody Mary's is moody and full of ambiance, darling, offering guests private dining experiences, as well as a steakhouse, brasserie and bar. Grab drinks in the fancy whisky library!
Funky and packed full of flavor, the dishes at Barberra pop with seasonal ingredients, handpicked florals and herbs, and they favor using the entire product from root to stalk.
Tucked beneath dripping greens, the menu at 5th Street is a pick between small, medium and large plates. The service is top-notch, and the roasted lamb shoulder served with pumpkin yogurt, ras el hanout (an Arabic spice mix) and hazelnuts, is a winner.
In the mood for mouth-watering Japanese? Koji has two locations in Christchurch, one does table buffets and the other is a traditional izakaya-style setup.
Gatherings is all about bringing food and people together, including the neighborhood's local farmers, fisherfolk and artisans. The setting is intimate and the menu ever-changing, and naturally, they only cook with seasonal, organic ingredients. Bookings are a must!
45 – Drink in the views at the Pink Lady Rooftop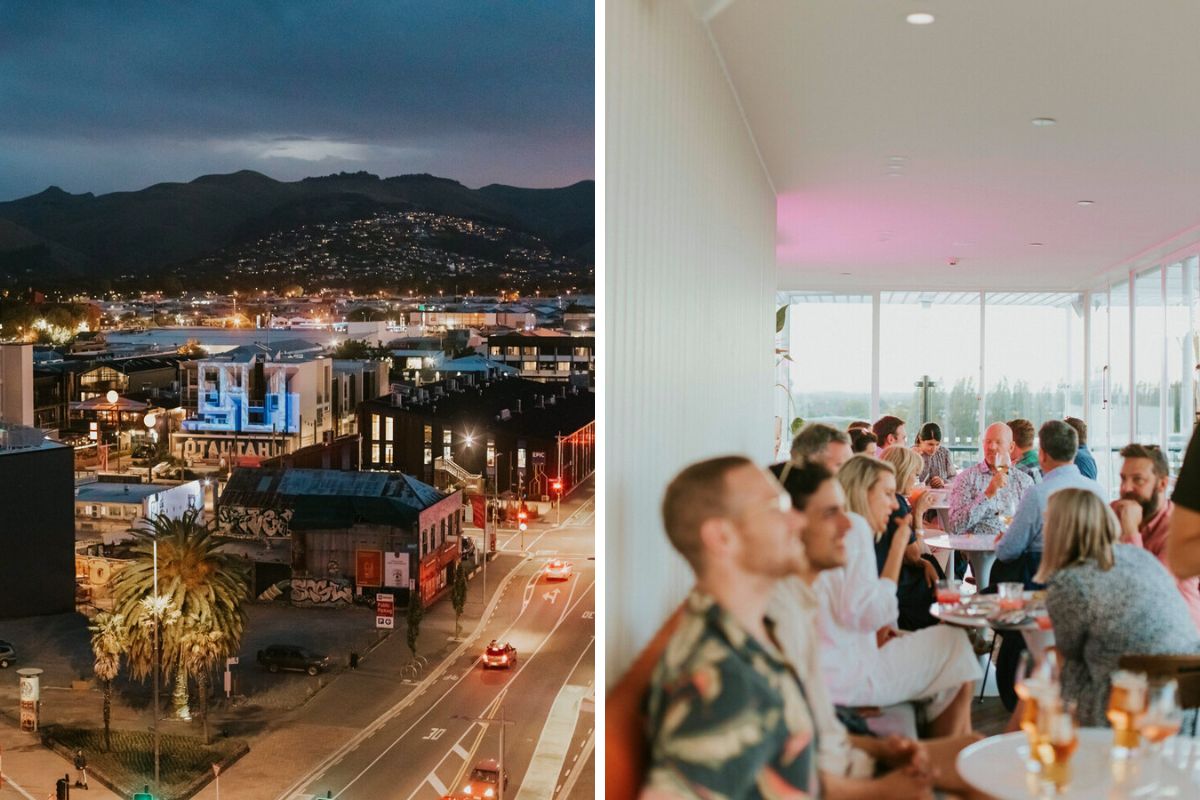 Dusted in pinks and as trendy as ever, the Pink Lady Rooftop is the place to be for sundowners or to relish afternoon lunch with 360-degree city vistas.
In the summertime, sip artisanal cocktails on the open-air patio — the signature Pink Mistress topped with candy floss is a winner and You Make My Heart Go Boba Boba is ultra delish.
Grab tables inside an intimate setting, lit up in neon signs and a stir of pink shades come nightfall. During winter, you can still enjoy its outdoor terrace snuggled under cozy blankets around heaters.
Apart from the insta-worthy cocktails, enjoy craft beers or a glass of vino. Line your bellies with yummy snacks and sharing plates — for something heartier, book a table downstairs after you're done with drinks at Seven (the Pink Lady Rooftop's sister restaurant).
46 – Experience the nightlife in Christchurch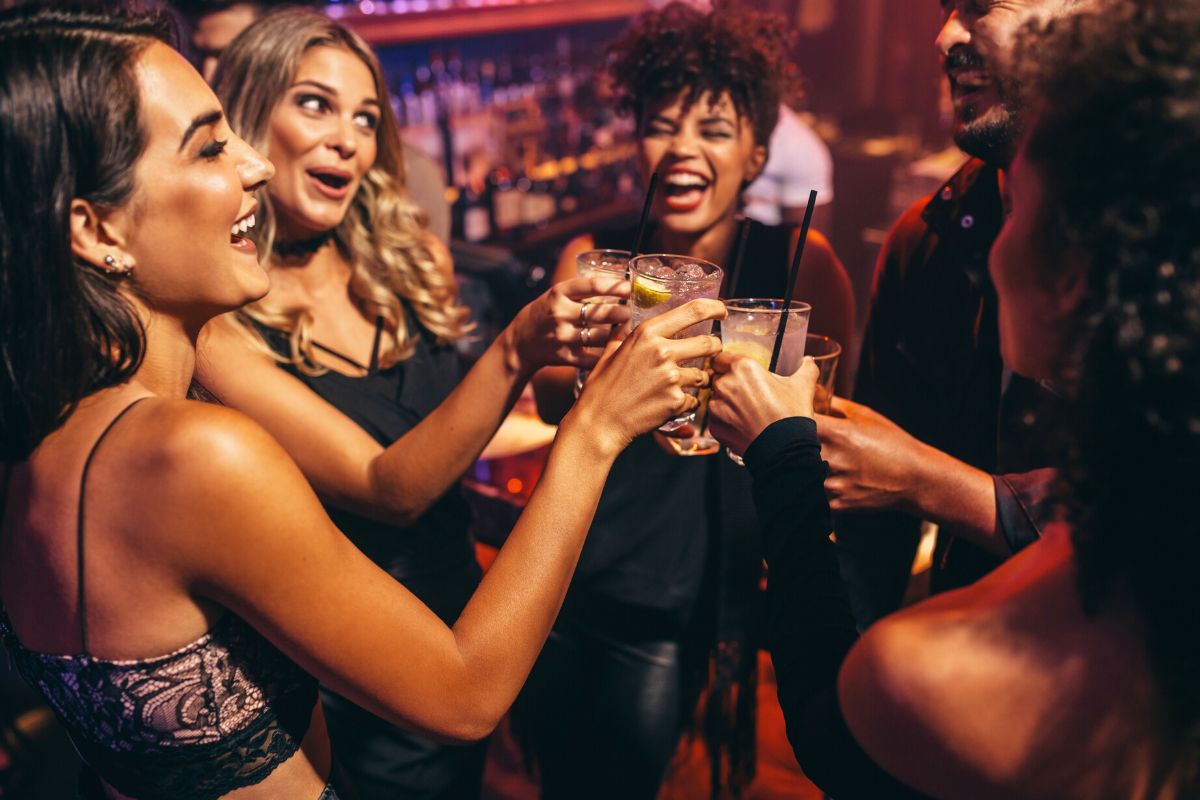 Hang up your explorer boots for the evening, let your hair down and take advantage of the nightlife scene in Christchurch. Here are some of the top spots for sundowners, a nightcap or a boogie.
Dance the night away at Hide where electro bangs out the sound systems and international and local DJs impress the crowds with their beats. Inspired by iconic European discotheques, it has state-of-the-art features from lighting to private zones.
Playful with a dose of soul, Fat Eddies is one of the jazziest live music venues around. Dance, jump, party, drink, eat and be merry!
For those of you who are rather in the mood to grab a couple of drinks at a trendy bar, here are a few fab choices.
A basement cocktail bar? We're all about it and Austin Club is a serious vibe! The imaginative and creative cocktails are so inspiring and they even offer cocktail masterclasses led by a pro mixologist.
Mr. Brightside is an awesome rooftop bar and a lovely pick for sunset hour, with views overlooking Avon River, Port Hills, the Southern Alps and the city below.
47 – Book magnificent candlelight concerts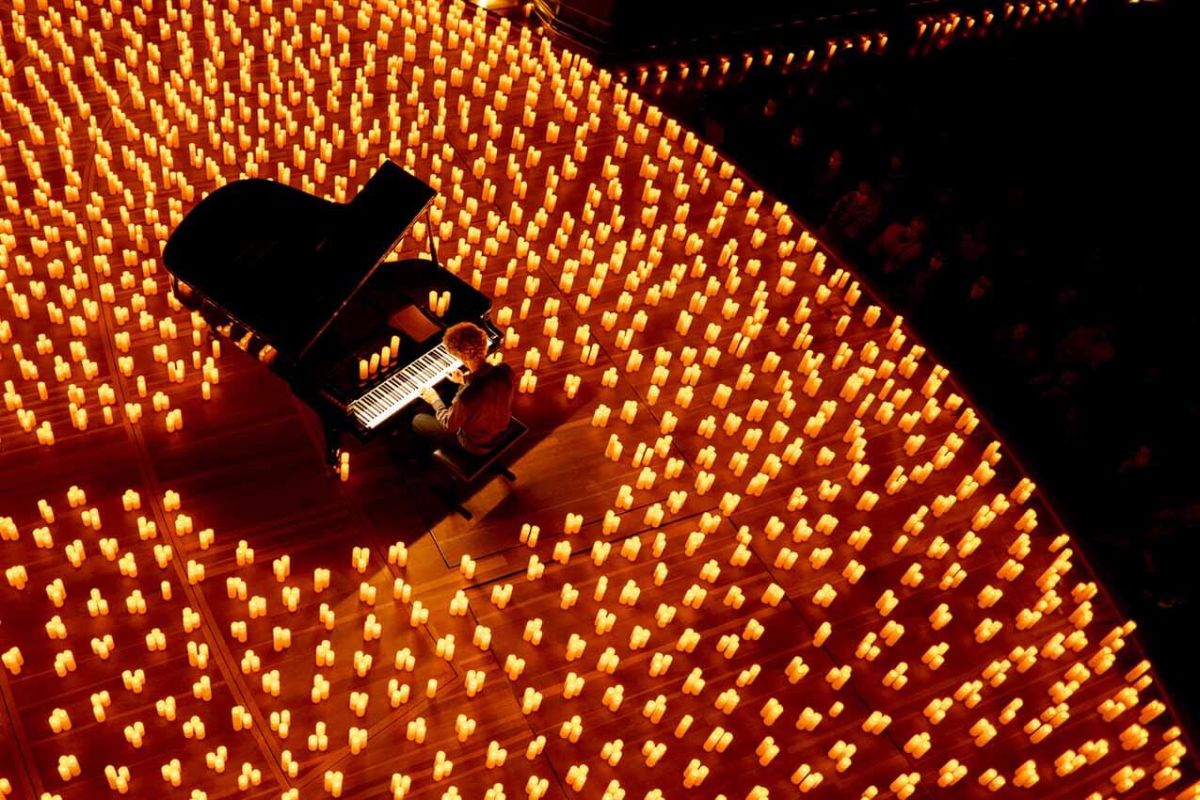 A special one for couples or culture enthusiasts, Candlelight Concerts provide a show unlike any other in town.
Picture walking into a dim room, lit up by hundreds of flickering candles all around you. Take a seat and then treat your ears to an evening of sweet melodies. Plus, the venues chosen for these shows are far from ordinary and are specifically hand-picked for their uniqueness.
For example, if one of your all-time favorite bands is Queen, sing your heart out to Bohemian Rhapsody, Killer Queen, Don't Stop Me Now and more of your favorite tracks, as well as other hits by iconic rock legends, at The Piano: Centre for Music and the Arts.
Also at the same venue, relive your childhood dreams (or bring your own kids) to a candlelight concert featuring the soundtracks from quintessential movies like The Lion King, Toy Story, Aladdin, The Little Mermaid, Beauty and the Beast and so many other catchy songs.
48 – Cash in at the Christchurch Casino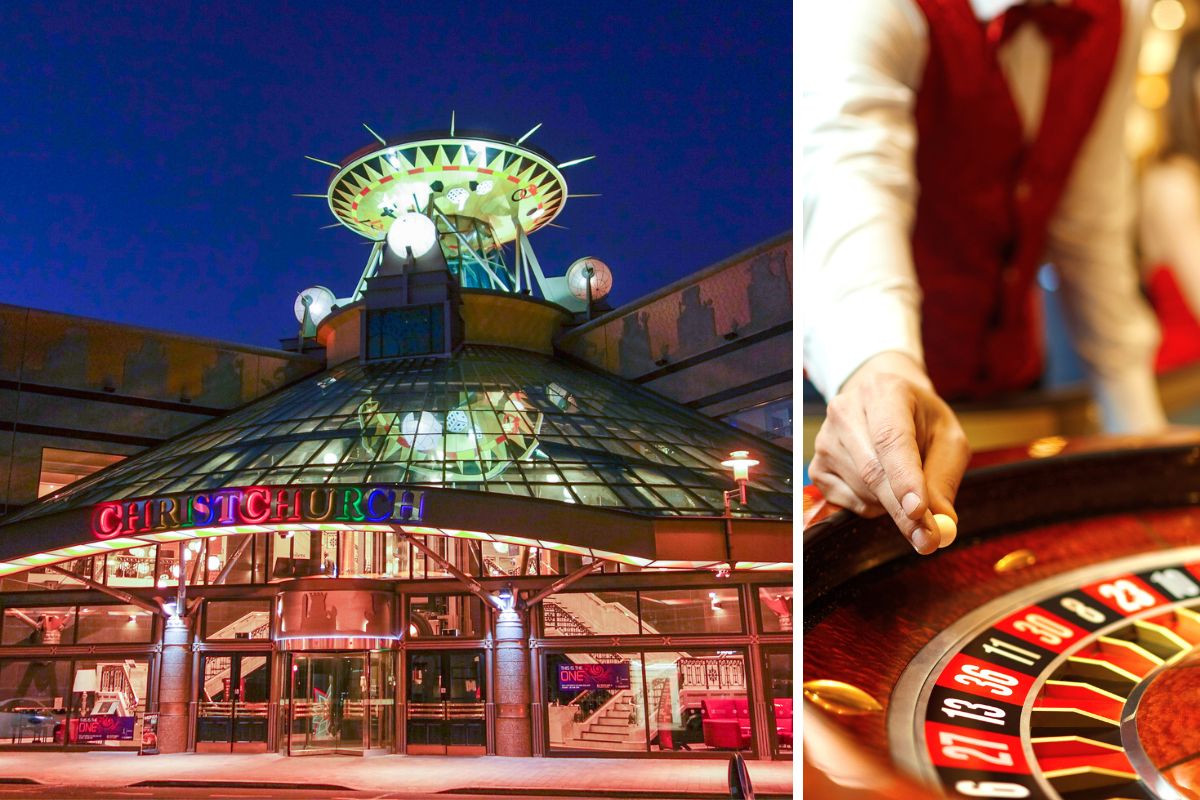 Feeling lucky? With more than 450 slot machines and 32 table games, don't forget to check your watch every now and then otherwise the hours slip by at Christchurch Casino.
Win big during rounds of blackjack, roulette, baccarat and poker. Speaking of, poker is one of the biggest players and you can enjoy varieties of this comparing card game like Ultimate Texas Holdem, Three Card Poker and Caribbean Stud Poker. Put on your best poker face for the New Zealand Poker Championships and other poker events.
Find both classic and the latest games at the slot machines which are spread out over two levels, and the VIP Club Aspinall gaming club is on the top floor.
Take a break and replenish at one of three on-site restaurants and bars, and the casino also hosts comedy gigs, live music and themed nights like bingo.
How to get to Christchurch?
If you're flying into New Zealand and your first stop is Christchurch, you'll arrive at Christchurch International Airport.
Eliminate the hassle of hunting down taxis and haggling fair prices with pre-organized airport transfers.
After you've landed, have completed your airport admin and are ready to head to your accommodation, exit the airport gates where your private driver will be waiting for you, holding a placard with your name on it.
Ushered to your vehicle, be transported in comfort and style directly to your hotel or resort in Christchurch. Pre-booked transfers are available back to the airport if required.
Where to stay in Christchurch?
Rest easy in Christchurch at some of the city's best hotels, resorts and boutique stays.
Classy, comfortable and close to the CBD, five-star The George hotel boasts rooms and suites that are bright, quiet and elegant in an old-worldly way. Appreciate the small touches like welcome chocolates.
A little bit dramatic, and a lot of luxury, The Observatory Hotel is lush! The room decor adds pops of color here and there, and is well-appointed on the furniture and finishings end.
Feel away from the city bustle at Chateau On The Park – Christchurch, A Doubletree By Hilton. The boutique resort even has a private vineyard!
As authentic as it gets, spend the night (or three) at The Classic Villa. Built in 1899, the boutique stay is a five-star hotel.
For those that appreciate your comforts; rooms at The Muse Hotel are not only trendy but are quipped with all niceties like a Nespresso machine, marble finishings in the bathroom and plush mattresses.
Visiting Christchurch on a budget?
If Christchurch isn't the only destination on your itinerary, it helps to save where you can and budget wisely.
For travelers who love sightseeing, a Christchurch Pass is well worth it! It not only includes all-day rides on Christchurch's historic tram where you're free to hop on and off at your leisure but also entry to landmarks, monuments and parks is taken care of (included in the original pass price at discounted rates).
Ride the Christchurch gondola, go punting along Avon River, explore the Botanic Gardens and so much more.
Where to go next?
Located on the South Island, there are plenty of other magical places to visit in this part of New Zealand.
Sitting on the shores of Tasman Bay, Nelson is an east coast town where creativity thrives, and galleries, art and craft shops, and vineyards are tenfold. It's a five-hour drive from Christchurch.
Queenstown is 5.5 hours away from the city and is like paradise for the outdoor-loving soul. It's famous for its sports-offerings both on land and on the waters.
Picton is situated on the northern side of Southern Island and the town is frequented by travelers on their way to the islands and sea valleys of Marlborough Sounds. The result is a port town revolving around all things maritime!
If you've got time to spare, or on the other hand don't, but are keen on seeing as much of the surrounding landscapes and towns near Christchurch as possible in a limited amount of time, consider multi-day trips.
Travel over the course of four days around Southern Island, or set aside two days for a tour to Queenstown (so worth it!). Or, get fully involved and take advantage of the terrain in these parts with a five-day mountaineering and hiking excursion to snowy mountains and glaciers.
Final thoughts
So, what are you waiting for nature-loving souls? The Garden City is calling your name!
From trendy bars to galleries to museums to urban parks, mountains covered in snow and spectacular coastal vistas, what's not to love, as you can see, there are plenty of things to do in Christchurch to keep you busy for at least a couple of days.
Have you ever traveled to Christchurch or consider yourself a local expert? What do you love most about this city or what is your favorite spot to unwind? Share with us in the comments.
As always, happy travels in Christchurch!