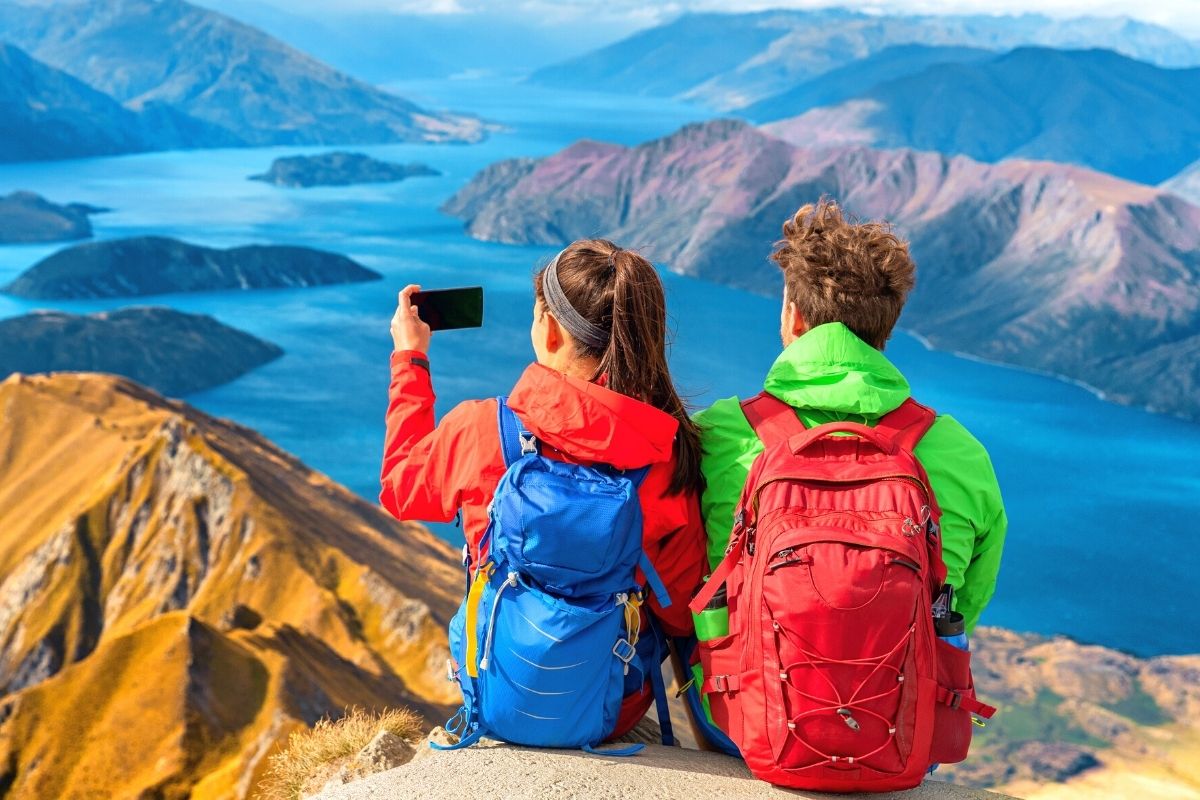 New Zealand is one of those countries where it's truly a difficult endeavor picking the most beautiful places to travel to … whether it's a natural phenomenon, must-see attraction or postcard-perfect town.
It can be overwhelming deciding on what to do so we have rounded up the most fun things to do in New Zealand, in the South and North Islands.
Also known as the adventure capital of the world, New Zealand is a dream destination for many travelers.
Whether you are a film addict, an adrenaline seeker or someone who wants to take a relaxing break, this list has something for everyone.
Immerse yourself in local history and culture in Aotearoa (its Māori name) and learn more about the land's original ancestors. Kiwis love a good museum or art gallery — and we're not referring to its national bird here.
Speaking of, the wildlife to spot is next level, and so is the native flora, differing across the country, from glaciers and snow-capped peaks to coastal nature reserves and gushing waterfalls.
Have fun!
P.s. Home to all of the movie locations for The Lord of the Rings trilogies, it would be a crime not to mention the LOTR experiences in New Zealand! Ringers, don't miss out!
NORTH ISLAND
1 – Witness an oceanic phenomenon at Cape Reinga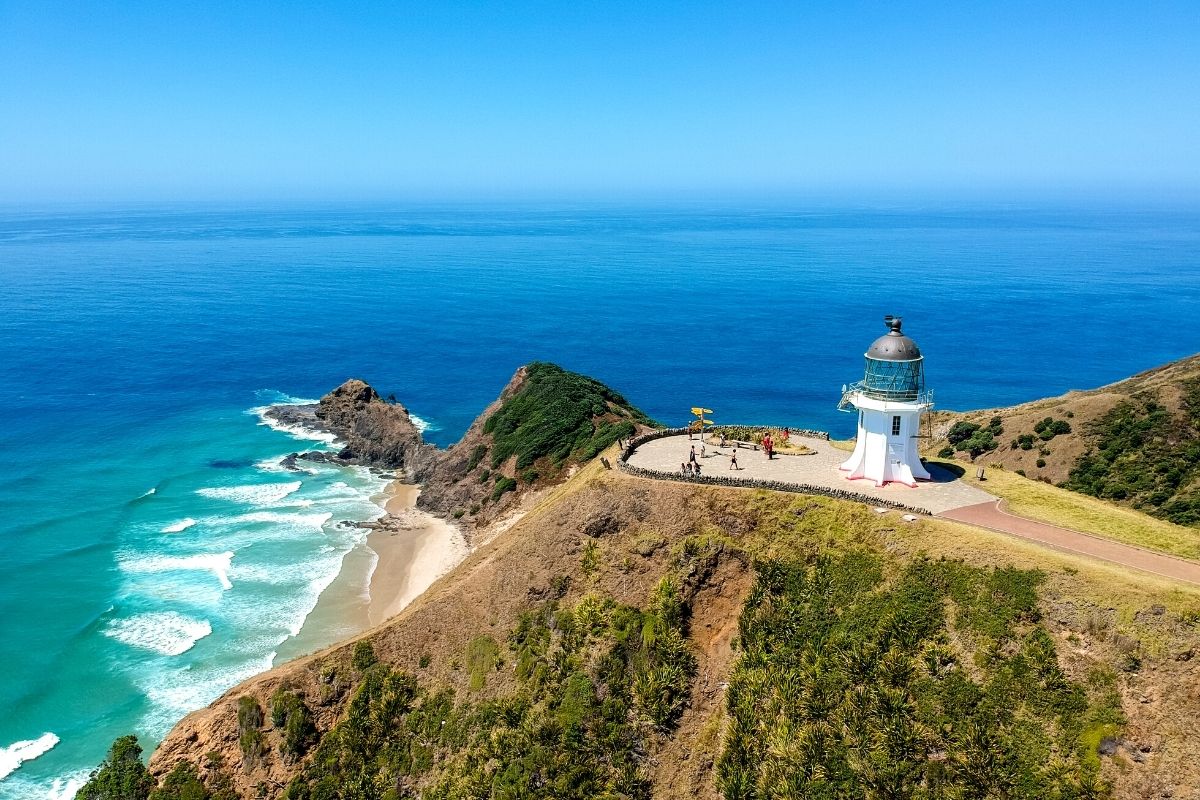 At the convergence of two oceans sits Cape Reinga and its tiny iconic white lighthouse.
Situated at the far end of Northland, travelers arrive from either Auckland or the Bay of Islands to venerate the peninsula … On a good day when the sun is shining bright, you can clearly see where the Tasman Sea and the Pacific Ocean join, each a slightly different shade of blue.
Arriving at the car park, walk 800 meters from here until you reach the white-clad watchtower, known as Cape Reinga Lighthouse, or locally, Te Rerenga Wairua Lighthouse, constructed in 1941.
Travel tip: Eating is not allowed here actually as it is considered a sacred Māori site. Where you see the pohutukawa tree, it is believed in Māori culture that the spirits of the deceased pour out of its branches before returning back to the ocean once more.
Important to know, there are no nearby towns and the area is pretty much deserted except for its natural attractions. The famous 90 Mile Beach is below, and on the way to the cape point are the Te Paki dunes. Reaching 150 meters, grab a sandsurfing board (even a body/boogieboard will do) and slide down the sandy dunes along the 10-kilometer strip.
2 – Embark on a voyage of discovery at the Bay of Islands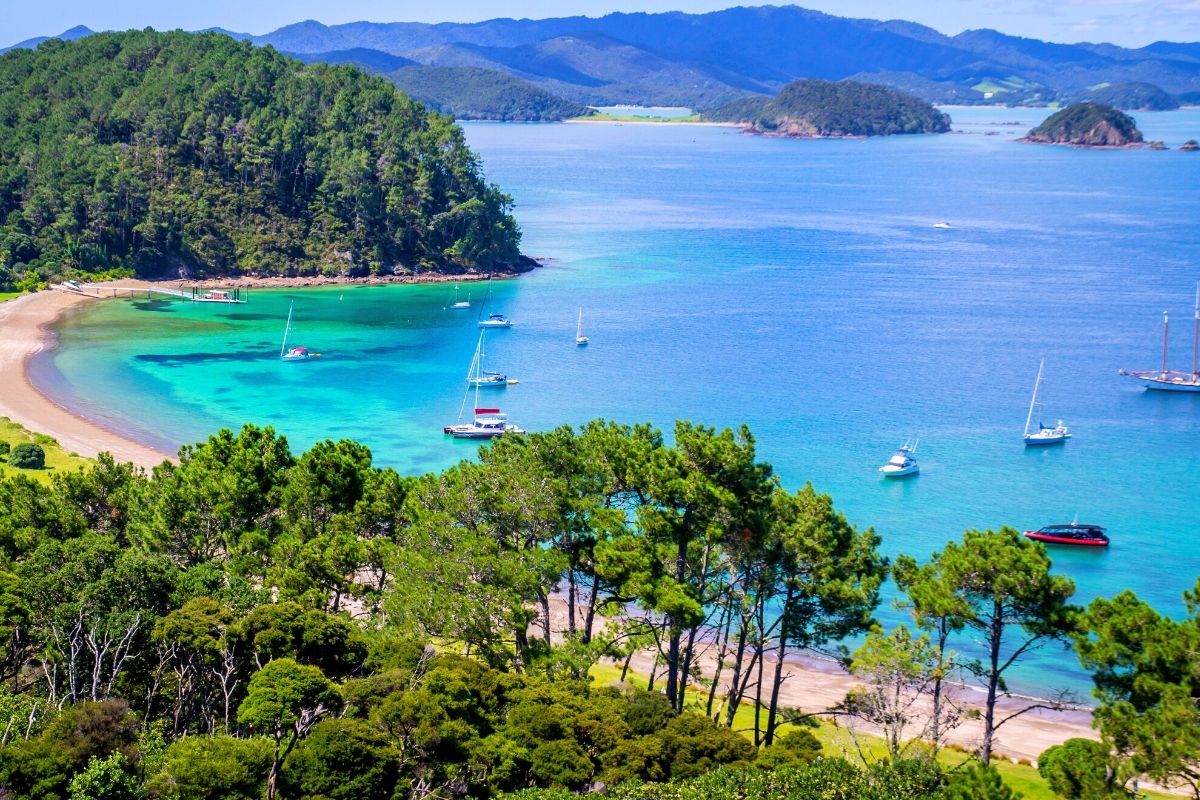 New Zealand Postcard dreams are made of these, and if you're hunting down a magical locale that stands true testament to the country's natural beauty, the subtropical Bay of Islands is jaw-dropping — cue rolling greens, crystal clear waters and all of the outdoor activities.
Comprising 144 isles in between Cape Brett and Purerua Peninsula, there are eight major towns to explore, and Russel, Paihia and Kerikeri are tourist hotspots. All offer something unique, from cultural experiences to waterfront dining to golden beaches.
One of the best ways to get to know the area — and take full advantage of its natural beauty — is on the waters. Boat trip around the islands, stop for snorkeling and look out for dolphins, whales and seabirds soaring by.
Sweep in the views during parasailing ventures over the ocean, or on land, go hiking or immerse yourself in local Māori culture. The nearest major city is Auckland, and day trips from Auckland to the region are top on agendas.
3 – Discover more than 360 indigenous plant species at Adventure Puketi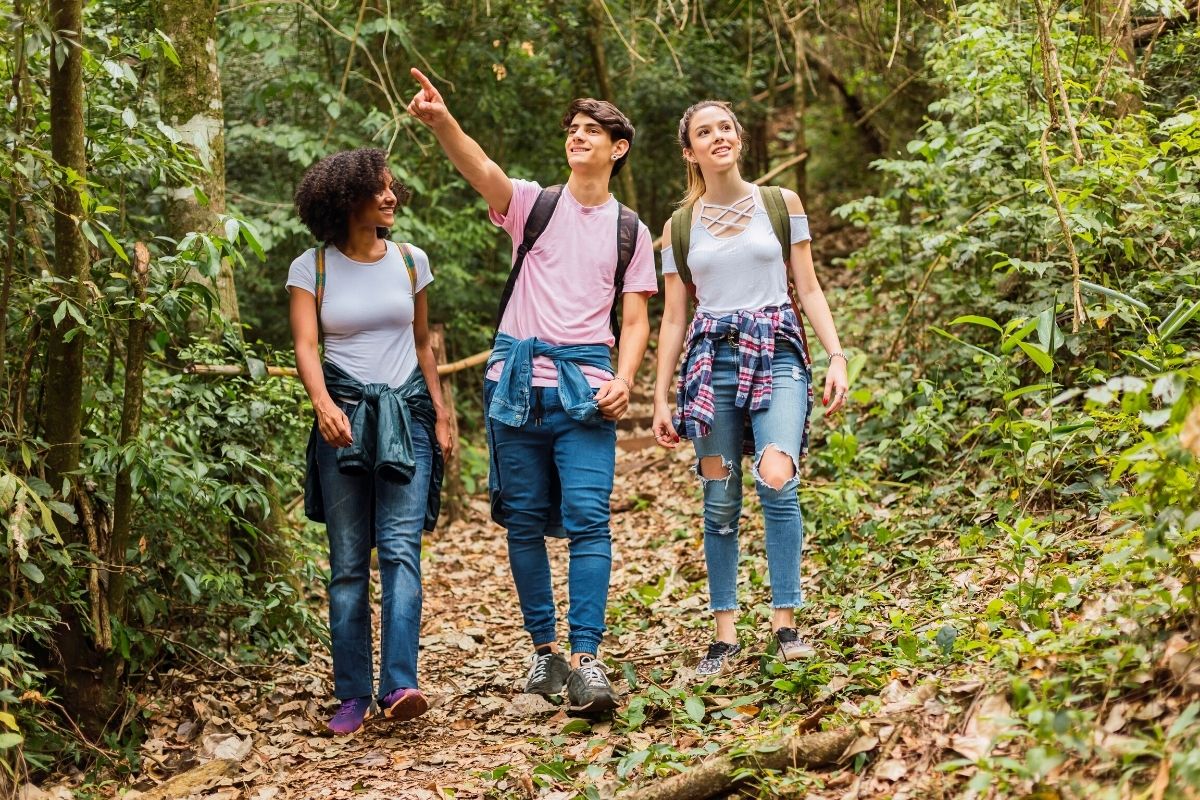 Are you the type of traveler that prefers journeying off the beaten track, opting to stay away from the crowds and endure the roads less traveled? If you answered yes, skip everything else and voyage straight to Adventure Puketi hidden in the heart of the Puketi forest.
Tucked away in the Bay of Islands, wake up to the serene sounds of Mother Nature at Puketi Heights — a luxe B&B in the middle of the forest operated by Adventure Puketi — and spend your day (or night) investigating interesting subtropical rainforest plants, trees and wildlife creatures that call the area home.
There are three guided tours … When the atmosphere changes as the stars come out to play, embark on a Puketi Night Walk, marshaled by the evening sky and headlamps. Listen for fantails and kukupa chirping songs and at this time, the nocturnal kiwi is a sure sight.
The Puketi Eco Walk is a six-hour daytime tour through the forestry of kauri, tawa, rimu, totara, tanekaha and nikau trees. You will be able to visually see more with this option, however, a night endeavor is uniquely special.
4 – Understand local history at the Waitangi Treaty Grounds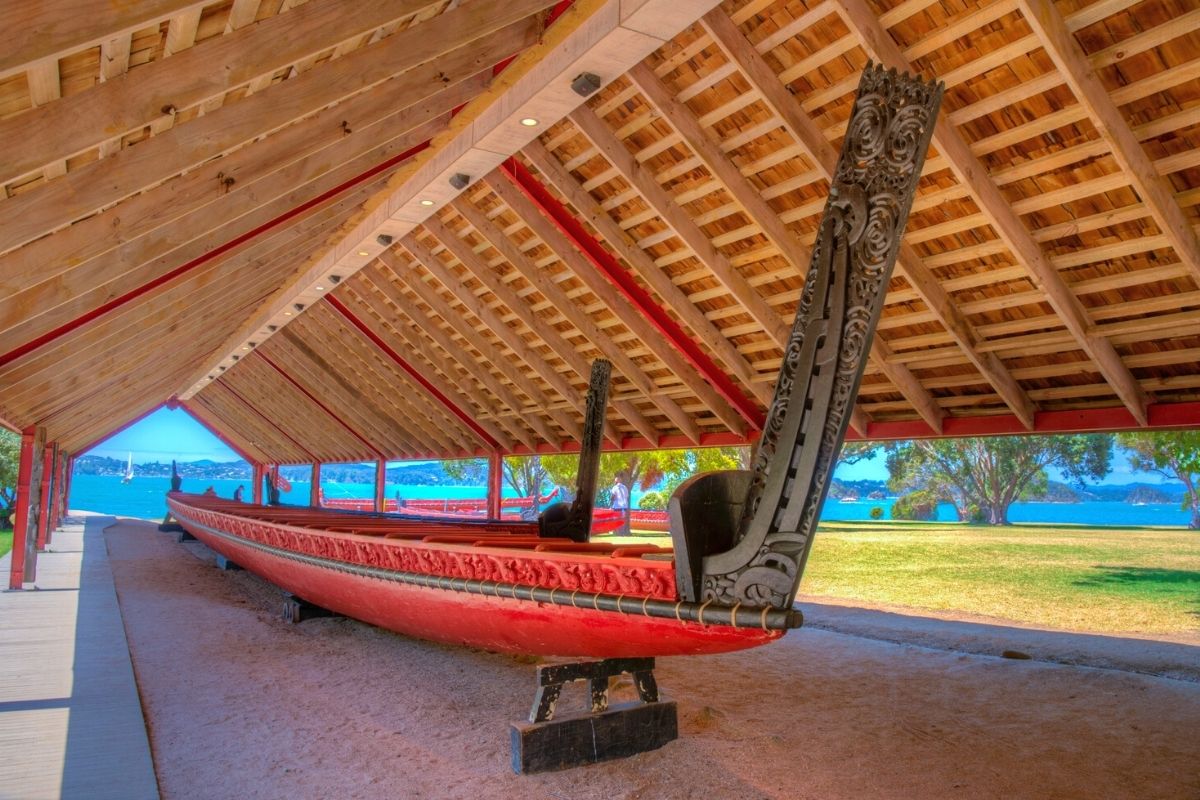 From the homes to the traditional structures to the museums, a visit to the Waitangi Treaty Grounds is insightful, educational and fun!
This national historic site is one of the most significant in the entire country, and in 1840, it is where the Treaty of Waitangi was signed between Māori and the British Crown.
Today in Waitangi, a cultural complex now covers the grounds known as the 'Birthplace of our Nation.' Set aside at least two to three hours for this attraction.
Laden with artifacts from the event, check out the award-winning Te Kōngahu Museum of Waitangi laid out across two levels, and the interactive Te Rau Aroha Museum of the Price of Citizenship has three floors to investigate, displays touching on subjects of war including the New Zealand War, the Anglo-South African War, and both World Wars.
Important preserved buildings to photograph are the Treaty House, the traditional Te Whare Rūnanga meeting house, a Ngātokimatawhaorua (a ceremonial waka) and the Waitangi flagstaff.
Catch a Māori cultural performance or concert, and guided tours are available.
5 – Meet the world's largest living tree, Tāne Mahuta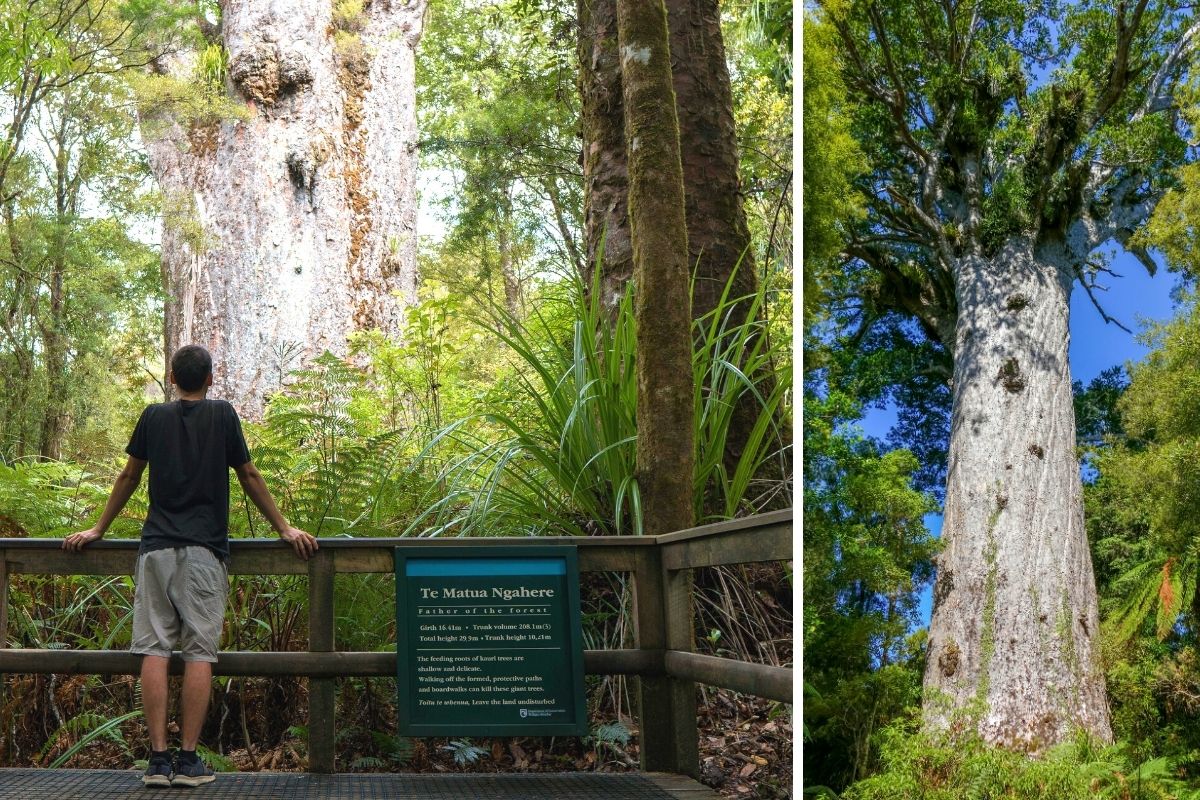 Standing at over 51,5 meters high, with a girth of nearly 18,8 meters, Tāne Mahuta is the largest kauri tree in the world and is estimated to be 2,000 years old.
Visitors pick up the energy not only from the Lord of the Forest but also from the surroundings, and the revered kauri is titled after the Māori god of the forests, Tāne — fitting for the ancient species.
Located inside the Waipoua Forest, to reach the sacred site you only need to walk a short five-minute pathway (suitable for all ages).
The nearest town is Dargaville, built along the banks of the Northern Wairoa River and is about 2.5 hours away from Auckland — the closest major city.
6 – Learn localities at Dargaville Museum Te Whare Taonga o Tunatahi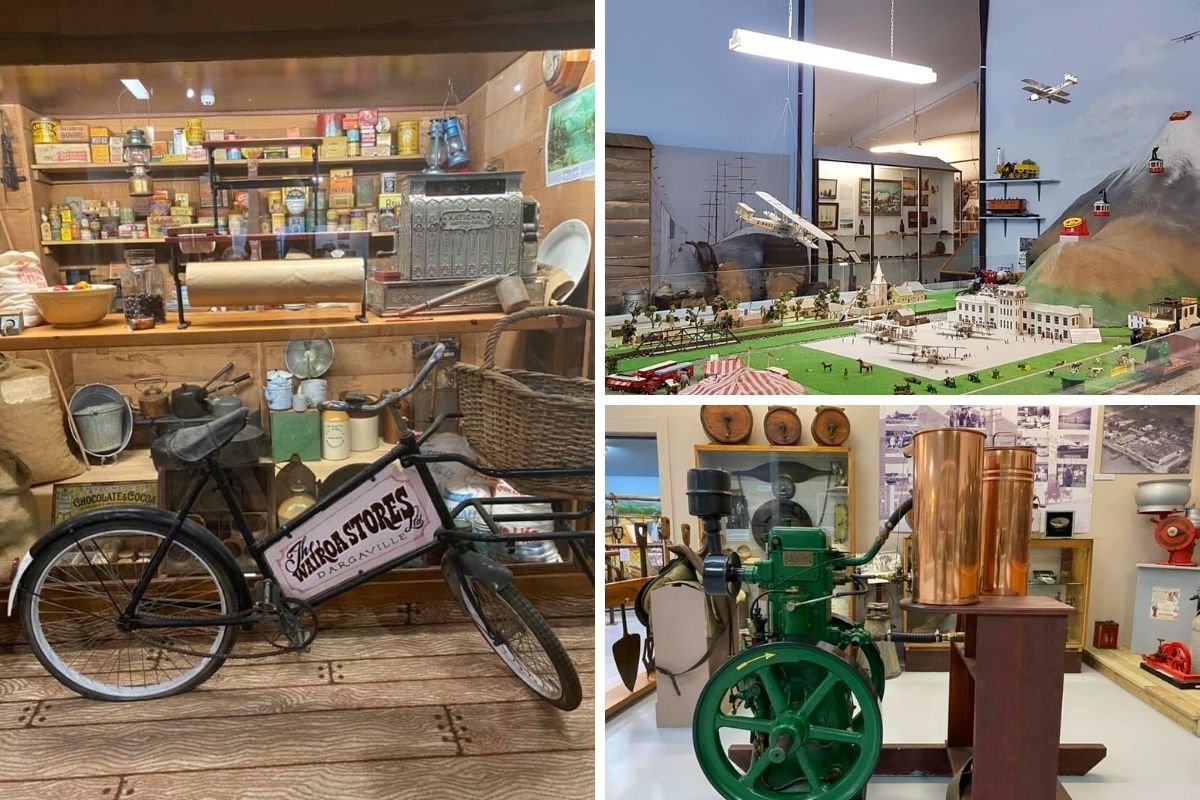 Investigate the entirety of the Kauri Coast in just a few short hours through visual aids and displays at Dargaville Museum Te Whare Taonga o Tunatahi.
Wandering through its seven exhibition halls, get educated on local Māori history, from its earliest days to when European settlers landed on the shores to centuries later as grander development began.
Featuring a 16-meter traditional waka (canoe in Maori), explore The Māori Hall. Built as a collection of realistic shops from way back when, learn about the early days of timber wood at The Pioneers Hall.
Its other five halls include Gumdiggers Hall, the Maritime Hall, the Music Room (with its collection of 200 piano accordions!), the Transport and Farming Hall and the Collections featuring miniatures and models.
7 – See the glowworms inside Waipu Caves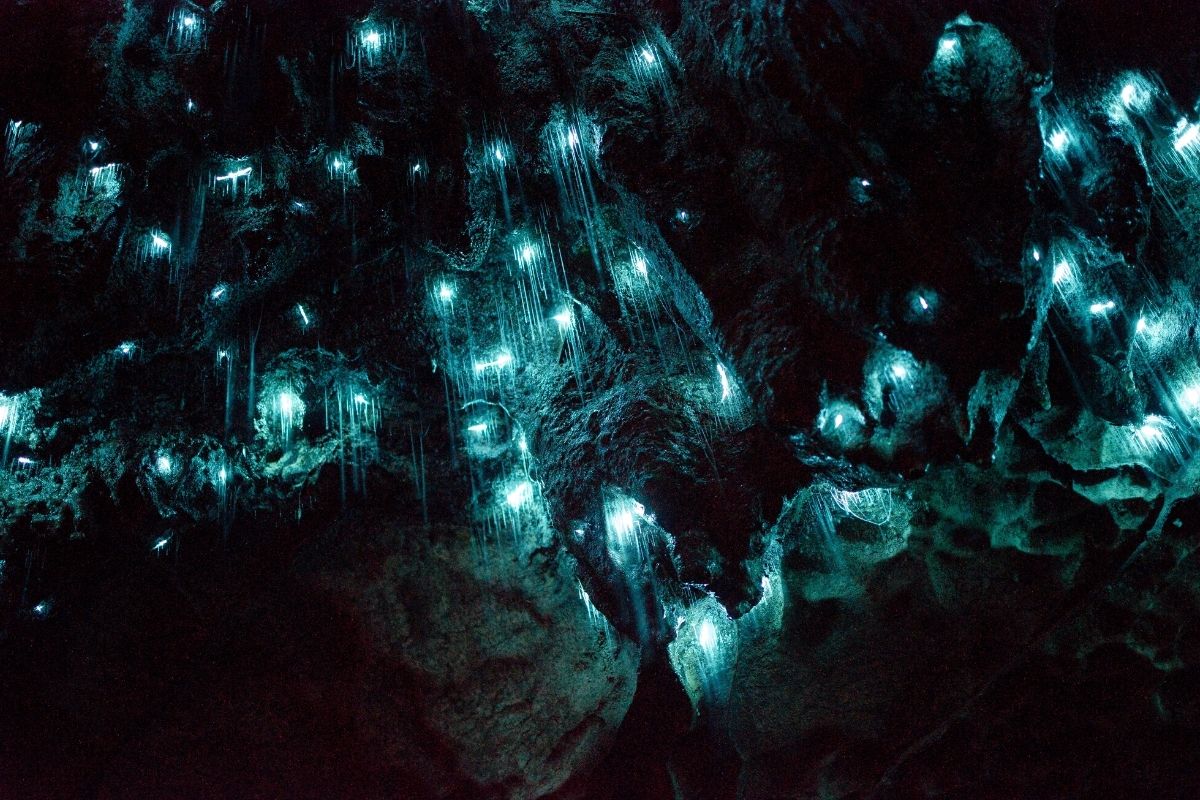 Adventurous souls and navigators, this is a special one for you! Put on your walking boots, follow the Waipu Caves Track and then delve into a whole other world inside the Waipu Caves — a local favorite that's been untouched by tour guides and operators … and filled with twinkling glowworms!
That means navigating your way through these special caves is left entirely up to you, so make sure you bring along everything you need, like a torch (flashlight) and drinking water.
From the entrance, you won't see much but continue onwards toward a stream. Veering left over it via a rock pathway, enter the cavern where hundreds of Arachnocampa luminosa drip from the ceiling and its stalactites.
The track to reach the caves is two kilometers and roughly 1.5 hours there and back, depending on your pace.
8 – Stop by the informative Kauri Museum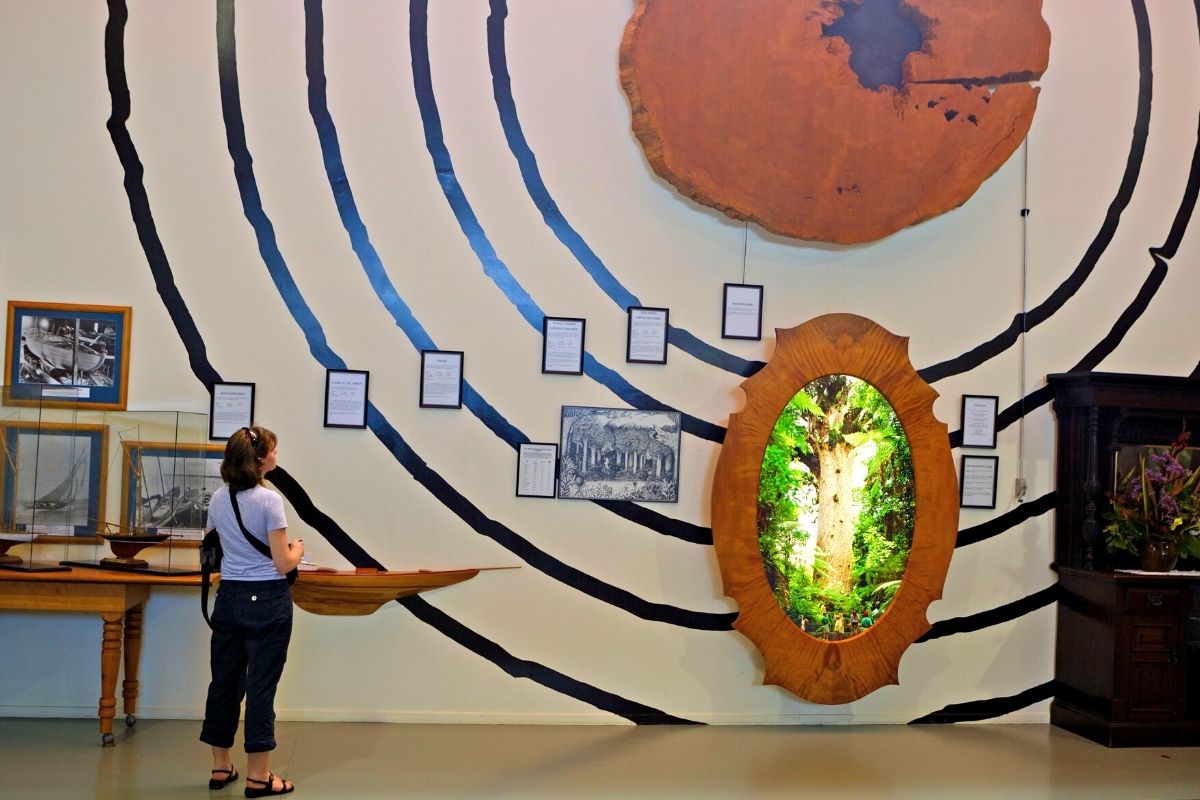 The word 'kauri' (scientific name Agathis australis) is mentioned a lot when traversing through New Zealand, especially if you're a fan of nature walks and adventures through the reserves. Native to New Zealand (and holding special significance among Māori and their ancestors), uncover all the facts there is to know at the eye-opening Kauri Museum.
Discover a monopoly of exhibitions and galleries within the museum complex, all relating back to the kauri tree and its permanent collections are set up throughout these spaces.
These include items of carved and sculpted furniture, kauri boats, woodworking tools, machinery, Jim Downs' chainsaws, a series of photographs by Tudor Collins and a kauri gum collection.
Temporary exhibits are also hosted here so even if you've visited before unravel and attain something new!
Gifted a preserve of Māori taonga (treasures) from the Kaipara and Northland, get an up-close look at traditional woven cloaks (kākahu), woven baskets, carved hakas and more.
9 – Eat, shop and repeat at the farmers markets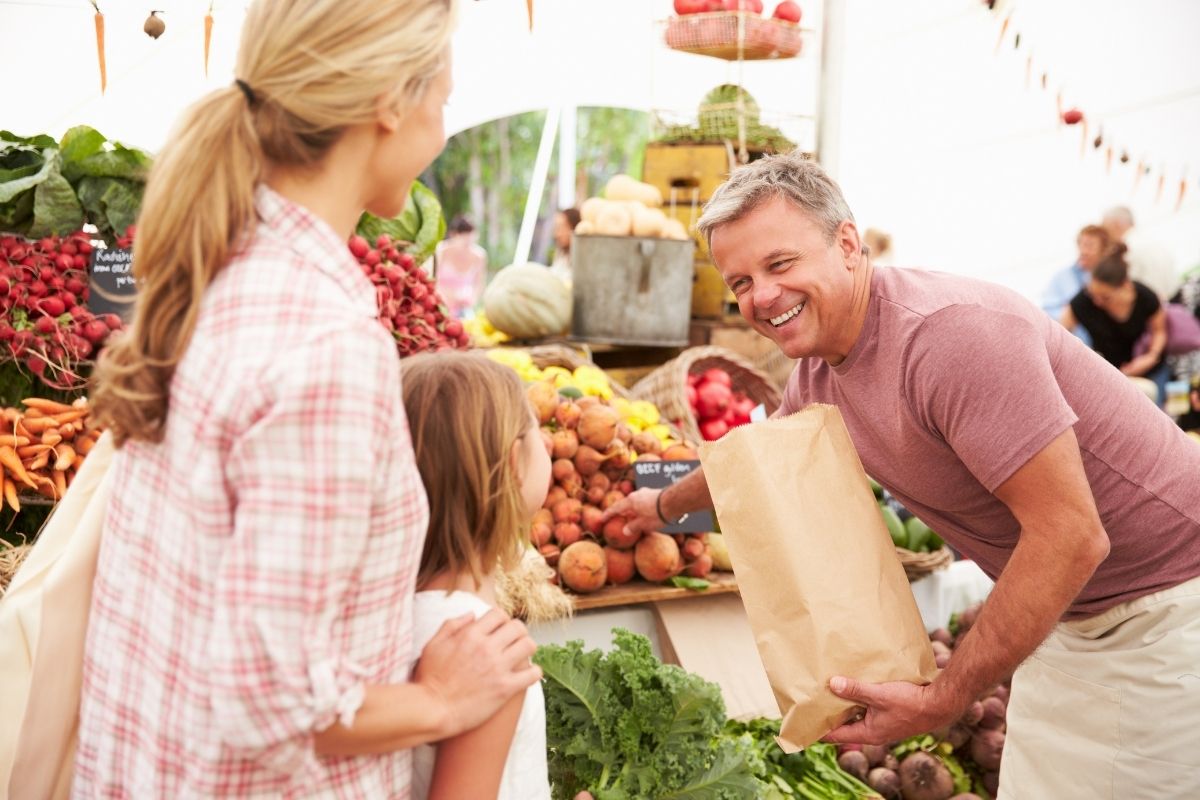 It's no secret that farmers' markets are some of the best places to sample fruits of the locals' labor, and a country as abundantly rich in greenery as New Zealand, well, you can imagine what farmers and artisans are blessed with!
Savor a picnic along the riverbanks filled with all your freshly baked, prepared and grown local treats from Matakana Village Farmers Market. Opening every Saturday at Matakana Village, it's a foodie's delight.
Stock up on homemade granola, coffee beans, wines, nuts, honey, kombucha, pestos and many other goods, or grab something to eat from the food vendors.
Bay Of Islands Farmers' Market gathers at two centralized locations, creating the Kerikeri Farmers' Market (in Kerikeri) and Paihia Farmers' Market (in Paihia). Obviously, everything you'll find is organic, and stop for a chat with the vendors to learn more about what you're putting into your body.
10 – Admire art works at Gibbs Farm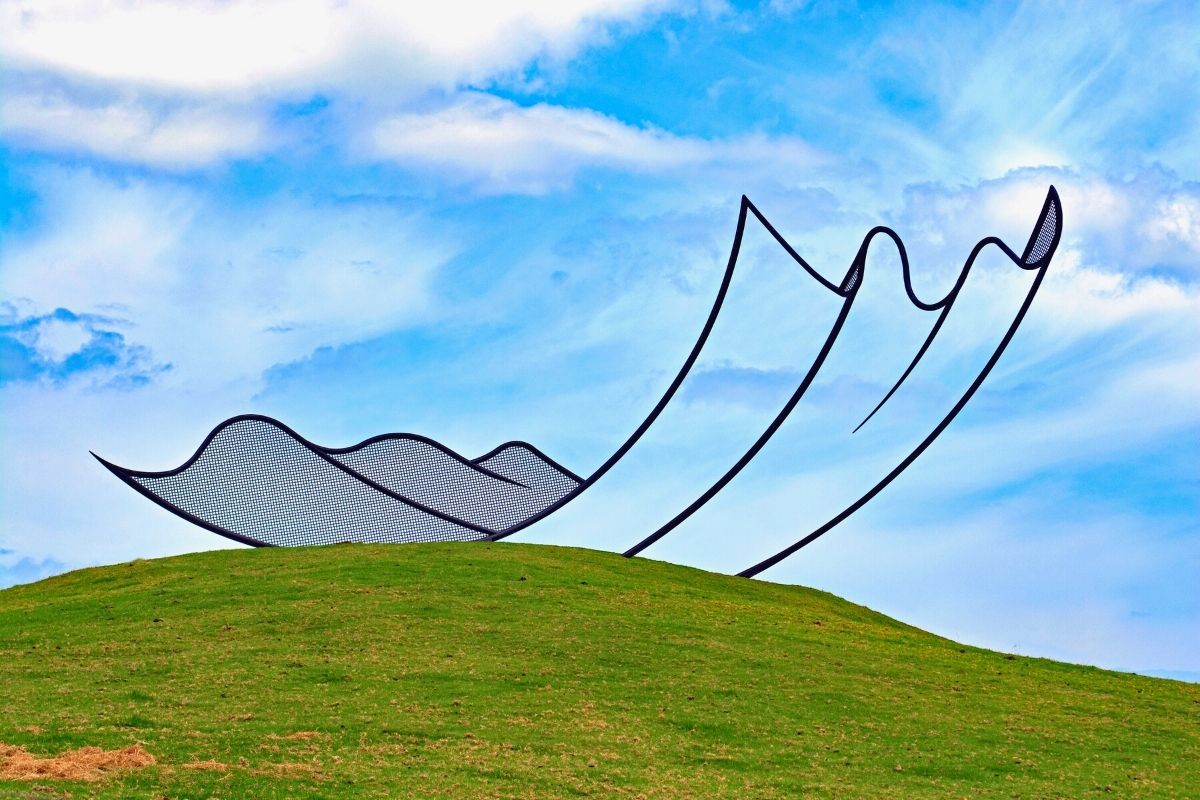 Located in the beautiful Kaipara Harbour, north of Auckland, Gibbs Farm is an expansive open-air sculpture park. You'll be able to freely roam in the park.
Be introduced to selected artworks by Auckland Art Gallery's art experts and come face-to-face with some exotic animals (just in sculptural form, of course).
You'll leave the majestic landscapes feeling mind-blown and super inspired at the same time, scoping artworks as you've never imagined before — unless you've visited Gibbs Farm already!
When an artist creates a piece for the private farm, they first evaluate the land for inspiration, using the ebb and flow of the ocean and the natural elements, especially the pulls of gravity, as motivation.
11 – Sightsee Auckland landmarks from above at Sky Tower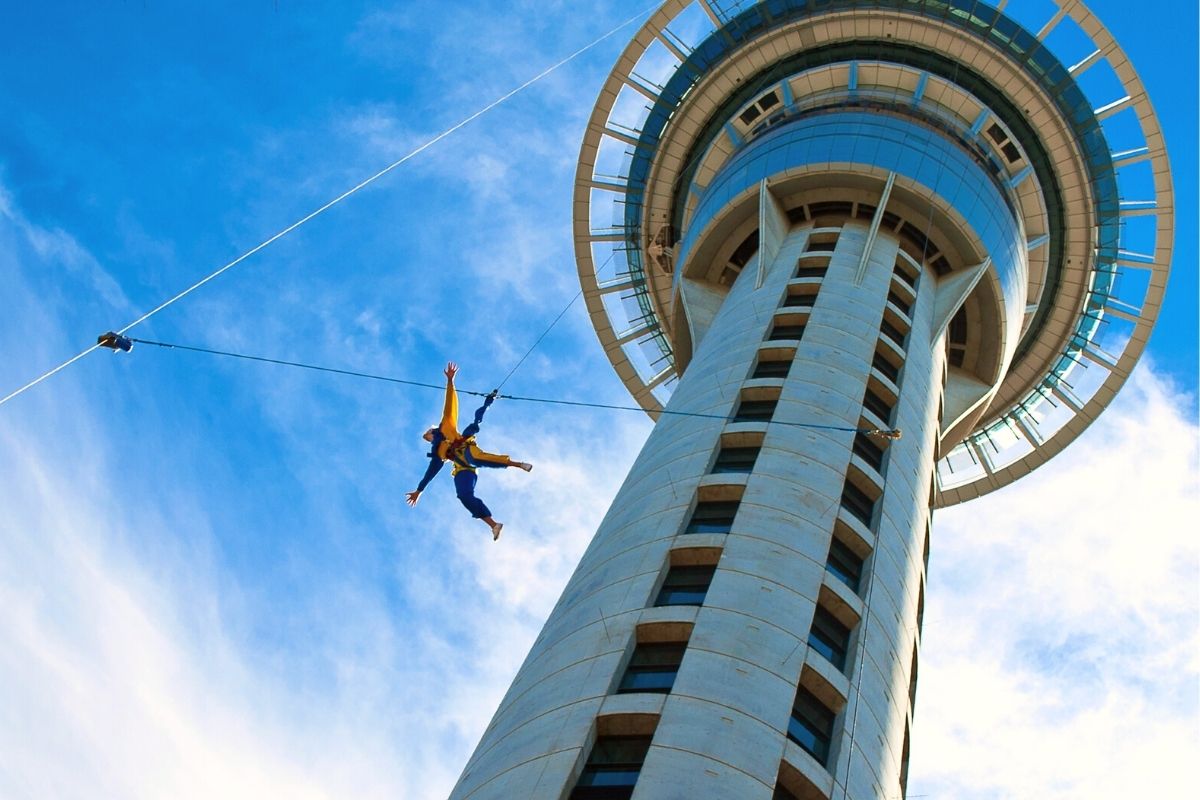 The home of New Zealand's tallest structure; ladies and gents it's none other than Sky Tower (part of Auckland's SkyCity) … Before you think this is a regular observation tower, think again!
You do have your usual viewing platforms, it's true, but there is so much more to see and do. After you've swept in the panoramic skyline at the main observation area 186 meters above the ground, or from even higher at the sky deck on level 60, consider one of the tower's thrill-seeking bouts.
Don't look down — or do — when attempting the iconic SkyWalk (strapped in by a harness, scale the outskirts of the building 192 meters from the floor, on level 53).
For even more thrills, plummet 192 meters below off the side of Sky Tower at the SkyJump!
Take advantage of yoga in the sky, dine at the rotating Orbit 360° restaurant, or immerse yourself in the SkySlide virtual reality tour.
12 – Visit the amazing Auckland Zoo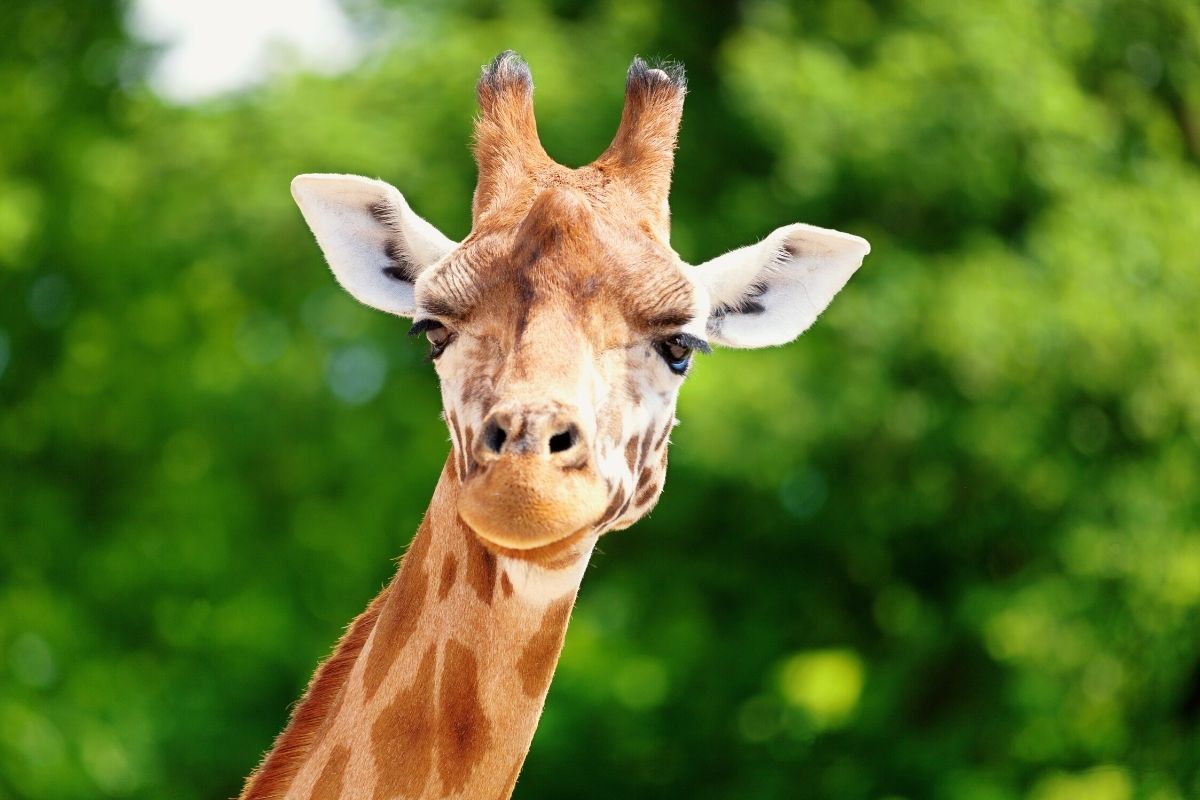 Over 100 years old, meet giraffes, Emperor tamarins, flamingos, leopard tortoises, nyala and more cute animal friends at the Auckland Zoo.
Established in 1922, it operates as a non-profit wildlife conservation organization and presents hands-on experiences like 'Junior Keeper' for the day, behind-the-scenes tours and safari nights.
It's hard to imagine that a country blessed with an abundance of wildlife has only one place to play with creatures big and small, and there are other zoos around New Zealand to visit.
Home to birds, mammals, reptiles and amphibians; Hamilton Zoo was built on a 25-hectare piece of land, and houses more than 600 animals, some native, others exotic. Feathery-winged appreciators, wander through the country's biggest walk-through aviary!
Zoned into different animal habitats, not only enjoy seeing the animals, but also the experiences that Wellington Zoo offers visitors, from meet and greets to close encounters to pretending to be a zoo keeper!
Butterfly Creek is a zoo and exhibition space in one, The Parrot Place has 300 different bird species under its wings, or stop by Otorohanga Kiwi House to scope out the country's national bird.
Hot tip: Read more about the best things to do in Auckland.
13 – Scope out Auckland War Memorial Museum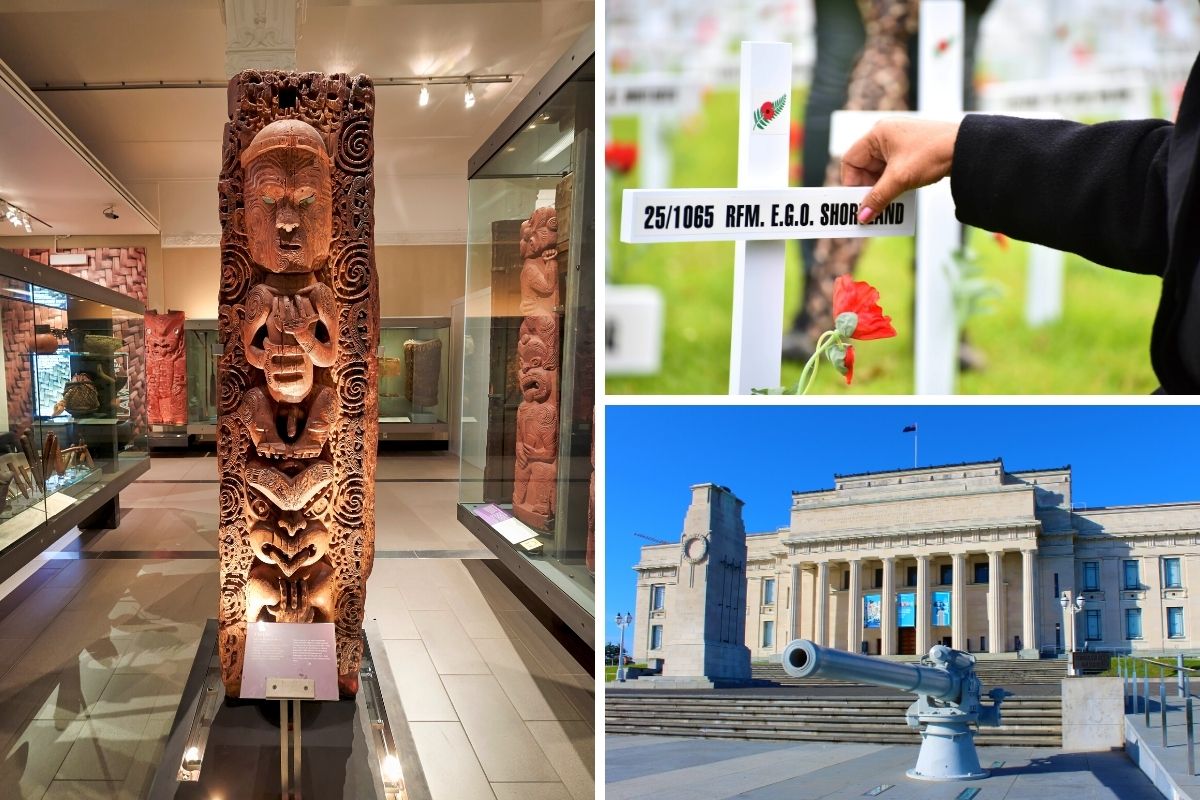 Did you know that, as a former British colony, when the first World War broke out, New Zealanders were employed and sent overseas to fight for Britain? Pay your respects to the country's fallen World War I and II heroes at the Auckland War Memorial Museum.
However, the collections and exhibits to scope out aren't purely just wartime stories, and the museum also hosts artifacts and collectibles relating to local history, culture and society.
Split into three levels, each gallery floor is themed accordingly for easy navigation. To learn all about the 'Pacific People; Māori, Pakeha, the peoples of Oceania and other newcomers' visit the ground floor. Level one is all about natural history, and level two is dedicated to the wars.
Investigate rotating exhibitions, or enjoy a guided tour, for example, the Gallery Highlights Tour. This is one of the best things to do in Auckland for a cultural and historical deep-dive.
14 – Witness pods of dolphins playing around Auckland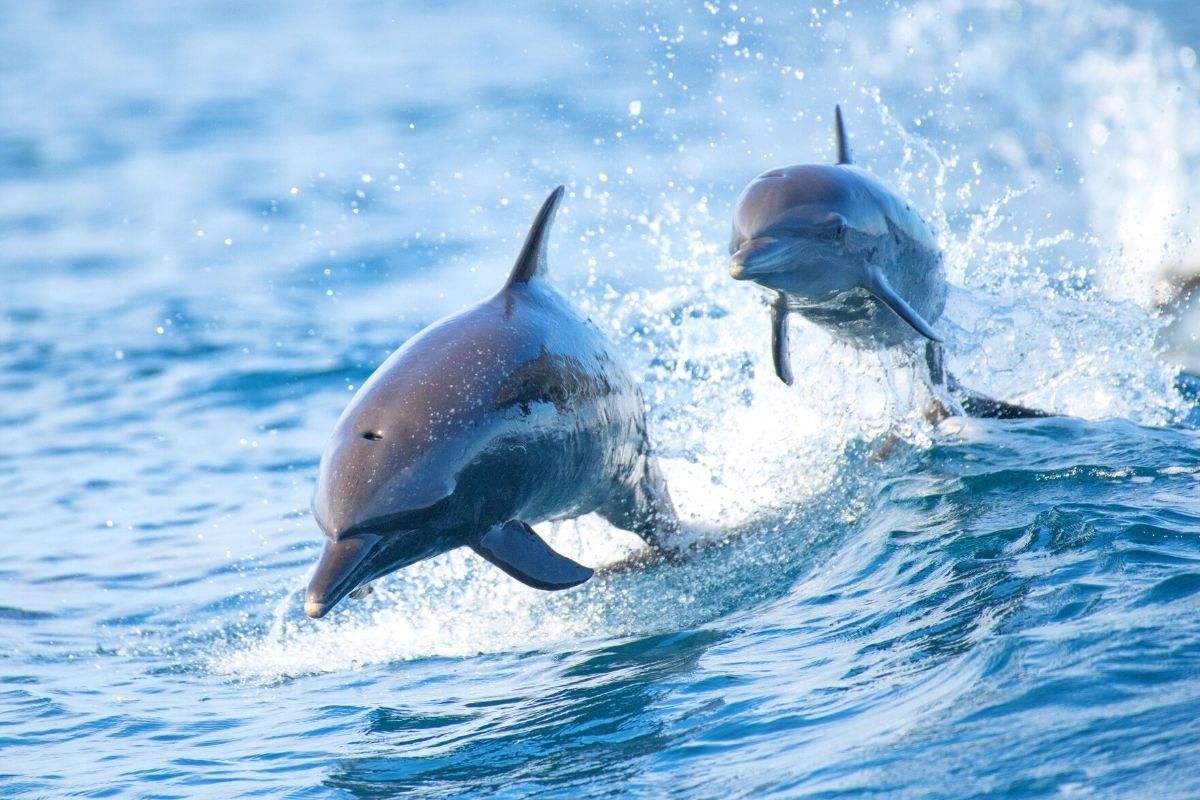 Has it always been a dream of yours to see dolphins up close? If you hail from a country where it's an uncommon occurrence, take advantage in New Zealand and book a dolphin-watching excursion from Auckland.
Boarding a 65-foot luxury catamaran (aptly named the 'Dolphin Cruiser'), tours depart from Auckland Harbour, and over the next 4.5 hours, cruise along the waters and through to the Hauraki Gulf Marine Park — comprising islands and a whopping five marine reserves inside!
Along the way, crew members provide commentary about the oceanic surroundings and you can enjoy a bit of sightseeing from this angle too, cruising past Auckland Harbour Bridge and Rangitoto Island, for example.
On your journey, you might spot dolphins from the get-go, but inside the Marine Park are specific spots where playful bottlenose dolphins swim, and your boat is directed right here!
If the ocean holds your heart, consider combining dolphin sightseeing with a whale watching tour. Amidst this special safari, look out for at least six different types of whales, including Bryde's whales and orcas!
15 – Climb the Auckland Harbour Bridge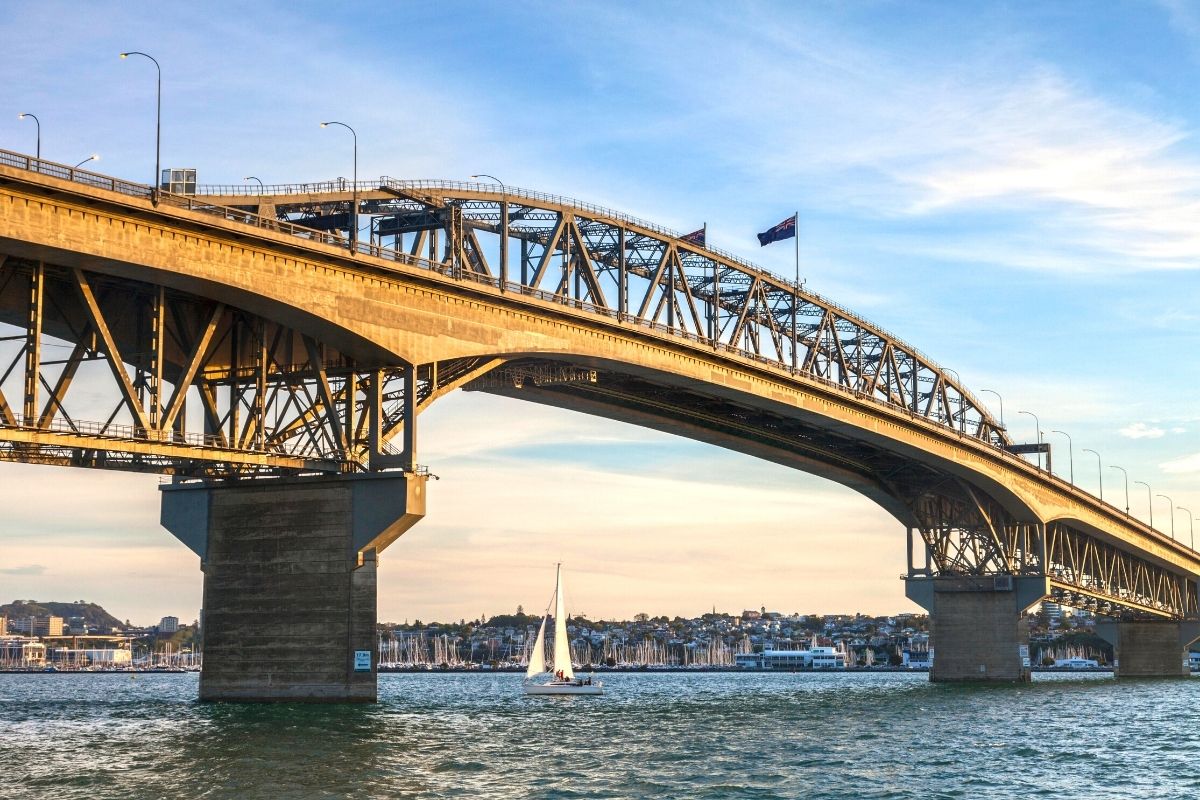 Auckland Harbour Bridge is the only one Bridge Climb in New Zealand. Climb under, around, up and over to enjoy Auckland to the fullest with 360-degree views from the summit!
Built between 1954 and 1959 (and open to the public that year), the one-kilometer Auckland Harbour Bridge sits 64 meters above sea level at its highest point (which is the arch that you will climb) and extends over the Waitematā Harbour.
Strapped in and crossing a specially-designed mechanical walkway, you can ascend to the peak of the arch and over to its other side …
If you've got the guts for it, make your way underneath the bridge to the Bungy Pod and plunge 40 meters off the side — attached to a bungee cord and harnessed in.
Warning: keep looking at your feet, because the spectacular views can easily distract you!
16 – See penguins play at Sea Life Kelly Tarlton's Aquarium
Spend a morning or afternoon with the fishes, penguins, sharks, stingrays and jellyfish at Sea Life Kelly Tarlton's Aquarium.
Established in 1985 in Auckland, it's a true underwater paradise that doesn't involve getting wet to enjoy, and the museum is spaced into different zones where the marine creatures live, or where visitors can learn something about our marine species.
Say hello to cute Sub-Antarctic penguins at the Antarctic Ice Adventure zone; spot illuminated jellyfish inside NIWA Southern Ocean Discovery; walk through the Shark Tunnel; spy seahorses and dragons at the Seahorse Kingdom and visit the Turtle Rescue Centre.
If you happen to be in the Napier area, investigate saltwater, freshwater and land animal exhibits at The National Aquarium of New Zealand located on the Marine Parade.
17 – Join one of New Zealand's bike tours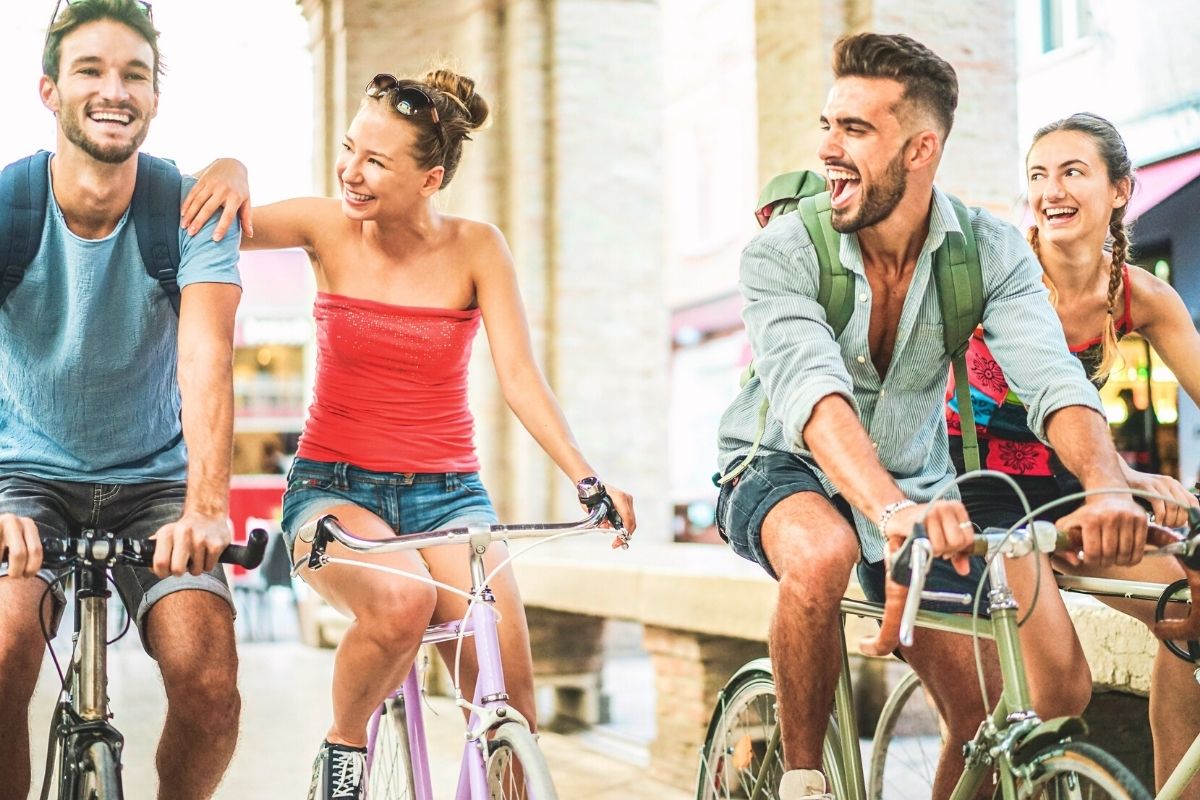 One of the smartest ways to explore any new locale is by bike. Why? You cover way more ground than a usual walking tour, which means more sights to see and areas to discover in a short amount of time! A sanctum of outdoor activities, there are bike tours to join all around New Zealand.
Staying in Auckland? You've got a few options to go with here, each one ranging in time and the routes you'll ride, but one thing they all have in common is the means of transport. Most tours around the city use e-bikes over a regular bicycle, so you don't have to get too hot and sweaty, and if you want, the bike can do all the work for you.
Clock in Auckland's must-see monuments and landmarks during 3.5-hour tours, cruise the waterfront or opt to travel around the city at night.
You have the option of driving an e-bike or a regular one during bike tours in Wellington. Pedal through the most iconic streets, motor along the Wellington Waterfront or veer outside the capital's perimeters and cycle the Rimutaka Rail Trail.
18 – Explore Auckland's oceans when scuba diving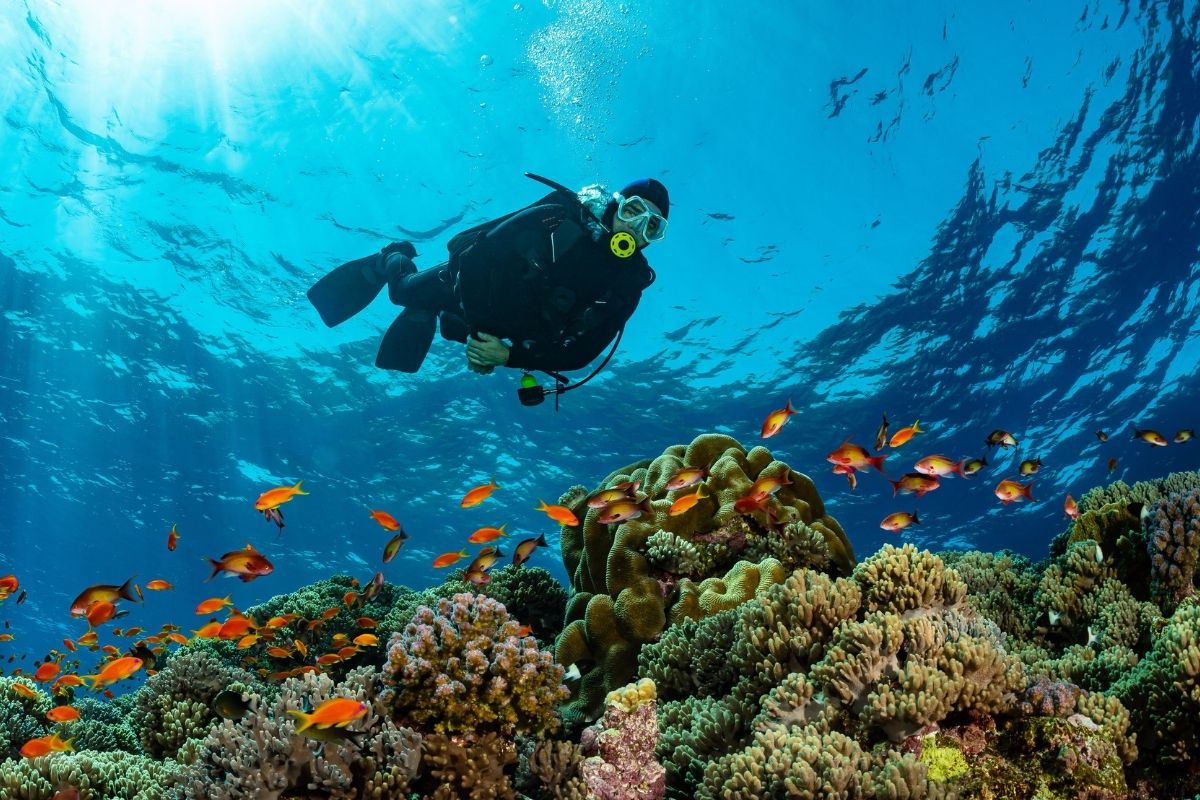 Marvel at colorful reefs, tropical fish and inspiring marine creatures as you troll the underwater worlds around Auckland during a scuba diving experience.
With bountiful options to suit everyone, whether you're a beginner diver or already a pro, pick the one that suits you best. Many tours bring recreational divers to Goat Island and are at least four hours.
If you're a newbie, there are scuba dives where you don't need to have any past experience or certifications, and you'll start off in the classroom with some theory, learn the basics, have practice time, and then get to scuba!
For those PADI-certified, head straight into the ocean, swimming among red moki, manta rays, octopuses, crayfish, coral beds and more.
Wreck diving around the Bay of Islands is well-favored, or, if you are keen on getting your legit scuba diving qualifications, book a three-day open-dive course!
19 – Visit Piha on one of the many day trips from Auckland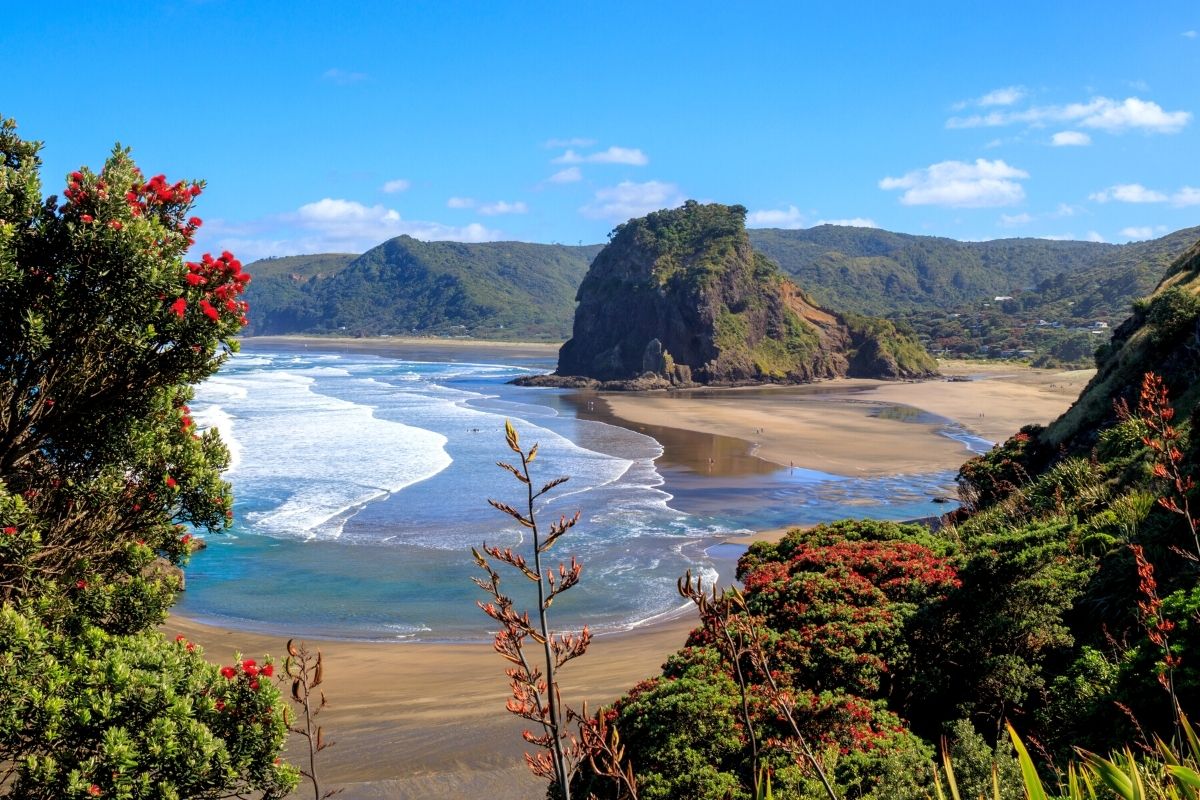 As one of the most visited cities in New Zealand, as well as the largest, Auckland is favored by tourists far and wide, and is a fabulous city to make your holiday base. With so much to see and do in and around Auckland, there are also plenty of day trips to embark on!
Swap the urban feels for seaside villages and hit up Piha (approximately one hour from Auckland). Its black-sand beach is one of the most visited beaches by surfers thanks to its impressive break and oftentimes, strong swells, and you can even catch a surf lesson down on the beach!
Enjoy a walk through rainforests inside the Waitakere Ranges, hunt down waterfalls and investigate ancient Māori rock carvings.
Motutapu Island, Puhoi, Waitomo, Oratia, Karangahake Gorge, Raglan and Muriwai are some other fab day-tripping ideas.
20 – Play a round of mini golf at Treasure Island Adventure Golf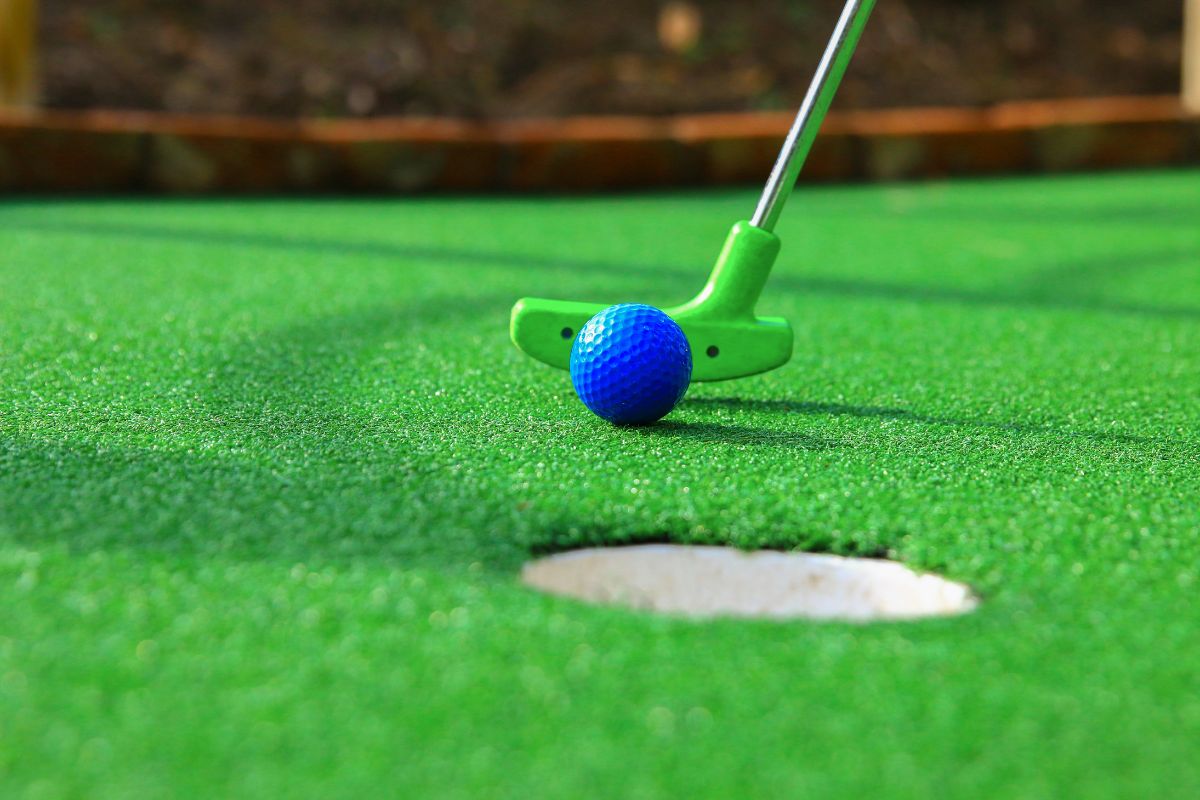 If the kids have been nagging you about doing something fun for the day (for them), bring them straight to Treasure Island Adventure Golf and go putt-putting! Bonus: they have two locations on the North Island; Auckland and Wellington!
Kiddies will have a blast playing mini golf amid the pirate-themed setup!
Hitting balls over waterfalls and with cannons firing in the background, there are two 18-hole courses to choose from at Treasure Island Auckland; Blackbeard's and Captain's.
Pirate's Cove Wellington dons caves and falls, with some holes on a wooden pirate ship, and running streams where "crocs" roam …
Don't leave without posing for pics behind life-size pirate captain and crew cutouts!
21 – Go kayaking in Rangitoto Island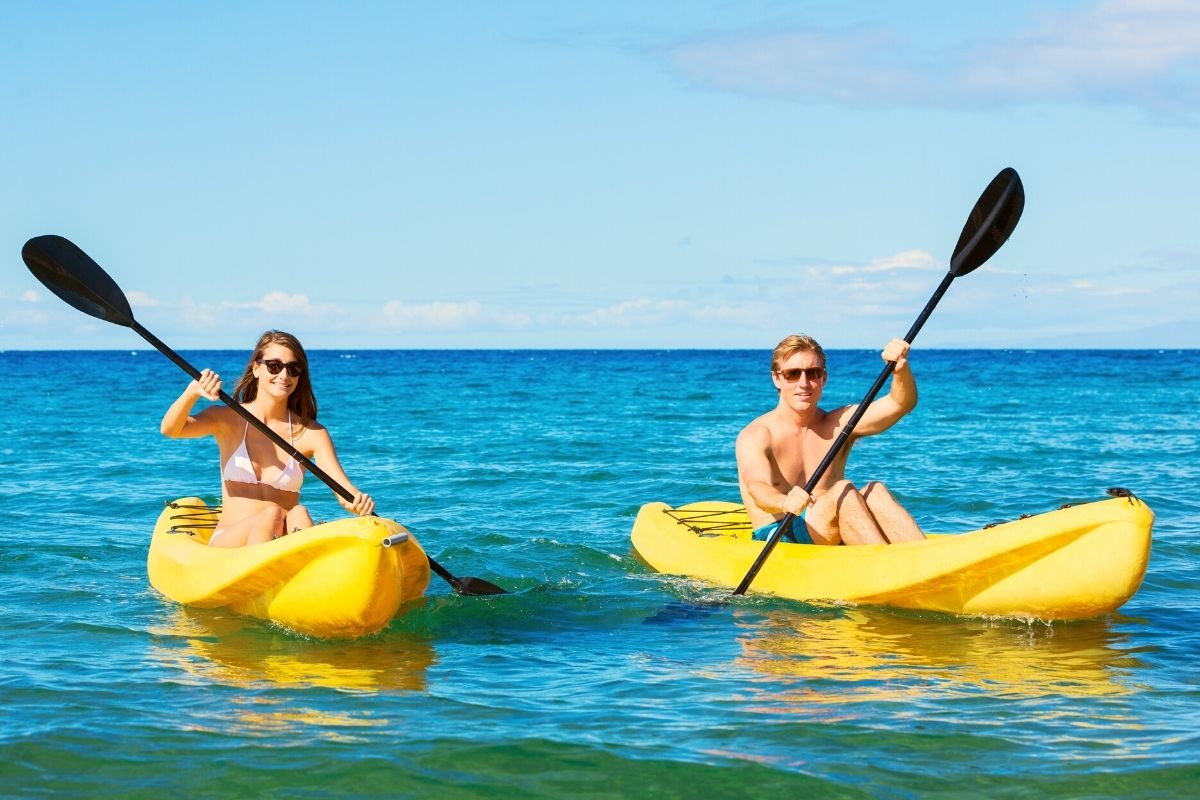 Kayaking is one of the best ways to explore New Zealand's astonishing coastline and inland waterways.
For travelers staying in Auckland, kayaking from the harbor mouth out to Rangitoto Island is unrivaled. But take note, the paddle over to the isle is one hour there, plus one hour back, so some sort of fitness level is required to save you from tired arms.
The water excursion rolls out over a few hours and once you reach Rangitoto you'll appreciate a break on land! Plus, you'll want to do a touch of exploring around the inhabited volcanic terrains.
Add magic to your kayaking journey, opting for a sunset sea excursion instead and returning back to Auckland guided by the twinkling stars, moonlight and city lights.
22 – Explore the Waiheke Island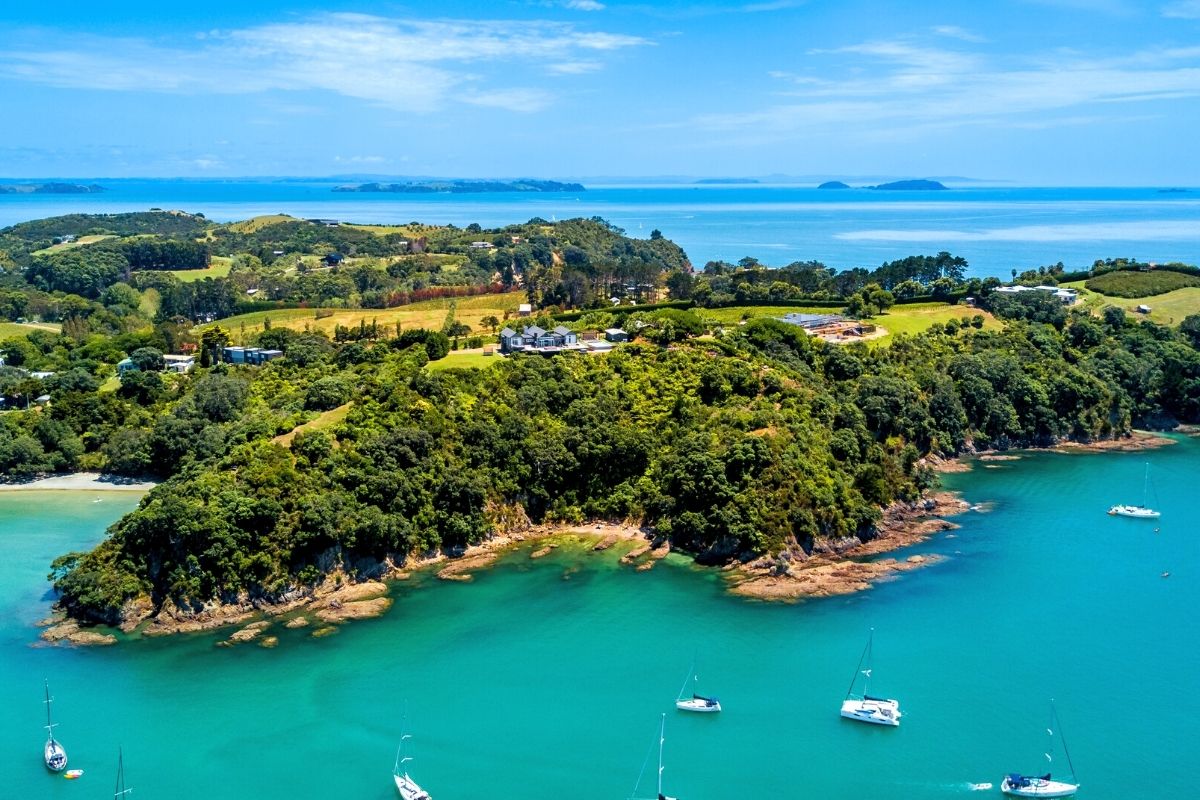 Thanks to its location in the Hauraki Gulf of New Zealand, the area's second largest island is a haven for ocean-lovers, wildlife enthusiasts and wine connoisseurs.
Situated a mere 18 kilometers from the center of Auckland, Waiheke Island is one of the most popular places for day trips from Auckland thanks to its easy access. Drive 45 minutes to one hour to the isle, hop on a 45-minute ferry instead, or if it's in-budget, land in style with a 10-minute helicopter flight over.
Filled with galleries, breweries and distilleries, join a tuk-tuk tour or the hop-on hop-off bus and travel and explore the town conveniently, or head to the beaches for snorkeling and diving.
Dubbed New Zealand's 'Island of Wine,' there are plenty of vineyards to meander through for beautiful photographs, as well as estates to sample the produce and for wine tastings in the cellar rooms.
Tons of tourists arrive on the island just for the wine experience!
23 – Go hunting down the best beaches in North Island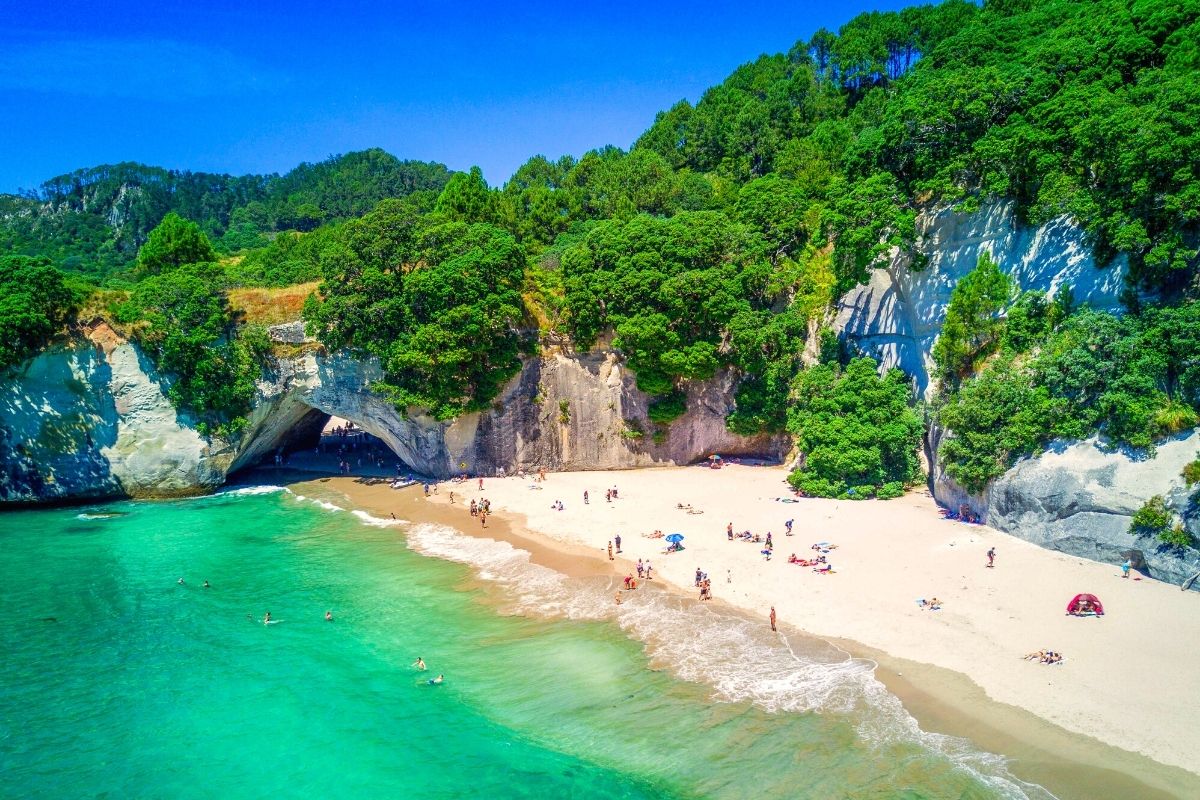 It's true that both the North and South Islands are blessed with an extravagance of beaches, however, the north side is often considered as having the best (although locals may argue differently) thanks to its subtropical climate and spew of powdery white shorelines. Let's start with the most famous.
The hole-in-the-wall Cathedral Cove can be reached via boat, or by enduring a one-hour scenic walk starting at Hahei Beach car park. It's totally worth it, greeted by awe-inspiring coastal typography and with great snorkeling opportunities around here.
Also located in the Coromandel Peninsula is the famous Hot Water Beach. As its name gives away, there is a section of the shoreline that is naturally heated all the time, and if you dig even half a ruler size down, you can bathe in the "hot water." Tip: the naturally heated ocean is by the rocks on the south-side of the beach.
Other fabulous picks include quiet and undisturbed Medlands Beach, surfing hotspot Piha Beach, Mount Maunganui's Main Beach (great for family fun and swimming) and Ninety Mile Beach — which does seem to stretch on forever and is favored for oceanic activities like surfing and windsurfing.
24 – Trek around Karangahake Gorge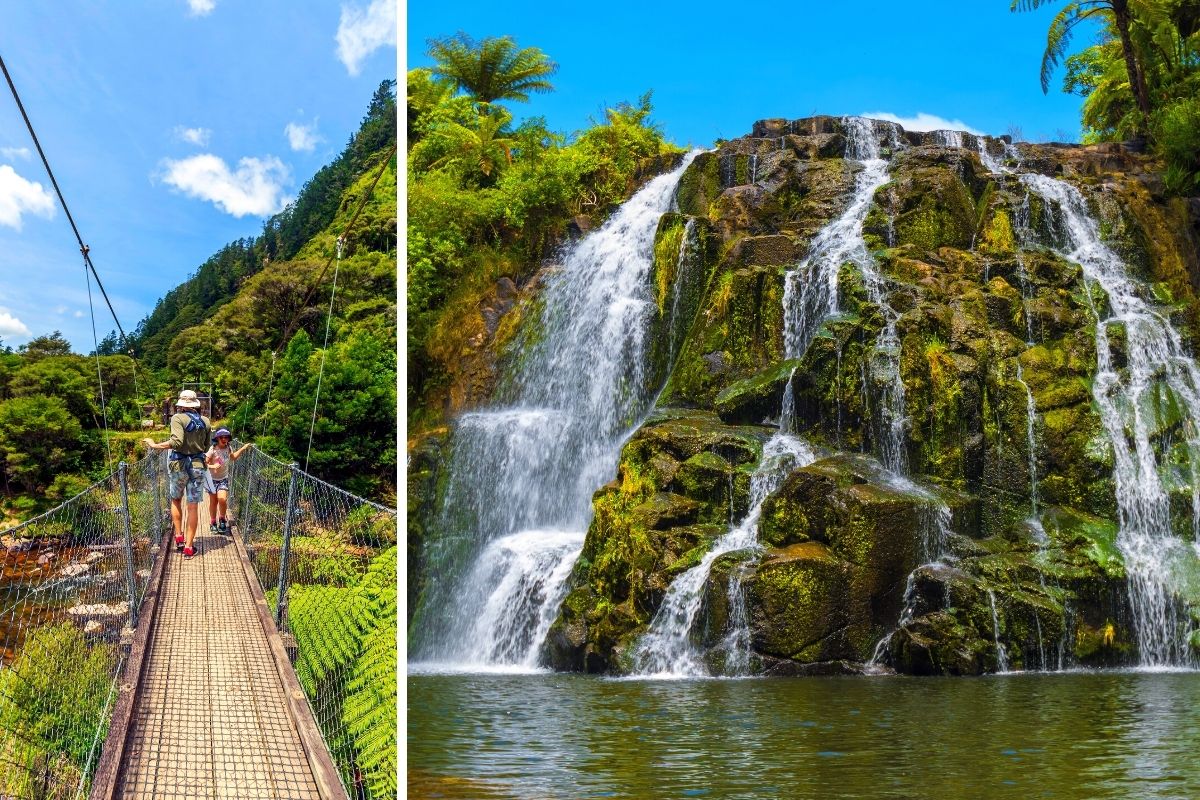 Entering Karangahake Gorge feels like crossing worlds, a mix-up between dinosaur-like jungle trees and fairy streams, it's a wondrous setting.
To fully immerse yourself, the best way through the gorge is … on foot, and there are fabulous outdoor activities within its range too as it's part of the Coromandel Peninsula.
Cross the Ohinemuri River and suspension bridges on the Crown Tramway Track to Dickey's Flat, and many sites can be spotted en route to the Karangahake Gorge Historic Walkway.
Cycle through the old Victoria Battery, scope once-used mine buildings and machinery, visit the Gold and Kauri Heritage Museum and stop by Bullswool Farm Park.
Amble through a one-kilometer-long railway tunnel during the Karangahake Tunnel loop walk or do the Bush Discovery Trail one instead. What is it about waterfalls that are so magical? Swim at majestic Owharoa Falls, bike or walk here and simply appreciate its beauty.
25 – Stroll among Hamilton Gardens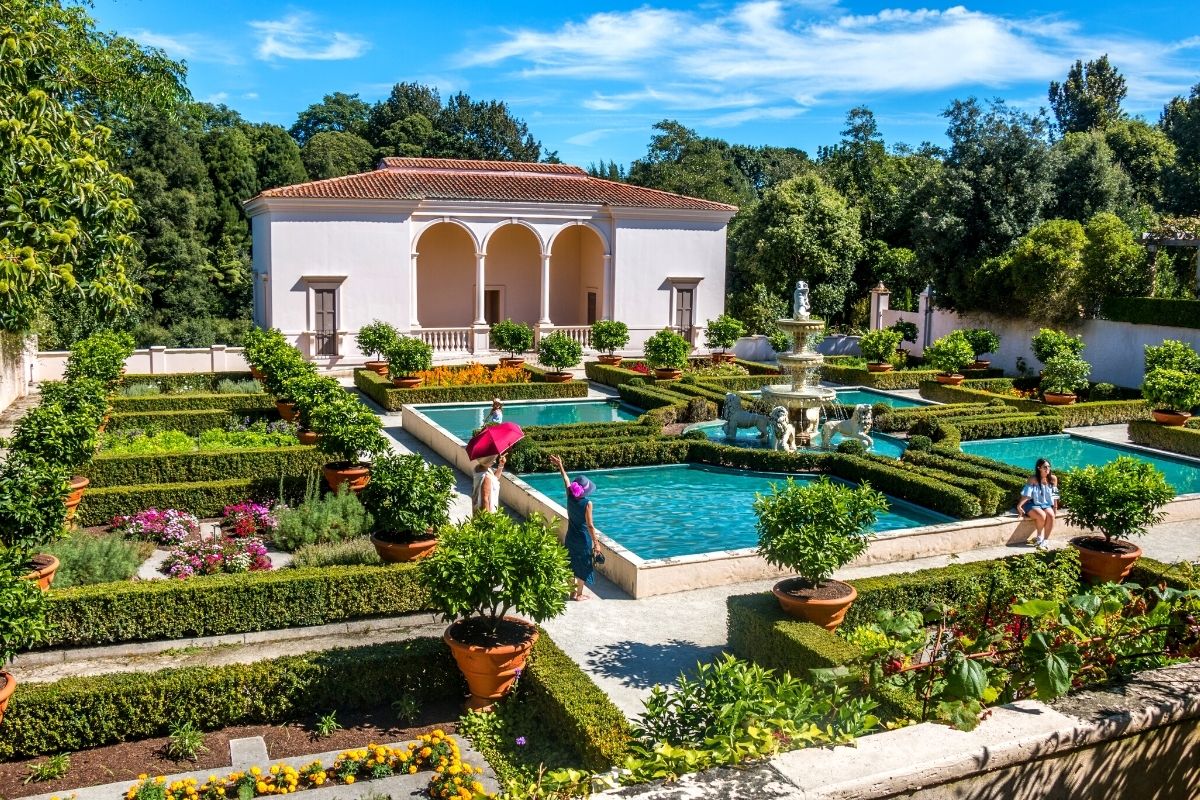 Mention this inland city to any local and one of the first things they will tell you to visit is its picturesque Hamilton Gardens next to the Waikato River.
Setting this piece of 58-hectare landscape apart from your regular botanical gardens; inside the green oasis the focus has been placed on the actual design of the gardens itself, not necessarily the blooms and plants.
There are five predominant themed collections and within each of these are a multitude of varying garden spaces.
For example, the Paradise Collection features gardens like the Indian Char Bagh Garden, Italian Renaissance Garden, Japanese Garden of Contemplation and the Chinese Scholars' Garden.
Within the Productive Collection mosey around the Maori-themed Te Parapara Garden and Herb Garden, or scope the Surrealist, Tudor, Chinoiserie Garden and others from the Fantasy Collection. The Cultivar Collection hosts the Rogers Rose Garden (and more), and the Valley Walk forms part of the Landscape Collection.
26 – Uncover a world of art and history at Waikato Museum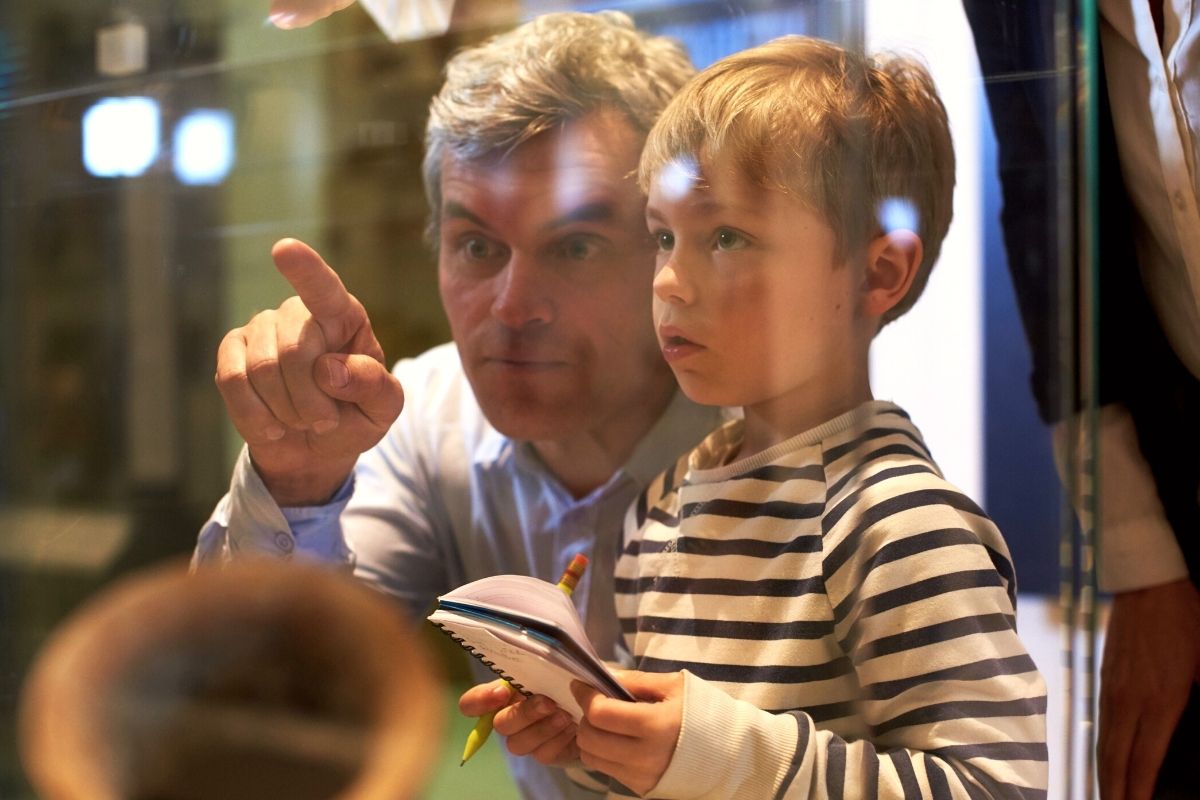 Undergoing a few name changes since it was first established circa 1965, today the Waikato Museum gives way to a top-tier museum relative to all things art and history in the Hamilton area (where the museum is located).
Hosting changing exhibits as well as permanent features, uncover a world of local culture and creativity.
Start off exploring the indefinite collections (which include Visual Arts, Social History, Tangata Whenua and Science), housing over 30,000 items amongst them.
Next door to the main museum is the ArtsPosts building, with its three dedicated galleries; the Ida Carey Gallery, Margot Philips Gallery and the Chartwell Gallery where exhibits are showcased.
27 – Experience world-class surfing in Hamilton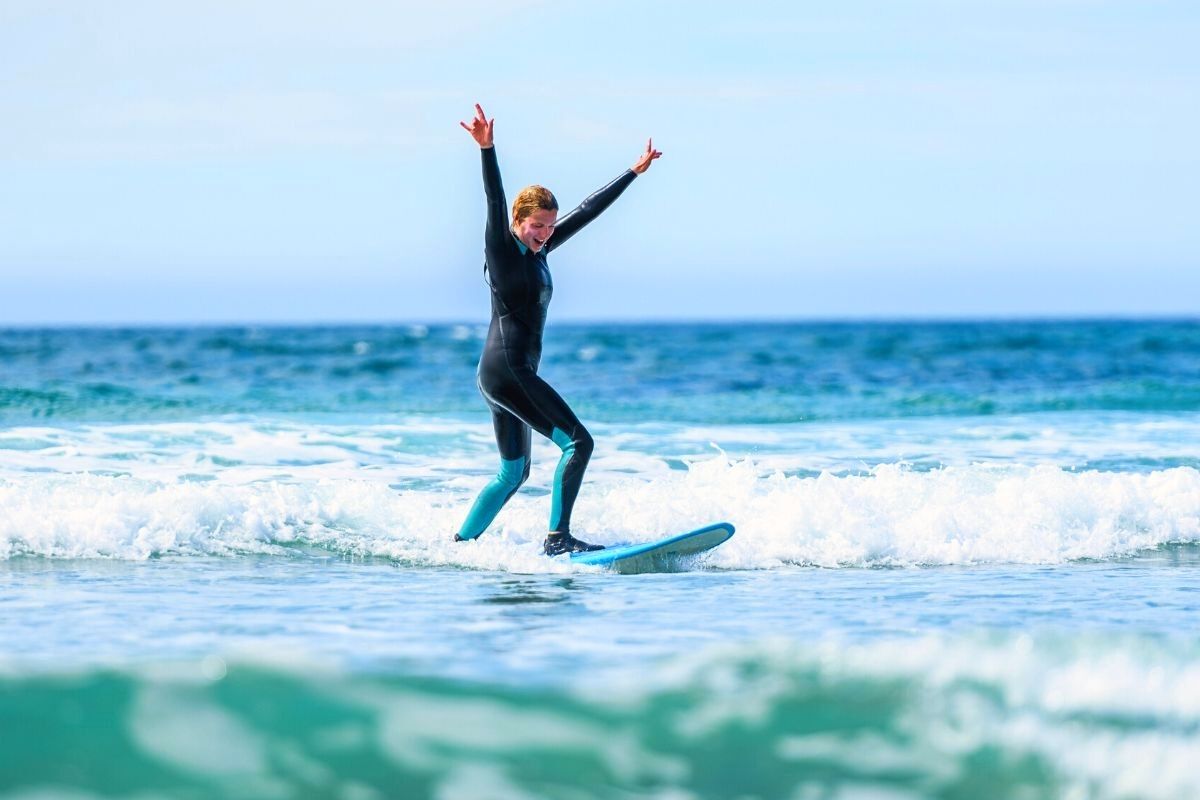 With a stunning 15,000 kilometers of coastline featuring a variety of waves, breaks, points, and reefs, it's not surprising that New Zealand is a world-class surfing destination.
Between its South and North Islands, the latter is considered as having the best beaches and bays in the country, and local and international surfers flock to its coastlines.
Forget about overpopulated Ahipara and Piha beaches where you could spend half the time (trying) to fight for waves to ride — because every surfer knows that locals get first choice, always — and head to Hamilton.
Located in the Waikato region, right near Hamilton city is the famed Raglan coastline lined with multiple bays that are prime surfing spots. The biggest waves rumble two meters high, but there are certain areas that are great for beginner surfers too.
The three most popular bays for experienced pros are Manu Bay, Whale Bay and Indicators, or head to Ocean Beach (i.e. Ngarunui) where the Raglan Surf School operates from. After a two-hour hands-on lesson where you'll be shown how to paddle, stand and ride the waves, feel more comfortable ripping up the waves at other hotspots around the country.
Surfing conditions here are remarkable – it seems that nature designed New Zealand's coastline with surfers in mind. You must add surfing in New Zealand to your bucket list.
28 – Visit a Tree Church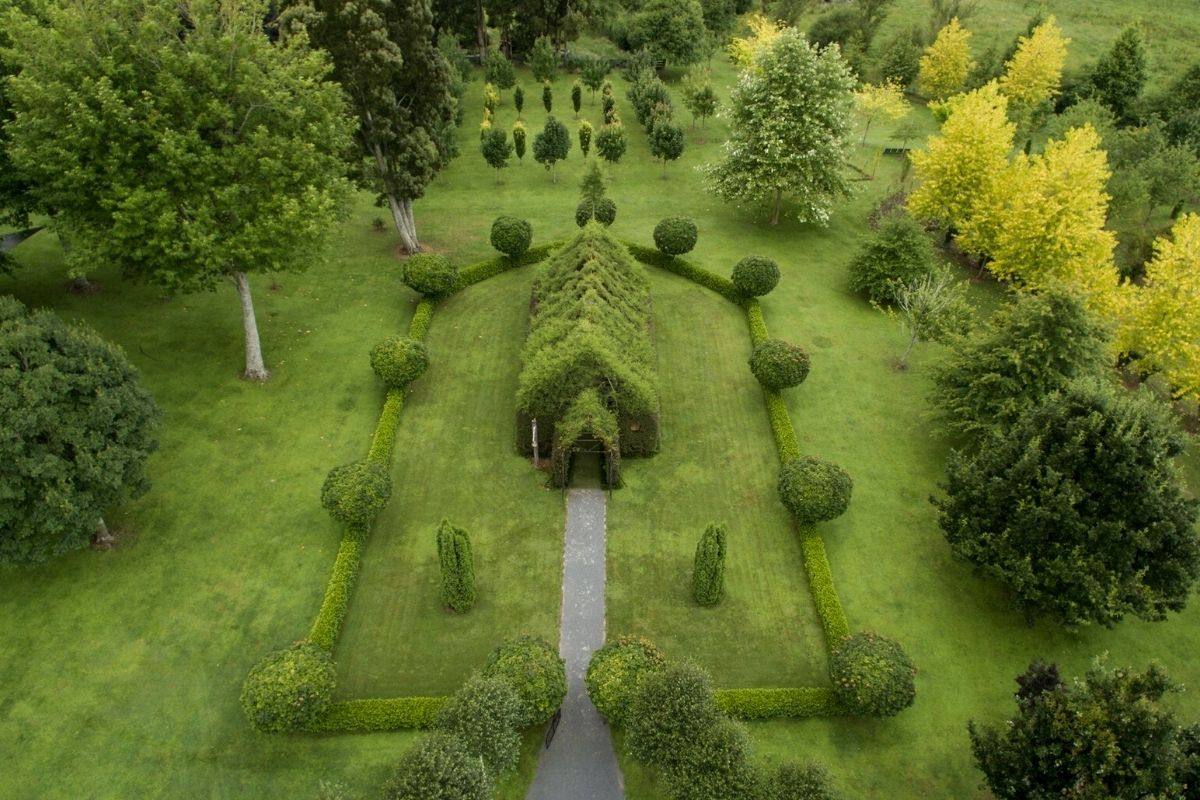 The Tree Church is made of almost nothing but trees!
Situated in Ohaupo, a heavenly 100-seat chapel set among a three-hectare landscaped garden, the church boasts walls made of living trees planted around an iron frame.
Botanists, green fingers and plant parents will simply fall in love, and the space is available to rent for weddings it's that dreamlike! Or you can spend the night and stay at either one of their on-site boutique rooms amongst the dripping Elysium.
Feel free to meander through the private gardens encompassing the living chapel (remember, plants breathe too); containing a labyrinth, a Monet-style pond, European and English-inspired collections and perennial flower beds.
29 – Experience Hobbiton Movie Set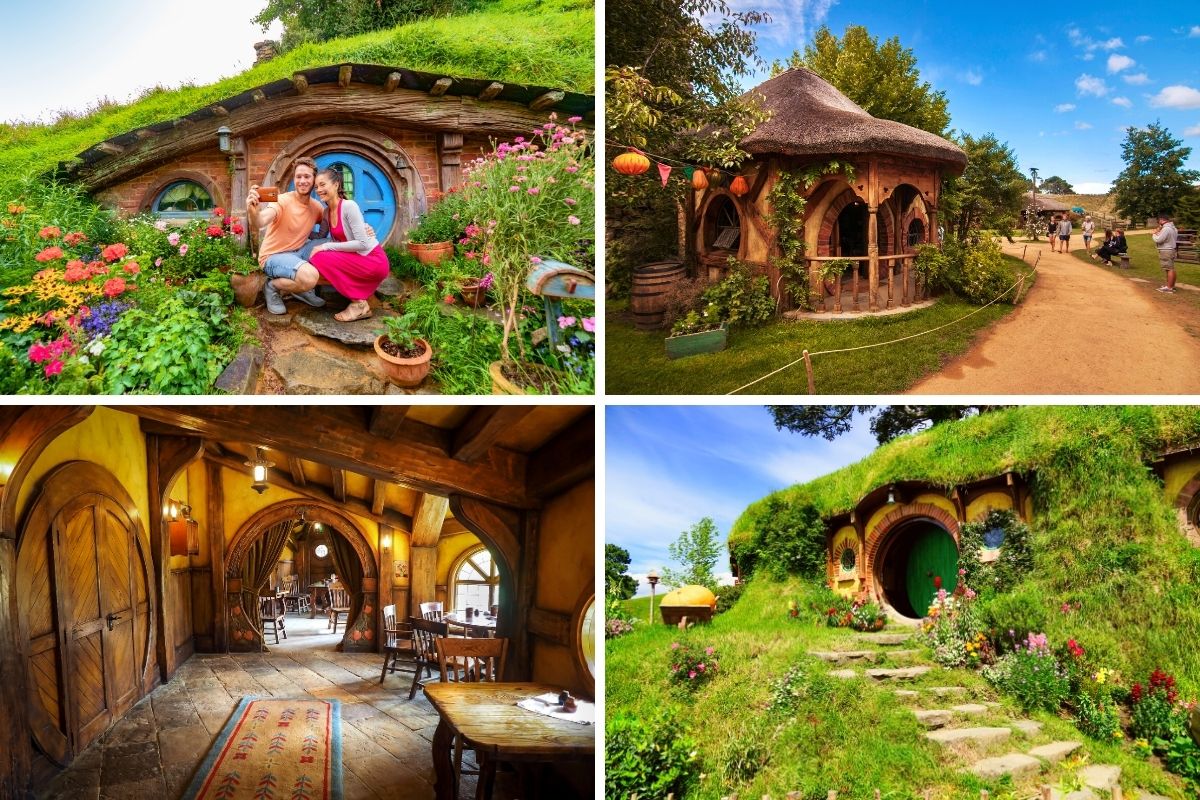 Hobbiton exists! It is a Real Place in Matamata, a small agricultural town in the heart of the Waikato region!
Listen to spell-binding tales of how Hobbiton came to be, take a look at Bag End, where Frodo and Bilbo's adventures began and get lost among the hobbit holes!
Seeing the folk-inspired smials — or hobbit holes for you all ordinary ones — up close is incomparable!
For all you die-hard fans, the movie set locale (now an insane tourist hotspot) also offers other magical experiences to enjoy, for example, an Evening Banquet Tour. Arriving in the afternoon, explore the Shire and then end off your day with a traditional banquet feast at the Green Dragon Inn, flowing into the night.
Ringers; tours depart from Auckland, as well as Rotorua and East Coast city Tauranga (less than one hour away from the Hobbiton Movie Set).
30 – Face an active volcano at White Island (Whakaari)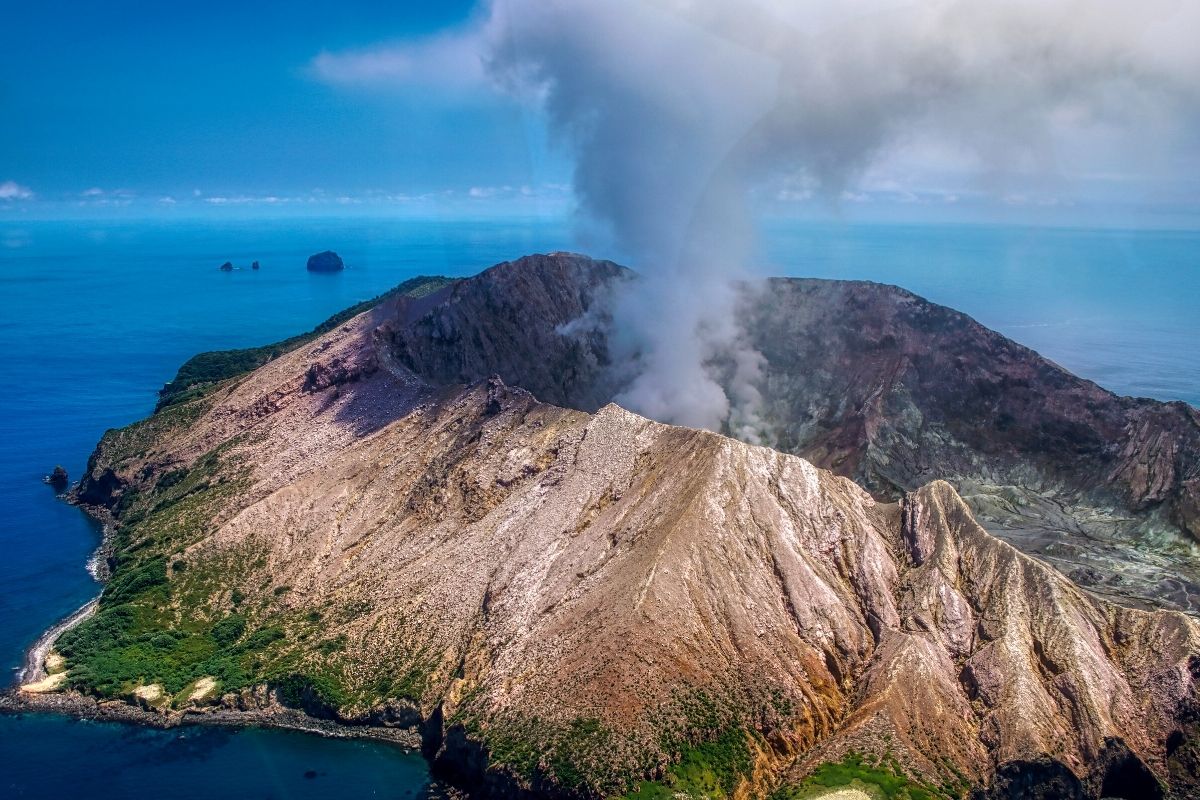 It roars, it breathes, and it hisses from steaming vents releasing 800°C toxic gasses!
Located off the coast of Whakatane, White Island is a scenic reserve that can be enjoyed from above during an astonishing flight. How crazy is this; up until 2019 the volcano lay sleeping for a few years, but after it erupted that year, it has been closed off to visitors since.
You can still swoop in the sights during airplane tours (from Rotorua) — one of the many things to do in New Zealand that will sweep you off your feet — literally and figuratively.
Whakaari (as it's also known) is one of the country's most active, exploding over 10 times in the last 100 years!
31 – Visit the beaches at Mount Maunganui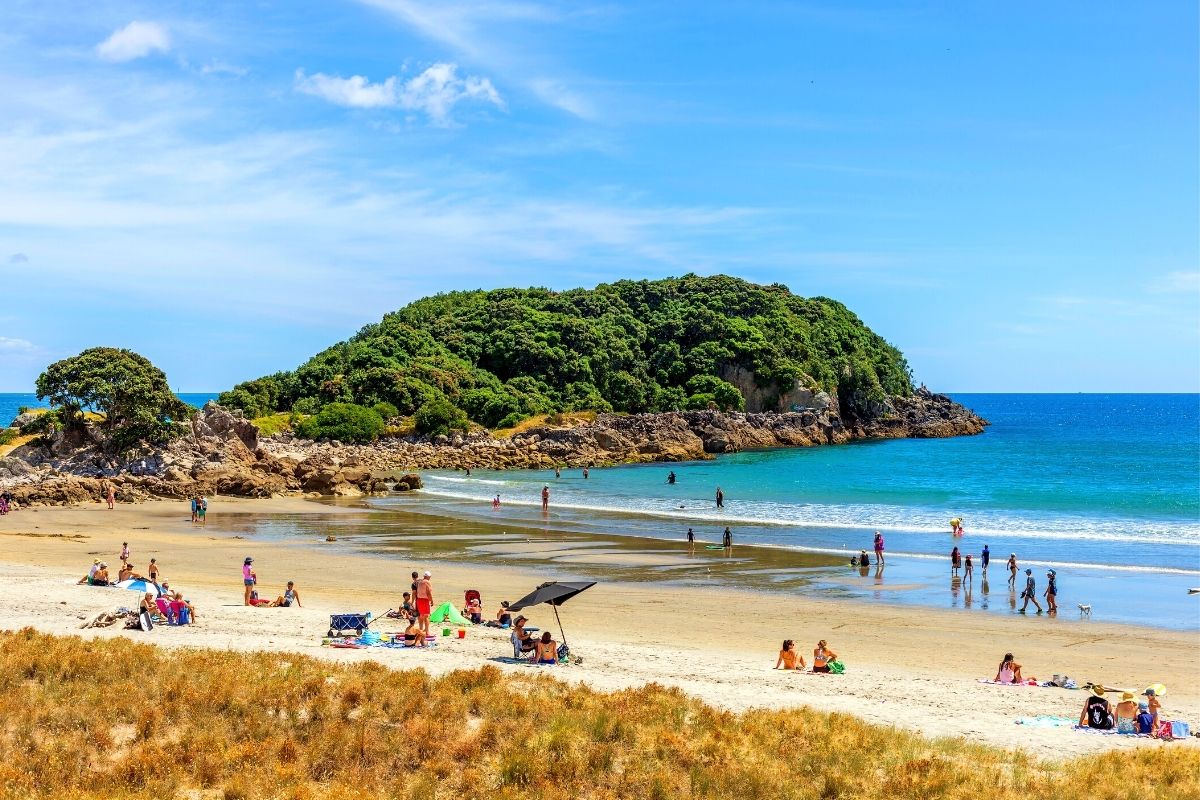 Despite what its name suggests, this is actually a laid-back beach town and not an active volcano … although it once was!
Perched on the tip of a peninsula in the Bay of Islands, this is where surfers come to play or travelers in search of a chilled-out vacation dazzled by TLSea.
The town may be small, but it's a total vibe, housing cute cafes and some trendy boutiques, as well as shops revolving around ocean activities like dolphin watching, diving and game fishing.
Learn to surf at Main Beach (Maunganui Beach) or work on your tan on the powder-soft sands at Pilot Bay. Explore the dormant volcano on foot and make the summit to Mt Maunganui — it is an easy 30 to 45-minute walk to the top.
Eat and shop at the weekly Gourmet Night Market (open Fridays), check out the art galleries and studios, and there are plenty of things to do in Tauranga — a 10-minute drive from Mount Maunganui.
32 – Discover New Zealand's natural highlights at Waitomo Glowworm Caves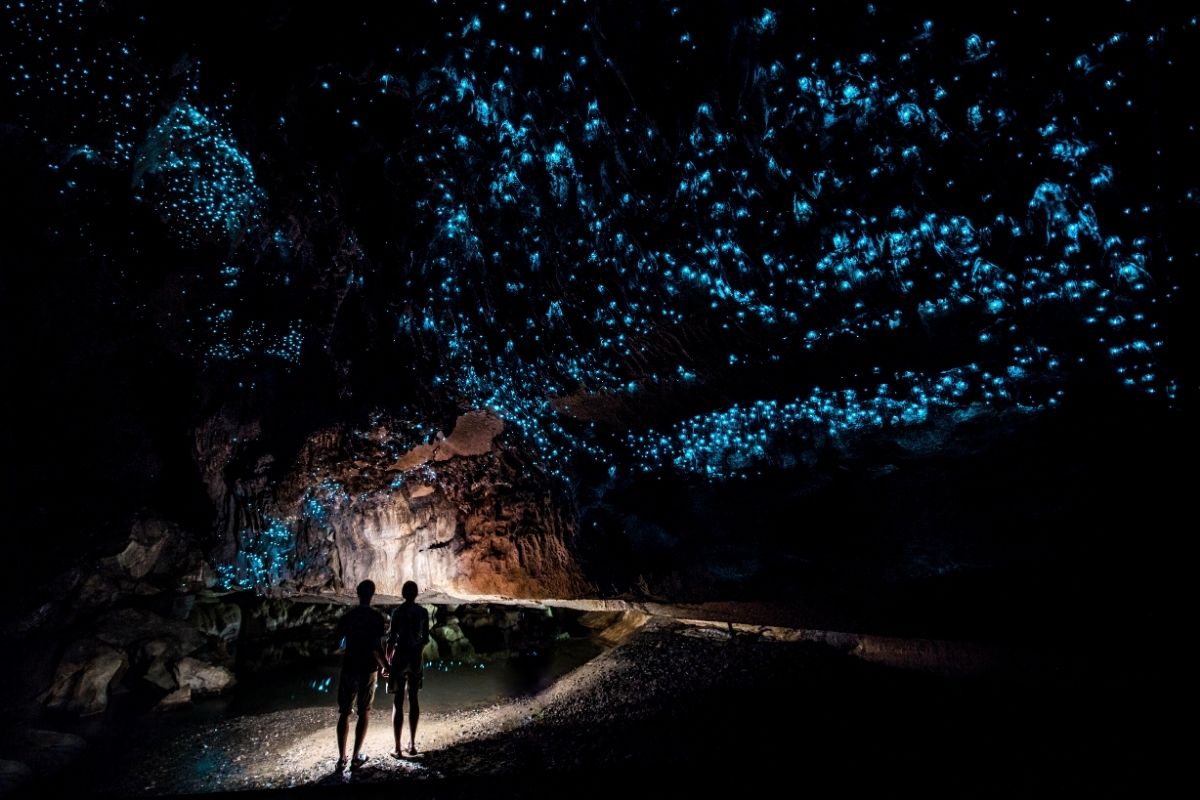 Deep underneath the hilly landscapes of North Island, you can find fantastic caves lit with glow worms.
The Waitomo Glowworm Caves is home to thousands of glow worms that light up the cave ceiling like a starry night sky.
Once inside, the caverns are divided by two levels and the lower level contains these magical grottos. One of the most special ways to explore the caves is kayaking along the waters, navigating the flickering passageways and natural tunnels. Or get even closer to the Arachnocampa luminosa with a stand-up paddle (SUP) tour.
You are probably wondering why these creatures are glowing? We won't spoil anything – see by yourself and get to know everything at Glow Worm Caves!
Guided tours are essential for entering the caves, and many depart from Auckland, Rotorua and Tauranga. Reach the phenomena in under 2.5 hours.
33 – Experience an adrenaline rush rafting down the Kaituna River
We all have our own strengths and favorite pastimes, and for some, that is whitewater rafting! If you've never tried the recreational outdoor activity before, seriously consider testing the waters — metaphorically speaking and in-person — when you join an epic rafting stint down the Kaituna River.
Boasting Class II to Class V rapids, there are short whitewater rafting adventures, as well as longer rides if this isn't your first river rodeo.
A regular expedition lasts around three hours, during which you'll maneuver your way through gushing streams, waterfalls (yup!), and rapids surrounded by dense rainforest.
All equipment is provided, such as helmets, canoes, wetsuit and booties, and guided adventures start off with a mandatory safety briefing and instructions. A second mind-boggling activity to try out along Kaituna is river sledging!
34 – Rejuvenate, naturally at Hells Gate Geothermal Park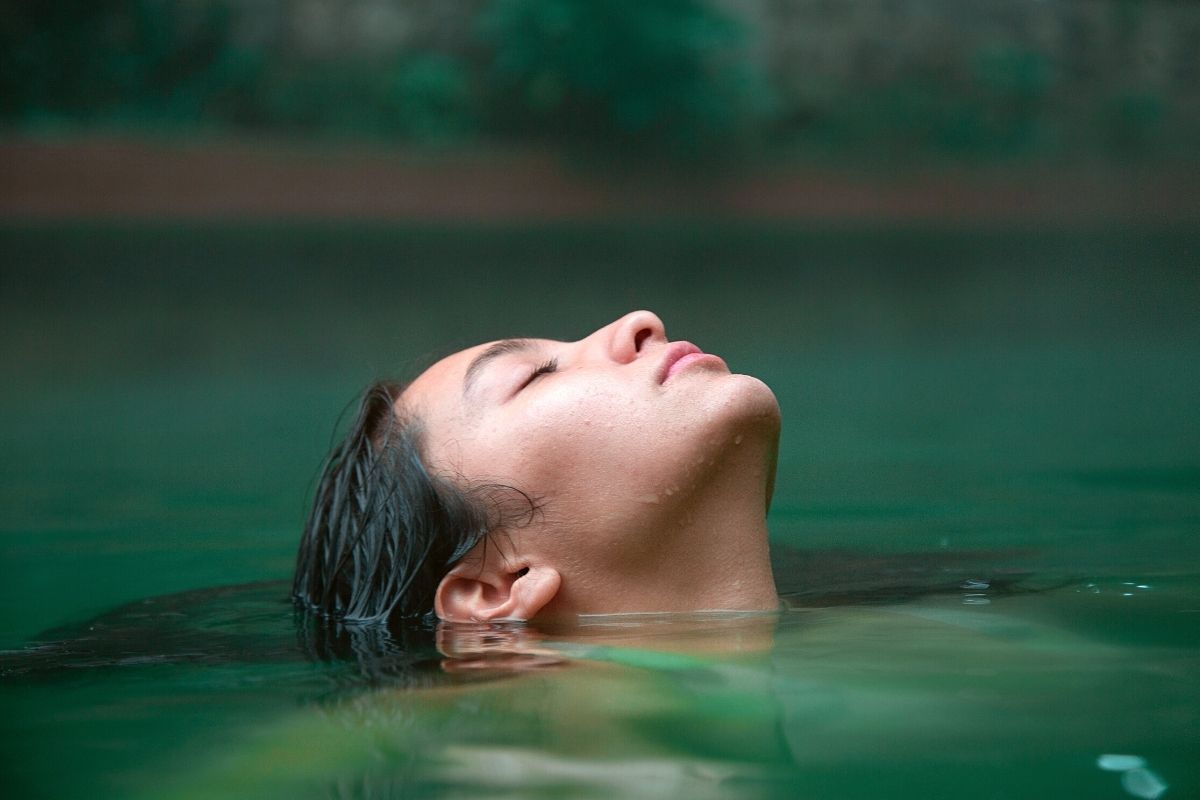 Deep within Rotorua's reserve where "the center of the Earth meets the sky" is Hells Gate; a geothermal park dripping in Māori mythics and containing miraculous healing waters.
Have a mud bath, admire the geothermal activity and muddy volcanic eruptions and enjoy a meal prepared in the cooking pools. Luckily for travelers, the country is abundant with thermal activity and the results are plentiful natural hot springs and pools across North Island.
Flowing from the Mangakawa valley is the Morere Hot Springs, where you can bathe in naturally heated saltwater pools. Waikite Valley Hotpools is the perfect family-friendly thermal springs complex, with over five different pools for both old and young.
Choose between alkaline and acidic natural mineral springs to soak in at the Polynesian Spa (located in Rotorua), and adults-only Wairakei Terraces is a breathtaking site on its own, nevermind the four amazing healing thermal pools.
35 – Immerse yourself into Māori culture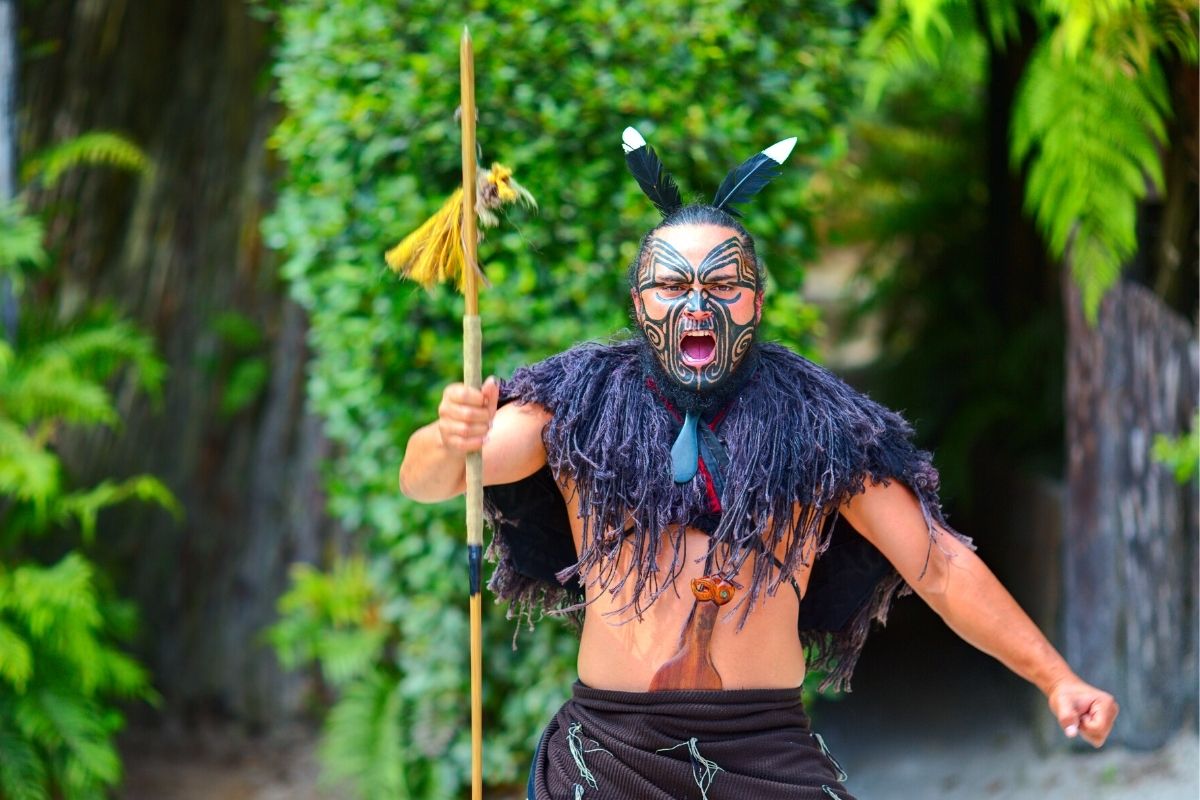 Rewind to the year 1320 CE and New Zealand's first settlers arrived from the isles of East Polynesia, disembarking on the land from the waterways on canoes. Over time, the indigenous groups blossomed with their own unique culture, traditions and customs, including the creation of new languages, mythology and performance art.
Just like most western countries, European settlers changed the native way of living, but in New Zealand, the land's first people are still respected and celebrated and the culture has been incorporated into the country's overall running.
For the best way to learn and understand more, as well as appreciate this ancient culture, enjoy an experience at an authentic village.
For an event filled with "culture, kai and connection", Te Puia Maori Village offers day and nighttime tours. Kick things off with a traditional buffet meal to sample local ingredients and dishes, proceeded by an exciting cultural performance at the Te Aronui a Rua (a carved meeting house). Witness customary songs, chanting, ceremonious dances and war cries like the Haka, and the experience is 2.5 hours.
At Mitai Maori Village, get involved in games and traditional dance, uncover the area's history and hear more about the ancient villages, see customary dress, and also indulge in a buffet feast!
36 – Play, zip and luge at Skyline Rotorua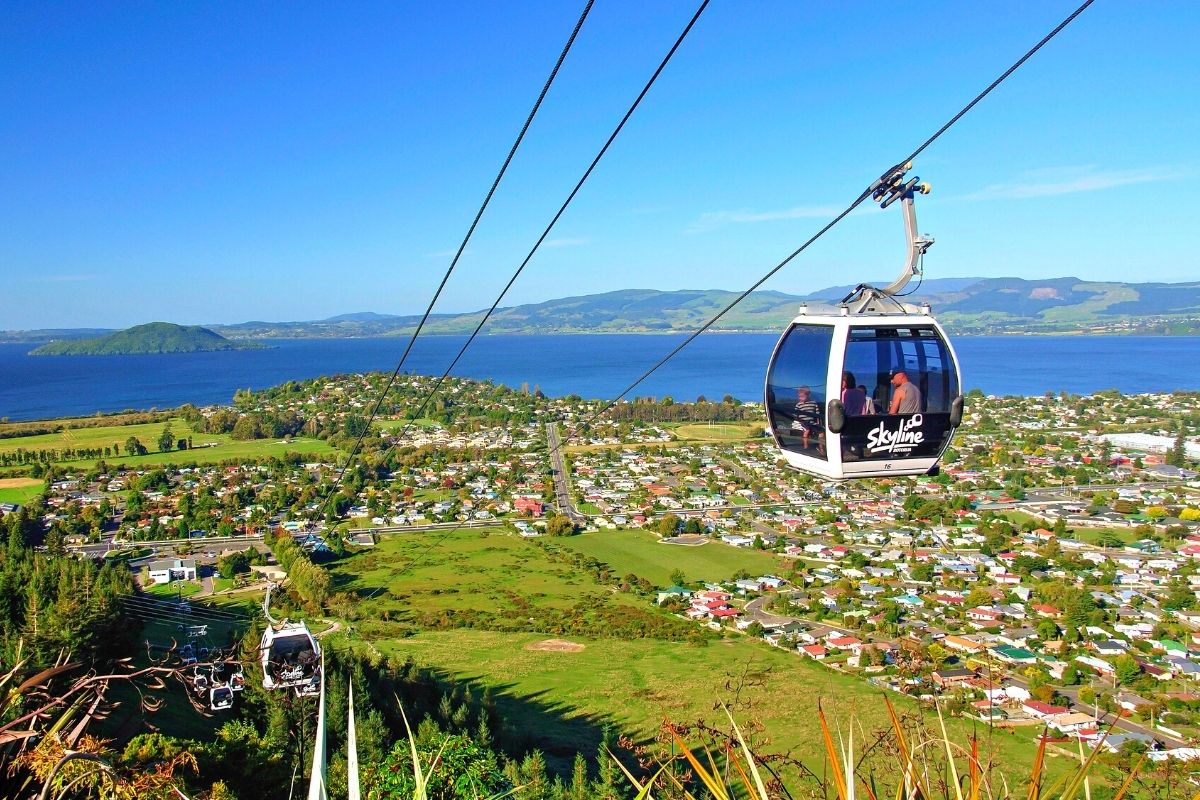 The adventures and action-filled activities in Rotorua are second to none, and Skyline Rotorua combines a bunch of the best under one outdoor roof. This park is undoubtedly one of the top things to do in Rotorua!
First, scope out your surroundings in an eight-seater 900-meter-long gondola ride, cruising to the top of the Skyline Rotorua complex over Lake Rotorua, hot springs and the town below.
From up top, get involved in the other gripping exploits like soaring through the Redwood forest on the Zoom Ziplines, or attempt the Skyswing — if you dare — with its 50-meter death drop.
Cruising down 7.3 kilometers, there is a luge track here too and it's officially the world's longest luging pathway, with a 100-meter drop, and you can enjoy night luges here too. After all the fun, grab a glass of vino from Volcanic Hills Winery.
Planning Rotorua day trips from Auckland? Don't forget to add this to the itinerary, especially for families!
Hot tip: Read more about the most fun things to do in Rotorua.
37 – Visit the world-famous Farm Show Agrodome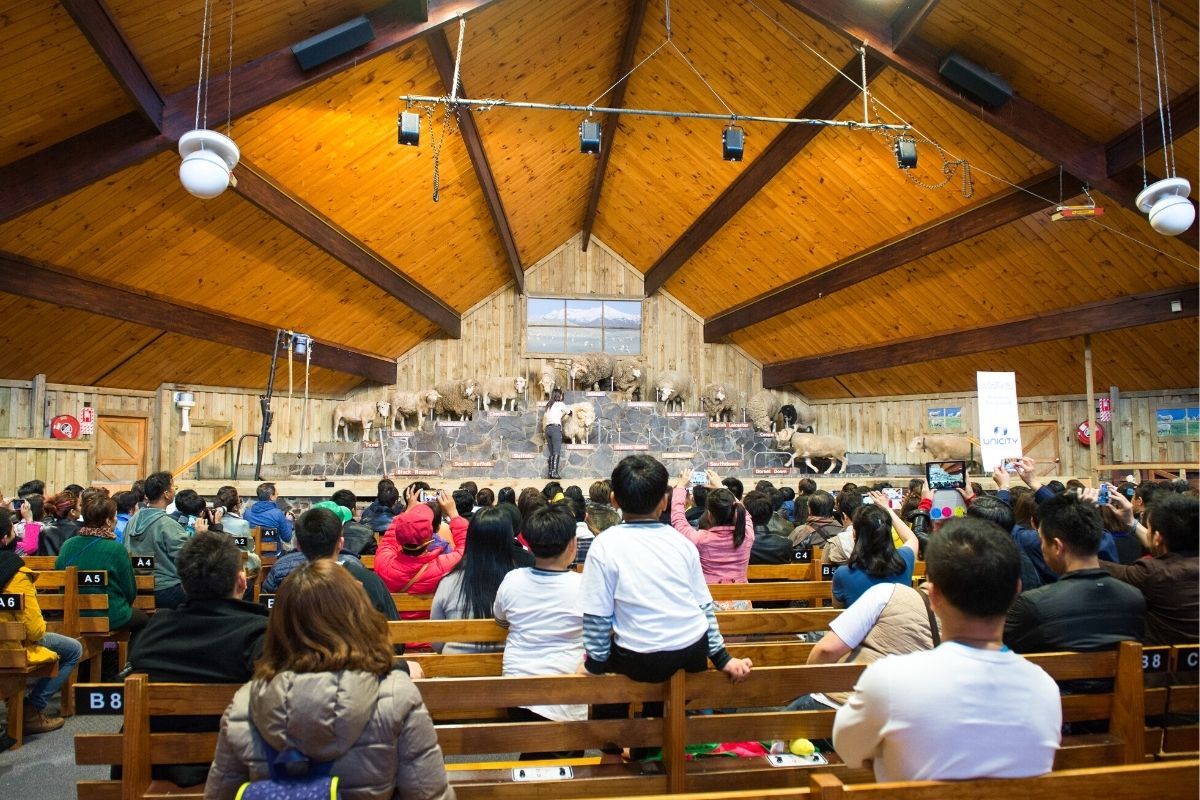 How's this one for a zany fact; there are actually more sheep than people in New Zealand!
Located only 10 minutes from Rotorua, Agrodome is a world-class agricultural theme park, where for over 40 years people from all over the globe have come to see world-famous Farm Show starring a cast of talented animals!
Get ready for a fun-filled hour – you will hear amazing facts and have a few laughs as you're introduced to 19 breeds of sheep! One of the best things to do in New Zealand for families!
Sheepworld is not far from Auckland either, situated in the hills just outside of Warkworth town. At the animal farm, you will have the chance to meet, pet and feed the furry friends (other animals at the farm are alpaca, emu, deer, pigs, goats and donkeys), and there are daily animal feeds to join.
Spot native birds along the Eco Trail through the indigenous bush, and you can also watch a dog/sheep show.
38 – Get an adrenaline rush at Velocity Valley Adventure Park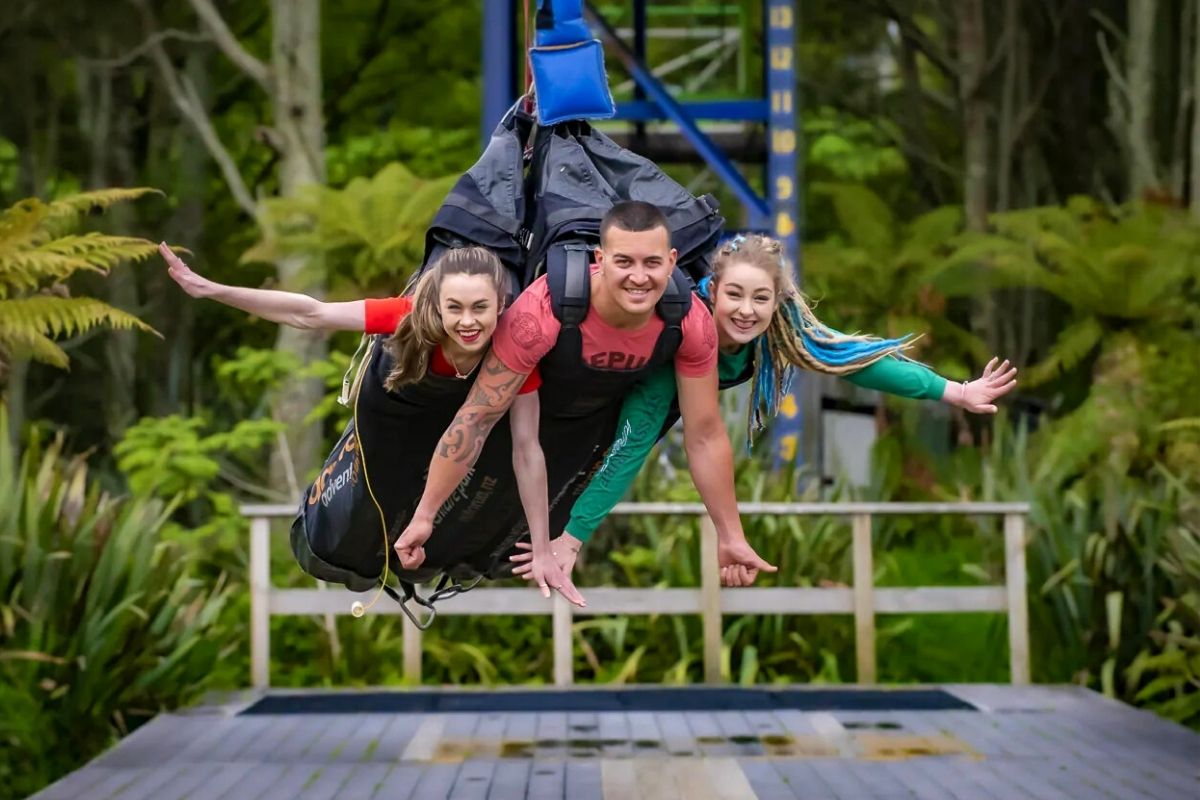 Who's ready to fly, freefall, catch major air, spin and jump??? All of this is possible — and then some — at Velocity Valley Adventure Park where stunt doubles and all you madcaps will feel right at home!
Designed as a full-on action-packed extravaganza, whether you're here with the family, as a solo adventurer or with your significant other, you'll find a ride of your fancying.
Freefall Xtreme is one of the most popular, set up as an indoor skydive tunnel where you can feel the forces of gravity without jumping out of a plane! However, if you wouldn't mind the jump, then hit up the Rotorua Bungy and plunge 43 meters through the air!
Providing the thrills since 1998, there are more epic rides and attractions like the Shweeb Racer (the world's only "pedal-powered monorail track"), speedy Agrojet boat rides, Rotorua Duck tours (which travel water and land), the superhuman swing; Swoop and three extreme biking ramps at the Freestyle Airbag area.
39 – Feel like a true local at Whakarewarewa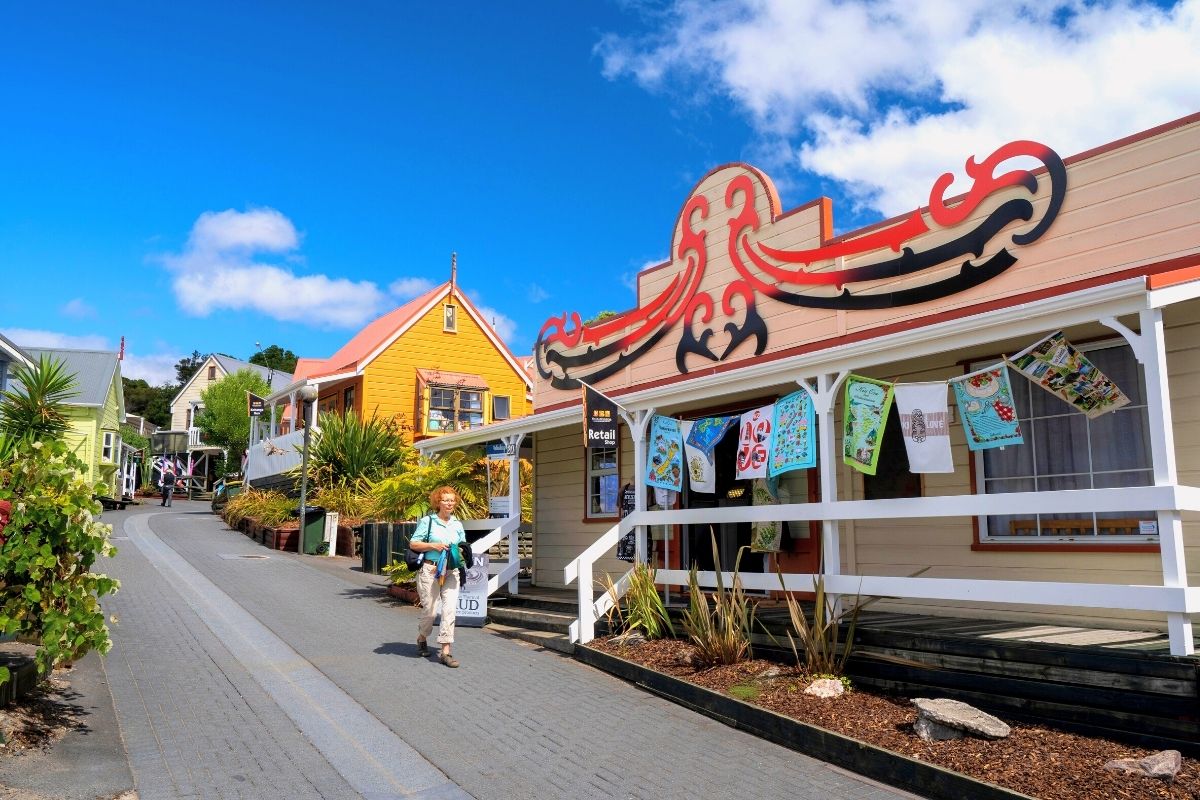 One of the most authentic things to do in New Zealand is a visit to culturally-enriched Whakarewarewa, where local Māori traditions, customs and legacies thrive!
Different from a designed tourist destination, Whakarewarewa Village is actually the living homes and real dwellings of the Tūhourangi Ngāti Wāhiao people. During the 19th century, these locals began opening up their homes and village to curious travelers from around the world.
Landing in the geothermal valley in 1325, during a visit here you can take a guided village tour to learn how the locals live, and how they utilize the hot springs for cooking and even bathing, topped with a riveting cultural performance involving songs, dance, stories and other customs.
Or, gain knowledge on the unique landscaping during a guided geothermal eco-tour led by an expert for a deeper understanding of the native plants and wildlife.
Located just outside of the town, tours from Rotorua often add this destination to the agenda.
40 – Walk or bike through Redwoods Forest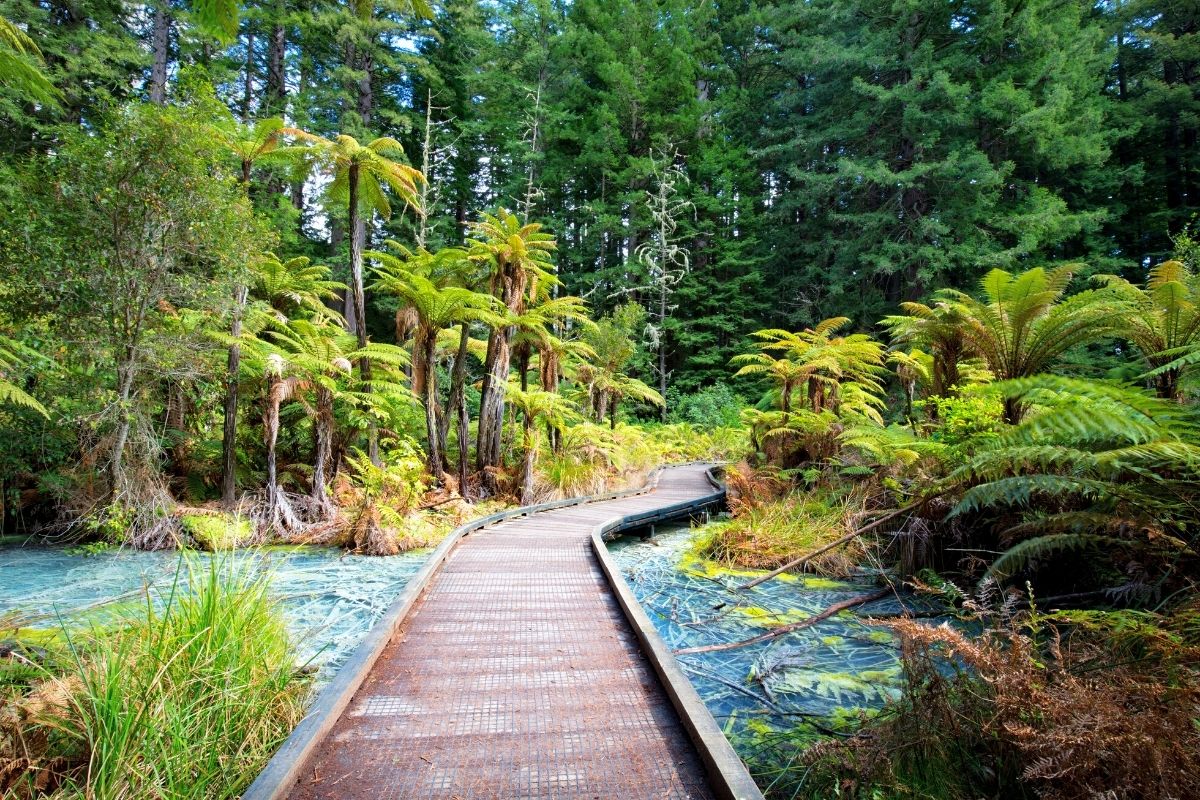 The first thing you have to do when entering the magical Redwoods Forest is … look up! Enclosing you all around are towers of giant (Californian Coast) Redwood trees, which seem to stretch for eternity into the sky above.
Covering 5,600 hectares of forestry, Whakarewarewa Forest as it's officially known, is in Rotorua, nestled away from the mania of major cities. But this forest wasn't always here, and it is in fact, man-made.
Originally home to the Te Whakarewarewa Tanga o te Ope Taua a Wahiao Māori people, the landscape was altered after the explosion of Mount Tarawera in 1886, and in efforts to restore the area, the first Redwoods were planted in 1901.
Check out the Visitor's Centre for a quick overview and some history, then journey through the trees on foot, bike or even horseback!
There are short hour walks, full-day treks and tramping tracks through the forest.
41 – Try zorbing at Rotorua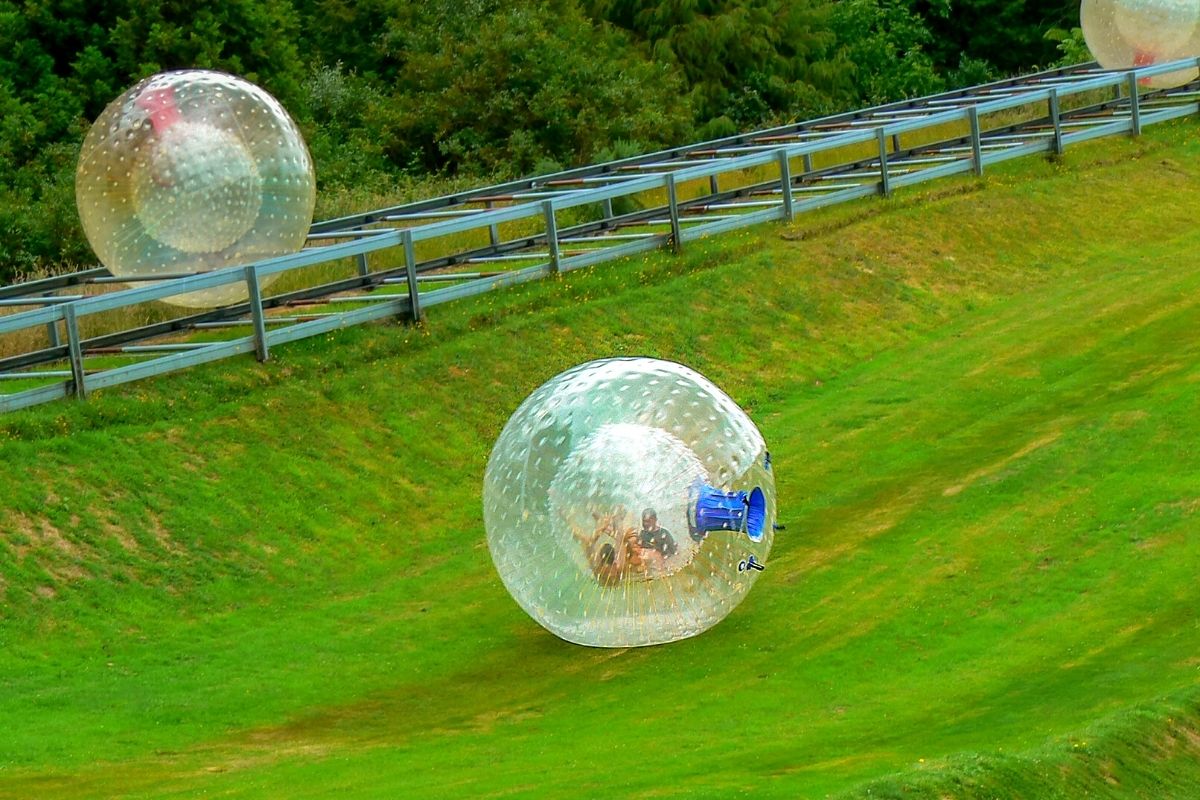 Zorb is a large inflated plastic ball, with another ball inside in which you roll down a hill — reaching speeds of up to 50 kilometers per hour!
Situated in the hilly greens of Rotorua, the fun and friendly action-lovers over at ZORB Rotorua have four exhilarating tracks for you to play, whizzing and whirling down Mount Ngongotaha inside your zorb.
For a serious kick of adrenaline, the 300-meter Mega track is fast, steep and brings in vistas of Lake Rotorua and Mokoai Island along the ride! Sporting six insane twists and turns, Sidewinder is the world's longest zorb trail. Race your best mate on the 250-meter-long Dual Straight and just as the name suggests, feel your tummy flip on Big Air with three mega drops.
Zorbing is safe, as there is a cushion of air between you and the ground, so you don't need to worry about anything while zorbing! There is also a little bit of water added inside the ball for extra agility — trust us, it just works!
42 – Pretend to be Tarzan and Jane zip lining in Rotorua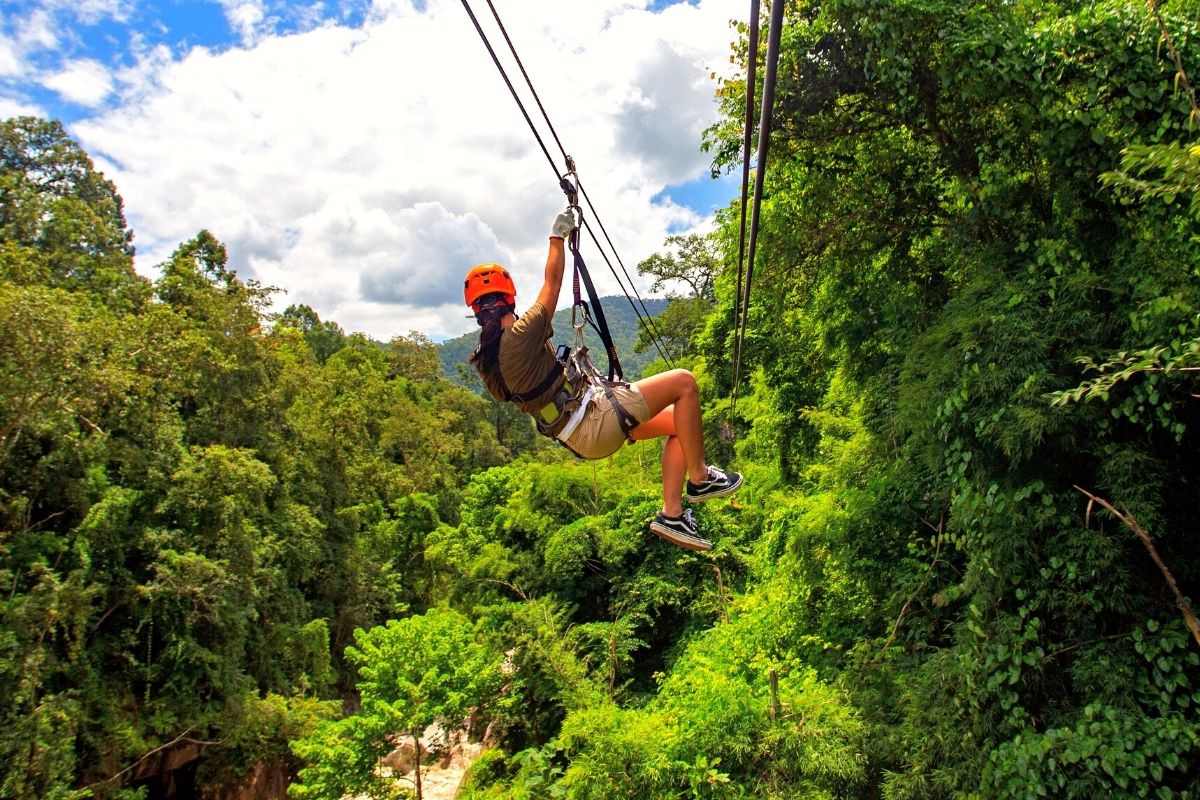 Imagine soaring across canopies of ancient forestry, brushing over lush treetops and cruising alongside birds flying in the sky? Well, stop imagining and start doing when you go ziplining in Rotorua!
Not only the best in business in New Zealand but Rotorua Canopy Tours was also awarded the title of the world's number one nature activity! Heading into the centuries-old native forest, cross six ziplines (the longest at 220 meters), swing bridges and descend spiral staircases.
When you book The Ultimate Canopy Tour Rotorua you have the option of tandem ziplining and the experience also includes cliff walks.
A second spot to enjoy the thrills of zipping from tree to tree in Rotorua is at Okere Falls (approximately 20 kilometers outside of town). Over the course of 2.5 hours, fly across four zip lines, cruising over three waterfalls!
43 – Hike Mount Tarawera to its crater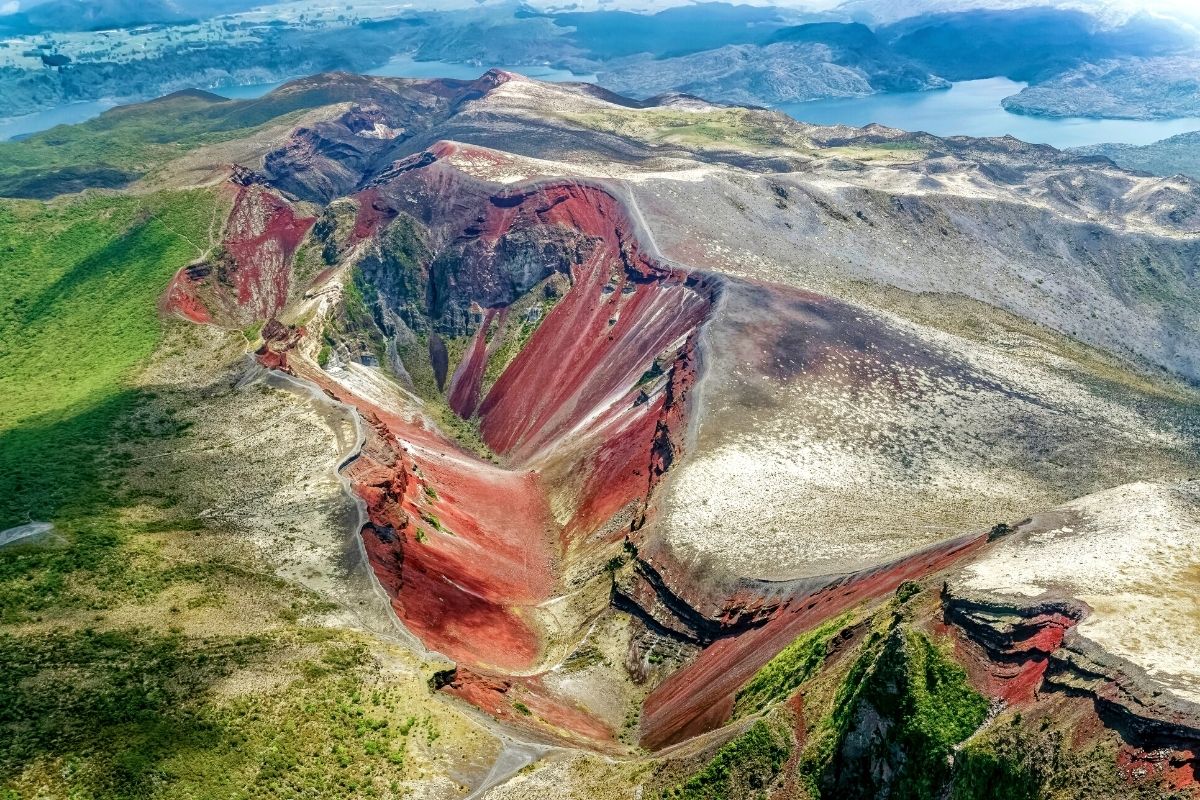 Situated within the Waimangu Volcanic Valley lies the remains of Mount Tarawera, a volcano that last erupted in 1886.
It has remained sleeping ever since then, but in its aftermath, it left behind new landscapes and newly formed craters that have become hotspots for hiking, and the Mt Tarawera Crater walk draws in crowds far and near, especially tours from Rotorua (the volcano sits just outside of the city).
Forming part of the Ōkataina Caldera, there are some trails spanning a couple of hours, others half-days or treks that are a full-day endeavor, and the only way to traverse the volcanic mountain is with guided tours.
These start at the base of Mt. Tarawera (because of its dusty, rocky and arid terrain, first travel here by 4×4 wheel drive). Then, summit to the top where the crater lies for an up close and personal squizz, learning all about the 1886 event along the way.
44 – Be amazed by the phenomena of Waimangu Volcanic Valley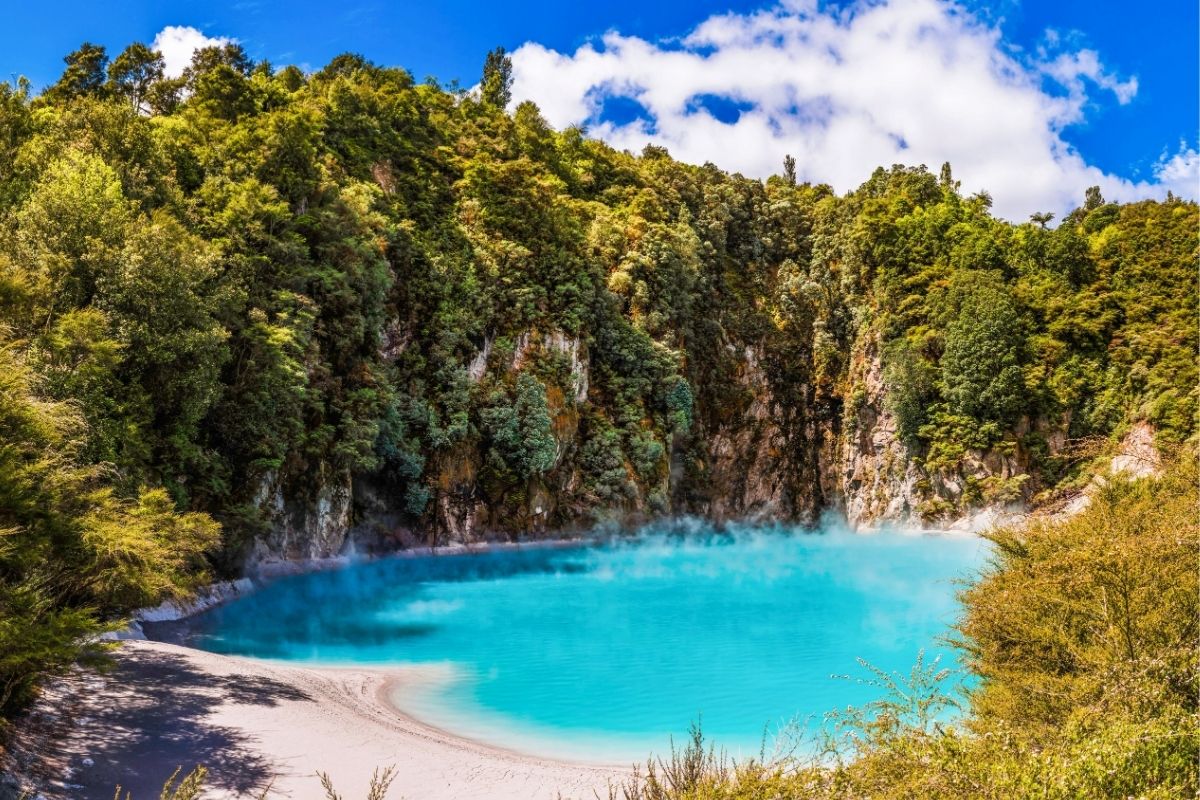 Prepare to be mesmerized by the world's largest hot spring (Frying Pan Lake) at Waimangu Volcanic Valley — the youngest geothermal system on planet Earth, once home to the famous Pink and White Terraces.
The unreal makeup of this protected landscape is owed partly to Mount Tarawera — the volcano that erupted here in 1886 creating thermal valleys, springs and craters.
Casual walks and longer hiking expeditions are both possible through the park, leading visitors to its significant features like Lake Rotomahana, Inferno Crater, Frying Pan Lake, Cathedral Rocks, the Southern Crater, Emerald Lake and more!
Located in the Rotorua region, embark on a tour from the town, and another natural wonder is right around the corner; Wai-O-Tapu where you can marvel over the Lady Knox Geyser, spewing her waters up to 12 meters into the air!
45 – Marvel at one of the country's most visited natural sites, Huka Falls in Taupo
Arriving at Huka Falls is one of life's moments when you stand back for a second and really understand the immense power (and the wonder) of Mother Nature, and how small us humans really are!
Crashing into the Waikato River 11 meters below, the waterfall is one of New Zealand's most unique phenomenons. An immense surge of over 220,000 liters is naturally forced to the surface through a kloof of volcanic rockeries, exploding down the side of the falls. At the top of Huka is a bridge where you can admire the crazy cascade.
There are plenty of other magnificent showers to go chasing waterfalls around the North Island.
Everything about Bridal Veil Falls is simply magical and the 55-meter-high waterfall enshrouded in mossy greens appears like a page out of a fairytale book. It sits along the Pakoka River in Waikato.
The 27-meter-tall Rainbow Falls is an excellent one to go swimming in its pools under the waterfall, or hike to Whangārei Falls with its multiple spurts.
Hot tip: Don't miss our list of things to do in Taupo.
46 – Enjoy water sports at Lake Taupo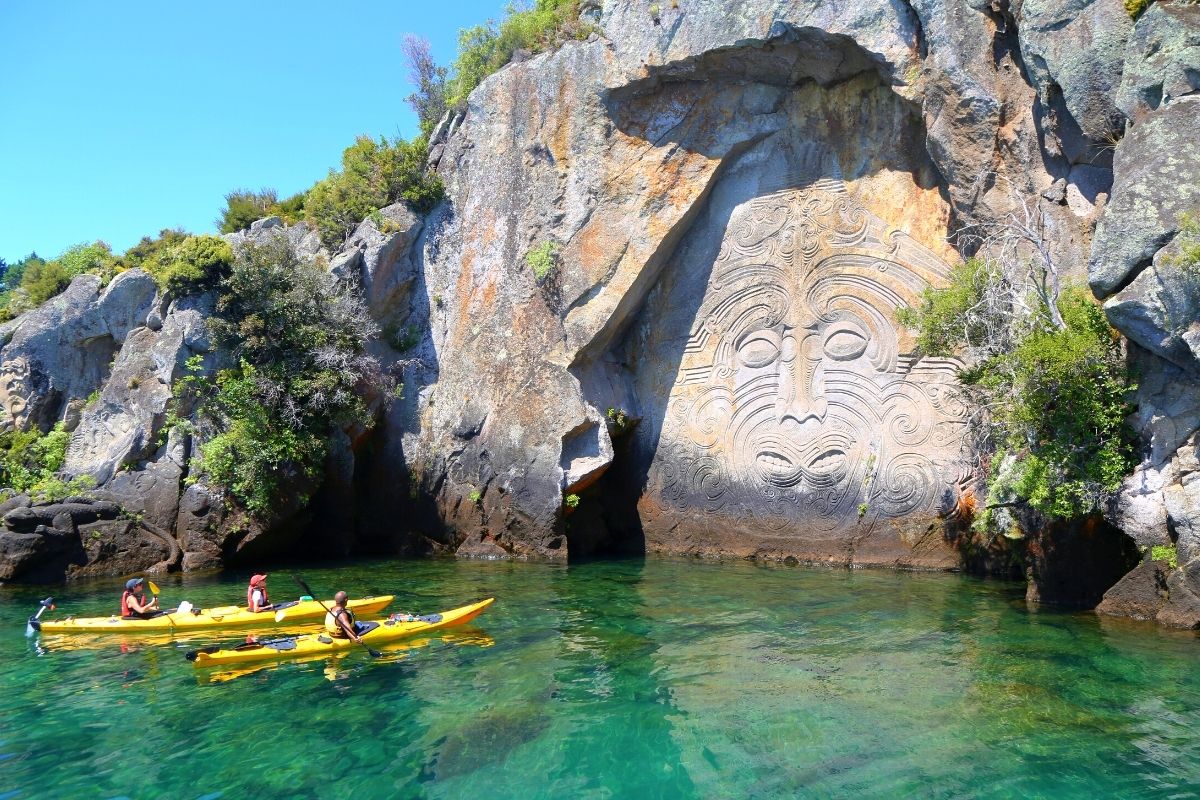 Life around Lake Taupo is peachy, and as New Zealand's largest freshwater lake (it's as big as the whole of Singapore!), there are plenty activities to do — surprisingly so as it's located in the middle of one of Taupō Volcano's two calderas.
The ultimate way to experience Lake Taupo is from the water's vantage point, and naturally, there are great ways to navigate your way across!
One of the most popular water cruises is a 1.5-hour boat tour across the lake on a luxe catamaran where you'll be guided to the spectacular Ngātoroirangi Mine Bay Māori Rock Carvings.
Or, swap sailboats for the paddling kind and venture on kayaking tours to these special rock carvings instead. Jump inside a unique doughboat and on a self-guided expedition, navigate the lake waters yourselves. These sweet and sleepy inflated boats are available to rent and can fit up to six.
Soothe your bodies after all the action-attraction at Taupo DeBretts Hot Springs.
47 – Hike the Tongariro Alpine Crossing and ski Mt Ruapehu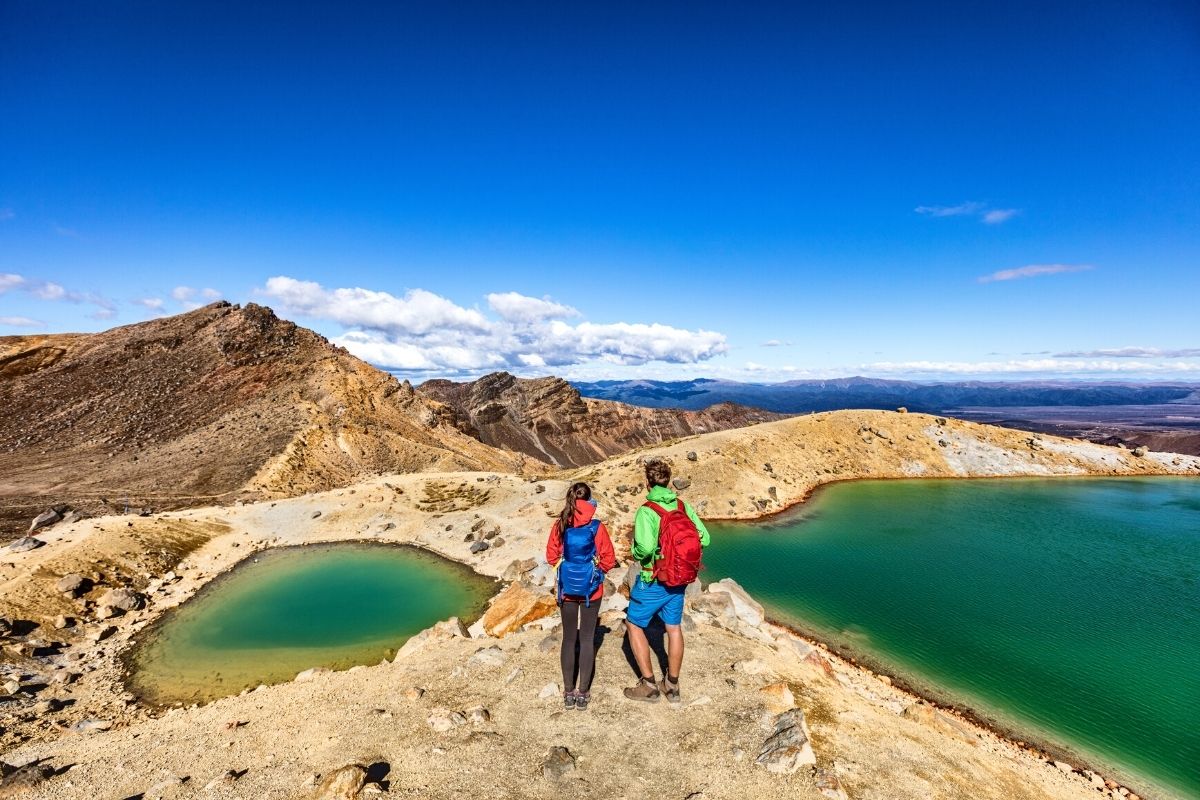 Welcome to New Zealand's oldest national park, filled with endless natural wonders, hiking opportunities and breathtaking scenery so exquisite it has inspired movie directors for filming locations … If one of its three (active) volcanoes seems familiar, that's because the Ngauruhoe Volcano is actually 'Mount Doom' from The Lord of the Rings movies …
Hikers arrive from all around the world to traverse the famous 19.4-kilometer Tongariro Alpine Crossing, and this one-day trail is not for the faint-hearted, especially come winter!
However, the bubbling mud pools, its Emerald Lakes and the wildlife to see en route more than make up for it.
Tongariro and Mt Ruapehu are the two other volcanoes inside the UNESCO World Heritage Site, and in fact, Ruapehu transforms in the wintertime into a designated ski area.
Whakapapa (its Māori name) is a playground for skiers and snowboarders and has awesome facilities for travelers wanting to learn snowsports. There are plenty of lakes and streams around Ruapehu presenting river rafting, fly fishing, kayaking and SUPing fun!
48 – Visit the place of world's longest name and try to pronounce it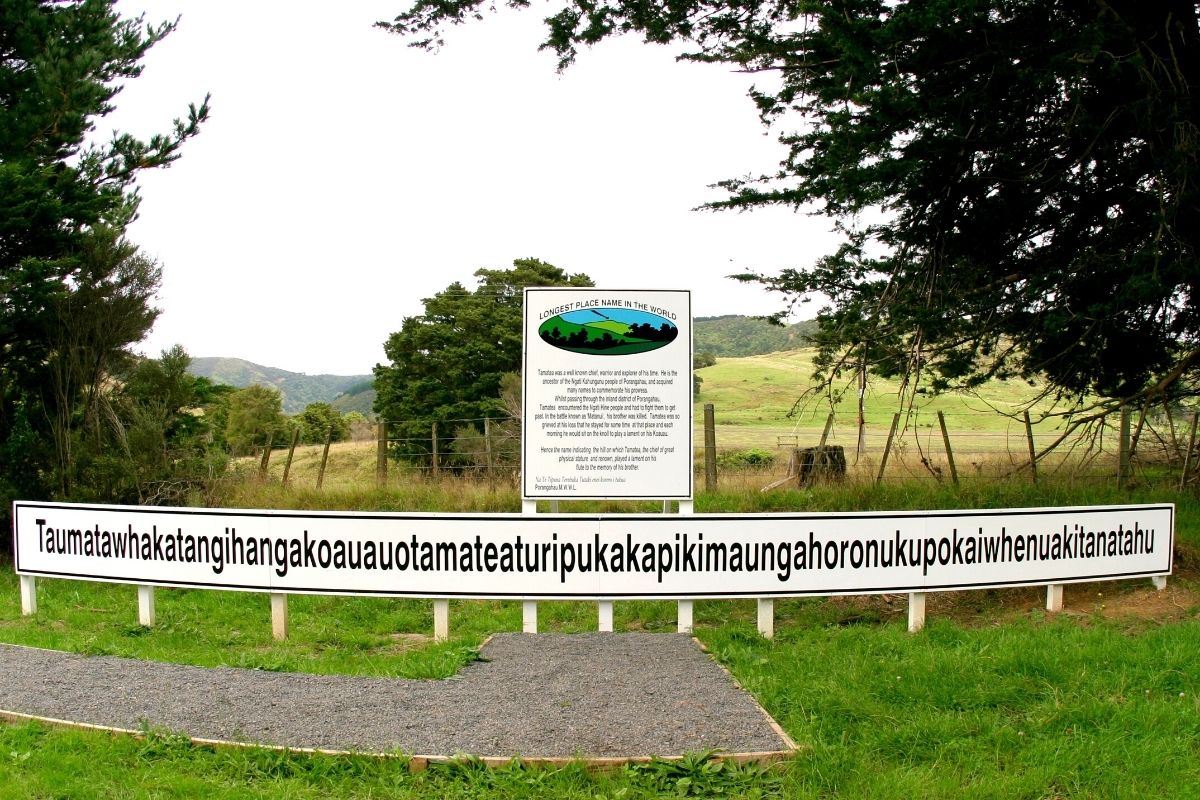 The longest name in the world has a hill on New Zealand's North Island. Are you ready?
It's "Taumatawhakatangihangakoauauotamateaturipukakapikimaungahoronukupokai-
whenuakitanatahu".
Perhaps now you are wondering, that this "kind of long" name must mean something?
Yes, you are right – it translates to "the summit where Tamatea, the man with the big knees, the slider, climber of mountains, the land-swallower who traveled about, played his nose flute to his loved one".
Stop at the hill of Taumata, film yourself while pronouncing a name of this place to create a funny memory!
49 – Visit Napier, the Art Deco City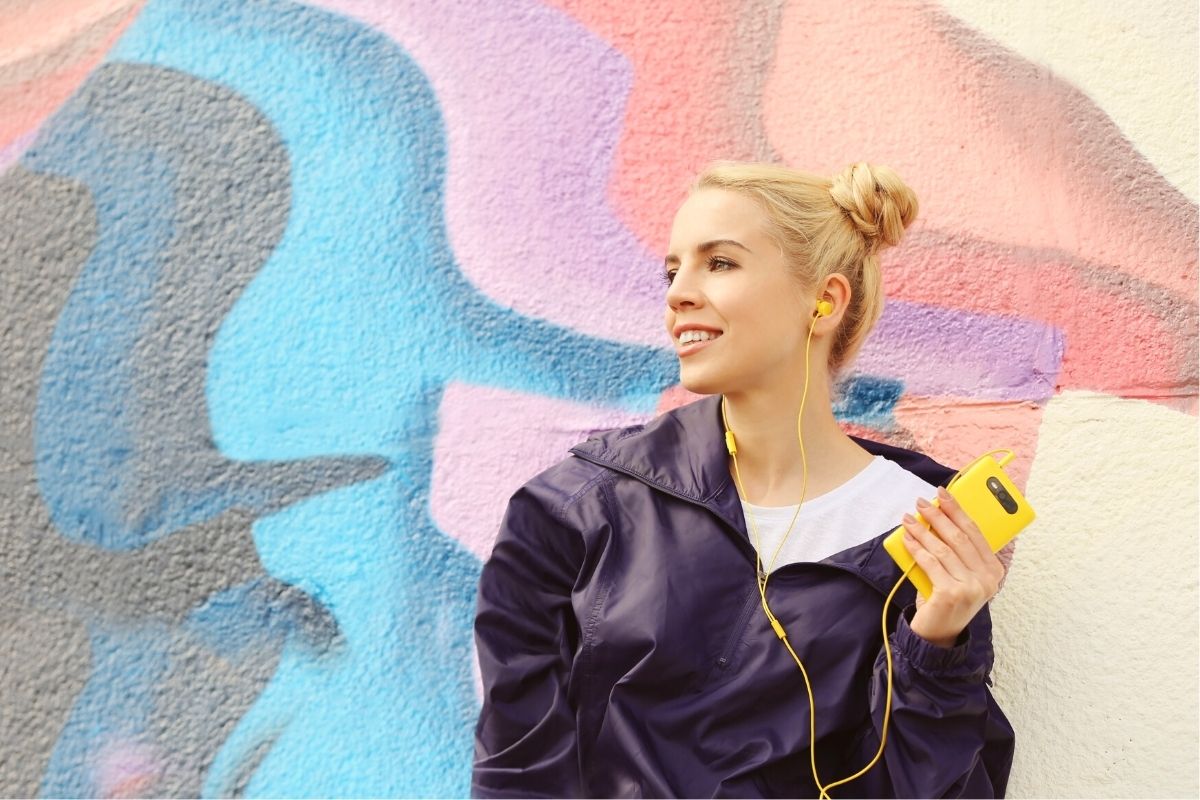 Located at the south of the Hawkes Bay, Napier is one of the most attractive cities in New Zealand.
It's also called as the Art Deco City, and not without reason: Napier has the most comprehensive collection of inner-city art deco buildings in the world!
The best time to visit Napier is in February — annually, at this time, thousands of people come to celebrate the Art Deco Weekend Summer Festival.
With creativity abuzz, one of the most rewarding endeavors you can try among the things to do in Napier is its street art tours! Hop on a bicycle — because what's more hipster? — and discover over 30 street murals by both local and international artists coloring its streets. With an overload of illustrated urban art to scope, these tours last around three hours.
Touring vineyards and winery visits are other popular activities around Napier to enjoy.
Hot tip: Check out our selection of fun & unusual things to do in Napier.
50 – Perfect your backswing at the golf courses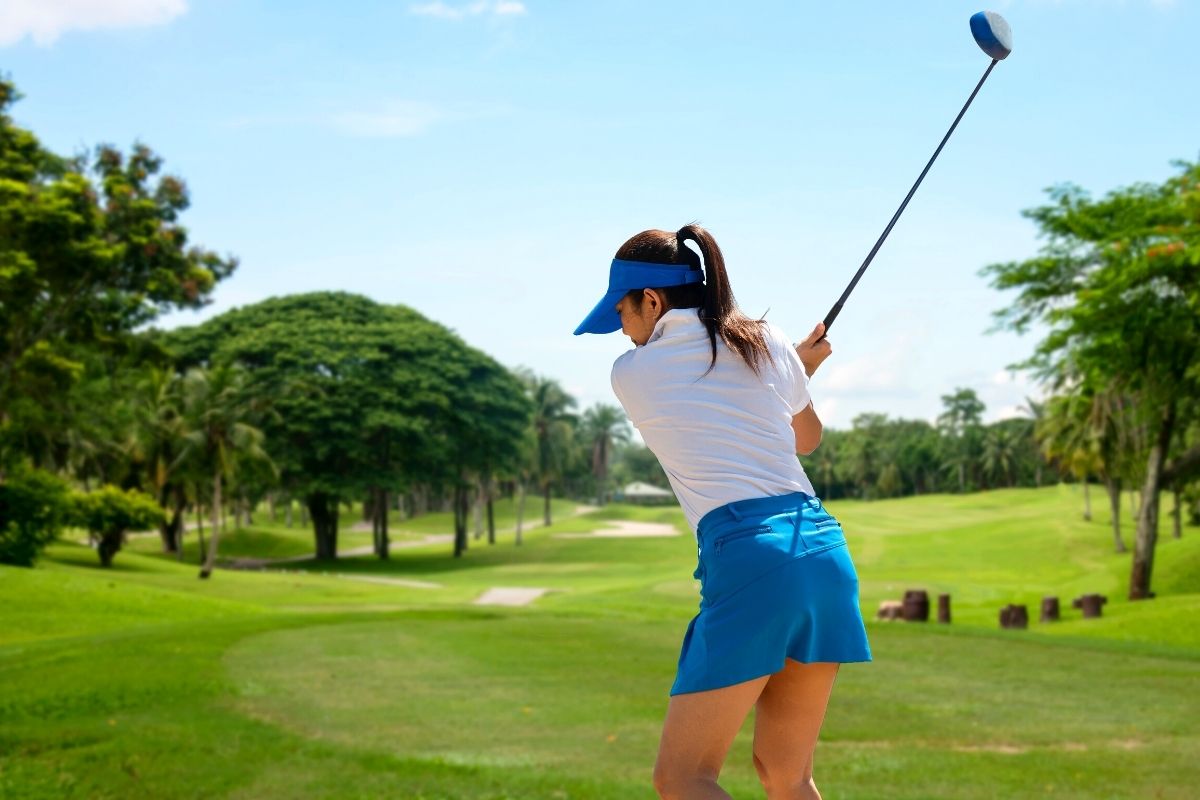 Miniature golf sometimes doesn't cut it for the grown-ups who take their golfing seriously, and if you're missing out on play time, check out some of the snazziest golf courses on the North Island.
Perched on the hillsides overlooking the ocean in Hawke's Bay, the vistas and surroundings don't get better than Cape Kidnappers. Built no less than 20 years ago and designed by Tom Doak, teeing off from the edge of a cliff with a 140-meter drop is insane!
Another locale to blow your mind; Gulf Harbour Country Club is considered one of Auckland's premier courses, sporting Robert Trent Jones Jnr design.
Combining nature's paradise with golfing and you get Wairakei Golf + Sanctuary. Set within the hills of Wairakei, play the 18-holes whilst doused with native flora and fauna.
51 – Have a day trip to Kapiti Island and search for kiwis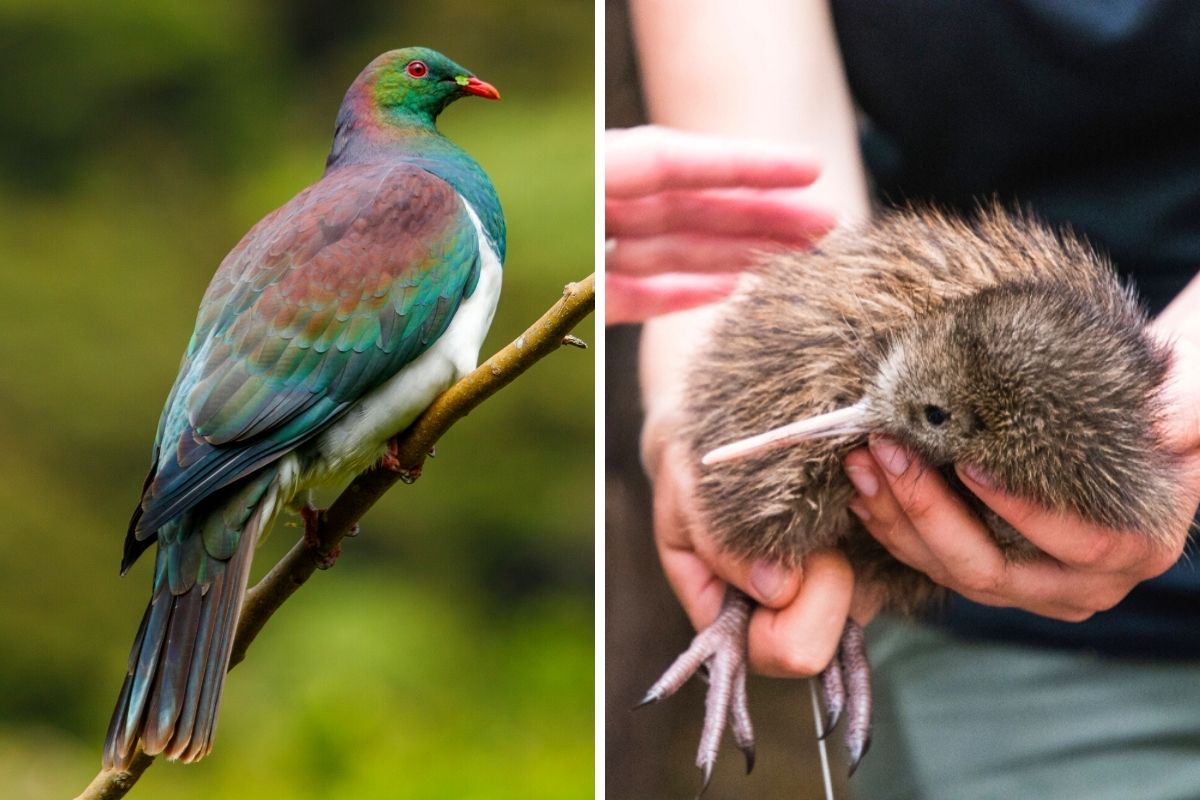 Raw, wild and completely void of human life, Kapiti Island is a teeny tiny nature reserve in the middle of the ocean off the North Island's west coast, and from a bird's eye view the 10-kilometer long, two-kilometer wide isle appears like a solid rectangle block in the sea.
The nearest city and easiest way to reach Kapiti Island is with day trips from Wellington, and you will have to hop on a boat or the ferry to get here. Its 1,965 hectares of land are highly protected and daily visitors can't get enough of the unusual flora and fauna that calls the island home.
Between the shoreline and the island, the ocean surrounding the islet is also a marine reserve (Kapiti Marine Reserve).
Witness penguin colonies, look out for the kiwi, as well as kaka, takahe and saddleback birds, and often swimming in the waters near here are dolphins and eagle rays.
52 – Visit New Zealand's biggest private car collection at Southward Car Museum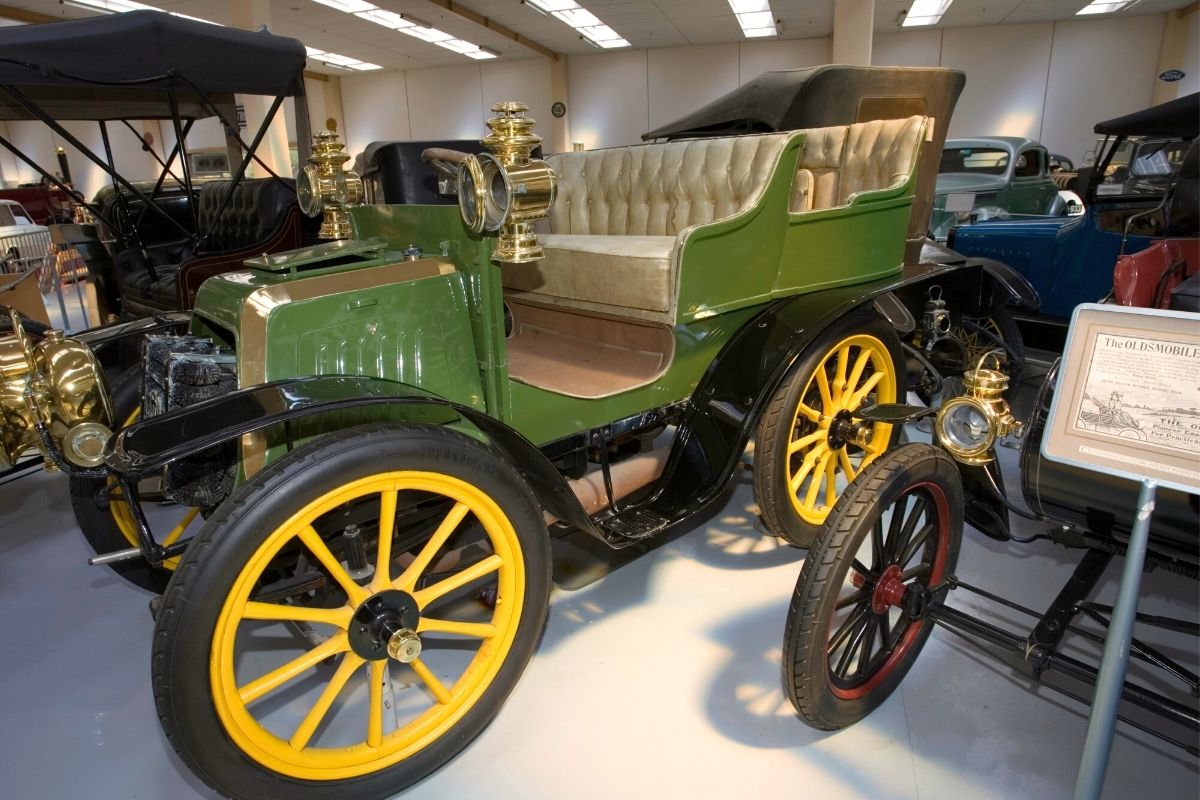 Automotive enthusiasts, forget about having to wait for an annual festival or special event to appreciate vintage numbers … Fall in love with the Southward Car Museum where antique automobiles are permanently on display!
Opening to the public in Otaihanga in 1979, marvel at more than 450 vehicles on display like the classic Porsche 356, Maserati 250F, Bugatti 57C, Alfa Romeo 6C 1750 GS, 1920 Dodge Coupe, Shelby GT500KR and so many more old-fashioned cars.
Not only showcasing the entire body, but certain displays also highlight car parts and interiors.
Apart from the vintage collections, the museum space is utilized for hosting events, concerts and shows at its indoor Southward Theatre from musicals to plays, or outdoors on the park grounds.
53 – Spend the day at the Wellington Botanic Garden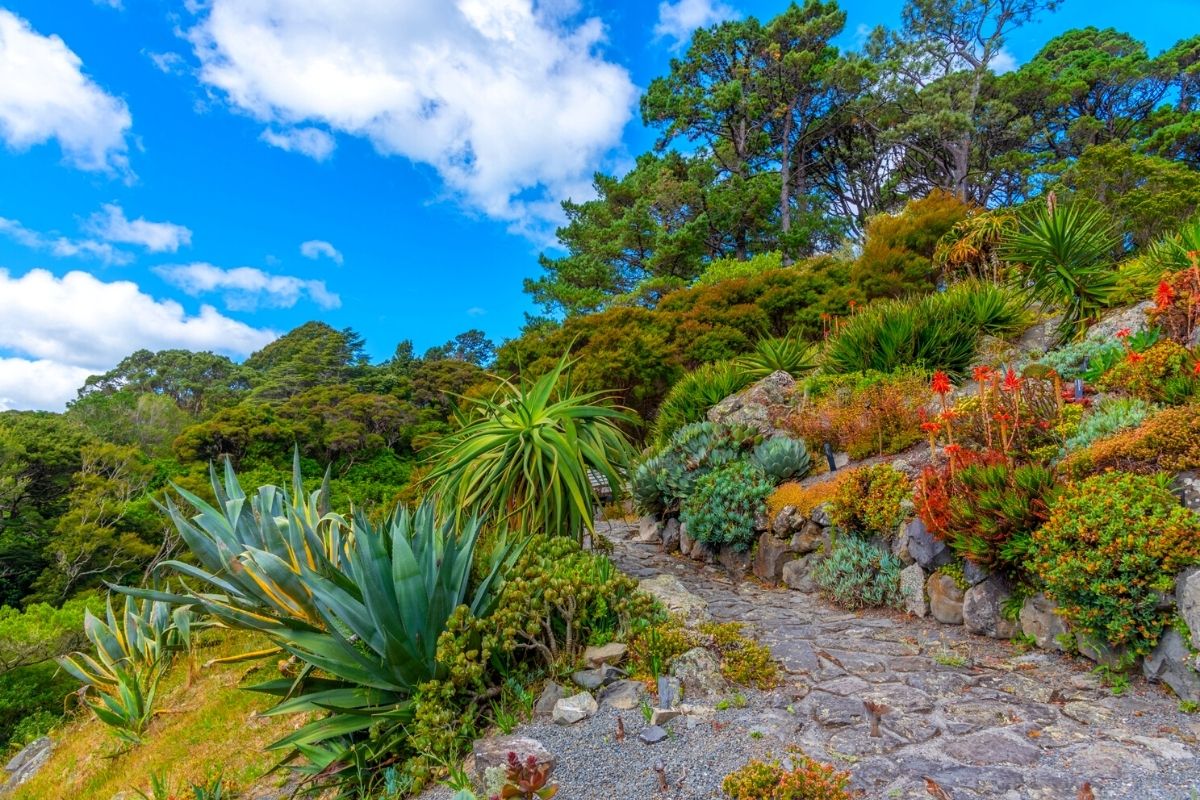 Your floral-loving hearts will do a happy dance when strolling through the magnificent Wellington Botanic Garden, founded in 1868 in the country's capital!
Growing from five hectares to 25-hectare grounds, over the course of 150-something years of existence, it's blossomed quite the collection of local and international plants and flowers (some extremely rare), and also includes a chunk of protected native forest.
Spoiled for choice, the garden is divided into more than 20 collections and themed spaces such as the Alpine Rock Garden, Cacti and Succulent Collection, Kauri Rock Garden, Camellia Collection, The Lady Norwood Rose Garden, Peace Garden and the James Hector Pinetum.
Wellington's iconic cable car ride also runs through the botanical space, landing at the top of the gardens where you'll find the Cable Car Museum.
Other things to do, see and explore are the glass Begonia House, Space Place observatory, Thorndon Village, The Sculpture Walk and Kelburn Village.
Hot tip: Check out our list of things to do in Wellington.
54 – Drink wine in Martinborough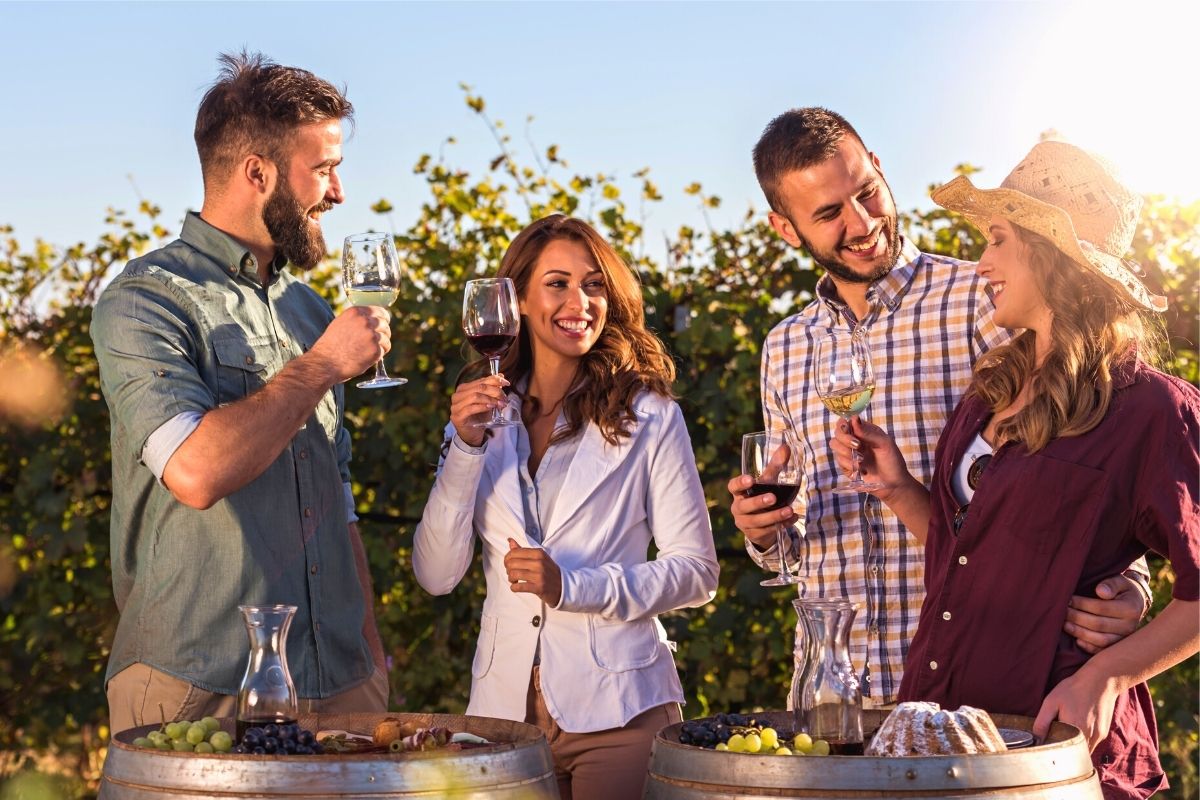 If you've based your holiday around exploring New Zealand's capital, consider embarking on a venture to Martinborough and sample its fine selection of pinot noir wines yourself.
Situated in the country's wine region (Wairarapa), and officially part of the Classic New Zealand Wine Trail, there are a colossal 30 wineries in the area, and day trips from Wellington to the "wine village" include tours in the vineyards and wine tastings.
The actual town drips in colonial charm and is a charming stopover for taking photographs of the heritage buildings' architecture. If you're not much of a wine-drinker, stroll through olive groves instead, and around town pop into cute cafes, or shop at the boutique stores.
Most of the wineries are on the outskirts of Martinborough Village, such as Te Kairanga, Palliser Estate and Poppies. From Wellington, it's a one-hour drive to get here.
55 – Hop on and off the Wellington Cable Car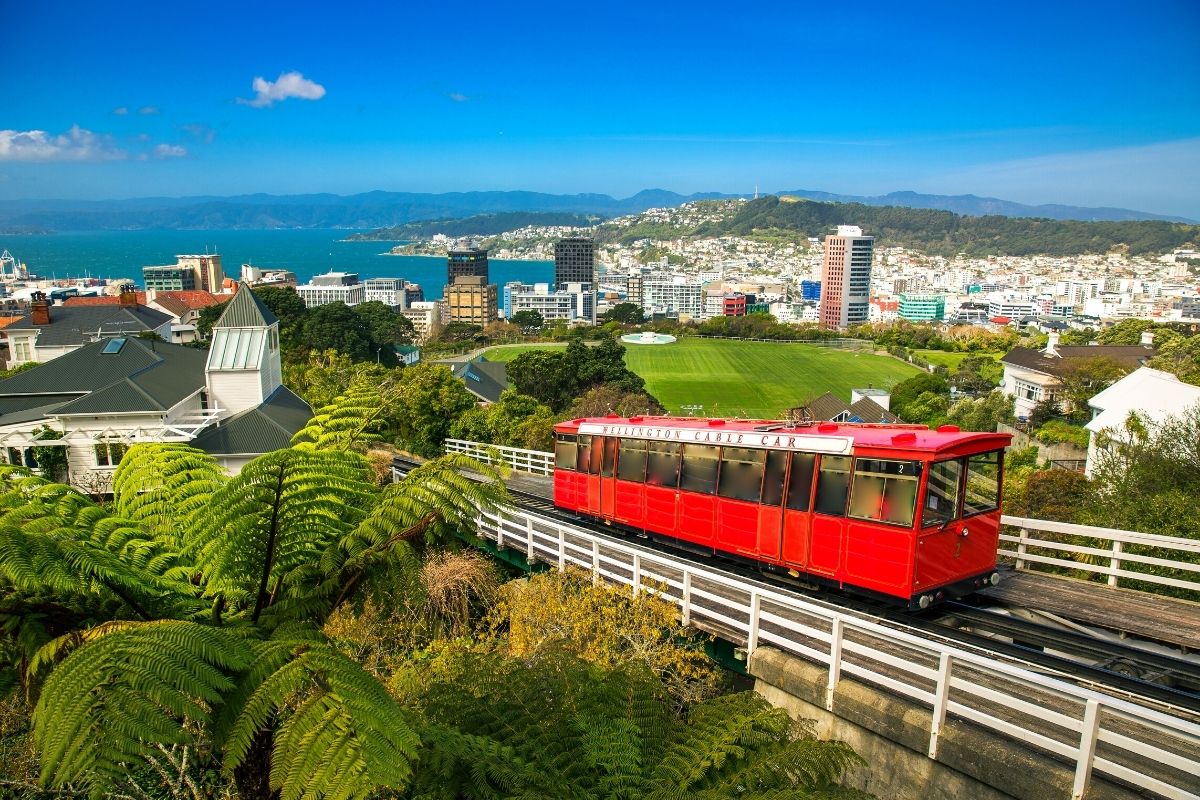 In operation since 1902, no trip to the country's capital is complete without a ride on the historic Wellington Cable Car, chugging through the city center at an incline.
Take advantage of the views from this unique angle during the five-minute hurl up the funicular railway, starting in the CBD and ending in the Botanic Garden.
There are five stations that you will cross, beginning at the Lambton Quay Station (you can jump off the cable car at any of the stations and feel free to explore the surrounding areas, attractions and landmarks).
Check out the Cable Car Transition Mural at the Clifton Station, appreciate the views when standing on the over-bridge at the Talavera Station, and bring the kids to the recreational area at Kelburn Park next door to the Salamanca Station.
The last station on the cable car track is the Kelburn Terminal situated inside the Wellington Botanic Garden. From here, stop by the Cable Car Museum, Space Place, or catch a free shuttle to Zealandia.
56 – Learn something new at the Museum of Te Pa Tongarewa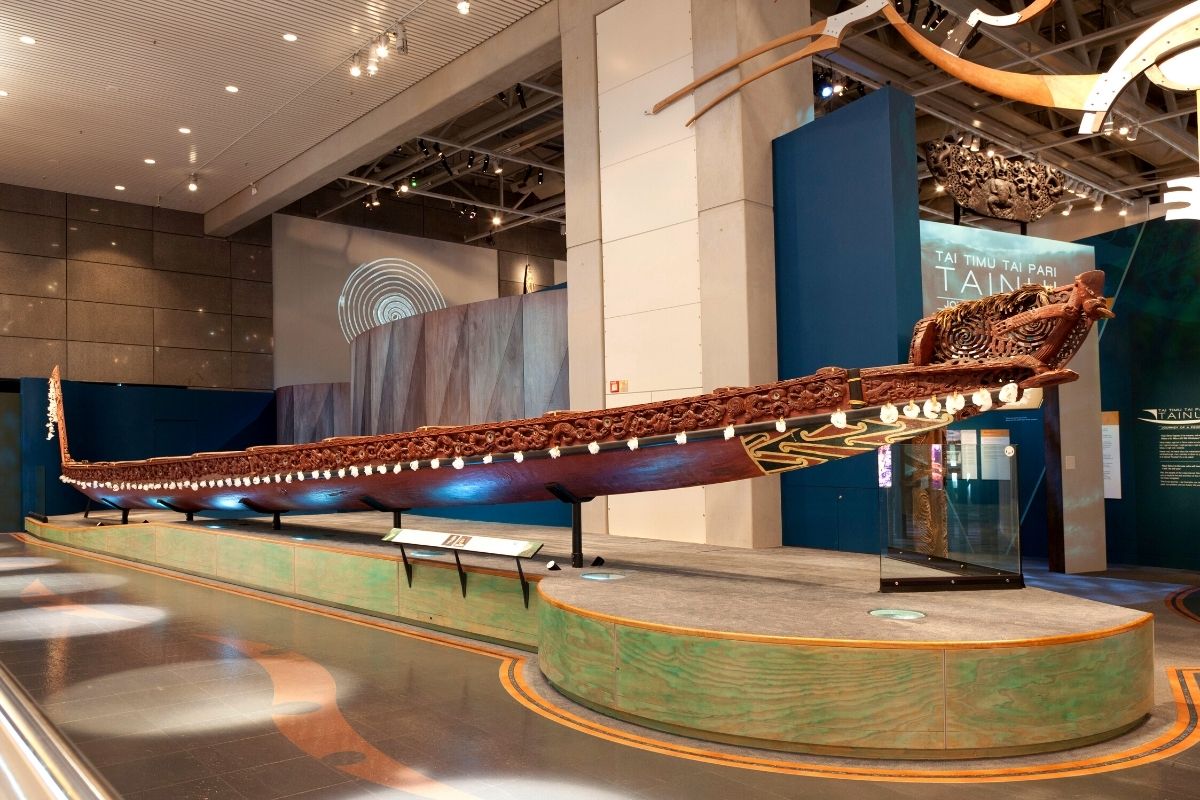 Situated in the center of Wellington is the country's national Museum of Te Pa Tongarewa, established in 1998.
Set up as an educational, immersive space, discover both rotating exhibitions here as well as zones hosting its permanent collections, and comprise the following.
Inside the Te Taiao Nature exhibition zone, there are four interactive exhibits that deep dive into the country's typography; become educated on local traditions, customs and cultures at the Moriori – People of Peace zone; and the interesting Gallipoli: The Scale of Our War zone documents the WWI Gallipoli campaign.
Whilst on a cultural roll, New Zealand's capital is an ideal city to bathe in social, historic and traditional adventures. A melting pot for all types of travelers, there are plenty of things to do in Wellington to keep you busy for a good couple of days. Explore Wrights Hill Fortress, dine at top-end restaurants and learn more about its native Māori people.
57 – Look out for beautiful birds at Zealandia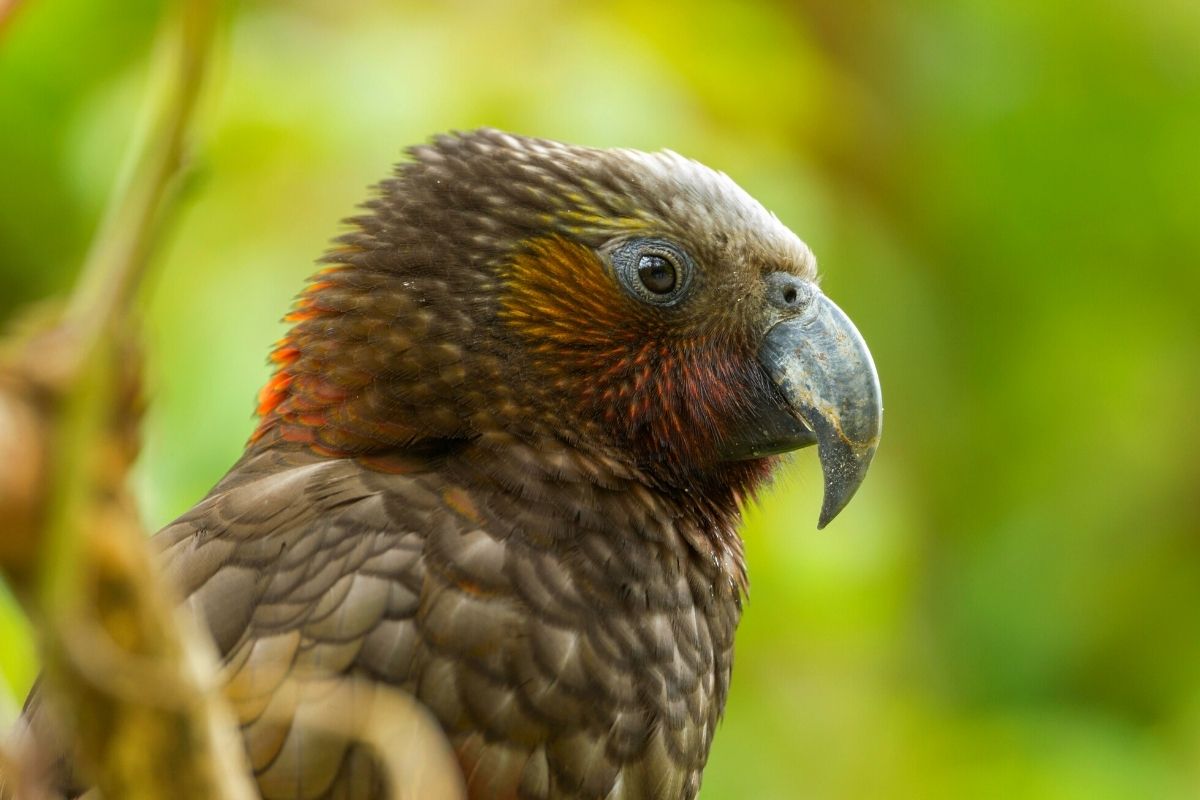 Smack bang in the middle of Wellington is an oasis for wildlife creatures and a place where native flora thrives … Zealandia is a true nature sanctuary to appreciate indigenous vegetation and to spot animals and plants you will only find in New Zealand.
The urban ecosanctuary set out with a mission: to bring back the country's lost wildlife which has worsened over the years because of modern development. There are guided tours and walks, or feel free to investigate the grounds on your own.
Between its day, twilight and night tours, witness native species like tuatara (a prehistoric reptile), Arachnocampa luminosa (i.e. the New Zealand glowworm) and kiwi — the country's national bird.
Within the 225-hectare grounds live over 40 rare birds (24 of which are endemic to New Zealand), dozens of reptiles, frogs and invertebrates, and hundreds of plants and trees.
58 – Walk to the Putangirua Pinnacles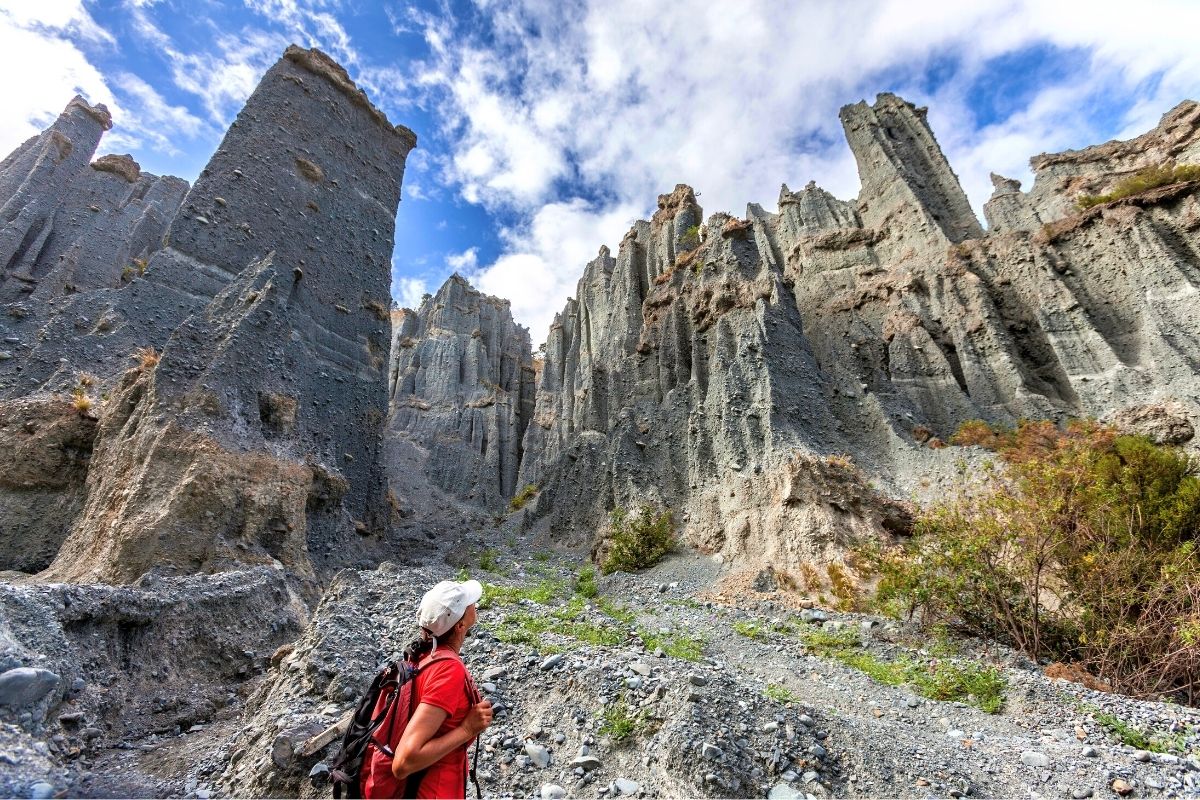 Near Punakaiki at Dolomite Point, there are the pancake rocks, a heavily eroded limestone area where the sea bursts through several vertical blowholes.
These rocks are a real wonder of nature and are the most visited natural attraction on the West Coast! You cannot miss this sight!
Looking at Putangirua Pinnacles from afar may remind you of fantasy movies or series set in worlds years before our time or in some imaginary land. And in fact, it was used as a filming location for The Lord of the Rings: The Return of the King.
There are three popular walks around the site, which are all 1.5-kilometers round-loop, and take under one hour to get through. They include the Pinnacles Track, the Ridge Walk Track and a walk up the streambed.
SOUTH ISLAND
59 – Practice your aim at the Dragon Hunt Archery Experience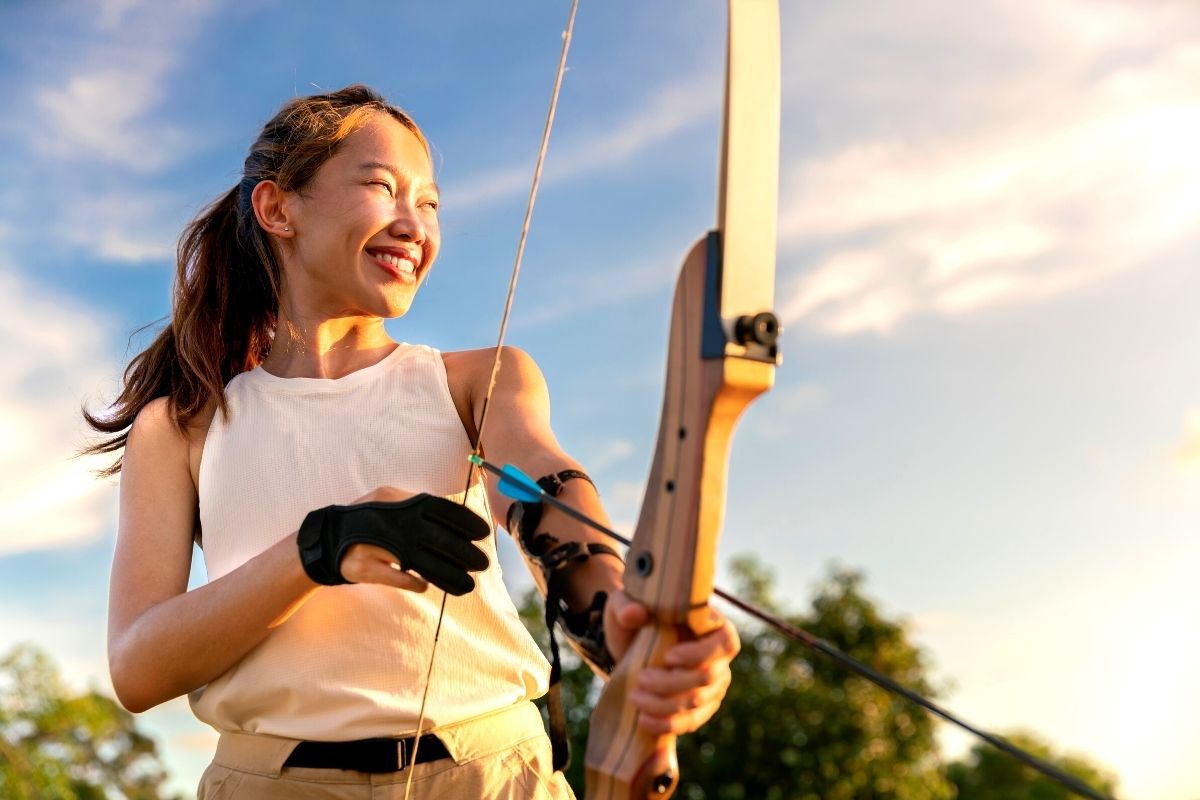 Do you feel like you were born in the wrong era? Whilst archery isn't as popular as it once was in medieval times, discover what it's like to be an archer at the Dragon Hunt Archery Experience.
Not to fear if you've never held a bow and arrow before, that's what the experts are here for, and you'll receive an introductory lesson from certified coaches, with all equipment provided.
During the three to four-hour stint in a native forest in Nelson, master how to shoot a longbow at targets that have been set up … including a collection of dragons! Alas, they are not real …
Important to note; spanning a couple of hours and covering three kilometers of ground, a basic fitness level is needed for this endeavor as you will be trekking through forestry of trees, crossing streams and climbing hills in some parts.
Hunting down more adventurous triumphs and things to do in Nelson? At Cable Bay Adventure Park ride one of the world's longest Flying Foxes, scale the climbing wall, hop on a quad bike or tour the area by bicycle or on foot.
60 – Be blown away by the scenery at the national parks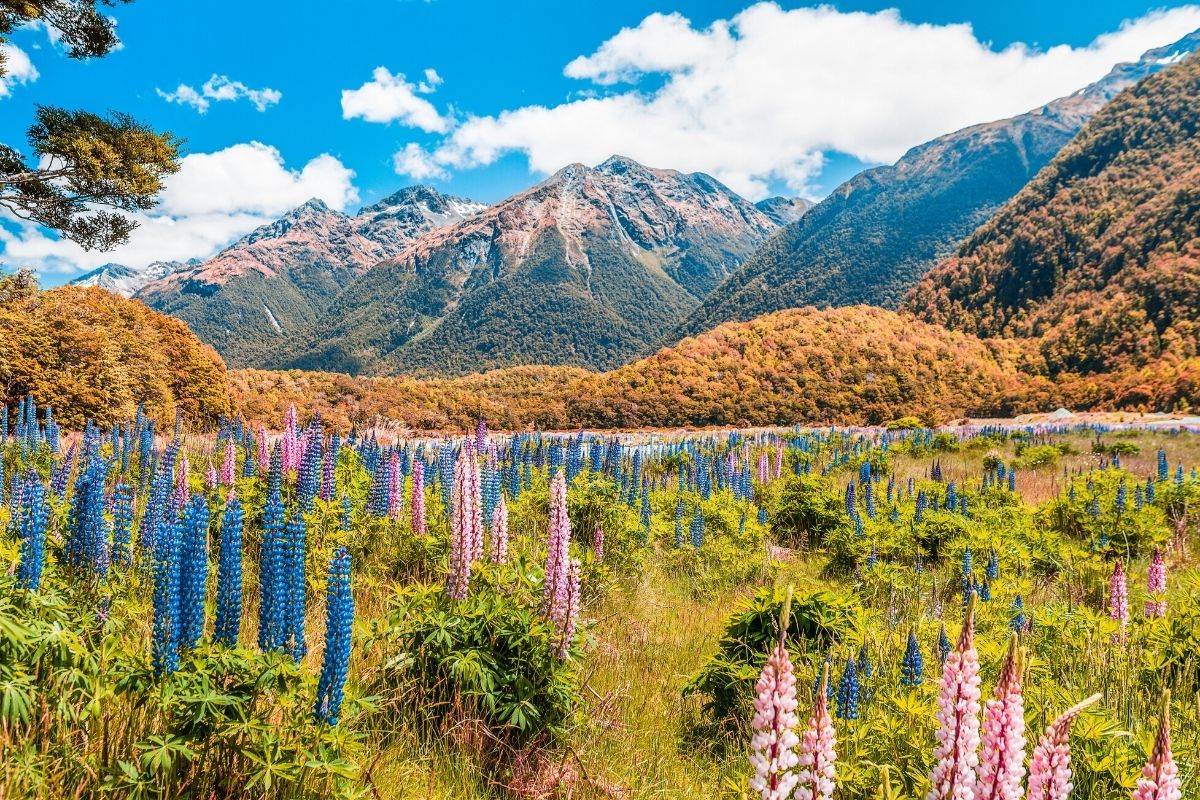 With no shortage of breathtaking landscapes and spoiled with Mother Nature's finest, the country is blessed with incredible national parks.
Whilst it may be New Zealand's smallest, don't let its size fool you; Abel Tasman National Park is a haven for the oceanic-loving soul. It kind of feels like you're on an island somewhere in Thailand or Mexico, boasting powdery white sands, see-through seas, and lush greens.
Enjoy lazy beach days, snorkel the bays or trek on foot to a Māori pa (meaning fort) up Pitt Head. Along the Abel Tasman Coast Track are plenty of walks and tramping opportunities.
Home to lakes, valleys, historic sites, fiords and mountain ranges; Fiordland National Park has a defined wild and rugged feel. A perfect destination for hiking, tramping, fishing, kayaking and nature walks, much of the area was formed over the last two million years because of glacial formations.
With Captain Cook and his gang arriving in the area in 1773, scope out heritage sites like Astronomer's Point, Richard Henry's house site and the Freeman Burn Hut.
See also the Best National Parks in the World.
61 – Zoom around Hanmer Springs during quad tours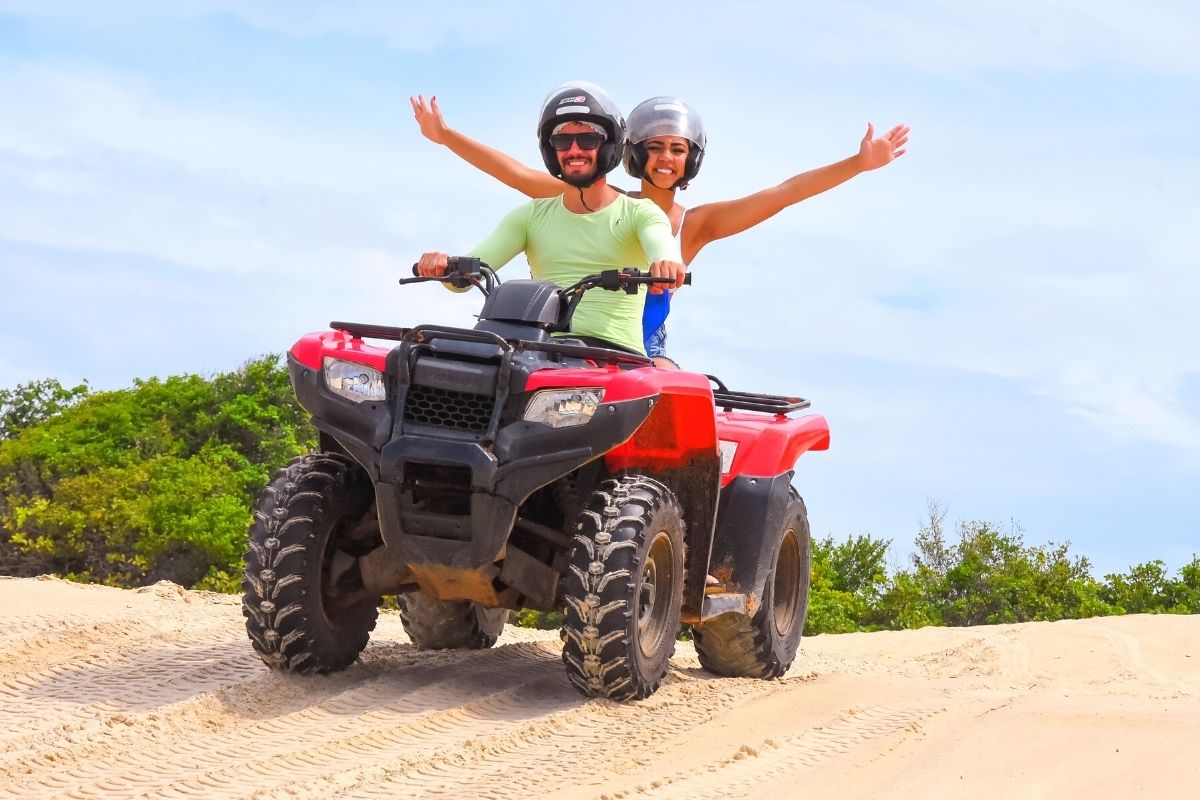 Sliding across muddy terrains, whizzing through streams and ripping up the ground, an exhilarating pursuit to try out in this alpine town are quad tours!
Heading into the Canterbury region, Hanmer Springs is home to mountains, hot springs and forests, deeming it an excellent locale for cruising on a 4×4 bike — and no prior experience is required.
Ranging from 1.5-hour rides to four-hour half-day ventures, most tours begin from Hanmer Springs's village center, veering straight into the backcountry. Pass by local farms, river canyons, and bright green meadows.
You have the option to ride a single-seater quad yourself, or two-seaters are available for two passengers. If you don't feel comfortable enough driving the four-wheeler yourself, let one of the expert guides take control of the wheel for the duration of the tour — you just sit back and enjoy the thrills.
62 – Gape at Hokitika Gorge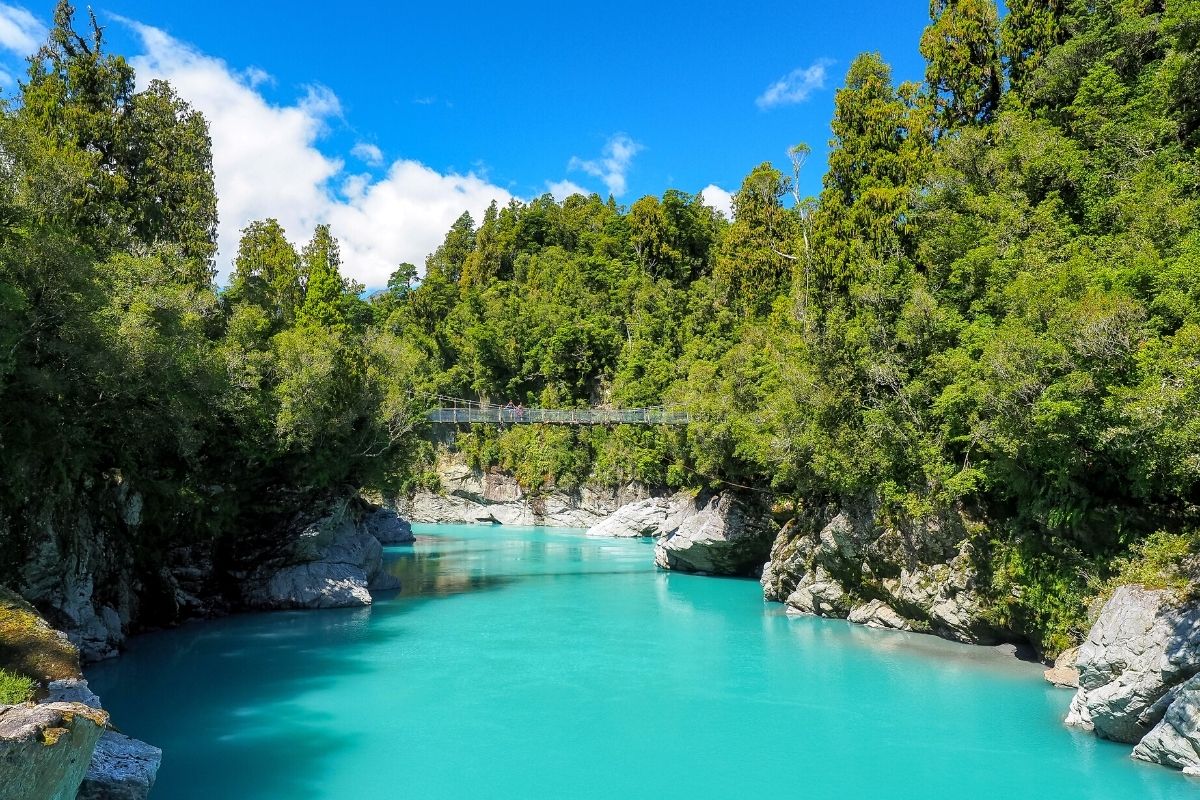 Have you heard about this West Coast wonder? Situated within the Hokitika Gorge Scenic Reserve is the breathtaking Hokitika Gorge where your eyes will feast upon waters so milky blue that the entire scene seems unreal, like a moment from a fairytale or fantasy novel.
Created by glacial rock flour that's crumbled and sifted down the mountain (known as rock flour), the only way to reach the natural wonder is on foot, but it's a simple task!
From the car park, walk five minutes through the forest straight to the viewing platform sweeping over the gorge. Just past the viewpoint is a swing bridge — and the photos from here are i.n.s.a.n.e.
You can cross the bridge to the other side to a secondary viewing platform, but the trail ends shortly after. Thanks to its ease of access, the Hokitika Gorge track is suitable for all ages and is also wheelchair friendly.
To reach Hokitika Gorge, travel 30 minutes from Hokitika town, and swimming in the canyon is strictly off-limits for safety reasons.
63 – Hike through breathtaking Arthur's Pass National Park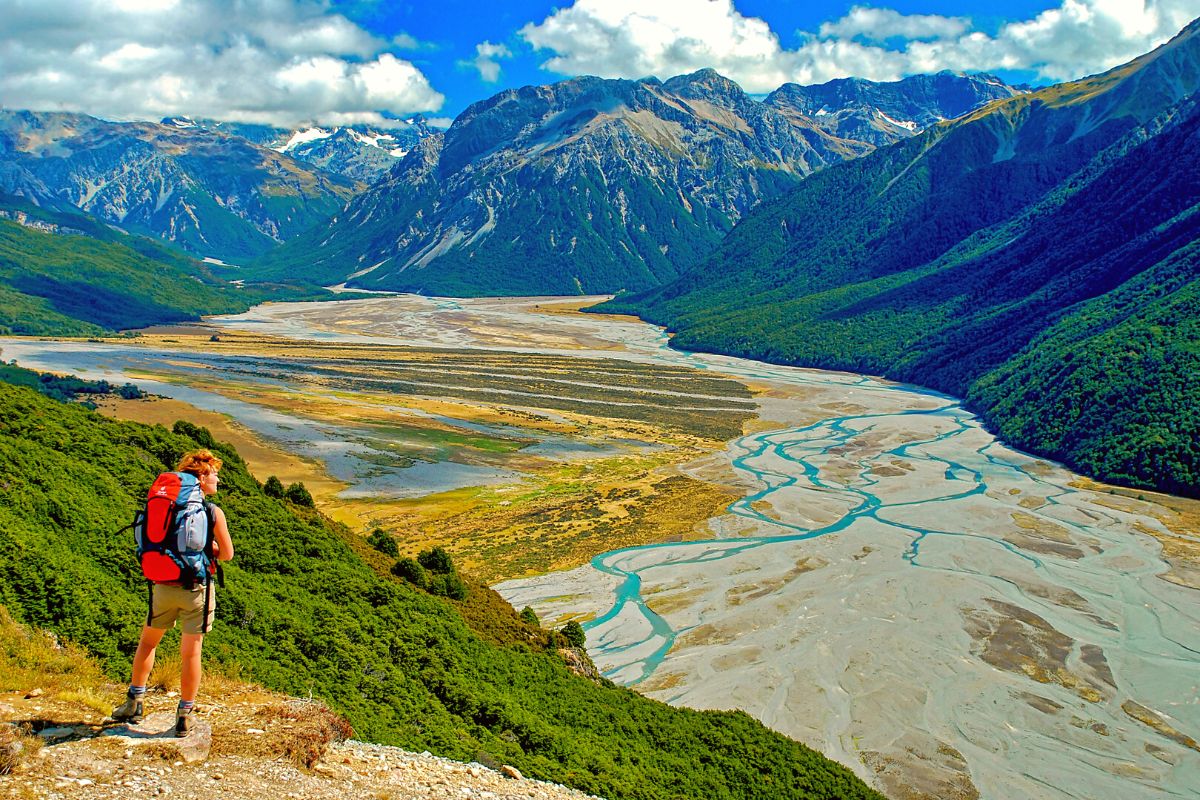 If you're vacationing in Christchurch, veer into the backcountry where jagged hillsides roar into the sky, waterfalls cascade through valleys and rivers flow between the mountain slopes.
Arthur's Pass National Park is an oasis for hiking enthusiasts, offering both short and longer walks. Dobson Nature Walk and Cockayne Nature Walk take under 30 minutes to complete, or the designated Arthur's Pass Walking Track is a 6.8-kilometer route.
The drive along the actual pass is as scenic as ever, plus there are plenty of incredible sites to investigate and admire. Now a deemed conservation area, gawk at the Castle Hill limestone rocks, visit Lake Pearson, explore the Cave Stream Scenic Reserve, ski at Temple Basin and amble over to Devil's Punchbowl falls.
Day trips from Christchurch are an awesome way to navigate the national park with a knowledgeable guide and the drive between each is roughly two hours.
64 – Explore the many wildlife parks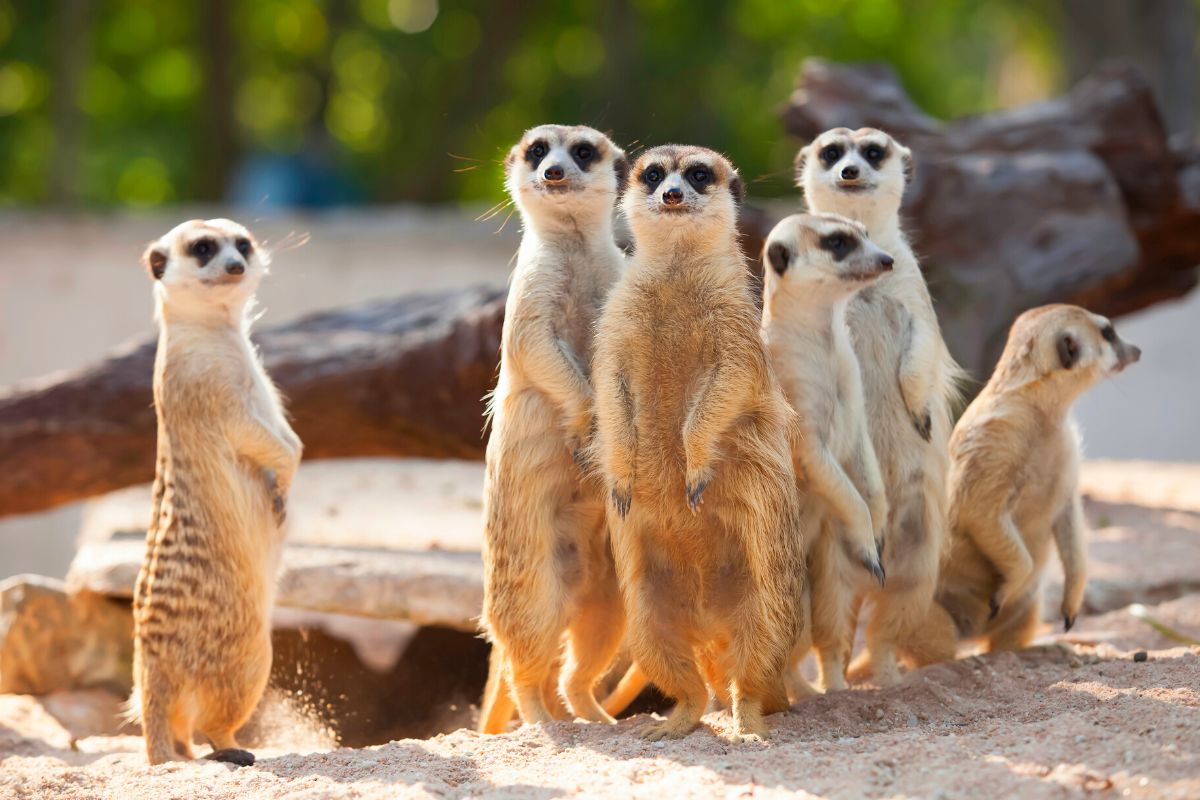 One of the (many) reasons why New Zealand is so appealing to tourists is because of its sanctions and preservation of its wildlife and natural habitats. Check out some of the best wildlife parks around South Island.
If seeing gorillas has been on your bucket list, head straight to the Orana Wildlife Park — an 80-hectare open-range zoo in Christchurch.
Willowbank Wildlife Reserve is divided into three focuses: a New Zealand section, the zoo/exotics section and the farmyard section, and the reserve is involved in multiple animal conservation projects.
Set up indoors and home to the national kiwi and tuatara, mosey through the West Coast Wildlife Centre's natural bush walkthrough or join the VIP Guided Backstage Pass Tour where you can witness their special hatching and incubation programs.
Spot takahē, kākā, Antipodes Island parakeets, morepork and plenty of other native winged friends at Punanga Manu o Te Anau / Te Anau Bird Sanctuary on Lake Te Anau's shoreline.
Situated in Dunedin is the Royal Albatross Centre where you can learn and witness these special seabirds in person at its Royal Albatross Centre, the Observatory and McMillan Gallery.
See also; Fun things to do in Te Anau
65 – Meander through the Christchurch Botanic Gardens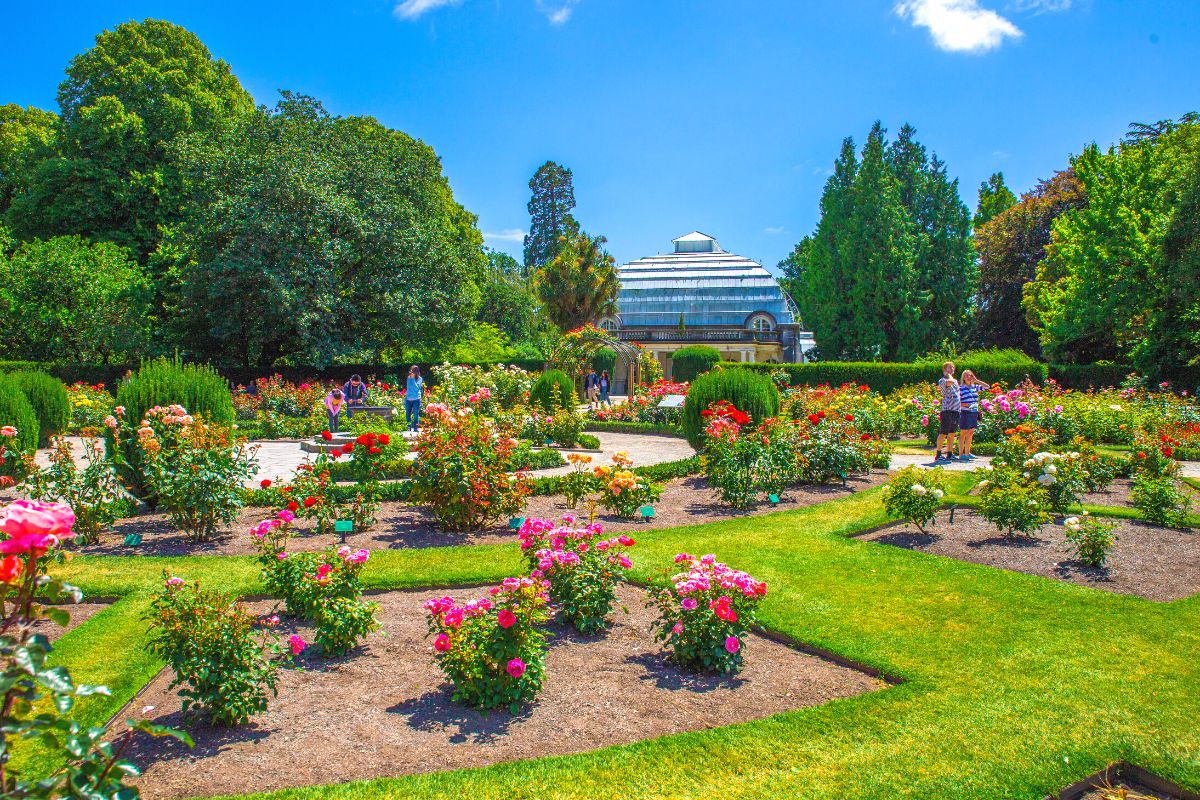 Take a break for the city trekking and catch your breath among tall trees and colorful fragrant blooms at the Christchurch Botanic Gardens.
A wise move is to begin at the Visitor's Centre to hear the history of the gardens and the Canterbury region, as well as scope the different park areas, or skip the center and explore on your own.
The grounds are categorized by the different flowering gardens such as the Fragrant Garden, Azalea and Magnolia Garden, the Heritage Rose Garden, the Water Garden, the Curator's Garden and the Temperate Asian Border.
Stroll through its six indoor conservatories. These are the Foweraker House (filled with indigenous and exotic alpine plants), Fern House (built in 1955), Gilpin House (dating to the 60s), Garrick House to see cacti and succulents, Townend House and Cuningham House — the oldest of the lot constructed in 1921.
Hot tip: Check out our selection of fun & unusual things to do in Christchurch.
66 – Take in the bird's eye views from the Christchurch Gondola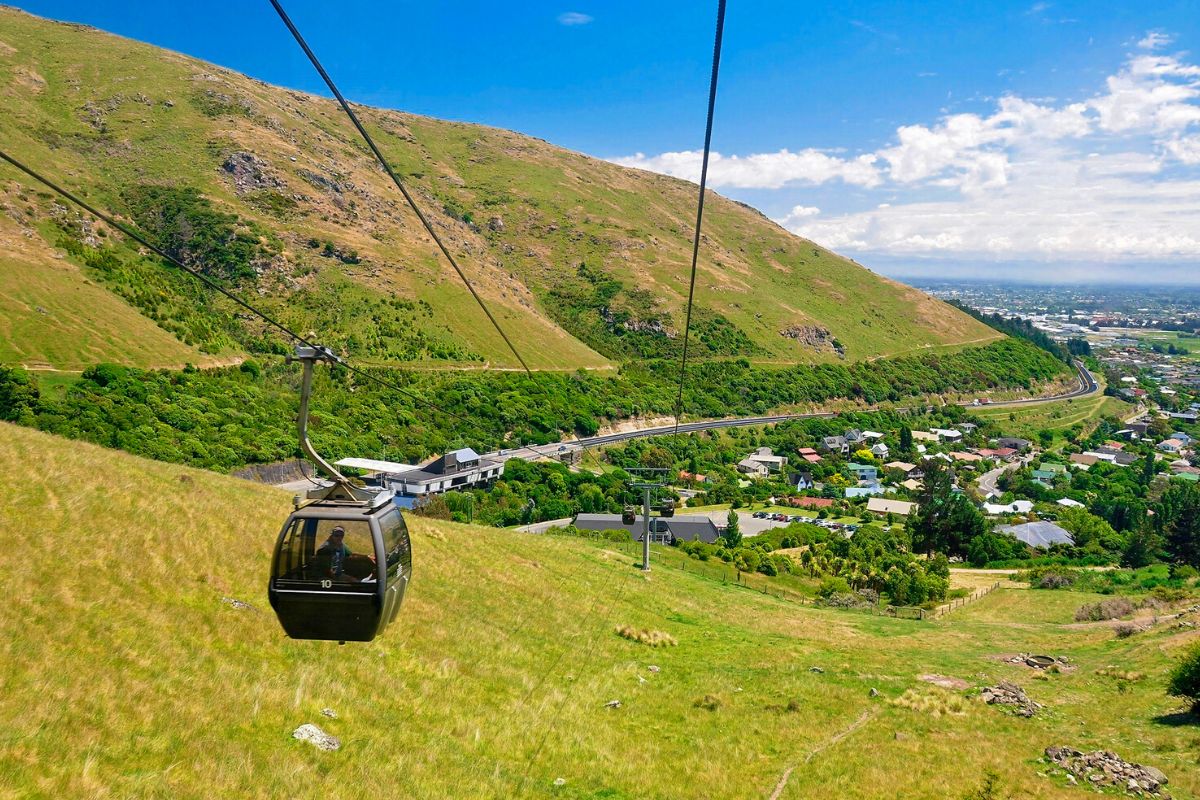 One of the first things to do in Christchurch is hit the Christchurch Gondola where you can scope out your surroundings and take photographs of iconic landmarks and areas from way up high in the sky!
Easy to reach from the center of town, drive 15 minutes to the Base Station in Heathcote Valley where the gondola embarks from, and cruise 10 minutes to the Summit Station perched atop Mt Cavendish.
Running for nearly one kilometer, add vistas of Lyttelton Harbour, the Southern Alps, Pegasus Bay, Mt Herbert, Banks Peninsula and the Canterbury Plains to your list of scenery to snag.
Once you reach the top, join the Discovery Ride (included in gondola tickets) designed as a darkened tunnel that you ride through in an old-school carriage.
There are also plenty of walks to do from the top of the summit, ending back down the mountain or at another destination around Christchurch.
67 – Scope real planes at the Air Force Museum of New Zealand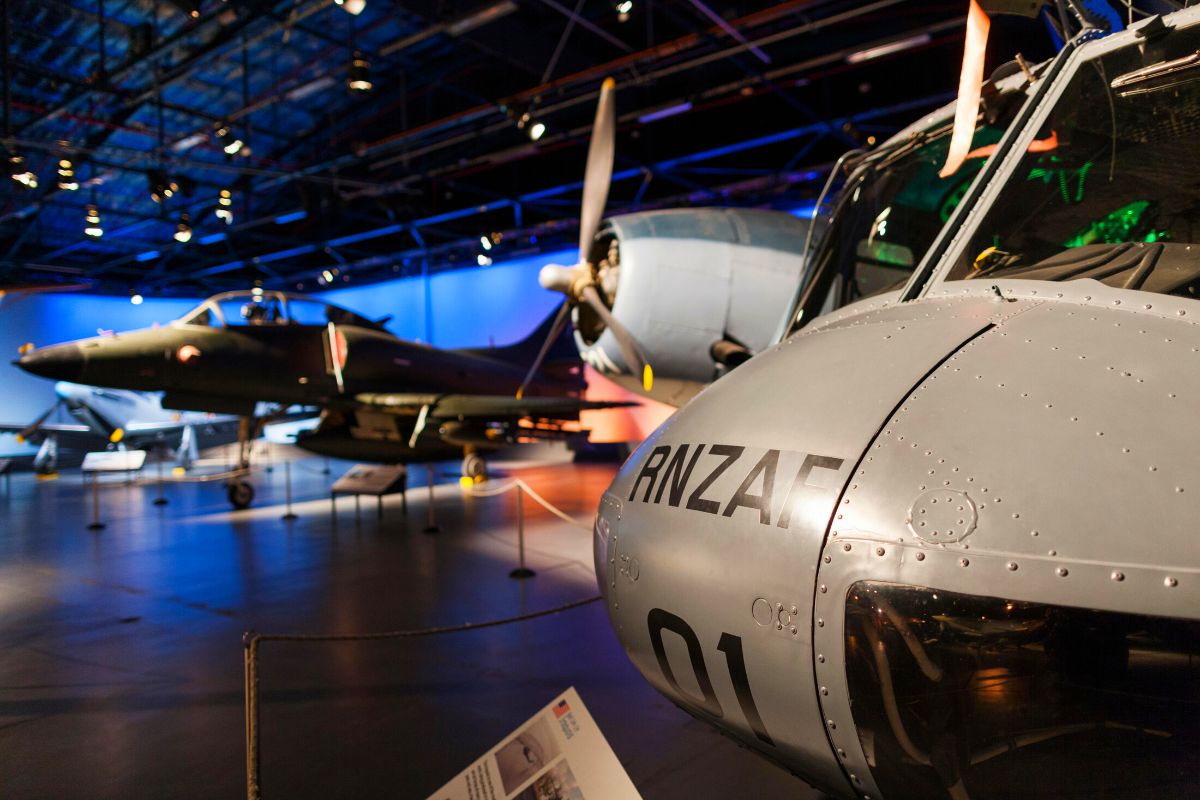 Budding pilots and aviation obsessors, enter a space dedicated to the country's air exploits at the Air Force Museum of New Zealand where you can get involved in hands-on experiences, investigate real planes, and deep dive into the history of the Royal New Zealand Air Force (RNZAF) and New Zealand military aviation.
Utilizing a former Wigram air base, there are six galleries to analyze, brimming with items, objects and aircraft relating to both World Wars, the RNZAF's campaign in the Pacific, as well as the post-War period up until today.
These comprise the Atrium, the Horizon to Horizon gallery, the Caldwell Gallery, the Aircraft Hall, the Thérèse Angelo Wing and the Reserve Collection.
Wondering what's on display? Marvel over crafts like the Aermacchi, the Bell UH-1H Iroquois, the De Havilland D.H.100 Vampire F.B. Mk.5, the Lockheed Hudson MKIII and the
Supermarine Spitfire.
Cool interactive experiences to test out include the Mosquito Mission Flight Simulator or dressing up as a pilot.
68 – Join hop-on hop-off tram tours in Christchurch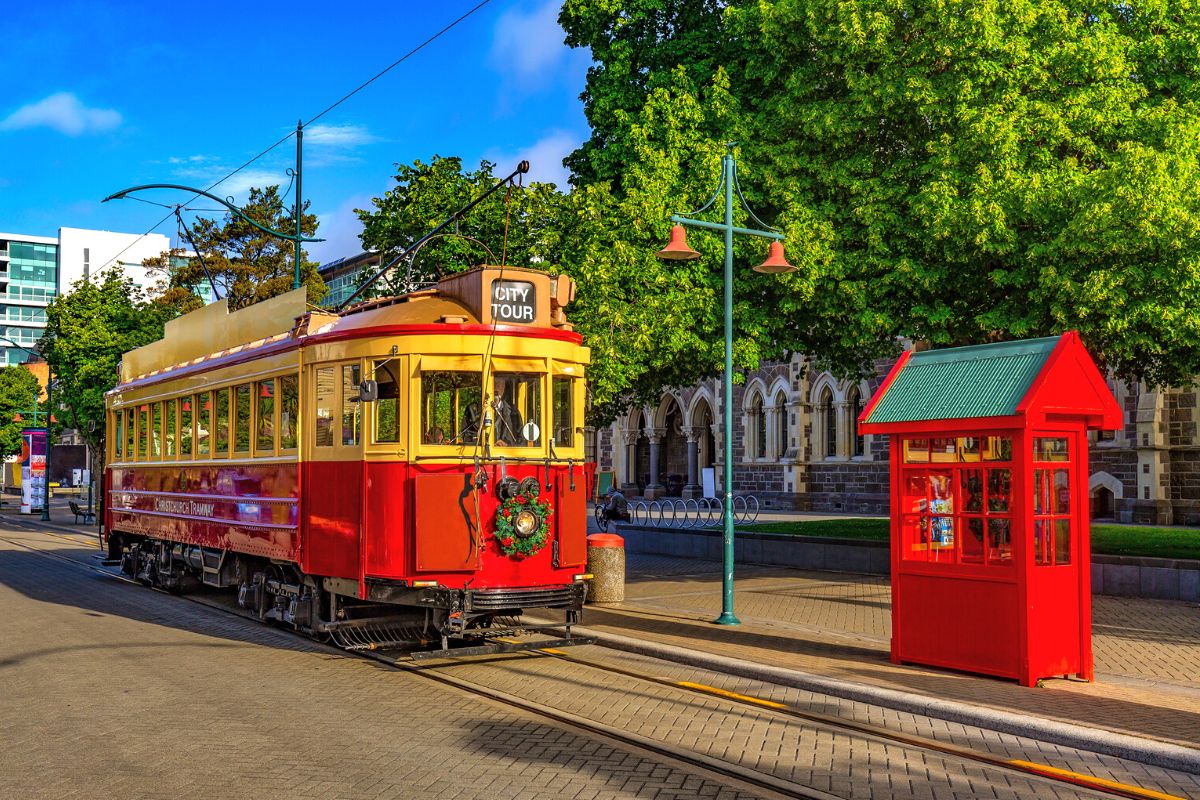 Operating since the 1880s, the Christchurch Tram is considered a historic piece of city furniture, and you kind of can't imagine the South Island city without its historic carts.
Forget about walking and biking tours in Christchurch; join the hop-on hop-off tram and sightsee the town in a unique and interesting way, with an expert guide providing all the insider knowledge and city history along the way.
Purchasing a ticket gives you access to the tram for 24 hours, and there are 18 dedicated tram stops allocated around Christchurch. A rail vehicle passes each one every 30 minutes, and you can jump off whenever you feel like it, rejoining the tram when you're ready.
Rides first depart from the Cathedral Junction, passing points of interest like the Christchurch Botanic Gardens, Canterbury Museum, the Avon River, Hagley Park, Victoria Square, and New Regent and Cashel Streets.
69 – Drink wine and explore Akaroa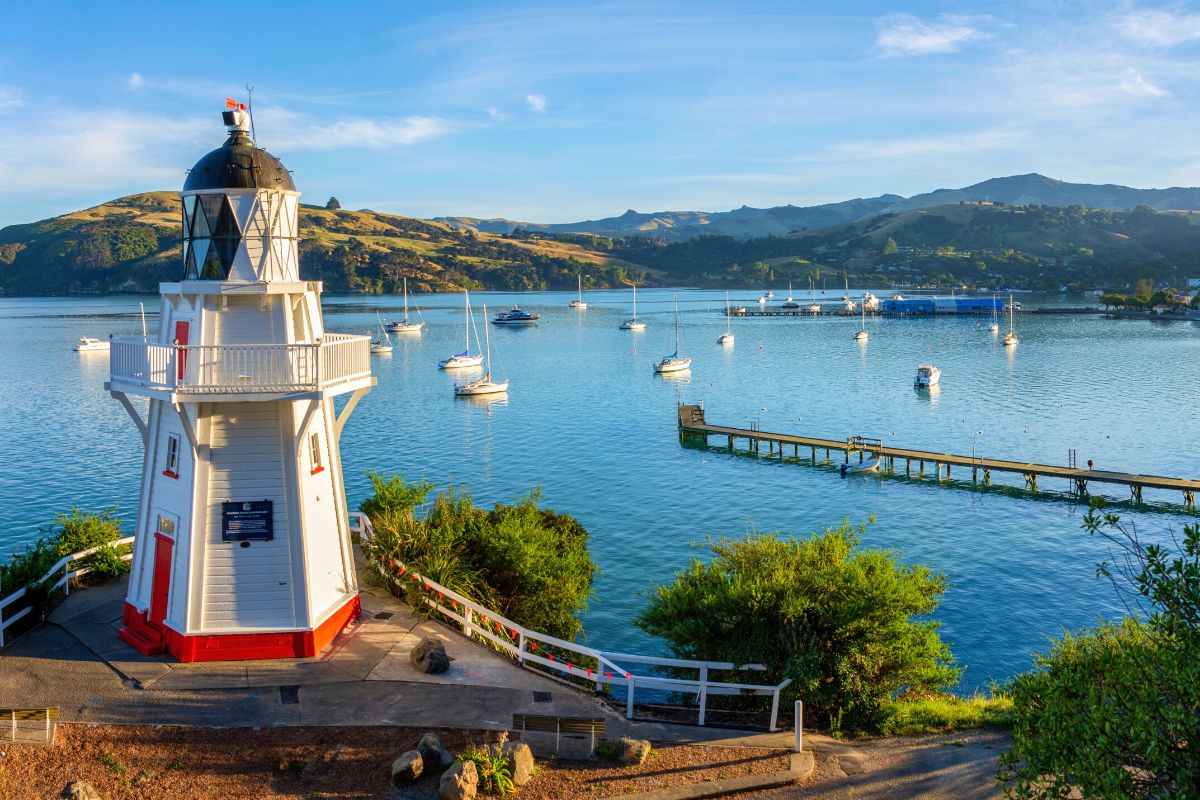 France or New Zealand? The picturesque setting of Akaroa leaves travelers wondering which country they're in thanks to its French-influenced makeup and it really feels as if you're in the mountains somewhere in France rather than a Kiwi town.
Nestled in the rolling green hillside on Banks Peninsula, keep your cameras close by … Snap countless images of colonial architecture — a mix of French, British, European and Māori heritages — and the mosaic artworks and sculptures inside The Giants House gardens.
On the water activities side of things; go swimming with dolphins, sailing, and kayak to the Pohatu marine reserve sea caves and see penguins.
In the mood for a touch of exercise? The Banks Track walks start at Akaroa village, ambling on to waterfalls, volcanic peaks and along the coastline.
Stop by its wineries, cheeseries, galleries, museums and cafes during day trips from Christchurch to Akaroa — and the drive between both towns is 1.5 hours.
70 – Learn something new at the Canterbury Museum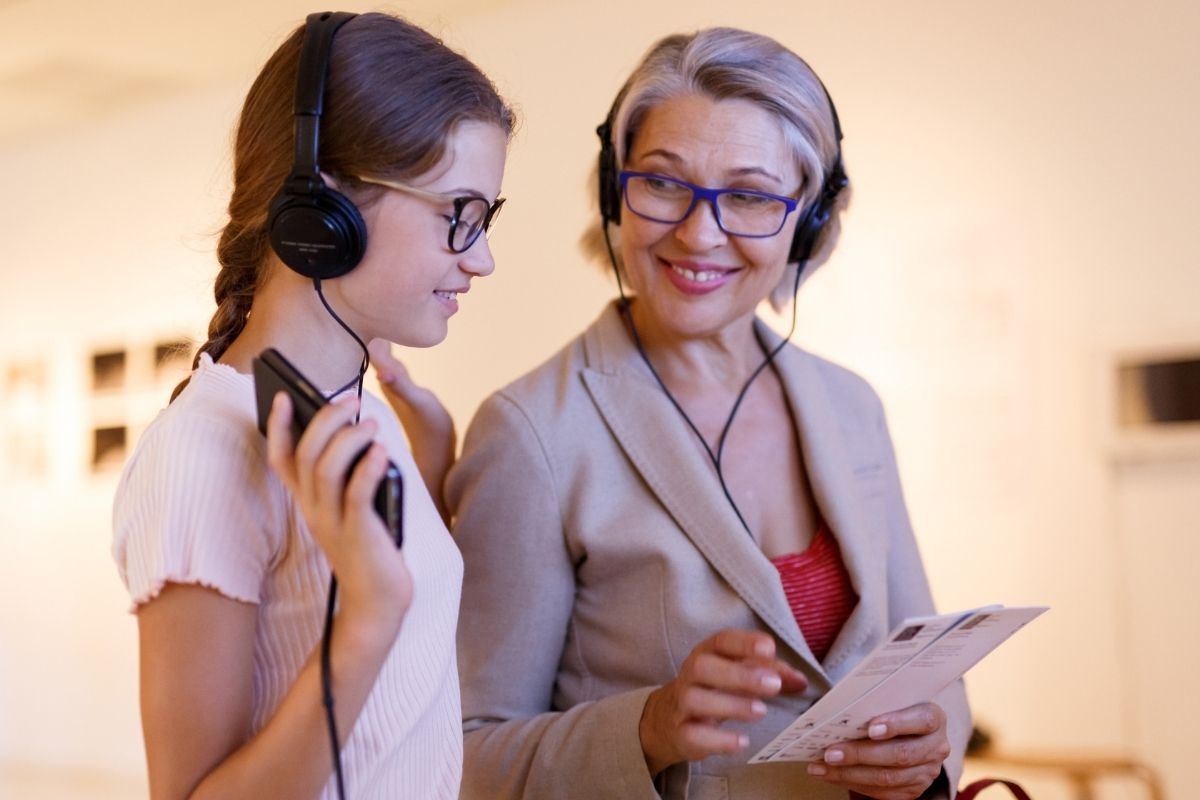 Museumgoers, are you ready to uncover over 2.3 million artifacts inside the historic Canterbury Museum?
Established in 1867 and opening up to visitors that same year, it's deemed one of New Zealand's oldest history museums to date.
Over the decades, its collections have increased, adding more objects and treasures that span the Canterbury and Antarctic regions (its main focus).
From its earliest days of housing bird skins, butterflies, shells, fossils, coins, Egyptian antiquities, ethnological objects from Africa, bronze ornaments and sculptures, and more, the museum continues to flourish and new items are continually added to its collection.
Today, scope out worldly objects from clothing to furniture to artwork to architectural plans to personal papers.
71 – Fly to, walk or hike Fox Glacier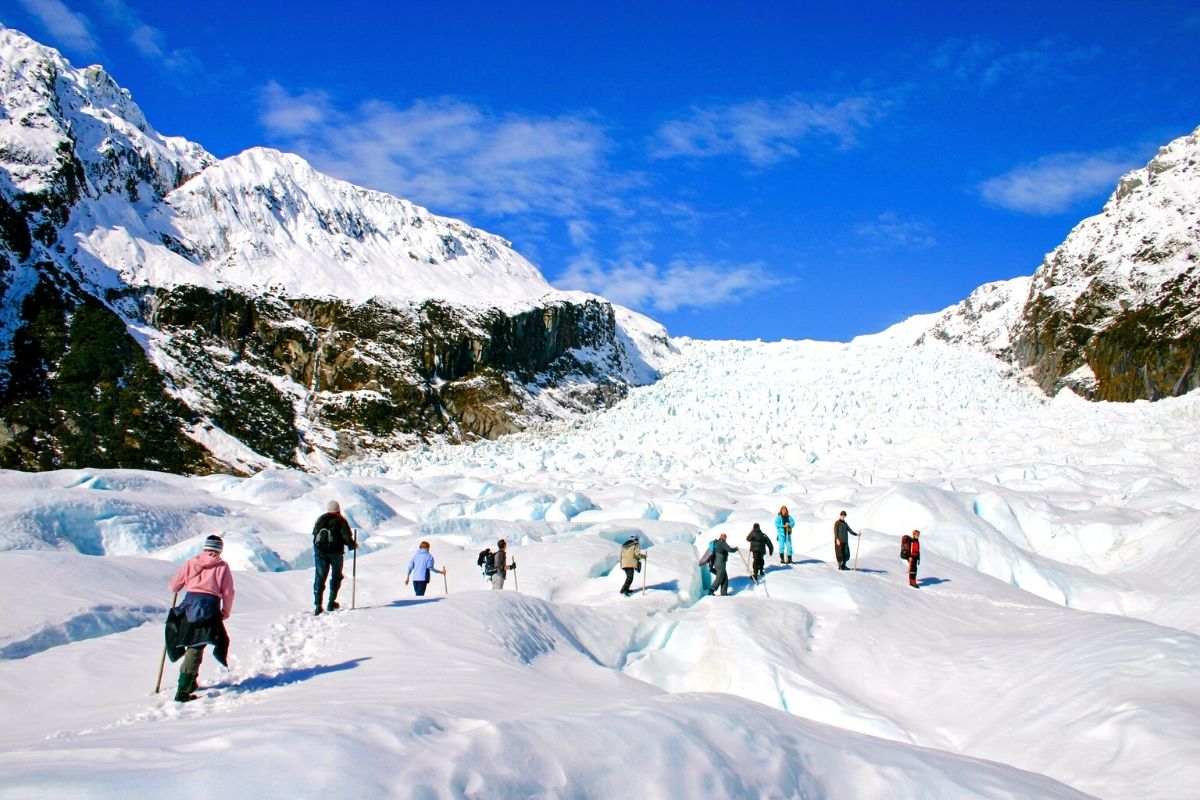 Another natural wonder to add to your bucket list; this 13-kilometer-long icy body is situated within the Southern Alps ranges and explorers love to adventure Fox Glacier on foot — or even by air!
Strap on your crampons, grab your walking poles and revel in a gorgeous hike around the icecap.
Perched 2,600 above sea level, the descending formation runs from the mountains down toward the coast, ending close to a rainforest. There are easy walks to glacier viewpoints starting on the south side of Fox River, like the Fox Glacier South Side trail.
Tramping the summit to the top was once possible, but because of landslides, this pathway has closed. However, hiking is available around the top of the glacier, and often guided adventures combine hiking and helicopter tours — landing straight on the ice!
Another glacier worth visiting on the South Island is the Franz Josef Glacier in Westland Tai Poutini National Park, with its nearby Glacier Hot Pools — the best place to be after a four-kilometer glacial walk.
72 – Hike to glaciers at Mount Cook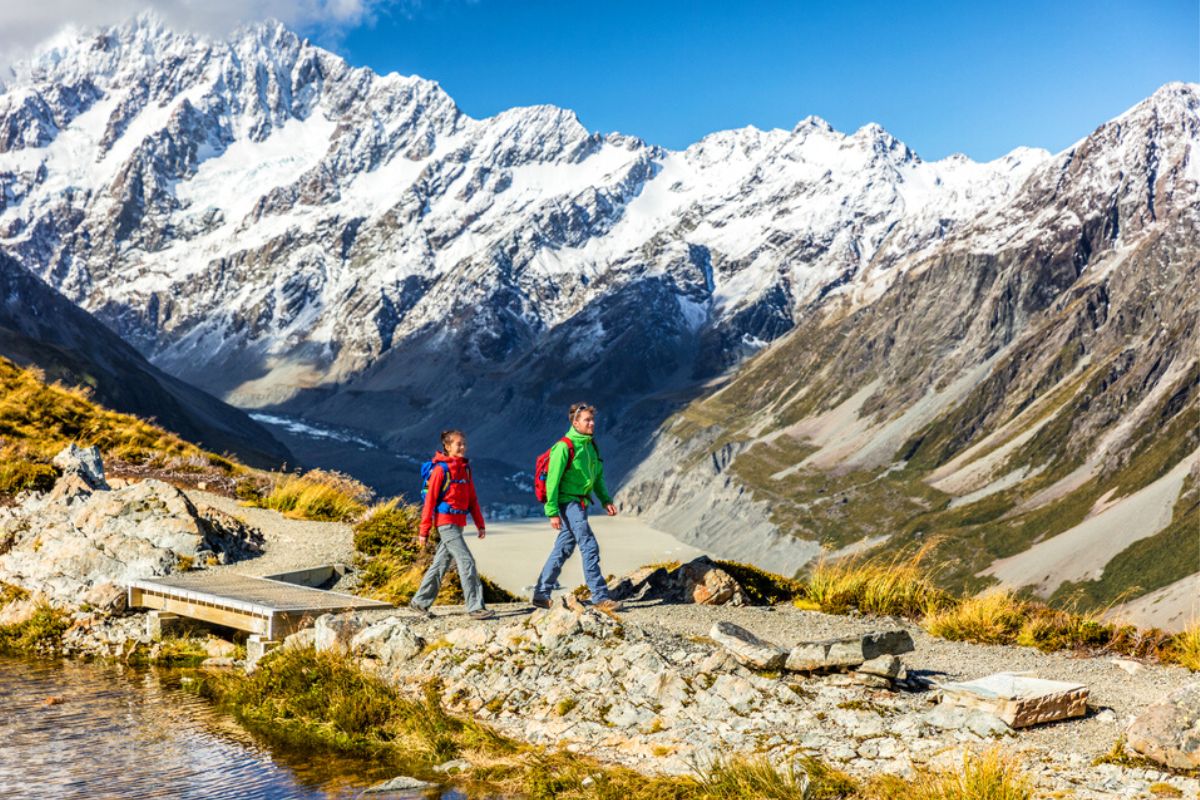 The country's highest mountain located in the Southern Alps is the epitome of a white wonderland and is probably the scene you've been dreaming of when planning a winter vacation in New Zealand. But even for travelers arriving in the summer, the ranges remain capped in snow!
Mount Cook is one of those worldly places where you feel really small in the mix of the vastness of Mother Nature — it's the same feeling you get in countries like Canada.
The actual mountain (Mount Cook) is located within the Aoraki Mount Cook National Park — home to 19 ranges and an abundance of glaciers, the longest (Tasman Glacier) is 27 kilometers!
One of the best ways to experience its magnificence is along the Hooker Valley track. Journey through the snow, tramp to glaciers and put your mountaineering skills to the test during one of the most popular day trips from Christchurch.
There are long trails such as this, or there is a spur of shorter walks, all doable in under one hour. These include the Governors Bush Walk, Blue Lakes and Tasman Glacier View Walk, Bowen Bush Walk and the Glencoe Walk.
Alternatively, day trip from Queenstown to Aoraki (as it's also called).
73 – Snap pics of the country's most photographed chapel; The Church of the Good Shepherd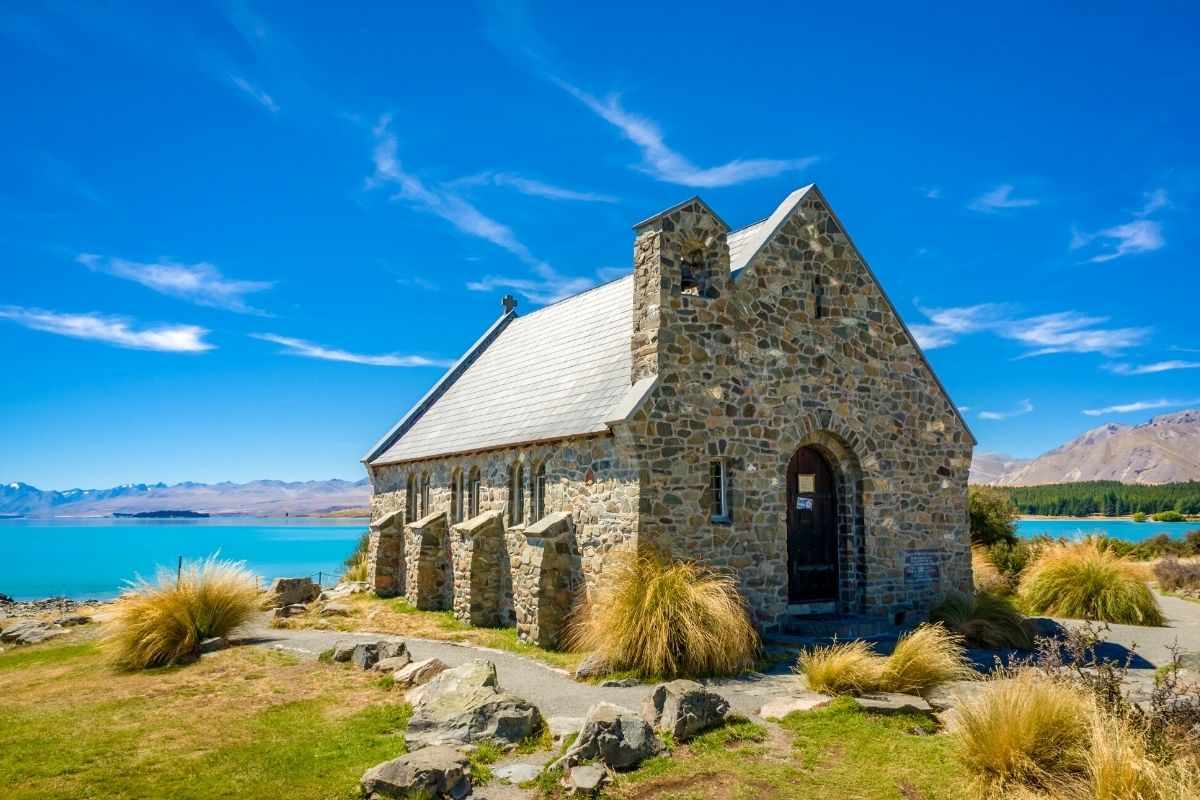 Constructed from stone in 1935 next to Lake Takapō, the Church of the Good Shepherd is somewhat of a lone ranger and is the only building in sight for miles.
Perched on the shoreline, it stands in stark contrast to its natural surroundings, however, considering the year it was built, it's furthest from an eyesore and gels seamlessly with the landscapes.
Designed by the architect, R.S.D. Harman, its foundations set it apart, using stone and rocks from around Lake Takapō and it retains much of its original architectural features.
It's hard to compare the night tours (but daytime escapades are available too) and thanks to the church's isolated positioning, the evening sky is crisp and clear sparkling in twinkling lights, and if you're lucky, you might even see the Milky Way.
74 – Stargaze in the Aoraki Mackenzie International Dark Sky Reserve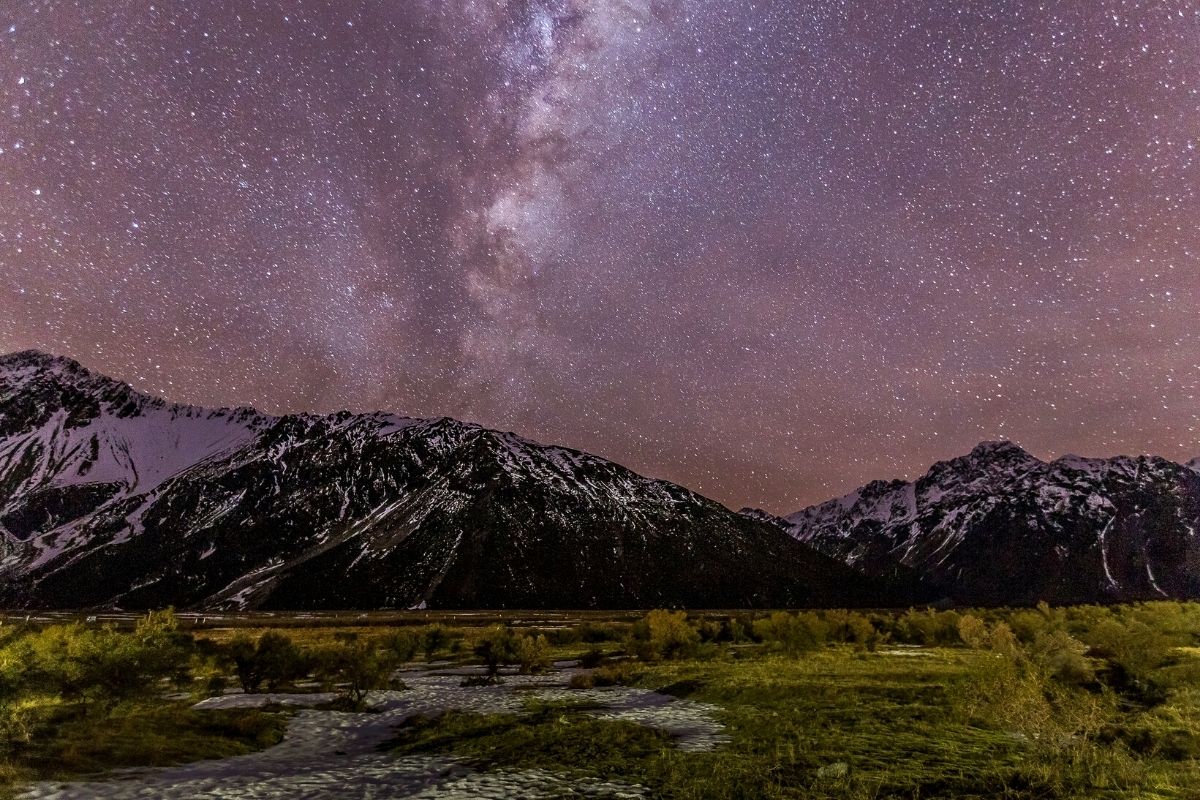 4,300 square kilometers of South Island was recognized as an International Dark Sky Reserve and has been labeled as one of the best stargazing sites on earth.
Stargazing in New Zealand is a breathtaking, magical experience, where you can feel heaven appearing closer to the earth!
Dark Sky Project presents three life-altering experiences where you'll leave with a renewed appreciation for our earth, planets and space.
Sitting on Takapō Lake, visit the indoor Dark Sky Project Base astronomy center for an inspiring daytime endeavor to learn all about Māori astronomy, stargazing stories and spacial events like the Big Bang through visual aid installations.
Or, out in the open, summit to the top of Mt John and then spend an hour or so looking up to the Southern Lights from this crystal clear-view vantage point. Protected from light and air pollution, you can also visit Cowan's Private Observatory equipped with 14 stargazing telescopes, and then be driven to an observation crater to gaze upon the Milky Way.
75 – Rejuvenate at the natural thermal baths like Tekapo Springs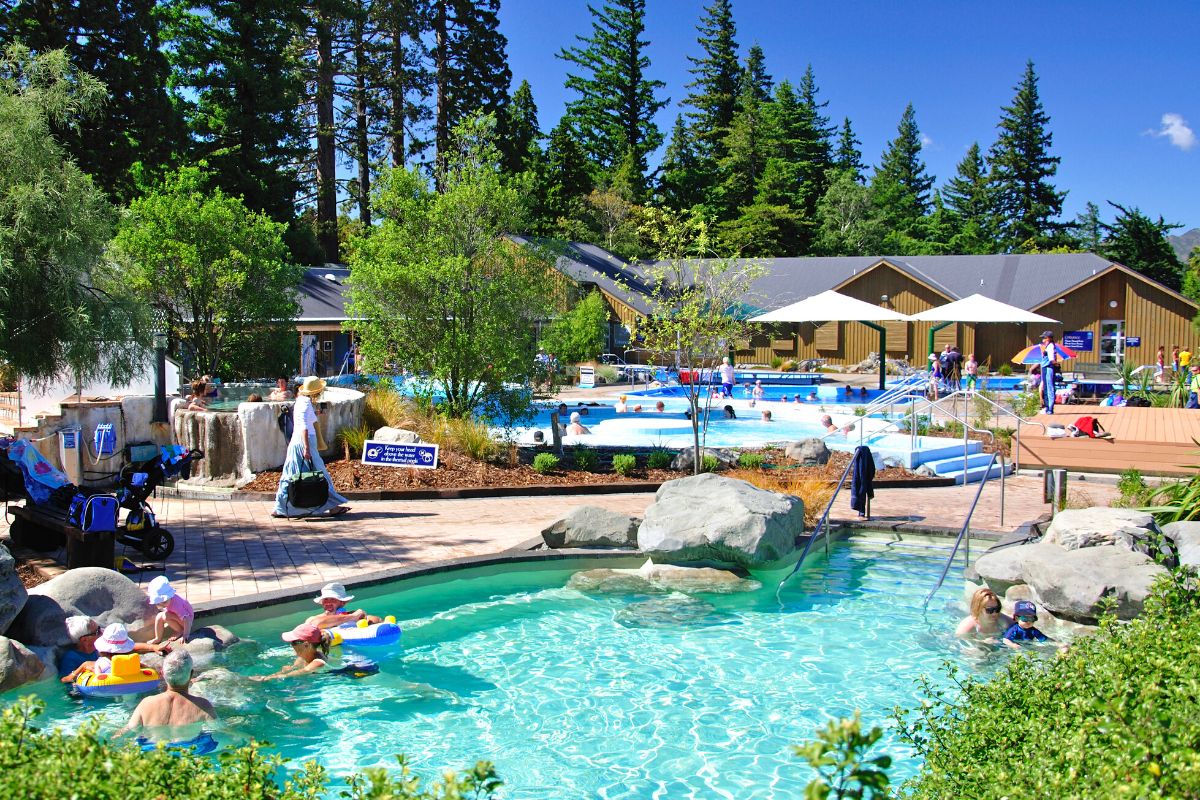 Thanks to New Zealand's volcanic makeup, there are tons of natural springs and thermal pools littering valleys and mountain foothills.
Tekapo Springs is a hot springs playground, with a variety of thermal pools to take your pick from, as well as other facilities like a sauna, Glacial Day Spa, plunge pools and kids aquapool playground.
Nearby is the exquisite Lake Tekapo and a photographer's delight, whether snapping imagery of its milky-colored waters or the Southern Lights in the evening — a serious sight to behold and not to be missed!
Close to Christchurch is the Hanmer Springs Thermal Pools, where you'll soak in waters running from a 173-year-old source. Another park with options, relax in the AquaTherapy Pools, Cascade Pools, Sulphur Pools and more!
Award-winning Maruia Hot Springs is themed like a traditional Japanese onsen, offering both outdoor and indoor geothermal mineral pools to rejuvenate.
Unlike the rest, Te Waikoropupu Springs remains pretty much untouched, holding spiritual significance among local Maori. It isn't heated, and swimming is prohibited, but the mermaid-like lagoon is so beautiful even just to see and you can sense a mysticism about it.
76 – Admire the pure natural beauty of Milford Sound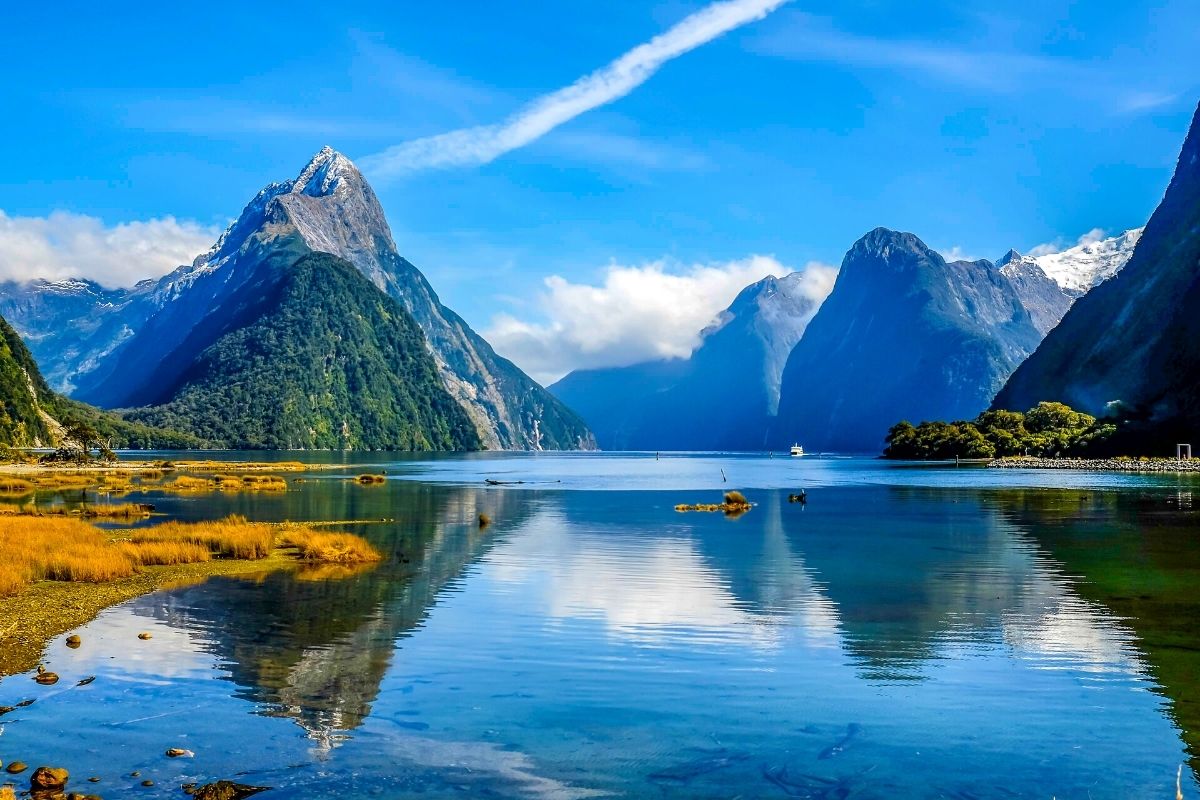 If you head into the depths of the Fiordland National Park, you'll find yourself at a loss for words as you gaze upon the extraordinary Milford Sound — no New Zealand travel list is ever short of mentioning it as a Top 10 wonder … and for excellent reason!
This moody oasis shows off alpine mountain ranges, lakes, soaring cliffs, fjords and rainforests within its smacking 1.2 million hectares of landscaping … And you guessed it, it's a playground of hikes, treks and nature walks.
Out of all the towns around the South Island, Queenstown is closest (3.5 hours), and day-tripping from here to the fjord just to watch wild seals, dolphins play and penguin colonies is unbeatable. Enjoy a march along the Foreshore Walk and look out for the 'Milford Sound Swing' to snap insta-worthy pics.
To reach Milford Sound you will need to drive here, and en route are some other magnificent spectacles like Eglinton Valley, the Mirror Lakes, Monkey Creek and Homer Tunnel.
77 – Explore Lake Wanaka on a jet ski and find the Lone Tree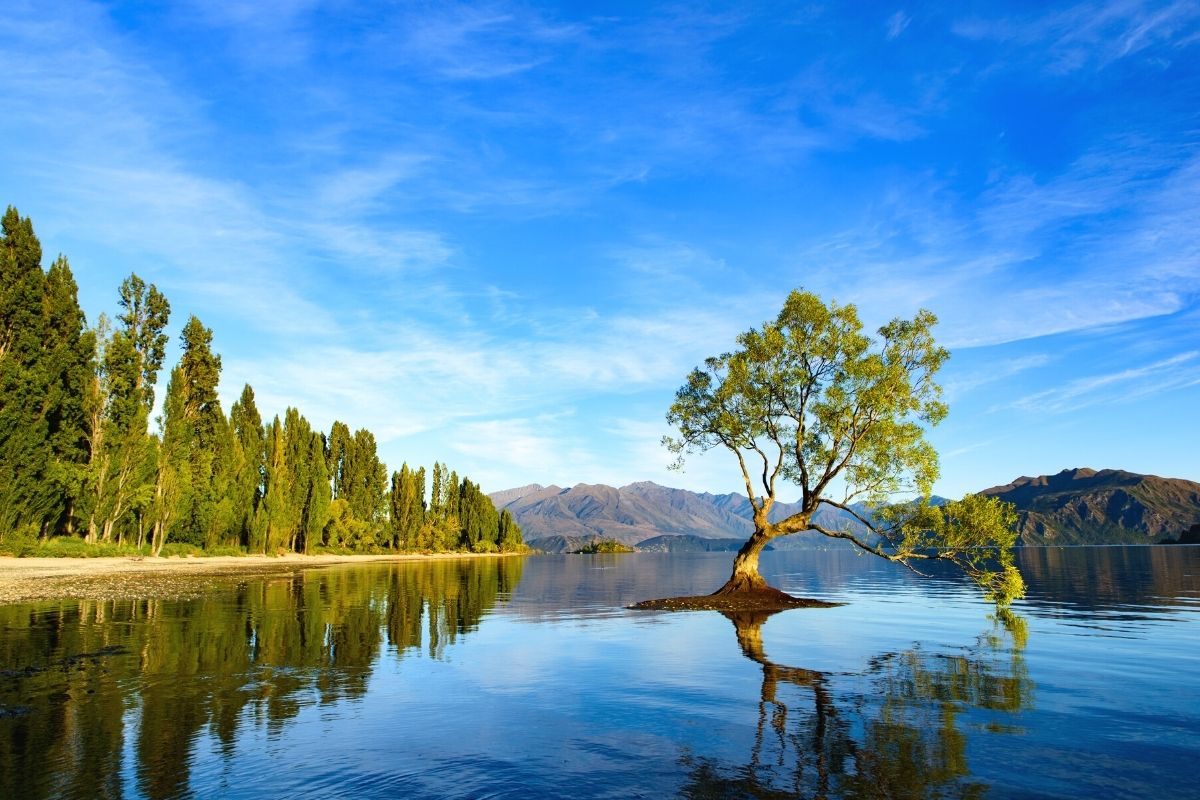 Wanaka is one of those places where everything runs in harmony, and you can sense the tranquility enshrouding this destination, based in the Otago region.
In the summertime, its pristine Lake Wanaka becomes a paradise for outdoor enthusiasts, with SUPing, kayaking, fishing, flyboarding and parasailing all possible! One of the most exciting things to do on the water is jet skiing!
Led by professional guides, navigate the lake's nearby isles, bays as well as the famous 'That Wanaka Tree' — one of the most photographed trees in the country, standing lonesome in the middle of the lake on the south end.
On land, explore via horseback, tackle one — or more — of the nature walks or hikes in the mountain ranges, and in winter, Wanaka becomes a snowy playground where you can ski and snowboard!
Hot tip: Read more about the best things to do in Wanaka.
78 – Stroll through the fields at Wanaka Lavender Farm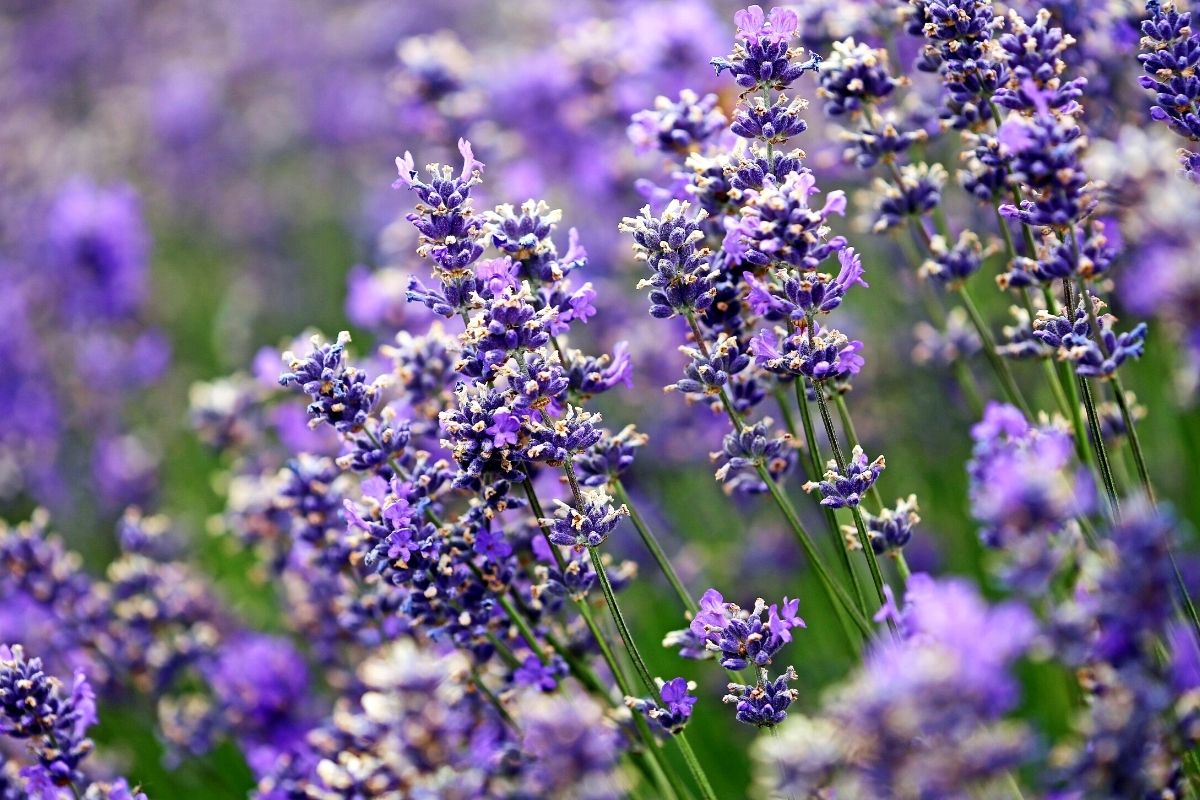 Feel like you're walking in the purple floral fields of Provence when visiting the Wanaka Lavender Farm — a romantic endeavor at any given time.
Located in Wānaka, spruce up your Instagram page with gorgeous pictures as you strike a pose in between the rows of lavender bushes — the best season to visit is summer when the flowers are in full bloom.
However, even if you're traveling the area in a different season, the farm still boasts fragrant and colorful flowers that grow according to the time of year. Walk among daffodils, bluebells and tulips in spring and smell the roses and dahlias in autumn.
Living in complete harmony with Mother Nature, there is a small farm here home to highland cows, miniature horses, donkeys, kune kune pigs, goats, alpacas, sheep and chickens.
Don't miss out on the gift shop where Lakes Honey is sold, as well as other products from the farm like lavender-infused essential oil, face and body creams, bath salts and candles.
79 – Embark on a ski adventure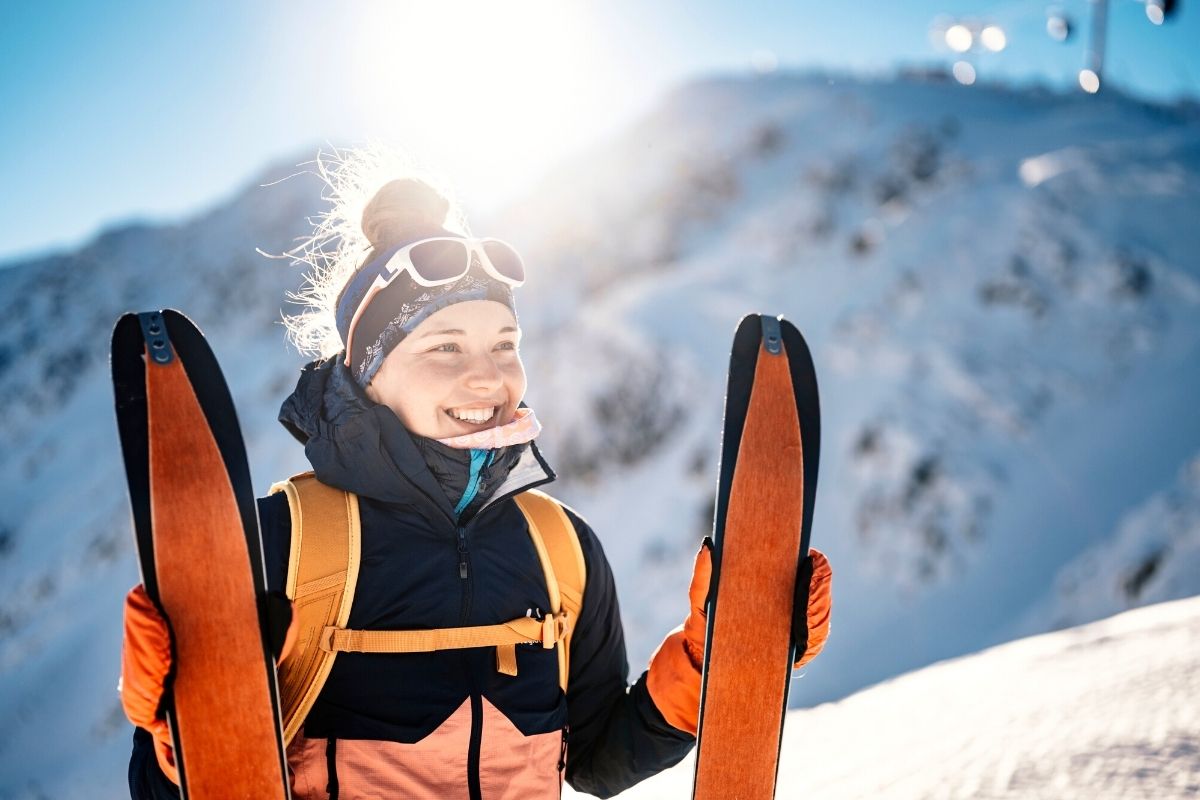 New Zealand is a paradise for all skiing and snowboarding lovers! Come for top-quality snow and a diverse range of world-class ski areas. Discover postcard views at every ski turn, slopes for all levels and a buzzing apres-ski atmosphere.
The North Island may have year-round opportunities, but the South Island has more skiing fields and resorts to play on. Wondering which are the best?
Home to the largest ski area and resort around South Island, Treble Cone spans 549 acres of action space. Extreme snowboarders and skiers; Temple Basin Ski Area is smack bang in the middle of the Southern Alps at an ascension of 1,400 meters.
Whether it's your first time or 20th, skiing, snowboarding, freeriding or sledding at The Remarkables never gets old. It's got seven parks and is a great place to learn how to ski or snowboard in its huge learner's area.
Cardrona (near Queenstown) and Mt Lyford Ski Area (in Marlborough) are two other excellent destinations that operate seasonally, in winter of course!
80 – Confuse your minds at Puzzling World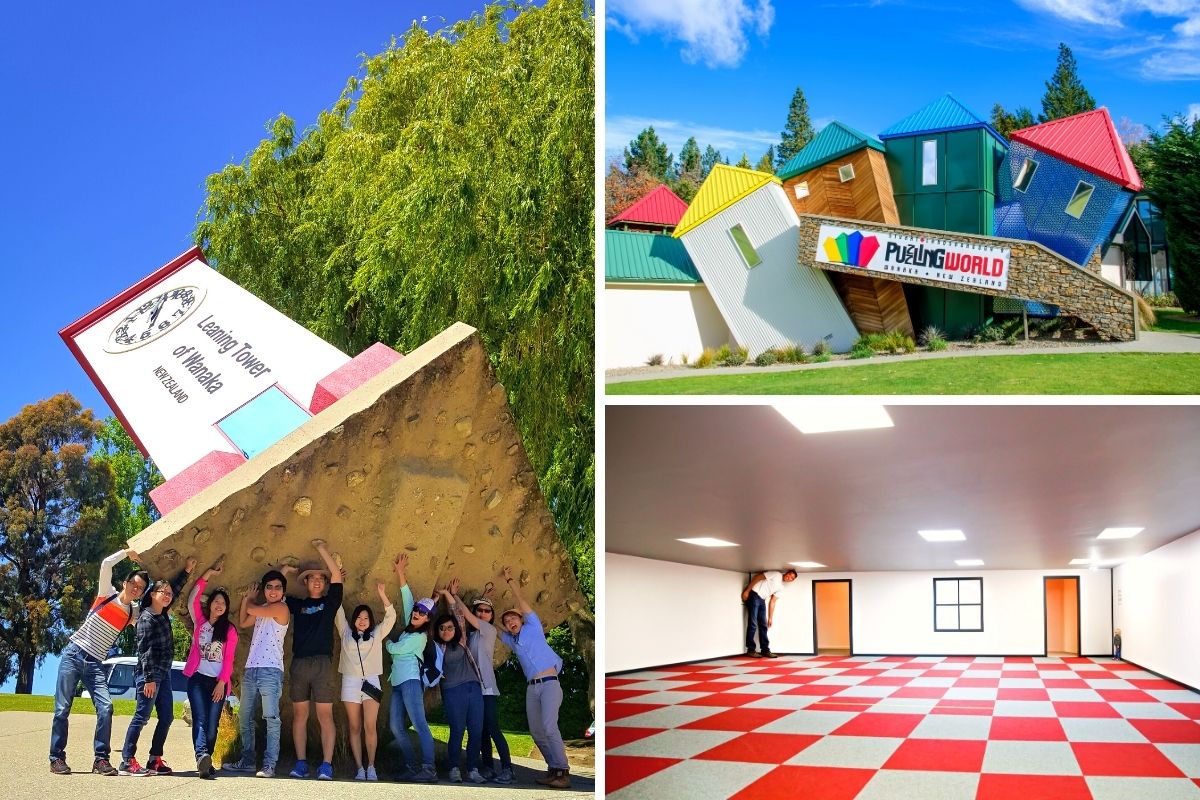 In two kilometres from Lake Wanaka or in one hour fifteen minutes drive from Queenstown, you will reach a Puzzling World.
After visiting the Puzzling World, your world will never be the same.
It will mess your head no matter how old are you, where are you from, and what kind of experiences you already had… Rooms of illusion, a mix of bizarre buildings, and the world's famous Great Maze will challenge your perception of reality!
81 – Take off your bra and hang it on Cardrona Bra Fence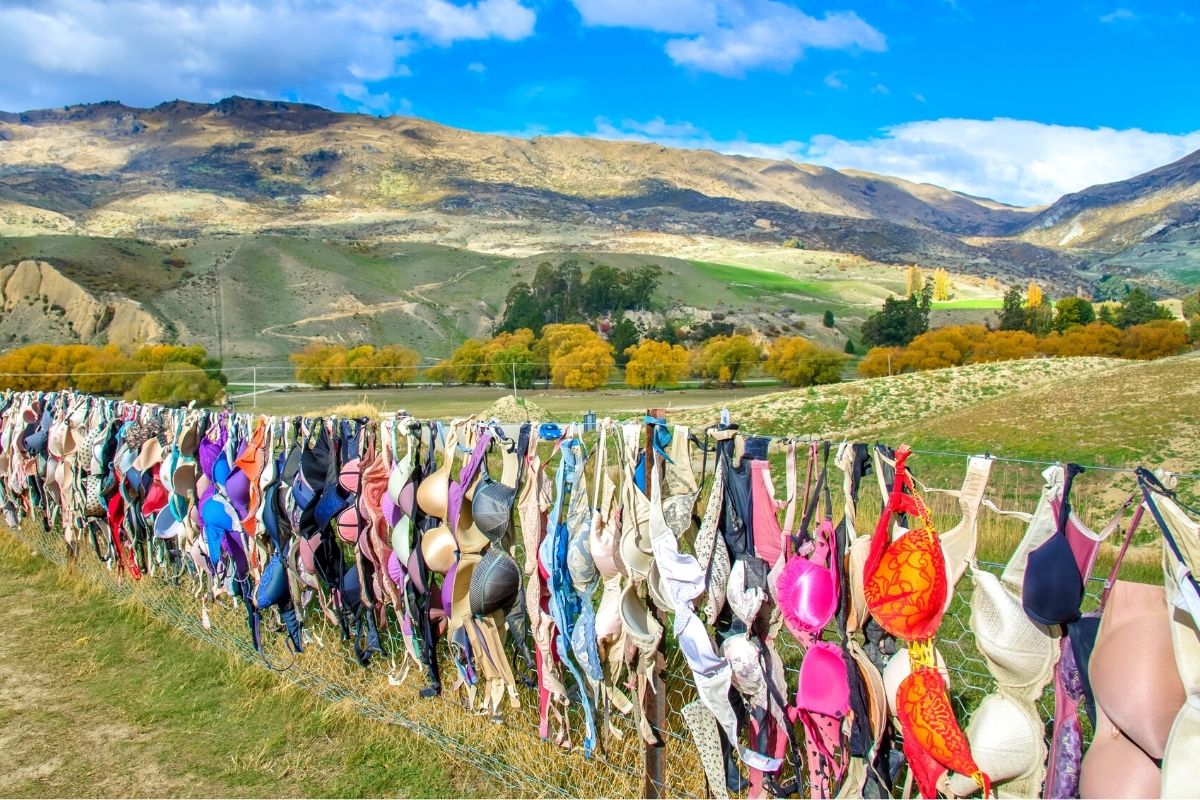 Once, in 1999, four women's bras were found attached to the wire fence alongside the road.
These female lingerie fluttering in the wind inspired more women to leave their bras on a fence, the bra population increased to thousands and even became a unique attraction for tourists.
Now, it's not only a quirky tourist attraction, but this fence is also collecting donations for the Breast Cancer Foundation.
Some locals feel that the one-of-a-kind fenceline is a debatable and unnecessary feature, but tourists passing along the Cardrona Valley Road can't get enough! Where else in the world can you just hang up your bra and feel the freedom? Ladies, you understand!
Visit the Cardrona Bra Fence en route to Otago or Queenstown, depending on your direction.
82 – Go canoeing down Dart River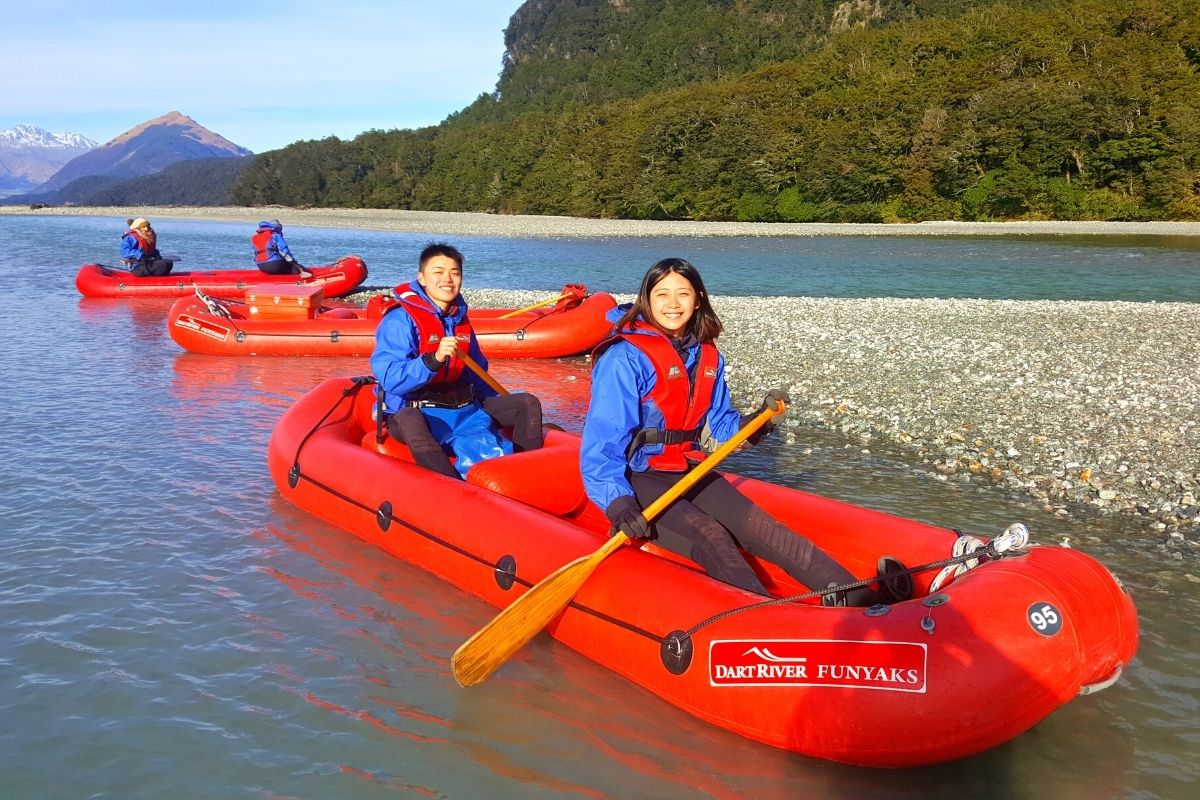 Have you ever heard of a 'funyak' before? You're about to find out more when you go canoeing down the Dart River — which begins near the Dart Glacier in Mount Aspiring National Park and flows to its mouth on the north end of Lake Wakatipu (in Glenorchy).
Hopping into an inflatable canoe, get ready to discover rock pools, secret fairy streams, picturesque ravines, and native flora and fauna through this UNESCO World Heritage Site.
A combination between river rafting and a jet boat, canoeing the Dart River is hard to beat! If you're not so experienced riding rapids on a canoe or kayak, it's all good as your expert guide is there to lend assistance the entire way.
Glenorchy is roughly one hour away from Queenstown and booked excursions include transport to and from the canoeing site. You don't need to bring much along, as gear and equipment are provided like a canoe, wetsuit, booties, life jacket, a dry bag, etc.
83 – Enjoy wine tasting and sip like a pro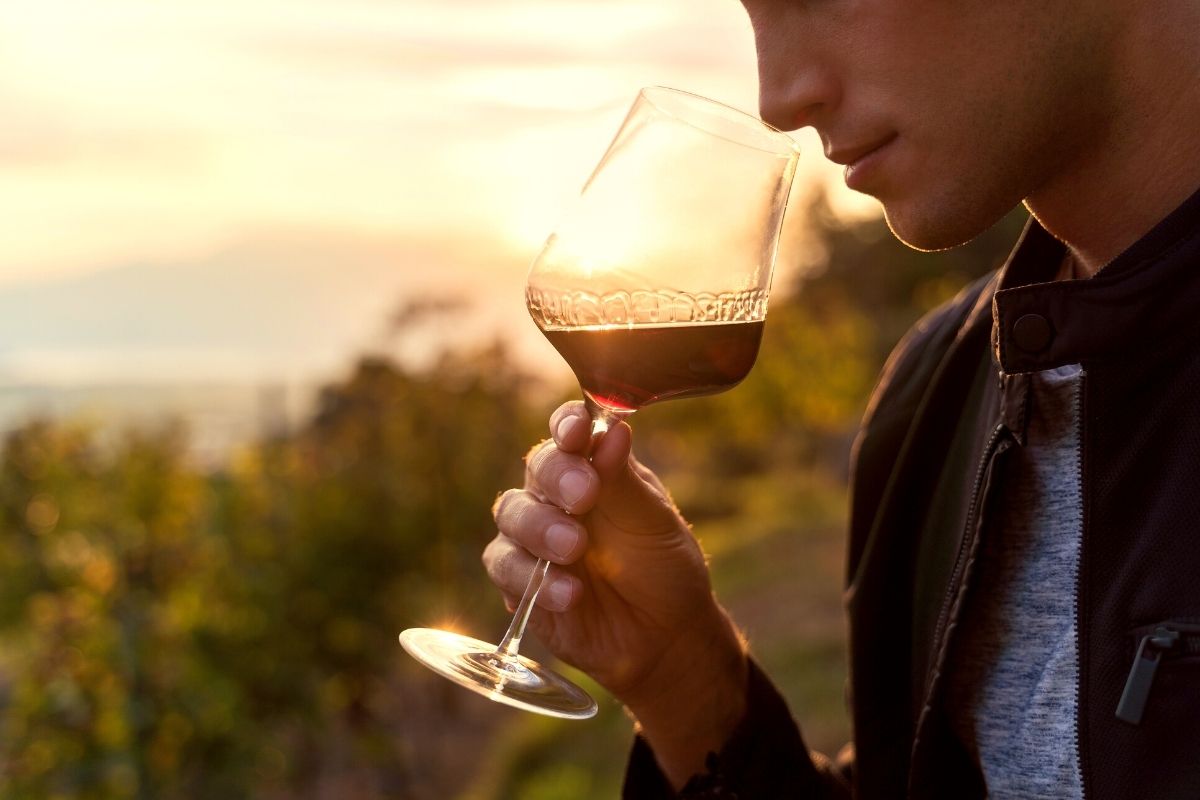 Fun fact: New Zealand is among the world's top 15 countries for wine production thanks to its ideal terroir and terrains, and multiple regions and destinations in the country are laden with vineyards.
Around ever-green Queenstown are an abundance of vineyards and wineries for an afternoon of wine-tasting. Tours bring guests to the Gibbston region and Central Otago, stopping at four to five spots, and you even have the option to indulge in a twilight venture.
A foodie hotspot; make it a fancier affair and pair wines with cheese tastings, even chocolate if you so wish.
Blenheim is situated in the Marlborough region — New Zealand's premier wine-making locale — and travelers visit the town just for the vino experience.
Apart from being the gateway to Marlborough Sounds and her islands, among the mix of things to do in Picton, wine tours are available. Sample reds and whites in the cellars during half-day stints, or bicycle through the countryside, stopping off at wineries at your leisure.
84 – Try bungee jumping in Queenstown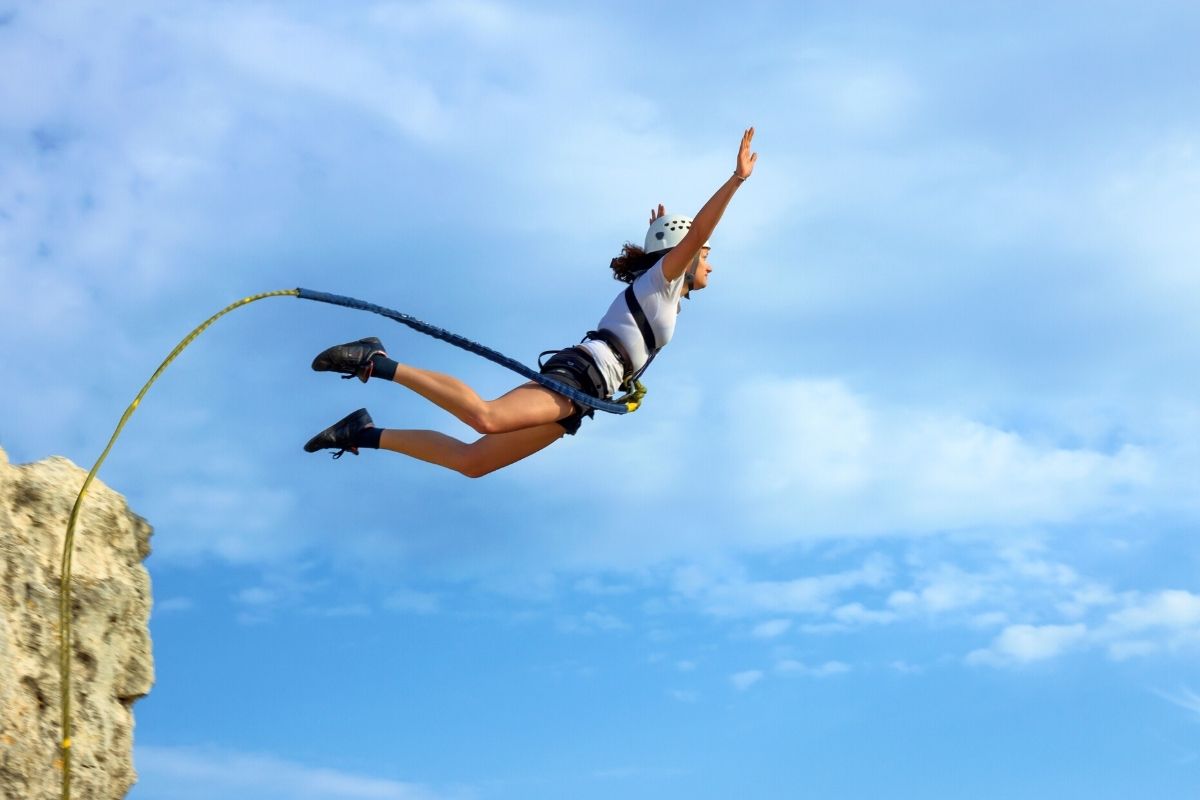 Ready, set and JUMP! Adrenaline junkies or travelers seeking to conquer their fear of heights, there are few experiences that can compare to the thrills of free falling to the ground, and that's exactly what bungee jumping is all about!
If you're staying in Queenstown or at one of the nearby cities or coastal villages, you have two bungee jumping options, each one at a different location.
Introducing the world's first-ever commercial bungee operation, Kawarau Bridge, opening to the public in 1988. You could say they're leading industry experts …
With the option of tandem jumping, spring off the side of Kawarau Bridge (in Otago), plunging 43 meters, your rope landing just centimeters from the water of the Kawarau River!
Next up it's the country's highest jump; Nevis Bungy, situated in the Southern Alps. Build up your courage and catapult from the 134-meter-tall platform and freefall for 8.5 seconds! Extra convenient to reach, there is a dedicated Bungy Bus that leaves from the Queenstown Bungy Centre to the site.
85 – Fly, bike and luge at the Skyline Queenstown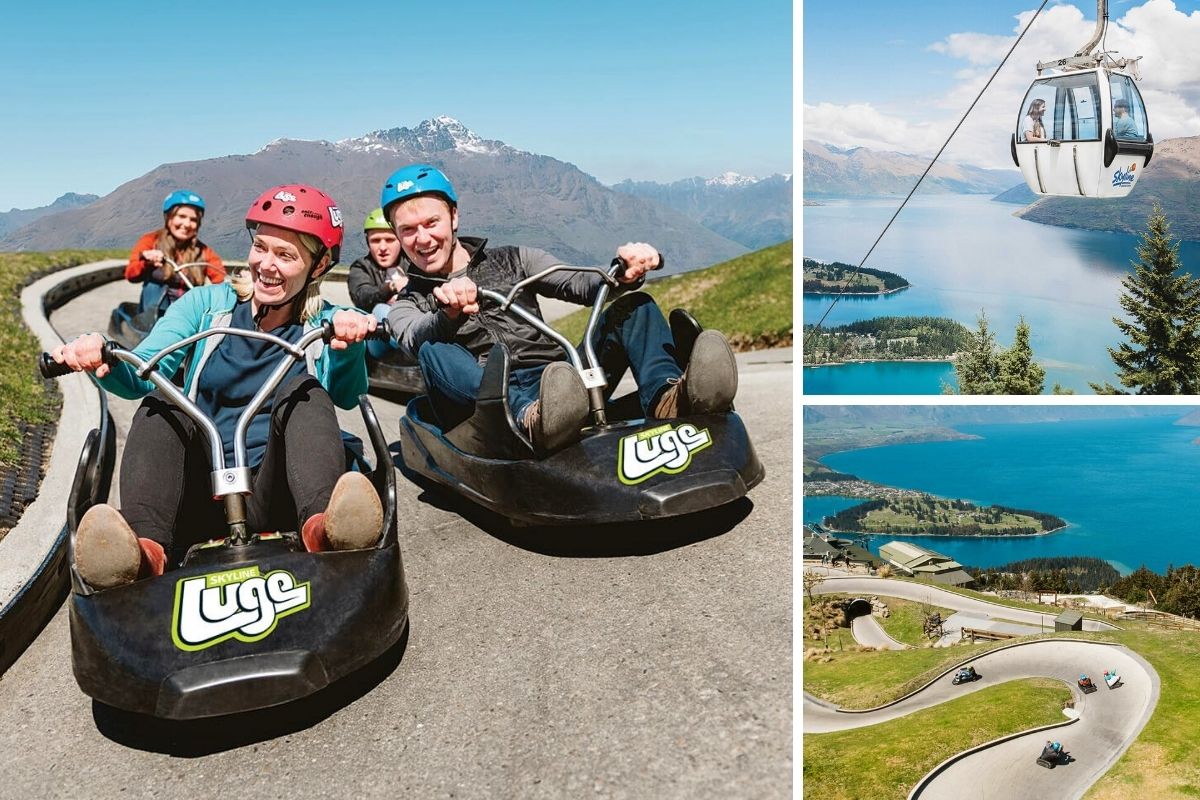 Just when you thought that the things to do in Queenstown couldn't offer you any more adventuring… think again … and then make your way directly to Skyline Queenstown!
The iconic Skyline Gondola is here where you'll be carried 480 meters into the air, sweeping over Queenstown and Lake Wakatipu and up to Bob's Peak. (At the summit, there are some other activities available like AJ Hackett Ledge Bungy & Swing and G-Force Paragliding.)
Covering 1.6-kilometers worth of tracks around corners and under tunnels, hop into a luge cart and feel the forces of gravity work in your favor on the Queenstown Luge.
Partake in other activities around Skyline like the Ben Lomond Guided Walk, join an evening stargazing tour or show off your skills and tricks at Queenstown Bike Park designed for mountain biking.
86 – Enjoy food tours in Queenstown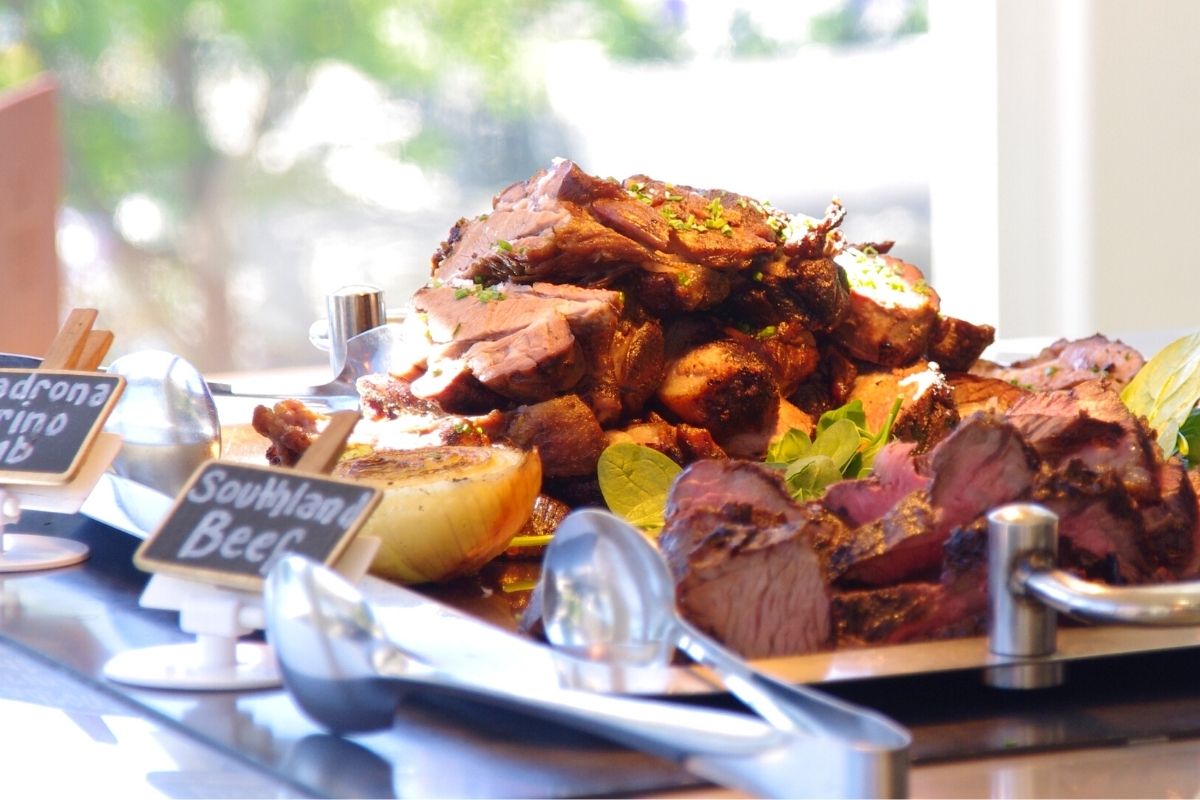 Foodies, this one's for you! Treat your tastebuds when in Queenstown and indulge in the local cuisine during one of the food tours, sampling Kiwi dishes using native ingredients or organically sourced produce from the surrounding region.
As Queenstown is blessed with vineyards surrounding it tenfold, many of the food ventures take place in these ultra-scenic settings — no complaints here.
Hit the road to the Otago region and revel in fancy food and wine pairings, with dishes specially chosen for their flavor profile.
Arrive hungry so you can fully enjoy your three-course meal prepared using seasonal ingredients.
Alternatively, if you've eaten a massive brunch, go cheese-tasting (particularly fanciful when pairing it with a wine-drinking escapade).
87 – Voyage on one of the boat tours from Queenstown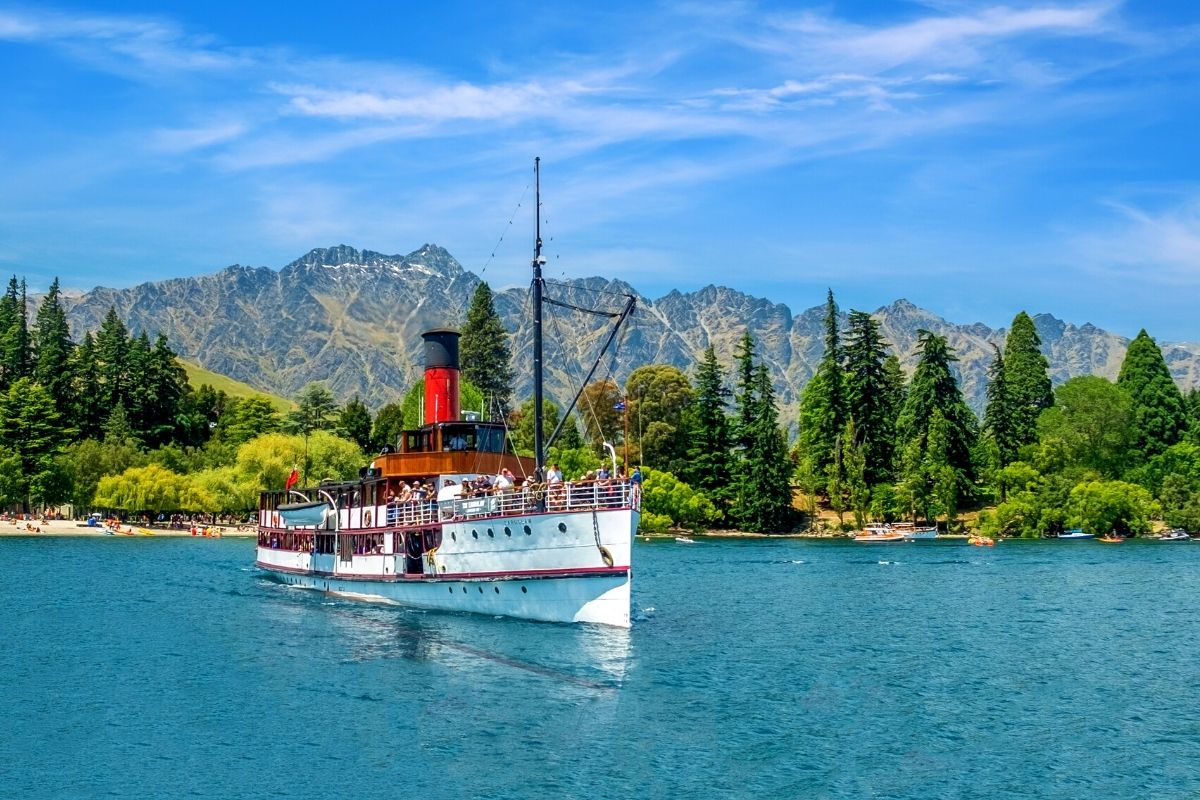 Sitting on Lake Wakatipu with the monumental Southern Alps as the perfect backdrop, Queenstown is considered one of the — if not the most — prettiest towns in all of New Zealand.
What's not to do here? Play its golf courses, explore its buzzing nightlife scene, tour wineries for tastings and strolls through vineyards, visit farms, gold mining villages and so much more!
The outdoor activities are tenfold from biking to hiking to wildlife walks.
Thanks to its lakeside positioning, there are phenomenal boat tours to take advantage of in these parts, all venturing off to different locales in the surrounding areas. Some last one hour, others are ten, it all depends on what you're after.
Sail across Lake Wakatipu to Walter Peak High Country Farm, or anchor off in the middle of the lake instead and feast on a BBQ lunch onboard proceeded by water activities. Certain tours cruise down the Shotover and Kawarau rivers on a special jet boat!
88 – Overload your senses in seconds skydiving in Queenstown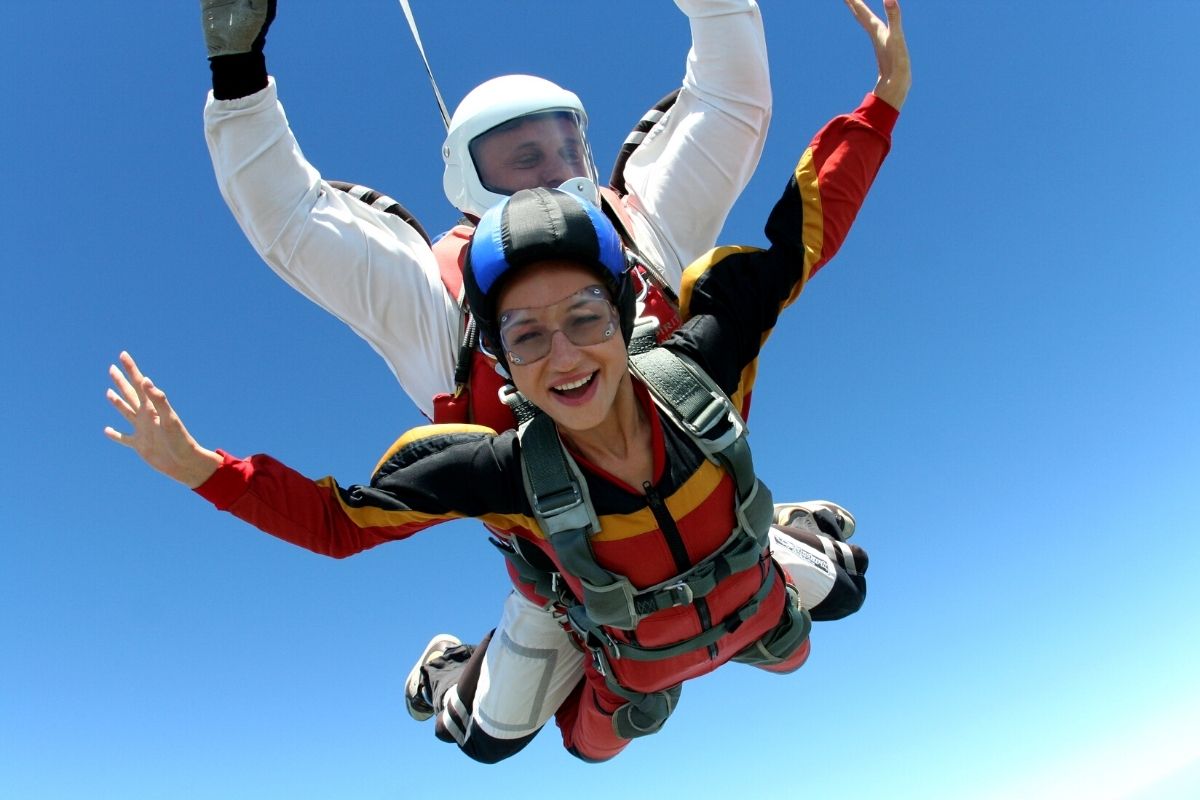 Apart from being a crazy experience that you'll never forget, skydiving in New Zealand is special because of its breathtaking landscapes you'll be free-falling toward, made up of lakes, national parks, mountains, and beaches.
Jumping through the sky certainly is a fine way to see New Zealand, and is a must-do adrenalin-pumping activity in Queenstown!
At 4,572 meters high above the ground, take a deep breath, prepare for your countdown and then tandem jump into the sky, reaching speeds of up to 200 k/ph with a freefall flight of 60 seconds before your chute is activated!
If you've got a serious fear of heights, there are skydives lower to the ground (the lowest being 2,743 meters).
Daredevils; Queenstown isn't the only locale for skydiving. Close to Auckland, there are jumps available, as well as around the Bay of Plenty and near the Franz Josef Glacier.
89 – Sample local crafts during beer tastings in Queenstown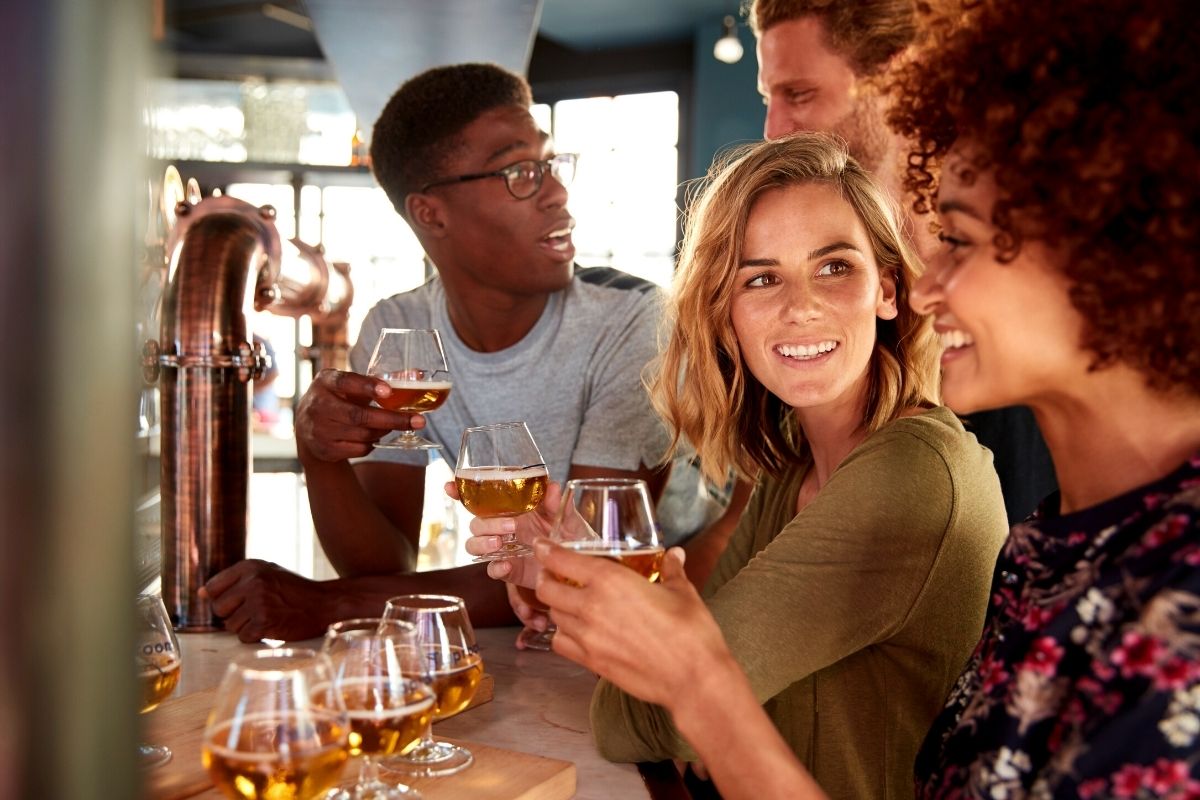 After all the activities in one of the adventure capitals of the world, quench your thirst and get in the festive mood with beer tastings in Queenstown.
Outside the city, there are a handful of craft breweries and microbreweries to check out, where you can go behind the scenes for an in-depth tour and understanding of the entire brewing process, followed by samples of the local crafts.
Some beer-tasting arrangements also include a special gourmet food pairing, and the small plates and dishes are specifically chosen because they complement the hops.
Half-day ventures stop by at least three craft beer breweries and you'll get to test 13 beers in between it all — if you're not much of a beer drinker, swap brews for cider or glass of vino.
Learn something new from the local brewing experts and feel free to ask questions during tours inside the brewing plant.
90 – Join horseback riding tours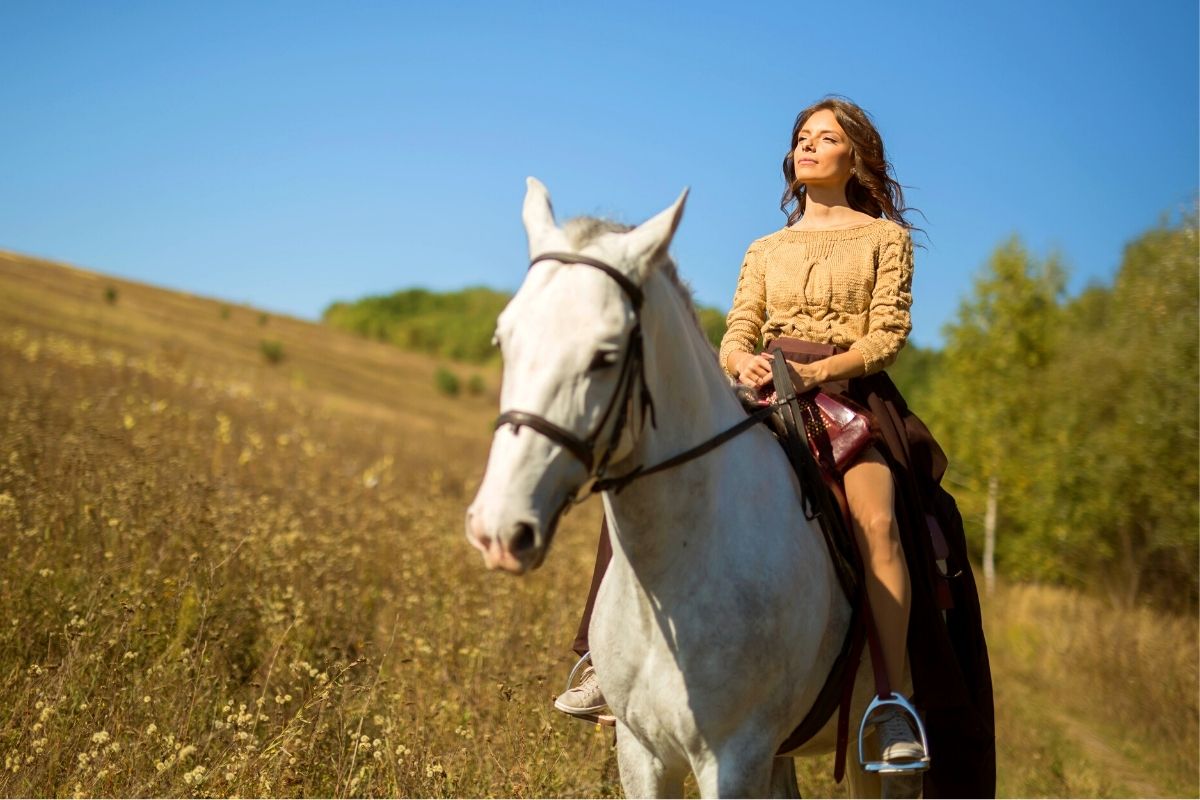 There's something so special about trekking the lands on horseback, giving us a primal taste of what life was like before cars …
For travelers in Queenstown, there are incredible horseback riding tours around its postcard-perfect setting.
Trotting through the Cardrona Valley, spend two hours exploring the former mine which exploded during the 19th century "gold rush," riding over mountains, through valleys and across its plains. Sweep in views of Cardrona Valley, Wanaka Lake, and the Crown Range.
An alternative is to go horse riding at Walter Peak High Country Farm, but you will first need to board a vintage steamship and voyage across before the horse trek starts at the base of the mountain.
Sticking to the Canterbury region, embark on a guided horseback tour near rural Lincoln (less than 30 minutes from Christchurch). Cantering through a sheep farm, follow a riverside trail through the valley. Torlesse Basin and the Waimakariri Canyon are some of the vistas to enjoy during the journey.
91 – Feel the thrills during jet boat cruises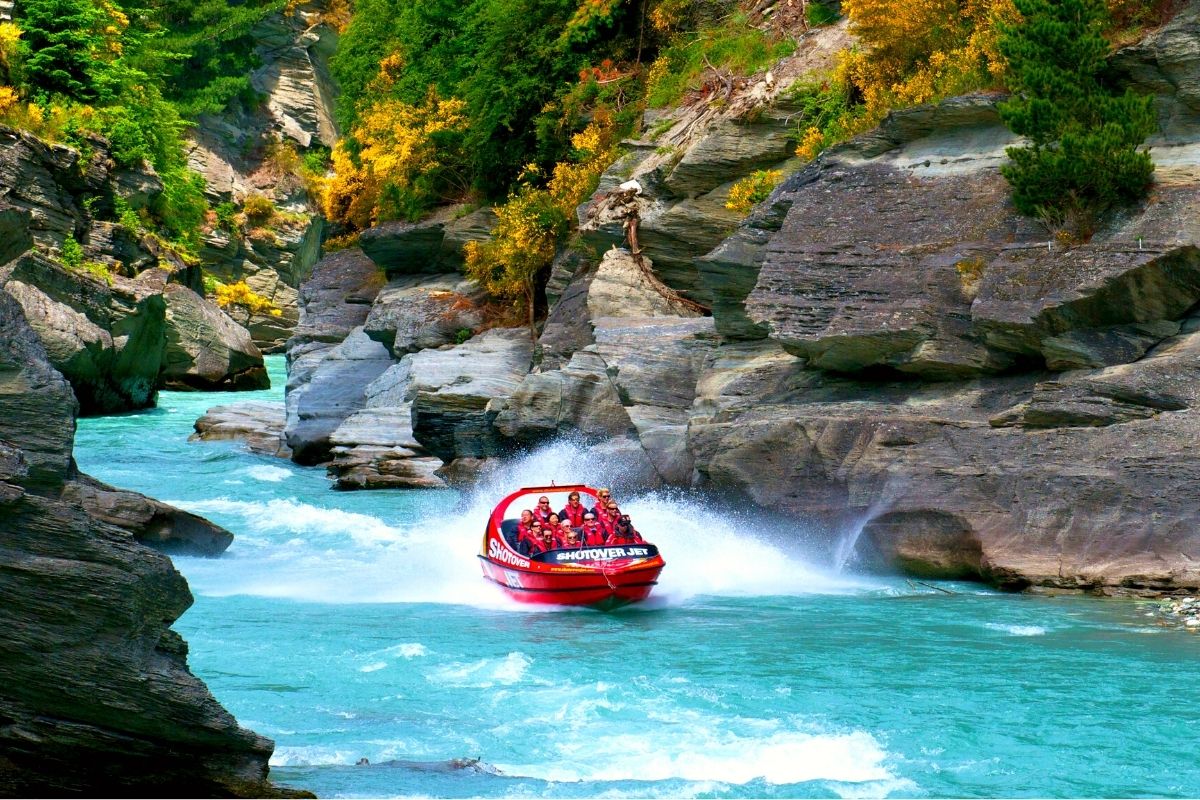 For sensation seekers that prefer to feel the thrills on the water, have you ever joined a jet boat venture?
Thanks to Queenstown's position on a lake and its natural terrain, jet boat tours are one of the most fun things to do in the area, and different from an ordinary boating excursion; this one is filled with speed and adrenaline!
Kicking things off on Lake Whakatipu, zoot and zip around the inlet reaching speeds of 90 km/h! Squeal, laugh and hold tight as your skipper performs tricks like 360-degree spins!
From your position on the lake, an alternative is to book lengthier jet boat adventures, this time heading from the lake down to Kawarau River where you'll cover 47 kilometers of ground thanks to your speedy vehicle.
For another mind-blowing experience, make your way to Shotover River, board your jet boat and cruise at high speeds down Shotover River, navigating canyons and river drops in between!
92 – Join jeep tours from Queenstown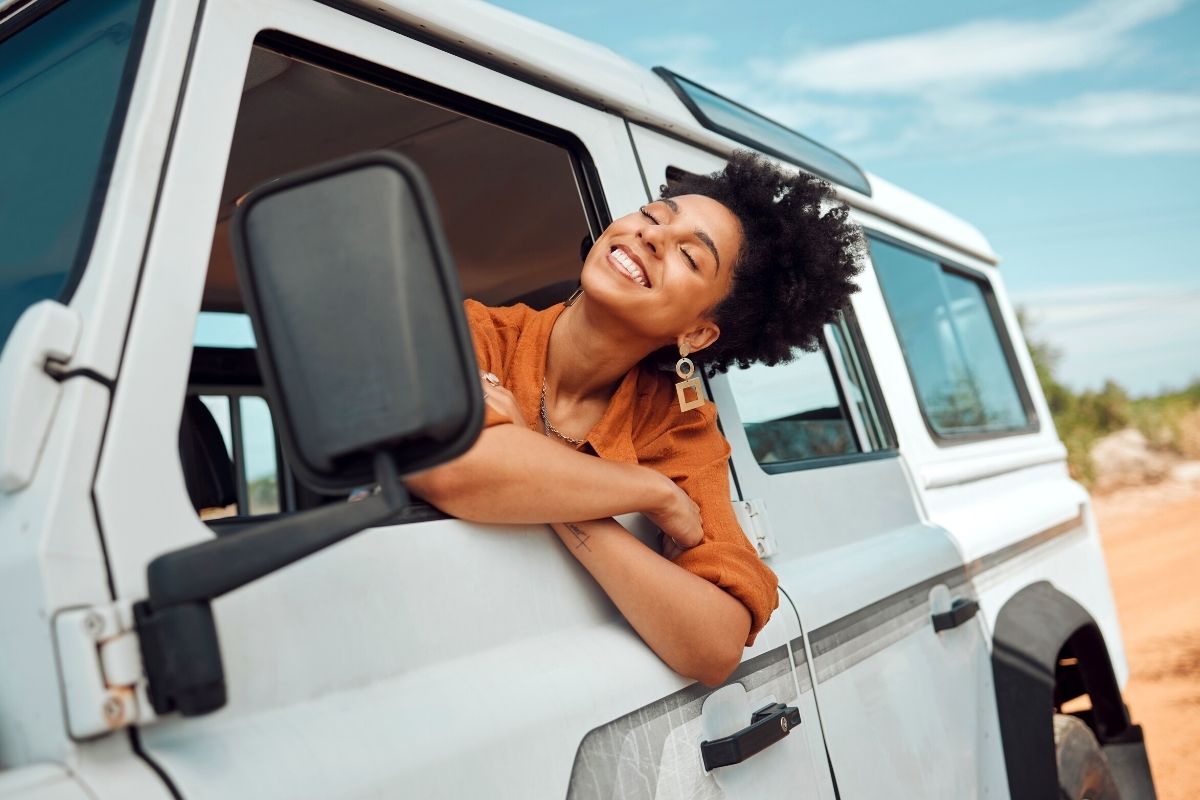 Veering over river crossings, through gorges and around the backcountry, join in the action (but from the comfort of an off-road 4×4 vehicle) during jeep tours around Queenstown!
You don't need to have your license for this one as your tour is guided at the wheel by your operator expert, so you can just sit back and enjoy the ride — a suitable activity for families and small groups.
Set aside half the day for these off-road safaris, with a few options available. Embark on a sightseeing expedition, veering off to iconic towns and sites near Queenstown like Macetown (once a booming mining town), Arrowtown, and close to Skippers Canyon.
Mega fans; pick a magical Lord of the Rings jeep tour and be driven directly to filming locations used for scenes like Minas Tirith, Misty Mountains, the Pillars of the Kings, Gladden Fields and the Ford of Bruinen.
You have the option of choosing a morning or afternoon adventure.
93 – Pick between day trips from Queenstown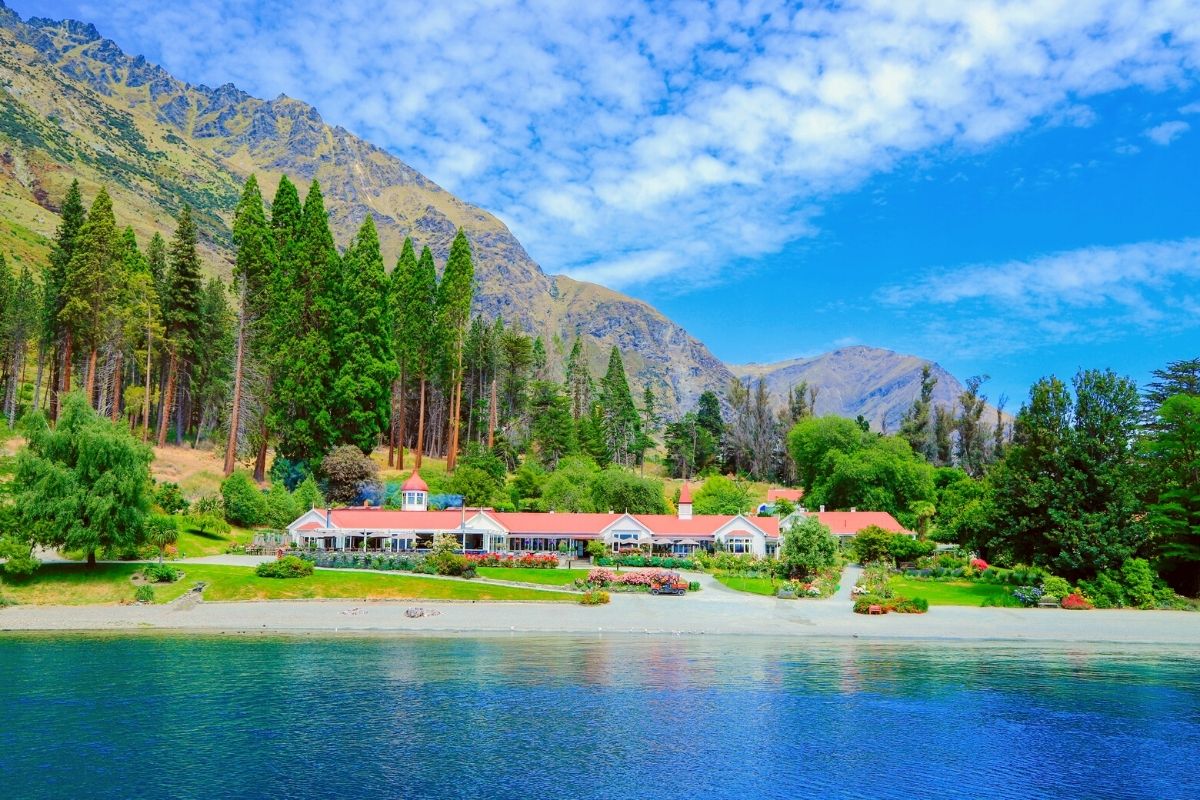 If you've decided on making Tāhuna your base this holiday — good call — there are fabulous day trips from Queenstown to keep you busy for days, both on land and out on the waters.
Cruising on Lake Wakatipu, zip across to Walter Peak where you'll visit the Walter Peak High Country Farm. Tour the sheep farm, feed furry friends, stroll around the lake and top it all off with afternoon tea. Or, opt to spend the day on Lake Wakatipu and revel in sightseeing natural landmarks from this angle like Mt. Earnslaw, Bob's Cove, Cecil Peak, Mt. Nicholas and The Remarkables.
Day trip to Glenorchy and navigate the roads in between the town. Traverse along Twelve Mile Delta Road onto Bennetts Bluff Viewpoint Walking Track, pass by Glenorchy Wharf, Paradise and Diamond Lake.
For a dose of history and culture, opt to explore Arrowtown (a major player in the 19th-century gold rush) and then further on to Wanaka.
Spend time in the vineyards wine tasting, pick a bike ride through the countryside or go canyoning in Gibbston Valley (30 minutes outside of Queenstown).
94 – See how many locations you can recognize during Lord of the Rings tours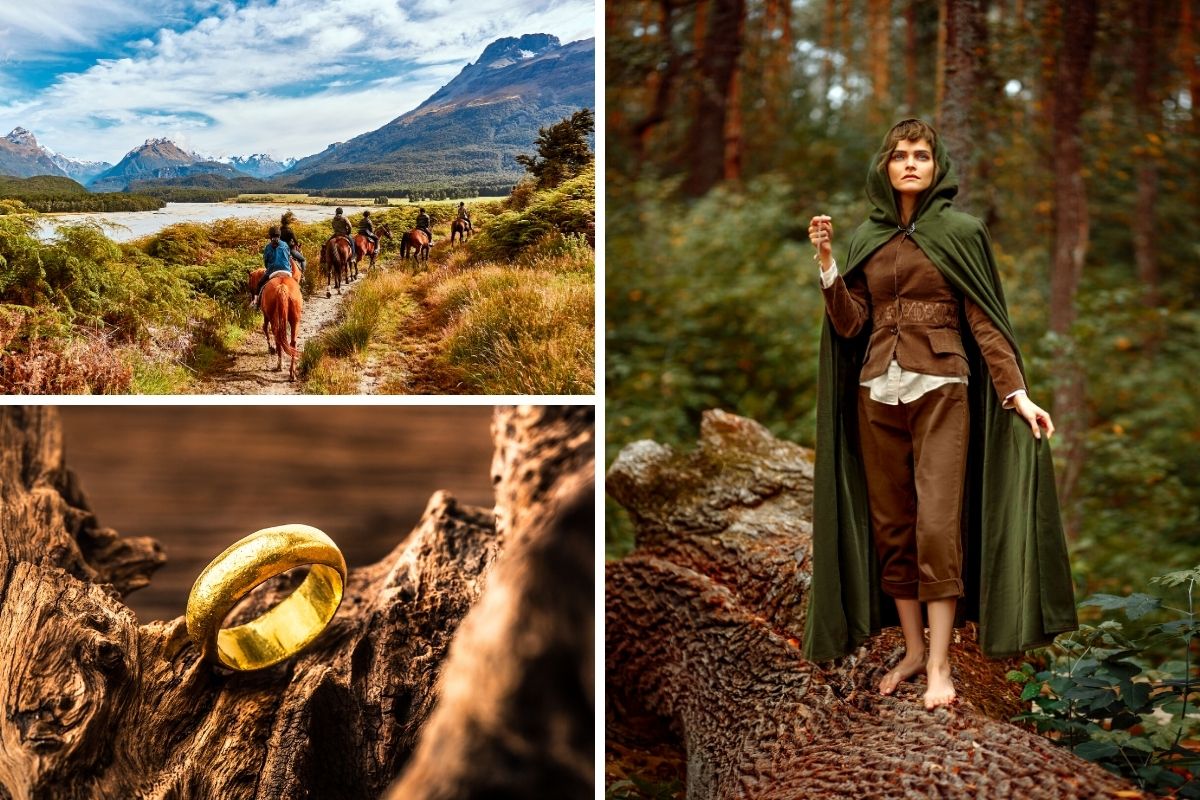 Have you traveled to New Zealand just for The Lord of the Rings experiences? As all three movies from the trilogies (as well as the Hobbit films) were shot across the country, there are tons of LOTR-filled adventures including tours to film locations.
On the Queenstown end, globetrot to Middle Earth and visit various locations specifically chosen for the movies, dress up in authentic LOTR attire and snap pics holding prop replicas.
Journey to the land of the Elves, Lothlórien, inside Mt. Aspiring National Park; reimagine the Isengard fantasy fortress at Paradise inside the Dart Valley; cruise to Deer Park Heights where the Battle of the Wargs took place and to Kawarau Gorge which was used as a backdrop for the Argonath scenes.
There are other locales to scoop out too, but let's save some of it for an element of surprise and excitement!
95 – Discover the world's steepest street in Dunedin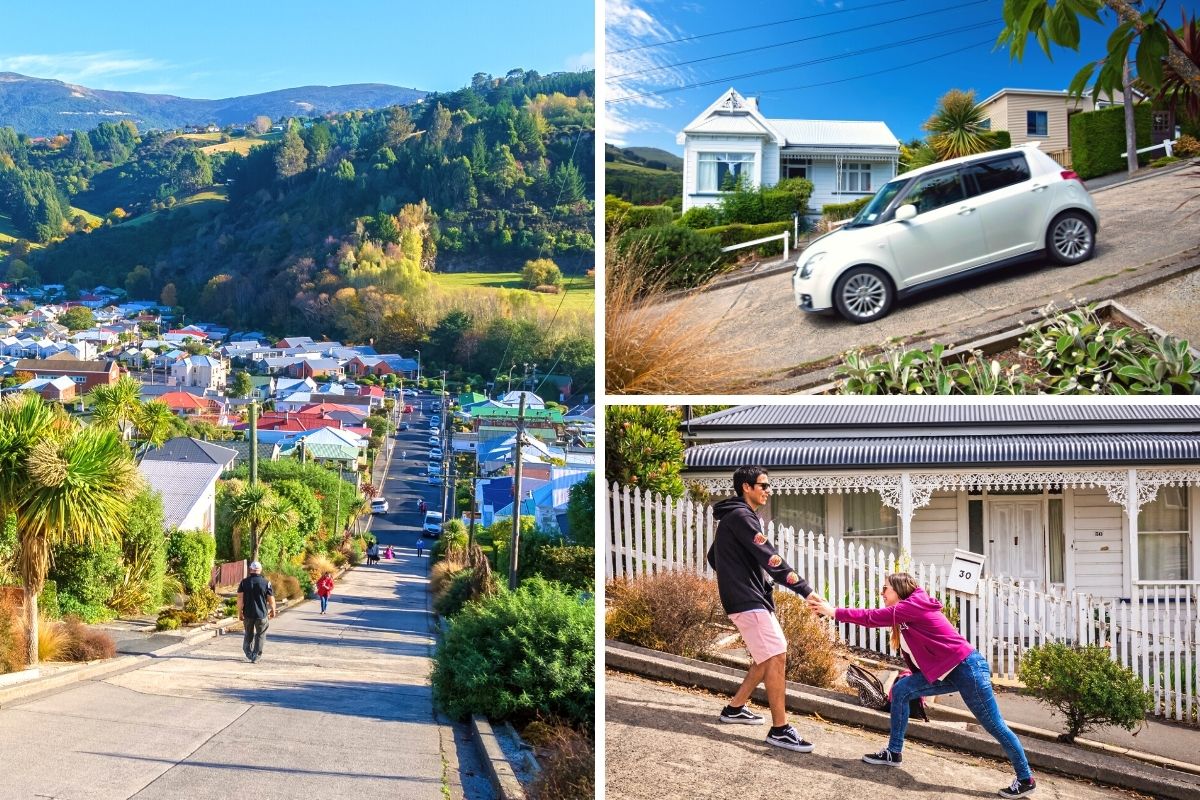 Here's your next fun fact about New Zealand … If you're on your way to the southeast coast on the South Island you'll come across Dunedin — where it feels like you're visiting a Scottish town instead of a Kiwi one.
Moreover, its name is derived from the Gaelic word for the capital, Edinburgh (Dùn Èideann), and it's all thanks to the area's earliest pioneers, sailing in from … Scotland!
Architecture appreciators; gawk over its traditional Victorian and Edwardian features as you wander the town's streets and down to the harbor. Uncover local history and learn about the different cultures at the Otago Museum or navigate your way to Baldwin Street — officiated by the Guinness World Records as the steepest street across the globe.
Also known as a wildlife sanctuary, the natural landscapes are beautiful. Stroll through the authentic Lan Yuan, Dunedin Chinese Garden, idle away your days at one of its beaches, go surfing, enjoy nature walks and birdwatching.
96 – Revisit the 19th century at Larnach Castle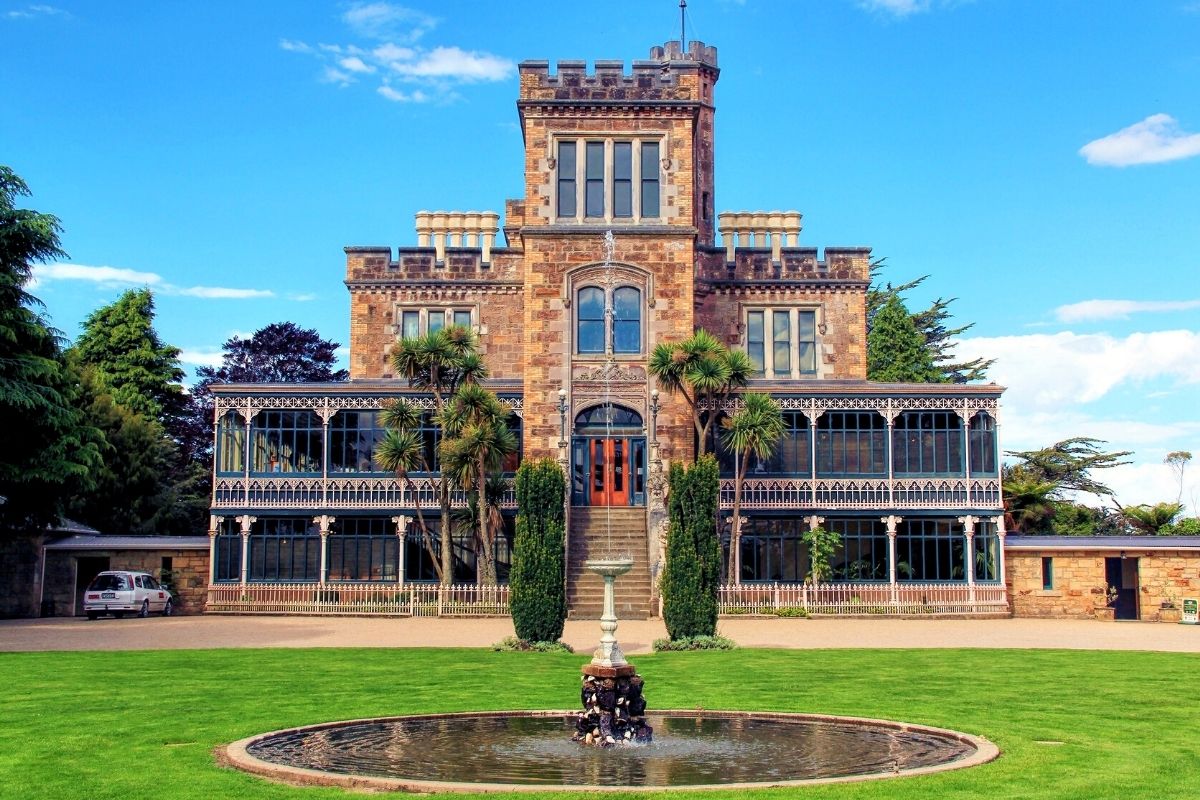 Step back in time to the year 1871 and uncover the country's only castle and its perfectly manicured setting at Larnach Castle in Dunedin.
First and foremost, feel like royalty with a spot of Afternoon High Tea in the garden, or inside the ballroom for off-weather visits.
Built by a man named William Larnach, the castle remains privately owned, bought out in 1967 by its current owners, the Barker family. Guided castle tours take you through its various rooms where period furniture pieces and antiques have been preserved and kept on display.
Garden tours are very popular too, veering through its well-groomed hedges and floral beds.
You can spend the night at the castle either at its Camp Estate, Larnach Lodge or Stable Stay, and there is an on-site eatery, the Ballroom Cafe.
97 – Go hopping around the best beaches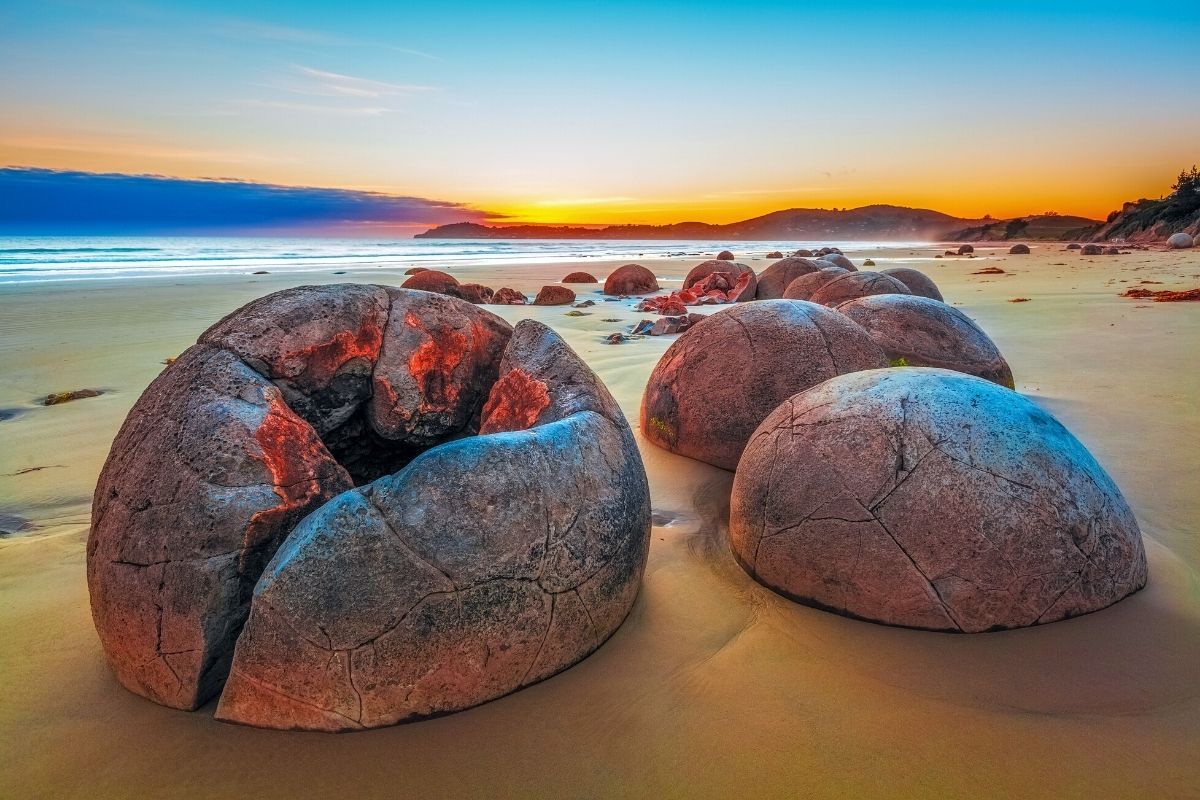 It's time for a beach day! Around the South Island discover a dazzling array of fantastic beaches to spend the day chilling, tanning or water sporting!
Situated in Dunedin is the hidden gem known as Tunnel Beach … The only way to get here is trekking down to the beach, involving tramping 72 steps through a tunnel, caves and high cliffsides.
The masses arrive at Punakaiki Beach to check out its famous limestone "pancake rocks" given their nickname because of their flattened exteriors, as well as the Putai Blowhole.
Steeped in myths and legends, head to Koekohe Beach to photograph the Moeraki Boulders. It's near a sleepy fishing village, and you can swim at this beach.
Discover sea caves, trot along the shoreline by horseback and even spot seals at Wharariki Beach.
Tahunanui Beach is probably the busiest of the lot and is favored by families, couples and locals in Nelson. Go surfing, kayaking, SUPing, swimming or work on your tan.
98 – Photograph Nugget Point Lighthouse
Circa the 1770s and Captain James Cook sailed into New Zealand for the first time. Along his voyage, he spotted a collection of oceanic rocks gathered on the hillside. From his viewpoint out at sea, Cook claimed that the rockeries looked like a heap of gold, and hence Nugget Point Lighthouse's namesake was derived.
Officially titled Tokata lighthouse, one of New Zealand's oldest oceanic watchtowers can be found sitting on the edge of a cliff on the Catlins' coastline on the South Island's southernmost end.
Constructed over two years (from 1869 to 1870) investigate the 9.5-meter high lighthouse after a short stroll to the structure from the car park at Kaka Point.
The tower isn't the only draw, and if you look below when standing on the edge (take caution), watch wild seals playing in the waters! You can even spot a penguin colony … Don't forget your binoculars!
99 – See the Windswept Trees at The Slope Point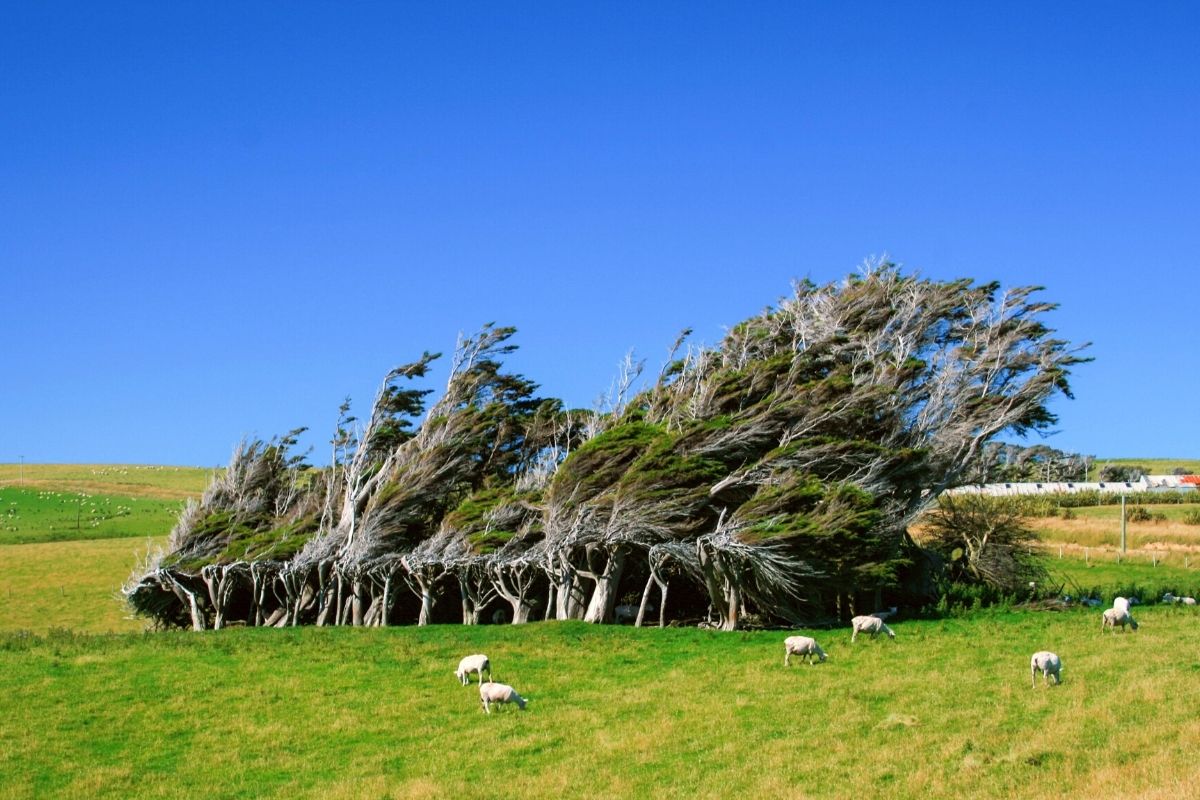 Aside from a few sheep, no humans or other animals live here. The slope is the southernmost spot of New Zealand's South Island.
The wind here is so intense and relentless that the trees are twisted, warped and forever bent along the direction the wind blows!
The views and the atmosphere are truly mystical here. It will make you believe that you are at the edge of the world.
100 – Marvel at the southern lights from Rakiura/Stewart Island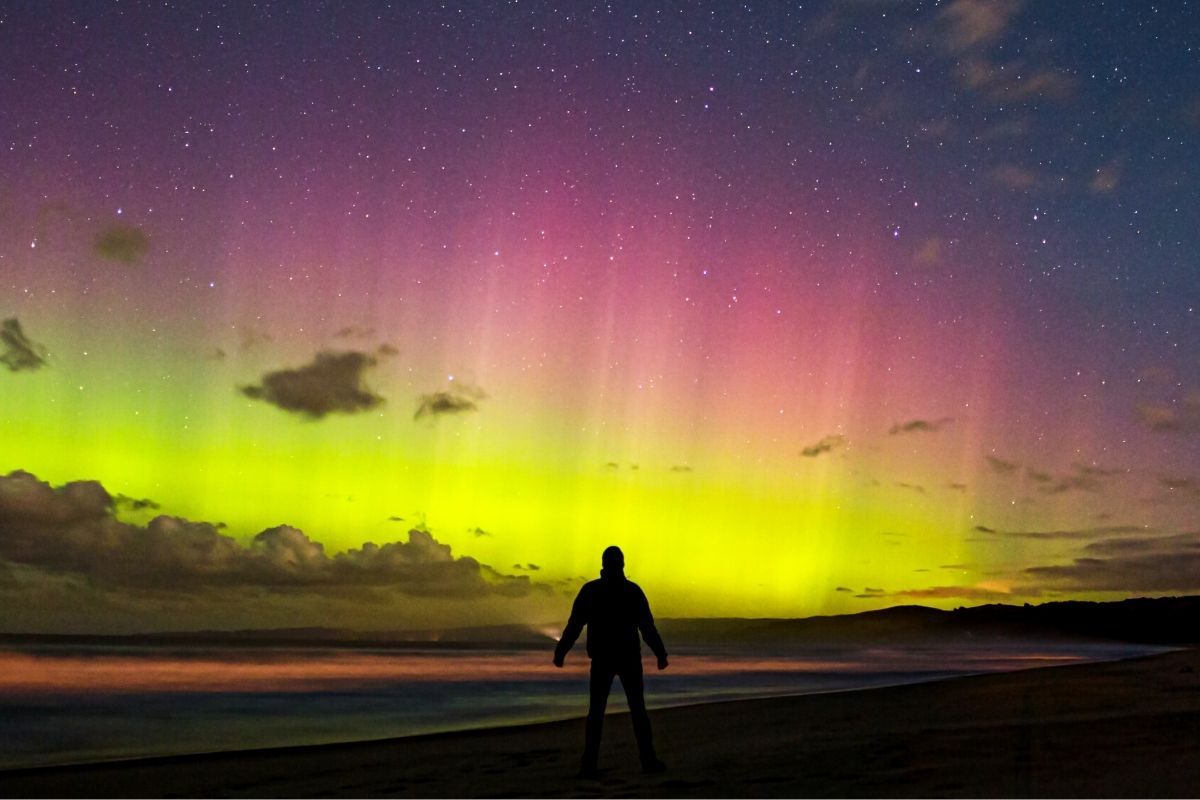 Forget about having to trek across the earth to witness the spectacular Northern Lights … Did you know that the Southern Lights existed (the counterpart to the famed aurora borealis phenomenon), and New Zealand is one of the countries to witness it?
Known as 'aurora australis' thousands flock to the country's third largest island, i.e. Stewart Island just for the chance to see the bucket list wonder and Rakiura is one of the best places for it. This Māori title literally means ''the land of glowing skies" which couldn't be a better-suited name.
Located 30 kilometers to the south of the South Island, there are a few accommodation options on Stewart Island that travelers favor — as the lights come out to play in the late evening only.
However, there are other things to do on Rakiura if you're here in the daytime and hiking and bird watching are two popular activities, with the national nocturnal brown kiwi nesting on the isle.
Enjoy kayaking on the waters, go fishing, and even diving is possible down its coastline.
Final thoughts
From glaciers to hidden sea caves, snow-capped mountains to flower fields, pristine coastlines, nature parks and wildlife reserves; some of the things to do in New Zealand are so magical, you have to actually experience it first-hand to believe it!
Have you traveled to Aotearoa before? Is there a particular city or town that won your heart over? Auckland? Wellington? Christchurch? Queenstown? Share your best New Zealand memories and travel stories with us in the comments.