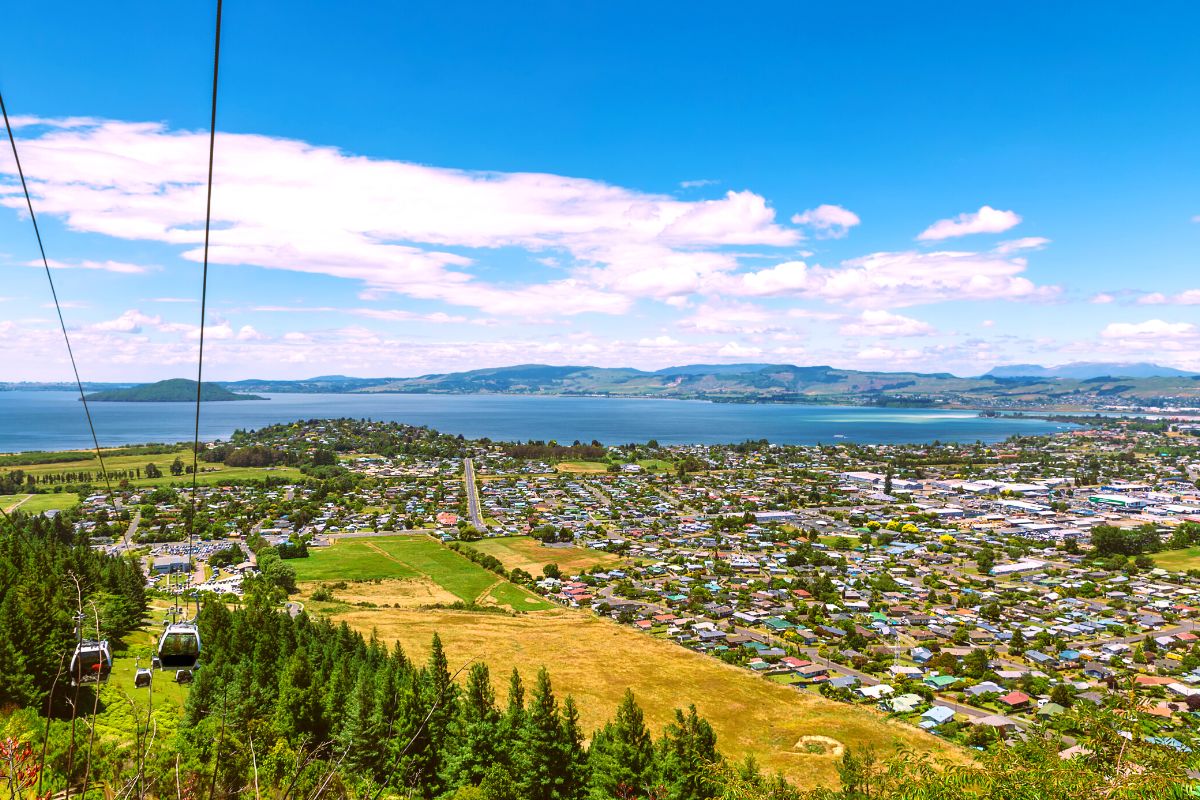 Welcome to the land of geothermal hot springs, an avalanche of adventure and so much nature in abundance that you'll never want to leave magical Rotorua.
Situated on New Zealand's North Island, the picturesque town built on the lakeside and in between rolling hills is a bucket list must … Feel worlds away exploring landscapes laden with fuming geysers, steaming hot pools and bubbling mud baths …
Thrill-seekers; make the most of your time here, and among the things to do in Rotorua, outdoor action reigns supreme!
Bungy jump, catapult into the air on skyswings, walk among 100-year-old giants on suspension bridges or go whitewater cruising down the highest commercial rafting waterfall in the entire world!
Day trip to Hobbiton, the surrounding geothermal parks and spas, cultural villages and underground caverns lit up by sparkling glowworms!
Kia ora! 
1 – Take advantage of the views from Skyline Rotorua Gondola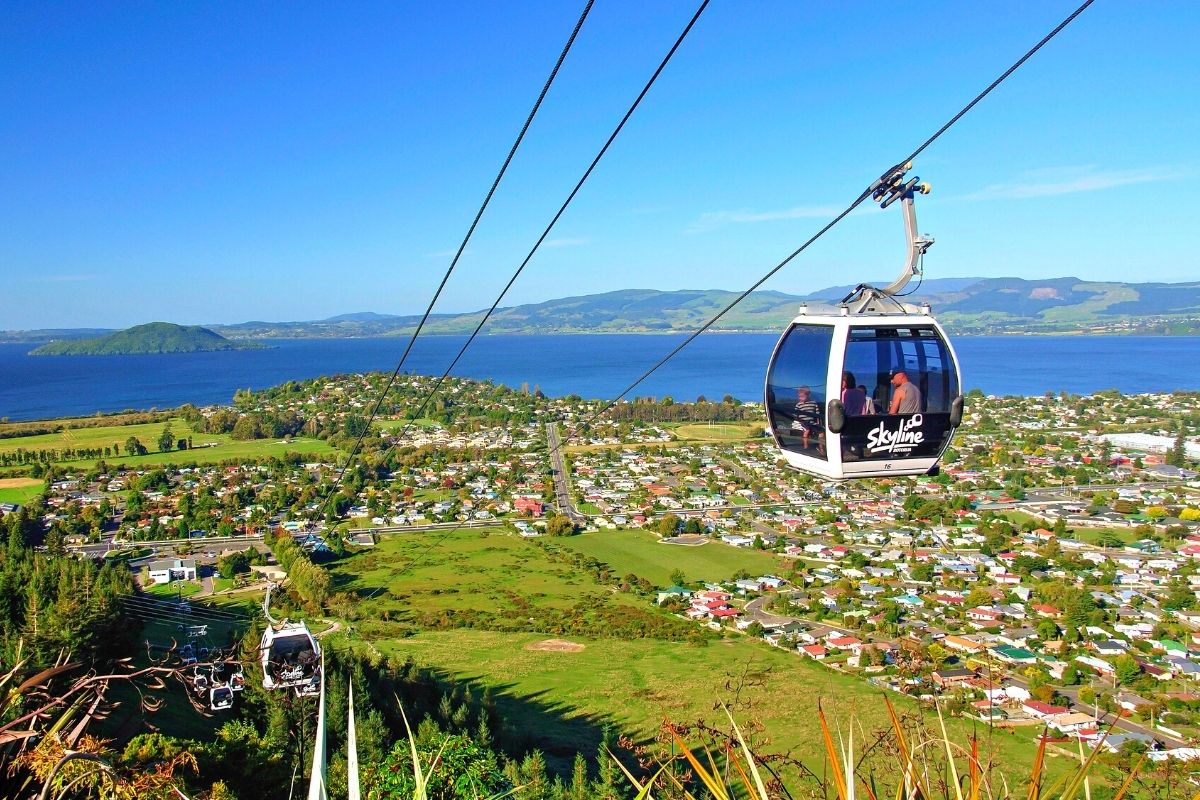 First-timers; forget about having to hike to the tops of mountains to swoop your surroundings … As soon as you arrive in town, a fantastic starting point is the Skyline Rotorua Gondola — boasting unparalleled vistas during a relaxing journey up the side of Mount Ngongotaha.
Journeying 487 meters above sea level in one of the designated (eight-seater) gondolas, summit along a one-kilometer cableway until you reach the top station.
But it's the scenery en route that makes this one so special with views of Lake Rotorua, geothermal ranges and the inner city built on the lakeside and its homes dotting the hills.
Once you reach the Skyline Rotorua complex, there are a bunch of exciting activities to partake in — whether young or old.
Catch some serious air at the Mountain Bike Park (you can bring your bike on the gondola), join Zoom Zipline and race your mates on the 400-meter dual zipline reaching speeds of 60 km/h, or hit one of the nature trails from atop and appreciate the local fauna and flora.
If you're not keen on adventuring, stop by Volcanic Hills Winery for a round of wine tasting instead.
2 – Stroll along Rotorua Lakefront Boardwalk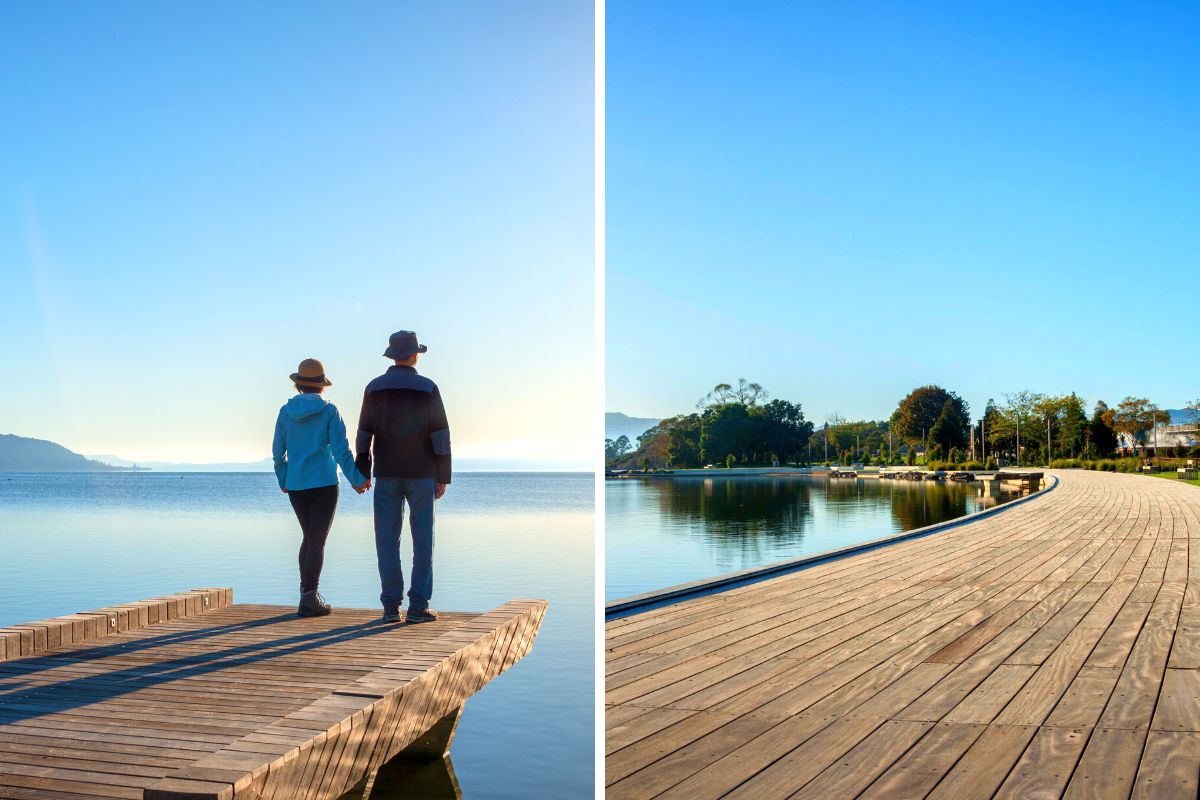 There is something so soothing about a tranquil body of water, and with a town that's bordered by one of the most picturesque lakes in New Zealand, Rotorua exudes a naturally calming atmosphere.
Spend an hour or so wandering along the Rotorua Lakefront Boardwalk and cherish its beautiful setting, whether on foot or by bicycle.
The area around the lake has been utilized as a recreational community space since 1929 when the first public playground was added, but in recent years, the park has been extended, creating a new boardwalk, picnic areas and larger leisure space.
The wooden boardwalk runs along the shoreline, weaving in between the grounds and now, there are more features to enjoy.
Discover two riding loops for skateboarders and bikers, and a playground equipped with flying foxes, a nest swing, a rope obstacle course and a basketball half-court.
Rotorua Lakefront Boardwalk is conveniently located close to the city center, with popular spots like Eat Streat and the Village Green within easy walking distance.
3 – Learn something new at Te Puia Maori Village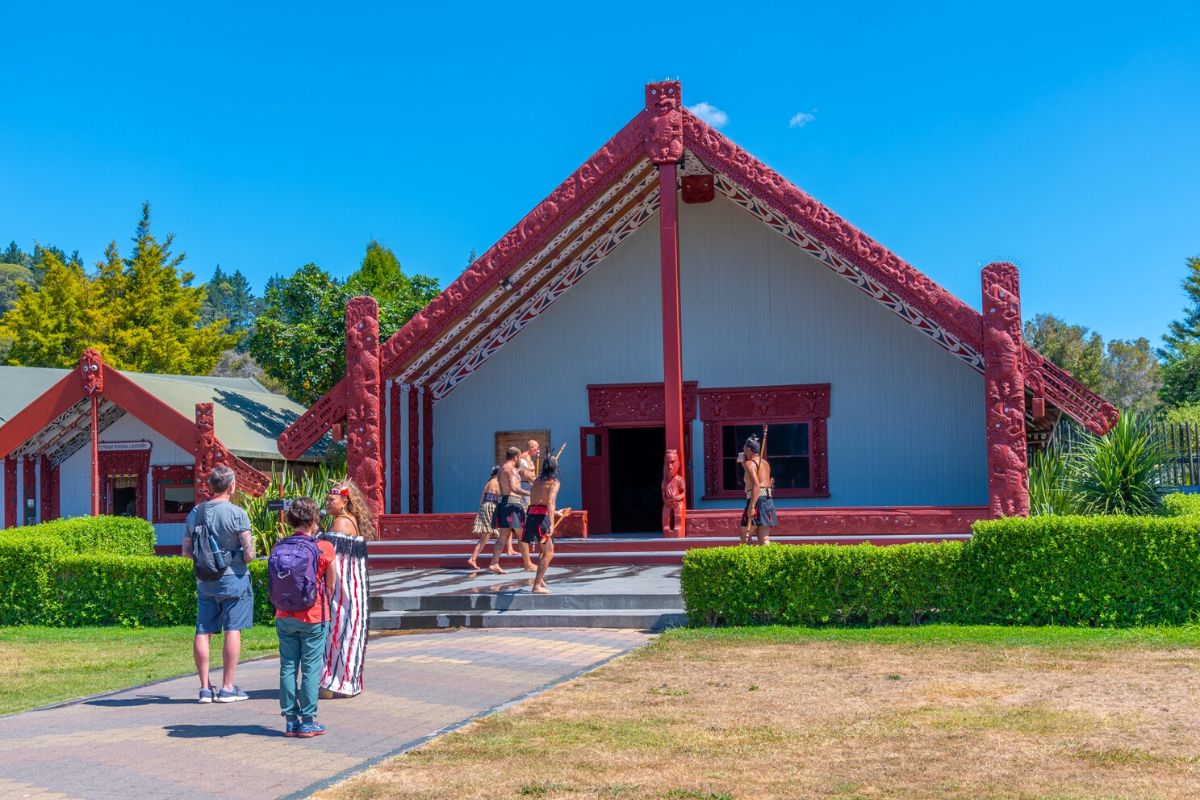 One of the best things about traveling is immersing yourself in new cultures! In New Zealand, learn more about the country's first ancestors and catapult into local Māori traditions at the Te Puia Maori Village.
Situated within the magical Te Whakarewarewa Geothermal Valley, there are tons of activities to get involved in at the cultural center!
Choose between a 2.5-hour daytime Te Rā Guided Experience or the evening Te Pō Indigenous Experience … Witness a full-on cultural performance including Waiata (Song), Mōteatea (traditional chant), Poi and Haka.
During the tour, you will also get to hear of the Te Puia's history and lineage and visit the Pikirangi Village and Rotowhio Marae to witness how the land's first settlers did things before European influences.
At the Āhua Gallery, marvel over traditional handicrafts (like wood, stone and bone carvings as well as flax weaving) made by artists from the New Zealand Māori Arts and Crafts Institute. Nighttime tours kick things off with a ceremonial buffet feast at the Pātaka Kai Restaurant.
Here, you can also visit the on-site Kiwi Conservation Centre as well as explore the geothermal pools and steaming geysers within the geothermal valley.
4 – Visit Rotorua Museum / Te Whare Taonga o Te Arawa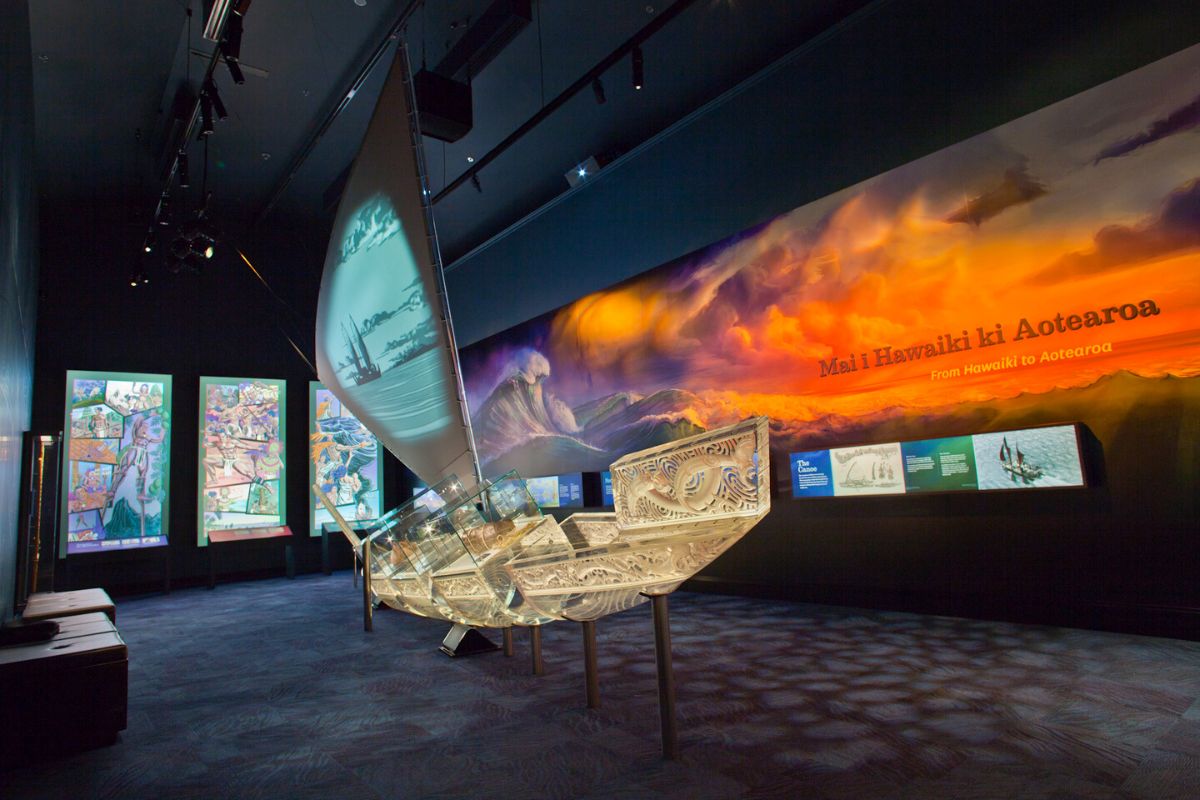 First things first; it's important to note that the Rotorua Museum has temporarily closed until 2025 for upgrades to protect it from natural disasters.
However, whilst the museum remains shut, Te Whare Taonga o Te Arawa still offers visitors free guided tours of its exteriors.
Established in 1988, its archives contain collections brimming with local artifacts, antiques and treasures relating to the surrounding region. Categories include Taonga Māori (housing more than 2,000 taonga), Photography, Social History, Natural Environment, Art and Ethnology.
Wander through the gardens where the museum is located and you can still photograph the famous Bath House building (where the museum is housed inside) and admire its Elizabethan-style architecture.
Once a popular spa circa the beginning of the 20th century, the building was converted into a museum space decades later.
5 – Meander through the Government Gardens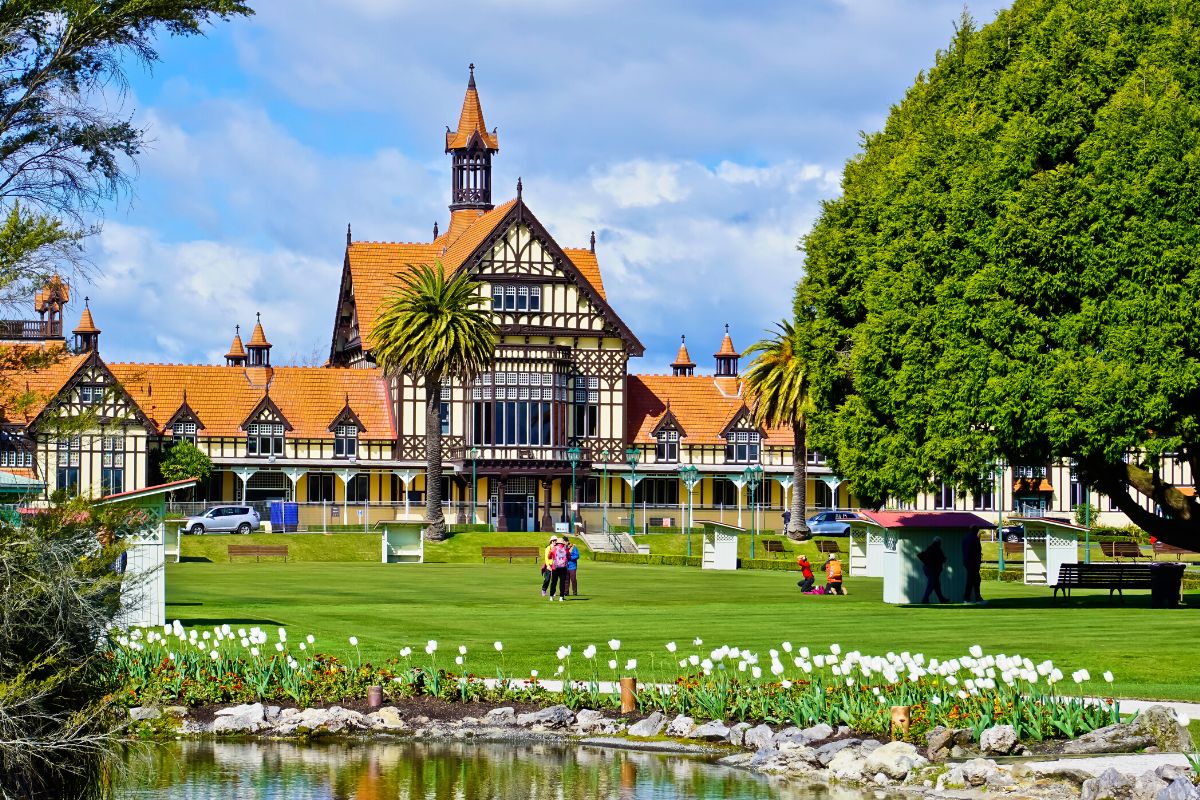 Holding significant importance among locals, many historic battles have been fought in the Government Gardens, once a geothermal area and now a picturesque public park setting.
The land was originally covered in wild grassy shrubbery with natural thermal pools beneath its underbelly. Then, traveling back in time to the late 1800s and the area was excavated and the formal gardens were built.
Spot some of its original plantings like the weeping redwood and Japanese firs.
When the year 1908 arrived, the government decided to utilize the natural hot springs, opening up the iconic Bath House — purposefully constructed in a dramatic Elizabethan Tudor design.
(The spa closed decades later and the Rotorua Museum opened its permanent doors here.)
Strolling through the Government Gardens you can see the Mediterranean-style Blue Baths house (previously open to the public, the pool is now closed.)
Strolling through the grounds see different flowers bloom with the seasons, and there is a bowling club here with play areas for petanque and croquet — super old-world-y wouldn't you say?
6 – Jet boat around Lake Rotorua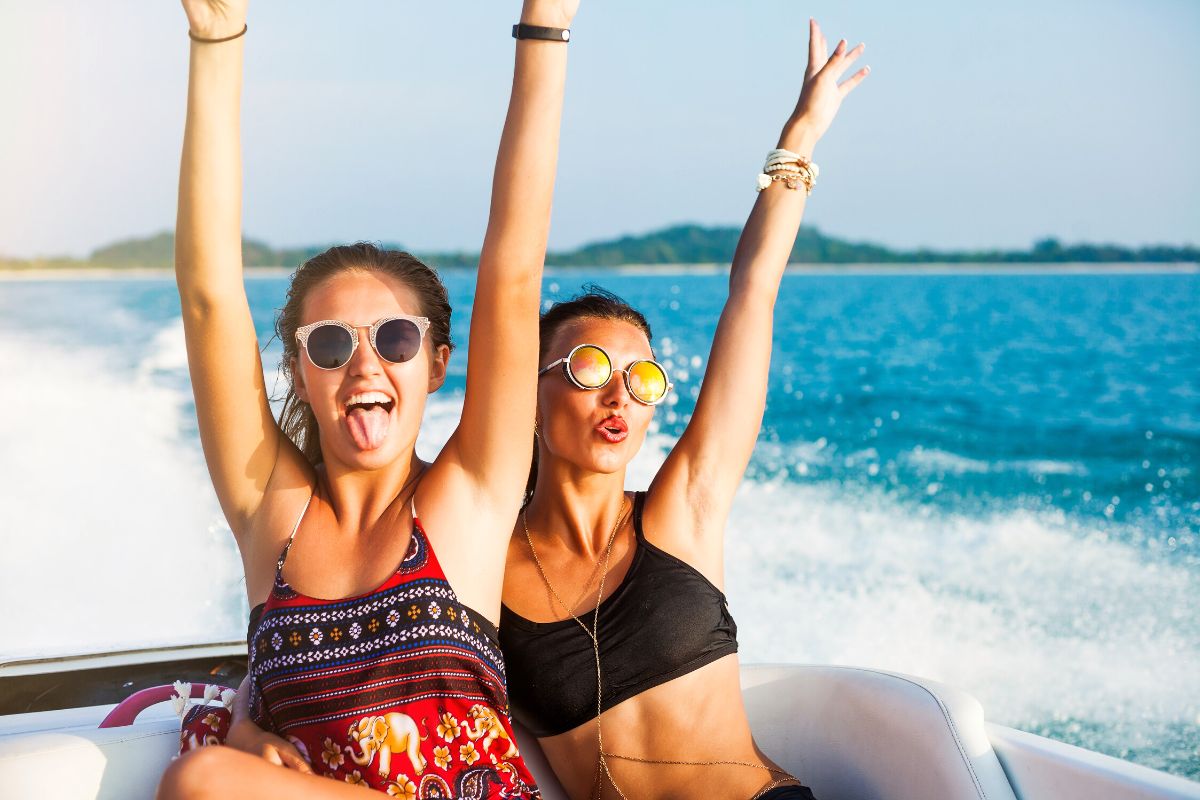 There's no better way to explore the North Island's second-largest lake than by an exciting jet boat tour for up close and personal action!
Not only will you get to scope out Lake Rotorua's highlights and must-see landmarks, but enjoy all of the thrills as you whizz around for 30 minutes on the water, soaring at high speeds up to 85 km/h, and squealing as your driver makes 360-degree spins and crazy turns!
Points of interest that you'll cruise by include Mokoia Island (situated in the middle of the lake), Sulphur Bay Wildlife Refuge (home to native bird species and milky-colored waters because of the high sulfur content) and Kawaha Point.
Interesting fact: Roughly 200,000 years ago Lake Rotorua did not exist. After a volcano erupted, the waterbody formed inside a caldera, and today, you can still see plumes of steam rising from the shoreline.
Not only a super fun outing but also become clued up on the area's history and useful lake stories as your boat driver shares insider knowledge.
Life jackets are provided and jet boat tours are suitable for the whole family.
7 – Grab brunch at Fat Dog Cafe & Bar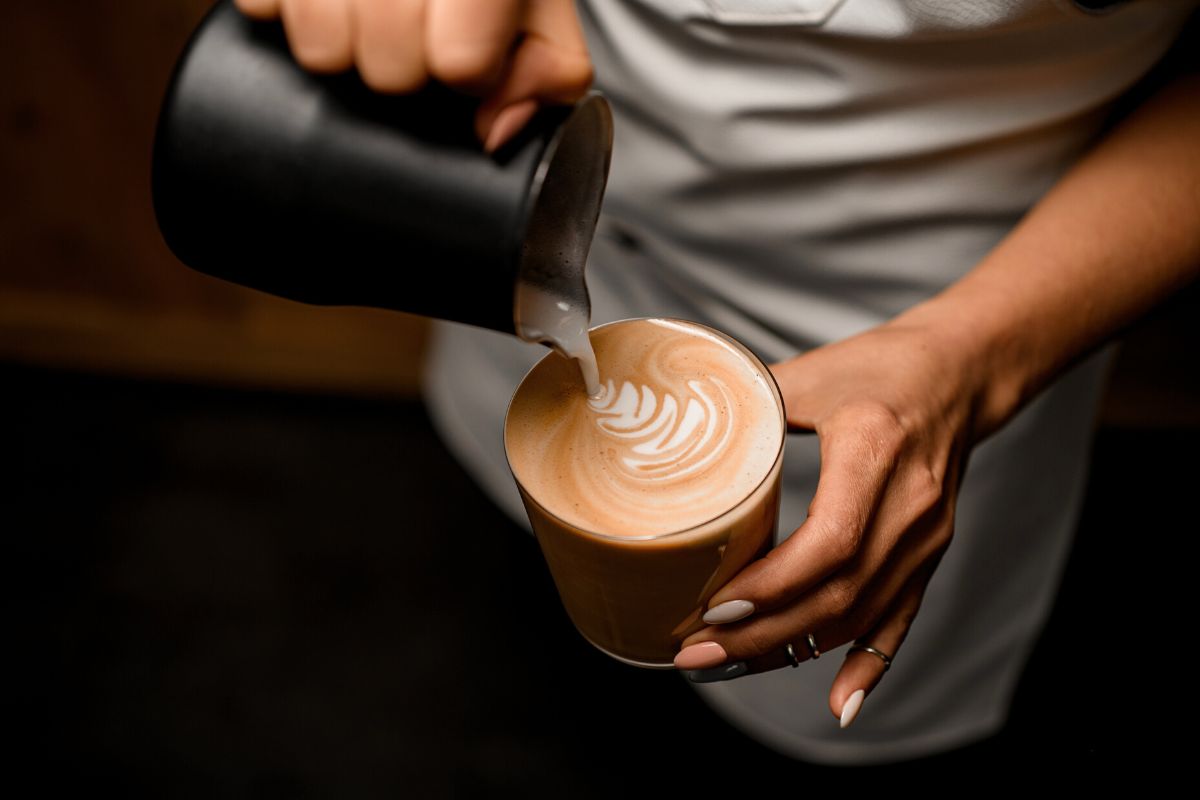 It's pretty hard to miss the local-favorite Fat Dog Cafe & Bar with its bright yellow and blue wooded-front exterior on Arawa Street.
A brunch hotspot; the atmosphere is inviting, the interiors charming and naturally, pooches are major stars at this jaunt!
The cafe setup is funky with pops of colors here and there and if you grew up watching Fat Dog Mendoza, it pays tribute to the Cartoon Network classic — notice the similarities between the two orange doggie icons.
Open for breakfast, brunch and lunch, the menus boast all-time classic favorites. On the brekkie side, there are regular items like eggs bennie and smashed avo toasts, or go big and order the Fat Dog Works or The Woofer breakfasts.
Nachos, burgers, crispy wings, Kiwi-style fish and chips, and lamb shank are some of the lunchtime items.
Providing delicious chow for Rotorua residents and visitors since 1995, Fat Dog Cafe & Bar operates daily from 7 AM and closes around 3 PM.
Of course, the cafe is pet-friendly.
8 – Photograph St. Faith's Anglican Church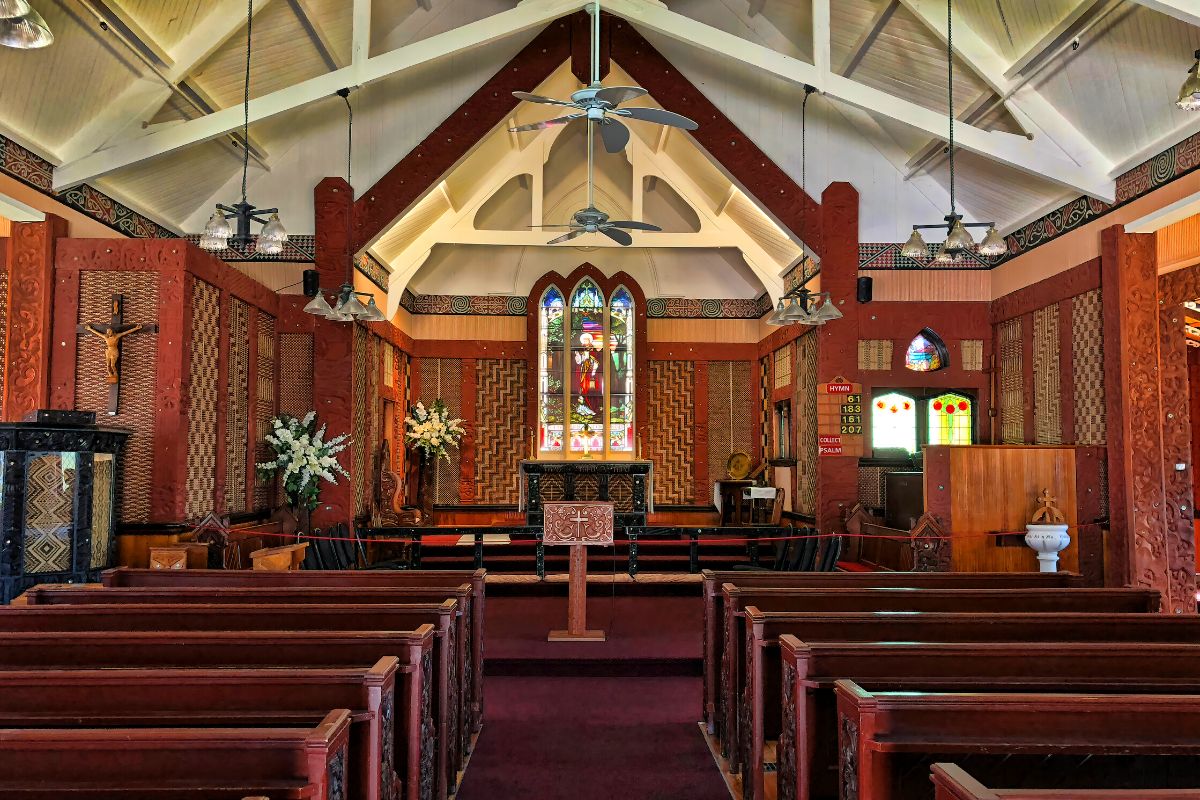 Sitting on the edge of Lake Rotorua and with clouds of geothermal steam emanating from the waters and enshrouding the building in the early morning, even if you're not religious, a stop over at St. Faith's Anglican Church is totally worth it!
The Heritage New Zealand-listed building has stood the test of time with its earliest foundations dating to 1885. After the land was gifted by Ngāti Whakaue, it was decided to build Rotorua's Christian worship house and construction of the church began.
Initially, it was known as Te Hāhi o Te Whakapono – The Church of the Faith, but underwent a name change to its current title in 1914.
As the 1960s arrived, St Faith's was refurbished and renovations added, including extending the building to accommodate the growing crowds.
One of its standout features is the church's fusion of Māori and European design, which you'll notice immediately in its structure. St. Faith's remains open for weekly mass.
9 – Day trip to the spectacular Waitomo Glowworm Caves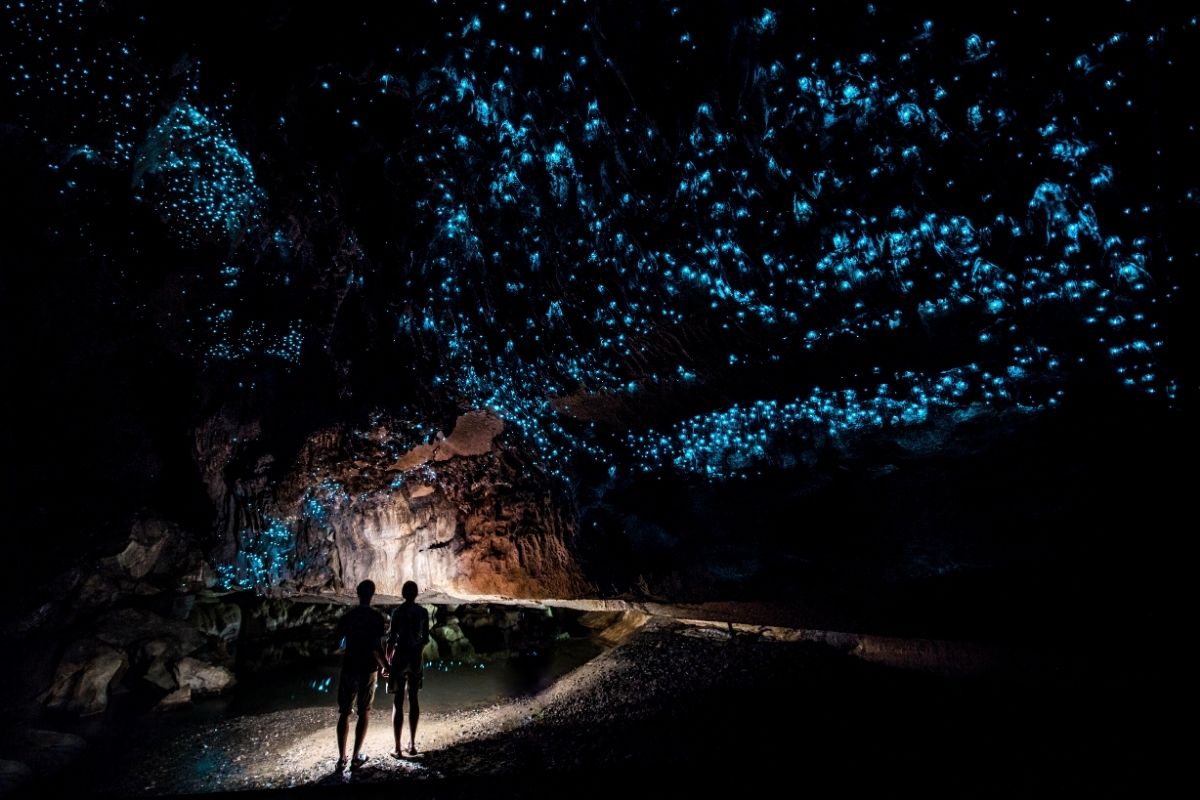 One of the most unique things to do in Rotorua and one of the most magical sites to witness in person on the North Island, the Waitomo Glowworm Caves have to be seen to be believed!
This special grotto is millions of years old and the natural phenomenon was first discovered by Māori ancestors. Today, tours are led by a Māori chief who shares the history of the caves and the surrounding area as well as stories and legends about its first explorers.
Arriving at the caverns, you will enter a two-level darkened cave. The upper part is dry land dripping in stalactites and other intriguing natural rock formations, but you will need to enter the second bottom level to observe its glorious glowing attraction.
It's here that you'll uncover hundreds of glistening Arachnocampa luminosa (native New Zealand glowworms) sparkling from the grotto ceilings and walls. It's unreal!
Don't just gag over the glowworms from the sidelines … You can choose to go kayaking on the water through its passageways, heading deep into the cave, and when far away from light, it's the best way to see (and photograph) the site.
Alternatively, get even closer to the luminescent creatures with a stand-up paddle (SUP) tour. Instead of staying seated, you'll be standing and inching higher to the ceiling.
Situated in Waitomo, it's a one hour and 50 minutes drive from Rotorua deeming it an ideal day-trip locale. The only way to venture through the caves is with a guided tour.
10 – Whizz down the Rotorua Luge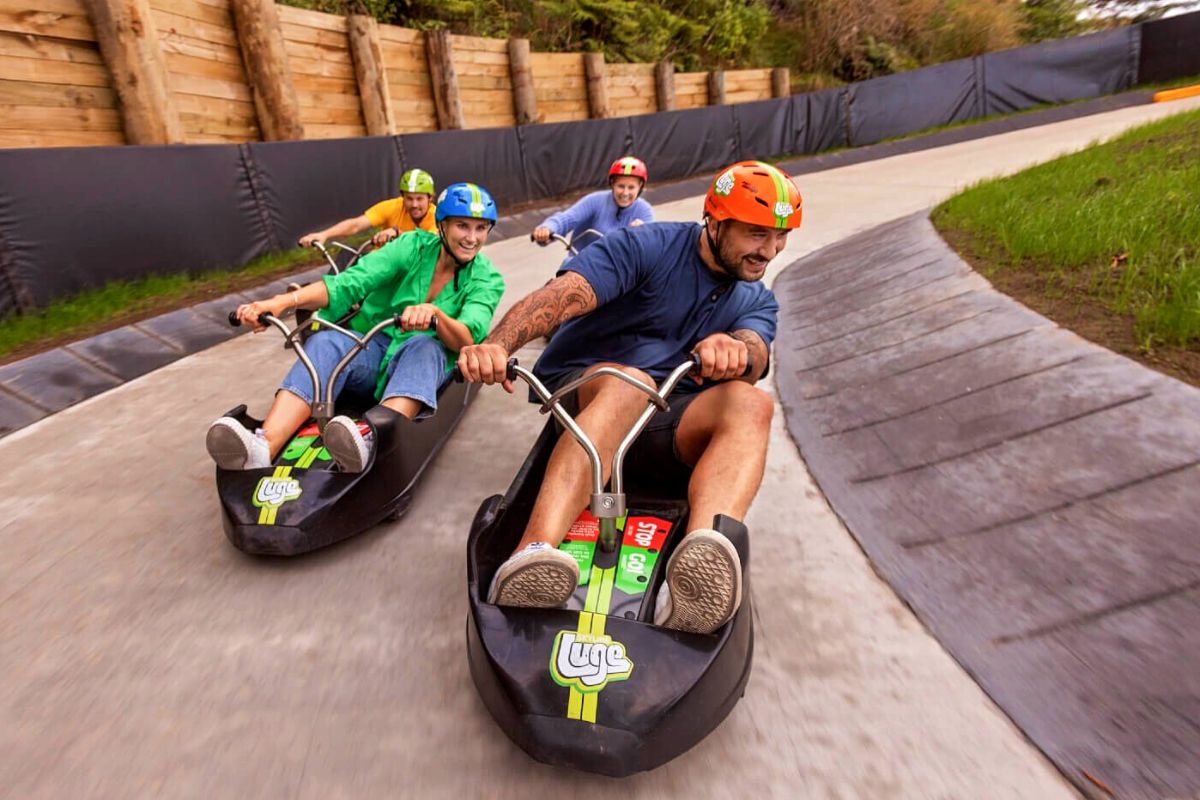 Have you ever tried luging before? Rotorua Luge is undoubtedly one of the top places to try it out … You do get to ride the longest luge track in the entire world after all!
How does it work? Hopping into a special luge cart (think of it like a mix between a toboggan and a go-kart), you'll rely on the forces of gravity to pull and steer you along a specially built luge track using a one-of-a-kind braking system.
Located at the top of the Skyline Rotorua gondola complex; descend your way down the 7.3-kilometer-long track filled with all sorts of crazy twists and turns to maneuver. Useful to know, you don't have to complete the entire course, and in fact, it's divided into separate tracks which you can individually ride.
These are the Tiki Tour, Ultra, Twister, Gravity and the Legend Luge Tracks.
Cruise down Mt Ngongotaha through LED light tunnels, attempt the chicanes and twist and turn down the corkscrews. For something extra cool, try out the Night Luge! The entire trackway is lit up by 170 colorful LEDs.
11 – Walk in the footsteps of Frodo at Hobbiton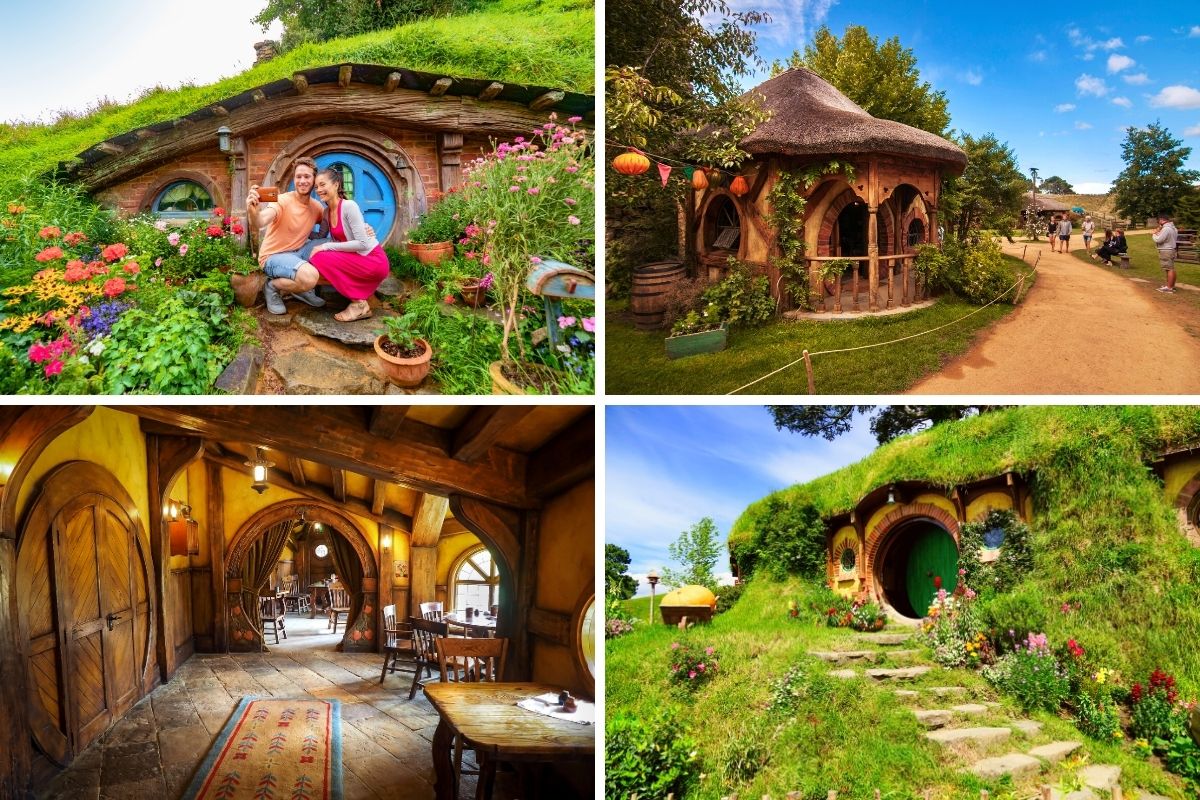 Which of the Lord of the Rings movies is your favorite? With its cult-like status, there are dedicated LOTR tours all around New Zealand — where all three trilogies were filmed — including the actual Hobbiton movie set!
Kept intact since filming concluded in 2002 (and then utilized again for movie production during The Hobbit trilogy), tours became available to the public and since then, crowds have arrived from around the world just to walk in the meadows of The Shire™.
Journeying to Middle-earth, spy the Green Dragon Inn, the Mill, the Party Tree, 44 (reconstructed) Hobbit Holes and many other iconic structures from the movies!
There are multiple Hobbiton tours on offer, extending from two hours to four! The most popular is the two-hour Hobbiton Movie Set Tour which includes a Hobbit Southfarthing beverage at the Green Dragon Inn.
(You have the option of booking a day tour with a banquet feast included, or if you're here in the morning, opt for the Second Breakfast Tour with a breakfast spread inside the Mill House.)
For serious ringers, the four-hour Evening Banquet Tour starts in the day and ends at night filled with all sorts of traditional Hobbit food and drink for your two-course meal.
12 – Check out one of the world's largest National Kiwi Hatchery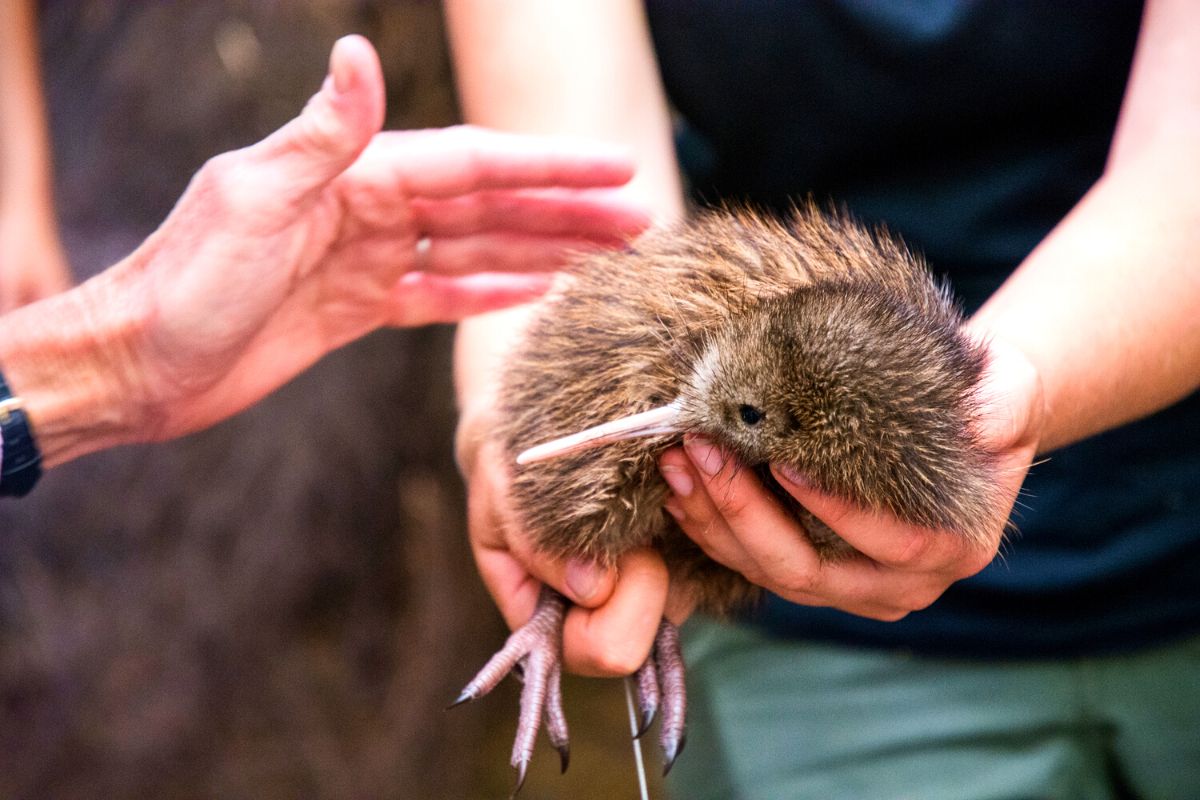 Did you know that the kiwi is New Zealand's national bird, native to the lands and a nocturnal creature?
There are limited places to spot the kiwi because they are nighttime animals, and the National Kiwi Hatchery is one of them. Plus, this isn't your ordinary sanctuary and the wildlife conservation organization's primary focus is on the regeneration of the bird species.
As a dedicated hatchery, they lead the way in kiwi husbandry as well as egg incubation, specifically the brown kiwi eggs commonly found around the North Island.
For an in-depth and educational visit, the kiwi hatchery offers guided experiences, however, bookings (at least 48 hours in advance) are essential for your visit.
During the 45-minute 'National Kiwi Hatchery Experience' you will get to see the incubation facility up close and learn how kiwi eggs are incubated, hatching techniques and kiwi chick rearing processes.
A one-hour 'Behind the Scenes Exclusive' experience is slightly more involved as you have the opportunity to enter "behind the glass" inside the actual hatchery area — usually reserved for staff members only.
Don't leave the grounds without visiting the interactive human-size kiwi burrow!
13 – Fool your eyes at 3D Trick Art Gallery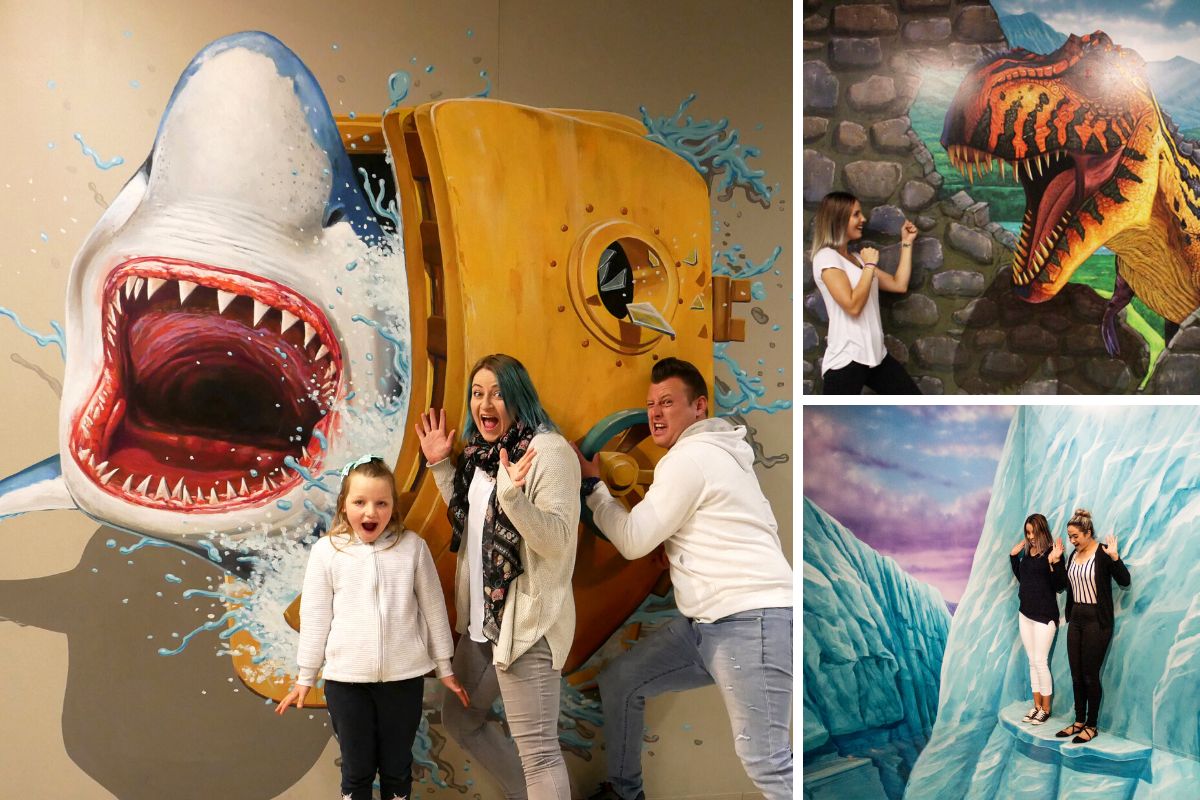 Step into a world of illusions at the 3D Trick Art Gallery — parents, if you're looking for awesome things to do in Rotorua for kids, here's a fantastic option!
For those unfamiliar with the concept, incorporating art and space in a clever way, the gallery is designed to create countless illusions. Presented as a 3D image, you become part of the artwork.
Pretend to swim alongside a dolphin or rear lamas, play a game of rugby (New Zealand's national sport), float away in a hot air balloon, fly over the room, cross over gorges and icebergs and so much more — there are more than 50 trick art paintings!
This museum has been divided into five themes to make navigation easier, and hint at the different types of murals to find among them.
Within the 'Classic Art' spot the "Mona Lisa; " at 'Kiwi Life' explore paintings centered on local history, culture and nature; the 'Challenge' section is where you can "partake" in rock climbing or fly into space; fall into a world of mystics and legends at the 'Fantasy' illusions and appreciate animals and natural wonders within the 'Grand Nature' themes.
14 – Explore Hell's Gate Geothermal Park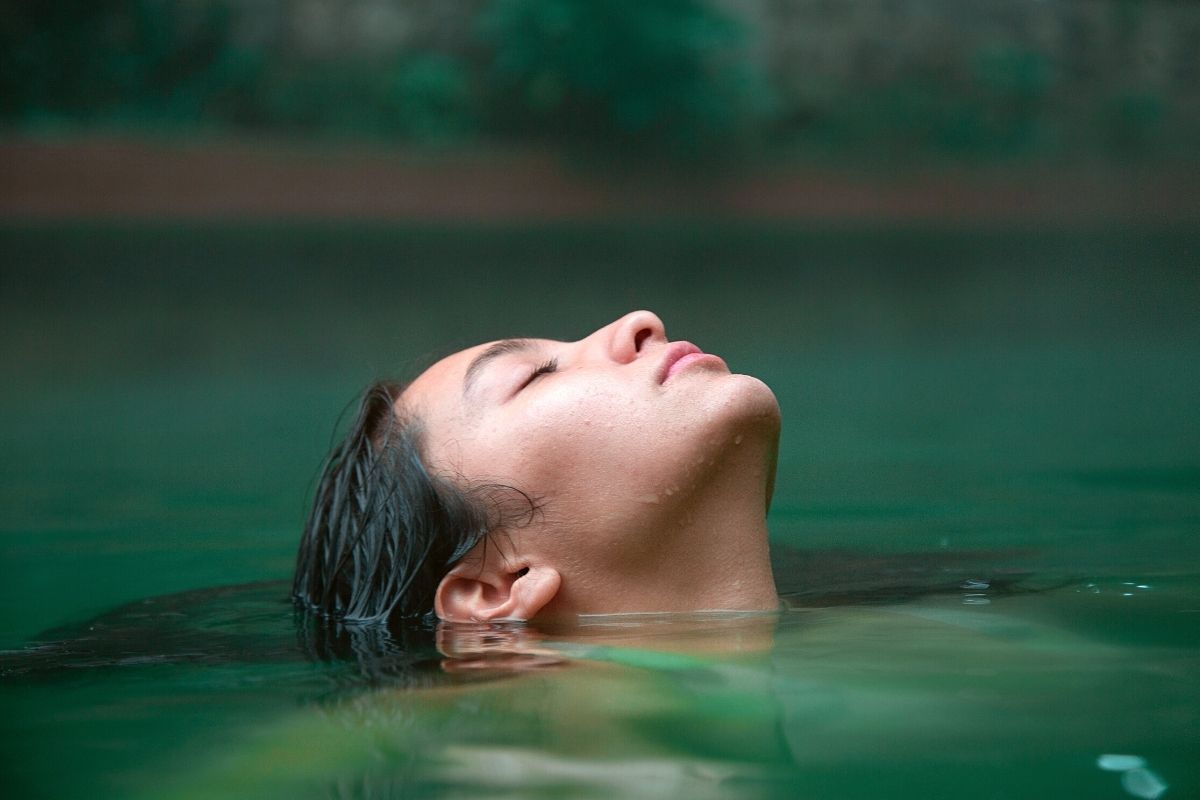 As the god of the volcanoes, earthquakes and the seasons makes his rumbles and roars up above, the earth below bubbles and fumes in unison … as the local Māori legends go.
Also known as Tikitere, Hell's Gate is one of the most sacred sites around these parts and is enshrouded in plenty of ancient stories and mythical tales — but this isn't even the best part!
Formed hundreds of years ago, it was in 1871 that the idea to utilize the natural thermal formations as a spa destination came about. Since then, thousands have taken advantage of the geothermal and mud pools in the area.
Stroll around the pools at your leisure or enjoy a guided tour, then rejuvenate your body, mind and soul in the therapeutic mud baths or, take advantage of the waters' natural healing powers inside the sulfur spa pools.
There is also a cold plunge pool if you feel yourself overheating, as well as three walking tracks for you to review your surroundings even further. These include a 600-meter trail (25 minutes to complete), a 1.5-kilometer path (roughly 45 minutes) and the two-kilometer track is one hour to walk. En route, be sure to look out for traditional Māori carvings!
The Hells Gate Geothermal Park isn't the only place where you can enjoy these natural spas in the area and there are others, for example, the Polynesian Spa.
15 – Meet apex predators at Paradise Valley Springs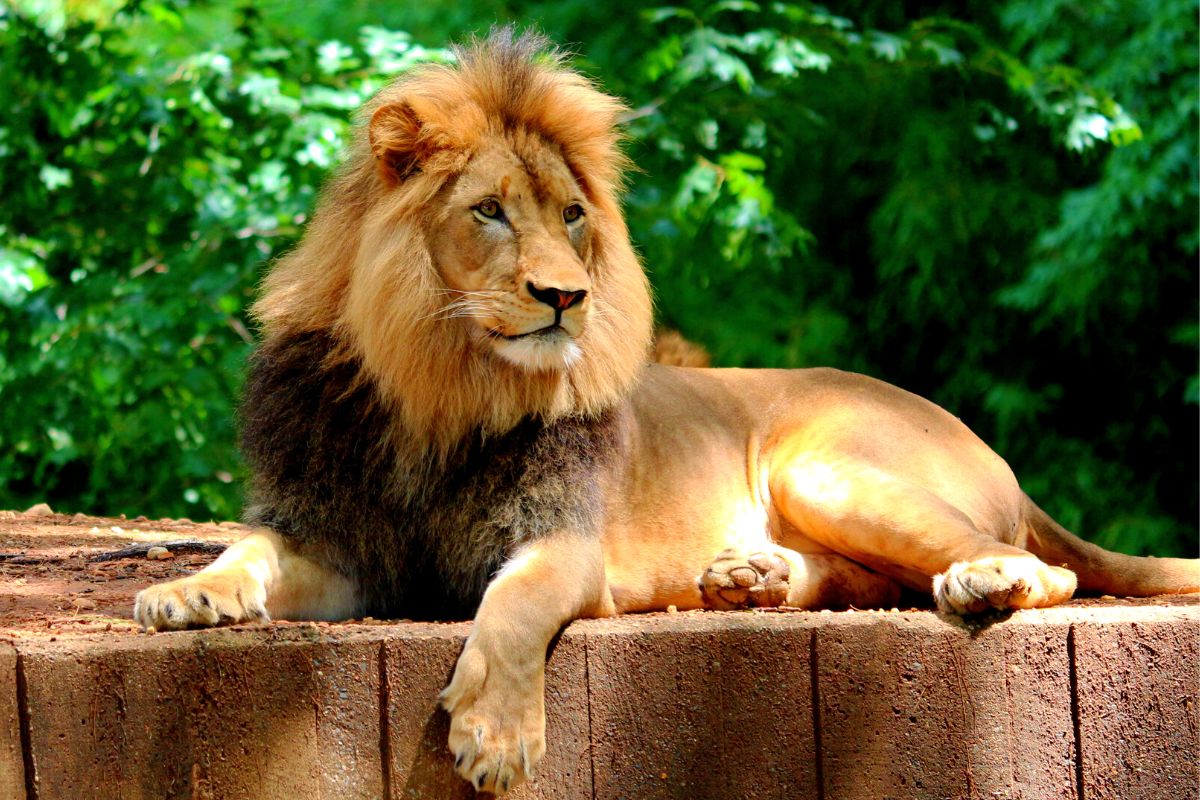 What first started out as a tiny freshwater trout spring has evolved into so much more in Paradise Valley Springs' near 100 years of existence, and today, is a top destination to spend some time appreciating wildlife animals.
Established in 1939; circa 1975 and the idea of the animal park was introduced. Welcoming animals that have been found in the wild or rescued from around New Zealand, primarily find mammals and birds now native to the land.
Set up on a 20-hectare space, expect to see alpacas, deer, wallabies, possums, donkeys, llamas, tahrs, emu, pukekos, keas, ducks and plenty other furry and feathered friends.
One of the highlights of a visit to the wildlife haven is the chance to witness a pack of African lions in person! The first cub was born here in 1986 and the OG trout spring is still around. Today, all of the lions that are part of the pride have been born at Paradise Valley Springs.
The lions, however, are housed in a separate part to the main animal areas, as they require more space to move and roam. If you're lucky, you may even see a newborn!
Kids especially love it here and you can join the feeding programs (food available for purchase from the farm).
16 – Trek (or fly to) Mount Tarawera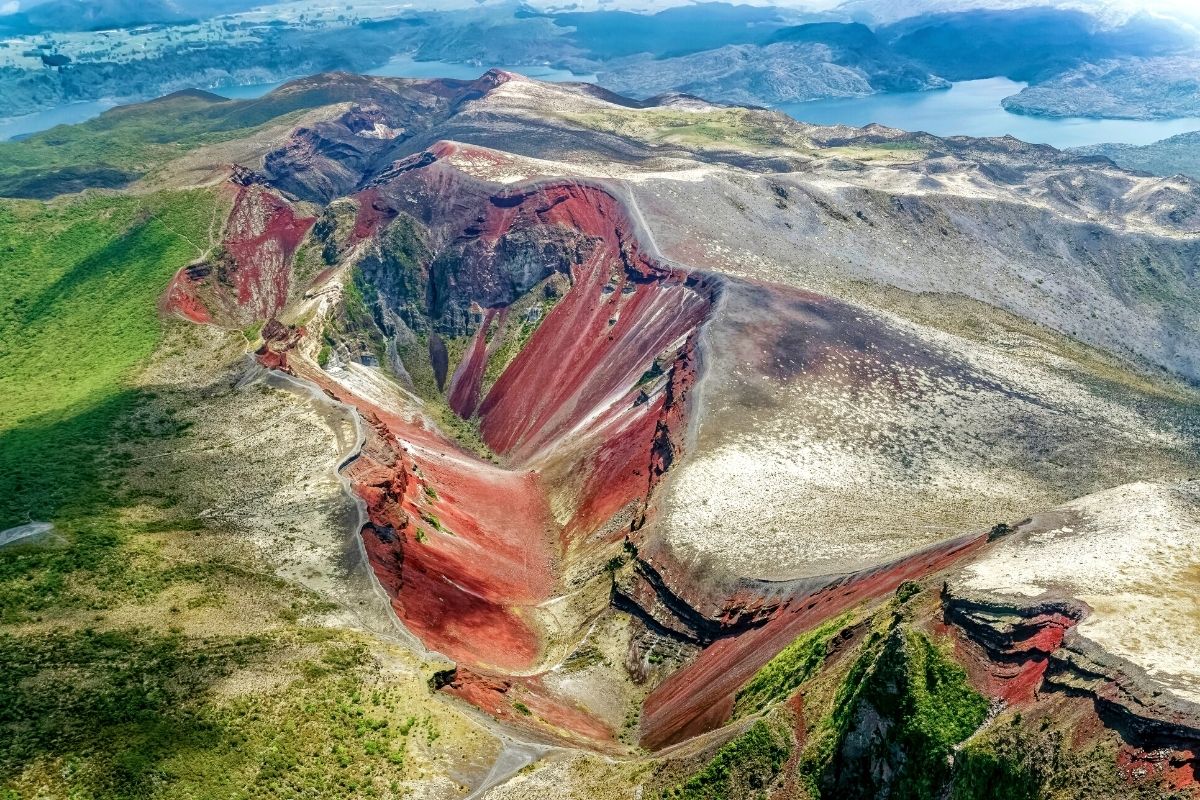 In a country laden with volcanoes, add Mount Tarawera to the list of must-see mountain ranges on the North Island — last erupting in 1886, it's one of the safer extinct plateaus and its caldera now chambers one of the most picturesque lake settings near Rotorua.
When the tragic incident occurred, local villages, flora and fauna were all destroyed in its quake, and interestingly, the years to follow saw the flourishing of new terrains begin to take shape, including geothermal activity.
The area as we now know it is called the Waimangu Volcanic Valley and there are plenty of things to do around Mount Tarawera and its Lake Tarawera.
Hiking from the base of the mountain is ultra popular and an incredible way to explore your surroundings, offering routes for all skill levels.
Start at the base and make the summit to the top, choose a trail around the lake instead, or opt to meander around the geothermal valley.
If you're dead set on making it to the top of the volcano, guided tours are non-negotiable and you cannot trek the mountain alone. For those that want to make it up but aren't much of a hiker, consider helicopter tours!
Ranging from 40 minutes to one hour, fly above the summit and then land on the mountain for up-close views with time on the ground to check out the surroundings.
17 – Feel like Tarzan and Jane when zip lining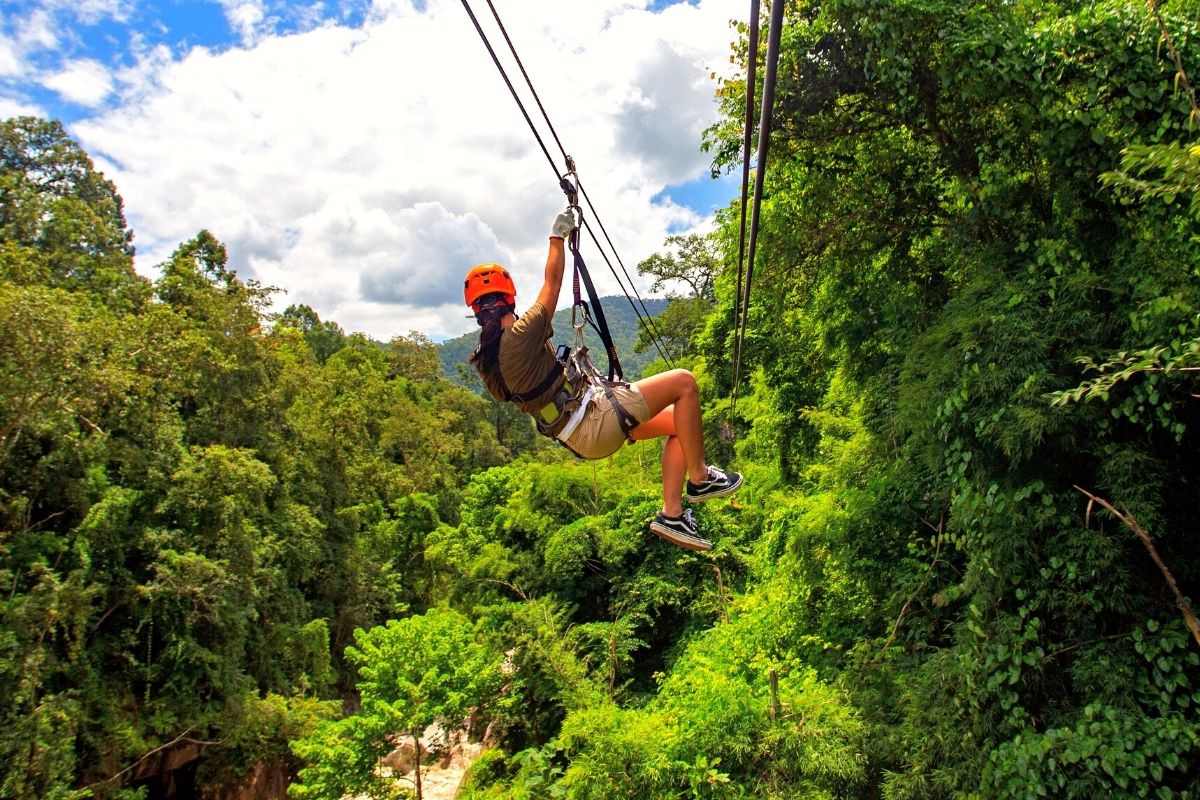 Ever imagined what the life of a monkey must be like? Or a bird soaring above it all? Zip lining is one of the coolest ways to see how our wildlife live on the daily as well as sweep up vistas from atop (without having to jump out of a plane).
Thanks to Rotorua's lush landscapes, you can enjoy this adventure-packed activity in the heart of a centuries-old forest with Rotorua Canopy Tours.
Over the course of three hours, make your way through six various lines totaling 1.2 kilometers worth of zipping from tree to tree 22 meters above the ground. The longest cableway is 220 meters! The expedition also includes crossing a few swing bridges.
A second option is to try out the activity with Rotorua Ziplines. Here, there are four zips to tackle and during the 2.5-hour adventure, you'll cruise over three waterfalls including Tutea Falls and Ōkere Falls and native forestry.
Before anything, you'll undergo a mandatory safety briefing and all necessary gear is provided.
18 – Uncover the Buried Village of Te Wairoa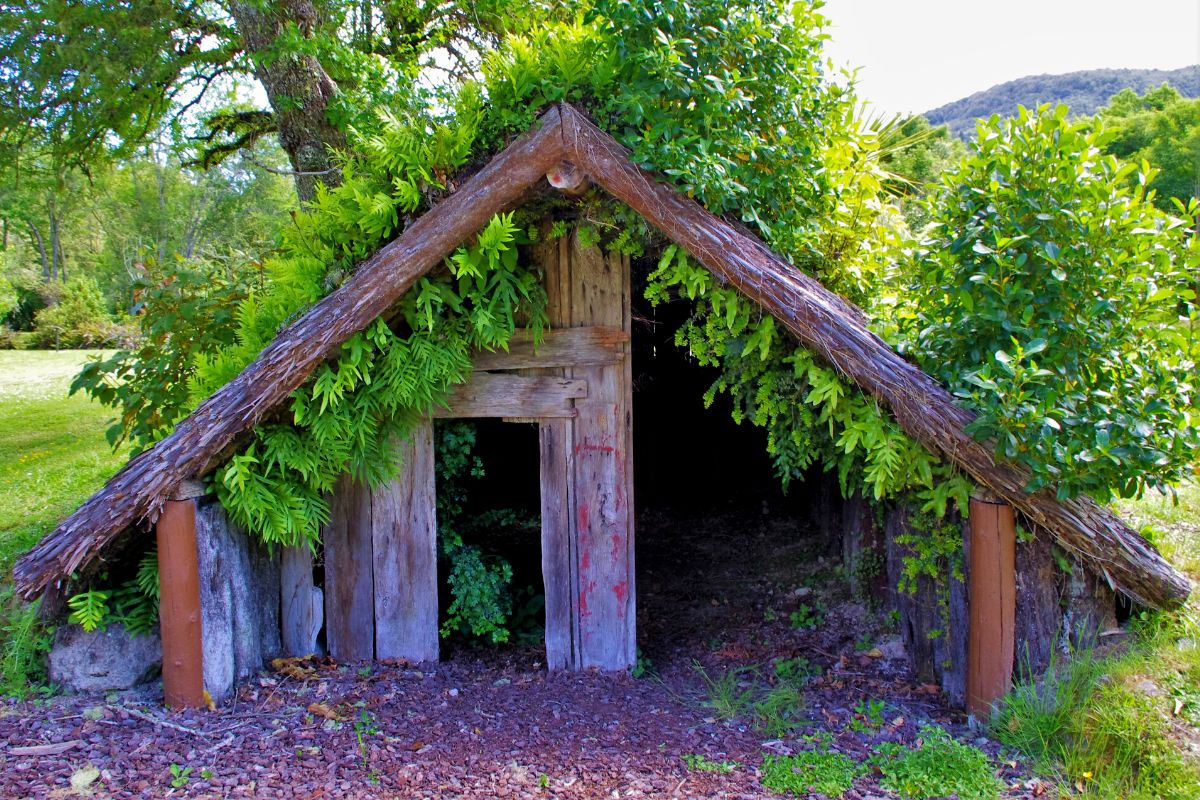 Rewind in time to the year 1849 and an entire village (known as Te Wairoa) once stood near Lake Tarawera. Founded by a Christian missionary, the small hamlet contained a church, school and a mill, however, the village didn't survive for long.
When June 10 1886 came along, the eruption of Mount Tarawera not only altered the natural typography but many villages were also destroyed in its quake, including Te Wairoa. As the mountain exploded with lava, the homestead became enshrouded in molten and ash, mud reaching two meters deep, caking the whole of Te Wairoa and sadly claiming most lives.
Since then, the Buried Village has become one of New Zealand's most revered historic archeological sites — the famous Pink and White Terraces (back then dubbed the "eighth wonder of the world") were once here but were also destroyed.
Arriving here today, start off the visit at the Museum of Te Wairoa to see a permanent collection of relics from the Tarawera eruption as well as artifacts dating to the Victorian era, whilst learning about Māori and European cultures.
For the little ones, stop by the Children's Discovery Room inside the museum.
The Archaeological Site is the main attraction and after the area was excavated, visitors have the chance to check out real structural remains and evidence from the event — with recreated scenes to help paint a clearer picture.
From the site are multiple walking trails including the one to Wairere Falls.
19 – Marvel at Waimangu Volcanic Valley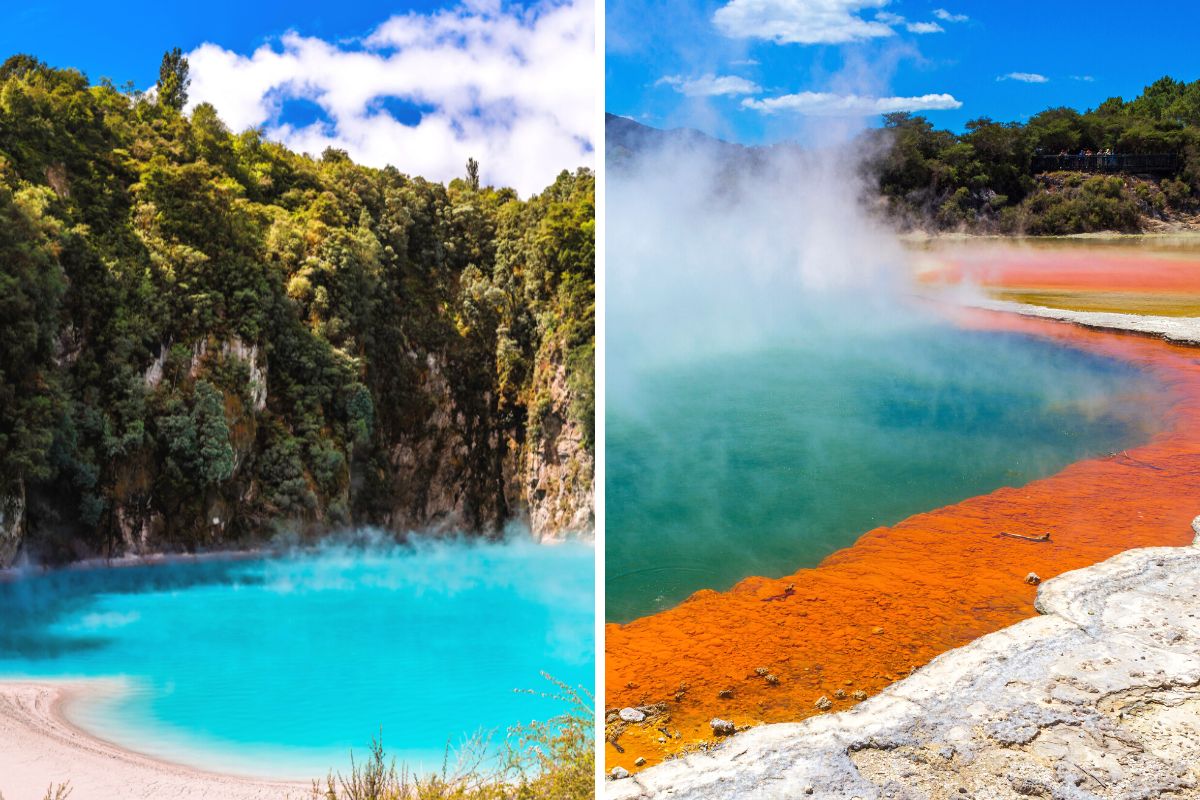 Ladies and gentlemen, introducing the world's official youngest geothermal valley … it's none other than the unique and diverse Waimangu Volcanic Valley where soaking in natural springs, waterfall hikes, lake activities and history lessons are all possible!
Prior to the infamous 1886 eruption causing the explosion of the sleeping Mount Tarawera, the landscape wasn't known for its geothermal properties, but it was the iconic event that changed everything.
From water springs to craters to unusual plant species, all of these and more only began to form after the volcano erupted. Now, there's an entire natural wonderland to explore!
There are walking trails (ranging from 1.5 to 4.5 kilometers) through the valley, passing Lake Rotomahana, hot springs and the two famous craters; Inferno Crater and the Frying Pan Lake — the largest hot spring around the globe!
At Lake Rotomahana, kayak the waters and spot the special wildlife and flora that is able to grow and survive the post-eruptions, or opt for a relaxing 45-minute cruise around the lake instead.
A second option is to visit Wai-O-Tapu where you can spot the famous Lady Knox Geyser and appreciate the hot spring's dramatic natural beauty!
20 – Relax and rejuvenate at the Polynesian Spa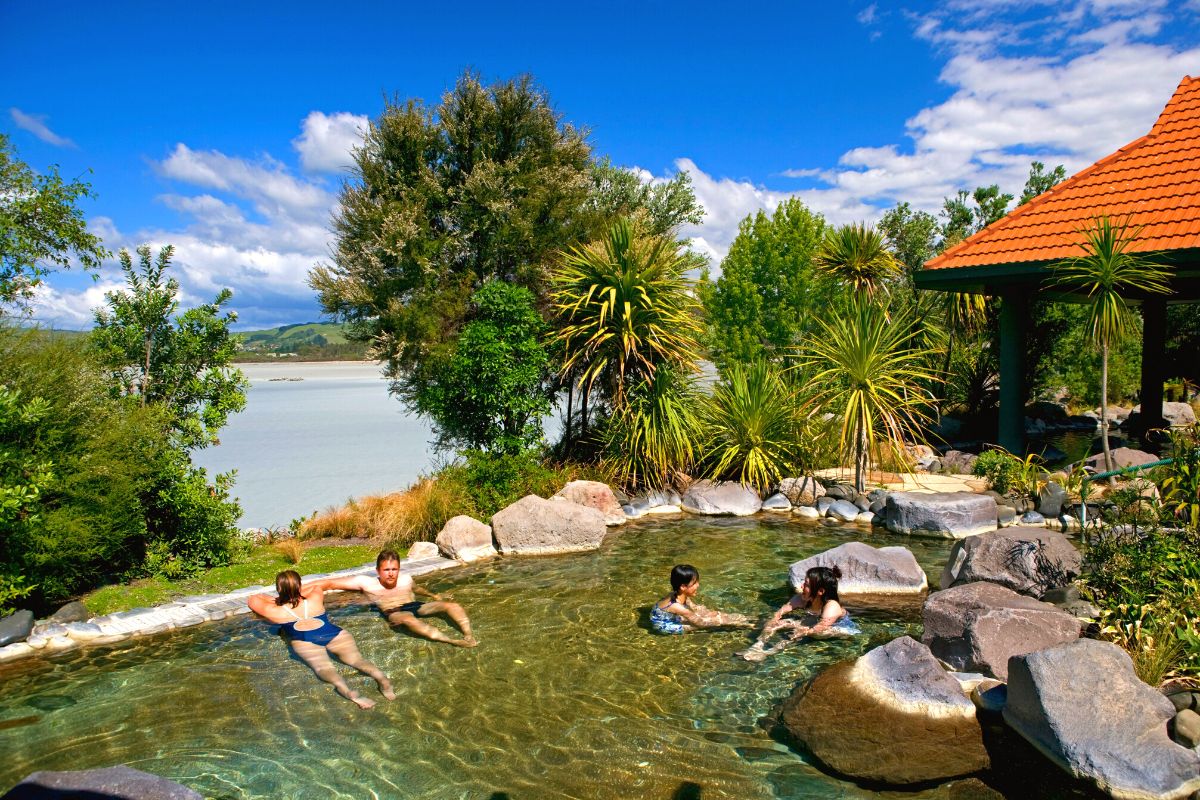 The hot spring action doesn't end there in Rotorua — yay — and out of all of the natural thermal pools, the Polynesian Spa is a travel favorite as you get the opportunity to soak in the heated healing waters yourself!
Get this … There are an impressive 28 hot mineral pools to rejuvenate among which have been divided into three public bathing areas and two private pool spaces.
Plus, there are not just one but two different springs that supply the pools, and each natural source has slightly different properties. These are the Priest Spring and the Rachel Spring.
On the one hand, you can soak in semi-acidic water provided by the Priest Spring (fantastic for relaxing the body and helping to relieve sore joints, muscles and pains), or the alkaline water-filled Rachel Spring helps to nourish and soothe your skin.
The Deluxe Lake Spa is the main area overseeing Lake Rotorua. Discover four shallow Rachel Spring hot pools here and one Priest Spring hot pool as well as a cold plunge pool for hot-cold hydrotherapy.
Walk the reflexology pathway at the adults-only Pavillion Pools comprising three Priest and three cascading Rachel Spring pools reaching temperatures of 40 degrees Celsius.
The Lake View Private Pool and Sky View Private Pool are both more intimate options and you have the hot spring all to yourself, or if here with the little ones, take a dip in the family swimming pools.
21 – Visit the Wingspan National Bird of Prey Centre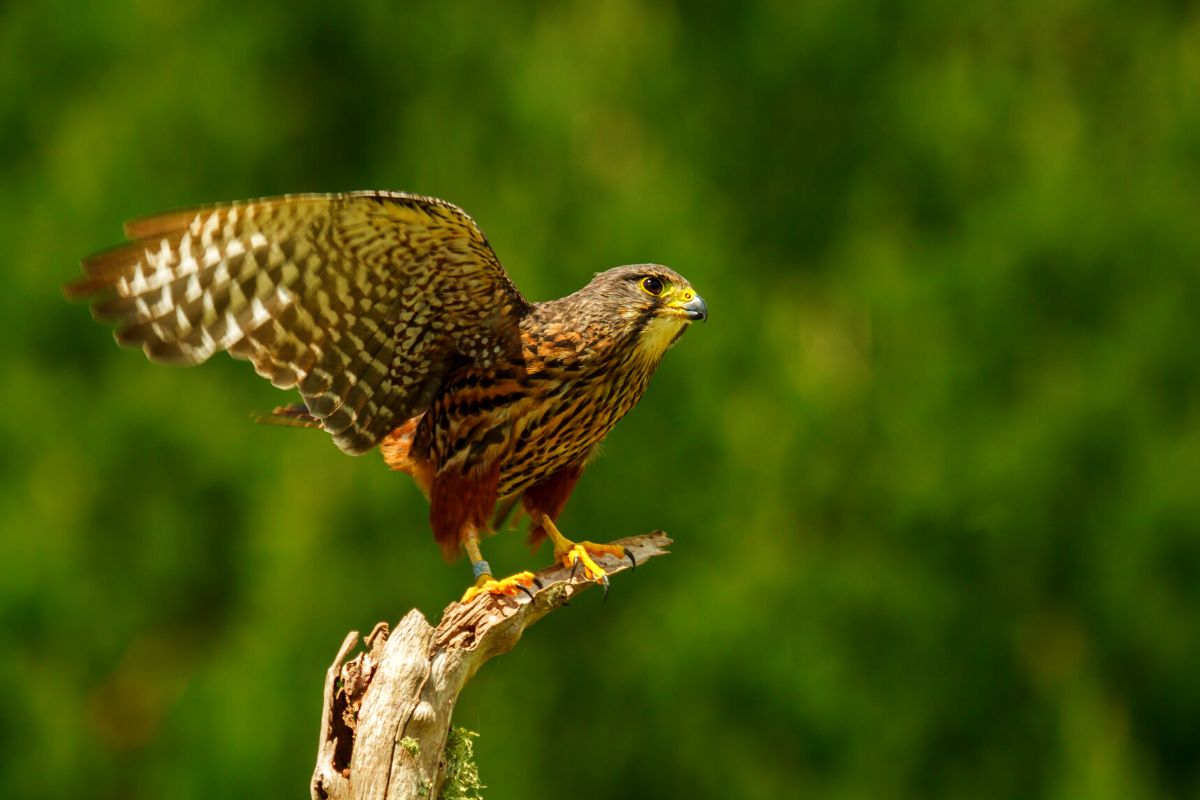 New Zealand truly treasures its wildlife. If you're obsessed with majestic eagles and falcons, a stop over at Wingspan National Bird of Prey Centre allows you to appreciate these incredible feathered creatures from ground level.
The dedicated conservation, education and research organization rescues and rehabilitates birds of prey, releasing the animals back into their natural habitats once they are fit to fly and survive on their own.
Established in 2002, one of its primary focuses is on the kārearea, i.e. the New Zealand falcon, and visitors can learn all about the bird and see it in person during the 'Flight of the Falcon' experience.
Other raptors to spot are the swamp harrier, morepork owl, barn owl, black kite, white-bellied sea eagle and others.
During flight displays, get schooled on the old-age practice of falconry where you'll witness how the birds fly and hunt, as well as unique falconry techniques.
Apart from nursing injured birds back to health, the conservation center is involved in special breeding programs, helping to promote the regeneration of the kārearea, and releasing the bird of prey into the wild once it is ready to leave the nest.
 22 – Go rafting on the Kaituna River
One of the most exhilarating things to do in Rotorua is to go rafting on the Kaituna River and a little (or a lot) of bravery is required for this next endeavor.
Home to the highest commercially rafted waterfall IN THE ENTIRE WORLD, prepare yourself, your heart rate and your adrenaline as you soar down the seven-meter-high Tutea Falls in a boat with the rest of your crew!!!
Boasting Class III to V rapids, enjoy three hours cruising down the top half of the Kaituna River and putting your whitewater rafting skills to the test.
Quite daunting for some, you don't need to be a professional rafter for this one, and even if you're a beginner, you can get involved as the activity is entirely guided.
You'll receive a full-on safety briefing before starting and all necessary equipment such as helmets, wetsuits and booties are provided.
If the Kaituna River sounds too hectic, the Rangitaiki River is a second option. Although you'll whitewater raft down a longer stretch, its Class III and IV rapids aren't as intense as Kaituna.
23 – Feel worlds away at Hamurana Springs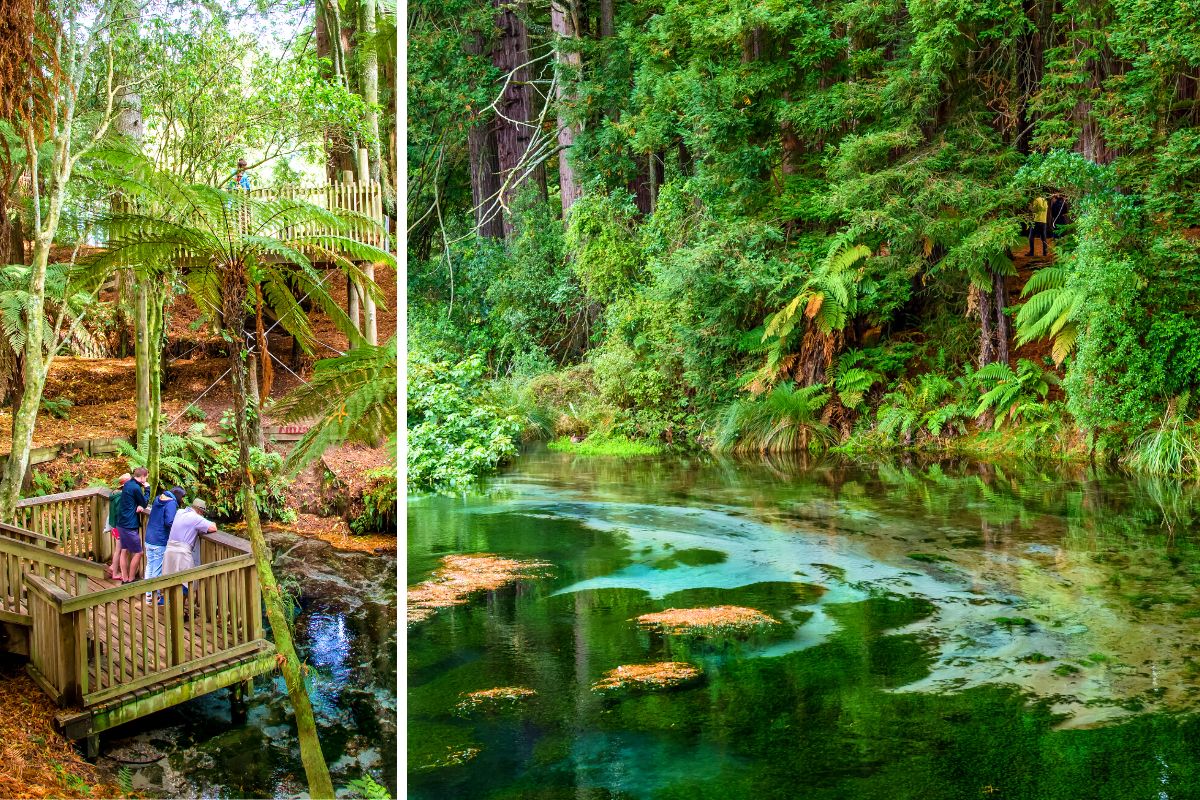 Fairyland or nature reserve? You'll find yourself asking the same question the moment you set foot inside the magical Hamurana Springs.
Officially a taonga (a Māori treasure), the area used to be a tribal settlement of the Ngāti Rangiwewehi, and whilst it's no longer a settlement, the land still belongs to the Ngāti Rangiwewehi people.
Known as Te Kaikaitahuna, the natural spring became a tourist hotspot during the 19th century as the masses flocked to marvel over its crystal-clear fresh waters reflecting back mermaid shades, and even on a cloudy day you can see right to the bottom of its shallow waters.
Ferns enshroud the shoreline and tall skinny trunks stretch high above covered in moss … There is a wooden boardwalk sporting various leisurely trails around the spring — the shortest a 30-minute round loop.
Guided tours provide a more in-depth and educational time at the nature reserve as you pass by important cultural sites that once stood here, as well as gaining insight into Māori culture.
Golfers; there is also a nine-hole golf course on-site.
24 – Embark on bike tours through Whakarewarewa Redwood Forest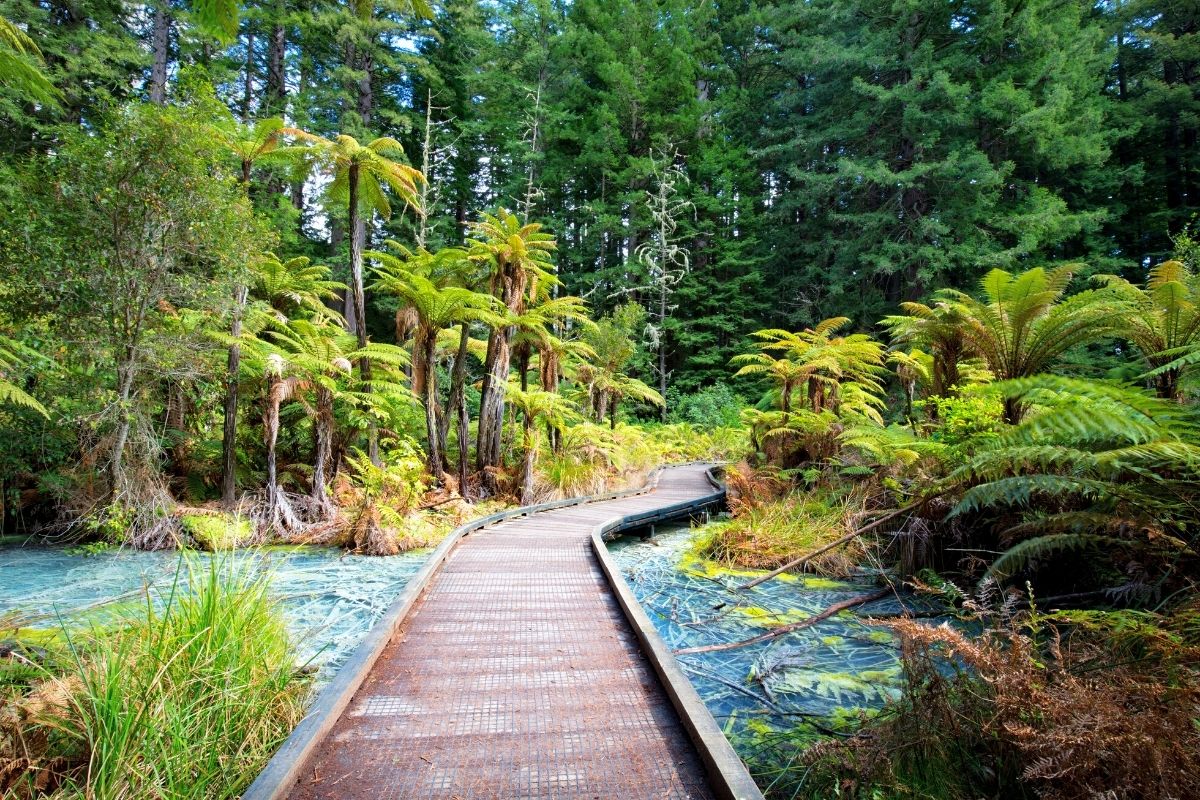 There's a reason why the 1886 eruption of Mount Tarawera still plays a significant role to the people and landscape of Rotorua — take the Whakarewarewa Redwood Forest as a prime example.
Once a Māori settlement, the village and its flora and fauna were wiped out when the volcano broke out. In the years to follow, efforts were put in place by the government to try to rebuild what had been destroyed and tree nurseries popped up where new saplings were planted and grown.
The Whakarewarewa Forest was one of these areas, and today, its 5,600 hectares brim with redwood trees (as well as other exotic species).
What sets this forest apart from the rest? Well, this particular type of tree is part of the Cupressaceae family — many of the tallest trees in the world belong to this genesis — and walking, horseback riding or cycling among the giants is a surreal feeling.
Keen on exploring on foot? There are short walks (the Redwood Memorial Grove track and the Waitawa Walk); long walks (Quarry lookout track, Tokorangi Pa track and Pohaturoa track), and even full-day tramping on the Whakarewarewa Circuit.
For mountain bikers and cycling enthusiasts, there are outlined tracks to suit all skill levels and bike tours are very popular in the forest. Lasting a couple of hours, cover more ground this way and get to see more of the redwoods — the tallest standing nearly 70 meters high.
25 – Fly on the Skyswing Rotorua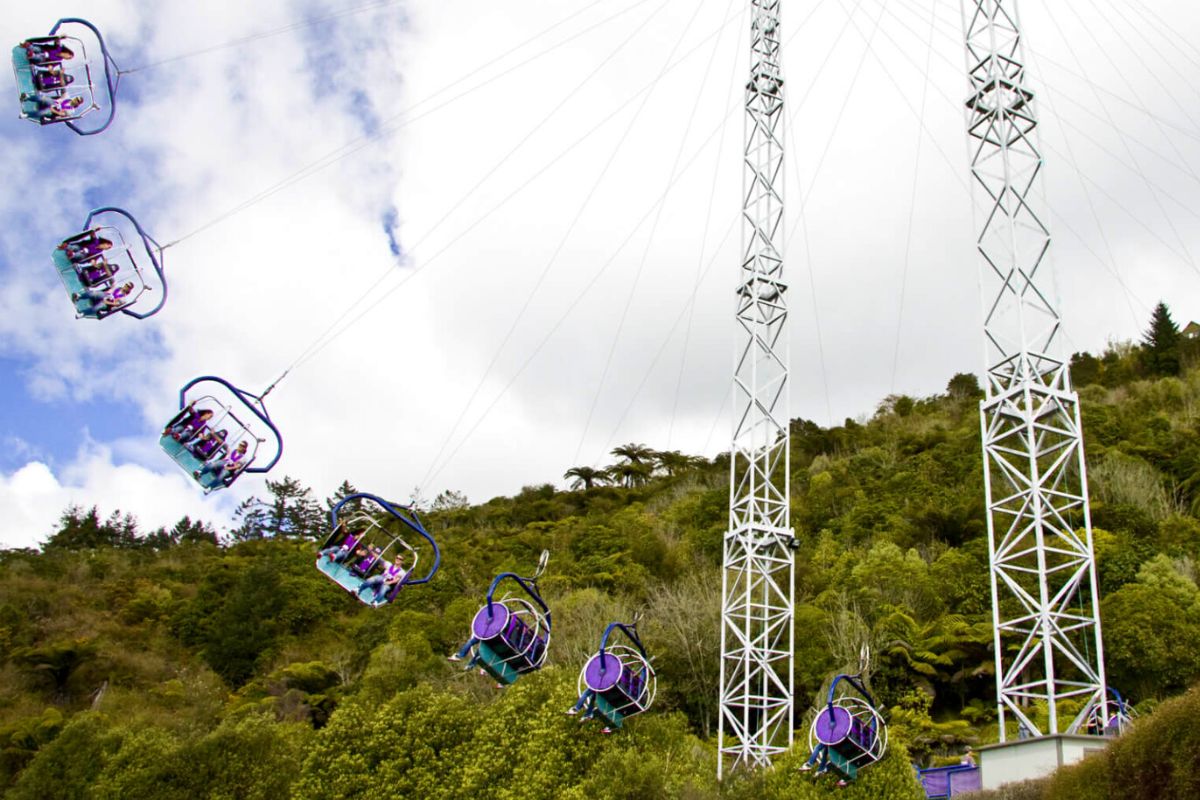 Adventure and nature reign supreme in this town, and the Skyswing Rotorua is another attraction that combines the two in an exciting way!
Providing views, speed and adrenaline-inducing moments; strapped into a three-seater open mechanical swing you'll be catapulted into the air before "death dropping" to the ground.
How does it work? Once you've been harnessed into the chair, you'll be lifted 50 meters off of the ground. Reaching the top, all that's left to do is let go of a release cord and then you'll immediately fly into the air reaching speeds of up to 150 kilometers per hour!
Squeal, spin and laugh it all out on the only skyswing in New Zealand.
The heart-pumping attraction is located within the Skyline Rotorua complex and you can ride the gondola to the top to get here.
26 – Have endless fun at Motion Entertainment Rotorua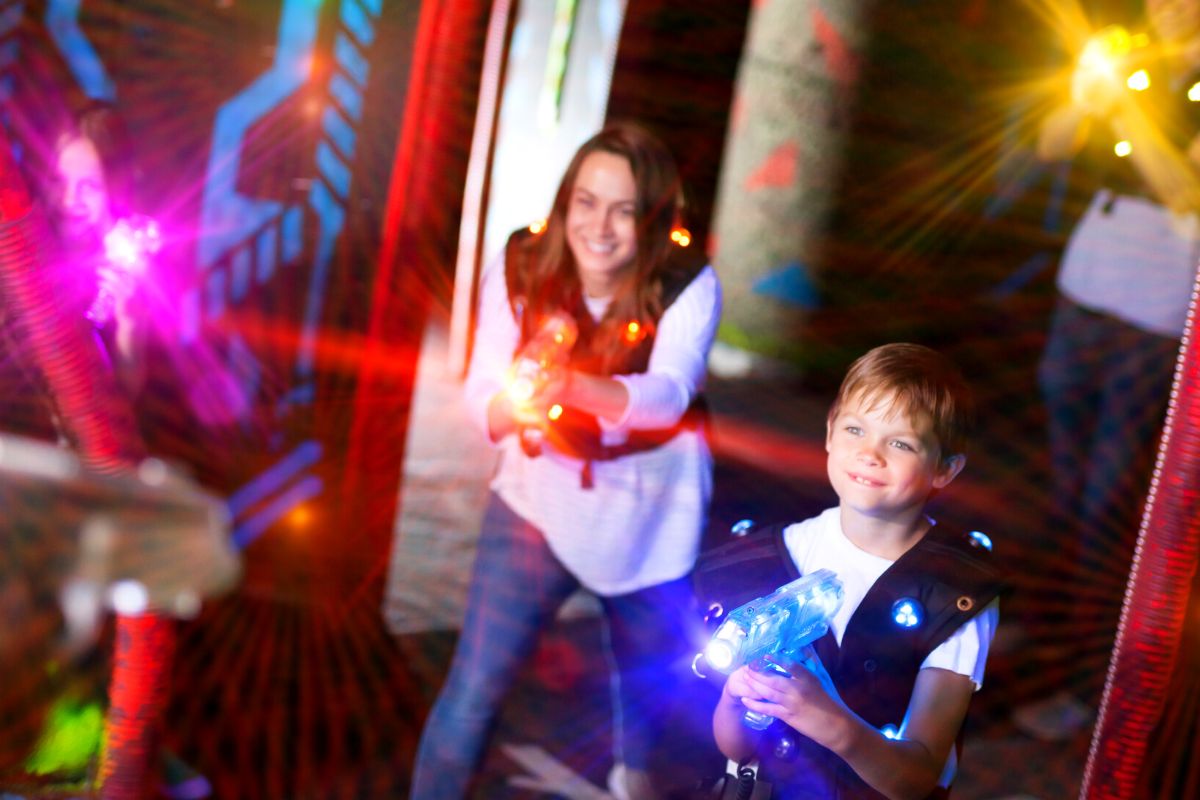 An entire mall dedicated just to entertainment?! Get outta town! Boasting 10 activities and attractions for both young and old, kids never want to leave and adults exit Motion Entertainment Rotorua feeling giddy like children again.
The best part is that all of the attractions are very different and so you'll find something to suit everyone.
Bounce, somersault and show off your tricks at the Xtreme Air Indoor Tramp Park, for example, or show your friends what the big leagues are made of amidst the 14 lanes at the Strikezone Tenpin Bowling.
Help your little one work on their backswing at the lumber mill-themed Mini Golf course (equipped with 18 holes and over 30 obstacles in between), or let them have all the fun on the Mini Cars track.
Fusing technology; put on your glasses and step into a virtual reality at the XD Dark Ride (suitable for all ages, there are different adventures to choose from) or at the Hologate VR world.
Other classics for all include the Megazone Laser Tag arena, Escape Rooms and the Timezone Arcade. Chipmunks Playland is specially designed for those between the ages of zero and 12 years old.
27 – Opt for exciting jeep tours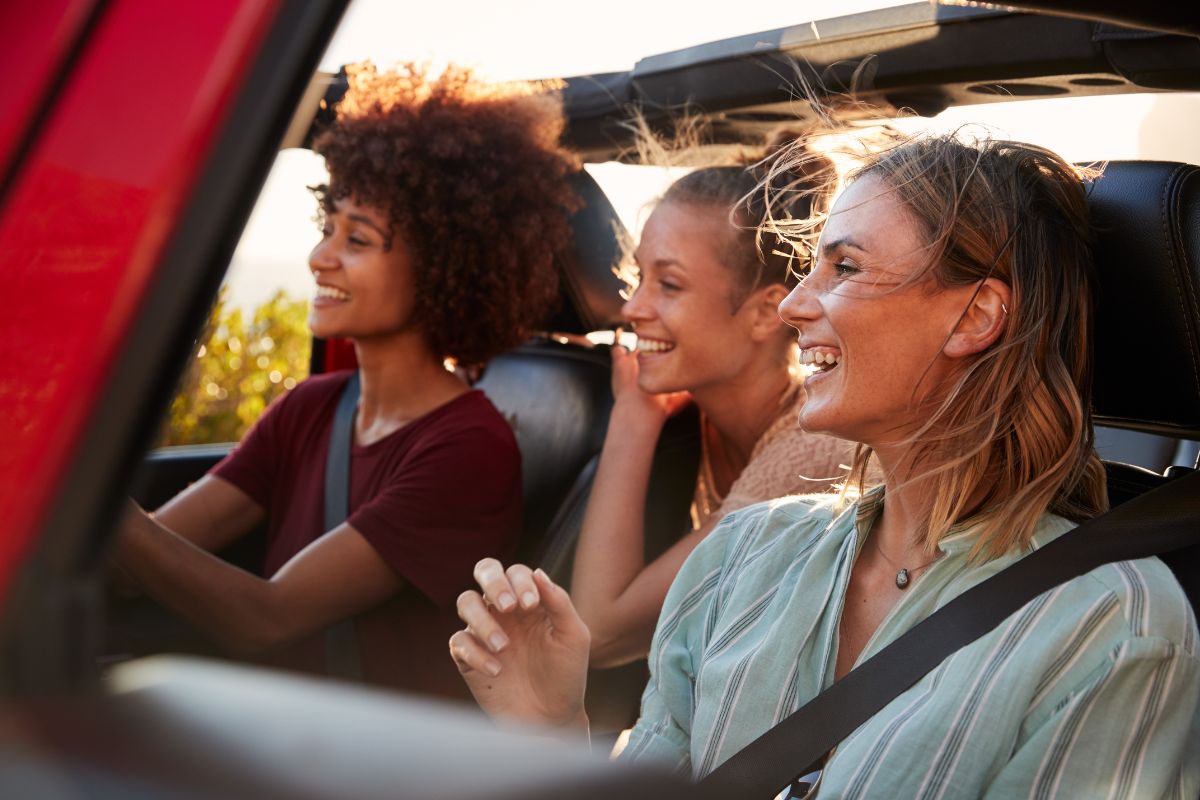 If you're considering jeep tours in Rotorua, there are both self-drive excursions or guided adventures where someone else is in control of the wheel. On the other hand, you can always opt for a ride where half and half are possible if you're hell-bent on driving action!
Ranging from 10 minutes to one-hour-long drives, this is an exciting way to discover the local terrain, nipping through forests and along dirt roads.
For example, hop into a two-seater buggy and over one hour, zoom up the hillsides with a guide driving in front of you leading the way.
Or, opt for a one-hour 4×4 bush safari, tearing up the muddy tracks, crossing water pathways, and veering around compact corners and ultra-twisty bends. Using a two-way radio system, your route is verbally instructed.
Looking for something extra crazy? A Monster 4X4 thrill ride could be the answer! Hopping into an open vehicle designed with a roll cage,  massive tires and mad suspension, amble your way up and down hills and slopes — some super scary! Rides last 10 minutes.
28 – Soak in the Secret Spot Hot Tubs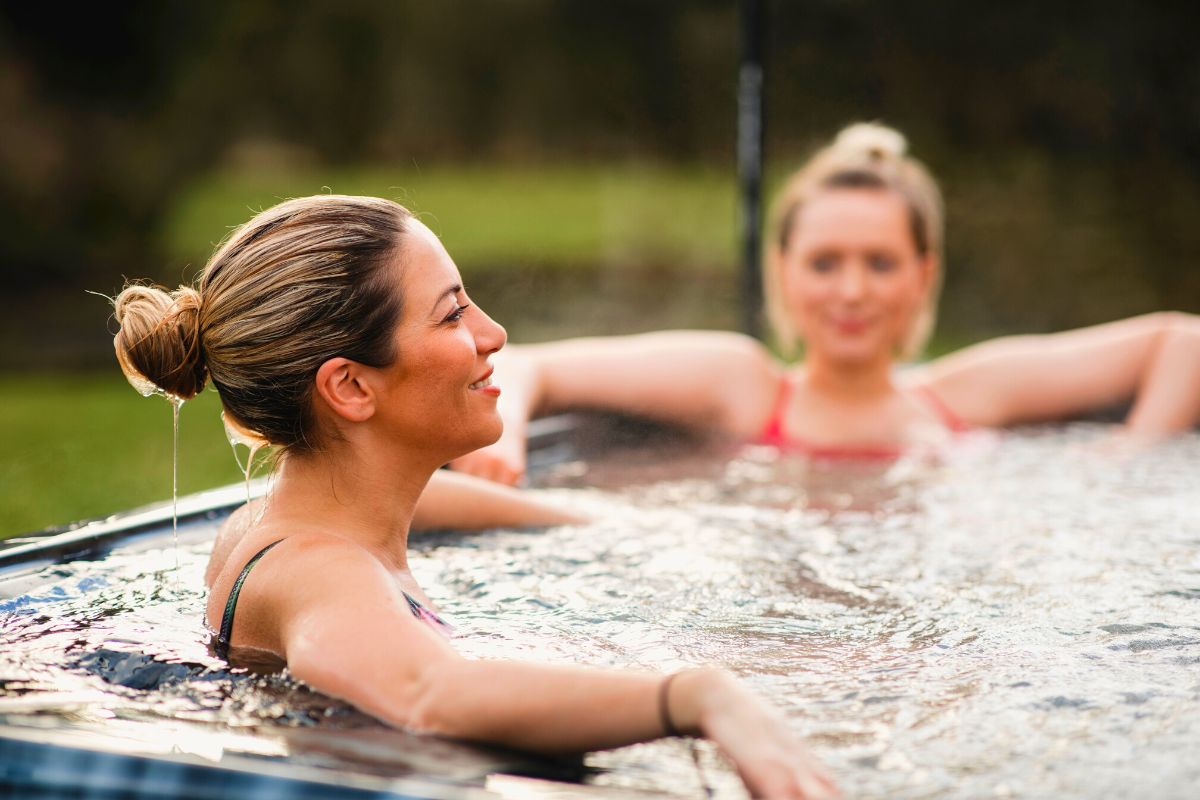 Instagram-worthy dreams are made of these and you'll find yourself gasping as you enter this jungle-laden setting … The perfect couple's daytime retreat, Secret Spot Hot Tubs is naturally, utterly romantic … You're sitting in a hot tub in the midst of lush greens after all …
It's also an excellent option for travelers who want to experience the area's hot spring features but in a more intimate and private setting.
Unwind and let all your worries slip away as you enjoy a 45-minute soak in a gorgeous cedar wood hot tub filled with fresh spring water from the Whakarewarewa Forest — the only difference is they do the heating themselves — reaching temperatures of 39.7 degrees Celsius.
There are also eight 'Shinny Dip' foot tubs to rest your worn-out feet and are available to use at your leisure when purchasing drinks from the cafe, or already included in your hot tub experience.
Tubs can fit up to six people if you're joining as a group, and towels, robes and bathing suits are available to rent too.
29 – Try a zany tour on the unique Rotorua Duck Boat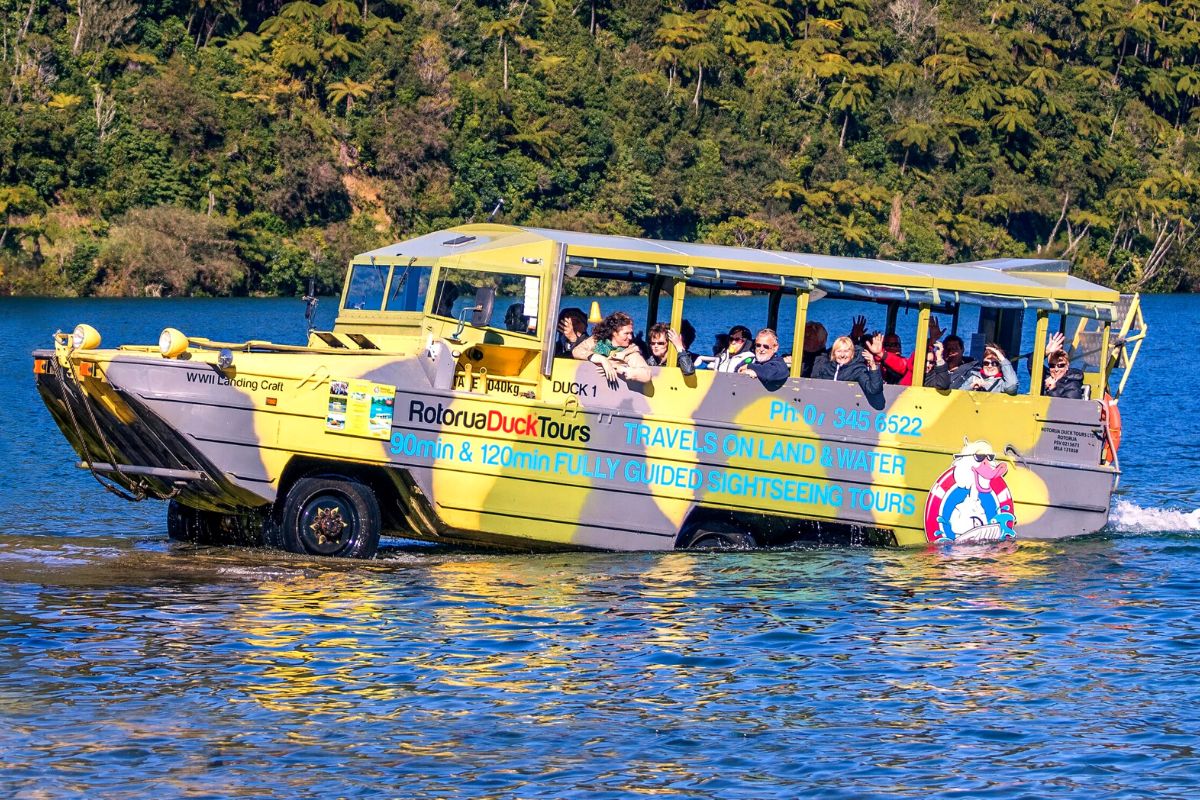 Have you ever boarded a vehicle that can venture on both water and land … just like a duck?! The only tour attraction of its kind in all of New Zealand, get ready for a ride like none other onboard the Rotorua Duck Boat!
Get the best of both worlds traveling via the bus-meets-boat — a real-life former World War II landing craft utilized in the actual war to deliver supplies from ships to soldiers on the shoreline. How cool!
One of a thousand of these special duck boats left in the world; there are two types of tours available.
With the classic 'Rotorua City & Lakes Tour' you begin the city touring part of this journey on land in the prized amphibious vehicle. Veer past iconic landmarks such as the Government Gardens and its Blue Baths, Mt. Tarawera, Sulphur Point, and more before entering the water leg of this whirlwind adventure.
You'll then shift from solid terrain and onto Lake Tikitapu as well as Lake Ōkāreka sailing through wildlife sanctuaries, native forestry and even past fancy schmancy lakeside houses.
Then there's the 'Tarawera & Lakes Eco Tour' option which skips the town sightseeing and heads to the area surrounding the lakes in Rotorua for a tour before disembarking for the waters. Enjoy vantage viewpoints and hear stories of local history and your surroundings.
30 – Visit Blue Spring Te Waihou (it's free)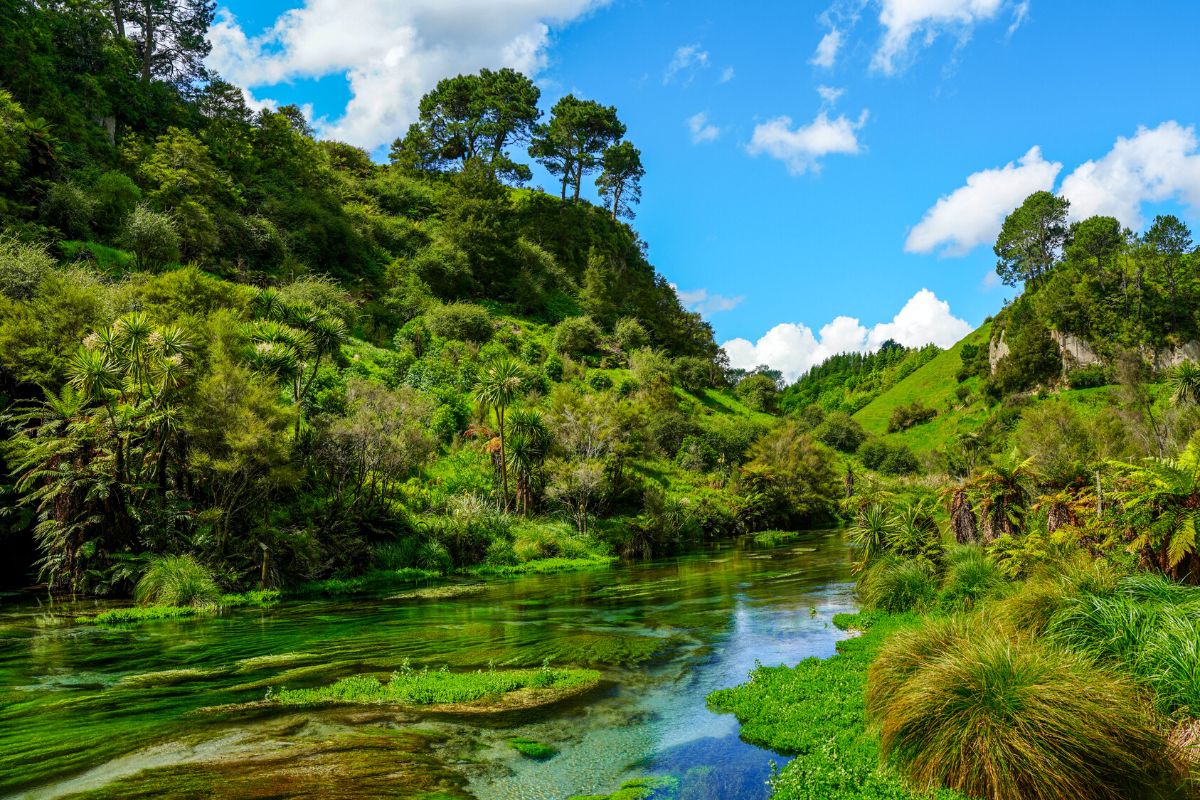 I mean … It's really not hard to see why New Zealand is favored as a movie set destination and Blue Spring Te Waihou is yet one more spectacular natural attraction you just have to see — especially for travelers searching for a bit of inspiration, whatever that may be for you.
Thanks to special filtration methods that have been implemented here for the past 100 years, the water is not only insanely clean but it is like "wow" factor crystal-clear. This means its underwater world is so distinctive it makes it mesmerizing. The ultimate way to take it all in is via the Te Waihou Walkway.
The trail totals 4.7 kilometers and if you plan on walking the entire route there and back, it takes roughly three hours — after a while, you'll pass the Blue Spring and continue alongside the picturesque river.
Located near Putaruru, there is a short 15-minute walk from the car park area (on Leslie Road). Swimming in the spring is forbidden but further down the river feel free to cool off here.
31 – Walk with giants at Redwoods Treewalk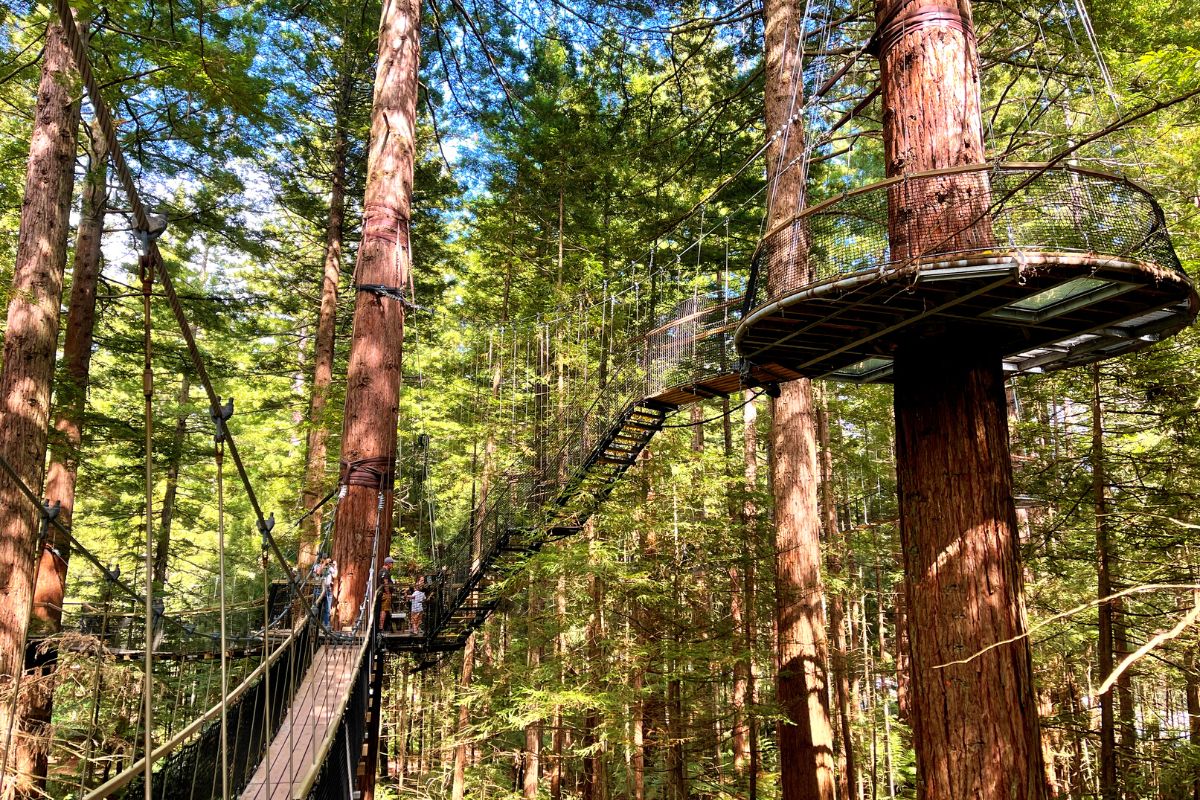 Whether you arrive at the captivating Redwoods Treewalk in the crisp early morning, afternoon time when the birds are out singing, or the evening when this suspended walkway and its forest are lit up in colorful dazzling lights, you'll be sure to fall in love with the scenery — nevermind the amazing photographs to snap here!
With 120-year-old redwoods towering into the sky and fairy ferns nestling the tall trunks, this is one walk not to be missed.
Designed with a whopping 28 swing bridges and 27 platforms (each varying in height between nine and 20 meters off the ground), you'll cross 700 meters in around 40 minutes through the forest.
Other than the Daytime Treewalk there is a special Nightlights Treewalk where you'll be guided by bright lights and neons built into the pathway and trees as well as 37 lanterns dangling above you.
Also here is Redwoods Altitude and it's a separate activity from the Treewalk. Boasting three flying foxes, two spirals and 25 bridges; zip, fly and walk the 650-meter-long course for a little extra adventure.
32 – Enjoy a scenic flight over White Island and Whale Island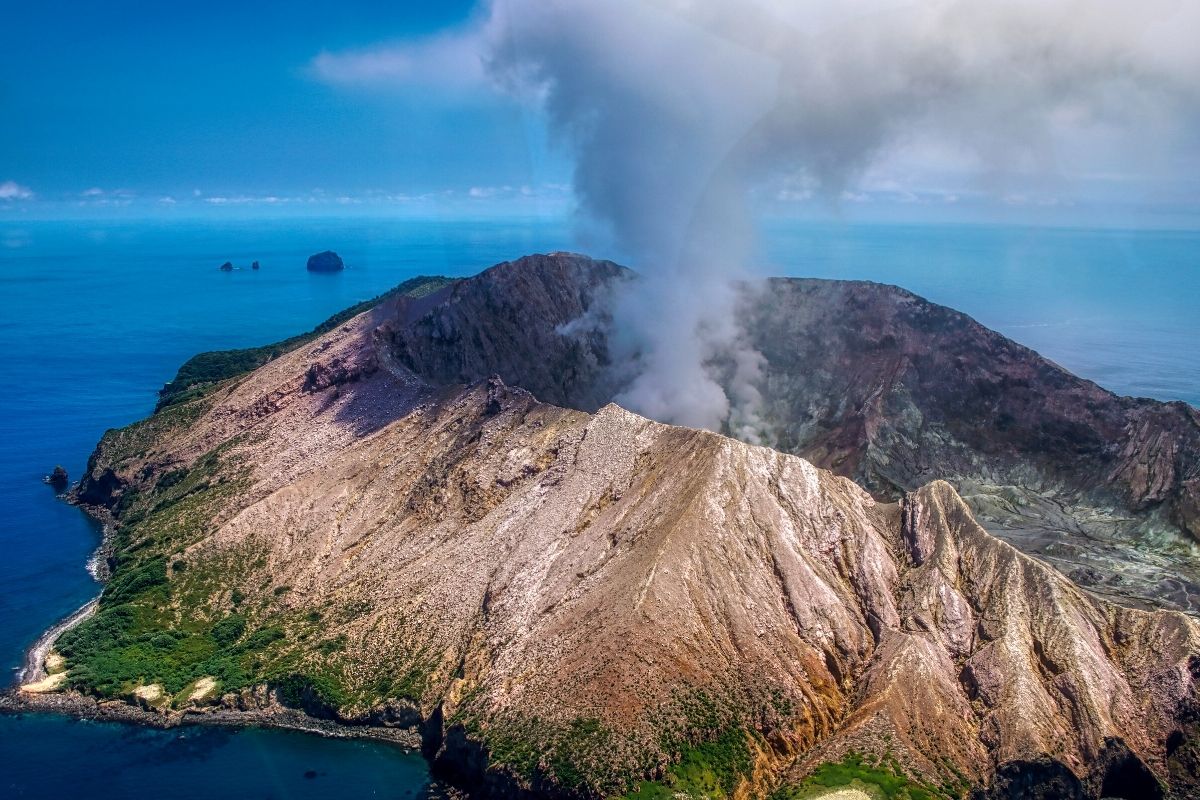 Both lying off the east coast of the Bay of Plenty, here's the chance to swoop in two volcanoes — one dormant, the other very much active — in one go during a White Island and Whale Island scenic flight combo!
Take-off soars above the town of Whakatane and heads toward Whale Island, i.e. Moutohora. As one of the most important protected wildlife sanctuaries, this is the place to spot all sorts of magnificent fauna and flora, from endangered plant species to birds to native reptiles.
Your pilot will lower slightly for you to snatch up the views (and photos) and there are only a few tour operators with permission to land on the 143-hectare island. Next, it's off to White Island — be sure to keep an eye open for schools of dolphins below!
Only reachable by boat or aircraft, White Island (also known as Whakaari) last erupted in 2019 and since then it has been off bounds to visitors (prior you were allowed to visit the island).
Its claim to fame dates as far back as the 18th century when Captain Cook arrived and spotted the isle. As you fly over, geysers spray and flumes of smoke arise from its floor. These scenic flights are one hour.
33 – Spend the day around Lake Rotoiti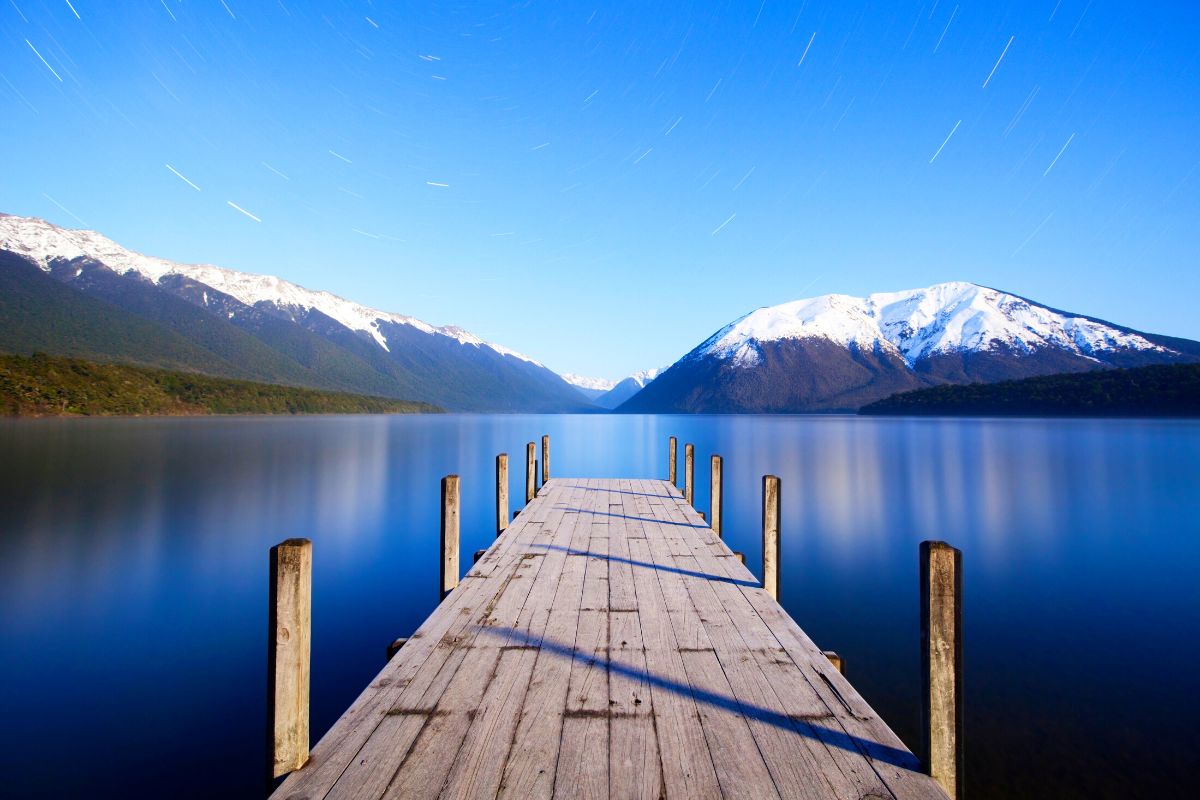 Ever thought that parts of New Zealand and Canada appear similar? Standing on the edge of Lake Rotoiti you certainly feel worlds away from everything else, and it's another dazzling setting that develops into changing landscapes at different times of day.
Perched on the edge of the wooden pier with your feet dangling over the sides, watch the morning mist rise over the water and it's especially beautiful here in the wintertime.
Situated 30 minutes from Rotorua town and part of the Nelson Lakes National Park, the area can be traced back to the Ice Age and it's believed that ginormous glaciers enveloped the rivers.
Today, it forms part of the Southern Alps and so the climate is always a rather chilly one, and it's setting an alpine dream!
Water activities like kayaking on Lake Rotoiti, swimming and fly fishing are favored, or on land, the walking circuit around the lake is super pretty, meandering through a beech forest along the lake. Look out for the rare rimu tree as well as the bright mānuka and kānuka trees (both from the myrtle family).
On the shoreline also sits the Lake Rotoiti Hot Pools and the only way to get here is via boat — there are water taxis available to bring you here.
34 – Catch major air at ZORB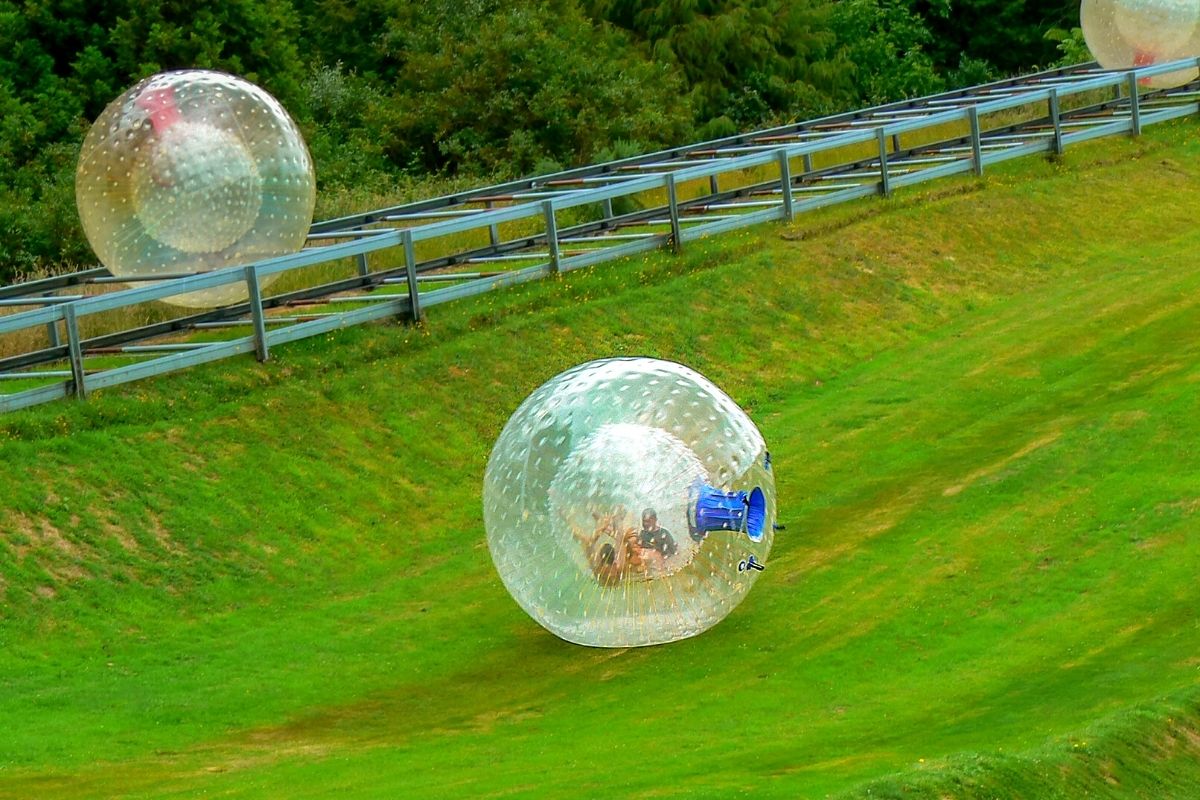 Three, two, one and ZORB down the green rolling hills of Rotorua — the world's very first zorbing activity which opened up in 1994 by two brothers (who still own and operate the attraction today).
Suitable for up to three guests (whether you're young or old), you'll take your seat inside a gigantic see-through inflatable ball that is filled with water for gravity reasons, and then it's time to roll your way down Mt. Ngongotaha on one of four zorb tracks.
For serious thrills, the Mega Track is the steepest and fastest of the lot clocking in at 300 meters and take-off is quite the drop! The longest zig-zig track across the globe is right here; Sidewinder! Whizz your way down a 350-meter pathway dipped with twists and turns.
Fancy racing your best mate? Dual Straight is where it's at and as its name gives away, it's a 250-meter-long track with two hills side by side. Don't be surprised if you experience a few tummy flips as you soar and squeal your way down the 300-meter-long Big Air with its three drops!
Don't forget to wear suitable clothing for this one!
35 – Play a round at Mini Golf Rotorua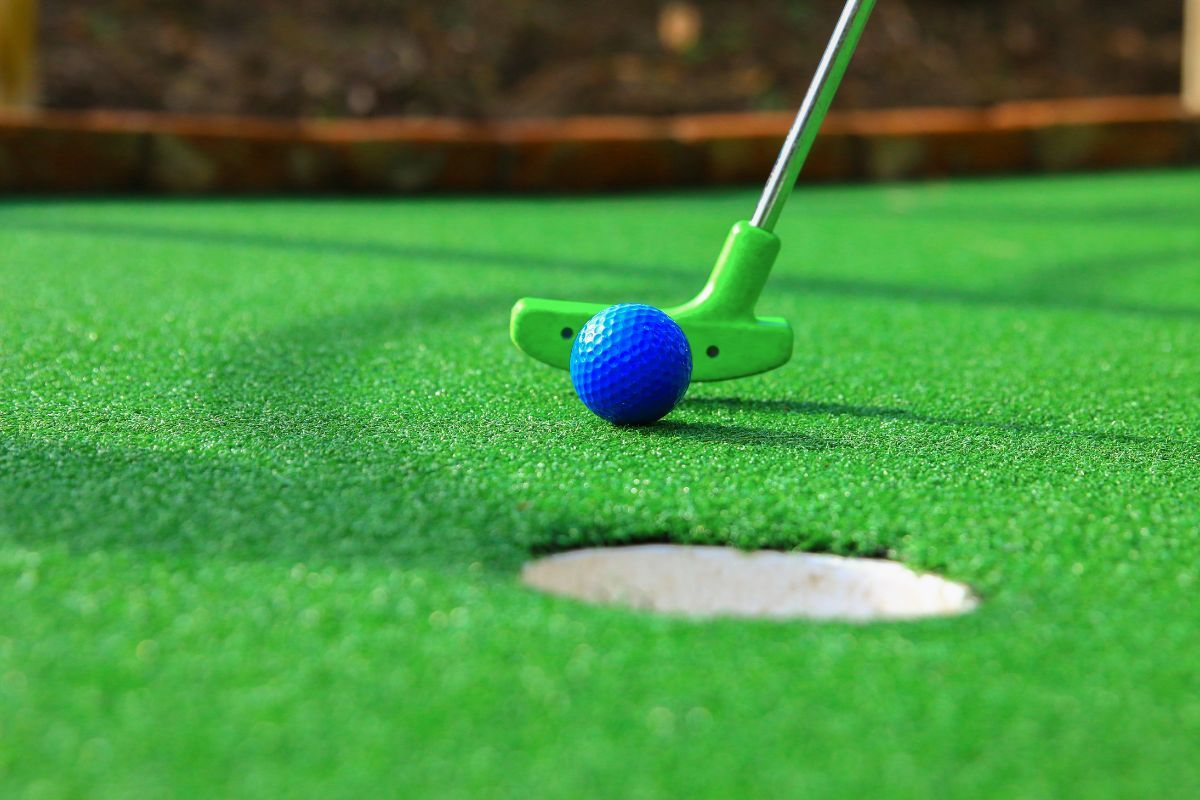 Adorable bunnies and monarch butterflies — no, we're not talking about a petting zoo but the super fun and ultra-cute Mini Golf Rotorua.
This miniature golf setting is quirky and a little bit eccentric — there are few places you can say you've played putt-putt with real bunny rabbits, right?
Set up with fairy lights, waterfalls and fish ponds, as you make your way through the 18-hole course don't be surprised if one of these furry friends hops over to say hello, and birds love flying through too.
There are fog machines and funky tunes to set the mood in the evening — night time putt-putt slots are available.
Looking for fun things to do in Rotorua with the kids? You can't go wrong with this one!
36 – Experience the Mitai Maori Village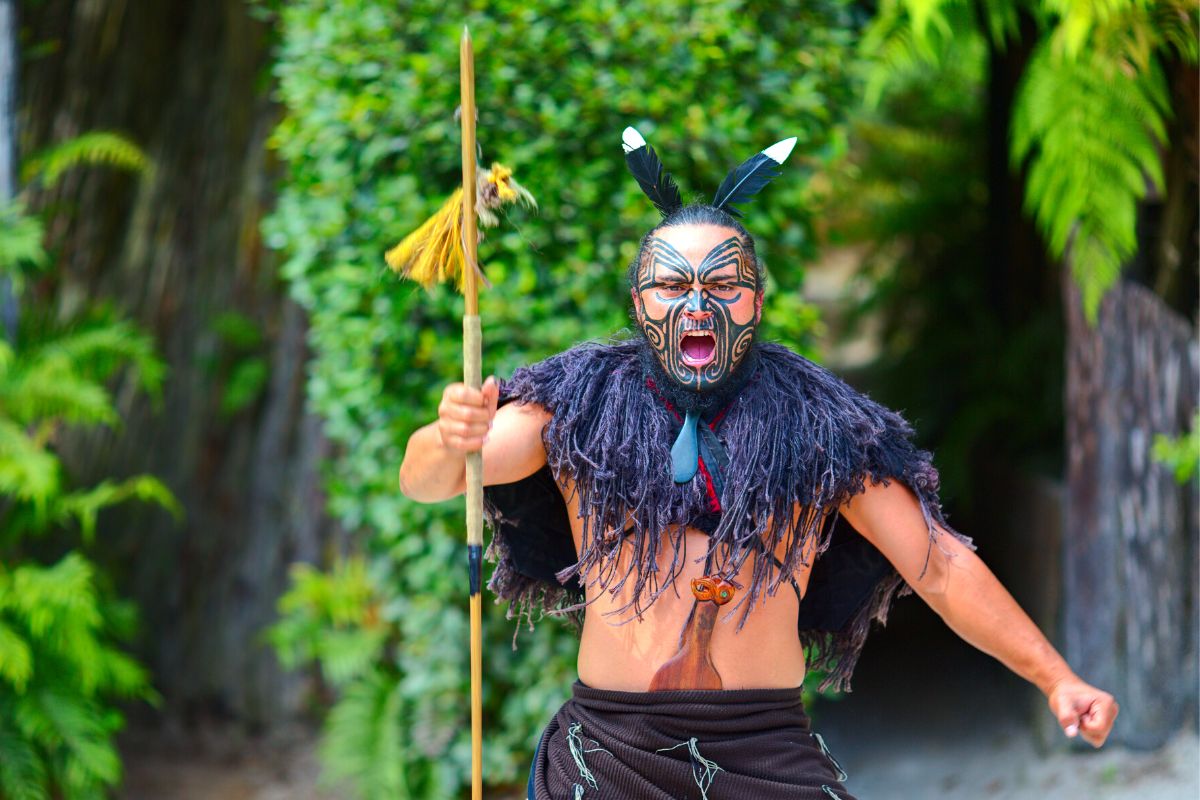 From the powerful Haka war chant to sampling delicious hāngī earth oven foods; deep dive into local culture, customs and traditions during a trip to the Mitai Maori Village.
Insightful, eye-opening and entertaining, uncover worlds before and become educated on the country's first people and the history of their ancestors in New Zealand, as well as learn about the handful of villages that once called the surrounding areas home.
During a three-hour Mitai Maori Cultural Experience, hear of local stories and legends, listen to the traditional instruments, witness dance performances (including poi) and ancient ceremonies, and enjoy a walk through the village and surroundings to harken how the locals lived centuries ago, utilizing their natural resources in every way.
At the Wai-o-whiro stream, Māori warriors paddle along the water in an ancient canoe dressed in traditional wear, and from here, as the sun starts to disappear glowworms come out to sparkle on the banks!
The experience winds down with a buffet dinner where you'll not only taste but get to see in person how traditional hangi food is cooked in an earth-oven inside a pit in the ground.
Fallen in love with the local culture? Tamaki Maori Village (recently renamed Te Pā Tū) is another buzzing cultural village to check out close to Rotorua.
37 – Board your cart and go RailCruising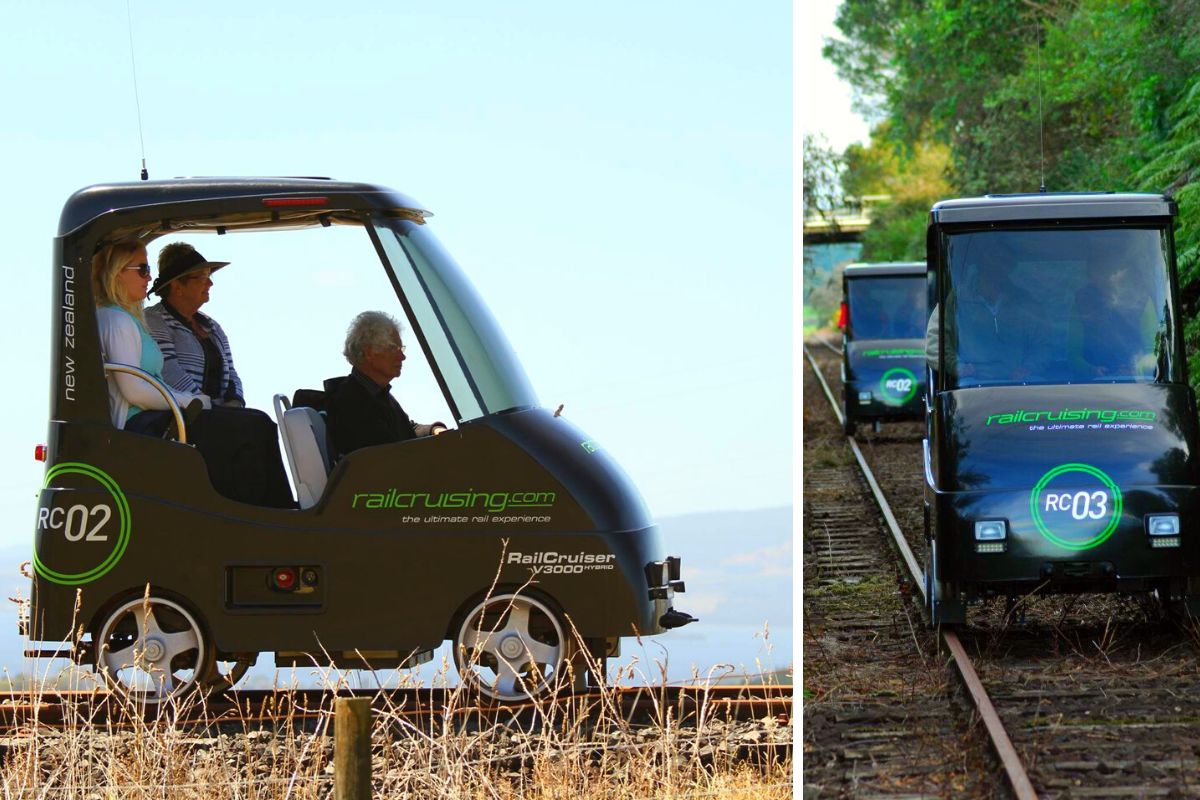 Whilst you won't discover any locomotives chugging along the old Rotorua railway, here's the chance for you to be your own conductor with this special RailCruising Tour … Except for this one, there are no real trains involved.
Hopping into your own four-seater petrol-electric Rail Car, one of you will play designated driver, steering the way along a 10-kilometer railway at speeds of 20 kilometers per hour.
(Carts look like a cross between a tuk-tuk and a mini car, with open windows and compact in size.)
Traveling between Mamaku Railway Station to Tarukenga Railway Station, once you reach Tarukenga, your Rail Car is turned around for you on the track as you journey back.
Crossing 20 kilometers in total, cruise past native forests, lakes and farmlands, and the ride lasts 1.5 hours.
38 – Go horse riding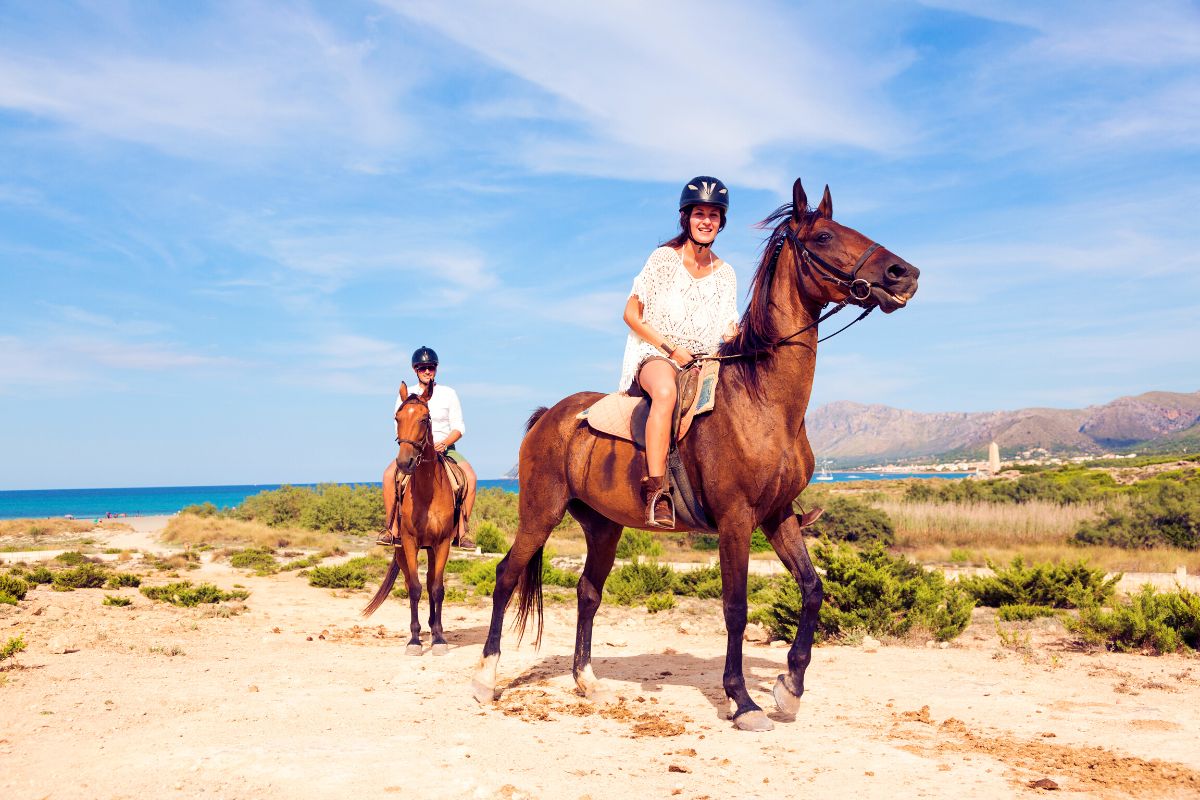 Why choose an ordinary sightseeing excursion when you can discover the Rotorua countryside on horseback?
Spanning one hour, horse riding through the rolling hills, Mt Ngongotaha, lake scenes and farming plantations feels extra special and you'll be granted better views as you're sitting slightly elevated off the ground on the back of your trusty steed.
If you've never ridden these (super sentient) beings before, you don't have to have experience to enjoy the excursion. Before you head off into the backwoods, the horse trek starts out at the paddocks where you'll be given a horse suited to your riding capabilities, age, height, etc.
Be shown the basics of how to ride, before gearing up with your riding hat which is provided.
The journey does entail a touch of tricky landscapes, but you don't have to cross any that you don't feel comfortable doing so. Horse rides are one hour.
39 – If you dare, play at Velocity Valley Adventure Park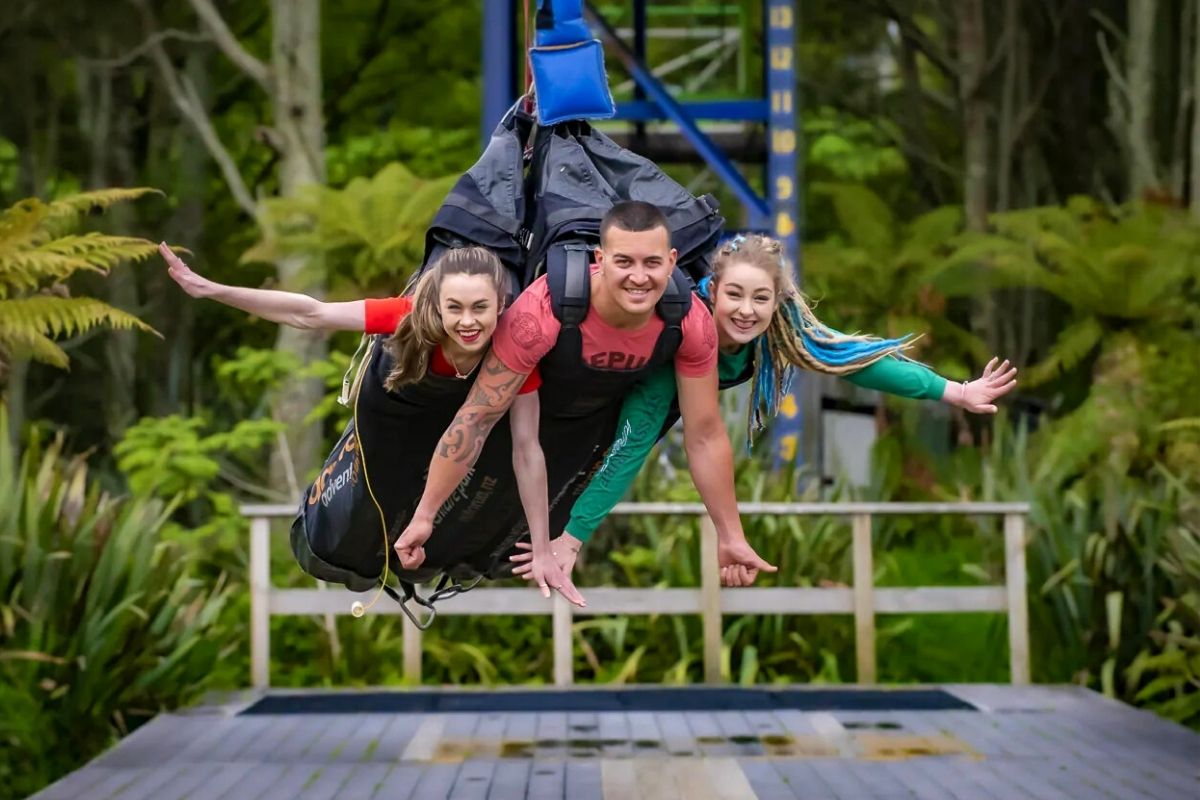 Hey all you adrenaline junkies and need-for-speed heads; the Velocity Valley Adventure Park is calling your name — equipped with all sorts of adventure-inducing activities imaginable!
Established in 1998, the park has been providing thrills since then with a collection of thrill-seeking rides.
Speeding up to 100 kilometers per hour, whizz around a special water track on the Agrojet and embrace the 360-degree spins, twists and turns! Or lift your feet off the ground on the only pedal-powered monorail track in the world,' the Shweeb Racer.
The Swoop Giant Bungy Swing is not for the faint-hearted … Fastened into a body bag, instantly drop 40 meters from above at a speed of 130 km/h! Or, ditch the swing attachment and freefall 43 meters on the Rotorua Bungy attraction.
Pretend to float in space on the Freefall Xtreme ride where you'll fight the forces of gravity, or show off your biking skills at Freestyle Airbag. Equipped with three ramps, they are actually inflatable airbags!
40 – Visit the other geothermal and hot pools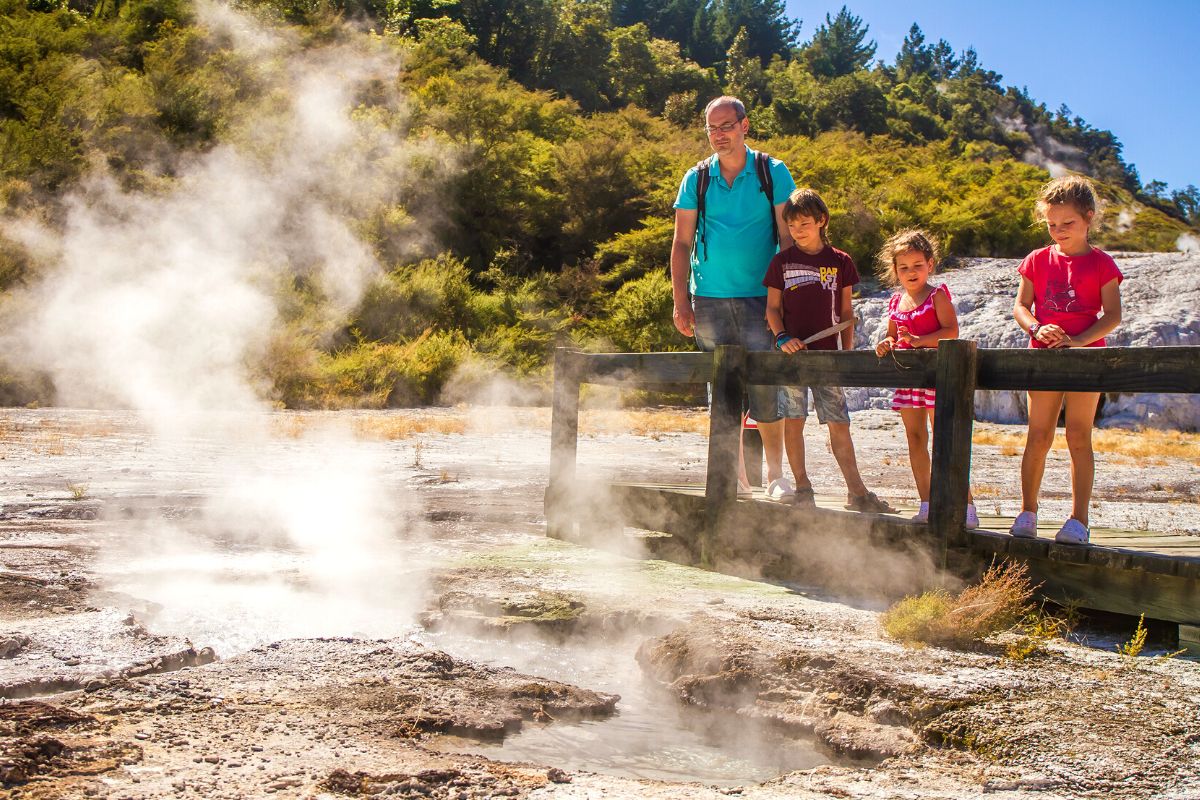 Blessed with an abundance of these natural phenomena, there are even more geothermal wonders and hot pools to visit during your time in Rotorua.
Deploying geothermal waters from the Te Manaroa Spring, Waikite Valley Hot Pools offers four outdoor thermal pools which reach temperatures of up to 41 degrees Celsius, as well as outdoor tubs with slightly cooler waters and private pool options.
Marvel at awe-inspiring silica terraces, gurgling mud pools and 23 active natural geysers when heading to Orakei Korako in the Taupo Volcanic Zone. Known as the "Hidden Valley," there is a rare geothermal cave to explore known as the 'Pool of Mirrors,' or simply Waiwhakaata.
Guess what? Kuirau Park is completely free and the only place where visitors can check mud pools without paying a dime for the experience! Stroll along a boardwalk with either side possessing a spew of hot springs, pools and geothermal activity. Finish off the walk with a free geothermal foot soak.
Play and splash around in the all-natural Kerosene Creek and its waterfall and natural swimming pool. What makes it so special is that the water flowing from the stream is cold, but the creek becomes heated by underground geothermal activity!
41 – Attempt the ROTOFOBIA escape rooms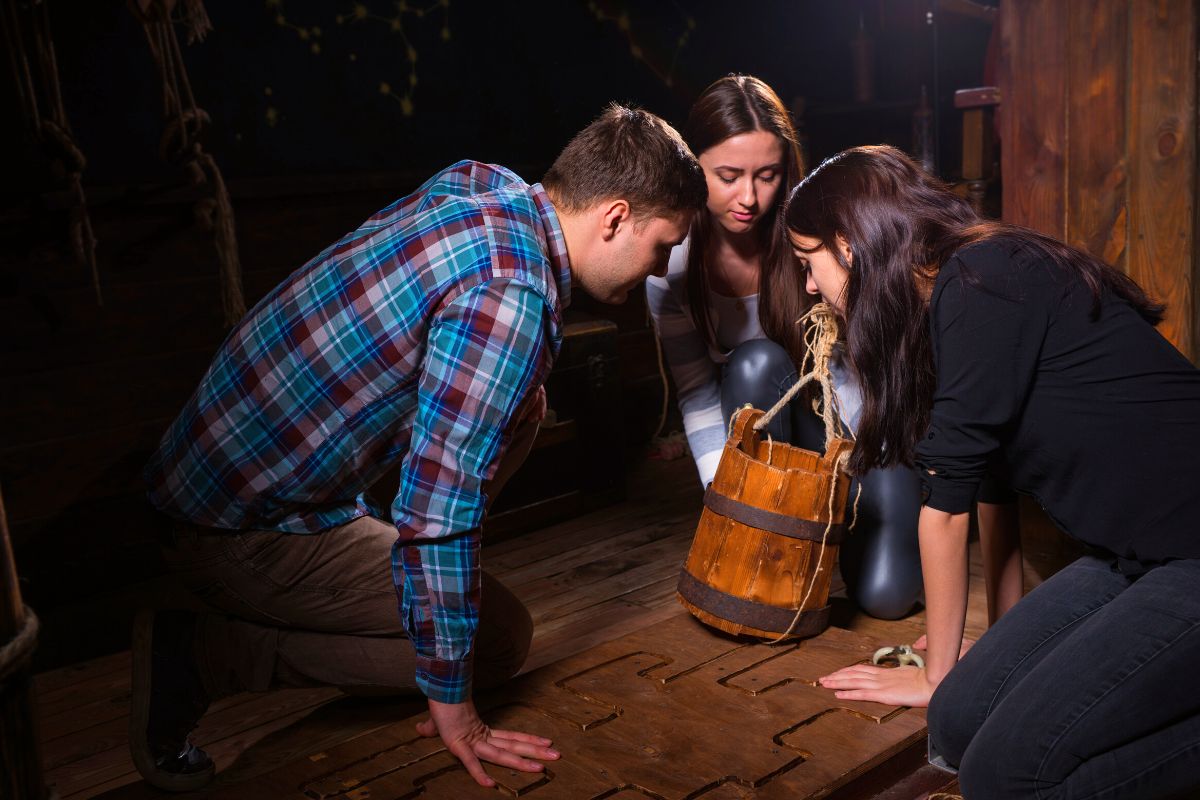 Do you think you have what it takes to be the next star detective? Put your brain and problem-solving skills to the test at ROTOFOBIA. This isn't the usual escape room vibes and in fact, there's an entire house to play in.
If you've ever attempted an escape room before, you'll also notice that there aren't just locks and keys to unravel, but also other interactive room features and multiple rooms.
There are a few varying themes to choose from, each with a different storyline and with difficulty levels as well.
Up for a mystery? 'The Missing' is great for small groups. 'One Hell of a Kitchen' isn't as challenging, but it's certainly a lot scarier! Or, a special one for the adults; 'Stripclub Escape' is kinky style.
42 – Make your way out of aMAZEme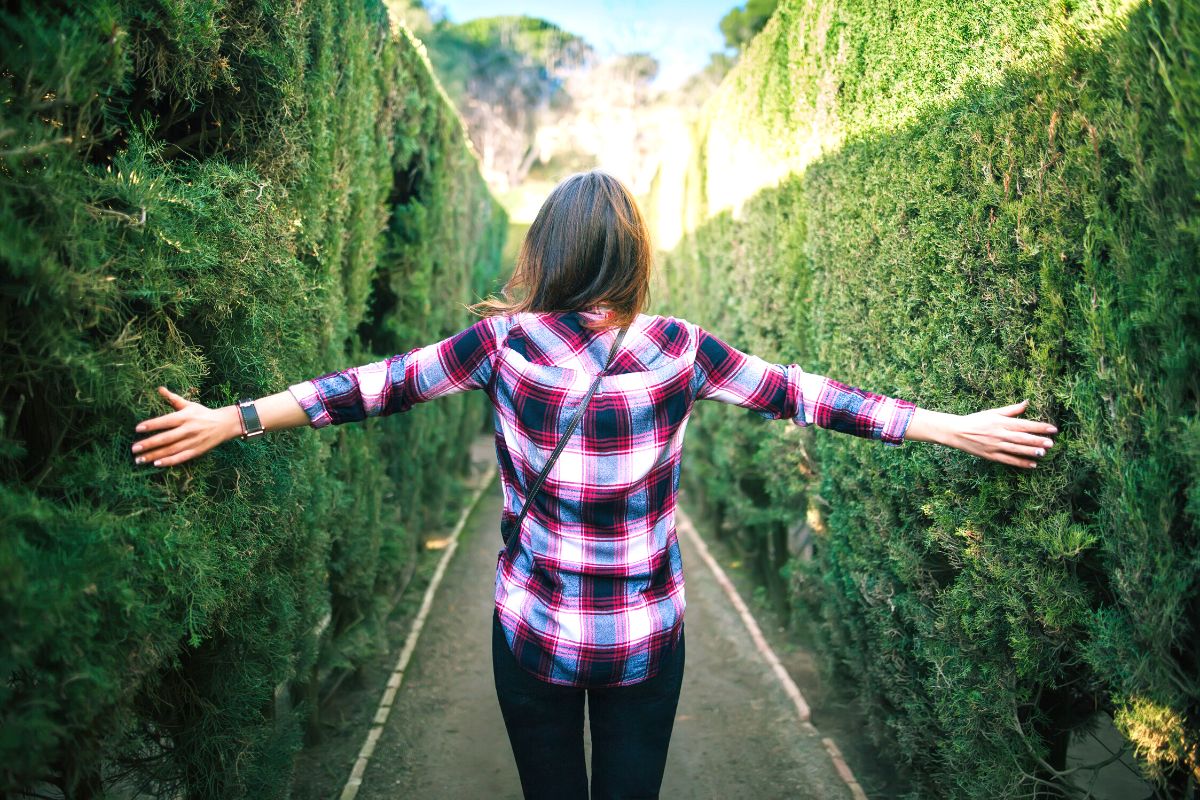 Feel like you've fallen down the rabbit hole in Alice in Wonderland at aMAZEme — the coolest little attraction in Rotorua. No matter your age, the timeless idea of trying to make your way out of a maze is always fun!
Here, you'll have to navigate your way through a 1.4-kilometer hedge maze made up of 1,400 escallonia shrubs reaching 1.8 meters high.
The same as a classic maze, hunt down the center and there are hedge openings to either guide or block your way. If you're really struggling to pilot your way out, there are a few one-way doors to help you exit from inside the maze.
Once you're done, have a picnic or visit McGregor's Garden — inspired by Peter Rabbit — where there is a walk-in rabbit cage, a butterfly house too and rows of garden beds growing seasonal berries, fruit and veggies.
43 –  Zoom through 100-year-old forests during buggy tours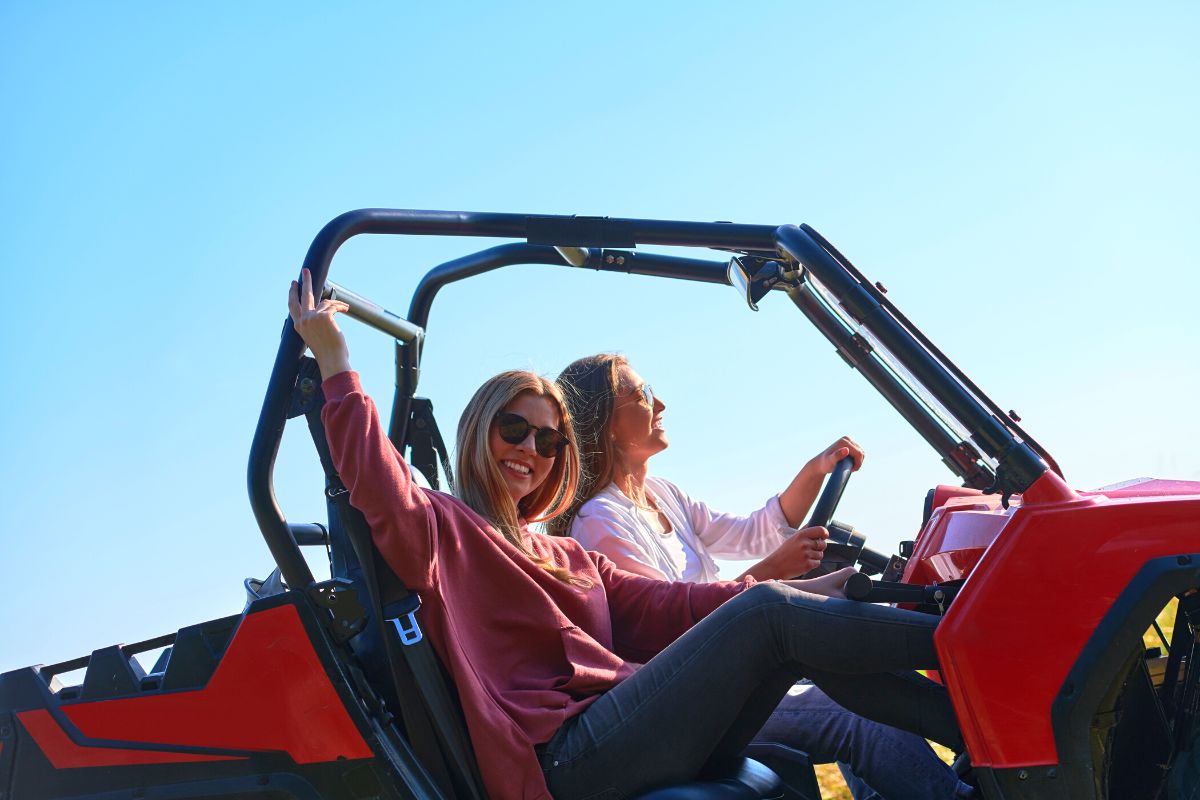 It's time for an adventure on the road less traveled! Buggy tours are such an epic way to explore your surroundings, with the wind blowing through your hair and the open roads around you …
Opt for either a 30-minute or one-hour stint and then hit the dirt tracks with a pro driver (your epic tour guide too) behind the wheel, leading the way through silver fern forests.
Keep an eye open for the native wildlife along the off-road trails with an abundance of nature hypnotizing you the whole ride through.
Scout vistas over Lake Rotorua and be driven to special lookout points with your guide providing insightful (and entertaining) commentary during the trip.
These four-wheeler buggies can comfortably sit up to five and safety helmets are given to you before the tour begins.
44 – Cool off at Rotorua Aquatic Centre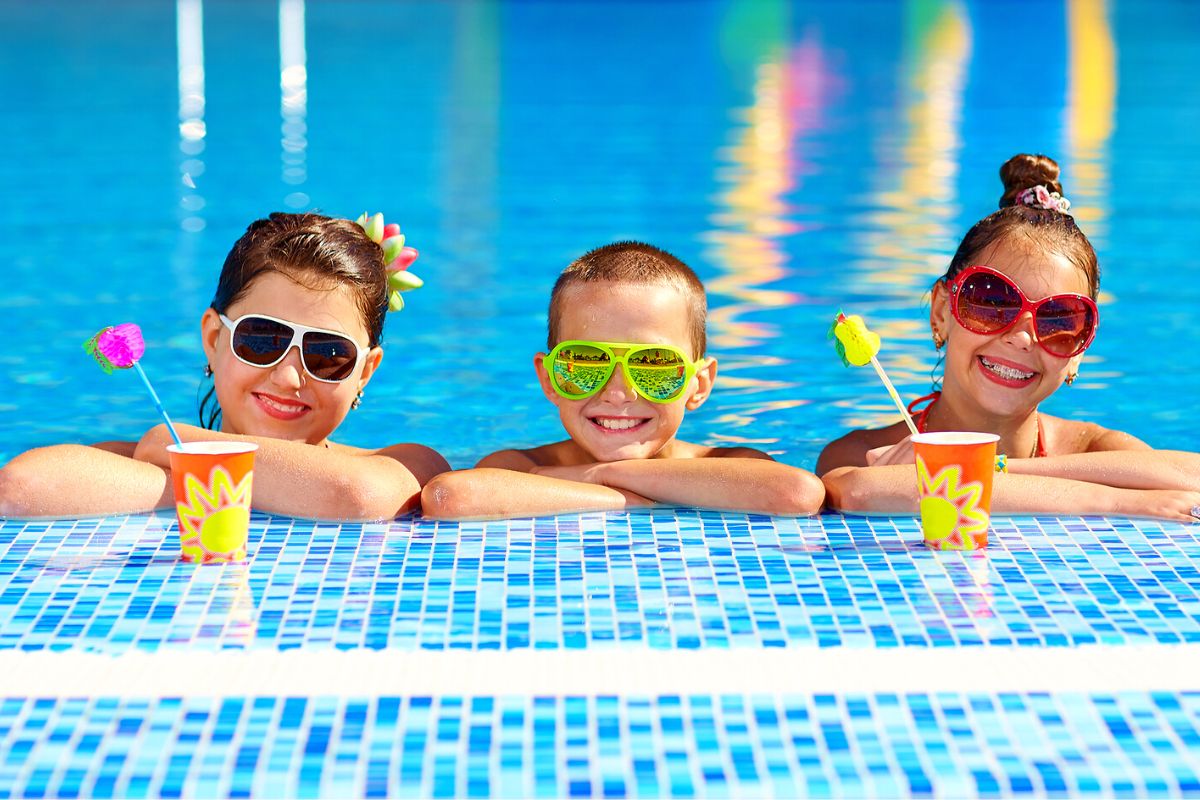 Water babies, get in your swim time at the Rotorua Aquatic Centre — a classic water fitness and recreational swimming complex.
Work on your freestyle at the 50-meter outdoor lap pool (with individual lanes) or there are indoor facilities too where aqua fitness classes happen as well as swimming lessons.
Three, thirty or eighty-three years old; there are aqua classes for all ages. For a full-body workout, Aqua Fit is an all-rounder set to help with fitness, strength and mobility in shallow and deep water.
Aqua Pump is designed to help with stamina, flexibility and strength in water and Aqua Tone is a bit of a more relaxed class where you'll jog and do other light movements to improve your cardiovascular system.
45 – Transport yourself to Thailand at the Rotorua Night Market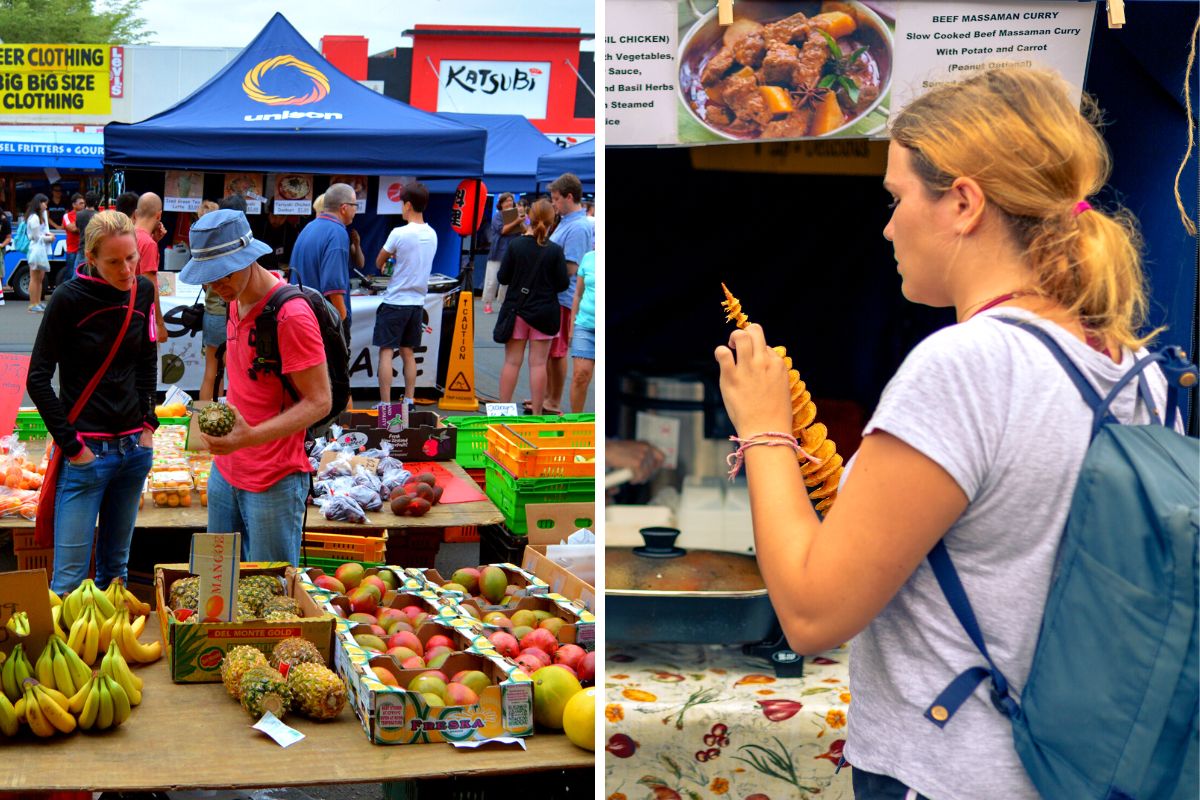 Stopping by any local market is an ideal way to get a feel and taste of what residents and small businesses are all about.
Opening every Thursday (weather dependent), the Rotorua Night Market comes abuzz from around 5 PM to 9 PM, bursting with a variation of foods and local flavors, as well as select artisan shopping.
Pick up pottery items, for example, or aztec ponchos, vintage vinyls, handcrafted jewels and accessories, patchwork hippy pants, dreamcatchers, natural products and so much more!
The food is the main focus though with food trucks pulling up and cooking up cuisine from around the globe, and vendors selling all sorts of homemade goods and treats.
Demolish a snickers crepe, munch down on dumplings, fill upon empanadas (and wash it down with a margarita) and indulge in a mixed seafood platter dish with fresh whole crab, prawns, mussels and corn on the cob.
Live music is there to keep shoppers and foodies in a good mood.
46 – Dine at the best restaurants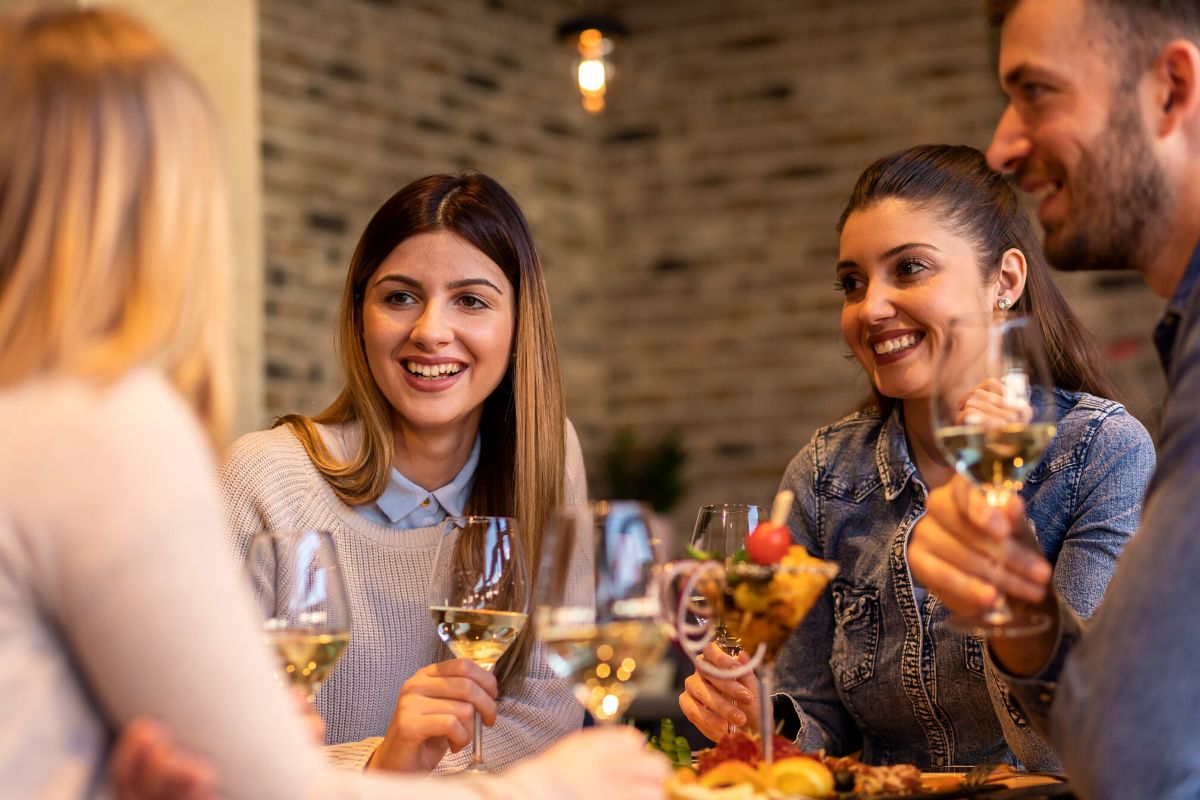 If there's one thing exploring does is work up an appetite! Here are a handful of the best restaurants in town!
Award-winning Ambrosia Restaurant & Bar was established in 1952 and is still going strong as a crowd favorite. With its beautiful plates of food, and three-course menus available, you can't go wrong.
Spice things up at Sabroso Restaurant where flavors of the Caribbean, Central and South America come alive.
Serving crowds the finest and freshest ingredients from around New Zealand, Urbano Bistro opens up in the day as a fab cafe and a restaurant in the evening. The food here is top-notch.
Atticus Finch has a naturally warm and inviting atmosphere and the lunch and dinner menus are both delicious compilations.
47 – Grab drinks at the best bars in Rotorua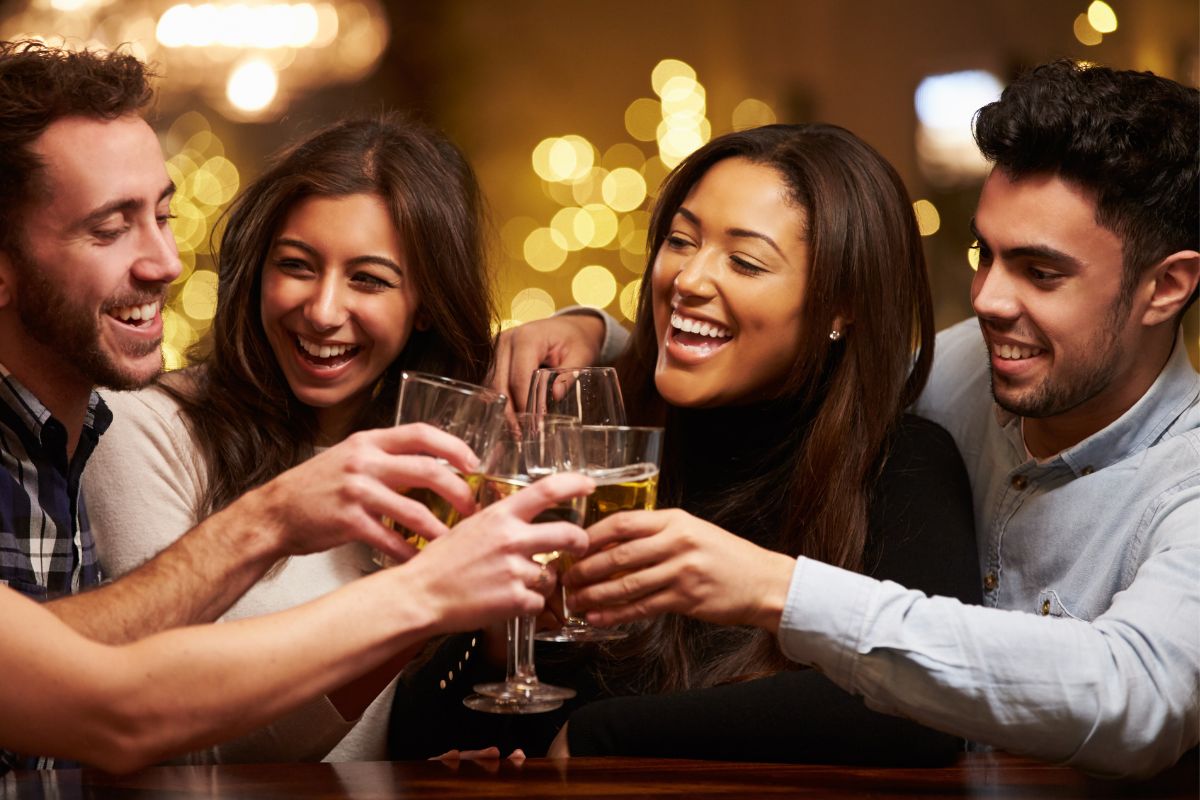 Test out the local craft beer, sip back on cocktails or enjoy a few glasses of vino at the best bars and pubs in Rotorua.
Kick things off with something a little fancy; wine snobs head to Volcanic Hills Winery & Tasting Room — situated at the top of the Skyline Gondola with views to boot.
If artisanal beers are more of your thing, then grab a couple of cold ones at BREW | Craft Beer Pub which brews its own label, or pay the Pig & Whistle Historic Pub a visit for their New Zealand craft beers as well as ciders on tap.
Eclectic, all about sustainability and with live music and intimate events happening, Rotorua Social Club knows how to make a mean cocktail and have a good time!
All about the "good vibes only" step into the inviting and laid-back atmosphere at the Good Eastern Taphouse — where the craft beer flows (including their own label).
How to get to Rotorua?
If you're planning on making one of the other nearby cities your base, Rotorua can also be saved for an epic one-day adventure. For example, day trips from Auckland to the geothermal town are super popular, and the distance between the two destinations is only 2.5 hours by car.
Or choose to embark on a day trip from Tauranga which is less than one hour away.
You can also fly into the city, and there is one airport (Rotorua Airport) with domestic flights available only. Catch a direct flight to or from Rotorua to Auckland, Christchurch or Wellington.
Alternatively, arrive by bus or car.
Where to stay in Rotorua?
After long days of adventuring and exploring Rotorua, check into one of these picturesque stays.
Built on a private section of Lake Tarawera, wake up to impeccable morning views at the five-star Solitaire Lodge … There's even a private helipad …
Another five-star option is the Pullman Rotorua hotel. Super luxurious and stylish, it's designed with all the extra amenities from extra comfy beds to room service to private fitness center.
Another spot with a stunning lakefront locale; the rooms, suites and apartments at five-star Koura Lodge boast a modern log cabin feel and views from all angles.
From the amazing sunsets to its setting right on the lake, Black Swan Lakeside Boutique Hotel is another classy five-star option and guests favor the outdoor pool.
Hideaway of Rotorua is a great family pick equipped with an impressive kids' playground, large gardens and super spacious room options such as the deluxe family room with spa bath.
Looking for something unique? Ditch the hotels and try glamping instead. Spend the night in a luxury tent at Oakridge Glamping where you sleep on actual comfy beds (not the floor).
Where to go next?
What's next on the agenda? With plenty of things to do in New Zealand plan your holiday accordingly so you have enough time to adventure to its other parts.
There are many other things to do in the North Island, take Auckland for example. Jump off New Zealand's tallest building, learn how to surf, embark on dolphin-watching excursions and enjoy delicious local food tours.
Wellington (5.5 hours away if driving) is a hotspot of culture and creativity! Ride the iconic red cable car through town, meander around botanical gardens and feel fancy wine tasting.
Napier is on the East Coast and is a six-hour drive from Rotorua. It's another destination prized for its vineyards and wine-tasting expeditions and has some of the most art deco buildings in the world.
Tauranga is closest to Rotorua and is an awesome day trip choice. With its beach as a top attraction, families also love the Bay of Plenty's largest city.
And don't miss the chance to visit Taupo, a beautiful town known for its stunning lake and outdoor activities.
Final thoughts
As you can tell, the things to do in Rotorua are super unique, with many activities and nearby attractions you won't find elsewhere.
From the outdoor offerings to the culturally rich experiences, the geothermal town is certainly special, to say the least.
Have you ever visited Rotorua before? What was it about this magical place that won your heart over? Let us know in the comments, we love hearing from our readers.
As always, happy and safe travels. Ka kite anō!