Lake Tekapo is a showstopping body of water with a distinct milky turquoise color. Glacier melt and fine rock powder create give the lake an almost animated feature, a bright lake suspended between mountains and grass plains.
A day trip from Christchurch to Lake Tekapo and the southern Alps is an action-packed adventure into New Zealand's most stunning nature, with fun stops along the way.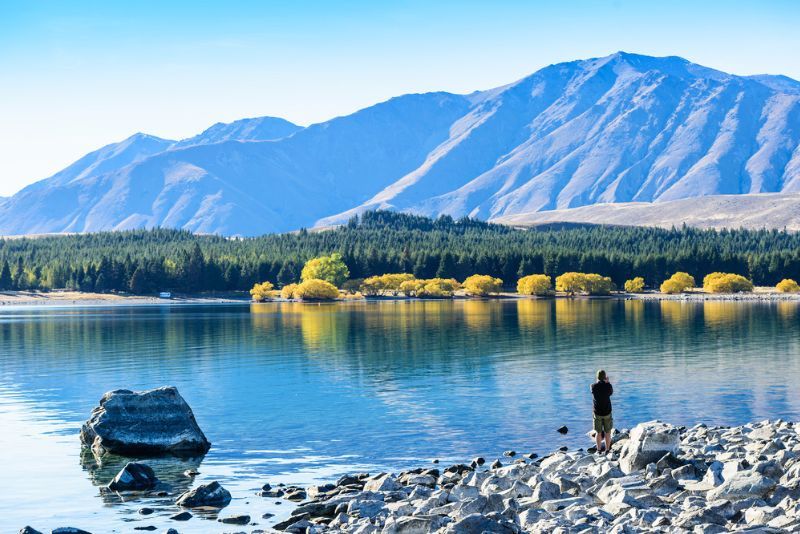 Here's all you need to know about Lake Tekapo, one of the most exciting day trips from Christchurch.
How to get to Lake Tekapo from Christchurch?
Lake Tekapo is almost directly in the middle of the south island, southwest of Christchurch.
From Christchurch to Lake Tekapo by car
Drive southwest from Christchurch on SH1 and turn onto Highway 79 after about 120 kilometers at Rangita. Follow the highway for a further 60 kilometers and merge onto Highway 8 until you reach the lake and town of the same name. The total route is about 230 kilometers and takes close to 3 hours to drive.
From Christchurch to Lake Tekapo by bus
The Intercity bus route between Christchurch and Queenstown passes by Lake Tekapo. You will ride 7 stops for almost 4 hours and there is only one bus that leaves at 8:30 AM.
Guided tour to Lake Tekapo from Christchurch
A guided day tour to Lake Tekapo is the most convenient way to visit the lake. You will have comfortable transportation and an expert guide to show you more fabulous stops along the way.
What is the typical itinerary?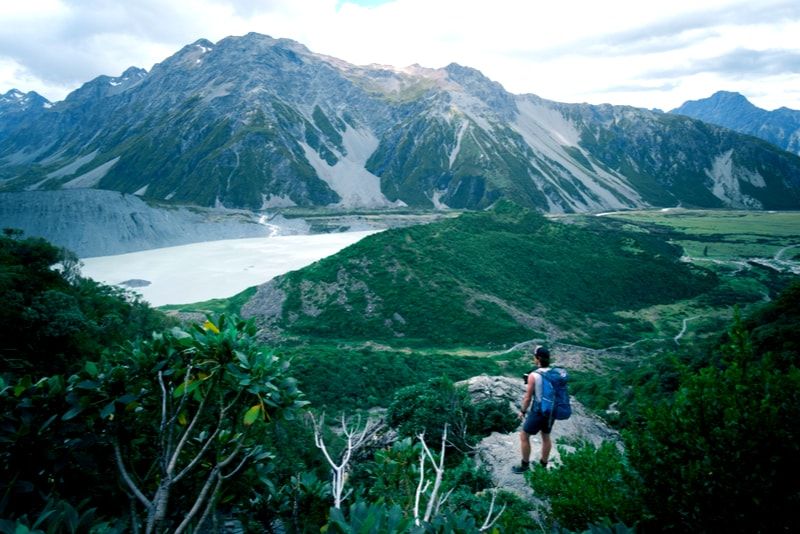 Day trips to Lake Tekapo start with hotel pickup and a scenic drive to Aoraki/Mount Cook National Park. Stops along the way include the historic town of Geraldine, the shore of Lake Tekapo and the famous Church of Good Shepherd.
Once you reach the national park, you will take a short hike and soak in the stunning views of the Tasman Glacier. You will have around 3 hours of free time to explore the park and enjoy lunch. On the drive back, you will also visit an alpine lavender farm to end the day on a fragrant high note.
What kinds of tours are available to go to Lake Tekapo?
You can visit Lake Tekapo in a group, on a private tour, as a pit stop on a transfer or even spend the night. Here are some of the ways you can experience this unforgettable destination:
Guided tours to Lake Tekapo plus Mount Cook from Christchurch
Lake Tekapo is one of a few scenic stops on the way to Mount Cook. Reach the tallest mountain in New Zealand and see the Massive Tasman Glacier as part of a convenient day trip. The tour includes hotel pick-up and drop-off and several stops along the way, with Mount Cook as the final destination.
The tour is filled with stunning views and ample opportunity to fully immerse yourself in the unfathomable beauty of New Zealand's landscapes.
Private tour to Lake Tekapo from Christchurch
The most luxurious way to visit this pristine lake is with a private tour. Your Lake Tekapo private tour departs around 7 AM and you will be transported in a luxury Mercedes van. Along the way, you will enjoy several stops, but the itinerary is quite flexible and you can spend some extra time at stops you like.
With almost 3 hours of leisure time, a cheese-tasting stop and a visit to the lavender fields, your day trip to lake Tekapo will be full of sensational activities to be enjoyed at your own pace.
2-Day tour to Lake Tekapo from Christchurch
This luxury experience allows you to spend the night in the largest Dark Sky Reserve in the world. Spend the day on nature walks in the glacier valley of Mount Cook and overnight in Lake Tekapo to be fully immersed in the starry expanse of New Zealand's night sky.
You will stay in a luxury 4-star hotel and enjoy delicious meals, optional spa treatments, and a night sky tour at the Mount John Observatory.
How much does a day trip to Lake Tekapo from Christchurch cost?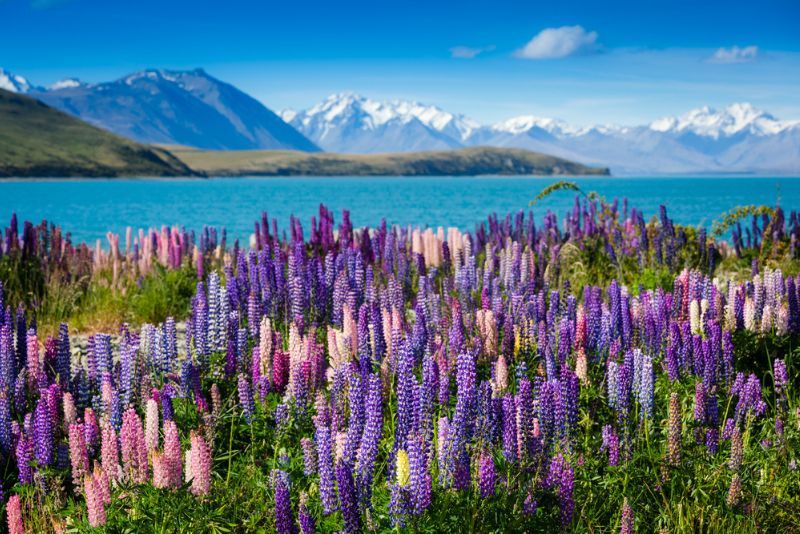 A small group day tour to Lake Tekapo costs around US$140 per person. All your entrance fees are included, but lunch is at your own cost.
For private tours, the cost is typically US$320 per person, with all relevant fees included in the price.
An overnight trip to Lake Tekapo is a luxury experience and costs US$1770 per person. This includes your accommodation, meals and tour of the observatory.
What will you see and do?
A day trip to Lake Tekapo will bring views, views and more views. The scenic drive from Christchurch stops at Lake Tekapo to give you the best viewpoint of the stunning landscape.
You will have around 3 hours to walk around Mt. Cook National Park and soak in the views of the mammoth Tasman Glacier. A special treat in the summer months is a stop at an alpine lavender farm, where the fragrant flowers are in full bloom.
Keep your camera ready for a selfie with the famous collie statue in Mackenzie County and the charming Church of the Good Shepherd.
When is the best time to visit Lake Tekapo?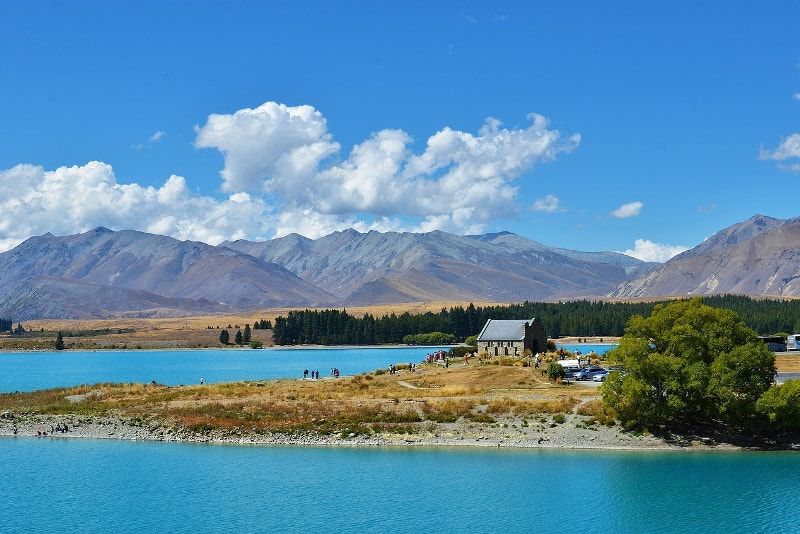 The best time for a day tour to Lake Tekapo is during spring and summer. This is when the wildflowers and lavender are in bloom and the weather is pleasant.
Travel tips
Wear walking shoes to fully enjoy the hiking opportunities at Mount Cook.
Keep an eye on the weather forecast to wear appropriate clothing as the tours continue in any weather conditions. It is usually cool in the area.
You can bring your own lunch to enjoy at Mount Cook, or enjoy a sit-down lunch at the restaurant.