So, you're thinking about taking a Dubai desert safari? Great choice! There's arguably no better bout of culture and heritage, adrenaline and excitement to be had in this corner of the UAE.
From puffing on shisha pipes with Bedouin tribal leaders to roaring over the sand hills in powerful 4X4s, the list of enticing tours below boasts all sorts of enjoyments that you're never likely to forget. Some even throw in extra draws in the big city of Dubai itself!
Let's have a look at the best Dubai desert safari deals…
1 – Premium Red Dunes & Camel Safari with BBQ at Al Khayma Camp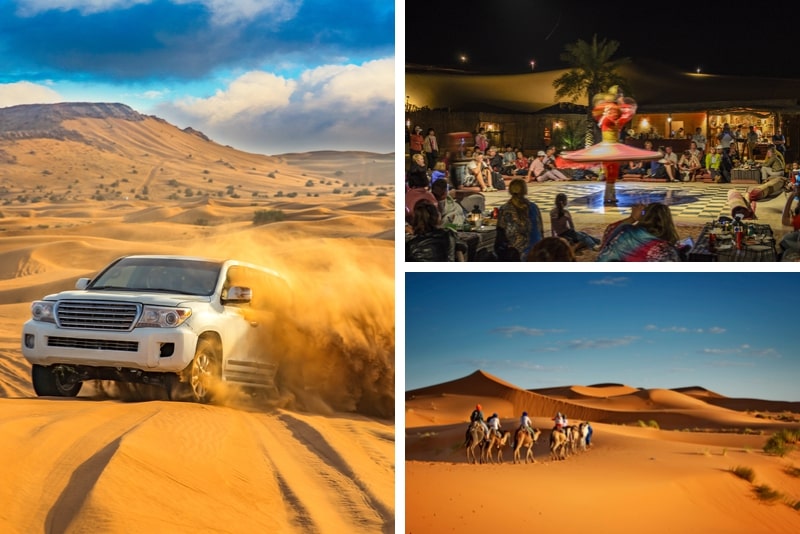 This afternoon expedition begins by trading modern Dubai for the ochre-tinted slopes of the Lehbab Desert. There, you'll whiz down dunes on sand boards and rumble over the hills on 4X4s. As the adrenaline pumps, it's time to move to the famed Al Khayma Camp.
Built in the traditions of the old Bedouins, it's for channeling the spirit of Arabia. That means an evening of camel rides as the sun sets, and open-fire BBQs set to belly-dancing shows.
2 – Dubai Sunrise Balloon Flight with Breakfast & Falconry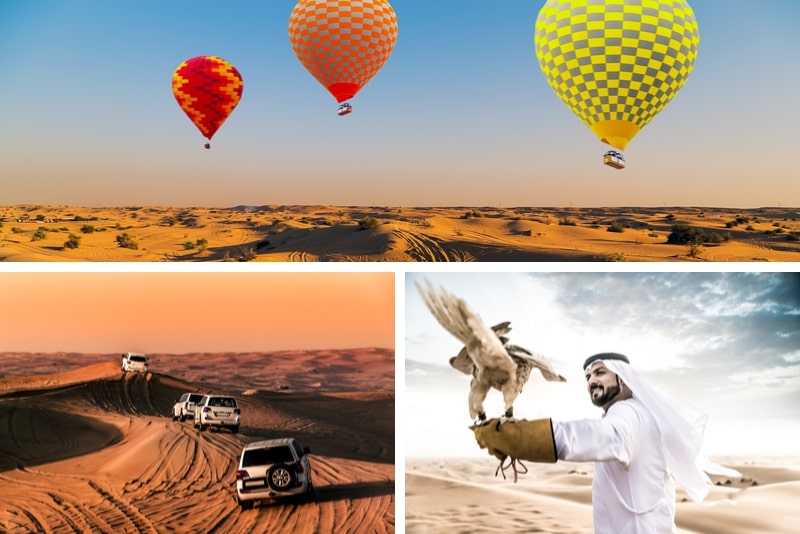 It's an early-morning start so you can find yourself lifting off above the shifting sands of the Arabian Desert just after sunrise on this tour. That's all done courtesy of a hot air balloon, which reveals sweeping 360-degree panoramas of the amazing landscape.
Look below and you might catch glimpses of hopping gazelles, oryx, and camels moving slowly over the dunes!
You'll also get a chance to delve into the age-old traditions of Arabian falconry, and enjoy a gourmet breakfast of caviar and hand-smoked salmon in a remote nomad camp.
3 – Overnight Camp with Red Dunes and Camel Safari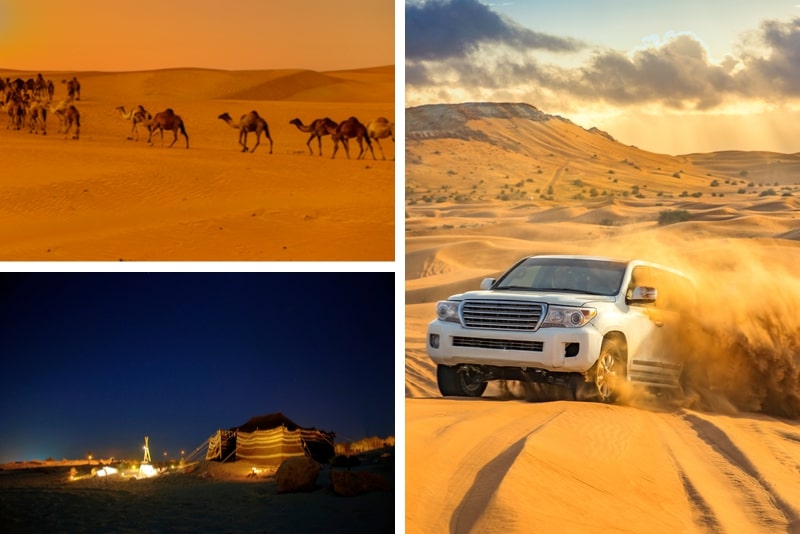 Channel your inner Lawrence of Arabia with this immersive overnight expedition into the untamed backcountry of Dubai. Yes, you'll get to experience the high-octane dune bashing (4WD runs over the sand hills) that most of these packages include.
However, this one's special because you spend a whole evening dining on traditional Bedouin BBQ dishes, listening to tales by a crackling fireplace, and smoking shisha pipes with the locals.
Camel treks and henna painting classes are also thrown in for good measure.
4 – Red Dune Desert Safari with BBQ Dinner & Live Entertainment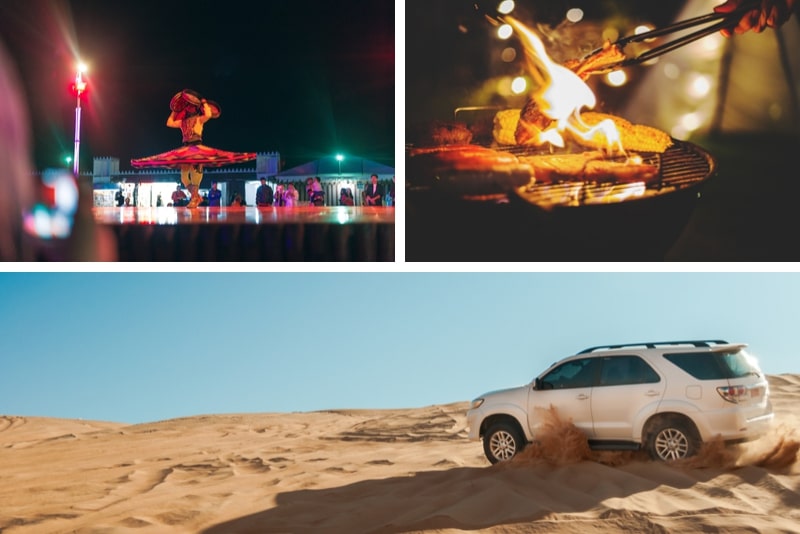 Leave behind the paved boulevards of Dubai and enter the desert, all by boarding a hardy 4X4 and rolling onto dusty tracks towards a bona fide Bedouin camp.
It awaits out in the midst of the Arabian sand sea, where it beckons patrons of this trip with oodles of entertainments. They come in the form of gahwa (Arabian coffees) and folksy tanoura dance shows that echo the mystical displays of the Twirling Dervishes of Turkey.
Oh, and there's unlimited shisha on offer to help add that authentic air to proceedings!
5 – Private Tour: 4×4 Desert Adventure Safari from Dubai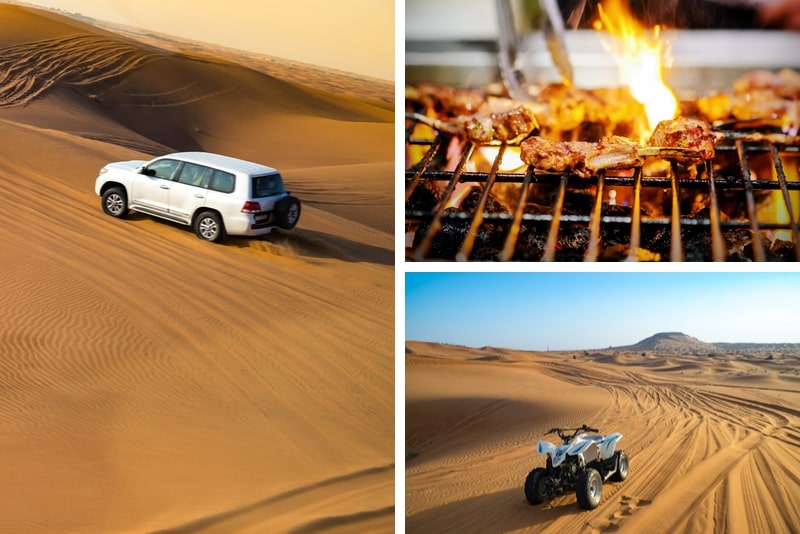 Five hours is all it takes to enjoy the deserts of Dubai in all their heart-thumping, exotic glory on this tour. First stop? A camel farm, where you'll learn to ride like the Bedouin nomads have for centuries.
Next up? A high-speed lesson in dune boarding from a local pro. And then you can even drop in optional extras to keep the adrenaline flowing – think quad biking over the peaks and troughs of the red-tinted sand hills! When the sun dips, you retreat to a tented camp for roaring fires under the stars and sweet-scented shisha pipes.
6 – Luxury VIP Desert Safari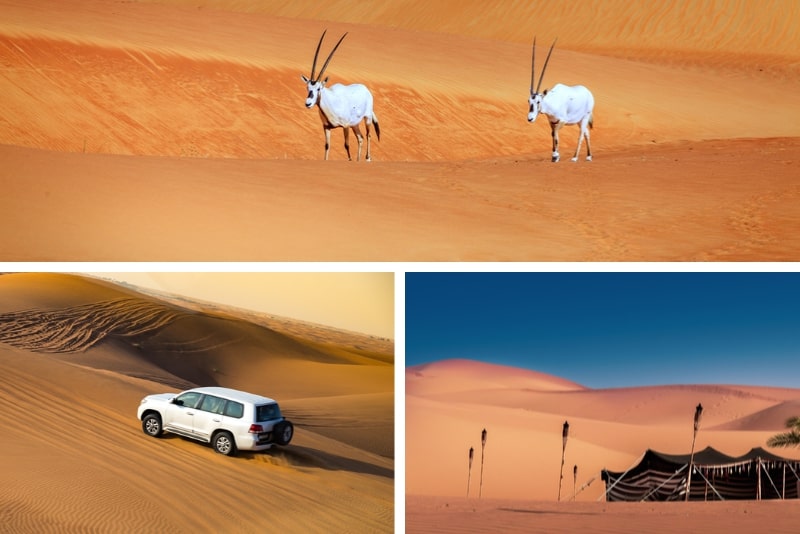 Calling all honeymooners and jet setters – hitting the desert doesn't have to mean roughing it! Nope, not on this tailor-made VIP trip. The whole thing takes place in a classy Land Cruiser with a dedicated guide at hand from start to finish. That ride whisks you off to the protected Dubai Desert Conservation Reserve.
Within, there are elusive caracals and Arabian gazelles to spot through the window. Delving deeper into the wilds, you fire up the 4WD to rumble over the dunes. And then it's all about finishing with a romantic three-course buffet set to belly dancing and the twinkling stars overhead.
7 – Premium Desert Safari with BBQ, Falconry, Camel Ride and Sandboarding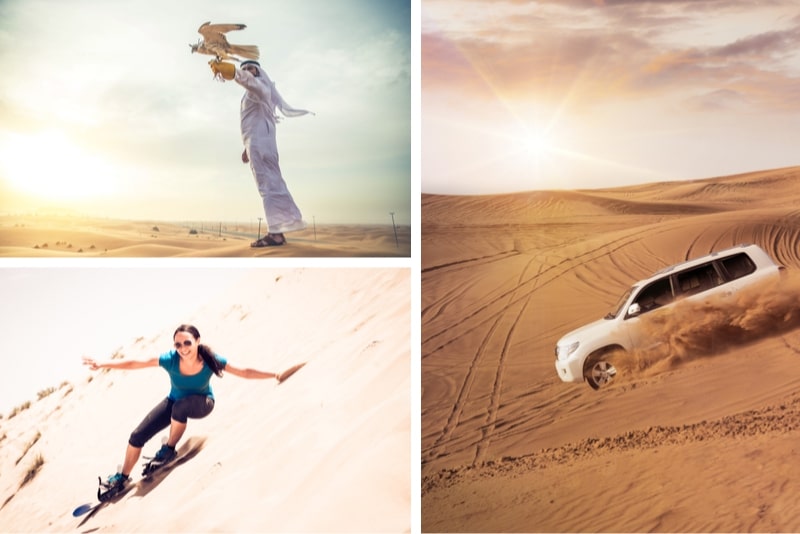 This all-encompassing tour will showcase the highlights of the Dubai desert in a mere six hours. Trading the deluxe Dubai Mall for the orange-glinting outback, you'll soon find yourself racing around the contours of the sand hills – an uber-exciting practice that's known as dune bashing.
Then, it's onto sand surfing, which offers you a chance to master the art of darting from high ridges to the bottom. Master falcon handlers then take over with their traditional Bedouin flight shows. And then the day wraps up with a medley of hookah pipes and fire-grilled meals.
8 – Desert Experience: Dinner and Emirati Activities with Vintage Land Rover Transport from Dubai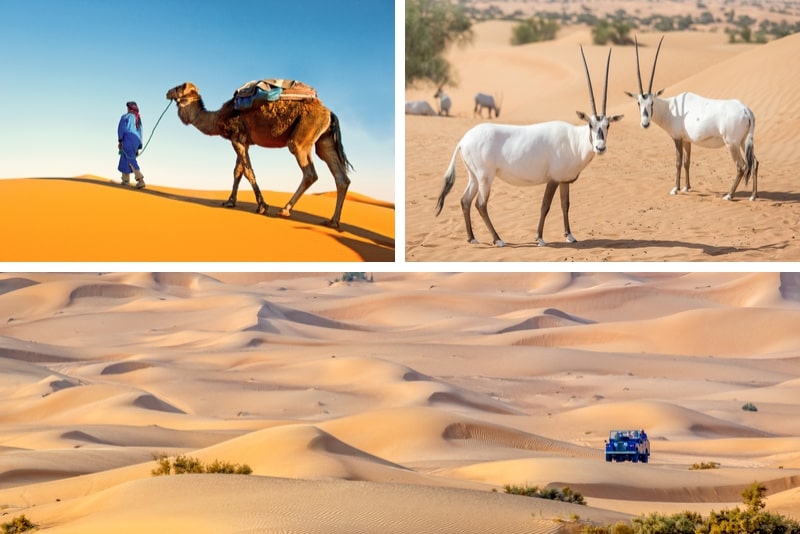 Who needs luxurious air-con cars when you've got hardy Land Rovers? Certainly not the folk on this intriguing tour, which swaps the high-class rides you might be used to in Dubai with something a little more…vintage. Yep, as the balmy desert breezes billow through your hair, you'll do a runaround of falconry shows, nomadic BBQ dinners, and camel rides.
Of course, the real joy is simply in the travel – there's arguably no better way to spot the gazelles, the slinking sand foxes, and horned oryxes than from a vehicle that's had its roof shaved off!
9 – Dubai Desert Safari Red Dune: BBQ, Camel Ride & Sandboarding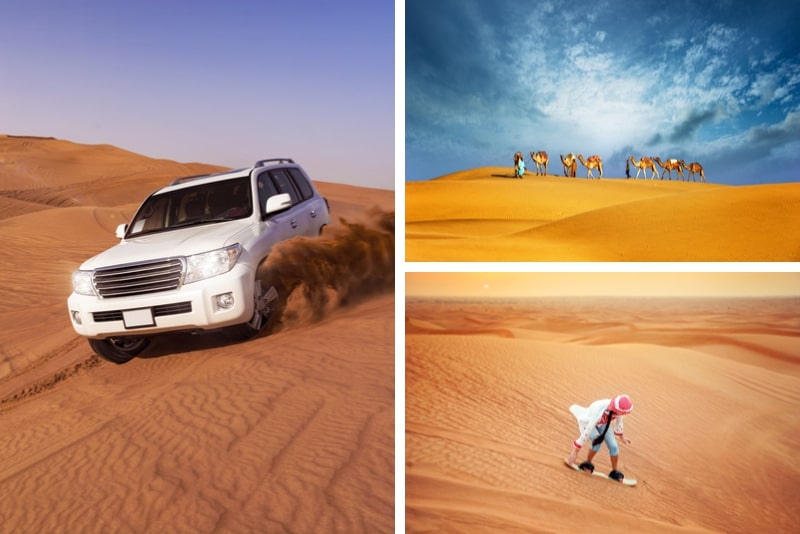 There's no better time of the day to experience the majesty of the red-tinted Arabian Desert than when the sun dips low on the horizon. Cue this guided tour into the wilds around Dubai. It takes you away from the bright lights of the big city and out to landscapes where dunes rise and fall in a blanket of light vermilion.
You'll experience it all with dune bashing (4WD rides) and sand boarding. And then it's back to an outback camp to taste Arabian coffees, puff on hookahs, and dig into a traditional buffet meal.
10 – Overnight Desert Camp Experience: Dinner, Emirati Activities, and Vintage Land Rover Transport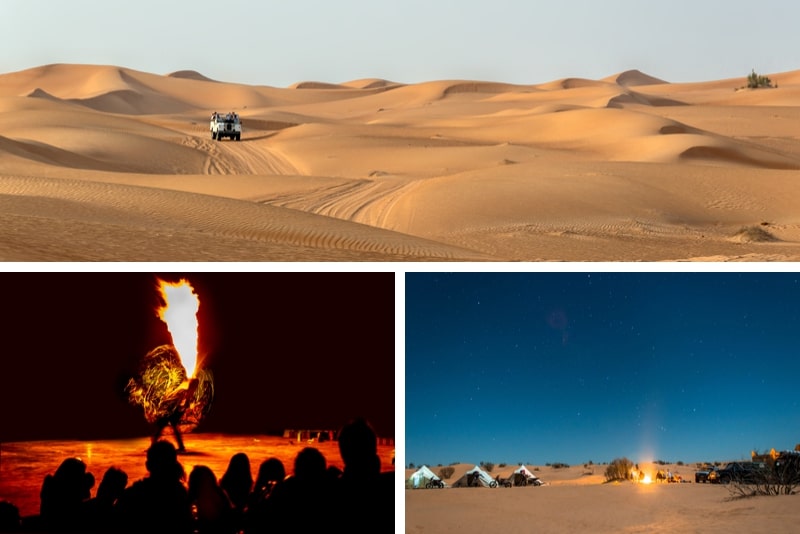 You can sleep in the company of gazelles and horned oryxes by choosing to stay under the star-spangled skies of the Arabian Desert. You can also experience the life of a real Bedouin, learning the history of falconry, Middle Eastern breadmaking, and henna tattooing.
That's all part of this enthralling tour, although things begin in open-air Land Rovers, on game drives inspired by African expeditions.
Then, you hit a royal desert camp for cooking classes and shisha smoking into the evening. Day two, meanwhile, heralds a local breakfast of chabaab pancakes and potent coffees, followed by a cruise through the dunes back to Dubai.
11 – Desert 4×4 Safari, Complimentary ATV ride, Camel Ride, BBQ Dinner & Live Shows
No aspect of Arabian Desert life is left unexplored on this fun-filled trip. Stories of swashbucklers, adventurers, and regional history kick things off on the ride out of Dubai – your dedicated guide takes care of that.
Soon, your 4X4 will be rumbling up and down the dunes. And then it's straight onto a quad bike to try your hand at navigating the harsh landscapes.
As the sunset comes, it's over to a traditional Bedouin camel camp. There, roaring fires warm the tents, and you'll dig into spit-roasted cuts while shisha smoke twirls in the air.
12 – Dubai Morning Desert Safari: Sandboarding, Camels & Brunch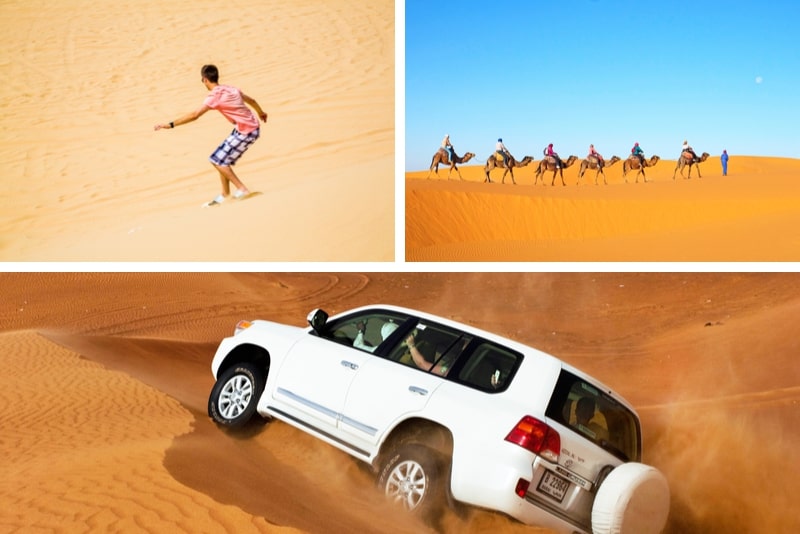 Early birds are bound to love this morning safari into the Lahbab Desert. Starting with the sunrise, you'll cruise out of Dubai for 45 minutes before hitting the wilderness.
A relax stop is quickly followed by a high-octane dune buggy ride. Then, you'll ride the rollercoaster that is a 4X4 trip over the dunes. Of course, being early, there's got to be a brunch involved.
In true Bedouin style, that comes at the Al Khayma Camp. It's dished out in hand-rolled pancakes and steamy mugs of gritty gahwa coffee – the perfect set up for the rest of the day!
13 – Dubai Afternoon Desert Safari and BBQ Dinner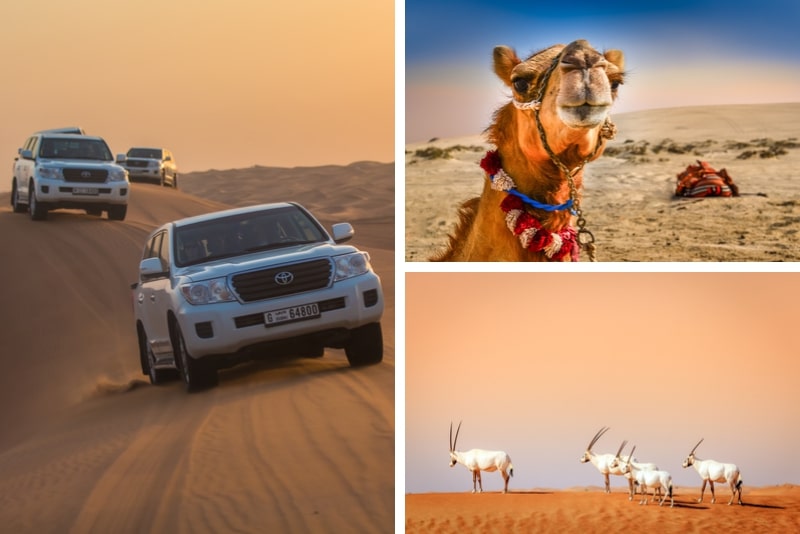 You can make this tour into the iconic sand sea of the UAE whatever you want it to be. The basics include sand boarding and 4X4 rides out into the wilderness.
On top of that, there are opportunities to get traditional henna tattoos, hop on a camel and galumph through the dunes, and puff on classic Middle Eastern shisha pipes.
In all, the trip lasts around six hours, culminating with an open-air desert encampment where belly dancers and Arabic music provide the authentic backdrop.
14 – Desert Safari + Burj Khalifa At The Top + Dubai Aquarium – 2 Day Combo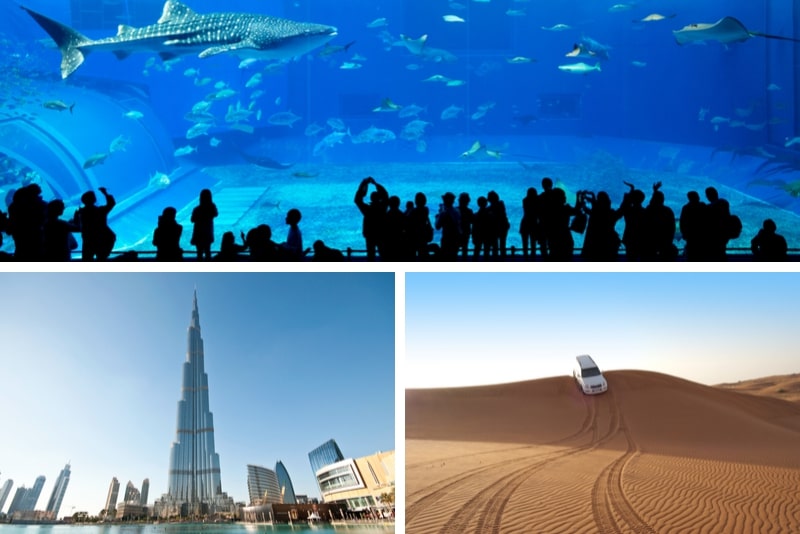 Fuse all that important sightseeing in the city with a bona fide Dubai desert safari on this two-day combo package. You'll begin at the cloud-splintering Burj Khalifa. It's the tallest building in the world, and your ticket offers a queue skip that takes you to soaring lookouts on the 125th floor!
After that, the snapping sharks, misty rainforests, and underwater tunnels of the Dubai Aquarium beckon. Then the buck passes to the UAE outback.
The next day, your afternoon gets rolling in a 4X4 that whizzes out to a Bedouin camp for shisha pipes and fires between the glowing sand hills there.
15 – 2 Day Combo: Desert Safari + Dubai City Tour + Dhow Dinner Cruise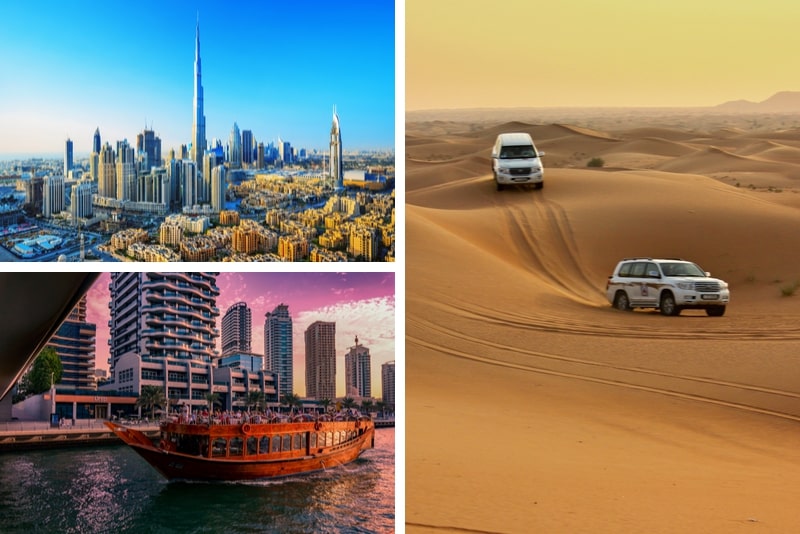 Over 48 hours of fun, this enthralling tour packs in the best of any Dubai desert safari and the sprawling metropolis itself. There are moments when you'll be lost in trinket-shimmering gold souks.
It offers glimpses of the cannon-ringed Al Fahidi Fort. And you'll encounter the stunning Palm Islands (manmade in the Persian Gulf), along with the arabesque architecture of the Jumeirah Mosque.
Trips out to the desert are packed with BBQ dinners and 4X4 dune riding. And then you can catch a romantic meal on a traditional dhow boat, sailing amid the skyscrapers that line Dubai Creek.
16 – 2 Day Combo: Big Bus 1 Day Hop-On Hop-Off Tour + Desert Safari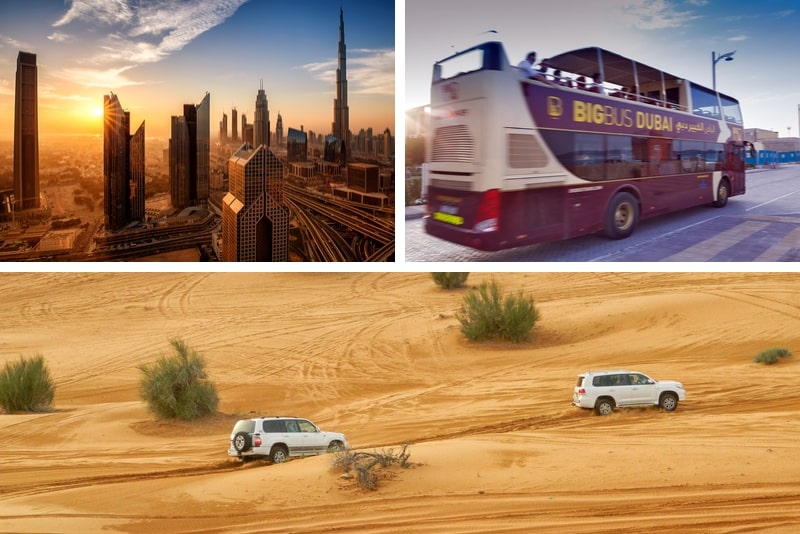 If you like to take things at your own pace, there's arguably no better way to get stuck into Dubai than on a hop-on, hop-off bus tour. You'll jump on open-top coaches that run rings around the city, enjoying glimpses of the iconic Burj Khalifa, the colossal Mall of the Emirates, and the Palm Islands alike. Along the way, multi-lingual audio commentary tells of the city's history and culture.
Day two on this trip is all about escaping to the sands. Cruising in a 4X4 to the Lahbab wilderness in the early afternoon, you'll experience a classic Dubai desert safari, complete with Bedouin villages and dune bashing.
17 – Dubai Super Saver: City Sightseeing Tour and Desert Safari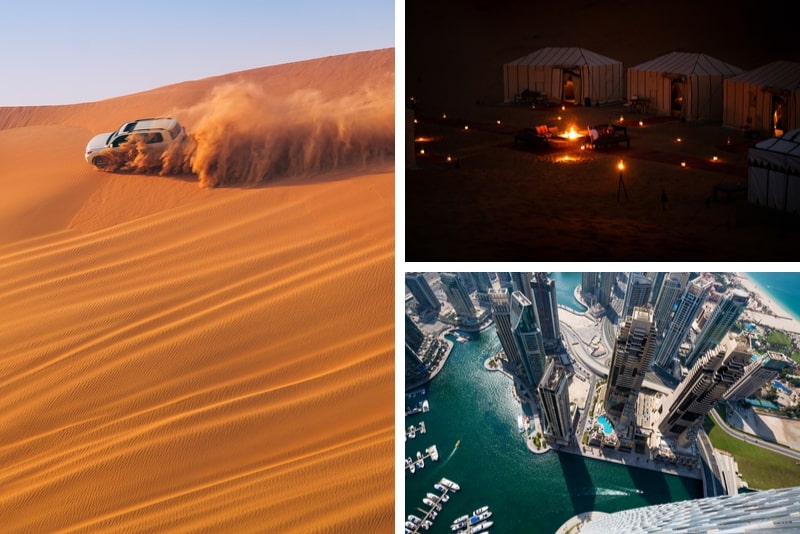 You might just be able to save a sultan's ransom of dirham by opting for this low-cost combo tour. It fuses a classic sightseeing day in the big city with an exotic Dubai desert safari. That means phase one is all about shopping in the emporiums of the Gold Souk and feeling the salt breezes roll in off bustling Jumeirah Beach.
Then comes day two, when you're whisked from the skyscrapers to the orange sands. There, you get to see falconry shows, ride the dune waves on sandboards, and enjoy BBQ dinners under the stars. Oh, and it all comes in for less than 90 USD!
18 – Dubai Combo: Helicopter Flight and Desert Camp Experience by 4×4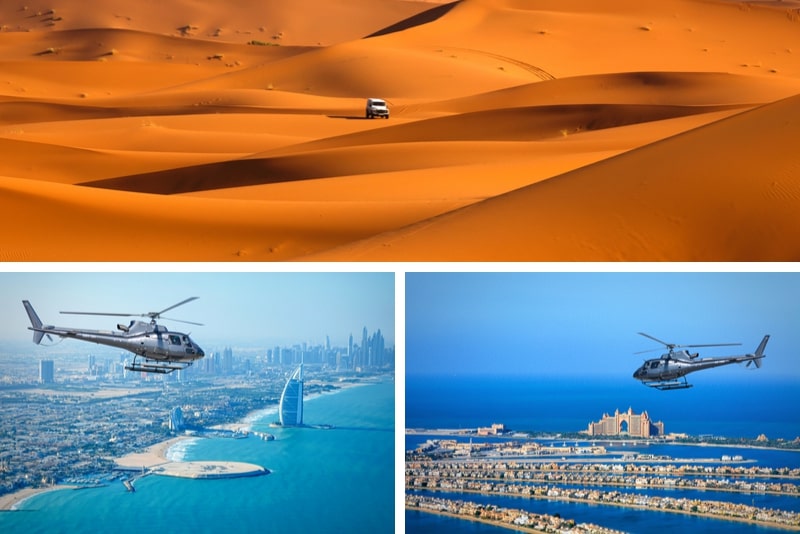 A single day is all you'll need to set aside to experience Dubai and its surrounding hinterland on this trip. It's all done in high-octane fashion. First, the chopper is fired up and you soar into the forest of urban skyscrapers – there's really nothing that can prepare you for the startling majesty of the Burj Al-Arab and the mighty Burj Khalifa from the air!
After landing, you're straight into a 4X4 and cruising out to a Bedouin camp for an authentic Dubai desert safari. That includes camel rides, a local guide with oodles of mystical tales inspired by the sand sea, and even belly dancing shows!
19 – SkyDive Dubai: Tandem Skydiving at Desert Drop Zone + Free Burj Khalifa OR Desert Safari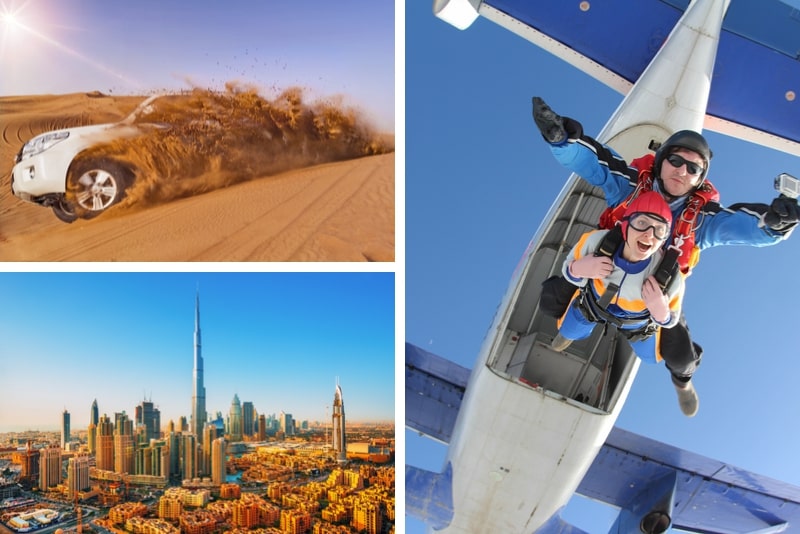 Kick start your Dubai desert safari in style by free falling a whopping 13,000 feet at a hair-ruffling 120 miles per hour, straight from the cloudless Arabian skies to the dusty sand dunes below. It's a tandem drop, so you'll be guided by a pro from the plane to the surface, and you can get the whole thing documented on a camera.
After landing, you've probably earned a trip to a sumptuous Bedouin camp for shisha pipes and local coffee brews. To get that, you'll need to pick the safari option over tickets to the Burj Khalifa observation floors.
20 – Burj Khalifa At The Top & Desert Safari Combo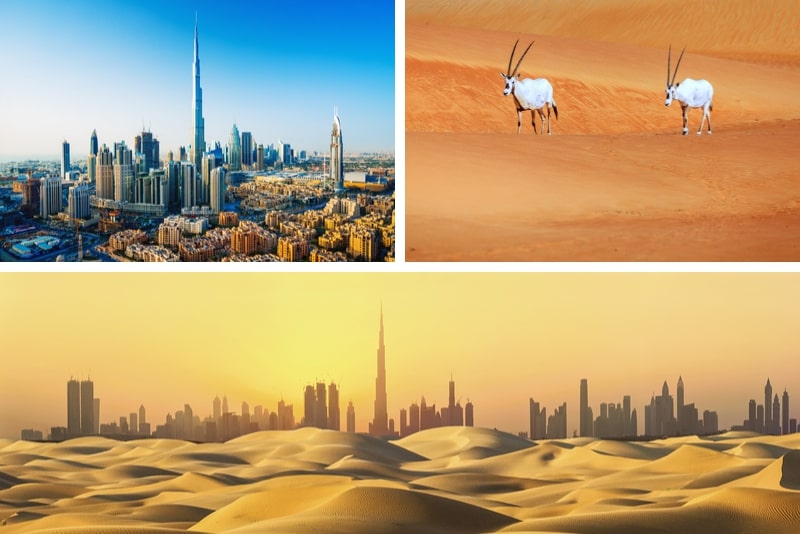 The tallest building on the planet is what brings the UAE into focus on this combo tour. You'll start with general admission to the 125th-floor observation deck. From there, the glimmering Persian Gulf, the golden beaches of Jumeirah, and the mind-boggling Palm Islands can be seen in all their glory.
Once you make it back down to ground level, there's a 4WD pickup awaiting. That's your ticket to the Arabian Desert, where groaning camel caravans and mystical Bedouin fire shows take over. As you leave behind the city, you'll have chances to snap sunset shots of the dunes and experience adrenaline-pumping dune bashing to boot!
21 – Dubai Private Luxury 6-Course Dinner in the Desert Experience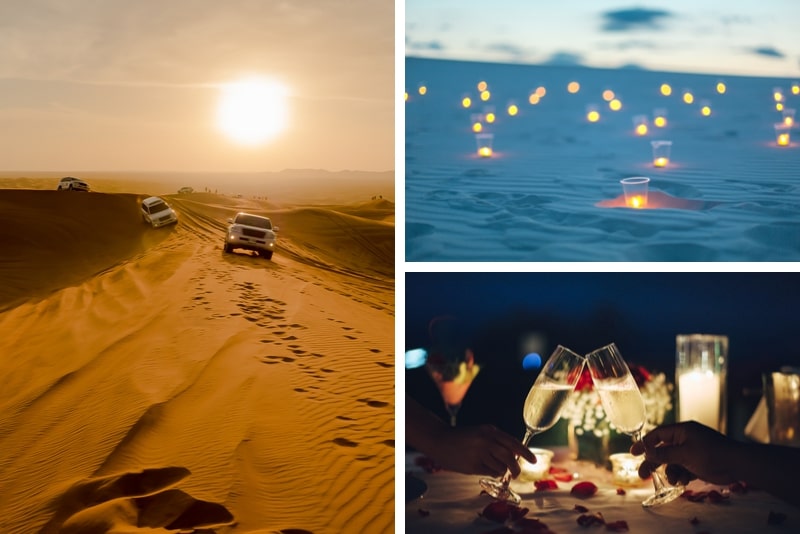 Live like the Arabian sultans of old by treating yourself and someone special to this VIP tour. It's a fusion of a Dubai desert safari and a luxurious dining experience. The whole thing takes place out in the sand sea of Lahbab, starting as the sun dips low to glow red on the dunes.
Transport is in high-class Range Rovers and your destination is a tailor-made dining spot with flickering candles on a traditional royal retreat. You can either arrive by camelback or in a car.
Falconry displays and sunset viewing are the entrees, and then you're onto the real meal – a romantic a la carte medley of fatoush breads, moussaka, spiced soups, and sweet lgeimat donuts.
22 – Red Dune Desert Safari, BBQ Dinner, Shows, Sand ski, Camel ride at Majilis camp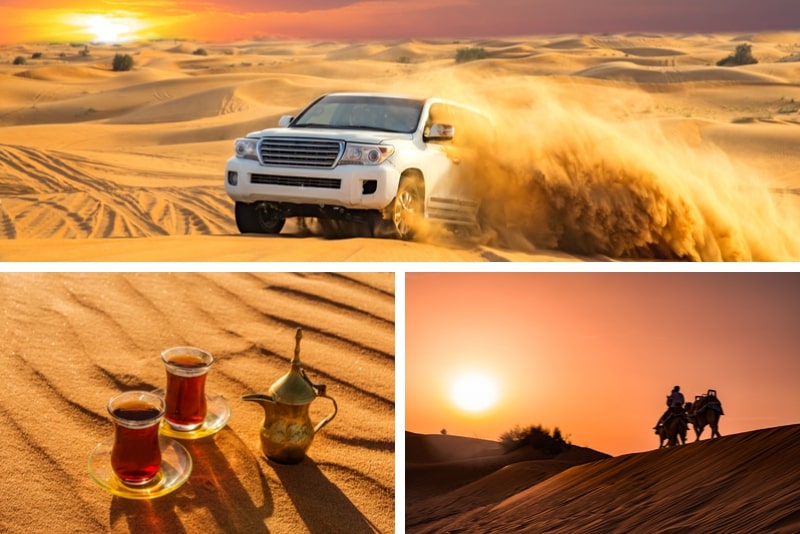 There's almost no end to the highlights on this thrill-filled, culture-brimming adventure. Dubai is left in the dust in the early afternoon. That's to ensure there's enough time for guests to get a feel for sand skiing and dune bashing before hitting the earthy Bedouin camp far out in the wilderness.
Once you're there, you'll be lost in a haze of shisha smoke and belly dancers. A whole buffet meal of shawarma and mezze is doled out under the stars, and you'll even get a chance to pose in traditional Middle Eastern outfits for that compulsory Instagram shot!
We hope you found your perfect deal and wish you an excellent Dubai desert safari 🙂
Check our guide about the most fun things to do in Dubai to discover more activities to do in the city.