Home to waterfalls, rice terraces, volcanoes and rainforests, Bali is a mountainous, tropical island that makes for the ideal hiking destination.
Experience the unspoiled natural beauty of this Indonesian island with a hiking tour in Bali, led by a professional tour guide. Whether you're an avid hiker or someone who is relatively new to hiking, there is a hiking tour that is perfect for you.
You'll enjoy incredible views of the surrounding areas as you familiarize yourself with Bali's diverse array of fauna and flora— making memories to last a lifetime.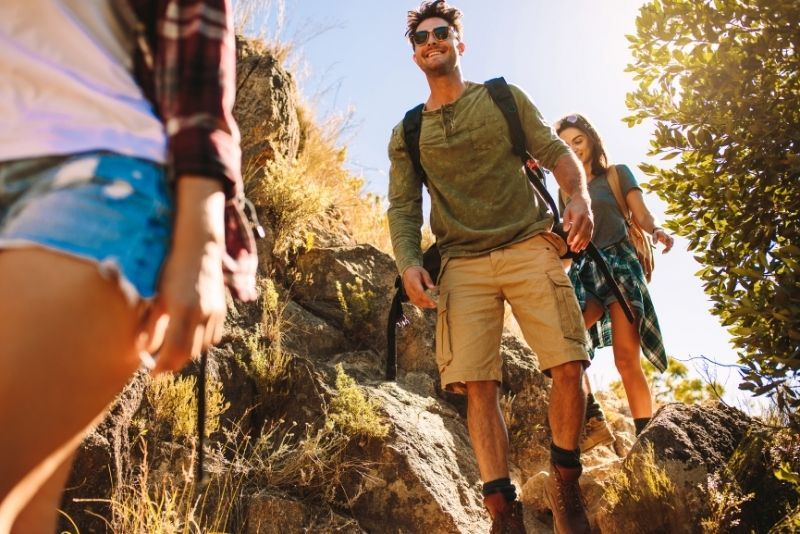 Here's all you need to know about hiking tours, one of the most exhilarating outdoor activities in Bali.
What are the best hiking tours in Bali?
Mount Agung sunrise hiking tour in Bali
Mount Agung is known for being the highest mount in Bali— sitting at 3142 meters above sea level. While the hike up is quite challenging, you'll be rewarded with amazing views once you reach the top.
Your professional hiking guide will be with you and your group every step of the way and provide you with fascinating information about the volcano. Once you've made your way back down Mount Agung, you'll be dropped off at your hotel.
Sekumpul Waterfall hiking tour in Bali
Before you start your hike, you'll get to visit a well-known coffee plantation for a coffee tasting to kickstart your day. You'll also learn how Kopi Luwak is produced.
The hike to the Sekumpul waterfall is a relatively easy one and offers some truly amazing views. After the hike, you'll recharge with lunch at a local restaurant before continuing to Ulun Danu Temple. See a diverse range of attractions all in one tour!
Banyumala Waterfall hiking tour in Bali
Hike through lush rainforests in central Bali as you make your way toward Banyumala Waterfall and its cascades and pools. Take a dip in the cool water before heading to a famous water temple in the area, where you'll learn about cleansing rituals.
On the way back to your hotel, you'll make two worthwhile stops— Lake Beratan and Jatiluwih Rice Terraces.
Mount Batur sunrise hike and hot spring hiking tour in Bali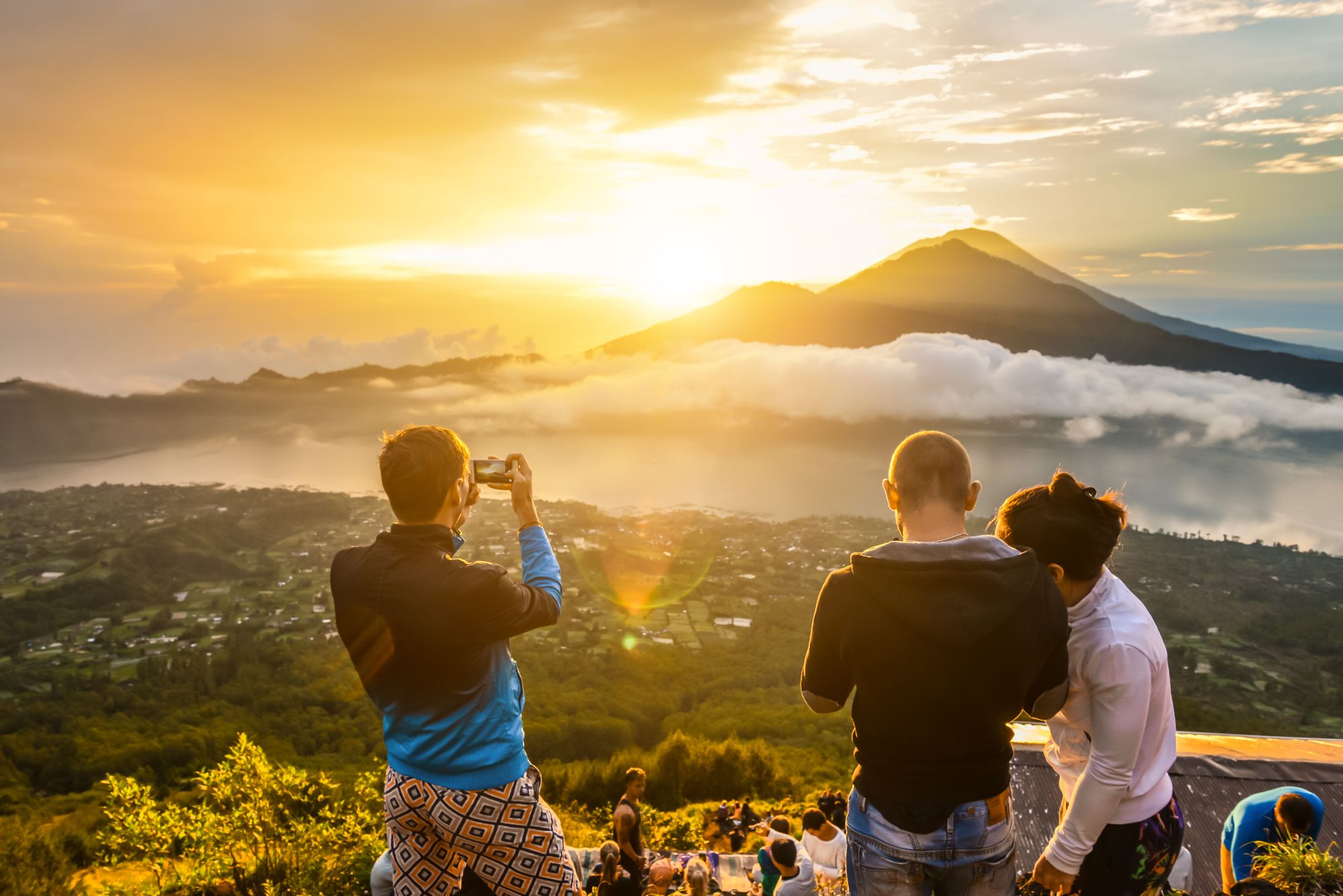 This is by far one of the most popular hiking tours in Bali, and is ideal should you want to visit Mount Batur — a famous active volcano in central Bali. The sunrise views from the volcano are world-renowned and make for incredible photos.
You'll enjoy breakfast at Mount Batur's summit and see the volcano's crater, before hiking back down. Next, you'll get the opportunity to take a dip in a natural hot spring, and visit a coffee plantation before being taken back to your hotel.
How much does it cost?
Most hiking tours in Bali cost roughly US$60 per person, and this price is accurate for the Banyumala Waterfall tour, the Sekumpul Waterfall tour and the Mount Batur sunrise hiking tour.
There are also cheaper hiking tours available, such as the Mount Agung hiking tour, which is just US$35 per person. But this tour does not make any additional stops like the others mentioned in this article do.
The price of a hiking tour will depend on its itinerary, what is included, and the length of the tour.
What is included?
Transport to and from your hotel
Breakfast (sunrise hiking tours)
Necessary equipment
Any entrance fees
Guided hike
Bottled water
Fuel fees
Parking fees
Where does it start?
Almost all hiking tours in Bali offer an inclusive pickup and drop-off service for your convenience. However, some transfer services may be limited to hotels within specific areas in Bali.
How long does it last?
Most hiking tours will take up a significant portion of your day, with the typical duration being between 8 and 10 hours.
When is the best time for a hiking tour in Bali?
Most hiking tours start in the early morning so that you can enjoy sunrise views during your hike, but sunset views are also very popular.
Bali's dry season is from April to October, and this is the best time to partake in any type of outdoor activity in Bali.
Are there any combo tours available?
Mount Batur hiking tour with white water rafting
Hike to Mount Batur's summit at sunrise and enjoy the picturesque views from this iconic spot. The next item on the itinerary is an adrenaline-filled white water rafting experience down the Ayung River.
Mount Batur hiking tour with Jungle Swing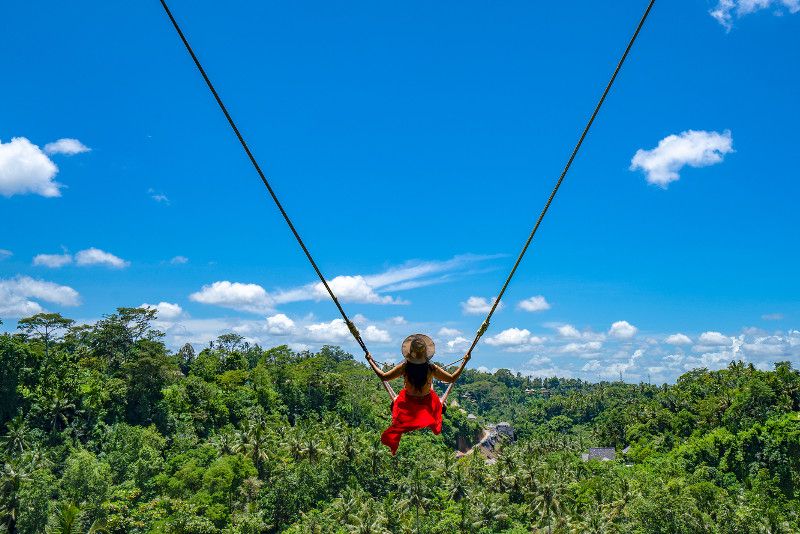 Once you've enjoyed the incredible views offered by Mount Batur, you'll be whisked away to the heart of Ubud where you'll soar over the jungle in the famous Jungle Swing. This is the perfect photo opportunity.
Mount Batur hiking tour with 4WD Jeep
Make your way to Mount Batur in style— in a 4WD Jeep! Enjoy incredible views of the countryside from the back of the Jeep as the driver takes the scenic route to the volcano from your hotel.
Is it safe?
While some hiking tours in Bali can be quite challenging, all of these tours are safe and safety precautions are taken by tour guides. However, hiking tours are not recommended for those who have underlying heart conditions or mobility issues.
Most hiking tours in Bali require participants to have a moderate level of fitness.
Are children allowed?
The minimum age requirement for most hiking tours in Bali is 10 years old.
Which other outdoor activities can be done in Bali?
Travel tips
Wear comfortable shoes and bring an extra pair of socks along with you.
Pack a jacket as you may experience chilly temperatures in Bali's mountainous regions.
Bring some extra spending money for any personal expenses.
Book your hiking tour in Bali in advance to avoid disappointment.