Athens is rich with historical attractions and activities. The city draws in millions of visitors each year to enjoy the capital city of Greece, see where democracy began, learn about the ancient philosophers and explore ruins that date back thousands of years.
Most visitors flock to the Acropolis, but the city boasts another important archaeological site nearby. The Agora, which translates to marketplace in modern Greek, sits on the northwest slope of the Acropolis. It was once the heart of Athens and served as a gathering spot for the city's residents.
The historical significance of the Agora lies less in what you will see, and more in what you will learn. The Ancient Agora Museum is located in the Attalus Colonnade Building, which was built around 150 B.C.
You can explore the ancient Greek daily necessities such as pottery and pots that were unearthed in archaeological digs while learning about life in ancient Athens. The museum is one of the top tourist attractions in Athens and makes the perfect addition to your next trip to Greece!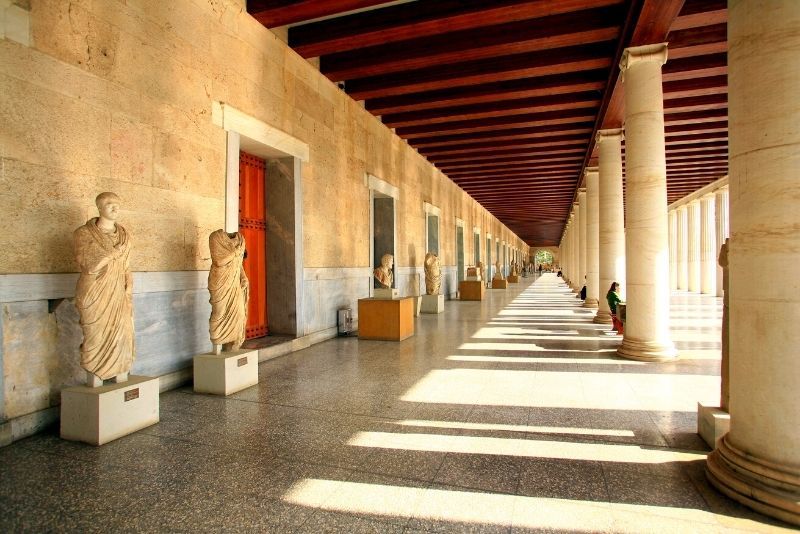 How much do Agora Museum tickets cost?
A trip to the Agora Museum is both affordable and worthwhile and one of the most renowned museums in Athens. The ticket prices for adults depend on the time of year that you visit the museum. You will need to carry a valid ID or Passport for verification of age and nationality to purchase the tickets.
Summer season (April 1 to Oct. 31)
Adults (25+): €10
EU seniors (65+): €5
EU children and young adults (5 - 25): Free
All children (under 5): Free
Winter season (Nov. 1 to March 31)
Adults (25+): €5
EU seniors (65+): €5
EU children and young adults (5 - 25): Free
All children (under 5): Free
If you book your tickets online, you will have to pay a fee of €2.50 These tickets provide free cancellation up to two days before your scheduled visit. You can pay an additional €1.50 to cancel by 11:59 PM on the day before your scheduled visit.
Who is eligible for discounts?
Journalists, non-EU students, members of ICOM and those serving in the armed forces can receive free or discounted entry with proper identification. European citizens over the age of 65 and citizens aged 6 to 24 from non-EU countries can receive a reduced entry for €5 all year round.
What are the best Agora Museum tours?
Some of the best Agora Museum tours are combined tours that also visit the Acropolis Museum and Ancient Agora. This way, you can explore Athens' most important sites of antiquity all in one tour.
Most of these tours will end right where they start, in common spots like the Ancient Agora of Athens on Adrianou. Some of the other designated meeting locations include Syntagma Metro Station and Fresko Yogurt Bar.
These tours are only available in English and typically last up to five hours. Many operators offer multiple tours each day, so you can book for the early morning or late afternoon.
You can explore the temples and an ancient concert hall and admire the Stoa of Attalos and its artifacts on these tours. Walk through the marble colonnades and travel back in time to when the ancient Athenians created the cradle of western civilization.
It's recommended to purchase skip-the-line tickets for access to the Agora Museum. You can simply pick up these multi-site tour tickets the day before and gain access to several different historic sites in central Athens.
Are there any combined tickets or tours including the Agora Museum and other attractions?
If you wish to see several Athens's attractions in just a day or two, purchasing combined tickets or tours is a great way to save time and money.
Athens City tour with the Acropolis, Ancient Agora and the Agora Museum tour: See where Plato and Socrates taught and lectured and learn about the daily life of ancient Athenians on this Athens city tour.
Acropolis, Ancient Agora and the Agora Museum tour: This is the perfect combo tour for classical history and archaeology buffs!
Skip-the-line Ancient Agora and the Agora Museum tour: This gives you access to the museum while exploring the exact place that gave birth to western civilization.
Is it possible to visit the Agora Museum for free?
There are some days on which the Agora Museum gives free admission, including March 6 to commemorate Melina Mercouri, April 18 in observance of National Monument Day, May 18 for National Museum Day, June 5 also for National Museum Day, the last weekend of September, Oct. 28 and every Sunday from Nov. 1 to March 1.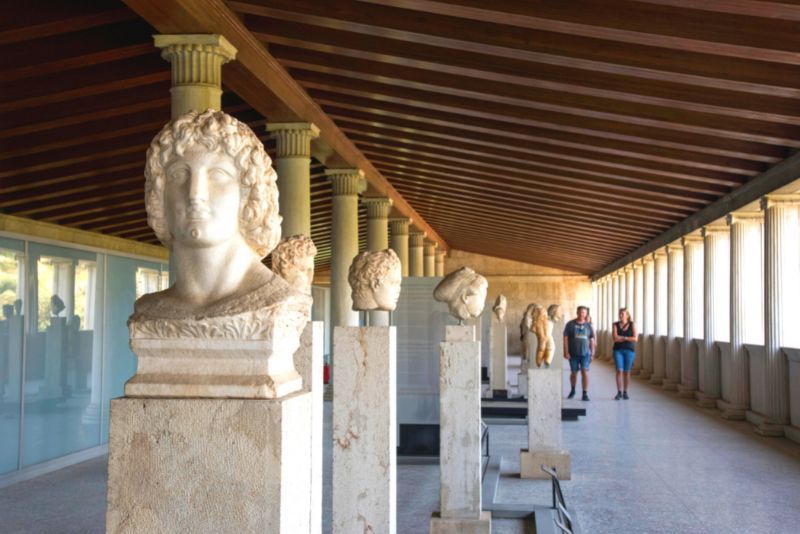 Should you book Agora Museum tickets in advance?
You can ensure that tickets are not sold out by purchasing skip-the-line tickets and reserve the best possible time slots by booking your tickets in advance. Standing in line waiting to purchase tickets is never a good use of your time while on vacation.
What will you see inside the Agora Museum?
The Agora Museum exhibitions display findings from archaeological excavations conducted by the American School of Classical Studies. You can wander through the museum and enjoy the exhibits that are organized by both chronology and theme. Each section will teach you about public and private life in ancient Athens.
Some of the most important objects in the museum include those that highlight various aspects of civic life and the Athenian democracy institutions. These objects include clay measures, bronze weights, jurors, tags and clay water clocks.
Visitors also take special interest in a marble stele, red-figured pottery, kitchen items, lamps, terracotta figurines, coins and jewelry. You can also view a collection of miniature Roman busts, heads and copies of famous statues.
The new exhibition area provides stunning views of the Agora, the Pnyx and the Acropolis. It also takes an experiential approach to explore the architecture of the ancient stoa in six different units, including late classical-Hellenistic works featuring gods and mortals and Roman copies of classical works.
The displays also include portraits of wealthy Athenian citizens, state officials and prominent Roman Athens citizens, as well as sculptures that embellish private schools.
How to get to the Agora Museum?
You can reach the Agora Museum by public transportation, taxi, rideshare or on foot. The nearest metro station is Thissio. You can take the Green Line 1 to Thissio and walk a short distance to the museum along Adrianou Street.
The museum is also centrally located, so, if you are going by foot, from Monastiraki Square, take Adrianou Street for a short walk to the Ancient Agora.
When is the best time to visit the Agora Museum?
To ditch the crowds, avoid the busy summer months of June through September. Consider planning a visit in April, May or October when the crowds are a little lighter, and the weather is still pleasant. You can also visit early in the morning or late in the afternoon before the larger crowds appear.
Which other museums can be visited in Athens?
Travel tips
Buy your tickets in advance to save money and time!
Compare prices online to book cheaper tickets.
Bring your online ticket to exchange it for a physical ticket upon arrival at the museum.
Don't forget to bring your ID card if you are eligible to receive the discounted ticket price.
Book an online locker service for a luggage-free trip to the museum.
Go as early as possible before the heat of the day sets in or late in the afternoon for a better experience.