The Cycladic Art Museum stands proudly on Neophytou Douka in the heart of Athens. It is an interesting place to discover ancient artifacts from over 5,000 years of history.
The museum is one of the most popular tourist attractions in Athens and is devoted to preserving and displaying the vibrant cultural heritage of the ancient Aegean and Cyprus.
The idea for this museum came from Nicholas and Dolly Goulandris, who began collecting Cycladic and Ancient Greek art and monuments in the early 1960s. It was not officially opened until 1986 and is now a prominent archaeological center in Athens.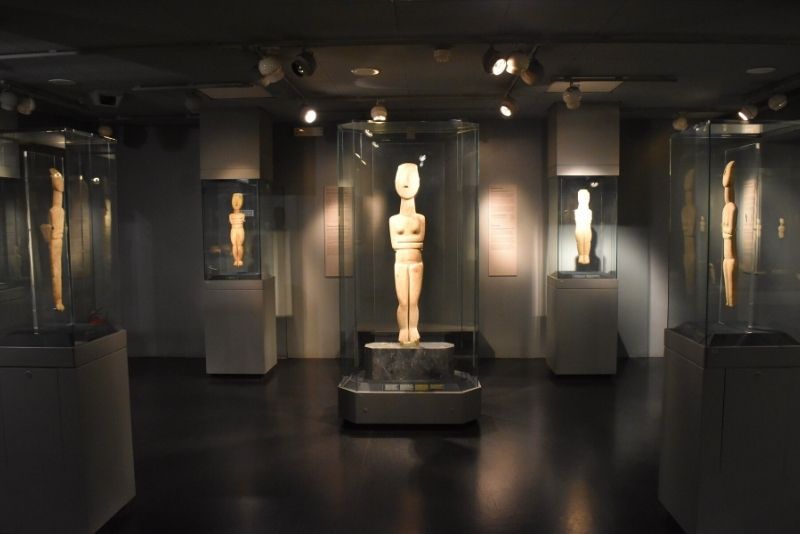 How much do Cycladic Art Museum tickets cost?
Combined entrance fee for permanent and temporary exhibition:
Adults (26+): €15
Children (up to 18): Free
Reduced: €10
Entrance fee to permanent exhibition:
Adults (26+): €10
Children (up to 18): Free
Reduced: €7
Reduced entrance fees are applicable to seniors (over age 65), students, young adults (age 19 to 26) and Chamber of Fine Arts cardholders.
Entrance fee to the current temporary exhibition:
Adults (26+): €10
Children (up to 18): Free
Reduced: €7
Each Cycladic Art Museum ticket allows you access to the museum's collections according to your type of admission, use of the free Wi-Fi to download the museum tour on your smartphone and a QR code for Clio Muse Tours. These tickets do not include a tour guide.
Persons with a disability can visit the museum with one carer free of charge. If  you are resident in Greece and unemployed, you can also visit the museum for free when you show a valid unemployment card.
Journalists and official tour guides also avail of the free admission, together with museum cardholders and ICOM - ICOMOS members.
Who is eligible for discounts?
Students, young adults (19-26), seniors (65+) and cardholders of Chamber of Fine Arts are for discounted entrance fee to the Museum of Cycladic Art all permanent and temporary exhibitions.
Archaeology and art history students, employees of the Hellenic Ministry of Culture, and museum card cardholders have discounted entry fee to the current temporary exhibitions.
Are there any combined tickets or tours including the Cycladic Art Museum and other attractions?
Guided tour of the Cycladic Art Museum and Benaki Museum: Take a private, two-hour tour with your family or group for just €75. This tour includes skip-the-line access, as well as a guided tour of either the Benaki Museum or the Cycladic Art Museum.
3-day pass for the Acropolis, Cycladic Art and War Museums in Athens: Take a three-day guided tour of Athens for just €20, which includes visits to three iconic Athens's museums: the Acropolis archaeological museum, the Cycladic War Museum and the Cycladic Art Museum.
3-day pass for Greek Culture, Cycladic Art and War Museums in Athens: You can also take a 3-day tour of three of Athens's most iconic museums for just around €30.
Is it possible to visit the Cycladic Art Museum for free?
Yes, it is possible for children and teenagers under the age of 18, visitors with a disability and a companion and unemployed Greek citizens who can prove their unemployment to visit the Cycladic Art Museum for free.
Should you book Cycladic Art Museum tickets in advance?
It is always a good idea to reserve your admission ticket ahead of time. You can book it online to save money and guarantee your entry to the museum. The ticket will not expire because the ticket confirmation will be on-site, and there is a free return policy should you change your mind.
What will you see inside the Cycladic Art Museum?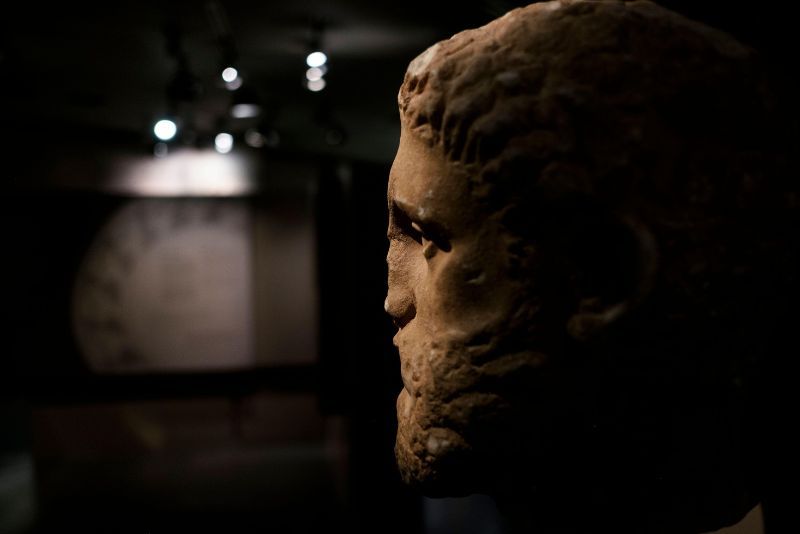 The Cycladic Art Museum houses over 3,000 Cycladic, Cypriot, and ancient Greek art monuments. The museum has a Permanent Collection which is organized into four floors, each with a particular theme.
Cycladic art
This museum's first floor is dedicated to over 350 examples of Cycladic art. This collection includes many marble sculptures — mostly of nude female bodies, that are typical of the ancient Cyclades (3000 B.C. to 2000 B.C.).
Many 20th-century artists like Henry Moore, Giacometti and Picasso were inspired by these figures' minimalistic and simple styles. Other Aegean artifacts such as pots, weapons and jewelry made of clay or bronze can also be found on this floor.
Ancient Greek collection
The museum houses the first collections of ancient Greek art dating from 2000 B.C. to 400 A.D. on the second floor.
There are nearly 400 exhibits that include everyday items such as cups, coins and vases as well as luxury items like jewelry and weapons that represent revolutionary events that occurred during those ancient times. They depict the evolution of classical Greek culture and its eventual blending with Roman culture.
Cypriot art
A collection of over 500 items of Cypriot heritage is displayed on the museum's third floor. These artifacts, made of stone, marble, clay, precious metals and glass depict the Cypriot and neighboring civilizations cultures between 4000 B.C. and 600 A.D.
The floor first opened to the public in 2012 and visitors tend to enjoy the scenery and aesthetics of this floor.
Daily life reflected in antiquity
Like the second floor, this floor depicts the daily activities of the ancient Greeks from 500 B.C. to 100 B.C. These works are accompanied by audiovisual illustrations to help visitors better understand the context.
After you've finished learning about ancient art, you should check out the museum's  auditorium on the fifth floor and the private gallery on the sixth. You can also visit the museum's other building, The Stathatos Mansion, which houses temporary exhibits, such as works from other museums and contemporary artists.
How to get to the Cycladic Art Museum?
You can reach the museum by public transport, taxi or rideshare. If prefer a public transportation, take the Metro Line 2 and Line 3 from Syntagma station, or Line 3 from Evangelismos station. Alternatively, you can take the Rigillis bus line.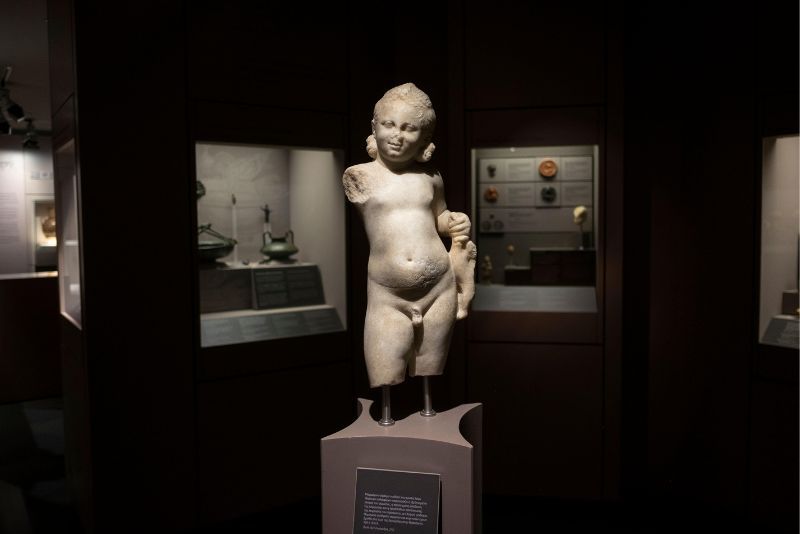 When is the best time to visit the Cycladic Art Museum?
The Cycladic Art Museum is usually busiest between 1 PM and 2 PM, so it is best to plan your visit for another time to avoid the crowds. We recommend visiting in the early morning or late afternoon.
You can visit at any time of year, but in early spring or late autumn there are fewer public holidays in Greece, so the museum will be less crowded.
The Cycladic Art Museum is closed on Tuesdays and religious holidays, including Christmas Day and New Year's Day, Easter Sunday and Monday, Ash Monday, Pentecost Monday, March 25 and Aug. 15.
Which other museums can be visited in Athens?
Travel tips
Note that the museum closes 15 minutes before the tour begins, so plan your visit accordingly.
The museum does not allow any food or drinks inside.
Every exhibition item on display is accompanied by explanatory notes, maps, charts, and/or touch screens. Read them to gain a better understanding of the pieces.