Airlie Beach in Northern Queensland, Australia, is the perfect base to explore the Whitsunday Islands and the Great Barrier Reef. Both are protected by UNESCO  and support a rich ecosystem.
A skydiving tour in Airlie Beach combines the rush of freefall with views of one of the planet's most beautiful locales.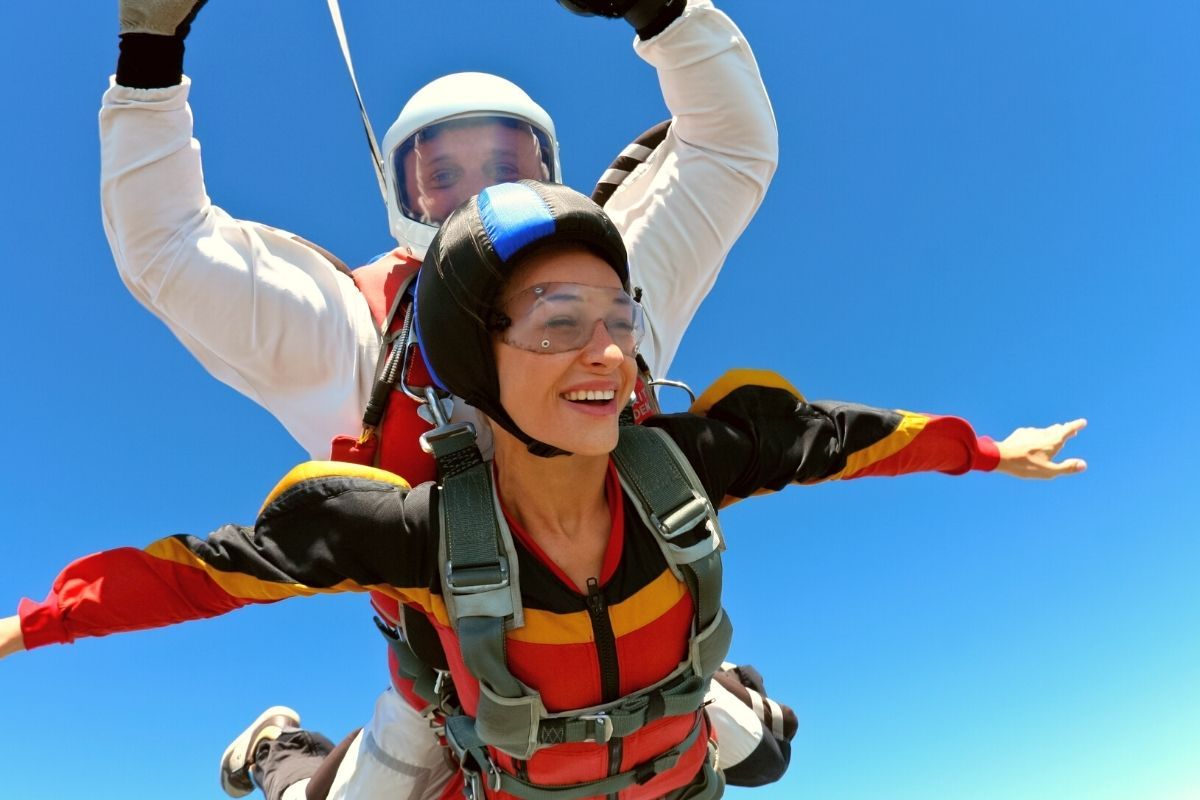 Here's all you need to know about skydiving, one of the most exhilarating outdoor activities in Airlie Beach.
What are the best skydiving tours in Airlie Beach?
Standard tandem jump
Skydiving tours in Airlie Beach involve tandem jumps from several choices of altitude. Securely rigged to a professional guide, tumble from a plane at anywhere from 1,800 to 4,500 meters.
Feel the freedom of up to a 60-second freefall before the guide pulls the canopy. Marvel at once-in-a-lifetime scenery during the 5 to 7 minute float to the earth.
Tandem jump with Whitehaven Beach landing
Make a tandem jump with an expert instructor from over 4 kilometers over the Whitsunday Islands and Great Barrier Reef. Glide above cerulean seas, white sands and forested islands before landing on one of the world's most beautiful beaches.
How much do skydiving tours in Airlie Beach cost?
Standard tandem jumps cost from US$160 per person to US$260 per person, depending on the altitude of the jump.
Tandem jumps with Whitehaven Beach landings cost from US$530 per person to US$570 per person, depending on the altitude of the jump.
Which places are seen with a skydiving tour from Airlie Beach?
Airlie Beach coastline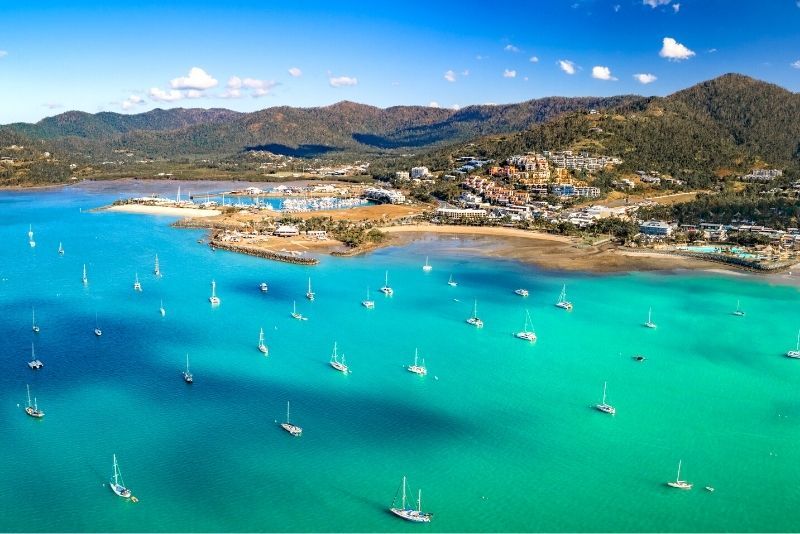 Mountains, reefs and the Coral Sea are a stunning backdrop in Airlie Beach. Take in marinas filled with sailboats, mansions along the seashore and resorts dotting the hillsides above town.
Great Barrier Reef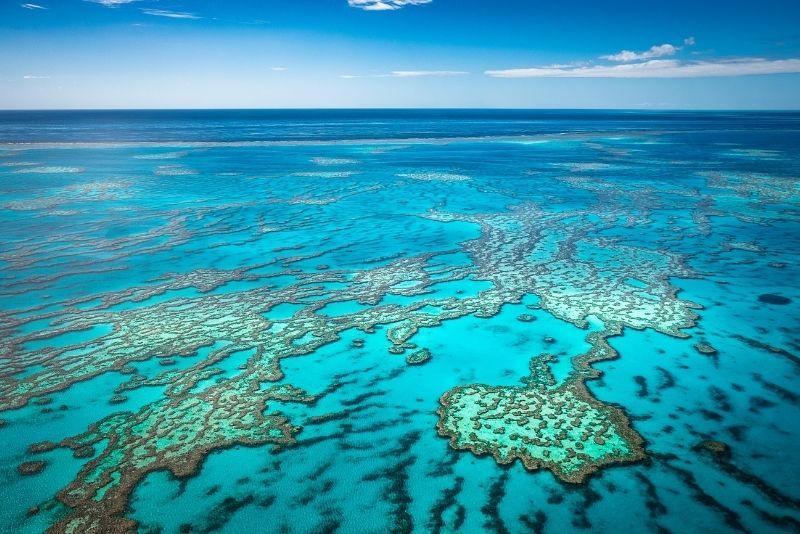 Covering nearly 350,000 square kilometers, the Great Barrier Reef is the largest living organism on the planet. The Whitsunday Islands are found in the reef near Airlie Beach. Seeing the reef and Whitsundays from several kilometers above the earth gives you an idea of the vastness of these natural phenomena.
Whitsunday Islands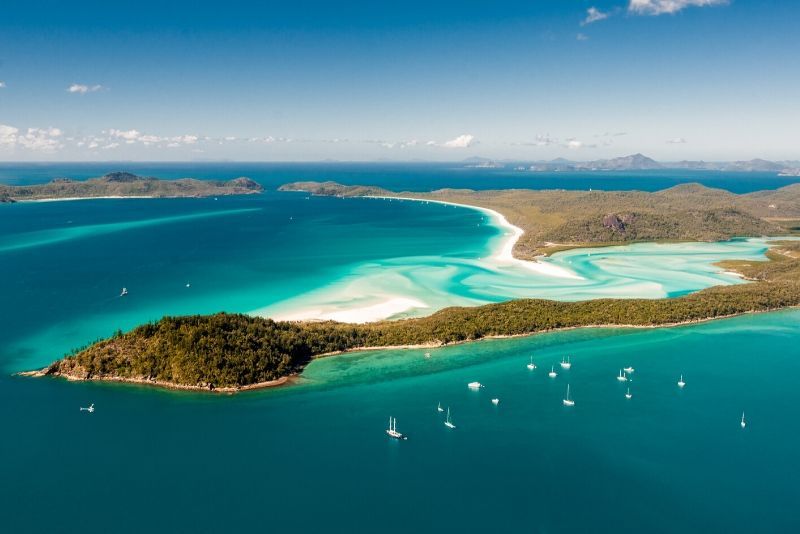 The Whitsundays and the surrounding Whitsunday Islands Marine Park attract marine life and tourists alike. The islands are famous for their white beaches, forested hills and turquoise shorelines swirling with sands.
The sheltered waters create ideal conditions for wildlife and host migrating whales during the summer.
Whitehaven Beach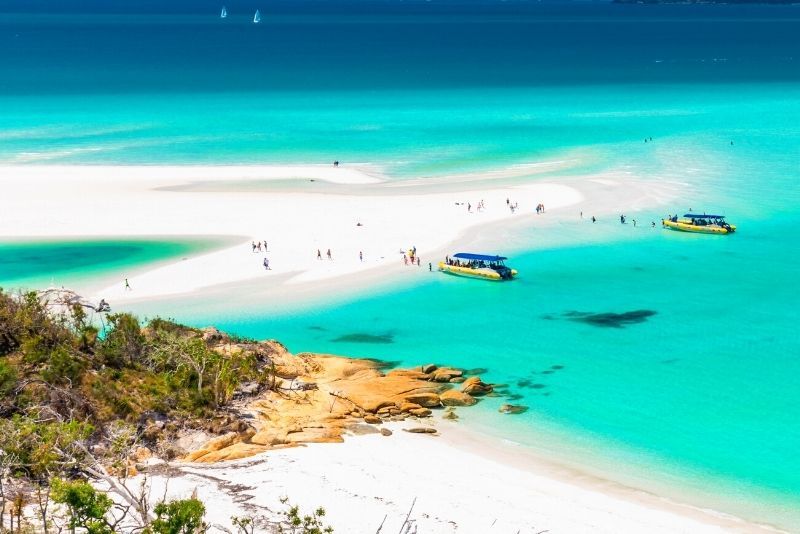 One of the prettiest beaches in the world, Whitehaven Beach is not to be missed. Pictures advertising the beauty of the Whitsundays never fail to include shots of this pristine stretch of coastline.
Snorkel off the shore or walk to Hill Inlet Lookout for 360-degree views of the sands, sea and reefs.
What is included?
Skydiving tours in Airlie Beach include instructions and a tandem jump with an expert guide. Enjoy the sights during the 20-minute flight before your jump. Once your guide pulls the chute, you may help steer toward your landing site.
Jumps with Whitehaven Beach landings provide pickup and drop-off from local hotels as well as ferry transportation back to the town at the end of your experience.
Where does it start?
Skydiving tours in Airlie Beach start at the Whitsunday Airport in Flametree. Tours with Whitehaven Beach landings include pickup from hotels in Airlie Beach.
How long does it last?
Skydiving tours last 3 to 4 hours. The time is broken into safety instructions, flight and jump. The descent takes a little less than 10 minutes from jump to landing. Tours with Whitehaven Beach landings end with a ferry ride from the island back to Airlie Beach.
When is the best time for a skydiving tour in Airlie Beach?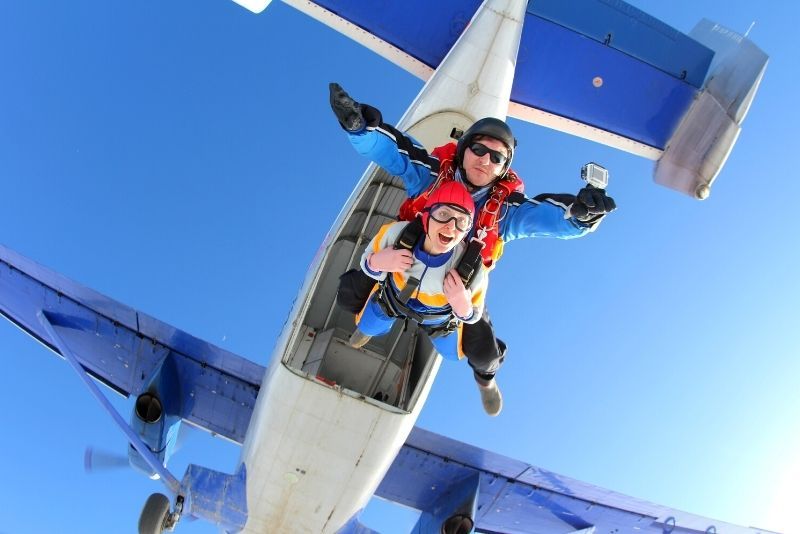 Airlie Beach's tropical climate makes outdoor activities possible at any time of the year. For chances of seeing whales from the air, book a tour from July to August.
Is it safe to take a skydiving tour in Airlie Beach?
Yes, skydiving tours in Airlie Beach are safe, as they provide expert guides and safety equipment.
These excursions are not suitable for pregnant travelers or those with heart conditions or other serious medical concerns. If in doubt, check with the tour provider before booking.
Are children allowed on a skydiving tour in Airlie Beach?
Skydiving tours in Airlie Beach have different age requirements. Some allow children aged 12 and above, but require parent/guardian consent or an accompanying adult. Some tours only allow adults to participate.
Which other outdoor activities can be done in Airlie Beach?
Travel tips
Skydiving tours sell out quickly, so book your tour early.
If you suffer motion sickness, take medication one hour before the flight.
Wear clothing appropriate for an active day.
Don't wear hiking boots or sandals.