Hamilton Island is one of Australia's most sought after holiday destinations and the largest inhabited island in the Whitsunday Islands archipelago. This resort island is remarkably beauty and is only a short distance away from Airlie Beach, making it an ideal destination for a day trip or tour.
Day trips to Hamilton Island from Airlie Beach are perfect for experiencing the resort atmosphere, tropical beaches and activities available without an overnight stay. An excursion to this welcoming Whitsunday Island is well worth it if you are visiting northern Queensland.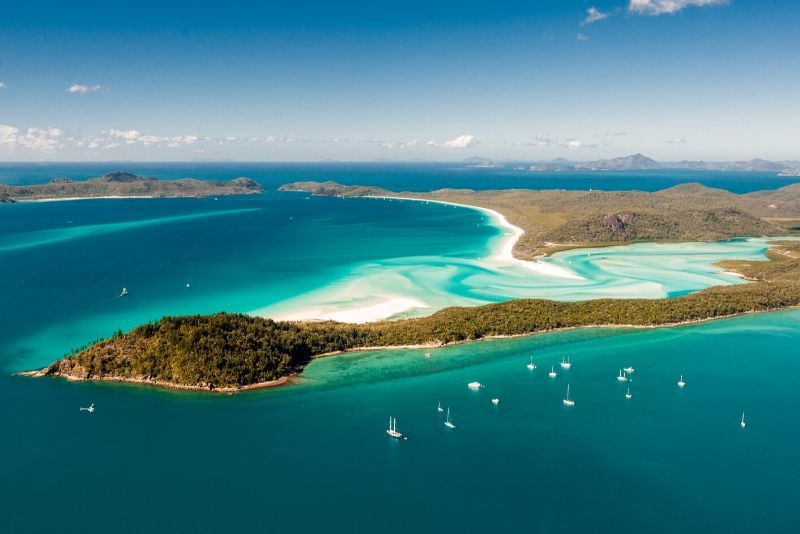 Here's all you need to know about Hamilton Island, one of the most mesmerizing destinations for day trips from Airlie Beach.
How to get to Hamilton Island from Airlie Beach?
From Airlie Beach to Hamilton Island by ferry
The best way to reach Hamilton Island is by boat. Daily ferries and boat tours are the most popular way of getting to the island from Airlie Beach.
The 27 kilometer trip from Airlie Beach to Hamilton Island Marina or Airport takes approximately an hour by ferry. There are multiple departure throughout the day.
With few exceptions, no vehicles from the mainland are permitted on the island.
Guided tours to Hamilton Island from Airlie Beach
Guided day trips and tours to Hamilton Island from Airlie Beach are great if you have not booked accommodation at one of the island resorts.
Full-day boat tours that include a visit to the island typically include sailing, snorkeling, and a combination of water and land based activities.
You can choose a full-day trip or a multi-day tour from Arlie Beach that includes a stop on Hamilton Island.
Hamilton Island from Airlie Beach by helicopter or light aircraft
Hamilton Island is also the only Whitsunday Island with commercial airport and so flying in from Airlie Beach or a major Australian city is also an option.
Helicopter tours or scenic flights of the Whitsunday Islands from Airlie Beach provide a birds eye view of Hamilton Island.
Helicopter trips may land on Hamilton Island, while scenic flights pass over the island archipelago and Great Barrier Reef before returning to Airlie Beach.
What is the typical itinerary of a day tour to Hamilton Island from Airlie Beach?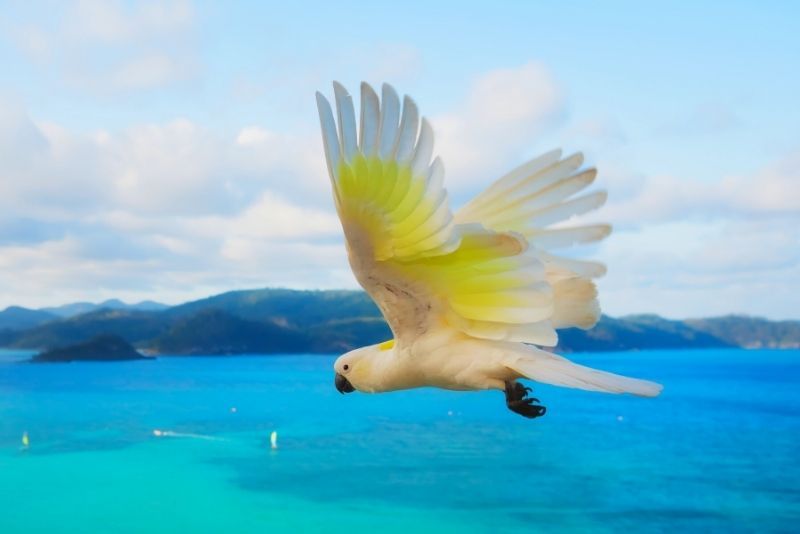 A day tour to Hamilton Island typically begins with a pickup from your hotel or meeting point at the Coral Sea Marina.
Depending on your tour, boats travel directly to Hamilton Island or spend some time in the surrounding Whitsunday Islands' waters before docking at Hamilton Island.
On tours that continue on to the Great Barrier Reef, you may only stop briefly on the island.
If you have booked a tour that includes a Crocodile Safari, you will spend most of your day cruising the Proserpine River in a flat-bottomed boat, on the lookout for the estuarine crocodiles that inhabit the area.
Full-day boat based tours for small groups usually include a delicious lunch. Sunset cruises give you the opportunity to bring your own sundowners on board. Tours return to Airlie Beach in the late afternoon or early evening.
What kinds of tours are available to go to Hamilton Island?
Full day tours including Hamilton Island, Crocodile safaris, sunset cruises and tours to the Great Barrier Reef are just some of the tours available from Airlie Beach.
Regardless of which tour you prefer, booking an excursion with an experienced tour operator is an easy and convenient way to visit the sights with a small group or on a private basis.
Here are a selection of day trips and tours to choose between when wanting to visit Hamilton Island from Airlie Beach:
Whitehaven Beach and Hamilton Island cruise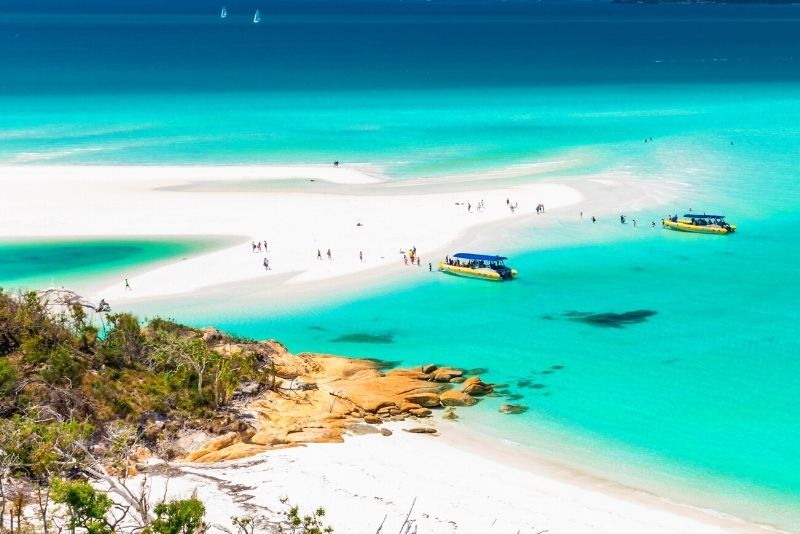 Set sail on a high-speed catamaran for a full-day Whitehaven Beach and Hamilton Island Cruise. On Hamilton Island there is time to explore the island's walking trails, Australian animals at Hamilton Island Wildlife and the local restaurants and boutiques.
After a busy morning, the tour continues to the magnificent Whitehaven Beach to spend some time relaxing on the dazzling white beach or swimming in the warm turquoise waters.
Lunch, as well as morning and afternoon tea, are included on this day trip, and access to shuttle buses and resort swimming pools are also included for your enjoyment and convenience.
Sunset Cruise to Hamilton Island by private charter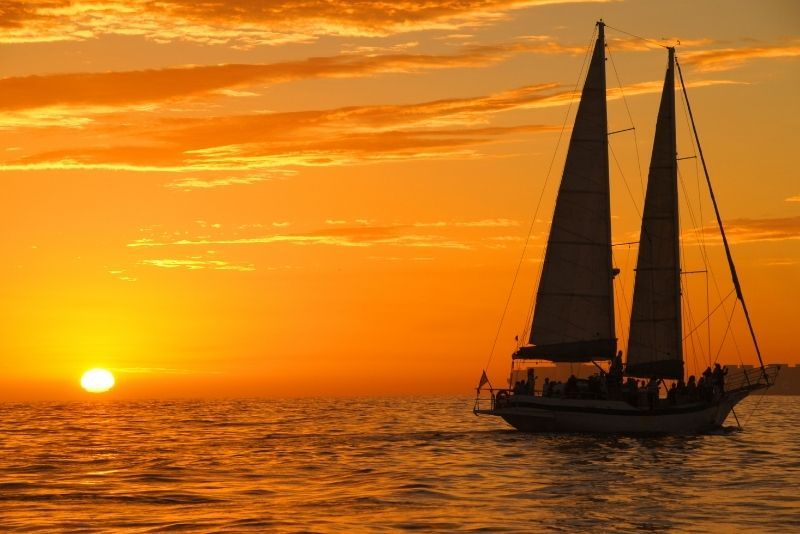 Up to eight passengers can board a luxury private sunset tour departing Hamilton Island. On this 1.5 hour cruise, you bring your own drinks and can enjoy your own music selection while nibbling on snacks provided by your captain.
You will stop in a secluded area to enjoy the beauty of a tropical sunset over the Coral Sea and Whitsunday Islands before heading back to Hamilton Island.
Whitsunday Crocodile Safari cruise from Hamilton Island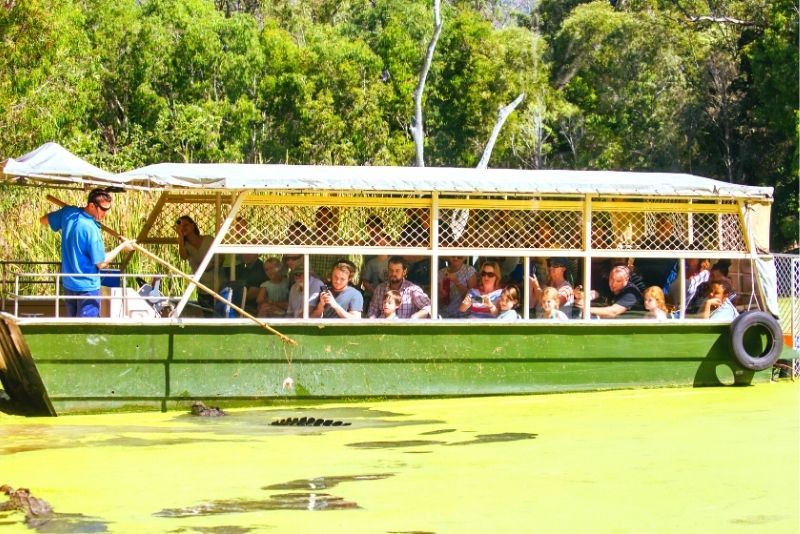 The Proserpine River is home to the formidable estuarine (saltwater) crocodile. On a full-day crocodile safari, you will be transferred from Hamilton Island to Proserpine and board a flat-boat for a day on the river.
Apart from crocodiles, you may spot other local wildlife species including the famous Queensland mud crab
After a barbeque lunch guest are transferred by tractor-drawn wagon to the local wetlands to learn more about the area's unique vegetation and animals. An authentic damper and billy-tea tasting ends the tour.
Great Barrier Reef cruises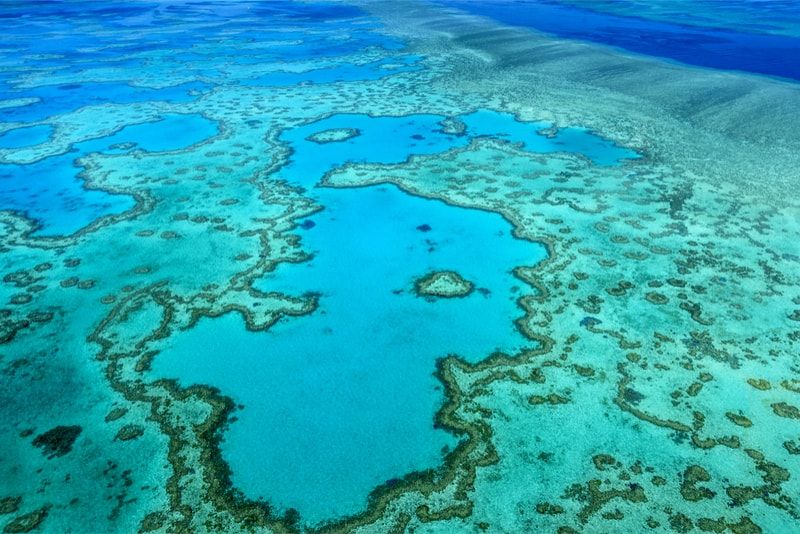 A full-day Great Barrier Reef cruise transfers you from Airlie Beach or Hamilton Island by high-speed catamaran to a pontoon dock at Hardy Reef.
Depending on the tour you select, you will be able to take an introductory scuba diving class, snorkel or simply enjoy the day out on the water. If you are an experienced and licensed diver then you are free to dive alone in the underwater paradise of the iconic reef.
Great Barrier Reef tours include lunch, snorkeling equipment, access to an underwater viewing chamber and a semi-submersible. Experienced guides are on hand to talk about the preservation of the reef and surrounding marine environment.
After an activity-filled day, the catamaran returns to Hamilton Island or Airlie Beach drop off points.
How much does a tour to Hamilton Island from Airlie Beach cost?
Whitehaven Beach and Hamilton Island cruises from Airlie Beach start at US$140 for adults and US$60 per children ages 4-14. Kids under 3 can join the cruise free of charge.
A Sunset Cruise private charter off Hamilton Island from Airlie Beach costs roughly US$620 per cruise for up to 8 guests.
Whitsunday Crocodile Safari full-day cruises from Hamilton Island cost from US$160 per adult. Children between age of 4-14 pay around US$90 each, while children under 3 pay US$45. Package deals for families of 2 adults and 2 children are available at approximately US$490.
Great Barrier Reef cruises from Airlie Beach or Hamilton Island start at US$210 per adult. Children aged 4-14 are charged US$100 each while under 3 years old can join for free. Families can book a ticket for 2 adults and 2 children and pay roughly US$540.
What will you see and do on a Hamilton Island day trip from Airlie Beach?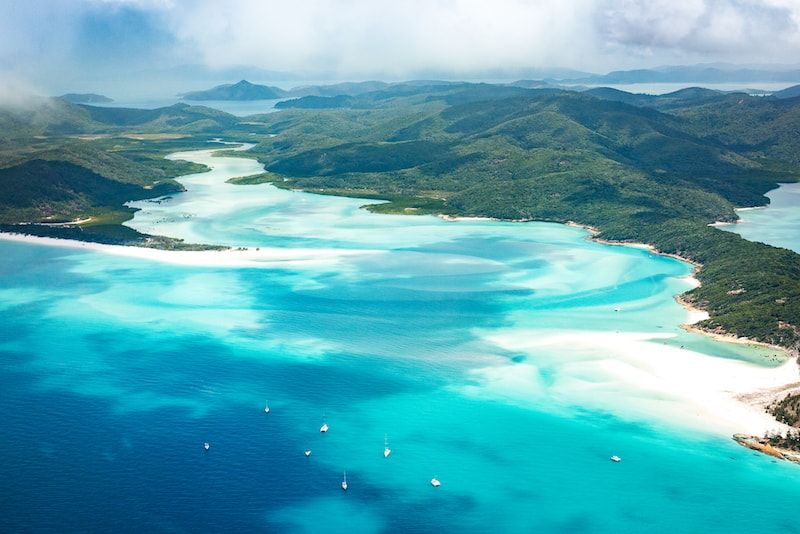 The car-free Hamilton Island is primarily bushland and is fringed by coral reefs. Tours to Hamilton Island Wildlife give visitors the chance to see kangaroos, koalas, wallabies and kookaburras up close.
There are several popular walking trails on the island and a hike to Passage Peak offers great views of the surrounding islands. If you are a golf enthusiast, the nearby Dent Island is home to the only 18-hole Australian island golf course.
As for all Whitsunday Island tours, a stop at the pristine eco-friendly Whitehaven Beach is usually on the itinerary. Tours that include the Great Barrier reef commonly anchor at Hardy Reef pontoon or stop to admire the iconic Heart Reef.
When is the best time to visit Hamilton Island?
The best time to visit the Whitsunday Islands, including Hamilton Island, is September and October with typically clear days and light winds. To experience the Hamilton Island Race Week sailing regatta book your tour for August.
The island is busiest during December and January when Australian schools are on summer vacation.
Travel tips
It is recommended not to book any scuba diving activities within 24-hours of flying.
Aqua shoes are a useful in areas with coral reefs close to shore.
Sunscreen, sunglasses and hats are recommended.
Pack insect repellent if you are travelling to any wetlands.
Bring comfortable closed walking shoes for onshore activities.