With its warm climate and laidback atmosphere, Airlie Beach is a popular year-round holiday destination for local and international visitors. Just a short distance away by boat are the Whitsunday Islands, and it is here that you find the dazzling Whitehaven Beach.
To see this spectacular white-sand beach and the turquoise waters that surround it, day trips to Whitehaven Beach from Airlie Beach are a must-do activity. Whether you access the beach from the water or prefer to reach it by air, you will not be disappointed by the world's top eco-friendly beach.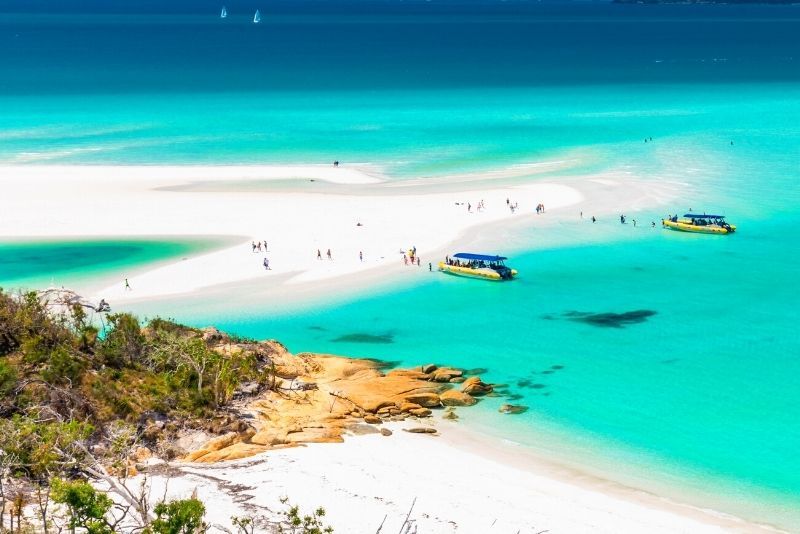 Here's all you need to know about Whitehaven Beach, one of the most exciting destinations for day trips from Airlie Beach.
How to get to Whitehaven Beach from Airlie Beach?
Airlie Beach is the gateway to the Whitsunday Islands and the iconic Great Barrier Reef. It is also the departure point for all boat tour and transfers from mainland Australia to Whitehaven Beach.
Guided boat tours to Whitehaven Beach from Airlie Beach
From Airlie Beach you can reach Whitsunday Island where Whitehaven Beach is located, by boat. There is no scheduled ferry and you will have to join a guided day tour to experience this one-of-a-kind natural attraction.
Whitehaven Beach from Airlie Beach by helicopter or light aircraft
For a birds eye view of this iconic beach, a helicopter trip or scenic airplane flight from Airlie Beach is perfect.
On a helicopter trip, you land on a remote stretch of the beach to feel the soft sand underfoot. On scenic flights you have a window seat to this pristine island paradise and the incomparable Great Barrier Reef before returning to Airlie Beach.
What is the typical itinerary of a day tour to Whitehaven Beach from Airlie Beach?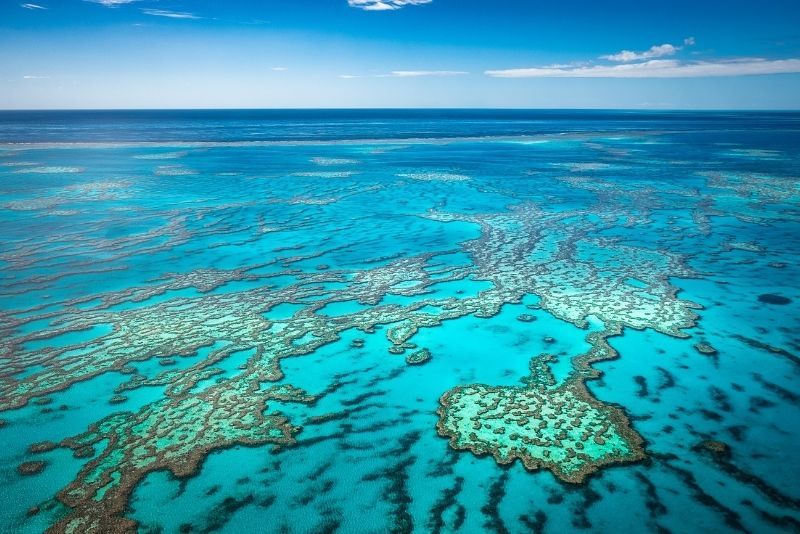 Boat tours to Whitehaven Beach, where possible, are usually timed for a low tide arrival on Whitsunday Island. Depending on what else in included in your itinerary, you can expect to leave Airlie Beach in the early morning.
Tours leave from the Coral Sea Marina, and you will meet your guide or boat crew at the designated meeting point. Depending on the tour you choose, you might either head directly to Whitehaven Beach, or stop on the way to visit other islands or to snorkel or swim in the warm, clear water.
No tour to Whitehaven Beach would be complete without a short hike to the Hill Inlet Lookout for exceptional views of the beach and the tidal designs created in the turquoise waters.
On a full-day boat based tour lunch is typically included you can expect to dock back in Airlie Beach in the late afternoon.
What kinds of tours are available?
Various day-trips and multi-day tours that include a visit to Whitehaven Beach are available from Airlie Beach. Each tour offers differing lengths of time on Whitsunday Island and you can expect to spend from 30 minutes to 5 hours at the beach depending on your tour.
Day trip including Whitehaven Beach from Airlie Beach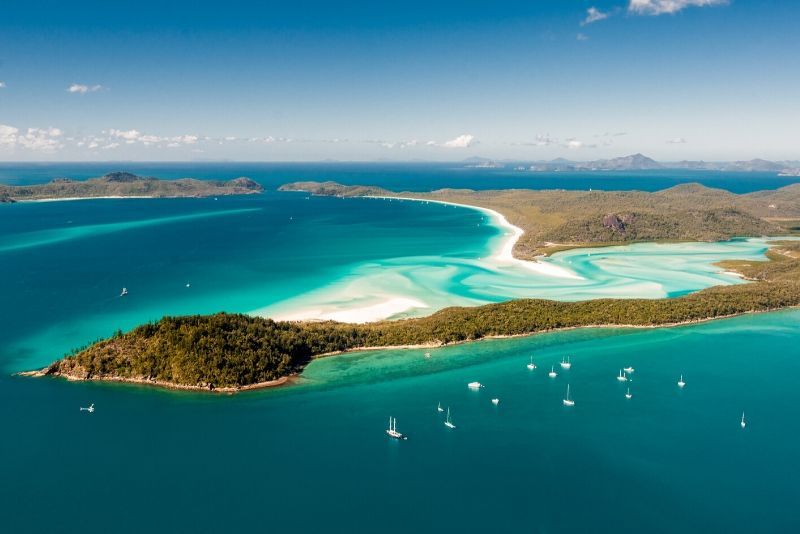 On a boat tour that includes Whitehaven Beach, you will board your sailboat or catamaran and navigate the Coral Sea around the Whitsunday Islands. Your tour will pass between unspoilt and uninhabited islands and anchor just off the secluded Whitehaven Beach.
From Whitehaven Beach most tours include a guided hike up to the Hill Inlet Lookout where you will be able to see the swirling sands of the inlet that lend to the beauty of the location.
Depending on your tour, you might spend time snorkeling in the clear and warm seas that are teeming with marine life. Many guides will ensure that you not only get to enjoy the views, but also learn more about the unique geography and history of the area
Helicopter tour to Whitehaven Beach from Airlie Beach
Helicopter tours from Airlie Beach are great if you want to combine an aerial tour with a beach visit.
Departing from the Whitsunday Coast Airport in Proserpine, your experienced pilot will chart a course that gives you the best views of the Whitsunday Islands, before landing on a secluded part of the beach.
After you've had some time to feel the sand beneath your feet, take a few memorable photographs and have a quick swim, you will head back to the mainland.
Scenic flights including Whitehaven Beach from Airlie Beach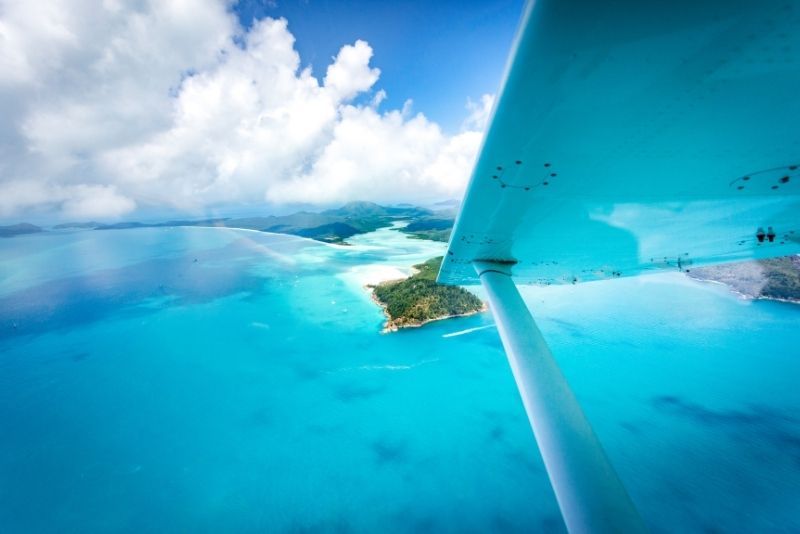 See the Whitsunday Island's most iconic sites from the air with a scenic flight departing from Airlie Beach. You are guaranteed a window seat for your flight over Airlie Beach, the Whitsunday Islands Archipelago and part of the Great Barrier Reef.
On a seaplane tour, you will land near Hardy Lagoon for a glass-bottom boat tour before making your way to Whitehaven Beach for some leisure time before flying back to Airlie Beach.
Multi-Day sailing or cruise tours including Whitehaven Beach from Airlie Beach
A variety of multi-day tours from Airlie Beach by boat depart on a regular basis. Multi-day tours can last anywhere from two to six days and vary from bespoke private charters to family friendly jaunts.
Longer tours are best for visitors who want to spend time in the Whitsunday Islands and explore some parts of the Great Barrier Reef Marine Park.
Like all boat trips, itineraries may be weather or tide dependent, but Whitehaven Beach is a standard stop on these tours, with time to hike to Hill Inlet Lookout. Prime snorkeling sites are usually included in multi-day tours of the region.
Whitehaven Beach Club day trip from Airlie Beach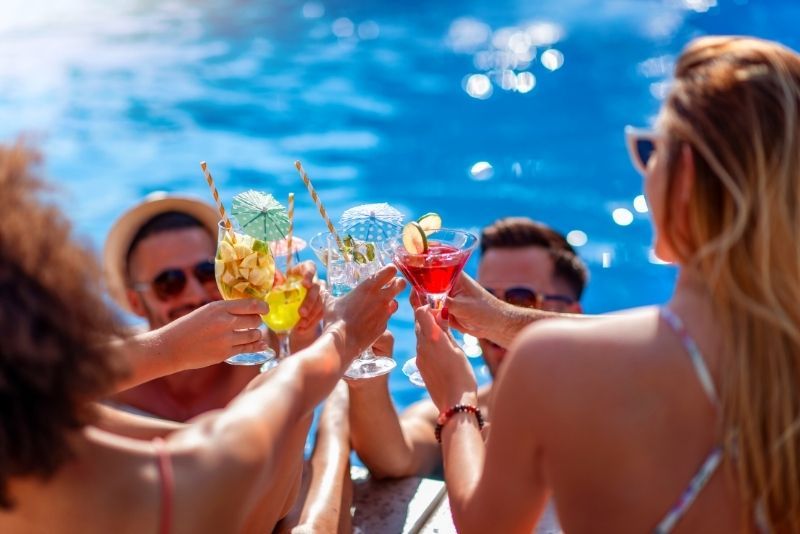 A Whitehaven Beach Club day trip includes a return boat transfer from Airlie Beach. With this 5-hour beach club tour, you have ample time to explore Whitsunday Island and take advantage of the beach activities and warm waters of Whitehaven Beach.
You can relax under a beach umbrella, spend your time swimming or paddle boarding or picnicking on the white sands.
How much does it cost?
Small-group day trips from Airlie Beach to Whitehaven Beach cost from US$80 per person. A full-day tour that includes a beach barbeque will cost roughly US$160 per person.
Small-group multi-day sailboat or cruise tours cost from US$220 per person for a 2-day tour. Four-day tours start from US$600 per person while private 3-day sailing charters will cost US$4400 for a group of up to 10 guests.
A 2-hour helicopter tour from Airlie Beach that includes a stop at Whitehaven Beach costs from US$300 per person.
Scenic flights that include Whitehaven Beach from Airlie Beach start at US$170 per person. If you book a seaplane tour that includes a glass-bottom tour the cost will be US$470 per person. A minimum of two passengers may be required for the tour to be confirmed.
A tour to Whitehaven Beach Club that includes return boat transfers starts at US$70 per adult and US$50 per child age 3-14 years.
What will you see and do?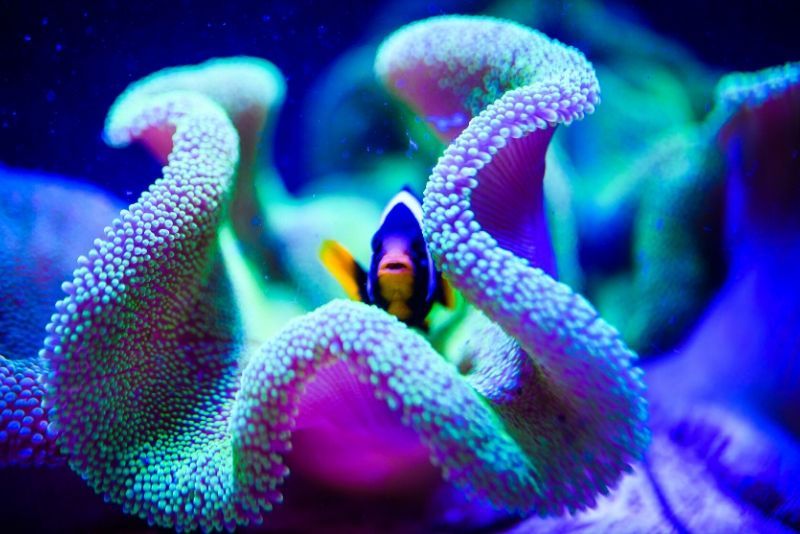 Whitehaven Beach has been voted one of the world's top beaches. This eco-friendly 7-kilometer long stretch of pristine white sand is protected as part of the Whitsunday Islands National Park.
Located on the northern end of Whitehaven Beach, the Hill Inlet Lookout points offer unparalleled views of the sparkling beach and unique tidal patterns formed in the shallow waters. July is ideal if you hope to spot humpback whales.
When is the best time to visit Whitehaven Beach?
September and October are the best time to visit Whitehaven Beach. The days are typically clear and light winds keep the temperatures moderate. In July you have a good chance of spotting migrating whales.
Travel tips
The best time for photographs at Whitehaven Beach is at low tide.
A polarizing filter is great camera accessory for addressing glare and reflections.
Remember to pack sunscreen, sun glasses and a hat.
Wear comfortable shoes for the hike to the lookout points.