Cruise to the white sand beaches, coral reefs and turquoise waters of northern Australia on a boat tour in Airlie Beach. Its proximity to the Whitsunday Islands and the Great Barrier Reef is an unmissable opportunity for you to explore this area by water.
The Whitsunday Islands National Park was originally home to the Ngaro people, whose ancient cave art can still be found on Hook Island. Whether you want a long, relaxing cruise or a high-speed adventure, you have your pick of boat tours in this pristine locale.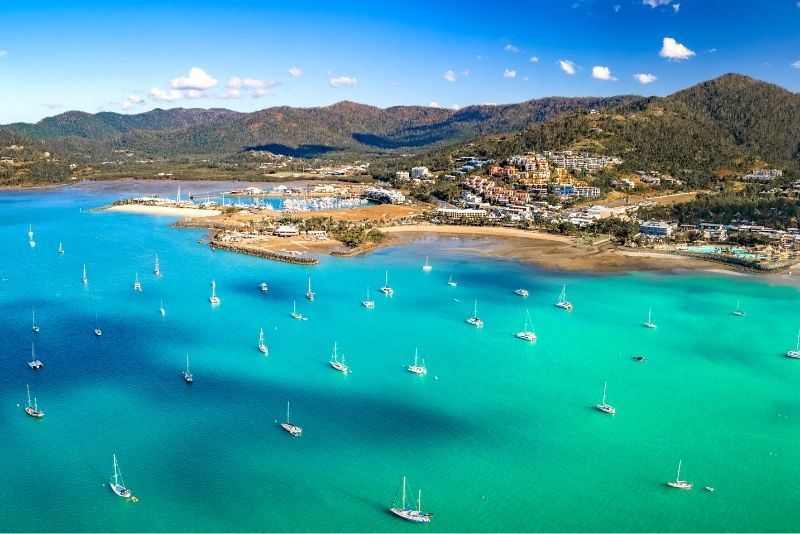 You will find below all you need to know about boat tours, one of the most fun outdoor activities in Airlie Beach.
What are the most popular boat tours in Airlie Beach?
Whitehaven Beach and Hill Inlet Lookout snorkeling cruise by high-speed catamaran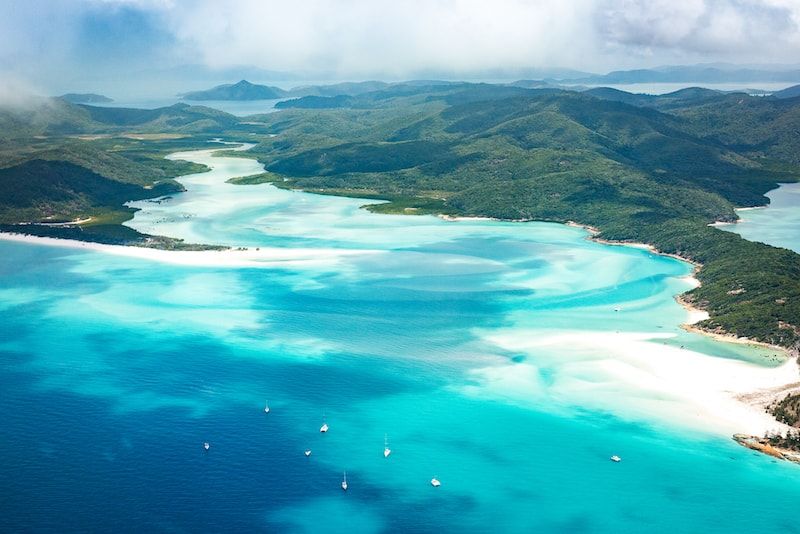 Speed off to the Whitsundays in a boat tour on a high-speed catamaran. See famous Whitehaven Beach, hike up to Hill Inlet Lookout for views, and snorkel at two different sites on a day tour that includes lunch and equipment use.
Whitsundays full-day catamaran sailing trip from Airlie Beach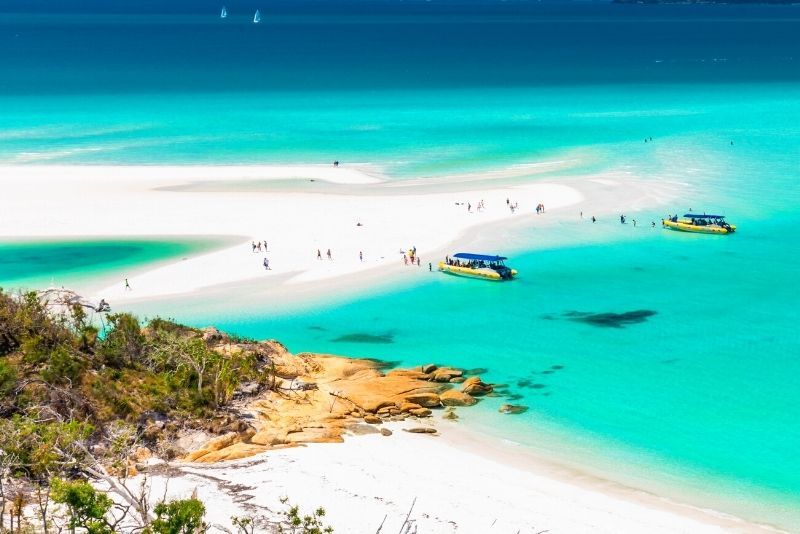 Enjoy one of the longest day tours on Whitehaven Beach. Travel in a high-speed catamaran allows you more time at this once-in-a-lifetime location.
This full-day trip provides plenty of time to explore all of Whitehaven Beach's highlights including short hikes, swimming with sea life and basking in the white sand.
Great Barrier Reef day cruise to Reefworld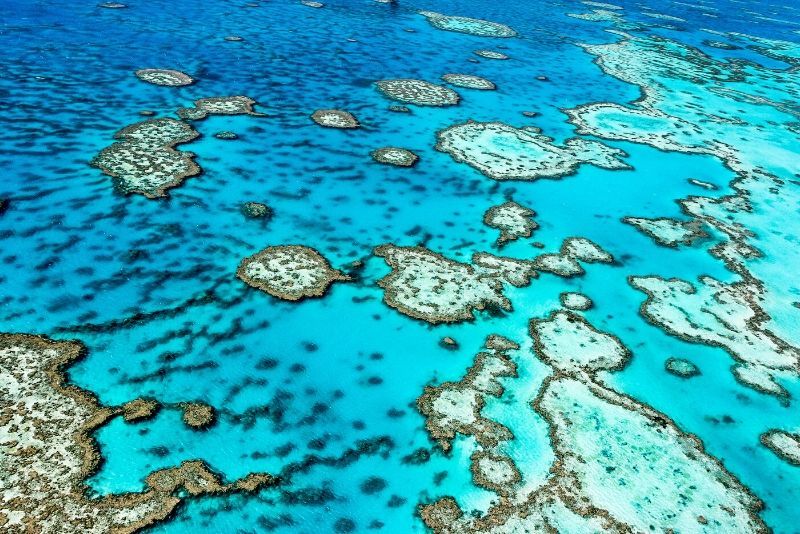 Reefworld, a semi-permanent pontoon anchored near Hardy Reef, is an innovative way to see the Great Barrier Reef. Day cruises here offer diverse experiences beyond snorkeling. Observe beneath the waves in a semi-submersible and underwater viewing room without getting wet.
Start your scuba excursion from a diving platform. When you need a break from exploring, Reefworld is equipped with comfortable lounging areas where you can recharge after a swim.
Sunset sail to Whitsundays from Airlie Beach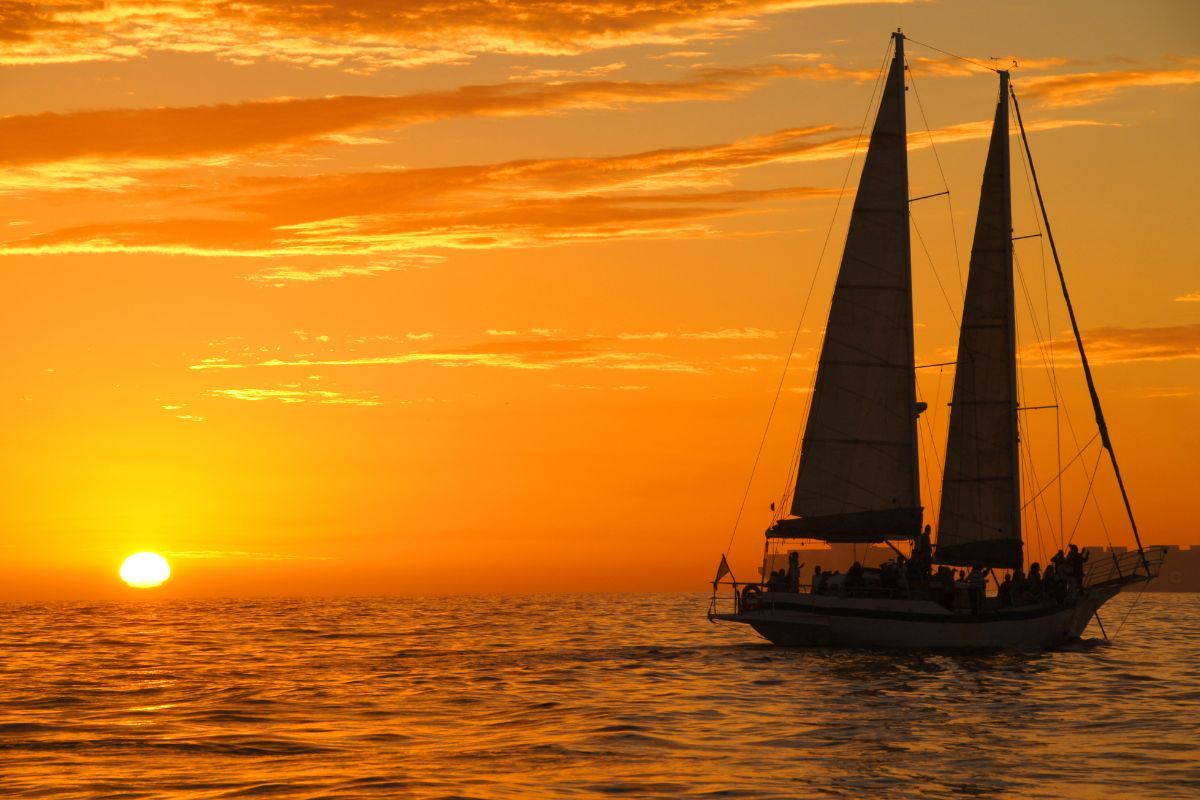 Watch the sun sink into the sea on an intimate sunset sail from Airlie Beach. Enjoy the romantic experience of a welcome glass of champagne and snacks, 360 views of the Coral Sea and the company of a small group of fellow travelers to keep the occasion tranquil.
30-minute jet boat ride in Airlie Beach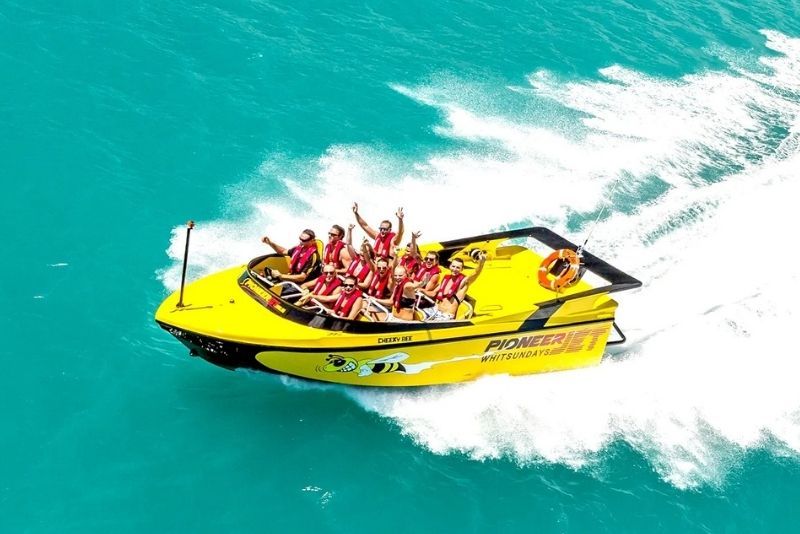 For an adrenaline-pumping adventure, jump on a jet boat tour for a half-hour of speed and stunts along Airlie Beach and Pioneer Bay. Your skilled pilot will wow you with 180s, 360s and nosedives while entertaining you with commentary about the area.
These tours provide you GoPro photos, safety equipment and gear to keep you dry though they do recommend bringing a change of clothes.
Glass-bottom boat tour in Airlie Beach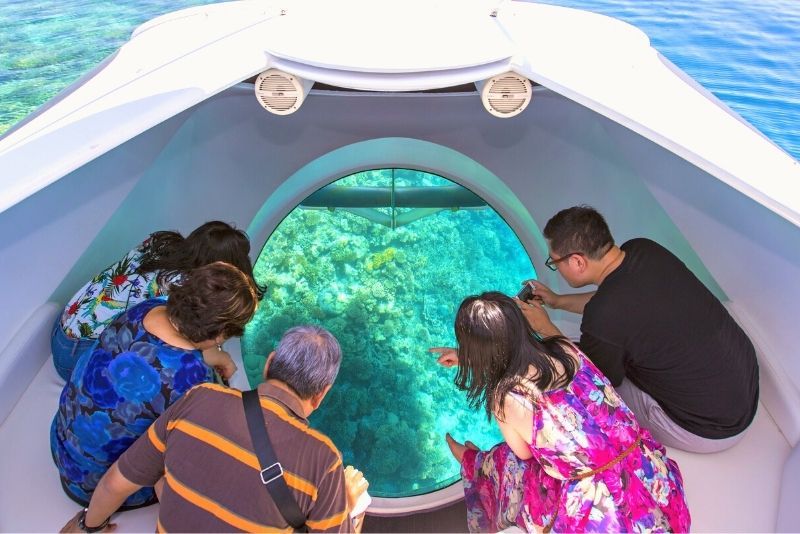 Get a glimpse of life in the coral reef without getting wet. Glass-bottomed boats are equipped with awnings to keep you cool and help you get the best views of the ecosystem below you. Spy turtles, fish, hard and soft coral and other marine life during a 70-minute tour with informative commentary from a guide.
Jet boat and banana boat combo ride in Airlie Beach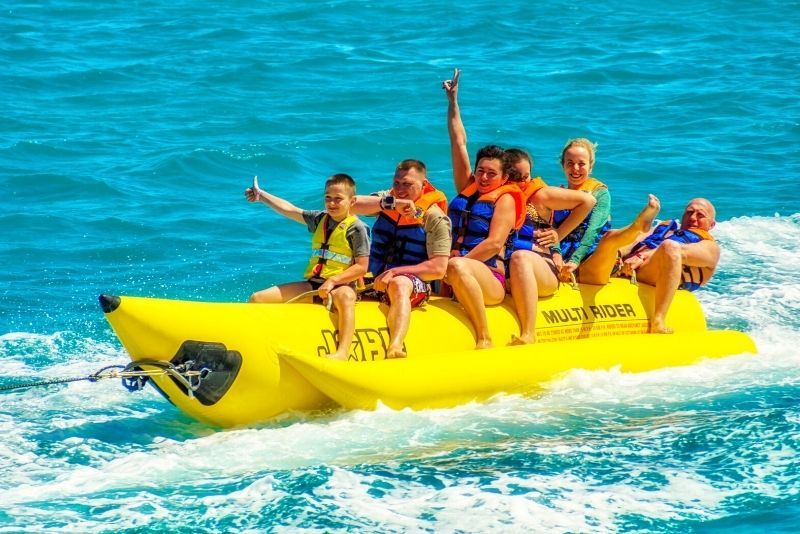 Speed lovers must try a jet boat and banana boat combo in Airlie Beach! First, skip and swerve over the waves around Pioneer and other bays near Airlie Beach for 30 minutes in a jet boat.
Then, hold on tight to a banana boat pulled by jet ski for a 30-minute thrill that's sure to be a highlight of your vacation.
Multi-day sailing trips to Whitsundays from Airlie Beach
There is so much to see in Airlie Beach and the Whitsundays that you may want more than one day to soak it all in. Choose from 2-day tours to 4-day tours that include meals and sleeping quarters for an amazing experience. Camping or sleeping on a pontoon is also an option.
Fly and cruise combo tours in Airlie Beach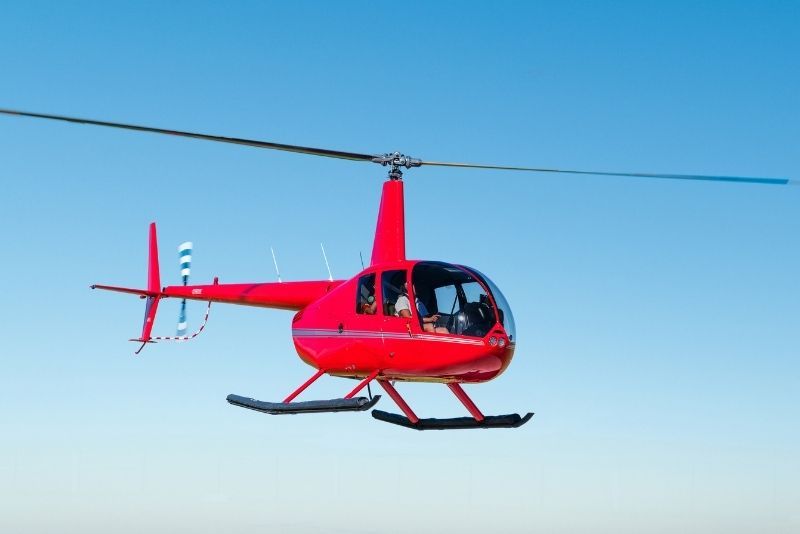 Take in aerial views of the reef and archipelago from an airplane or a helicopter before continuing your adventure on the ocean.
Combos tours with flights and cruises take you by sea to Whitehaven Beach, enjoying sweeping views of the ocean and searching for wildlife. Here, you'll snorkel, hike and sunbathe to your heart's content.
After a buffet lunch, board a seaplane for 40 minutes of spectacular views of Heart Reef and other parts of the Whitsundays.
How much do boat tours in Airlie Beach cost?
A catamaran tour to the Whitsundays costs US$130 per person for an 8-hour tour and US$150 per person for a 10-hour tour. Both include safety and snorkeling equipment and lunch.
A boat tour to Reefworld costs US$200 per person and includes transportation to and from Reefworld, equipment use, lunch and access to other amenities on the pontoon.
Sunset sails cost around US$50 per person for a 2-hour excursion. Included is a welcome glass of champagne and appetizers.
A 30-minute jet boat ride runs about US$50 per person and includes safety and water protection garments plus GoPro pictures.
Banana boat rides are around US$30 per person for 30 minutes, jet boat rides are around US$50 per person for a 30-minute ride, and a one-hour combo of banana and jet boat ride is US$70 per person.
For breathtaking aerial views, combo tours with boat and plane or helicopter travel range from US$300 to US$475 per person, depending on the duration of the trip and whether you choose a private tour.
Book a multi-day tour with full accommodations to see all that Airlie Beach and the Whitsunday Islands have to offer. Packages start at US$200 per person for a 2-day trip and US$345 for a 3-day trip depending on inclusions and whether you choose a private tour.
Which places are seen or visited with a boat tour in Airlie Beach?
All boat tours from Airlie Beach will give you gorgeous views and glimpses of animal life in the coral reefs. Shorter tours will take you to Pioneer Bay and the shoreline of Airlie Beach, and you may be lucky to see larger ocean mammals like dugongs and pilot whales.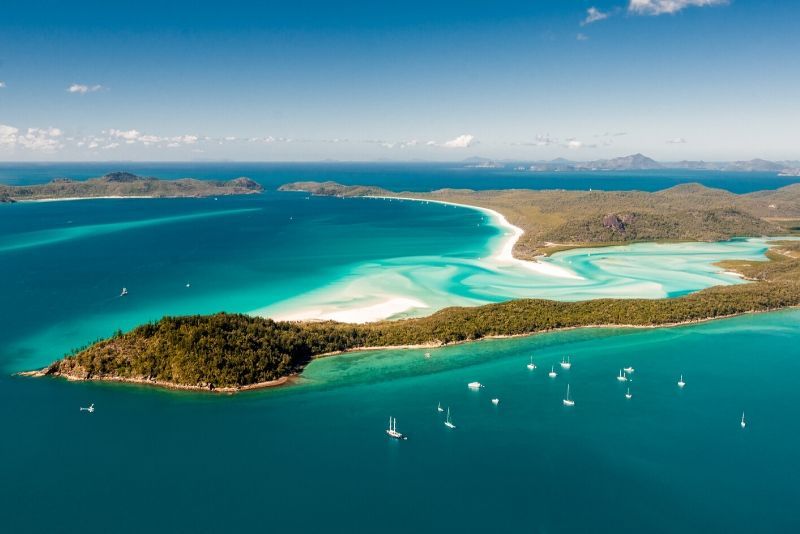 Whitehaven Beach
Although the Whitsunday Islands are made up of 74 islands, the main attraction is Whitehaven Beach the main island. Its white sands that swirl into the clear waters along the shore have made it one of the top 10 most beautiful beaches in the world. You can walk the 7 kilometers of shoreline, snorkel right from the beach and take a bushwalk to Hill Inlet Overlook for pristine views.
Remote areas in the Whitsundays
Day tours of 6 to 10 hours often include visits to Heart Reef, Hook, Daydream, Hayman and Dumbell Islands, as well as the distant reaches of the archipelago. Haselwood Island is home to Snorkel at Chalkie's Beach, a great snorkeling destination.
How long does a boat trip last?
Banana boat or jet boat rides last 30 minutes, and combo rides for an hour, which are good options if you're short on time. Glass-bottomed boat tours last around 1 hour, while sunset sails last around 2 hours.
Full-day boat tours are 7 to 10 hours, and there are 2- to 4-day boat trip packages that include on-board food and lodging.
Where do boat tours leave from?
Most Airlie Beach boat tours leave from the Coral Sea Marina, a few tours leave from Port of Airlie. Tours leaving from Hamilton Island depart from Hamilton Marina. Some tours offer pickup from your hotel.
When is the best time for a boat trip in Airlie Beach?
For your best chance at spotting whales, schedule your boat tour in Airlie Beach for July or August. However, you can visit any season, as Northern Queensland is near the equator, making the temperature warm and pleasant year-round.
Winter is a slightly cooler season, and you may want to bring jackets for your time on the water. Most tours provide use of wetsuits included in the cost of your tour.
Which other water activities can be done in Airlie Beach?
Travel tips
Wear sunscreen, sunglasses and a hat.
Pack water and a lunch if your tour doesn't include meals.
Bring a refillable water bottle.
Bring a jacket during winter tours.
Carry cash or credit card for tips and onboard purchases.