Hop on a boat or a plane, and get ready for some of the best snorkeling tours in Airlie Beach in Queensland, Australia.
Admire the colorful corals and marine life, as you get you up close to the inhabitants of the UNESCO-protected Great Barrier Reef in the Whitsunday Islands National Park, just a boat ride or quick flight away from Airlie Beach.
Relax and enjoy some of the most beautiful beaches in the world, known for their white sands and turquoise waters. Ready to see one of the most unique and fragile places on Earth? Snorkeling is a low-impact way to experience marine ecosystems.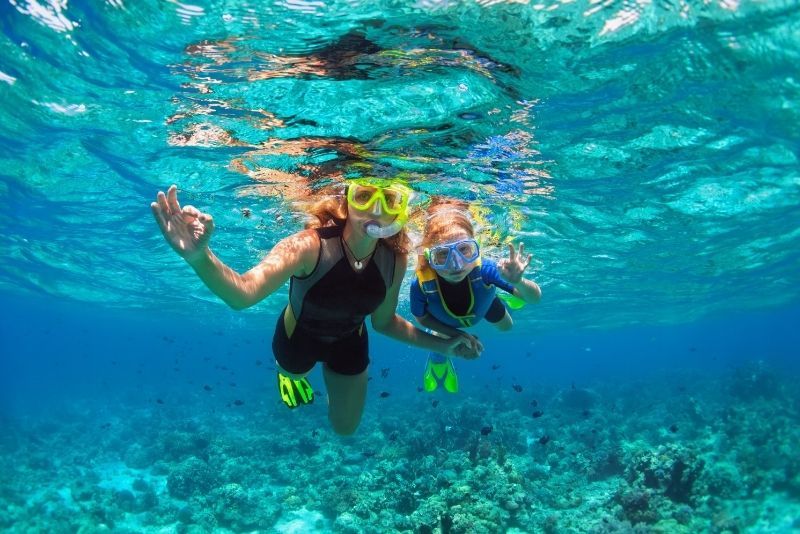 You will find below all the information you need before enjoying a snorkeling experience, one of the most stunning outdoor activities in Airlie Beach, Queensland.
What are the best snorkeling tours in Airlie Beach?
Snorkeling tours in Airlie Beach let you stroll on the sands, don your snorkeling gear and swim with marine life! Keep an eye out for turtles, whales, parrotfish and dugongs and marvel at the underwater caves and canyons. Most tours with boat or plane ride to the Whitsunday Islands are widely eco-certified, so trips here leave a smaller footprint and offer a buffet lunch. Many tours include two or more snorkeling sites and chances to walk to overlooks or simply lounge in the sun.
Half-day tours
A 4-hour snorkeling tour gets you to some of the most beautiful sites in the Whitsundays with a full 2 hours of snorkeling time.
Whitehaven Beach tours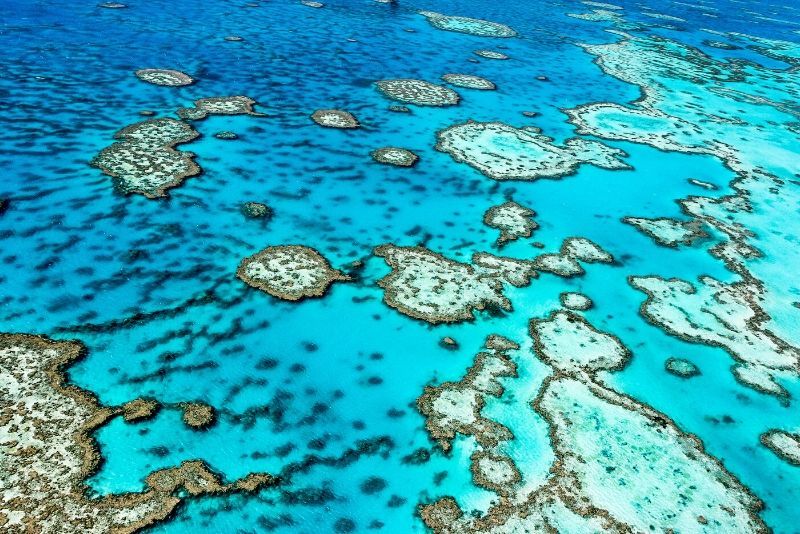 Typically, snorkeling tours from Airlie Beach begin on Whitsunday Island at famous Whitehaven Beach. Named one of the ten most beautiful beaches on earth, your day will be filled with variety.  You will have a chance to take a bushwalk to the Hill Inlet Outlook for a view of the surrounding coast, waters and some of the 73 other islands in the Whitsunday archipelago.
Plane ride and snorkel tours
Plane tours allow you to reach more remote destinations in the Whitsundays in a shorter amount of time so that you can experience parts of the national park that others don't get to see.
Floating pontoon tours
Anchored around the Whitsundays are several semi-permanent floating pontoons that host a variety of water sports, restaurants and lounge areas. Boat trips to pontoons like Hardy and Reefworld give you chance to try stand-up paddle boards (SUPs), kayaks, snorkeling and semi-submersibles and a comfortable place to catch some rays and have a drink in between each activity.
Private tours
Let a private tour in Airlie Beach meet your own needs. Be it a half-day to multi-day trip, private tours on sailboats or yachts host just your party for a personalized outing.
How much do snorkeling tours in Airlie Beach cost?
Half-day snorkeling tours of 4 hours cost US$100 per person, but day tours are most common. They cost from US$110 to US$200 per person. The amenities on the tours vary, giving you options to fit your budget and interests. Plane trips range from $US300 to $US475 per person, and private tours on catamarans or schooners offer day tours from $US1,300 per person to $US10,500 per group.
What is included in a snorkeling tour in Airlie Beach?
Your snorkeling tour includes:
Knowledgeable tour guide
Boat or plane transportation
Entrance and other fees
Use of snorkels, masks, fins, flotation devices and sting suits
Reef tax for the protection of the Great Barrier Reef
A buffet lunch, morning and afternoon tea or coffee, and snacks
Some tours offer door-to-door service from designated hotels.
A few tours sell alcohol aboard the boats, and most will allow you to bring a limited amount of your own. On some higher-end tours, you can use SUPs, clear-bottomed kayaks or semi-submersibles.
Where do snorkeling tours in Airlie Beach start?
Coral Sea Marina is the most common point of departure for snorkeling tours in Airlie Beach. Most tours have booths with the name of the tour company where you will check-in. If your boat or plane tour doesn't offer hotel pickup, you will meet at the Coral Sea Marina near Airlie Beach or the Port of Airlie.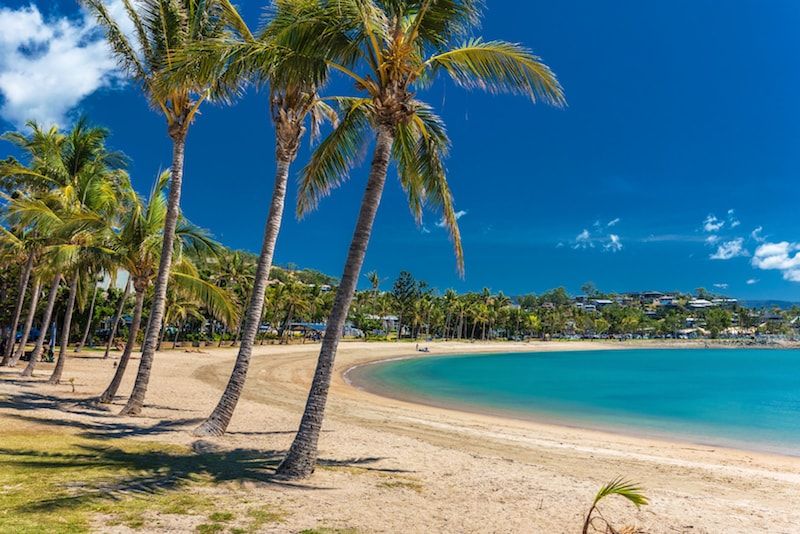 How long do snorkeling tours in Airlie Beach last?
Most tours are full-day and last from 6 to 10 hours with visits to two or more sites. If you don't have much time, a 4-hour tour might be perfect for you.
When is the best time for a snorkeling tour in Airlie Beach?
The best time to do snorkeling in Airlie Beach is from July to August if you want a better chance for whale-watching. Queensland in northern Australia lies near the equator, making getaways to Airlie Beach pleasant at any time of year. In cooler seasons, tours offer the use of wetsuits and recommend that you bring a jacket for the boat trip.
Is there any combo available with snorkeling tours in Airlie Beach?
Sail and snorkel with a multi-day package
What better way to ensure that you see as much as you can of the Whitsunday Islands than spending several days on the water? In sailing and snorkeling combo tours of 2 to 4 days, you'll have all you need in a comfortable and well-equipped luxury sailboat.
The package includes meals, accommodation, equipment use, fees and guides to do everything from steering the boat to pointing out wildlife.
Is it safe to take a snorkeling tour in Airlie Beach?
Snorkeling tours in Airlie Beach provide safety equipment such as life vests, sting suits and wetsuits, as well as flotation devices for non-swimmers.
Are children allowed on snorkeling tours in Airlie Beach?
Depending on the company, the minimum age requirement can be anywhere from 2 to 8. Many boats used in the tours are stroller accessible and allow infant seating on an adult's lap.
What happens in case of bad weather?
In the case the weather would make your tour unpleasant or dangerous, companies will give you the option of rescheduling or refunding the cost of your tour.
Which other water activities can be done in Airlie Beach?
Travel tips
If your tour doesn't offer lunch, make sure to pack your own.
Wear swimwear, sunscreen, a hat and sunglasses.
Bring a jacket in cooler seasons.
Carry cash or credit cards for on-boat purchases and tips.