The Great Barrier Reef and Whitsunday Islands are the main attraction on a visit to Airlie Beach in northern Australia. One of the Seven Wonders of the World, the Great Barrier Reef is a wonder to behold from the air.
Book a helicopter tour in Airlie Beach for an unparalleled vantage point of this world-famous region.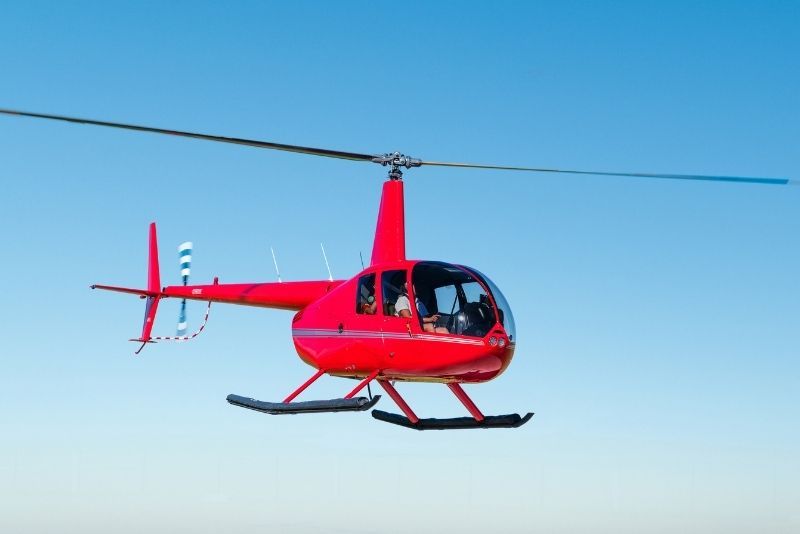 Here's all you need to know about helicopter tours, one of the most exhilarating outdoor activities in Airlie Beach.
What are the best helicopter tours in Airlie Beach?
Scenic tours in Airlie Beach
Spend an hour in the sky with a pilot-guide who will show you the marvels of the Great Barrier Reef and the Whitsunday Islands from a helicopter.
Hear live commentary about the sights, snap amazing photos, ask questions or simply take in the heavenly views. Choose a small-group or private scenic tour.
Helicopter flight with Whitehaven Beach landing
Fill a beach bag with all you'll need for a few hours on the sands and hop into a helicopter. Soar over Heart Reef, Hamilton Island and Hill Inlet before setting down on Whitehaven Beach.
Wander the shore, dip into the turquoise waters and scan the horizon for whale spouts before your return flight to Airlie Beach.
How much does it cost?
Scenic tours cost US$300 per person for a small-group tour and around US$425 per person for a private tour.
Helicopter flights with Whitehaven Beach landings cost around US$300 per person for a small-group tour and US$540 per person for a private tour.
Which places are seen?
Great Barrier Reef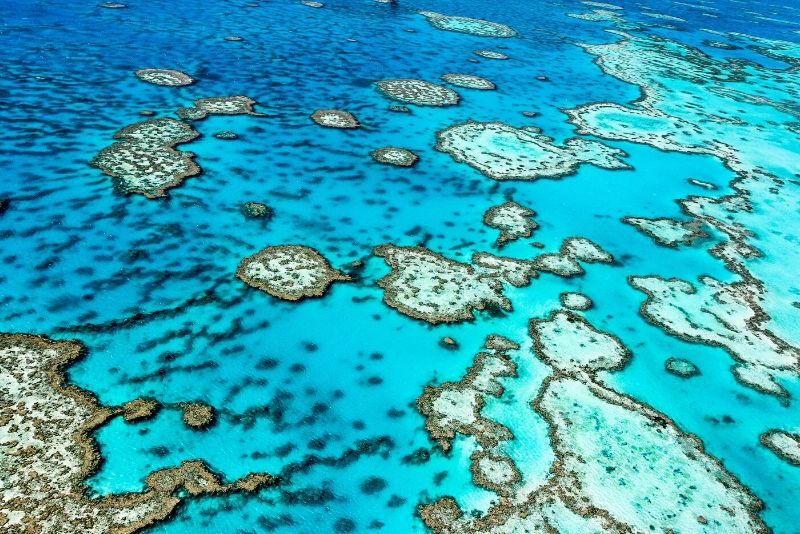 The Great Barrier Reef off the eastern coast of Queensland is a fragile ecosystem whose health is carefully safeguarded by environmental protection agencies. View its expanses from the air without damaging the reef.
The coral gardens shelter a multitude of fish, aquatic plants and marine mammals. The Great Barrier Reef is a designated World Heritage Site and is so massive that it's visible from space.
Whitsunday Islands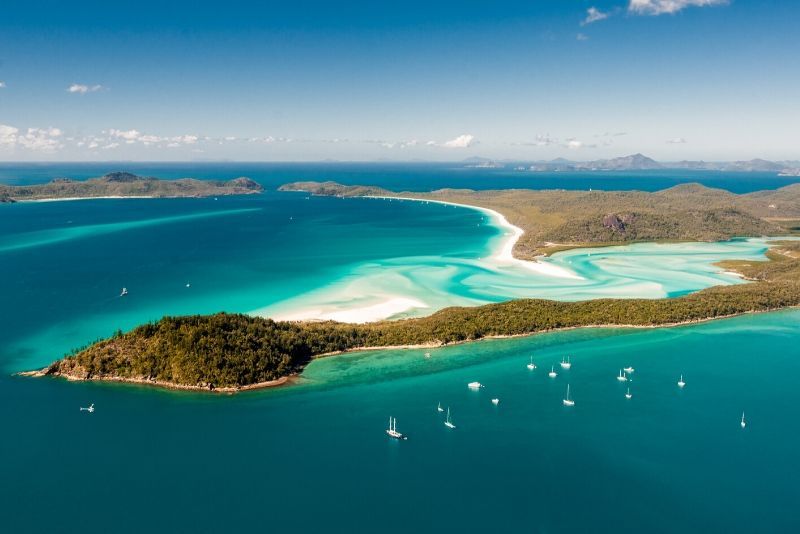 The 74 Whitsunday Islands are sprinkled along the Airlie Beach coast within the Great Barrier Reef. See ritzy Hamilton Island, a playground of the rich and famous.
Looming to the north of Hamilton is Whitsunday Island, home to pristine Whitehaven Beach. Spy other picturesque isles such as Daydream Island and the Molle Islands.
Whitehaven Beach
Sitting on the east coast of Whitsunday Island is 7 kilometer-long Whitehaven Beach. An aerial view showcases the beach's marbled swirls of sand in the turquoise sea. The waters are exceptionally clear, making it a prime snorkeling locale. Arrow-shaped Hill Inlet juts out from the beach and is a popular lookout hike for visitors to Whitehaven.
What is included?
Helicopter tours in Airlie Beach include door-to-door service and guided commentary during the flight. Tours that provide a landing at Whitehaven Beach include beach time, and private Whitehaven Beach tours offer a complimentary bottle of wine.
Where does helicopter tours start?
All Airlie Beach helicopter tours provide pickup and drop-off at local hotels and resorts.
How long does it last?
Scenic helicopter tours last one hour, and tours with time at Whitehaven Beach last 3 hours.
When is the best time for a helicopter tour in Airlie Beach?
Any time of year can be enjoyable for a helicopter tour in Airlie Beach. Its tropical climate experiences warm weather year-round. Less-ideal times to tour are the rainy season from December through April and peak tourist season in December.
Migratory whales make their way to the Whitsundays to give birth during Australia's winter months. A tour in June through August may afford you a glimpse of humpbacks or white whales.
Are there any combo tours available?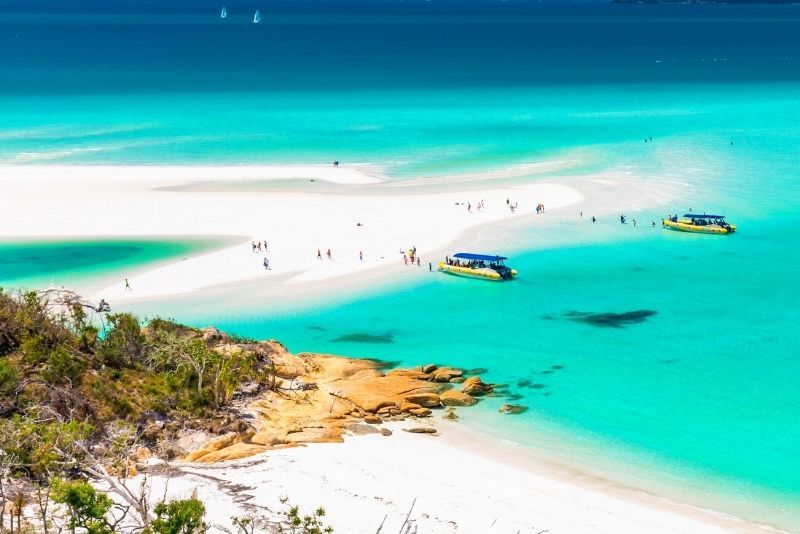 Cruise and helicopter tour: Meander from Airlie Beach among the Whitsunday Islands on a boat tour to Whitehaven Beach. Watch wildlife and vivid tropical scenery as you make your way to a beach club.
Board a helicopter from the beach and thrill at close-up views of Hill Inlet on a 15-minute ride. Enjoy at least 4 hours on the beach where you can walk, snorkel or lounge on the white sands, and refuel at a buffet lunch served on the beach.
Is it safe?
Yes, helicopter tours in Airlie Beach are safe, as they provide expert guides and safety equipment. These excursions are not suitable people over 264 lbs (120 kg). If in doubt, check with the tour provider before booking.
Are children allowed?
Helicopter tours in Airlie Beach allow children with an accompanying adult.
What happens in case of bad weather?
Helicopter tours in Airlie Beach will be canceled if weather conditions are unsuitable, and you can reschedule your trip or get a refund.
Which other outdoor activities can be done in Airlie Beach?
Travel tips
If you suffer from motion sickness, take medication 1 hour before your tour.
Carry a reusable water bottle.
Bring swimwear, towels and sun protection for tours that include time at Whitehaven Beach.
If you hope to see wildlife, bring binoculars for easier viewing.