Turquoise waters, rolling hills, verdant islands and the Great Barrier Reef attract thousands of visitors to the coast of northern Queensland.
A top destination for pleasure-seekers and nature lovers alike, Airlie Beach is an ideal hub for exploring the area. A jet boat tour in Airlie Beach is an adventurous way to experience the region's marvels.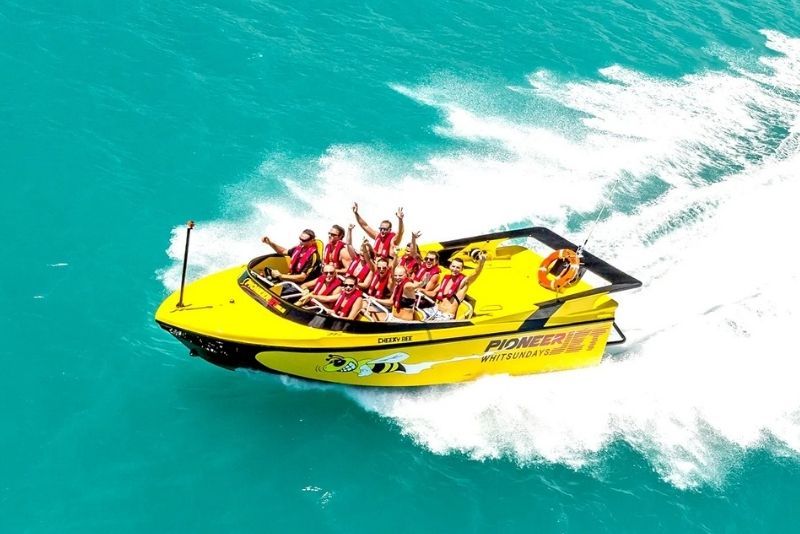 Here's all you need to know about jet boat tours, one of the most exhilarating outdoor activities in Airlie Beach.
What are the best jet boat tours in Airlie Beach?
Zip through Pioneer Bay on a thrilling jet boat ride along the coast of Airlie Beach. Jet boat tours introduce you to some of the area's famed sites while getting your adrenaline pumping.
Your guide will point out man-made and natural attractions interspersed with expert stunts. Hold on tight for nose-dives, 360s, drifts and more!
How much do jet boat tours in Airlie Beach cost?
Jet boat tours in Airlie beach cost US$55 per person aged 13 and up. Tickets for children aged 5 to 13 are US$45 per person.
Which places are seen?
Pioneer Bay
Zoom out of Coral Sea Marina with its luxury boats and out to Pioneer Bay, the threshold of the Great Barrier Reef. Take in views of mansions and resorts along the shore set against the forested headland, and try to spot marine life.
Whitsunday Islands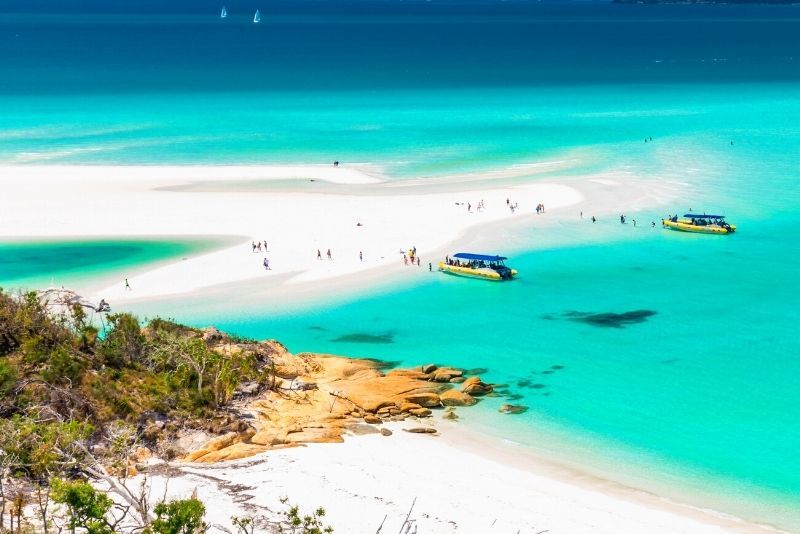 Known for their white sand beaches, rugged terrain and lush tropical greenery, the UNESCO-protected Whitsunday Islands sit off the coast of Airlie Beach.
The archipelago consists of thousands of islands, and several are close enough to Pioneer Bay to treat you to lovely vistas during a short boat tour.
Marine life
The Great Barrier Reef follows the coastline of northern Queensland, and its biodiversity is world-renowned. The warm, shallow waters are a vital habitat for whales, sea turtles, dugongs and stingrays.
What is included?
A jet boat tour in Airlie Beach starts with a safety briefing before your 30-minute ride.
Included in the ticket price are use of life jackets and rain gear to protect you from spray. You will also enjoy commentary and photos included in the ticket price.
Where does it start?
Jet boat tours in Airlie Beach start at the southern end of Coral Sea Marina, located at Shingley Dr, Airlie Beach QLD 4802, Australia.
How long does it last?
A jet boat tour in Airlie Beach lasts 30 minutes. Tour companies ask that you arrive 20 minutes before your ride.
When is the best time for a jet boat tour in Airlie Beach?
Northern Queensland's tropical climate makes any time of year perfect for a jet boat tour. For your best chances of seeing whales, book a tour from July to August.
A jet boat tour can be a great way to start your visit to Airlie Beach. The pilot guide will introduce you to the waters and can give you an idea of what you'd like to see on the rest of your visit.
Are there any combo available?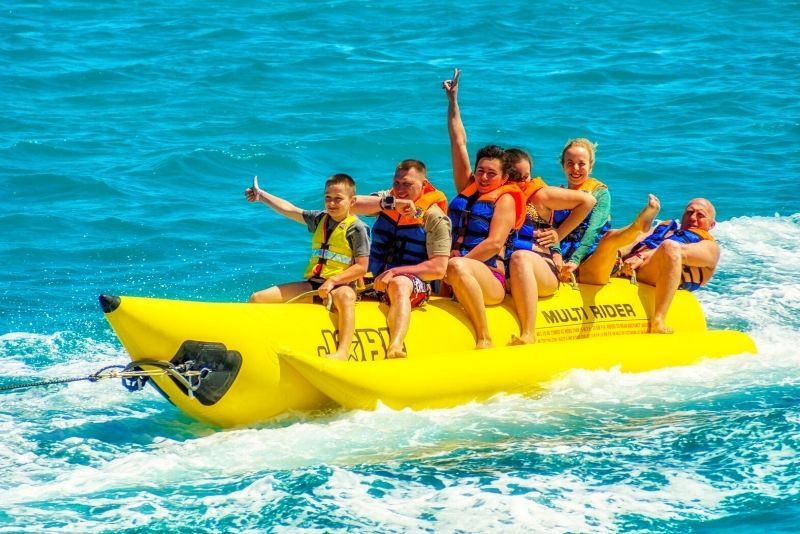 Jet boat plus banana boat tour: Keep the fun coming with 30 minutes on a jet boat ride followed by a 20-minute tour on a banana boat.
Zip around Pioneer Bay on a guided jet boat tour before hopping on an inflatable banana boat for more excitement.
Is it safe?
Jet boat tours in Airlie are safe! However, these activities may not be suitable for pregnant women, or have any medical conditions such as bad back, bad neck, recent surgeries or injuries, heart problems or other serious medical conditions.
Are children allowed?
Children are generally allowed on jet boat tours with a minimum age of 5 years, but you will need to confirm with your tour provider on specific age restrictions.
What happens in case of bad weather?
By and large, the weather is predictable and reliable during the summer months. In the event, however, that the weather conditions are not favorable, your jet boat excursion will be rescheduled. If the new date is not suitable, you may claim a refund.
Which other water activities can be done in Airlie Beach?
Travel tips
Wear sun protection and clothing that can get wet.
You may want to bring a change of clothes for after the tour.
Make sure that you stow personal effects before the trip, since boat speeds can cause loss of unsecured items.
If you suffer from motion sickness, take medication 1 hour before your tour.