A speedy way to see the region's beauty, a jet ski tour in Airlie Beach is a thrilling experience. Take off for an hour or two in Pioneer Bay or to the Whitsunday Islands for an ultimate tropical Australian experience.
With rolling jungle hills on one side and turquoise sea on the other, seeing Airlie Beach by jet ski is sure to be a memorable outing.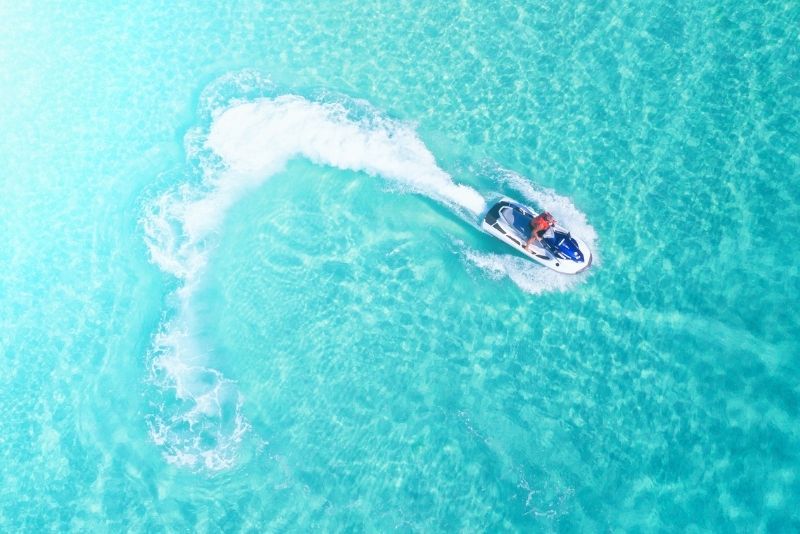 Here's all you need to know about jet ski tours, one of the most exhilarating outdoor activities in Airlie Beach.
What are the best jet ski tours in Airlie Beach?
Airlie Beach coastline jet ski tours
Squeeze a bit of excitement into your day on a 1-hour jet ski tour along the shores of Airlie Beach. Feel the spray on your face as you zip over the waves of Pioneer Bay. Zoom to inlets and reefs while searching for marine life.
Whitsunday Islands Marine Park jet ski tours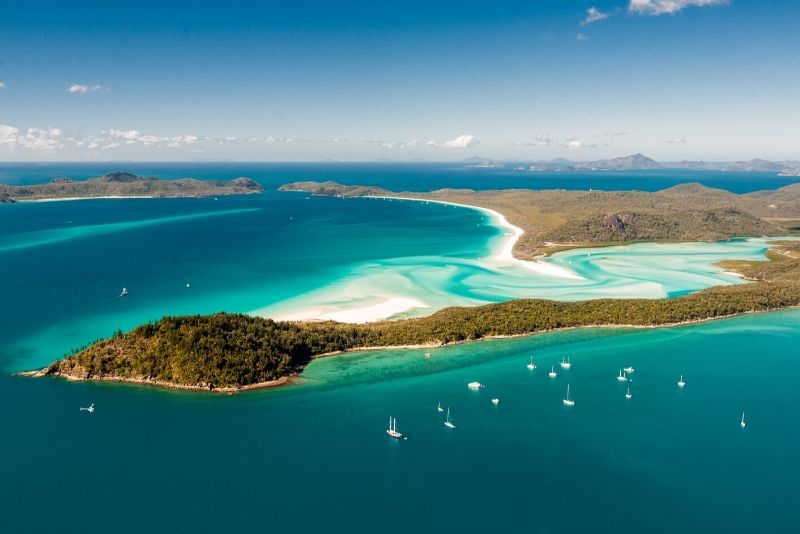 Follow a guide through Pioneer Bay to the turquoise waters of Whitsunday Islands Marine Park. Hear about the park's inhabitants while trying for sightings of your own. The Marine Park is home to dugongs, whales, sea turtles and scores of bird and fish species.
Island jet ski visits
Venture to some of the Whitsunday Islands on a jet ski! Skip over the waves to Palm Bay Resort on Long Island to enjoy an indulgent lunch and other resort perks.
Circle South Molle and Daydream Islands with a guide leading you along the palm-fringed shores. Take in the islands' tropical flora and rugged hills jutting from the water.
How much do jet ski tours cost?
Jet ski in Airlie Beach coastline tours cost US$90 per jet ski that can accommodate two people.
Whitsunday Islands Marine Park tours cost from US$85 per person for a shared twin jet ski to US$210 per person for a single-rider jet ski tour.
Island jet ski visits cost from US$85 per person to US$265 per person, depending on the duration of the tour and whether lunch and resort amenities are included.
Which places are seen?
Airlie Beach coastline
Airlie Beach sits at the edge of Pioneer Bay, a picturesque inlet on the Coral Sea. A trip along its shores treats you to views of mansions and yachts, resorts on the hillsides and the cobalt waters.
Whitsunday Islands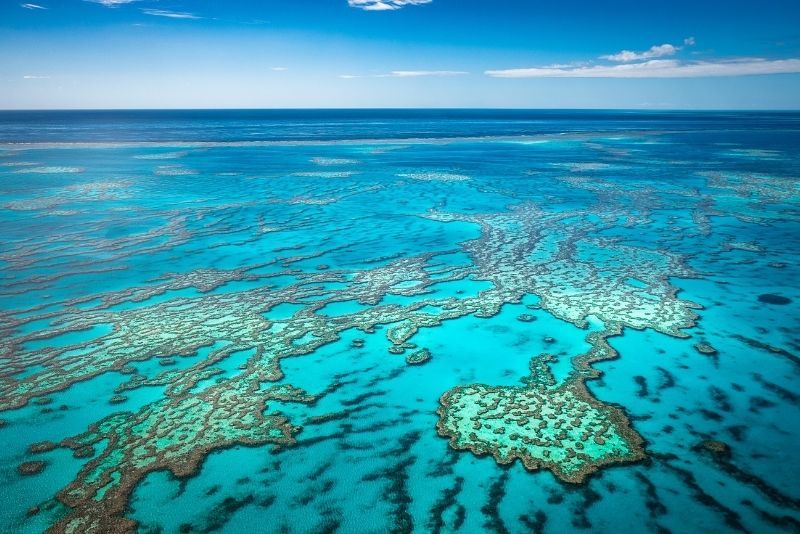 One of the most desirable destinations in Australia is the Whitsunday Archipelago. The islands are scattered around the Great Barrier Reef near Airlie Beach, and the warm shallow waters are prime whale habitat during their migration.
White sand beaches, rocky viewpoints and snorkeling over vibrant coral provide hours of fun.
Marine life
Many varieties of whales, tropical fish and coastal birds make the Airlie Beach area their home. A lucky few may spy a rare dugong in the waters. The Great Barrier Reef is the largest living organism in the world, and its coral gardens are a must-see for any visit to Airlie Beach and the Whitsundays.
What is included?
Airlie Beach jet ski tours include a guide to lead you on a safe and informative excursion, use of jet ski, personal flotation device and wetsuits or rash guards if necessary. Most jet ski tours provide pickup and drop-off at Airlie Beach hotels.
Where does it start?
Most jet ski tours in Airlie Beach start with pickup from local hotels and depart from Coral Sea Marina or Port of Airlie. Tours that do not include pickup meet at Rufus and CO Cafe in Port of Airlie.
How long does it last?
Airlie Beach coastline jet ski tours last 1 hour. Whitsunday Island Marine Park tours last from 1.5 hours to 2.5 hours. Island visits last from 2 to 4 hours.
When is the best time for a jet ski tour in Airlie Beach?
Northern Queensland's tropical climate makes a visit at any time of year pleasant. The best time for a jet ski tour is from May to November. For the best chances of seeing whales on your tour, choose a time in June through August.
Are there any combo available?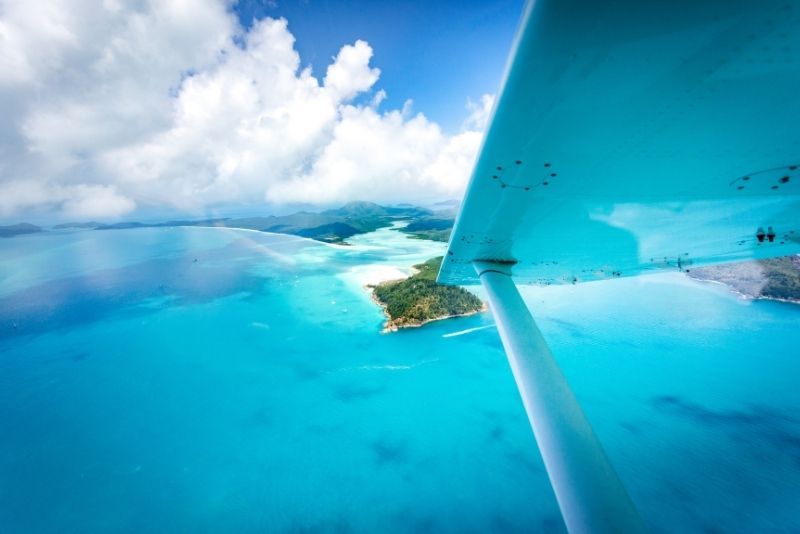 Jet ski tour plus flight: Views of the Whitsundays and Great Barrier Reef from above give you a taste of the area's vast reaches and whet your appetite to explore on a jet ski.
Soar over the reefs and islands in a fixed-wing airplane for an hour before embarking on a 1-hour jet ski adventure for perspectives of Airlie Beach's bays from the water.
Is it safe?
Yes, jet ski tour in Airlie Beach are safe, as they provide expert guides and safety equipment. These excursions are not suitable for pregnant travelers or those with heart conditions or other serious medical concerns. If in doubt, check with the tour provider before booking.Not recommended for travelers with back problems
Are children allowed?
Jet ski tours in Airlie Beach allow a minimum driver age is 16 years.
What happens in case of bad weather?
Jet ski tours in Airlie Beach will be canceled if weather conditions are unsuitable, and you can reschedule your trip or get a refund.
Which other water activities can be done in Airlie Beach?
Travel tips
Jet ski tours in Airlie Beach sell out quickly, so book your tour early.
Bring swimwear, a towel and sun protection.
Carry a waterproof pouch to protect your phone or camera.