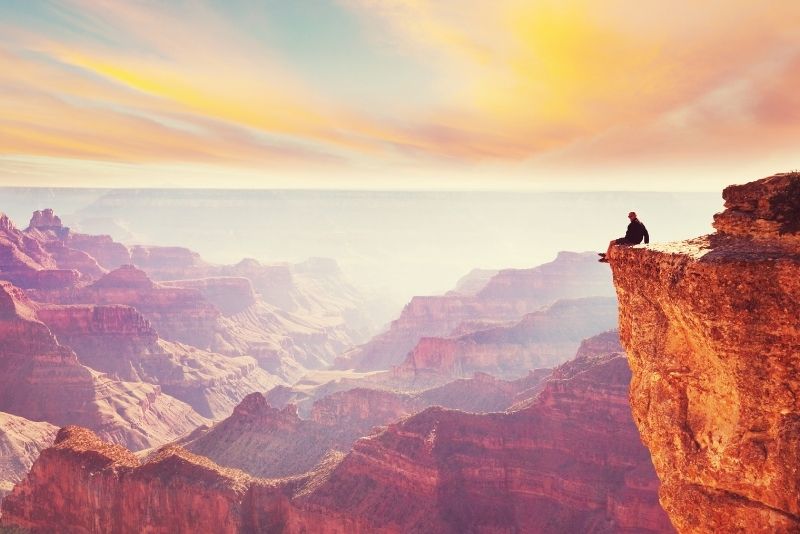 While Arizona's reputation is that of dusty red rock desert, blaring heat, and a handful of tumbleweeds juxtaposed by giant cacti, to adopt that one-eyed view would be criminal.
Sure, this ever-sunny state is infamous for its stunning Grand Canyon, postcard-worthy Antelope Canyon, and myriad national and state parks, but dig a little deeper below the surface and you'll quickly uncover that this Southwestern state is much more than dry desert: Arizona is teeming with biodiversity, rich culture, and a unique and complex history – from the Wild West era to the Ancestral Puebloans who wandered the land hundreds of years ago and built abode into cliff faces – collectively making this enormous state a dramatically underrated tourist destination.
Outside of the major cities, the list of things to do in Arizona is sure to delight any nature-lover; from hiking and camping to stargazing, mountain biking, rafting down the Colorado River, cruising along beloved Route 66, and so much more, the outdoor activities are endless (and sure to light up any social media feed).
Capping off the lush forests, snow-capped mountain peaks, and engulfing Sonoran Desert, when you take into account the unique offerings of Phoenix, Tuscon, Flagstaff, Sedona, Prescott, and Scottsdale (to name but a few) you're blessed with a diverse sporting, foodie, art, and history-filled trip that promises to be hard to beat.
So, without further ado, to get you started on your travels through the beautiful Copper State, here are 50 of the most exciting, relaxing, enjoyable, adventurous, and unmissable things to do in Arizona!
1 – Grand Canyon National Park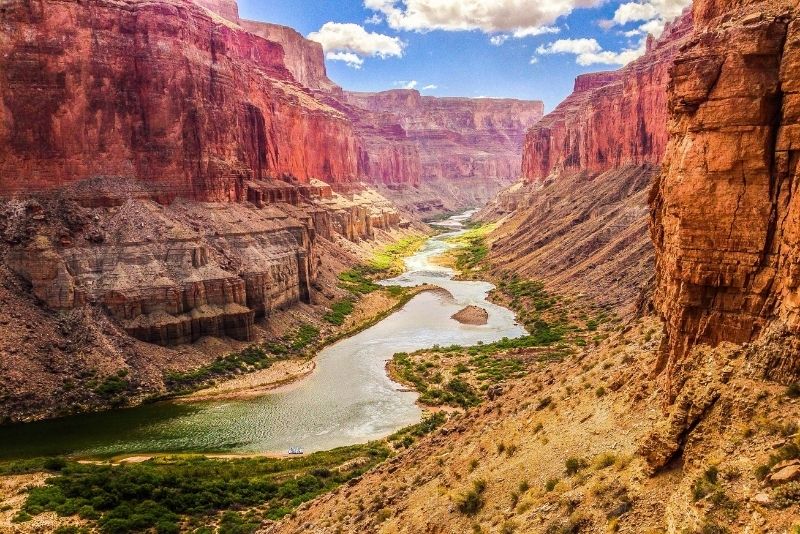 A brilliant example of Mother Nature's raw power, the Grand Canyon stands proud as America's most famous national park, welcoming millions of visitors year after year to its South Rim (closest to Flagstaff), West Rim (closest to Vegas), North Rim (remote and peaceful and closer to Utah), and East Rim, where postcard-worthy sites like Antelope Canyon and Horseshoe Bend await.
The 277-mile long gorge has been carved out over millennia by the Colorado River and is up to 18 miles wide in places, with cliffs that plunge more than a mile to the river below.
Most visitors choose to drive themselves to the South or West Rims, where plenty of dramatic lookout points, challenging trails, and diverse activities await — take your pick from horse riding adventures, scenic helicopter flight, and adrenaline-pumping whitewater rafting trips! On the other hand, travelers looking for a hassle-free experience typically opt for a guided tour that ticks off a handful of the quintessential things to do at the Grand Canyon.
If you're venturing to the West Rim, don't miss the Grand Canyon Skywalk, an impressive feat of engineering which allows courageous guests to step out onto the glass-bottom bridge, staring down into the engulfing abyss below!
See also: Compare Grand Canyon Helicopter Tours – Which one is the best?
2 – Grand Canyon Railway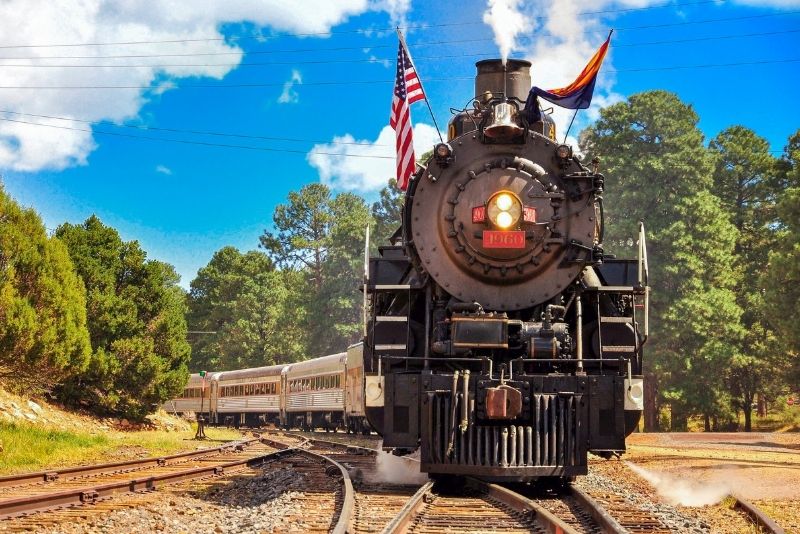 All aboard! Stretching for 64 miles from Williams to the South Rim of the Grand Canyon, and stopping in beautiful Sedona along the way, this vintage railway is one of Arizona's top tourist attractions — ideal for families and nature lovers, it blends stunning scenery with a rich history, having been transporting visitors since, remarkably, 1901!
Taking about 4 hours from beginning to end, with cowboy musicians roaming the carriages, the historic locomotives haul passengers through untouched red rock landscapes of the Wild West, with plenty of opportunities to spot wildlife like elk, deer, and bighorn sheep along the way.
Once you arrive at Grand Canyon Village, there's plenty more to do — hop on a mule ride down into the canyon, take a scenic helicopter flight over the gorge, or simply explore one of the many easy trails that hug the rim.
3 – Coconino National Forest
One of the most biodiverse national forests in the country, Coconino is teeming with plant and animal life, from elk and deer to eagles and ospreys — showing the world that Arizona boasts far more than just dusty red rock desert!
As the largest contiguous Ponderosa pine forest in North America, this green heaven spans over 1.8 million acres across varying altitudes (changing in elevation from 12,633 feet at Humphreys Peak down to 2,600 feet in the Mazatzal Wilderness), which allows for grasslands in one direction, desert in the other, and no shortage of green ponderosa pines in the middle!.
Heaven on Earth for outdoor enthusiasts, Coconino dishes up no less than 300 different trails for hikers, bikers, and horseback riders alike, with campsites and fishing spots if you're looking for something low-key.
In the cooler months, the upper regions transform into a snowy oasis for cross-country skiers, snowshoers, and sledders. Plus, complementing the abundant wildlife, Coconino National Forest is also home to numerous ancient ruins sure to scratch the itch of any history buff.
4 – Phoenix Zoo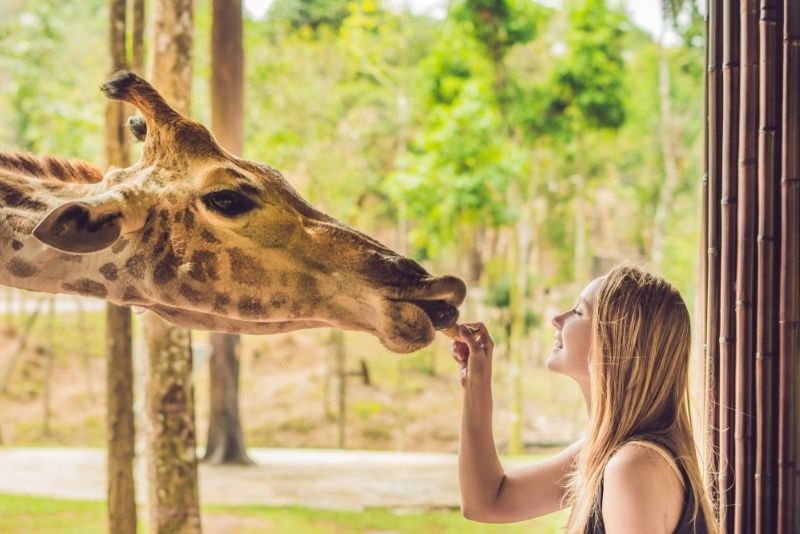 A crowd favorite for anyone with kids in tow, the Phoenix Zoo is one of the largest non-profit zoos in the country, and one of the best things to do in Arizona for animal lovers.
Set inside the expansive Papago Park, this 125-acre animal wonderful has been wowing guests since 1962, and today is home to over 3000 animals from all over the world — think elephants, lions, giraffes, rhinos, Sumatran tigers, Komodo dragons, and a whole lot more!
Besides the chance to get up close and personal with your favorite furry (and not so furry) friends, there's also a Safari Cruiser experience that takes you through the park, an Endangered Species Carousel that the kids will love, and keeper talks throughout the day where you can learn about life as a zookeeper.
The Phoenix Zoo also offers unique behind-the-scenes tours where you can meet rare creatures like "Chutti" the Greater One-horned Rhinoceros, walk through the elephant barn, or mingle with flamingoes!
5 – Meteor Crater Natural Landmark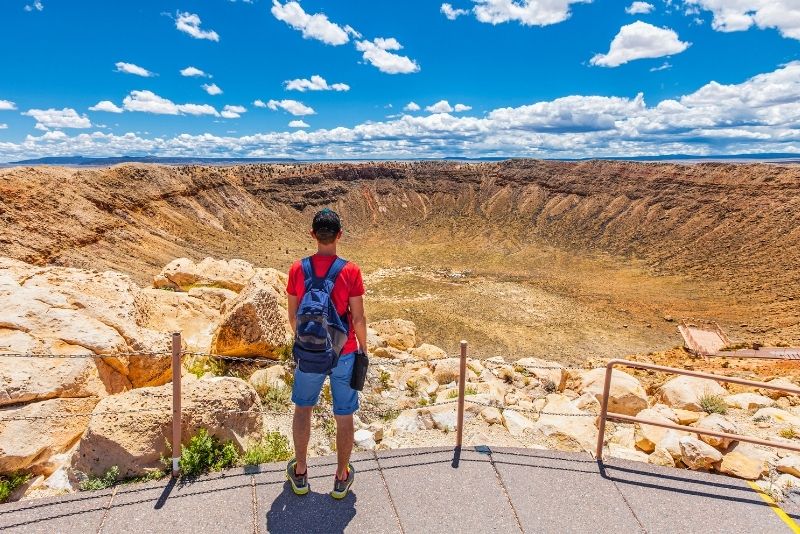 A foreboding hole in the ground that sits about 37 miles east of Flagstaff, the massive Meteor Crater holds its own as one of Arizona's most underrated yet impressive natural landmarks.
This massive crater (it's almost a mile across and 560 feet deep!) was caused by an asteroid that slammed into Earth over 50,000 years ago — at around 26,000mph!
Today, it's a popular spot for hiking, picnicking, and stargazing — there are even ranger-led tours that take you down into the crater itself. After admiring the sheer size of the crater, be sure to leave time to browse the on-site Discovery Center and Space Museum.
Here, thanks to a range of videos, artifacts, and a real Apollo 11 Space Capsule, not only will you learn about the crater itself, but how meteors work, diving into the little-known science and history of meteorite impacts around the globe!
Hot tip: don't miss the Collision 4D Theater show, a favorite among traveling families!
6 – Arizona-Sonora Desert Museum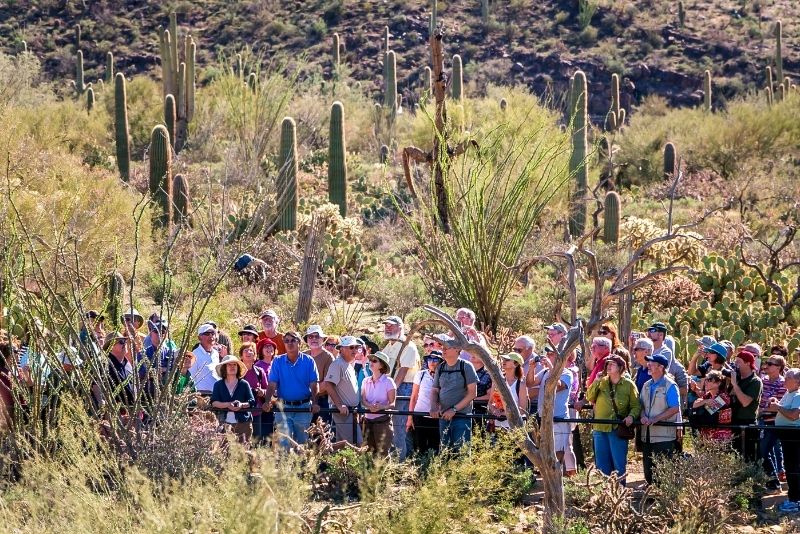 A world-renowned zoo, natural history museum, aquarium, art gallery, and botanical garden all rolled into one (impressive, right?), the Arizona-Sonora Desert Museum in Tuscon provides a diverse and well-appreciated breath of fresh air year-round.
This unique attraction gives you the chance to explore the Sonoran desert in a way that few other places can match, through educational animal encounters (you'll find over 230 animal species and no less than 1,200 kinds of plants!), two miles of walking paths through stunning cacti-lines landscapes, and a host of hands-on exhibits.
Meander through cactus gardens and watch the live shows with Gila monsters, Mohave rattlesnakes, and beaded lizards; sign up for one of the 80 art classes offered annually at the Art Institute (like photography or landscape painting);
Check out the stingrays in the aquarium's touch tanks, wander through the Museum's two aviaries (one full of enchanting hummingbirds), or learn about the desert's fascinating plants and animals in one of the many galleries.
And, for that perfect souvenir, be sure to pop into the gift store where location-specific jewelry, crafts, and books await.
7 – NASCAR at the Phoenix International Raceway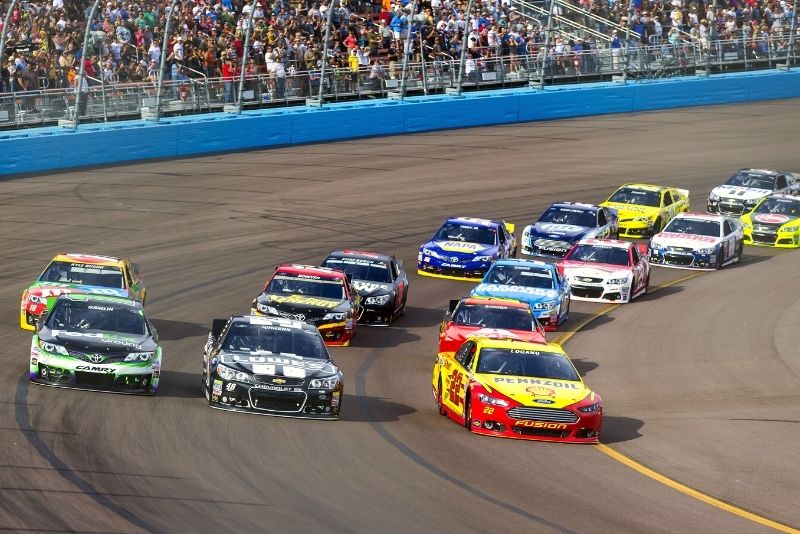 Petrolheads, rejoice!
The world-famous Phoenix International Raceway is a mecca for all things NASCAR, and whether you're a diehard fan or just curious to check it out, a day spent here is sure to be an unforgettable experience.
There are plenty of ways to get involved — take a behind-the-scenes tour of the track, participate in a NASCAR Racing Experience (you'll be hurling around the oval track at speeds of up to 130mph!), or simply watch the races from one of the many grandstands.
And, if you're looking to take your visit to the next level, make your way to the FanShield Infield Experience where you can shop for souvenirs, get behind the digital wheel in the Esports Gamer Garage, enjoy the live entertainment, and let the youngsters loose in the NASCAR Kids Zone.
8 – Glen Canyon National Recreation Area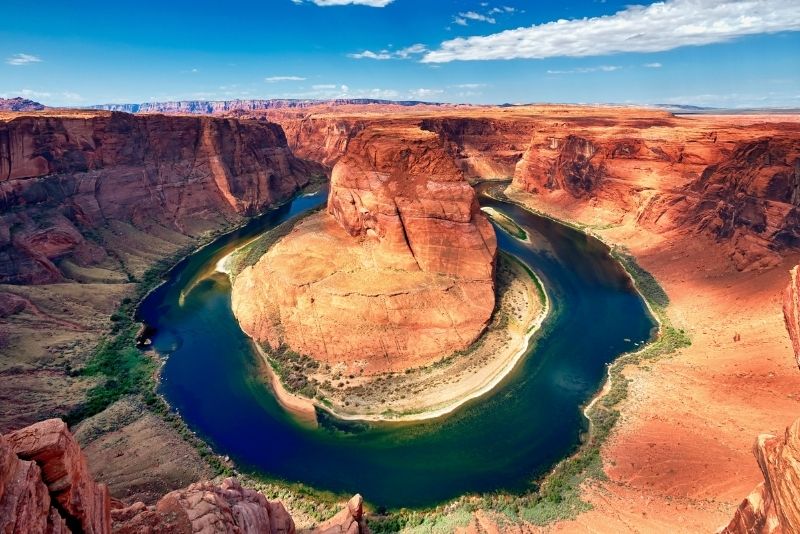 Teeming with red rock cliffs, emerald green waters, and a whole host of outdoor activities, the Glen Canyon National Recreation Area is one of Arizona's (and Utah's) most beloved natural gems — and compared to the Grand Canyon, criminally underrated.
This huge recreation area (it spans over one million acres!) is home to countless hiking and biking trails, as well as a number of designated swimming areas in Lake Powell where you can cool off in the heat of summer. And, if you're feeling adventurous, why not try your hand at canoeing or kayaking?
Don't forget to bring your camera along to snap some pictures of Horseshoe Bend, one of the most photographed spots in all of Arizona! And, if you're ready for some offroad action, venture down the scenically diverse Hole-in-the-Rock Road.
9 – Golfland Sunsplash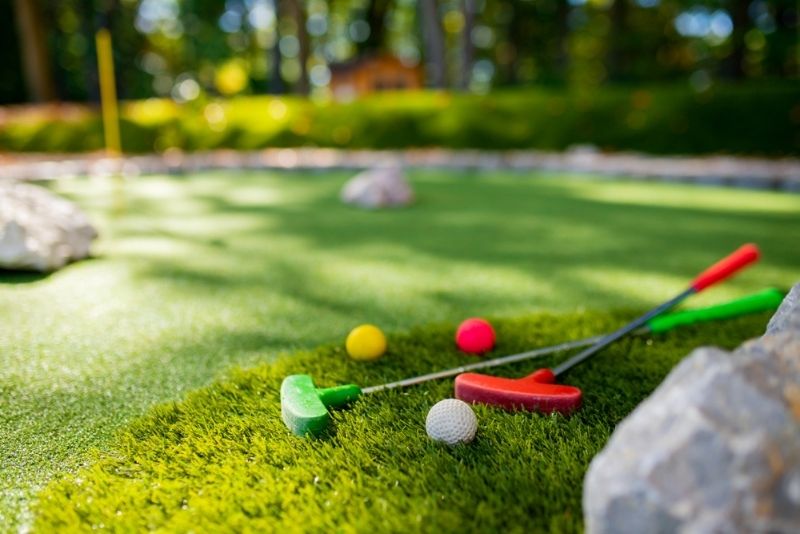 The perfect reprieve to beat that ever-sizzling Arizona heat, Golfland Sunsplash is an enormous waterpark complete with adrenaline-pumping slides, a meandering lazy river, and a splash pad for the little ones.
The Thunder Bay Wavepool is perfect for the whole family; the Double Dare trapdoor waterslide and Bonzi Speed Slides are reserved for the bravest of adrenaline junkies, while the Stormrider, Sidewinder, and Lazy River (to name but a few) are a heck of a lot of fun in their own right.
If you prefer to stay dry, you'll still be spoiled for choice — there's something for everyone, from the award-winning mini-golf course to bumper cars and some heart-racing laser tag!
And, when you're ready to take a break from all the fun in the sun, head over to the arcade where you can test your skills on classic games like skeeball and air hockey before digging in for a well-earned feed at Kings Kitchen Pizza and Subs.
10 – Castles N' Coasters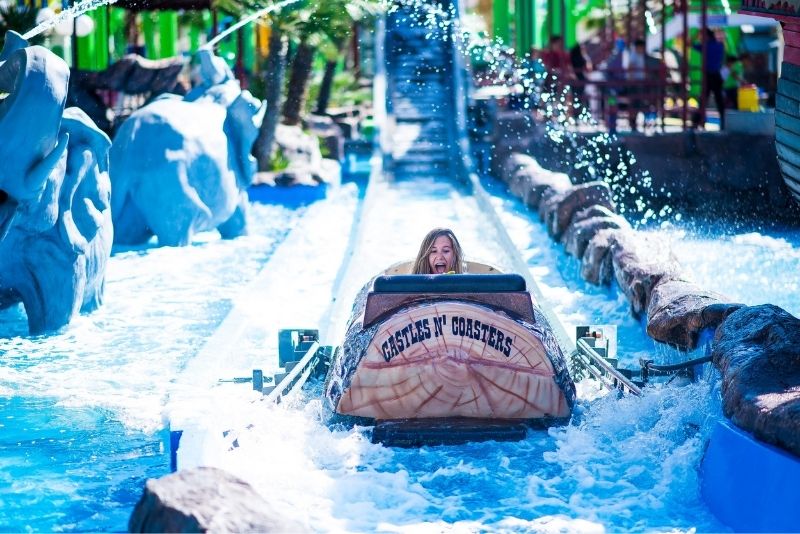 With not one, not two, but four separate 18-hole mini-golf courses, as well as an assortment of heart-pumping rides, Castles N' Coasters — a 10-acre outdoor theme park in Phoenix — is the perfect place to take the family for a day of thrills and spills.
Throw in a Carousel, high ropes course, splashtastic Bumper Boats rude, a 10,000-square-foot arcade, and a bizarrely brilliant Stranger Stuff Fun House, and the kids will have an absolute ball.
Easy-going putt-putt and gentle rides aside, this place is no kiddie playground. It dishes up seriously hair-raising coasters and thrill rides like the Desert Storm – the tallest, fastest, longest, and only looping roller coaster in Arizona – and the Skydiver, an intense giant drop that sends you plummeting 120 feet to earth.
11 – Montezuma Castle National Monument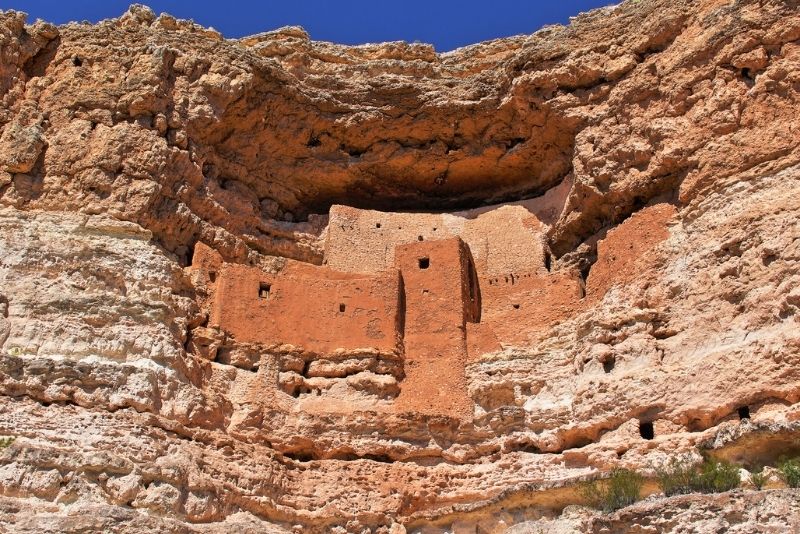 A fascinating cliff-side dwelling built by the Sinagua people over 900 years ago, Montezuma Castle is one of the most well-preserved Native American archaeological sites in the country.
Originally built to provide shelter and safety for the Sinagua Indians during flood seasons, these days, the monument and its accompanying museum welcomes nearly 350,000 curious visitors every year.
This five-story, 20-room "castle", which you'll find in Camp Verde, about halfway between Flagstaff and Phoenix, is accessible by a beautiful 1/3-mile trail that takes you through to the base of the structure, with hundreds of species of native plants and animals to check out along the way. Thanks to the towering trees of the scenic sycamore grove, there's plenty of shade on those hot summer days too.
After admiring the historic wonder, take a stroll through down to the Montezuma Well where, thanks to the abundance of water, you'll uncover a treasure trove of wildlife — more than 100 species of birds, snakes, lizards, and mammals, and thousands of insects, call this beautiful place home.
12 – Hot air balloon ride in Phoenix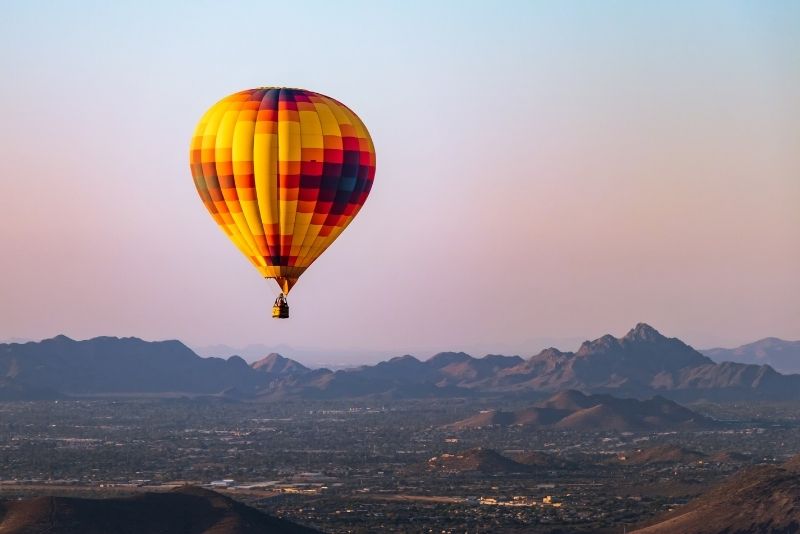 So long as you can muster up the strength to wake up at the wee hours of the morning, a hot air balloon ride over the Valley of the Sun promises an unforgettable experience.
As you gently float upwards towards 5,000 feet, you'll be treated to unparalleled views of the Sonoran Desert and Camelback Mountain for close to an hour — it's an absolutely magical way to start the day, with your FAA-registered pilot pointing out all the iconic natural landmarks along the way.
Once you've landed, celebrate with a traditional champagne toast and, depending on your tour, before potentially tucking into a hearty breakfast at places like Vincent on Camelback (an award-winning French-fusion eaterie)!
See also: Fun things to do in Phoenix
13 – Slide Rock State Park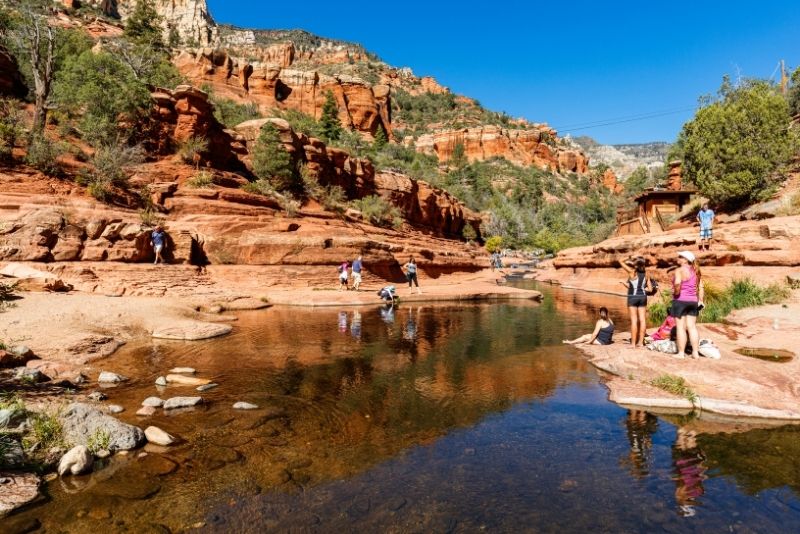 A great spot to cool off from the summer heat, Slide Rock State Park is one of the most popular natural swimming holes in Arizona.
Nestled in Oak Creek Canyon, a section of the much larger Coconino National Forest and about 25 miles south from Flagstaff, this locally-adored state park features a smooth stretch of water-polished red rocks that you can slide down into the refreshingly cool waters below — it's an absolute blast for both kids and adults alike!
When you've had your fill of natural slides, take a dip in one of the many tranquil pools or explore the short and sweet hiking trails (read: the Pendley Homestead Trail and Slide Rock Route are both great options) that weave through towering Ponderosa pines and vibrant sycamores.
And, to top off the excursion, be sure to pop by the working apple ranch, home to the vintage 30-foot-long apple-sorting machine that's as old as the apple orchard itself (over 100 years!)
14 – Hurricane Harbor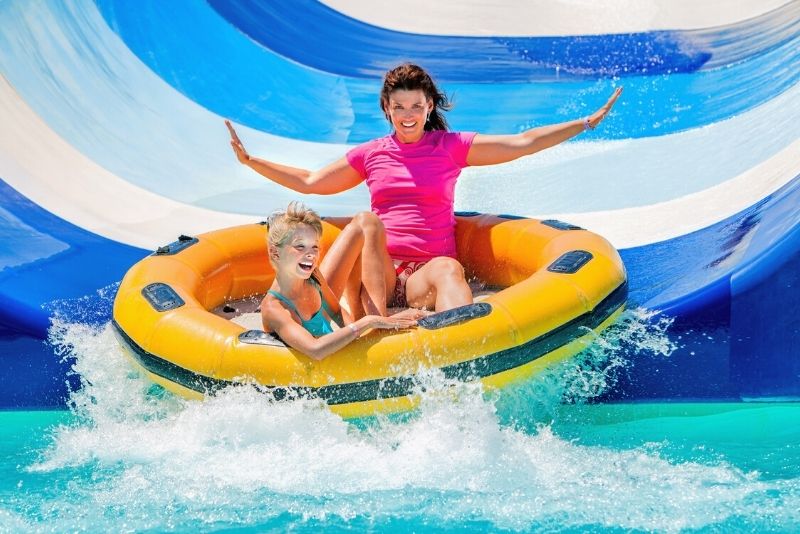 A Phoenix institution, at 35 acres of watery fun, Six Flags Hurricane Harbor is one of the largest water parks in the Southwest and, officially, the largest theme park in Arizona, provides a welcome respite from the desert heat for kids and adults alike.
With close to 15 different slides — some exhilarating, some more relaxing — a massive wave pool, lazy river float, and plenty of other activities to keep you busy all day long, this hydro-powered adventure park has something for everyone.
Looking for a thrill? Make a beeline for the Tornado: a gigantic funnel that spins up you and your nearest and dearests around at speeds of up to 35 miles per hour, or jump in line for the gravity-defying Bahama Blaster, the country's very first dueling H2O coaster that sends you cannoning over 830 feet of blood-pumping drops!
15 – Footprint Center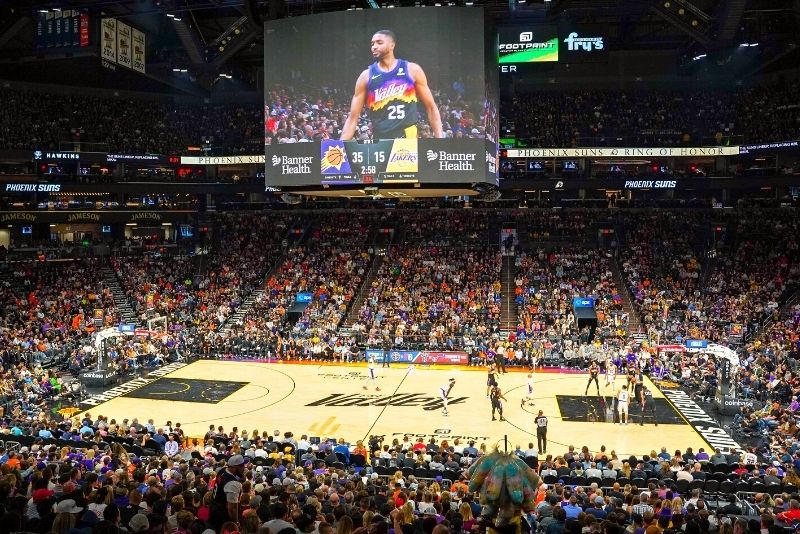 Formerly the Talking Stick Resort and Phoenix Suns Arena, these days, the newly-christened Footprint Center is a multipurpose venue that regularly hosts some of the biggest names in music, sports, and entertainment.
Tucked away in the heart of Phoenix, this Basketball fans, this 16,000-seat stadium plays host to the NBA's Phoenix Suns — and when the stadium is packed to the rafters, the roar is nothing short of electric.
But that's not all — this impressive arena also houses the Arizona Rattlers indoor football team, Phoenix Mercury WNBA team, as well as a traveling showcase of A-lister musicians (think Dua Lipa, New Kids on the Block) and entertainers (like Jeff Dunham).
Throw in the occasional UFC fight, WWE event, and an array of eateries and bars, and you've got one of the most diverse and exciting venues in all of Arizona.
16 – Coronado National Forest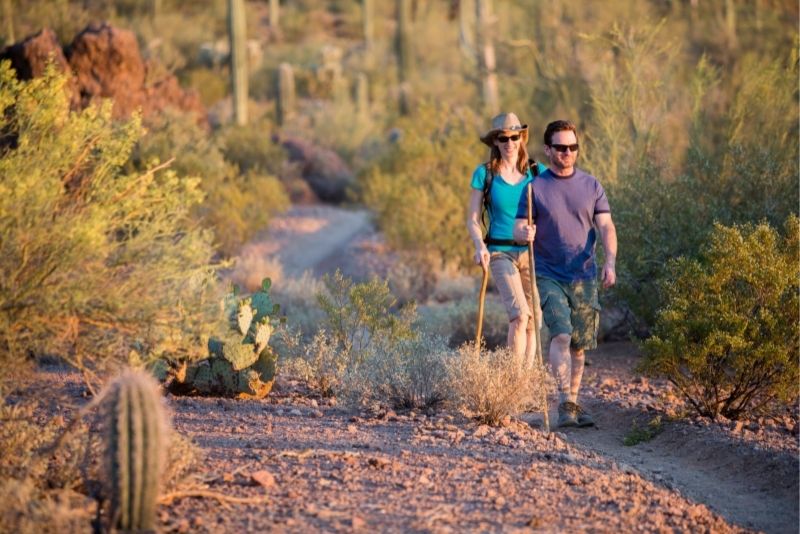 Encompassing a whopping 1.8 million across both beautiful Arizona and underappreciated New Mexico, and sharing a border with Mexico, the Coronado National Forest is one of the largest national forests in the country and an outdoor playground for those who love nothing more than getting back to nature.
With hundreds of miles of trails (hiking, biking, and horseback riding), seven wilderness areas, six major mountain peaks (we're looking at you, Mt. Lemmon!), and a smattering of hot springs and natural swimming holes, the Coronado is a veritable mecca for outdoor enthusiasts.
Plan a guided visit to the Coronado Cave, take the scenic Montezuma Canyon Road to the impressive Montezuma Pass Overlook if you're after some killer views, or check out the informative displays (which dive into the nature and history of the area) in the visitor center!
Fun fact: the Forest is actually comprised of three separate, smaller forests, each with a variety of their own talking points and postcard-worthy settings: the Chiricahua National Forest, the Dragoon National Forest, and the Peloncillo National Forest.
17 – Wildlife World Zoo, Aquarium & Safari Park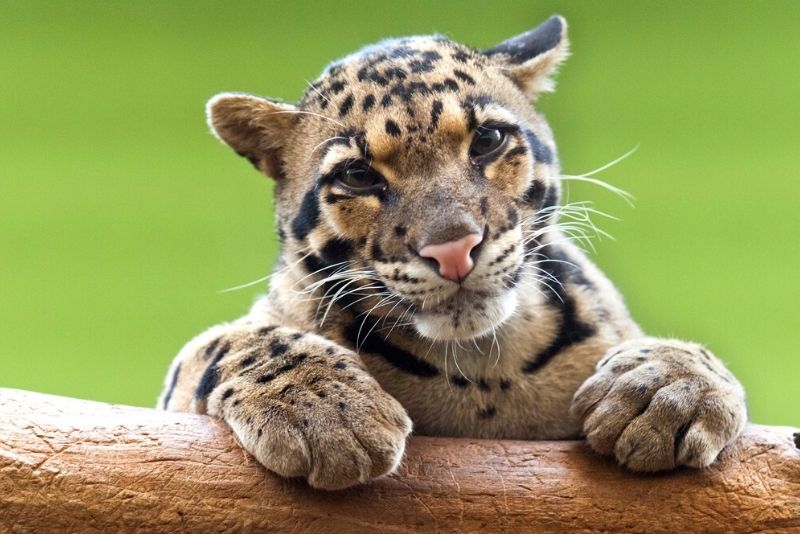 Found over in Litchfield Park, a mere 30 minutes outside of Phoenix, the Wildlife World Zoo, Aquarium & Safari Park is one of Arizona's top family attractions, and it's easy to see why.
As well as being home to over 600 different species of animals (including big cats, giraffes, zebras, and monkeys, with a focus on African and South American animals), the park also boasts an impressive aquarium with a walk-through tunnel that will have you feeling like you're right in the middle of the action!
Oh, and did we mention the safari park? You can take a guided tour on an open-air bus where you'll get up close and personal with some of the resident animals; antelope, gazelles, and ostriches, just to name a few!
When the sun's beating down, hop on the Log Flume Ride, or for an overarching aerial view, head over to the Idearc Media Skyride (each $6 per person) – just a couple of the exciting rides on offer.
18 – Walnut Canyon National Monument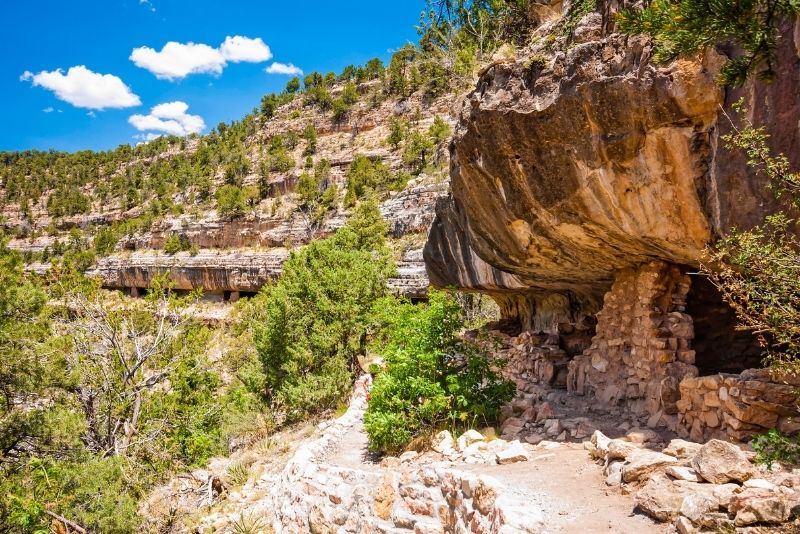 Conveniently located just a short drive from Flagstaff, Walnut Canyon is a stunning slice of Mother Nature overflowing with both unspoiled beauty and ancient history.
The main attraction here is the collection of manmade caves, giving a glimpse into an era when Ancestral Puebloans called this place home.
The best way to explore these ancient dwellings — which sit over 6600 feet above sea level, making for wild weather swings — is by taking the Island Trail, a Strenuous 1-mile loop that takes you past 25 different cave dwellings — but if you're short on time (or energy), don't worry, as there is still plenty to be seen at the visitors center, where you can view the caves in the distance!
19 – Arizona Snowbowl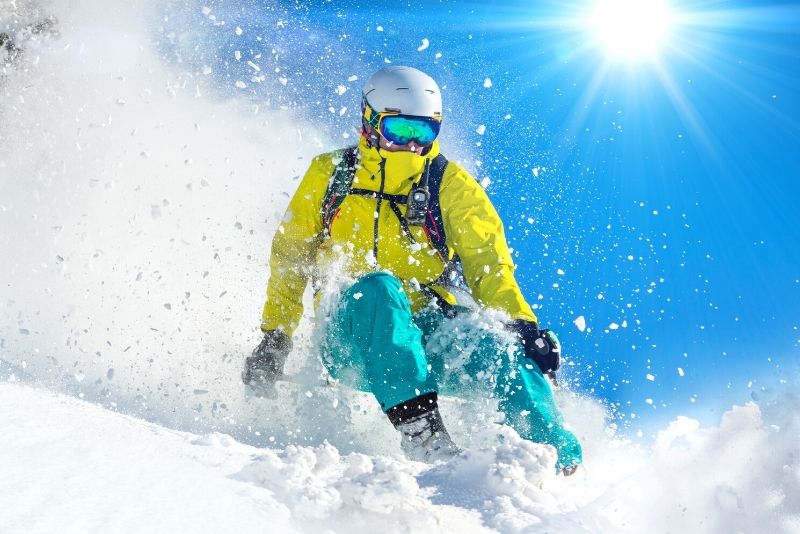 Proving that there's so much more to Arizona than red rock desert and cacti, Snowbowl is one of the state's most popular wintertime destinations.
A convenient 15 miles from downtown Flagstaff, this Arizona ski resort offers visitors plenty of wintery goodness, including 55 runs, from beginner-friendly green slopes all the way up to double-black diamonds!
Found on the western slope of Mount Humphreys, the tallest point in the state with a peak of over 11,500 feet, the Snowbowl is also one of the highest ski resorts in the country, meaning that you can expect some pretty spectacular views from the scenic gondola en route to the top!
Plus, with apres-ski and restaurants, not to mention beginner lessons on hand, it's easy to make a day of it!
20 – Sedona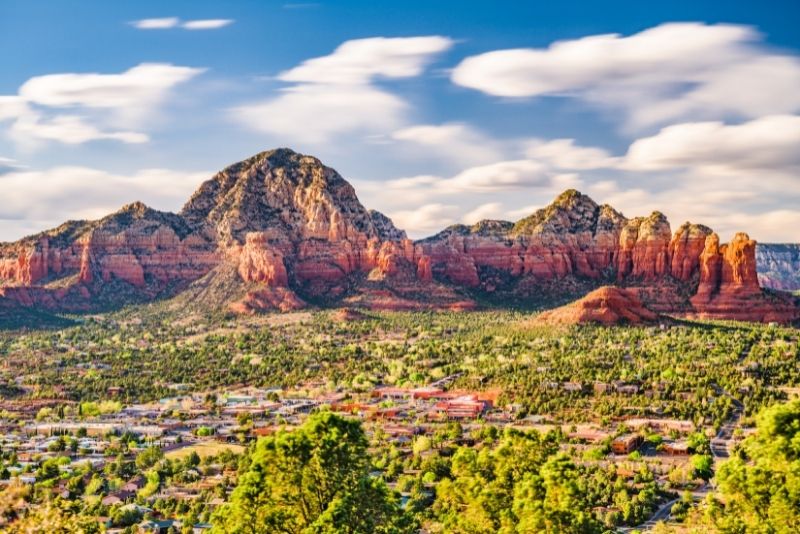 Beloved by many a tourist for its stunning red rock formations, a casual trip to Sedona has long been considered one of the quintessential – and underrated – things to do in Arizona for nature-lovers and outdoor enthusiasts.
Situated about two hours north of Phoenix, this small town is unsurprisingly picturesque, with plenty of hiking and biking trails to explore the area's unrivaled natural beauty.
And if you're feeling really adventurous, why not try your hand at one of the many outdoor activities on offer? From jeep tours and hot air ballooning to horseback riding and stargazing, there's something for everyone on the menu in this northern Arizona wonderland!
Make sure to check out the Chapel of the Holy Cross, a church built into the facade of a dramatic rock formation!
And, perfect for unwinding after a long day of exploring, the plethora of spas offering treatments that use Sedona's renowned red clay are guaranteed to inject some zen into your vacation!
See also: Fun Things to Do in Sedona; Best Sedona Jeep Tours
21 – Papago Park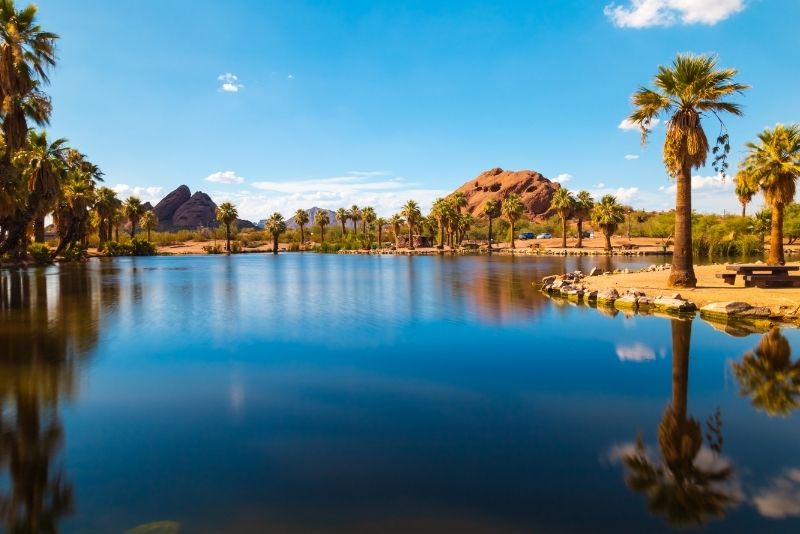 Full of those famed saguaros with unique rock formations and over 10 miles of diverse hiking and mountain biking trails — all smack-bang in the middle of both Phoenix and Tempe — Papago Park is the perfect place to get your nature fix without having to leave the city!
At over 1,500 acres, it's nearly double the size of Manhattan's Central Park, and with much fewer visitors, you're guaranteed you're own pristine slice of wilderness.
One of the best things to do in Papago Park is to catch a glimpse of some of Arizona's incredible wildlife, with over 150 species of birds living in the park, including Gambel's quail and Gila woodpeckers — and you'll see a stack of them along the 2.3-mile Double Butte Loop which dishes up a wonderful highlight reel of the area!
Stretch the legs with a walk up to the Hole in the Rock, test your skills on the golf course, browse the Desert Botanical Garden; meet the cuddly residents of the Phoenix Zoo; learn a thing or two at the Arizona Heritage Center;
Tee off at the Papago Golf Club; or check off something different with a stop at the Hall of Flame Museum of Firefighting. As you can see, this park boasts no shortage of intriguing activities.
Hot tip: Don't miss out on Papago Buttes, two unique red sandstone formations located in the heart of the park — definitely one for those Instagram shots!
22 – Lowell Observatory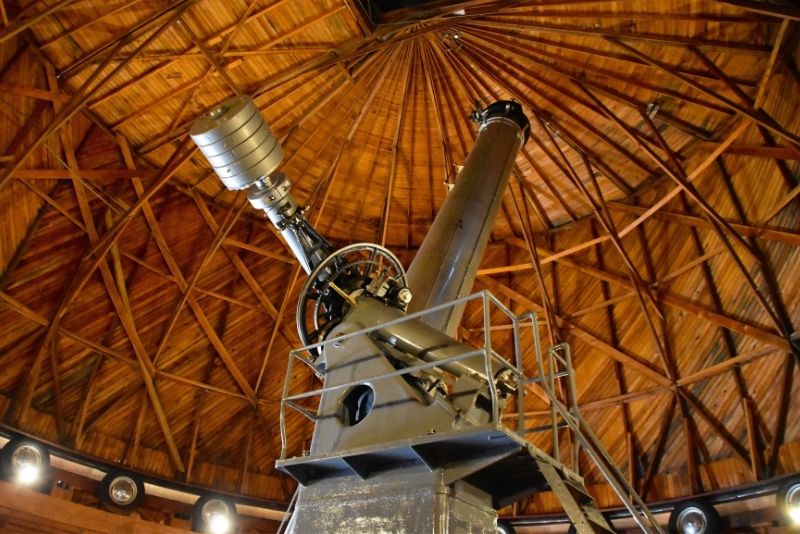 Founded way back in 1894 by Percival Lowell, this world-renowned Flagstaff astronomical research center is one of the top things to do in Arizona for science buffs and space enthusiasts when the sun goes down!
Considered a National Historic Landmark, the Observators sits on a hilltop just outside of town with stunning views of the San Francisco Peaks, the Lowell Observatory is home to some incredible telescopes, including the 19th-century Clark Refractor and the more modern Lowell Discovery Telescope, the fifth-largest of its kind in the contiguous United States!
Plus, this stargazing mecca is known for being the discoverer of planet Pluto in 1930 (well, back when we considered it a planet…).
Guided tours and talks take place every hour through the day, diving into topics like the Story of Pluto Tour and Wonders of the Solar System, but it's the late-night Constellation Tours that really leave a lasting impact
23 – Musical Instrument Museum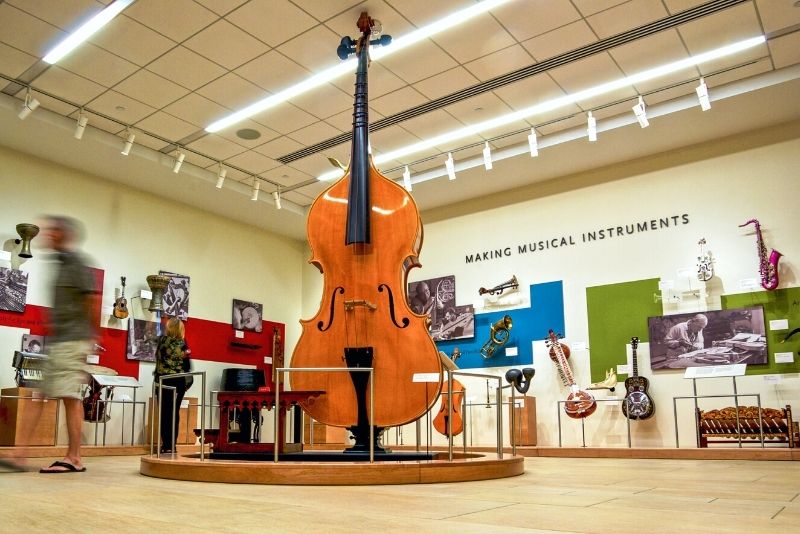 Little-known to outsiders yet beloved by Arizona residents far and wide, the Musical Instrument Museum in Phoenix is one of those places you could easily spend an entire day exploring and still not see everything!
An undeniable treasure trove of human creativity for music lovers, this vast museum houses over 15,000 instruments and objects from around 200 countries and regions — with a particular focus on how music has shaped the cultural history of Arizona and the US.
You'll uncover the instruments of famed musos like Elvis Presley, Carlos Santana, Johnny Cash, and Maroon 5 (to name a few), and get to join in the action with plenty of interactive play zones.
From hands-on activities to live performances, there's plenty here to keep everyone entertained. The MIM's 300-seat Music Theater hosts more than 200 concerts each year, ranging from classical music and jazz to rock 'n' roll — so make sure you check the schedule before you go!
And if that wasn't enough, the museum (the largest of its kind globally, by the way) also houses the quaint Café Allegro, an award-winning restaurant serving up global cuisine that changes weekly and seasonally.
24 – Scottsdale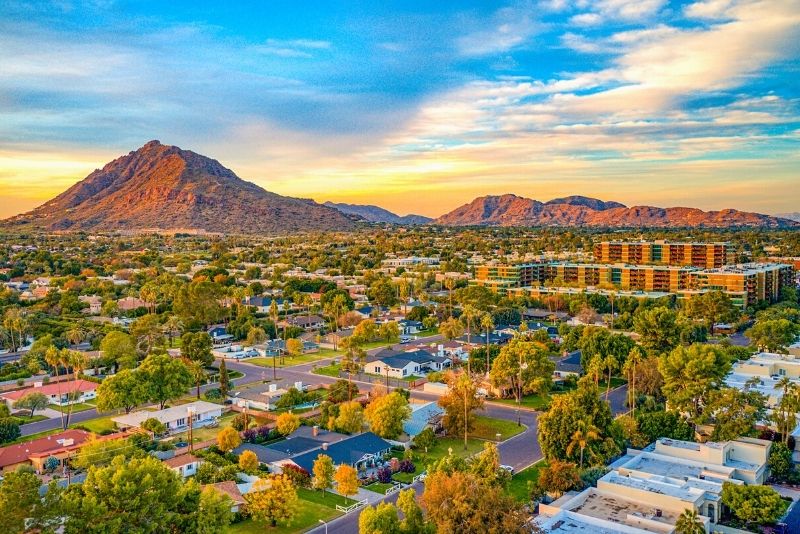 Often overlooked compared to its bigger, brasher cousin to the south, Scottsdale is a fantastic place to visit in Arizona for anyone looking for a more refined vacation experience.
This upmarket desert town bordering Phoenix has long been a playground of the rich and famous, with luxury resorts, high-end shops, and posh restaurants dotting the landscape — not to mention countless art galleries and museums celebrating both Native American culture and heritage and Frank Lloyd Wright architecture.
There's plenty here to keep you busy for days on end, whether you're hitting the links at one of Scottsdale's many world-class golf courses; indulging in some retail therapy at Fashion Square, one of the largest malls in Arizona; or exploring the 1920s buildings of Old Town Scottsdale, where you'll find an eclectic mix of historic charm alongside modern bars and restaurants.
If you're looking for some exercise, both the historic Apache Trail and Pinnacle Peak Park offer plenty of outdoor fun, while Candytopia is a real like Willy Wonka factory sure to satisfy any sweet tooth!
Don't miss the Scottsdale Museum of Contemporary Art, either — one of the best things to do in Arizona for art lovers!
See also: Fun things to do in Scottsdale
25 – State Farm Stadium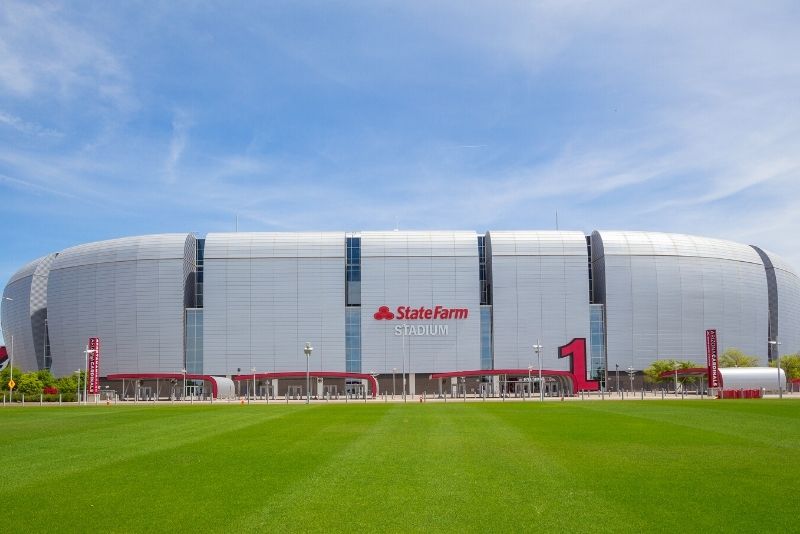 The stomping ground of NFL side the Arizona Cardinals, State Farm Stadium is one of the most impressive sporting venues in not just the state, but the entire country.
With a retractable roof and field that can be rolled in and out to suit both inclement weather and major events (like concerts), this multipurpose 63,400-seat stadium has hosted some of the biggest names in music over the years, including Beyoncé, Taylor Swift, One Direction, Fall Out Boy and The Rolling Stones — not to mention occasional novelty events like WWE, monster trucks, soccer matches or the annual college football Fiesta Bowl.
When there's no game or concert on, you can still take a behind-the-scenes tour of this incredible facility which takes in all the best bits — from locker rooms to luxury suites, the press box to the playing field itself.
Just a short drive from downtown Phoenix in nearby Glendale, State Farm Stadium is a non-negotiable for any true sports-lover.
26 – Red Rock State Park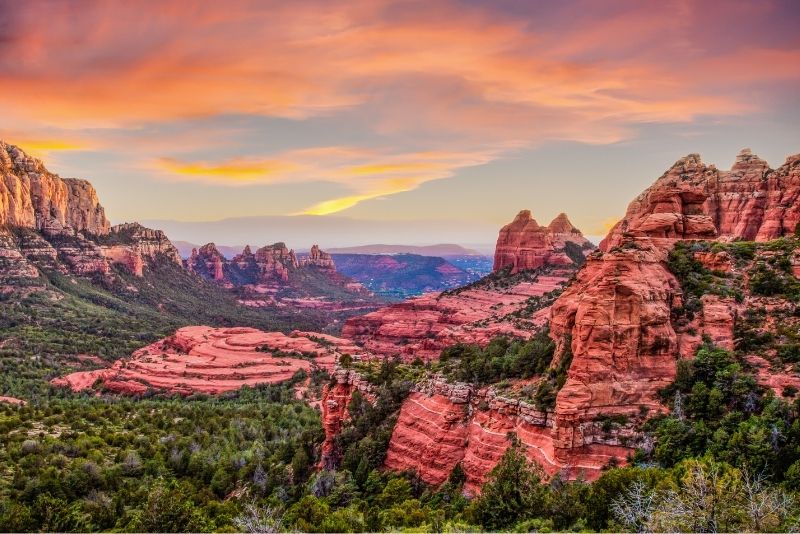 True to its moniker, Red Rock State Park is set against a backdrop of stunning crimson cliffs and buttes in the ­­­Sedona area (and not to be confused with Red Rock Canyon in Nevada).
A great place to hike, bike, embark on a horseriding adventure, or just take in the scenery, this 286-acre park is home to plenty of desert wildlife including deer, javelinas (similar to a boar), coyotes, and mountain lions — not to mention countless bird species.
There are easy walking trails suitable for all fitness levels that meander along the banks of Oak Creek, as well as longer hikes for those looking for more of a challenge, and ranger-led programs held throughout the week (the junior program is designed specifically for kids under 12) as well as regular educational films in the Miller Visitor Center. And, for the extra adventurous, off-road jeep tours and scenic helicopter flights never disappoint!
Hot tip: make sure to check the upcoming events — from full moon hikes and bird walks to daily guided nature walks and Earth Day celebrations.
27 – Pima Air & Space Museum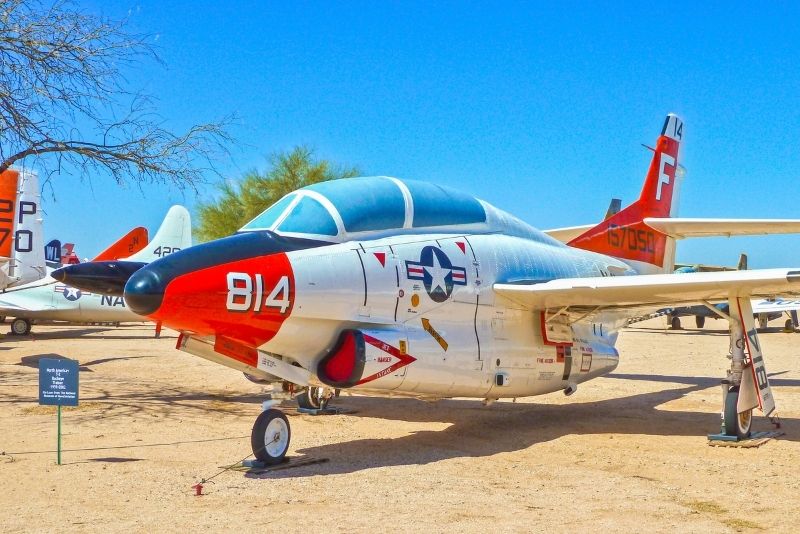 Overflowing with fascinating aircraft, missiles, and space vehicles both inside and out, the Pima Air & Space Museum is one of the largest non-government-funded aerospace museums in the world.
With over 400 aircraft and spacecraft on display (including a real SR-71 Blackbird spy plane, a historic Wright Flyer, a Budd RB-1, the world's smallest biplane, and a 787 Dreamliner), as well as countless artifacts and memorabilia, this 80-acre museum — located just south of Tucson — is a must for anyone with even a passing interest in aviation.
Throw in modern commercial planes, retired presidential planes, and educational exists about military efforts like that of the 390th Bomber Squadron, and you can easily whisk away an entire day at this Arizona attraction.
28 – Tucson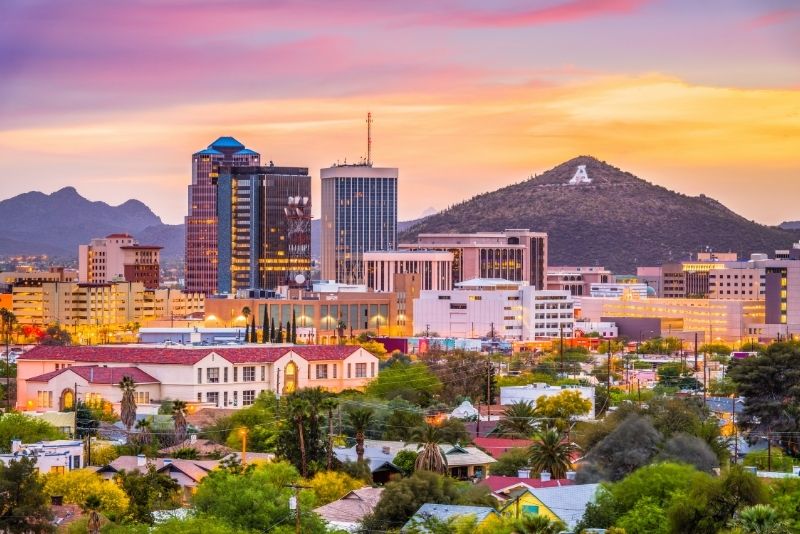 A city rich in history and culture, and straddling the Santa Cruz River, Tucson — the second largest city in Arizona — is the perfect place to explore the state's strong and vibrant heritage, a melting pot of Native Americans, Anglo, and Hispanic traditions.
With a vibrant downtown area full of notably impressive restaurants (take a stroll down Historic Fourth Avenue), plus shops selling traditional handicrafts, as well as a number of historic sites like the Presidio San Agustín del Tucsón (the city's founding fort), Mission San Xavier del Bac (a beautiful late-18th-century Spanish mission) and the Pima Air & Space Museum (see above), there's plenty to keep you busy in this Southern Arizona city.
And that's not even mentioning the University of Arizona — one of the largest public universities in the country — which adds an extra layer of vibrancy to Tucson, especially during college football season when the whole city comes alive to support the Wildcats.
For all you nature-lovers, with 350 days of sunshine a year, and the Saguaro National Park intersecting with both the east and west sides of the city, as well as the Sabino Canyon Recreation Area, you're in for a treat.
See also: Fun things to do in Tucson
29 – Turf Paradise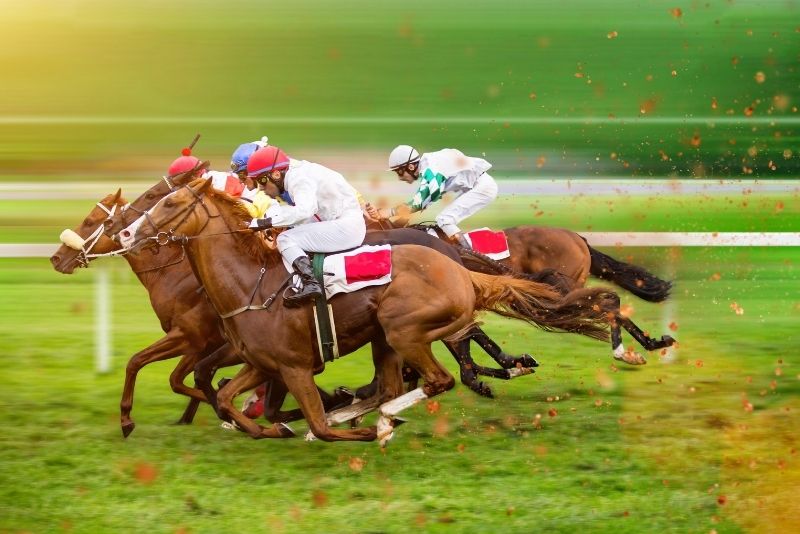 Horse-racing might not be the first thing that comes to mind when you think of Arizona, but Turf Paradise in Phoenix is definitely worth a visit.
As well as being one of the few horse-racing tracks in the state, typically running in the cooler months from early November through April, it's also home to the Turf Paradise Derby in February, one of the official prep races for the world-famous Kentucky Derby.
There are plenty of dining options on-site (including a sports bar if you're looking to catch a game alongside the live races with an ice-cold pint), as well as a kids' play area, making it a surprisingly decent place for a family day out — and the stunning views of Camelback Mountain in the distance don't hurt.
30 – Desert Botanical Garden
As a state known for its unfiltered desert beauty, one of the best ways to experience the desert in a short span of time is by visiting the Desert Botanical Garden in Phoenix, where you can learn all about the plants and animals that call this unique ecosystem home.
With over 50,000 plants on display surrounded by the classic red rock buttes, as well as several rotating exhibitions and events (like yoga classes, live music performances, agave tasting, and Dave Chihuly exhibits), there's always something new to see and do at this 140-acre Arizona attraction.
And if you want to get up close and personal with some of the area's more colorful critters, be sure to pop into the enchanting 3,200-square-foot Butterfly Pavillion before a well-earned farm-to-table meal at Gertrude's.
31 – McCormick-Stillman Railroad Park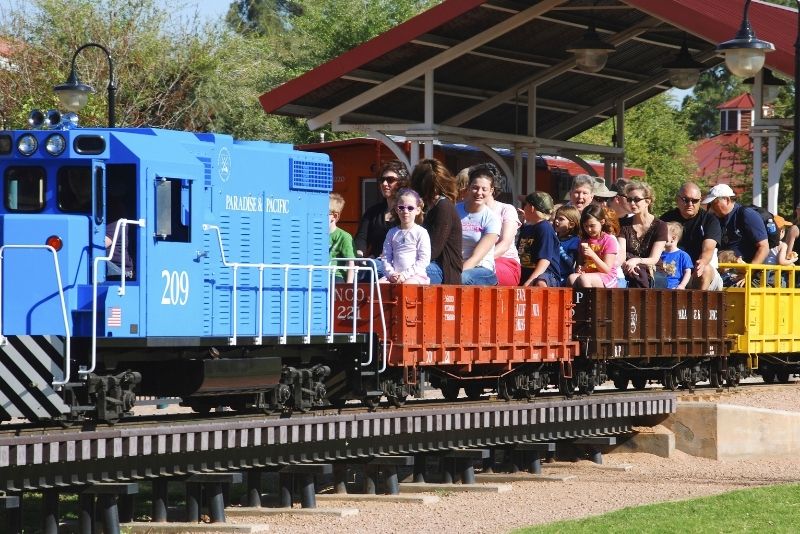 A delightful family day out, this 30-acre park in Scottsdale screams All Aboard! — a must for anyone who's a fan of trains (or just enjoys a good old-fashioned afternoon in the open air).
With a working antique carousel, the rideable Paradise & Pacific Railroad, and a fascinating railway museum – where over 200 years of railroad history come to life through carriages, artifacts, and old-school equipment – plus plenty of green space to enjoy a picnic lunch, the McCormick-Stillman Railroad Park is the perfect place to while away an afternoon.
The 10,000-square-foot Model Railroad Building is a crowd favorite for the kids, while its star attraction, the full-sized Roald Amundsen Presidential Pullman Car, is sure to tickle any history buff's fancy.
Best of all? It's totally free!
32 – Gila River Arena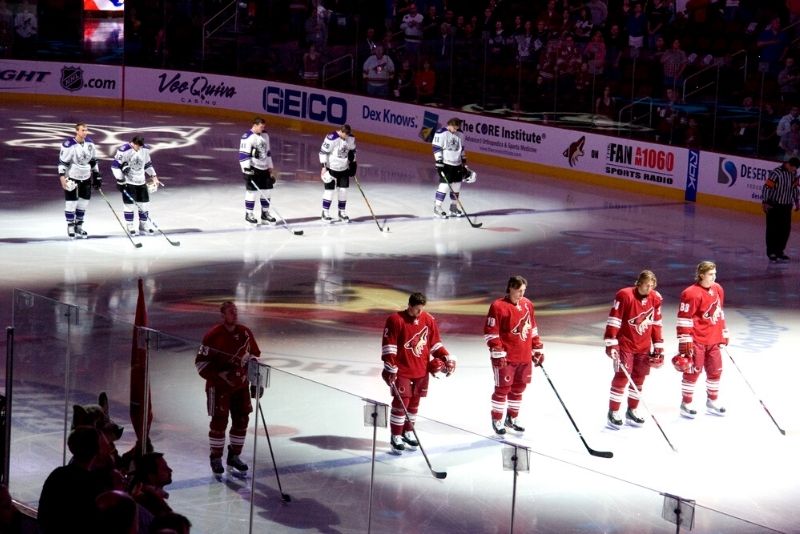 The roaring home ground of the NHL's Arizona Coyotes, Gila River Arena in Glendale is one of the best places in the state to catch a live sporting event — when the bleachers are packed, the electricity and noise produced by the heart-on-sleeve spectators are palpable.
Whether you're a diehard hockey fan or just enjoy watching the best in the business strut their stuff on center ice (plus get a little wintery reprieve from the Arizona desert), there's nothing quite like experiencing the electric atmosphere of a live game — and with tickets starting just over $20, it won't break the bank either.
If you can't make it to a game, don't worry — Gila River Arena also hosts some of the biggest names in music, so you can still enjoy an unforgettable evening out without having to don any sports gear.
Just check the website to see who's gracing the center stage during your visit. With previous A-listers including the likes of Celine Dion, Pearl Jam, and Justin Bieber, you're in for a treat no matter who's performing.
33 – Lost Dutchman State Park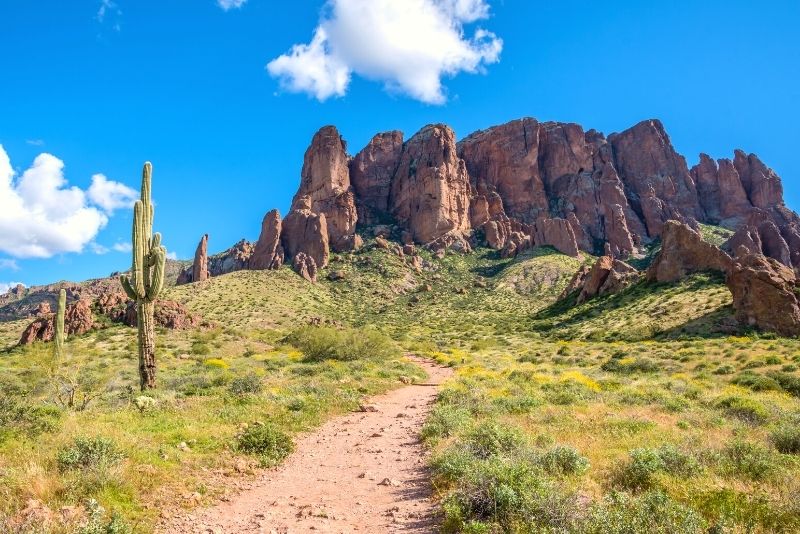 Named after the fabled lost gold mine of Jacob Waltz (a.k.a. the Dutchman), this state park in Apache Junction, just 40 miles outside of Phoenix, is one of Arizona's best-kept secrets.
With dozens of hiking and biking trails, as well as plenty of opportunities for bird watching, horseback riding, picnicking, and camping, Lost Dutchman is the perfect place to get away from it all and reconnect with nature.
The short and sweet Native Plant Trail offers an easy stroll where you can learn all the trees and cacti along the flat, while the four-mile Mountain Bike Loop Trail invites those with an inkling for off-road twists and turns.
And if you're feeling really adventurous, there's even the challenging, six-mile round-trip Siphon Draw Trail hike to the rugged Flatiron peak — one of the most unique geological formations in the Superstition Mountains (where plenty of cliff dwellings and caves await).
Just be sure to pack plenty of water and snacks, and pop into the Visitor Center if you're after some unique gifts.
34 – Petrified Forest National Park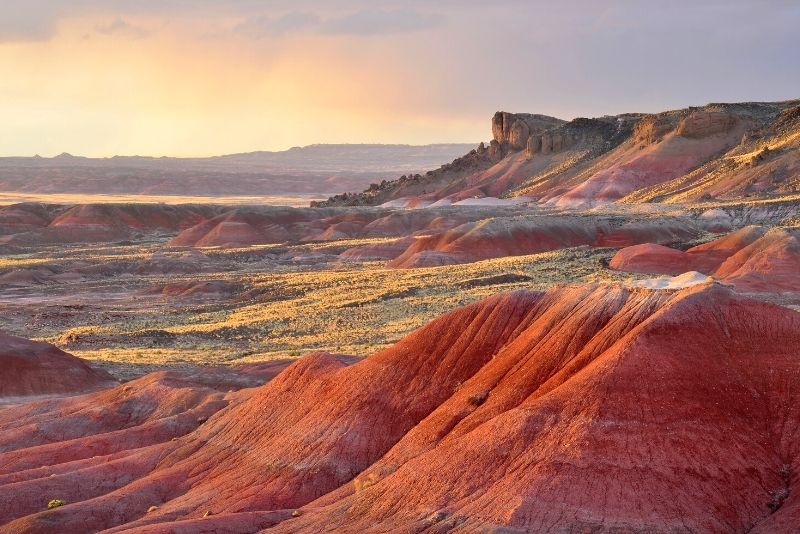 One of Arizona's most iconic natural attractions, the Petrified Forest National Park is a must-visit for any first-time visitor to the state.
A UNESCO World Heritage Site, this park is home to some of the world's largest and best-preserved petrified wood deposits — as well as a whole host of other fascinating geological formations (namely the Insta-worthy Painted Desert) that will have you reaching for your camera at every turn.
Be sure to take your time on the scenic drives (stopping at all the lookout points), pop into the Painted Desert Inn for a museum-type insight into the area's art and history, check out the 600-year-old abode at Puerco Pueblo, and don't miss out on a hike or two — the crowd favorites are the treks to the Blue Mesa and the Crystal Forest Trail, both dishing up beautiful vistas of colorful hills and petrified wood.
And, with the world-famous Route 66 right around the corner, you can tick off who bucket-list-worthy attractions in one go!
35 – Colossal Cave Mountain Park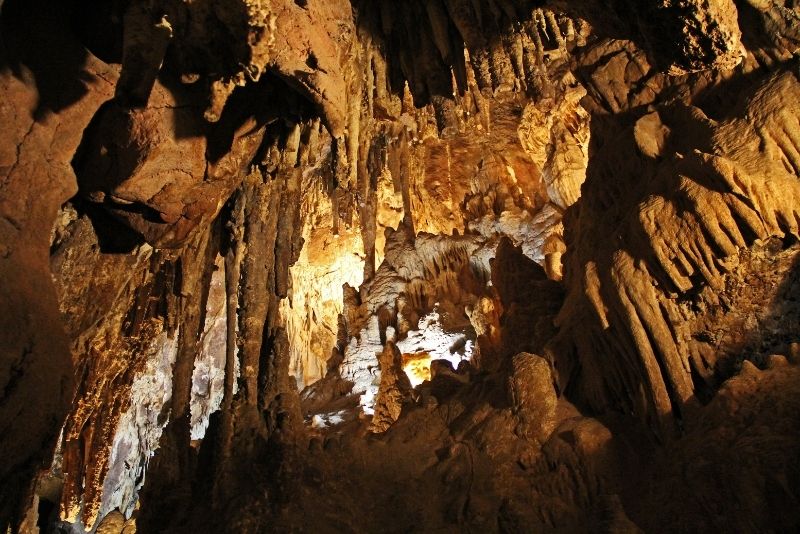 Ask any former visitor and they'll yell it from the rooftops: a trip to this hidden gem in Vail, just a short drive from Tucson, is one of the most unique things to do in Arizona.
A former hideout for Apache Indians and stagecoach robbers, Colossal Cave Mountain Park is a maze of caves and tunnels — which is listed on the National Register of Historic Places — is now open for exploration by thrill-seeking tourists from all over the world.
With guided tours departing every day, suited to different adventure cravings (from basic walks to ladder climbs to underground rock climbing), there's no need to worry about getting lost — although some parts of the cave remain off-limits to preserve its delicate eco-system of 3.5 miles of mapped tunnels and caves (and many more unmapped).
Be sure to take an extra layer, as even in summer the temperature inside can remain rather cool.
The park also boasts plenty of other outdoor activities, including horseback riding, hiking, picnicking, camping, a petting zoo, butterfly garden, cafe, and gift shop — so you can easily make a day of it!
36 – Tlaquepaque Arts & Shopping Village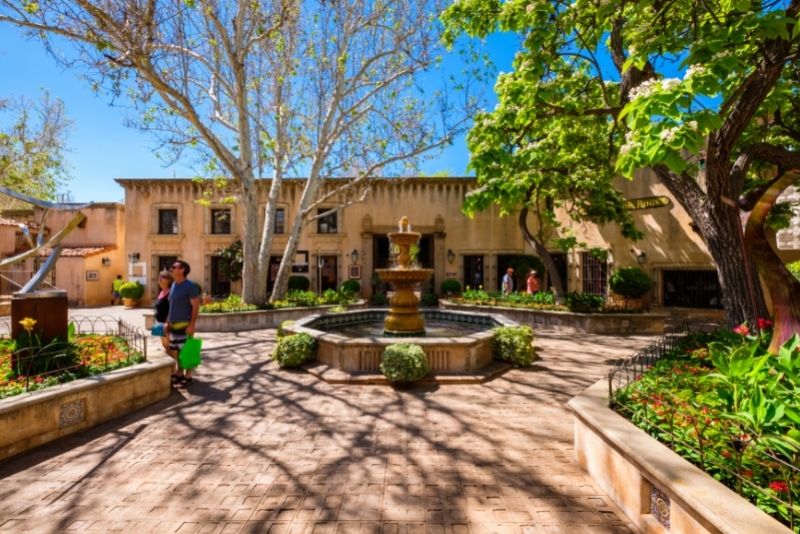 Shopaholics, rejoice!
This open-air shopping mall — pronounced like T-lockey-pockey — in Sedona is a paradise for those who love a good browse, boasting more than 50 galleries, shops, and restaurants — all with a distinctly Mexican flair that's welcomed tourists since the 1970s.
With beautiful fountains, sycamore-lined courtyards, and plazas adorned with colorful tiles and murals at every turn (designed to replicate an authentic Mexican village), Tlaquepaque Arts & Shopping Village is as much an Instagrammers dream as it is a shopper's paradise – and with no shortage of unusual knickknacks, it makes for the perfect spot to pick up a few handcrafted souvenirs for the folks back home.
While the shops typically shut their doors at around 6 pm, the restaurants and watering holes remain open into the evening, with delectable fare at the El Rincon Mexican Restaurant just one example of the notable dinner options available.
And, if you happen to be visiting in early May, few southwest locations can compete with its rich Cinco de Mayo celebration (home to the famous chili cook-off)!
37 – Antelope Canyon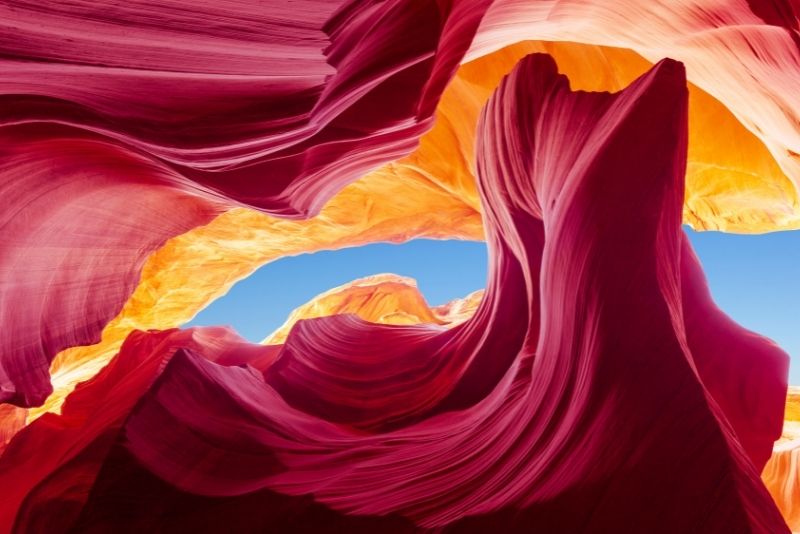 An Instagrammer's paradise that shows off the raw beauty of the American Southwest, Antelope Canyon Navajo Tribal Park has long been regarded as one of the essential things to do in Arizona.
A slot canyon located on Navajo land near Page, just below the Utah border, this natural wonder — with its sinuous shapes and striking light effects — has been carved out over millions of years by water rushing through the rock.
Today, it's one of the most photographed places on earth, and with good reason: whether you choose to explore the Upper Canyon (shaped like an A-frame, wider at the bottom and narrowing out at the top) or the inverse Lower Canyon (ideal for adventurers, less so claustrophobics), there's an otherworldly beauty to be found at every turn.
With tours departing daily, many of which will also include stops at the Glen Canyon Dam and Horseshoe Bend, you can (read: have no choice but to) let the experts take care of the hassle (which includes whisking you to and fro your Flagstaff or Sedona accommodation) and spend more time basking in the stunning scenery and learning all about the area's remarkable geology and history.
See also: Best Antelope Canyon Tours
38 – Out of Africa Wildlife Park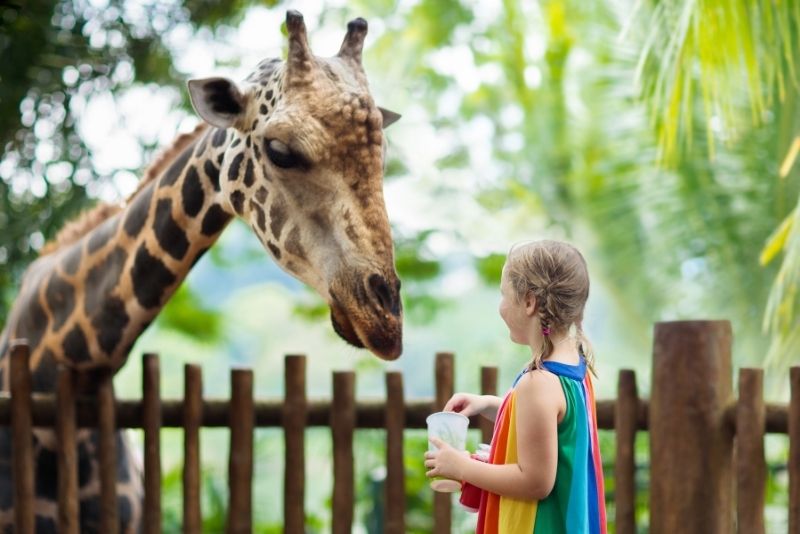 Do you love animals? Do you really, really love animals? Then a visit to Out of Africa Wildlife Park in Camp Verde, one of the state's premier zoos — a place where you can mingle with zebras, watch a tiger splash show, and learn about Africa's most powerful beasts from expert trainers — is an absolute must.
This safari-themed park is home to more than dozens of species of animals, all of which roam freely around the 100-acre preserve (so keep your eyes peeled!).
With giraffes, lions, tigers, zebras, wolves, bears, snakes, and so much more on offer, it's the perfect place to get up close and personal with some of nature's most magnificent creatures — and importantly, at a locale that practices caring and conversation-focused practices.
There are also plenty of opportunities for hands-on fun too: from feeding the giraffes to riding the hair-raising zip line (for an extra fee), or going behind the scenes with a VIP Super Mog Tour, it's a surefire hit for the entire family.
39 – Verde Canyon Railroad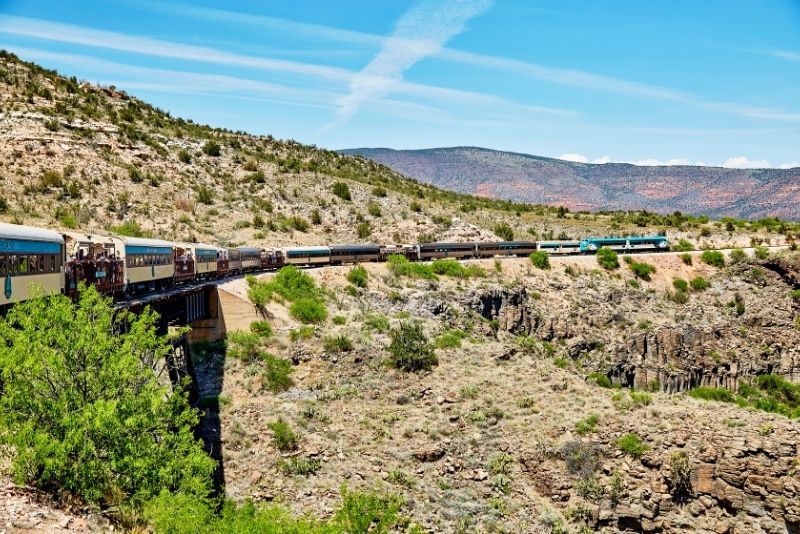 For a magical rail journey through one of the most scenic and biodiverse canyons and red rock valleys in the American Southwest, look no further than the Verde Canyon Railroad, a beloved and authentic insight into the natural Arizona landscapes, located just outside of Sedona.
This vintage FP7 locomotive — which first started chugging along its 4-hour sightseeing route back in 1912 — will take you on a 20-mile journey through wildflower-strewn meadows, towering red cliffs, and old mining tunnels (one of which is 7000 feet long), with plenty of opportunities to spot local wildlife (think: elk, bald eagles, jackrabbits, and wild burros) along the way.
The trip lasts for around four hours in total (the perfect amount of time to enjoy a beer or glass of wine from the bar car), escorting curious train travelers from the old mining town of Clarkdale to the Perkinsville ghost ranch and back, with comfortable seating inside one of the different cars or out on an open-aired viewing platform.
For a truly unforgettable railroad adventure, book ahead for the exclusive Locomotive Ride-Along — sitting next to the conductor inside the cab, you'll learn all about the ins and outs of operating a powerful railroad engine.
40 – Tonto Natural Bridge State Park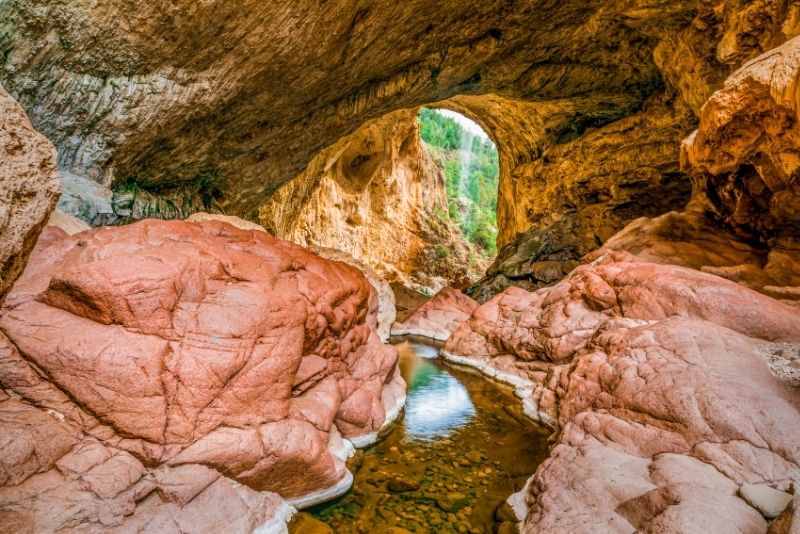 Less than two hours drive northeast of Phoenix, tucked away in central Arizona near the town of Payson, Tonto Natural Bridge State Park is one of Arizona's best-kept secrets.
The main attraction is, of course, the natural bridge — believed to be the largest of its kind in the world, the bridge sits 183-feet-high and towers over a 400-foot-long tunnel, dishing up picture-perfect scenery that pleasantly surprises.
While there are only four trails within the state park – the longest of which is a mere half-mile – don't let that fool you; the treks, with steep descents and occasional rock climbing, are challenging, rewarding, and a great way to stretch the legs.
At just $7 to visit, it makes for a worthwhile stop along the way if traveling between Phoenix and Flagstaff.
Hot tip: Prime time to visit Tonto is during the spring or fall when temperatures are milder than the toasty (and rainy) summer months – and make sure to wear sturdy hiking shoes!
41 – Chase Field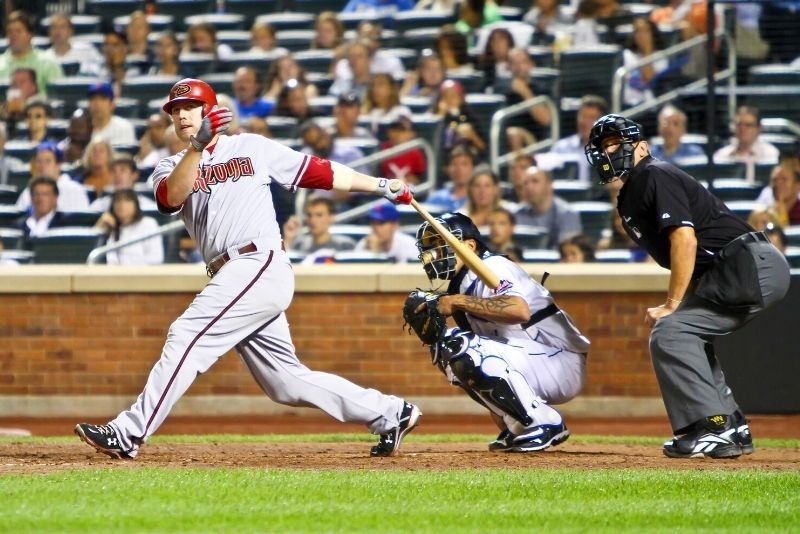 An iconic American pastime, a visit to a baseball game is a must when in Arizona – and what better place to catch a game than at the home of the state's very own MLB team, the Arizona Diamondbacks.
Situated in downtown Phoenix, this open-air ballpark first opened its doors back in 1998 and can seat just shy of 50,000 fans – and as you can imagine, at even half-capacity, the roar and the energy is infectious, especially when the retractable roof is closed, further echoing the cheers.
As well as being able to watch some of the country's best players do their thing on the field, there's plenty else to keep you entertained at Chase Field. The daily (bar Sunday) tours whisk visitors behind the scenes for 75 minutes, uncovering all the insider secrets of this world-class venue, and there's also a Diamondbacks Museum on site, and a virtual reality experience!
What really sets this venue apart, however, is the swimming pool behind the right-field fence. Can you think of a better way to watch the game than refreshed, drink in hand, in a pool? Exactly.
42 – Monument Valley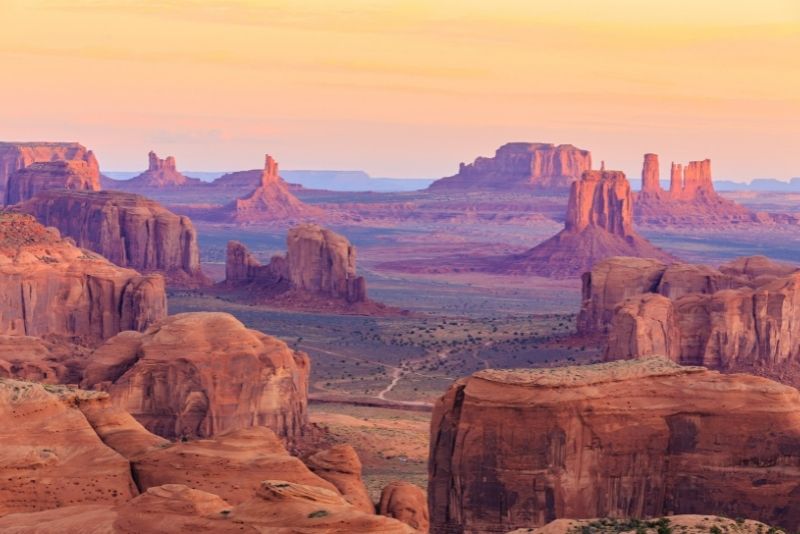 Situated on the Arizona-Utah border, arguably the two most naturally beautiful contiguous states, Monument Valley is teeming with red rock formations that have been expertly carved out by the elements over time.
The area is home to the Navajo Nation Tribal Park, one of the largest Native American reservations in the country, and is filled with ancient petroglyphs and pueblos that date back more than a millennium.
A visit here wouldn't be complete without a scenic drive along the 17-mile loop road, taking in iconic landmarks such as West Mitten Butte, East Mitten Butte, Totem Pole, and Mermaid Castle — some of the mesmerizing sandstone masterpieces that tower up to 1,000 feet high.
For those keen on getting off the beaten path, there are plenty of hiking trails to explore on foot. Not sure where to start? The 3.2-mile Wildcat Trail is easy enough for everyone in the family, and the only one accessible without a guide.
43 – Arizona Science Center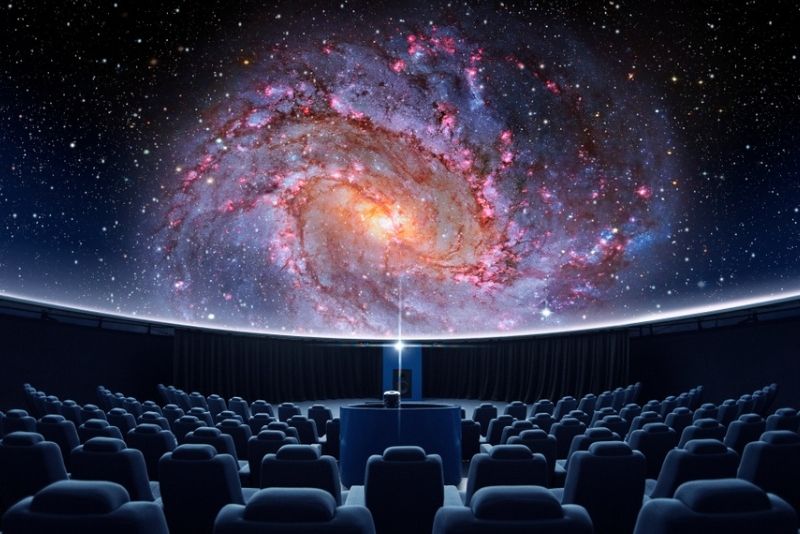 Bringing science to life through hands-on exhibits, the Arizona Science Center is one of Phoenix's most popular tourist attractions for families, blending education with entertainment and encouraging kids of all ages to get excited about the world around them.
There are more than 350 hands-on exhibits within the center, as well as the Dorrance Planetarium and a five-story IMAX theater, making it easy (and fun!) to spend an entire day here.
Among the diverse permanent collection, common highlights include the popular Flight Zone, where all the science behind flight comes to light; the Forces of Nature exhibit, which shows what it's like to be in the eye of a hurricane, tornado, wildfire, or volcanic eruption; and All About Me, a perplexing look at the inner workings of the human body, just to name a few.
Don't forget to check out their events calendar too – there are often special exhibitions (like an astronaut show) and events taking place that are well worth timing your visit around!
44 – Japanese Friendship Garden of Phoenix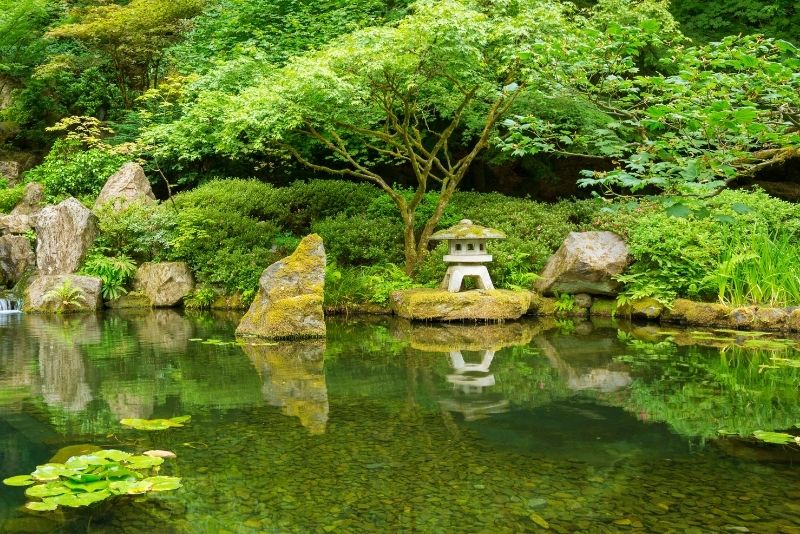 A serene and tranquil oasis in the heart of one of Arizona's busiest cities, the Japanese Friendship Garden of Phoenix (or Rohō-en, its Japanese name) is a must-visit for those looking to escape the hustle and bustle, if only for thirty minutes to an hour.
The garden first opened its doors back in 2002 as a symbol of the strong relationship between Japan and Arizona, and was designed by world-renowned architect Takao Watanabe as the sister garden to the one in Himeji, Japan.
Covering a tick over three acres, this authentic reproduction of a traditional Japanese stroll garden features meandering streams, koi ponds, bridges, pagodas, tea garden and tea house, and plenty of lush greenery – it really is like stepping into another calm world.
Beauty aside, there are also several cultural events held here throughout the year that beckon culture vultures — samurai nights, meditation under the moonlight, aikido in the garden, pottery classes, and more — providing a rare and lovely glimpse into an alternative way of life.
45 – Prescott National Forest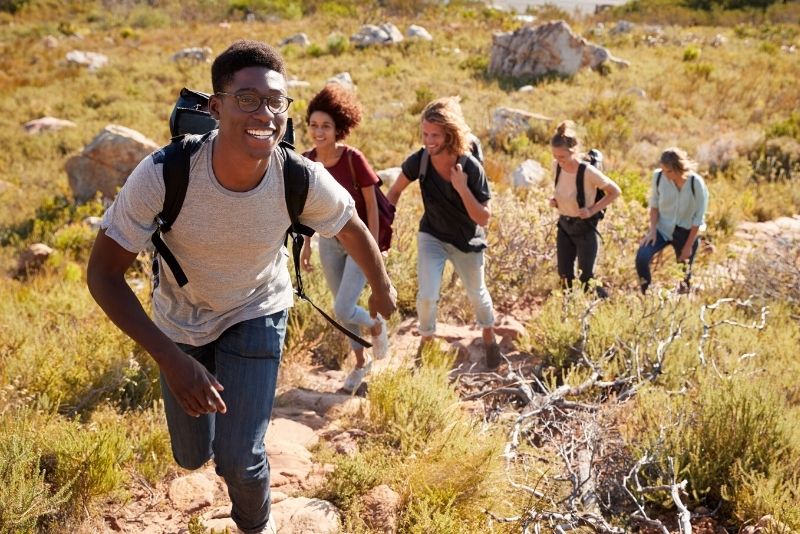 The Prescott National Forest is a stunningly beautiful recreation area located in central Arizona. The forest covers over a million acres and includes several mountain ranges, canyons, lakes, and rivers, all intertwining and delivering a lush natural landscape that contrasts The Grand Canyon State's typical desert expanses.
Ideal for nature lovers looking to soak in some greenery and stretch the legs, the underappreciated forest offers numerous hiking trails (over 450 miles worth of paths to choose from) for beginners and adventurous alike, camping sites (or consider renting the historic Sycamore Cabin), and picnic areas, making it the perfect place to spend a day or two exploring the great outdoors.
In addition to its natural beauty, the Prescott National Forest is also home to an abundance of wildlife; camera at the ready, because elk, deer, eagles, ospreys, and hawks. And, if you're on the hunt for adrenaline, you'll be overjoyed by the array of hang-gliding, rock climbing, whitewater rafting, and mountain biking opportunities (especially in the Lynx Lake Recreation Area) on offer.
So whether you're looking for a peaceful place to take a nature walk or an adventure to get the blood pumping, a day in the Prescott National Forest sells itself as one of the best things to do in Arizona.
46 – Arizona Boardwalk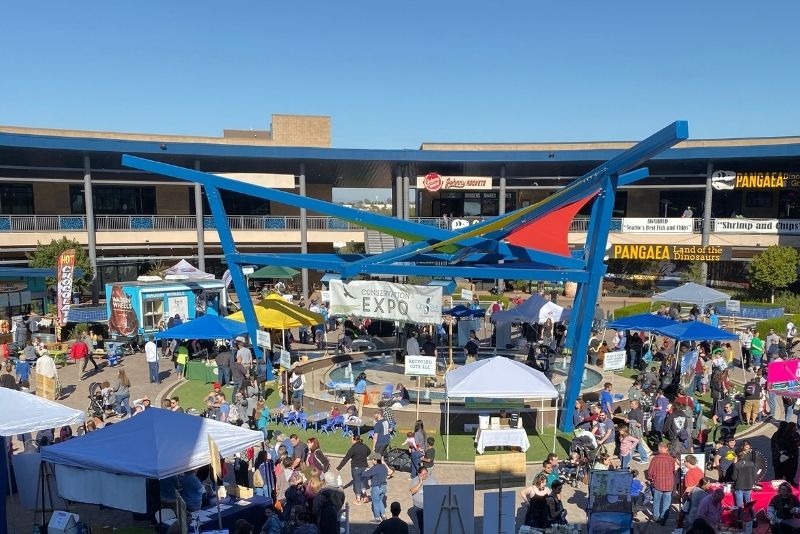 The beating heart of Scottsdale's family entertainment scene, the Arizona Boardwalk is a one-stop-shop for all things fun!
The Boardwalk boasts an impressive lineup of seven notable attractions, each guaranteed to delight in their own way. The Butterfly Wonderland is all about local nature, the Pangaea Land of the Dinosaurs shows off 50 life-sized animatronic dinosaurs, and the Laser + Mirror maze is sure to unleash the inner spy in all of us.
Throw in the classic Ripley's oddities, a VR experience, and a sleuth of optical illusions at Surprise Your Eyes (a surefire hit among Instagrammers), and no shortage of restaurants and bars, and you've got yourself an entire day of entertainment ready to roll.
Arguably, however, the premier attraction here is OdySea Aquarium; one of the largest aquariums in the country, this underwater wonderland is home to over 30,000 animals across 200 different species, making it officially the largest aquarium in the Southwest United States! Highlights include an immersive SeaTREK® underwater ocean walking experience, a submerged escalator, and an aquarium tank that rotates!
47 – Saguaro National Park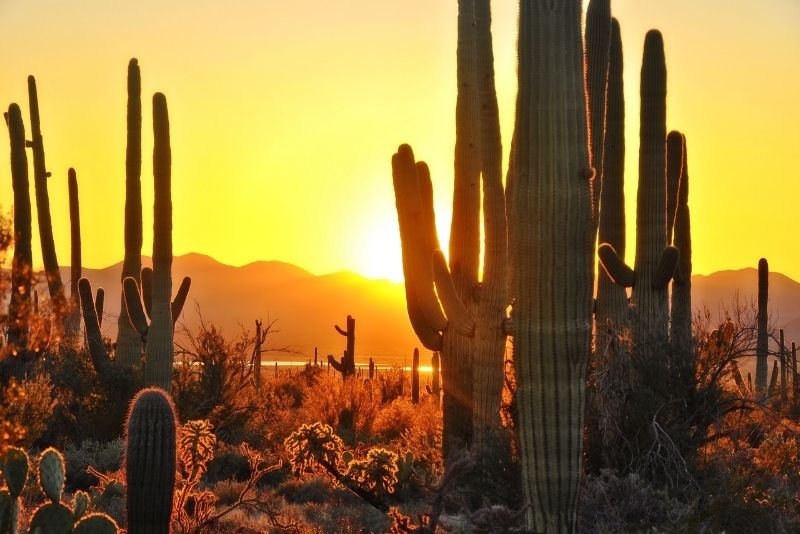 A symbol of any genuine desert, yet found near exclusively in the westerns mountain districts of Tuscon, the majestic Saguaro cactus is an impressive feat of nature.
The allure of Saguaro National Park, then, should come as no surprise – it's one of the best places to see these gentle giants up close and in person! At, typically reaching heights of 40 feet, the term giant isn't used lightly.
Stretching across two different districts (the Tucson Mountain District in the west and the Rincon Mountain District in the east) through the wider Sonoran Desert, this beautiful park offers visitors a chance to explore over 91,000 acres of the wildlife-abundant desert landscape.
Highlights include the Cactus Forest Drive (a scenic eight-mile drive that loops through a dense saguaro forest on the eastern side of the park), several easy hiking trails perfect for families (like the Loma Verde Trail or Wild Dog Trail) as well as some a little more strenuous (like the 3-to-4-hour Wasson Peak Hike).
Be sure to keep your eyes peeled for some of the desert's most iconic animals, like coyotes, javelinas, Gila monsters, as well as the occasional rock art near the Signal Hill Picnic Area.
48 – LEGOLAND Discovery Center Arizona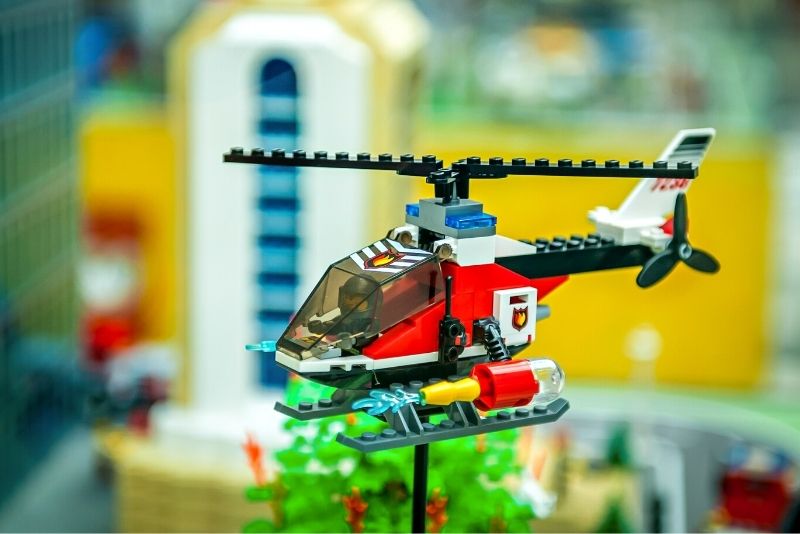 Situated in the popular Arizona Mills outlet shopping mall (where shopaholics can revel in savings up to 70%!), LEGOLAND Discovery Center Arizona is a playful paradise for youngsters and their families.
With over a million LEGO bricks at its disposal throughout its 40,000 square feet of brick-tastic displays, the center offers LEGO fans of all ages a chance to explore, play, and build to their heart's content.
The Lego Factory Tour, which goes behind the scenes into how these iconic toys are created, is a crowd favorite among curious minds, while the Kingdom Quest Ride and thrilling 4D Cinema will put smiles on parents' faces too.
The LEGO City Play Zone (complete with climbing walls, slides, and a jungle gym) will tucker the kids out in no time, while MINILAND USA delivers impressive replicas of the state's most famous landmarks, from the Grand Canyon to Chase Tower.
Slap on a VR experience, an on-site cafe, and plenty of opportunities to get the engineering mind working into overdrive, and you have the perfect indoor activity for a hot summer's day.
49 – Reid Park Zoo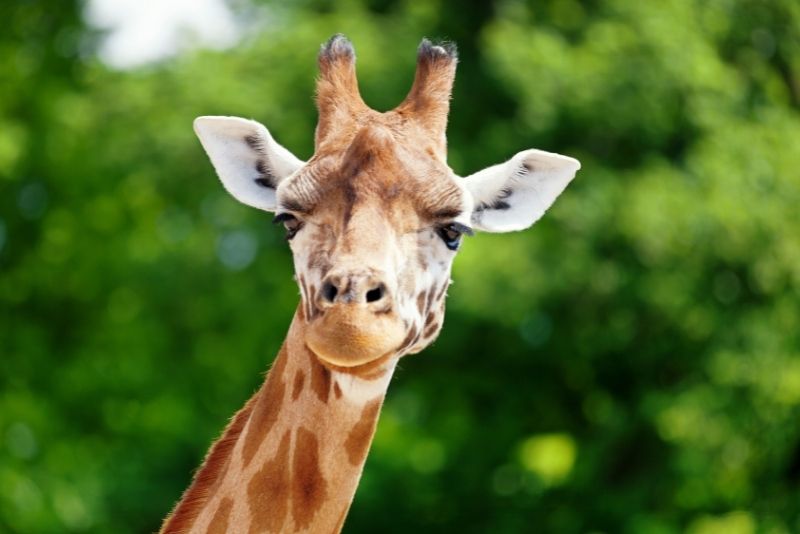 Home to over 500 blubbery and brilliant animals from all over the world, Reid Park Zoo is often swept under the radar for its relatively small size; however, the glass-half-full approach means that this wildlife wonderland is a true hidden gem, holding its own as one of Tucson's most beloved attractions.
A particular favorite among families with small children, the zoo offers an up-close and personal experience with some of nature's most beautiful creatures; from giraffes, jaguars, and peacocks to lions, tigers, and bears (oh my!), there's plenty here to keep even the youngest minds entertained.
Don't miss the Zoo Train and the Cox Wildlife Carousel, two kid-favorite activities, check the schedule to align your walkabout with one of the 15-minute animal presentations and keeper chats, and, if you're looking for a rare chance to meet the elephants up close, consider one of the behind-the-scenes experiences.
At just $10.50 adults, it's a bargain in every sense of the word.
50 – Tucson Rodeo Parade Museum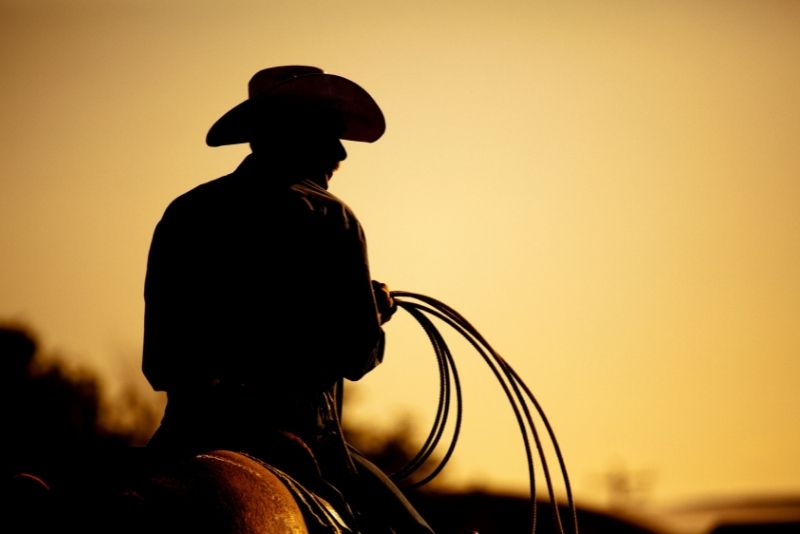 Like jumping in a time machine back to the early 1900s, a visit to the Tucson Rodeo Parade Museum is sure to be an unforgettable experience for all, oozing old-world charm like few other places in the state.
One of the largest and most popular events in Arizona, the Tucson Rodeo (which takes place every February) sees over 200,000 people flock to the city to catch a glimpse of some of the best cowboys and cowgirls from all over America – and this museum is dedicated to celebrating the rich history of the Wild West.
Housing an impressive collection of 150+ horse-drawn vehicles including wagons, buggies, carriages, stagecoaches, and more used in past rodeos, as well as plenty of photographs and memorabilia chronicling its 100+ year journey, this museum offers a fascinating insight into one of Tucson's most treasured traditions – not to mention a meticulously recreated Tucson Main Street, showing what life what like back at the turn of the 20th century.
Final thoughts
Thanks for checking out our collection of things to do in Arizona! If you have anything you'd like to add to the list, feel free to leave a comment below.
As always, happy travels!