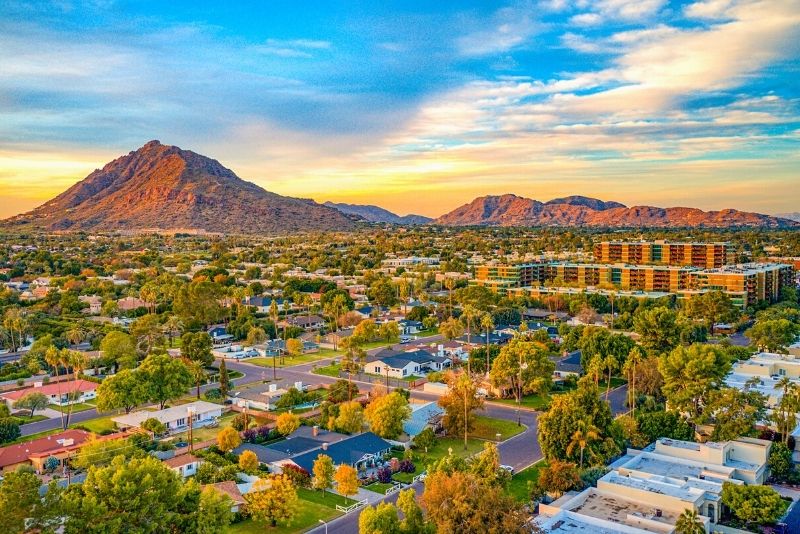 Home to a dazzling array of niche museums, upscale restaurants, and family attractions, the desert town of Scottsdale is a rather shiny jewel in Arizona's crown.
Perfectly positioned beside Phoenix in the heart of the southwest, Scottsdale offers appeal for all types of explorers.
Catch a ride on a vintage steam train, stroll around the charming Old Town streets, or enjoy a scenic drive along America's oldest highway. The choice is yours!
If you're looking for iconic and offbeat things to do in Scottsdale, you're in the right place.
We've put our heads together and come up with this mammoth round-up of all there is to see and do in the city.
1 – Dream of the tropics at Butterfly Wonderland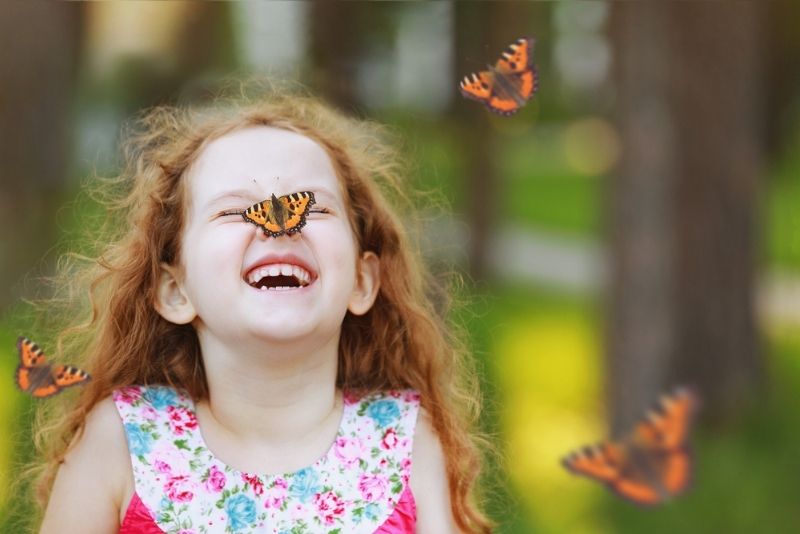 Head into the rainforest for an exotic adventure right here in town. As you step into the immersive world of Butterfly Wonderland, you'll be surrounded by a kaleidoscope of fluttering beauties.
This steamy indoor conservatory is home to over a thousand exotic butterflies.
They are free-flying, so you're sure to enjoy a few close encounters as the inhabitants flit between the plants. You might even see one emerge from a live chrysalis too.
Pop into the Rainforest Reptile Exhibit and say hi to water dragons and dwarf caimans or check out the edible insect station and tuck into some chocolate ants.
2 – Ride a steam train at McCormick-Stillman Railroad Park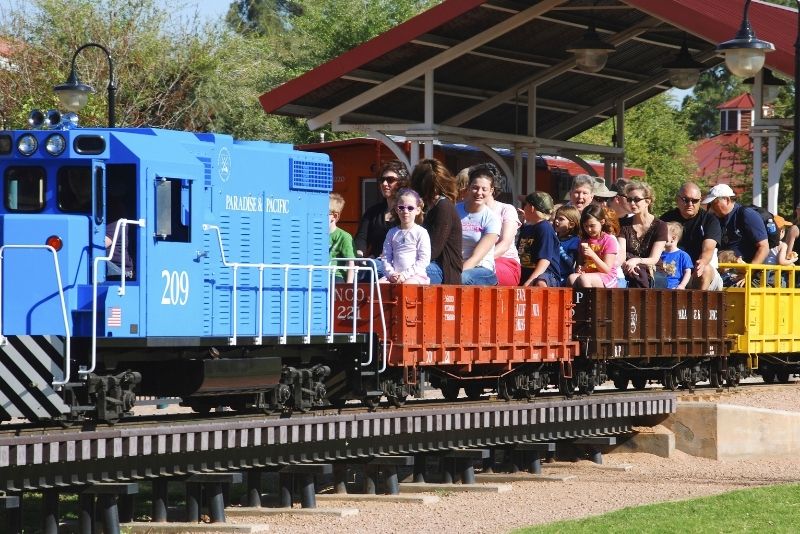 Trains are the stars of the show here at McCormick-Stillman Railroad Park.
You can admire the collection of carriages, see model trains being put through their paces, and even climb aboard a real-life steam engine that dates to the early 1900s.
As well as taking a ride on the Paradise & Pacific Railroad, you can enjoy a spin on the restored 1950s Scottsdale Charros Carousel.
Make sure you leave time for a wander around the museums and shops.
Younger explorers will love hanging around at the Wild West themed playground or tucking into picnic lunches at the Family Circus Pavilion.
3 – Shop, eat and play at the Arizona Boardwalk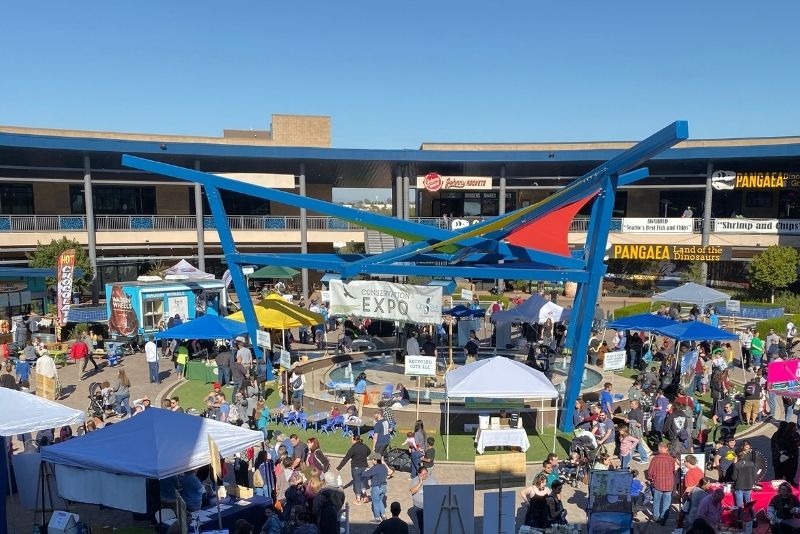 The famous Arizona Boardwalk is one of the region's premier entertainment venues with everything from shopping and dining to attractions and events.
This is where you'll find family favorites like the OdySea Aquarium and Butterfly Wonderland, so why not make a day of it?
Prepare to have your mind blown as you wander around Ripley's Believe It or Not and be amazed at the light trickery in the Laser and Mirror Maze.
Older kids can challenge themselves in the immersive adventures of VR Xtreme, while aspiring archaeologists will enjoy meeting dinosaurs at Pangaea.
Boost energy levels with ice cream sandwiches, burgers, and gourmet candy. Delicious!
4 – Tour Old Town Scottsdale by Segway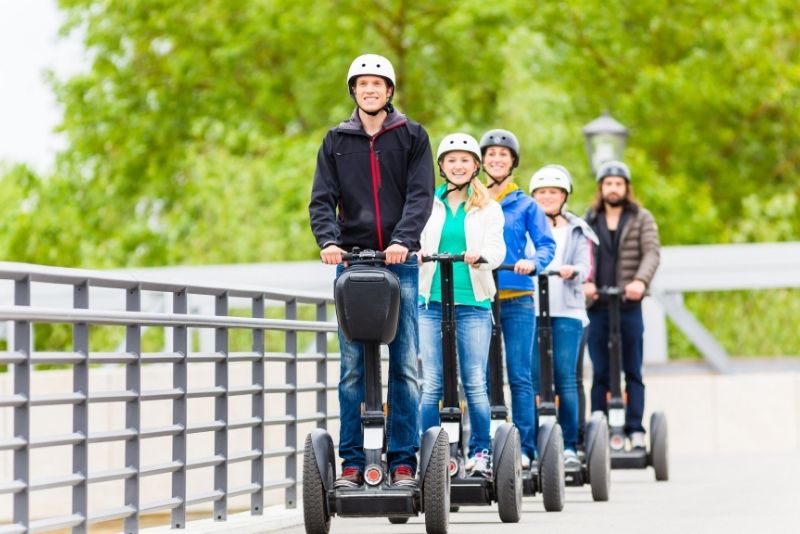 Discover the Old Town of Scottsdale in style as you roll by on a fun-filled Segway tour.
You'll take in some of the major landmarks as well as a few off-the-beaten-track gems that most tourists miss.
The pedestrian-friendly Old Town streets are the place to go for internationally renowned art galleries, eclectic restaurants, and a whole host of local museums.
Don't worry if it's your first time on a Segway, you'll soon get the hang of it with a few handy hints from your trusty guide. It's so much better than exploring on foot!
5 – Go back to nature in the McDowell Sonoran Preserve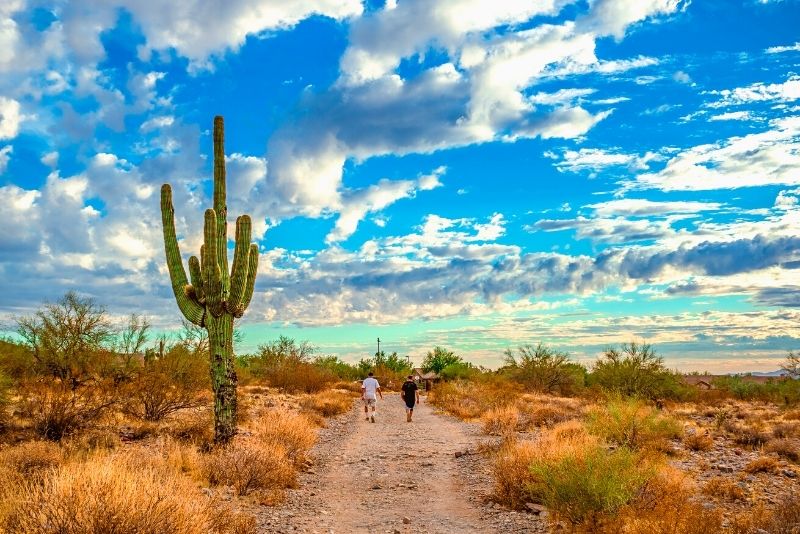 Want to escape the city and breathe in that sweet desert air?
Then pull on your boots and prepare for a wilderness adventure in the heart of the pristine McDowell Sonoran Preserve.
Hit the trails and feel at one with nature as you marvel at the incredible biodiversity here in the Sonoran Desert.
Keep your eyes peeled for rare local wildlife like Mexican wolves and bighorn sheep.
For geological wonders, head to Tom's Thumb Trailhead for canyons and rock formations that will have you grabbing the camera.
If you have young children, start at the Gateway Trailhead for gentle walks and games.
6 – Meet creatures of the deep at OdySea Aquarium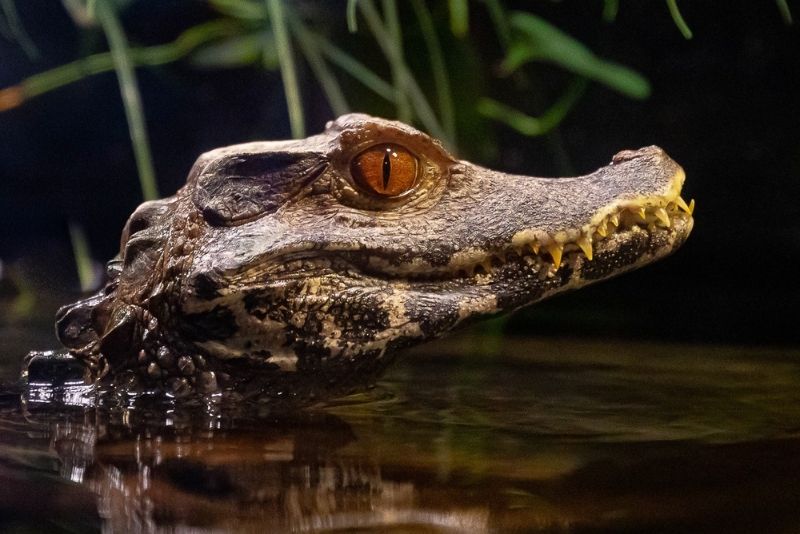 One of the most captivating things to do in Scottsdale for children is to explore the OdySea Aquarium.
Behold the marine life that calls these two million gallons of water home and spend the day discovering a whole new world beneath the waves.
Book a VIP encounter for up-close meetings with penguins and sharks or hang out with stingrays and sea anemones at the touch pool.
For something a little different, head underwater on the SeaTrek and explore the reef without needing to go up for air.
You'll see fish feeding frenzies, and maybe even a mermaid or two!
7 – Get active in Pinnacle Peak Park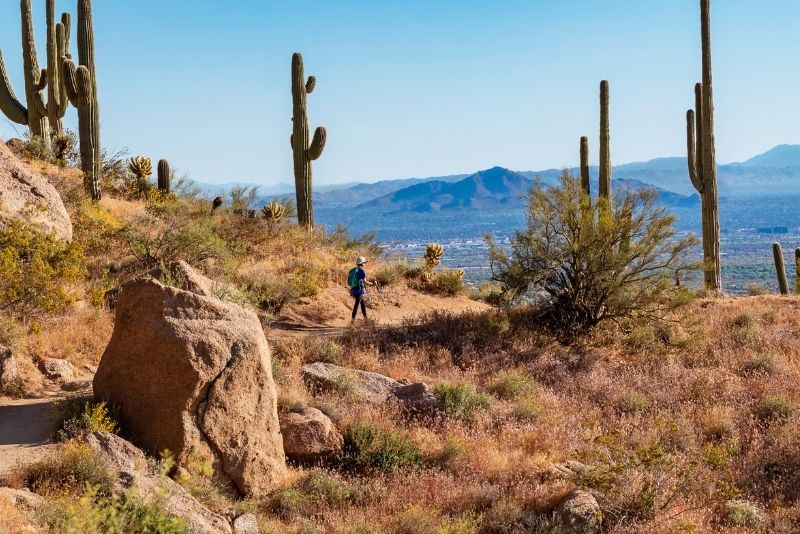 Pinnacle Peak Park is one of the most beautiful natural areas in Arizona.
Boasting an elevation of 5,600 feet above sea level, the park enjoys unrivaled views over the city so it's a great spot for photos.
There is an out-and-back trail that winds through the pristine Sonoran Desert.
It's less than two miles each way so can be tackled by anyone of moderate fitness. Rock climbers will be in their element too with lots of epic routes to conquer.
For something extra special, come at sunset and watch as the pinks and oranges illuminate the plains below.
8 – Explore the trails in Papago Park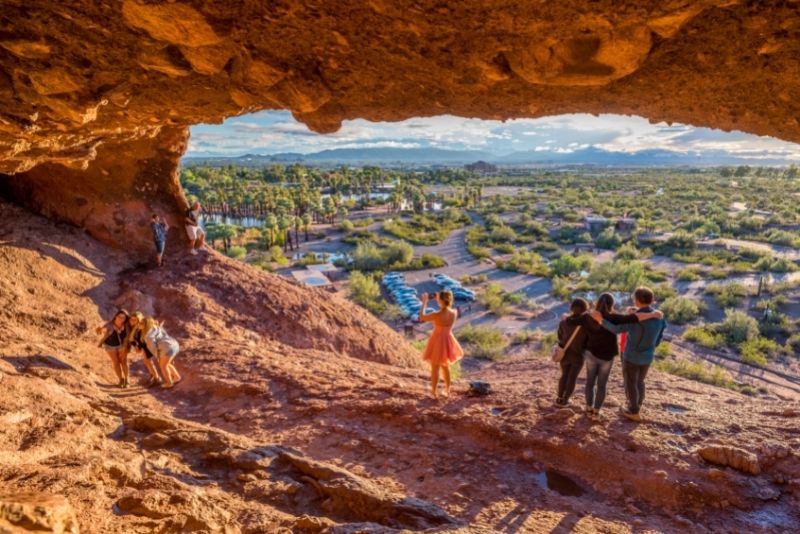 Phoenix's Papago Park is a paradise for hikers and outdoor enthusiasts who don't want to drive for miles out of the city.
This recreation reserve is just a few minutes from town, with some of the region's most iconic natural sights.
Stroll beneath the famous red butte rock formations and enjoy the scenery along the Hole-in-the-Rock Trail. The terrain is pretty flat, so you won't need too much puff!
Anglers can cast their lines in the well-stocked fishing lagoons, while golfers can swing away to their heart's content at the Papago Golf Course.
9 – Encounter T-Rex at Pangaea Land of the Dinosaurs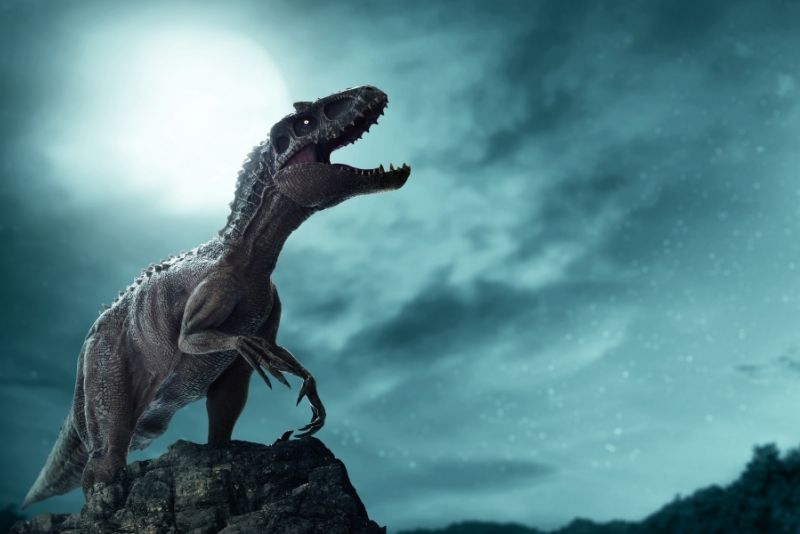 Come face to face with prehistoric predators at Pangaea Land of the Dinosaurs.
The skeletons here date back a whopping 65 million years, with Diplodocus, Velociraptor, and Triceratops being firm favorites.
Discover whether T-Rex could really outrun a car and if its roar was as fierce as in all the movies.
There's even a meet and greet for those who dare to find out more!
The Pangaea Land of Dinosaurs is both educational and fun, with several family attractions to keep budding explorers buzzing with excitement.
10 – Drive or hike the historic Apache Trail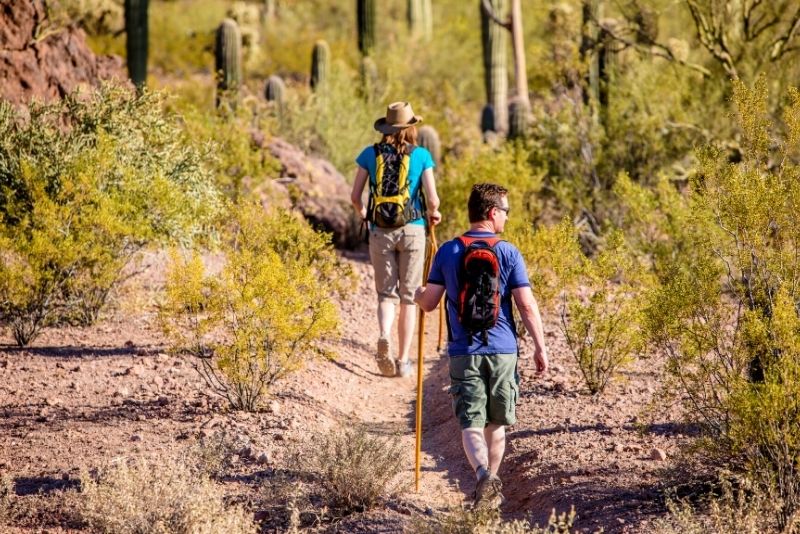 Known affectionately as "America's oldest highway", the Apache Trail is the perfect place for a scenic drive out in the wild.
This former stagecoach route snakes through the brilliantly named Superstition Mountains and is named after the Apache Indians who were the original trail users.
The 40-mile road passes sparkling reservoirs, dense forests, and fields of cacti as it traverses the mountains.
Make sure you factor in plenty of time for photo stops – you're going to need them!
It's largely unpaved but accessible to most vehicles. Just leave the RV at home!
11 – Visit Scottsdale Museum of Contemporary Art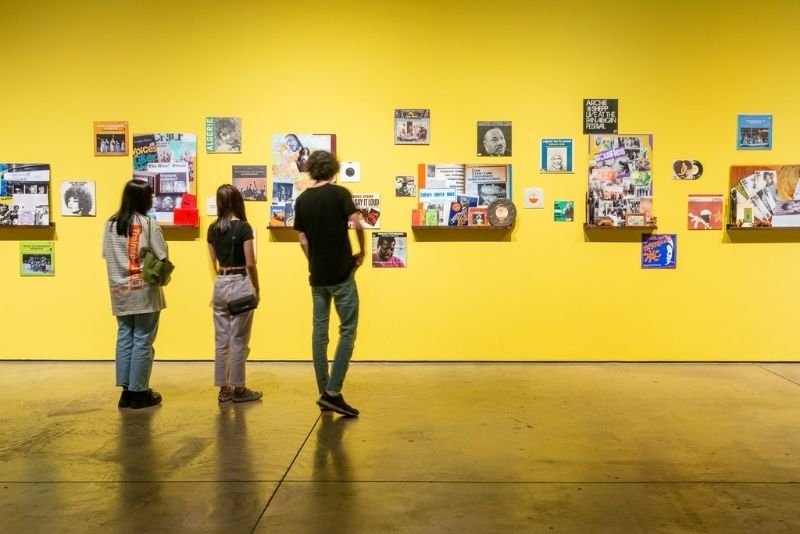 Get your creative juices flowing with a visit to the Scottsdale Museum of Contemporary Art.
This appealing space is dedicated to modern art, with architecture and design thrown in for good measure.
The exhibitions change regularly, showcasing works from both international and local artists.
Check the schedule to see what events are on during your stay.
Past shows have included video art festivals, illuminated murmuration displays, and waste reimagined as art. It certainly makes you think!
12 – Admire the architecture at Taliesin West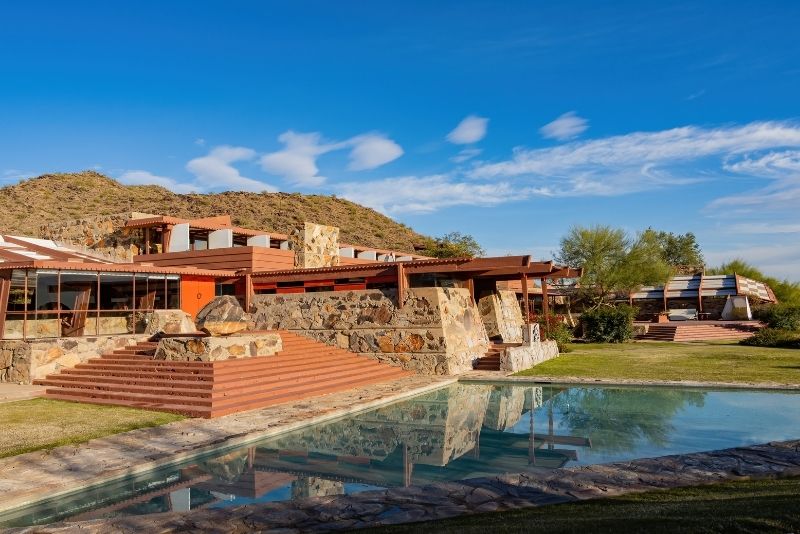 Taliesin West in Scottsdale is a UNESCO World Heritage Site and a National Historic Landmark, so do try and make time to visit during your vacation.
This architectural marvel was the winter home and desert school of Frank Lloyd Wright.
The forward-thinking national hero was a trailblazer in encouraging America to discover its architectural personality.
Today Taliesin West is the main headquarters of the Frank Lloyd Wright Foundation.
Visitors can enjoy guided tours around the site and take part in cultural activity programs that run throughout the year.
If you're a fan of architecture, checking out Taliesin West is one of the unmissable things to do in Scottsdale!
13 – Discover Western Spirit: Scottsdale's Museum of the West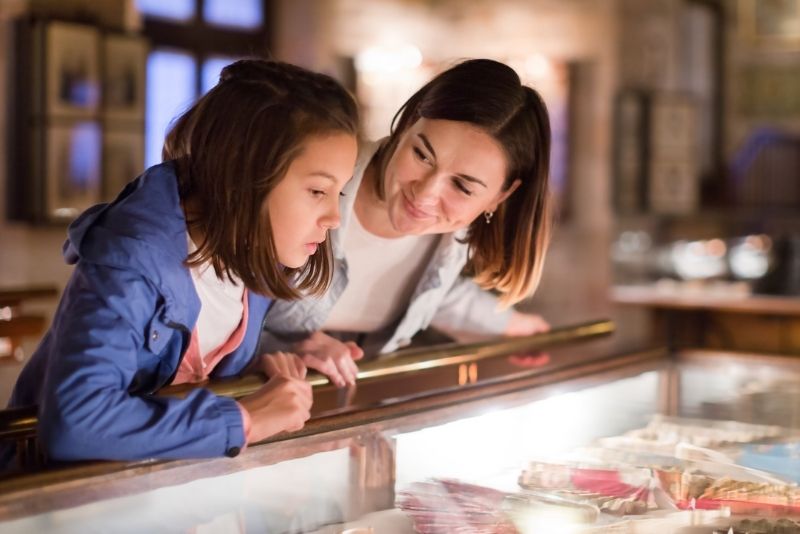 If you want to dig deeper into the history, art, and traditions of the local area, then this is the place to come.
Located in the Old Town, it's a must when visiting the city.
Western Spirit, Scottsdale's Museum of the West, uses superbly curated exhibitions and a range of artifacts to spill the beans on the story of Arizona.
The other states are represented as well, to give an overview of the nation's heritage.
The museum shines the light on Native American culture, as well as covering everything from cowboys to ceramics.
Don't miss the sculpture garden or the dazzling bronze artwork.
14 – Go wild in the Grand Canyon National Park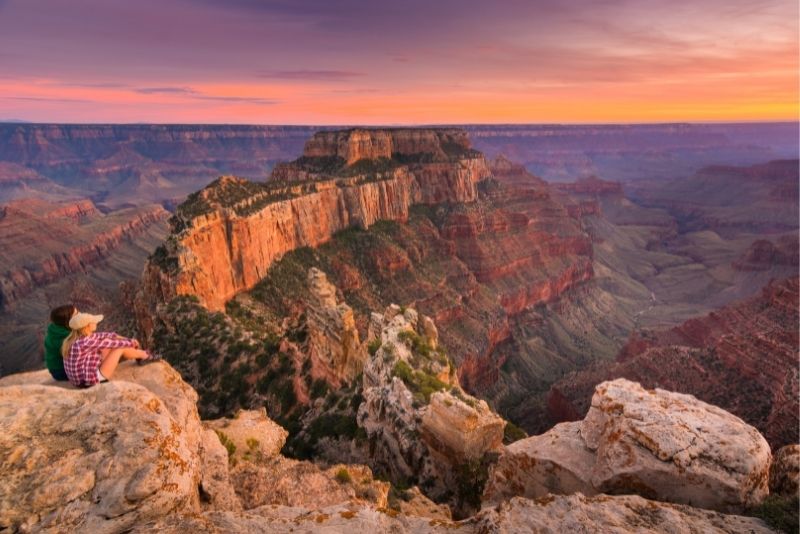 The Grand Canyon National Park needs no introduction, and you'll be delighted to discover that it's not very far away from Scottsdale.
A day trip to the rim is a popular adventure for outdoor-loving visitors and a must for anyone who hasn't been before.
Stand on the edge of this famous canyon and try to get your head around just how vast it is.
With plunging ravines that seem to stretch on for miles, it's one of the largest natural icons in the world.
The colorful rock layers gleam in the sun, while the sleepy Colorado River channels its way through the gorge down below.
You can hike along some of the trails, take a helicopter or plane ride over the canyon, or just enjoy the views.
Don't forget your camera!
15 – Experience extraordinary art at Wonderspaces Arizona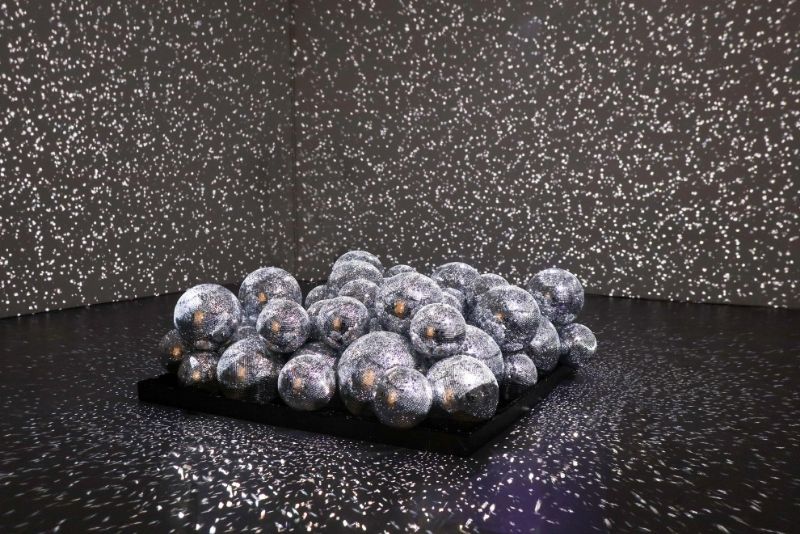 This mind-boggling art show uses immerse exhibits and interactive installations to get your mind working in overdrive.
The displays change regularly, with projects by creators from around the world, so there's always something new to see.
It's a fun place to visit with friends and family, as the exhibitions are real talking points.
The Wonderspaces Arizona center was created to bridge the gap between artist and audience while striving to show that art is for everyone.
Don't leave without enjoying a cocktail or two in the bar to help digest what you've just seen.
16 – Take on challenges at the Laser and Mirror Maze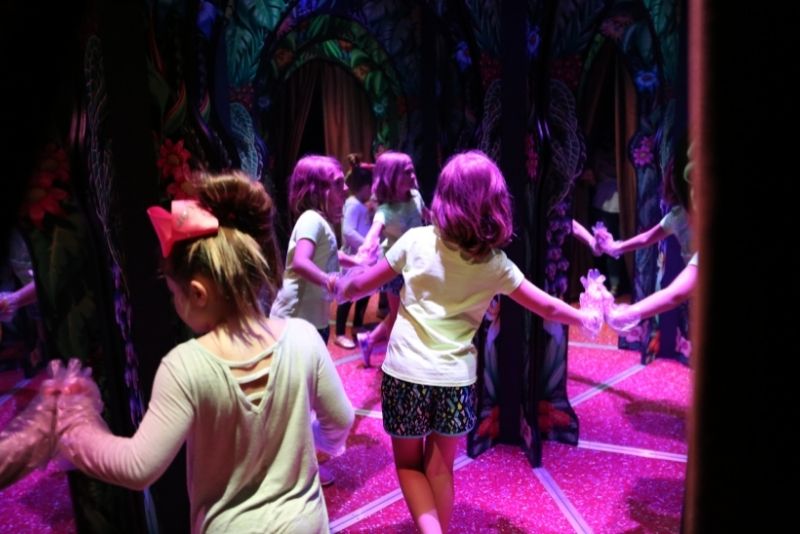 Put your ninja skills to the test as you maneuver around a maze filled with lasers.
You'll have to duck and dive, then twist and crawl as you try to avoid getting zapped by the evil green beams.
If you trip too many, you'll have to start all over again. Will you make it round in one go?
Next, move on to the puzzling mirror maze where everything is not quite what it seems.
Figure out which secret passageway leads to the finish and don't get confused by all the illusions.
The Laser and Mirror Maze is sure to keep all the family on their toes and will be a talking point for weeks to come!
17 – Get the heart pumping on a bike tour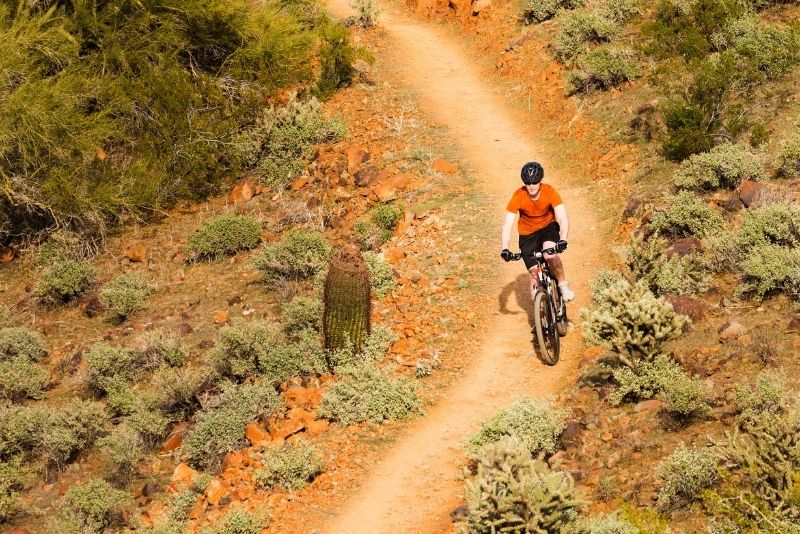 See Scottsdale in a new light as you cycle through the city center on a thrilling bike tour.
You'll burn off some calories while taking in the major landmarks and will be sure to meet new friends along the way.
Many cycling excursions take you to lesser-known neighborhoods so you can get to know the real Scottsdale. E-bikes are often available to give you some extra oomph.
For something even more scenic, head out into the Sonoran Desert and hit the mountain biking trails with your trusty guide.
Learn about this unique ecosystem and watch for native wildlife as you pedal past giant cacti and rocky mountain peaks.
18 – Discover confectionary heaven at Candytopia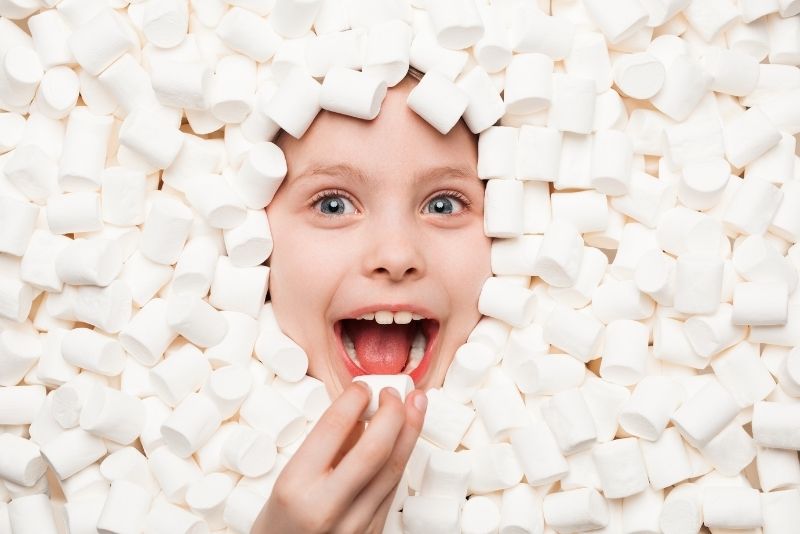 Ever wished you were in Charlie and the Chocolate Factory?
Visiting Candytopia is your chance to indulge your sweet tooth in a wonderland of fantasy and floss.
It's one of the most delicious things to do in Scottsdale for dreamers of all ages.
Nibble your way through the tasty attractions, starting with the colossal candy floss towers.
Then move onto the marshmallow tsunami and take selfies with the flying unicorn pigs.
This is a full-on sensory experience, where sugarcoated installations and overactive imaginations combine to deliver a day of finger-licking fun.
19 – Stroll over the Soleri Bridge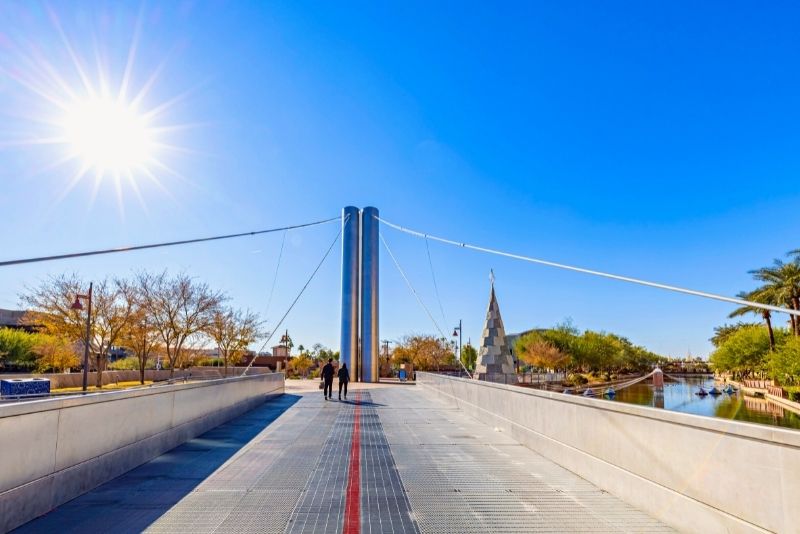 Down on the buzzing waterfront, you'll find the stunning Soleri Bridge.
Designed by Paolo Soleri, an architect, philosopher, and artist of great acclaim, the pedestrianized bridge is a popular gathering place in downtown Scottsdale.
This remarkable feet of engineering also acts as a solar calendar, bringing together past and present by celebrating key cosmic events defined by the sun's shadow.
The bridge is popular with both residents and visitors who come to admire the totemic panels and the towering silver pylons.
20 – Glide through the sky on a hot air balloon ride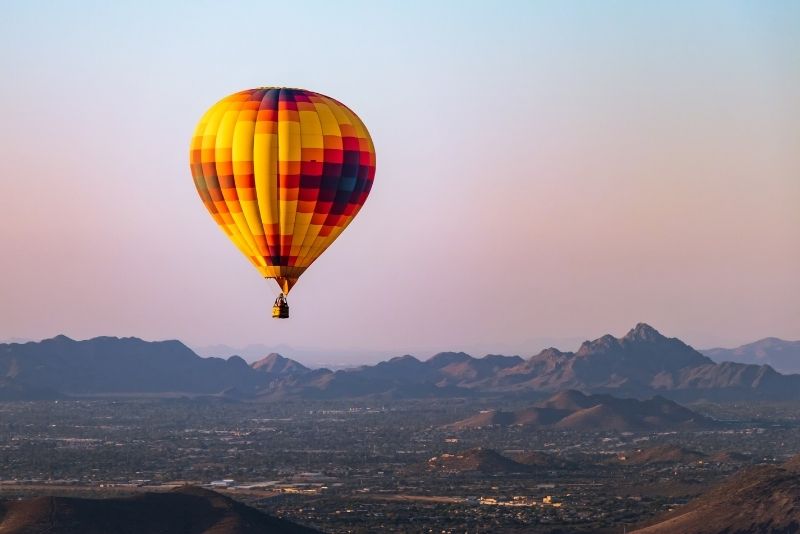 Take to the skies and enjoy a bird's-eye view of Arizona as you float silently on the morning thermals.
Your experienced hot air balloon pilot will show you the best views and take photos so you can be the envy of your friends.
From this lofty height, you can appreciate the vastness of the Sonoran Desert, where the enormous cacti now look like miniature sentinels keeping watch over the plains.
Most flights take off in the early morning so you can catch the sunrise behind the mountains – the bleary-eyed start is well worth it!
Sunset rides are also available for a romantic end to the evening.
21 – Visit Scottsdale Historical Museum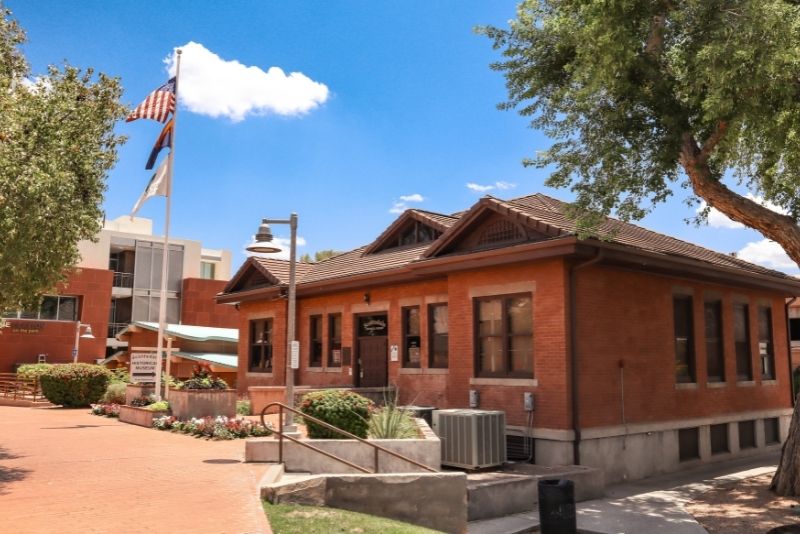 Open the doors to the past as you take a self-guided tour of the Scottsdale Historical Museum in the Little Red Schoolhouse.
Once the center of social life in the community, this was the first school to be built in Scottsdale.
You'll learn about the people who have shaped city society over the centuries, and the places made famous by key events through the years.
Discover Scottsdale's cultural heritage through exhibits, photographs, and artifacts meticulously arranged around the reconstructed rooms.
There's a traditional classroom and kitchen to check out, as well as mementos from founder Chaplain Winfield Scott himself.
22 – Stroll around the Scottsdale Xeriscape Garden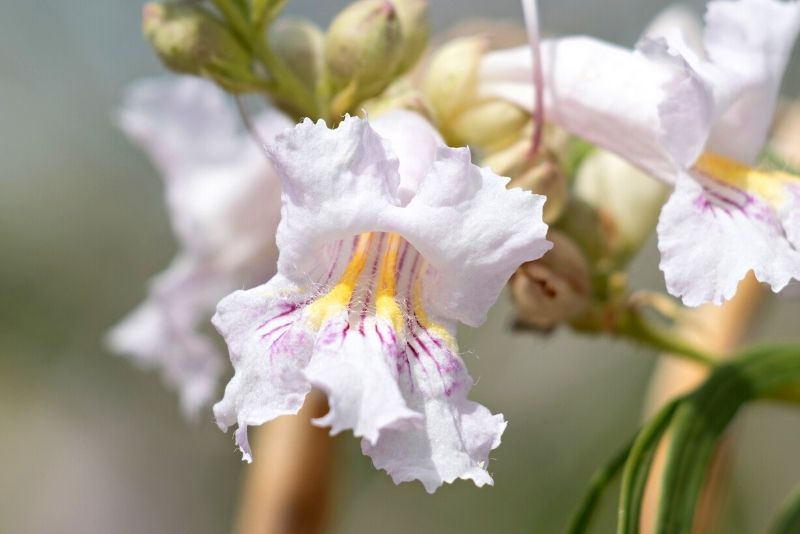 Nestled away in Chaparral Park, the Scottsdale Xeriscape Garden is designed to highlight the benefits of saving water.
This intriguing educational project encourages community participation to reduce outdoor water use in the desert landscape and preserve resources for future generations.
As well as being a center for learning and sustainable landscaping, the garden is a wildlife haven too.
There are over 7,000 plants to admire, and an interactive plant guide helps you identify your favorites.
This is one for green-fingered visitors, but anyone with an appreciation for nature will enjoy a wander here.
23 – Bounce around the Sonoran Desert on a jeep tour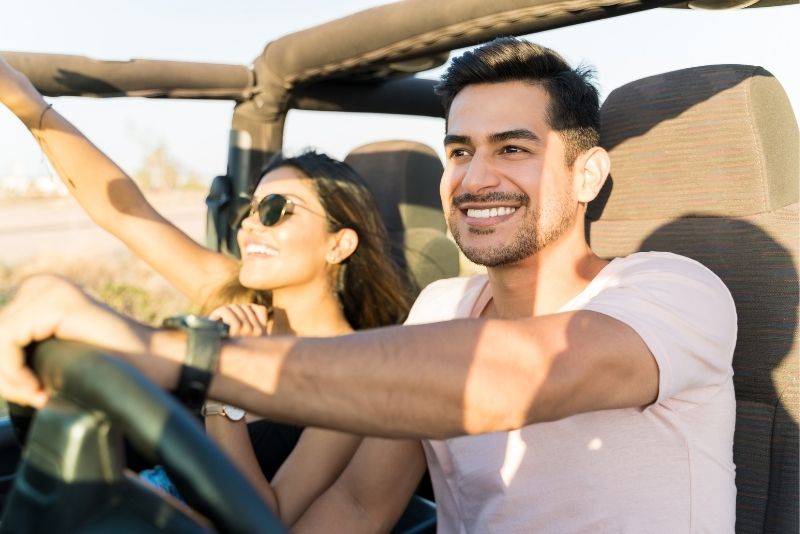 One of the best ways to explore the backcountry in Arizona is on four wheels, giving you access to more remote reaches of the wilderness than if you were on foot.
Strap in and prepare for a bumpy yet scenic ride!
Jeep tours in the Sonoran Desert are heaps of fun, whether you spend a full day zooming around or head out early for a shorter sunrise jaunt.
You'll follow picturesque trails and climb up steep valleys that are inaccessible to other vehicles.
Hold onto your hats as you plunge back down the other side. It's like being on a roller coaster in the wild!
24 – Discover the Fiesta Bowl Museum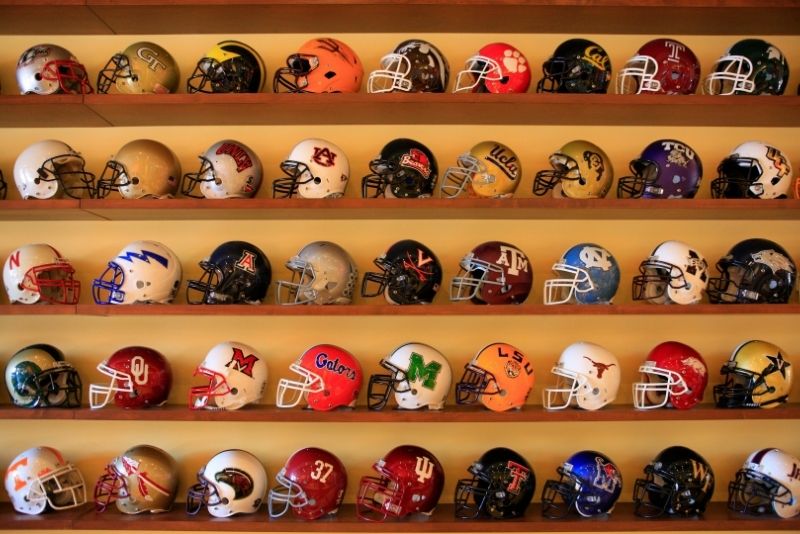 Are you a fan of college football? Explore the carefully curated exhibits at the Fiesta Bowl Museum.
Check out the memorabilia from the greatest Fiesta Bowl moments through the years and learn fun facts and insider secrets about the games.
You'll get to see all 130 FBS team helmets, as well as a treasure trove of trophies.
Relive some of the top snapshots of Fiesta Bowl history as you journey back in time and immerse yourself in the heritage of this popular sport.
25 – Feel the thrills on an ATV or buggy tour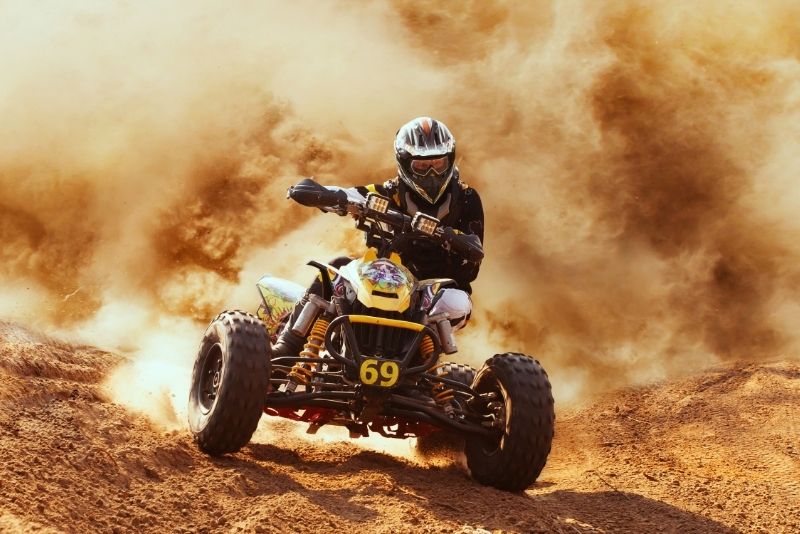 If you fancy seeing the Sonoran Desert from a new perspective, then an ATV tour or buggy ride could be just the ticket.
Learn about the geology and history of the American southwest from your knowledgeable guide while you hurtle along the trails at top speeds.
You'll be delving deep into the arid landscapes using offroad tracks where few tourists have ventured before.
If you're looking for adventurous things to do in Scottsdale, your search is over!
As you explore rock gardens, ride through desert washes, and even tackle river crossings, you'll feel at one with nature.
26 – Get your adrenaline pumping at the Octane Raceway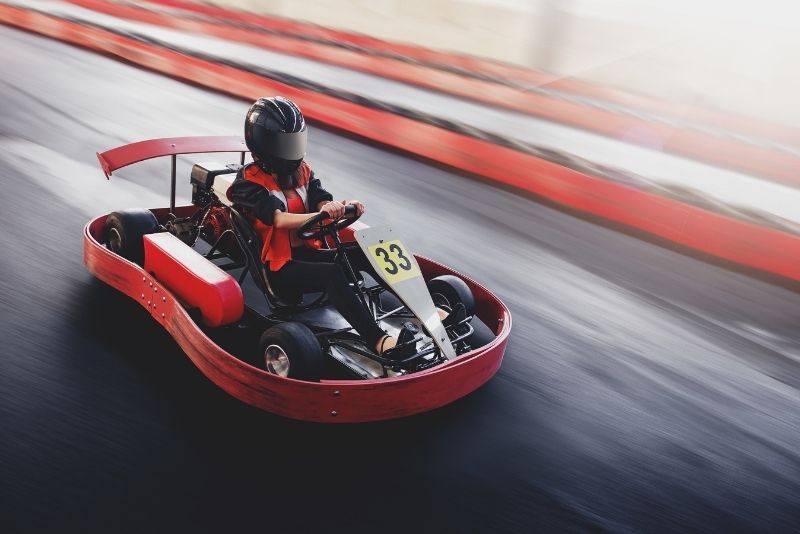 Feel the need for speed? Then jump in a go-kart and compete with your friends around the track at Scottsdale's very own Octane Raceway.
Scream in delight as you carve up those corners like a pro and zoom down the straightaways at speeds of up to 40 miles per hour.
Come back down to earth with a few classic games in the arcade and visit the free-roam virtual reality arena to explore a hybrid world with your mates.
Finish up with some mini bowling and slices of hot pizza over at the Brickyard Grill.
27 – Watch a baseball game at Scottsdale Stadium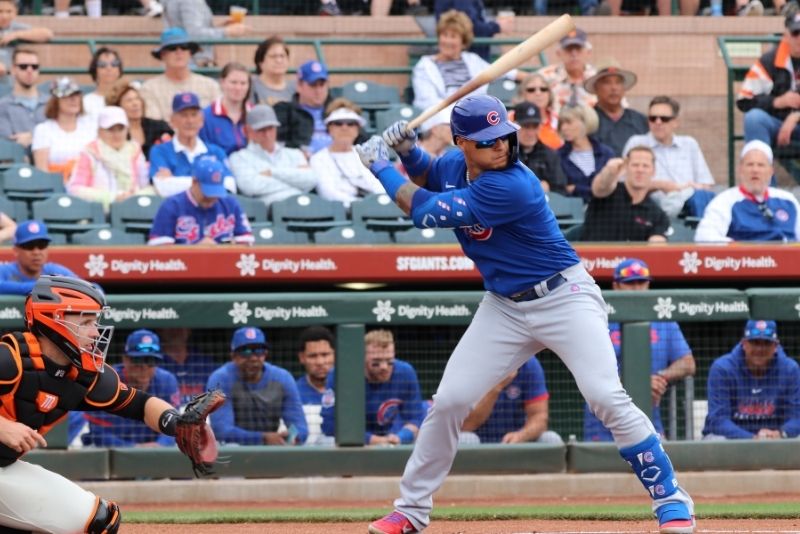 Conveniently located in the heart of downtown Scottsdale, this baseball field is home to some of the region's most famous sporting events.
The San Francisco Giants Spring Training and the Arizona Fall League are both held right here.
Locally, the Scottsdale Scorpions play their home games in this stadium, and once counted Michael Jordan among their team members.
For baseball fans from across the world, there's no better way to enjoy an evening out than by catching a game here at Scottsdale Stadium.
Take to your seats and watch the drama unfold as the stars battle it out for supremacy.
28 – Plunge down rivers on a rafting adventure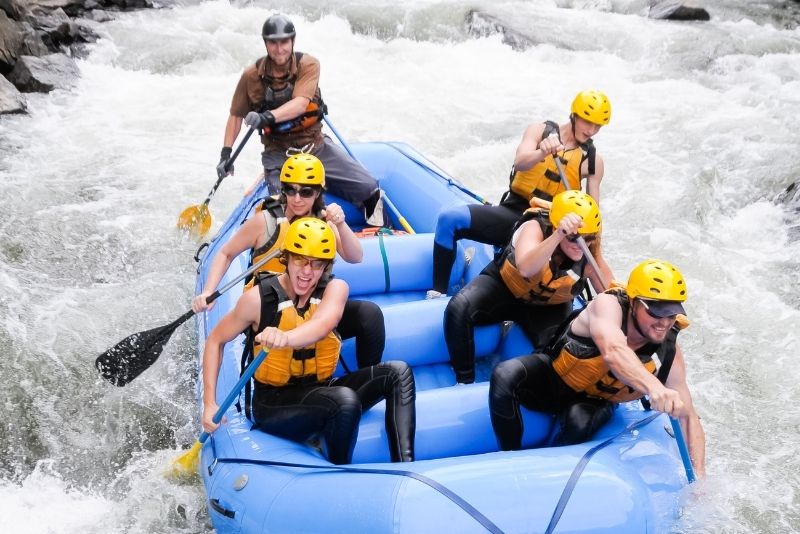 Whether you want to take on white water rapids or prefer to float serenely down a more tranquil stretch of river, rafting in Scottsdale is fun for all the family.
These guided trips take you into the heart of nature, allowing you to discover scenery and wildlife rarely seen by visitors.
Wild horses and bald eagles are often spotted!
Don't worry if it's your first time rafting, your instructor will show you the ropes and have you shooting through the water in no time.
Take a break for a scenic swim in a calm spot and relax on the shore with a bit of bird watching while you catch your breath.
29 – Splash about at Great Wolf Lodge Water Park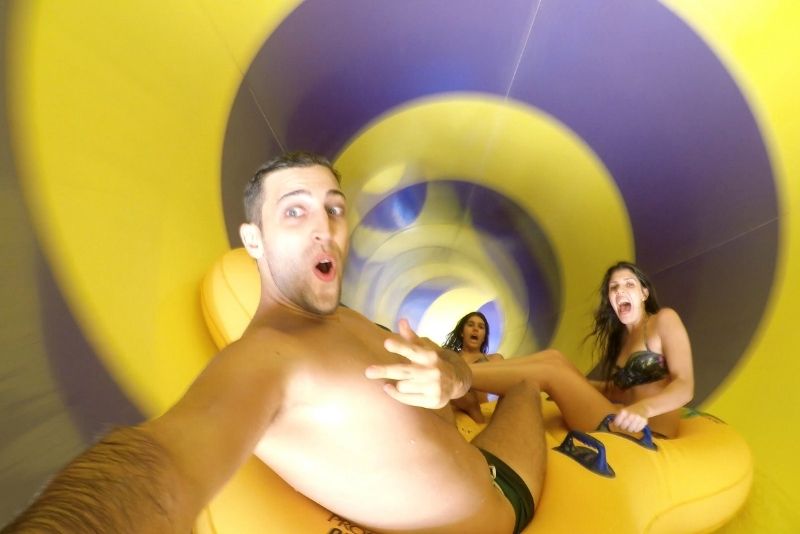 Want to cool off? Spending a few hours zooming down slides at Great Wolf Lodge Water Park is the perfect antidote to Arizona's heat.
Will you dare to slosh through Alberta Falls on an exhilarating tandem ride or plunge along the hair-raising Wolf Tail chute?
Those looking for something more sedate can float along Crooked Creek in a rubber ring or play in the fountains at Raccoon Lagoon.
Kids will whoop in delight as they explore the Talking Stick Treehouse and try to balance on the floating lily pads while navigating Big Foot Pass.
30 – Harness your inner cowboy at MacDonald's Ranch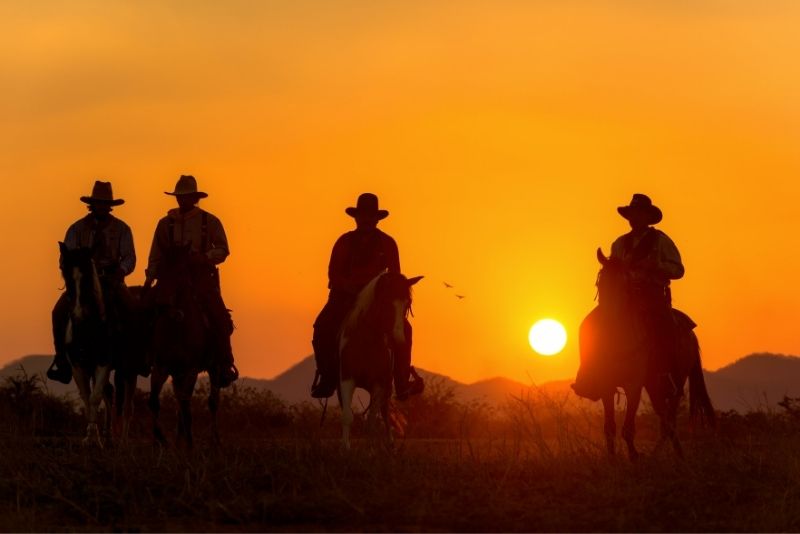 Fancy yourself a bit of a wrangler? Then pull on those chaps and have yourself a real Wild West adventure in the tranquil Sonoran Desert.
At MacDonald's Ranch, you can realize all your cowboy and cowgirl dreams with a trail ride through the iconic landscapes of the southwest.
You'll be trotting past towering cacti and learning about desert wildlife from your experienced guide.
If you've always wondered what it feels like to be in an old Western movie, this is as close as it gets!
After your ride, watch the sun go down as you tuck into a hearty feast while sitting around the campfire.
31 – Have a blast at CrackerJax fun park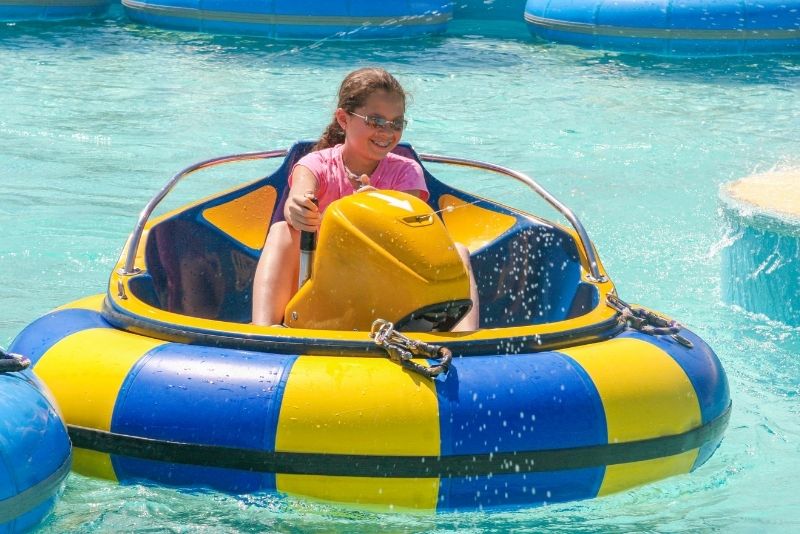 This family-focused amusement park will keep the kids entertained all day with thrilling attractions and games for all ages.
Go crazy on the bumper boats at CrackerJax Lagoona Island and cool off from the heat under the tumbling waterfall spray. Or bounce as high as you can in the Bungy Dome – the sky is the limit!
Rub shoulders with aliens in the laser tag arena and test your driving skills as you whizz around the speedway in a specially designed go-kart.
The track is the longest in Arizona and comes with hairpin bends, s-curves, and even spectator seating.
32 – Keep fit in Cactus Park
Cactus Park is a gorgeous grassy expanse in northern Scottsdale.
This popular neighborhood park boasts some top-notch leisure facilities enjoyed by both locals and visitors.
If you want to work up a sweat to combat those vacation calories, you'll be in good company here.
There's a huge swimming pool and fitness center, as well as a sand volleyball court for those who want to practice their serves.
Let the kids loose on the playgrounds, where slides, bridges, and a jungle gym will keep them amused.
Take a break in the picnic area after all the fun – you deserve it!
33 – Get your skates on at Ice Den Scottsdale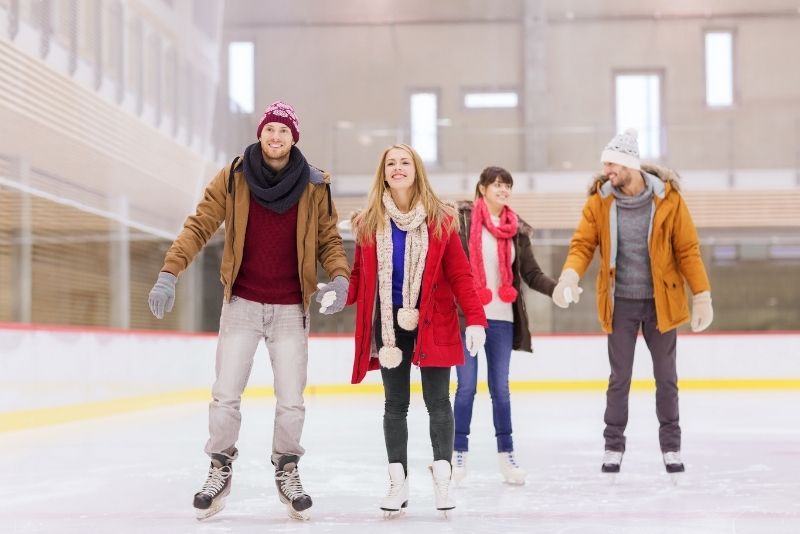 It's not all sand and sun out here in the Arizona desert. There's an Ice Den too!
Even if you haven't perfected your pirouettes or tamed the triple salchow, ice skating can be heaps of fun.
So, rent some boots and glide around the rink, with the help of the side rail if required! It's one of the coolest things to do in Scottsdale, quite literally!
Prefer to watch the experts show off their moves? Then take in a game of hockey and be wowed as the Arizona Coyotes take control of the ice.
34 – See mountain lions at the Southwest Wildlife Conservation Center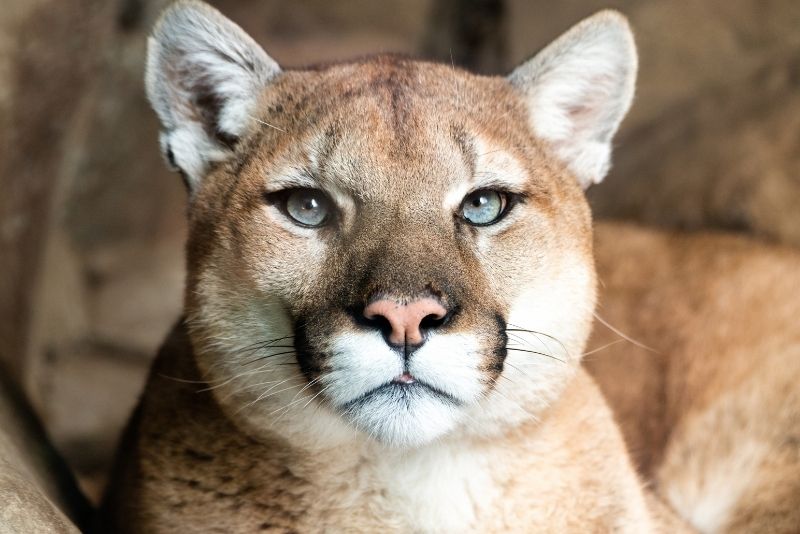 Love animals? Then get yourself to the Southwest Wildlife Conservation Center and meet some of your heroes.
Acting as a temporary home for animals that have been orphaned or injured, the center aims to release them back into the wild after rehabilitation.
Those who can't be returned have become permanent residents!
Take a two-hour guided tour of the sanctuary and come face to face with wolves, bobcats, and everything in between.
Hear the stories behind some of the inhabitants, and say hello to Tahoe and Griz, the friendly black bears who love making new friends.
35 – Tuck into tasty treats on a farmers' market food tour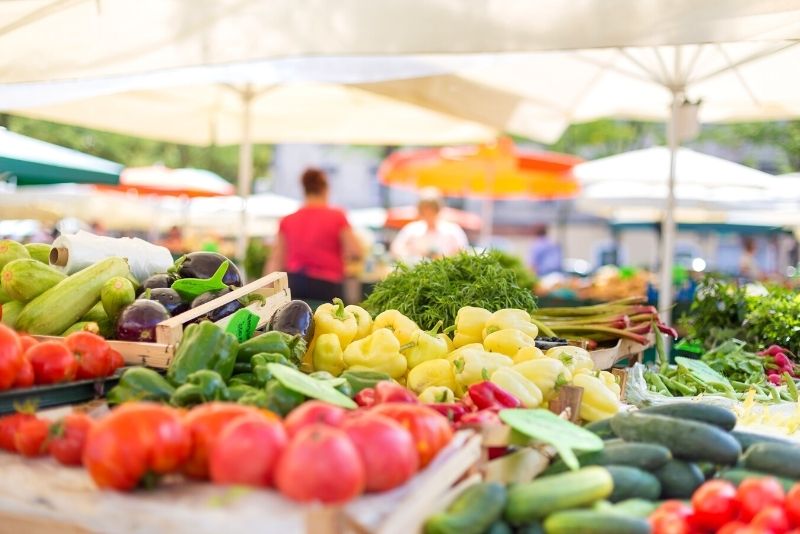 You can discover a lot about a new destination through its cuisine, and food here in Scottsdale is a big part of the local culture.
Join an expert foodie and sample some of the region's finest delicacies at different venues across town.
You'll be popping into restaurants, cafés, and food stores to try delights such as chimichangas and the popular Sonoran hot dog.
Don't miss Old Town Scottsdale Farmers' Market where local growers and specialty producers tempt you with their goods.
Devour artisan bread, homemade jams, and delectable mellow cheese, then quench your thirst with some cloudy apple cider.
36 – Enjoy games and picnics at George 'Doc' Cavalliere Park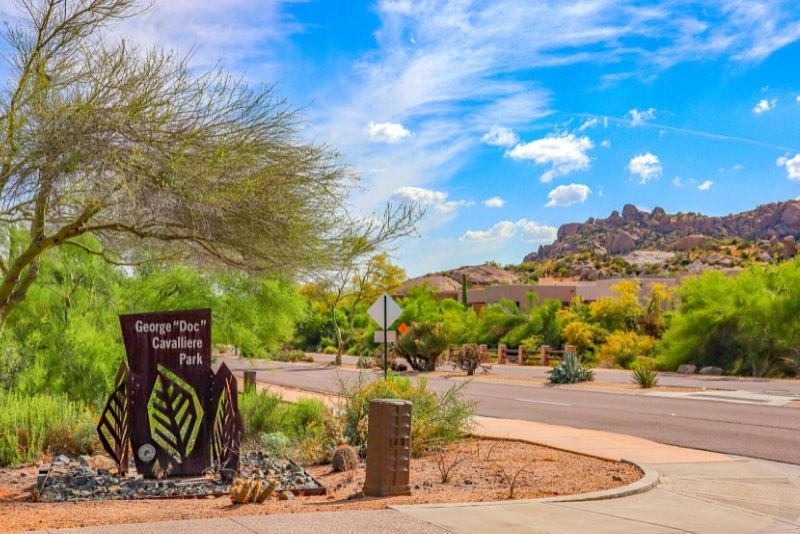 This beautiful green space in northeast Scottsdale is a great place to let off steam, stretch your legs, and enjoy an al-fresco lunch.
George 'Doc' Cavalliere Park sprawls across 34 acres, with everything you need for an afternoon outside.
Children can run wild in the shaded playground, while you keep watch from the pretty picnic area.
There's a mile-long hiking trail too, for those who want to enjoy a sunny stroll.
Basketball fans can hire one of the courts and challenge the locals to a game too.
37 – Hike to Sunrise Peak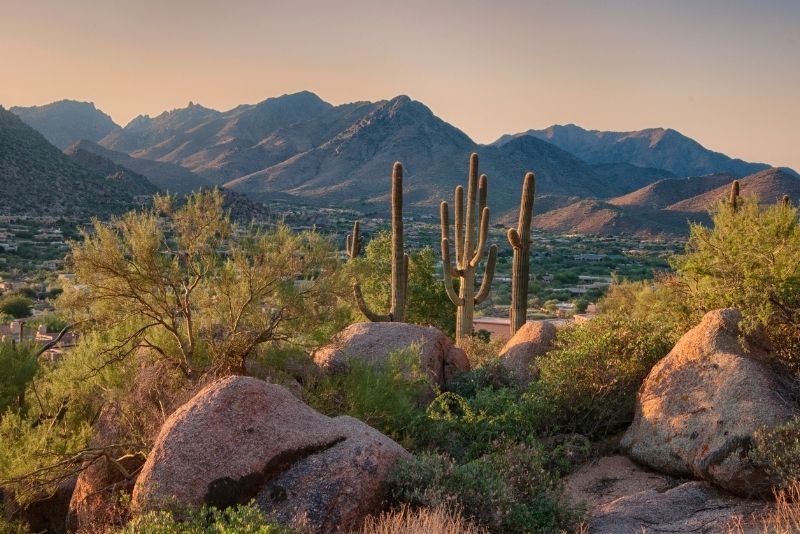 Nestled away in the foothills of the McDowell Mountains, Sunrise Peak offers incredible 360 views out across the magnificent Arizona Valley.
As the name suggests, it's a super spot for watching the sunrise (or sunset!) over the McDowell Sonoran Preserve, but you'll have a blast whatever time of day you visit.
The there-and-back trail carves through the Sonoran Desert, before taking you up to the saddle of the mountain.
The last section is quite steep, so you'll definitely earn those summit panoramas. It's a four-mile round trip so can be enjoyed by anyone of moderate fitness.
38 – Go back in time at the Old Adobe Mission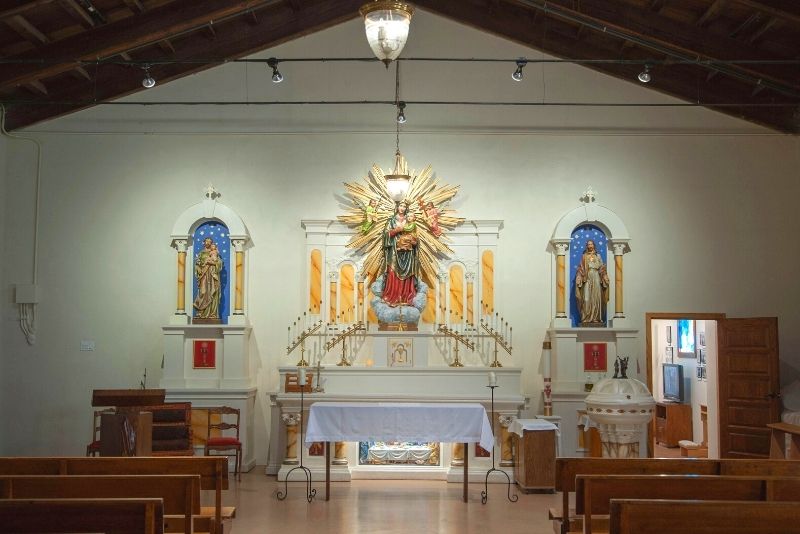 Scottsdale's Old Adobe Mission is a Catholic church in the heart of the historic Old Town.
It's a delightful little sanctuary away from the bustle of the city, with a fascinating heritage to discover.
You will learn what the area was like during the early days of the settlement as you wander around the oldest church in Scottsdale.
The interiors have been beautifully restored to their former glory, and the original confessionals can still be seen today.
Check out the colorful stained-glass windows and expertly carved statues before you leave.
39 – Venture out to Brown's Ranch Trailhead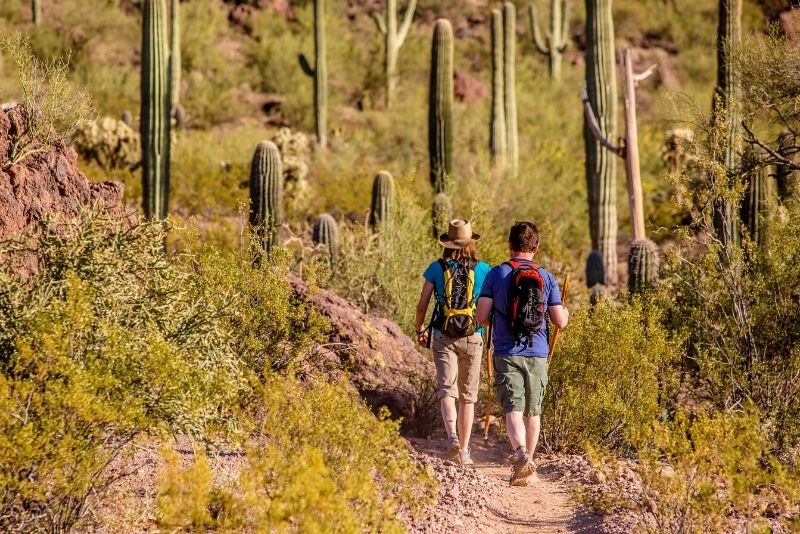 One of the best places to start a hike in the McDowell Sonoran Preserve is at Brown's Ranch Trailhead.
As well as information about the flora and fauna of the surrounding desert area, you'll find some great interpretive exhibits about human history here too.
Artifacts from the ranching era give you a taste of life back in the day.
From the trailhead, you can access a vast network of hiking and biking routes, to places like Granite Mountain, Balanced Rock, and Brown's Mountain.
The terrain isn't too challenging, with rolling paths making for easy walking.
40 – Feast at the Medieval Times Dinner and Tournament show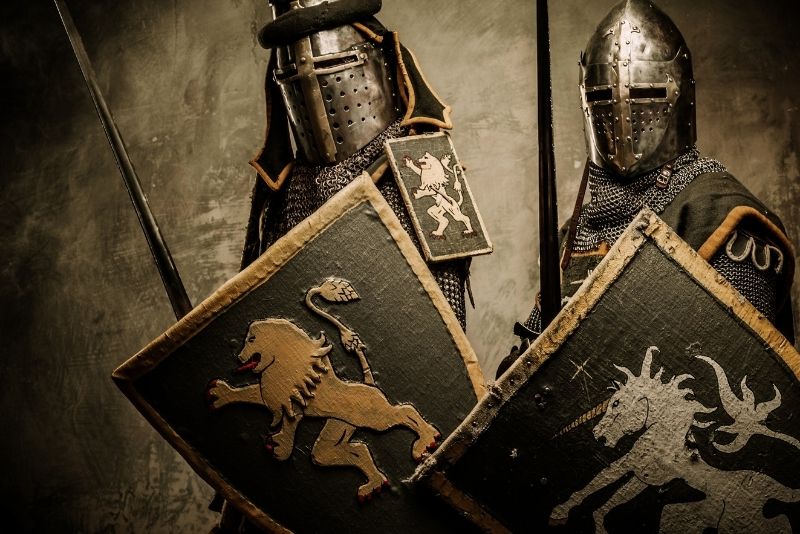 Calling all aspiring kings and queens, you are cordially invited to attend a banquet to end all banquets at Medieval Times.
It's one of the most unusual things to do in Scottsdale, making for a night out like no other.
This live-action production gives you the chance to mingle with knights, ladies, and squires while tucking into a medieval-themed four-course feast.
To keep you entertained during the lavish meal, jousting tournaments will be taking place right in front of you!
As the lights dim, watch with bated breath as horses and riders perform their stunts, and admire falconry displays from the comfort of your seat.
41 – See a show at Scottsdale Center for the Performing Arts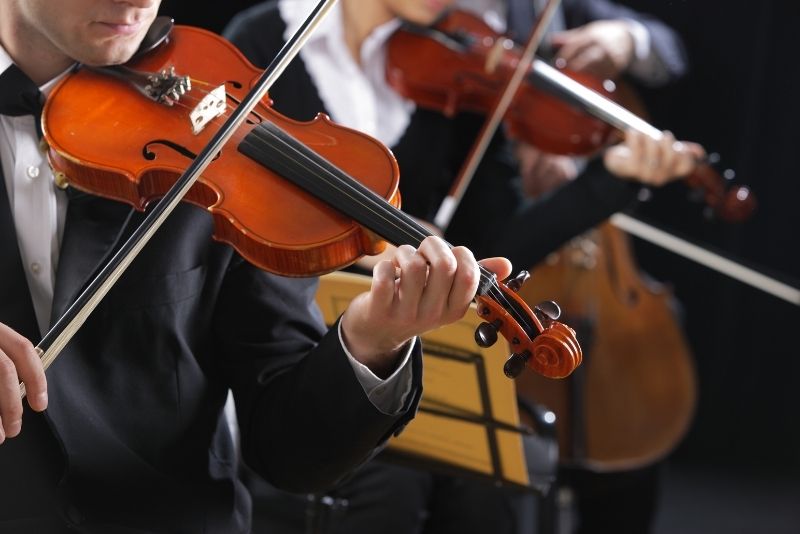 For an evening of culture and entertainment, pop over to the Scottsdale Center for the Performing Arts and prepare to be wowed.
With everything from classical concerts to standup comedy shows, there's always something on that will float your boat.
Will you be taking in some piano extravaganzas, or boogying away to Mardi Gras Mambo?
Check the program schedule to see what's on during your visit and be sure to book tickets in advance as it's a popular place.
42 – Practice your swing in the dark at Glow Putt Mini Golf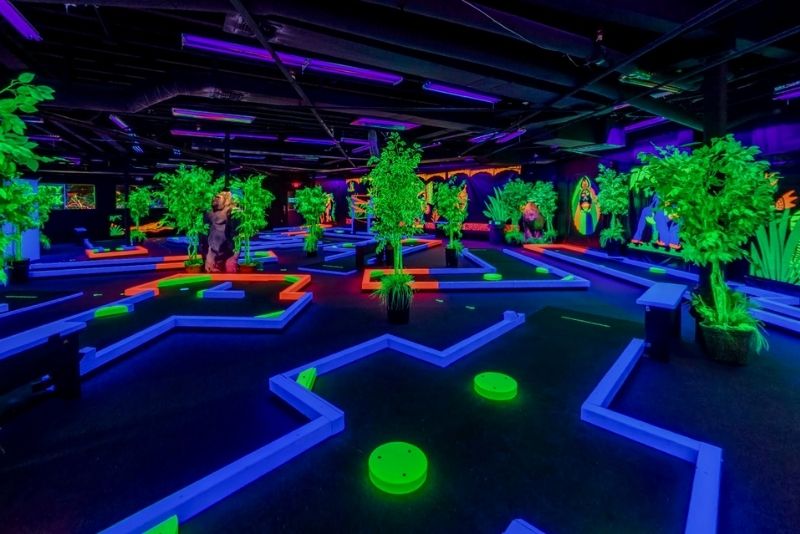 Have you ever played golf in the dark?
Glow Putt Mini Golf takes you on a sporting adventure into a land of neon trees and luminous walls.
Don't knock it until you've tried it, you might just be surprised at how much fun it is.
There are 18 holes to conquer, with different low-lit challenges at each.
As you work your way around the course, you'll feel like you're in a magical underground kingdom, with added golf balls!
Will you be able to get a hole in one?
43 – Take in a major national event at WestWorld of Scottsdale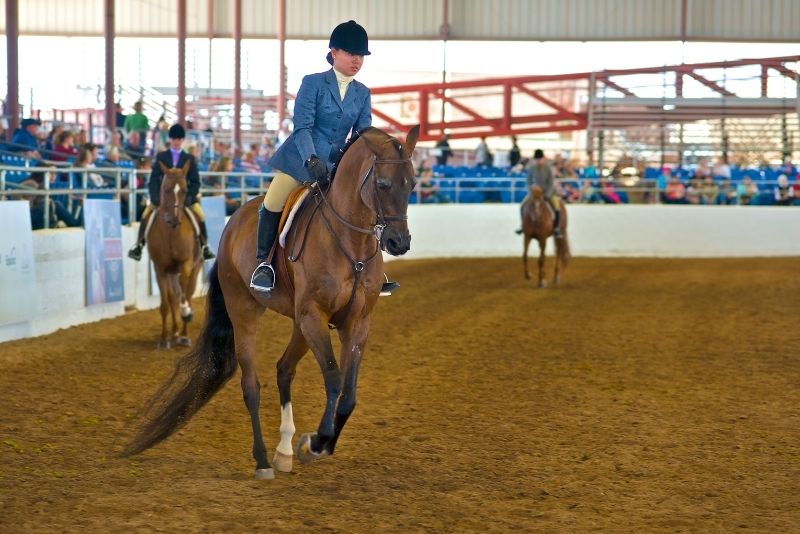 WestWorld is one of Arizona's premier event venues, putting on some of the best shows and expos in the United States.
There are several important events held here each year, including the International Motorcycle Show and the Scottsdale Arabian Horse Show.
Indeed, equestrian displays are where it all started, and there are around 90 trials and performances to enjoy each year.
Petrolheads will love attending the multiple car shows and auctions, and there are plenty of sporting fixtures where you can cheer on the athletes.
44 – Watch baseball in the Salt River Fields Stadium at Talking Stick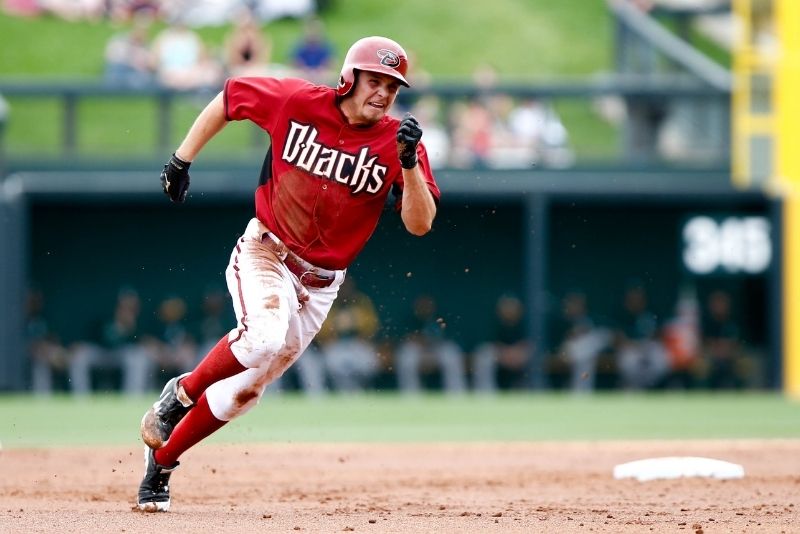 Salt River Fields is a Major League Baseball stadium built on Indian land not far from Scottsdale.
The Arizona Diamondbacks and Colorado Rockies collaborated with the Native American community to build a complex that showcases cultural diversity in the region.
It's a popular Spring Training venue for the players, so why not catch a game while you're in town. Book ahead as tickets sell out fast.
The landscape here is scenic too, with unrivaled views of the McDowell Mountains, Camelback Mountain, and Four Peaks.
45 – Become a detective during an escape game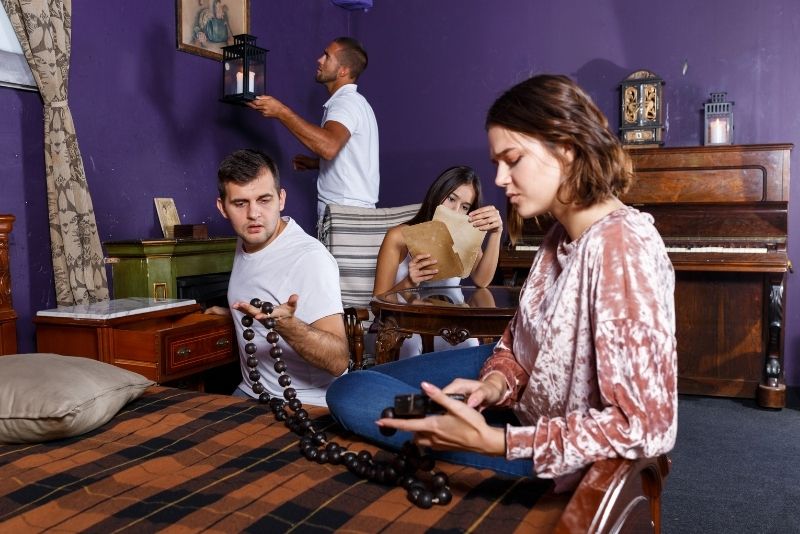 Sometimes it's just too hot to explore outside, and it's days like these when an escape game really comes into its own.
Get stuck into some sleuthing in this air-conditioned venue, where clues and challenges will lead you on a merry dance.
Make those brain cells spring into action as you try and decipher riddles with your teammates.
You'll have 60 minutes to crack codes and figure out puzzles so keep your wits about you.
The escape room will test your creative thinking and put your problem-solving skills to the test. Have you got what it takes?
46 – Kick back and relax at Talking Stick Resort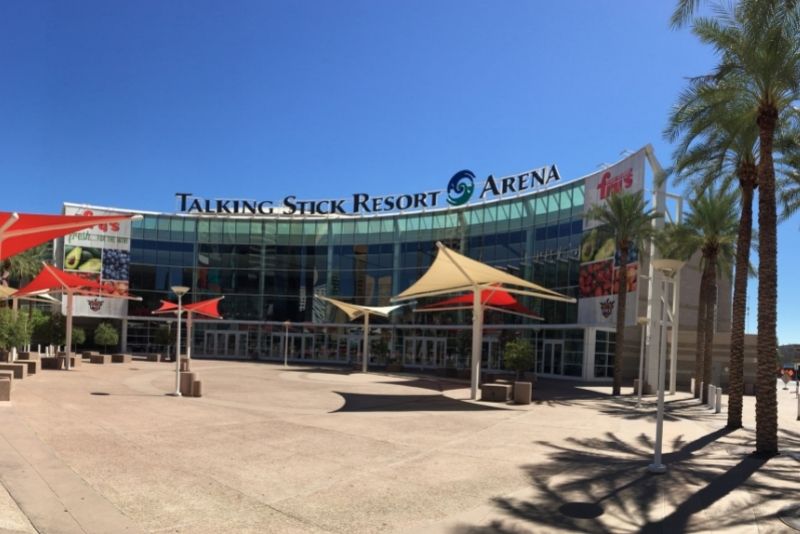 Grasp that vacation feeling with both hands as you indulge in the Talking Stick Resort experience.
Book a stay in the luxury hotel or try your luck at one of the hottest casinos in Arizona. Why not go crazy and do both!
Spend your days playing a few rounds of golf or relaxing with a spa treatment after a swim in the elegant pool.
Then head to one of the onsite restaurants and prepare for a culinary adventure.
As evening falls it's time for some entertainment, with rock shows, magicians, and comedians often taking the stage.
Finish up with a flutter at the poker or blackjack tables.
47 – Tackle the obstacle course at Pump It Up Scottsdale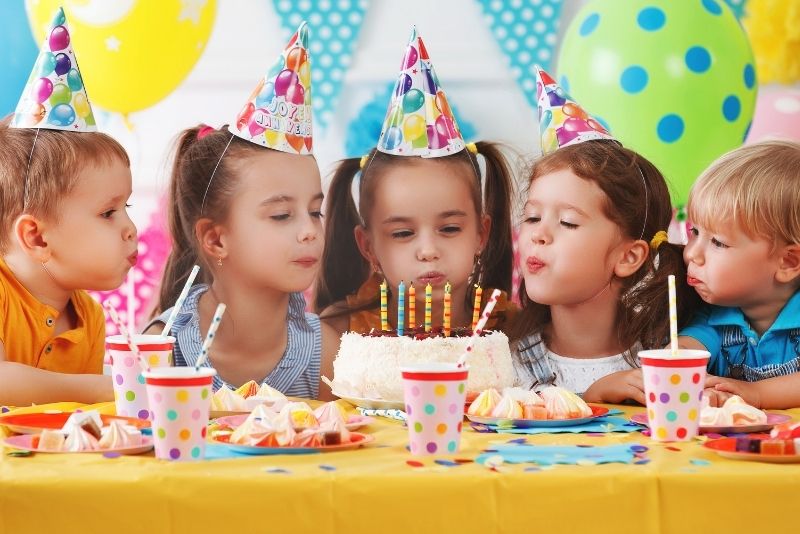 Whether you want to celebrate a birthday, or just hang out with your pals, Pump It Up Scottsdale takes fun to the next level.
This popular indoor playground is a real hit with younger travelers, giving them the chance to let loose in a safe environment.
Kids will have a blast bouncing around on the inflatable houses and scrambling over obstacles in the soft play area.
For added thrills, glow-in-the-dark accessories and special lighting turn the excitement up a notch as the players shoot hoops and zoom down slides.
48 – Get your game on at Scottsdale's sports fields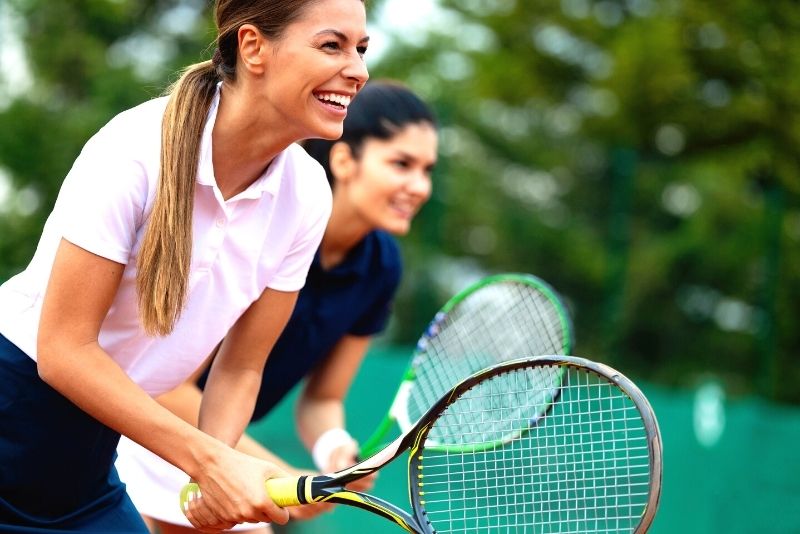 Step up your game with some sessions at Scottsdale's top sports fields. The Scottsdale Ranch Park and Tennis Center is a great place to start.
Boasting multiple courts for everything from tennis and racquetball to squash and basketball, your work really is cut out trying to decide what to play.
Head to the sunny Desert Garden for some serious volleyball action and rest in the shady ramadas afterward.
Scottsdale Sports Complex is the other big hitter, with a state-of-the-art competitive field offering tournament-level conditions.
Here you can play (or watch!) games of rugby, lacrosse, and of course soccer.
49 – Play golf at TPC Scottsdale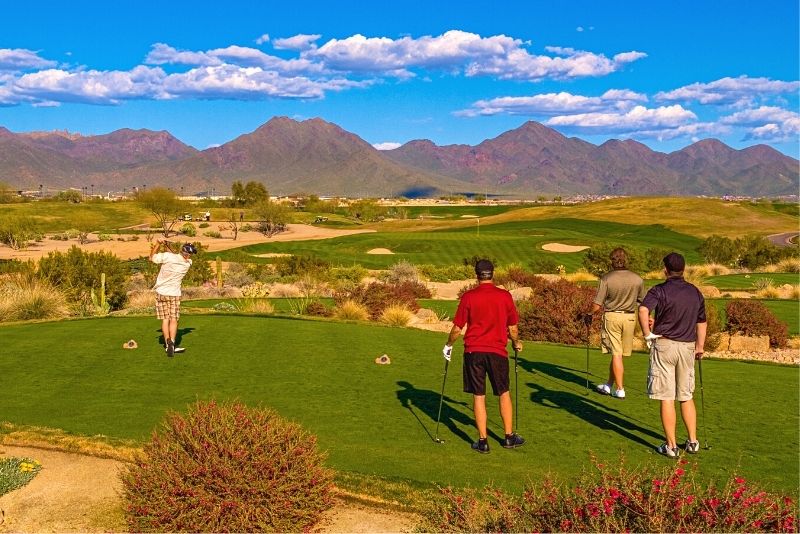 Fancy showing off your moves on the fairways?
You've come to the right place as this area is renowned as being a world-class golfing destination.
TPC Scottsdale is home to the WM Phoenix Open – one of the biggest international tournaments.
Kick off your visit with a game on the Stadium Course, where the pristine greens are maintained to tour standard all year round.
If you're an avid golfer, this is, without doubt, one of the best things to do in Scottsdale.
For a bit of desert golf, head to the Champions Course which is suitable for players of all abilities.
Just try and keep your eye on the ball rather than the stunning scenery.
50 – Dine in style at Topgolf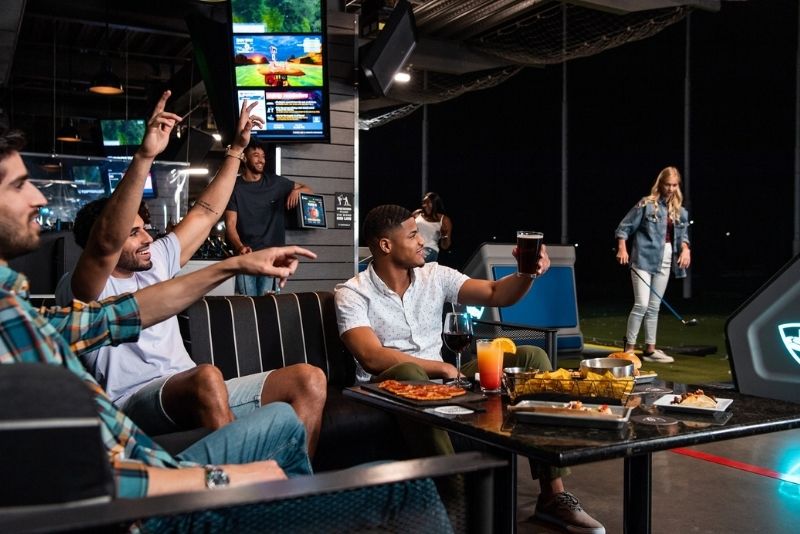 Topgolf is the number-one entertainment destination for sports fans, with climate-controlled bays where you can practice your swing.
Golf aside, this is a great place to eat too, with lots of tantalizing shareables, burgers, and desserts up for grabs.
The menu here is chef-driven, which means it's so much more than a standard restaurant experience.
Expect to feast on treats like Asian sesame wings and farmhouse flatbreads, with fresh seasonal flavors to make your tastebuds sing.
All sound yummy? Well, the best is yet to come with cinnamon-dusted injectable donuts for dessert, with lashings of chocolate sauce and raspberry jelly. Delicious!
51 – Sample local wine from Carlson Creek Vineyard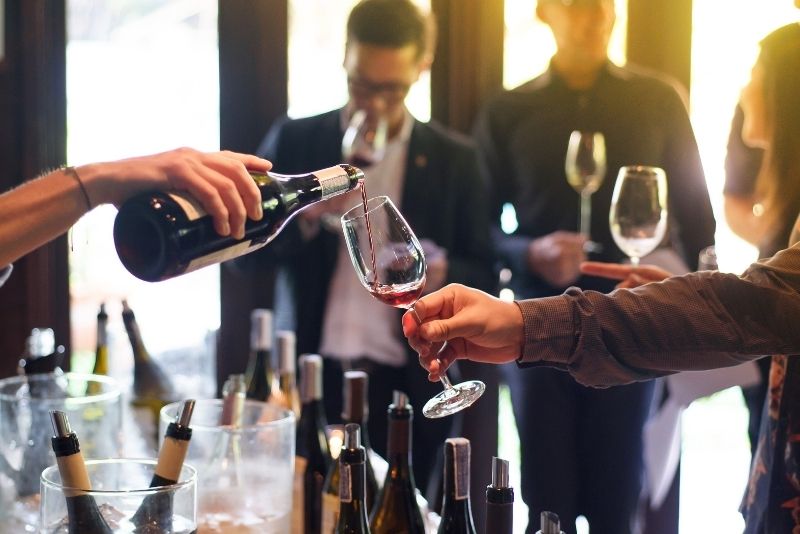 Learn about winemaking here in Arizona with a visit to the Carlson Creek Vineyard tasting rooms.
Located in Scottsdale's arts and entertainment district, this Old Town attraction is a fun place to spend an indulgent afternoon.
The atmospheric space is a former art gallery with all the distressed copper and traditional barrels you would wish for during a wine tasting experience.
There are over 13 different vintages to choose from, and you can soak it all up with a cheese and meat board for a few extra dollars.
There are regular wine tasting courses and food pairing events held here, so do check to see what's on during your stay.
52 – Try your luck at the Casino Arizona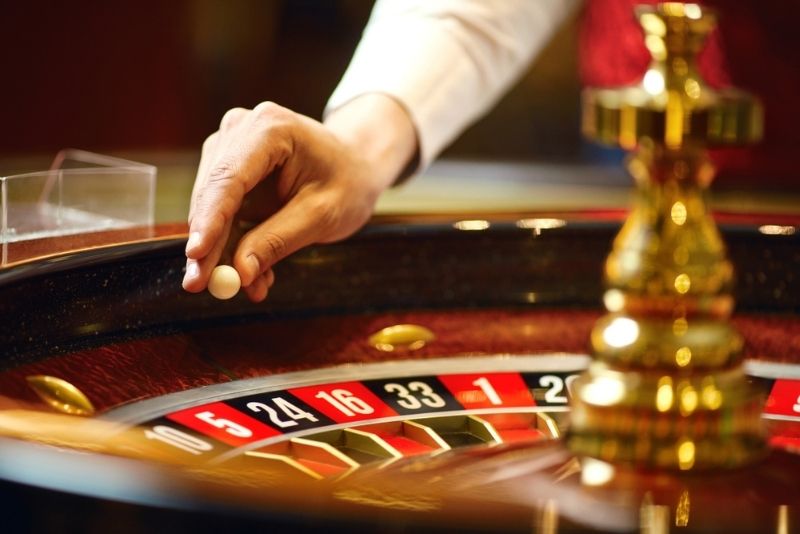 Spend the evening on the edge of your seat as you place bets on all your favorite games.
The Casino Arizona has all the big hitters, with everything from poker and blackjack to baccarat and craps.
If it's your first time, you can always get warmed up in the bingo hall or with a few rounds on the 900 slot machines!
Meanwhile, pros can up the stakes by joining a serious table game and showing the players their best poker faces.
Have a breather with a drink and a burger in the sports bar before diving back into the fun.
53 – Indulge all your senses at the spa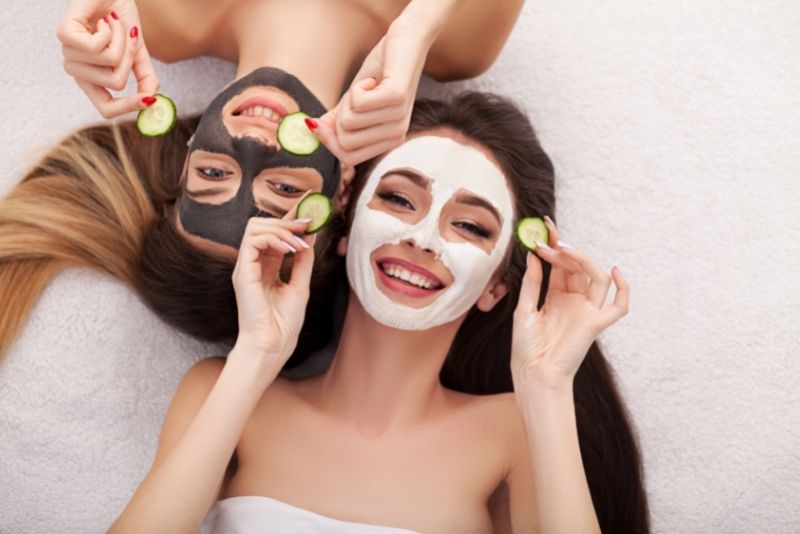 Looking for relaxing things to do in Scottsdale? Then book a spa session to recharge those batteries and focus on nothing but you for a few hours.
After all, you deserve a bit of pampering after all that hard-core city sightseeing and desert hiking.
The spas in Scottsdale are veritable temples of health with an eye-popping range of treatments and experiences to choose from.
Relieve stress and give your immune system a boost in the salt caves or enjoy a spot of meditation in the floatation tank.
Traditionalists can opt for soothing facials, cleansing saunas, and of course a whole range of different massages.
You'll leave feeling like a new person!
54 – Browse the Native Art Market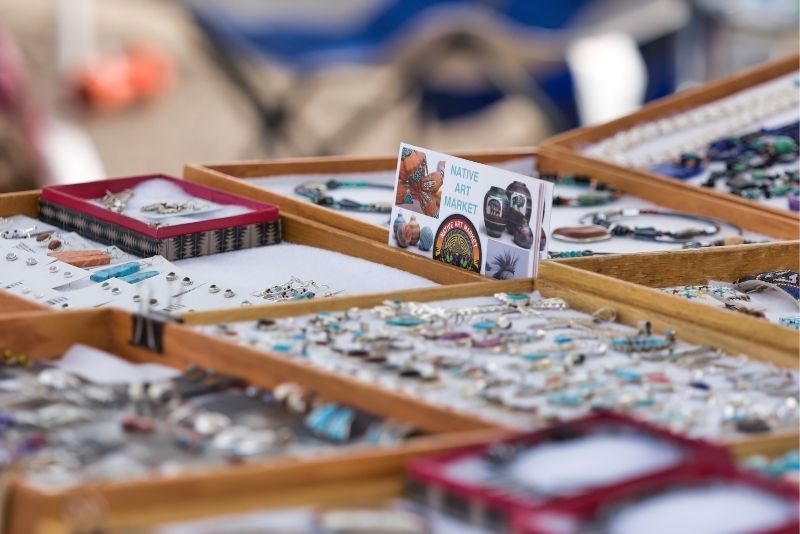 The Scottsdale Native Art Market is a creative space where Americans from Indigenous communities can come and sell their wares to the public.
Located in the Old Town's indoor market and at the Talking Stick pavilions, the craft fairs allow you to engage with the vendors on a personal level.
You'll hear stories about the culture and art of Arizona's Native American tribes and might even get to try a few dance moves!
After admiring the incredible craftsmanship, pick up some special souvenirs in the form of jewelry, rugs, and flutes.
55 – Enjoy some retail therapy at a shopping mall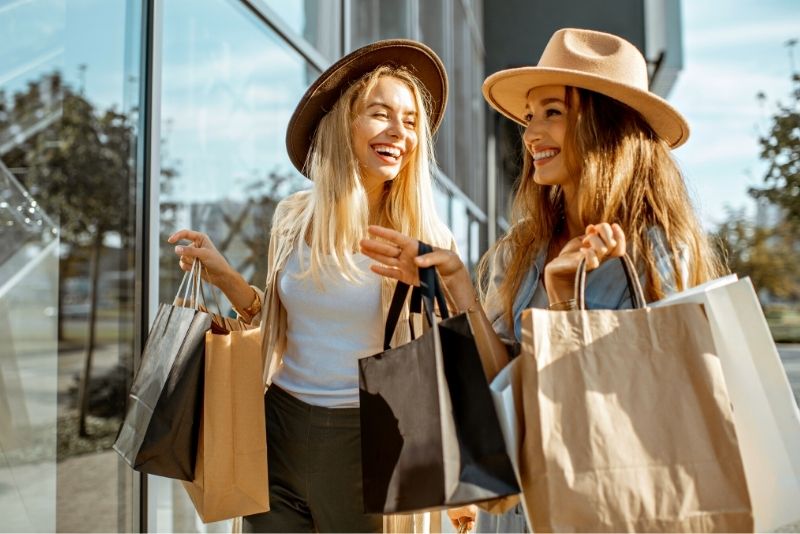 After you've seen all the sights and done all the walks, there's nothing like a bit of shopping to round off a busy vacation.
Head to Scottsdale Quarter for open-air browsing and gourmet lunches or try Scottsdale Fashion Square for brand name bargains and specialty stores.
Go upmarket at sophisticated Kierland Commons and feast your eyes, and your purse, on designer goods fit for royalty. There's everything from Tesla to Chanel here!
Finally, over at The Promenade, you'll be right at home with some high street favorites, and there are salons and spas for when you want to take a break.
56 – Burn off some energy at the trampoline parks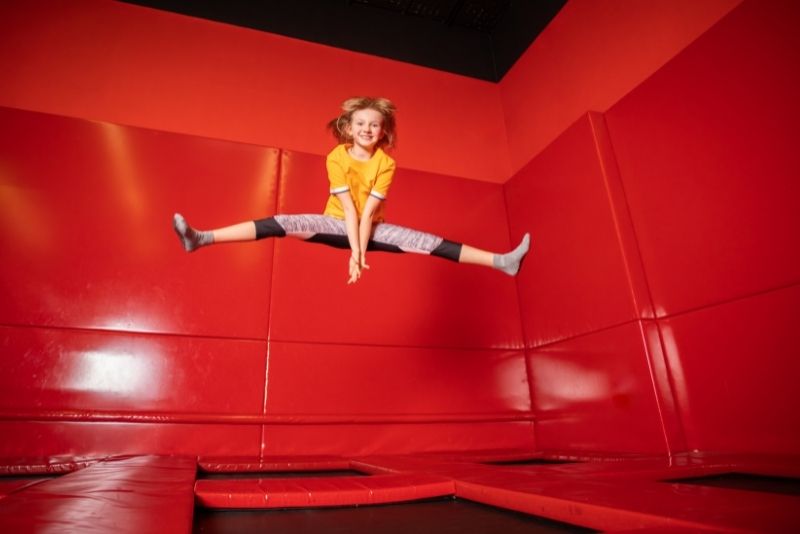 There's nothing like a bit of bouncing to get the heart pumping, and when it comes to trampoline parks, you're in luck!
There are three great venues to choose from, all of which are easy to get to.
Sky Zone Trampoline Park is a real winner, with an epic ninja warrior course and the high-energy Parkour Blox.
It's a safe place to practice those freestyle moves! For battle beam bravery, giant foam pits, and a gymnastic tumble track, get yourself to the Altitude Trampoline Park in Phoenix.
Meanwhile, KTR Scottsdale takes indoor action to the next level with a skatepark and dodgeball as well as some legendary trampolines.
57 – Catch a new movie release at RoadHouse Cinemas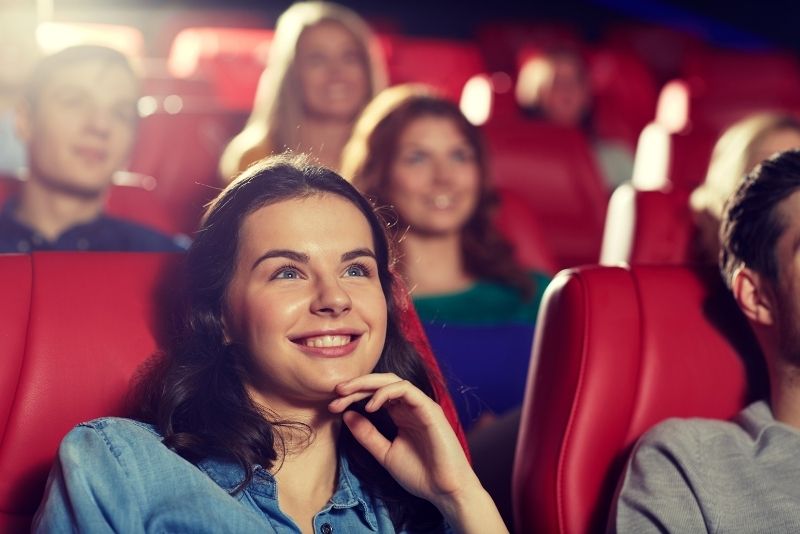 See the latest films in style on an evening out at RoadHouse Cinemas in Scottsdale.
This upscale movie theater has state-of-the-art digital projection and comfortable reclining seats so you can truly relax in front of the big screen.
There are extendable tables too for enjoying drinks and snacks during the show.
Treat yourself afterward with a hearty meal in the award-winning restaurant, which offers a twist on your fast-food favorites.
Try the ultimate cheesy nachos and juicy tombstone burgers, with a side of delicious truffle fries to seal the deal. Sodas and craft beers are the perfect finishing touches.
58 – Sample the local brew on a pub crawl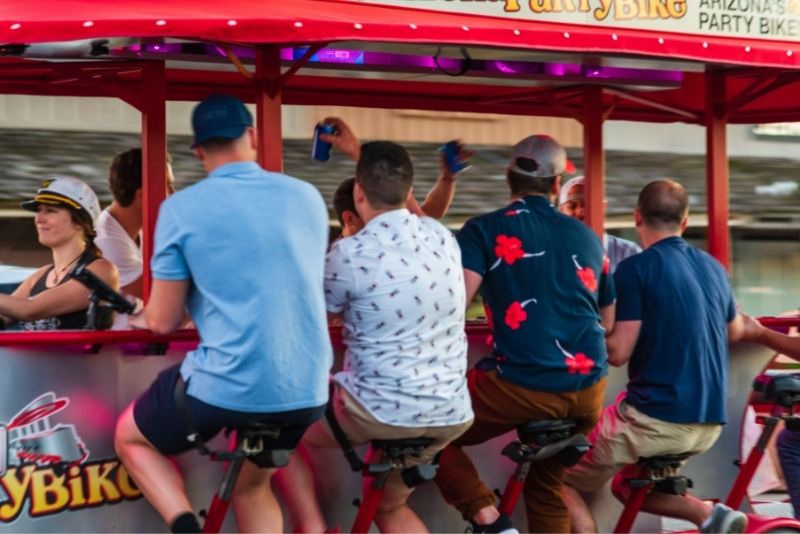 Team up with an expert guide and quench your thirst at some of the hottest bars and pubs in Scottsdale.
You'll be checking out the most popular spots as well as heading off the beaten track to discover watering holes favored by locals.
For something different, try the party bike pub crawl through the Old Town where you can make merry while seeing some of the sights.
You can bring your own drinks to enjoy as you pedal away down the street with your fellow revelers.
This is a fun way to make new friends from around the world and discover the trendiest bars in town along the way.
So, there you have it, all the best things to do in Scottsdale are yours for the taking. Which ones will be making it onto your hit list?
Don't forget to book your accommodation well in advance of your visit – this is a popular destination and rooms can fill up fast during peak season!
There are lots of hotels to choose from, with everything from romantic retreats to family-friendly lodges. Have a look at the best Scottsdale hotels online and bag some sweet deals.
Looking to continue your trip after Scottsdale? Phoenix is just a stone's throw away and makes a great extension to any Arizona vacation. Traveling by car? Check out Tucson, only a 1.5-hour drive. Need more ideas? Check out our selection of fun things to do in Arizona.
Have a great time!