Wondering what are the best Sedona jeep tours? In this guide, you will find a complete list of 4×4 tours from Sedona, with everything from extreme adrenaline rides to leisurely scenic drives.
Be amazed by towering red rock formations, vast desert canyons, and sweeping views. This is one of Arizona's most stunning regions, with mesmerizing geological landscapes and a rich human heritage. Most tours last 2-3 hours.
1 – Broken Arrow Jeep Tour in Sedona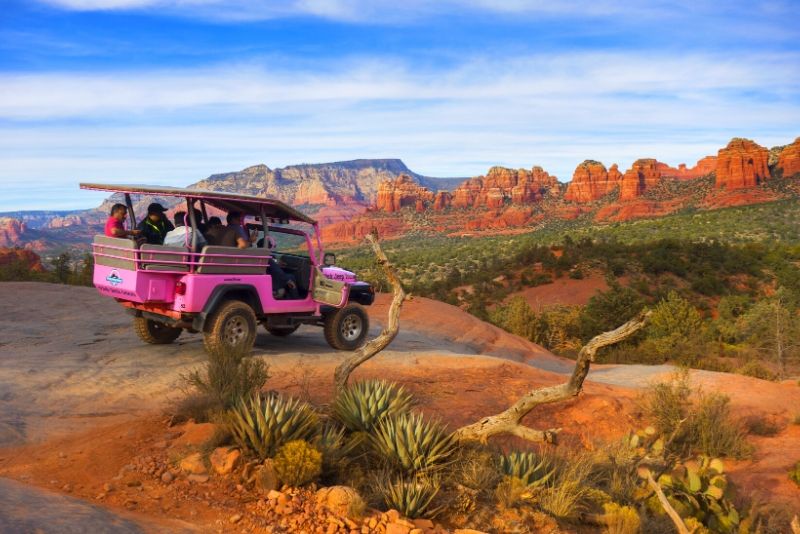 Hang on tight as you take off into the desert on an adrenaline-filled ride along the rugged Broken Arrow Trail. Admire the imposing sandstone formations and famous red rocks as you bounce over the wild terrain on this guided off-road tour from Sedona.
To capture these incredible memories there are plenty of photo opportunities at all the main landmarks, including the towering Chapel Butte and Bell Rock. The tour ends with a hair-raising descent down the ominously named Road of No Return before heading back to relax in Sedona.
2 – Sedona Off-Road Jeep Tour to Ancient Ruins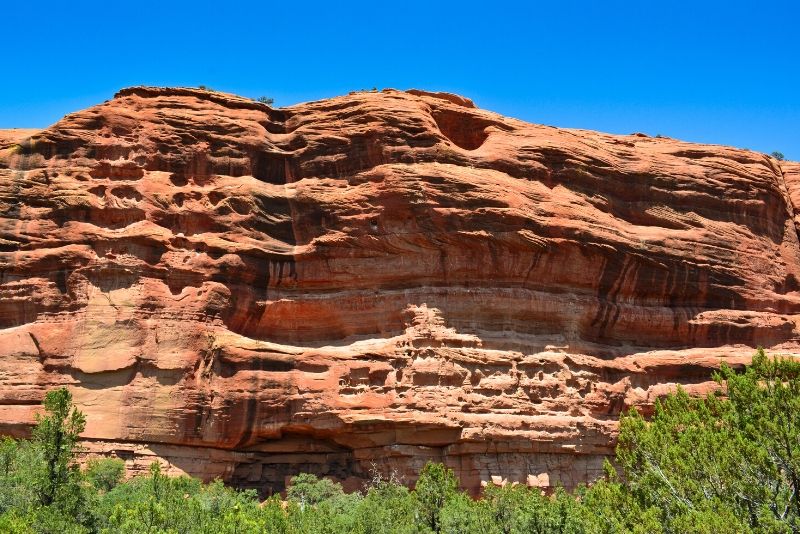 Go back in time on this Sedona jeep tour through the backcountry of the Sonoran Desert. As well as stopping at major rock formations like Capitol Butte and Chimney Rock, you will also explore ancient canyons and visit the 700-year old Honanki Heritage Site.
Listen as your guide talks about the history and wildlife of the landscape, and keep an eye out for the impressive native American rock art.
There is an option to upgrade your tour to include the mysterious Diamondback Gulch on this 4×4 trip from Sedona.
3 – Canyons & Cowboys: 2-Hour Jeep Tour from Sedona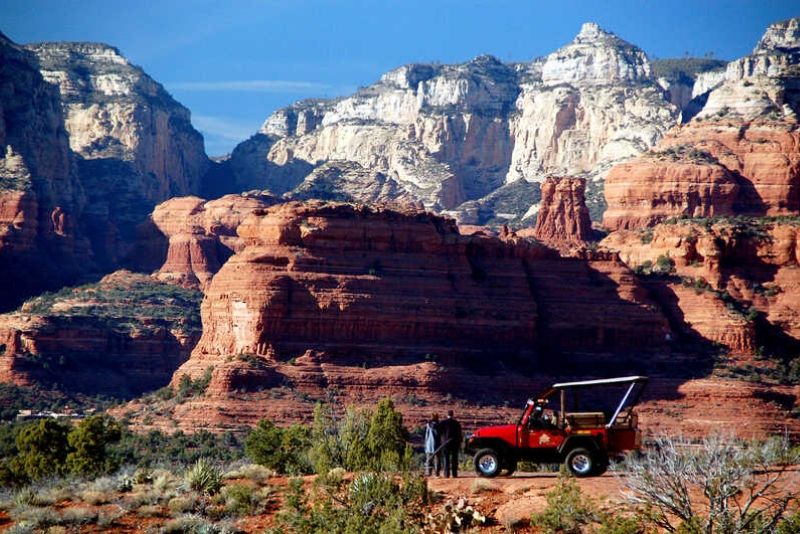 Relive the days of cowboys and ranches on this off-road adventure through Arizona's red rock country. Keep your camera ready as you journey through seven magnificent canyons to reach Dry Creek Basin, which was once home to the early settlers of this region.
Discover the old "Van Derin" cabin where your knowledgeable local guide will recount tales of murder and moonshine from the days of the legendary pioneers.
Participants on the afternoon tour will enjoy the colorful sunset as it floods the rocky pinnacles with an enchanting display of light.
4 – Diamondback Gulch Jeep Tour from Sedona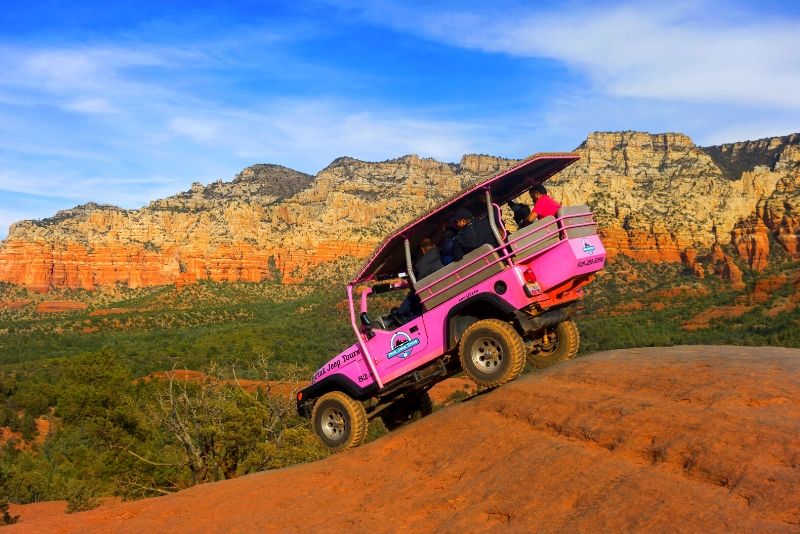 Put on your explorer's hat and head into the desert with a professional guide on this 4×4 jeep tour from Sedona. Feel the sun on your face as you bump along the rough terrain and encounter the staggering natural beauty of Diamondback Gulch.
Descend to the dry creek and gaze up at lofty canyon walls and the red rocks that make this desert so famous. Learn about the incredible geological forces that have shaped this landscape and have your cameras ready for the imposing Chimney Rock and Capitol Butte formations.
5 – Highlights of Sedona Jeep Tour Including Cathedral Rock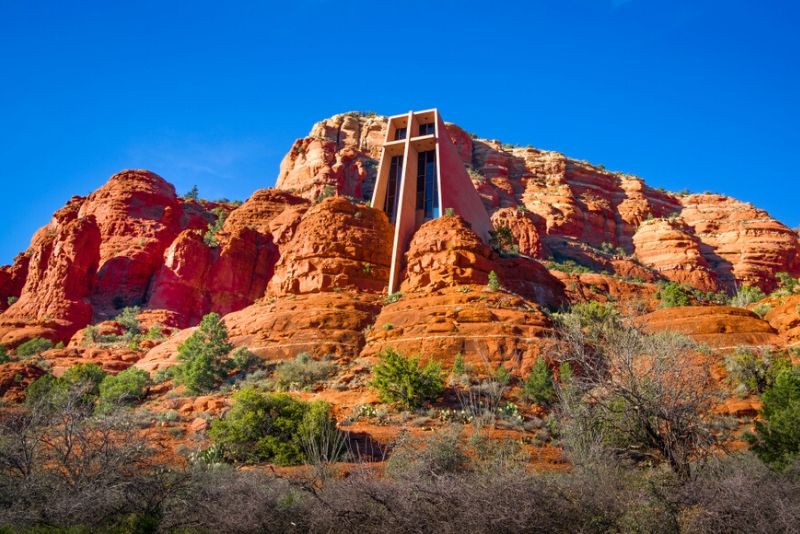 Enjoy a whistle-stop tour of the major red desert landmarks on this popular short jeep tour from Sedona.
Highlights include the majestic formations of Airport Mesa, Chapel of the Holy Cross, and Cathedral Rock. Your local guide will teach you about this colorful landscape and the people who have lived here through the centuries.
This 90-minute Sedona jeep tour starts from just $50 and includes a short hike to a spectacular viewpoint. The tour is ideal for families or those who prefer a gentle ride rather than going off-roading.
6 – Sedona Red Rocks Jeep Adventure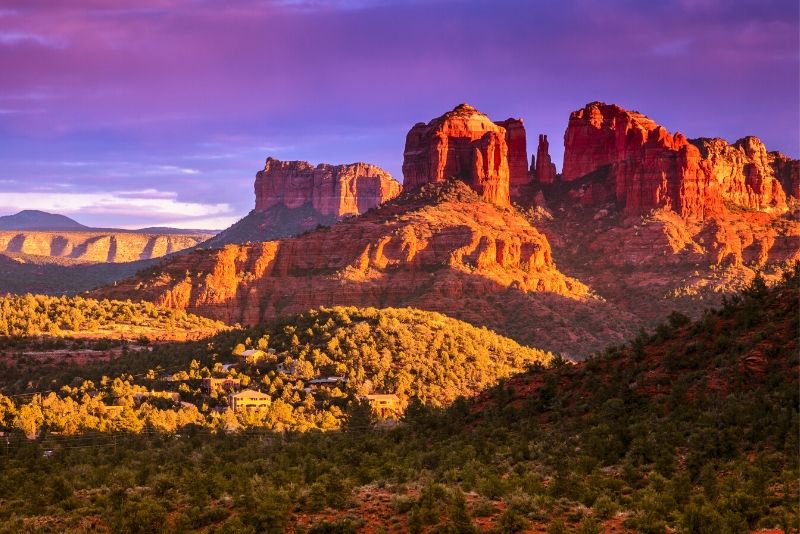 Explore some of Arizona's most dramatic scenery on this off-the-beaten-track 4×4 Sedona jeep tour. Discover how this incredible scenery was formed and learn about the heritage and wildlife of this mesmerizing area from your experienced guide.
Stop off at some of the most impressive rock formations in the desert, and capture photos of iconic views to Cathedral Peak, Thunder Mountain, and Bear Mountain.
Although this is an off-road tour from Sedona, it is less bumpy than some of the others so is ideal for those wanting a calmer ride.
7 – Sedona Red Rock West Off-Road Jeep Tour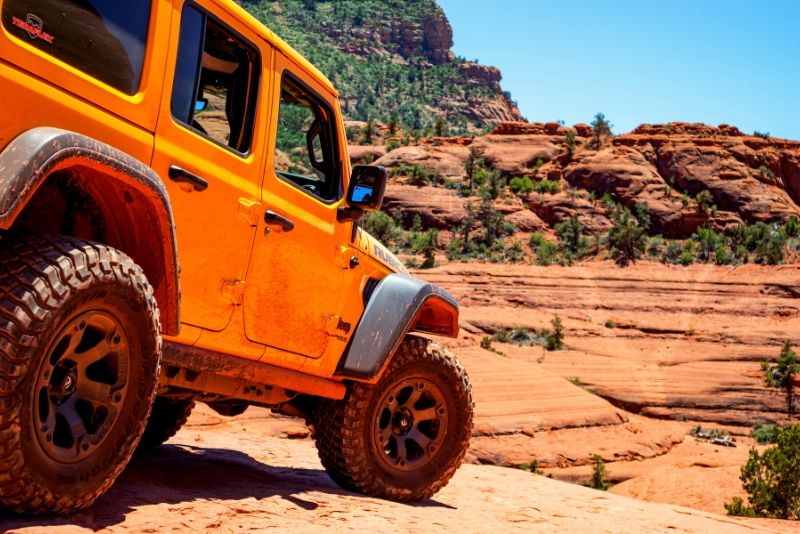 Feel like you are on the set of a Hollywood Western movie as you venture into remote corners of this unusual desert landscape.
Following a wilderness trail that is only accessible on Sedona jeep tours, you will journey through the Dry Creek Basin with your guide, encountering indigenous flora and fauna on the canyon floor.
Enjoy astonishing views of rocky spires and looming peaks far away from the tourist crowds, and if you opt for the afternoon departure, make sure you have your camera poised ready to capture the sunset.
8 – Private Lil Rattler Jeep Tour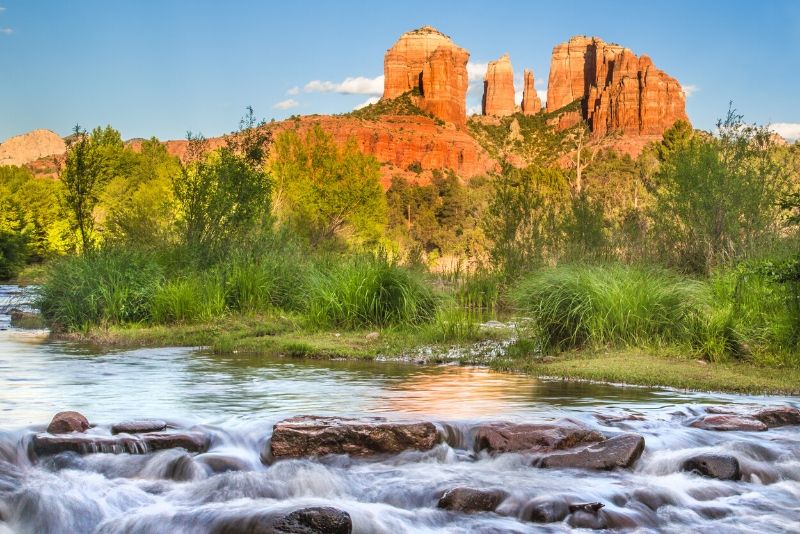 Discover the dramatic landscapes of Arizona's Red Rock Range on this private Sedona jeep tour. Explore the photogenic Dry Creek Basin with your friends or family and soak up the environment around the seven canyons from your comfortable open-air jeep.
On this fully narrated 2-hour tour you will learn about the intriguing history of Sedona, as well as enjoying outstanding views over the iconic desert scenery of the American Southwest.
As this 4×4 tour in Sedona is exclusively yours, you can choose between a morning or afternoon departure.
9 – Sedona Red Rock Range Jeep Tour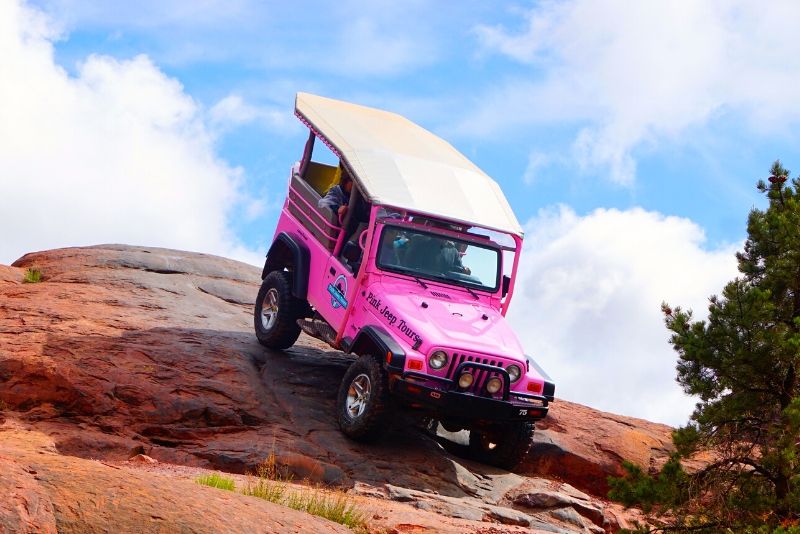 To experience one of the best sunsets in Arizona, join this off-road tour from Sedona on a comfortable customized Jeep Wrangler. The going is less bumpy than on some other tours, which is ideal for snapping those spontaneous photos as you pass through spectacular landscapes.
Scenic stops on this Sedona 4×4 tour include the Thunder Mountain Trailhead, one of the most iconic viewpoints in the Sonoran Desert. Travel along the bases of striking red rock formations and watch them change color as dusk falls, giving way to a dramatic sunset.
10 – Jeep Tour of Camp Verde's Out of Africa Wildlife Park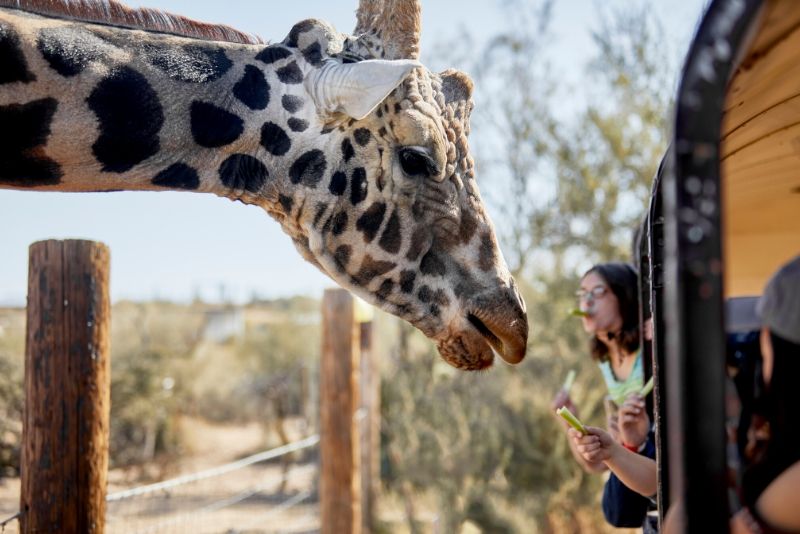 This unique Sedona jeep tour takes you on a safari through the Out of Africa Wildlife Park, giving you opportunities to spot free-roaming animals from the comfort of your off-road vehicle.
This is a fun and easy way to experience the breathtaking beauty of the desert around Sedona while enjoying a safari at the same time. You can choose between a short game drive or a longer bush experience, depending on how much time you have.
Entrance to the Wildlife Park is not included on this one-hour guided tour.
11 – Sedona Vortex Tour by Jeep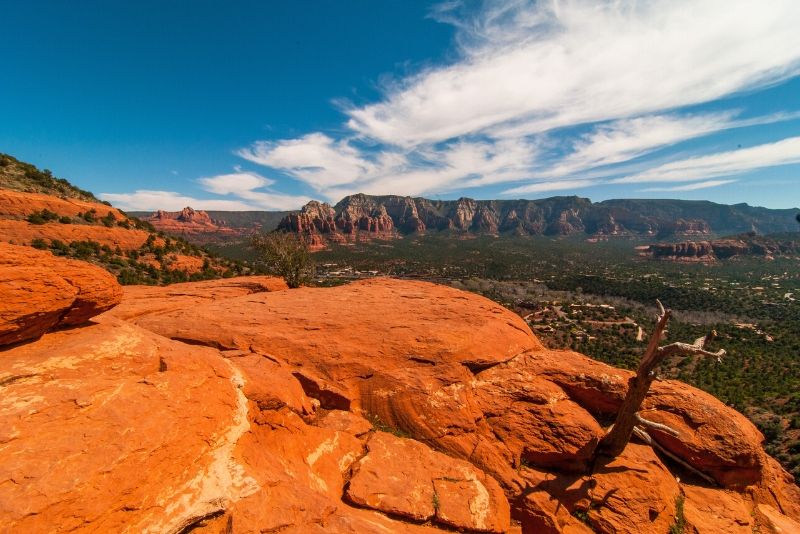 Feel a powerful mystical connection at some of the most sacred sites in the Arizona desert. On this unusual 3.5-hour guided tour in Sedona, you will explore spiritual gardens at the Creative Life Center and visit a vortex spot at Airport Mesa where meditation is highly recommended.
Discover one of Sedona's Sacred Wheels at the Amitabha Stupa and Peace Park, before continuing to see the famous rock formations along the Boynton Canyon Trail. Finally, sense the energies of another vortex at Rachel's Knoll which also makes for a perfect meditation spot.
12 – Sedona Coyote Canyons Jeep Tour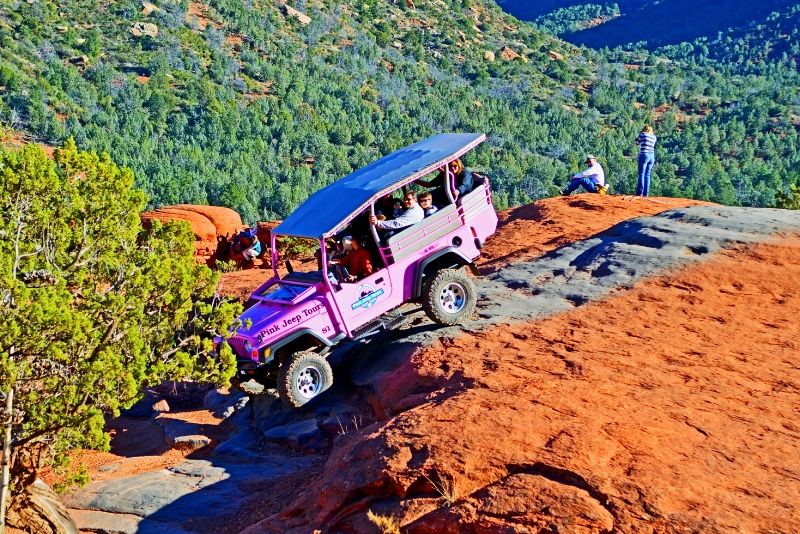 Head out along the iconic Dry Creek Road on your off-road tour from Sedona, before adventuring along dirt wilderness trails beneath the bases of spectacular red rock formations.
Your experienced guide will teach you about the unique flora and fauna of this part of the Arizona desert, and there will be plenty of photo opportunities to capture memories of this stunning environment. Discover iconic sights such as Thunder Mountain, Boynton Canyon, Doe Mesa and Camel's Caravan, which are only accessible by joining a Sedona jeep tour.
13 – African Ambush Jeep Tour and Winery Tour Combo in Camp Verde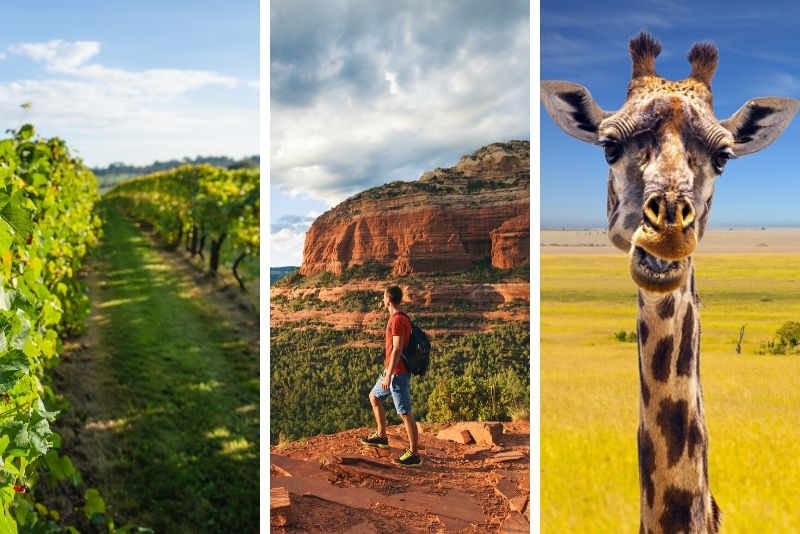 Get your taste buds ready for this unique combination Sedona jeep tour. Your adventure begins with a game drive through the Out of Africa Wildlife Park in Camp Verde, where you will encounter native wild animals from the safety of your vehicle. Admission to the park is not included.
Next up is a spectacular ride along off-road desert trails to a Verde Valley winery for tasting several premium local wines while learning about the vineyard process.
There is the opportunity to upgrade this tour to include horseback riding and lunch.
14 – Old West Open-Air Jeep Tour of Sedona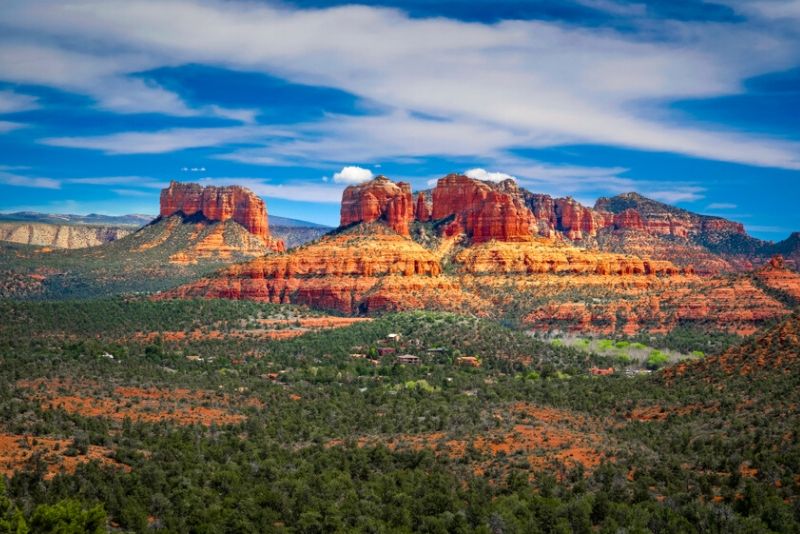 Indulge in a spot of time travel on this old west themed jeep tour from Sedona. As well as driving through the imposing seven canyons of this red rock desert, you will be able to admire the panoramic view back over Sedona from the iconic Airport Mesa.
The highlight of this Sedona jeep tour is a guided visit to the Sedona Heritage Museum where you will learn all about the Bradshaw Family, who were famous for being expert western movie makers at their ranch just outside the city.
15 – Mogollon Rim Private Jeep Tour from Sedona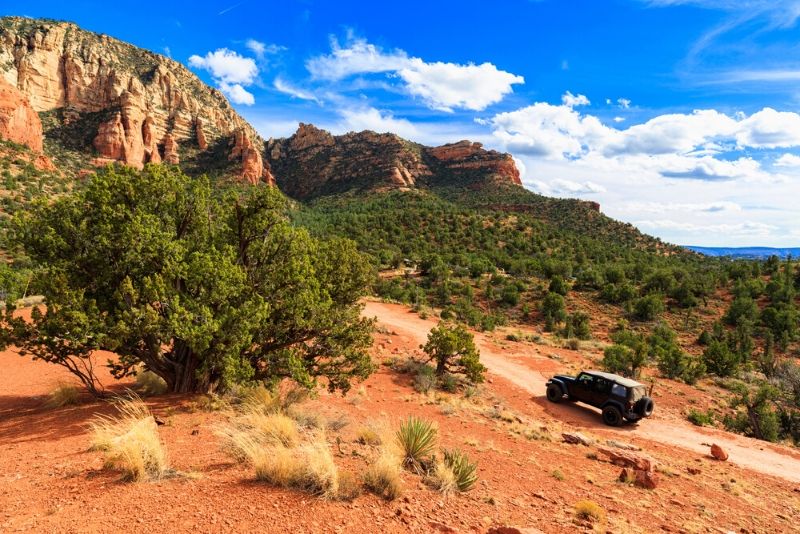 This private jeep tour from Sedona takes you along the old stagecoach road through the lands where cattle and cowboys once roamed. Ascending to 1500 feet above sea level you will love the view out over Oak Creek Canyon.
Your knowledgeable guide will give you an insight into the history of this significant road between Sedona and Flagstaff, and how it was a lifeline to local settlers before the main highways were constructed. You will learn lots on this historic Sedona tour, as well as having heaps of fun.
16 – Eater Trail: Extreme 4×4 Experience in Sedona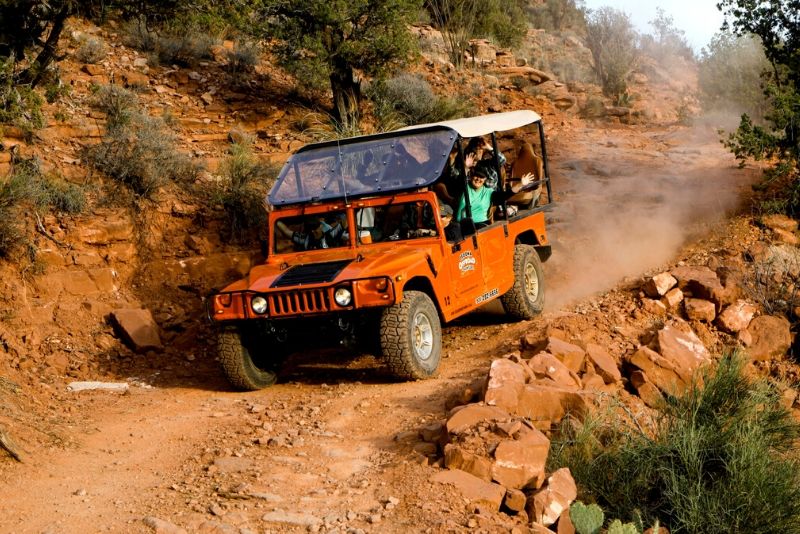 A wilderness epic for private groups of up to 12, this 4×4 Sedona tour is an adrenaline-filled adventure with challenging obstacles and dramatic canyons to negotiate. Perfect for thrill-seekers and anyone wanting to do something a bit different, the 4-hour long tour will be the highlight of your holiday.
Hang on to your hats in the forward-seating Hummer as you tackle some of the most extreme off-road dirt trails in Arizona. Passing through plunging red rock ravines beneath towering pinnacles, this tour is like being on a desert roller coaster.
17 – Broken Arrow and Scenic Rim Combo Tour by Open-Air Jeep from Sedona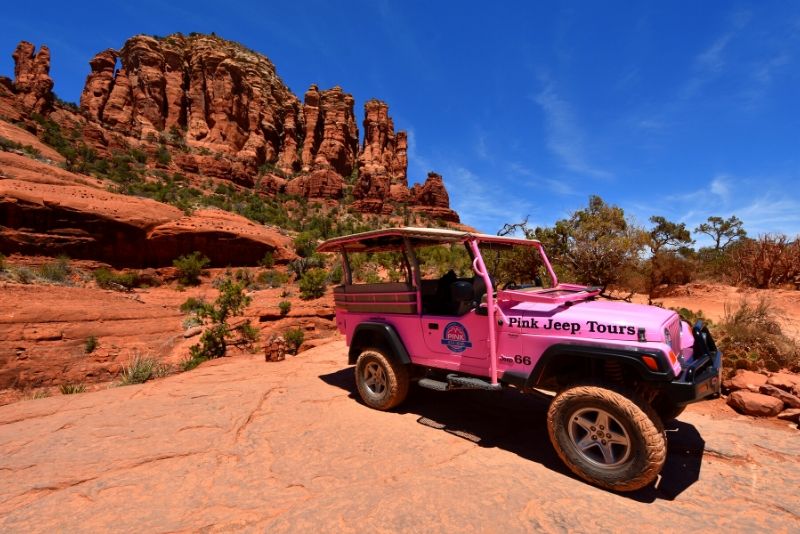 Combine two excursions into one on this off-road tour from Sedona, the ultimate adventure for anyone interested in history and nature.
The guided 3-hour tour begins with majestic canyons and rock formations before partially ascending the rugged Schnebly Hill Road. This historic wagon trail was constructed by early pioneers to connect Flagstaff and Sedona.
Admire viewpoints at Cow Pies or Kodak Corner, and visit the Red Rock Scenic Byway to learn about the Tlaquepaque artist village. Finally stop at the Broken Arrow Trail, the filming location for many western movies.
18 – Full-Day Sedona Combo: Jeep Tour, Horseback Ride, and Dinner & Show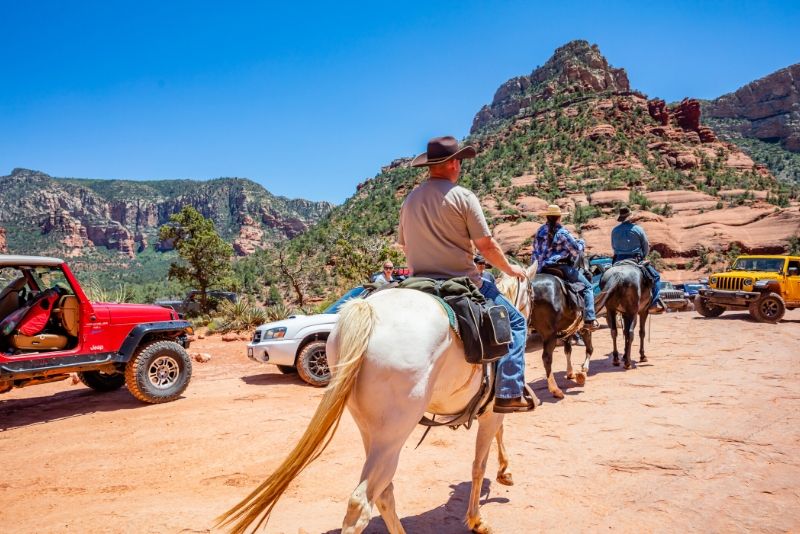 This 8-hour guided jeep tour from Sedona is a full-on adventurous wild west experience. It begins with an up-close and personal experience of Arizona's otherworldly Red Rock Range, and a traverse through the famous seven canyons and Dry Creek Basin.
Next up is an air-conditioned transfer to the stables where you will discover your inner cowboy on a 1.5-hour horseback ride in the stunning wine country of Verde Valley.
Reward your exertions with a full-on country dinner and a wild-west show at Blazin' M Ranch in Cottonwood.
19 – Sunrise Wildlife Safari Tour by Jeep from Sedona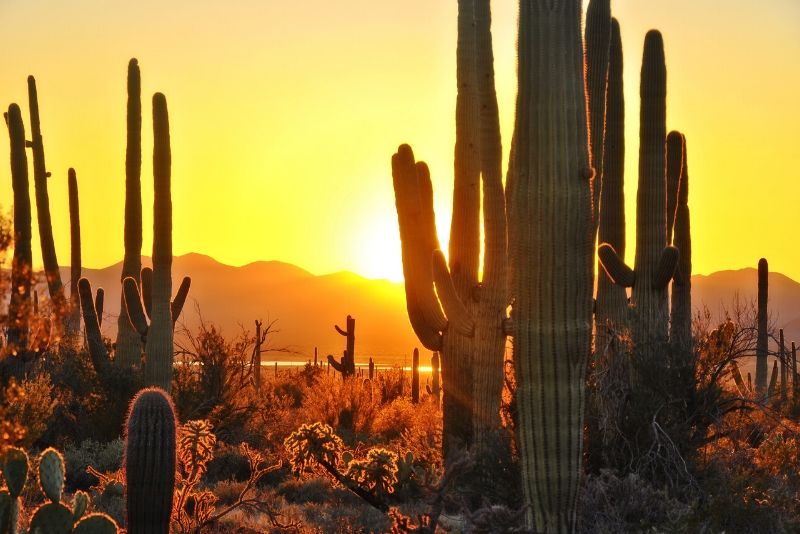 Enjoy the cool hours of early morning and avoid the crowds on this unique wildlife tour from Sedona. Animals are more active at this time of day, so this is a great opportunity to see them in action. Keep your eyes open for bears, foxes, and elk and admire the different ecosystems in this striking desert landscape.
On this Sedona jeep tour, you will explore three different biological zones and learn about native plants and wildlife species from your expert guide. This excursion ticks all the boxes for nature-lovers.
20 – Camp Verde Combo: African Ambush Jeep Tour, Horseback Ride, and Winery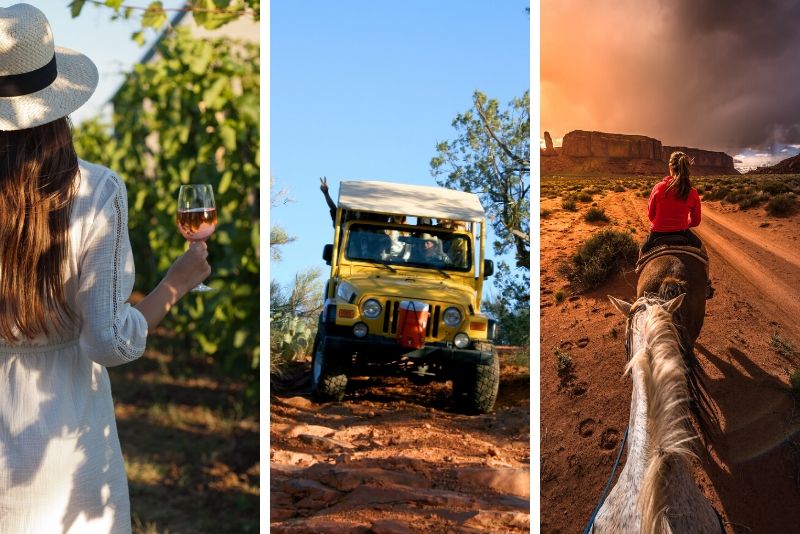 Get to know the Verde Valley Wine Country on this combination jeep tour from Sedona. First up is the Out of Africa Wildlife Park, for desert safari encounters on an African Ambush Jeep Tour. Admission to the Wildlife Park is not included.
Your next stop is the stables for an hour-long horseback ride through landscapes that will make you feel like you are in a western movie. Then it is on to one of Verde Valley's famous vineyards for wine and cheese tasting to celebrate your new-found cowboy skills.
If you are looking for more activities to do in Sedona, check out our article about the best things to do in Sedona.