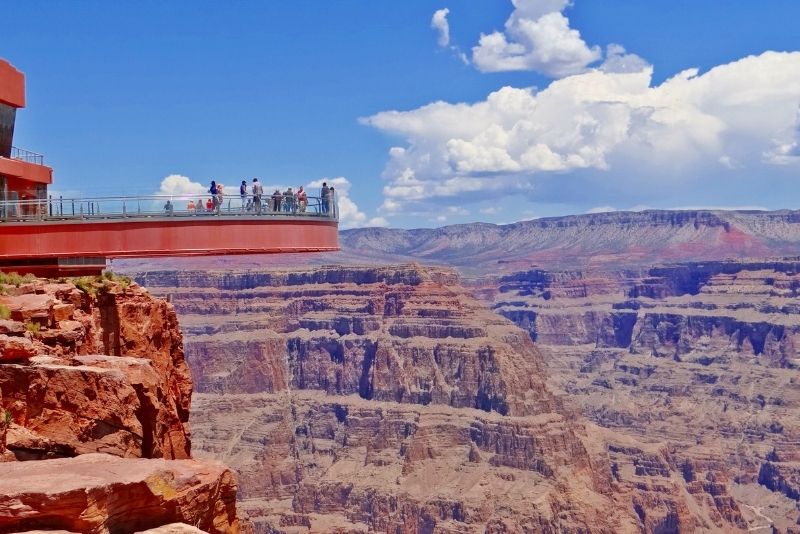 Do you wish to visit the Grand Canyon Skywalk? On this post, you will learn everything you need to know about Grand Canyon Skywalk tickets, including tickets price, who is eligible for discounts, how to get there, what you will see, and more.
A glorious feat of Mother Nature, a UNESCO World Heritage Site, and a magnet for nature-loving tourists that draws over a million snap-happy visitors every year to its West Rim alone, the Grand Canyon is an undisputed natural wonder of the world.
Stretching some 277 miles long, up to 18 miles wide, and a mile deep in places, the Grand Canyon is immense both in size and significance. And, as an icon not only for the state of Arizona, but for the entire country, its reputation is enormous as well.
Typically, visitors flock to five main sections of the Canyon: the South Rim, the East Rim, the West Rim, the North Rim, and the Inner Canyon.
The South Rim is where a handful of visitors spend their time due to its accessibility: it's only about a four-hour drive from Las Vegas or less than two hours from Sedona and Flagstaff. Here, the Grand Canyon Village at the South Rim offers visitor services like lodging, restaurants, and retail shops, as well as ranger programs, hiking trails, and viewpoints sure to delight.
However, as the closest spot to Sin City, it's the West Rim that sees the majority of Grand Canyon guests, with around 80% of all visitors. Here, beyond the natural viewpoints and stunning scenery, perched atop a horseshoe-shaped outcrop overlooking this natural marvel, is one of its most popular tourist attractions: the Grand Canyon Skywalk — a $30 million engineering marvel that opened its doors in 2007.
Finding itself on many a postcard, this glass-bottomed walkway offers visitors an eagle eye view (or should that be a condor's?) some 4000 feet above the canyon floor.
As you can imagine, this is not for those with a fear of heights! But if you can stomach the vertigo-inducing views, it's an experience like no other, and one that will stay with you long after your visit to this amazing place has come to an end. So, without further ado, here's everything you need to know about the Grand Canyon Skywalk tickets and activities!
Don't feel like reading ahead? Click below and compare all Grand Canyon Skywalk tours available.
How much do Grand Canyon Skywalk tickets cost?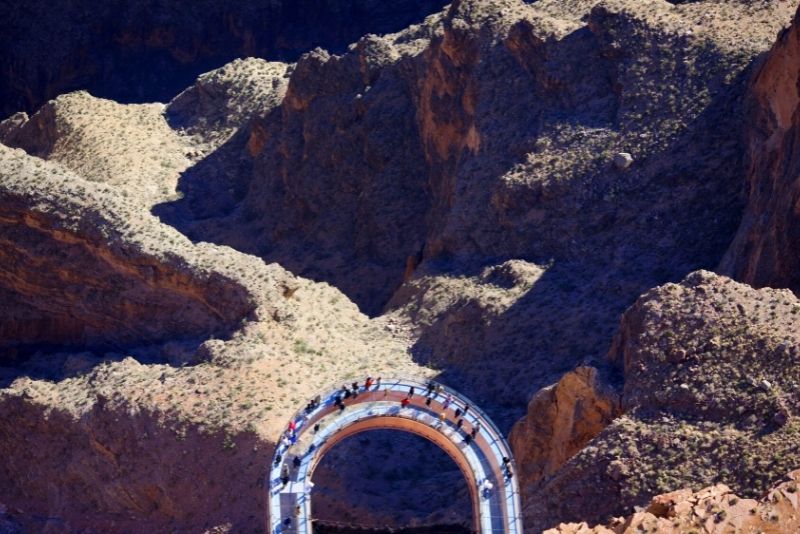 First of all, can you really put a price on the experience of a lifetime, gazing out over into one of the world's most iconic natural wonders with miles upon miles of raw Mother Earth sprawled out before you?
But if you're looking for an answer anyway, tickets will typically cost you anywhere between $49 and $399 — how much exactly depends on what you want to do, where you want to go, and how bougie you'd like your experience to be.
At the very basic end of the spectrum, $49 grants you "General Admission" to the West Rim of the Grand Canyon, allowing you to explore the Eagle Point & Guano Point overlooks, snap a few Insta-worthy photos, and climb aboard the hop-on/hop-off shuttle service between the visitor center and the viewpoints. While the cheapest option, General Admission does not give you a ticket to the Skywalk itself, only the natural outlooks surrounding it (still absolutely incredible in their own right – so if you're pinching pennies, it's not a bad option).
However, for the Grand Canyon Skywalk tickets — an architectural marvel that juts out some 70 feet over the momentous cliffs of the West Rim — you're looking at upwards of $64. Again, that number varies depending on all the lavish upgrades you want (which we'll dive into shortly).
There's also a variety of passes and combos available on the official website that can save you some money, so without further ado, let's dive into them!
Grand Package
The most basic of ticket options that include Skywalk access is the Grand Package (pun intended, and just you wait, there's plenty more to come). The Grand Package includes two features: firstly, you get everything you usually would in the General Admission ticket, meaning transport via the hop-on/hop-off shuttle and access to the beautiful Eagle & Guano Point lookouts.
The second feature is, of course, entry to the Skywalk itself, where you're tower some 4,000 feet above the Canyon floor with nothing but a thick horseshoe-shaped glass walkway between you and the abyss. All up, it'll set you back about $64.
But that's not all, for an extra fee, you can also walk away with a professionally taken photo to commemorate your visit.
Since there are no phones or cameras allowed on the Skywalk itself — for obvious reasons; nobody wants to drop their shiny new iPhone down into the desolate Canyon floor — a professional photo souvenir certainly doesn't go astray.
Grander Package
The next level up after the Grand Package is the Grander Package. The Grander Package includes all of the features of the Grand Package, plus a few more goodies to boot.
In addition to transport and access to both Eagle & Guano Point as well as entry to the Skywalk, you also get a meal voucher for one of the on-site restaurants as well as an unlimited pass to ride the shuttle between points.
At the aptly-named Sky View Restaurant, which delivers lip-smacking meals with a killer view to make it all the better, your meal ticket gives you the option to choose between staples like cheeseburgers, Beyond Burgers, grilled chicken sandwiches, or the kid-favorite chicken tenders with fries and a soft drink. On those scorching summer days, the fridge full of ice-cold beer goes down a treat, while the array of oaky wines ought to impress the voyaging oenophile or set the tone for a romantic couples trip.
For all of this, the Grander Package will typically set you back around $83.
Keep in mind, the meal voucher can be added onto any package for an additional $21, including the General Admission Grand Canyon Skywalk tickets — the Canyon Visitor Center does a great job at allowing customizable ticket options to suit whatever your preferences may be.
Grandest Package
Moving onto the Grandest Package, you can see where the name comes from. The Grandest Package is pretty much as opulent as it gets when visiting the West Rim of the Grand Canyon.
In addition to all of the features of both the Grander and Grand packages (entry to the Skywalk, shuttle transport between the area's main haunts, access to the popular viewpoints, and a meal voucher at the Sky View restaurants), for an extra fee, you're gifted a double-whammy of incredible outdoor adventure experiences: for $313, you'll be able to ride shotgun in a helicopter over the Canyon, an enchanting flight that dishes up views that need to be seen to be believed. And once you've soaked in all the wonder from above, you'll hit the river and embark on a memorable and thrilling pontoon ride!
The 15-minute chopper ride not only offers unparalleled views of the natural wonder but gives you an idea of just how vast and impressive this geological formation is, with a bounty of tidbits waxed by your pilot the whole way through. After taking off from the airport at the ridge of the West Rim, you'll fly over 3,500 feet down to the bottom of the Grand Canyon, landing on the red rock floor.
From there, you'll board an open-air pontoon boat and float down the Colorado River, learning about the area's history, geography, and wildlife from your knowledgeable driver-guide as you go — all before hopping back in the chopper for a 3500-foot climb just as beautiful as the descent.
All told, the entire experience will have you away from the main hub for a couple of hours. Keep in mind: if you don't want to do the activity from the Grand or Grander Package, and only want the helicopter flight and pontoon ride, it'll set you back around $249.
Grandiose Package
The big kahuna of the 'typical' Grand Canyon Skywalk ticket packages, the Grandoise Package, as you can imagine, is quite the investment. But boy oh boy, is it worth every dollar.
For $399 per person, the Grandiose Package is all about getting out and about and soaking in the raw beauty of Mother Nature, admiring what is perhaps the most beautiful scenery in America.
Similar to both the Grand and Grander Package, the fancily-named Grandoise Package includes transportation on the hop-on-hop-off shuttle, access to the main attraction – the Skywalk, or course – and the chance to explore the natural viewpoints of the area.
What separates this particular package from the rest, however, is the addition of a whitewater rafting experience! Led by an expert guide who knows the ins and outs of the area better than anyone, you'll learn all there is to know about one of the most popular tourist spots in Arizona as you feel the adreniline surge thanks to the thrilling Colorado River rapid.
After drying off, you'll then be guided on a moderate hike, learning about the geography and history of the Canyon along the way, before tackling a short climb up to the majestic Travertine Falls – a perfect spot to cool off and stretch the legs. Plus, with a delicious lunch served along a sandy beach away from the crowds, you're in for a day you won't soon forget.
Are there any discounted tickets?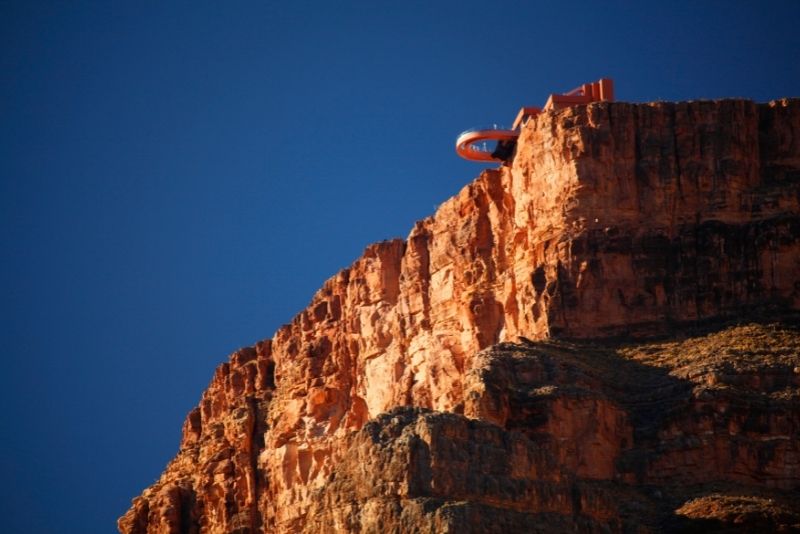 Yes, there are definitely discounted Grand Canyon Skywalk tickets — and a fair few to choose from, for families, local residents, and kids!
As mentioned before, there are a few different packages to choose from when visiting the Grand Canyon Skywalk. And while we definitely recommend going for one of the more luxurious options, if you're on a budget (or just want to experience as much as possible while saving a few bucks), we've got you covered.
First of all, for any residents of either Arizona or Las Vegas, you'll automatically receive 10% off any General Admission passes, Skywalk passes, Meal tickets, or zip-line add-ons. Just bring an ID that shows your address and you're good to go.
Compared to the usual price of $64, both activity military and veterans, as well as seniors citizens 65 and over, can save a few dollars on the General Acess and Skywalk tickets, just $60 with proof of ID.
If traveling with youngsters aged 5-12, you'll be pleased to hear that you save a few extra bucks on top of that too, with General Admission and the Skywalk coming to $57.
For families, whoever, the best bang for your buck comes with the 'Family Package'. For $134, two adults and two kids can grab a General Admission ticket. And while this doesn't include the Skywalk itself (you can purchase the add-on, of course), it equates to just $33.50 per person, a huge saving compared to purchasing individually.
Where is the Grand Canyon Skywalk located? How to get there?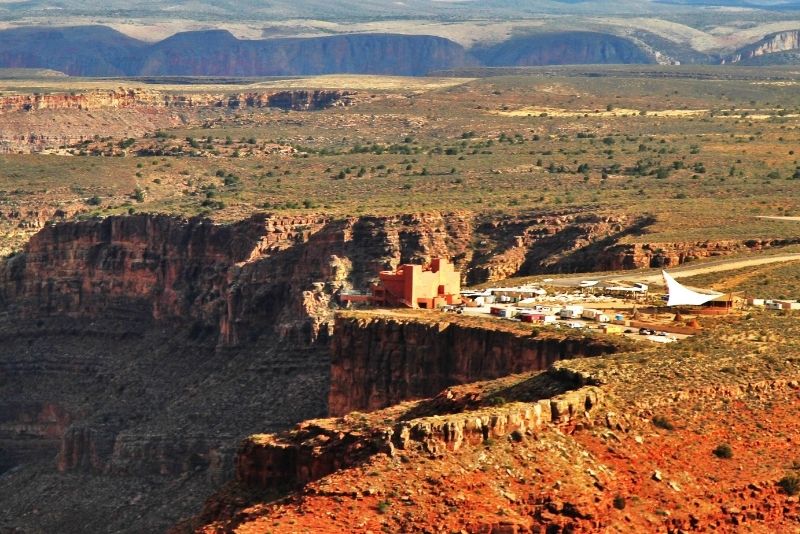 Straddling the cliff of the West Rim of the Grand Canyon (the side closest to Las Vegas, and therefore, the most popular of the bunch), the Grand Canyon Skywalk sits on reservation land owned by the Hualapai Indian Tribe.
The closest major city is Kingman, Arizona, about 70 miles or an hour and a half by car; meanwhile, a little bit further (about 120 miles to the west and a touch over two hours by car) is Sin City, where the majority of pre-organized tours depart from.
From Las Vegas
The most popular and budget-friendly option to travel between Vegas and the Grand Canyon is on wheels — whether that be your own car, one you've rented, or a tour bus. For anyone who's booked a tour, you won't need to worry about directions – just sit back, relax, and enjoy the splendid scenery en route out the windows.
If you're driving there yourself, however, it's a relatively simple route that shouldn't take more than two and a half hours.
After getting on the US-93 South, you'll drive through Henderson, around Boulder City, past the Hoover Dam (a perfect spot to stop along the way if you want to make a day of it), and then continue down the 93 until you hit Pierce Ferry Rd. From there, hang a left through Dolan Springs and enjoy the beautiful desert scenery along  Pierce Ferry Rd and Diamond Bar Rd until you hit Eagle Point Service Road. And just like that, after about another mile, you've arrived!
While the scenery by car is stunning, no doubt, there's just something about taking in the landscape from above that makes the experience all the more magical. And if you're short on time (or just want to make a grand entrance), flying is definitely the way to go.
After all, it only takes around 45 minutes by helicopter as opposed to the two and a half hours it would take by car!
There are a few different companies that offer these sorts of services, and while it will certainly set you back a few extra dollars compared to the road trip, ask anyone who's done it before and they'll yell it from the rooftops: the aerial vistas over the magnificent Hoover Dam and touching down at the Grand Canyon is a truly once-in-a-lifetime experience.
With no hassle, no stress, and knowledgeable tour guides that know the area inside out – not to mention a bus with air conditioning! – organized tours make it easy for visitors to take in all of the best bits of the Grand Canyon.
Most tours depart from Las Vegas in the morning and return around dinner time, giving you plenty of time to explore both the canyon and the city itself. And while there are a range of different companies to choose from (ranging from budget-friendly options to luxurious affairs), most will include transport, entrance fees, lunch, and sometimes even pick up/drop off services from your hotel.
Depending on your tour of choice, you're also likely to make a few stops along the way — the Hoover Dam and Boulder City being the two most common.
Hot tip: Read our guide and learn how to get from Las Vegas to Grand Canyon.
From Sedona and Flagstaff
Two stunning destinations in their own right, both Sedona and Flagstaff make for a great springboard on your trip to or from the Grand Canyon – offering a much quieter and nature-focused vacation compared to Las Vegas.
Flagstaff and Sedona and about 45 minutes drive from one another, with the former being close to the Canyon. To the South Rim, it's only about an hour and a half; to the SkyWalk, however, you're looking at about a three-and-a-half-hour drive through a number of small towns.
For freeway driving, head west on the I-40 all the way to Kingman – about 2 hours of the journey – and then drive north on Stockton Hill Rd. From there you'll connect with Diamond Bar Rd and the final stretch, Eagle Point Service Rd. But why would you opt for freeway driving when the historic Route 66 is at your disposal! Taking the same amount of time, the historic Route 66 splits off from the I-40 in the town of Seligman, making its way through quaint towns like Peach Springs, Truxton, and Antares.
By car, is only about a two-hour drive south of the canyon on I-17 N, making it the perfect place to break up the journey (or extend your vacation by a day or two).
If time is of the essence or you're just looking for a more luxurious way to see the Canyon, opting for a helicopter ride from either Sedona or Flagstaff is definitely the way to go – especially if you're not too bothered by how much you spend on Grand Canyon Skywalk tickets.
Offering stunning aerial views over some of Arizona's most beautiful landscapes – not to mention a quick and easy transfer straight to the Grand Canyon itself – this option will make sure you hit all the highlights in no time at all.
Most tours depart early in the morning and return late in the afternoon or the evening, giving you plenty of time to explore both the canyon itself and Sedona/Flagstaff by night when you return (if you've got any energy left). And while there are a range of different companies to choose from (ranging from budget-friendly options to luxurious affairs), most will include transport, entrance fees, and lunch.
Don't feel like putting all the pieces together yourself? Fair enough! Rather than waste time booking different sections — like transport, entrance fees, and guided tours — why not combine them all to make things a whole lot easier.
There are plenty of great companies offering all-in-one Sedona and Flagstaff tours, making it easy for visitors to take in all of the best bits of the Grand Canyon without any of the stress.
Most tours depart from Sedona or Flagstaff in the morning and return around dinner time, with lunch and a friendly guide typically included in the ticket price.
From Phoenix
Aptly nicknamed the Valley of the Sun, thanks to its year-round sunny skies, Phoenix is a splendid (and certainly underrated) place to start your Grand Canyon road trip! With far smaller crowds than Las Vegas, you can expect a much more peaceful journey too.
The drive from Phoenix to the South Rim of the Grand Canyon is about three and a half hours — take Interstate 17 north to Flagstaff, then take Interstate 40 west to Williams, and then the AZ-64 North. To the SkyWalk at the West Rim, however, you're looking at about four and a half hours – or 250 miles. The route itself is super simple: just jump on the 93 up to Kingman, then turn onto Stockton Hill Rd for 70 miles, then Diamond Bar Rd and you're basically there!
To make the most of your day, we recommend getting an early start so you can enjoy as much time as possible at this marvel of nature!
With a more-than-4-hour drive time, the West Rim is a bit of a trek. But it doesn't have to be – not when you can take to the skies and see it all in a fraction of the time!
Most helicopter tours departing from Phoenix will head straight for the West Rim, giving you plenty of time to explore everything this side of the canyon has to offer. As with other aerial tours, most flights include transport, entrance fees, and lunch – making it easy and convenient for visitors.
What's more, many companies also offer exclusive packages that combine a visit to both the West and South Rim – perfect for those looking to make the most of their trip!
Speaking of exclusive packages, you'll find no shortage of Grand Canyon organized tours departing from Phoenix. With everything taken care of – including transport, entrance fees, and guided tours – these packages are perfect for visitors who want to see as much of the canyon as possible with minimal fuss.
Keep it basic with transport and Skywalk entrance, or level up your tour with thrilling add-one like helicopter rides into the canyon, whitewater rafting, hiking, paddle boating, and more!
Whatever your budget or time frame, there's sure to be a tour that's perfect for you.
What are the best Grand Canyon Skywalk tours from Las Vegas?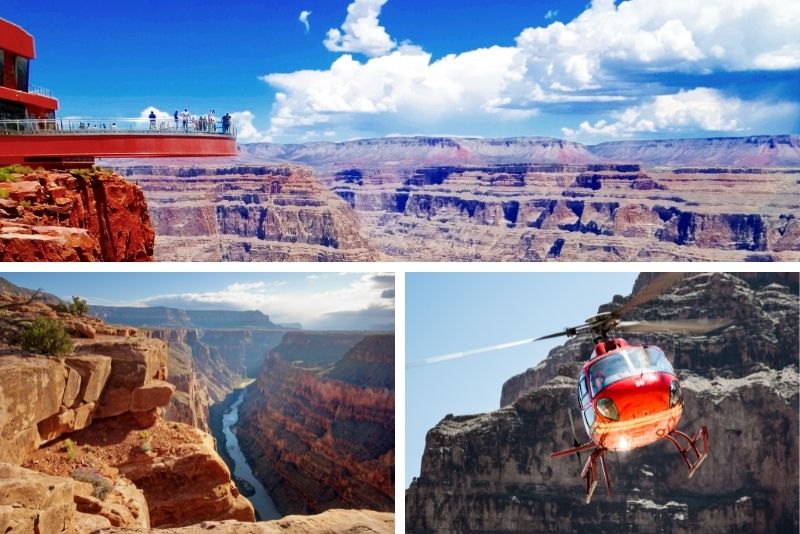 Make no mistake; as one of America's most popular natural landmarks, you'll be spoiled for choice when it comes to Grand Canyon Skywalk tours.
From budget-friendly options like transport and entrance fees only, to luxurious affairs that include helicopter rides, gourmet meals, and more – there's something for everyone when it comes to these incredible trips.
To help you make the best decision for your trip, we've put together a list of our favorite Grand Canyon Skywalk tours below!
Bus tours
Typically a 10 to 12-hour day (at minimum, if you're coming from Vegas), bus tours can be as simple as getting you to and from the Grand Canyon. But, of course, they can also be far more elaborate, including stops along the way at attractions like Lake Mead and the Hoover Dam, including entry to the SkyWalk, or combining outdoor activities like hikes or helicopter rides.
Bus tours are perfect for those on a budget, or those looking to take in as much of the canyon as possible in one day.
Helicopter tours
A birds-eye view of the Grand Canyon is a must for any first-time visitor – and there's no better way to see it than by helicopter! While definitely more expensive than bus tours, not only do aerial tours provide a killer new perspective from thousands of feet in the air, but they're also far more time-efficient, gifting you with a few more hours at the West Rim that you'd otherwise spend driving.
Combined tours with other attractions
While the Skywalk is certainly one of the most postcard-worthy sites in the area, there's a lot more to northwestern Arizona than meets the eye. That's why a bounty of tours opt to show off all the best bits of the area, combining the popular Grand Canyon Skywalk with notable landmarks like the Hoover Dam, Lake Mead, and the plethora of natural attractions in and around the Grand Canyon itself beyond the built-up tourist area.
So, what's there to choose from? The Hoover Dam, first of all, is an engineering marvel and one of the most popular day-trip tourist destinations from Las Vegas. Towering some 726 feet high, the massive dam has been standing strong for the better part of a century, offering guided tours of its power plant rooms to curious visitors. Lake Mead, on the other hand, is a man-made reservoir that's perfect for those looking to cool off with a spot of fishing or boating, with a bounty of rentable equipment and guided kayaking excursions to choose from!
As for the Grand Canyon itself, if you're the active type (or just want to avoid the hordes at the Skywalk), then there are plenty of hiking and adventure tours available that will take you deep into the heart of this natural wonder. With options ranging from zip lining to whitewater rafting, these tours are perfect for those who want to really get away from it all and immerse themselves in the canyon experience.
Is the Grand Canyon Skywalk worth visiting?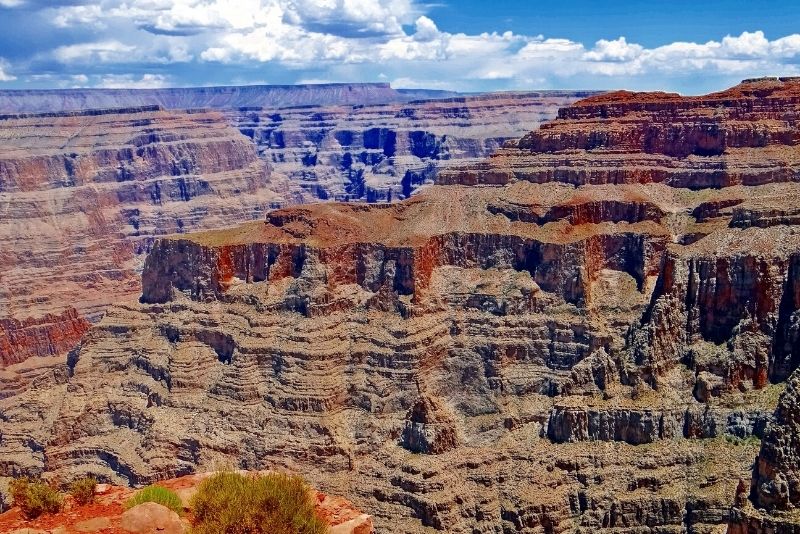 Well, that depends. Do you love nature? Does the idea of staring into the abyss of one of America's most famous landmarks make your heart race? If you answered affirmative to either of those questions, then the answer is most definitely yes – the Skywalk is a must-see for any first-timer or nature lover visiting the area.
But what if you're not as outdoorsy as some? Or maybe you've already seen the Grand Canyon from other angles? Even if you've been to the Canyon before, the Skywalk, thanks to its glass-bottom floor and unique design – as well as the occasional Native American cultural shows and the plethora of other outdoor activities in the vicinity – make it a worthy destination no matter your interests.
So get out there and explore America's West like never before.
What are the Grand Canyon Skywalk operation hours?
During the summer season (April 1 – Aug 31) when the temperatures are higher and the days longer, the Grand Canyon Skywalk is open from 9am to 7pm, with the last ticket sale being at 5pm.
In the winter season (Sep 1 – Mar 31), it closes an hour earlier, open from 9am to 6pm, with the last ticket sale at 4.30pm.
What is the best time to visit the Grand Canyon Skywalk?
This answer largely depends on what you want to do while you're there. If hiking is your thing, avoid the scorching summer months (July and August) and hit up the trails during the spring or autumn.
If sightseeing from a distance is more your speed, and you're drawn to the viewpoints and the Skywalk more than any of the trails, any time of year will do — just be mindful of weather conditions (which can change rapidly) and, if visiting in winter, book yourself a tour so that you don't have to worry about navigating any unwanted conditions.
During the summertime and over the school holidays, the area can get rather crowded. So, in order to bypass the selfie-stick-wielding crowds and be able to spend more time admiring the beauty of the canyon, try to visit during the week (Monday-Thursday) as opposed to on the weekends. Or, better yet, book one of the myriad online tours to skip the line (and the pre-organized transport and VIP touches certainly don't hurt either).
Can you take pictures on the Grand Canyon Skywalk?
As we alluded to earlier, unfortunately, there are no cameras allowed on the Skywalk itself. However, there are plenty of photo opportunities to be had before and after your walk — not to mention some seriously breathtaking views from atop the Eagle Point and Guano Point lookout towers that will have you snapping away to your heart's content.
But just because you're not allowed to bring your own phone or camera (for obvious reasons, with a fall of 1,160 feet to the Colorado River – good luck getting your goods back if you drop them!), that doesn't mean you can't walk away with memories and amazing photographs.
The Skywalk visitor center provides a professional photographer to take your photo as you make your way out onto the glass-bottomed walkway, and you can purchase these keepsakes upon completion of your experience.
So even if you can't live-stream your walk onto the glass-bottomed archway, at least you'll have a few professional prints to tack up on the fridge (and you'll get the digital copies too).
Keep in mind: there are free lockers available at the entrance for storing your bags.
Is the Grand Canyon skywalk safe?
While it might seem a little intimidating (and exhilarating) to wander out over the Canyon floor with nothing but a thick slab of glass in between you and the ground, we can assure you that safety is paramount at the Skywalk.
The structure was created by design and engineering firms Lochsa Engineering and MRJ Architects and has been built to withstand winds in excess of 100 mph and earthquakes up to magnitude eight on the Richter scale — so you know it's not going anywhere.
It can hold a weight of 71 million pounds. Just to put that in perspective, that's more than 70 fully-packed 747 airplanes!
Plus, you'll always have a helpful Skywalk attendant on hand to provide assistance as needed and answer any questions you may have about using the facilities.
Can you visit the Grand Canyon Skywalk without paying?
Despite there being a wide selection of free and worthwhile destinations and activities in and around the Grand Canyon, unfortunately, the Grand Canyon Skywalk is not one of them.
Every visitor to Grand Canyon West, whether they wander out onto the Skywalk or not, is required to purchase a General Admission ticket. Anything else, such as the Skywalk itself, boat tours, or meals at the restaurant, is on top of that.
Useful tips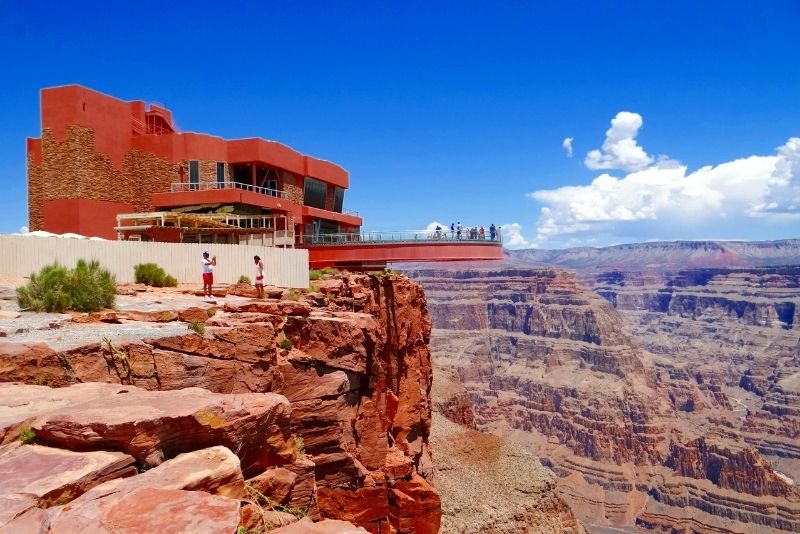 Like many major tourist attractions around the world, the crowds tend to increase as the day goes on. So, to spend less time waiting in line, try to arrive in the morning, just as the park opens. While this might require an early alarm clock, it's well worth the hassle you save.
If you'd like to see more of the Native American culture in the area, consider staying overnight at the Hualapai Ranch.
Even if you don't have a destination in mind, jump on the Grand Canyon shuttle bus ride and grab a window seat — the views alone are worth the 10-15 minute journey.
This goes without saying, but since there are no railings or fences at the rim, don't go too close to the edge. While the ground may look stable, it might be unstable beneath the surface
The weather here can change in an instant, especially as dusk sets it, so be sure to bring some extra layers – and wear comfortable shoes!
With so many elements to think about, take the stress out of your trip (you're on vacation, after all!) and seriously consider booking a guided tour that includes transport to and from whichever major city you're staying in – be that Las Vegas, Flagstaff, Sedona or Phoenix.
Final Thoughts:
Well, there you have it, friends! The coveted and heart-racing Skywalk — and all you need to know about Grand Canyon Skywalk tickets to make the most of your visit.
We hope you've enjoyed our deep-dive, and if you have any other must-see suggestions, feel free to let us know in the comments! As always, happy travels.