What could be better than exploring Bali's countryside while soaring through the air on one of the famous jungle swings? The best part is, most jungle swing day trips include a host of other activities.
You'll have loads of memories to accompany that perfect photo of yourself swinging through the crisp Ubud countryside air.
There are various Bali jungle swings day trips, and you can easily find the one that best suits your dream vacation.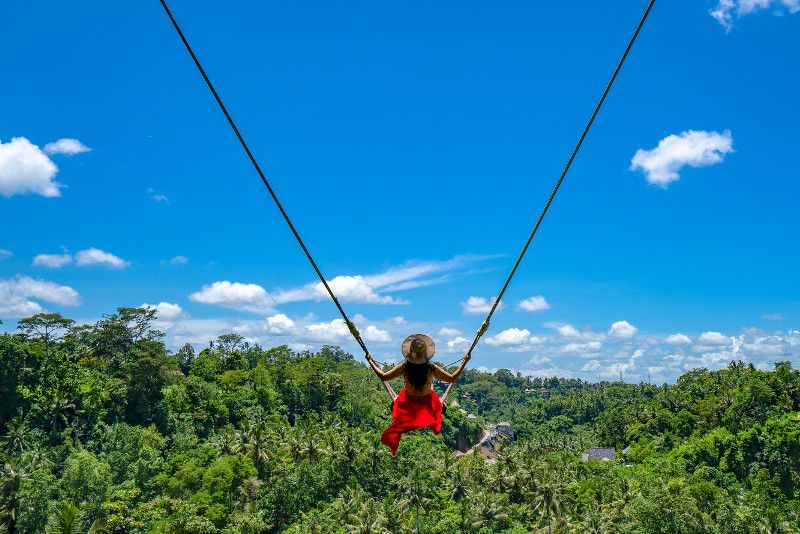 Here's all you need to know about jungle swings, one of the most exciting day trips from Bali.
How to get to the jungle swings in Bali?
Many of the jungle swings in Bali are located in the towns of Ubud and Tegalang, which day trips typically visit. They are in the center of the island province, which covers mountainous and forested areas.
By car or scooter
If you plan on renting a car or scooter to go to the jungle swings, head east from the Bali international airport, before heading north towards Ubud. The journey will take about 2 hours, depending on traffic.
Guided tours to the Bali jungle swings
A day trip or guided tour to one of Bali's jungle swings really packs a punch when it comes to value for money, as it combines a bunch of unique activities and sights.
An air-conditioned vehicle will pick you up at your accommodation in Bali and the average tour last 8 hours.
What is the typical itinerary?
Most day tours offer pickup service from the popular tourist areas in Bali's capital, Denpasar, but an alternative pickup at a local landmark in Denpasar can also be arranged.
Onboard an air-conditioned car or minivan, you will head towards the Ubud countryside, making various stops along the way at terraced rice fields, ancient temples and waterfalls.
Your guide will be readily available to answer any questions and provide interesting facts along the way.
Sights that are usually visited include the Sacred Monkey Forest Sanctuary, the Tegallalang Rice Terrace, the Tirta Empul Temple and the Tegenungan Waterfall.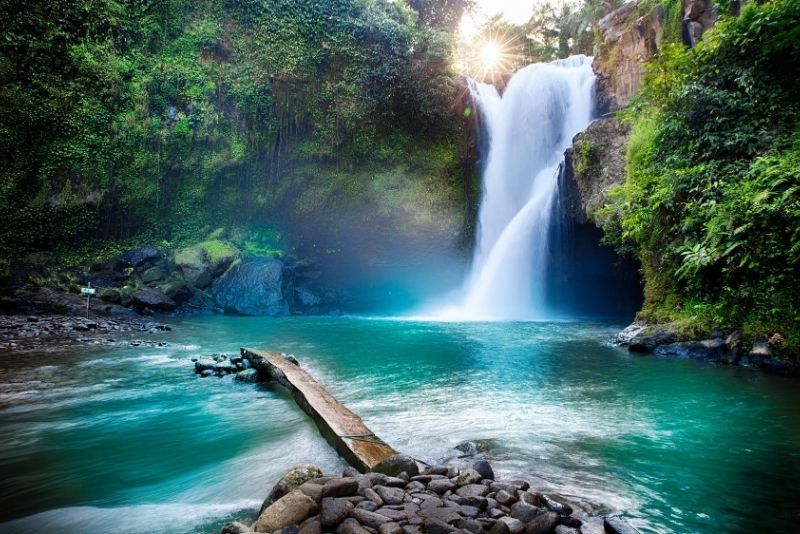 On most day tours, lunch will be included, so there will be a stop at a restaurant.
What kinds of tours are available to go to the jungle swings in Bali?
Fortunately, when it comes to day trips to one of Bali's jungle swings, travelers have several choices, with private tours, guided tours and group tours on offer.
Jungle swing day trips in Bali usually combine various other attractions into one tour, ensuring a truly memorable day.
Best of Ubud tour with jungle swing
This private tour avoids the crowds while exploring Ubud's natural grandeur. Set your own pace as you take in the splendor of the UNESCO-listed rice terraces and the Ubud Monkey Forest with its famous Goa Gajah temple (The Elephant Cave).
Then visit a coffee plantation in Bali, and cool off at the Tegenungan Waterfall, before finally swinging through the jungle air.
Northern Bali tour with jungle swing
See Bali's postcard sights in real life! Start your day with a serene paddle on Lake Beratan and head towards the ancient Ulun Danu temple. Stop for a perfect picture at Handara gate, before heading to the Wanagiri hills.
Fly through the air on the Wanagiri swing, or simply take in the views from the bird cage viewing post.
Mount Batur sunrise jeep adventure with jungle swing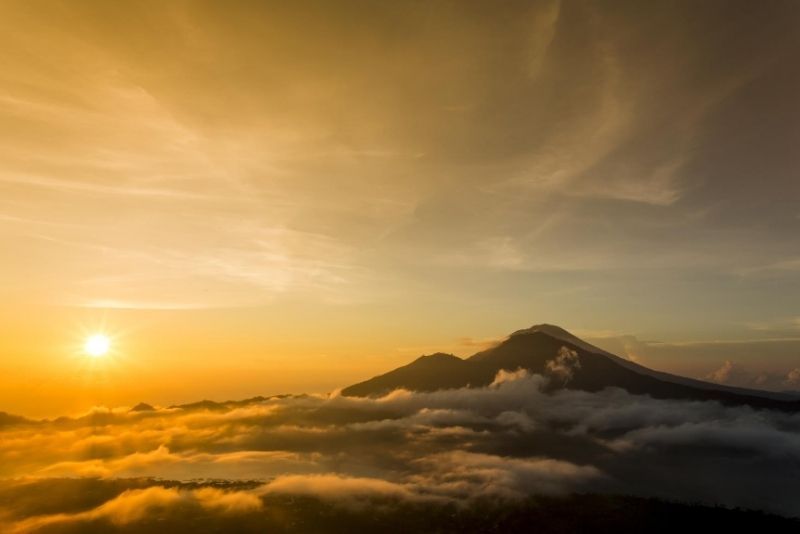 Jeep tours in Bali take you where no other vehicle can take you — the otherworldly sights of lava fields in Mount Batur. Then exchange the dramatic lava landscape for the verdant Ubud countryside, as you swing over the jungle canopy.
Ubud waterfall and jungle swing tour
Get back to nature with this private day trip to Bali's hidden gems. Explore the Balinese jungle, rivers, a cave and the breathtaking Tibumana and Tukad Cepung waterfalls.
Then, a quick stop for a well-deserved coffee or herbal tea – and onwards to the famous Ubud jungle swing.
Ubud jungle swing plus floating breakfast and romantic spa
Make unforgettable memories with your special person on this private day trip. A perfect balance of romance and exploration, set against the stunning backdrop of Bali's Ubud countryside.
Start the day with breakfast in a natural pool, head out to the Jatiluwih Rice Terraces and take a couple's swing over the jungle valley. Finish off your day with a luxurious spa treatment.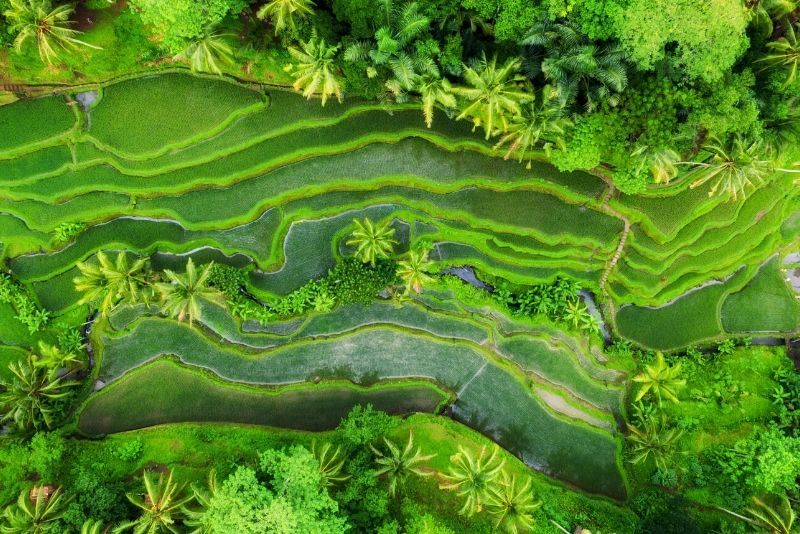 How much does it cost?
The cost of different day trips correlates to the number of attractions that will be visited, as well as the activities included in the tour.
Best of Ubud tours with jungle swings cost around US$60 per person.
Northern Bali tours with jungle swings cost around US$65 per person.
Mount Batur sunrise jeep tours with jungle swing cost about US$65 per person.
Ubud waterfall and jungle swing tours cost about US$25 per person.
Ubud jungle swing tours plus floating breakfast cost US$270 per couple.
What will you see and do?
Bali's jungle swing allows visitors to glide through the air for an unforgettable experience and a jaw-dropping photo opportunity.
There are various jungle swings in Bali, and most are situated in the Ubud region, famous for its temples, waterfalls and rice terraces.
Most day trips to Bali's jungle swings include much more than just the swing. Here are a couple of attractions you don't want to miss out on.
Ubud Monkey Forest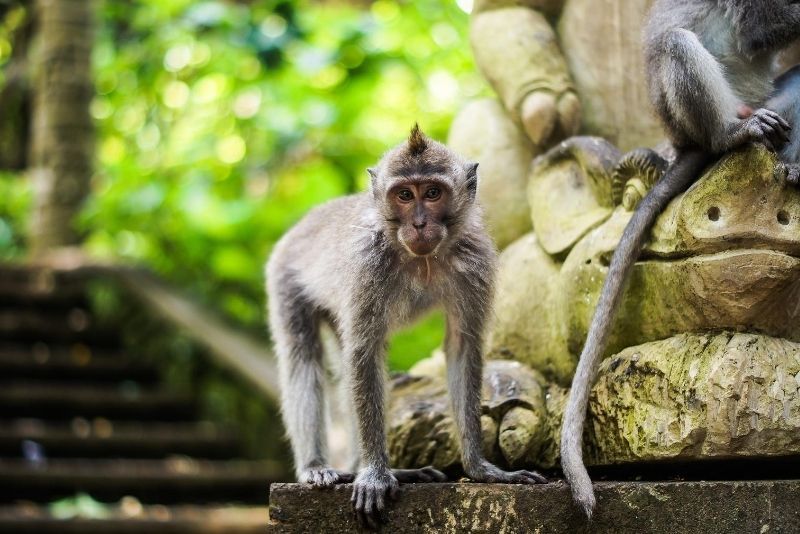 A population of over 1,000 Balinese long-tailed macaque share the Ubud Monkey Forest with three ancient Hindu temples.
One of these temples is the Goa Gajah temple, a sacred Hindu sanctuary dating from the 9th century. A perfect destination for lovers of nature, animals and history!
Mount Batur
An active volcano, Mount Batur offers a once-in-a-lifetime opportunity. Either get up early in the morning to make the trek to the summit or take a jeep ride up the steep slopes.
Either way, you'll be greeted with mesmerizing sights of Bali once you get to the top.
Bali's iconic waterfalls
Bali is home to some of the most beautiful waterfalls in the world. Whether it be Tegenungan, Tibumana or Tukad Cepung waterfall – travelers truly are spoiled for choice.
Bali's numerous temples
The Balinese culture is an ancient one and, as such, numerous awe-inspiring temples dot the landscape.
From the Tirta Empul water temple, where pilgrims pray waist-deep in a sacred pool, to the Ulun Danu temple built to honor the water goddess, Danu.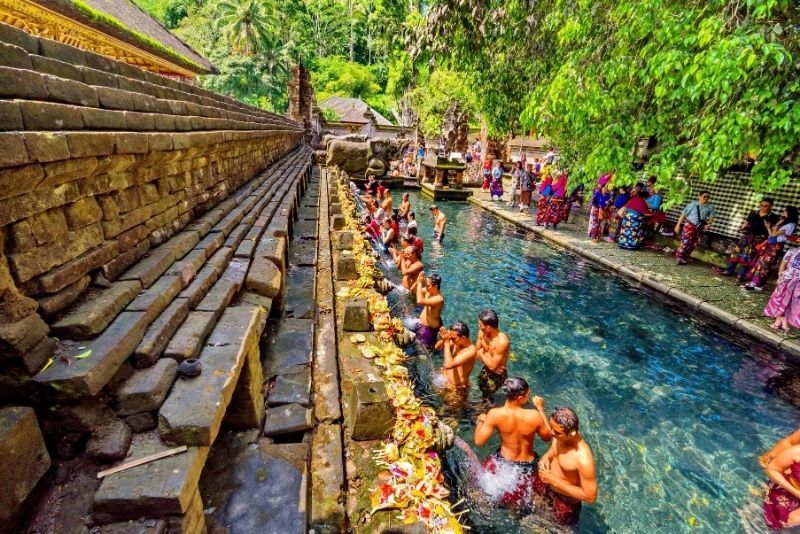 Jatiluwih Rice Terraces
It's difficult to believe that Bali is just a short drive away when you are confronted with these emerald terraced hills. The Jatiluwih Rice Terraces span over 20 kilometers and offer unspoiled views of rolling rice fields and mountainous areas.
When is the best time to visit the jungle swings in Bali?
The best time to visit the jungle swings in the province of Bali is between April and October, which is the island's dry season. September and October are better, as this is when the peak tourist season subsides.
Travel tips
Bring swimming clothes if applicable.
Insect repellent is a must when visiting the forest or rice terraces.
Wear proper footwear to and from the waterfall and the jungle swings.
Most pickup times for tours are about an hour before the tour starts. Make sure to check with your tour operator.