At close to 1,000 meters deep, Waimea Canyon is nothing short of enormous. But it's not only impressive in size — with tumbling waterfalls, lush vegetation, incredible lookouts and diverse wildlife, this natural Kauai attraction oozes beauty too.
With hiking trails, picnicking spots and activities for adventure seekers, the Waimea Canyon sells itself as a quintessential Kauai day trip destination.
So if you're looking to experience the very best nature that this sun-kissed island has to offer, book one of the Waimea Canyon day trips in Kauai.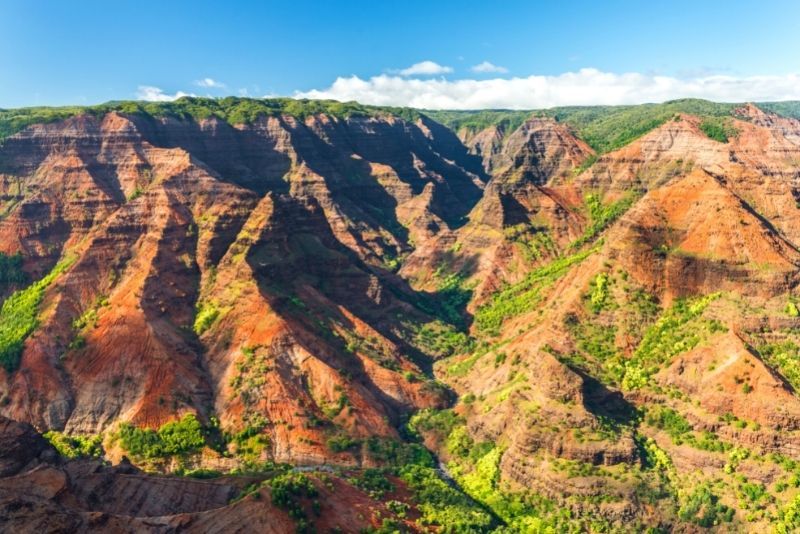 Here's all you need to know about Waimea Canyon, one of the most exciting day trips from Kauai.
Where is Waimea Canyon in Kauai?
Waimea Canyon is located on the western side of Kauai and is about a one-hour drive from the airport. You can get there by car, taxi or tour bus. If you plan to visit Waimea Canyon independently, renting a car is your best bet.
To the Waimea Canyon in Kauai by car
Getting to Waimea Canyon by car depends on where you're staying on the island. Generally, you will need to drive west to the town of Waimea and then head directly north.
Guided tour to the Waimea Canyon in Kauai
The most convenient way to take a day trip to Waimea Canyon is by joining a guided tour. Led by knowledgeable locals, these tours usually pick you up from your accommodation and drive you directly to the canyon.
You'll be able to explore the area without worrying about transportation or getting lost. Guided day trip tours generally last around 5-7 hours.
What is the typical itinerary of a Waimea Canyon day tour in Kauai?
The typical itinerary of a Waimea Canyon day tour depends on the tour operator. Generally, tours will start with a scenic drive in an air-conditioned minivan through the countryside, where you can admire the views of rolling hills and green valleys.
Next, you'll make your way to Waimea Canyon lookout — one of the most popular spots in Kauai. From here, you can enjoy breathtaking panoramic views of the canyon, its red soil, as well as its many waterfalls.
Most tours also include a stop at the Koke'e State Park, where you can go on a guided nature walk and learn more about the endemic species and vegetation of Kauai.
What kinds of tours are available to go to Waimea Canyon in Kauai?
You have several tours to choose from when it comes to Waimea Canyon day trips. The most straightforward tours, which are also the cheapest, are the group excursions that transport you to the Canyon for some sightseeing.
Private tours are available if you want to customize your trip, while combination tours offer a highlight reel of the island.
Guided tours to Waimea Canyon in Kauai
Several small group tour companies offer Waimea Canyon day trips for a reasonable price. These tours usually include round-trip transportation and an experienced guide who can provide you with detailed information about the area.
Some of these guided tours also include stops at coffee plantations, suspension bridges and the famous Spouting Horn landmark.
Private tour to Waimea Canyon in Kauai
Ideal for couples and small groups, private tours provide you with a customized itinerary. You can choose the specific sights that you want to visit. Private tours are more expensive than guided group trips; however, they offer an intimate experience.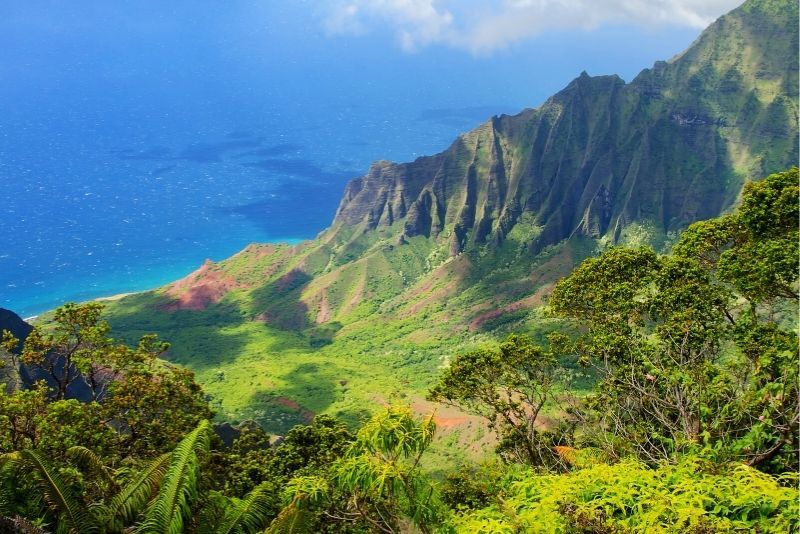 Day trip to the Waimea Canyon plus Koke'e State Park in Kauai
Koke'e State Park is renowned for its lush forests and hiking trails. If you're looking for a full day of adventure, consider booking one of the combination tours that include both Waimea Canyon and Koke'e State Park.
Day tour to the Waimea Canyon plus Jurassic Falls and helicopter tour in Kauai
A terrific option for fans of the Jurassic Park movies, a day trip to Waimea Canyon plus Jurassic Falls and helicopter tour gives you the chance to explore Kauai's captivating scenery from above.
These tours are on the pricier side, but include an unforgettable experience of soaring over Kauai's Manawaiopuna Falls.
How much does a tour to Waimea Canyon cost?
Prices for Waimea Canyon day trips vary depending on the type of tour, duration and number of participants.
Generally, guided group tours cost between US$75 and US$100 per person, while combination tours of Waimea Canyon and Koke'e State Park are around US$150 to US$180 per person.
A combination tour involving Jurassic Falls and a helicopter tour will be around US$360 per person.
Private tours range between US$600 and US$1400, but these include up to four or six people.
What will you see and do on a Waimea Canyon day tour in Kauai?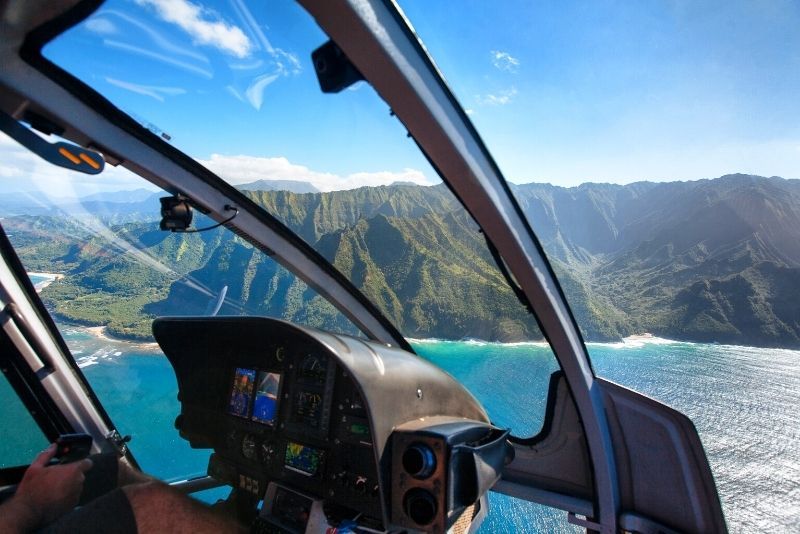 When you go on a Waimea Canyon day tour, you'll get the chance to explore this magnificent canyon and its surrounding area. You can admire panoramic views of the canyon's red soil from one of many viewing spots, such as Puu Hinahina Lookout or Puu Ka Pele.
Depending on your chosen tour, you may also take a helicopter or airplane flight, hike along a trail, or visit a local farm or plantation too.
When is the best time to visit Waimea Canyon in Kauai?
Waimea Canyon can be visited year-round. However, the best time to avoid the crowds are the shoulder seasons: September to December or April to June.
Travel tips
Book your Waimea Canyon day trip online and in advance to ensure availability and the best price.
Wear comfortable clothing, good walking shoes and a hat for sun protection.
Bring sunscreen, insect repellent and plenty of water as temperatures can reach high levels during the day.
Most importantly, take some time to appreciate the natural beauty around you!