The Wailua River is one of the longest and most important rivers in Kauai, and the natural splendor of this region borders on the otherworldly. As such, most Wailua River tours focus on exploring this slice of paradise.
Once you immerse yourself in this stunning setting, it's easy to understand how Kauai has become the favored setting for a string of Hollywood blockbusters. The area is famous for its outdoor activities, catering to casual visitors and seasoned thrill-seekers alike.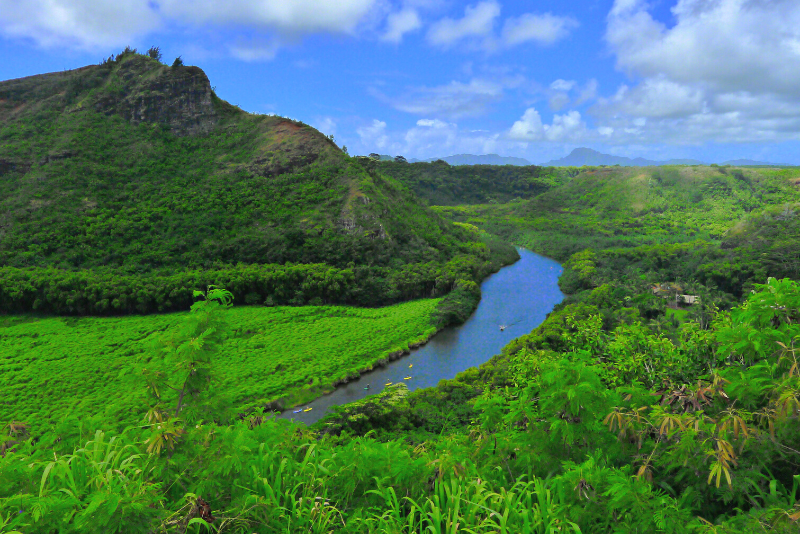 Here's all you need to know about the Wailua River, a wonderful place to go for outdoor activities in Kauai.
Where is the Wailua River located?
The Wailua River flows from Kawaikini peak at the center of the island to the town of Wailua, where it spills into the Pacific Ocean. Its way through volcanic mountains and ancient rainforests, leaving dramatic and astonishing landscapes in its wake.  
The town of Wailua is located between Kapa'a and Hanamaulu and is easily accessible from Kapa'a, either by car or public transport.
How to reach Wailua River by public transport
Board the number 56 bus from Kapa'a Beach Park for a 15-minute journey.
How to reach Wailua River by car
A journey by car is just as straightforward — head south from Kapa'a while hugging the coastline, and you'll reach Wailua town.
Guided tour to Wailua River
Guided tours to the Wailua river are available, and they are perfect for exploring the river and its valley. Guided tours usually incorporate kayaking and hiking, but there are some that use boats, airplanes and even helicopters.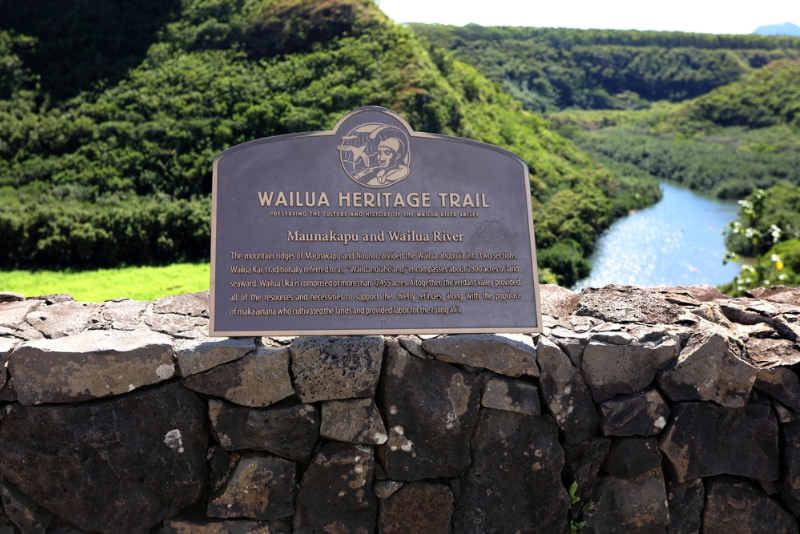 What are the best things to do in the Wailua River?
The Wailua River and surrounding area are a hotspot for outdoor activities and adventure — from hiking and kayaking to snorkeling and scuba diving. The Wailua River offers something for everyone, regardless of their ability or appetite for adventure.
You can treat yourself to some breathtaking views as you hike your way up the Sleeping Giant Trailhead, or take a peaceful paddle up the Wailua River to the secluded Fern Grotto.
There are a number of hiking trails to explore — the Kuilau Ridge Trailhead, Wailua River State Park, Kalepa Mountain Forest Reserve and the Nounou Forest Reserve are all in the area.
Similarly, the Wailua River offers many water sports and activities, including kayaking, canoeing or paddleboarding. If that sounds a bit too strenuous for your liking, you can enjoy a laid-back cruise down the Wailua River, stopping every now and then to explore the sights along the river.
If you feel like answering the call of the ocean, scuba diving and snorkeling options are a quick drive away. Spend your days exploring the treasures of the deep with qualified instructors, ensuring that both the beginner and veteran are taken care of.
For something truly extraordinary, you can board a helicopter or plane and experience an eagle-eye view of the Wailua River valley and the various locations that feature in Hollywood films.
What are the best tours to visit the Wailua River?
The number of different Wailua River tours serves to demonstrate why this region is one of the most popular destinations in Kauai.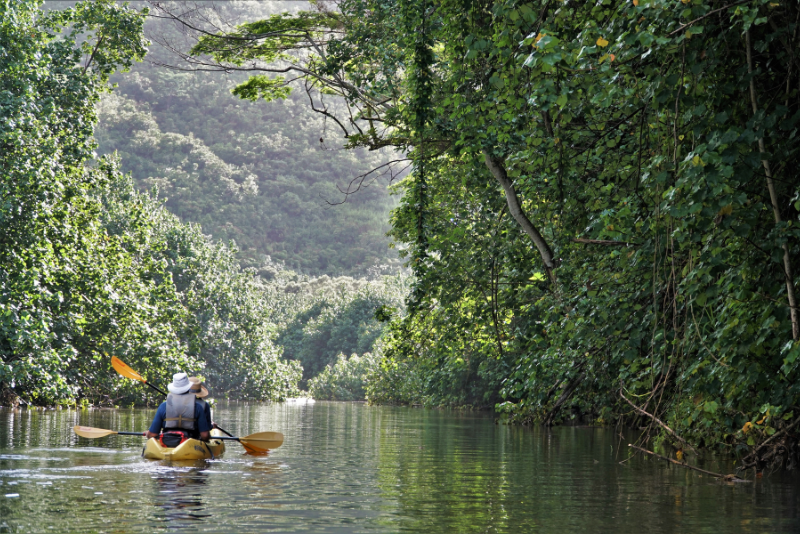 Wailua River kayaking and hiking tour
Take a half-day Wailua River kayaking and hiking tour on your way to the Uluwehe Falls, or Secret Falls as it's also referred to.
You do not need to be an expert kayaker or hiker to enjoy this tour — the trip is categorized as moderately easy, and your experienced instructor will always be close at hand to help.
Airplane tour of Kauai Island
Nothing beats the idea of soaring through the sky while Kauai's amazing landscapes pass by your window. That's exactly what's on offer on this airplane tour of Kauai.
Glance down at the island's famous sights while your pilot tells you more about this mythical land. Sights included in the tour are various movie locations, volcanic mountain ranges and the serene Wailua River Valley.
Kauai adventure helicopter tour
A helicopter tour of the Wailua River valley and the island of Kauai is a once-in-a-lifetime opportunity, as it will enable you to explore the island from unimaginable vantage points.
You'll be hovering for the perfect photo opportunity before dipping, diving and gliding over the fertile valleys.
If the weather permits, you'll be able to get a close-up view of Mount Wai'ale'ale — a dormant volcano and the wettest place on earth!
Wailua River valley and waterfalls self-drive tour
If you enjoy setting your own pace, this tour of Wailua River and the surrounding area is the perfect option. The tour comes with an app and audio track that will guide you through the beautiful Wailua River valley.
You'll choose the next destination and enjoy comprehensive directions to Kauai's pristine forests, waterfalls and ancient temples.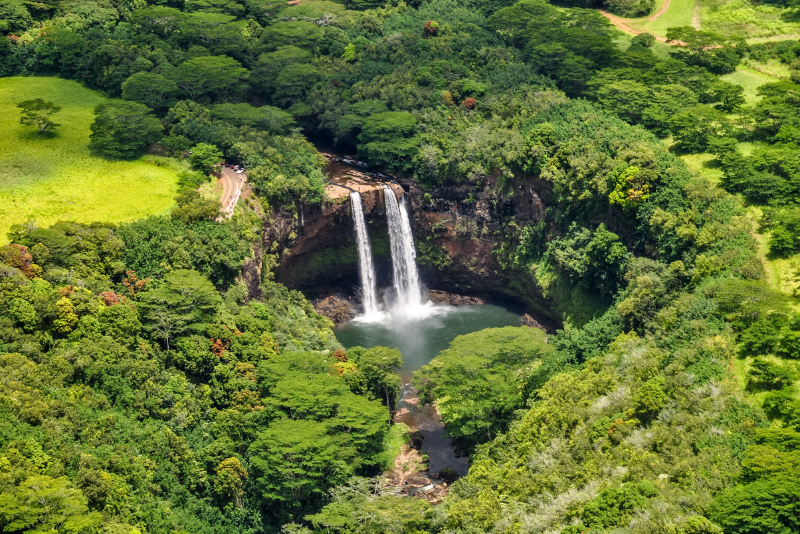 What are the prices of Wailua River tours?
Wailua River tours differ in price range, depending on the type of tours and the activities included.
The self-drive tour of the Wailua River valley and waterfalls will cost US$20 per group of up to 15 people.
The Wailua River kayaking and hiking tour costs US$130 per person.
An airplane tour of Kauai Island starts at US$170 per person, with more expensive options coming in at US$400 per person.
Kauai adventure helicopter tours tend to be in the region of US$420 per person.
Where do Wailua River tours start?
The helicopter or airplane tours of the Wailua River start from Lihue Airport, just south of Wailua town.
Wailua River kayak and hiking tours start from Wailua or Kapa'a, with pickup options usually available, depending on your preference.
When is the best time to visit the Wailua River?
The best time for a Wailua River tour depends largely on the type of tour and the different activities. The aviation-type tours are weather-dependent — so starting times might differ from day to day.
The best time of the year to visit Kauai and the Wailua River is between September and December, as well as between April and June.
Travel tips
Wear comfortable clothes during hiking and kayaking activities.
Wear sunscreen during outdoor activities.
Insect repellent is advised when venturing into Kauai's jungles.
Helicopter and airplane tours are popular and tend to sell out quickly — book well in advance. They usually require a check-in 30 minutes before the tour starts.