Nicknamed the Garden Island, Kauai is a natural paradise with an abundance of lush greenery, pristine beaches and crystal clear waters. The Hawaiian island's year-round warm weather and it's majestic valleys, mountains and waterfalls make it the perfect place for outdoor enthusiasts.
But below the surface you'll discover a wonderland of different sorts — of vibrant coral reefs and colorful marine life. Whether you're an experienced snorkeler or a first-timer, Kauai snorkeling tours are the perfect way to explore this underwater world.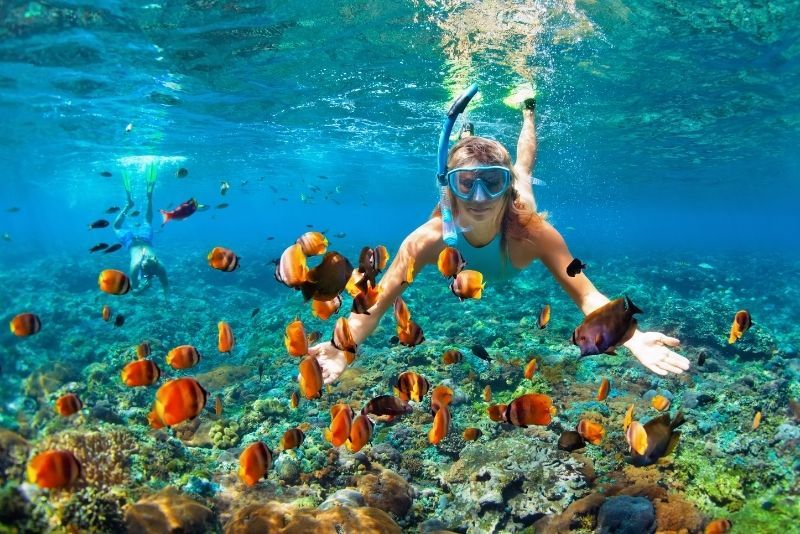 Here's all you need to know about snorkeling, one of the most mesmerizing outdoor activities in Kauai.
What are the best snorkeling tours in Kauai?
Na Pali Coast snorkeling tour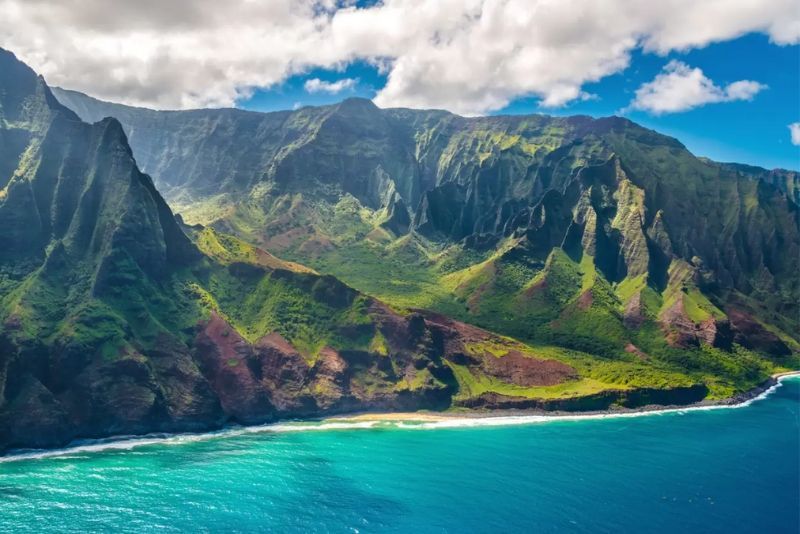 Considered one of the most beautiful coastlines in the world, this picturesque 27-kilometer (17-mile) stretch runs along the northwestern side of the island and is made up of towering cliffs, cascading waterfalls and calm emerald waters.
On guided Na Pali snorkeling tours you'll be escorted to the best spots along the coast, where you can admire the epic sea cliffs from afar before jumping in the water to swim with turtles, dolphins, rays and more.
Choose from a comfortable catamaran or a high-speed boat and let the knowledgeable guide tell you all about the history of, and movies filmed in this breathtaking region.
Hanalei Bay kayak and snorkel tour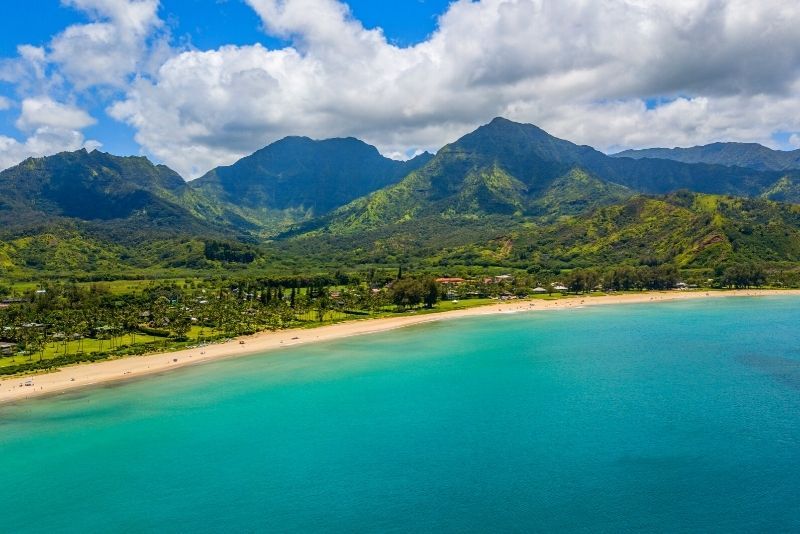 Sitting on Kauai's northern shore, Hanalei Bay is a crescent of golden sand that's become a popular spot for both snorkeling and kayaking in the summertime when conditions are calm — during the winter, the choppy waves make it an excellent surfing destination.
On guided snorkeling tours to Hanalei, you can paddle along the pristine waters of this protected bay, taking in views of mist-shrouded mountains, Hanalei River and lush rainforests as you go.
After learning about local ecology it's then time for a swim in the turquoise waters, where you can admire an abundance of colorful corals and schools of tropical fish. Capped off with a hearty lunch on the beach, this is considered one of the most family-friendly Kauai snorkeling trips.
South island Zodiac Boat snorkel tour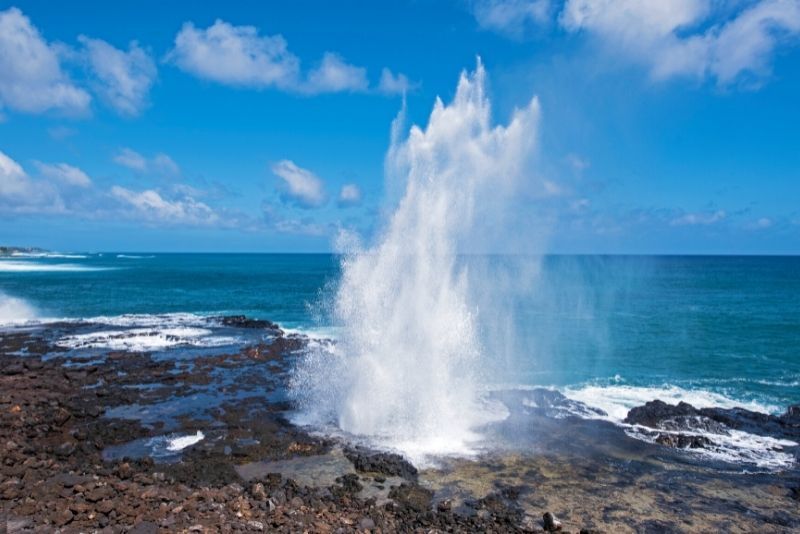 This Kauai snorkeling tour is a public small-group experience, allowing you to meet new people and make friends while enjoying the stunning scenery.
The Zodiac boat departs from Poipu Beach in Koloa, spending a few hours exploring the south island with stops at secluded coves and lagoons teeming with tropical fish.
Along the way you'll pass by a handful of notable landmarks such as the famed Spouting Horn blowhole and the former residence of Queen Emma of Hawaii. Keep your eyes peeled for dolphins, whales and sea turtles as you cruise along this scenic coastline.
Private Kauai snorkeling tour
Ideal for couples or small groups who want to enjoy the peace and tranquility of Kauai's stunning scenery without the crowds, private snorkeling tours let you explore at your own pace.
Whether you're an experienced diver or a first-timer, these guided excursions can be tailored to suit your individual needs and preferences. With a private crew and guide at your disposal, you can ensure an educational experience too.
Highlights can include exploring the breathtaking coral gardens off of Kee Beach, boating along Napali Coast's emerald waters and snorkeling with friendly sea turtles in Hanalei Bay.
How much do snorkeling tours in Kauai cost?
The price of snorkeling tours in Kauai varies between US$130 and US$300 per person, depending on the tour operator, the length of the trip and the type of experience you're looking for.
Generally speaking, guided tours tend to be more affordable than private outings. Tour companies usually classify children aged from 5 to 12 years old, however, please double-check before booking as each company has slightly different rules.
Na Pali Coast snorkeling tour
Adults: Between US$200 and US$300 per person.
Children: Between US$180 and US$285 per person.
Hanalei Bay kayak and snorkel tour
Adults: Between US$130 and US$150 per person.
Children: Between US$115 and US$140 per person.
South island Zodiac Boat snorkel tour
Adults: Between US$150 and US$240 per person.
Children: Between US$125 and US$215 per person.
Private Kauai snorkeling tour
From US$380. Private tours can be customized to your liking and you have the option of adding on extras such as dives, boat rentals, and more. The price is typically per group (up to four people) not per person.
What is included?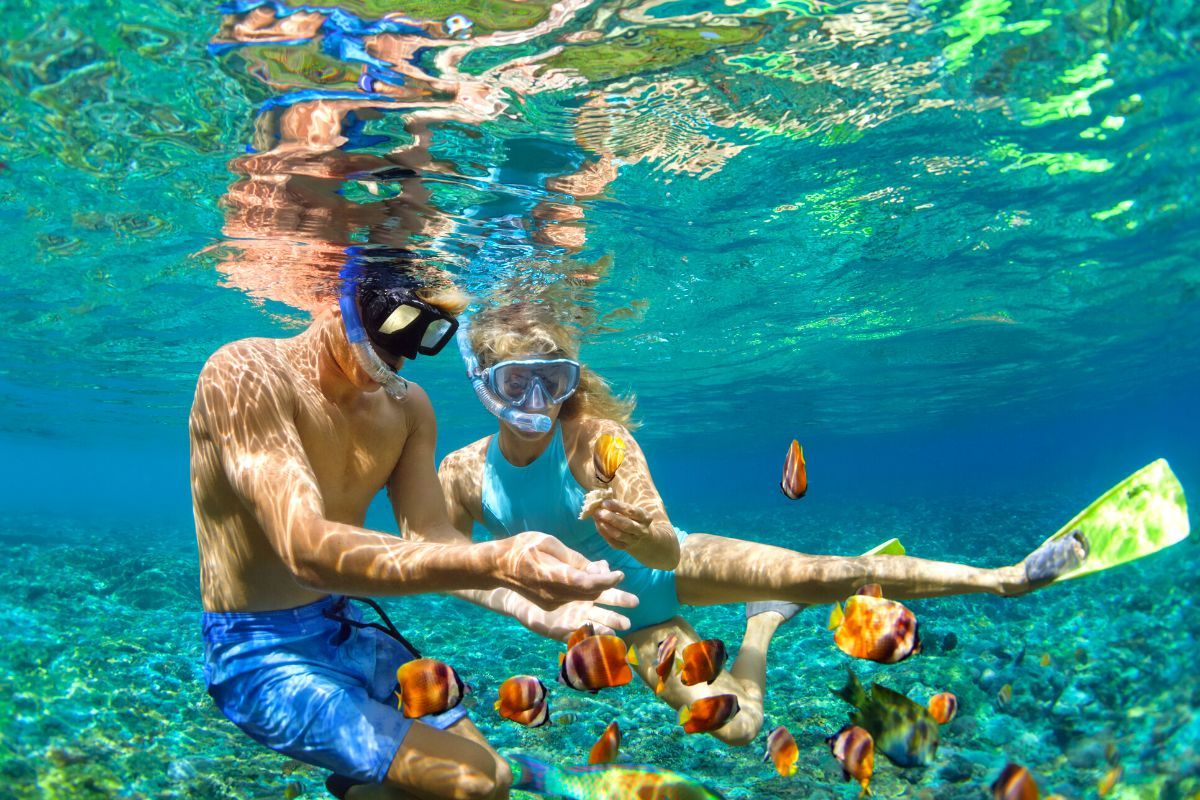 Every Kauai snorkeling tour will include basic equipment such as masks, fins, and snorkels. Some may also provide wetsuits, flotation devices, and other helpful accessories.
Your choice of tour will also typically include a guide who can provide expert tips on snorkeling techniques and point out interesting marine life along the way.
In addition, many tours offer complimentary snacks and drinks to keep you fueled throughout your adventure, as well as transportation to and from your hotel.
Where does it start?
Depending on the particular tour you book, Kauai snorkeling tours start at select locations around the island, including popular areas and beaches like Poipu Beach, Kīkīaola Harbor, Hanalei Bay, Wailua and Kee Beach.
To get there, most tour operators will provide transportation from your hotel or other meeting point on Kauai. It's wise to double check with your chosen tour company when booking to confirm the exact location.
After meeting, a boat will whisk you away to your snorkeling locations.
How long does it last?
Snorkeling tours in Kauai last anywhere from 2 hours to an entire day, depending on the type of experience you choose. The majority of tours are around 5 to 6 hours, providing ample time for snorkeling, swimming, transport, lunch and soaking up the sun.
When is the best time for a snorkeling tour in Kauai?
Hawaiian waters remain warm and inviting year-round, making it possible to enjoy snorkeling tours in Kauai at any time of the year. That said, most people prefer to visit during the spring and summer months when the weather is more favorable and crowds are smaller.
As for the time of day, it's recommended to snorkel either early in the morning or towards the late afternoon to avoid the harsh midday heat in the summer
Are there any combo available with snorkeling tours in Kauai?
Yes, many tour operators offer combo packages that combine snorkeling with other fun activities on the island.
Some examples include kayaking, hiking and rafting trips, or a combination of snorkeling and diving. These are great options if you're looking to experience more of what Kauai has to offer while also getting some quality time in the water. Some specific examples include:
Kauai snorkeling plus sea cave eco adventure
This tour combines the underwater wonders of Kauai with an exciting adventure at the cliff face. You'll explore peaceful sea caves and hidden waterfalls as you admire Mother Nature's cliffs, before heading out to the open ocean for some snorkeling fun.
Hanalei Bay Kayak & Snorkel Tour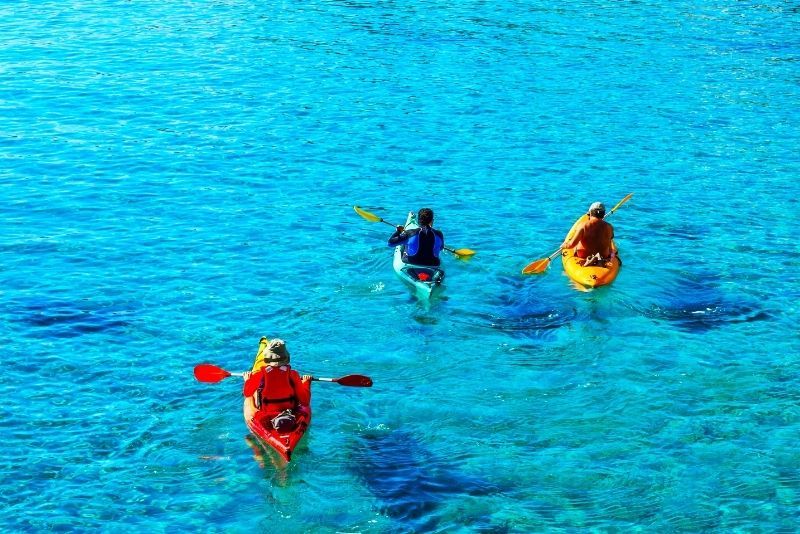 This tour allows you to explore the beautiful Hanalei Bay from kayak or stand up paddleboard. You'll also get the chance to snorkel in the crystal clear waters before heading back for some delicious snacks, drinks and a deli style lunch on the boat.
Is it safe to take a snorkeling tour in Kauai?
Yes, Kauai snorkeling tours are a safe and fun way to explore the island's beautiful marine life. Guides are trained and experienced in water safety, and you'll be outfitted with the necessary equipment to ensure your comfort and protection.
Are children allowed on a snorkeling tour in Kauai?
Yes, most tour operators will allow children to join a snorkeling trip in Kauai when accompanied by an adult. Depending on the specific tour, some may have age restrictions so be sure to check with your chosen operator before booking to confirm any requirements for minors.
What happens in case of bad weather?
If waters become too rough or dangerous for snorkeling, most tour operators will cancel the trip and either provide a refund or reschedule for a different day.
Which other water activities can be done in Kauai?
Travel tips
Book your tour in advance as many top snorkeling spots in Kauai can fill up quickly during peak season.
Make sure to dress appropriately for the weather and bring plenty of sunscreen, a hat, sunglasses and other protective gear to stay safe in the sun.
It's always a good idea to have some cash in hand in case you need any last-minute supplies or snacks while out on your tour. This will also cover gratuities for your guide.